The Cloth Mill is the newest wedding venue to hit the Raleigh/Durham/Hillsborough, North Carolina area and it is FAB-U-LOUS! I am so fortunate to have been hand-selected by the venue's owner and operator, Nicole (also of On the Rocks bartending) to be on their exclusive Preferred Vendors list, along with many other talented professional in the area.
When she asked if I would participate in their first ever Wedding Vendor showcase, called "Freshly Pressed," I jumped at the chance and started planning my table immediately. I've actually never participated in a wedding show like this, to this extent, and it was kind of fun to get creative and dream up the best way to showcase my brand and photography. I've been so lucky to have such great word-of-mouth recommendations and I work incredibly hard to blog and focus on SEO key-wording, but I figured it couldn't hurt to participate. Besides, I LOVE connecting with other vendors and meeting excited brides, grooms and their families face-to-face. And the event was wonderful.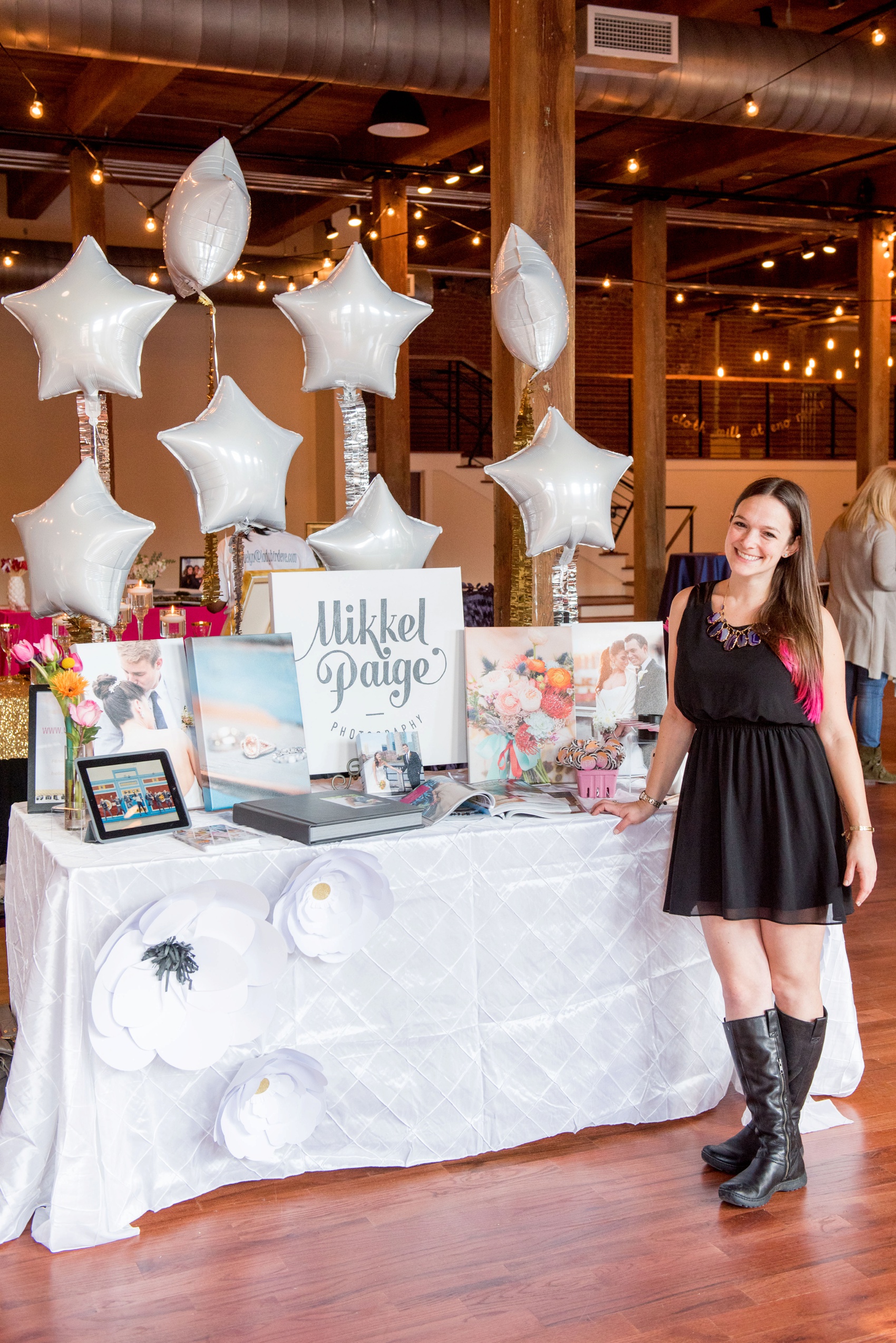 There I am with my table, complete with four canvases of some of my favorite wedding images, mylar balloons galore, a beautiful wedding album, paper crafted white flowers, The Knot wedding features in print and some other goodies!
The courtyard where you walk into the space is a highlight. The area has bistro lighting overhead and a beautiful pergola in the back. I can just imagine it with floral vines creeping up its tall posts enhancing this picturesque space even more. I love that Nicole chose to add rustic wooden paneled walls too. The perfect backdrop for a ceremony. Tre Bella created the gorgeous scene for the ceremony, floral arrangements and petals to boot!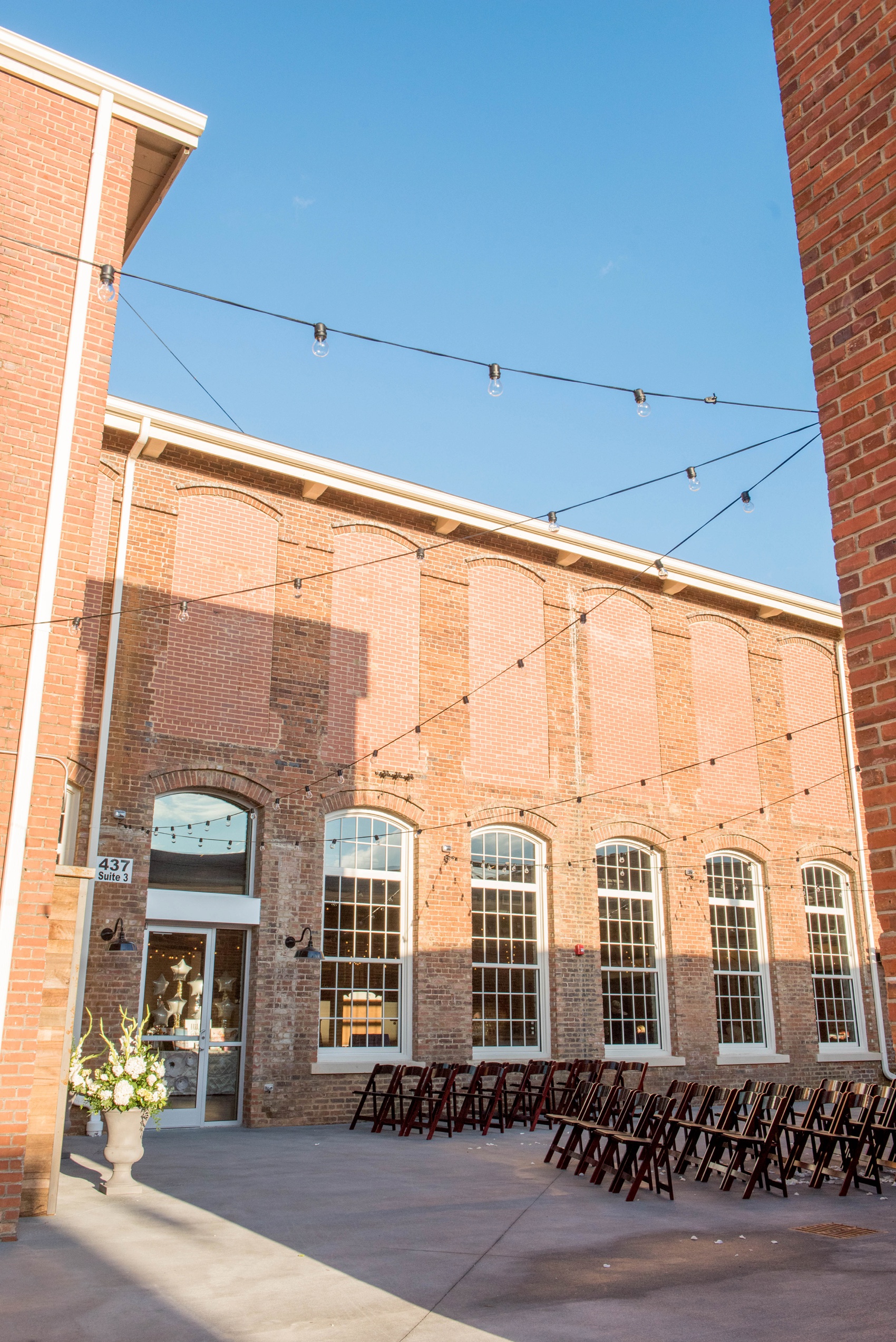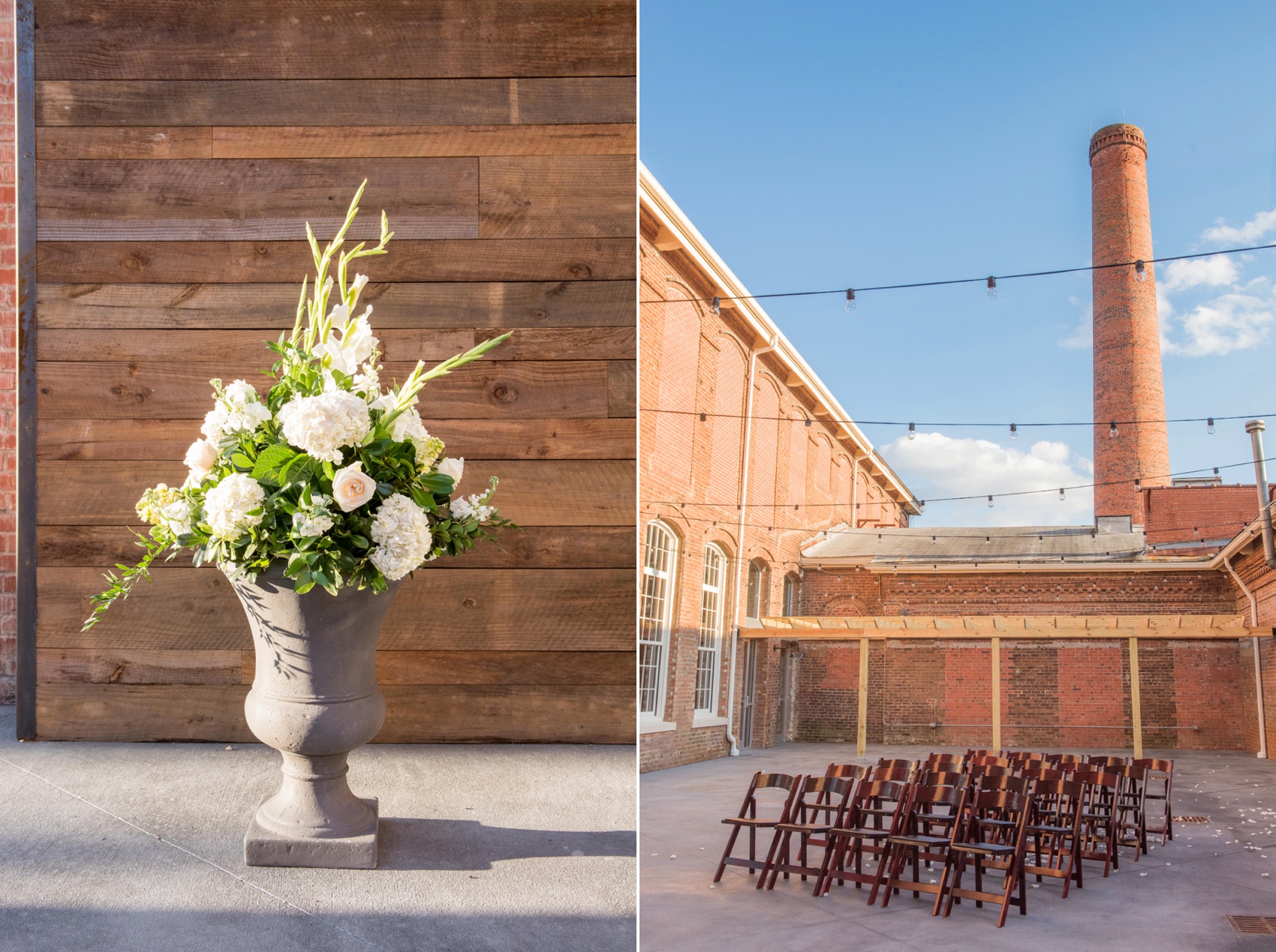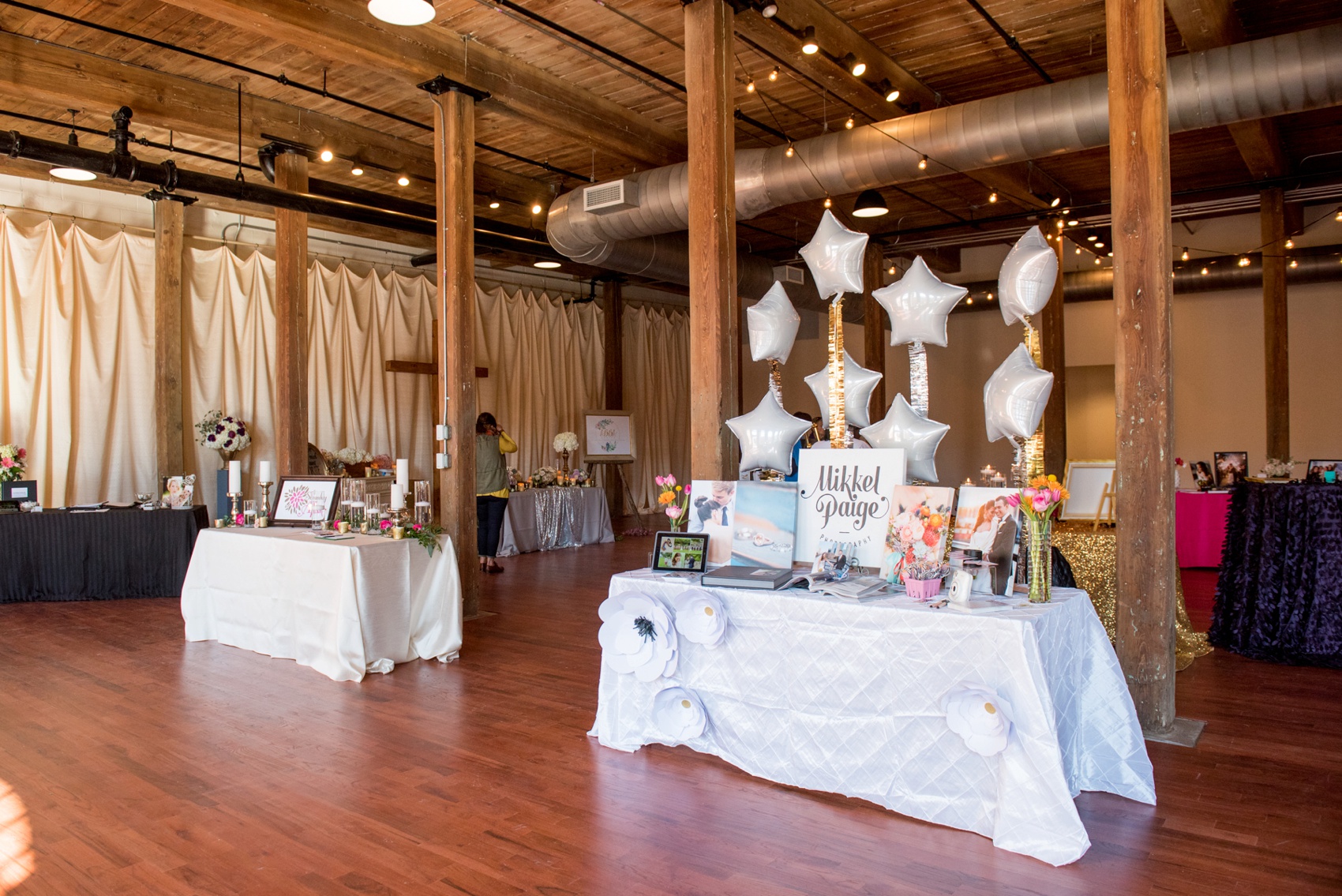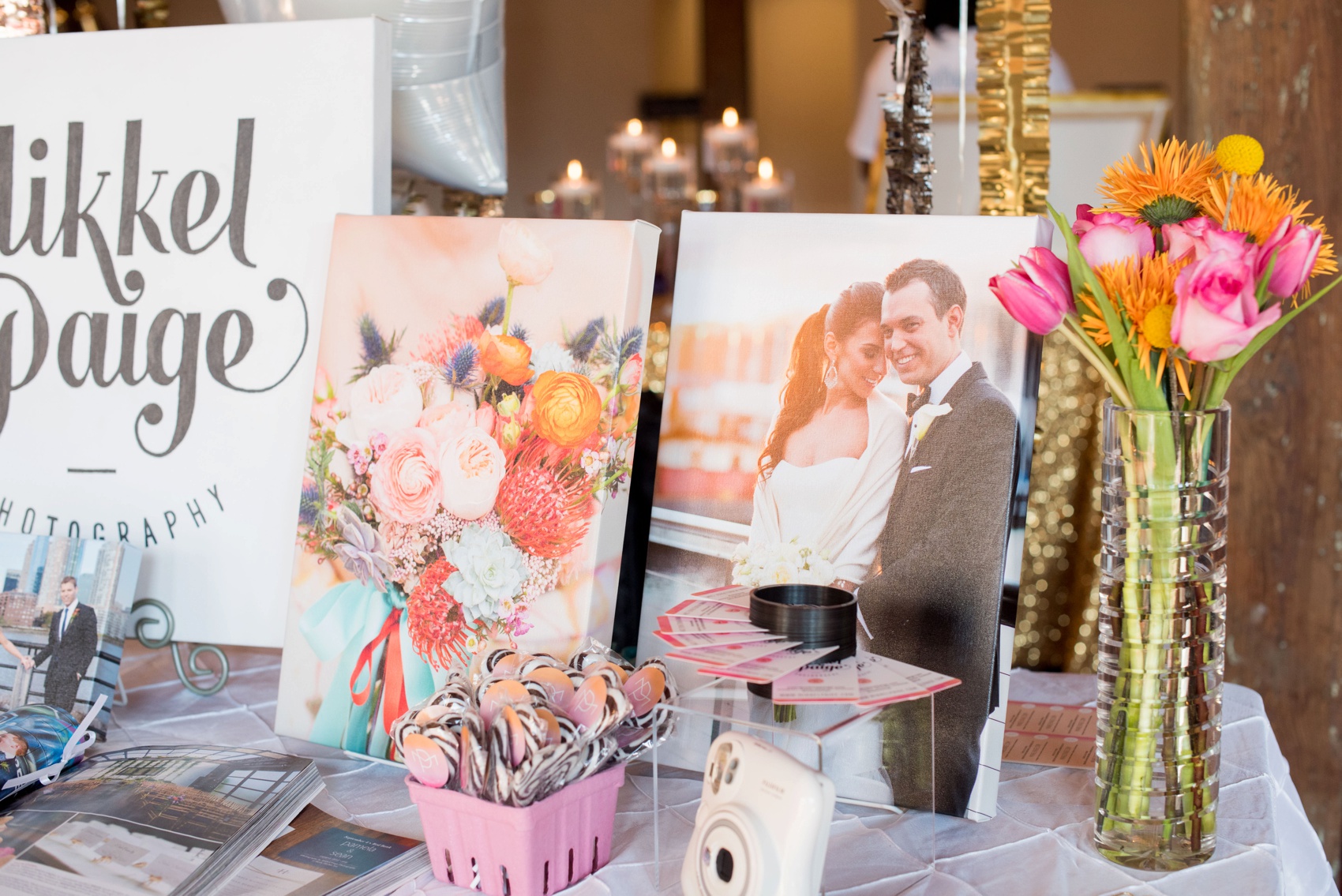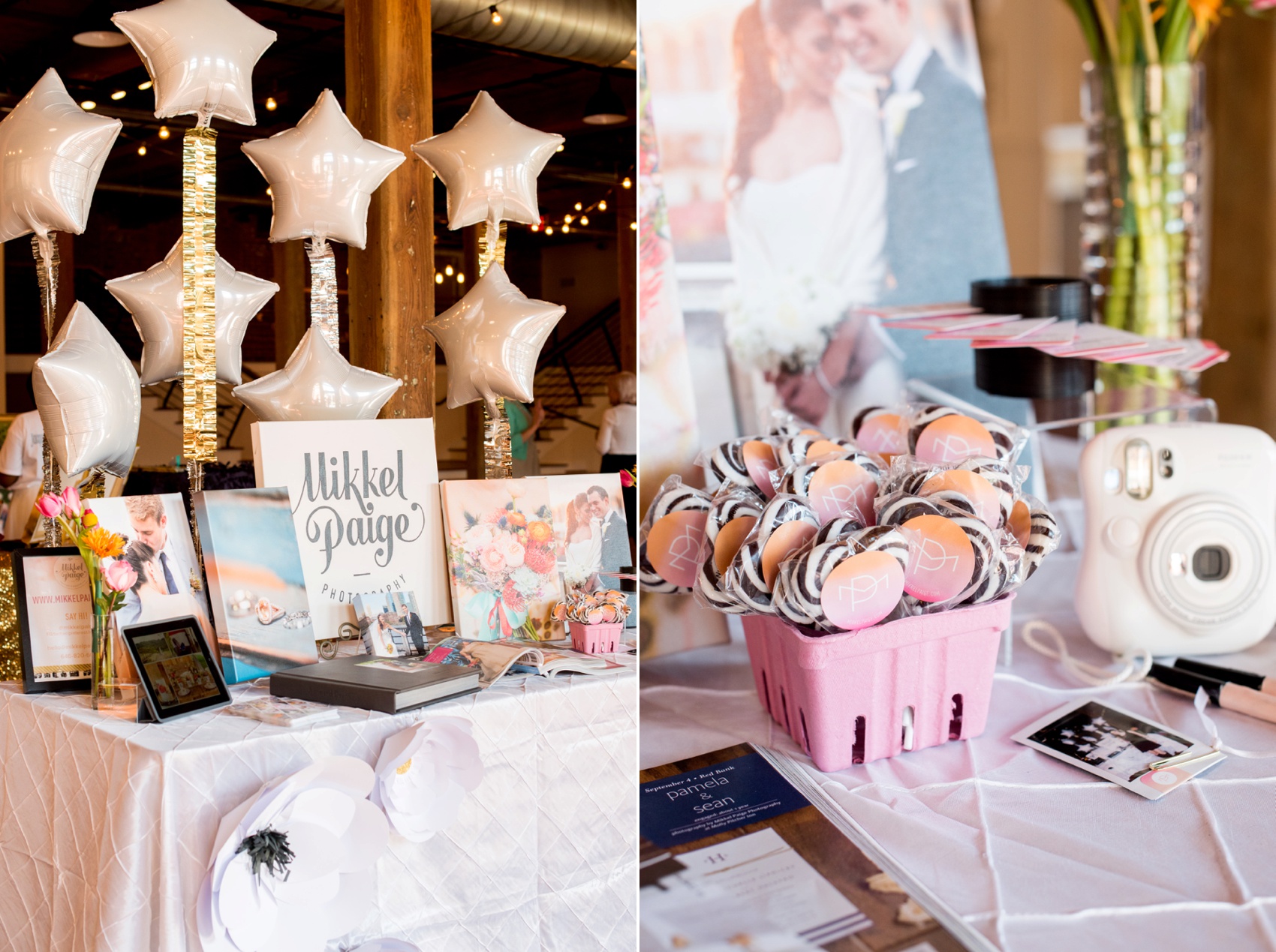 It's all in the details for me – in life, for couples, and my brand, and I adored this Slinky idea for a business card holder and creating custom lollipops to match my colors and logo.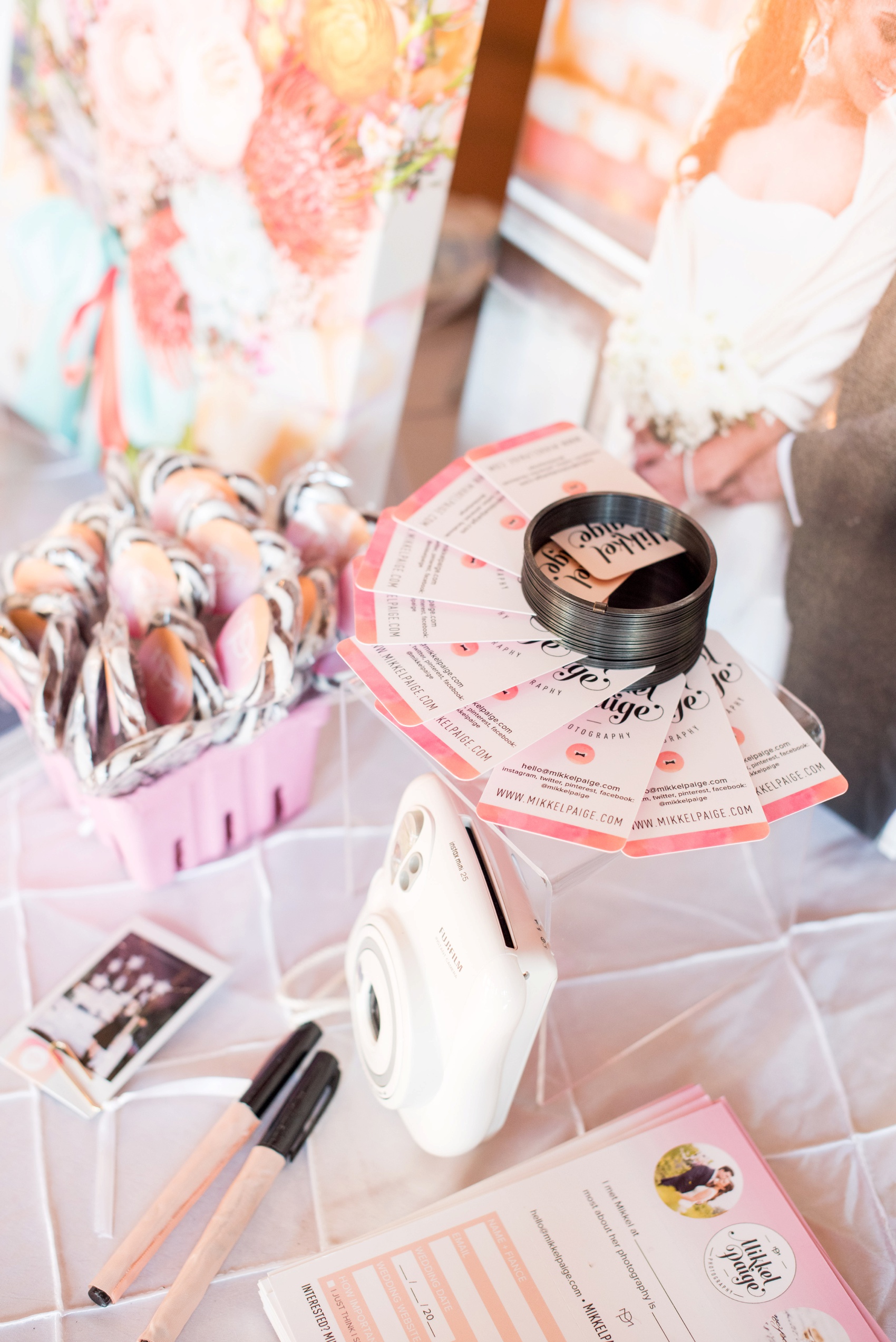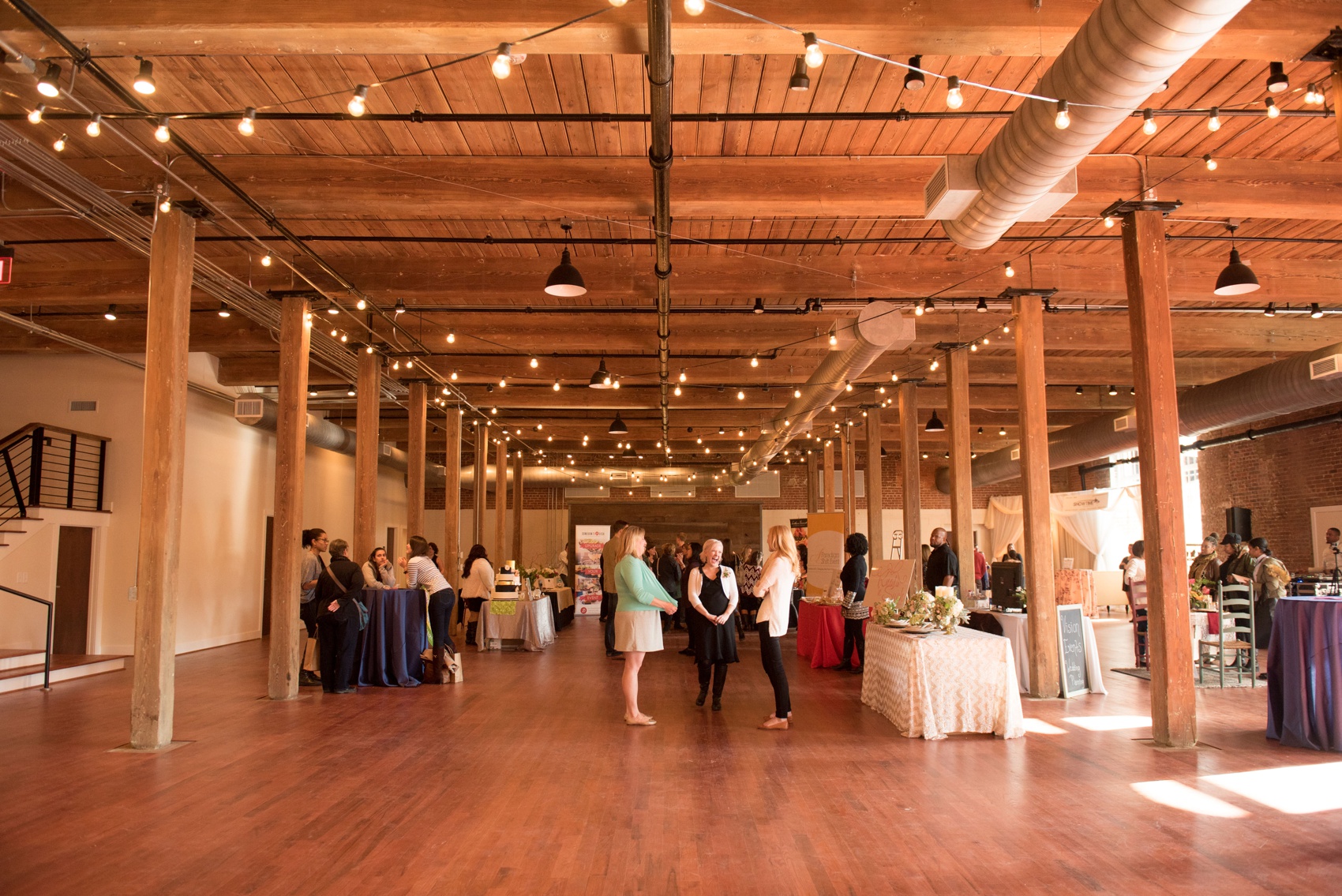 I was so happy to meet new-to-me vendors – from wedding planners, to beauty professional, to caterers – but it was great to see familiar faces too, including Amanda of A Swanky Affair, one of my favorites!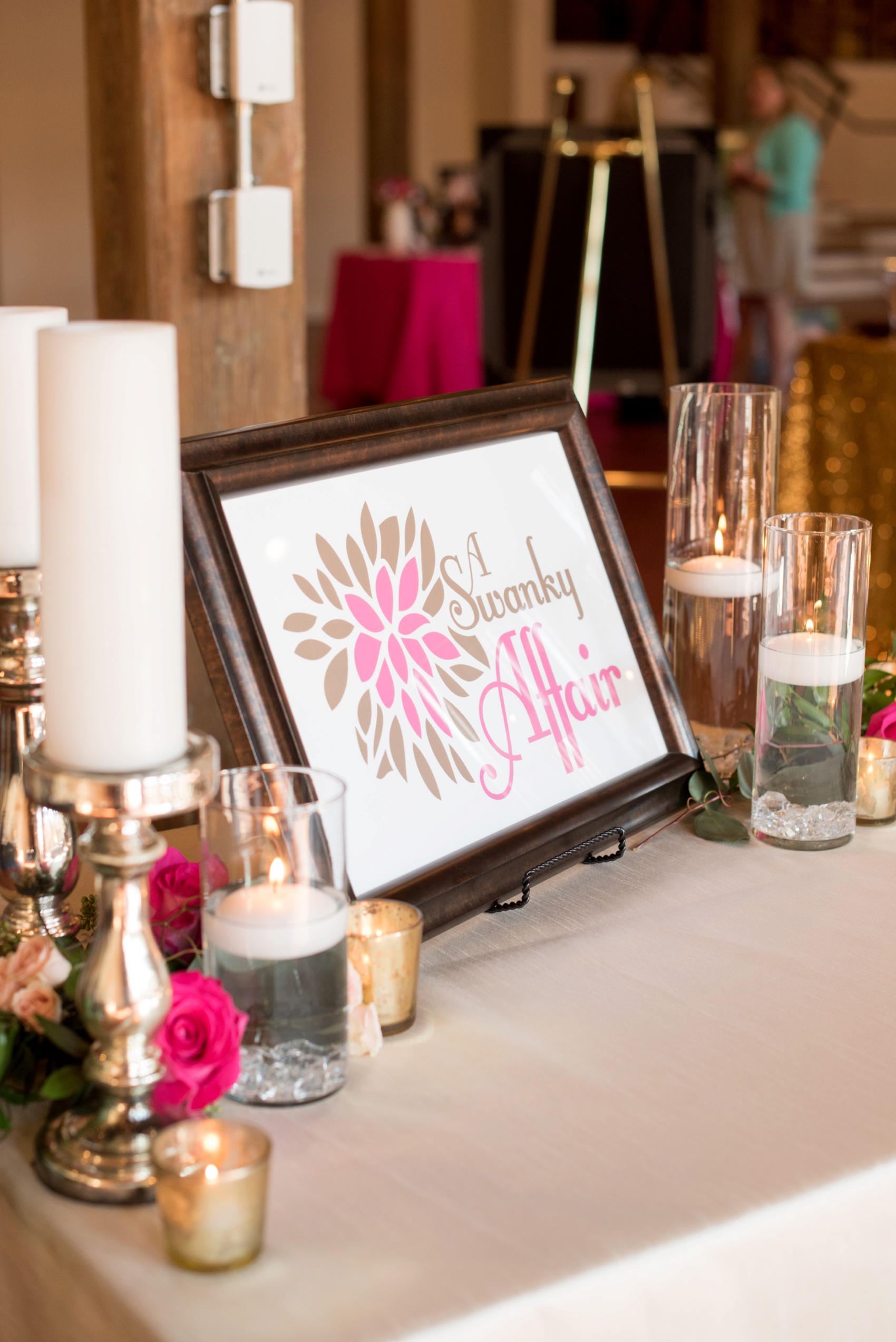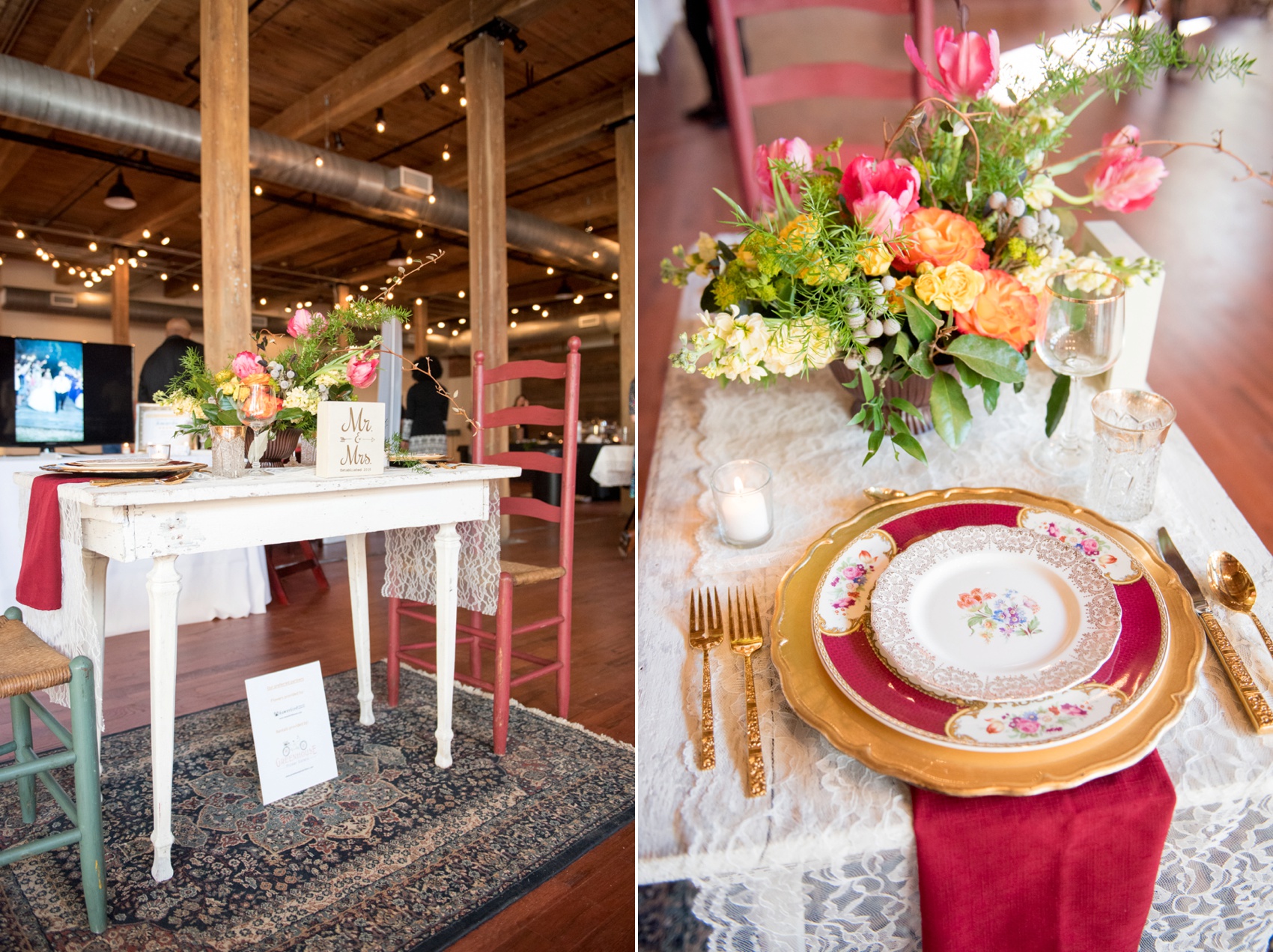 Two of the new-to-me vendors was Nicole, of Vision Events, whose shabby chic table-for-two instantly drew me in, and Amy of Knots 'n Such who created a stunning bridal bouquet, complete with green hydrangea, eucalyptus, pink tea roses, and white Queen Anne's Lace.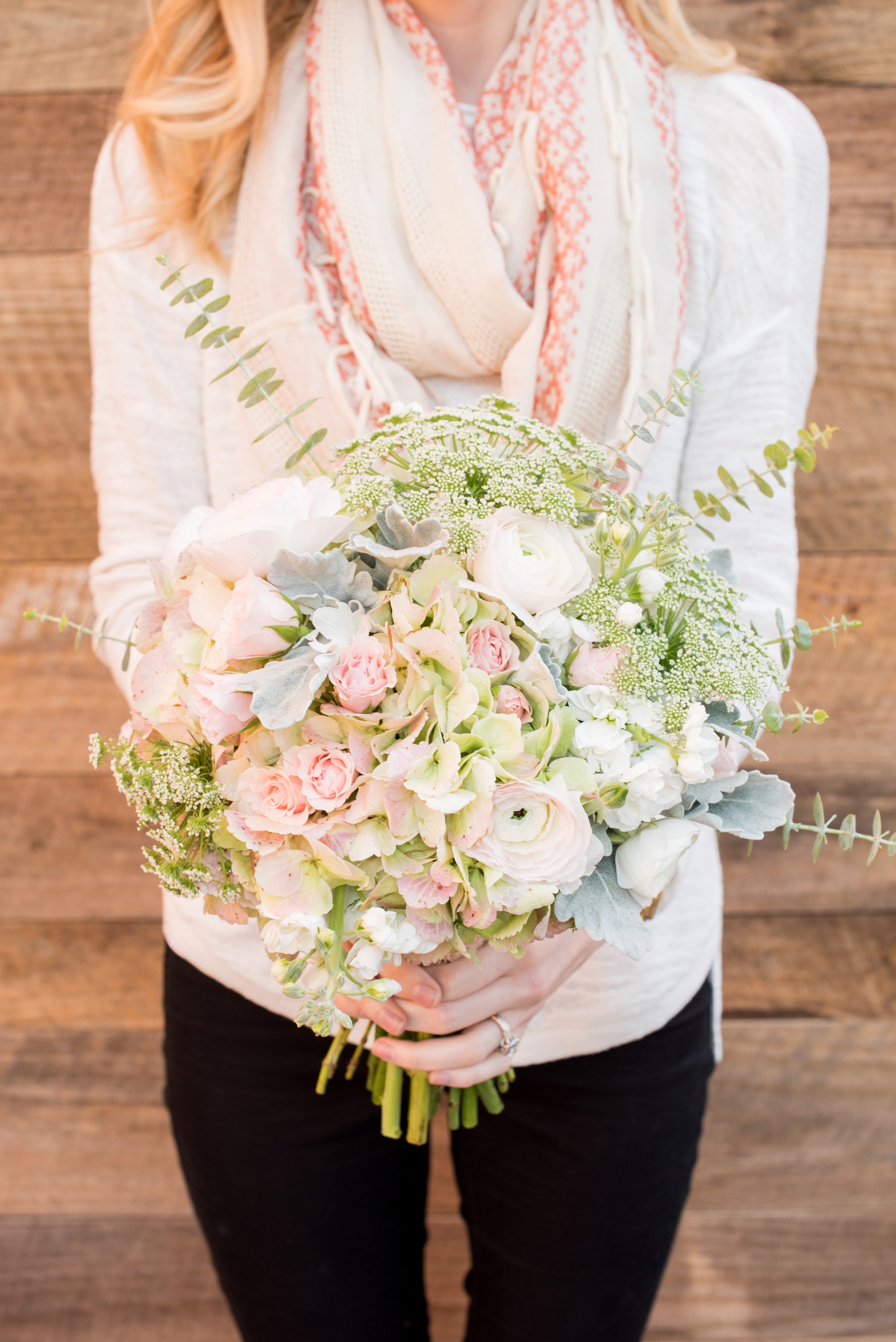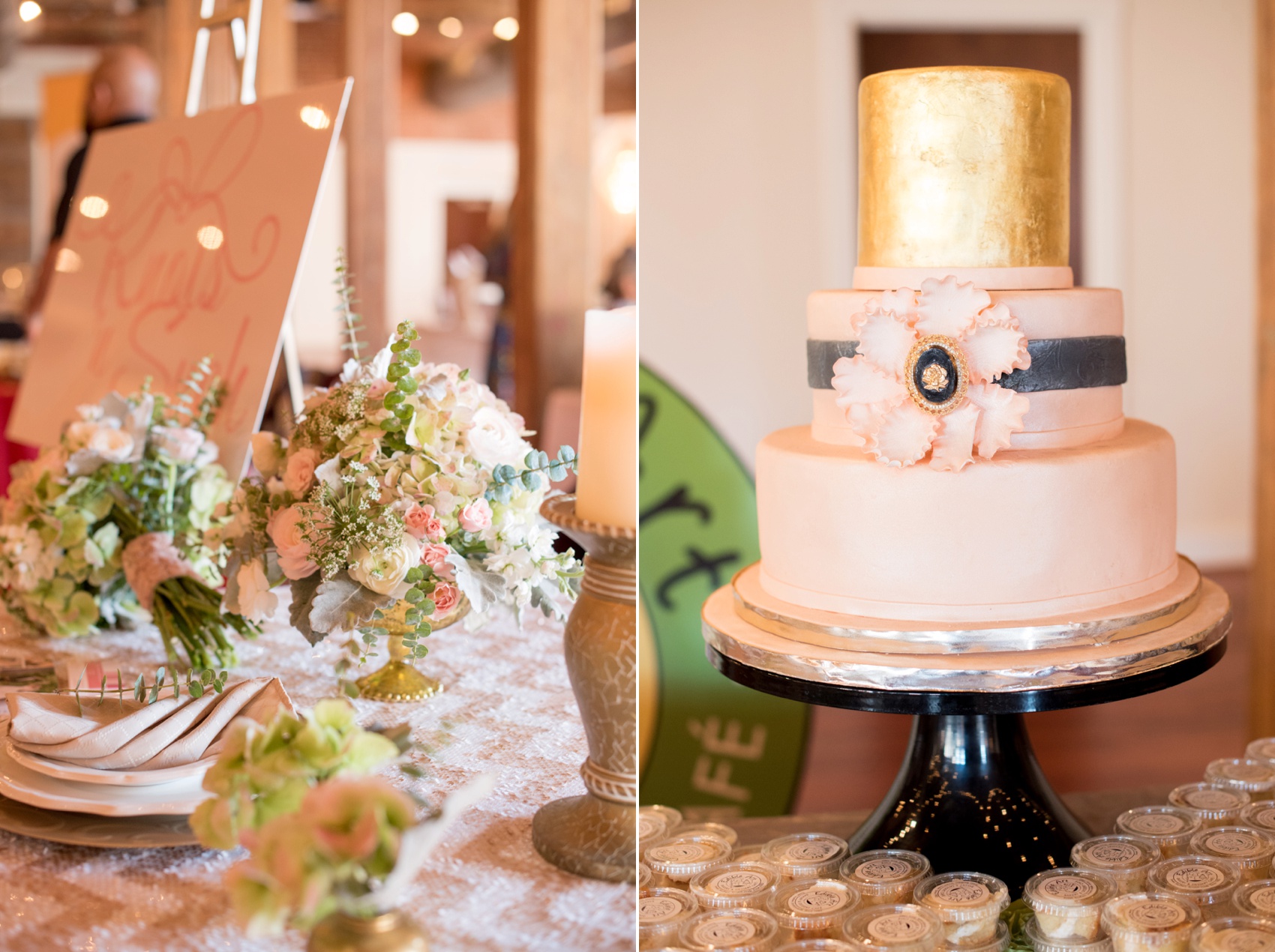 Edible Art made some beautiful cake displays! My favorite was the pinkish peach and gold tiered creation above.
There's Nicole, walking down the double-sided staircase! Also dreamy for an indoor ceremony, or band stage or even cocktail hour! It's so pretty.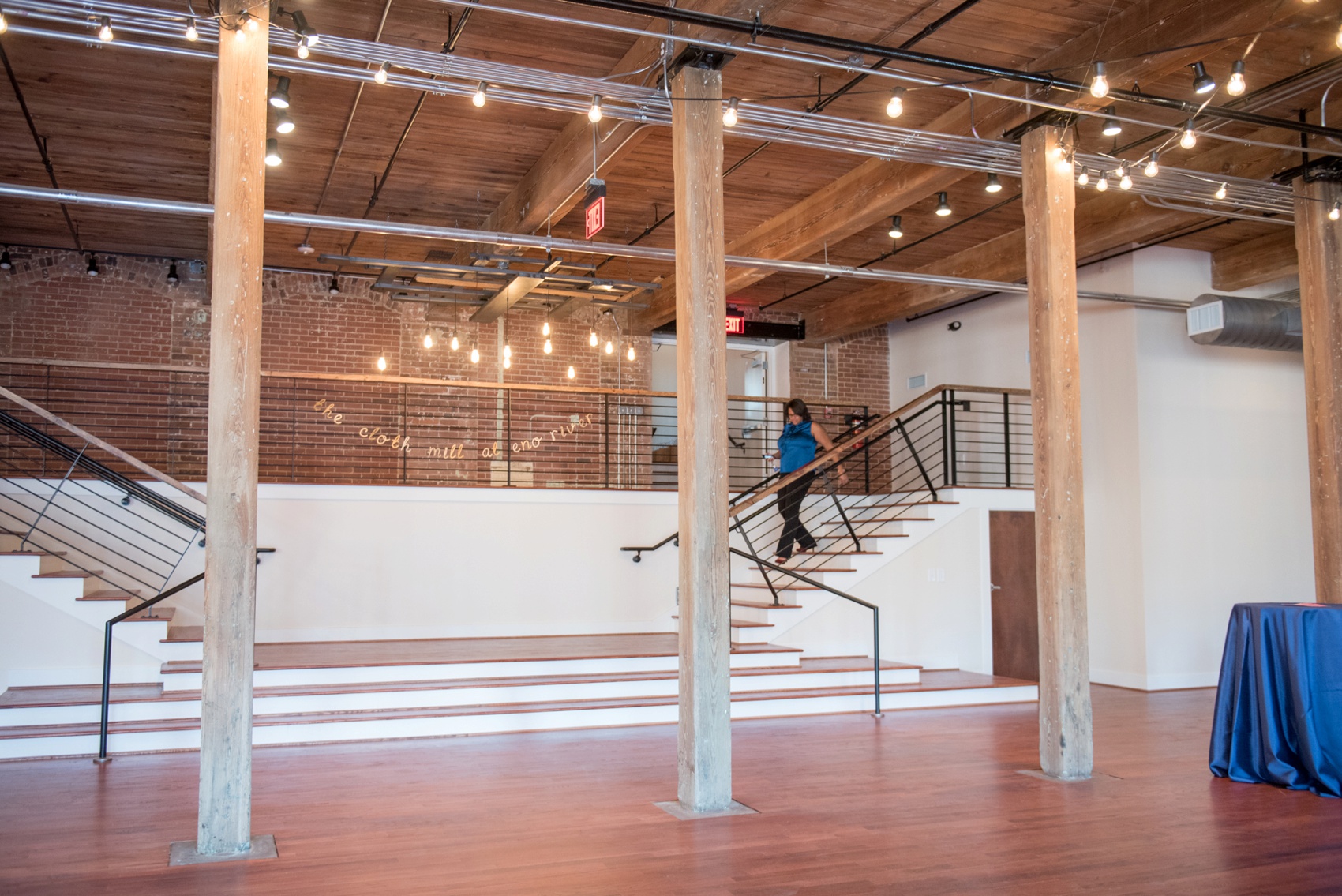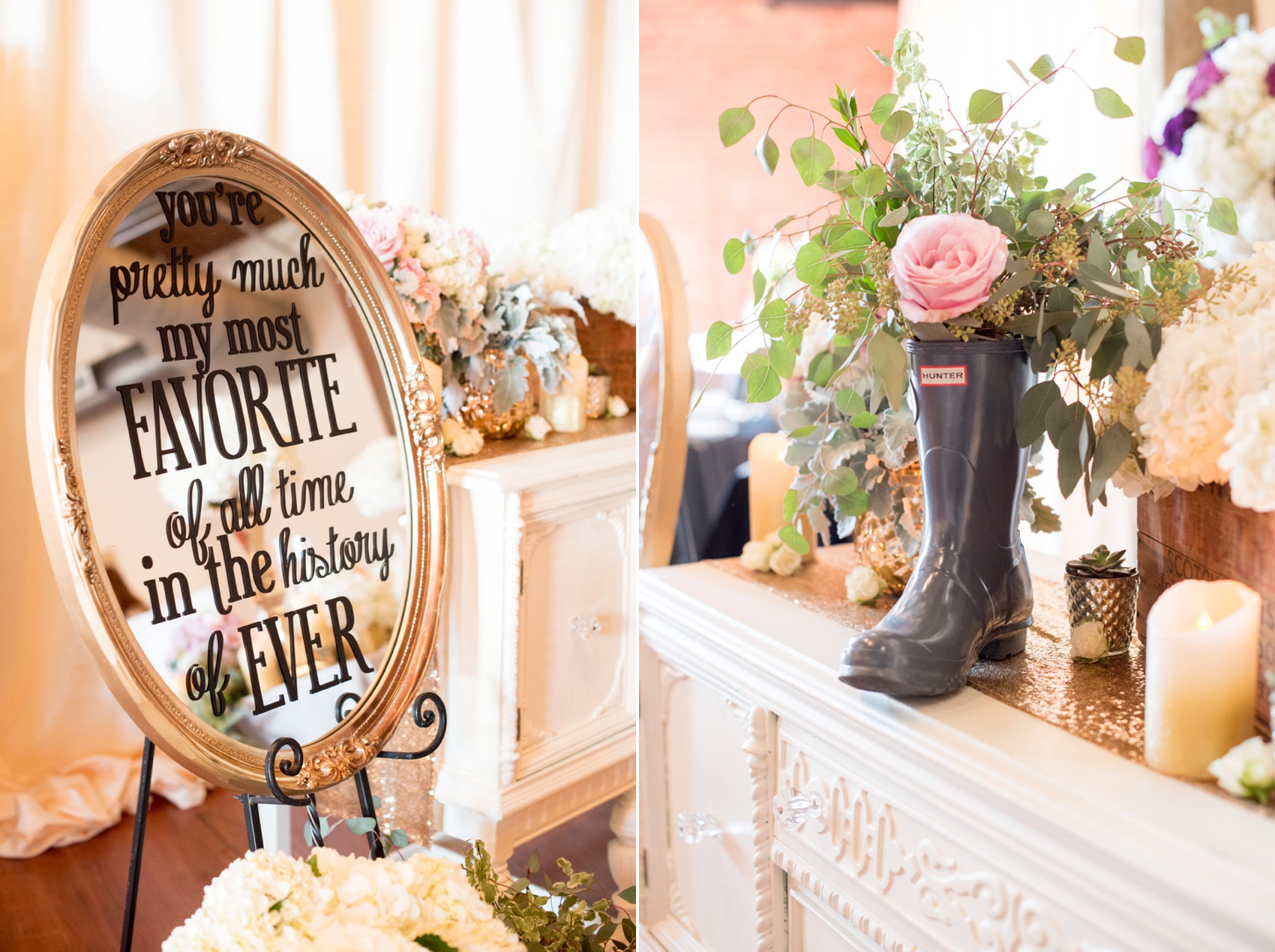 I thoroughly enjoyed meeting Tonya, of Events by Abba Design. I went a little gaga over their quote written on a framed mirror and floral arrangement in a wellie Hunter boot! I mean, come on….how could you not swoon?!
Forever a favorite, Melissa of Donovan's Dish was on hand and their chef was whipping up their famous Shrimp n Grit cups. If you're not aware, I swear it's the reason I wanted to move to the south.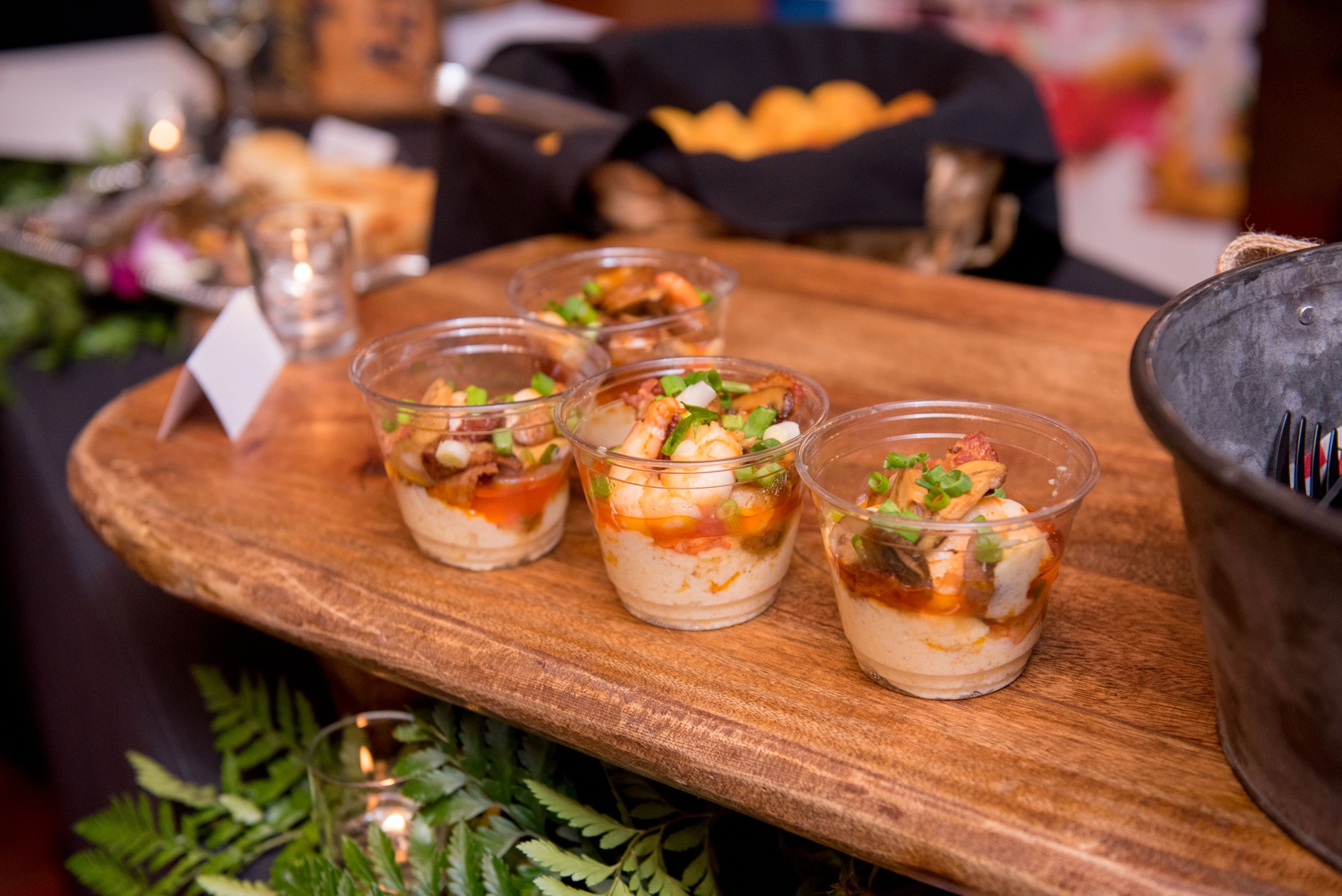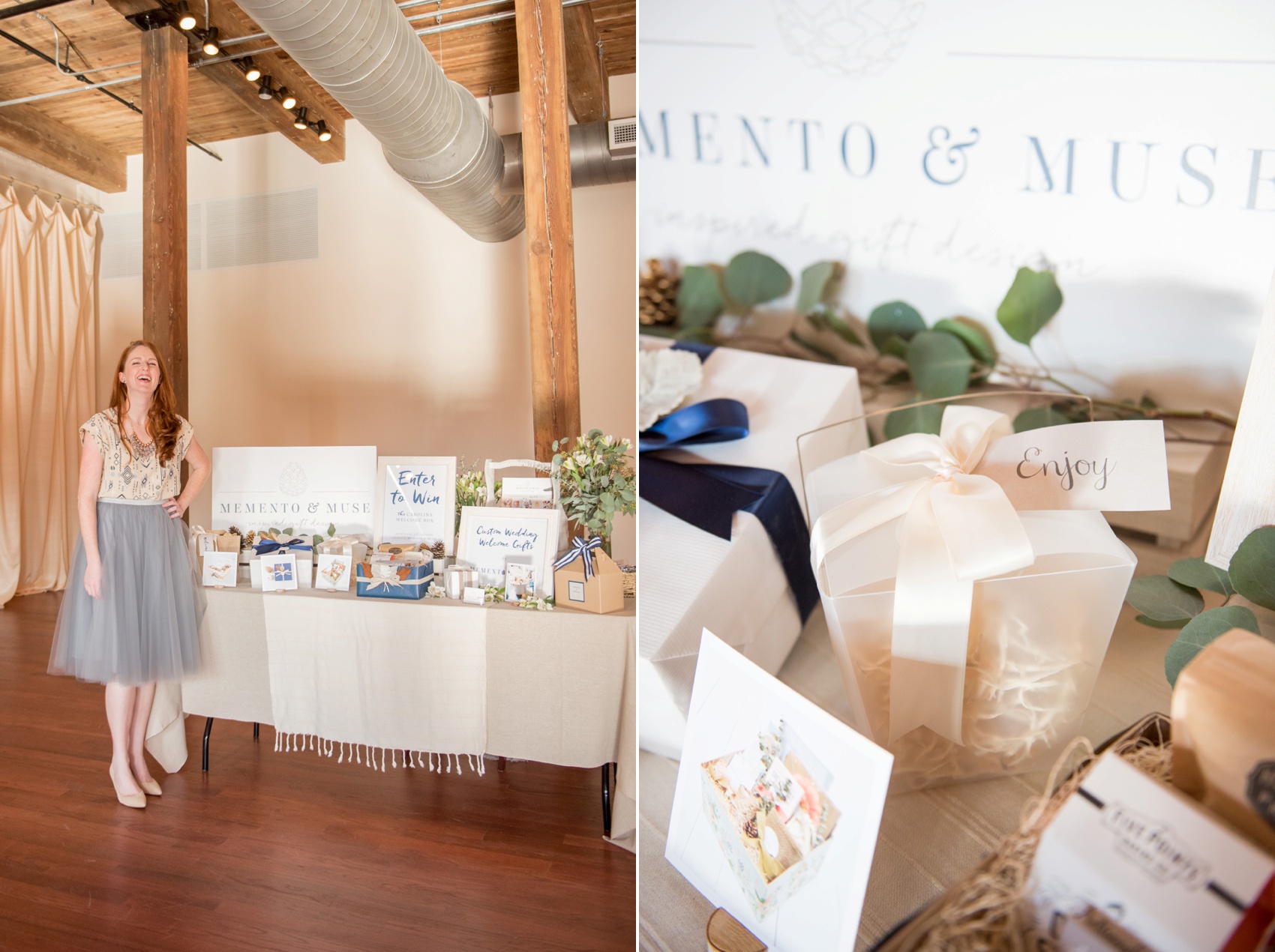 I was able to connect with Melinda of Memento & Muse, personalized gift boxes, at a girls' night out recently. Seeing her smiling face light up my day – it's always a pleasure to see her! (How perfect is her outfit?) I was grateful she shared her masking tape when I realized I overpacked for the event….for everything but adhesives.
Another smiling face? Kristin of Custom Travel Professionals, who helps couples plan the honeymoon and destination wedding of their dreams! Everyone can use a little help planning travel when there's so many other details to focus on.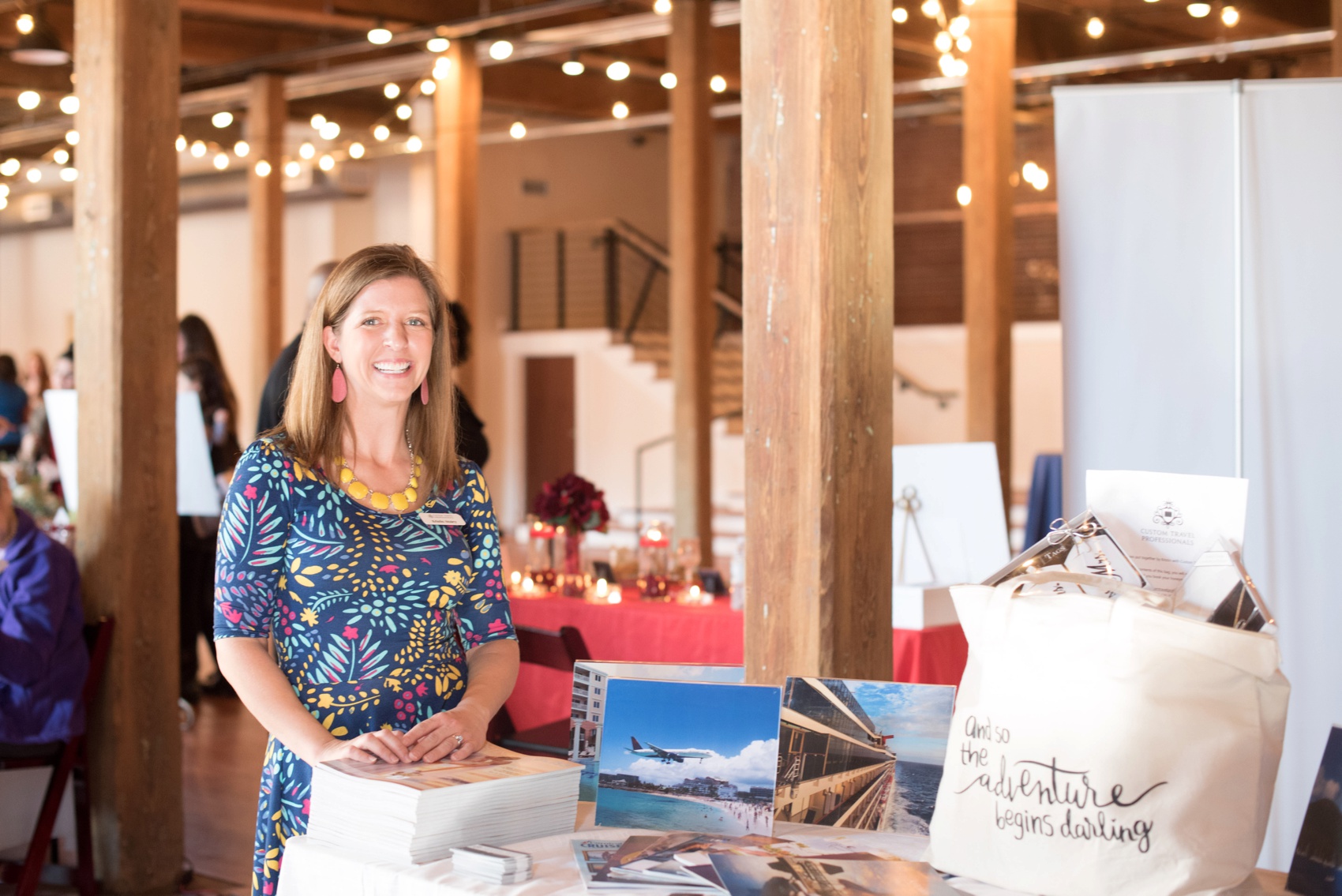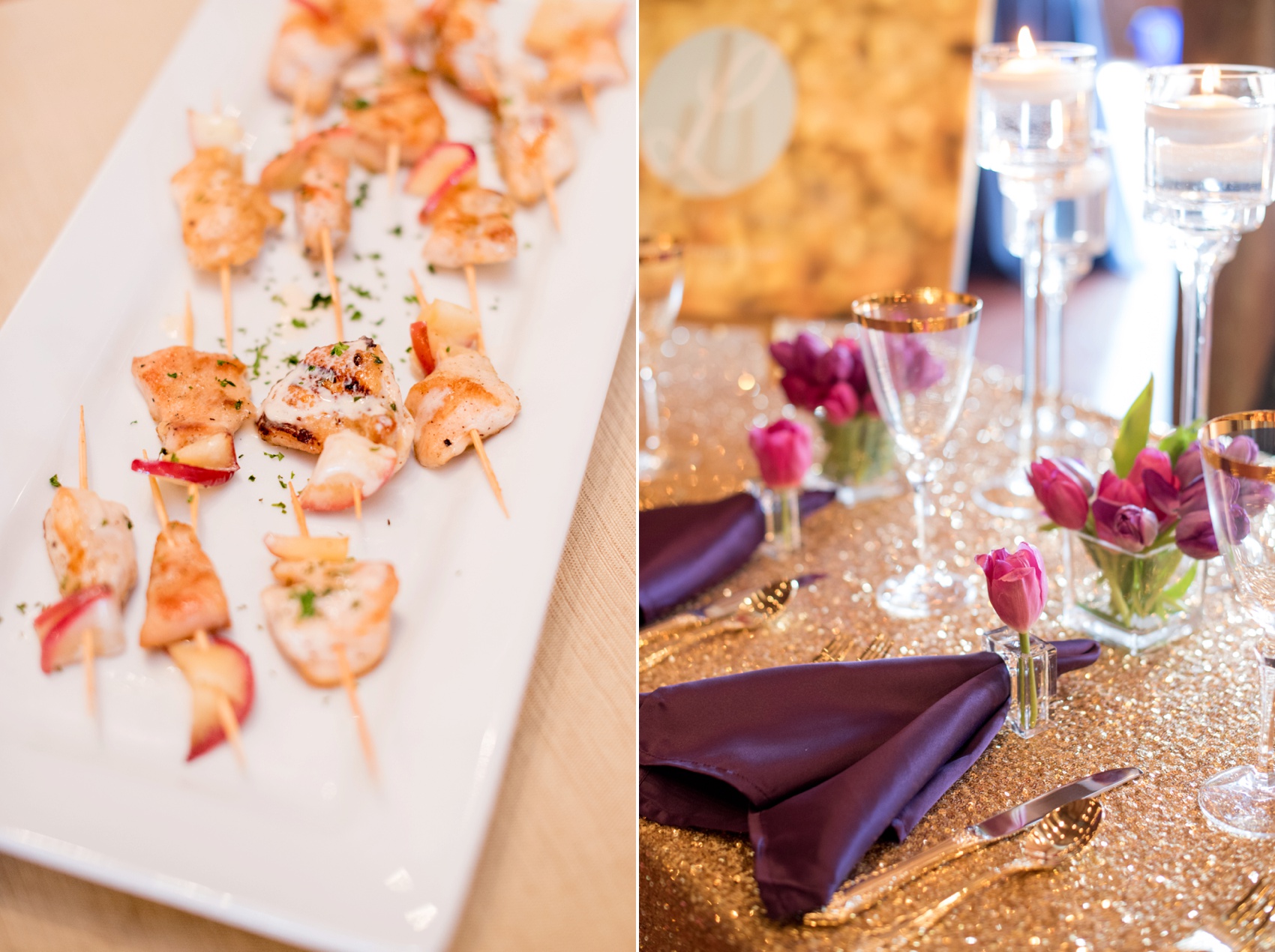 Beau Catering made delectable chicken, apple and brie skewers while Ladybird Events wowed me with these flower-holder napkin rings I've never seen before. Aren't they cool?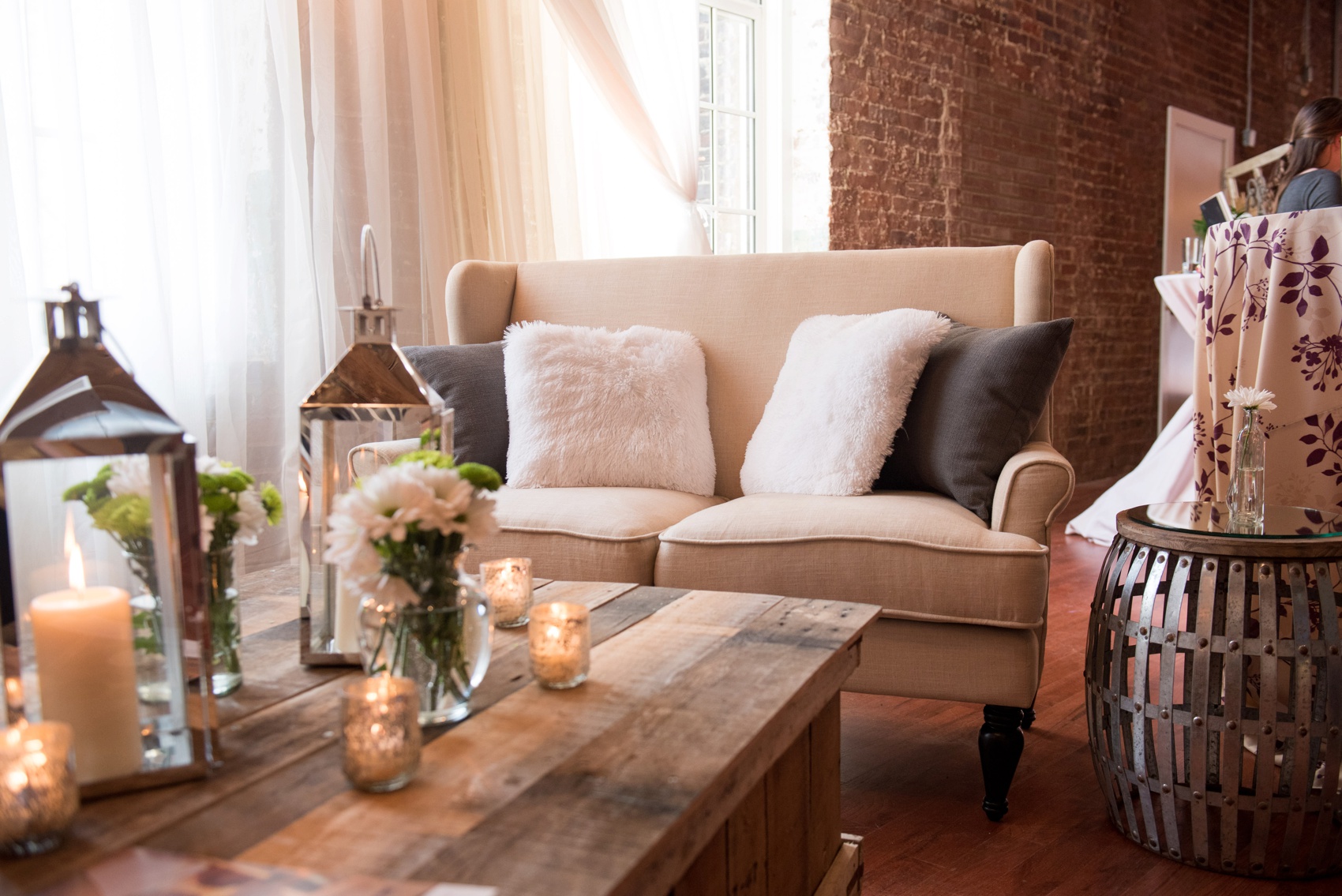 Everyone enjoys a little place to sit and relax and Showtime Events created the loveliest booth with beautiful chiffon draping, a rustic farm coffee table, lanterns and comfy-cozy couches. I LOVED the end table they had with bud vases and a silver pug on it! How cute?!
Another great vendor I'm anxious to work with is fellow New Yorker, Liz, from Wedding Hair by Liz. She's lived in North Carolina over twenty years…but when she spoke there was no mistaking her roots!
I finished up my own tour of the event with a visit to meet Courtney and Dana of C+D Events (with their super-cute window pane card display), and a mac-n-cheese martini glass from Farmer's Table Restaurant Group (yum!) and a snap of a photo of the custom welcome sign out front!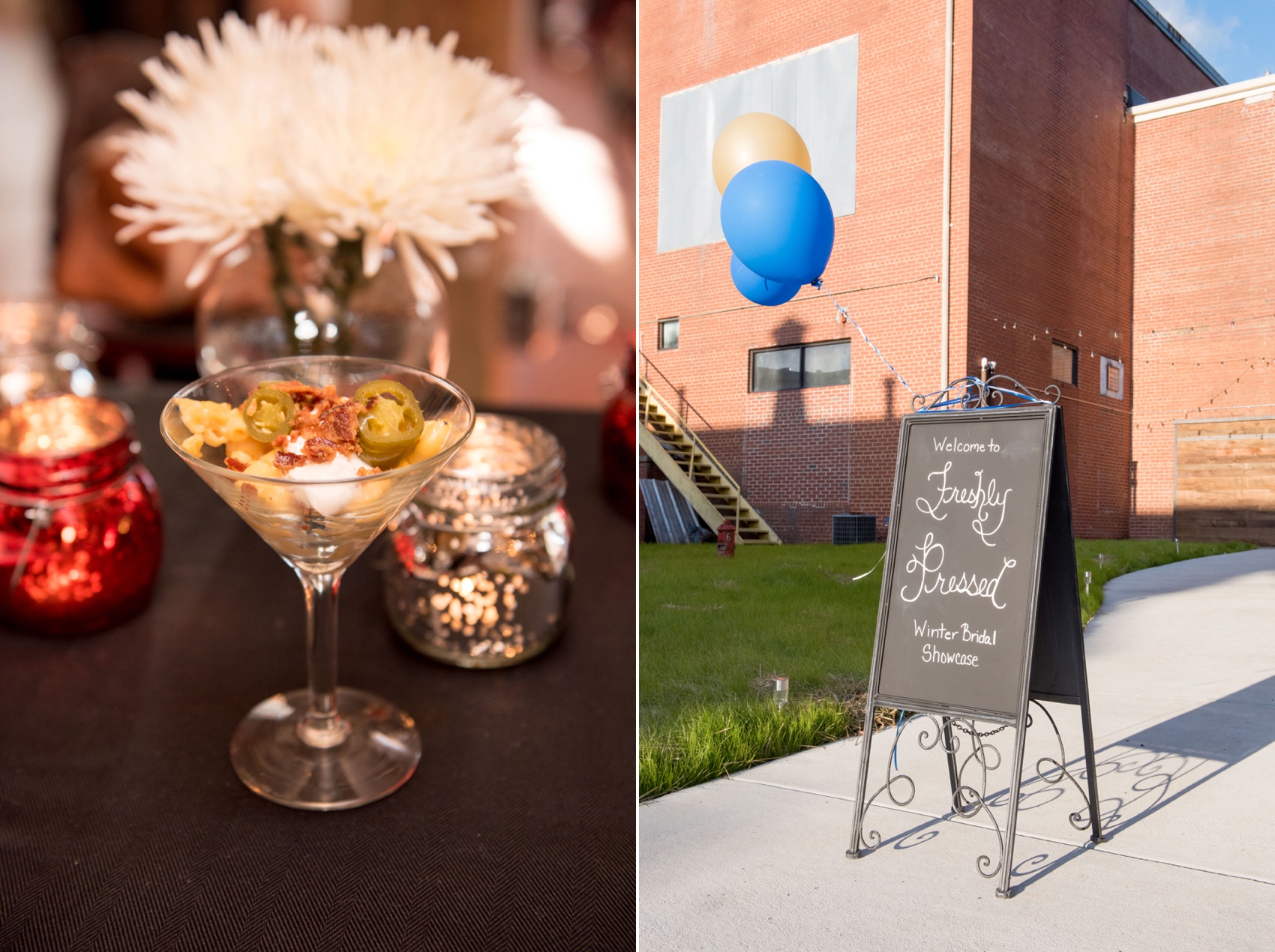 This venue is hot-off-the-press construction 😉 and though I wanted to make a visit in November, it wasn't show ready just yet! Unfortunately I wasn't able to attend their opening event December 11th weekend because I was in Pennsylvania photographing a wonderful wedding, so this was the first chance I had to see the space…and it's GORGEOUS! I love what Nicole did with the brick, bistro lights, mix of modern and rustic elements like wood walls and brick accents, and even the wood bar was a feast for the eyes! It was extra special to see it set up for a unique event. I cannot wait to shoot a wedding here!
Don't forget to contact Nicole of The Cloth Mill here if you're interested in the venue for your date, and once you have a date chosen contact me here for wedding photography!
Happy Monday!