They brought feelings of Europe stateside at their Spring Hill Manor wedding. Combine that with the warmth and love surrounding them from family and very best friends who traveled from near and far, to witness Leah and JJ's marriage and that's the celebration that took place on a beautiful weekend in Maryland.
Their plans to possibly marry in France were rethought when Leah's sister ended up pregnant. She was expecting a baby around the time of their wedding date so they changed course. But being at their wedding, and seeing the decorations and property firsthand, you certainly could have been fooled that you were across the Atlantic Ocean, abroad.
Cypress trees and rolling hills were all around us and the landscape of Spring Hill Manor was in full bloom for summer. Their day was perfect.
Getting Ready by Spring Hill Manor
They got ready at Elk Forge Bed and Breakfast simply 20 minutes from Spring Hill Manor, a special place to them since it's where JJ proposed! She had a wonderful relaxed morning getting ready with her best friends and siblings, grandmother and mother.
Her beautiful dress was paired perfectly with lace white TOMS wedges, perfect for an outdoor wedding in a hilly area with lots of grass. Functional and pretty! The floral crown she wore was worn by her grandmother on her wedding day – her mother carefully wove new flowers in with the old. A little something old and new for Leah. 🙂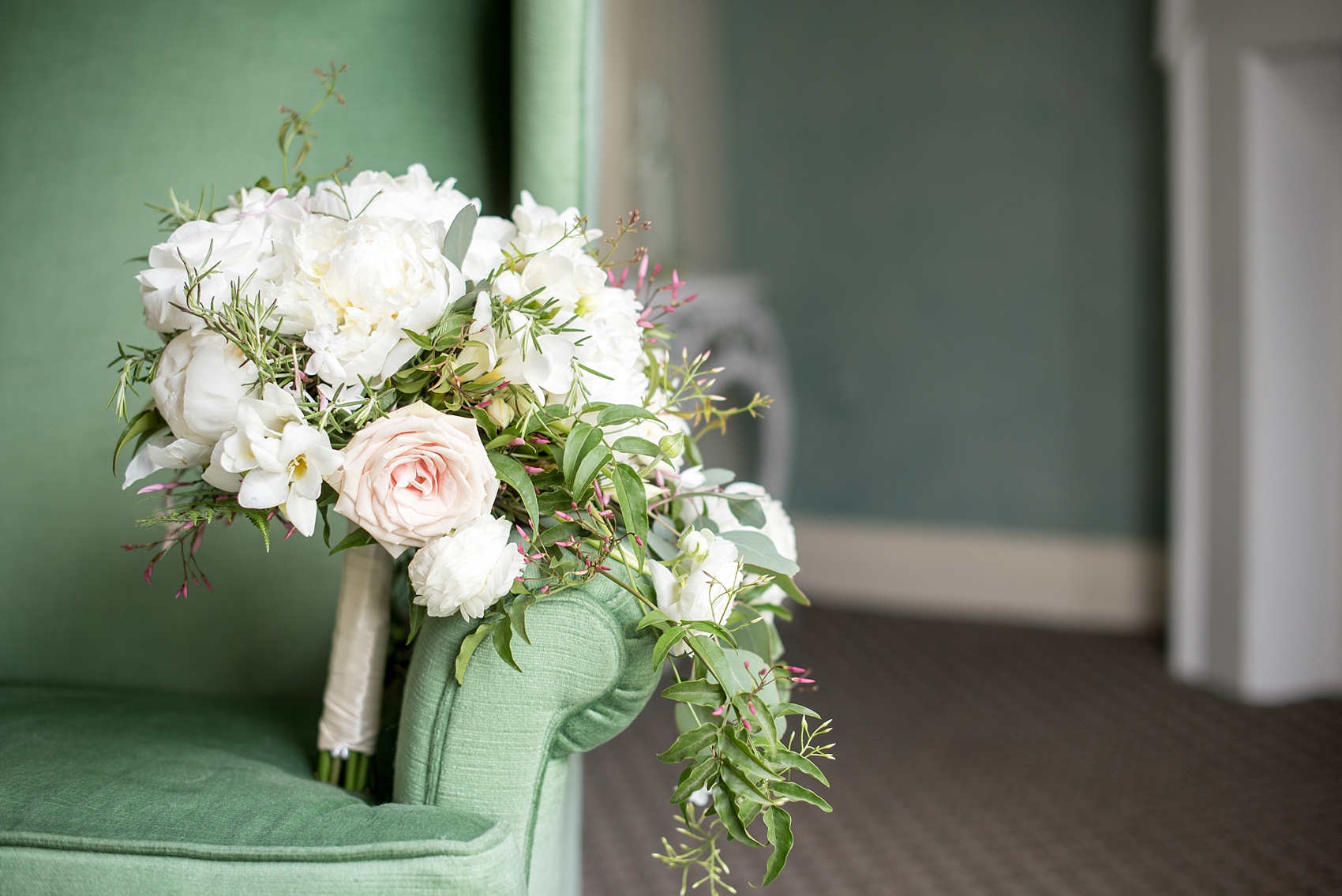 JJ got ready in another room at the Elk Forge and they opted to wait until the ceremony to see each other. We all took the trip to the venue, through rural Maryland enjoying the beauty of the summer day, and witnessed JJ signing their ketubah in a small tish ceremony while Leah awaited the start of their outdoor ceremony, complete with a chuppah JJ created.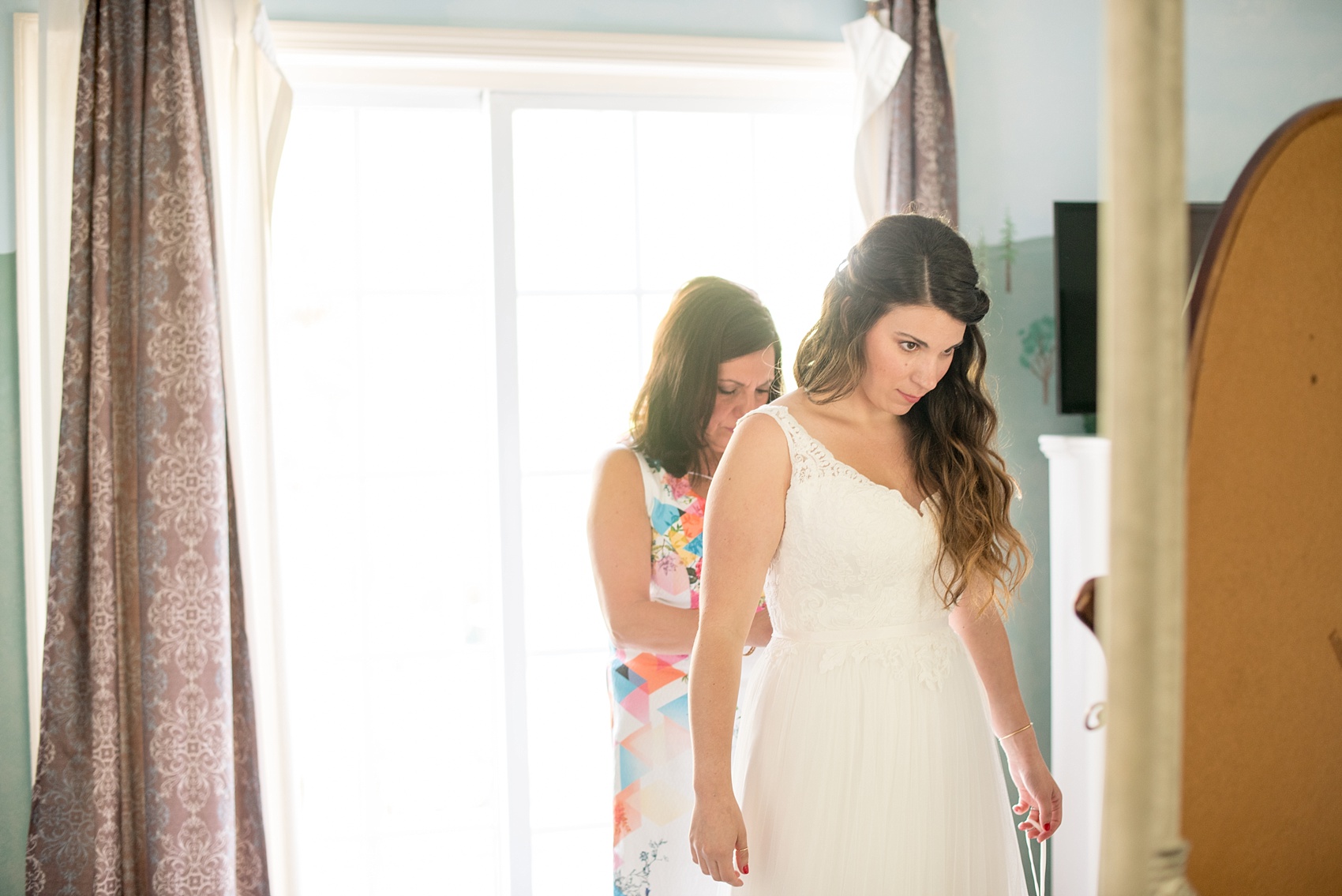 Ketubah signing for their Jewish Wedding and the Ceremony that Followed at their Spring Hill Manor Wedding
I love the smile on JJ's face during the signing of their ketubah with the Rabbi! In Judaism, this is what makes their marriage official!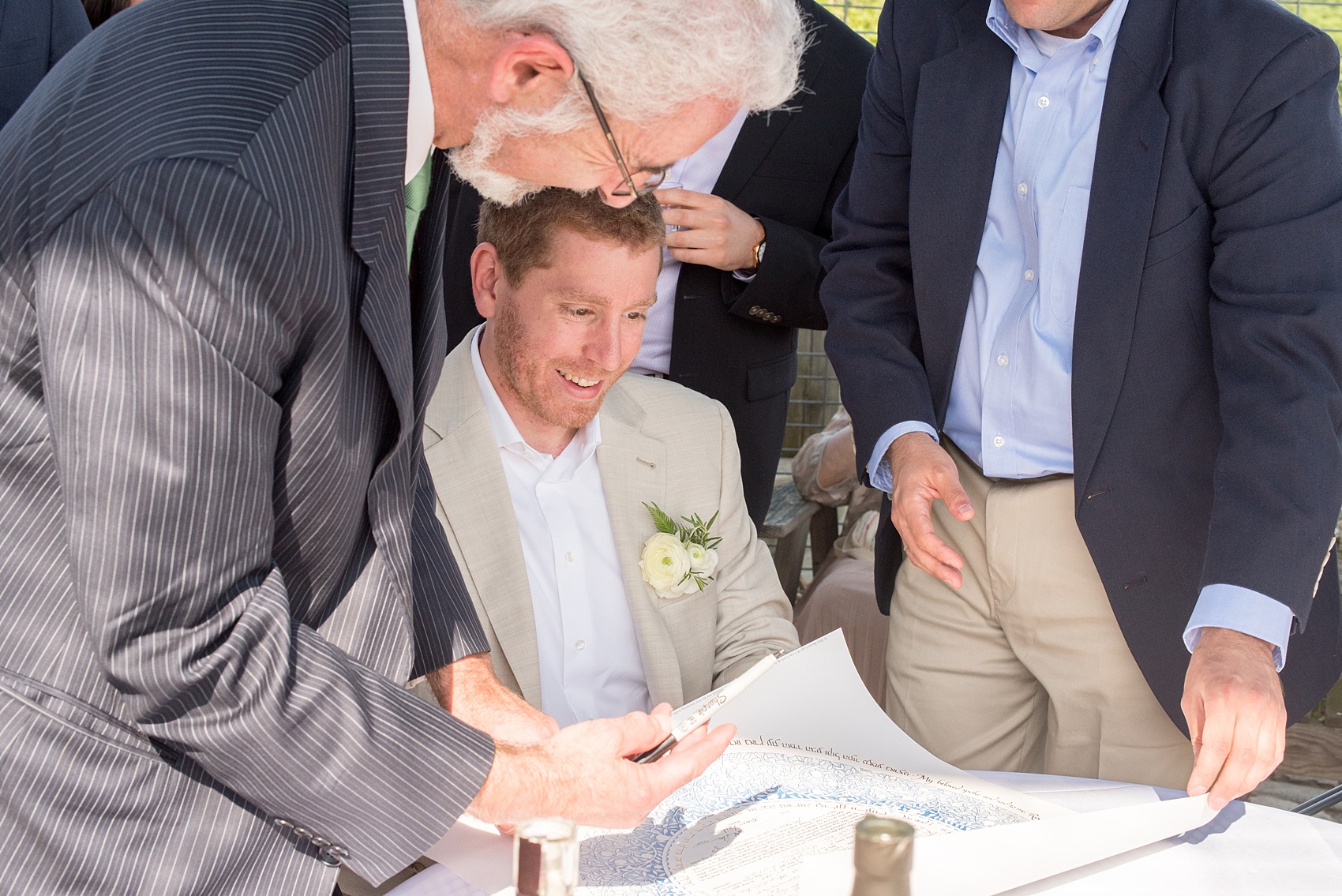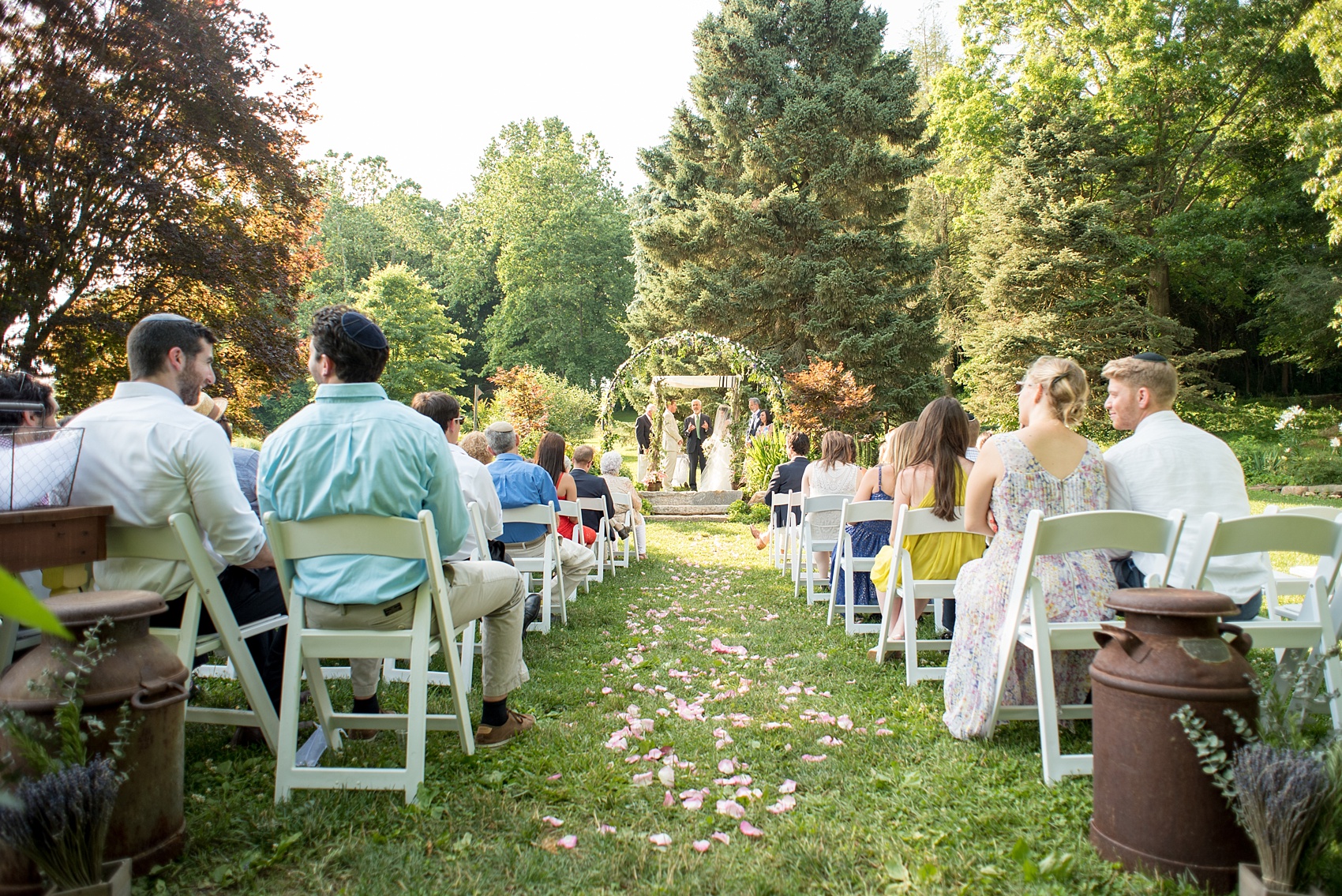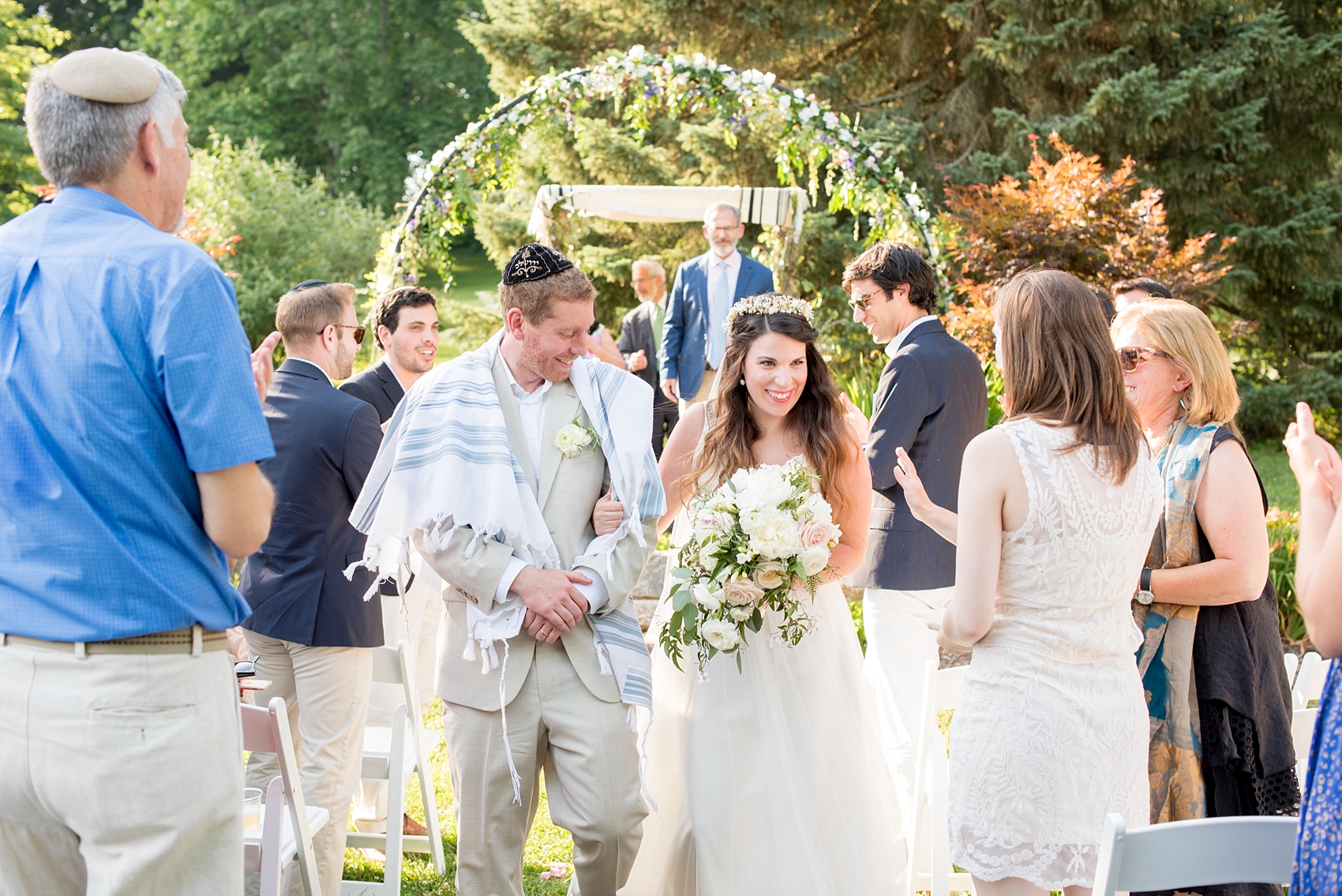 Cocktail Hour at Spring Hill Manor in Maryland
Leah and JJ spent some time alone (a traditional Jewish yichud) and cocktail hour began in the gorgeous gardens. Leah's mother made the food – from Greek dolmas, to guacamole with mango, to smoke salmon and cheese platters – it was simply lovely and delicious!
Everything was displayed beautifully with an abundance of lavender all over (a nod to her grandmother's native town in France) and rosemary plants around the table. They had custom "Leah and JJ" napkins in white with purple foil too.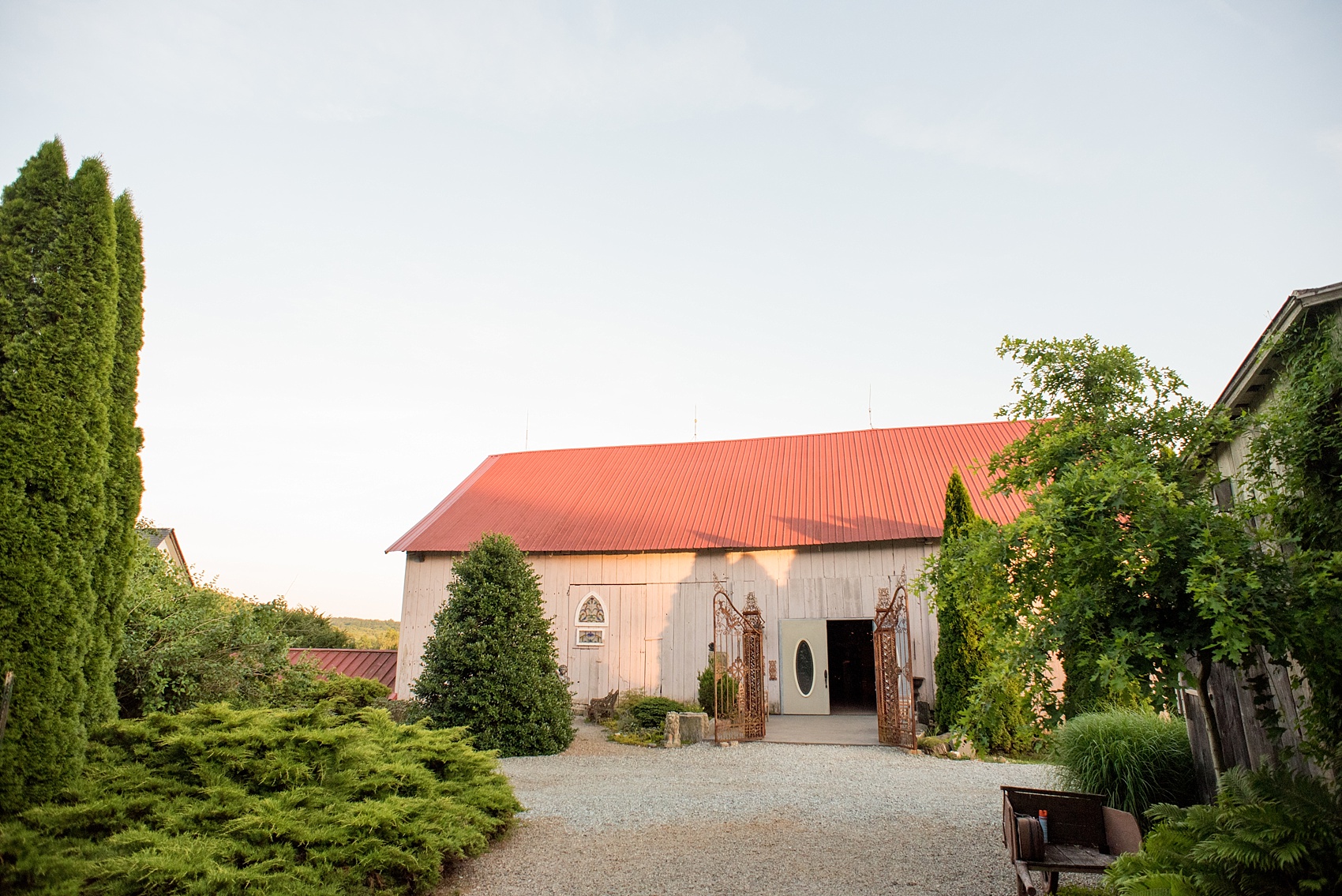 Spring Hill Manor Wedding Photos around the Property with the Bride and Groom
We enjoyed walking around the property, filled with beautiful trees, grassy lawns and scenery, after Leah and JJ had their time alone after the ceremony.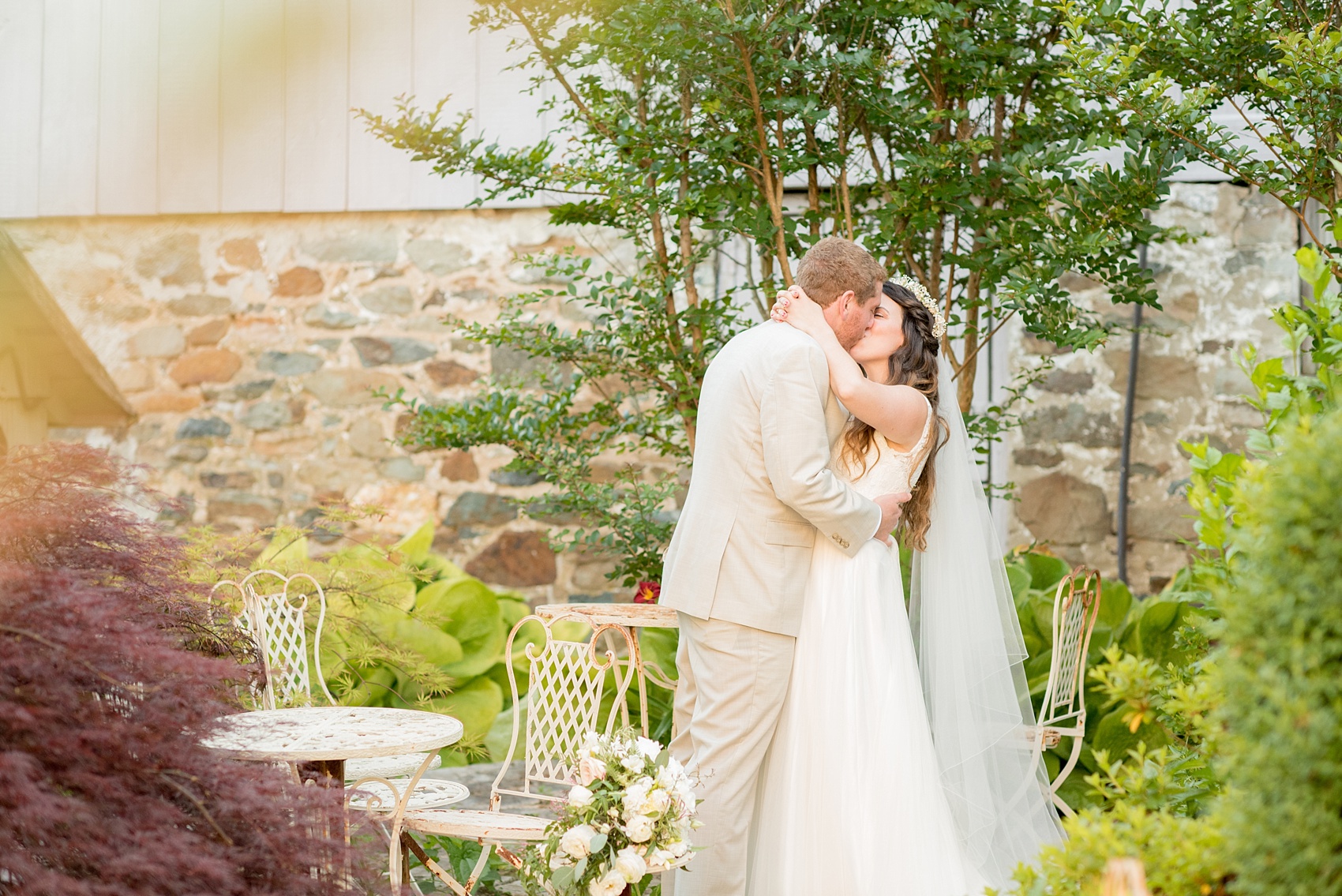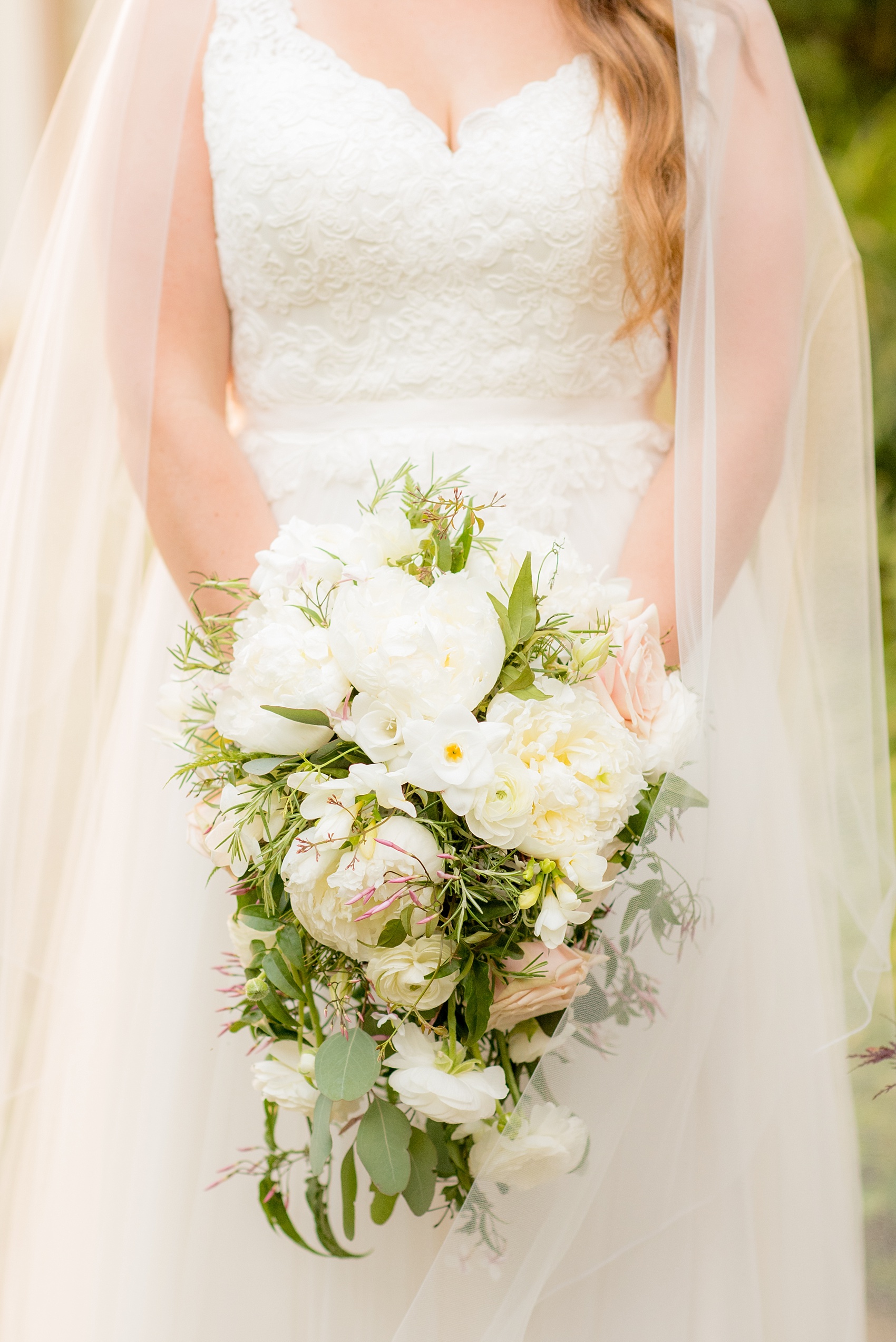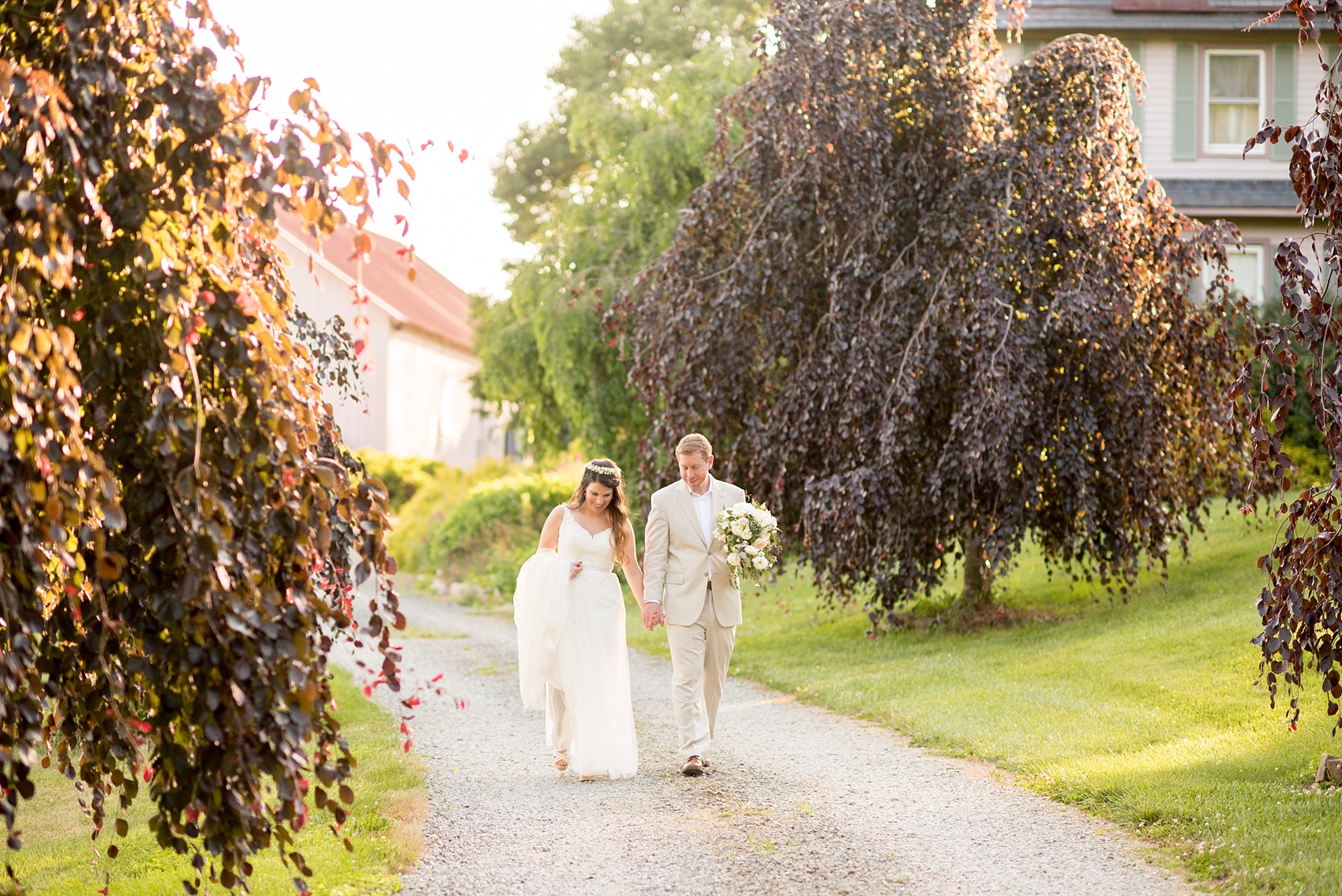 Leah was one of the most relaxed, calm brides I have ever met. It was so nice to see her joy and surprise as the day unfolded, as she left the planning and coordination to her mom and mother's friend, Fran (a friend who happens to be an event planner too!). Leah and JJ were in awe of the "room reveal" when they saw everything that came together to create the space for the evening.
Their European-Inspired Reception for their Small Spring Hill Manor Wedding
There was wonderful garland made from strips of lace fabric, lavender all over and eucalyptus springs (a nod to JJ's mother's favorite greenery) in each napkin. Guests were offered satchels filled with dried lavender for favors. Bud vases with peonies, snapdragons and roses adorned the rustic farm tables in pretty floral boxes and a bottle of white, red, and rose were on each table.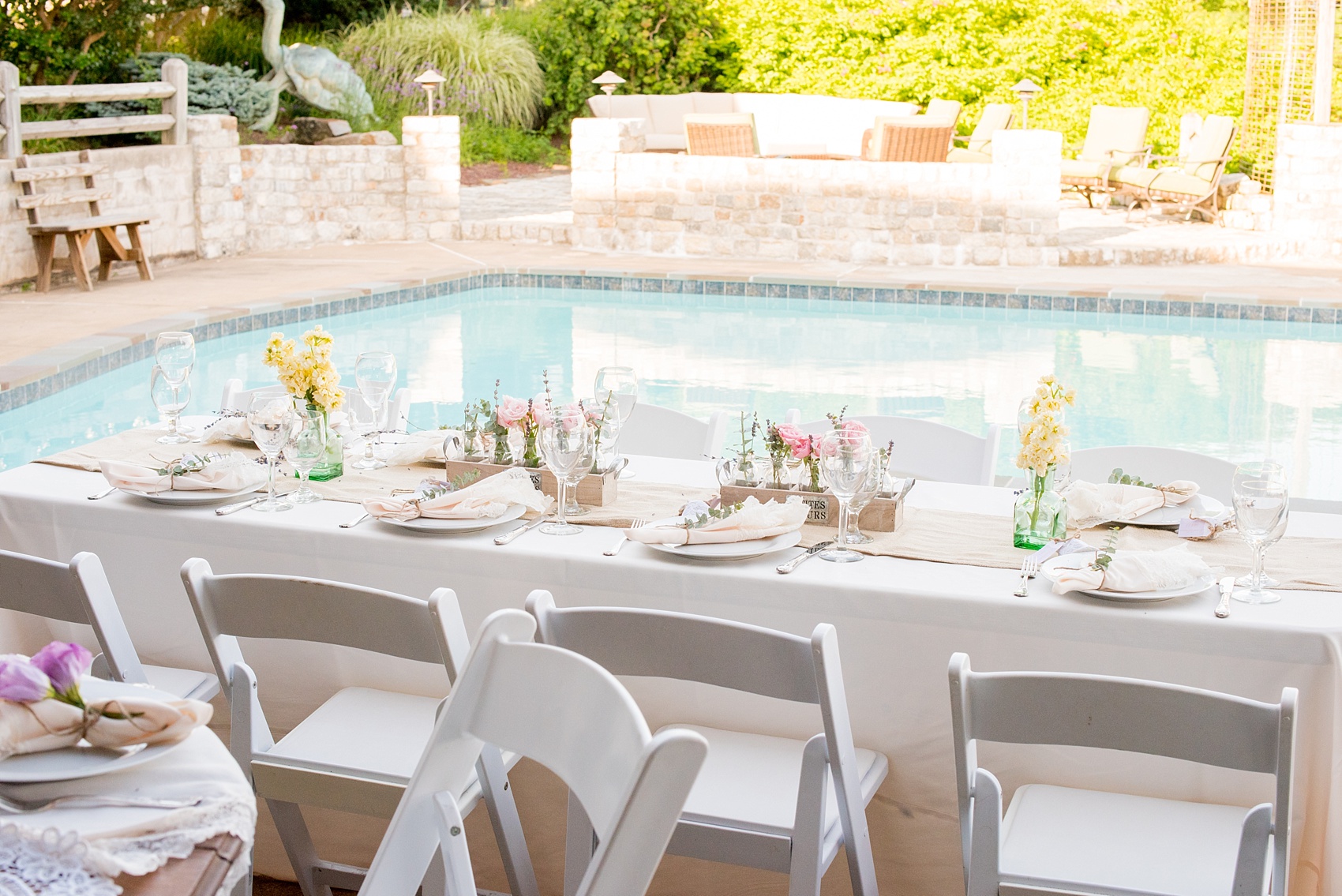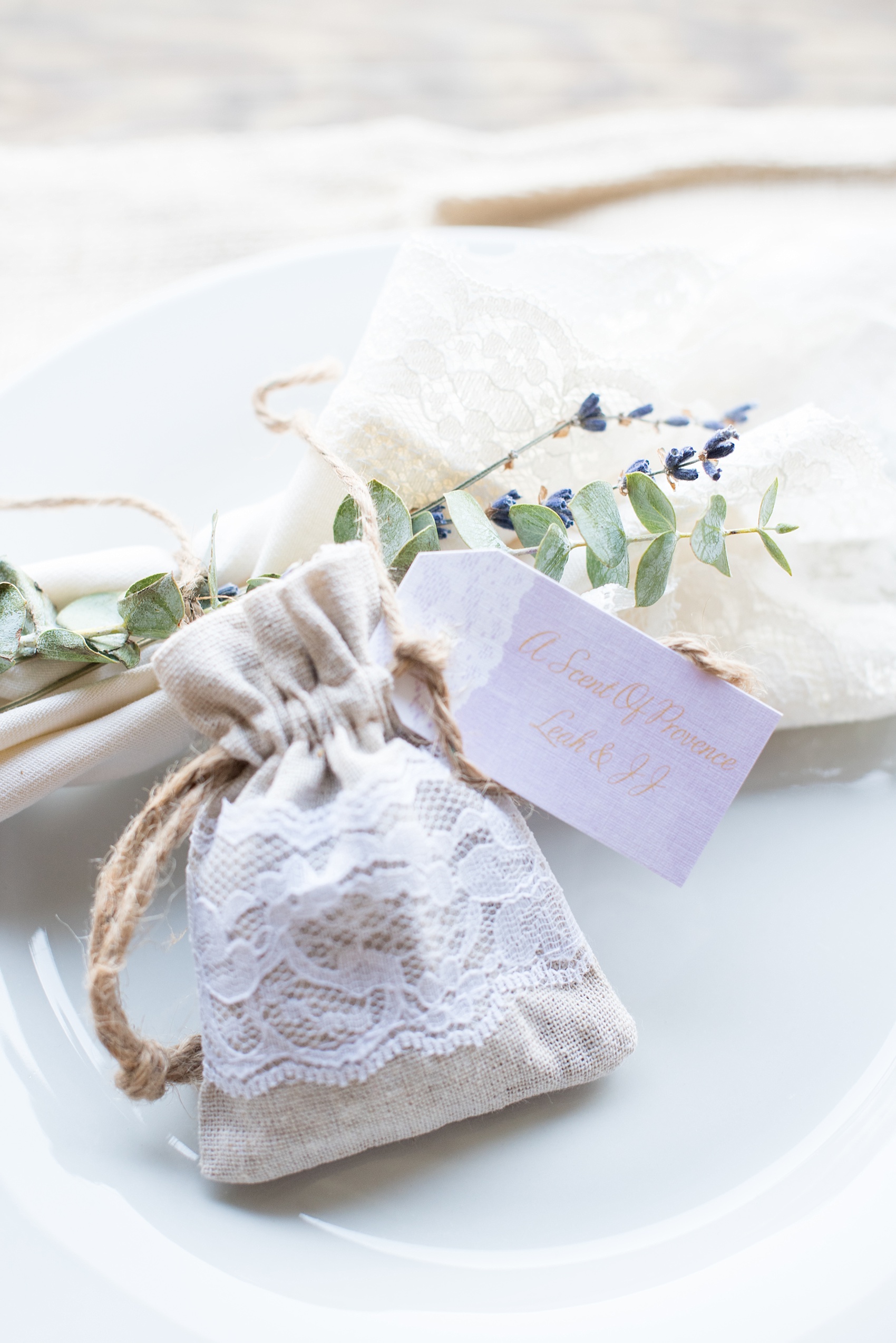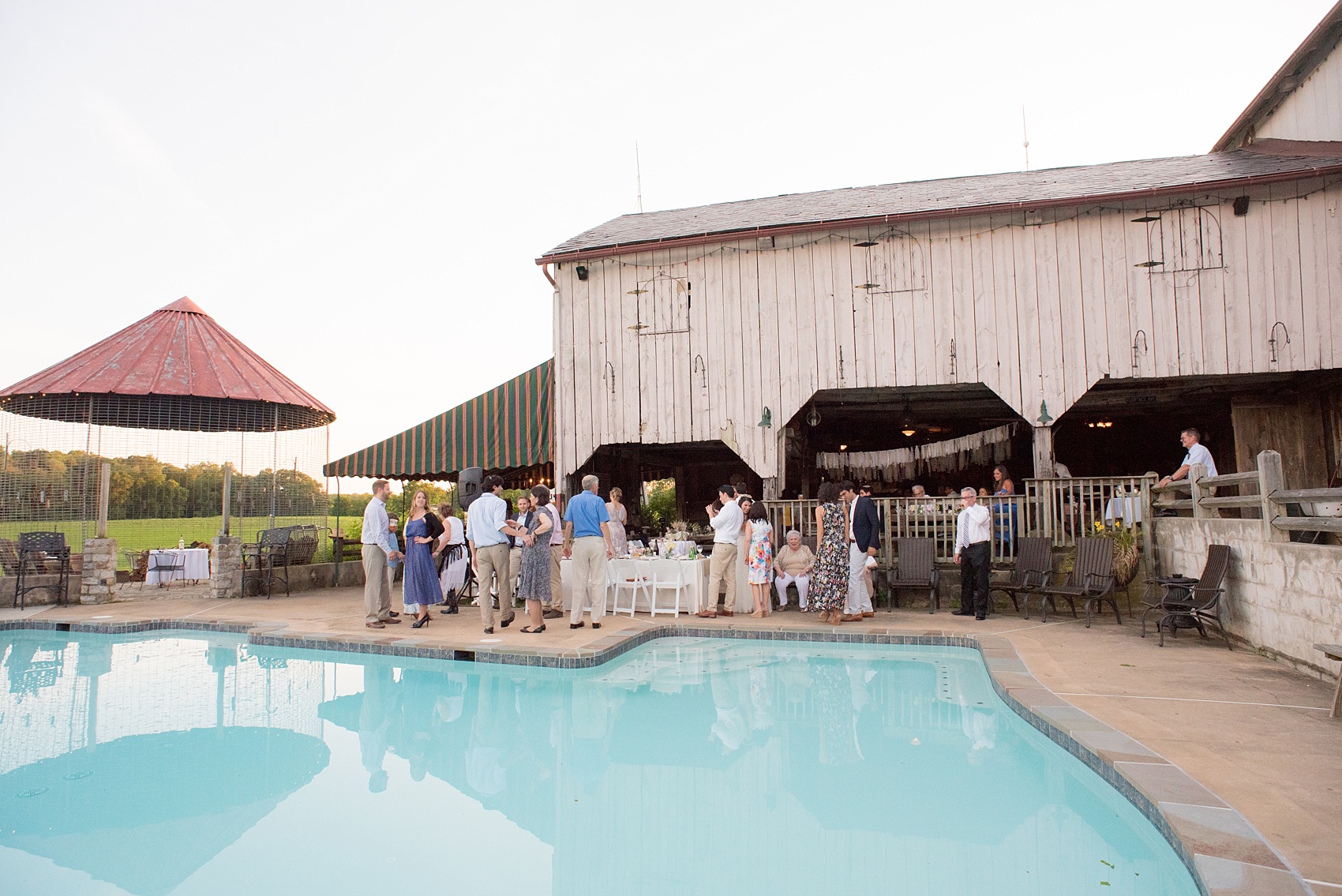 A delicious dinner buffet was served inside just around sunset – again, I was simply in awe of what Ariane, Leah's mother, created. Tomato mozzarella salad, various pastas, eggplant parmesan, baked salmon, fresh greens, and more. The weather was just perfect and everyone was dancing by the pool to a classic oldies mix they created (which I have to admit, I was completely loving!).
I snuck around to the front of the venue to see the sun setting in the distance as guests dined and chatted…I've never been to Provence or Tuscany, but my impression of it is something like the photo below.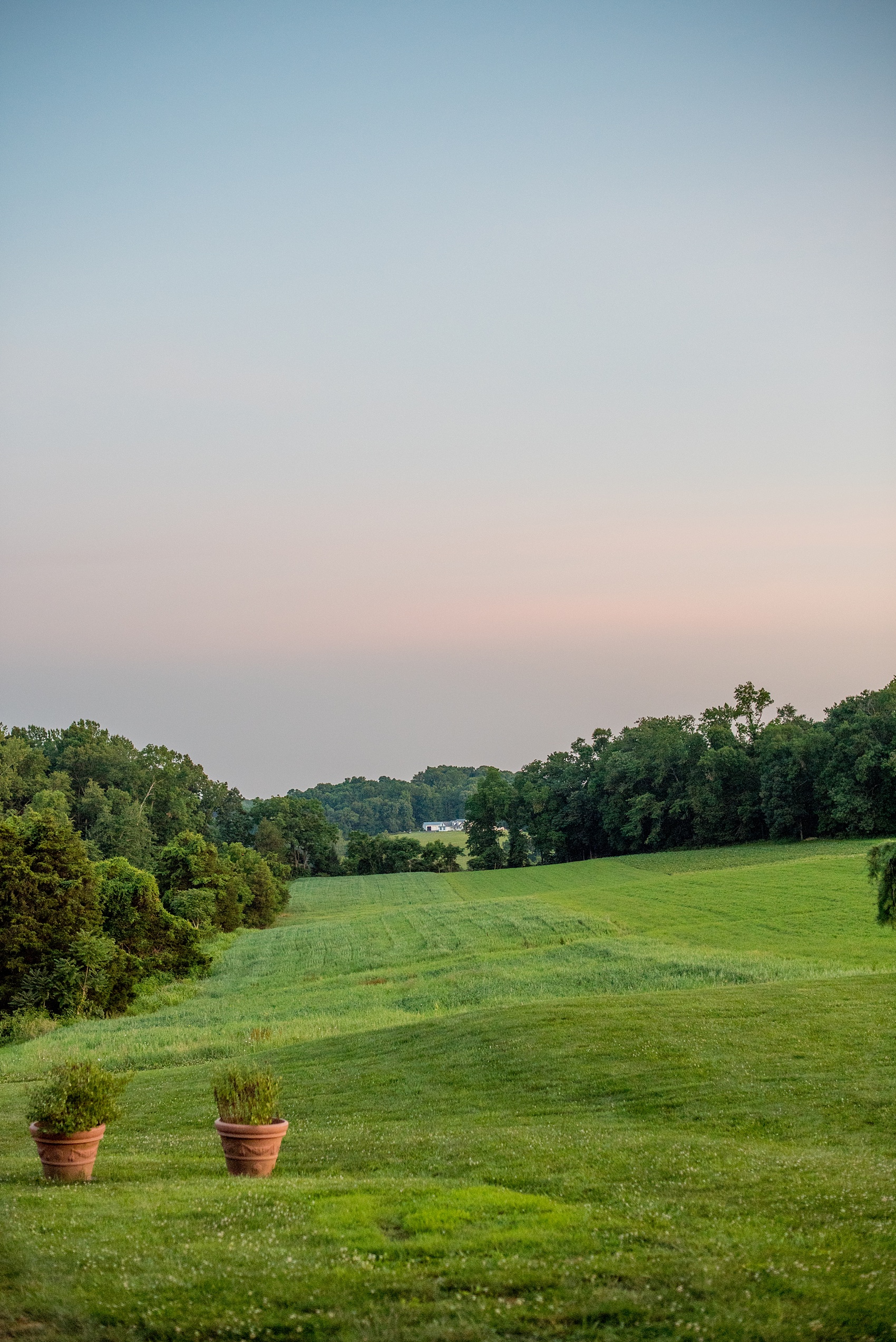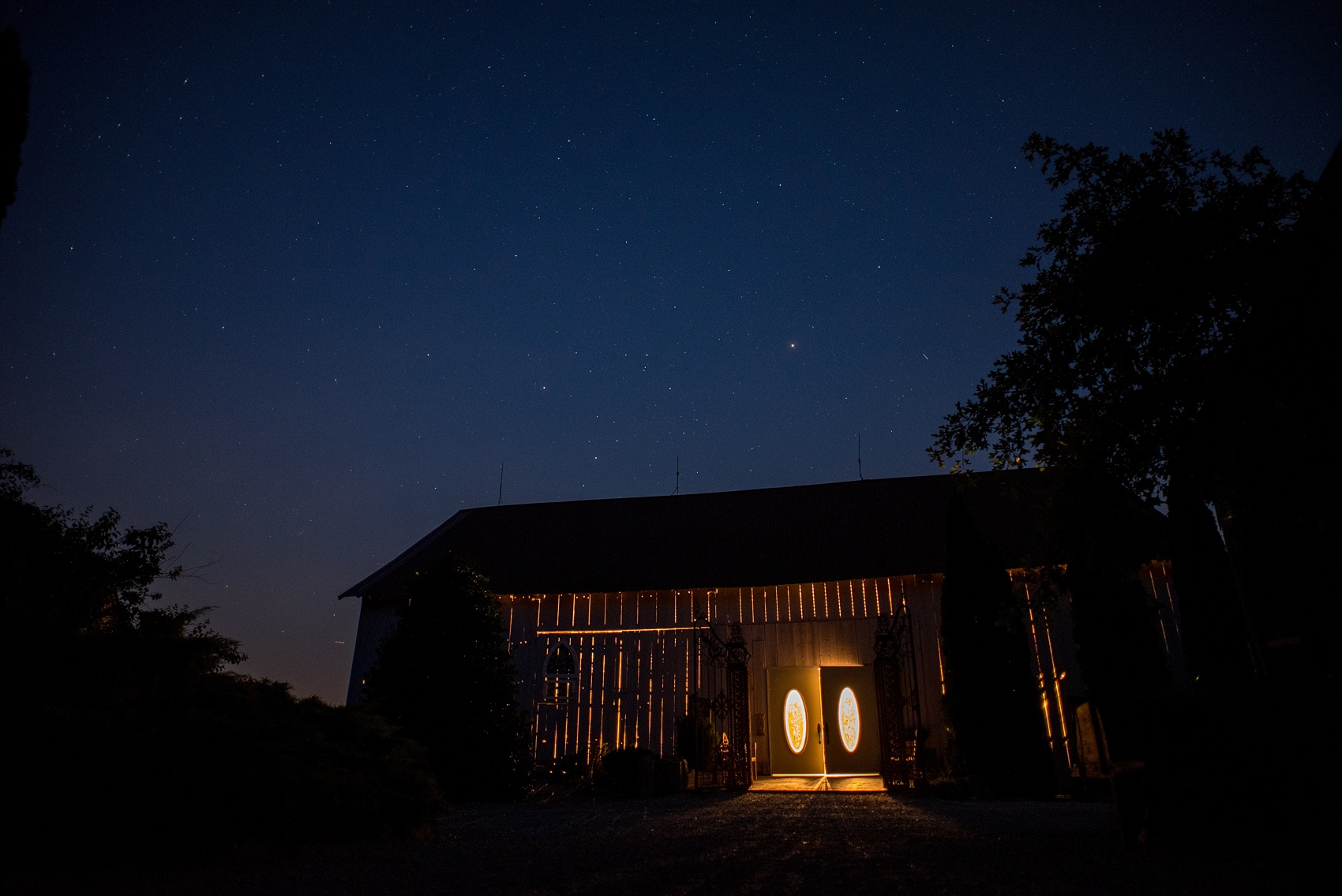 Even the cakes were eye-catching: a larger naked cake with creme, flowers and berries dusted with powdered sugar for the guests and a special miniature gluten-free cake for Leah, made with love by her caring mom.
All phases of the day – from afternoon to evening were simply beautiful. It was sunshine filled, into a wonderful dusk, and sparkling twilight; I enjoyed a moment in front of the venue just before I left to capture the stars for the bride and groom. Congratulations to Leah and JJ – a warm, friendly, loving couple I was so glad to work with and witness enter this new chapter of their lives.
Vendors who Made their Wedding at Spring Hill Manor Come to Life
Venue: Spring Hill Manor / Getting ready location: Elk Forge Bed and Breakfast / Wedding gown shop and designer: Garnish, Essence of Australia / Suit: Jos A Bank / Coordination and flowers: mother and Fran Berger Event Planning / Hair: Lauren, DK Salon / Officiant: Rabbi Landau / Bouquet: Simply Beautiful Flowers
For some additional photos not shown here check out Facebook and Instagram! And if you want to discuss your wedding day, please contact us!
For another fun wedding with Jewish traditions, check out Rachel + Ariel's wedding in South Florida!