One of the main reasons I've found a lot of couples wish to have an engagement session with a professional photographer is to have beautiful visuals for their Save the Date announcement. I think it's a great way to bond with your photographer and have great imagery from a notable chapter in your lives as a couple as well, but I also agree with the notion of it being fun for such an announcement. Keeping it classy is very important when it comes to design options and Basic Invite is a great way to do just that!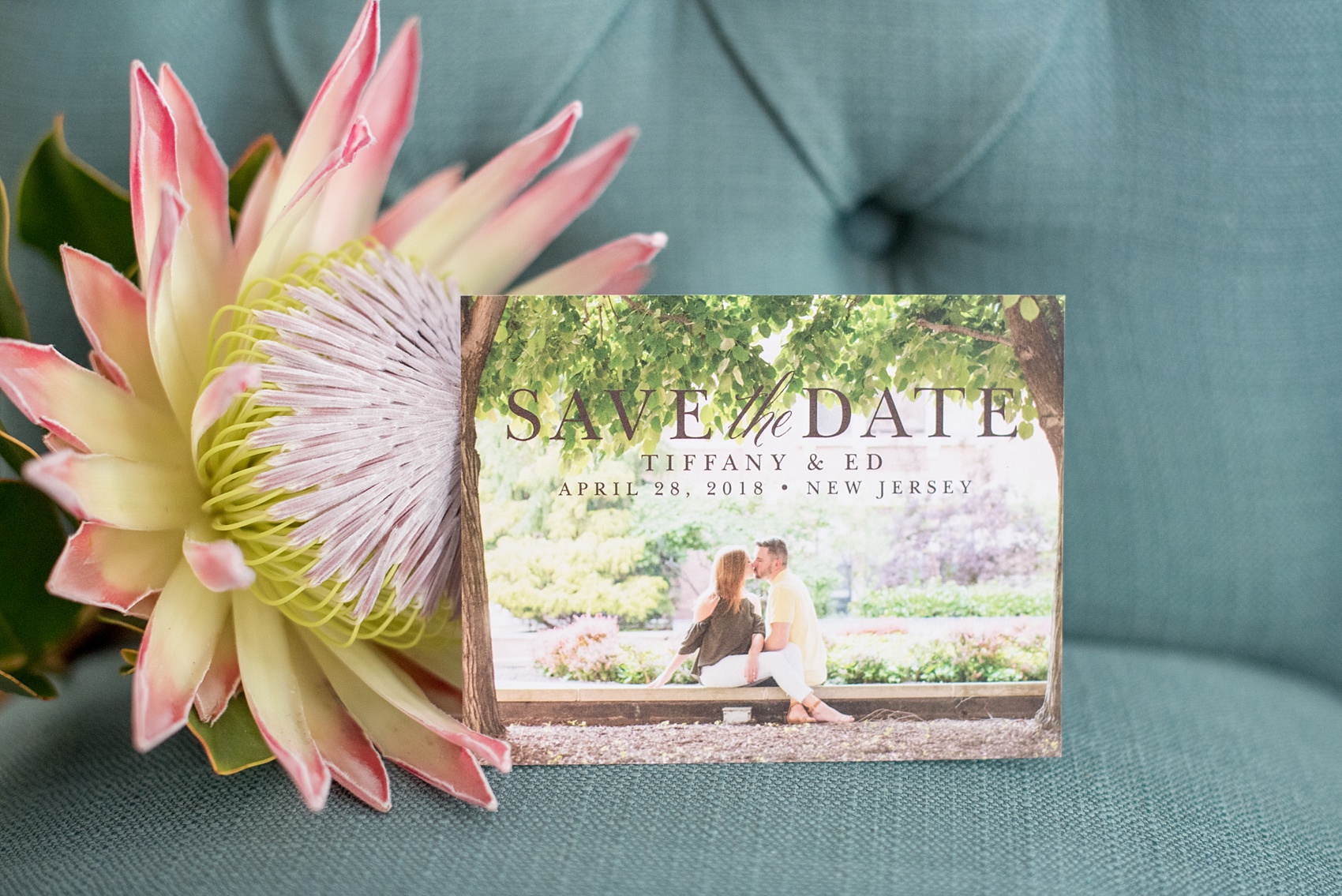 I tested out three different formats and three different layouts with Tiffany and Ed's engagement session.
Postcard
Magnet
Classic Card
Please note: we were paid a small fee in exchange for our post about Basic Invite. All the opinions in the post are ours and we bring you genuine content with real information, photos and thoughts. Always.
The Arrival
I was giddy when my prints arrived…and it wasn't even my wedding! They arrived in a beautiful light grey envelope with tie closure (very elegant!).
The Printed Products
Postcard
I love how hassle free postcards are. There's a little bit of novelty to them too. Can you remember a time you received a postcard and it put a genuine smile on your face?! I can. If you're on a budget it's a great option too – stamps cost less to mail them. Some benefits of Basic Invite's postcard options are that you add a photos to the back of the card as well as insert your return address.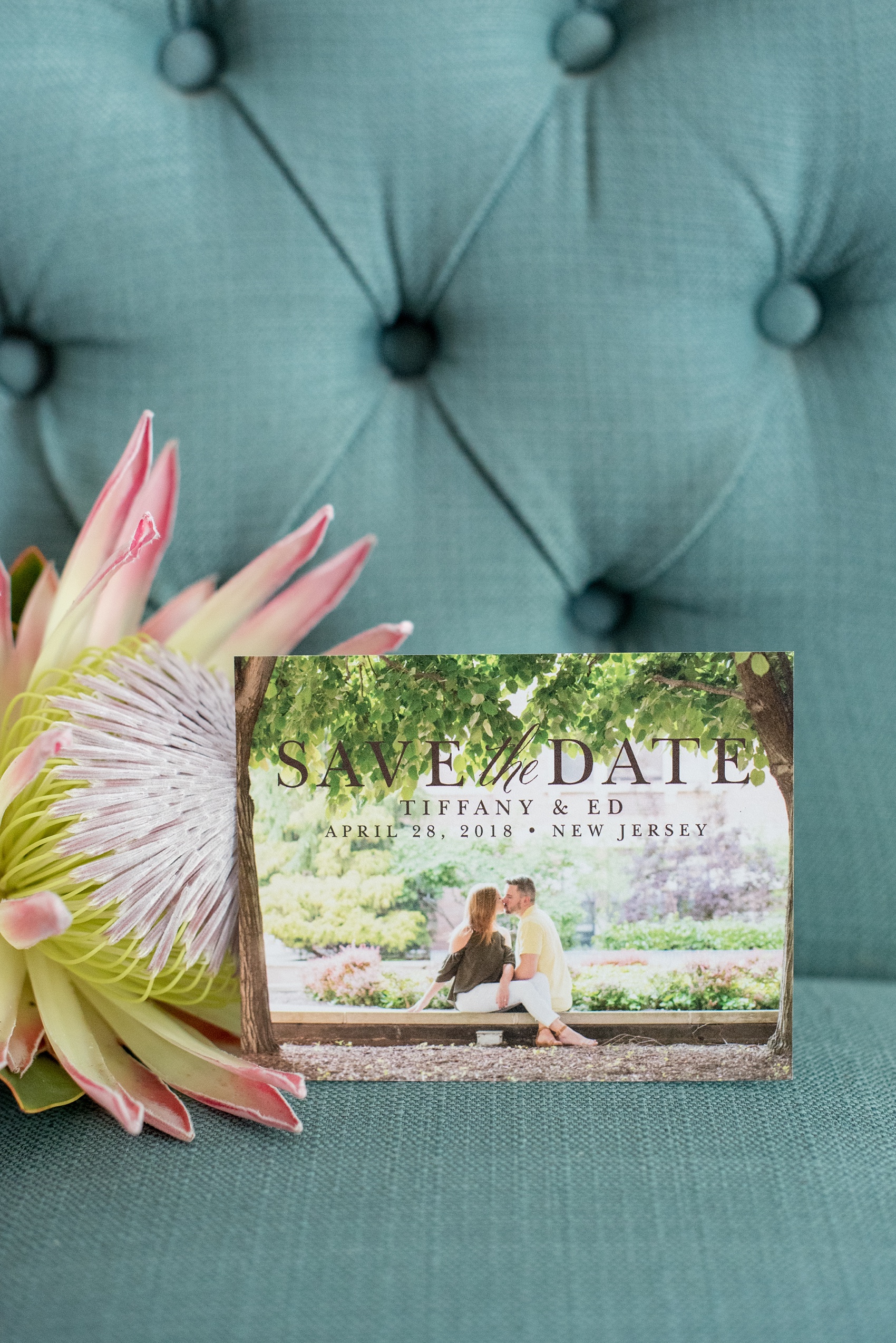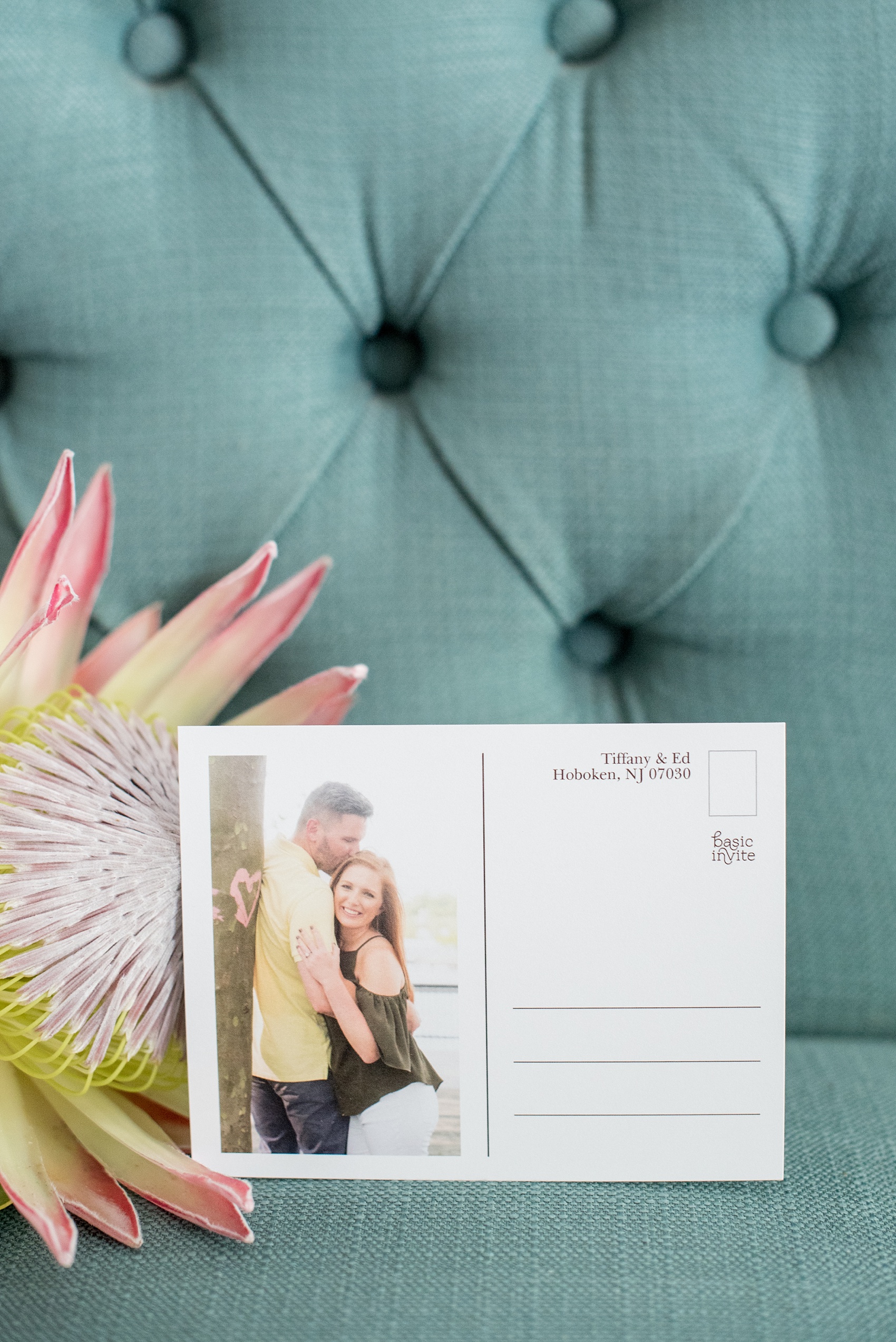 Magnet
If you want a near-guarantee your guests are going to hang your save the date up in their home a magnet's the way to go. Basic Invite's magnets are thin enough to mail with one postage stamp and strong enough to stick to your fridge. They come with envelopes for mailing as well.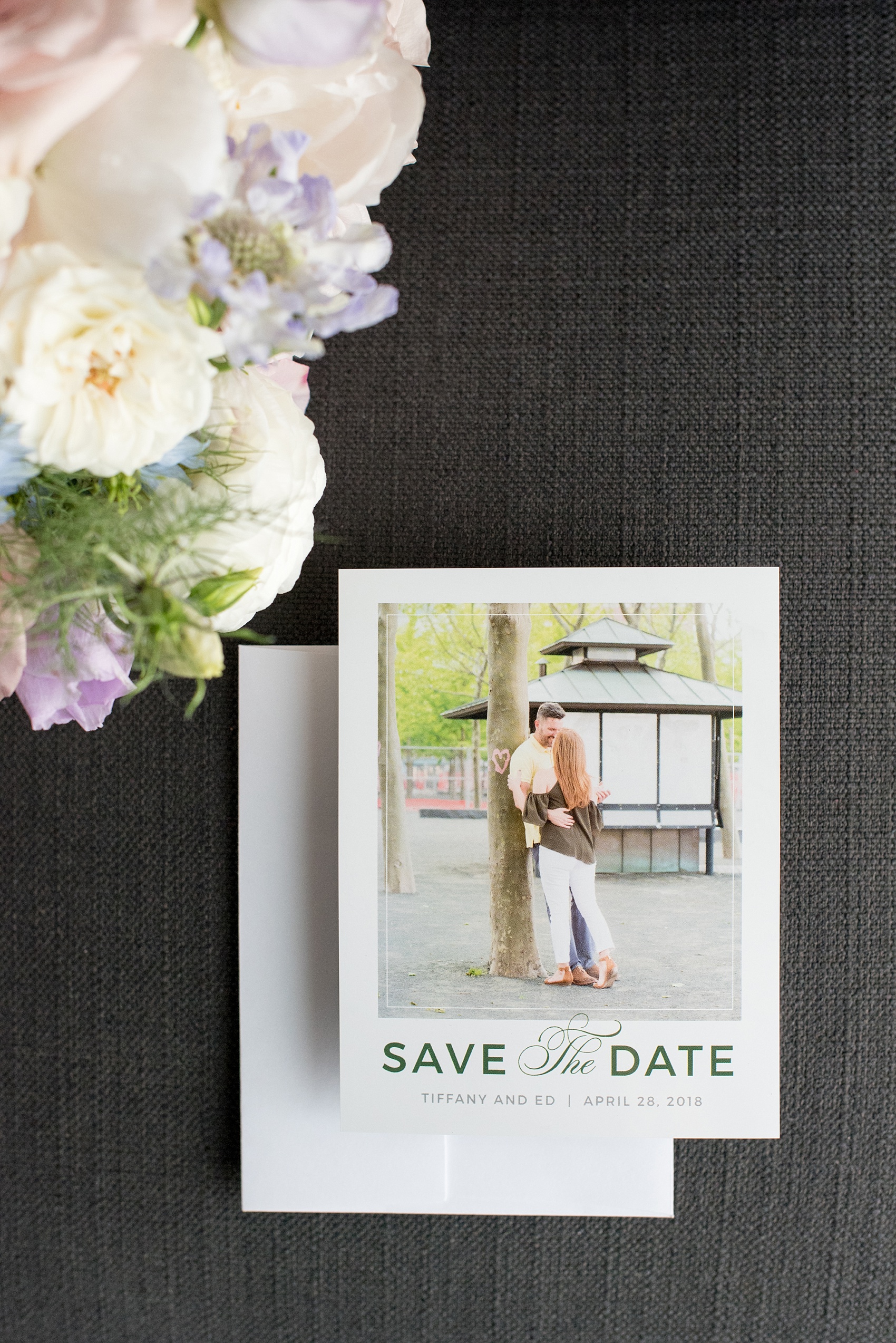 Class Card
If you're going for a more classic look perhaps choose a card with a front and back. I love the option to put a pattern on the back of the card. You're able to pick a pattern then customize its color. I chose a pale yellow to match Ed's engagement session shirt color. A grey envelope was included in my options and I love that the light grey compliments the image as well.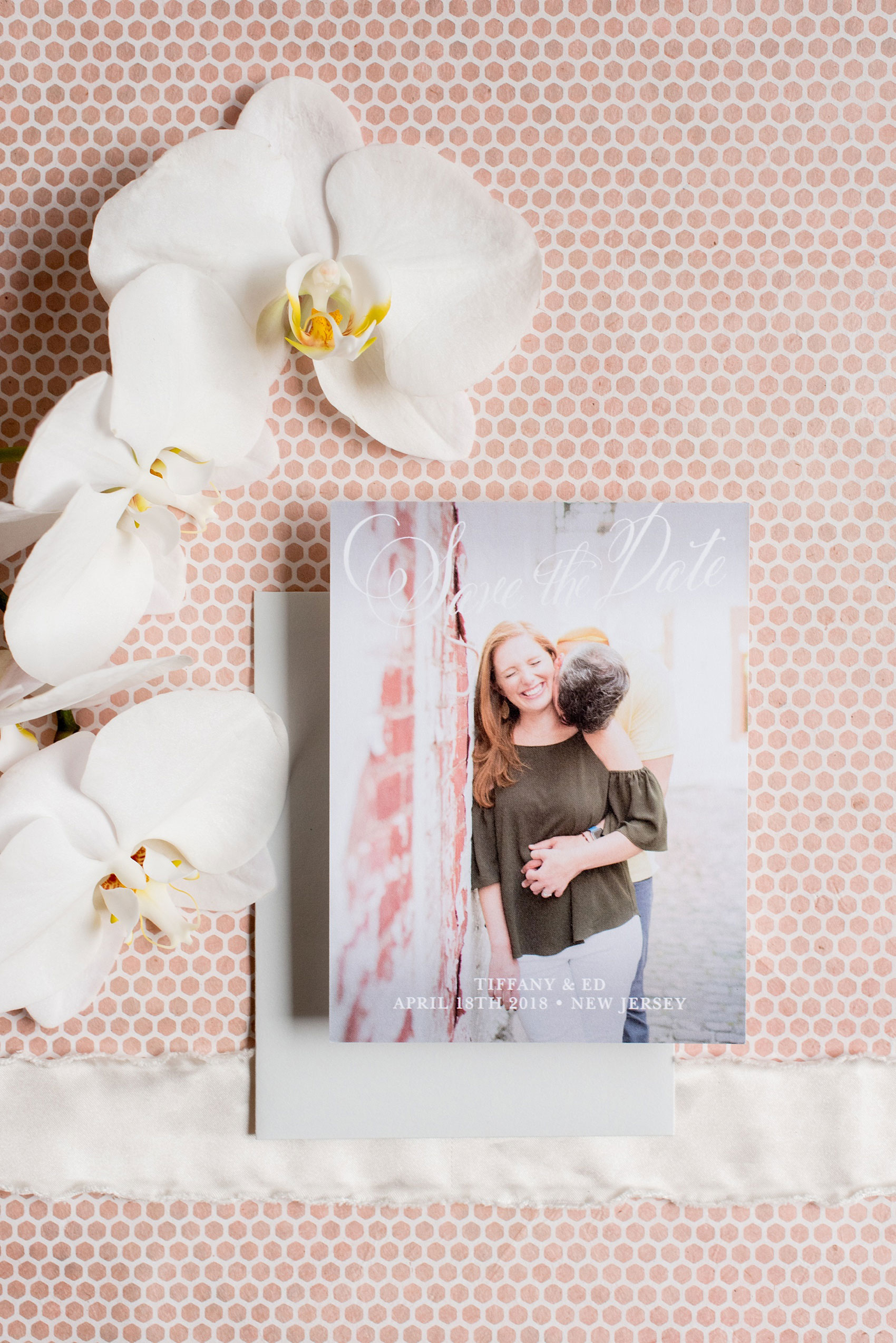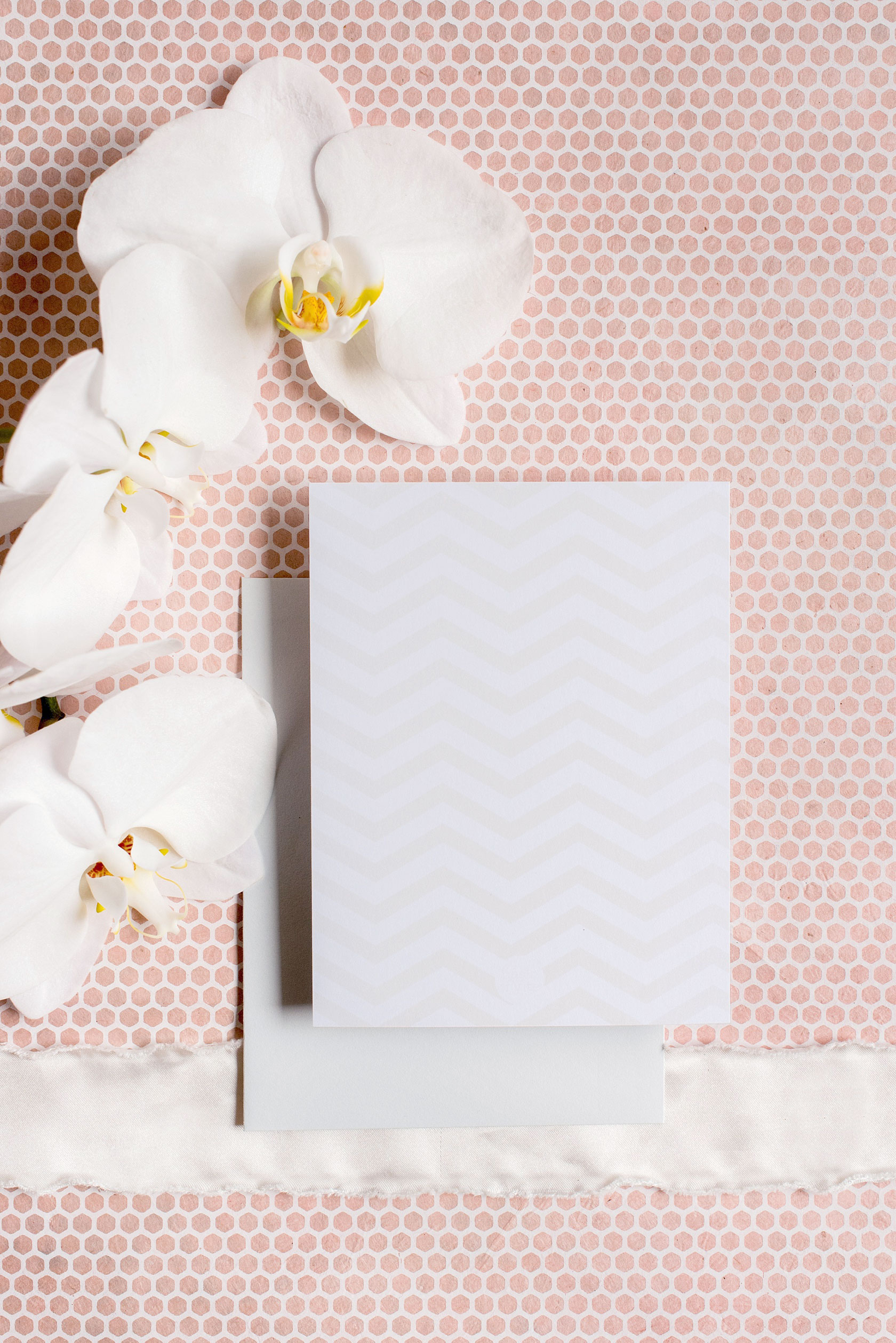 The Ordering Process
Photo Tips
It's beneficial to first select a photo you love then a design that will work with it. I found it cumbersome to do the other way around.
I specifically chose to put just one photo on each Save the Date I created (unless there was a front/back option). This is the best way to let great photography shine. I don't recommend cluttering a product with a lot of images – even two or three could take away from one outstanding image. Less is more in this case.
Pull color inspiration from your photo. You'll notice for each of the three options I chose to customize the font and pattern colors to those that complimented the couple's outfits and scenery in the image.
Below are two screenshots I took as I was designing the products. Here's some things I loved about it:
Ability to select from many colors and hues.
Color bar at the top of the palette. This was an incredibly helpful tool because it allowed me to quickly select the last color I used instead of having to go back through all the options to locate it.
Ability to color per word. If I wanted the word "save" a different color from "date" I was able to do so.
Option to save and name your project to reference later on.
Feature allowing you to address envelopes in the design. You're able to do this on larger batches of prints, just not samples. But if you have 50 to 100 Save the Dates to send, for instance, imagine the time you'll save if you import all the addresses into the system! They'll arrive to your home simply needing stamps to send out and voila – you're done!
Additional information at the bottom of your design in case you're desiring clarification on dimensions, print finish, or even number of folds. It even indicates if you'll need to lick the envelope or if it's peel and seal.
If you are curious how their color options print (just in case you're not 100% your computer monitor is color calibrated) be sure to order a sample kit (pictured below). It will help ensure what your eye is seeing on your screen matches with what will arrive printed at your doorstep. They even have a page showcasing how their foil options translate.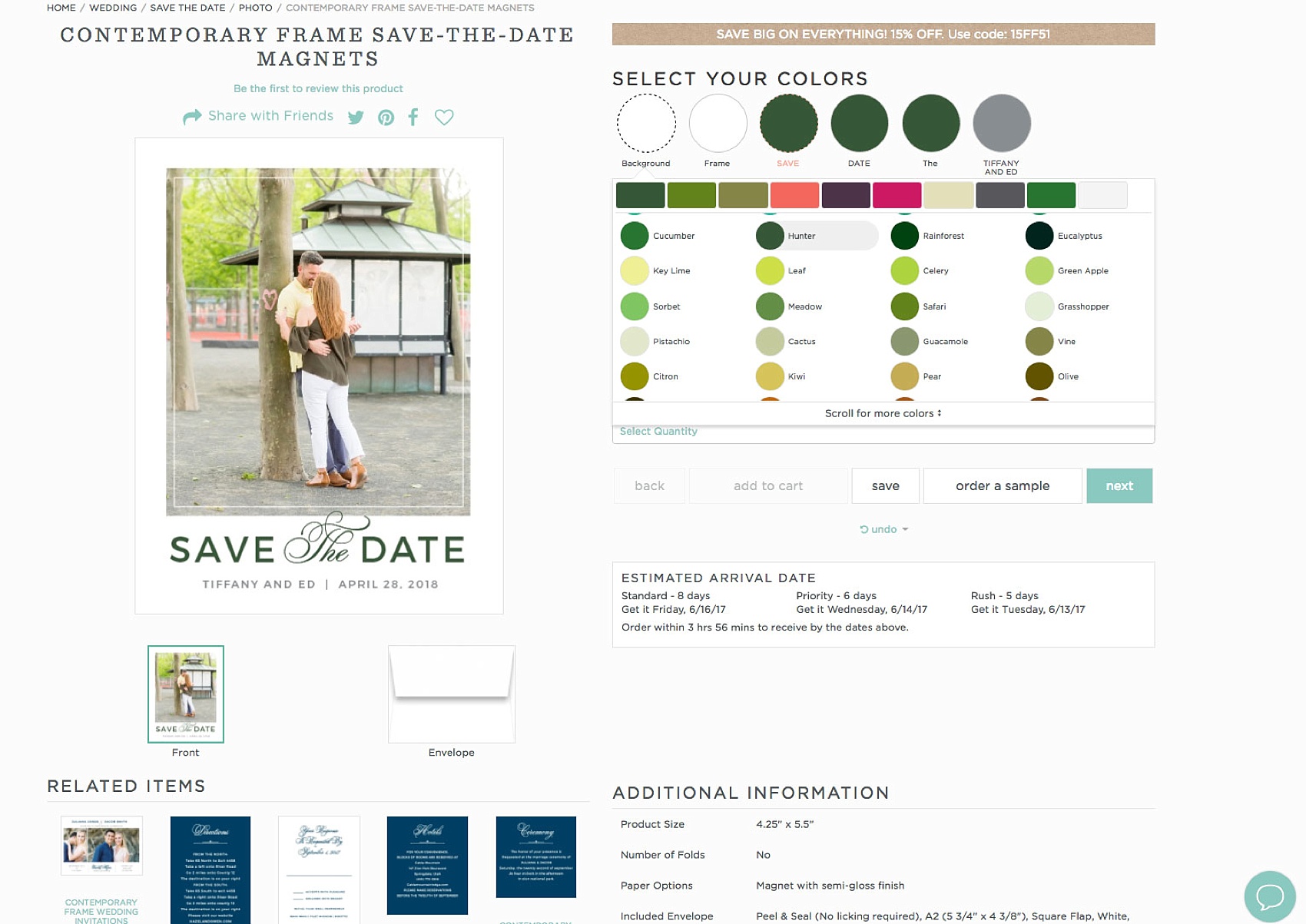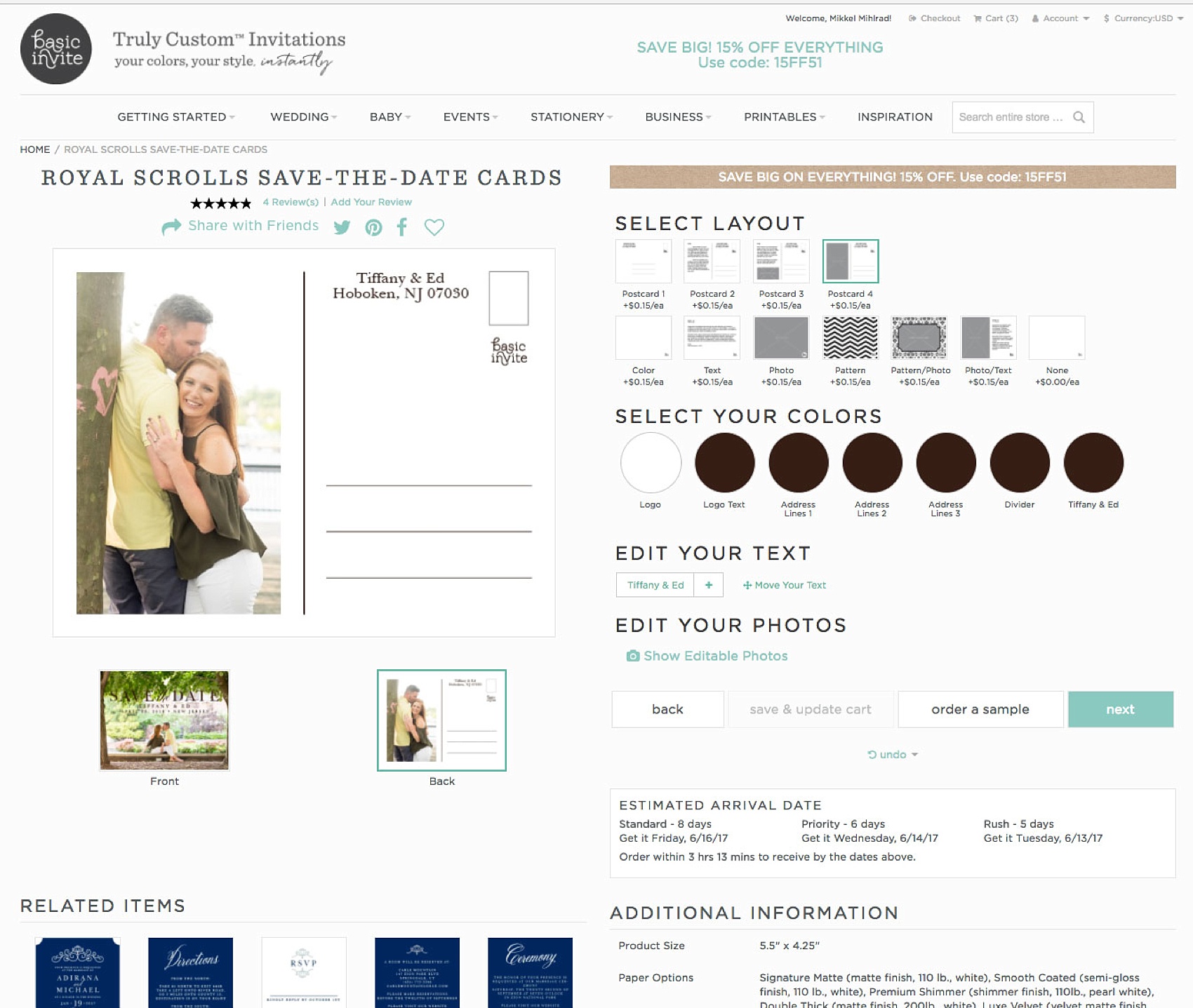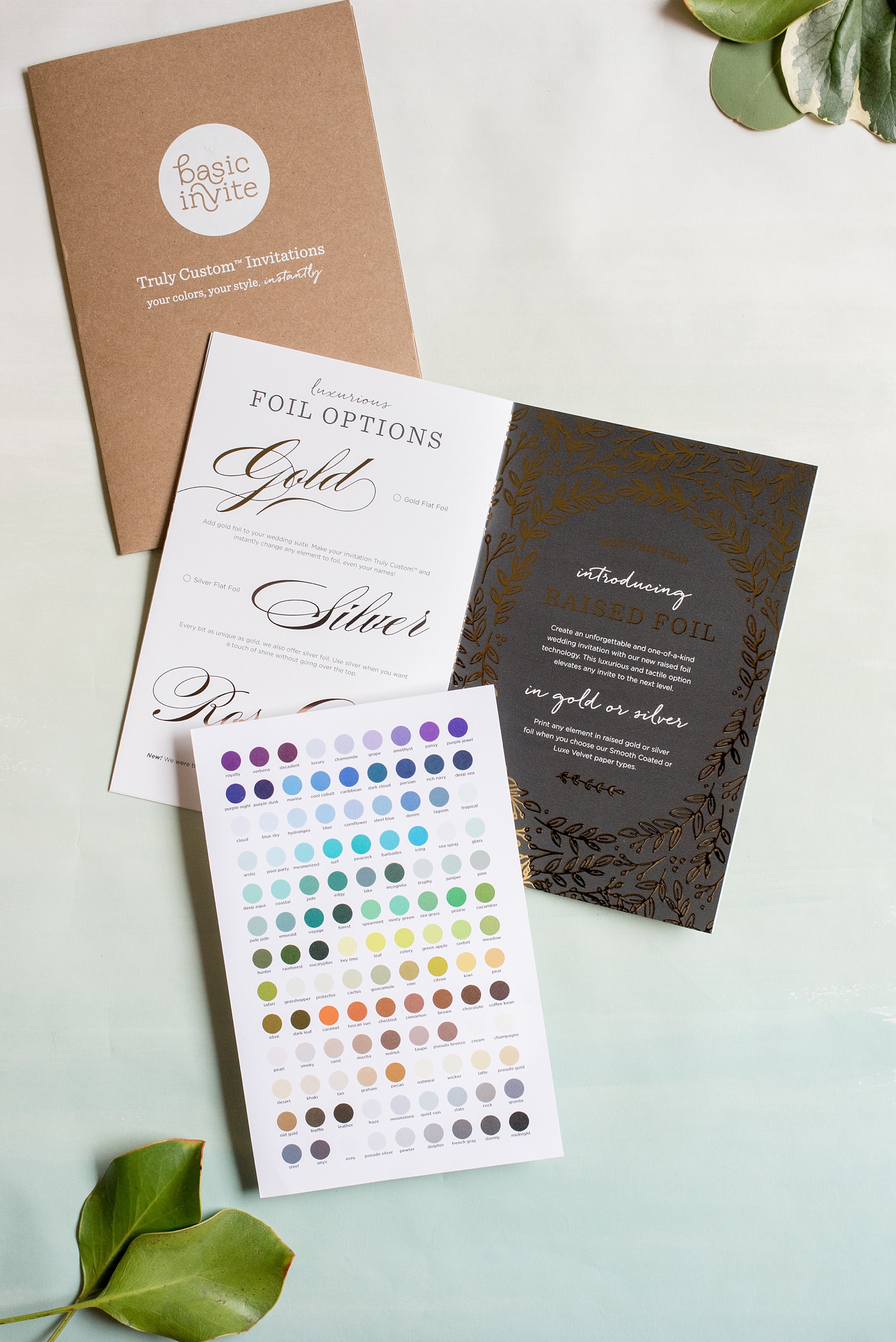 Be sure to use the code 15FF51 for 15% off your order over at Basic Invite. 
If you're in need of professional photography for your Save the Dates or wedding contact us!