Autumn beauty. Those are the words I would use to describe Adam and Rachel's wedding day in Durham, North Carolina and one of my favorite venues, The Rickhouse. Also, call me silly, but you know that song, "I know my calculus…it says 'you, plus me, equals us'" by that band 2gether circa the year 2000? (I kid you not!) Well that song is playing in my head as I post this because these two share a common profession: accounting. And simply one memory of working with them that makes me smile is tax deadlines! For instance around April 15th and October 15th, planning had to be on the back burner to their front-runner jobs, which they seem incredibly passionate about (something I can relate to). And I love that their passion and love of numbers were integrated into their day. I also truly adored seeing extroverted Rachel and a more introverted Adam bring out the best in one another from the moment I met them at a cupcake shop in downtown Durham months ago.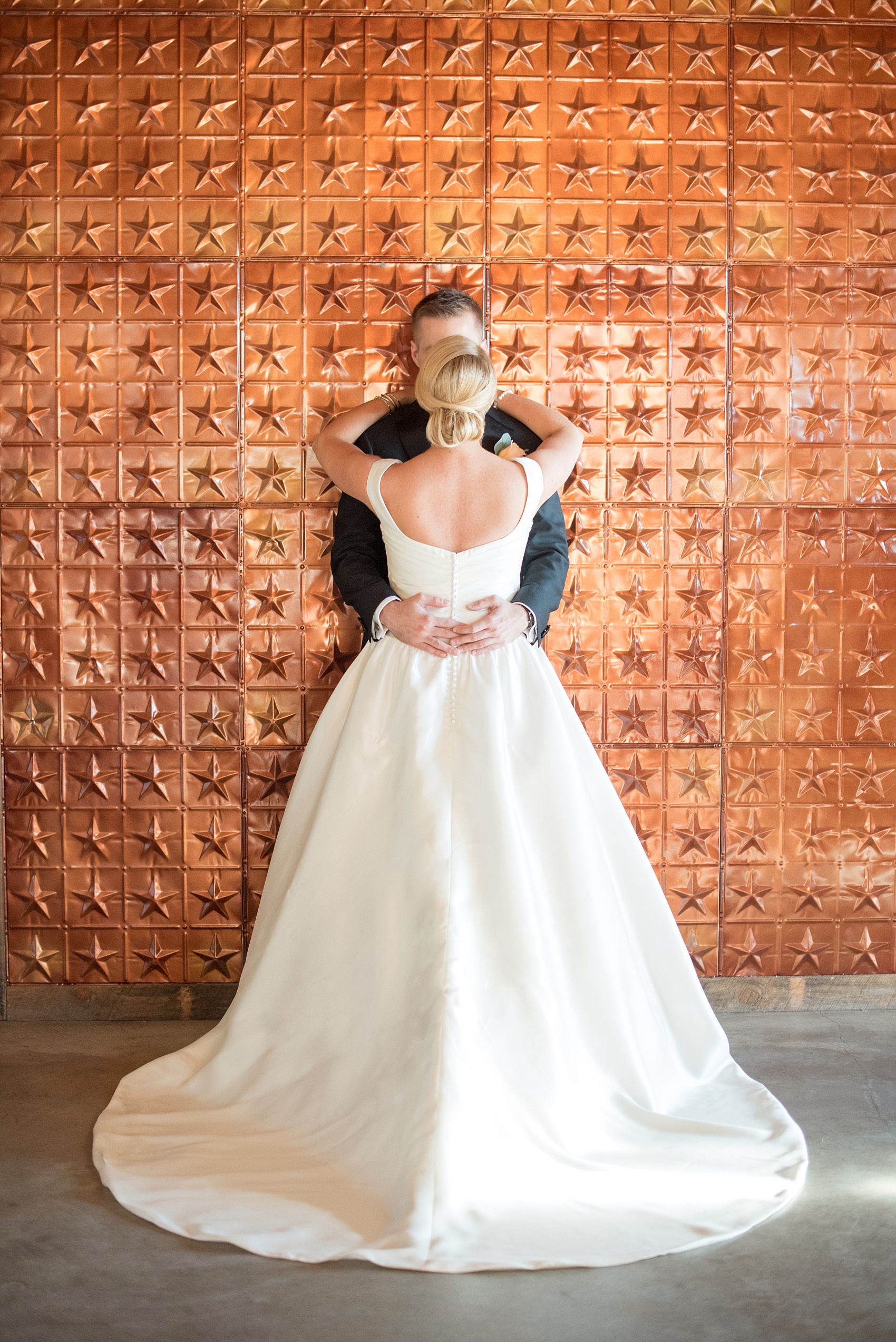 I chose one of my favorite wedding images, ever, to kick off their wedding blog post. It's oh-so-very "The Rickhouse" where they got married – the iconic copper star wall is an architectural highlight – but it's also so very Adam and Rachel, having recently located to Texas!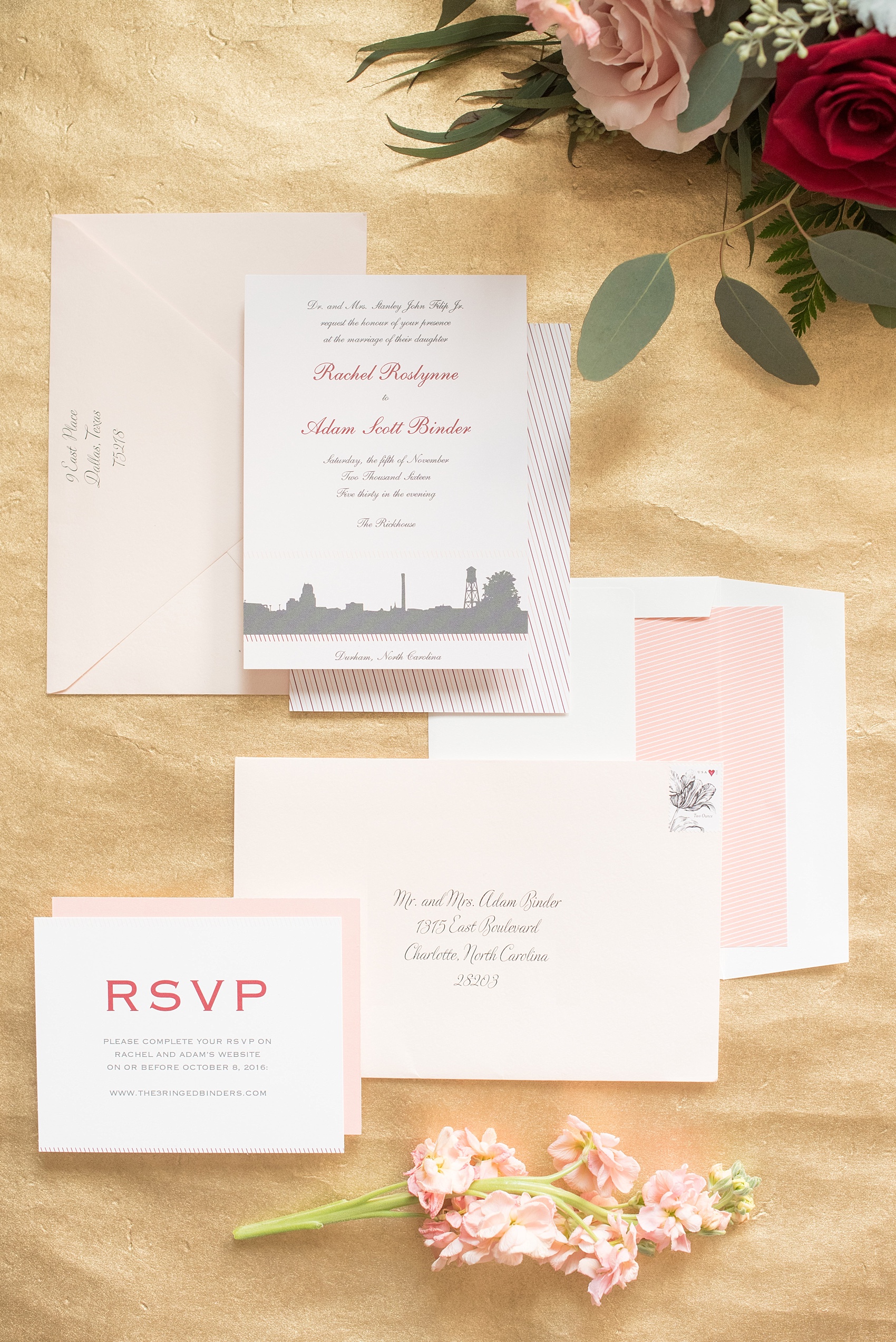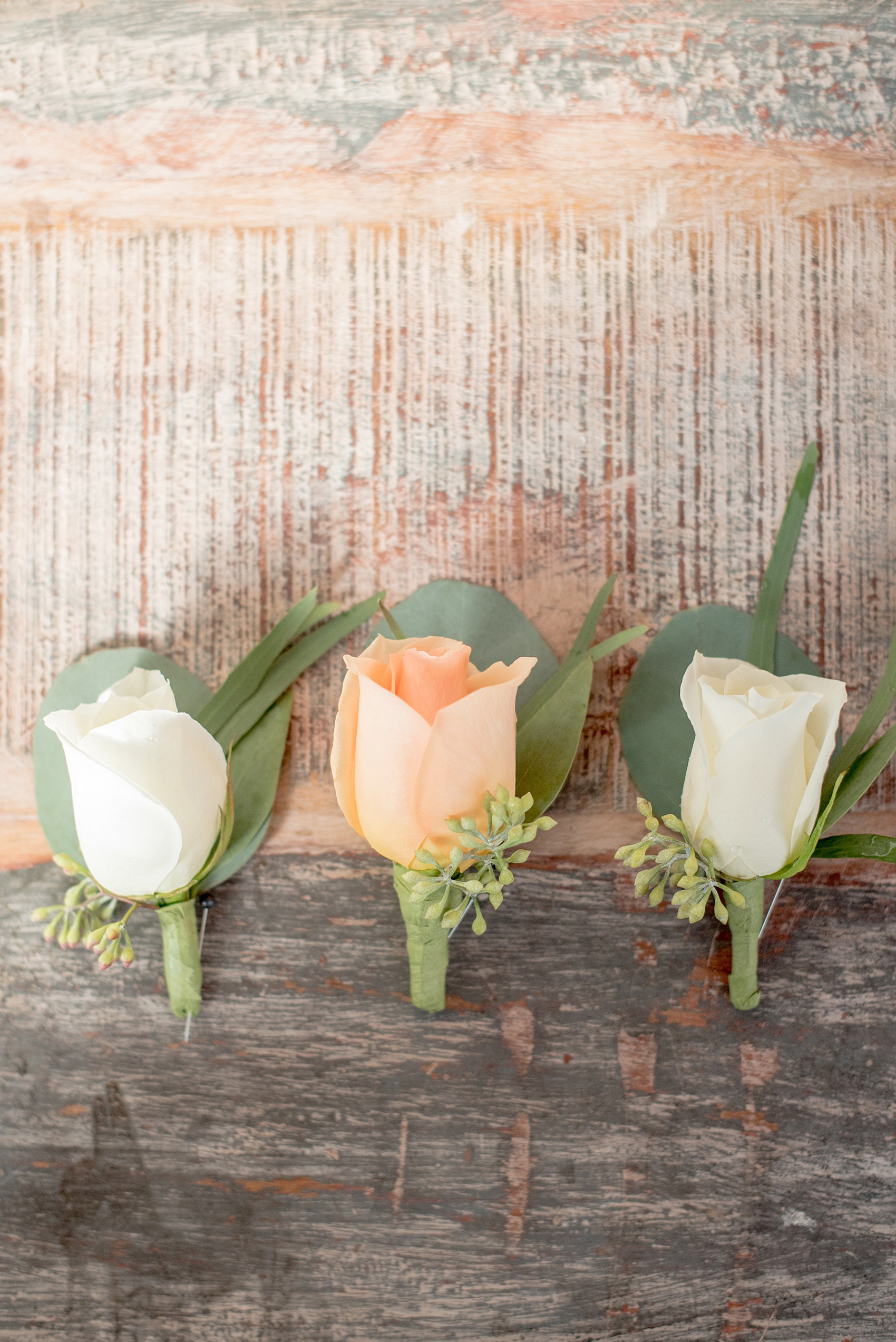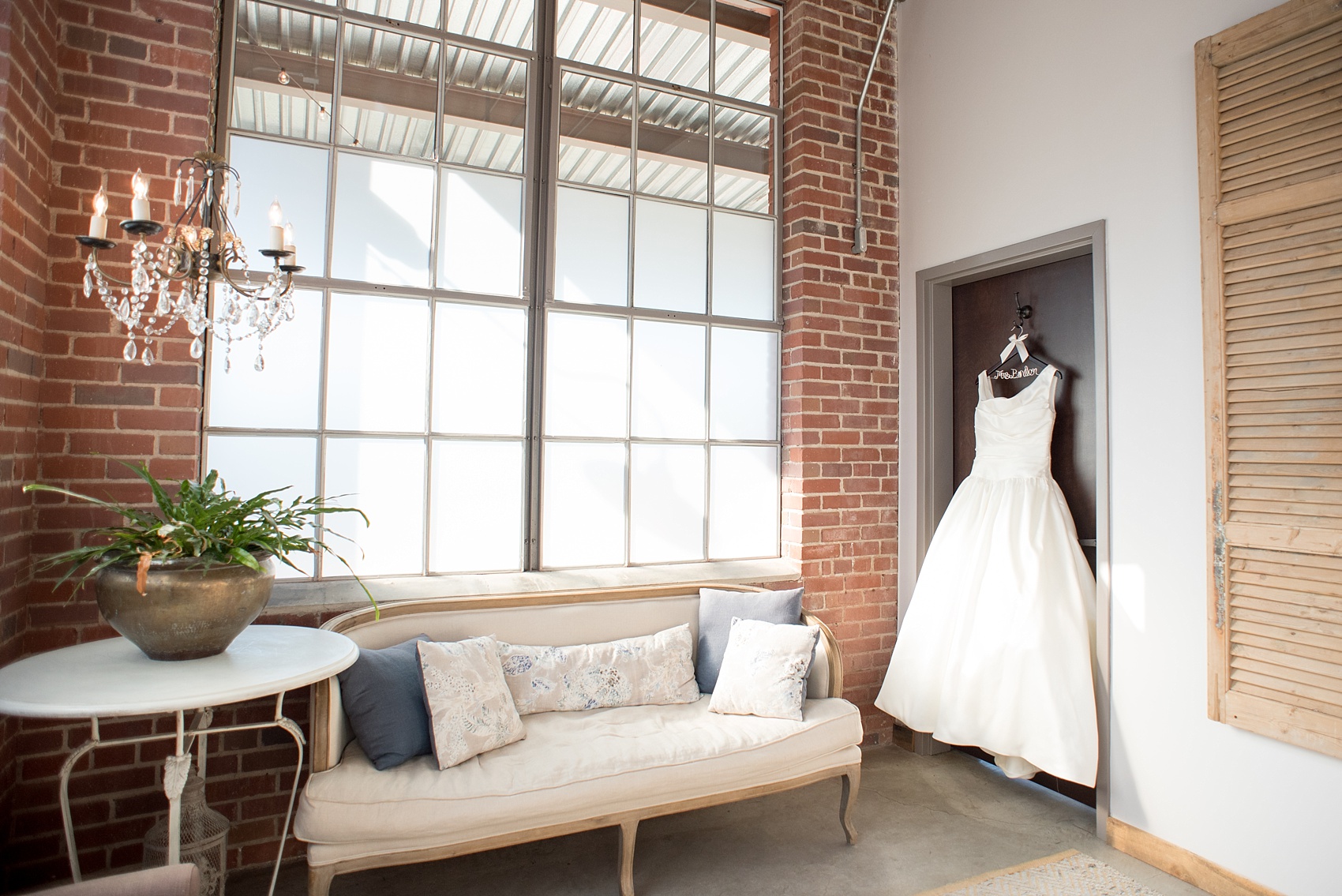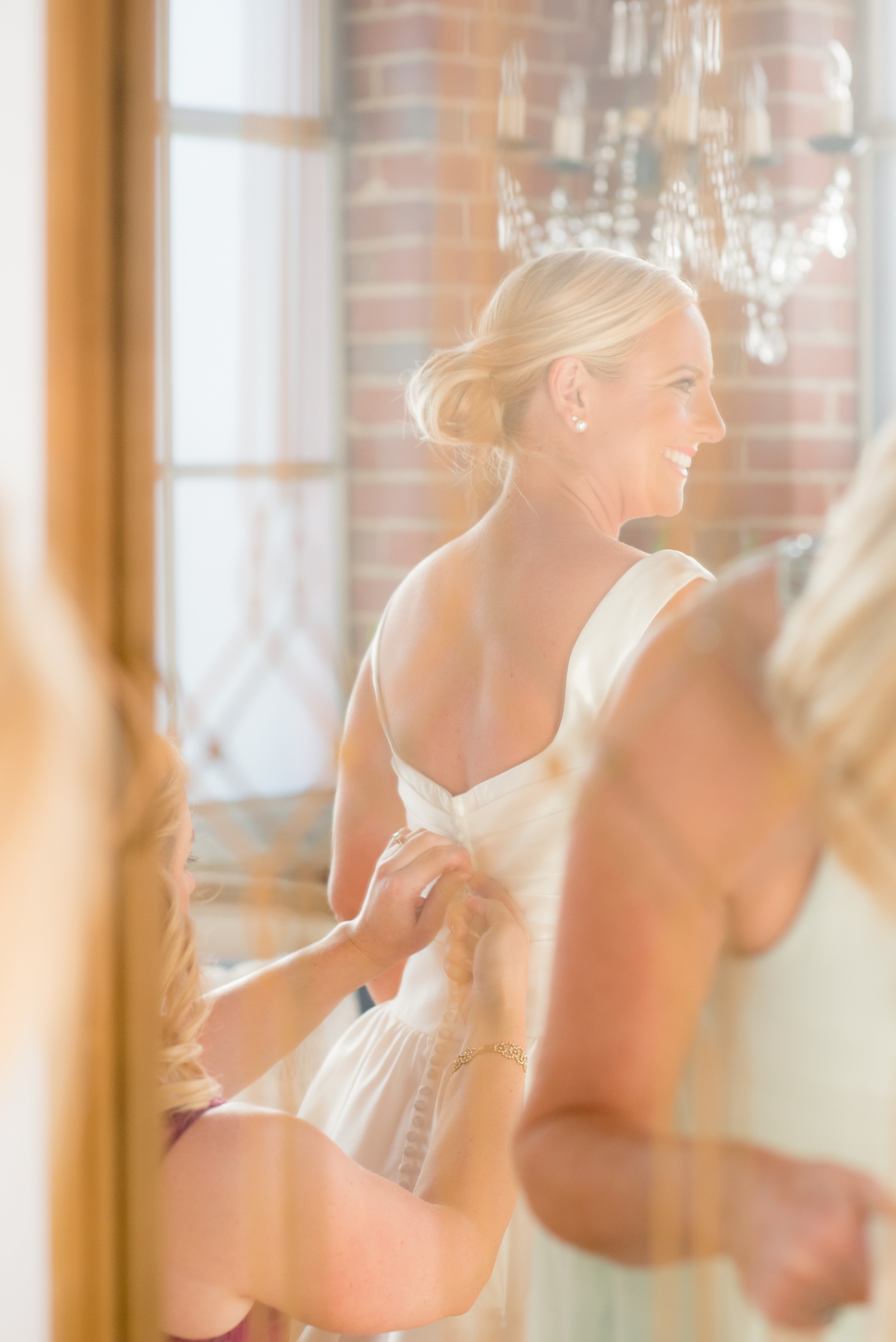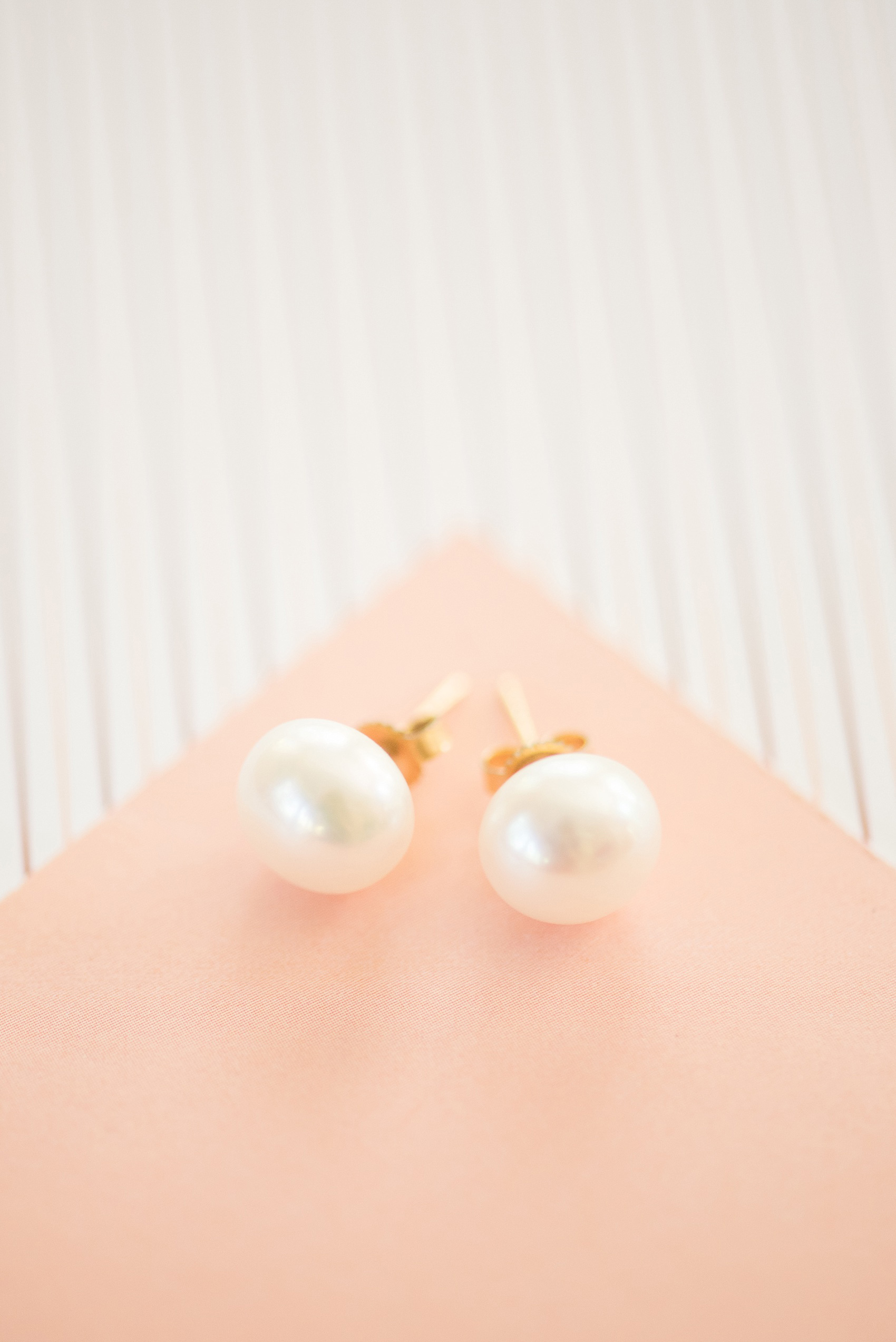 While Rachel, her sister, mother and a few key family members started the day at the home Rachel grew up in (part of her childhood, anyway!) Adam prepared at King's Daughers Inn's Trinity Suite. They say you should be yourself in terms of style on your wedding day, just perhaps slightly glammed up from the "norm" – Rachel did just that and so elegantly too. She told me her earrings are pearl studs she wears daily. I love that.
I was able to capture the pups in their wedding-day best, having started the day at Rachel's parents' house. Dogs are so special in their family life. Keep reading for a special photo of Herbie, their basset hound during getting ready and later on at the reception…
Her engagement ring is so special: it's a family heirloom and has such a unique vintage looking design. It almost reminds me of a pear/teardrop with a gothic architecture twist. It's just awesome and so special to Rachel. And awfully romantic it's what Adam proposed to her with.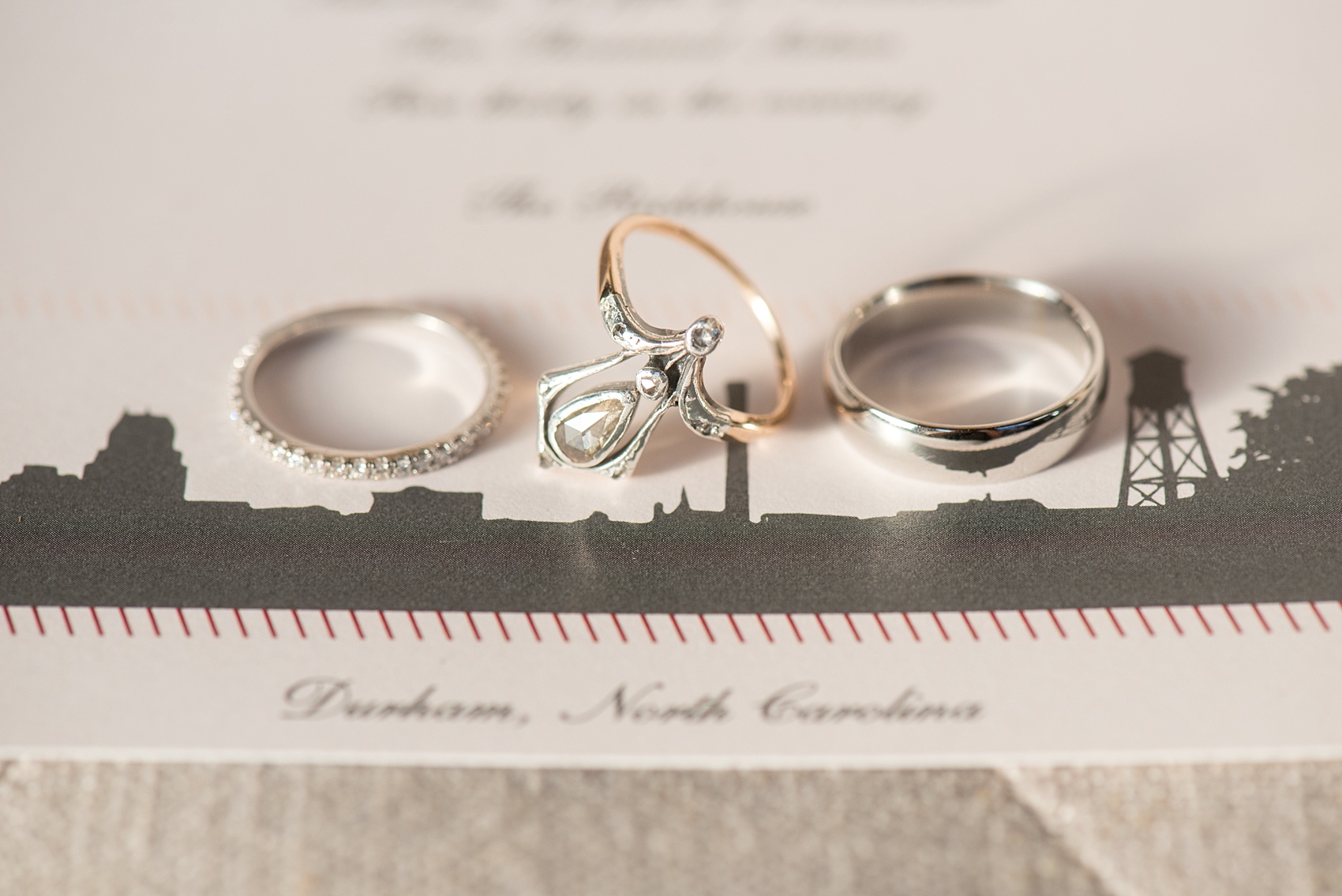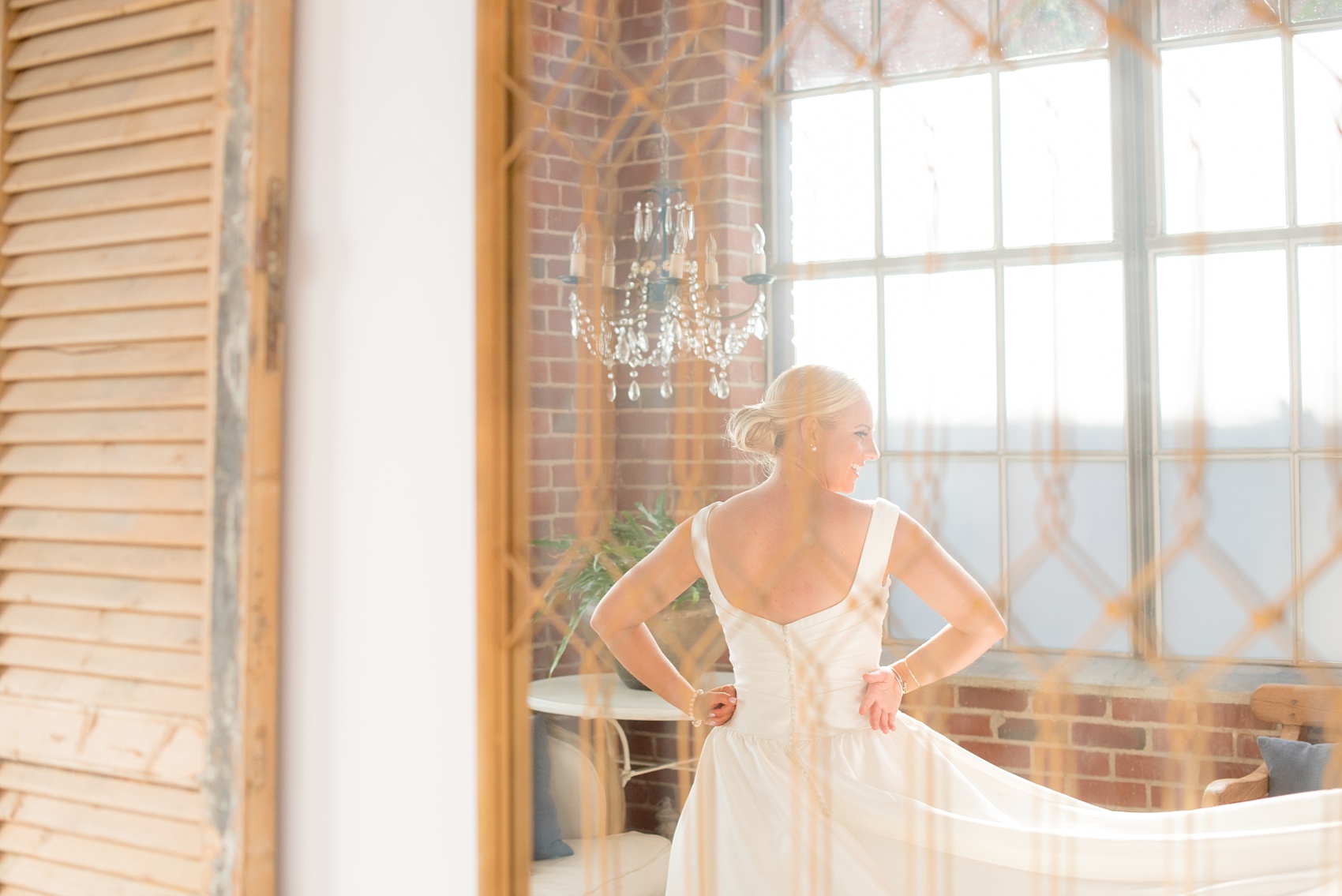 Rachel's veil and floral printed heels were SWOON worthy.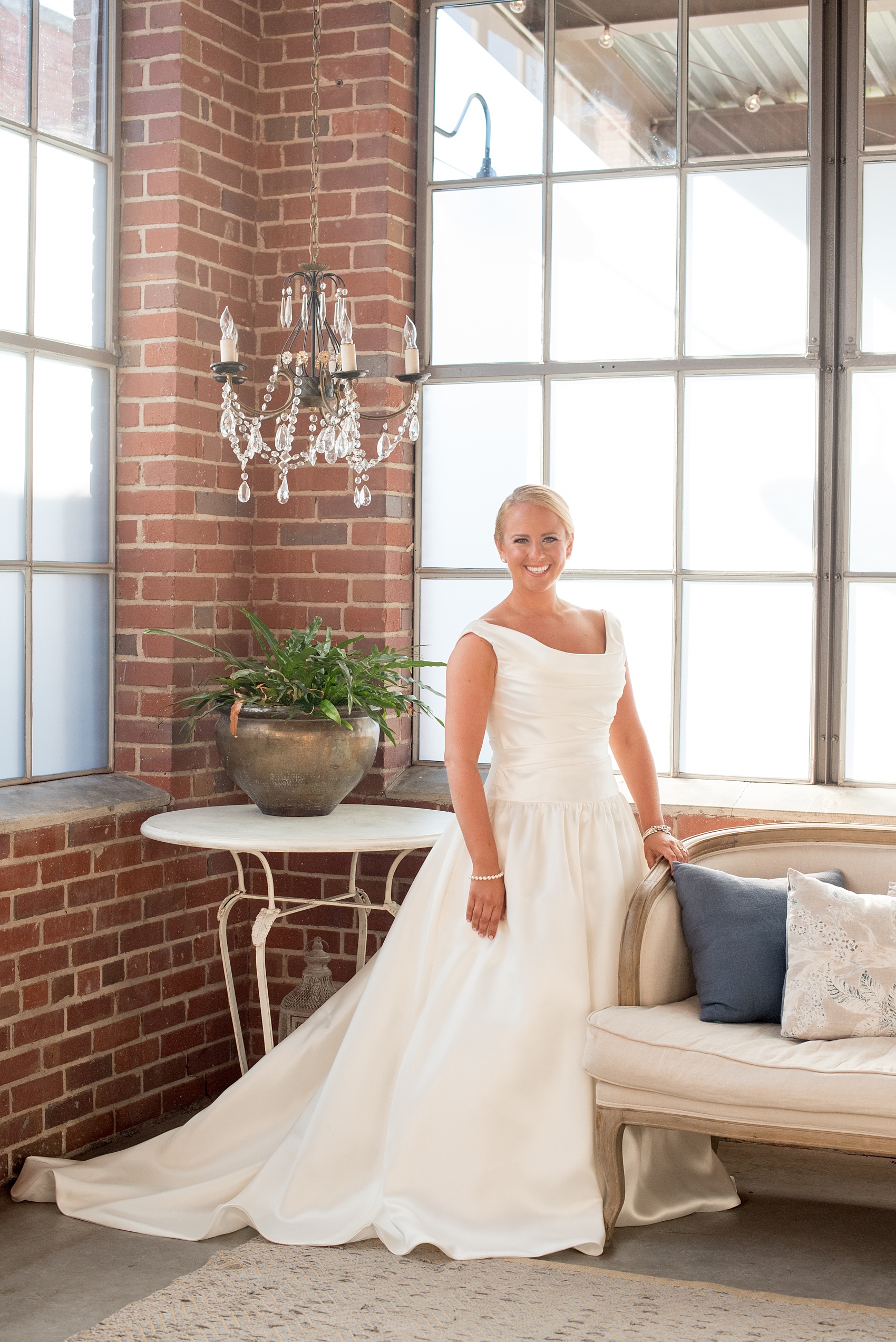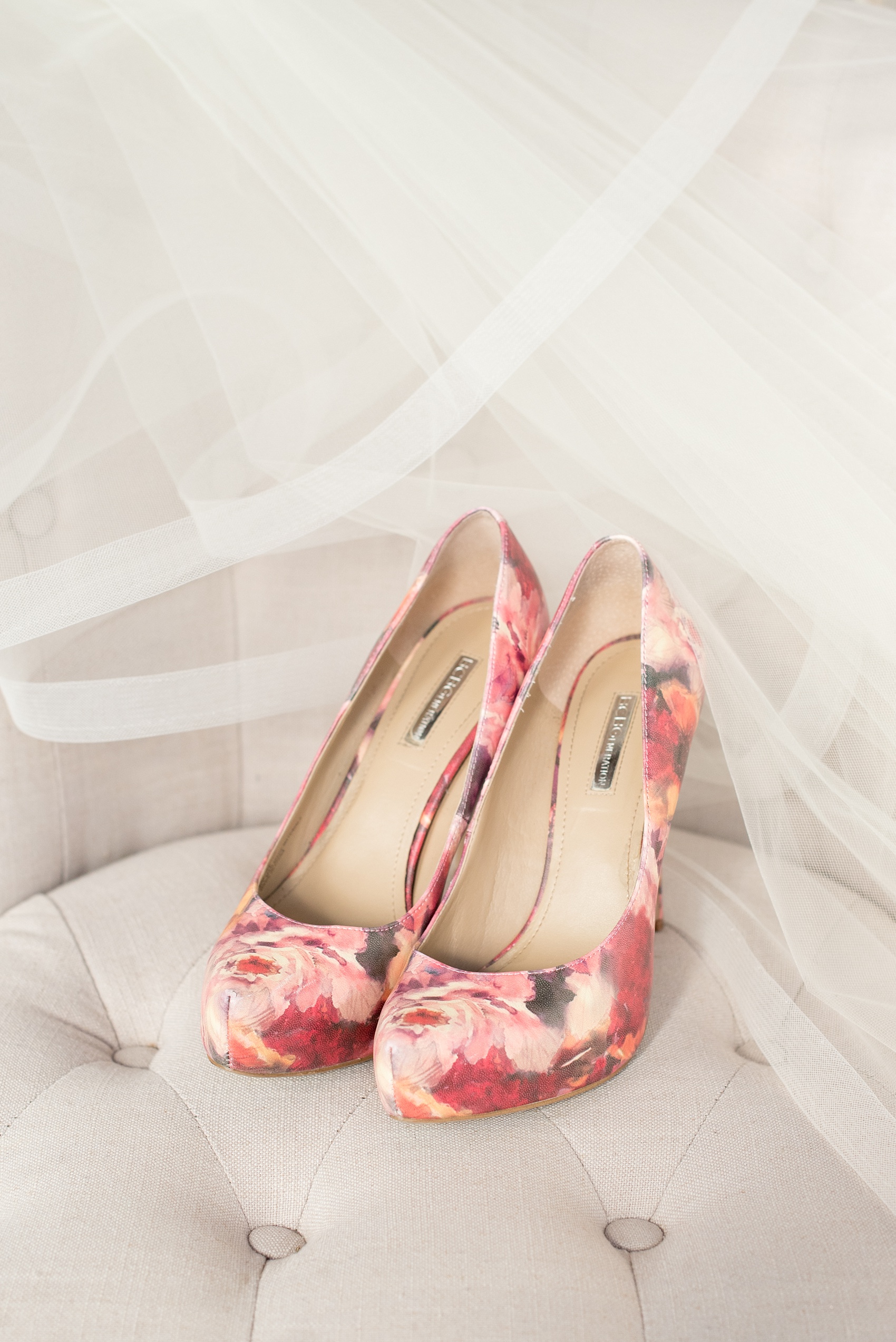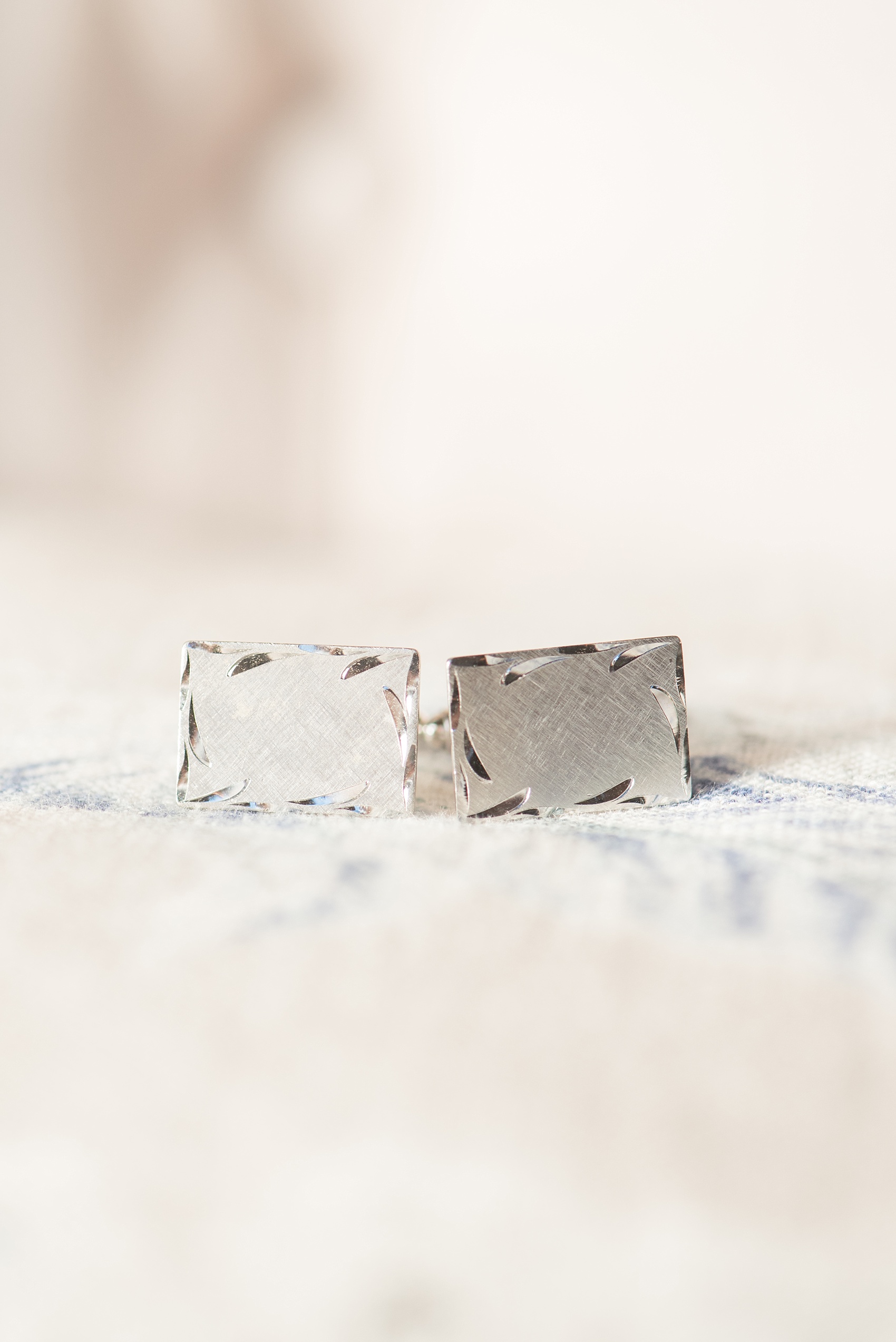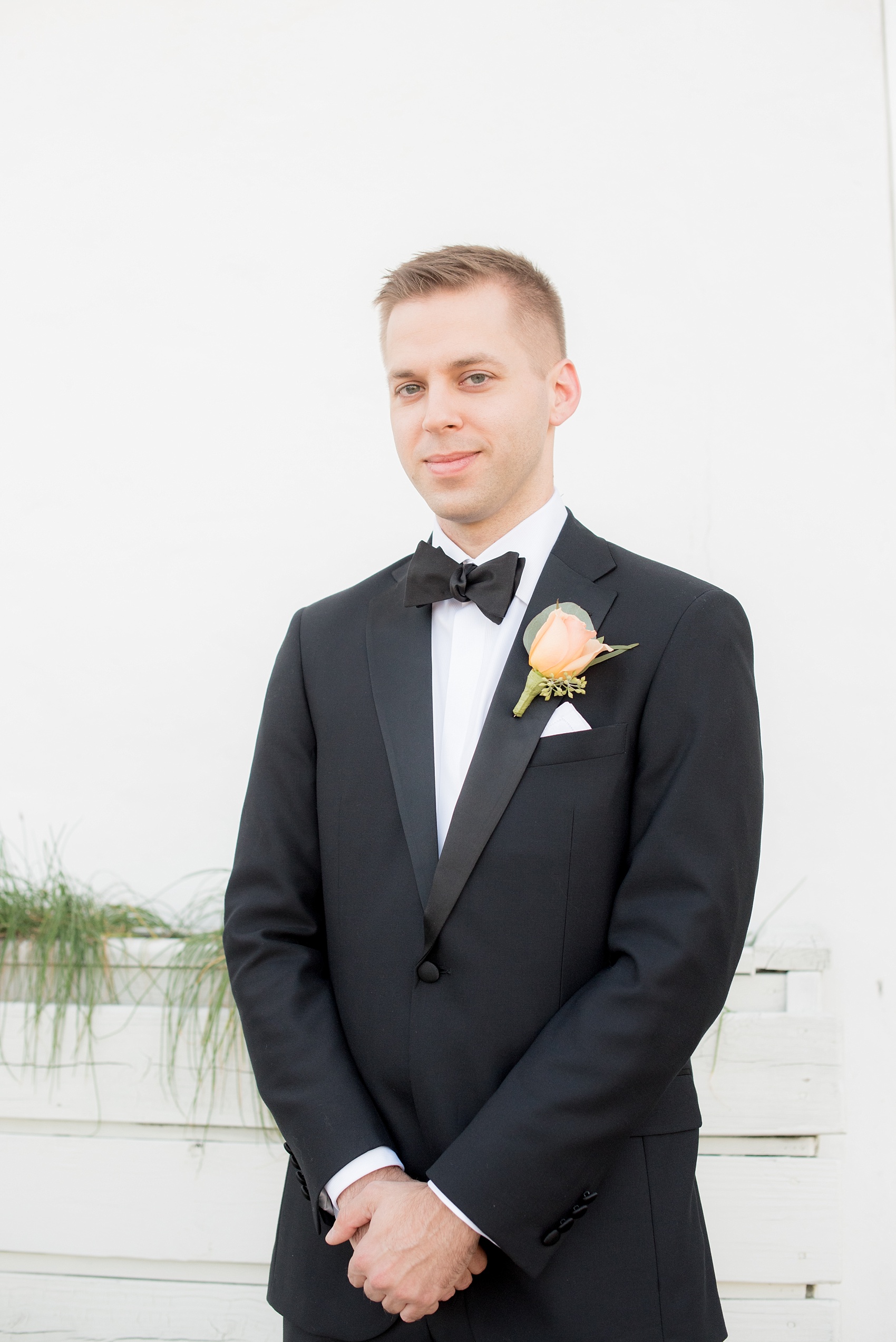 The lighting for their first look was perfection…and they were eager to steal kisses from each other after not seeing one another until mid-afternoon. Opting for their siblings as their only wedding party members – a best man and matron of honor – made traveling around the area super easy and fun, as we walked within a few blocks of the venue to capture some really wonderful photos.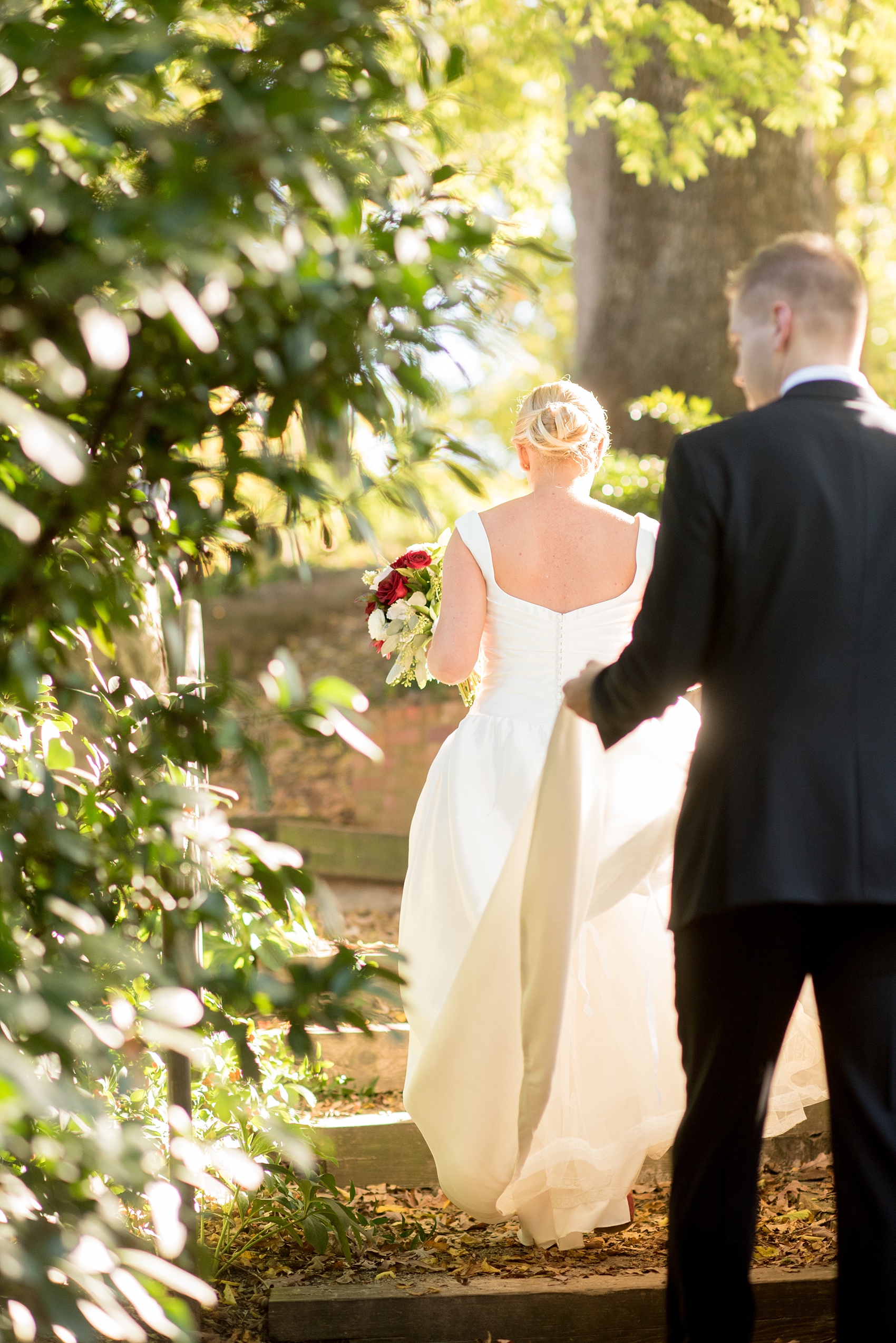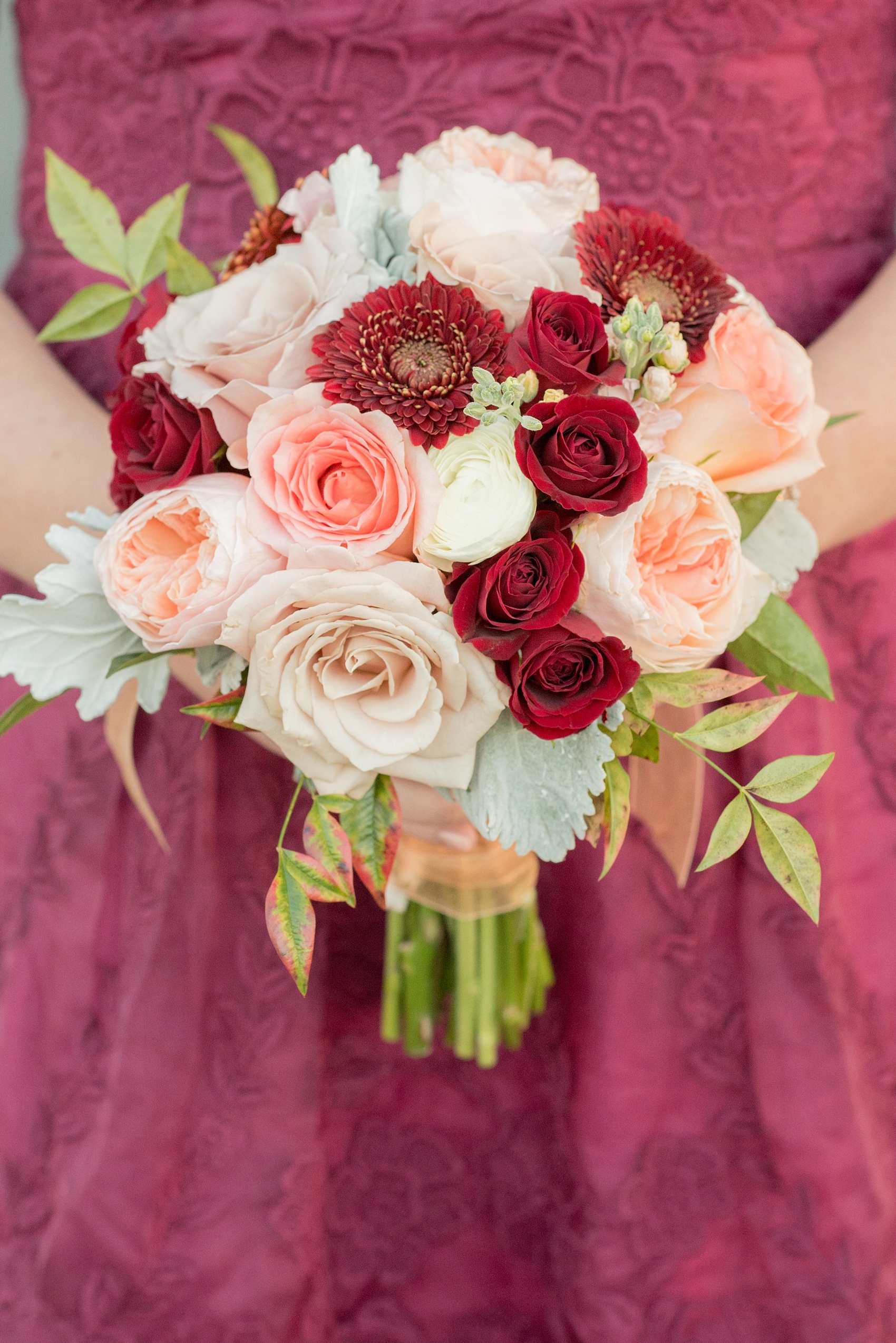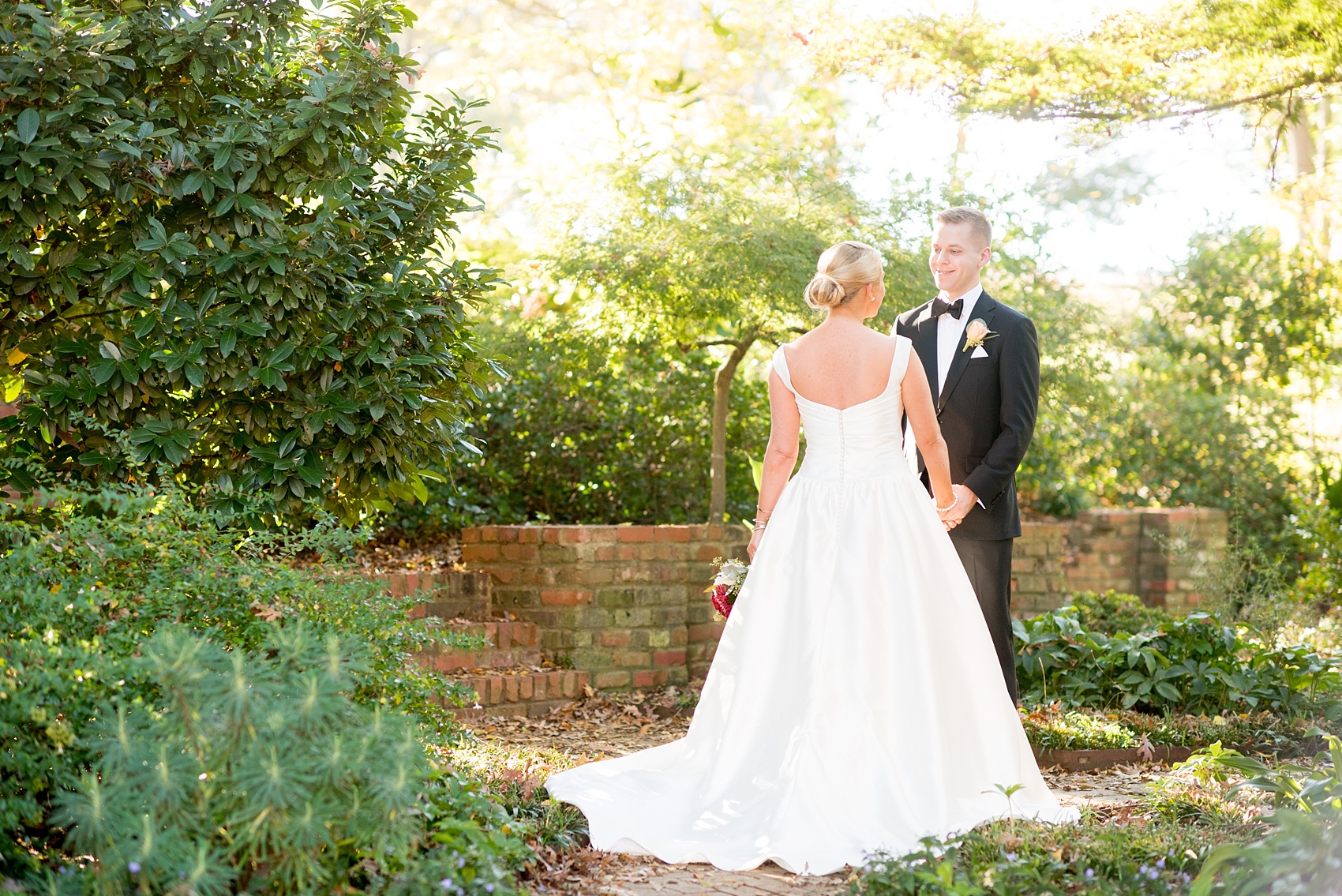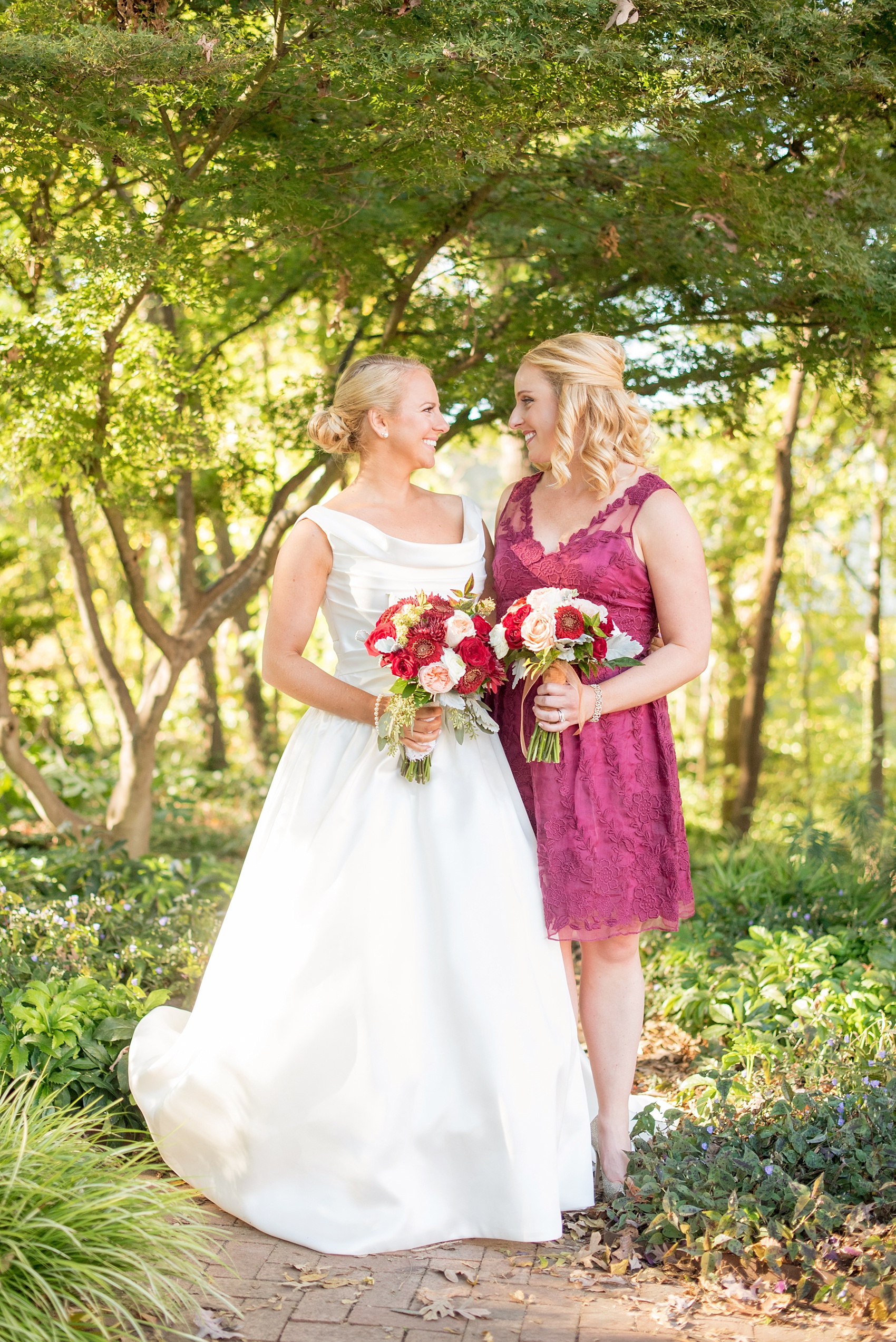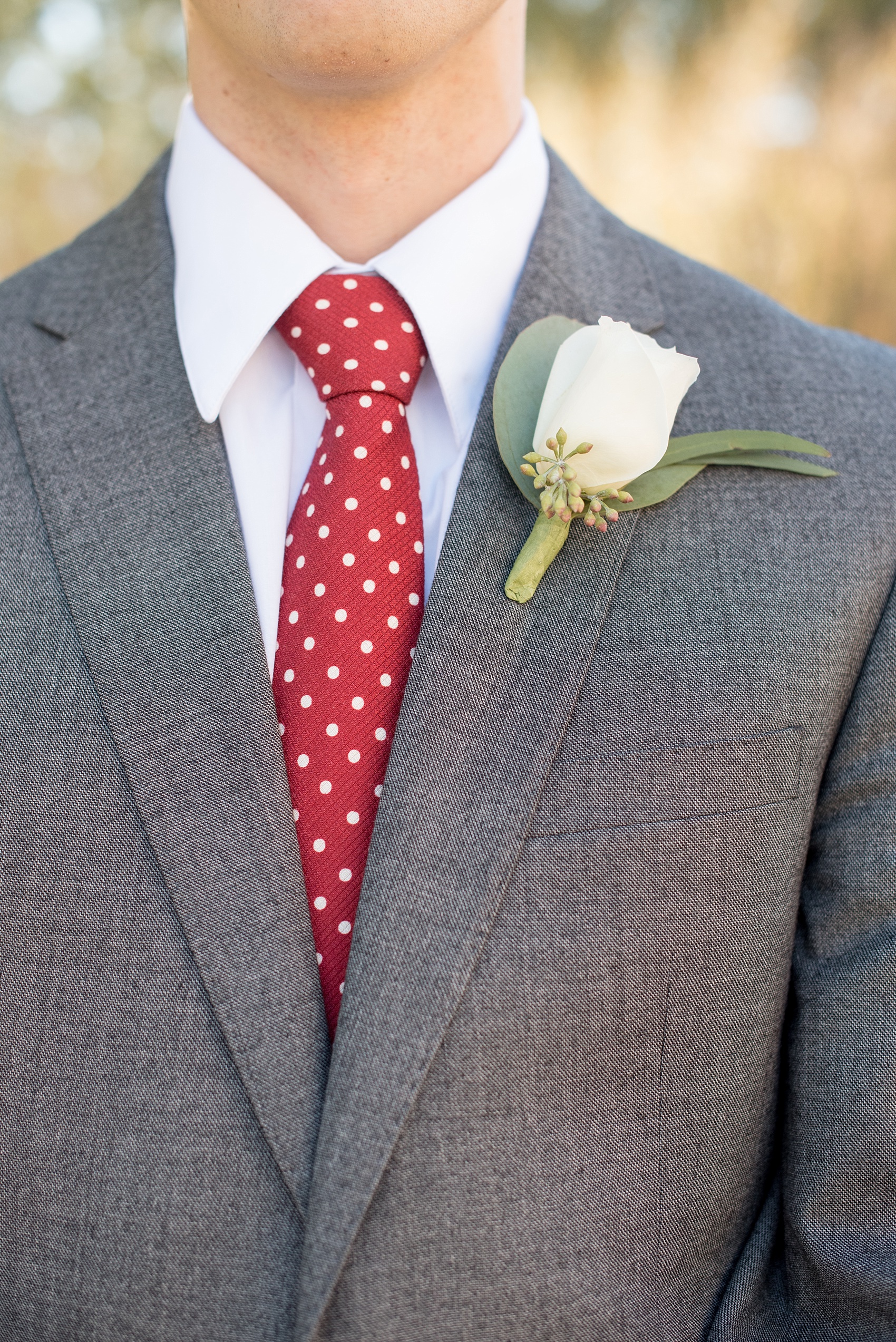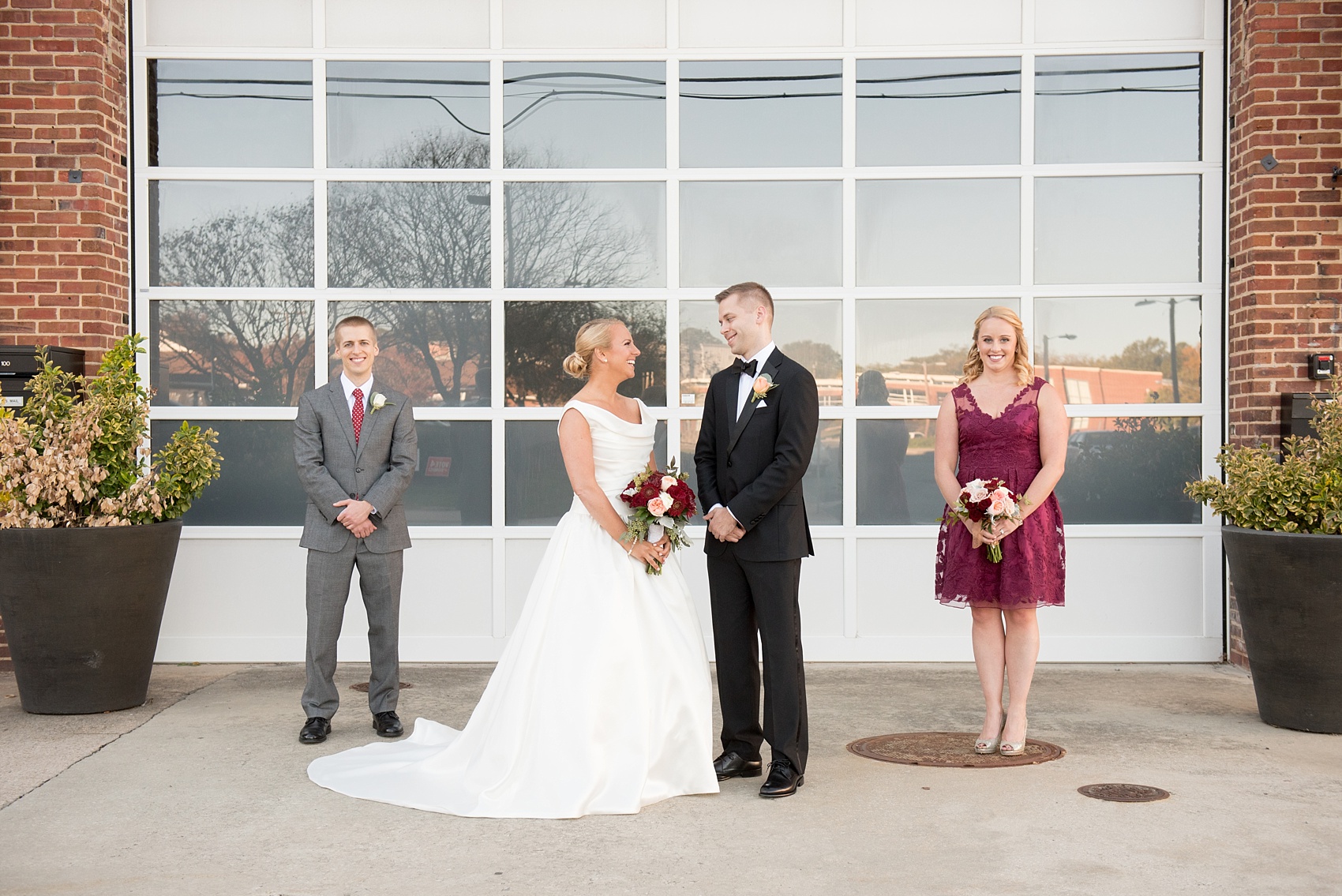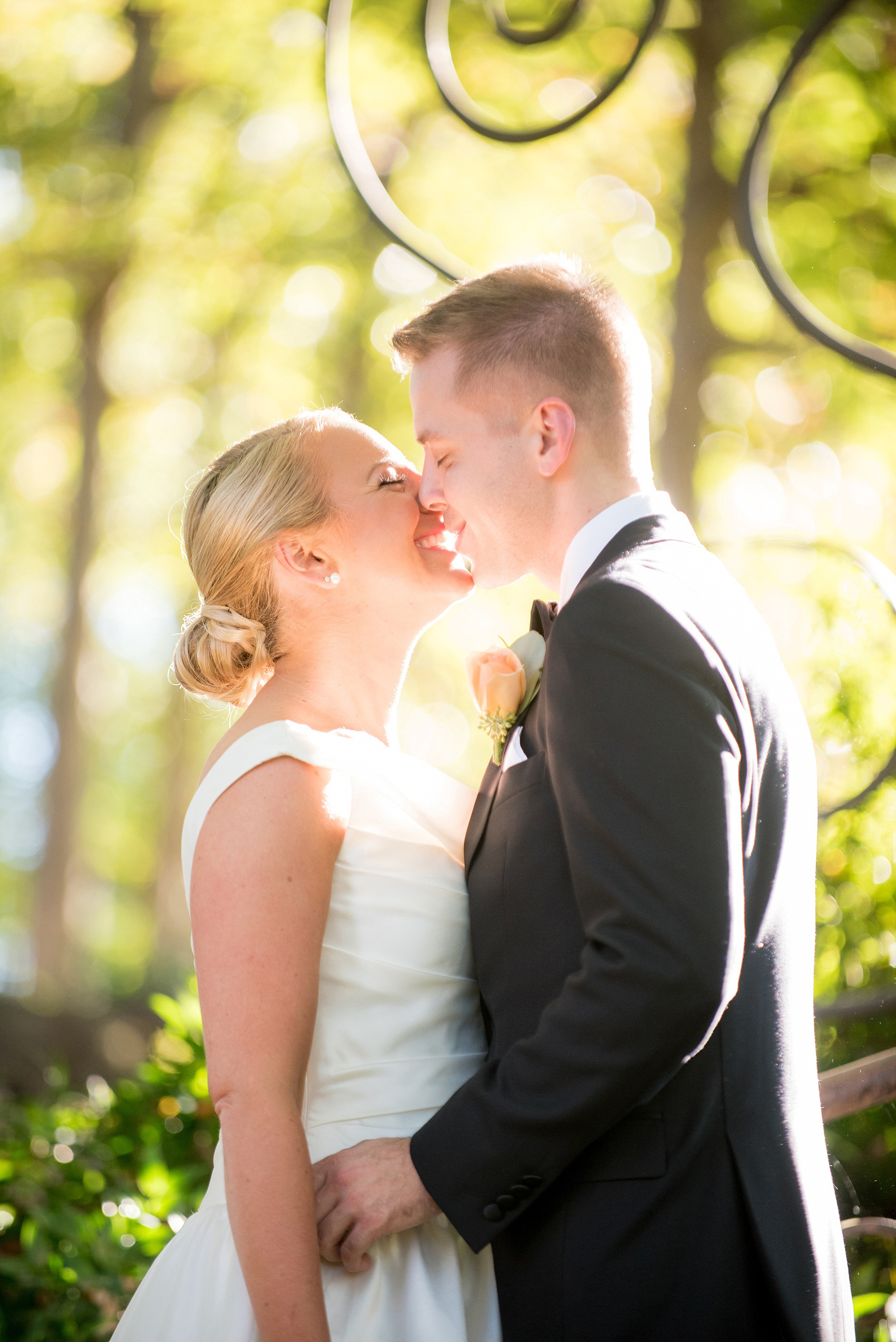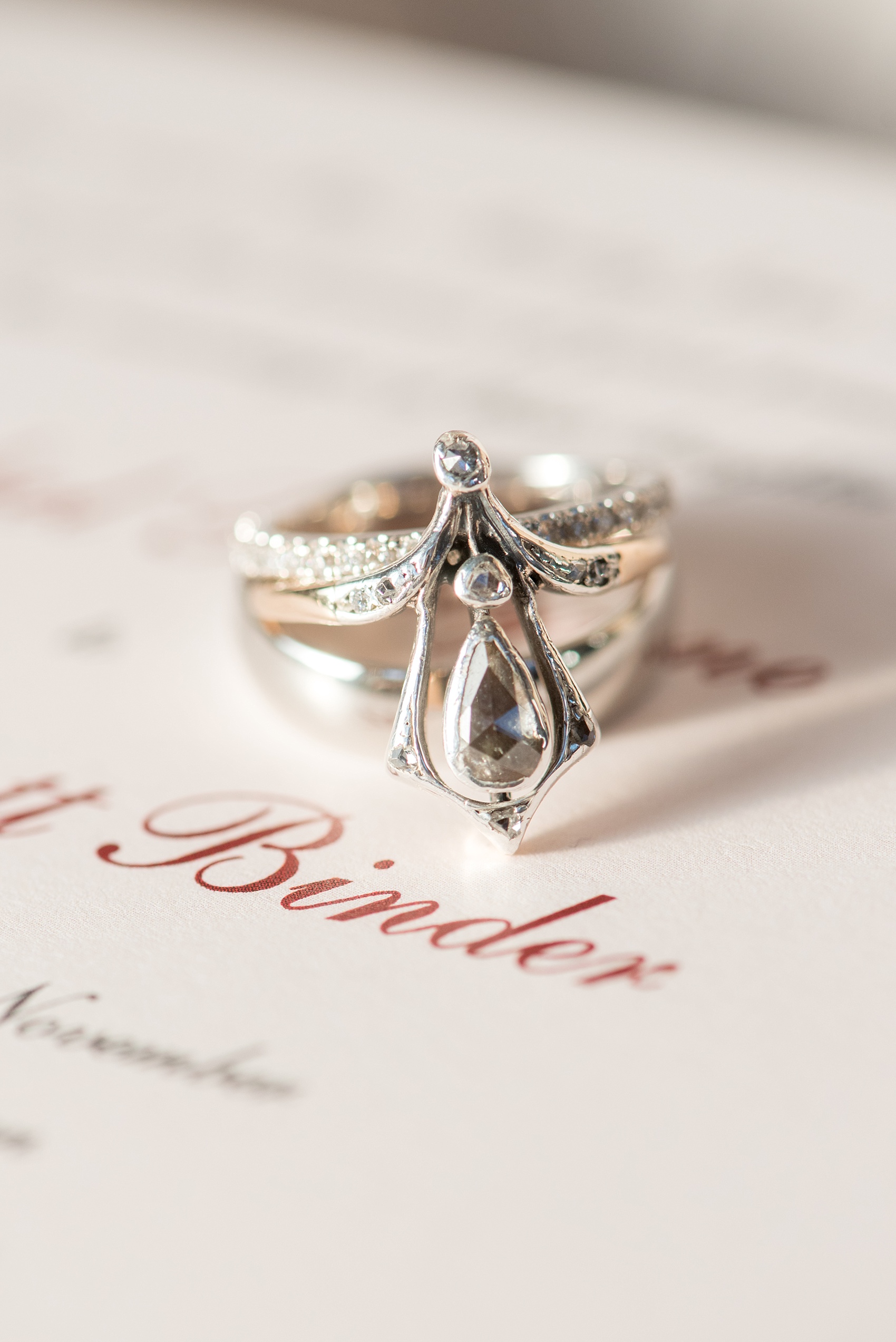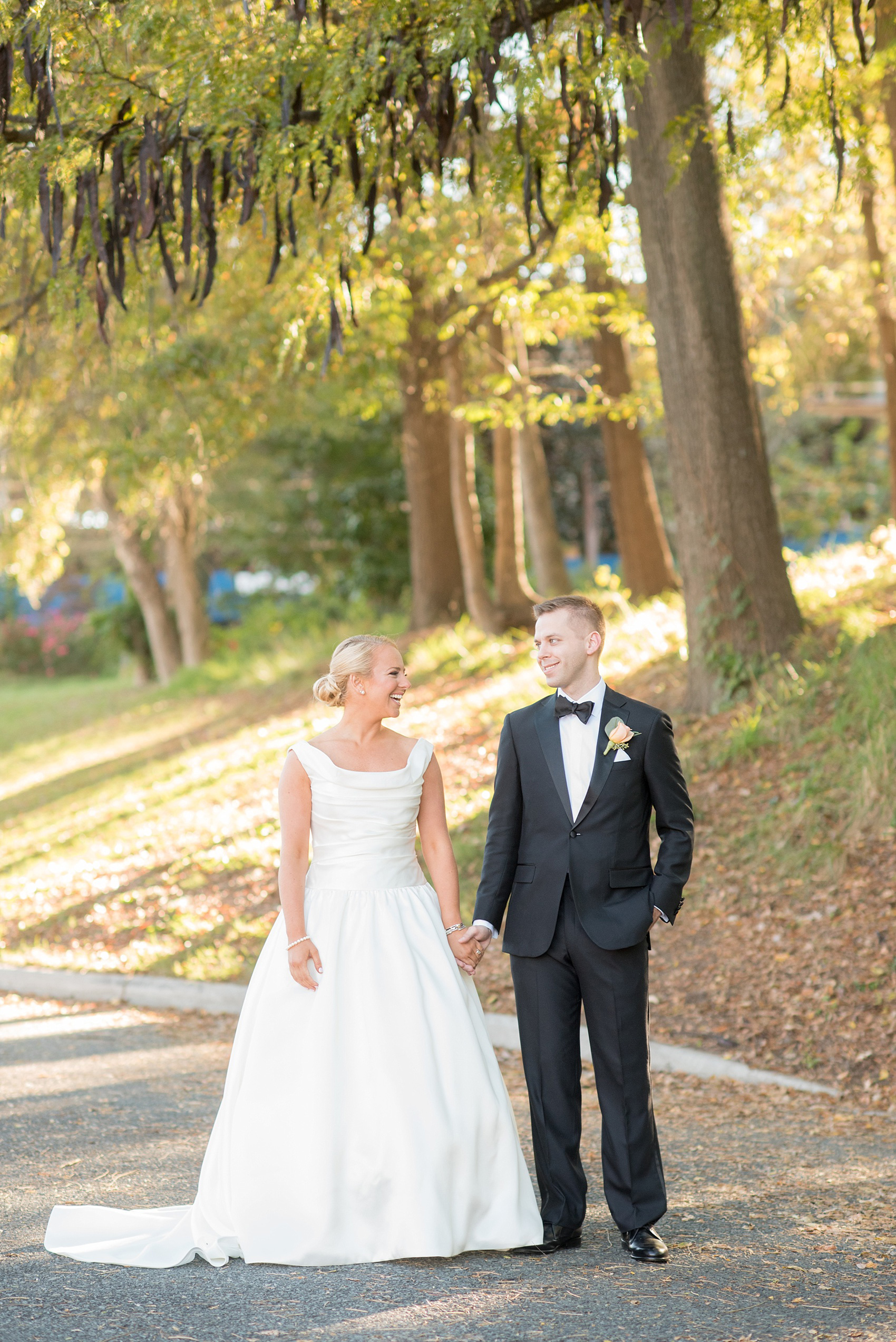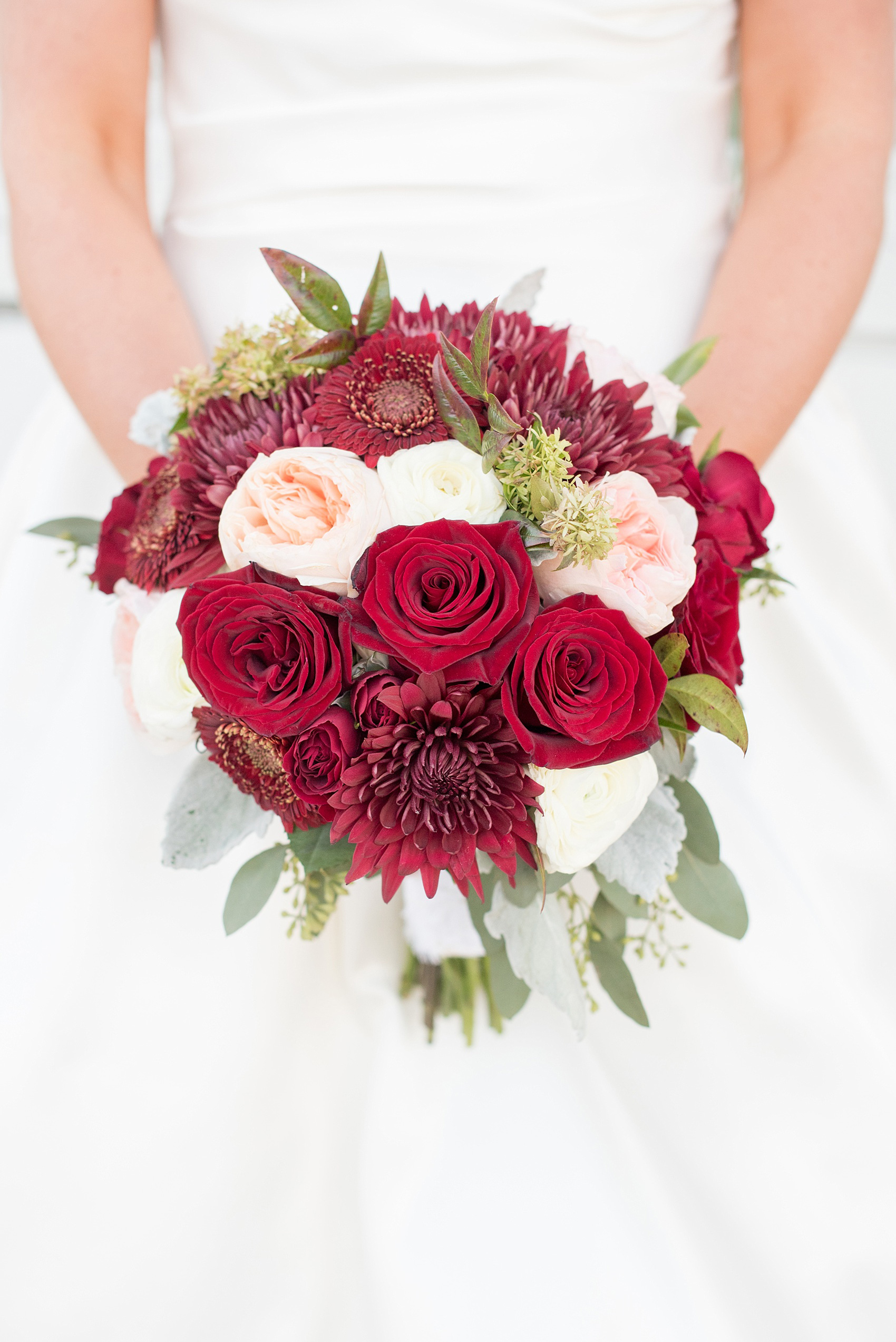 The season was certainly reflected in Rachel and Laura's (her sister's) lush bouquets. Burgundy dahlias, seeded eucalyptus, dusty miller, peach garden roses and fall-changing greenery comprised her bouquet and the men had matching rose and eucalyptus boutonnieres to match. While Adam wore a classic black tuxedo, his brother, Brian, wore a grey linen suit and red and white polka dot tie, to bring their color palette full circle.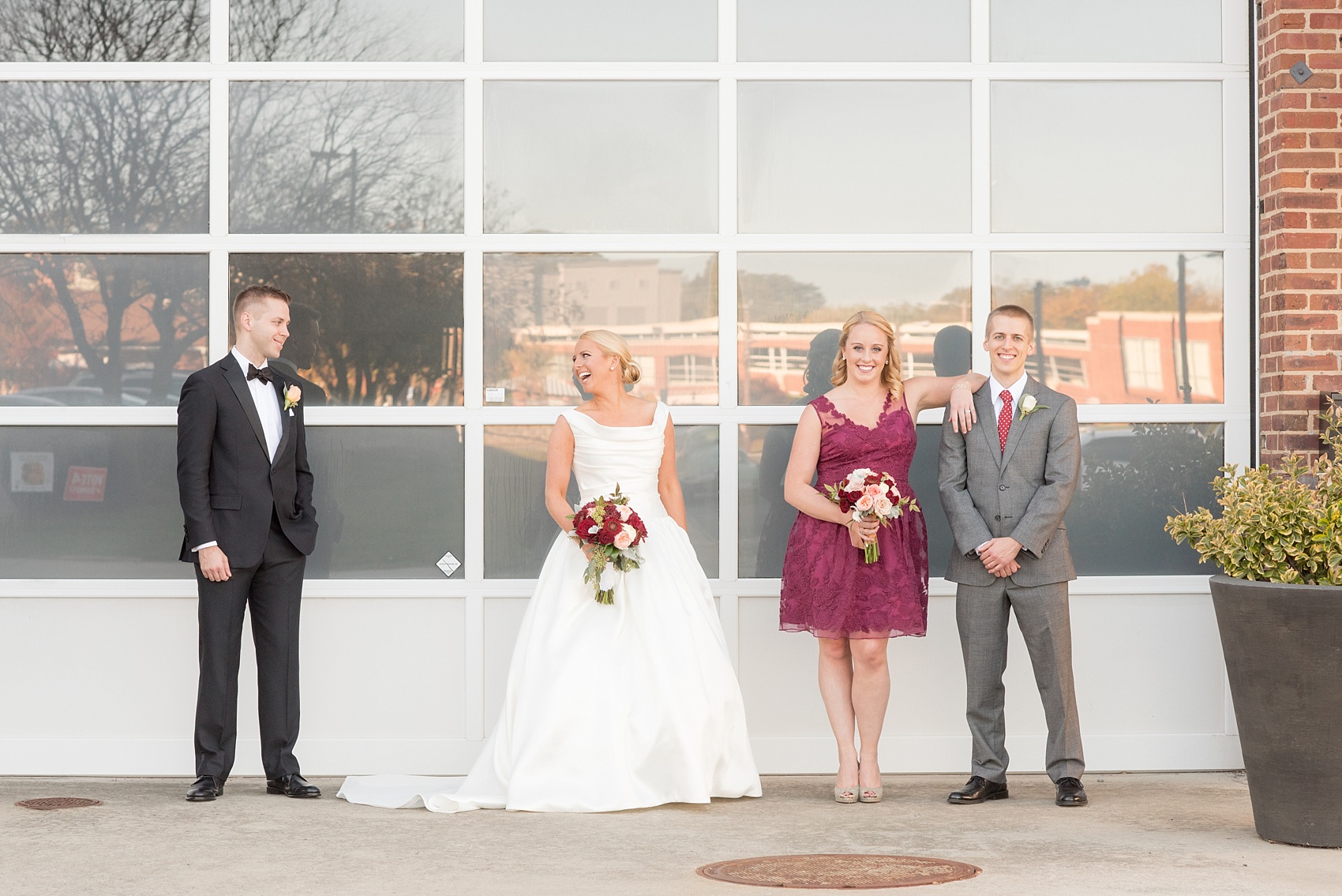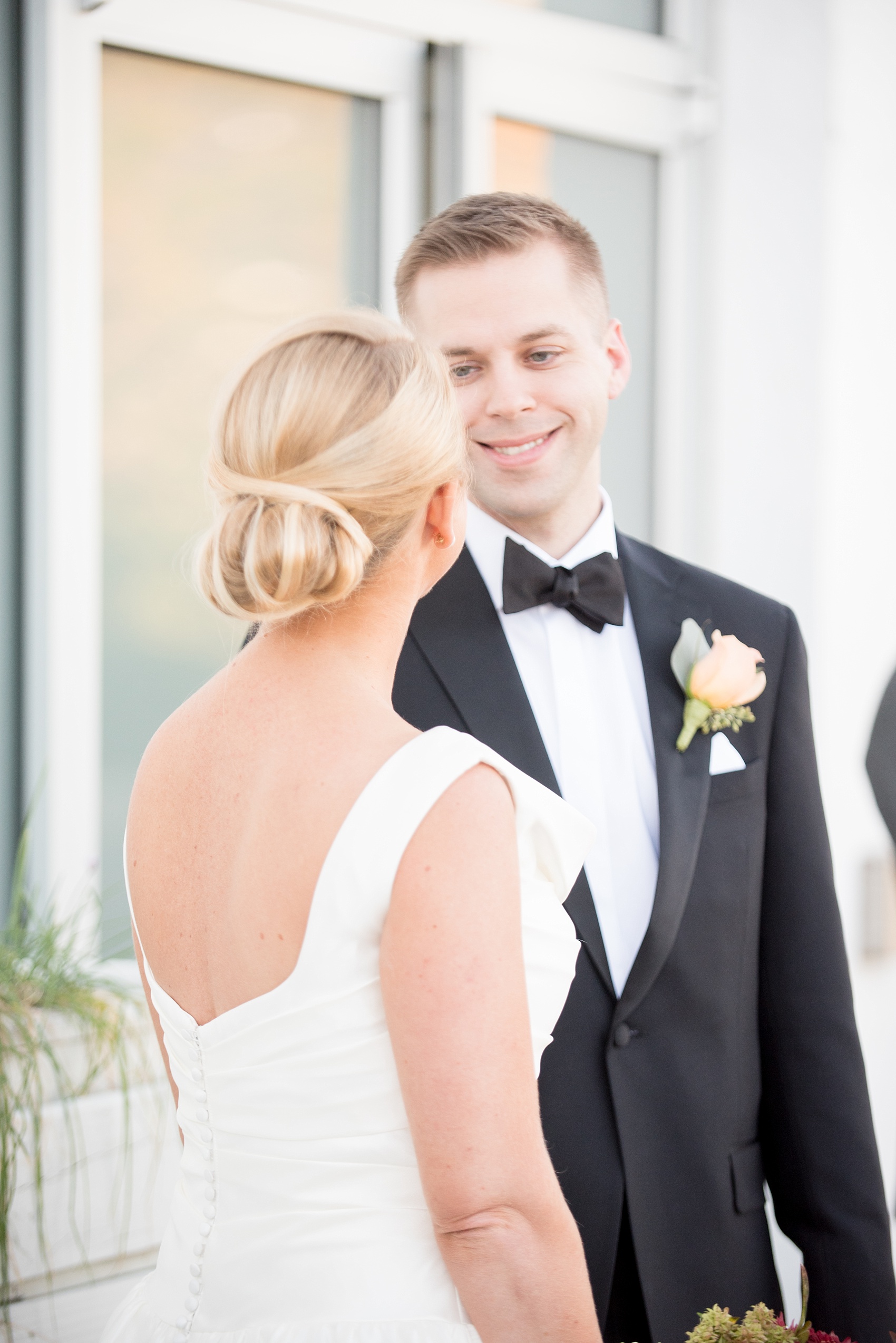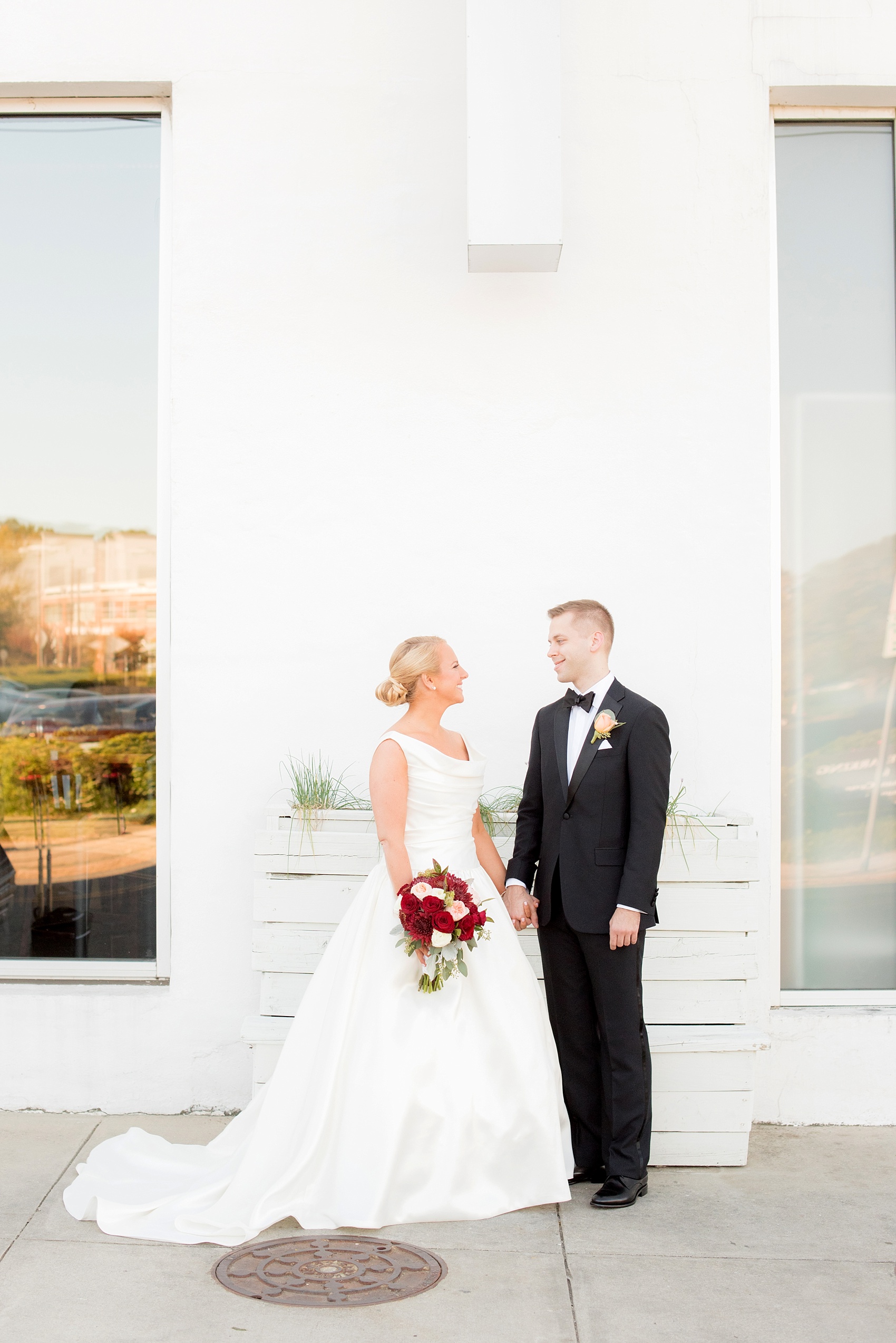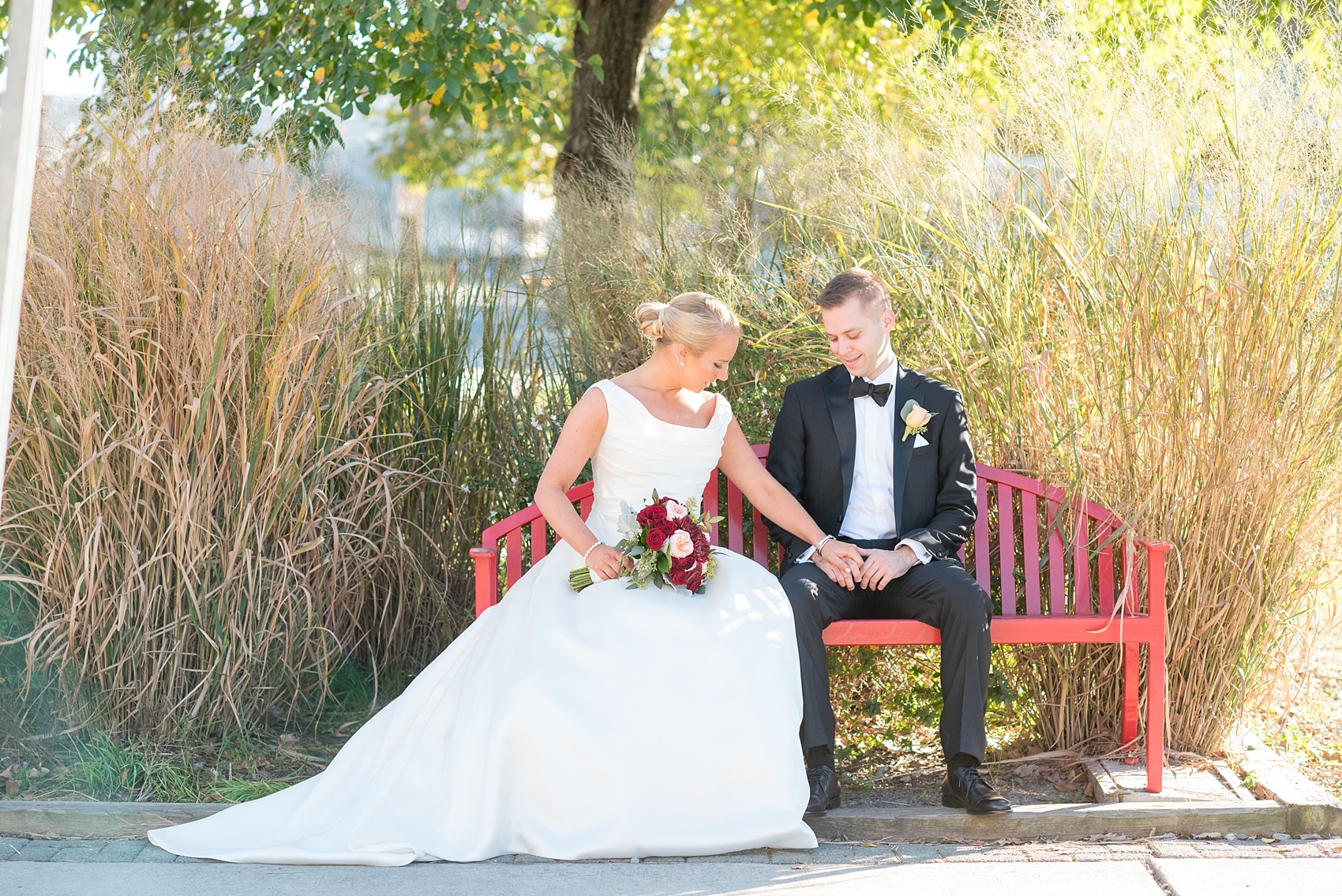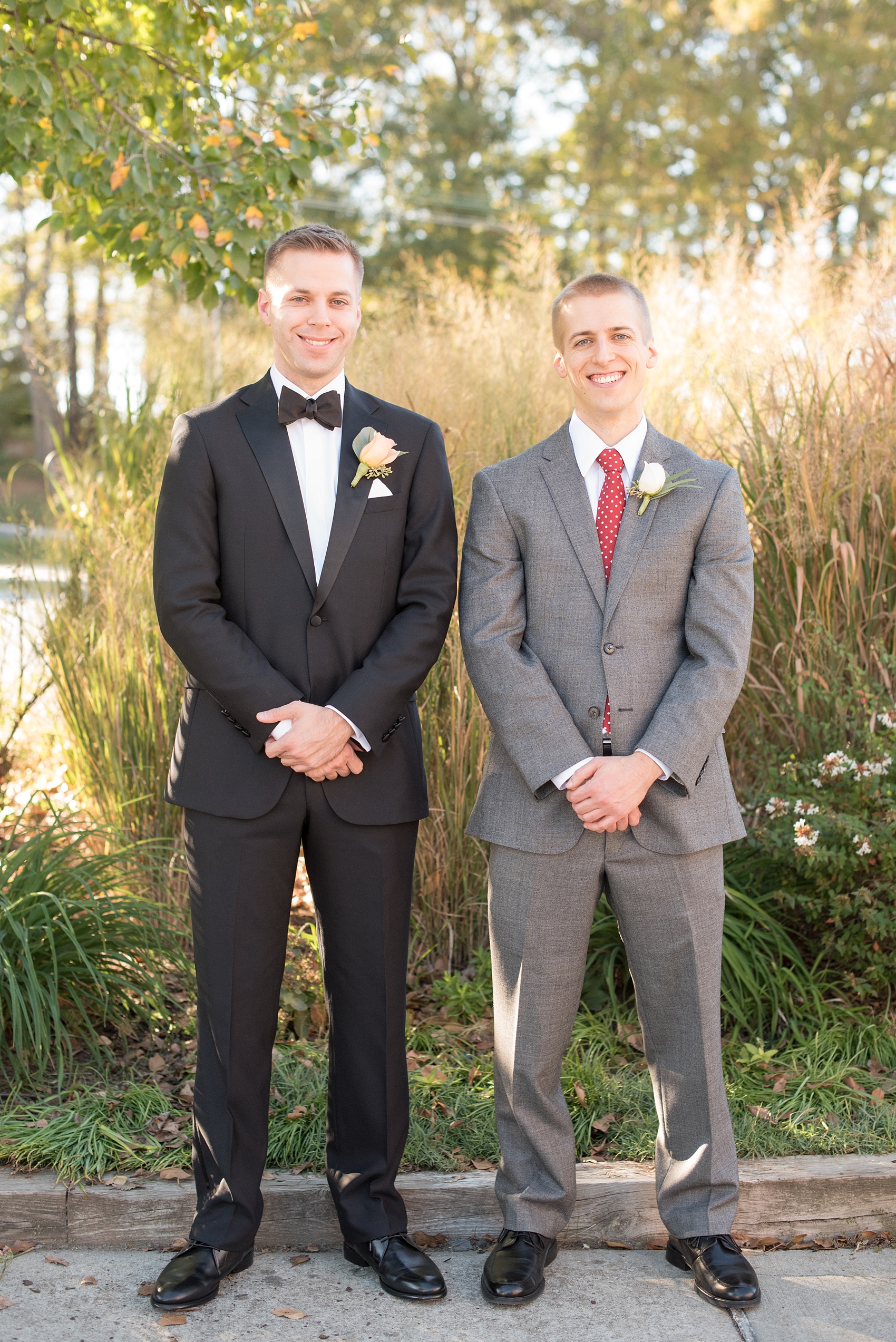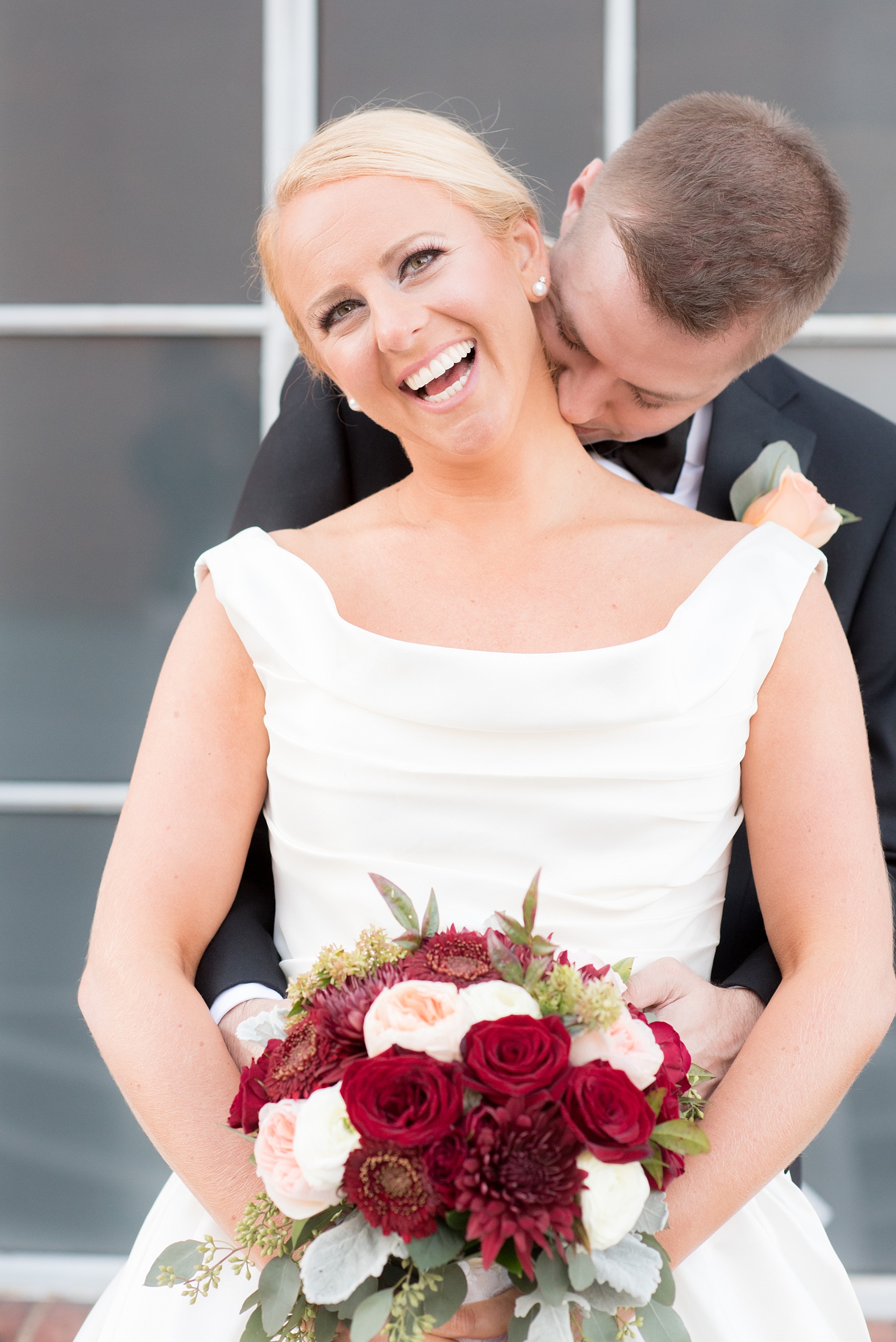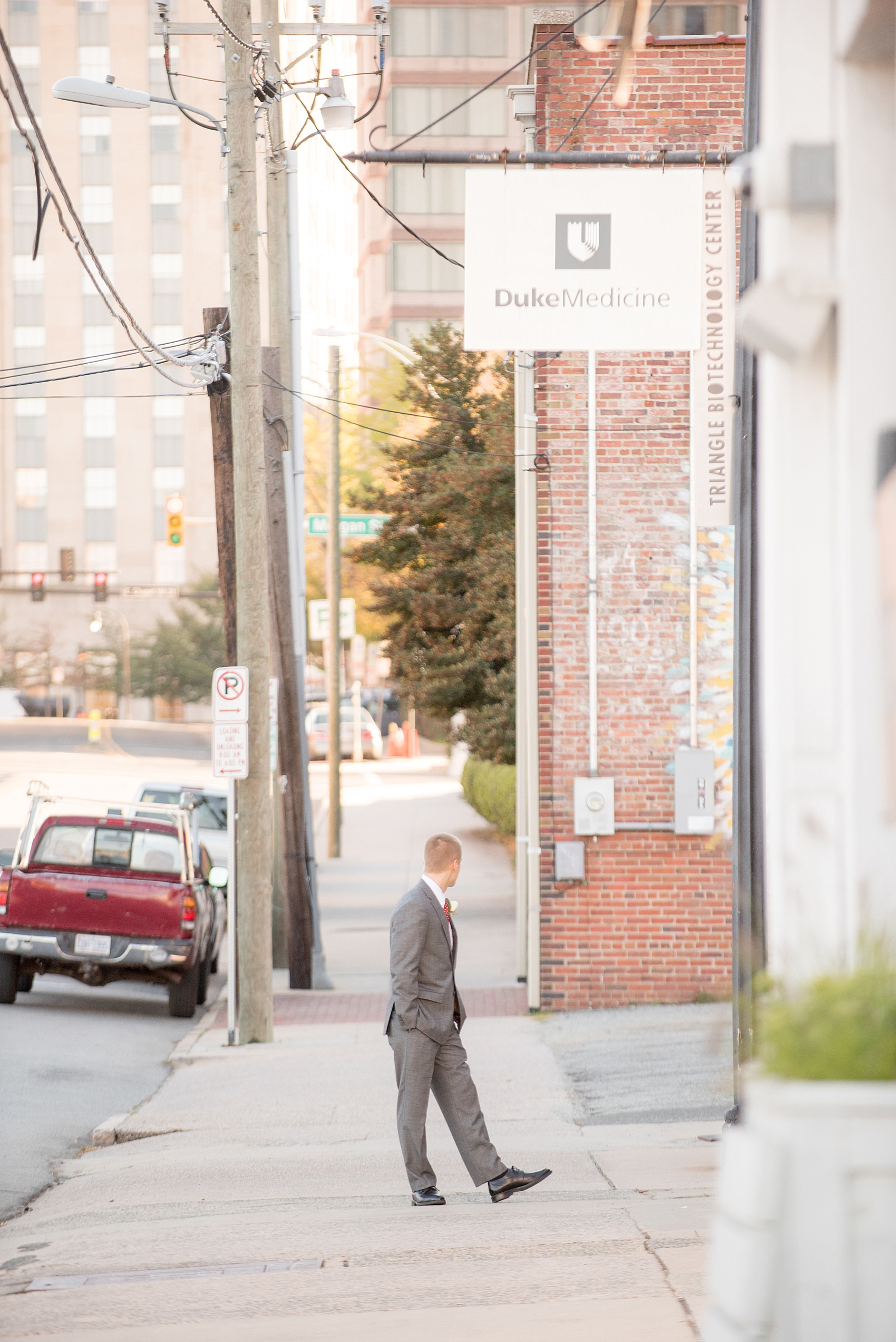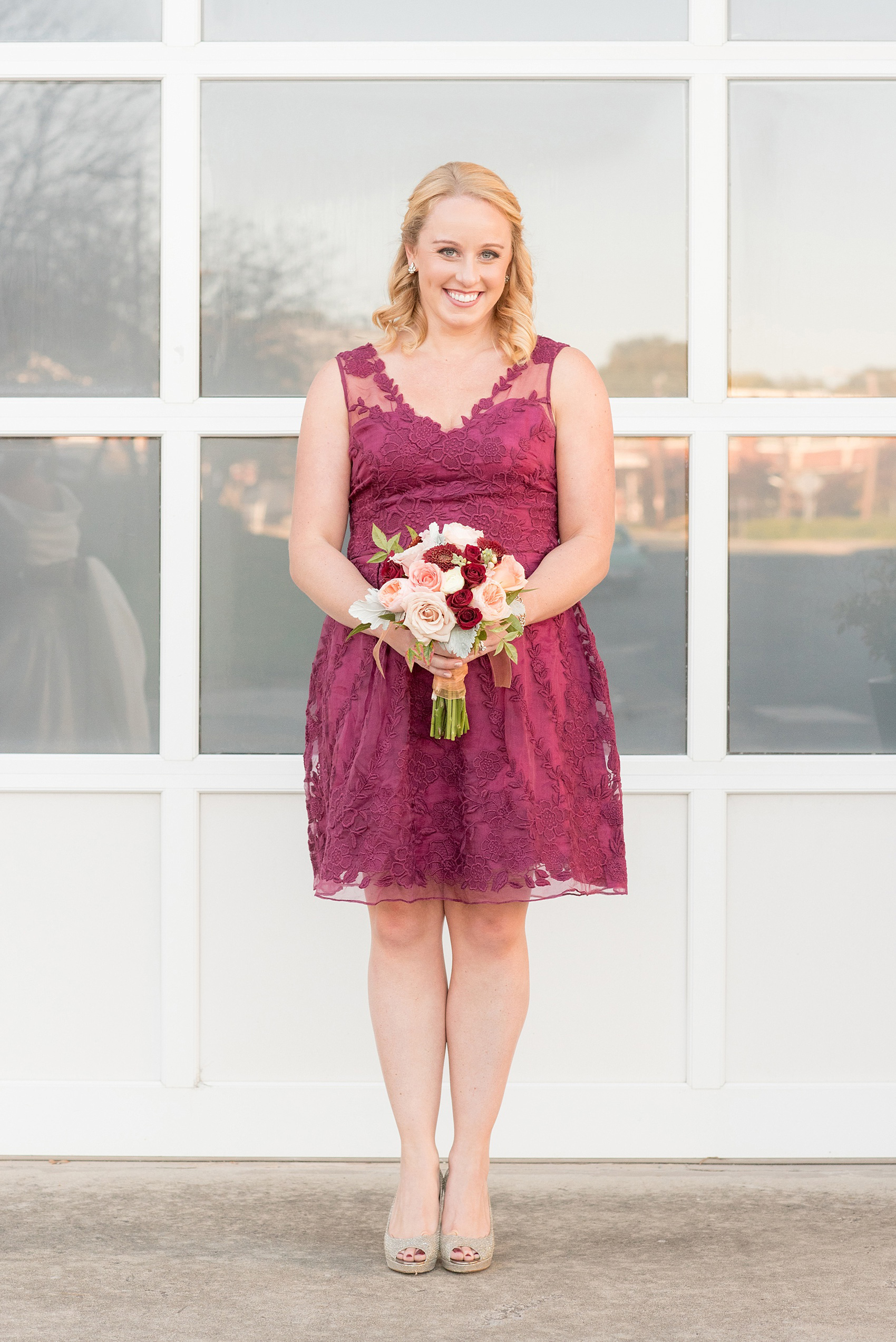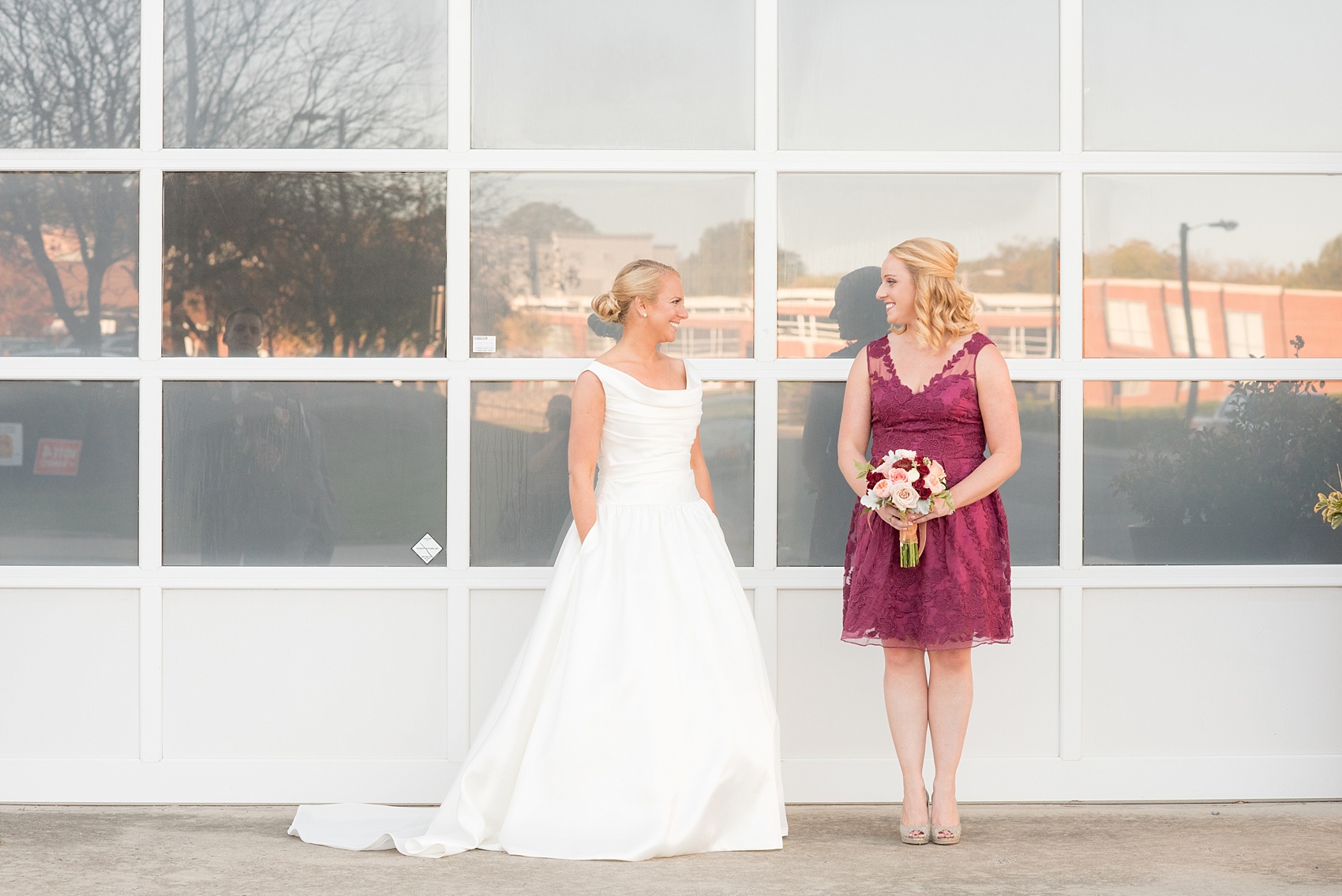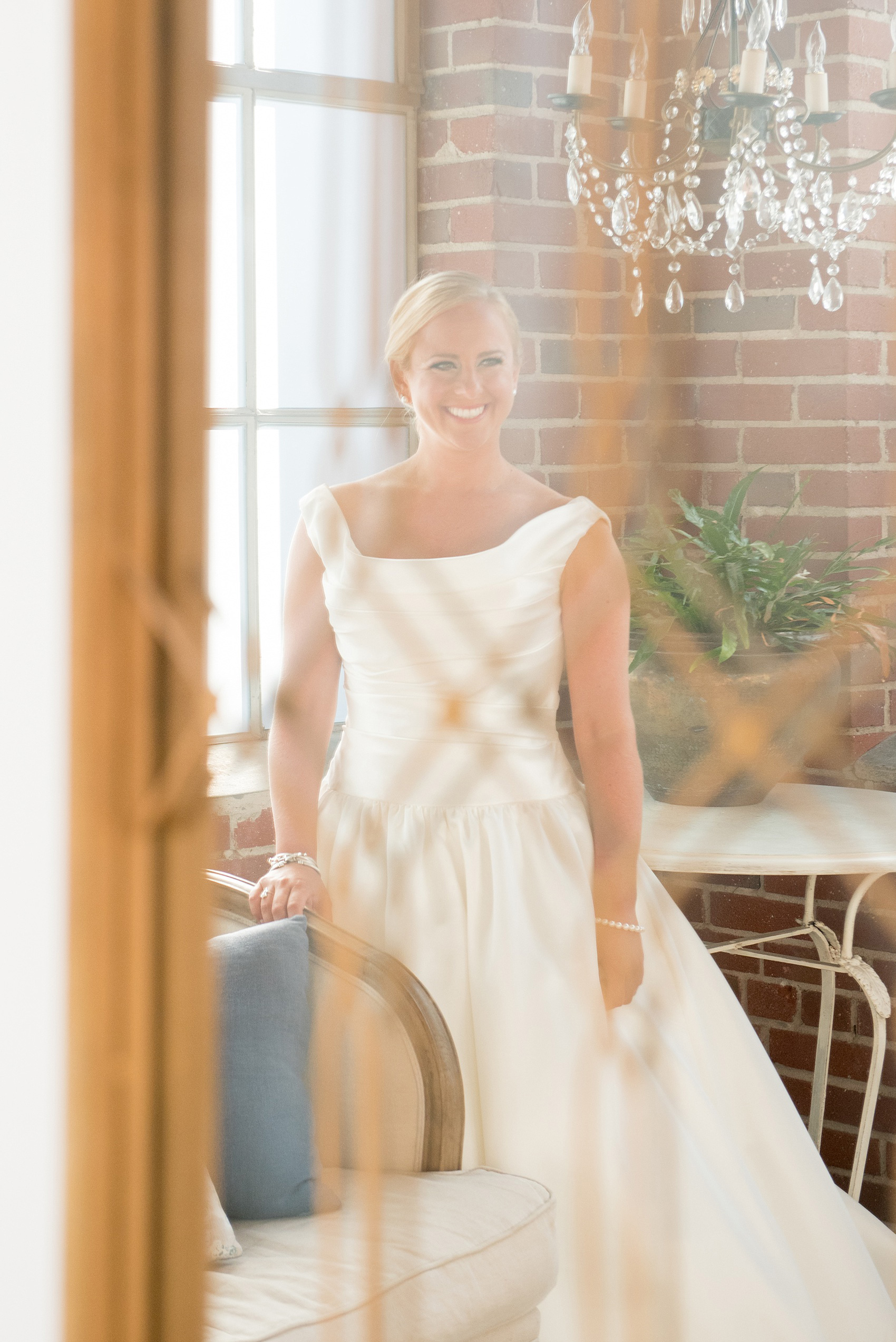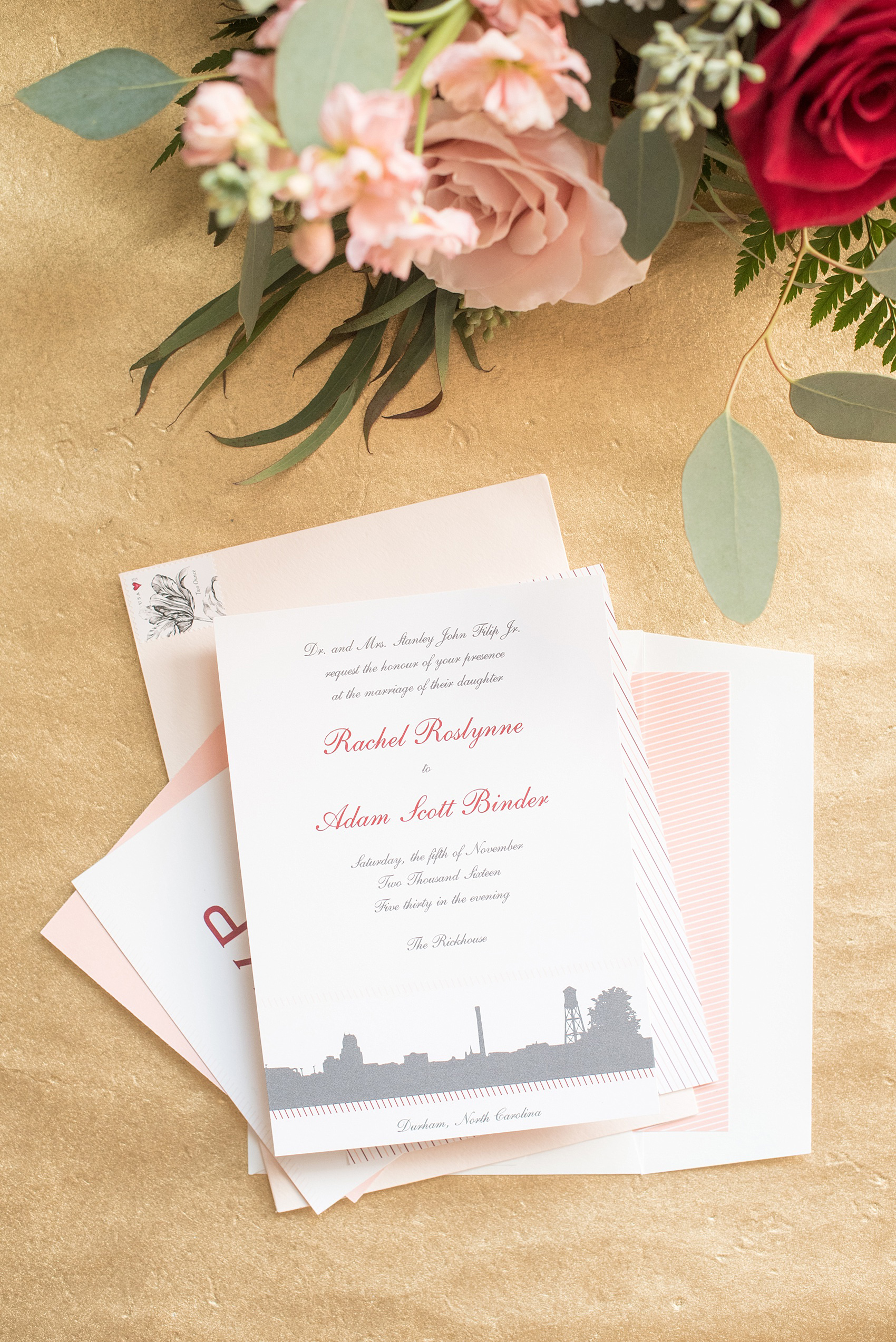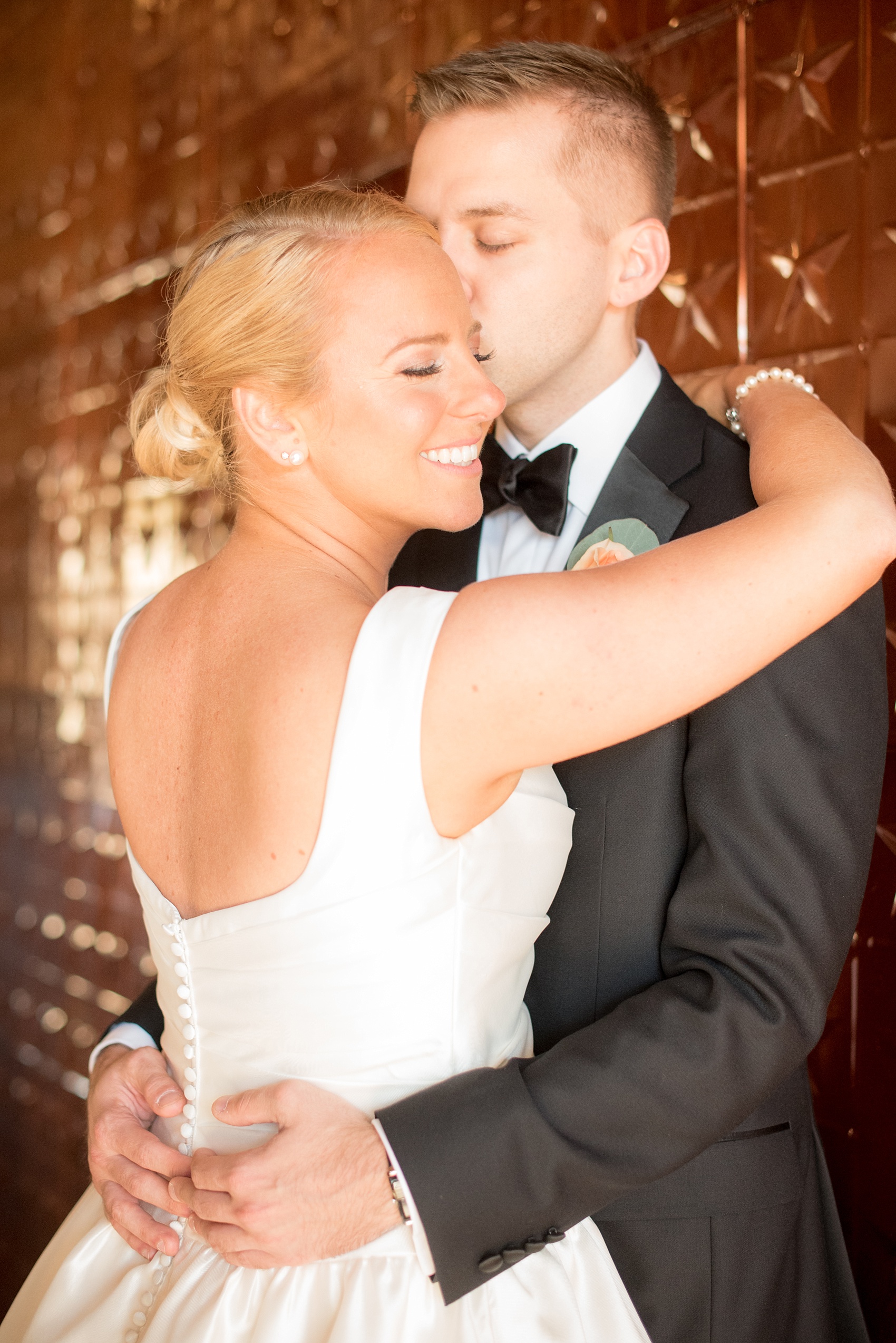 The bride and groom were able to spend some time with their immediate family in the bridal suite to unwind, enjoy some adult cocktails to calm any nerves (and let's face it – simply celebrate!) and take a few minutes to review their vows before the ceremony. I enjoyed capturing a few detail shots of their rings during this time, including one of their wedding bands on a custom embroidered handkerchief Rachel gifted Adam for their wedding day.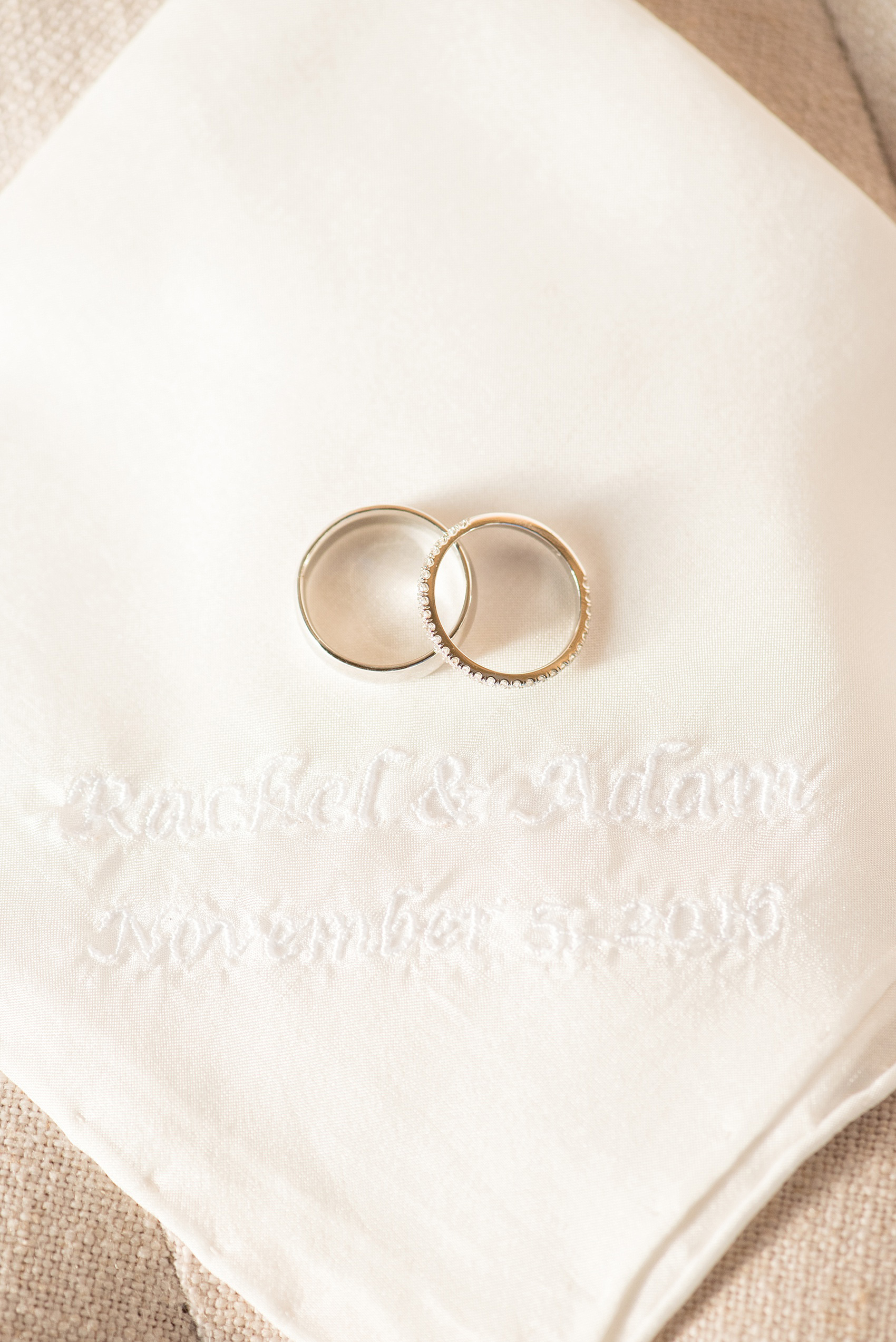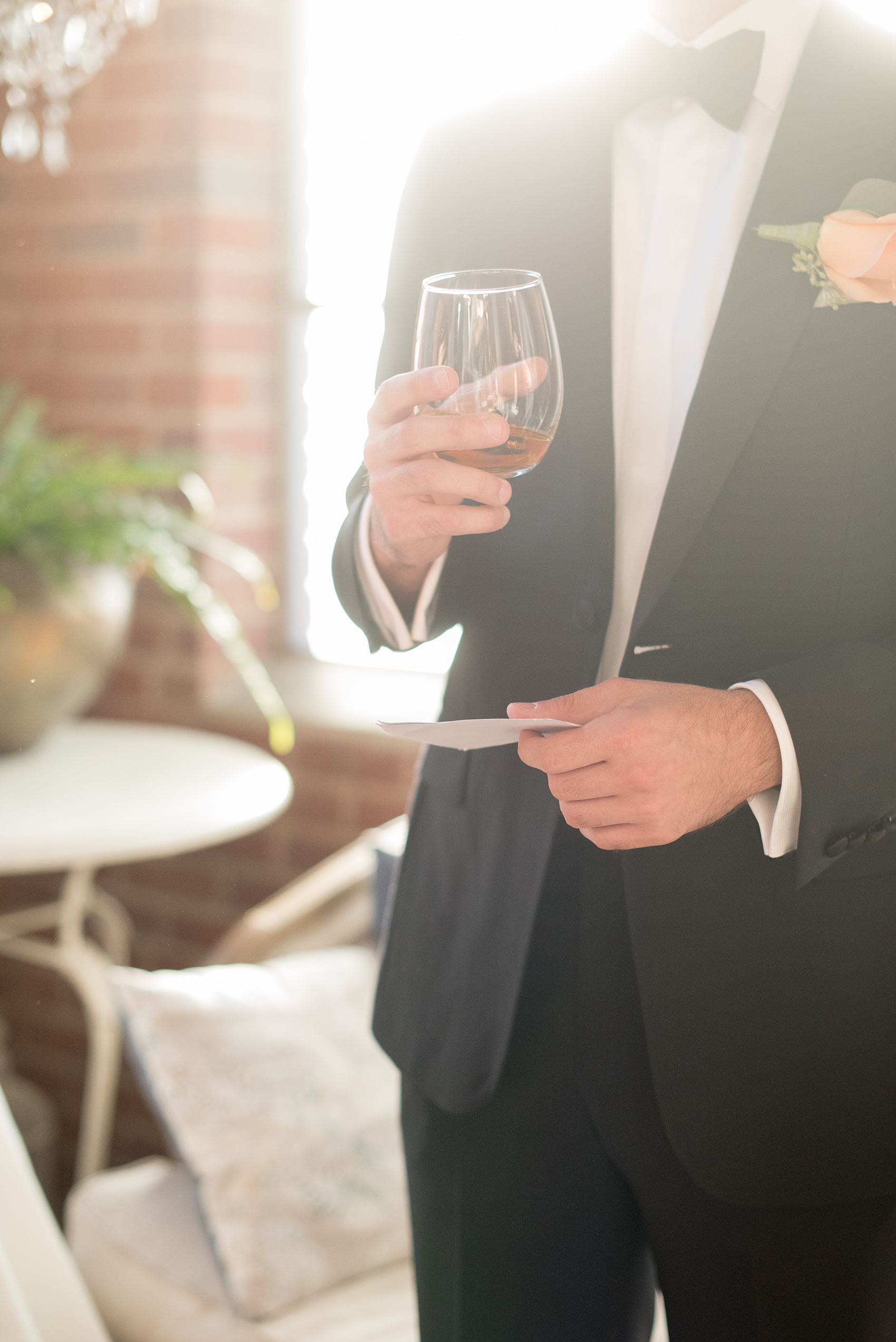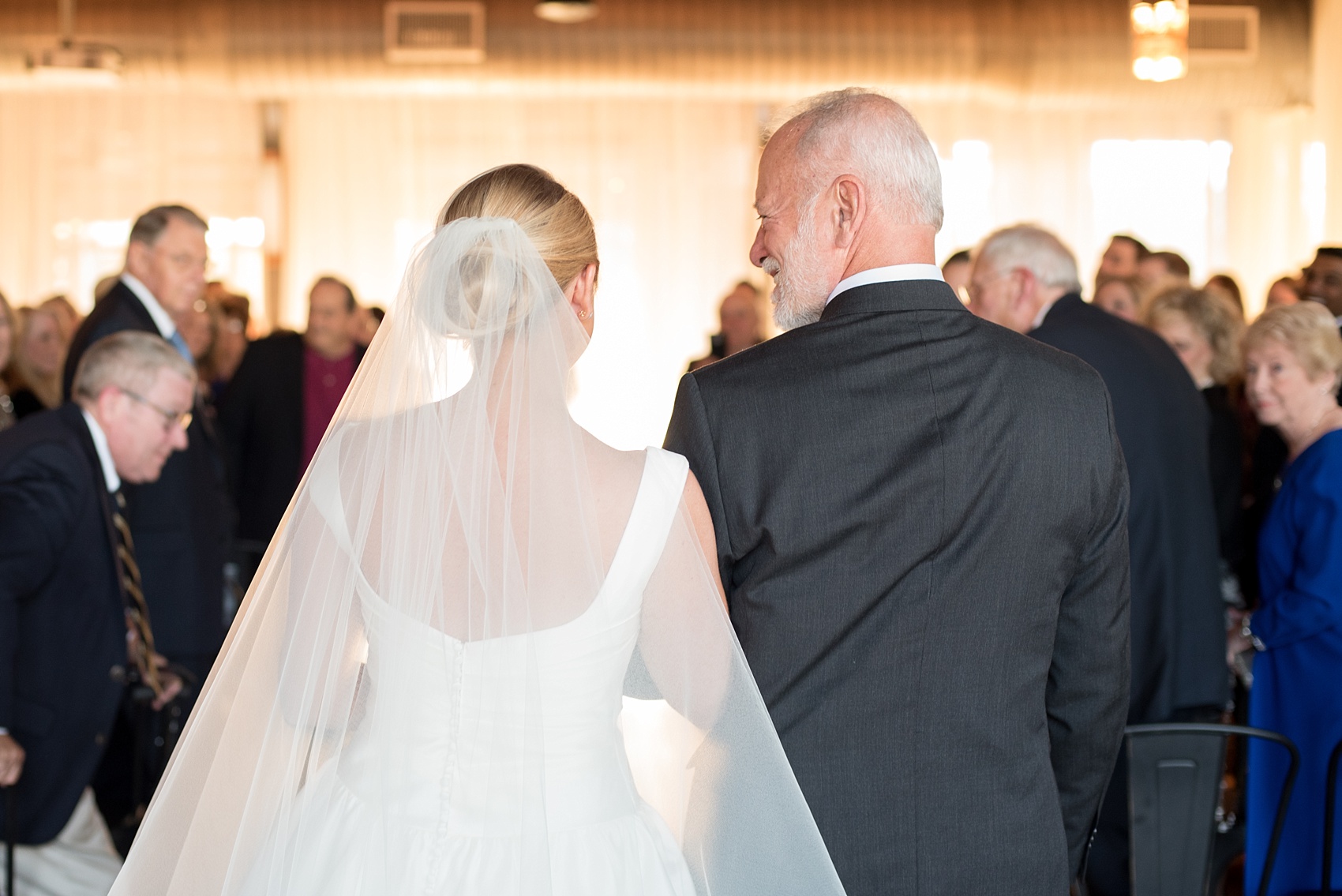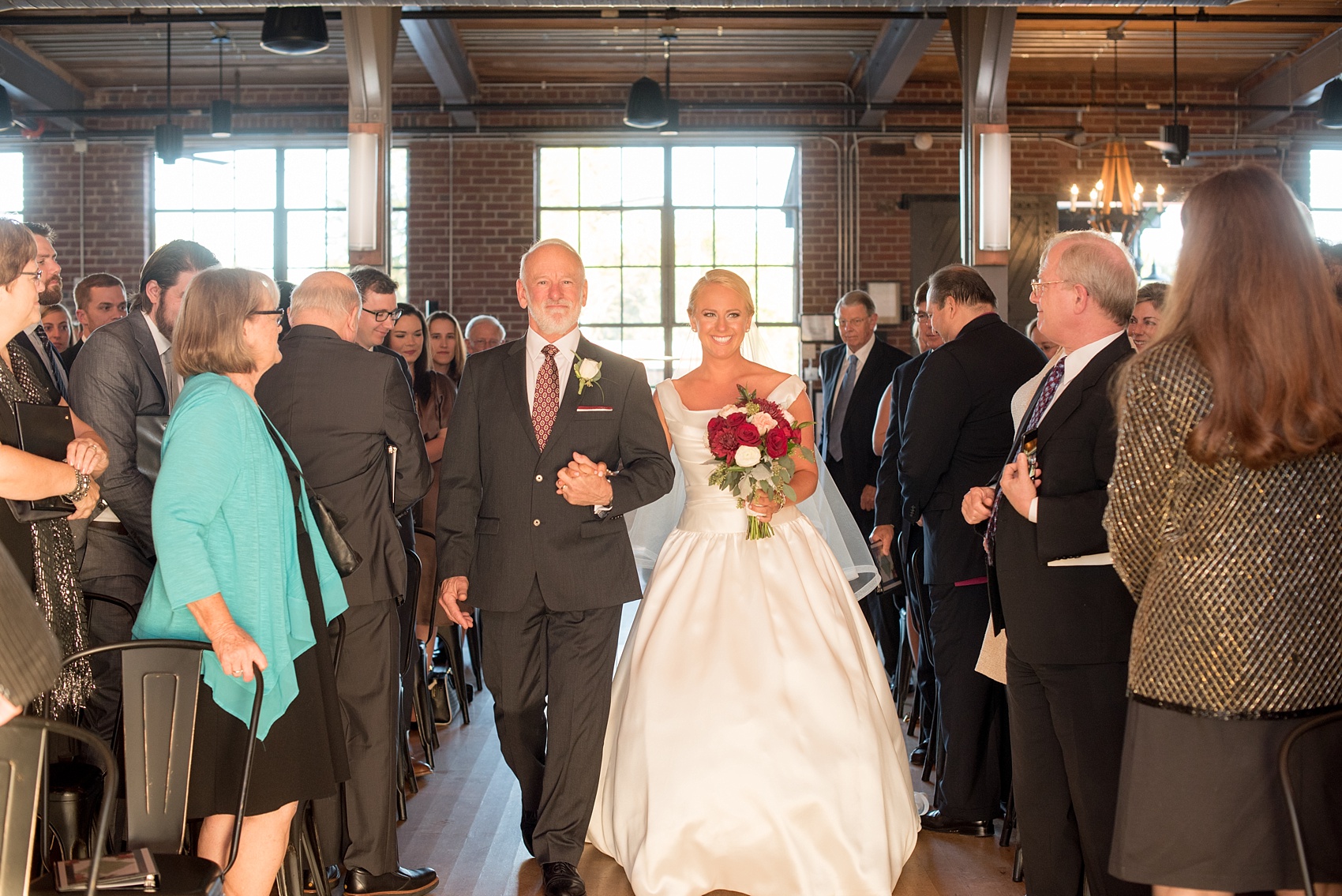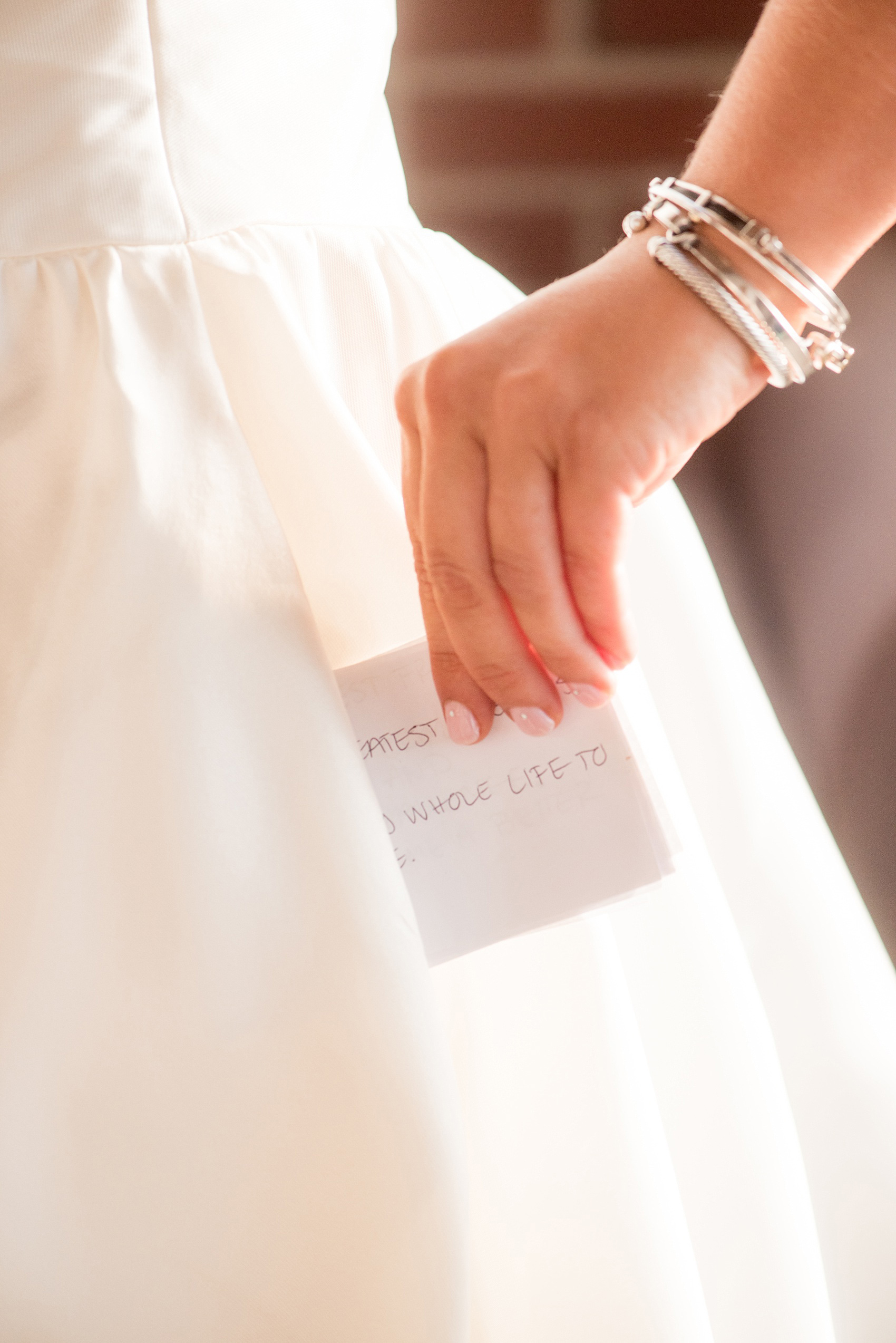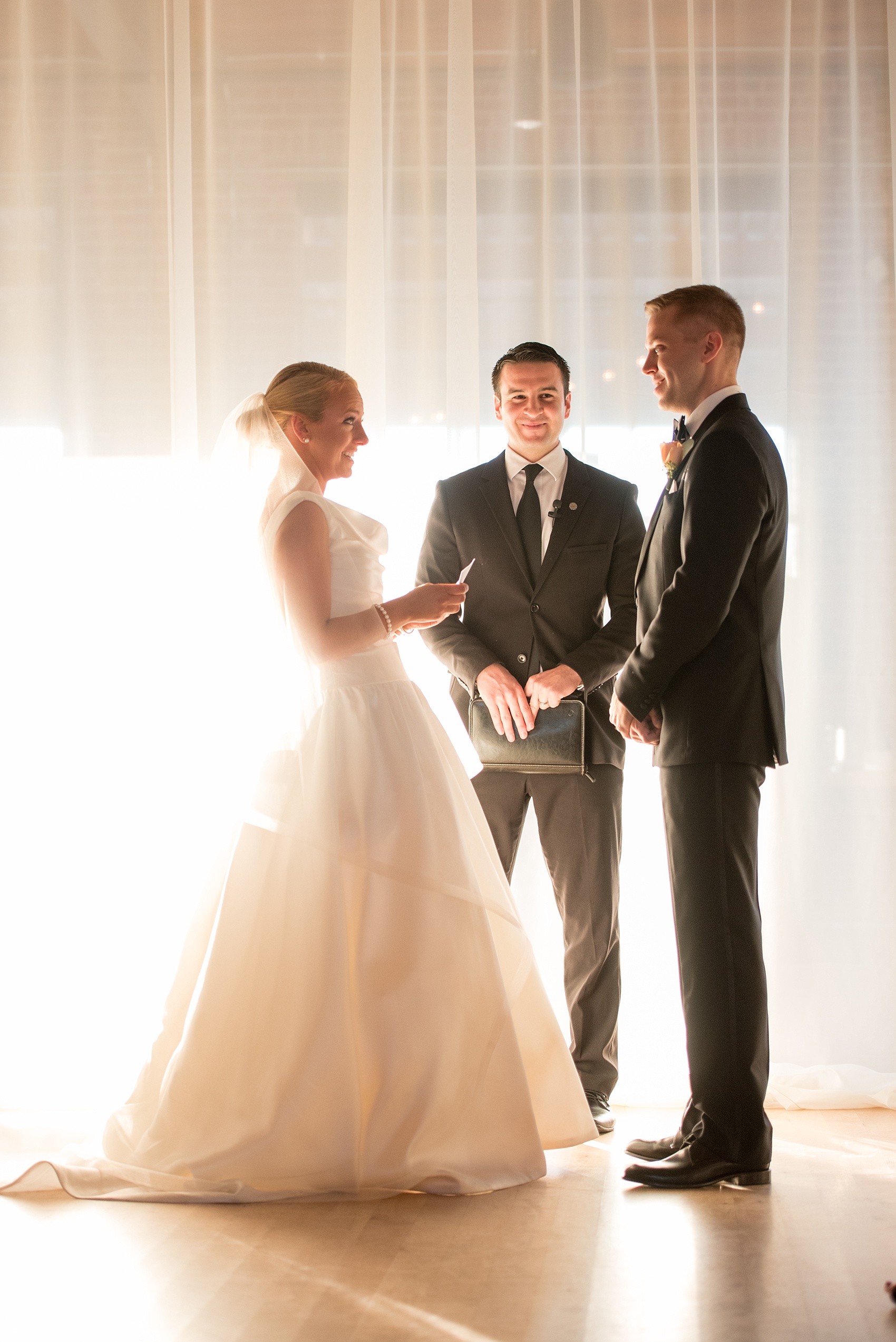 (Pause to admire Rachel's awesome manicure, complete with a tiny rhinestone at the base of each nail bed. Yes, please!)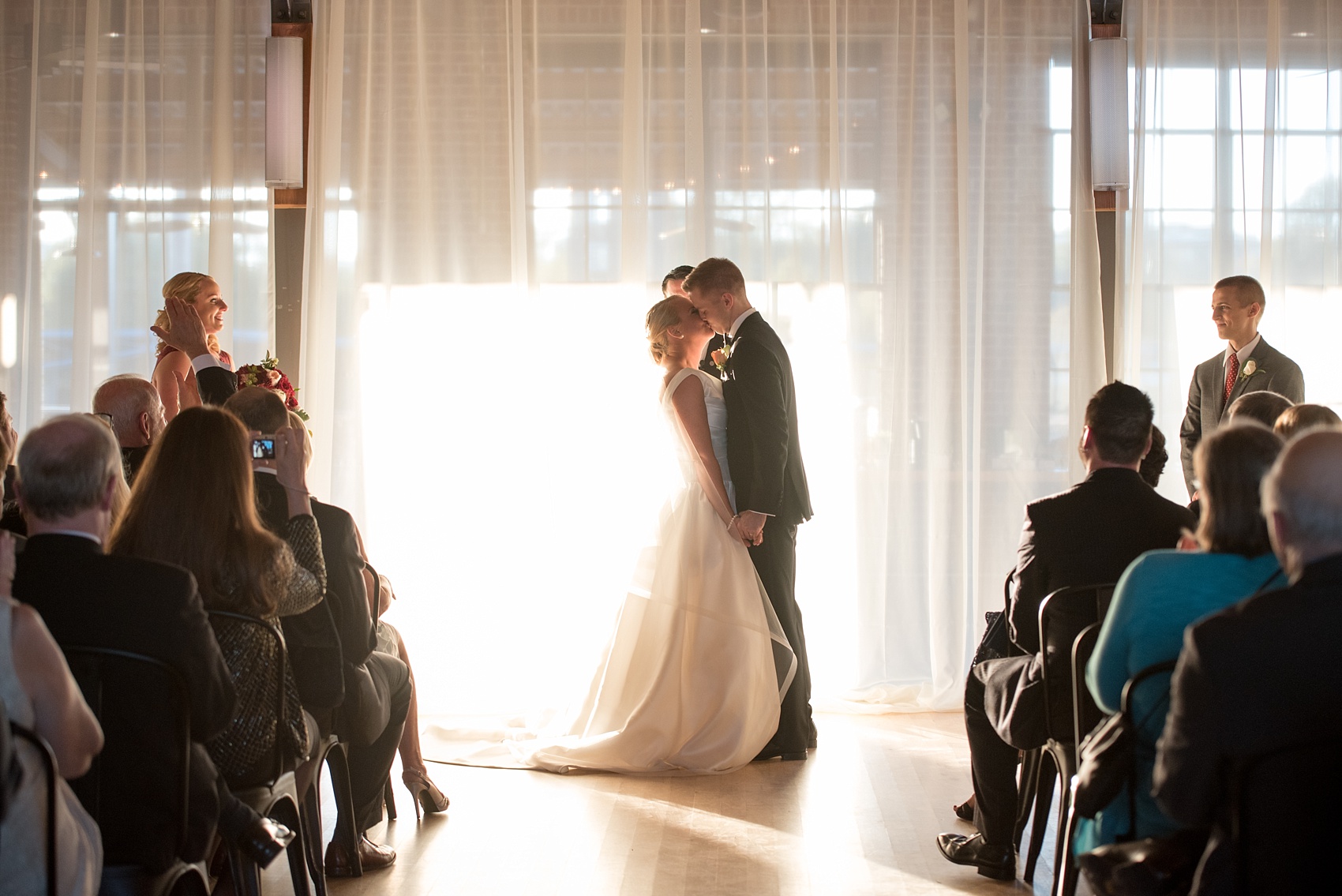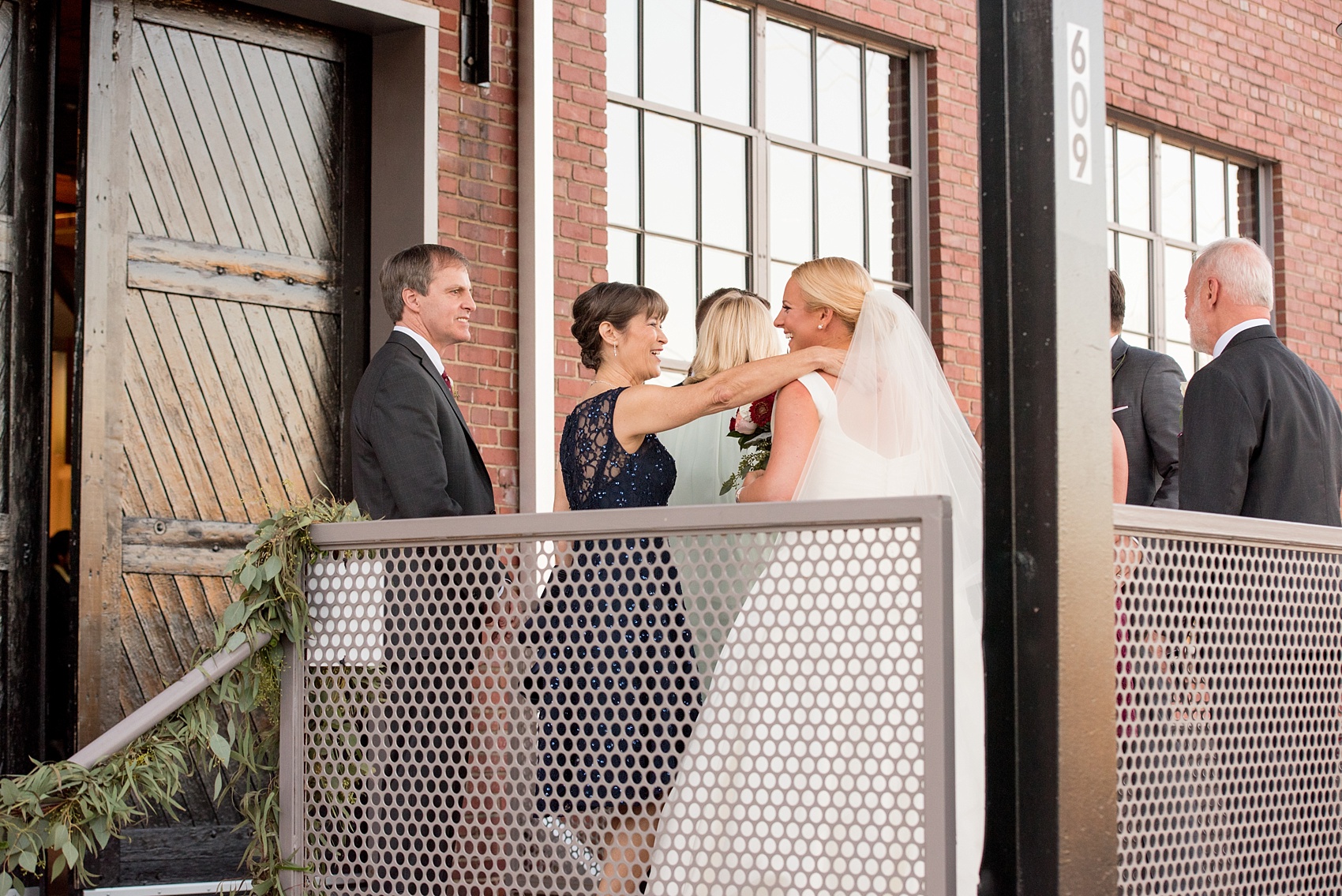 While I absolutely adore the photo of Rachel and her dad sharing their walk down the aisle, I equally adore the moment above captured when Adam's mom, Denise, emphatically hugged Rachel after the ceremony. I overheard her tell Rachel, "I finally have a daughter!" I got all choked up! Well, guess that makes only one order of business available for the remainder of the day: PARTY!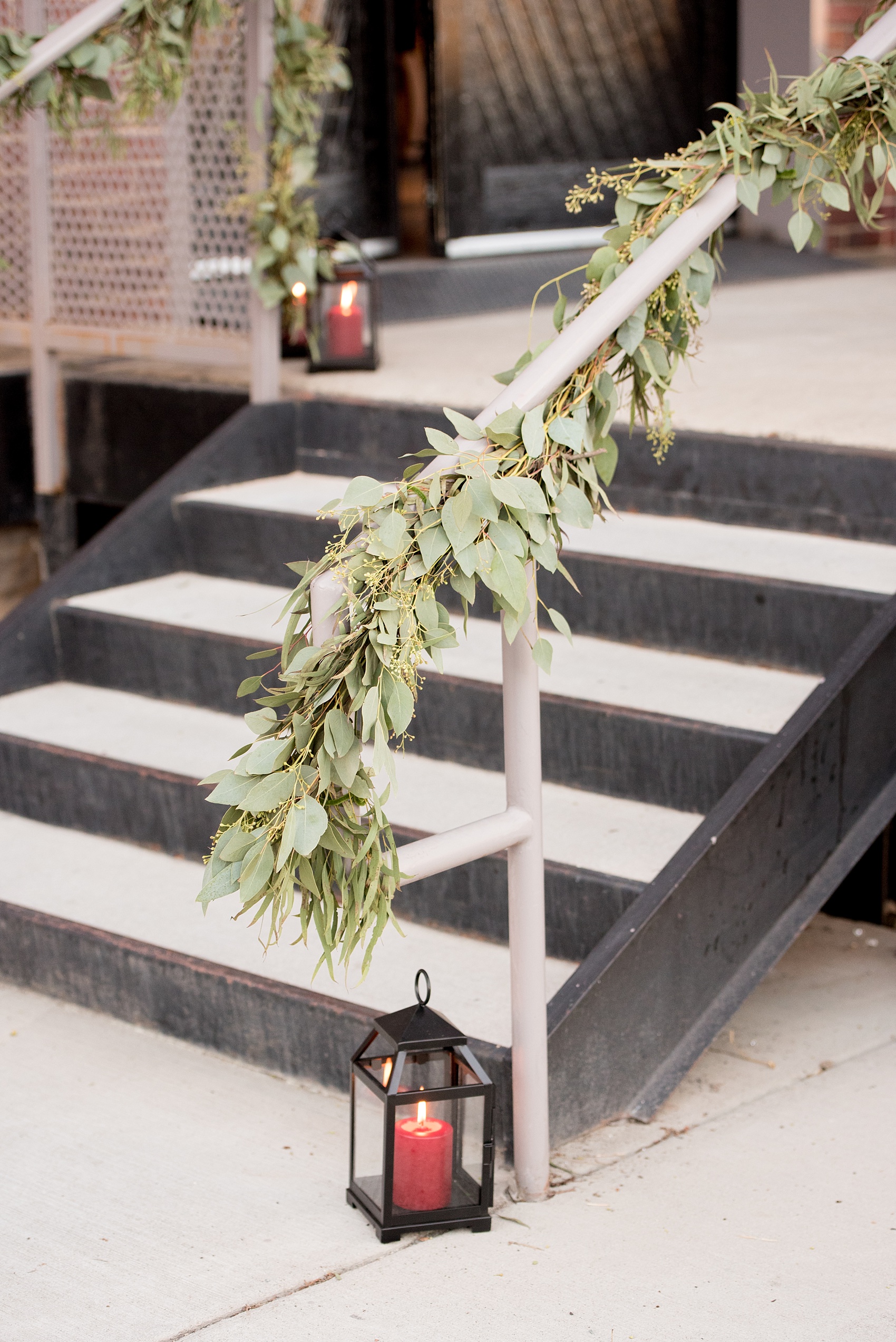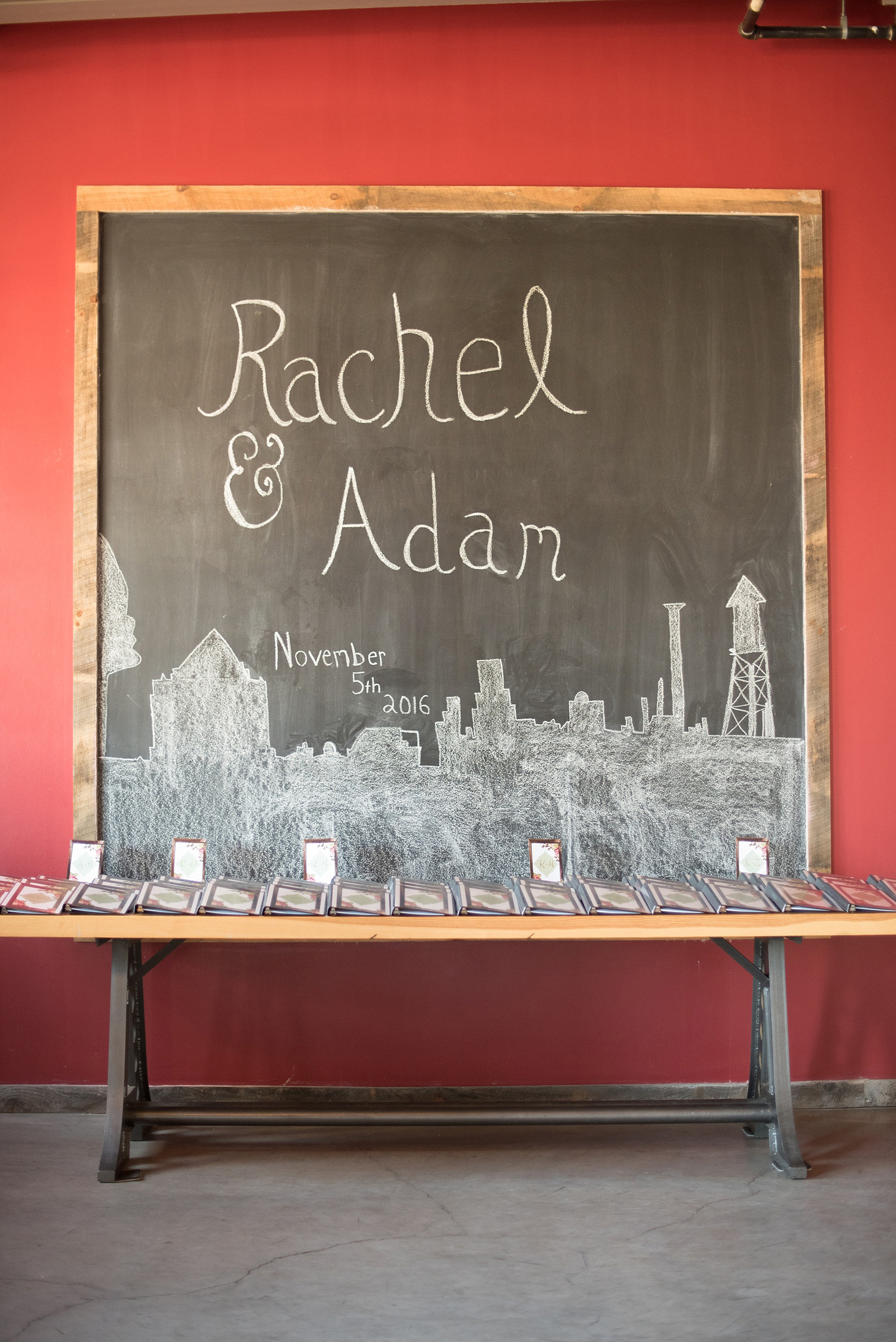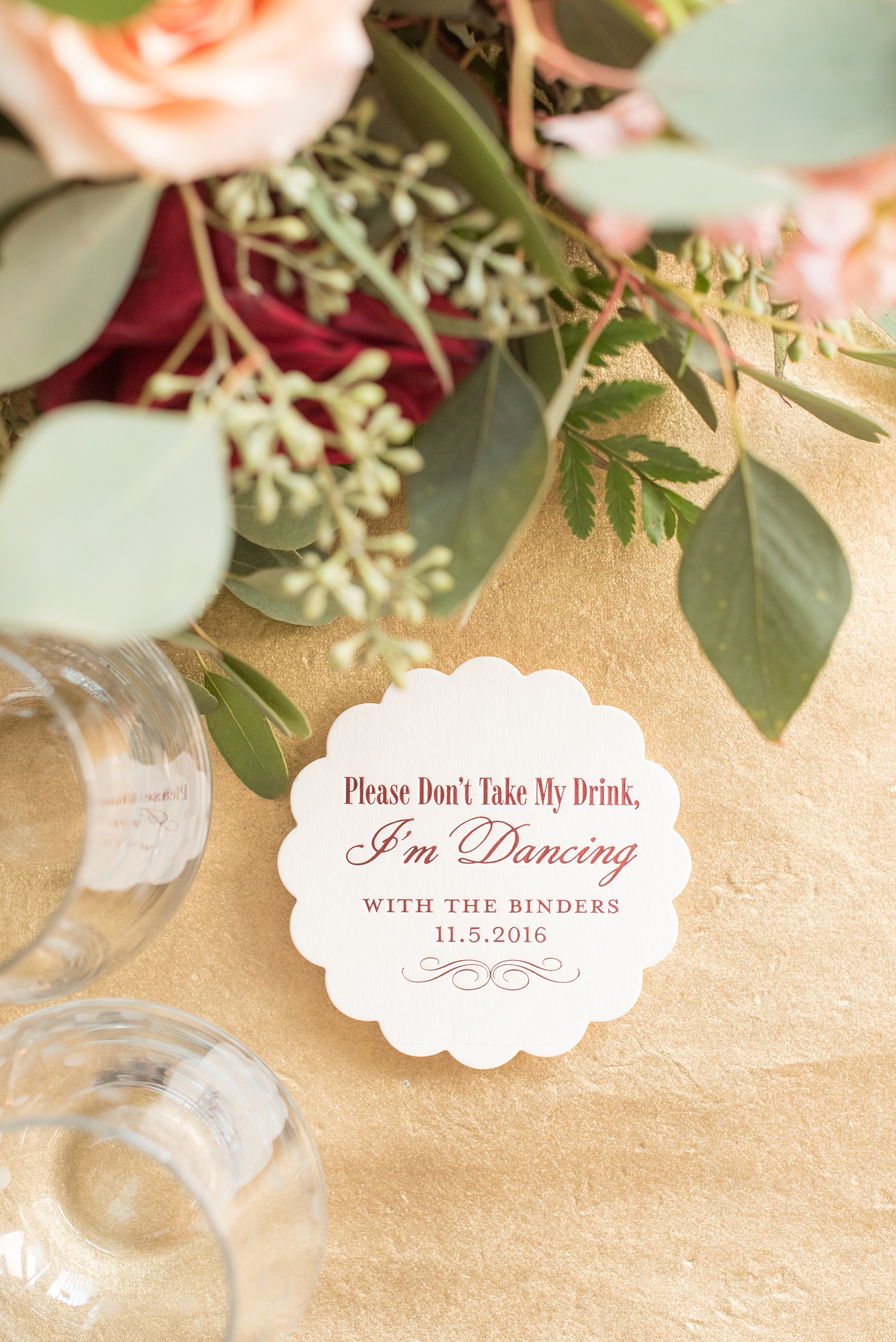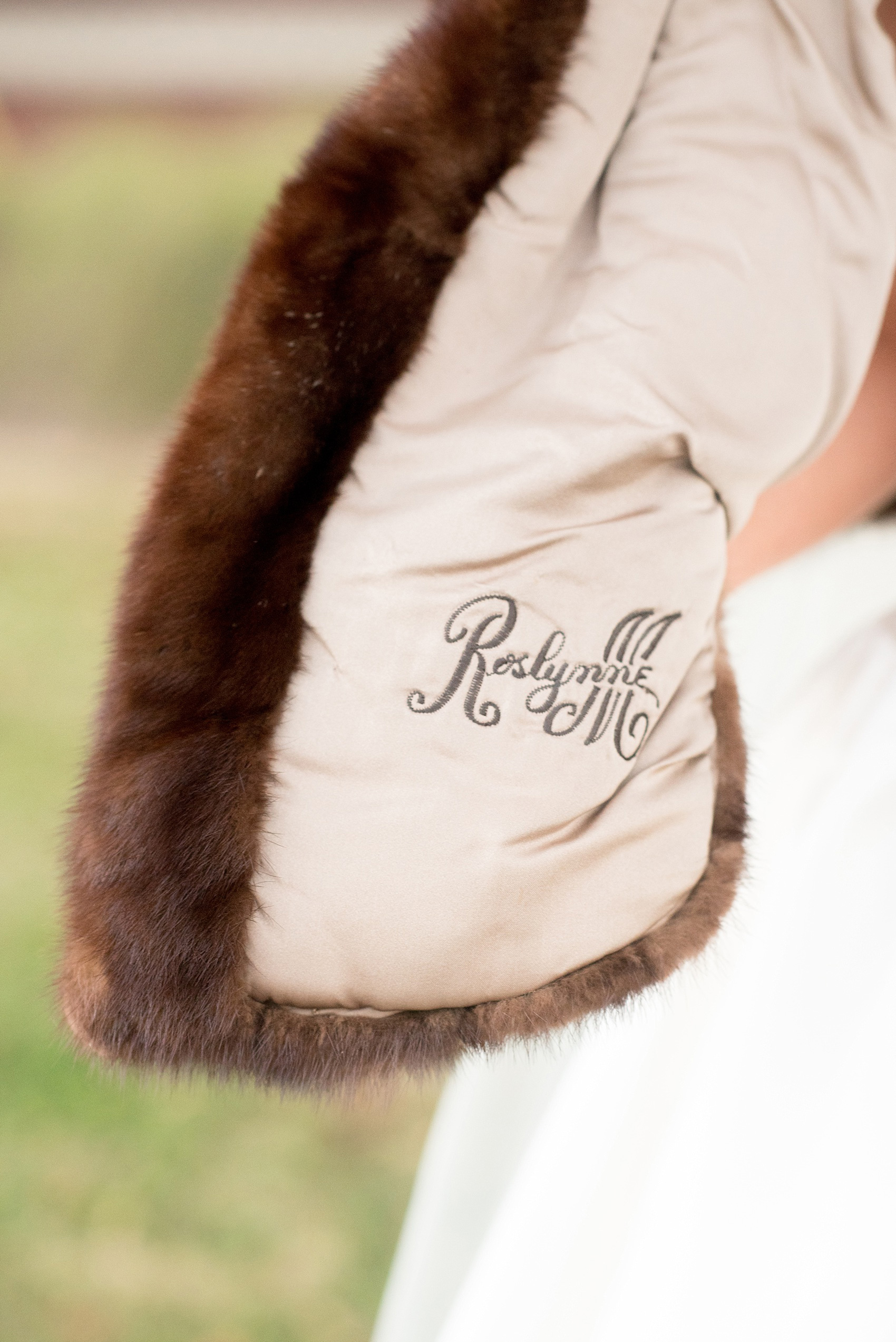 Eucalyptus-garland wrapped railings welcomed guests to Rachel and Adam's venue and their chalkboard reflected their invitation, illustrating the Durham skyline. They had special mini-binders (in honor of their last name) in lieu of usual escort cards that contained their wedding program and other info, like what their carefully selected table numbers meant. (For instance, Table 17 pictured below, was the number of states they have visited or lived in together.)
We escaped for a moment during cocktail hour to photograph them as newlyweds, Rachel donning a family heirloom fur stahl, which was her grandmother's whose first name she proudly has as her middle name. I love details like that. Perfect to stay warm and cozy during fall.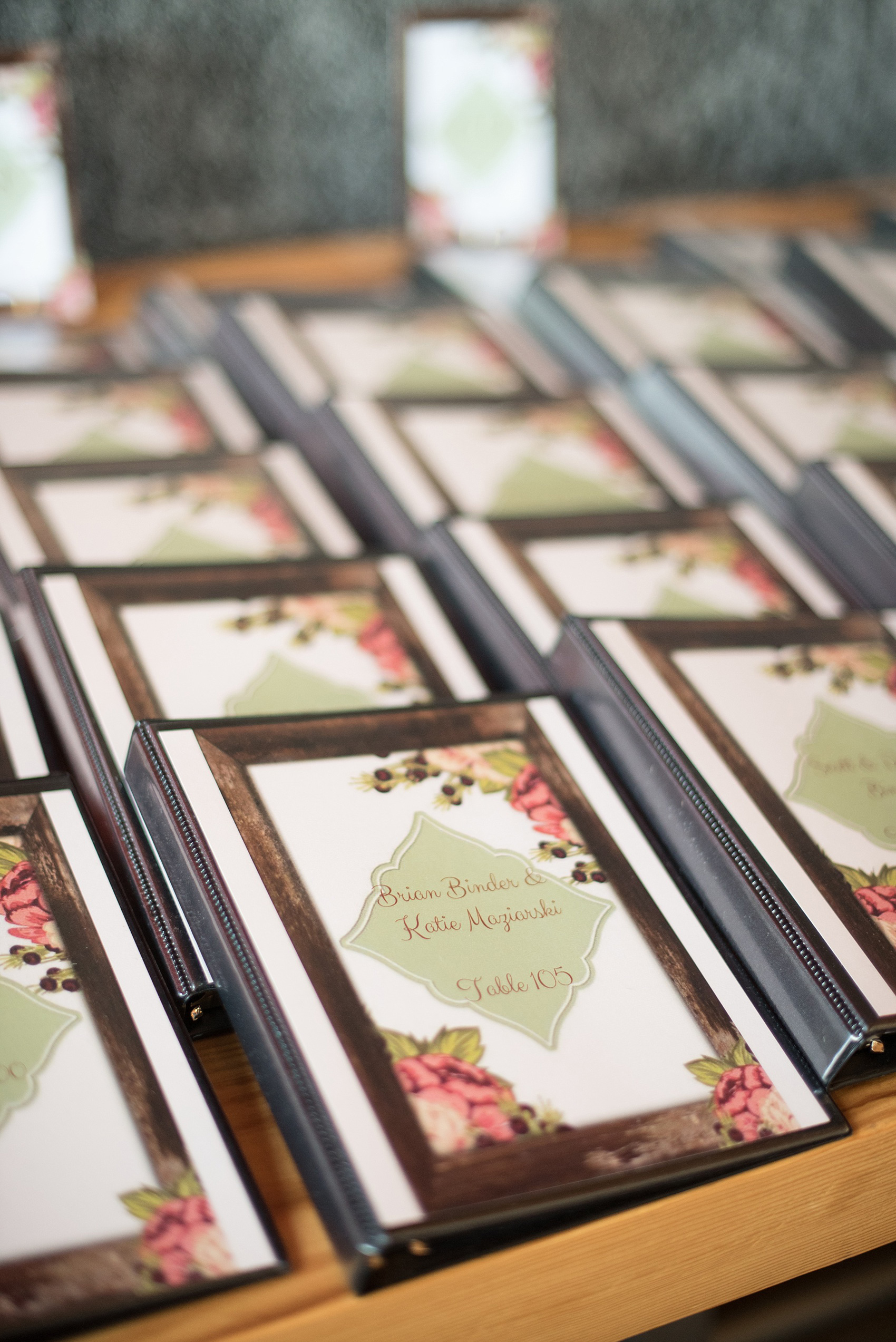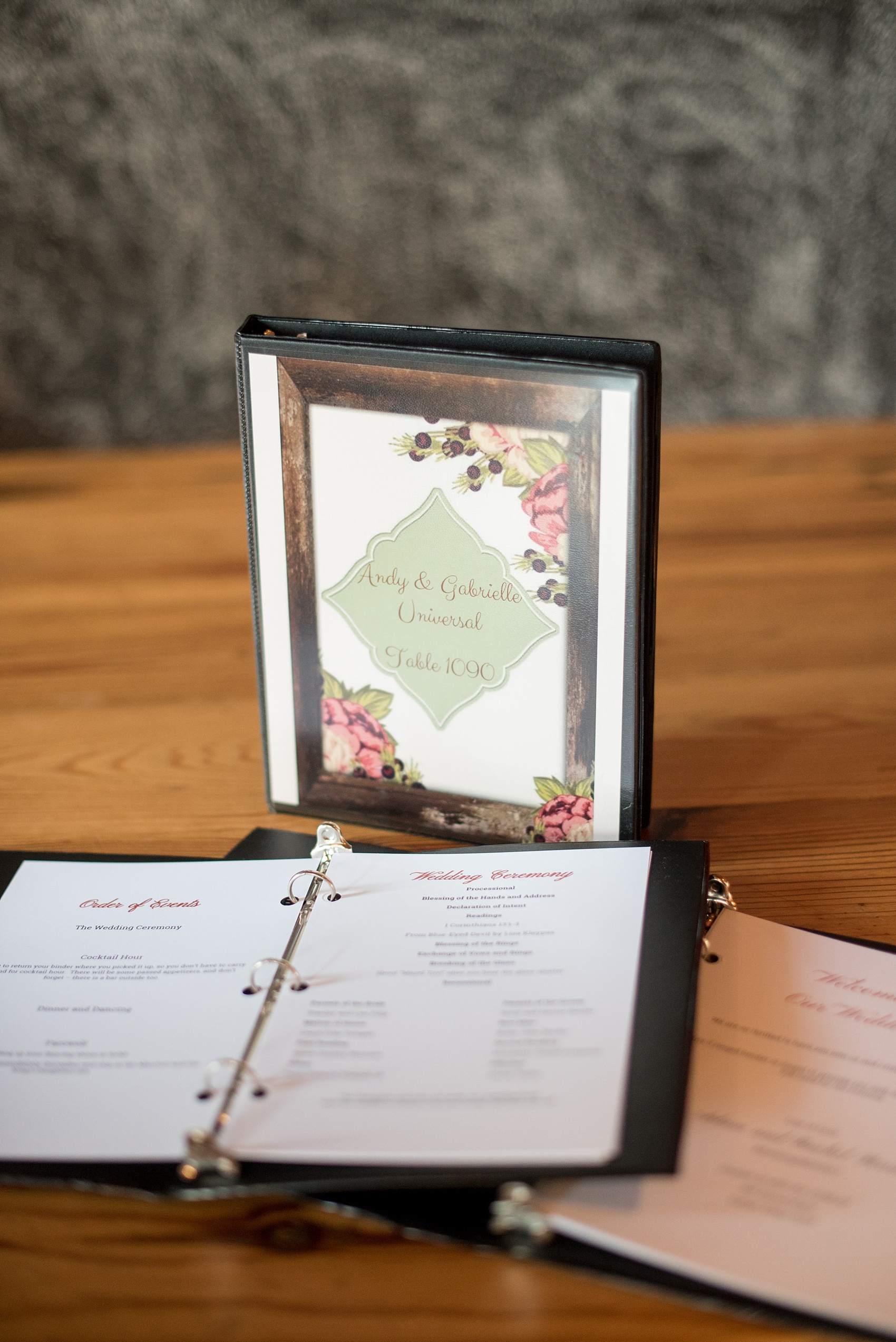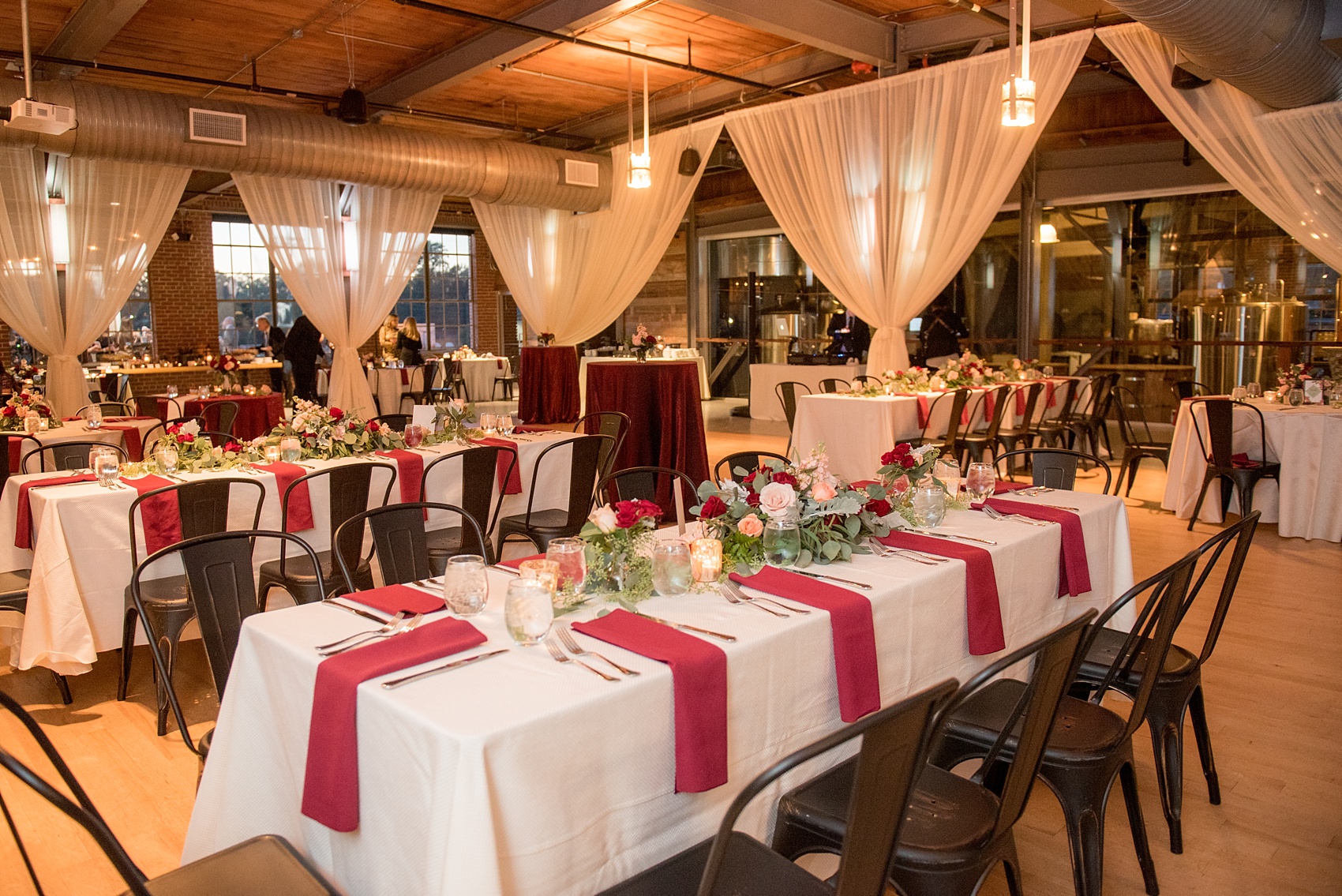 Remember when I said Herbie would be making an appearance? Here he is! In fact there were four images of the family dogs honored at their reception. Such a nice special touch!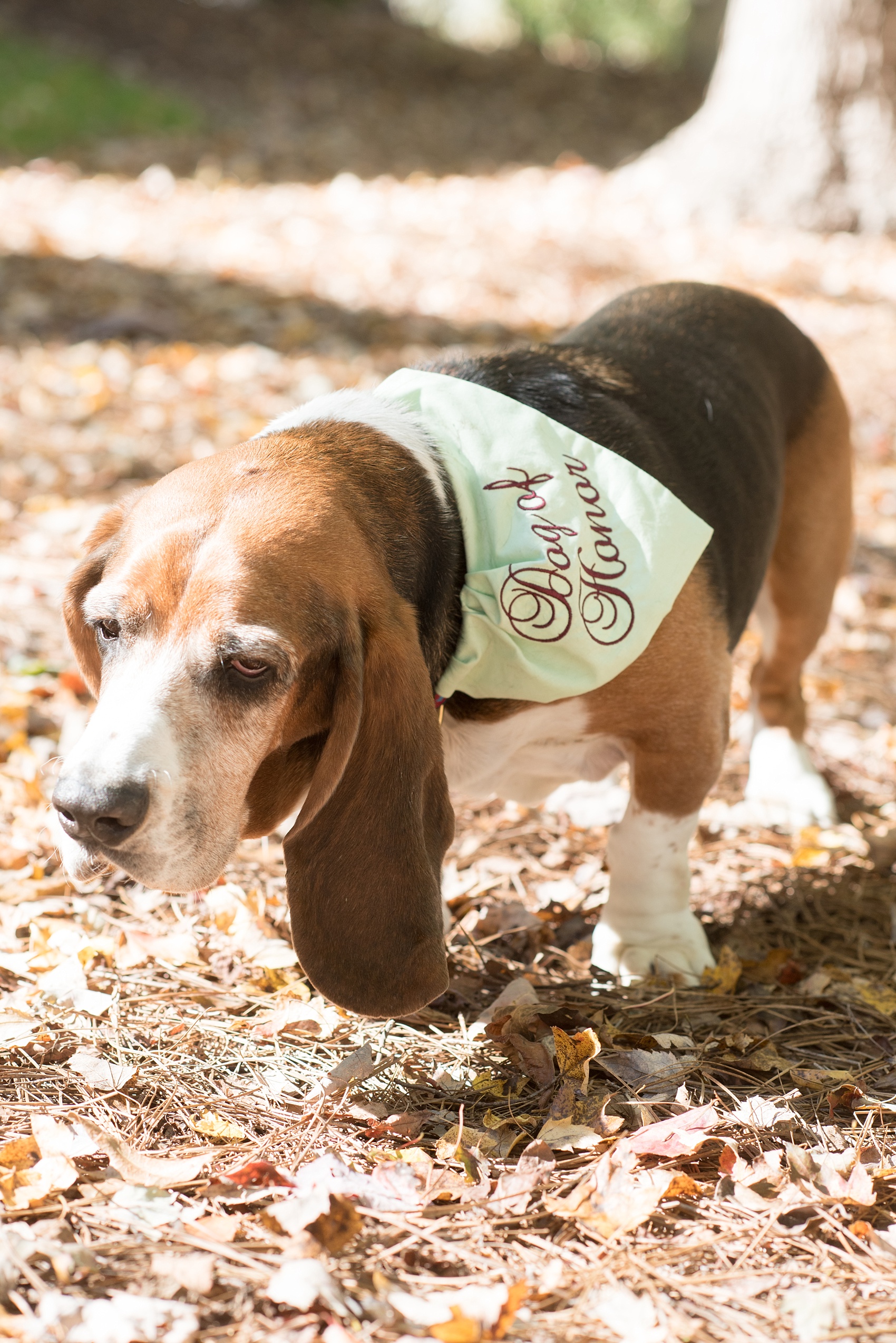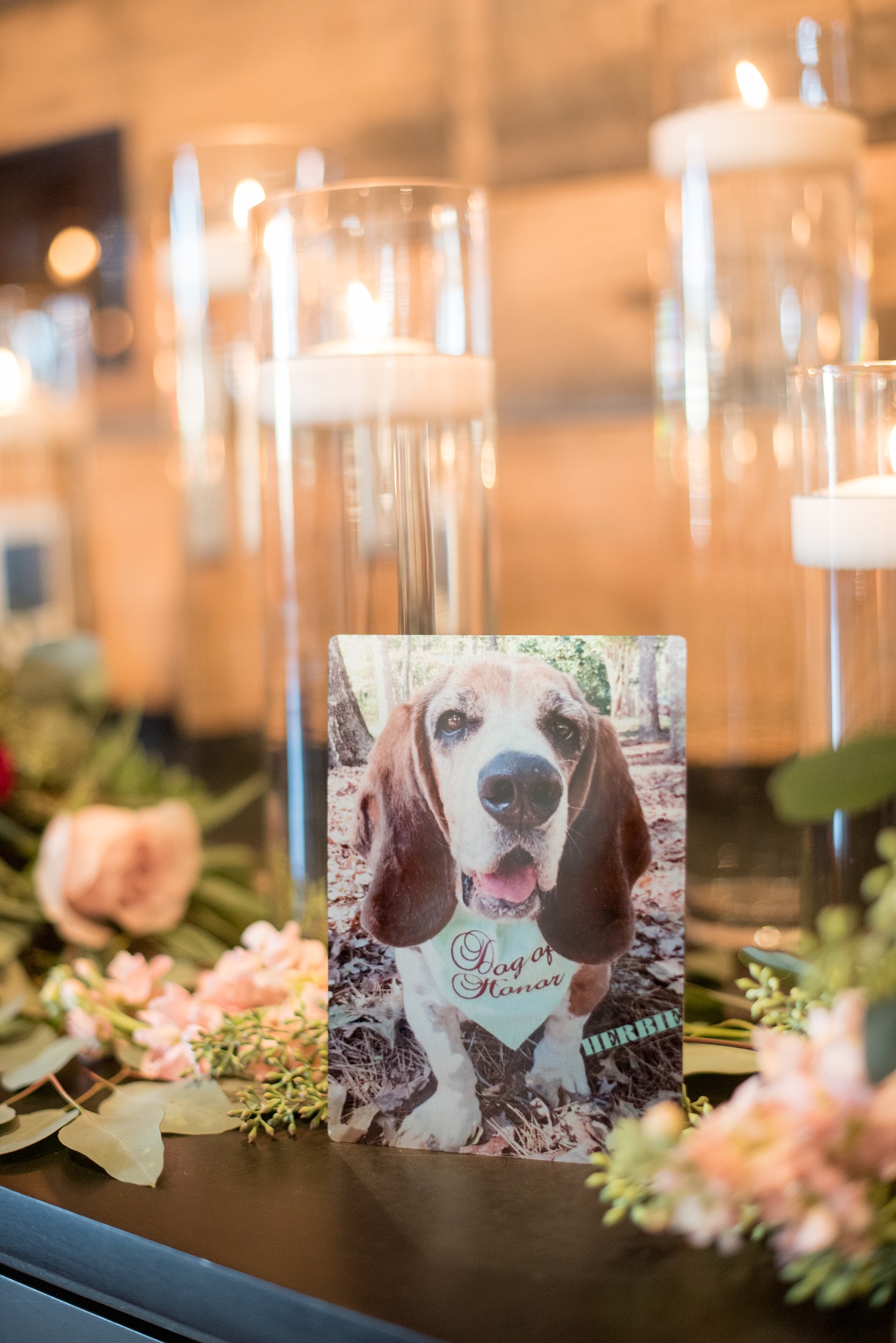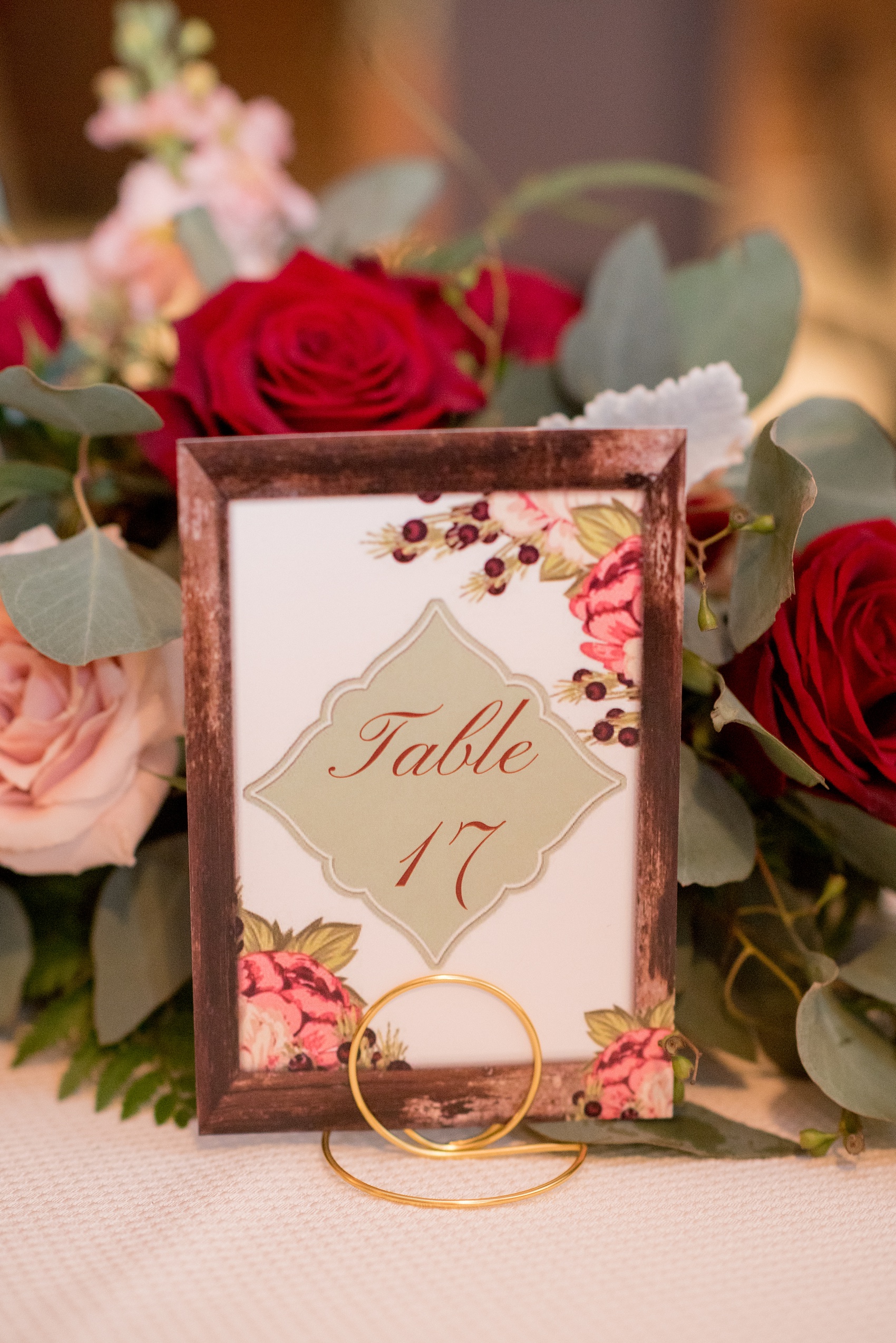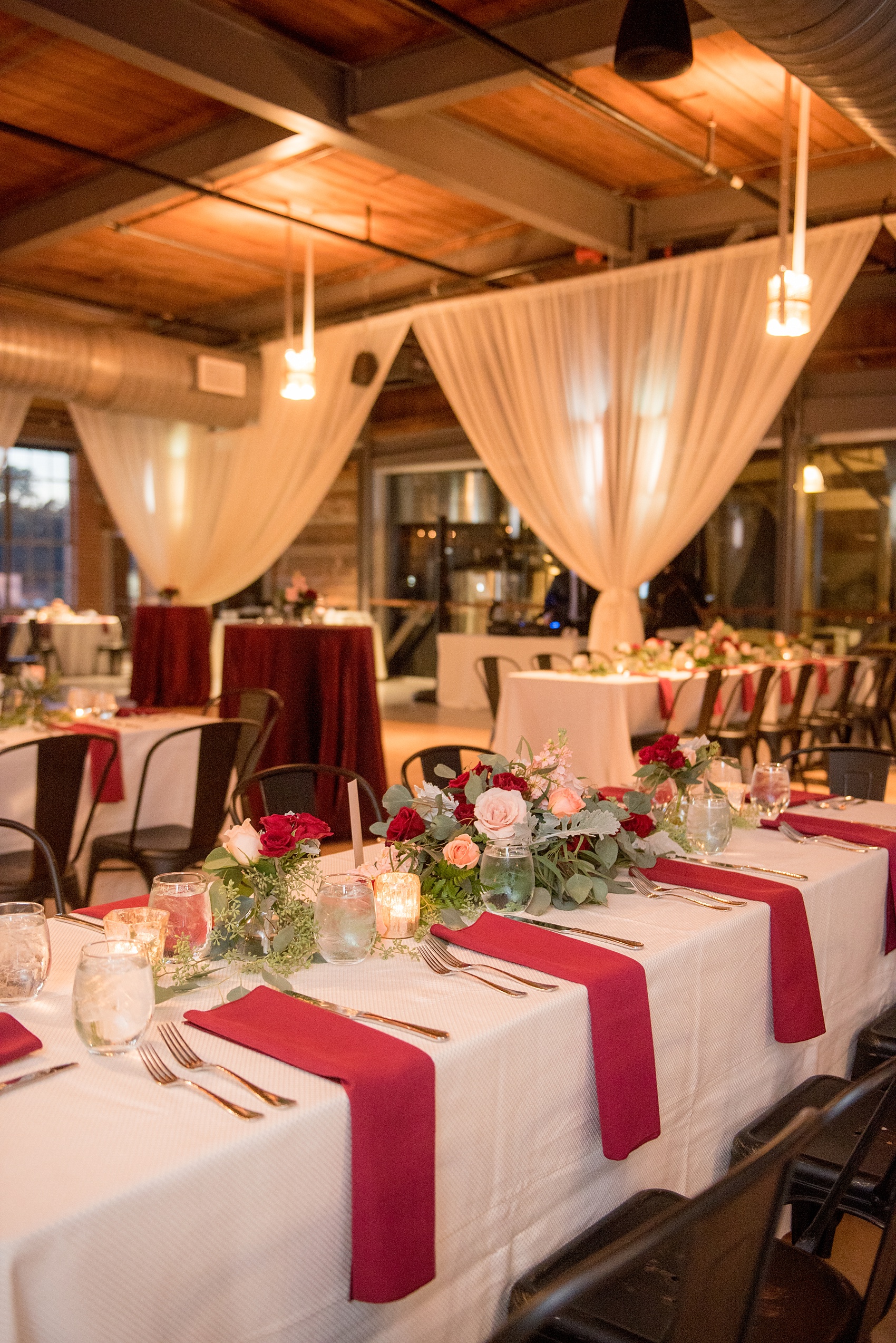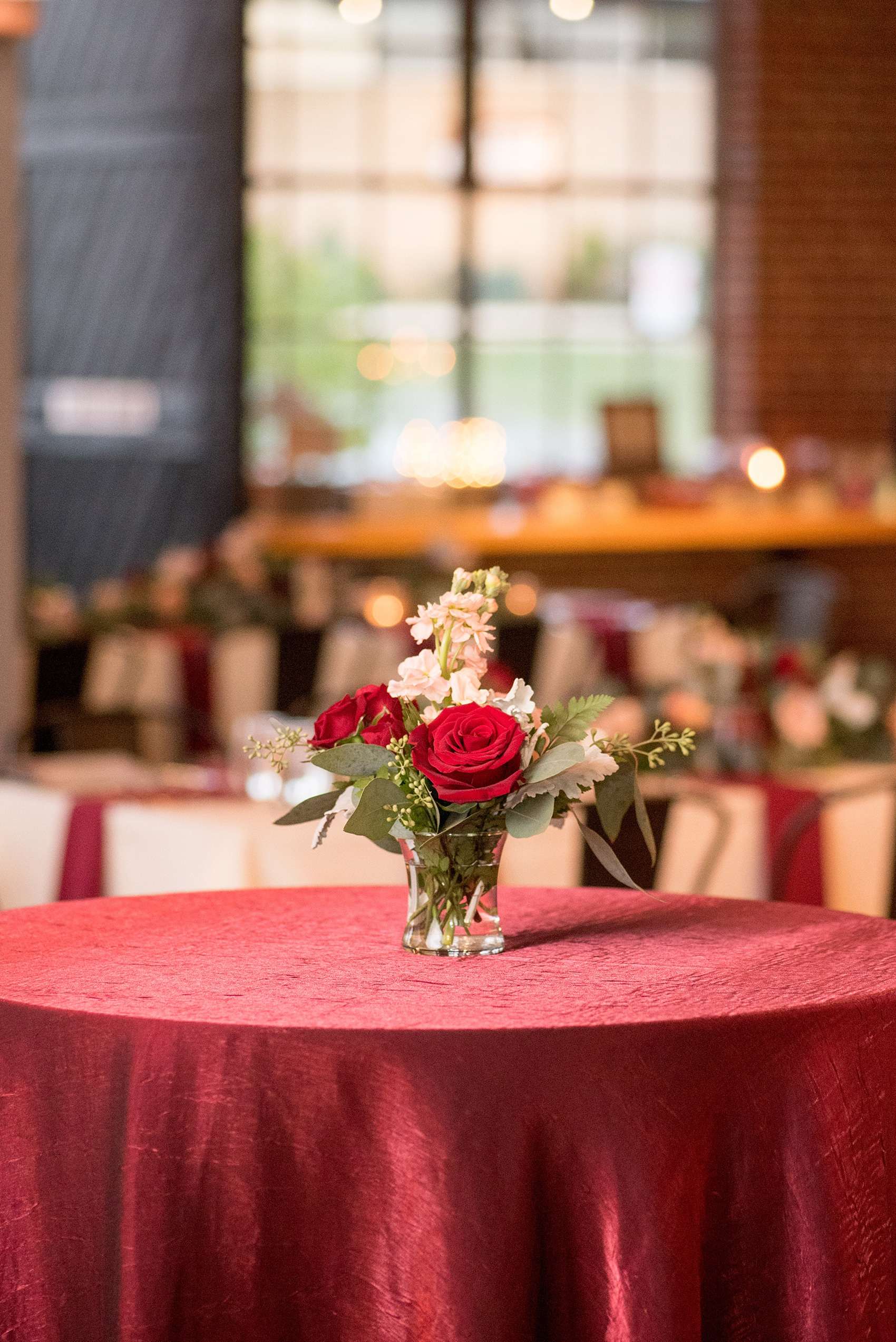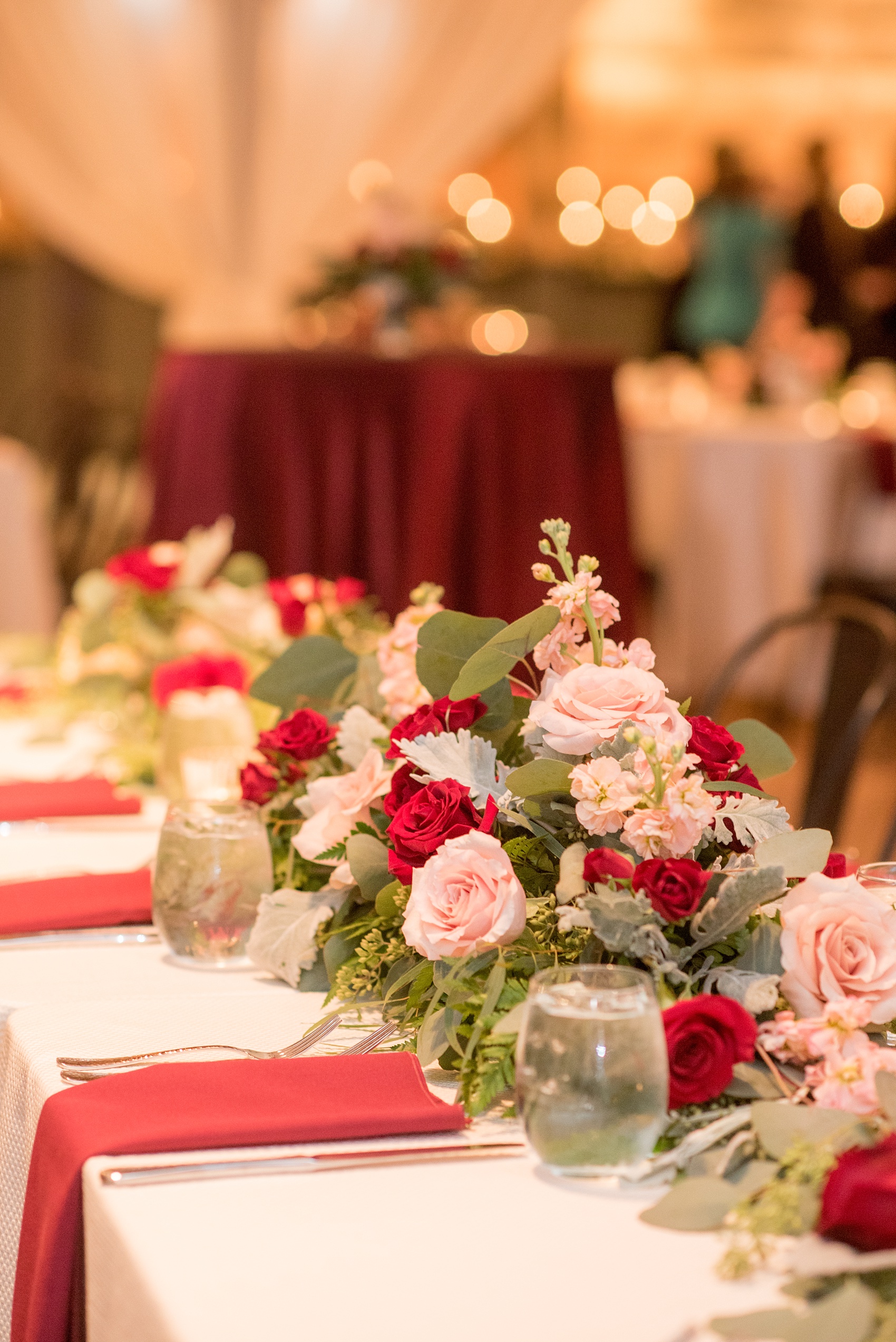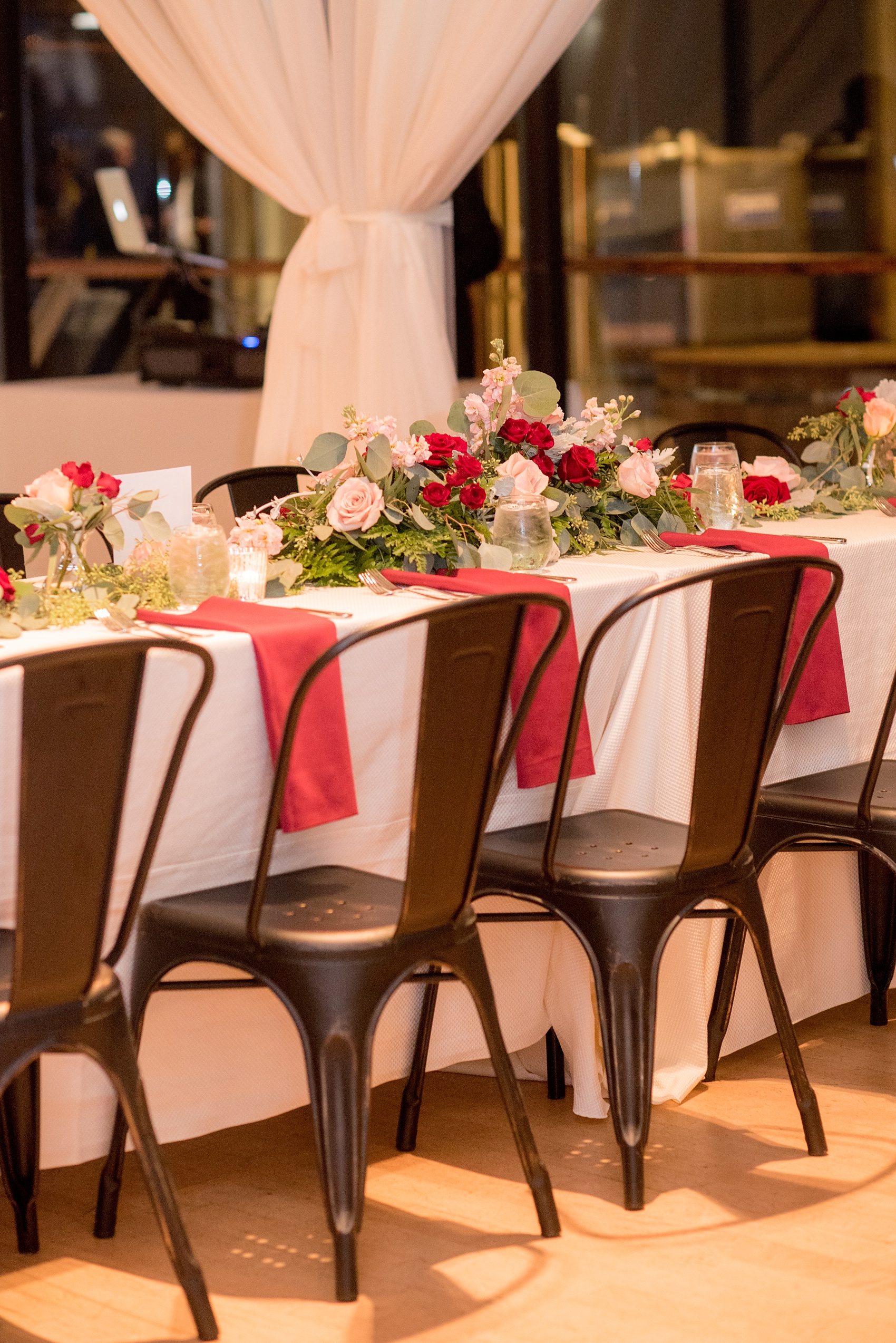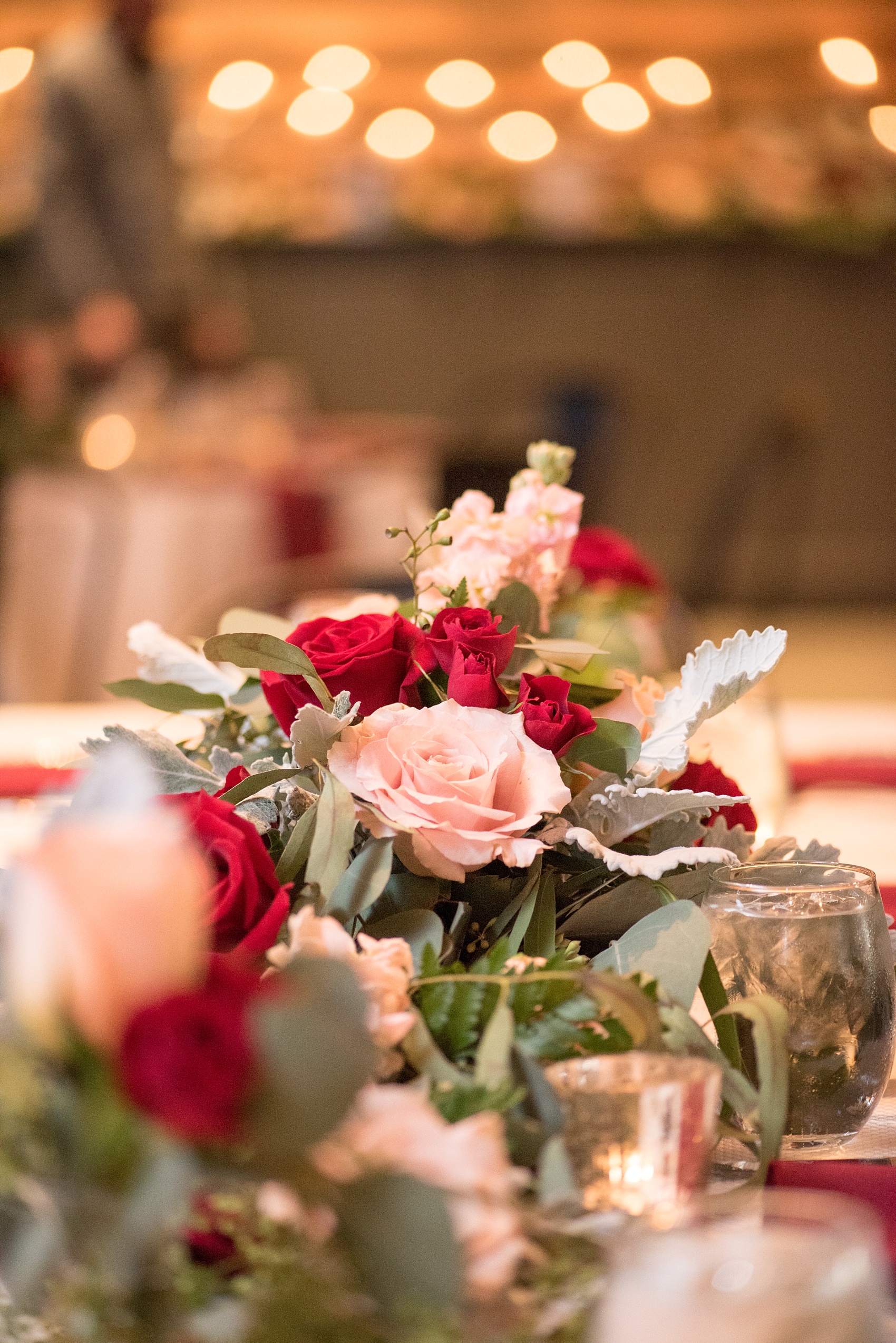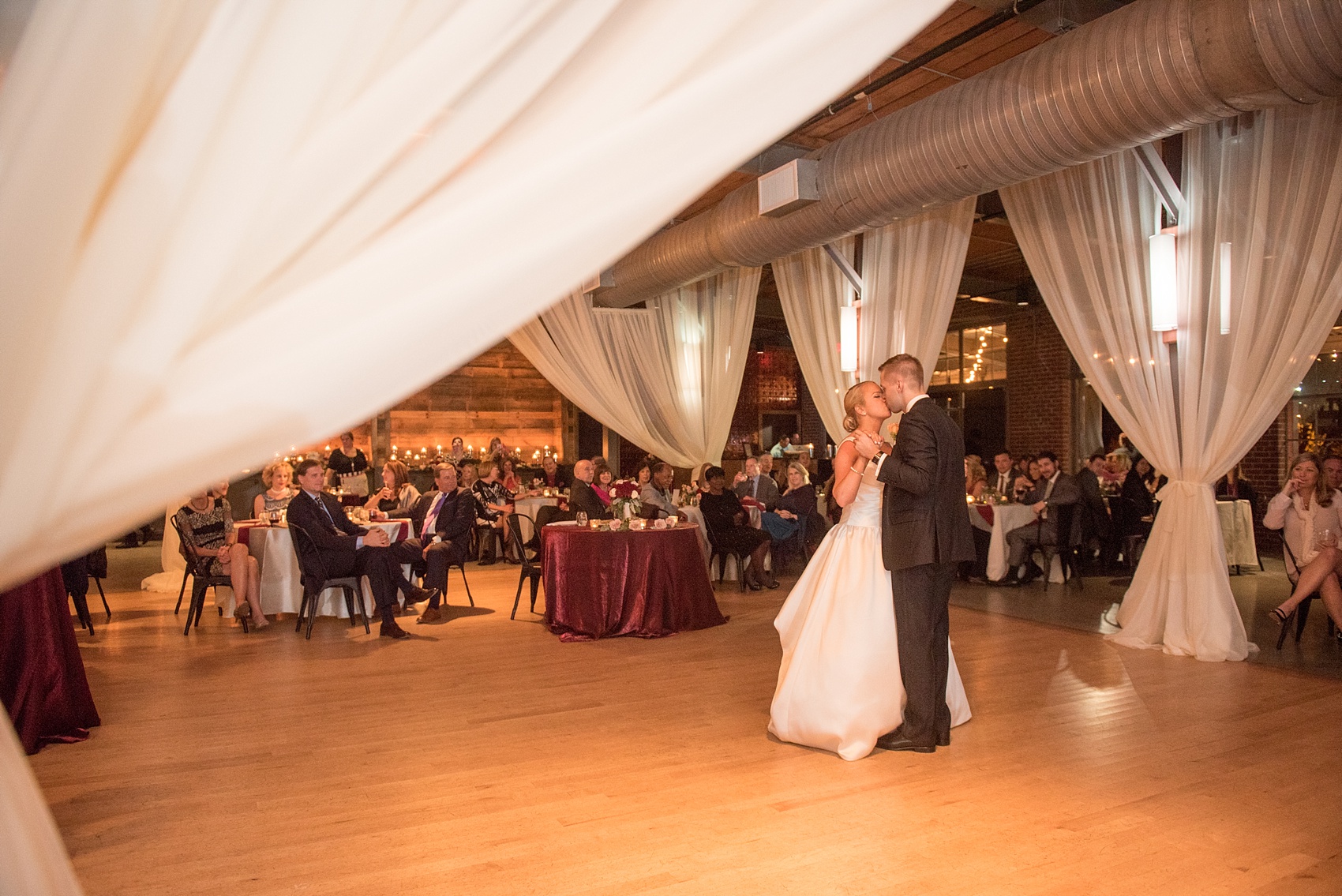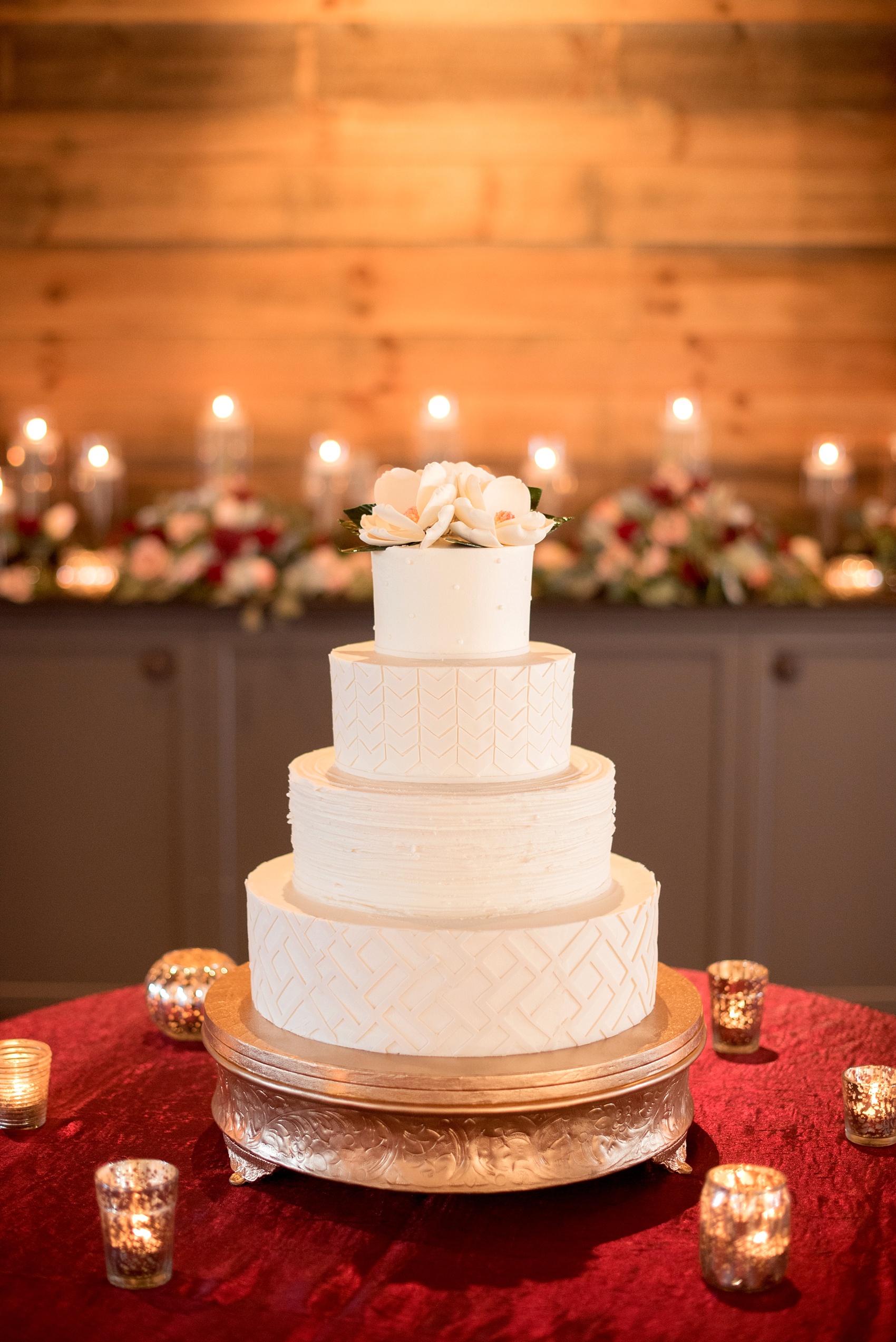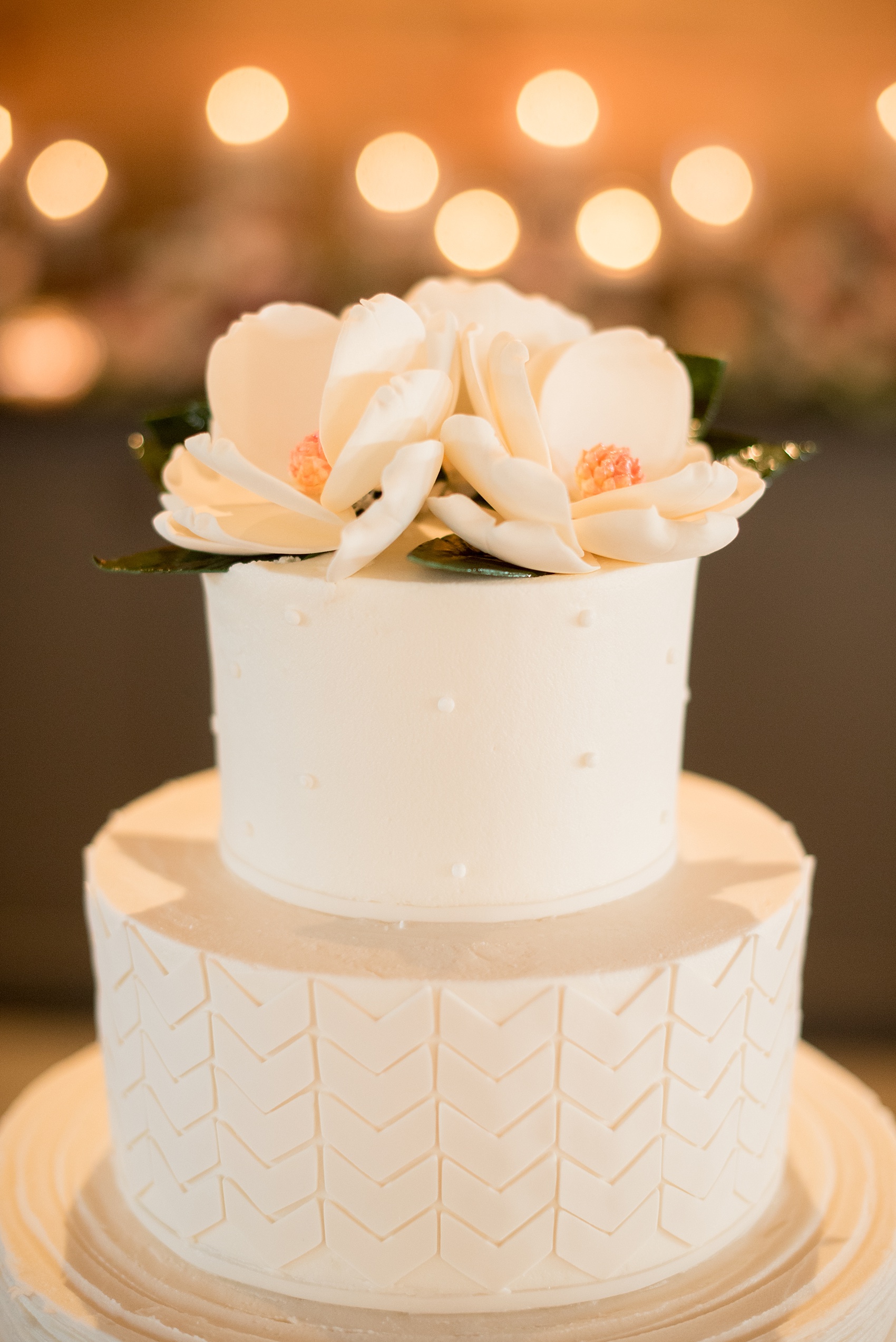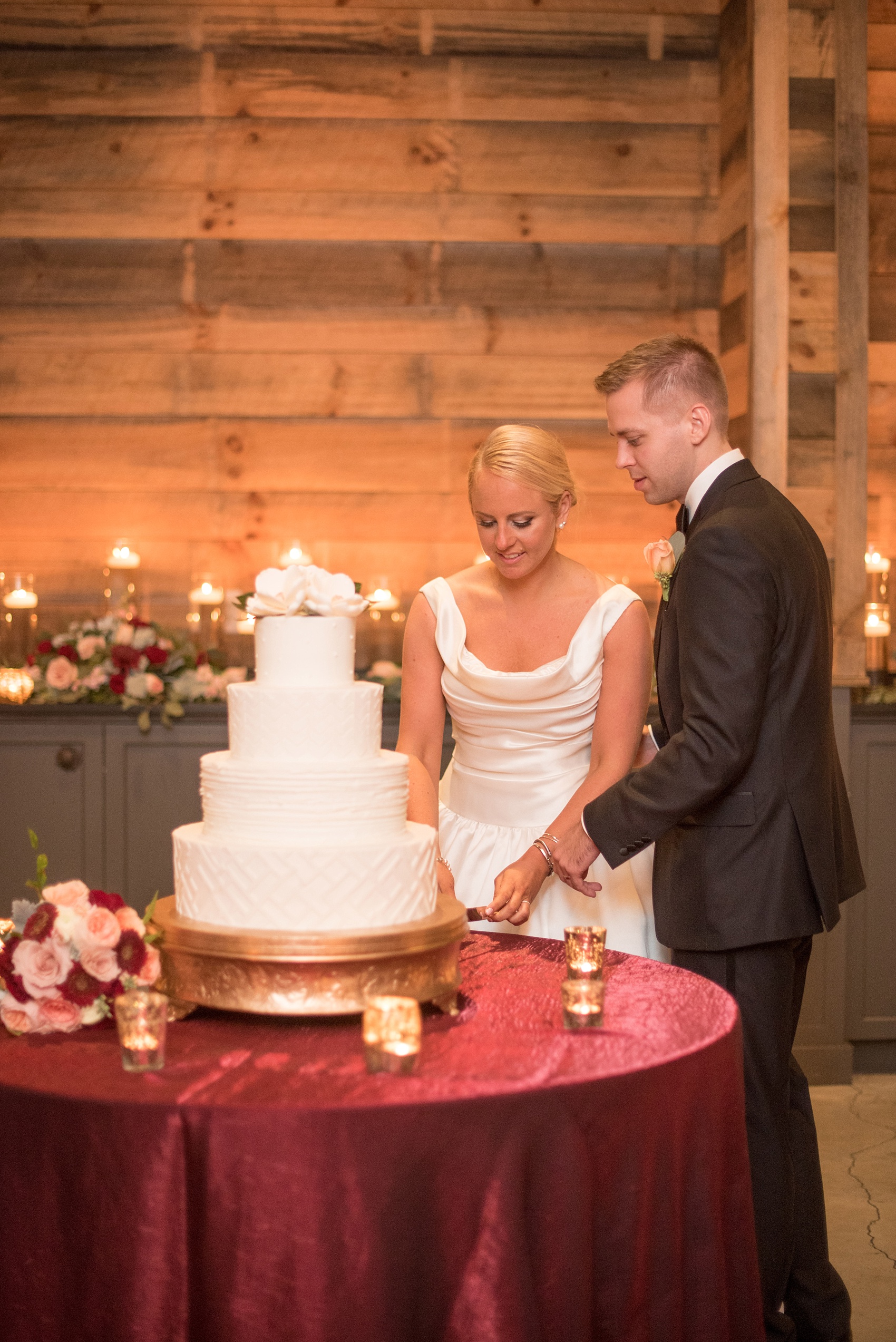 I LOVED their cake. Did I say LOVED? Because I loved it! It was four tiers of white rounds covered in buttercream and fondant. The bamboo/rattan-like bottom tier was a favorite and the topper – the pièce de résistance, if you will – was the gumpaste magnolia flowers. Could you die? Southern perfection.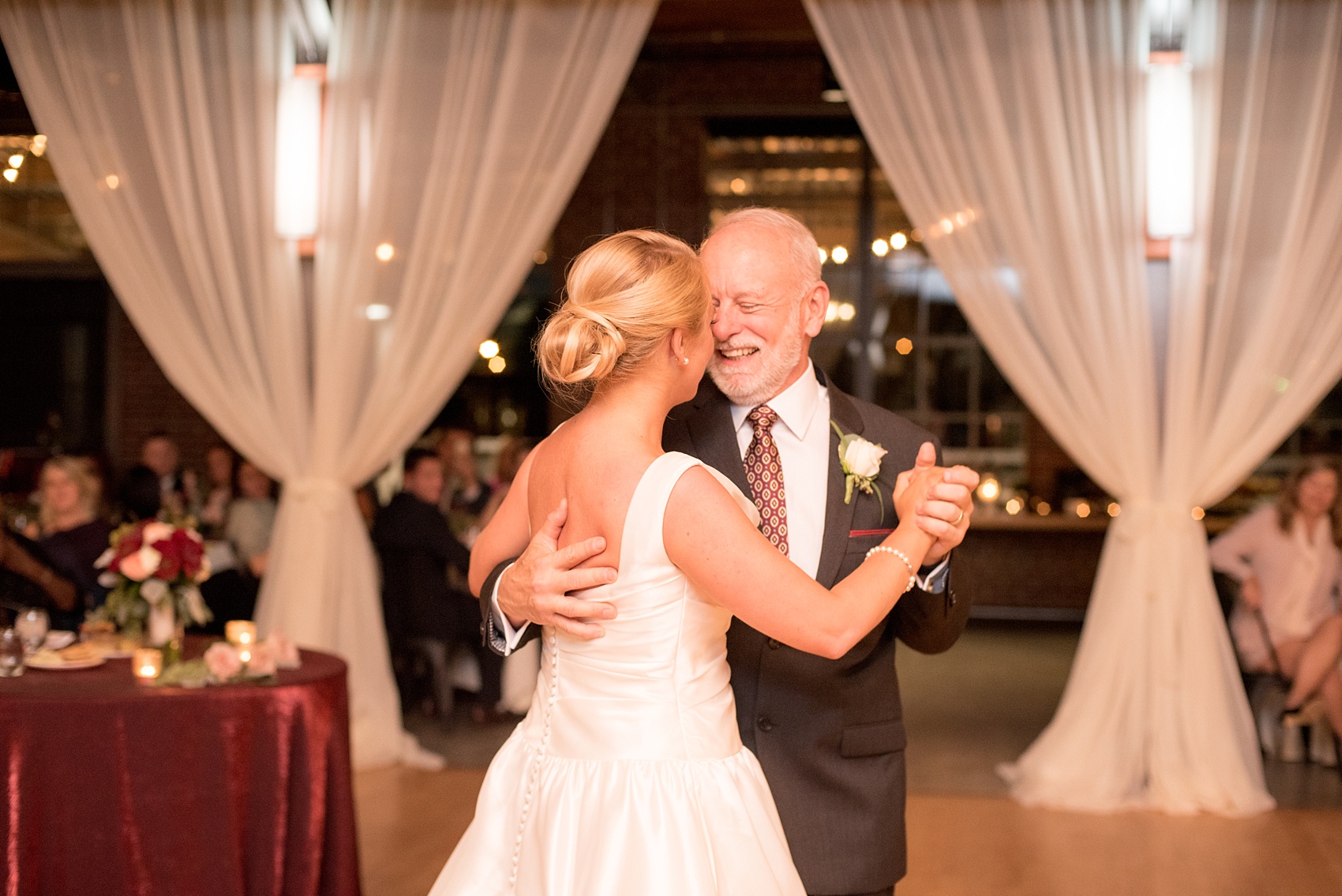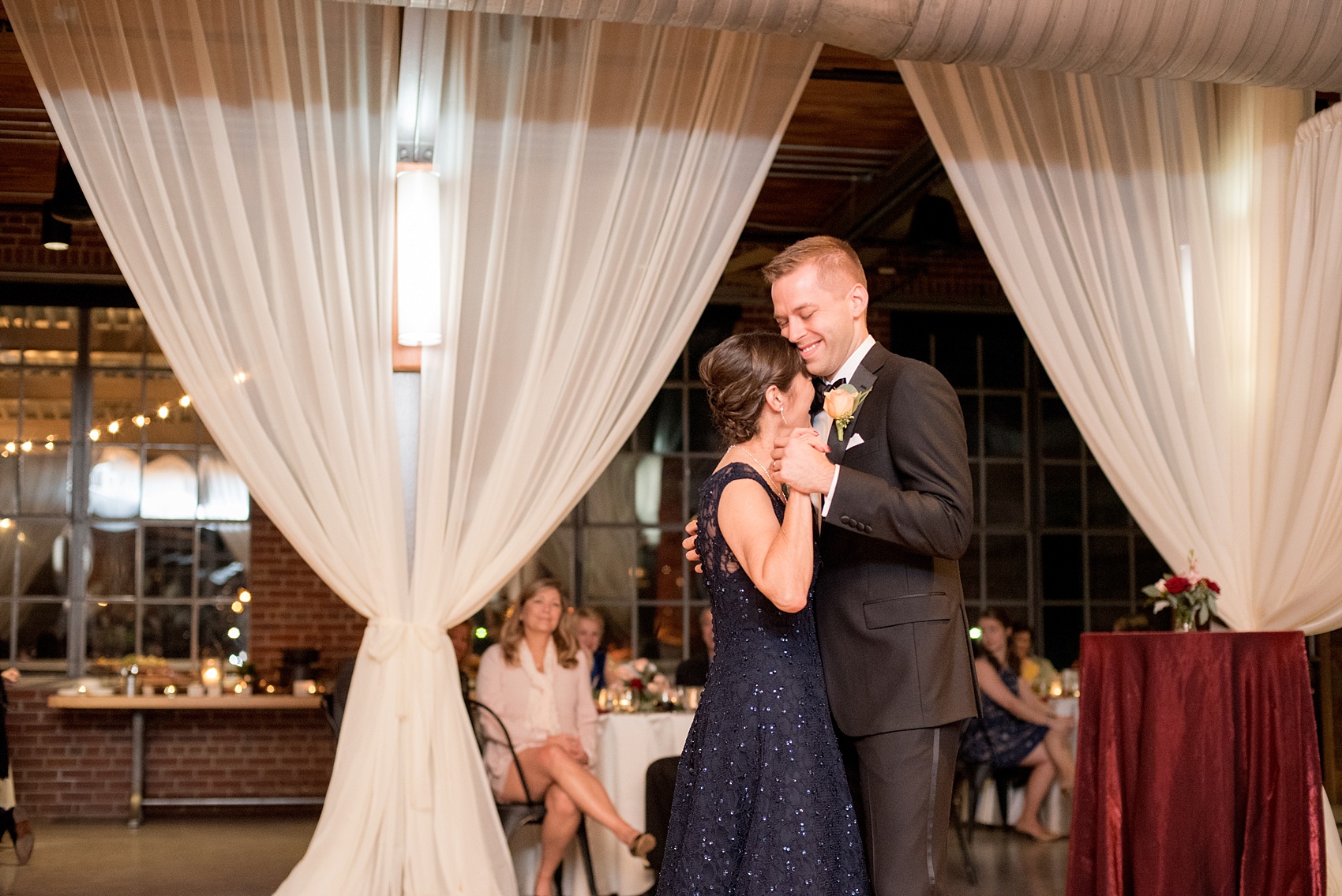 Time to put those clever custom "Please don't take my drink, I'm dancing…" coasters to use and swing into action on the dance floor!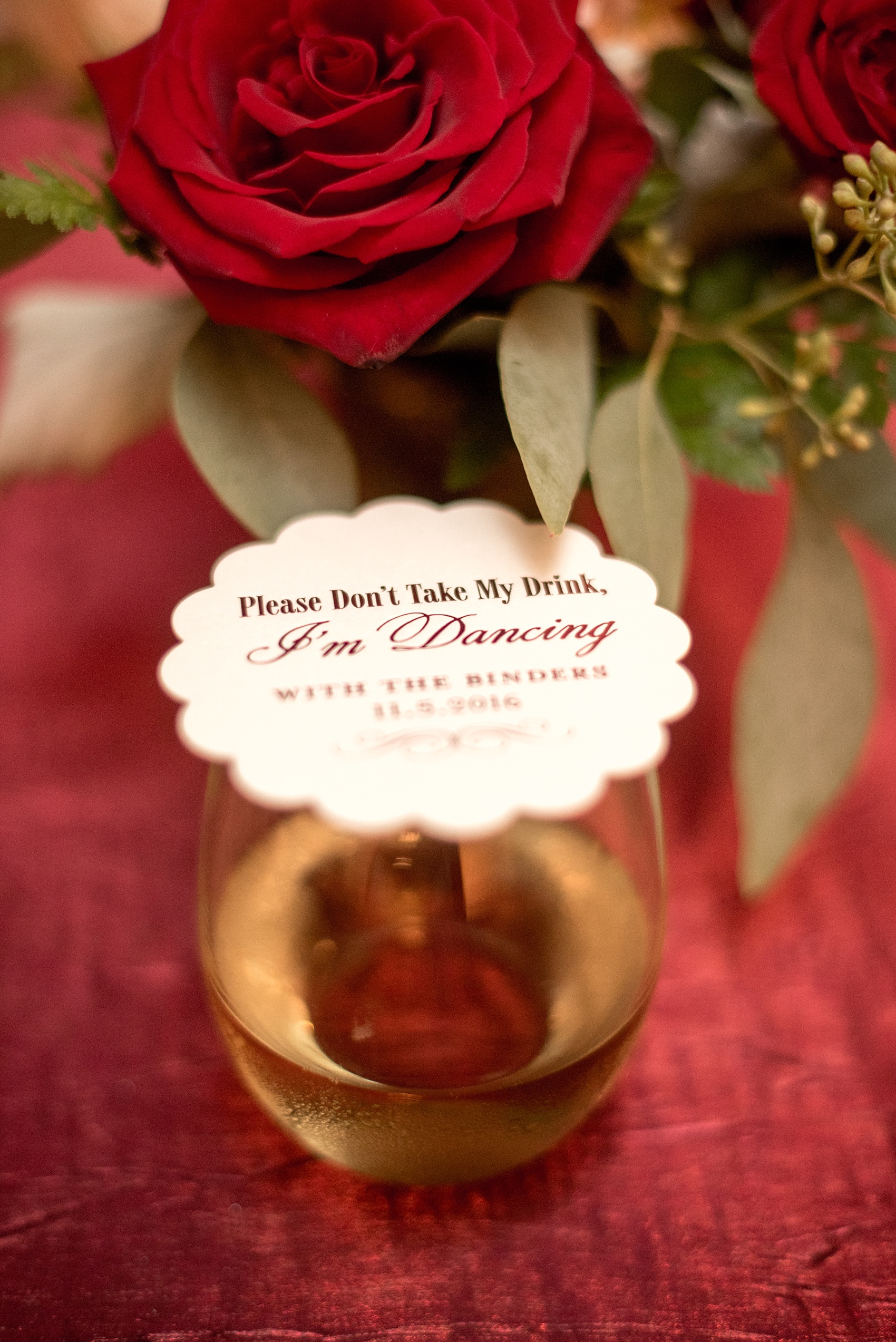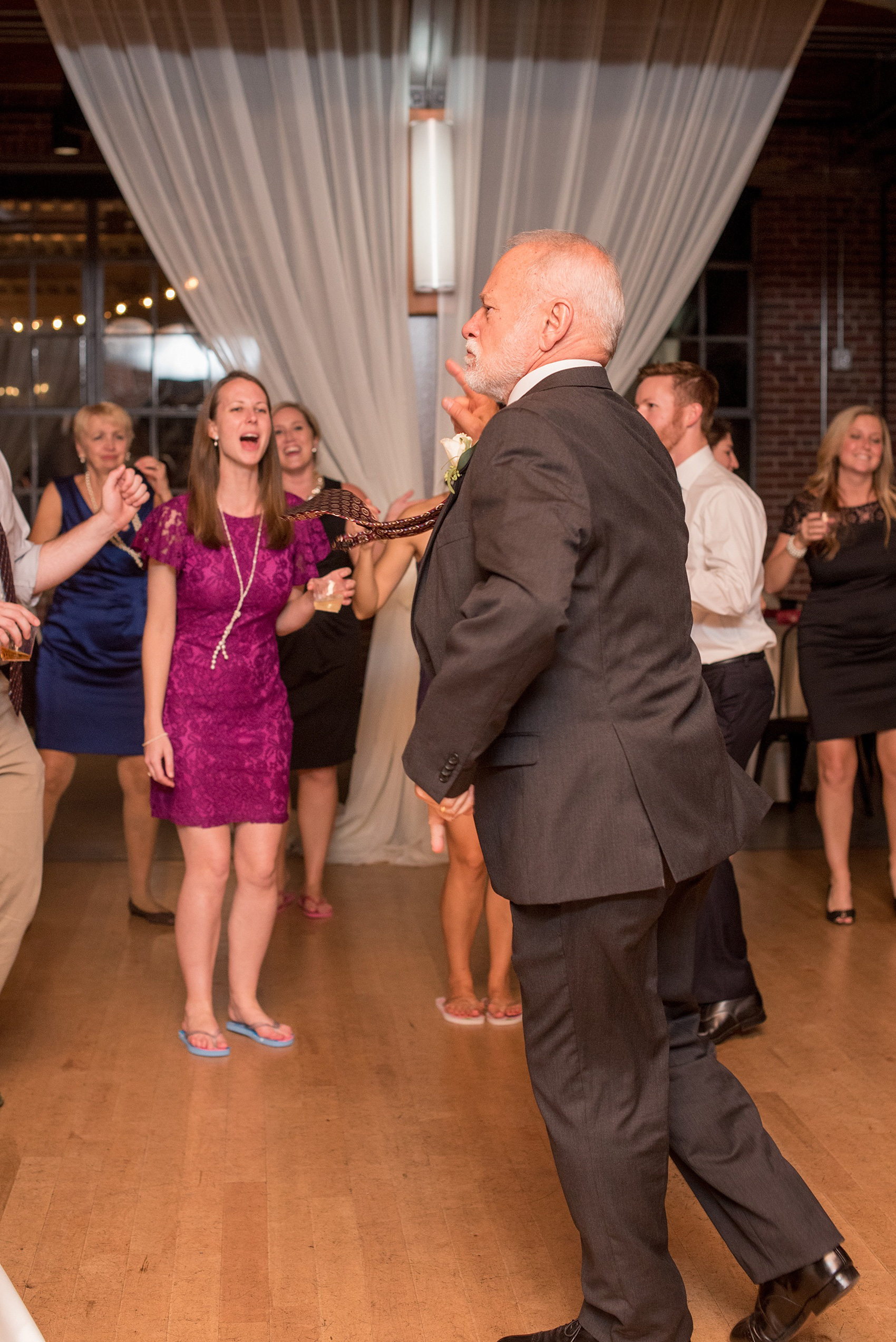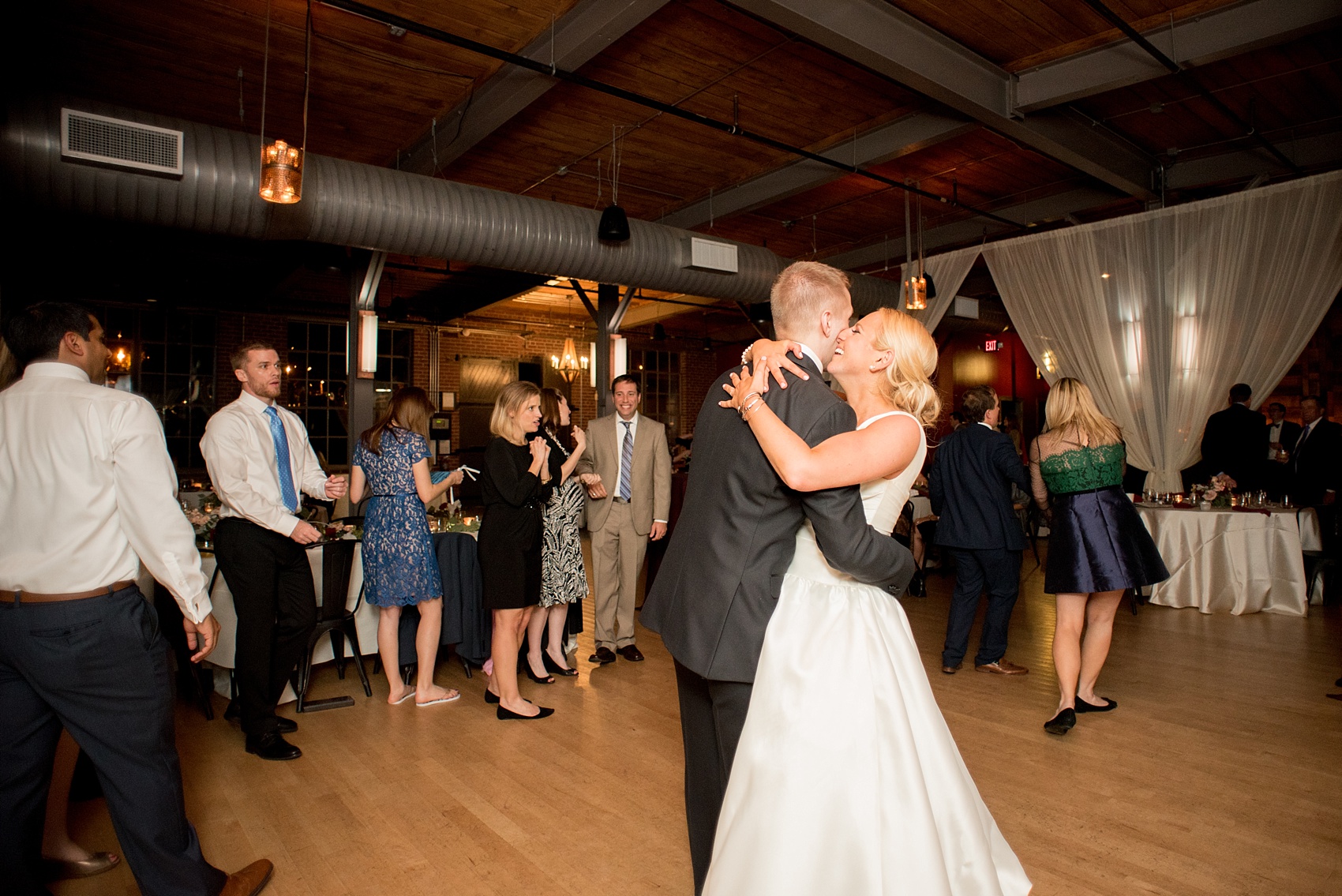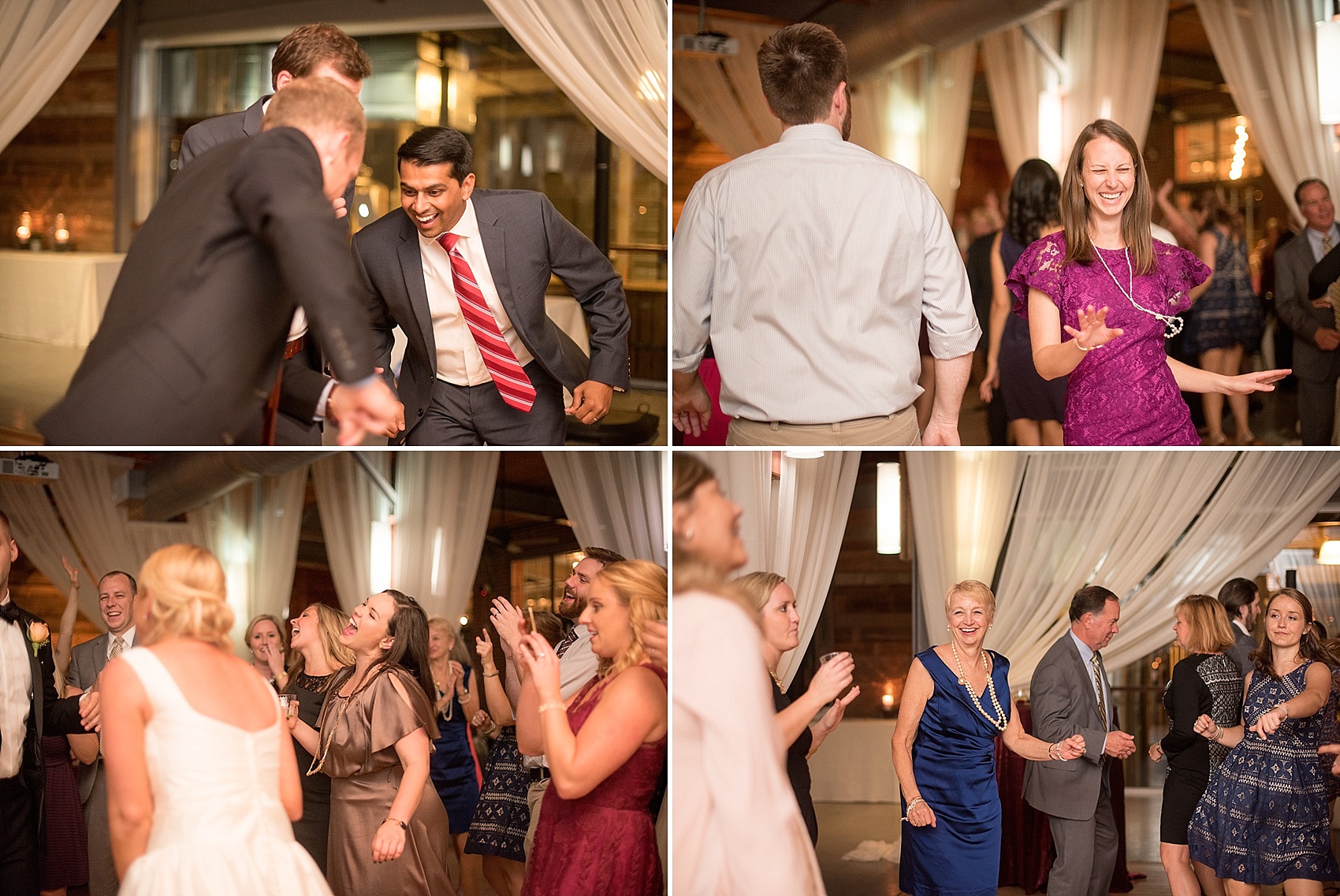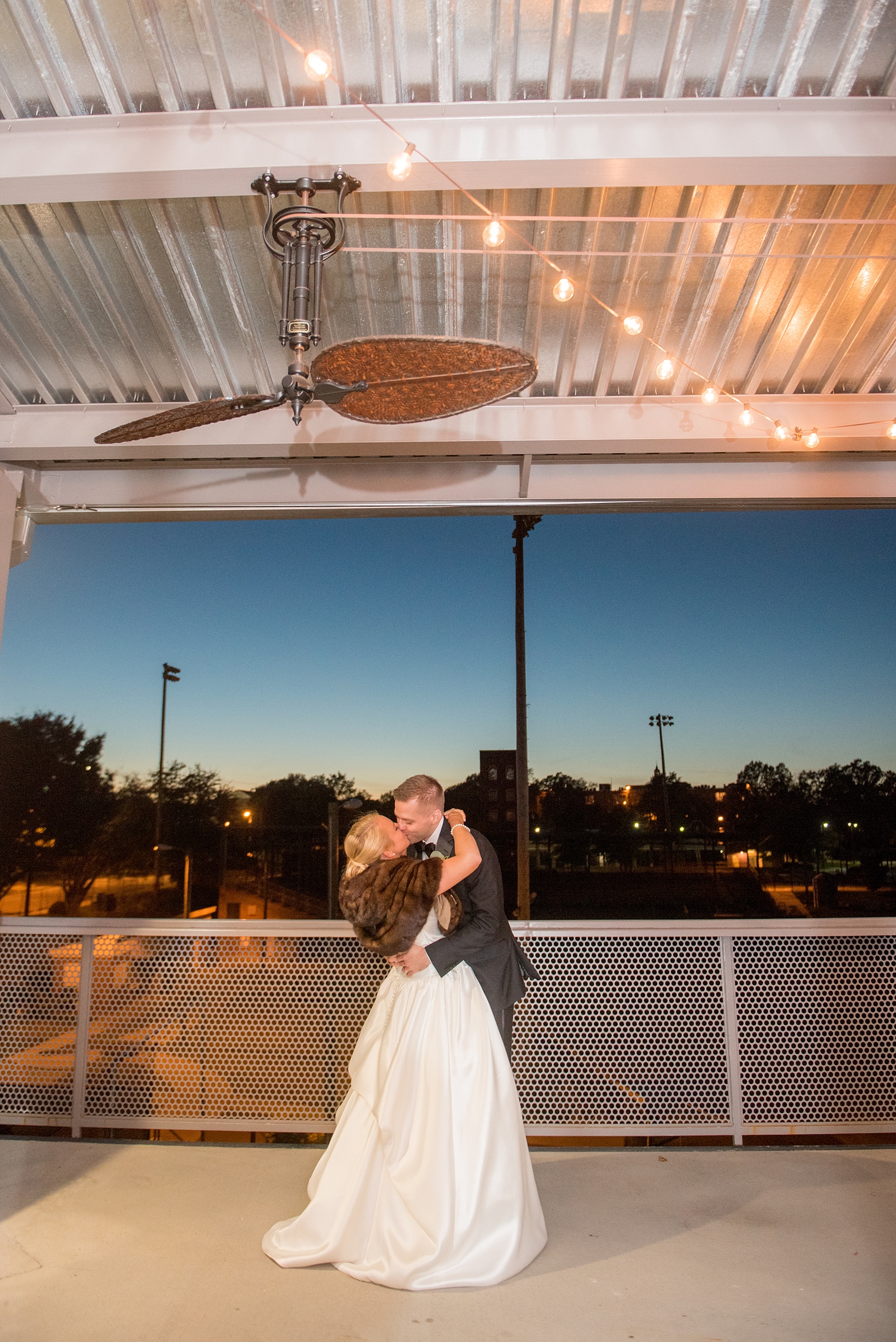 A final kiss of the evening in my blog post yet this twilight moment was only second to one of the  most memorable moments for Adam and Rachel: she surprised him with late night Domino's delivery, a total surprise for her groom, who she has never agreed to let order late night pizza in their day-to-day lives! So, truly, a memorable evening was had by all!
Congratulations Mr. and Mrs. Binder! I love seeing the months of planning so beautifully come together in the culmination of a perfect wedding day.
The Rickhouse Wedding Vendors
Venue: The Rickhouse / Getting ready location (groom): King's Daughers Inn / Invitations + Paper Suite: Minted and Papersource / Wedding Planner: Stephanie Scholl Events / Officiant: Randy Taylor Weddings / Caterer: Rocky Top Catering / Rentals (linens/plates/flatware): American Party Rentals / Draping: Get Lit / Florist: Daniel's Florist / Wedding Cake : Cinda's Cakes / Hair & makeup: Mena Garcia / DJ: KMDJ Company / Wedding dress shop and designer: Ladies of Lineage in Charlotte and Lis Simon / Bridesmaids dresses shop and designer: J Crew / Men's Tuxedos: Jos A Bank / Dad and groomsmen ties: Suit Supply / Engagement Ring Designer: Vintage family heirloom / Wedding Bands: Ballerina Jewelers / Veil: Etsy: Gorgeous Compliments
Want to inquire about your own wedding day at The Rickhouse? Contact us!