I'm currently working hard to get to know other wonderful wedding vendors in Raleigh, North Carolina. When I saw Merrimon Wynne, a venue I've been following for months, was having a bridal event I immediately signed up to attend.
Being just three weeks fresh to the area, I want to simply clarify that I was not the official event photographer. I met Katherine, who was, and she's so great and I loved hearing that she moved to the area about a year ago, is loving it, and previously lived in NYC for a number of years too! She's in this post! (And I can't wait to get together with her to talk more about what we love doing: photography!) All vendor links are at the bottom of the post. I simply love taking photos and recommending great venues to clients, hence this blog post.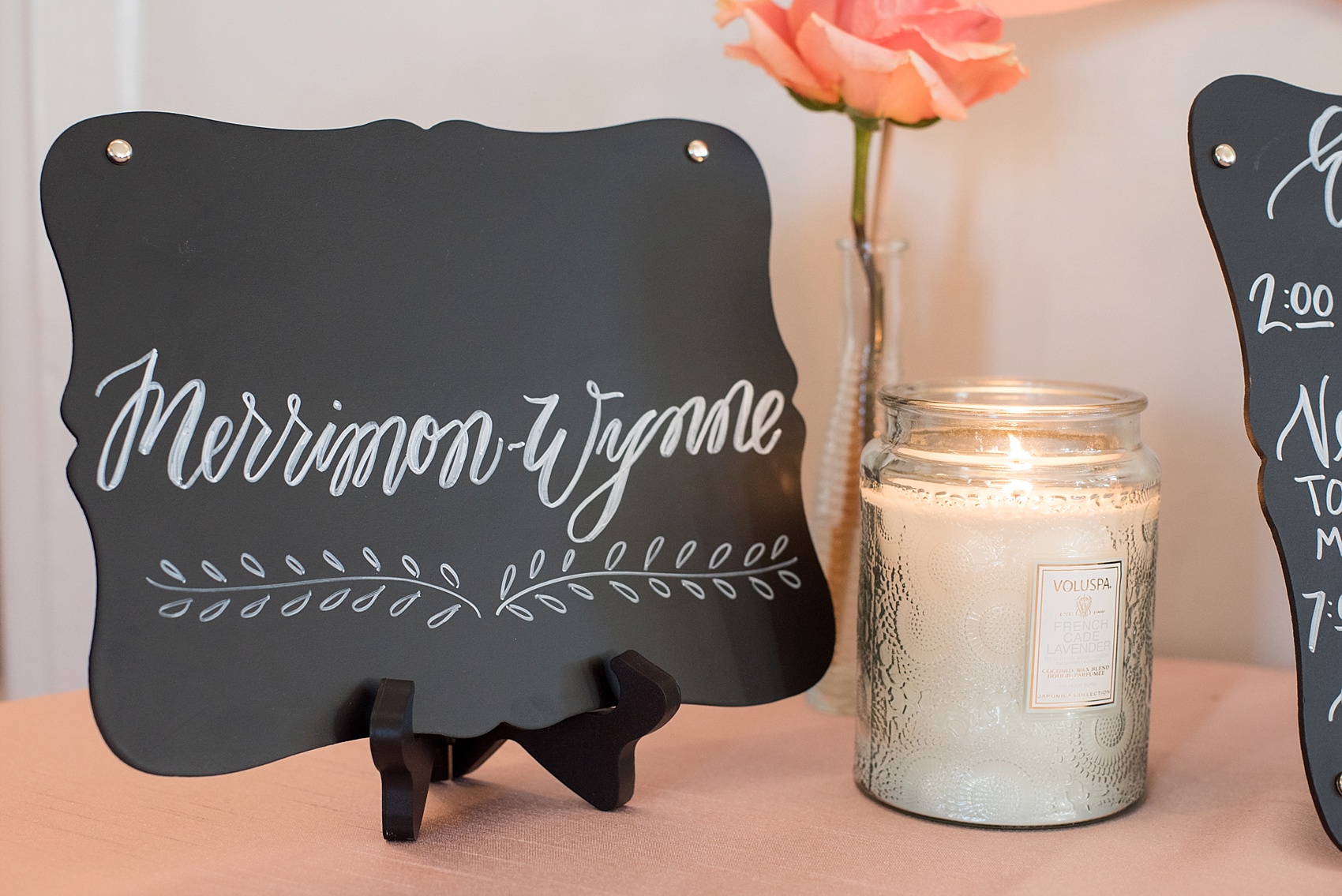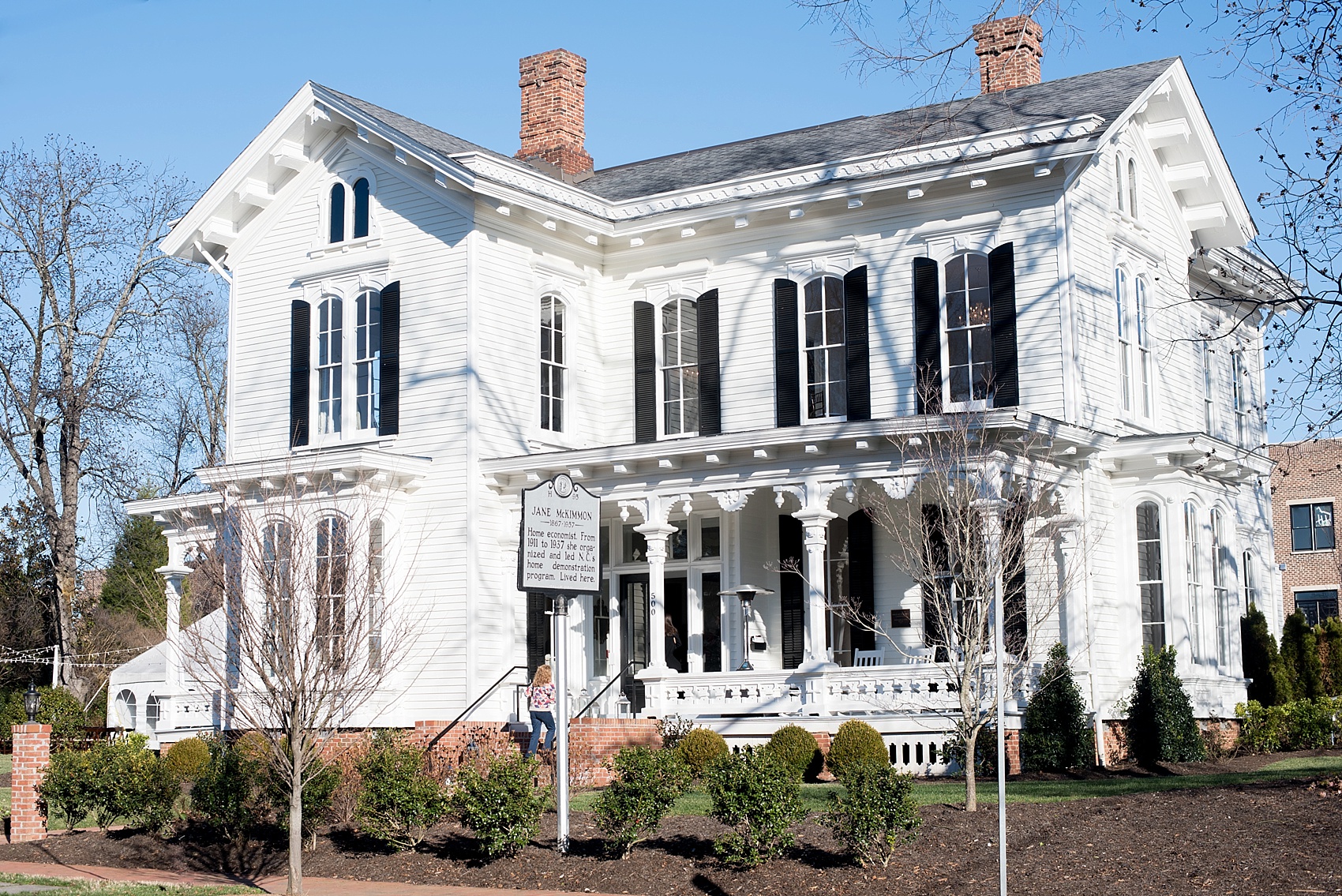 Front the outside it's such a charming looking historical home. (Probably because….it is! Read about it here.) The inside "wows" you. The Heyens family did an incredible job making it a premier event space in downtown Raleigh. Though they purchased it in 2013 it feels like it's been anchored in the foundation of the wedding community here for quite some time.
Isn't this Vera Wang gown a stunner? And what about the room it's in?! It's the bridal suite. I can only imagine being a bride getting ready for my wedding in this incredible room. It gets amazing light, is painted a calming gorgeous color and this mirror is just one of many amazing elements in it. Gowns provided by Alexia's Bridal.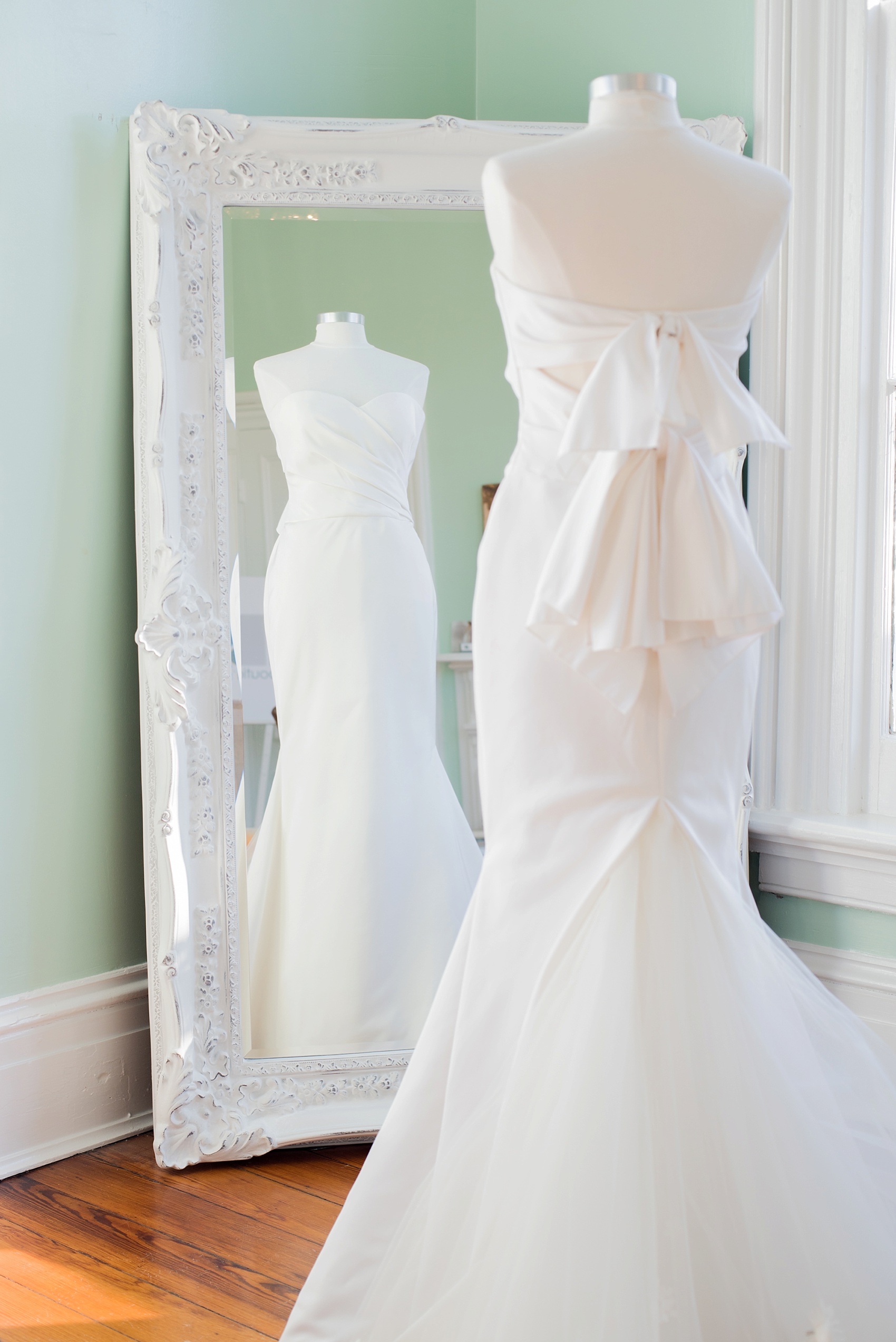 Every great city needs a blow dry bar! Parlor's located in Cameron Village in Raleigh and it was great meeting Allison, Thuy and Emily. All super sweet women and it was fun to watch some brides getting pampered, getting their hair and makeup done.
What I loved about the event was that the ladies at Merrimon-Wynne carefully planned to ensure all bases were covered and there was no overlap. They even had the groom and mother-of-the-bride wardrobes covered. I enjoyed meeting the team that was there from Saks Fifth Avenue! Always a classy operation. 

I was anxious to get back downstairs because the delicious smell rising up was intoxicating! I met Jill and TJ of Donovan's Dish and shamelessly admitted to TJ, as a new transplant to Raleigh, I'm a little addicted to Shrimp 'n Grits. The thick pieces of bacon were a welcome and tasty adornment I thoroughly enjoyed.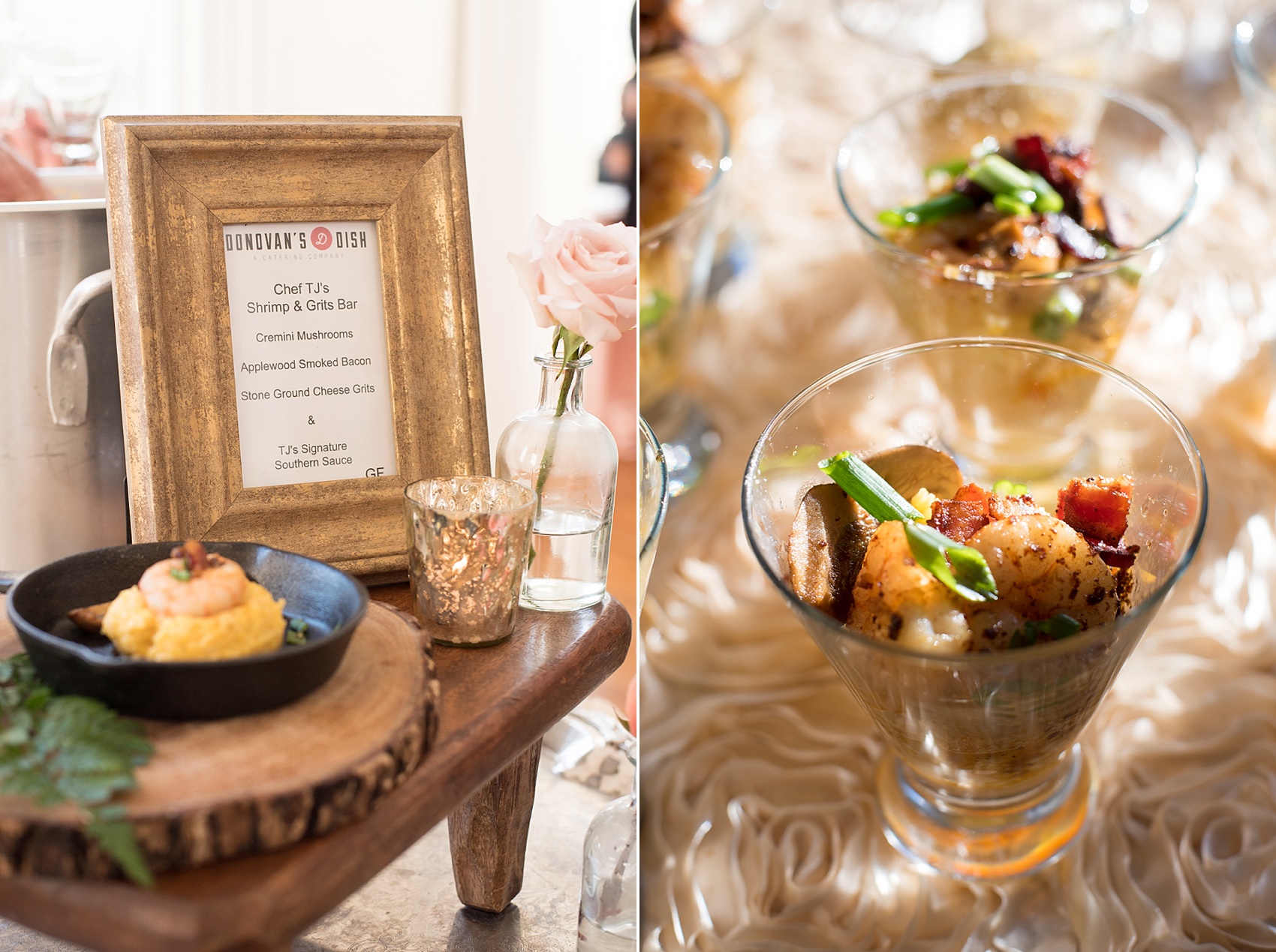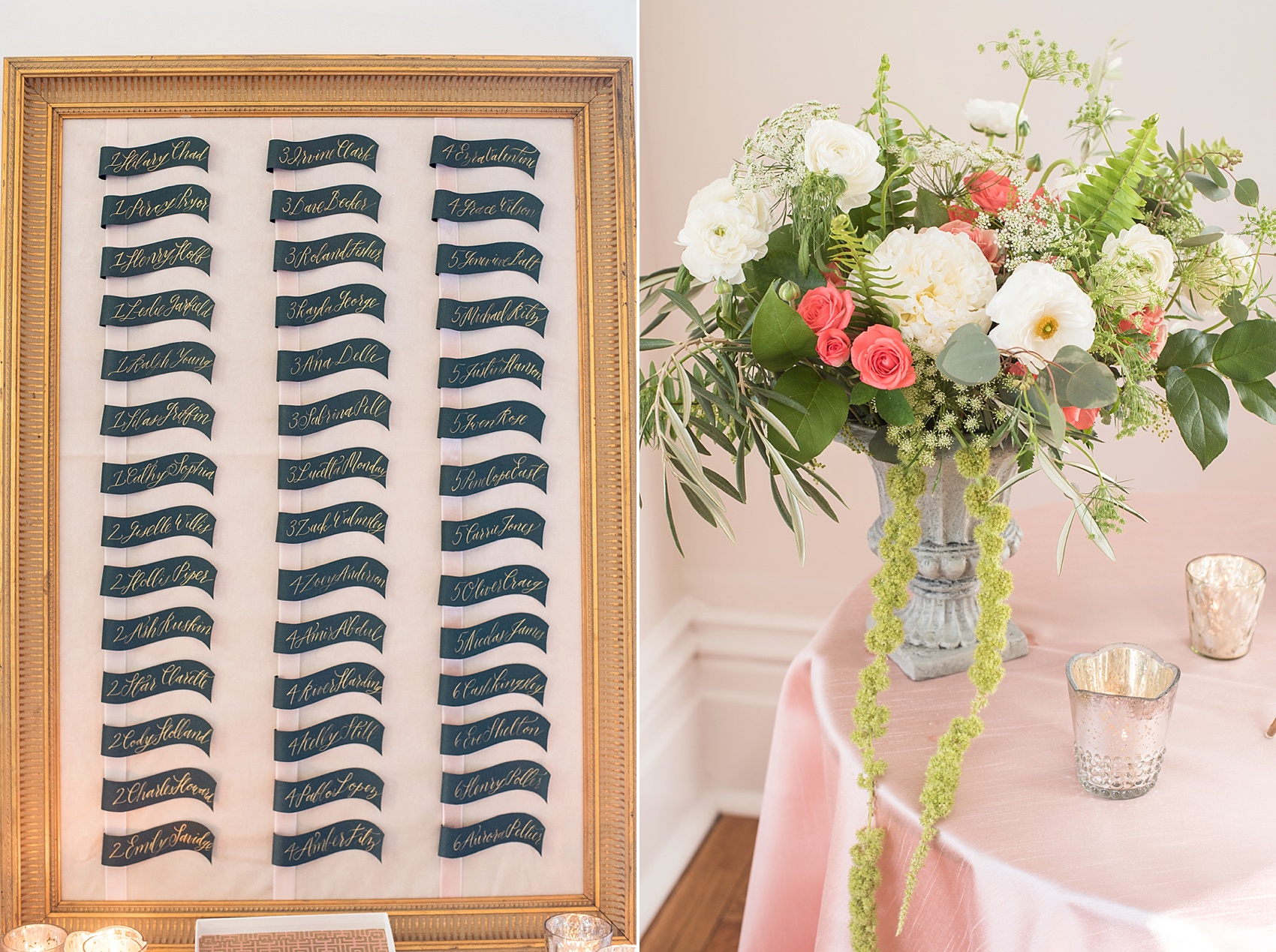 I was IN LOVE with the calligraphy and invitations on display and the floral design all over the place at the event! Anna of Simply Elegant Floral Designs and Alison of One and Only were great to meet and their beautiful work speaks for itself.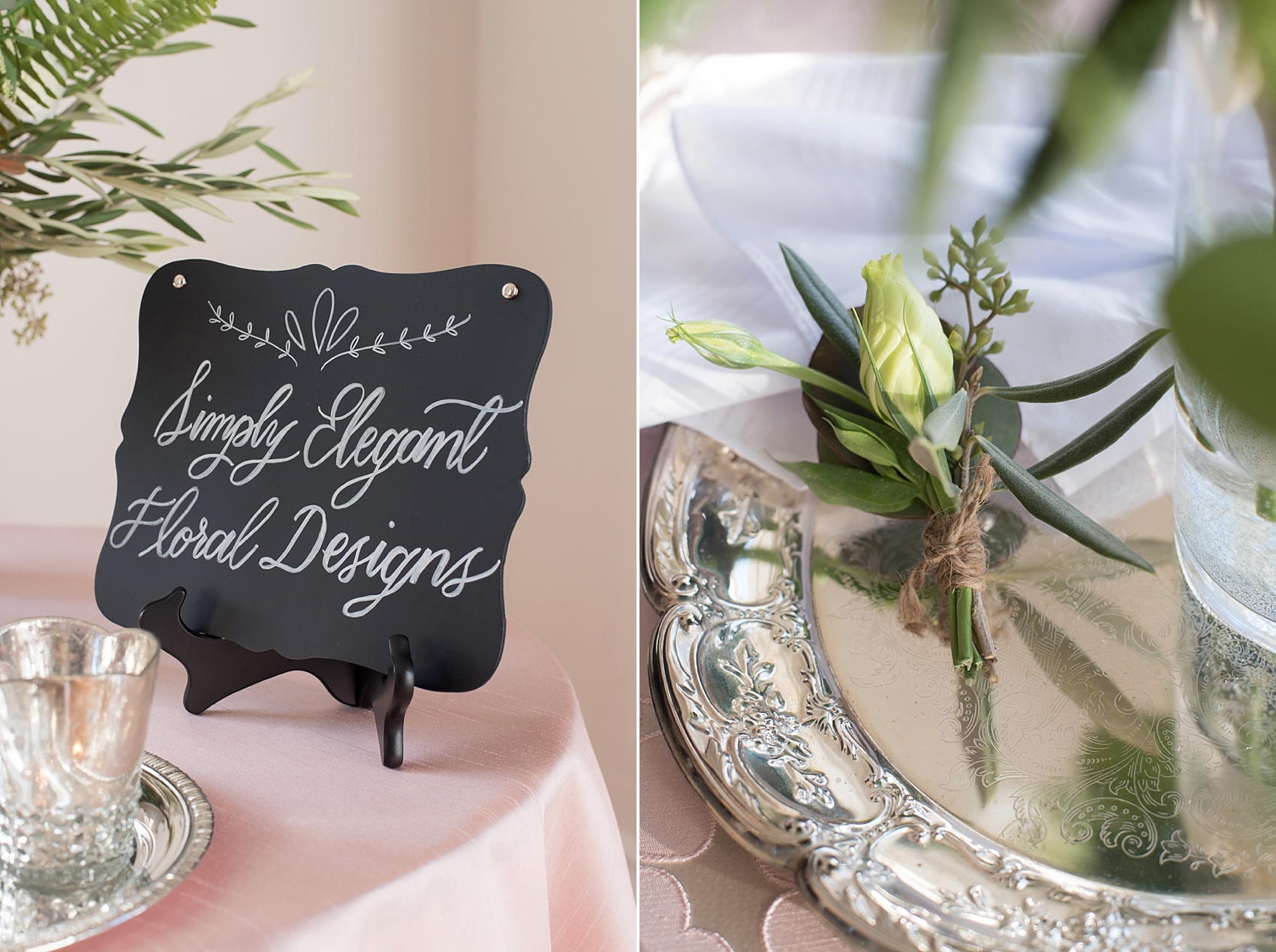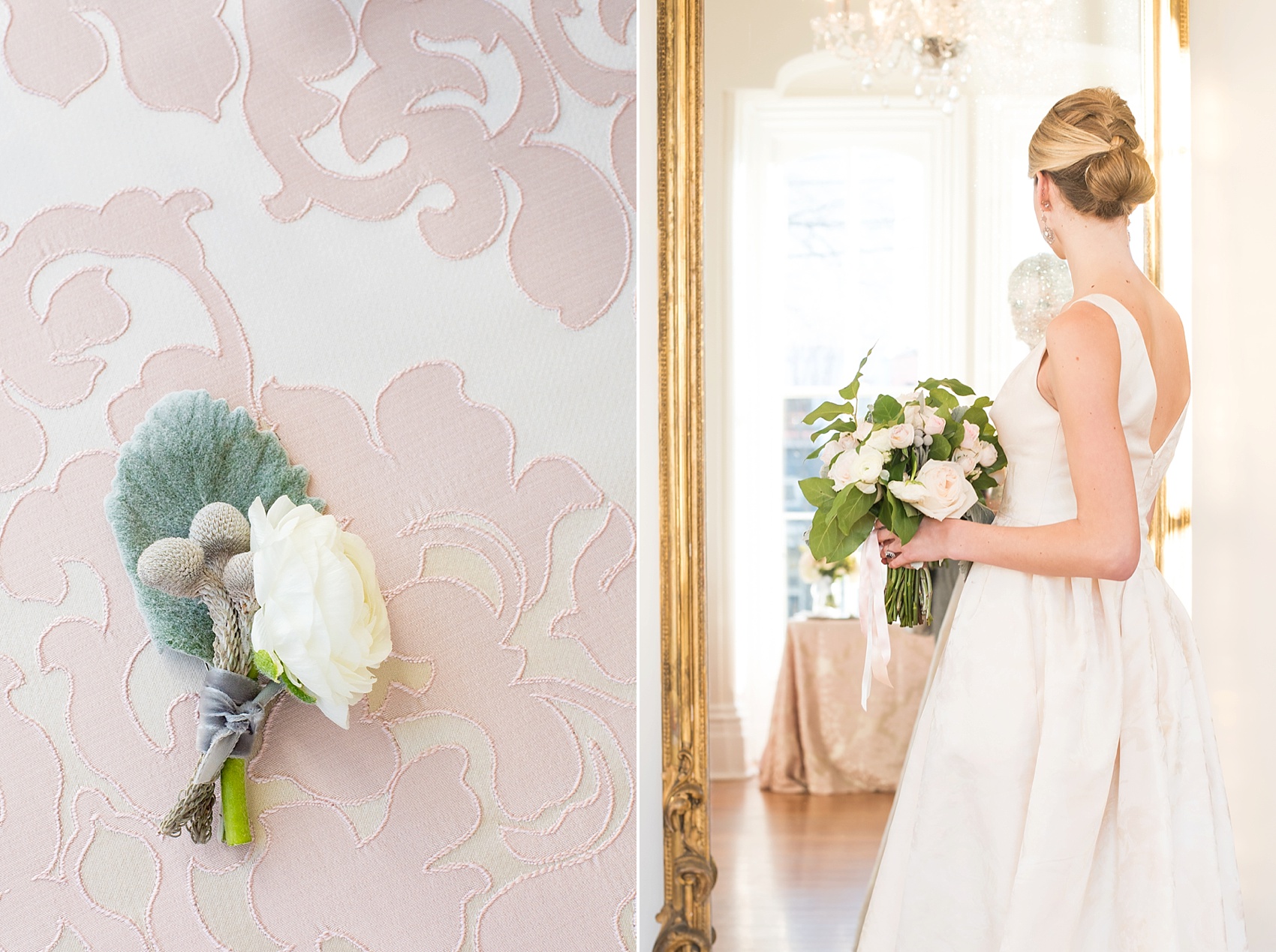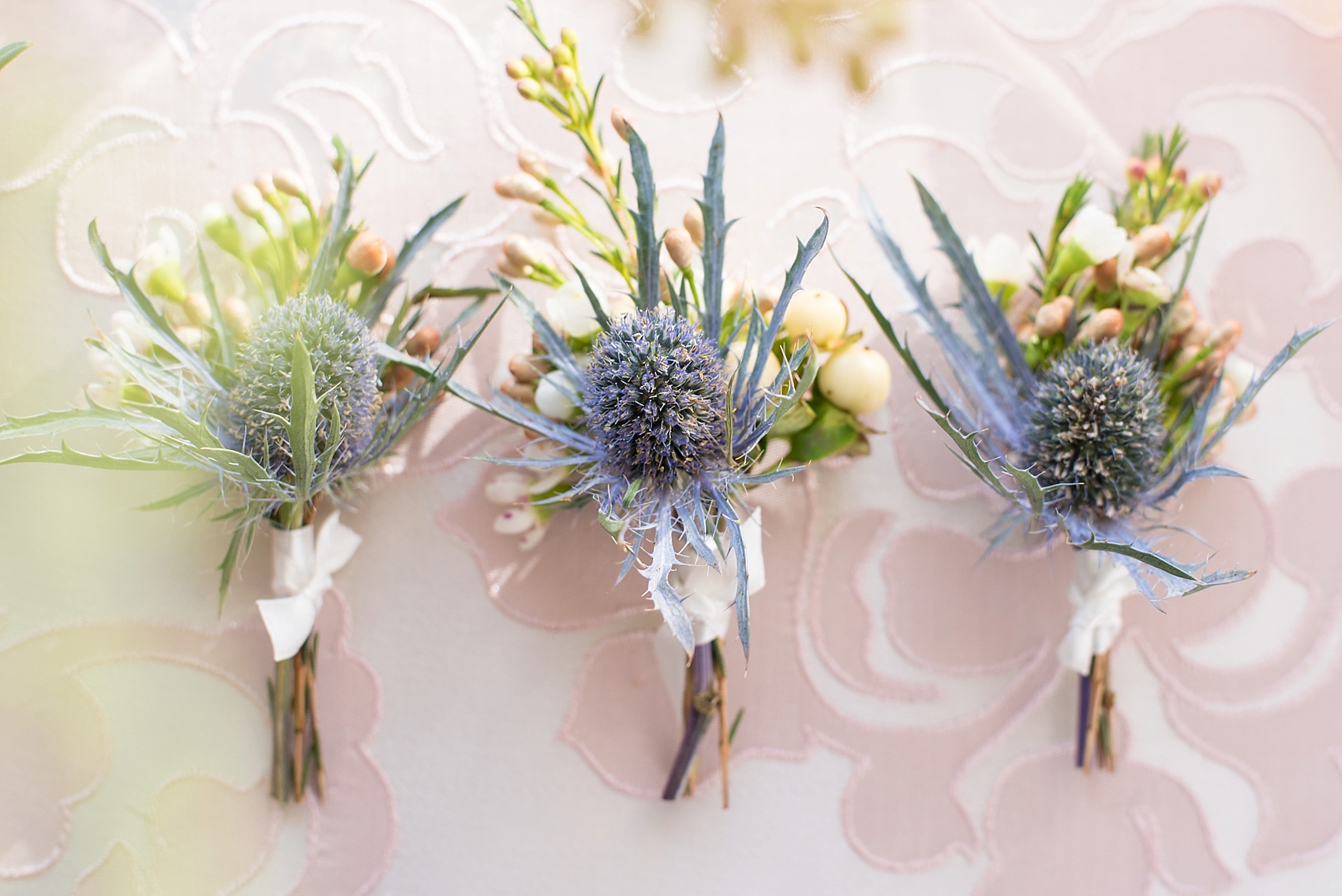 Aren't these blue thistle boutonnieres everything?! AHH! Love!
Know what else rocks? The fireplaces at Merrimon-Wynne. The green tiled one below caught my eye.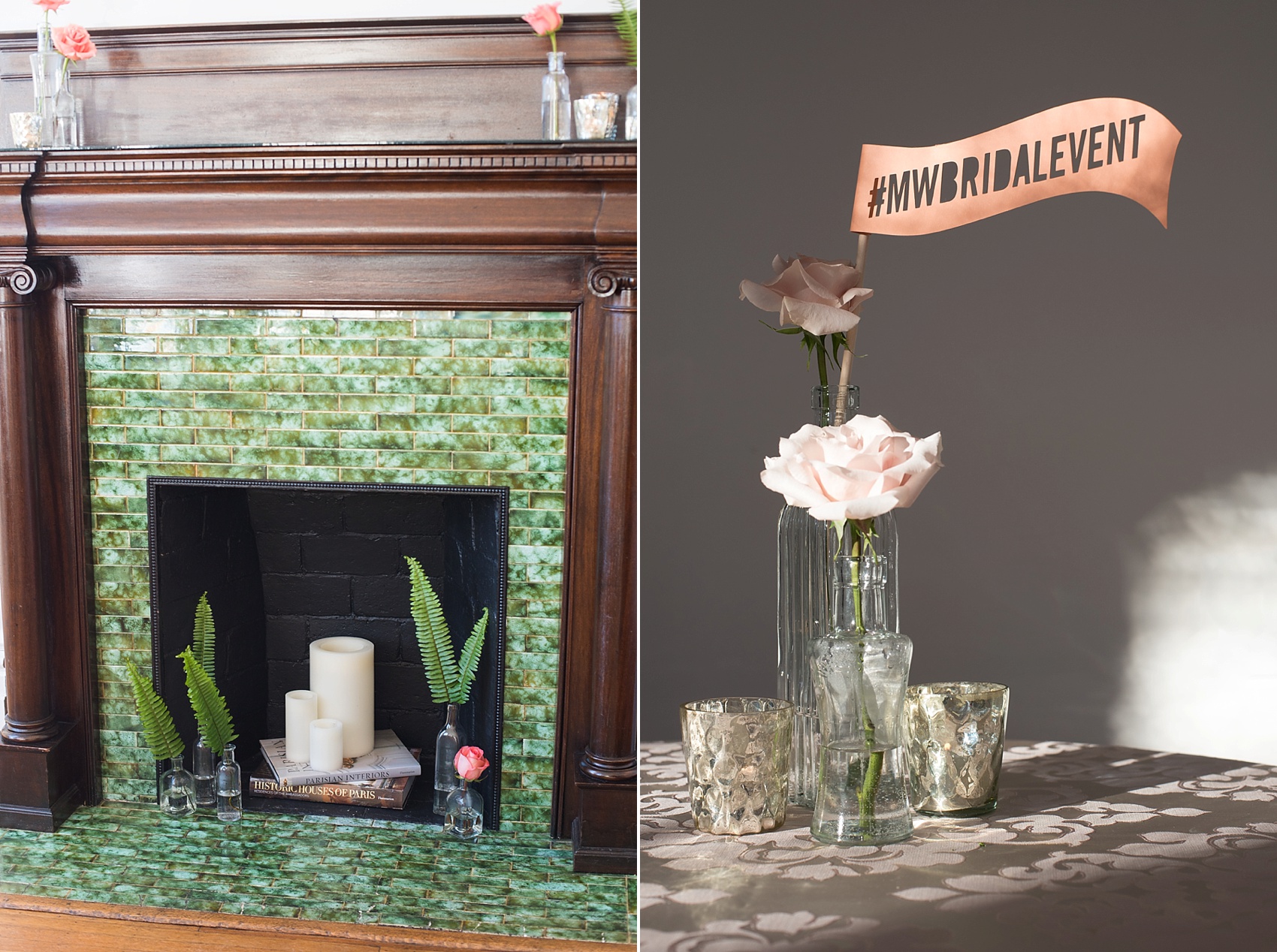 These two lovely ladies were the great photographers at the event! Katherine Miles Jone Photography was assisted by Jessi of Jessica Arden Photography, Saturday. I actually know Jessi from a photographer friend in New York (small world, I know) and I was so excited to see a familiar face at the event. She's a breath of fresh air, as is Katherine. I was reassured how welcoming the entire community is here.
I've also been following Southern Bride & Groom for a while, a locally based though widespread southern magazine publication. Meeting Jenna and Leslie was a highlight of the day! It was great to talk to Jenna about her time in NYC too – I'm jealous she can act and sing (and I hope she doesn't mind me saying so!).  Point is: lots of talent was around me! And often more than I would even realize. 🙂 The photo below to the left is Leslie and Nicole, who has a bartending company called On the Rocks (available for weddings!) and the right photo is Mitch, a DJ who work with Joe Bunn of Bunn DJ Company, modeling a great boutonniere. Above is a photo of Jessi, Joe and Jenna in the moment of sharing some wedding pictures. I love it!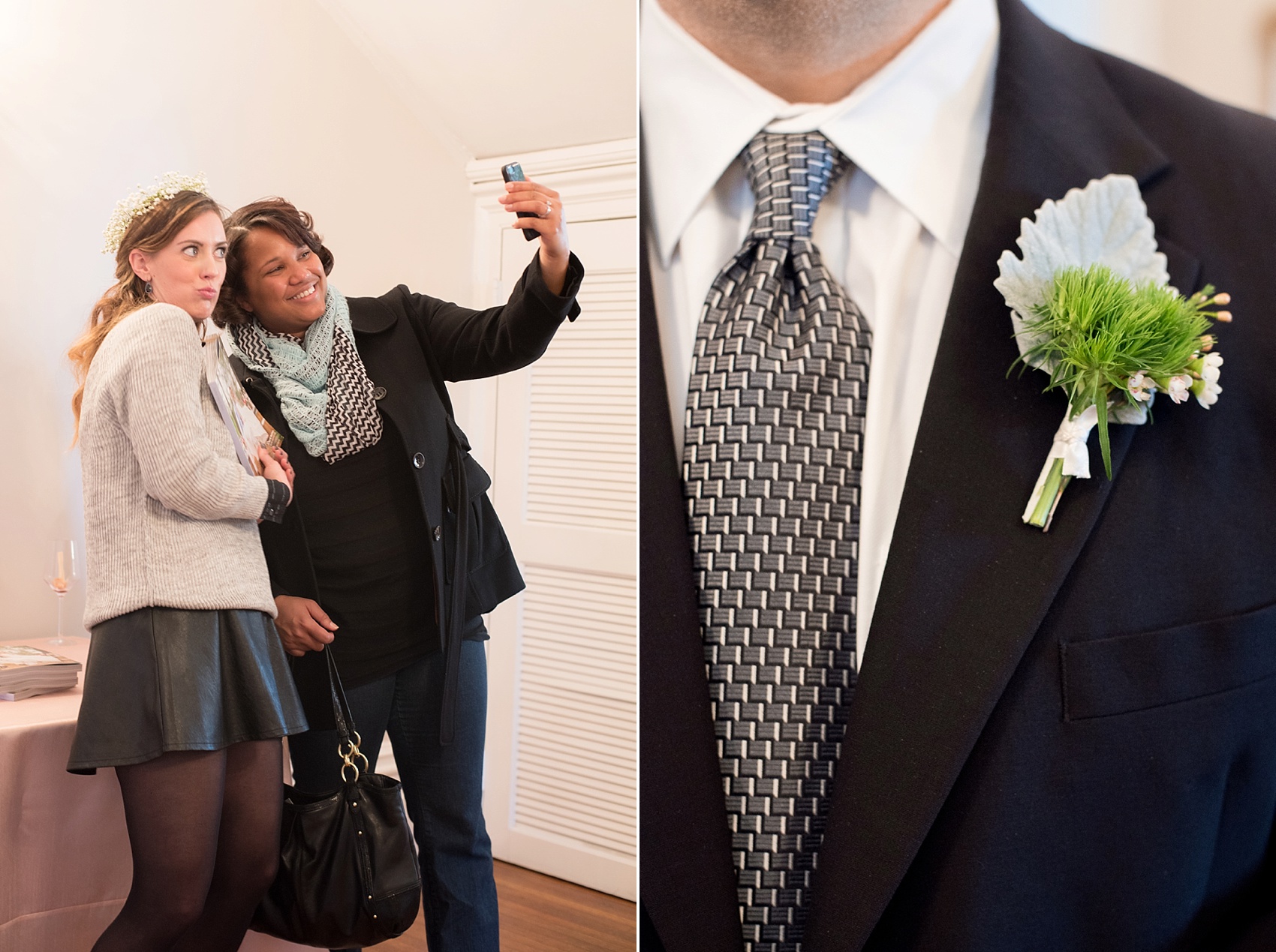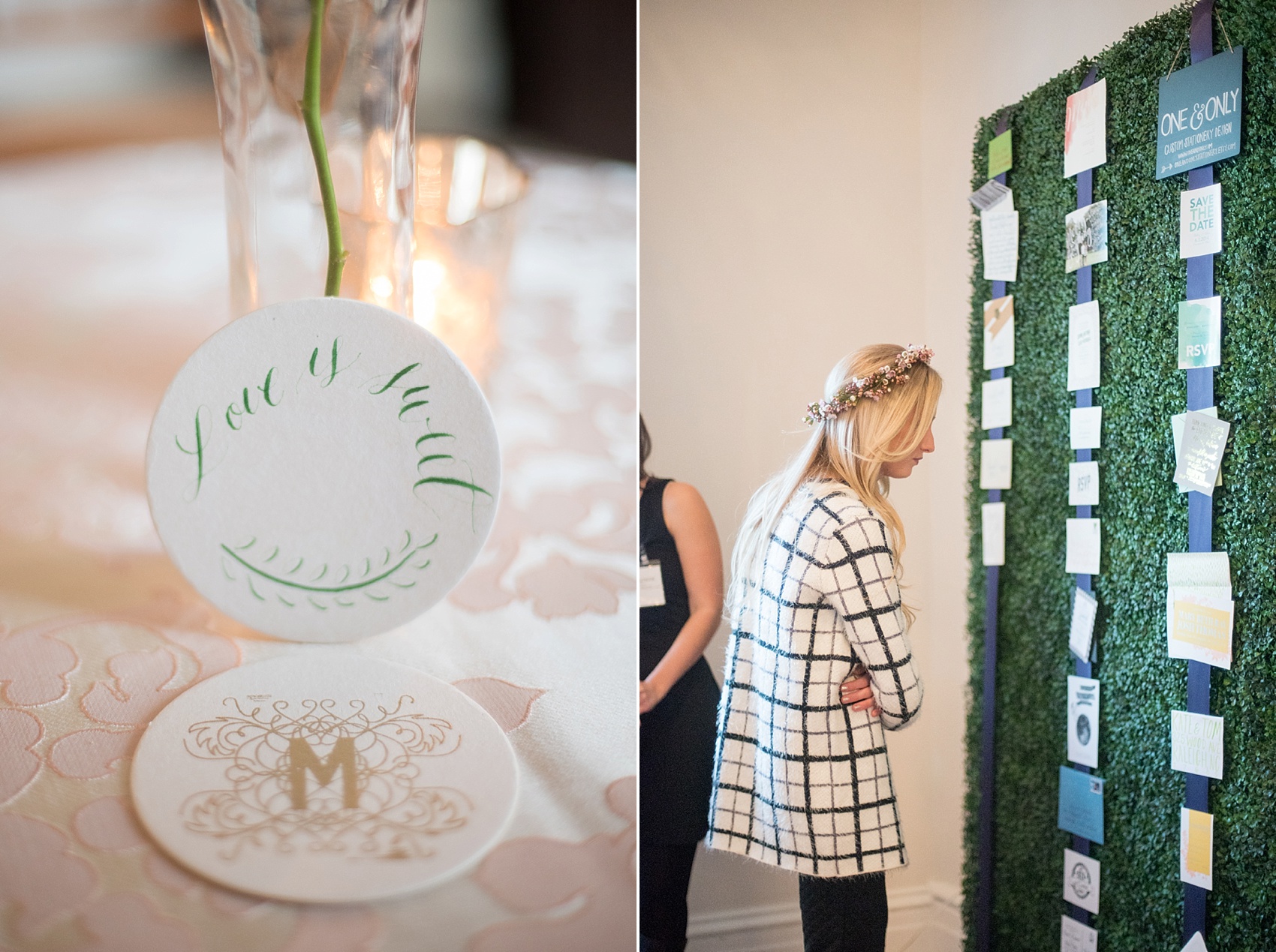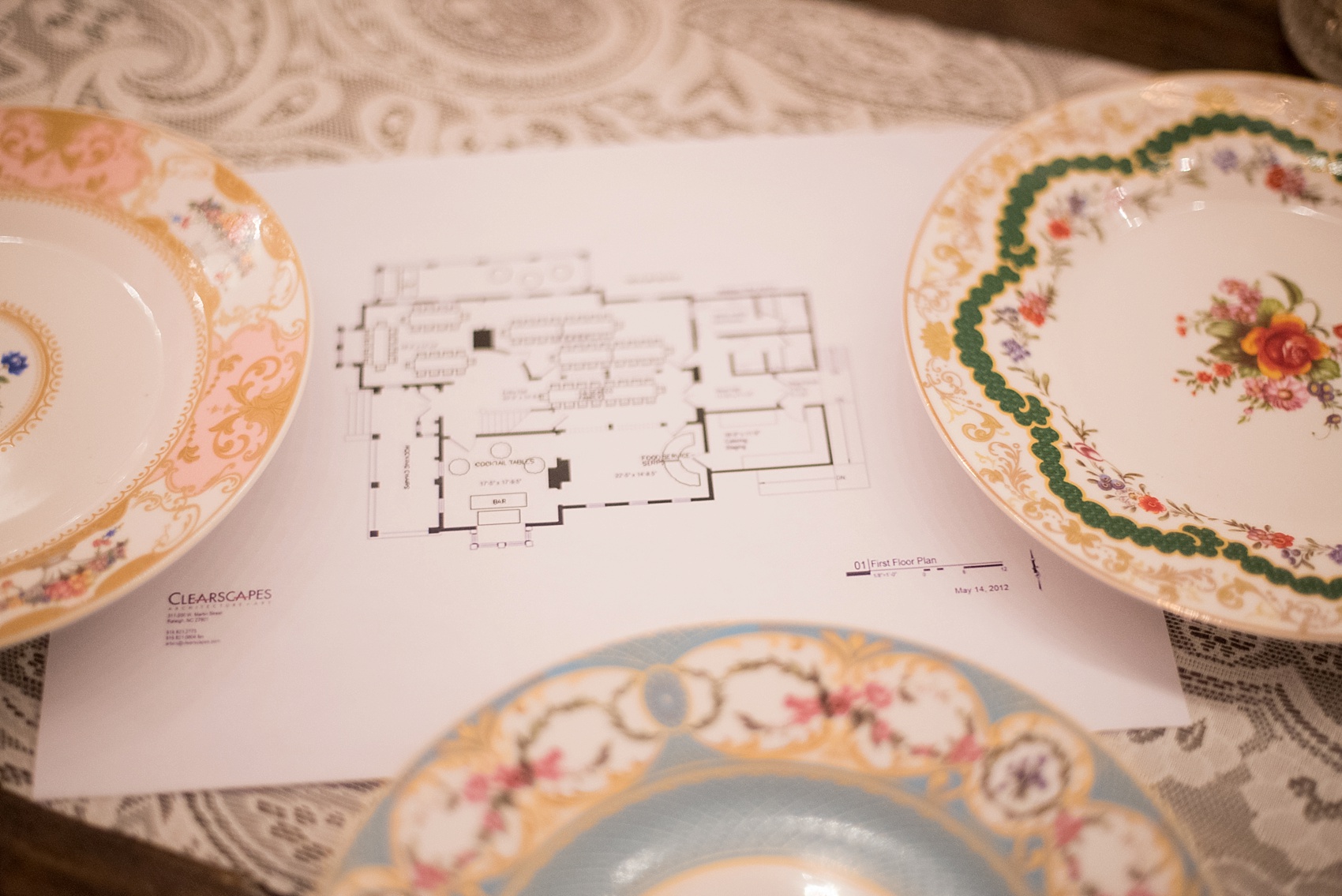 Party Reflections does something incredible for their couples: they'll lay out a floor plan for you in AutoCAD. This is INCREDIBLE and I can only imagine what a huge help it is when planning their day and trying to visualize where a lot of moving parts, like furniture, will go. Paula was wonderful to meet and I was happy to hear they do the rentals from tables and chairs to silverware and glasses, at the venue very often.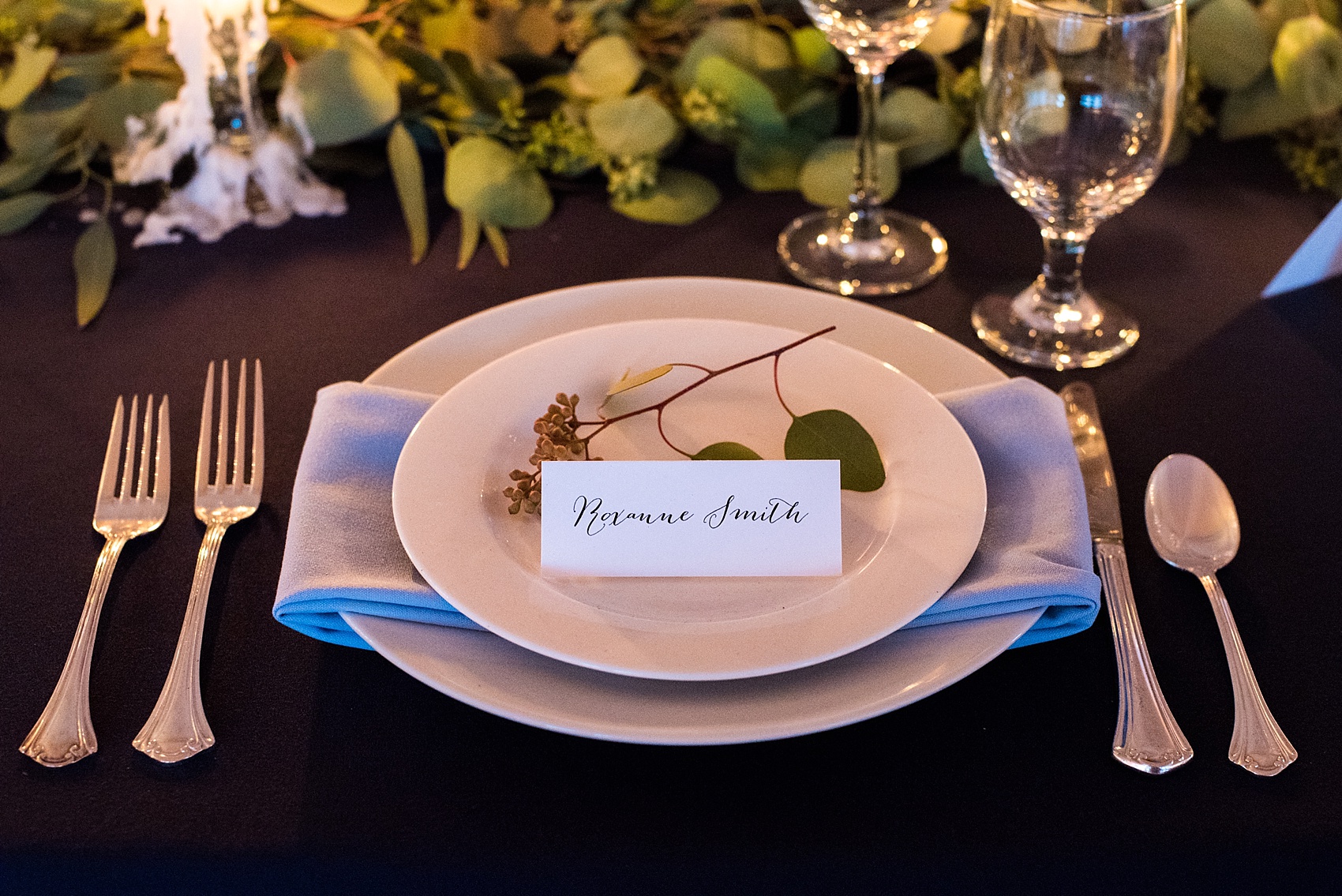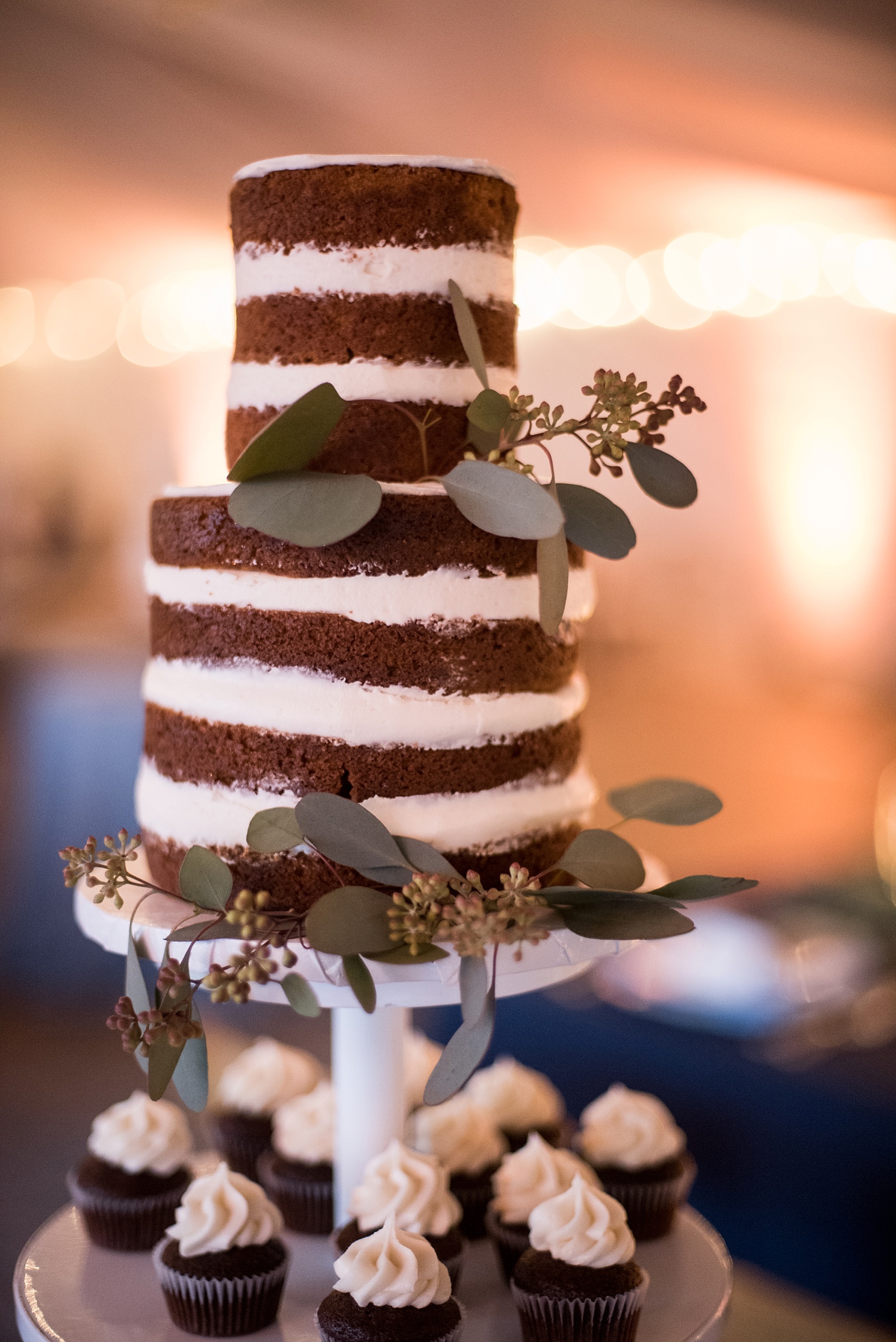 Another vendor I've followed for a long time is The Cupcake Shoppe. Sara and Arlen are the cake decorating gurus there! I knew the shop's cupcakes were awesome before I even tasted the minis but sure….why turn them down? I loved the variety of cakes they were showcasing from the exposed cake above, to the all white herringbone stacked cake below, and even a hand painted cake I was particularly fond of.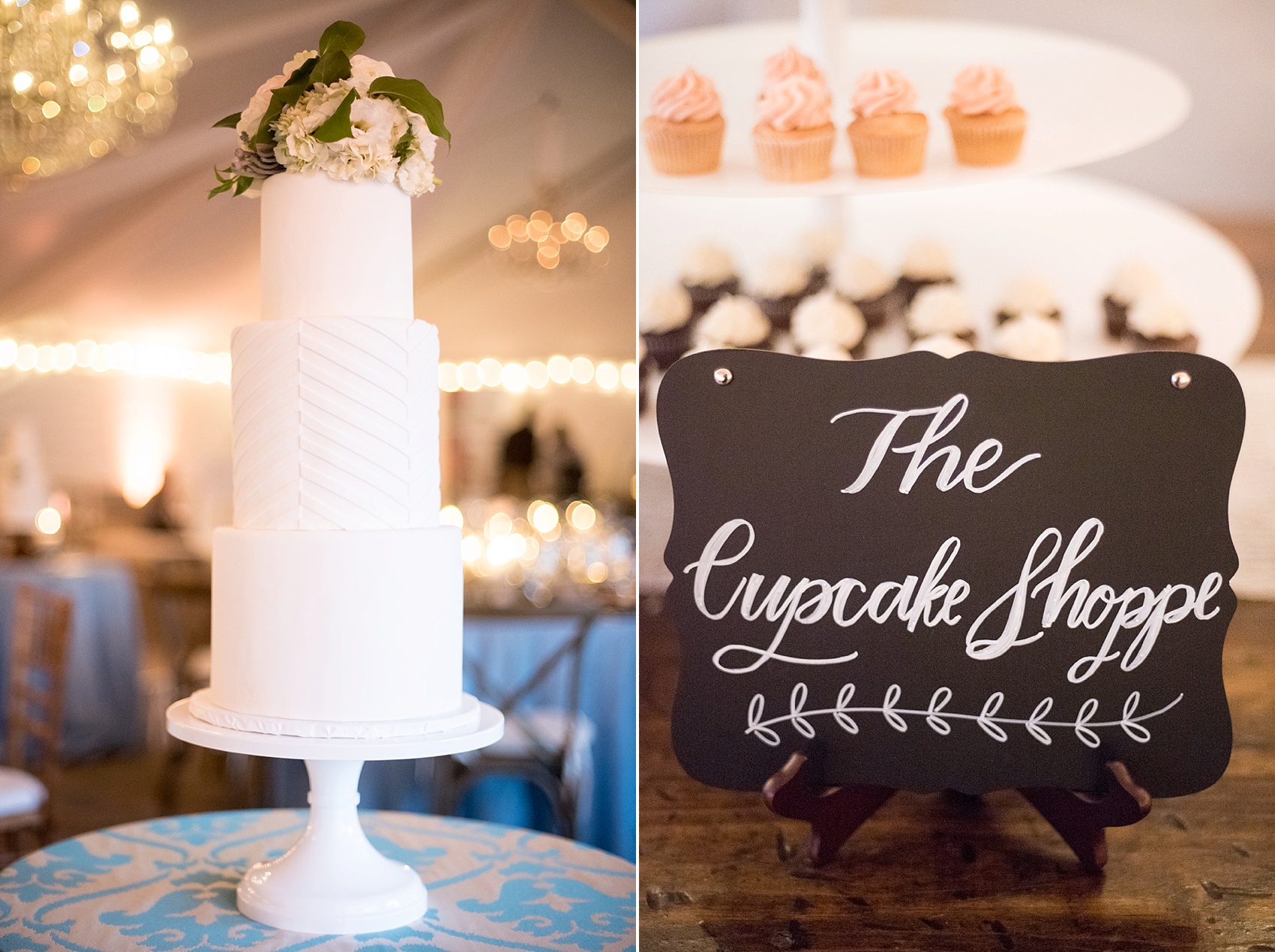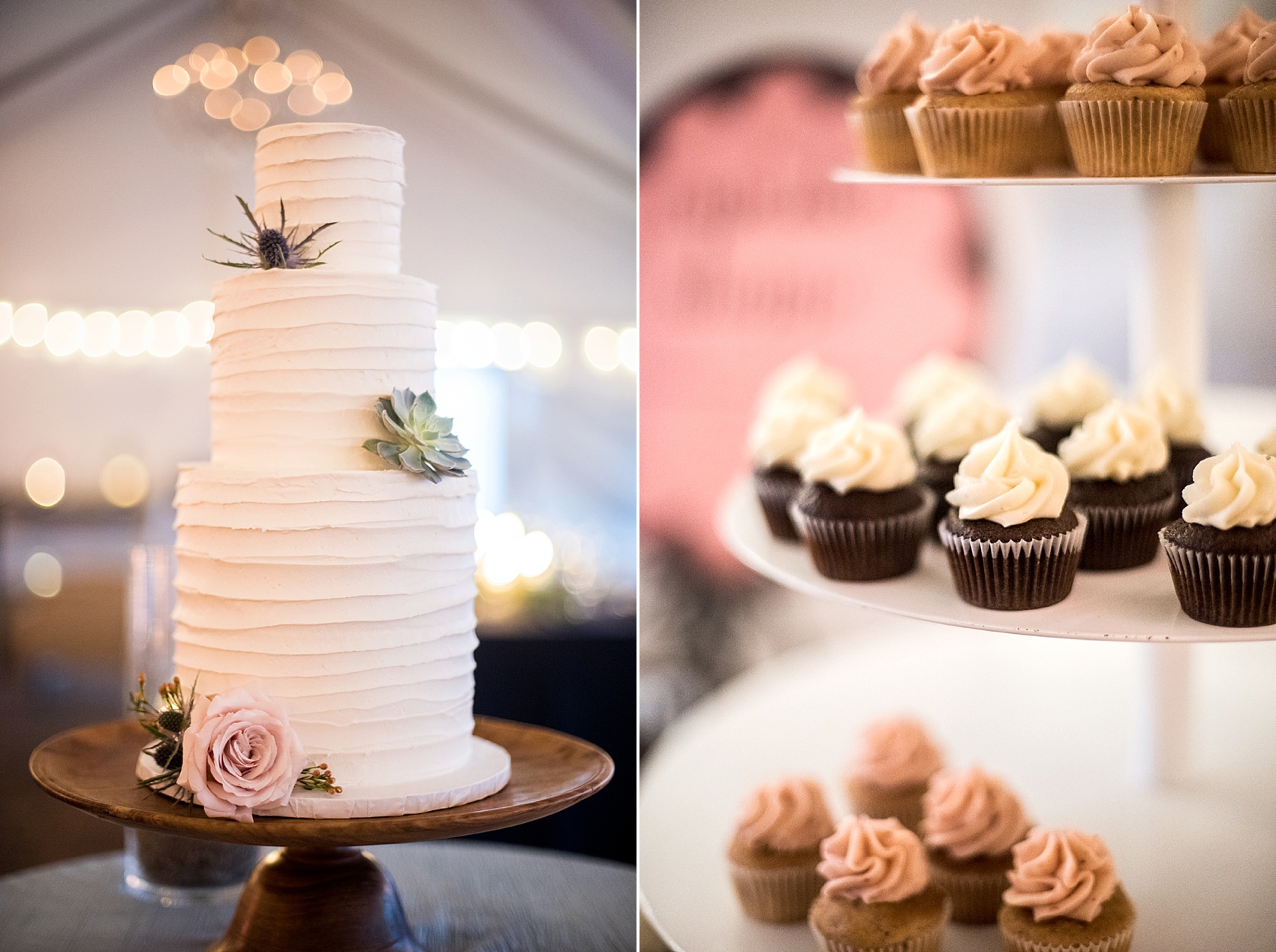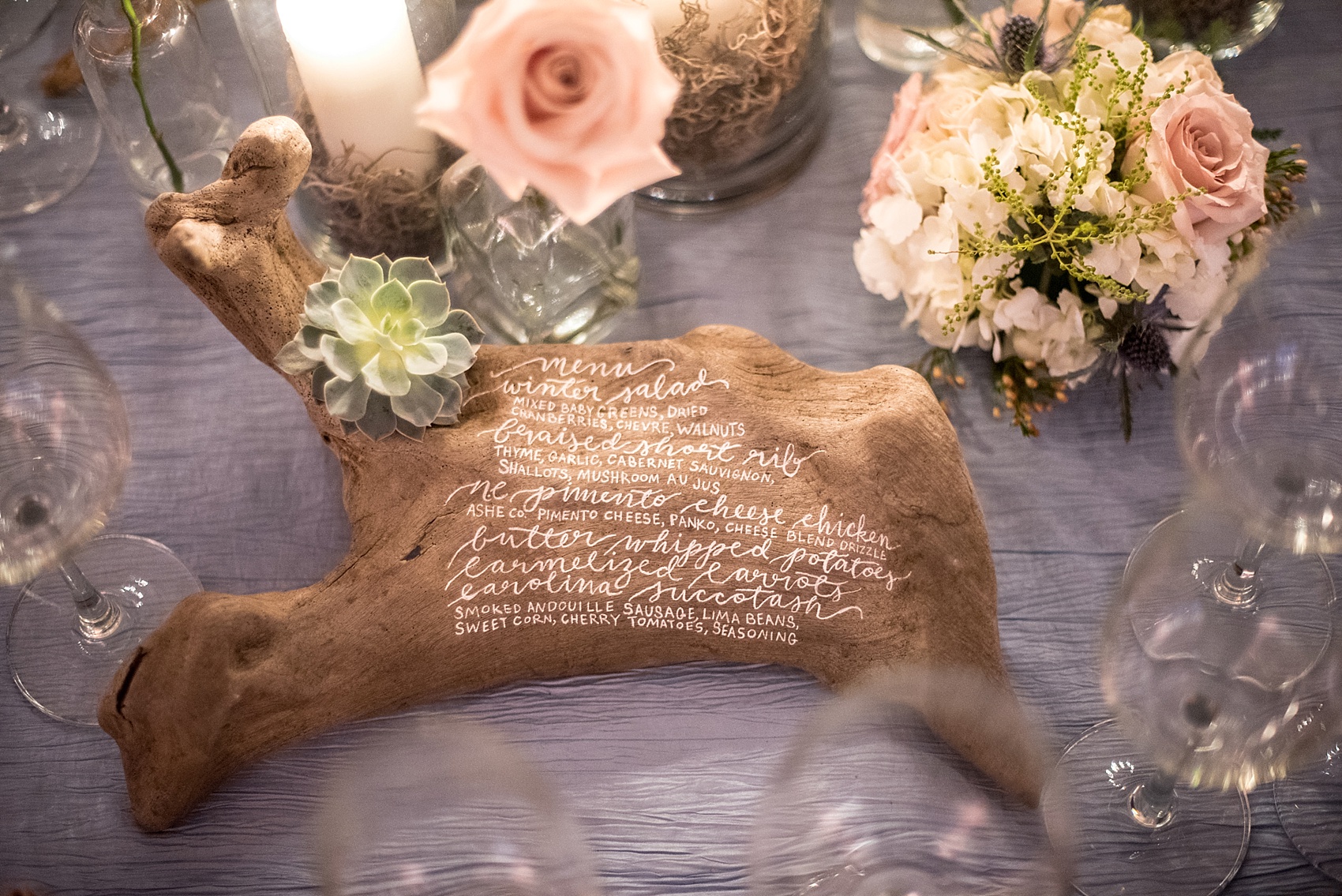 Couldn't you just die over the menu hand calligraphied on the driftwood? I've never seen anything like that! Ahhhh! I want! Maybe I'll get a menu in my kitchen like this so I can simply admire it everyday. 😉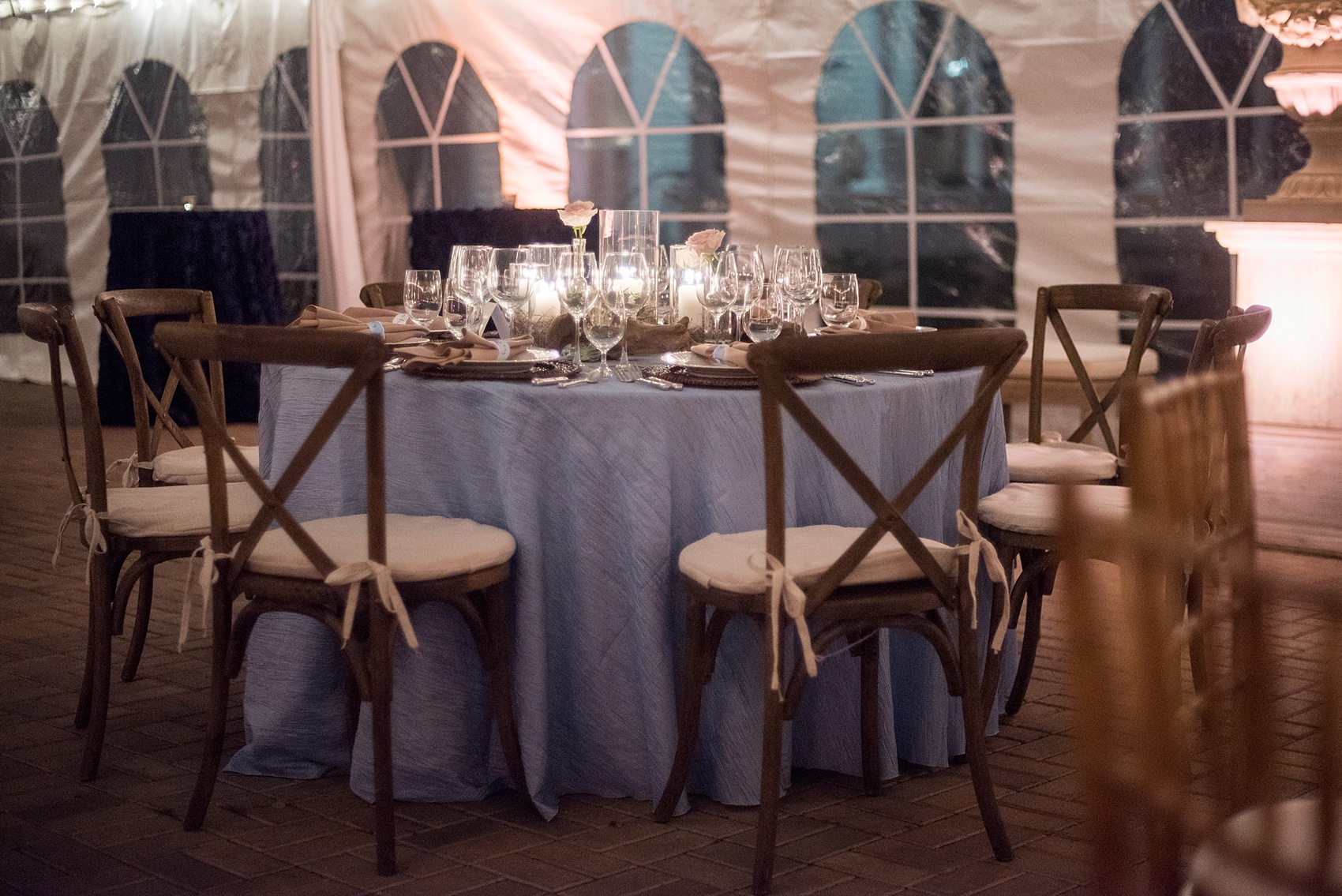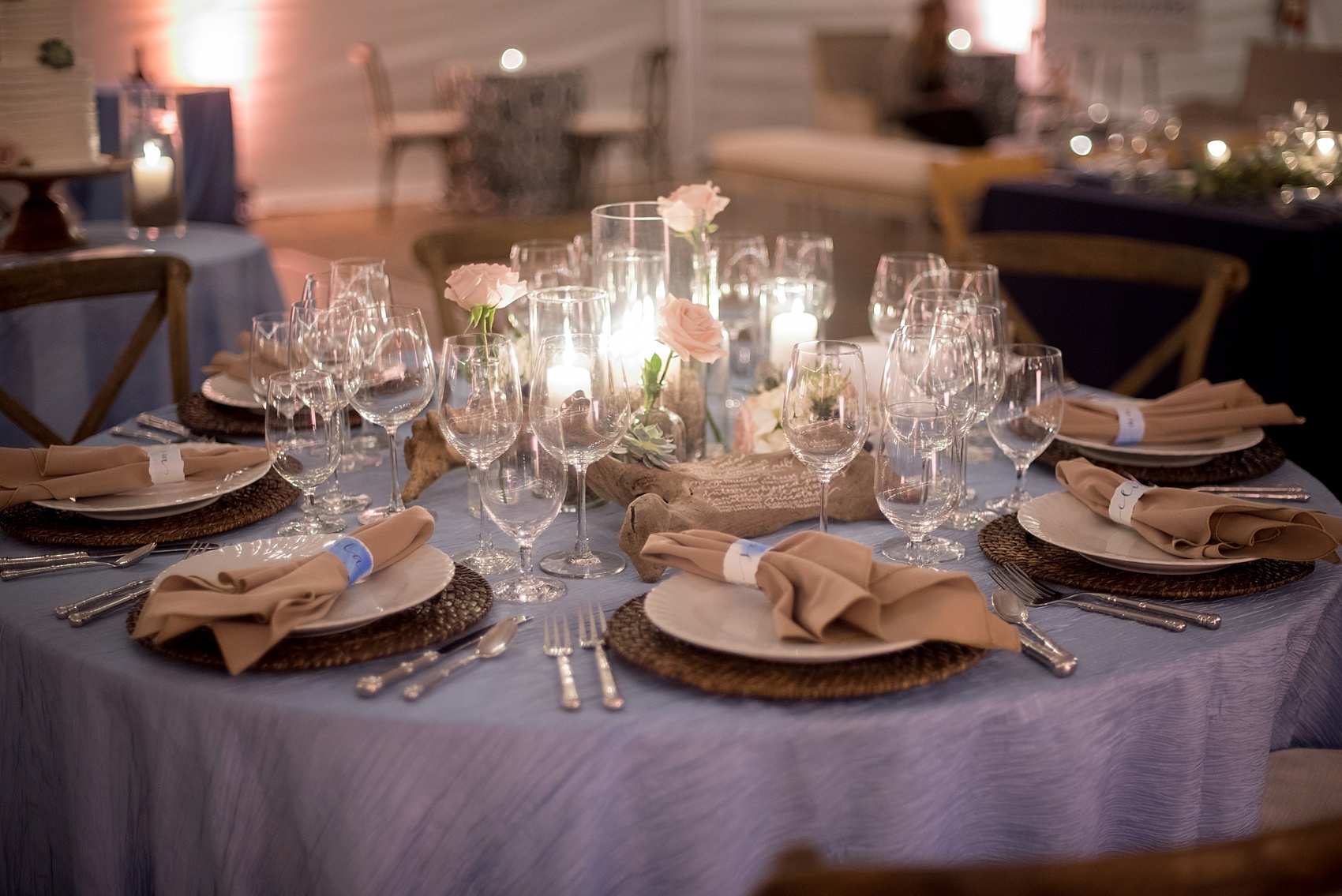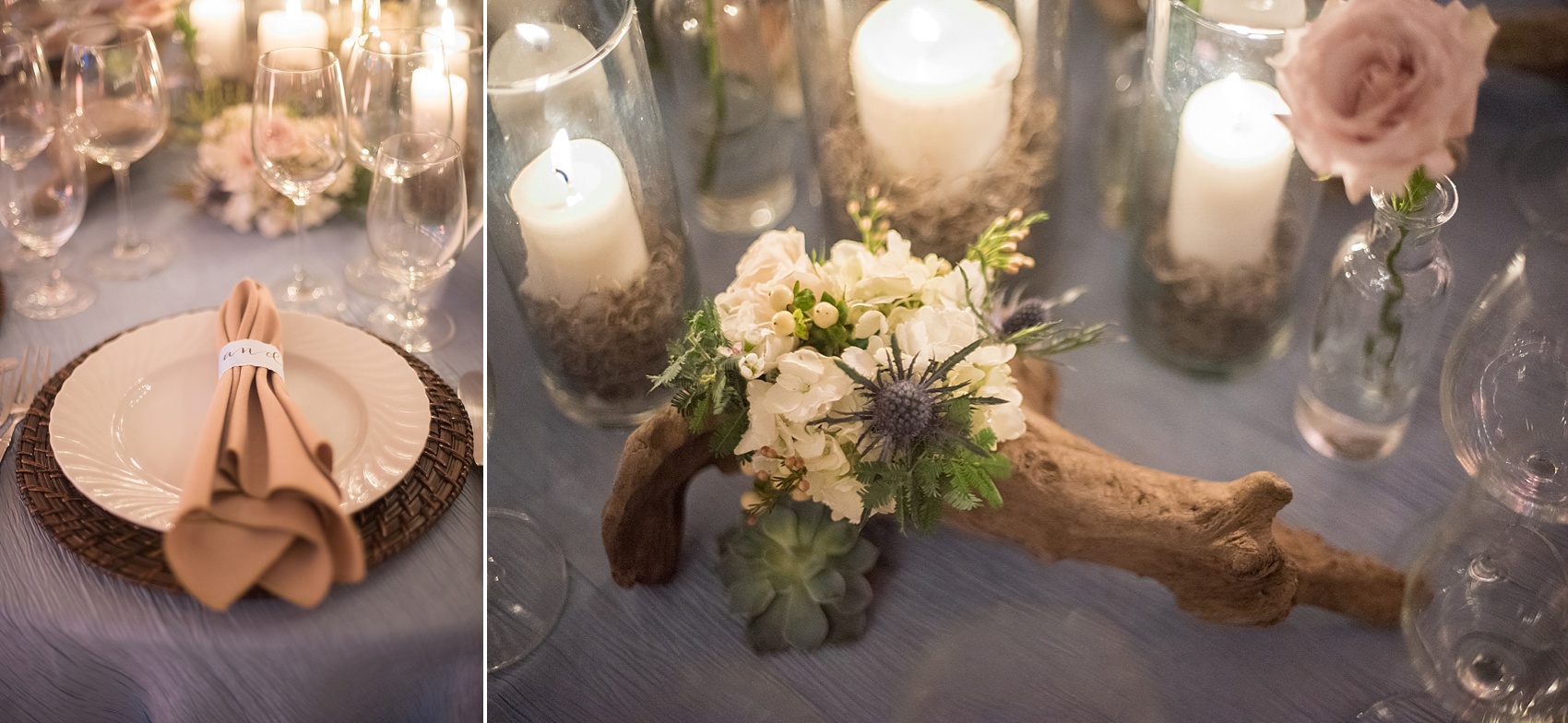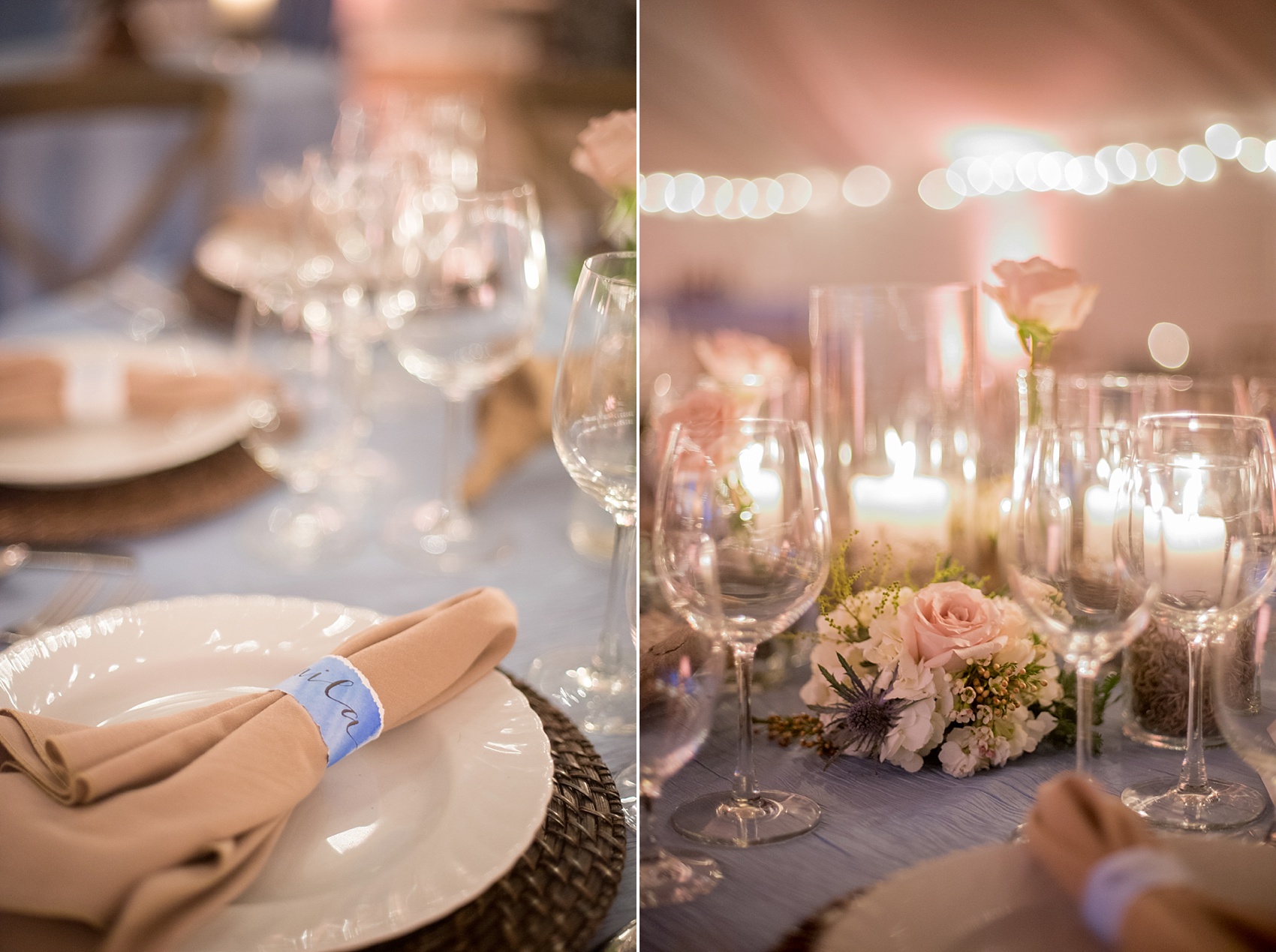 There were three different tables set up with three varying price points for couples to view. I thought it was really clever. And the centerpieces, linens and escort cards were different at each. Like the napkin rings above, indicating which guest was seated at that seat, or below on the geode slices.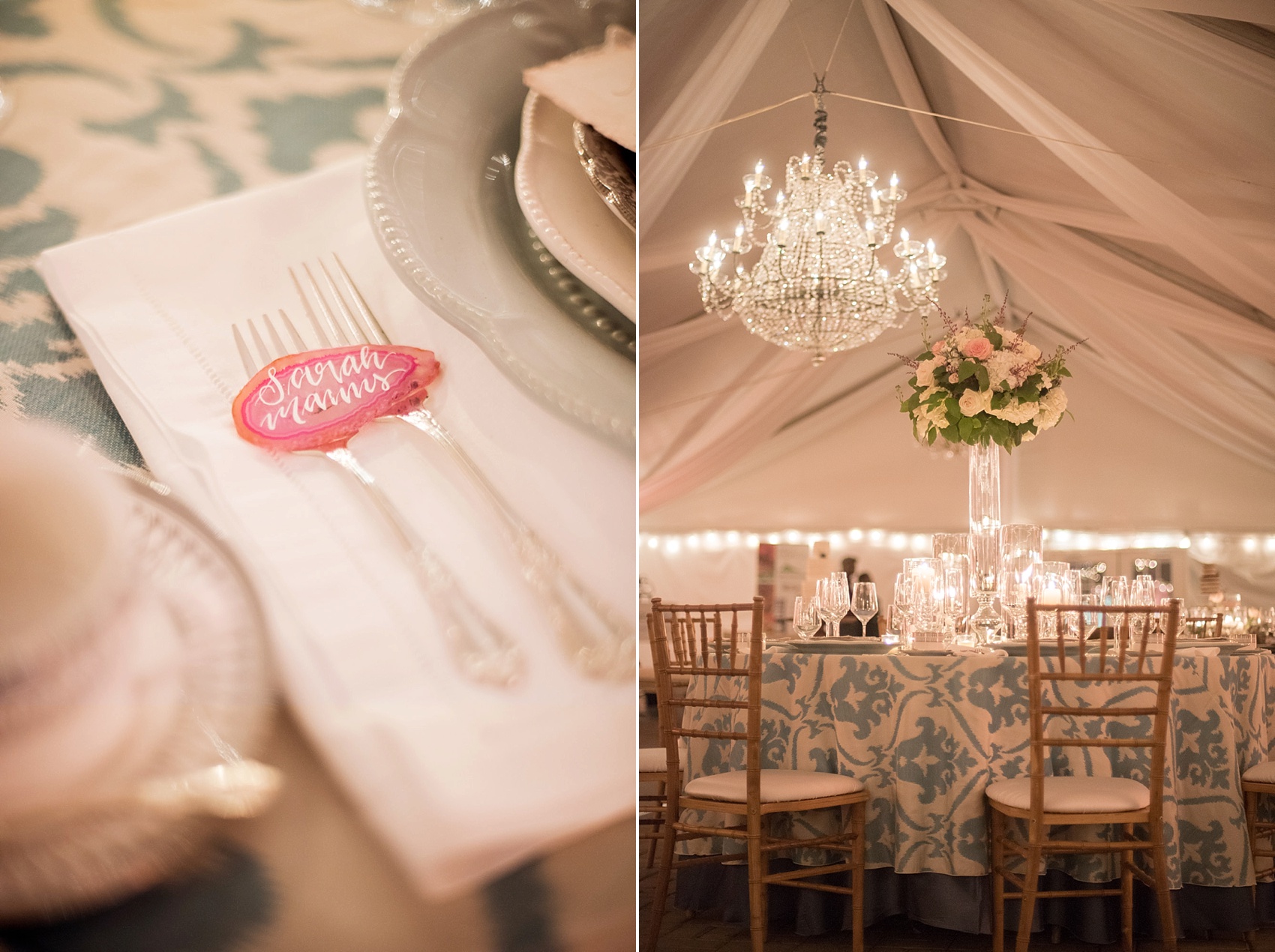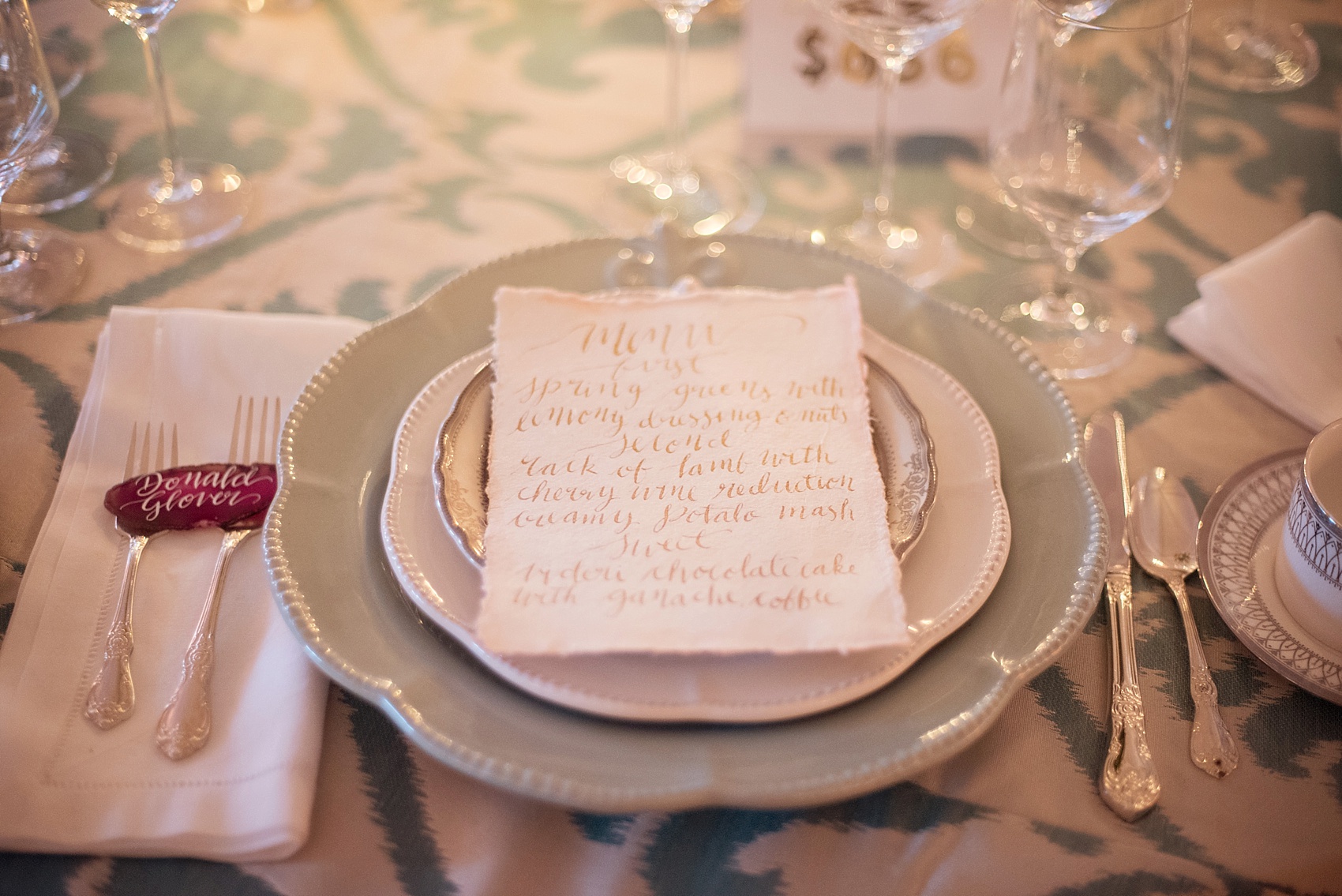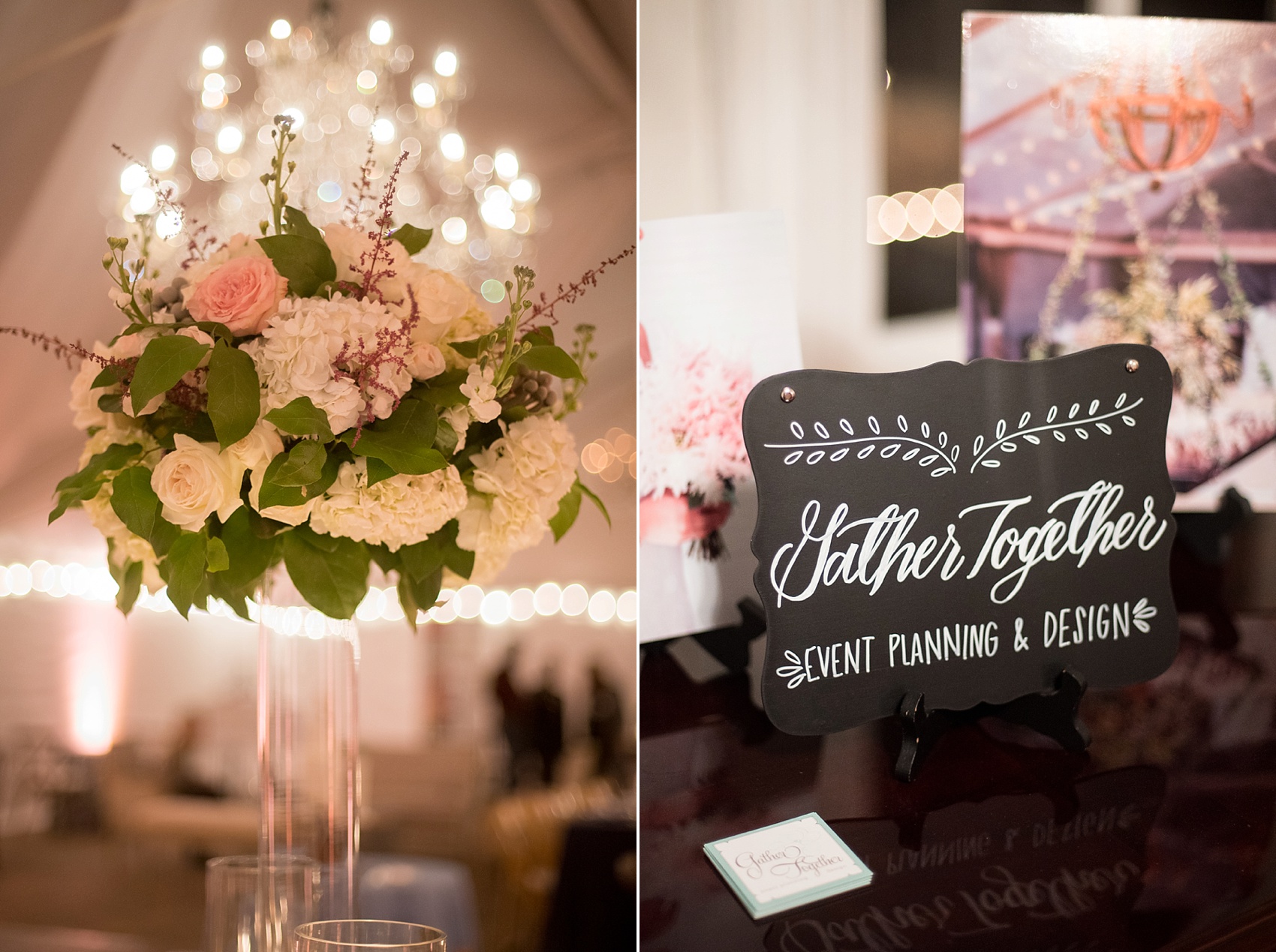 I really enjoyed meeting Chelsey and Katherine at Gather Together. I've also really enjoyed getting to know them on their blog. You must check out their website, y'all! They have some fabulous work up there and they also know Merrimon-Wynne well.
The below right is a marriage license that One and Only created. So much more framable than a photocopy of what you give to the courts, don't you think? And I just love the architecture at Merrimon-Wynn. I couldn't resist snapping a picture of the staircase.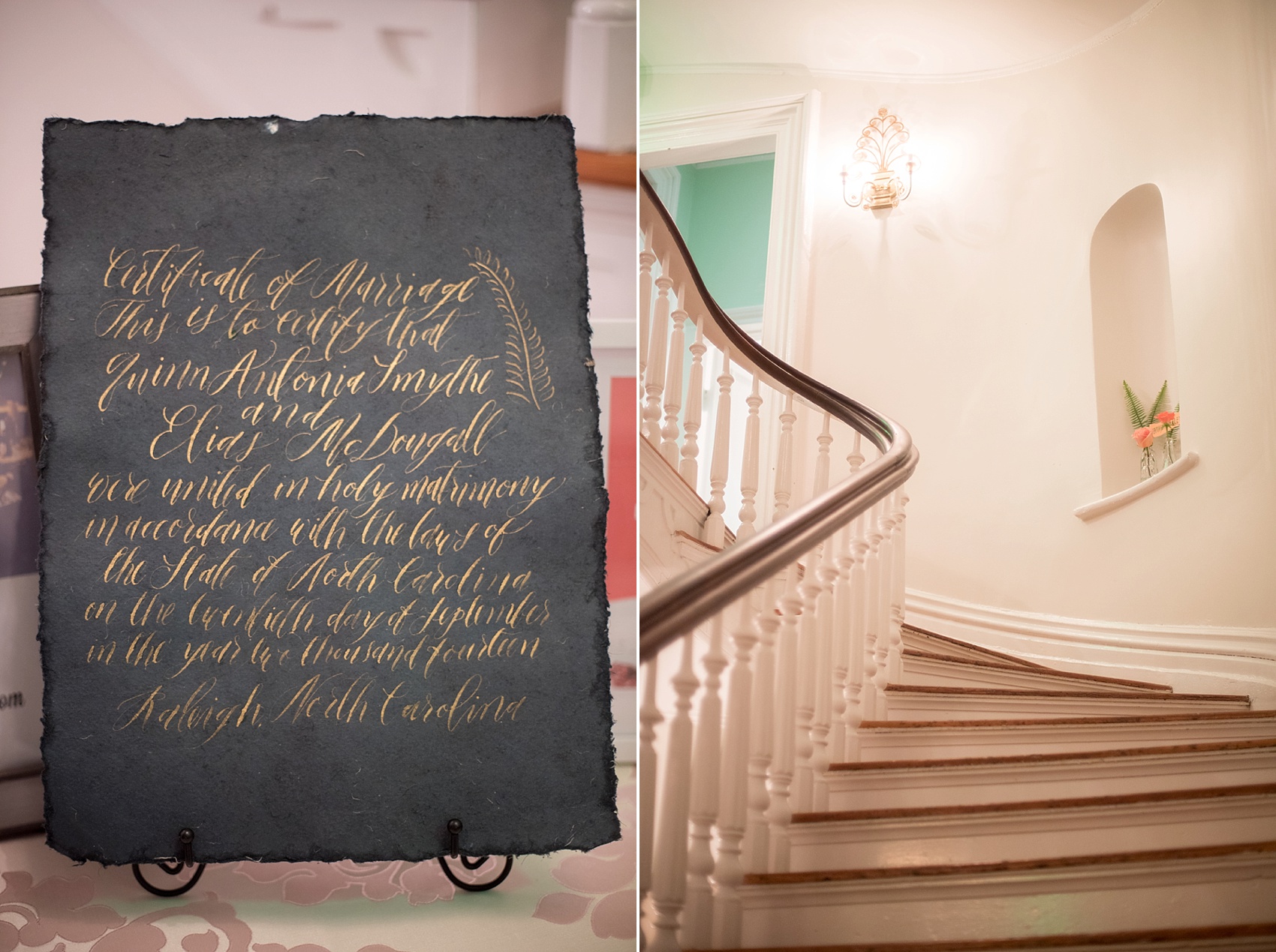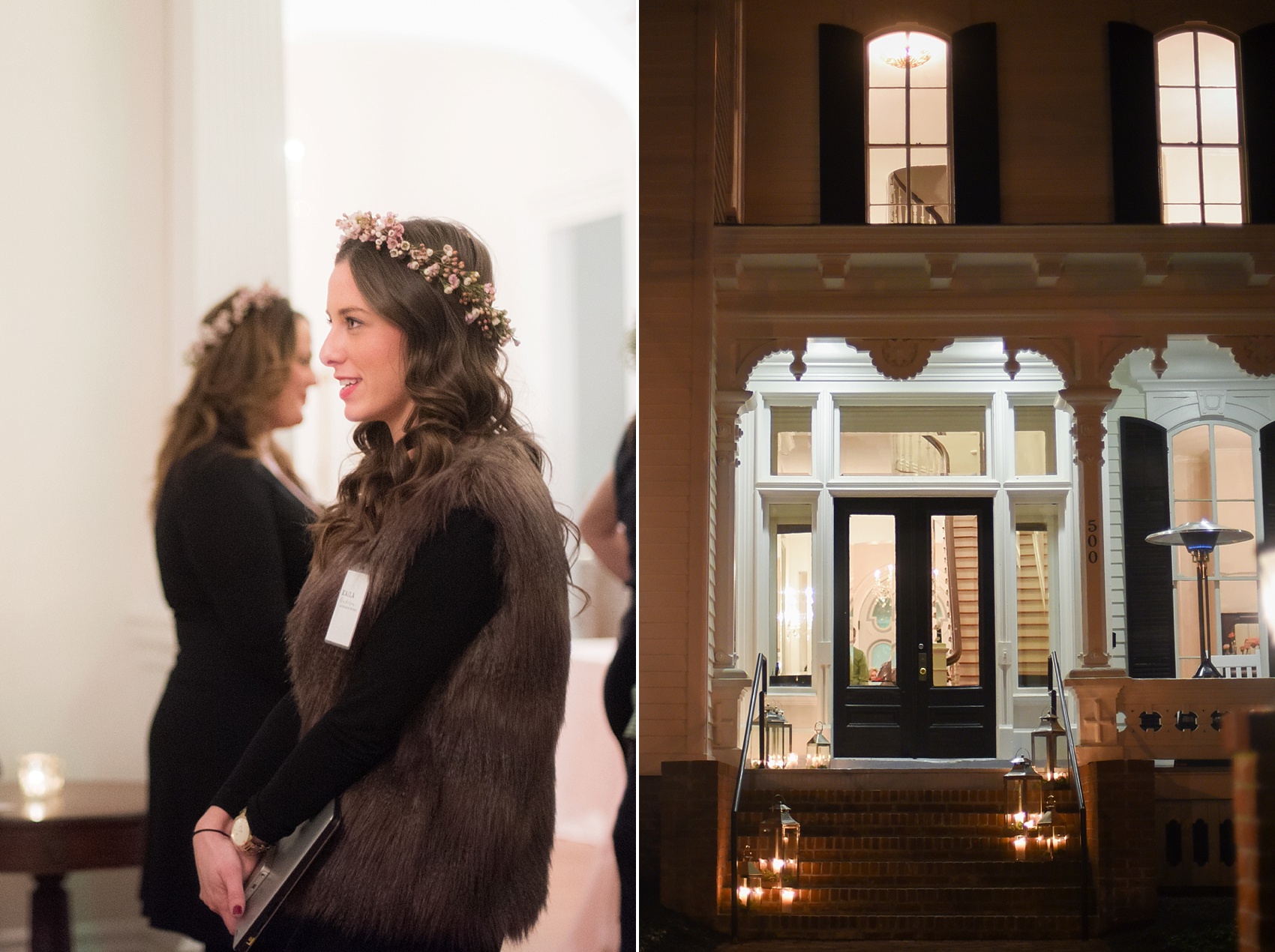 I met Kaila, of Merrimon-Wynne and enjoyed hearing a bit about the venue from her. I'll have to meet Jody next time; I'm happy she was busy giving tours to perspective brides and grooms!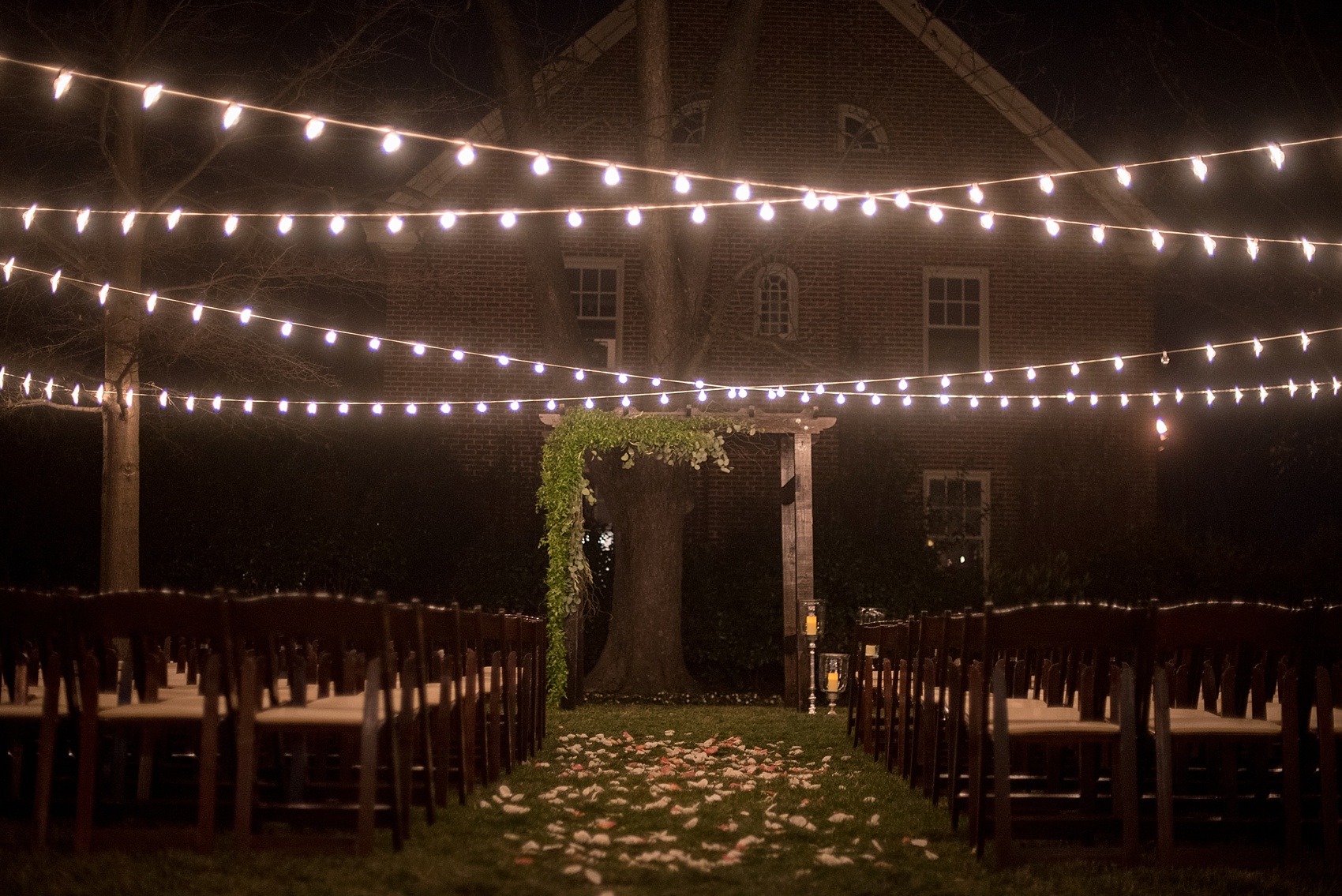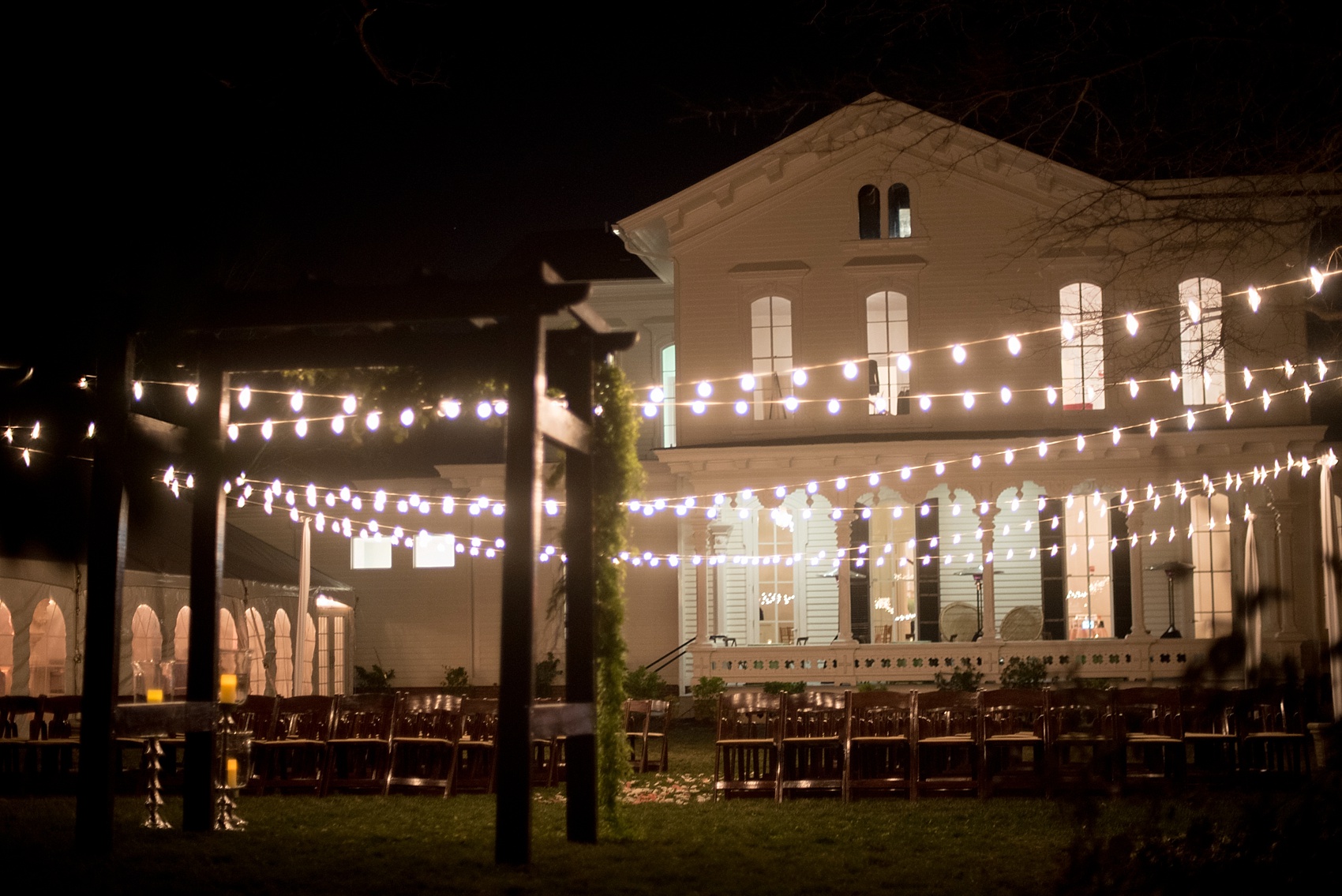 As I walked outside to leave a wonderful event I couldn't help but capture the outdoor ceremony setup at night, illuminating the house behind it. If you use your imagination you can see all the guests and bride and groom there. 🙂
I hope I get to work with all these incredible vendors at some point. They were an utter joy to meet and I was there a lot longer than I expected, which is always a great sign. Be sure to check out their websites, linked below!
Venue: Merrimon-Wynne / Official Event Photographer: Katherine Miles Jones / Stationary + Calligraphy: One and Only / Flowers: Simply Elegant Floral Design / Cathering: Donovan's Dish / Rentals: Party Reflections / Event + Wedding Planners: Gather Together / Publication: Heart of NC Weddings / Wedding Gowns: Alexia's Bridal / Cake Design: The Cupcake Shoppe / DJ Music: Bunn DJ Company / Live Music: Bob Spaziano / Furniture Rentals for Lounge Area: Themeworks / Hair + Makeup: Parlor Dry Bar / Tuxedos and Mother-of-the-Bride: Saks Fifth Avenue
Happy Monday!