I was elated when Jason contacted me regarding his downtown Raleigh proposal to the love of his life, Brittany. He found me on one of my favorite websites, How He Asked, no doubt looking for ways to make his already thoughtful proposal even more amazing.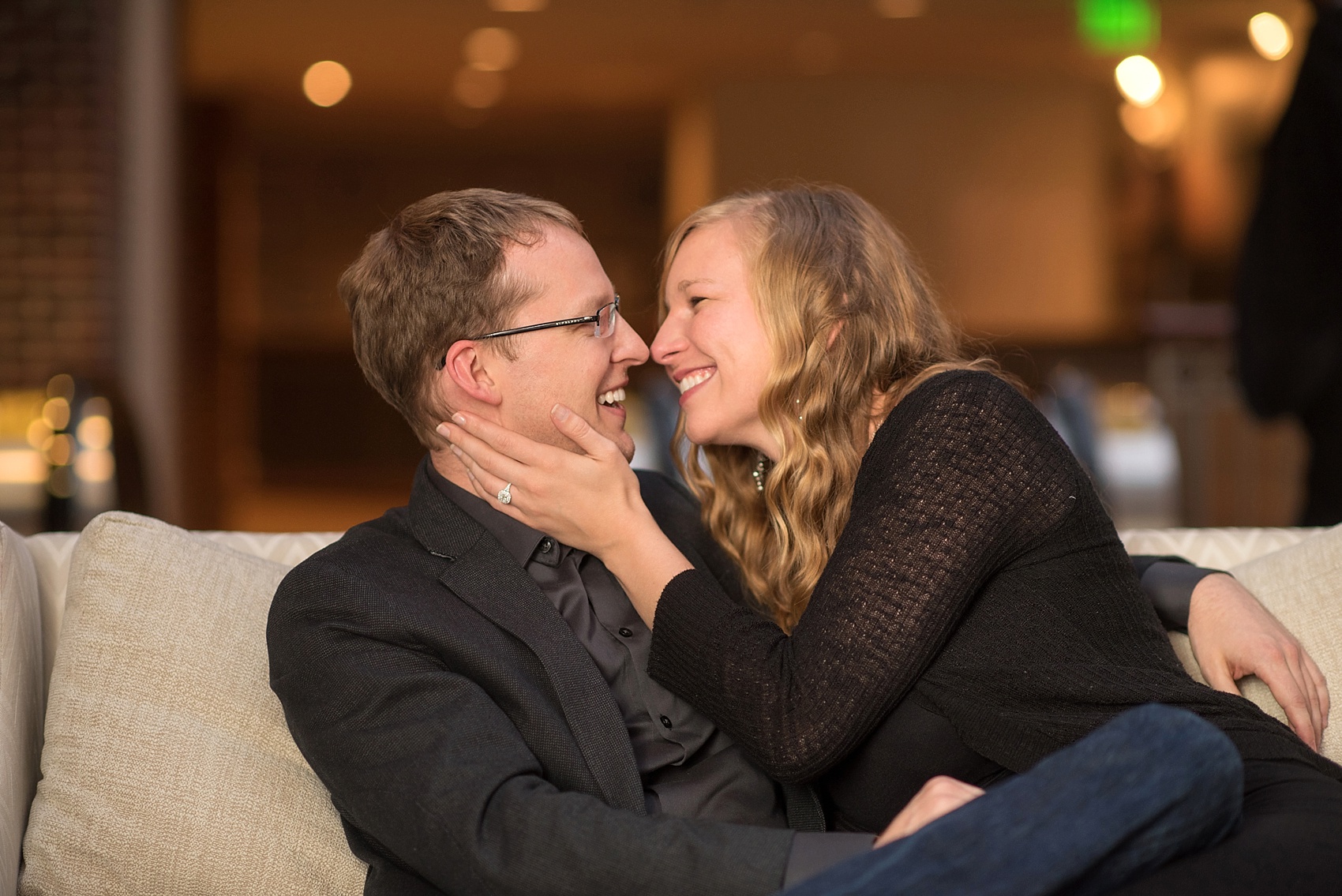 Jason contacted me with so much excitement I could feel his energy all the way on the other side of his email, through the computer. It read a little something like this:
…I'm looking to propose to the most wonderful woman I've ever known and so I'm looking to find a photographer to capture that moment. Brittany and I met each other for the first time in the lobby of a hotel. She was coming up the escalator when I first caught glimpse of her, and I was hooked ever since. So, for the proposal, I was thinking Brittany and I would drive to Raleigh from where we live in Charlotte just to relive how we first met for fun. I was planning to check into our rooms, get ready to go out and jokingly have her come up the escalator like how we first met. In the meantime I'd have her family and friends ready/waiting in that lobby and at that time, I would propose.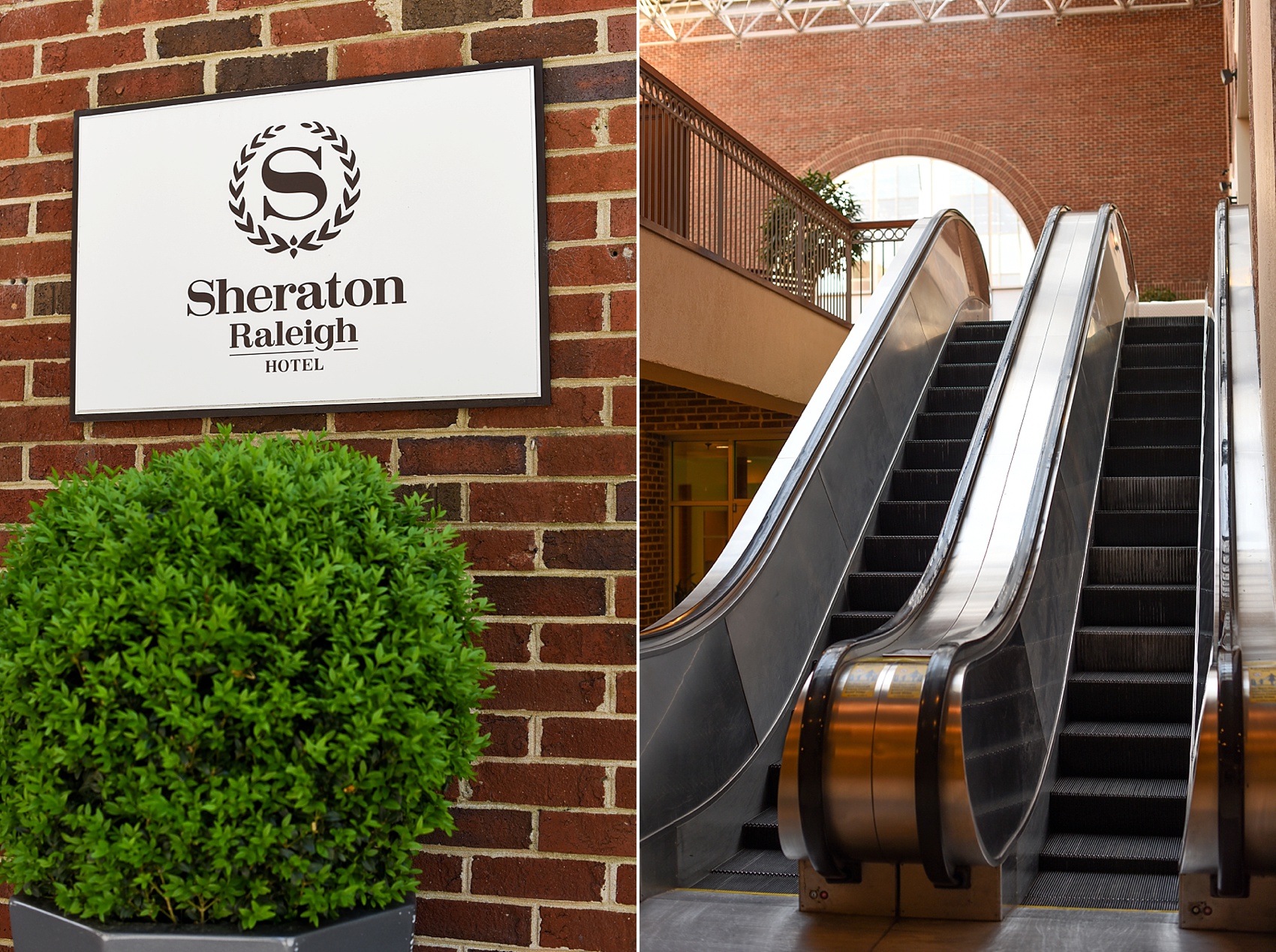 This is "the" escalator Jason's referring too!
We went back and forth on dates he'd pop the question – it's hard to nail down weekend Saturdays a wedding photographer has available – but I'm so happy Jason told me he moved the date to a time when I could photograph it, after speaking with over 20 photographers! I really felt a connection to their story and their love and I was passionate about being the one to document it all, which I'm glad shone through to Jason. He was SO looking forward to proposing, I think once he got the ring, that was it, too! It was burning a hole in his pocket. 🙂 So after discussing various dates in May, we agreed April 25th, when downtown Raleigh's Brewgaloo beer festival would take place, was the best date for him and Brittany to take a trip from Charlotte (where they currently live) to Raleigh to relive their initial in-person meeting, or first official date.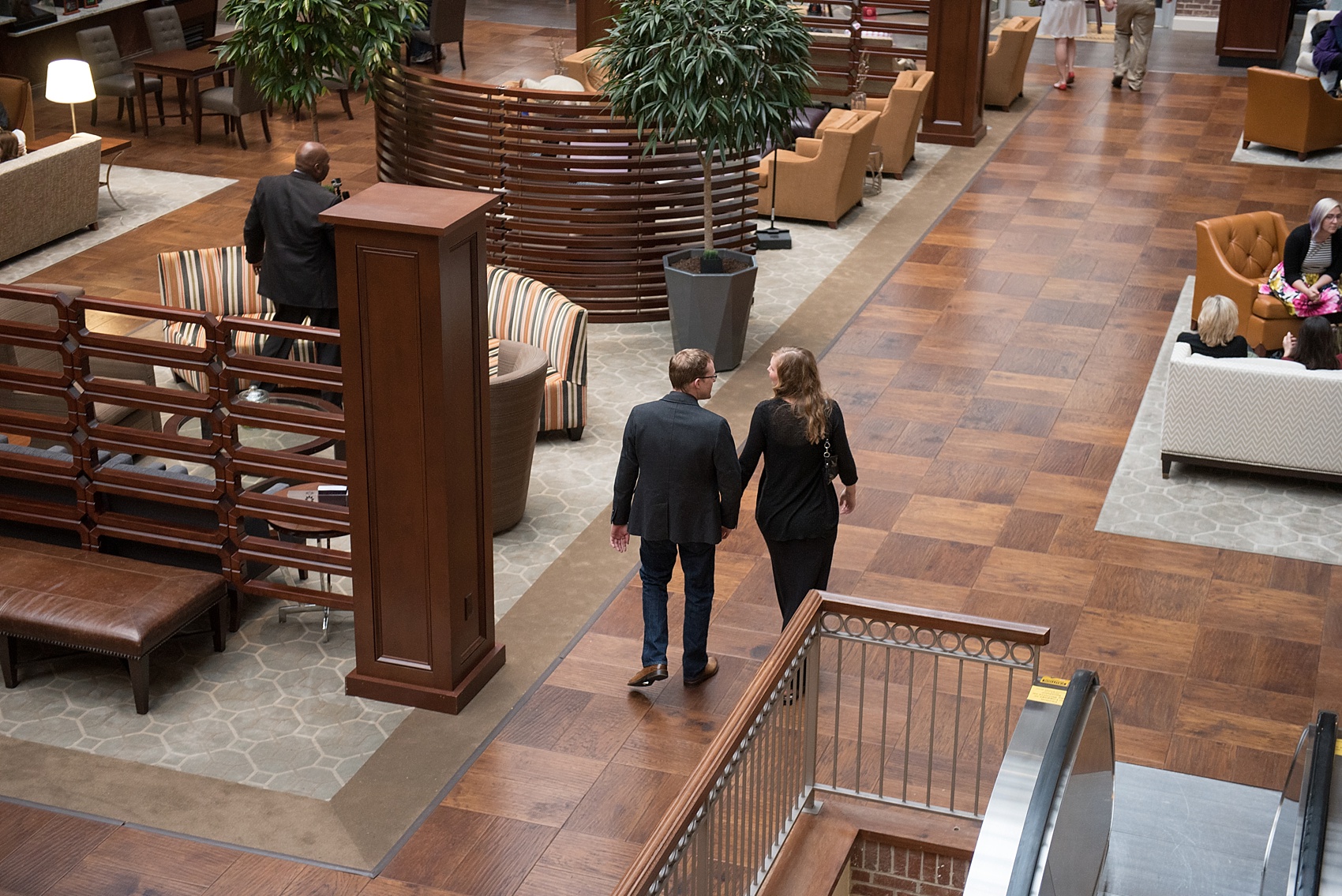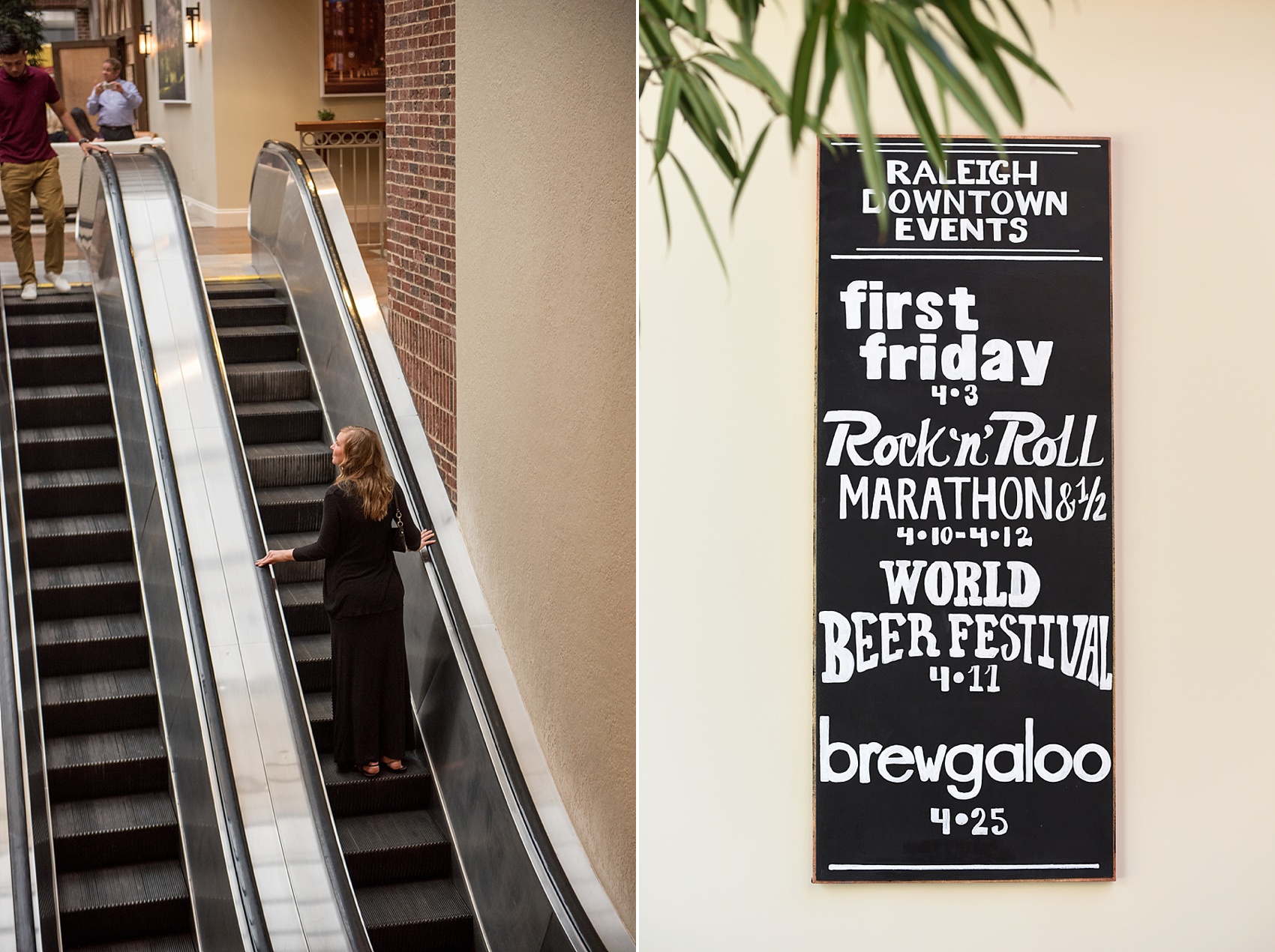 After Jason and Brittany reached the lobby, and I secretly snapped photos from upstairs, Jason suggested Brittany come up the escalator again just as she did that night they met and it was love at first sight.
I covertly snapped photos from behind a screen wall. Jason even hired a videographer and ensured a secret GoPro was set up to capture video. I have to give a special shout out to the staff at The Sheraton, especially Christine and Spencer, for talking to their staff ahead of time and going above and beyond for Jason and Brittany. They were really wonderful to work with.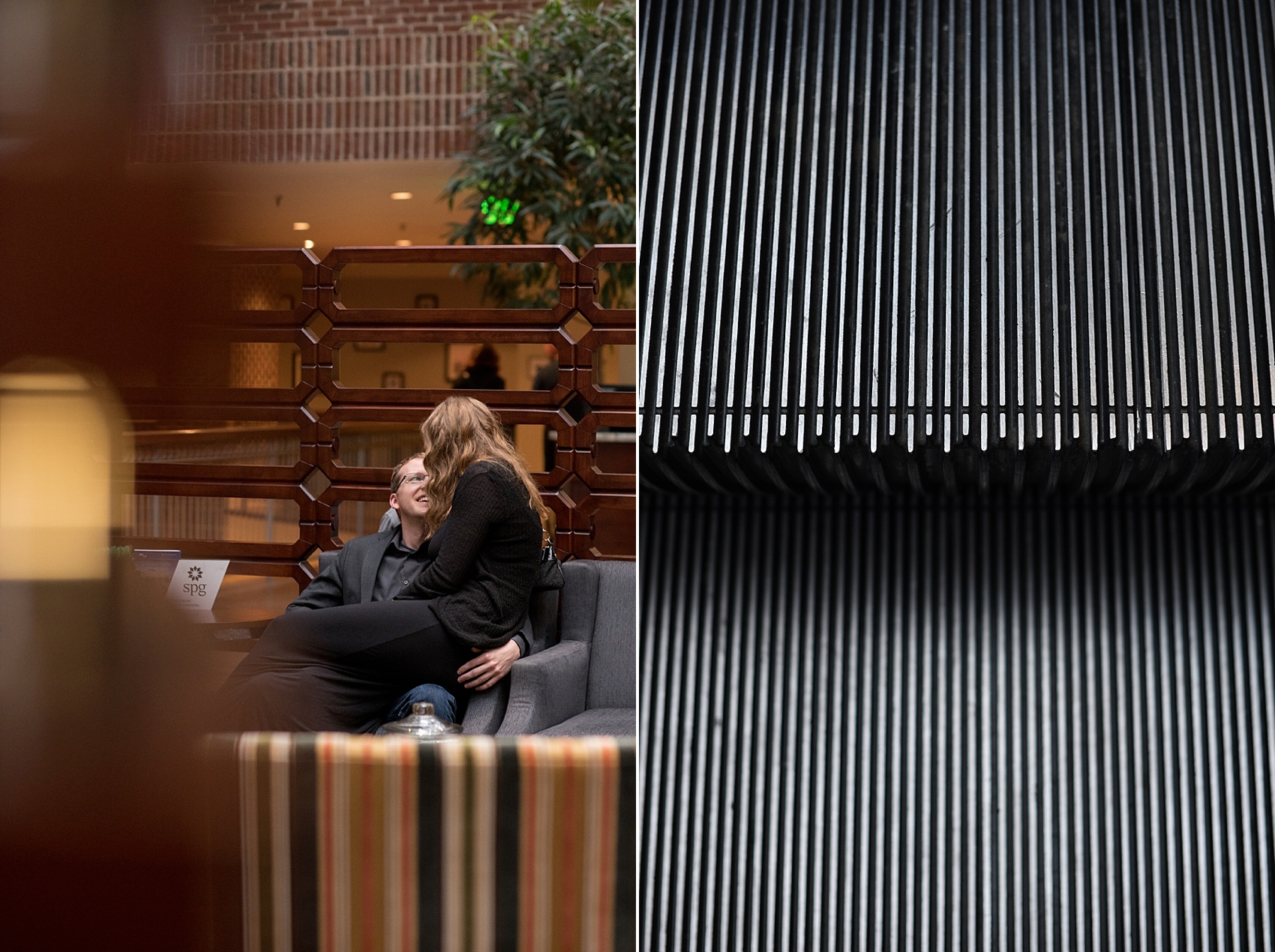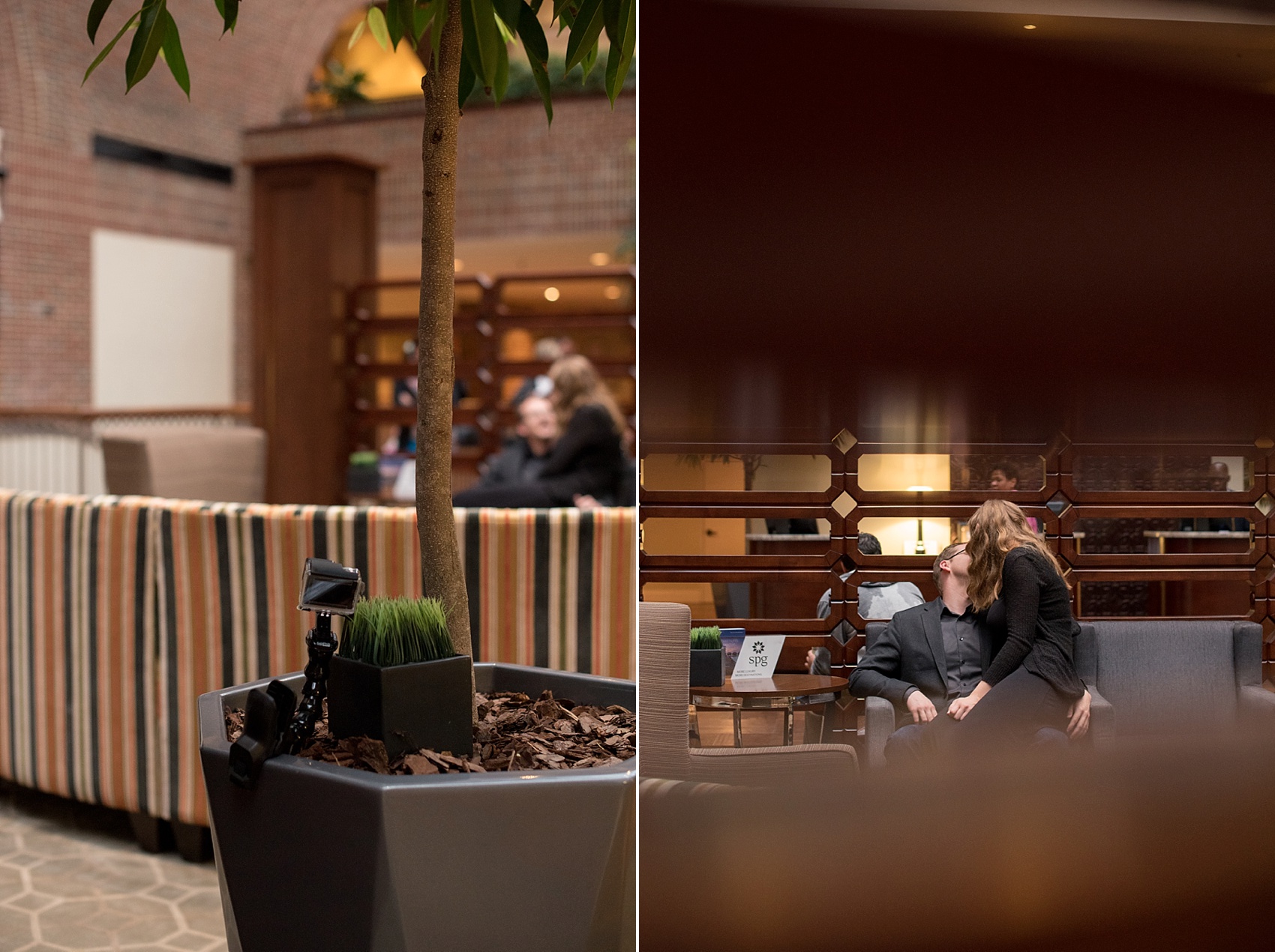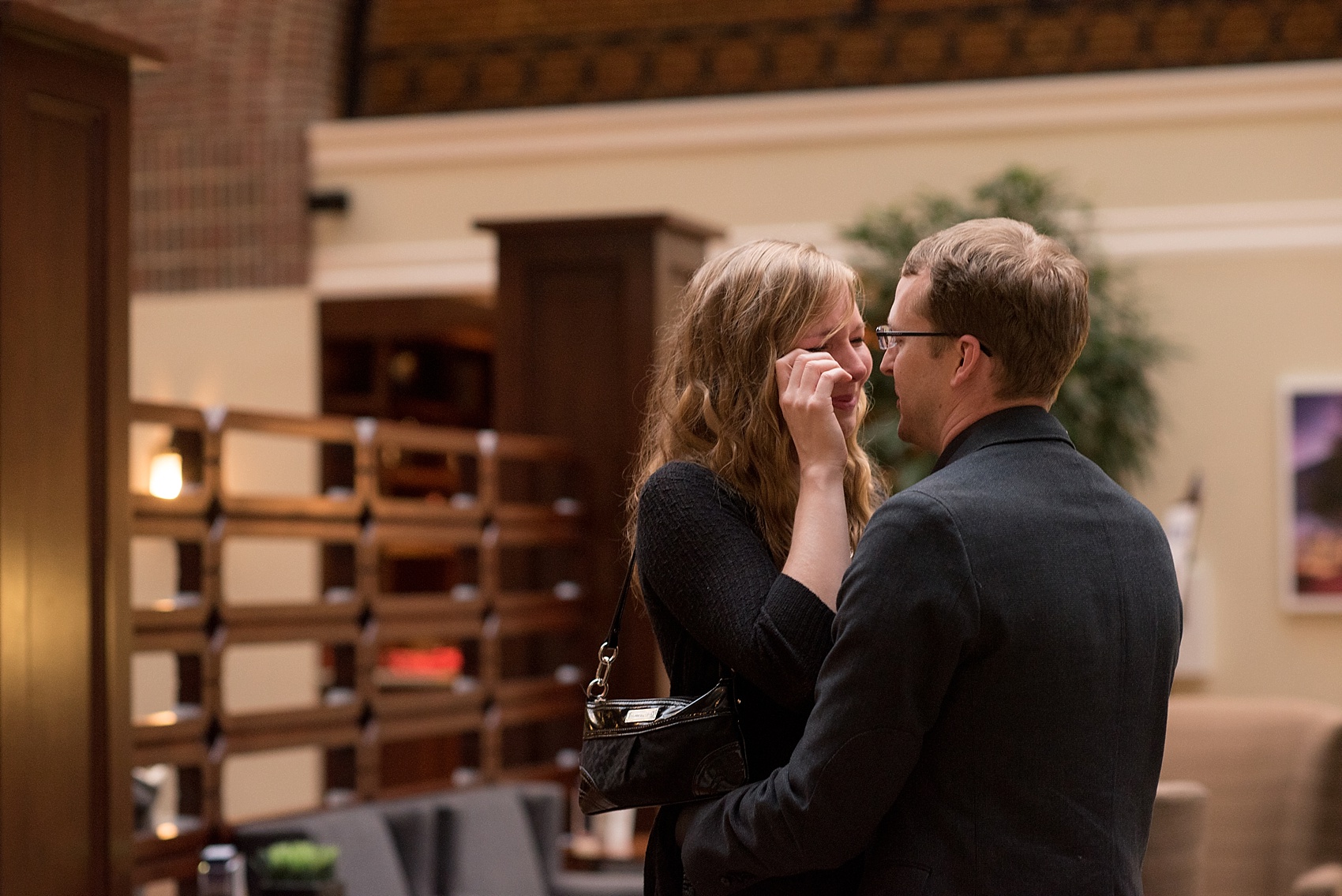 Jason said it wasn't unusual for him to hug Brittany and express his love for her and I have no doubts whatsoever that's the case in their weekly "routine." But I think Brittany spotted me and a hidden camera on the floor above and she knew something was different about this time.
I really admire Jason for taking the time to enjoy the moment with his love – to not rush through it, to say all he wanted to whisper to her in that moment of tearful joy. Even a volleyball team stopped to witness what was about to happen!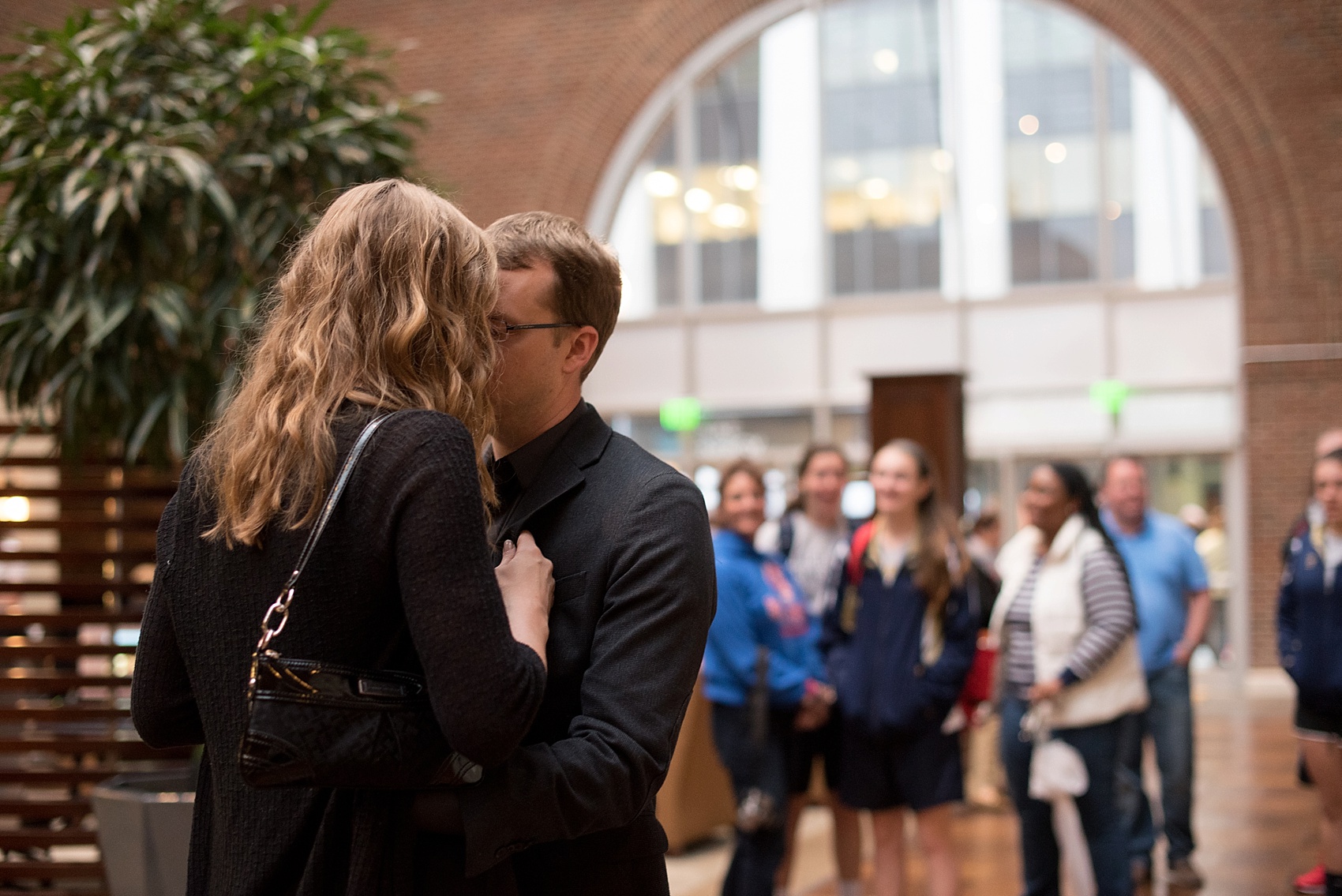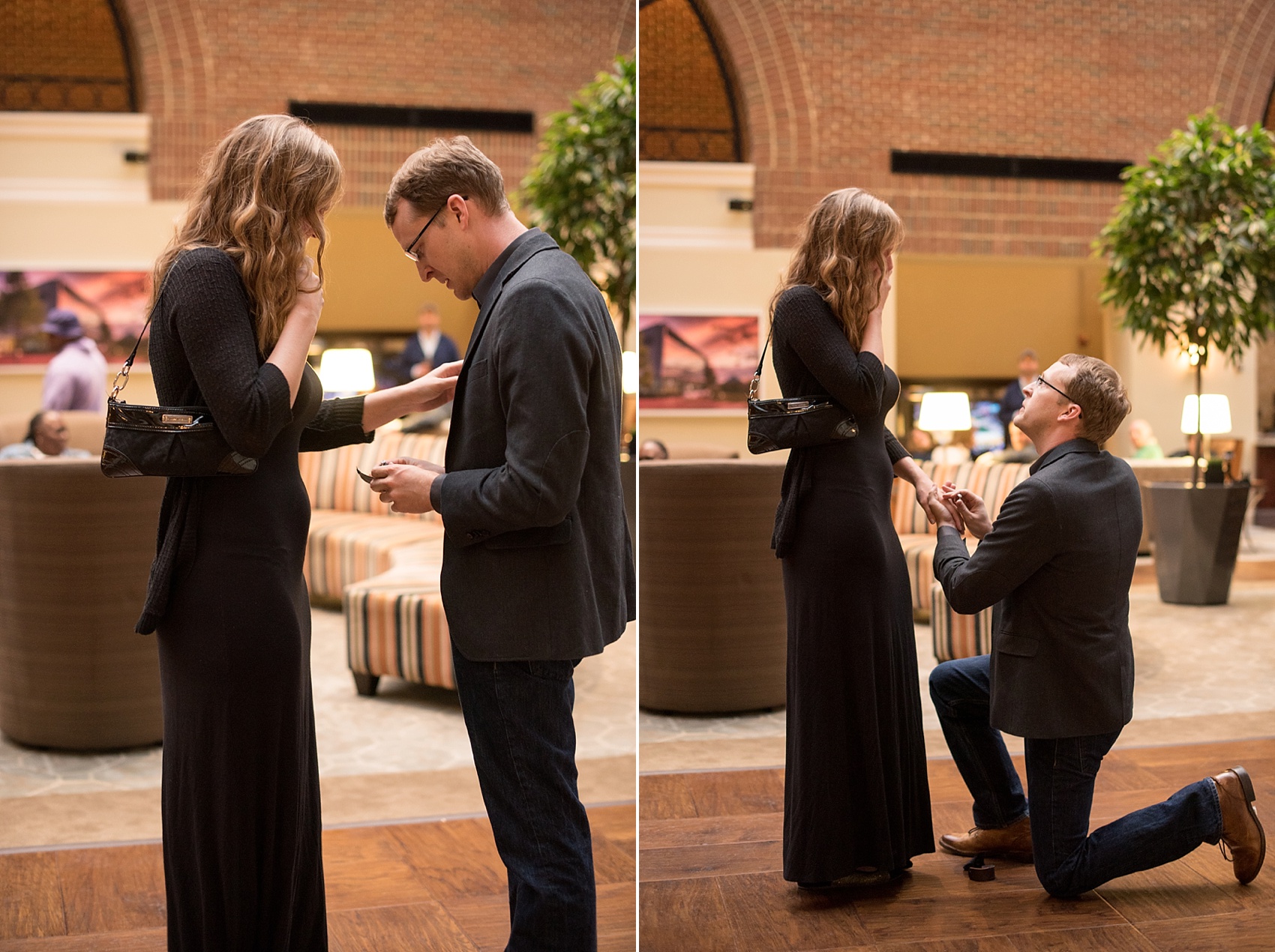 Even though Brittany suspected "this is it…this is it…" her emotions showed and she was crying tears of joy aplenty. How sweet is this scene? Can't you just feel how happy she is?
Brittany didn't say a simple "yes" – she said, "Nothing in the world would make me happier!"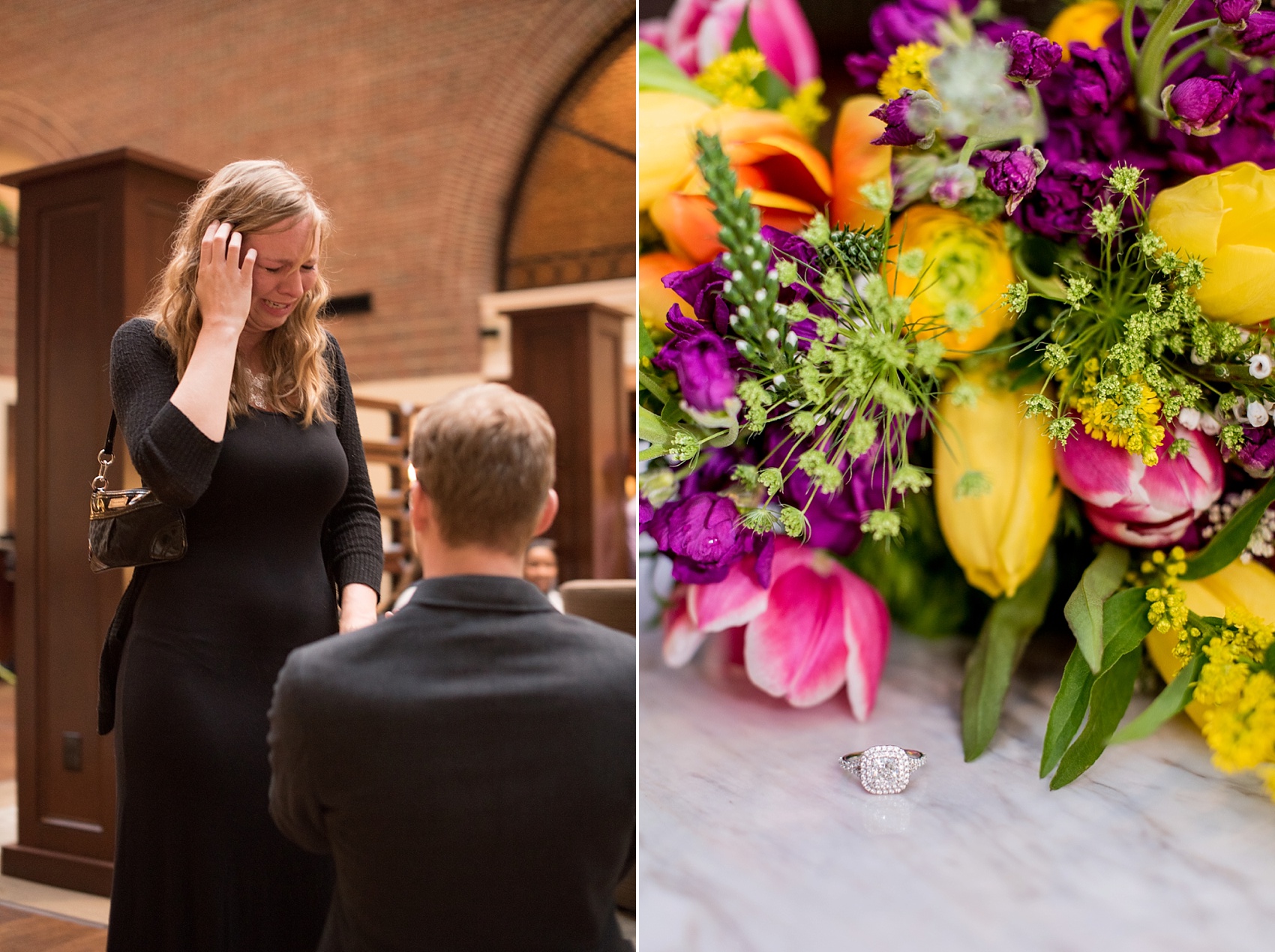 To make the moment extra special, Jason made sure her family was there. Here she is, discovering they were watching the whole time!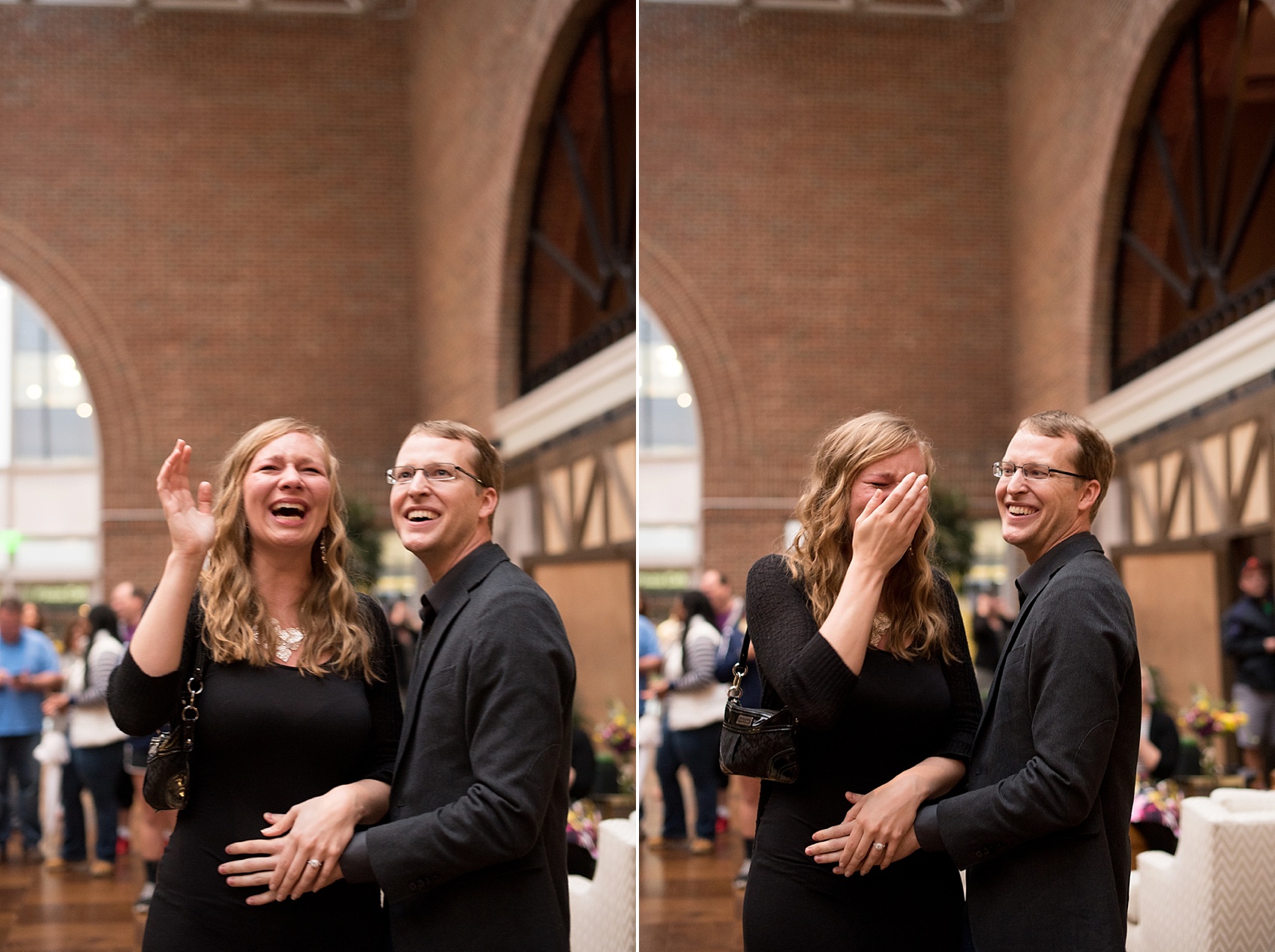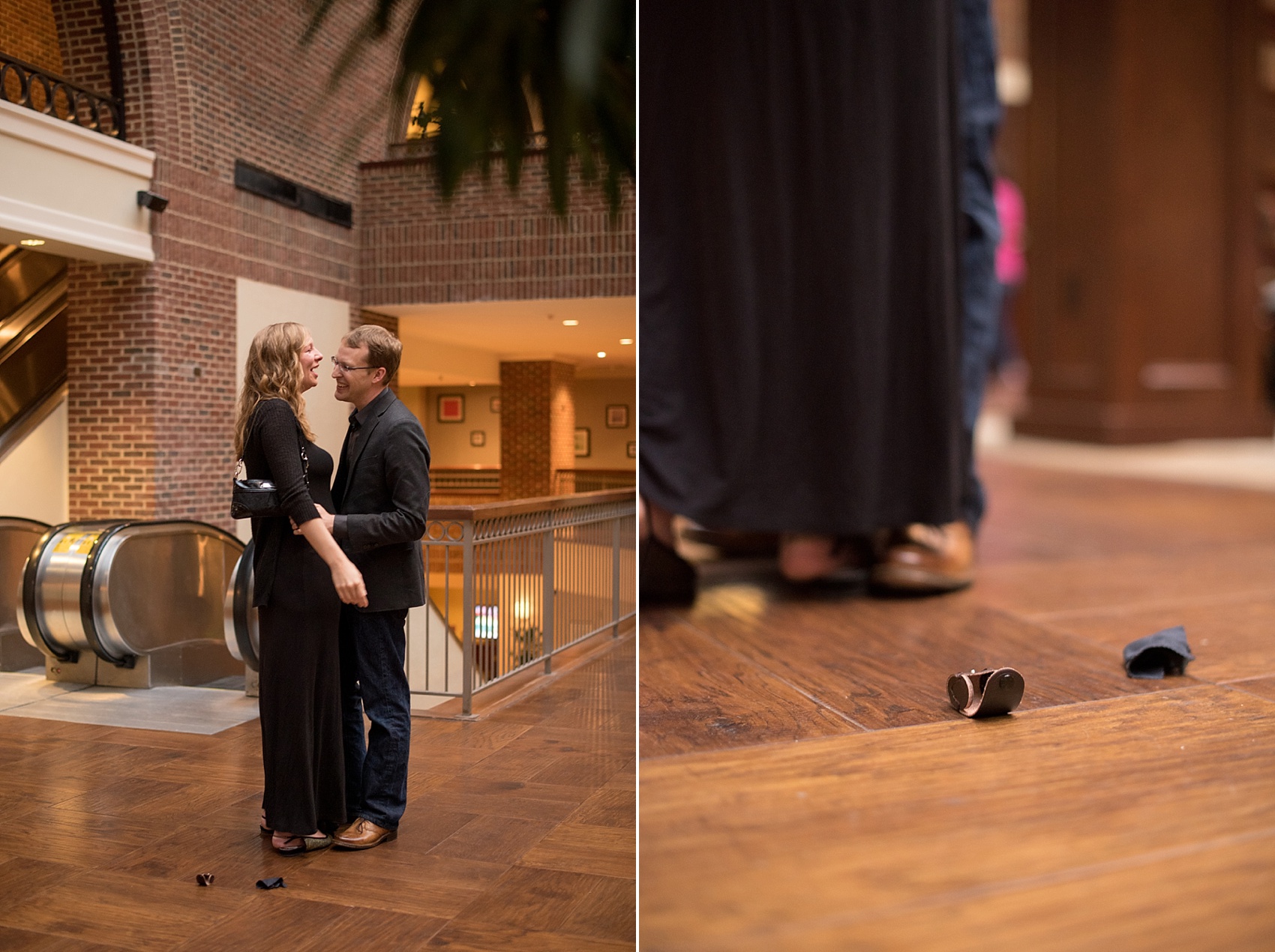 Isn't he so smart?! He put the ring in this little leather holder so she wouldn't see a huge ring box in his coat pocket. It's reasons like that I knew I was the right photographer for them – he's detail oriented like me. (You should see the incredible website he put together for them too!)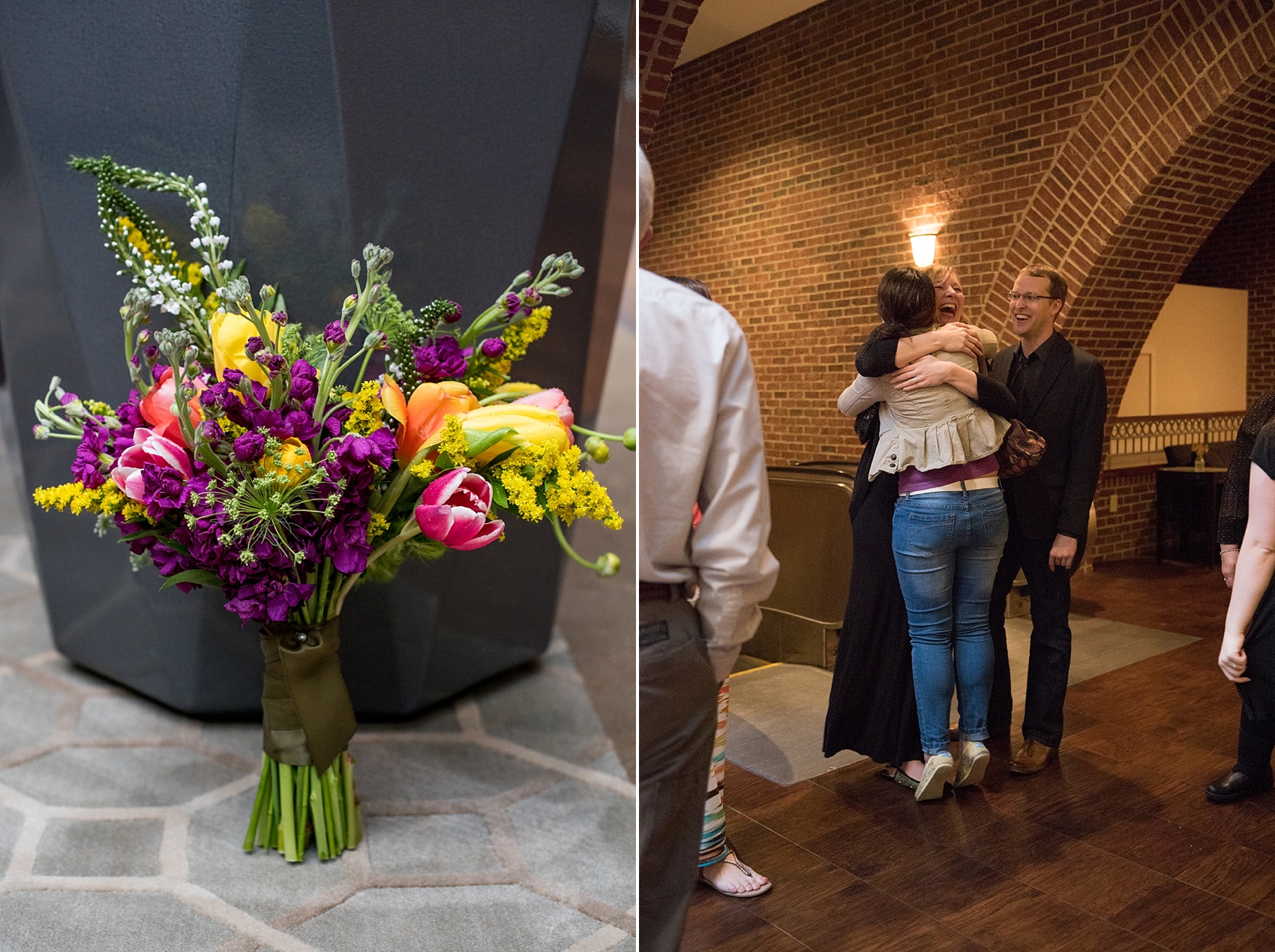 I tried to make the moment extra special in my own way too – my dear friend Heather, at Eclectic Sage, brought them a special flower bouquet and I picked up an amazing little cake at LucetteGrace, an incredible pastry shop nearby and topped off my little gift with a small bottle of bubbly. I had fun stamping "Congrats Brittany & Jason!" on it and cutting out that glitter heart to tie into the blue tulle. Cute, right? I was SO happy to hear Brittany exclaim, "I wanted to go there!" when she saw LucetteGrace stamped on the box! Woohoo!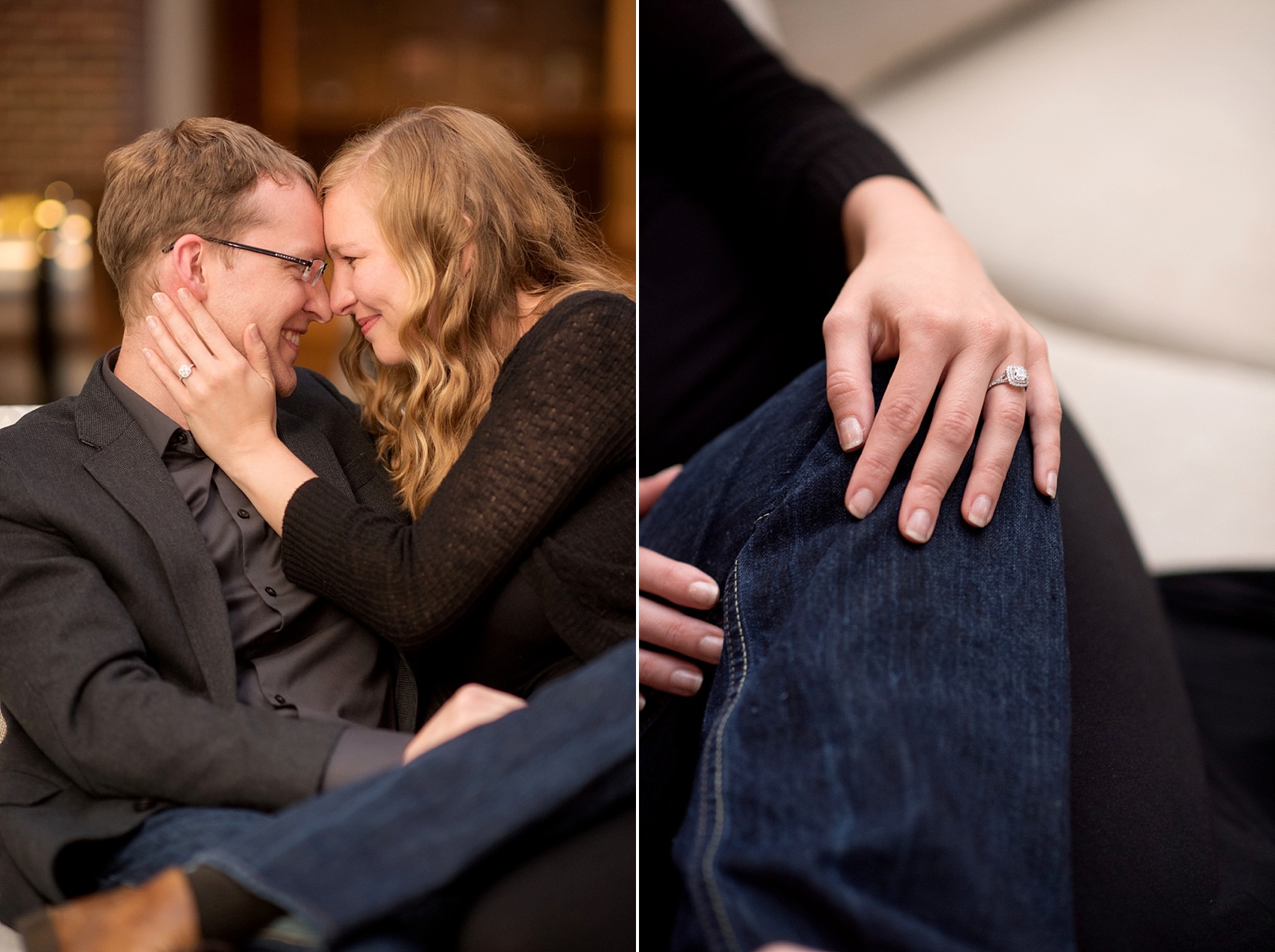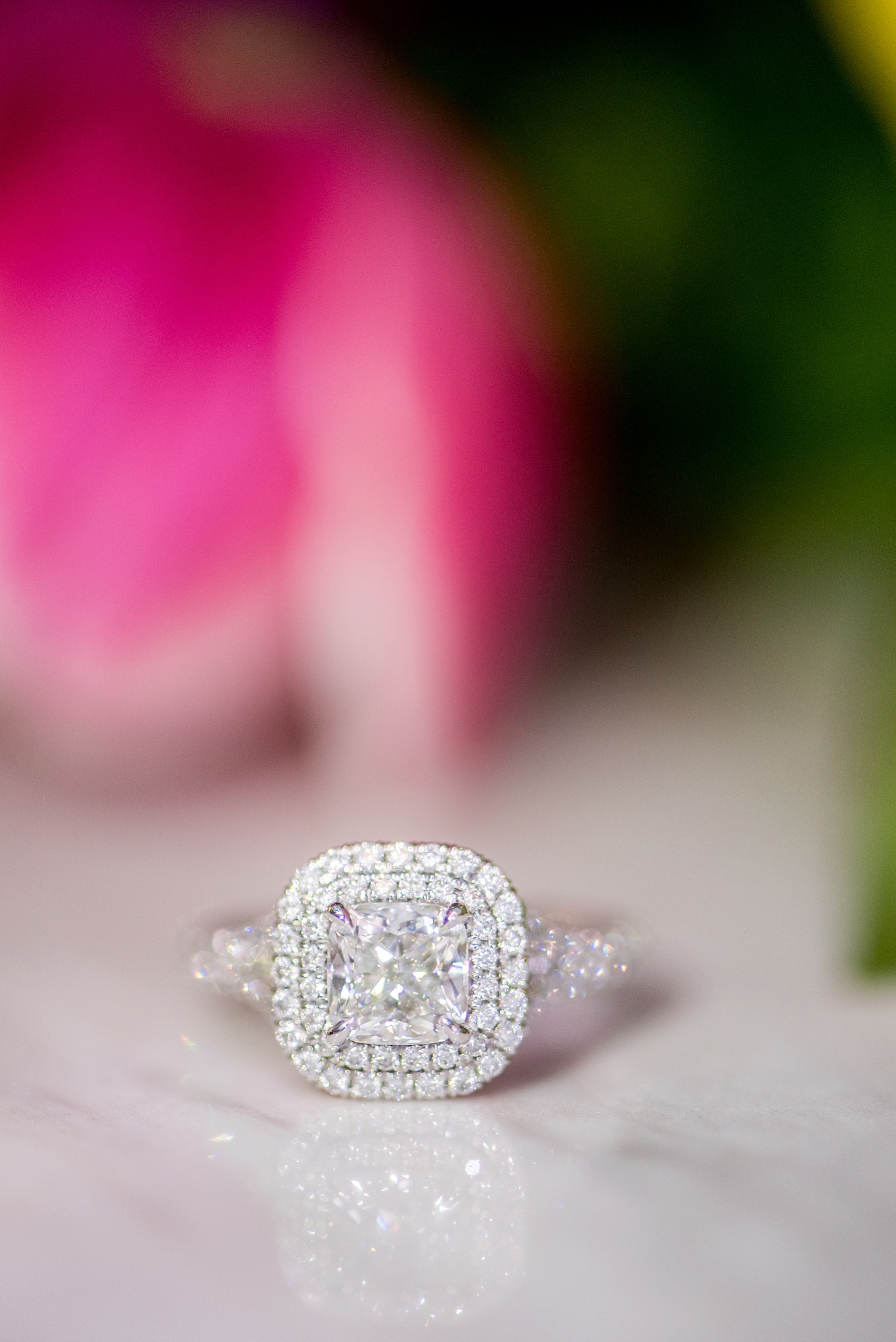 Isn't the ring INCREDIBLE?! Brittany said it was just what she wanted. I hear ya, girl!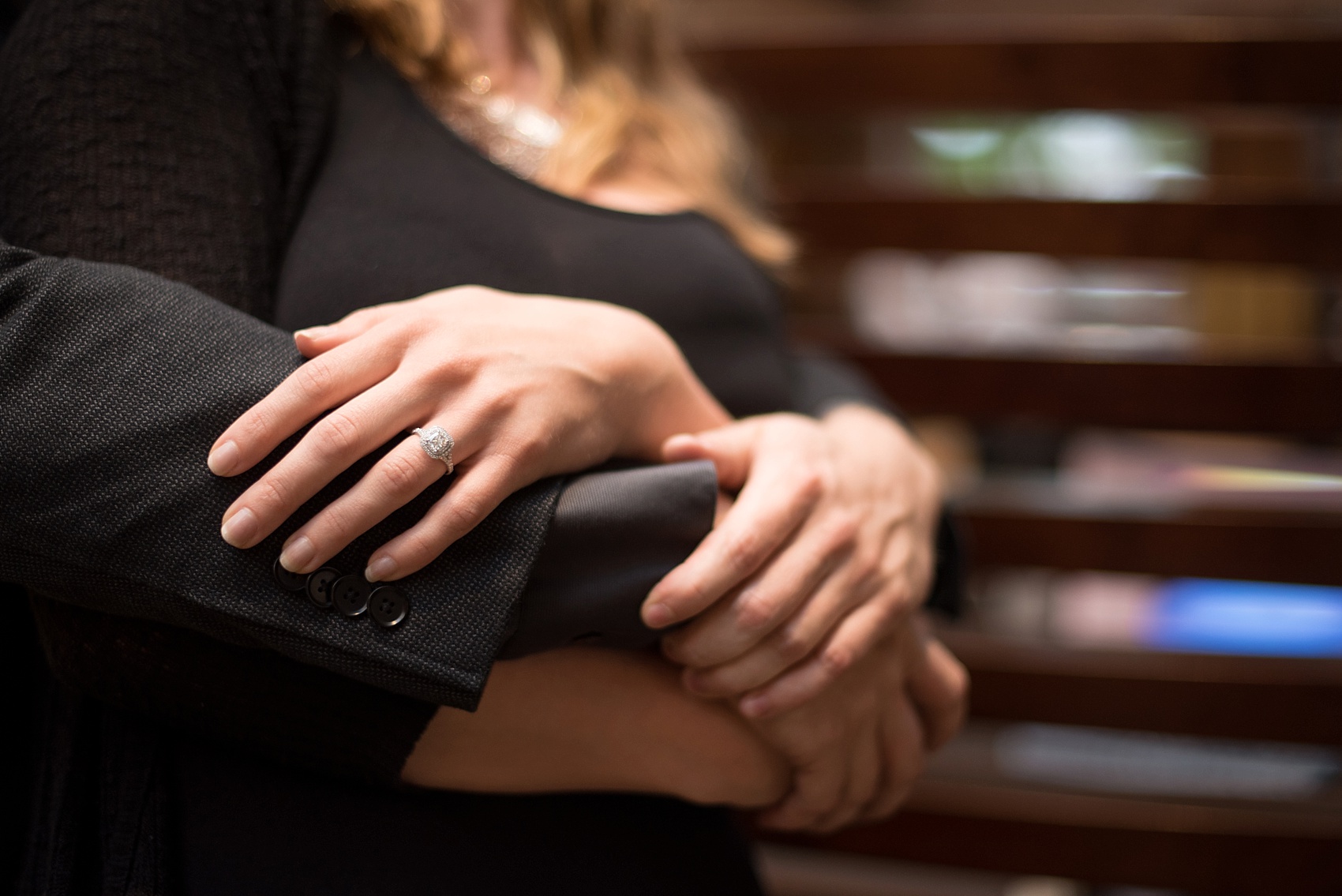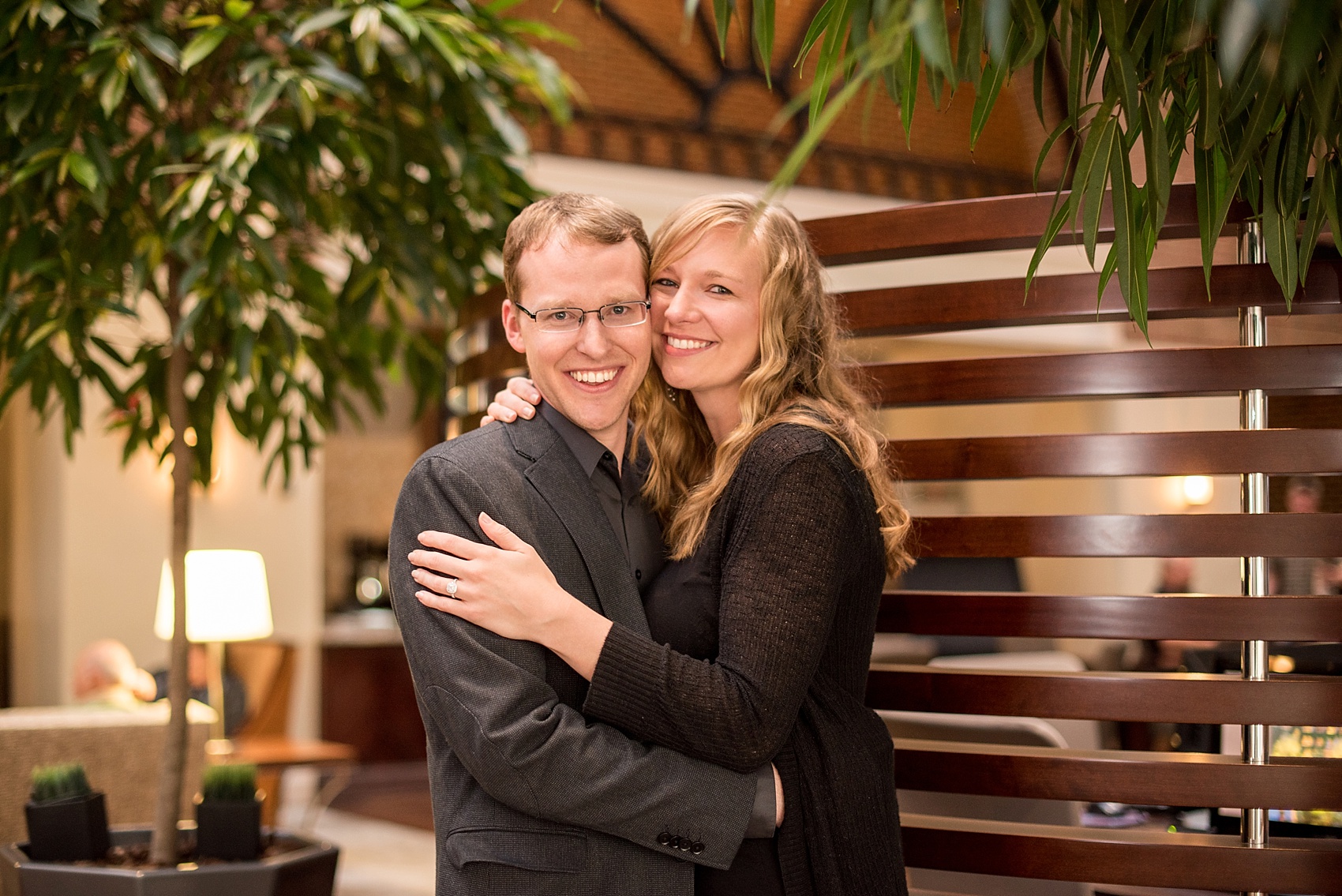 I am SO glad they agreed to spend 10 minutes with me to capture these little post-proposal, semi-engagement photos. They make a fantastic pair!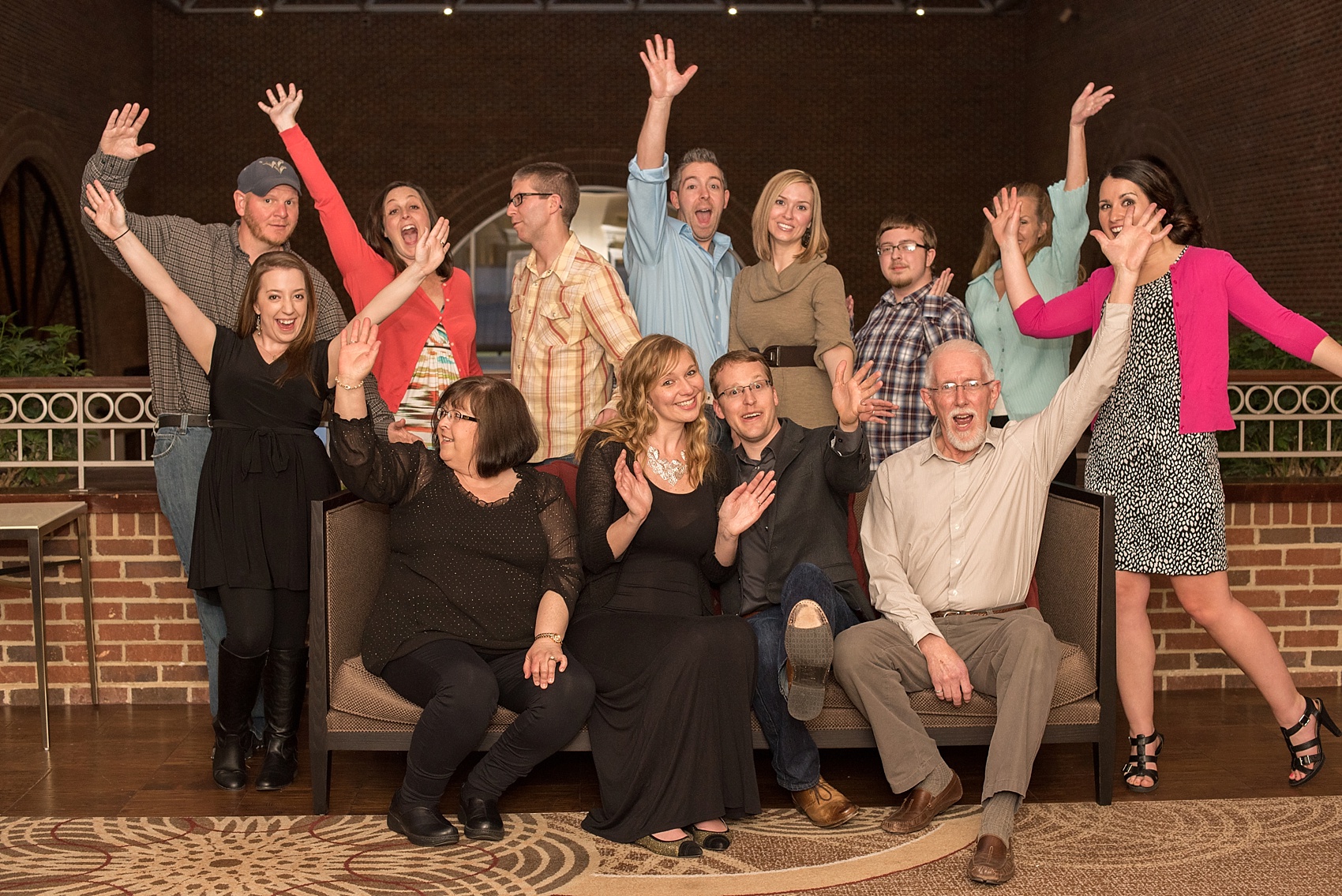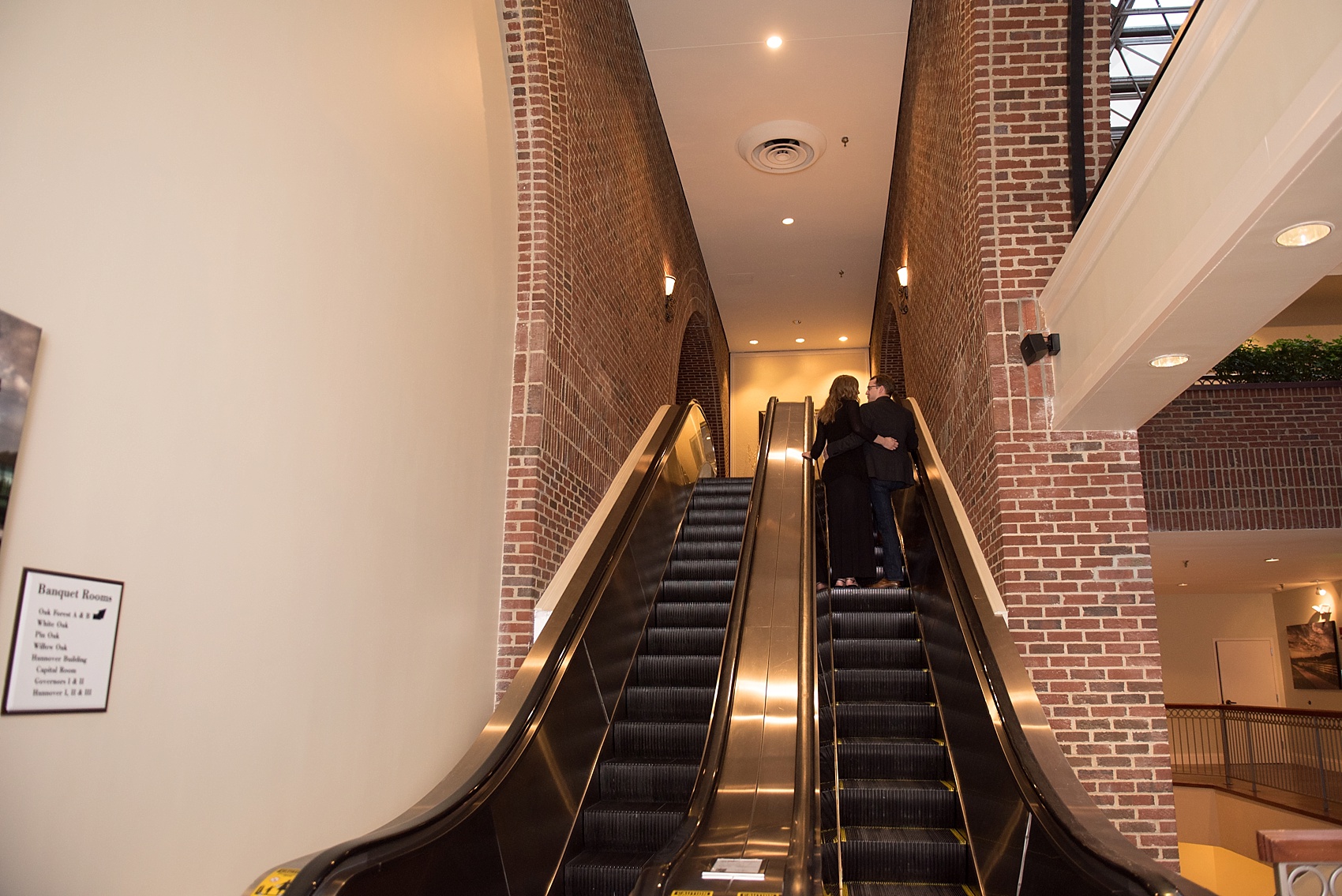 And there they go….up to their family and then to dinner at Second Empire restaurant to celebrate some more. Jason even set up an after-dinner party at C Grace Jazz club to keep the celebration going. Seriously, he's amazing. When I told Brittany how special Jason wanted this to be for her, how much he loves and adores her, she replied, "I'm the luckiest girl in the world." It's so sweet to witness such love and I'm forever grateful I get to capture amazing moments in people's lives like this. Seriously. Forever…grateful.
Of course I post more to Instagram and Facebook so don't hesitate to become a fan and follow along there too!
Jason has agreed for me to post a link to the incredible website he created for Brittany. Caricatures by icartoon.me.
Venue: Sheraton, downtown Raleigh / Referring website: How He Asked / Engagement Ring: Diamond Direct / Sweets: LucetteGrace / Flowers: Eclectic Sage
Happy Tuesday!