I was honored to photograph a proposal on the Brooklyn Heights Promenade just a few days ago, complete with an amazing NYC skyline view and a "wow" Brooklyn Bridge panoramic backdrop. Now…I love a good proposal. But I LOVE a good proposal for a friend.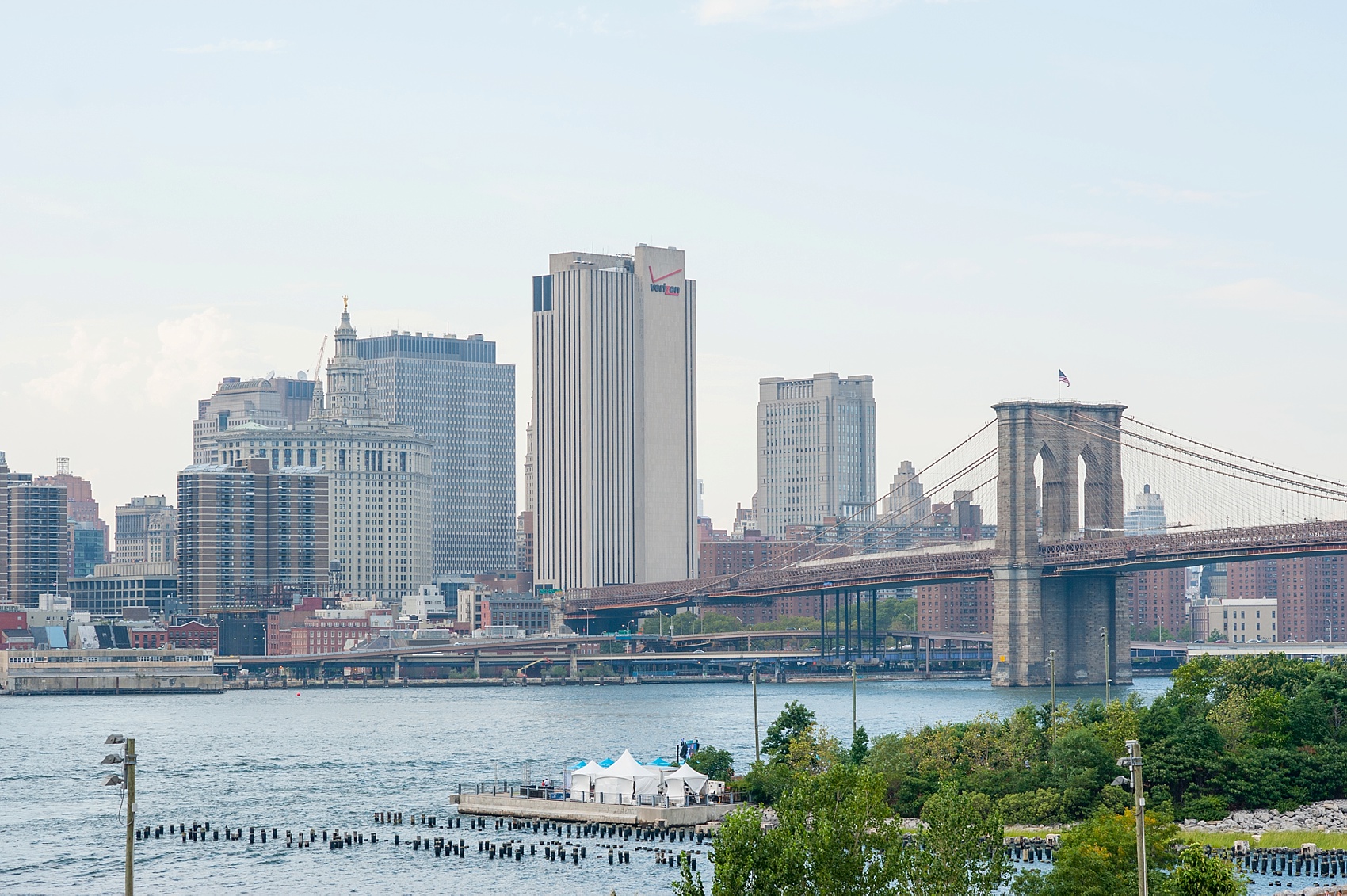 Michelle, a wonderful wedding planner, and I became quick friends. I met with her for breakfast one morning in Astoria and sat there listening to her thinking two things, "Who is this woman who is talking a mile a minute, sitting across from me in gym clothes?" and "Wow – this chick has got her act together! What a kick-ass wedding planner!"
I quickly learned more about this frequent fitness pro and avid runner who values good friends, a great manicure, people who do what they say, her family and most of all her boyfriend, John. I was hooked! And instantly became a huge Michelle fan.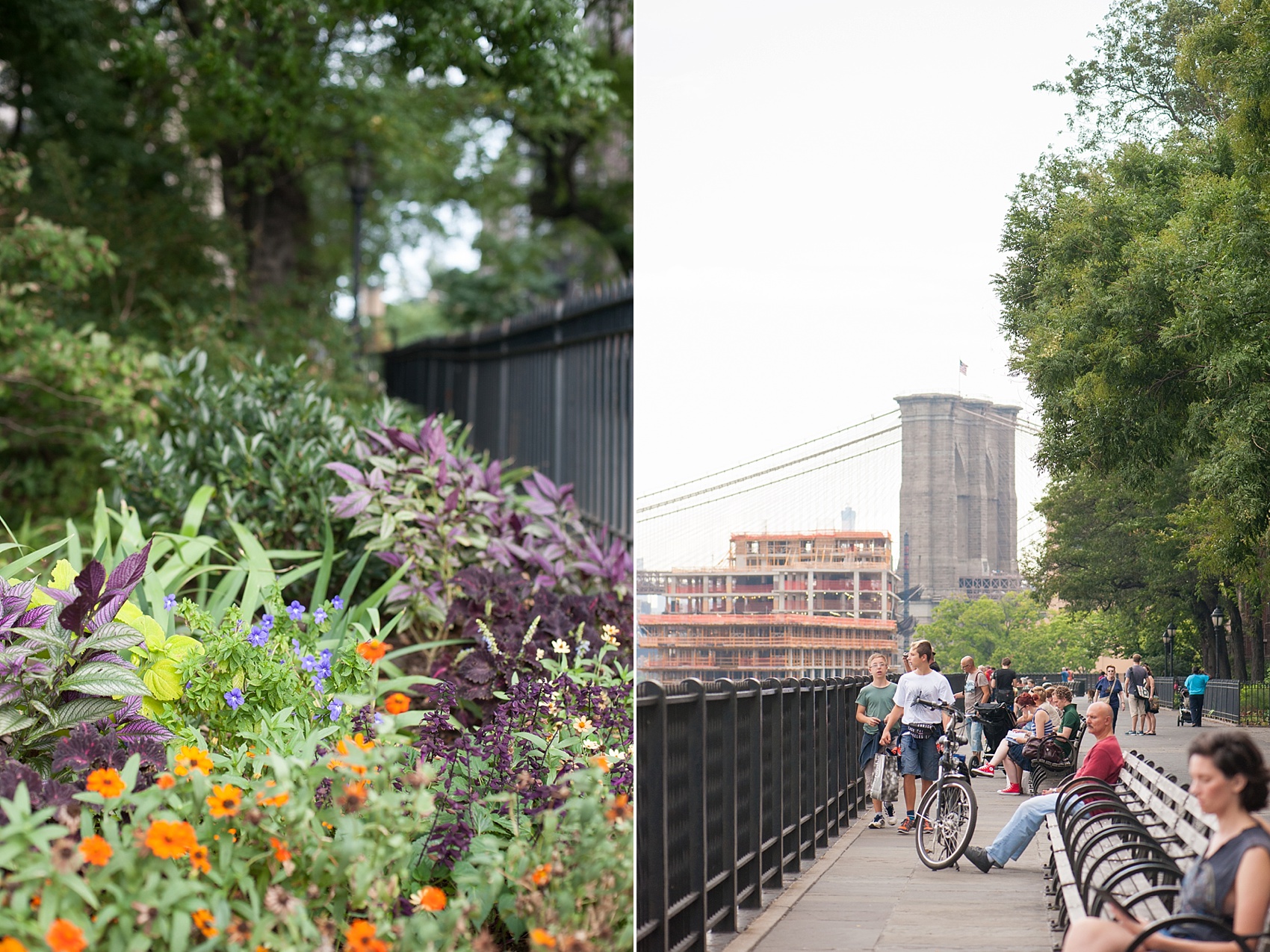 Her and John have had a love story that's continued for 14 years. They met in high school and dated quite seriously but ultimately life took them in different directions. They met other partners and continued lives separately. But somehow they'd always end up in one another's lives.
So when Michelle told me all about them, I instantly realized what a deep love they shared. You know that first high school love you have? Then you think, "If only this were years later…we'd be together forever."?
Well, Michelle and John have that. Then you pile on a connection in life after you've both grown and lived separately for years but you still have that utter sound foundation of first love. That love only deepens and intensifies in the best way when you join again as adults. And it's magic.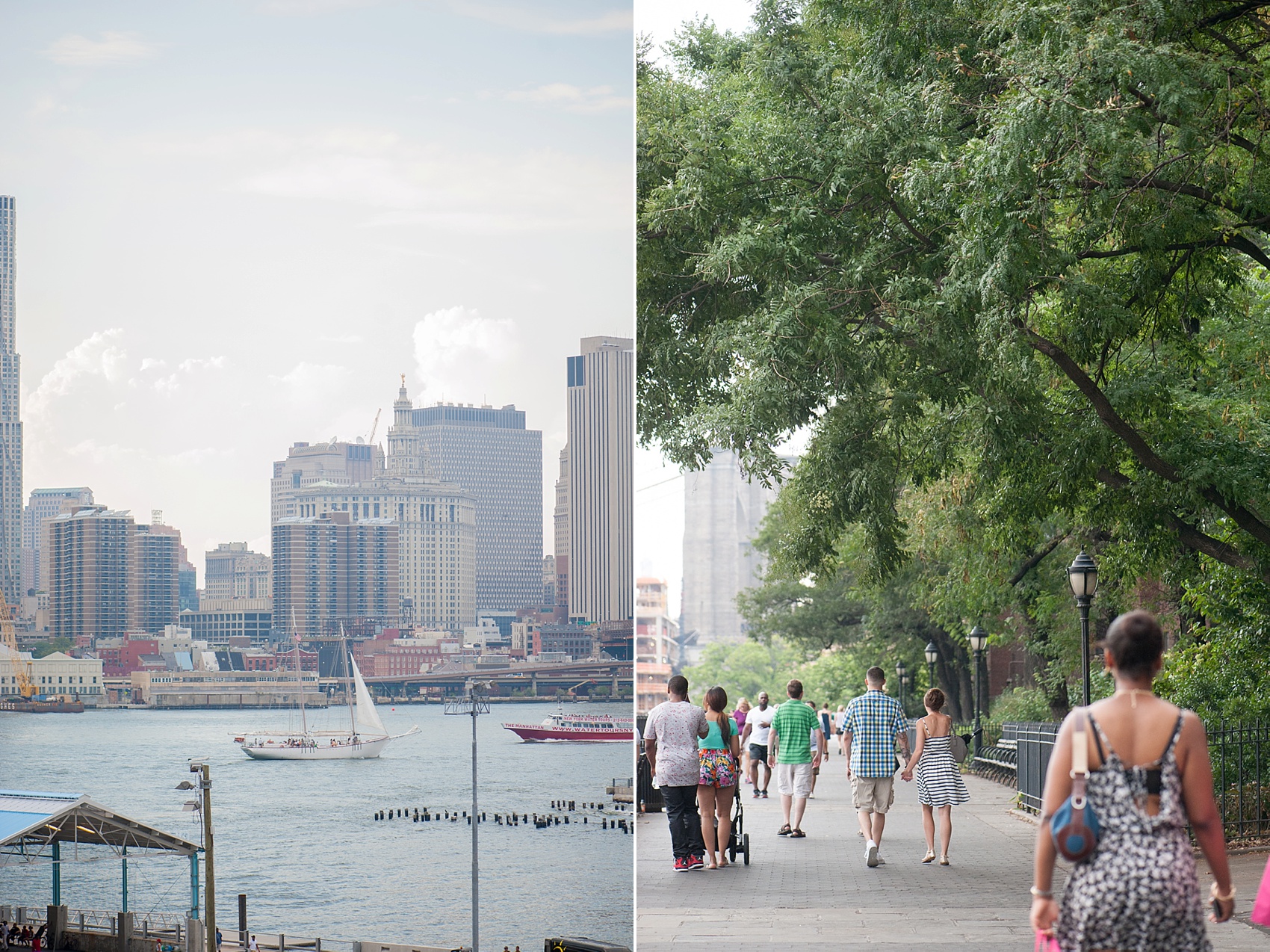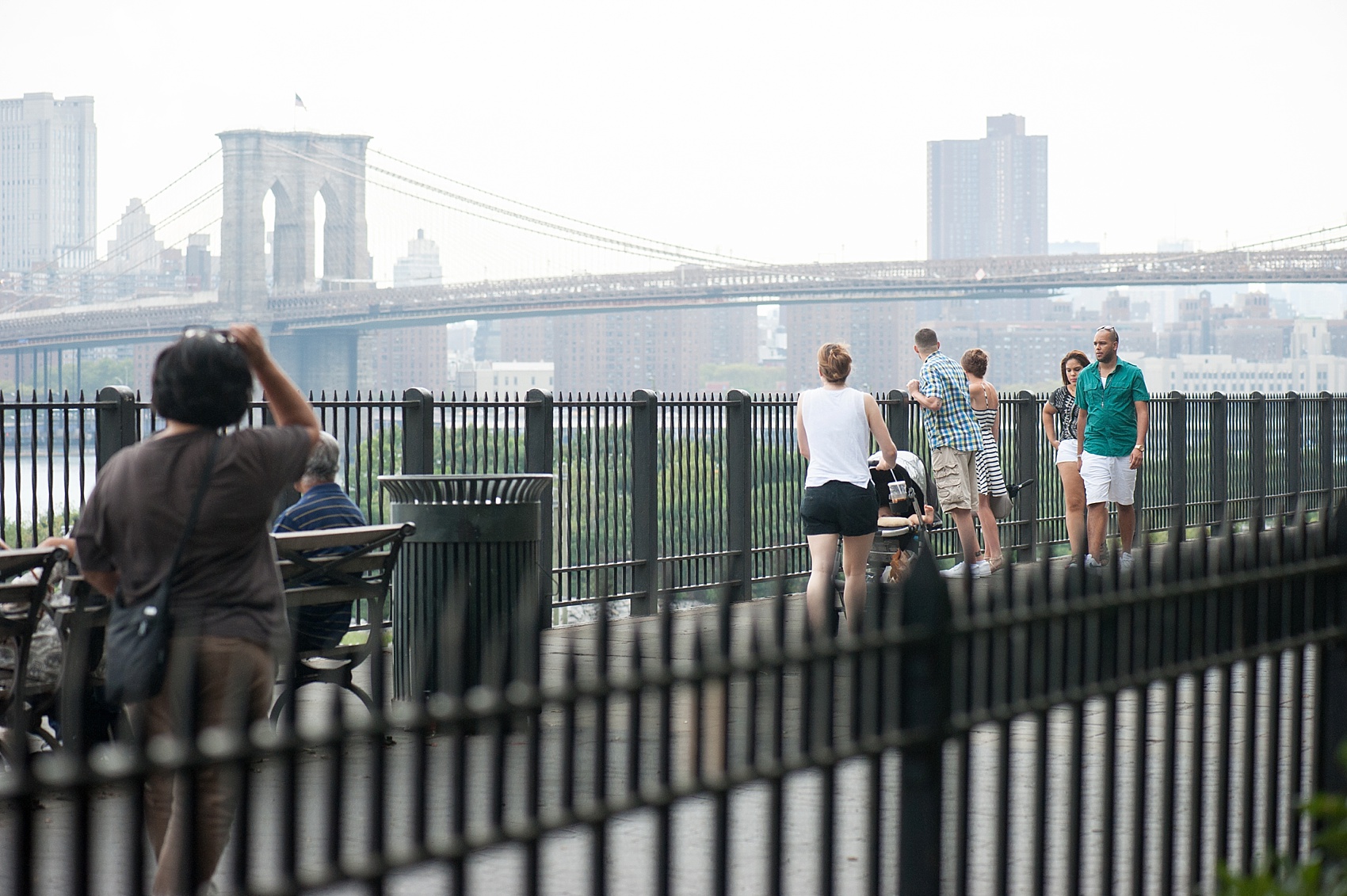 Thus, they knew they'd ultimately get engaged and married, it was just a matter of when. Michelle told John she'd definitely want the proposal caught on camera and I was thrilled when John contacted me!
For a couple weeks I played dumb, living a double life as Michelle's friend, listening to her guesses of when John would propose, discussing when the next manicure would occur "just in case…" then texting with John to solidify the proposal plans. It was great! 

So the two headed to the Brooklyn Heights Promenade for an end of summer celebration that's become a tradition, just them. And John asked Michelle to take a photo of him with the skyline in the back (above photos) when he spotted me ready to go in the distance. I felt like a navy seal, ducking behind fences and plants just in case Michelle turned around and saw me. (I had some long lenses on to capture this from a "safe" distance but you never know! I didn't want to blow the plan!) Also, I have purple tipped hair. Very obvious. So I was careful to braid it and clip it up so it couldn't be seen AND wear sunglasses. Yup, sunglasses in grey skies weather taking photos. Haha…PAPARAZZI!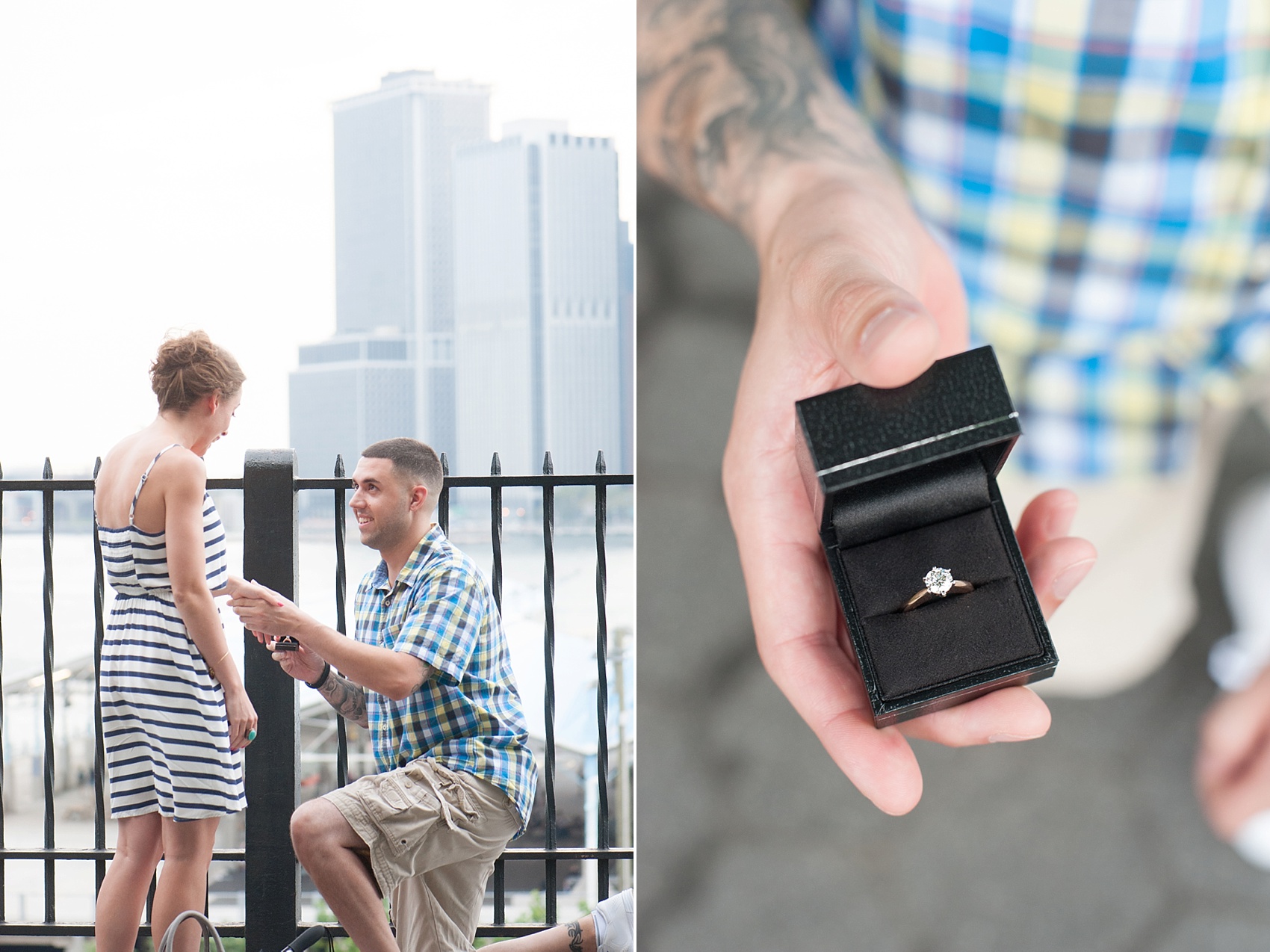 John did a "stretch" before getting down on one knee – the signal he was about to propose….and quickly asked, "Will you marry me?" Of course Michelle said yes!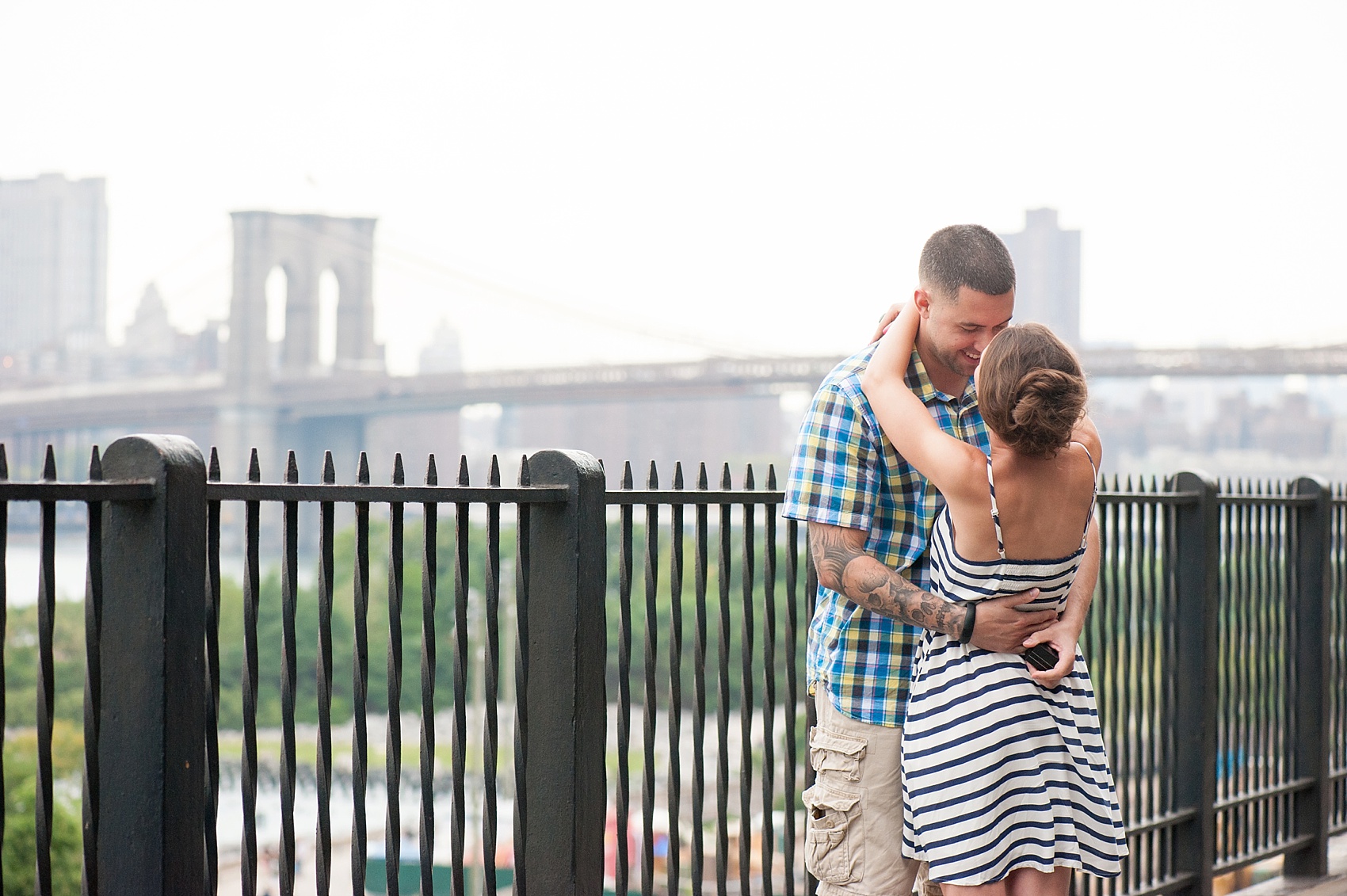 Hugging and kissing ensued and John told Michelle to look behind her…because I was there. "Hey girl!!!!" 🙂 That's the photos above!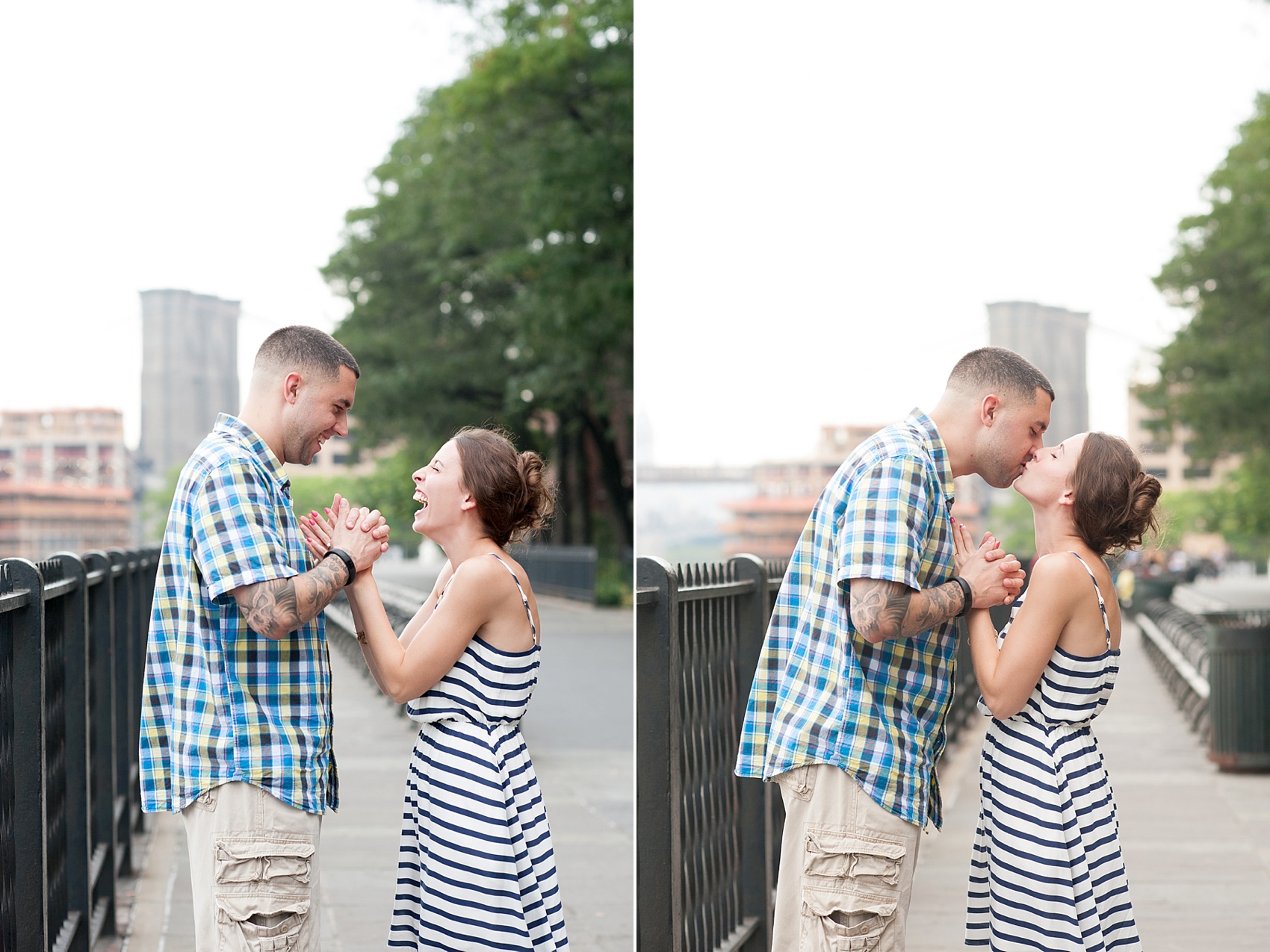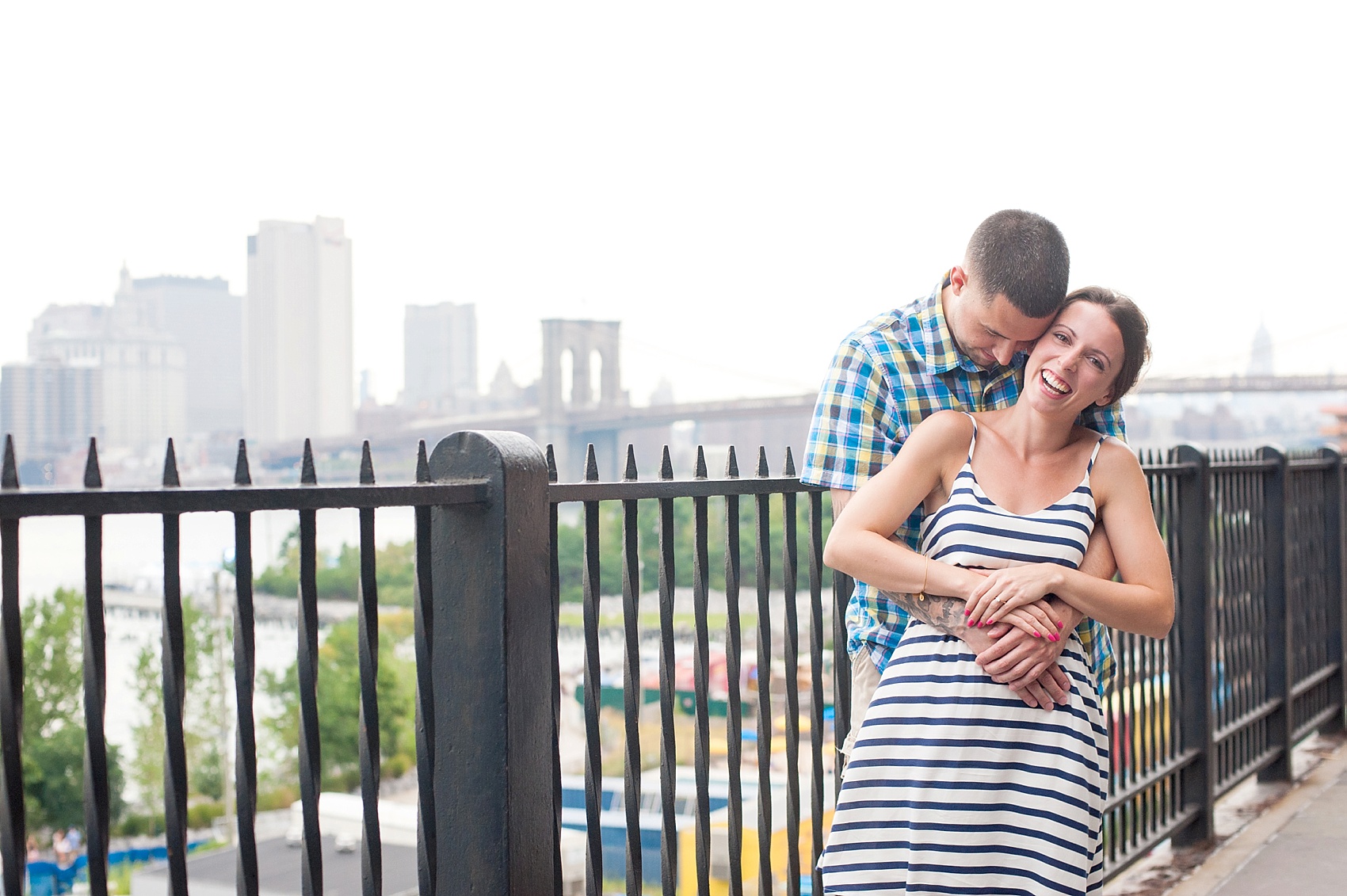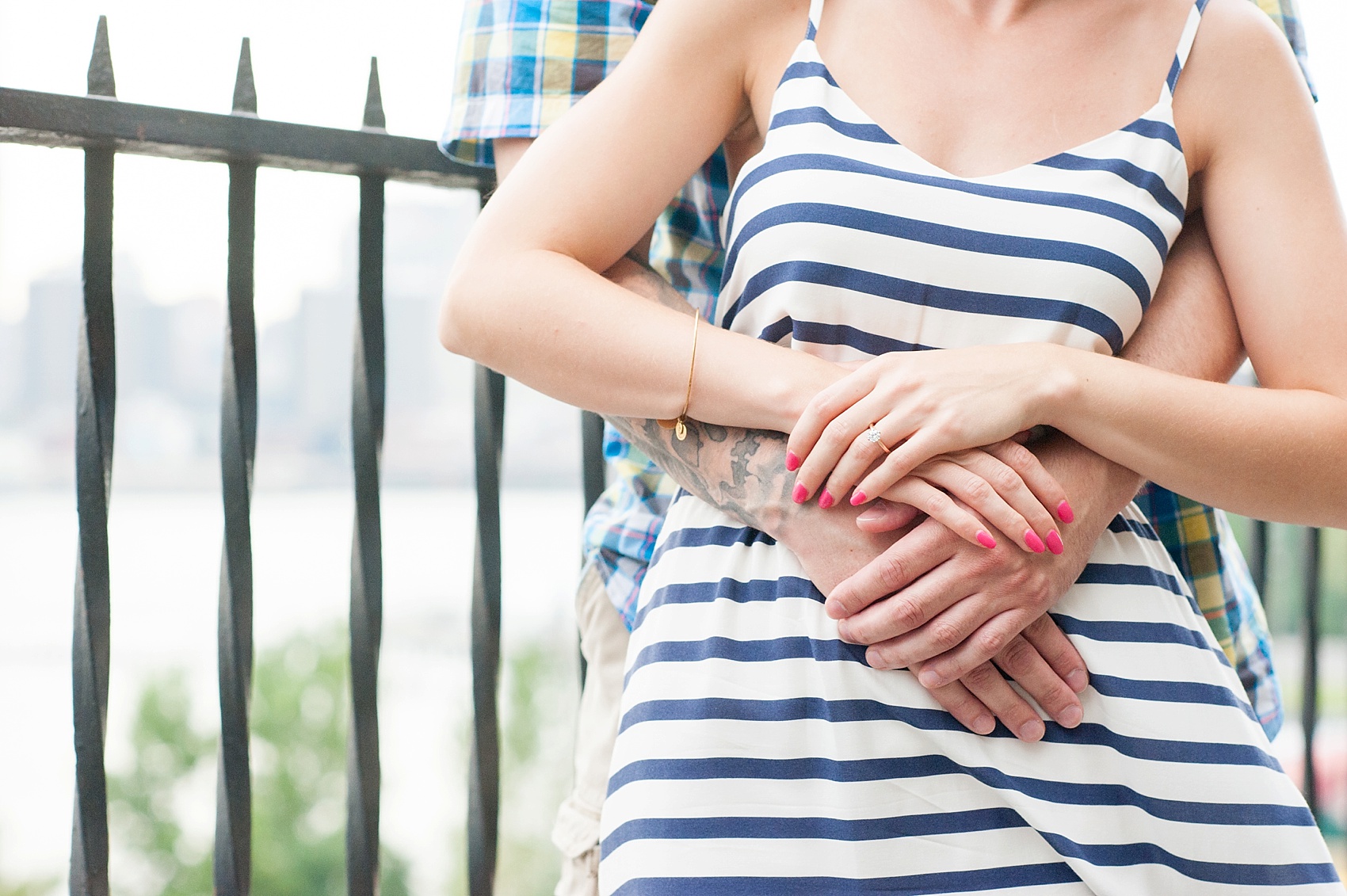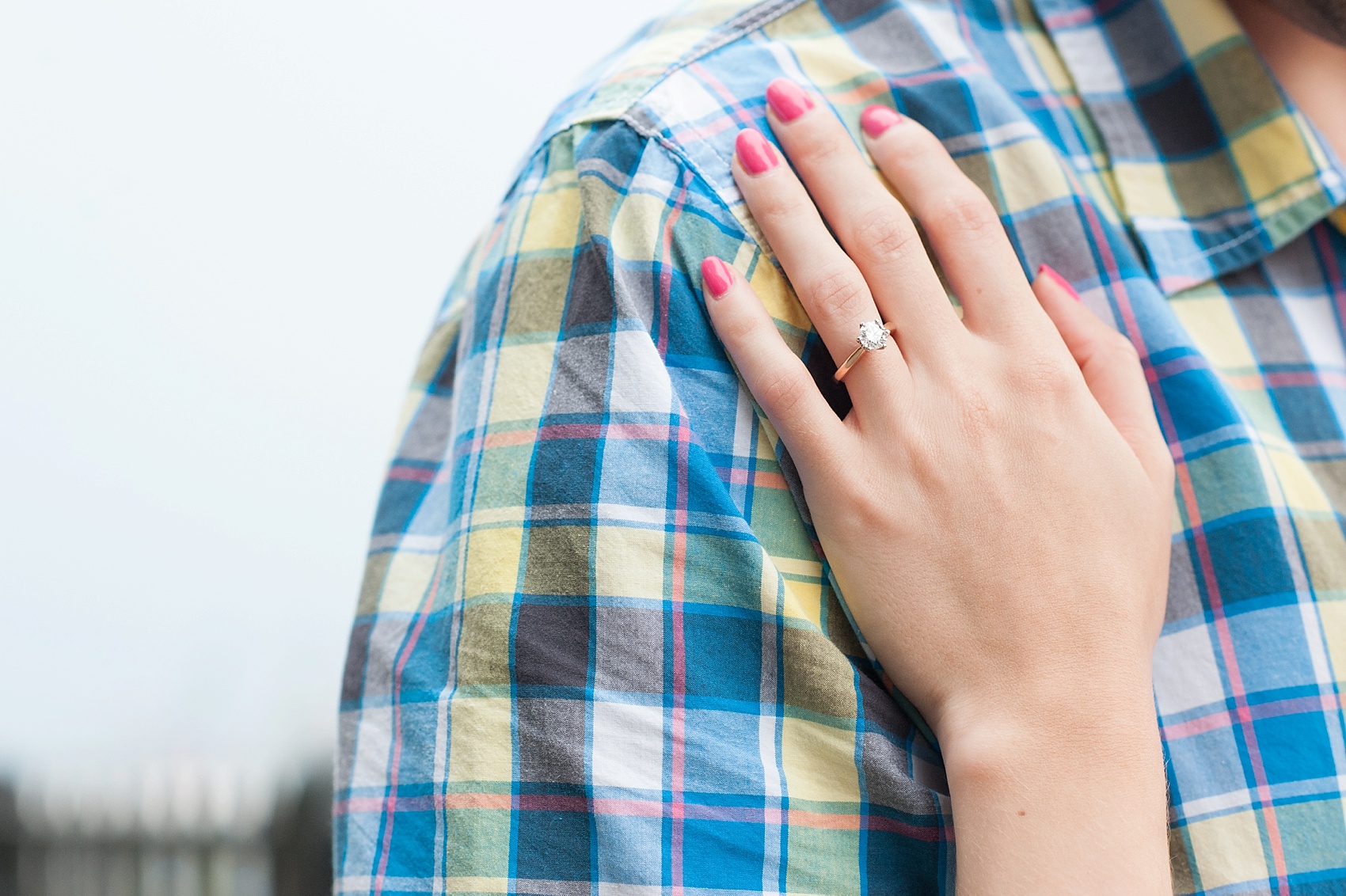 Isn't the ring sparkly and gorgeous? John was really excited about getting the perfect setting and diamond for his soon-to-be-fiancee and would text me updates just so he could share his enthusiasm with someone in on the plan. I loved getting the scoop!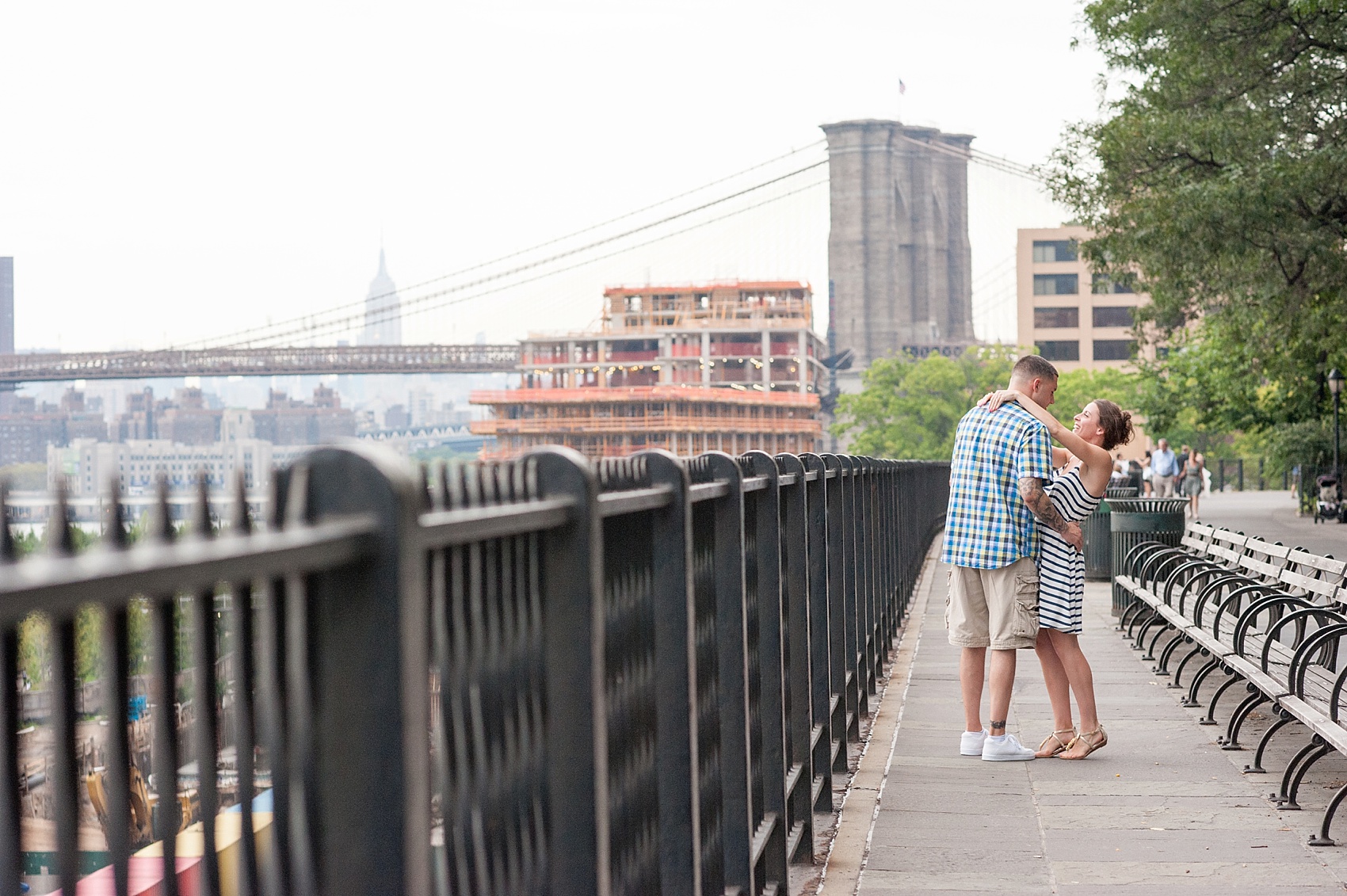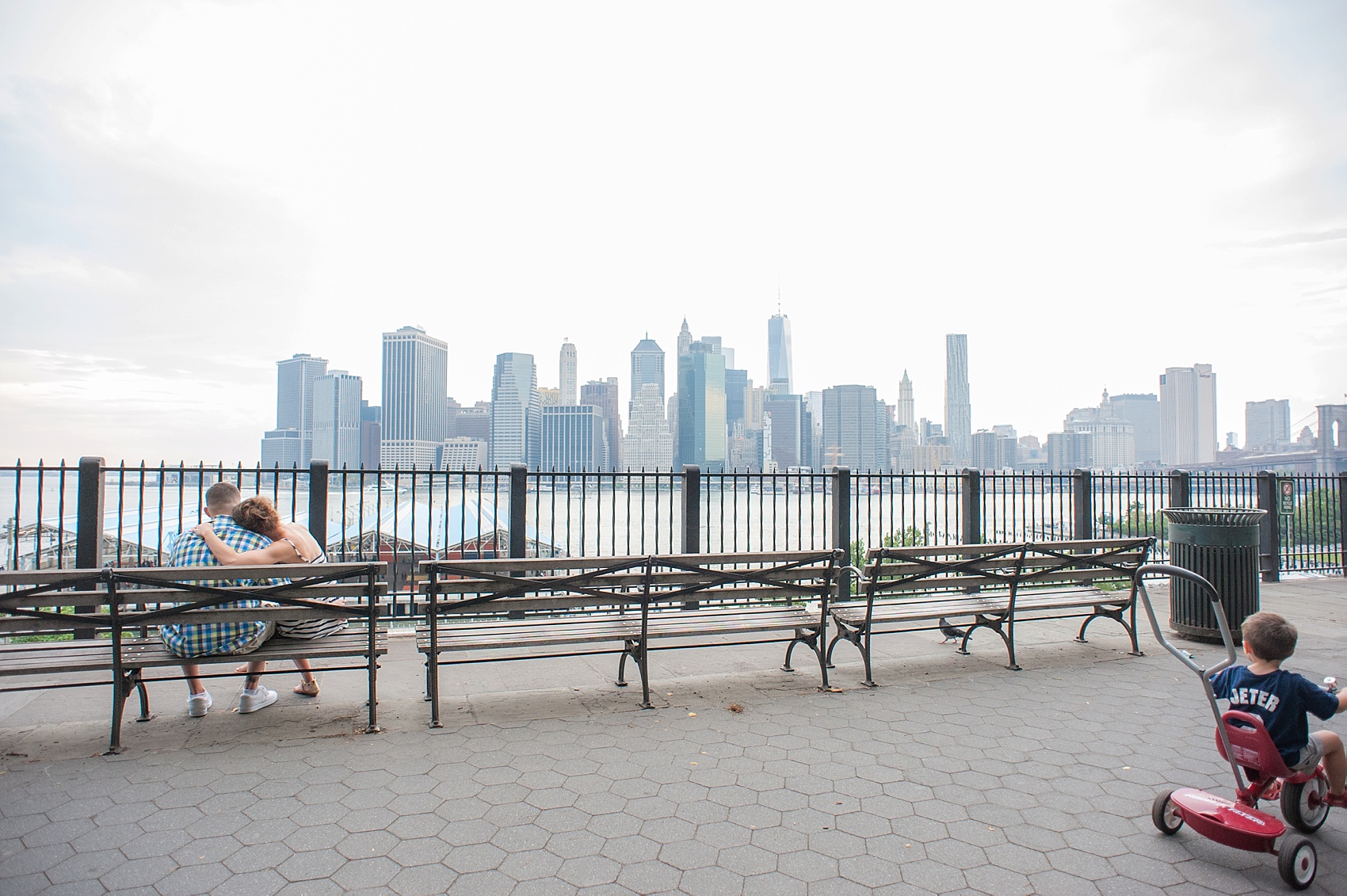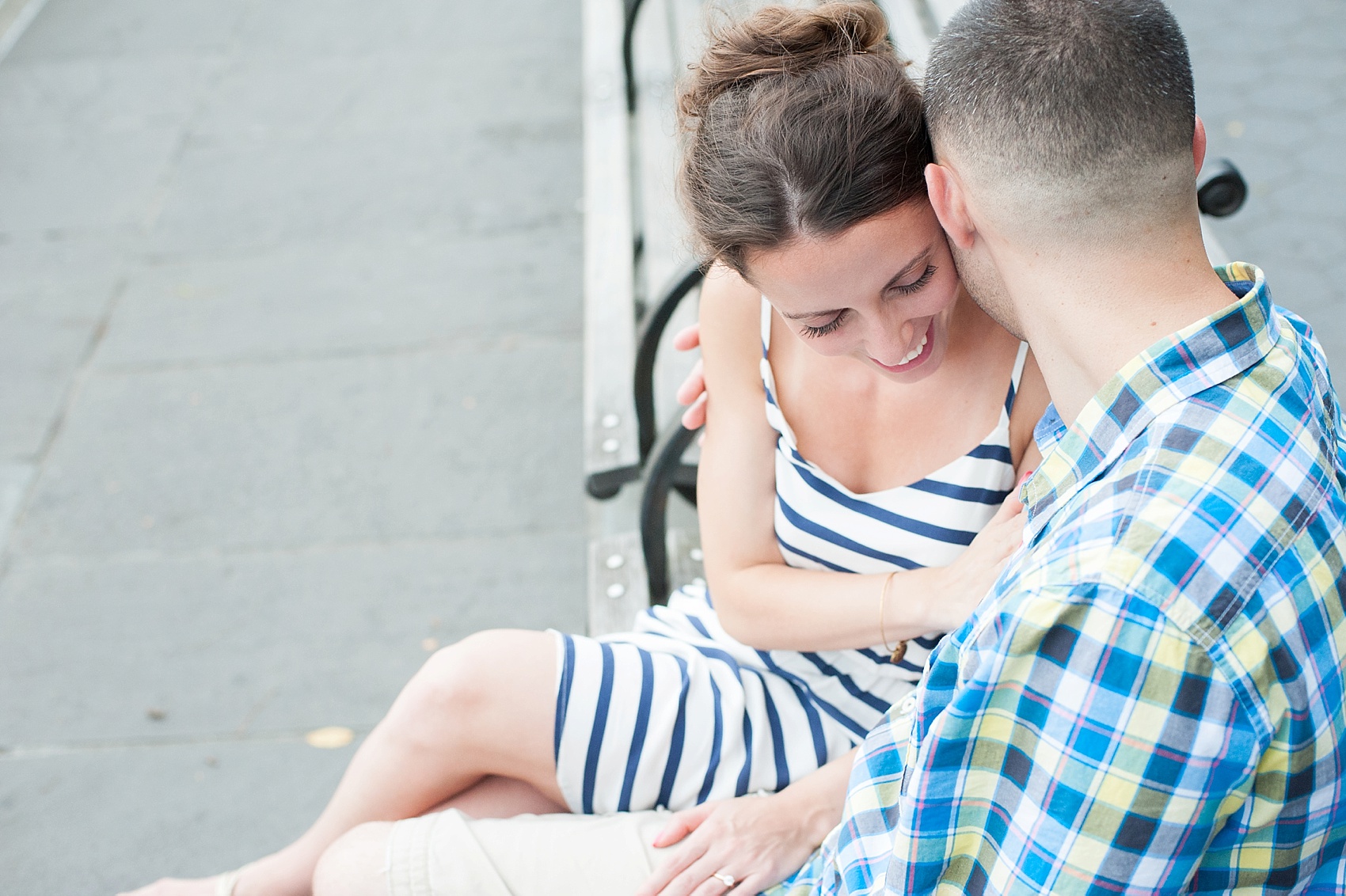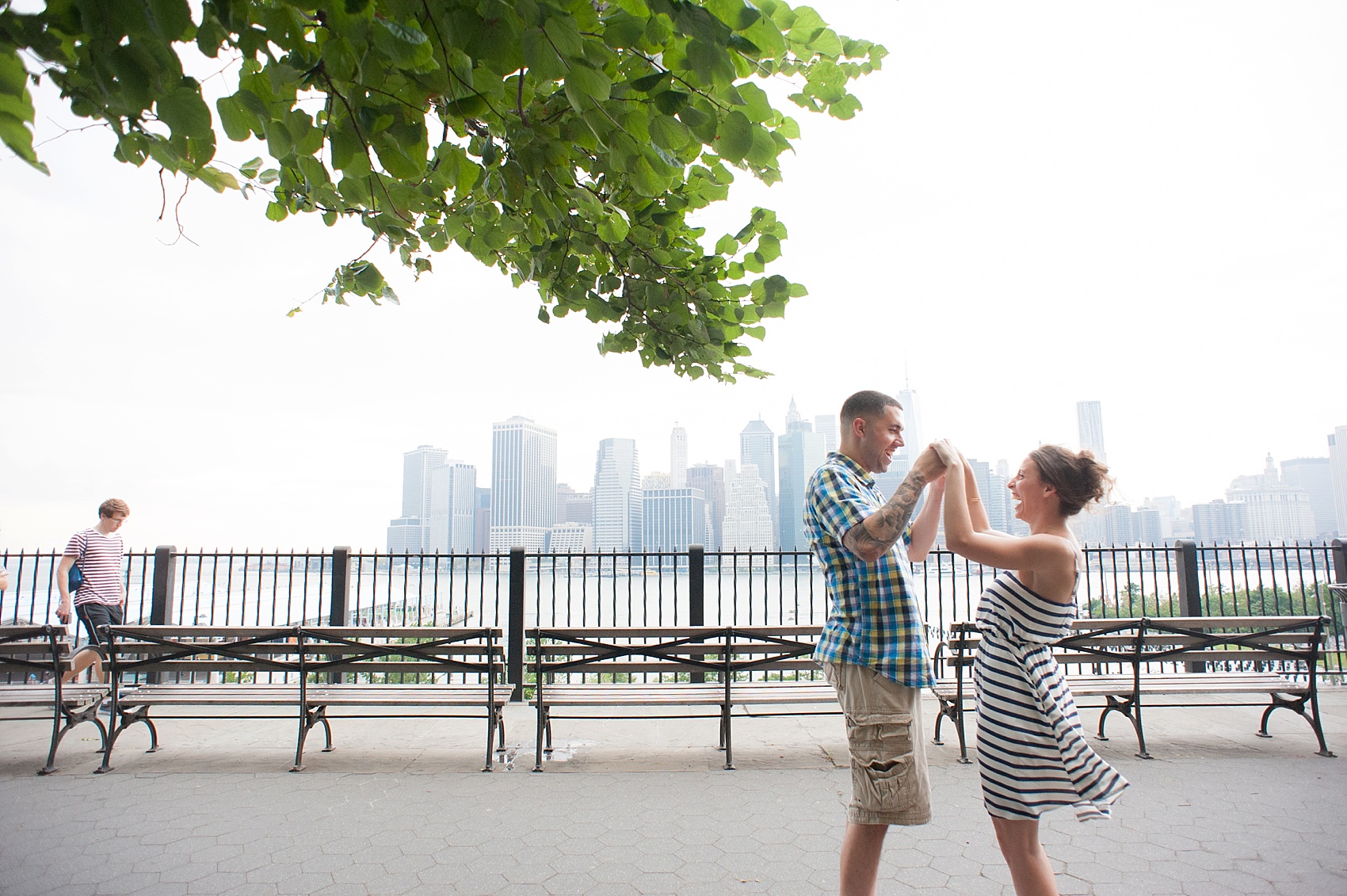 Look how happy they are! I love it!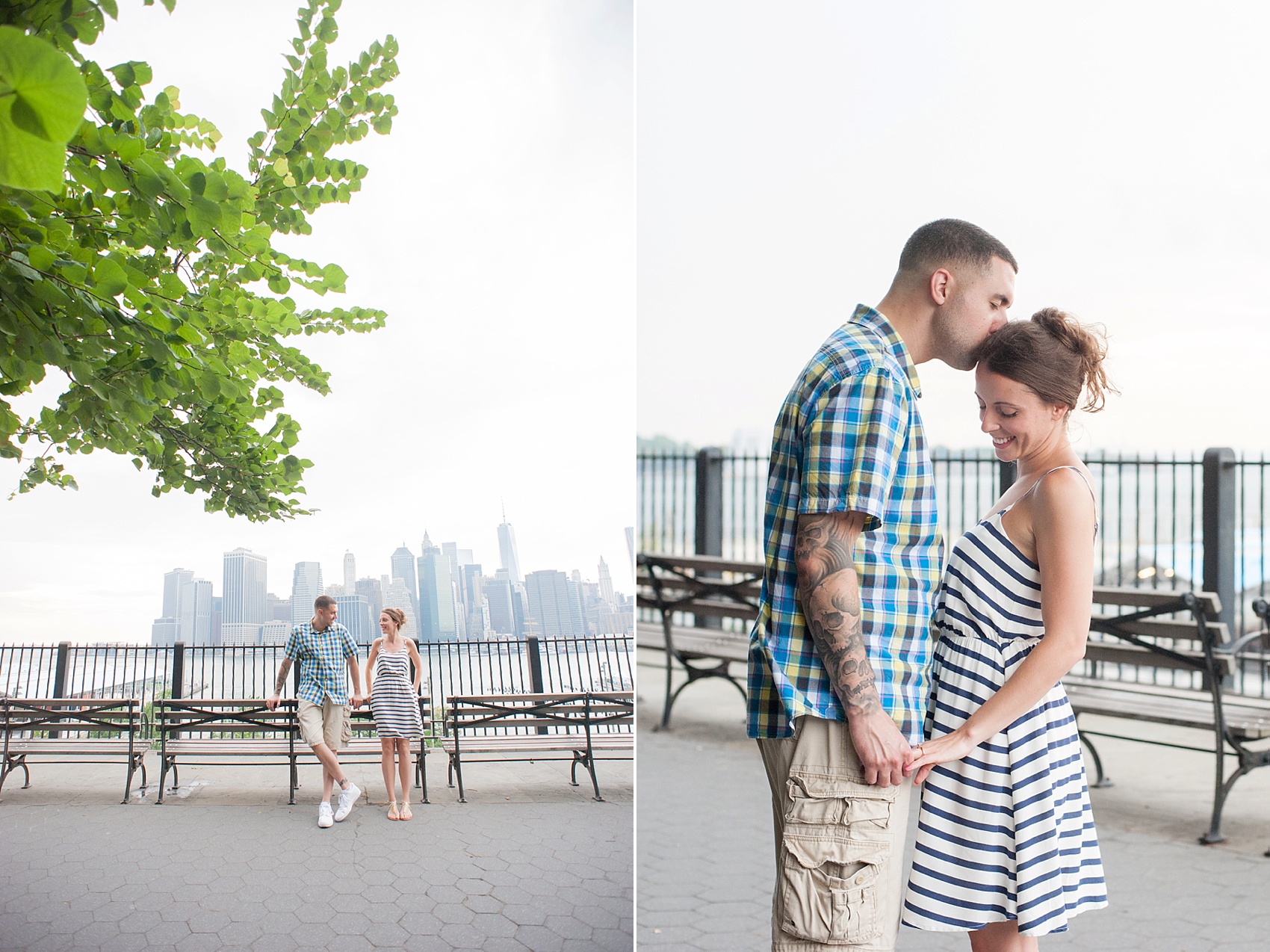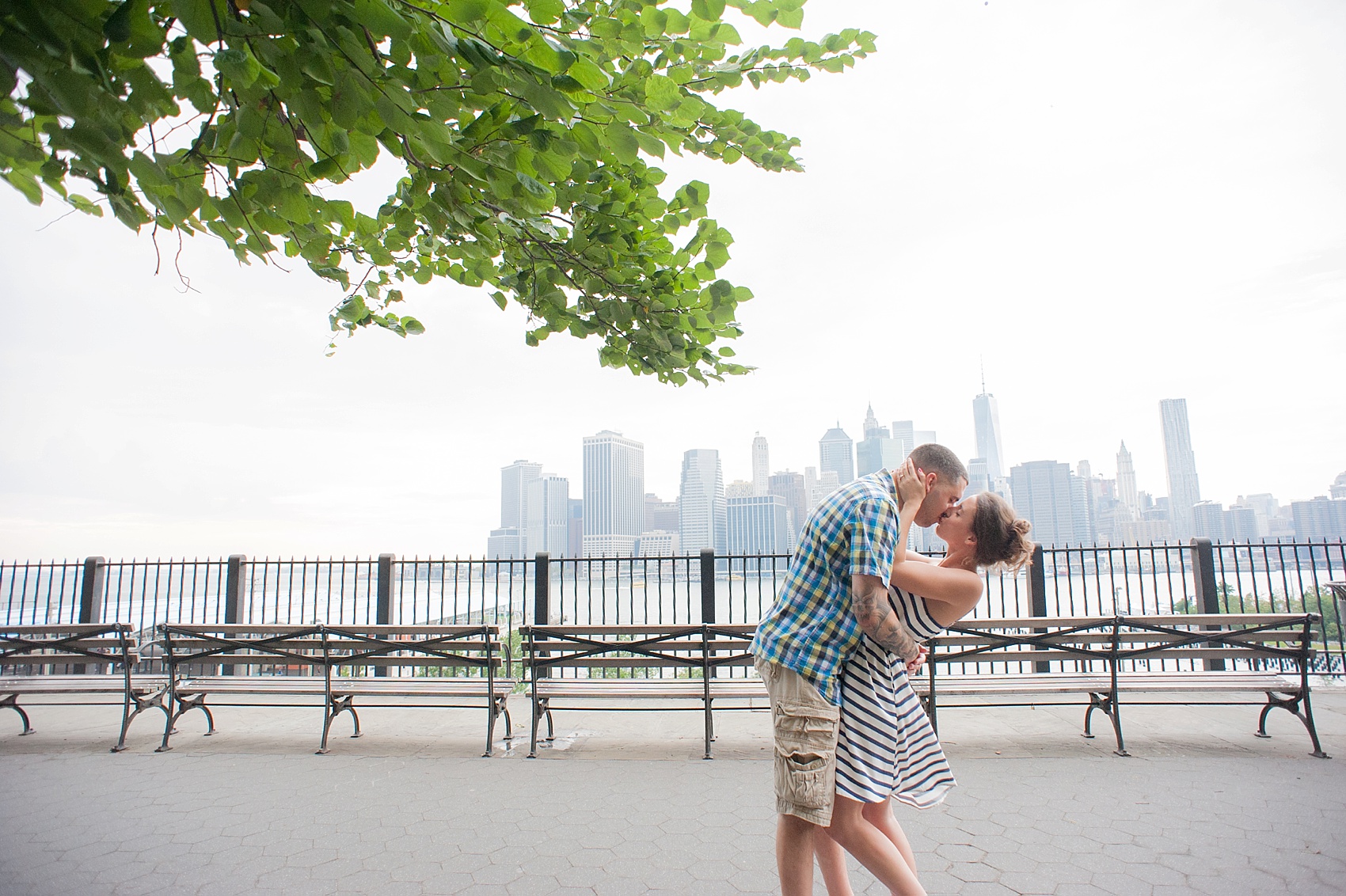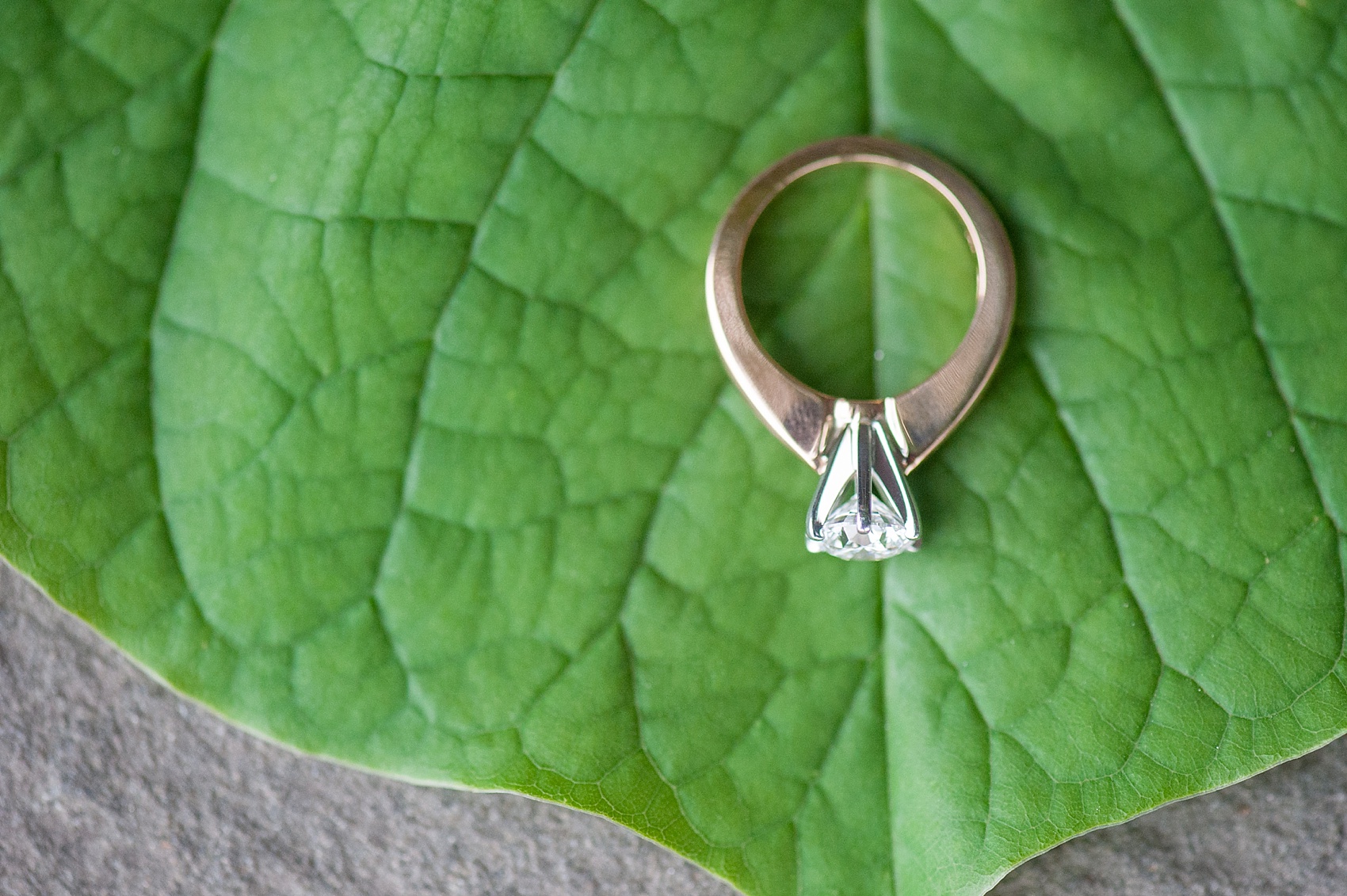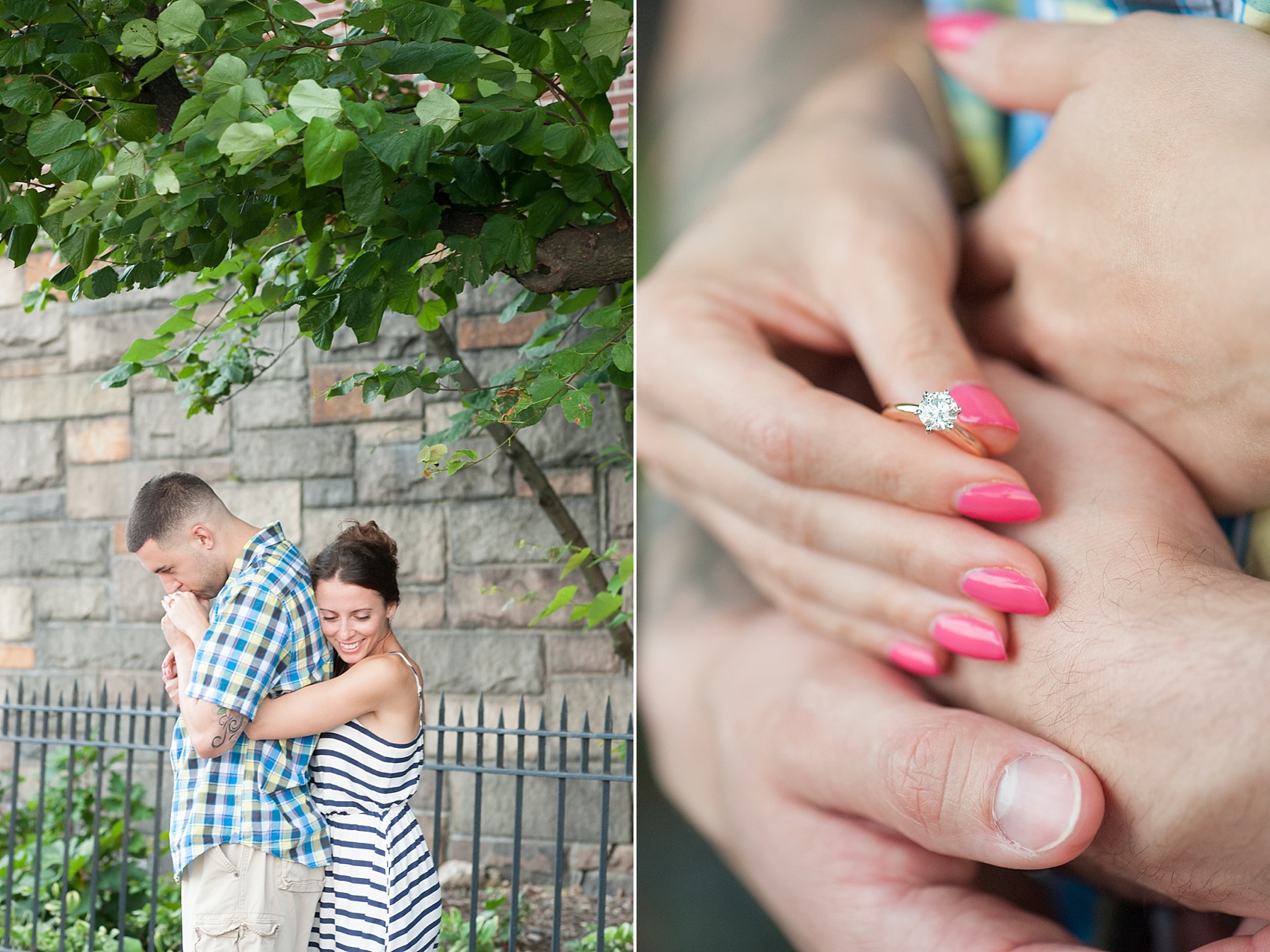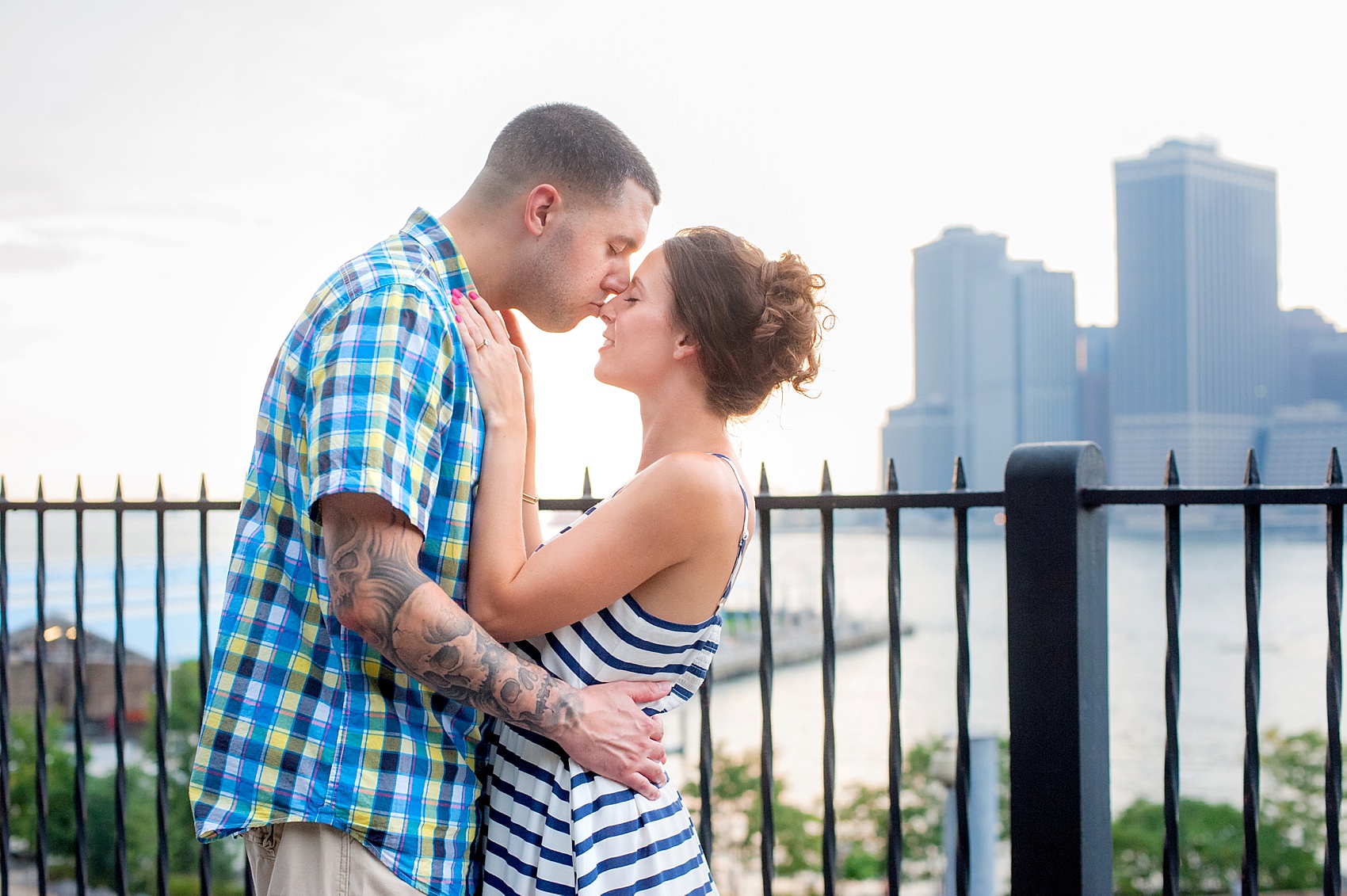 Perhaps it turned into a bit of an engagement session. I don't mind! I loved photographing them in all their "just engaged" glory!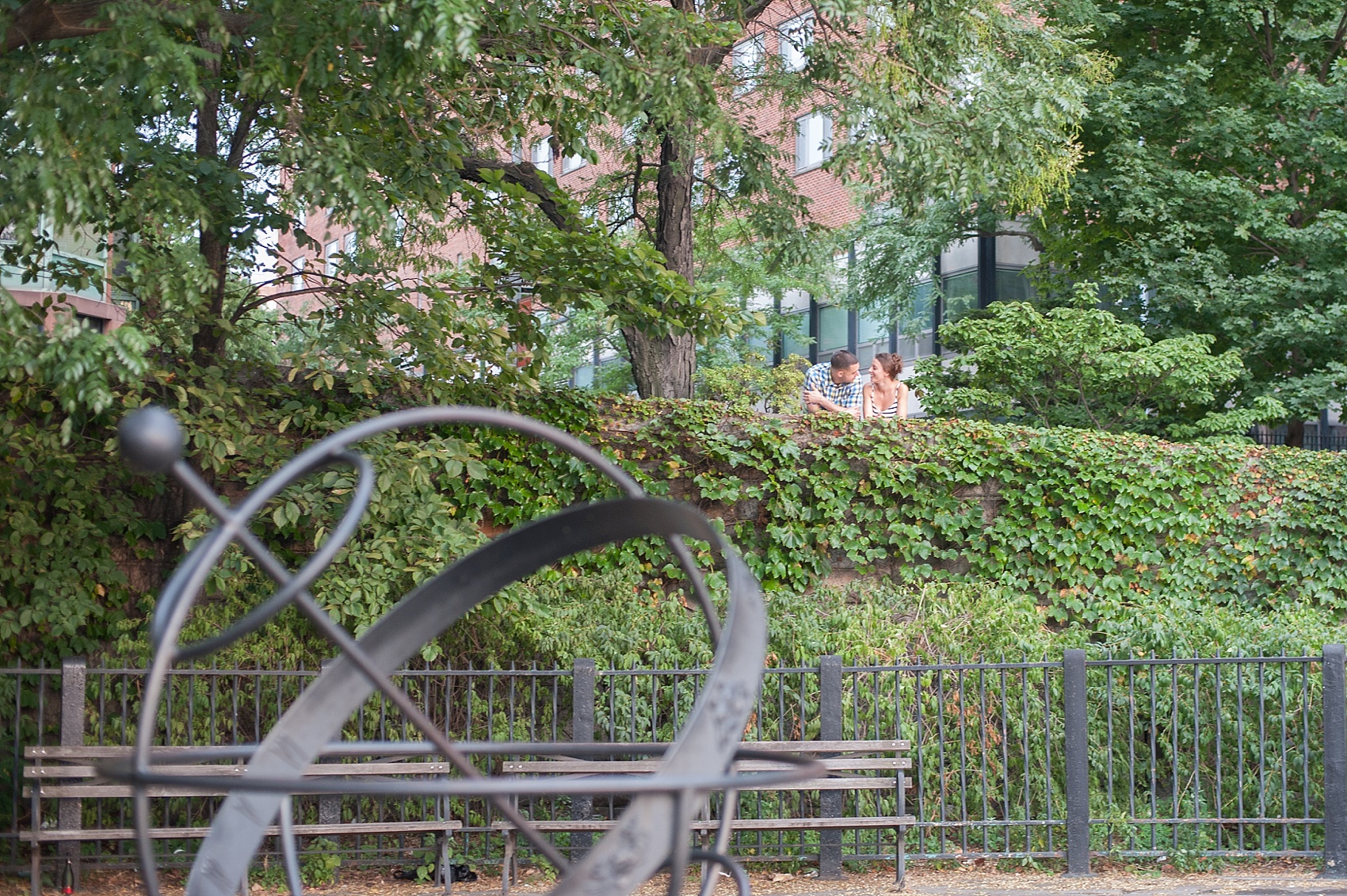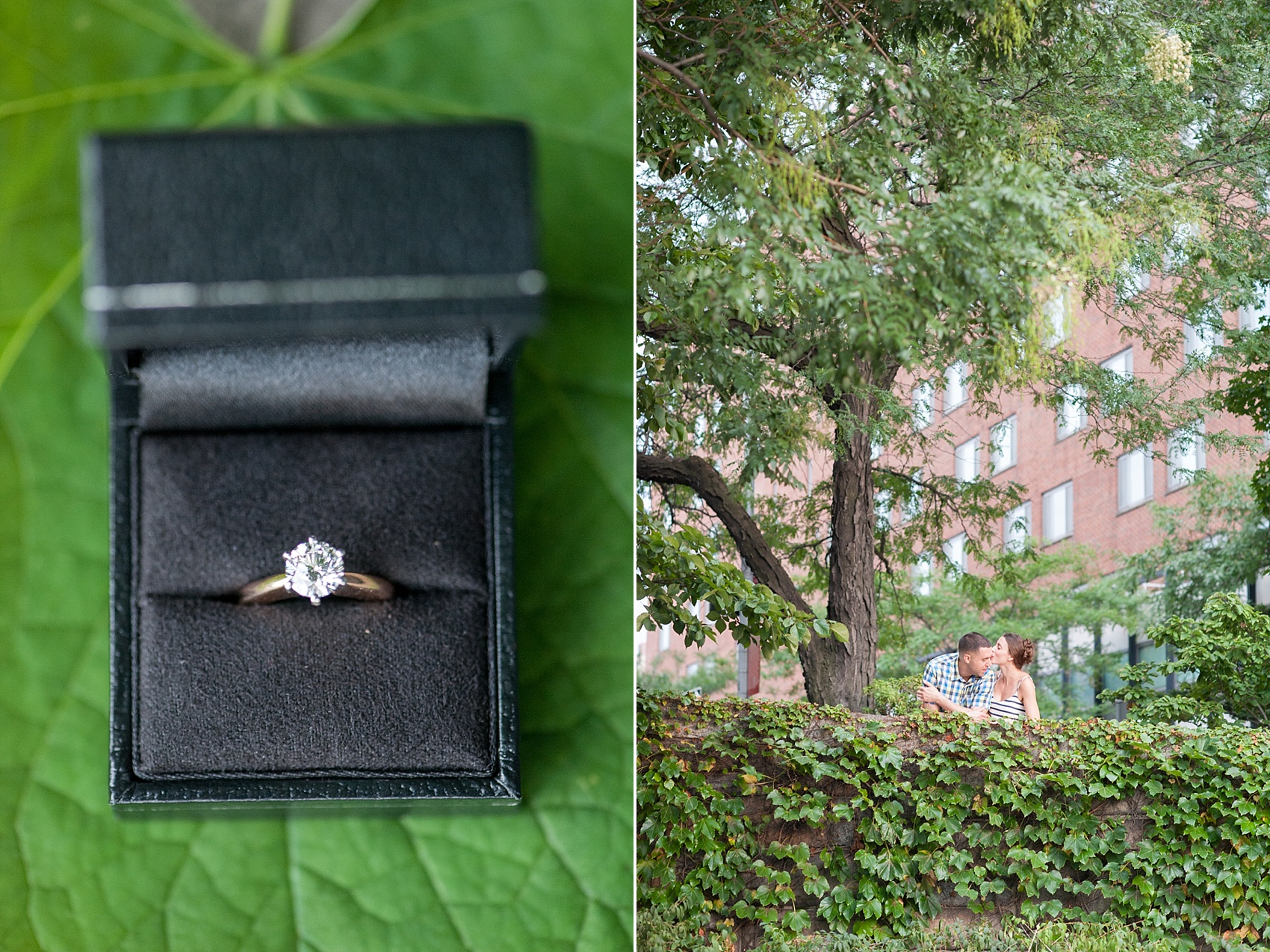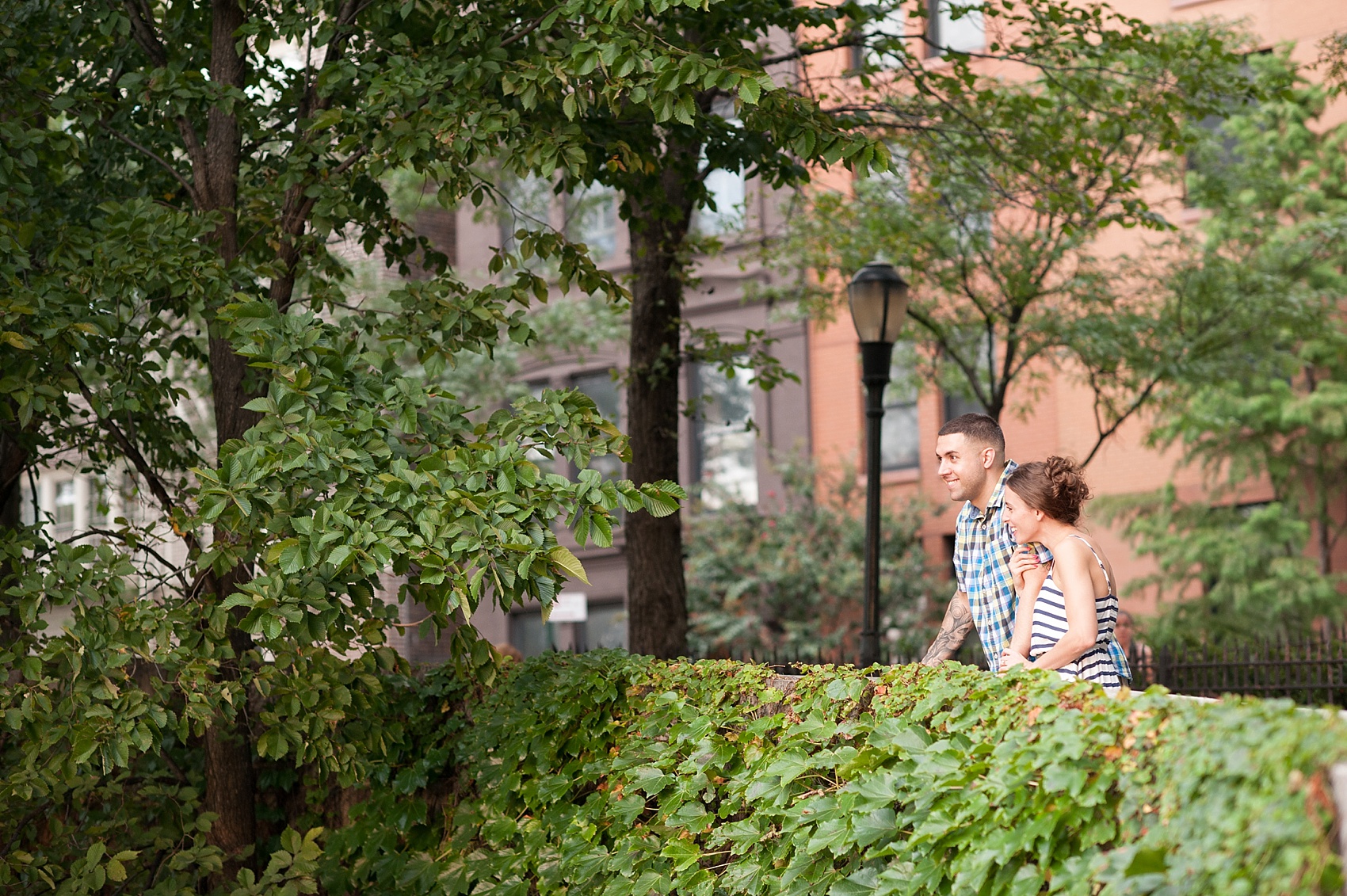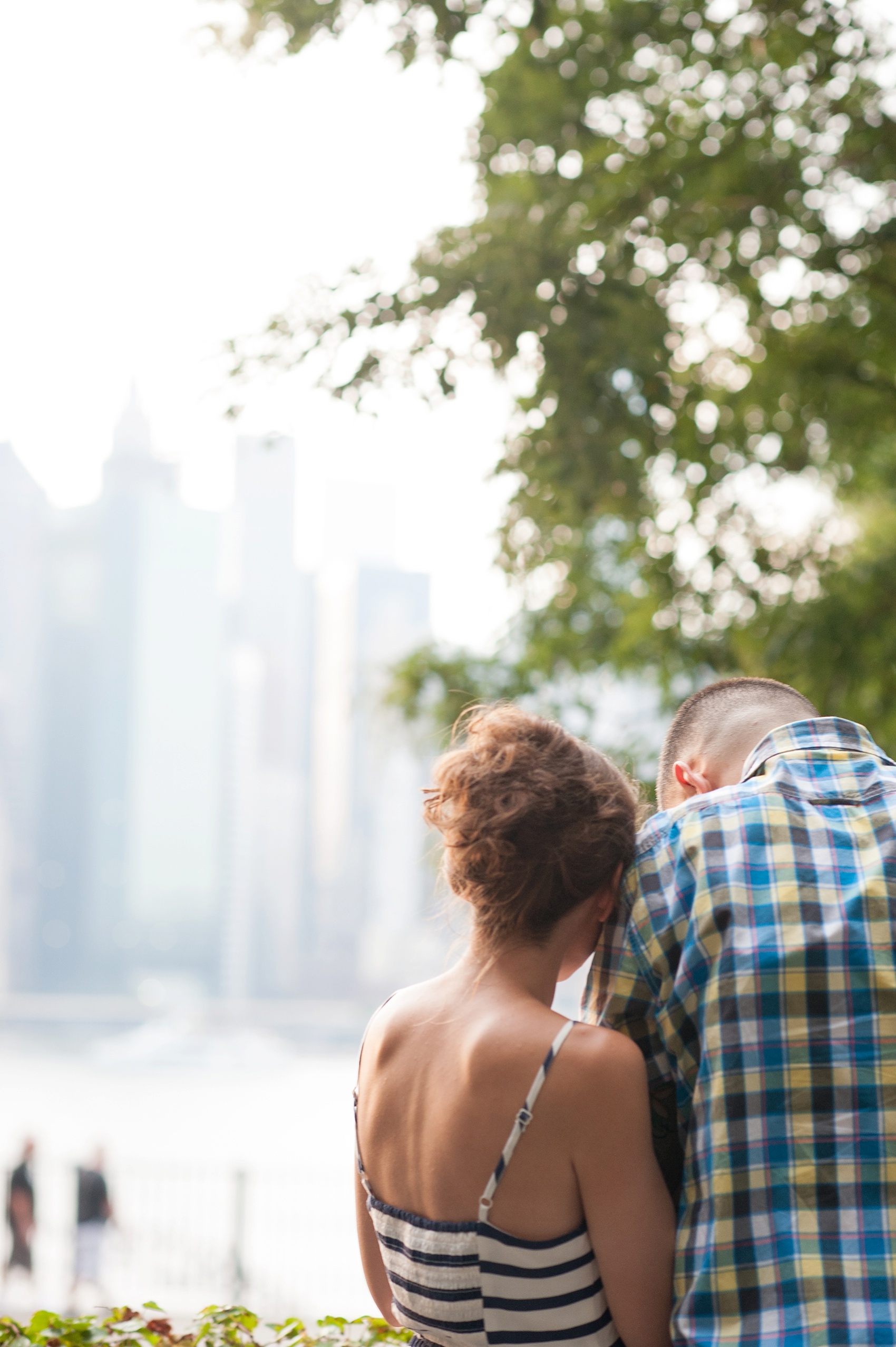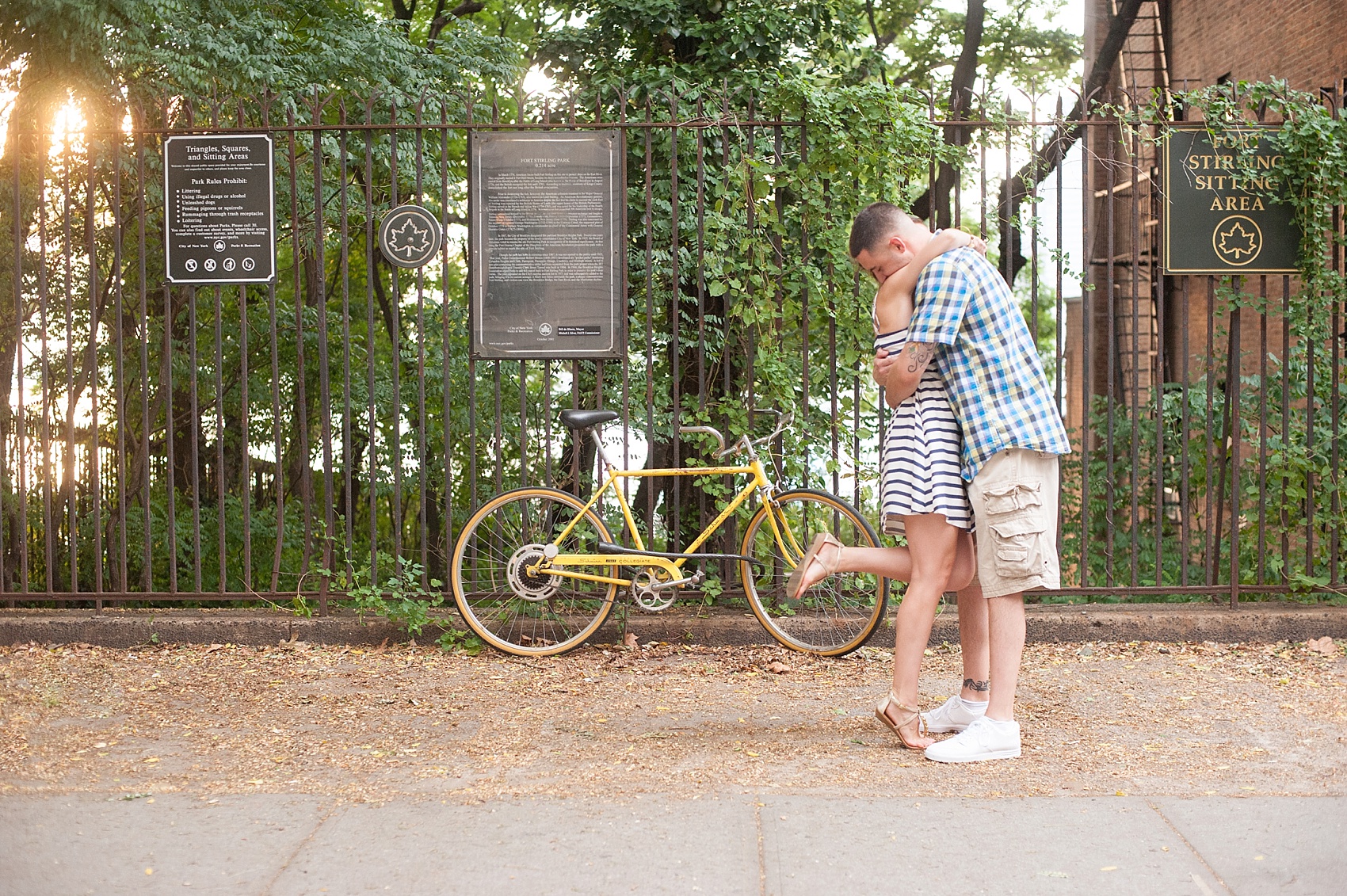 Recently, a really good friend sent me an article (because we just love talking about relationships). Here's the summary but you can read it here if you like: if you're not "Fuck Yes!" about who you're with, what are you doing together? Well…here's a hearty cheers to a couple that is DEFINITELY "Fuck yes!" about each other. (Pardon my language – but it's true!) They're so in love and know so soundly they're each other's soul mates you can't help but be positively affected by their energy when you're in their presence – and that's whether they're together or simply alone talking to you about the other person. It's amazing.
I can't tell you enough how special it was for me to capture this for you, Michelle and John. Cannot wait to participate in your day and celebrate your love!
Location: Brooklyn Heights Promenade / Jeweler: Mauric Fine Jewelry / Michelle's awesome wedding planning: Michelle Elaine Weddings
Happy Monday!