Meri and Josh's colorful summer wedding at Perona Farms was the perfect way to celebrate their love and the end of the season. This pair was never not excited about their wedding day. Does that make sense? Double negative? Okay…Meri and Josh were always excited and passionate about planning their wedding. 🙂
From the moment they contacted me they were concerned with details in the best way possible and asked all the right questions. So I knew it'd be a great day and I was looking forward to amazing surprises they were integrating like wine glasses with caricatures of the bridesmaids and beer glasses with the groomsmen, kraft paper table numbers and invitations, and, a much talked about topic: Josh's tuxedo! Which, I have to say, was fantastic!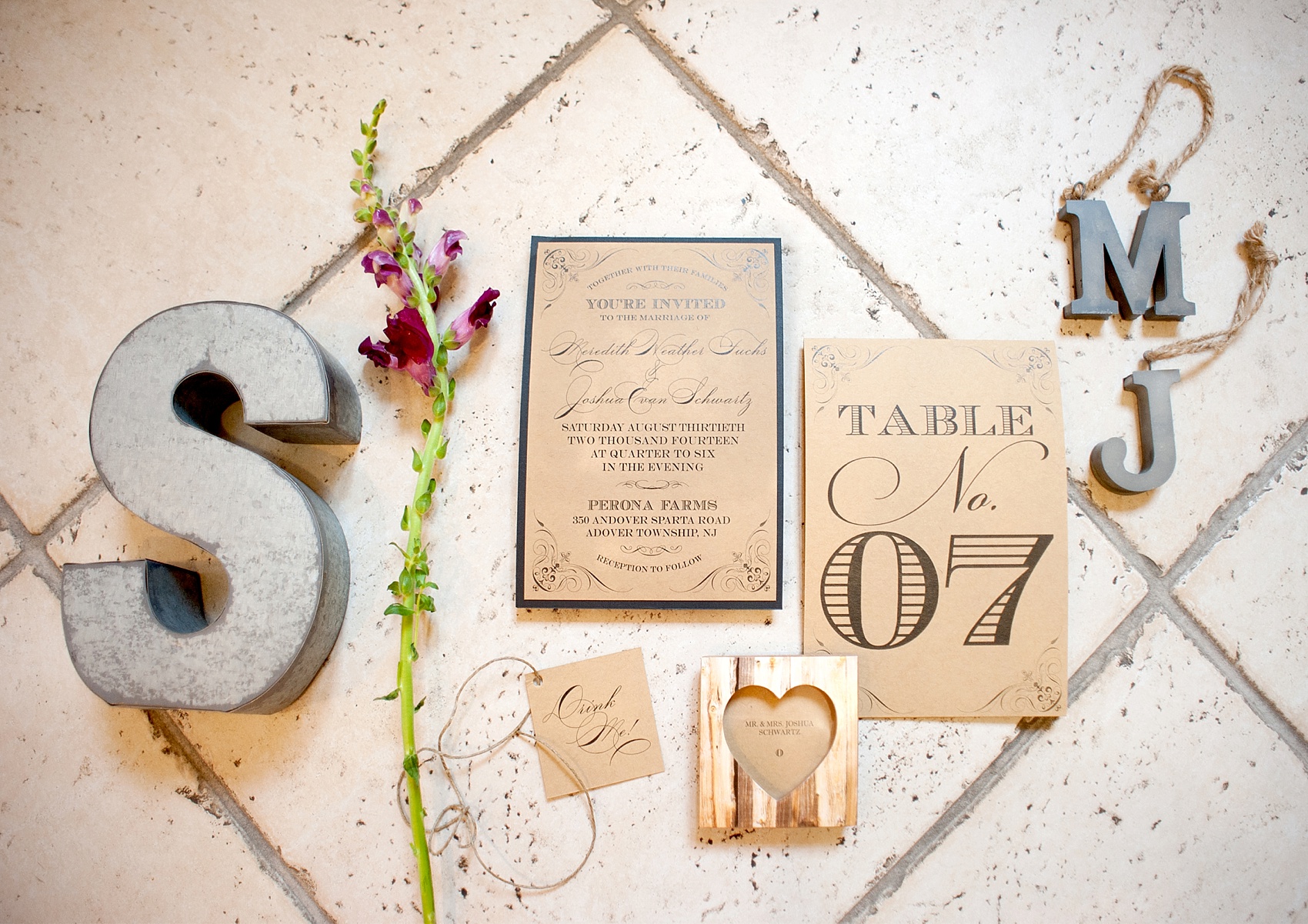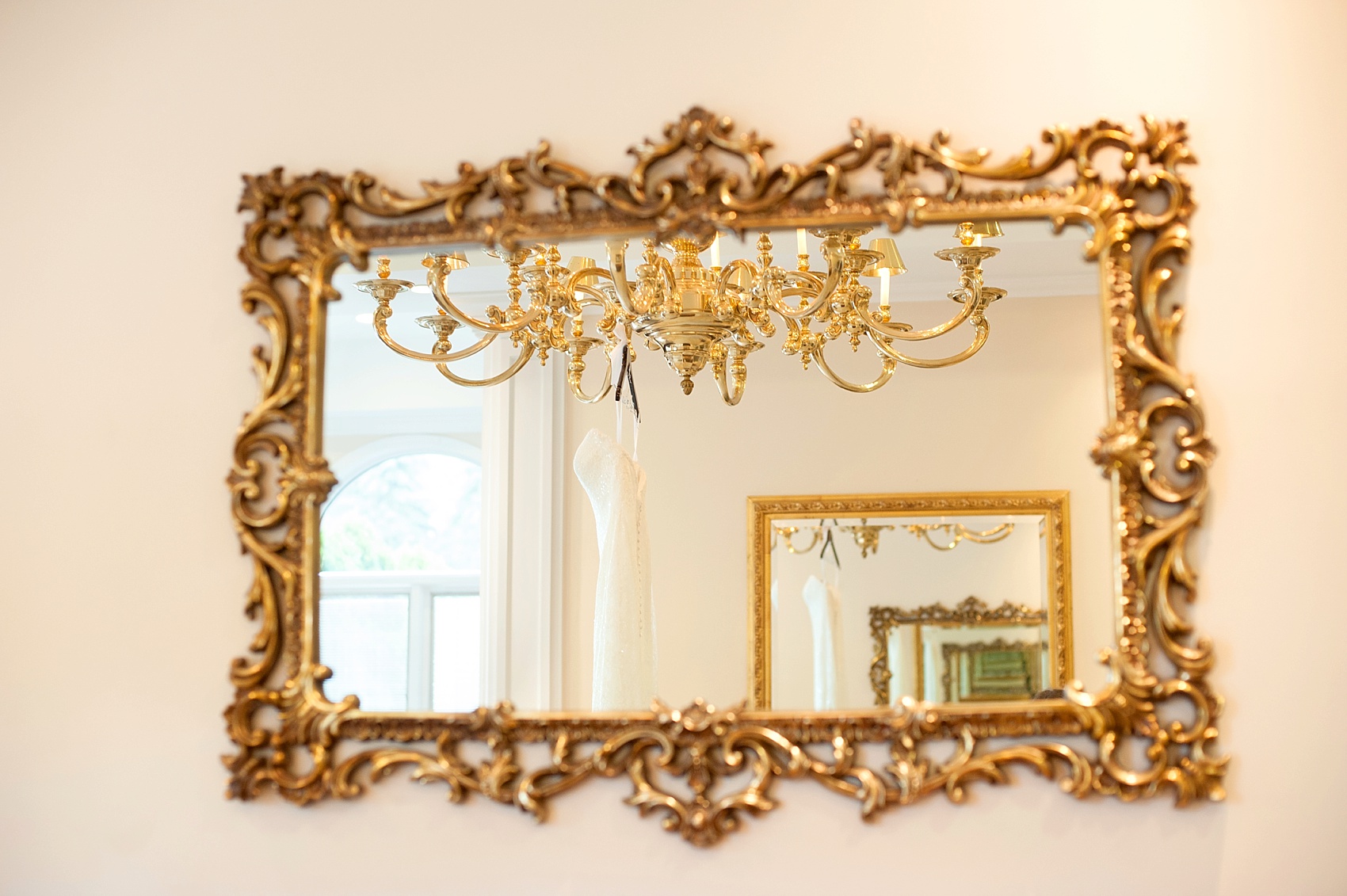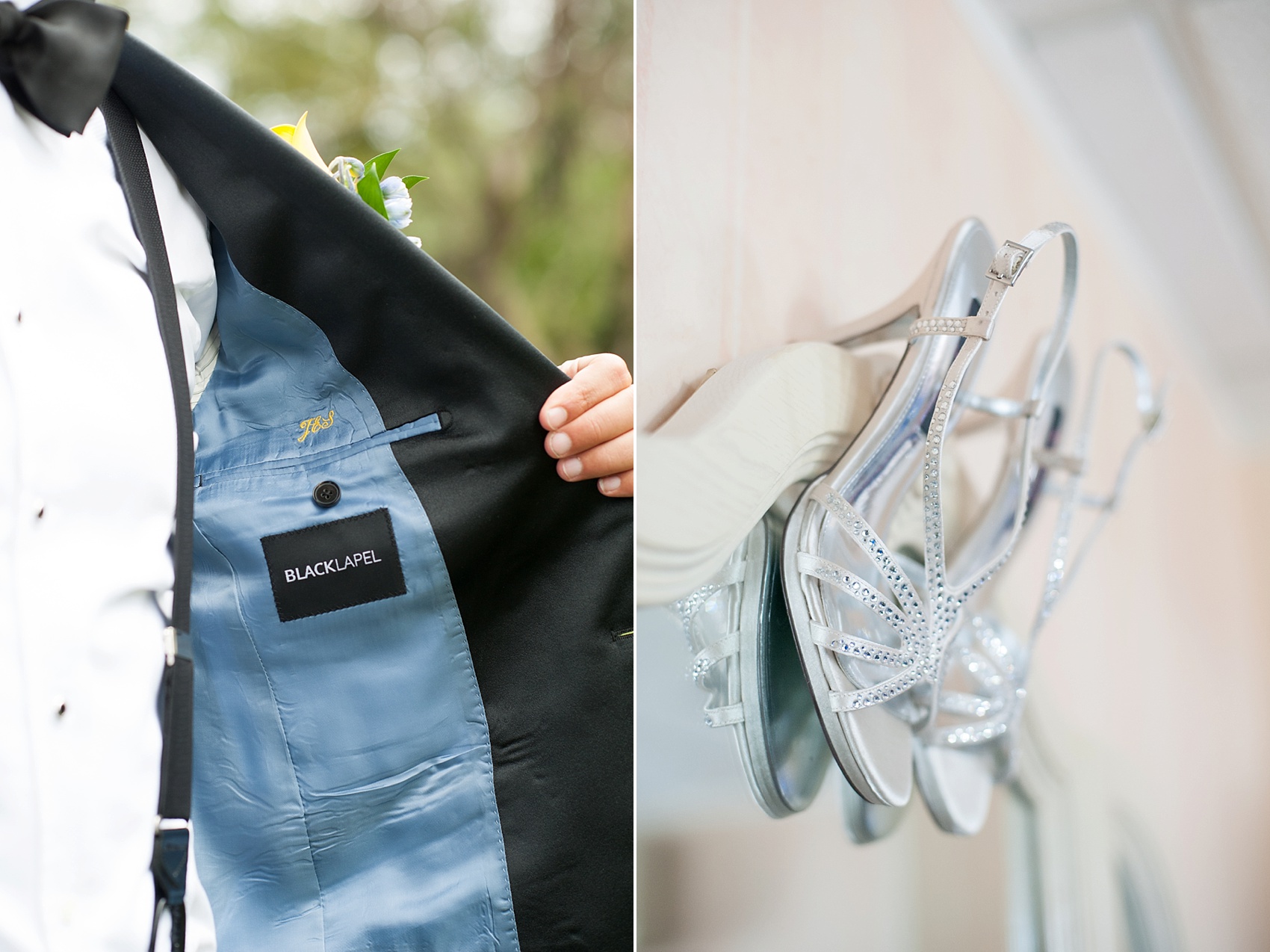 Check out that custom tux!! I love the touch of yellow thread in Josh's embroidered initials.
I also loved that he incorporated his tuxedo shirt from one of his groomsman Leor's wedding, that I photographed a few years ago, which is how I met Josh. And to think I'd be photographing his wedding three years later. Sigh. 🙂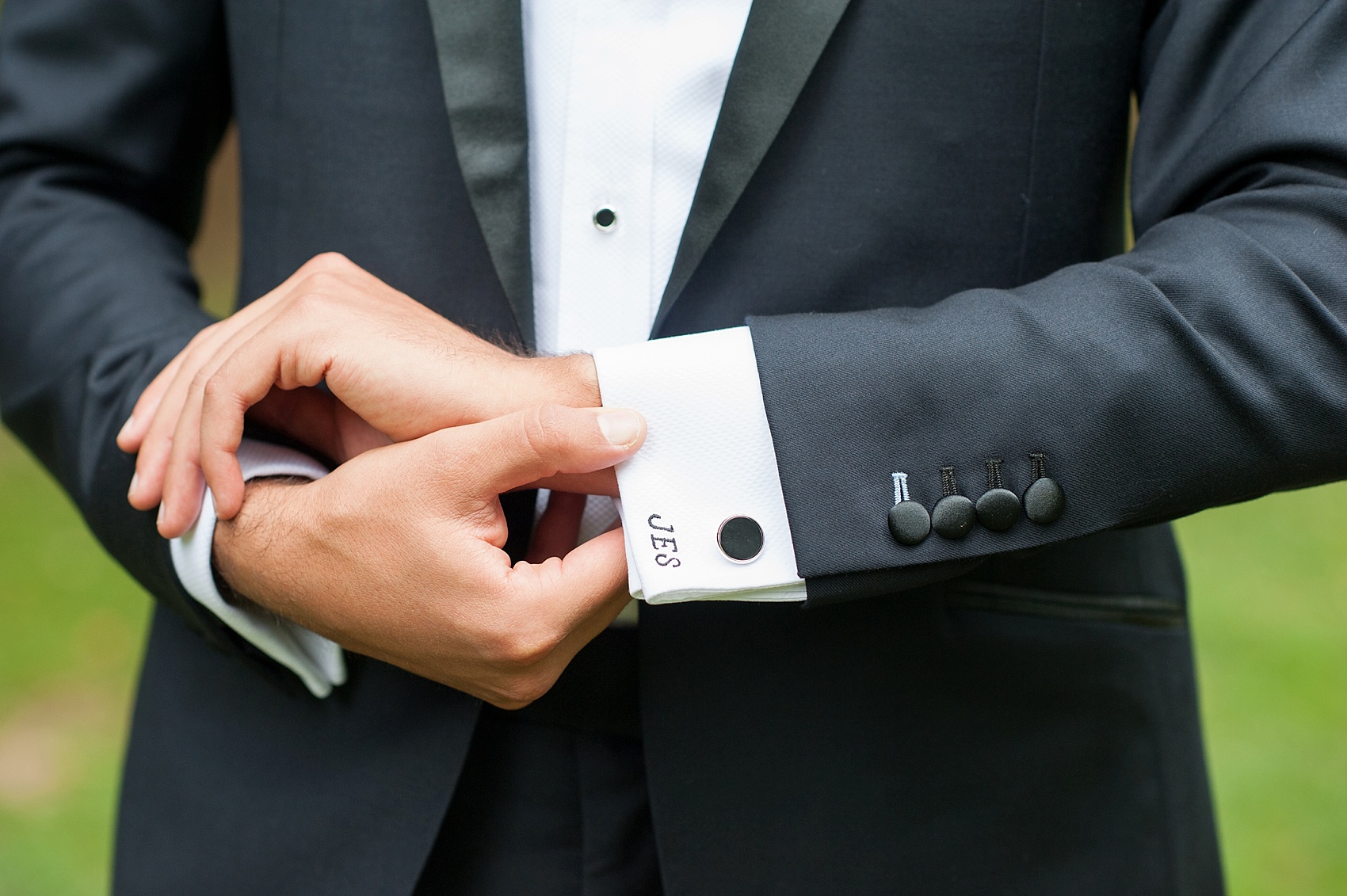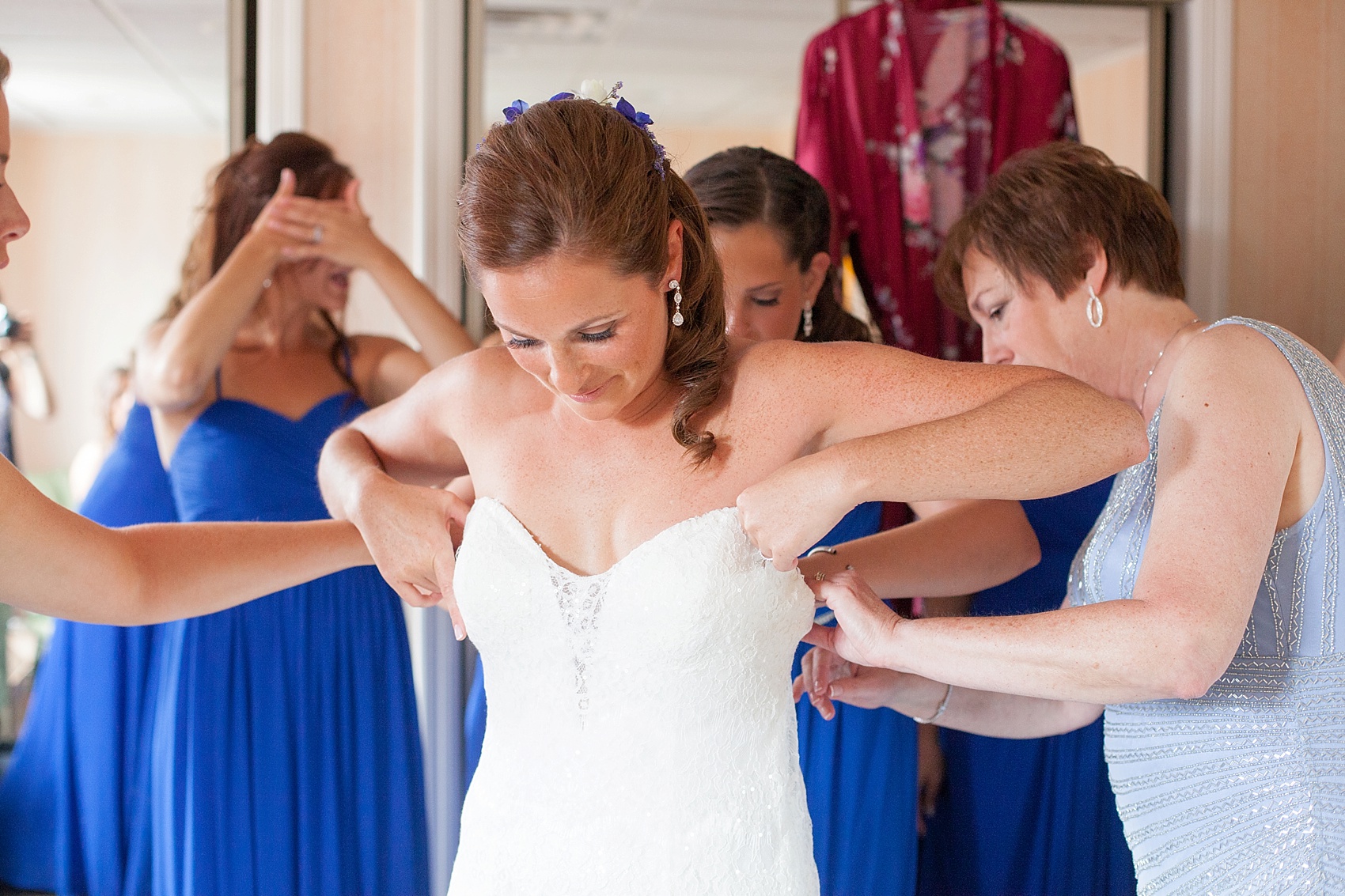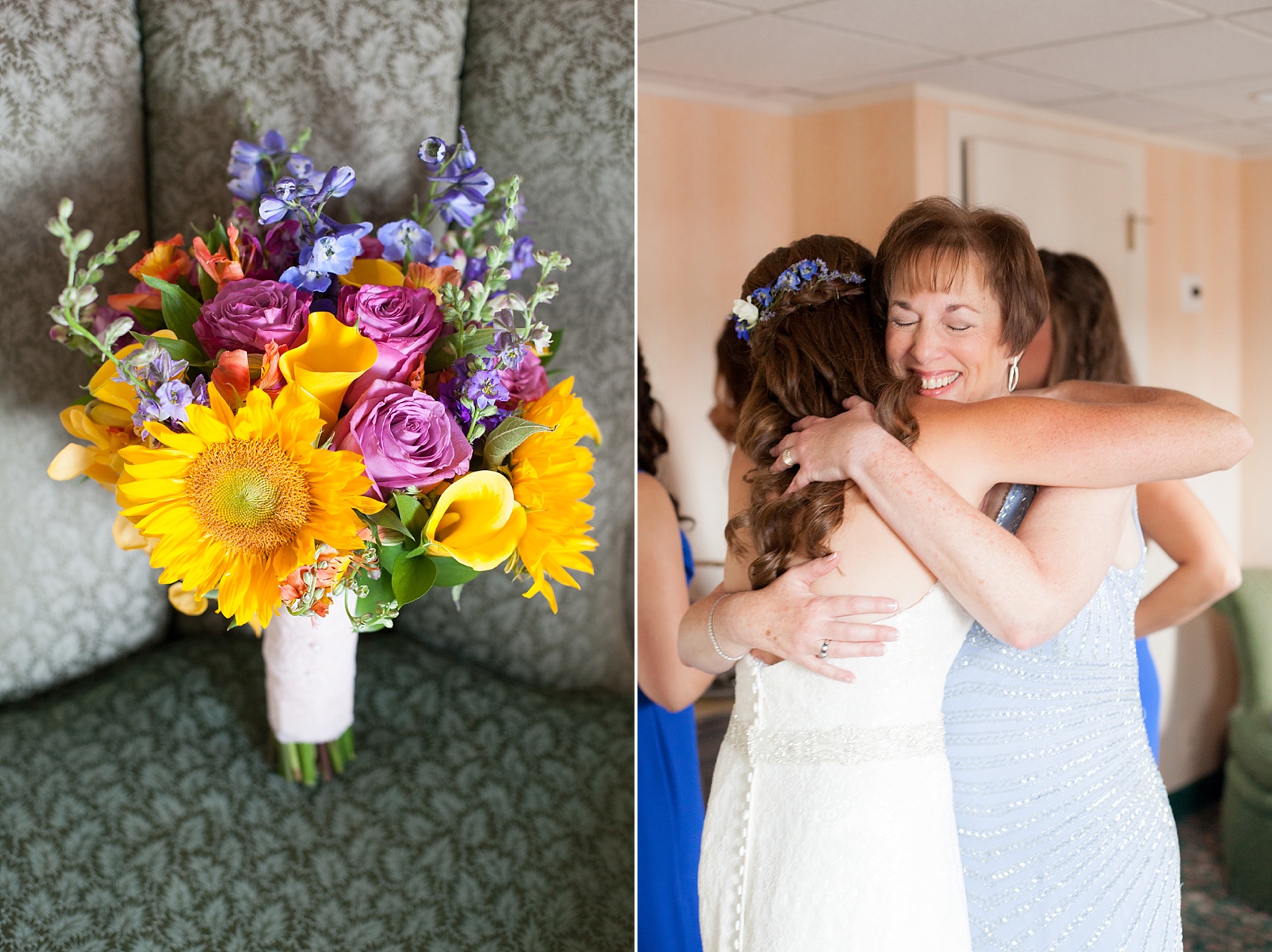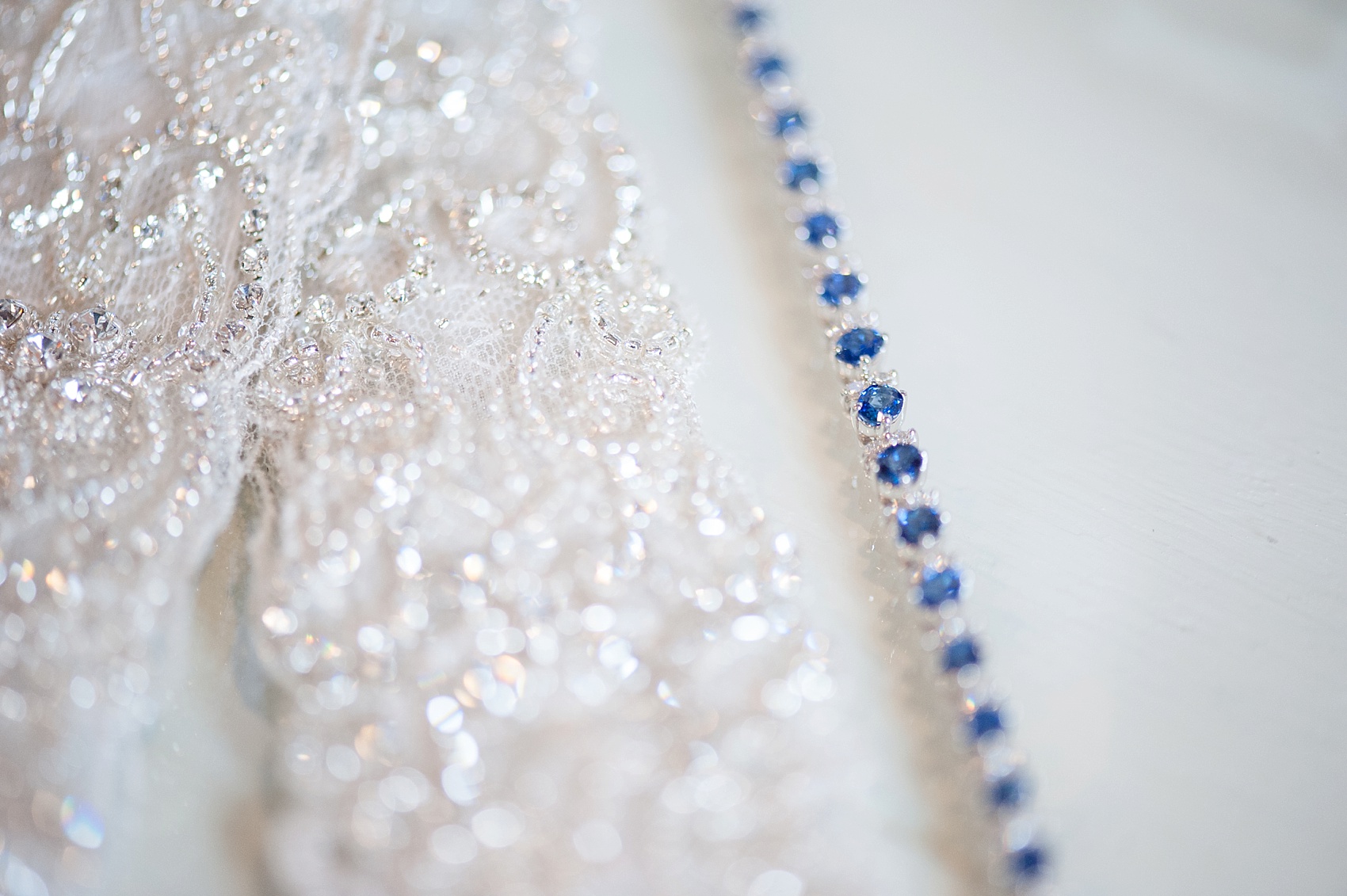 Meri was putting the finishing touches on her look while her and all her cobalt blue dressed, beautiful bridesmaids were enjoying champagne. Hooooow amazing are these caricature wine glasses they got for the wedding parties? Meri and Josh hands down get the award for most original wedding party gifts!!! I was a bit in love with this idea! Still am! (Link to vendor at the bottom of the post.)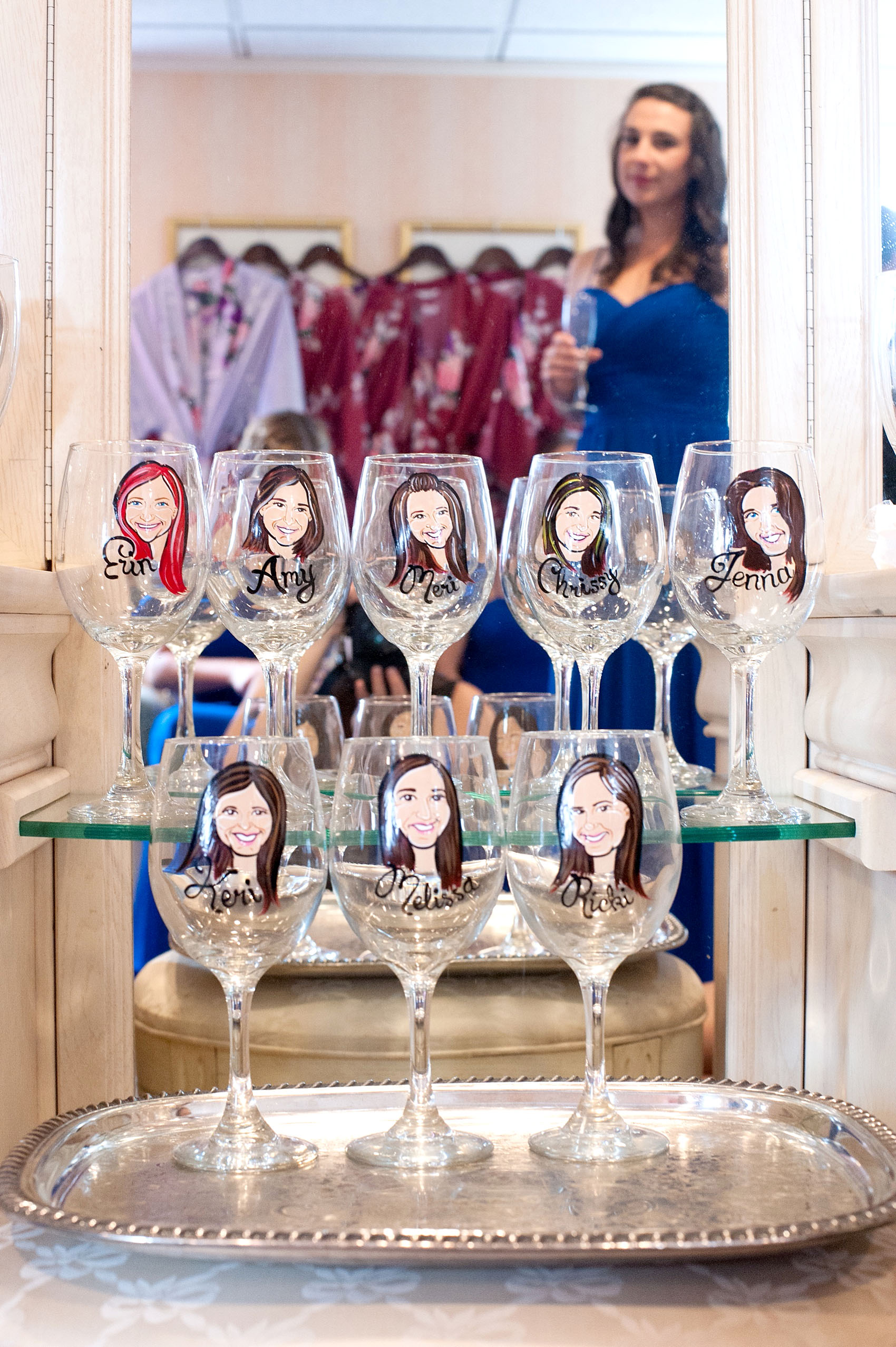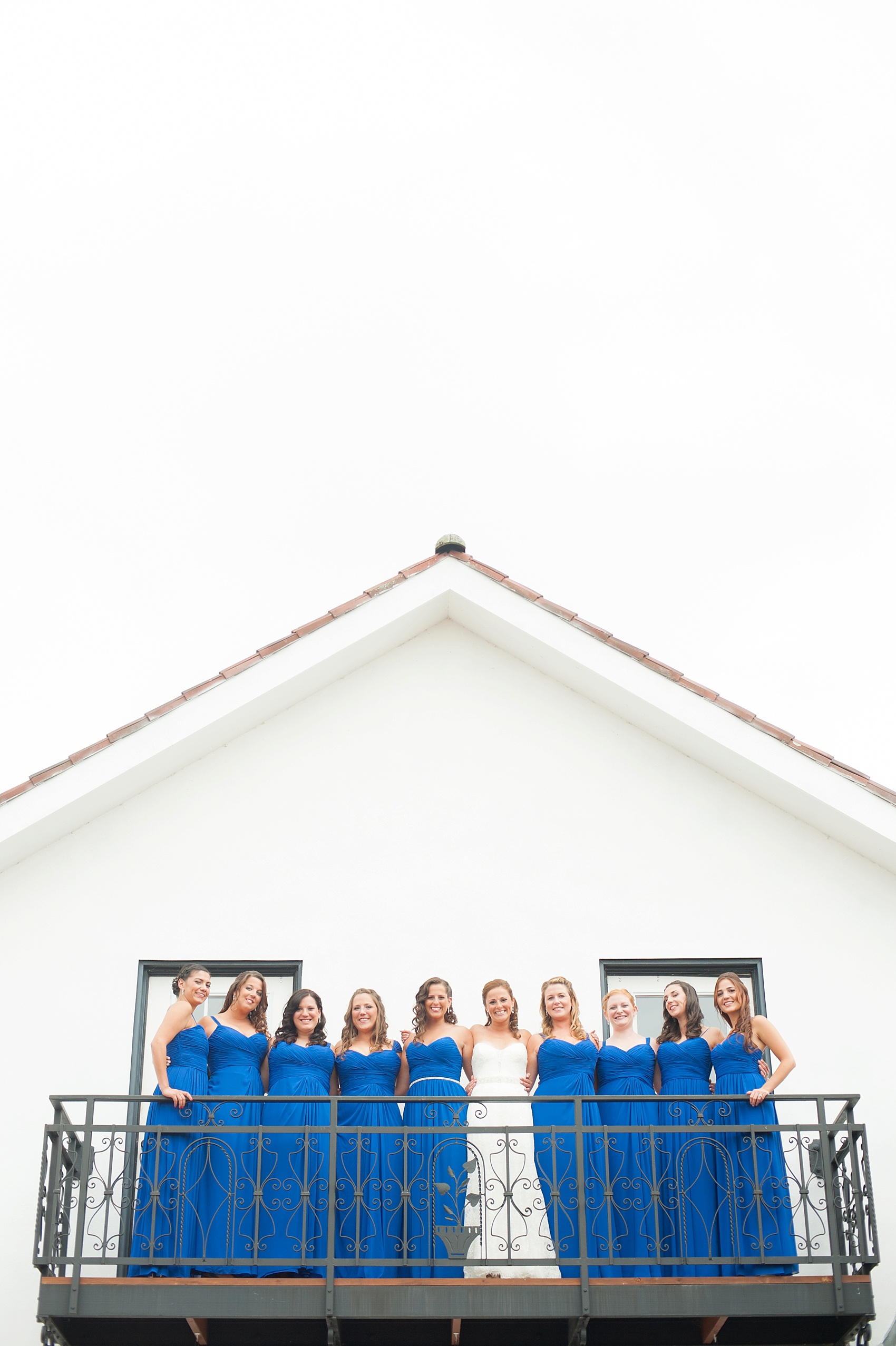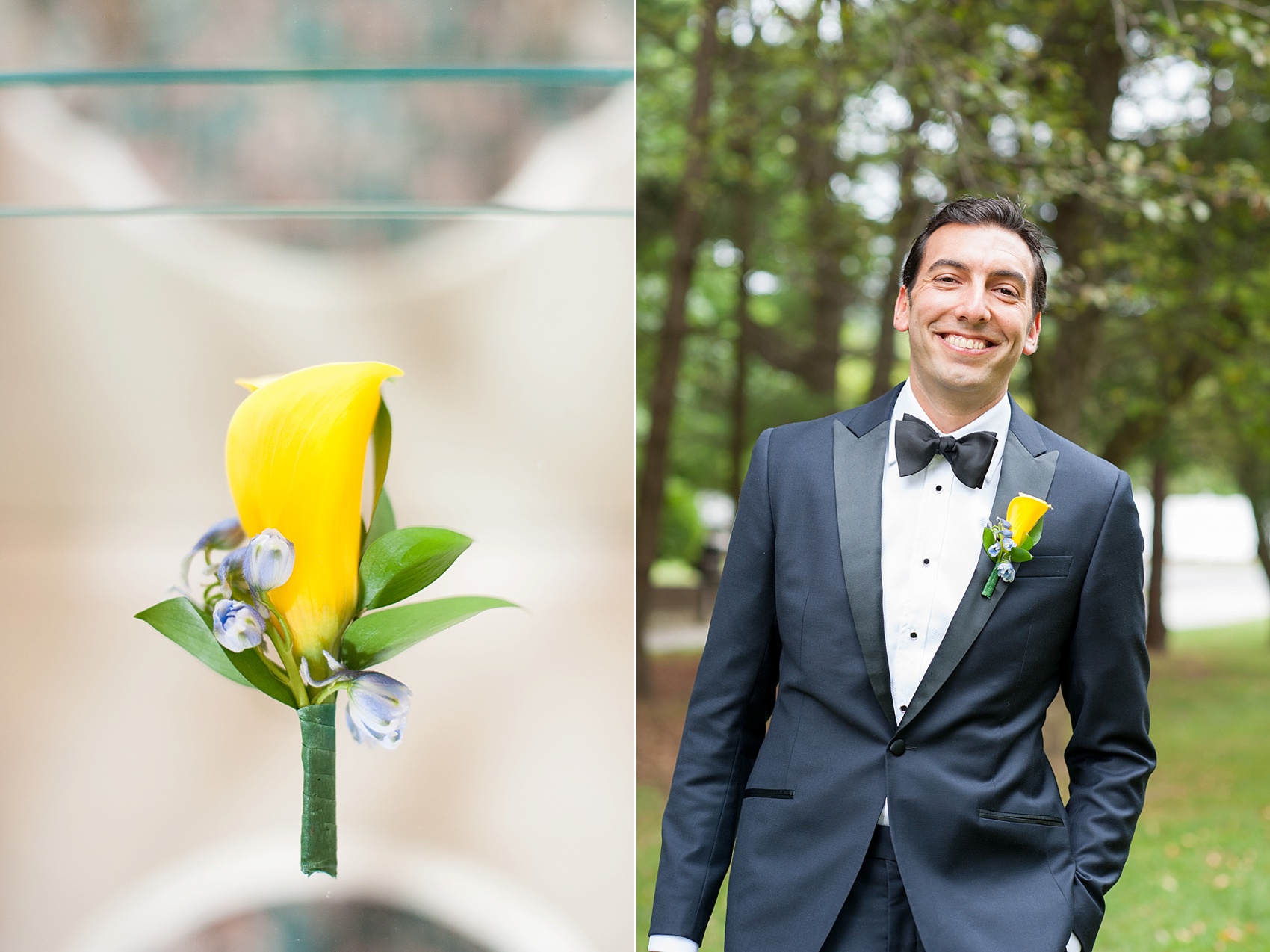 After they were all dressed and ready to meet we headed to Perona Farms' apple orchard for their first look, just the two of them. And us photogs.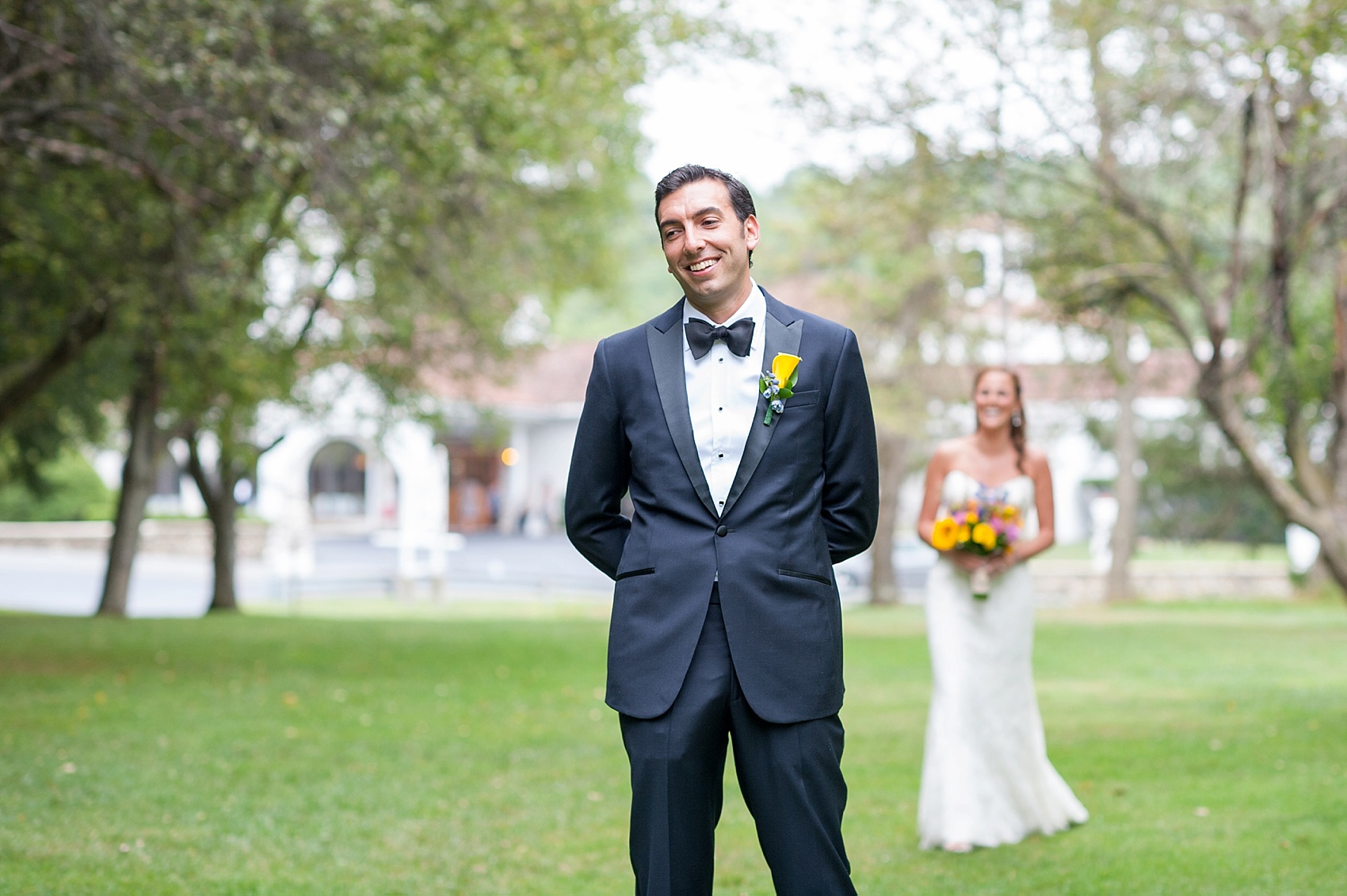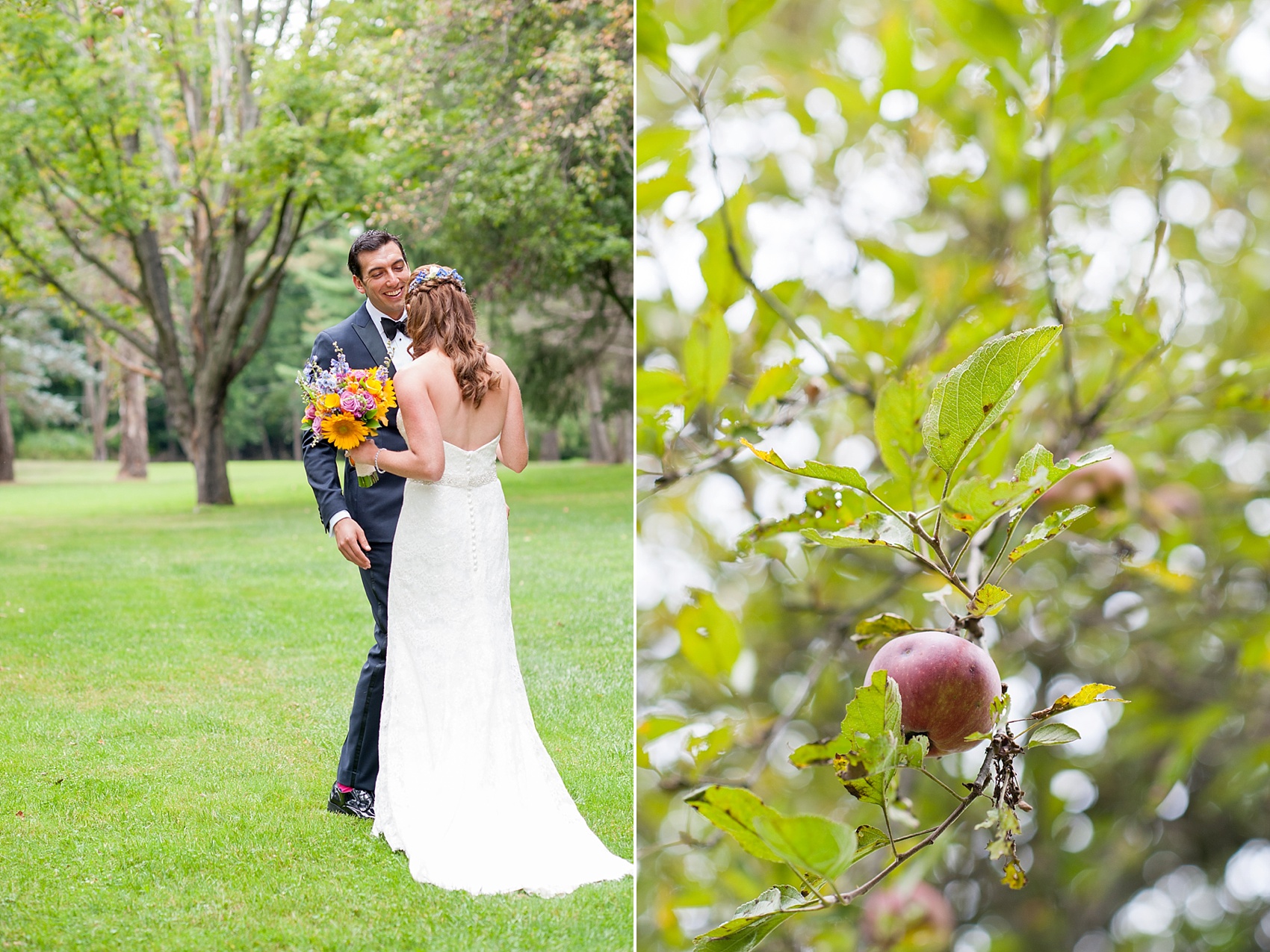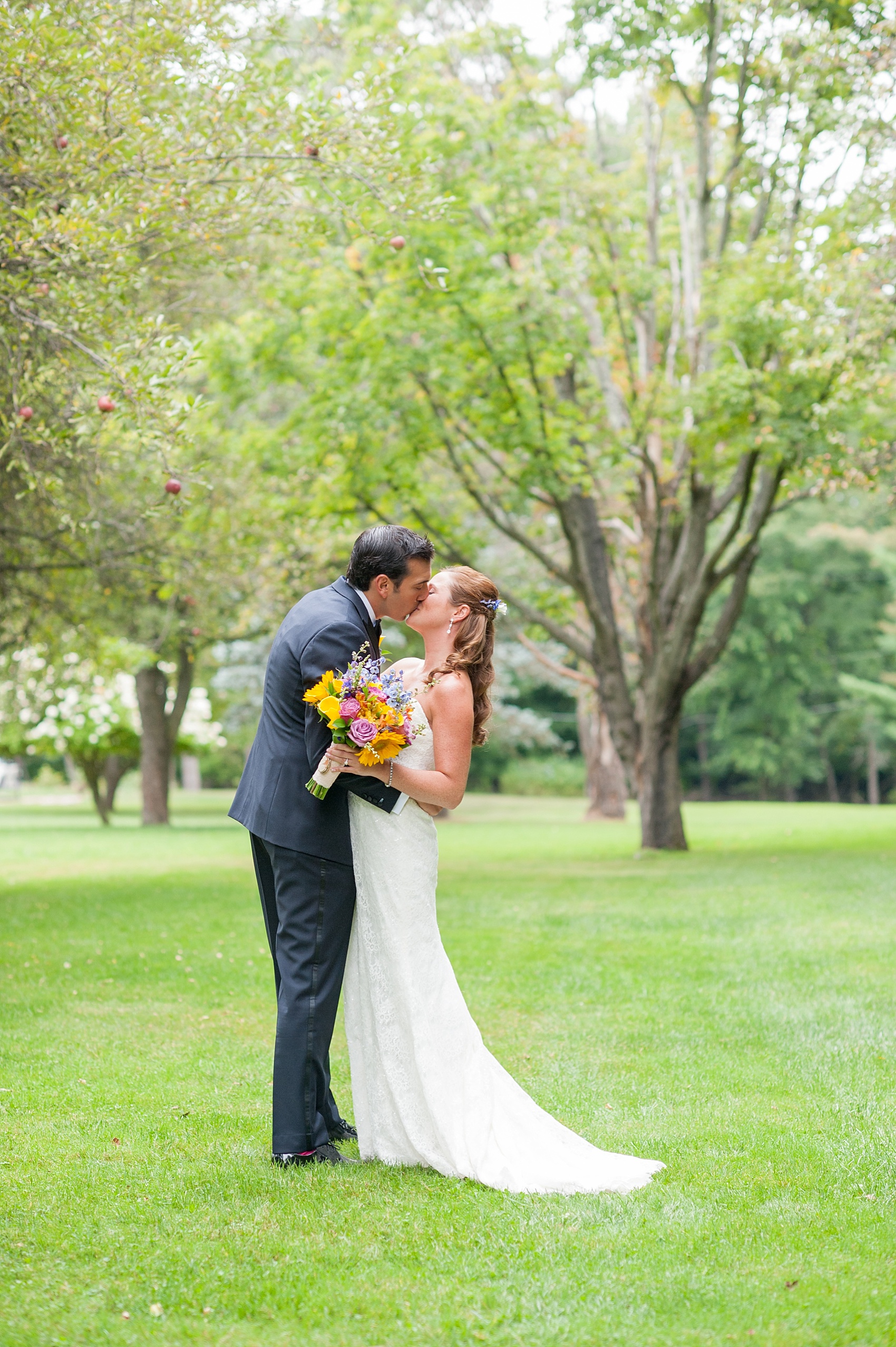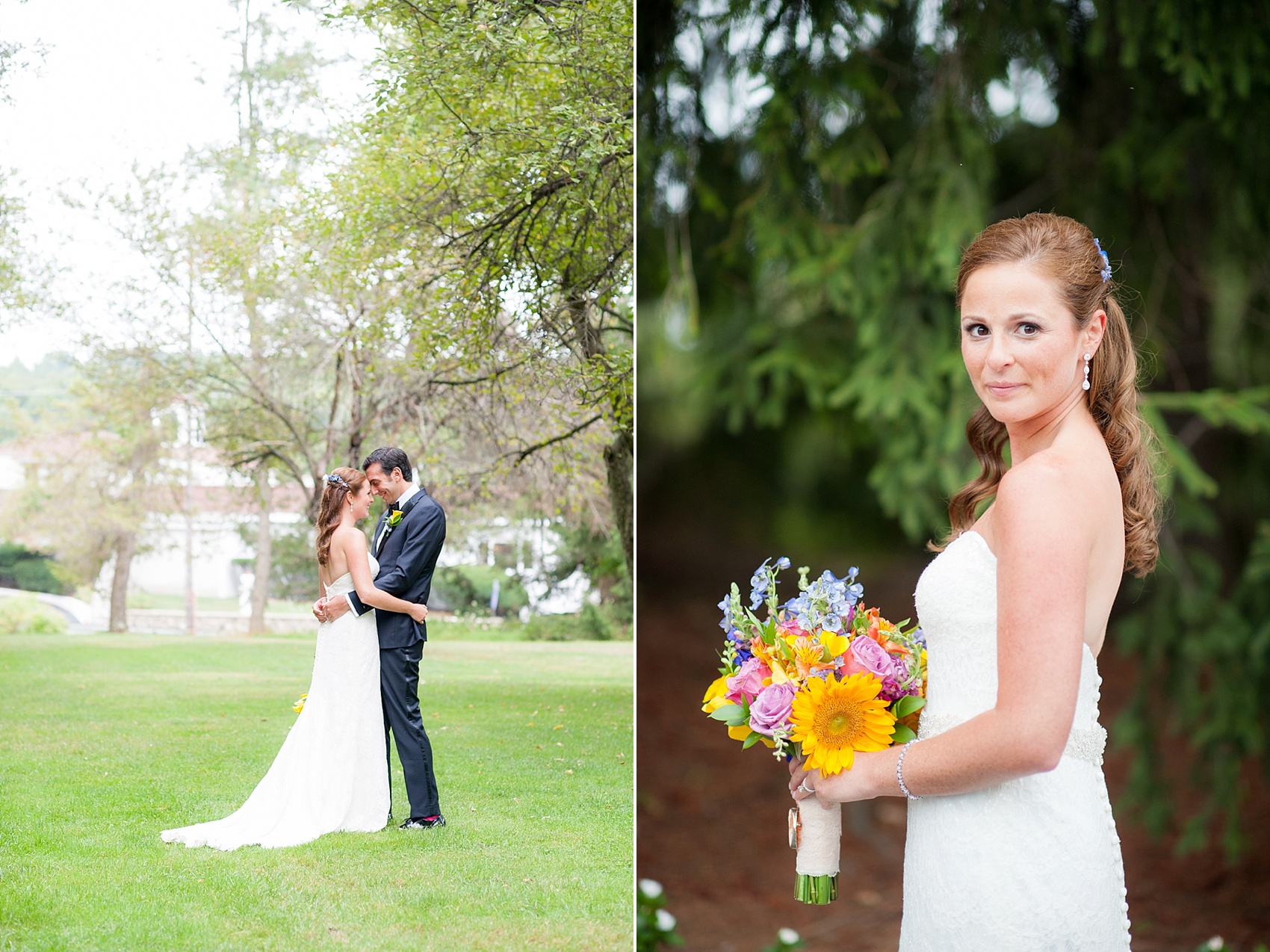 So STUNNING! Don't you just love how beautiful they look together? Something about her red hair, the colorful flowers, Josh's navy and black tuxedo…it all just works.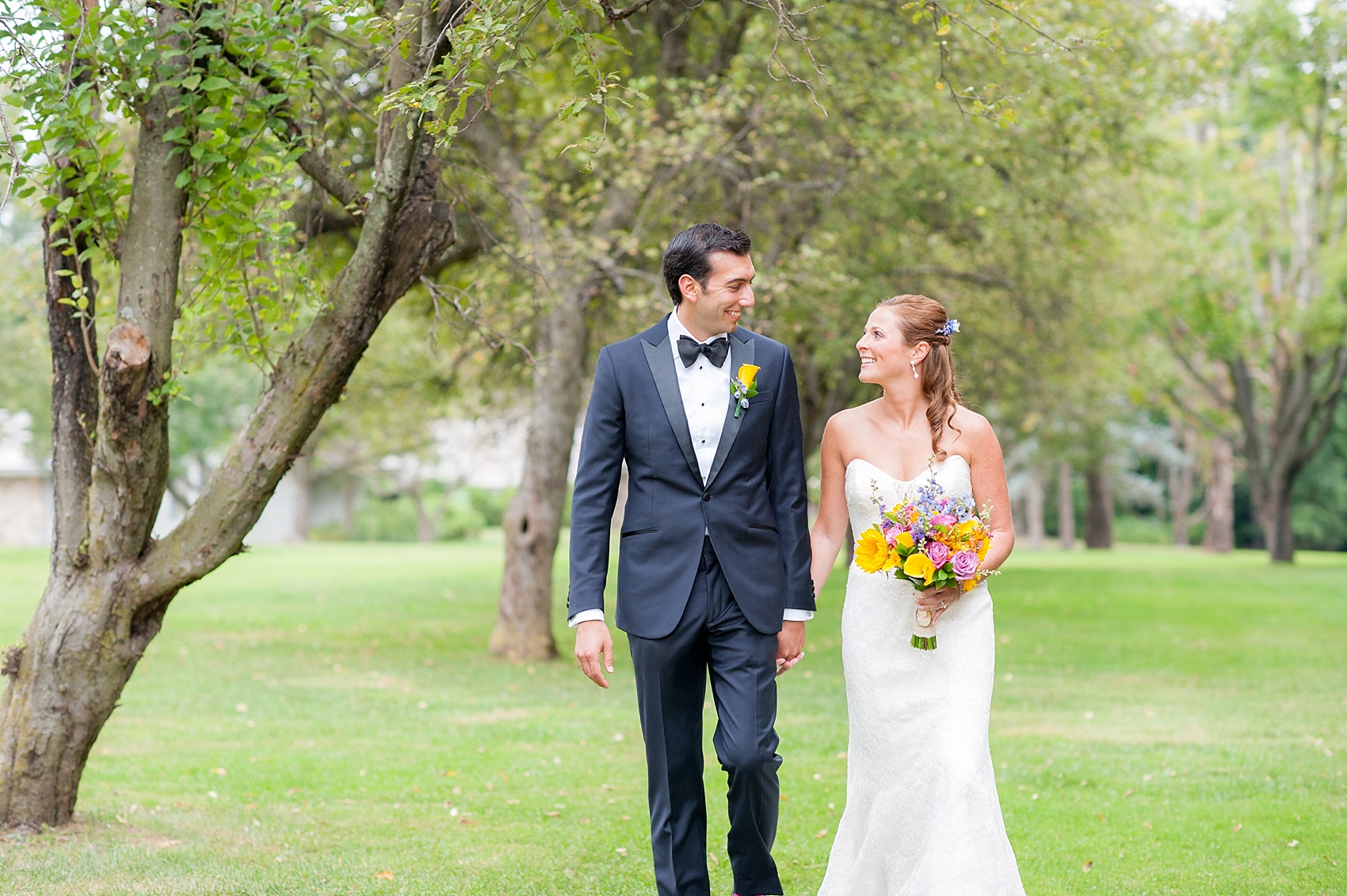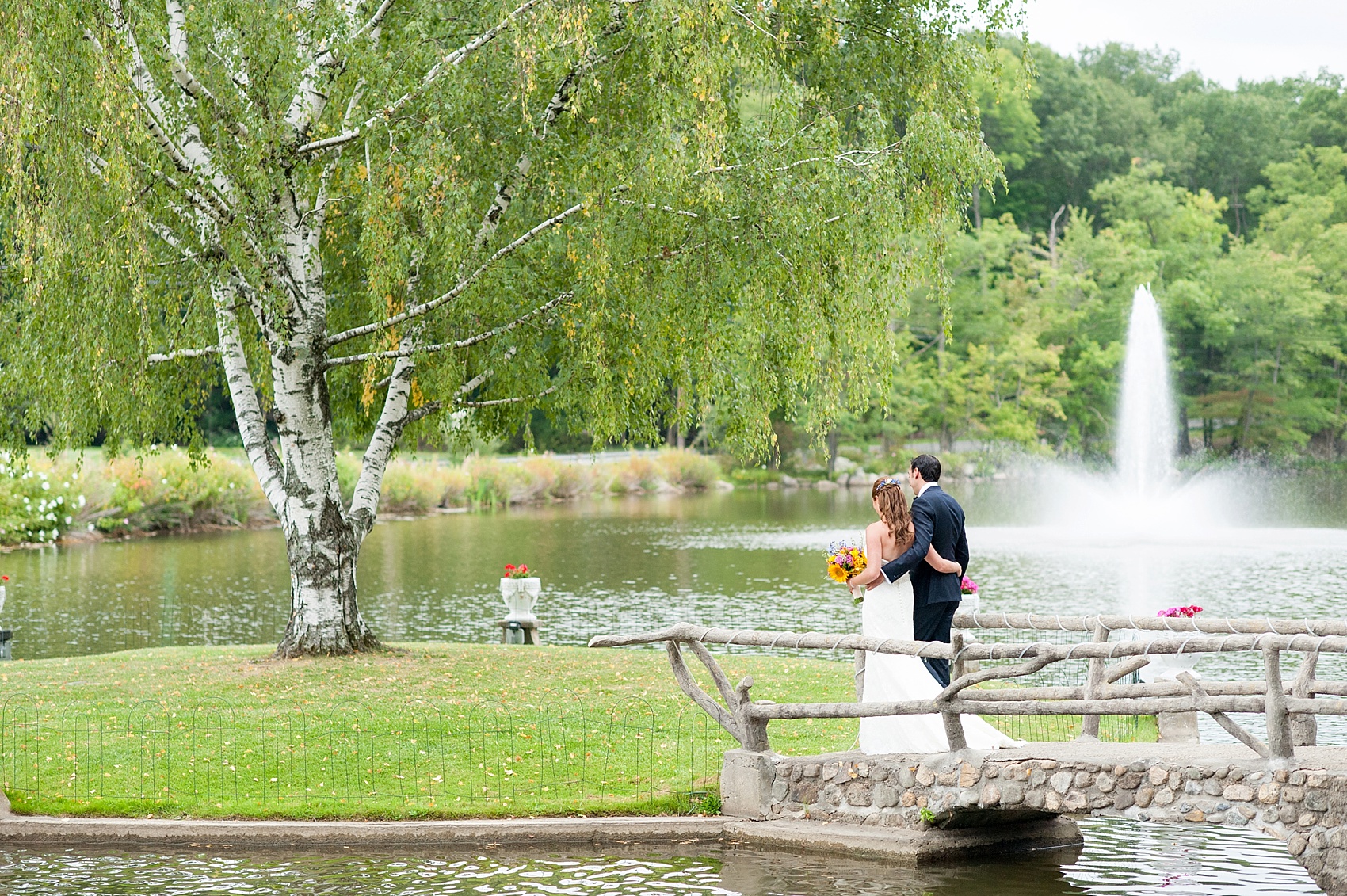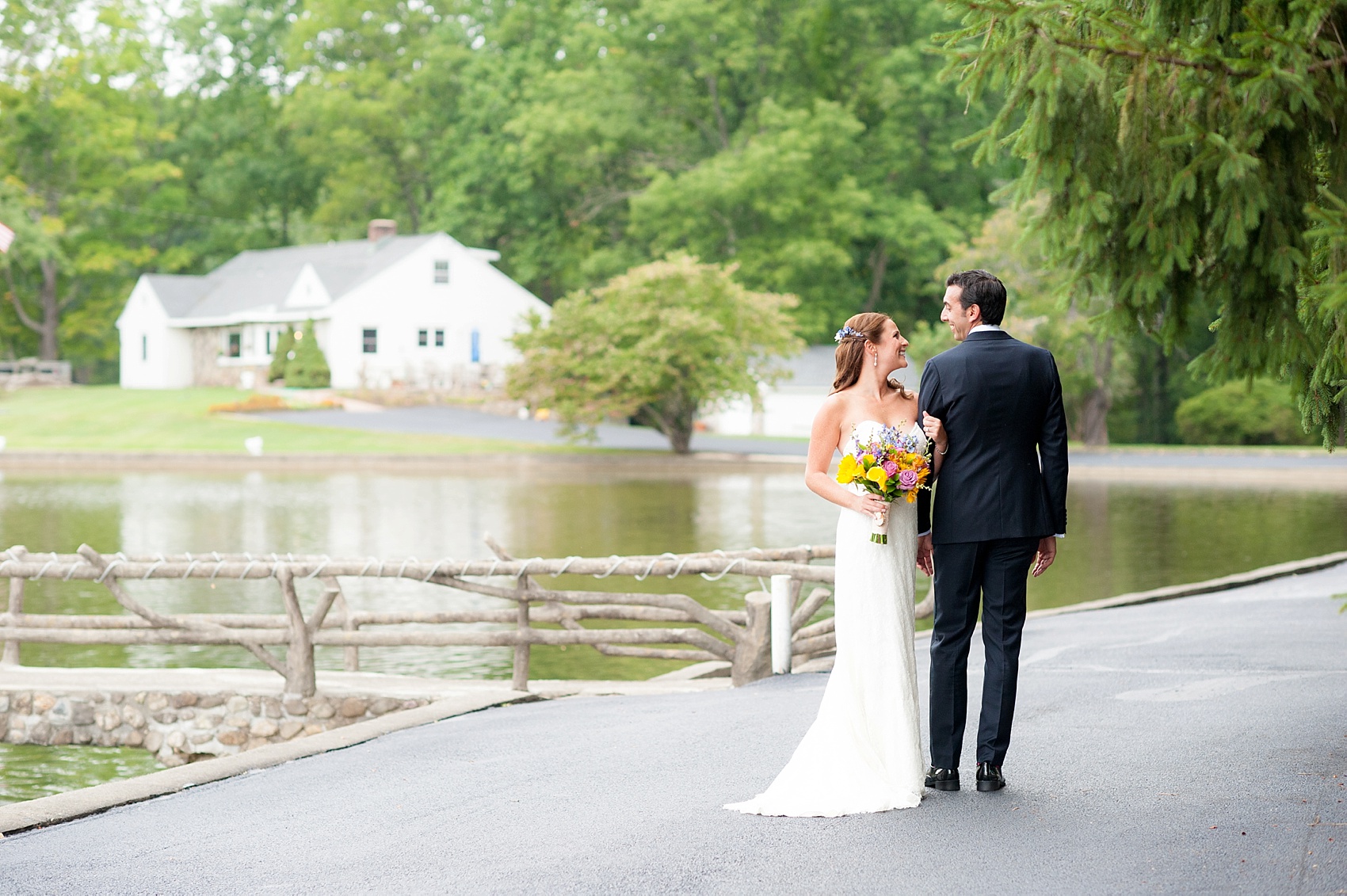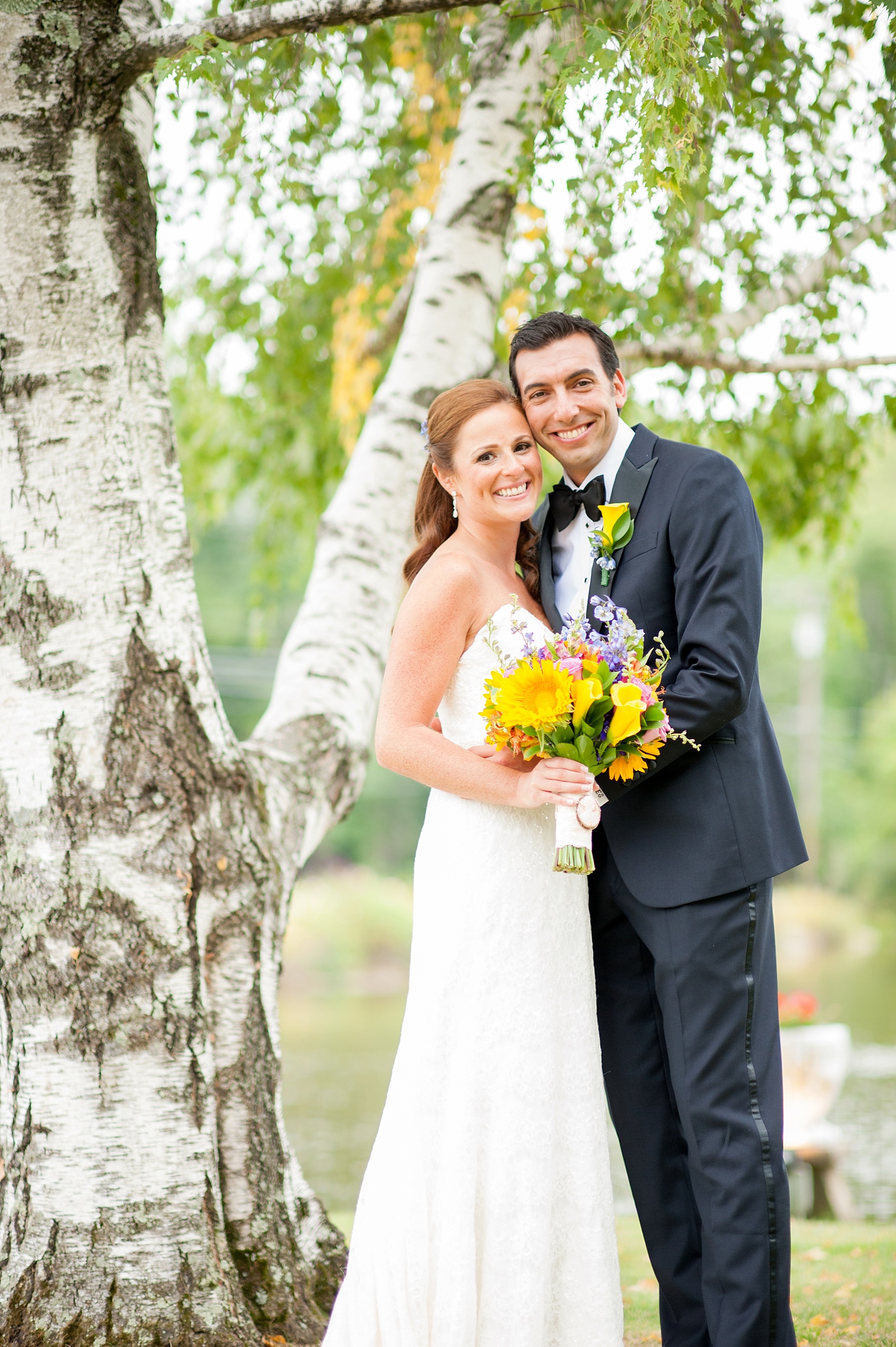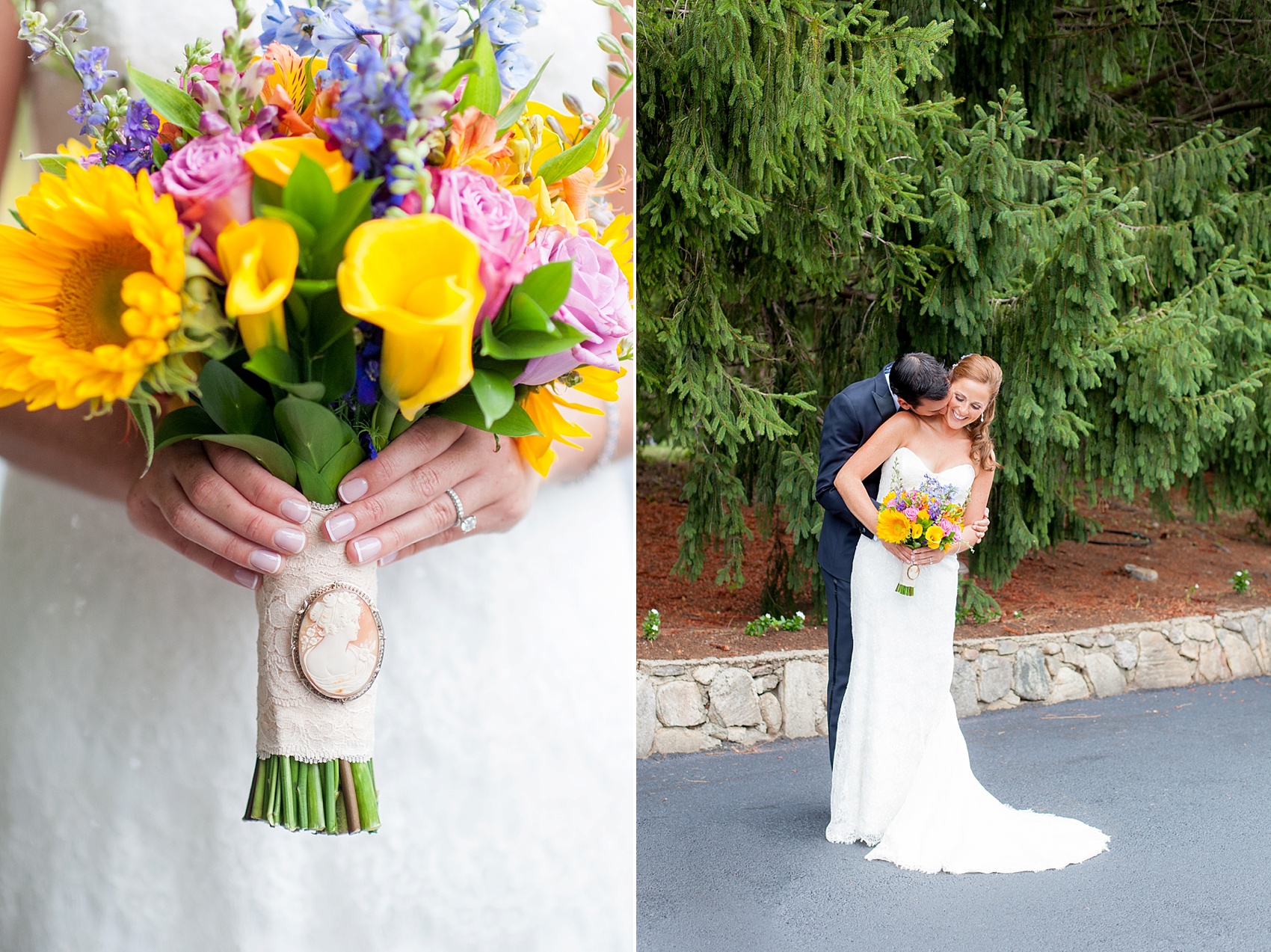 This cameo was a family heirloom and special to Meri and her mother, in particular. I love special touches on bouquets like this.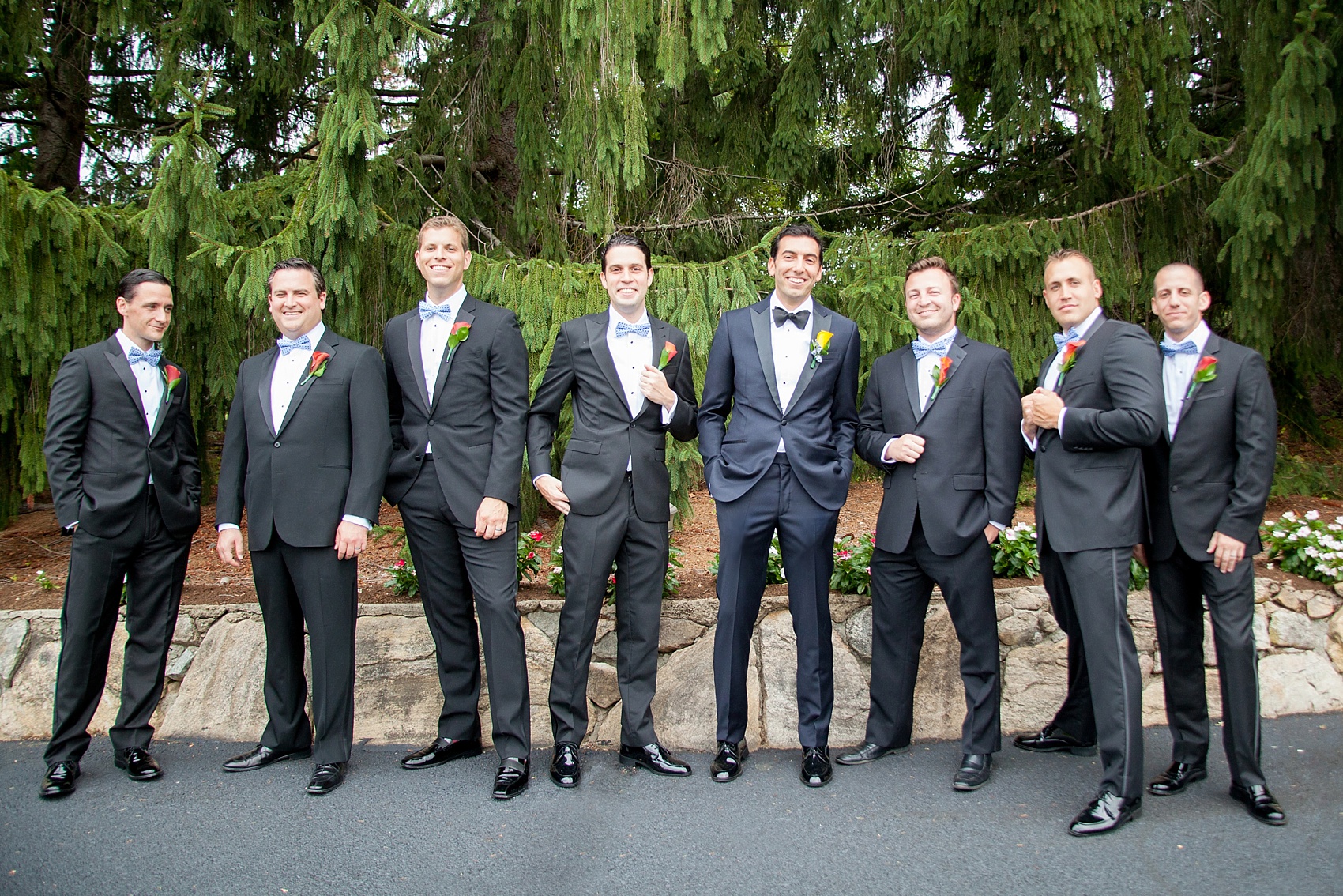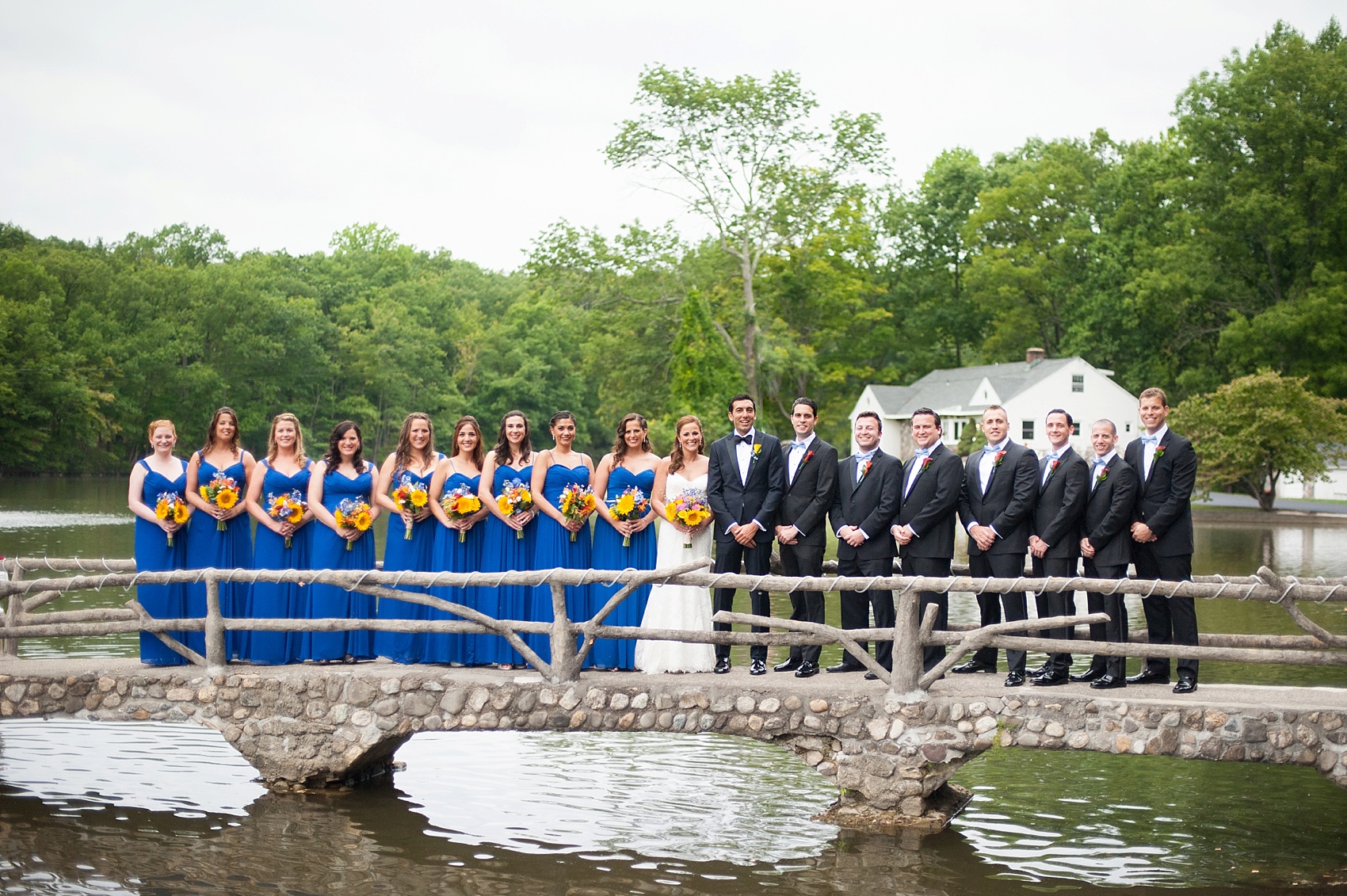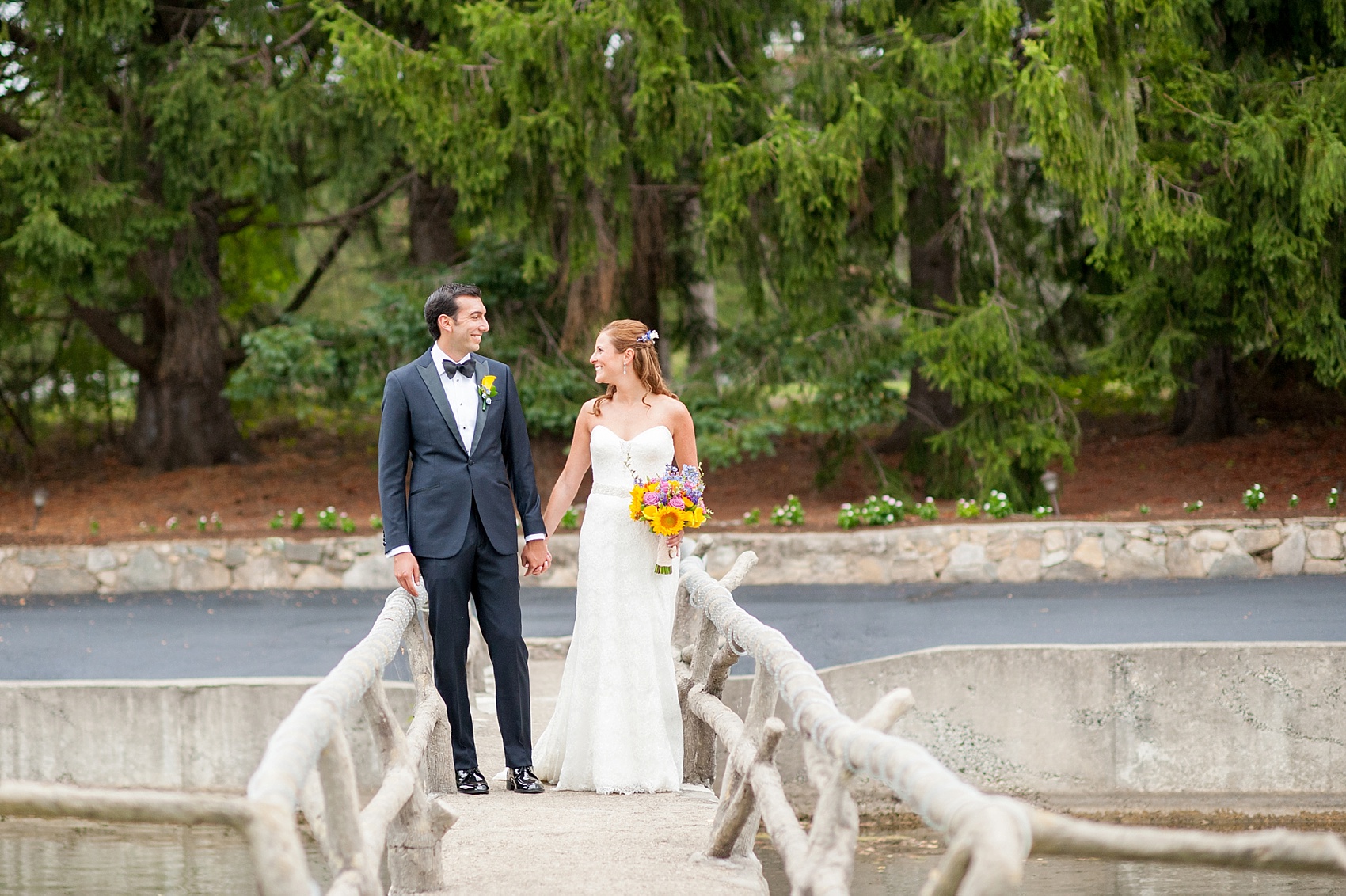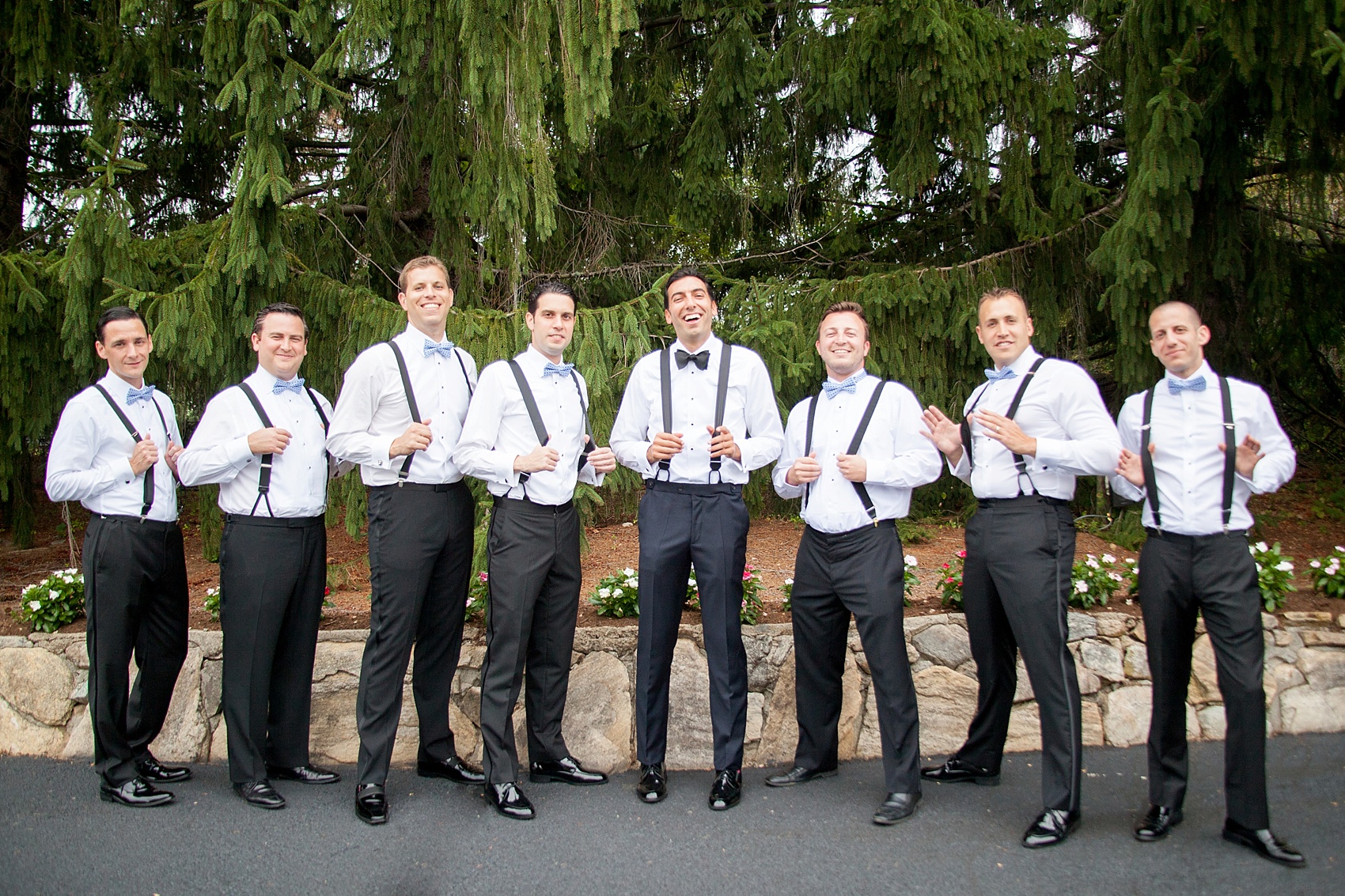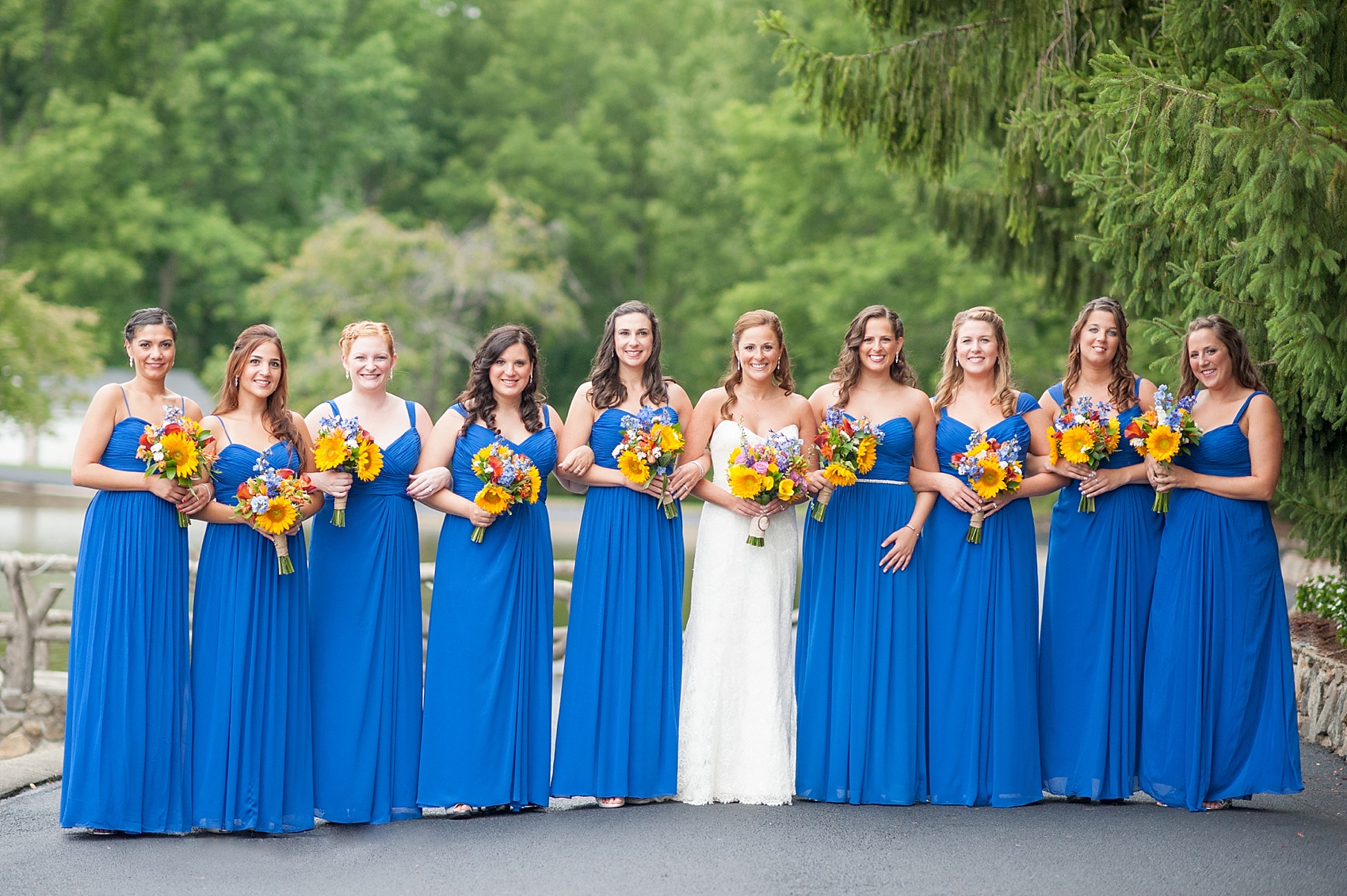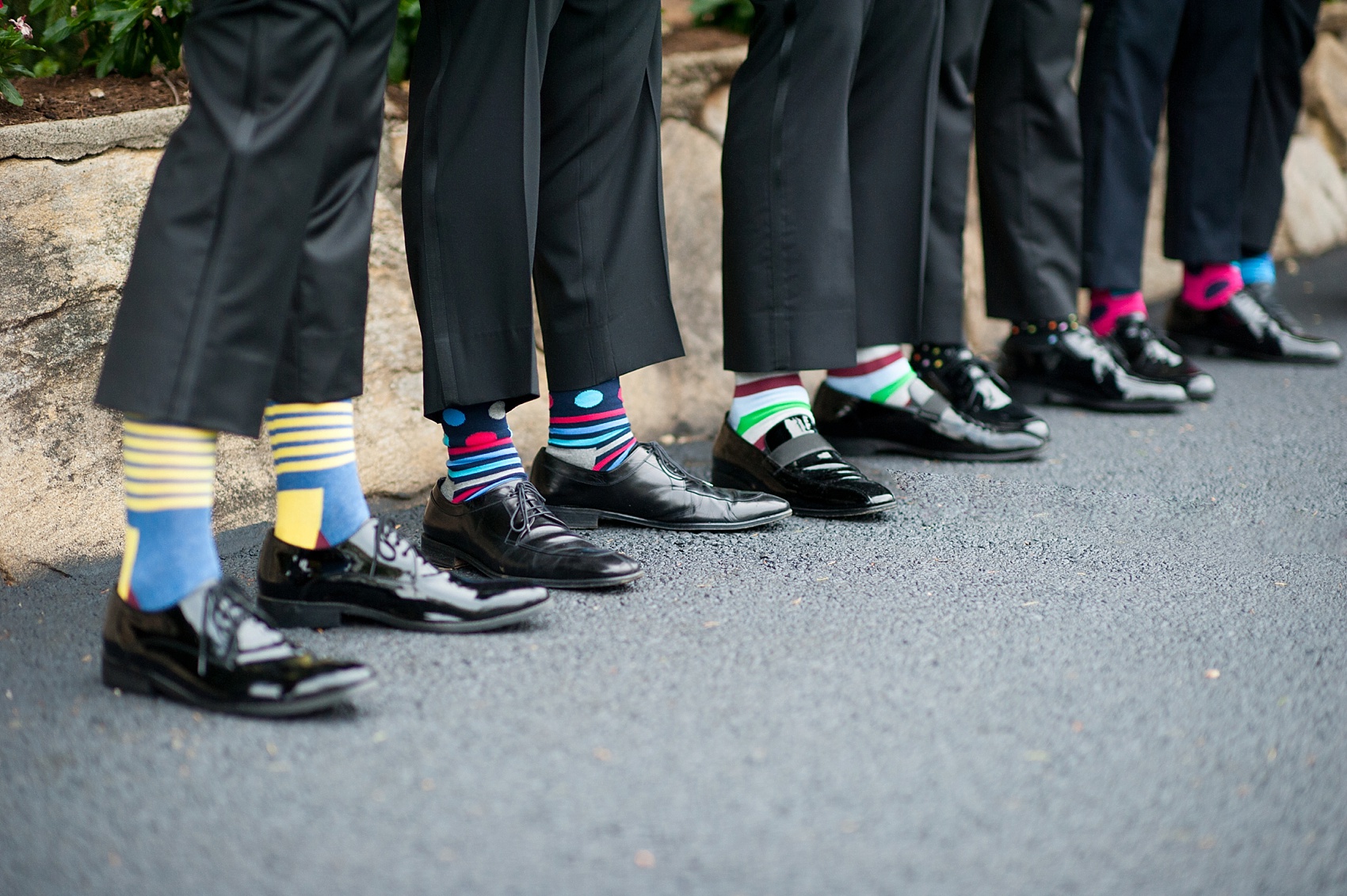 Josh hand picked the socks his groomsmen would wear that day. A little unexpected pop of color! Amen.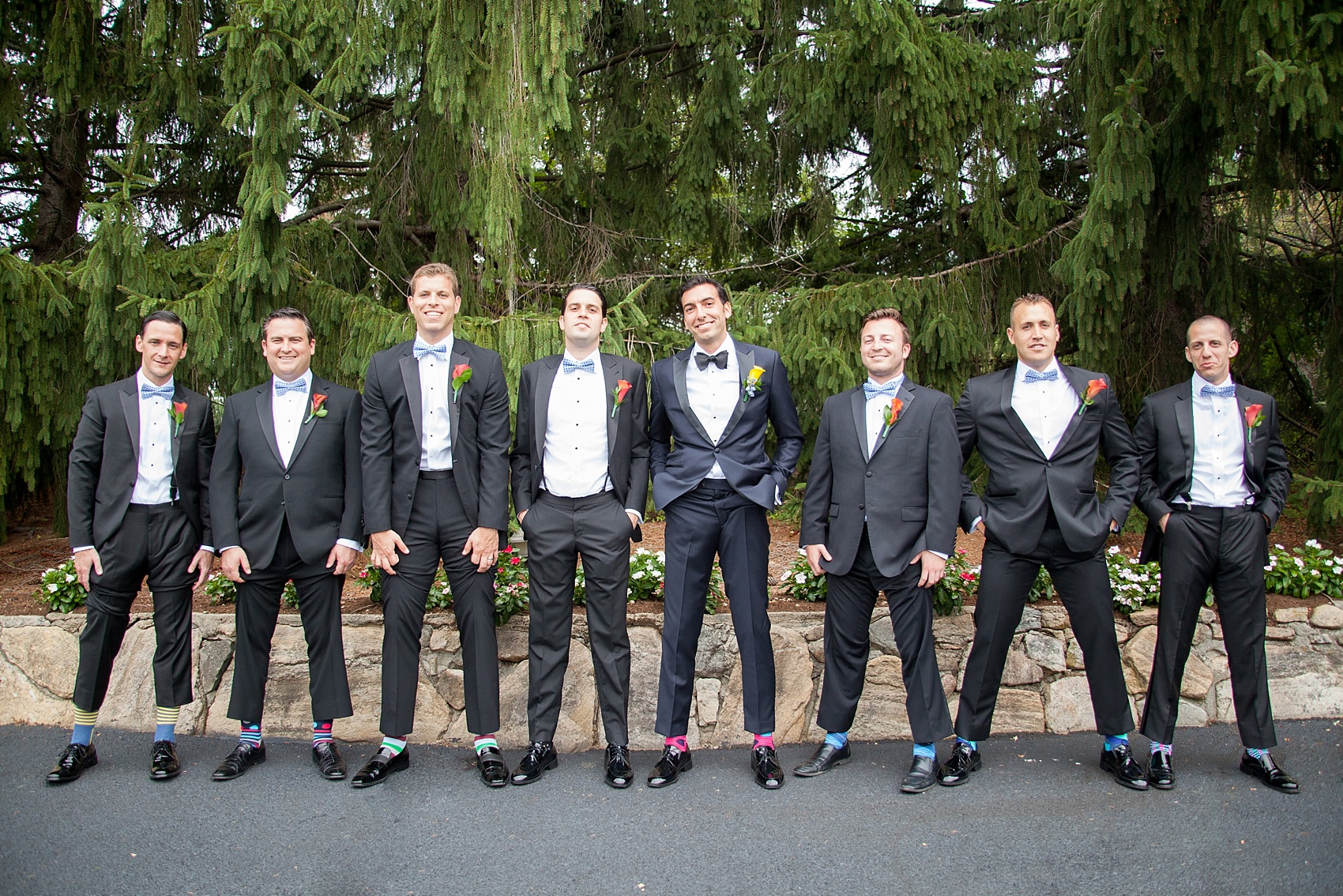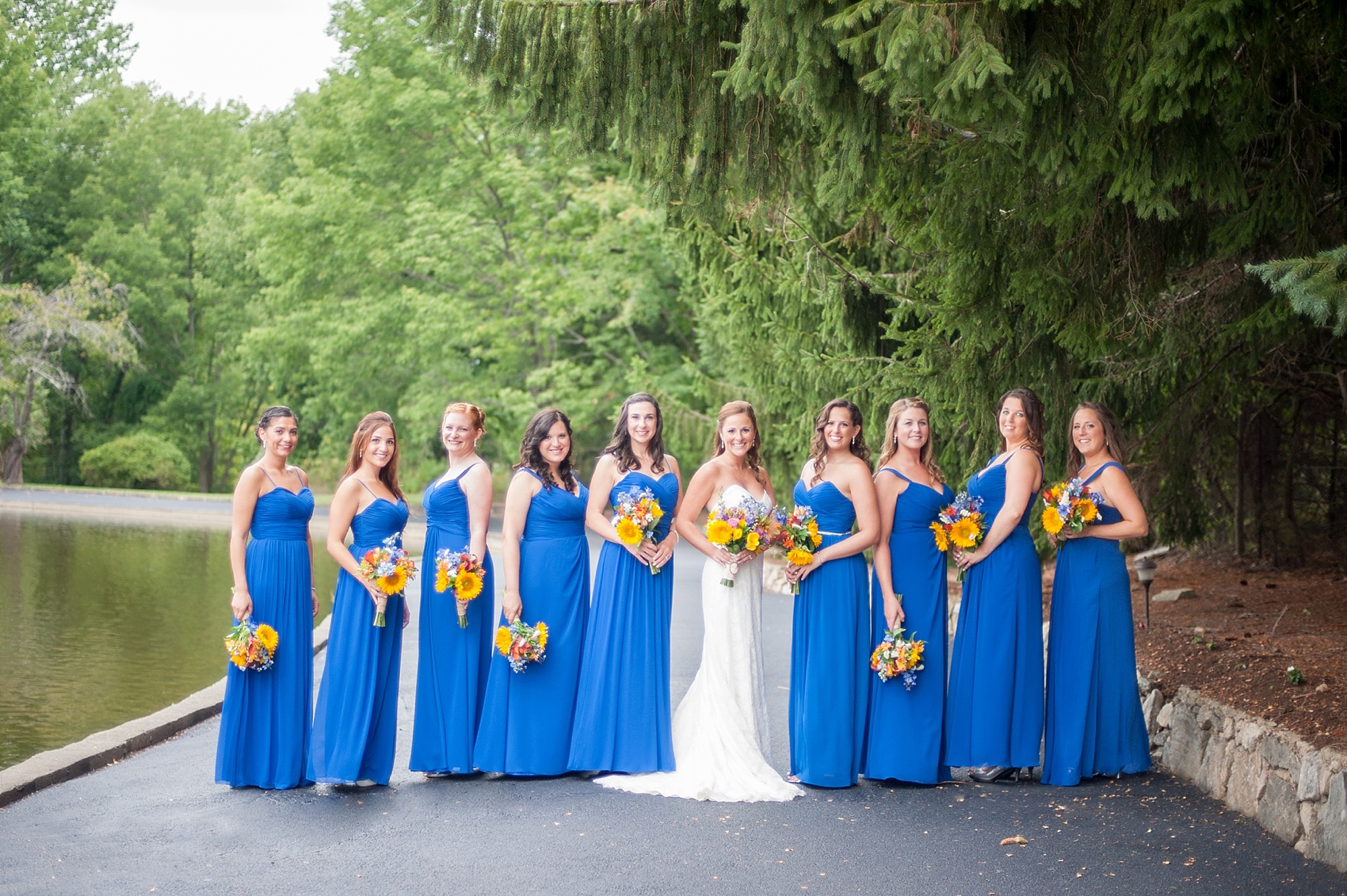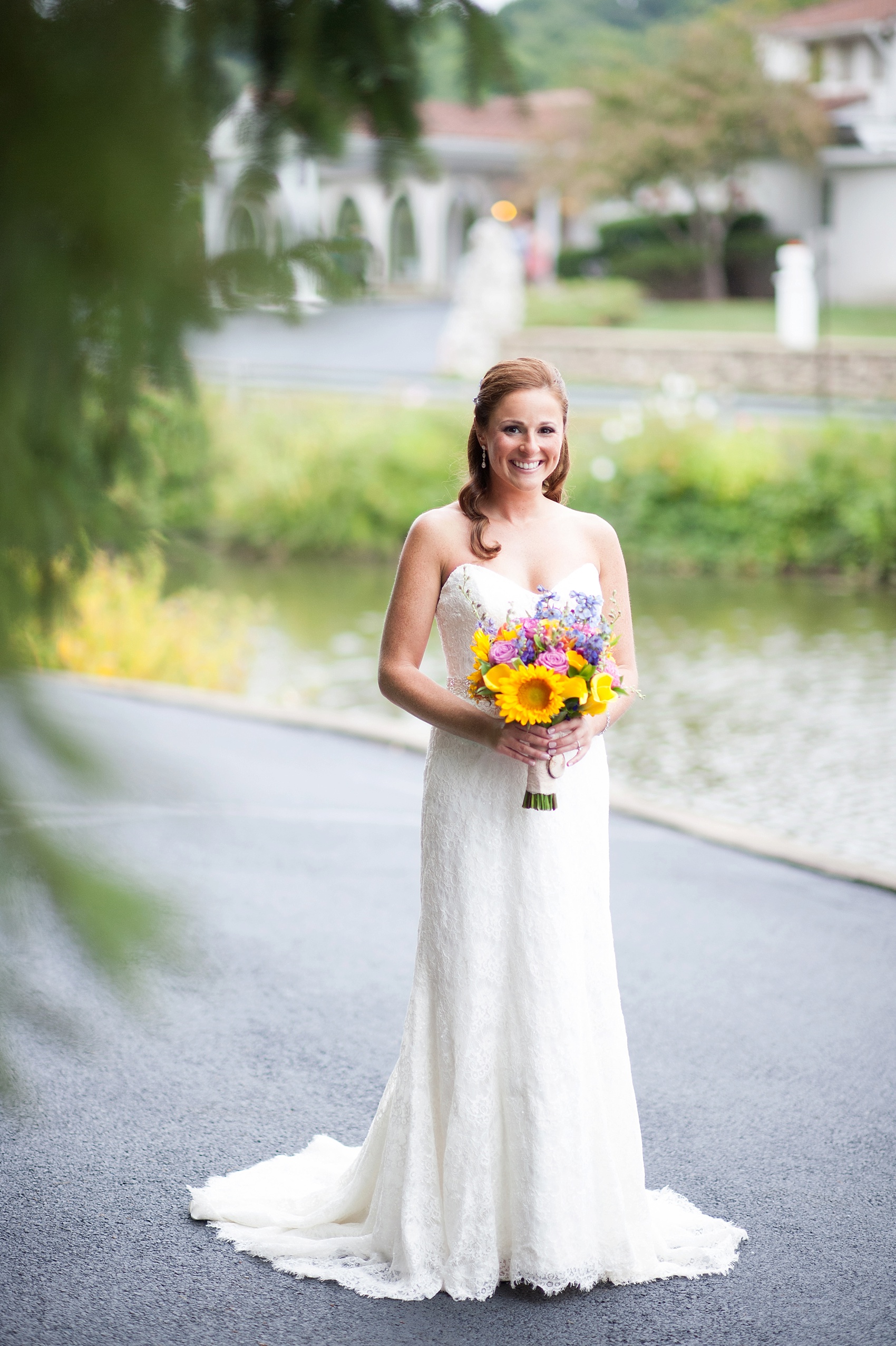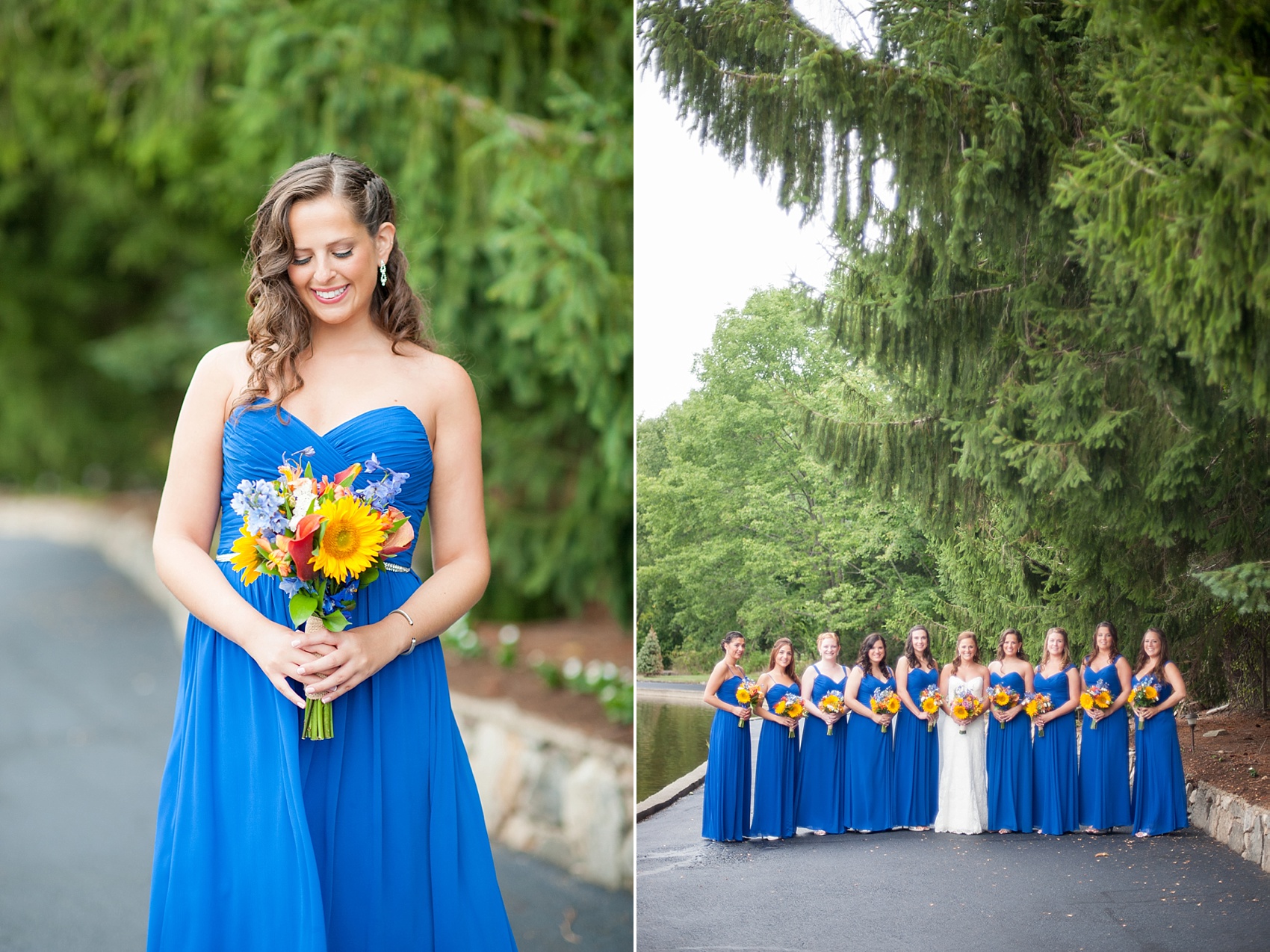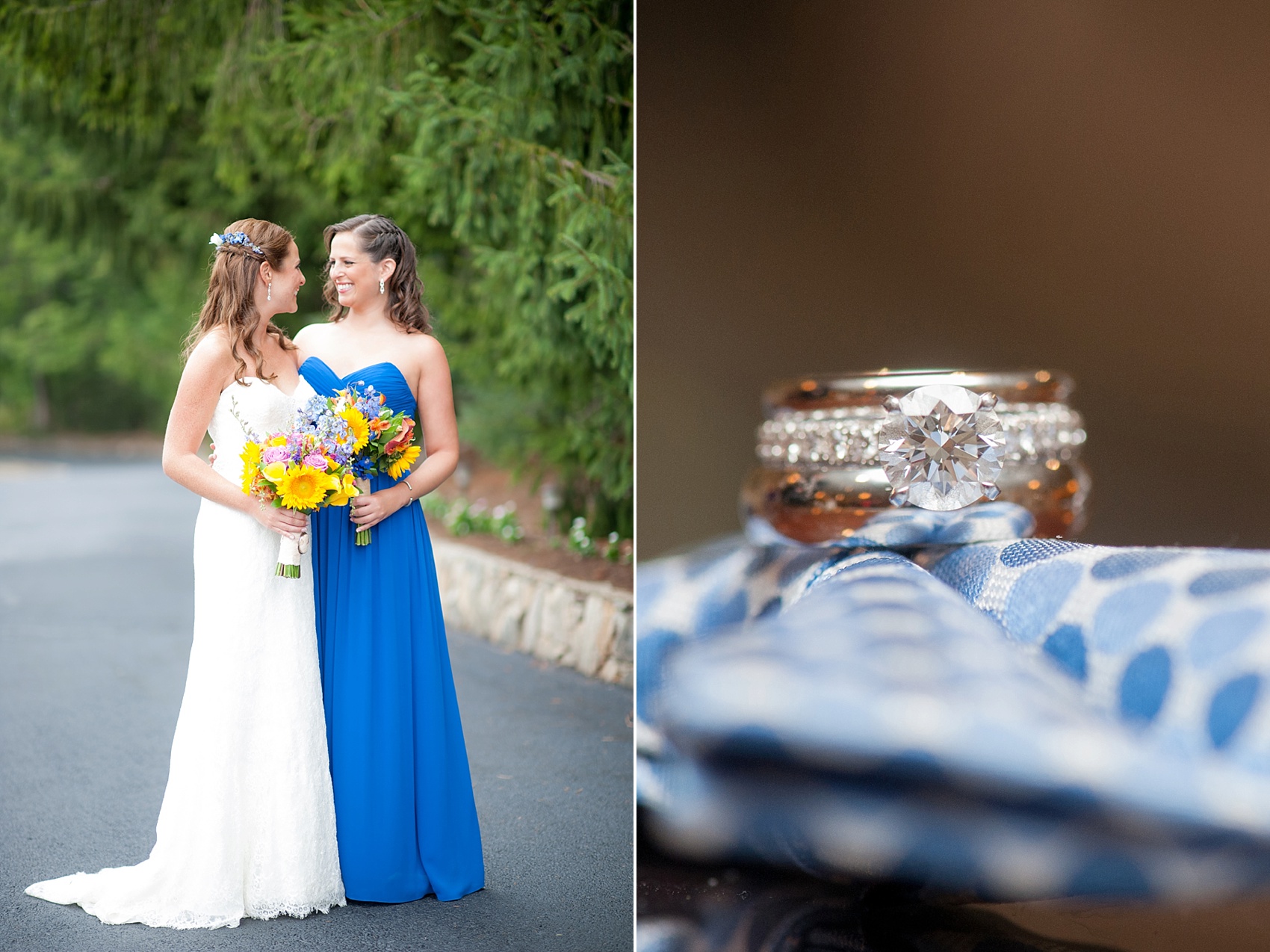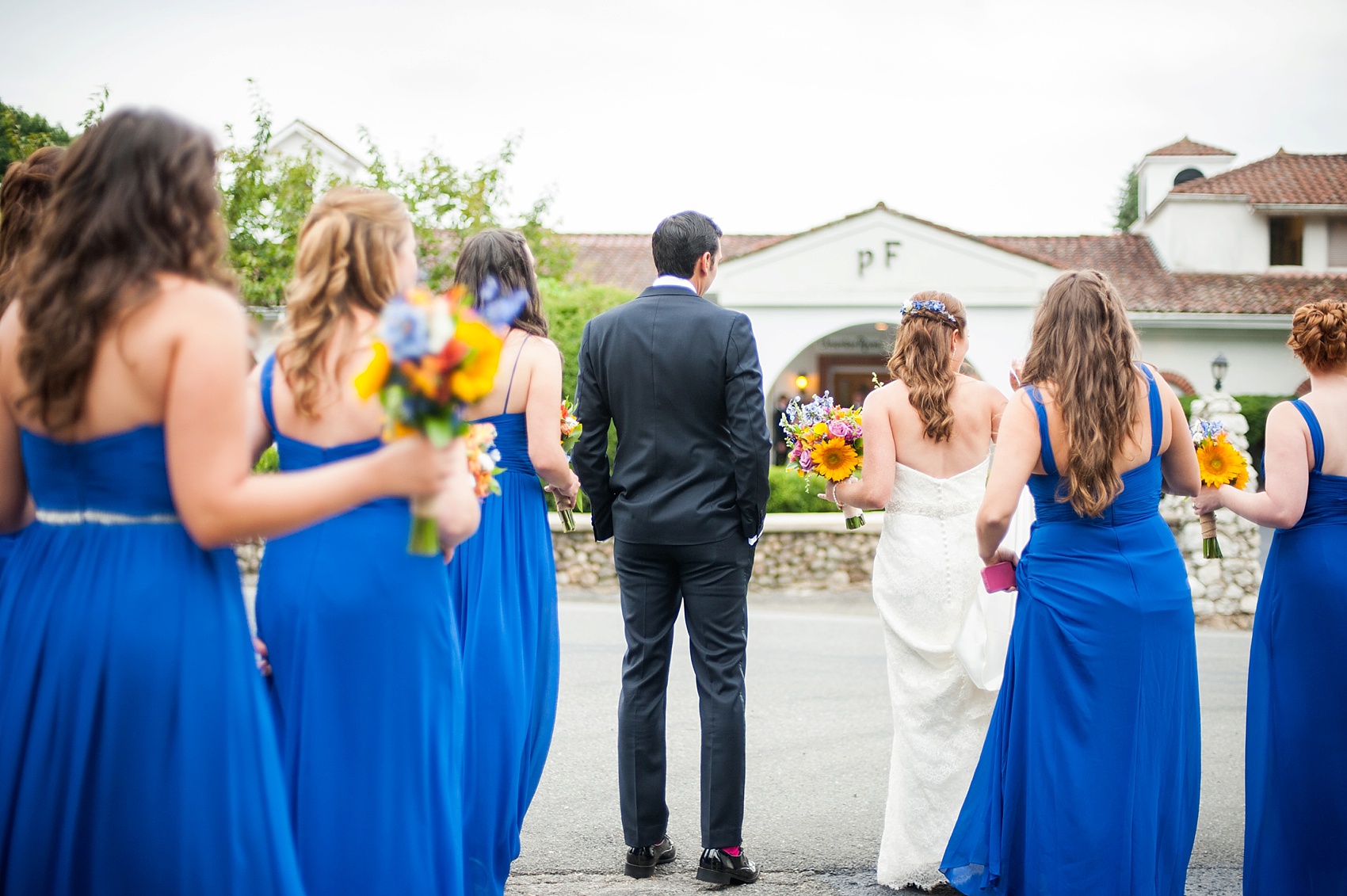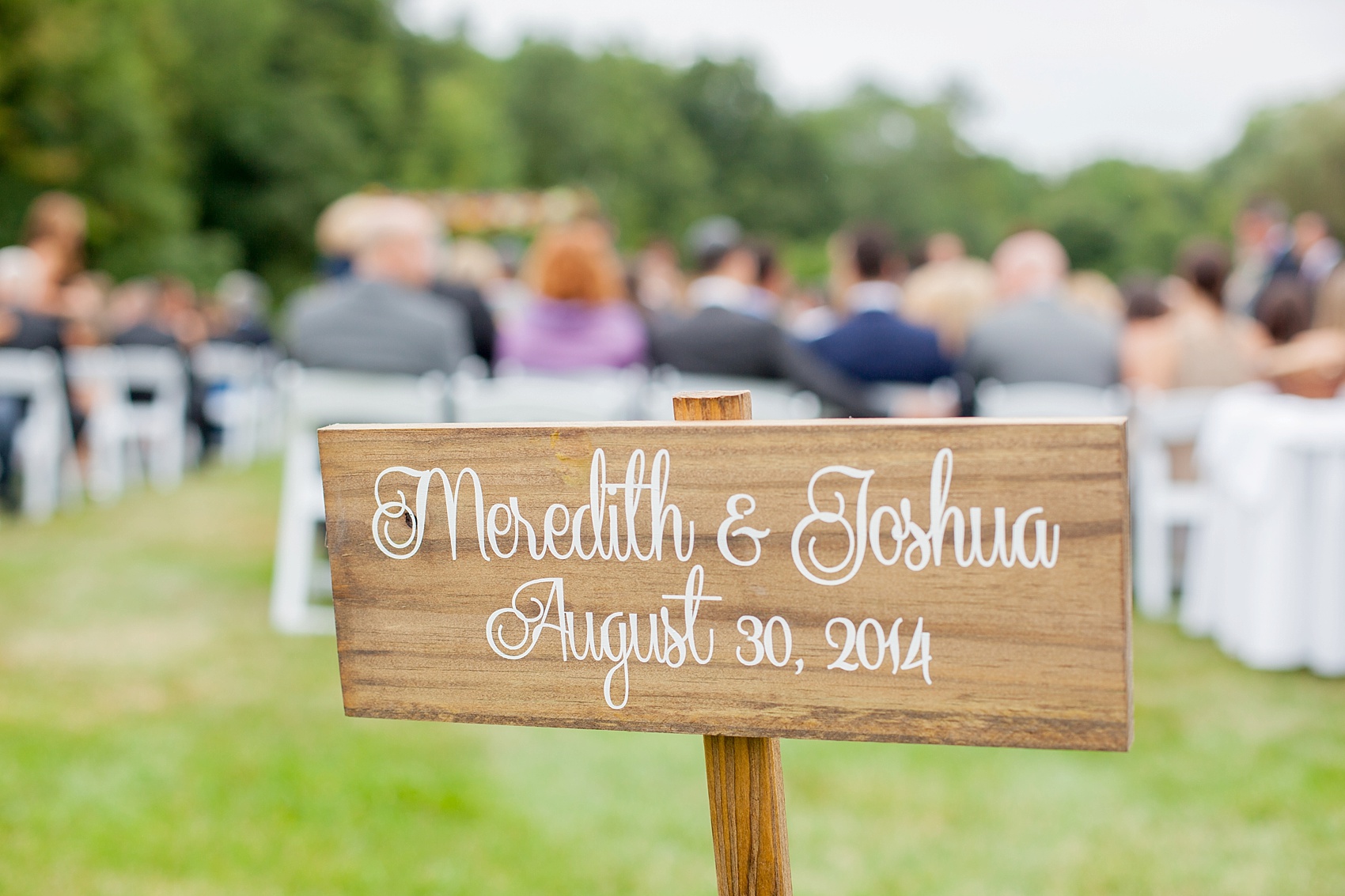 I love amazing signage. And they get to keep it forever. After they signed their ketubbah surrounded by immediate family and friends they walked down the aisle and the beautiful outdoor ceremony began.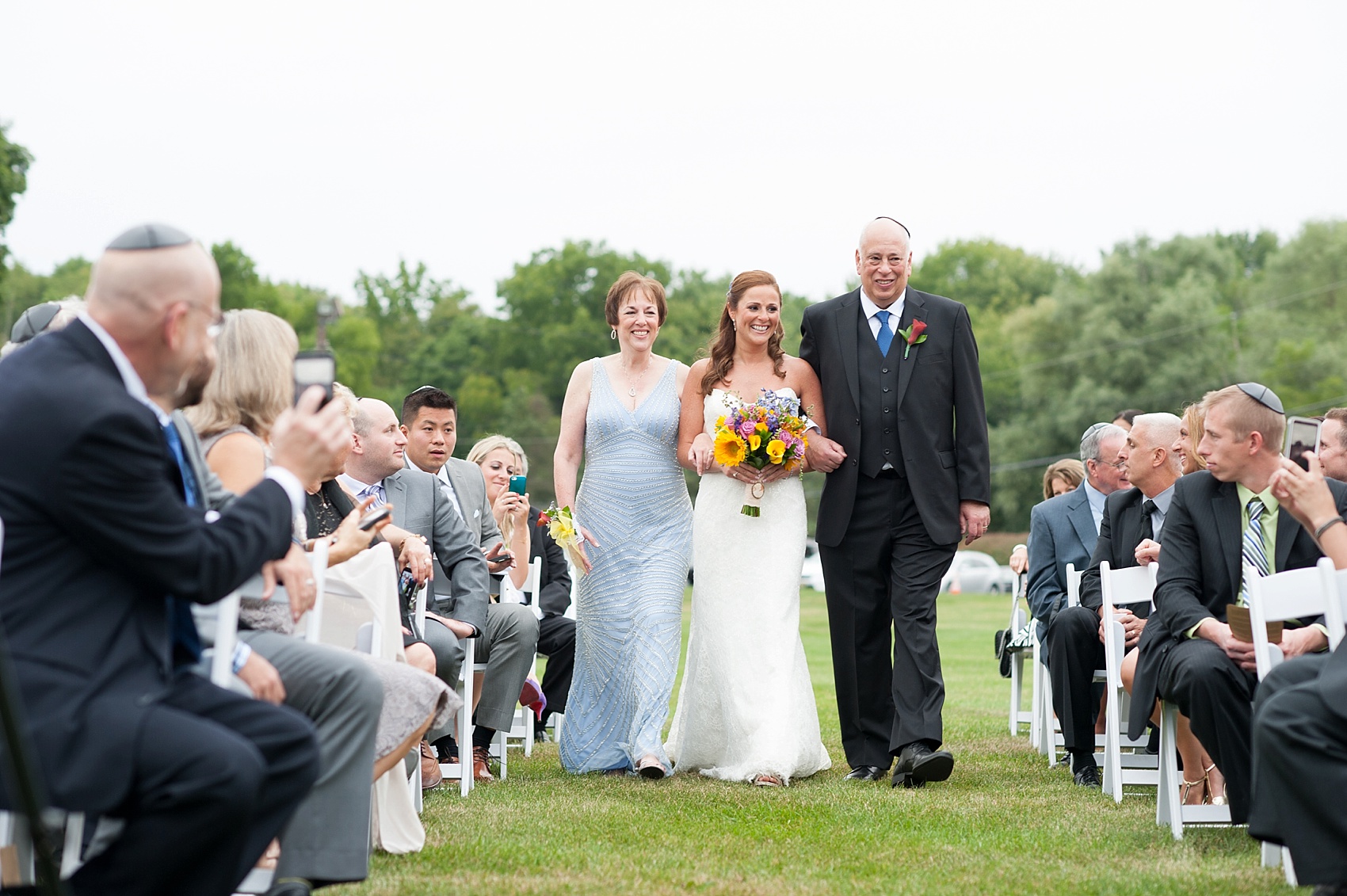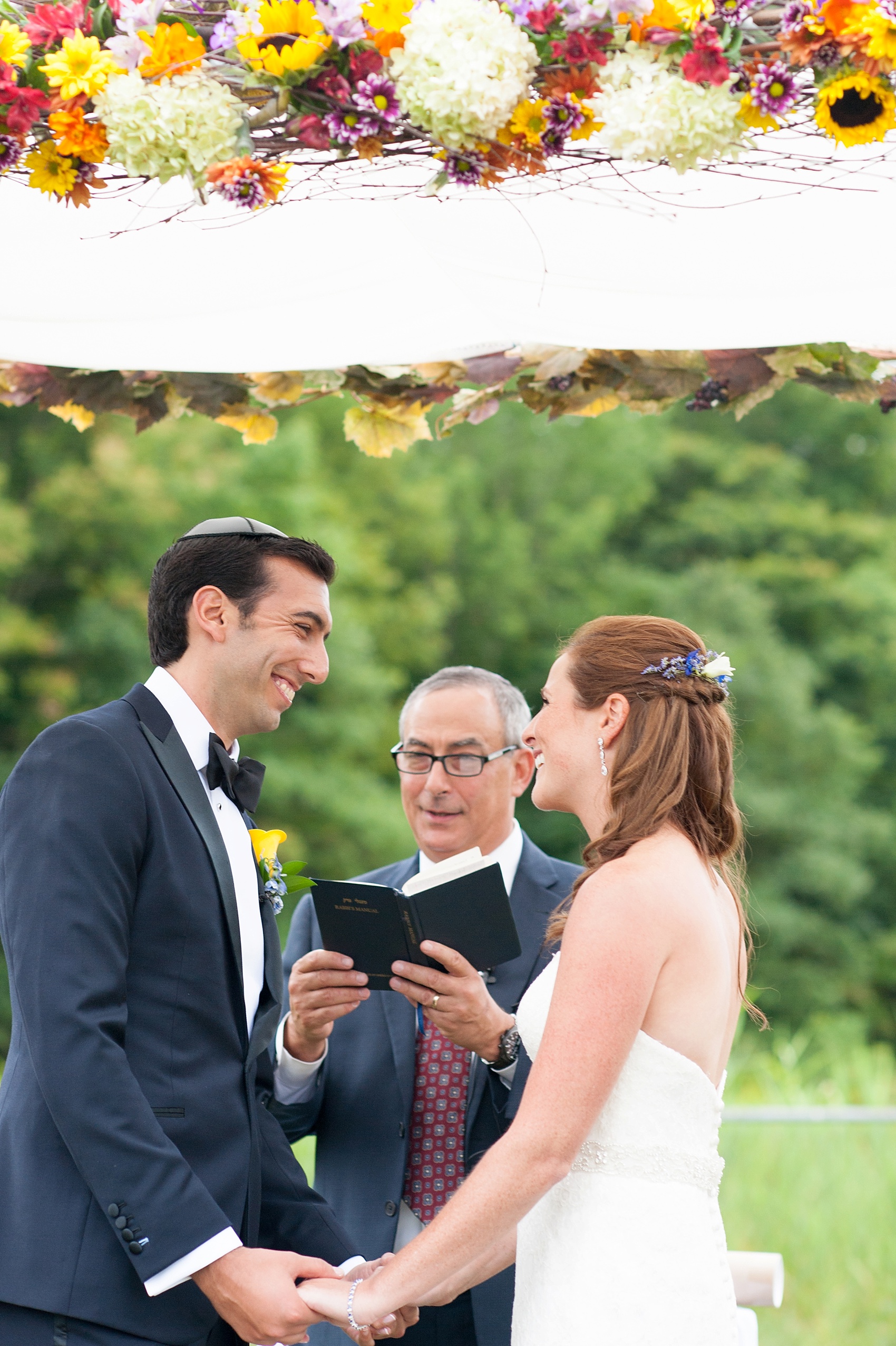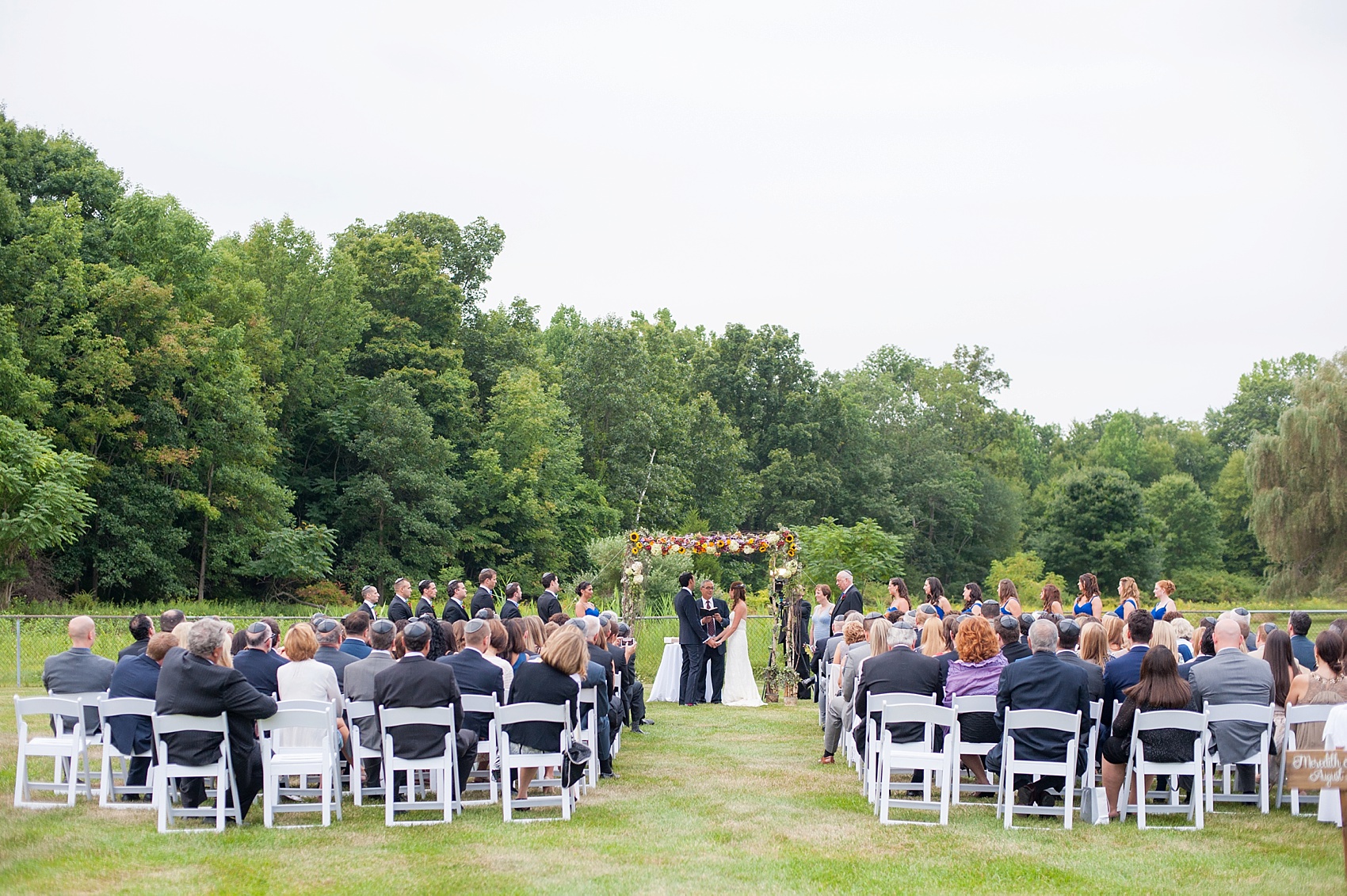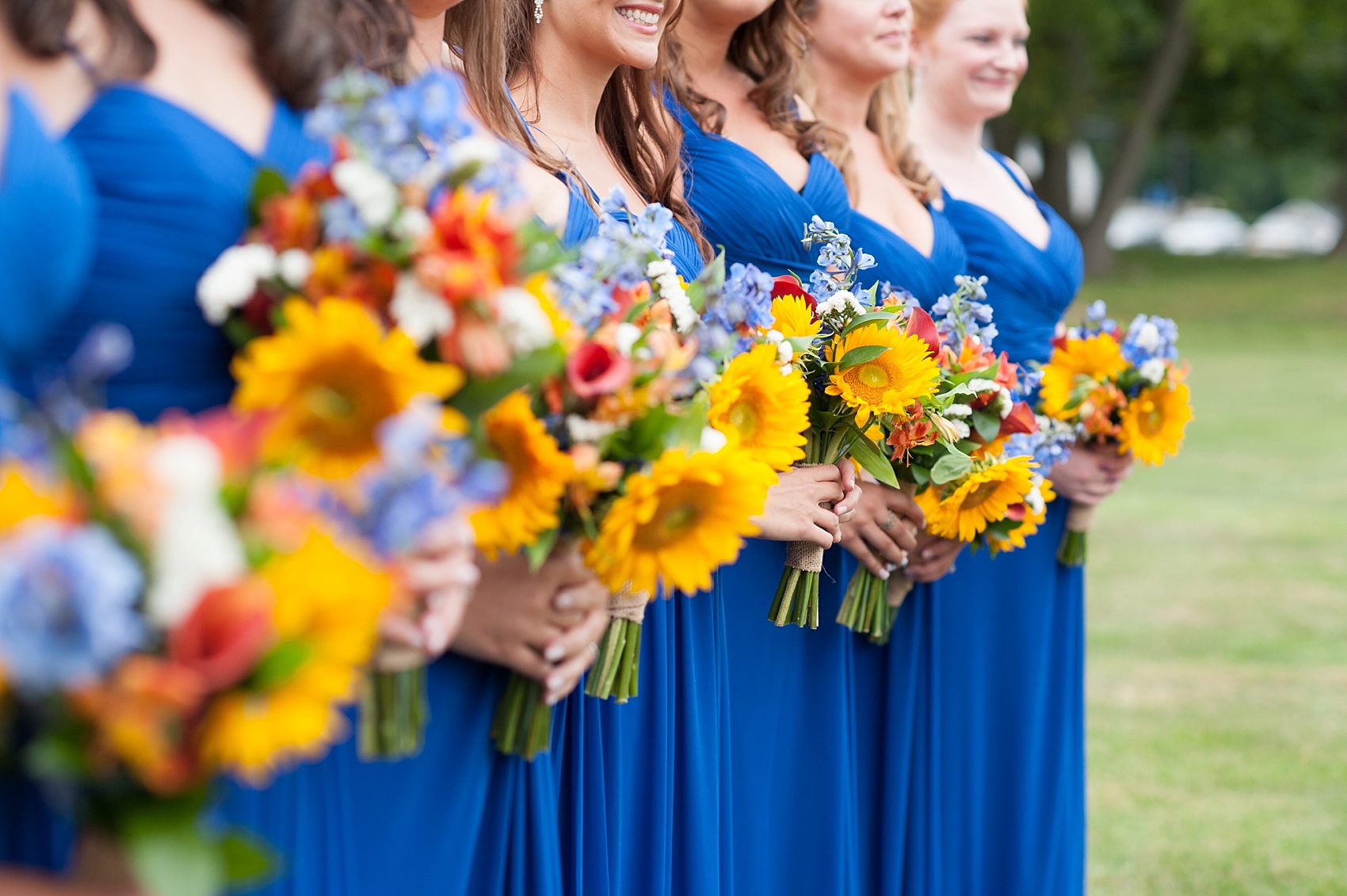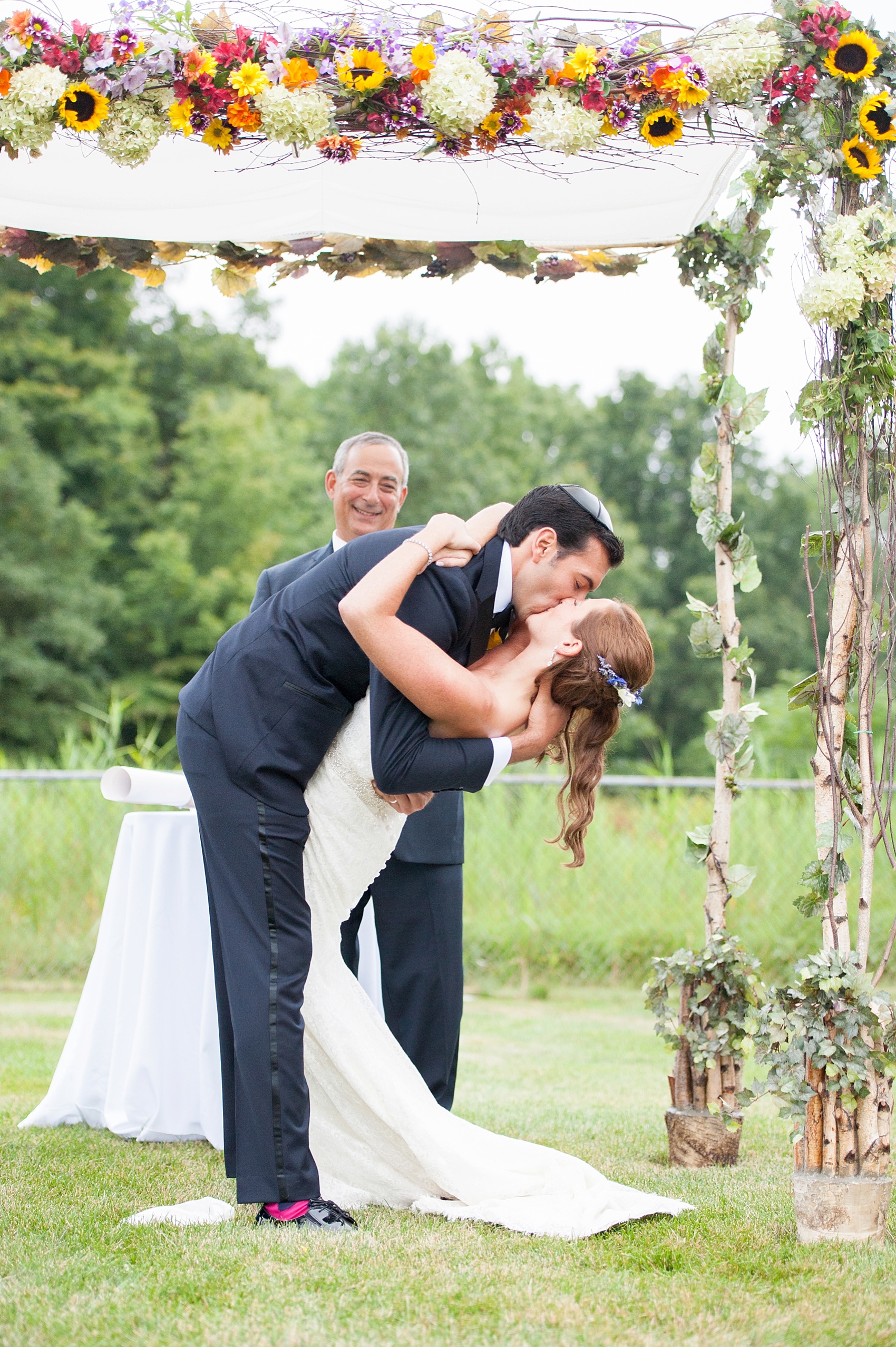 Check out that "first kiss" dip!! Ow owwwww!
Right after their ceremony we headed towards the rustic white barn on Perona's property with their wedding party for some epic photos. Worth it!!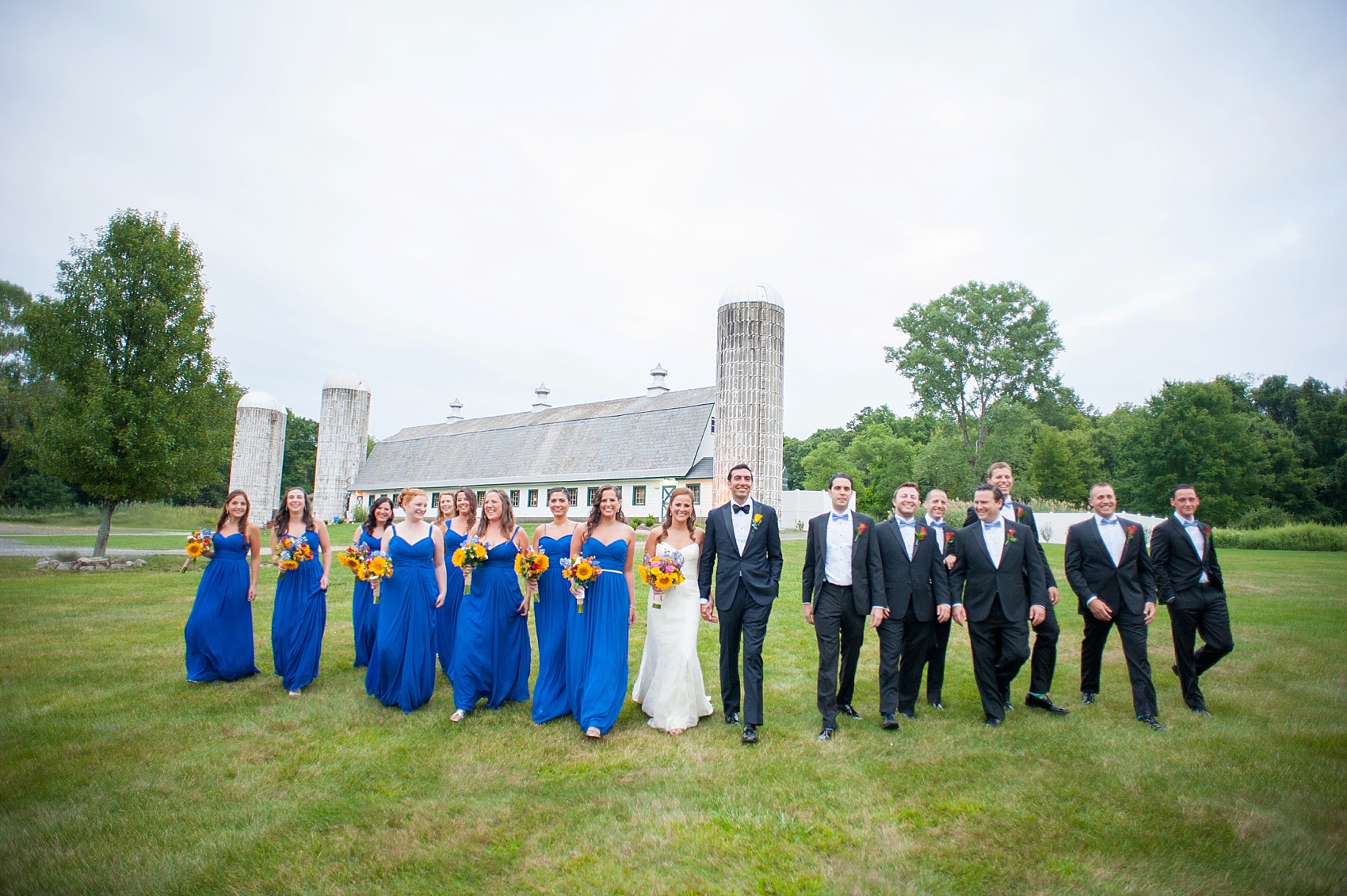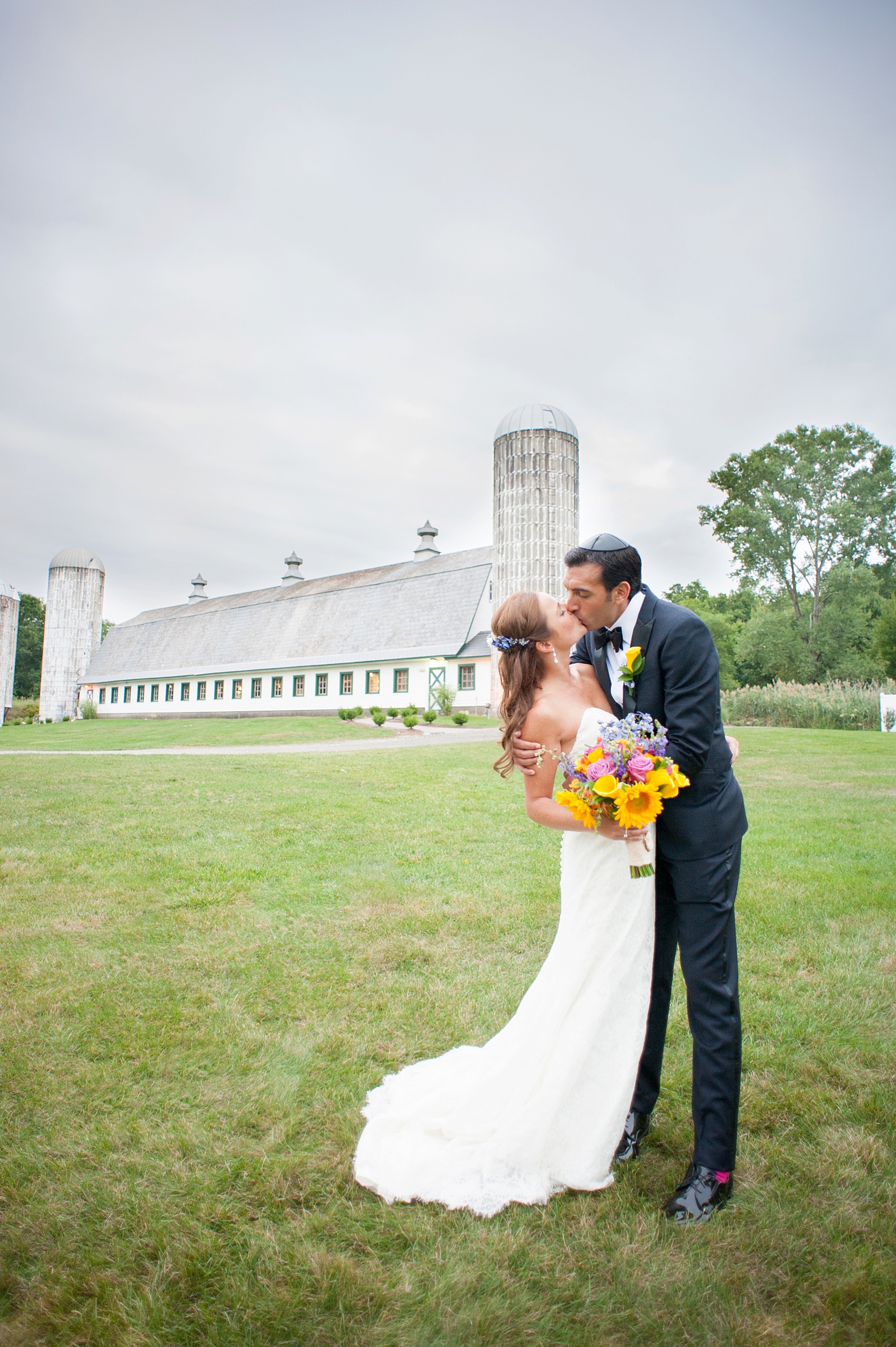 If the newlyweds want to keep kissing…I'm not going to stop 'em!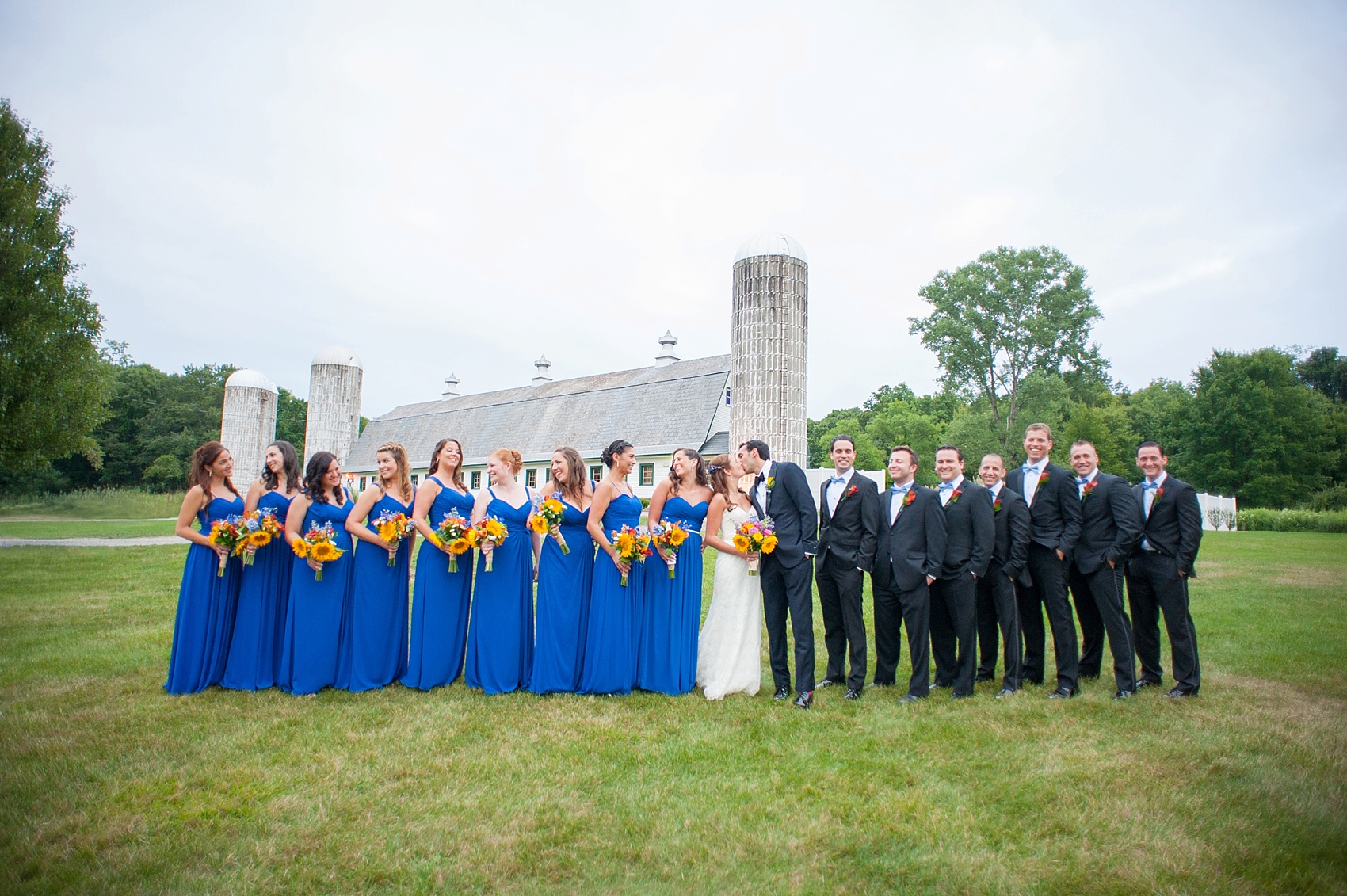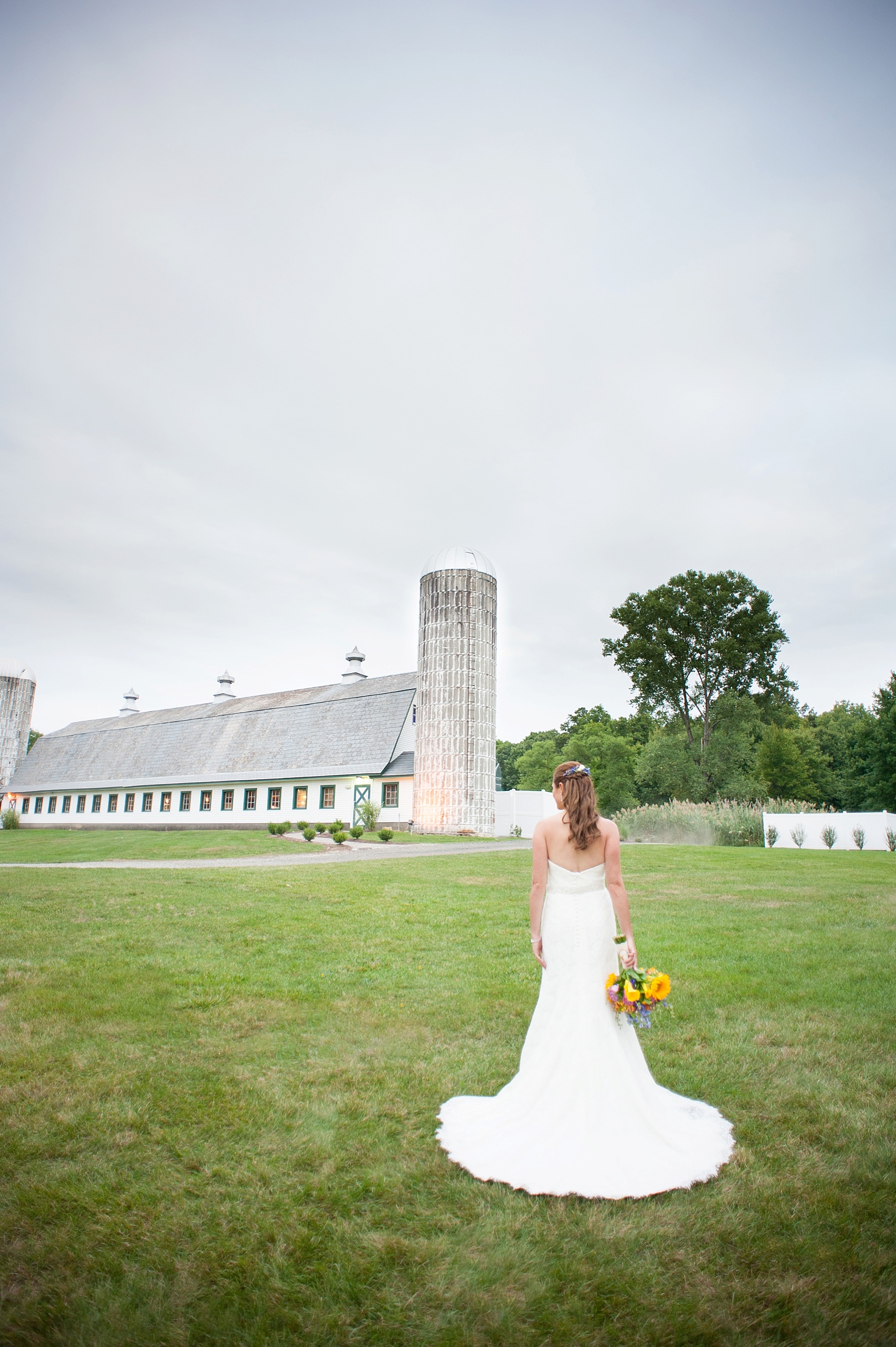 STUNN-ING! (Jaw drops.)
It was time to head over to their outdoor cocktail hour and get the party started!!! The weather really was perfect all day. The rain held out and it was a beautiful bluish grey overcast, which kept the heat away and was dreamy for photography.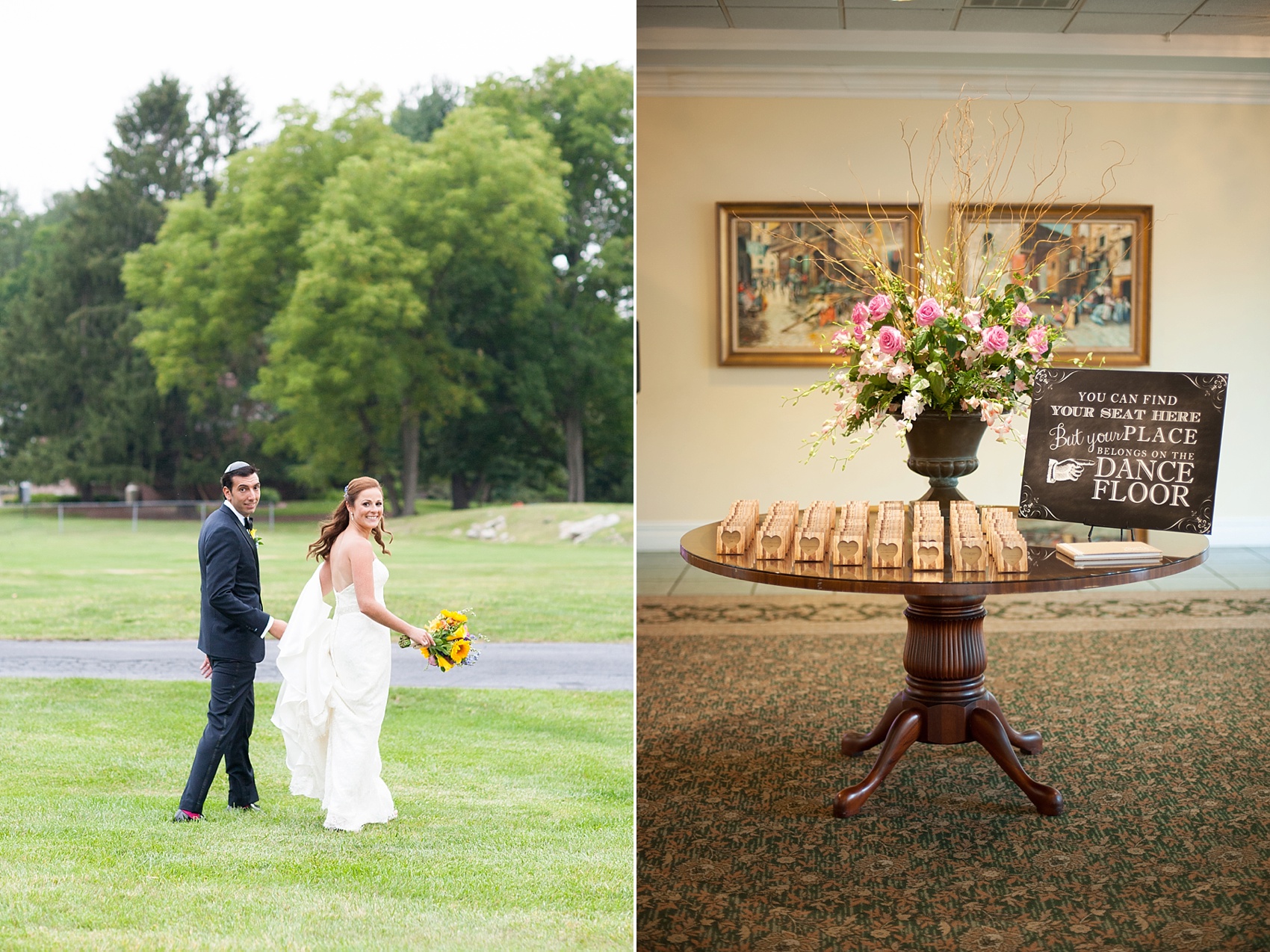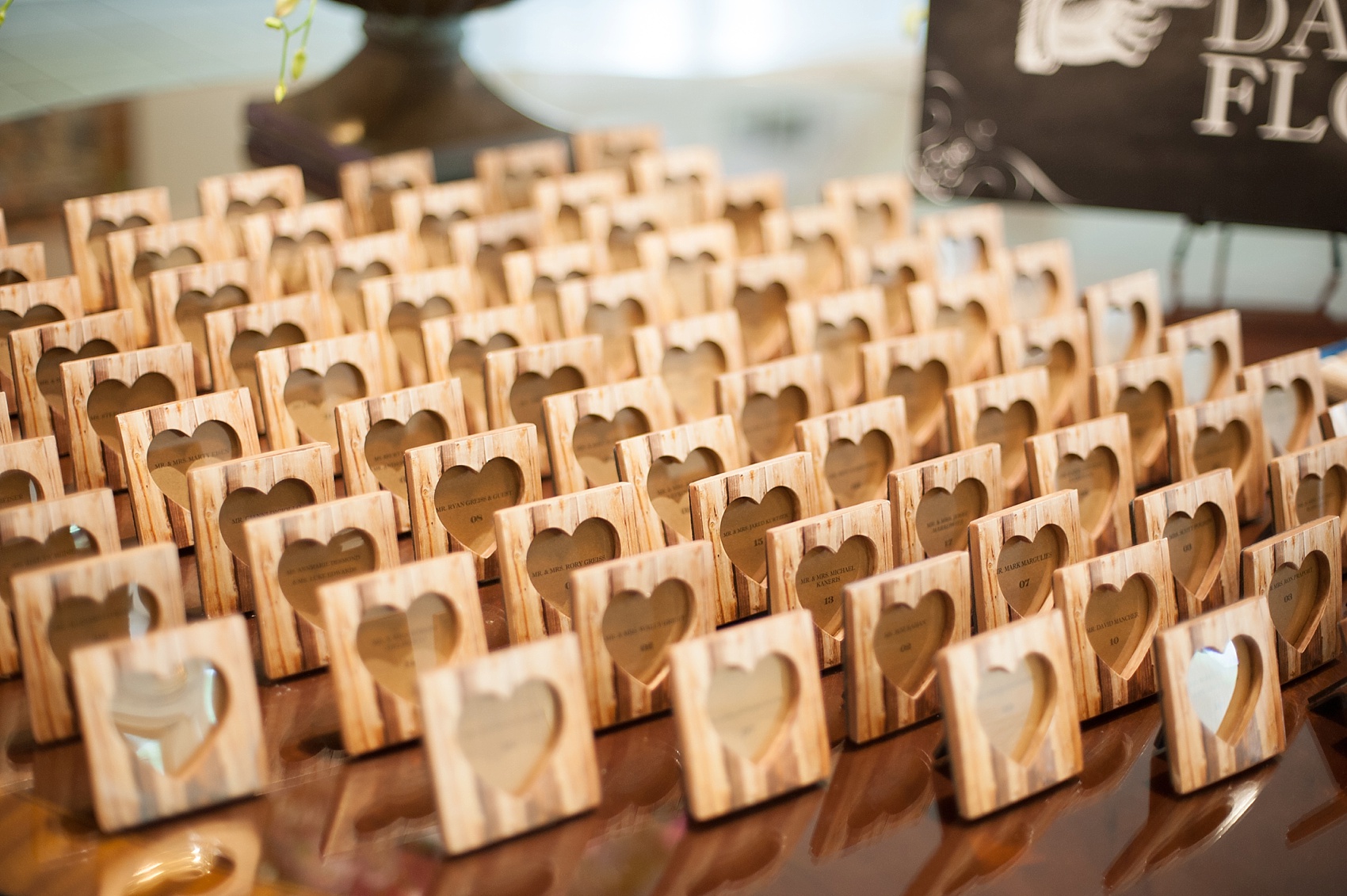 I adored their rustic wooden frames that doubled as escort cards. I love decoration with a purpose and they really did have great attention to detail.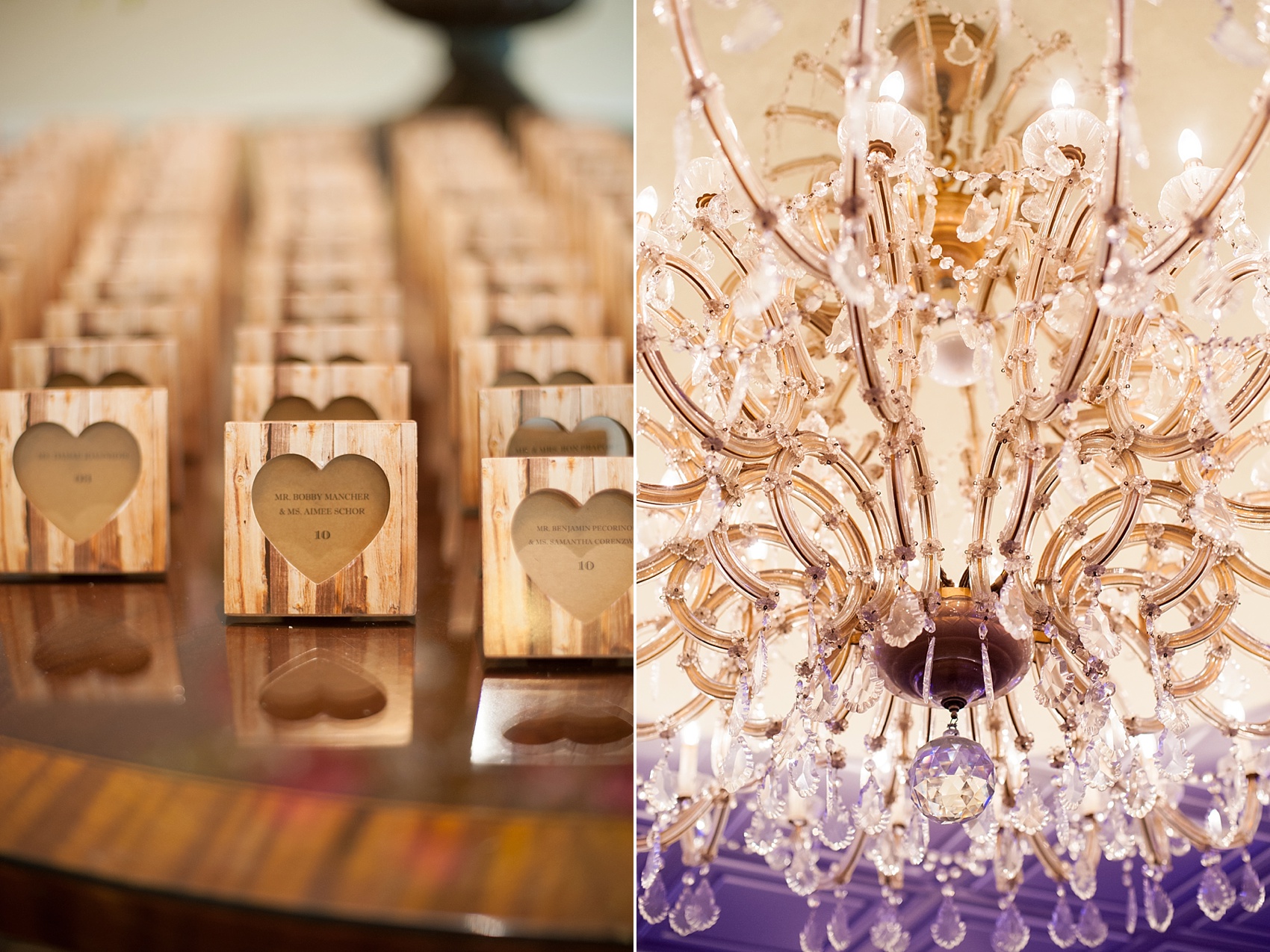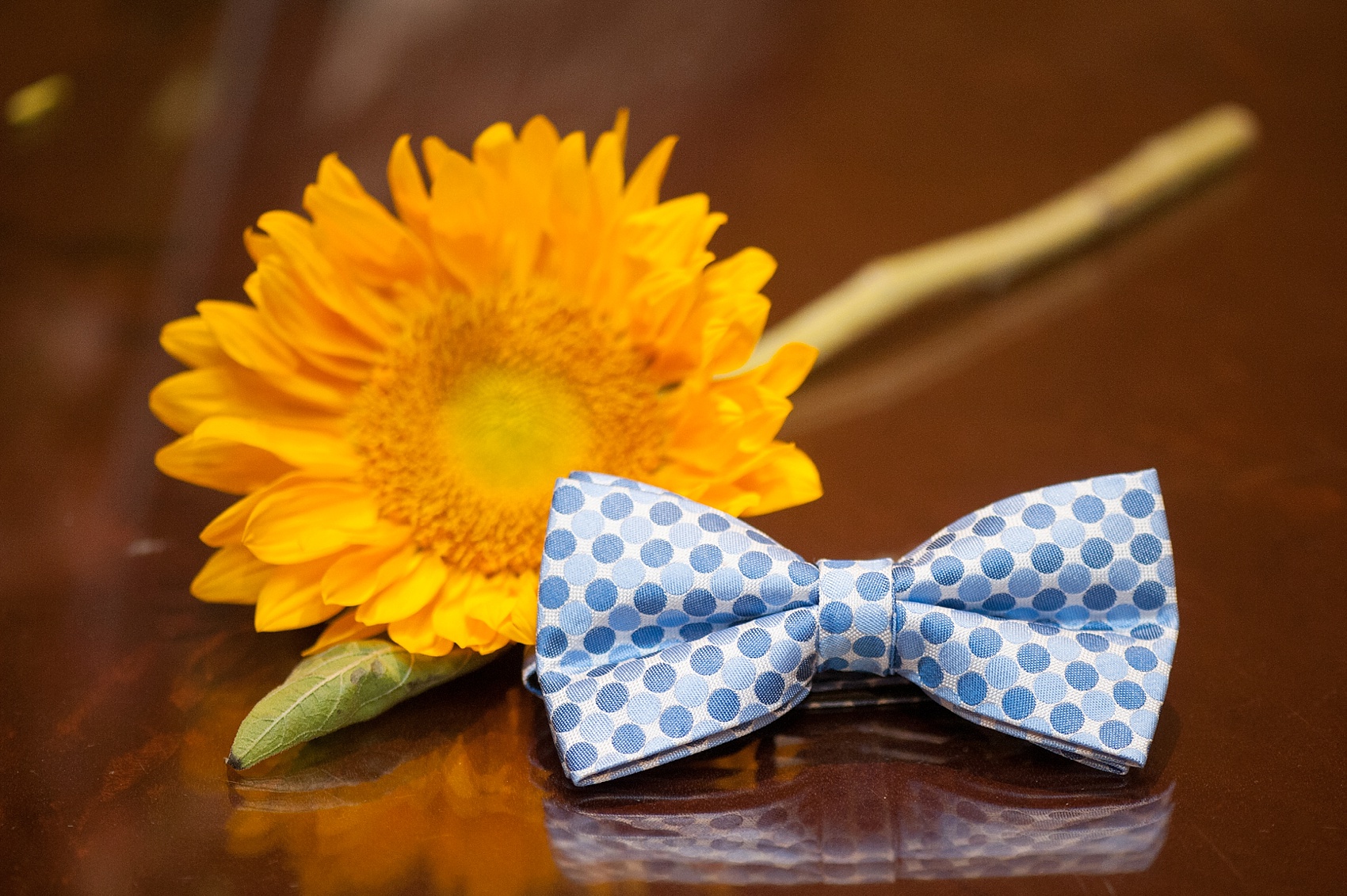 Josh also gave his groomsmen these fun patterned bow ties from The Tie Bar for their tuxedos. Bonus for the pop of color brought in but those fun dots.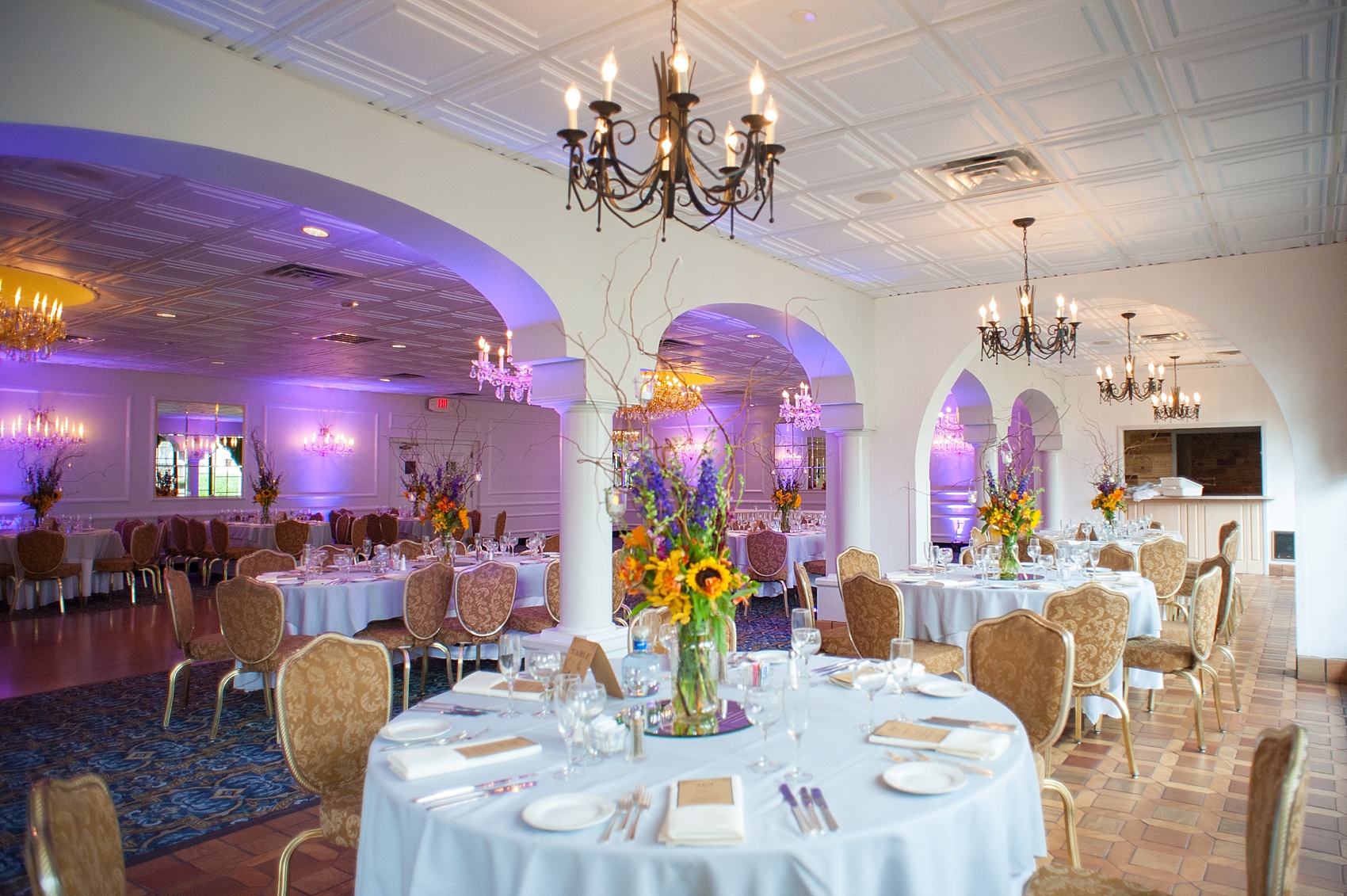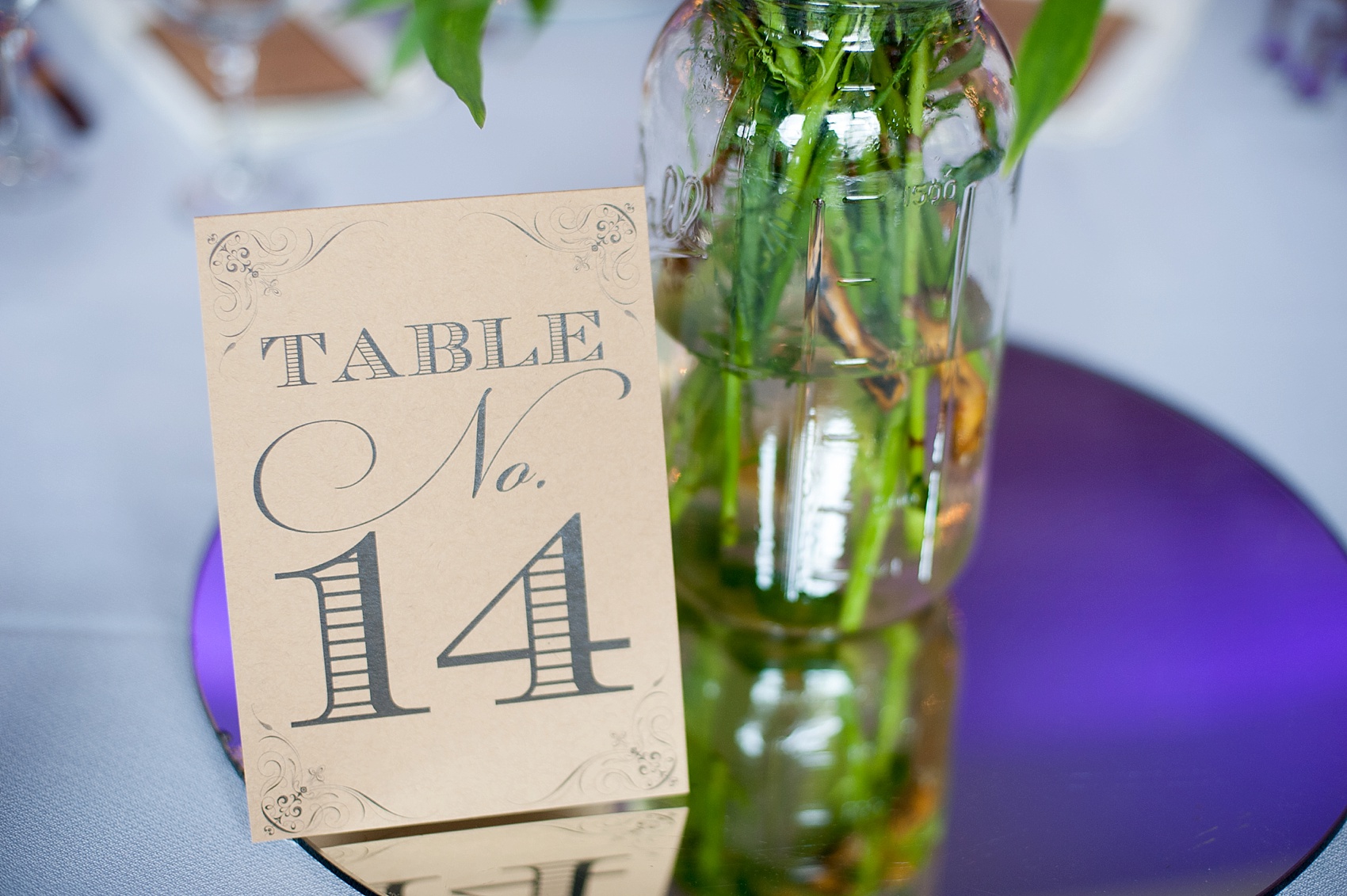 Meri and Josh didn't need any memo from me to know that something as simple as fantastic table numbers, like the ones they had shown above, make a HUGE difference. It ties your paper together, ties together the feel of the day…and it's really inexpensive! I loved walking into the room to see these. I literally said aloud, "YESSSS!" and threw my hands up in the air in victory for wedding photographers everywhere! Take a lesson from them and say it with me couples: "I promise not to have crappy table numbers at my wedding."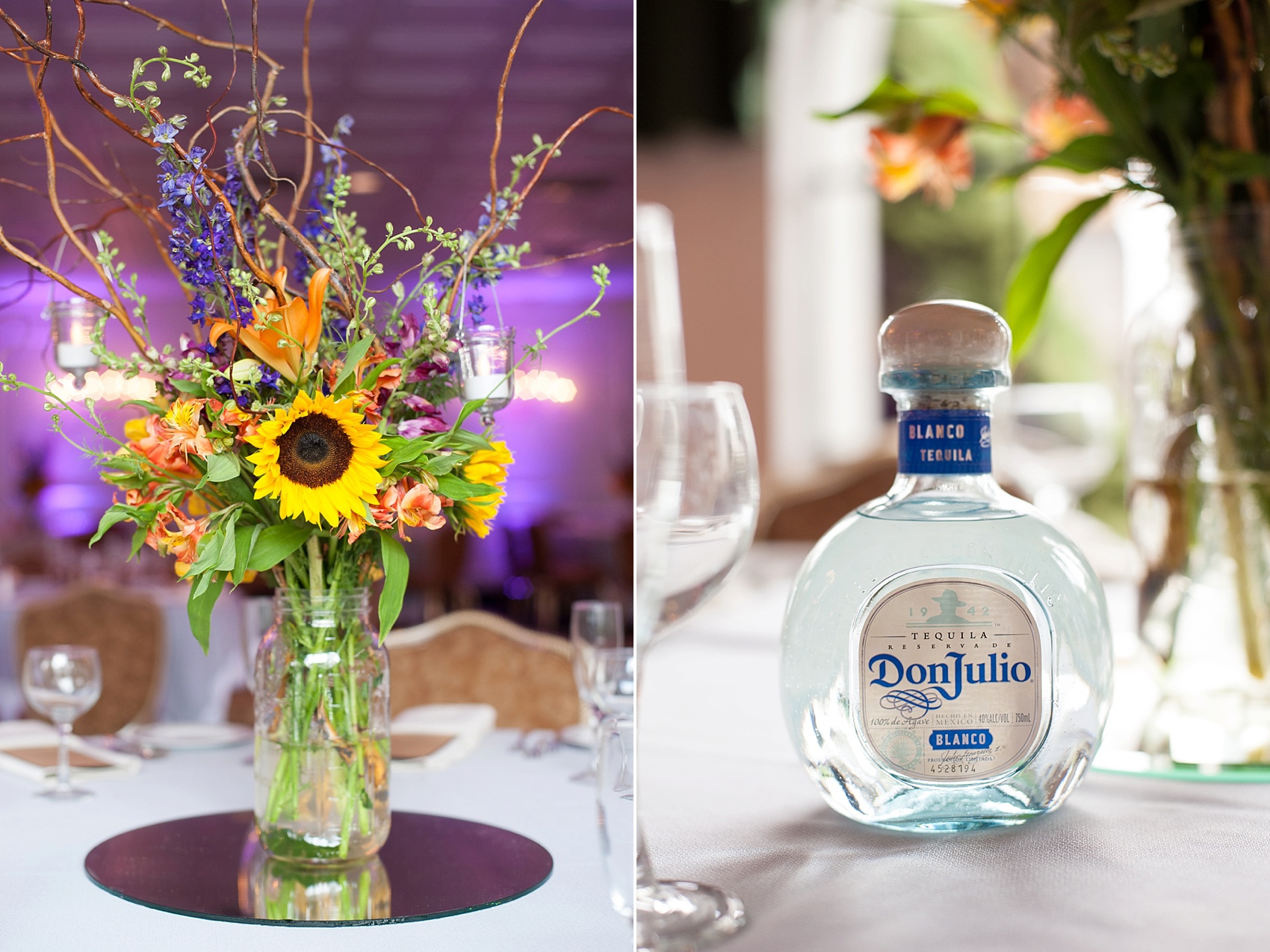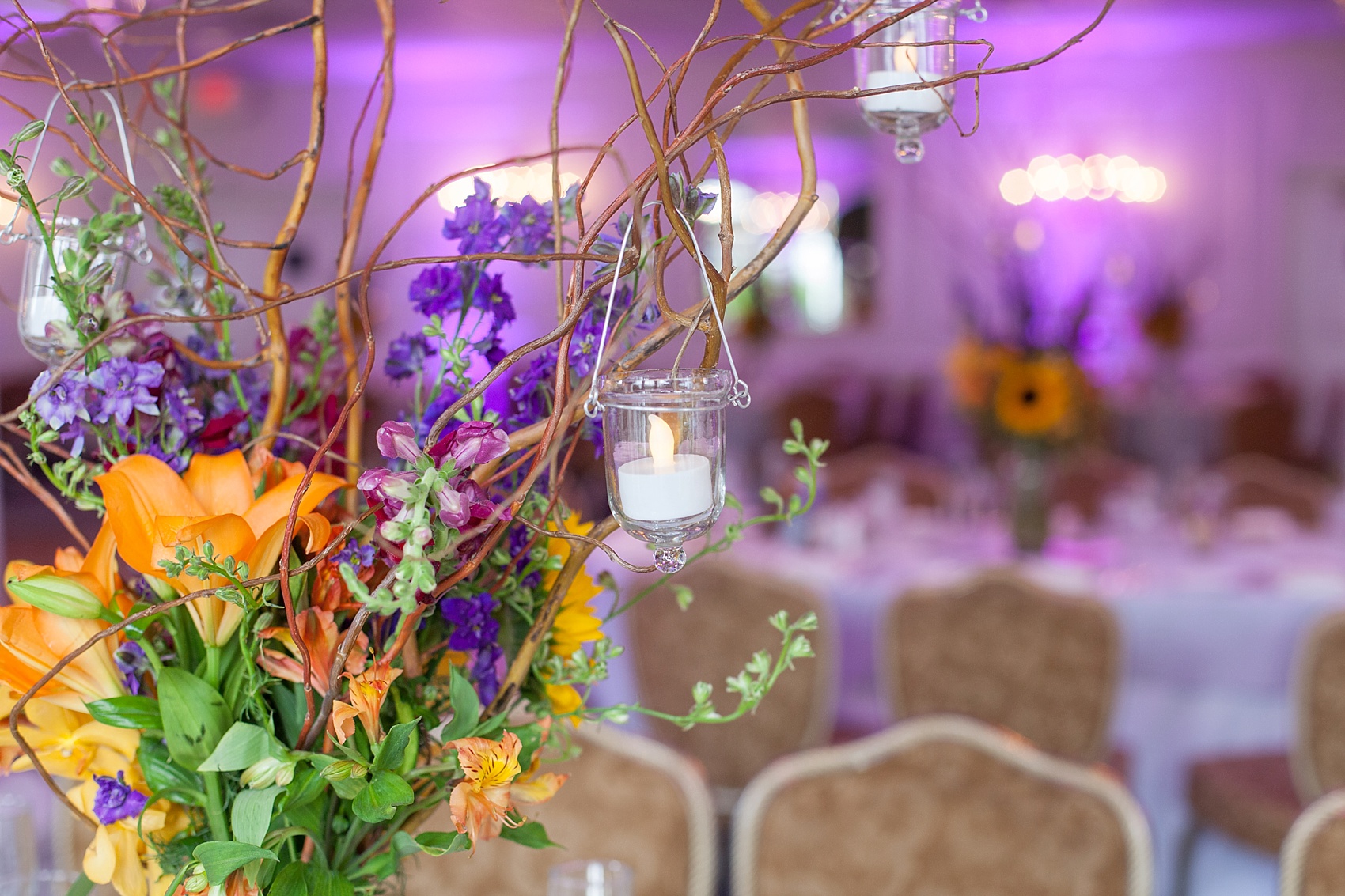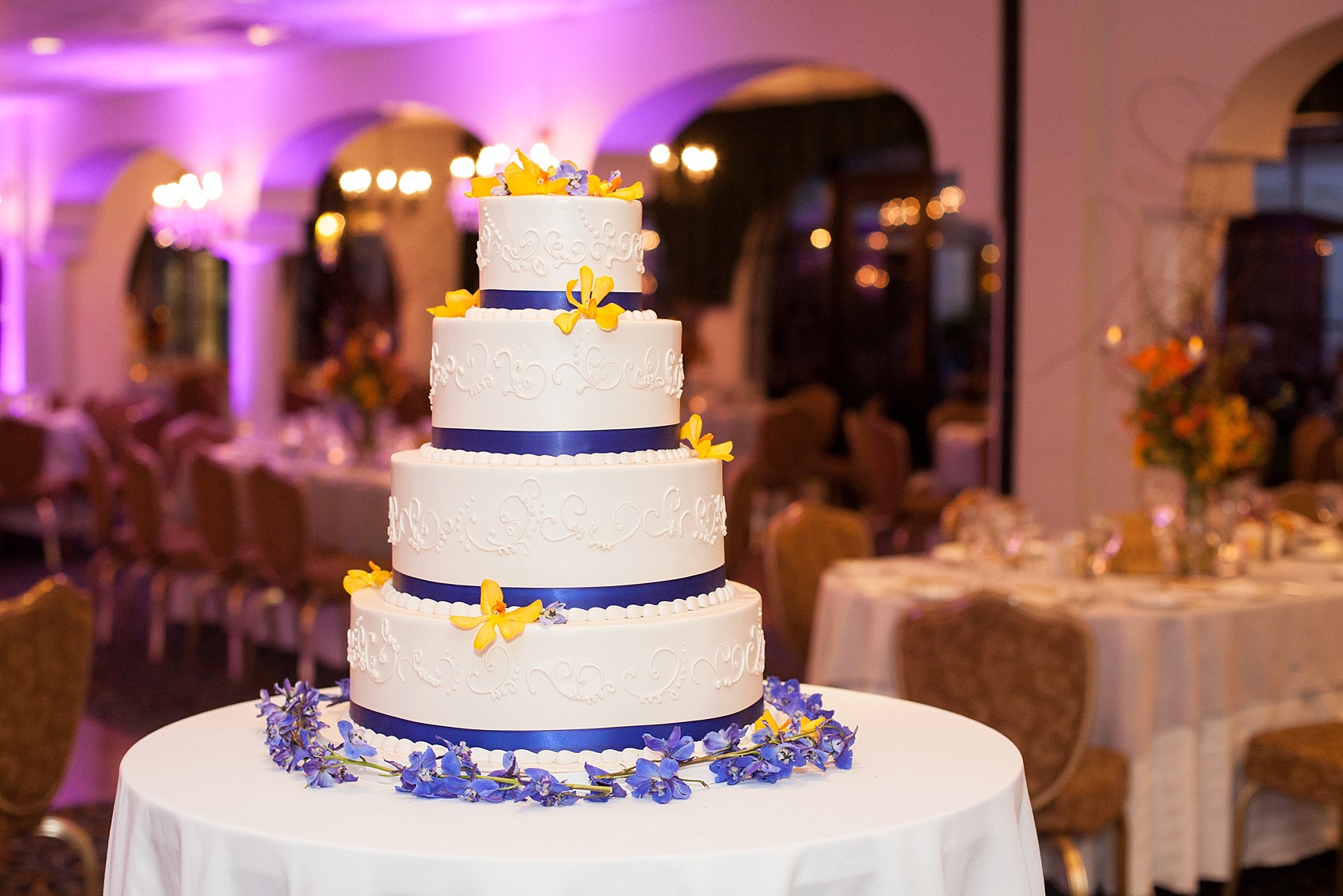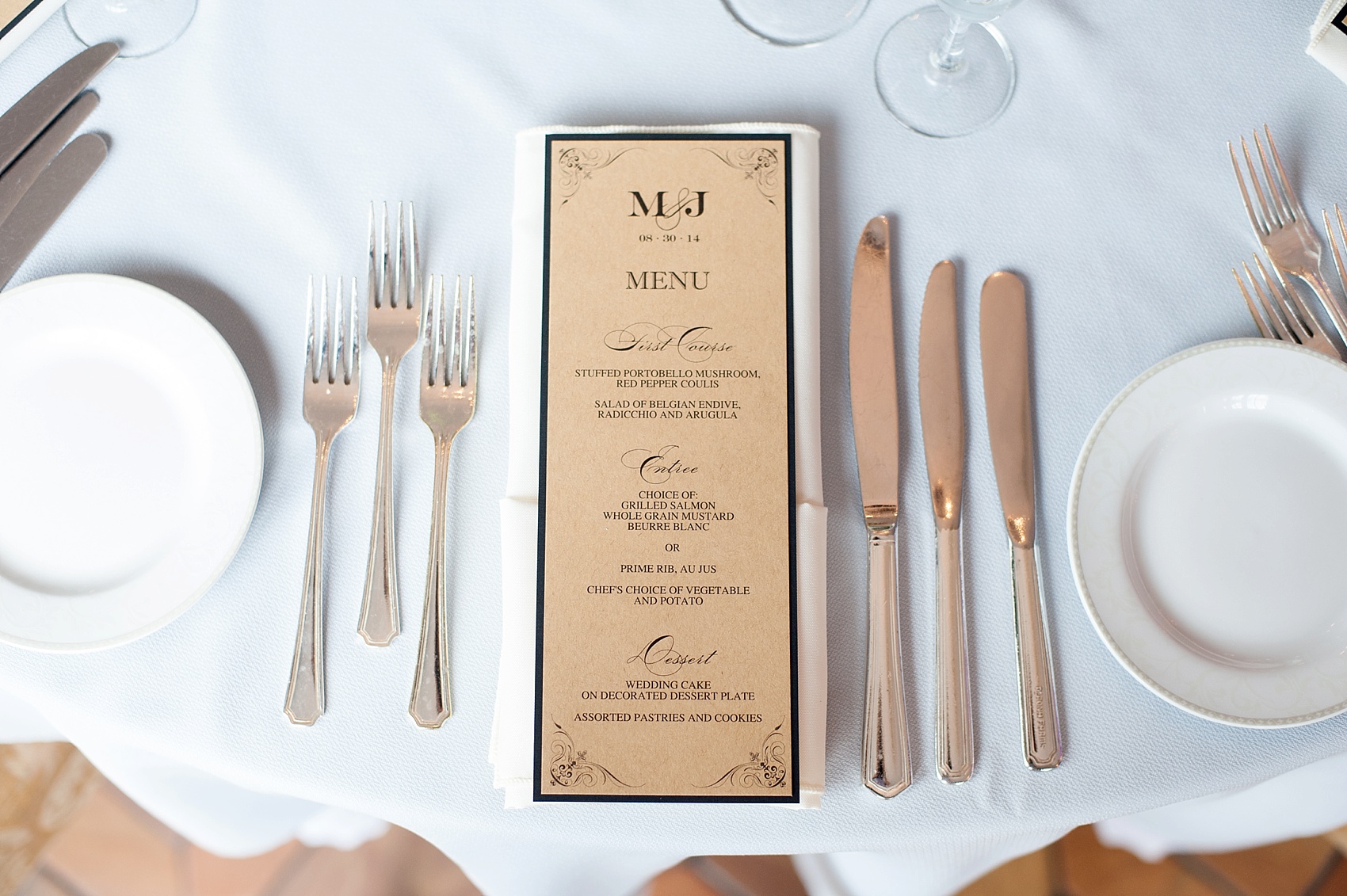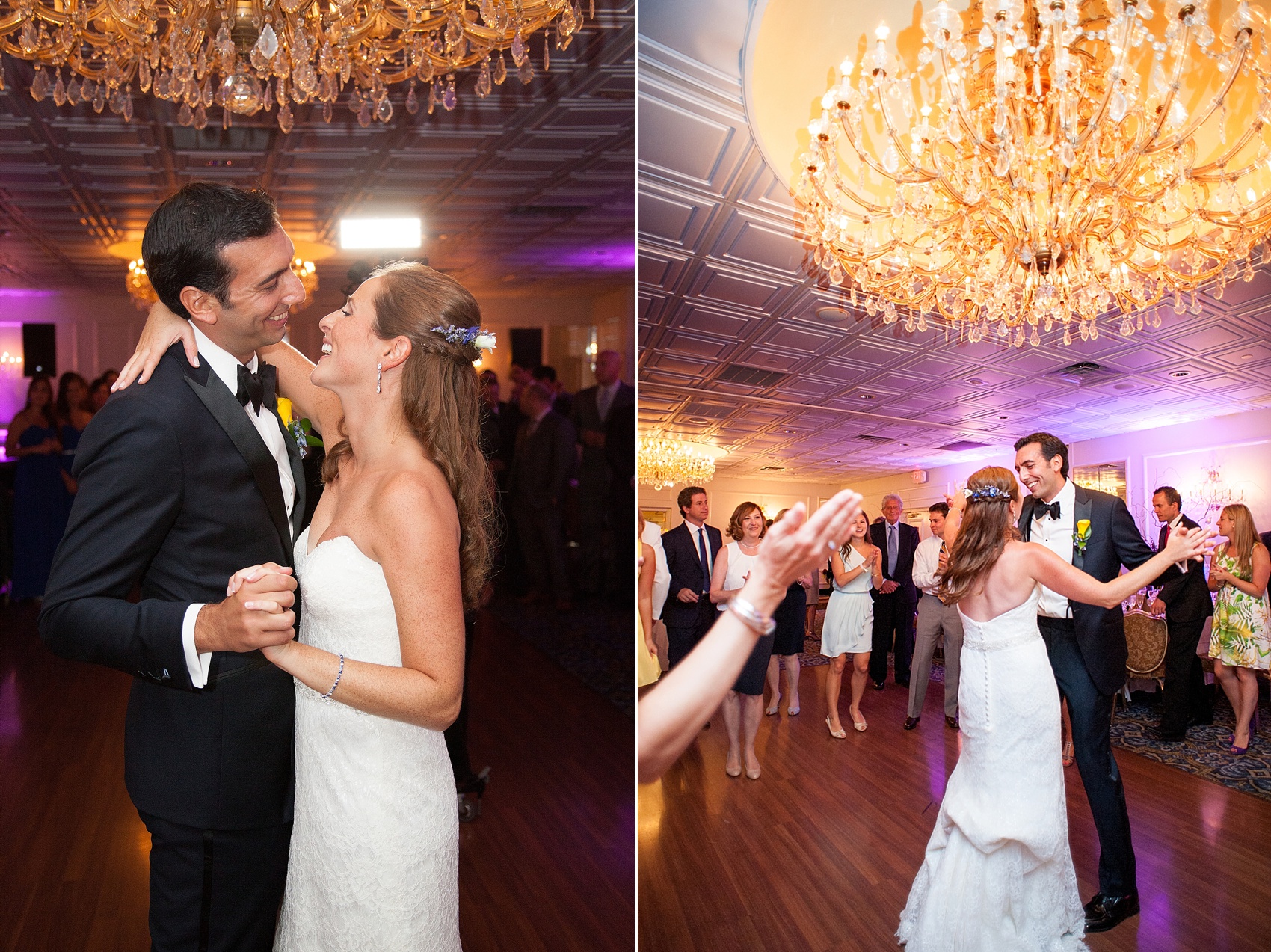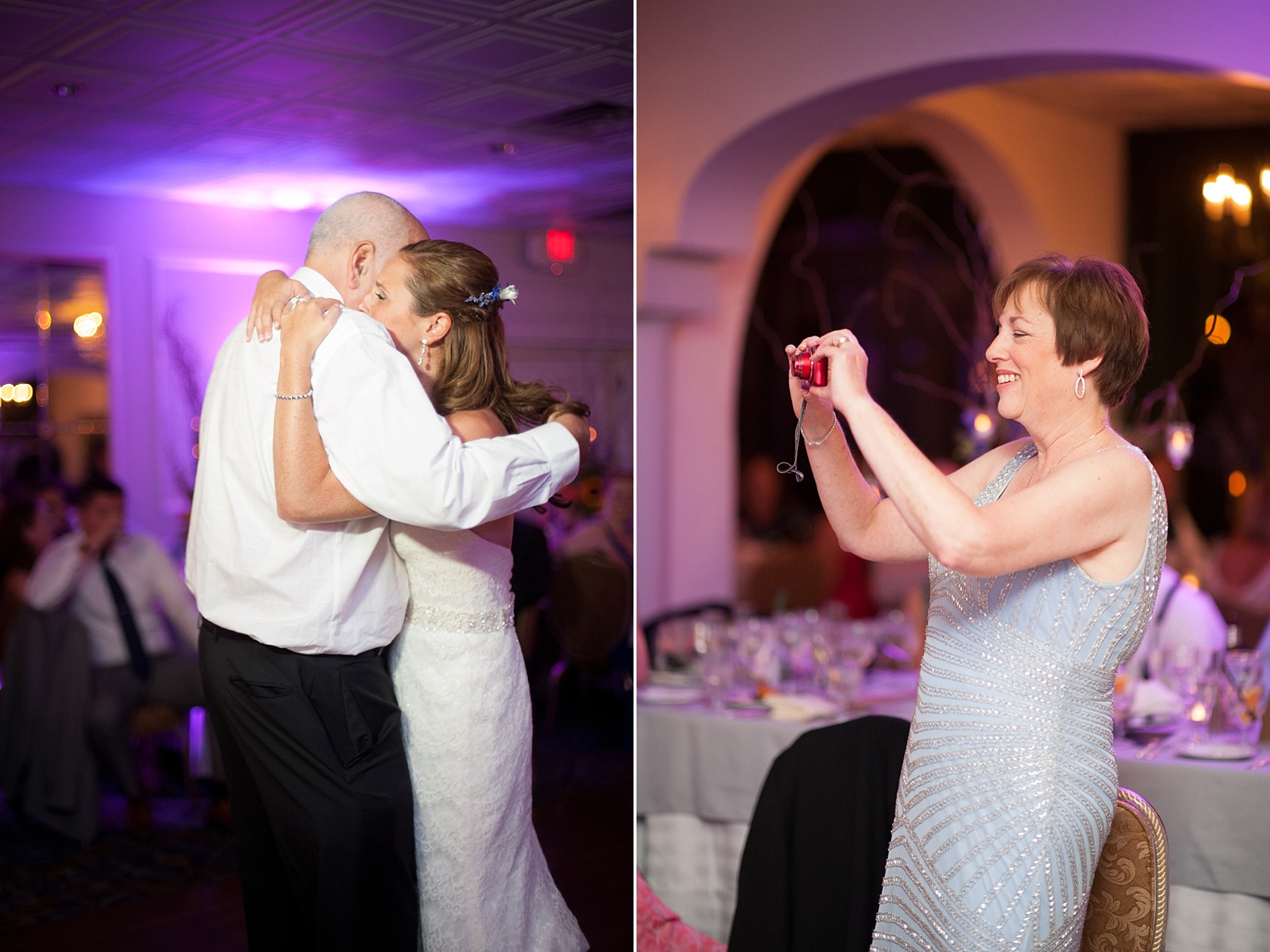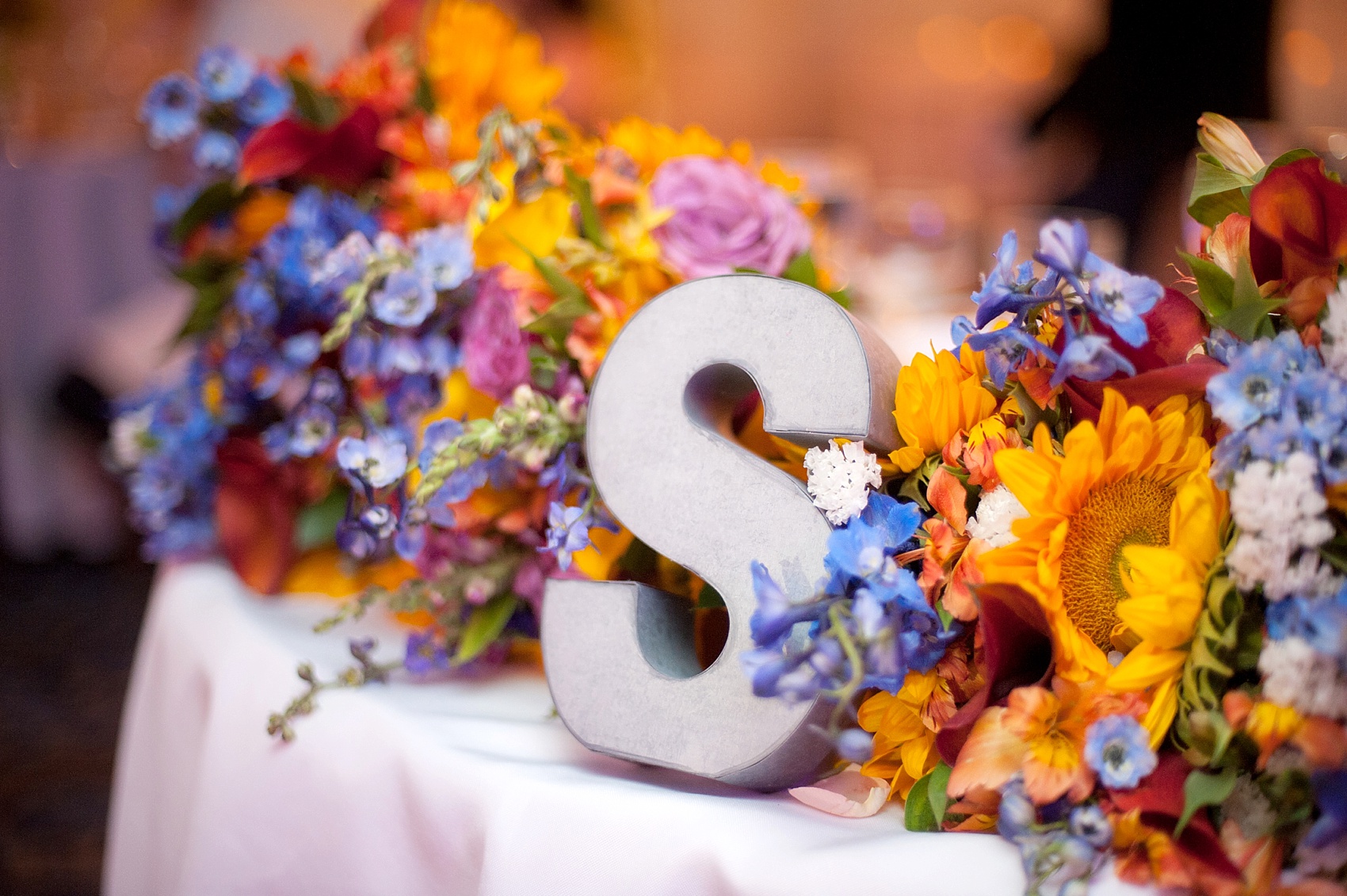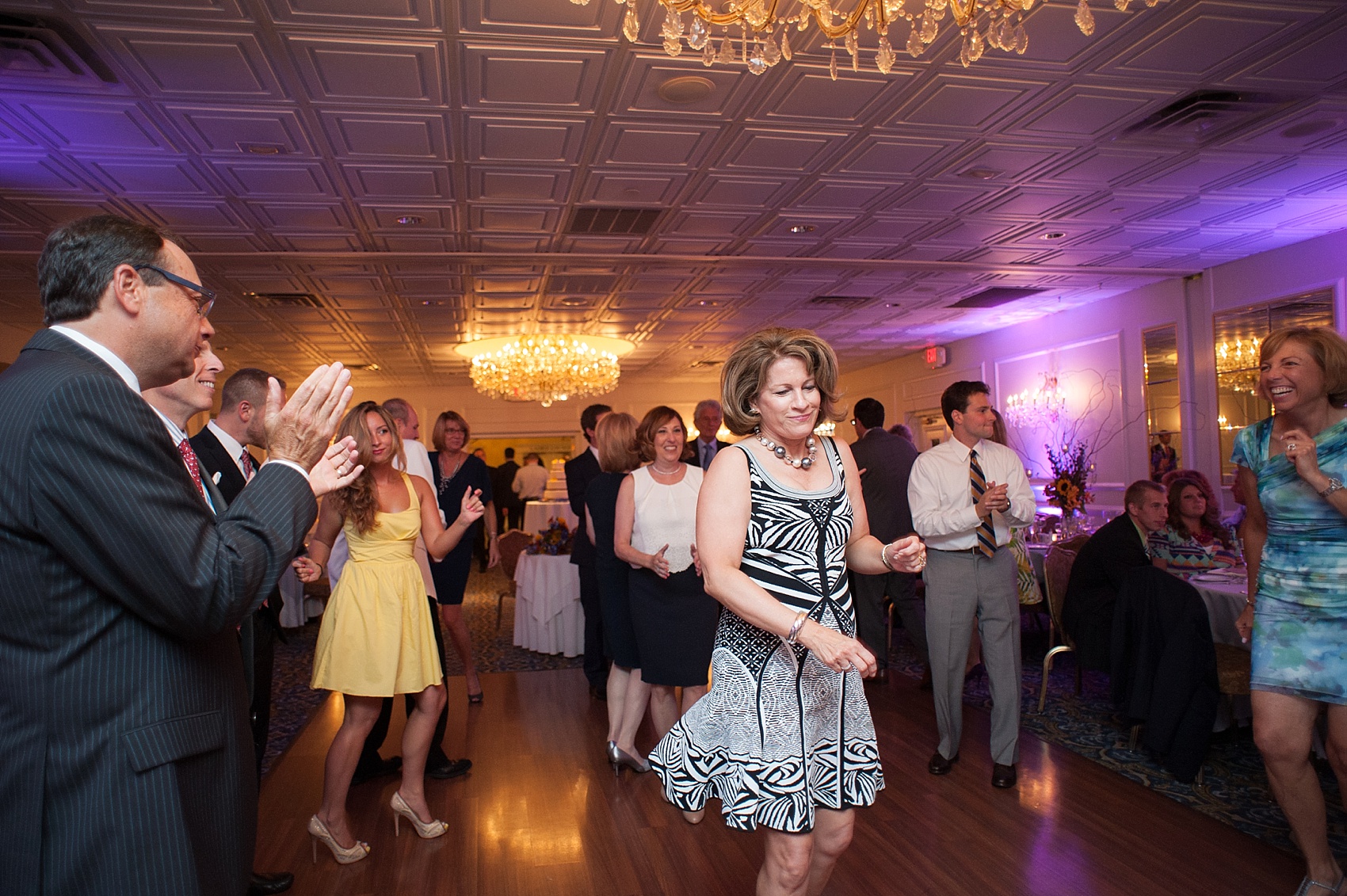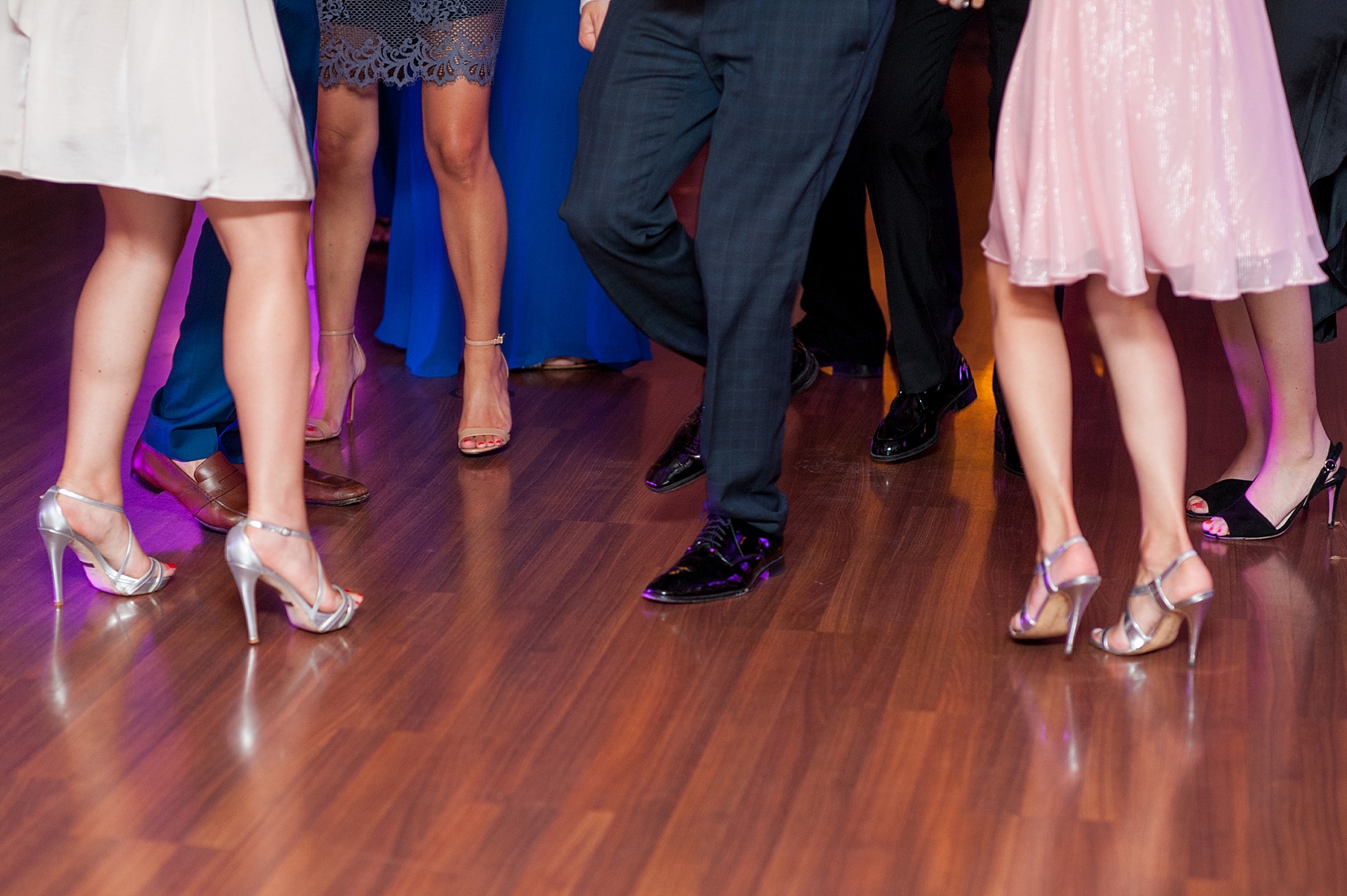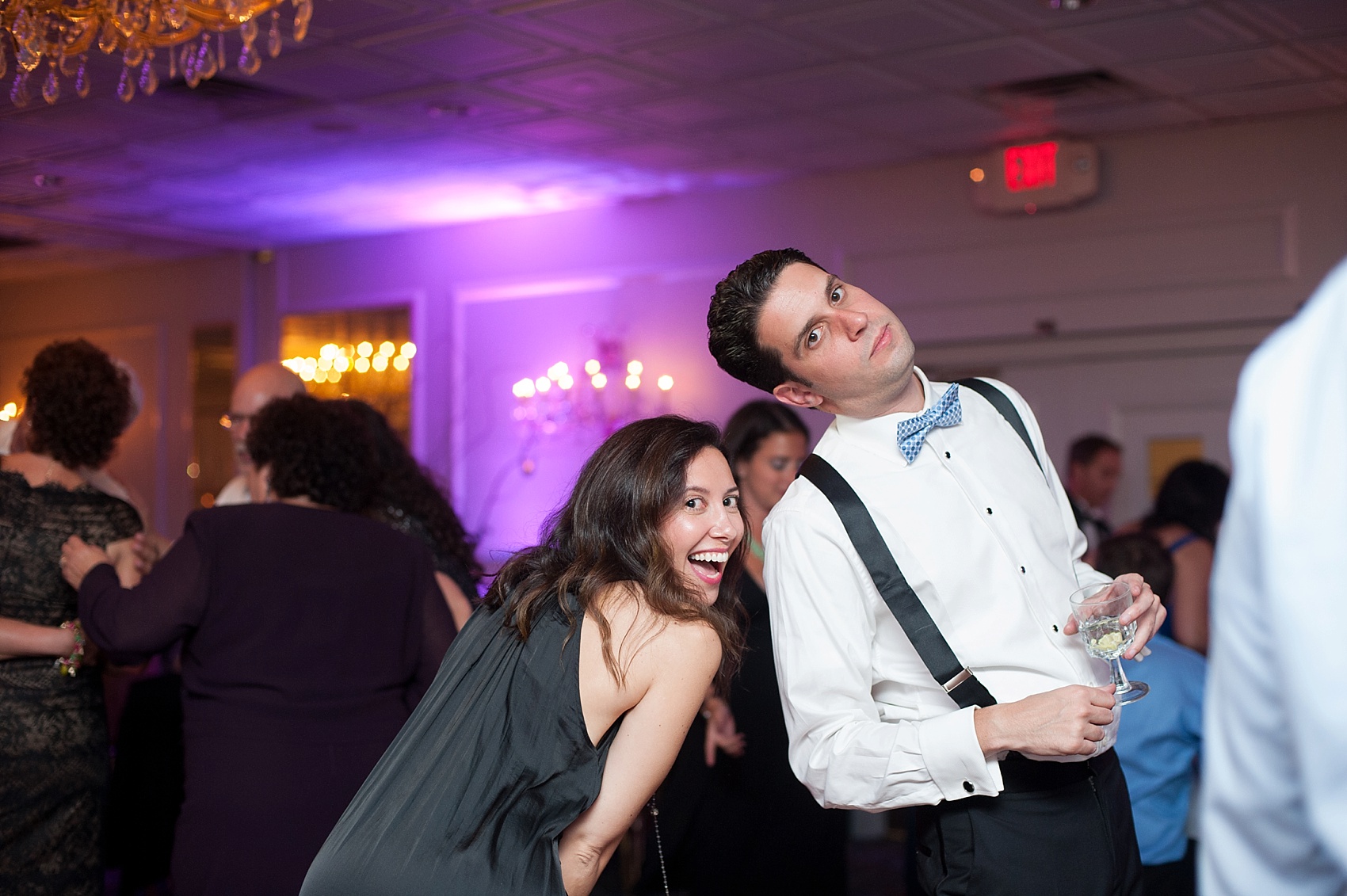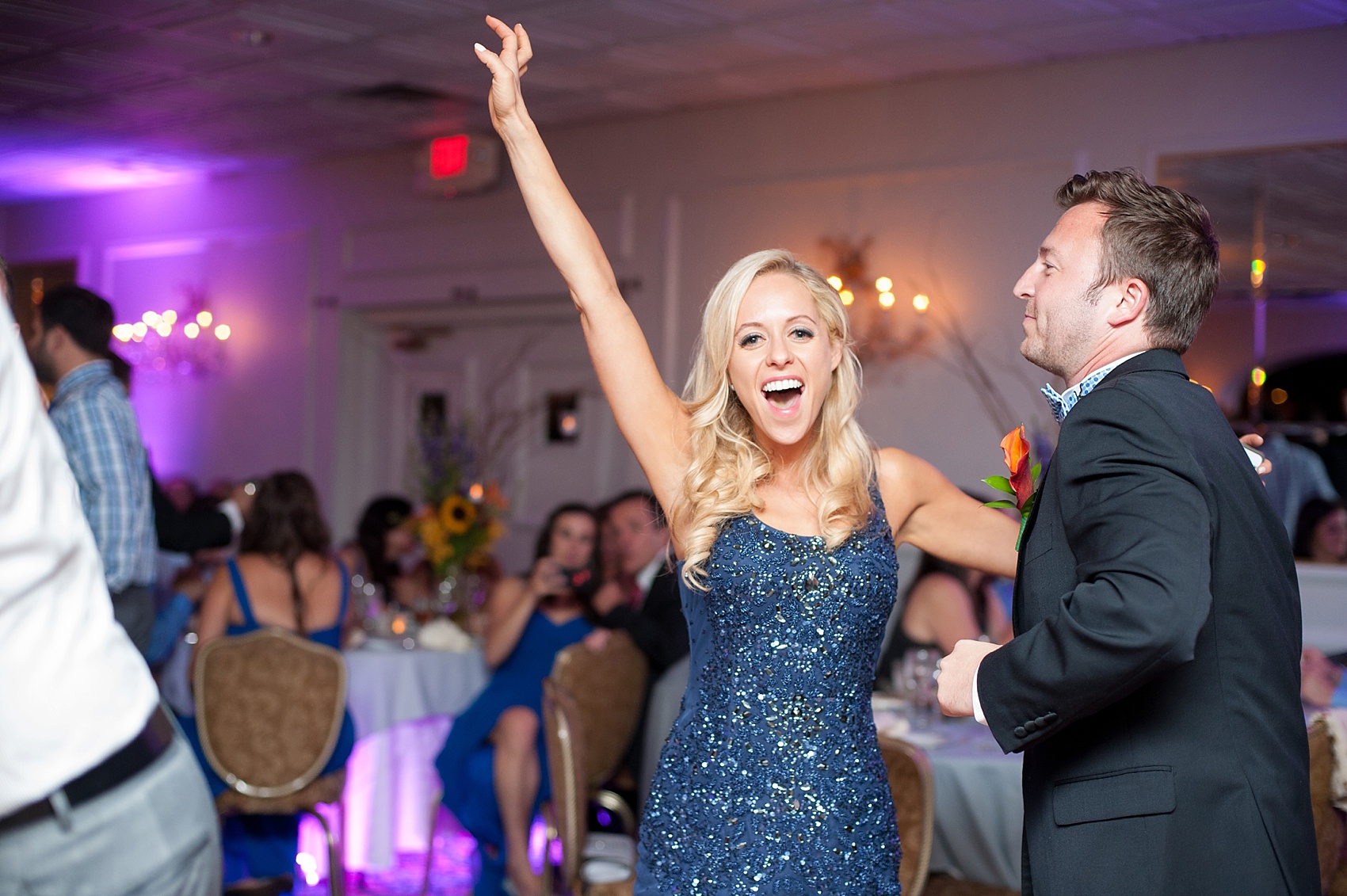 The dance floor was packed from the moment everyone was let into the reception room. Their live band was killin' it…
…As were their best friends and family with some stellar, funny speeches.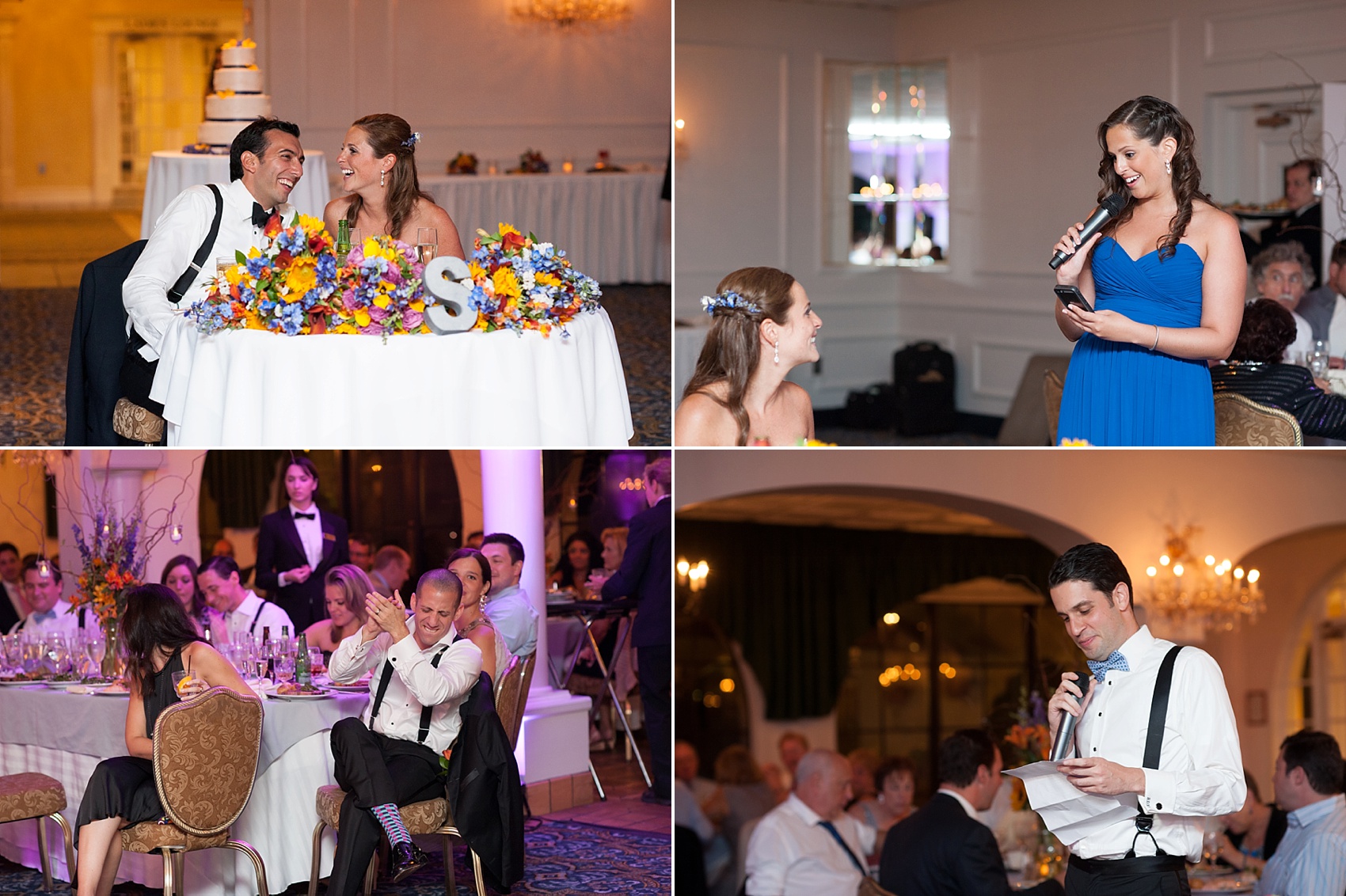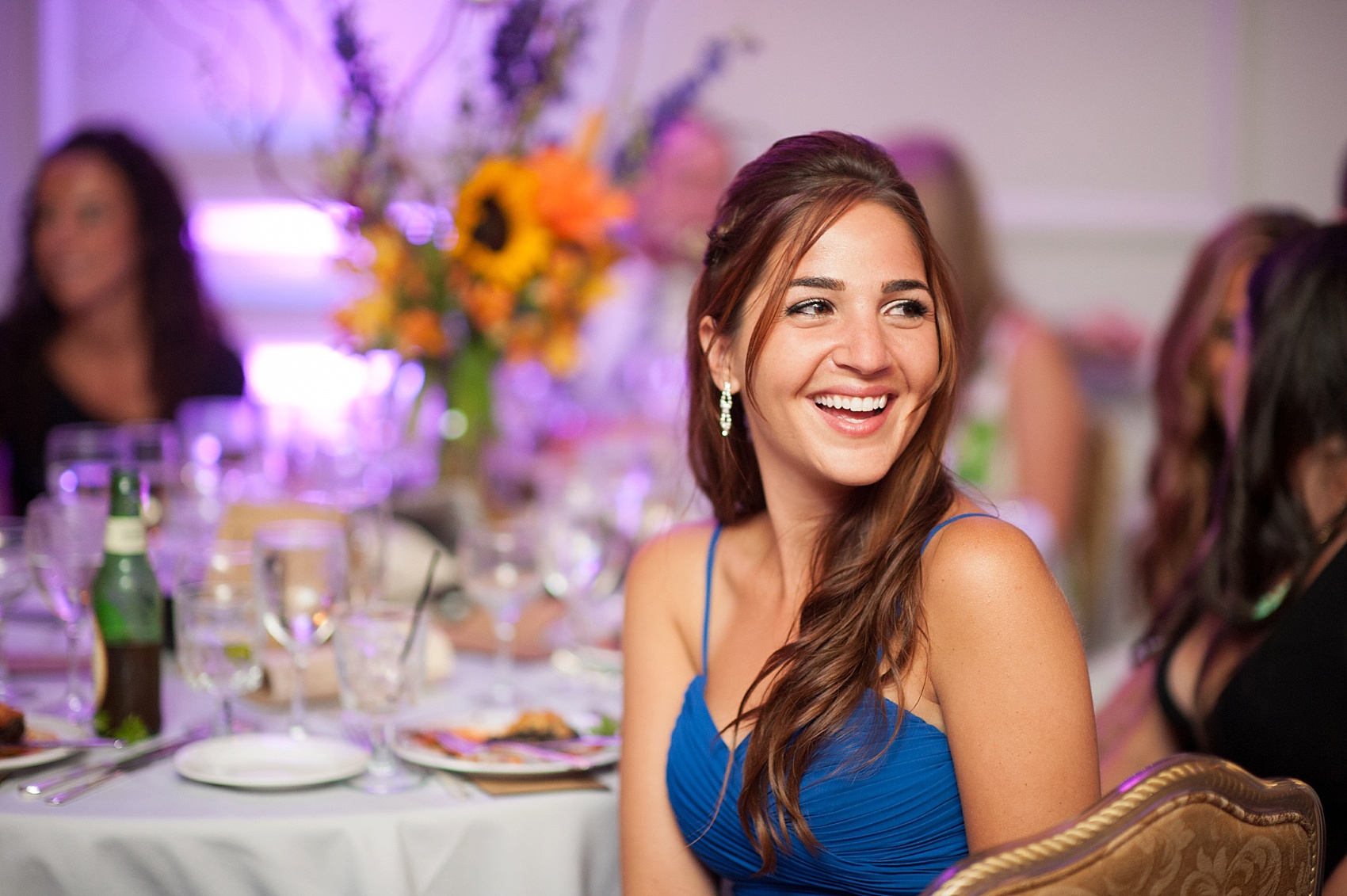 They had one of the best cake cuttings I've seen in a while. I love when couples have fun with it. When else can you get playful with frosting as an adult, while you don't have kids? Hardly ever! That's when. Live it up at your wedding. #YOLO? #FrostingNose!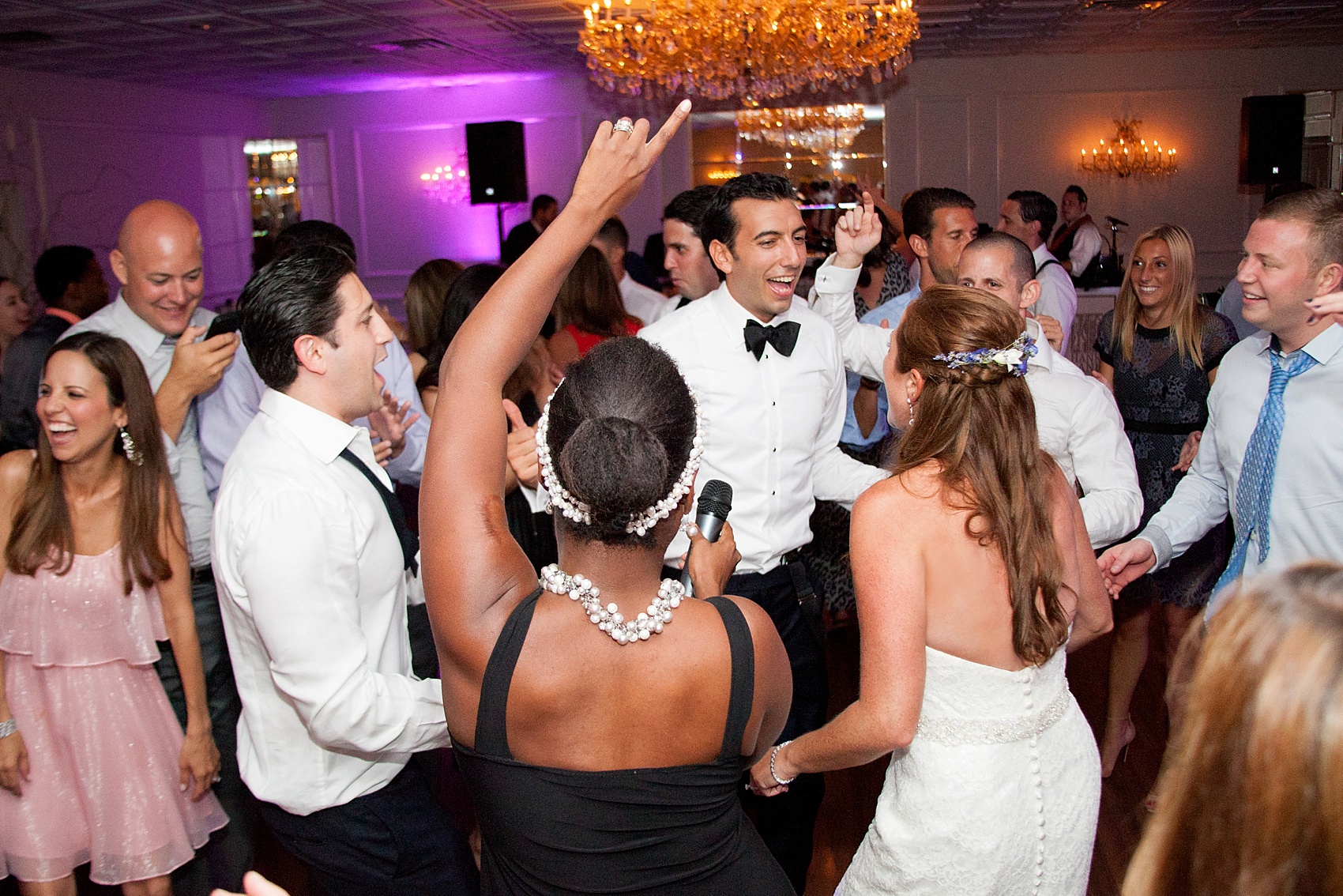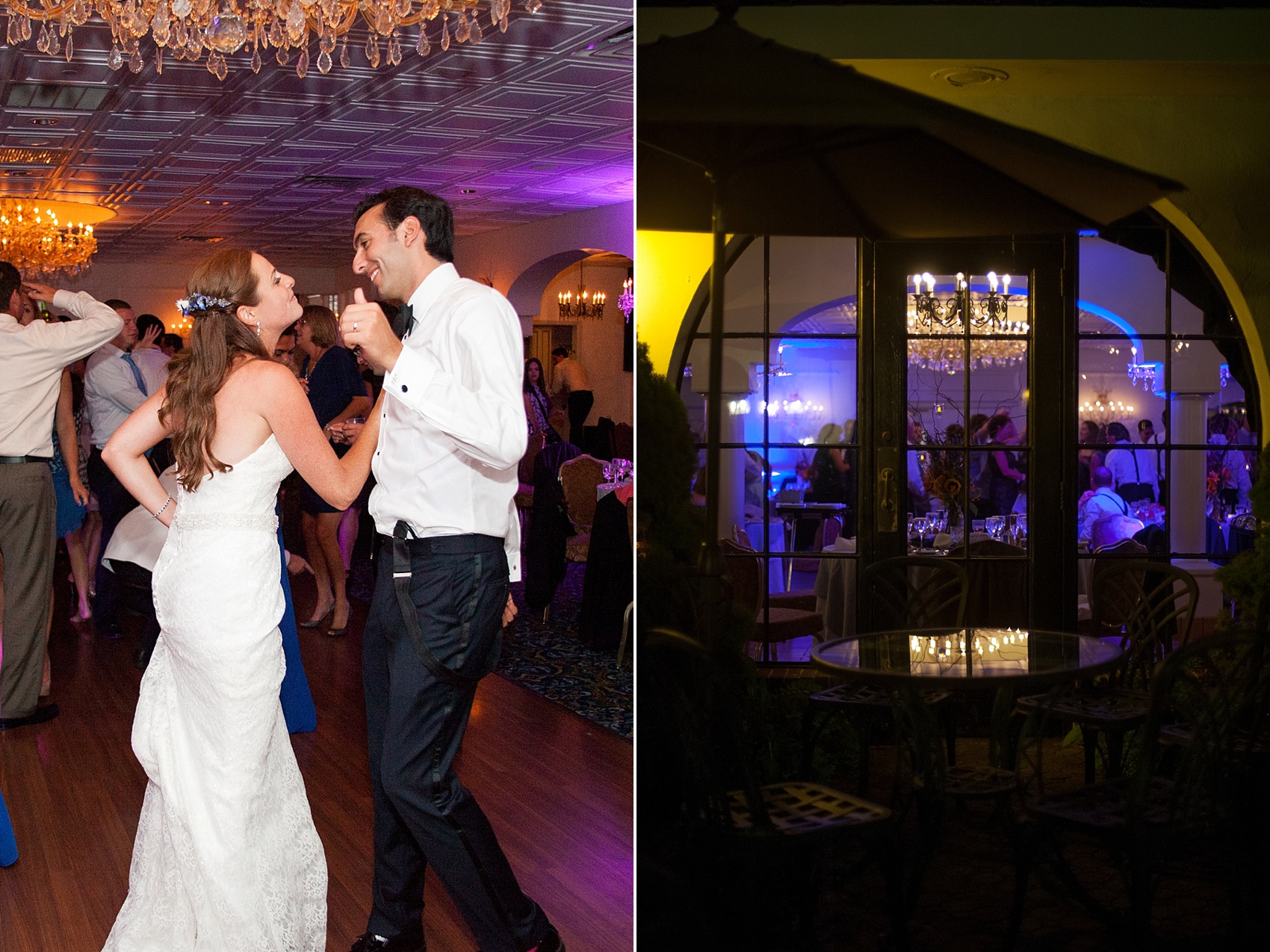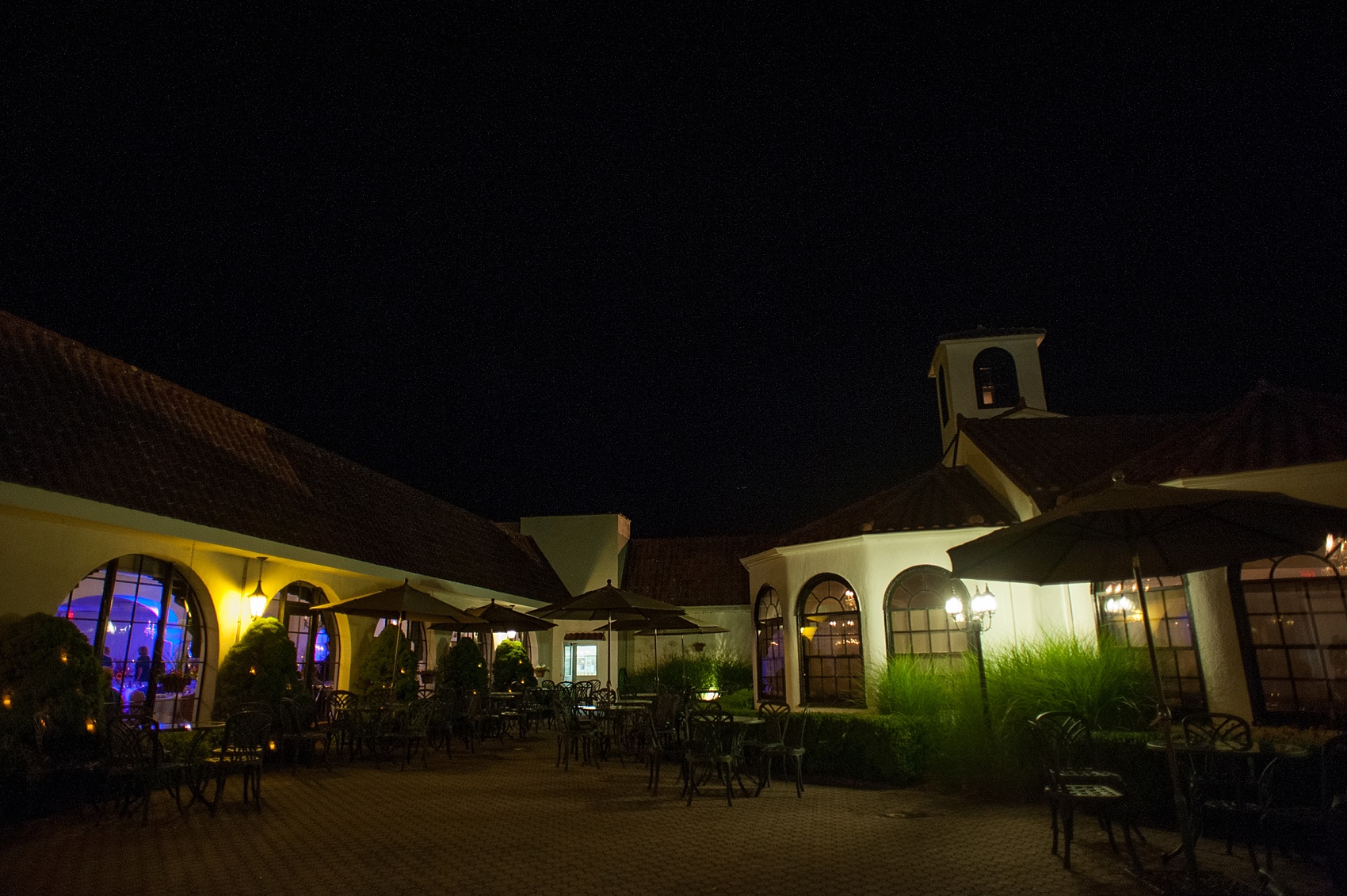 Pretty soon it was time to pack up and head home. But not before I tasted the rainbow cookies that were served with their cake. Haha! I needed a pick me up for the drive home! They were worth every bite. Seriously, Perona Farms, if you can hear me…the rainbow cookies are incredible.
Congratulations to a wonderful couple! I loved helping you plan your day from our meetup in Hoboken, to emails asking my opinion and for advice, to our Skype call reviewing all the wonderful thoughtful ways you would surprise your wedding party and guests!
Venue: Perona Farms / Flowers: Flowers by Diane / Dress: Allure Bridals / Bridesmaids Dresses: Watters & Watters Bridesmaids / Makeup: Mon Sheri Beauty / Hair: I Du's by Heather / Cake: Palermo's Bakery / Officiant: Rabbi Stephen Wylen / Band: Hank Lane, Mark Koslowe Band / Caricature Wine Glasses and Beer Steins: Naughty Kitty Designs / Men's Bow Ties: The Tie Bar / Socks: Happy Socks / Groom's Custom Tuxedo: Black Lapel
Be sure to "like" Mikkel Paige Photography on Facebook and follow on Instagram! And if you're interested in wedding photography for your day, contact me!
Happy Friday!