The bond between Brittany and Josh rivals any couple I've ever encountered. Their relationship dates back to over nine years ago, when a friend introduced them. They met casually one night but it wasn't until many days later Brittany thought there might be something worth exploring! An evening at a party, where they'd fatefully meet again, confirmed their chemistry. Since then they have been through thick and thin! When Josh popped the question during a snowy walk in Central Park to celebrate one of Brittany's favorite holidays, Valentine's Day, she said yes! Their wedding planning followed after and I was the lucky photographer hired to work with them and capture their day!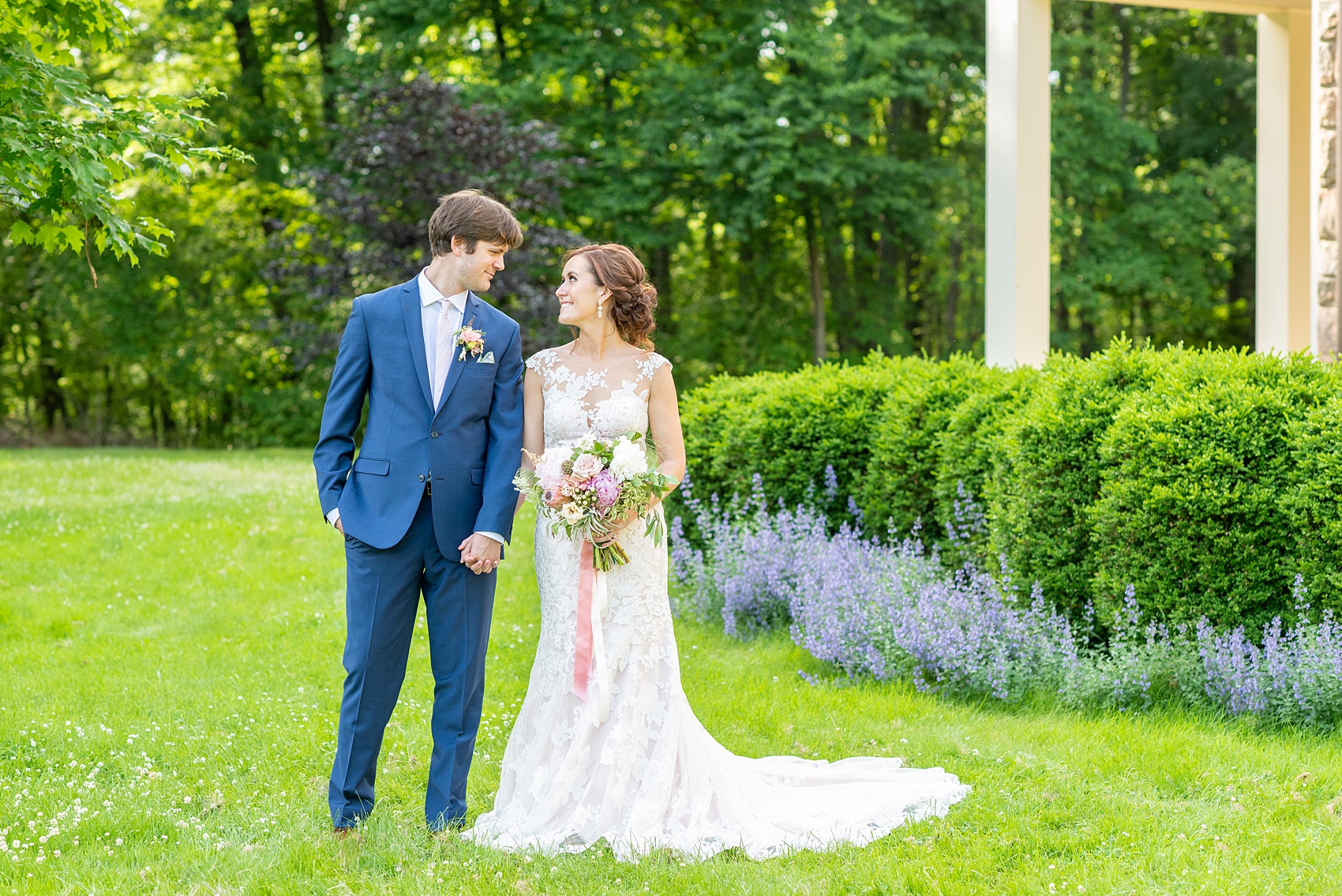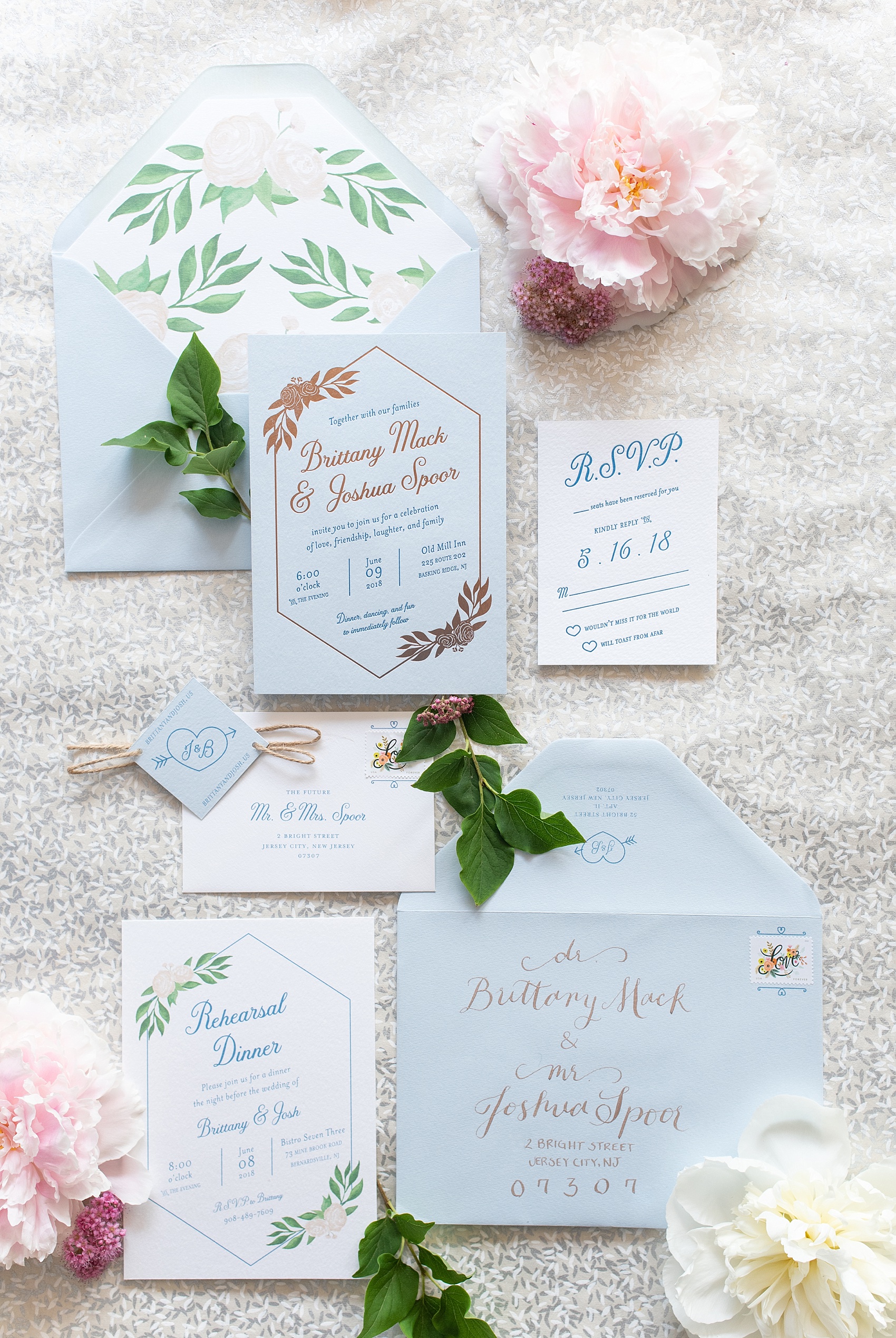 Their invitation was extra special, designed by the bride's sister who is a professional stationer! Everything matched perfectly, from their rehearsal dinner invitation, to calligraphed envelopes, RSVP cards, square twine-fastened belly band and reply envelopes. Their programs for their ceremony matched the rose motif to, just like their wedding invitation liners. I love details like this!
Brittany finished handwriting her wedding vows while I photographed some details. Her gold shoes were accented by flower cutouts I immediately took note of that and the custom name hangers Brittany gave to her bridesmaids, along with colorful floral patterned robes. When I walked in the bridesmaids had already neatly set up their gowns on their corresponding hangers with their shoes below. I was a happy photographer!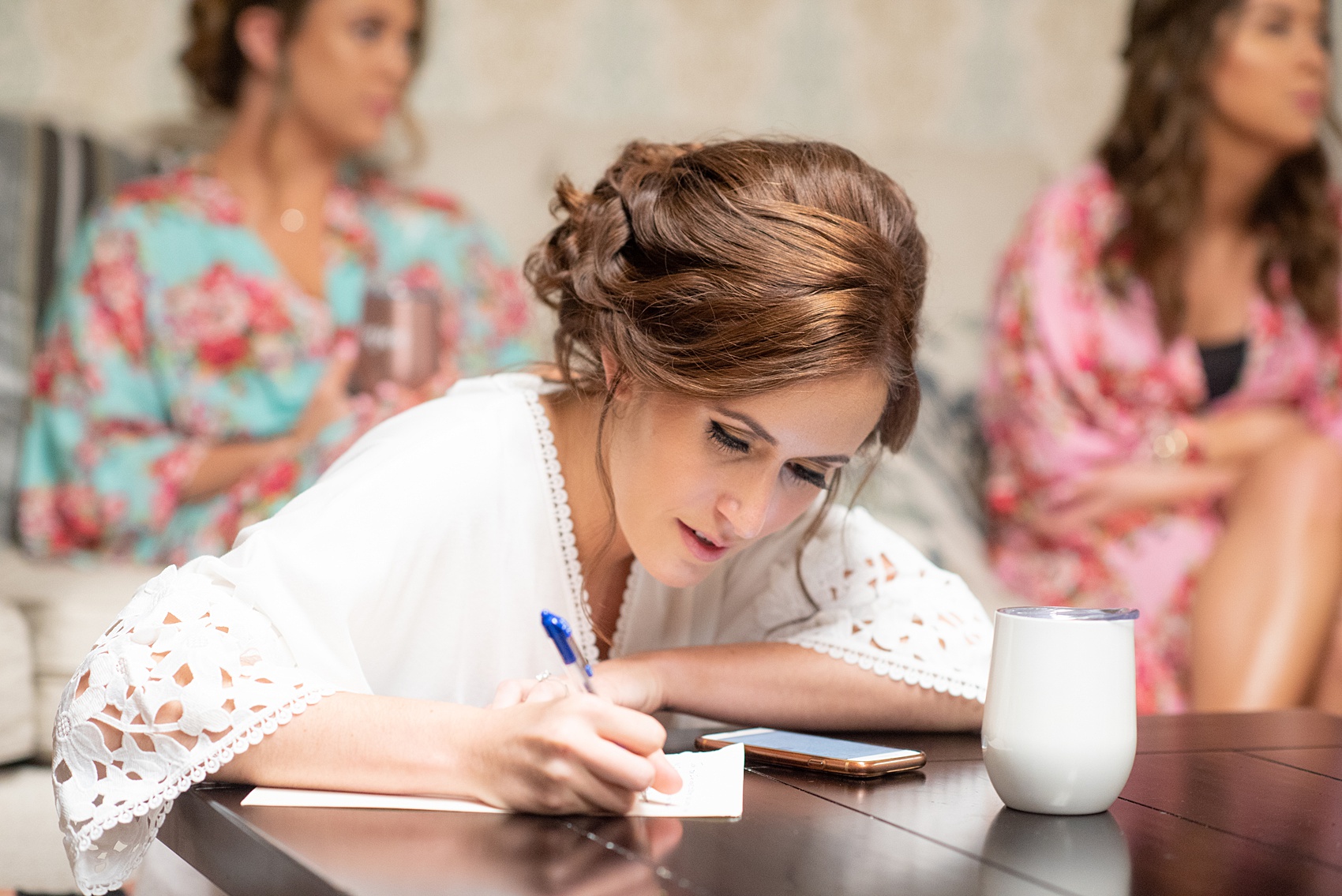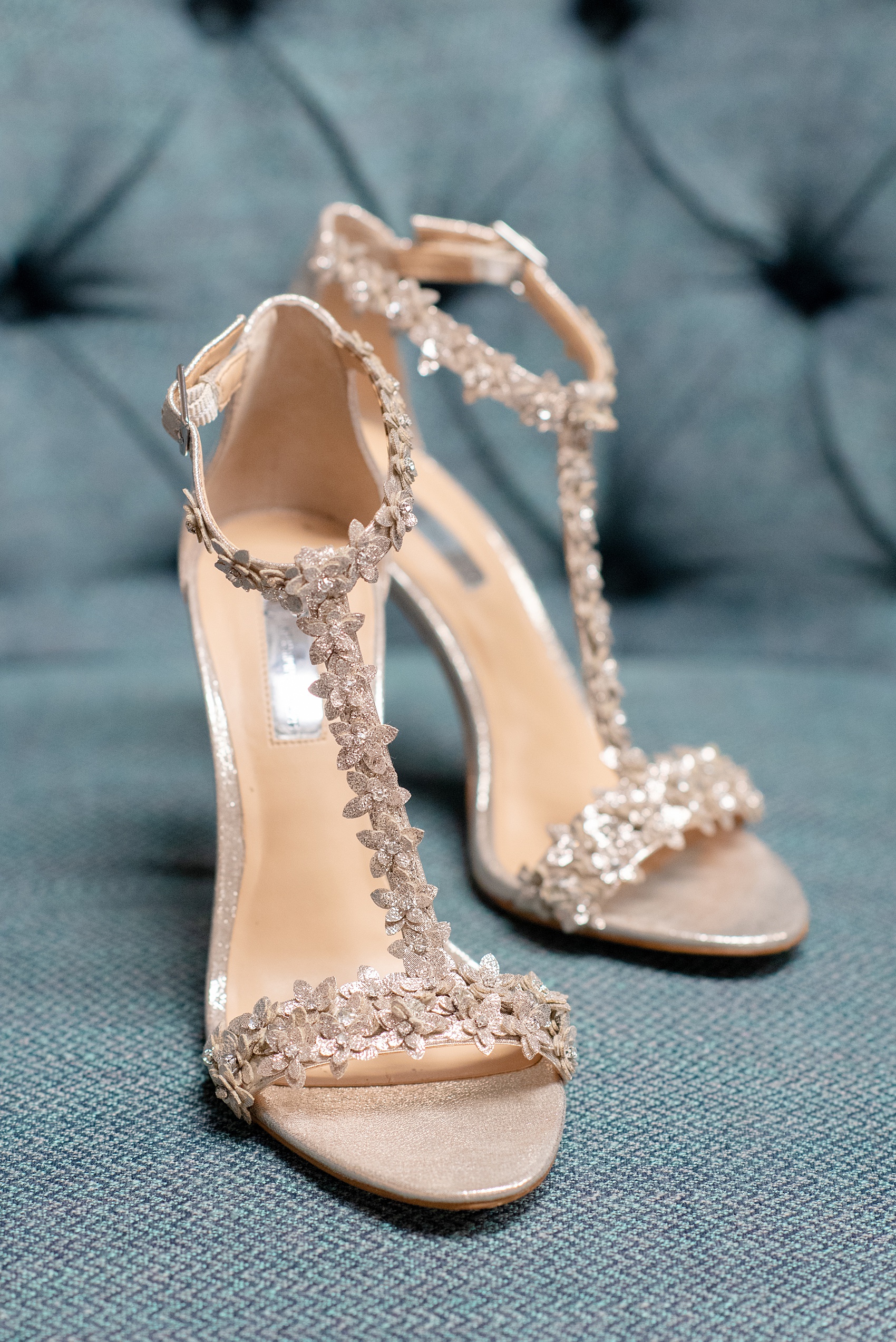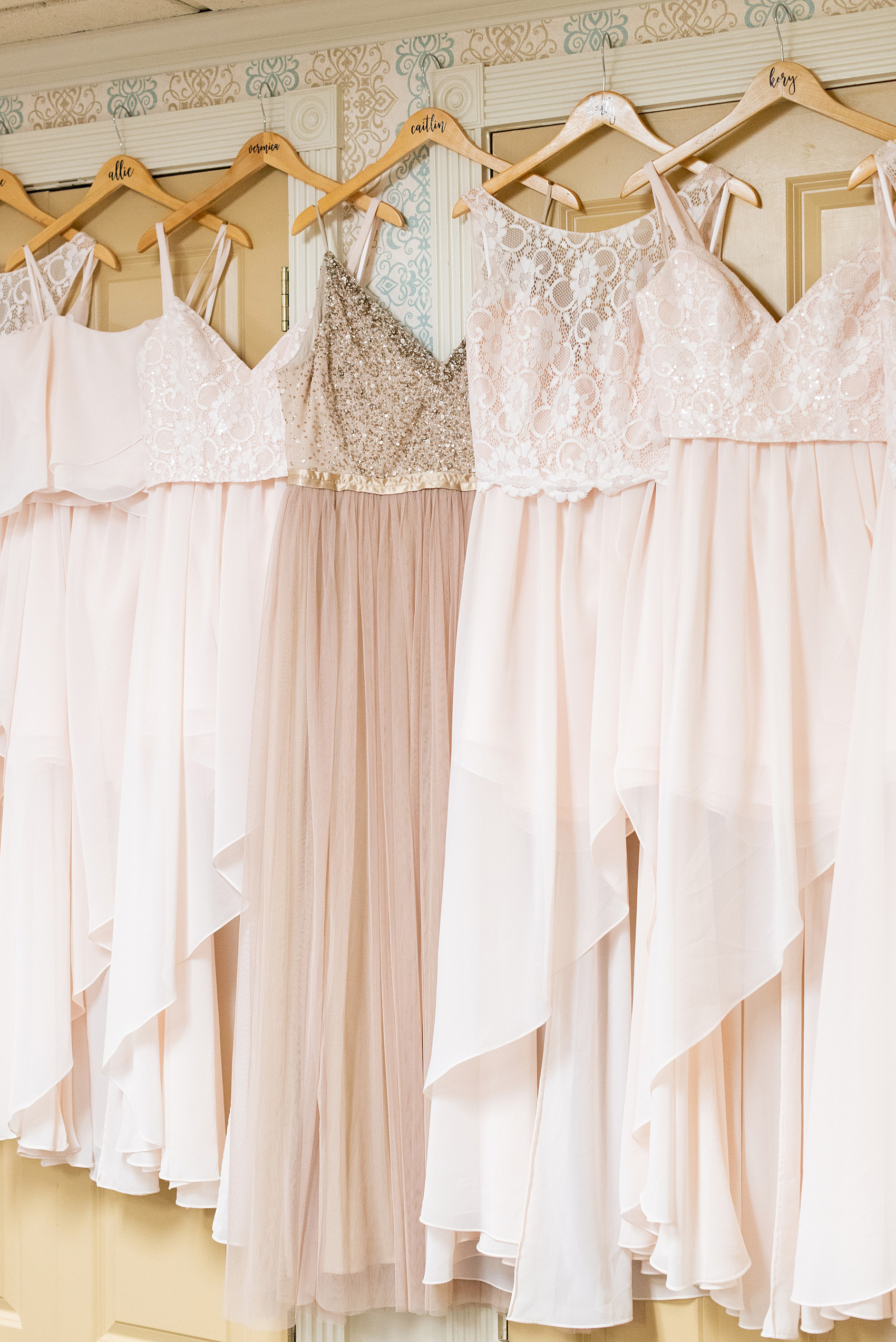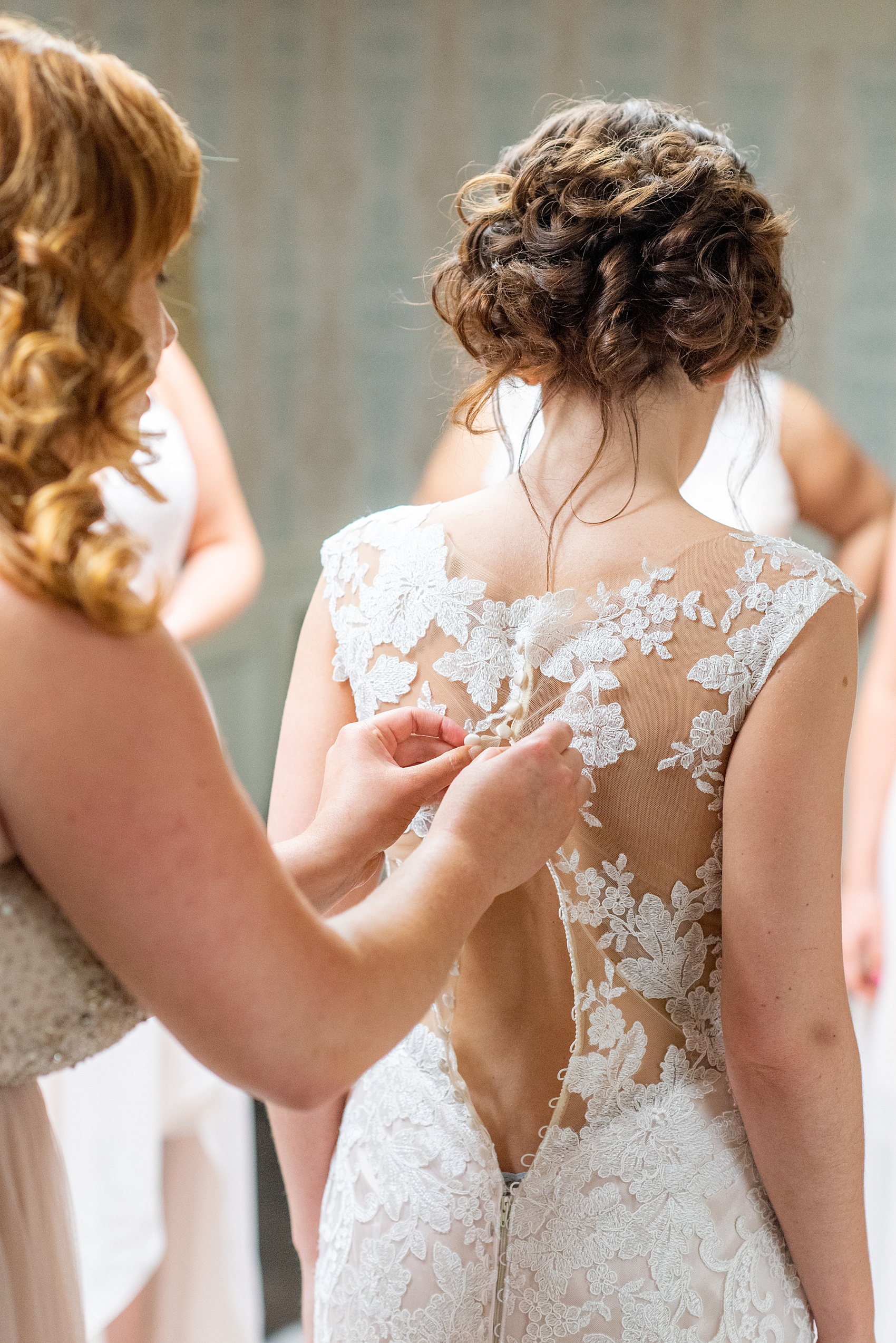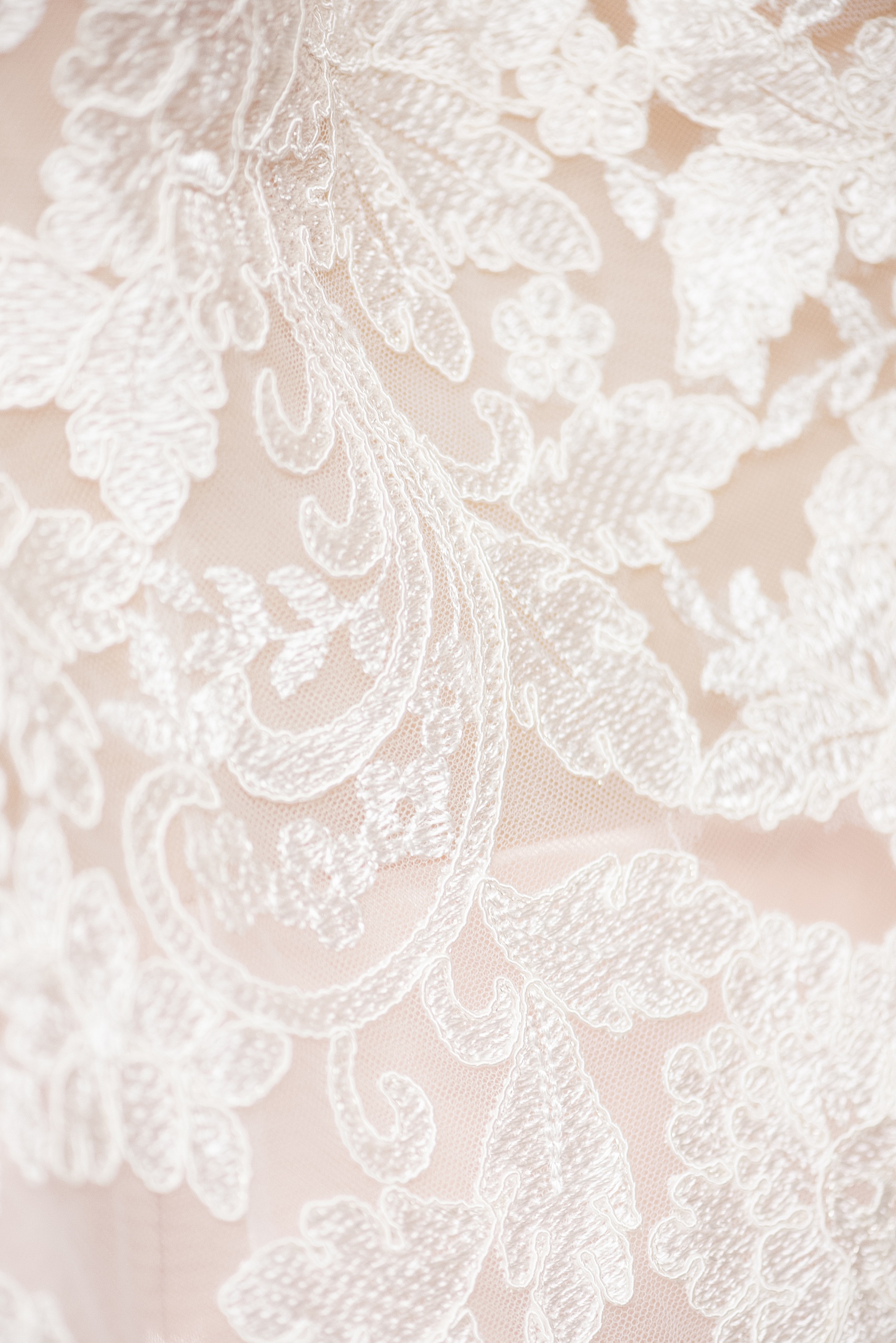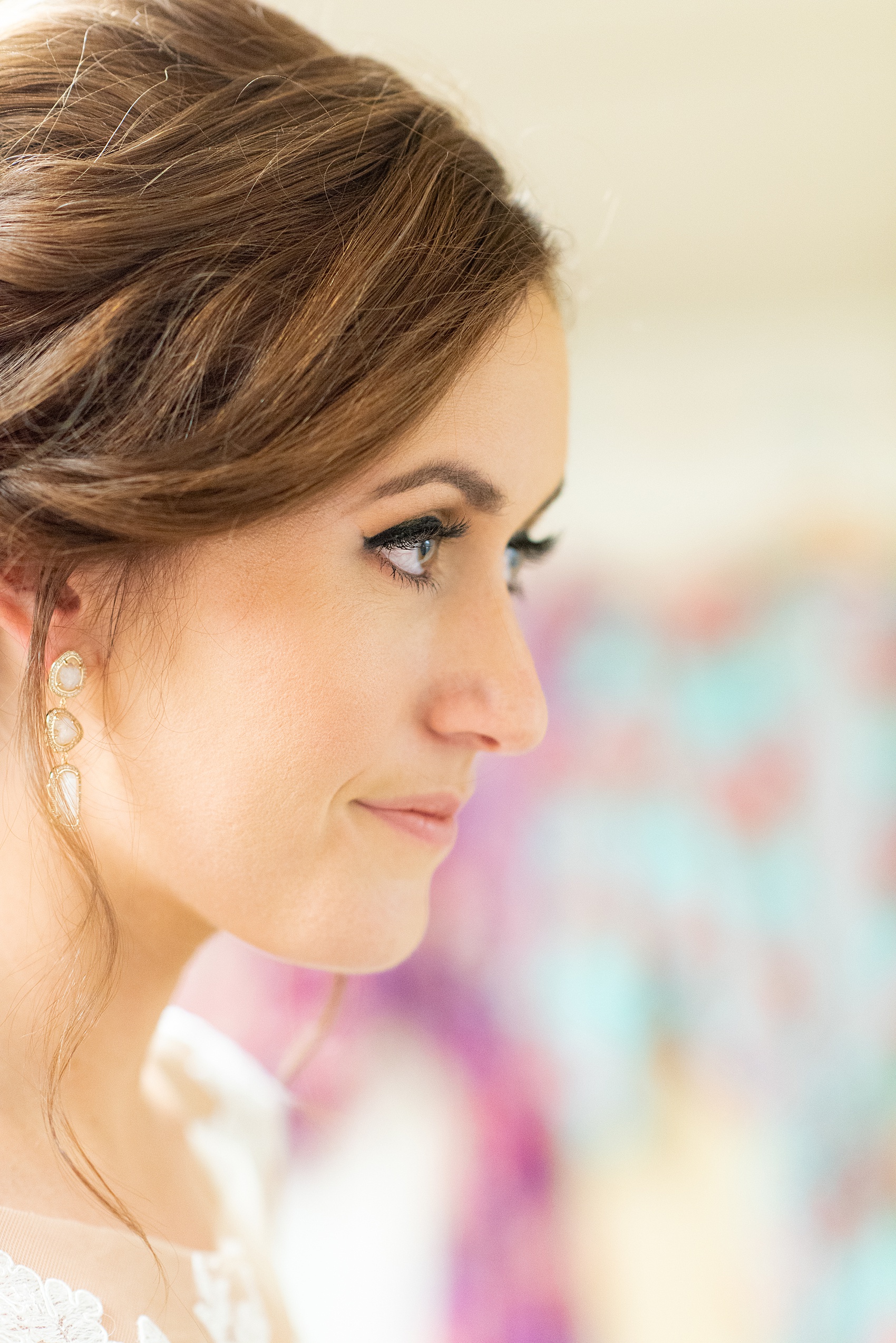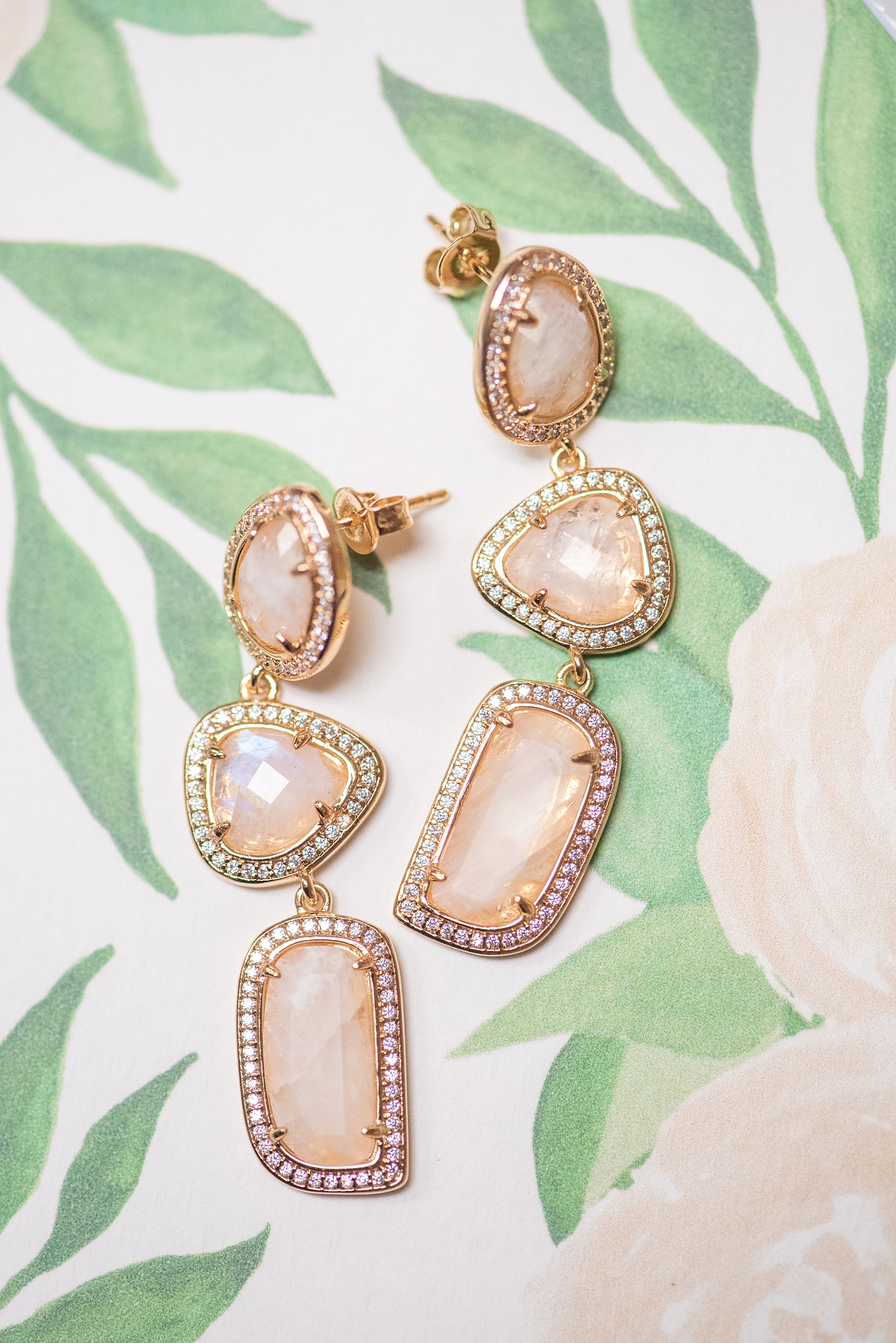 Truly, no detail was left unnoticed by Brittany. Her lace Allure Bridal gown had a blush underlay lining that added the perfect compliment to her mis-matched bridesmaids gown in light pink. Her earrings were some of my favorite I've ever seen a bride wear: three tiers of pink gemstones surrounded by a frame of white rhinestones. I was envious they weren't mine! 😉
Speaking of jewelry…Josh gifted his bride an extra special gift for their wedding day. He had Brittny's mom's engagement ring reset as a necklace. It will surely be a treasured possession of Brittany's for years to come and a great way to remember their special day.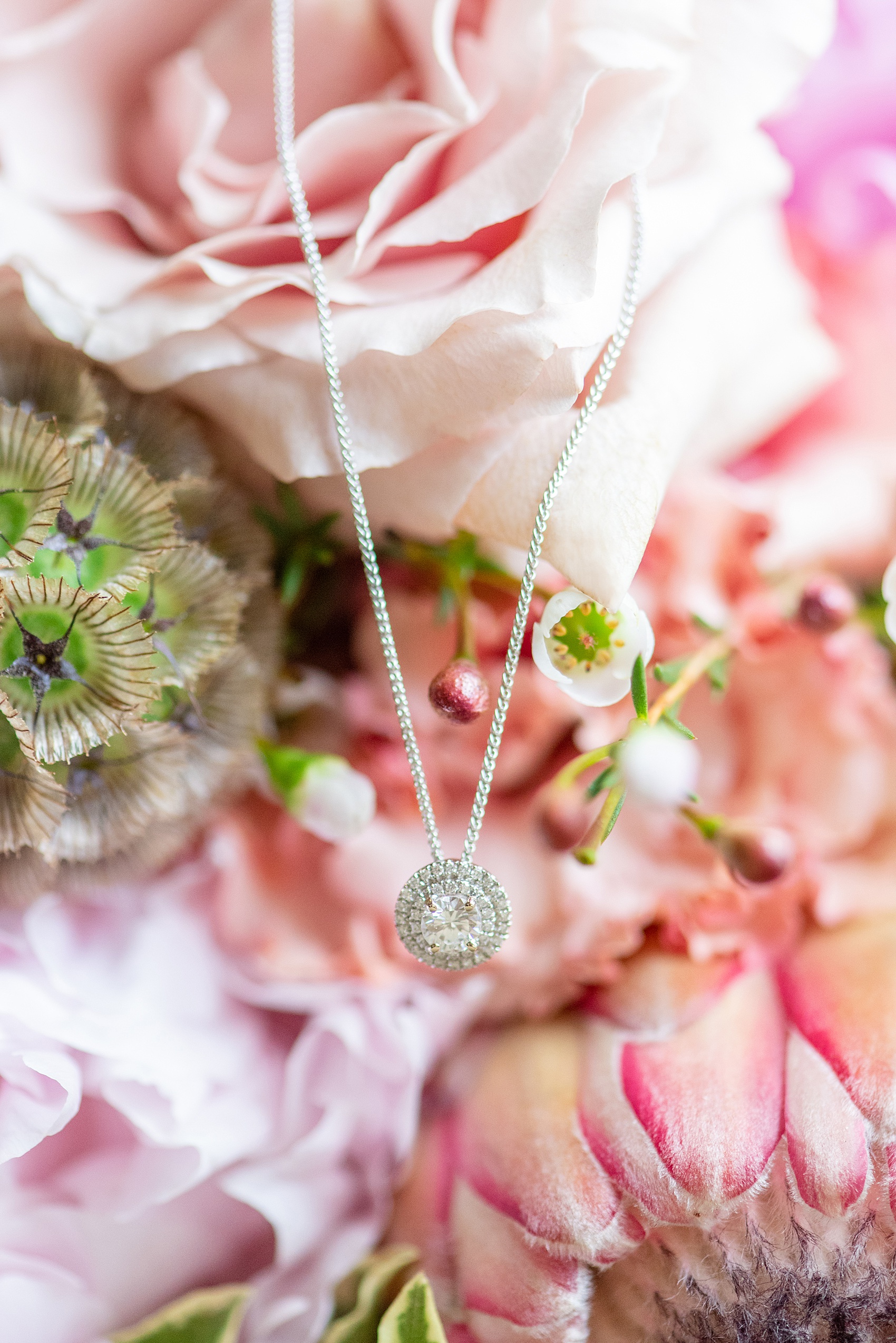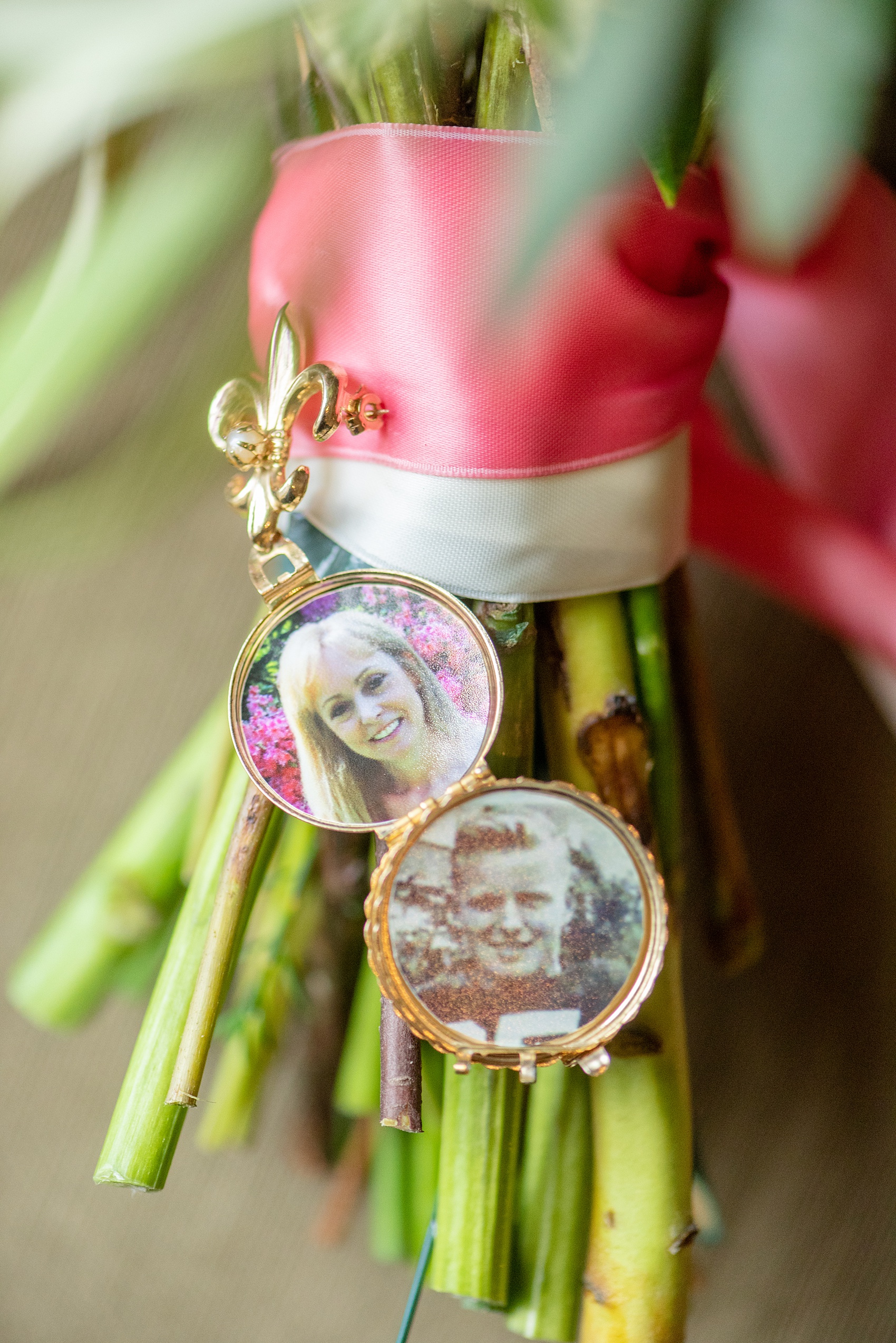 One of the sweetest details of the day was a locket of photos Brittany carried on her bouquet. It was "something borrowed" as well – her sister Caitlin also carried it for her wedding day. It had a photo of her beautiful mother, Kim, in it and her grandparents. I loved talking to Kim's best friend, Alice, about special memories of her while I was photographing it.
Josh was nearby getting ready with his groomsmen! His blue suit awaited its groom in their bridal suite while he tied his tie, put on his brown leather shoes and…another favorite detail…put his NYC pattern pocket square in his coat pocket. More on that later!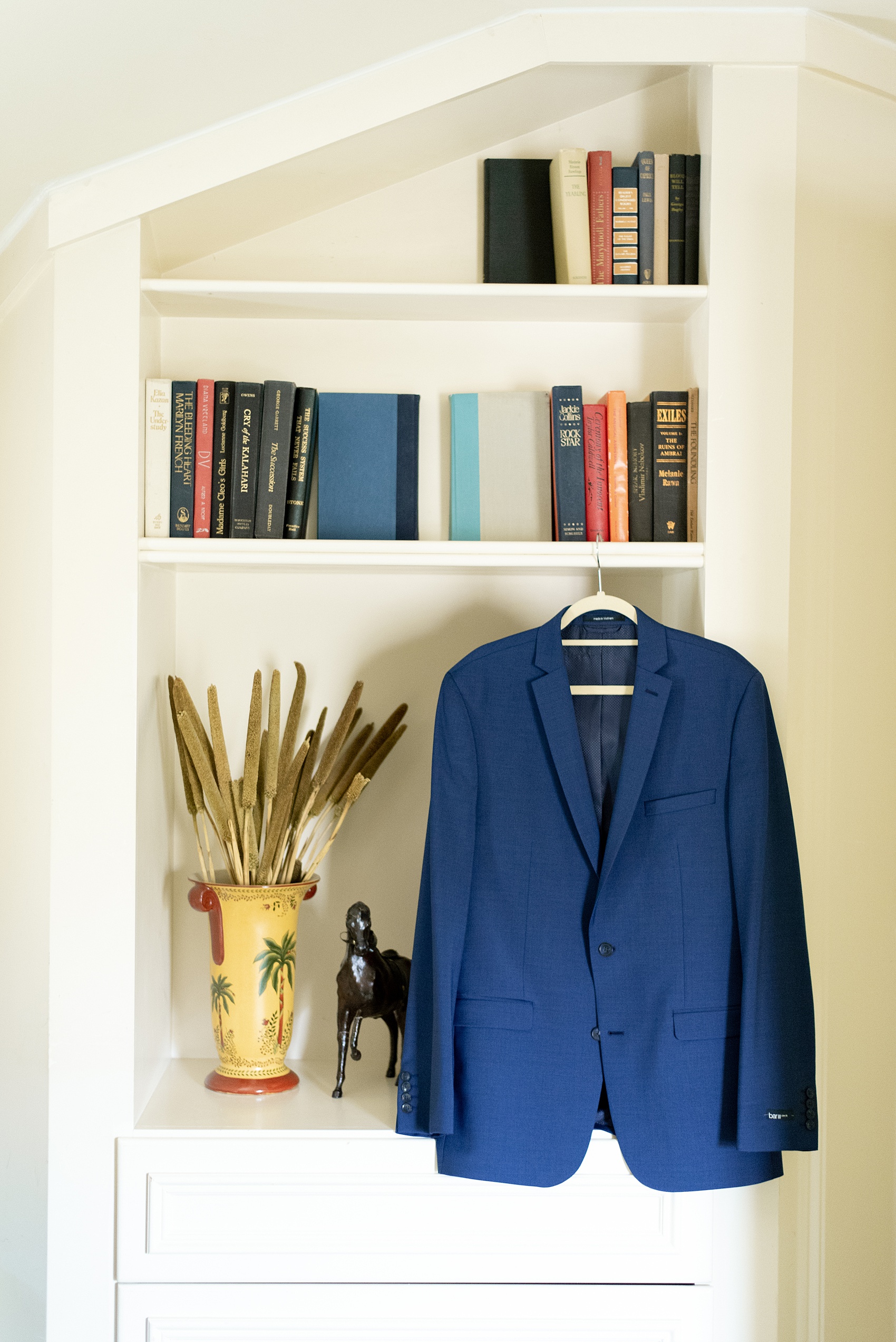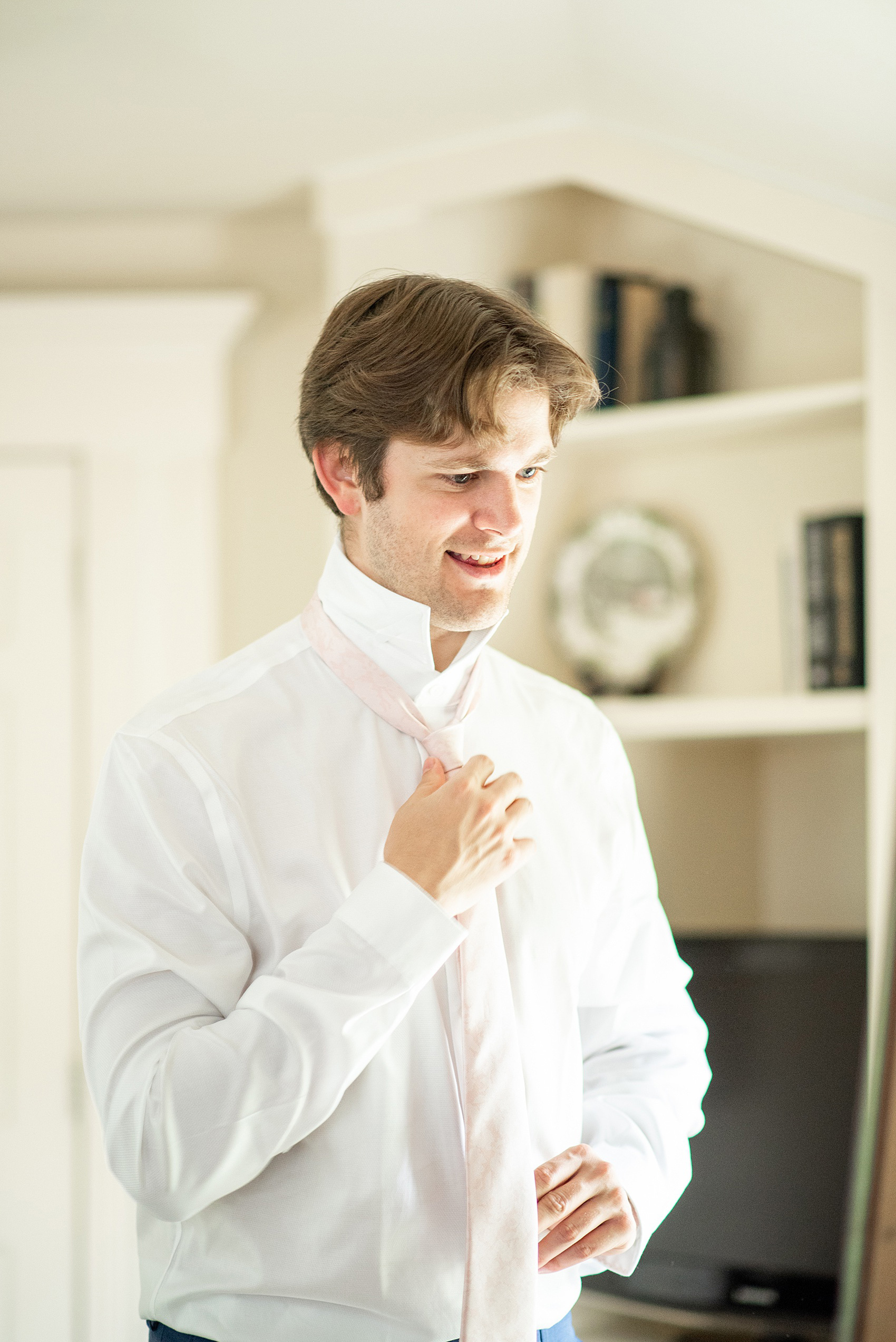 Brittany and Josh started their afternoon with a first look where their wedding ceremony would later take place. Their Olde Mill Inn and Cross Estate Gardens wedding photos continued as the entire bridal party commuted to the nearby gardens. It was perfect for Brittany's "Midsummer Night's Dream" wedding vision!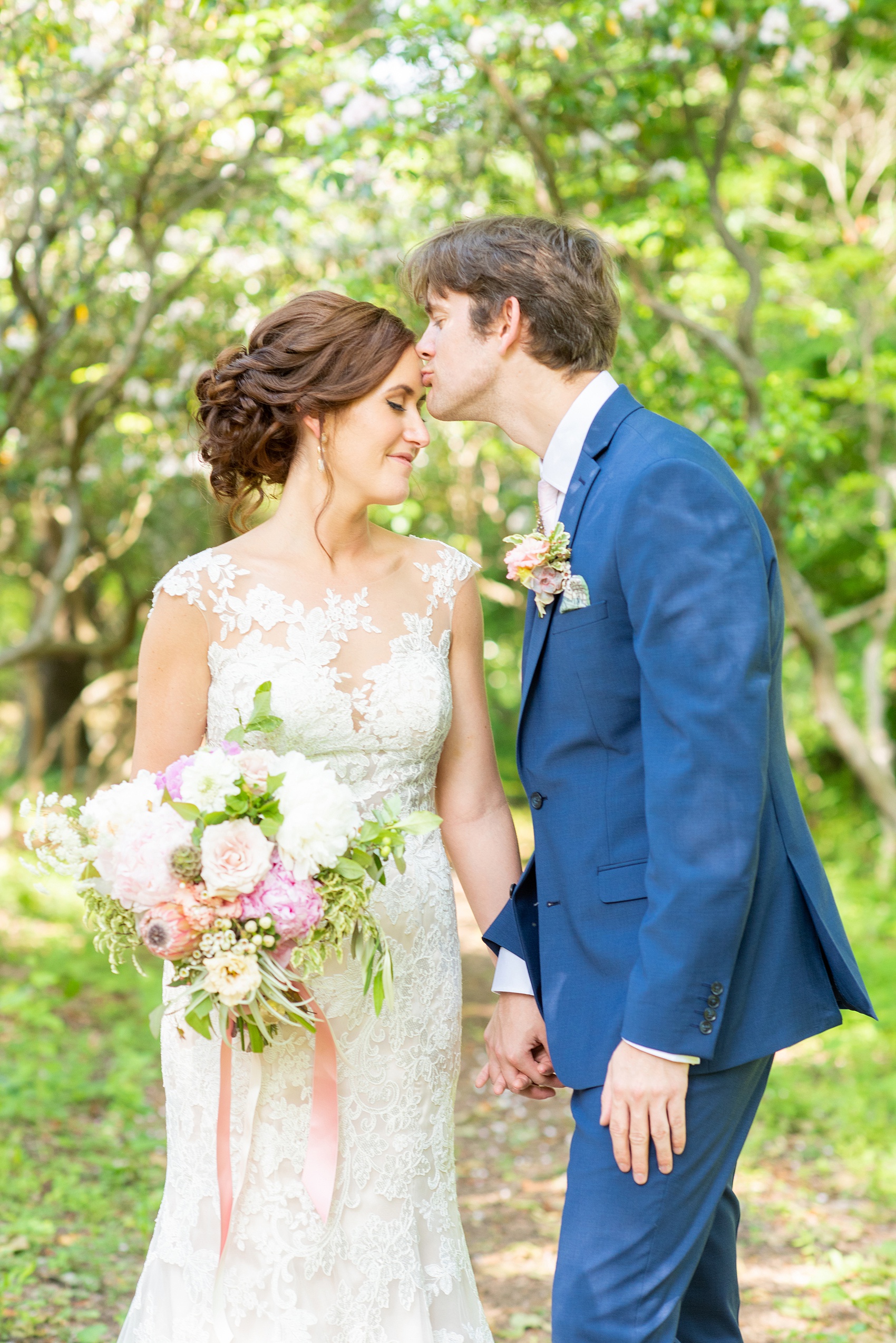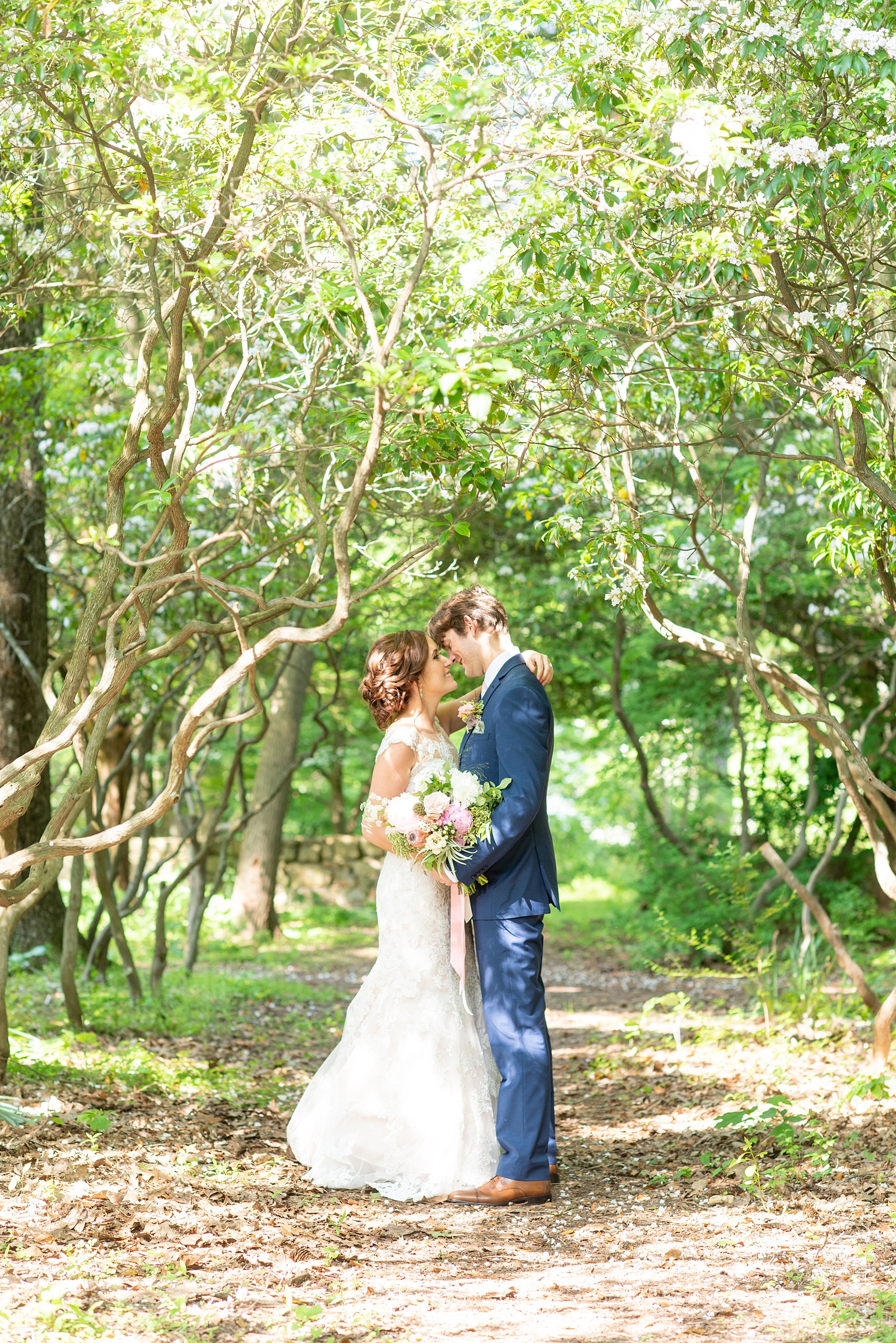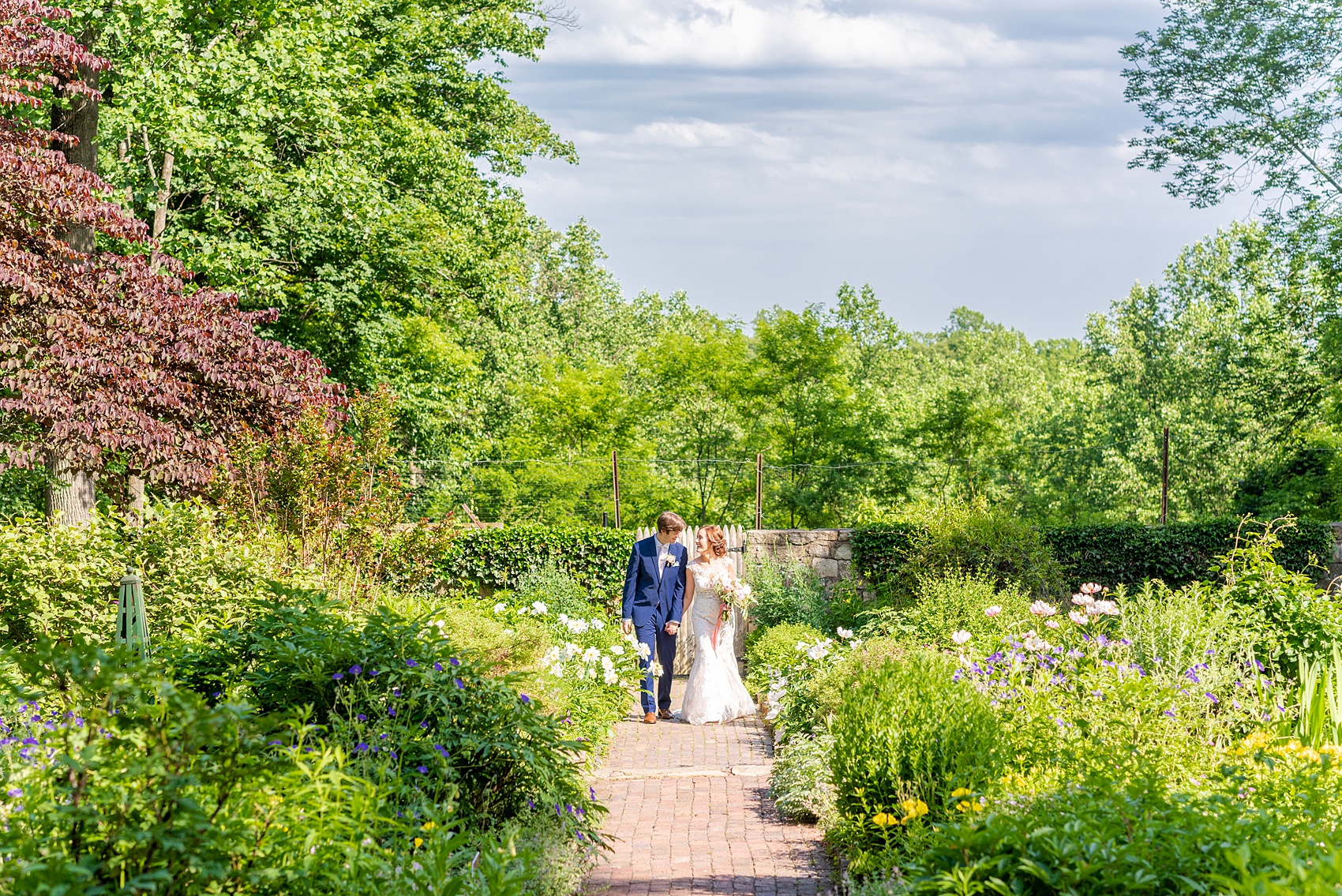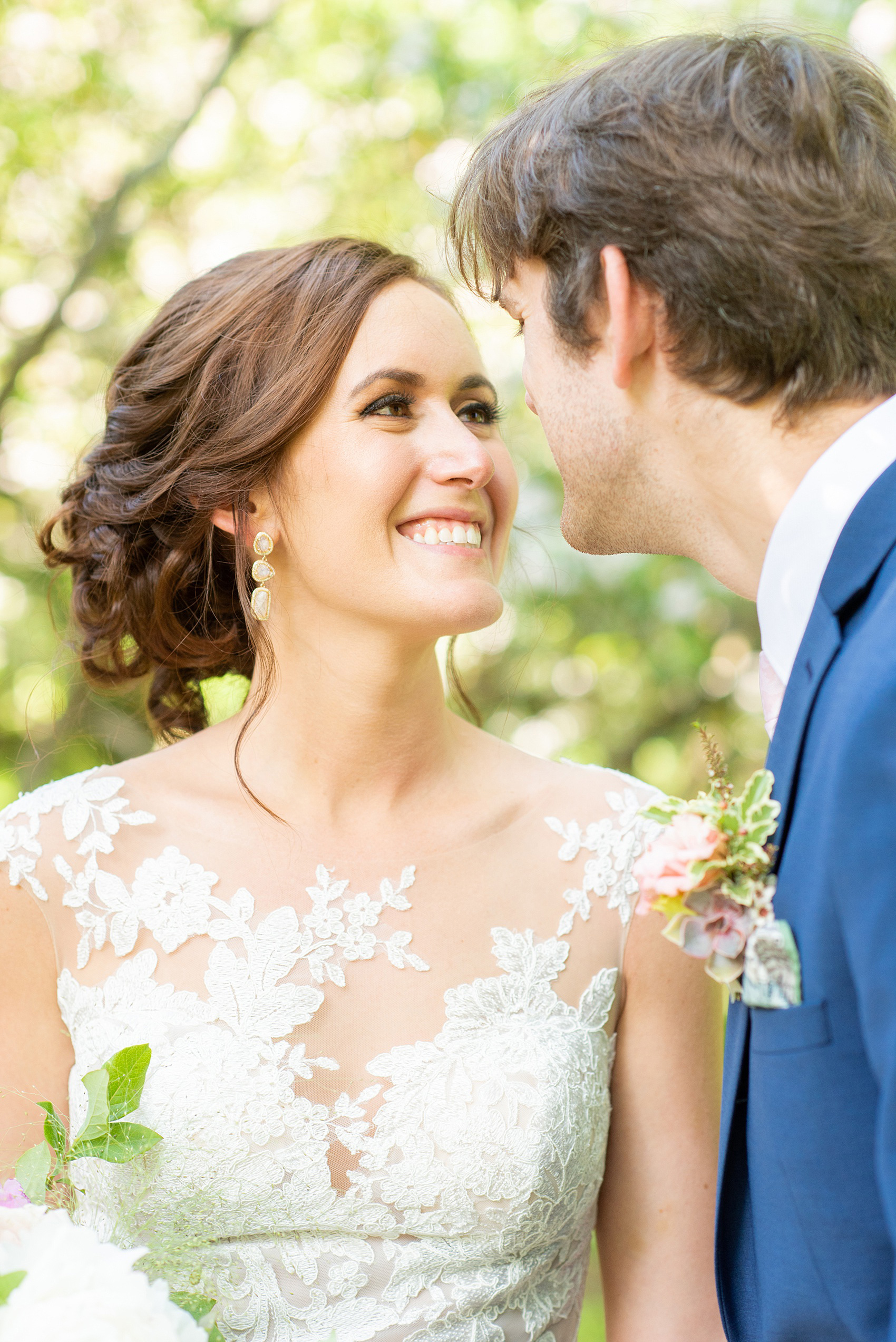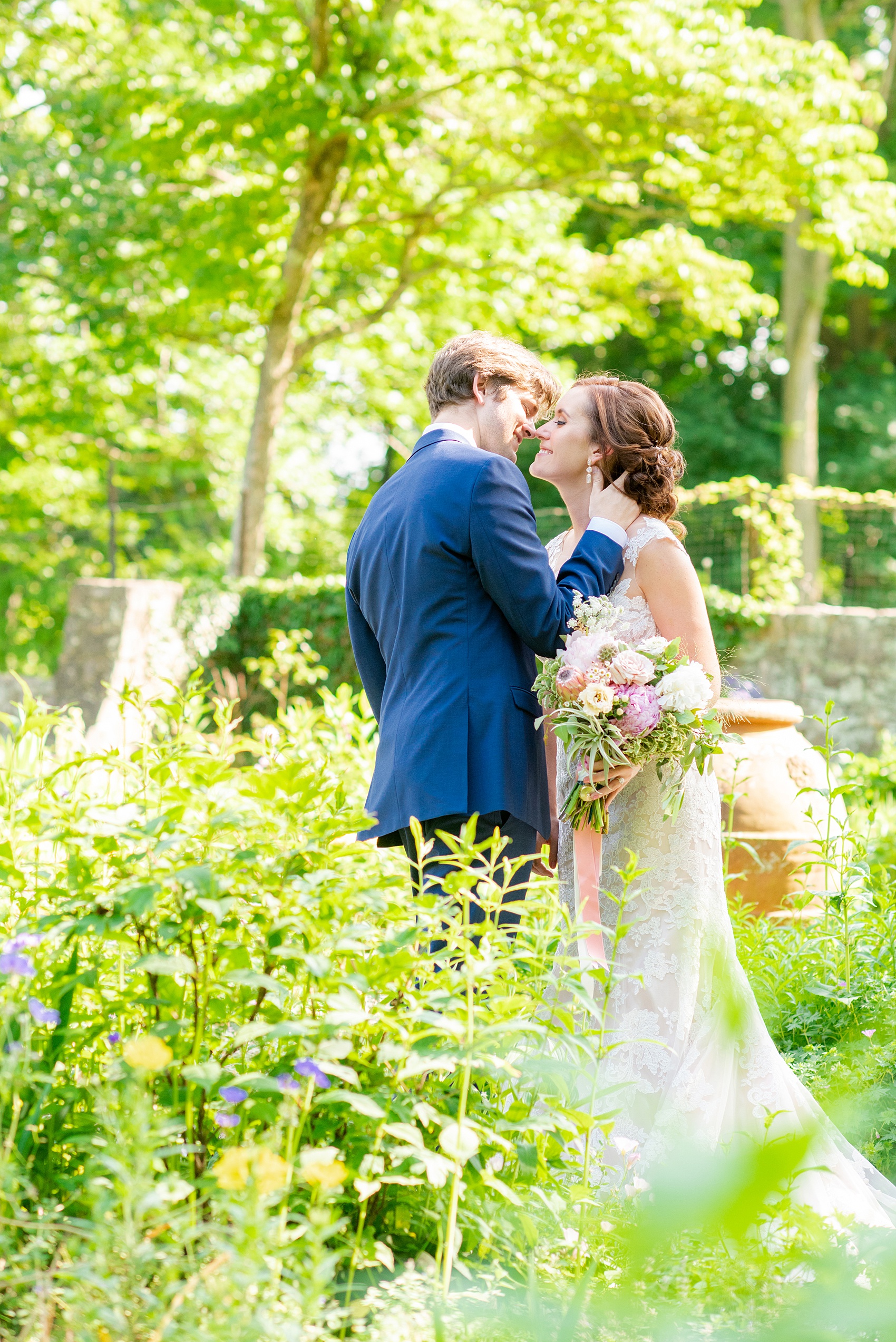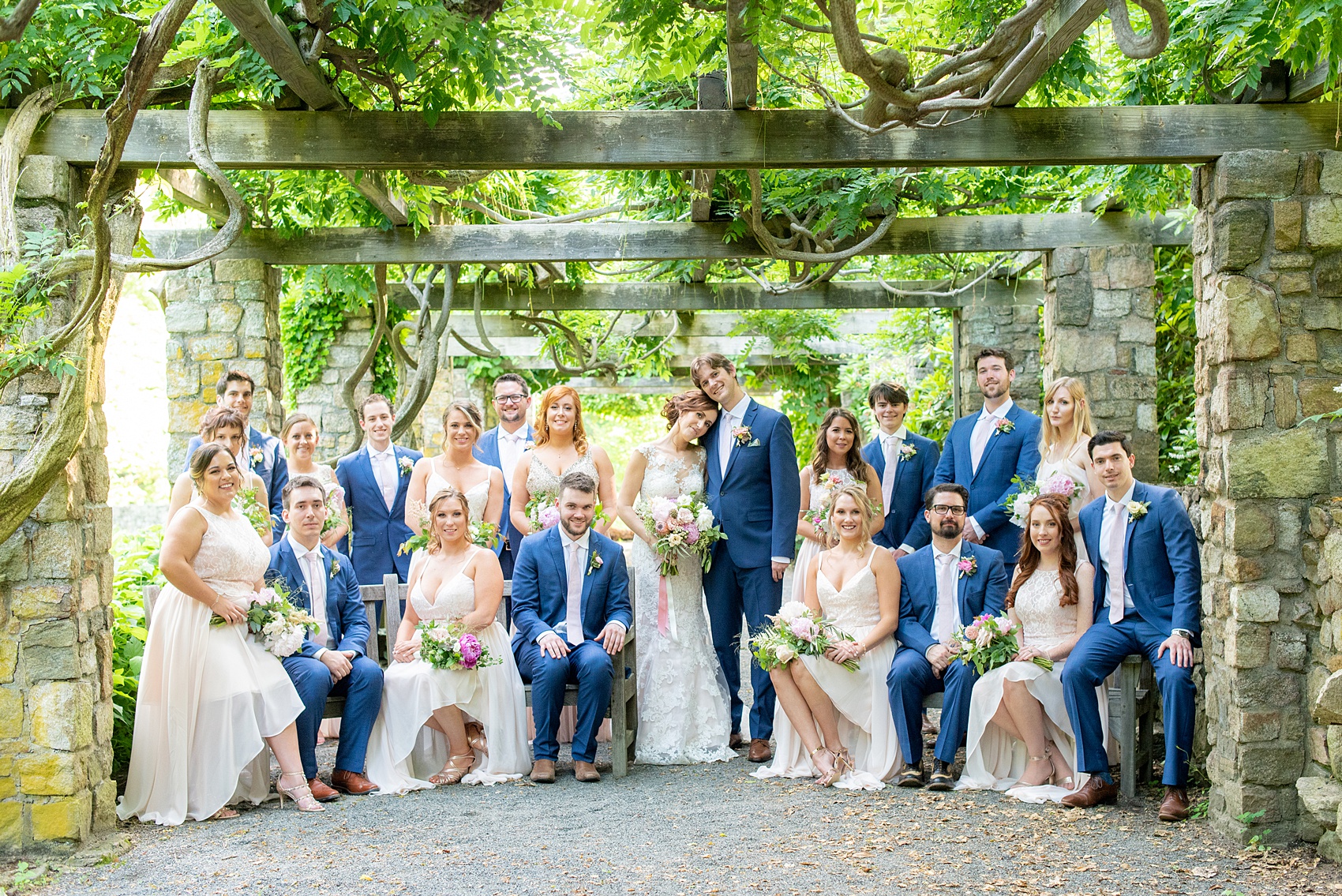 One of my favorite things to do on a wedding day is take the time (if there is time, which I work out with the couple ahead of the big day!) to set up a unique wedding party shot. Cross Estate Gardens was perfect for this. We moved two benches under the beautiful overhead pergola to set up this gorgeous photo.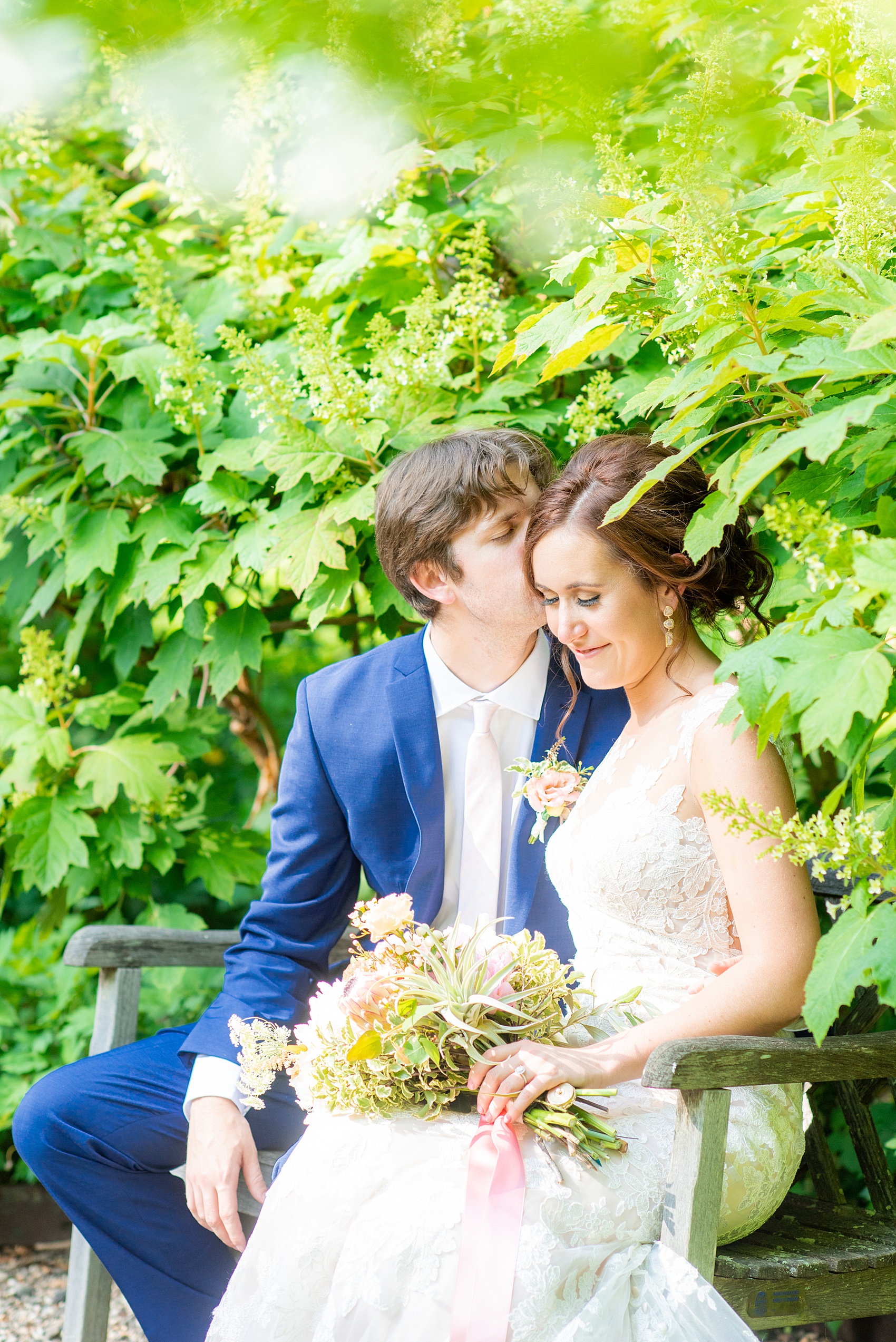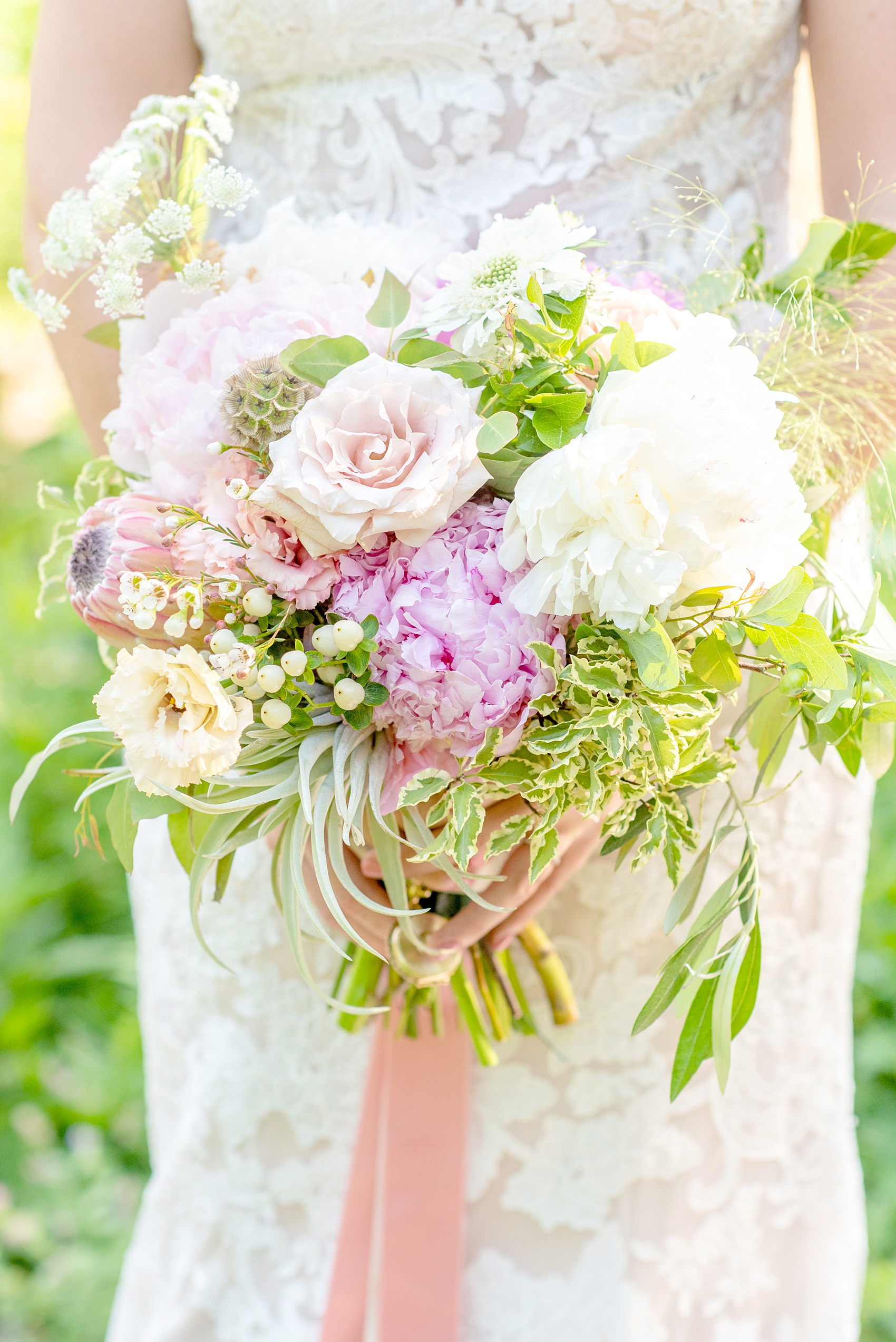 Brittany's bouquet was amazing! It contained king protea, pink peonies, white hypericum berries, a large air plant, wax flowers, scabiosas, Queen Anne's lace, garden roses and assorted greenery. The bridesmaids carried similar, smaller peony bouquets to compliment the bride's. I adore how summery they look in this Cross Estate Gardens photo below, with the lavender behind them.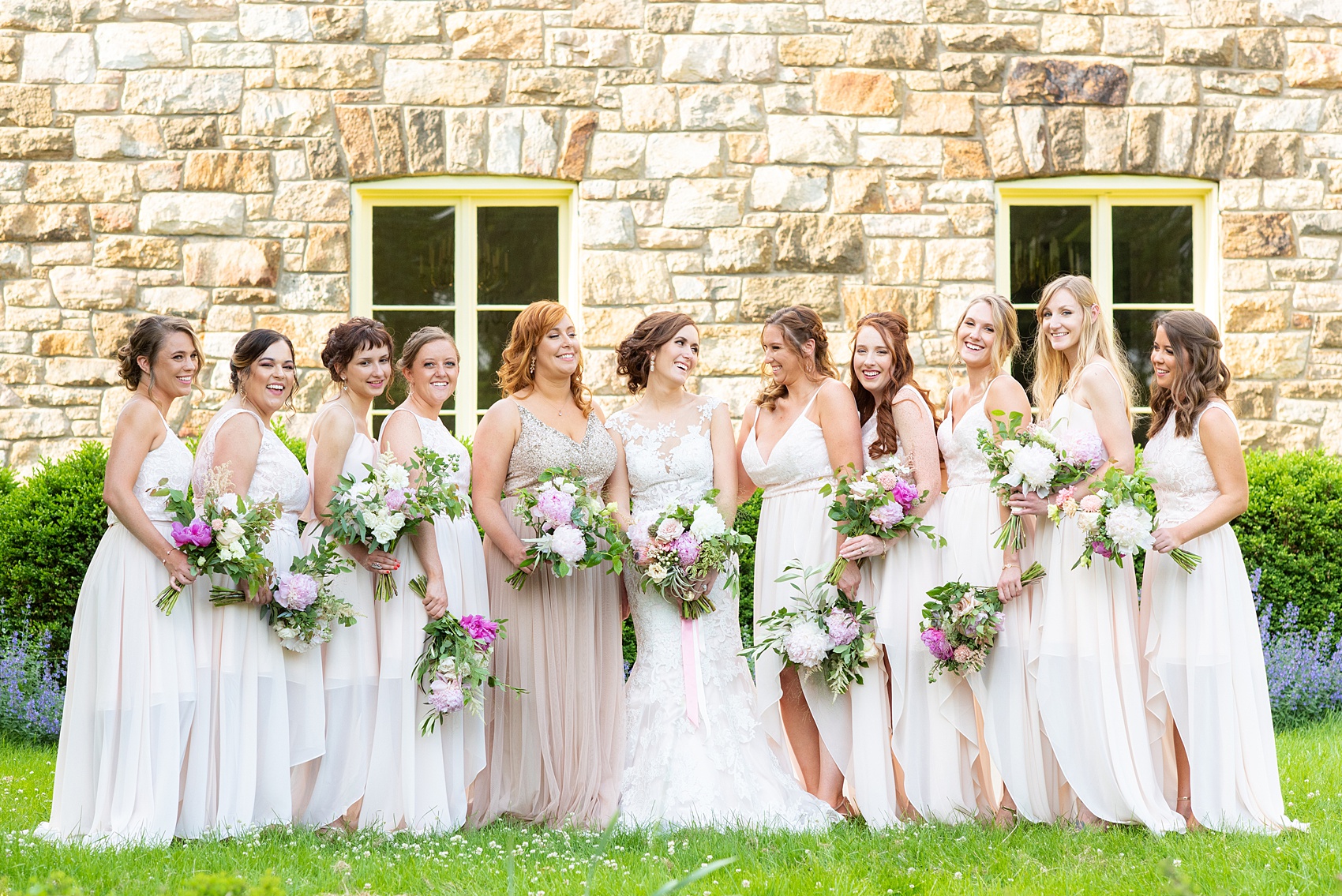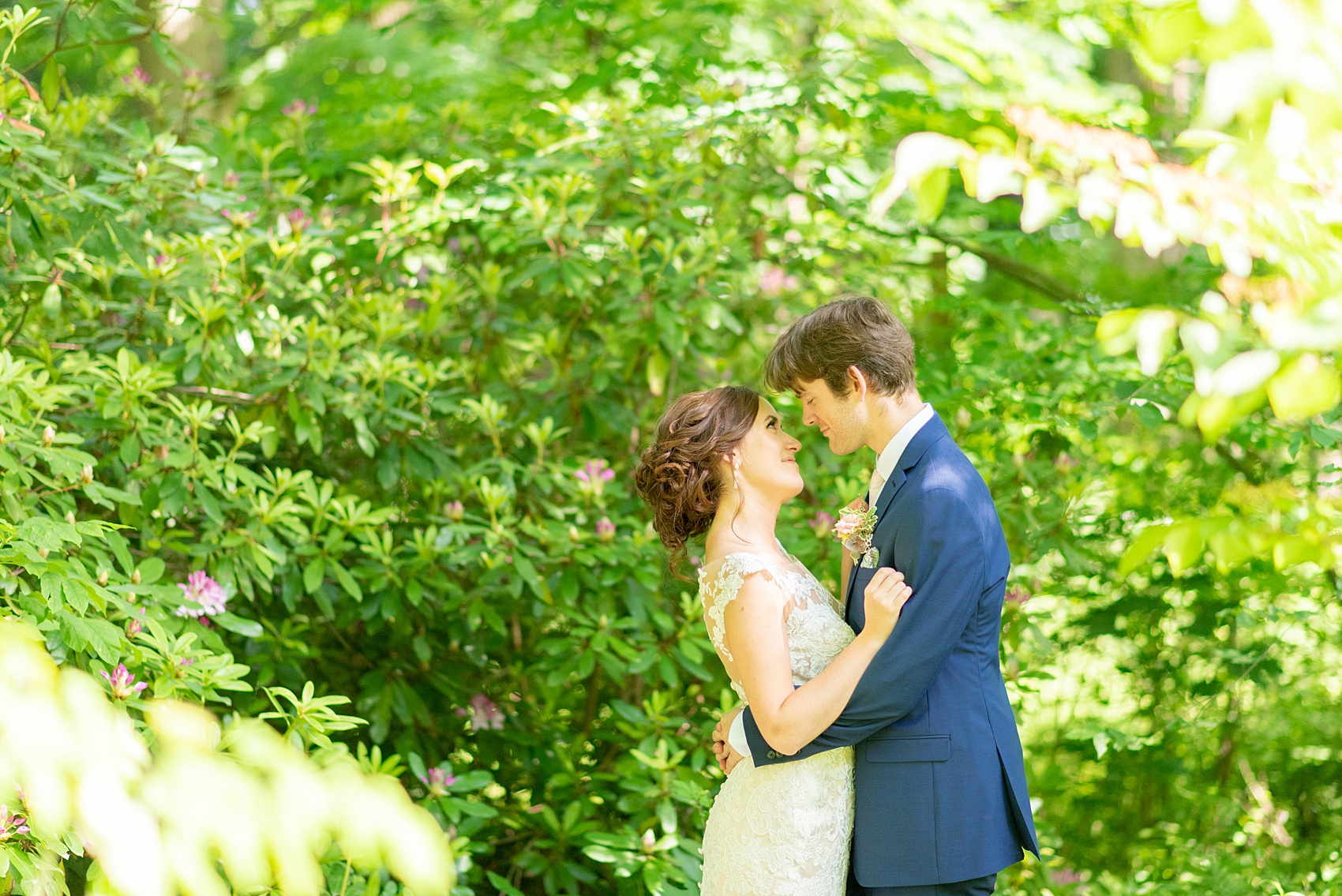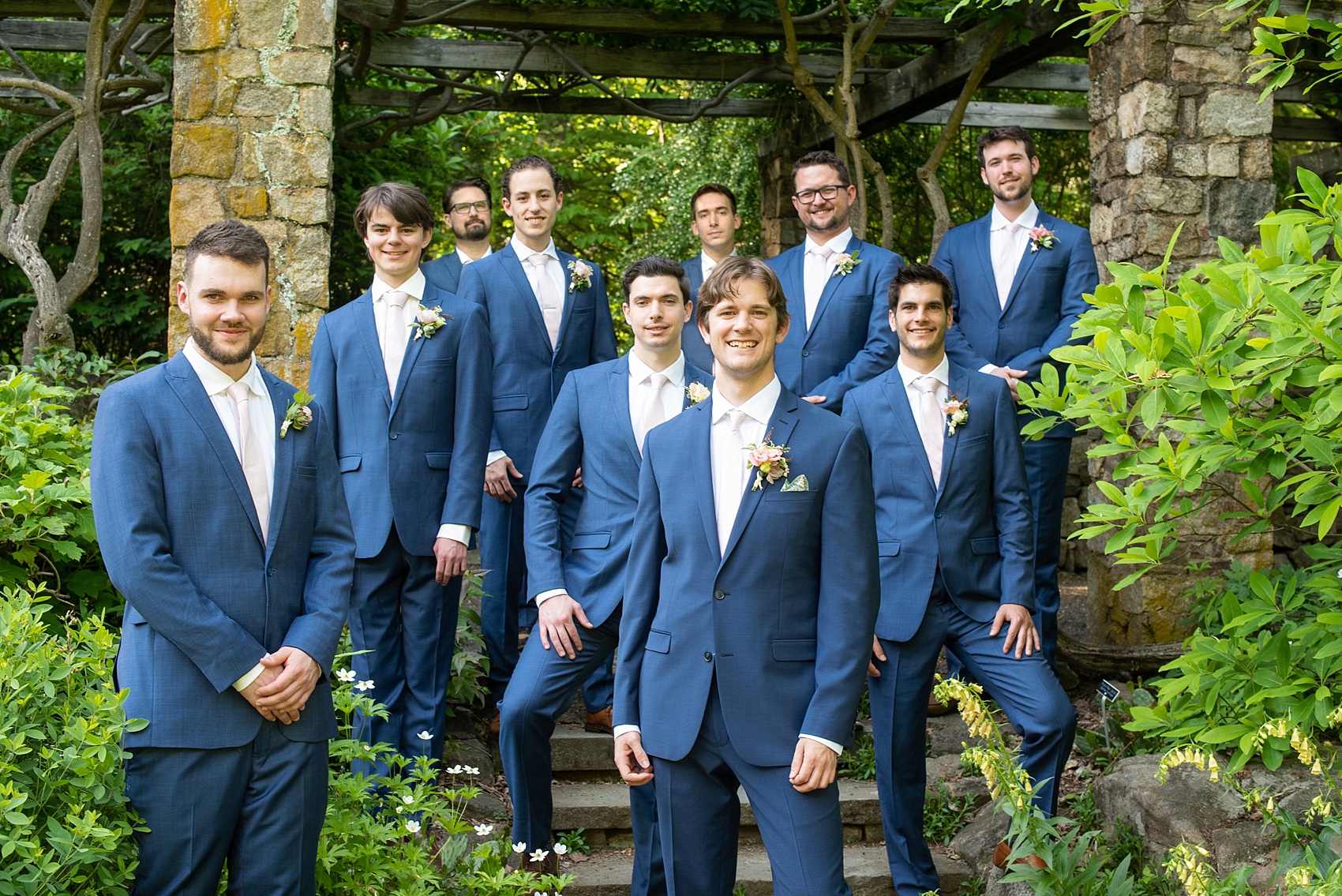 The groomsmen wore blue suits and light pink satin ties, finished with pink boutonnieres. Don't they look handsome?!?! Josh's boutonniere had an extra special touch with an included succulent. The best part of Josh's NYC patterned pocket square was the way his groomsmen, Brian, folded it. He did so specifically to highlight the Jersey City area, where Josh and Brittany live.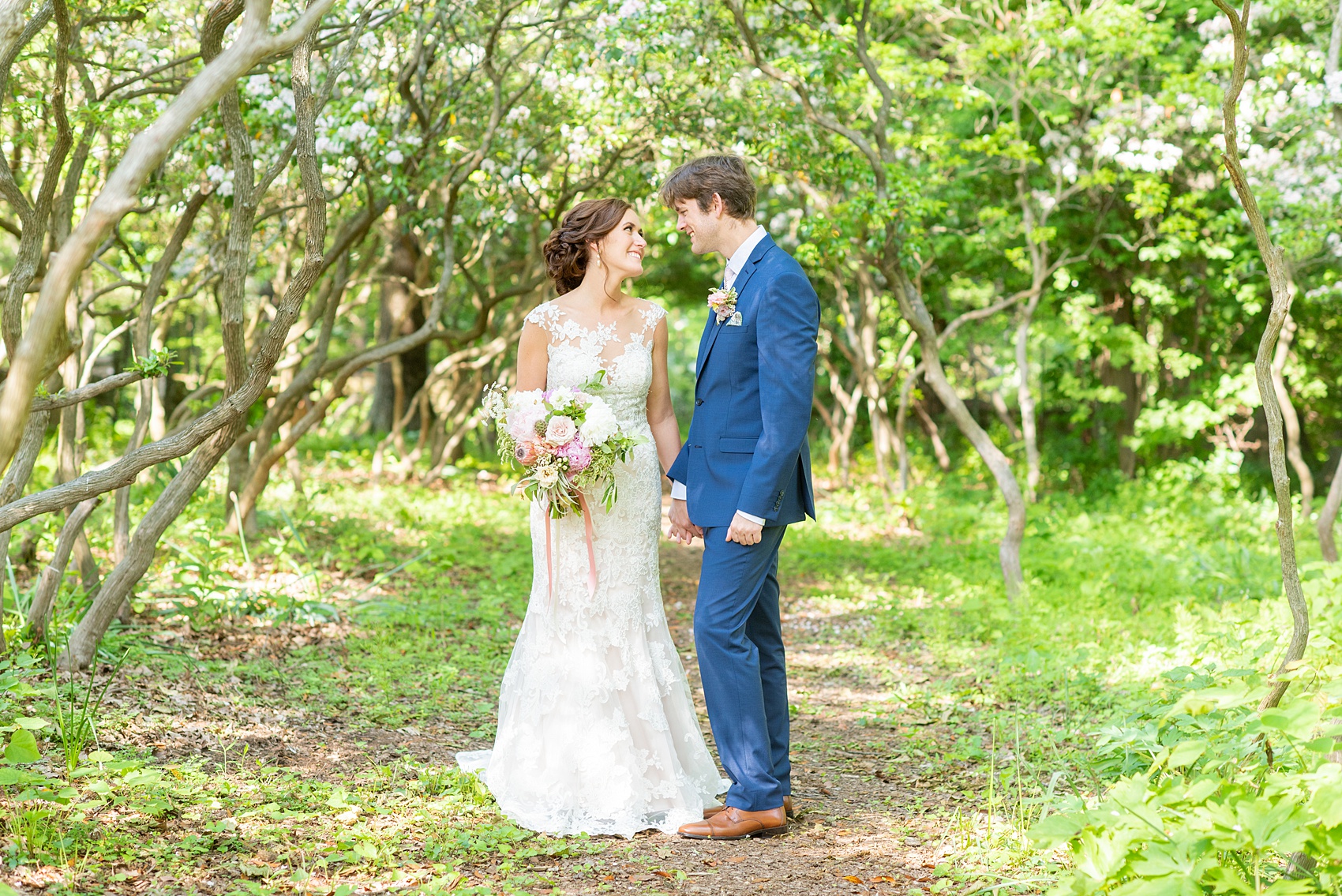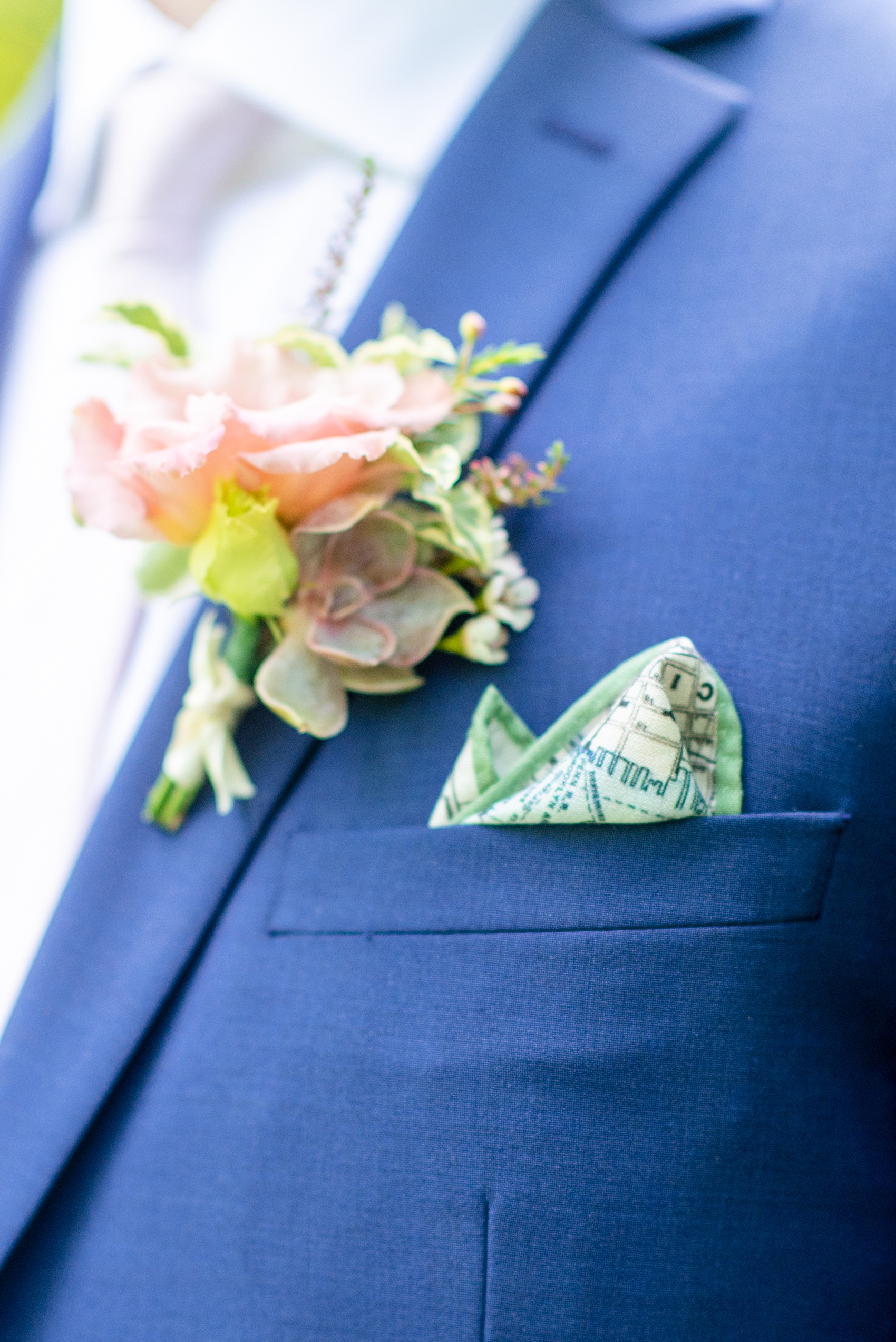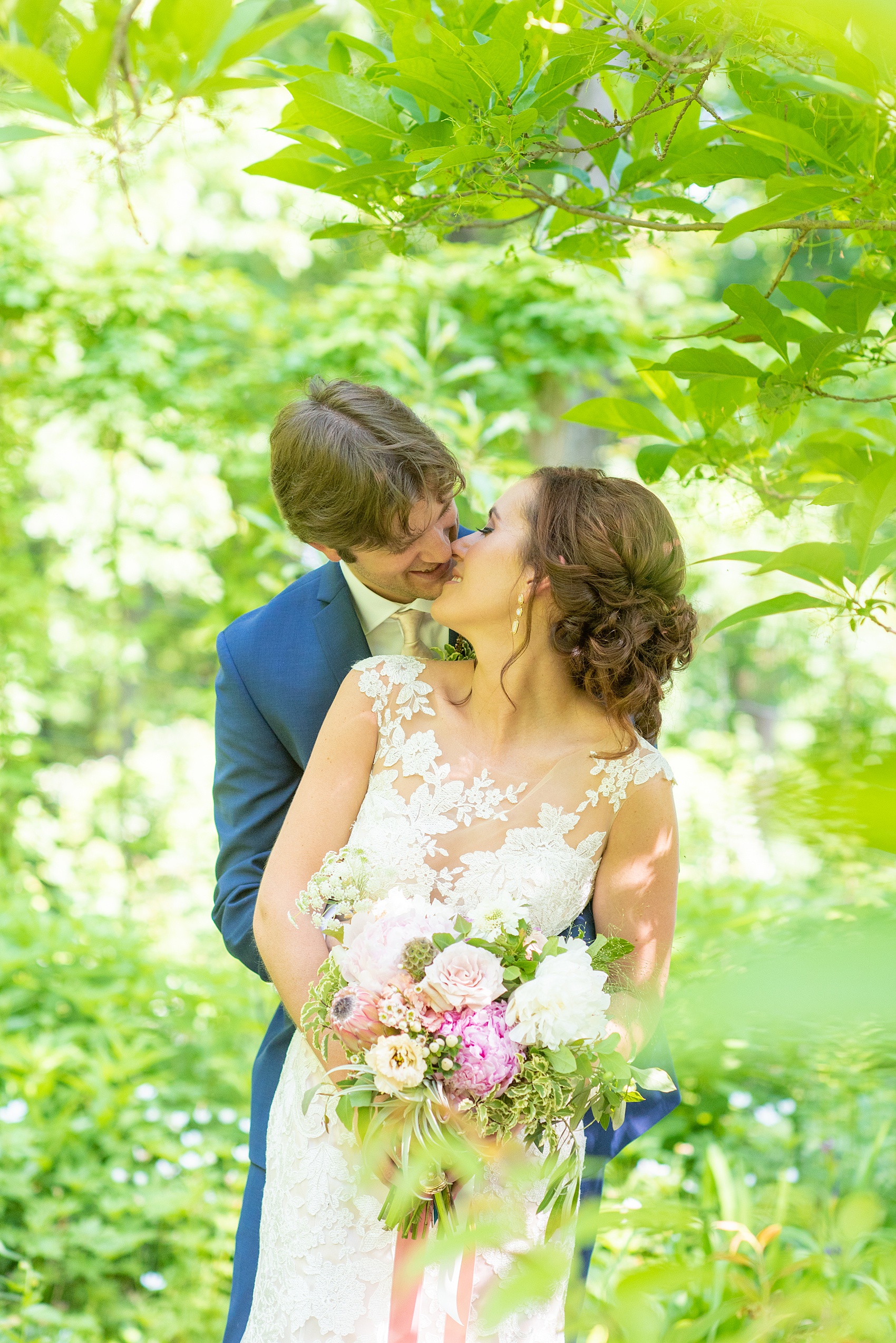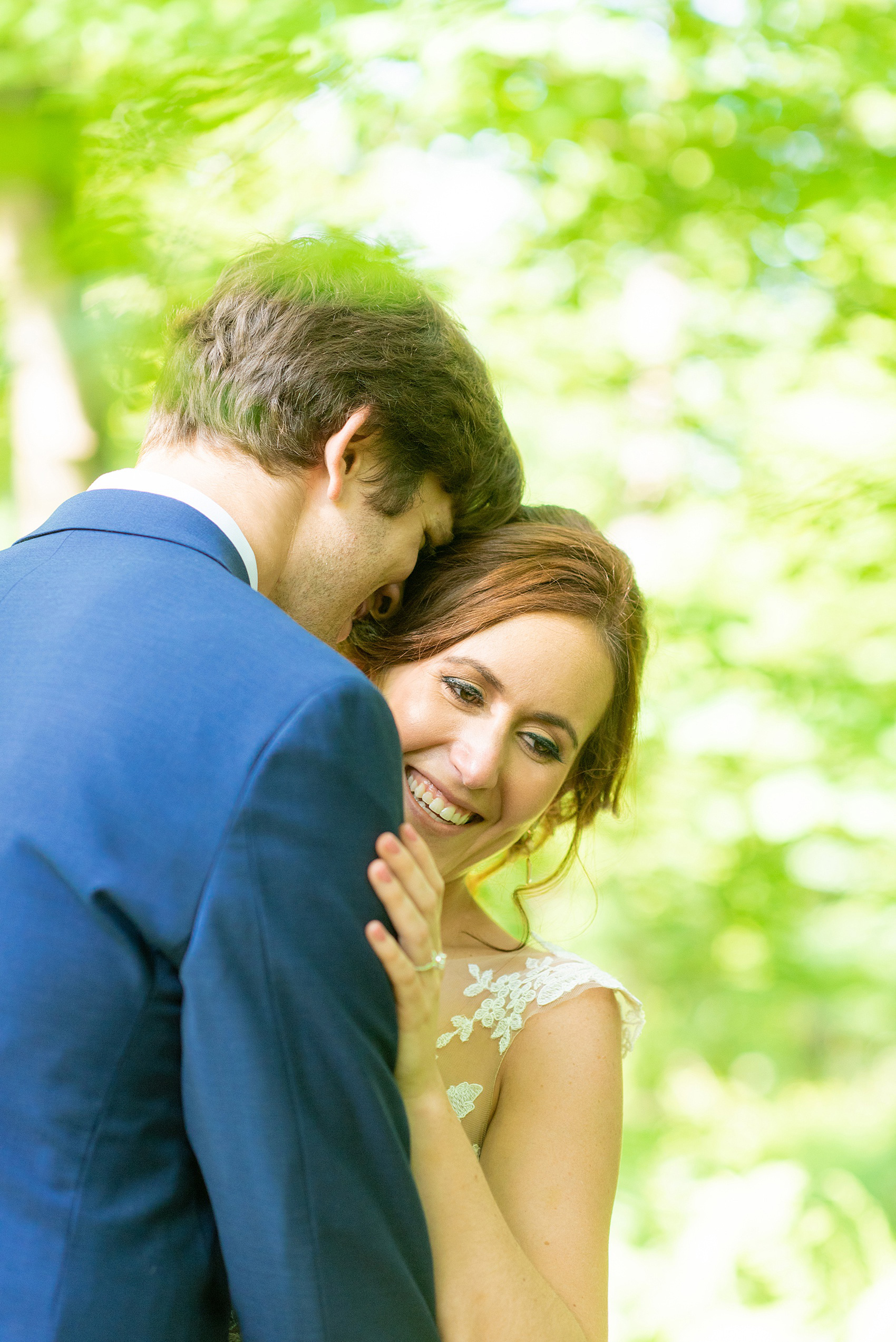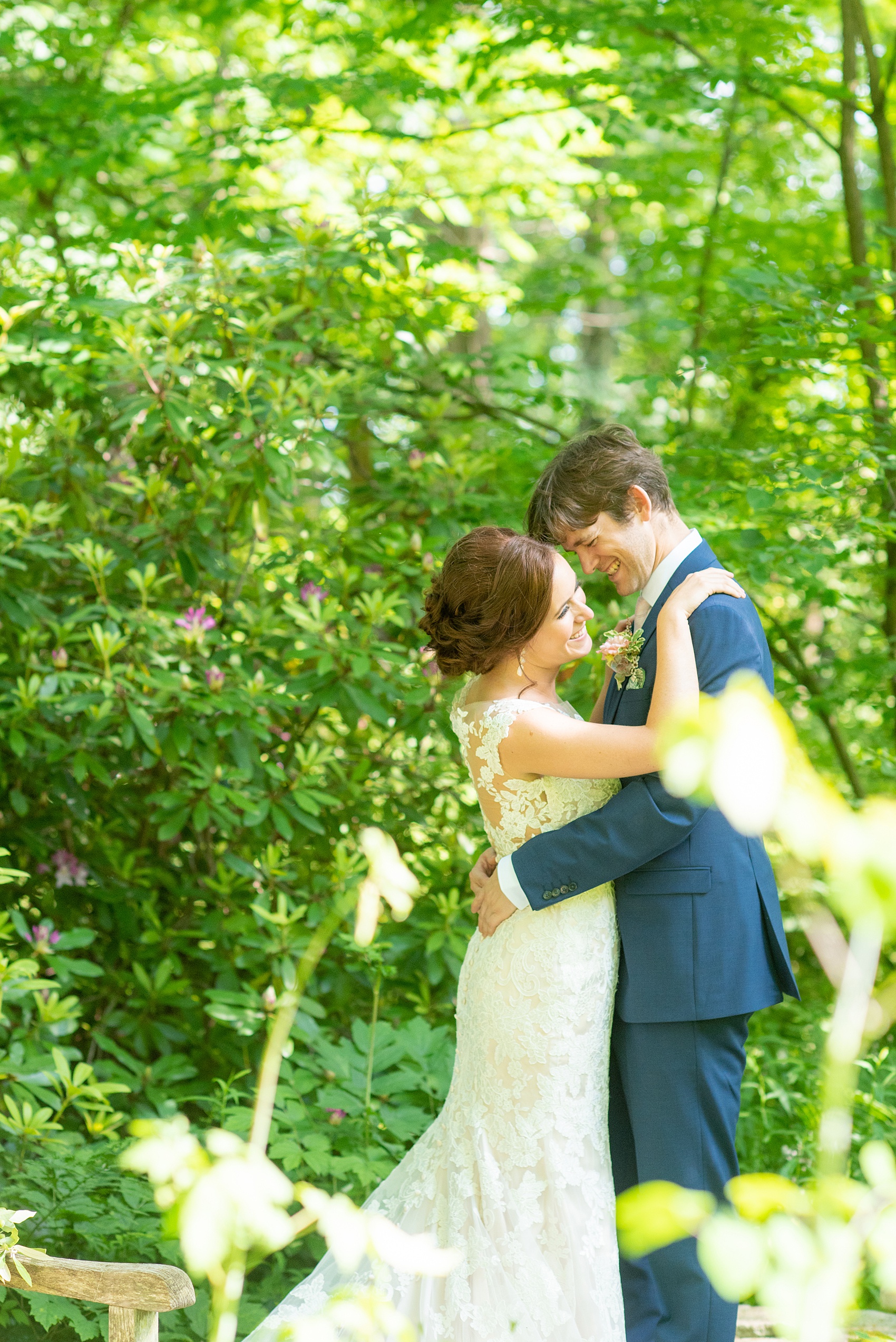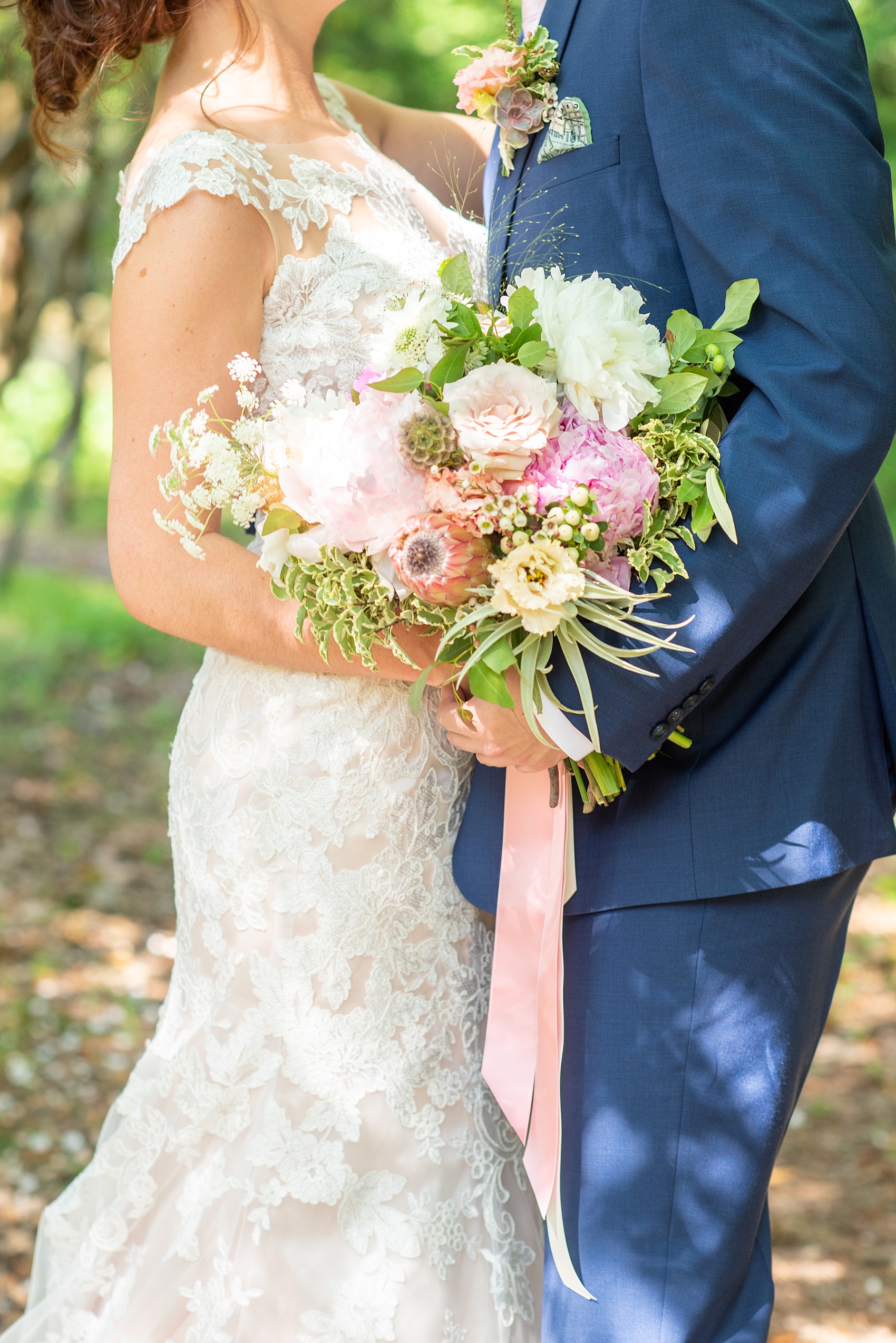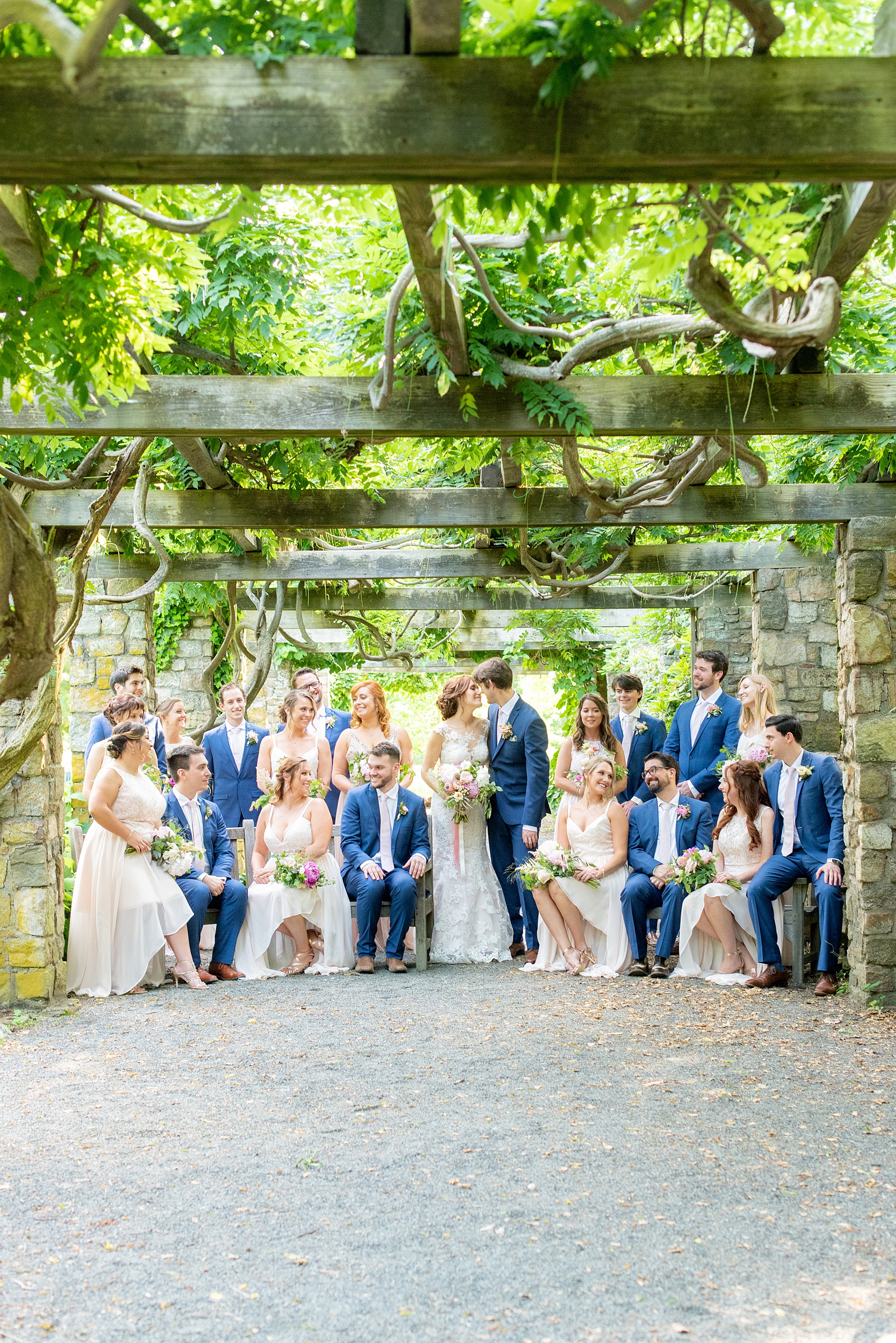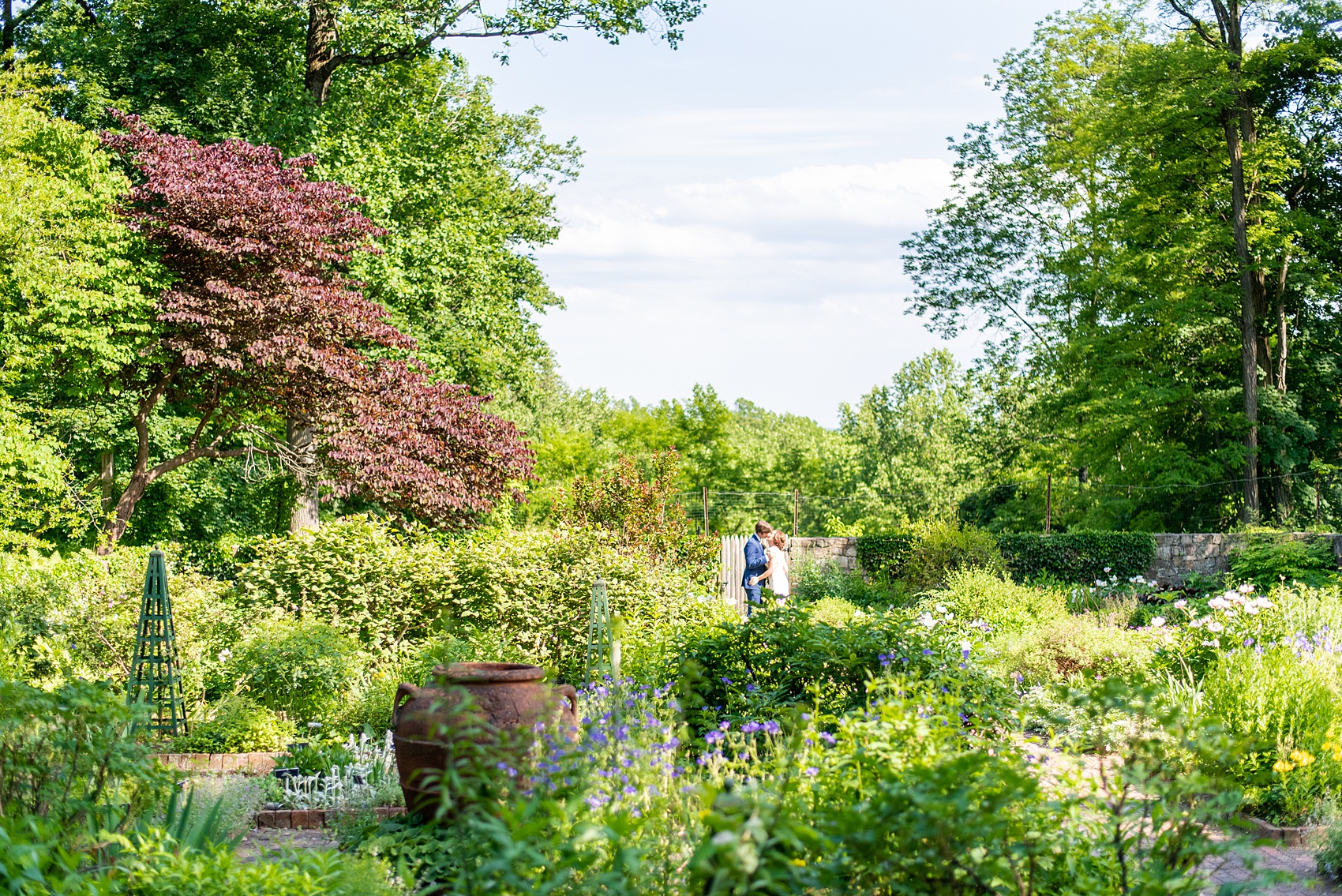 I'm obsessed with this photo of Brittany, highlighting the back of her gorgeous lace gown with its illusion back, length of buttons and her stunning train. The surrounding white hydrangeas mimic the pattern on her dress!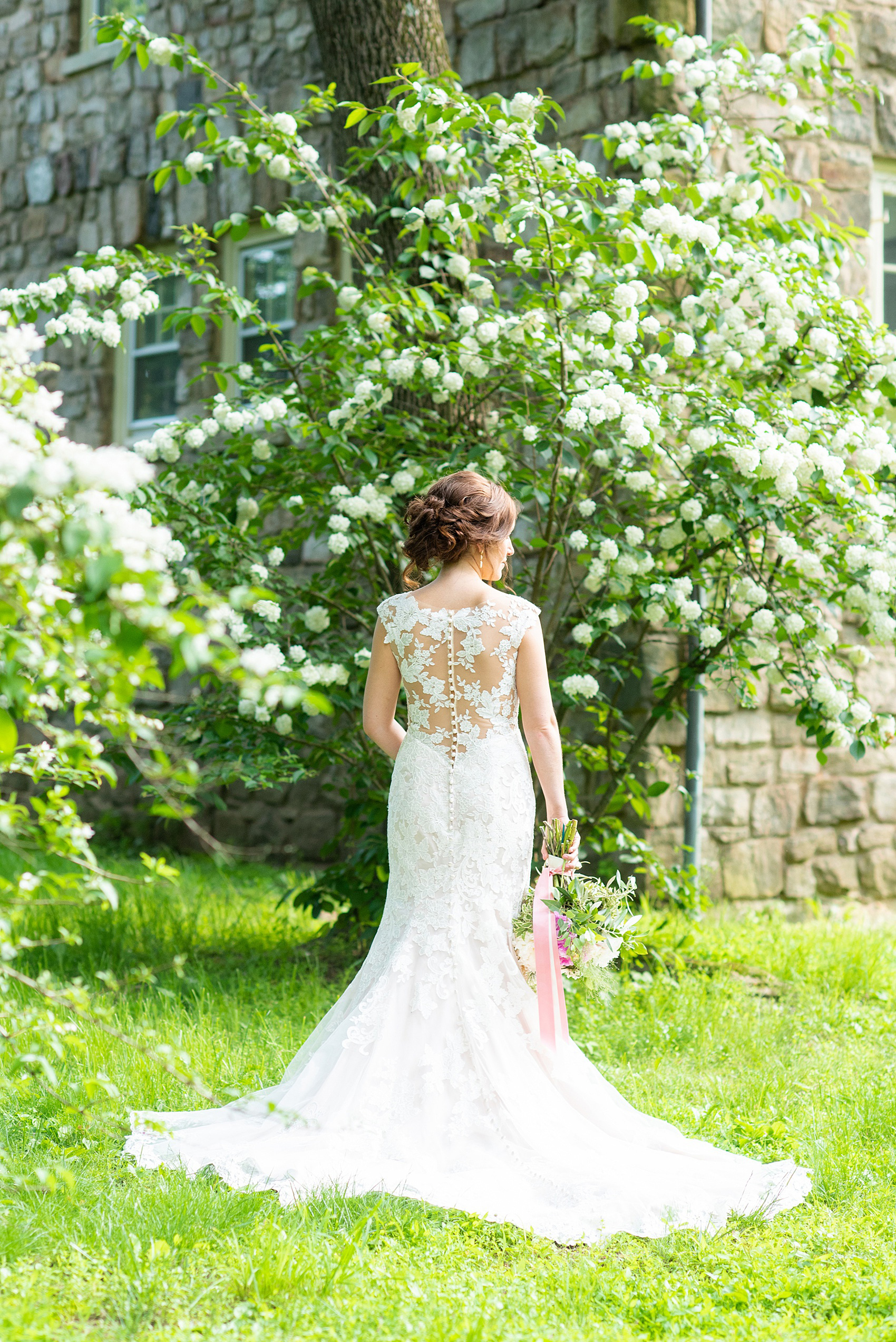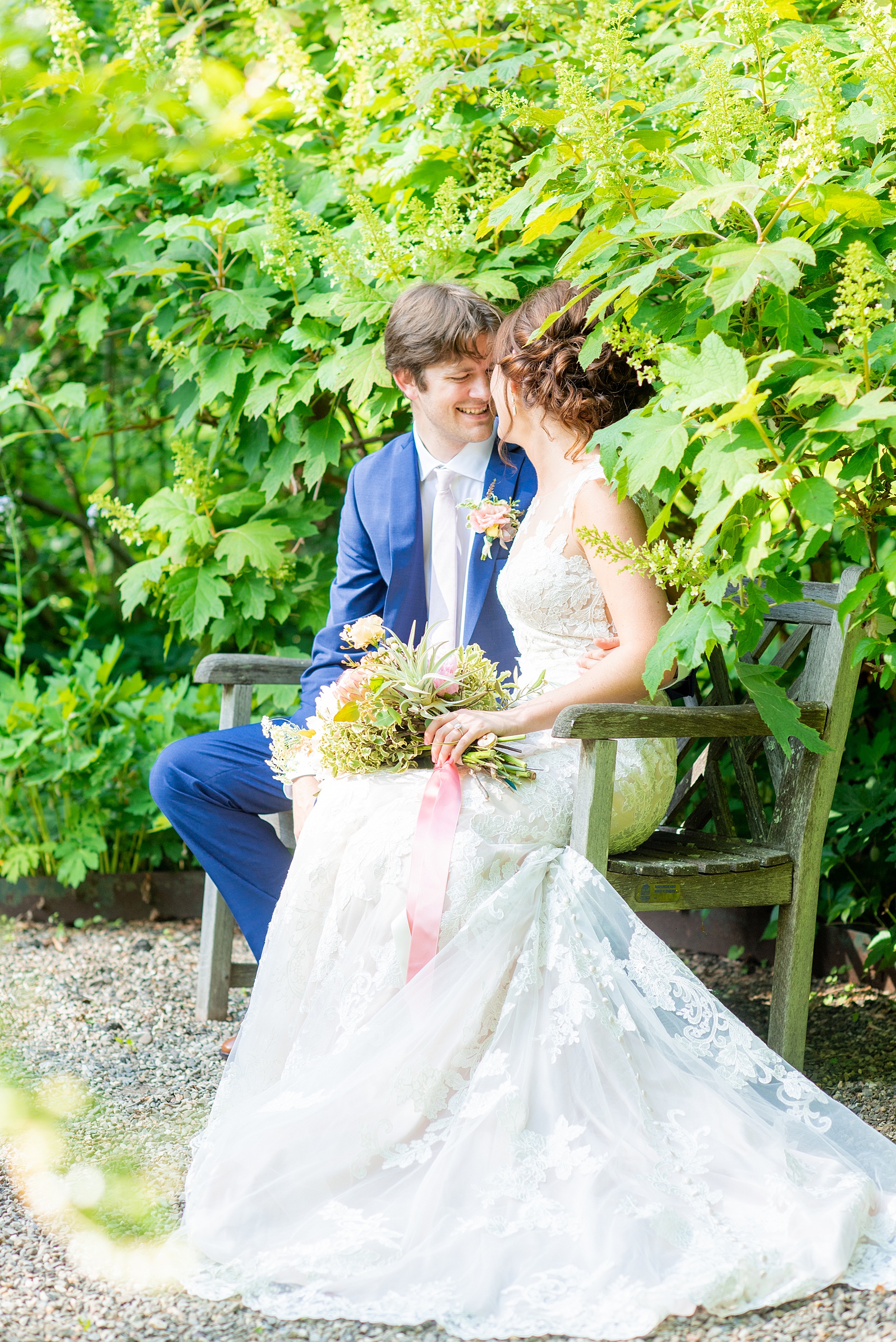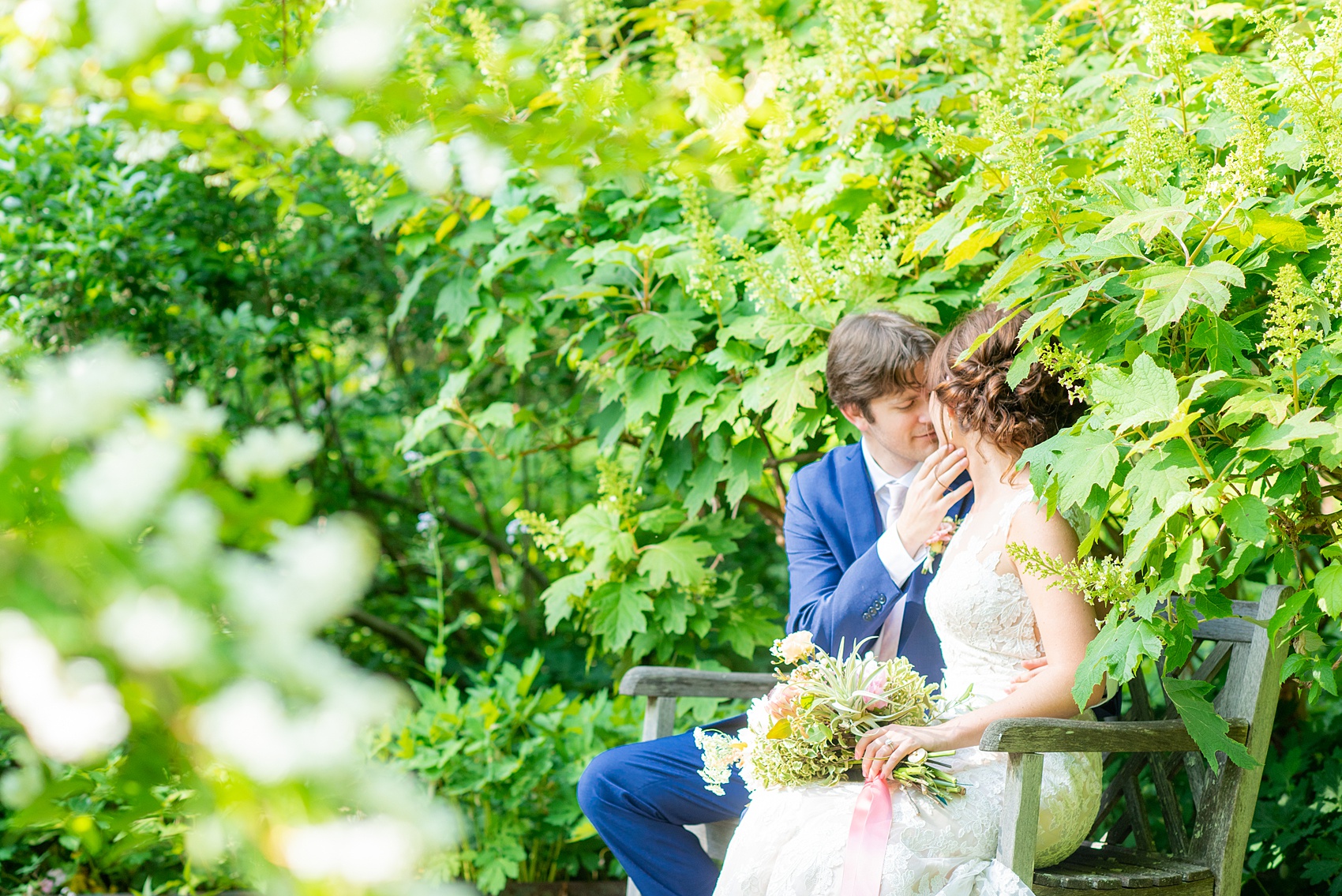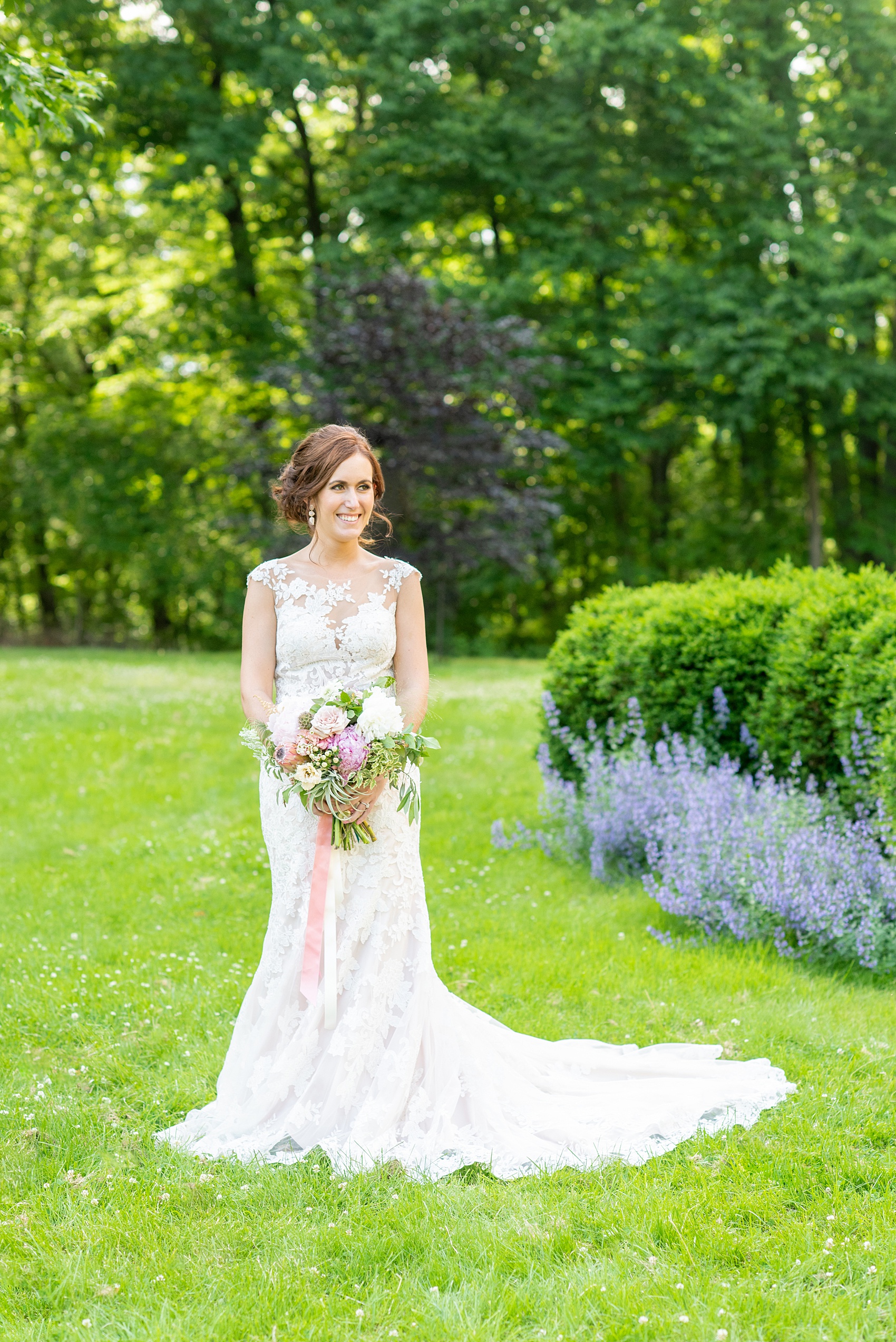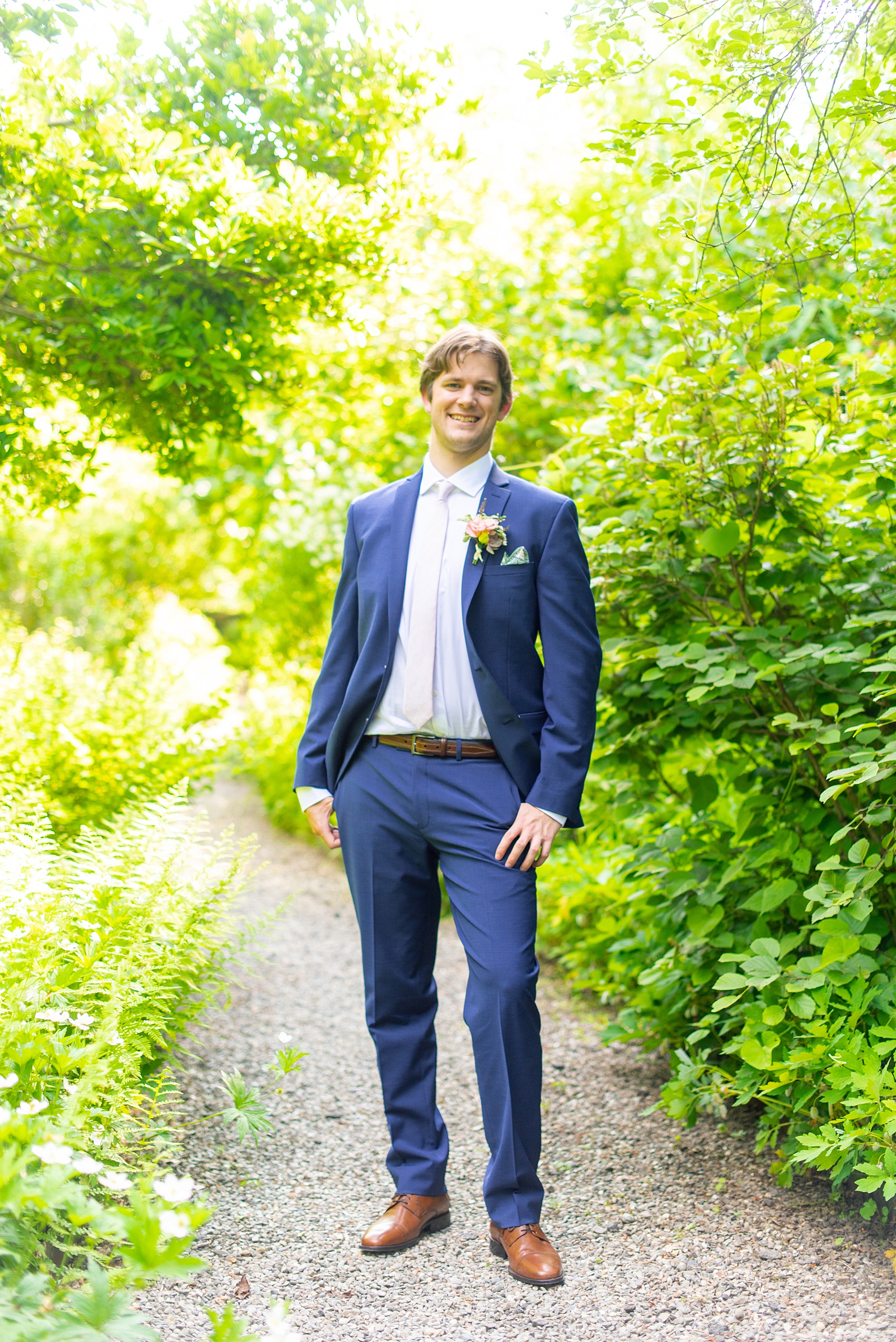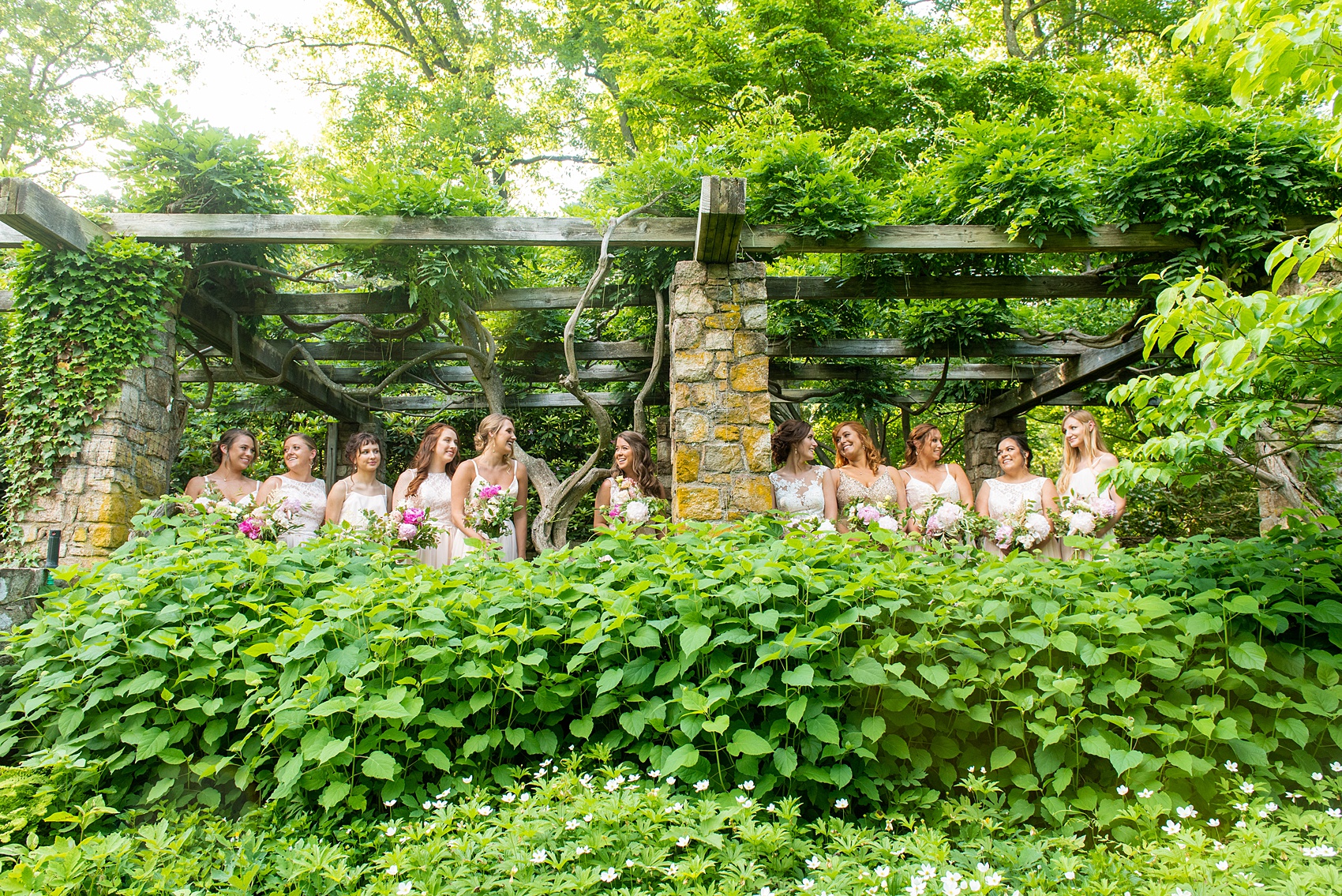 How iconic are these bridesmaids? Can't get enough of them!
Brittany's engagement ring is an oval diamond with a halo surrounding the center stone. She selected a mixed shape diamond band to go with it and Josh chose a white gold band too.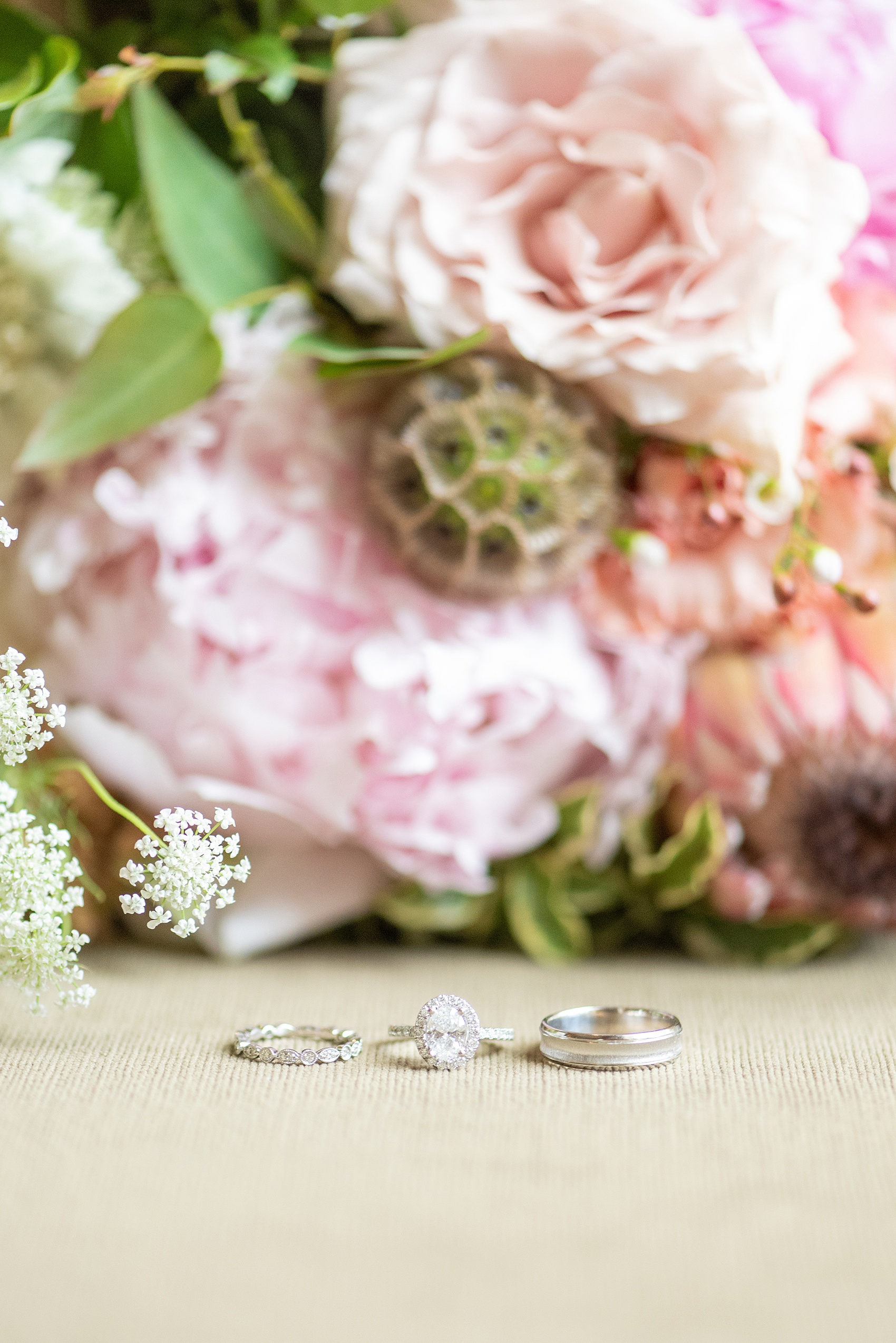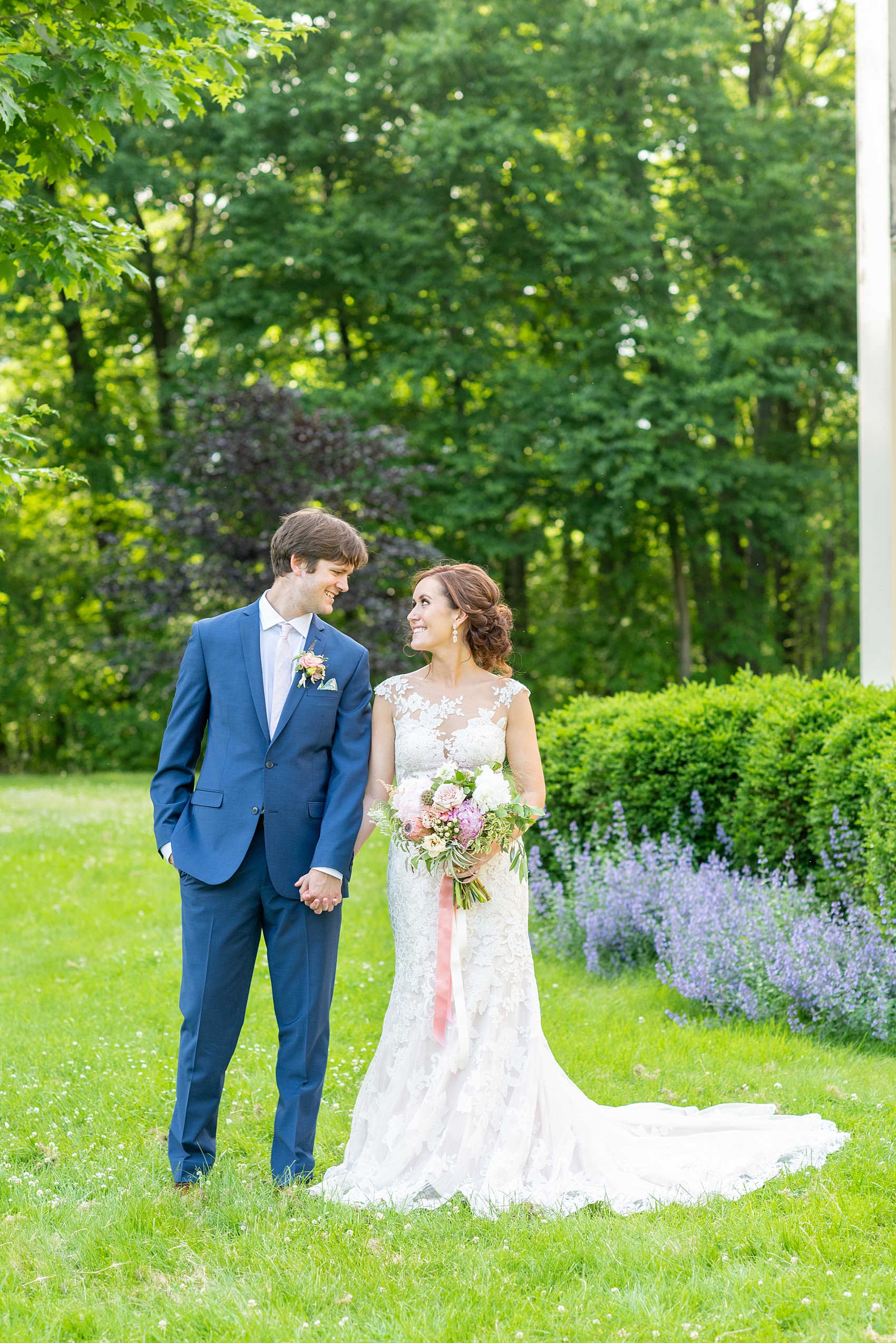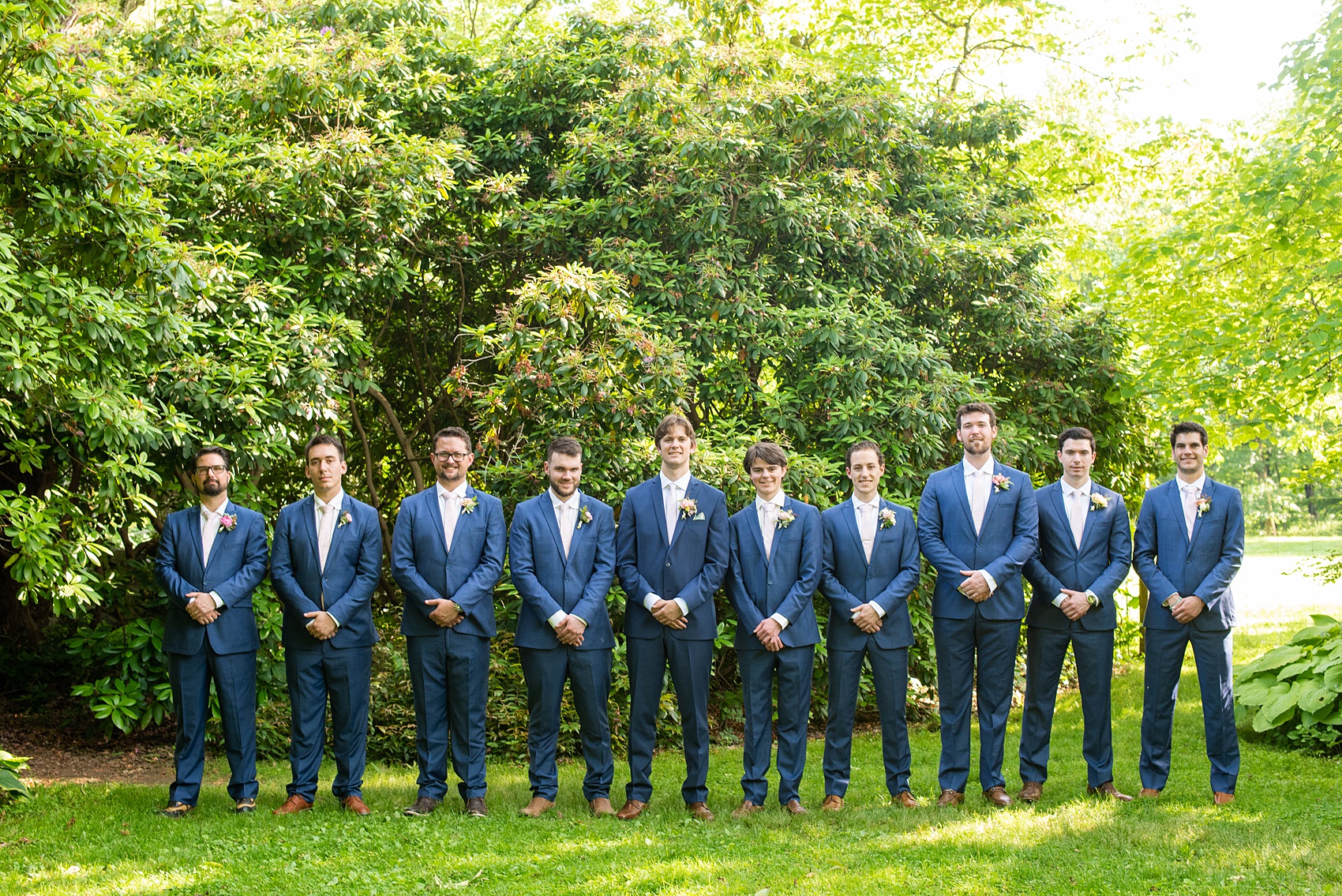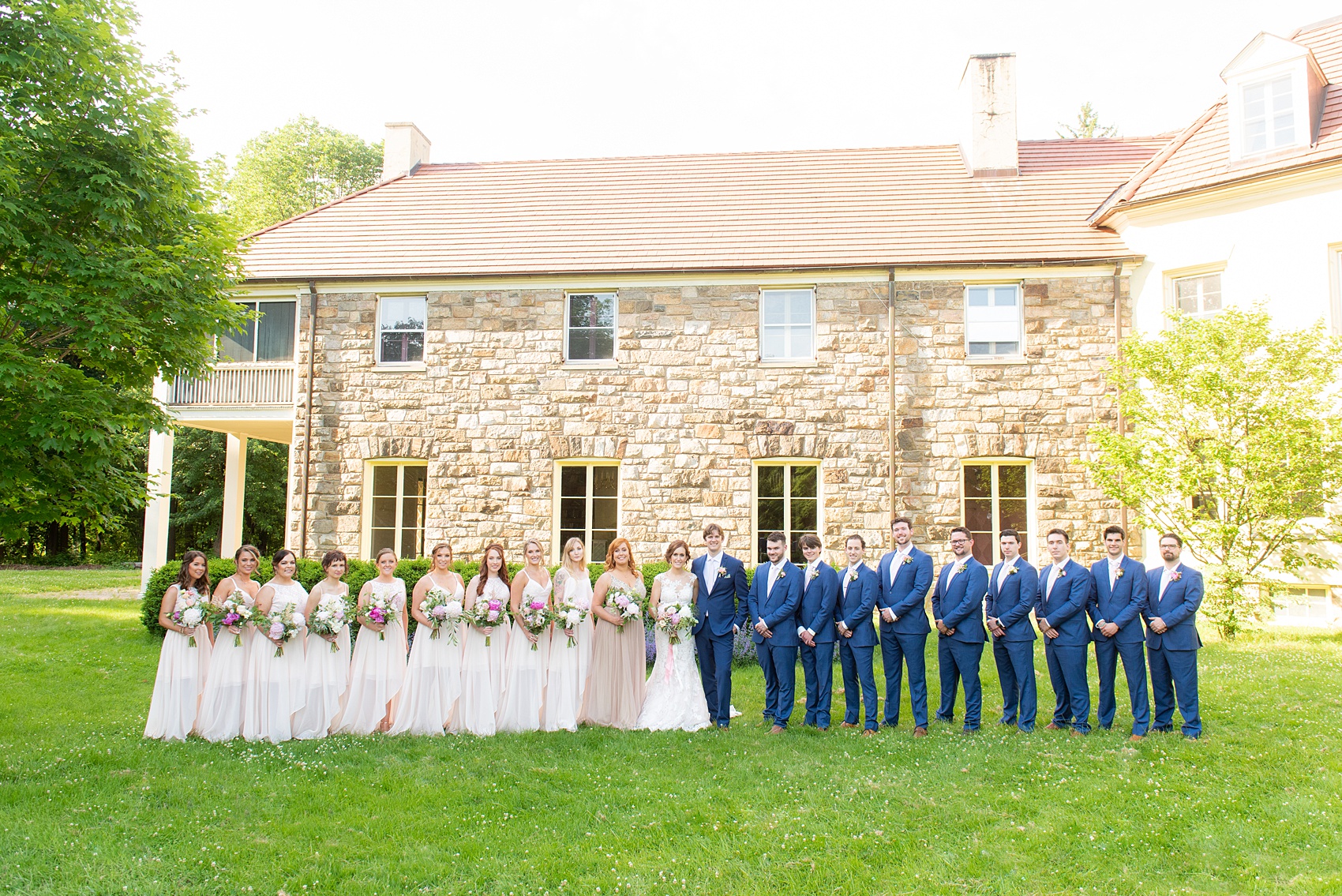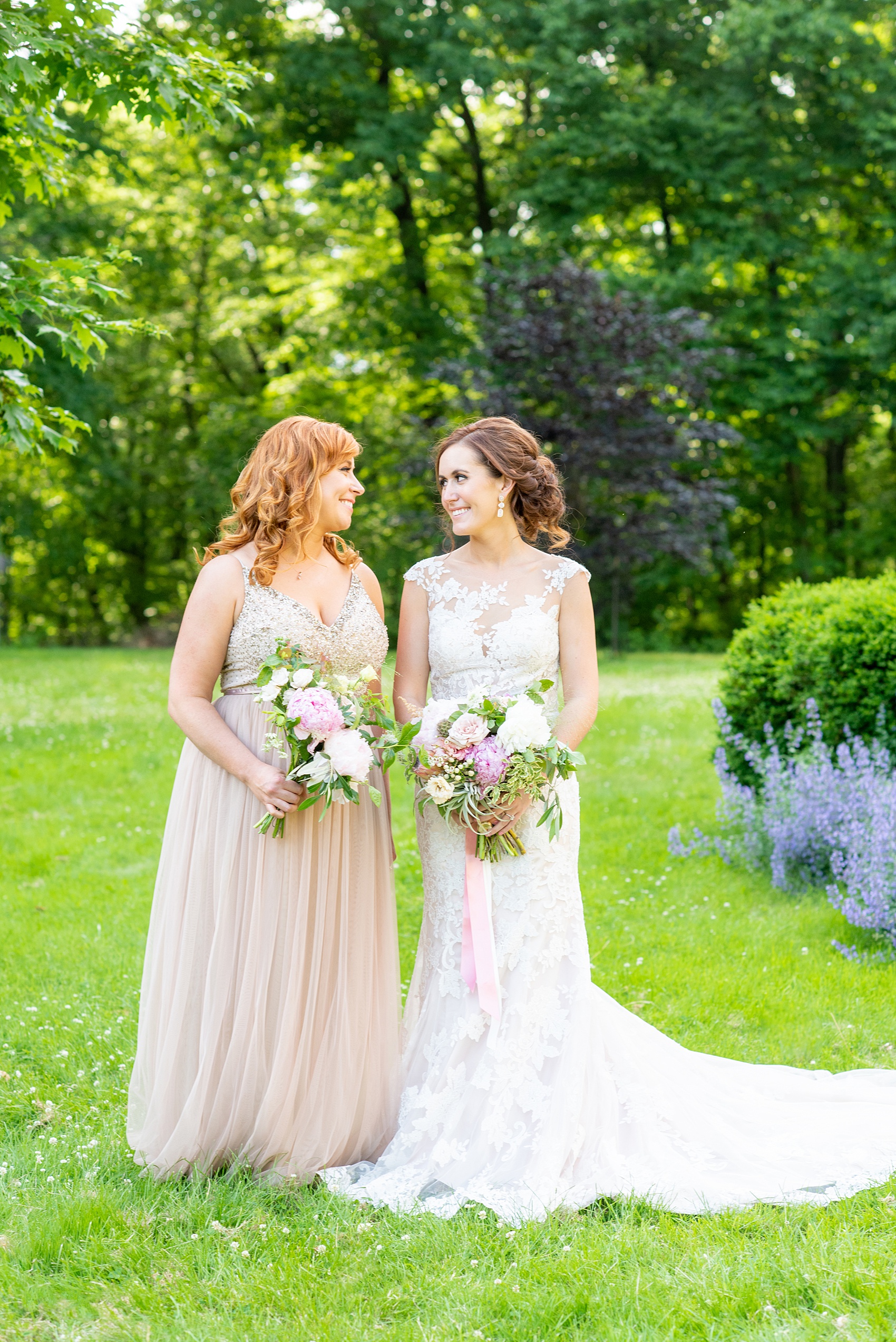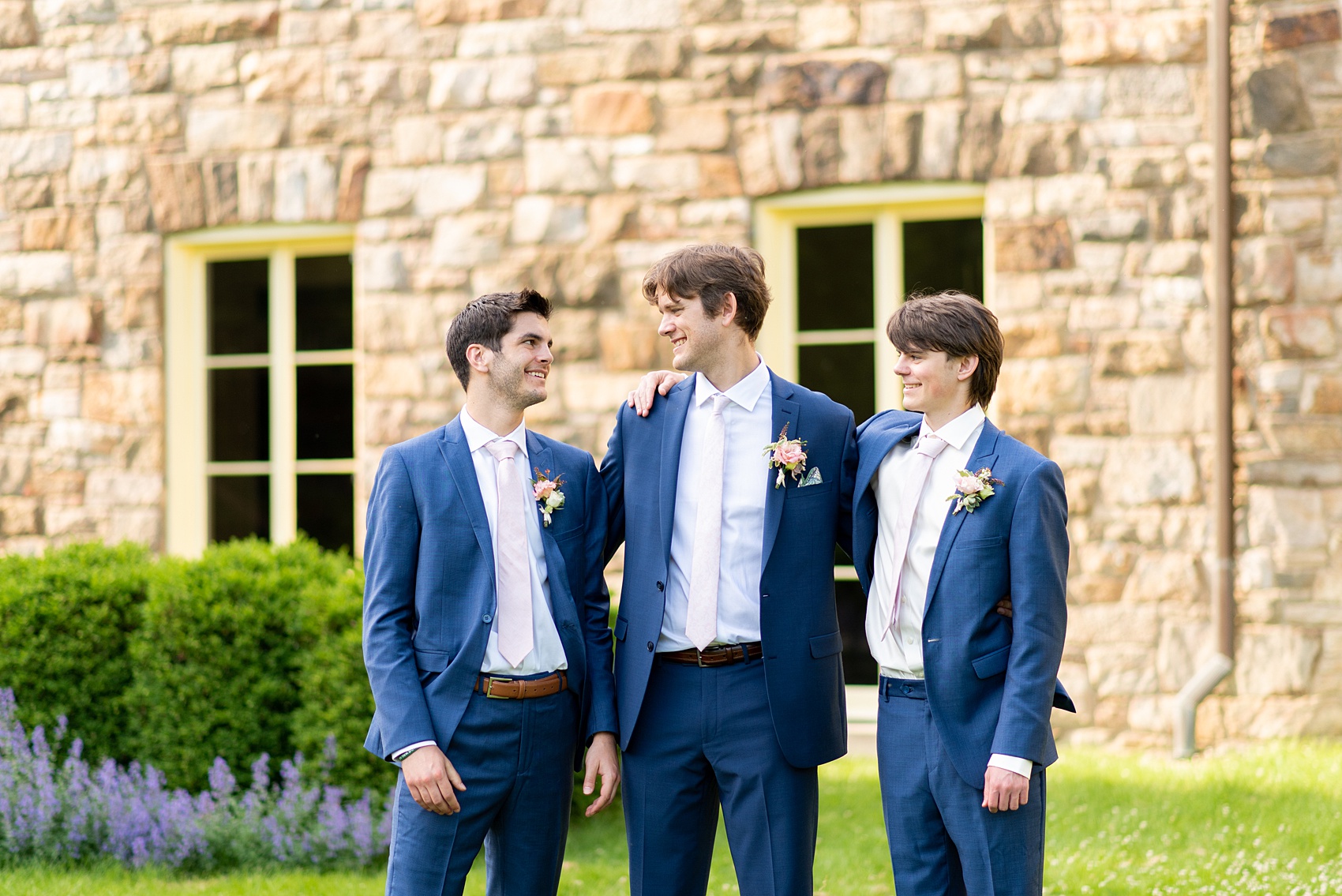 Josh's cousin and brother posted for a special family groomsmen photo before we all headed back to Olde Mill Inn before their ceremony. Their ring bearer carried a ring box filled with moss and their wedding rings, with their names and wedding date engraved on it.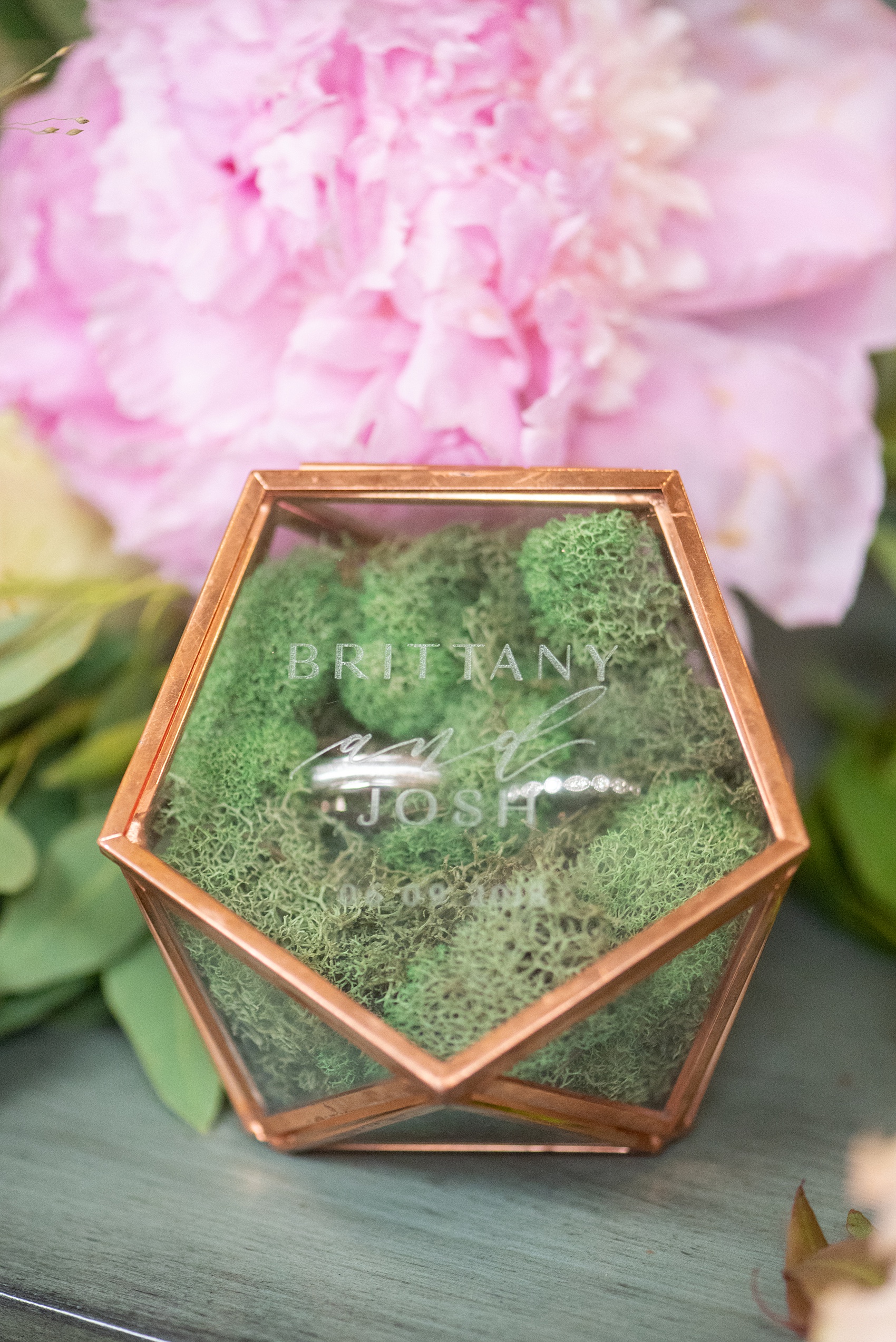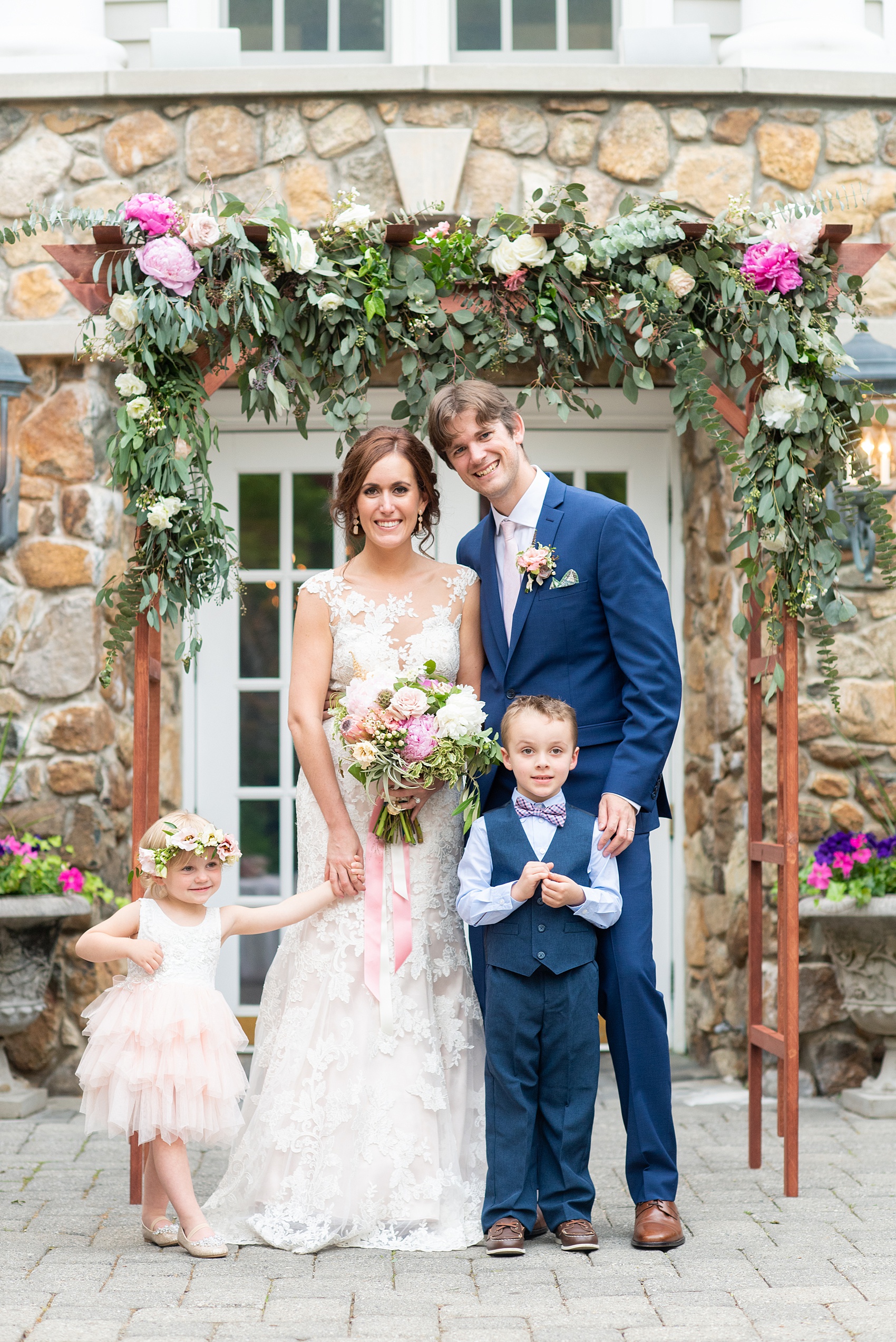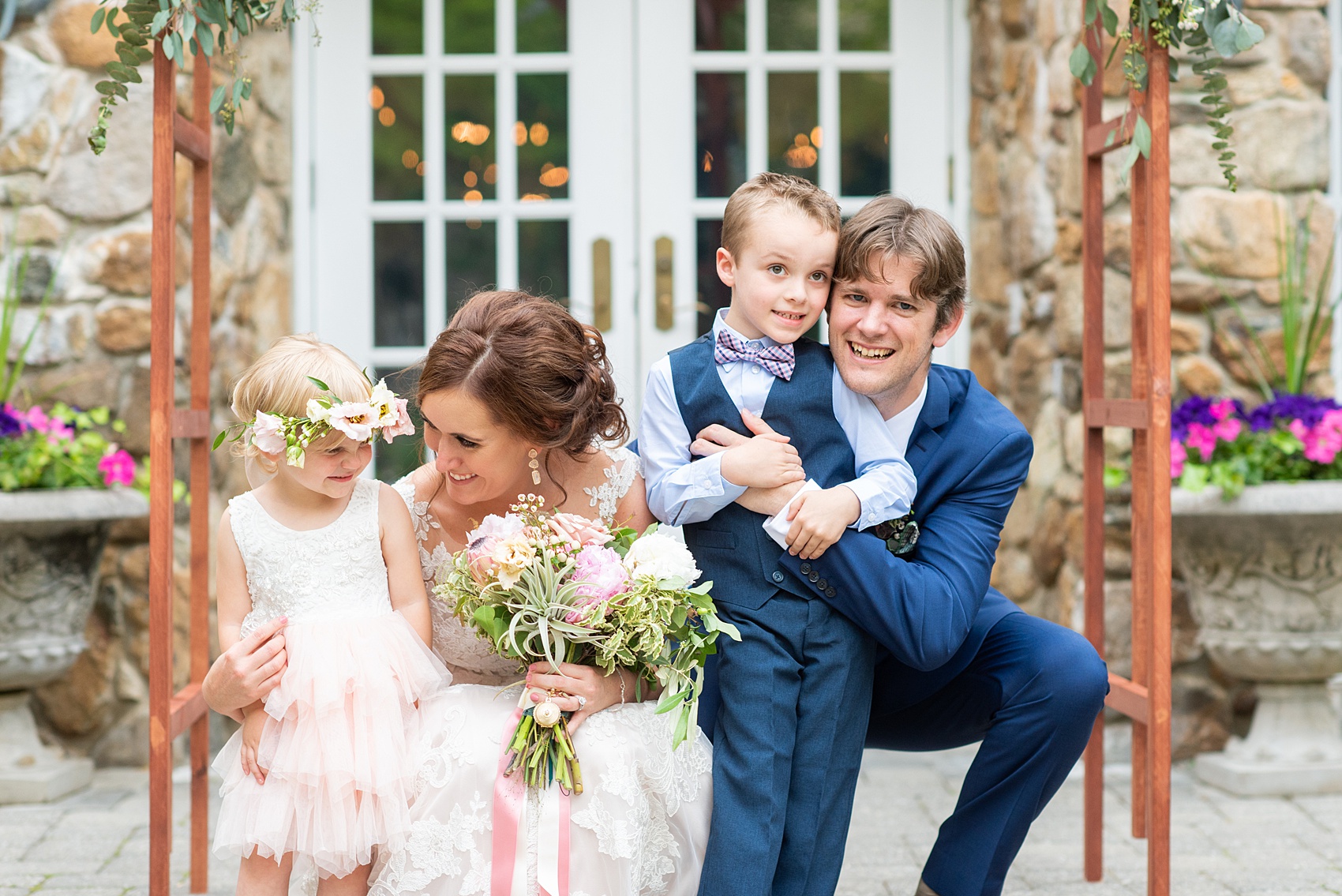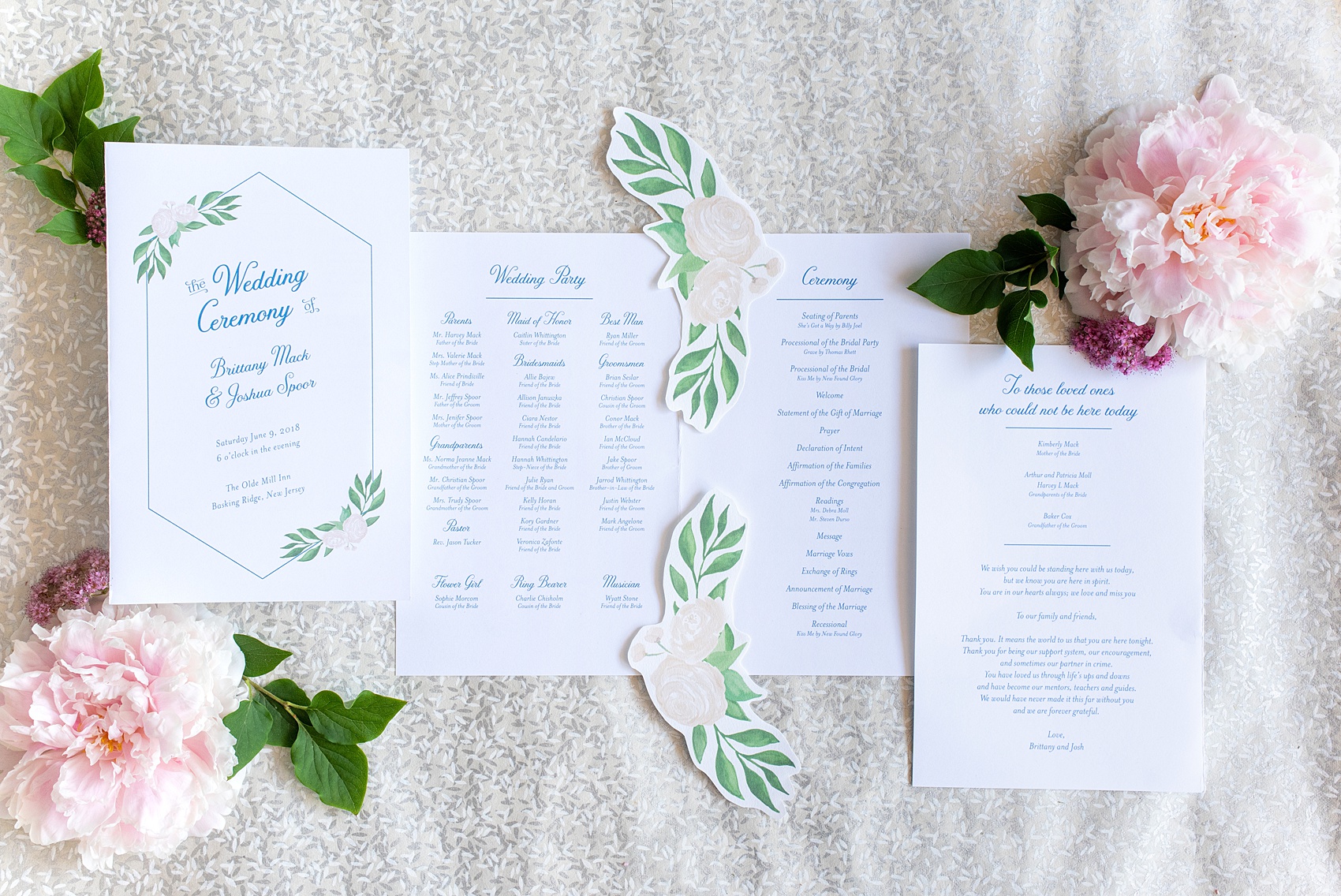 Their ceremony took place in the Olde Mill Inn interior courtyard. Brittany and Josh stood under an arch he made with his father and uncle Mike, that the florist decorated with eucalyptus and assorted blossoms. Their priest performed the ceremony in tandem with Josh's grandfather after Brittany's father walked her down the aisle.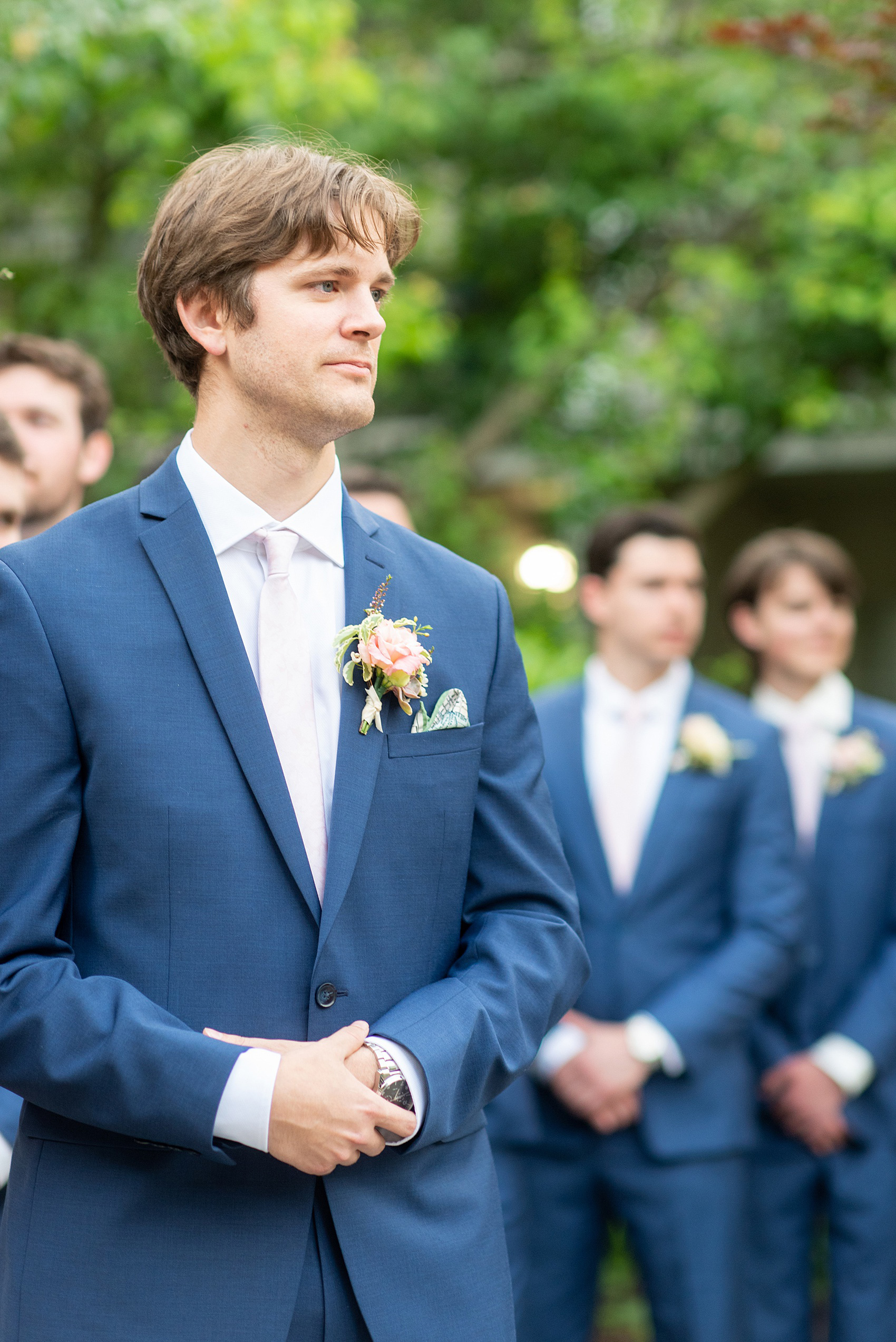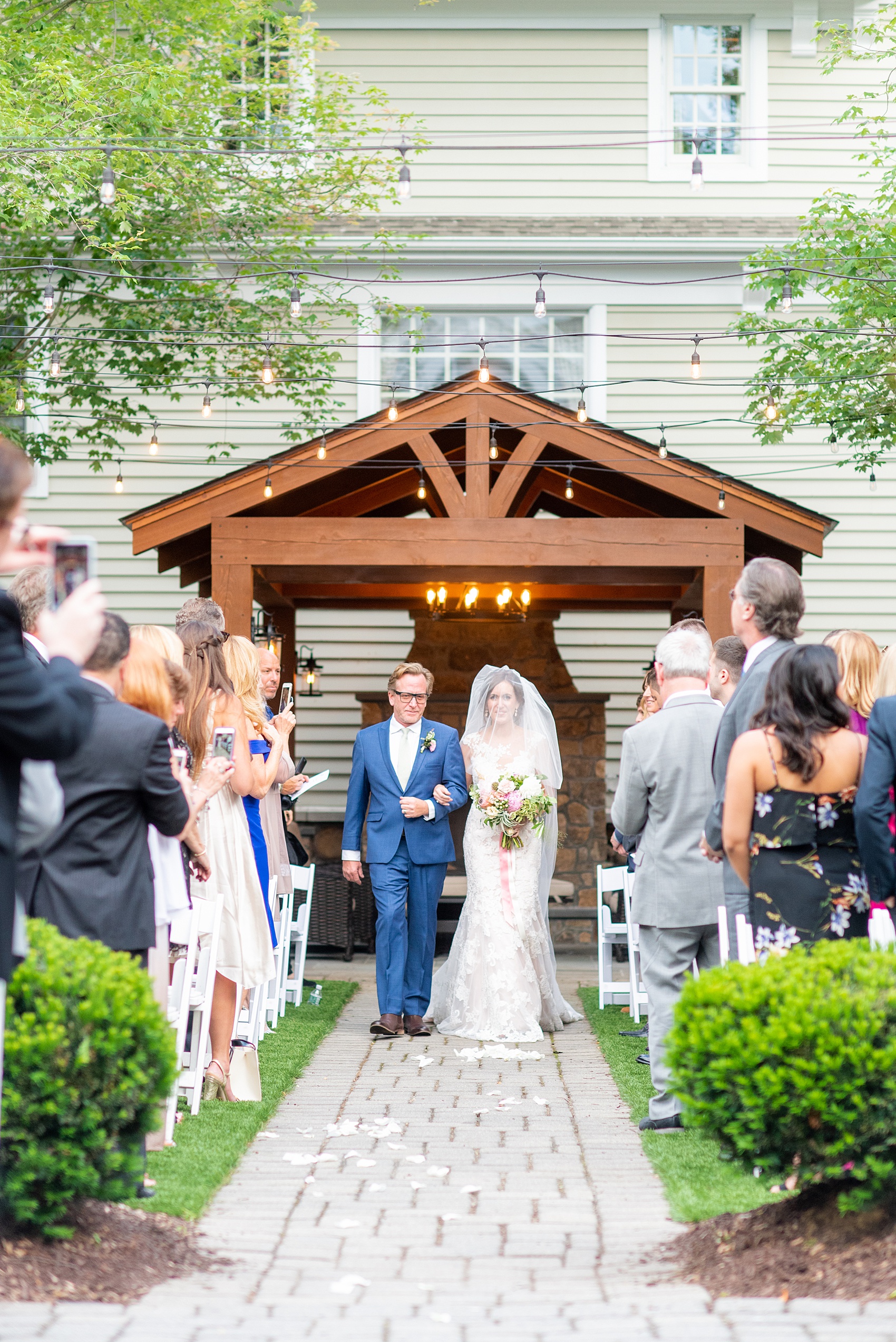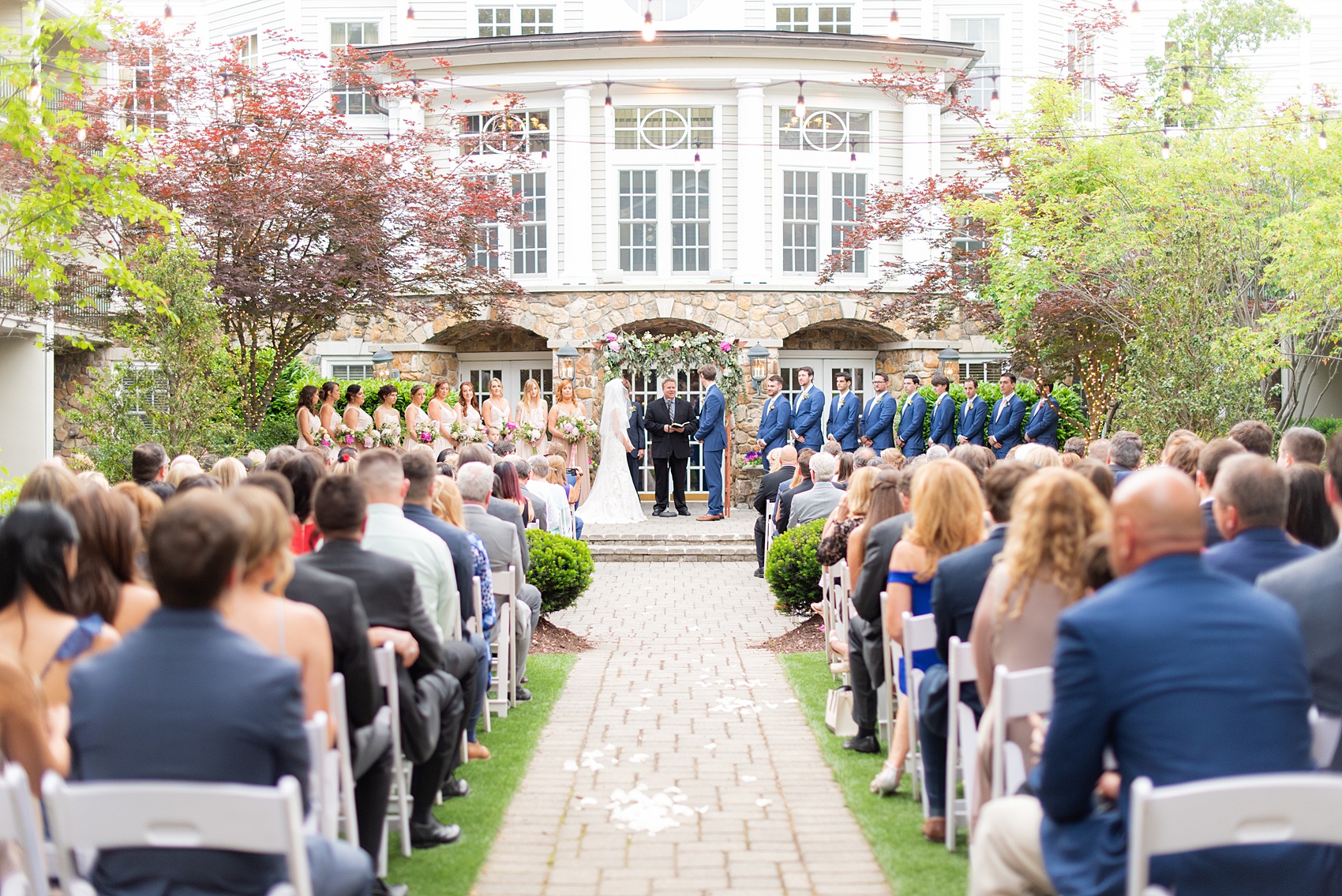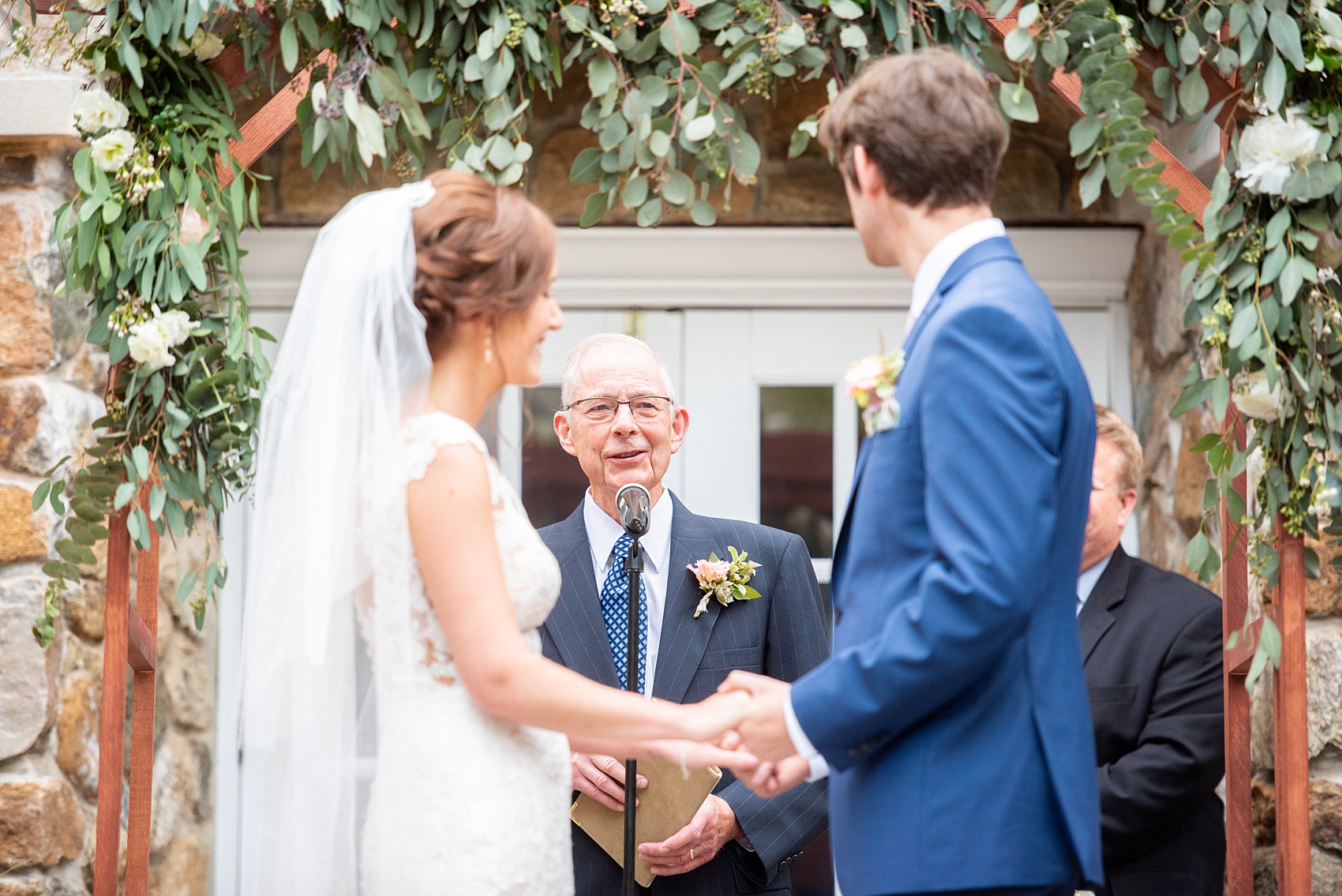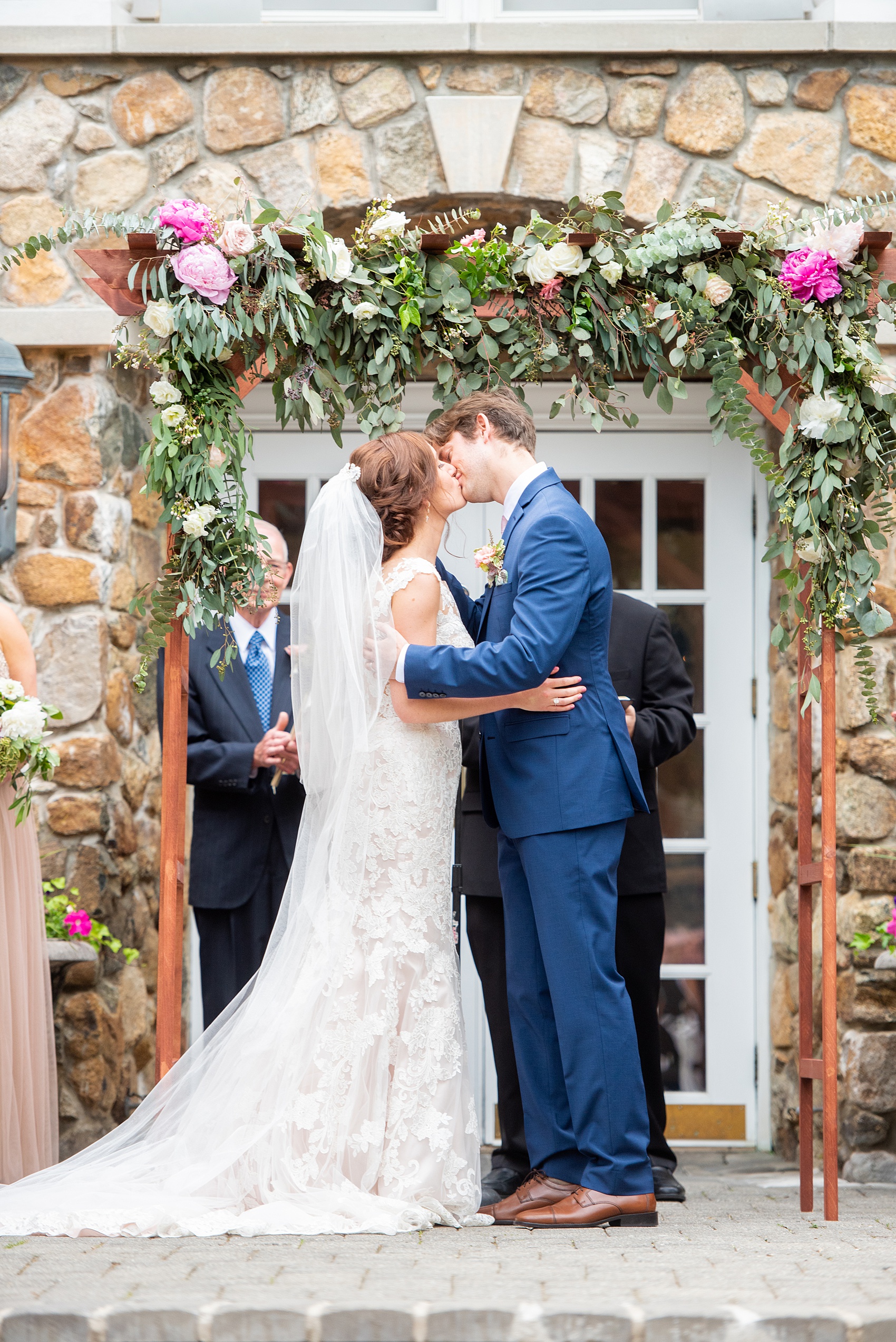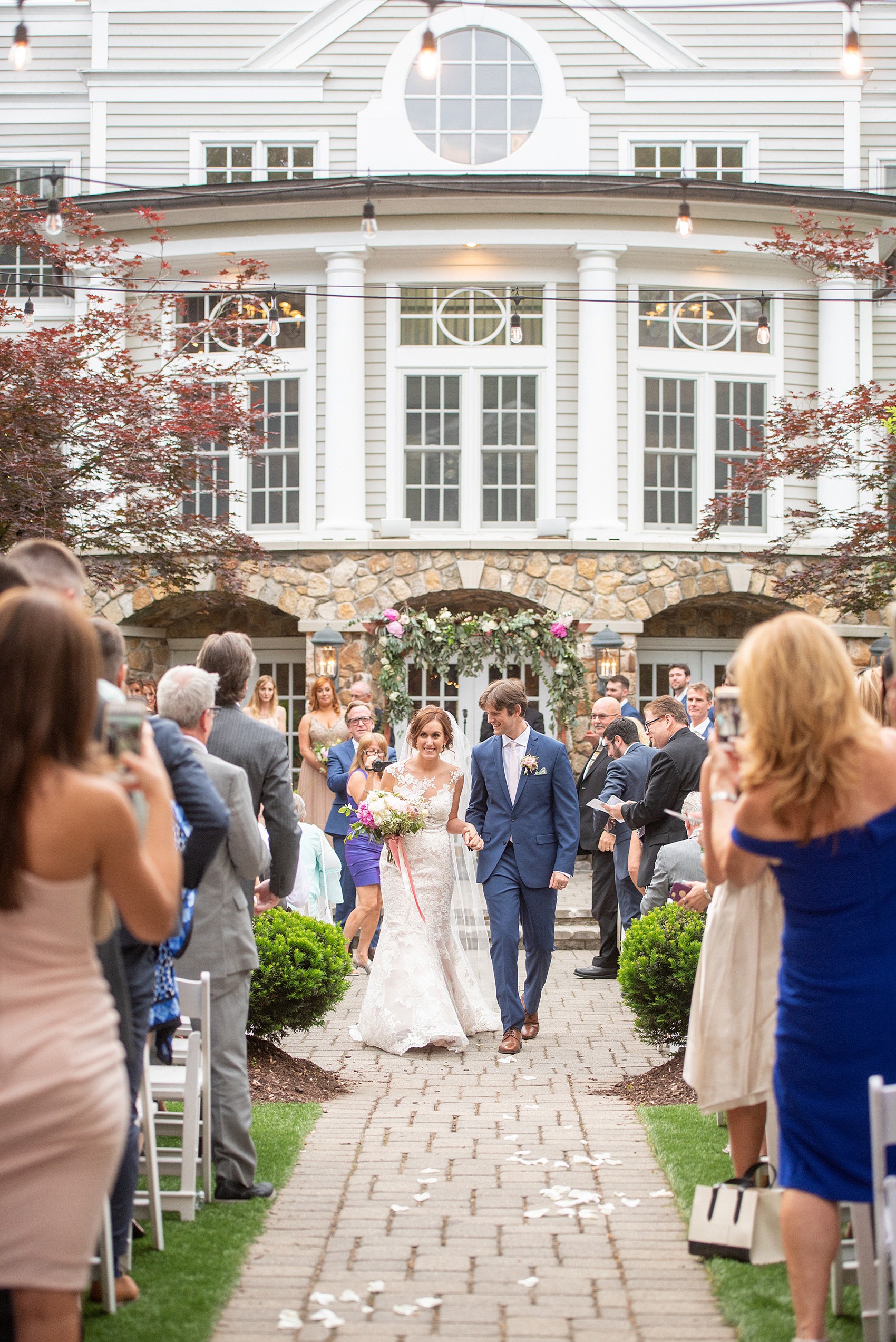 Let's party! Woohoo!
One of the best ways to kick off cocktail hour is with cocktails, of course! In a never-seen-before twist, Brittany's signature cocktail was sangria served in a bag! It was a little reminiscent of an IV bag, a guest pointed out, which was perfect because Brittany's a doctor. How fun is that? Major points for a super unique wedding detail! The label read "Santorini Street Tea" to echo one of the stops on the couple's honeymoon.
Their new last name initial was on their escort card table and just across from it were three jars with succulents inside. These glass terrariums had the cutest detail!!! They had miniature flags inside with their names and wedding date. I'm not sure a lot of people noticed them; but I did and they stole my heart!
Their grey-stained cornhole boards were finished with their custom "J & B" heart logo and wedding date. It was the perfect game to play throughout the day and even the flower girl got in on the action! The back of the cornhole boards had a genius feature: pegs to keep score. And beneath that was two cup holders! So smart.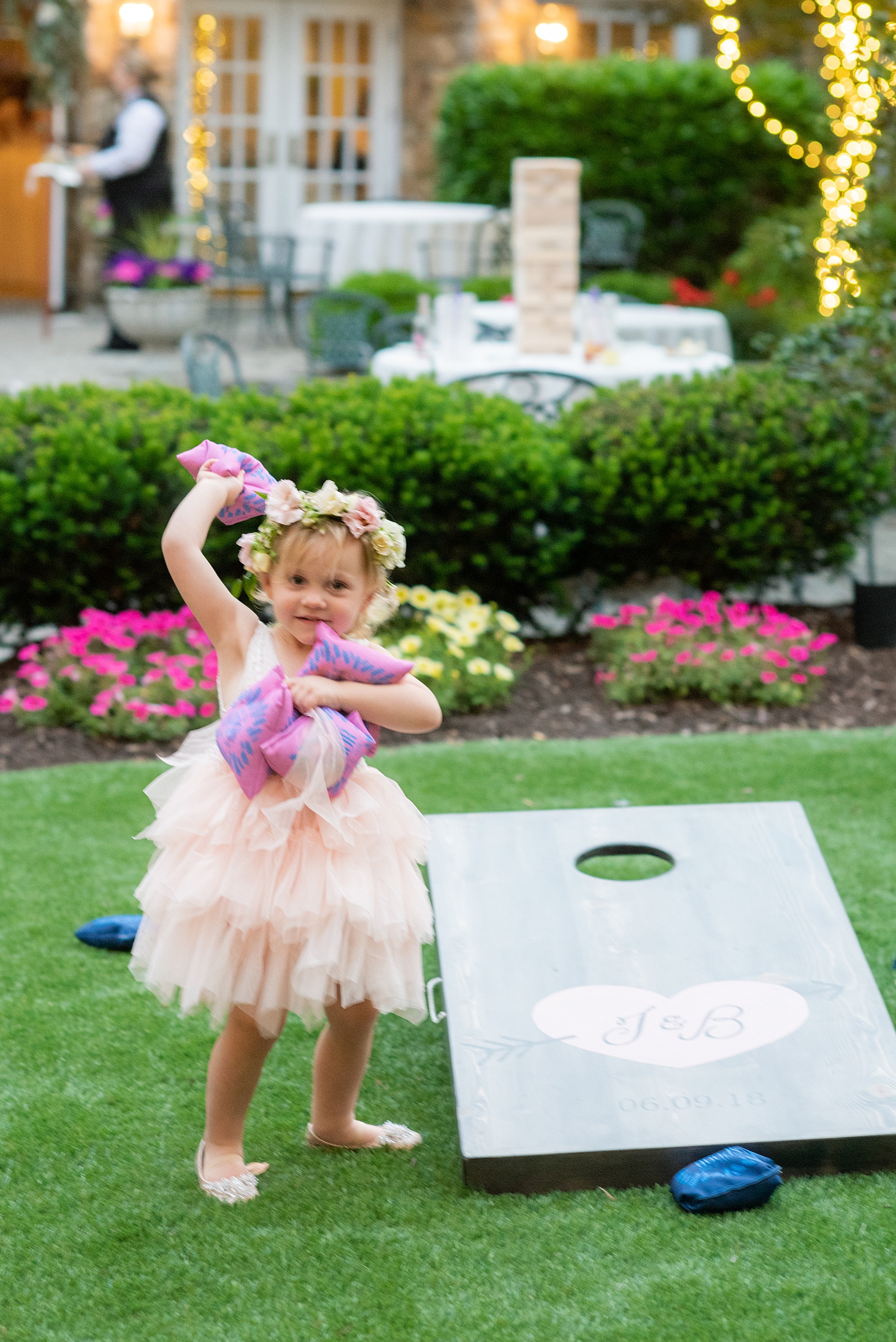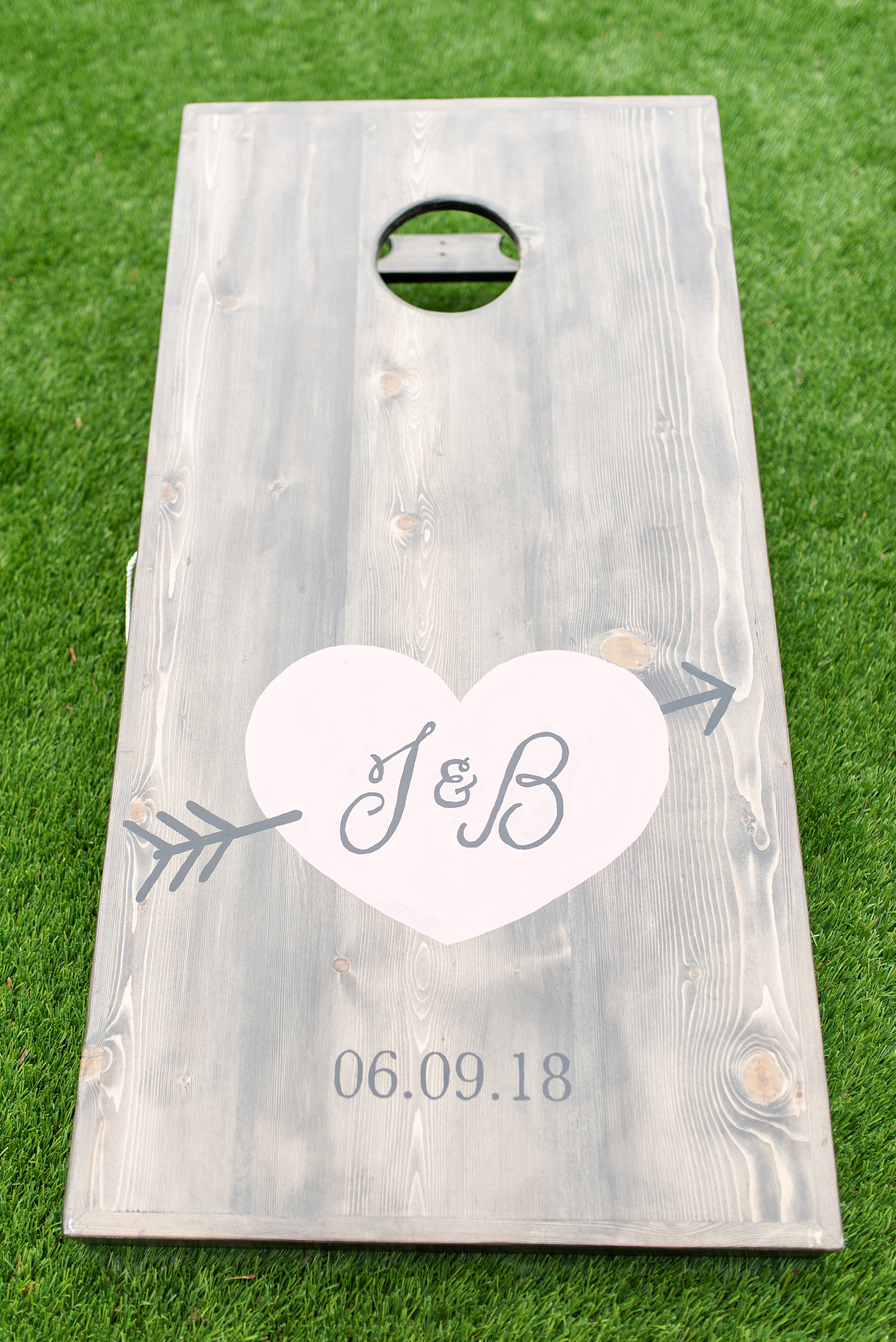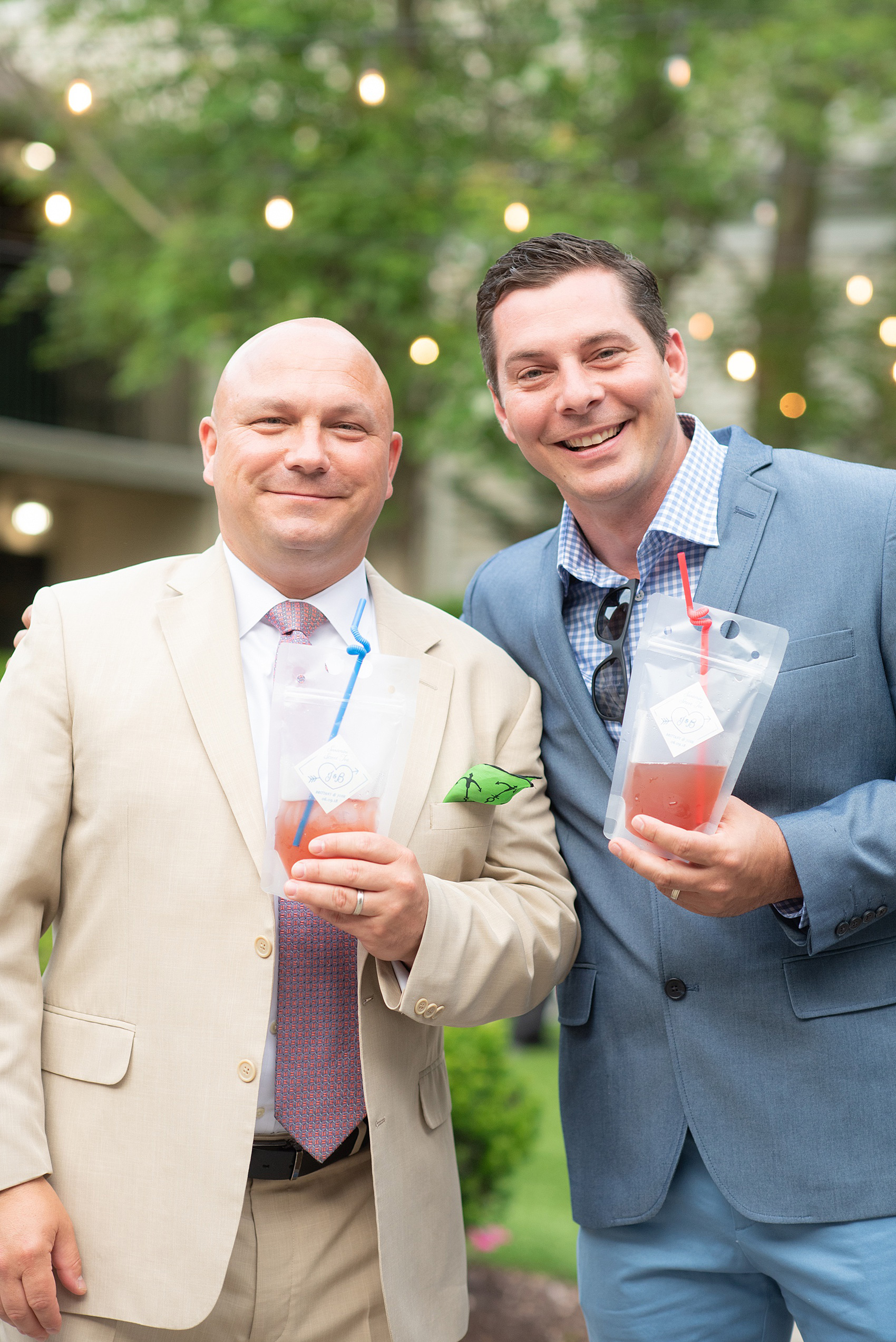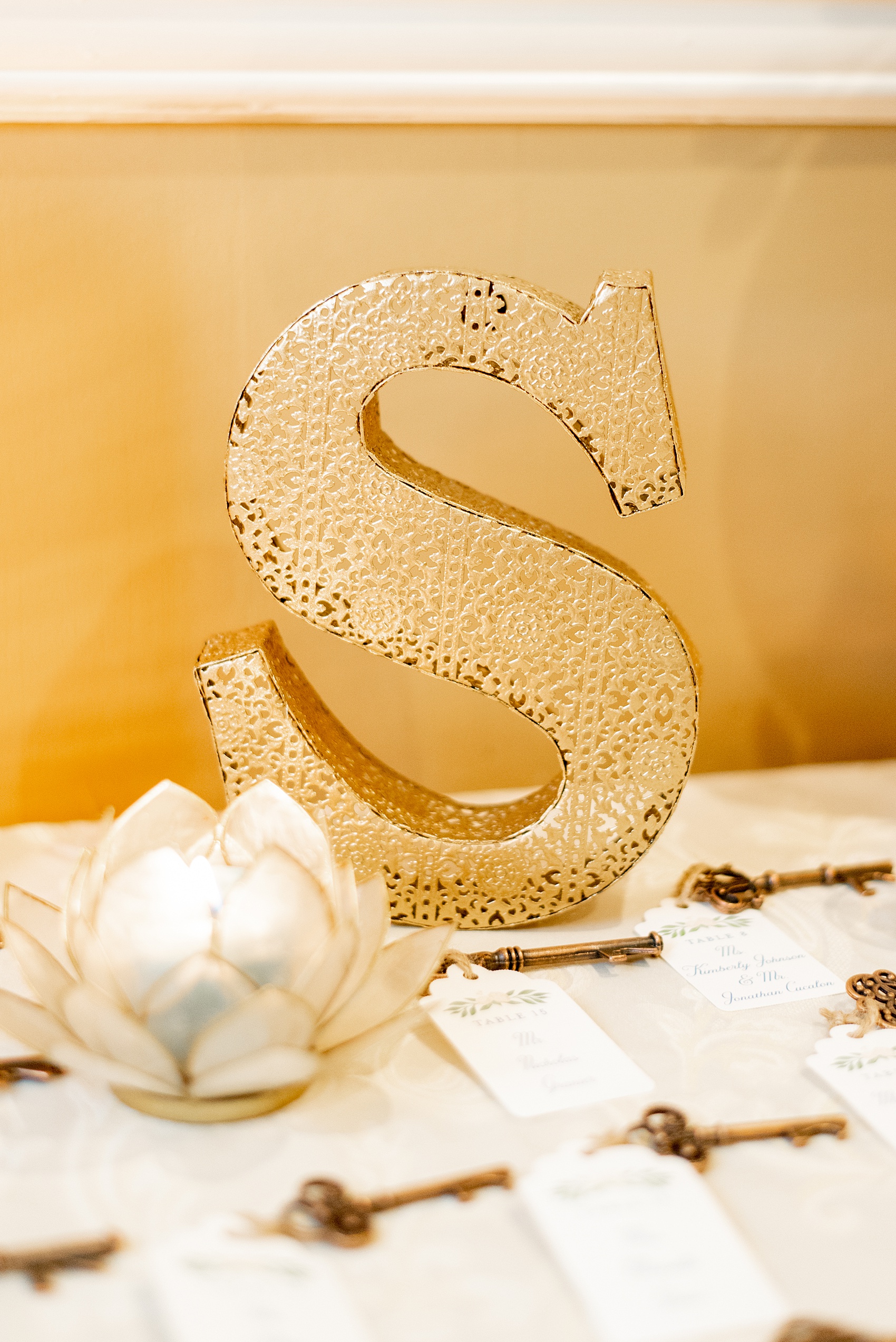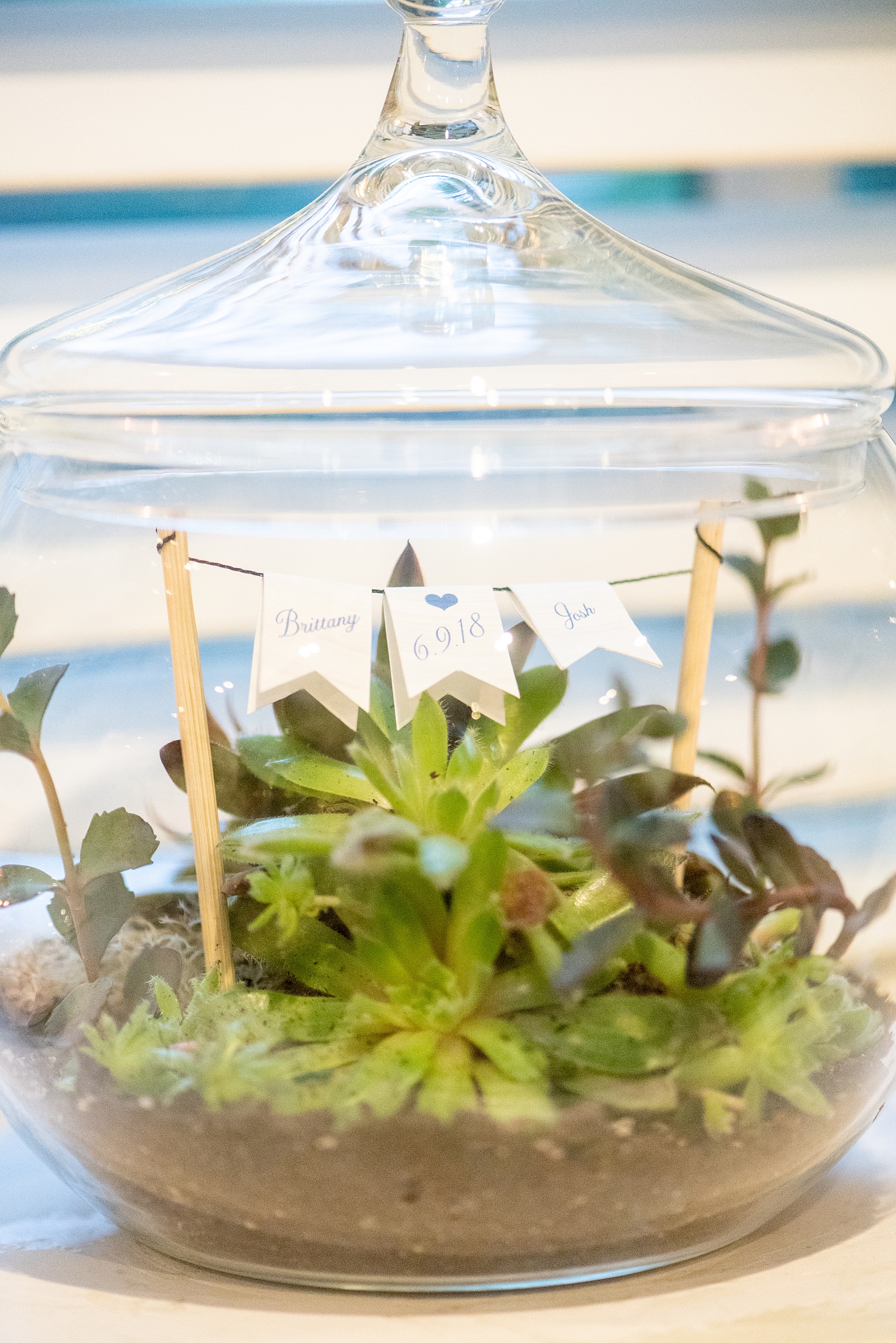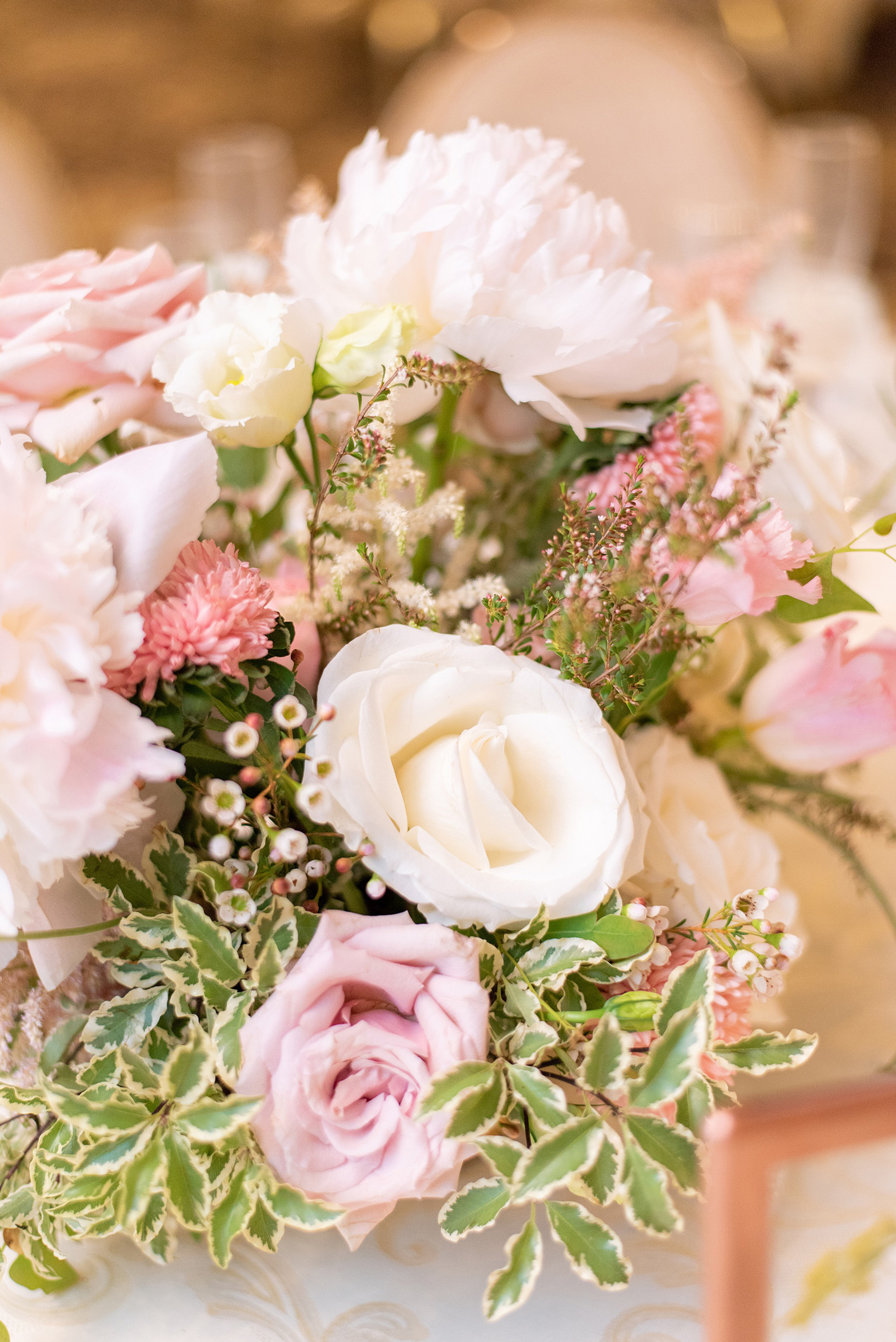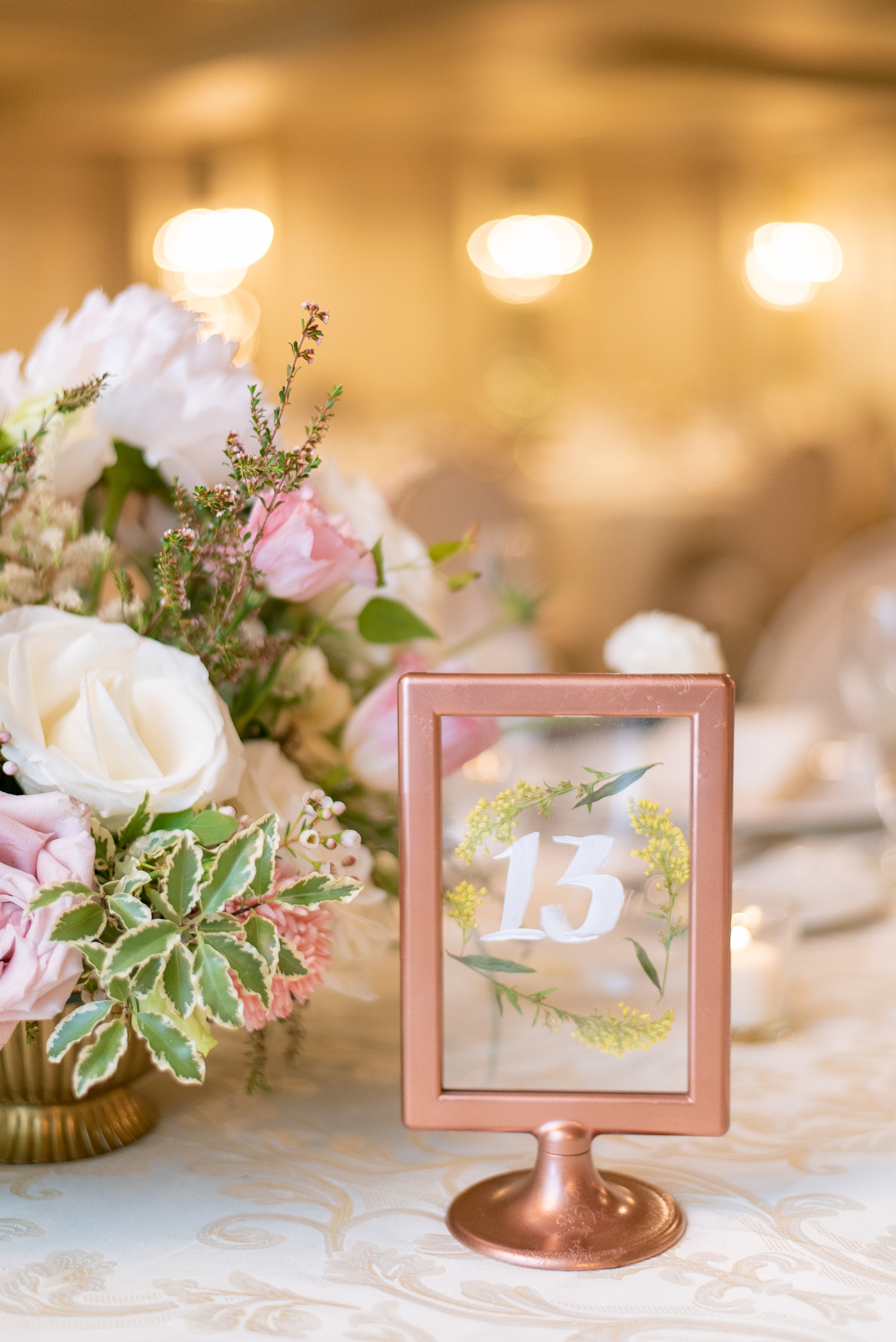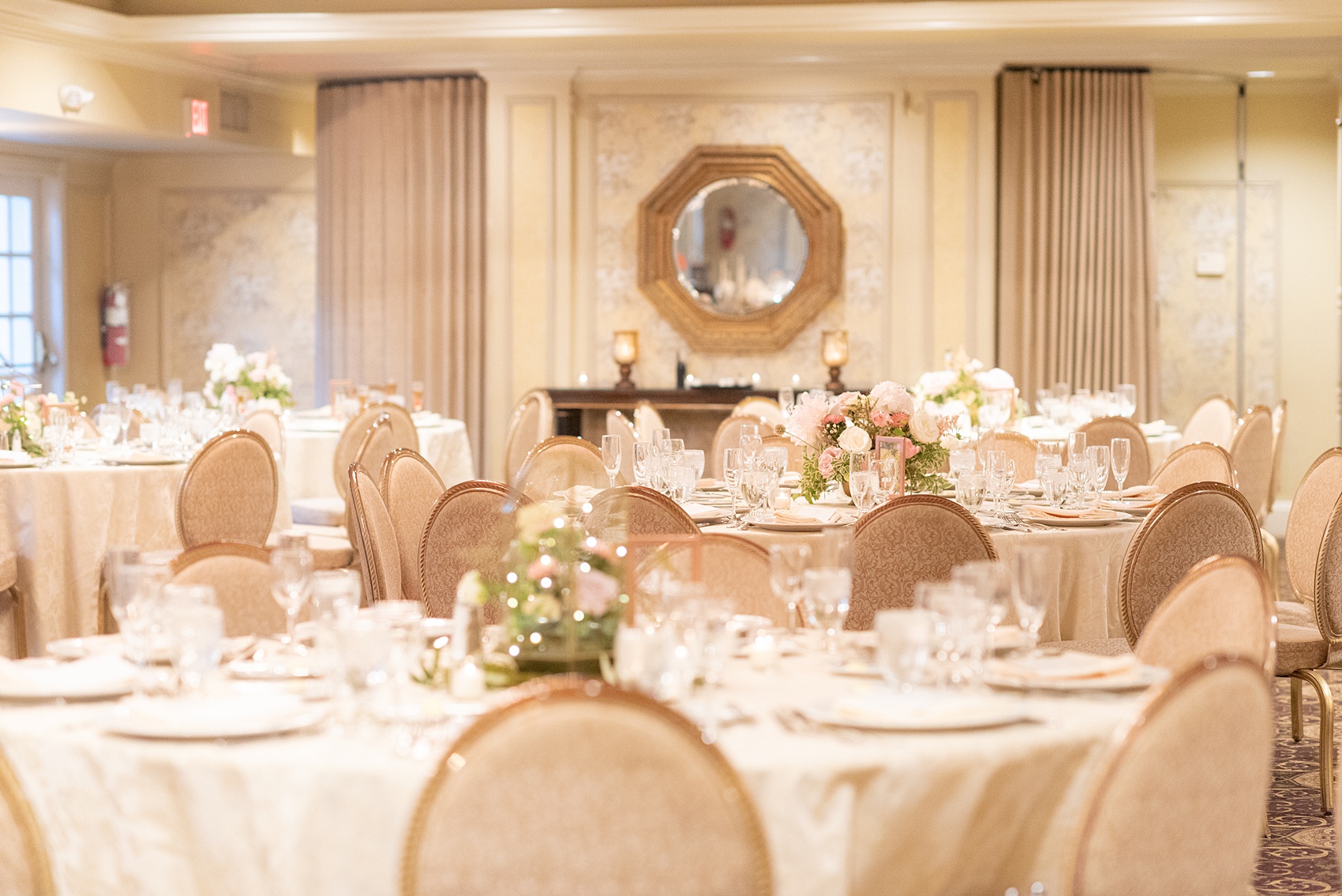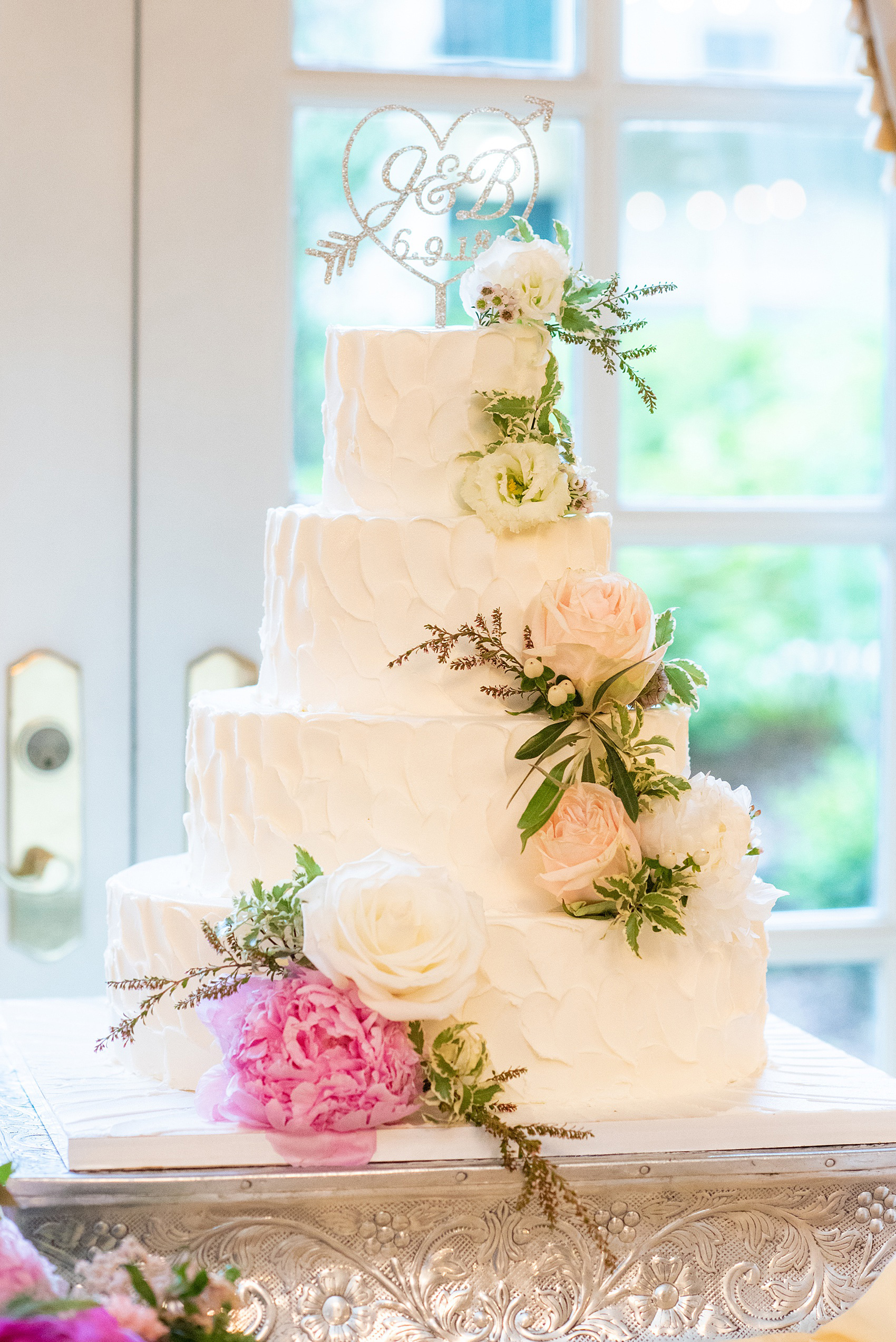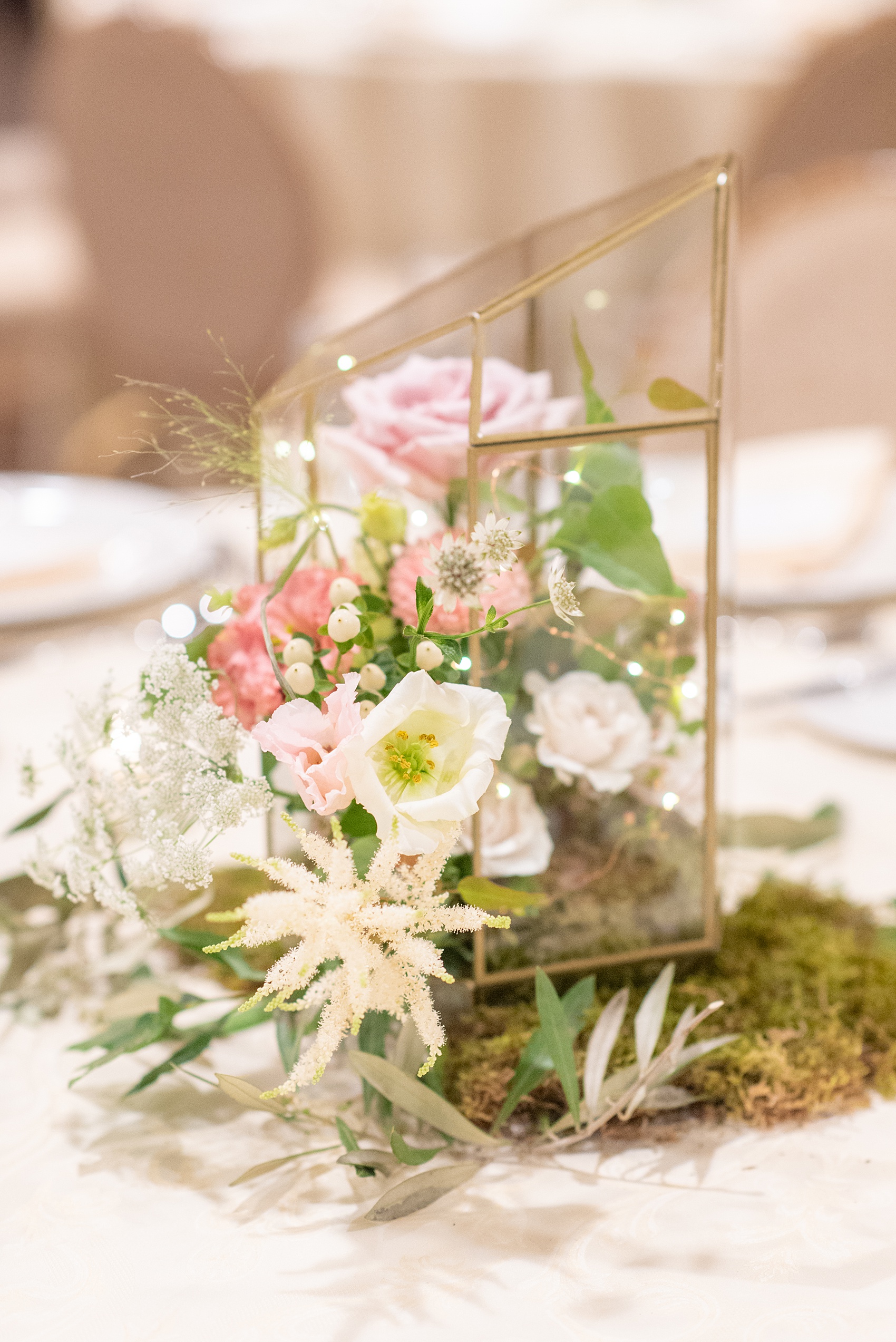 Their cake was four tiers, decorated with white buttercream and a cascade of fresh flowers. Their custom monogram logo was laser cut from gold glitter acrylic for their cake topper. Tables were topped with two types of centerpieces, one being a glass terrarium filled with flowers and the other a simpler vase with flowers. Table numbers were indicated with rose gold framed glass that had pressed flowers inside and white writing.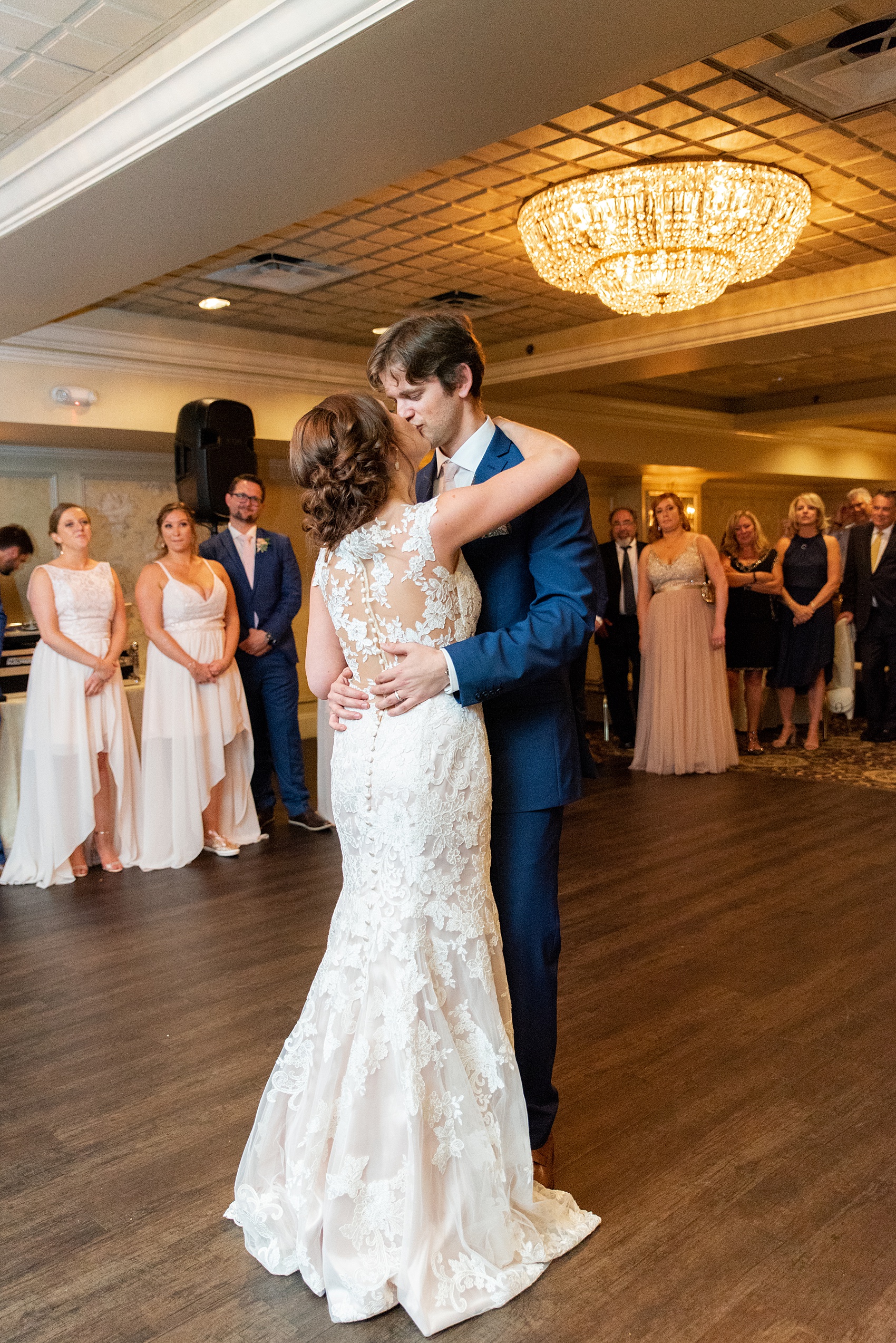 Brittany and Josh's first dance song was, "First Day of My Life," by Bright Eyes. So many of their guests were teary-eyed during their dances, including Brittany's dance with her dad and Josh's dance with his mom.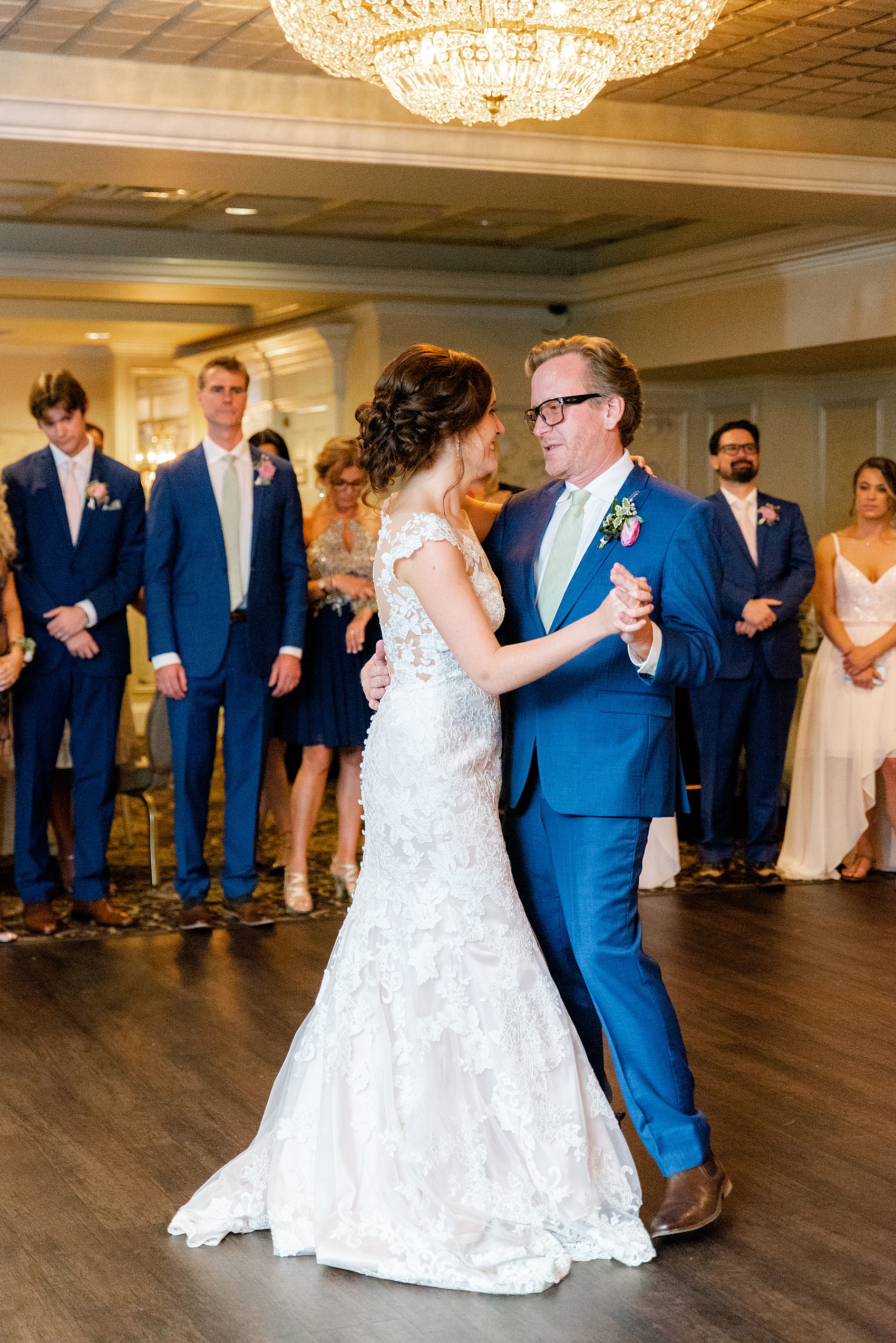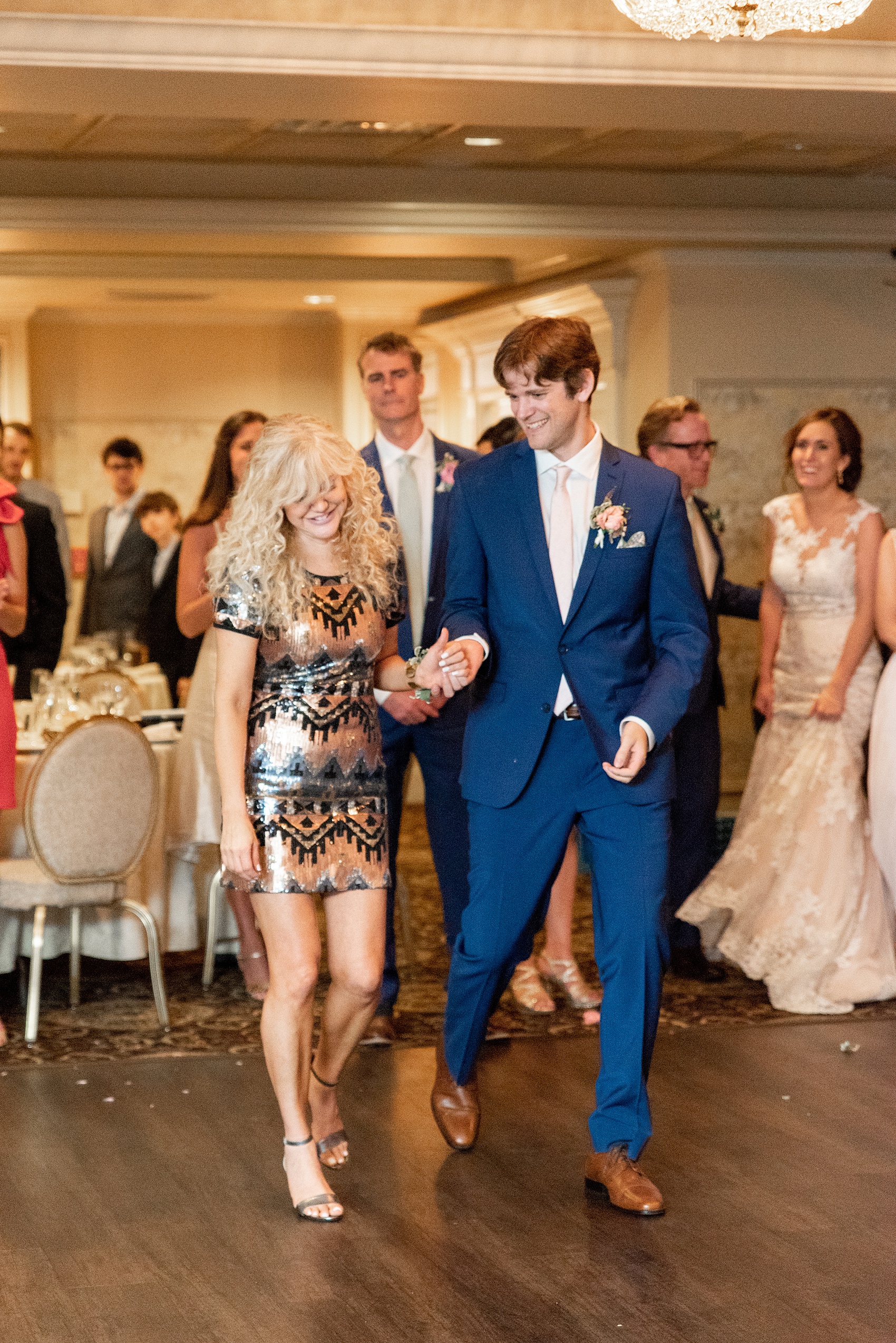 What else is there to do after speeches and dinner at an awesome wedding? Dance!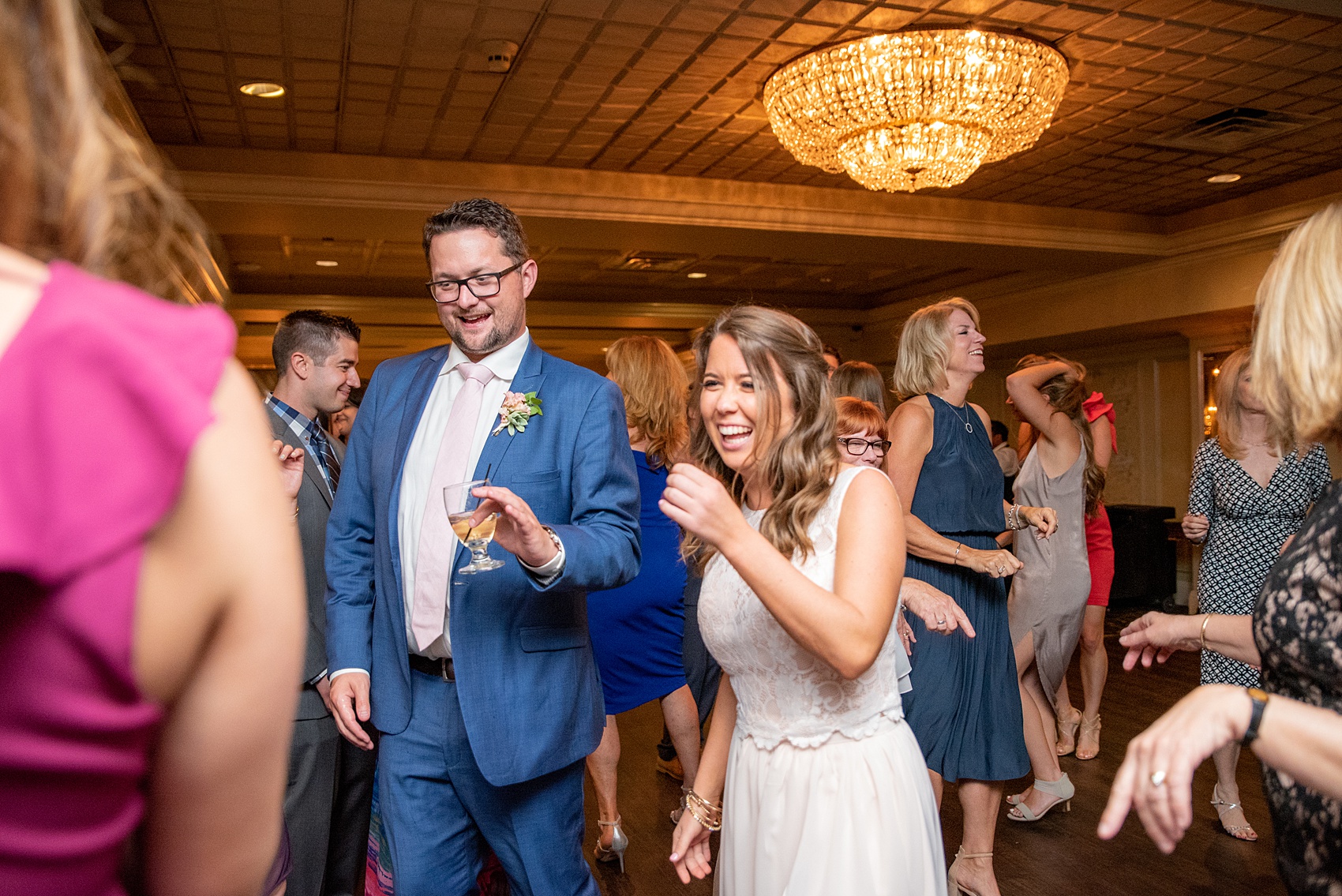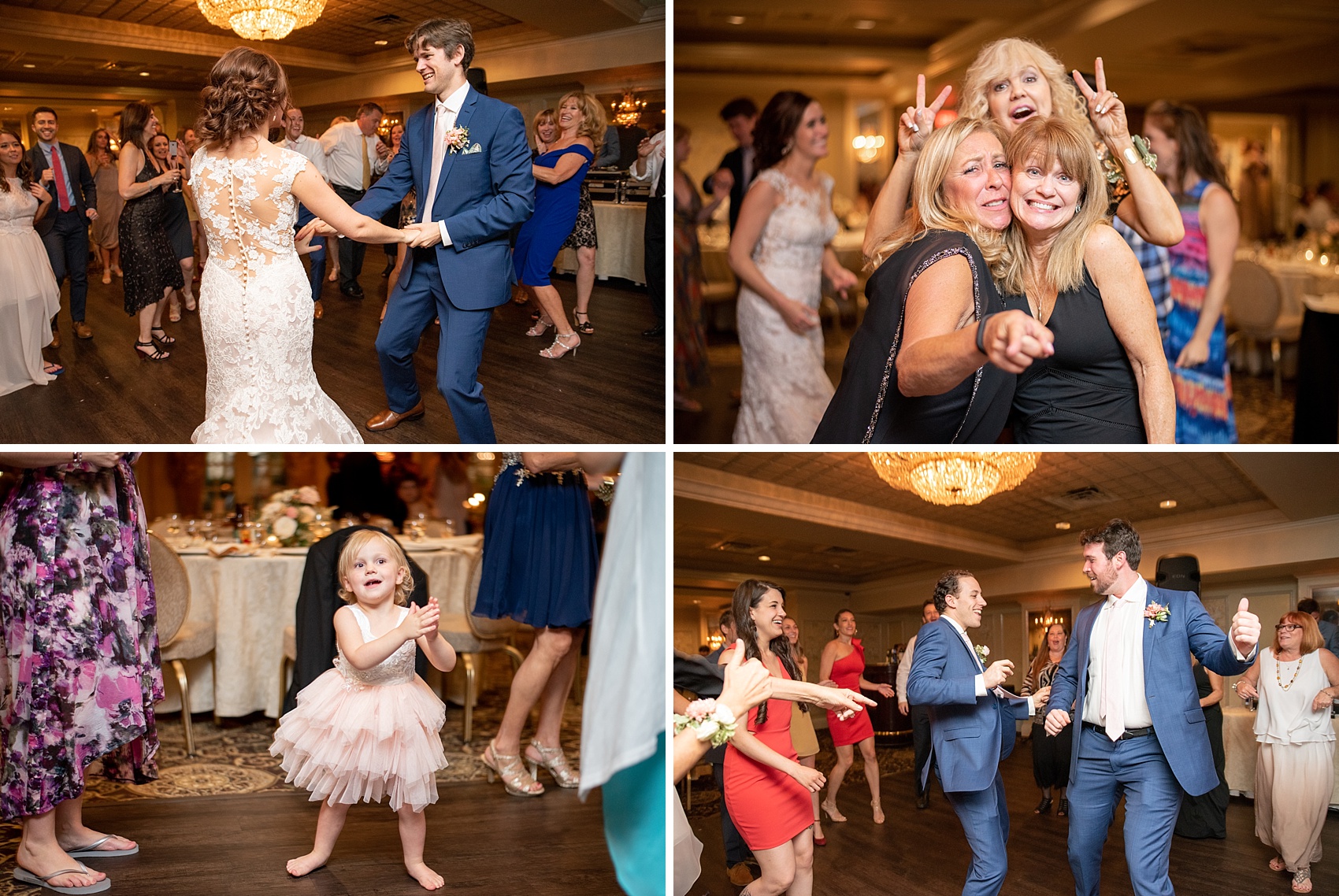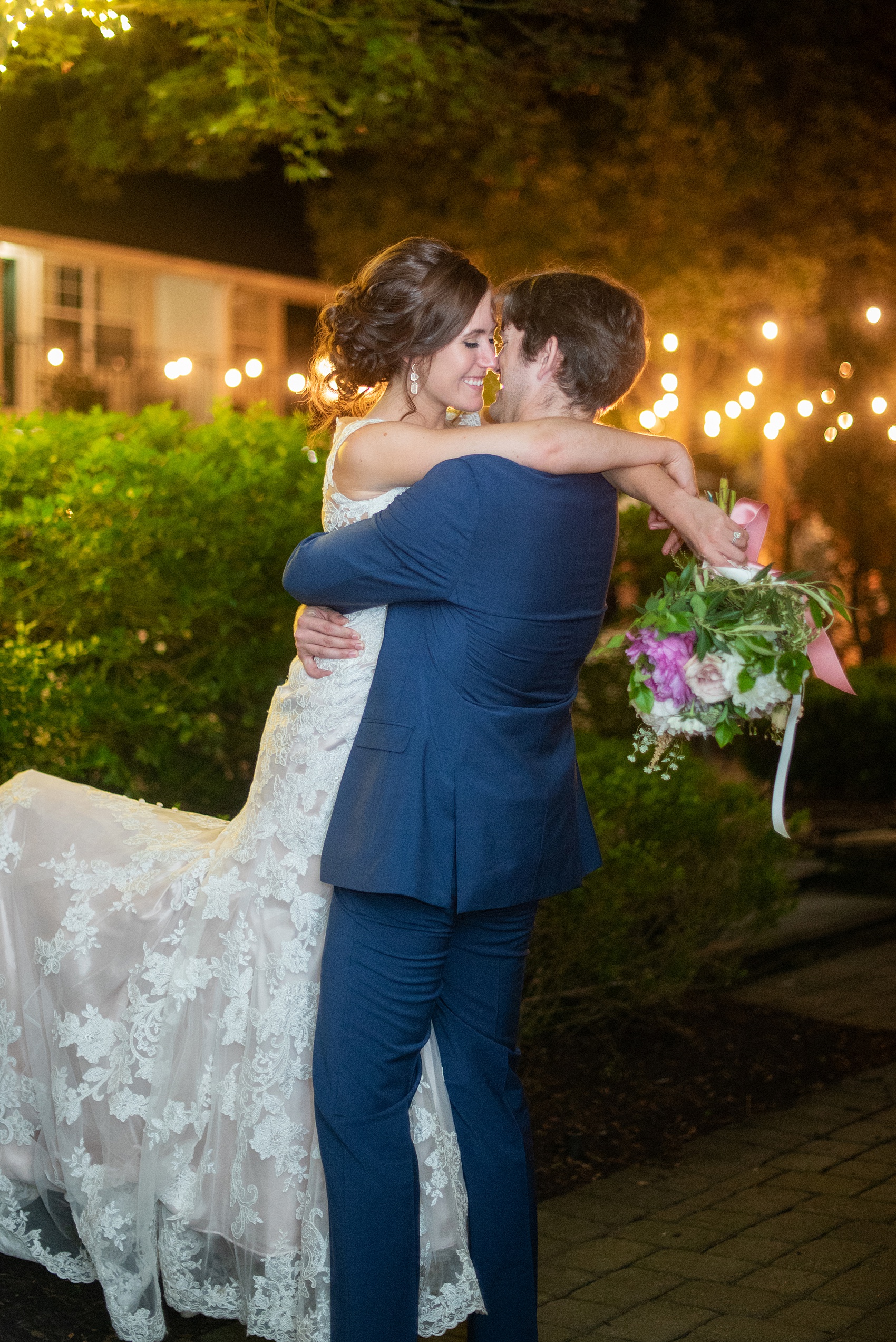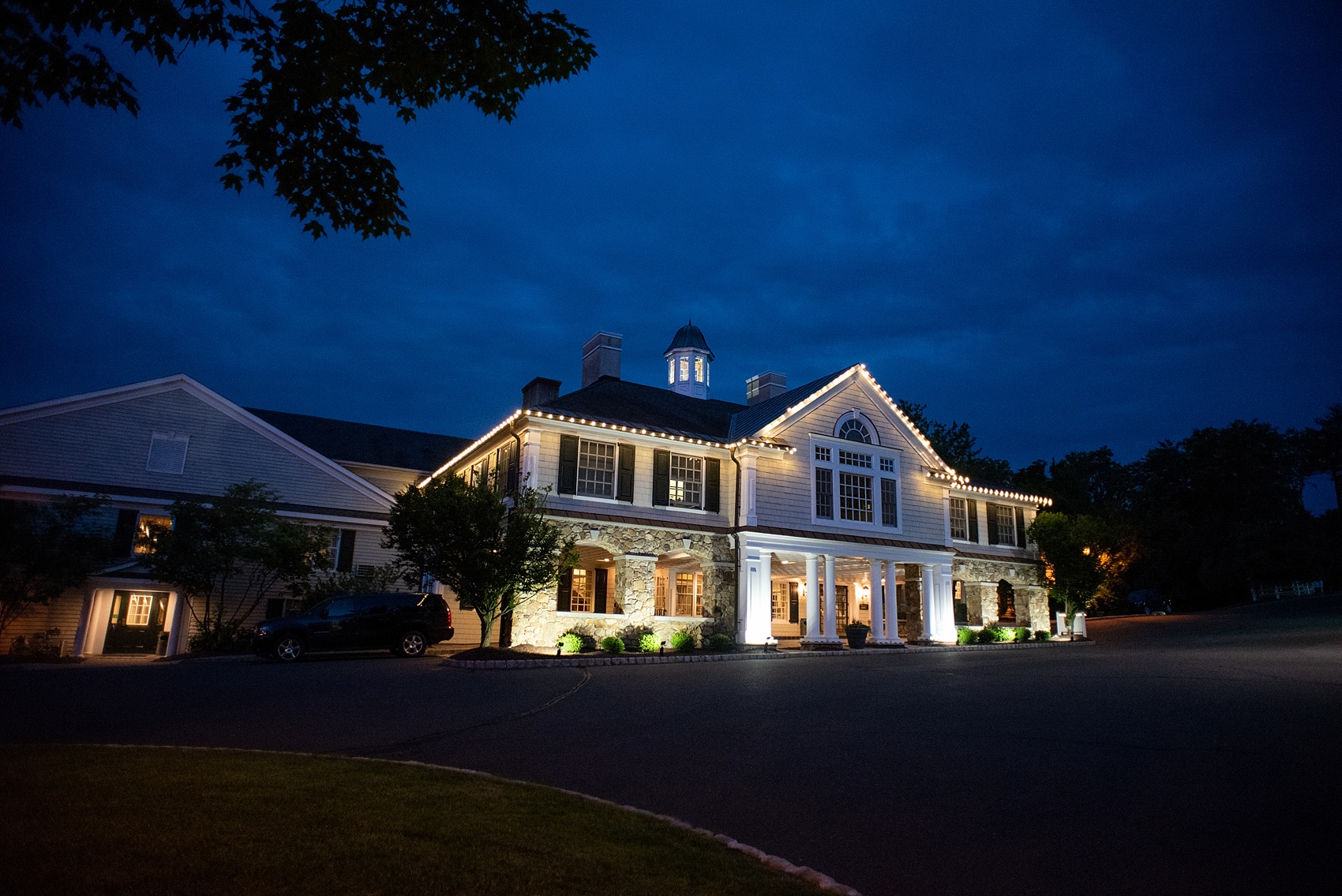 Congratulations, Brittany and Josh! I absolutely loved being a part of your day!
Venue: Olde Mill Inn / Photo location: Cross Estate Gardens / Hair and makeup: Pin It Up and Pout / Wedding dress: Kleinfeld, designer Allure Bridal / Bridesmaids gowns: RK Bridal, designer Allure / Groom's suit: Macy's / Groomsmen suits: Menguin / Rings: Neves Jewelers / Flowers: Grace and Grit  / Stationery: Caitlin Whittington / DJ: Jay Mcelfresh Events / Officiant: Pastor Jason, Tower Hill Church / Cake: Palermo's Bakery / Cake topper: Chic Design Boutique, Etsy /
We love New Jersey weddings! Also check out:
Interested in having us capture your wedding? Contact us! We'd love to hear from you!