I had received a call from a former bride of mine – one of the sweetest people ever, actually. Annie had gotten married last year and I hadn't spoken to her in a while. I was in a meeting when she called and was surprised to see who was contacting me. (Not because I don't adore her, but because I haven't spoken to her in a while. It simply seemed out of the blue!) I texted her to ensure everything was okay before I could call her back. She messaged back her brother was going to propose and she knew photos were a must. I was instantly excited for their family and wanted to be a part of Mike's NYC proposal idea for his girlfriend, Nicole. (And Annie and I ended up having a wonderful catch-up call, after all!)
Mike and I got in touch and he filled me in on his plans. The proposal was only days away. He was excited, anxious and nervous for it to all come together. (But I knew it would!)
He and Nicole were flying to New York City's LaGuardia Airport from Cincinatti. They landed at 12:30pm and would go to the hotel to drop off their luggage. The final destination of the trip was New Jersey to be with his family for the holidays (it was the third weekend in December). But a stop to NYC was in order because Nicole hadn't been in a while and they had never been together. It was the perfect stop to make some extra special memories.
I had a wedding in North Carolina that same day but my often associate, Emily, is the best – absolutely fabulous in every way. Luckily she was available that Saturday on short notice. Mike and I figured out the general plan – they'd arrive at LGA airport, travel to Manhattan, drop off their bags, and explore the Plaza Food Hall and holiday windows on 5th Avenue if he needed to kill time before the 3:15pm "show time" in Central Park. This would allow additional surprise guests to arrive and get situated and for their to be ample daylight before winter sunset.
The three of us digitally conspired to find the perfect spot by Gapstow Bridge in Central Park for Mike to get down on bended knee. He envisioned the bridge with a bit of the landscape of Central Park, and visibility of tall skyscrapers including the famous Plaza Hotel, behind them to indicate they were in New York City. Emily confirmed the location was a-okay upon arrival (you never know what's going on in NYC on any given day) and systems were a go! We were all onboard to make his NYC proposal idea reality.
One of my favorite parts of a proposal is watching the one being proposed to unexpectedly walk around the chosen location. Here comes Mike with Nicole…a very unsuspecting bride-to-be! I can't be 100% sure in this moment, but Mike said it was very usual for them to take selfies. So he said his reasoning to her for them to walk to this spot would be to take a great selfie. Perhaps that's how he got her there after all; I don't think she was expecting a proposal!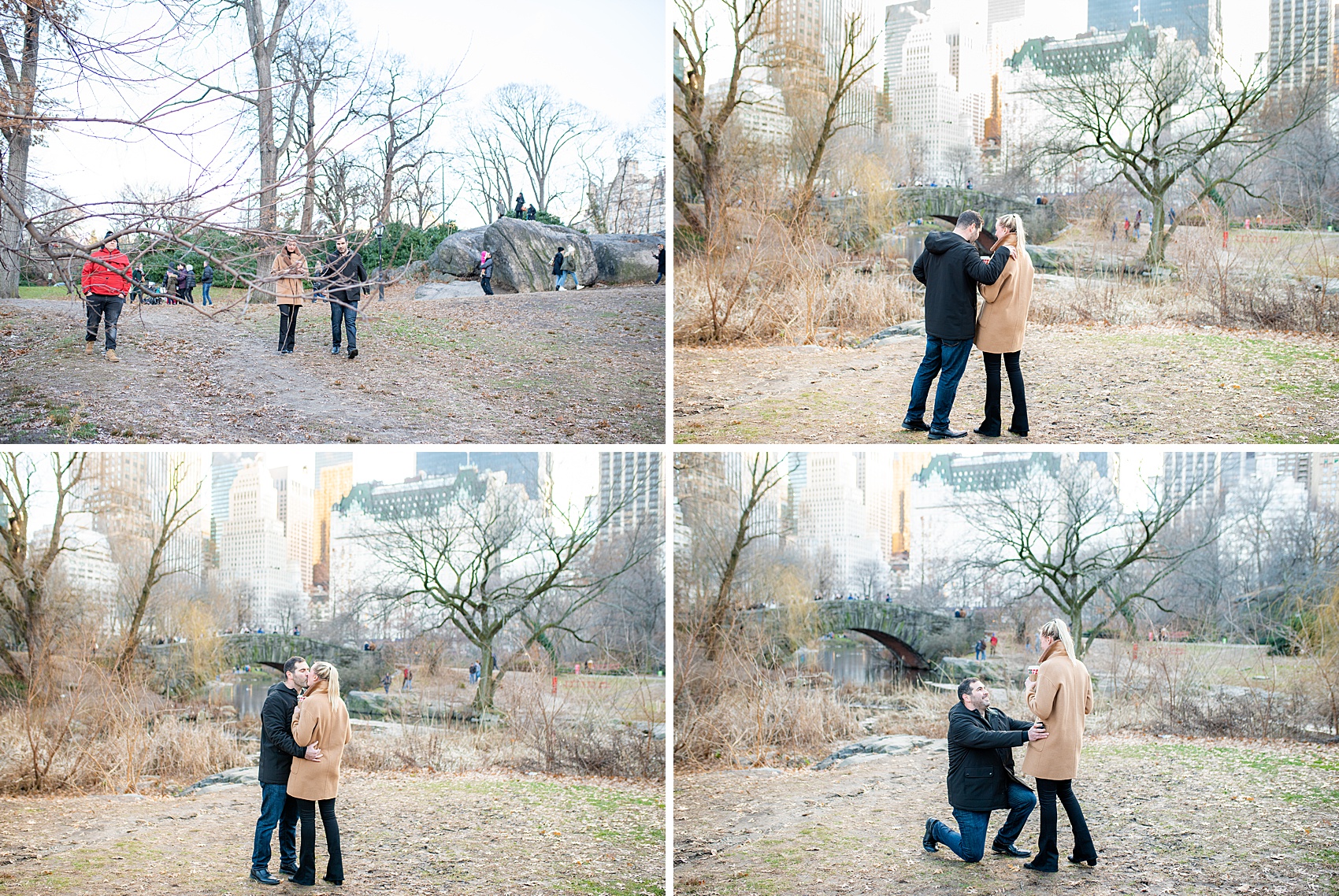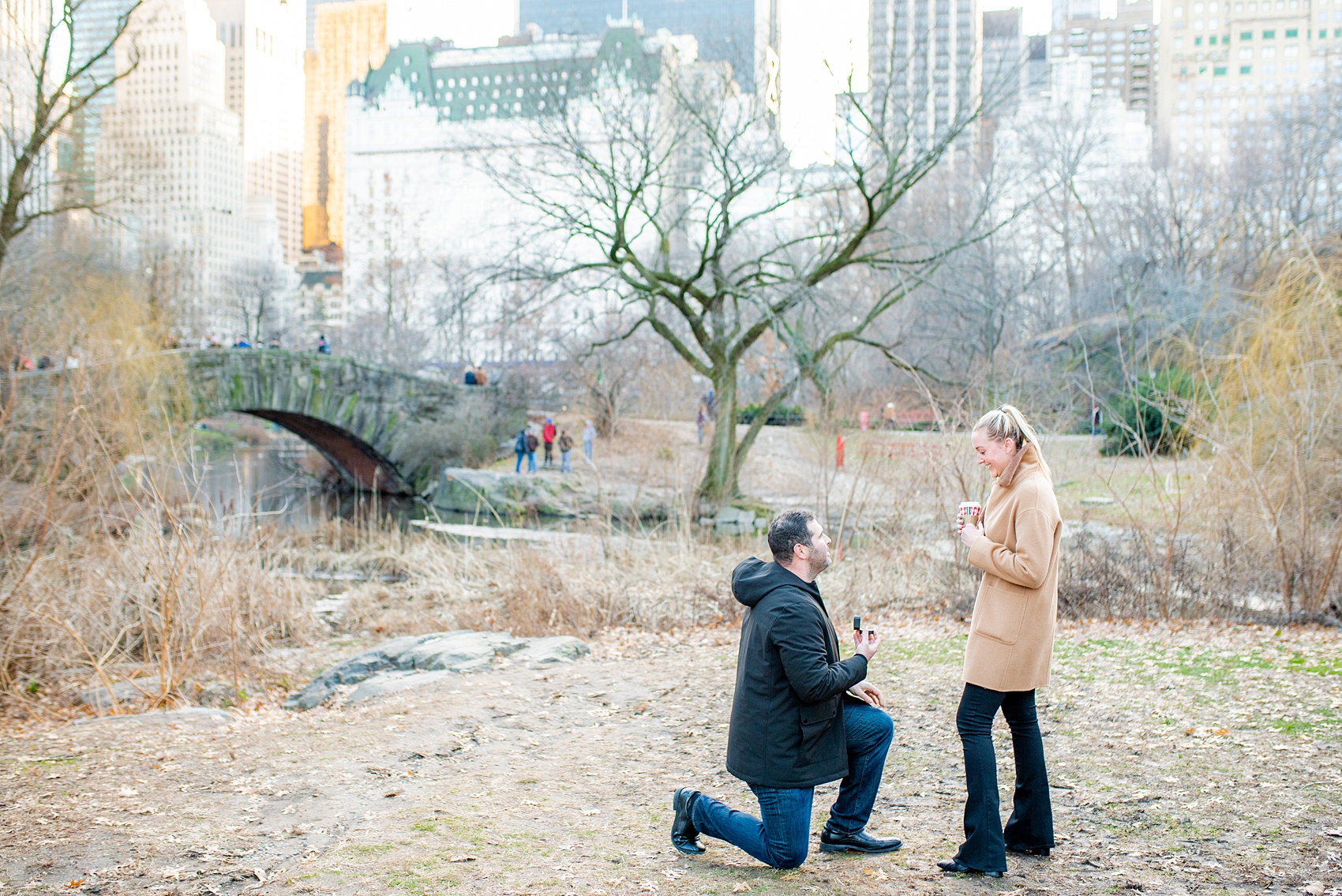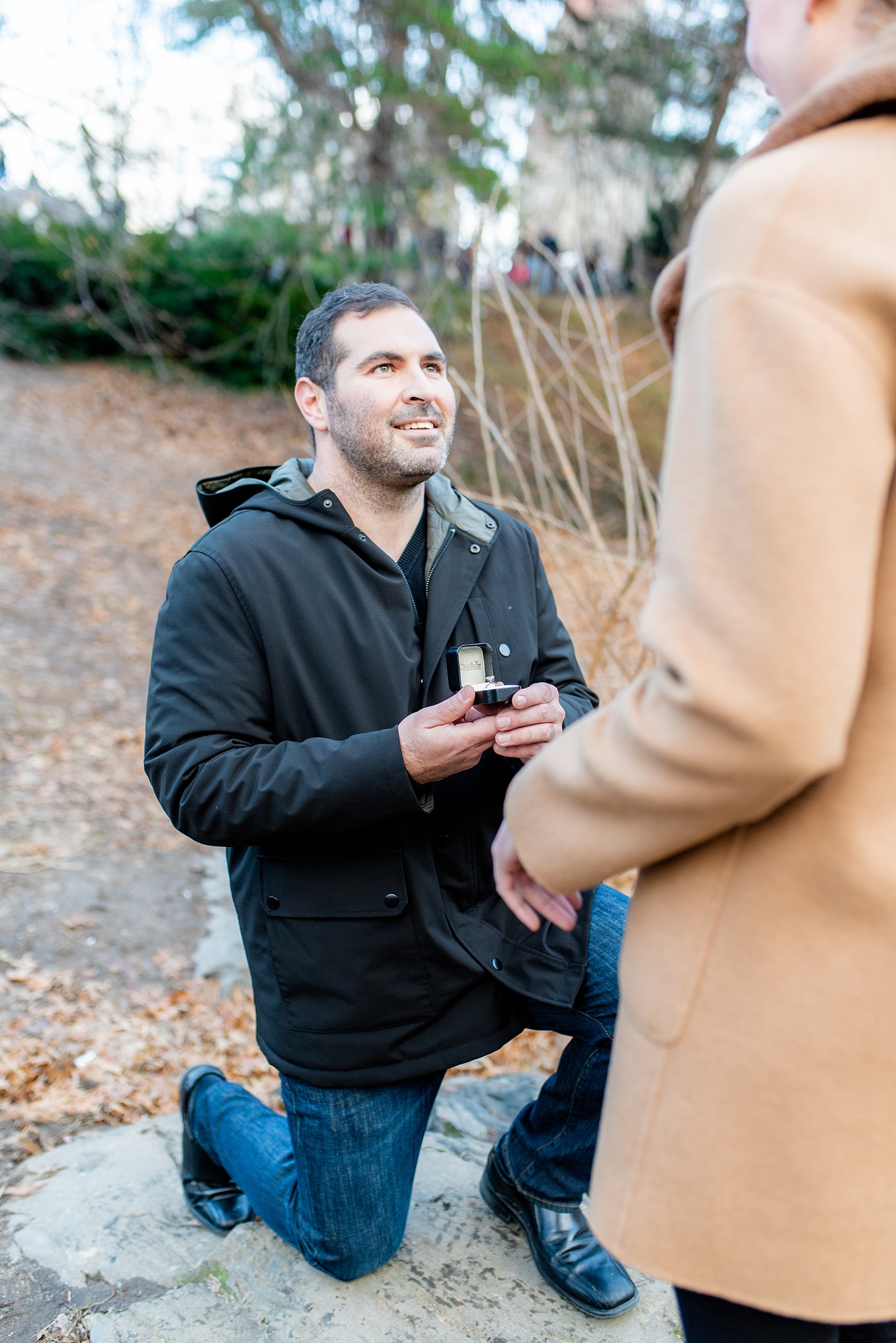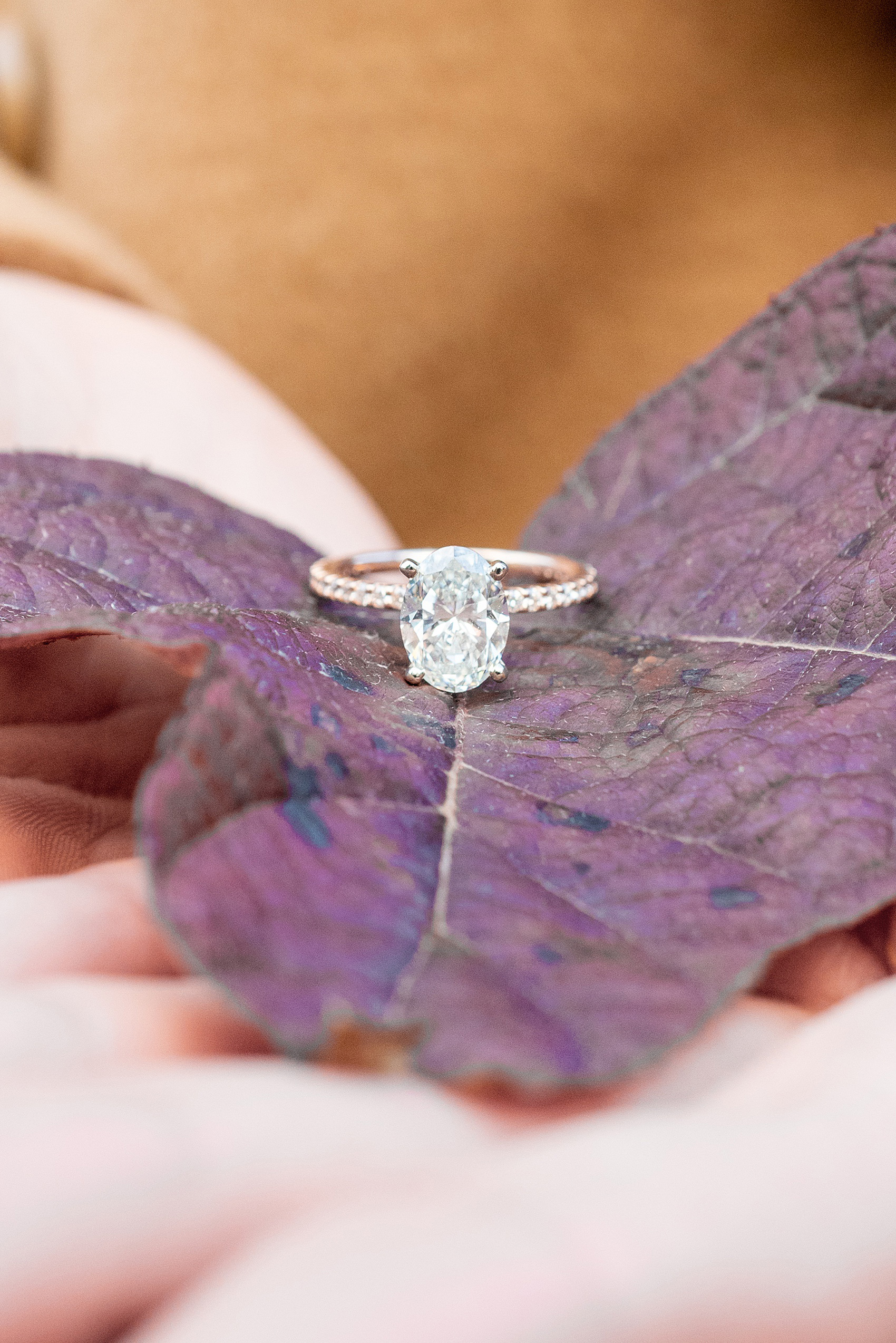 He got down on one knee and asked Nicole, who he met earlier this year and fell in love with, to be his wife. And she said yes! (Yay! Let the choir sing!!!) Isn't her ring a stunner?! It has an oval cut center stone and diamond eternity band, set in rose gold. I absolutely love the image Emily captured of it, sitting on a purple leaf. It really adds vibrancy to their winter proposal. It also happens to go well with Nicole's nail polish from that day!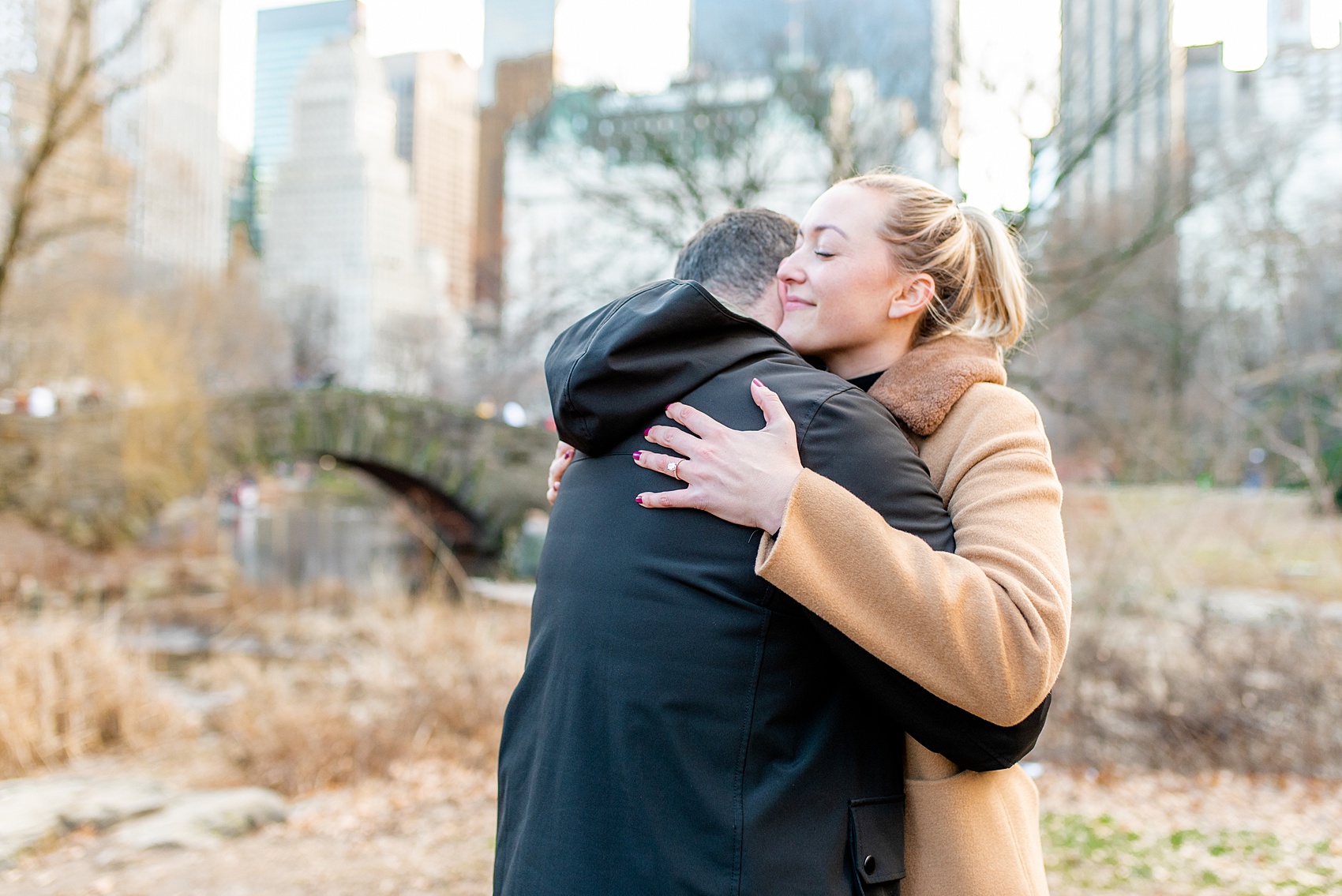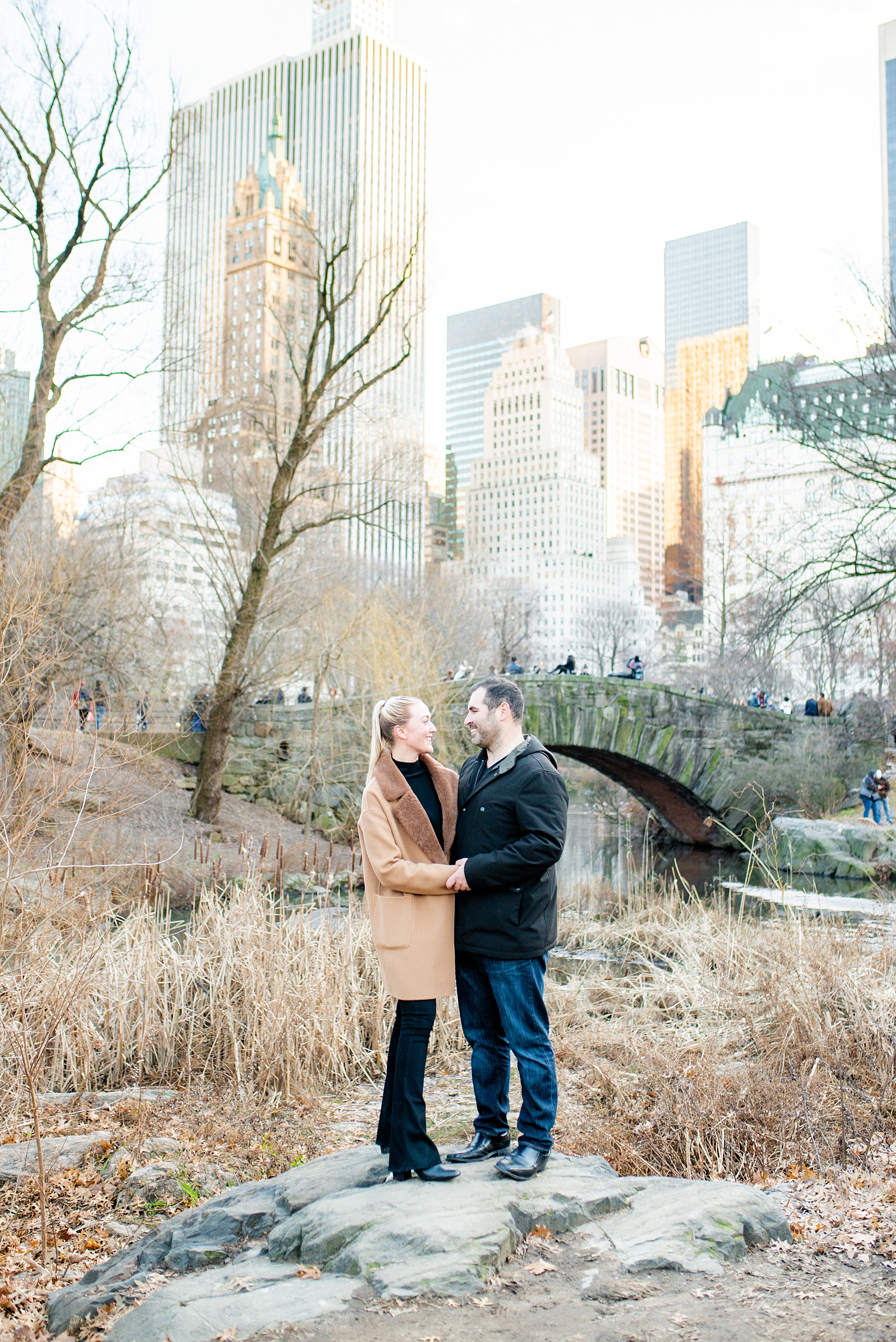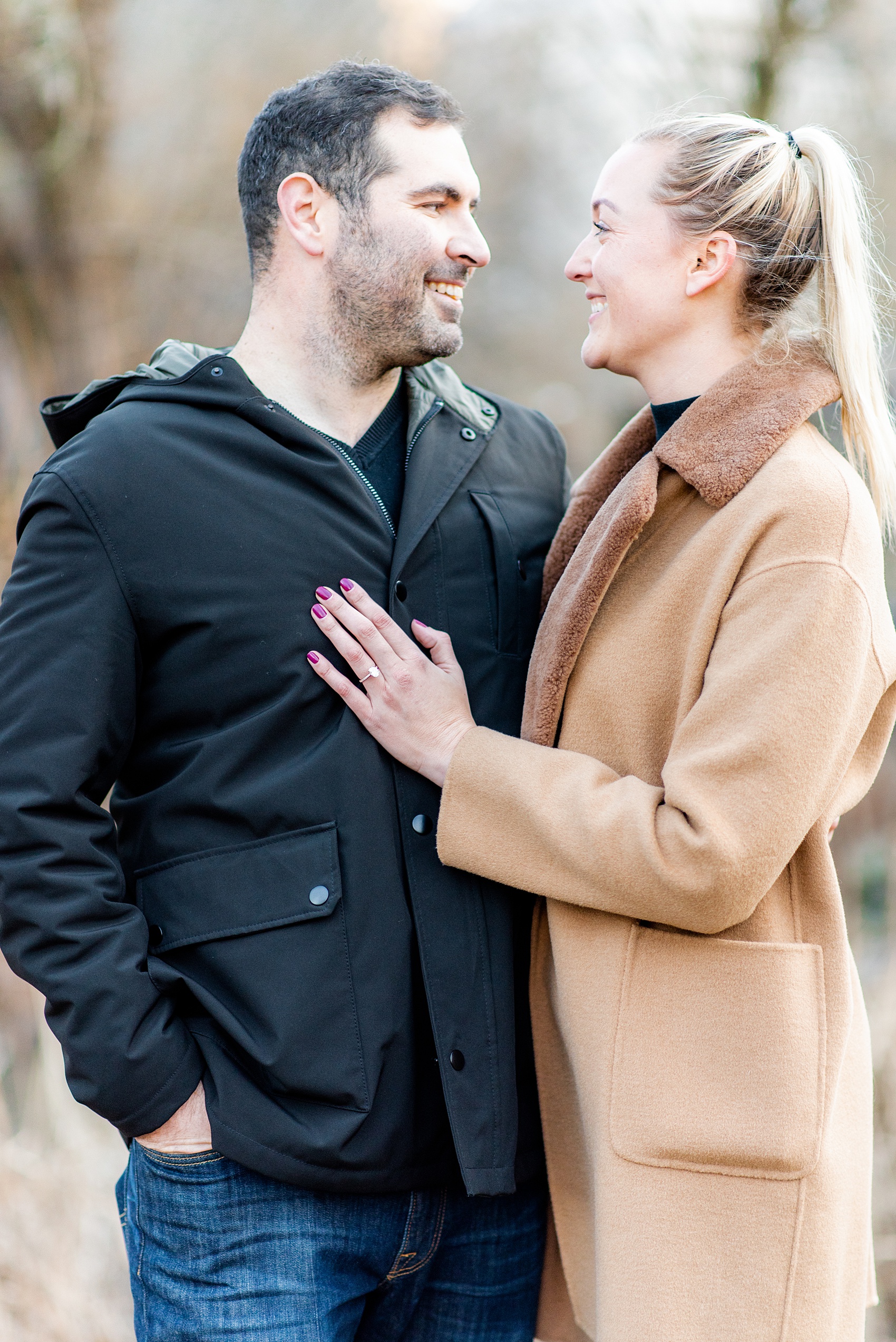 They hugged and Emily snapped some images of them together. Unbeknownst to Nicole four culprits were making their way to the happy couple to congratulate them. THEIR PARENTS! It was so special Mike arranged to have both sets of parents join in the celebration that day. Nicole was shocked as they approached them after the big proposal. Her reaction is priceless!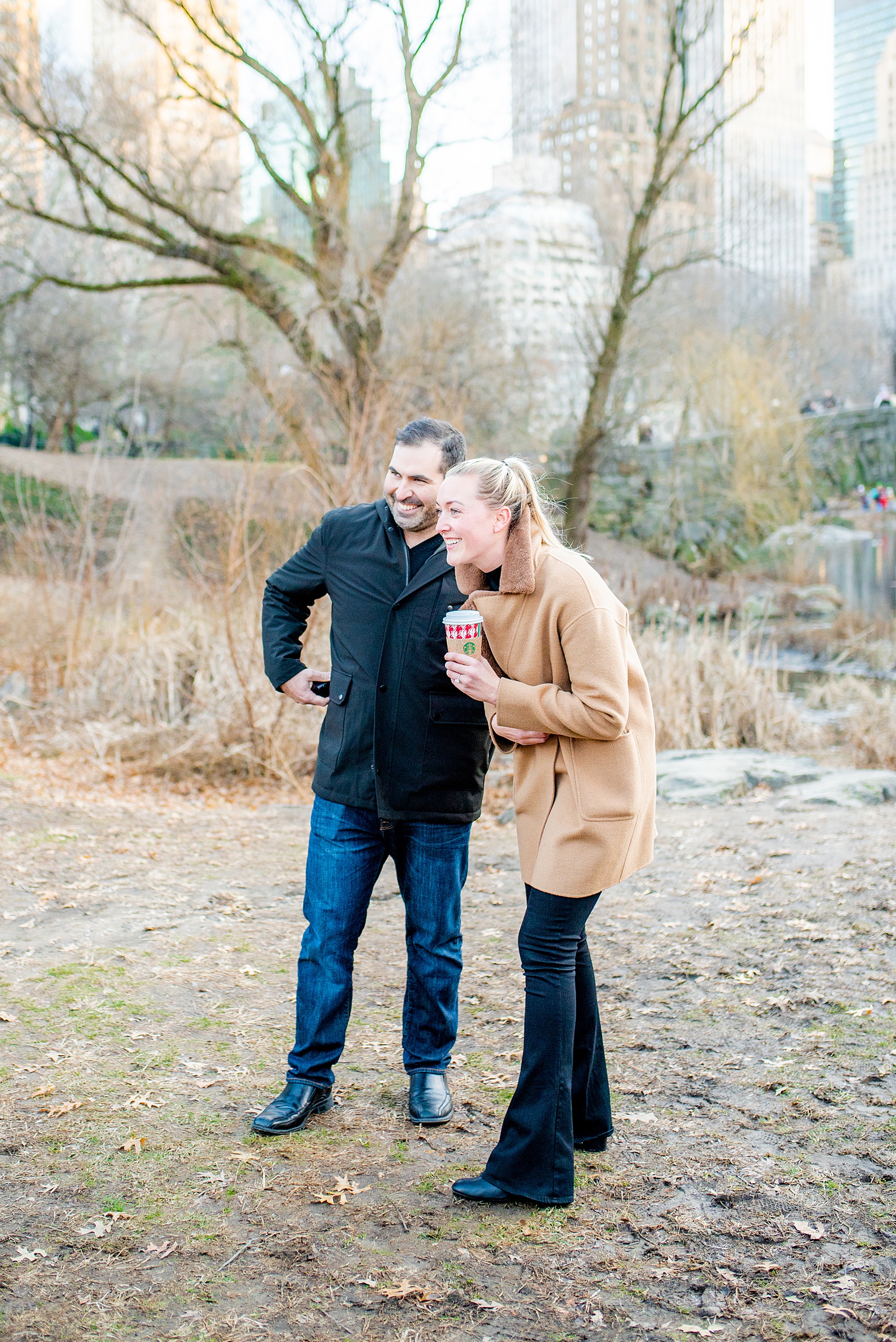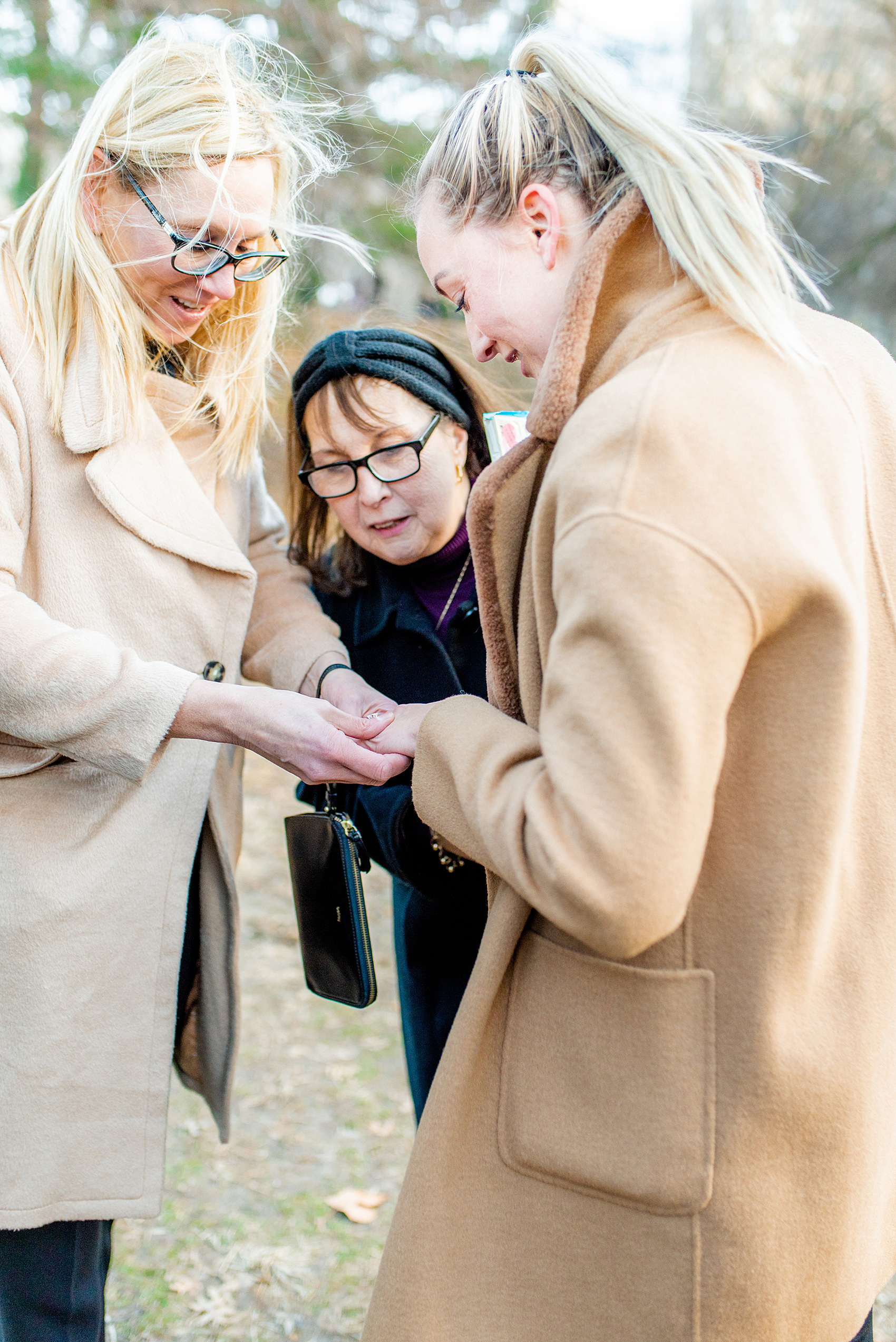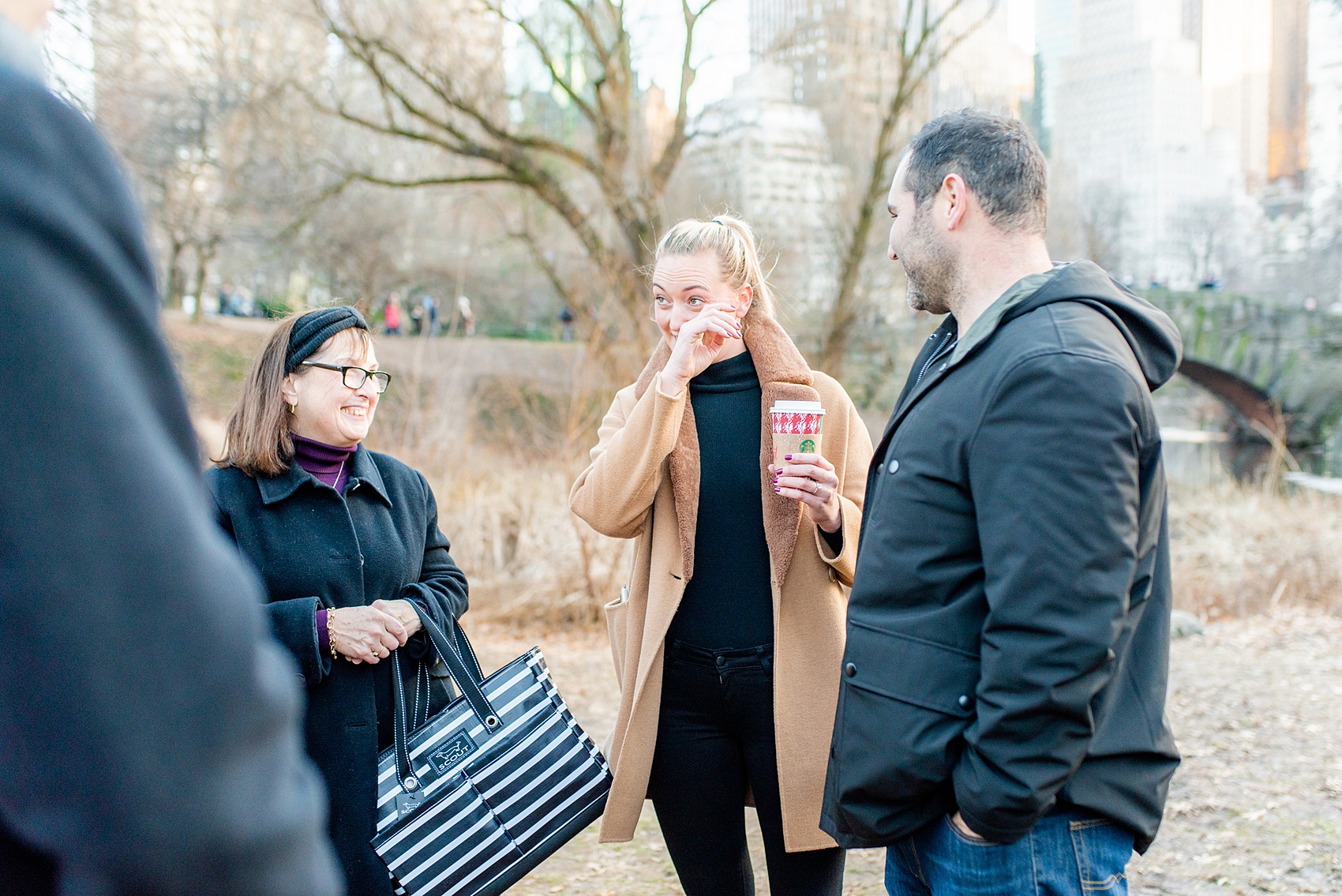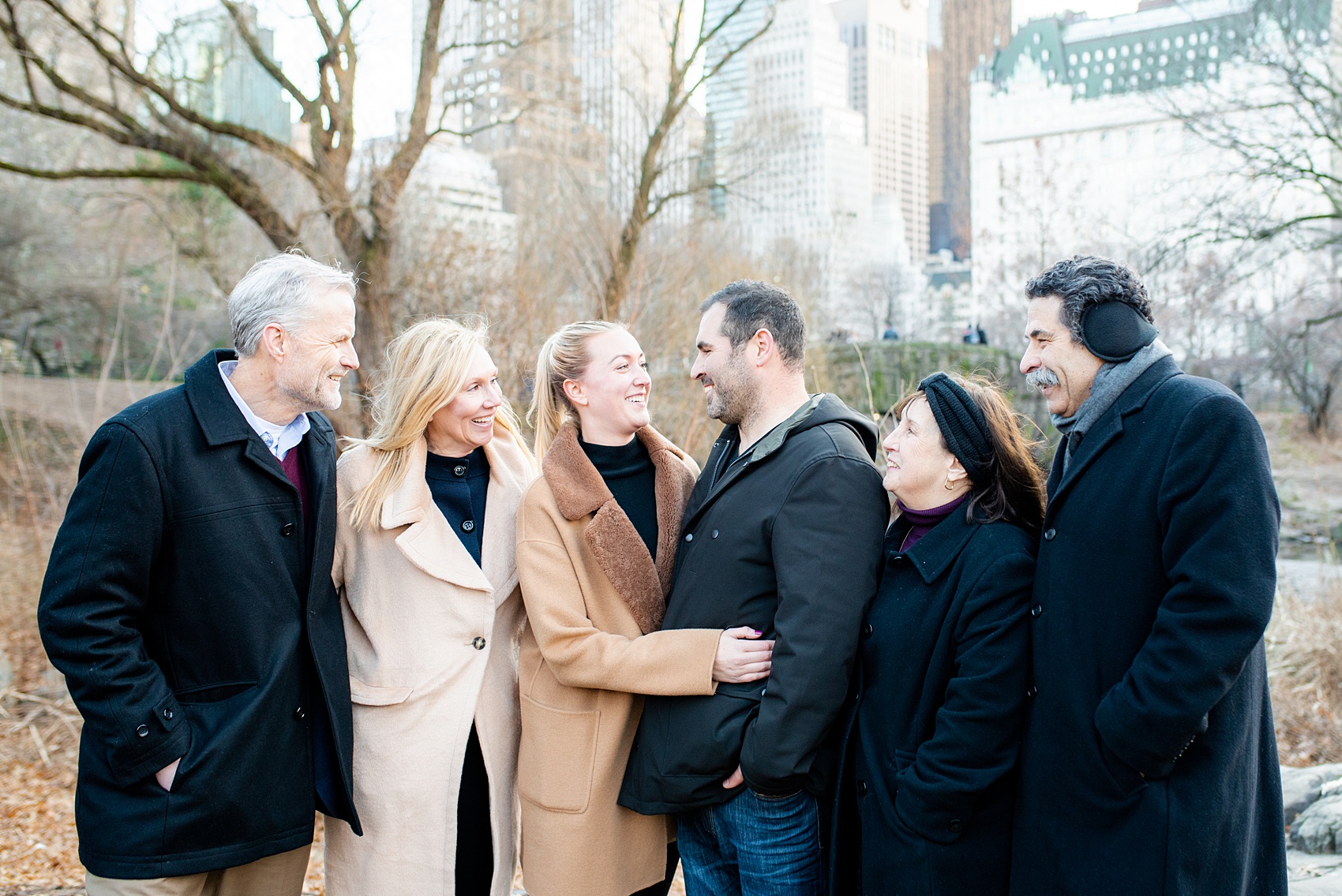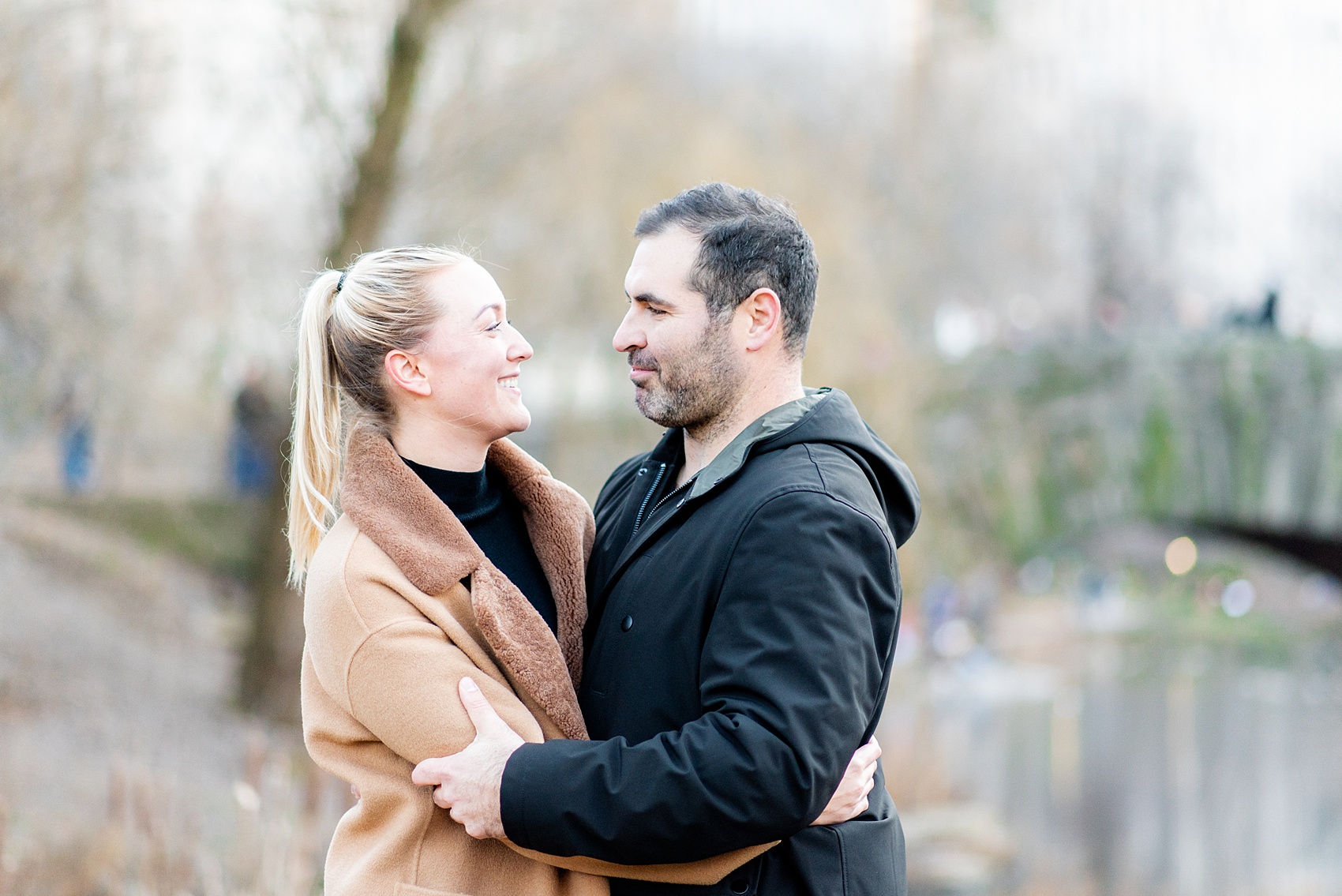 Winter is a beautiful time in New York City. I love the shapes the branches reveal due to a loss of leaves for the season. Because most (if not all) of the deciduous trees are leafless, you can see more surface area of the building facades within Central Park than you would during summer. Sometimes, though, it makes me crave a little color. As fate would have it, Emily spotted the most beautiful Blue Jay flying nearby. I am certain it was one of mother nature's gifts to Nicole and Mike on their proposal afternoon.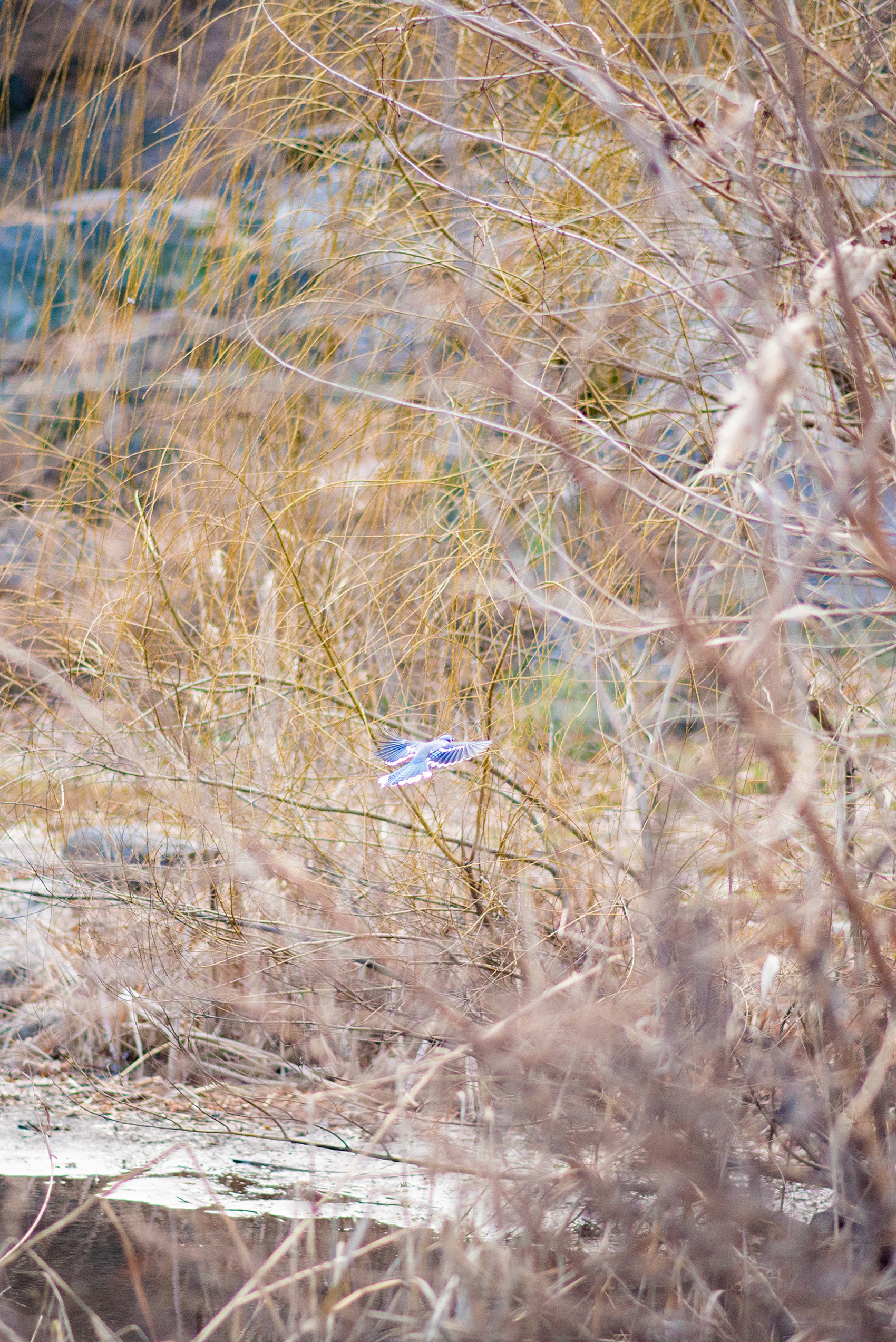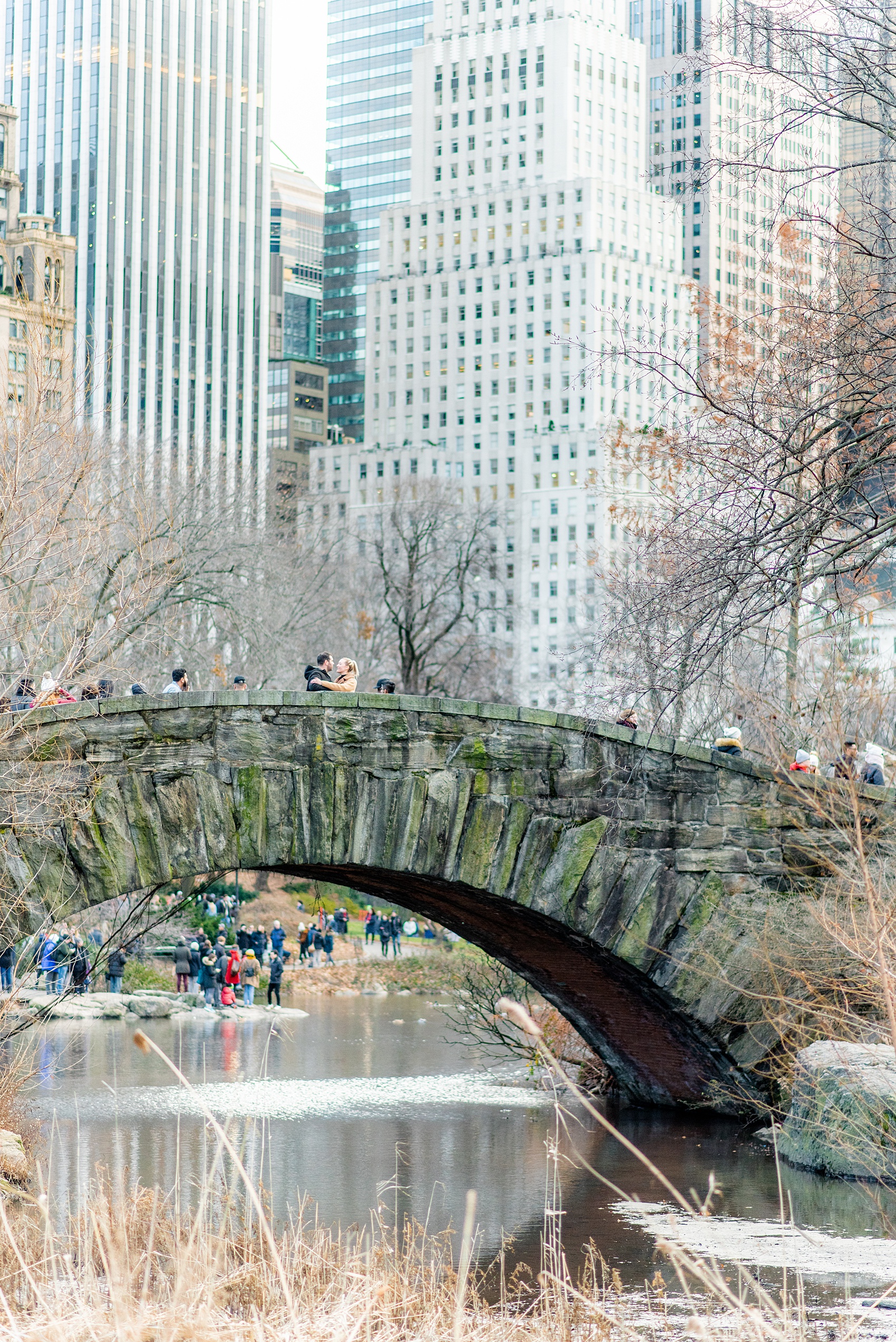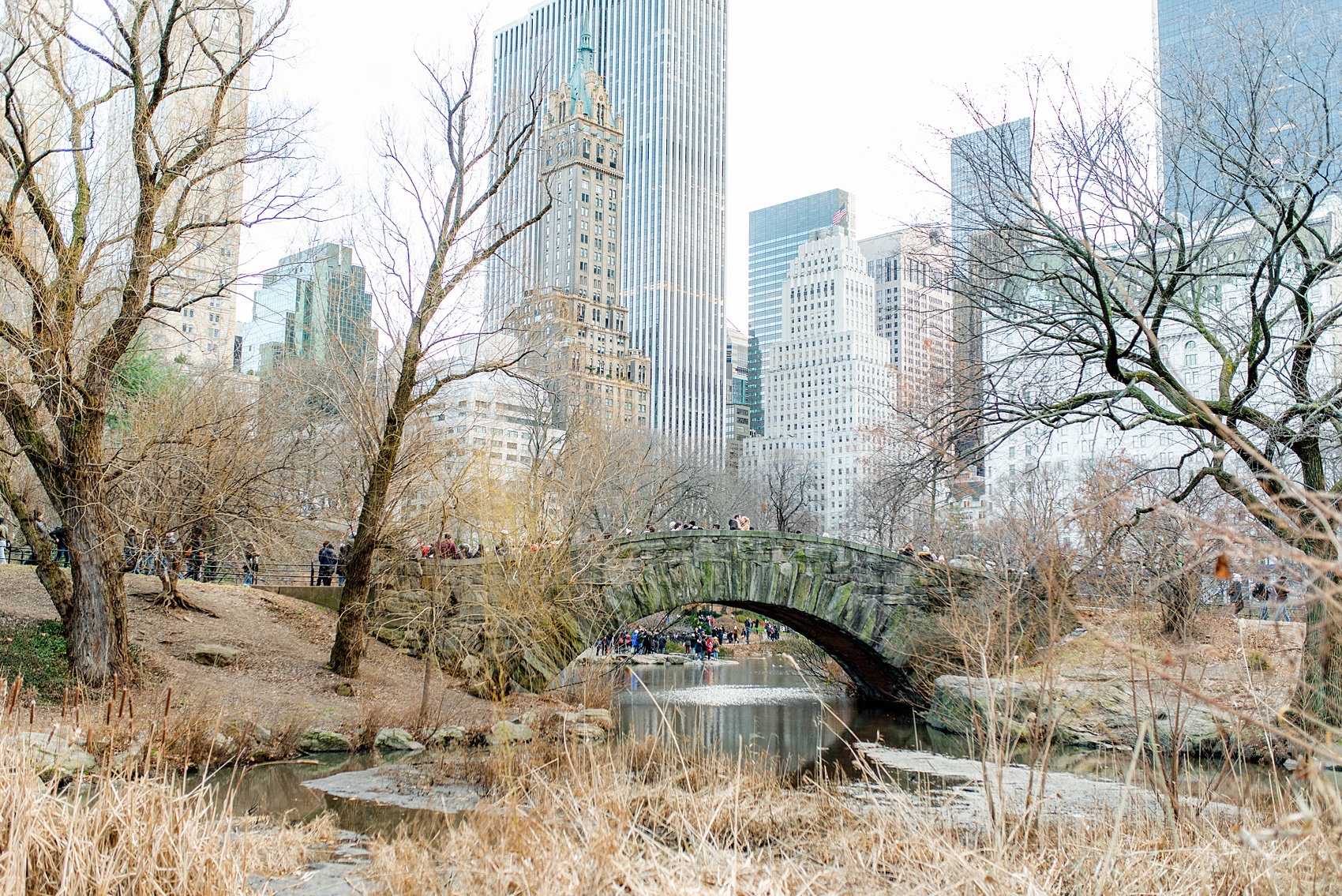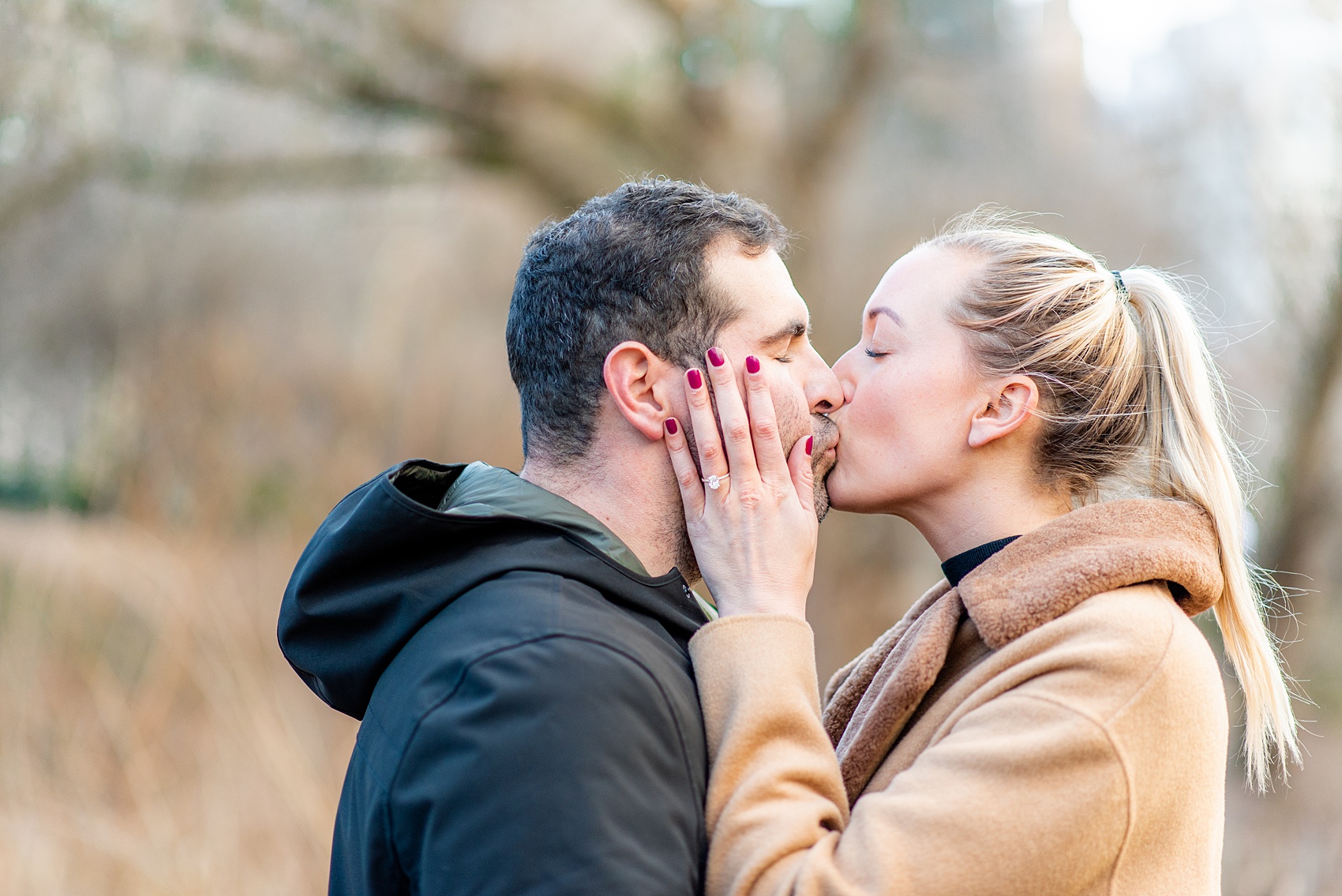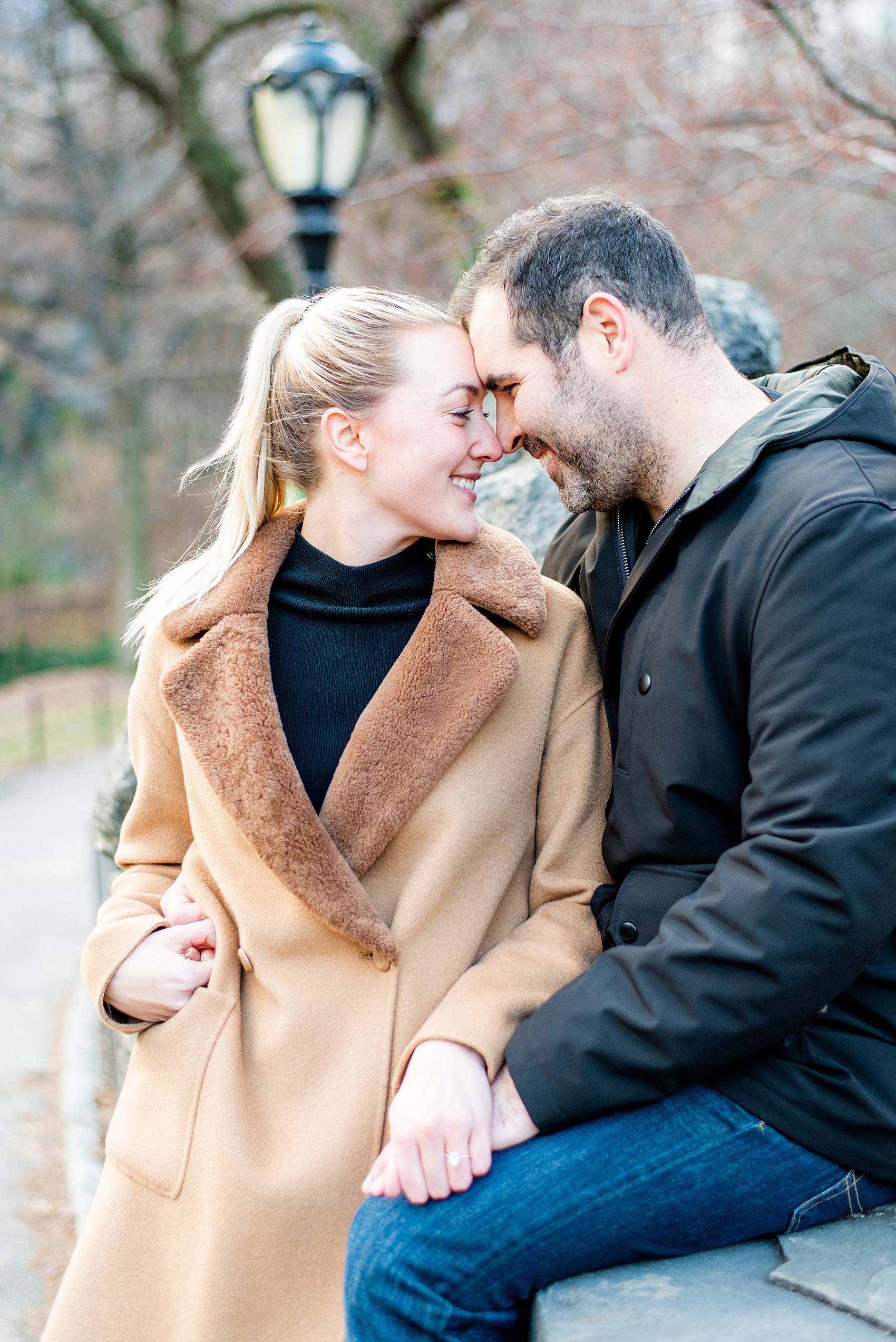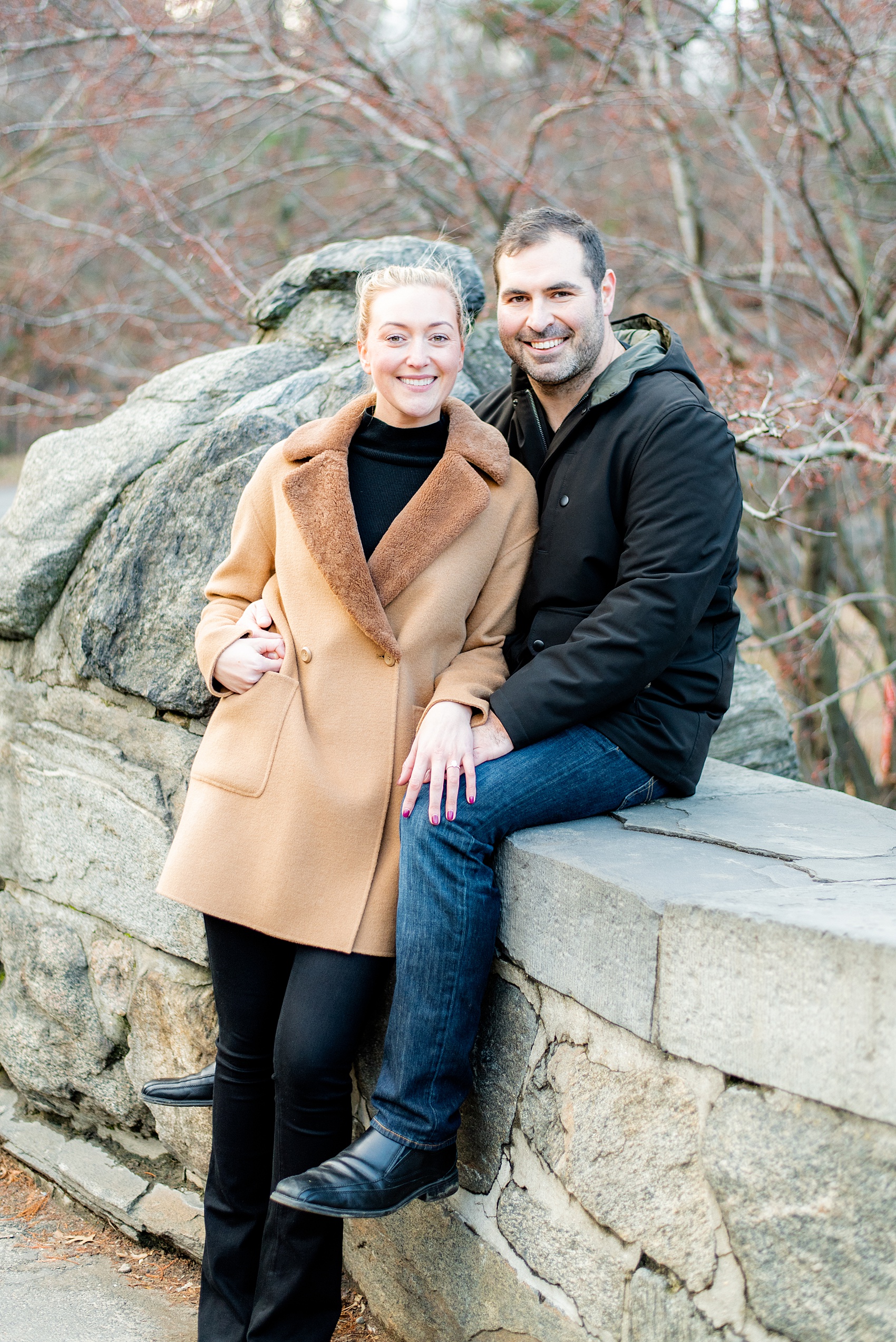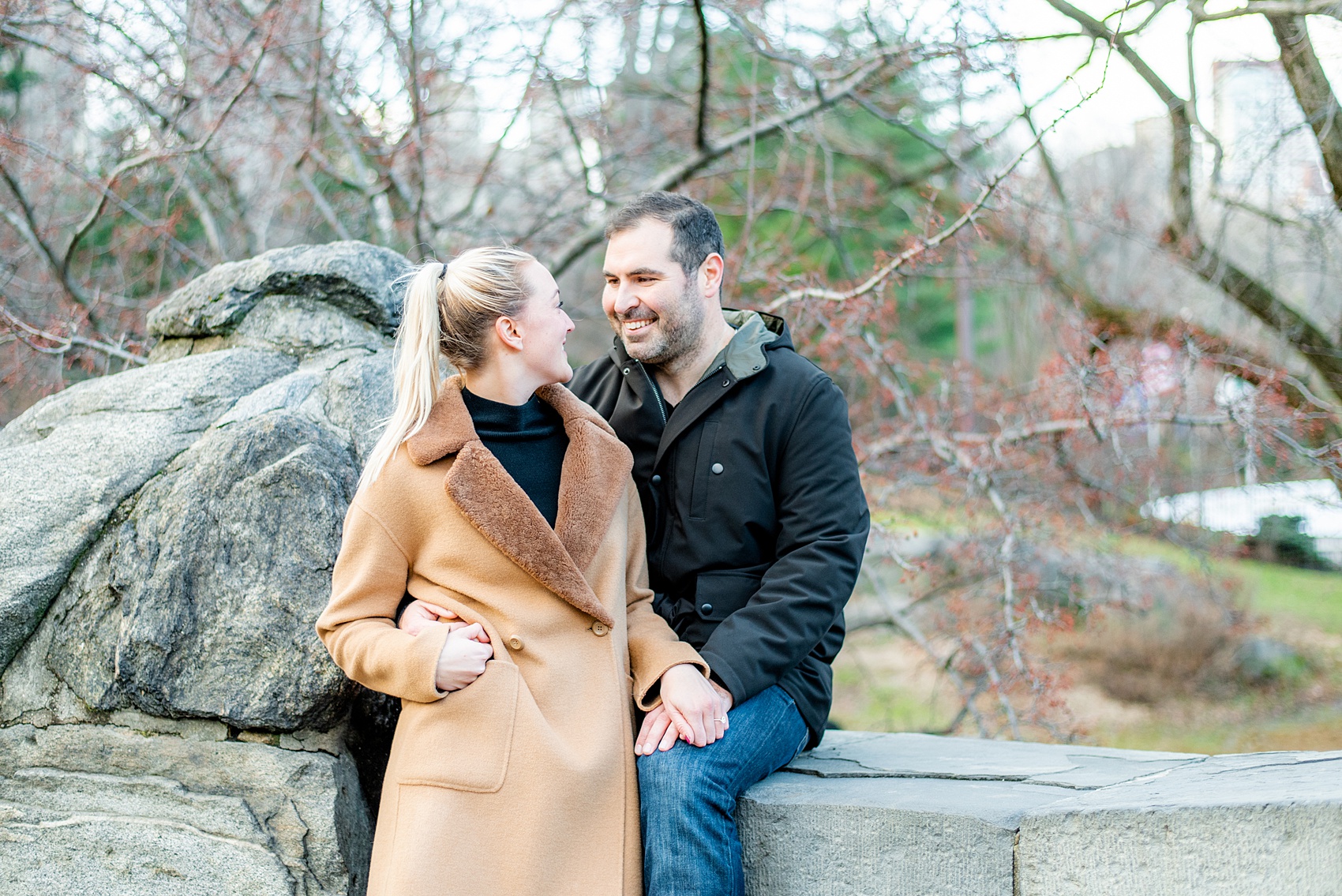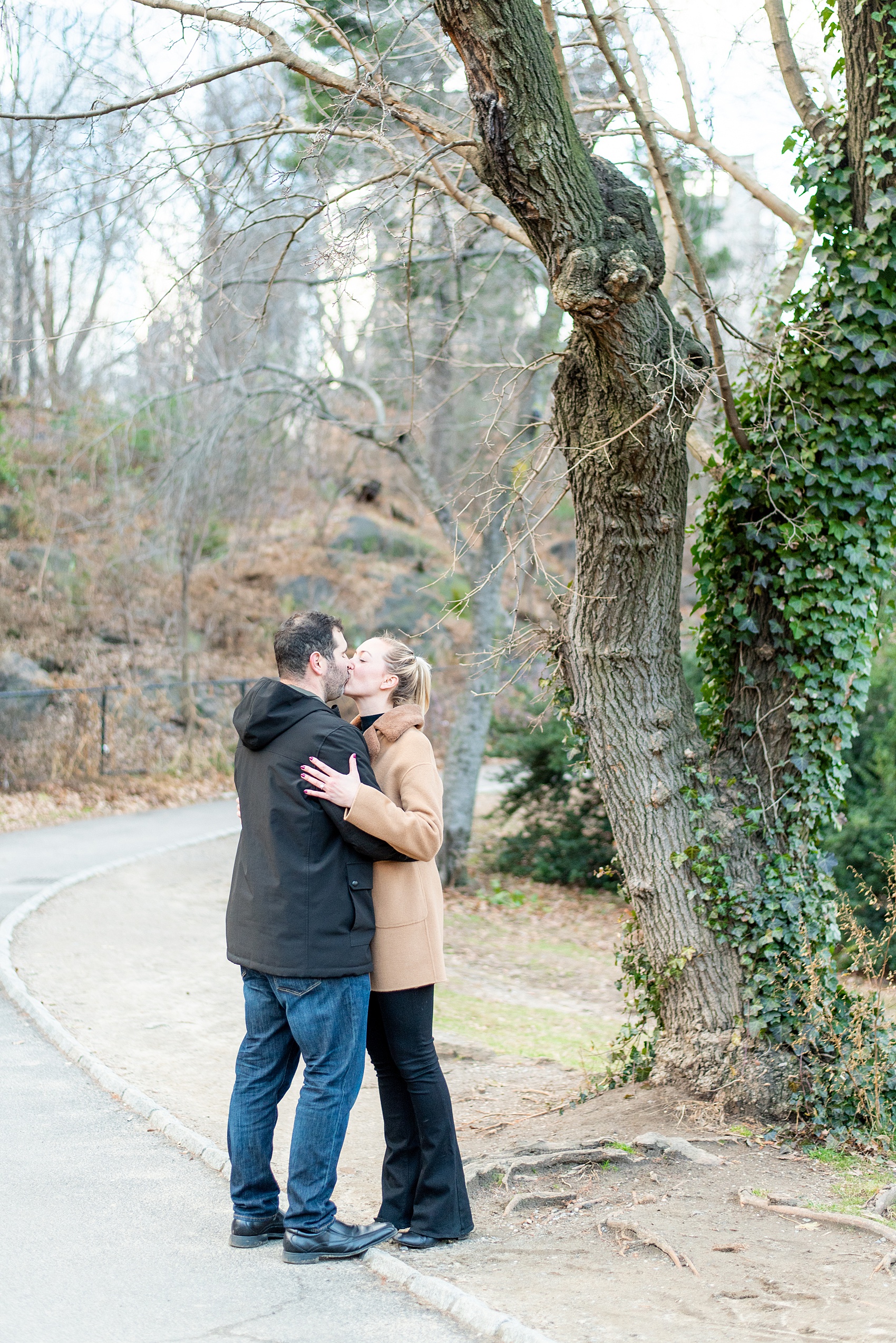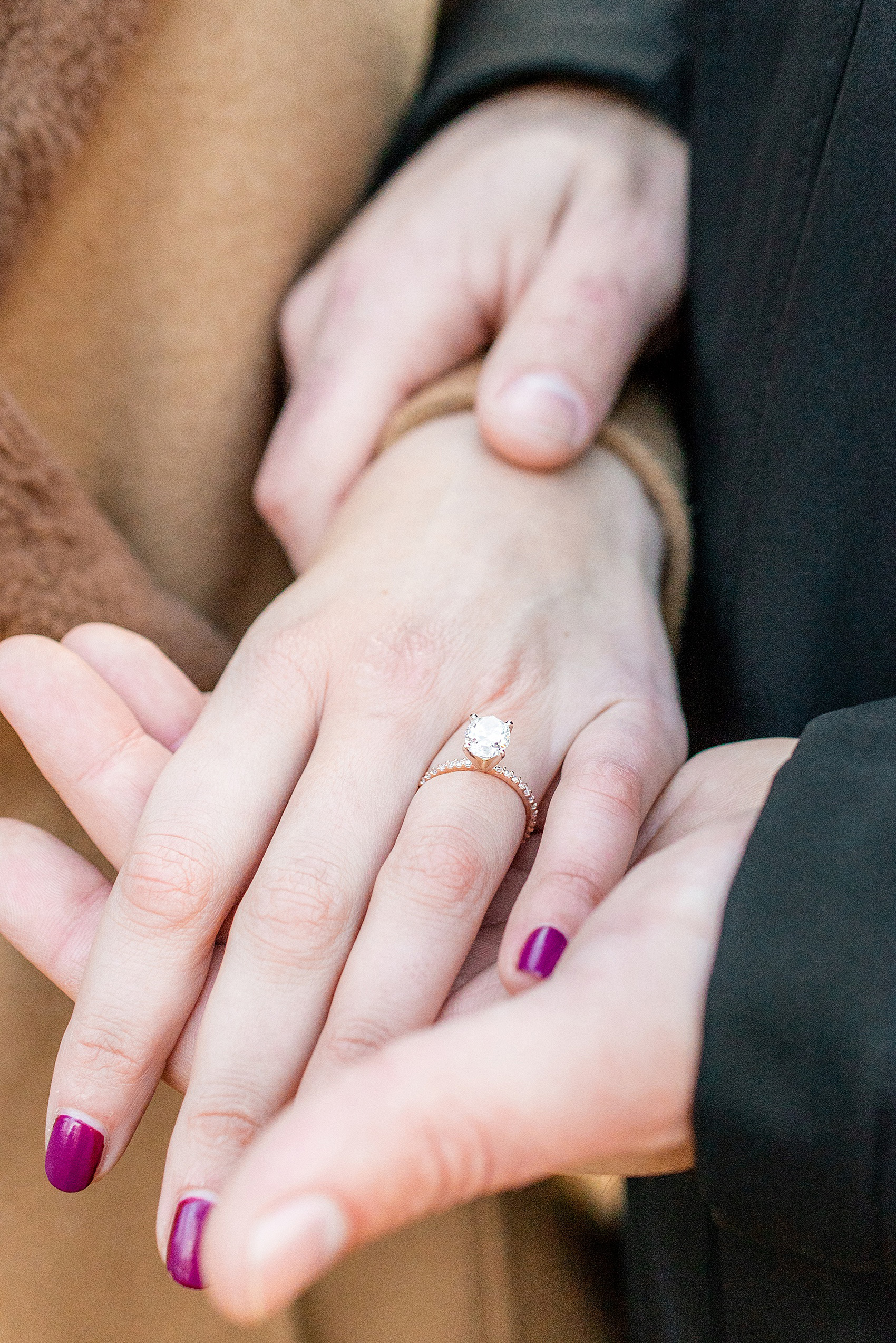 They walked around and on Gapstow Bridge, on Cloud 9, as Emily photographed them around the park and with their parents before heading back to their hotel, The Essex House. (The current Gapstow Bridge, by the way, was built in 1896. So cool, right?) Then I got to work on editing their wonderful day!
That's why photography is so important for a proposal – even if you were there it's such a whirlwind, that happens so quickly. I hear from couples all the time, "We don't even remember that happening!" when they look at their photos. Photography definitely helps you recall each moment as it unfolded. They make the short time in history, the moment your partner proposed, last forever. And it's special to be welcomed into the memory through their images if you weren't there or capturing them if you were.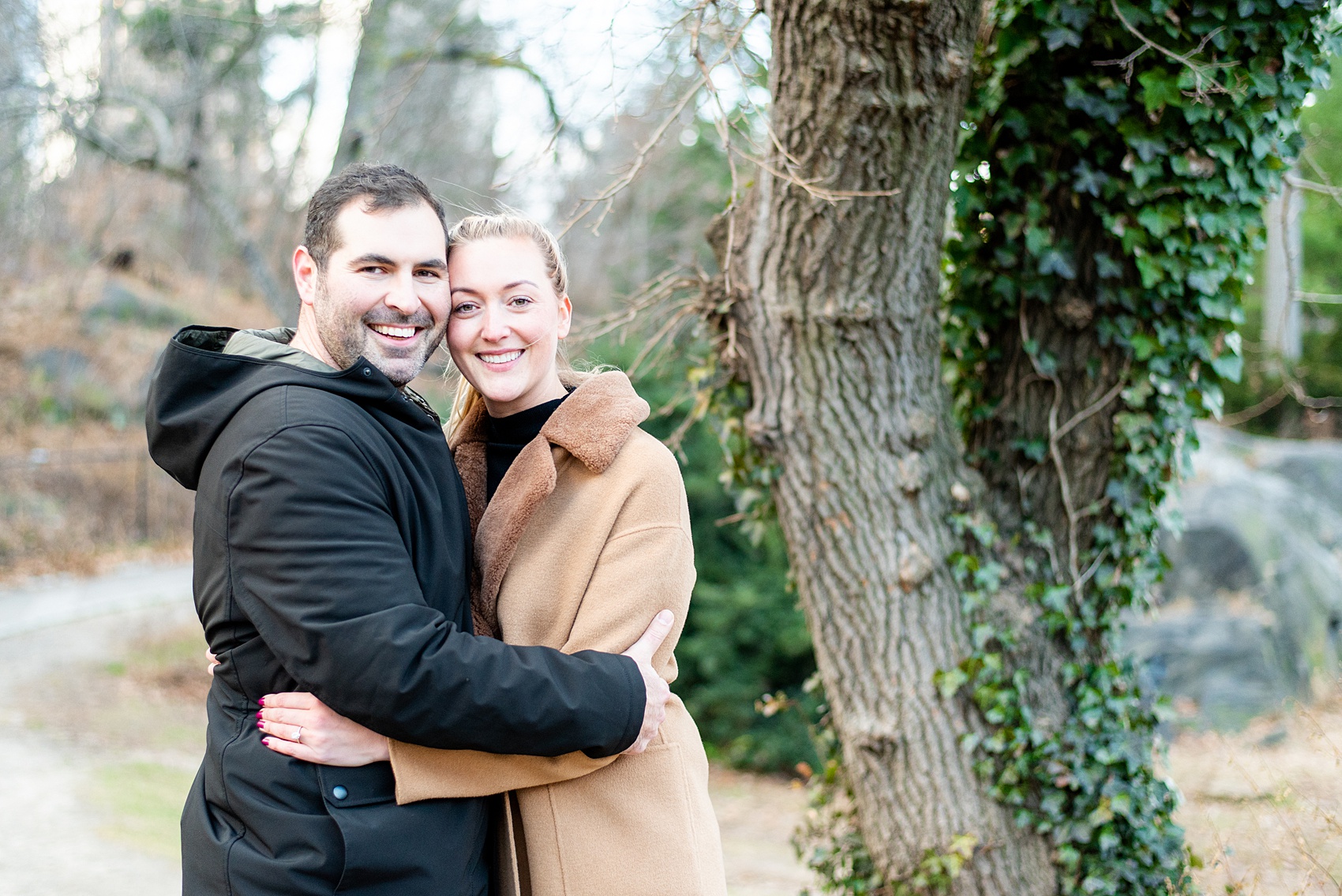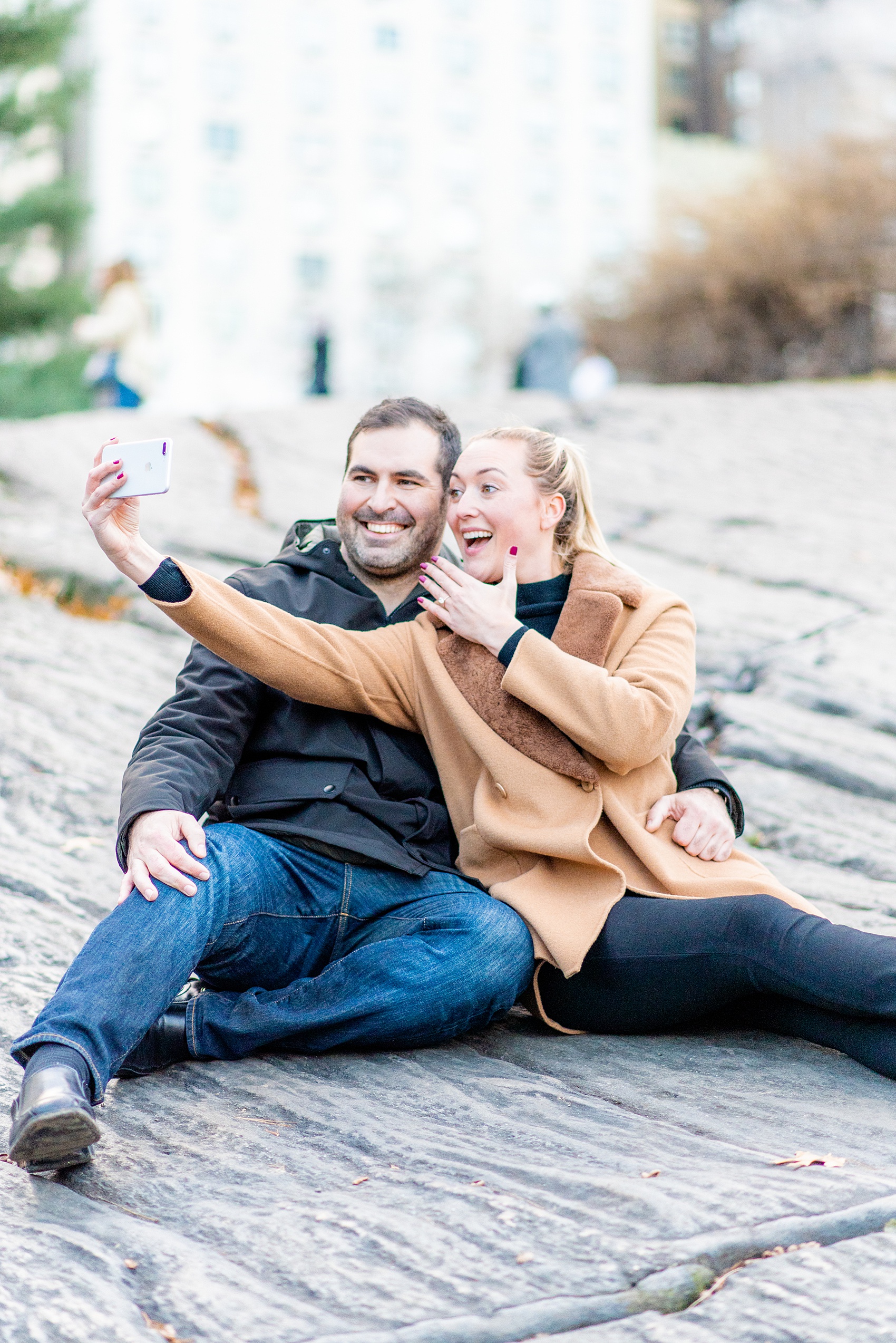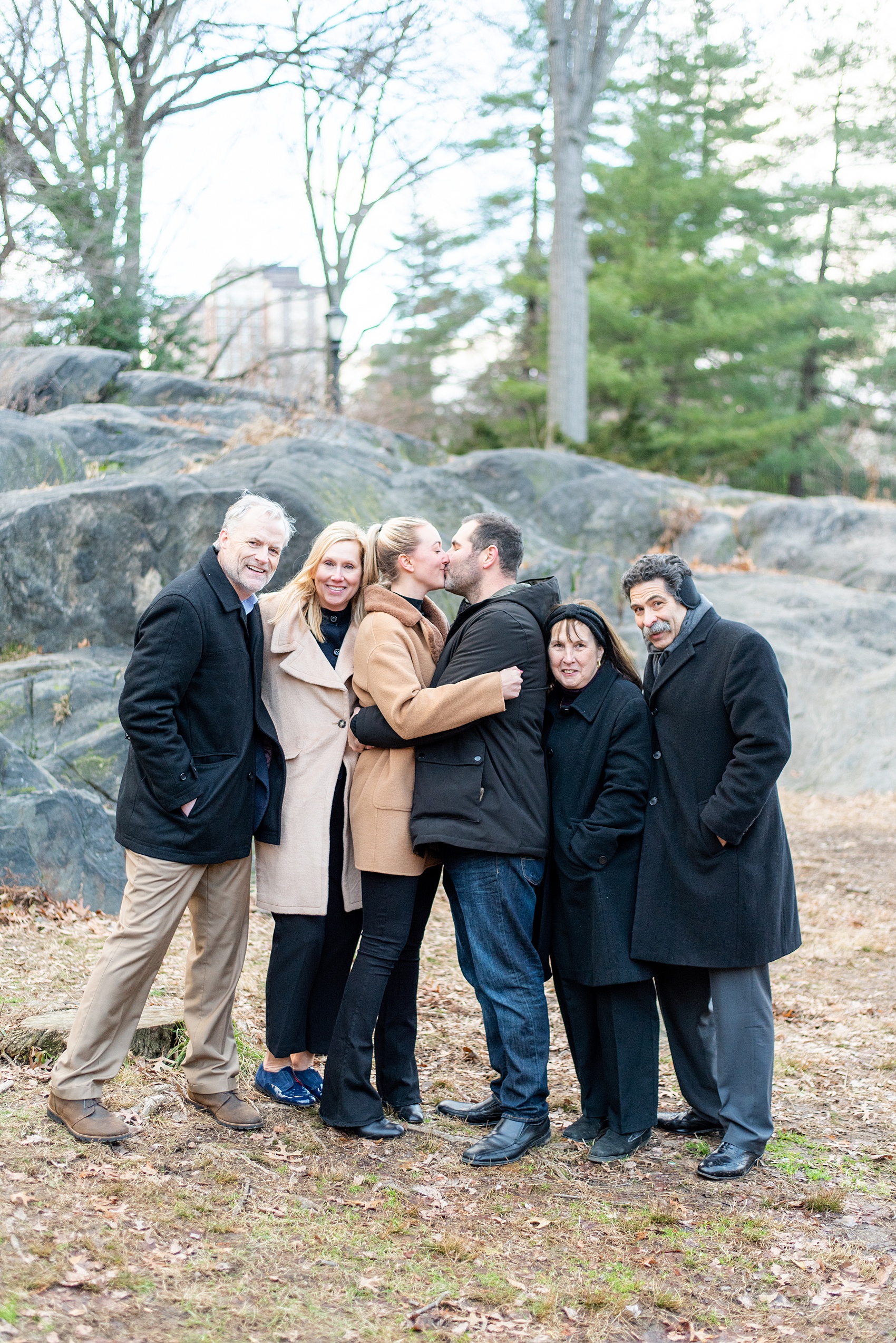 The photo of them below, kissing on the street in Manhattan by the southeast park exit, is a favorite from their proposal. It captures the vibe of the moment – with the hustle and bustle of taxis dashing about and people traveling to and from their destination – perfectly. Yet the stillness of Mike and Nicole if even for mere seconds, and the "oneness" of the moment they shared just an hour before, shines through.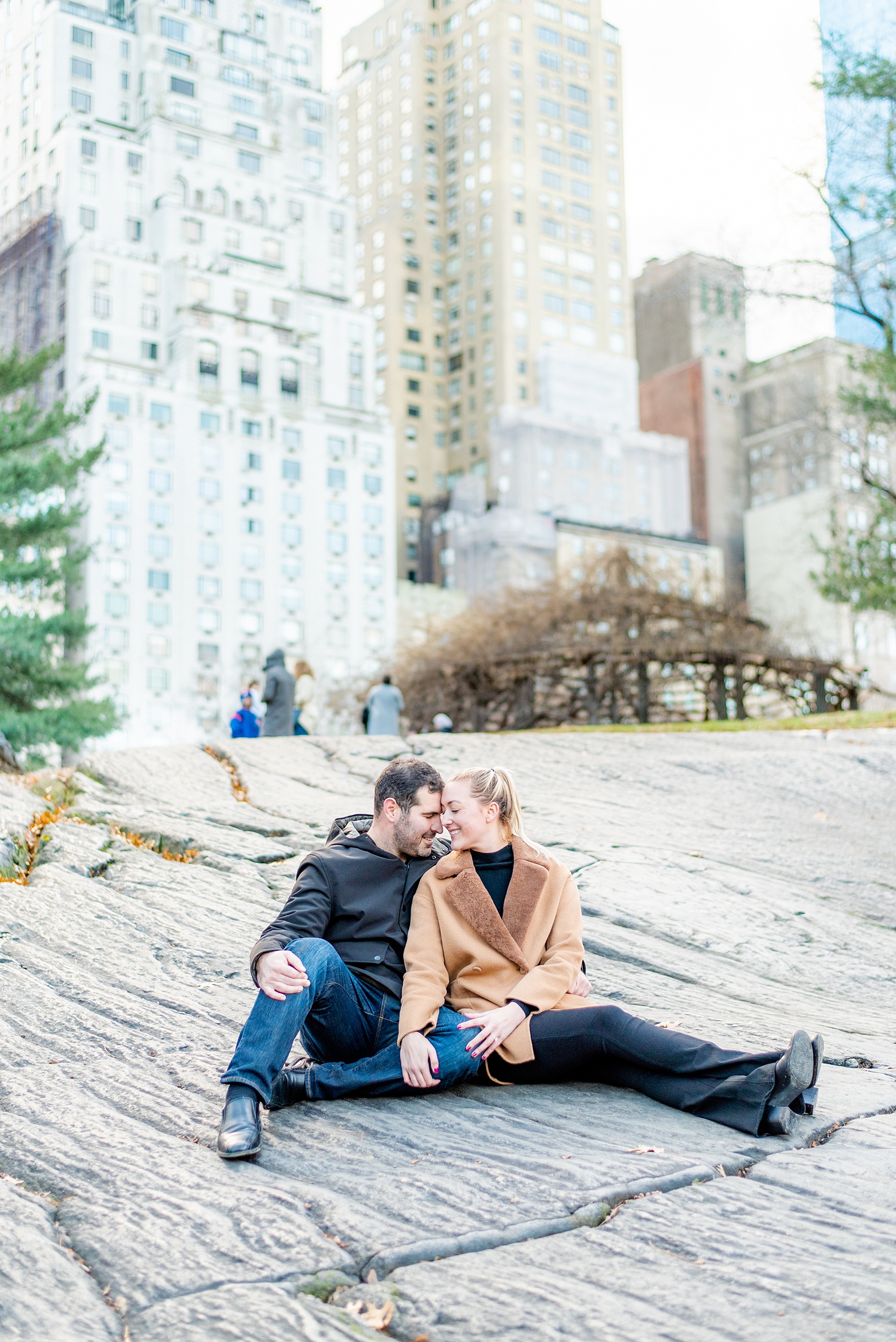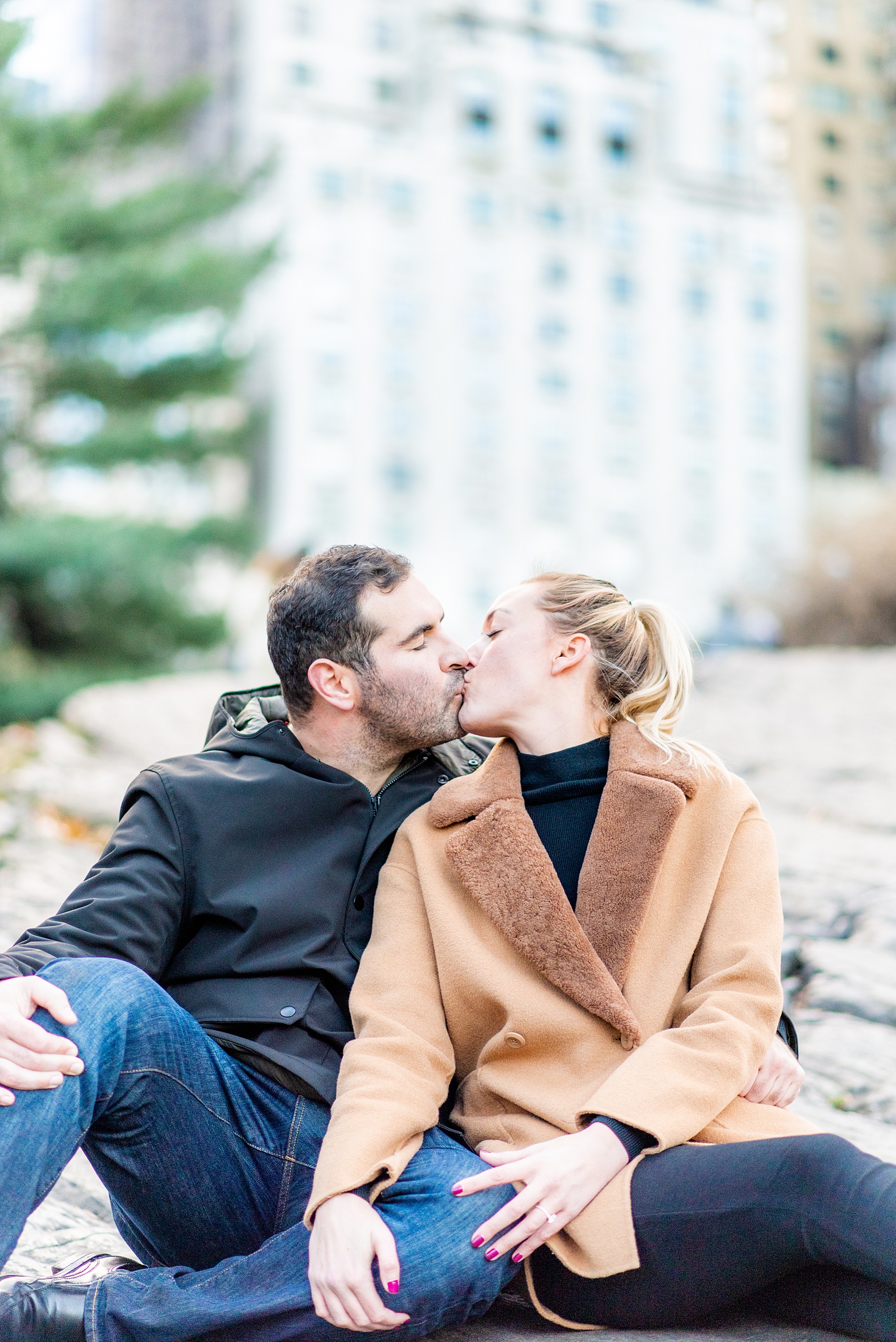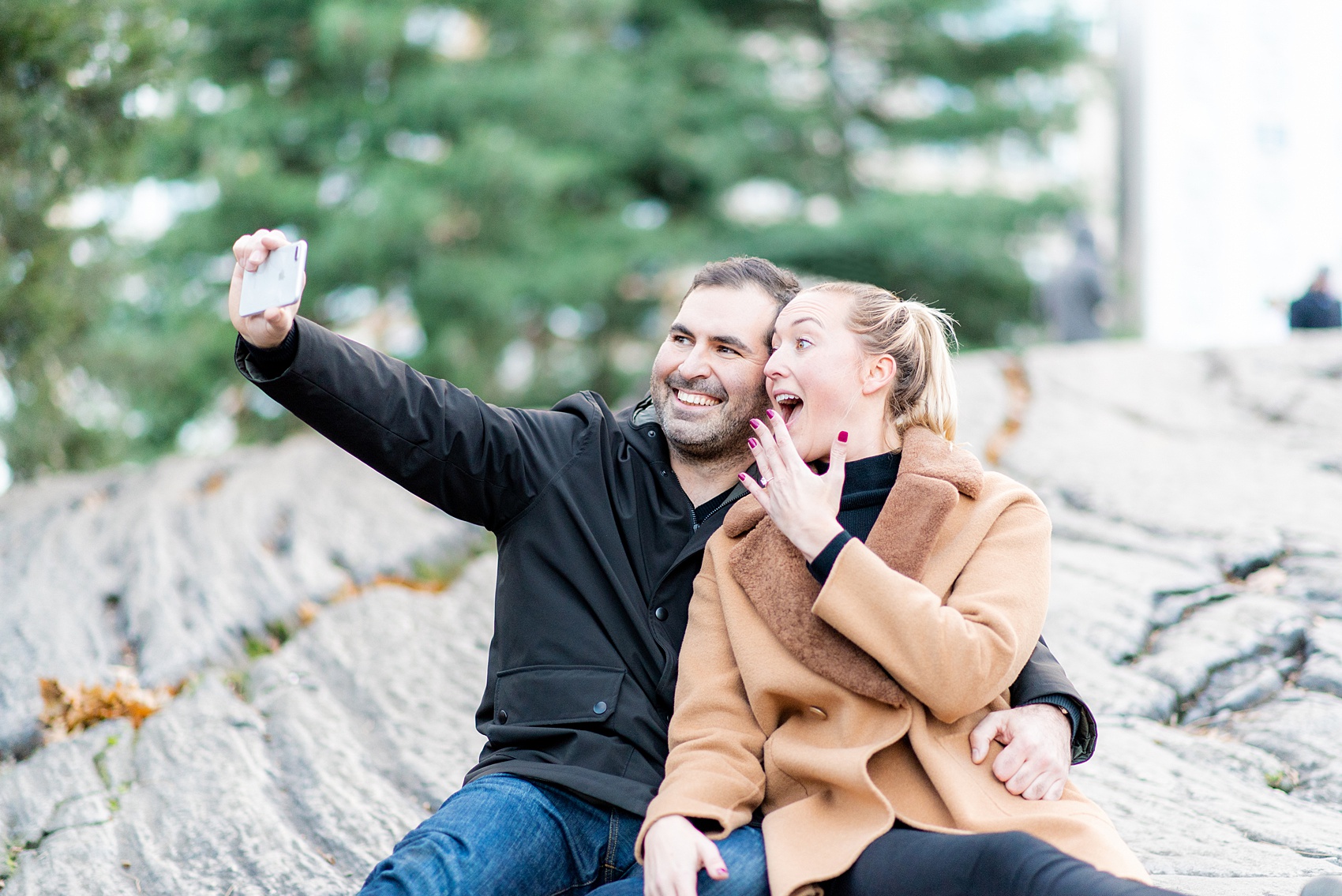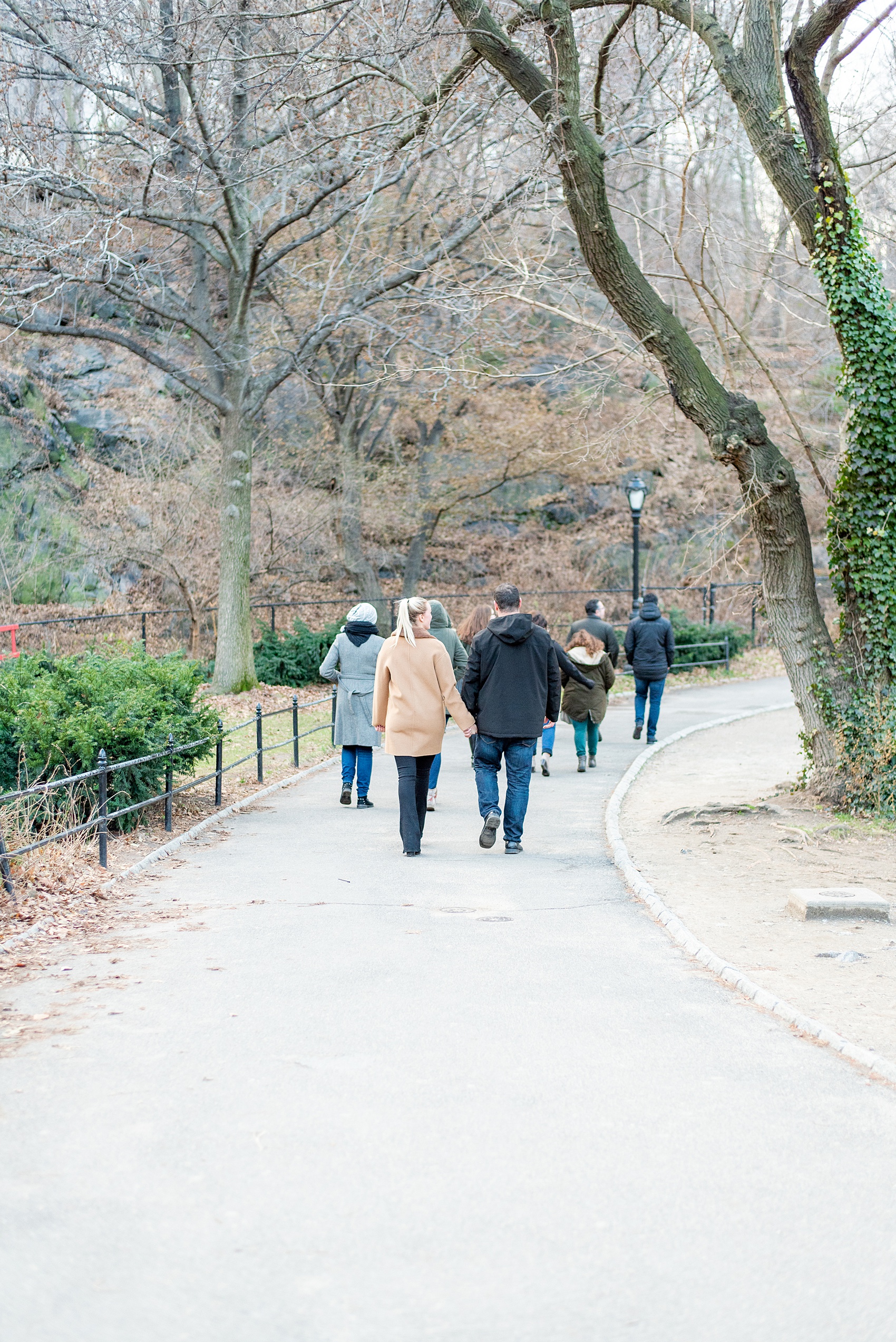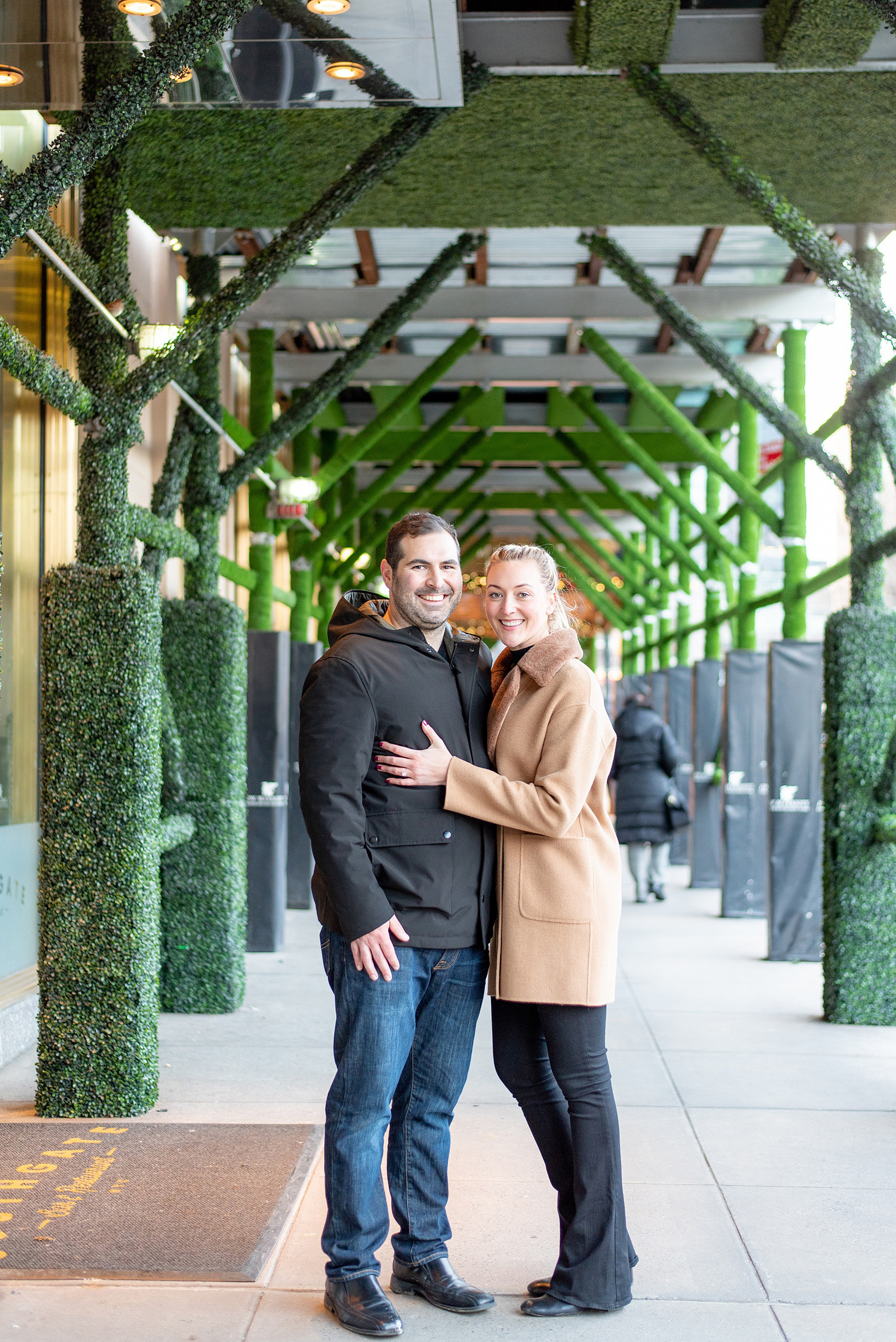 They were able to continue the celebration for days following their proposal. They went to a wonderful dinner that night with their parents, at Del Frisco steakhouse. Then the next day Mike and Nicole enjoyed some alone time with a meal at Del Posto before joining everyone again for Christmas Eve in New Jersey the next day.
Congratulations Mike and Nicole! We are SO happy we could be a part of this time in your lives!
For more proposal inspiration check out:
Interested in having us capture your surprise proposal? We're experts at it. Contact us!