Pam and Sean's wedding at Molly Pitcher Inn was a gorgeous navy blue and white striped day! The two of them have such fun-loving personalities and there was so much about working with them I just adored, particularly their "go with the flow" mentalities and simply just wanting to have pure fun on their wedding day and throughout the whole process. AND what's more – their wedding is going to be featured in print in The Knot New Jersey's February 2016 edition. Yay!
How great is Pam's bouquet? There are sailors knots in there! And her bouquet stems were wrapped with navy blue and white striped ribbon and had two special charms on them: one with a photo of her father and the other a piece of blue fabric from one of his ties for her "something blue".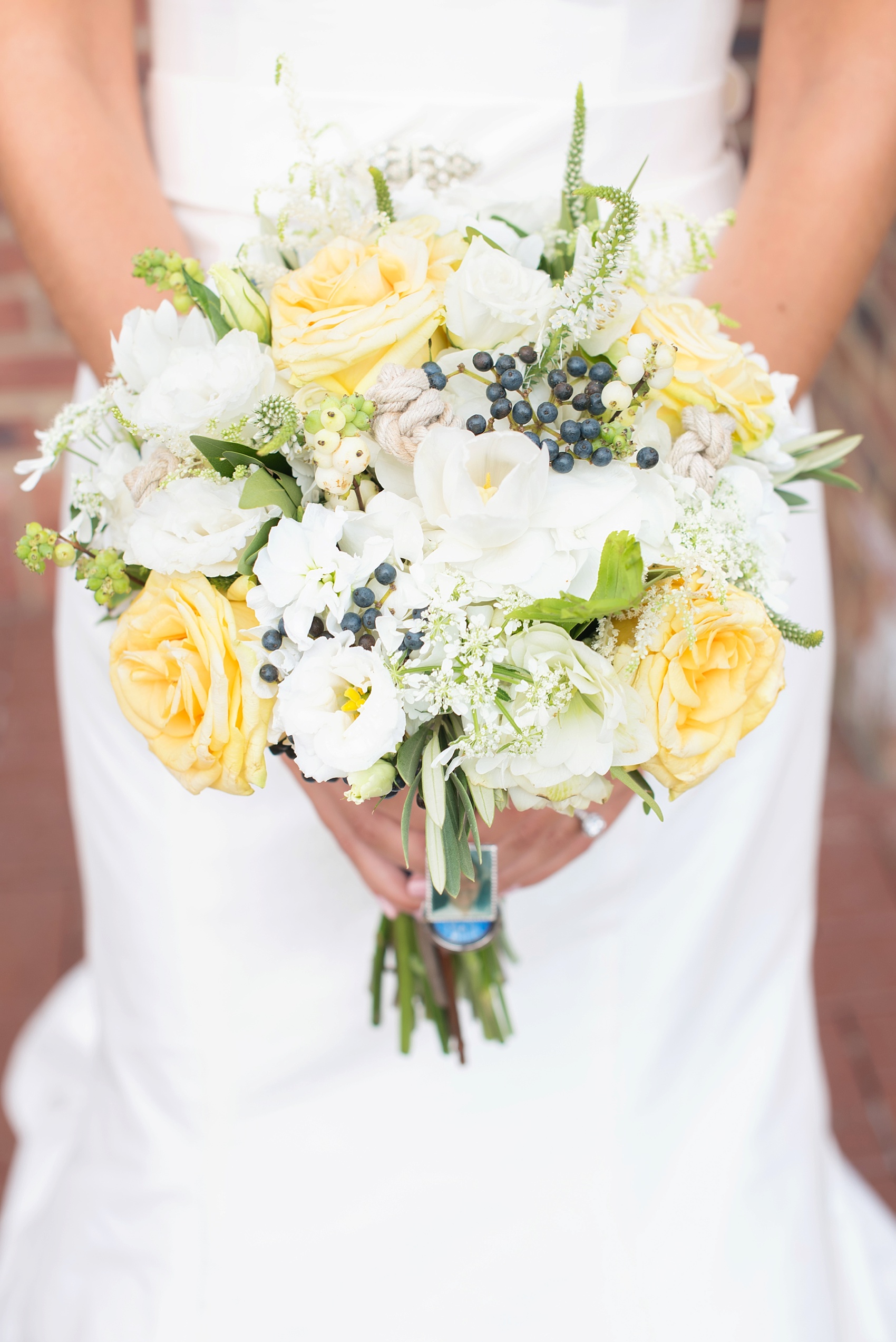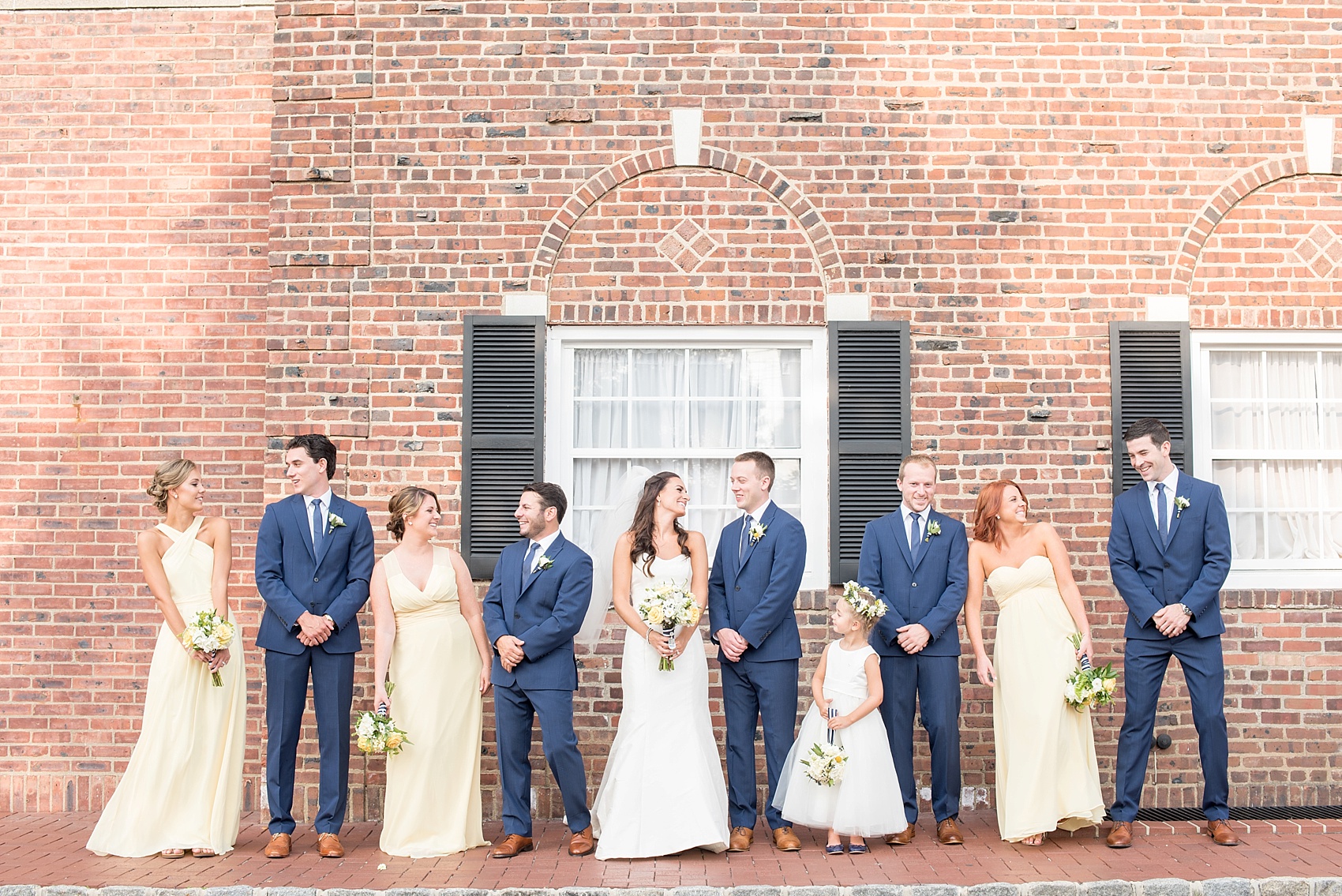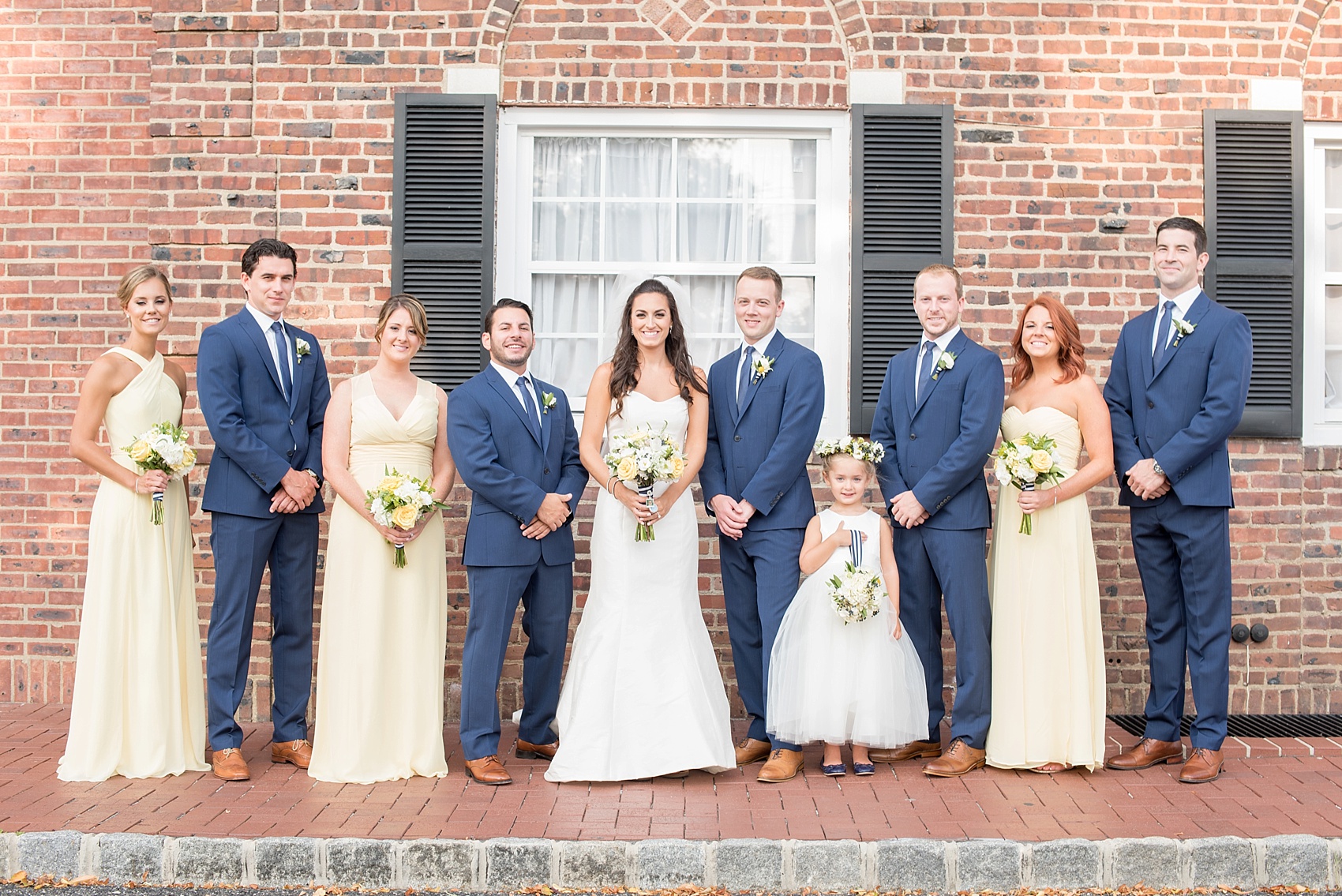 This photo of Pam, below, is one of my favorite photos of a bride…EVER. I just love how much joy it showcases in literally going with the breeze of the day. It was so windy out and Pam was such a good sport about it, just letting the wind carry her smile.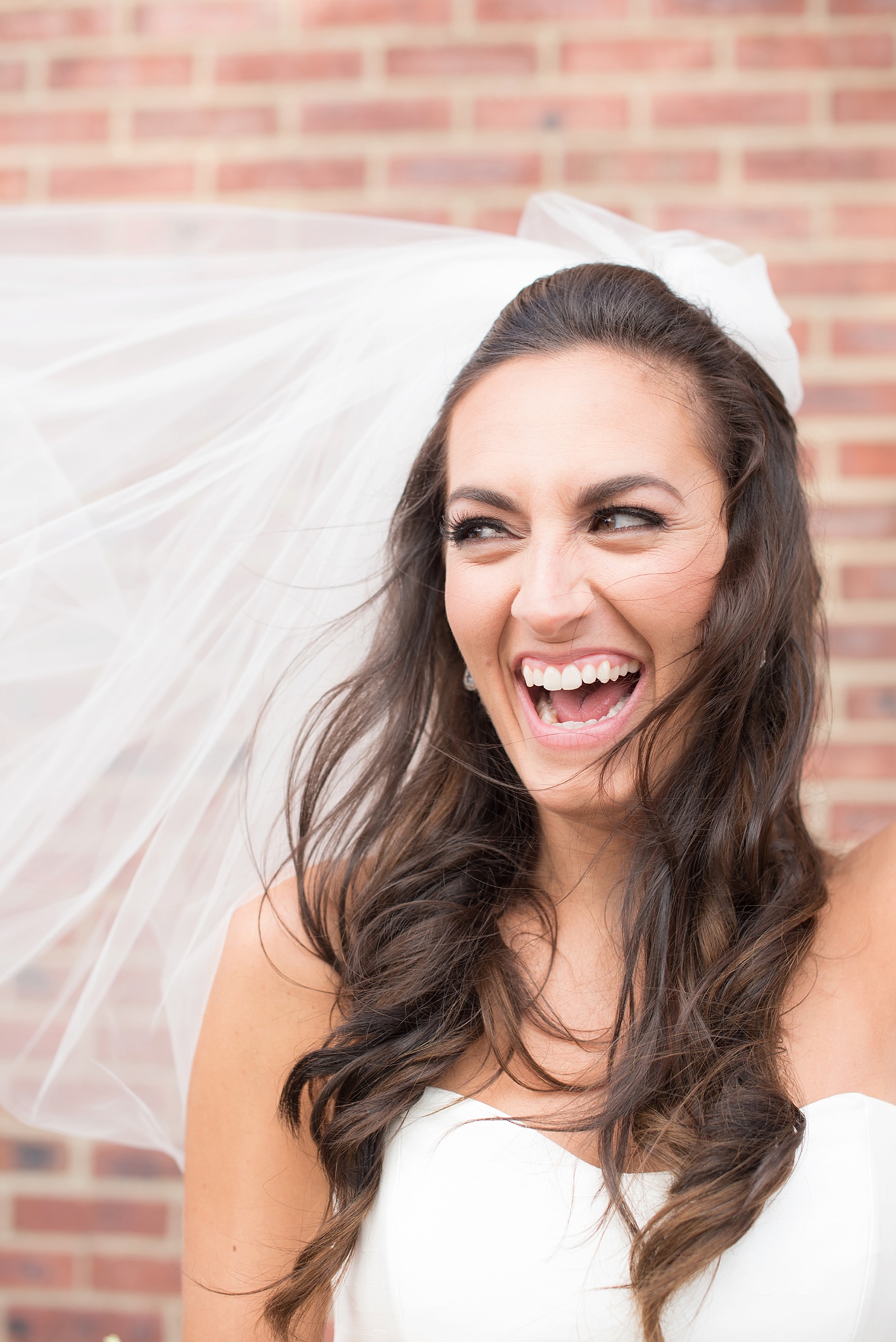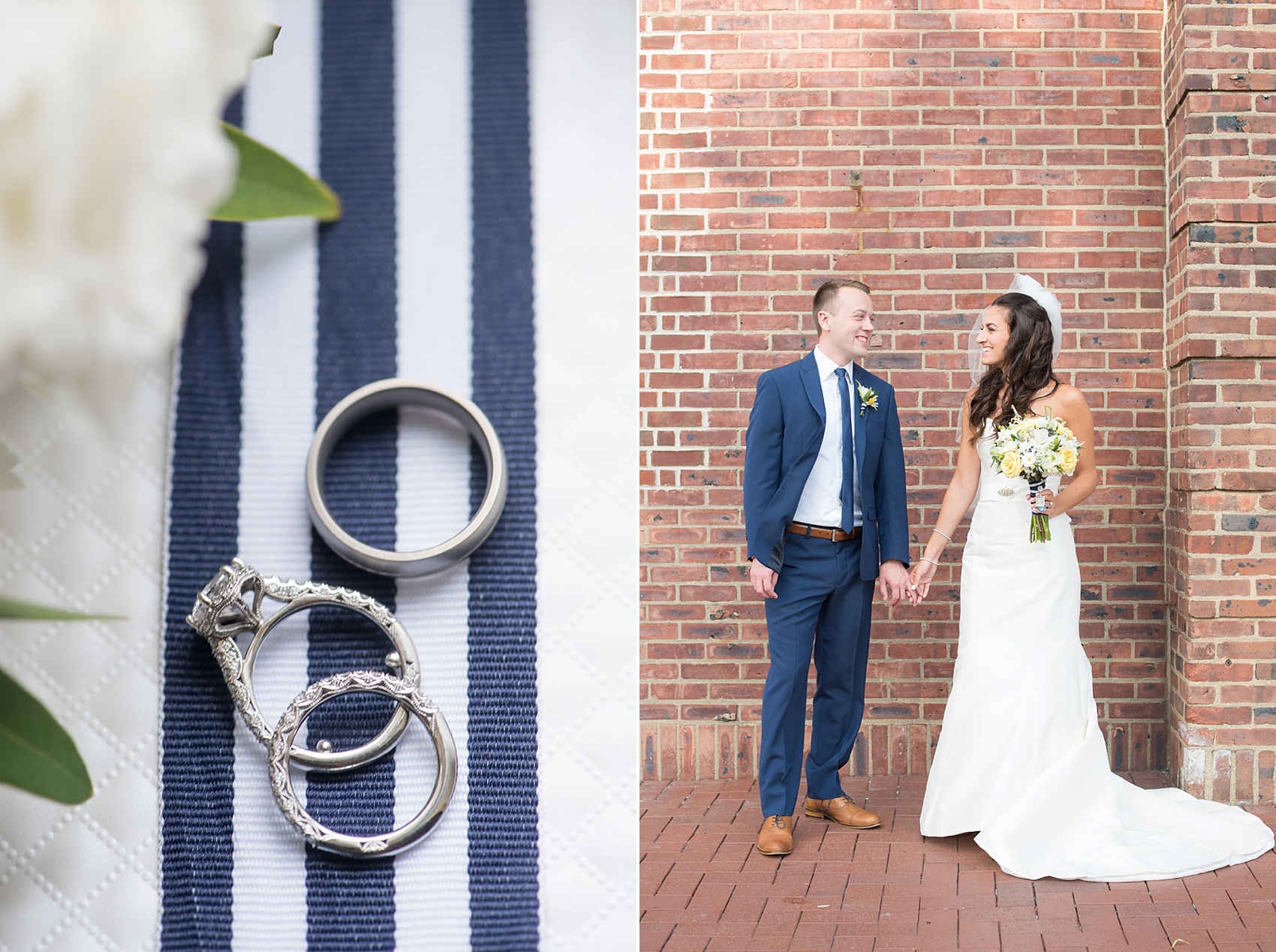 Pam's got some awesome Tacori rings (they have the best detailing on the side!) and Sean has a beautiful ring to match!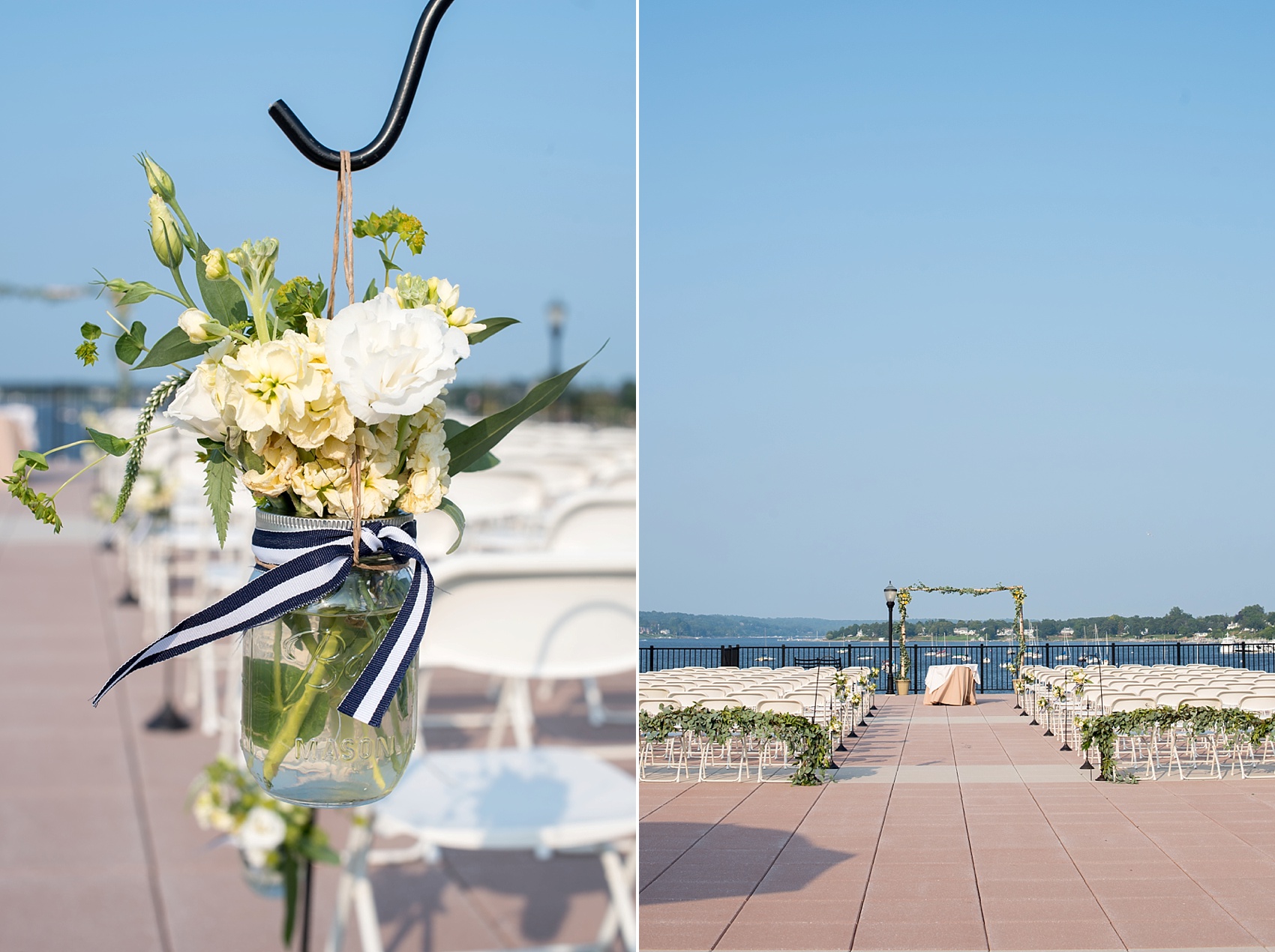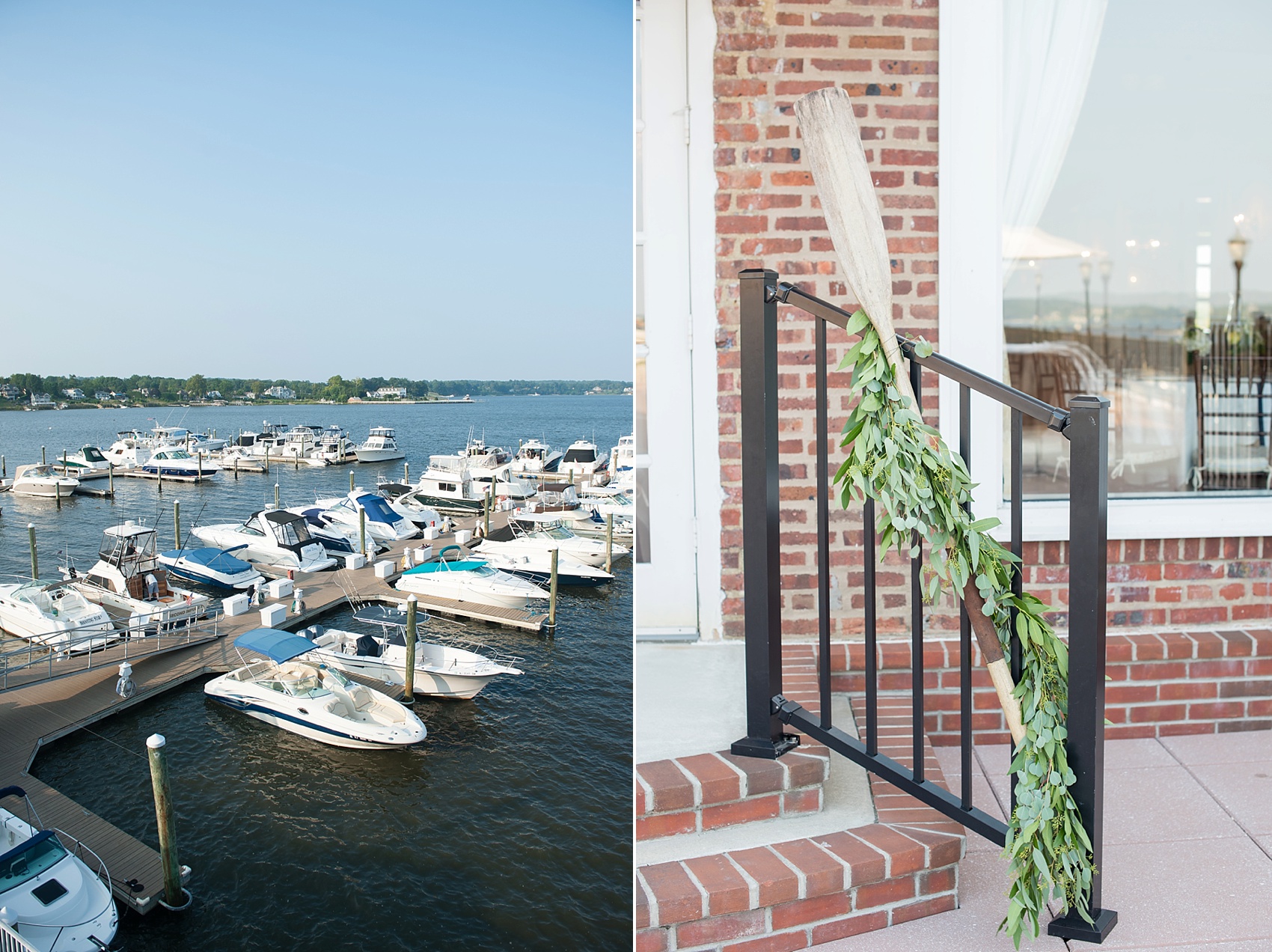 Amanda, their floral designer from Twisted Willow, did an awesome job. The bouquets, the garland twisted around two oars on either side of the ceremony door – they were all magnificently created.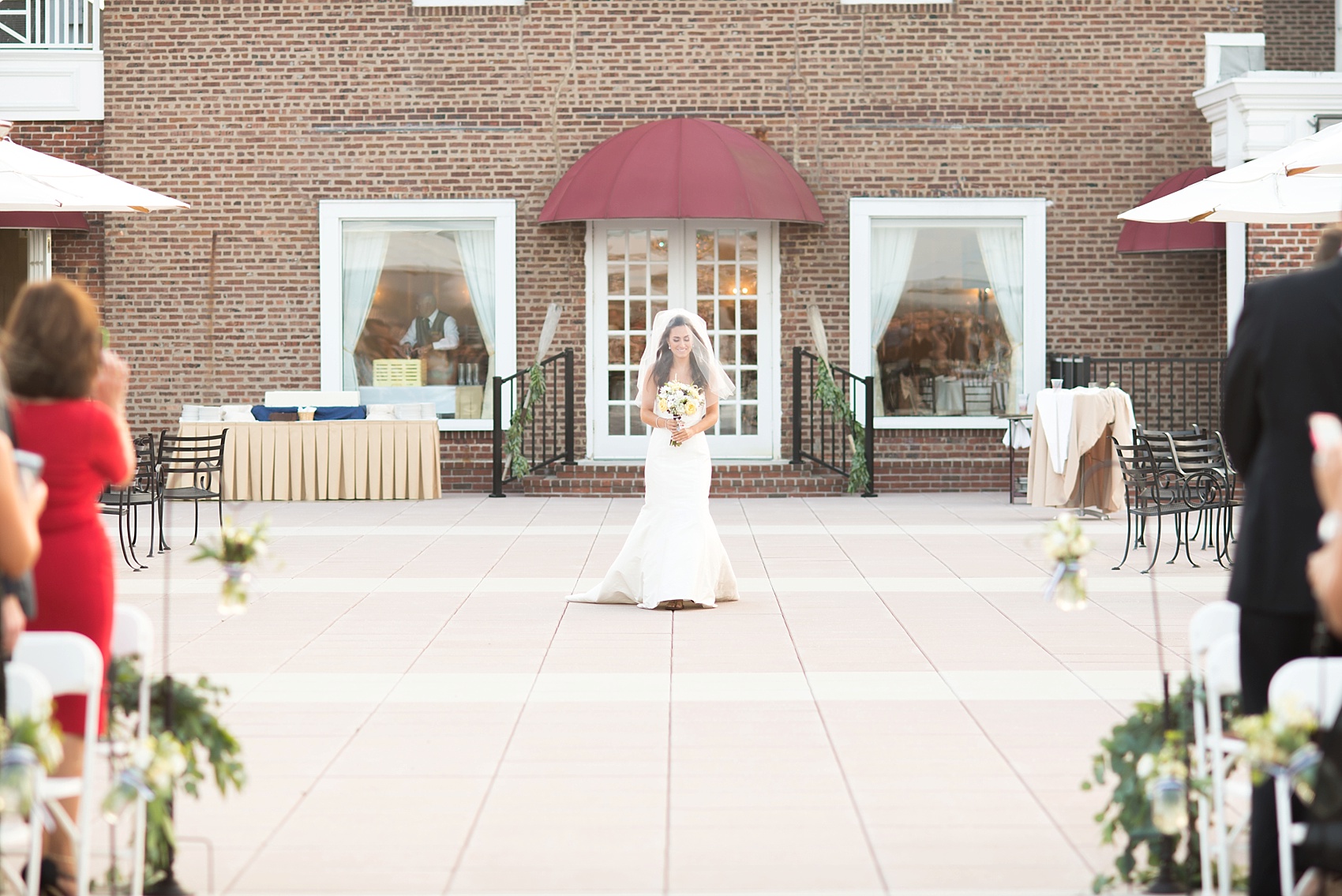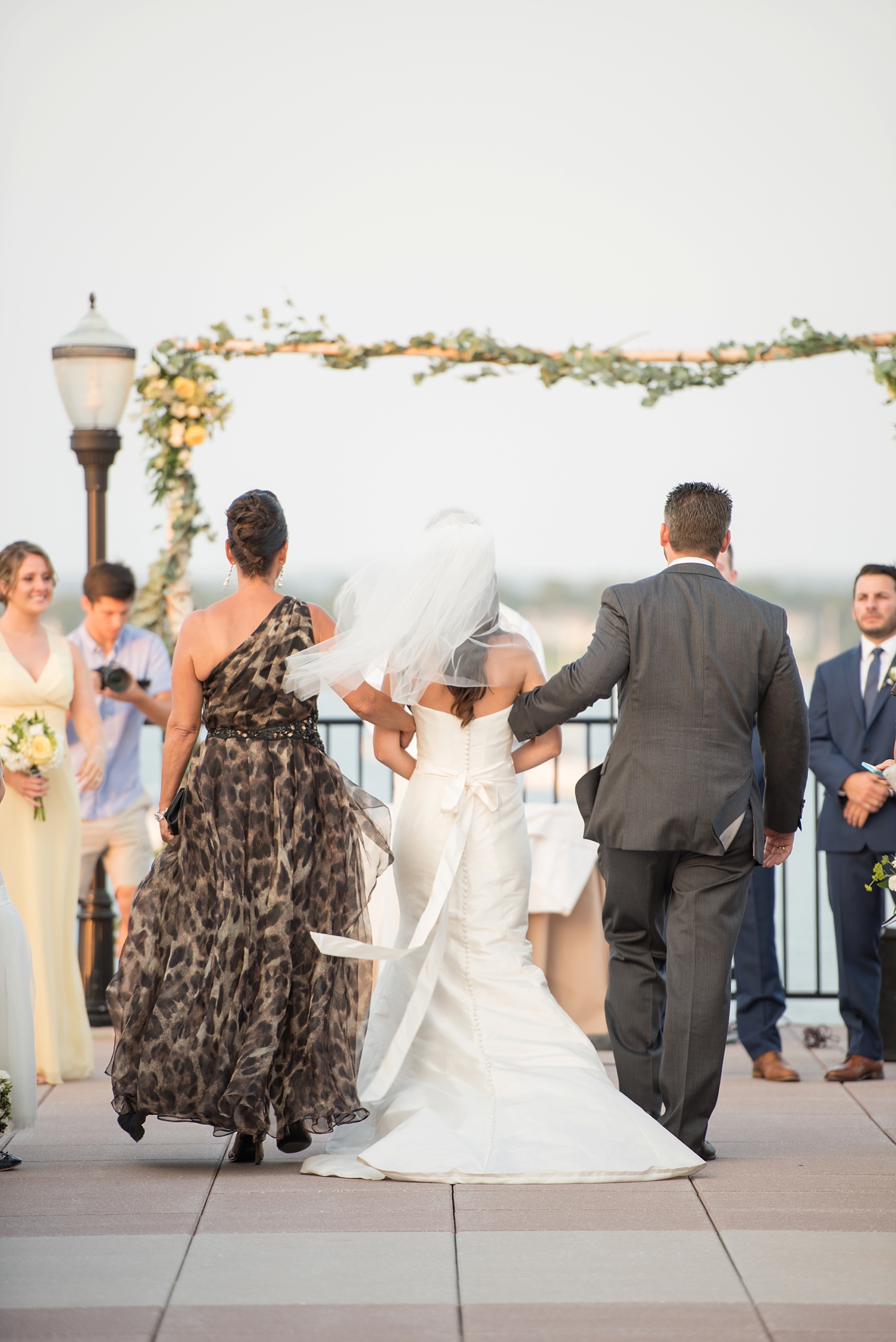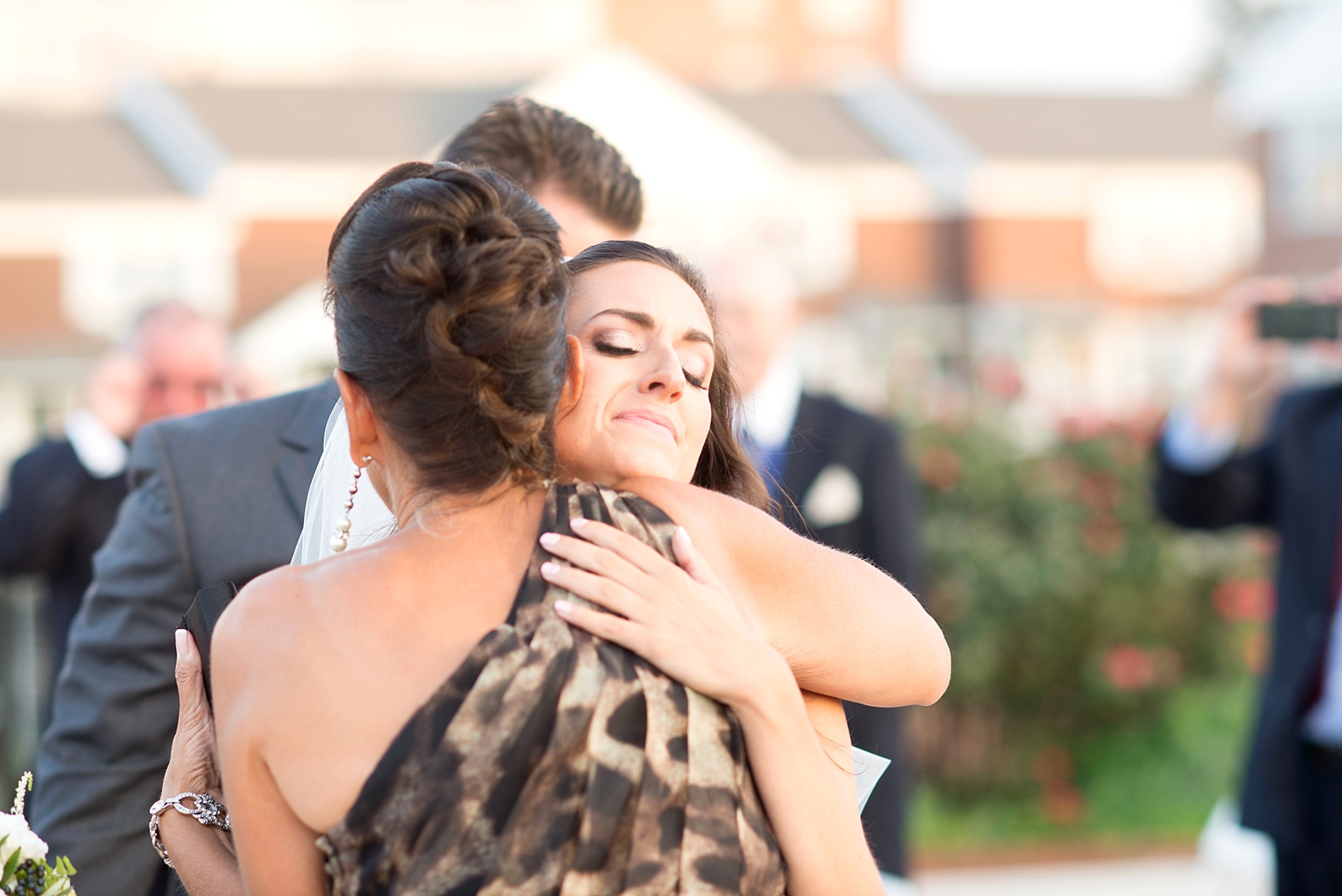 I love a heart-felt hug as a mother passes her daughter onto her new son-in-law.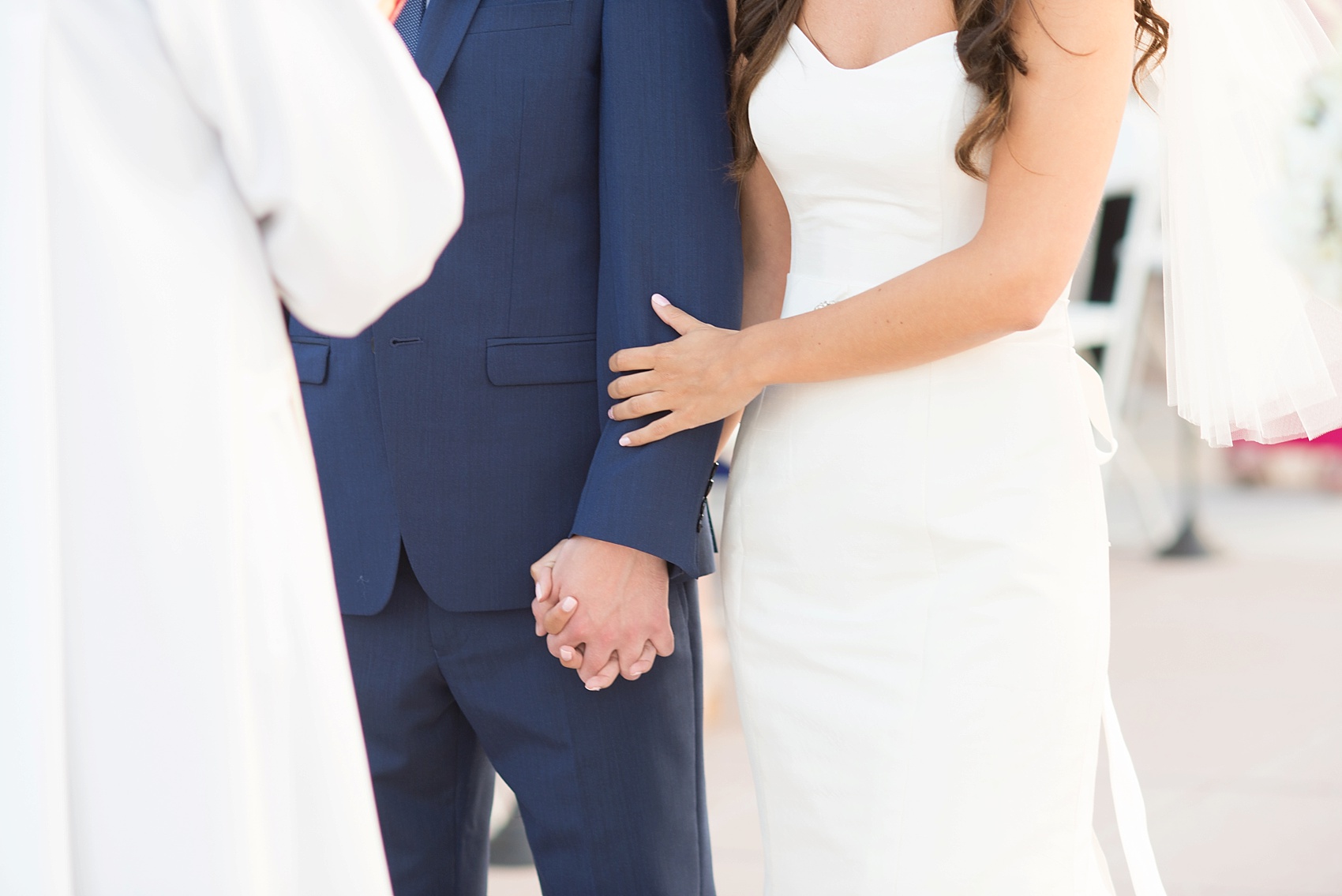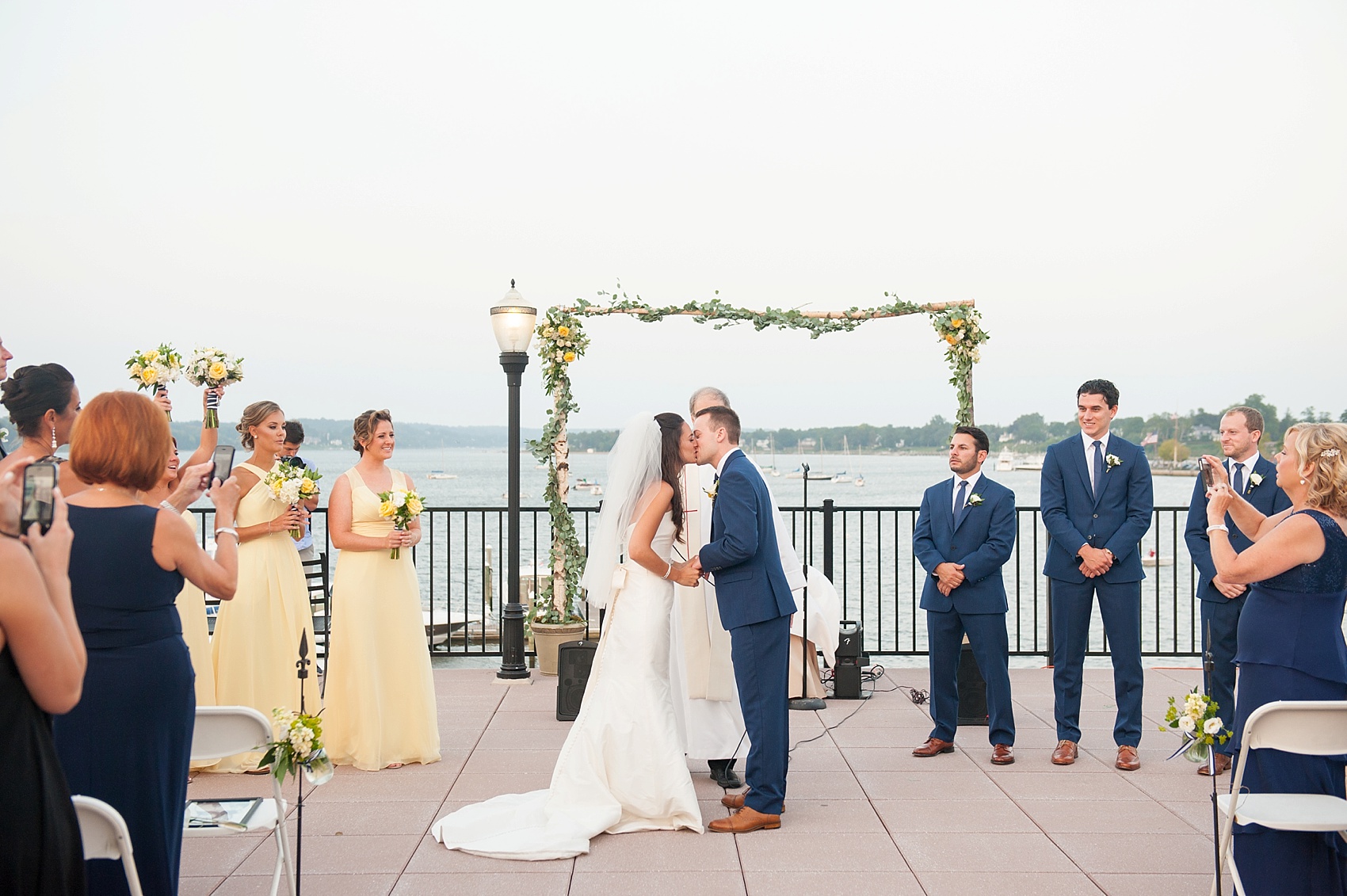 And with that kiss it was time to PARTY, what this newlywed duo was most looking forward to!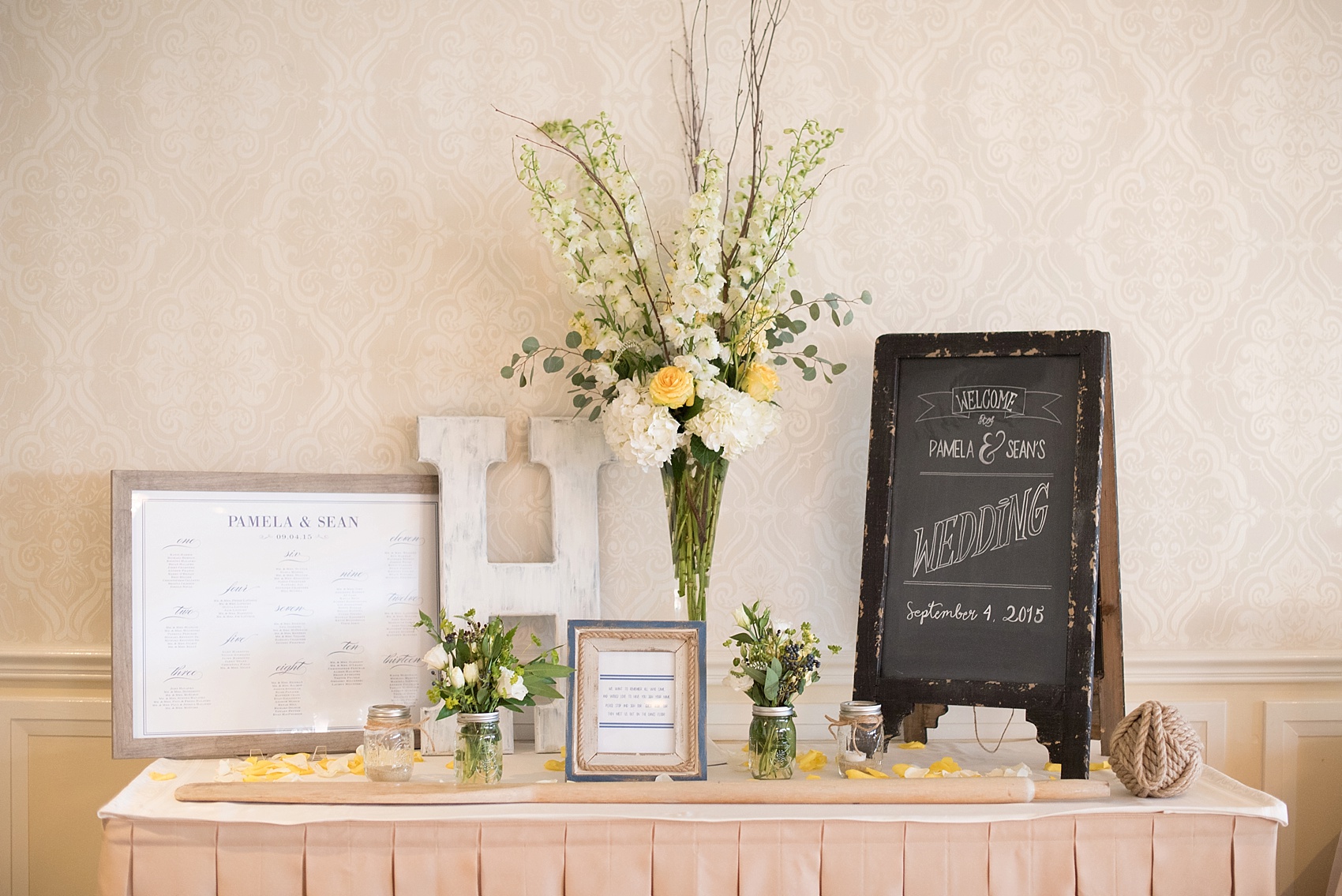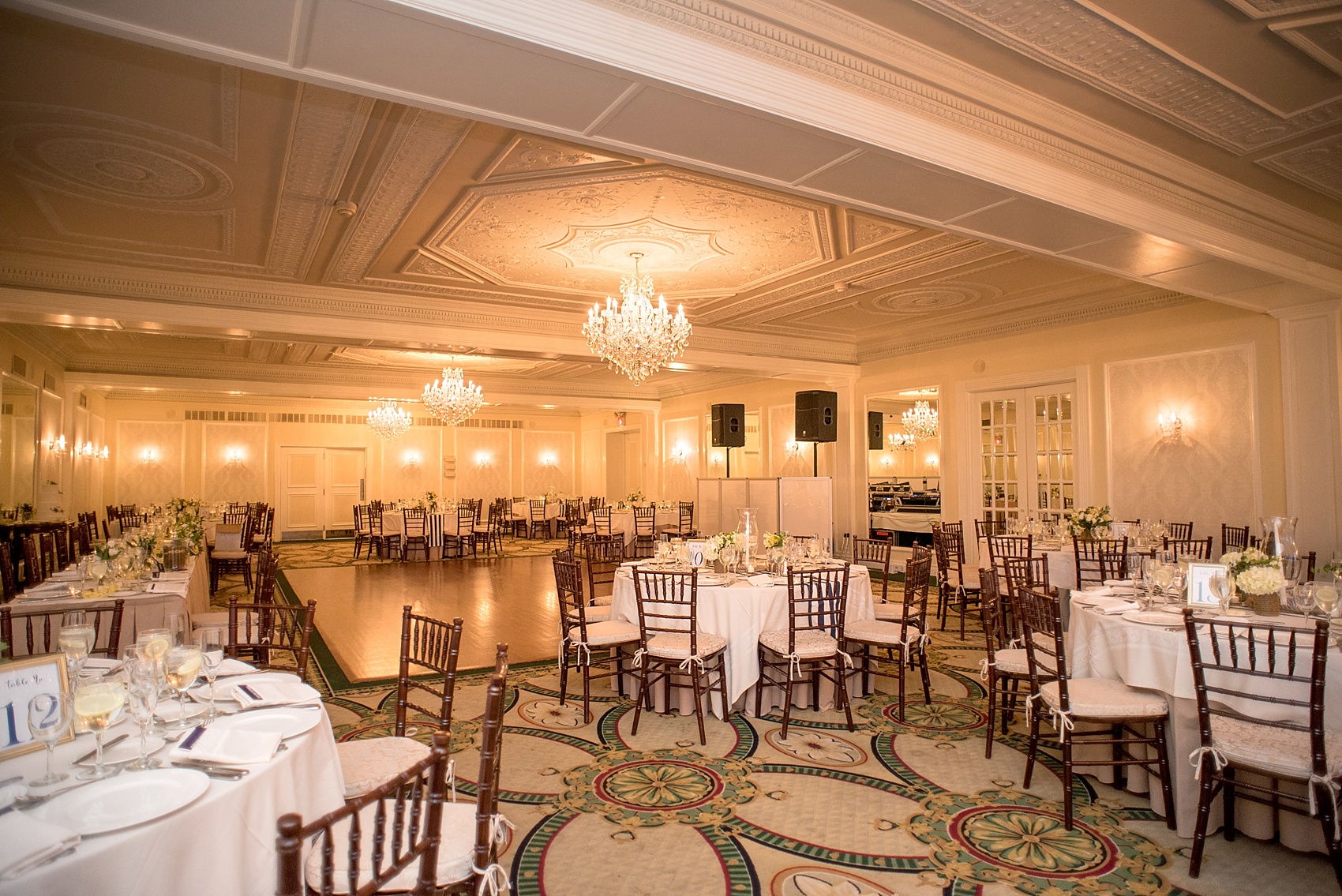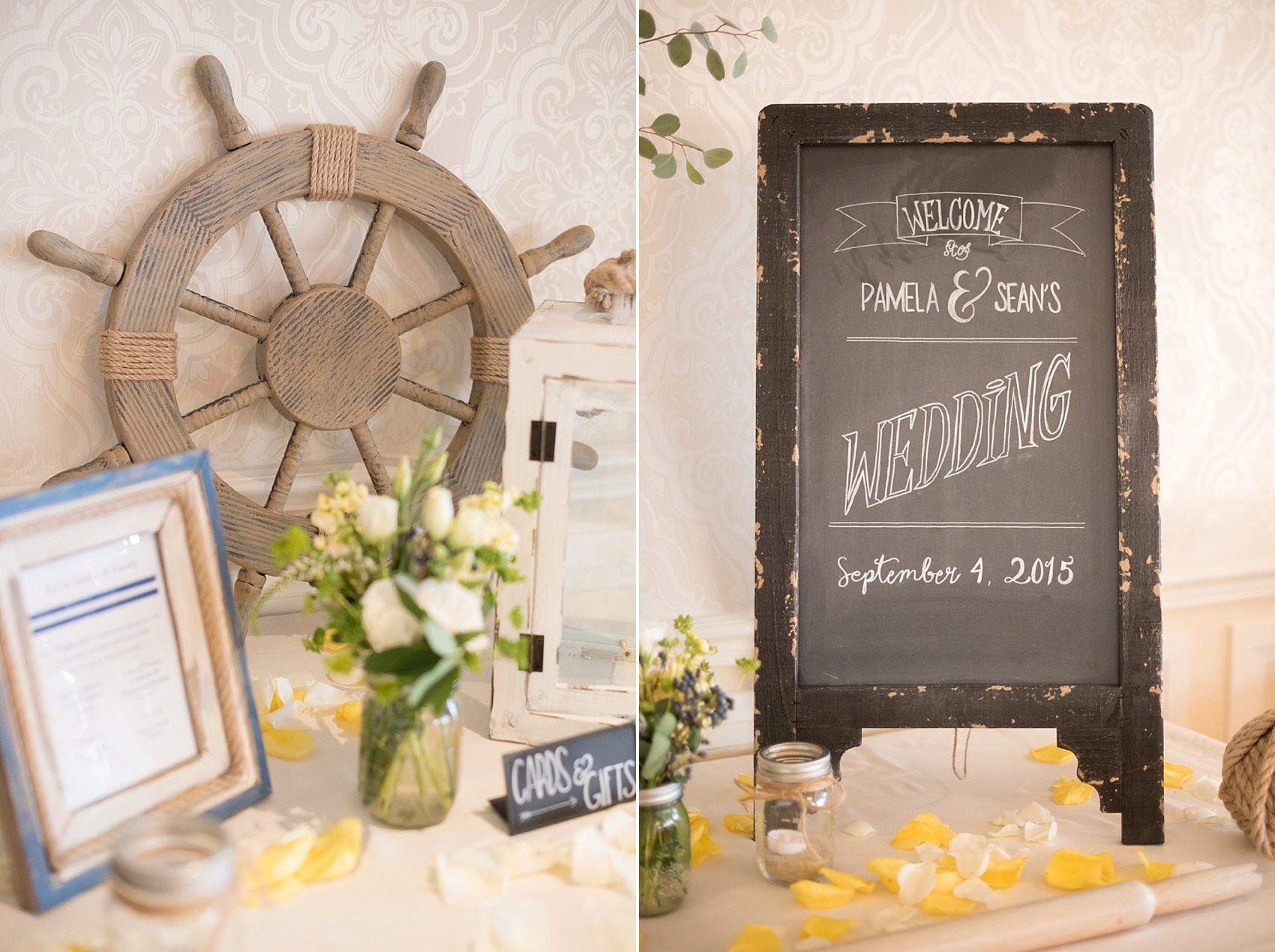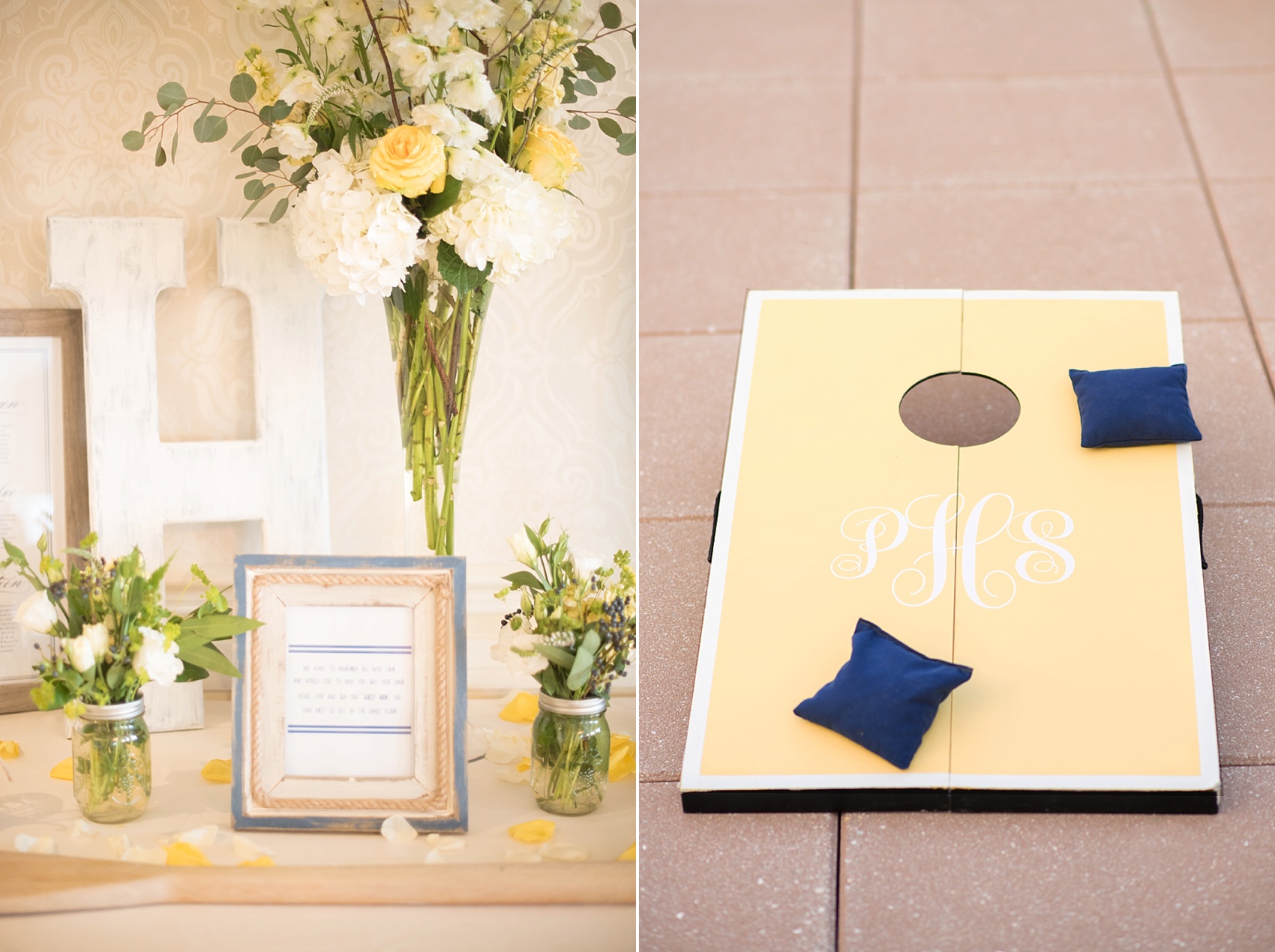 Something I loved about their wedding was that cocktail hour, for the most part, remained outdoors. Their custom monogram cornhole game was perfect for entertainment amongst cigars and a live band (and drinks and food a-plenty) to keep everyone super happy.
And of course, I'm all about Instagram so I loved their hashtag signage!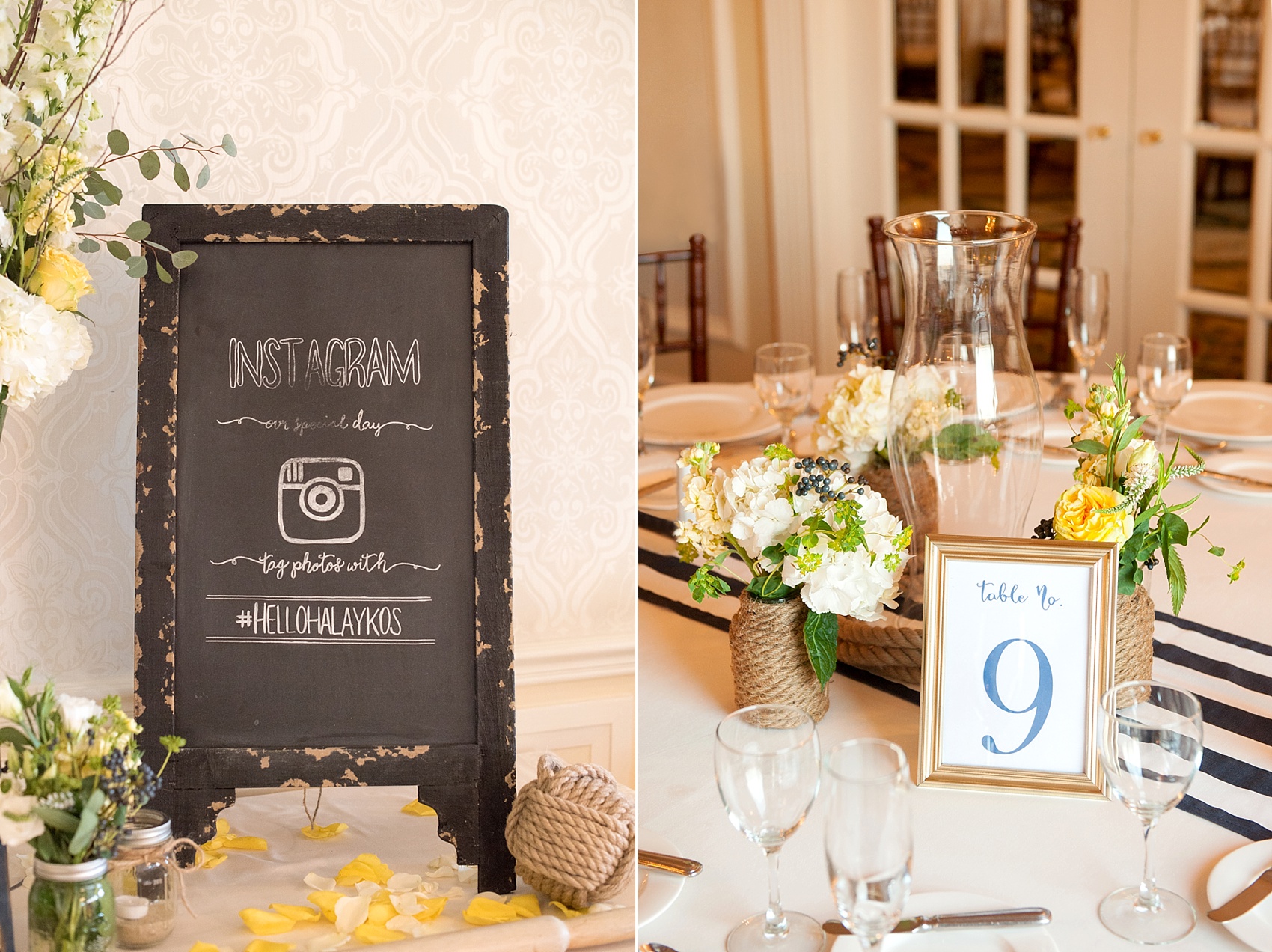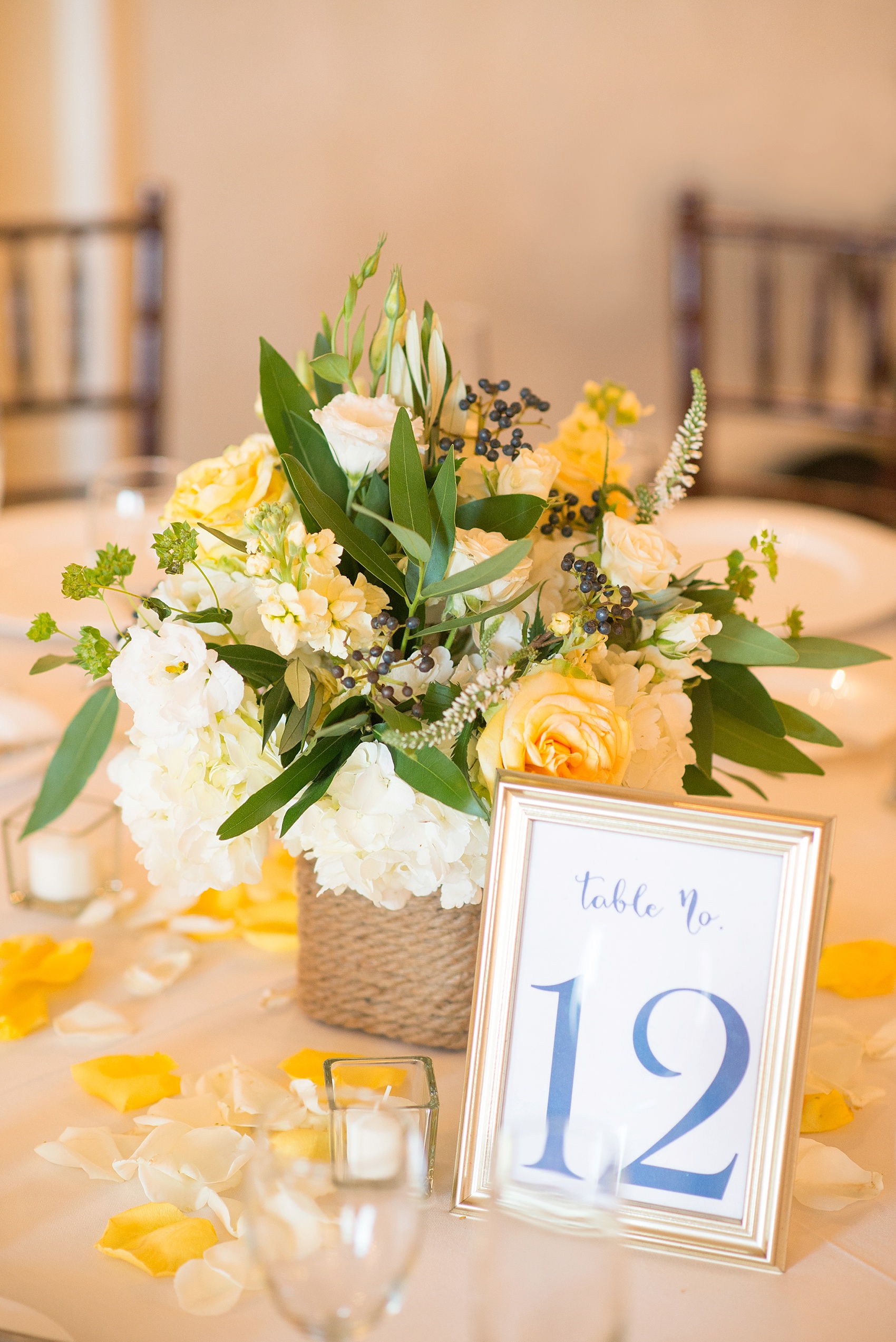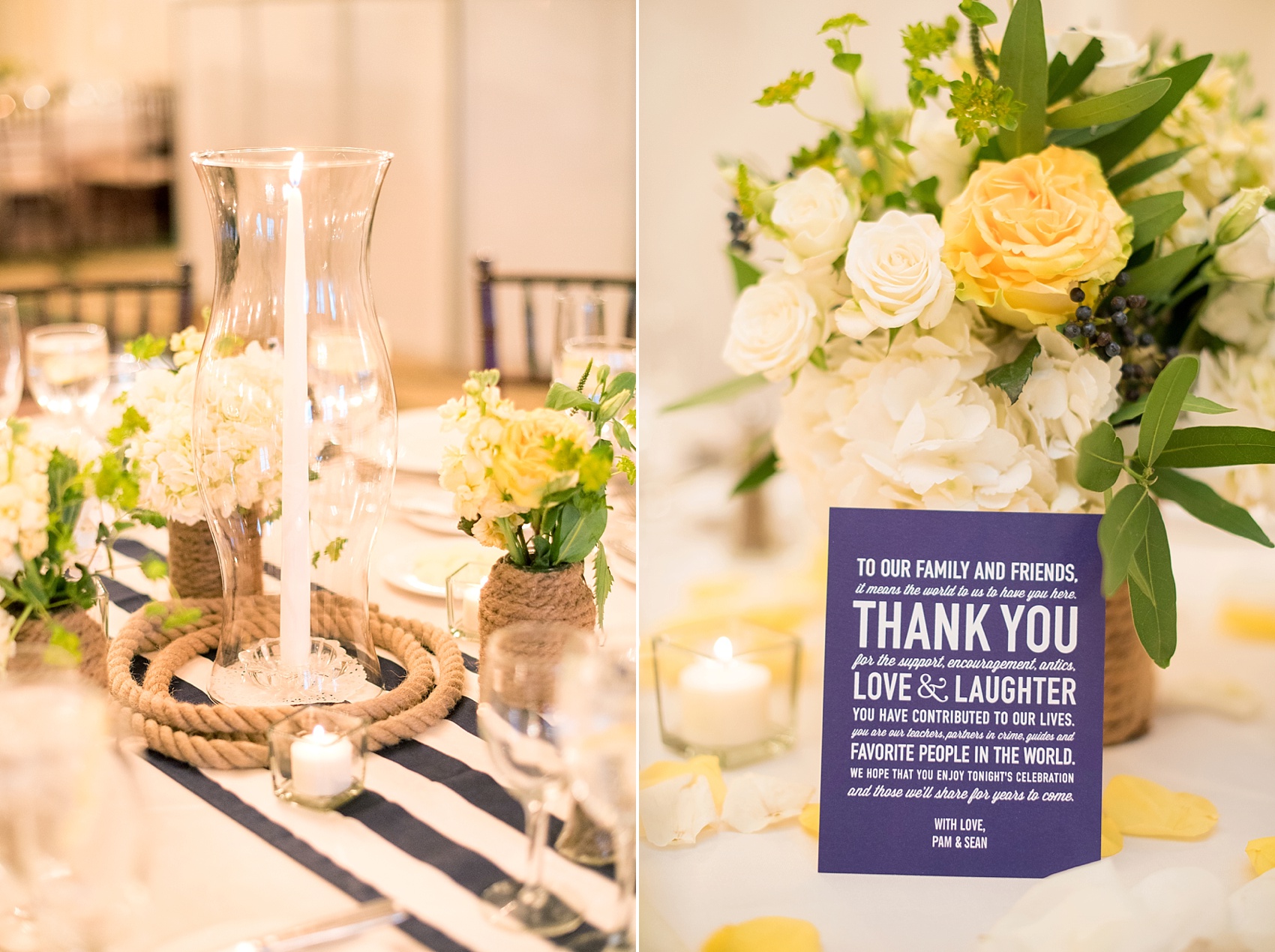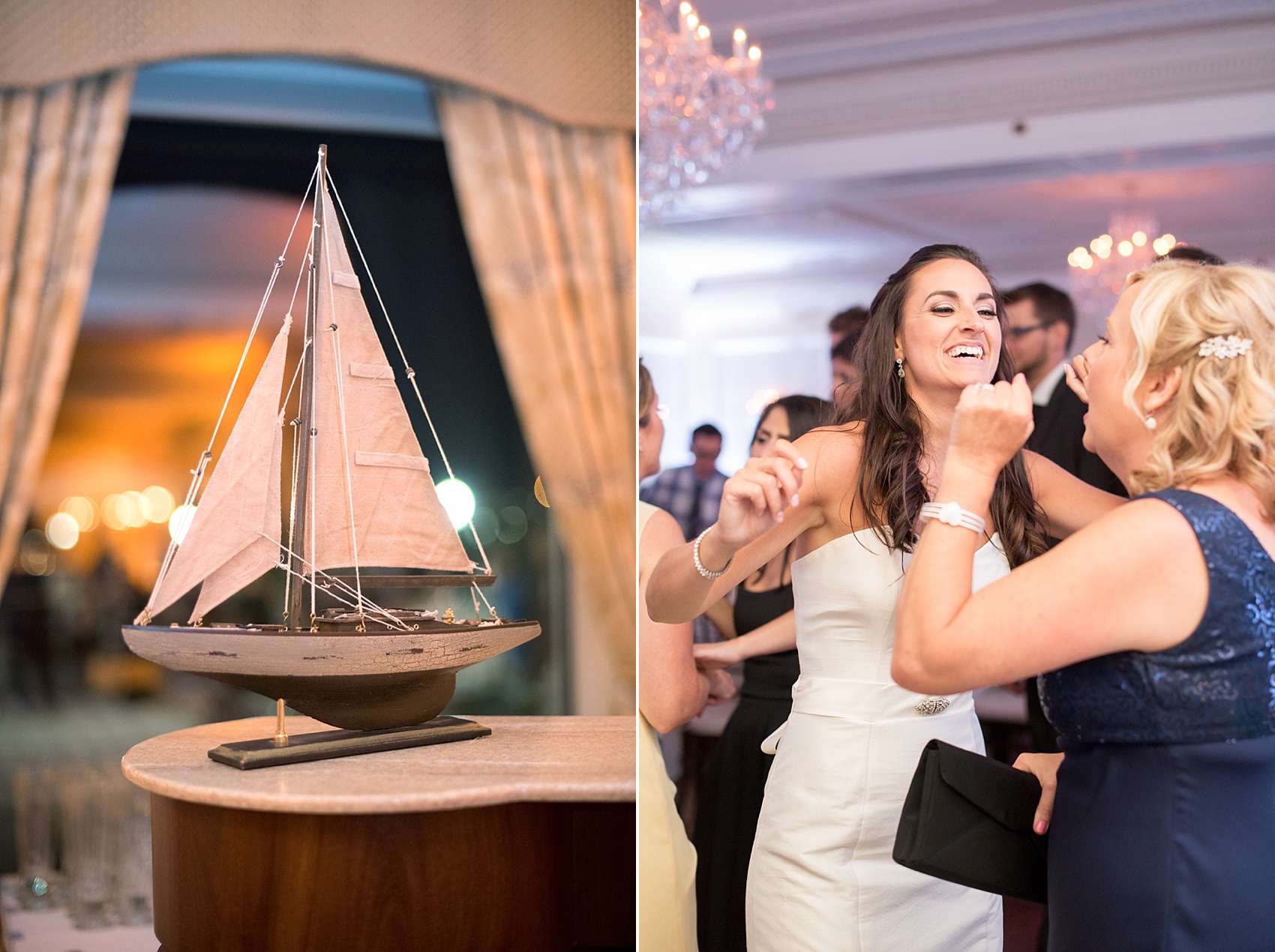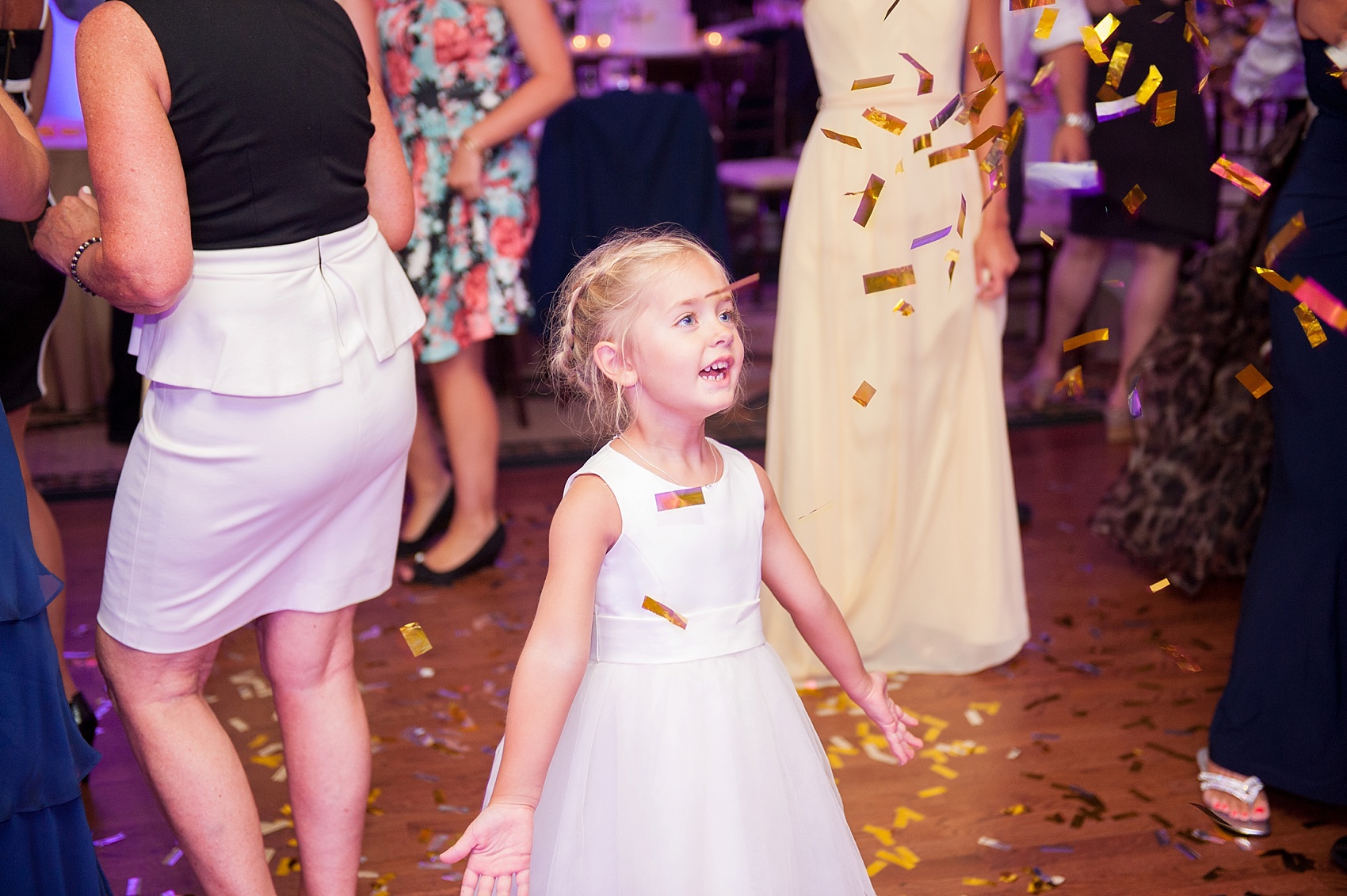 I think the best thing I did was to bring the selfie props from another room onto the dance floor. Check out the unicorn masks Pam and Sean got! I love the resulting photos!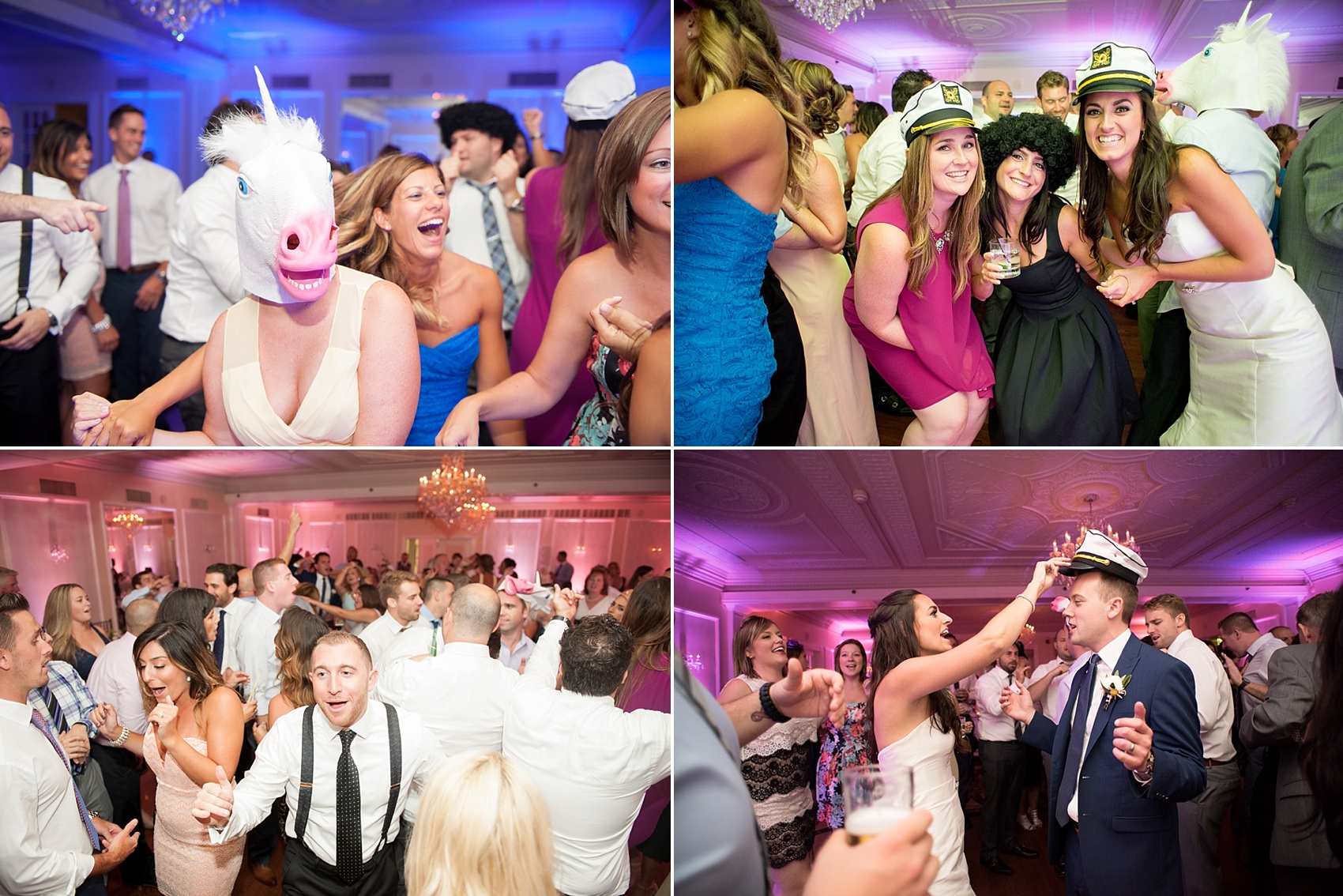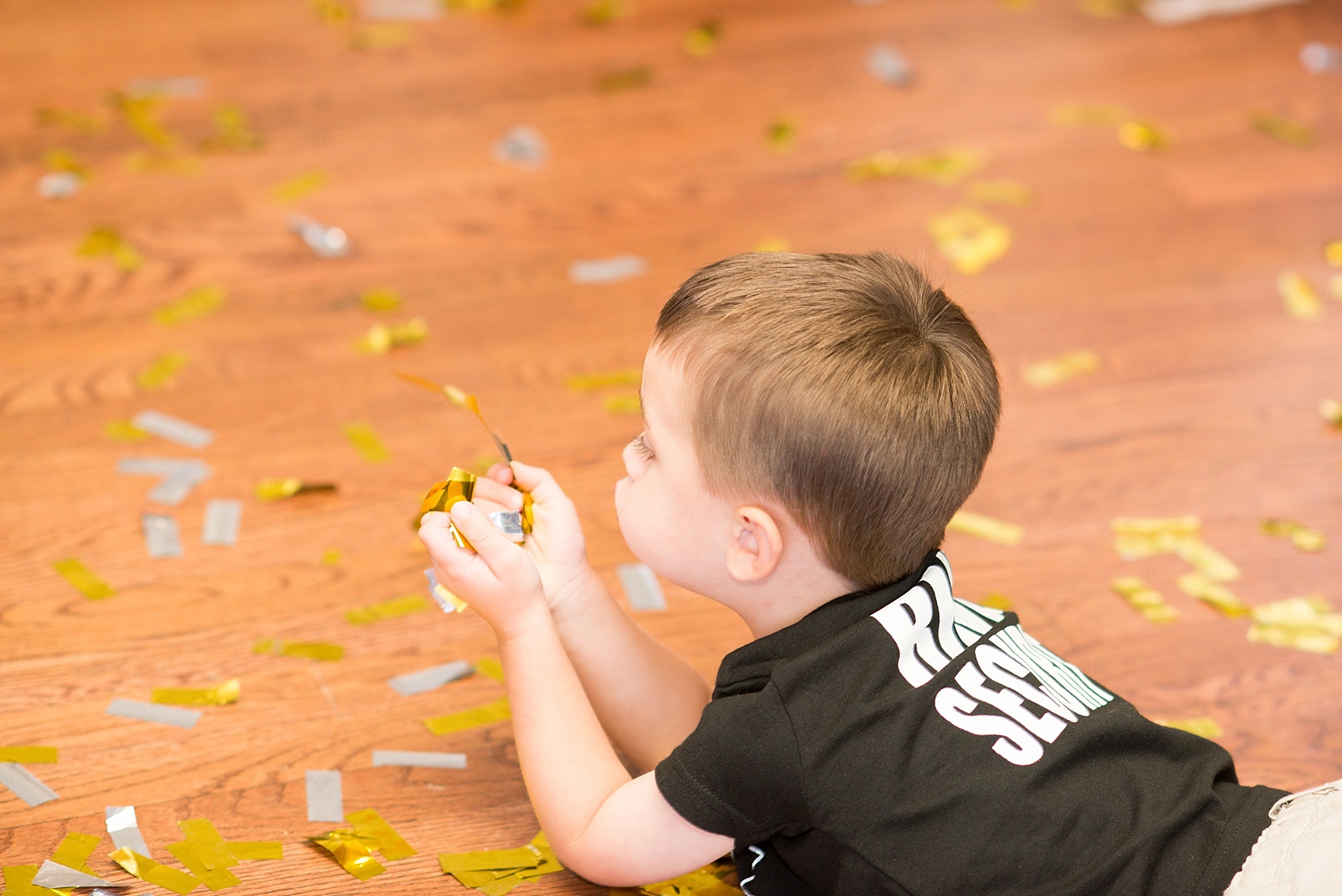 Their flower girl and ring bearer (their niece and nephew) were on serious confetti patrol all night, which I can't say I disagree with. Their nephew also doubled, might I add, as "ring security."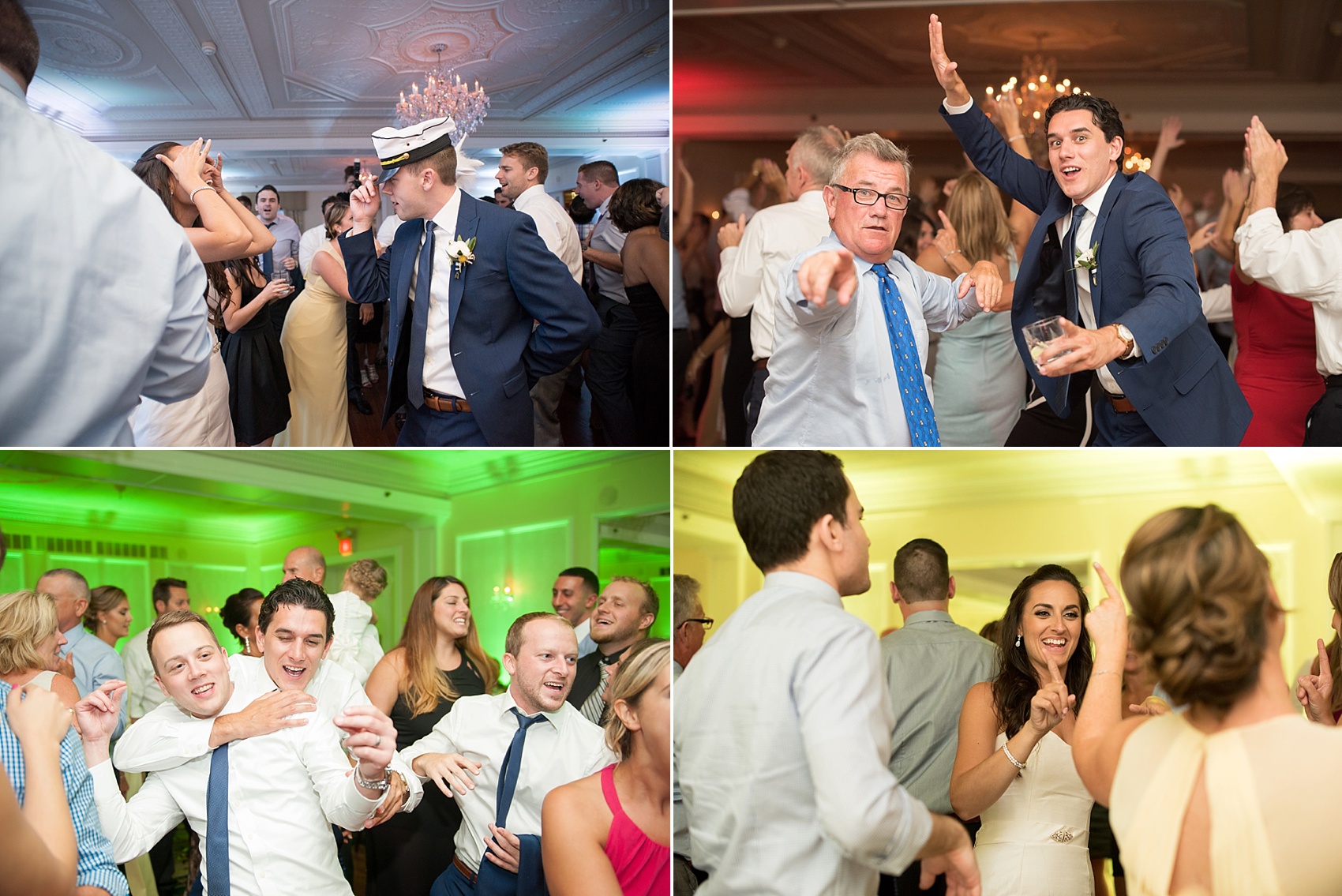 If you had any doubt this was an incredibly fun and hoppin' party, need I provide more evidence than the bride getting back to her college roots with a knee-stand cheerleader stance? I think not!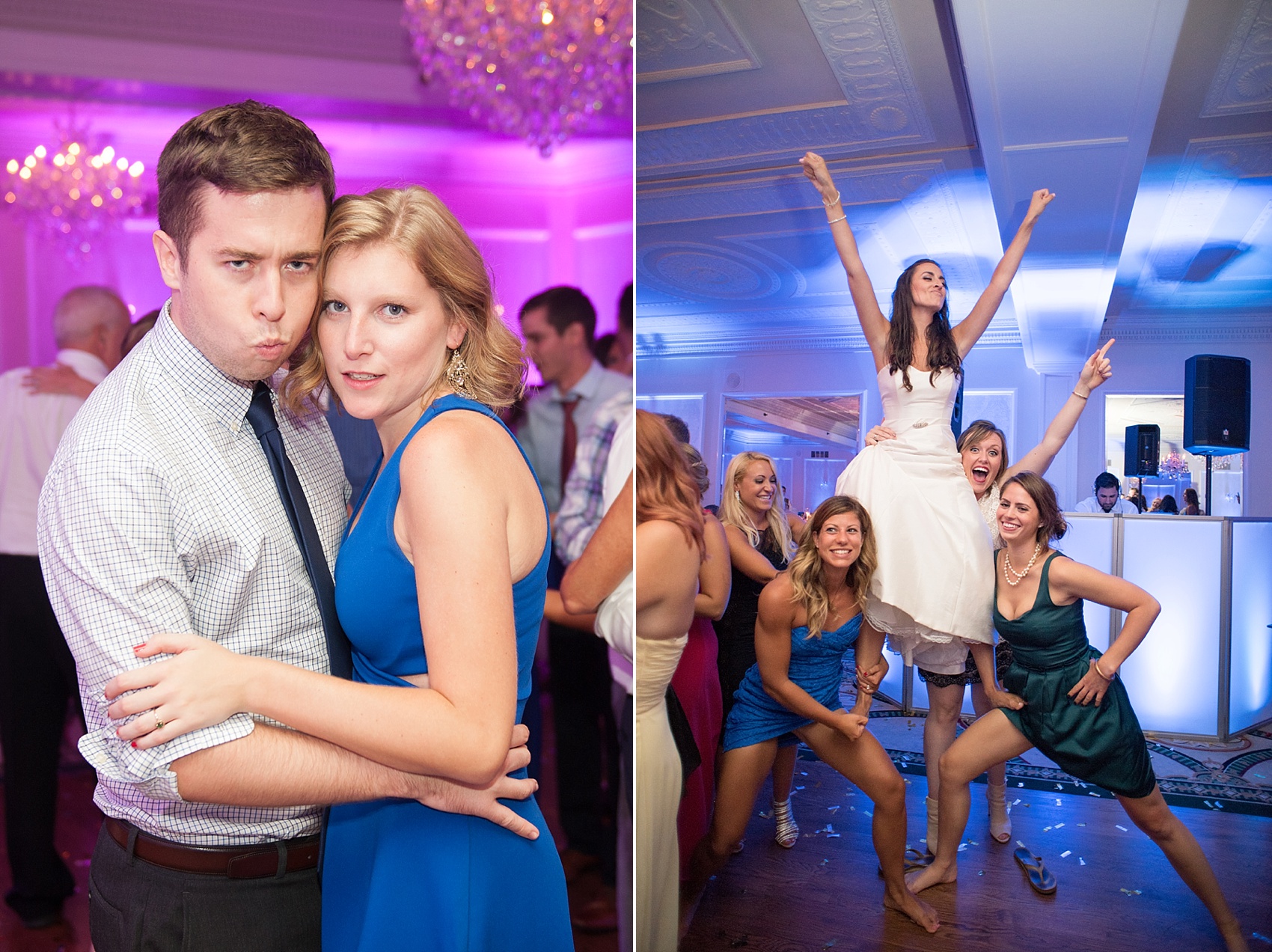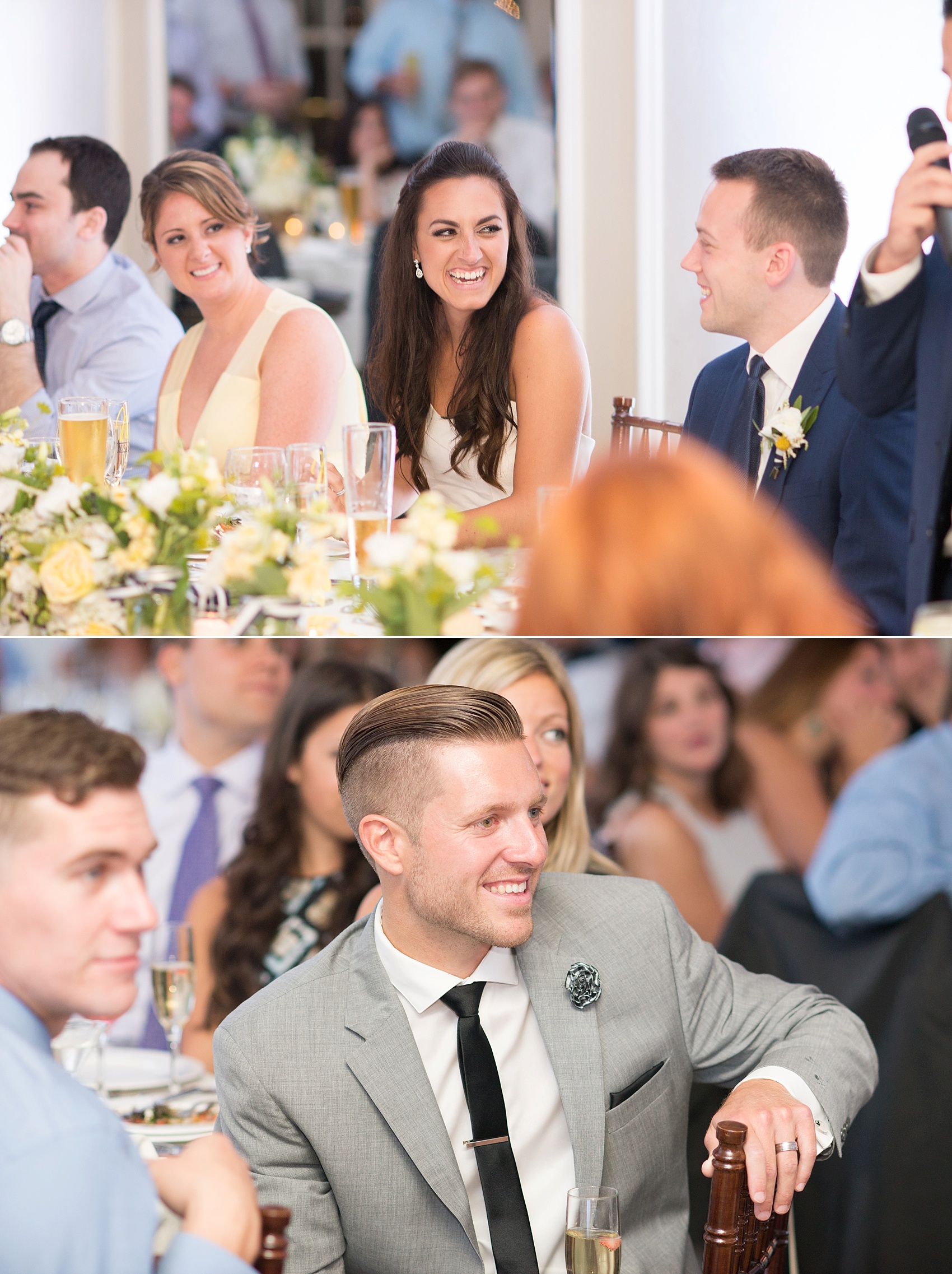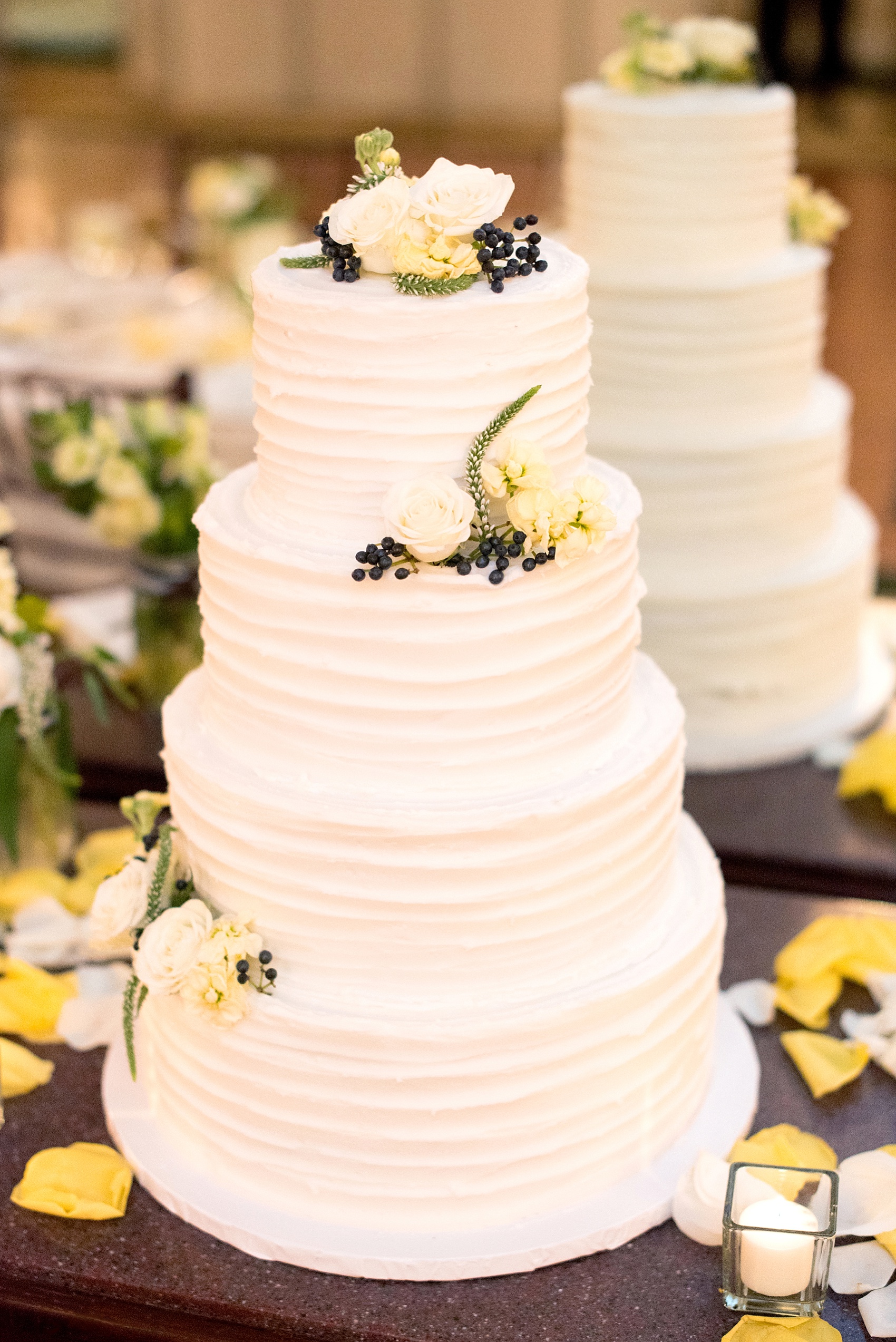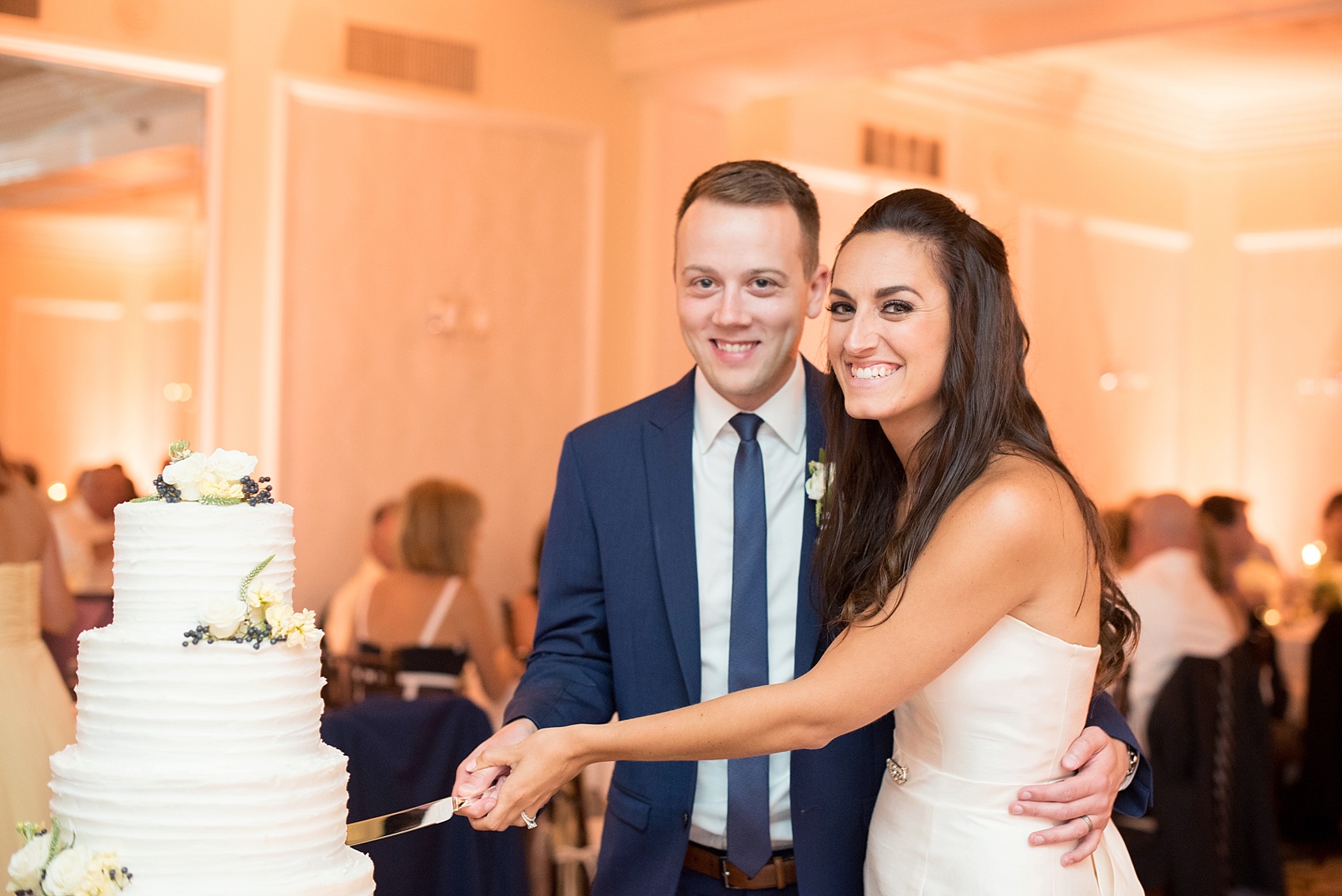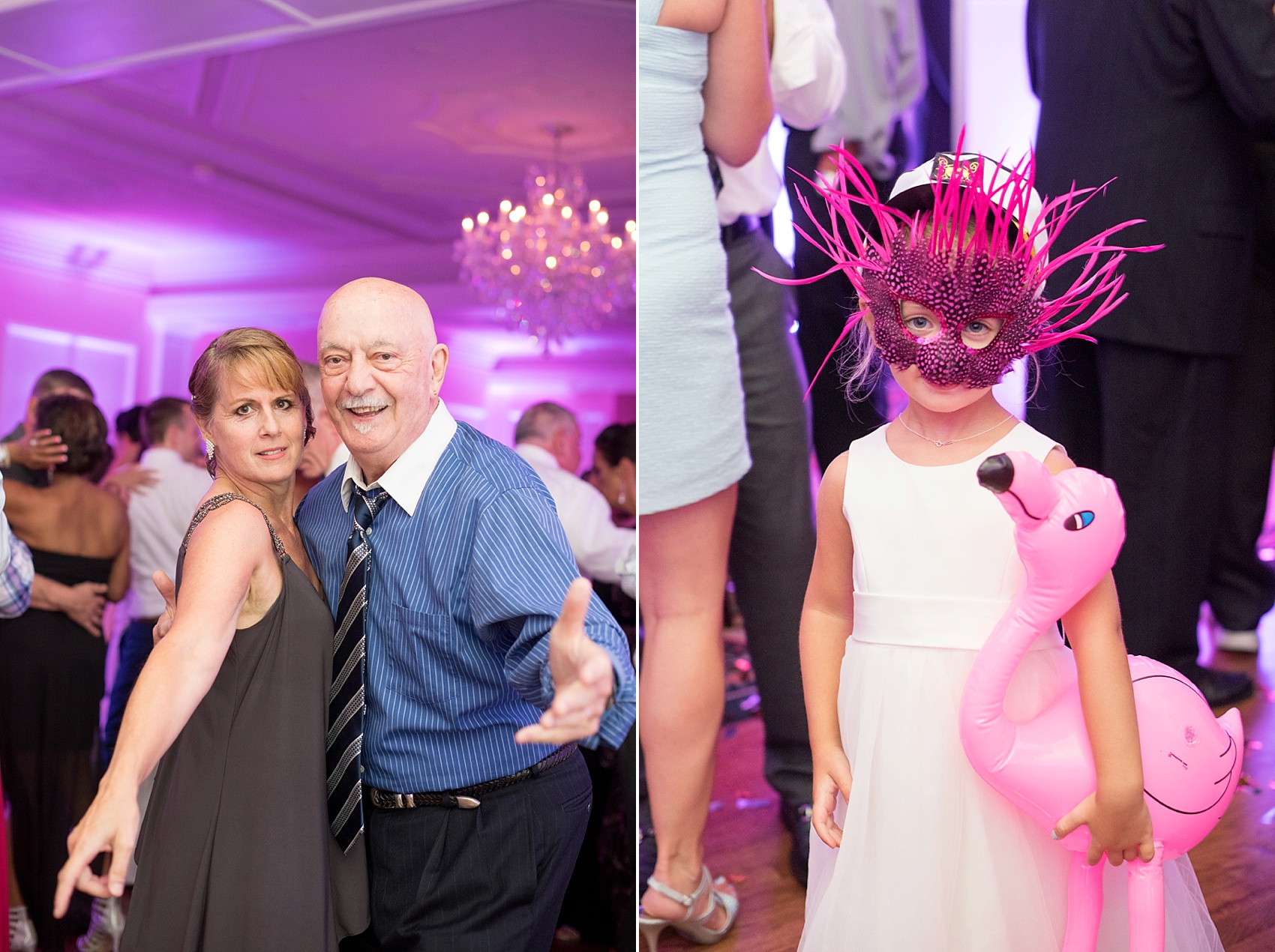 I cannot stop looking at the photo of Olivia in this pink feather mask and sailor hat, holding an inflatable flamingo. It's so unassuming and pure – I crack up every time I see it!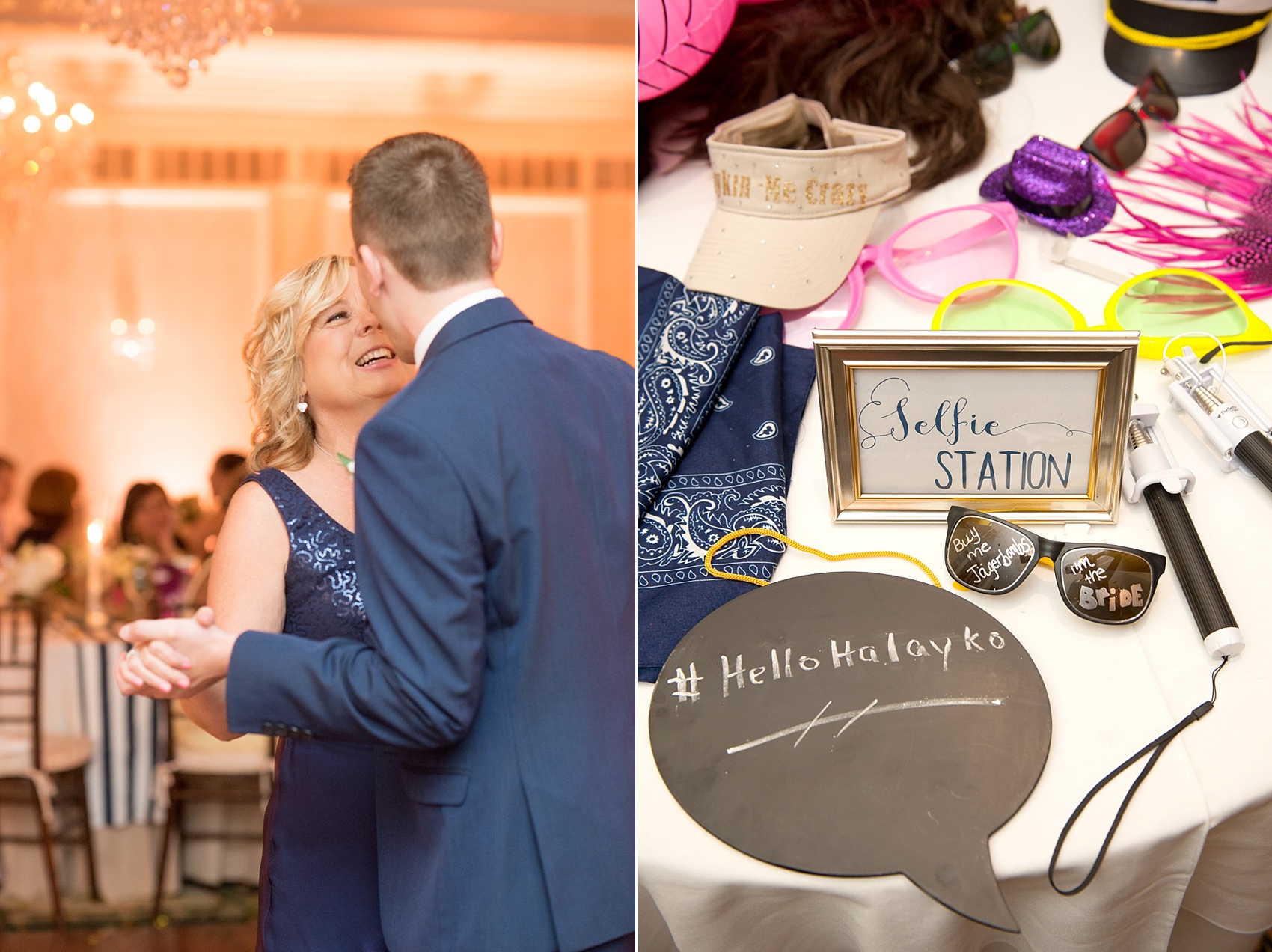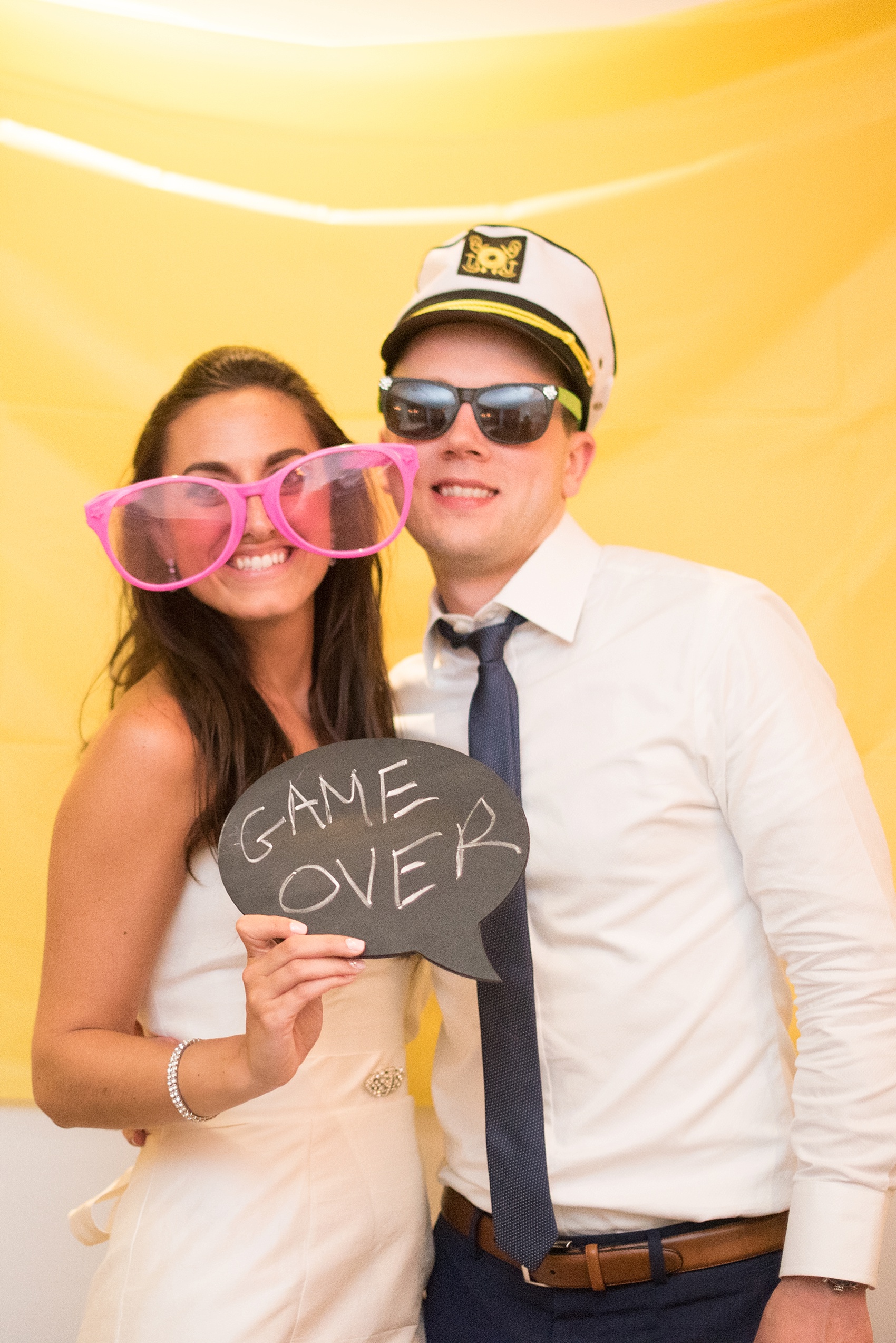 Okay "game over…" for the wedding day…but really, I couldn't be happier for these two and the new chapter of their lives they began that day, as Mr. & Mrs. #HelloHalayko.
Congratulations!!!! I miss this wedding already. Sigh. Thank god for photos, right?
Venue: Molly Pitcher Inn / Cake: Sugarush / Flowers: Twisted Willow Flowers / Invitation: Zazzle / Band: Guns 4 Hire / DJ: Eclipse Events / Hair: Jen, Salon Seraphim / Makeup: Nicole Pucillo / Officiant: Father Anthony Testa / Gown: Justin Alexander, Castle Couture / Bridesmaids:Bari Jay, RK Bridal / Suits: Calvin Klein / Bride's rings: Tacori / Seating chart: Paper and Lace Collections, Etsy / Bouquet charm: I Love Paperkits, Etsy / Table runners: Cayson Decor, Etsy / Monogram hangers and cornhole: GrandeStrands
Don't forget to "like" and *follow* @mikkelpaige on Facebook and Instagram for updates. You won't want to miss when The Knot New Jersey hits the stands with their wedding in it!