Their wedding was a modern twist on a 1920's vintage dream at the Metropolitan Building, the first weekend of April in Long Island City.
I love when a couple knows who they are and goes after their vision. From the moment I met Jana and Peter I knew they were a couple who really connected on all things classic like the romance of Fitzgerald novels, the impeccable clothing of decades before them, and jazz music of the same era. Even the settings they chose to emulate their personalities for their engagement session at Grand Central Terminal to their wedding day aligned with their vision.
The flowers were just incredible. Simple and elegant not only did wonderful white stems adorn their reception but Jana's simple white phalaenopsis orchid bouquet was jaw-dropping. Julie, of Warren County Events, pulled it all together from the flowers and table linens to coordination of their menu, the vision was complete with her guidance.
Jana chose to wear two dresses: a classic Nicole Miller gown in white lace and a delicately beaded shorter Parker dress true to their 1920's flapper-esque inspiration. It was the perfect combination. The special hangers were from the bride's mother, Felicia, and best friend Kristin.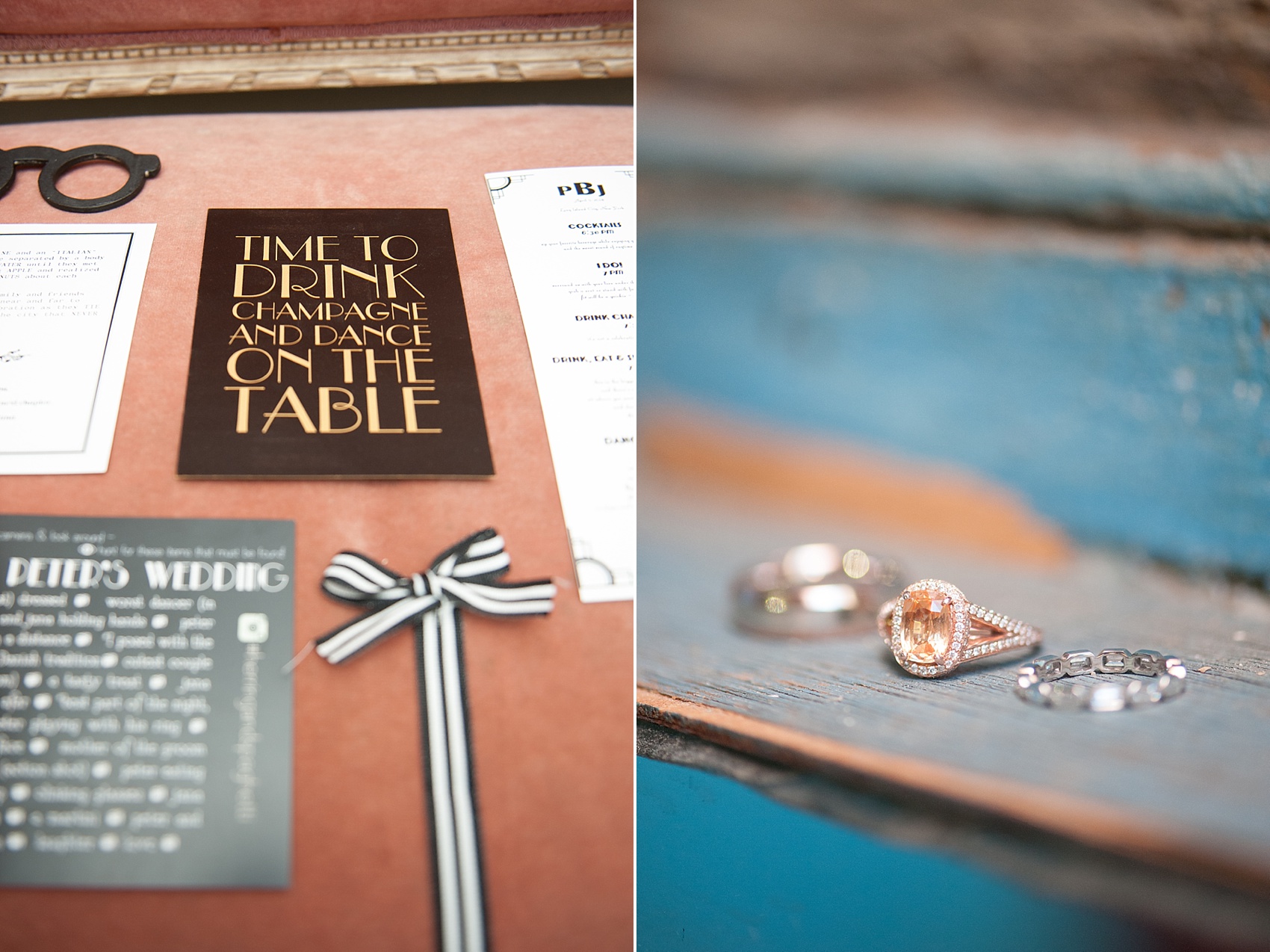 Complete "wow" on their invitation suite. Art deco in black and gold, they had props for those who wanted to get a bit silly in photos, postcards to write a message to them, and even an "I Spy" for their reception.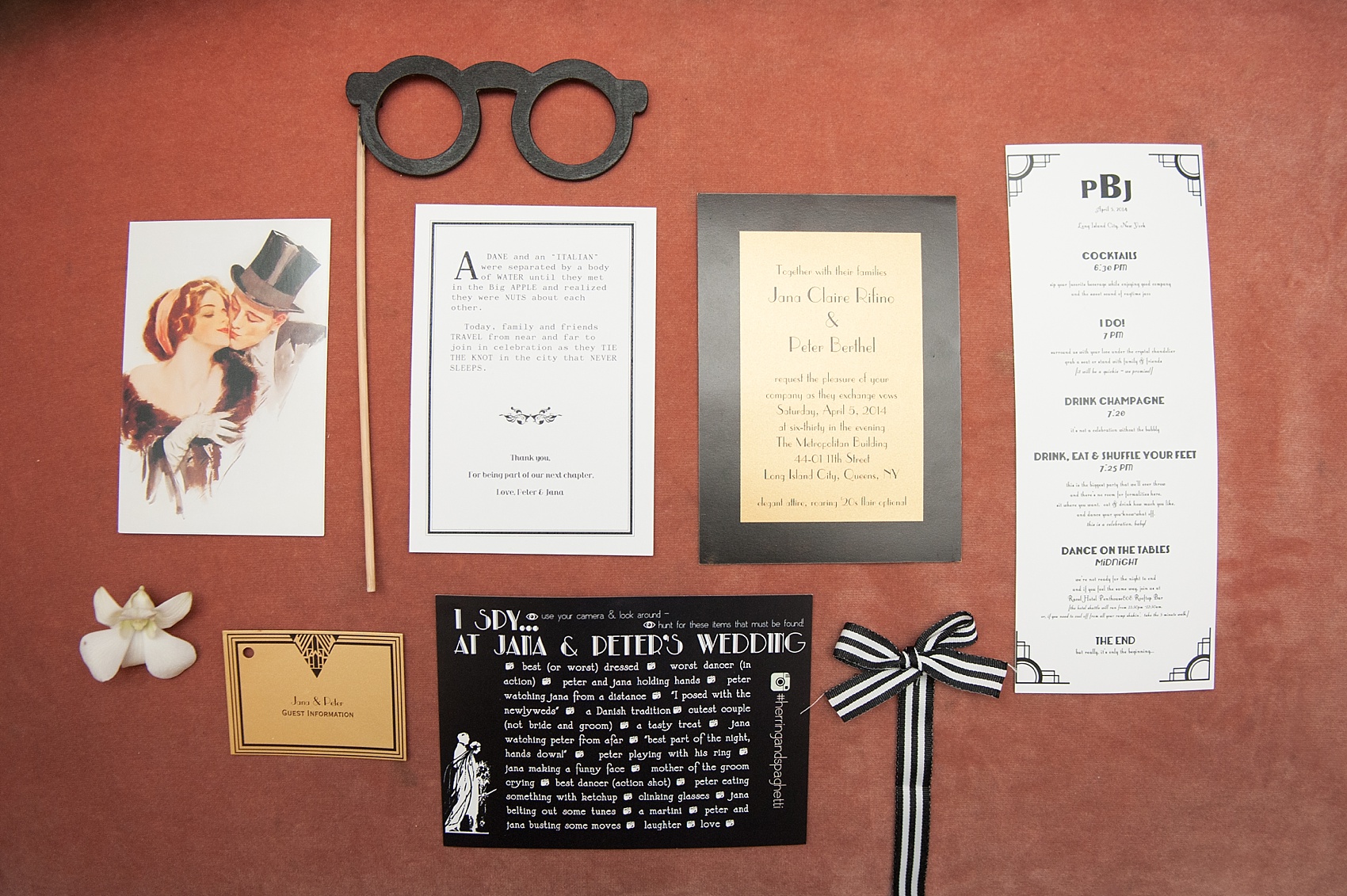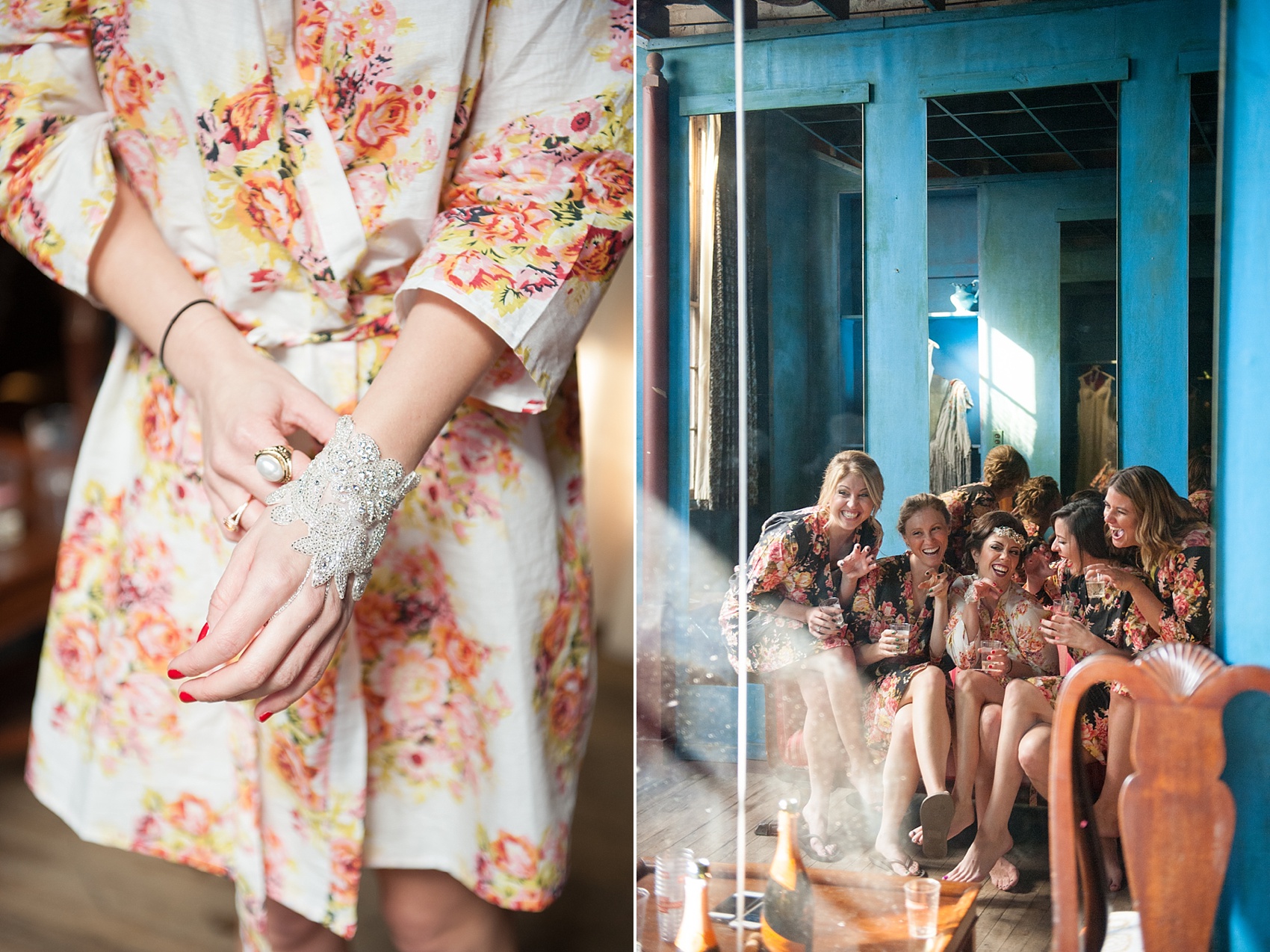 The girls got ready in elegant robes Jana gifted them (complete with fierce faces!) while Peter got ready with the help of his family, who flew in from Denmark and Australia. Jana completed her outfit with new ink: a tattoo of the last line of the Great Gatsby. If that doesn't prove her dedication to this era, I don't know what will. 😉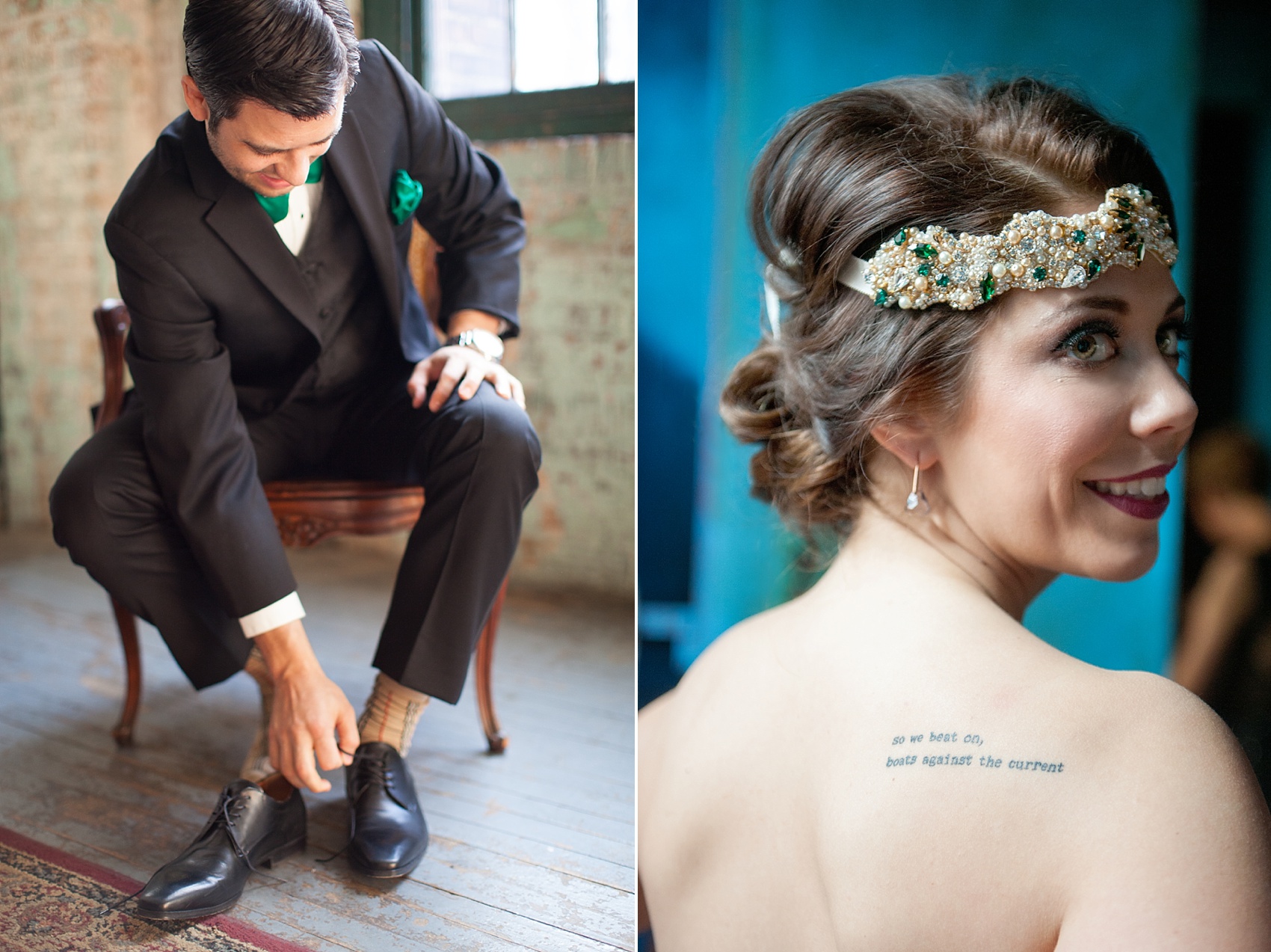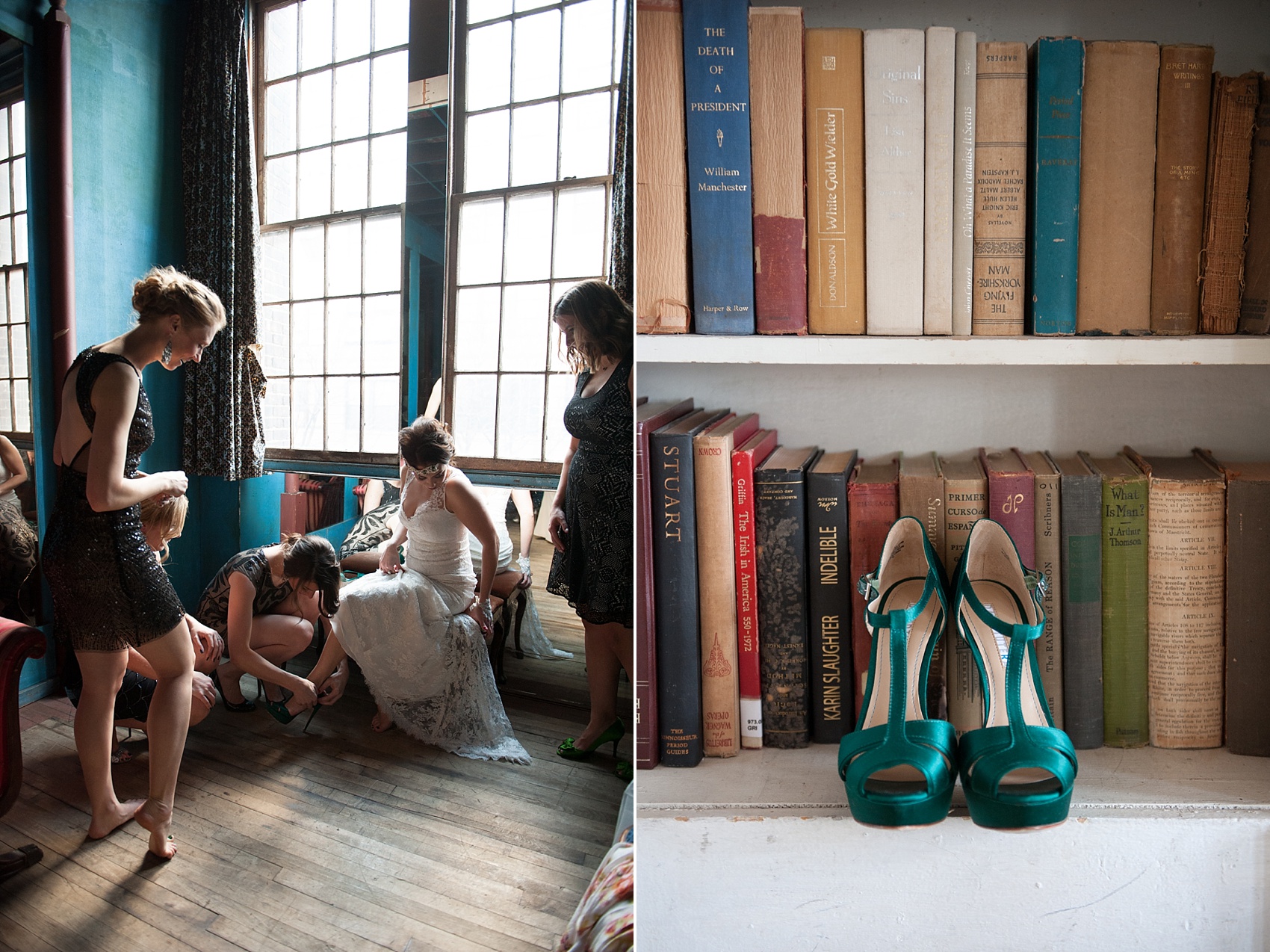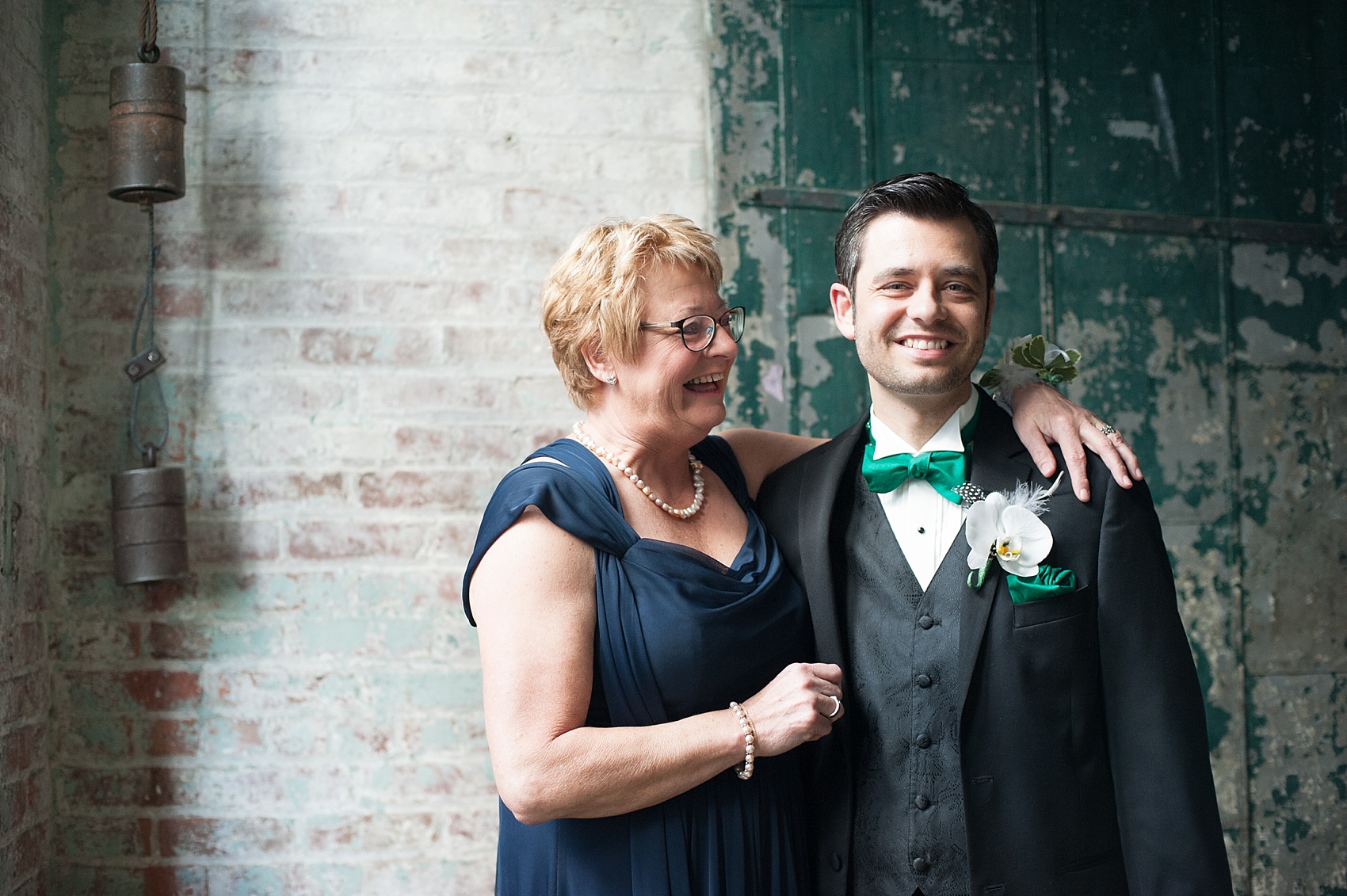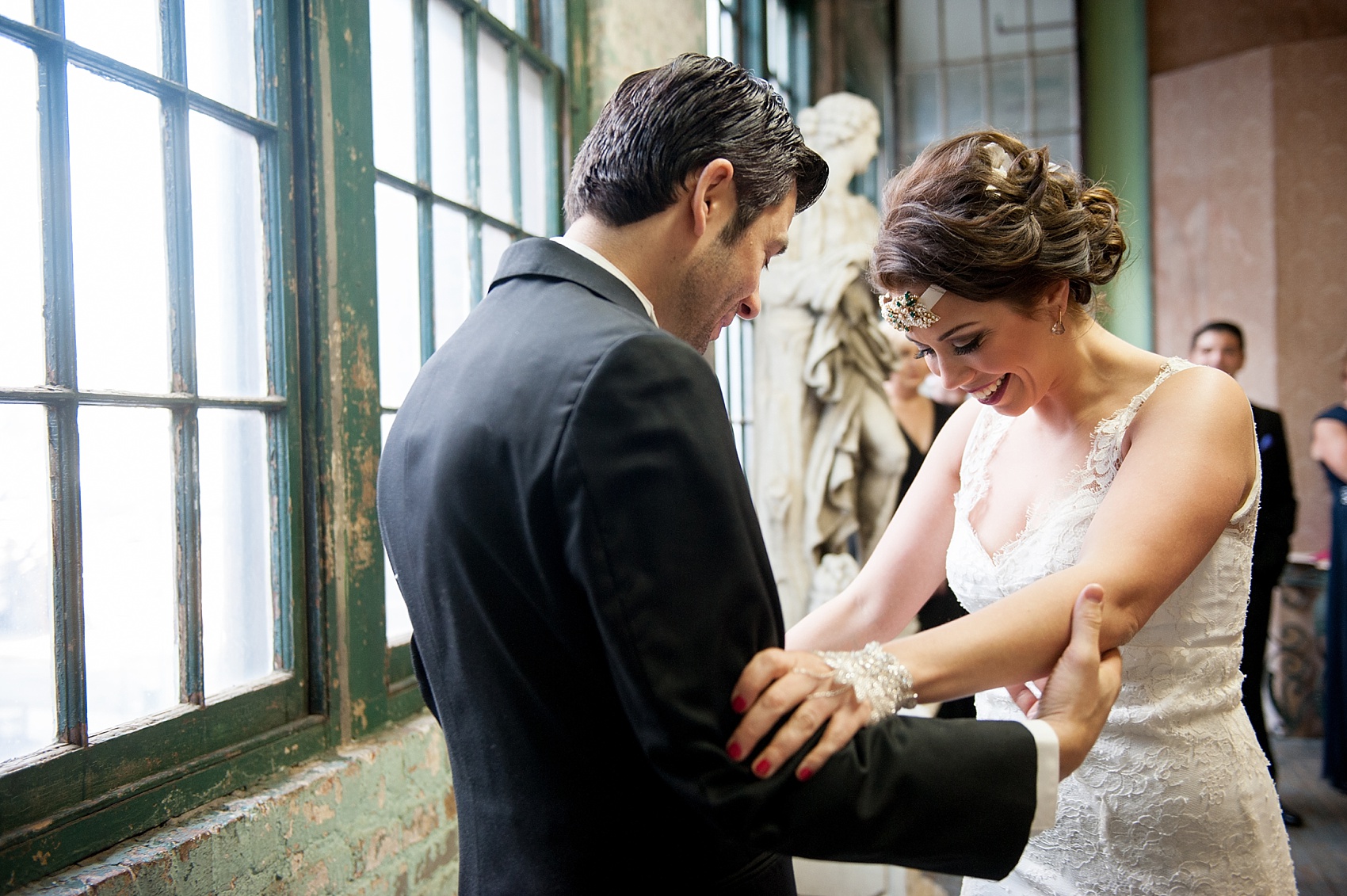 A heartfelt first look was followed by Jana showing her grandmother the charm she affixed to her gown's zipper pull, which was a keepsake of her grandmother's.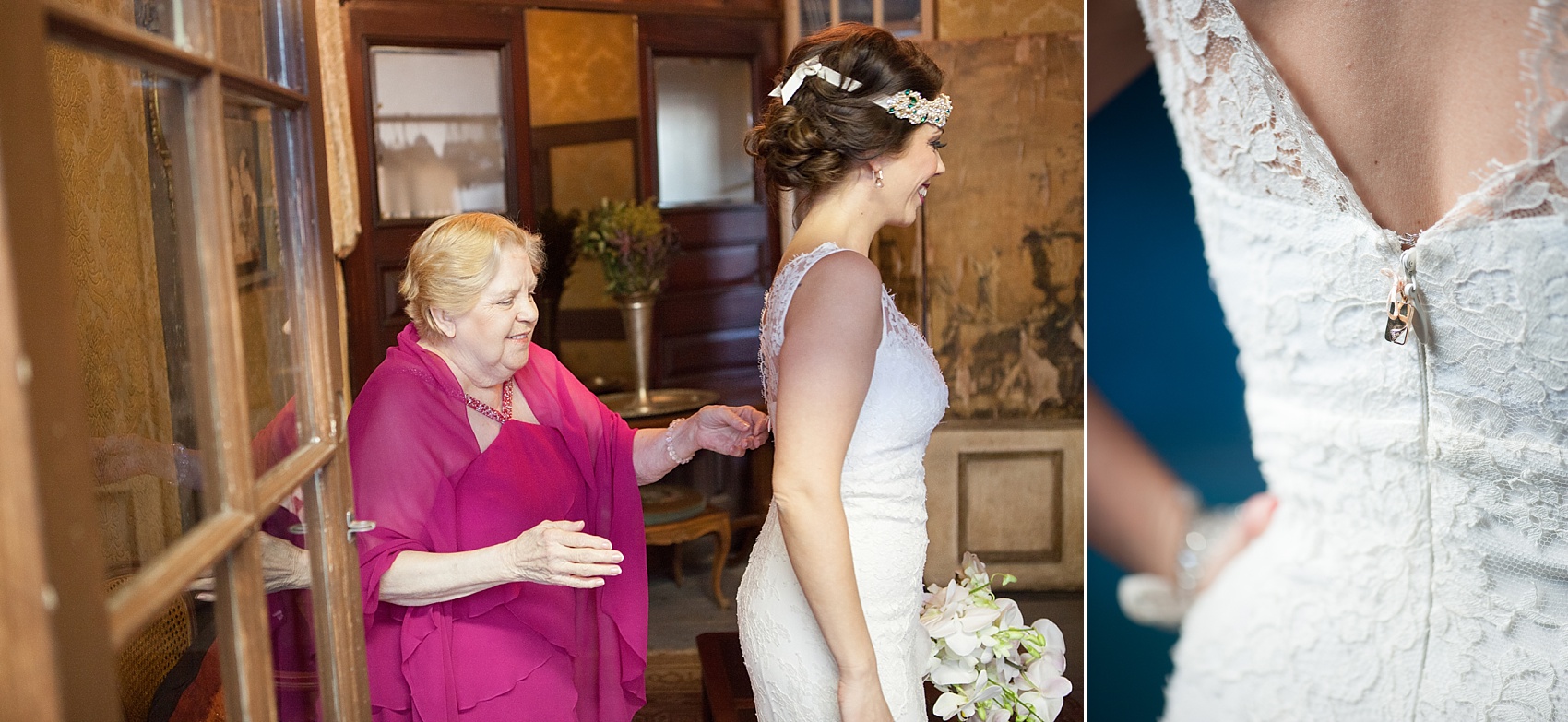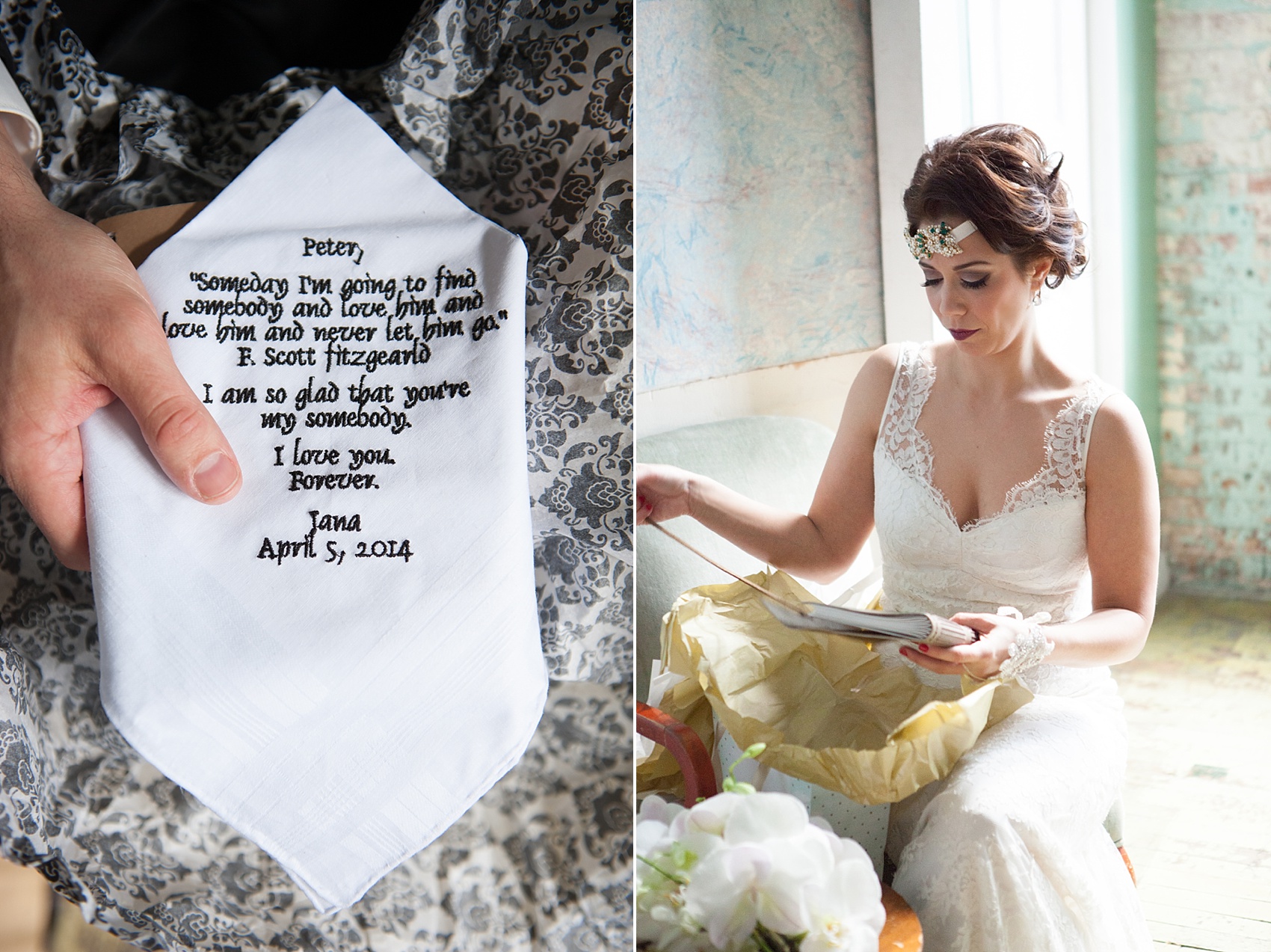 Peter and Jana exchanged gifts: Jana got him a custom embroidered handkerchief and made an intricate scrapbook and he got her a gorgeous leather notebook.
The Metropolitan Building is picturesque at every turn and a true dream location to photograph in. There was no shortage of amazing backdrops to place this beautiful couple near…and we had so much fun exploring the building!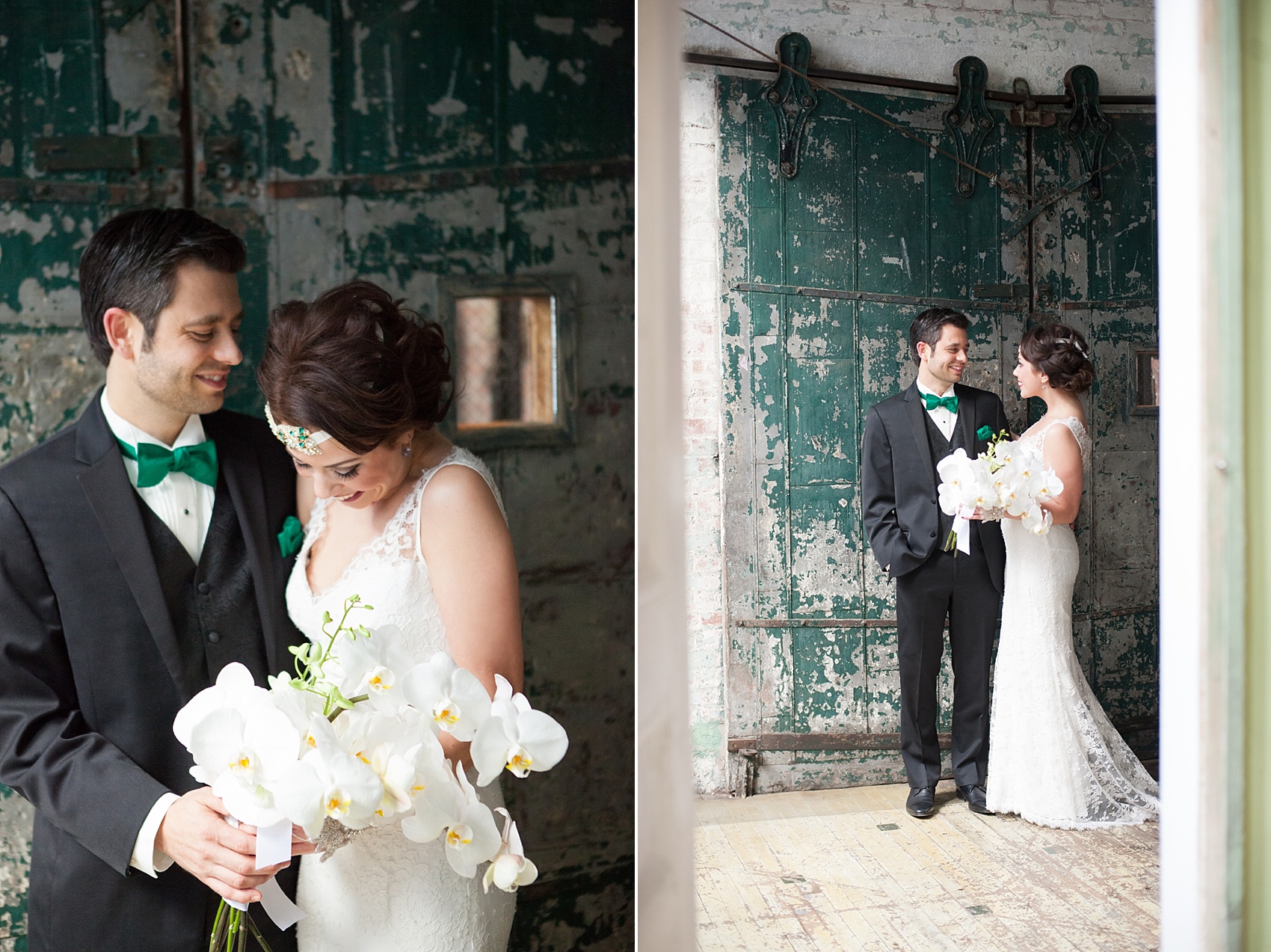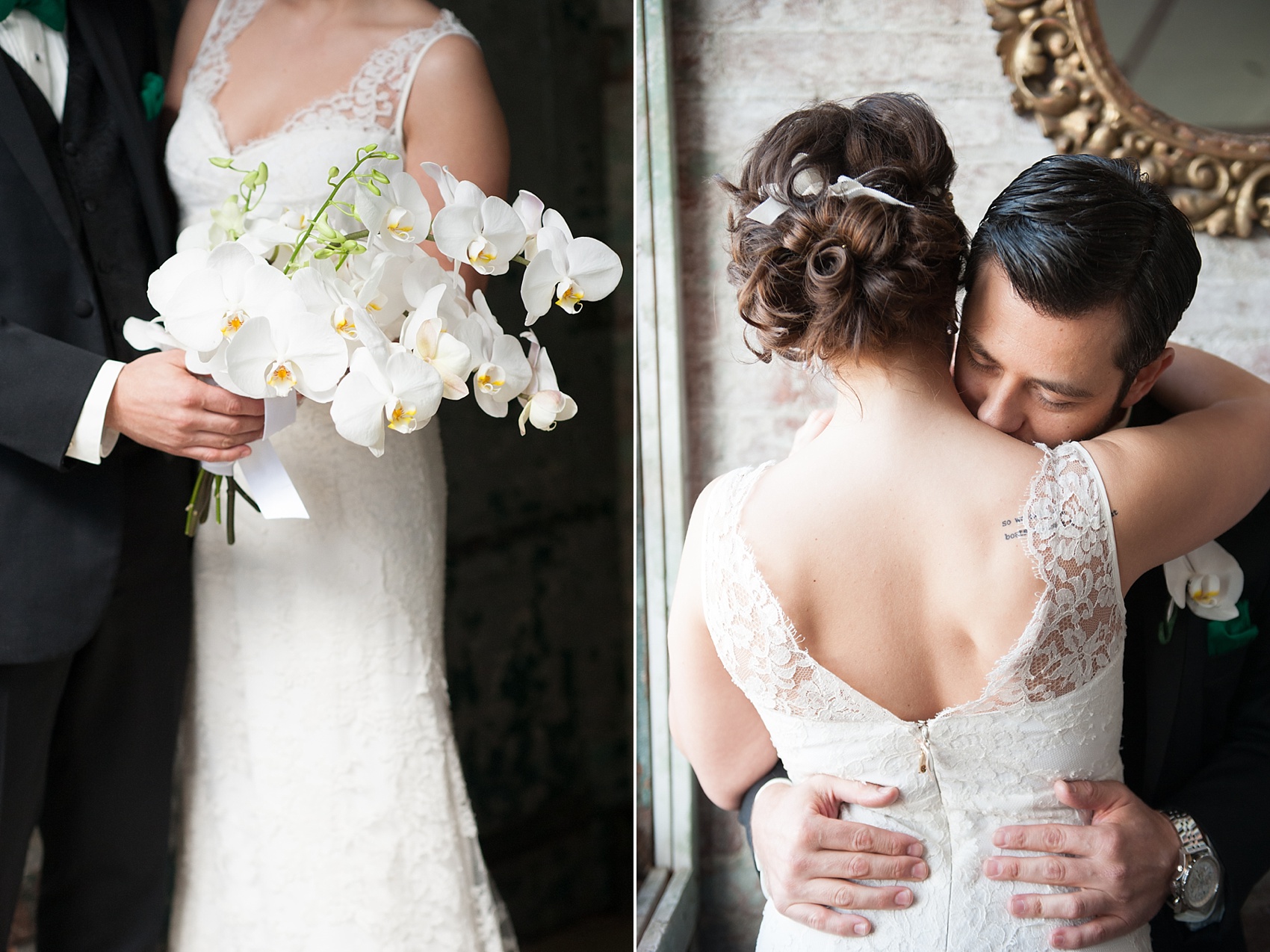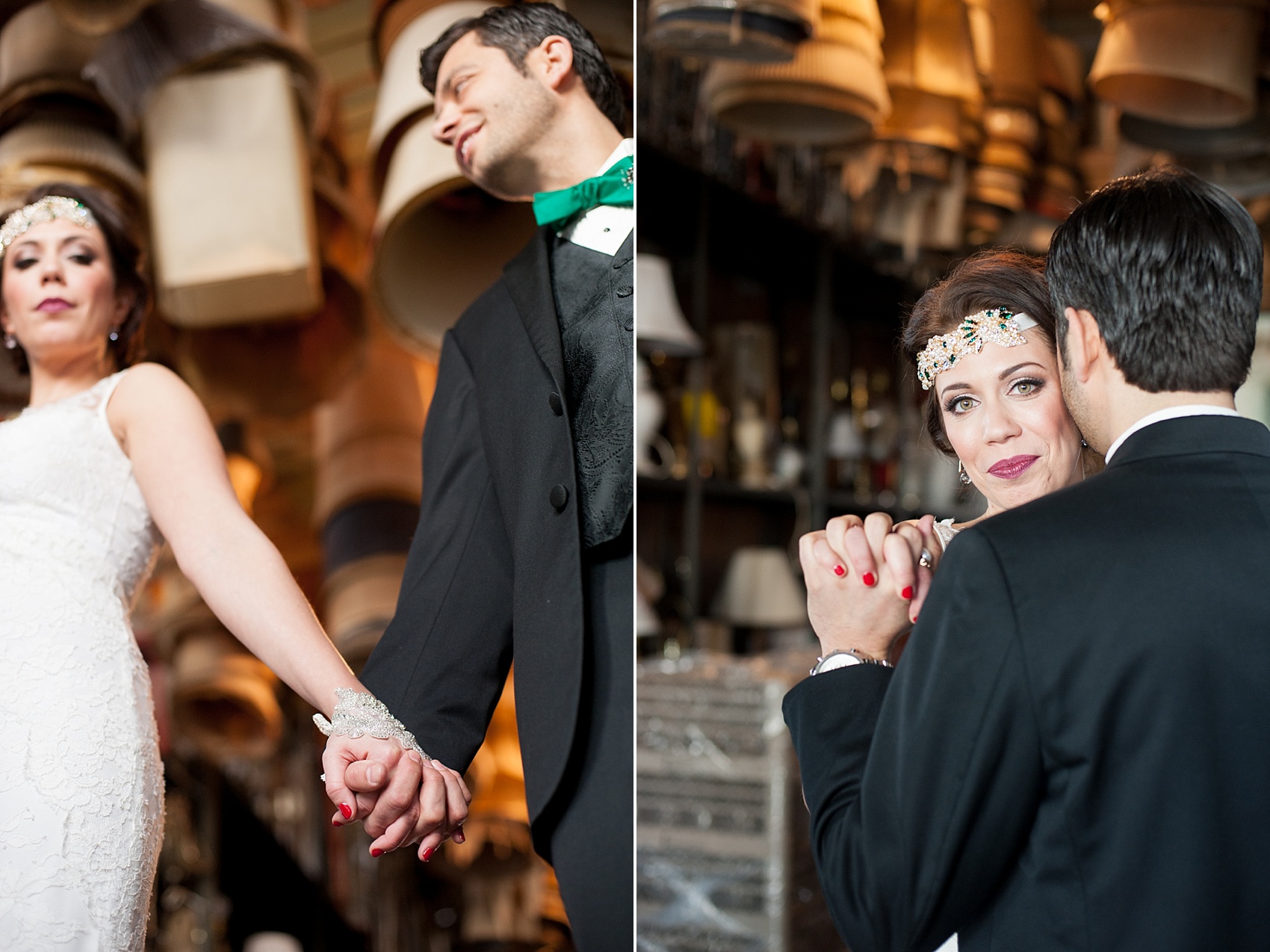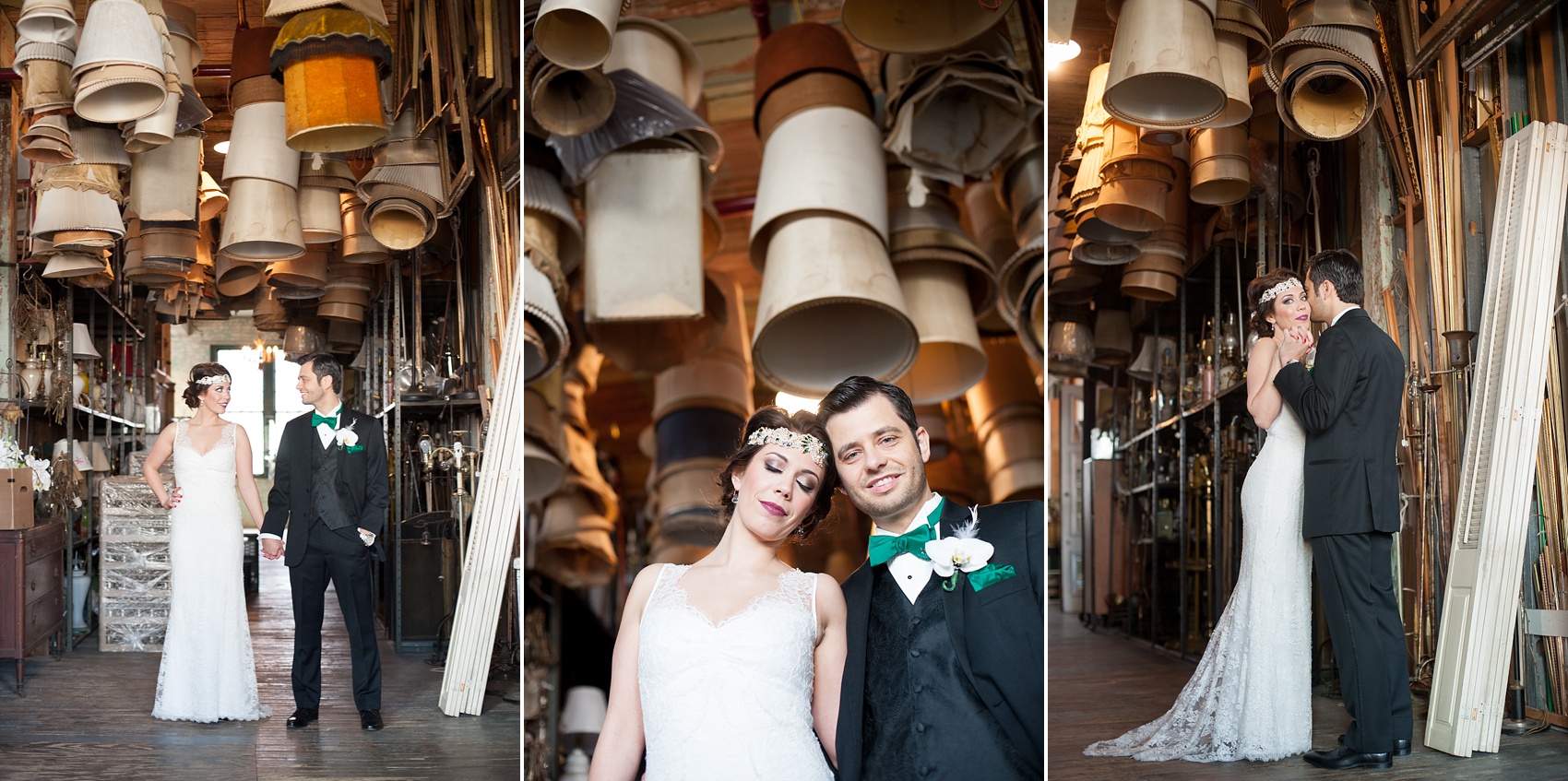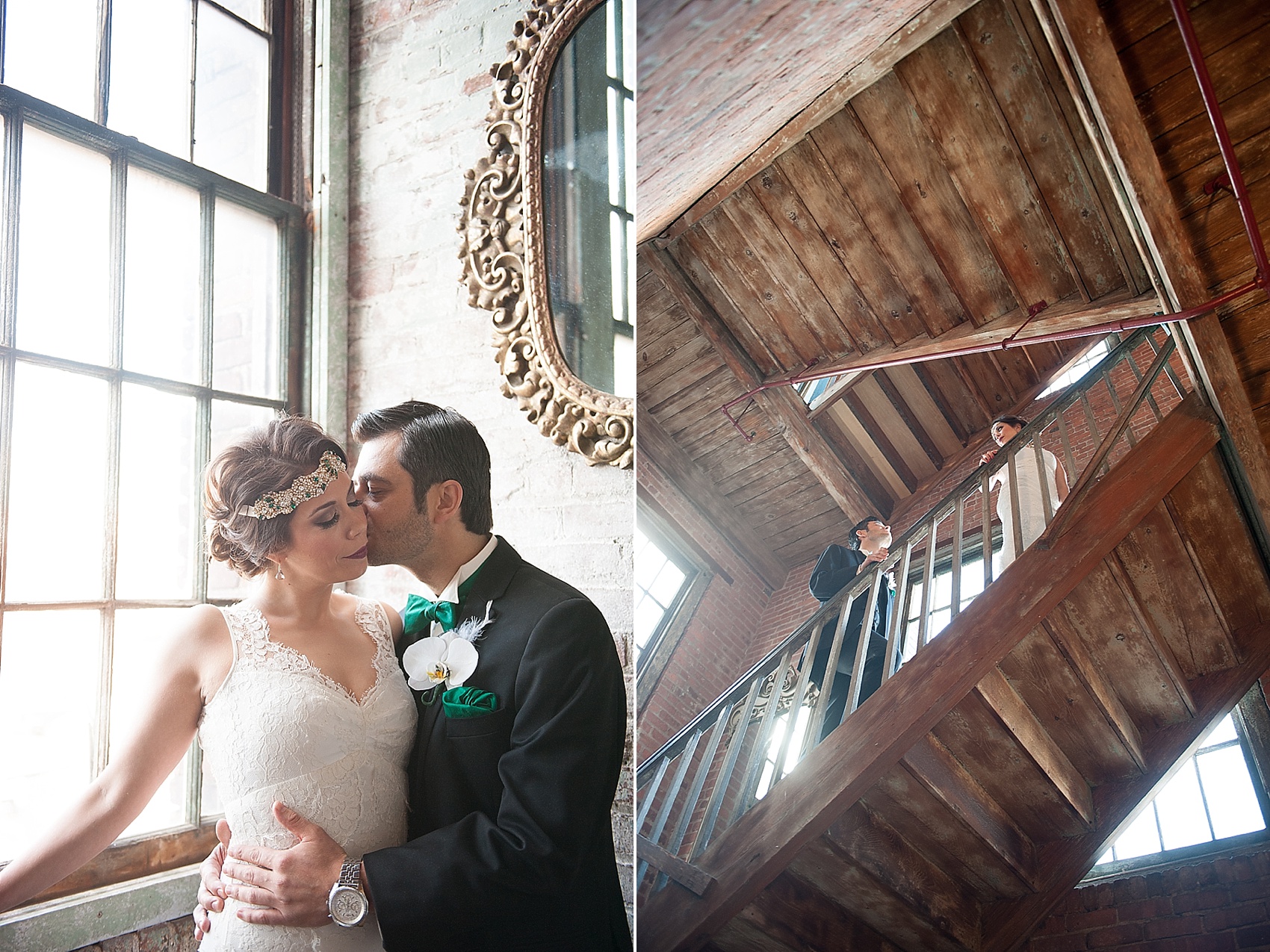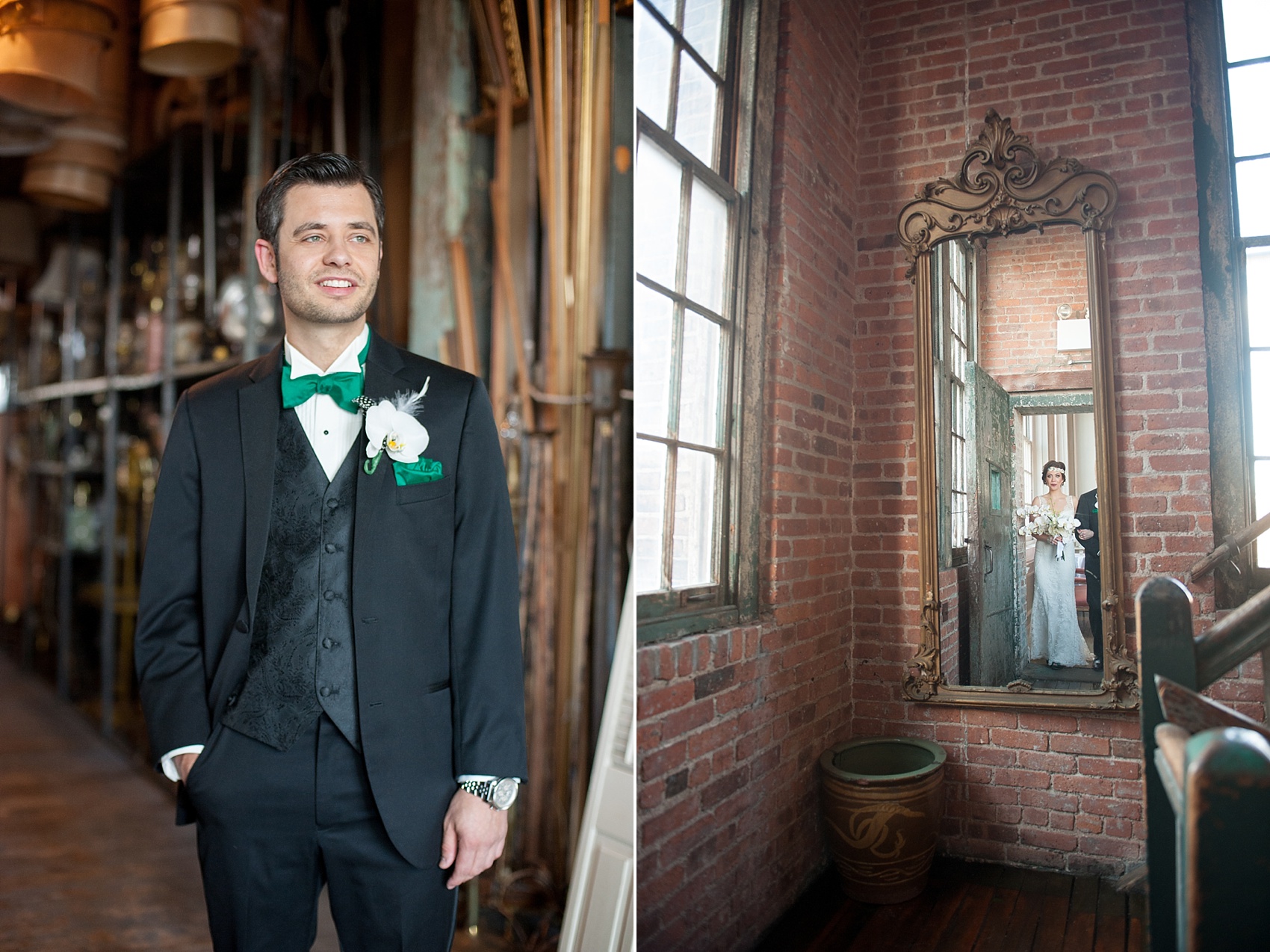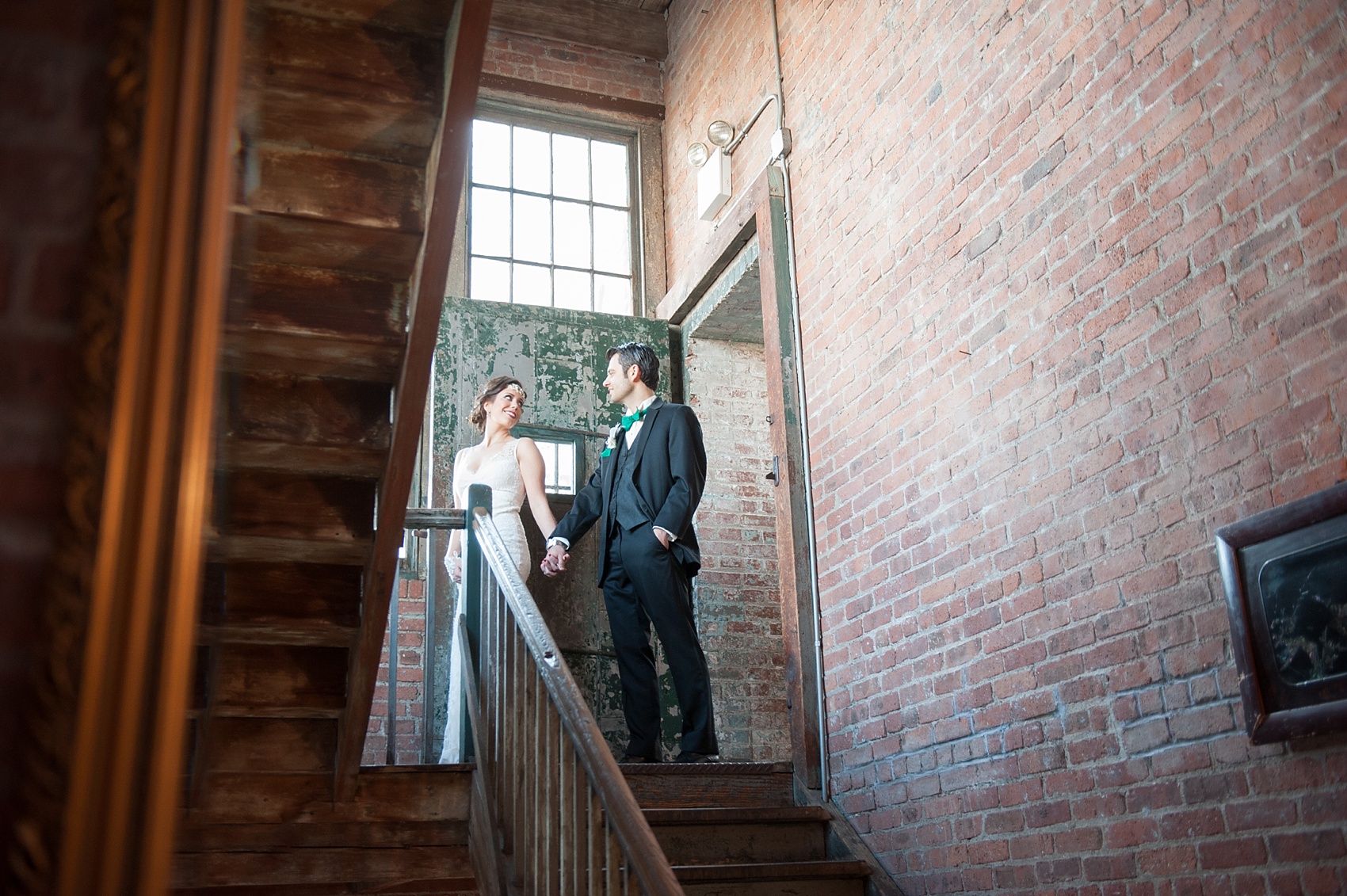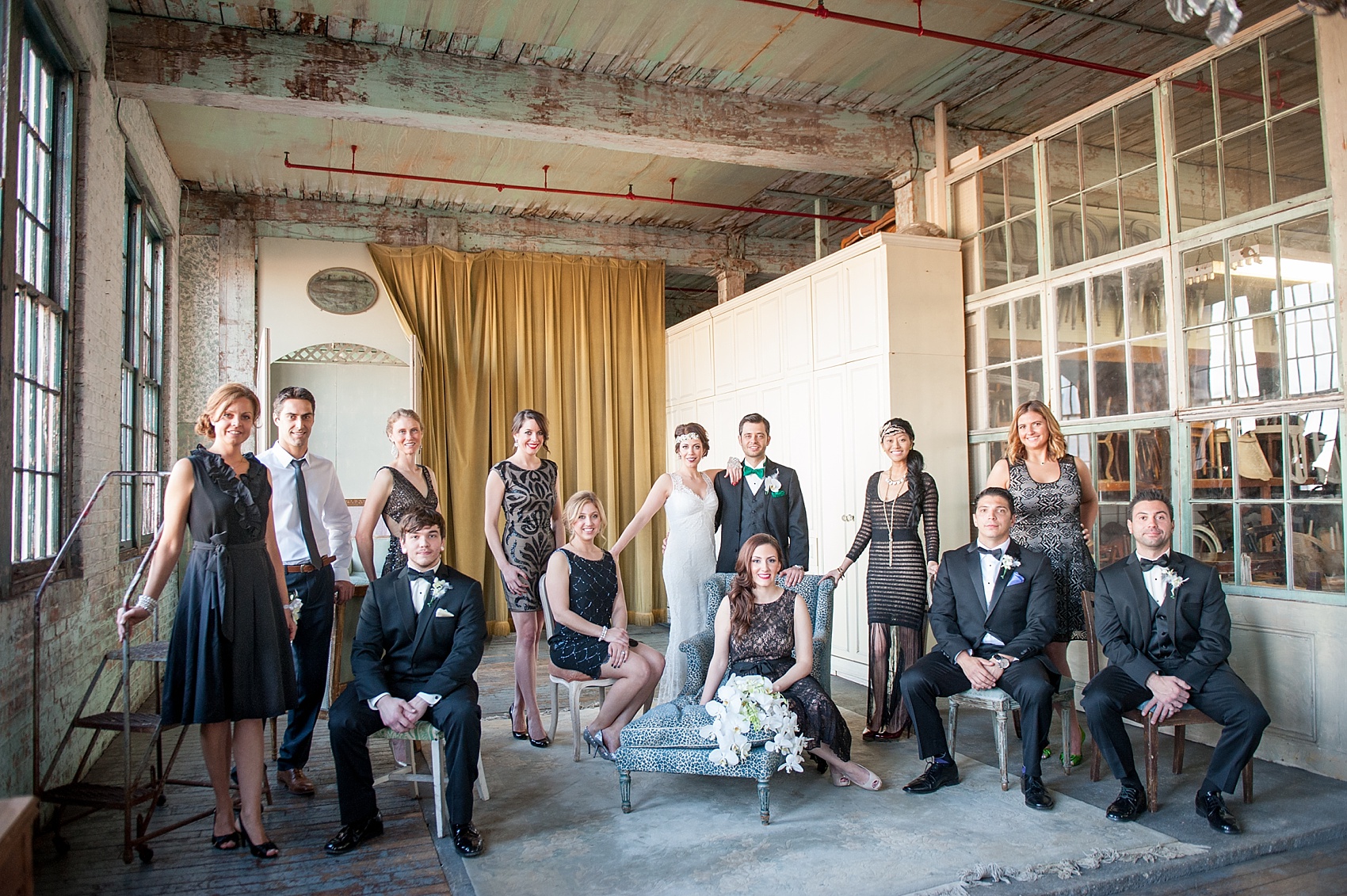 Hands down some of my favorite wedding portraits ever! Above is their wedding party, of sorts, though Jana was the only one to walk down the aisle with her father. Below are sibling photos: Jana's the only daughter of 4 children and Peter's sister and brother-in-law happily attended all the way from Australia. Truly an international affair!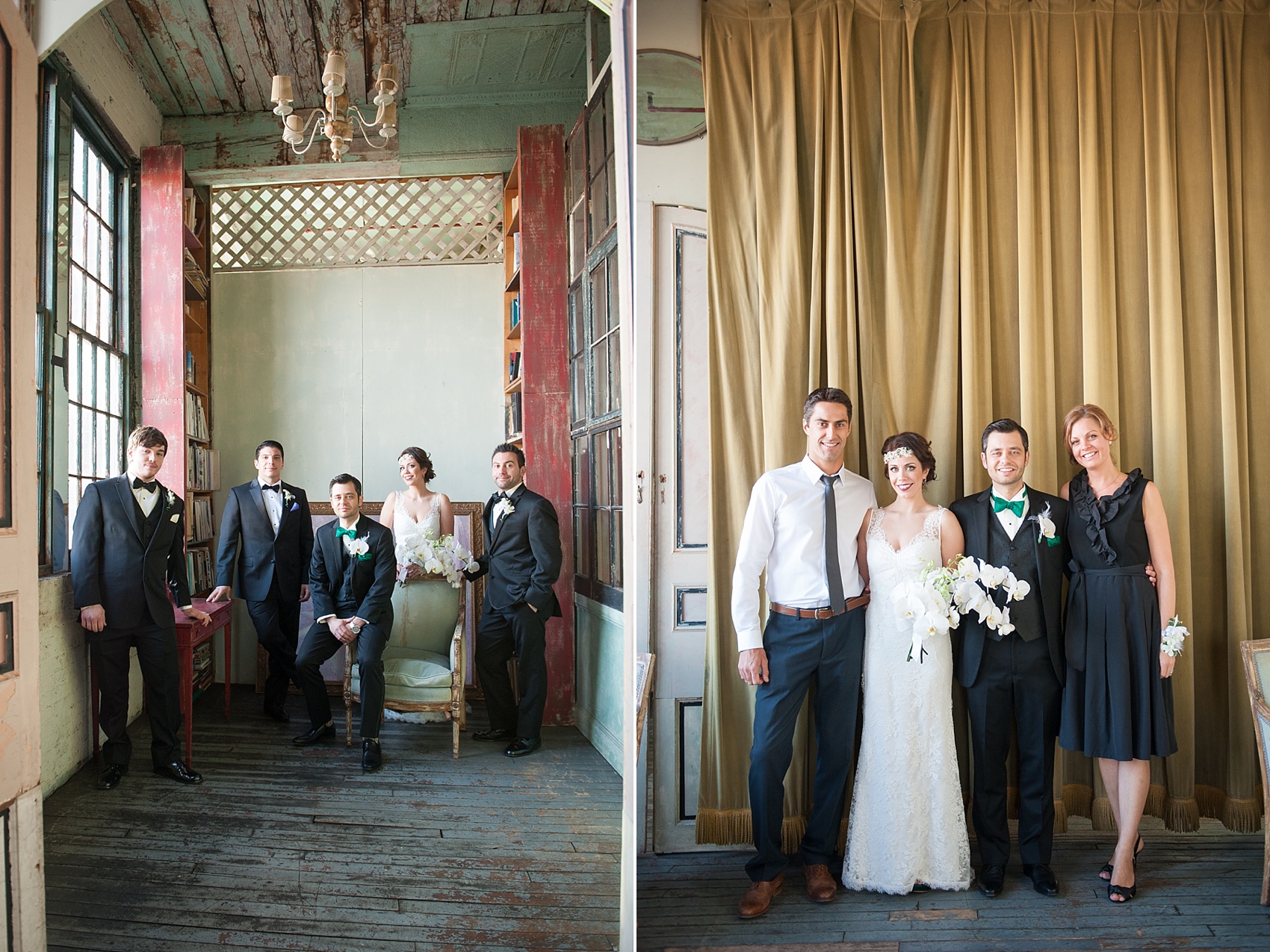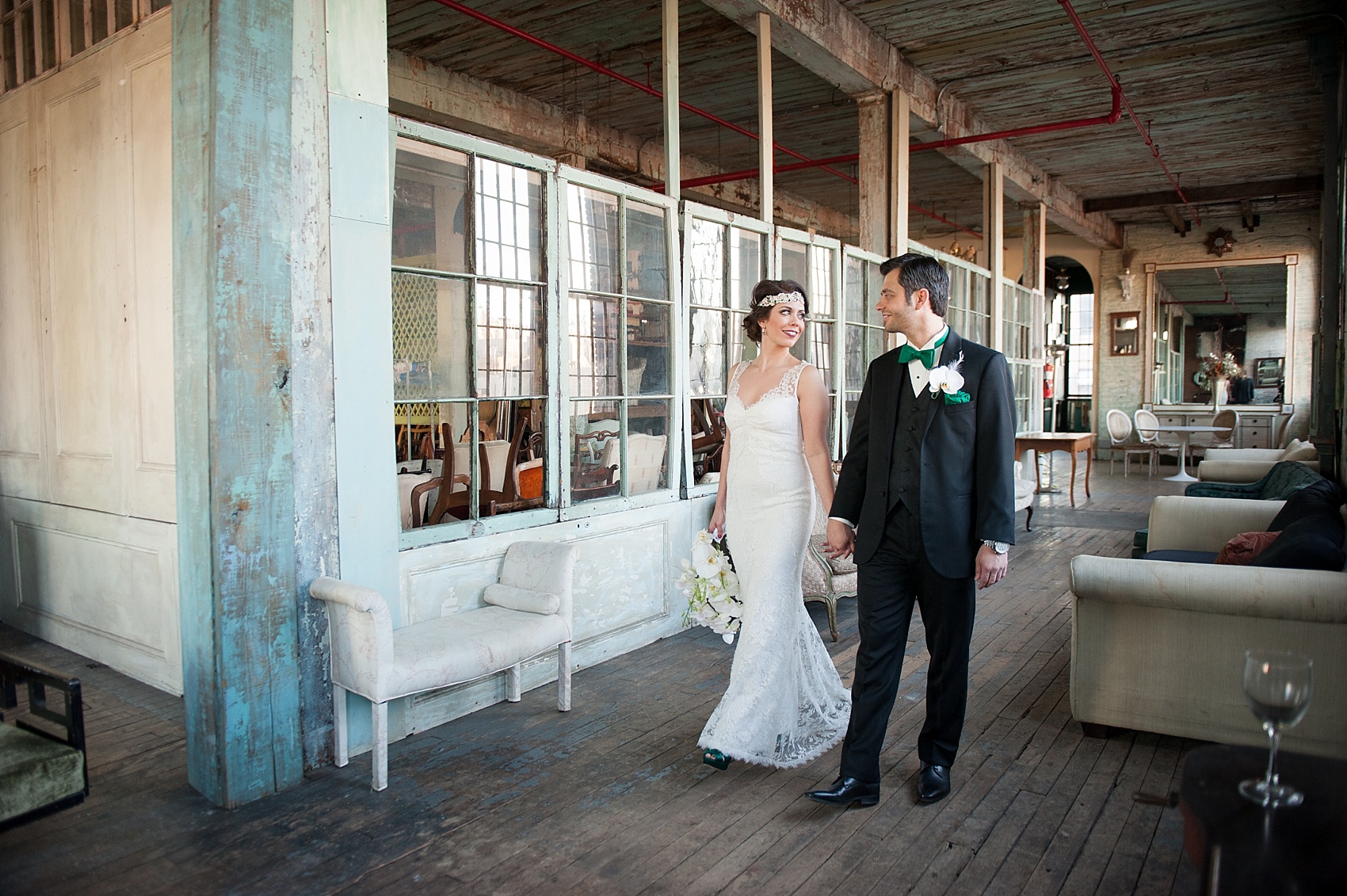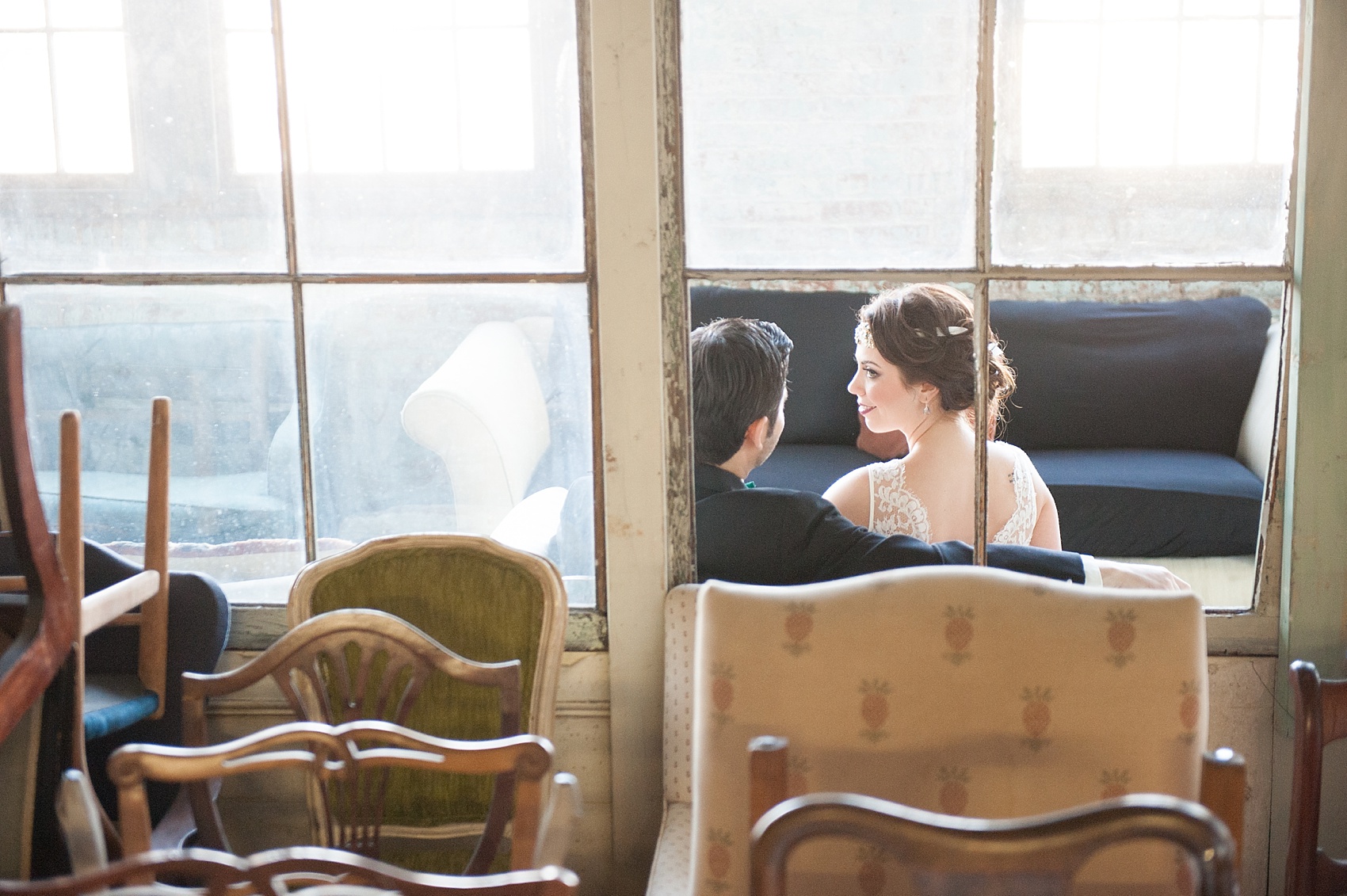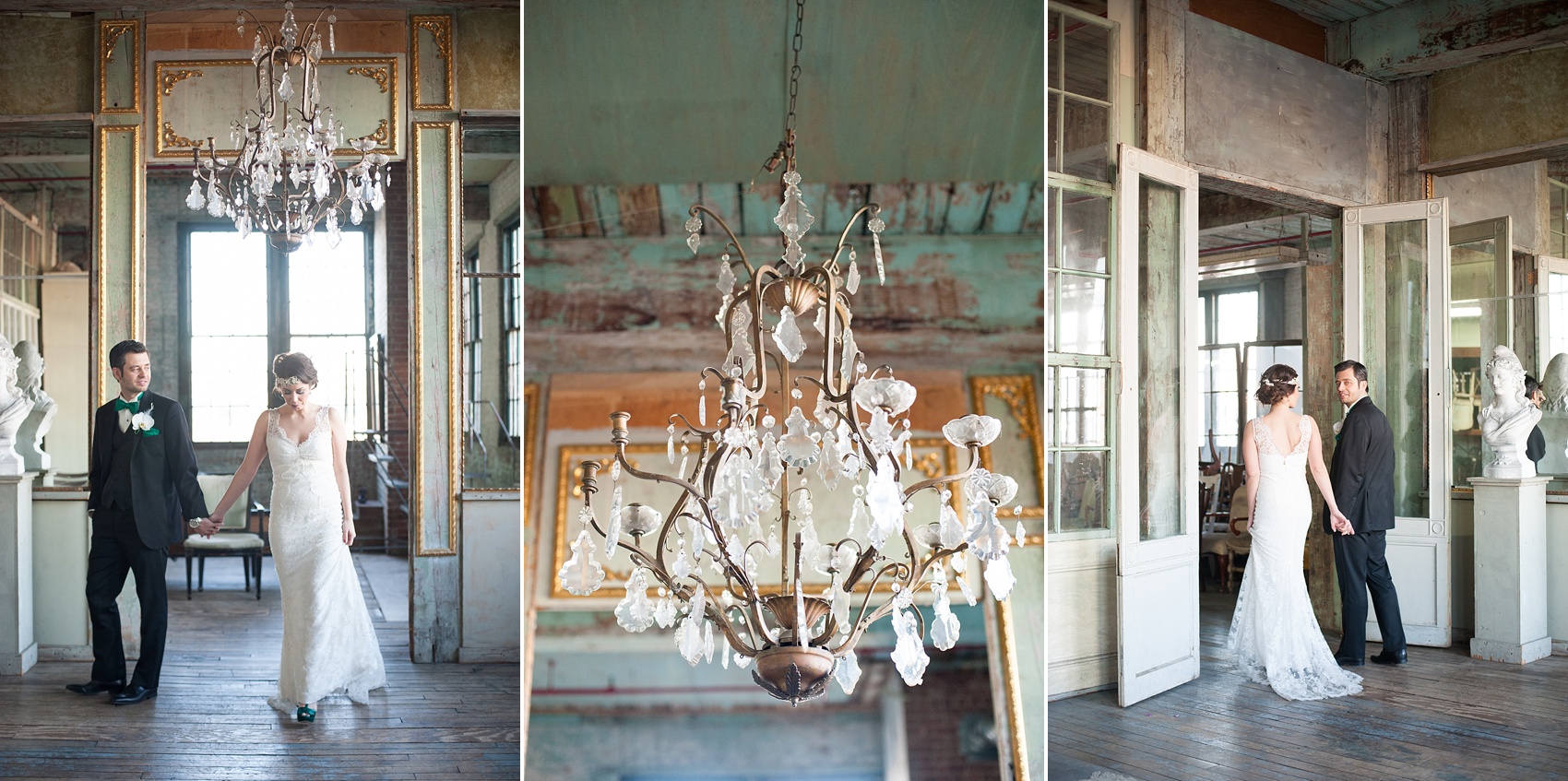 Wow.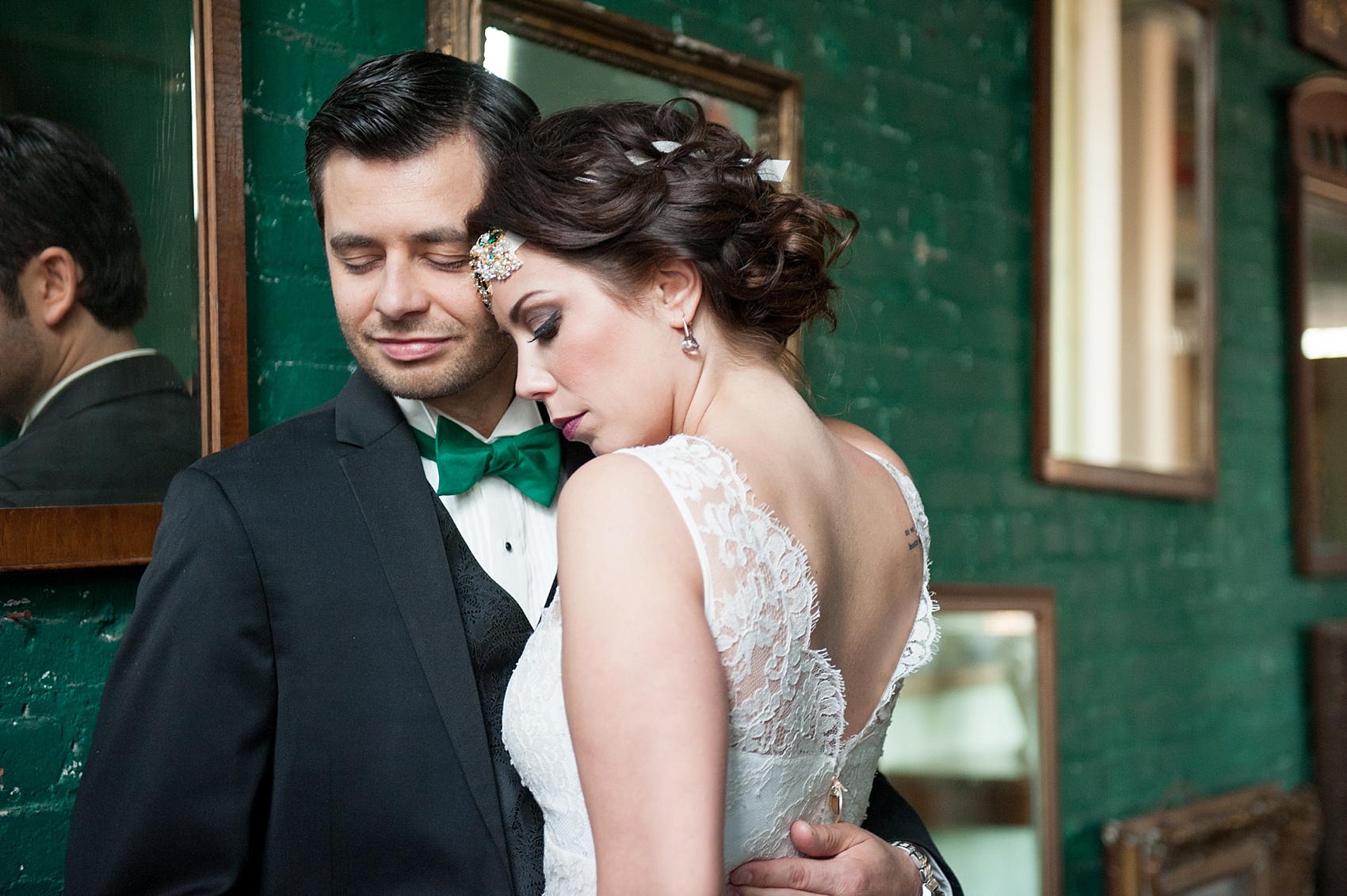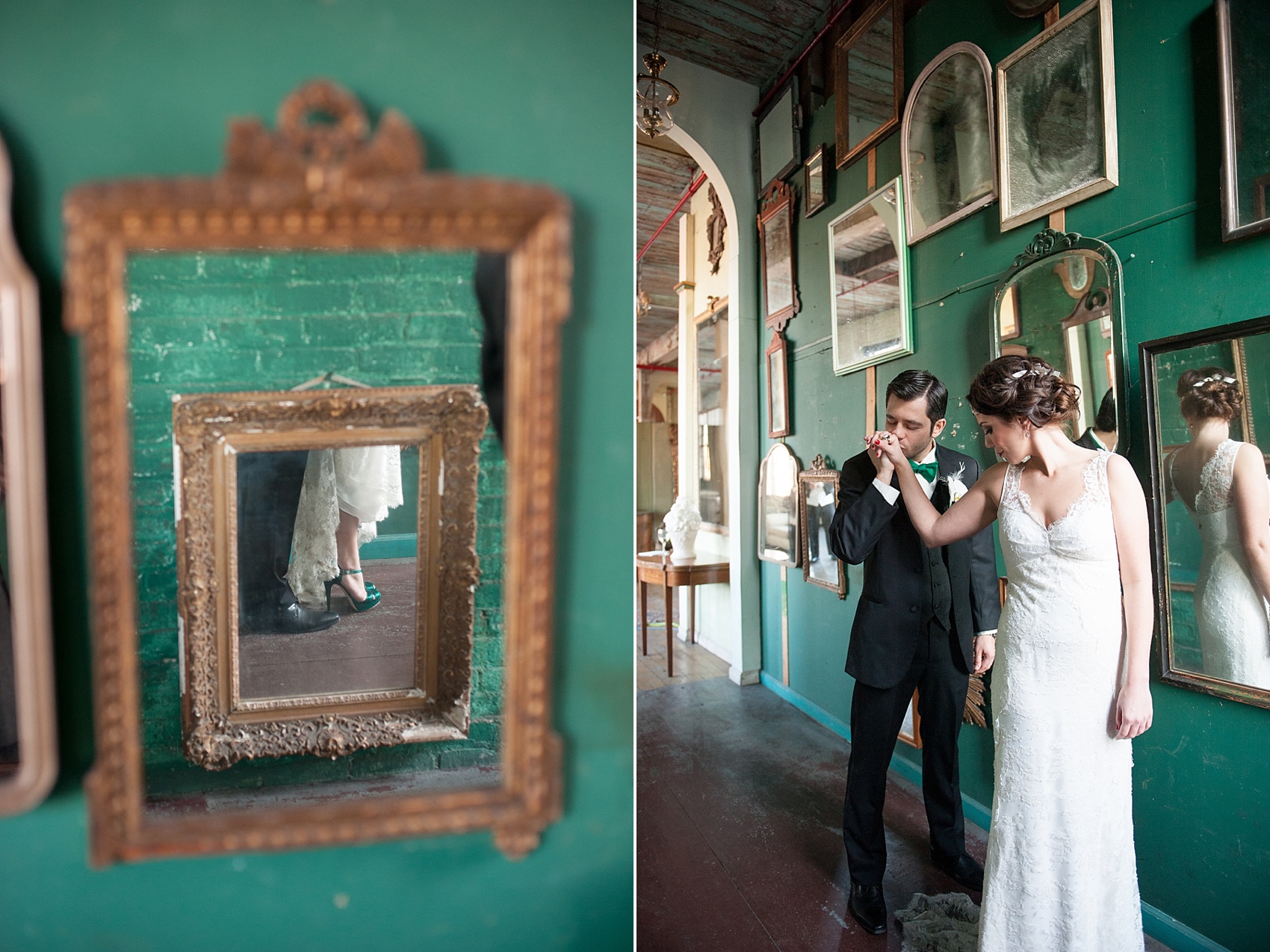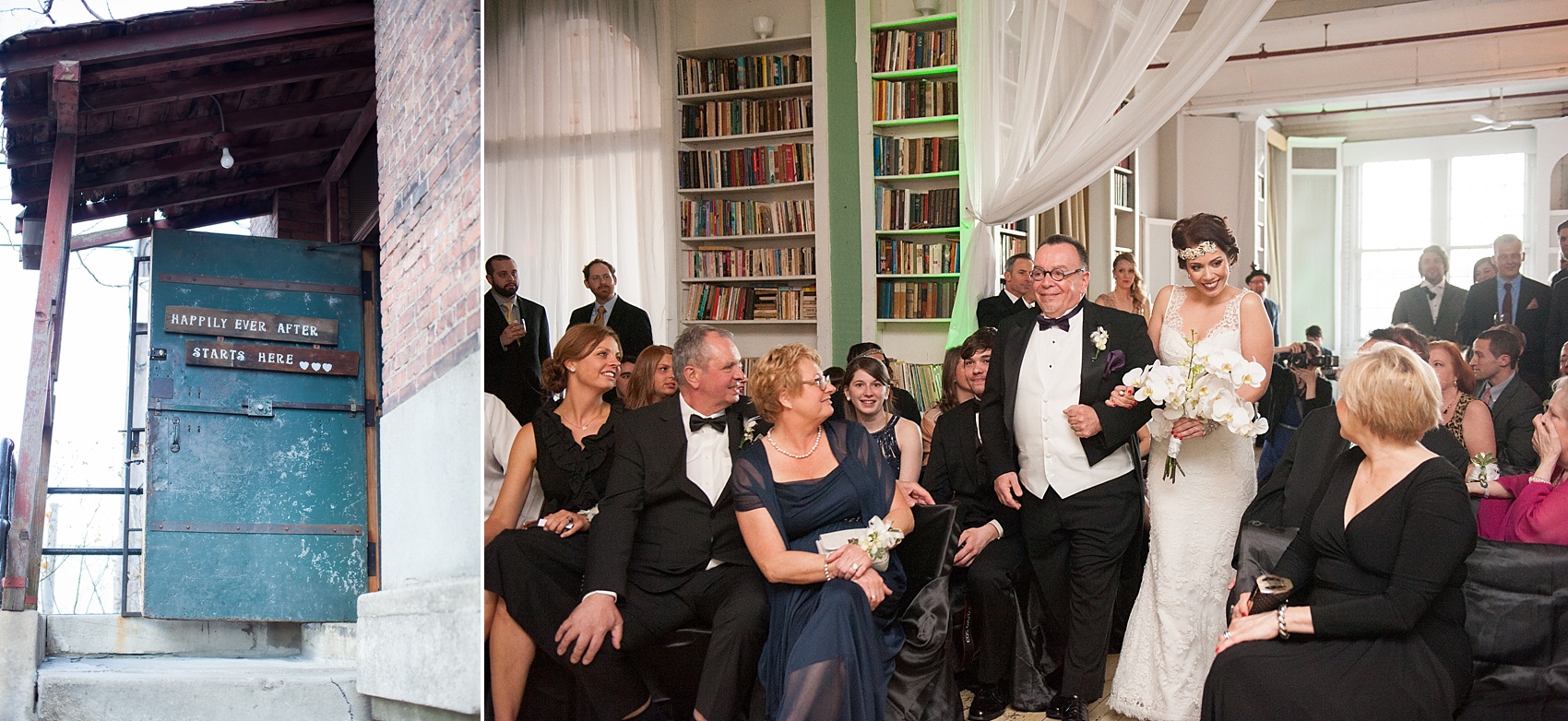 After sealing their newlywed status with a kiss it was time to party!
The favors were small but mighty! PB&J is not only what was inside but also their monogram. "Mange Tak" or "many thanks" was their message to their guests. It was wonderful to see Danish, Peter's native language, tied into the day.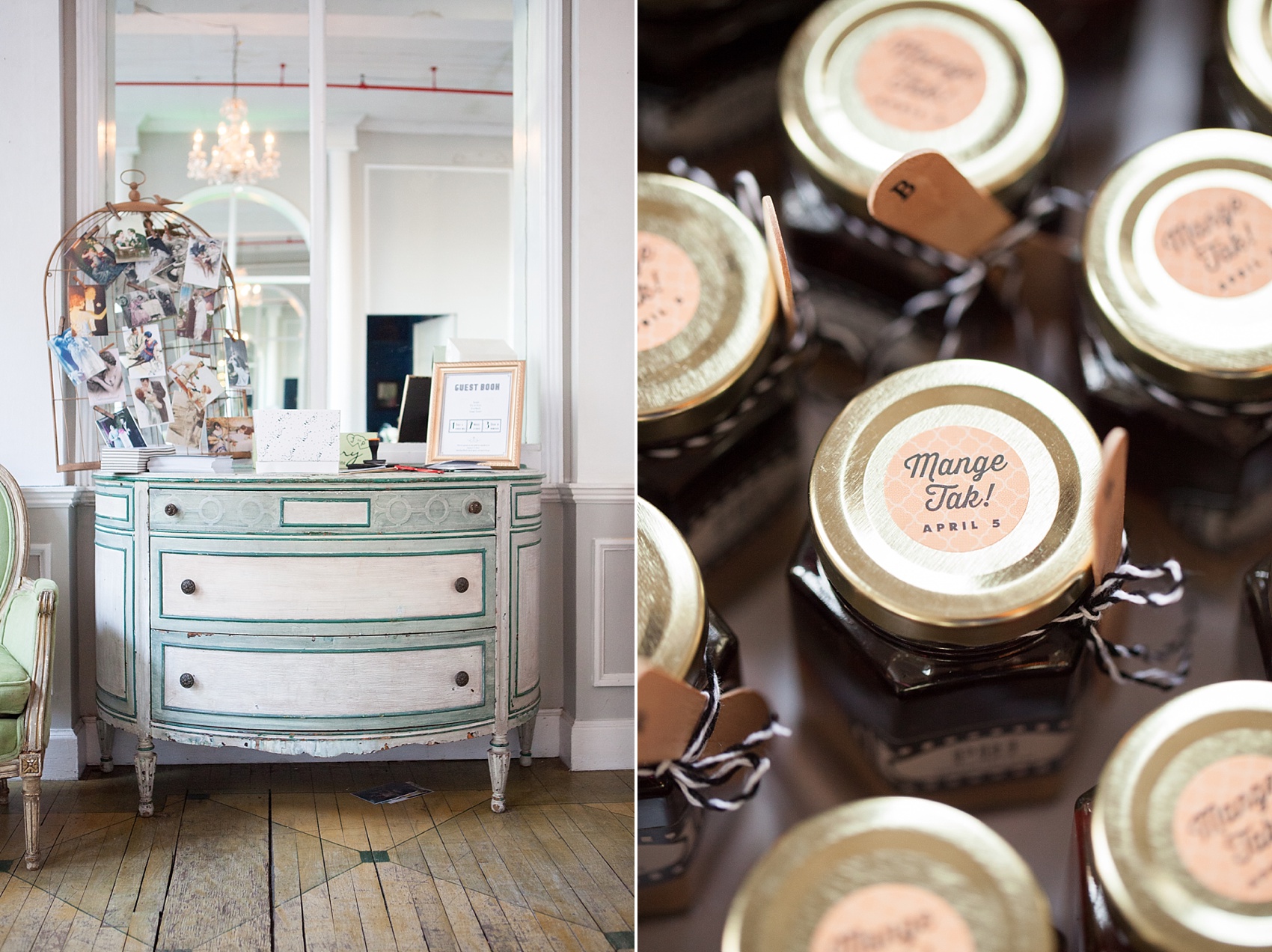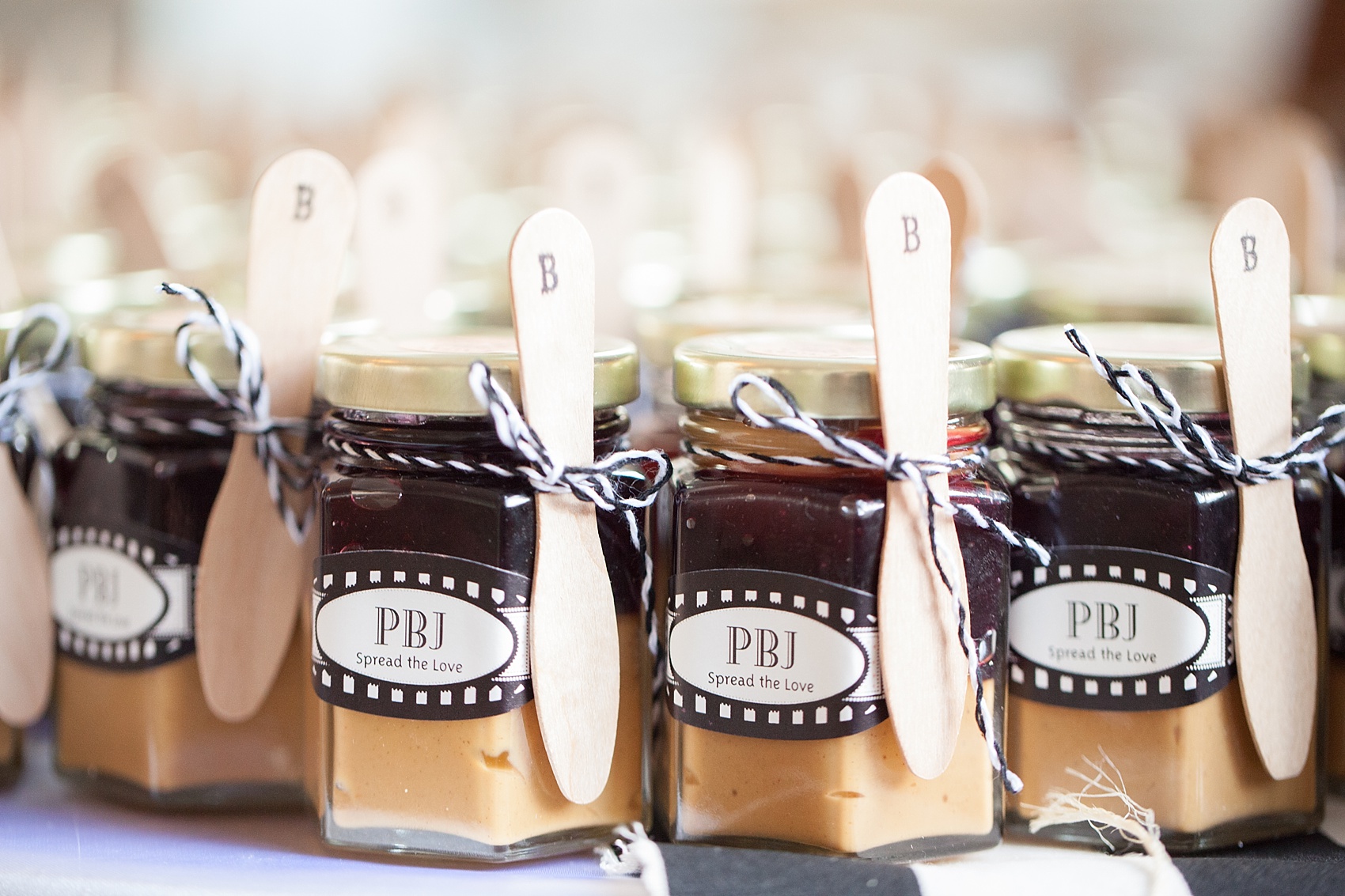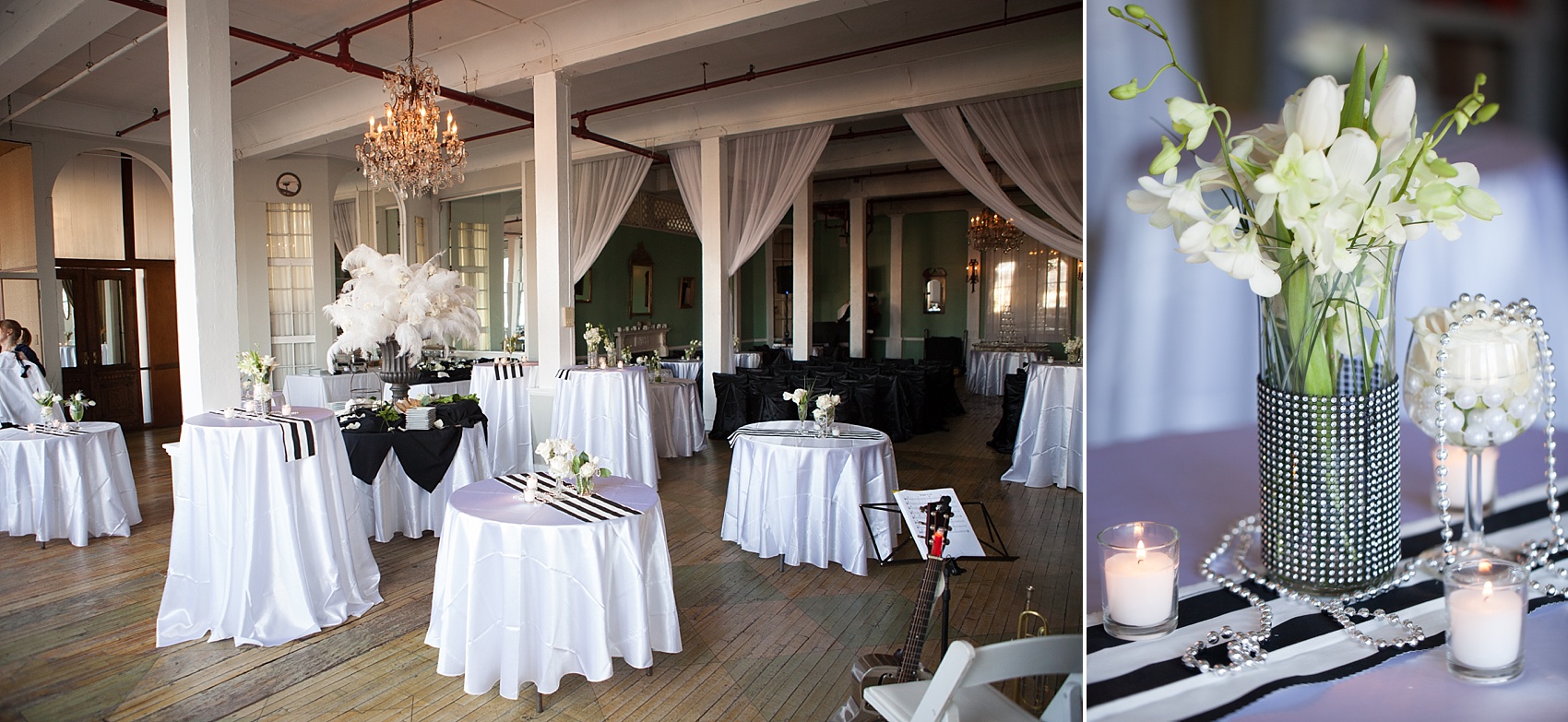 Julie turned this venue around in RECORD time. I was in complete admiration for what her and her assistant, Donna, were able to accomplish in what felt like minutes. I'm still in awe of it! And doesn't it look incredible? I love the varying table heights, the feathers, and the beads. A white flower palette kept it simple and elegant.
What's a 1920's inspired day without a jazz band and gramophone?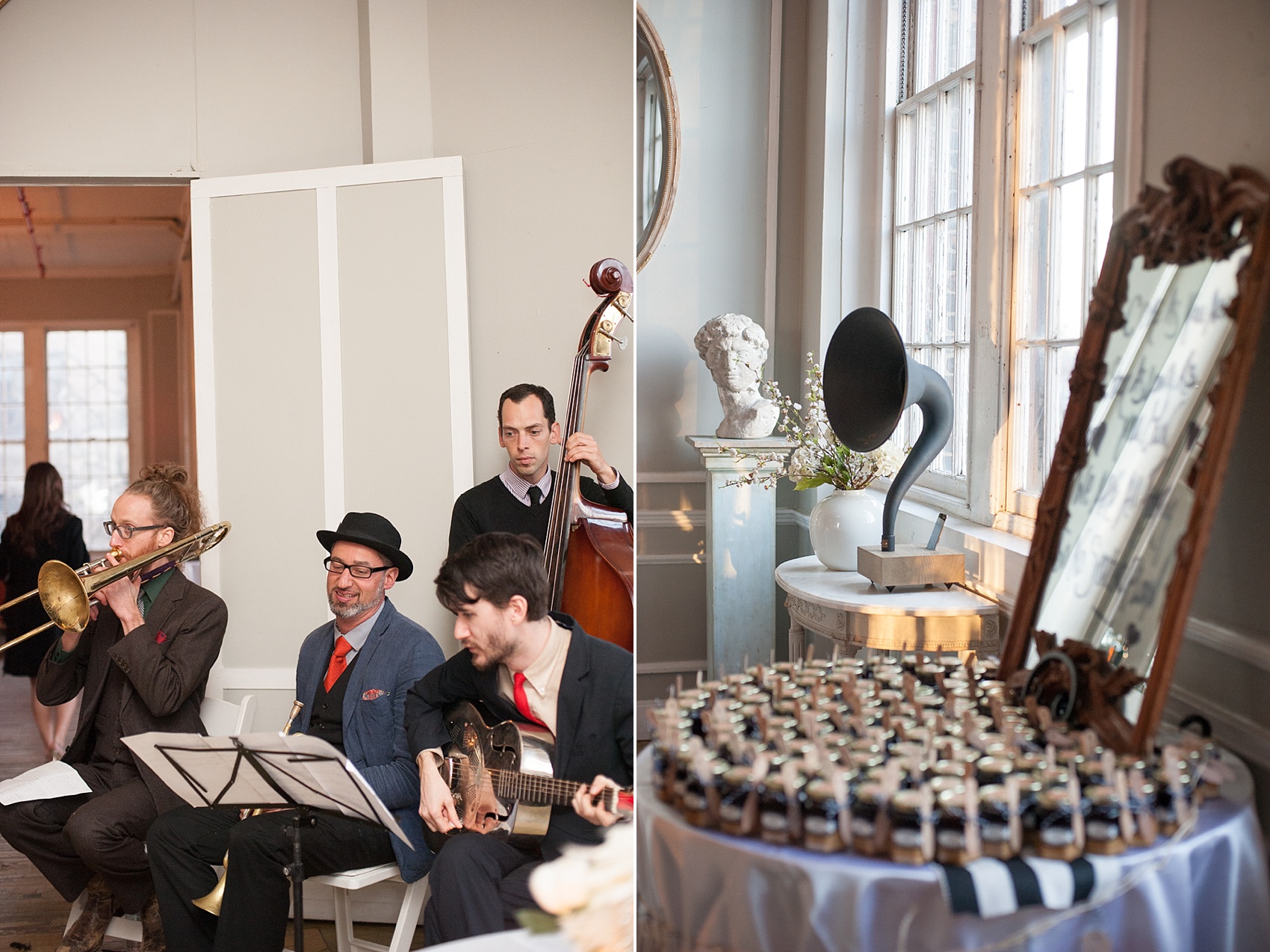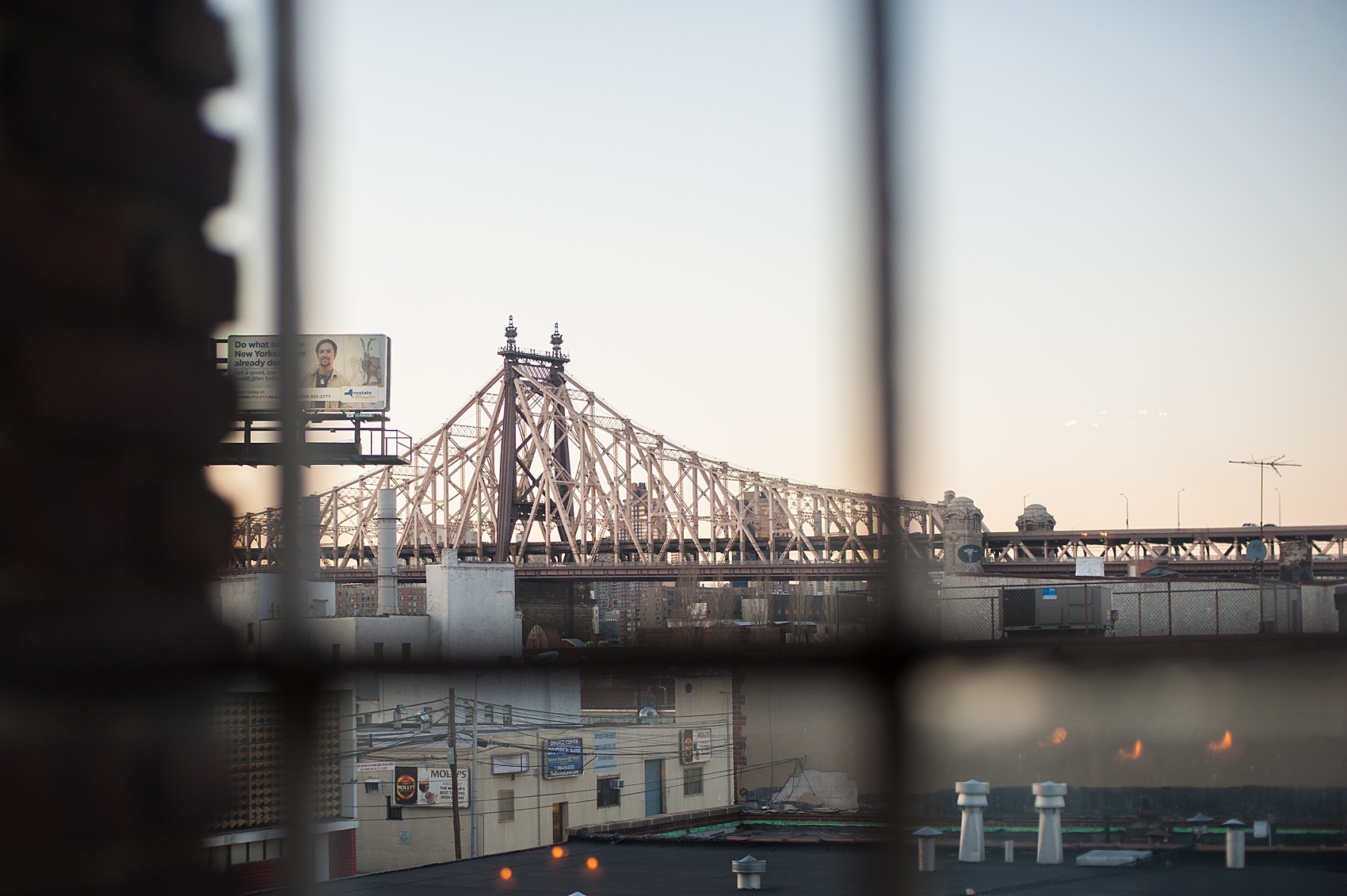 They danced their first dance and broke into a traditional Danish Waltz to surprise guests as the sun set in Long Island City over the Manhattan skyline.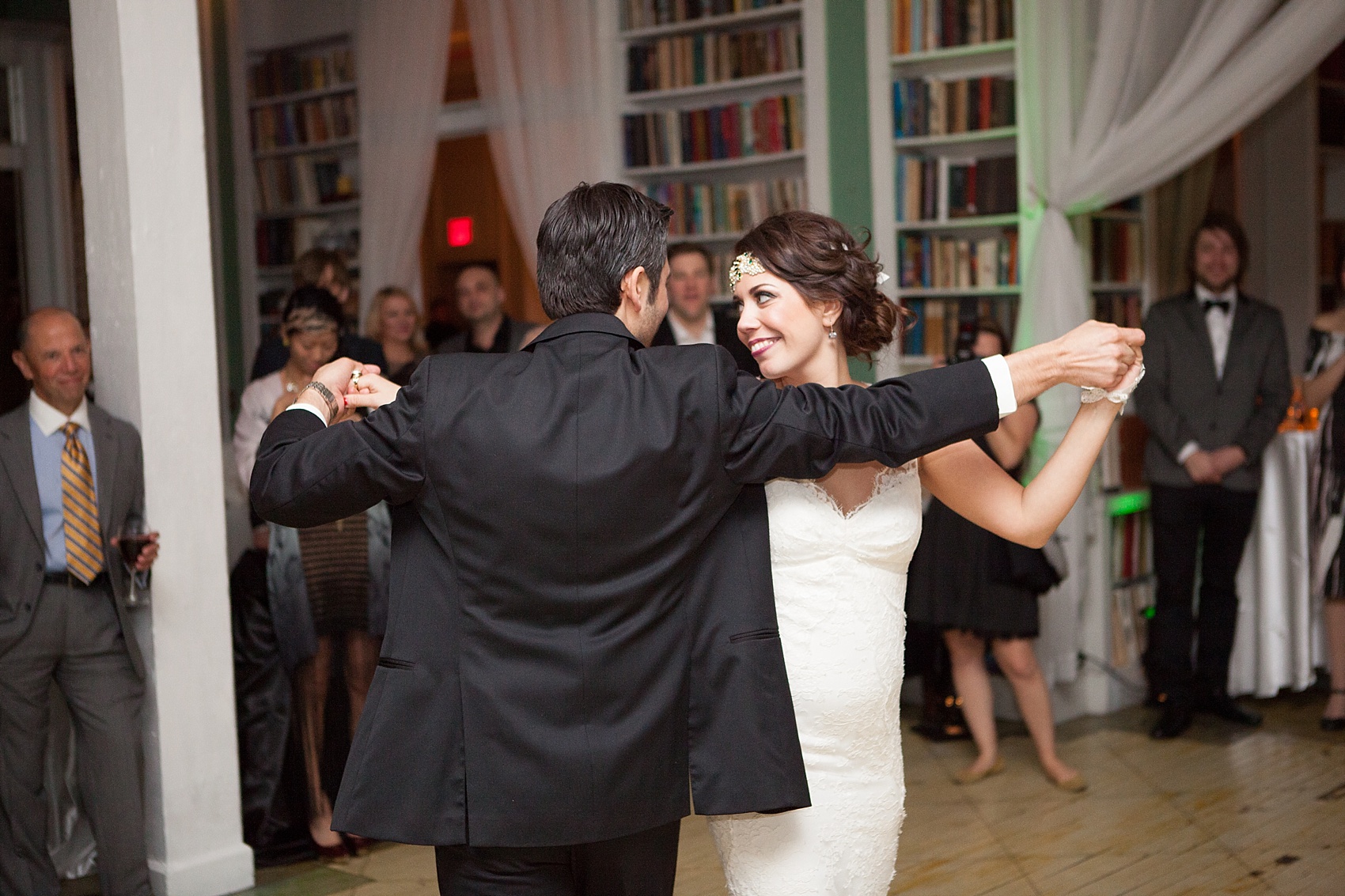 Shortly after their first dance Peter was attacked by his friends…all in good fun. They cut off the toes of his socks! Peter informed me it was an expected Danish occurrence. Traditionally, this happens at weddings so the bride can prove she'll be a good wife; she's supposed to sew the toe portion of the socks back on. I vaguely remember Peter telling me Jana can't sew, which leads me to believe those Burberry socks are still fairly holy.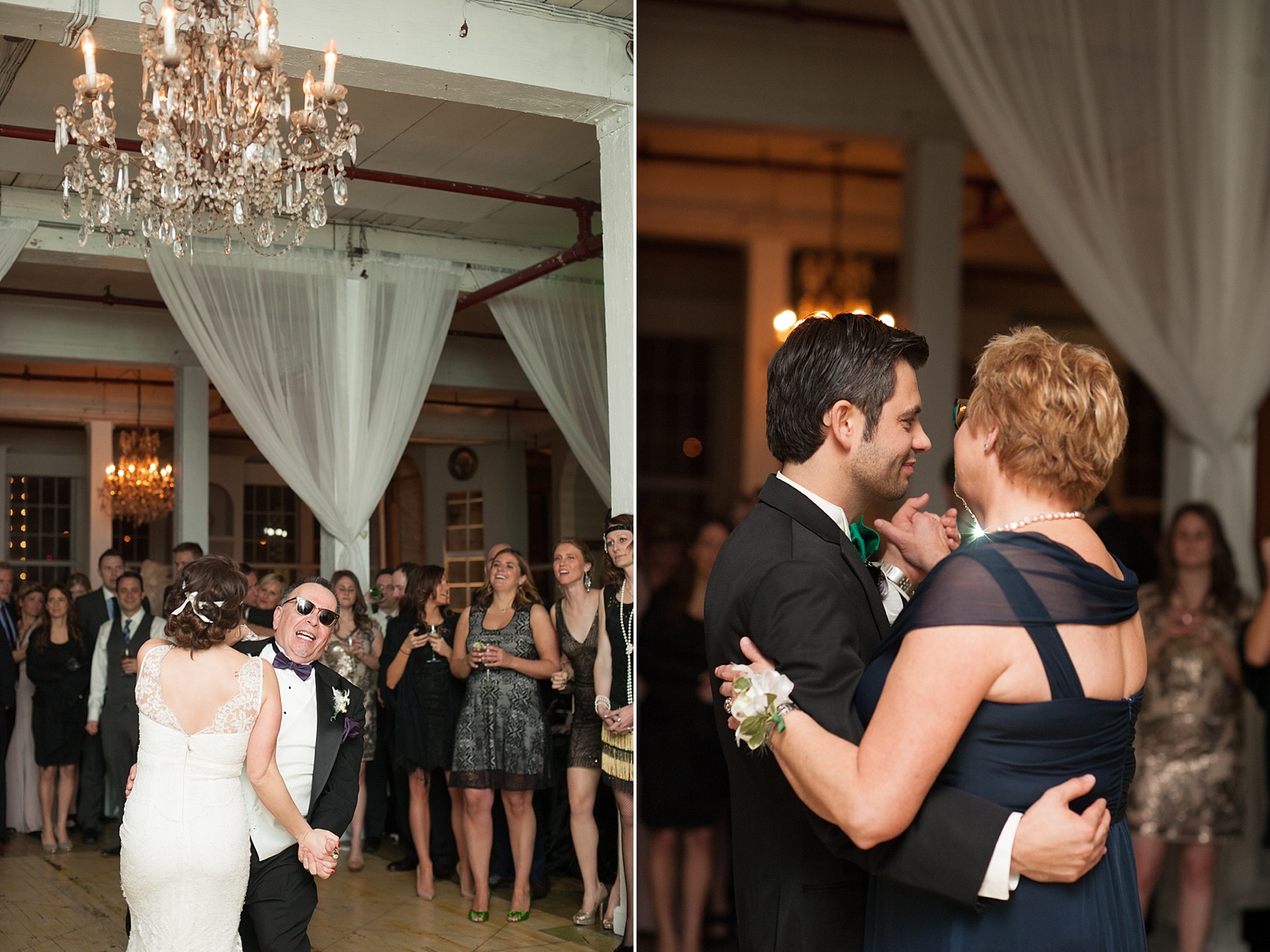 Parent dances are traditionally American. Jana and her father, Carl, danced to a faster pace and had tons of fun with it while Peter surprised his mother, Irene, with a dance during a slower song.
Jana's friends had a blast talking about some of her history and when Peter came into her life while Peter's friends, all in from Denmark, poked fun at the bride and groom's time in Denmark for a little bachelor/bachelorette outing.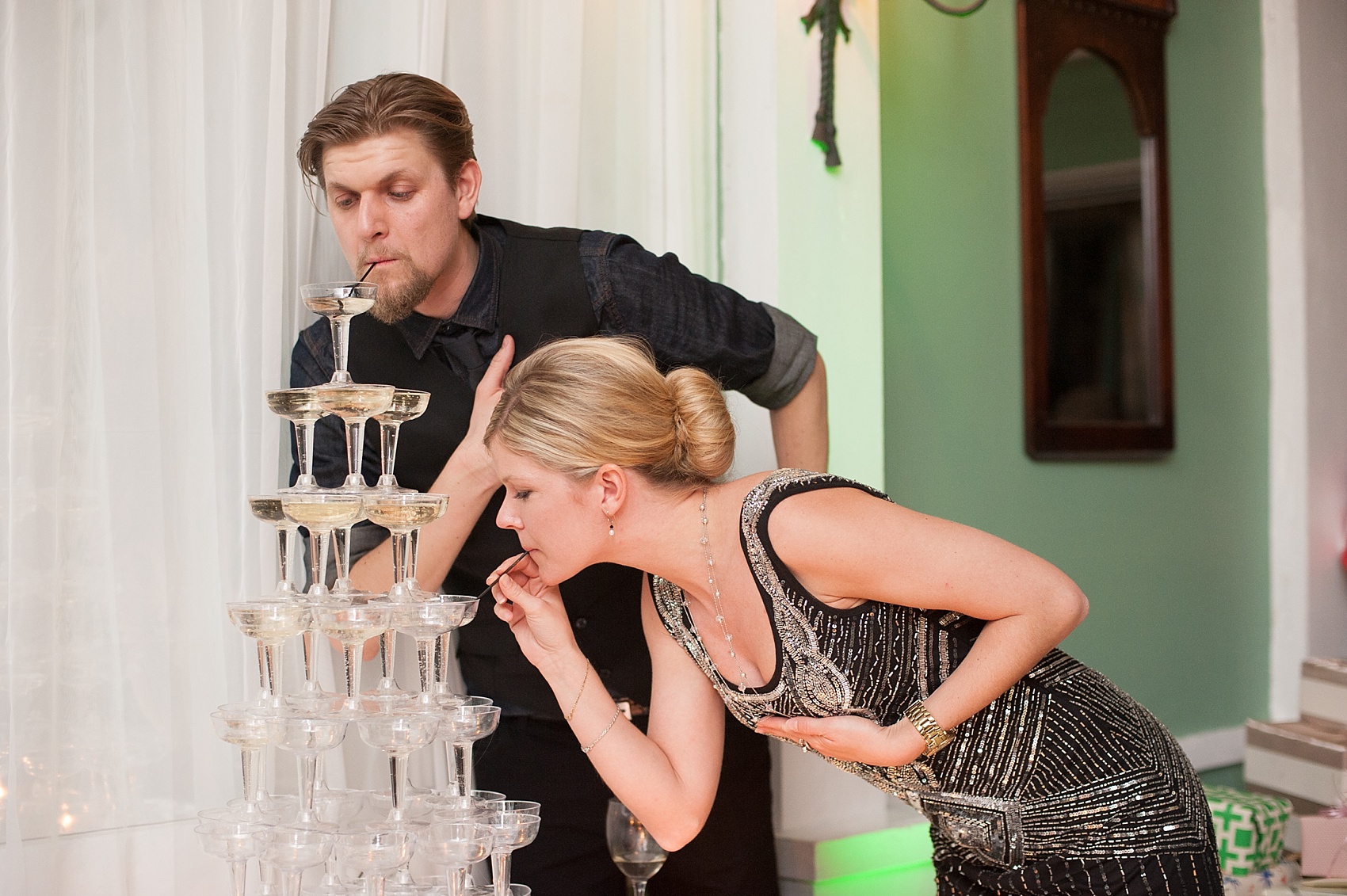 Someone's gotta sip champagne while everyone dances the night away! Hoffe and Anya didn't travel all the way from Scandinavia to simply be bystanders. Drink up!!!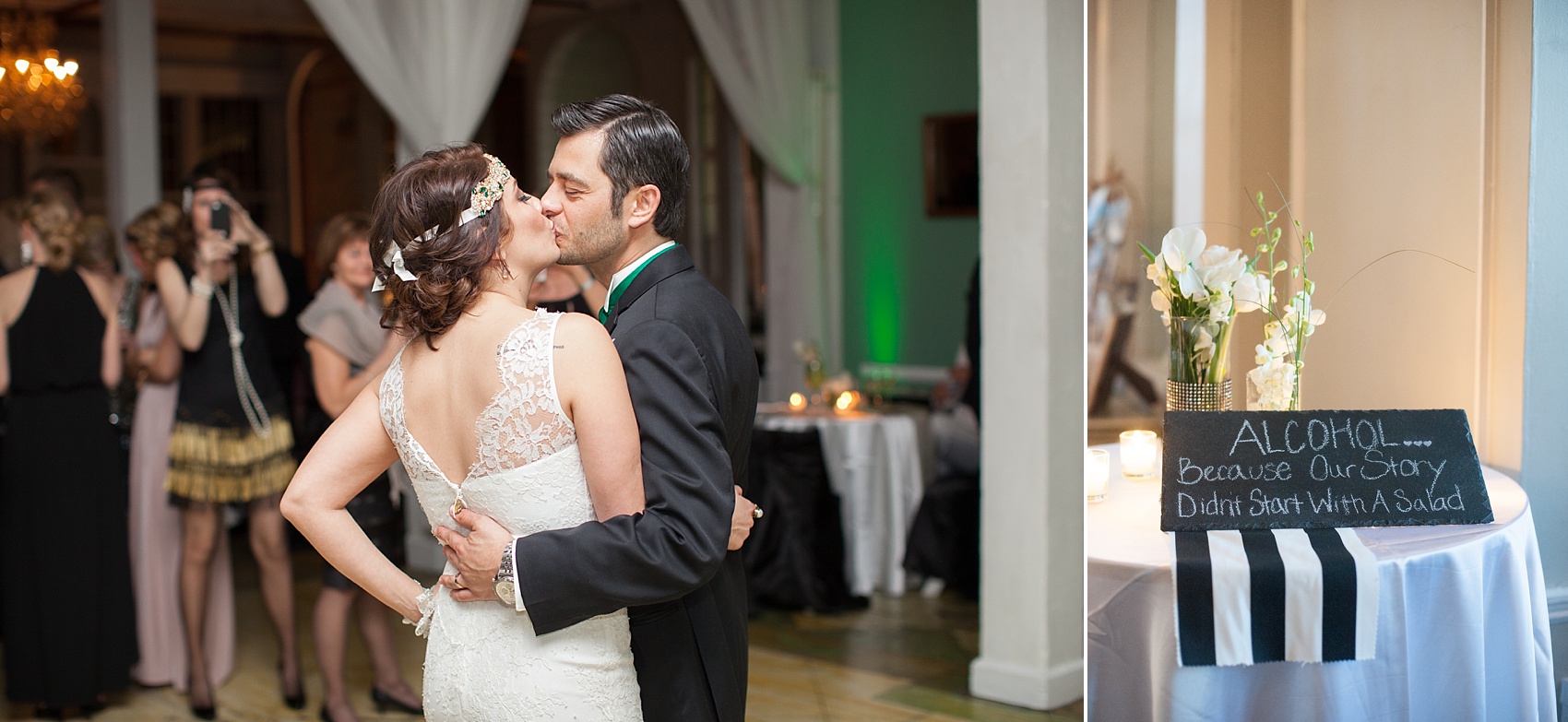 Guests were encouraged to wear attire from the times. You can spot strings of pearls, pretty hairpieces and beaded dresses on the guests in their photos.
The above sign may be the best I've ever seen at a wedding: "Alcohol…because our story didn't start with a salad." So true, so true. Onto some great dance moves…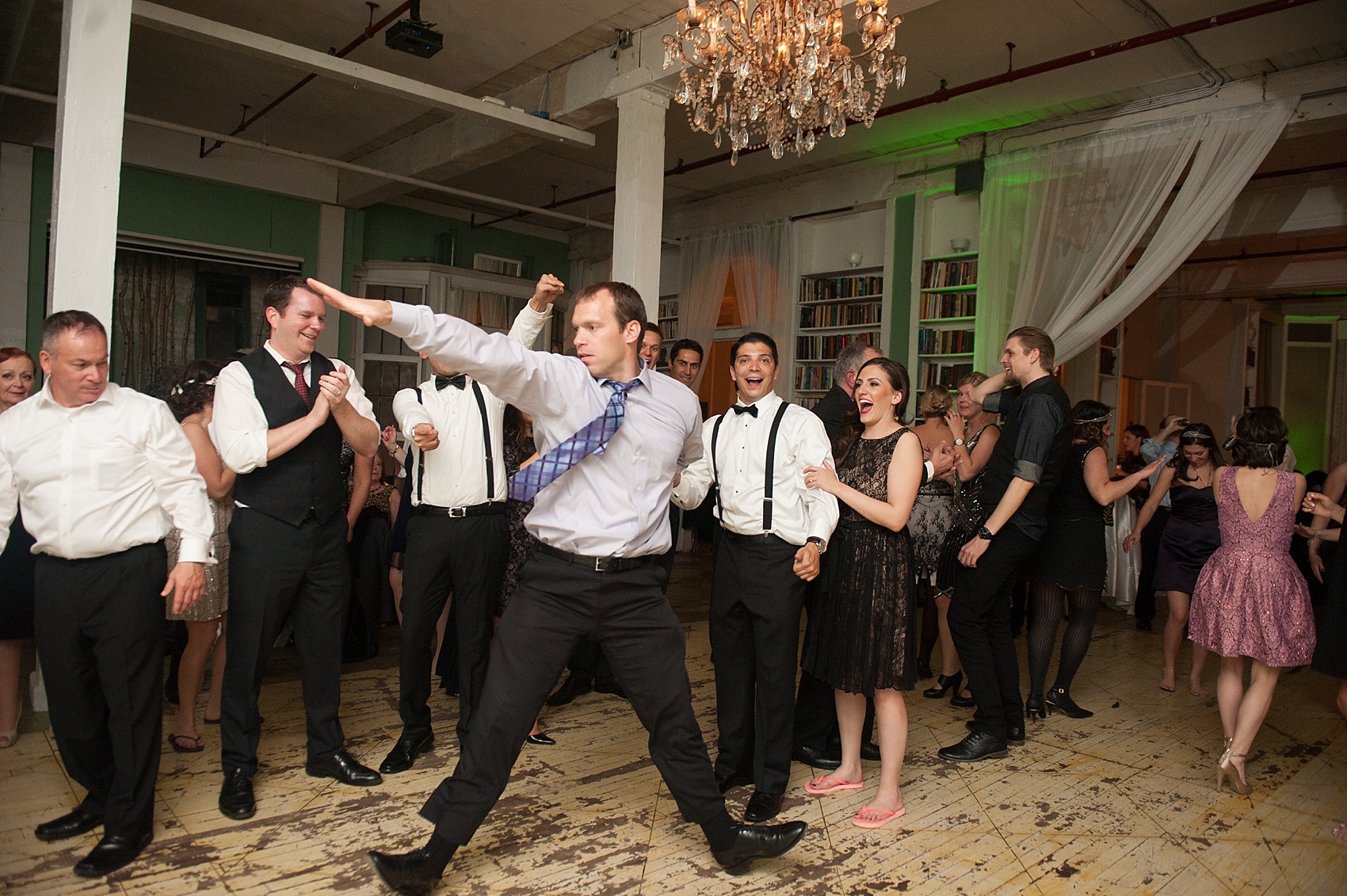 Black and white cookies with a splash of milk were available as they cut their custom art deco cake, designed and baked by Jana's step-mother. Late night snacks were also passed around with mini milkshakes as the dancing continued…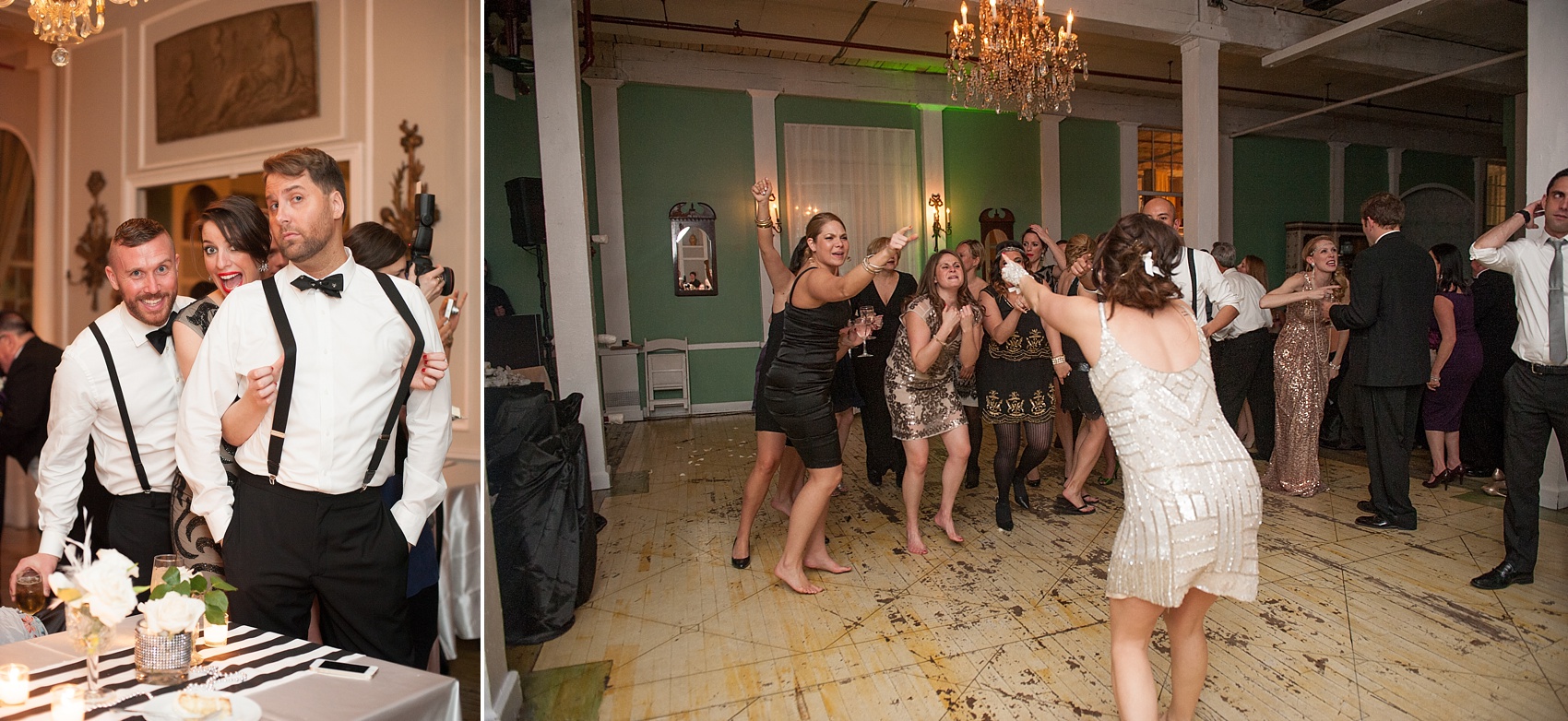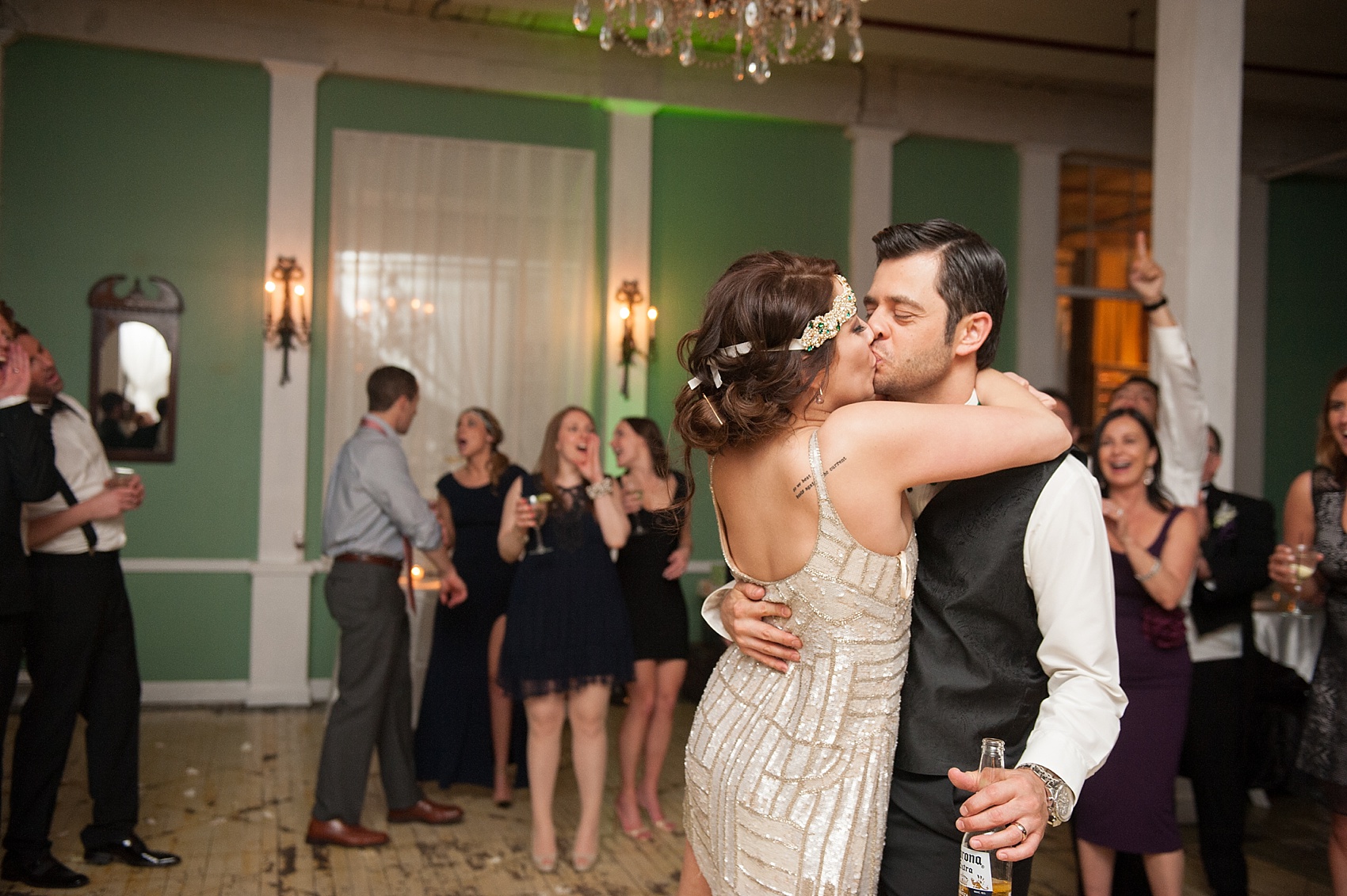 I may still be dreaming about their wedding.
Congratulations to a couple who has always, and will remain, true to themselves. And that's just part of why I adore you, Jana and Peter!
Event Planning: Julie at Warren Country Events / Venue: Metropolitan Building / Band: Tin Pan Band / DJ: Jay with Elite Entertainment / Makeup: Casey Christen / Officiant: Bride's brother, Giancarlo / Wedding Gown: Nicole Miller, Nordstrom Bridal / Second Wedding Dress: Parker / Groom's Tuxedo: Vera Wang, Men's Warehouse / Bride's Shoes: David Tutera / Rings: The Jewelry Store at Martinsville / Bridesmaids Robes: Silk and More / Bride's hand jewelry: Kristin Perry / Headband: Helena Noelle / Customized Favor Spoons: Lemon Drop Shop / Custom Embroidered Handkerchief: Designs by Gloria / Catering: Redwood Catering
Happy Wednesday!