Photographing a wedding as colorful and vibrant as Shannon and Mark's truly makes my smile grow ear-to-ear. It was exhilarating to work with Kelly Ann from A Southern Soiree and hear about details along the way like a tented dinner at Highgrove Estate with the picturesque home as a backdrop, or tropical flowers that would be a part of the day. But I admit part of the joy of working with such kick-ass wedding planner is knowing they're so on top of their game I can be surprised too! I loved walking in to find the tent was clear instead of white (always worth the upgrade!) and filled with bright balloons in pink hues. Or that the table numbers and menus were so perfectly designed to coordinate with for their invitation suite by One and Only paper.
But trumping this, and most important of all, was the love that shined through every aspect of their Highgrove Estate wedding day. When I think of Shannon and Mark I sincerely think of how everyone around them, including their lucky photographer, can always feel how much they love each other.
** There are over 130 images in this blog post so please give it a few minutes to load!**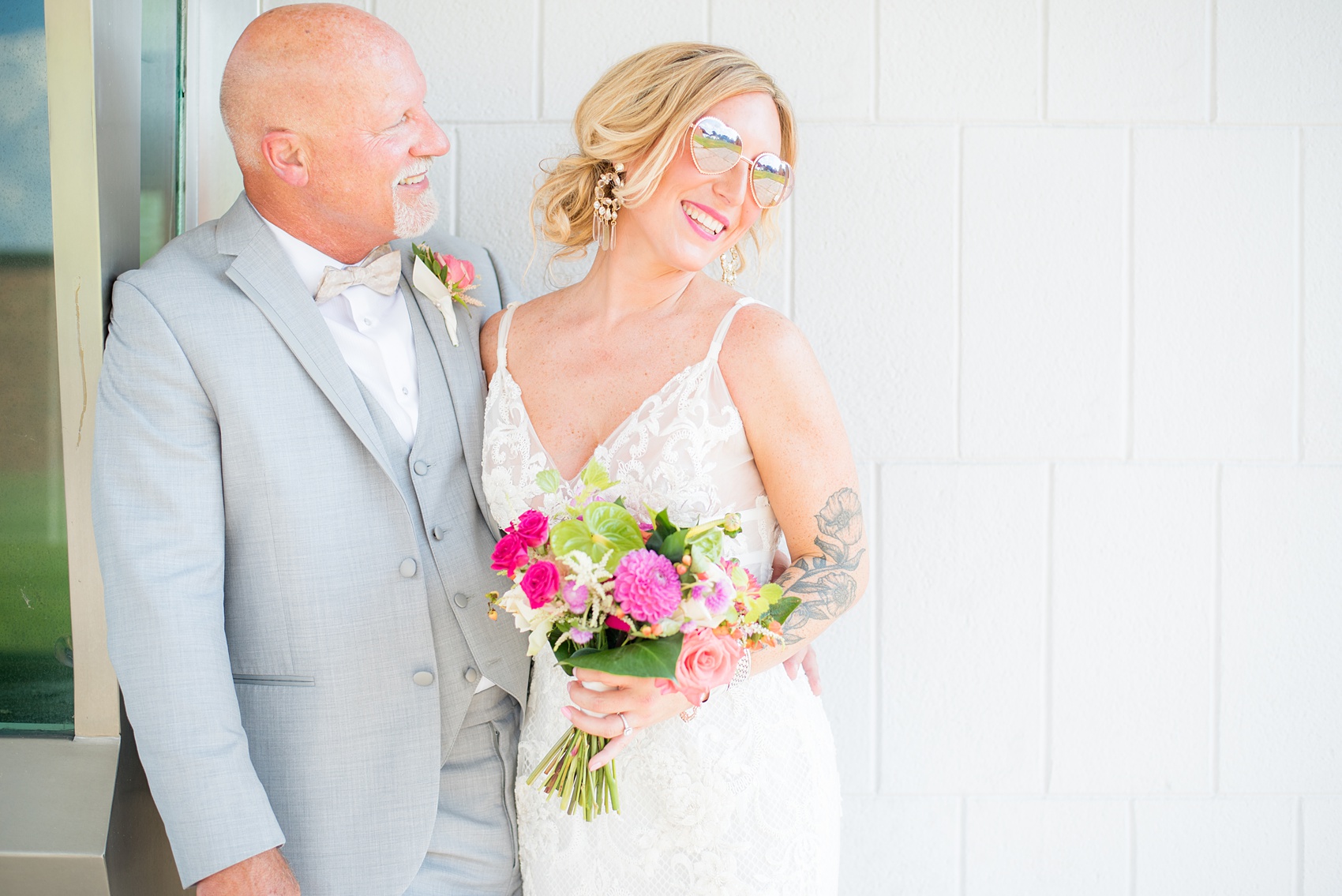 Their stationery was designed by none other than the fabulous One and Only Paper. Alison's designs are my FAVORITE; I wasn't surprised (yet I was delighted to learn) she designed their invitation suite and associated paper. The florals complimented Shannon's tattoos, which I know could not have been a coincidence. Their entire wedding was just like them – a little rocker, with pops of color and a lot of personality. Travel was included in their day as Shannon and Mark love to travel, whether from home in Raleigh to Key West, or Europe or the Caribbean. What better way to incorporate that in their initial invitation than with a hand drawn and watercolor map of their home city?  The finishing touch was vintage floral stamps to match. (By the way I LOVE their floral pattern envelope liner!)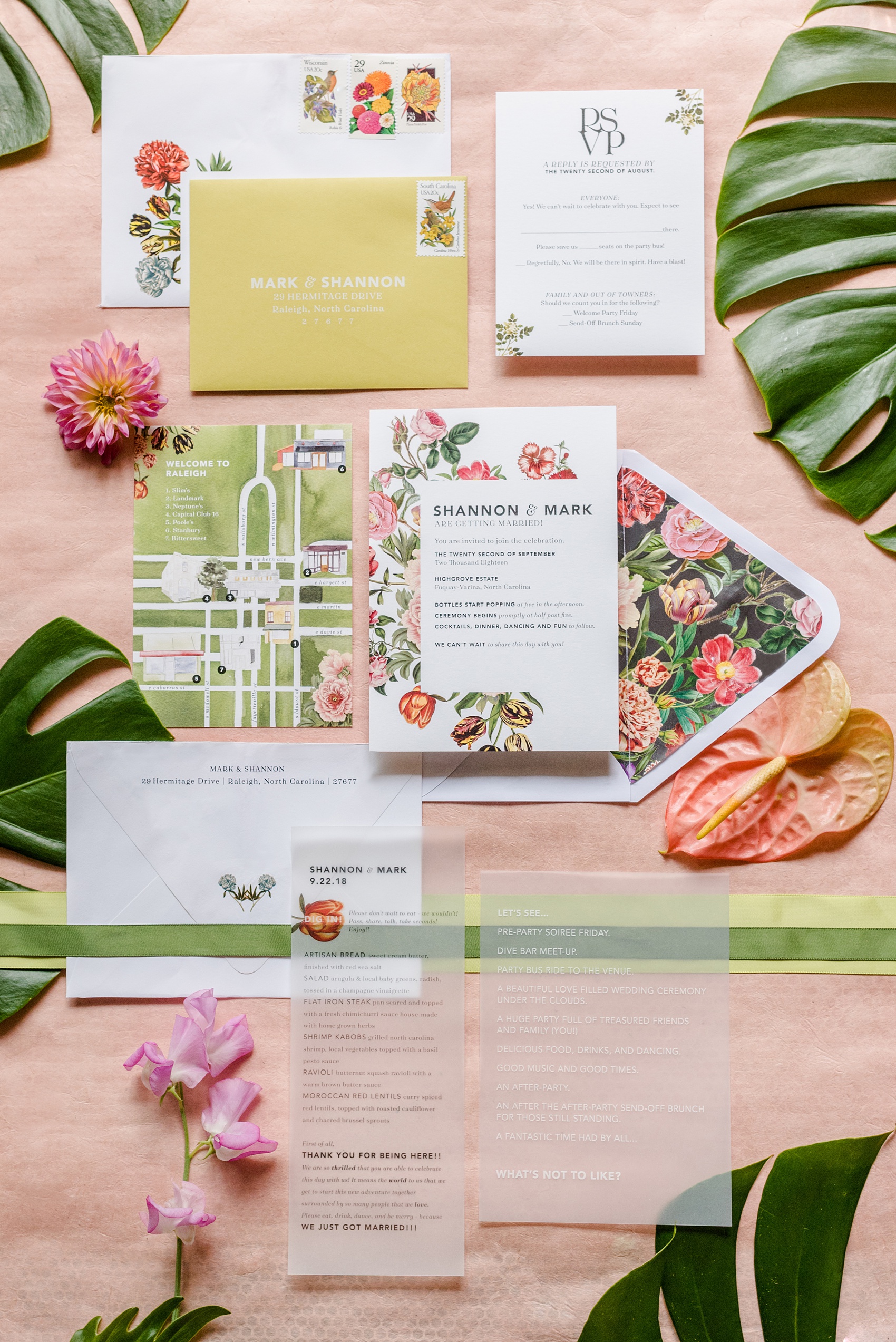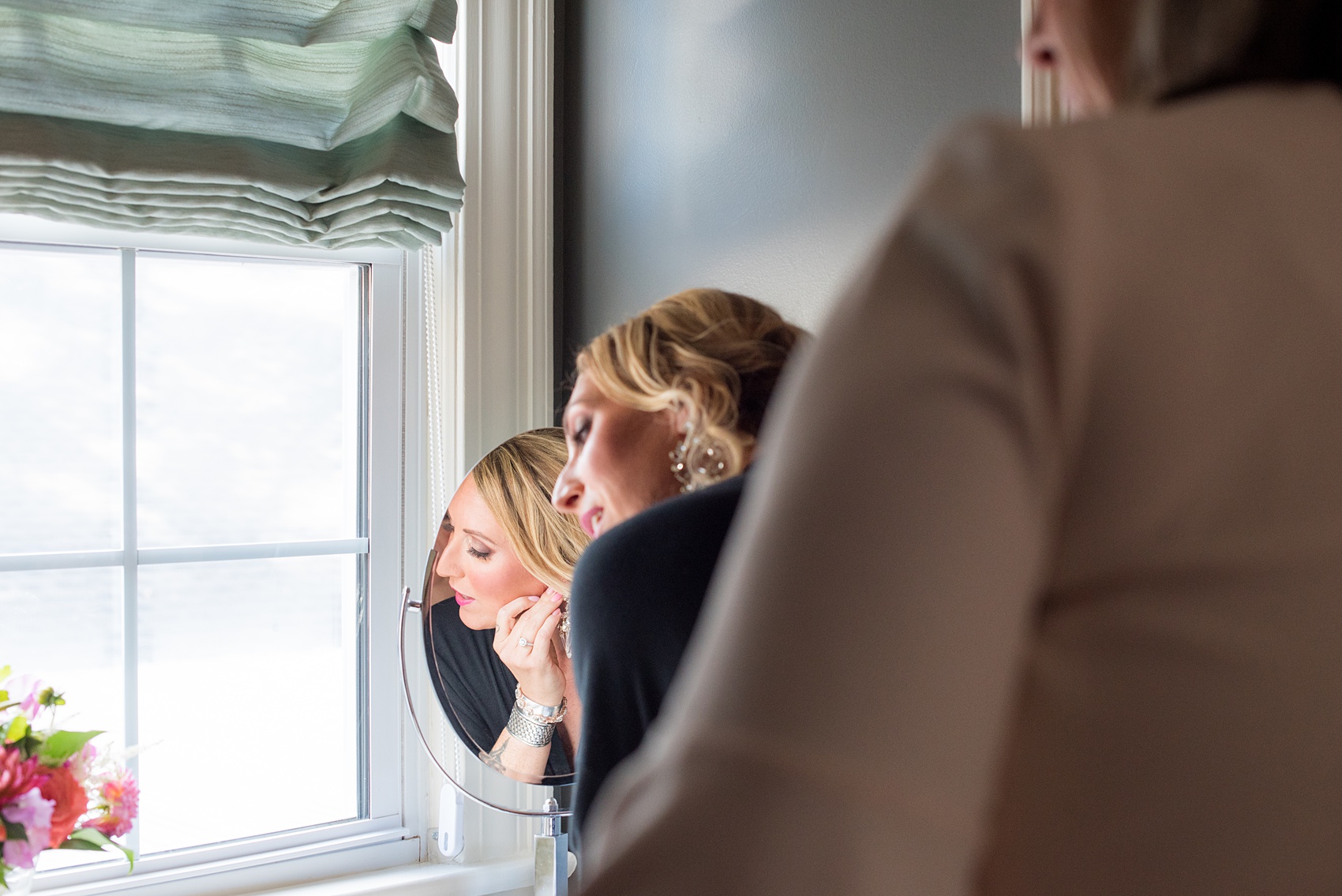 Shannon's makeup was done by her Maid of Honor and best friend, Bliss. It was so on point and looked fantastic with her swept-up hair do. The bridal suite at Highgrove Estate has an attractive and welcoming bridal suite that is perfect for photos. I love that there's a vanity with its own lighting, and plenty of windows for natural light there. What's more is their beautiful furniture, curtains and fun chandelier. A walk-in closet connects to the suite, which is ideal to hang gowns, suits and such until it's time to get dressed. Shannon opened a special gift from her groom before that time. It was the perfect gift: a silver bracelet to add to her collection. She shared that her and Mark pick one up wherever they travel as a trip souvenir.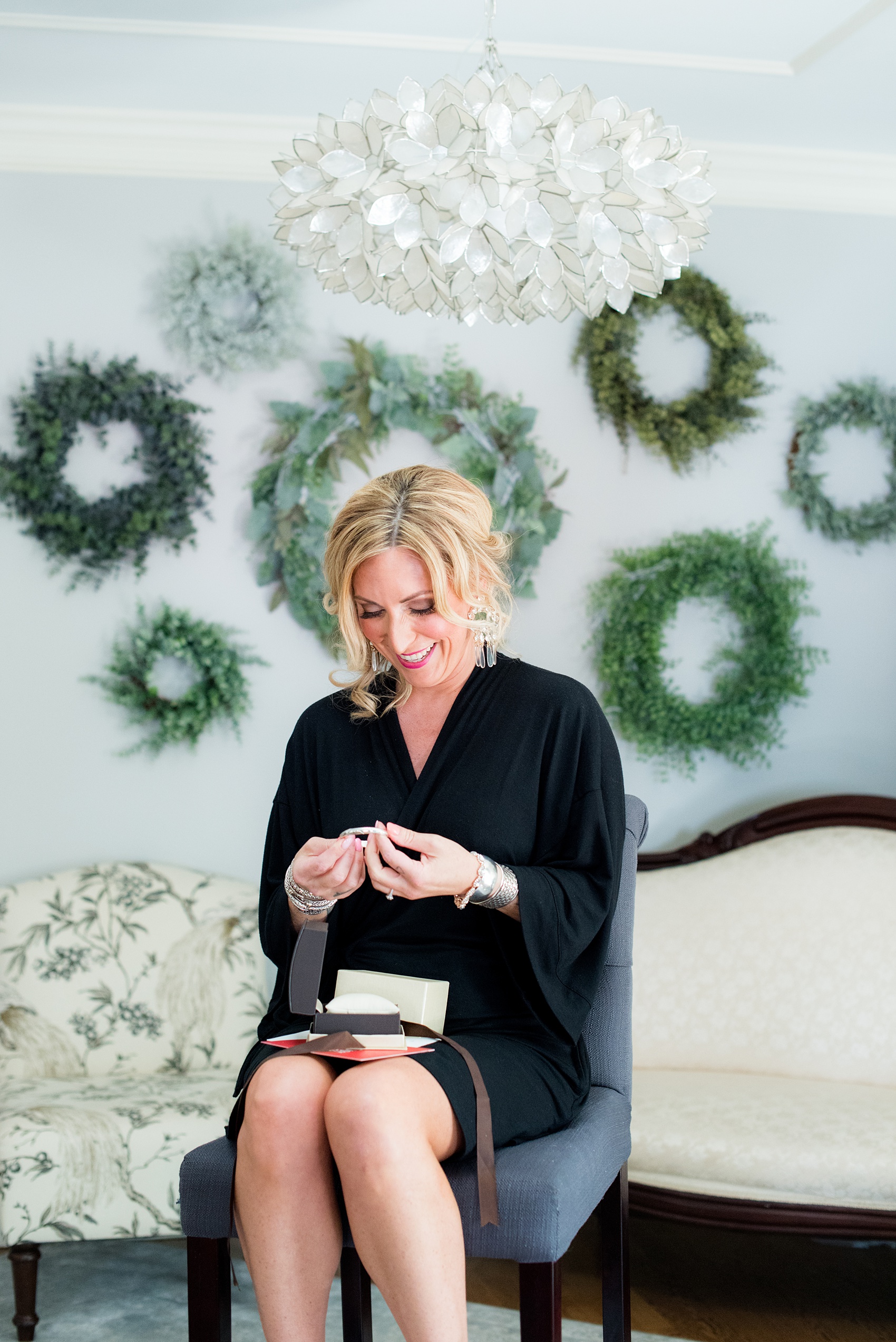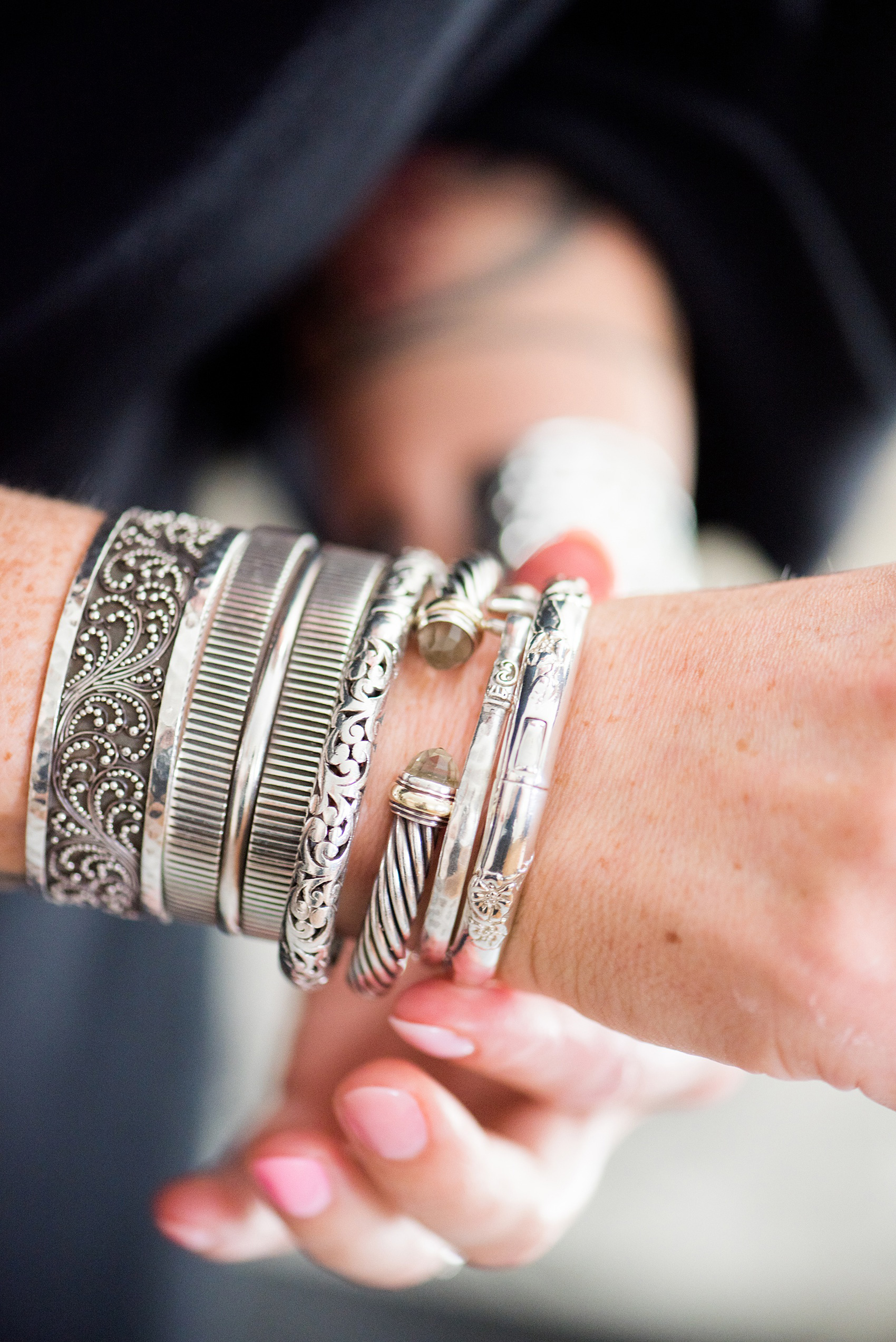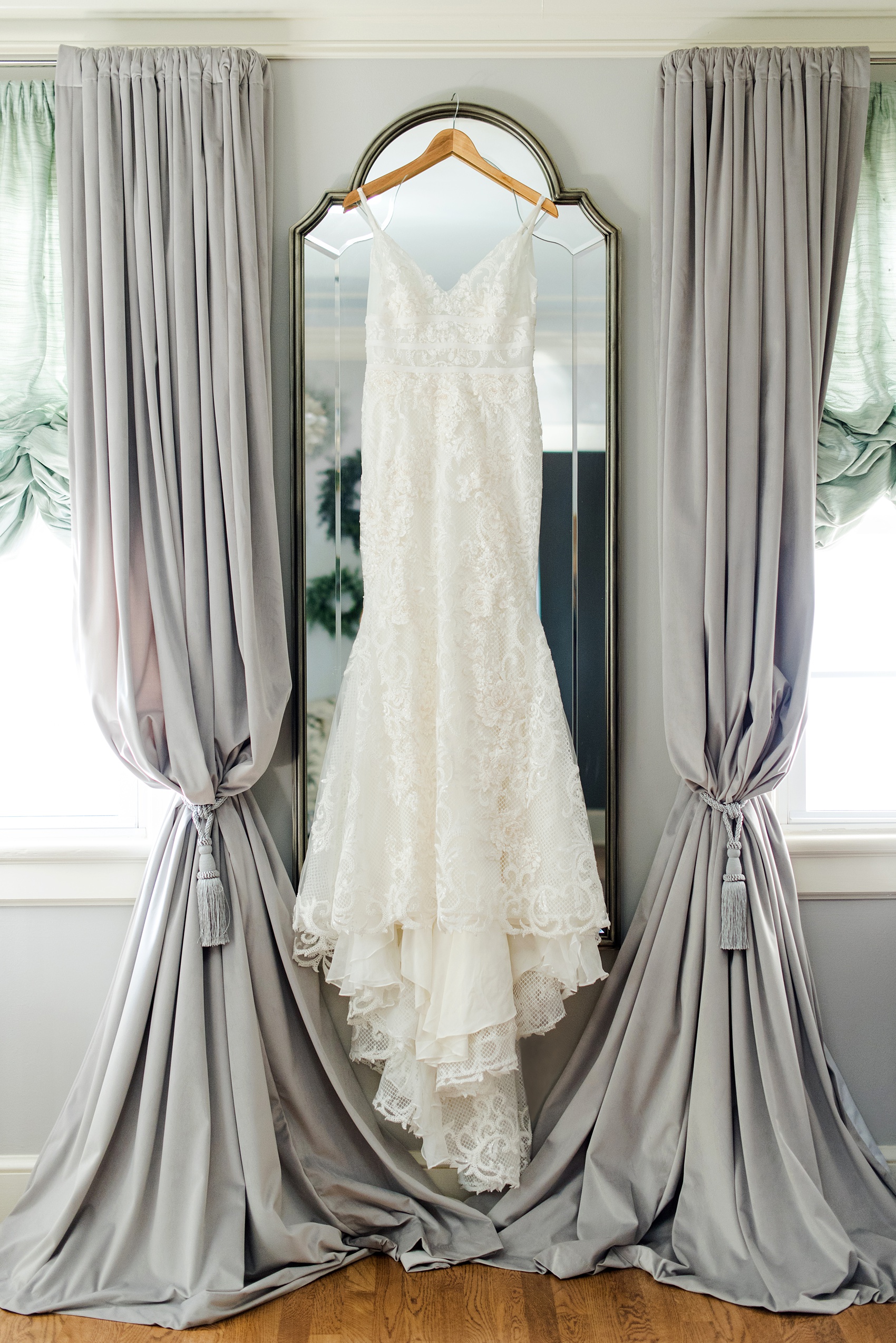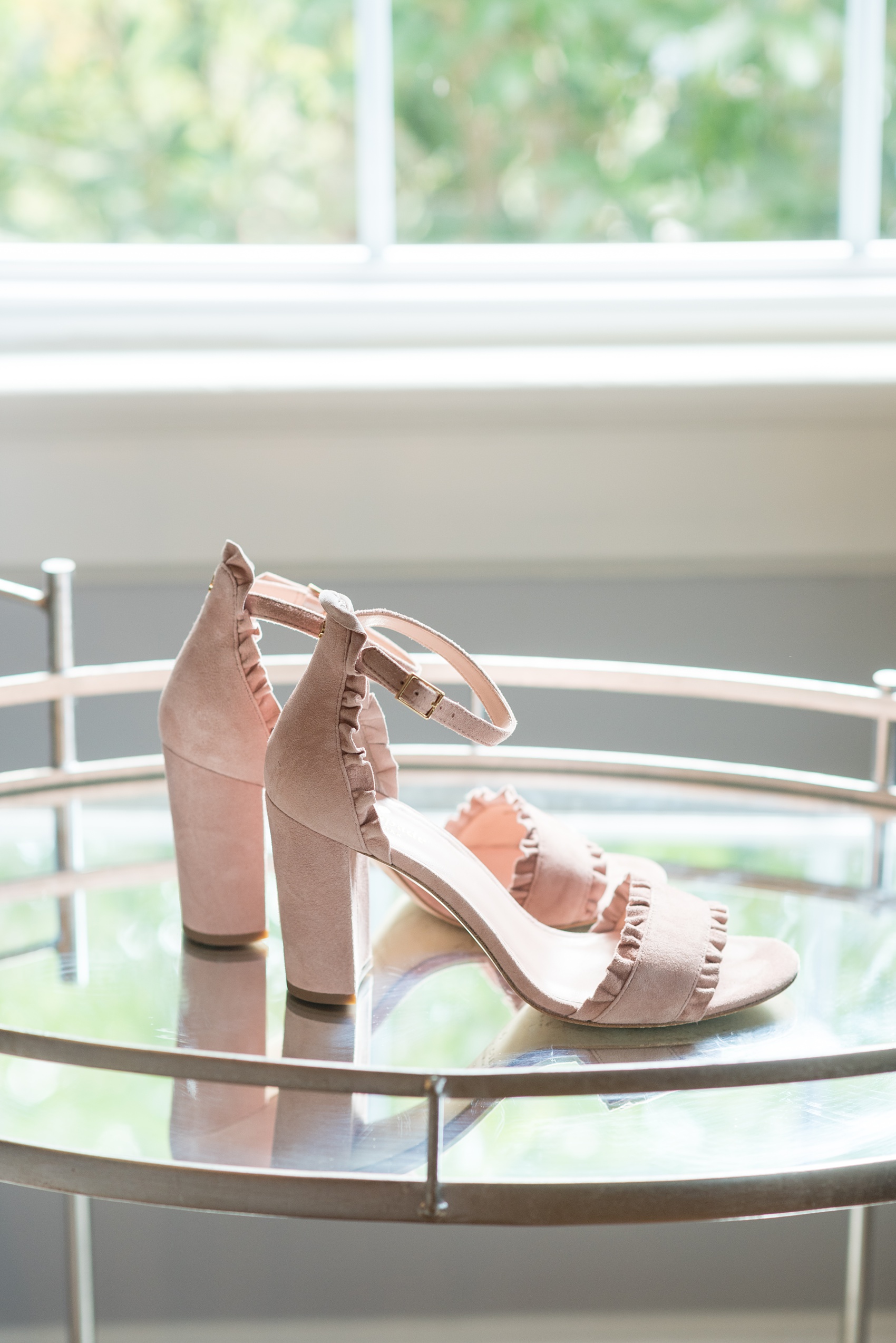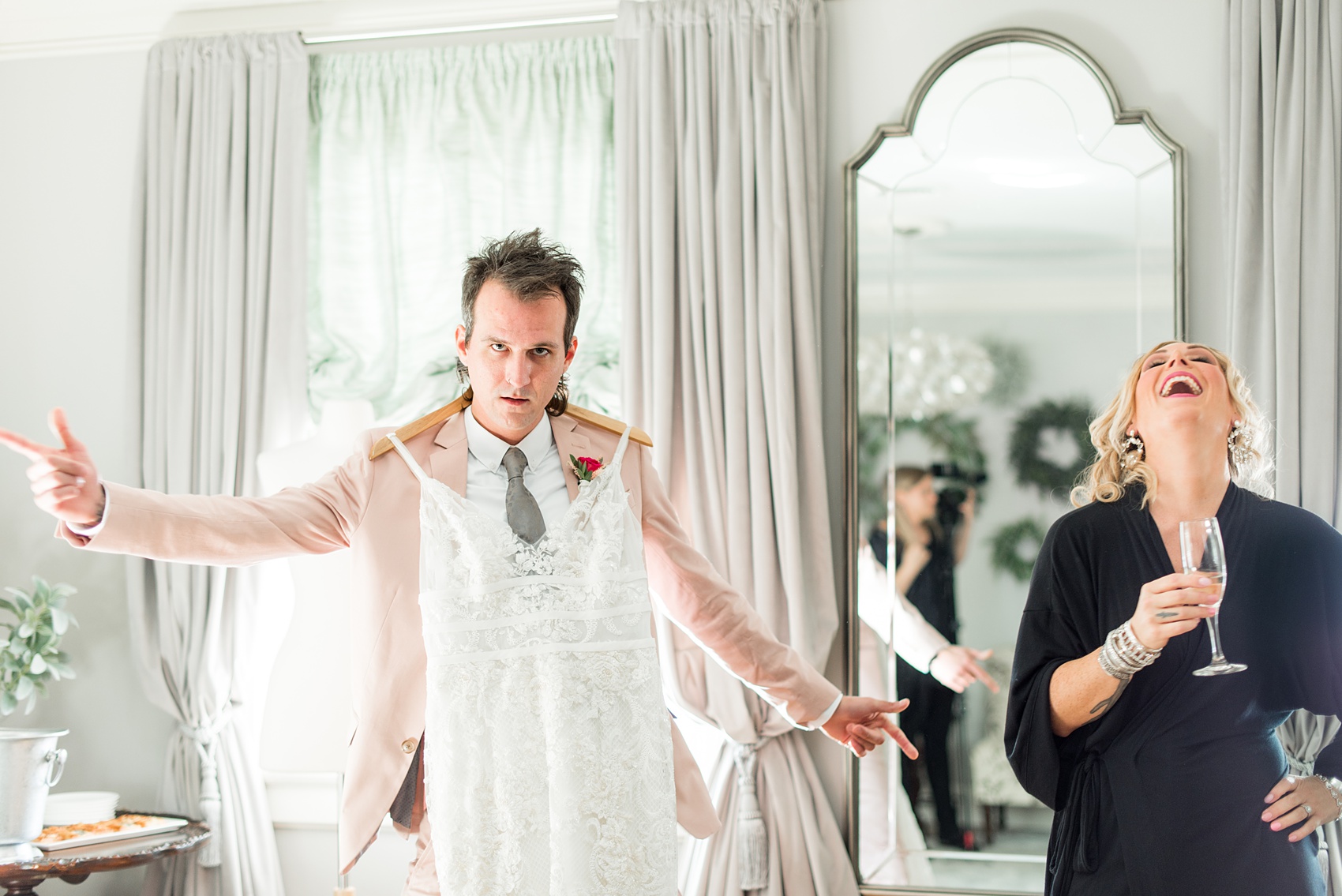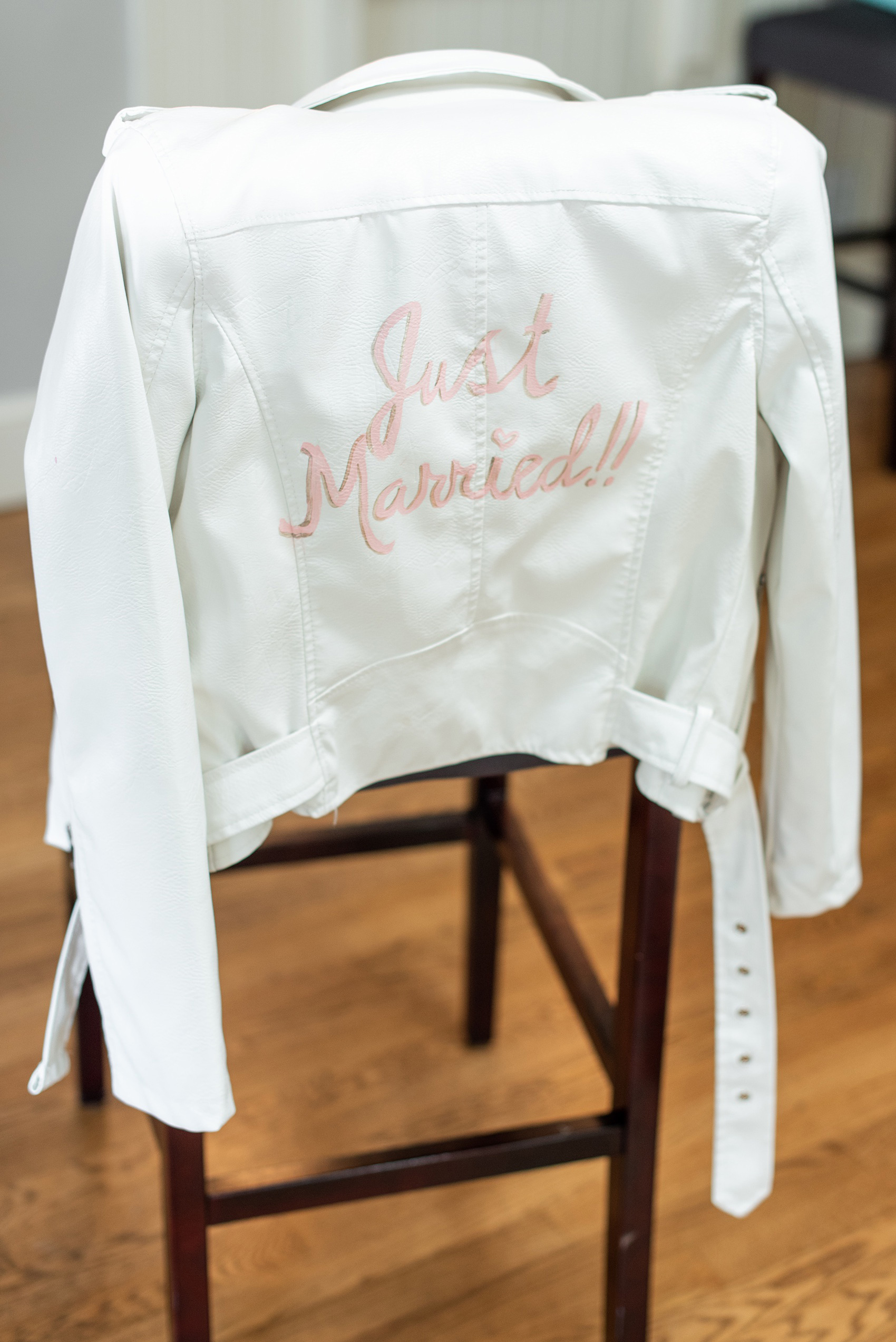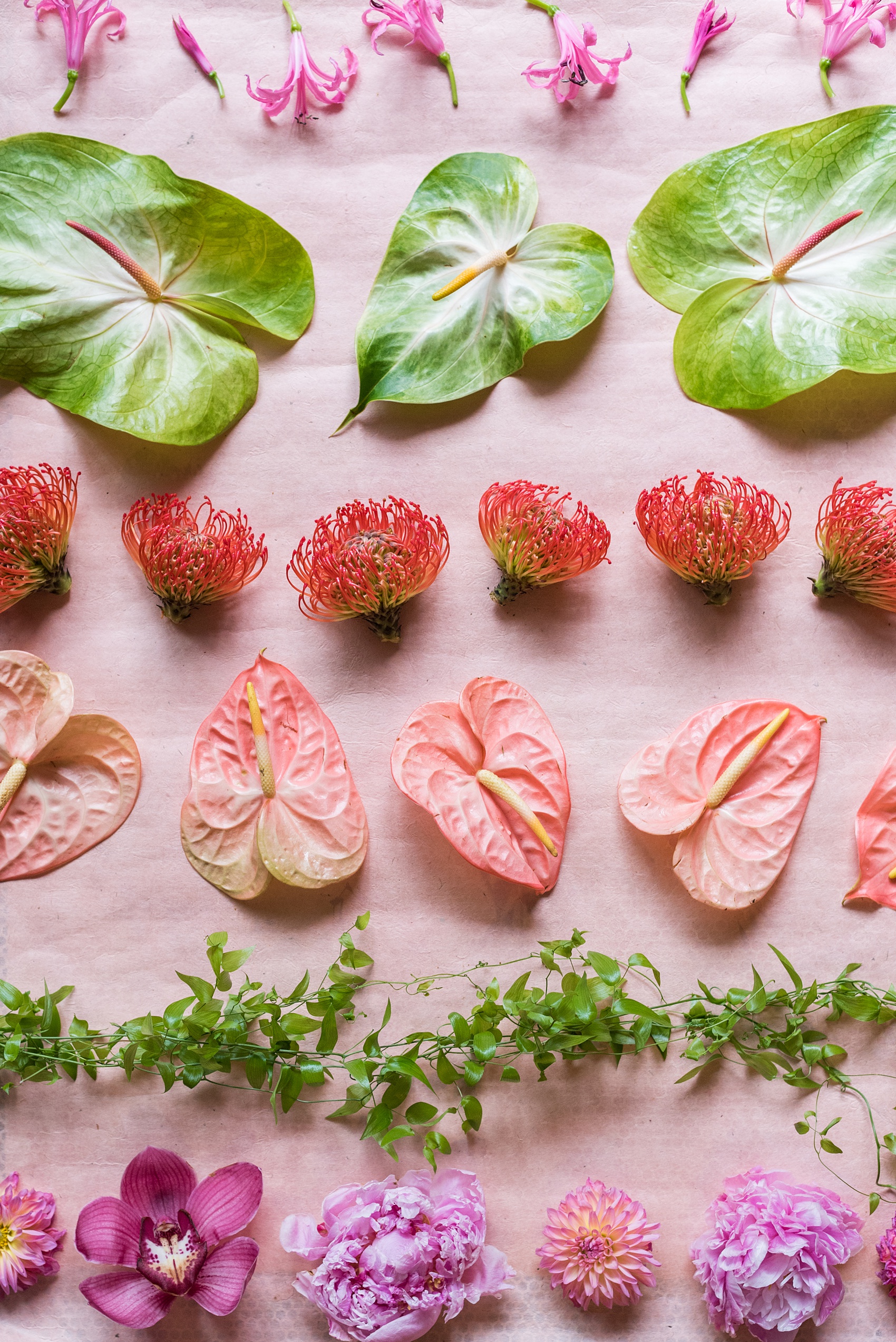 I'm not sure how but some way Shannon found the energy to paint "Just Married" onto a white leather jacket the morning of their wedding! Impressive, right? It hung on a chair while she slipped her embroidered lace wedding gown on with just the right touch of clear beads and sequins to shimmer when the light hit it. Also if anyone's curious about the flowers in the photo above, they are (from the top down, left to right): pink Guernsey lilies, green Anthurium, Pin Cushions, pink Anthuriums, Jasmine vine, purple Cymbidium Orchids (I believe they may be the "Purple Splendor" variety), pink peonies, and pink and yellow Dahlias.  Flowers on Broad Street knocked it out of the park with all their flowers, from their reception to bouquets and the ceremony.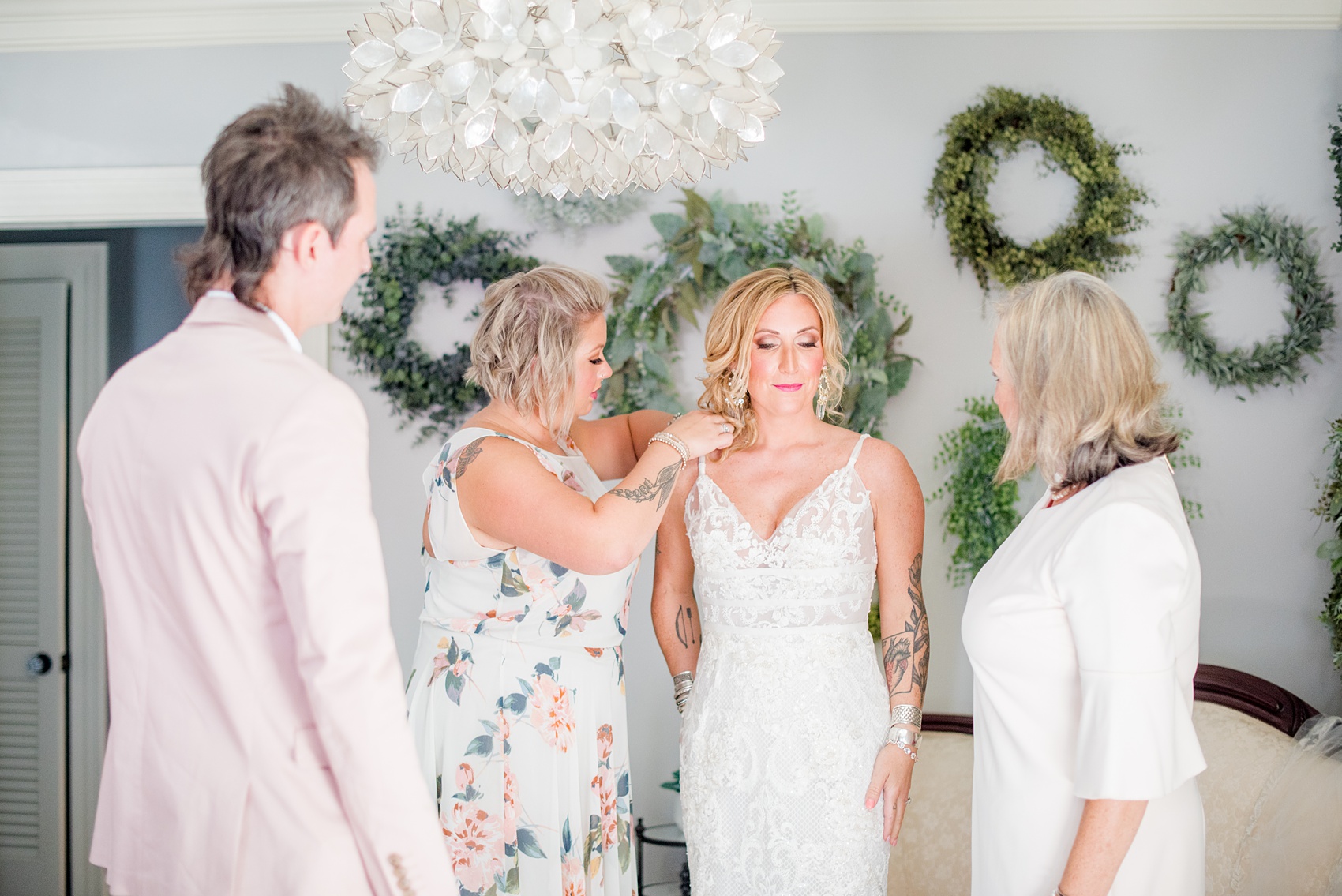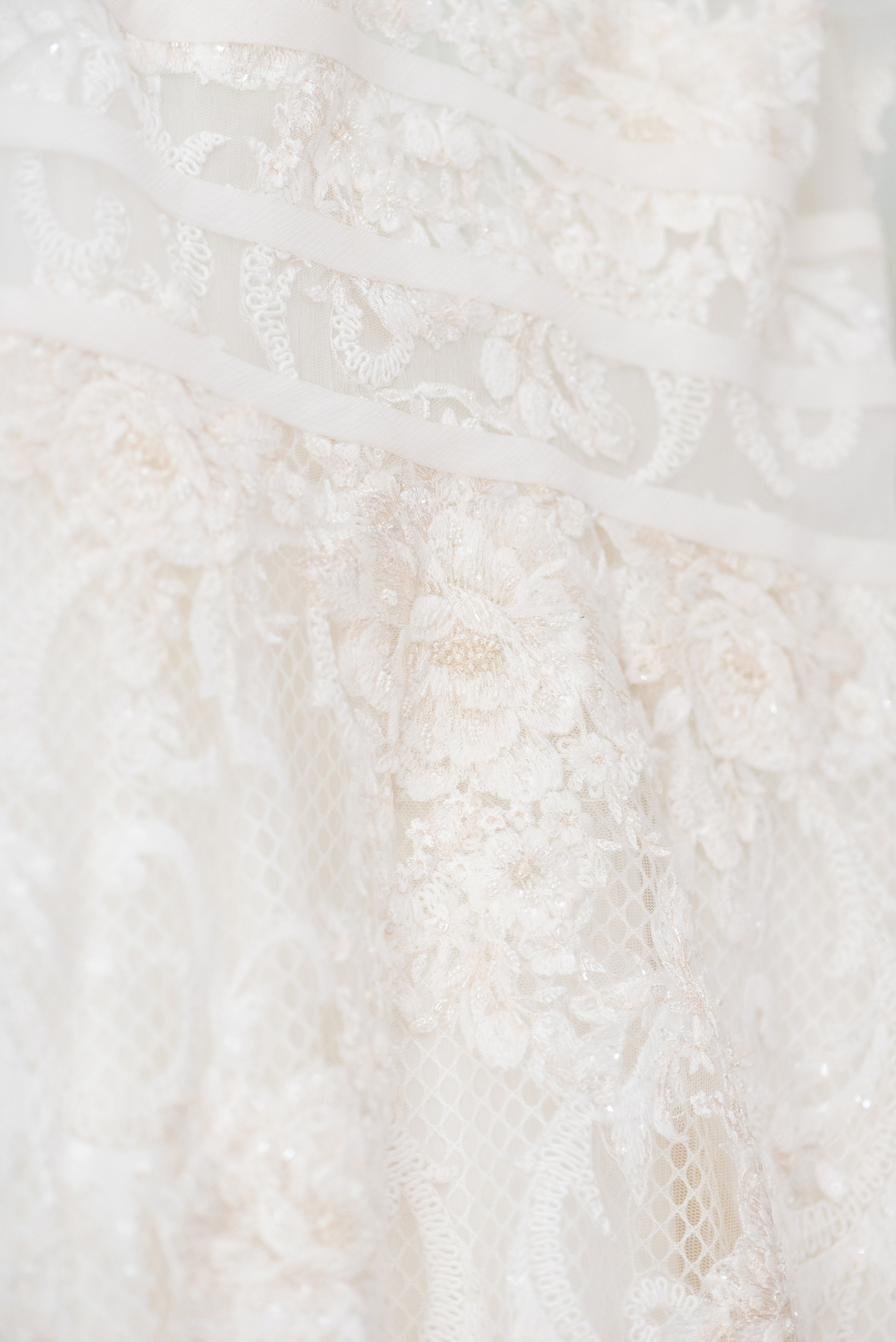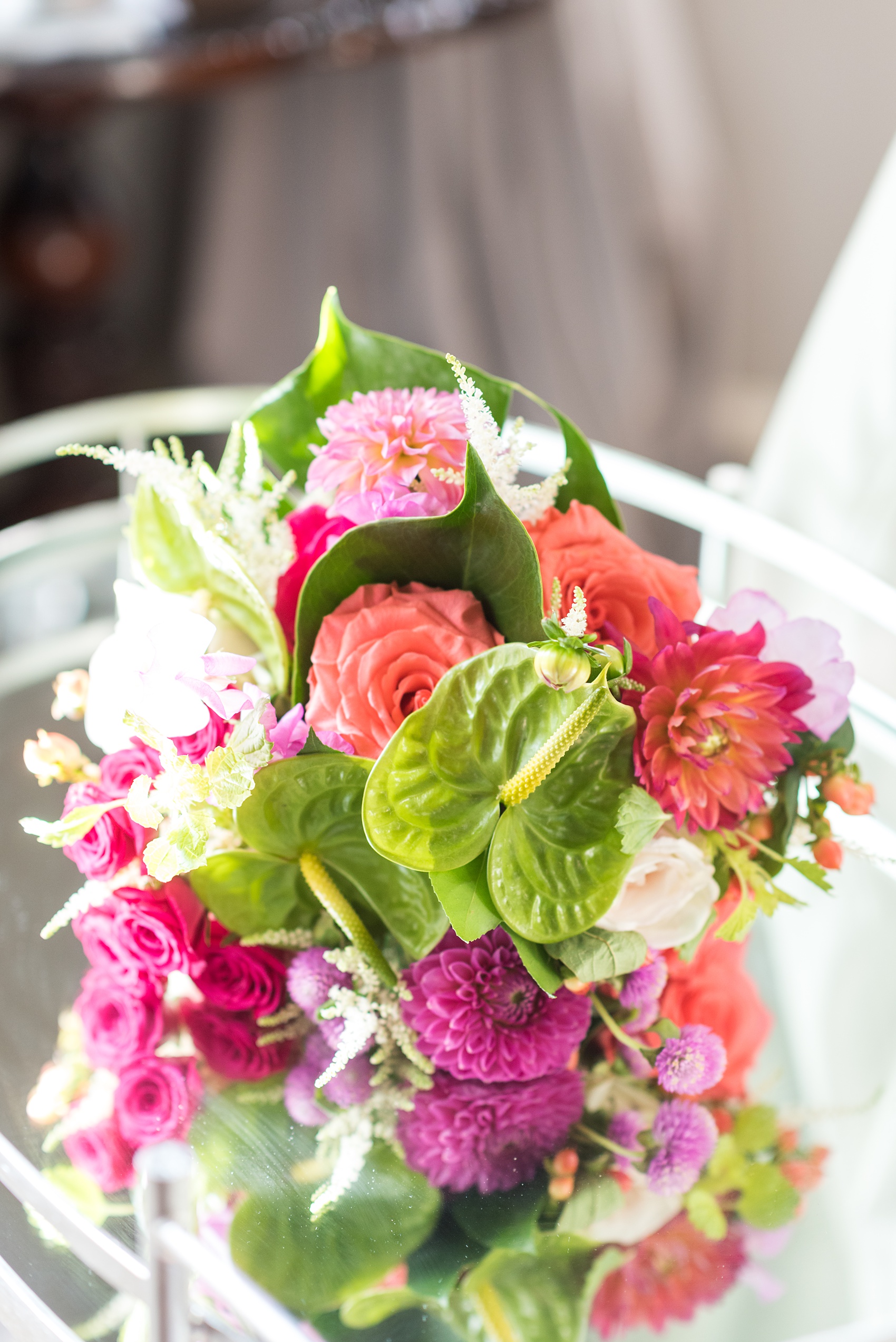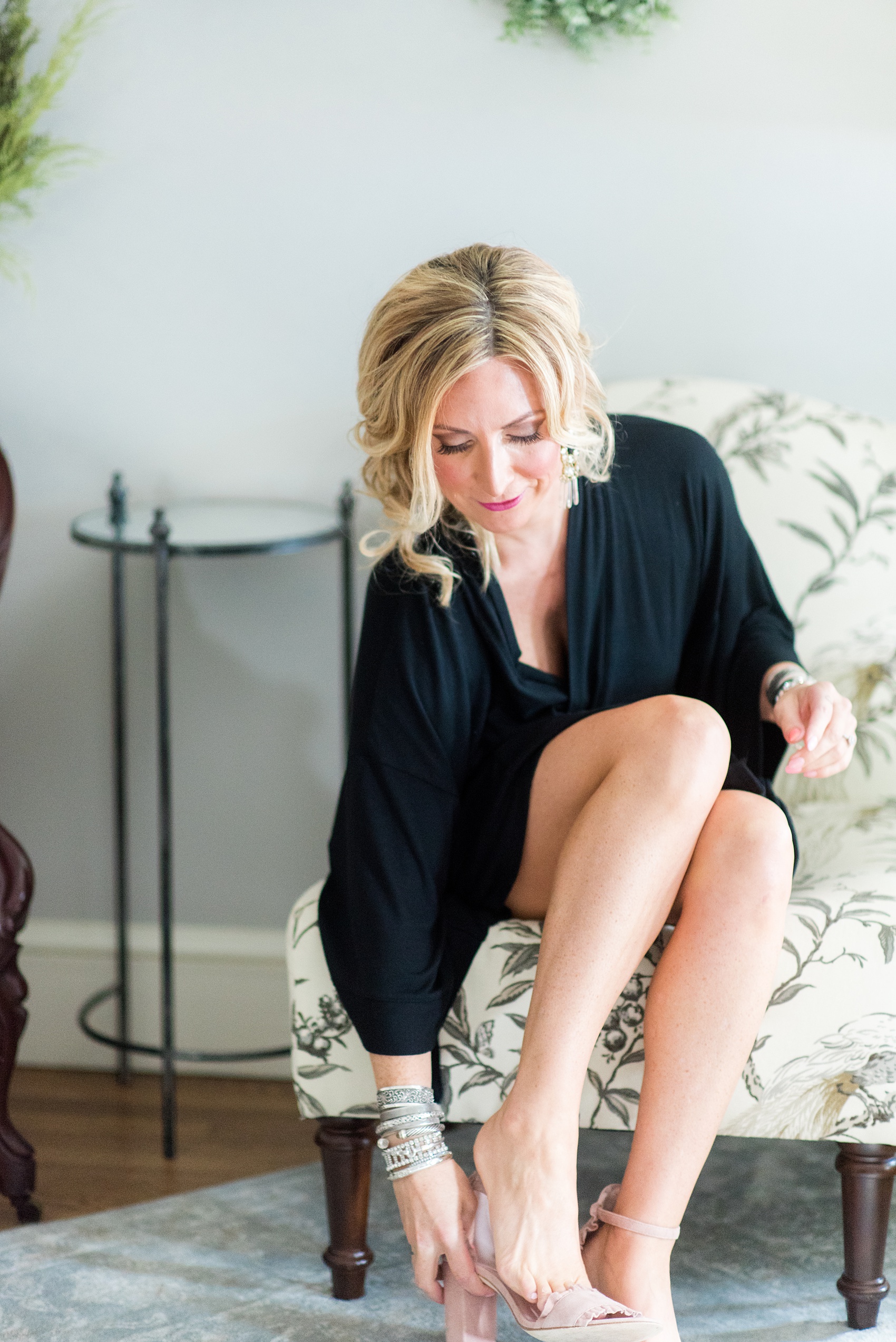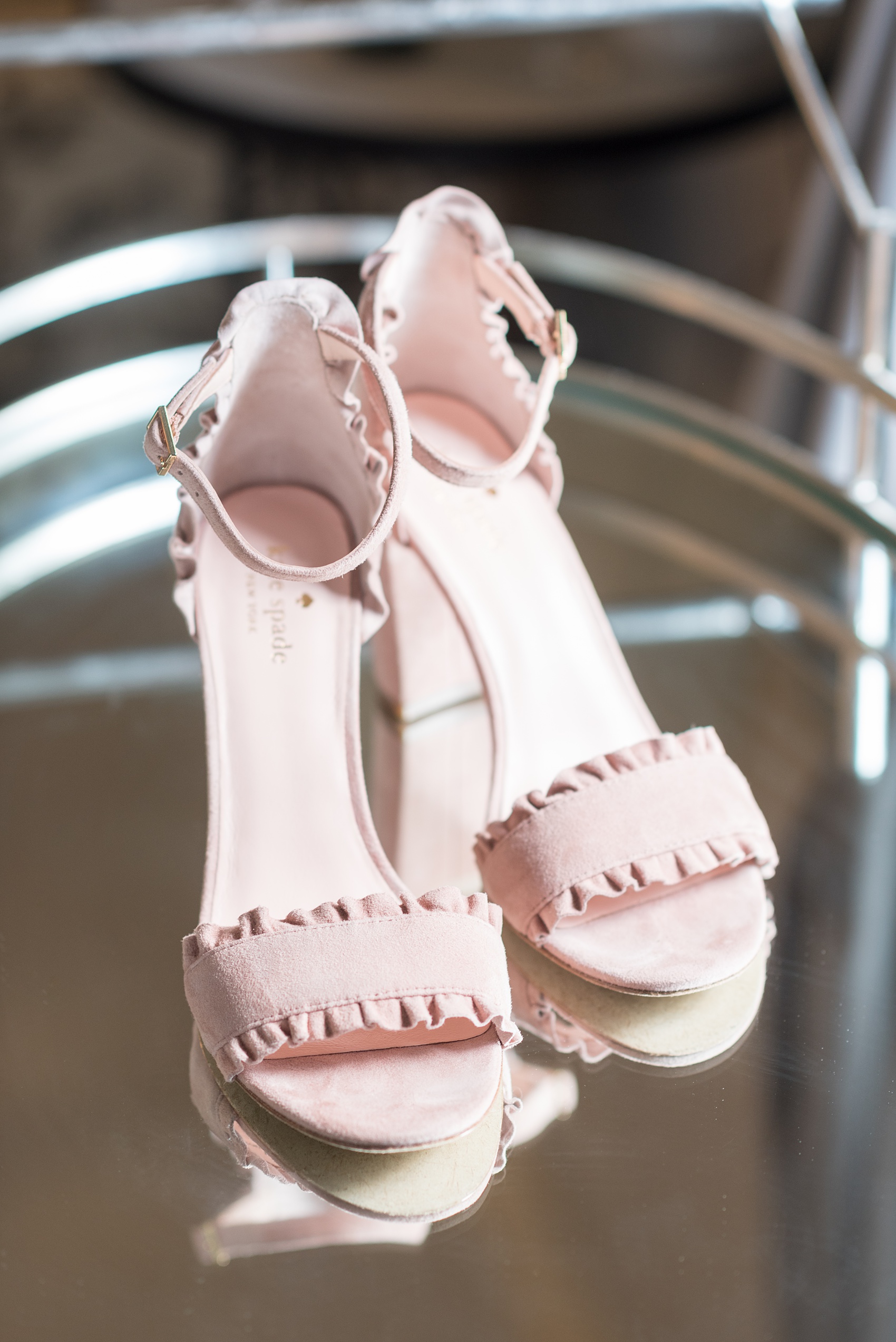 She slipped on her suede chunky heel Kate Spade shoes just after opening her gift before her wedding party and mom helped her into her gown. They're the same great shoes she wore to their Durham engagement session to break them in for the big day at Highgrove Estate!
The great thing about their venue is the groom suite is just across the hall in the upstairs level of the house. So it's easy for a photographer, planner or videographer to go back and forth between the two. Mark was with his groomsmen and Shannon's father drinking beers and putting their suits on just across the hall. He wore alligator socks to honor his Florida Gators fandom (Mark lived in Florida for many years). His brown leather shoes tied his grey suit in with his tan and off-white bow tie.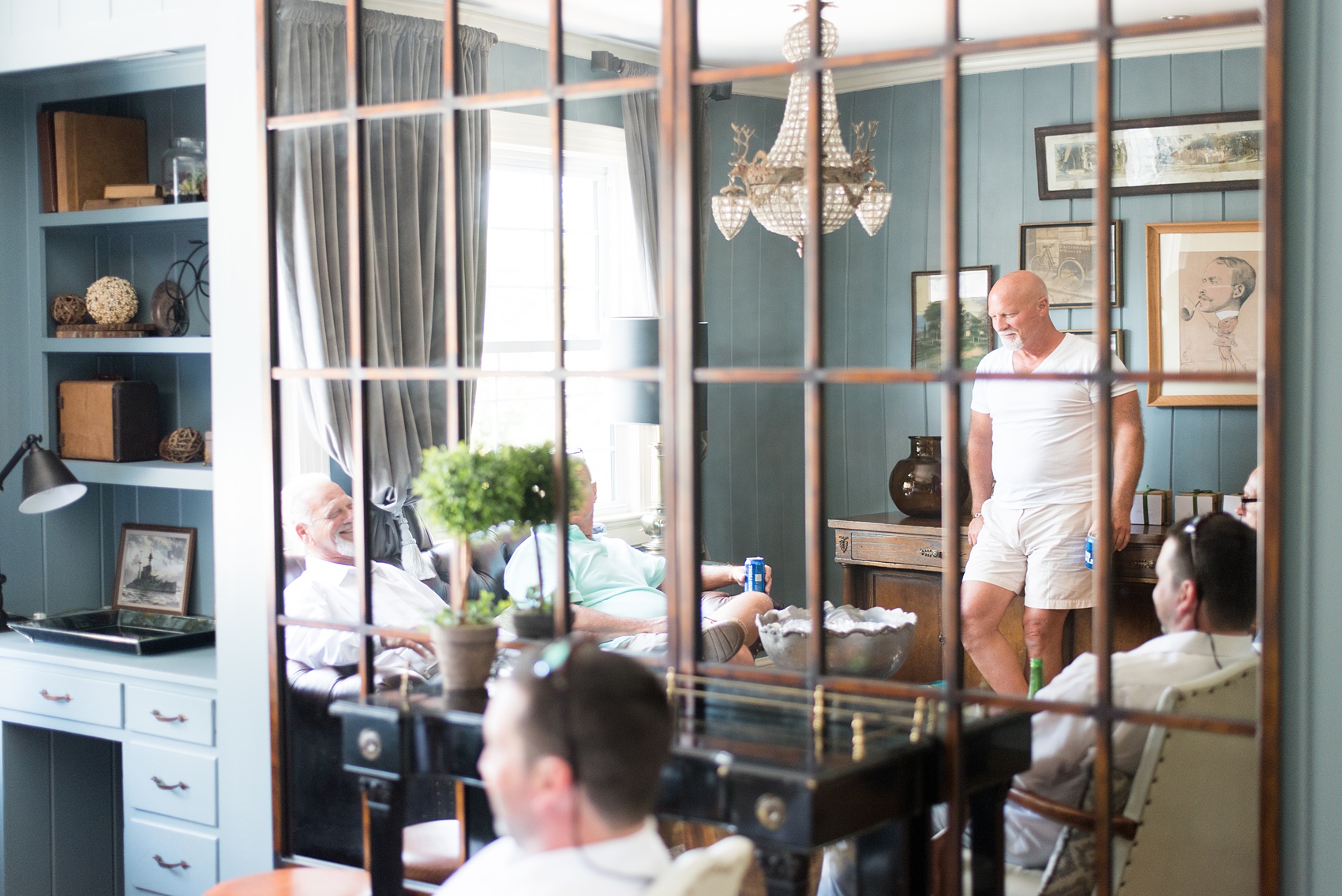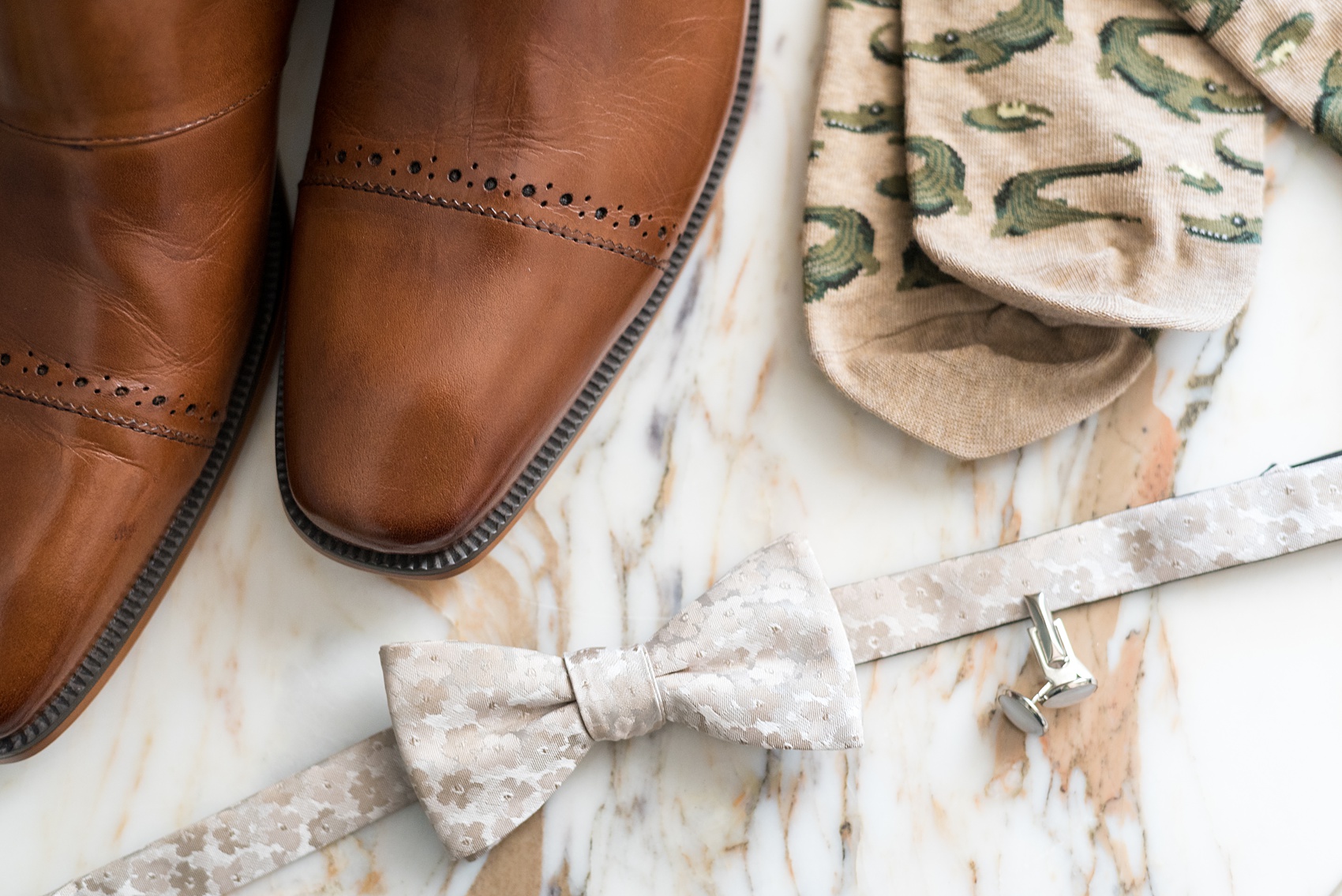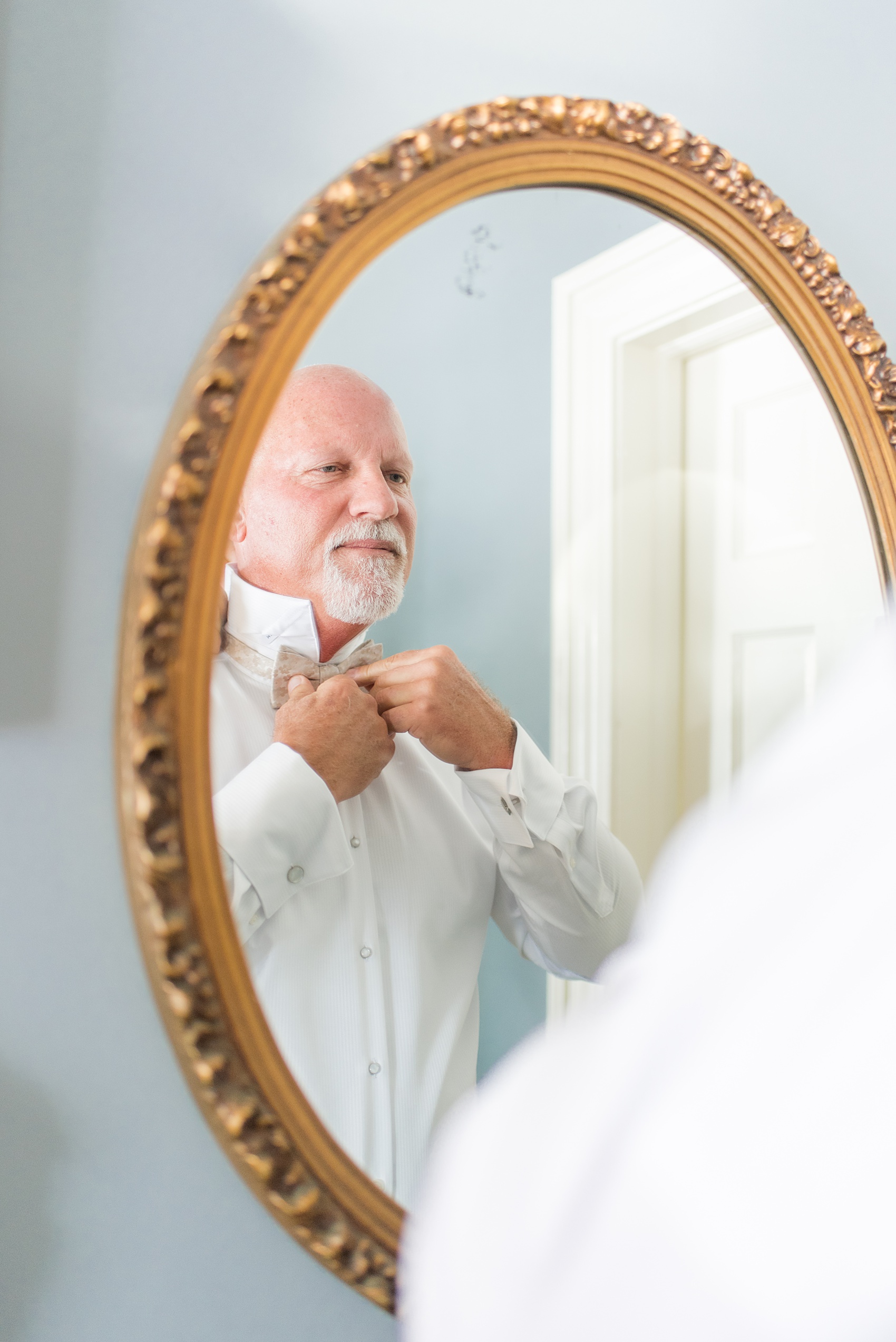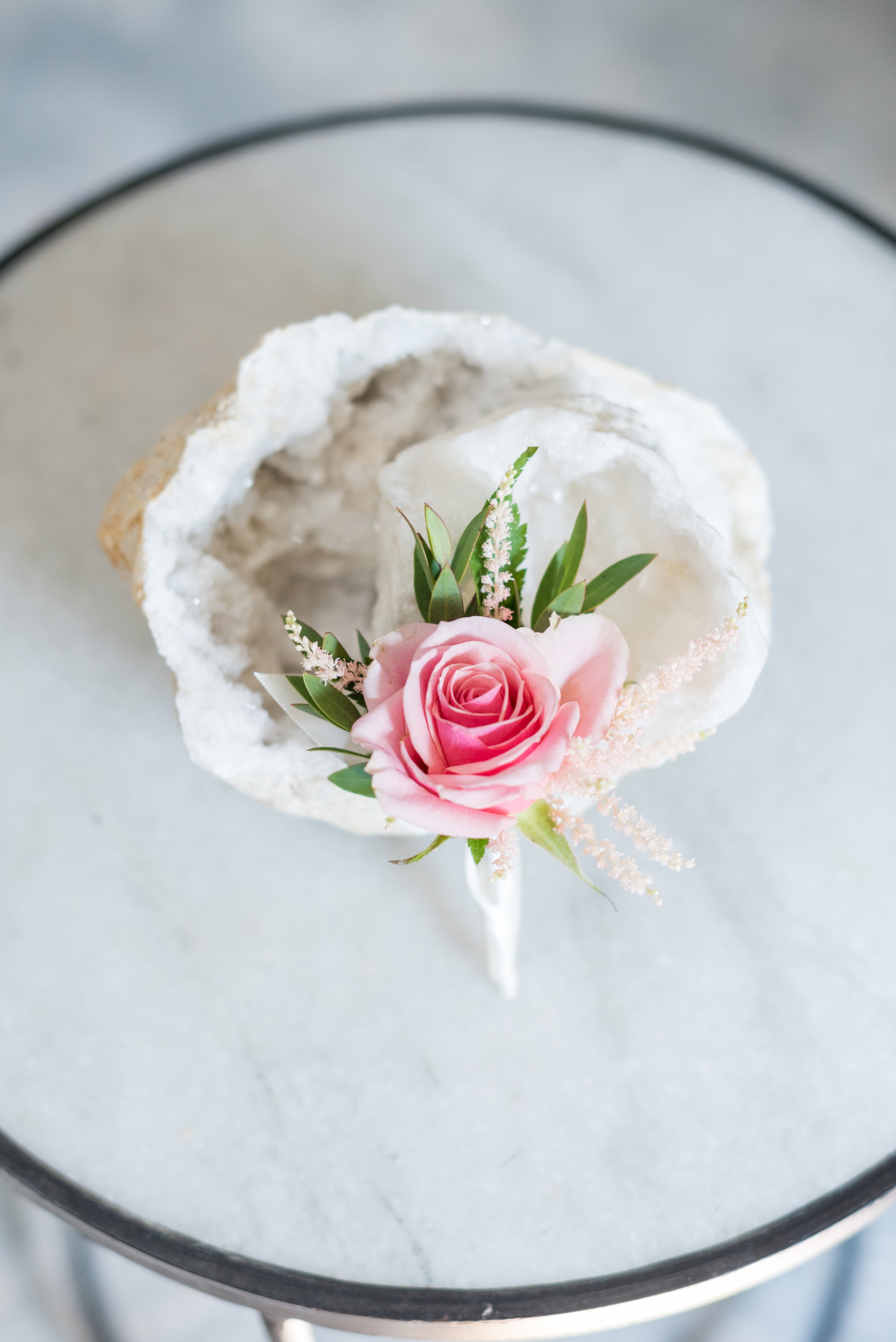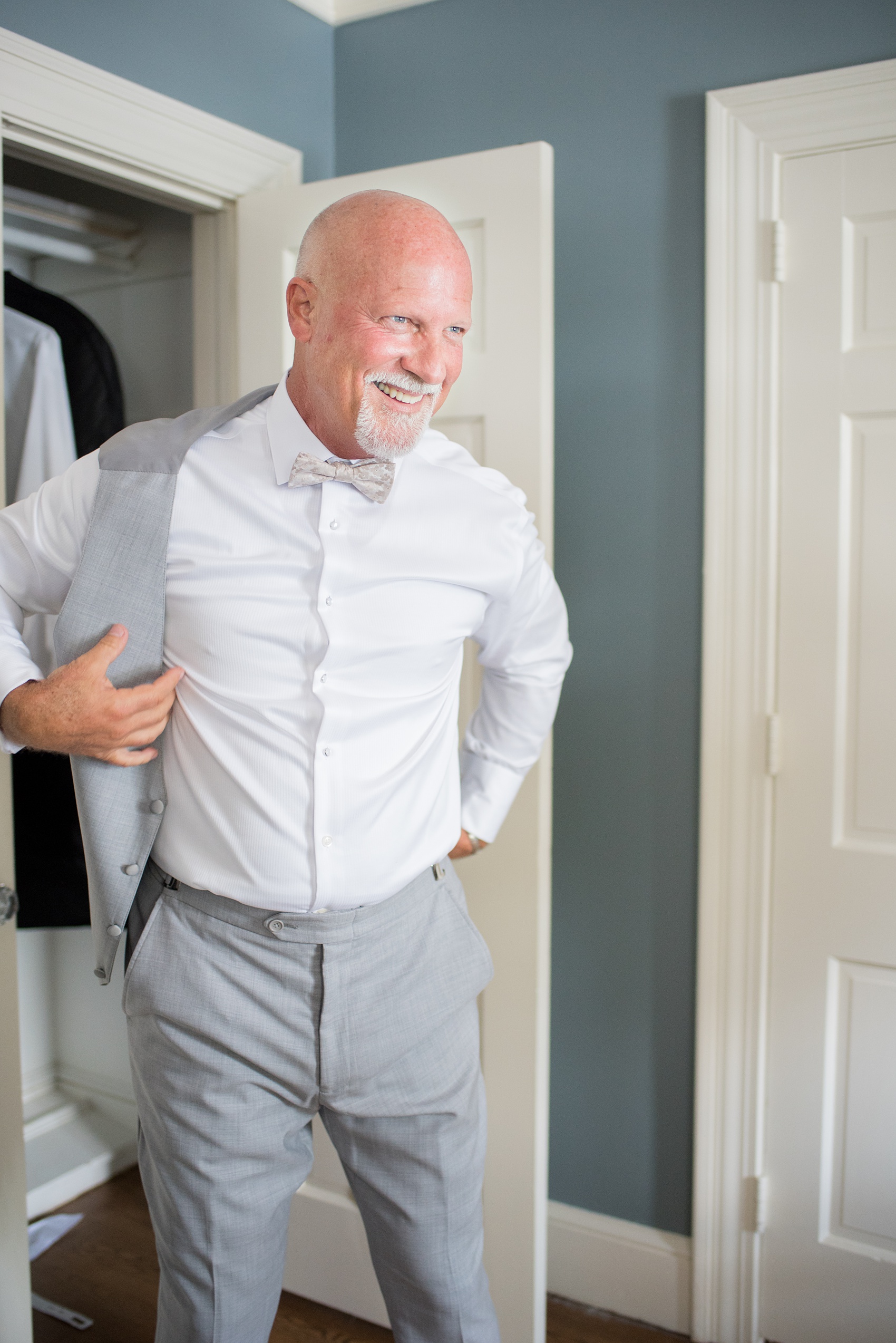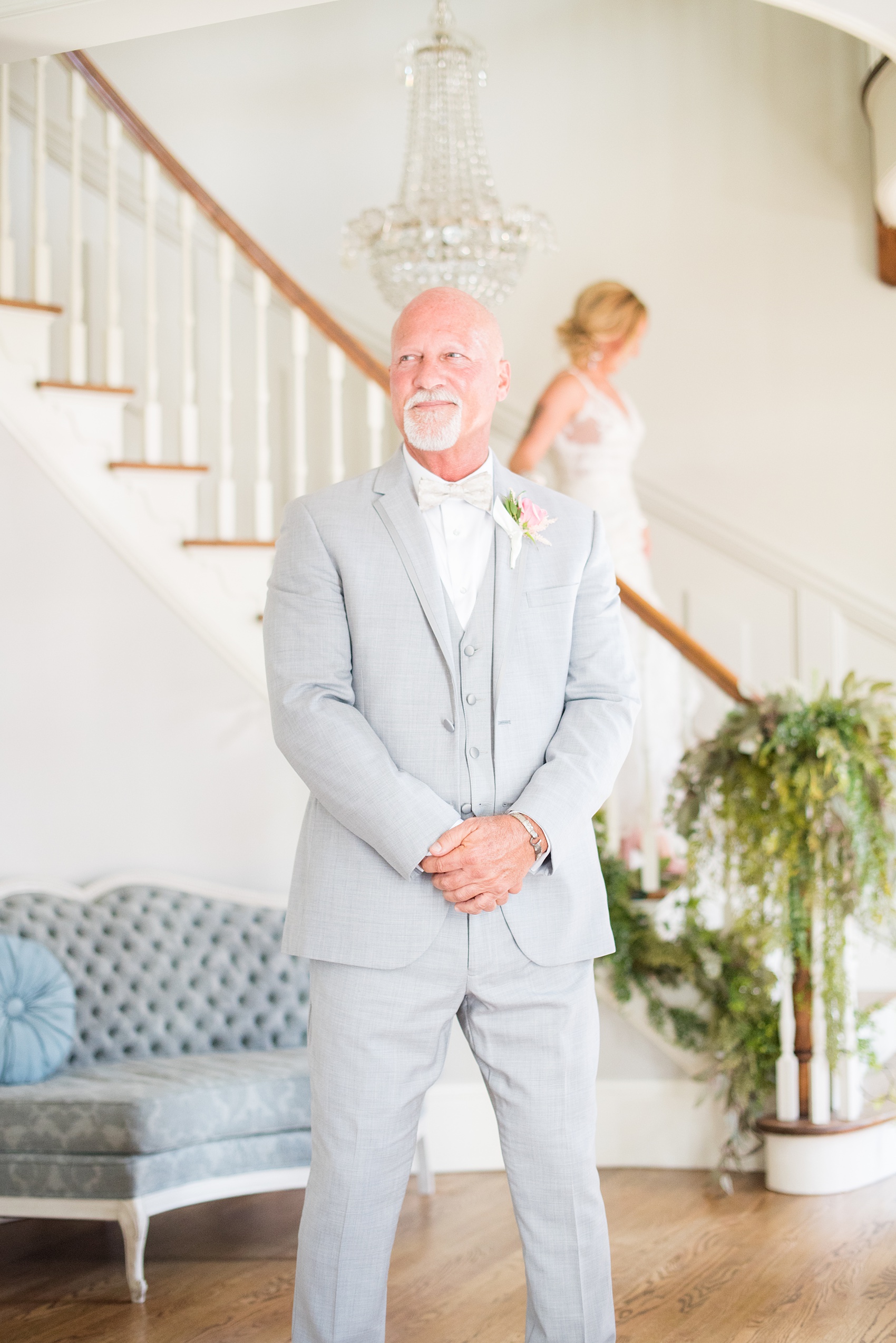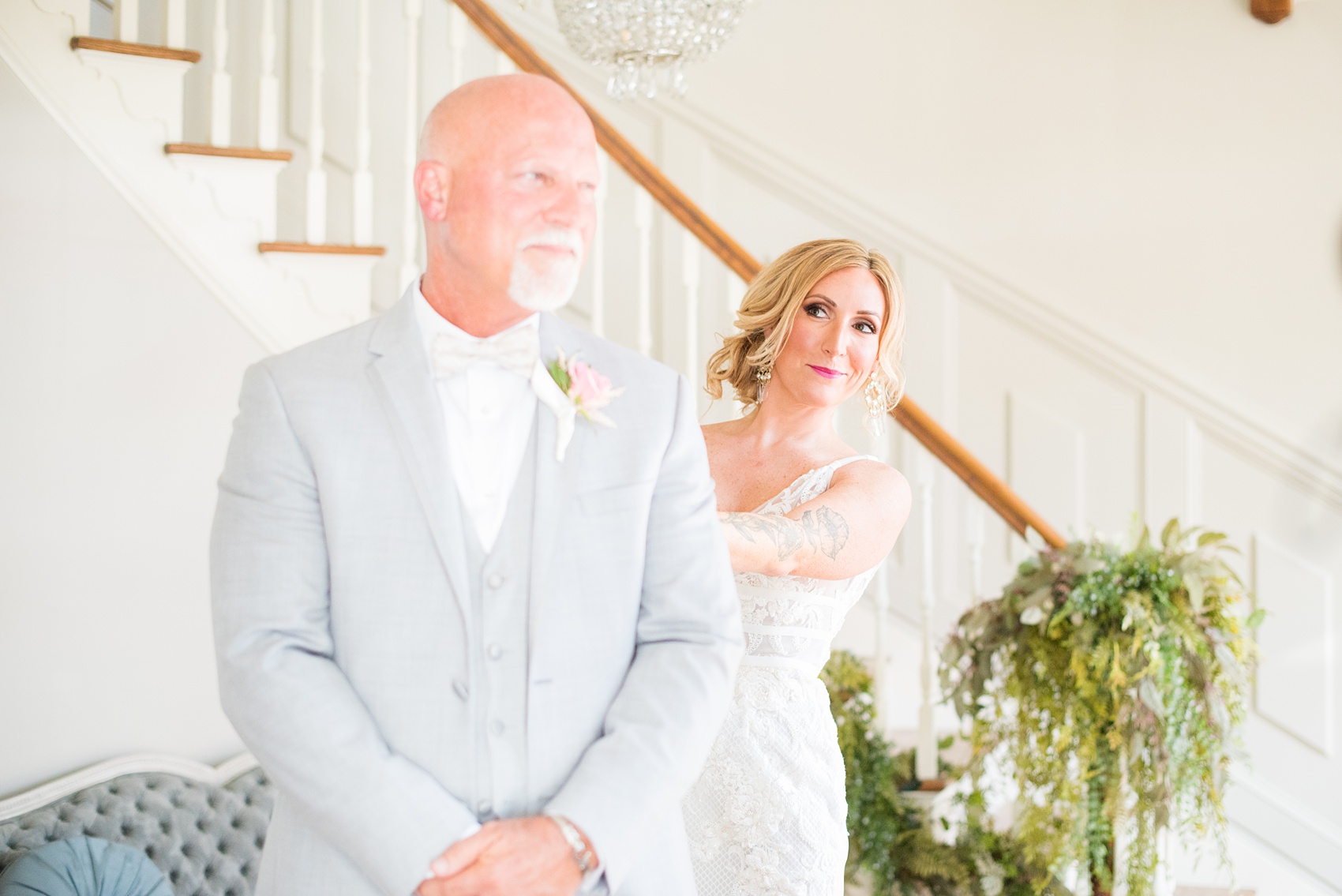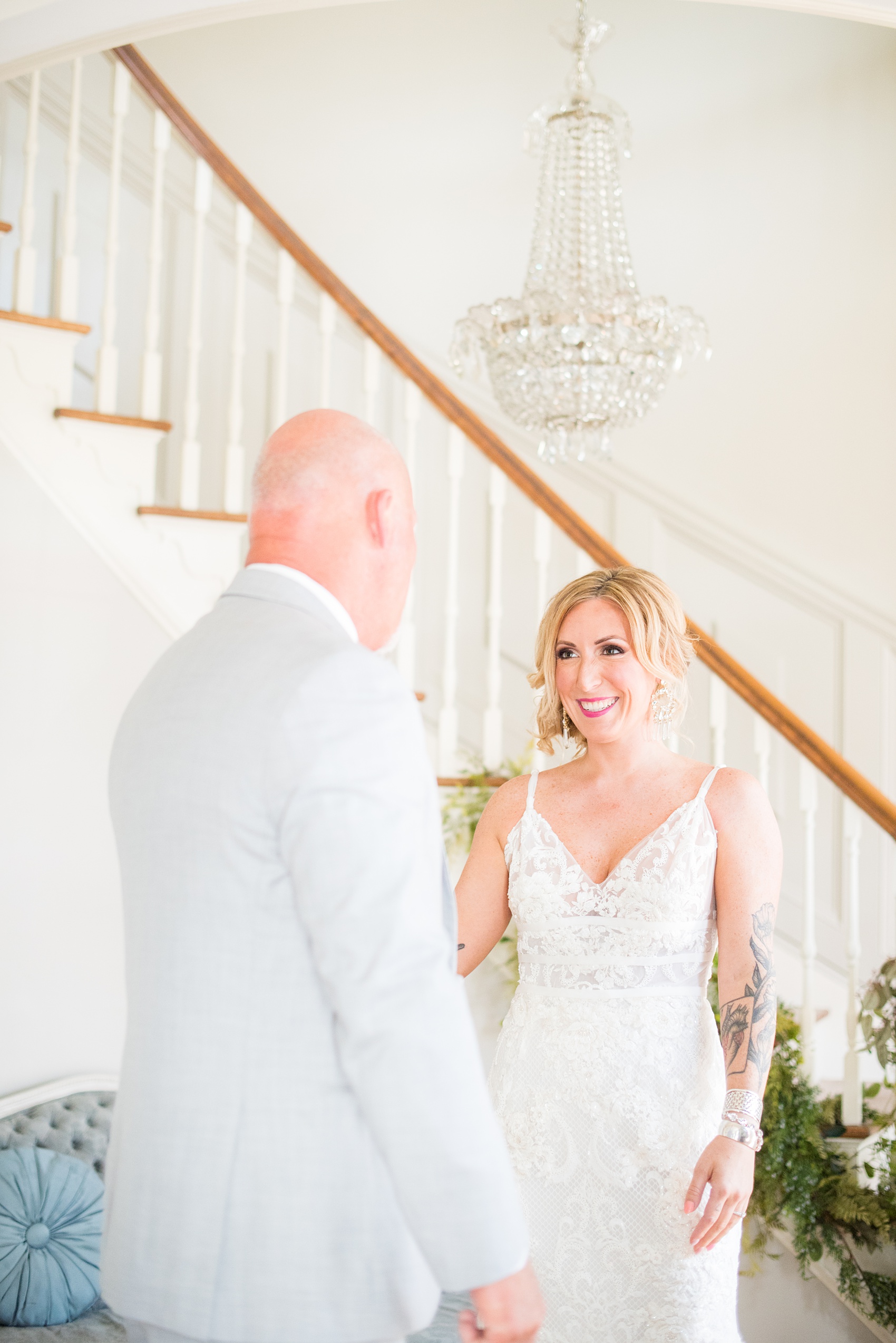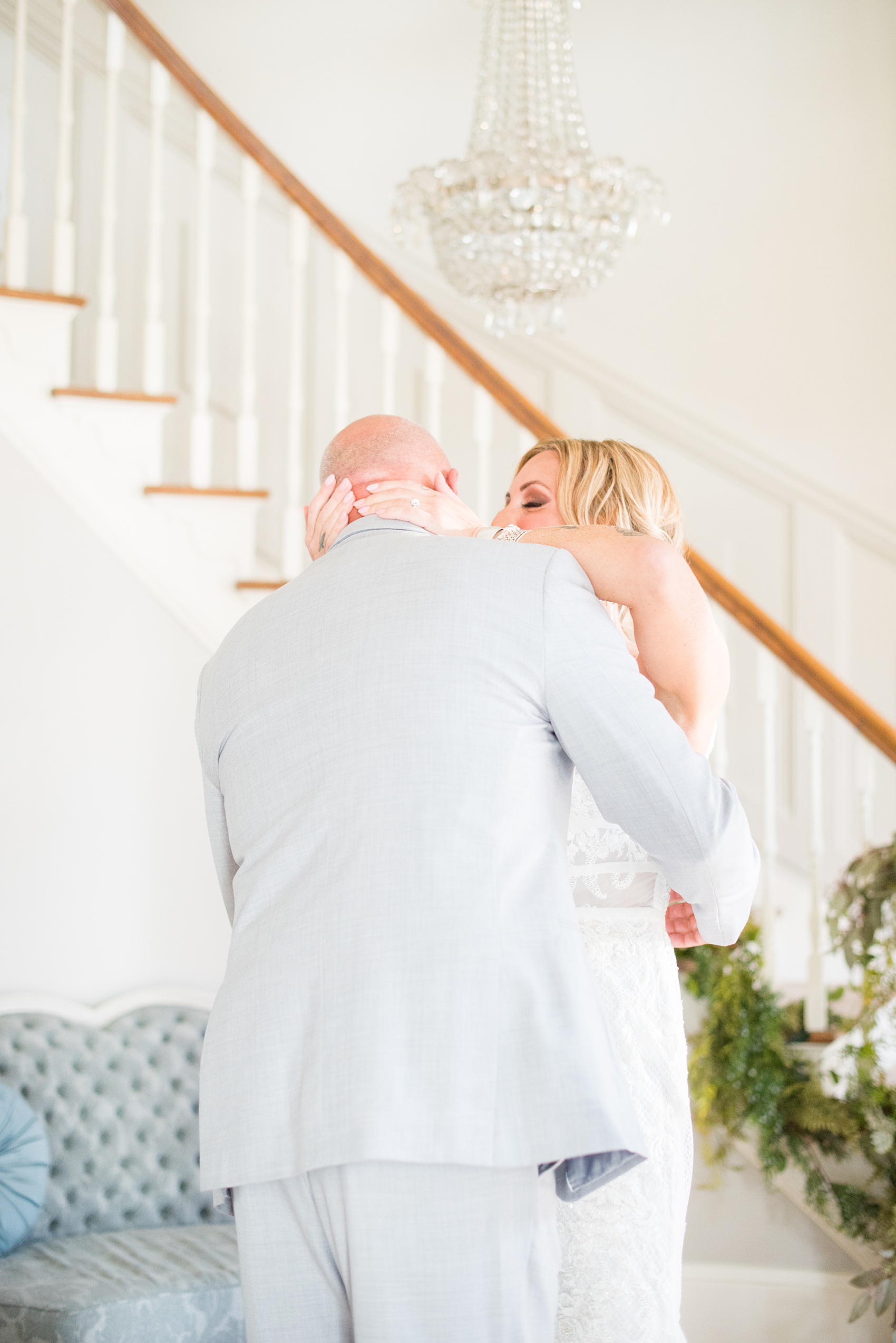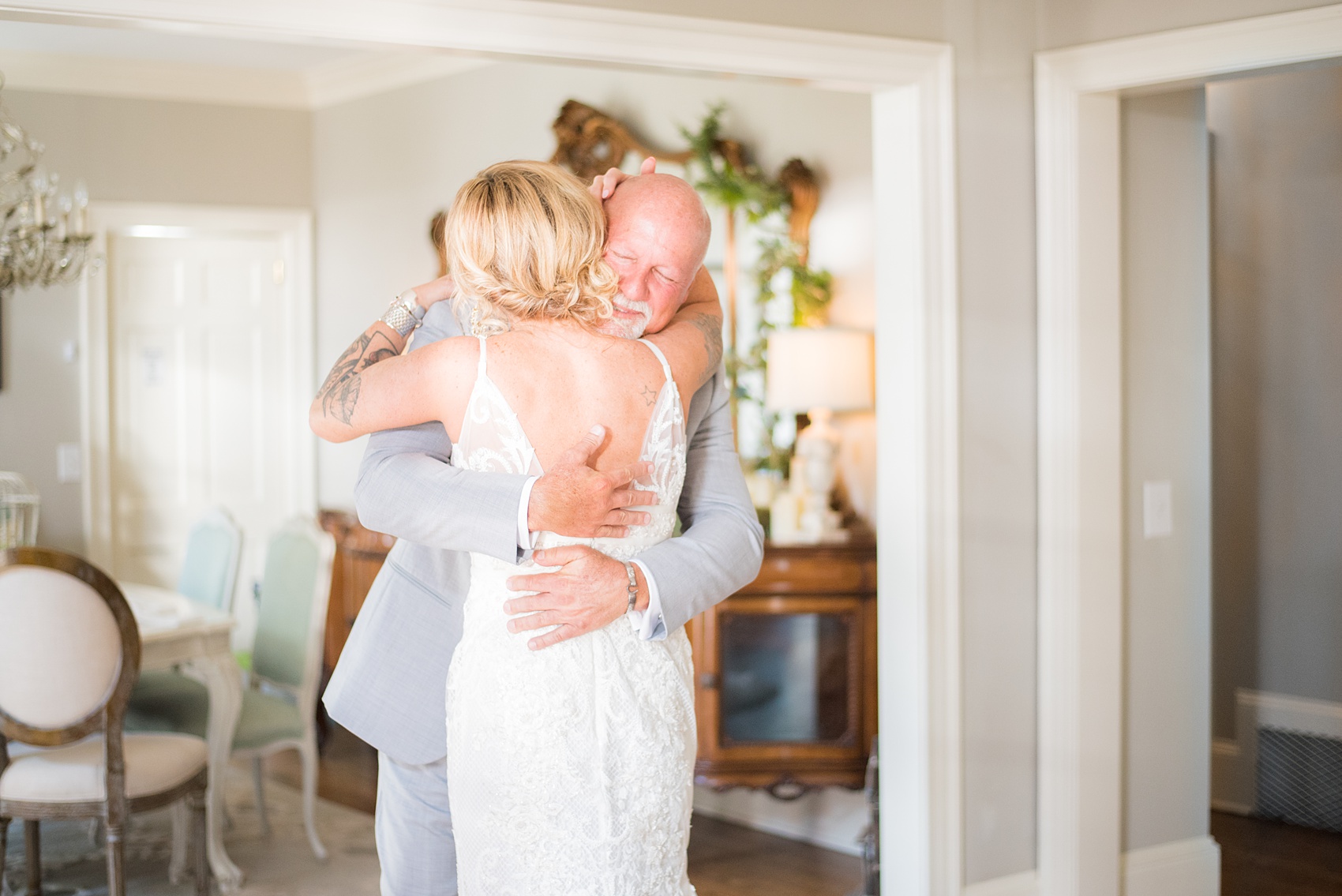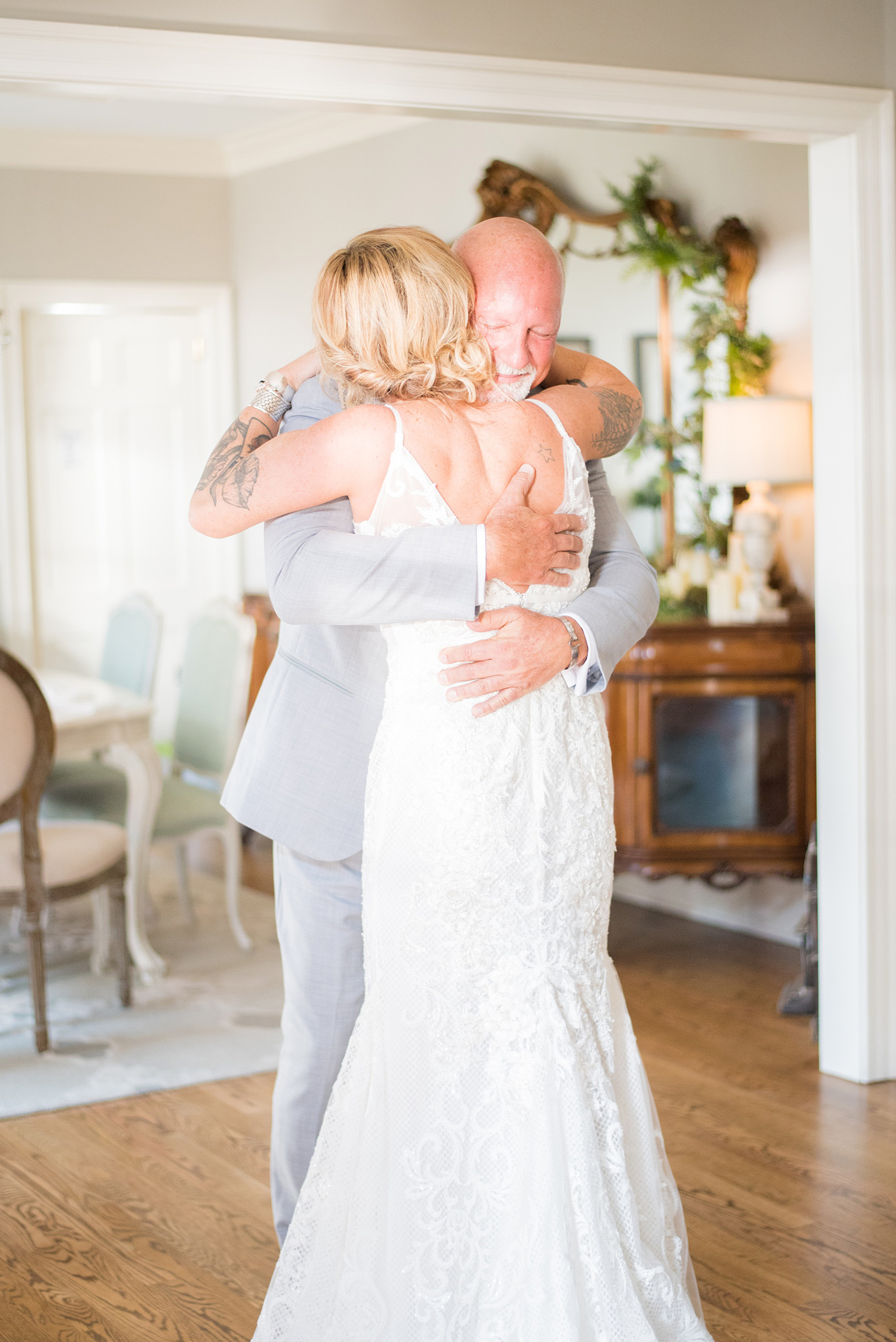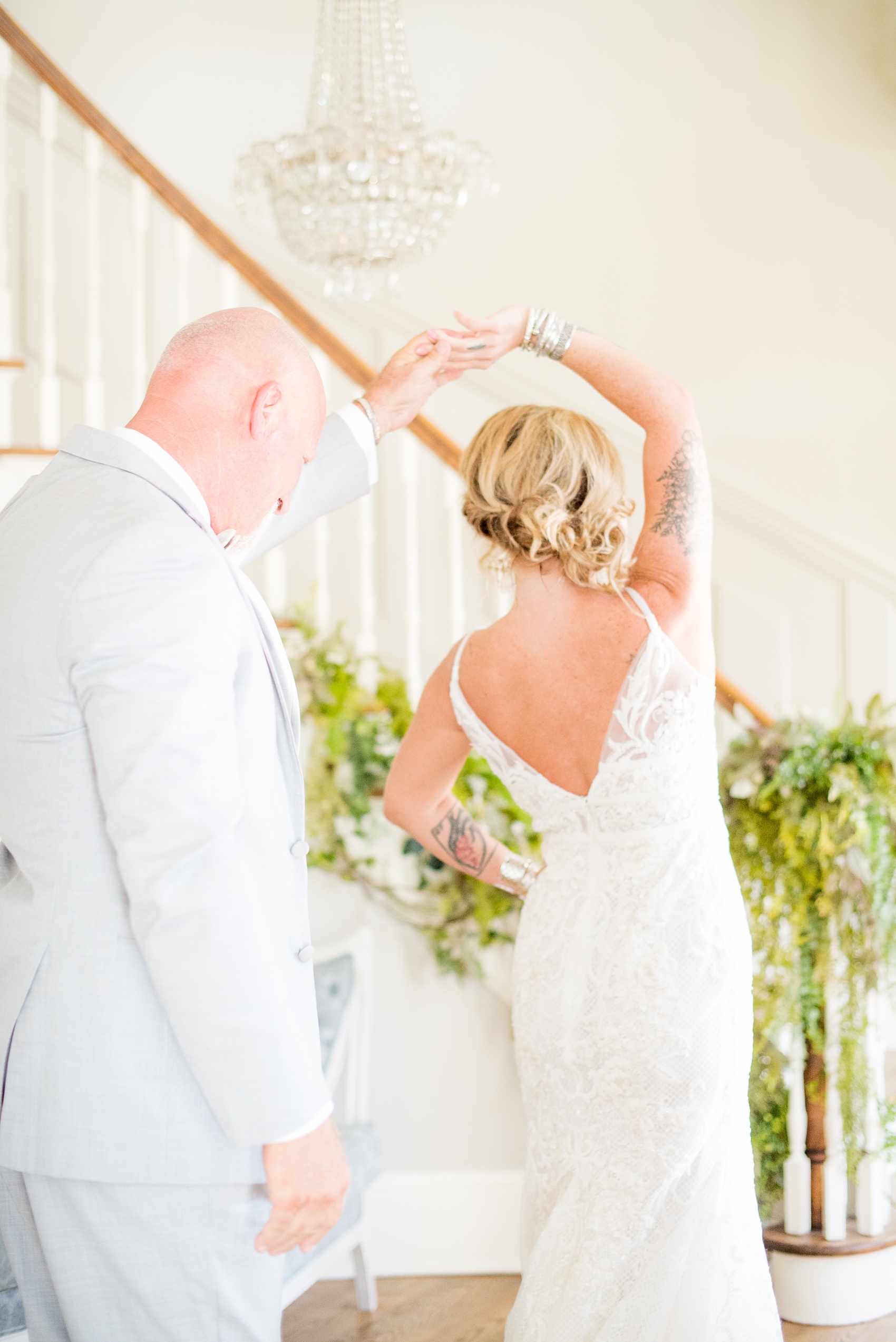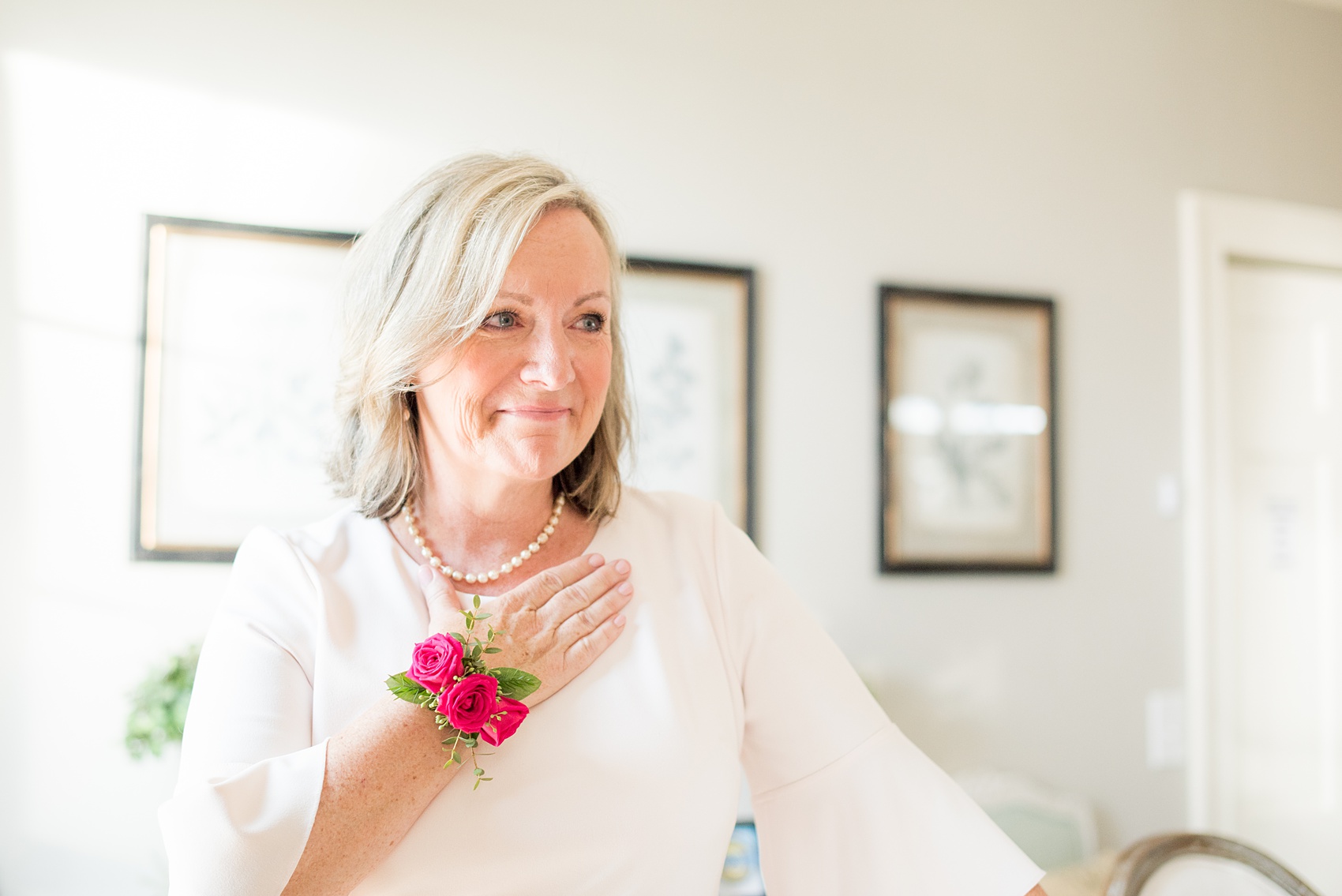 They had an overwhelmingly joyful first look! Shannon elegantly walked down the beautiful sweeping staircase in the foyer towards her groom. There was a lot of hug, kisses and tears of joy as soon as she tapped Mark on the shoulder to turn around! I absolutely love Shannon's mother's reaction watching their first look unfold.
The entire wedding party transferred to downtown Fuquay-Varina right after their first look. It was important for me to capture the vision the bride and groom had for their wedding photos in an urban setting. Shannon chose her favorite spot for this purpose, which captures the grittiness of part of the suburban city their venue was in. I love, love, love when a bride has a vision like this because it's true gritty city-scapes can be just as beautiful as lush, manicured lawns and parks can be.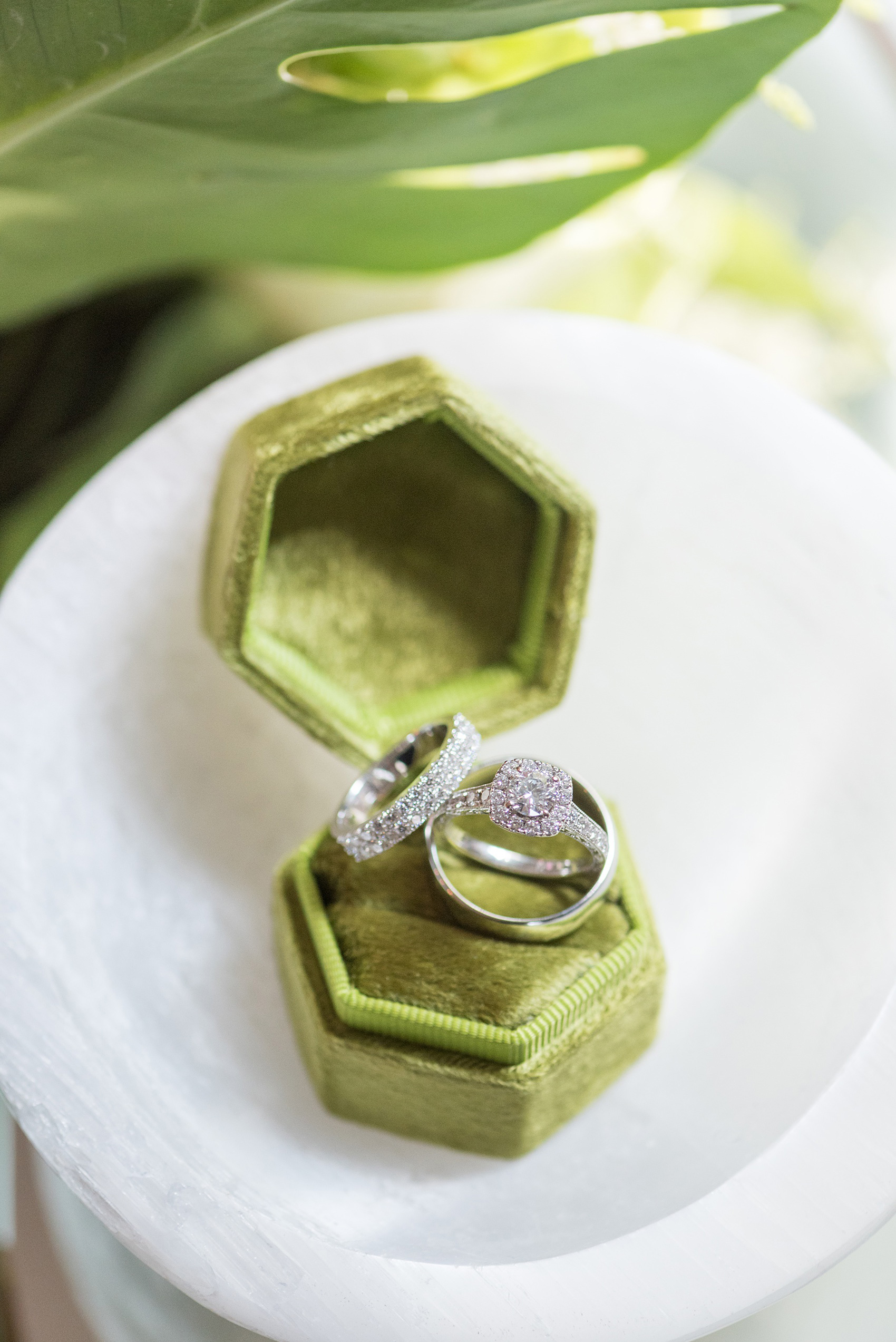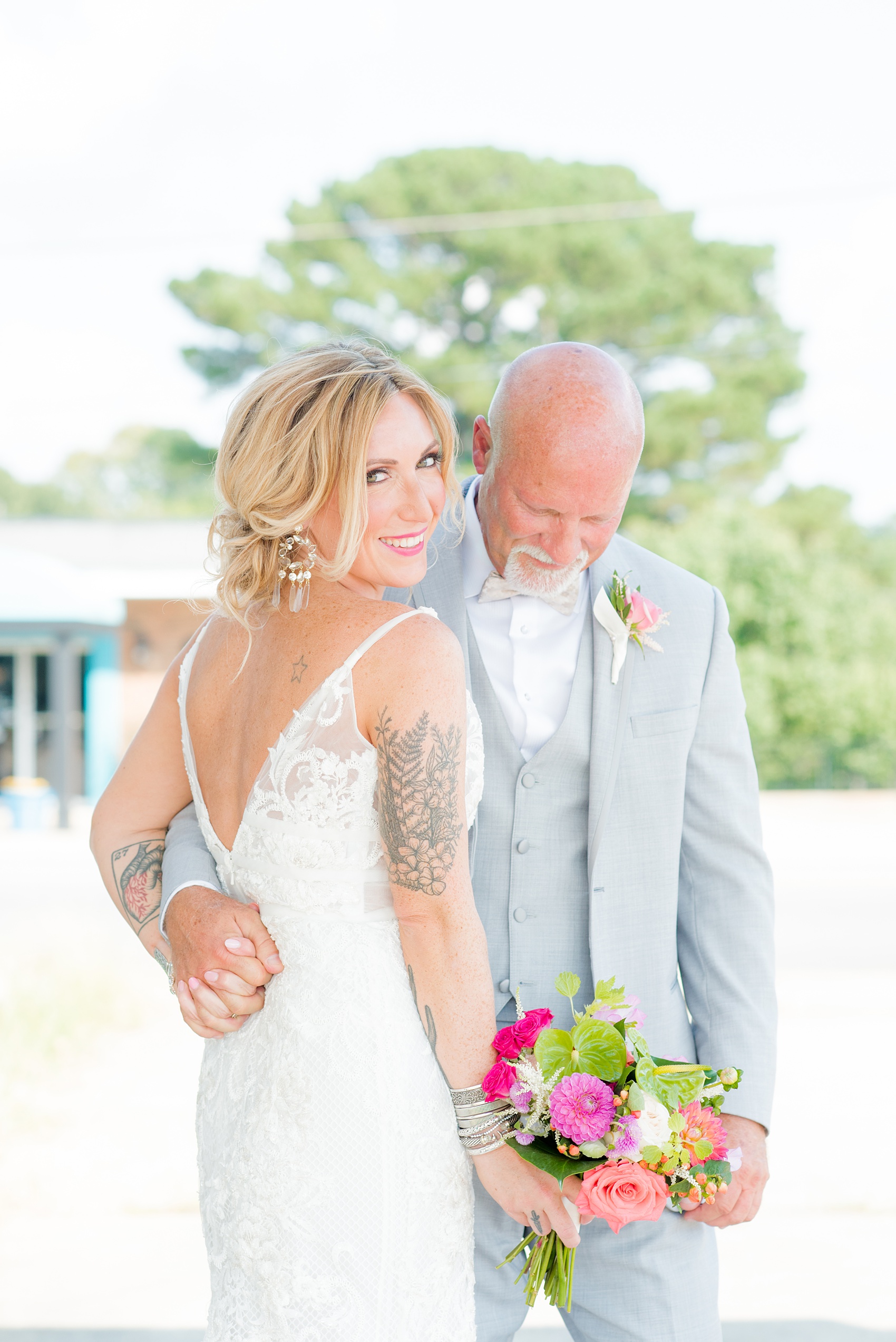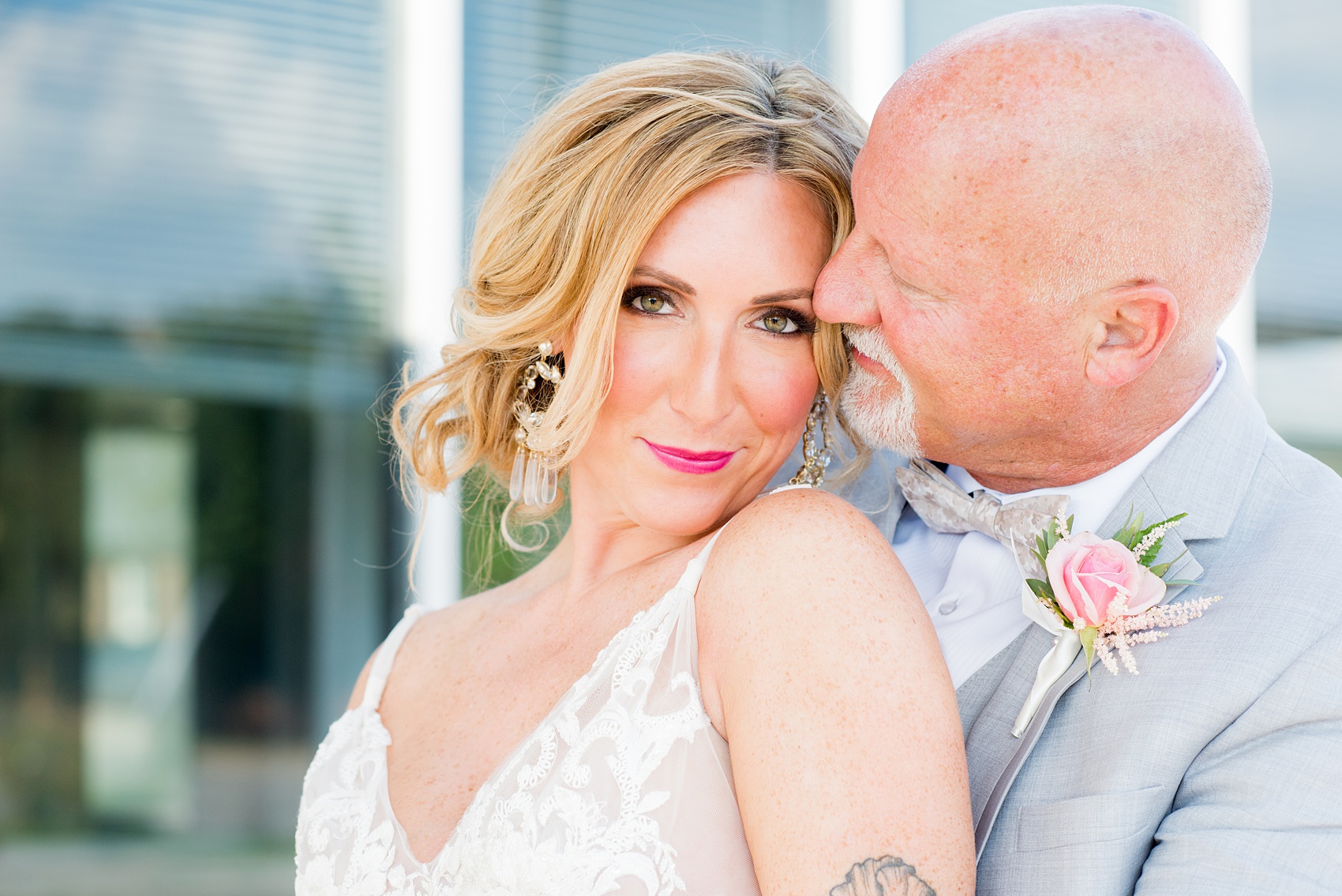 Of course many cars and motorcyclists honked their horns to congratulate them as they drove by on a main street. I adore this capture of the wedding party's reaction as it happened!  I also love that Shannon brought heart sunglasses to take photos in. They added such a cute whimsy to their photos and resulted in some of my favorite photographs of the day.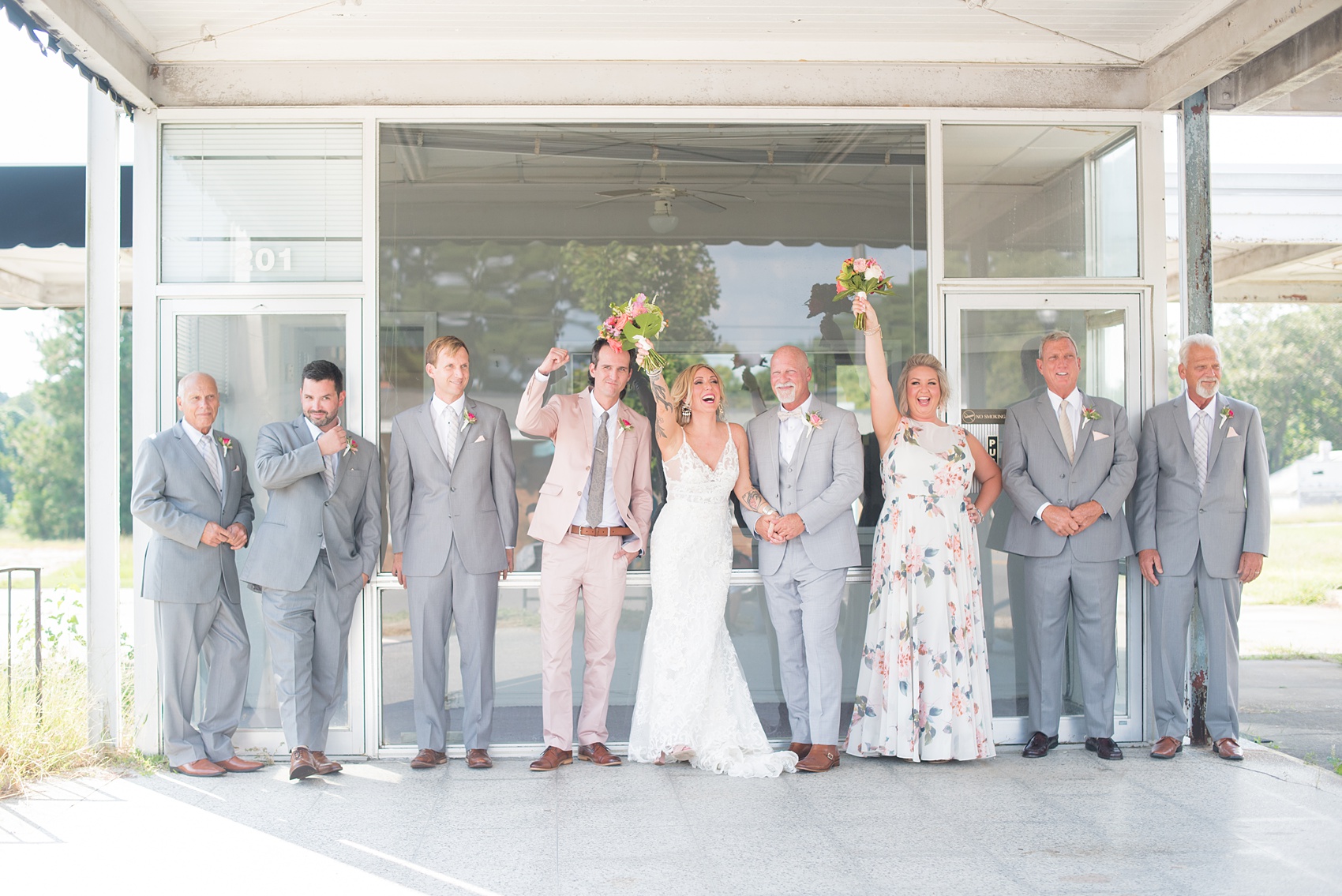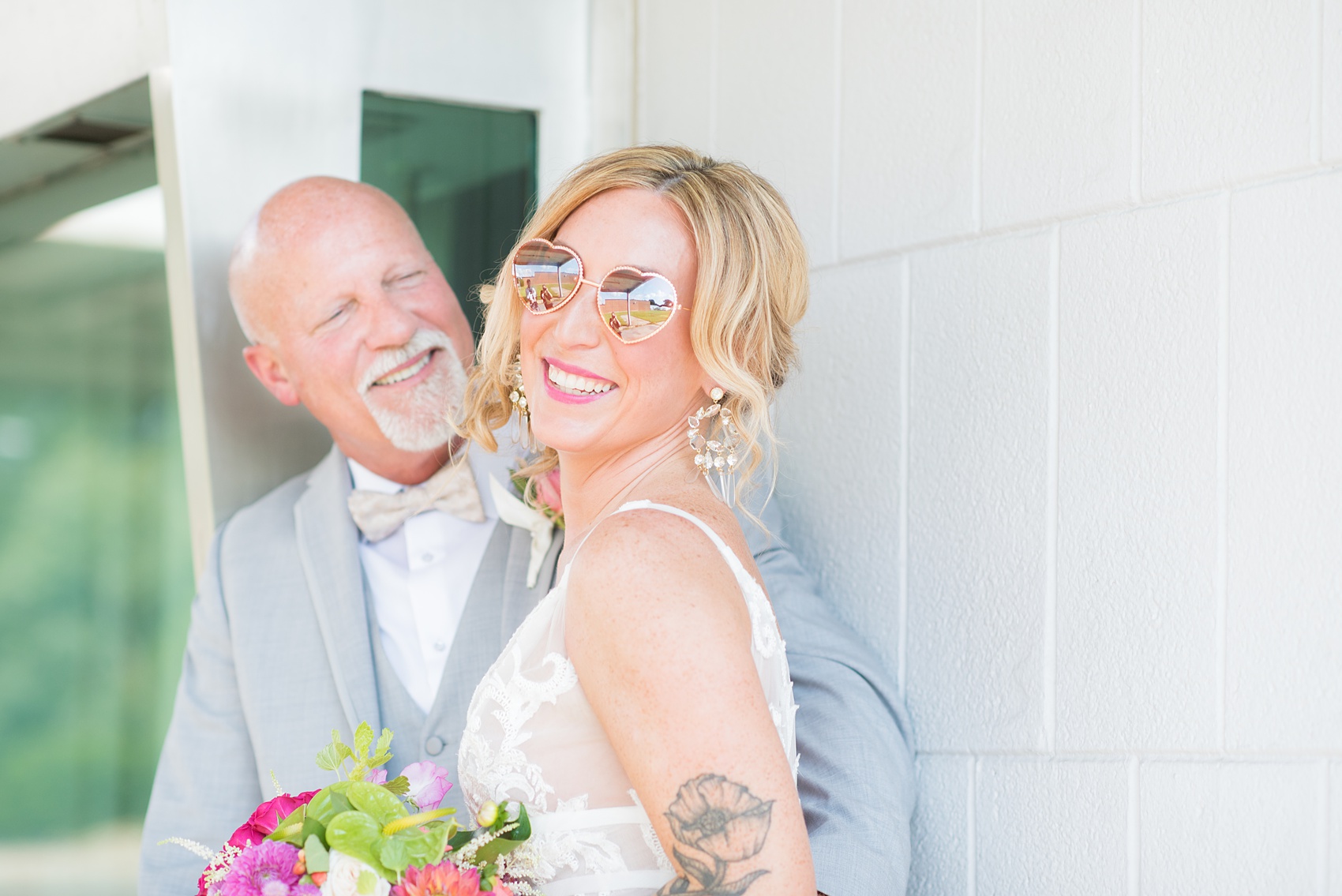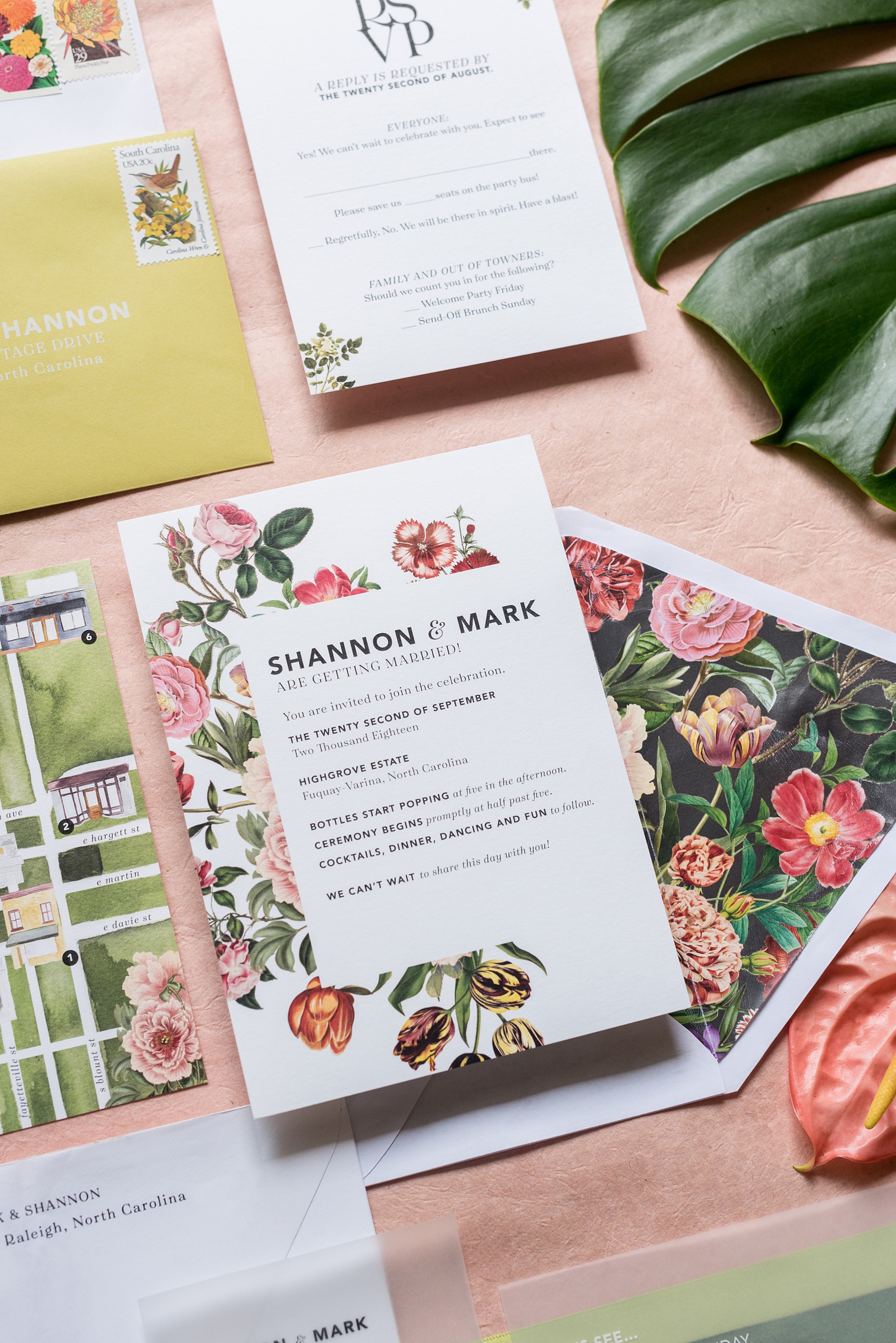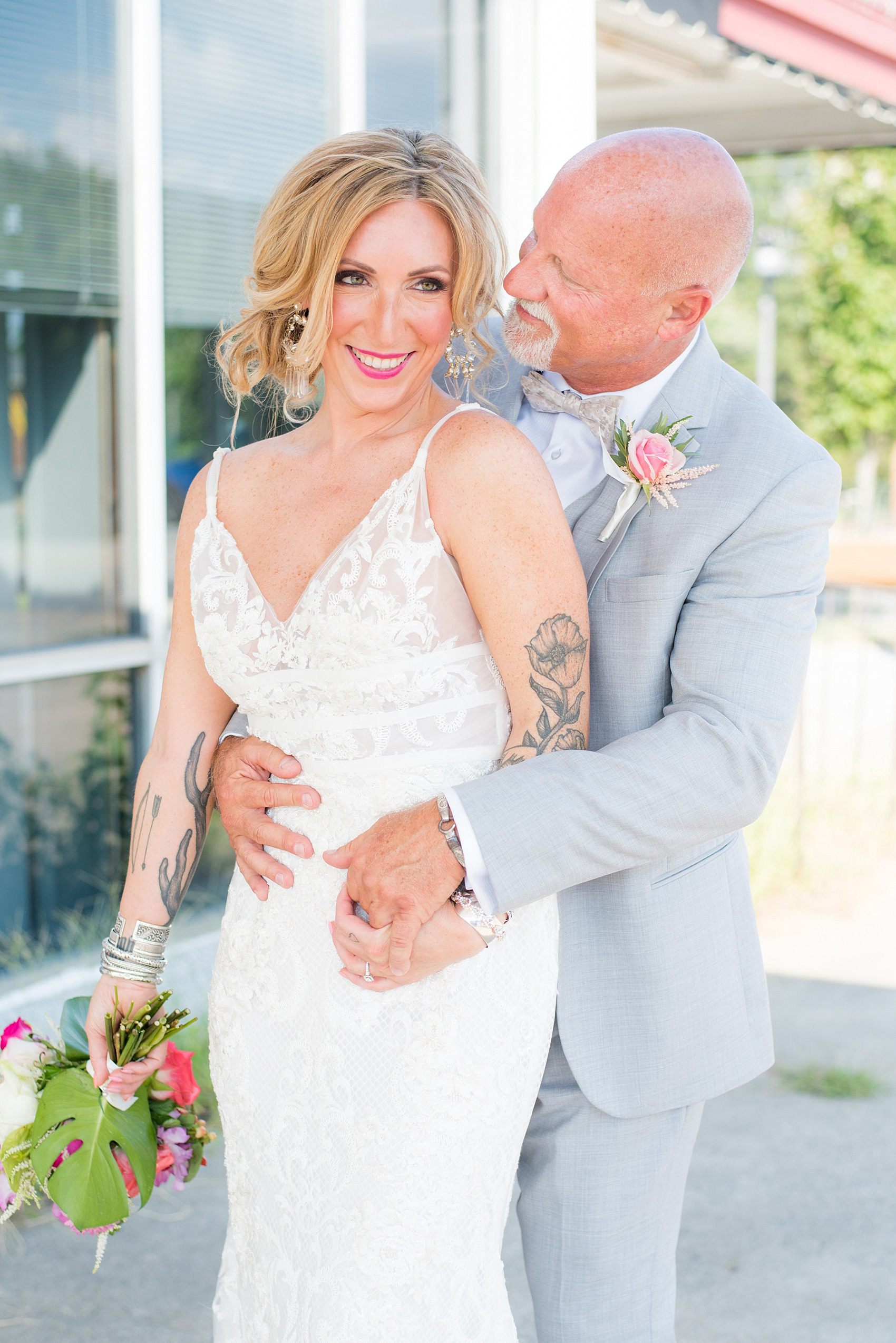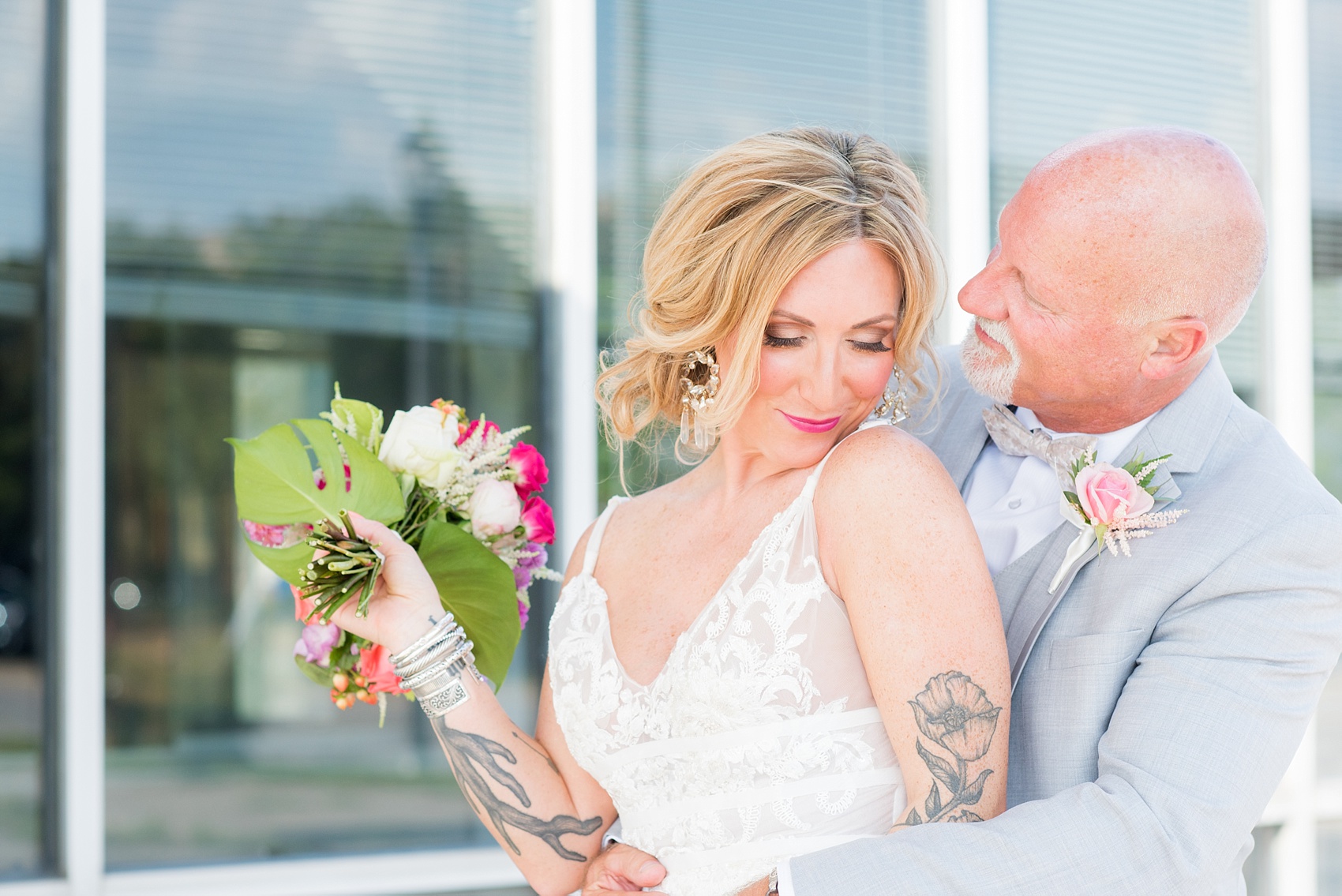 There may be a lot of images of them in this post – but it was truly SO HARD to select anything less than what's included to tell the story of their day. It was just all so awesome and each image I've included struck a chord with my heart!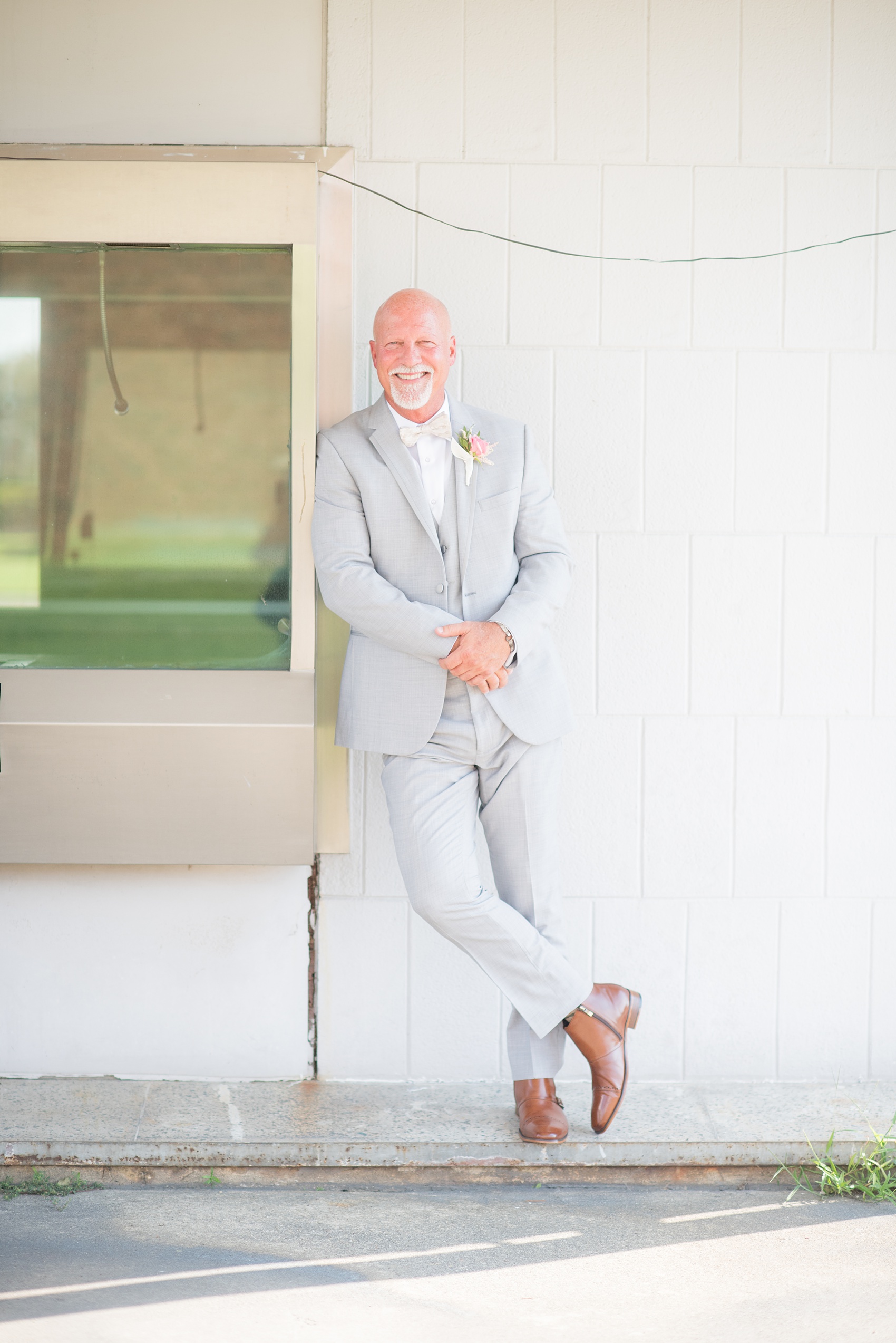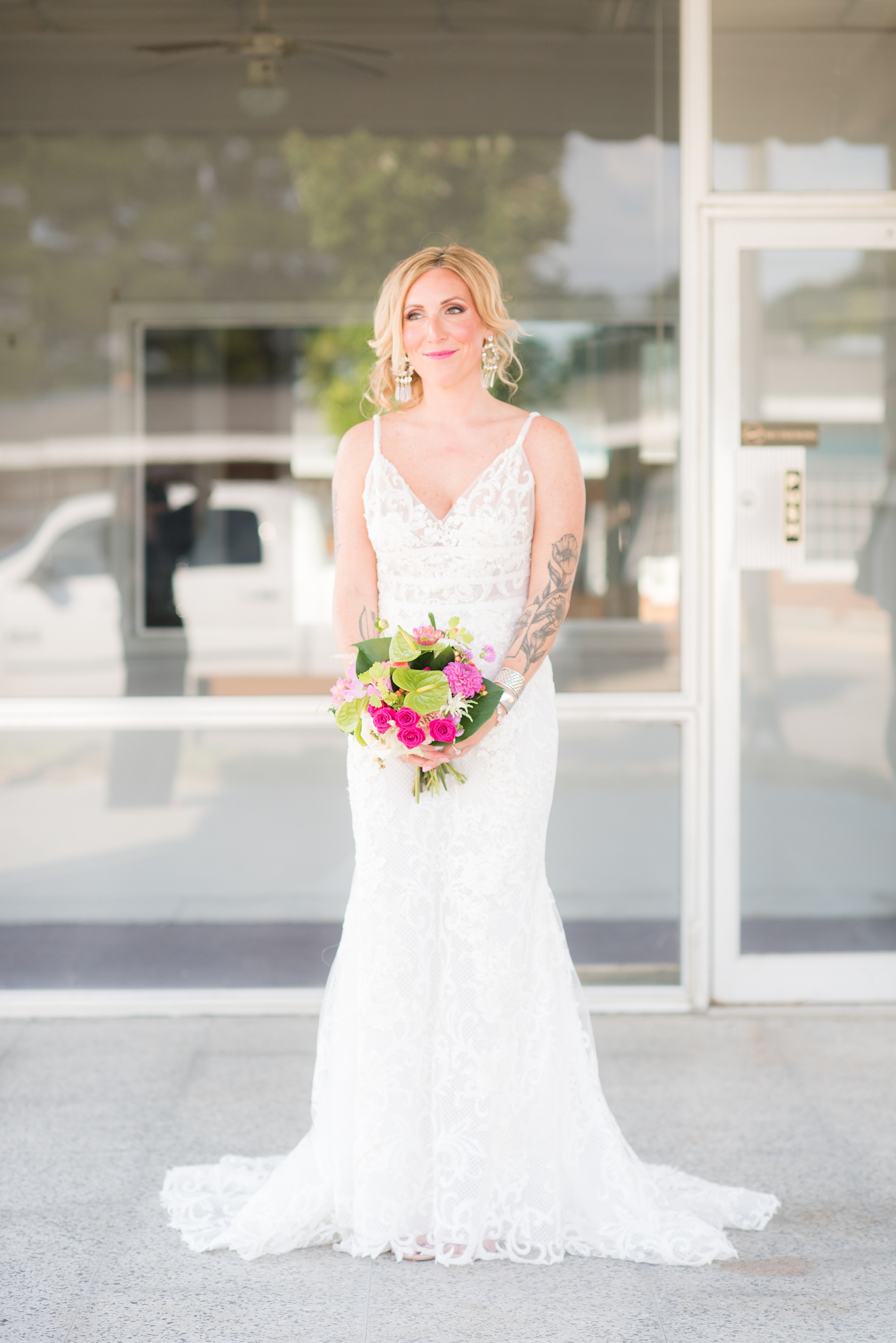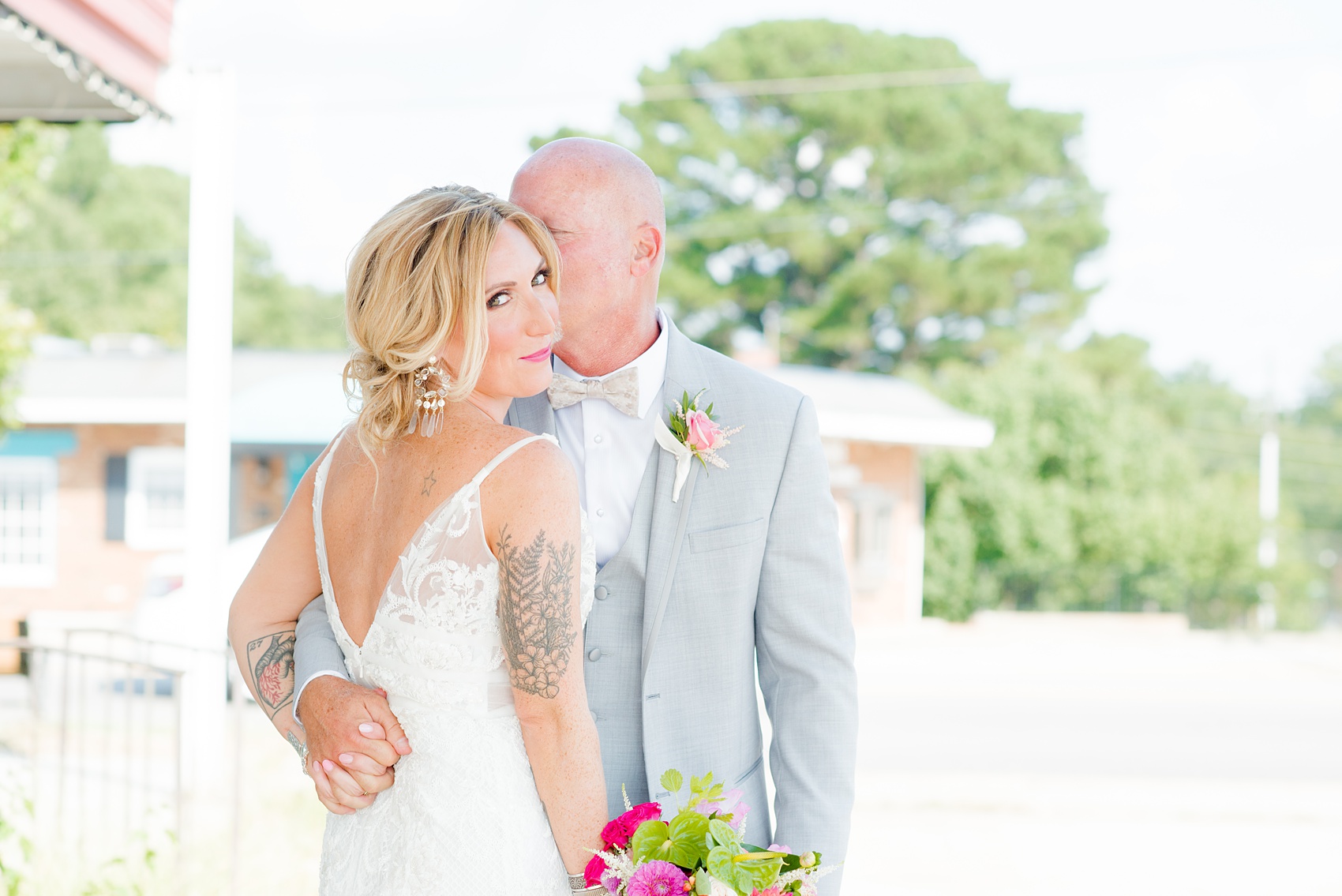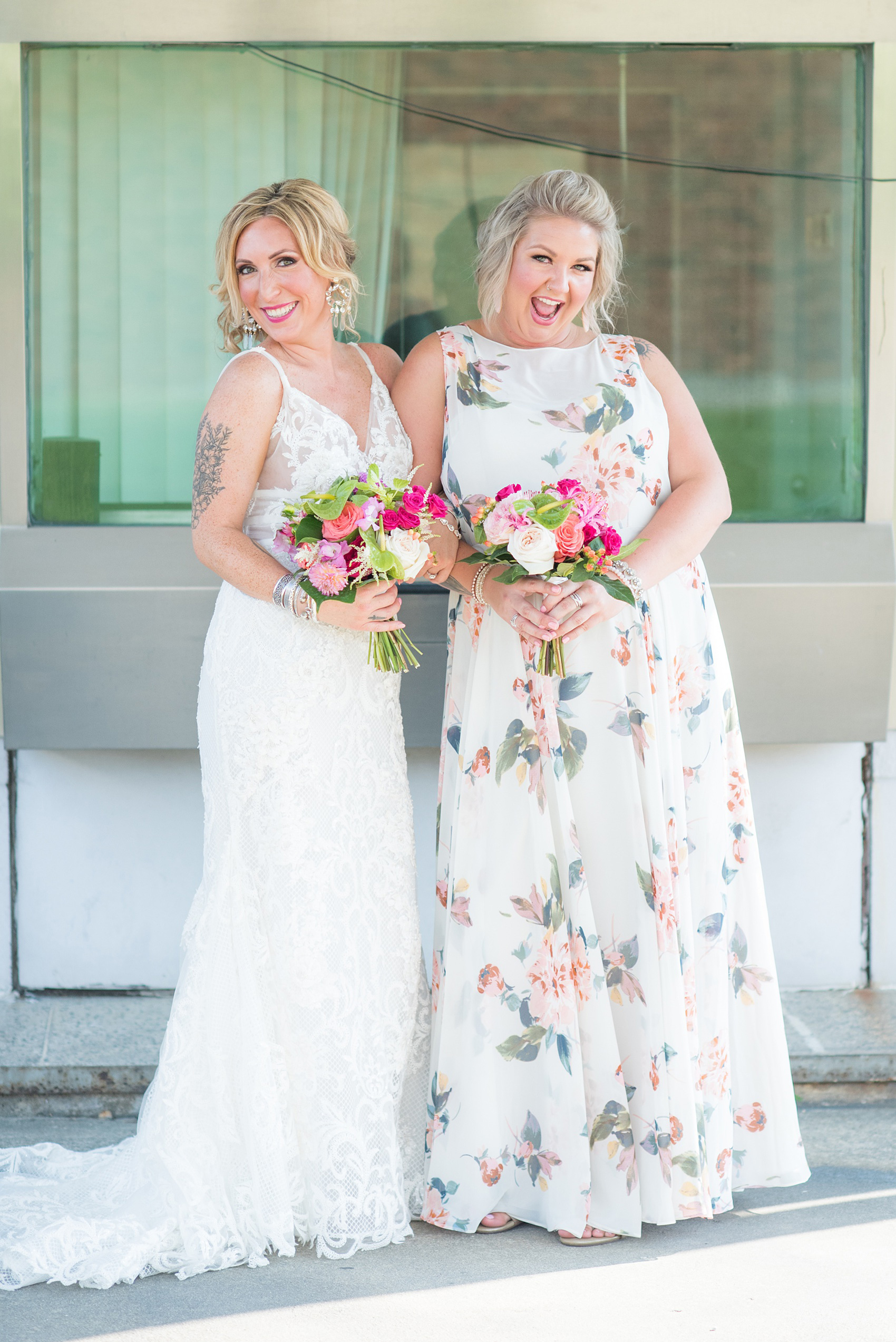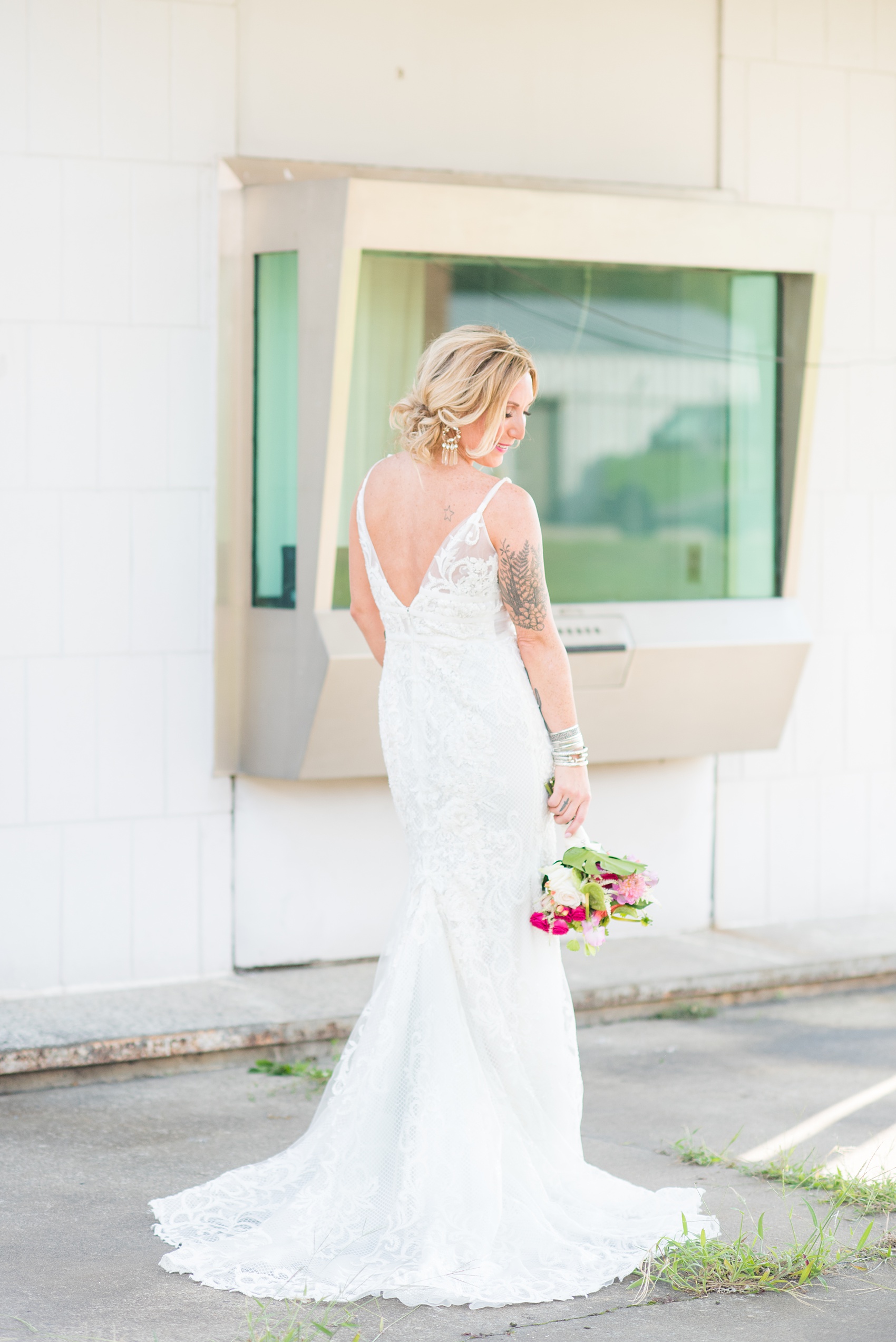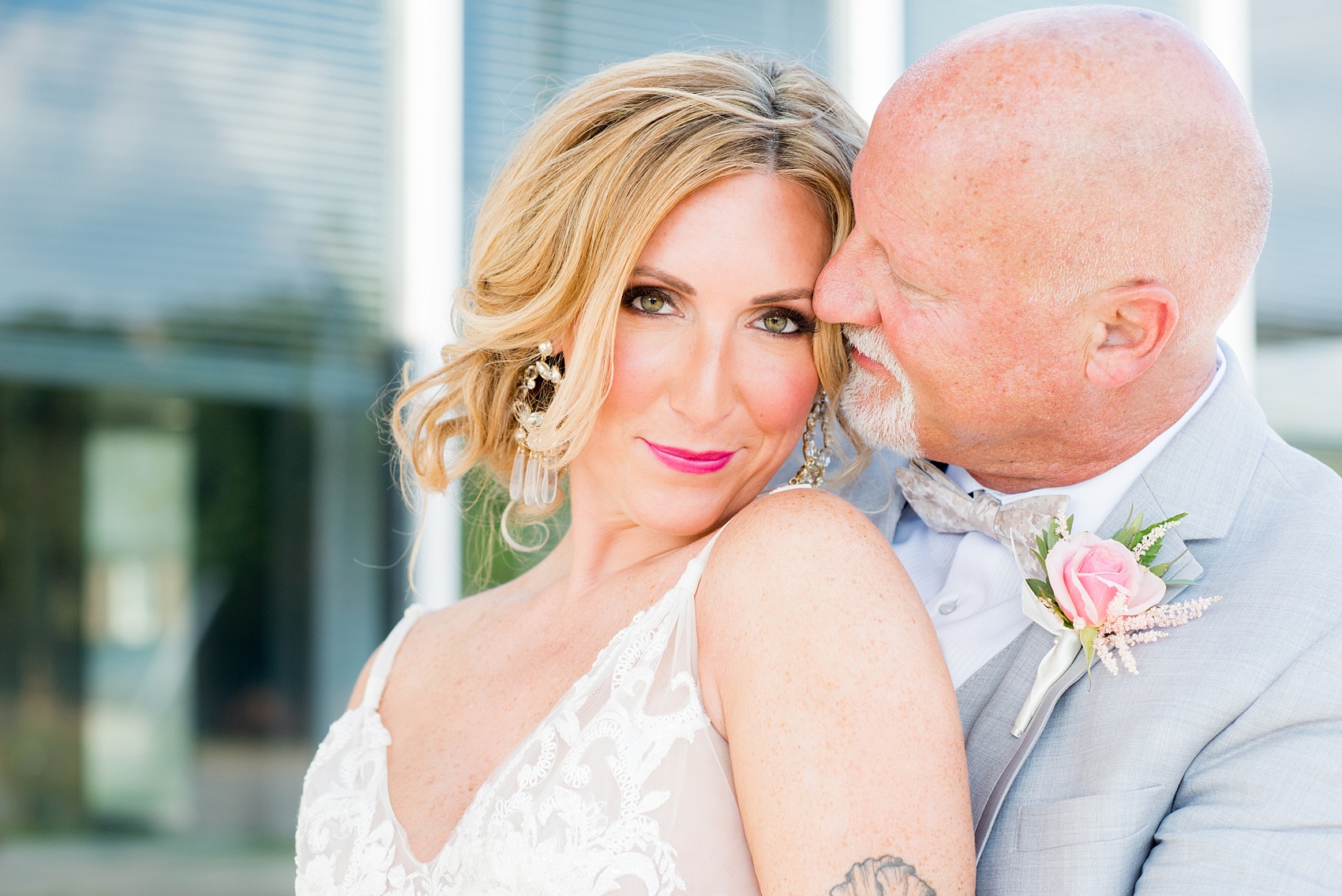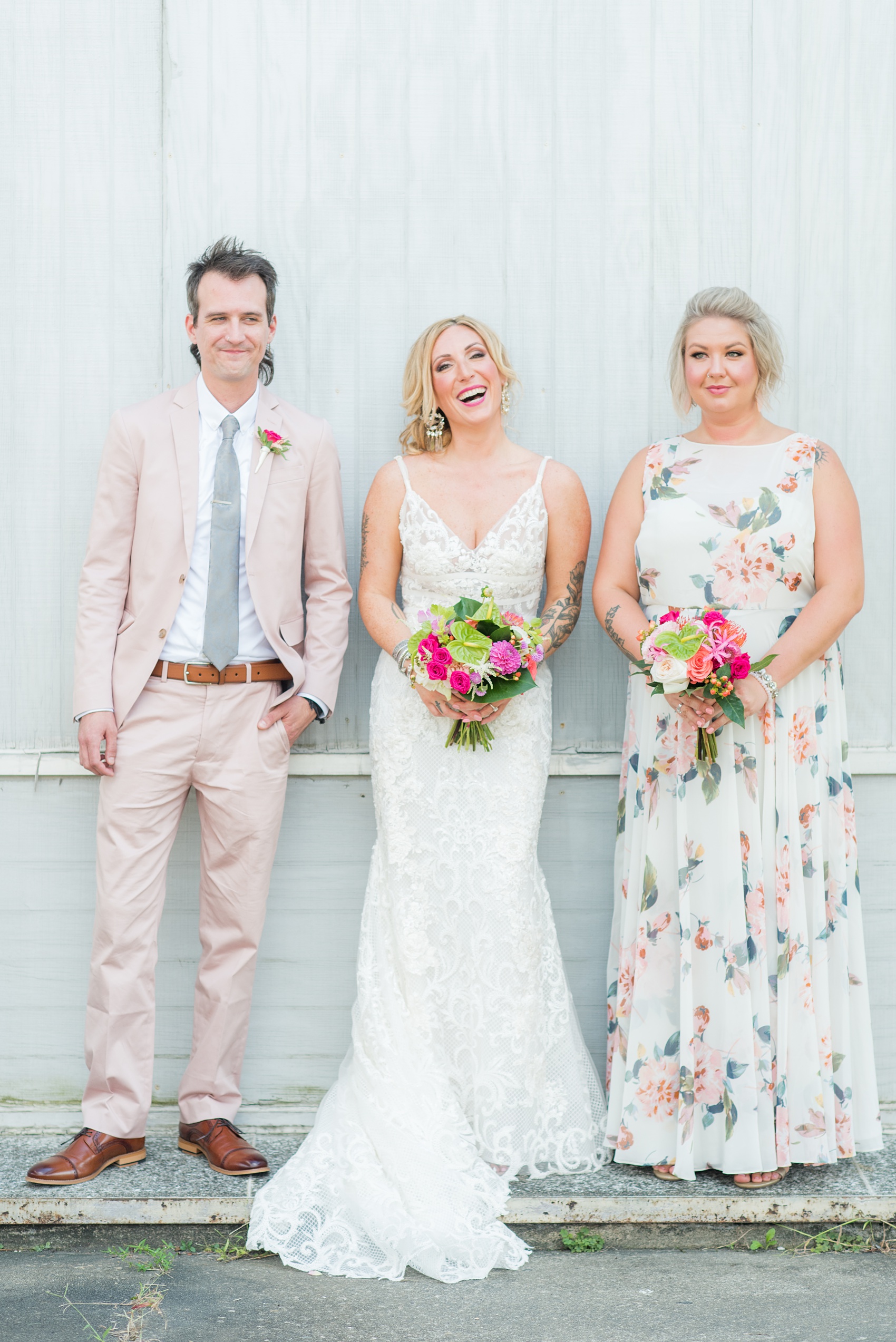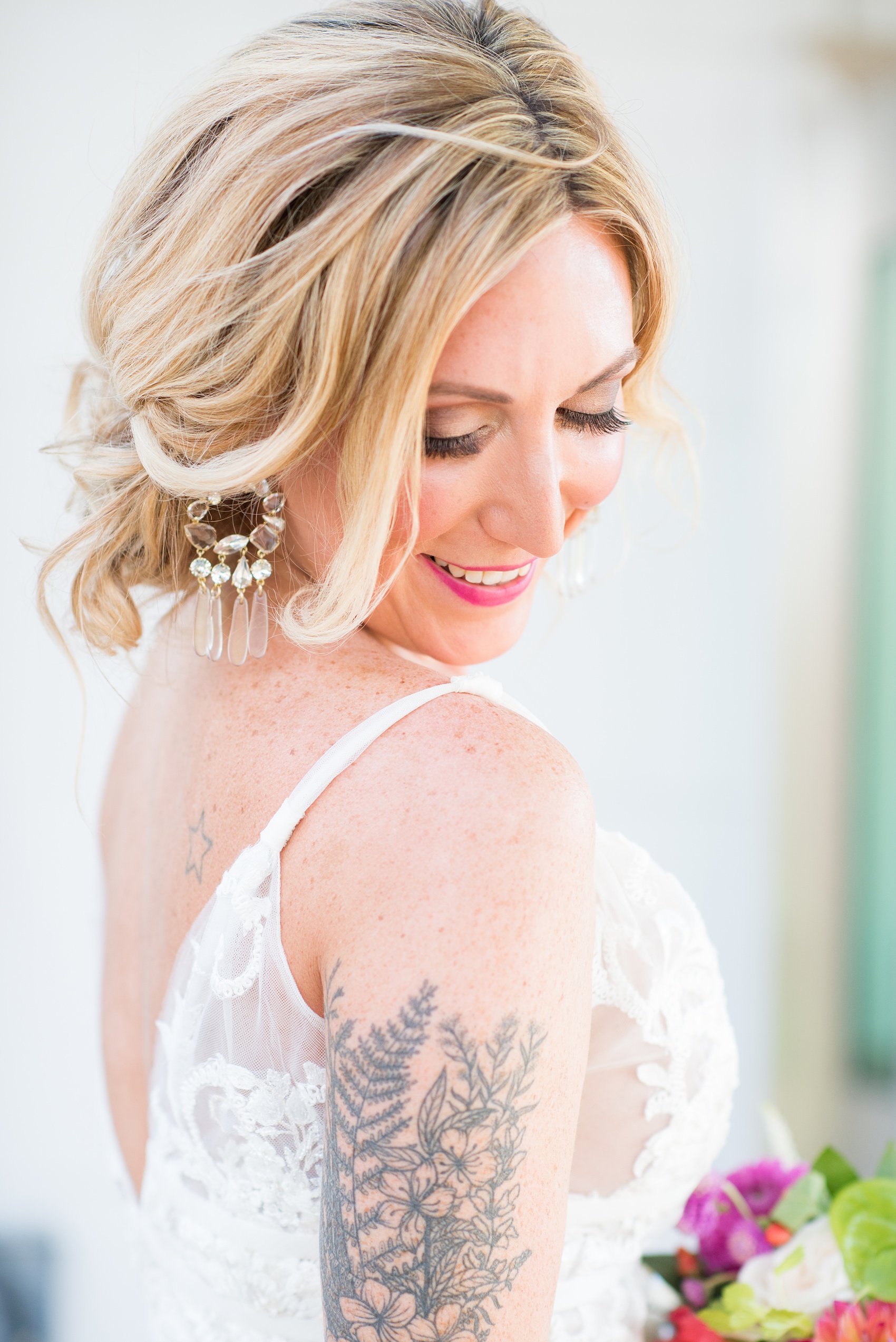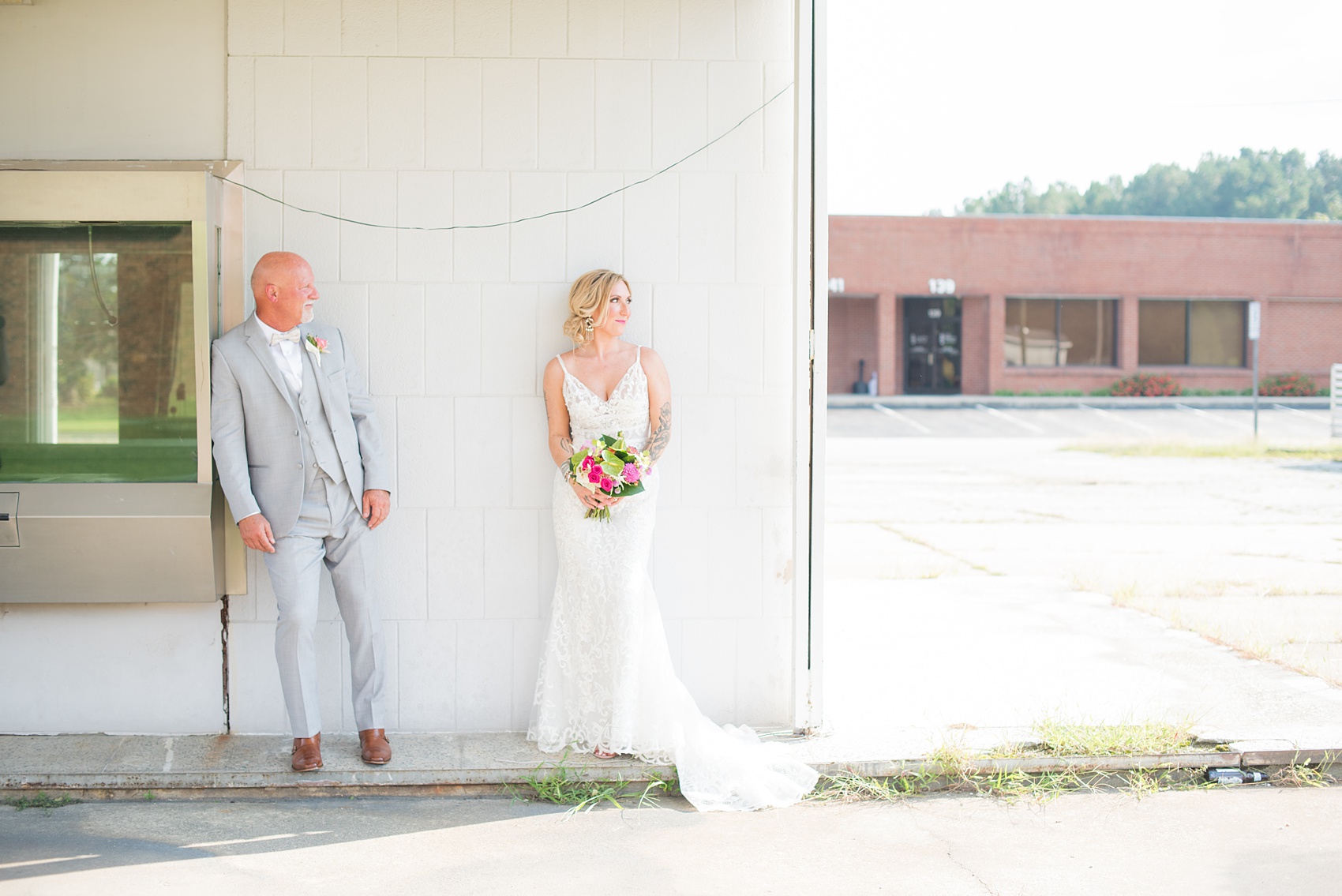 The guys all wore grey suits with matching boutonnieres and Shannon's Maid of Honor wore a floral patterned gown. Her "brides dude" wore a pink suit. It's these distinct decisions that really gave Shannon and Mark's wedding a personality of its own, befitting to such an awesome couple.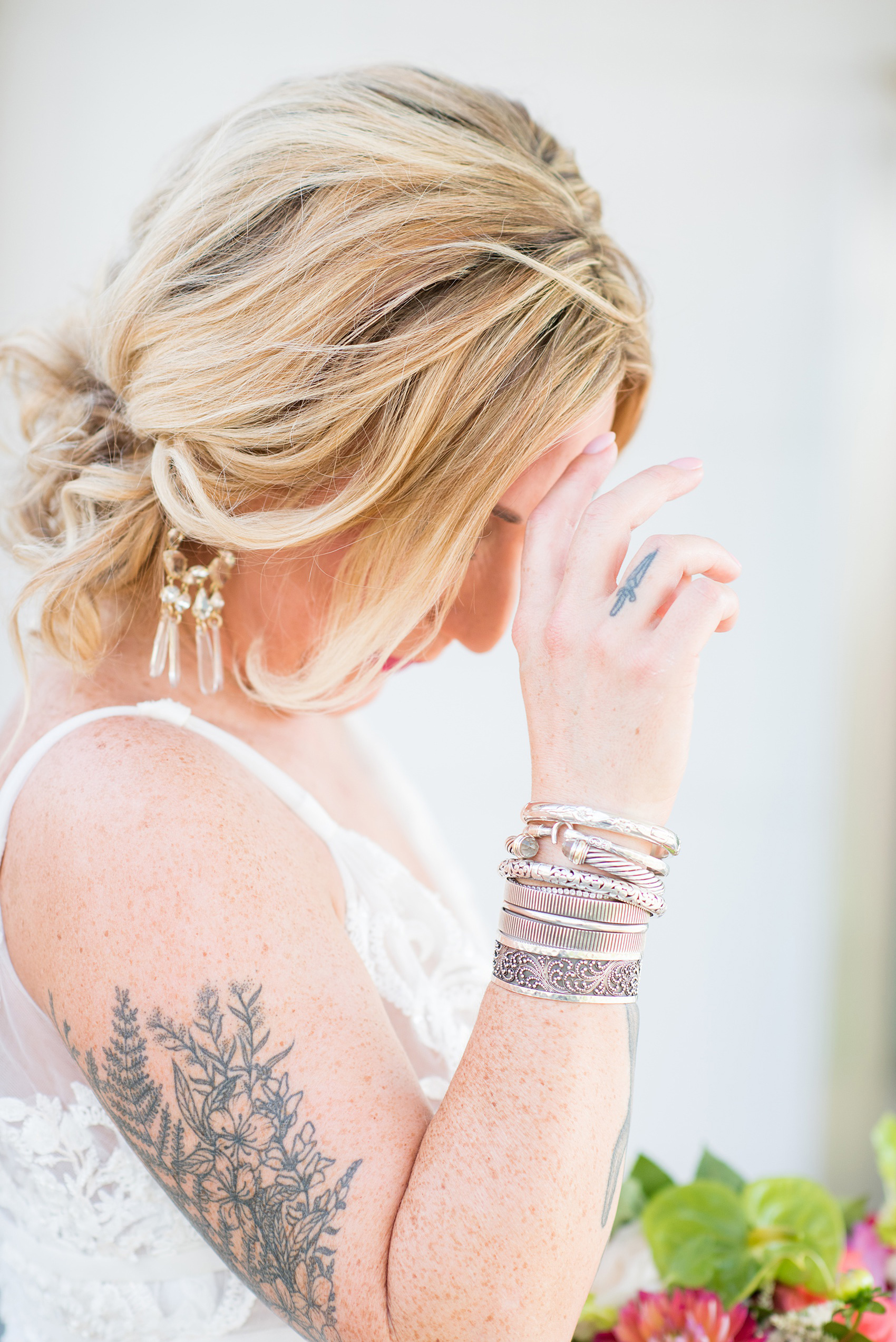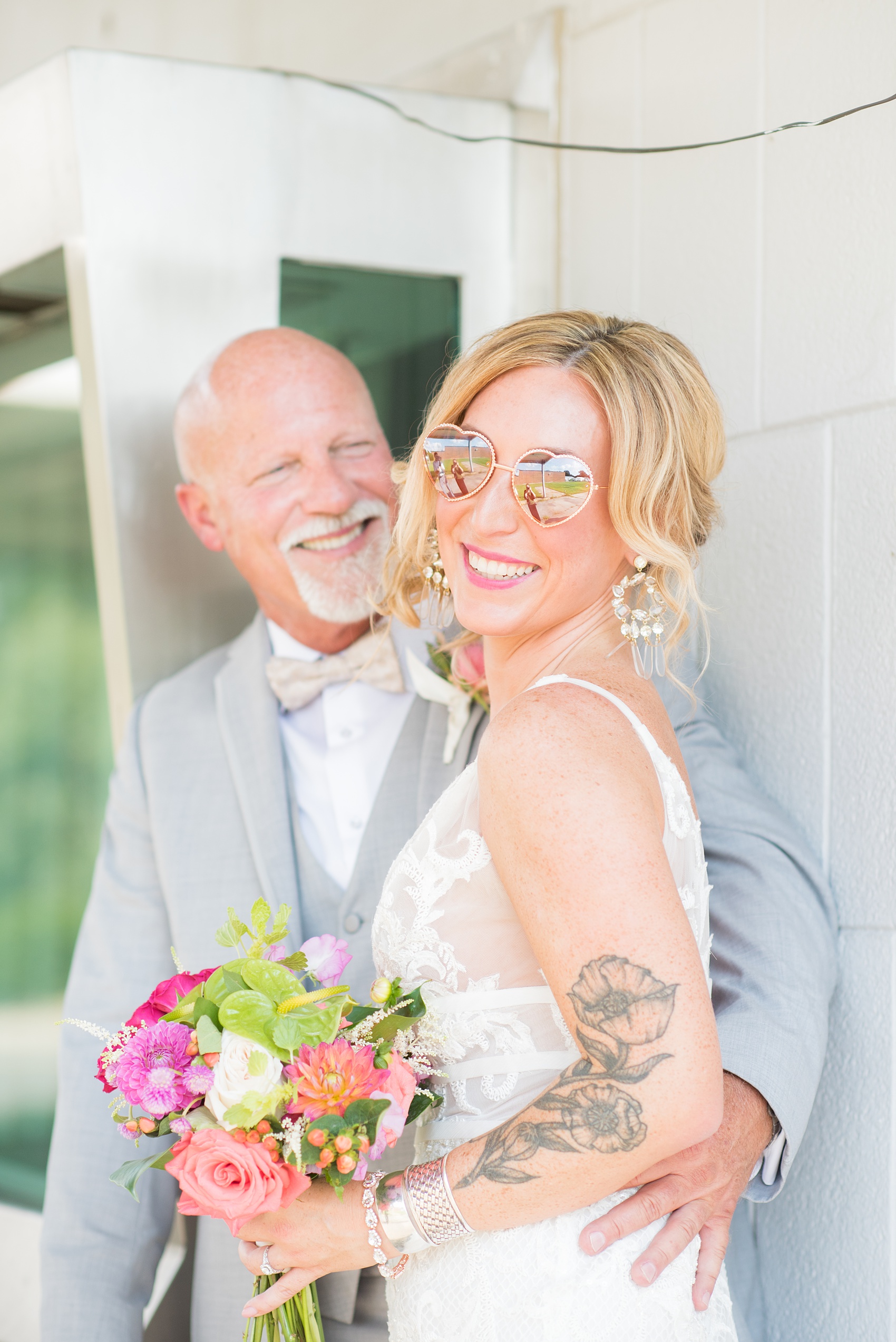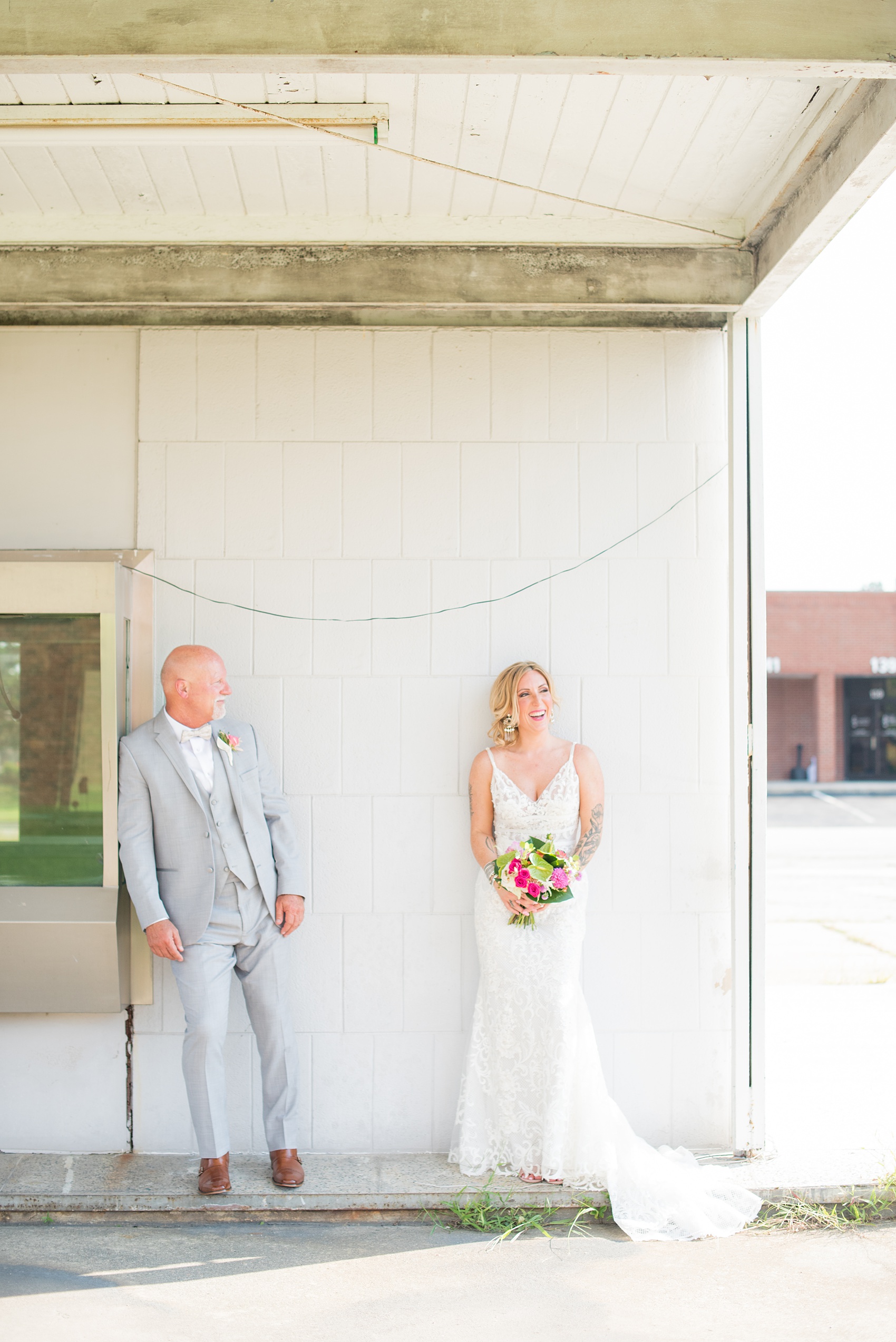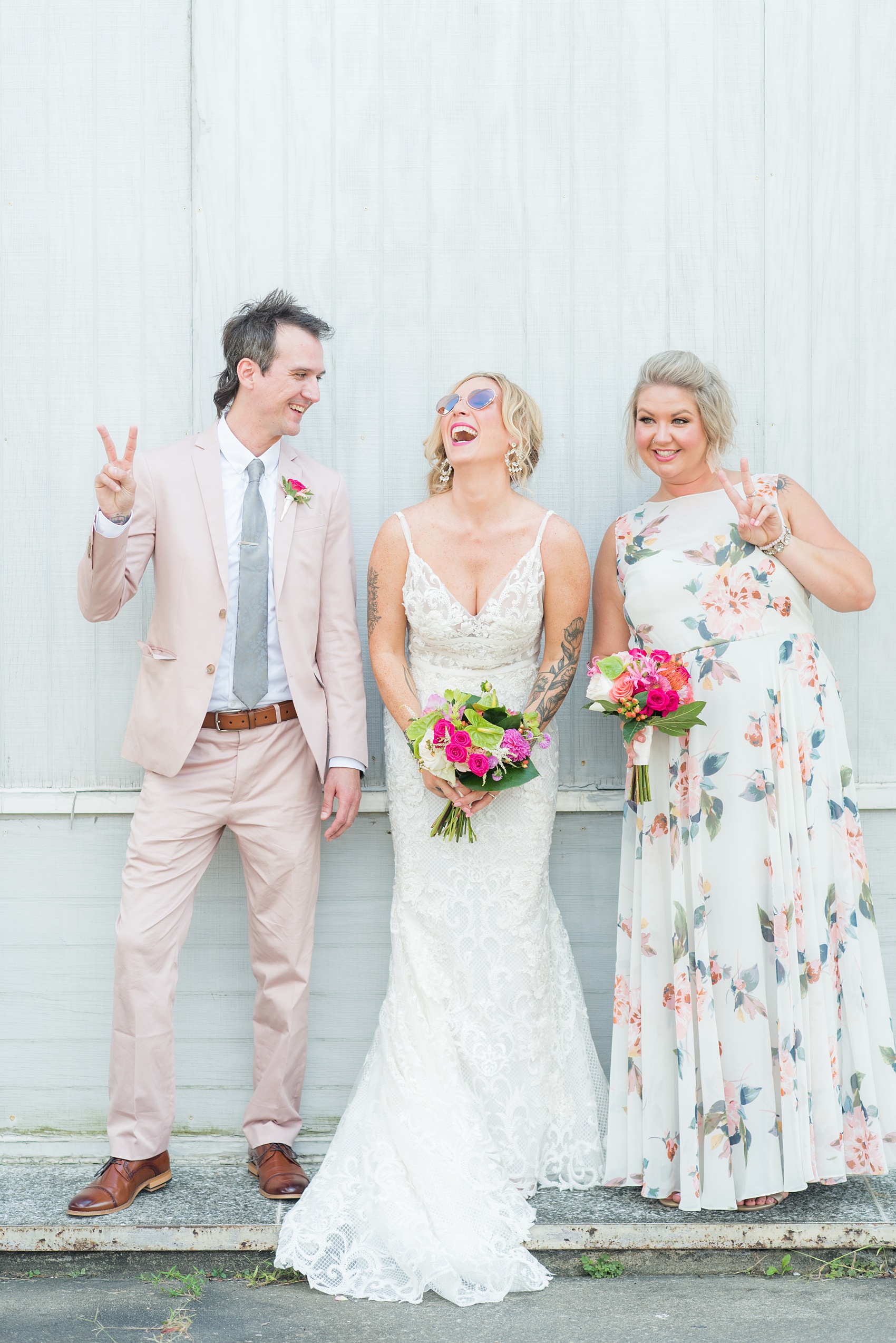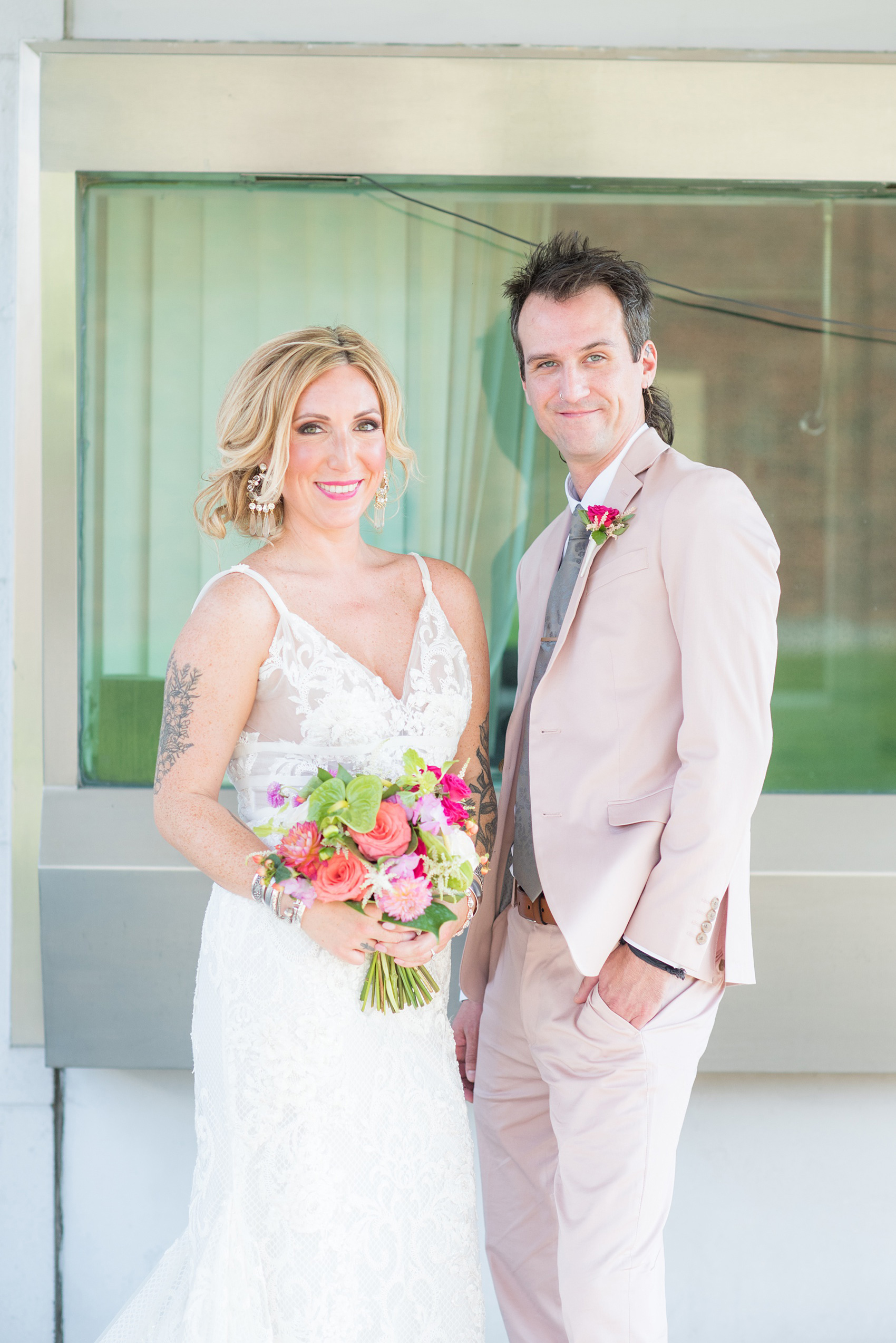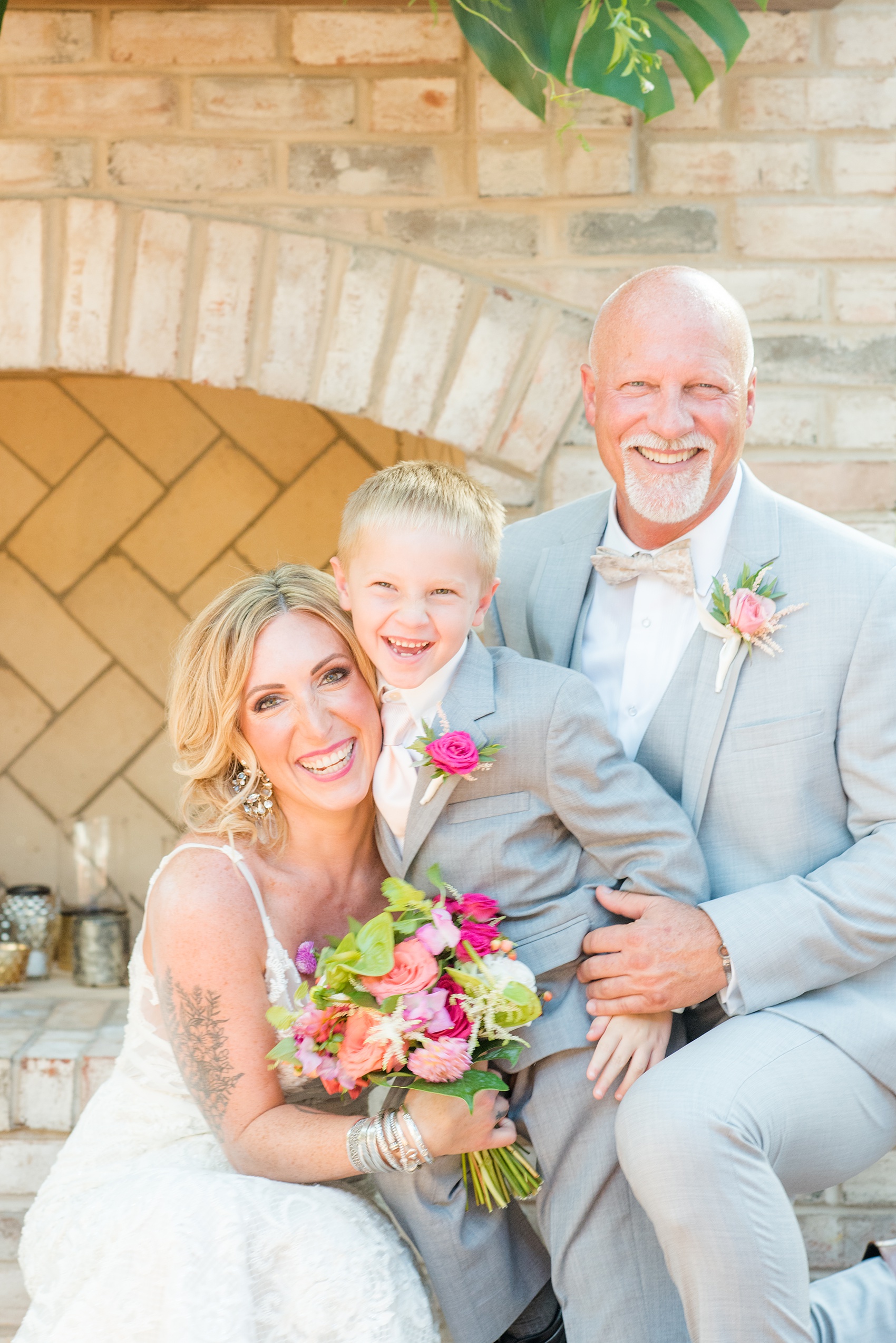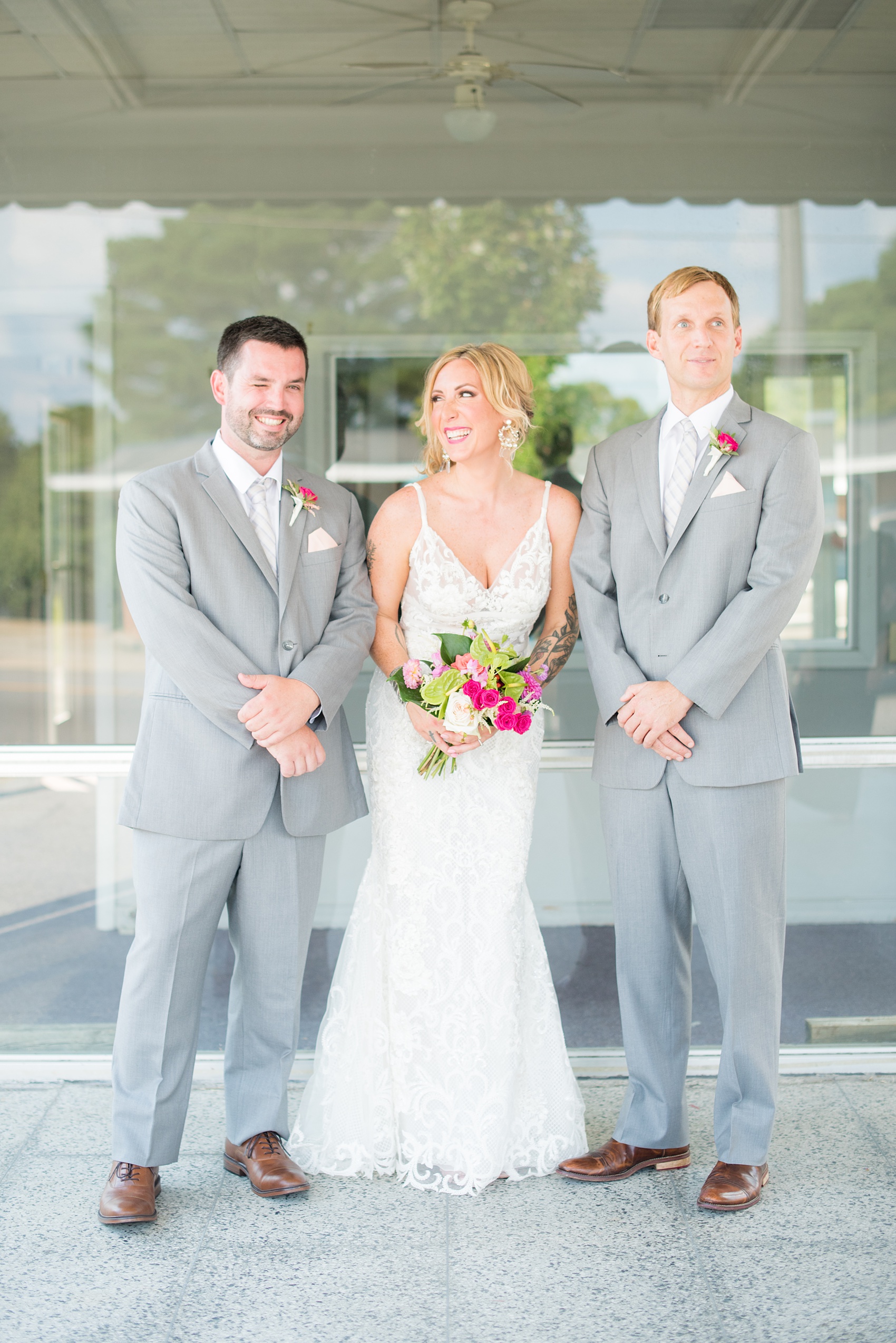 Their reception was outdoors and drenched in gorgeous flowers. Roses, Calla Lilies, Snapdragons and a variety of green vines were strung from the pergola with tropical leaves as a crowning topper. There were colorful petals forming a carpet behind the "altar" and also on either side down the aisle. Even the lamp posts on the top and bottom of the staircase had flowers wrapped around it. The ring bearer carried a huge, white balloon with "Here Comes the Bride" in gold calligraphy on it instead of the rings. They thought the responsibility of carrying the rings was best left to an adult 😉 so Mark's brother had them. They were kept in a pretty, hexagonal moss velvet ring box.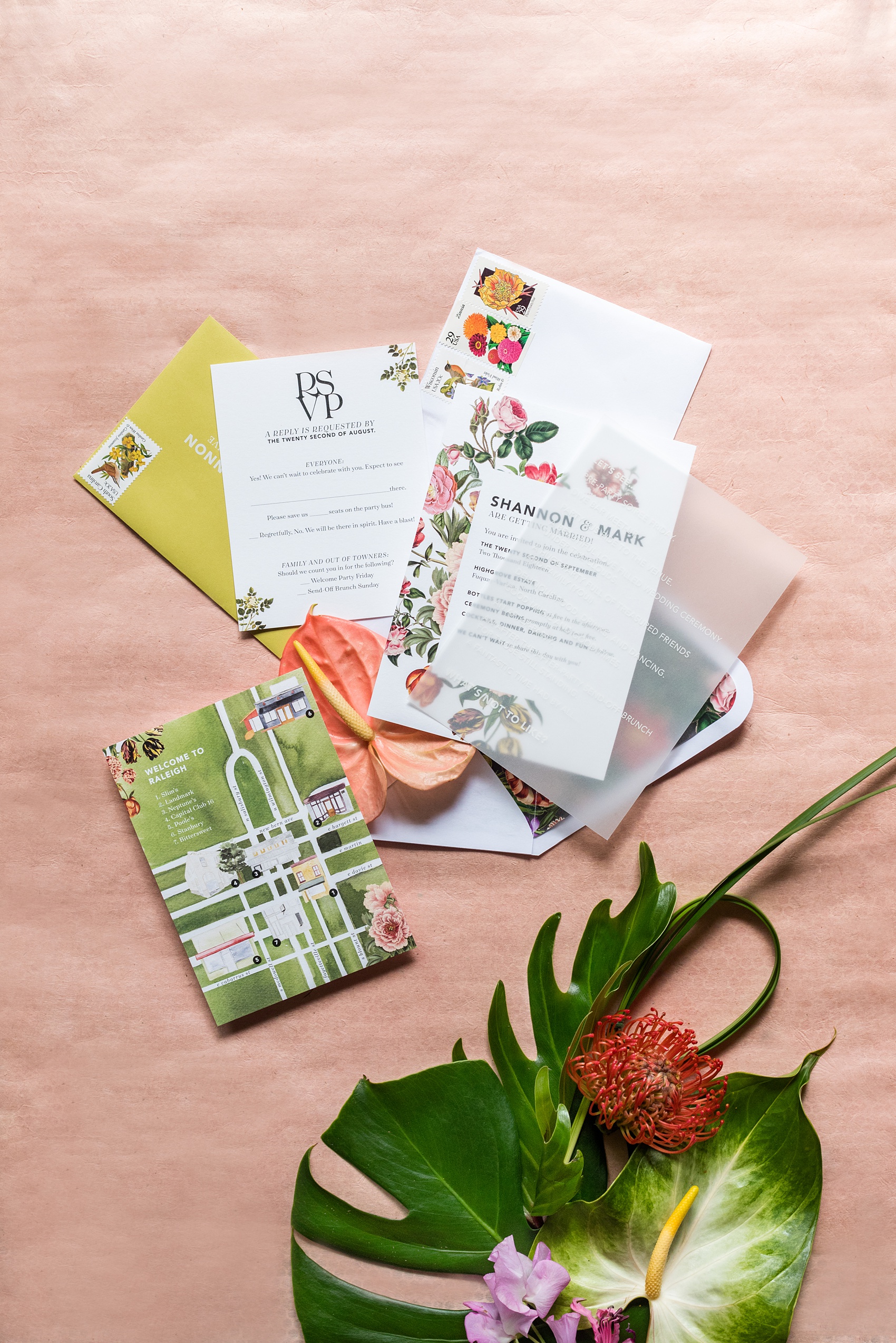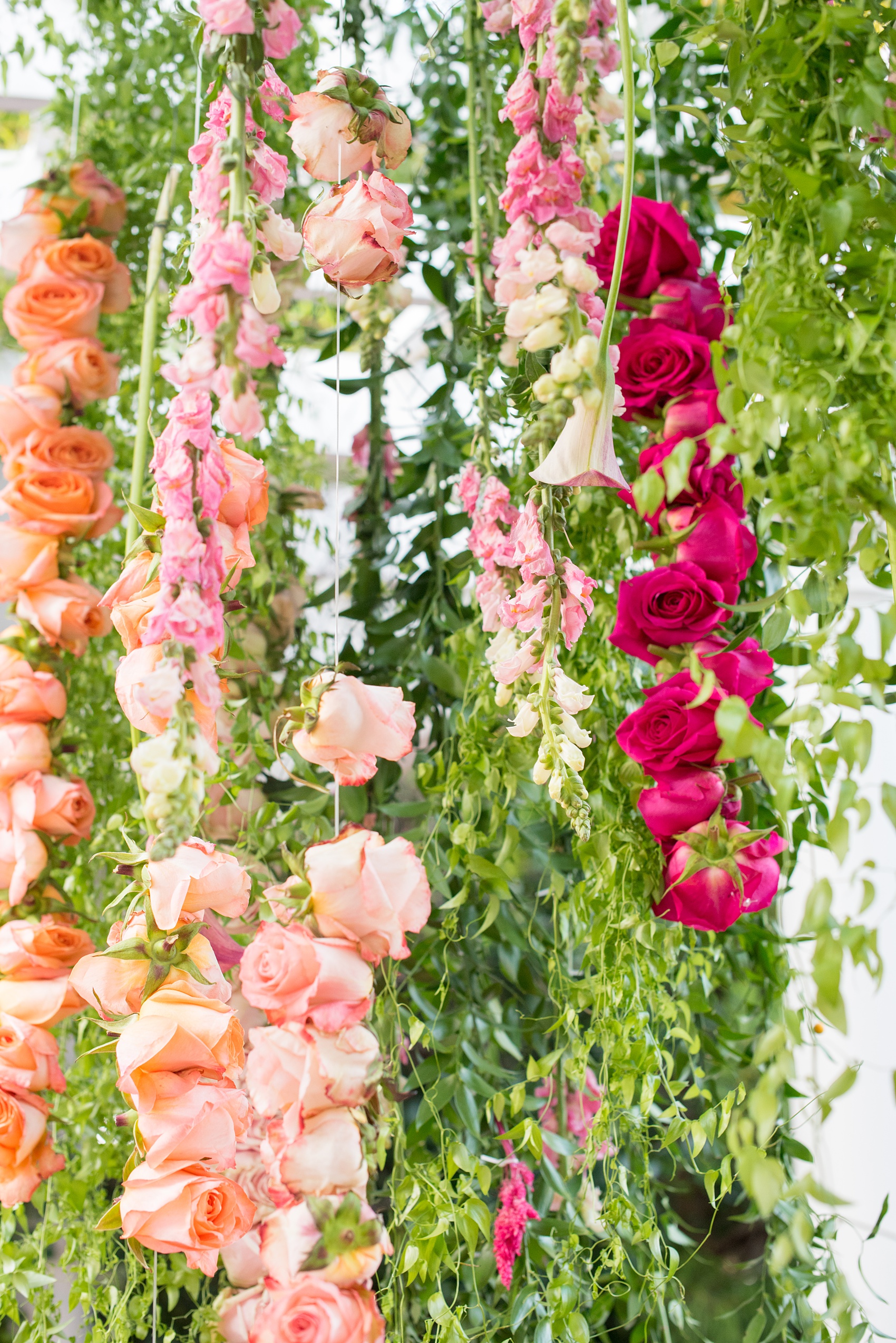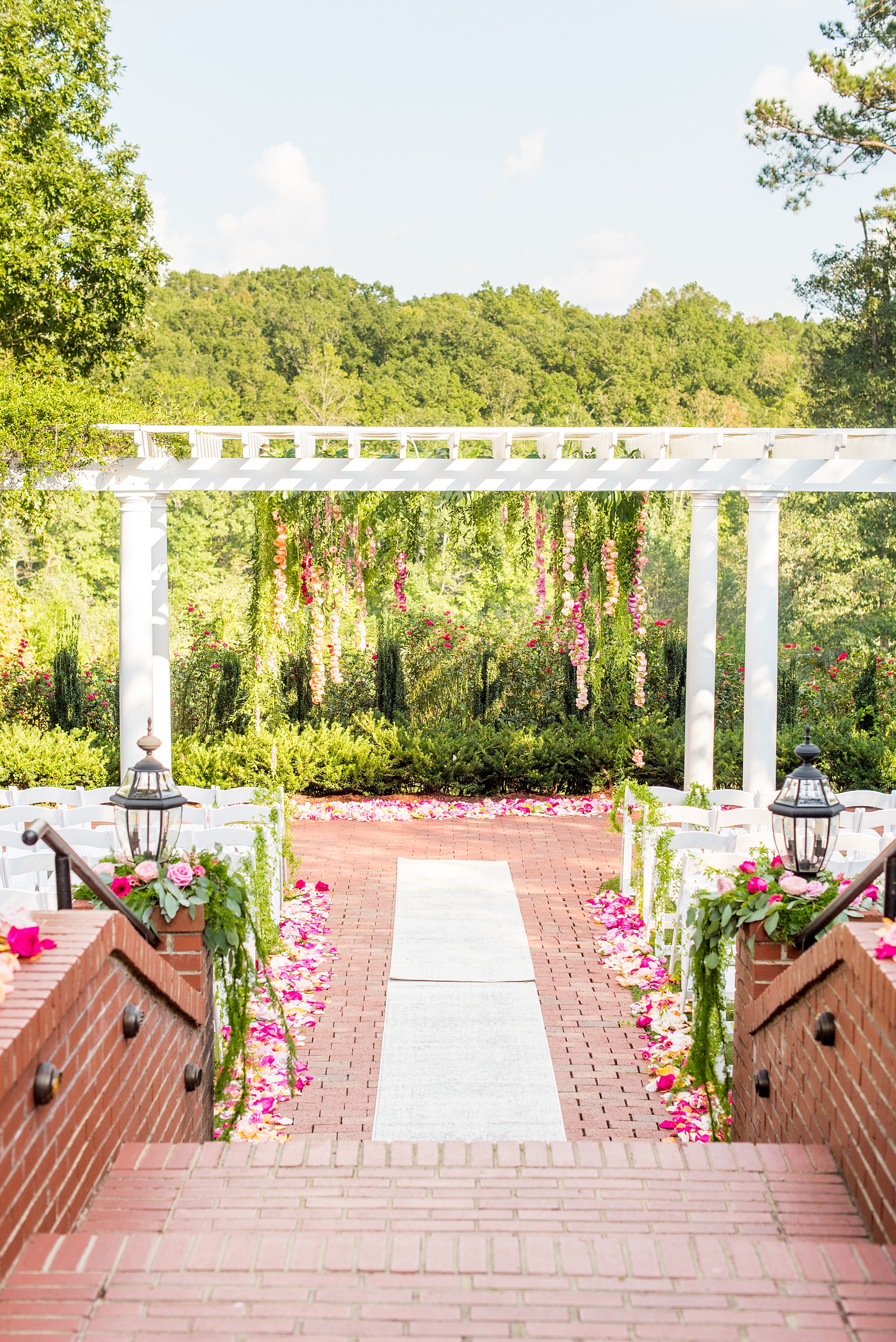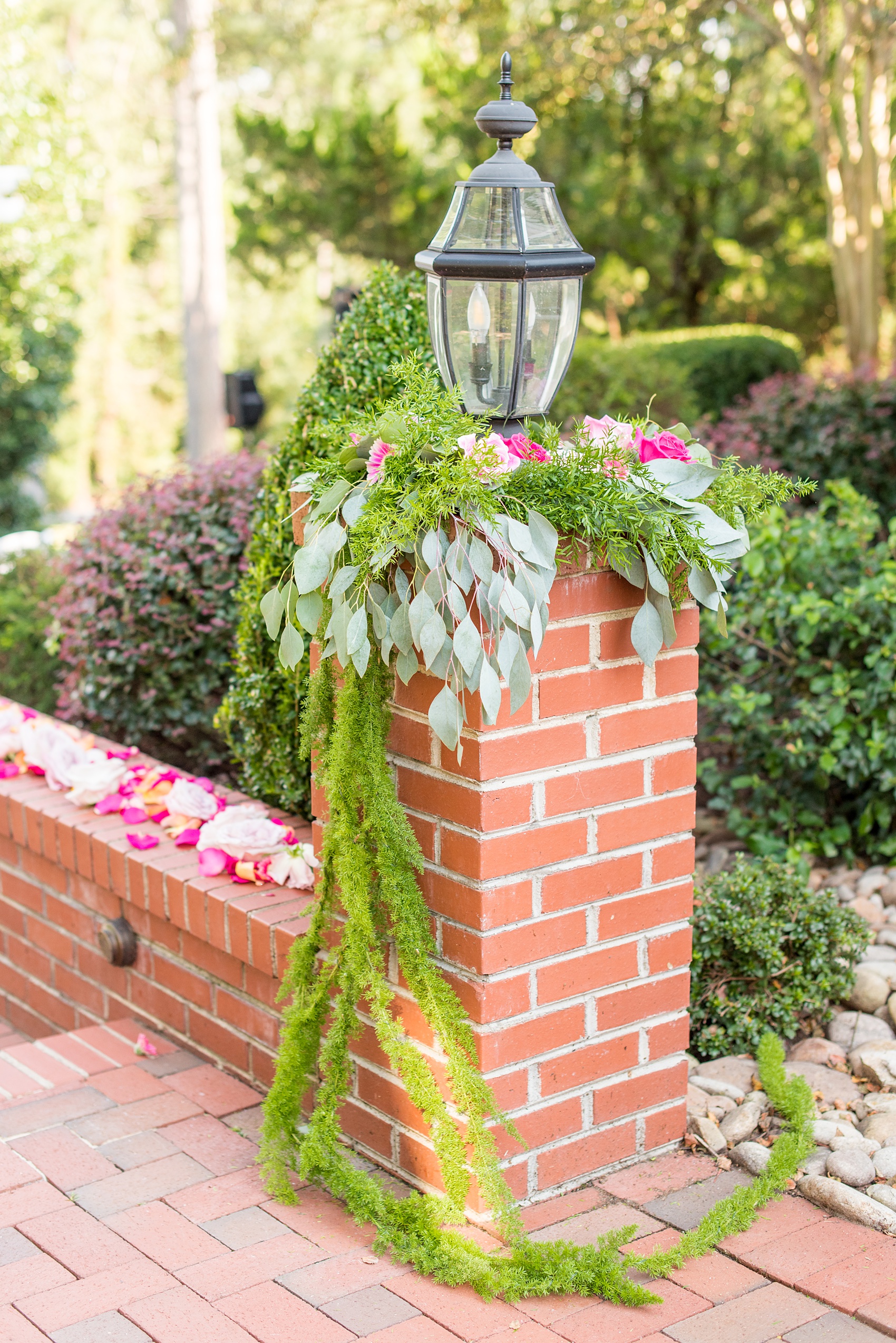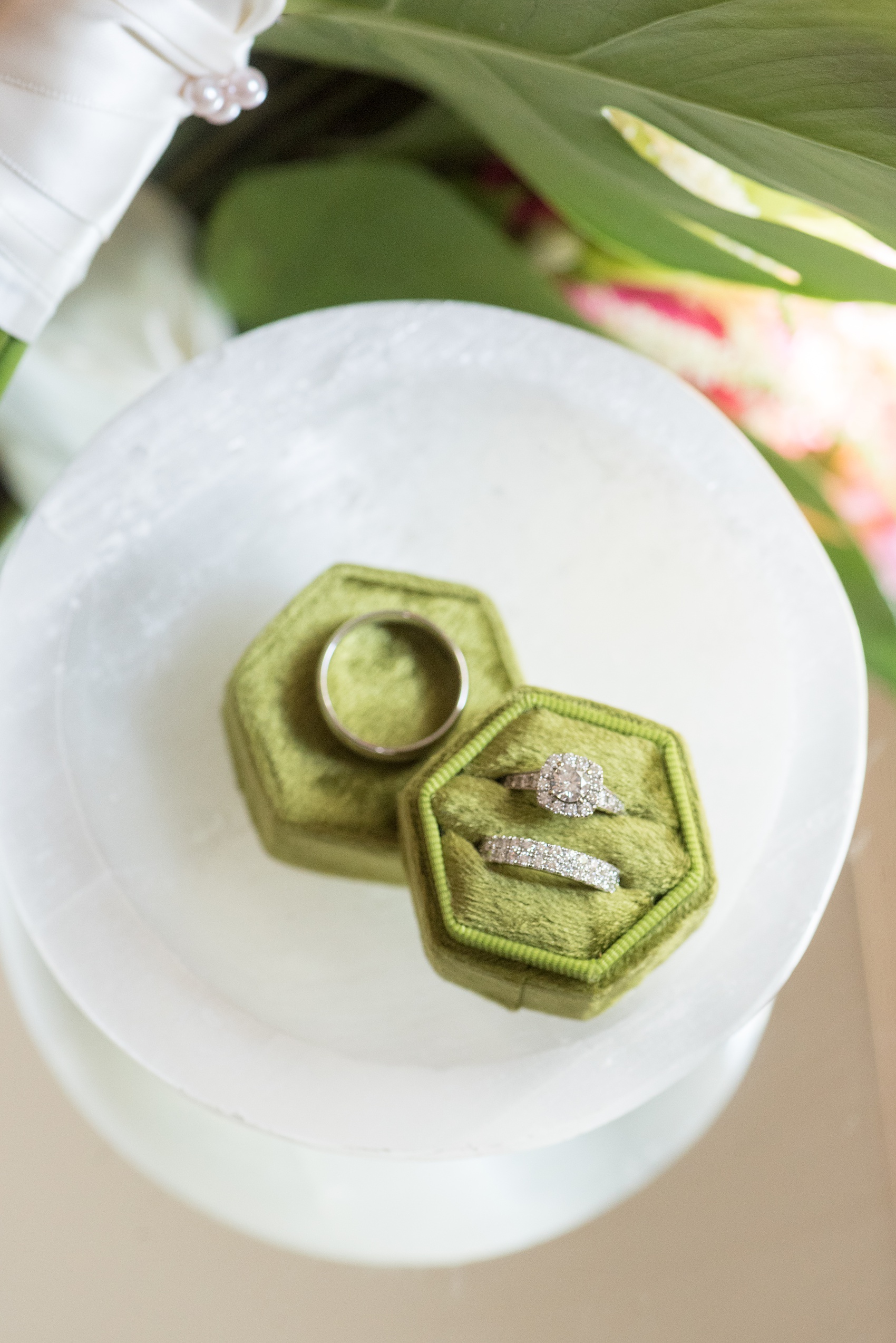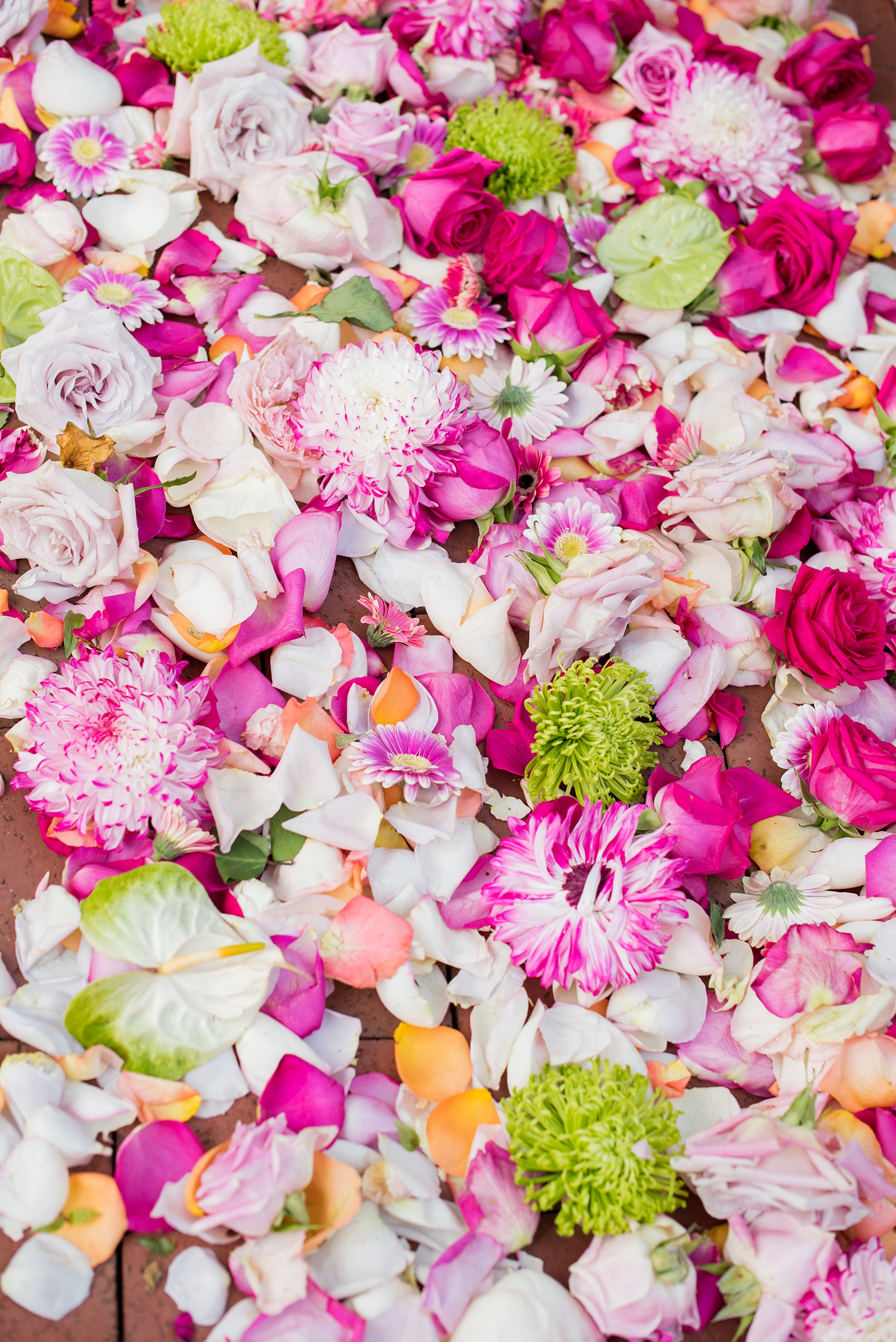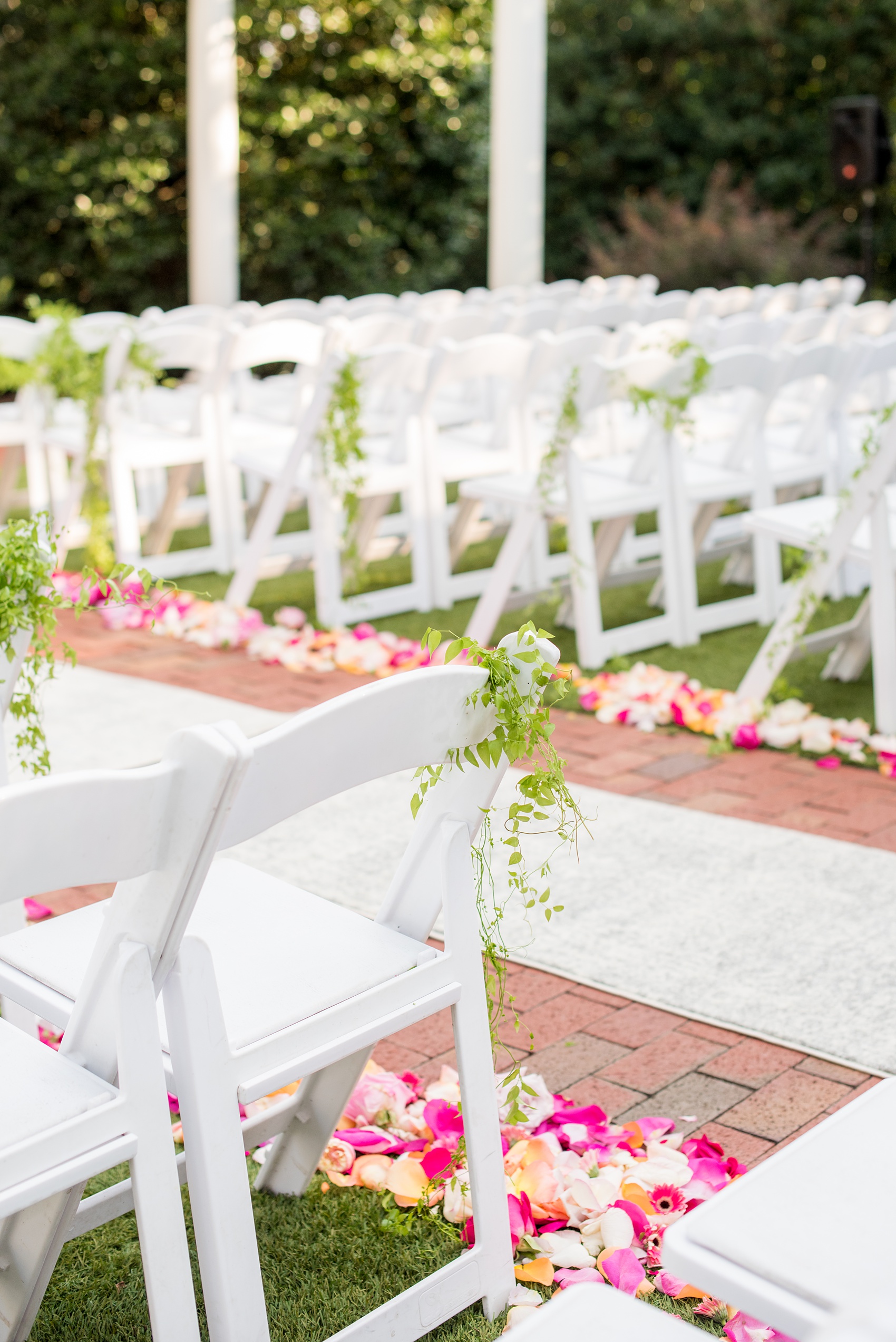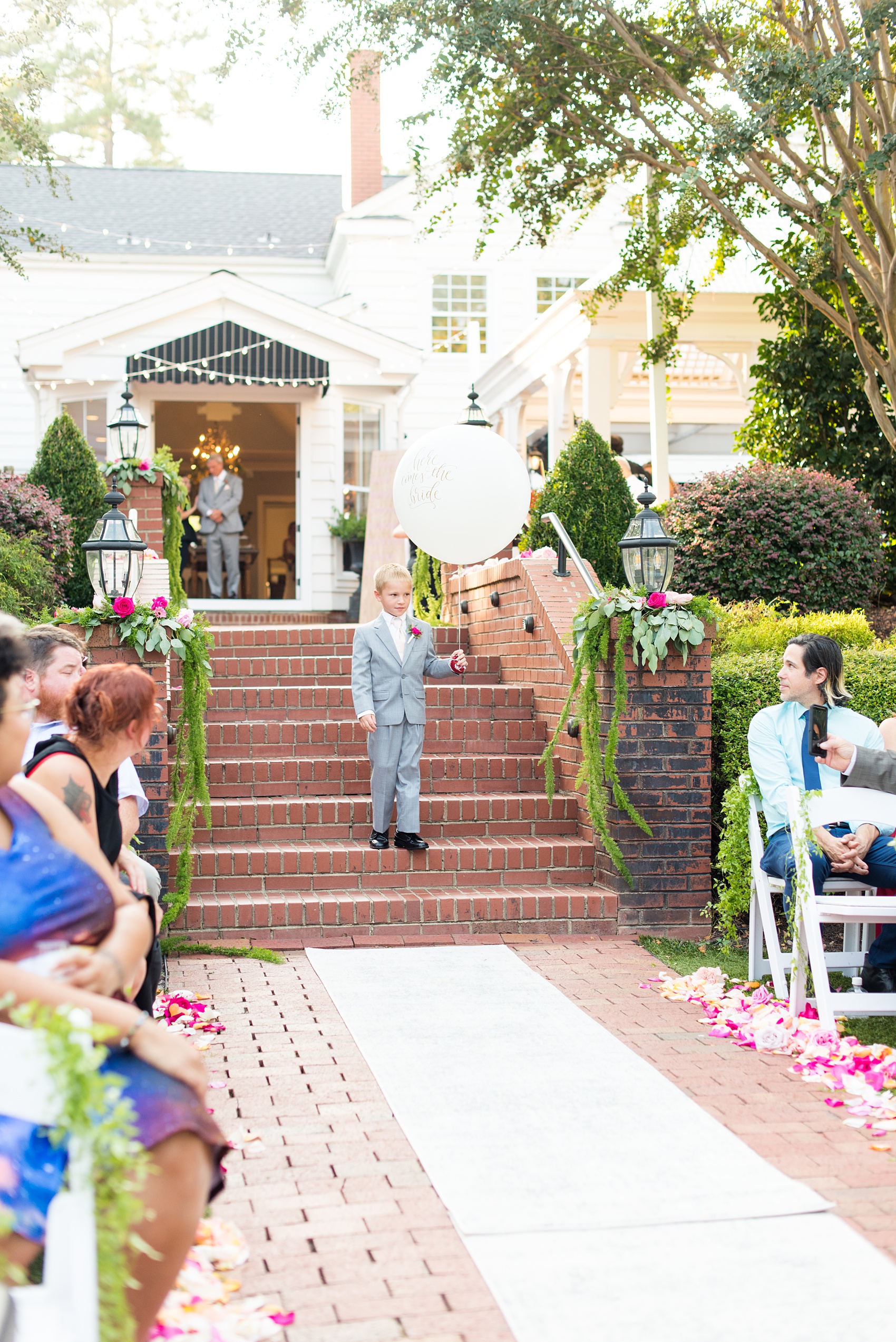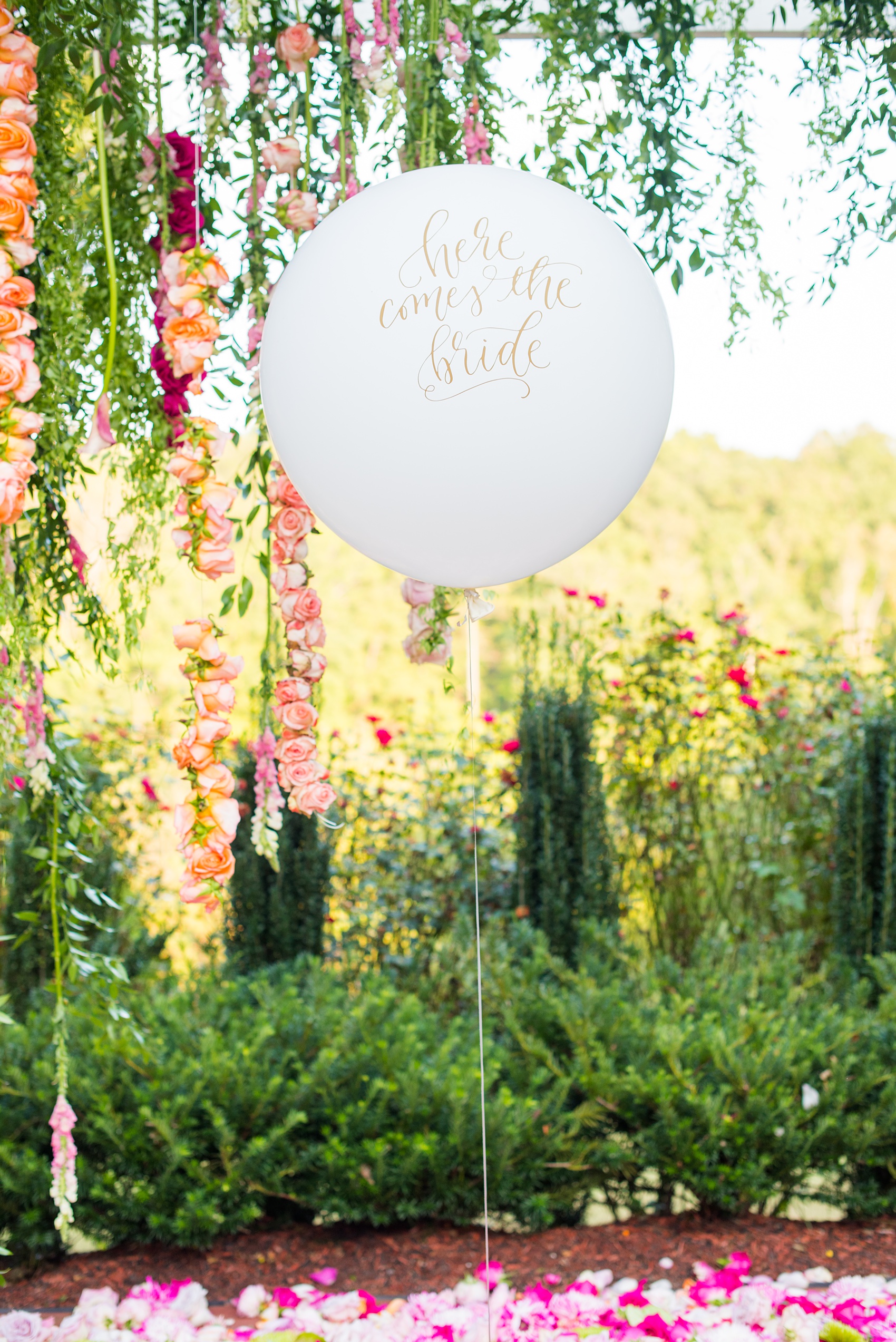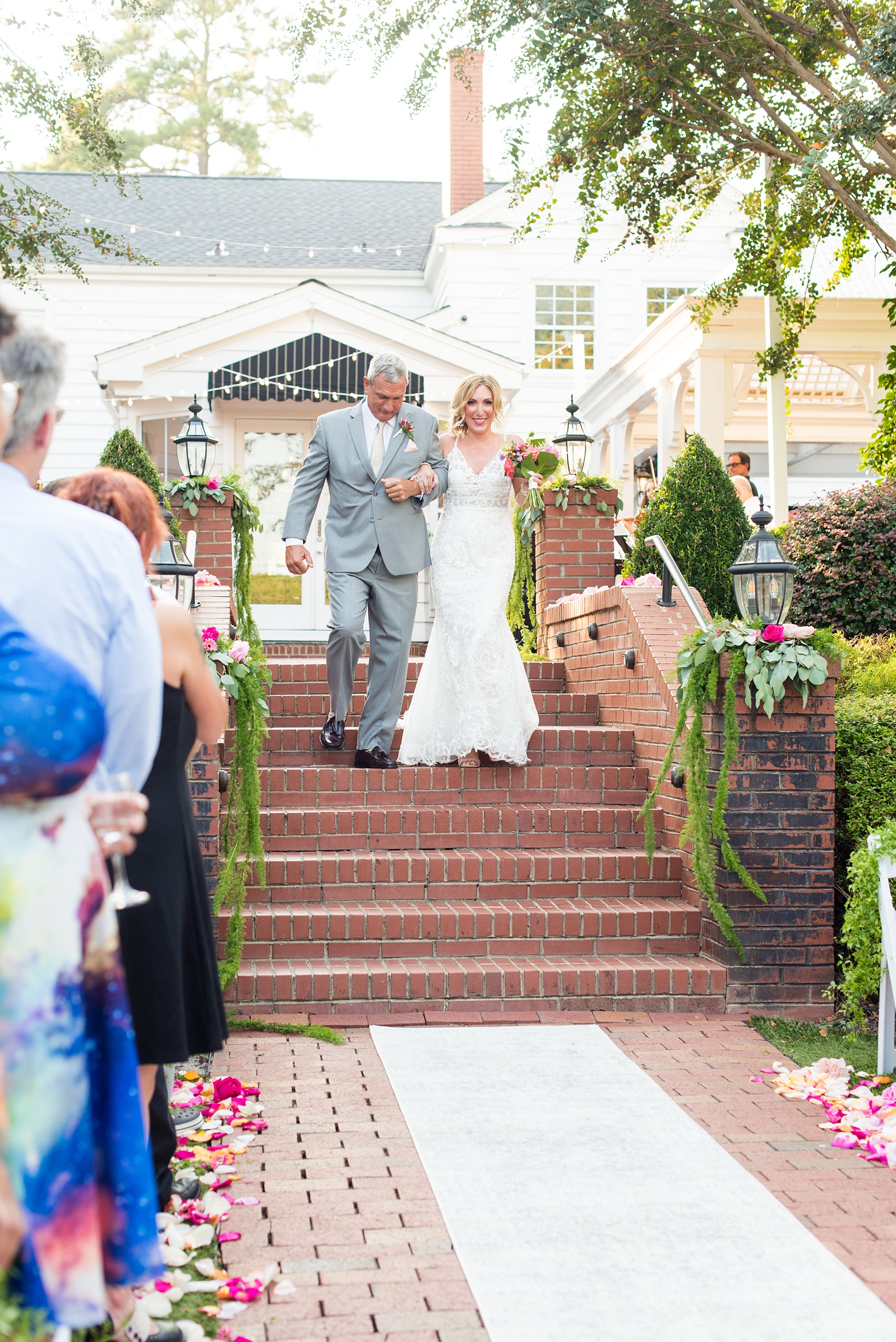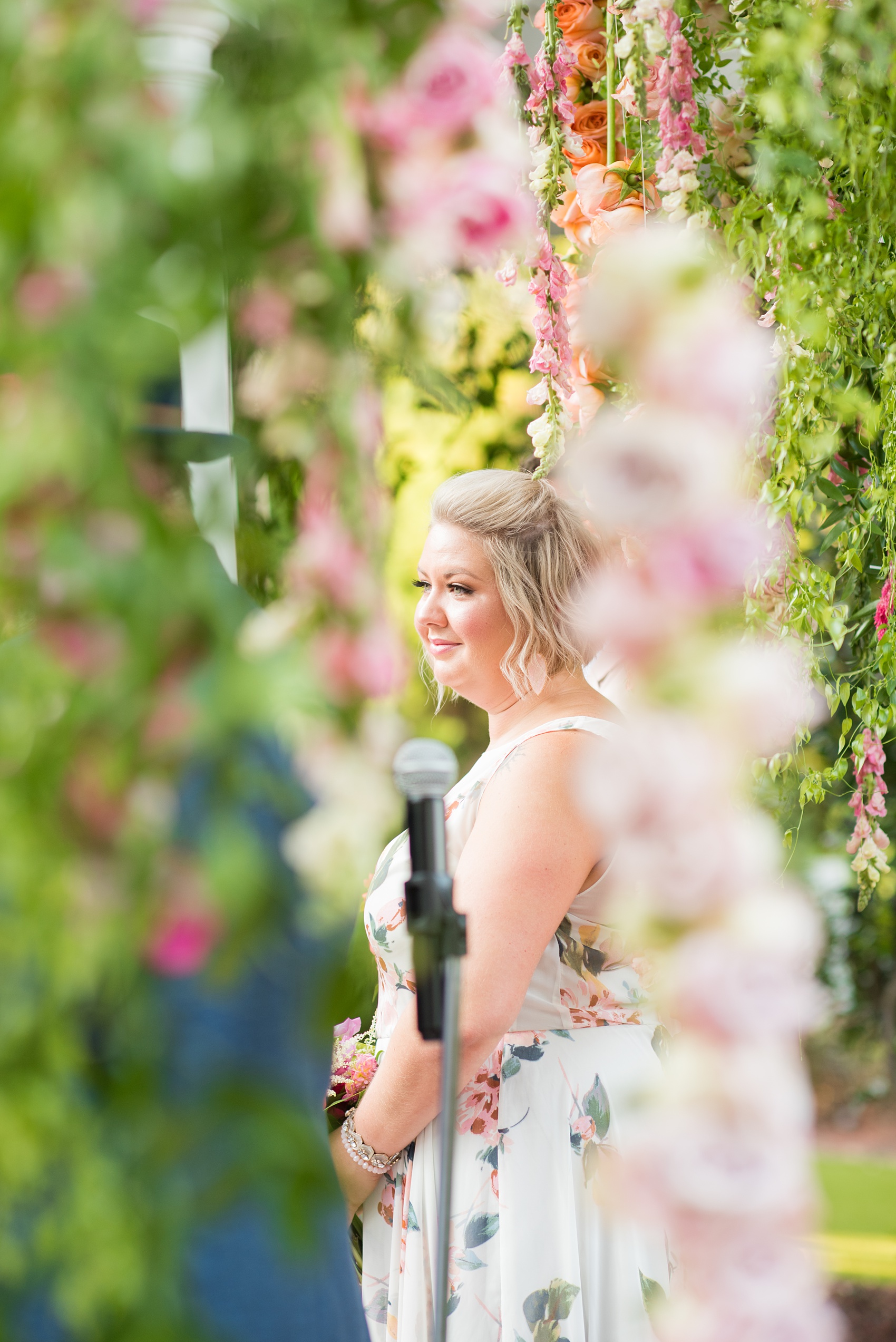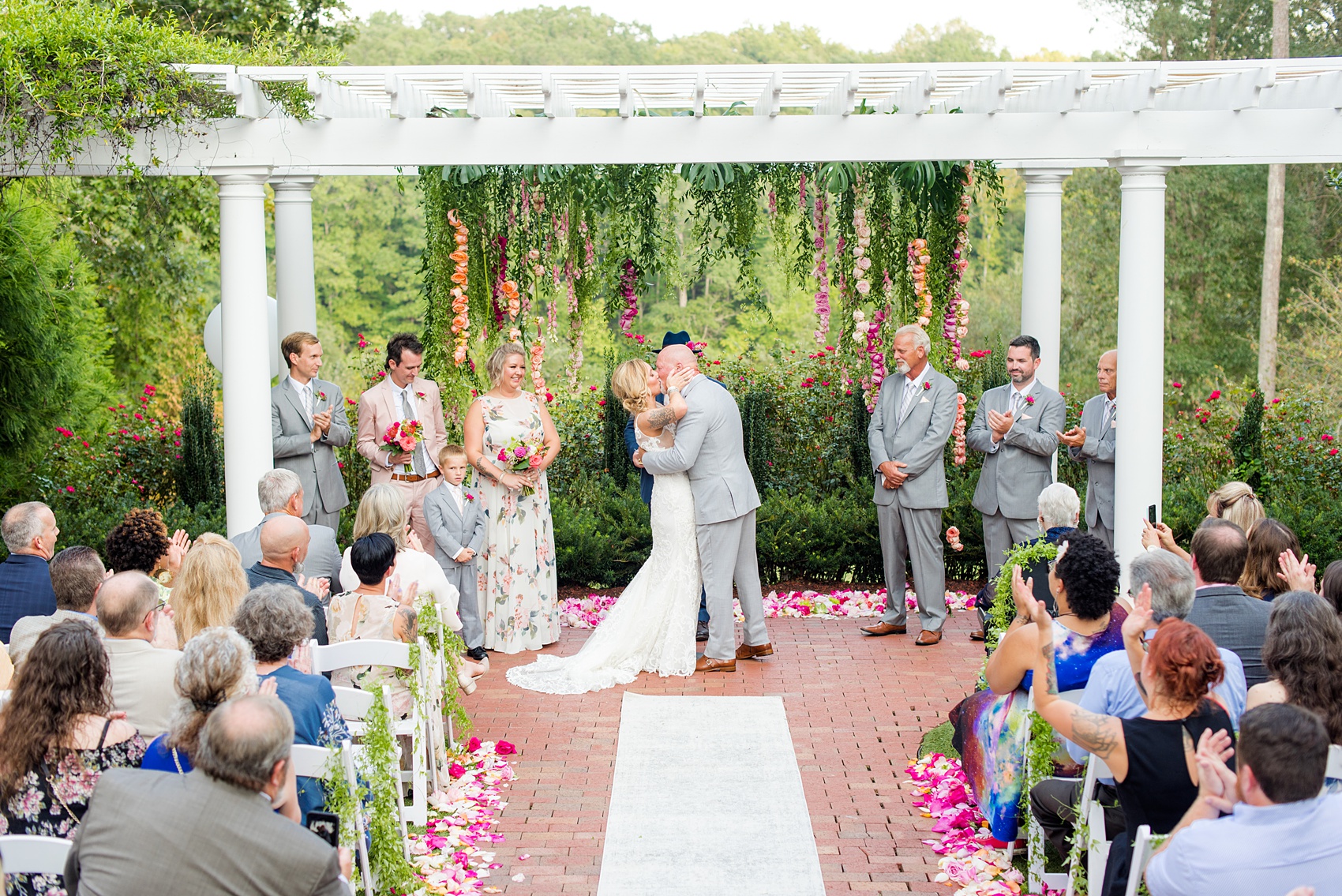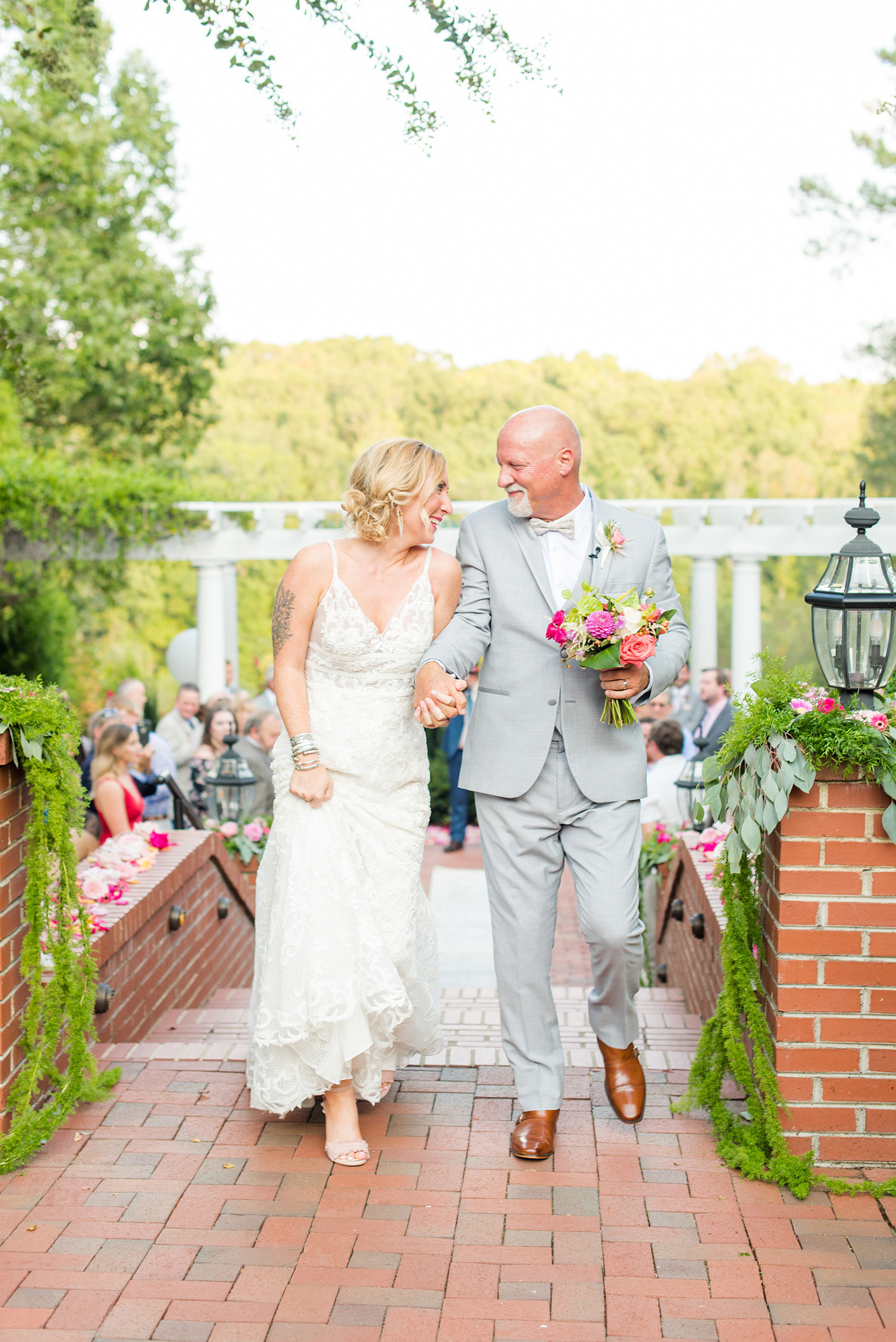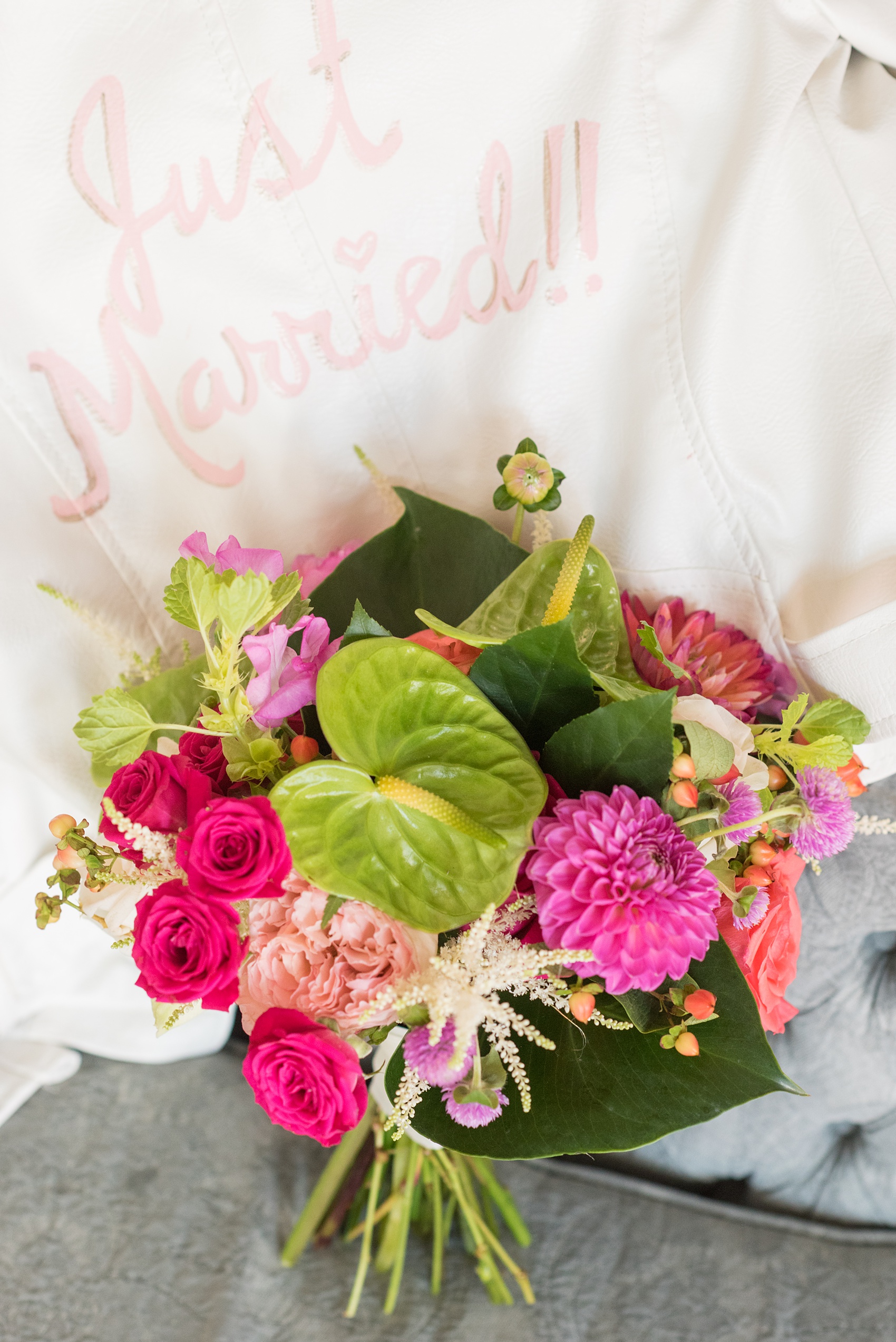 I love having all photos done before the ceremony so except for a couple of extended family photos with cousins and such, the bride and groom were free to party! Guests found an impressive charcuterie display next to an abundance of cheese and an incredible raw bar with oysters, shrimp and crawfish. They could locate their dinner seats they'd go to about an hour later with cool custom made pink keychains. There was also a custom cocktail, with its name written on a trendy green velvet letter board. Another board was placed on their "Guest Book" wall; guests could write a note to the bride and groom or well wishes and pop it in an envelope. All these unique touches really stood out and I loved photographing them all.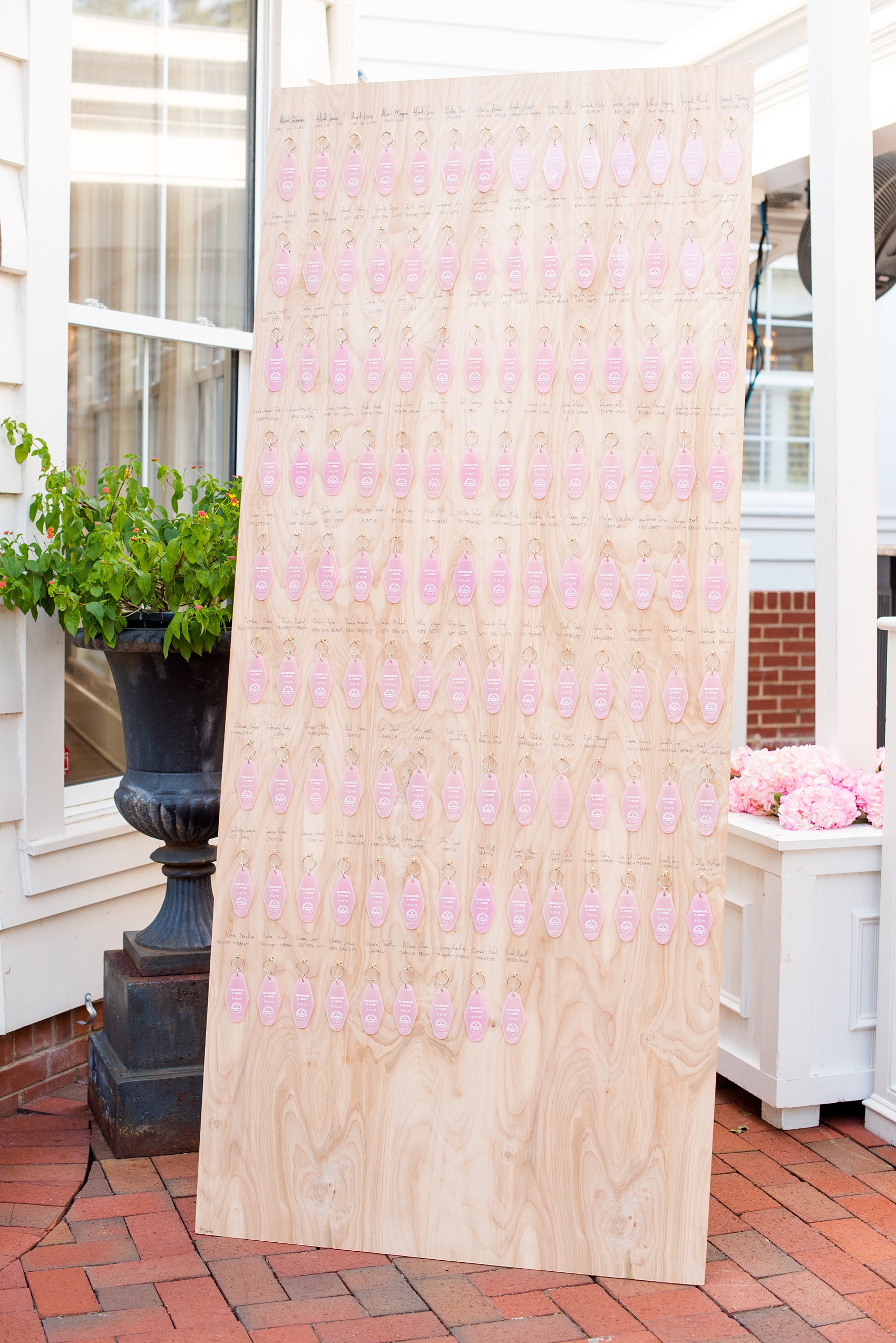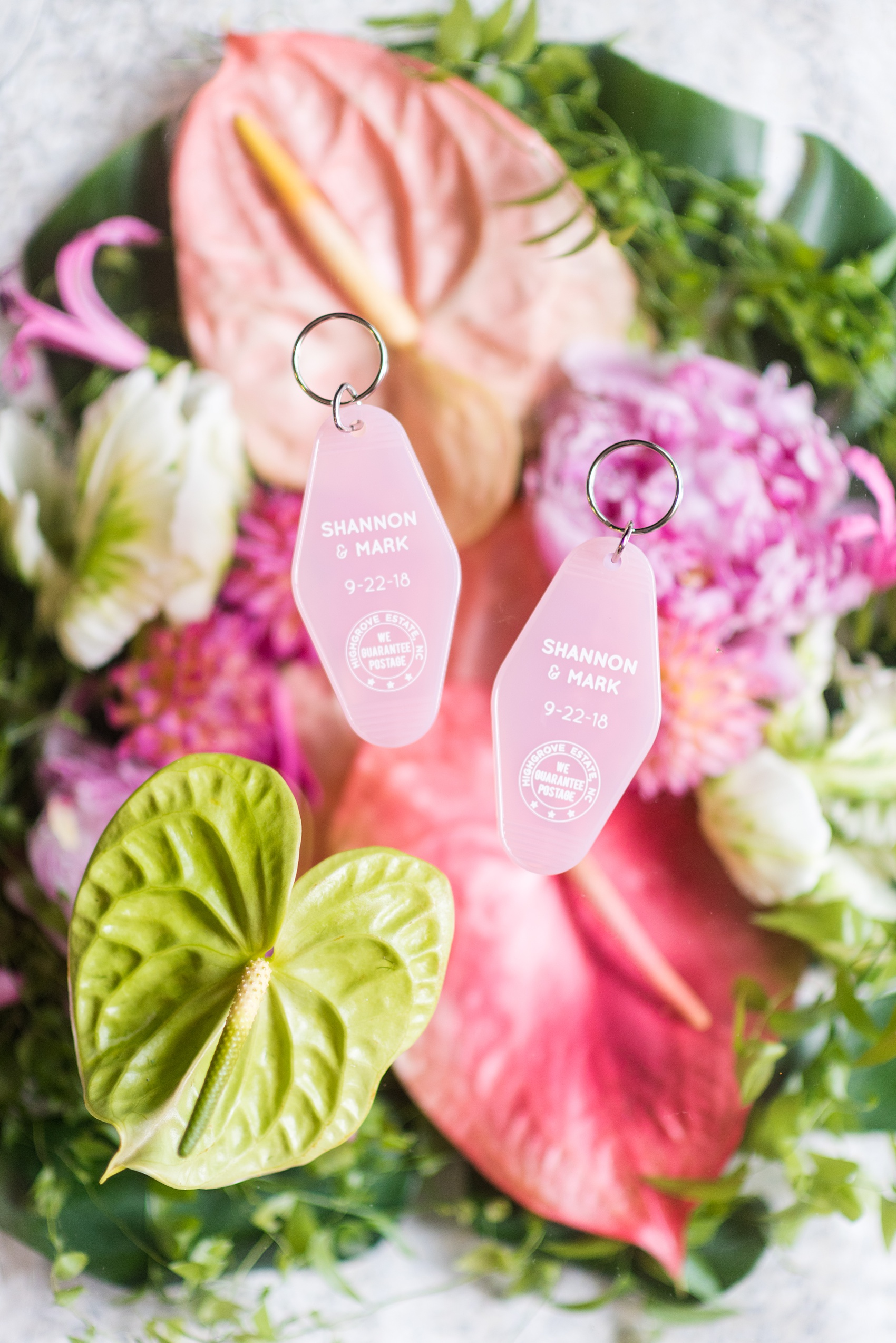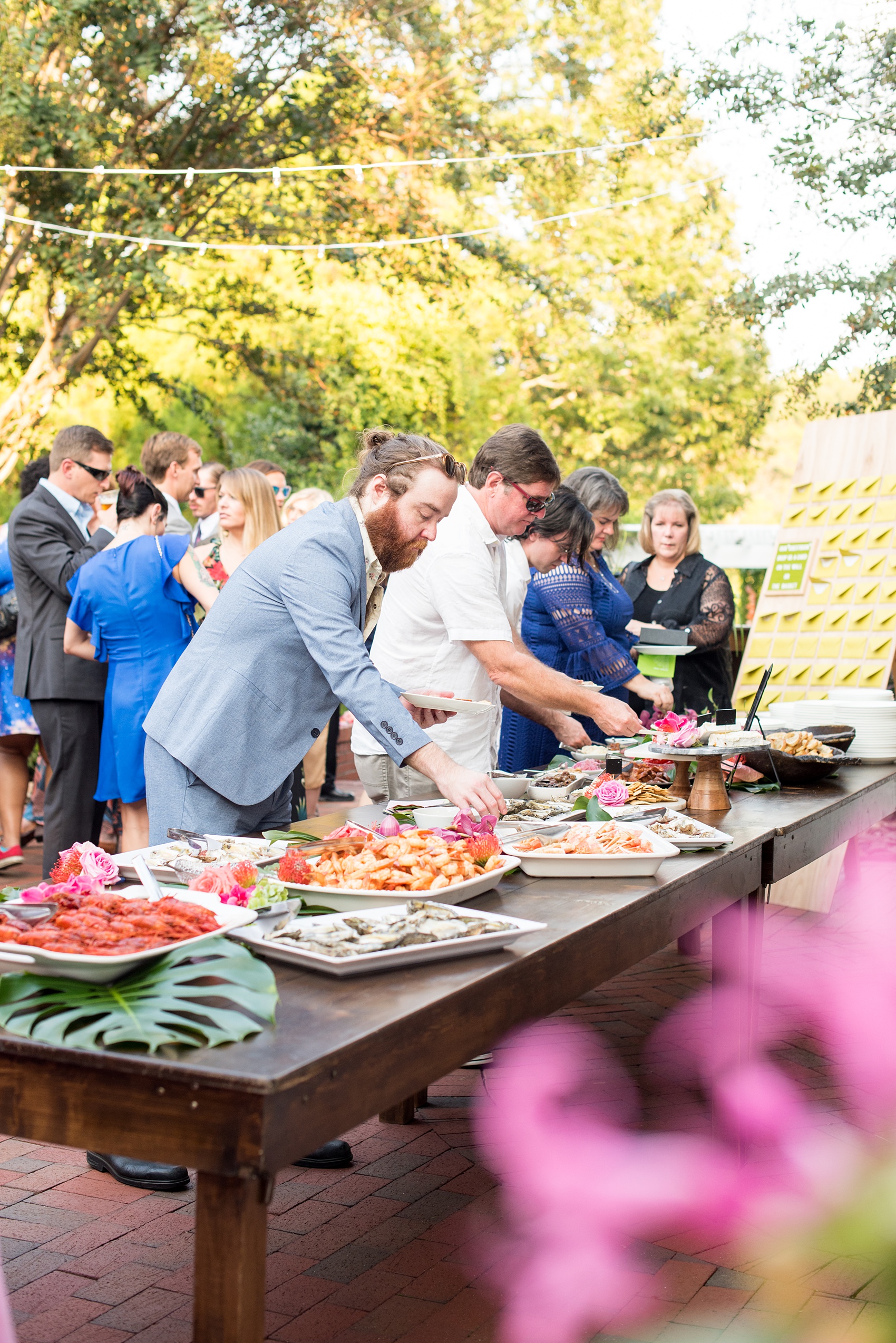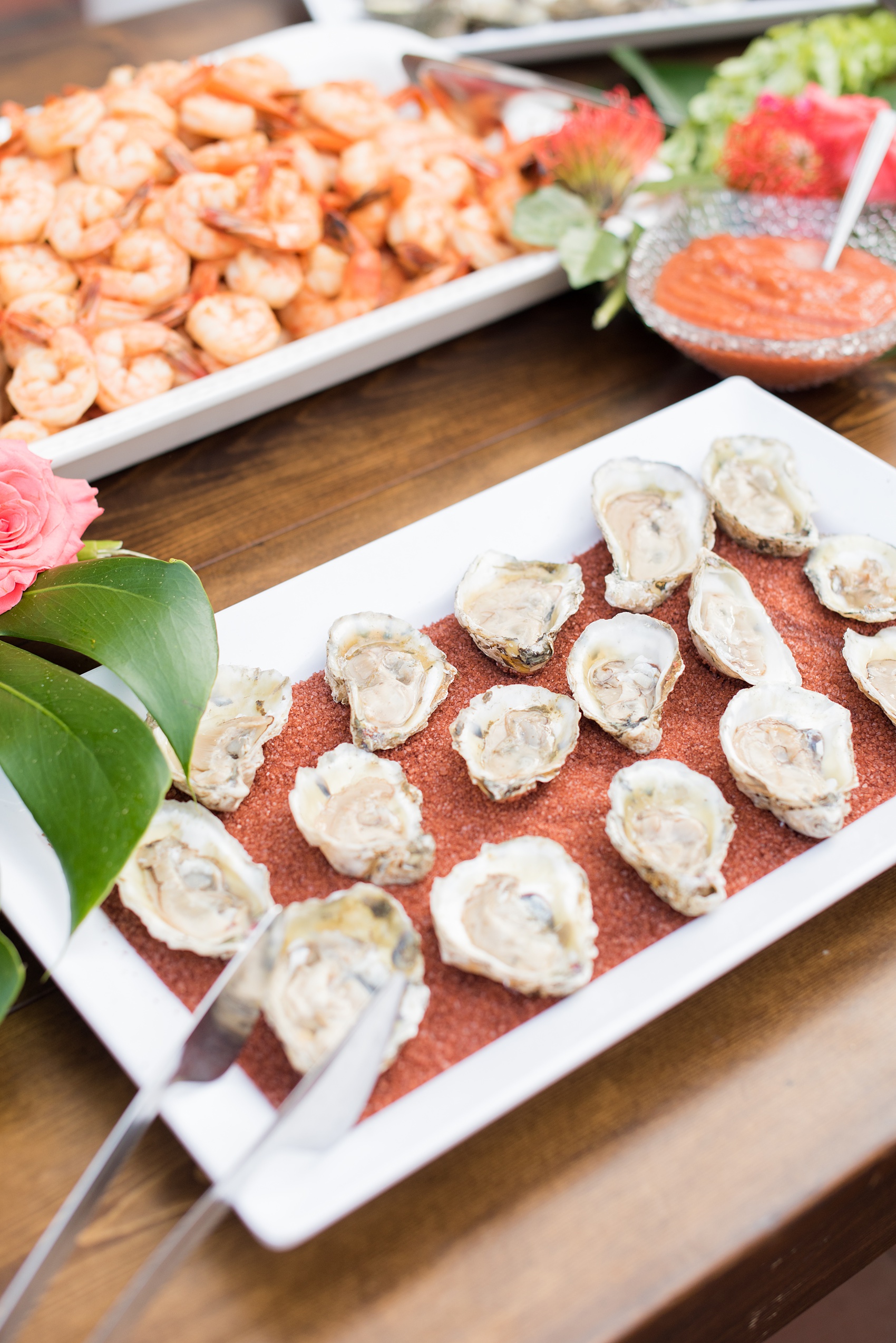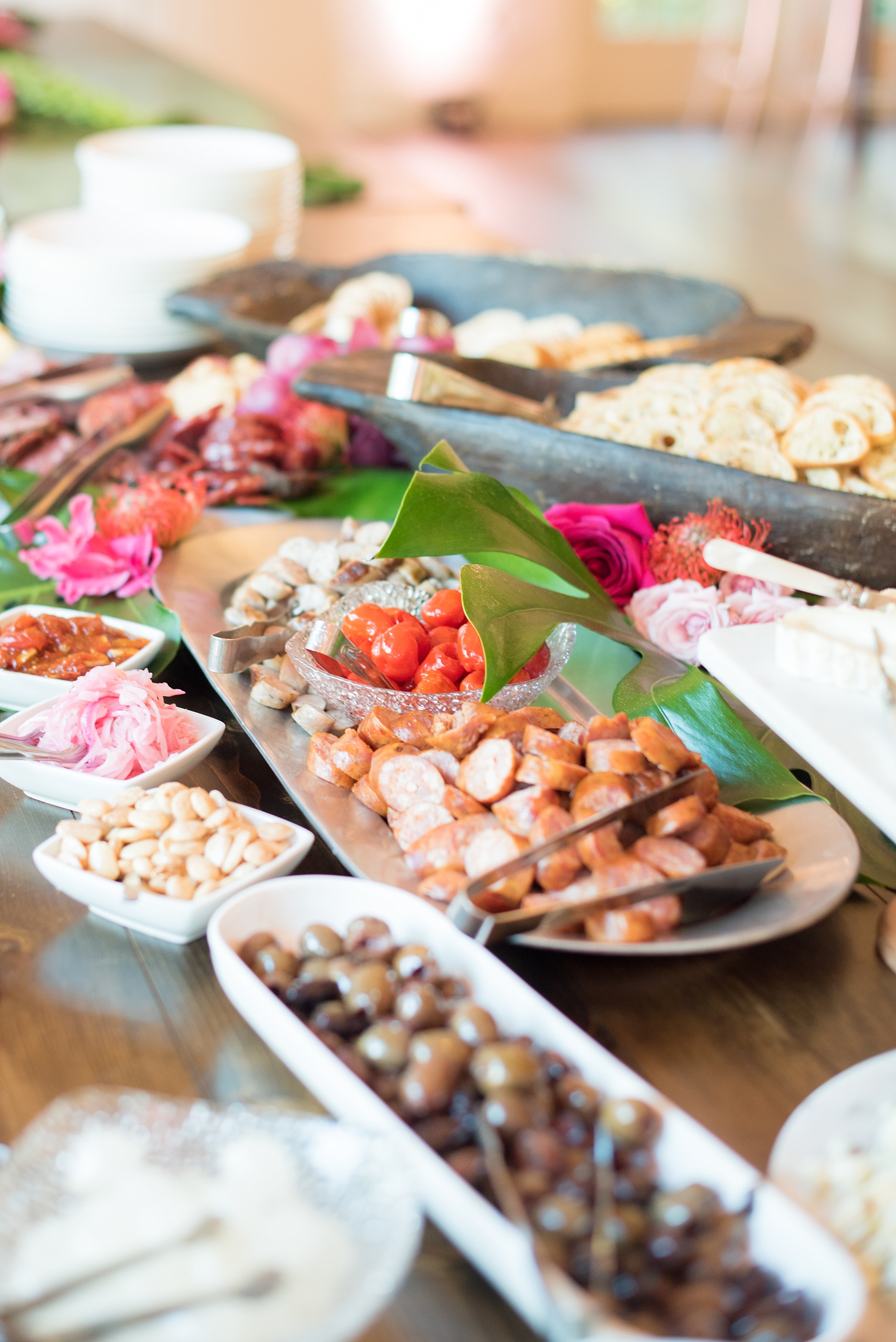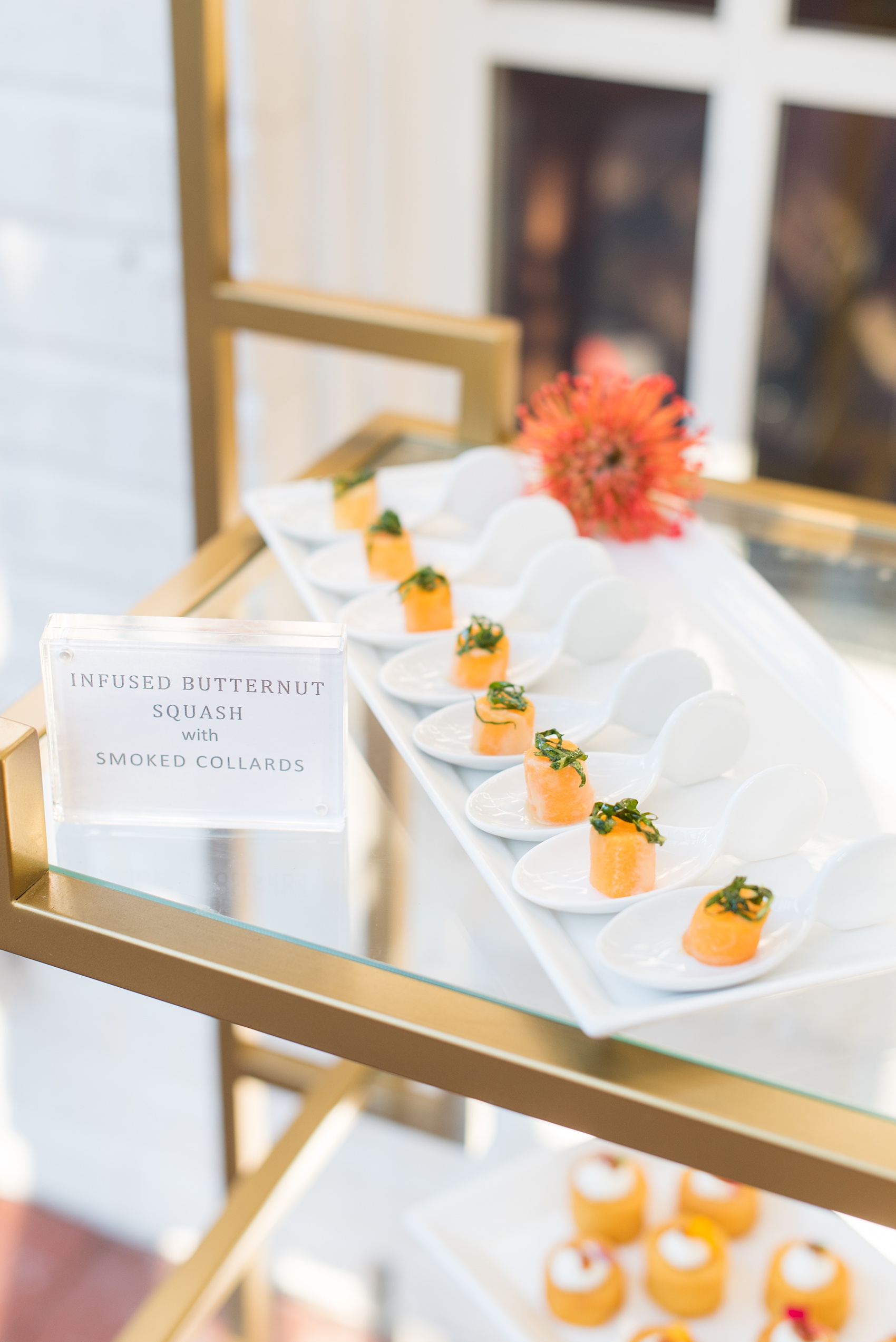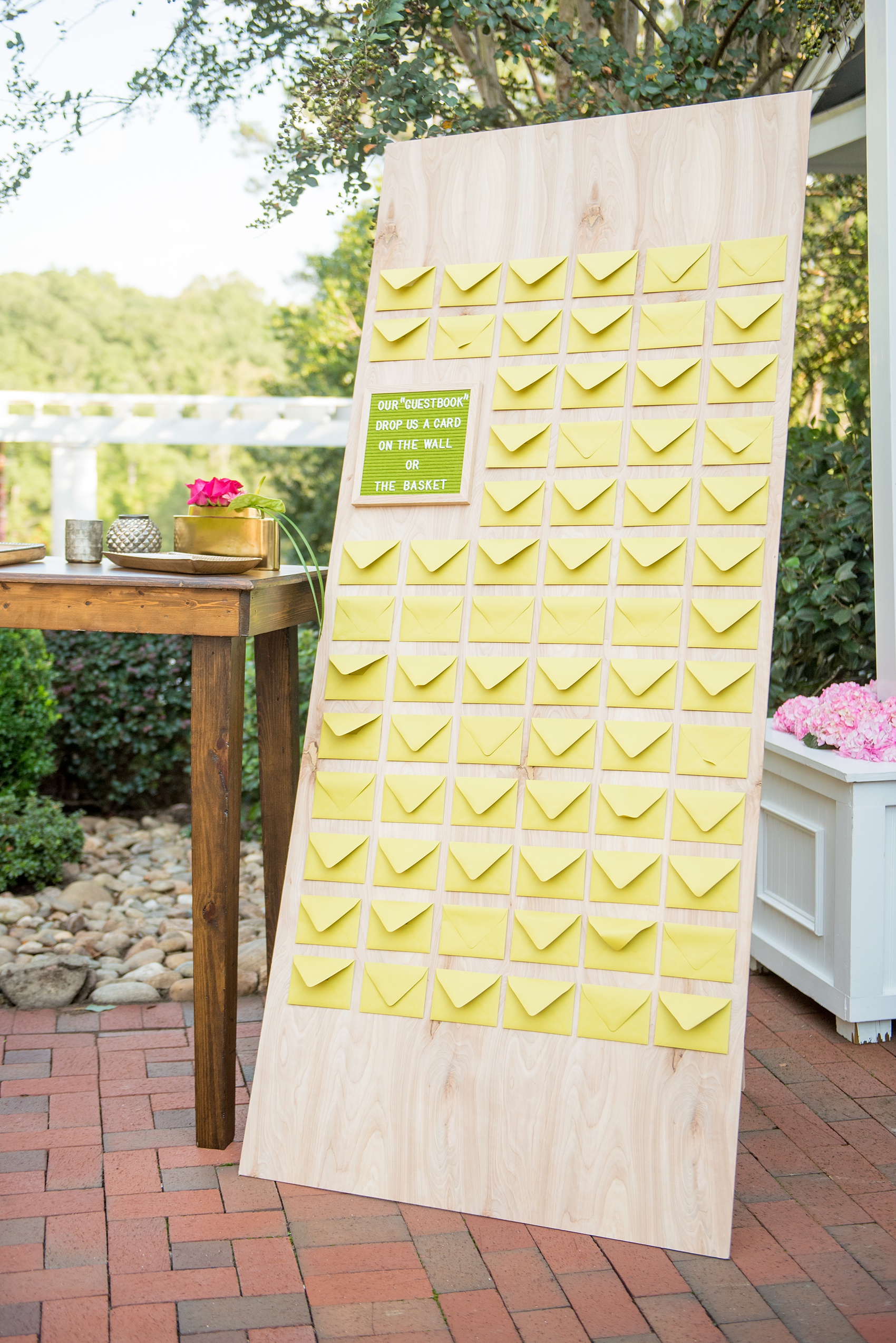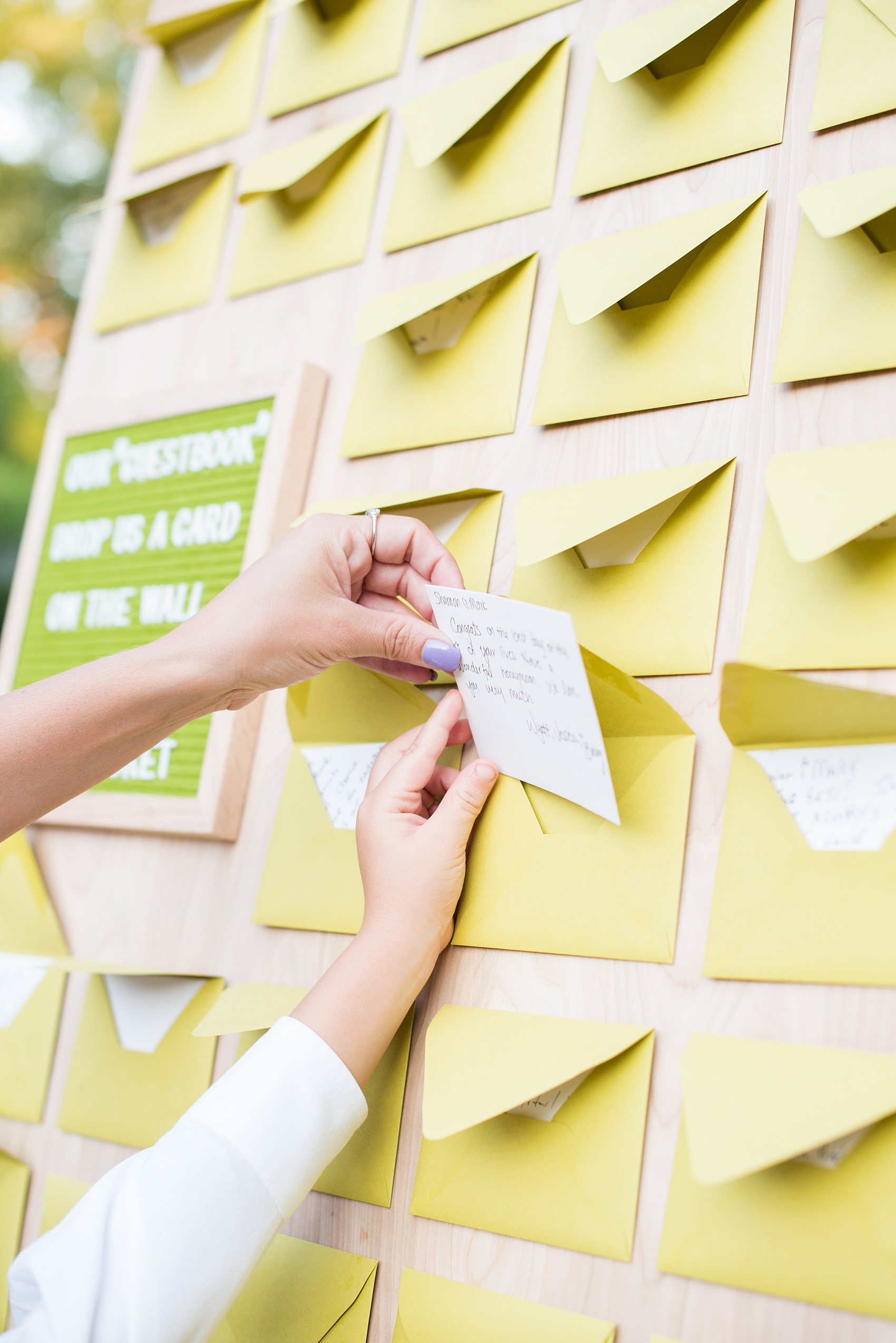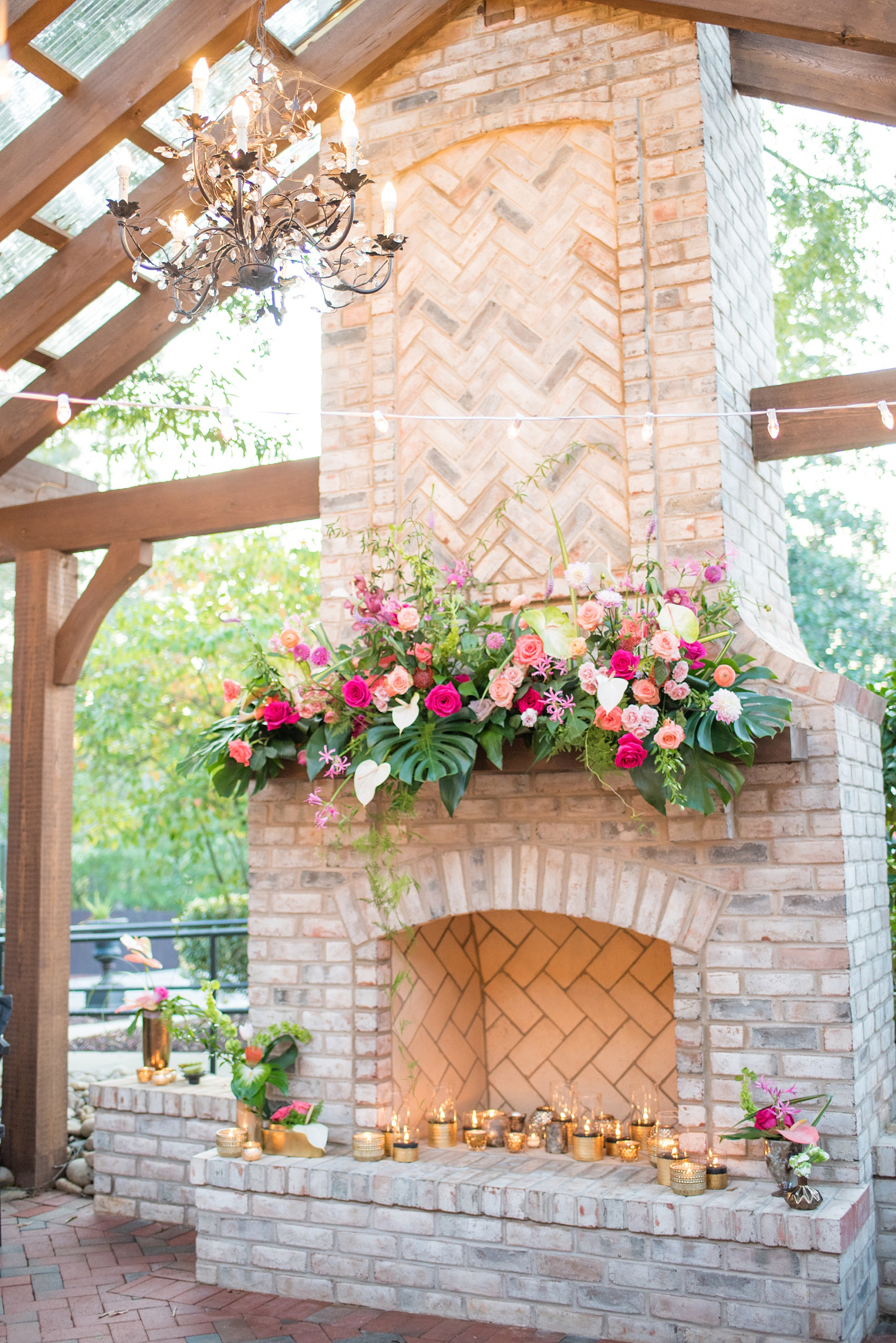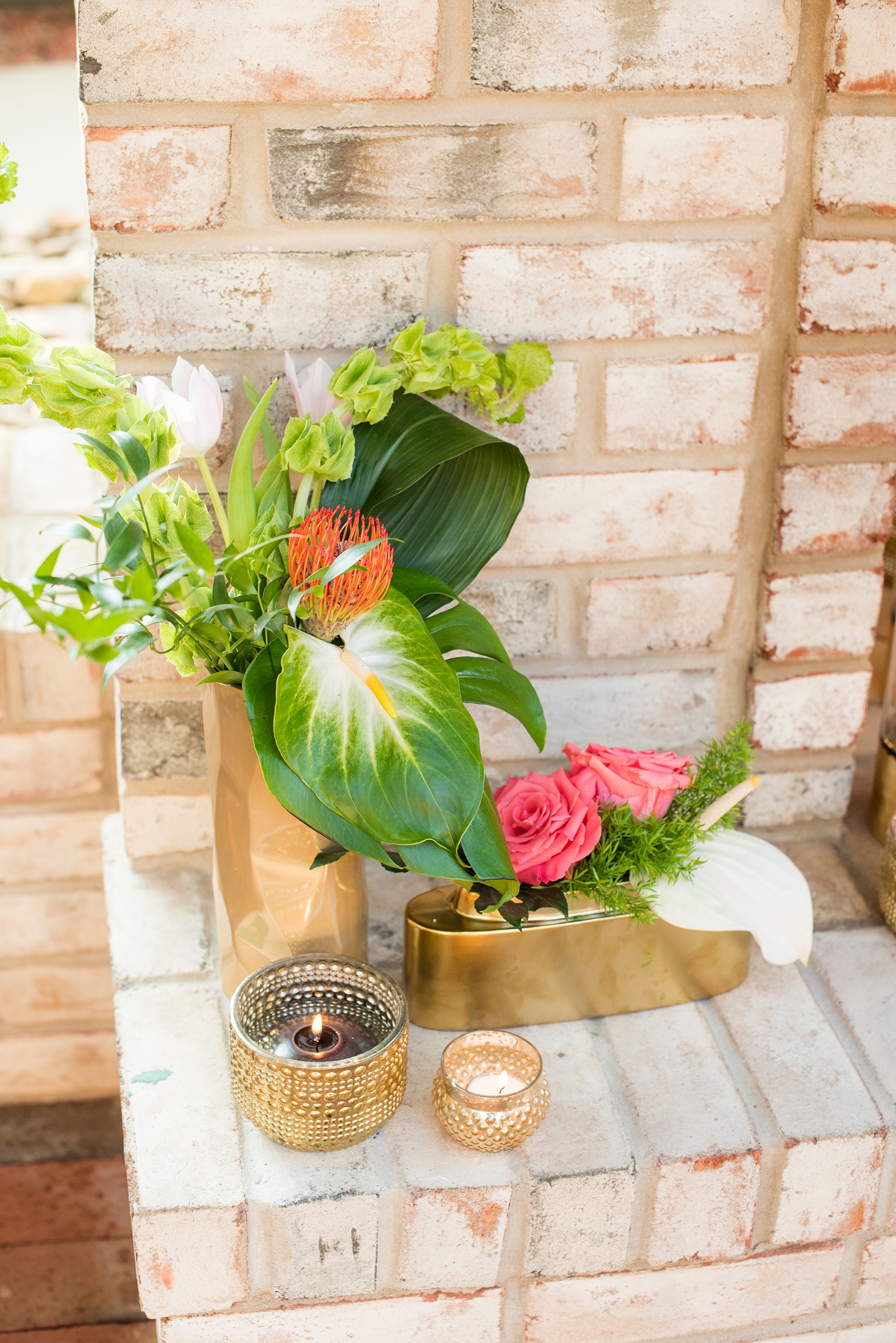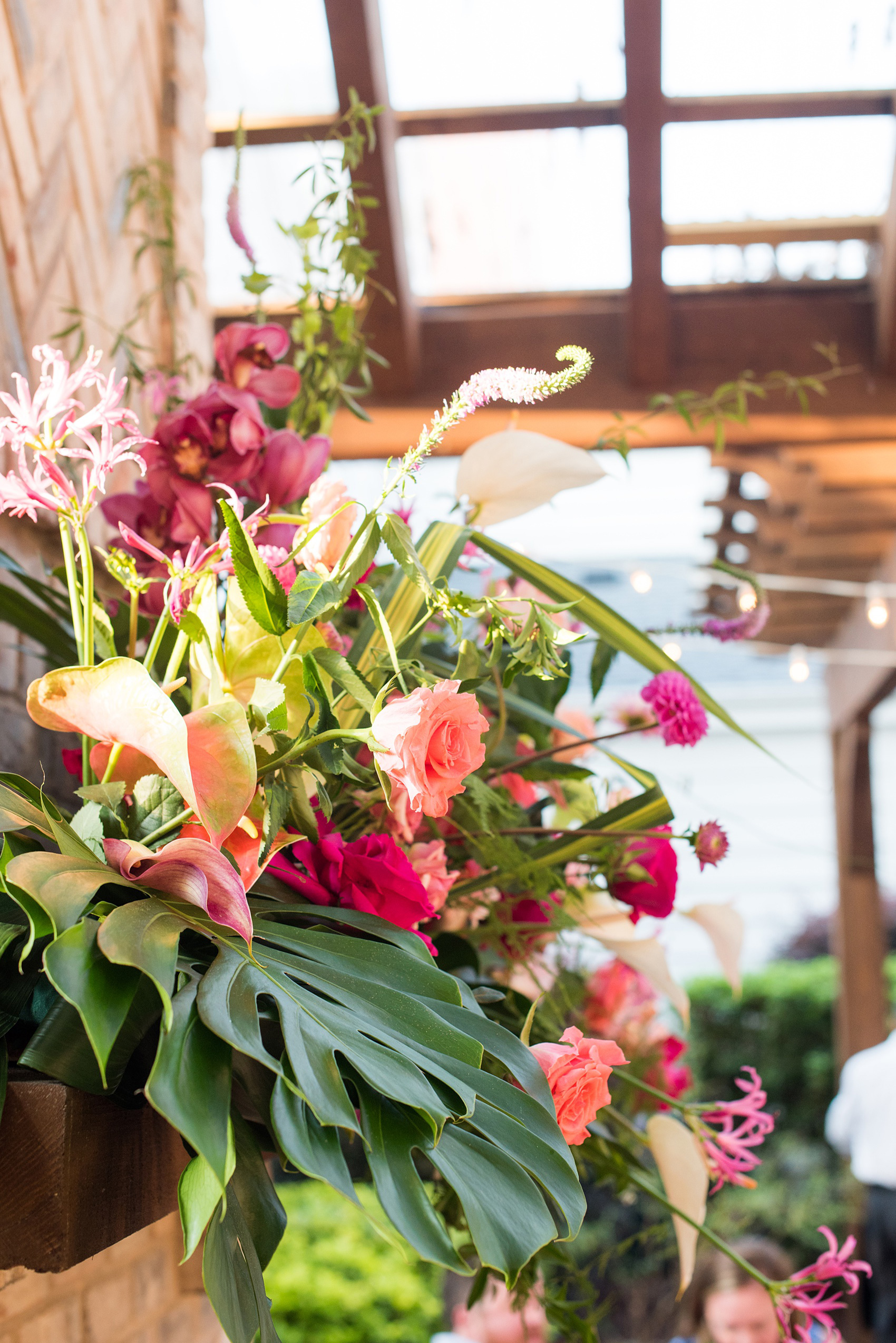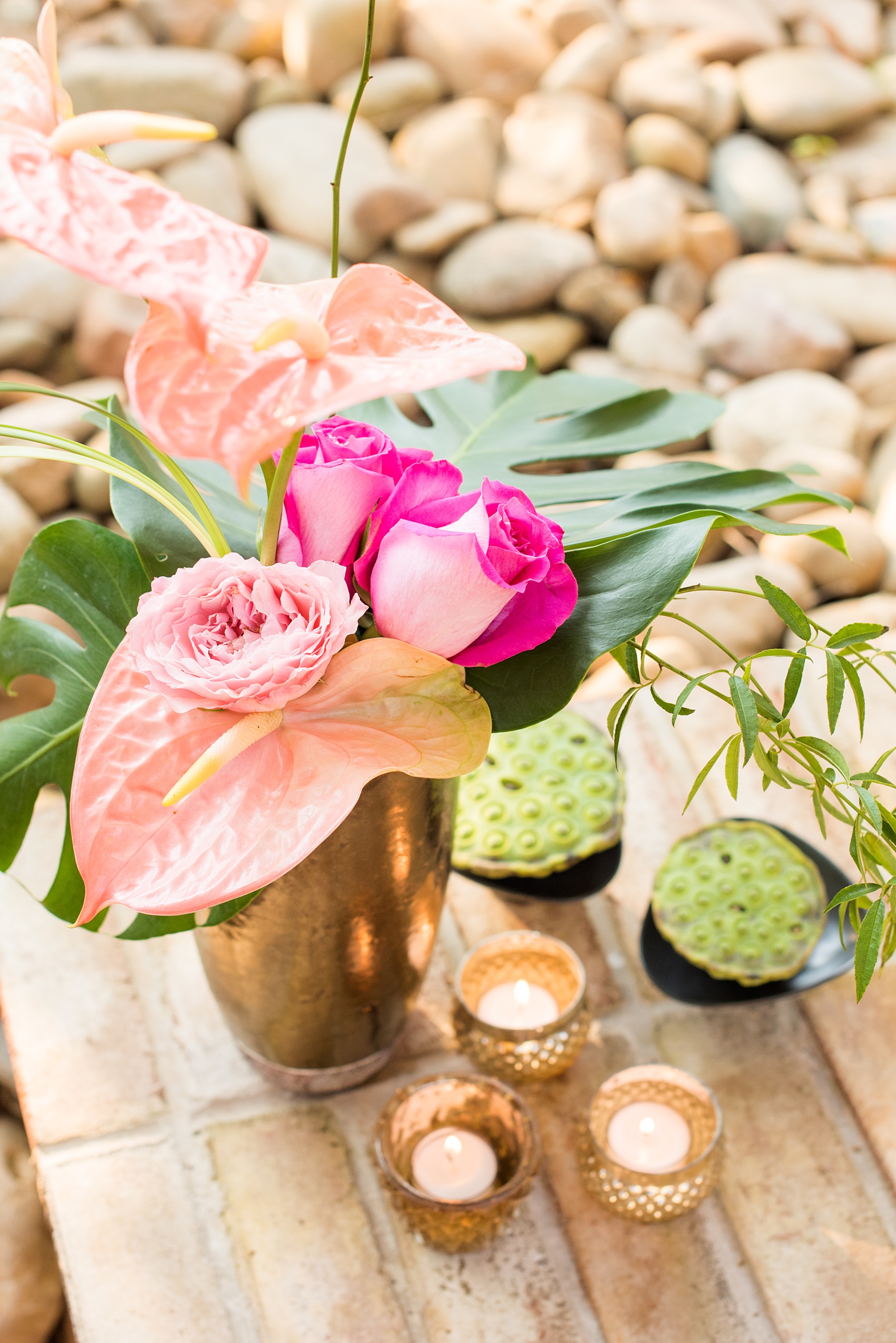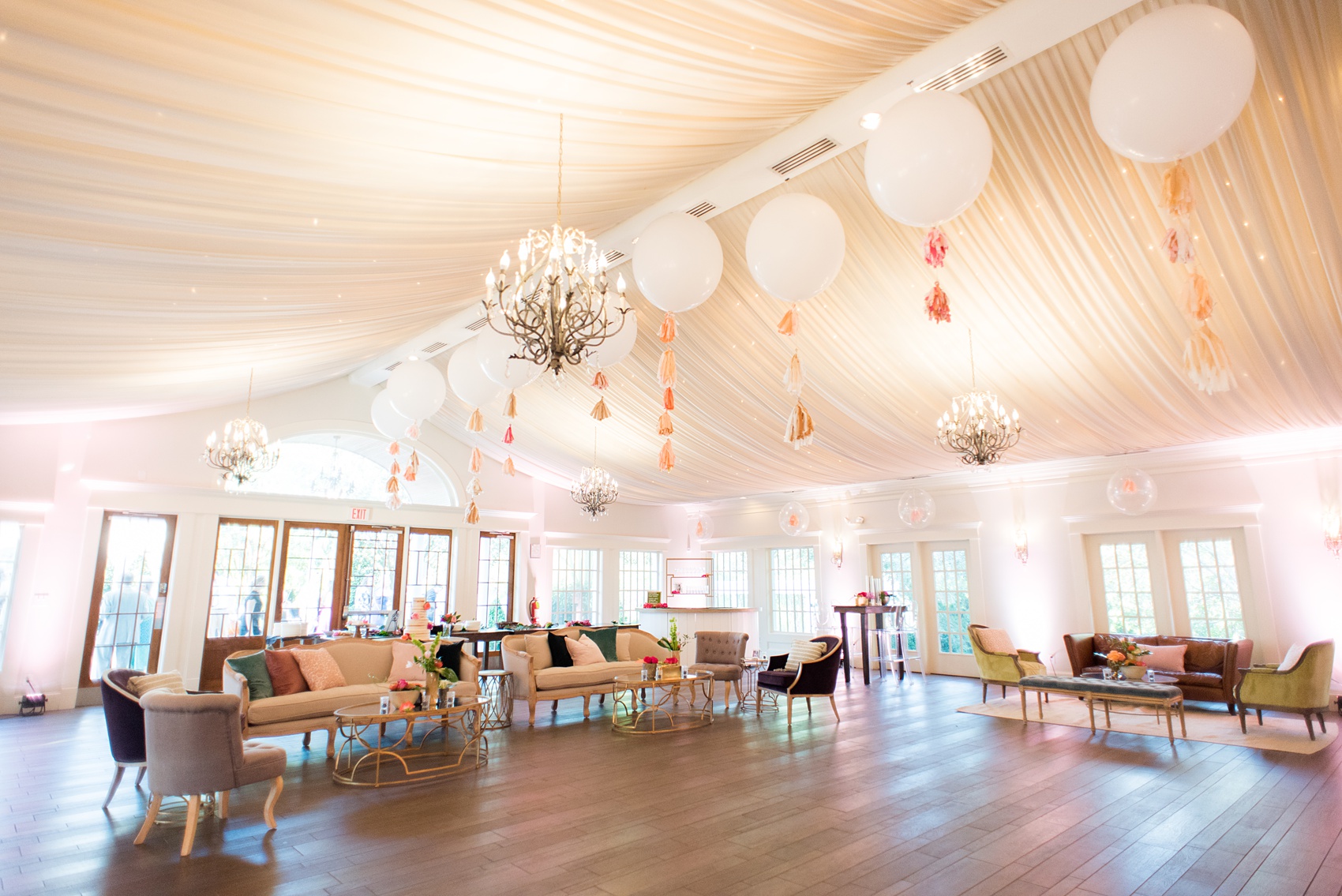 The lounge is where their cake cutting and night of dancing would take place after their dinner. It was filled with lounge furniture from Greenhouse Picker sisters. Balloons with decorative, colorful tassels hung from a ceiling covered in white fabric draping. A simple "naked" cake was thin-coated with buttercream, on display for guests to admire until it was cut. Touches of flowers were dashed on the tiers, the same types around the room in mis-matched vases. They had two high top tables with ghost chairs the height of bar stools, and black tapered candles to add romance to the scene.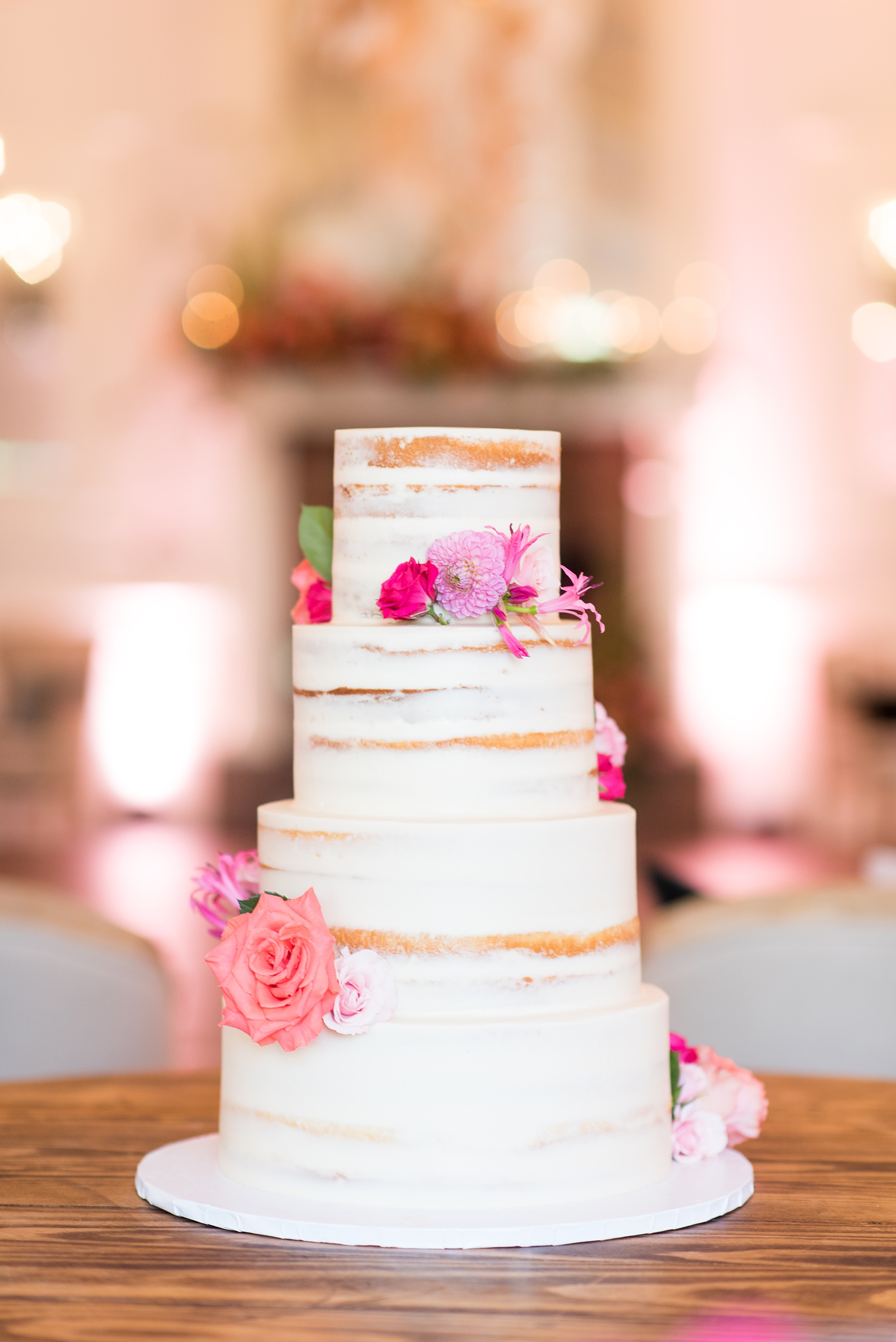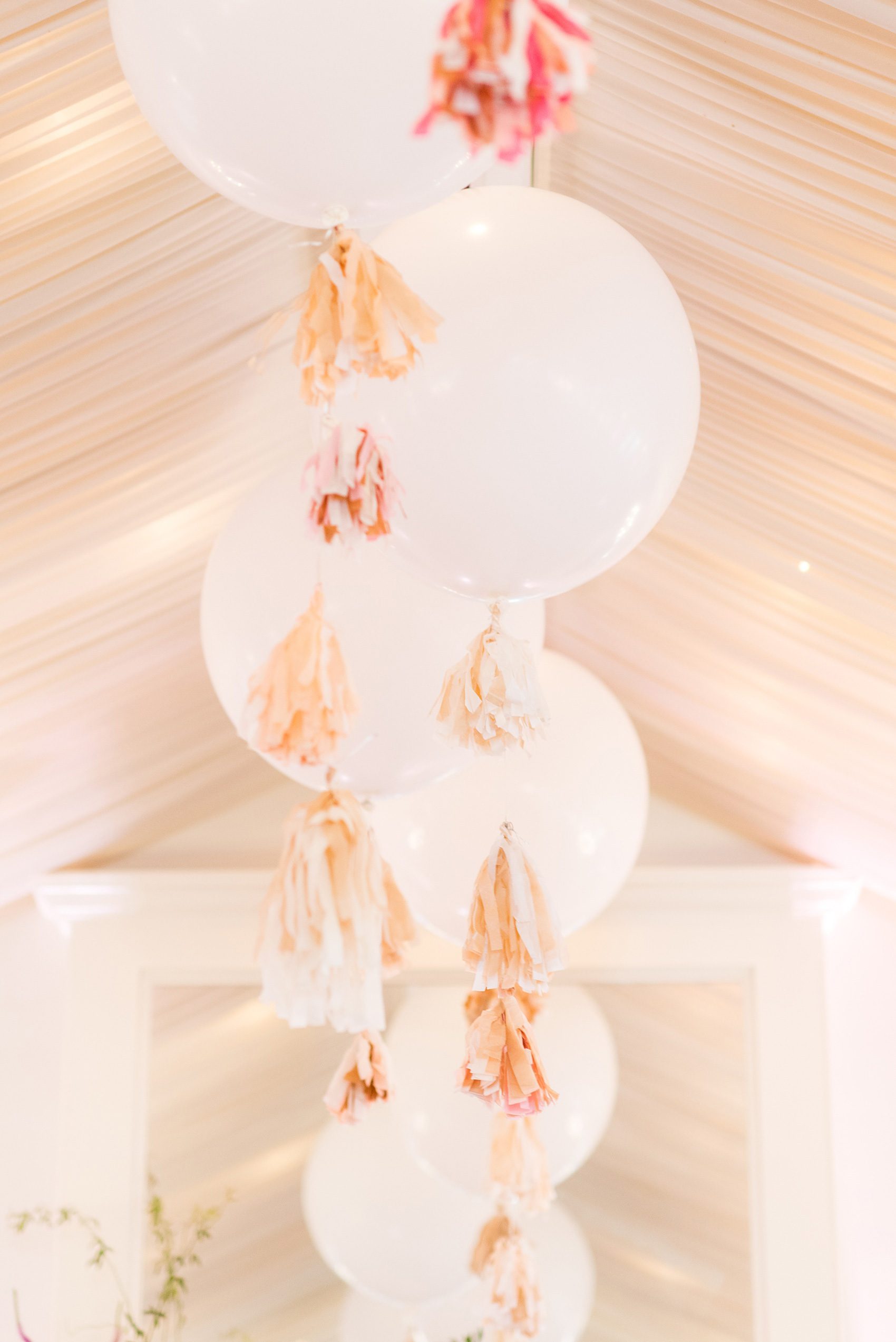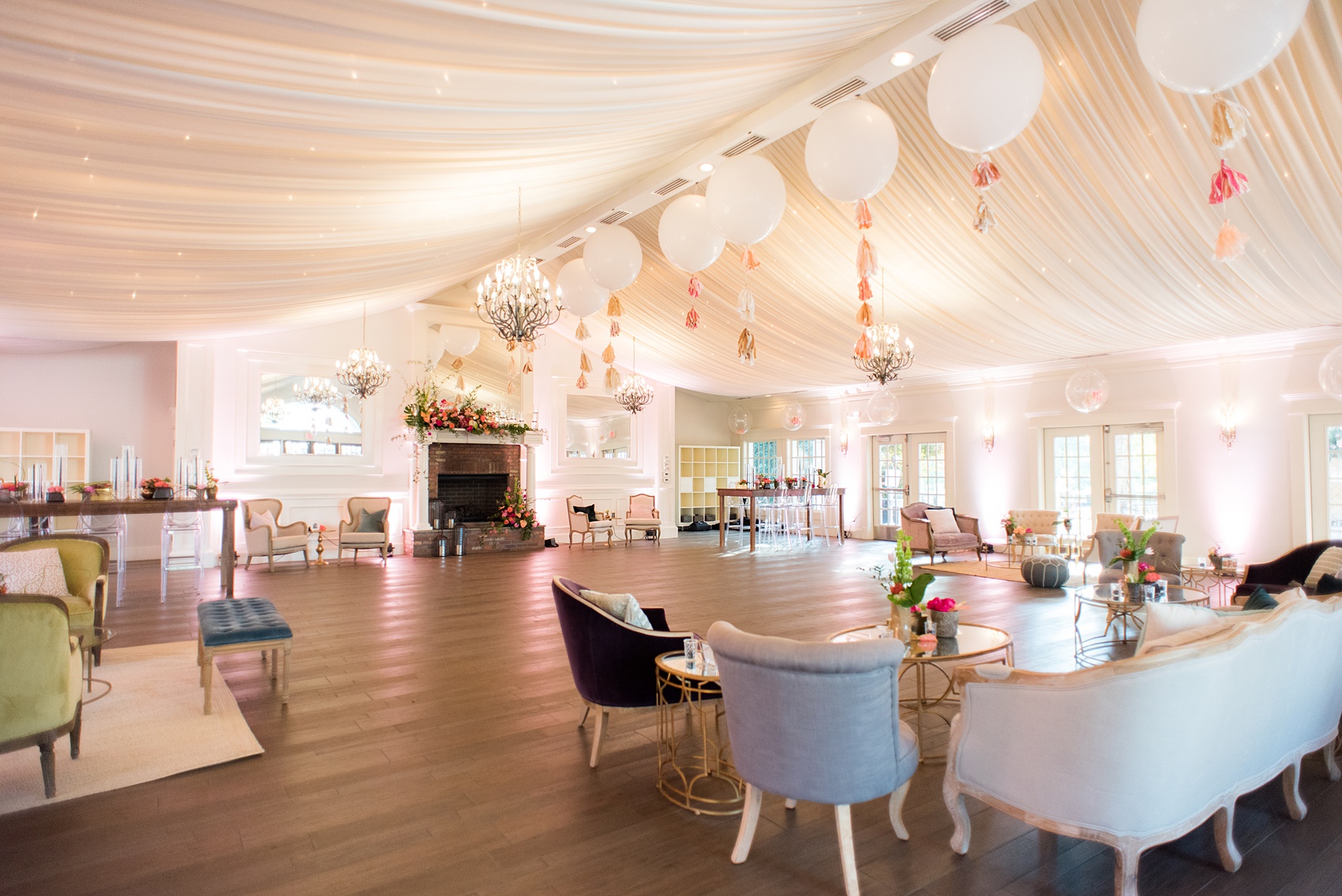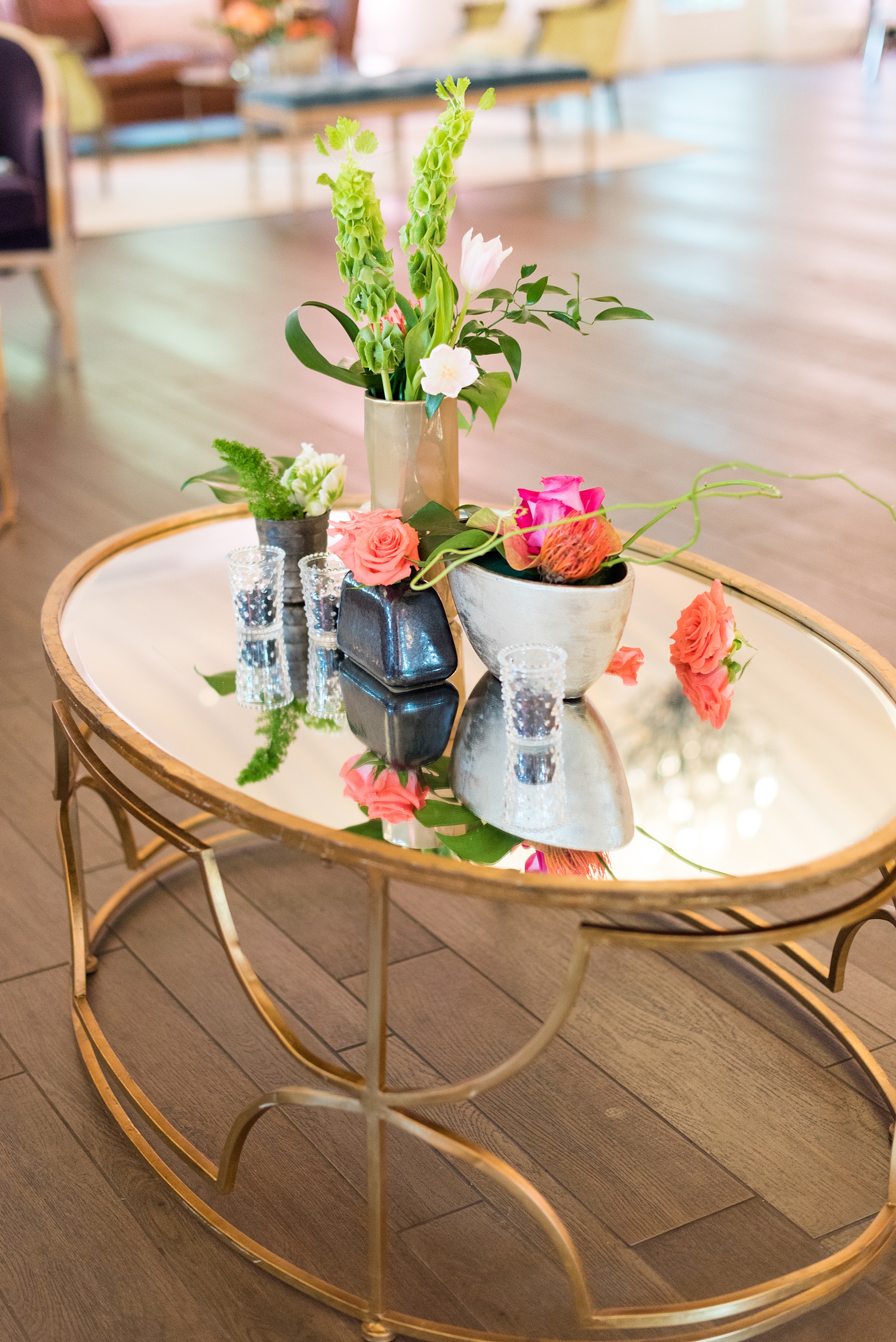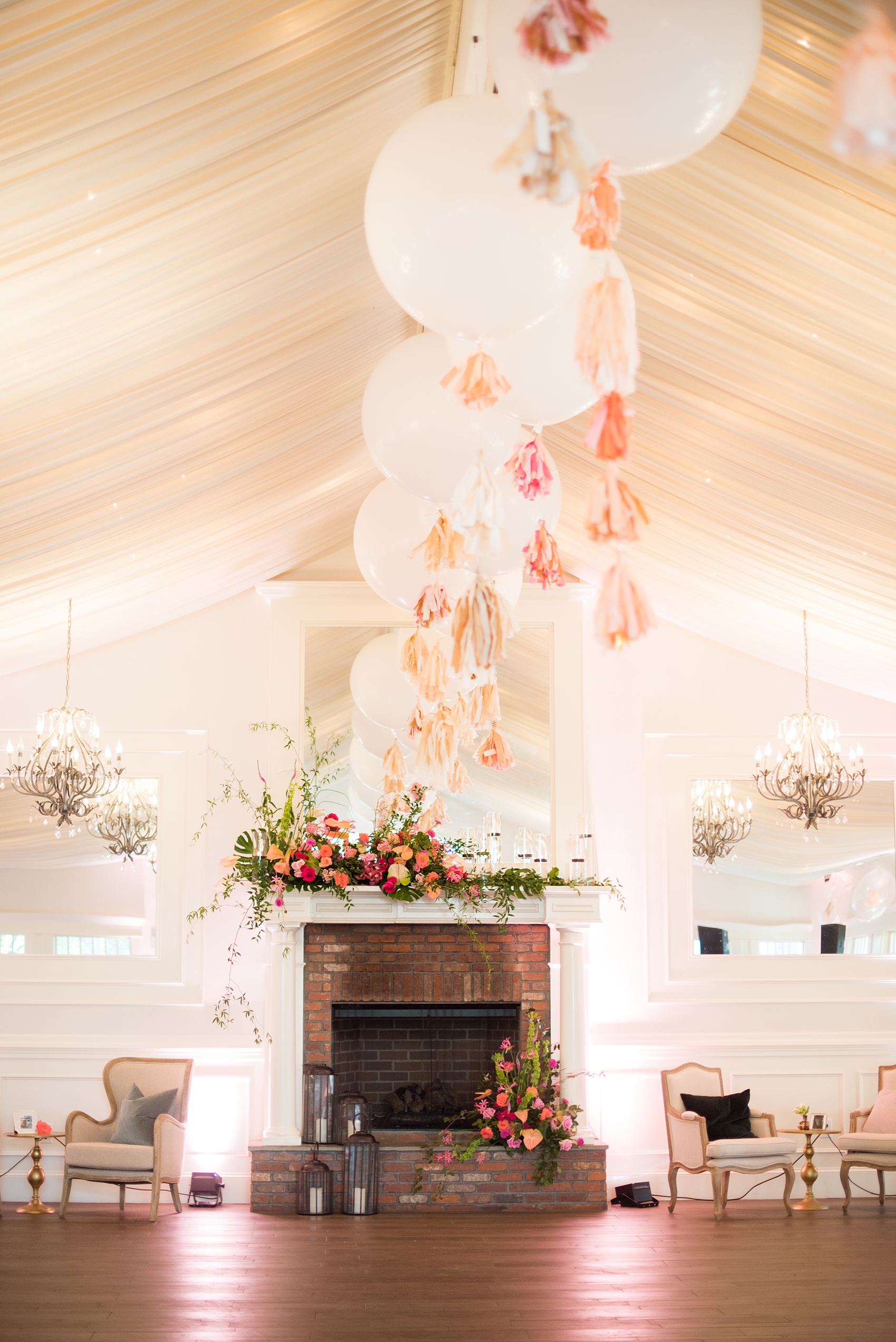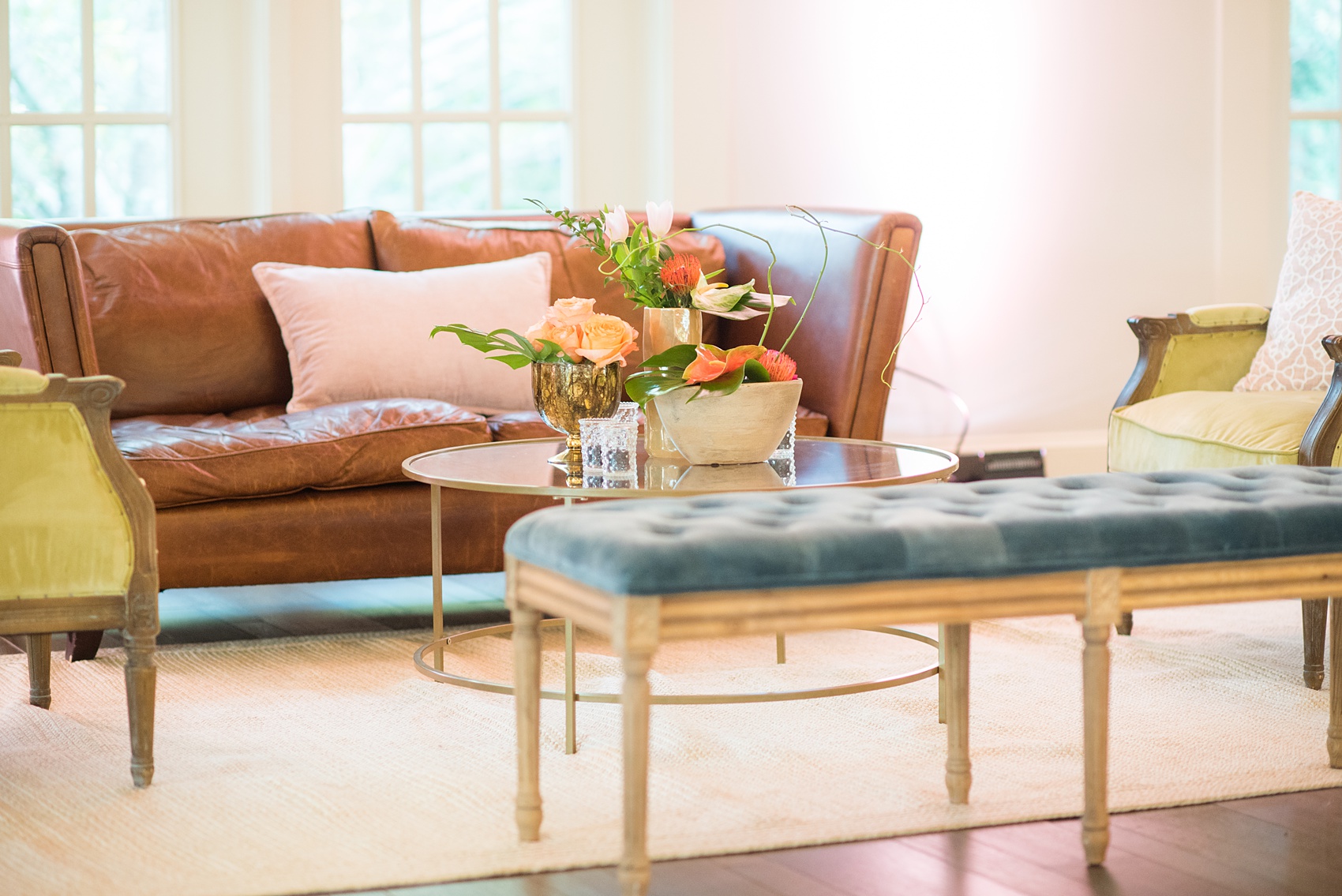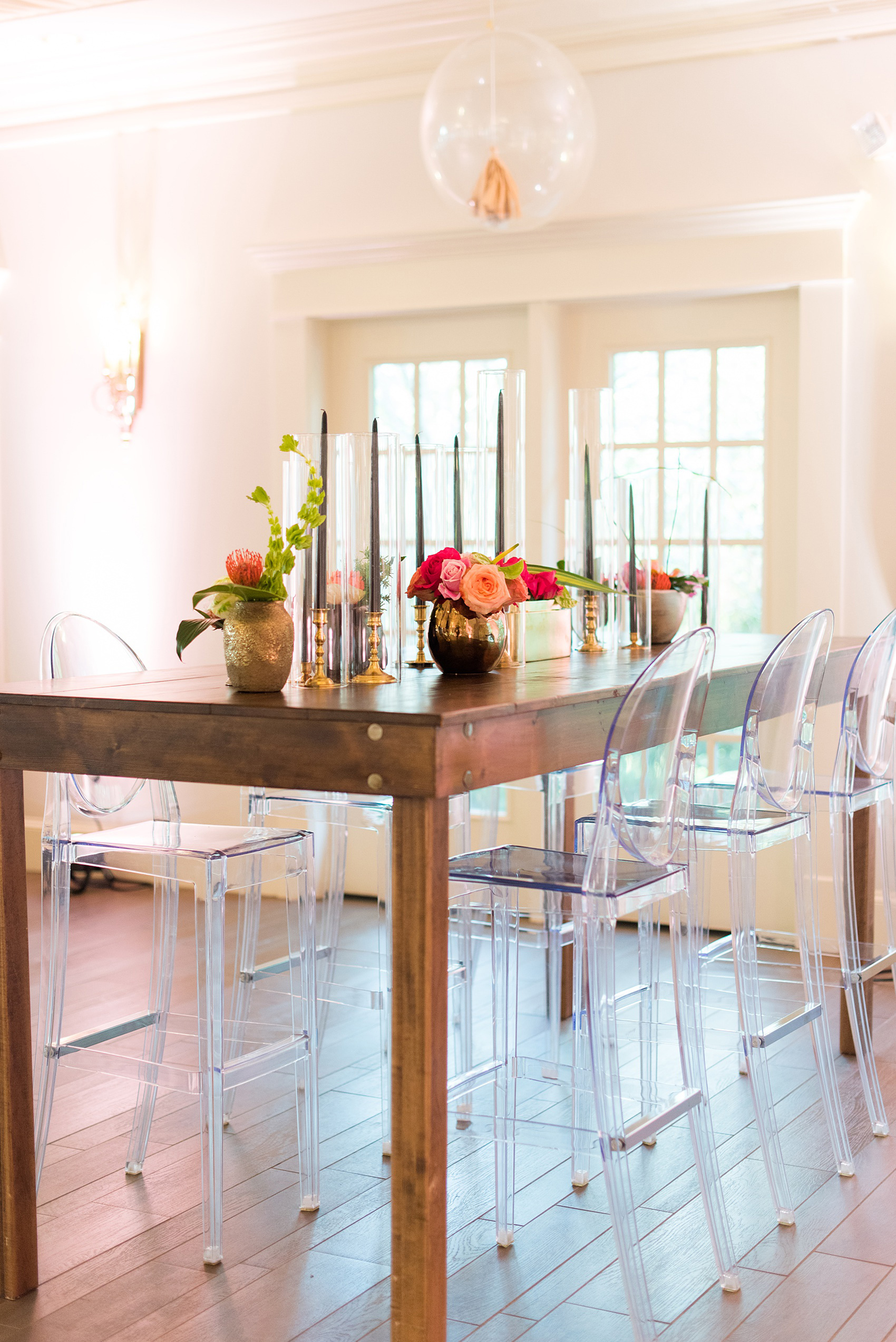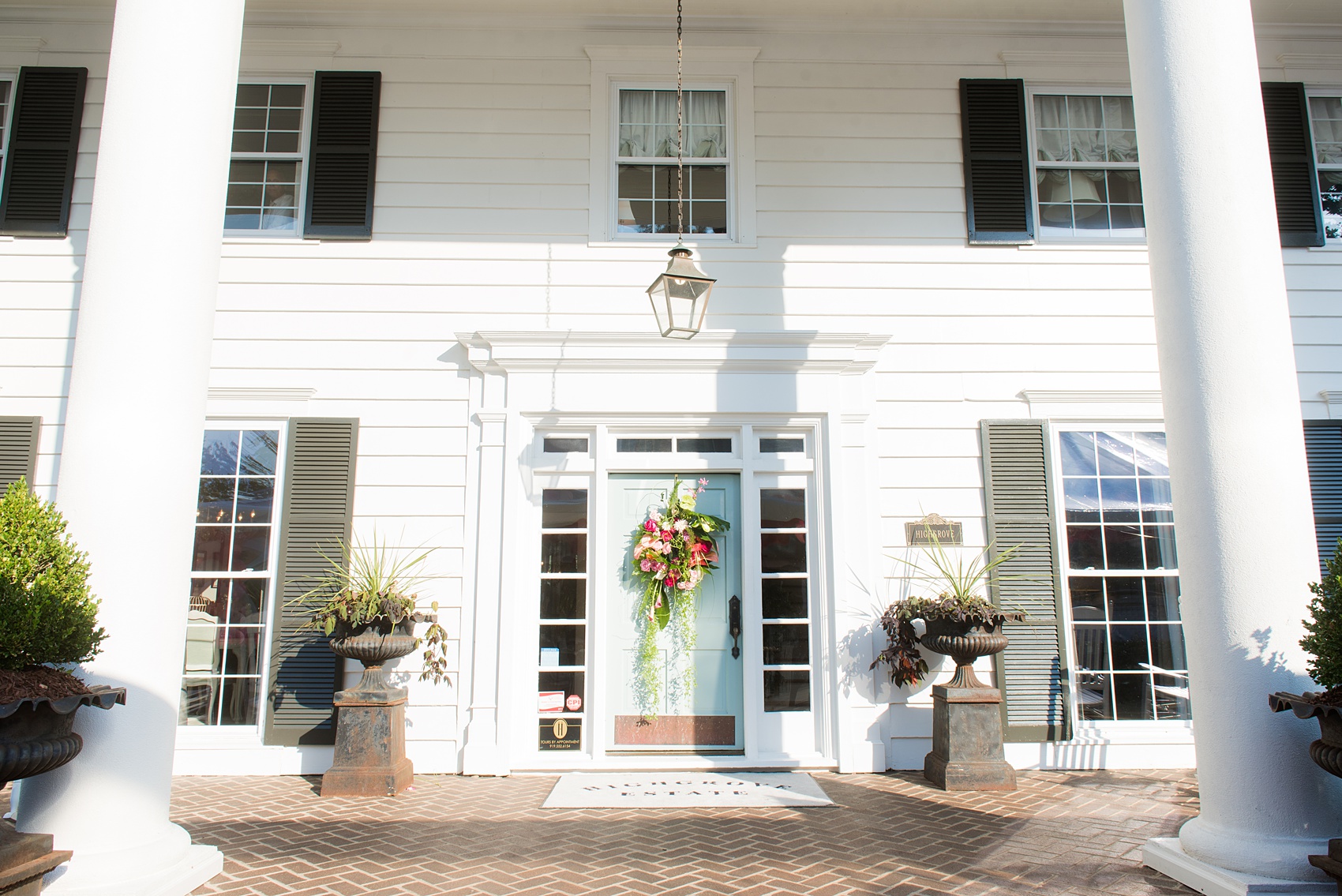 The front of the home looked lovely with a beautiful floral wreath custom designed for Highgrove Estate for Shannon and Mark's day. I love how long the vines hung down the light blue door. The house facade looked out to the clear tent that was covered in balloon arches. There were hues of pink and peach hung from the four corners of the dinner area as well as the ceiling. Wooden farm tables had mixed plates, flowers and chairs – white and clear acrylic. Each seat had a coordinated place card.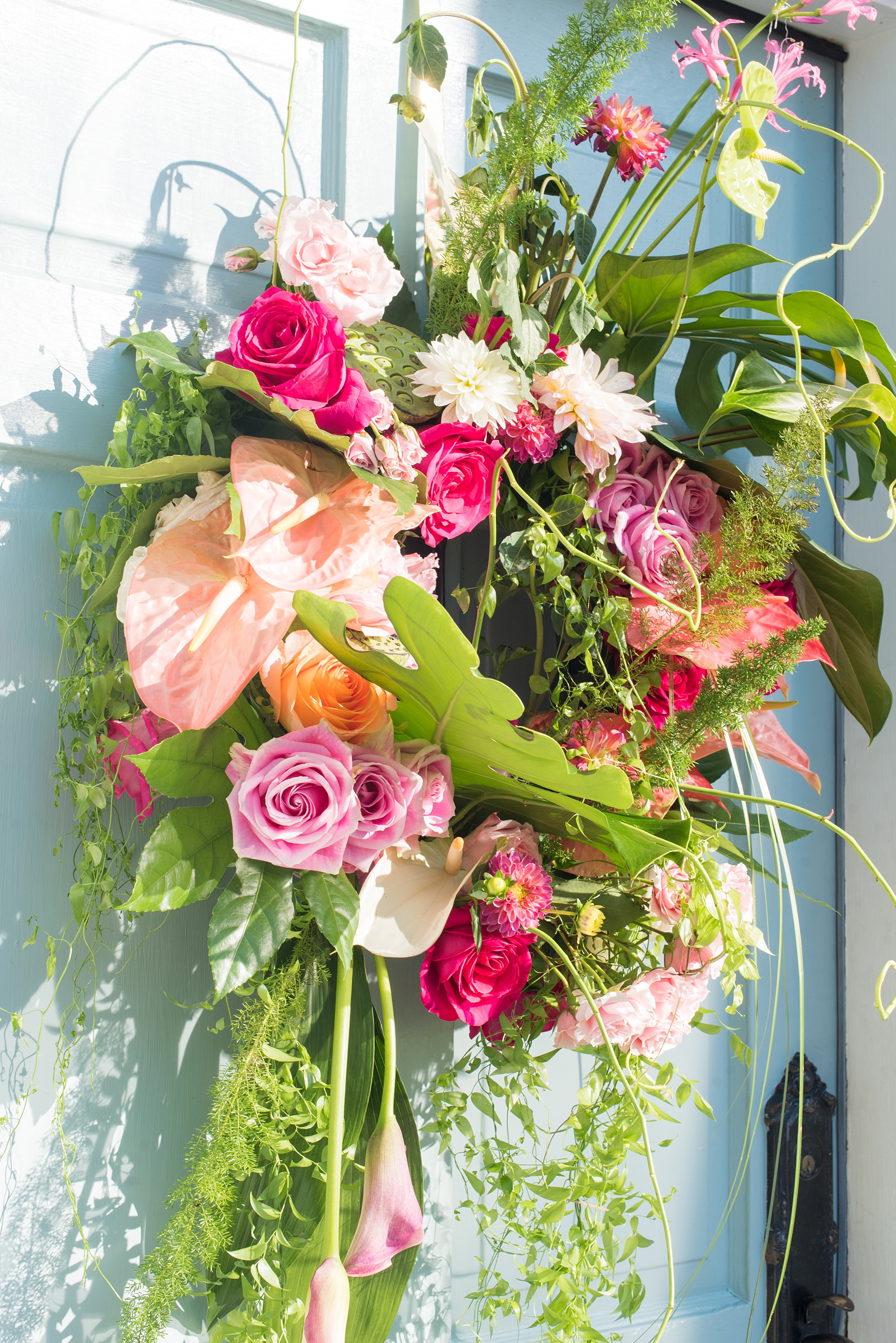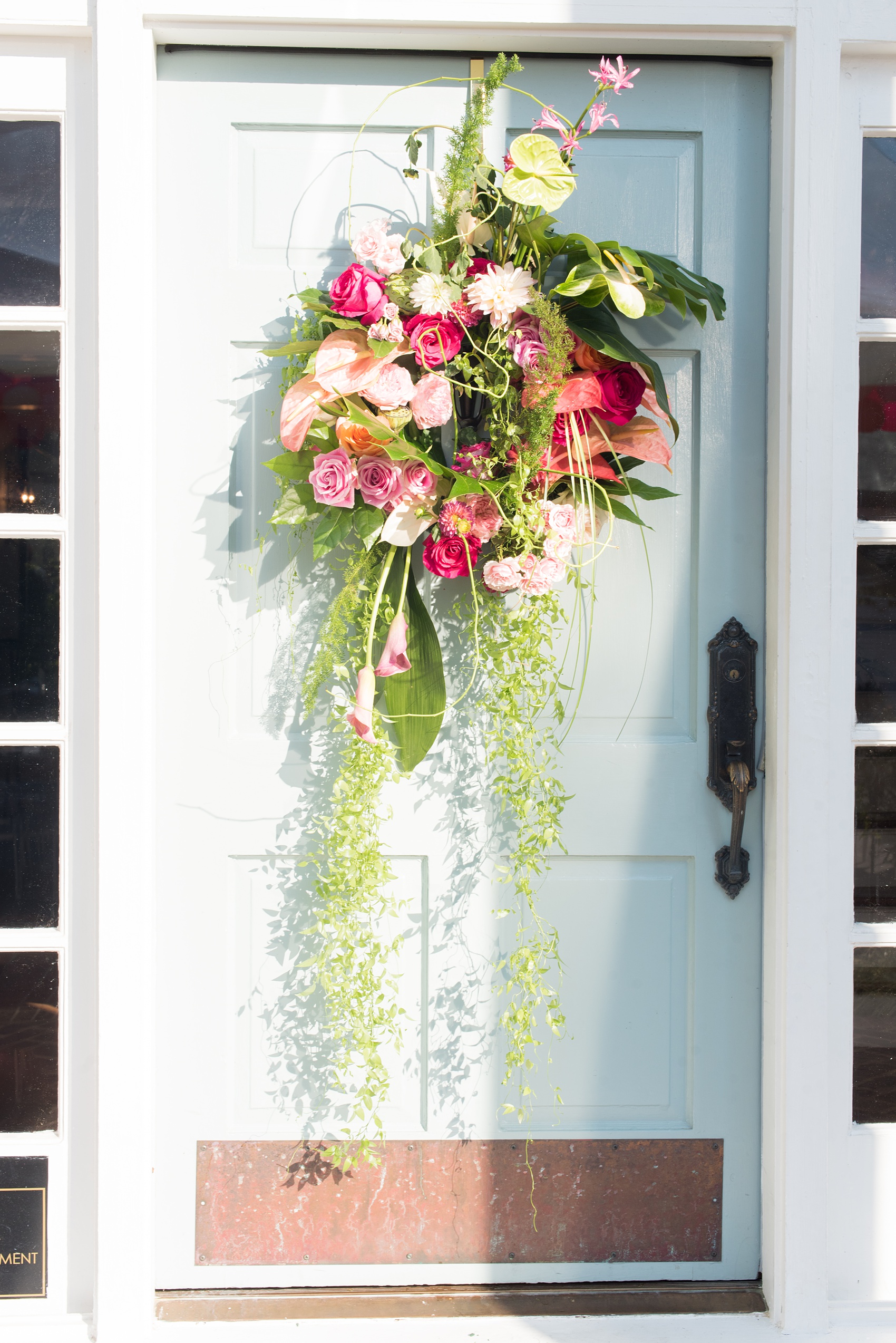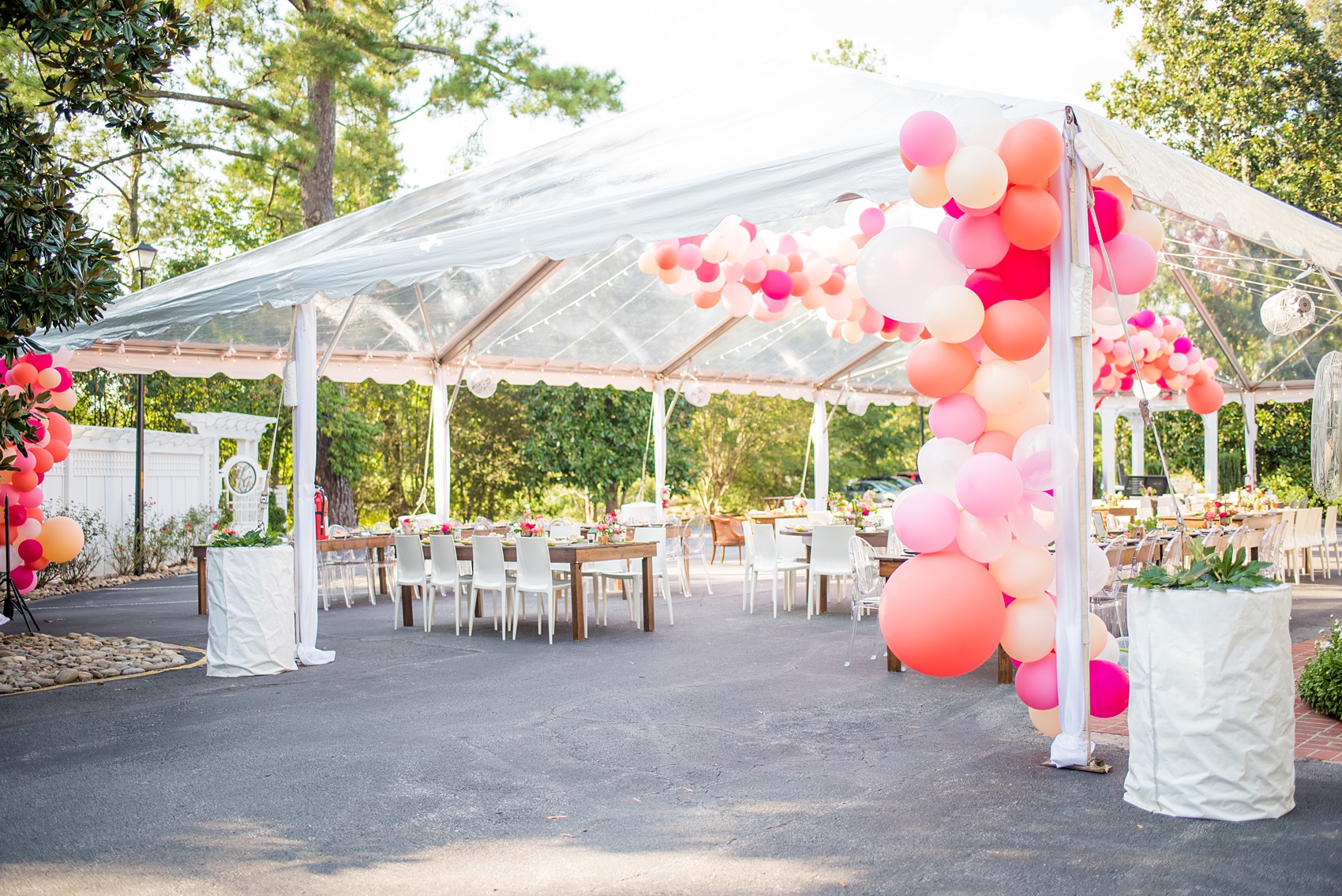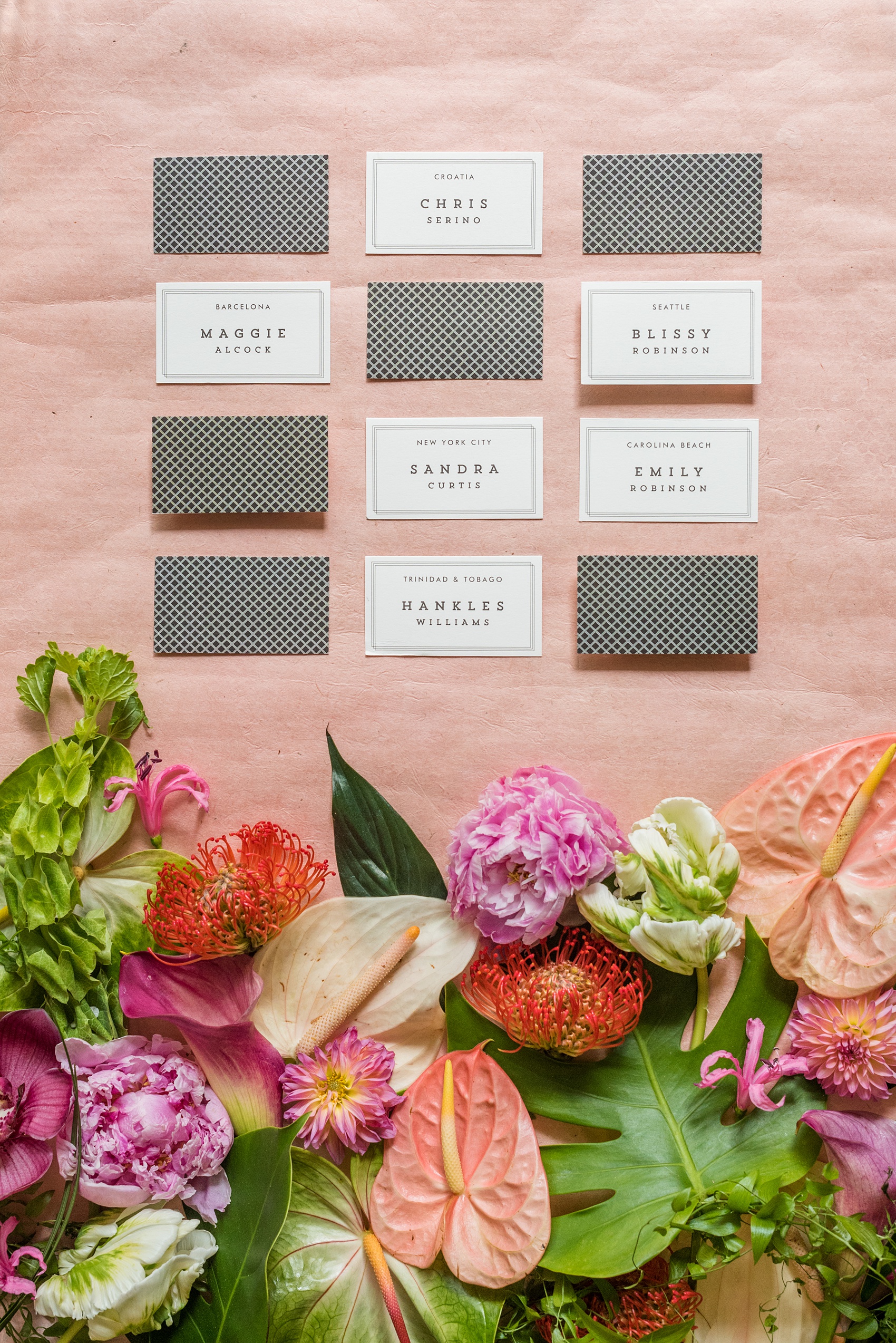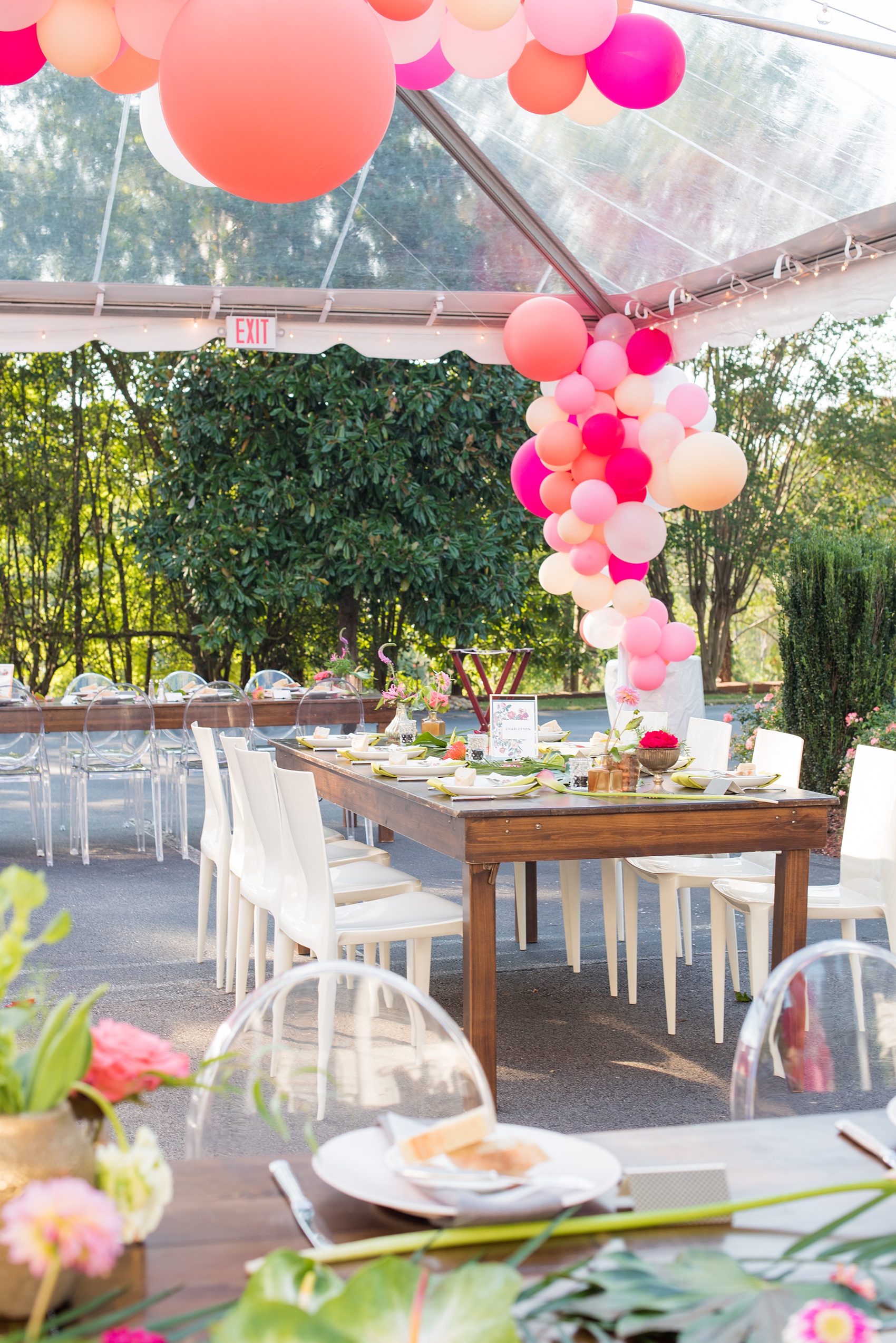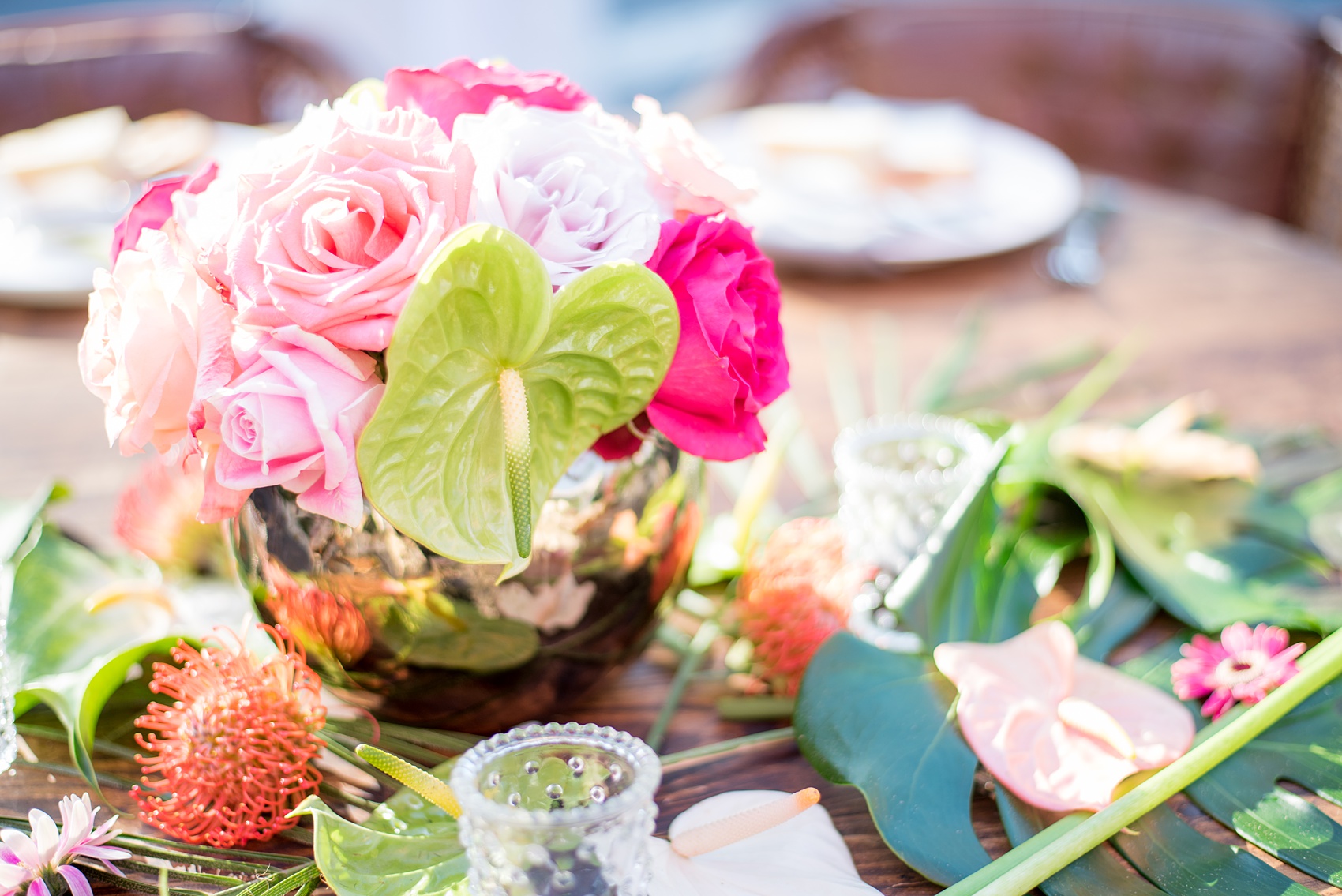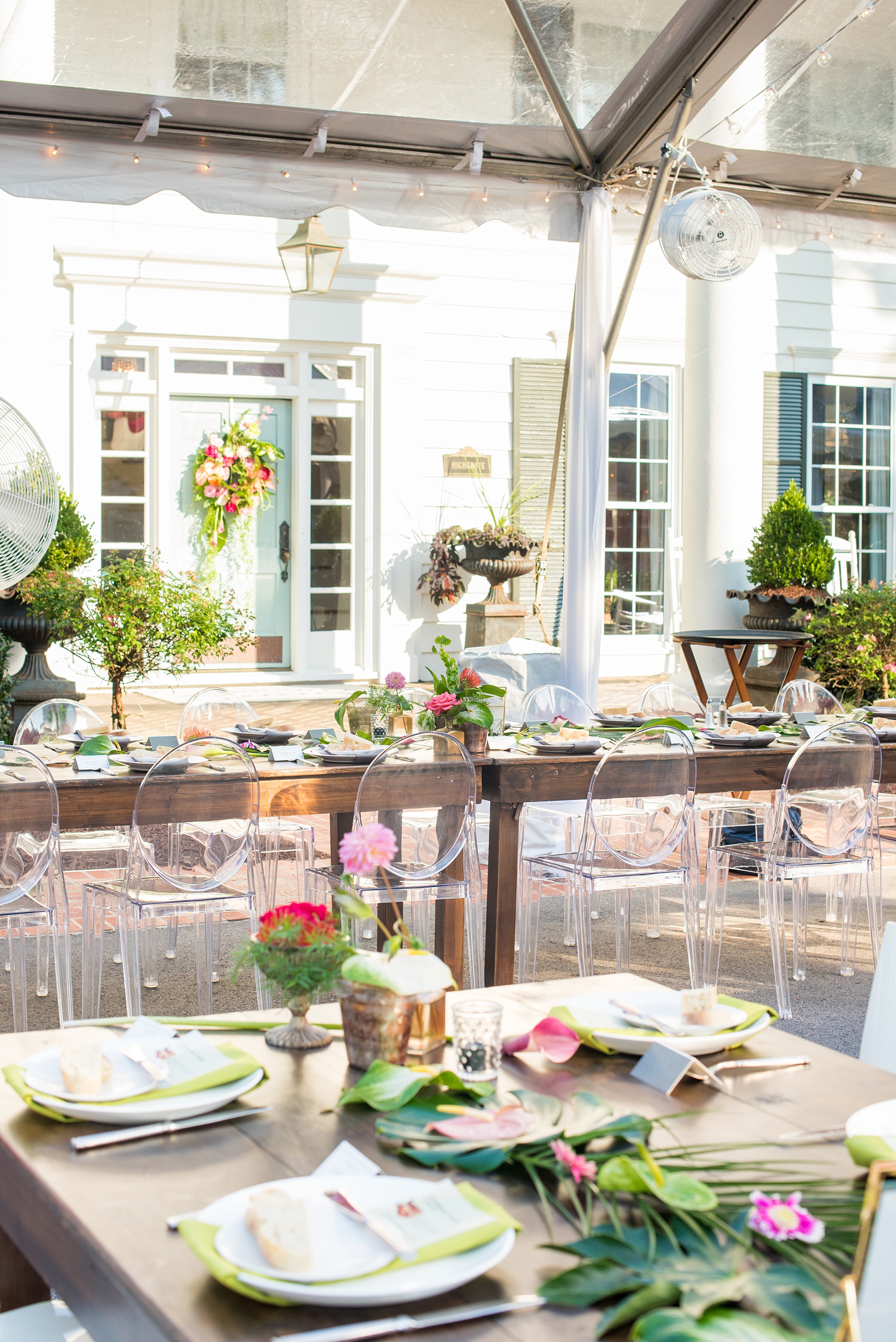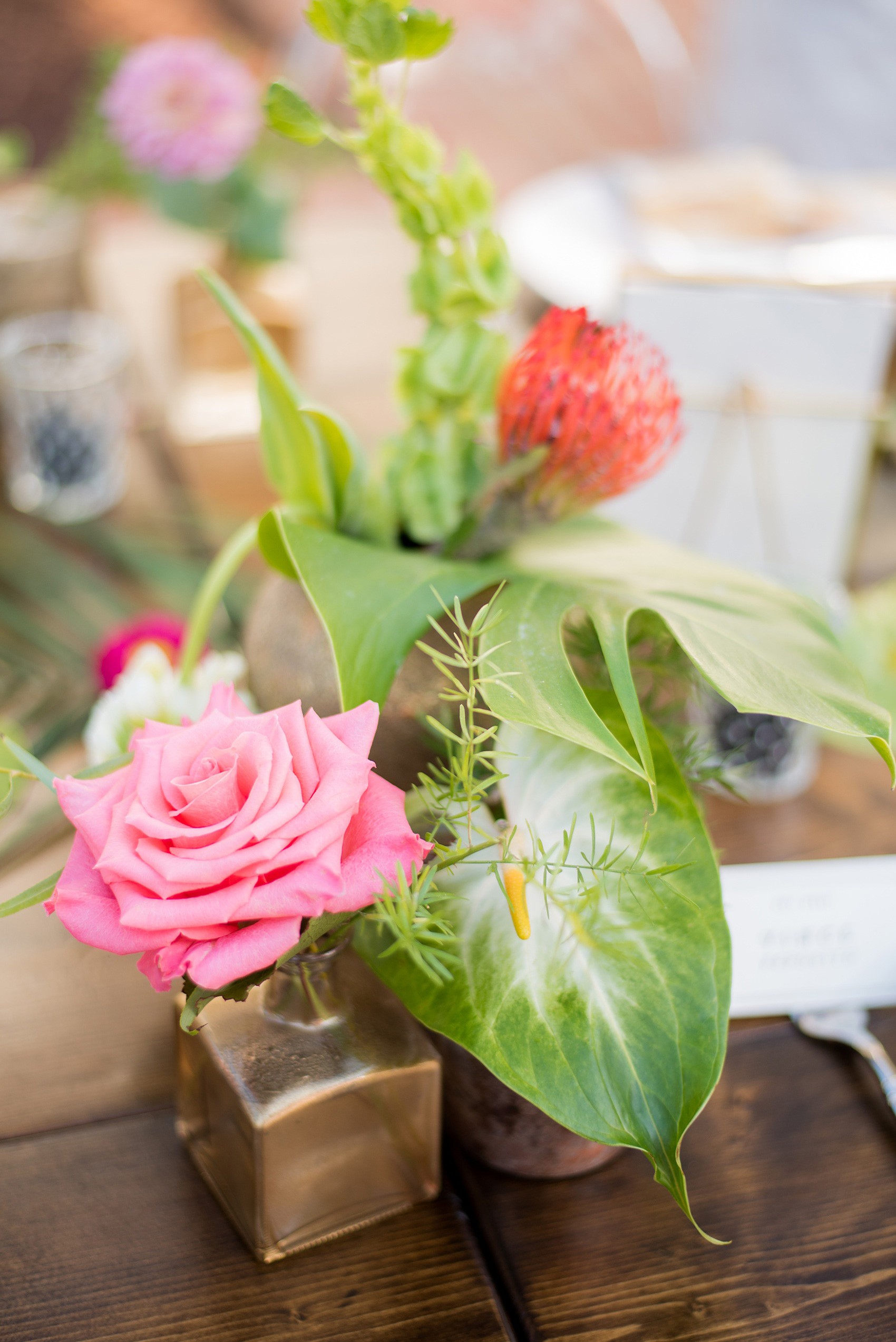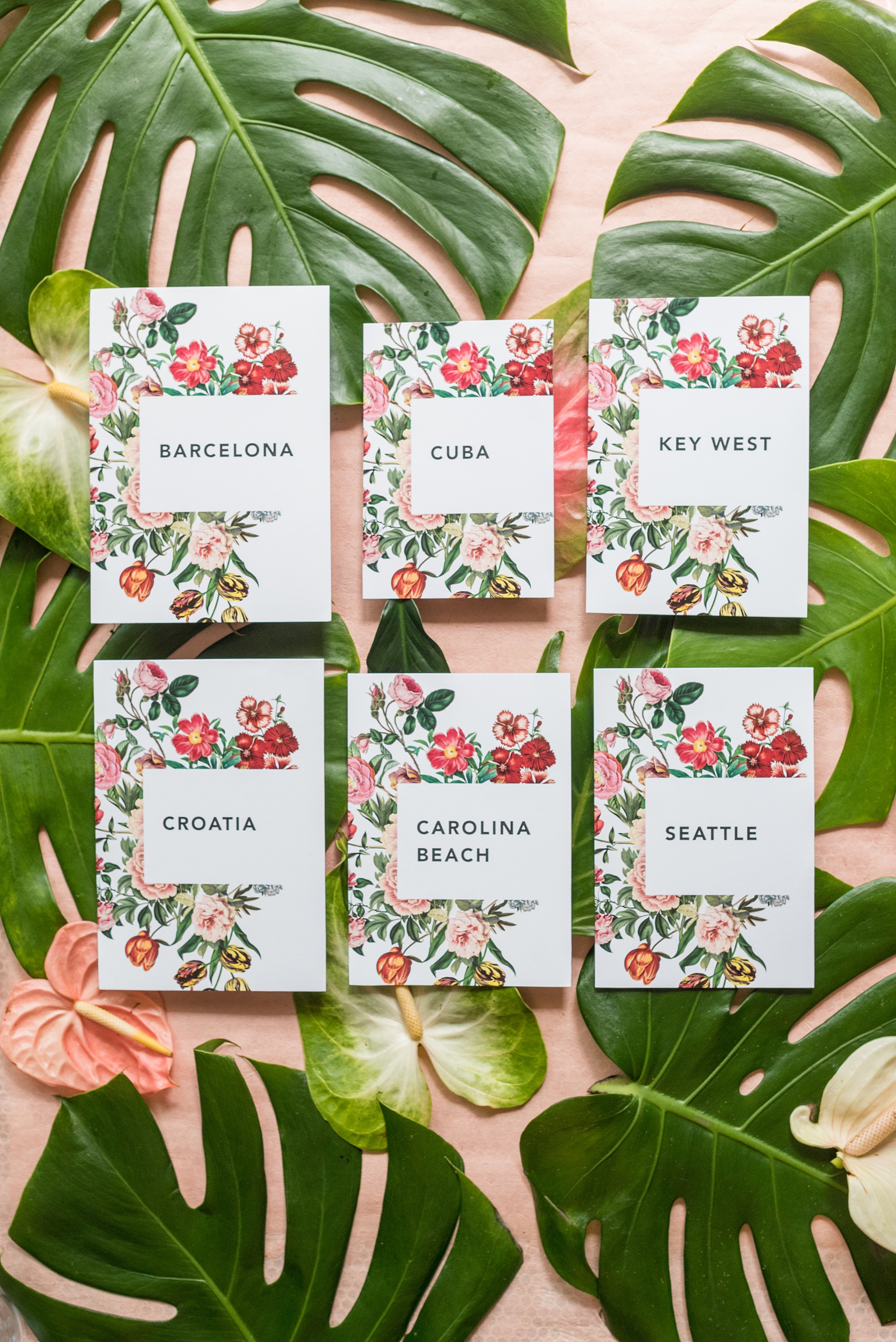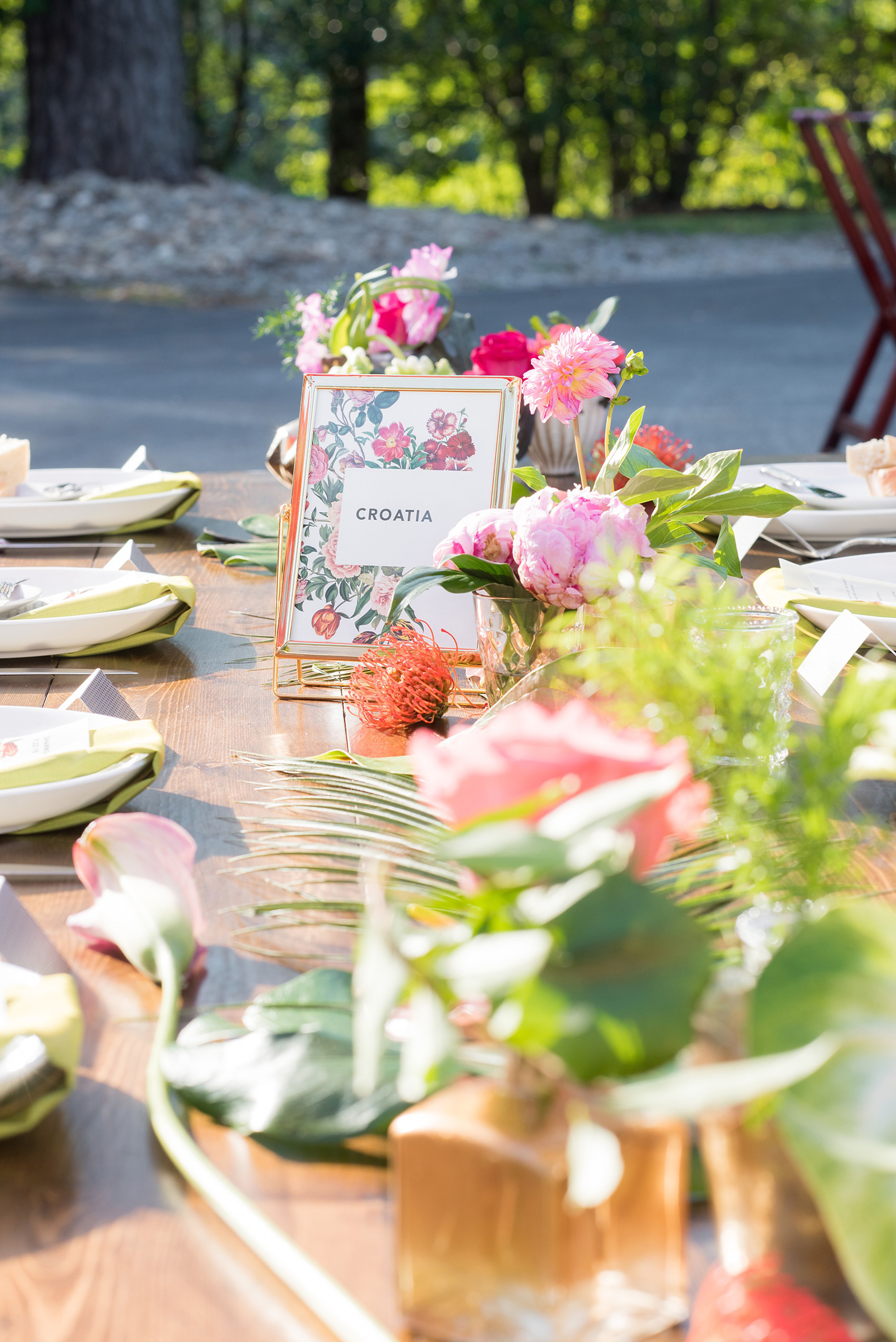 I absolutely love when table numbers are customized not only to the couple but also to match their stationery. Look at all the amazing places Shannon and Mark have traveled to together! I'm sure it's just the tip of the iceberg too; they added Portugal to the list of places they've traveled together shortly after their wedding for their honeymoon.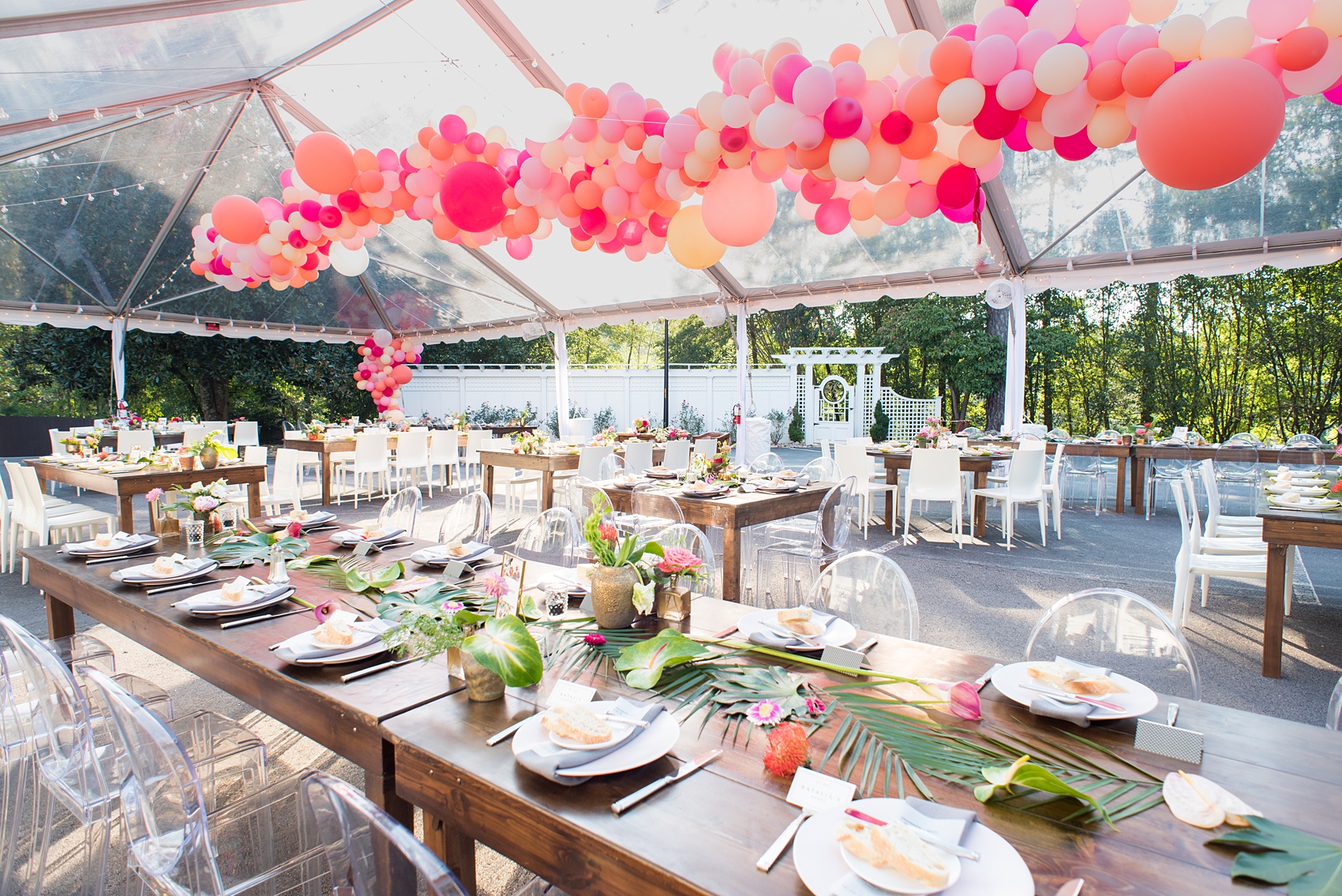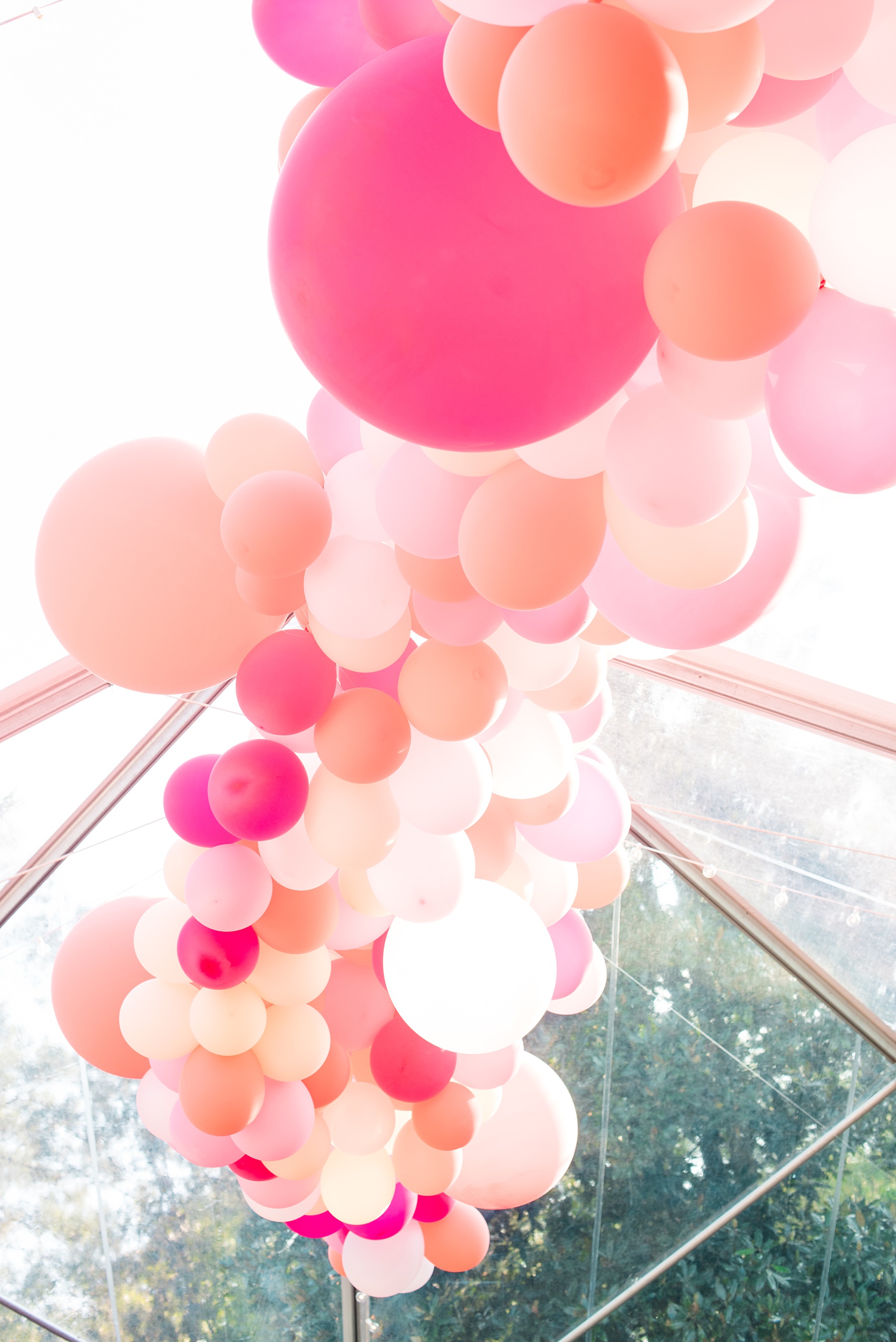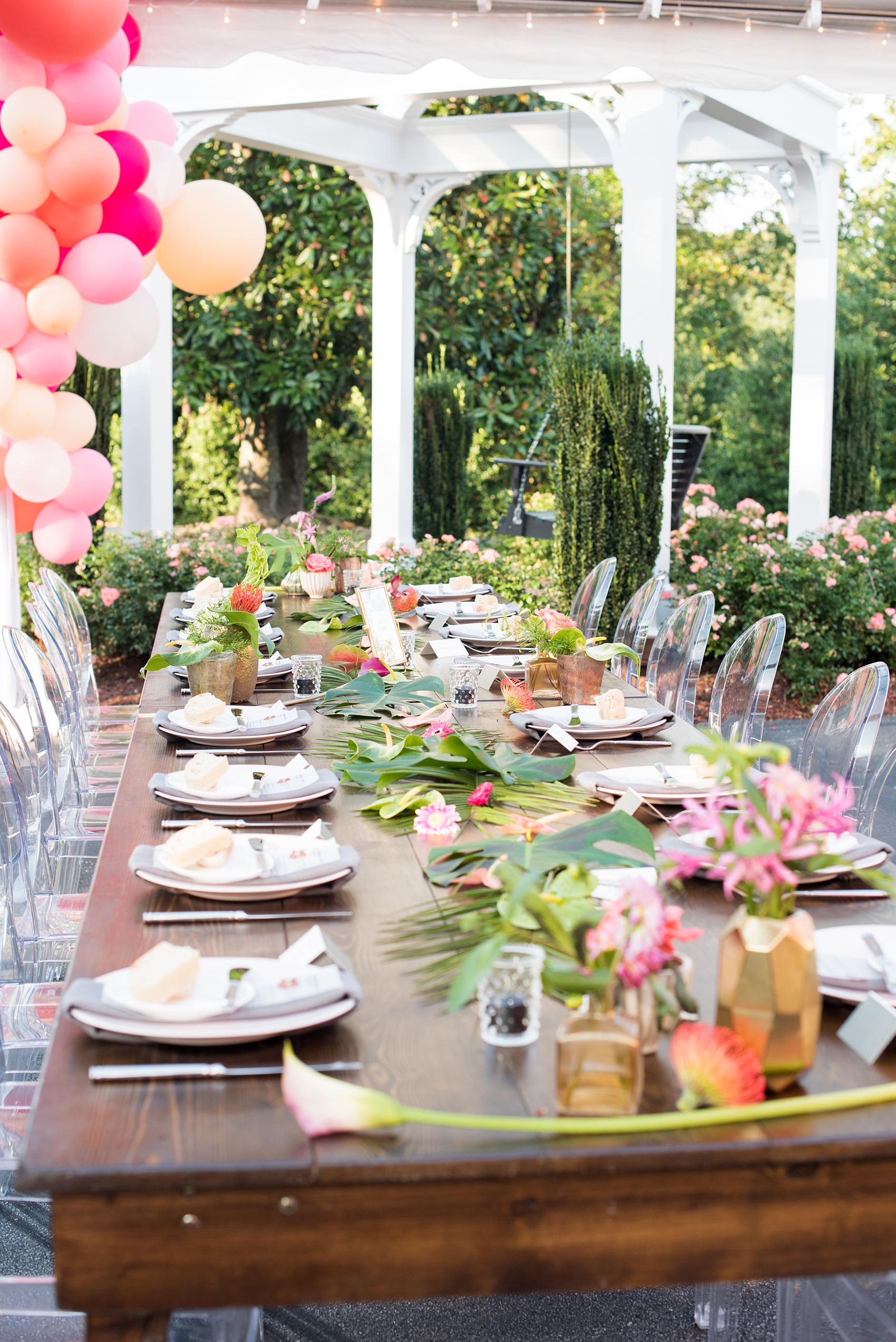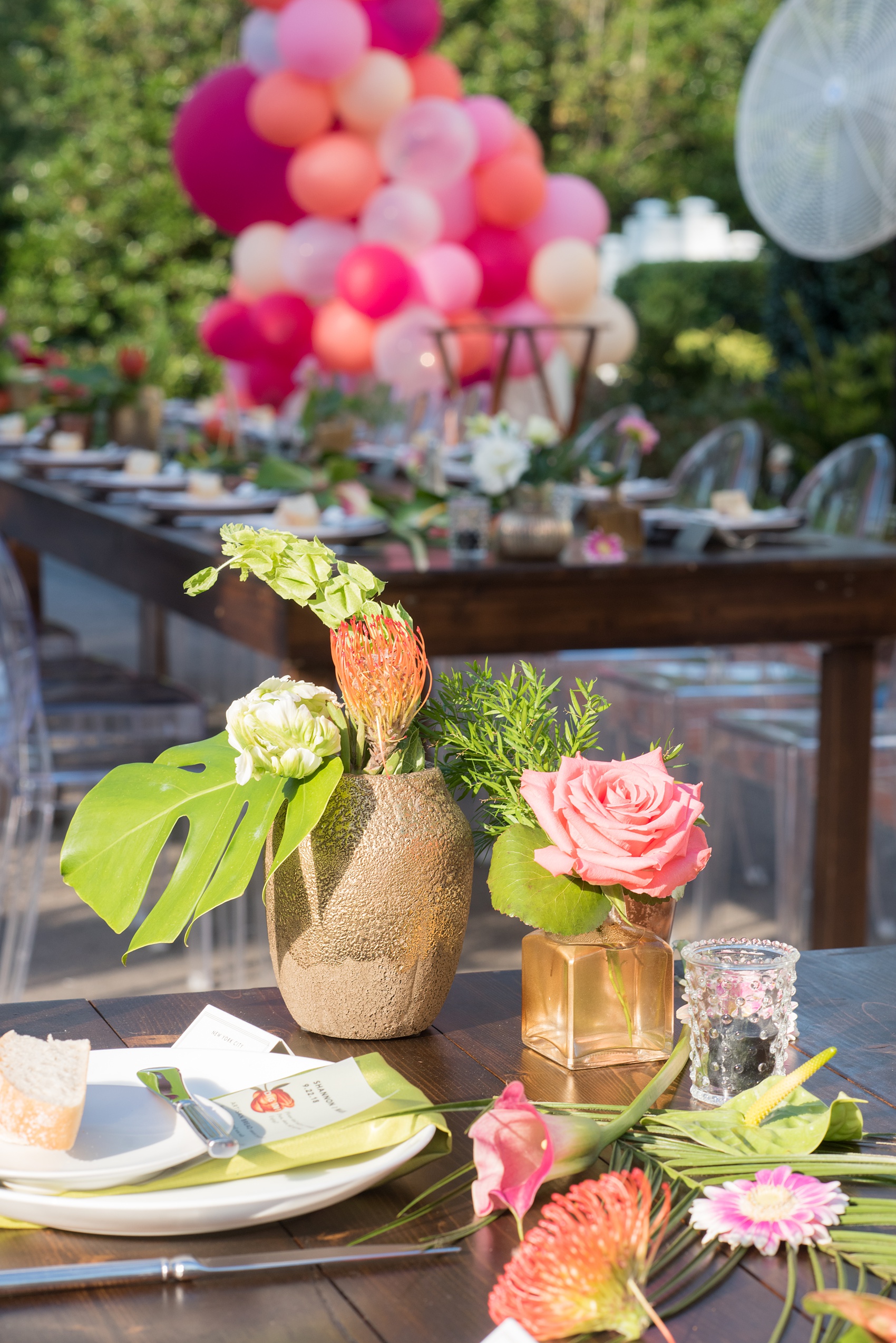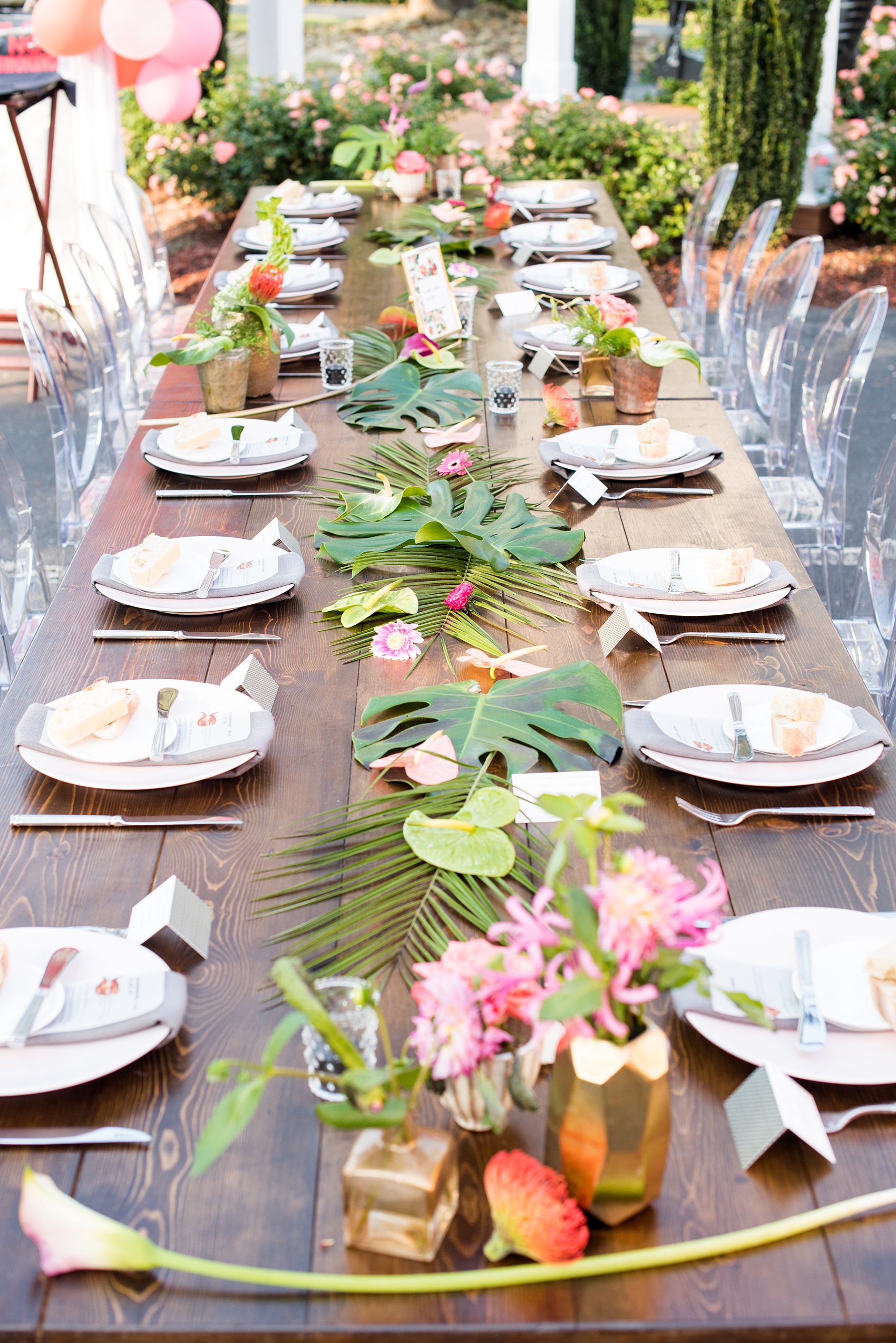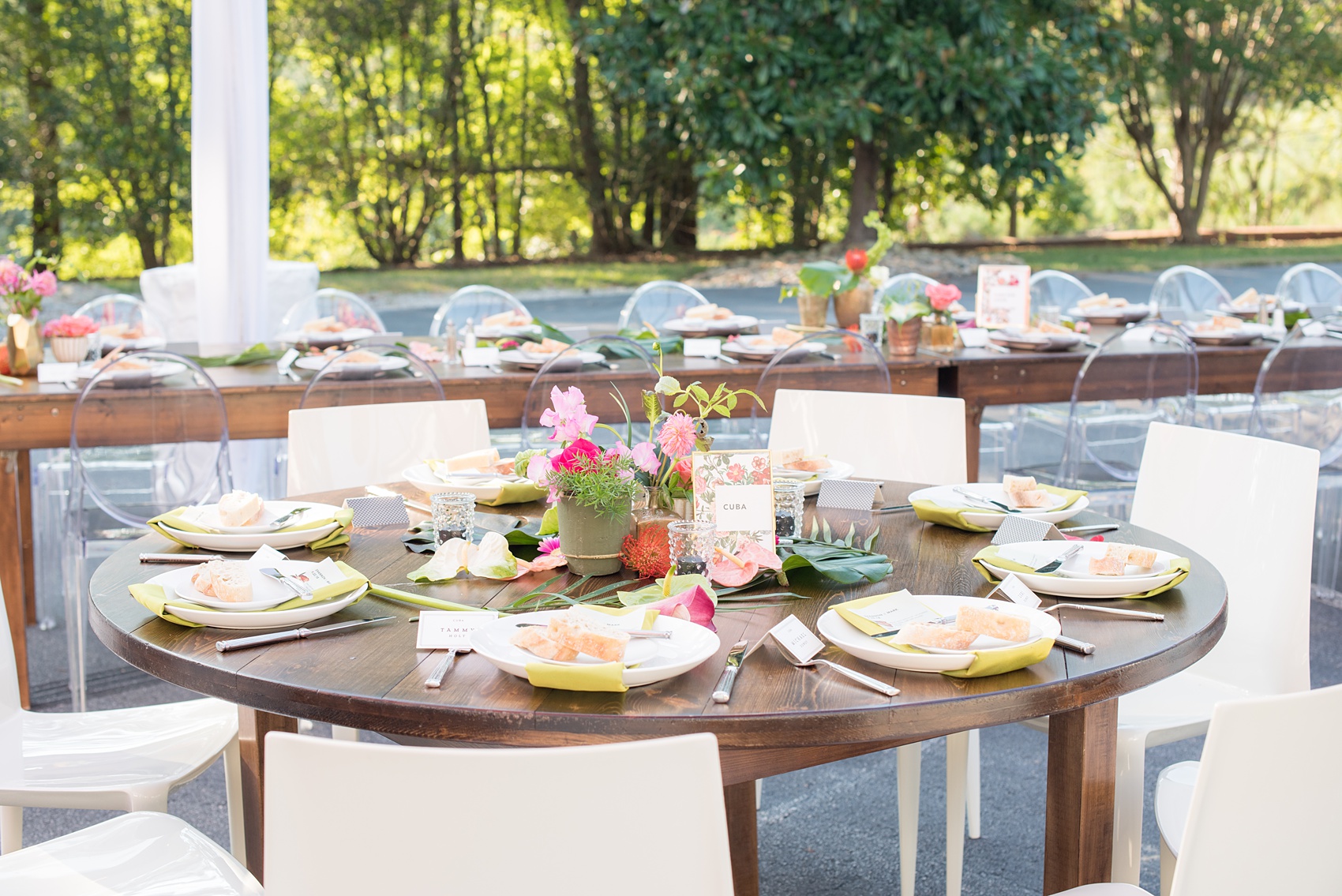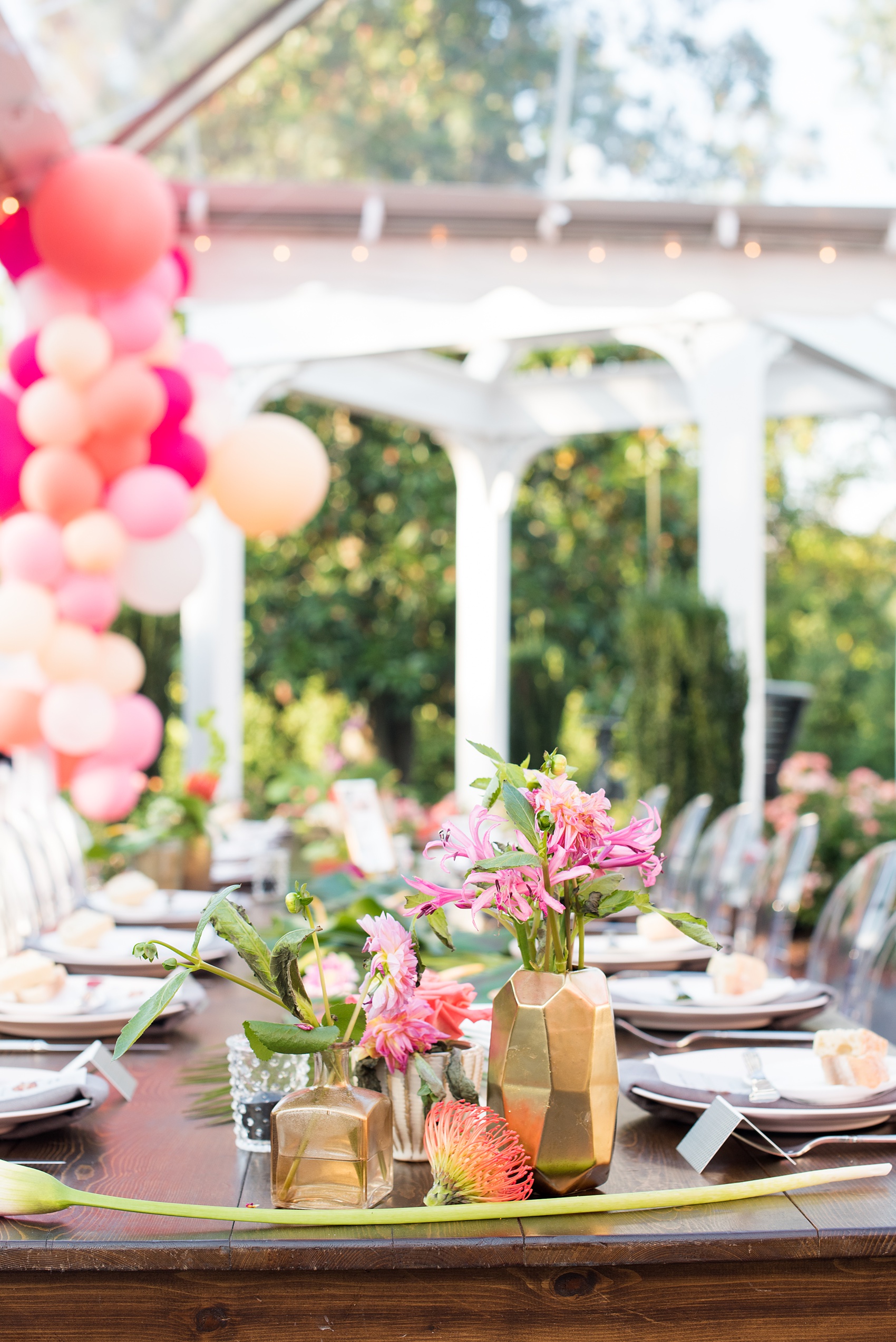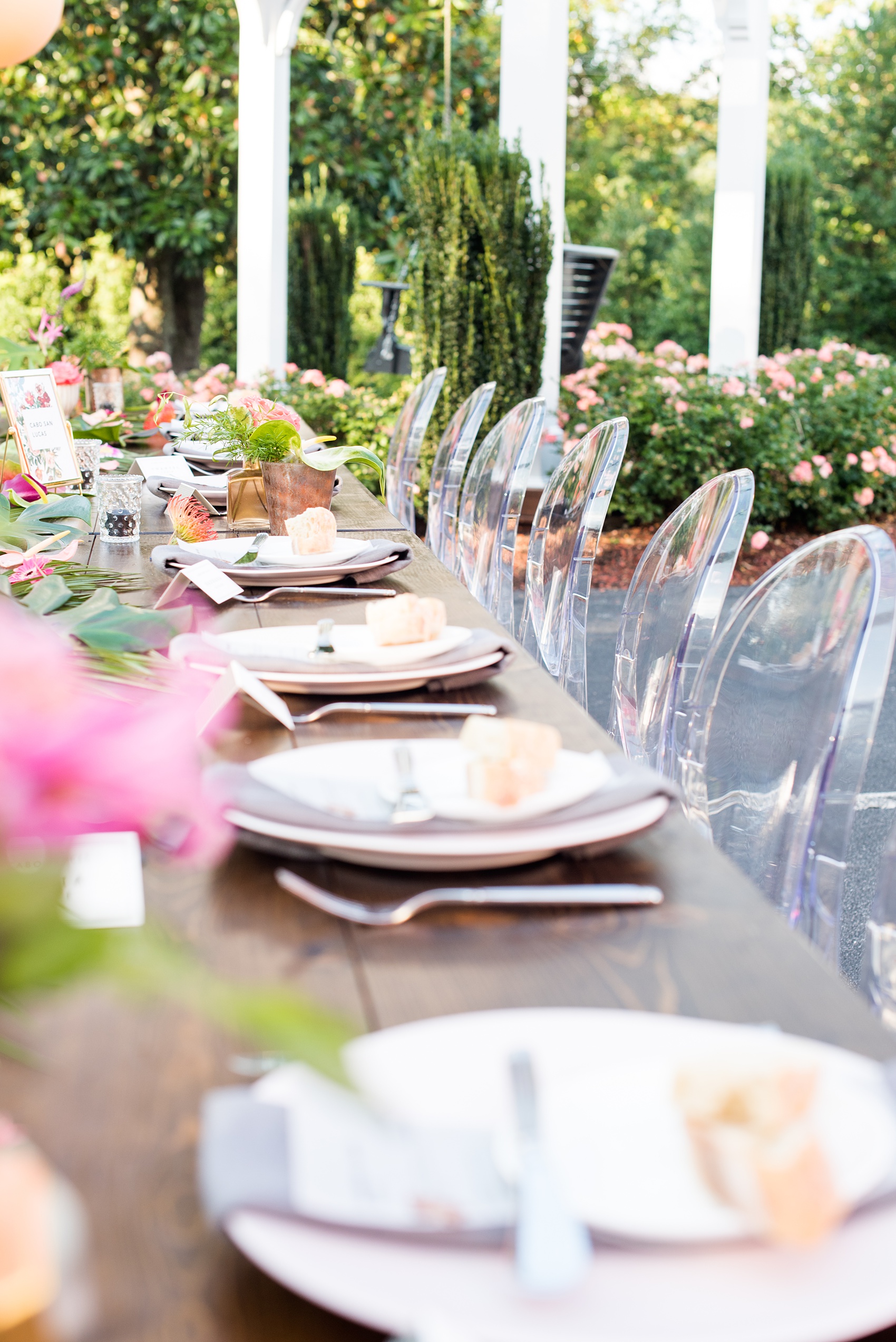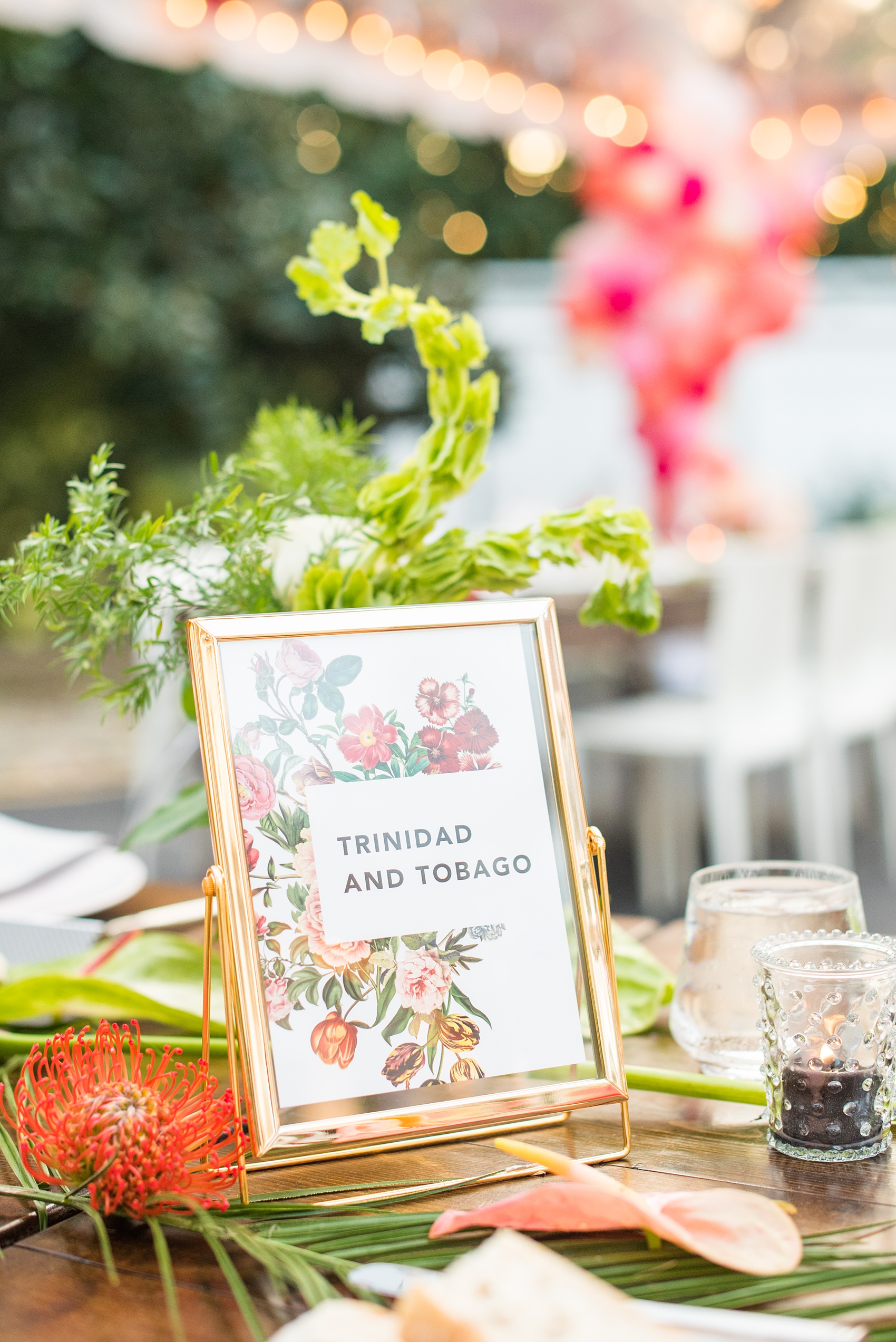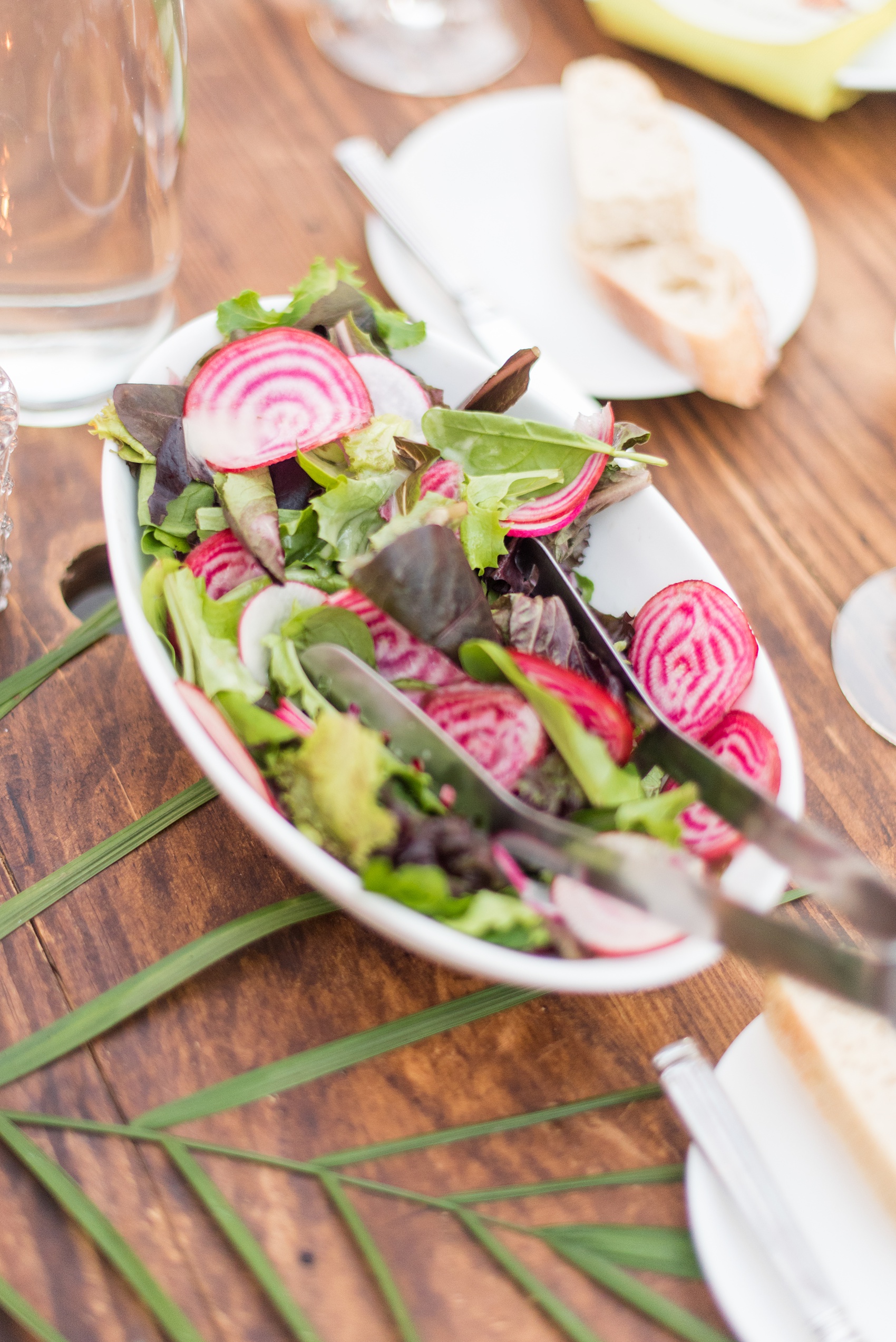 Highgrove Estate has their own in-house catering and I was sincerely impressed. The only way I can imagine they do so many things, so well, is because they have a great team. They served their wedding dinner family style, including steak, seasonal fall squash ravioli, Brussels sprouts, grilled shrimp and a beautiful salad with watermelon radishes. I cannot imagine anyone left their wedding hungry!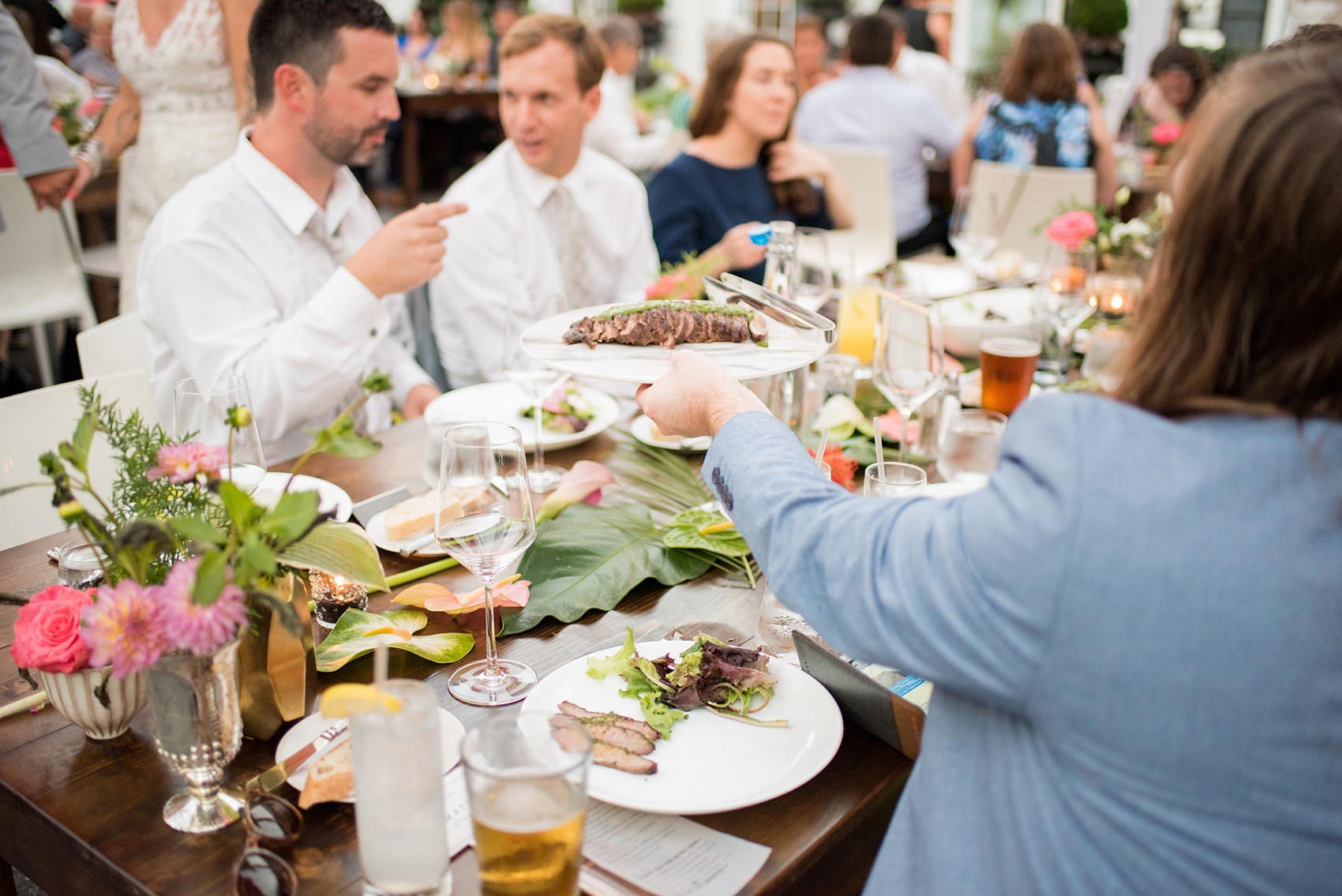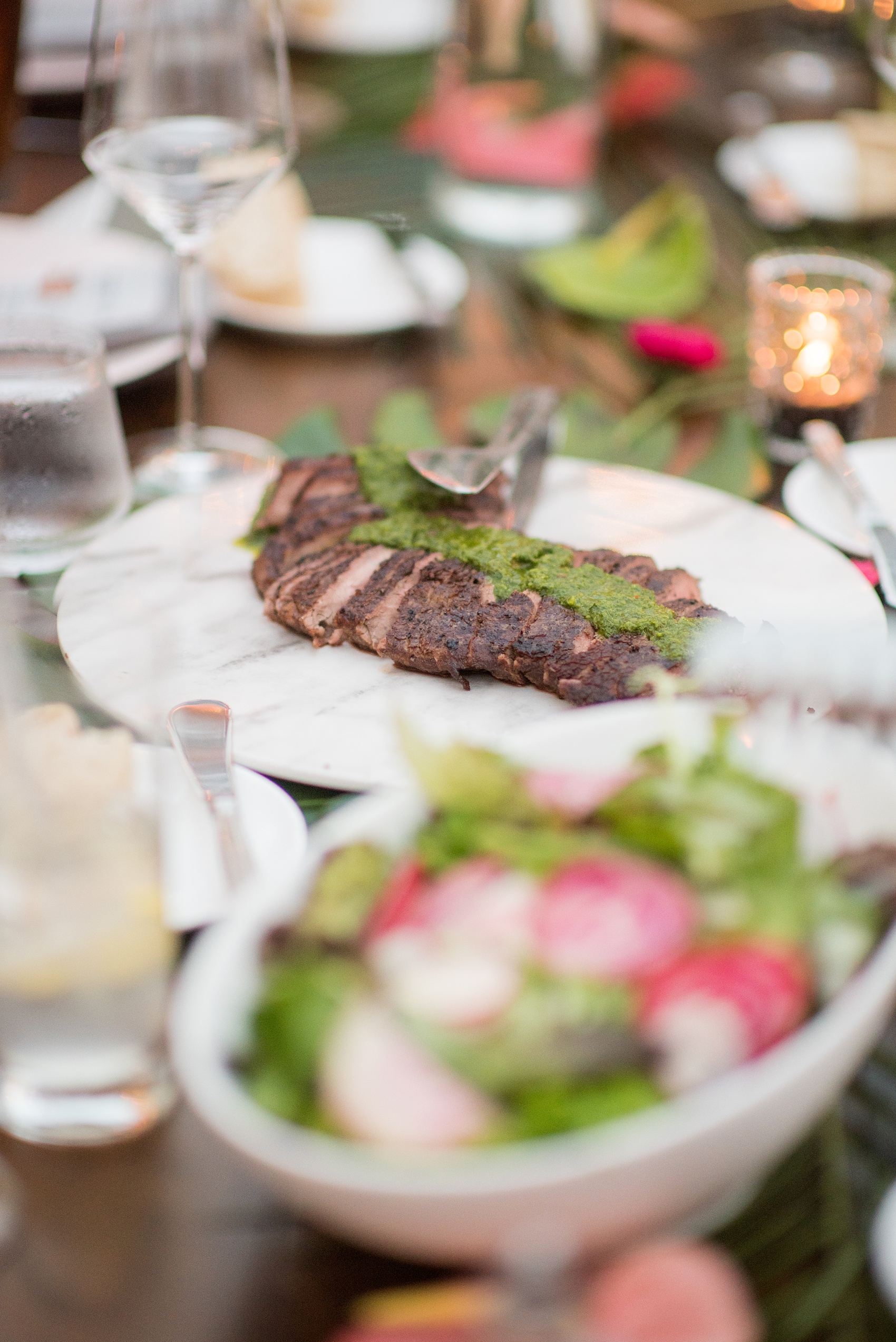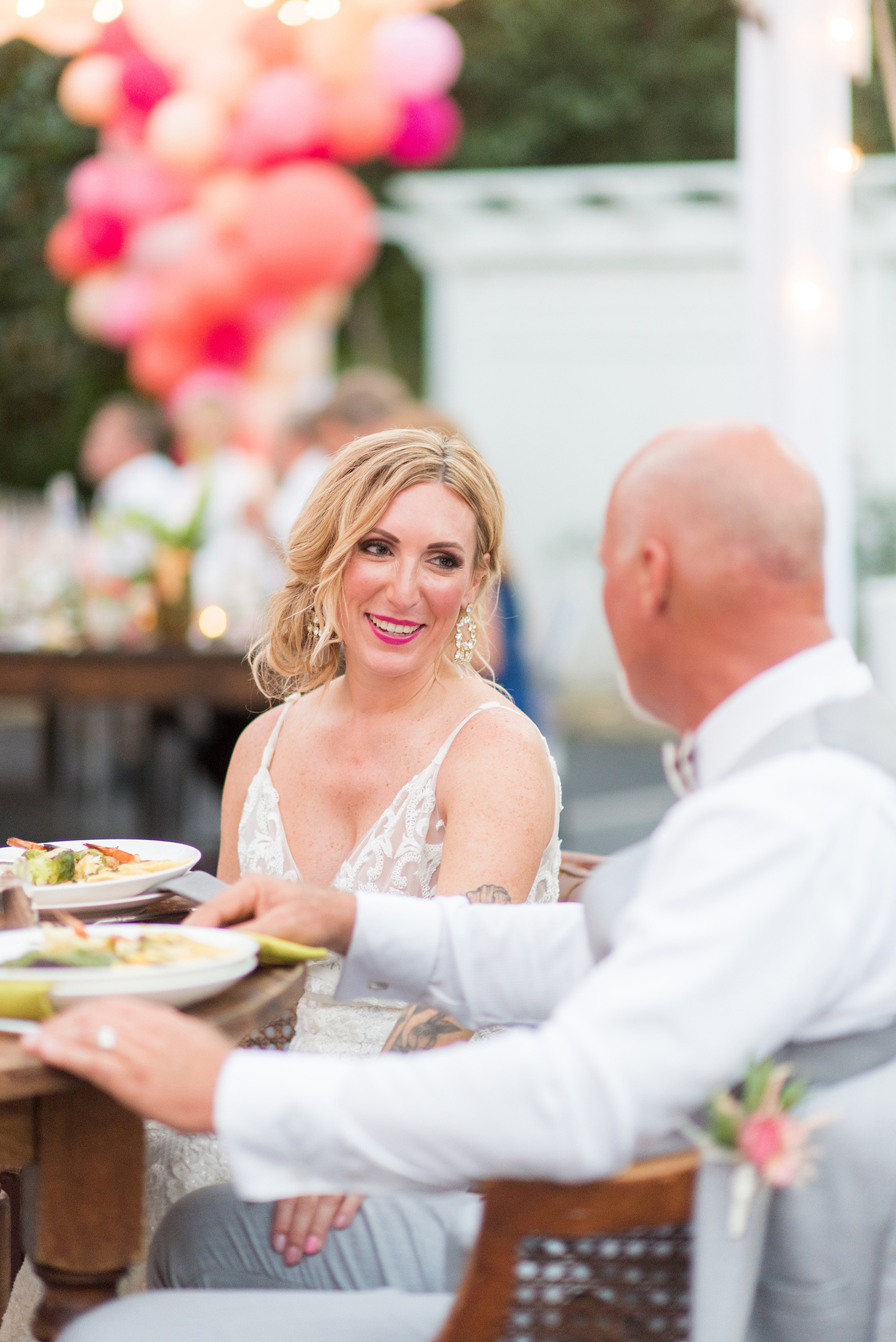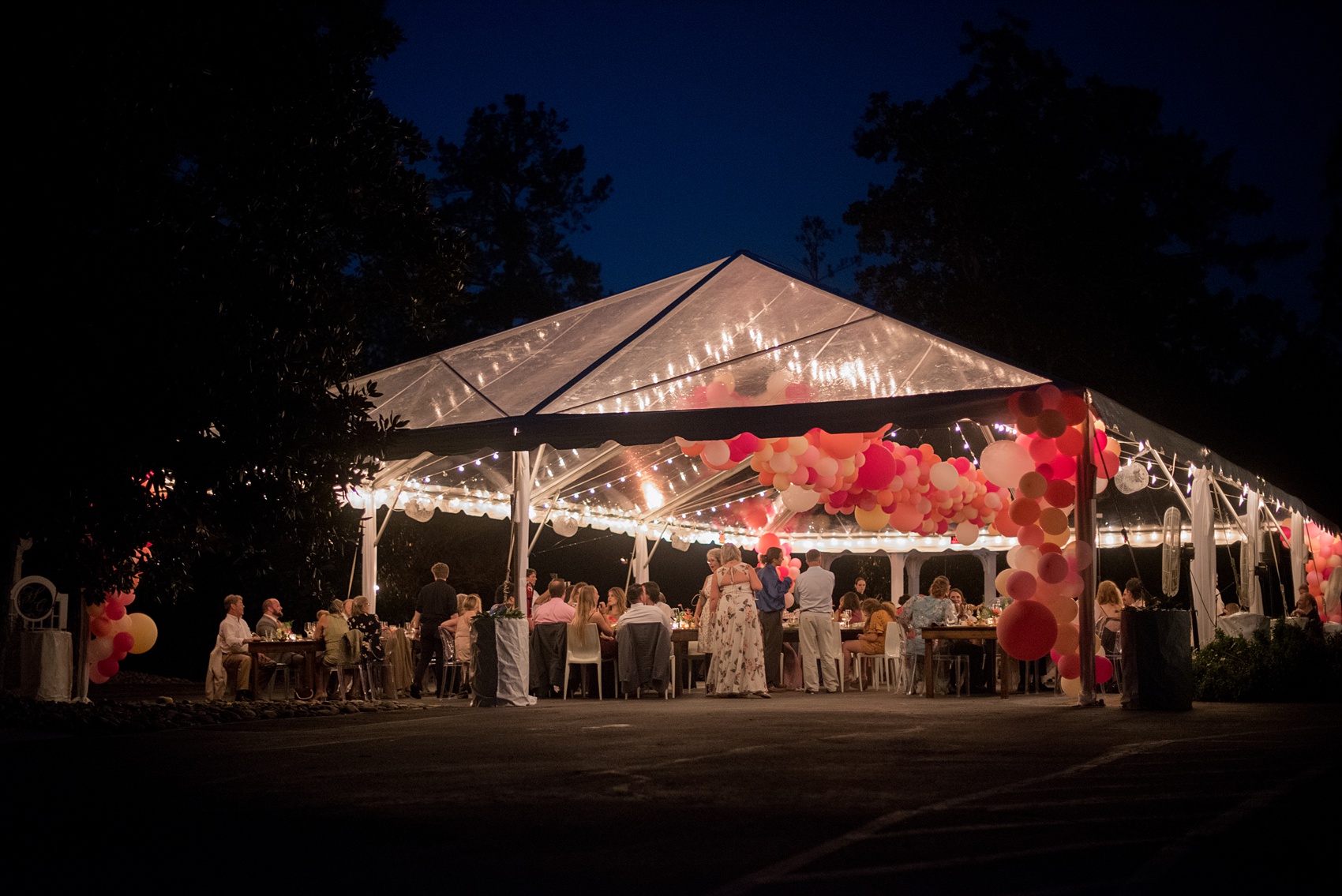 The tent looked beautiful in daylight and also when the sun set and it was completely dark outside. It was especially nice the land surrounding Highgrove Estate is very suburban. So there was a nice lack of light pollution to deepened the true darkness of the location. The lights inside the tent shone down on the guests and wedding party members who toasted the bride and groom.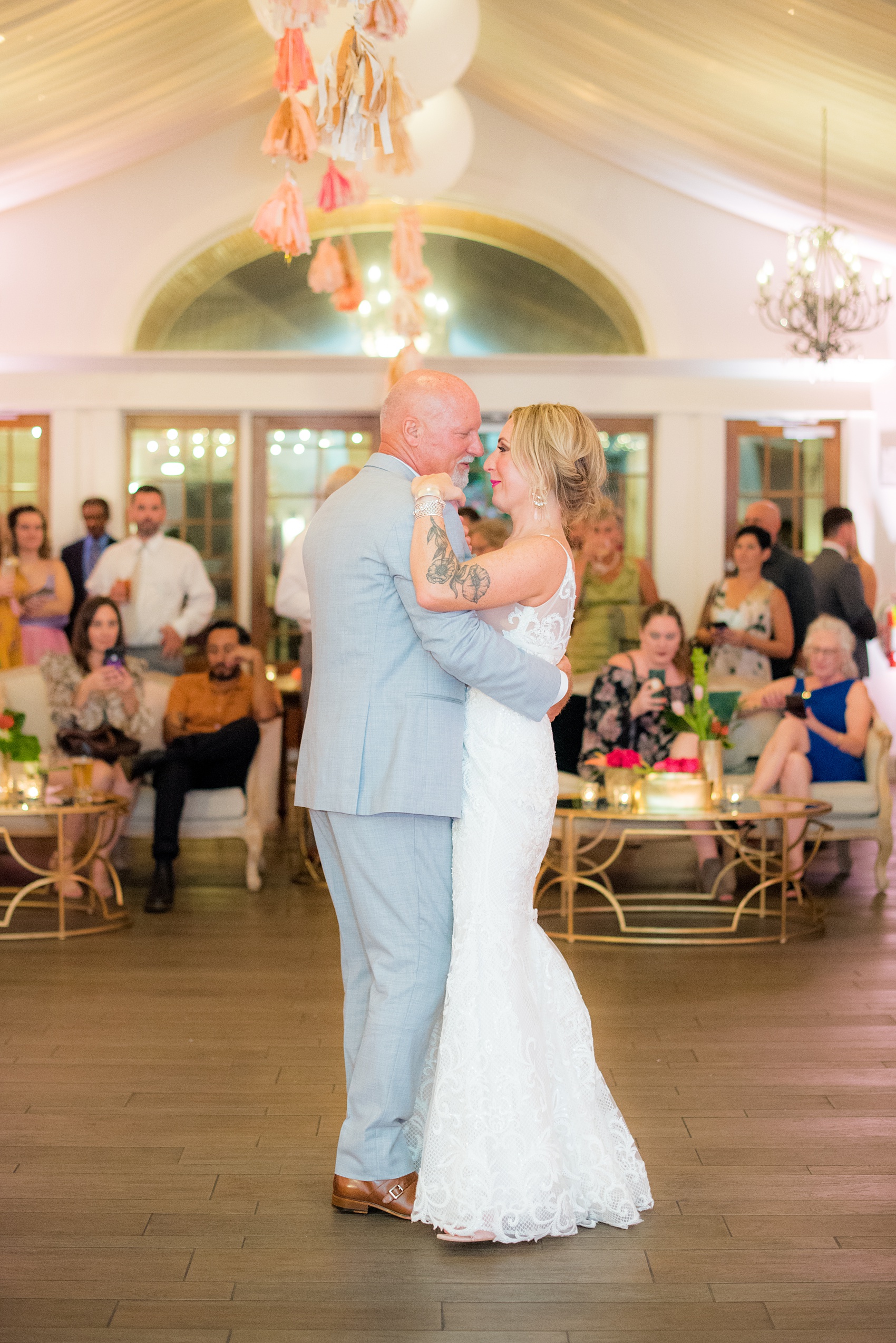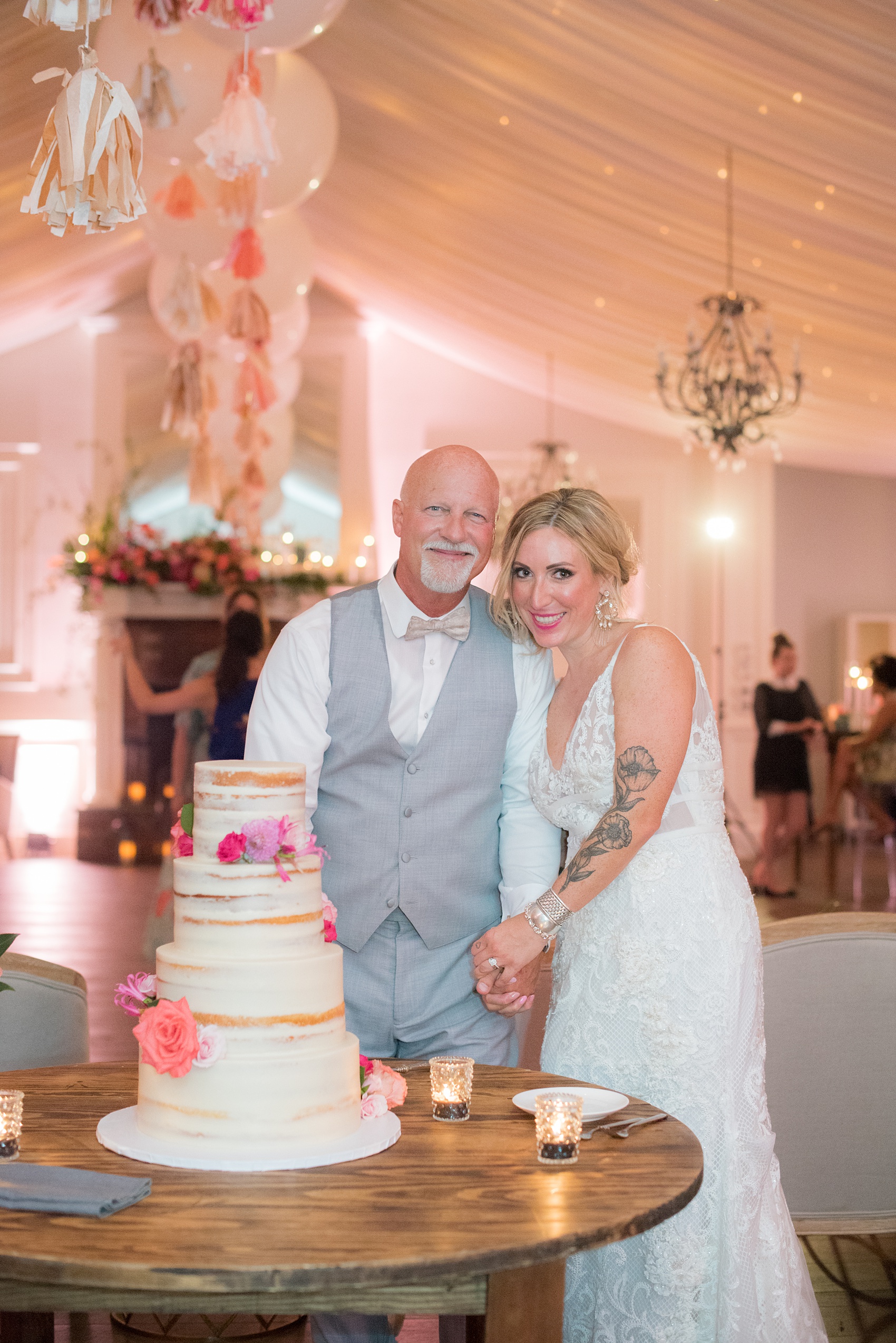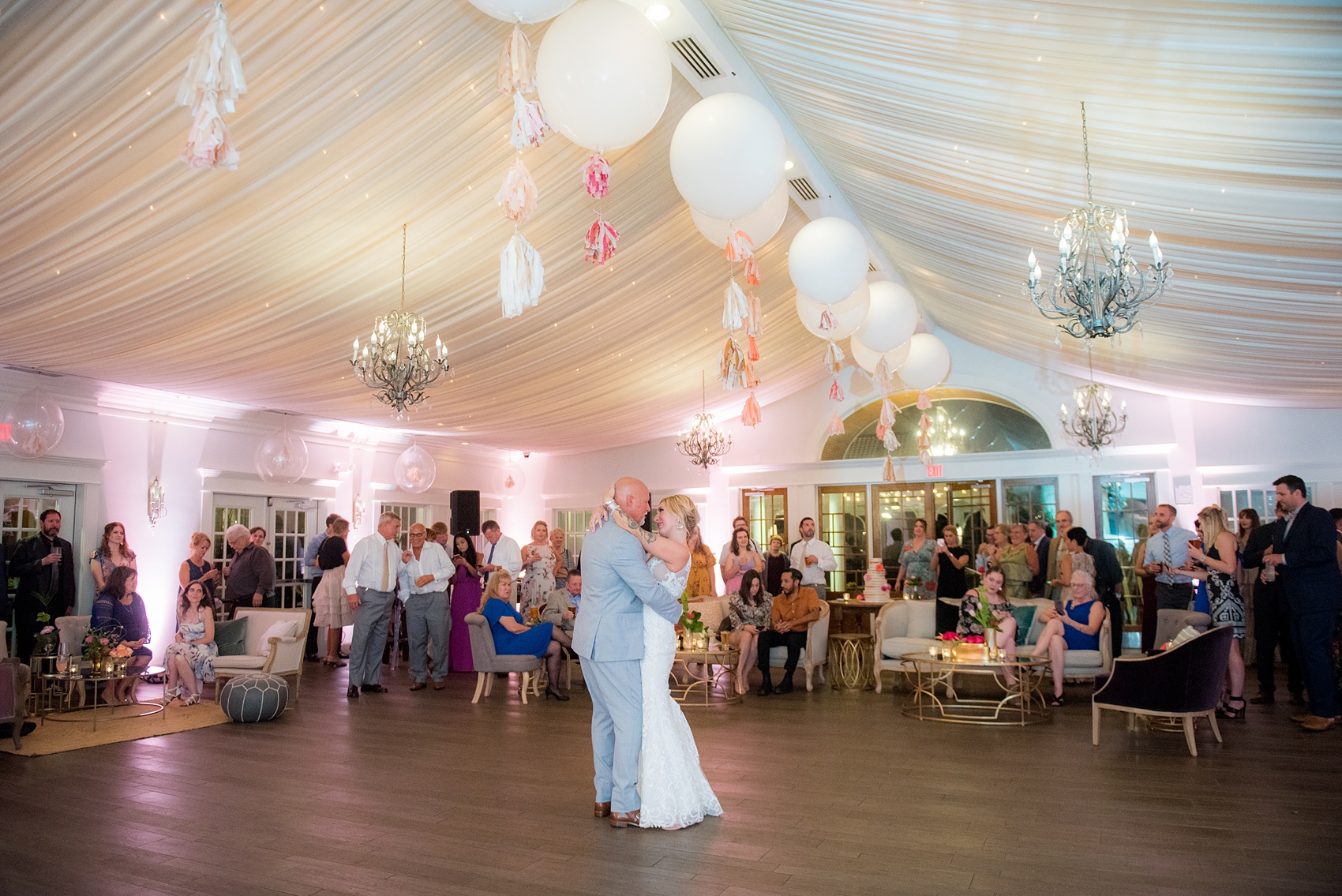 The party continued in the lounge! Shannon and Mark chose "Coming Home," by Leon Bridges for their first dance. They were so cute dancing and kissing each other all night! Everyone was enjoying the reception whether dancing to the tunes of DJ Eddie, who was playing all vinyl records all night. Or over by the Zim Zoom Photobooth outside, or watching Krispy Kreme donuts flambeed by staff. There was even a late night pizza bar for a snack before the reception ended with a sparkler exit.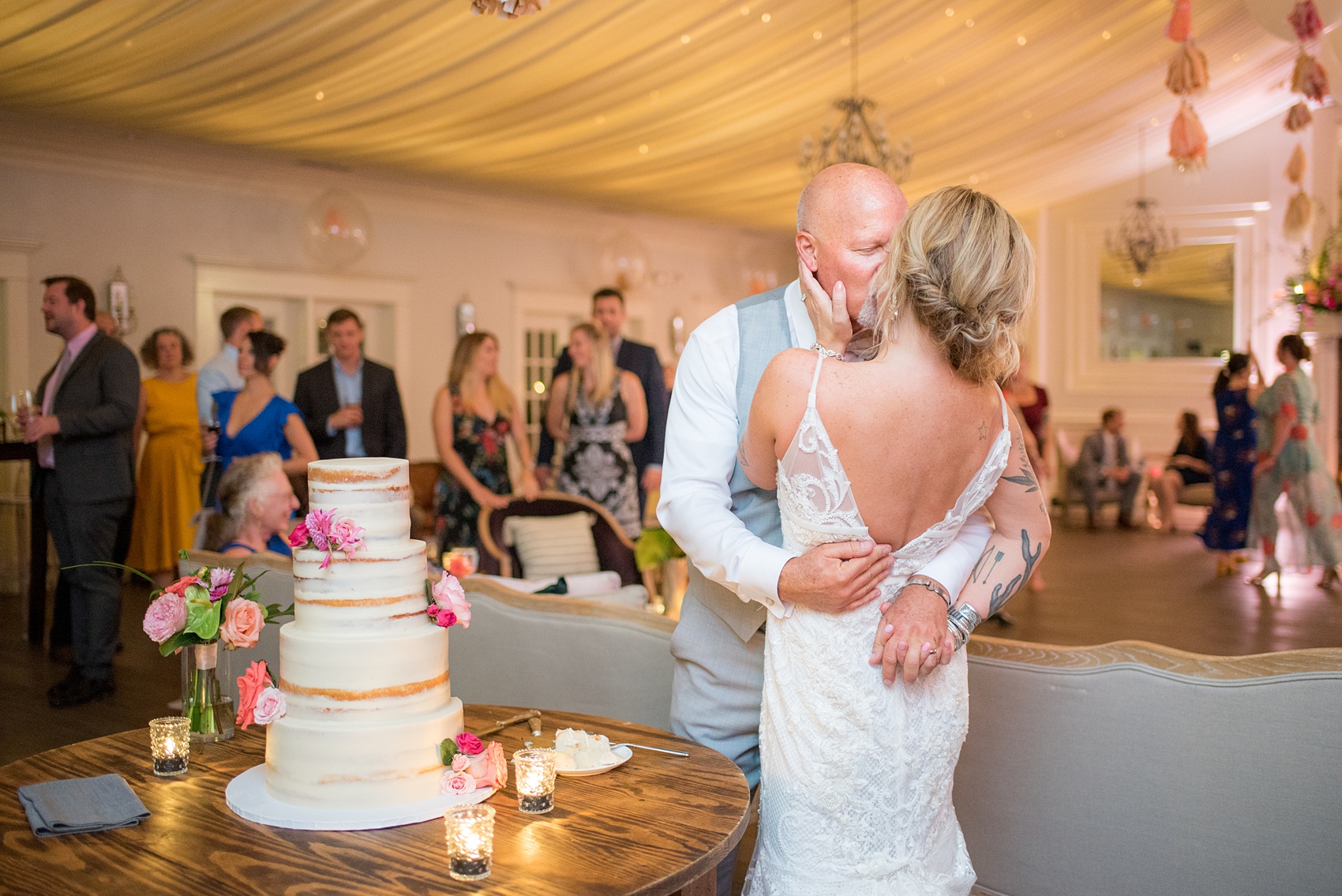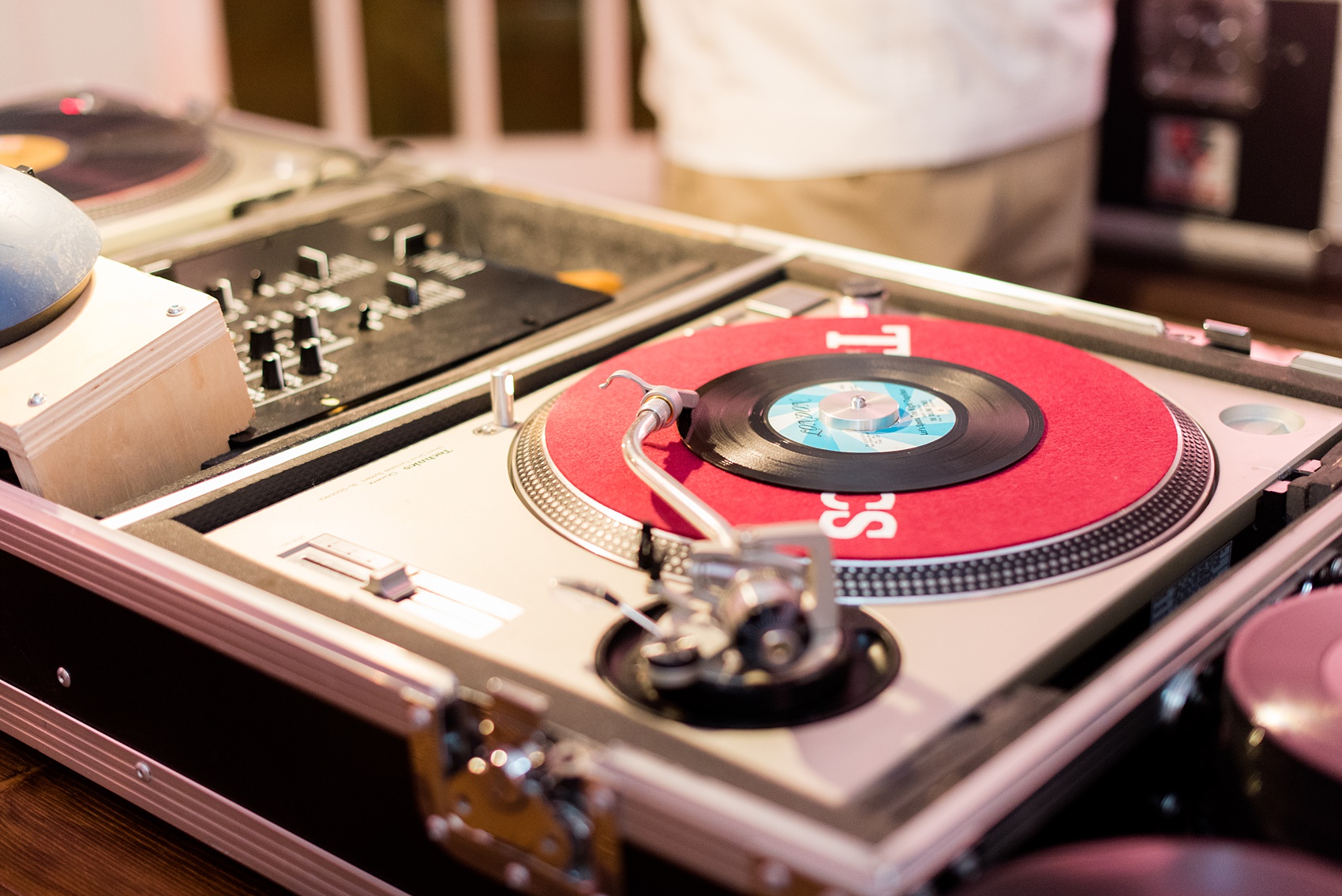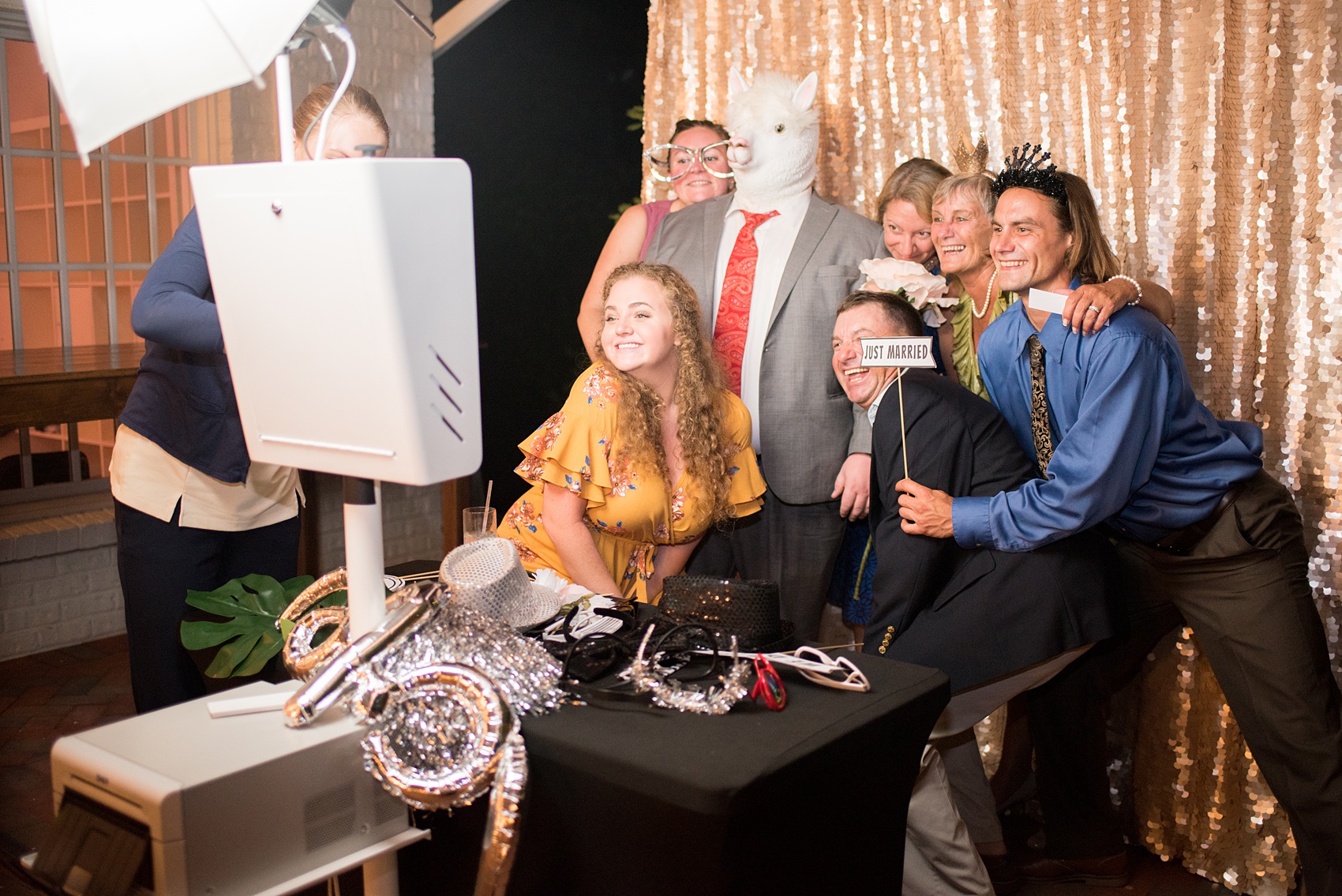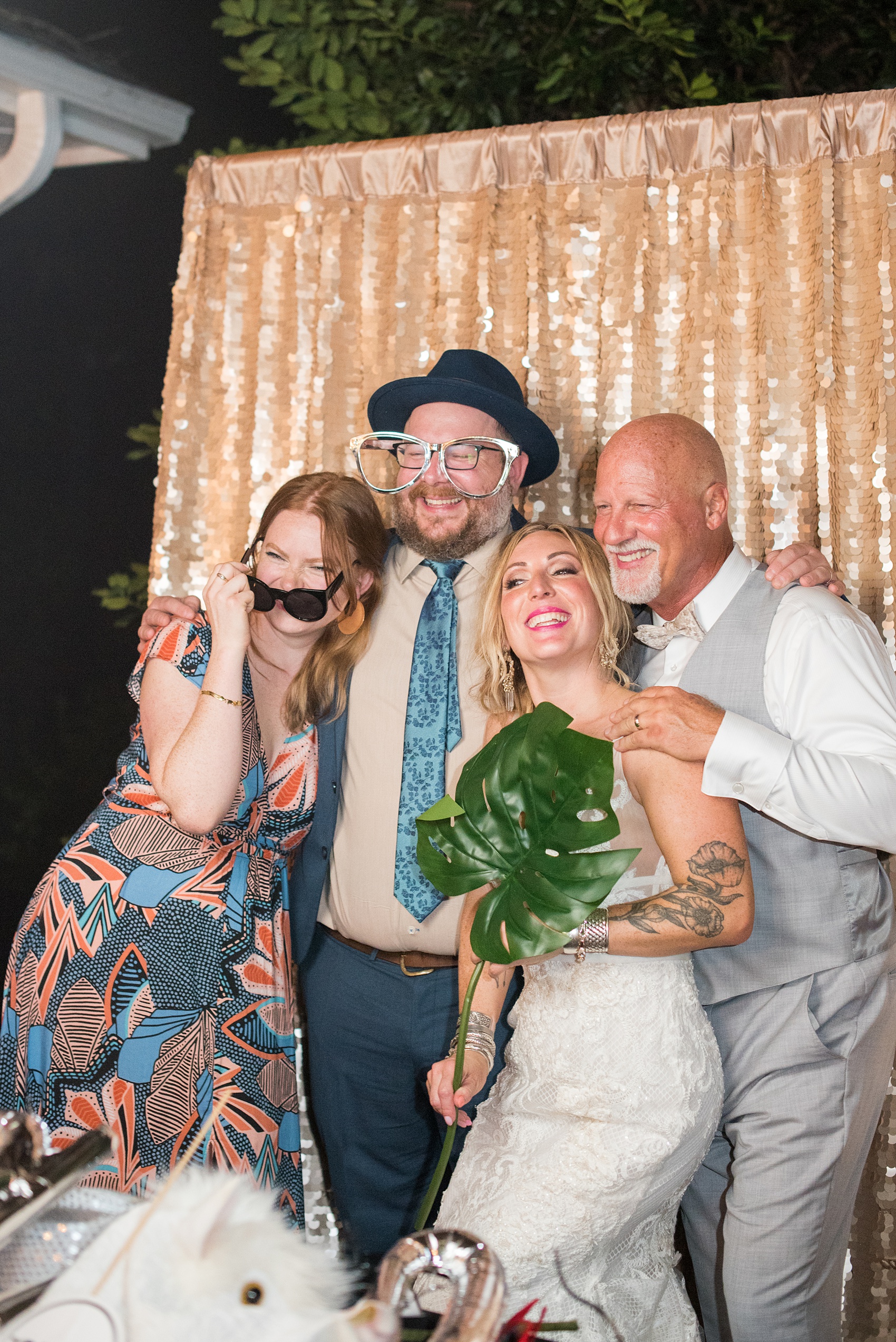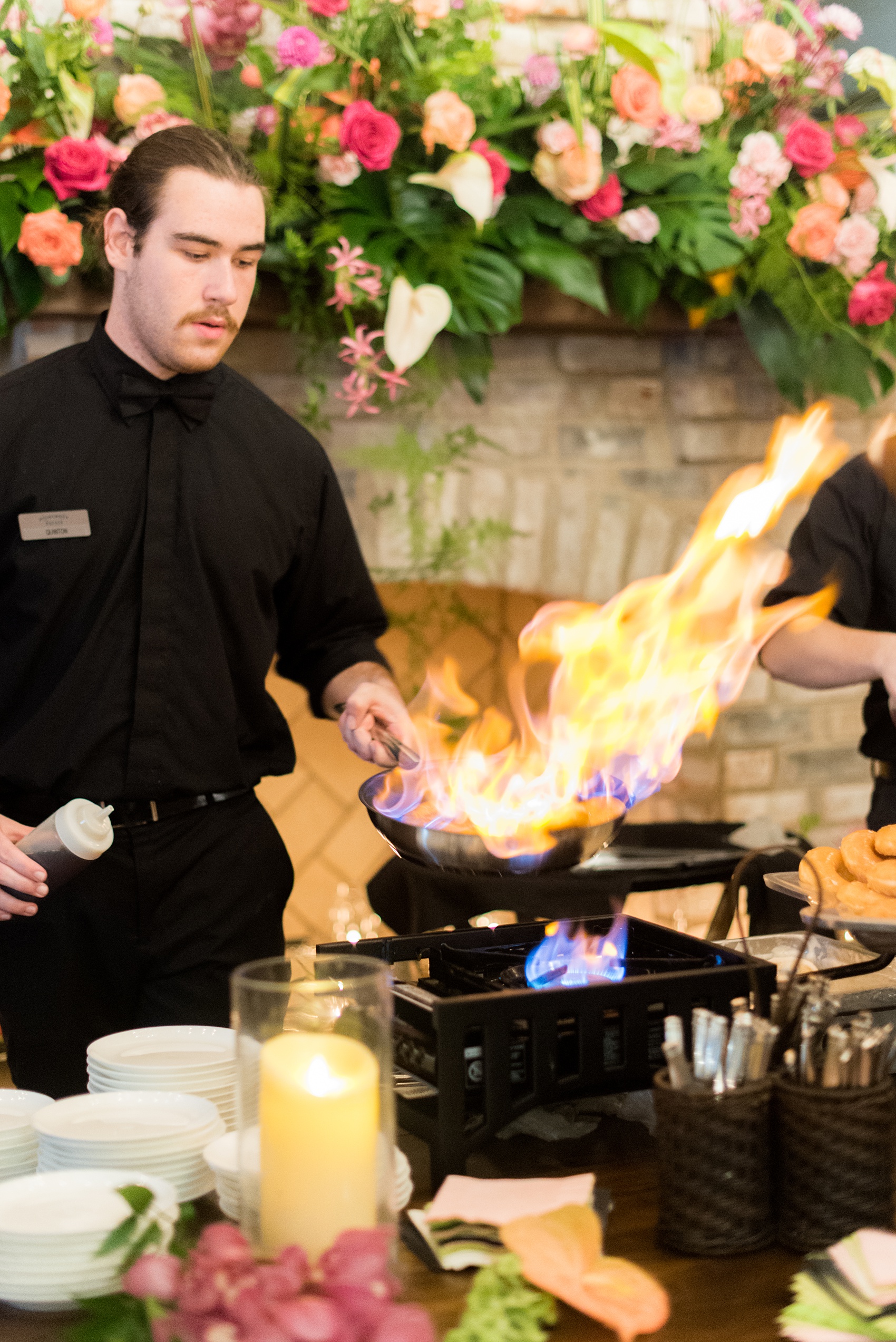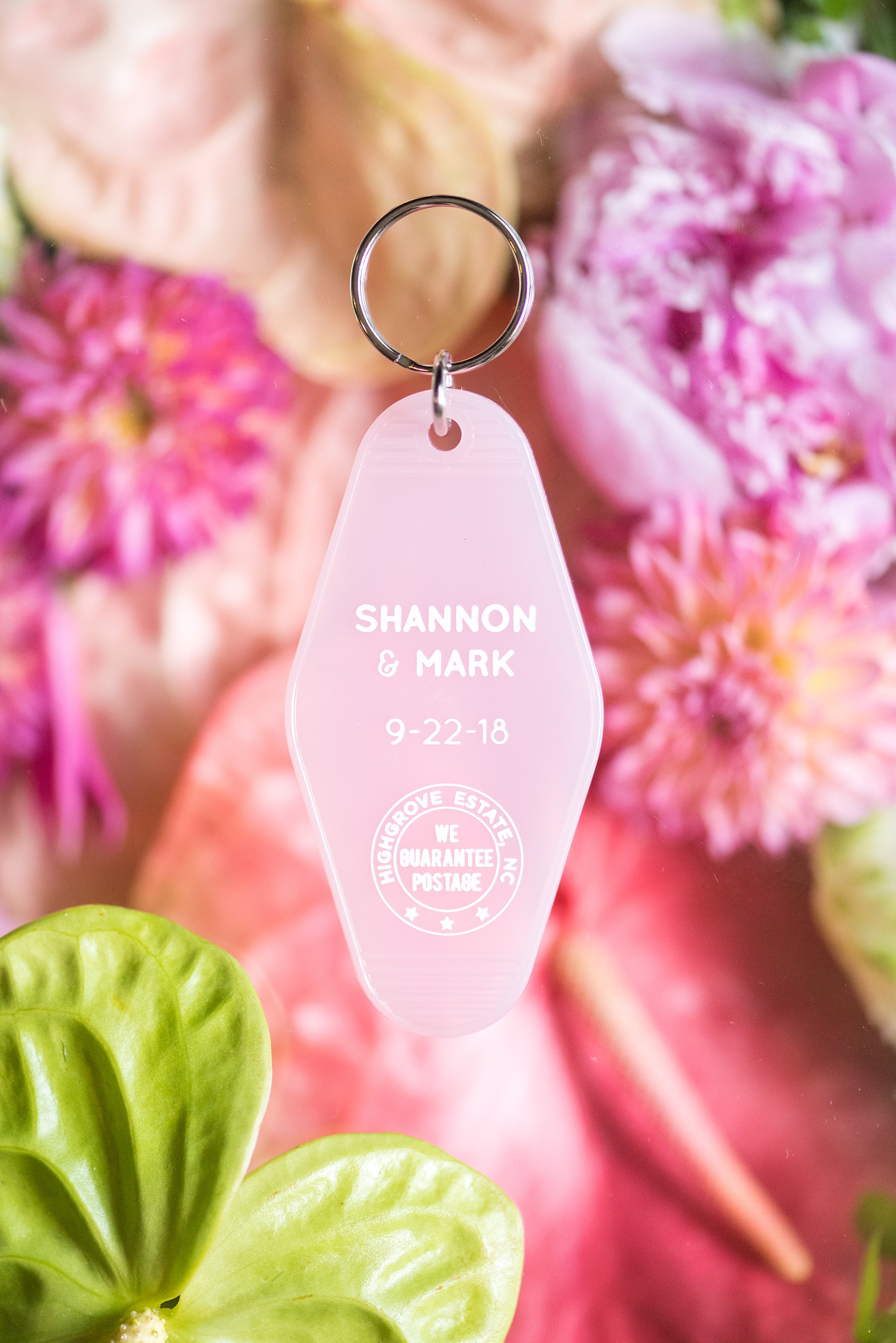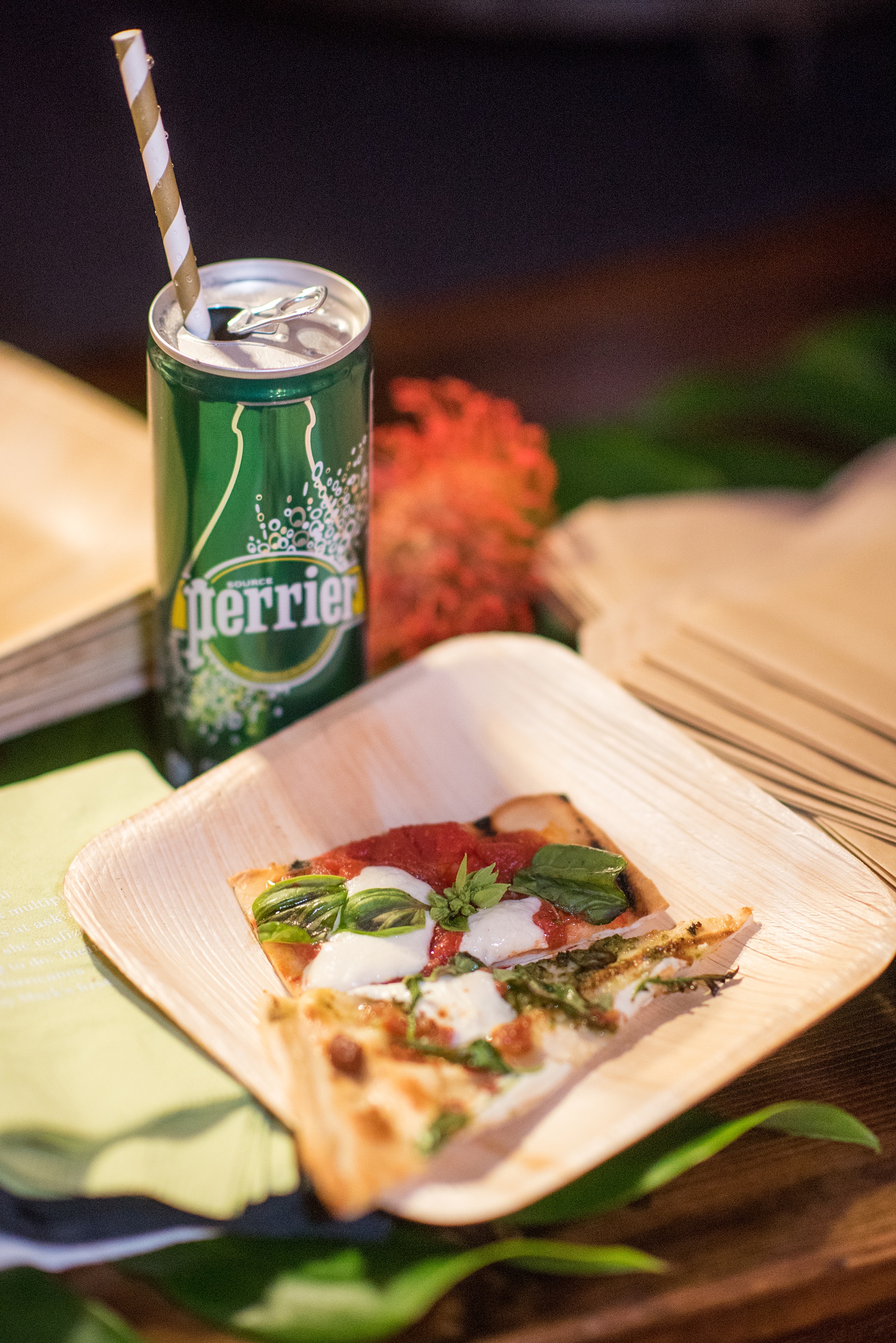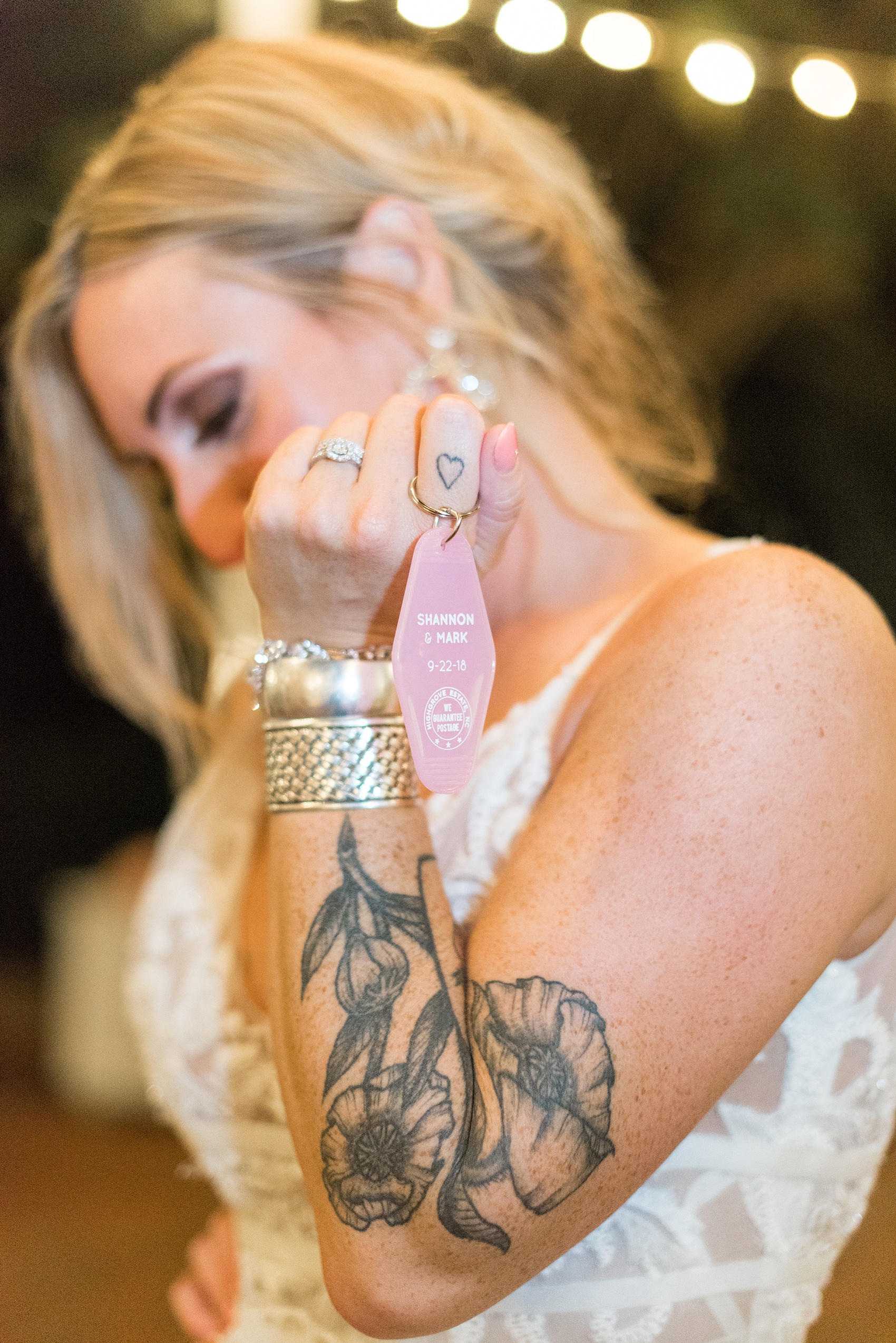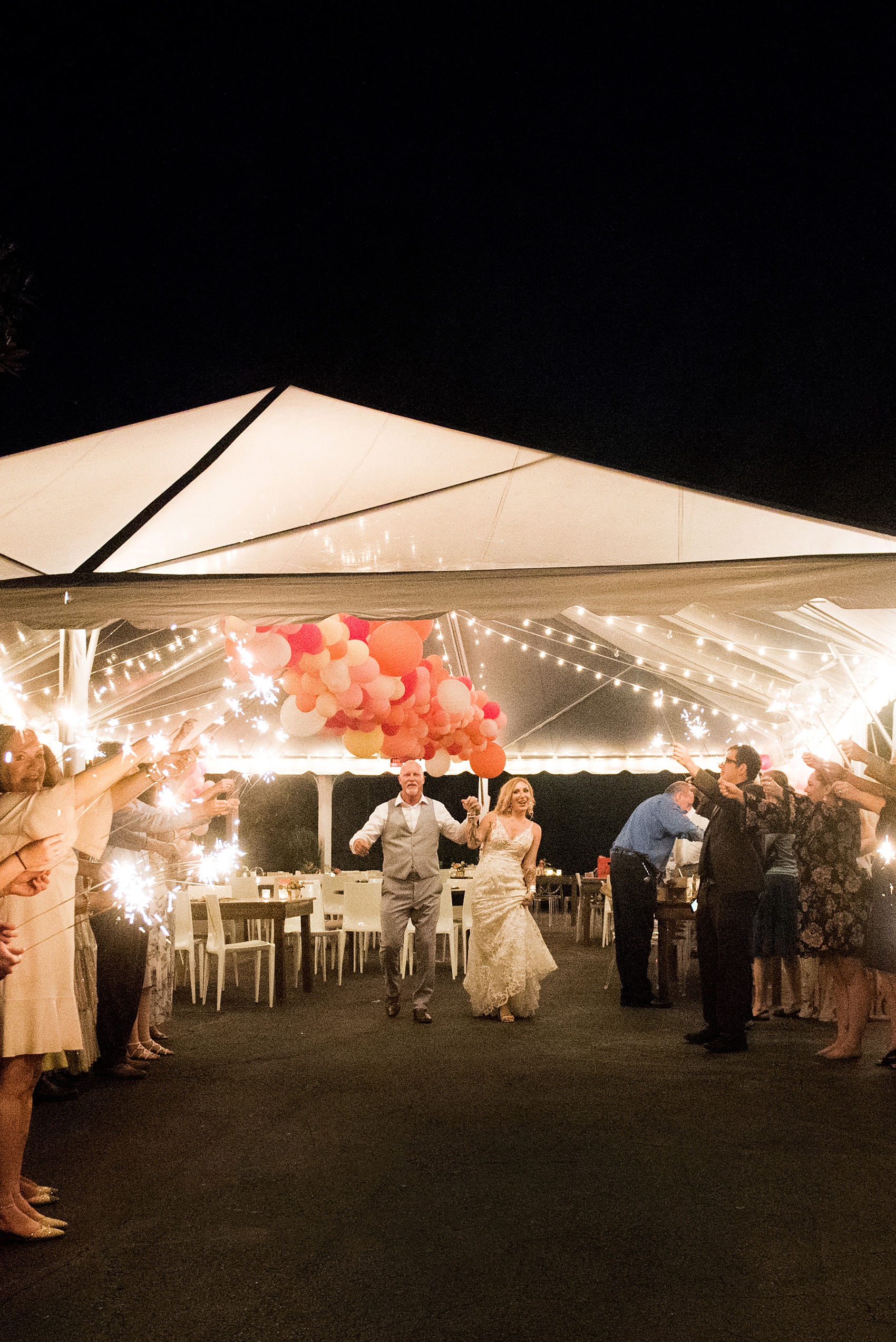 Congratulations, Shannon and Mark! May your lives together always be so vibrant and beautiful!
Planner: A Southern Soiree / Venue and catering: Highgrove Estate / Stationery: One and Only Paper / Flowers: Flowers on Broad Street / Cake: Simply Cakes / Makeup: Makeup by Bliss / Jewelry: Coast / Videographer: Twenty-One Films / DJ: Eddie Taylor / Officiant: Christopher Serion / Tuxedo and suits: Mens Warehouse / Maid of Honor gown: BHLDN, Liz Dress / Wedding gown: Bridals by Lori / Wedding shoes: Kate Spade / Lounge furniture rentals: Greenhouse Picker Sisters / Dinner chairs and table settings: CE Rental / Tent and lights: Themeworks / Ceremony music: Triangle String Quartet / Audio system: Island Sound / Dinner guitar music: Gigmasters, Matthew Kanon / Photobooth: Zim Zoom Photobooth / Honeymoon: Portugal
If you'd love us to capture your awesome wedding day don't hesitate to contact us!
For more colorful wedding inspiration check out: