The sunset was incredible, the weather crisp (to say the least!) and the countdown to 2015 was starting on December 31, 2014 at their Harbor Club at Prime wedding, for Jennifer and Dave's New Year's Eve celebration.
But the best part of counting down was all week leading up to their day! I had been over-the-moon excited for it since they chose me to take their wedding photos at Harbor Club at Prime (and the blast we all had for their engagement session). The days leading up to it mounted with more excitement until it was the morning of. I was like a kid on Christmas morning.
I truly love when a bride is enthusiastic about sharing information about her wedding in the planning stages; I always feel a closer bond to the couple because of it. Jen and I formed a nice friendship over their year of planning and so I was even more excited to see her on the big day, give her a hug and kiss hello, and quickly get to work documenting all her details. It was wonderful to see how their vision came together. Starting with her incredible gown…
How gorgeous are Jennifer's Adriana Papell bridesmaids gowns? She wanted something elegant with a touch of sparkle – and these gowns were perfect! She gifted her best friends Kate Spade clutches and bracelets to match.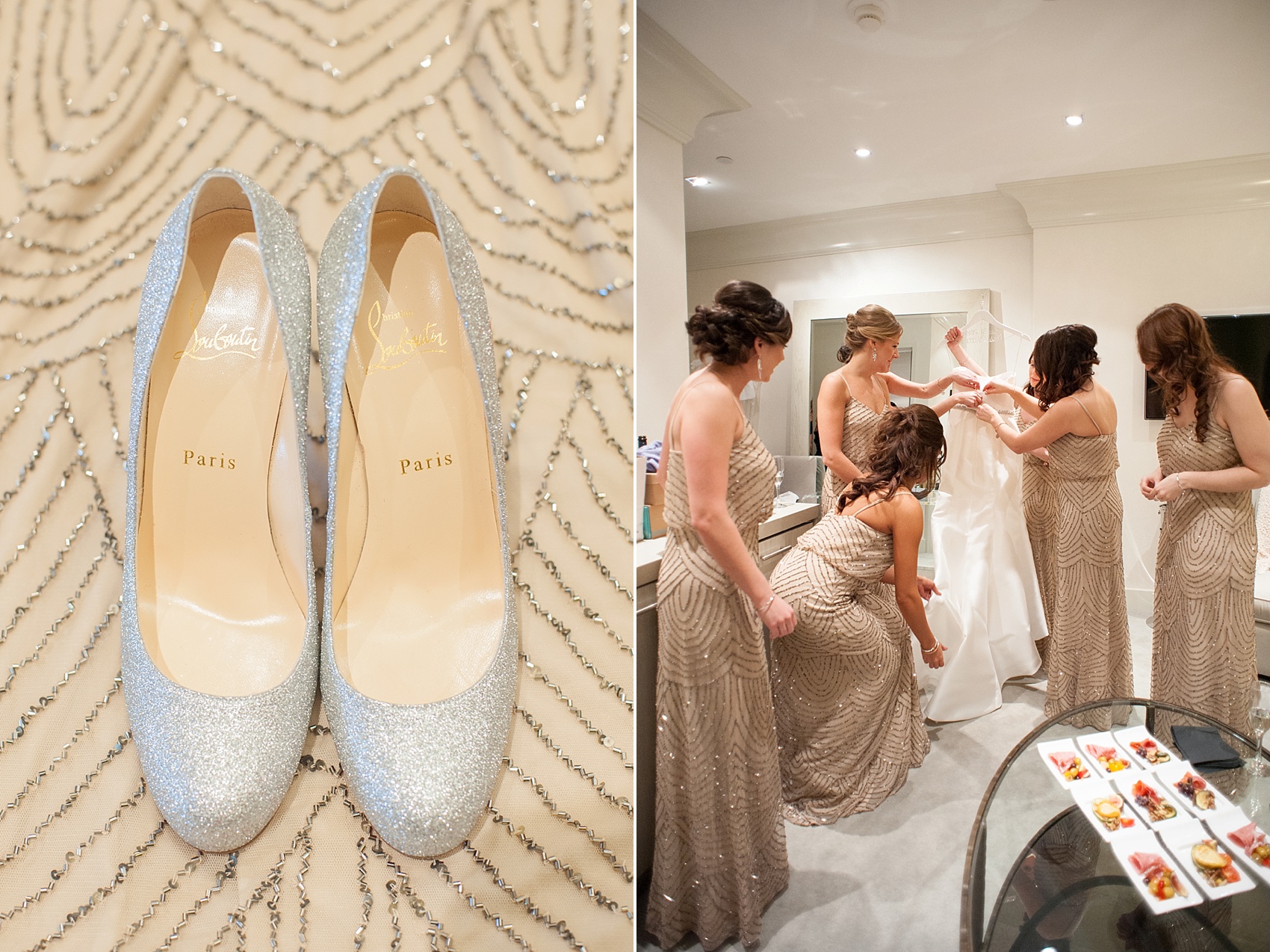 Jen loves shoes. And I knew she'd have amazing footwear on her special day. These glittery Christian Louboutins did not disappoint. They were perfect for a New Year's Eve fete and to add to their wedding photos at Harbor Club at Prime.
Her mother held her hand while they were getting their makeup done and her father embraced his little girl after they shared a father-daughter "first look."
One of my favorite details of their day was hidden inside Dave's wedding band: their wedding date in Roman numerals! I was in love with it! I've seen wedding dates in bands but never in this style. How cool!?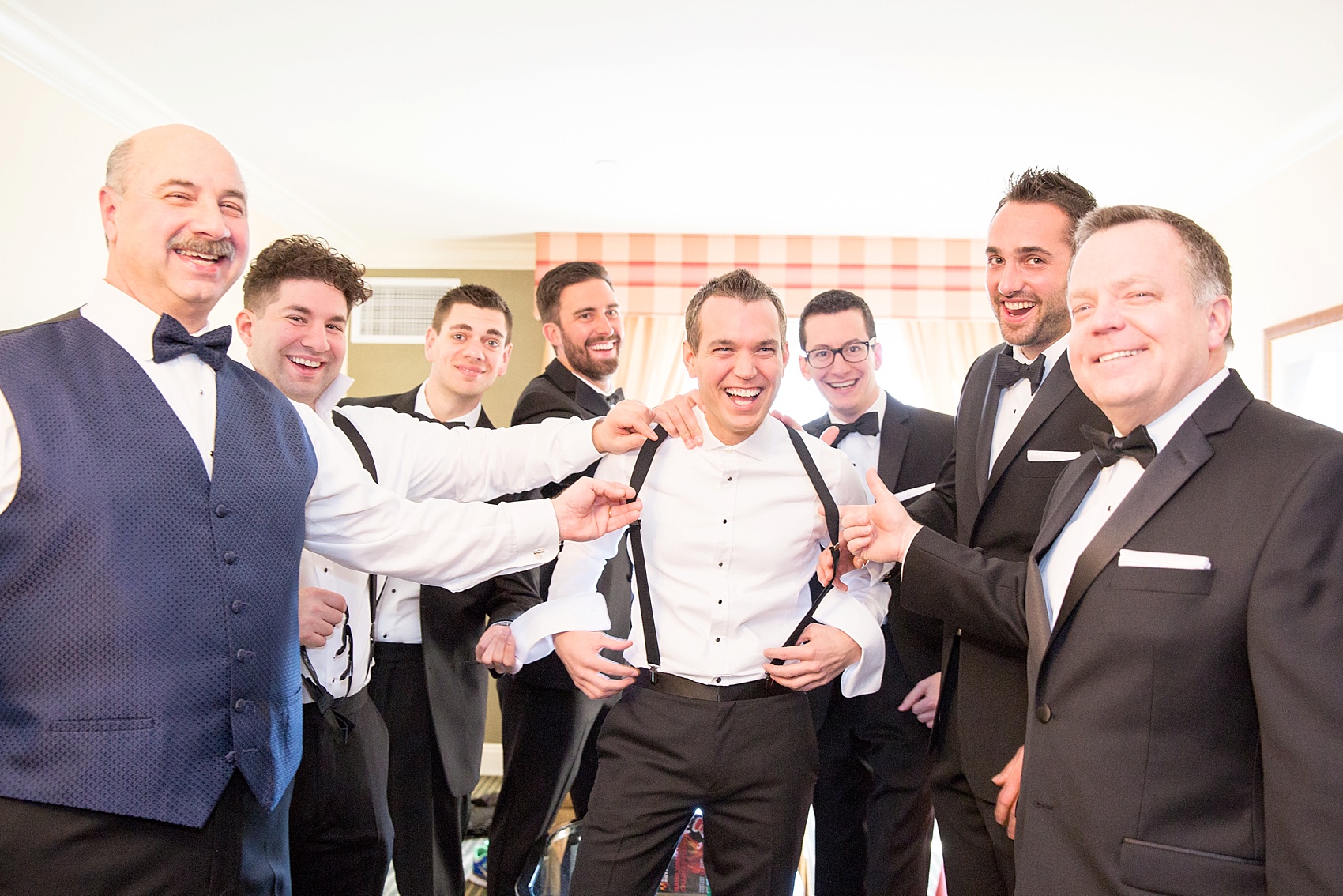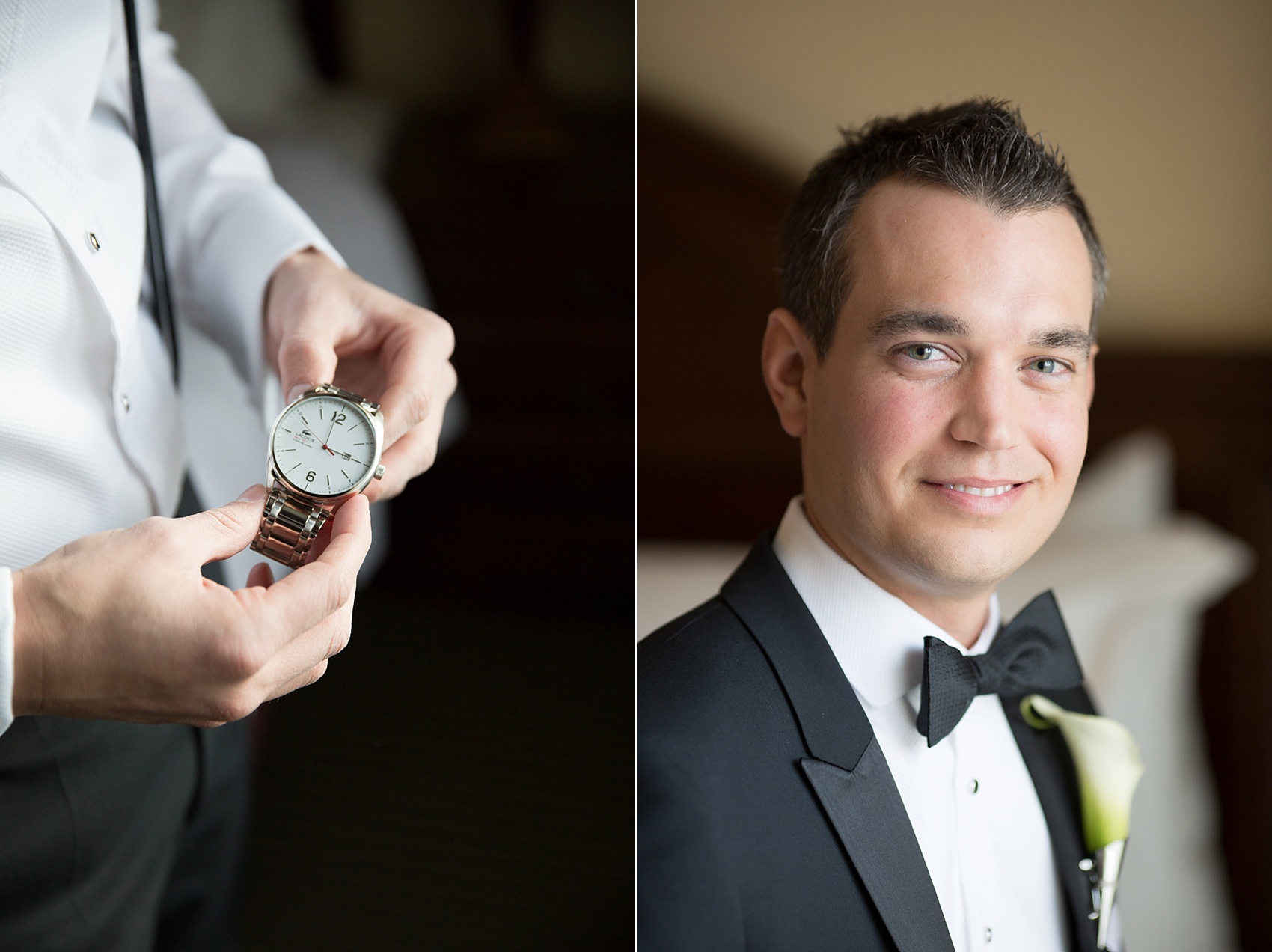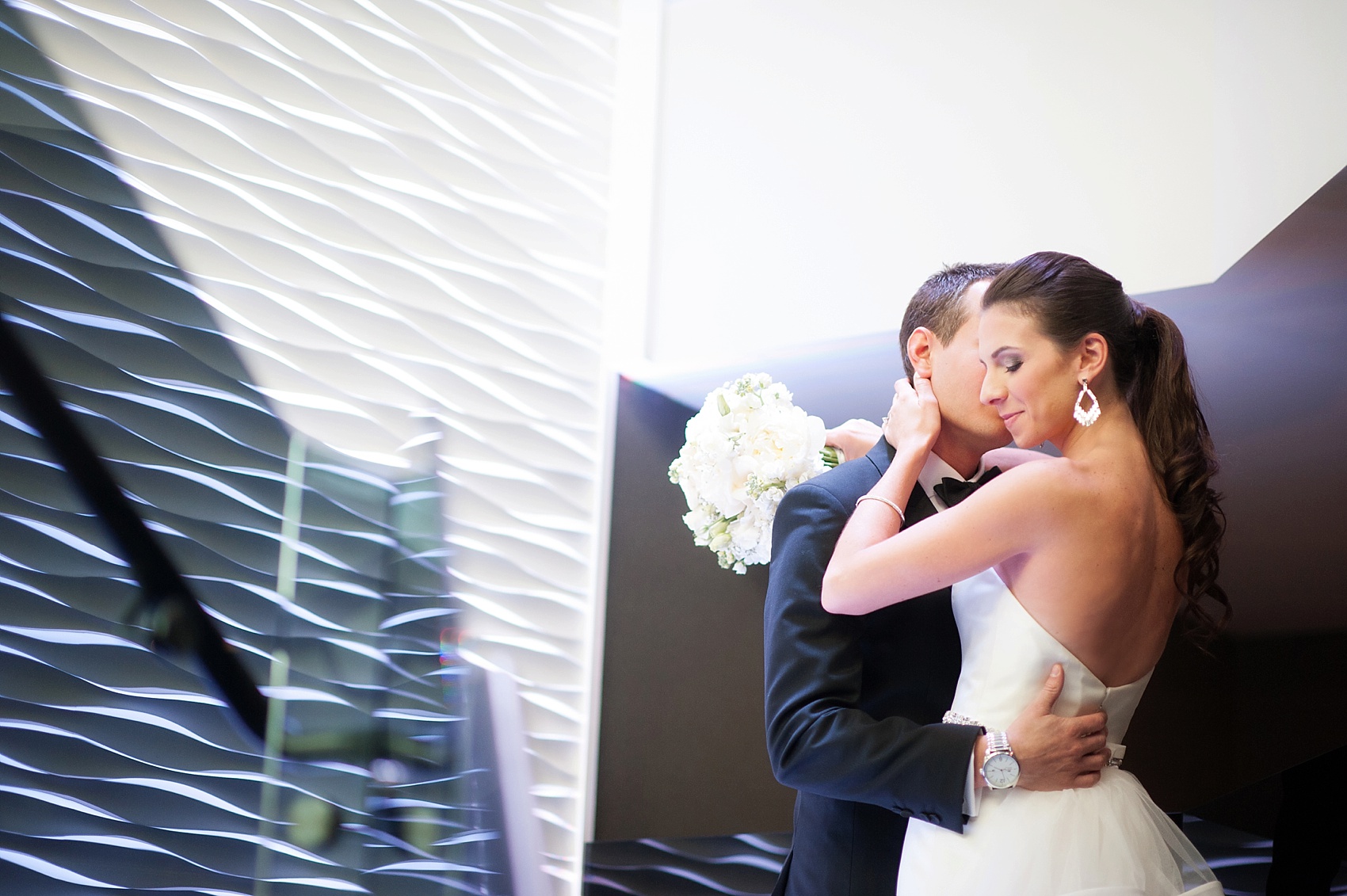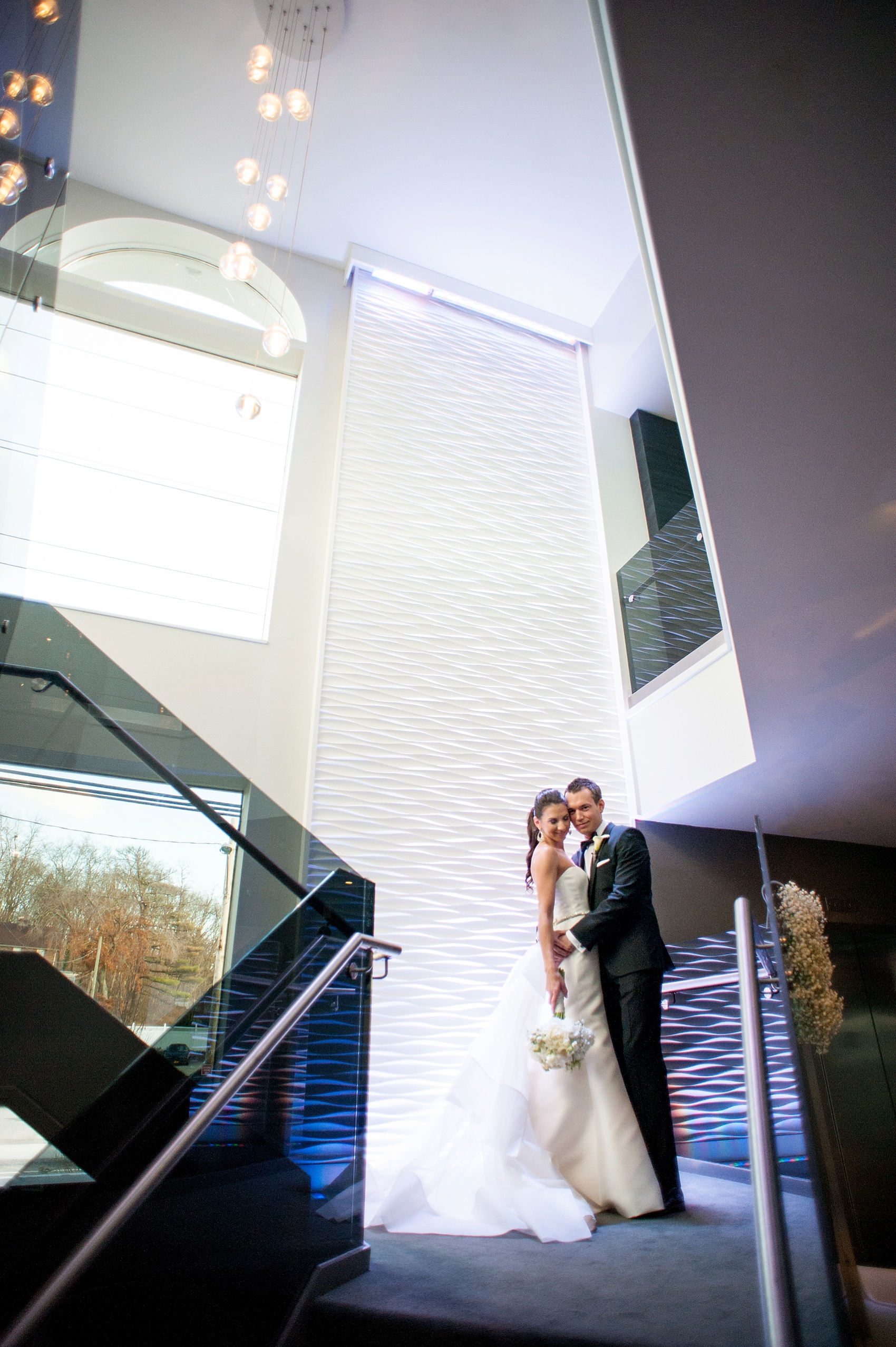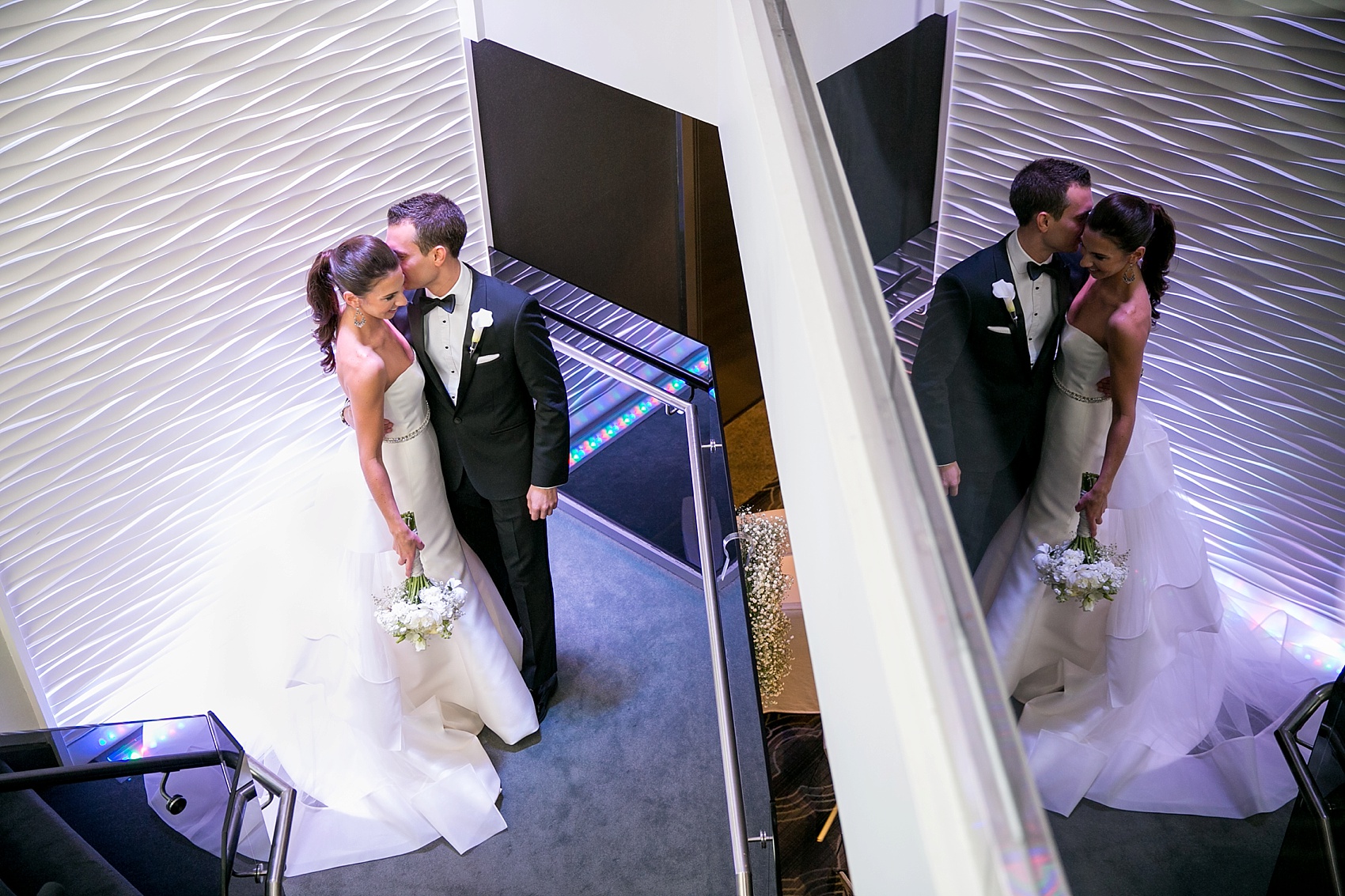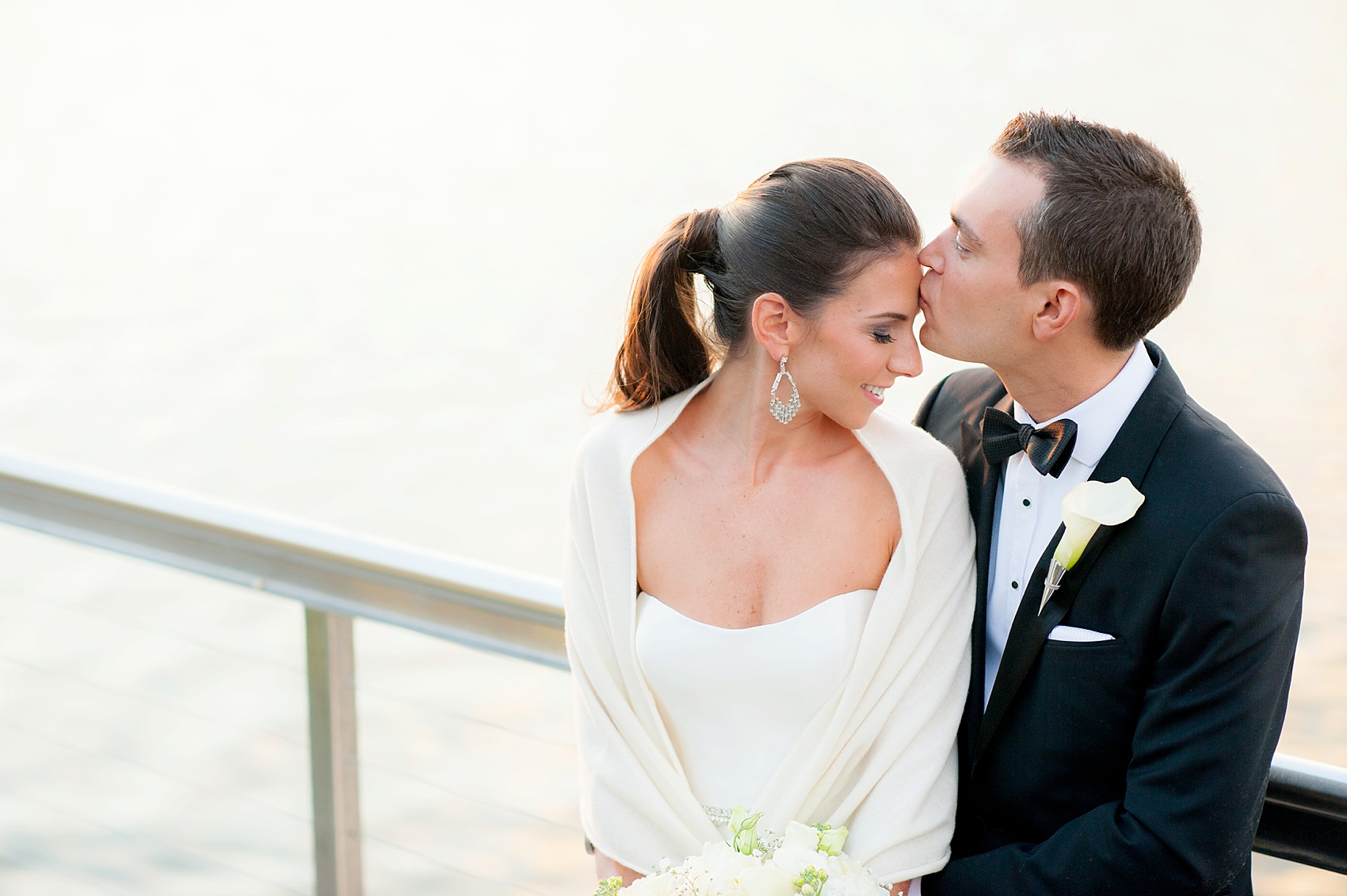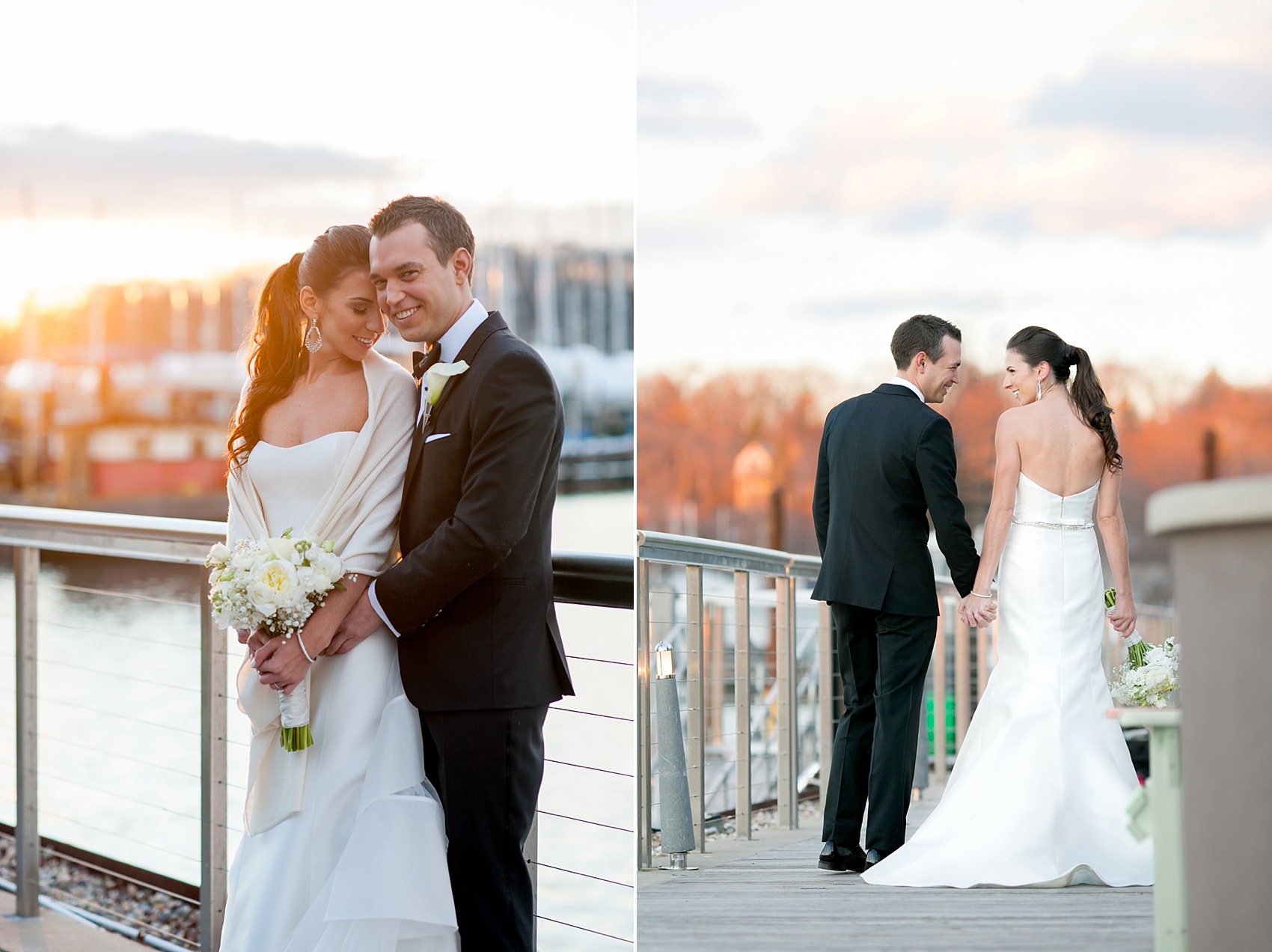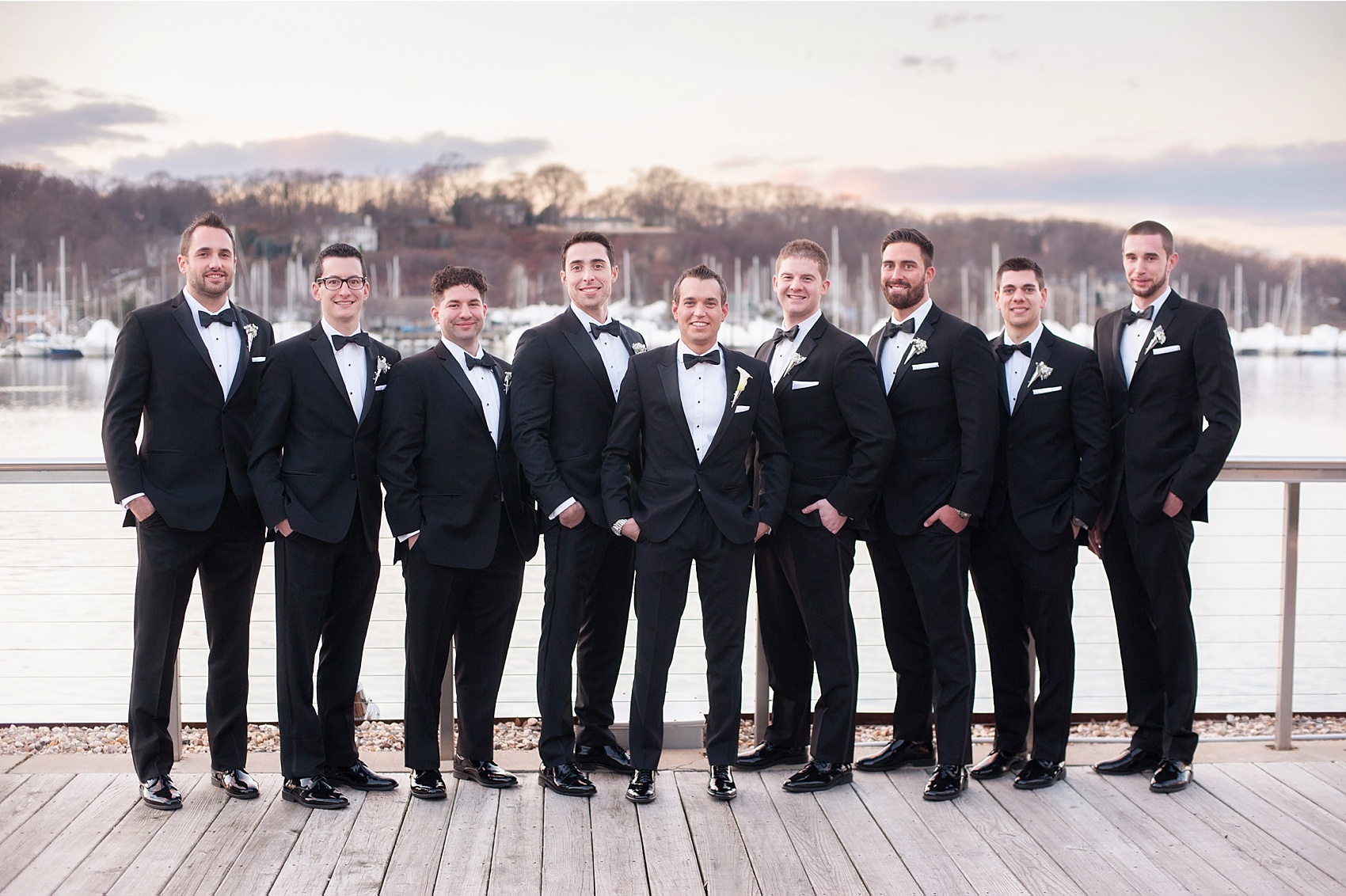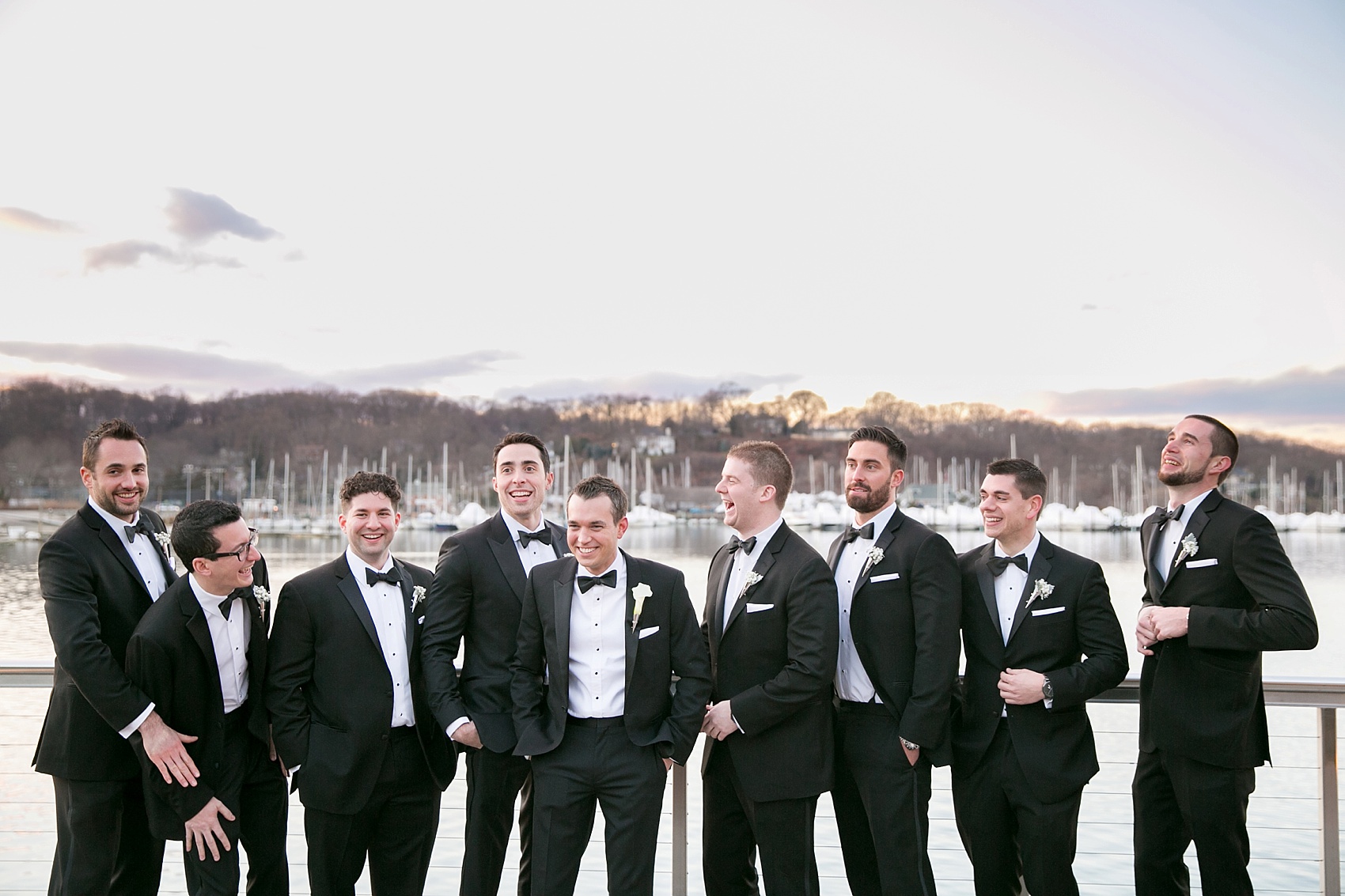 Jennifer was literally glowing with a kiss from the setting sun. She looked incredibly stunning. I LOVED her hair do, up in a ponytail. It was so classy and unique for a bride to not only choose this look but flawlessly pull it off.
Wedding photos at Harbor Club at Prime aren't complete without images on the waterfront. It was definitely as close to freezing temperatures as possible but these model ladies make withstanding the cold look effortless!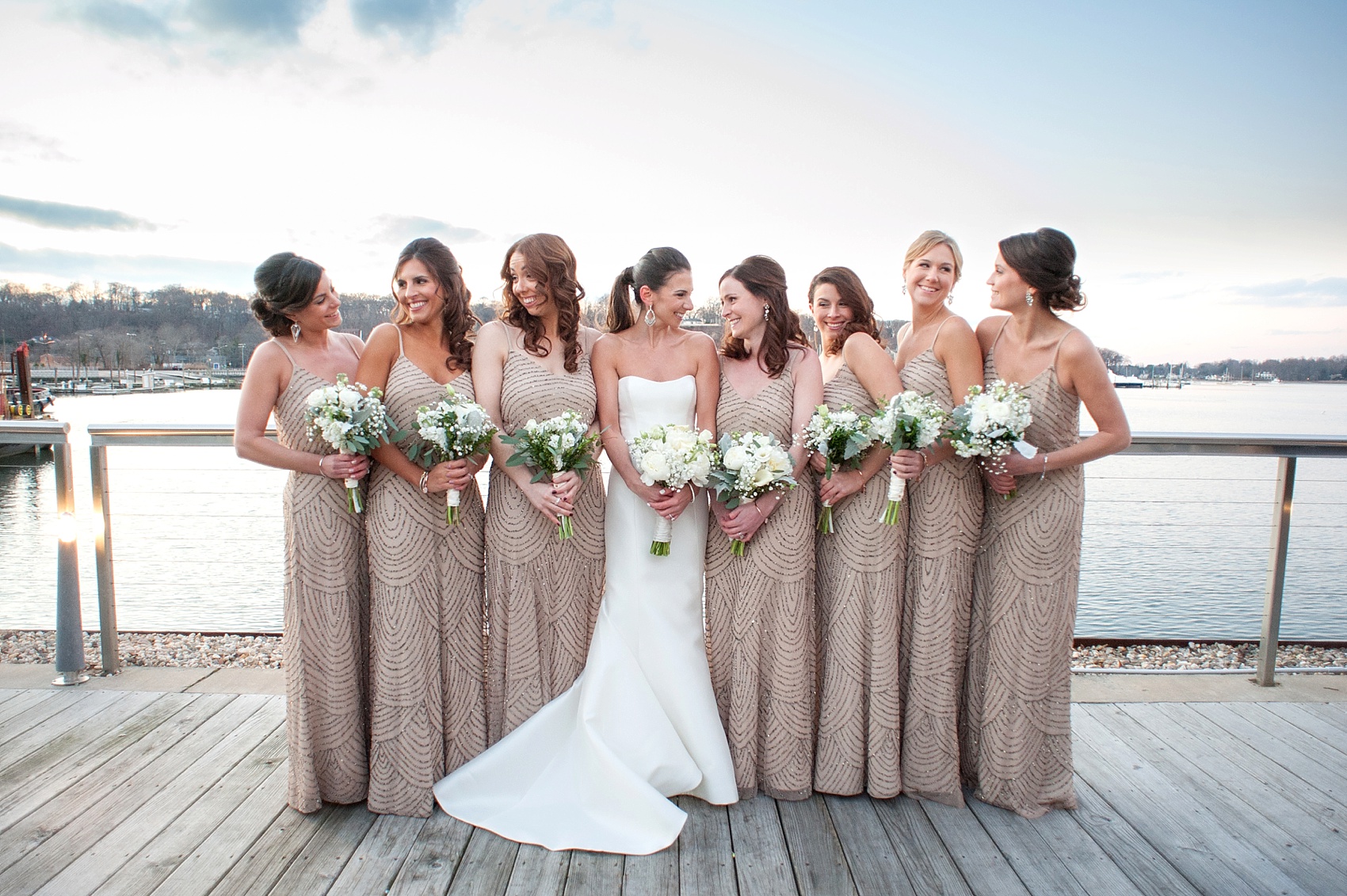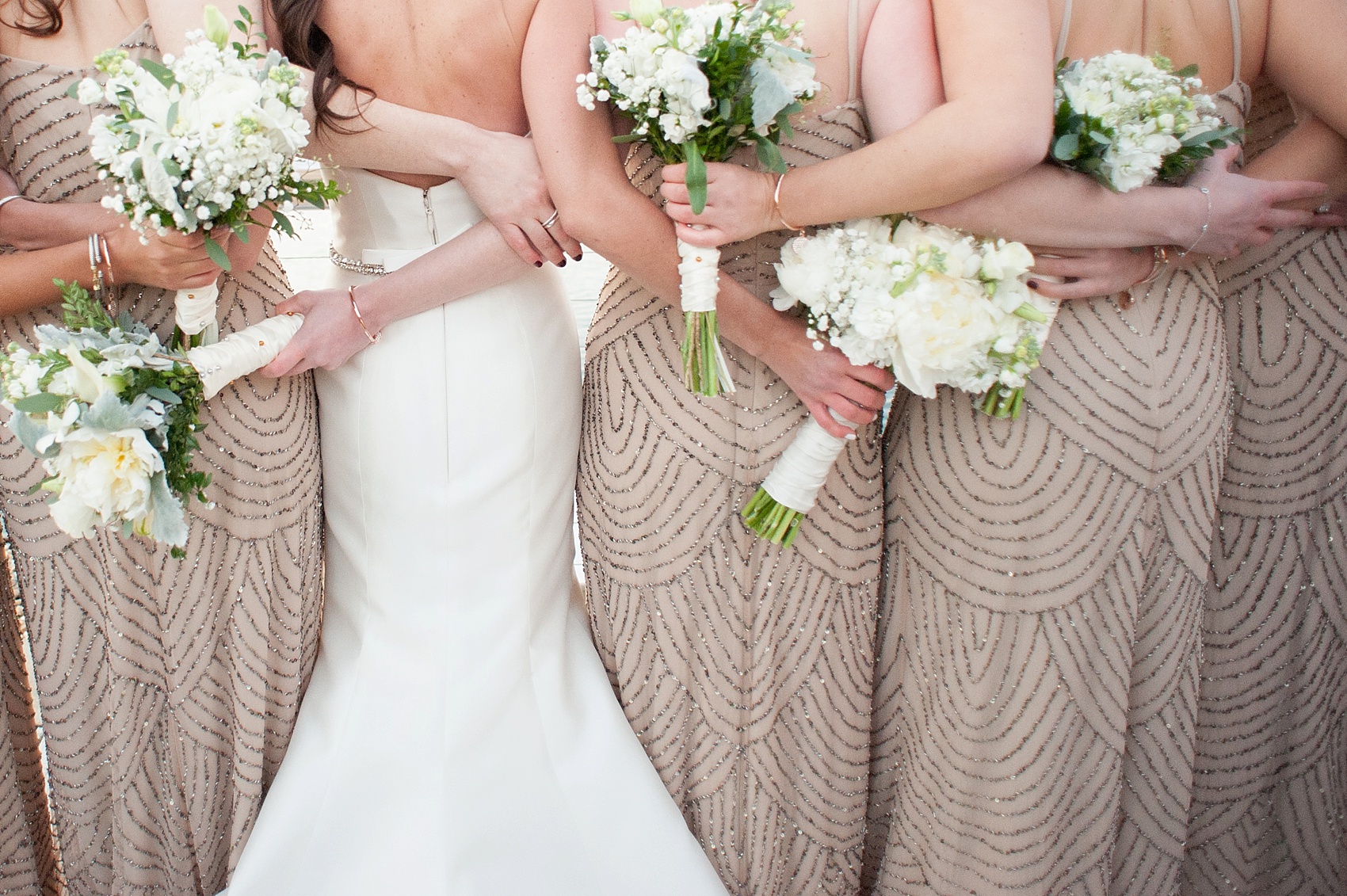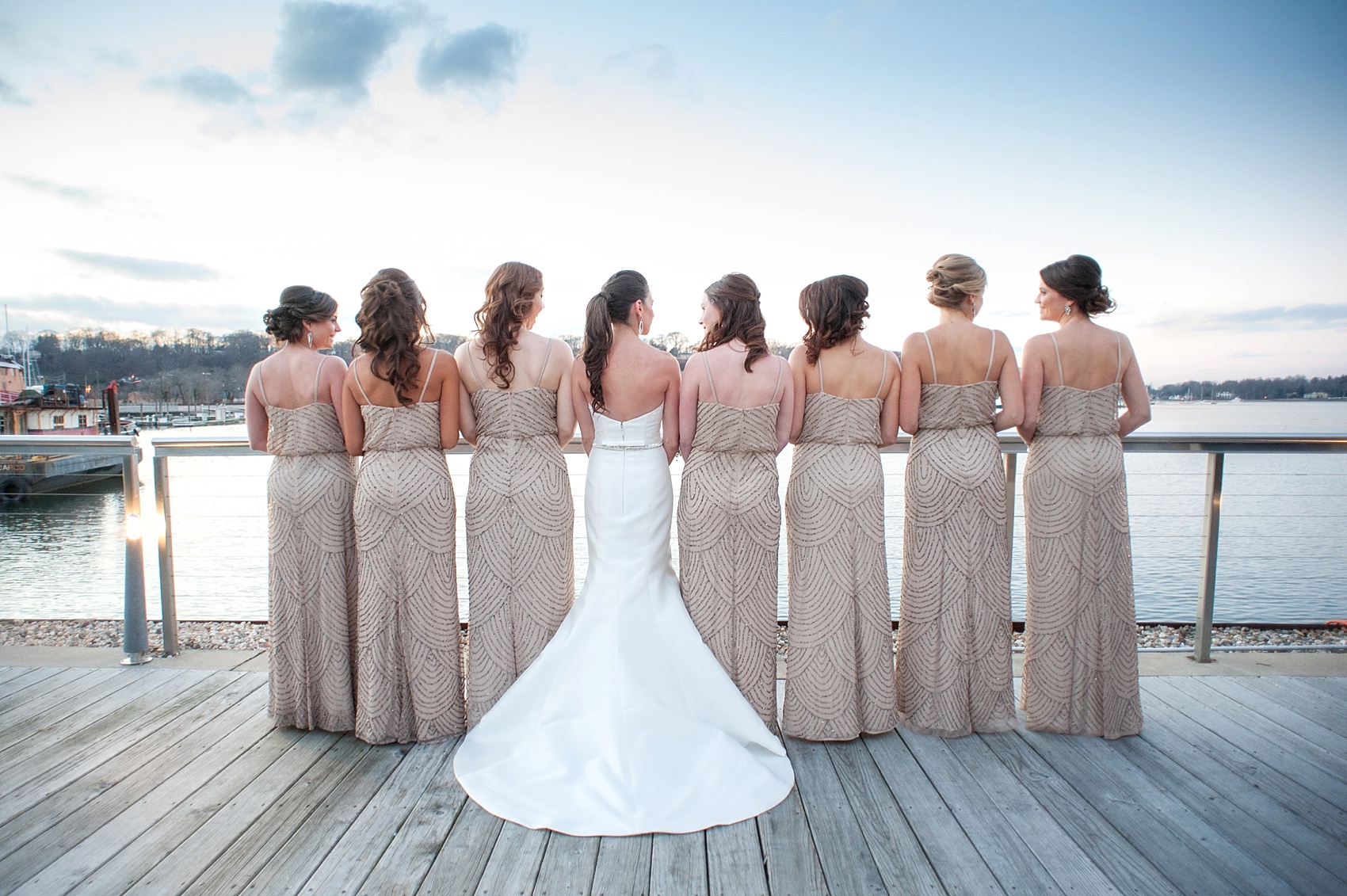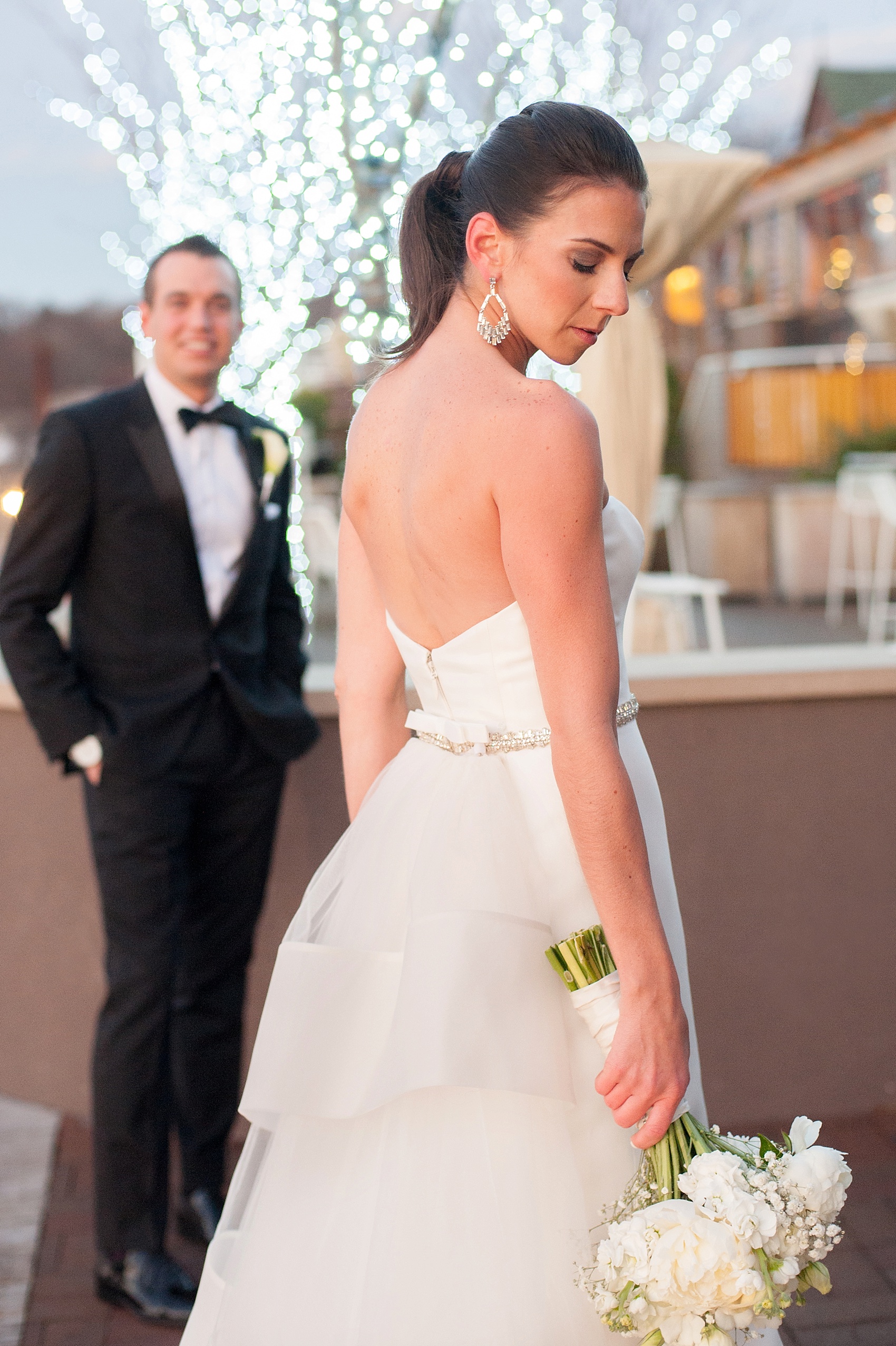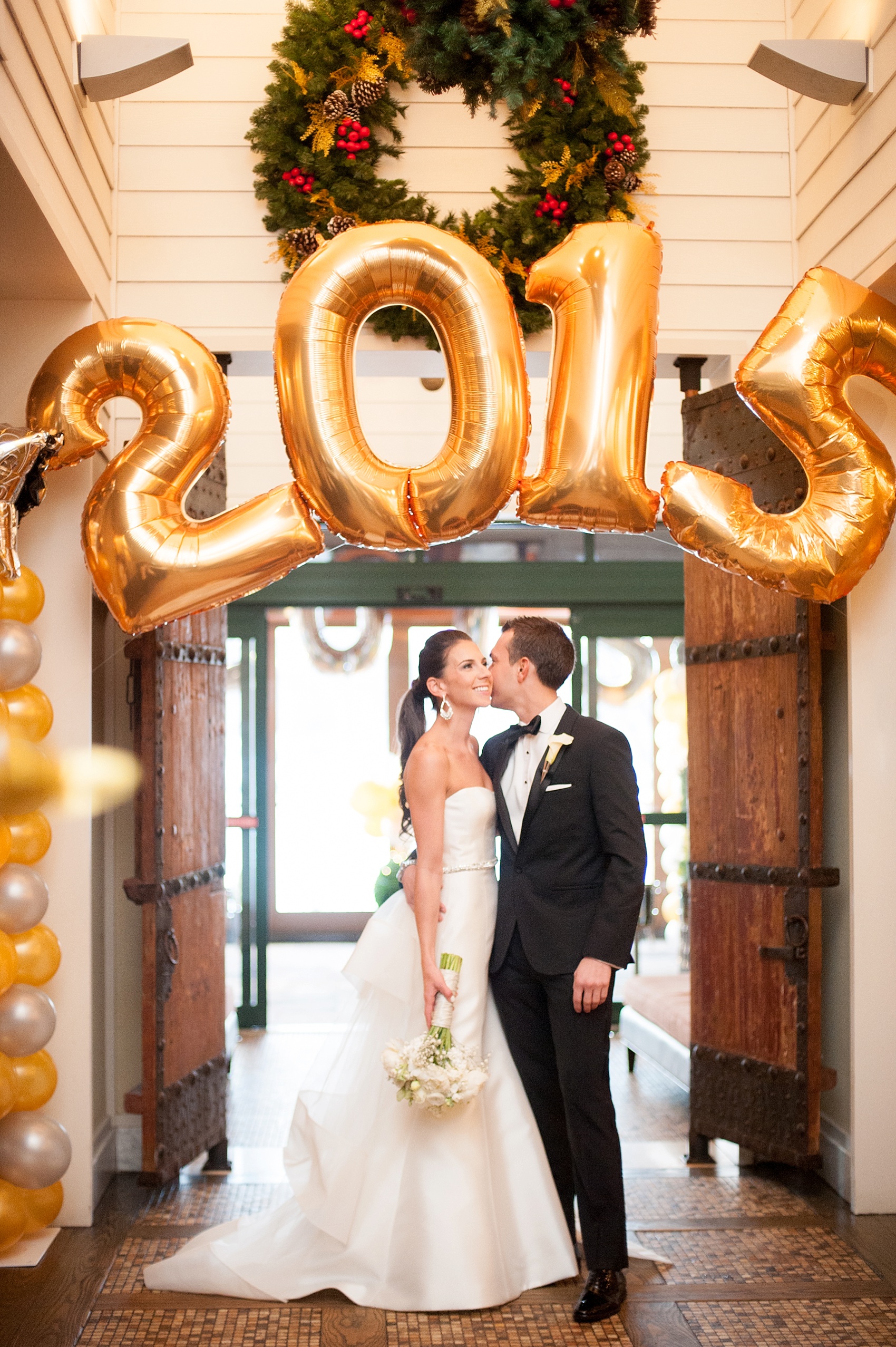 What better way to ring in the new year than with everyone you love and adore there to celebrate your marriage?
We snapped a few photos at the Prime wine cellar (and warmed up a little) then moved down the block to a beautiful church where they tied the knot.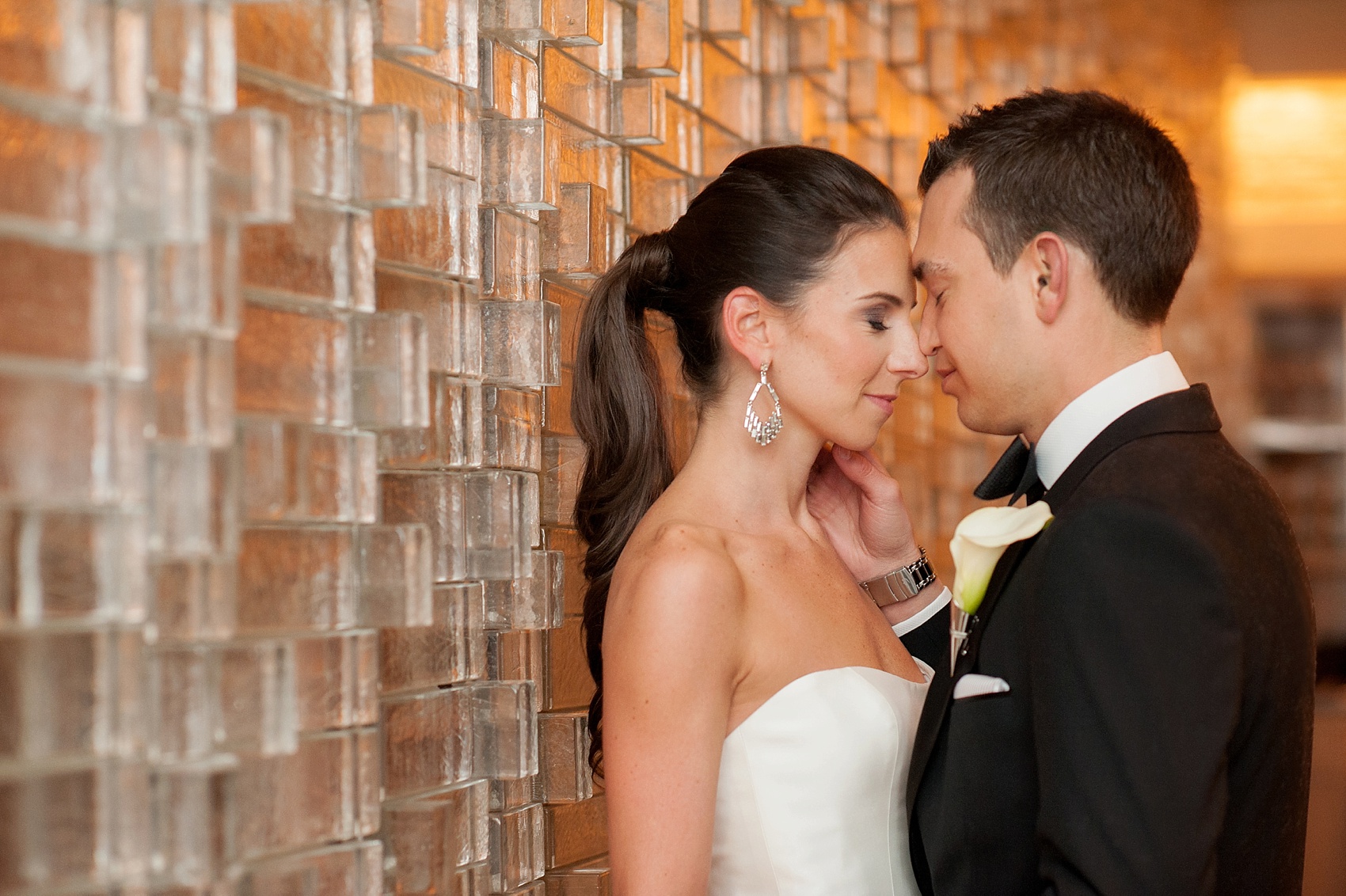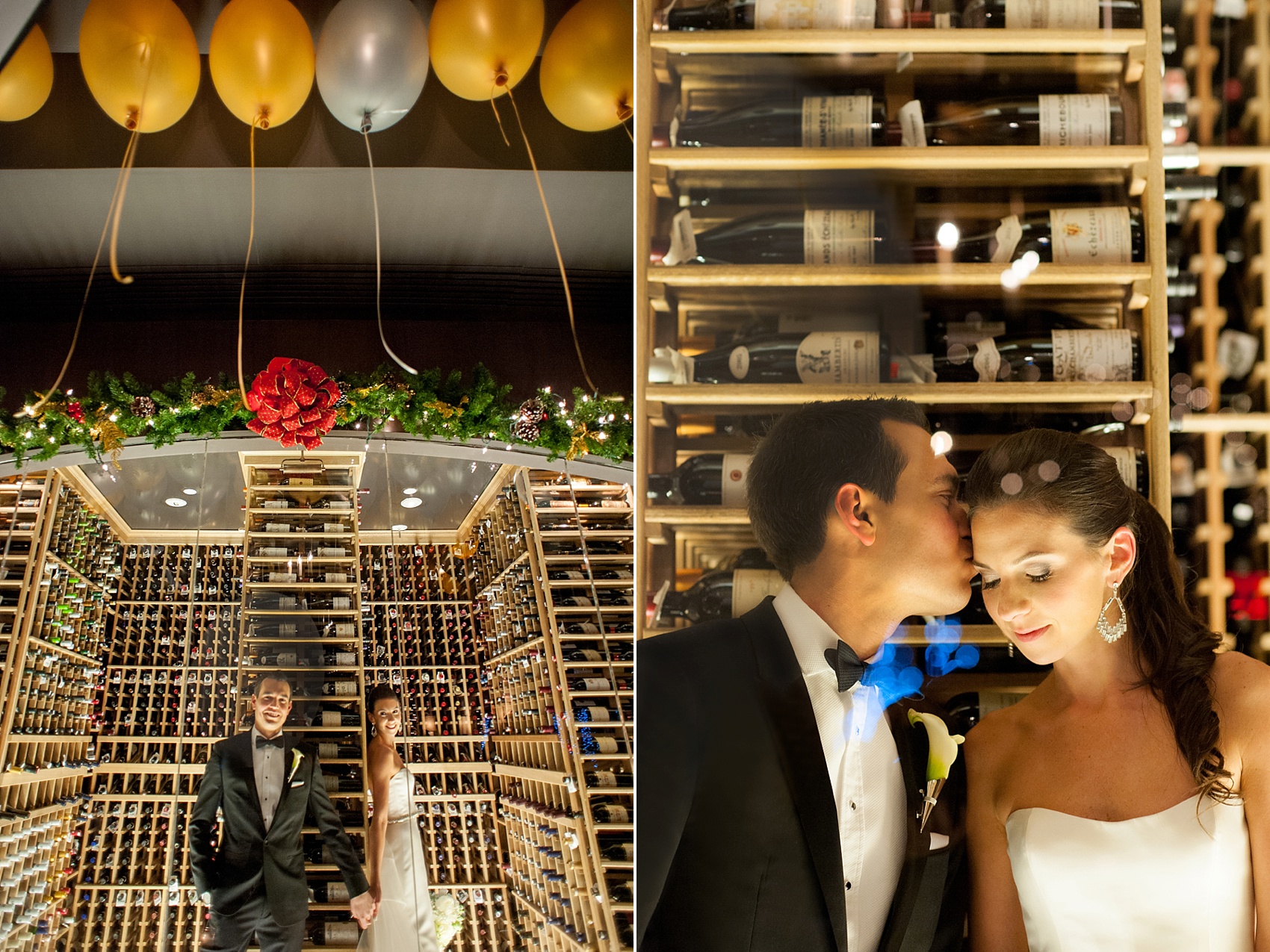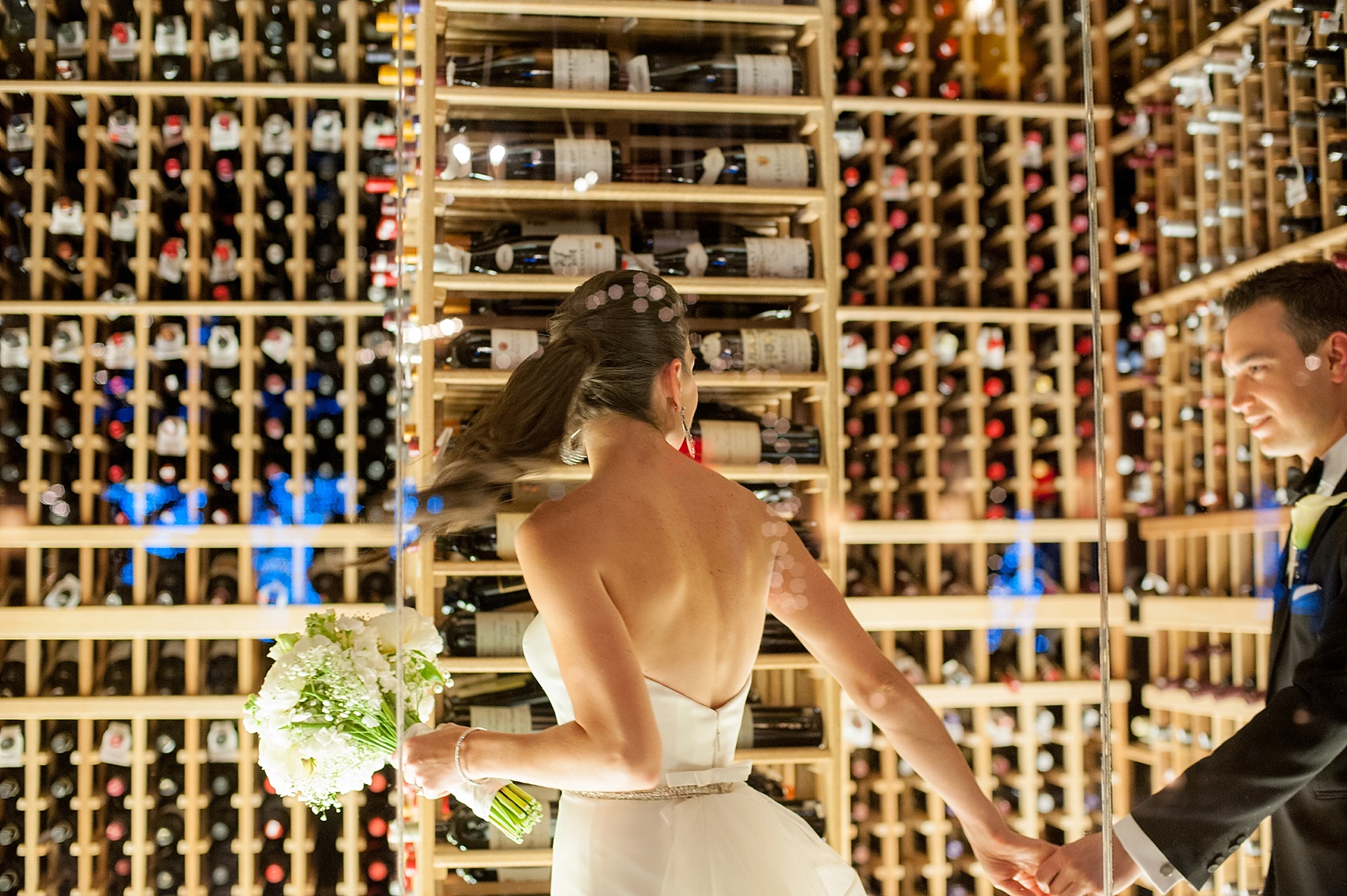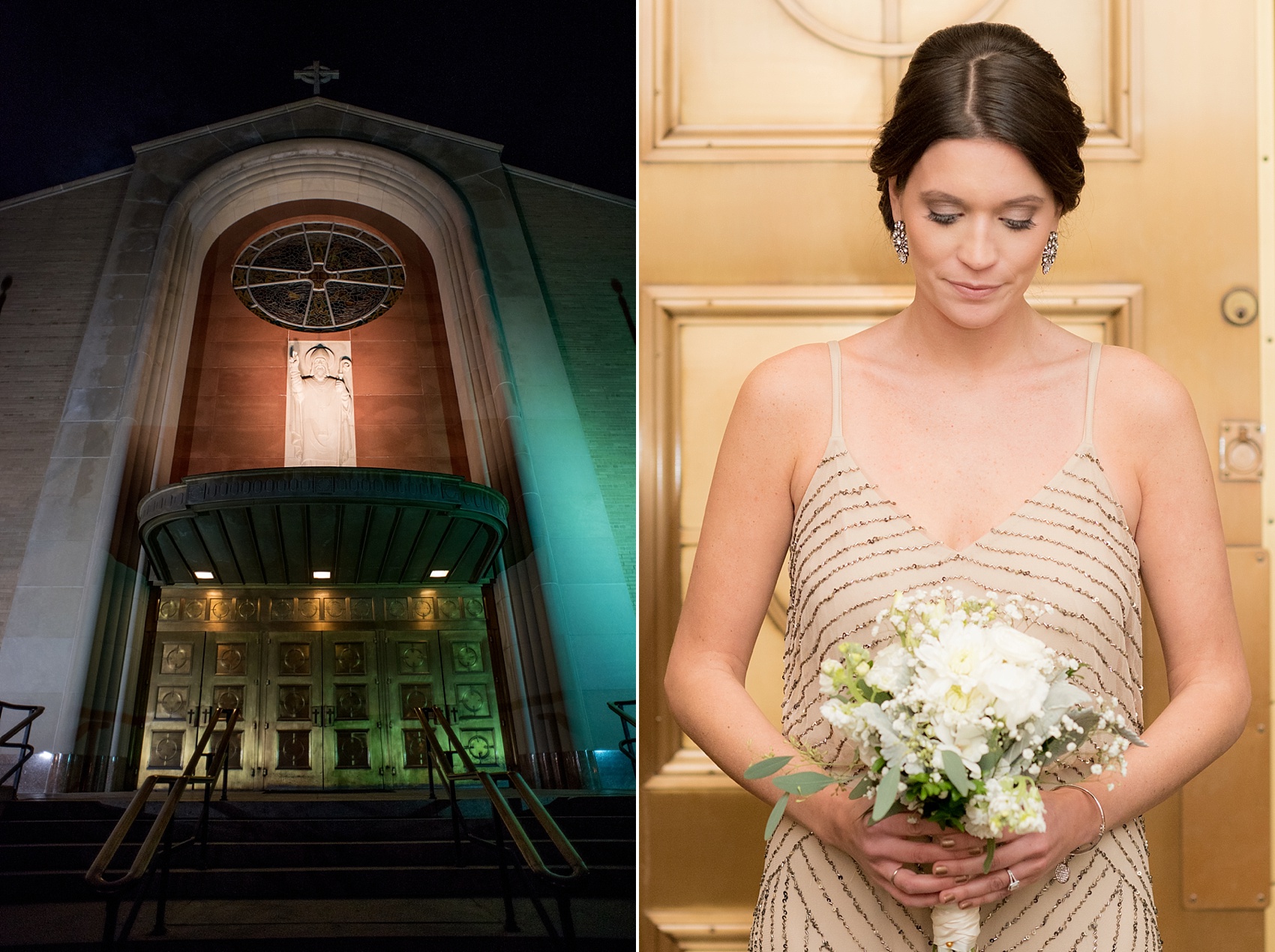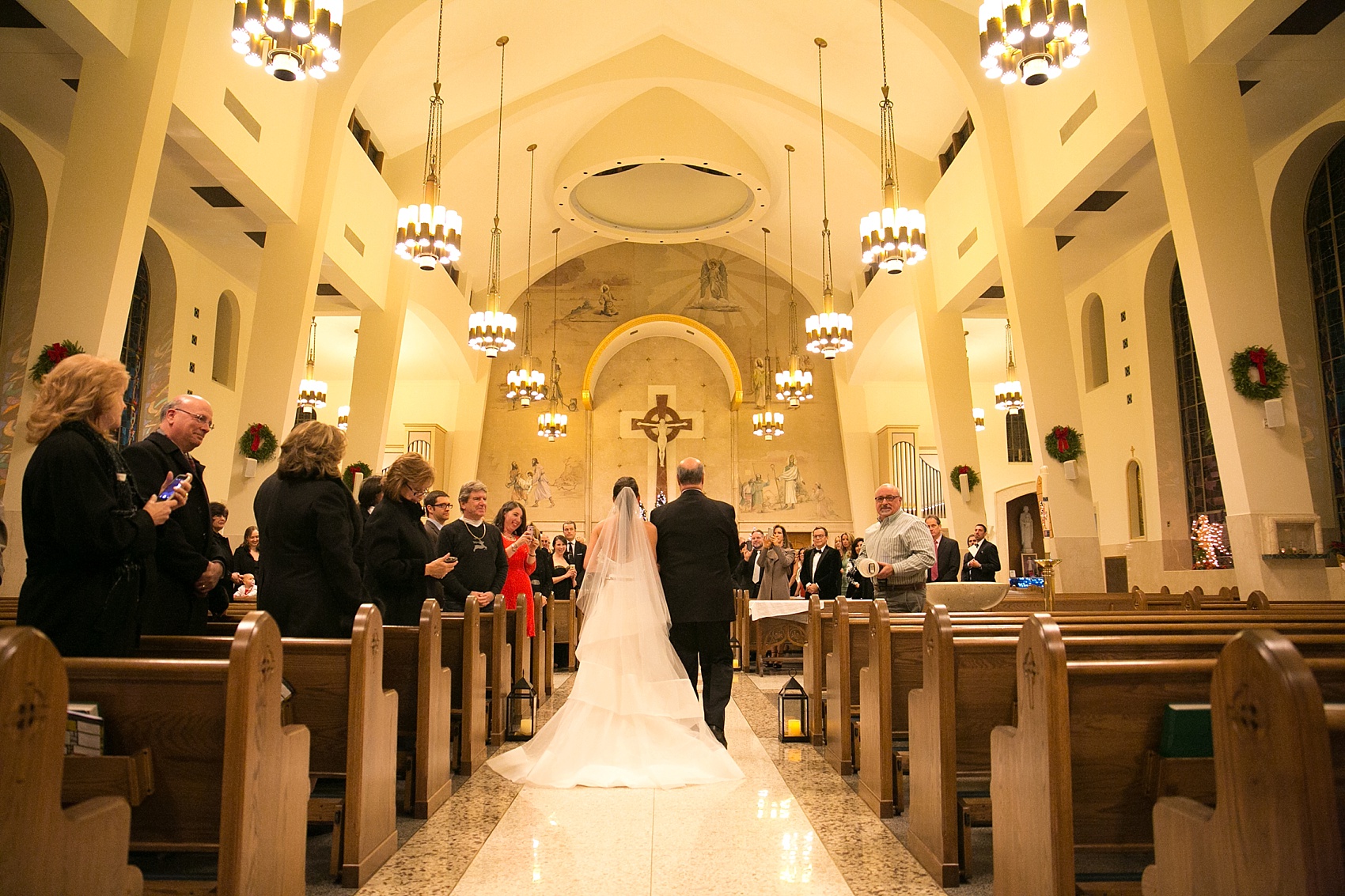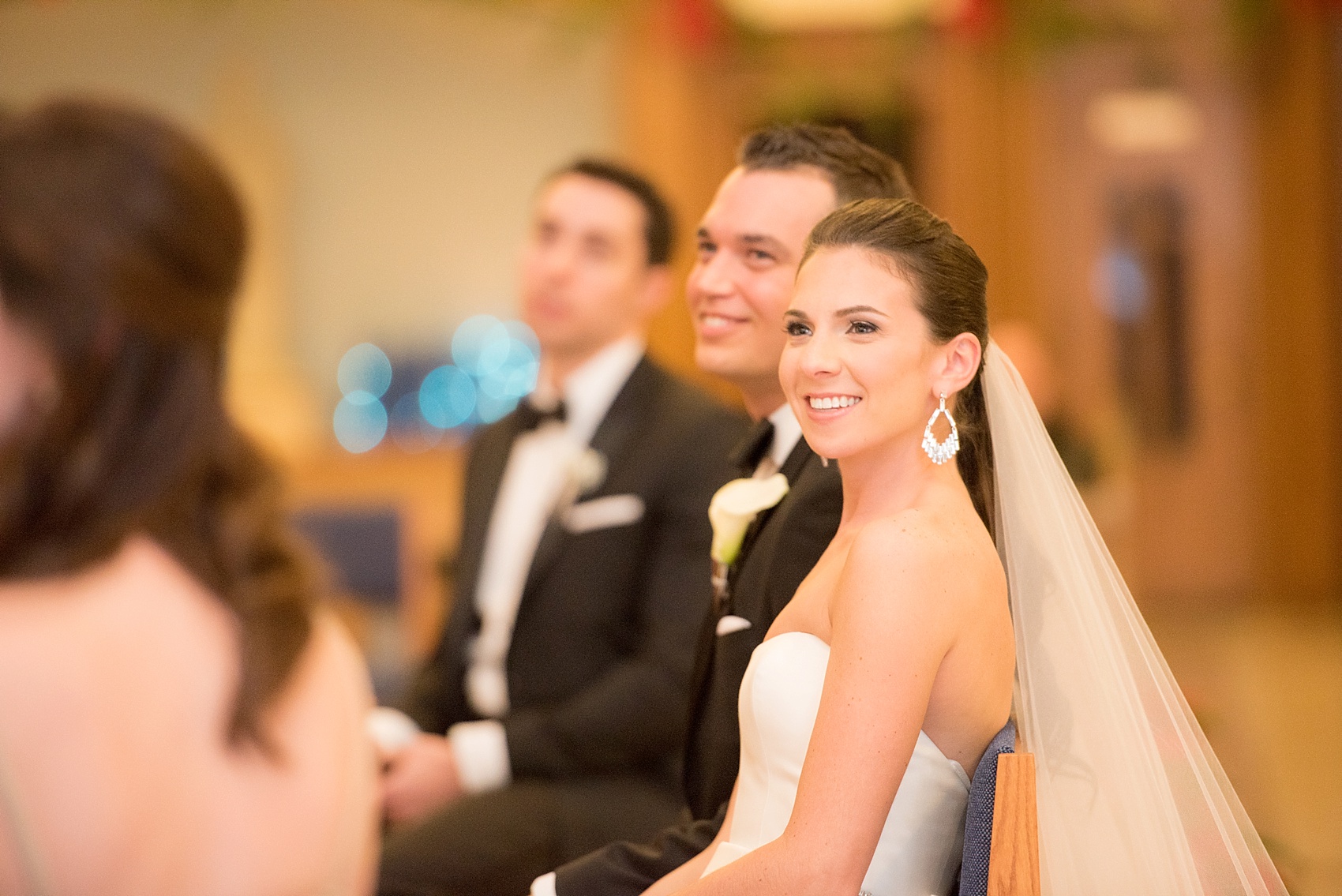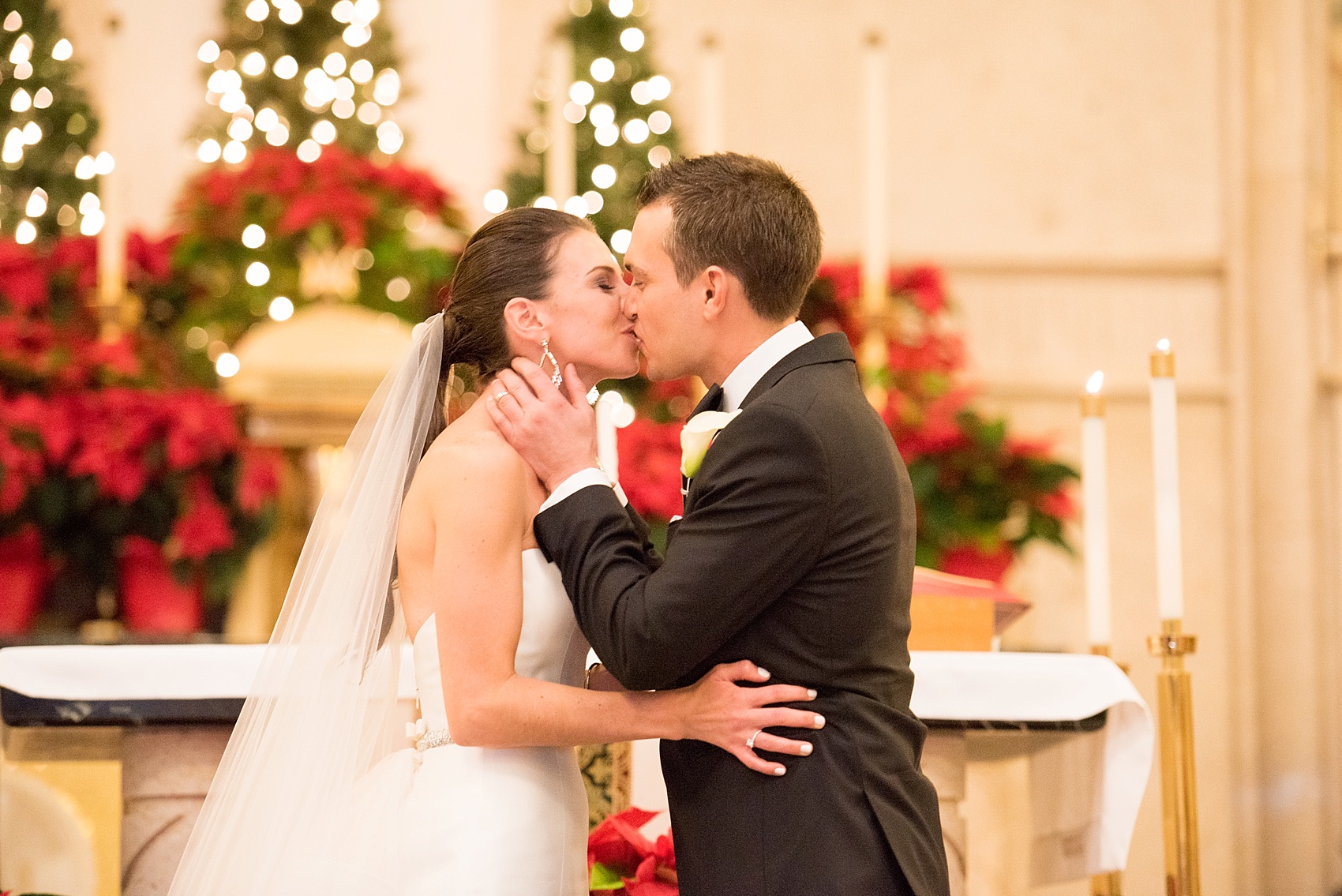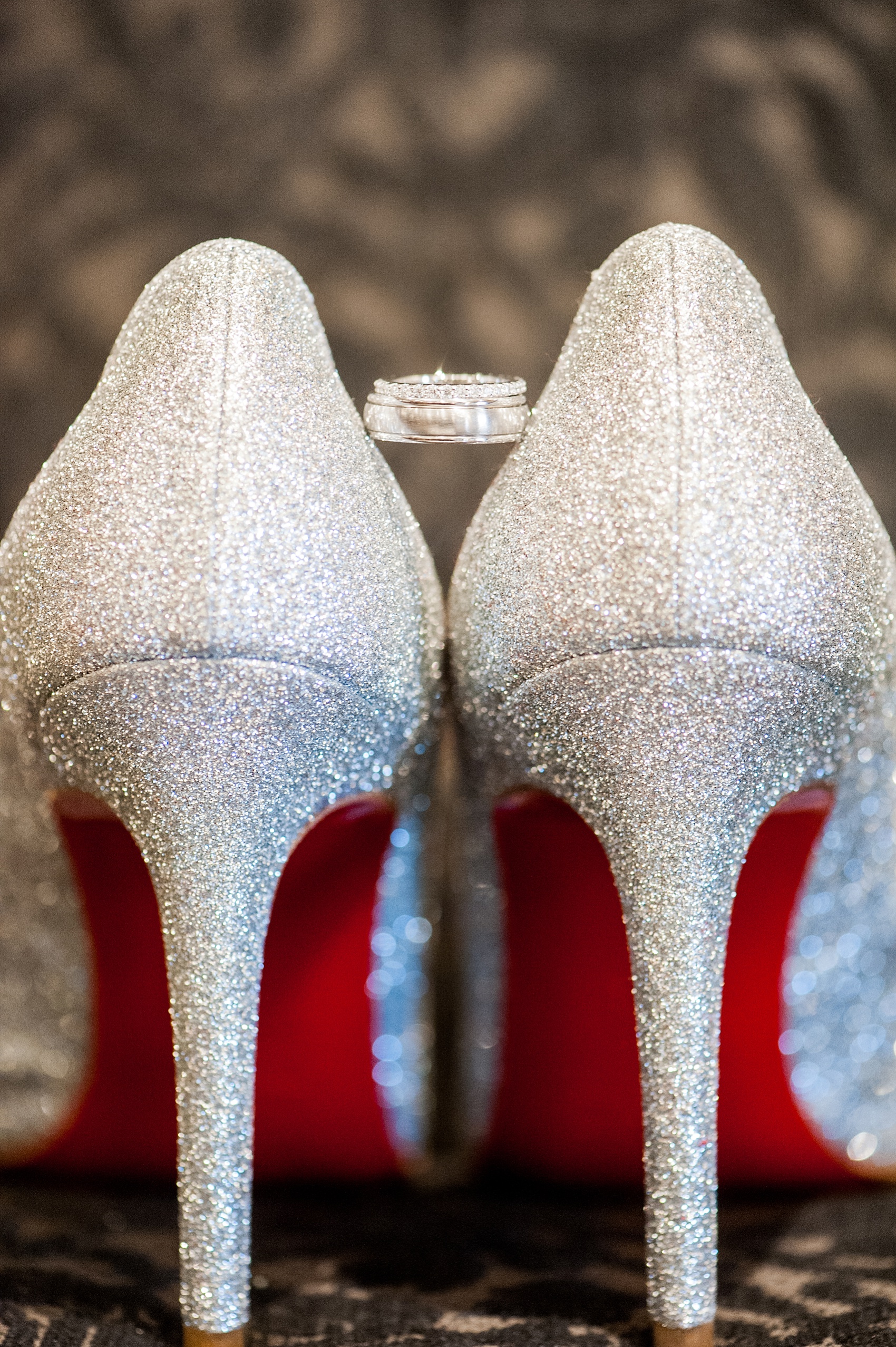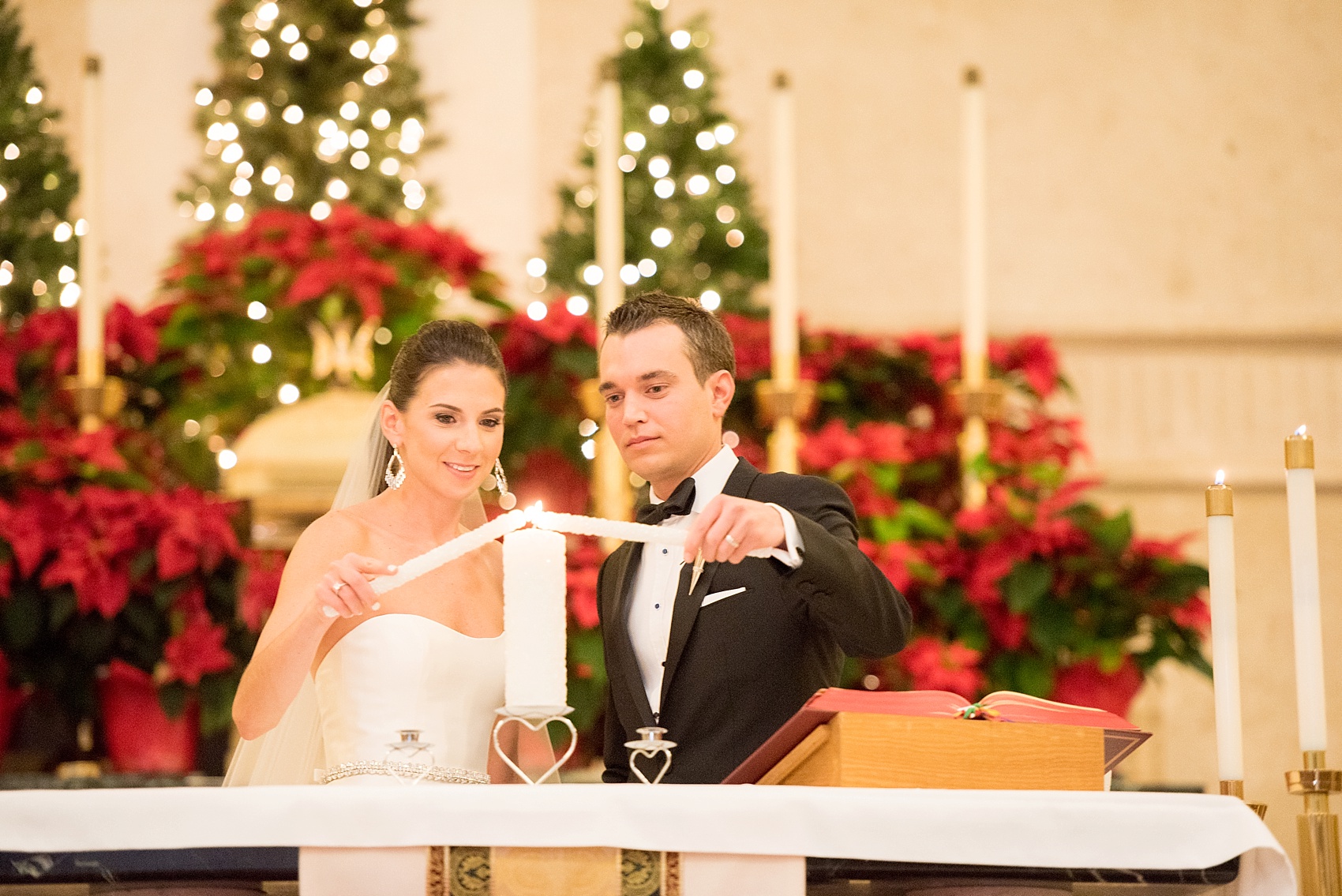 This little guy had some plans of reorganization during the ceremony!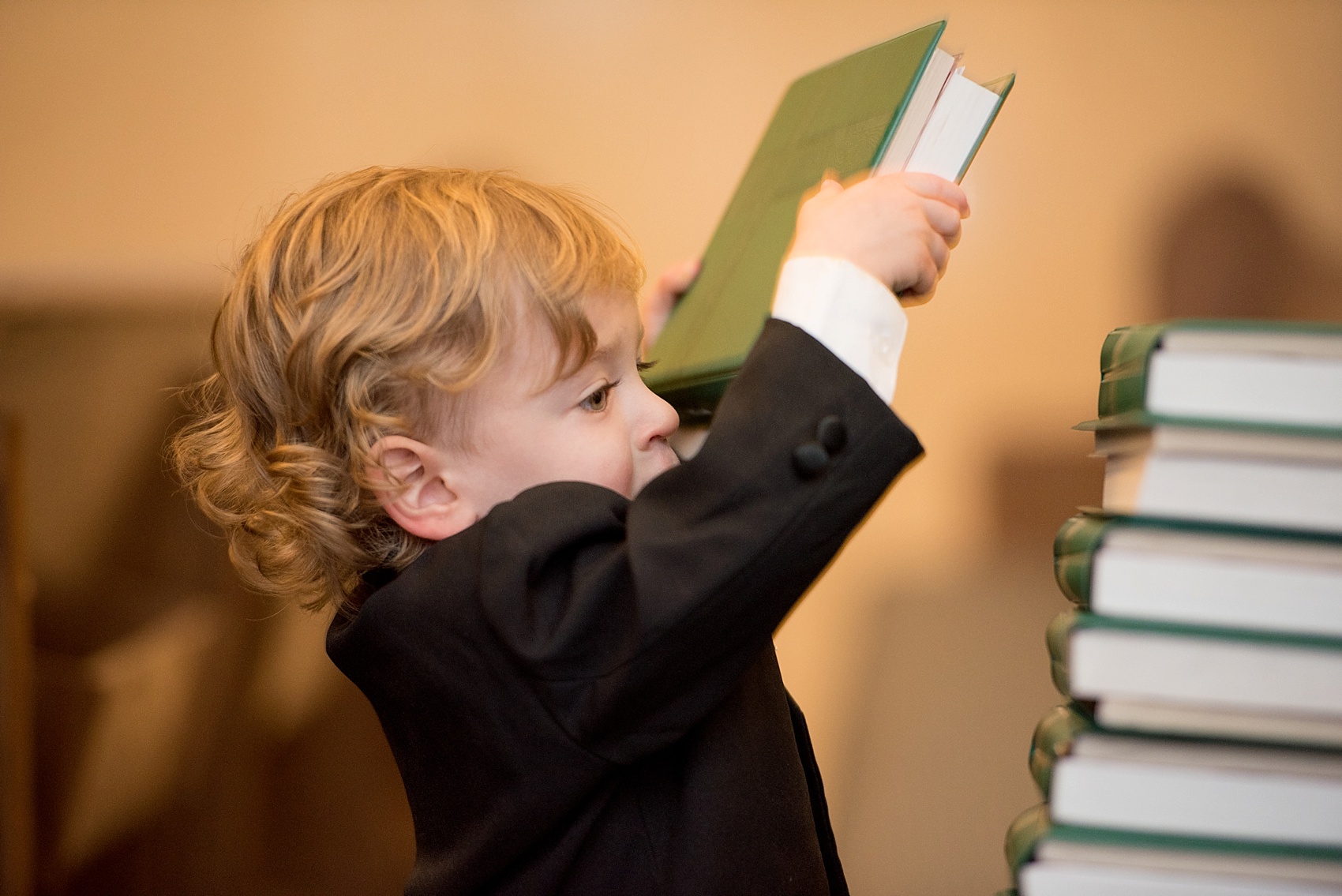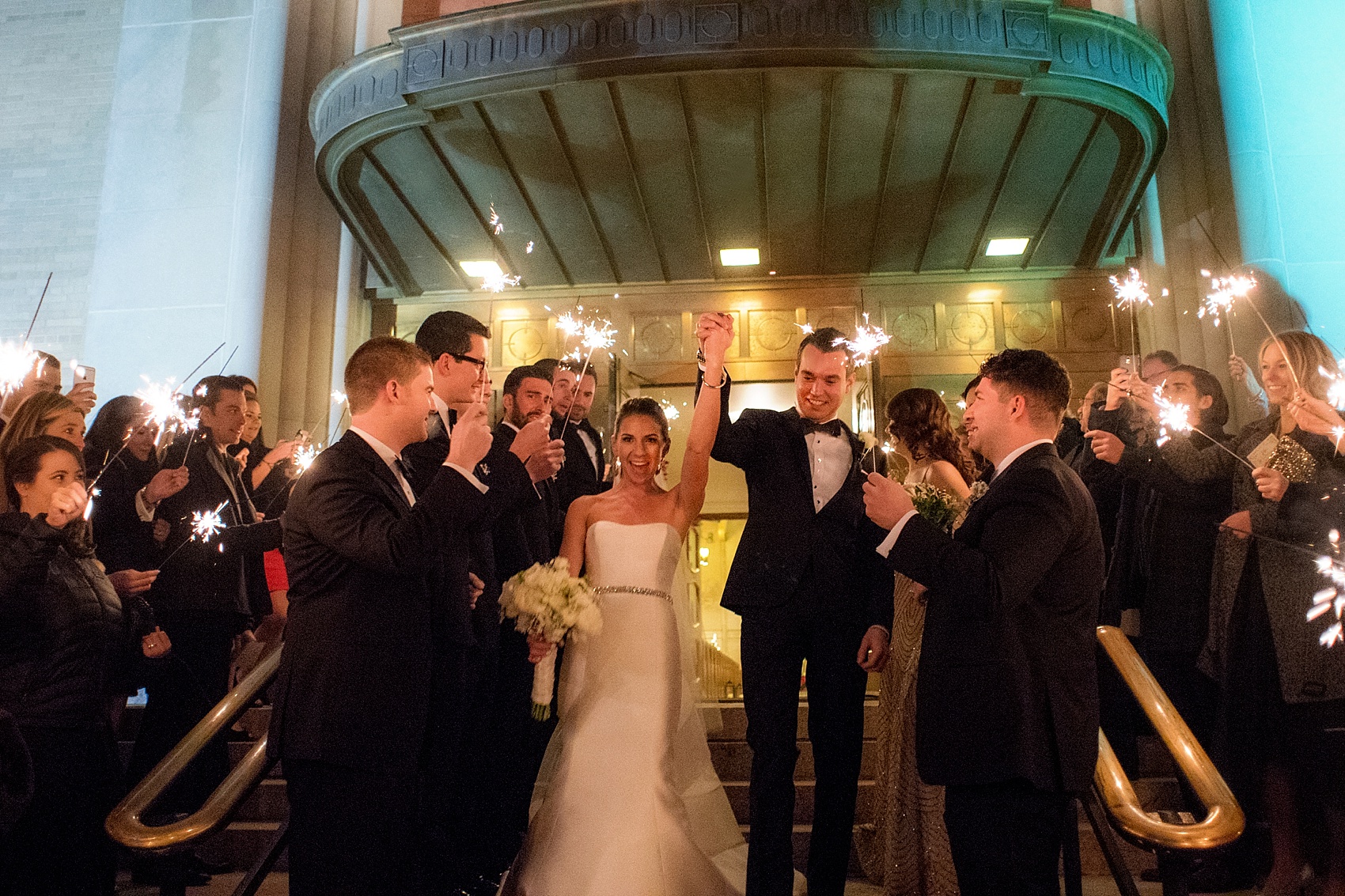 A sparkler exit….and then back to Harbor Club to start the party! Guests found their seats printed on the labels of mini champagne bottles. I love a purposeful escort card. 🙂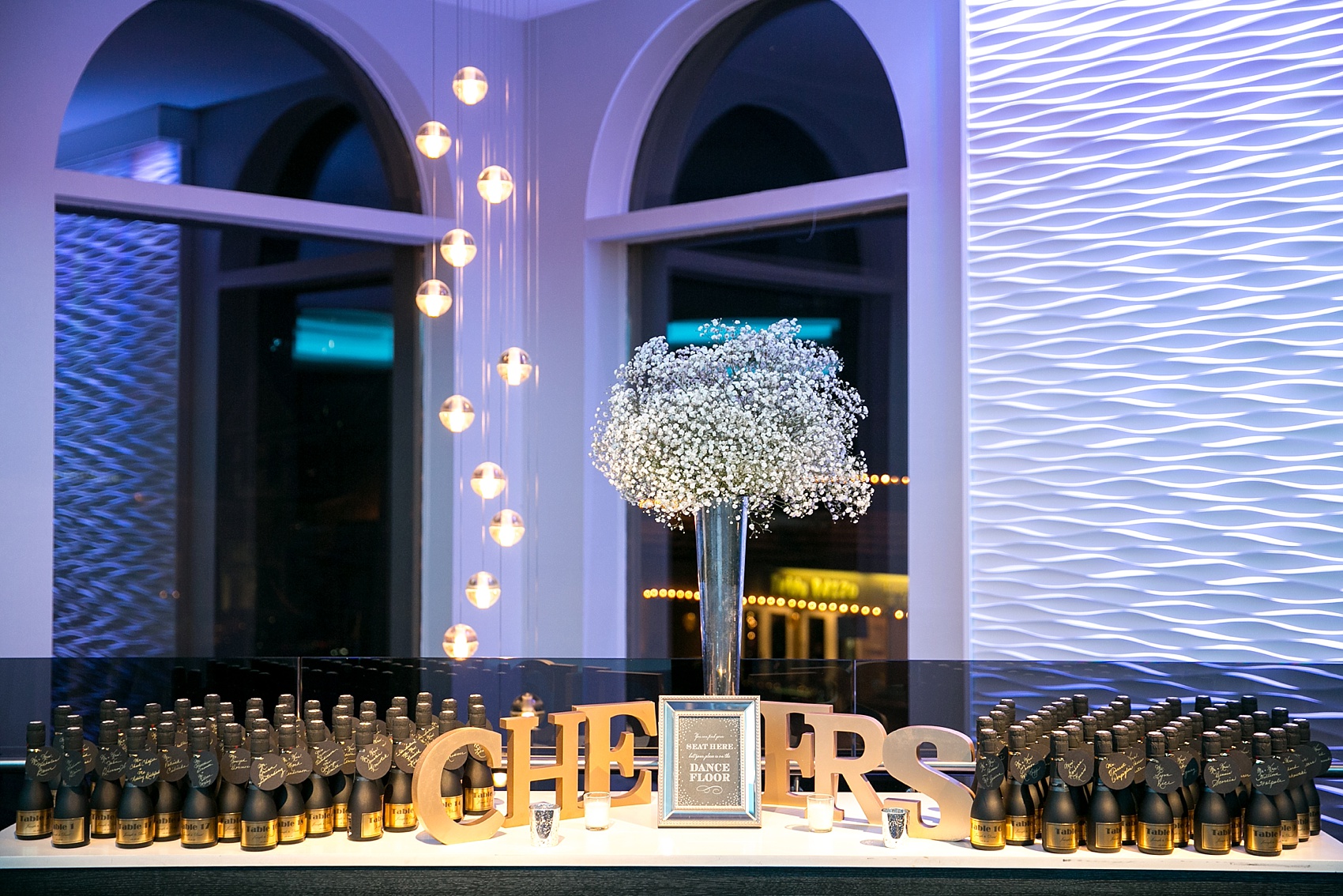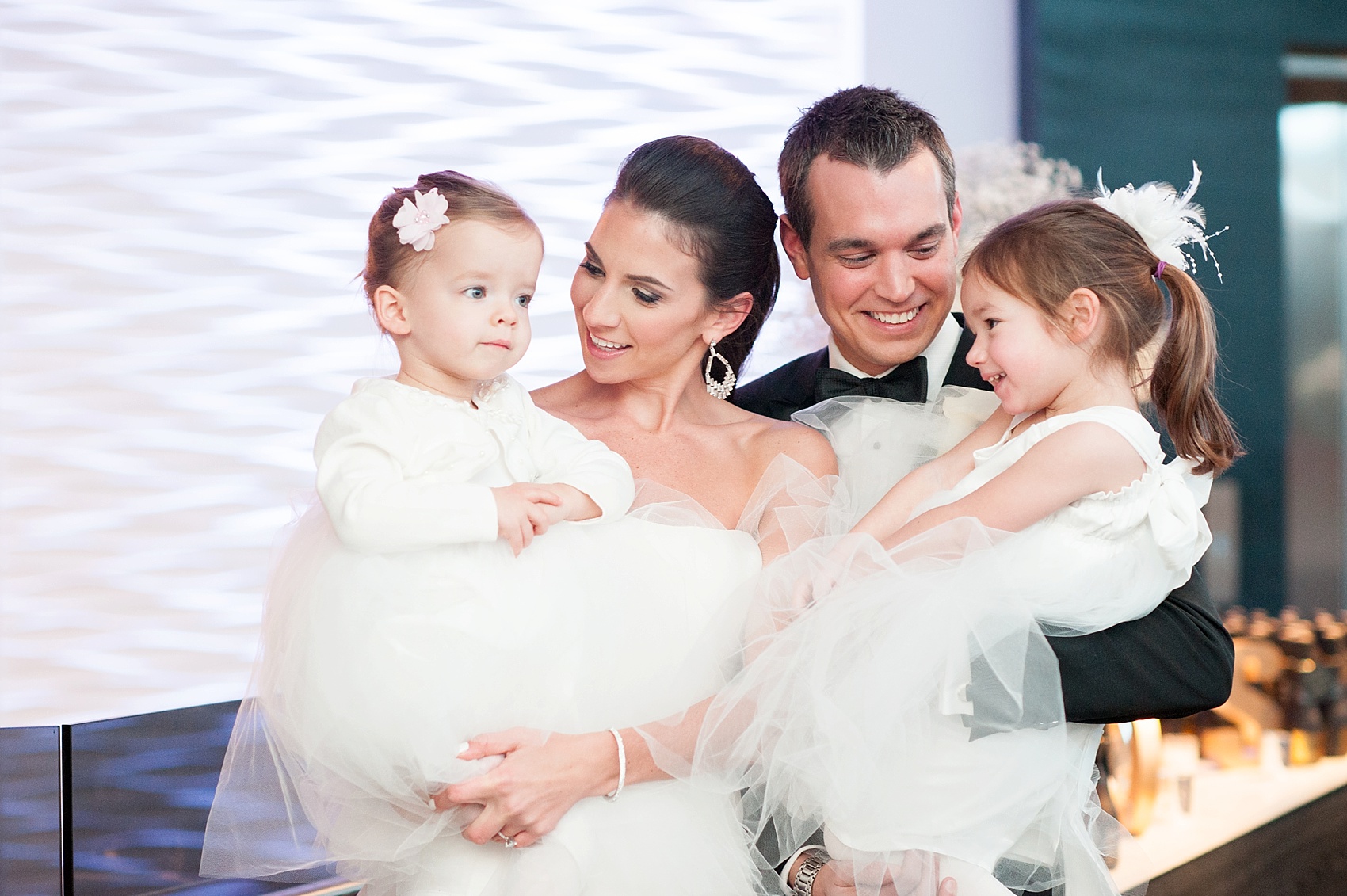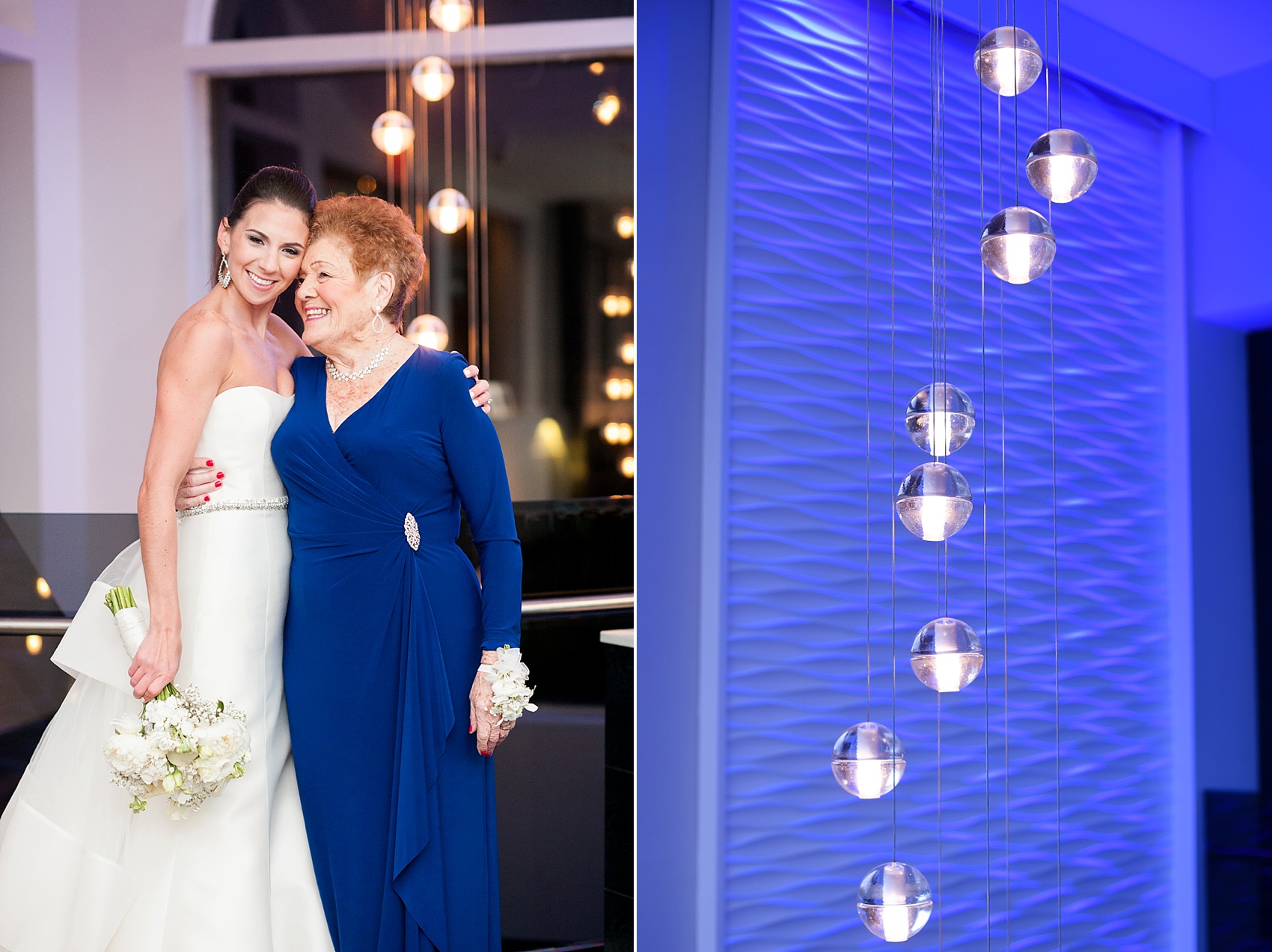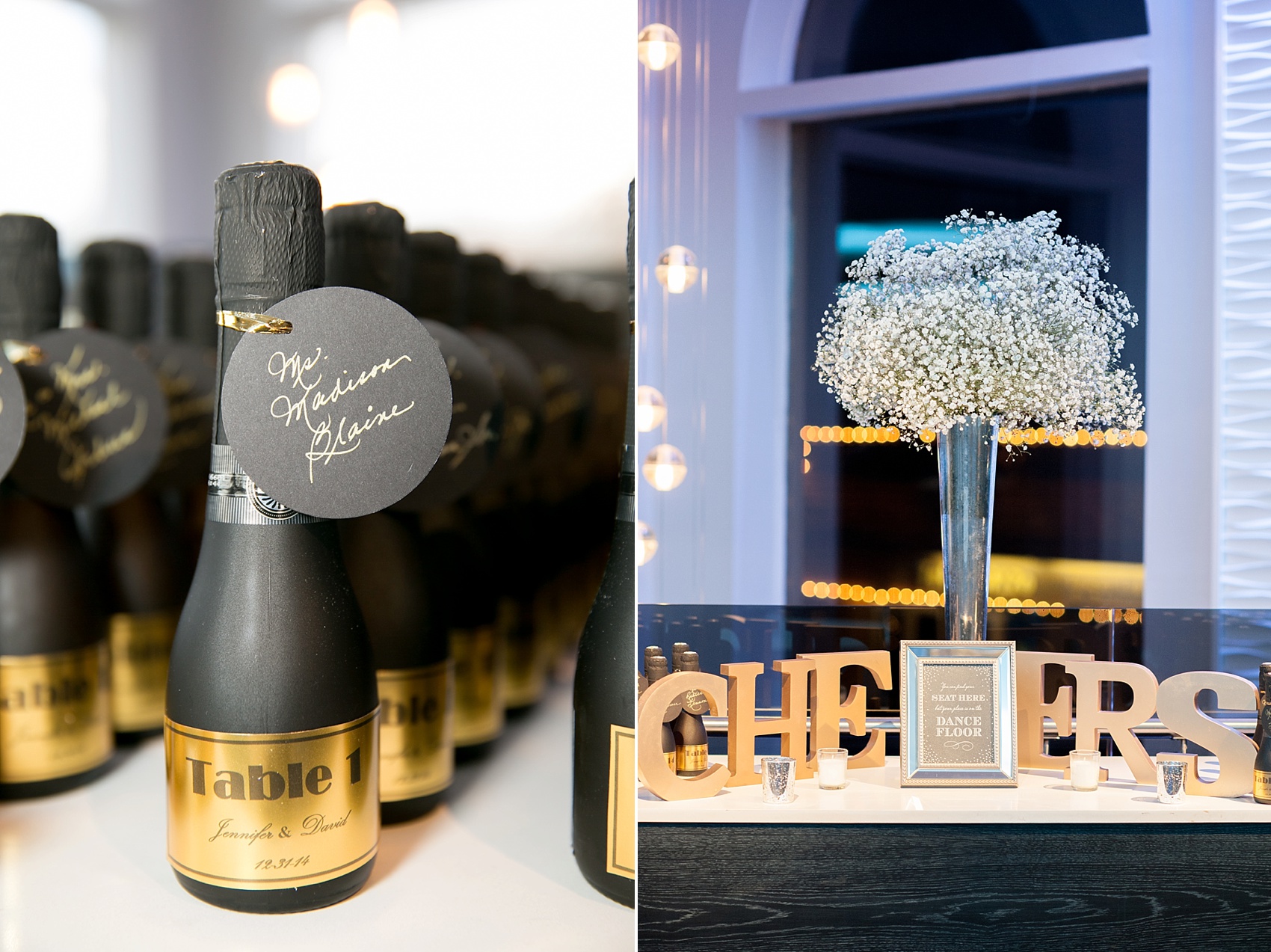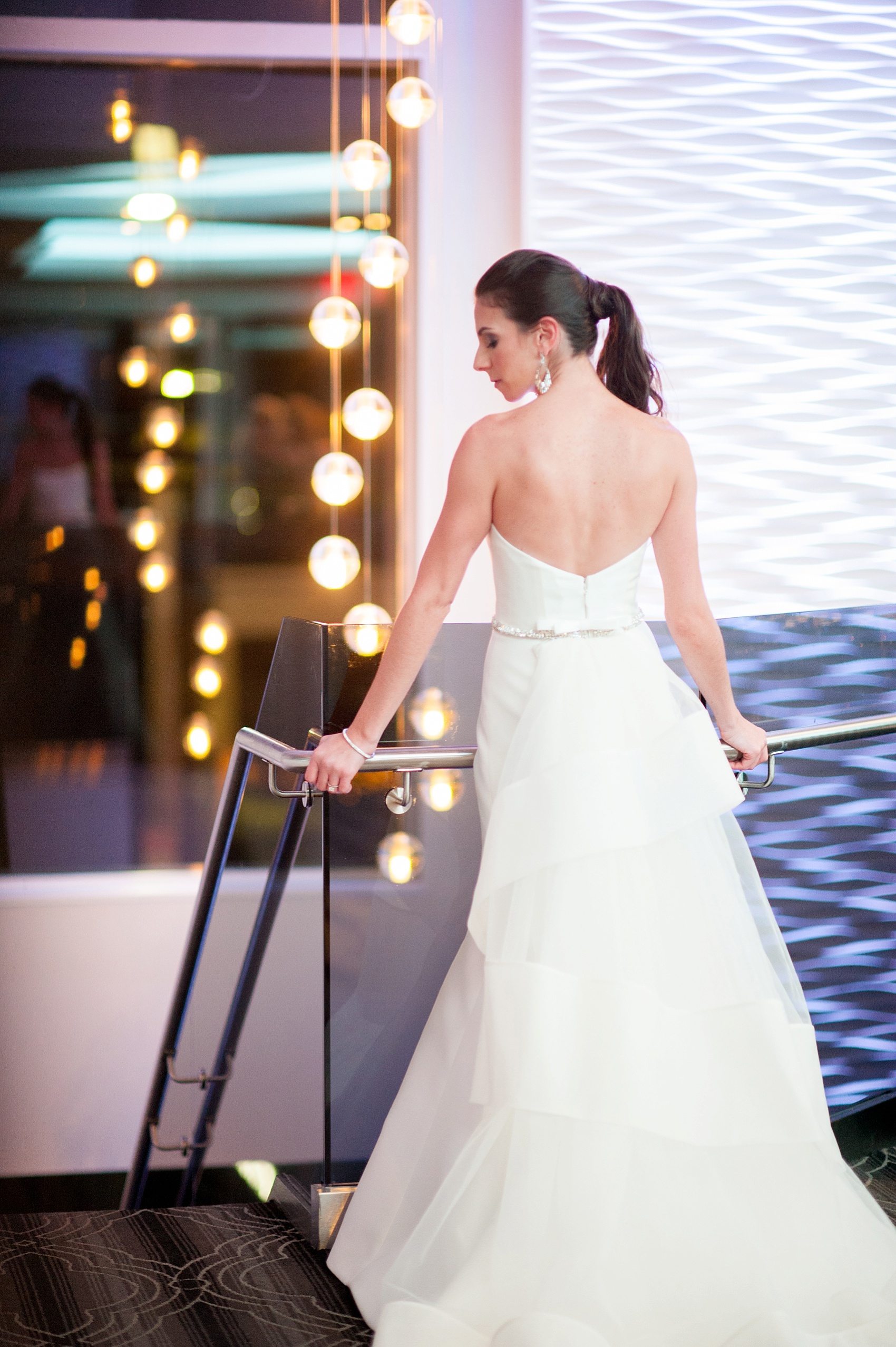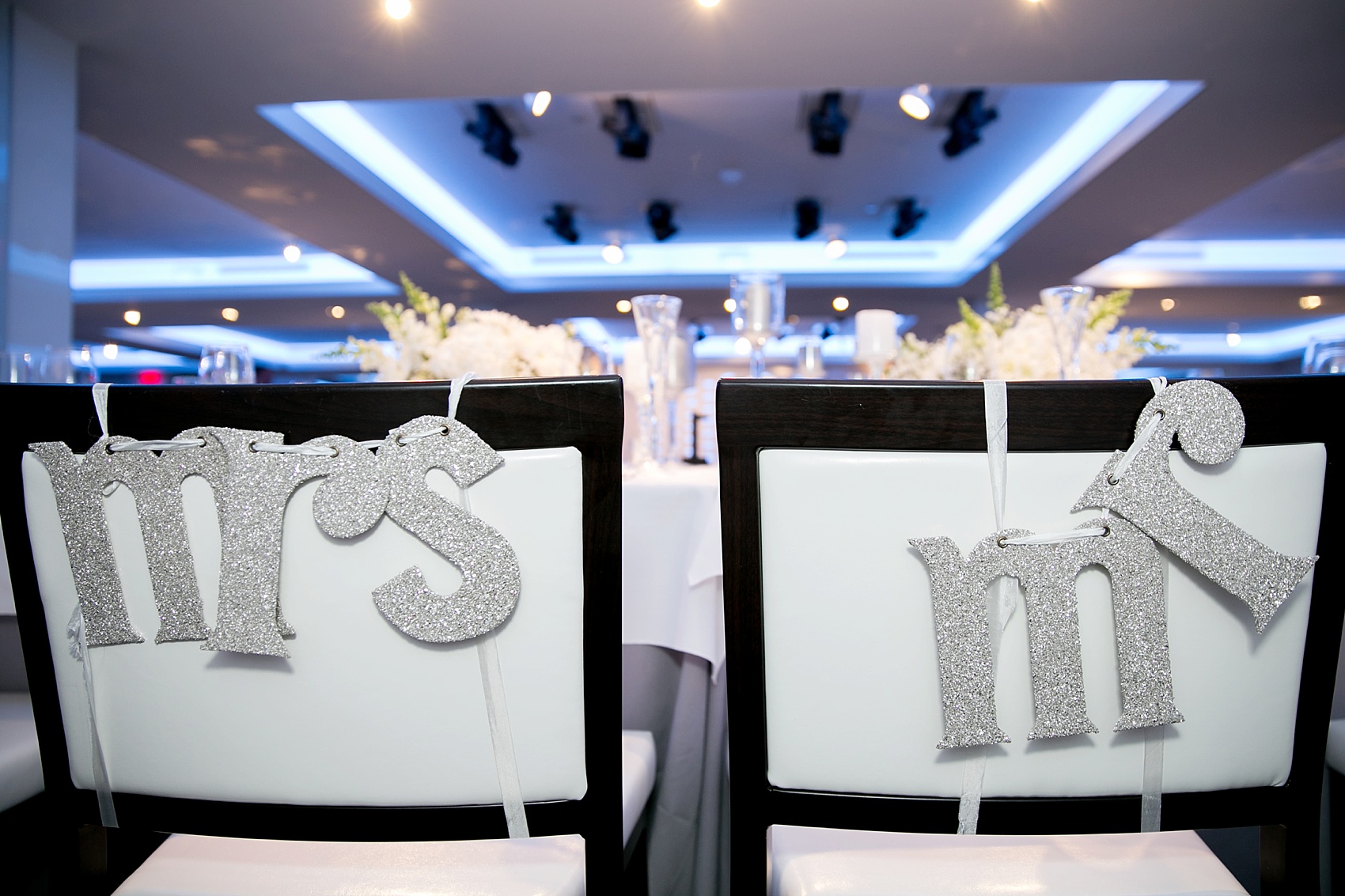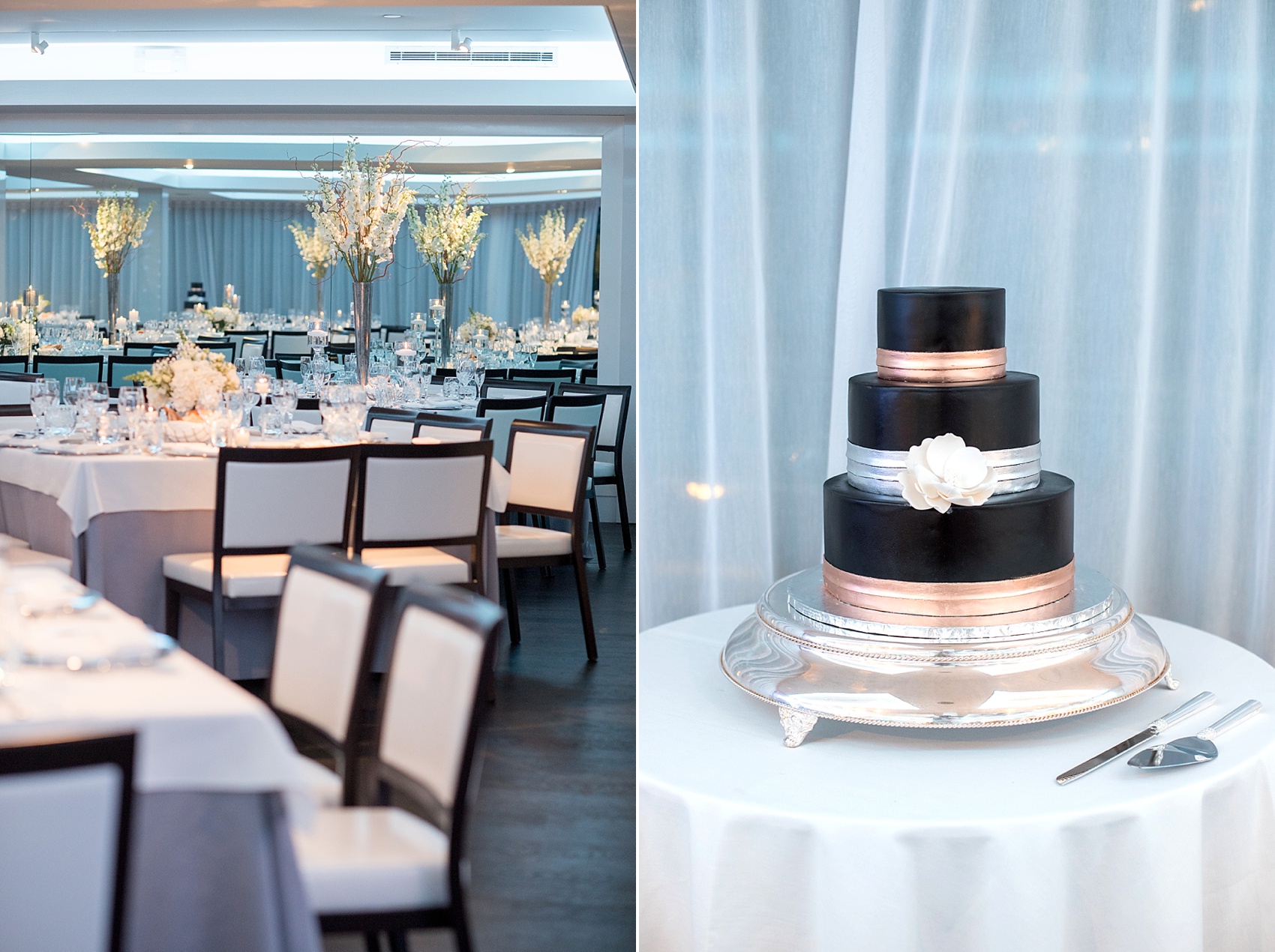 Their black, silver and copper cake was so sleek and sexy. It matched the decor – complete with candles and floral centerpieces – perfectly.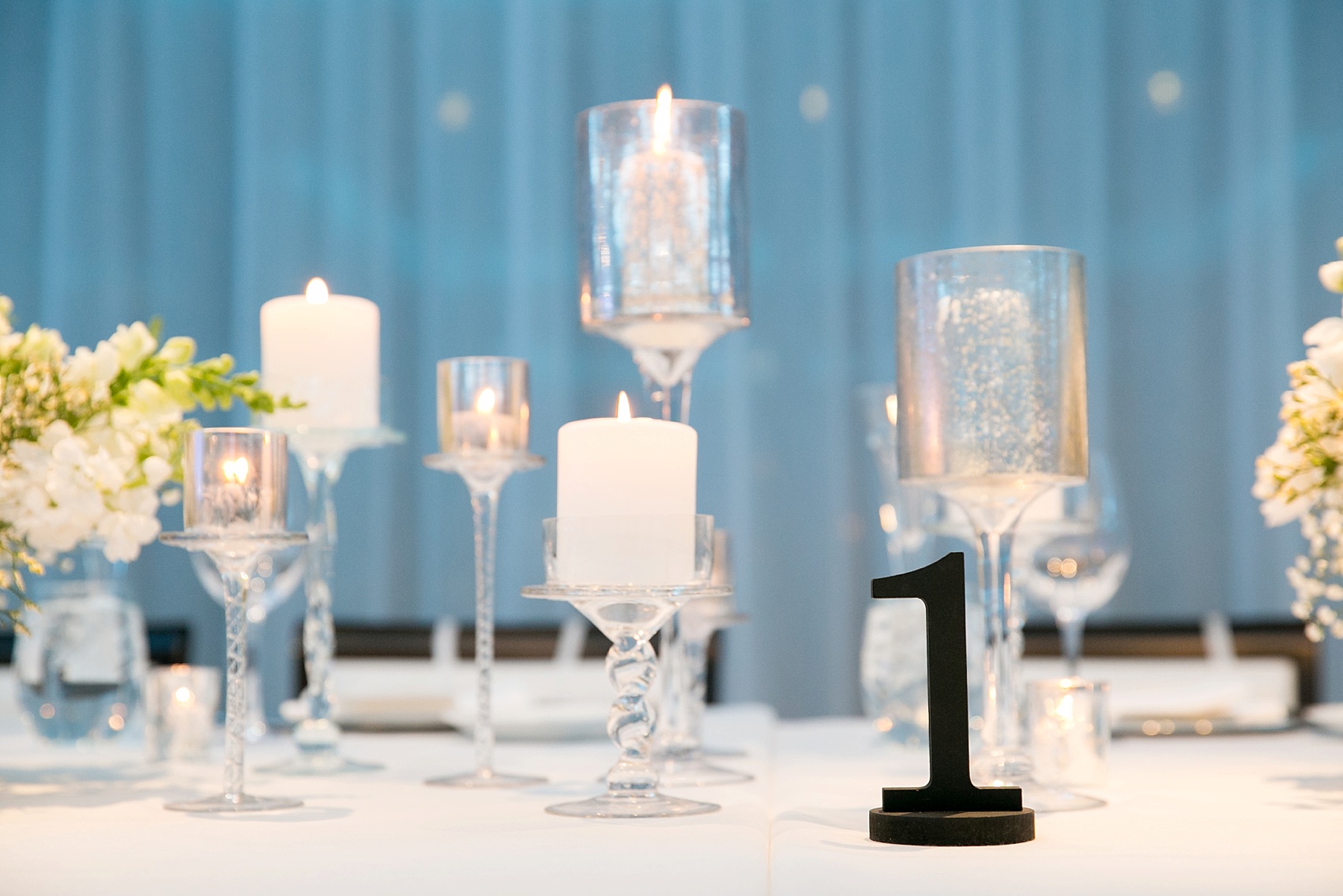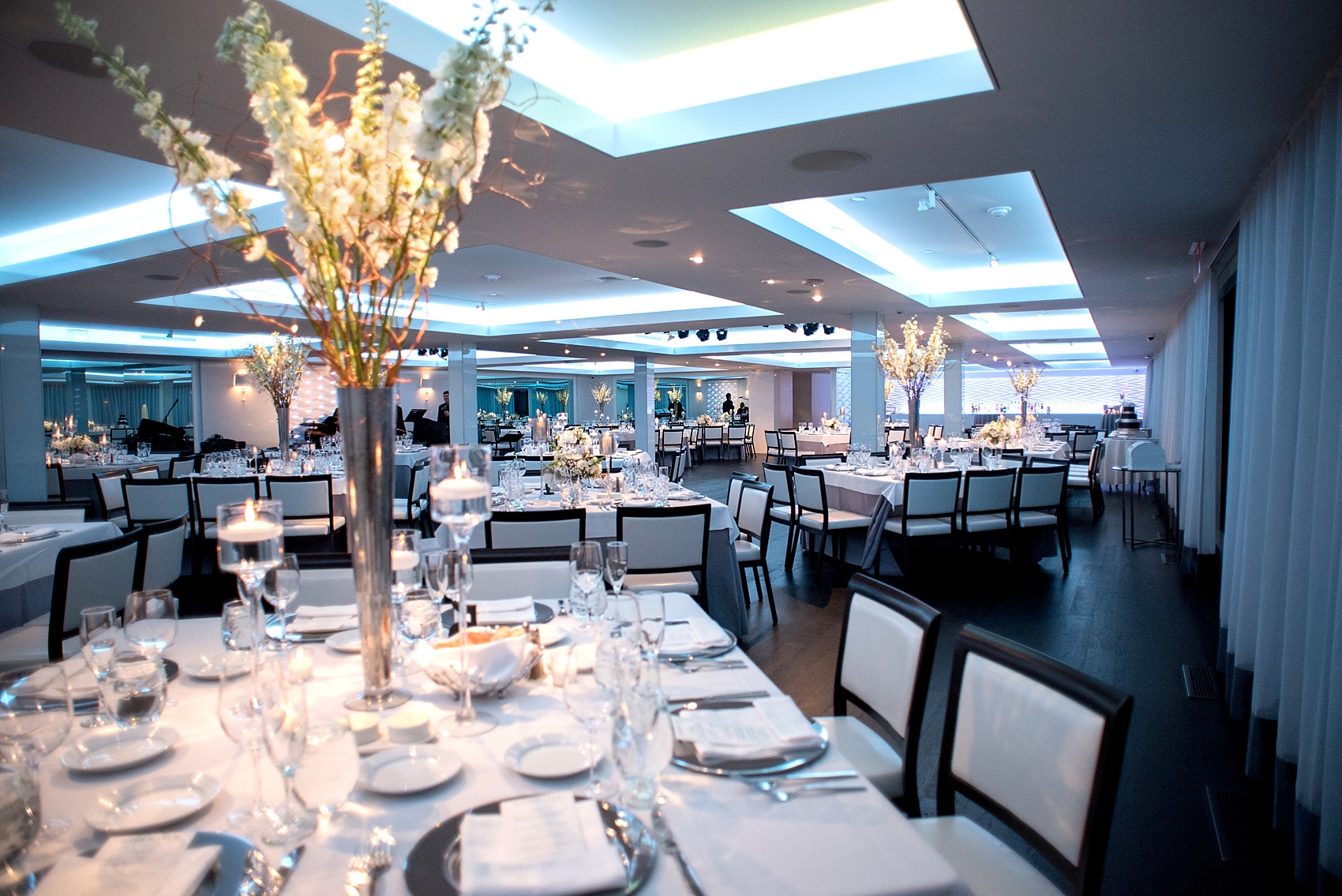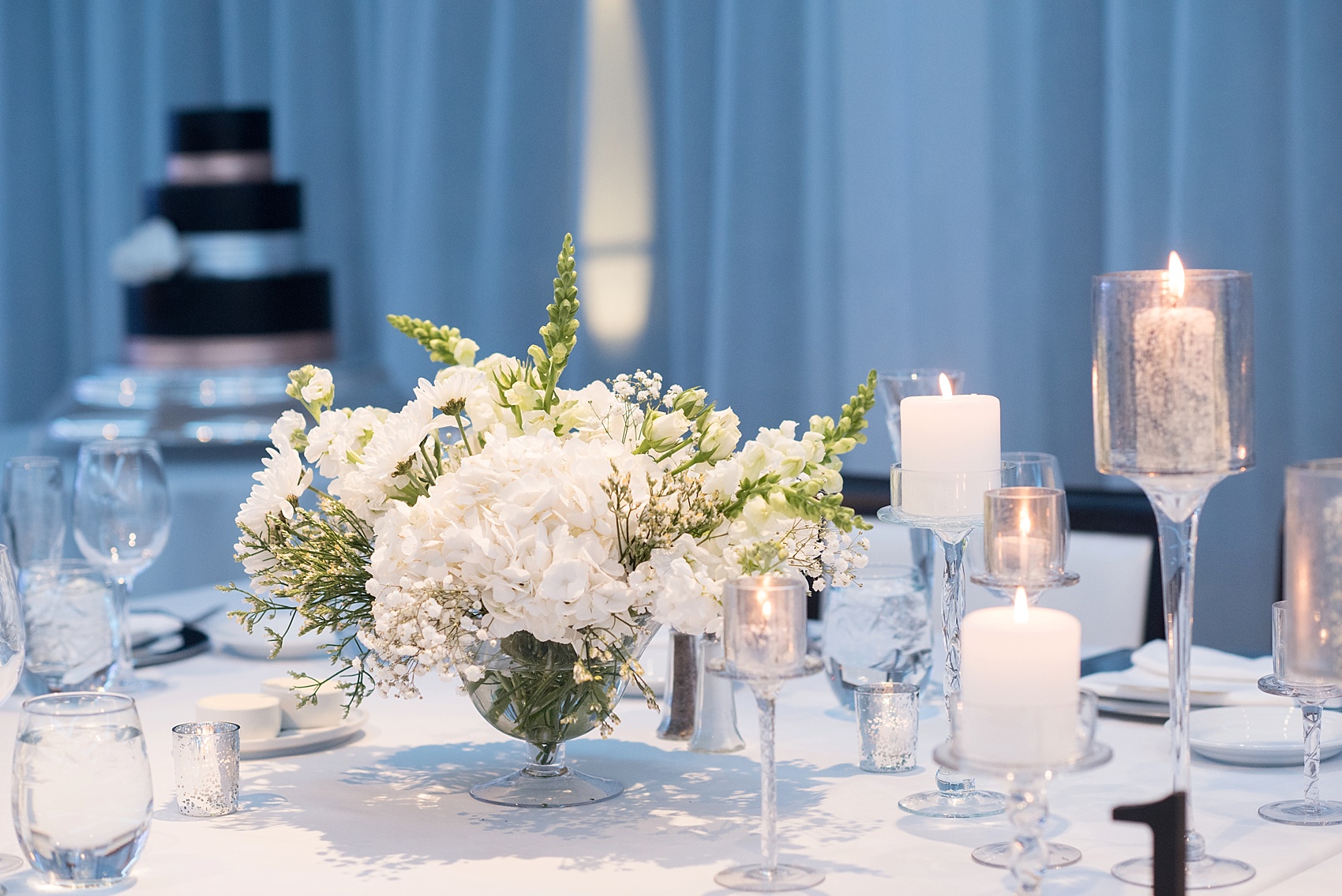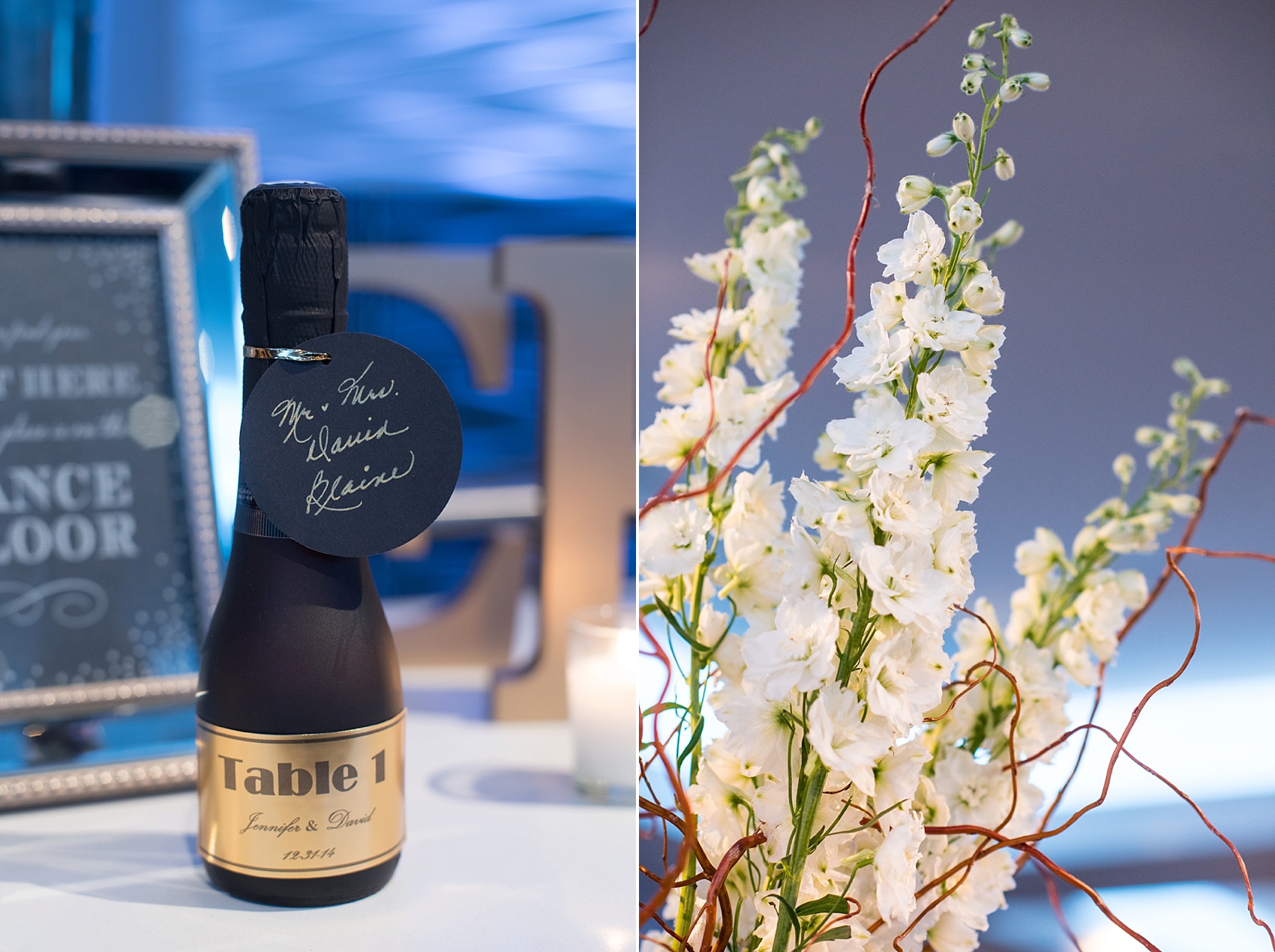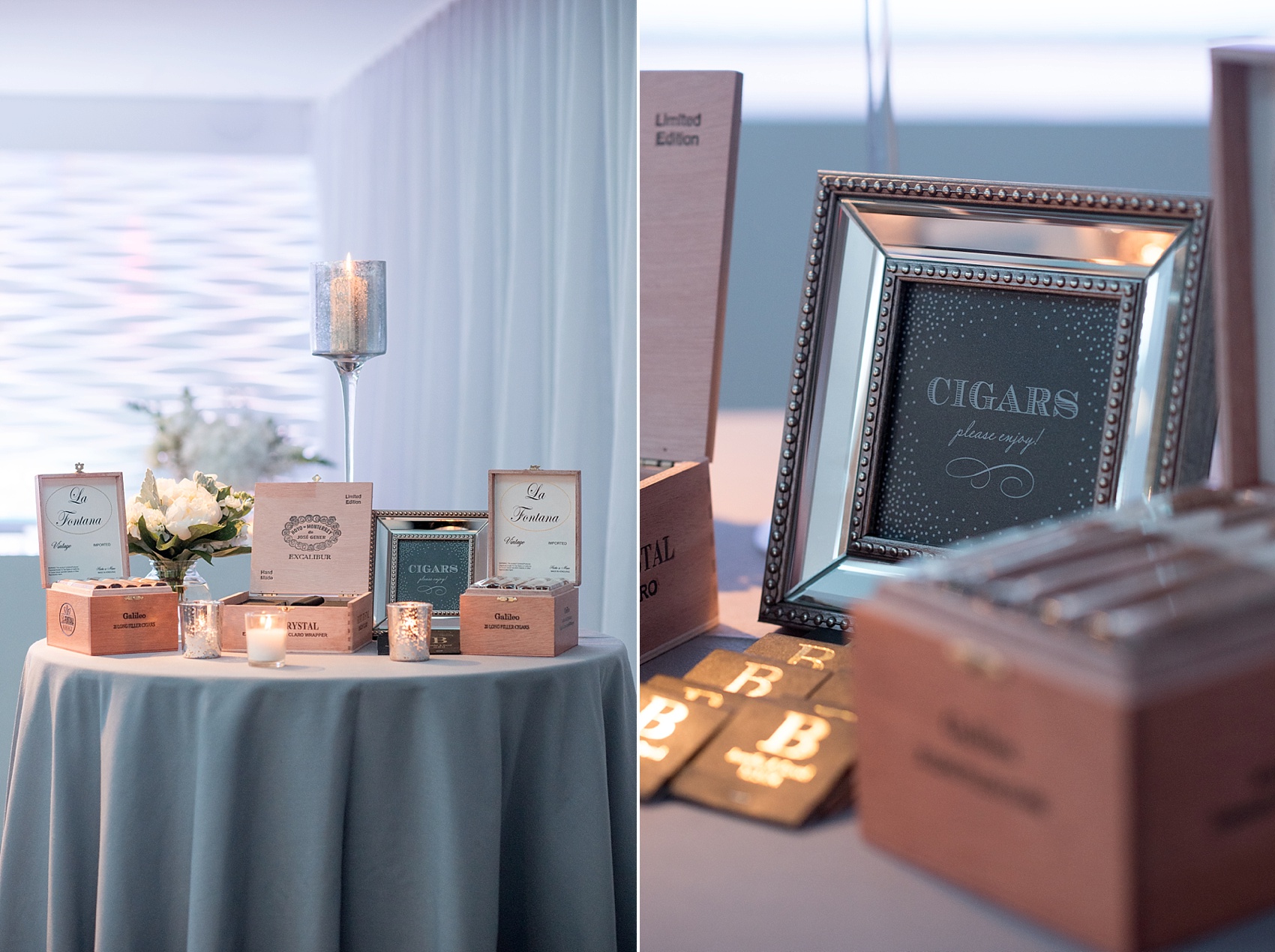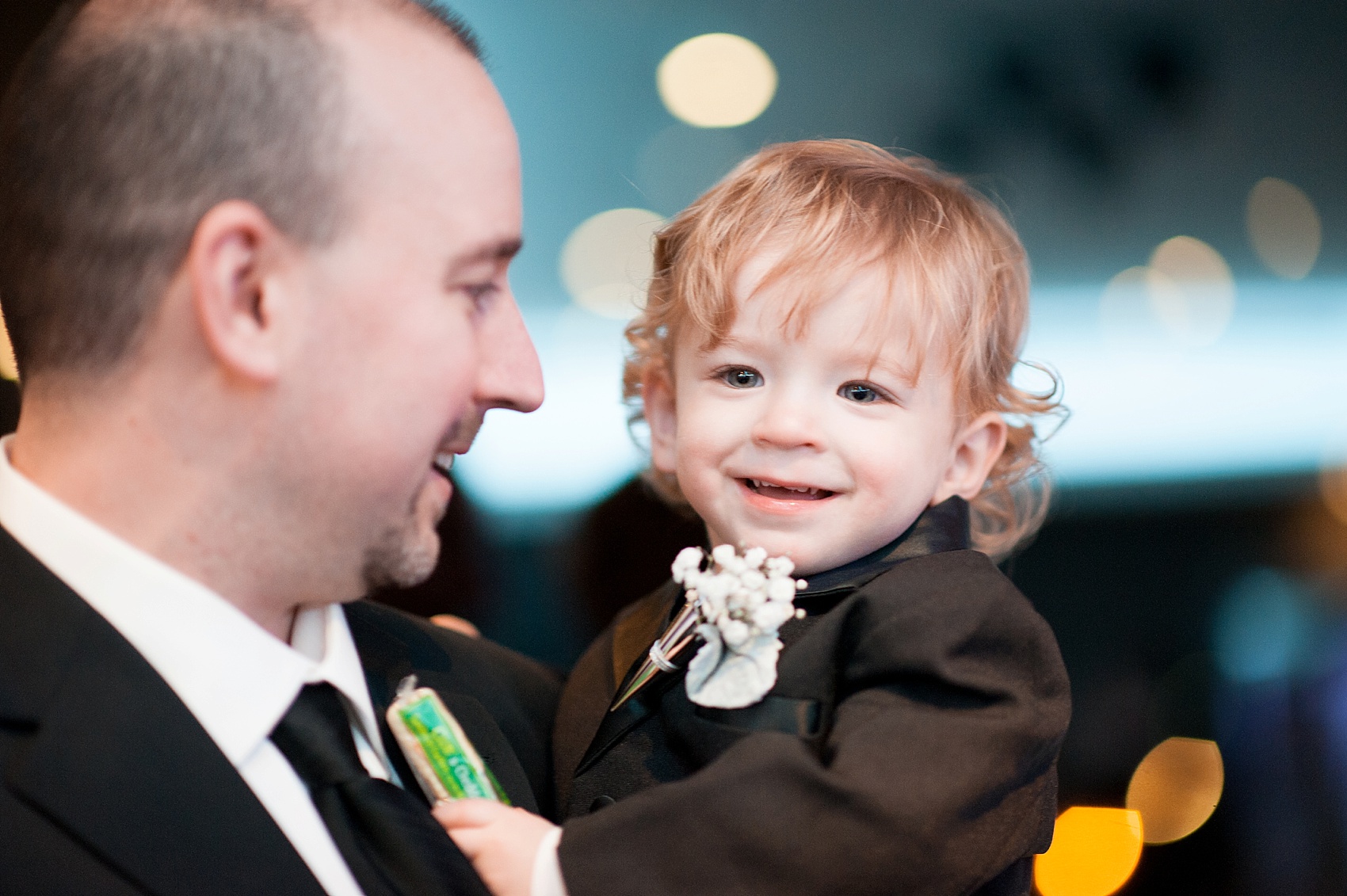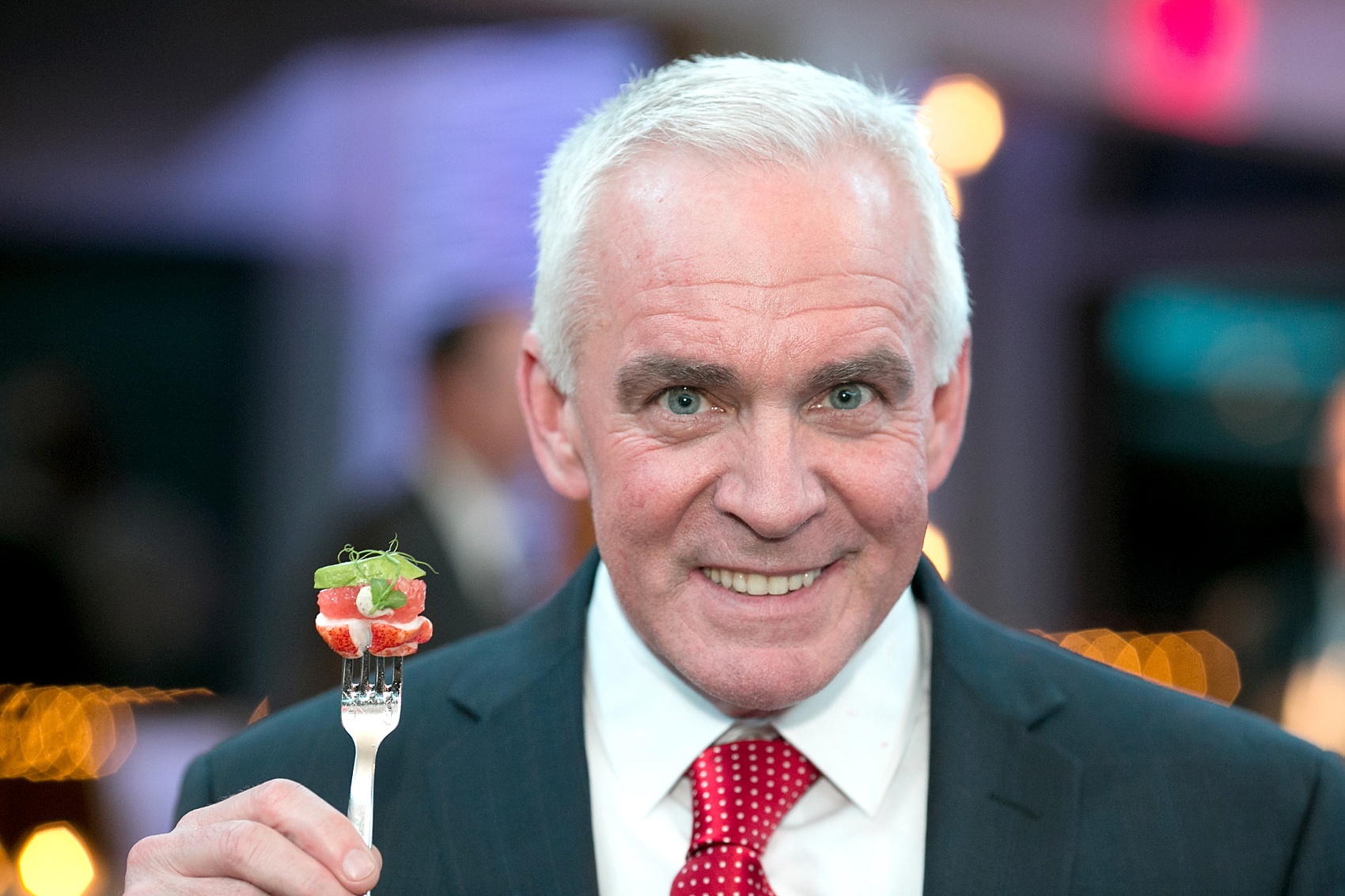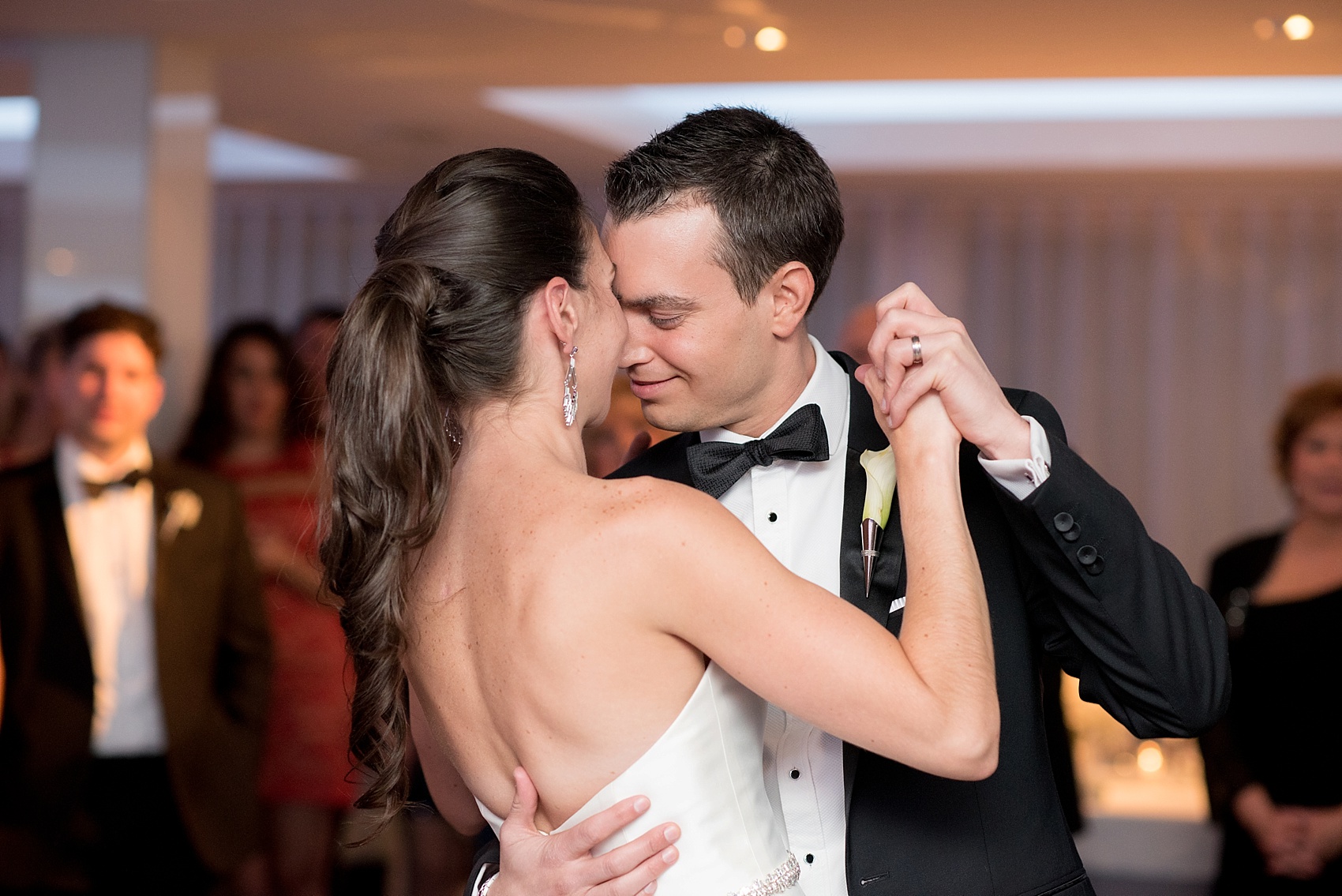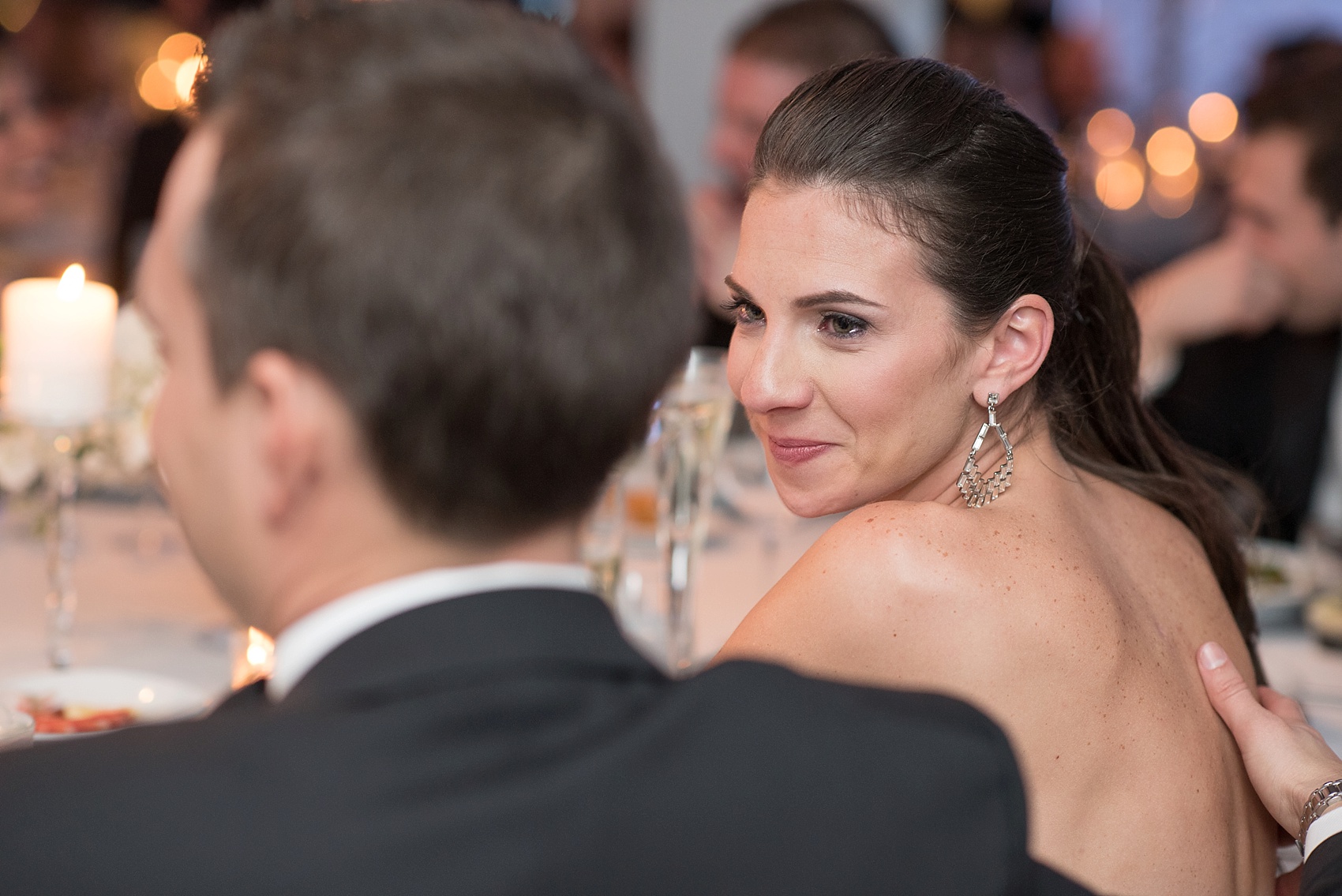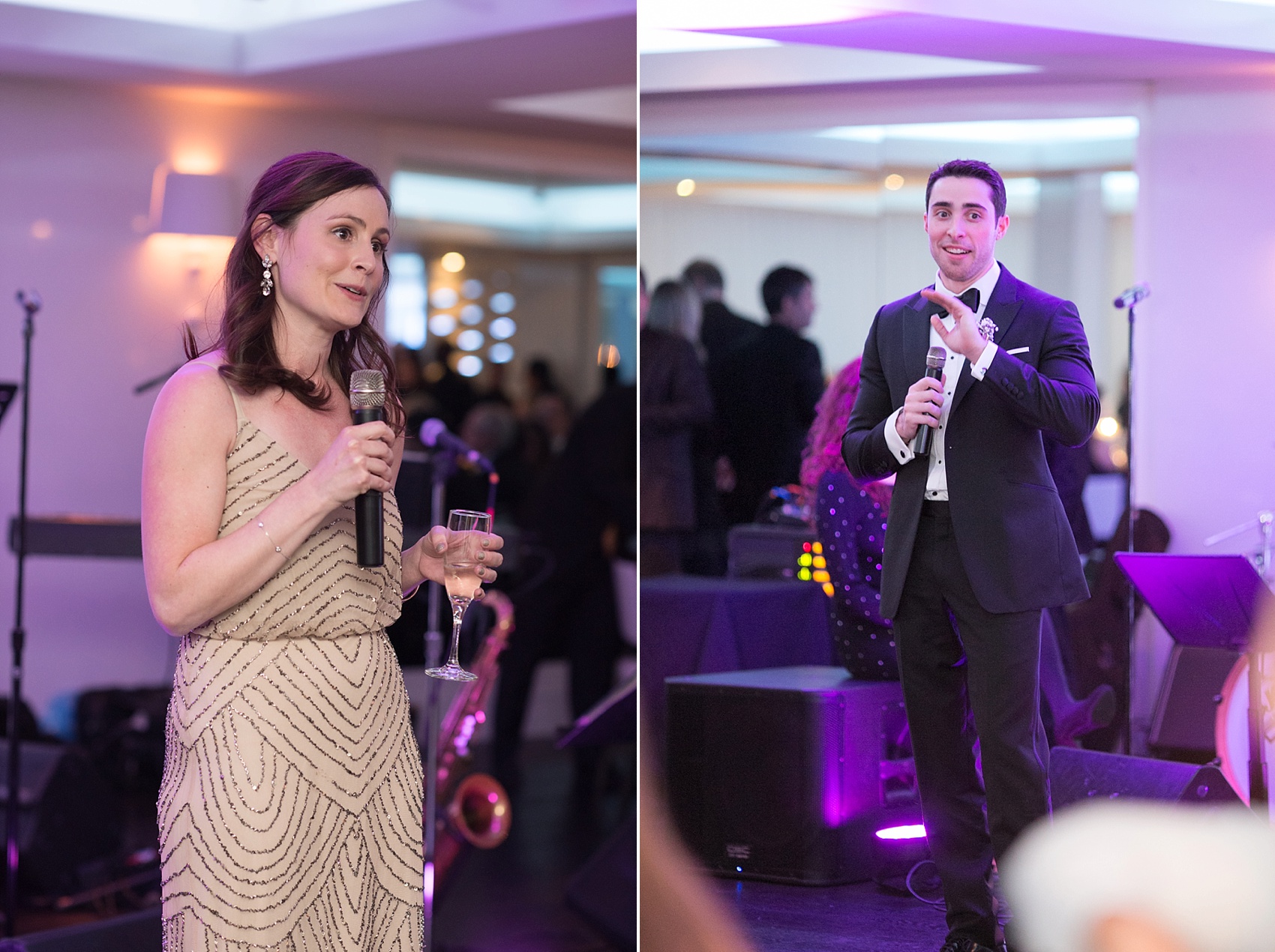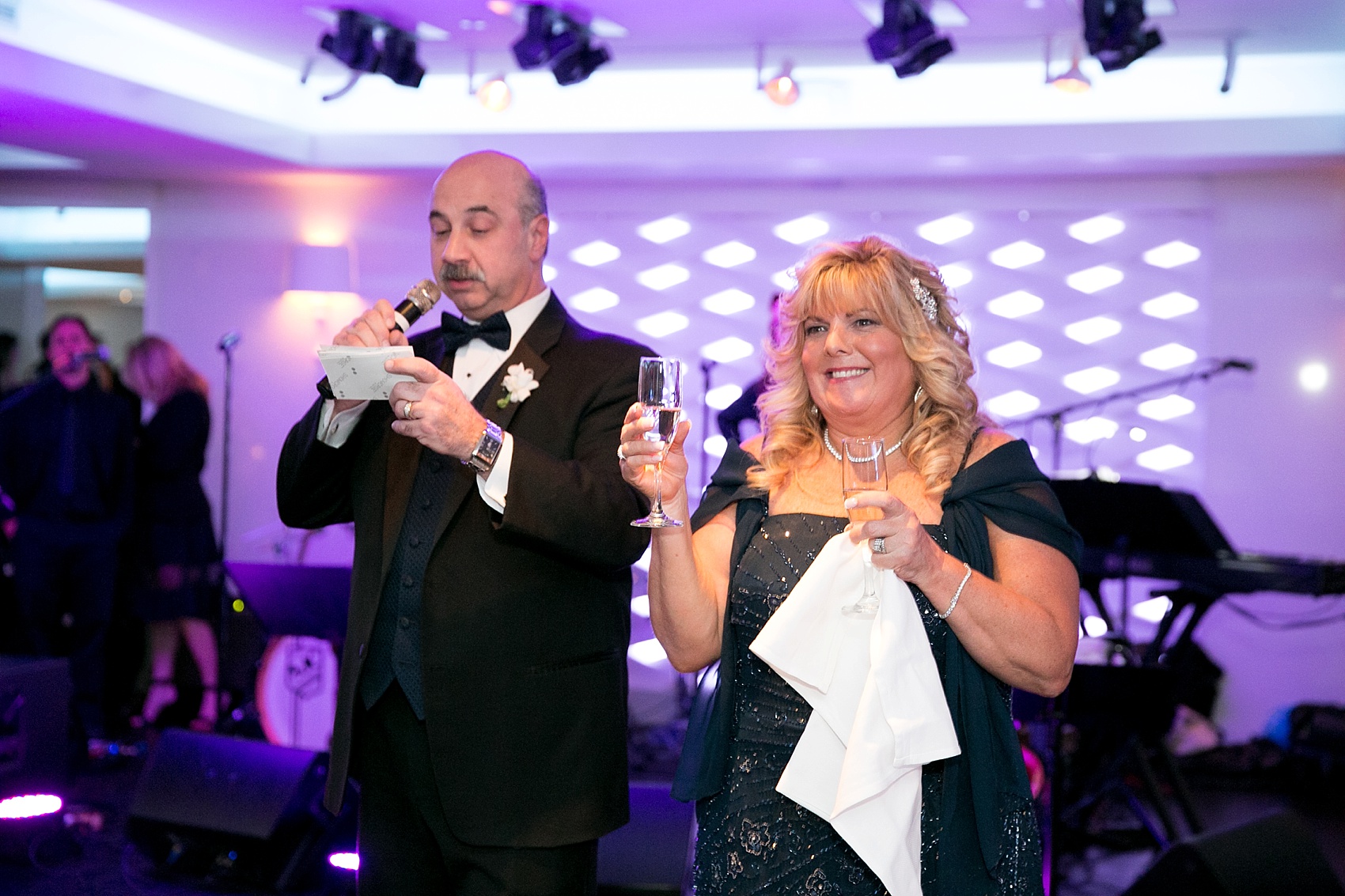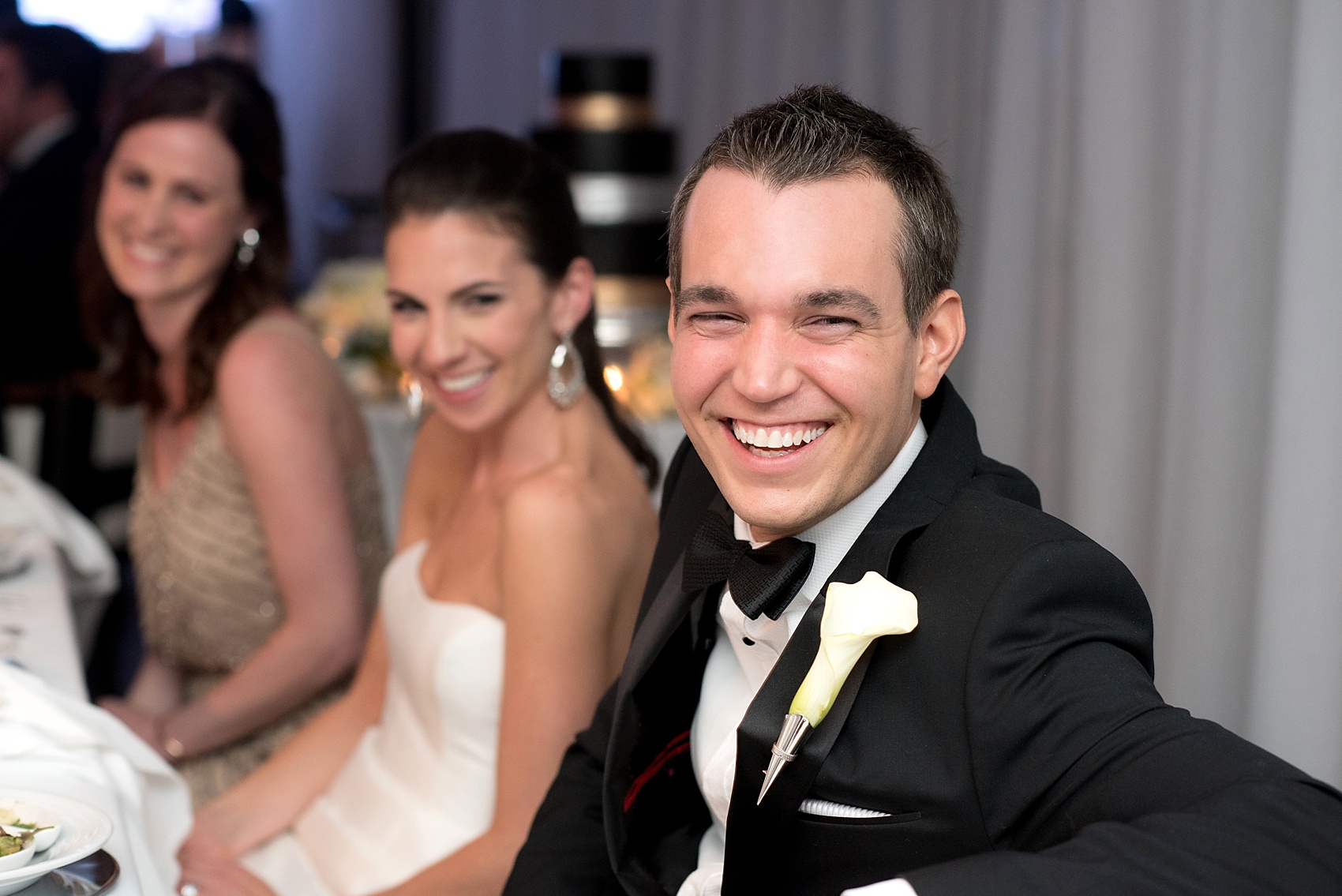 The speeches were funny and thoughtful and dancing plentiful as their band rocked out some awesome tunes. Even their grandparents couldn't resist hitting the dance floor several times throughout the night.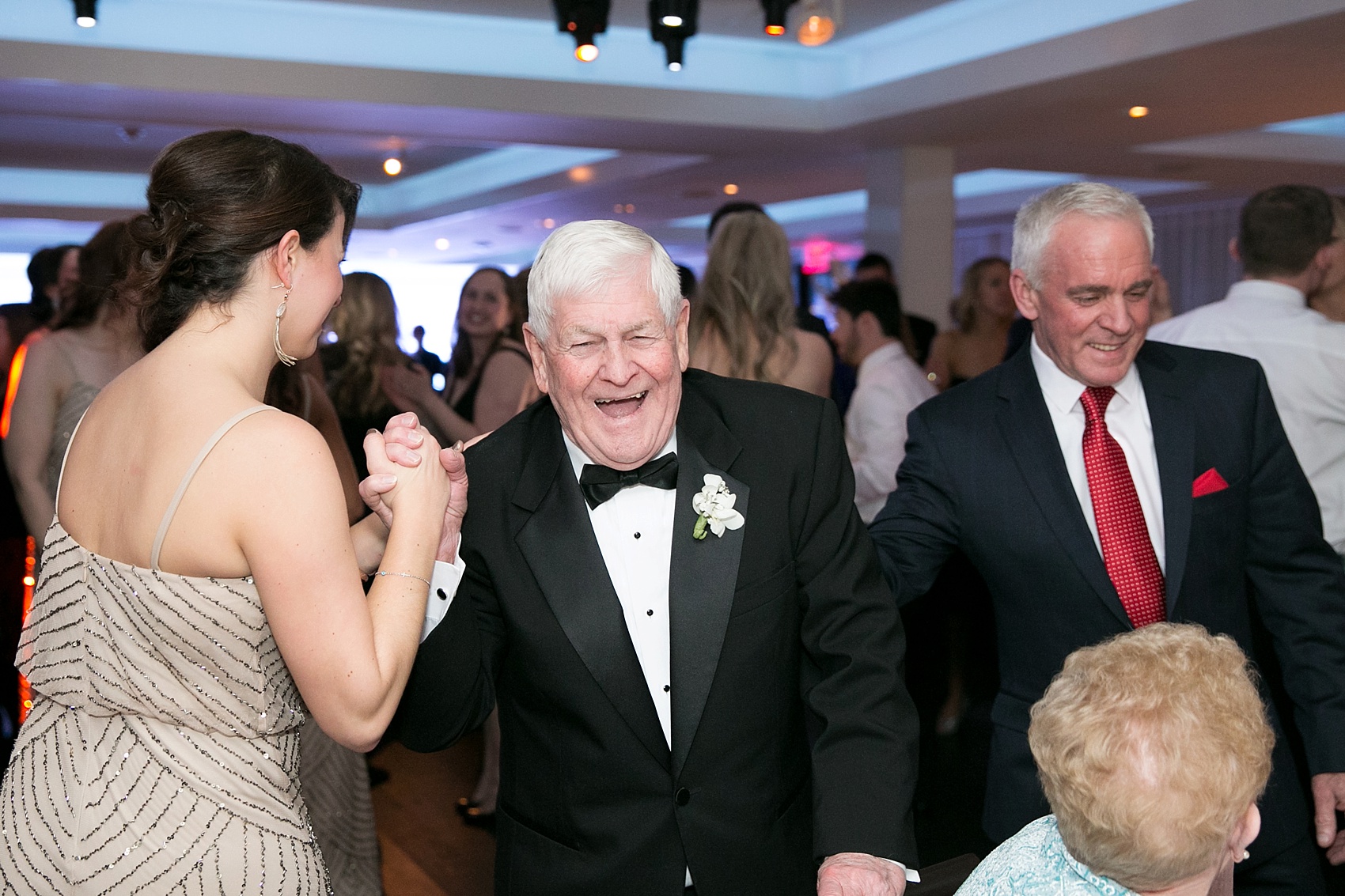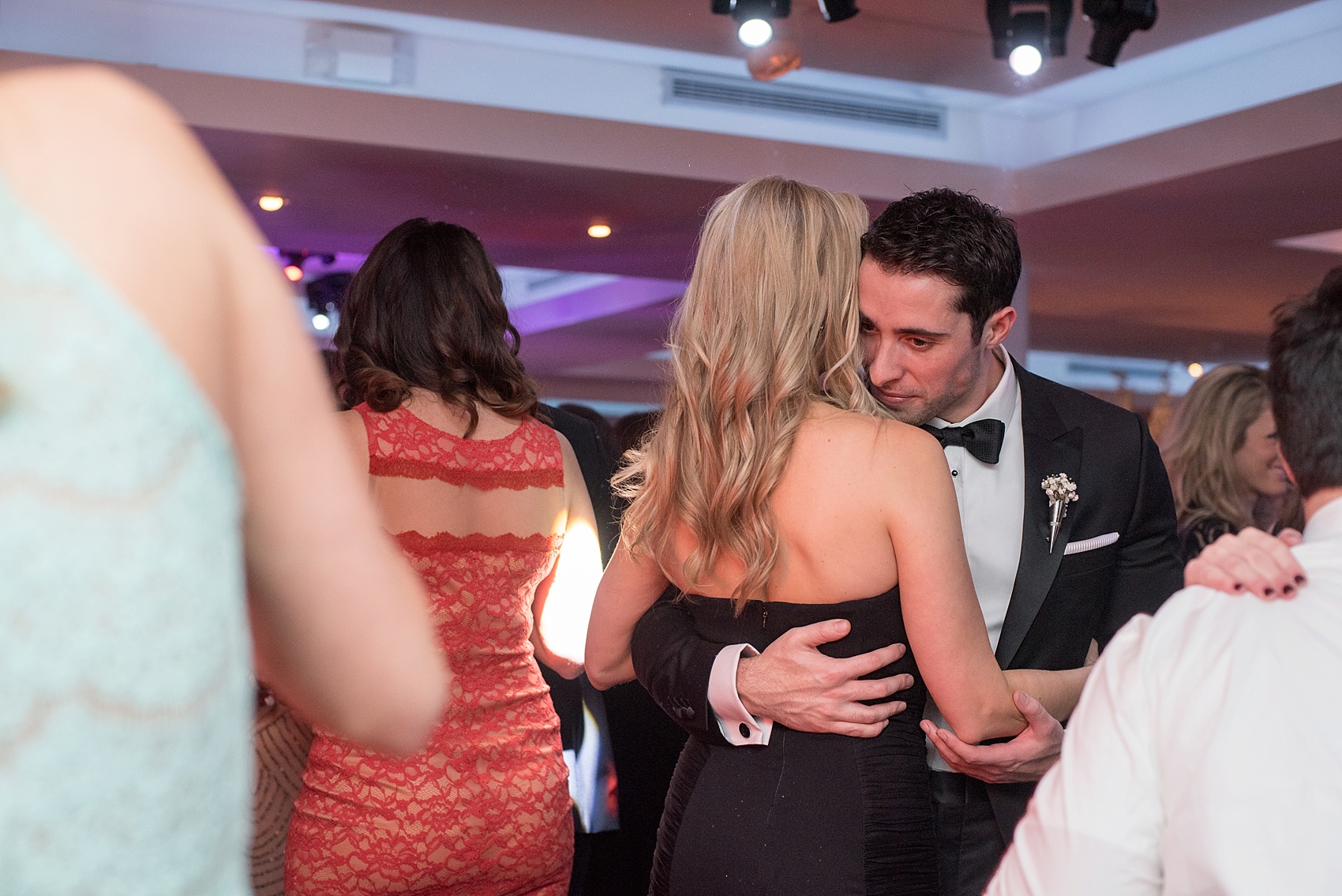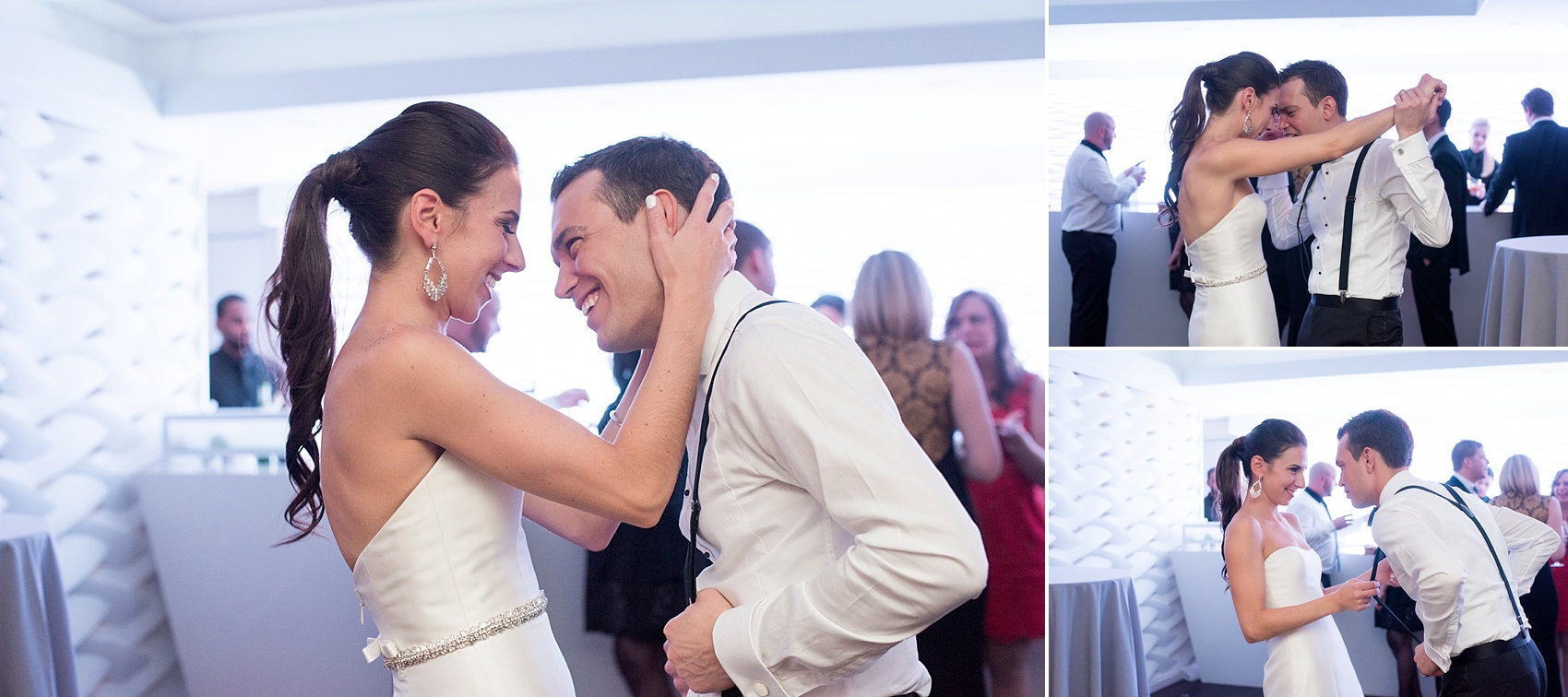 This little moment between Jen and Dave is one of my favorites. I candidly captured it as they crossed paths on their way to the bar.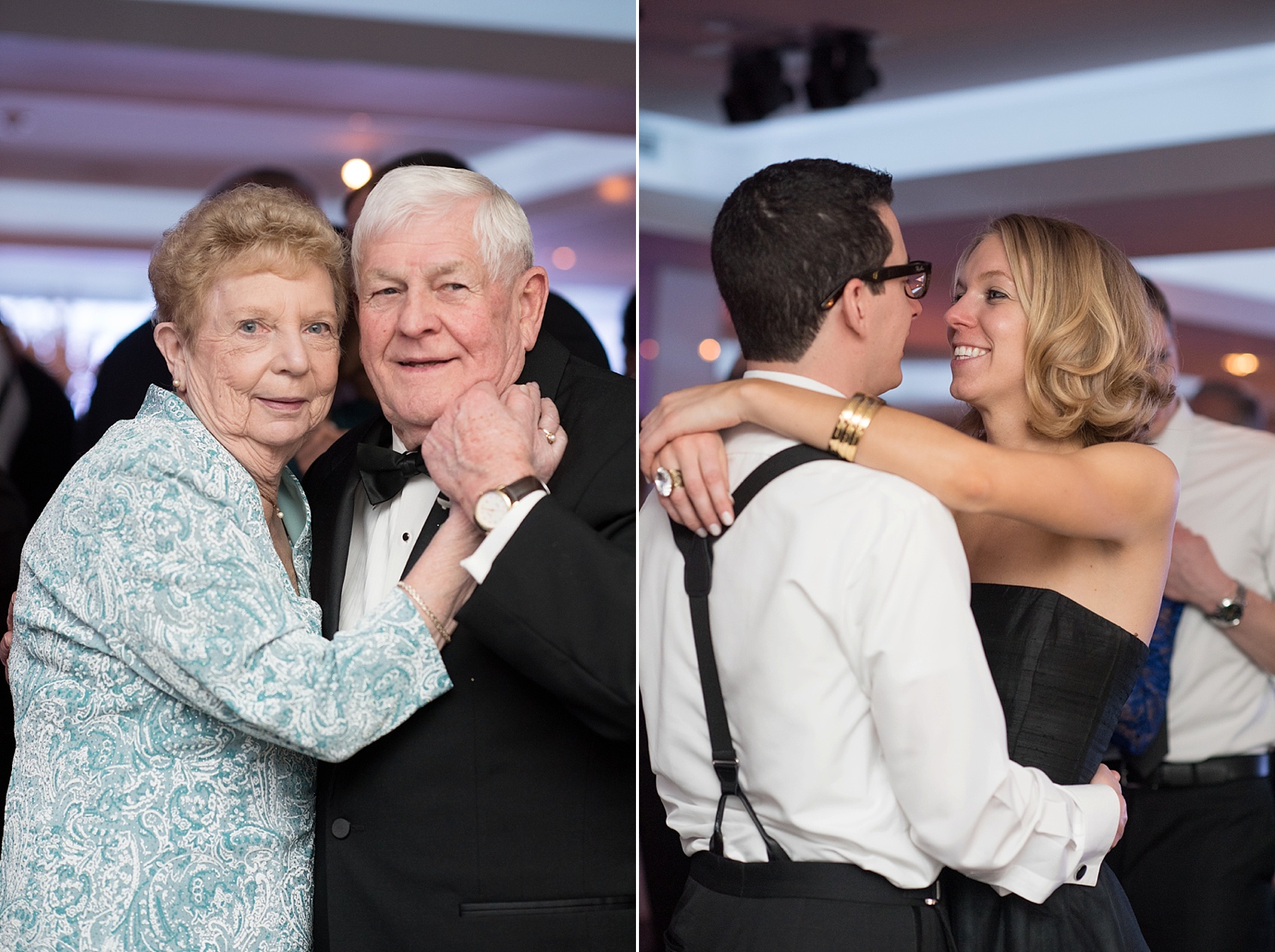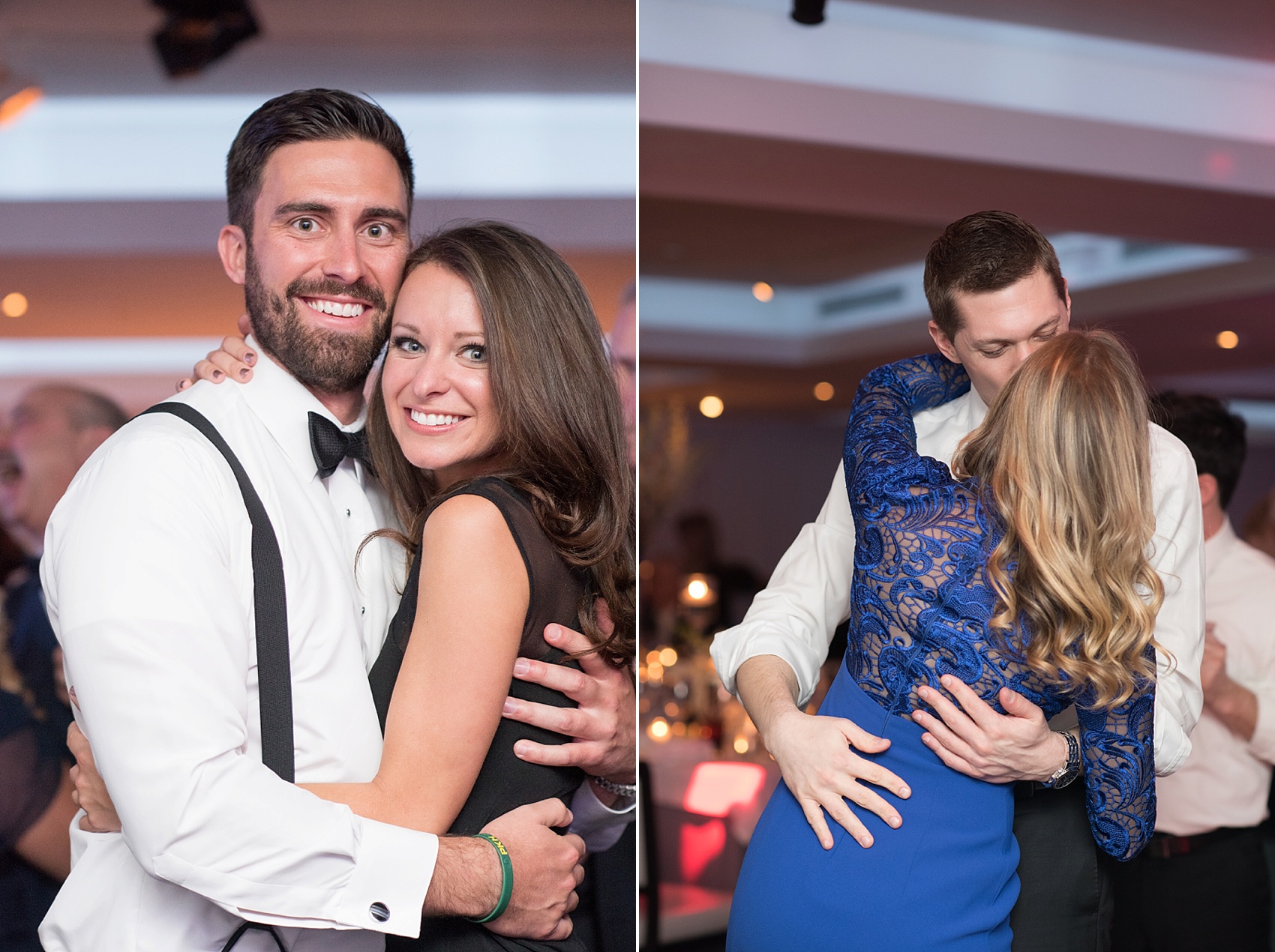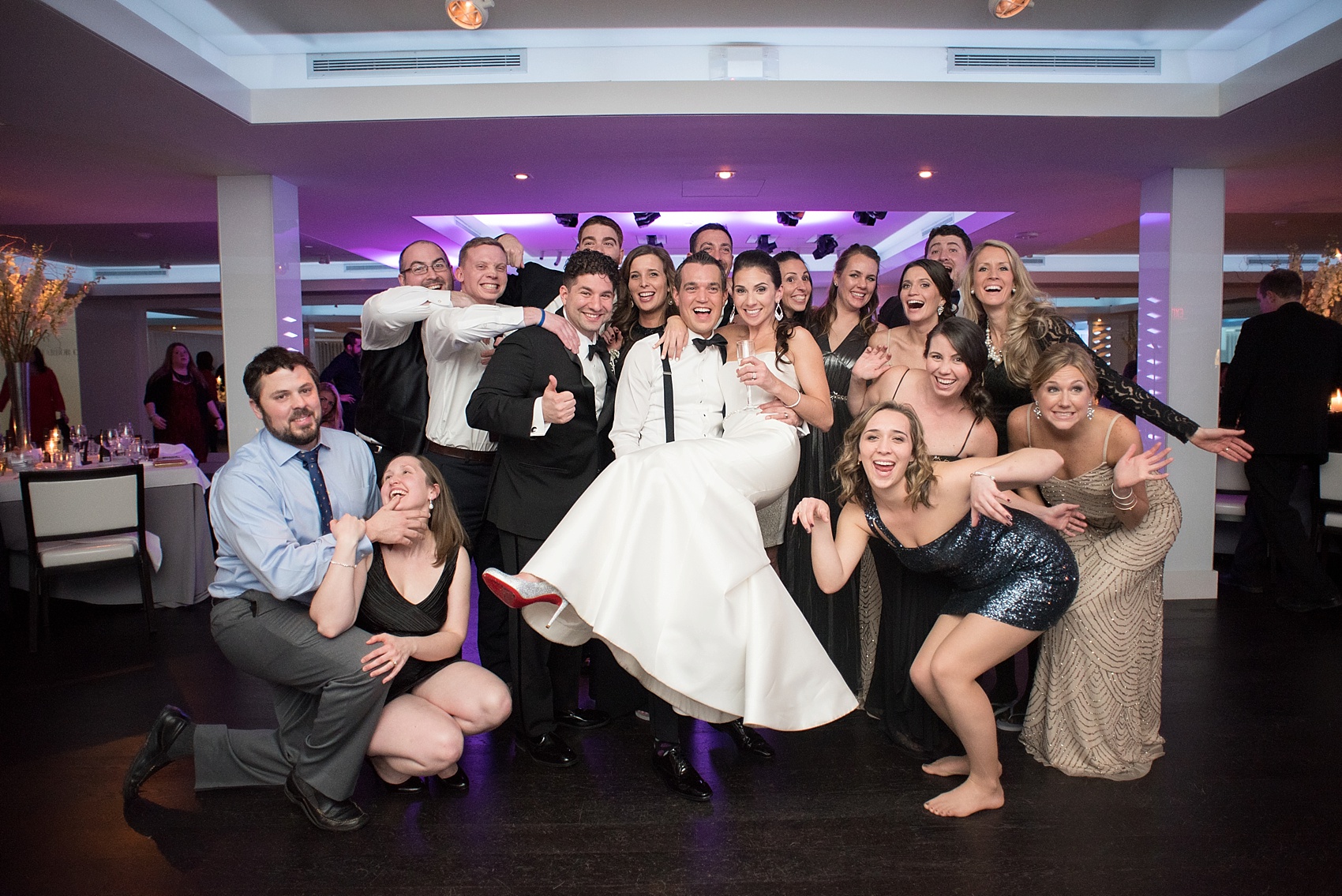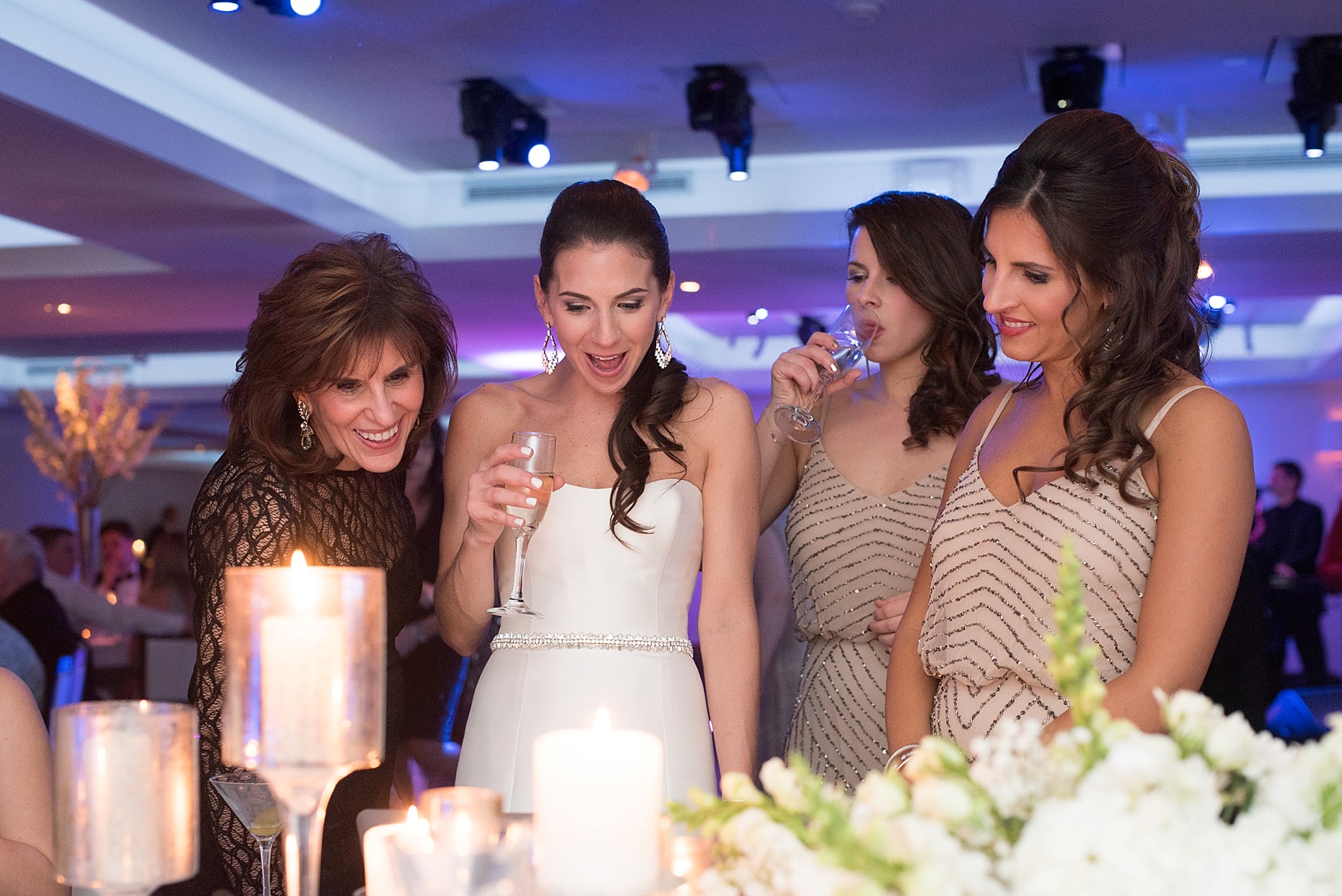 The above photo is Jen looking at a little sneak peek slideshow I put together. I love that it caught her in the moment of the first glances of what their wedding photos look like.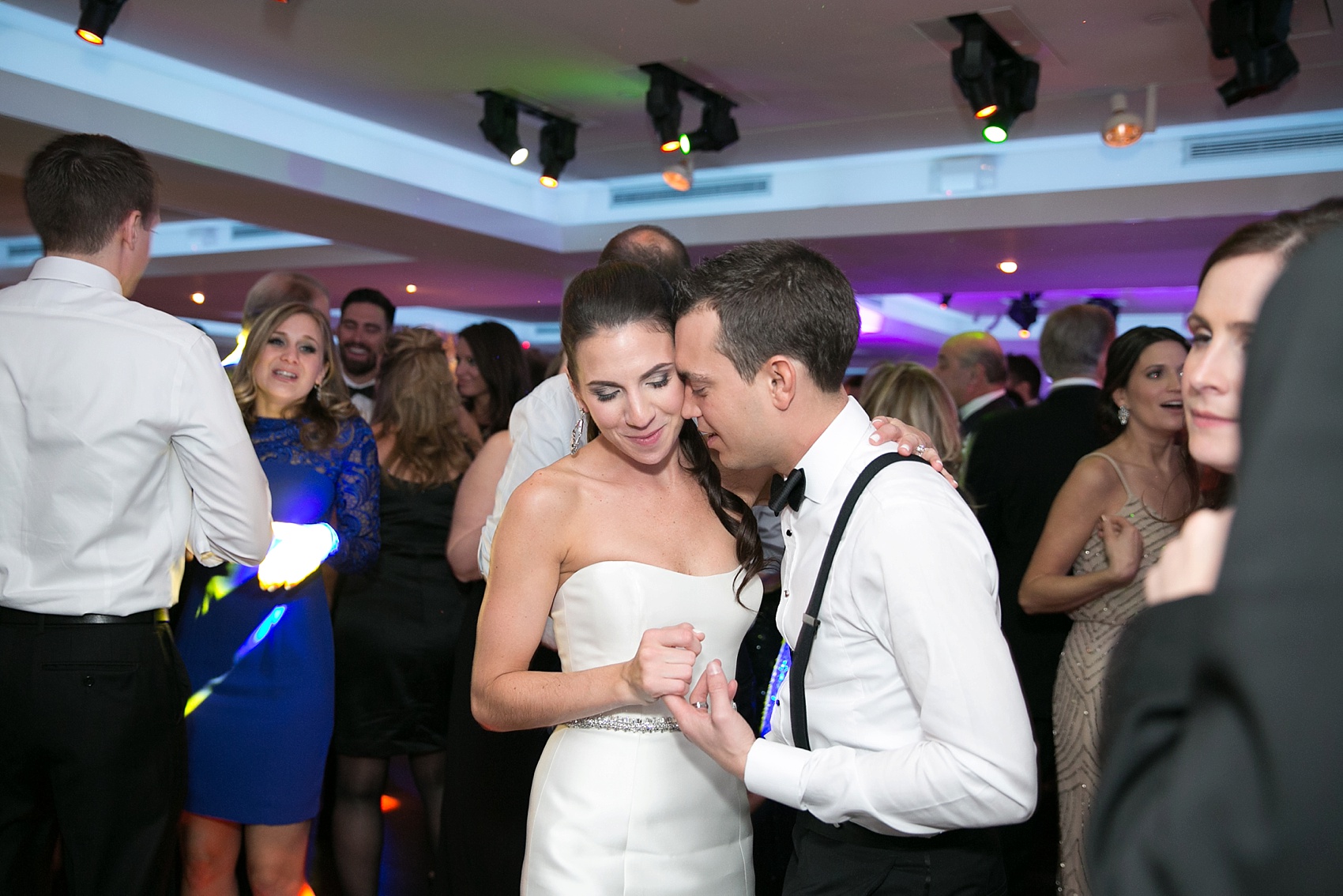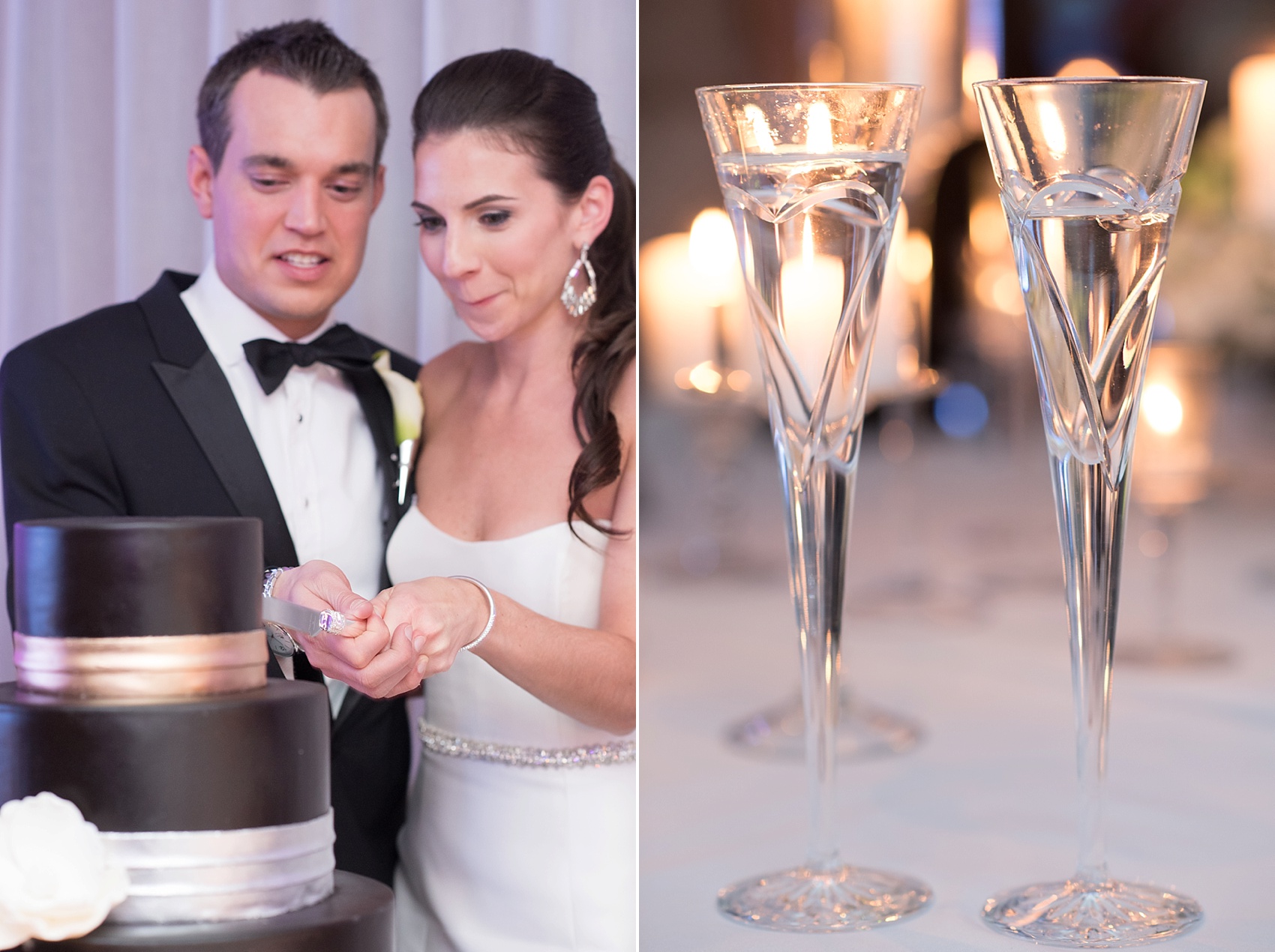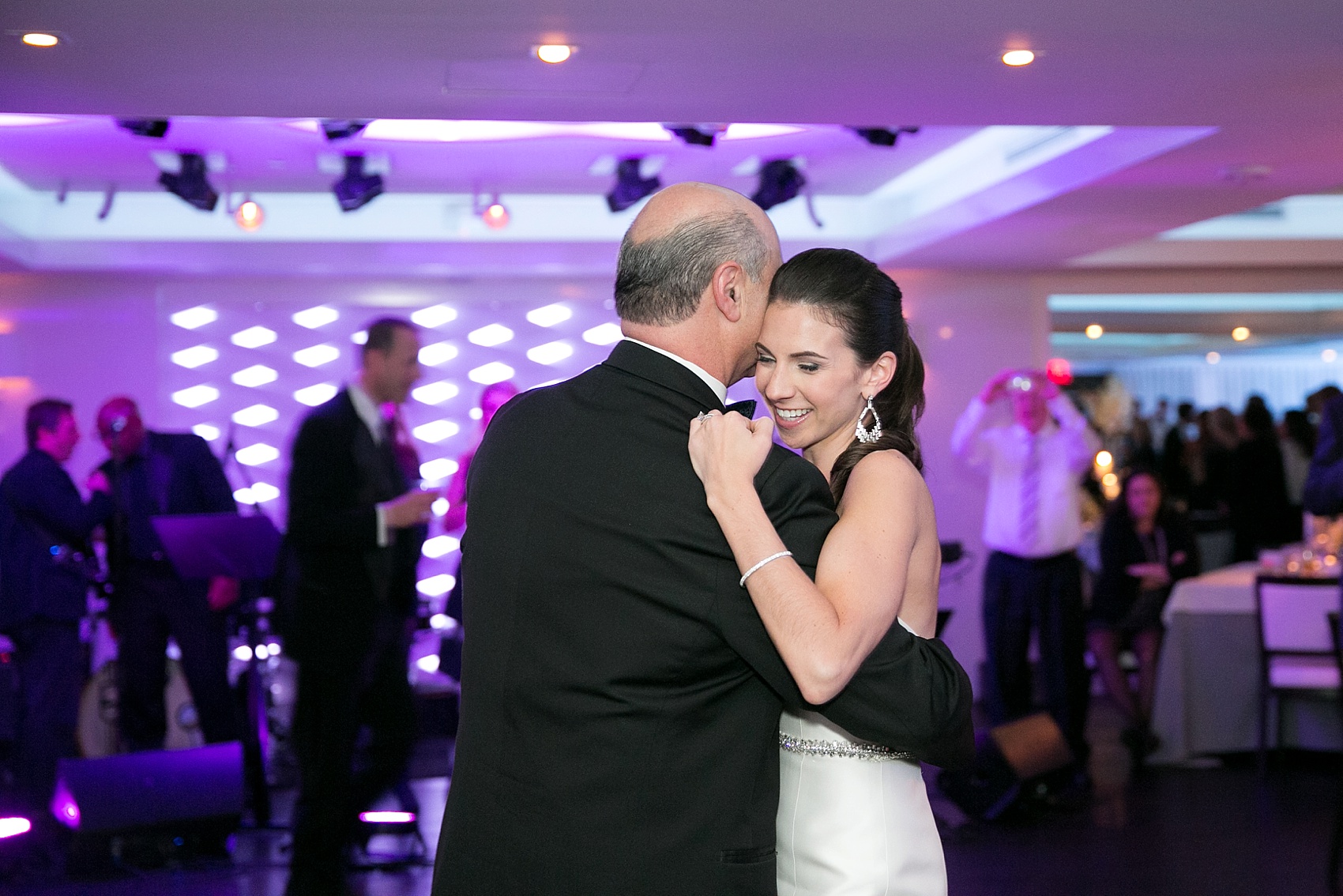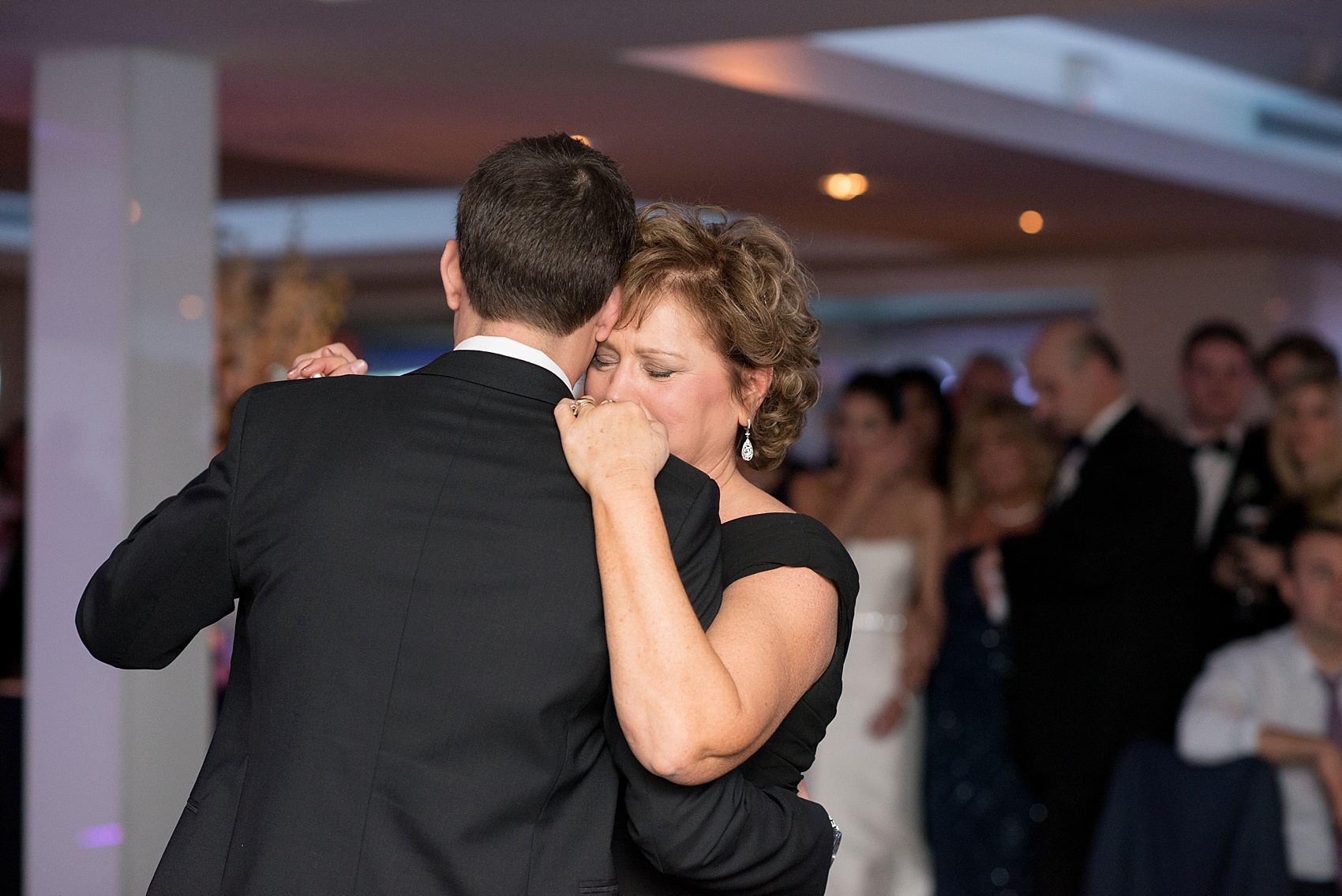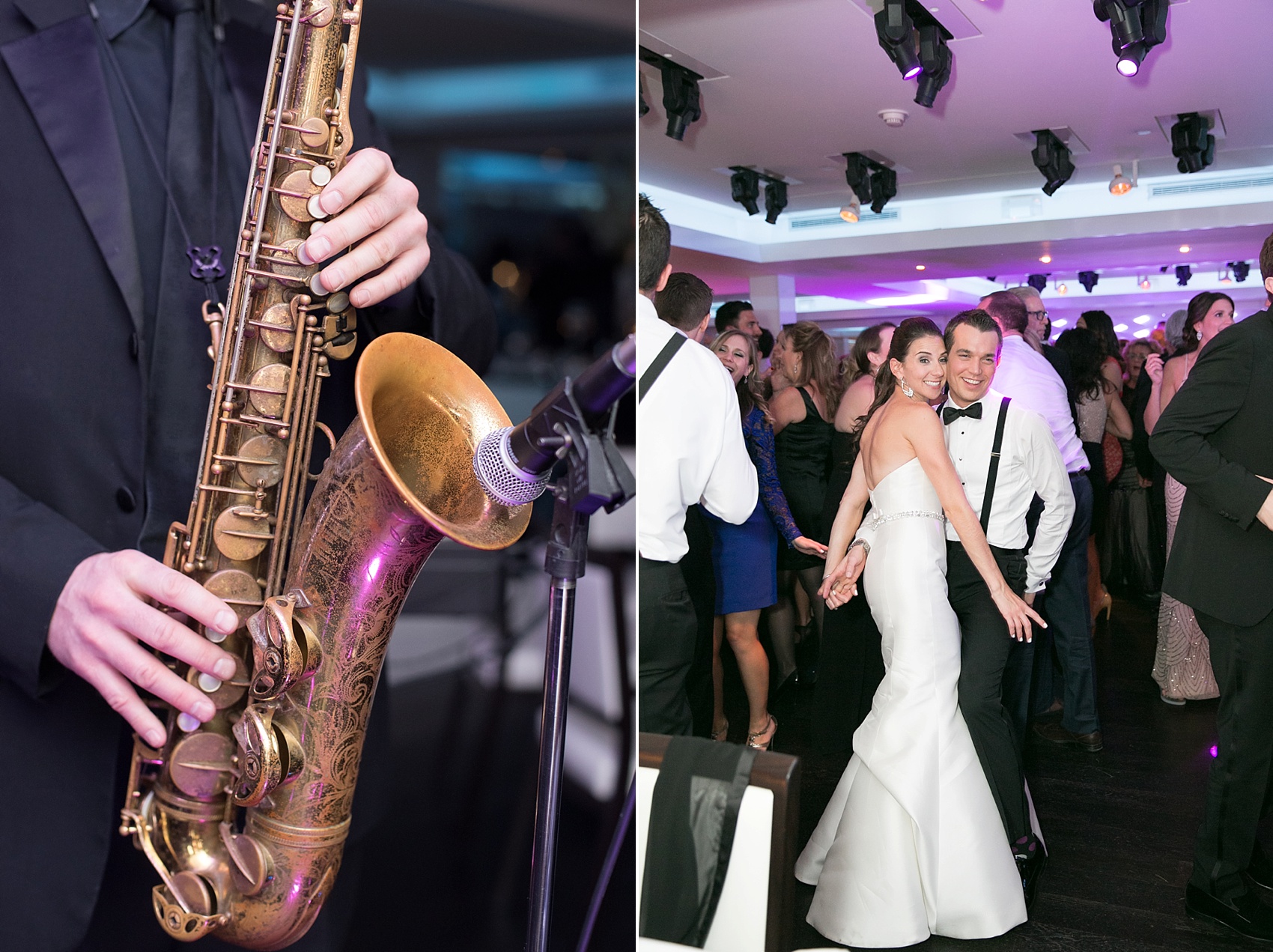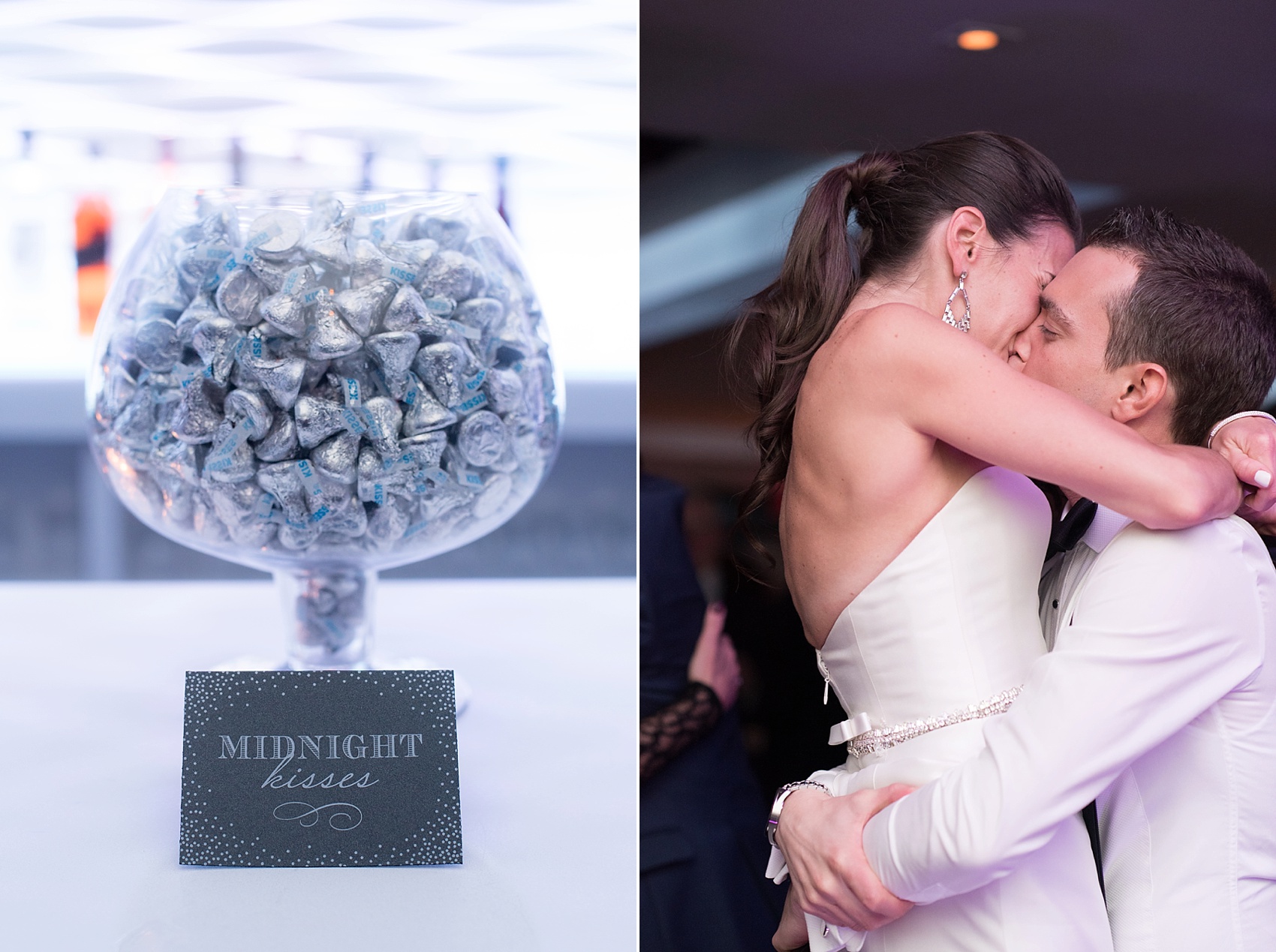 Of course when the band counted down to midnight and "HAPPY NEW YEAR!" was yelled, lots of midnight kisses, hugs and partying ensued! HOW CUTE is that Hersey's kiss jar?!! It was appropriately placed on the bar!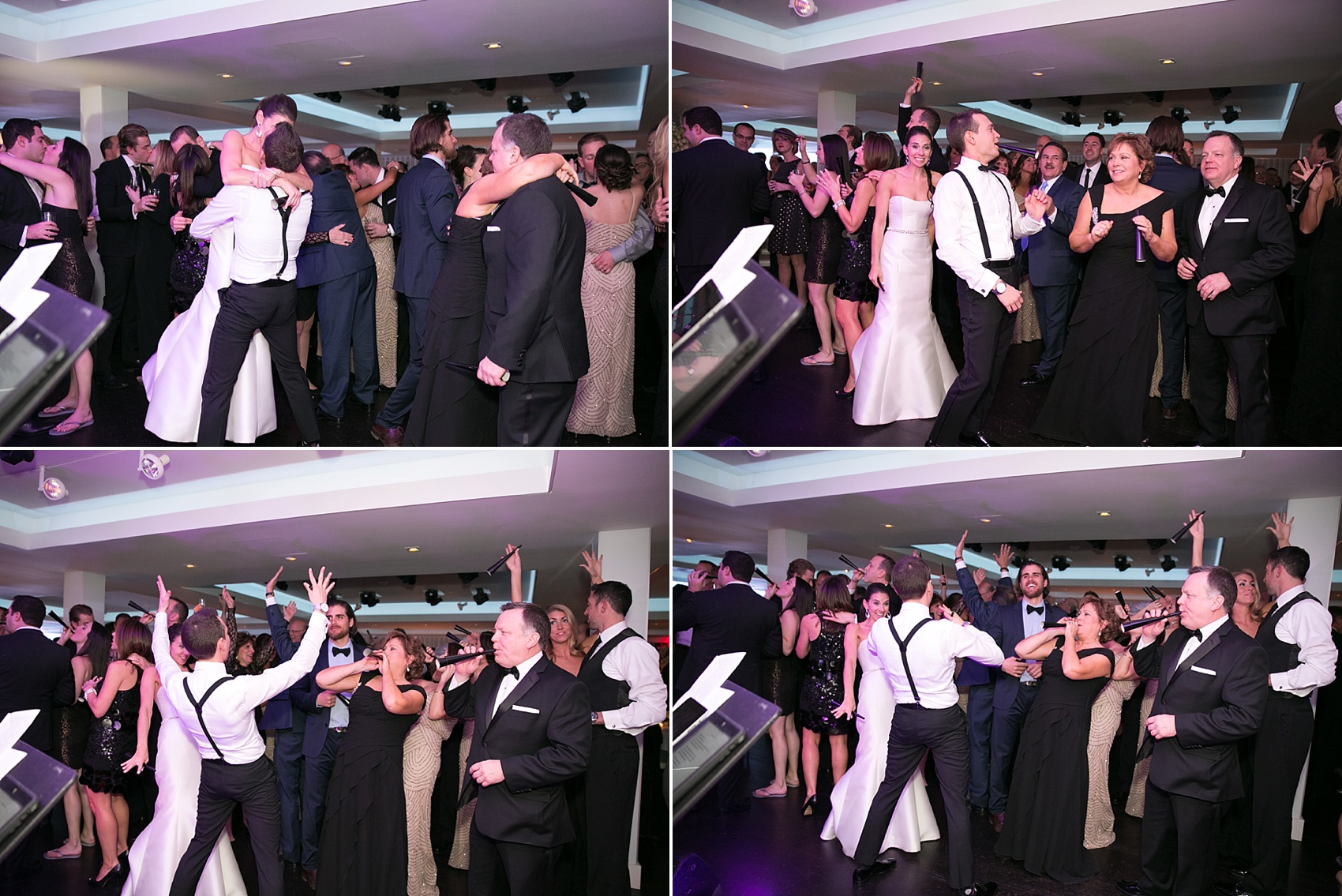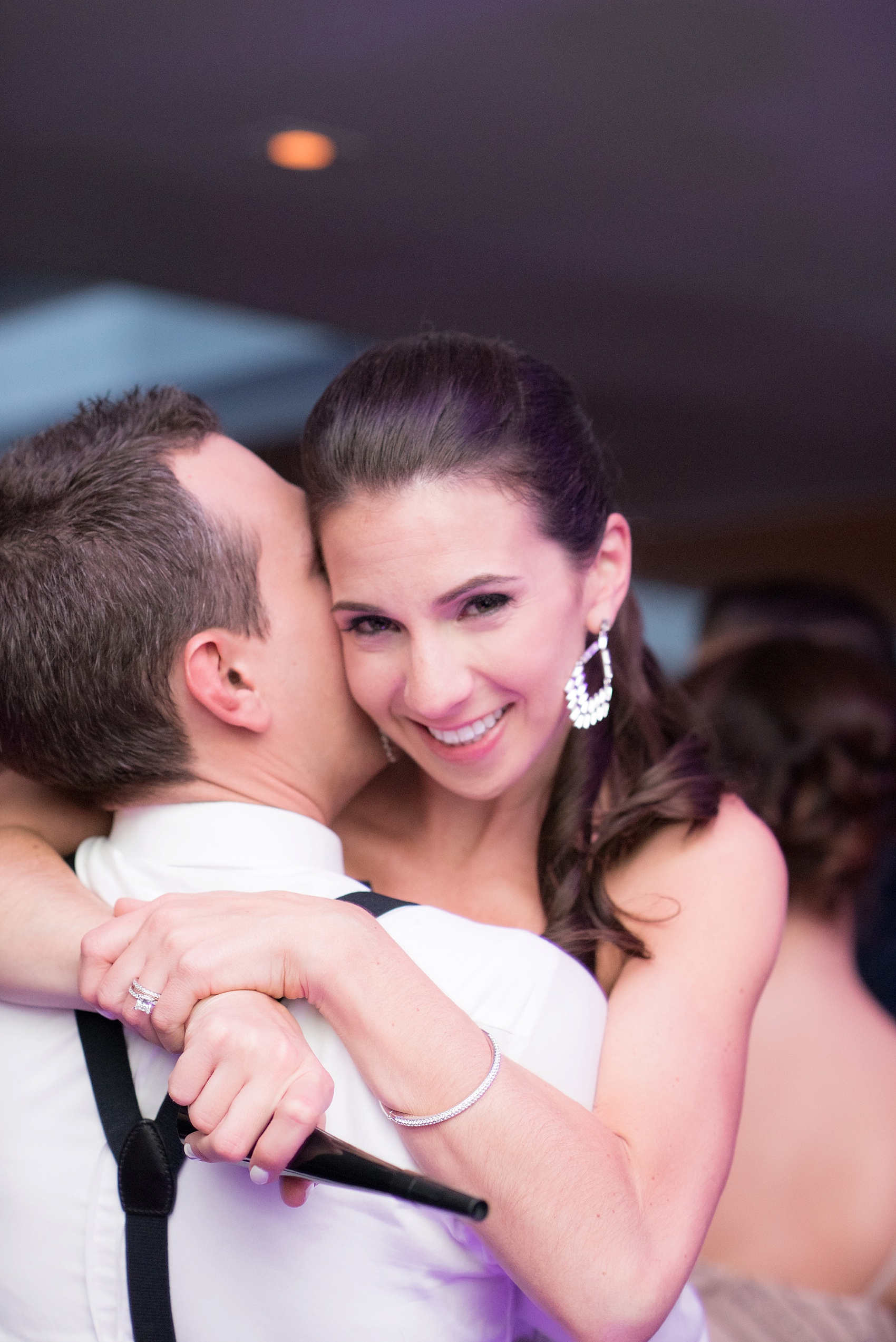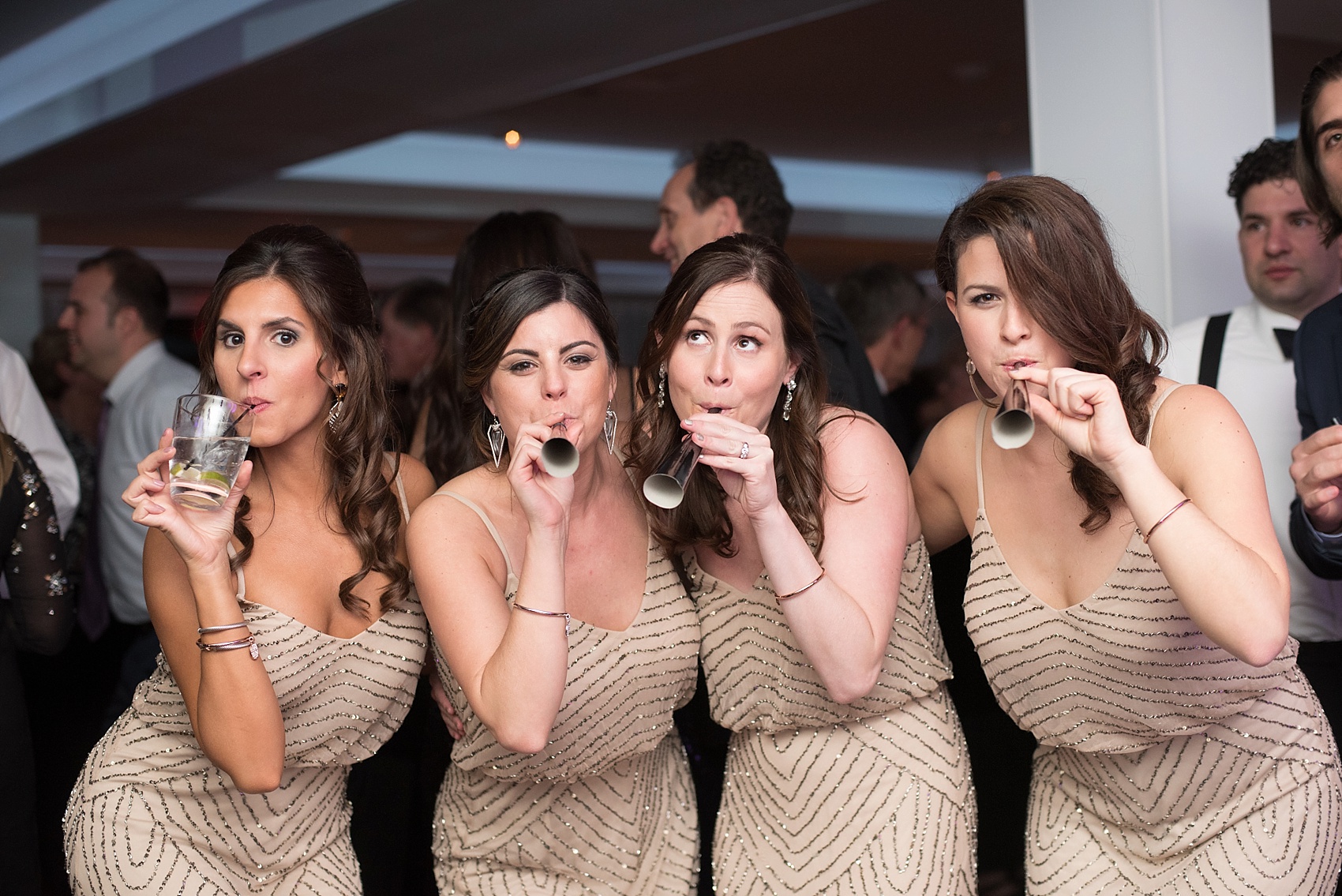 Harbor Club had televisions hidden behind the walls that appeared about 15 minutes before the countdown! Their reflection made for an awesome photo. (As did her bridesmaids celebrating, above!)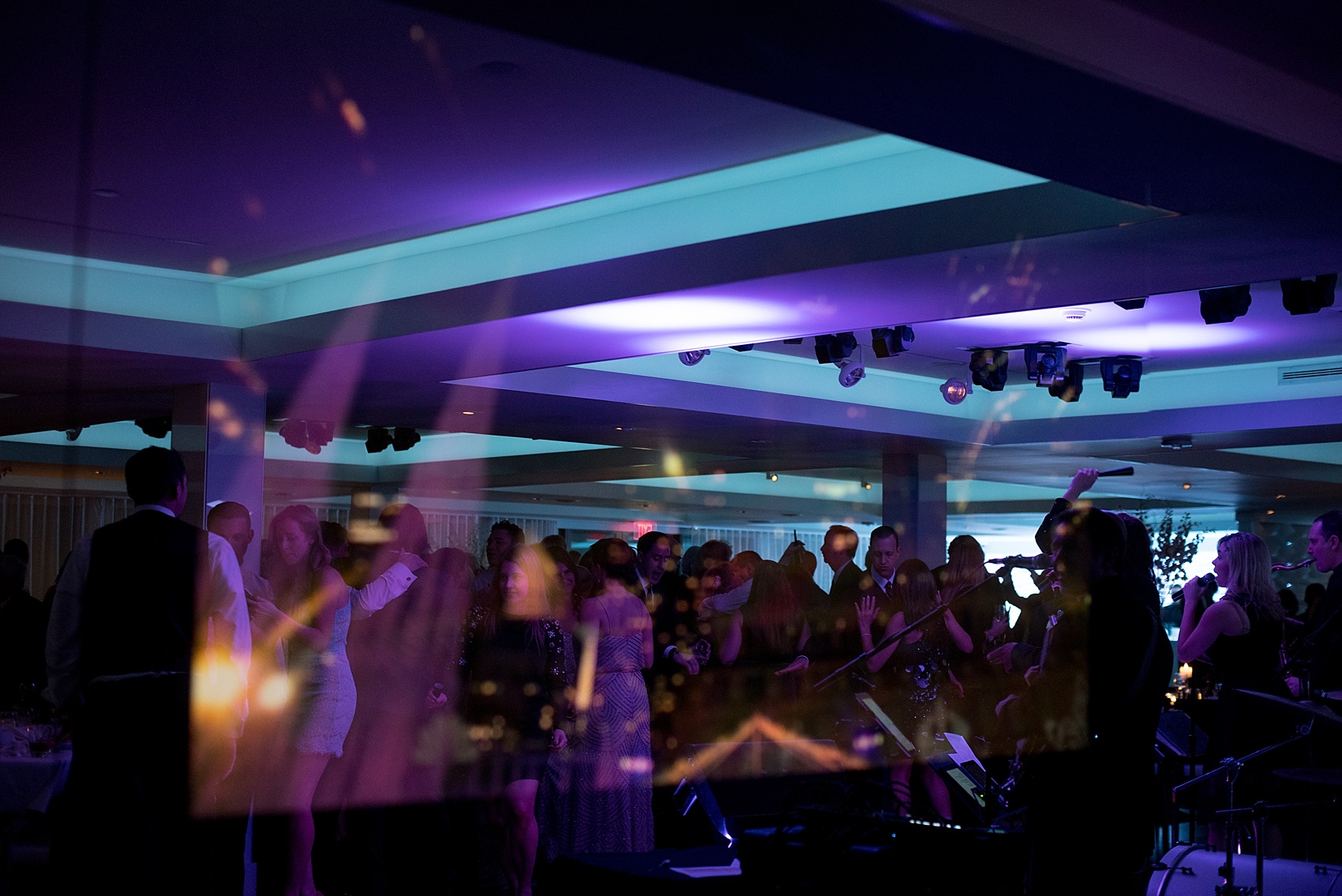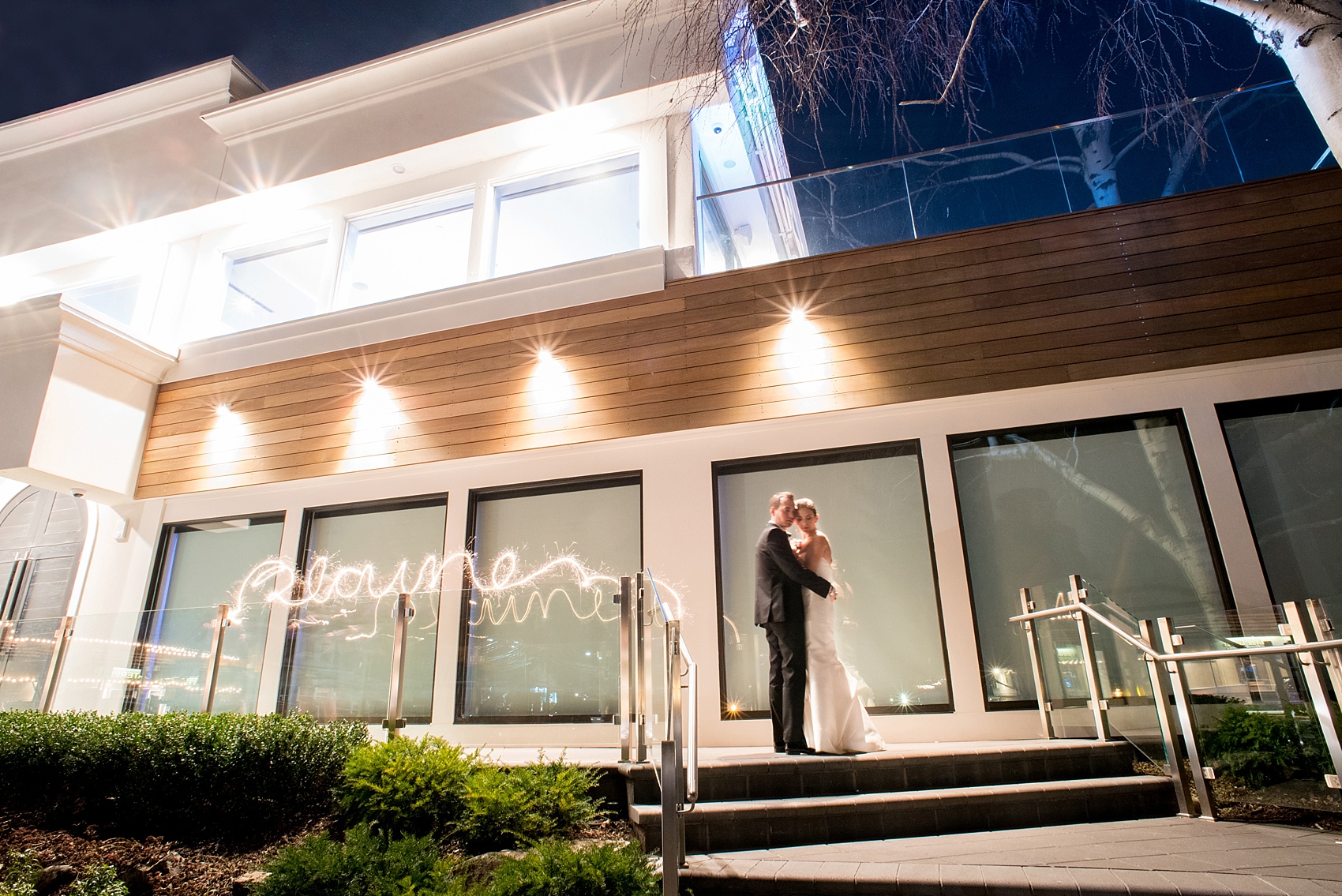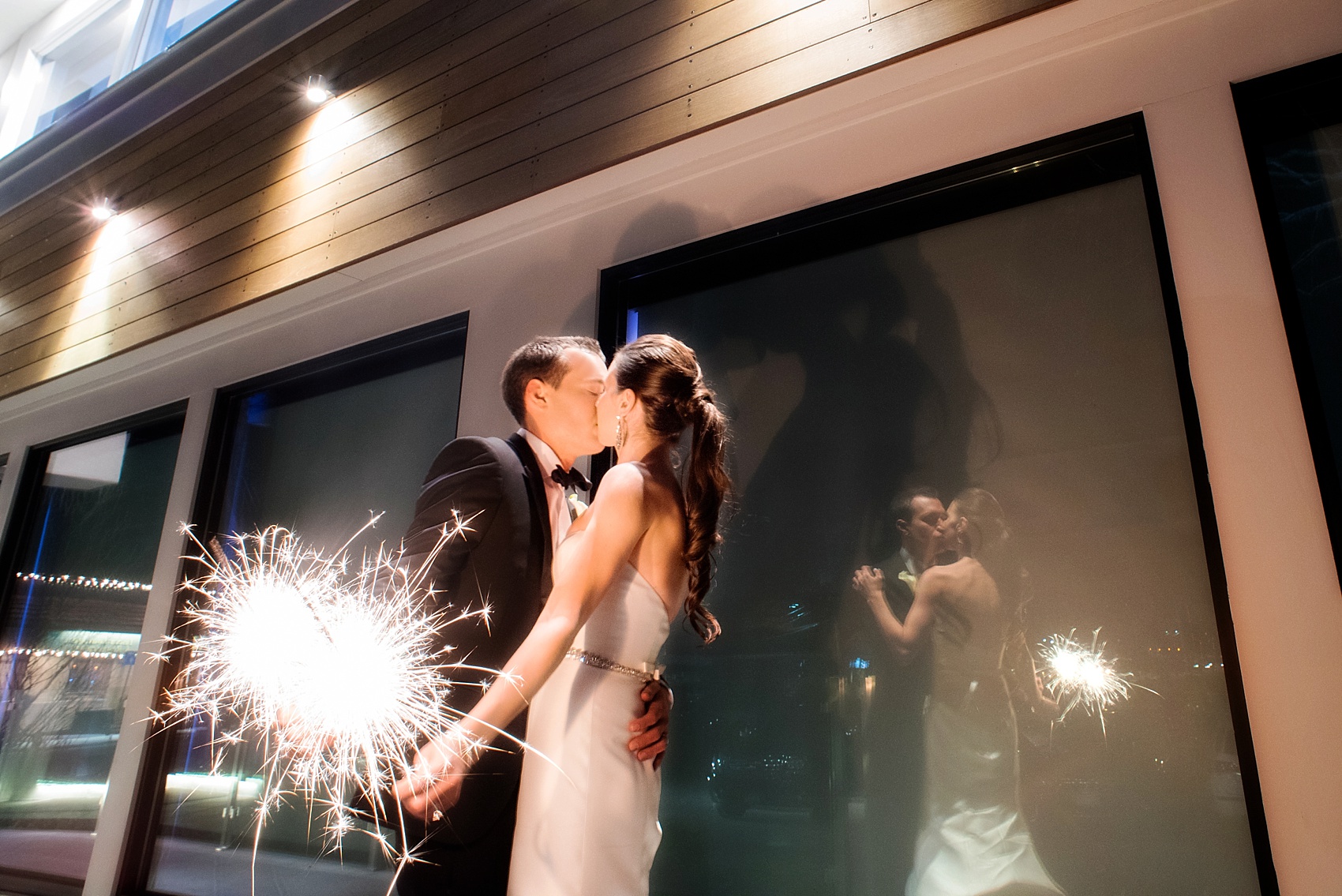 Well, Mr. & Mrs. Blaine – I'd say all in all it was a memorable, perfect day and I absolutely love your wedding photos at Harbor Club at Prime. I really can't think of a better way to ring in 2015. Congrats, you two! Working with you was incredible and I'm happy to be able to call you friends now!
Venue: Harbor Club at Prime / Dress: Amsale / Shoes: Christian Louboutin / Bridesmaids dresses: Adrianna Papell / Bridesmaids Gifts (bracelets and clutches): Kate Spade / Cake: Taste / Florist: Verbena Designs / Paper Suite: Drolet Paperie / Band: East Coast Band / Tuxedo: Hugo Boss / Groomsmen Tuxedos: Ike Behar from Baldwin Formals / Groomsmen socks: Happy Socks / Flower girl dresses: Olivia Kate Couture, Etsy / Makeup: Jennifer Margaret / Hair: Nicole Stewart
For more New York wedding inspiration check out: