Detail imagery is one of my strengths. Having a wedding planner contact me to photograph what they worked so hard to create for a couple's Glasshouses Wedding day means the world to me. Truly entrusting me to capture minute details that uniquely make a bride and groom's day "theirs" is an honor.
The event planners behind this Glasshouse Chelsea wedding
Brilliant Event Planning, one of my favorite destination and local wedding planning teams, called upon me to photograph a wedding reception setup at The Glasshouses. Sarah and Chelsea are amazing and they plan the GREATEST NYC proposals and events. They have offices in NYC and Boston and plan worldwide too.
About Chelsea Glasshouse wedding venue
This venue has been at its Chelsea location for many years. Its exact address is 545 W. 25th Street. It's on the 21st floor of the building and, needless to say, has spectacular views. A second location of The Glasshouses will be opening in September 2021, overlooking the Hudson River at 660 12th Avenue in Manhattan. It will have 75,000 square feet of space with cutting edge A/V, lighting, and rigging, to name a few highlights. But the Chelsea location will remain a classic and the perfect space for a Glasshouses Wedding, bar and bat mitzvahs, fashion shows, and the like.
Glasshouses ceremony setup in NYC
The ceremony setup was modern and completely awe-inspiring. Clear Chiavari chairs with white cushions framed the aisle. It lead to a clear acrylic/plastic chuppah adorned with stunning white phalaenopsis orchids. Candles added to the romantic lighting and stood at the foot of the structure. Guests could look outside through the floor-to-ceiling windows at the Chelsea Glasshouse to gaze at the skyline surrounding them.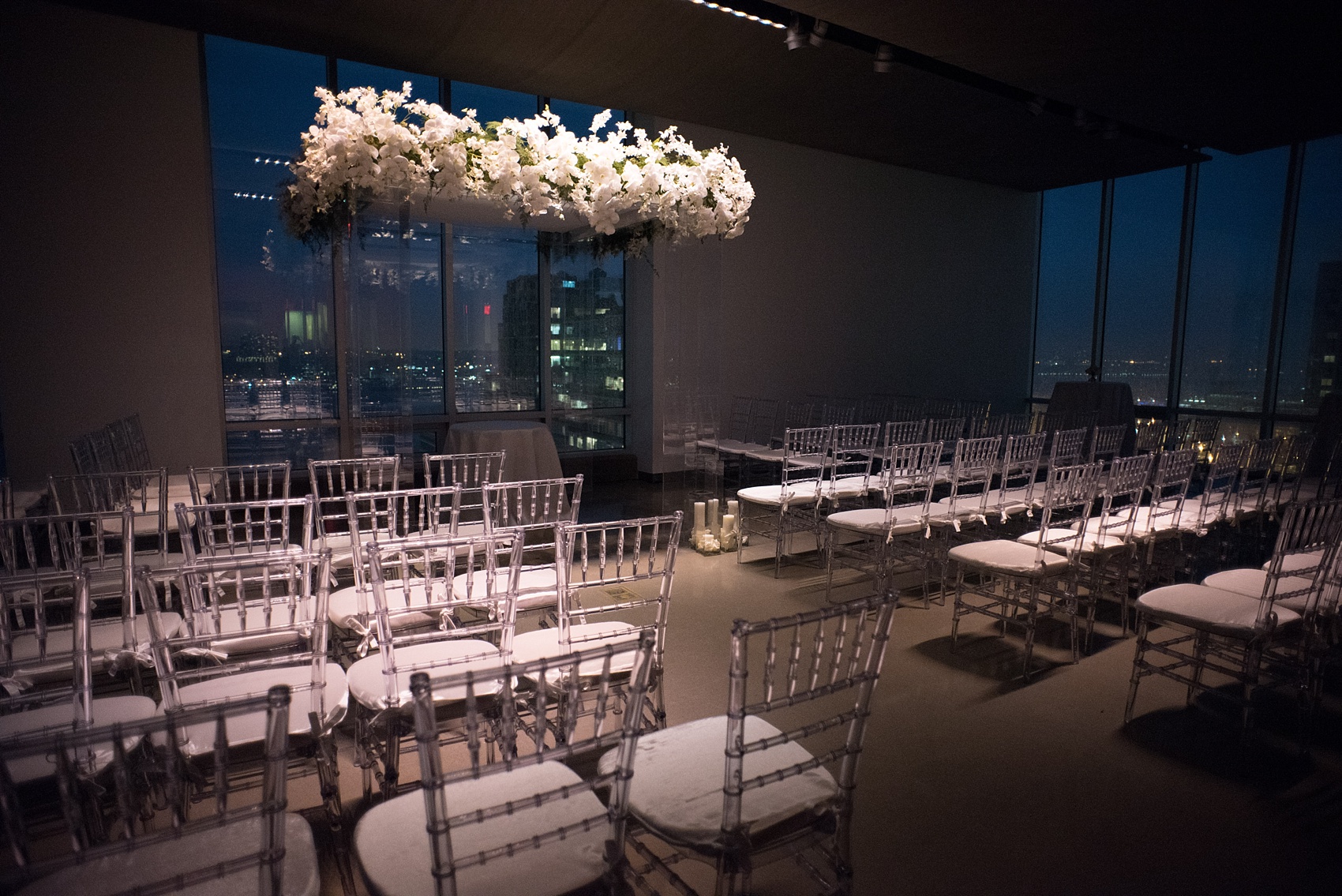 Wedding reception with views of Chelsea in Manhattan, at the Glasshouses
The reception was incredible: long rectangular tables were covered with silver linens with a hint of sparkle. Rose garlands cascaded onto the floor. You walked into the space and the tables caught your eyes…but then the escort card wall to the left drew you in with its magnificent scent.
The impressive wall was definitely a statement piece! Hand calligraphed light pink cards helped guests find their table number. They were attached to hot pink ribbons, that hung from the ceiling nearly to the floor. Each one was in front of a live wall, created with various shades of pink roses – from light to bright pink – and lots of greenery. Additionally, each setting at the table had a name card, for place cards.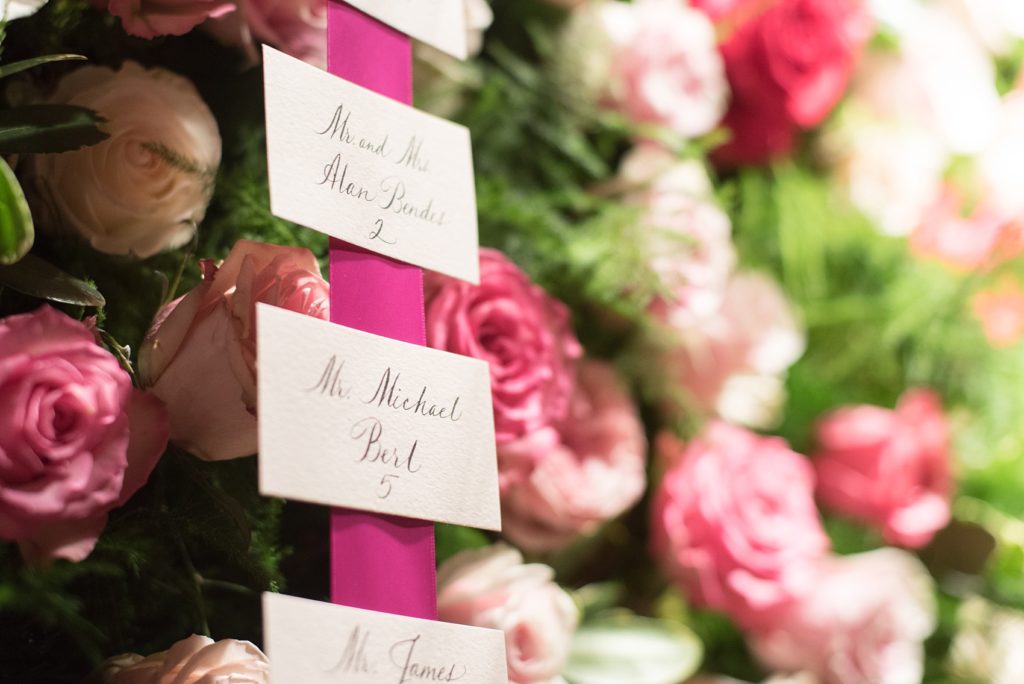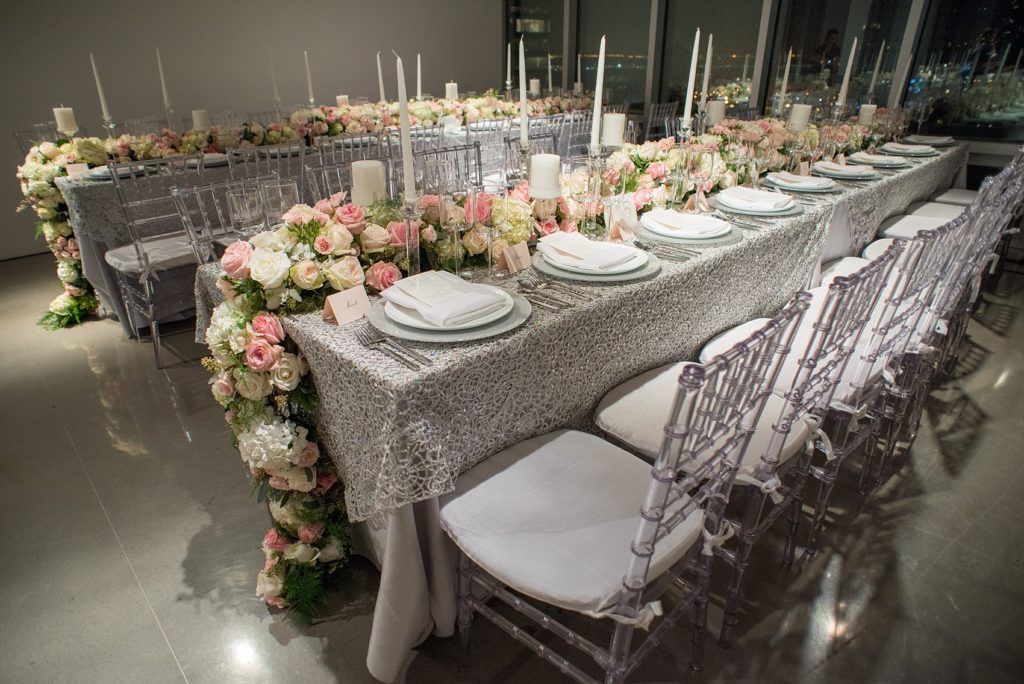 The bar was also a highlight. Its white posh swirl design with cutouts had a mirror backing that reflected an interesting pattern onto the floor. Additional floral arrangements were placed on the bar. White salad plates were paired with silver chargers, placed atop silver sequin lace tablecloths. Modern silverware and angular glasses completed the look, next to robust floral garlands. The flowers divided the tables with fragrant greenery and roses.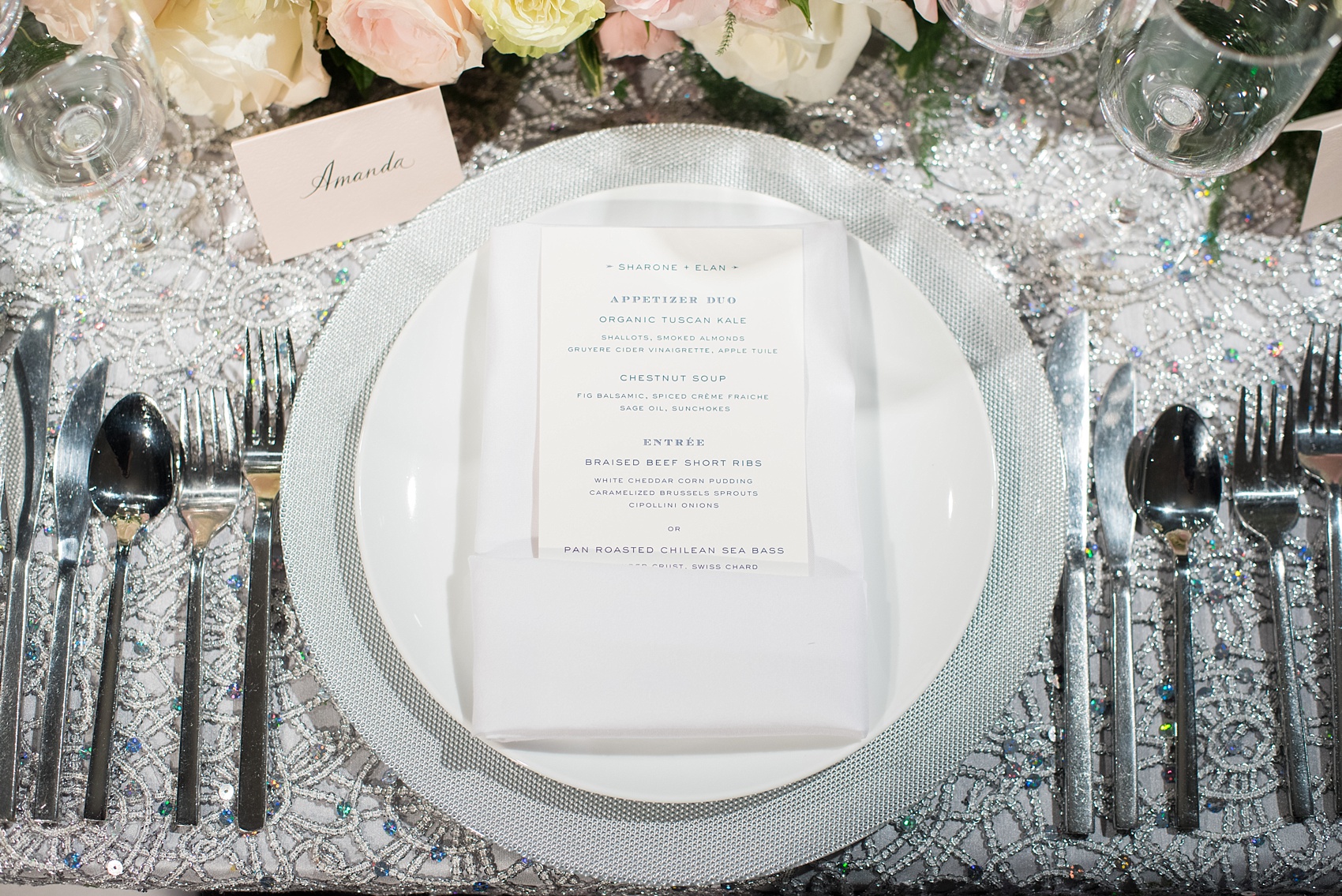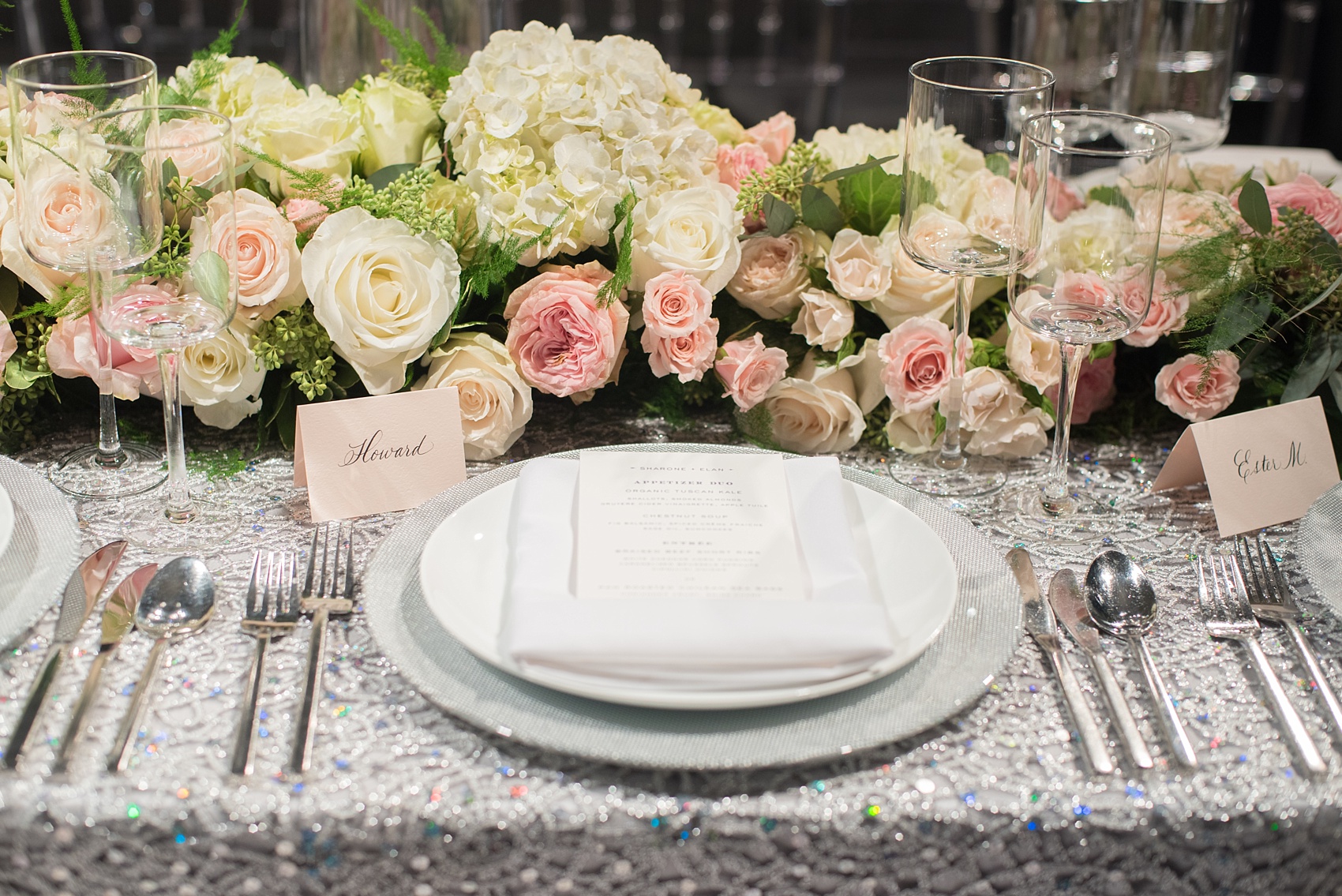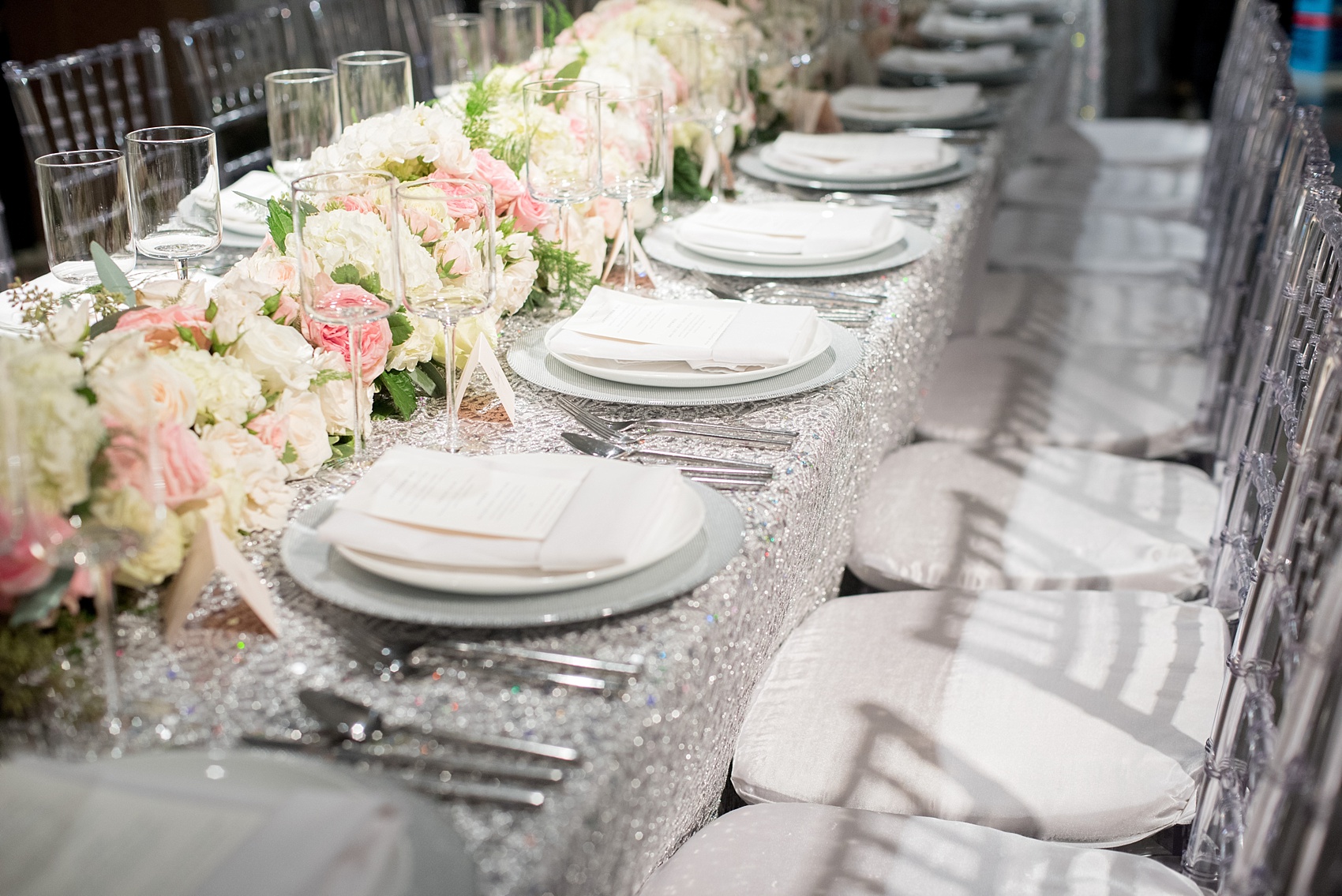 It truly goes a long way to put such hard work and attention into all the little details, especially at The Glasshouse in midtown Manhattan's west side.
For more details and inspiration, follow along on Facebook and Instagram. And if you're interested in speaking to us about your wedding day please contact us!