Small weddings warm my soul. I love photographing all weddings – large and small – but there's something extra special about a small, intimate affair. Genna and JP are also two of the kindest, easy-going, happy people I've ever met and working with them was a dream. Positive energy surrounded this entire day from planning weeks before to my last goodbye. Furthermore, I cannot say enough nice words about their family and friends that attended. I felt like such a part of their little circle at their wedding and even more honored to be capturing it all. I was on cloud nine for hours and hours after the actual event. I really love my "job." (Sigh. Pause for hearts coming out of thought bubbles surrounding my head.)
Their wedding took place right across the street from their home, at Fort Greene Park, in Brooklyn, New York. It was a perfect autumn day to join Genna, a Massachusetts native, with JP, her fiance who proposed in Cape Cod.  An Australian man with Sri Lankan roots (not a bad combination!), JP's parents traveled miles and miles from the other side of the globe to be with them.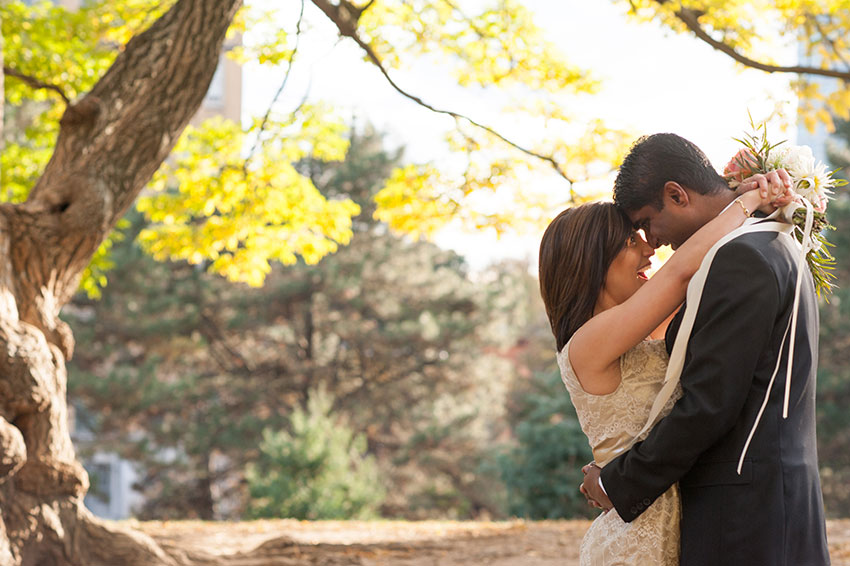 Aren't their rings unique? Genna's favorite jeweler designed them with extra TLC. When JP joked he wanted a ring of diamonds inside the band, the jeweler rolled with it and surprised them with a little gem! The blue stone of Genna's ring is completely reminiscent of her special, vibrant personality.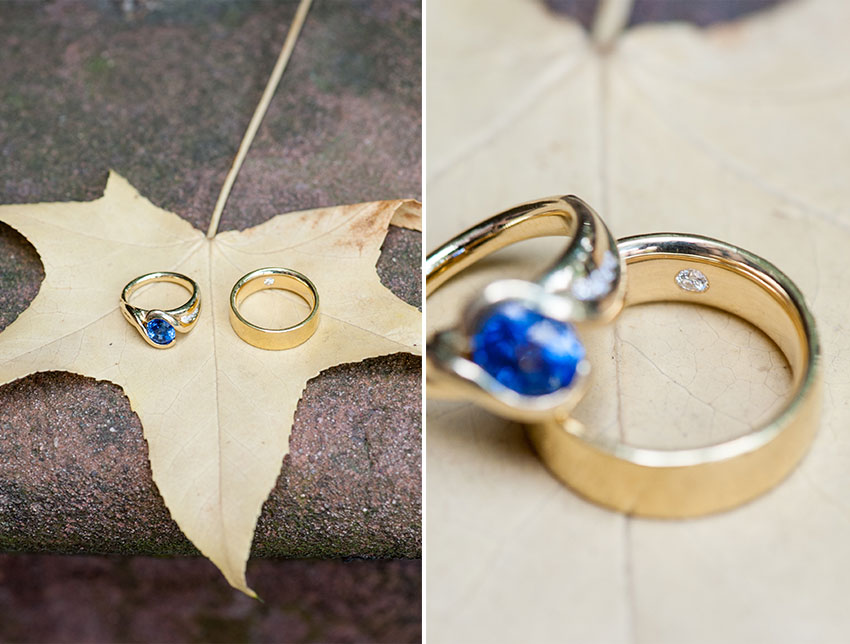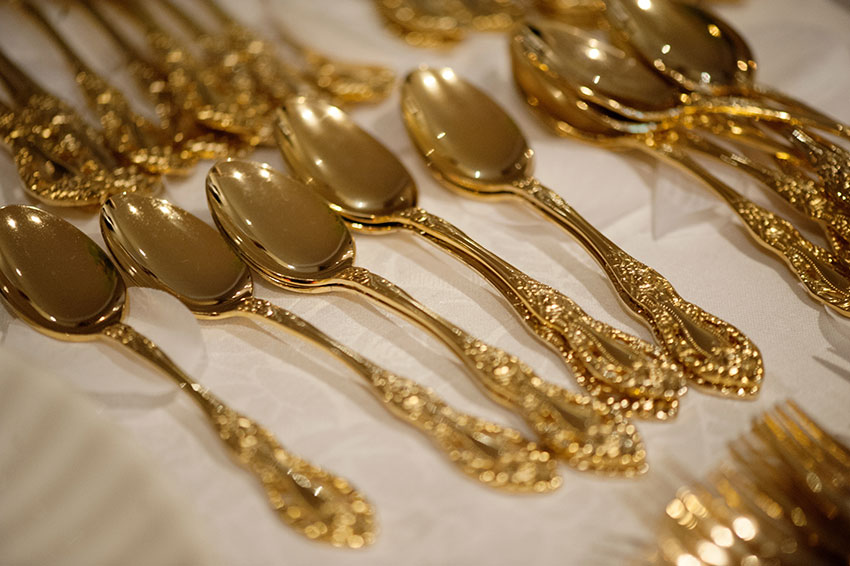 Reminders of Genna's grandmother were ever-present. Below is a special pin that was her grandmother's, which Genna was able to use to fasten her shawl on her during the ceremony. Nice touch!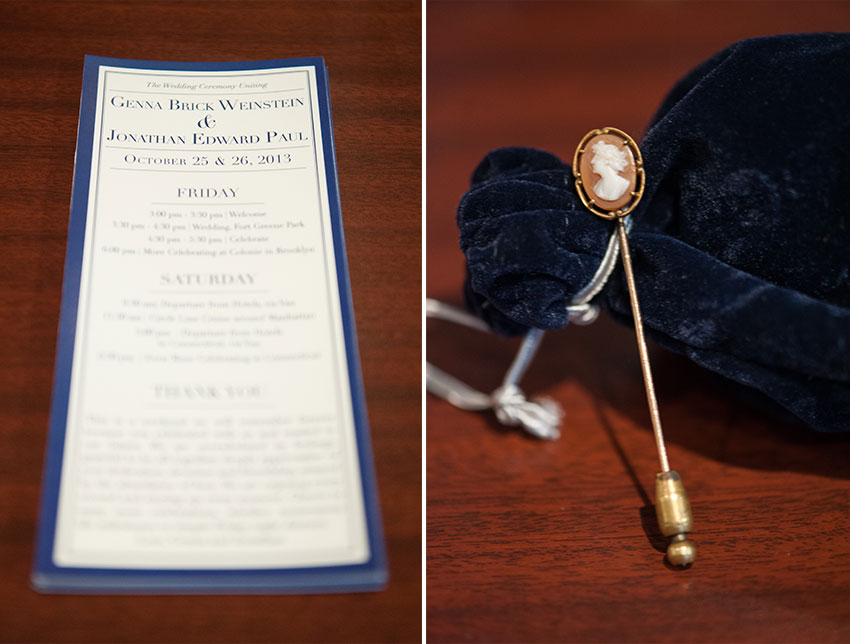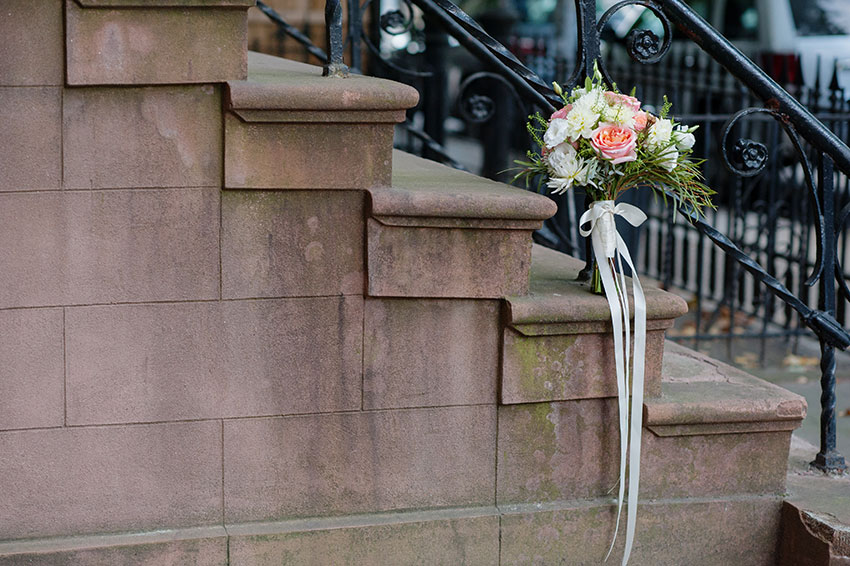 Genna's mother was in charge of the bouquet. Isn't it fantastic? It's from a local Brooklyn florist, Stem, which makes it even more special to know it was "from the neighborhood." My favorite part was its long ribbons, an amazing detail to blow in the autumn breeze. Genna topped off her outfit with the hot heels below, thanks to Kate Spade (and good fashion sense).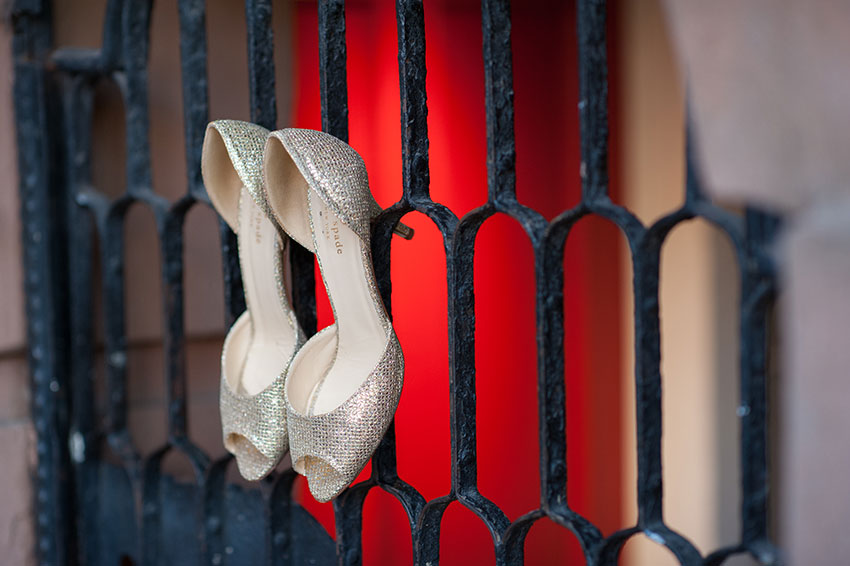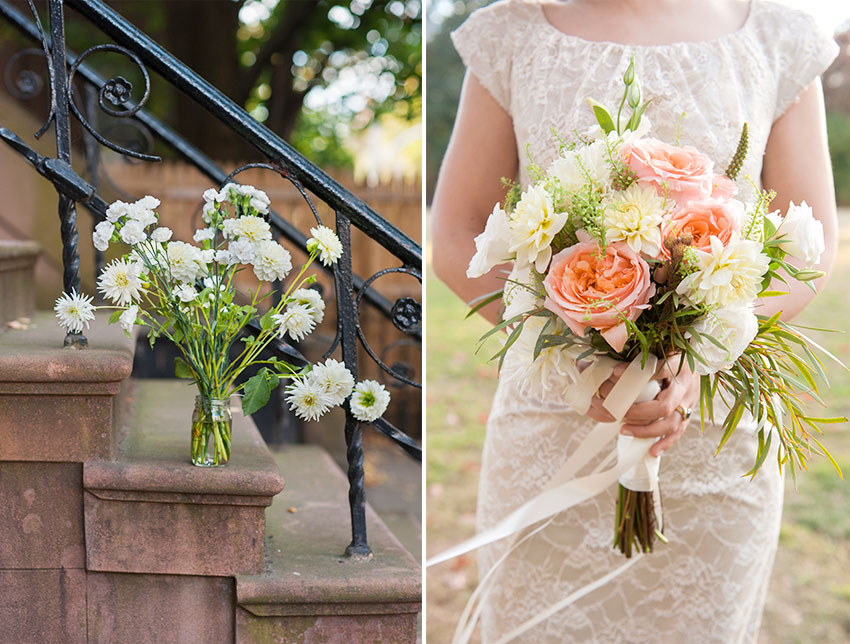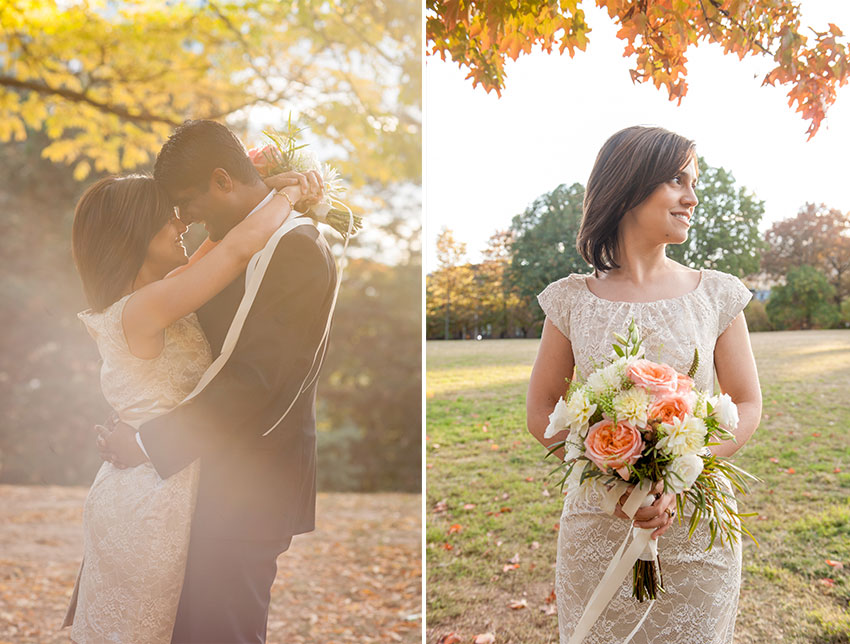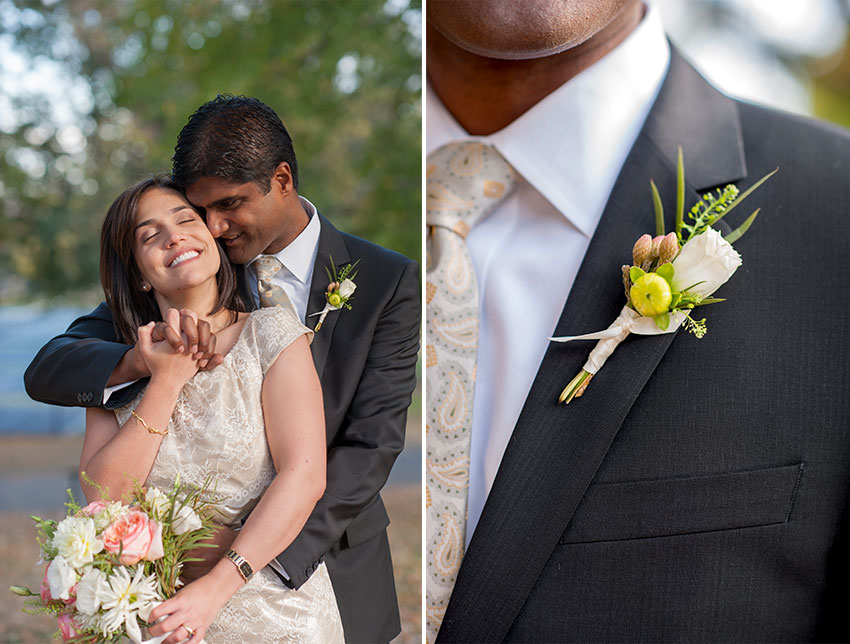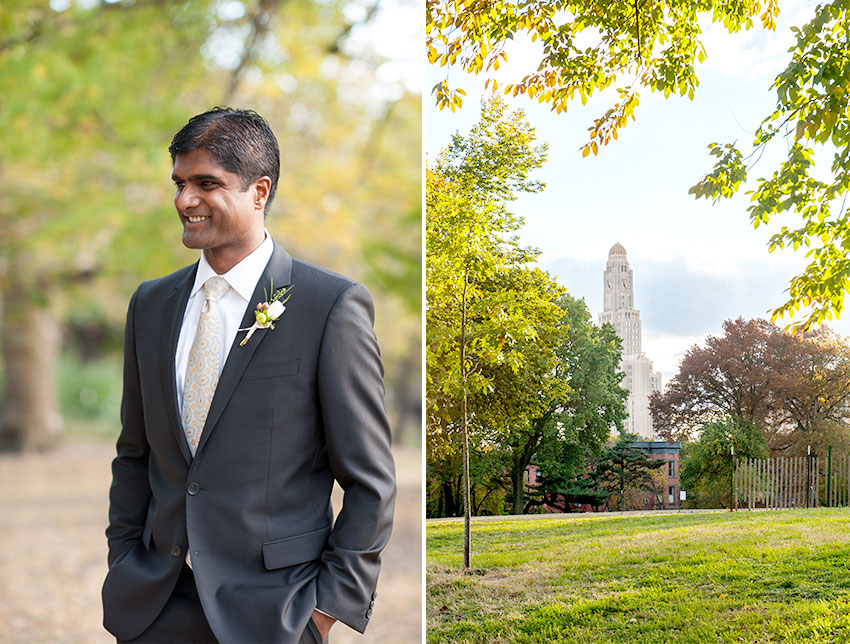 Below, Genna shares a warm hug from her father, Barry. Isn't that so sweet?!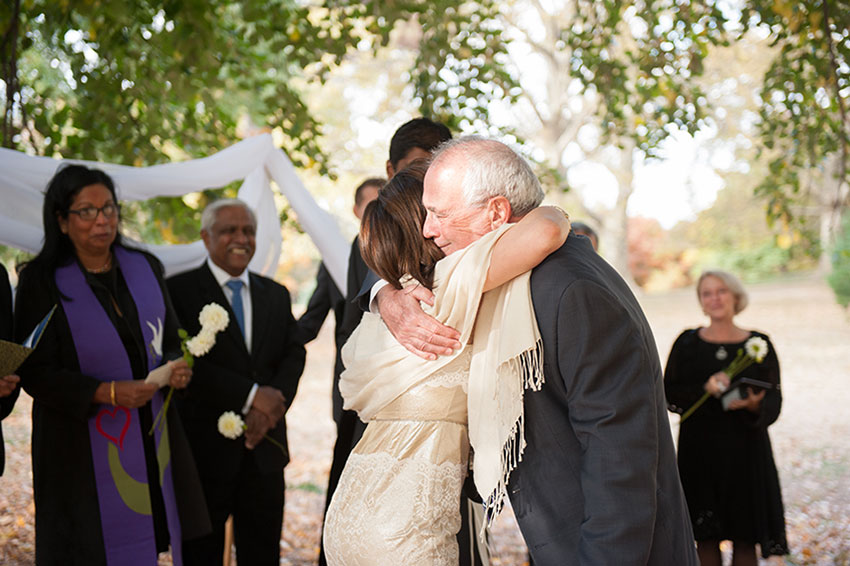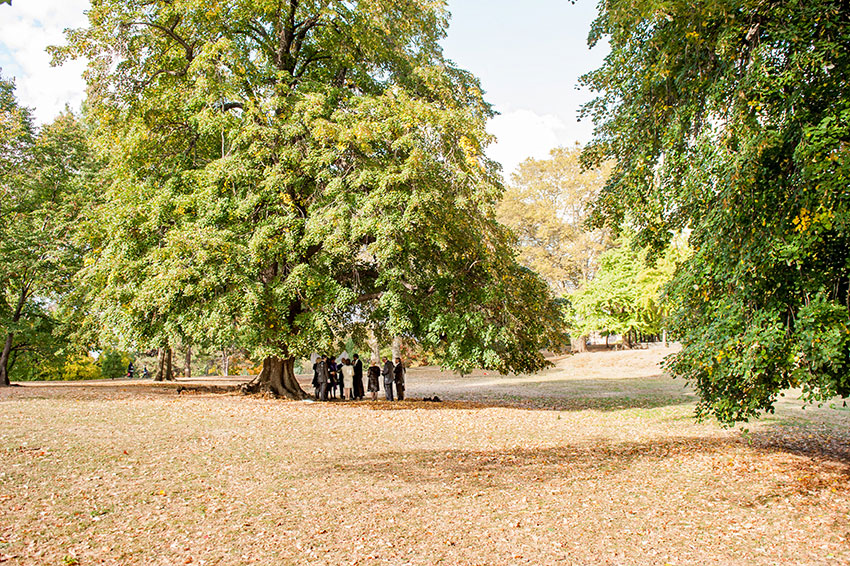 This overview of their ceremony under a park tree really emphasizes the intimacy of their small guest list. I love it.
Their parents looked on with love in their eyes as they exchanged some of the most sincere, heart-warming vows I've ever heard. Their ceremony was officiated by one of JP's mother's best friends, Ramani, who's resided in New York for quite some time! Don't you think it's kind of wonderful when someone so close to the bride and groom marries them?! I do!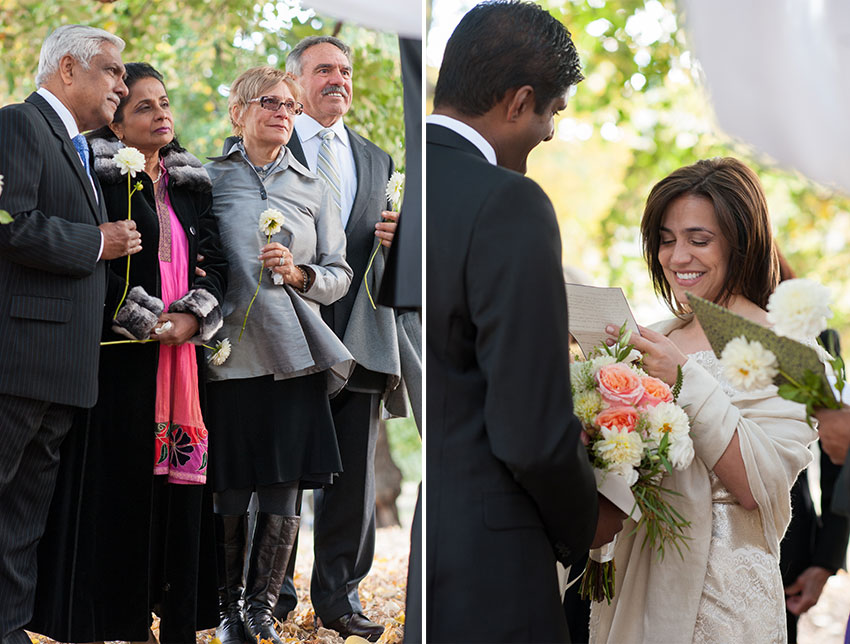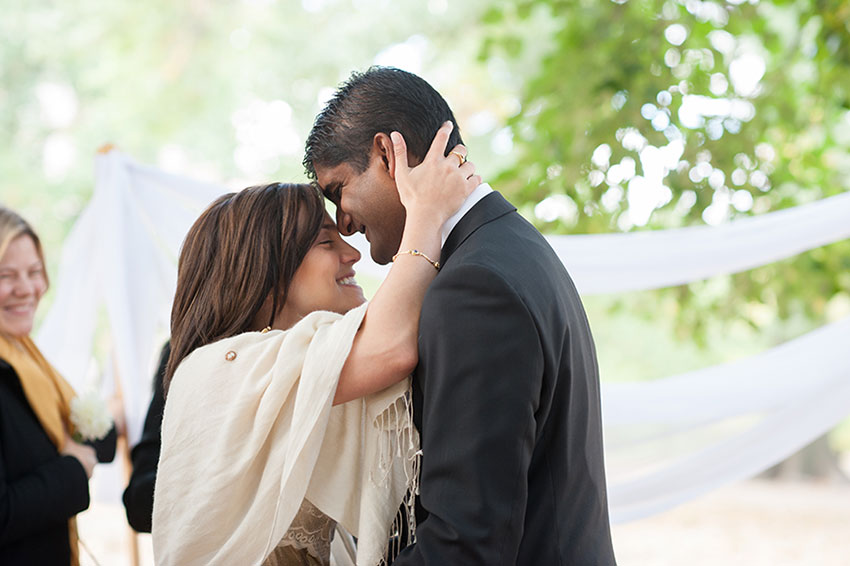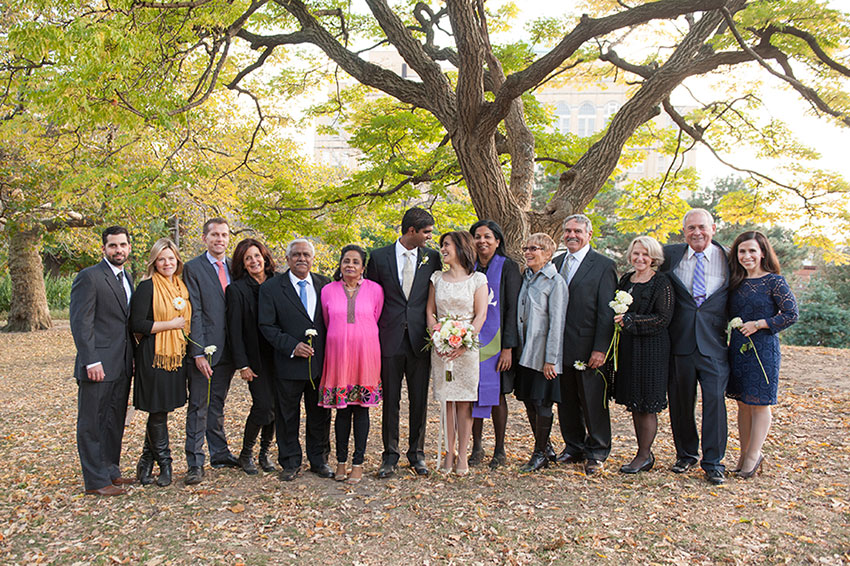 This was such a fun guest list of family…and three of Genna's best friends even surprised them for their wedding day! When "Signed, Sealed, Delivered" came on the iPad that was playing some wedding-centric tunes, I asked everyone to dance…and they were game! My kind of group! The guests were asked to carry white dahlia flowers in memory of family and friends that couldn't be in attendance. They were placed in an heirloom vase back at Genna and JP's house after the ceremony, another wonderful memento from Genna's grandmother.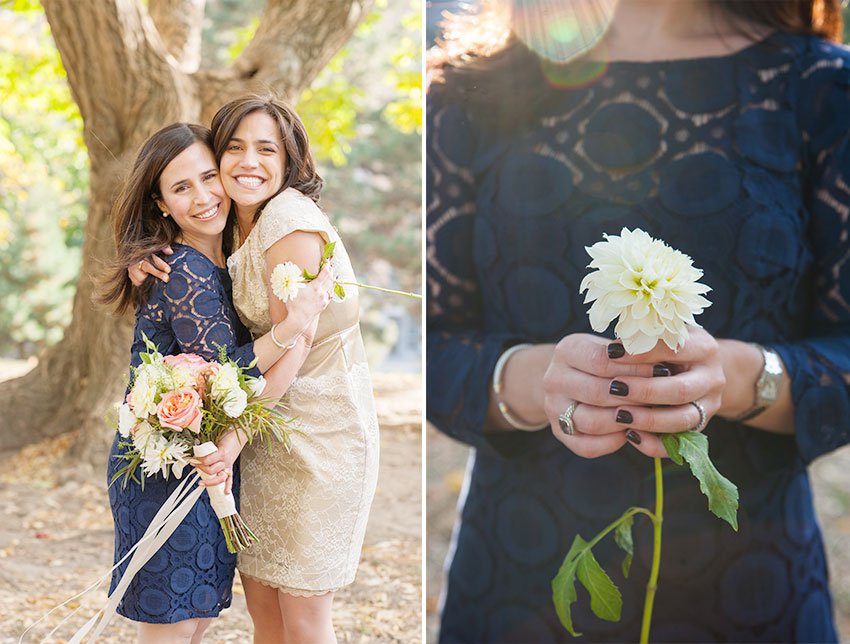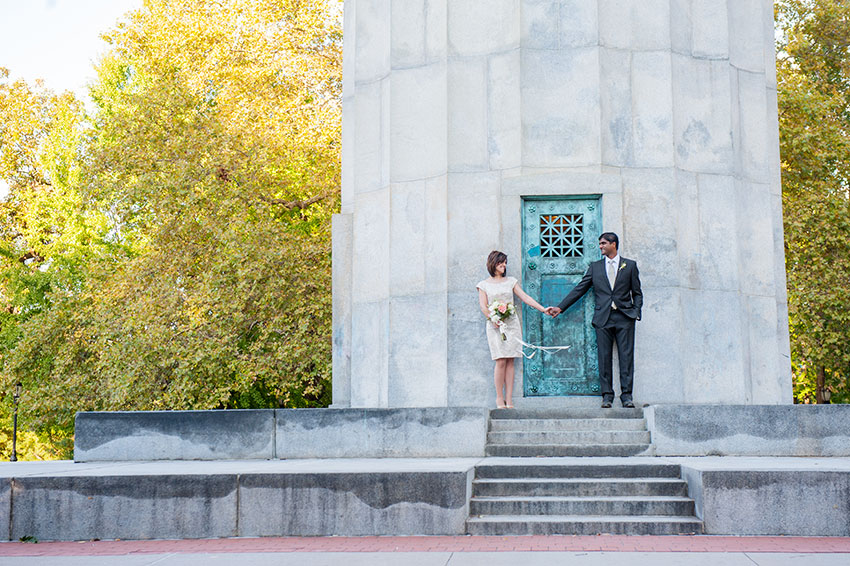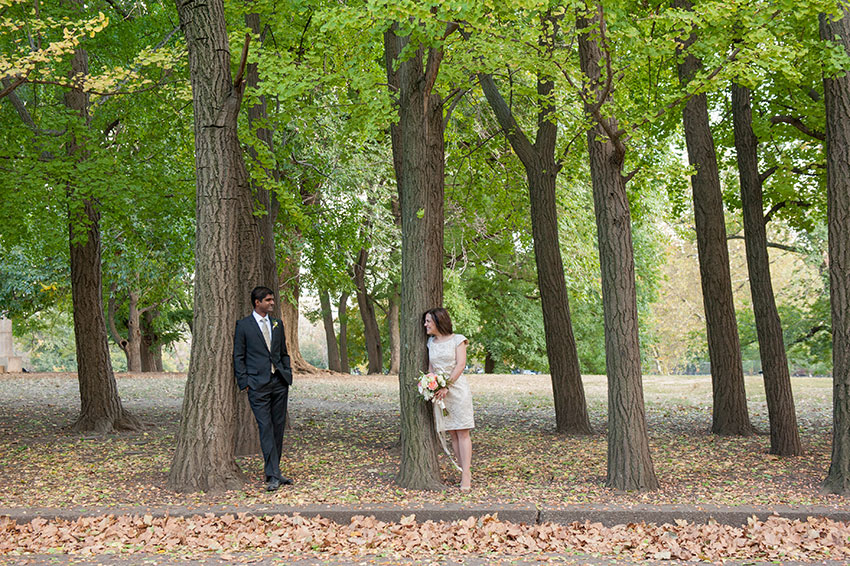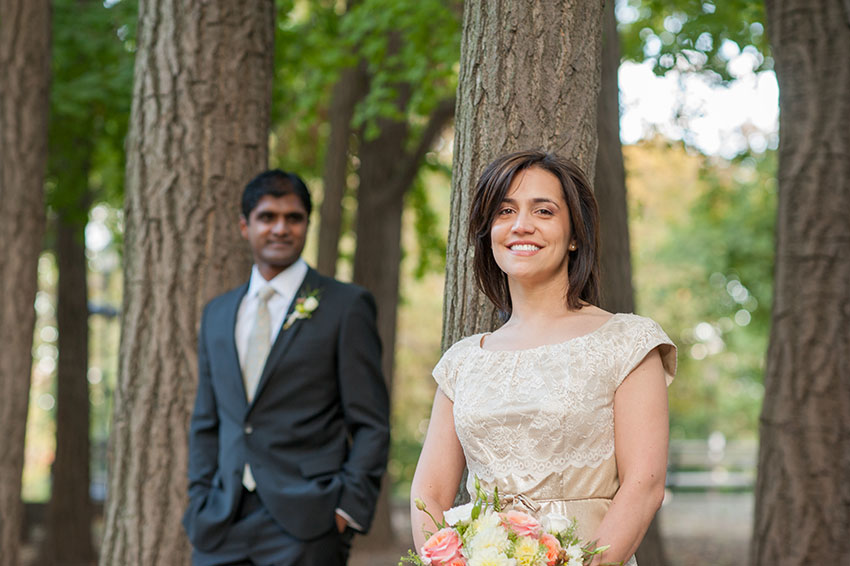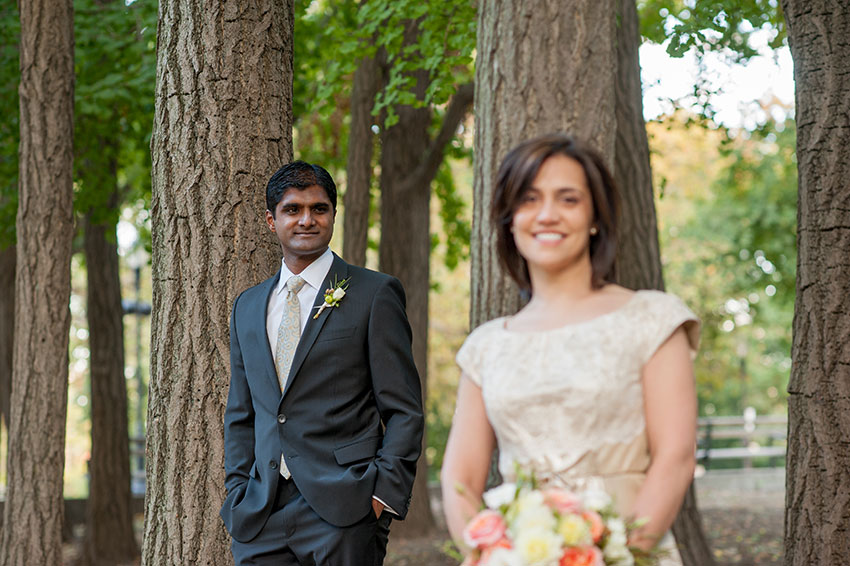 How amazing is the New York City skyline from Fort Greene?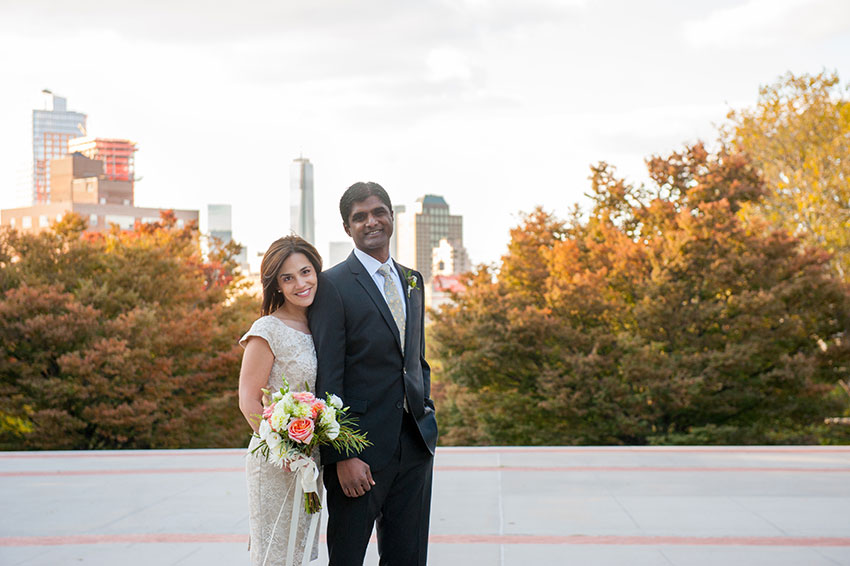 We all headed back to their apartment after the ceremony to watch them partake in a Sri Lankan tradition, the lighting of a brass oil lamp. It signifies a bright future together.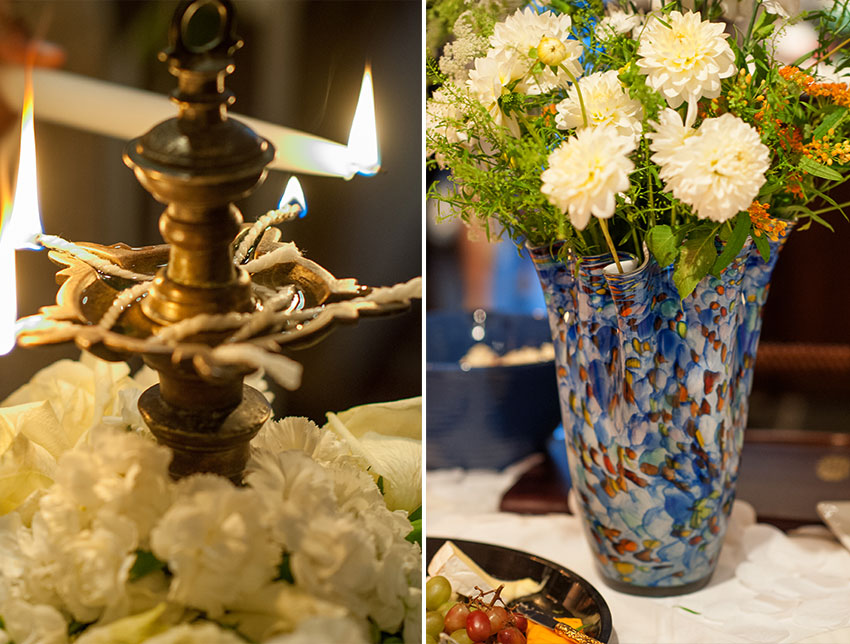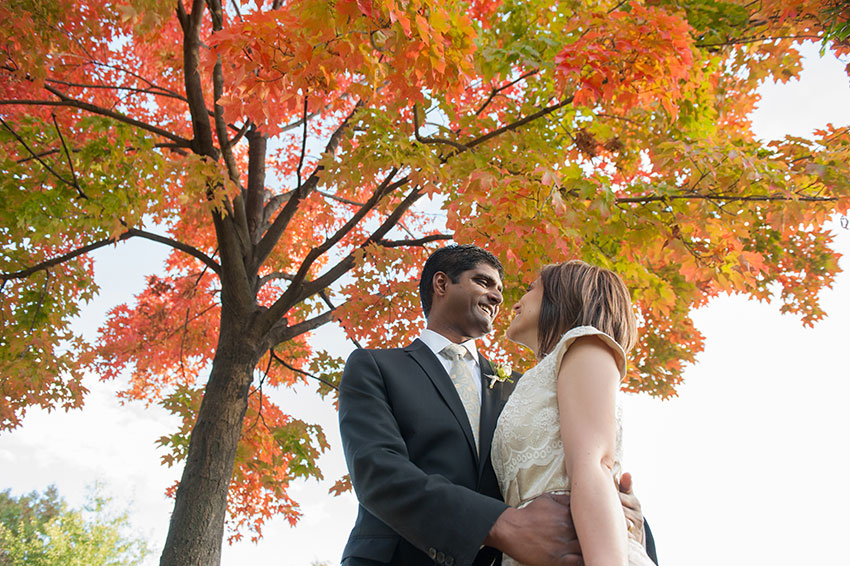 We couldn't resist capturing the colors (and smiles) of the season.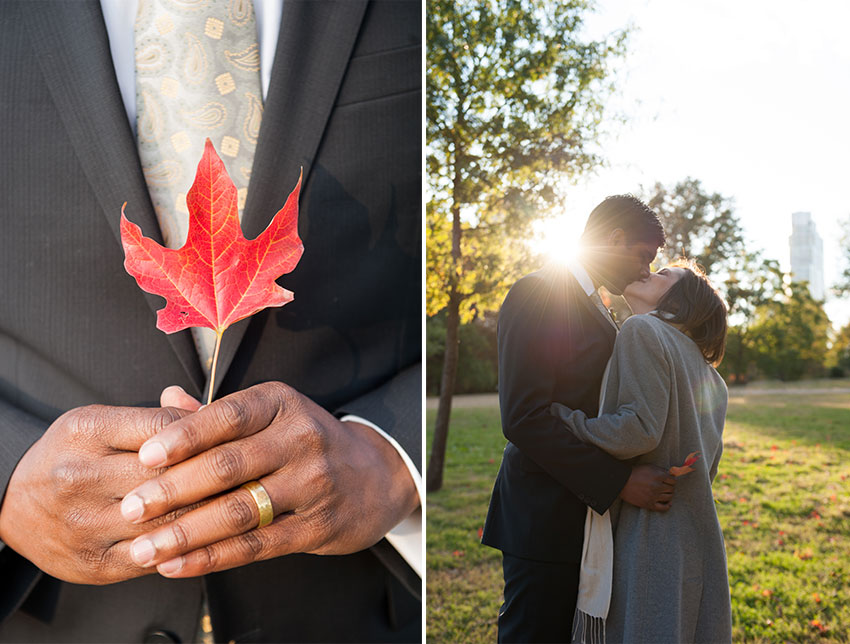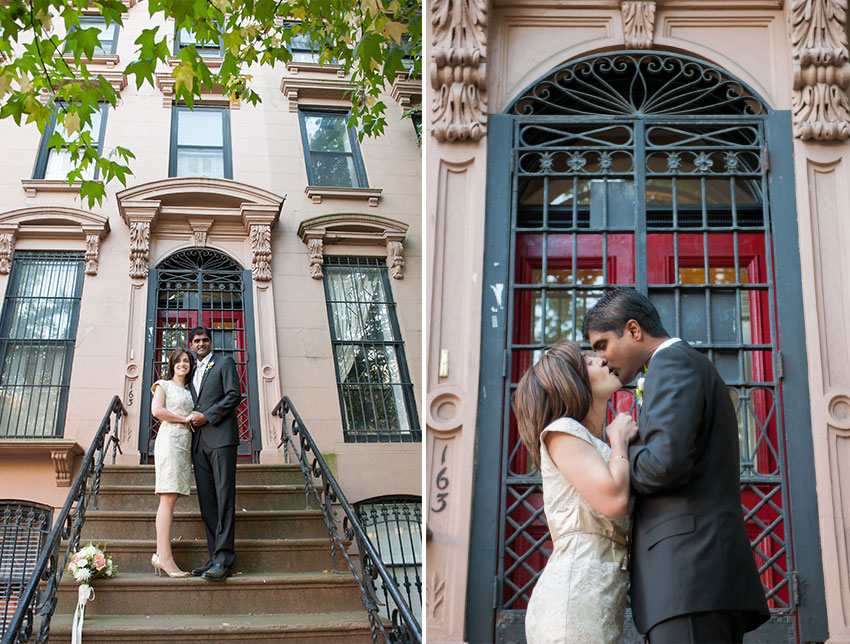 Genna and JP – I feel so honored to have been a witness to your love on one of the most special days of your lives! Thank you from the bottom of my heart for choosing me to capture your wedding.
Bridal Dress: Trina Turk
Groom's Suit: Hugo Boss
Wedding Shoes: Kate Spade NY
Flowers: Stem in Fort Greene
Rings: Skylight Jewelers
Caterer: Naturally Delicious
Happy Tuesday!