I know, this sounds weird. But about a week before I left for 2 weeks vacation in Japan I had a dream I got a tattoo of the word "explore" on my back in beautiful calligraphy. I woke up wanting to act on it. I quickly searched my Pinterest board of tattoos I've pinned over the course of a couple months and remember Neither Snow's beautiful work. I thought a little bit about my dream and the word I really wanted and consulted one of my best friends about it (shout out to Stacy). But after a little devil's advocate debate I stuck with my instinct: "explore." I contacted Mara of Neither Snow fairly quickly.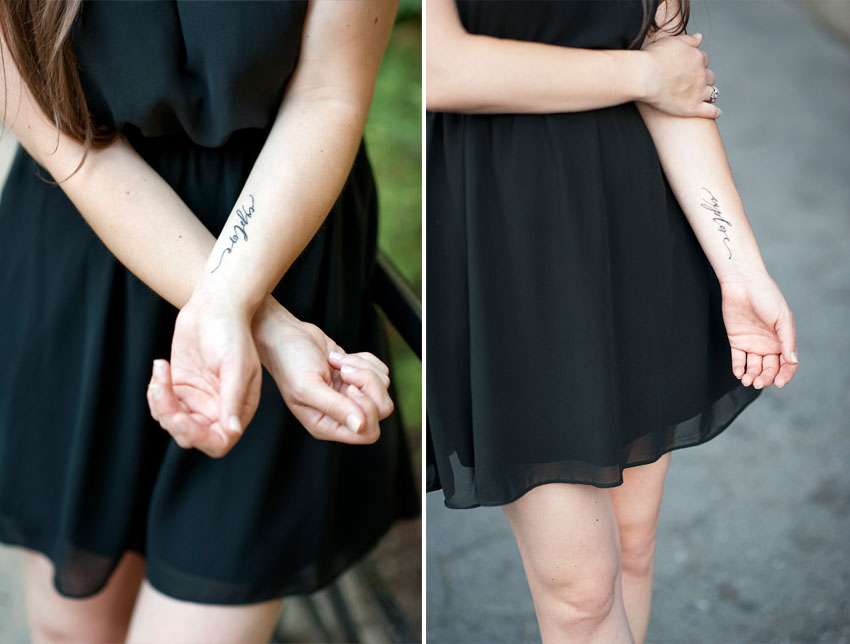 I sent Mara the following email:
When I think, "Do I want 'explore', or do I want 'wanderlust'?" Or a line from a favorite author, 'Be aware of wonder' (From All I Really Need to Know I Learned in Kindergarden, Robert Fulghum) I keep coming back to explore. I love its simplicity and the thought of how amazing and sexy the "x" and end of the word's "e" could be. Traveling is so important to me – but the world travel doesn't evoke as much emotion for me as "explore" does.
I say this one word and my heart swells. It encompasses travel, my wonder with the world, my desire to examine things (for better or worse) and to put myself out there. What better time to get it than on a major trip to Japan?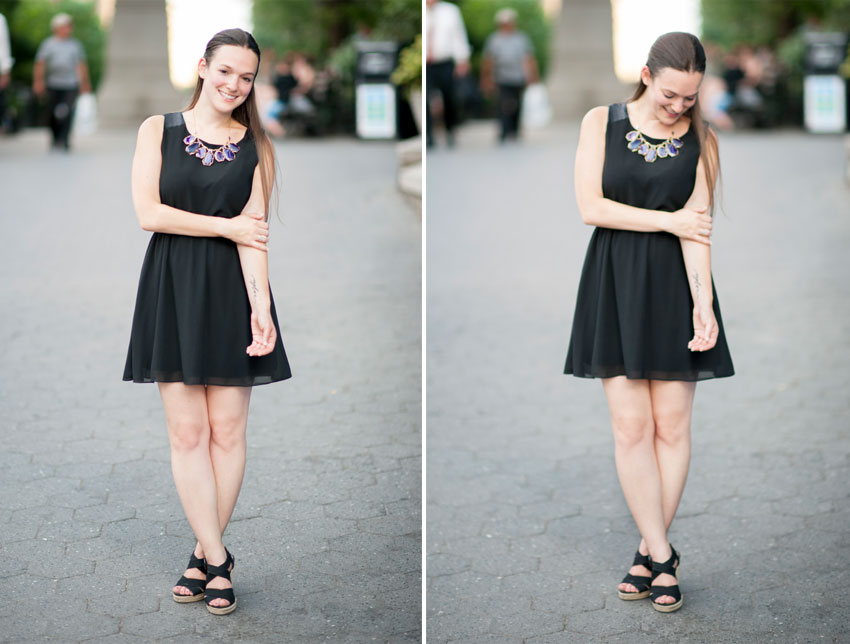 Mara was amazing from start to finish. Unfortunately this came to me just 7 days prior to boarding a flight to Asia so time was not on my side. I didn't know what my internet situation would be over there so I needed the finished design on a tight schedule. Mara was so accommodating and willing to work with me. What I appreciated most was that she understood my desire to get it just right, since it was permanent. Once it's on you, it's on!
I truly believe there are few art forms that emulate the sexy, sinuous, graceful lines of a language than calligraphy.  
Mara's incredible artwork that we call "calligraphy" is a force to be reckoned with. Her gorgeous work has been featured in Martha Stewart, Tiffany & Co. (amongst many more well known brands), and graced the paper suites of weddings across the world. Since I'm in the wedding industry too, having Mara, specifically, design a custom piece for me increased its meaning (a happy accident I realized only after I commissioned her).
I received my design options and was FLOORED. I fell in LOVE, fast. This tattoo idea, once designated for my back, was instantly upgraded to my forearm. How could I not look at it everyday? It was too beautiful to risk hiding.
(The design process was great though I won't go on about it. I will, however, say that if you're interested in a custom calligraphy tattoo by Mara know that she's incredible to work with, provides you with a few options, and she's accustomed to and gracefully sensitive about tattoo design work.)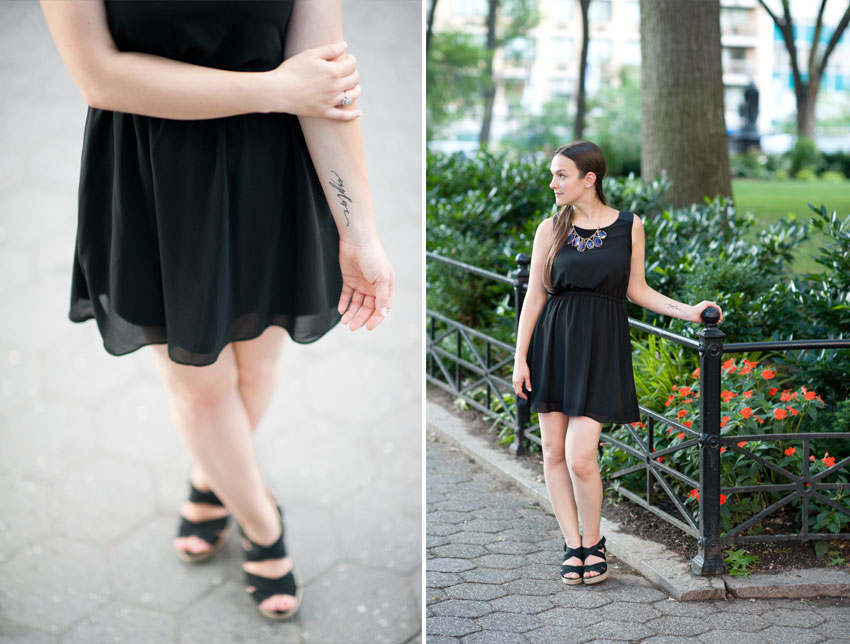 Getting a tattoo of an English word in a foreign country, whose alphabet is nothing like the English language, is a challenge but I was ready to face it! I did some research before I left and found Hyperspace Tattoo in Osaka. Through the miracle of Google Translate (they spoke no English, and I don't speak any Japanese), the tattoo artist Hitomi and I were able to communicate and discuss the piece. The end result is beautiful and a true collaboration of artists: myself, Mara, and Hitomi.
Special thanks to my talented friend, Allan Zepeda, for the beautiful photos of my new tattoo, about 2 months after I got it.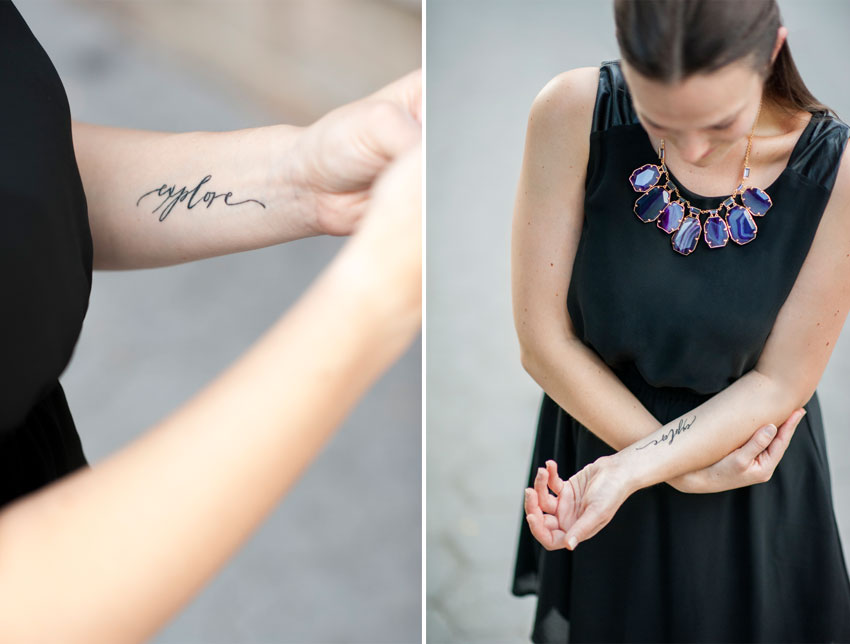 For an added bonus, here's my experience on June 14th, 2013, at Hyperspace Tattoo in Osaka, Japan…
Storefront and waiting area: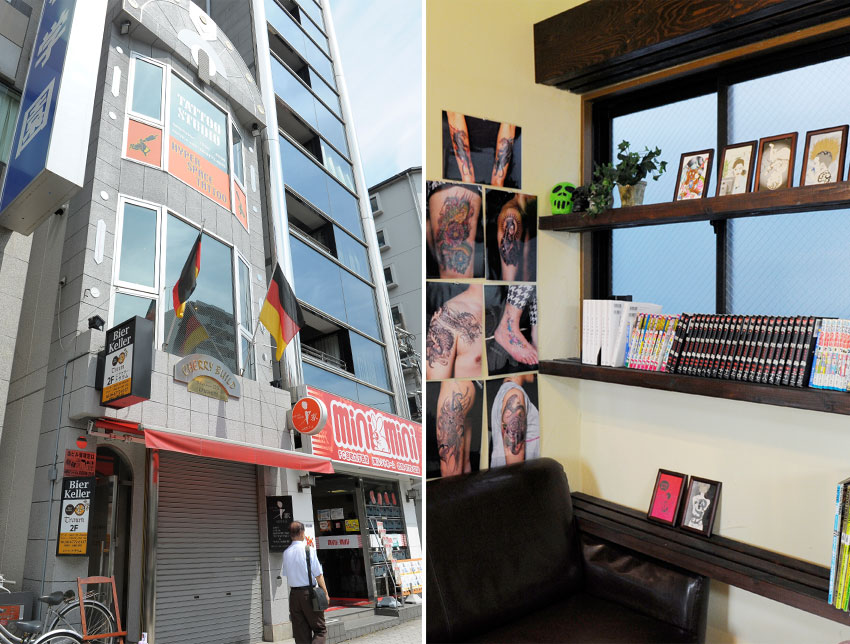 Waiting to work out the details: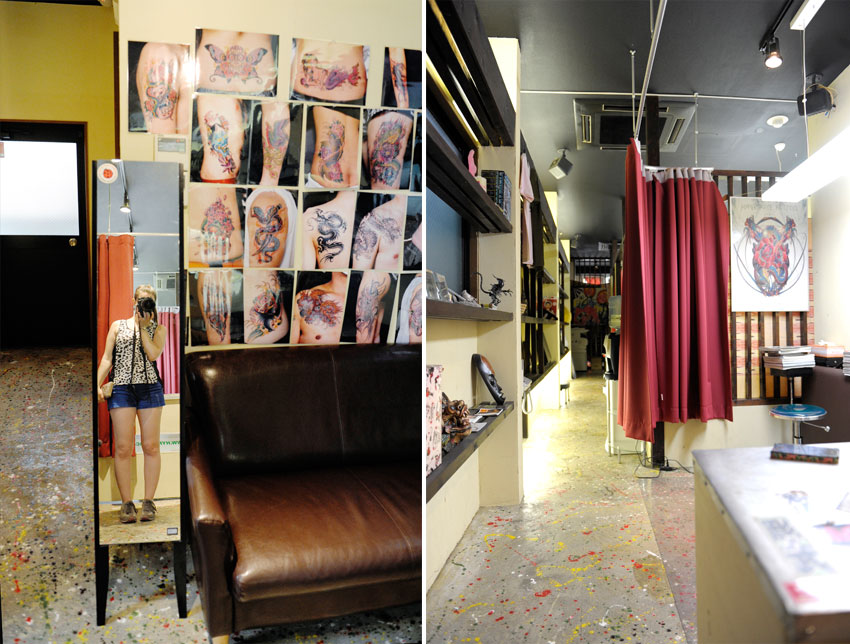 A little printing and cutting to get the size right (and the much needed iPhone to utilize Google Translate):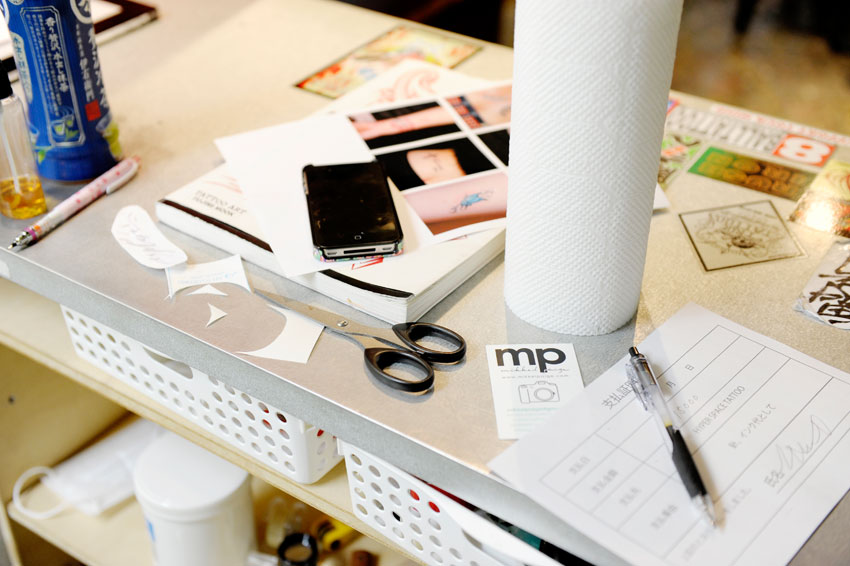 The deed is done! I must add I've never seen such a sanitary, clean operation. Hitomi was very meticulous in ensuring everything was sterile and wrapped properly.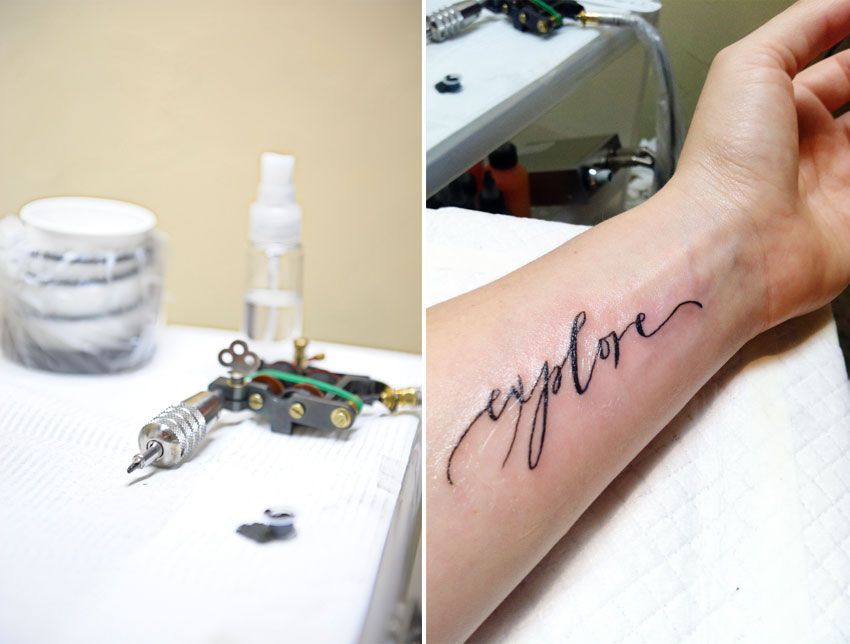 The artists of Hyperspace Tattoo…thank you for humoring me and posing for this photo!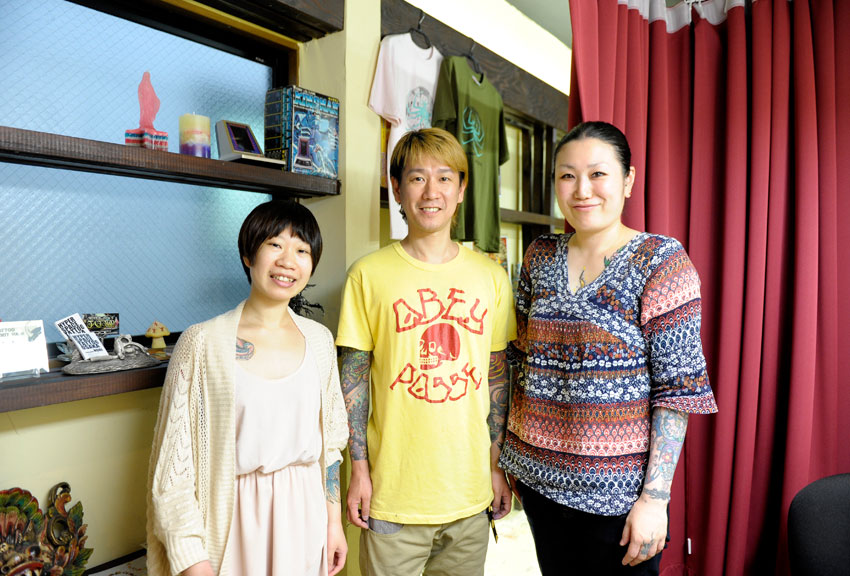 Me and Hitomi: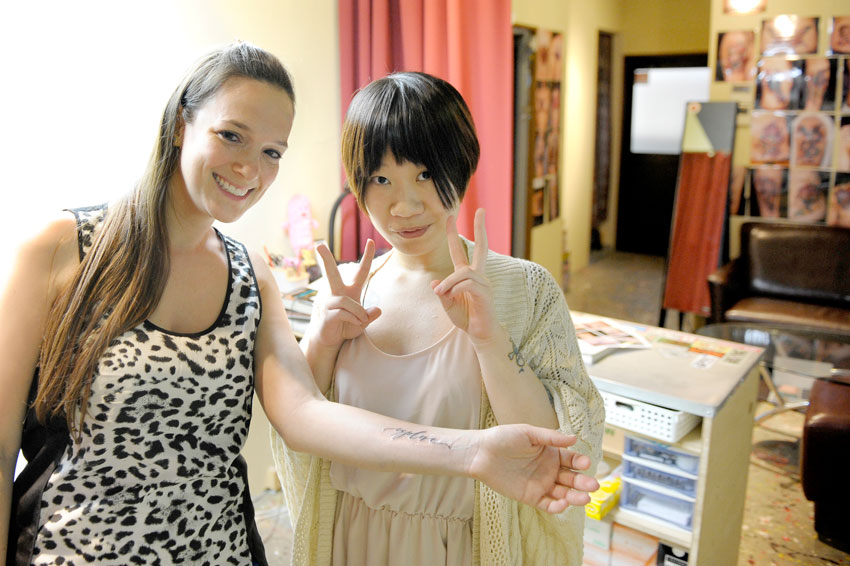 Click here for Neither Snow's blog post of my new tattoo and check out our post about 20 Surprising Things to Love About Japan on our travel site, Sometimes Home.