The bride came into my life before the groom. I met Shawn back in 2013 at her best friend, Gina's wedding. A memorable bunch for their bond, kindness, and beauty I remembered each one. I was excited to see Shawn at Gina's sister, Christine's wedding, and to meet Mike. I didn't know Shawn well but I knew her kind heart and contagious smile and I was so happy to hear Mike had turned into someone incredibly close and significant in her life and moved to Chicago so they could be together. Shawn contacted me Memorial Day weekend last year and I was beyond-the-moon thrilled she was looping me in from the get-go after hers and Mike's recent engagement. I was SO happy I would be the "chosen one" to capture their day and get to spend extra special time with them. The results below is truly a unique wedding in downtown Chicago…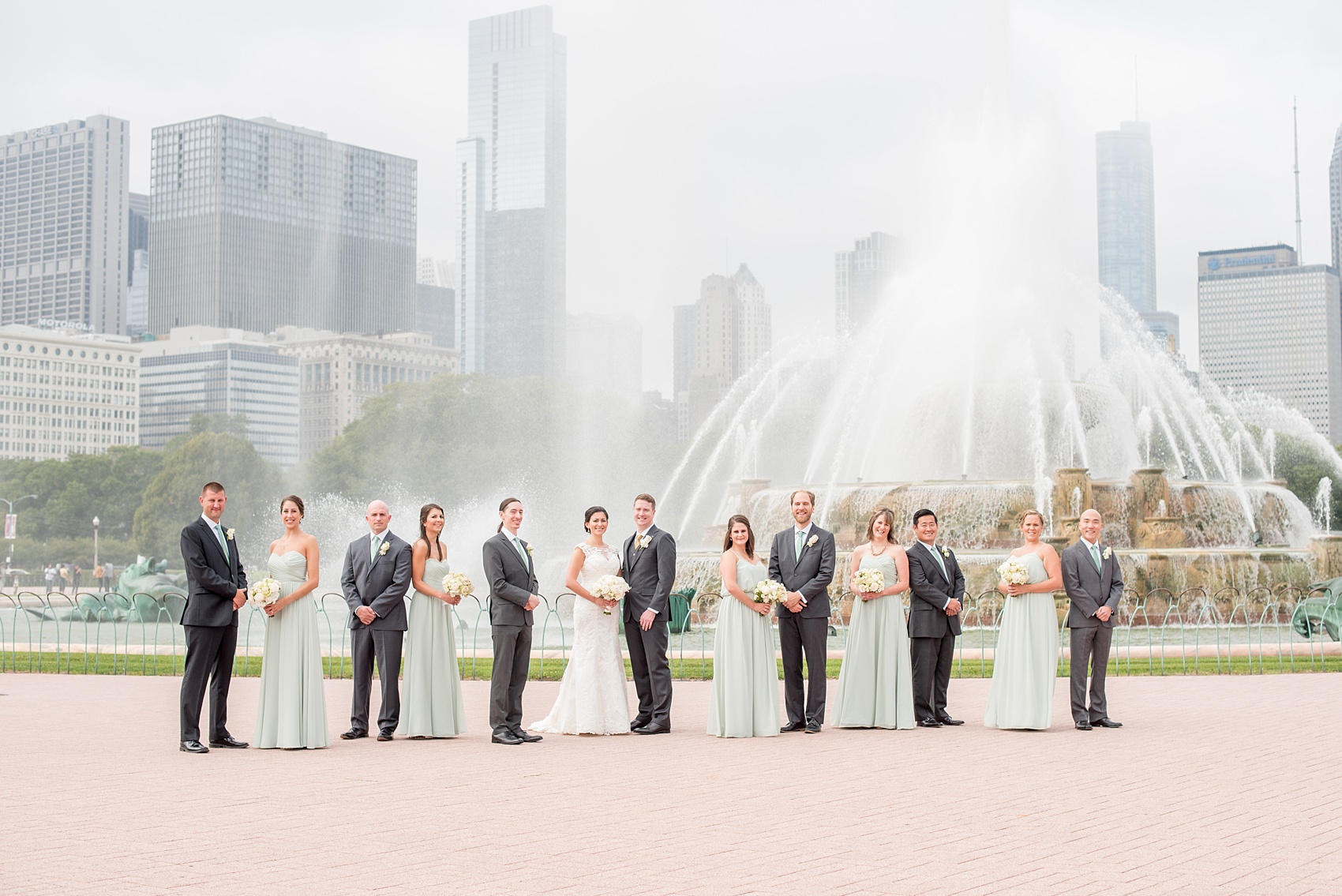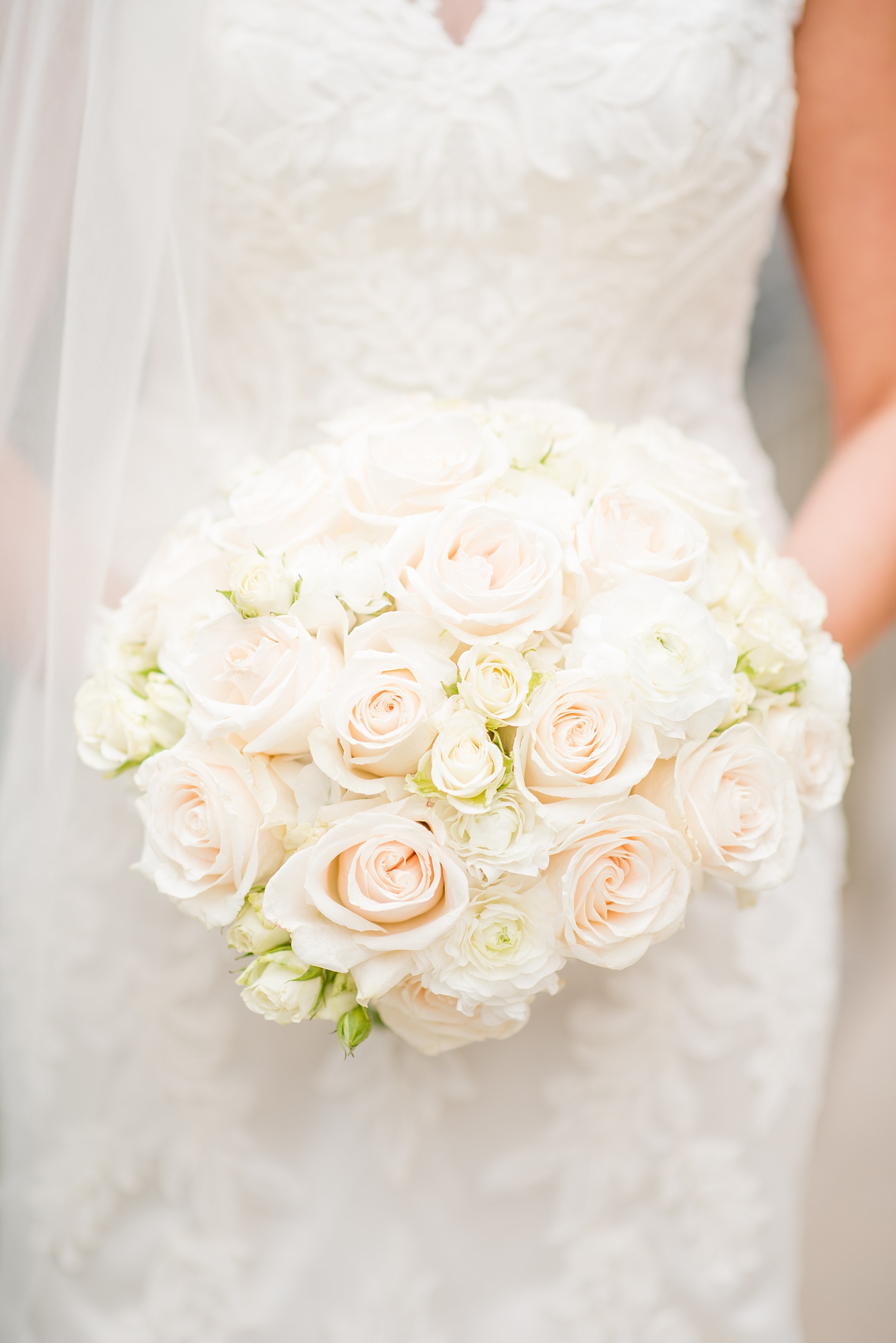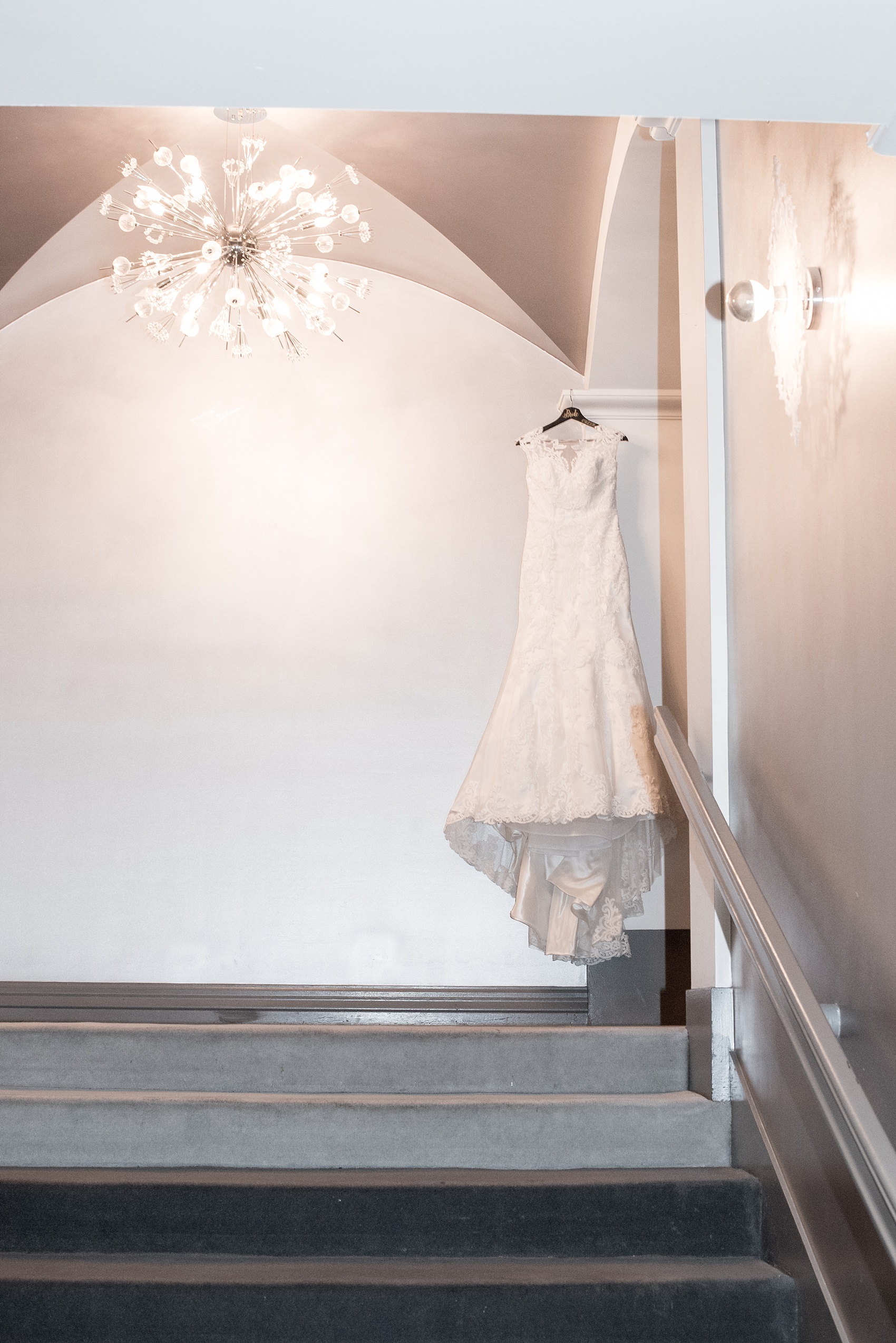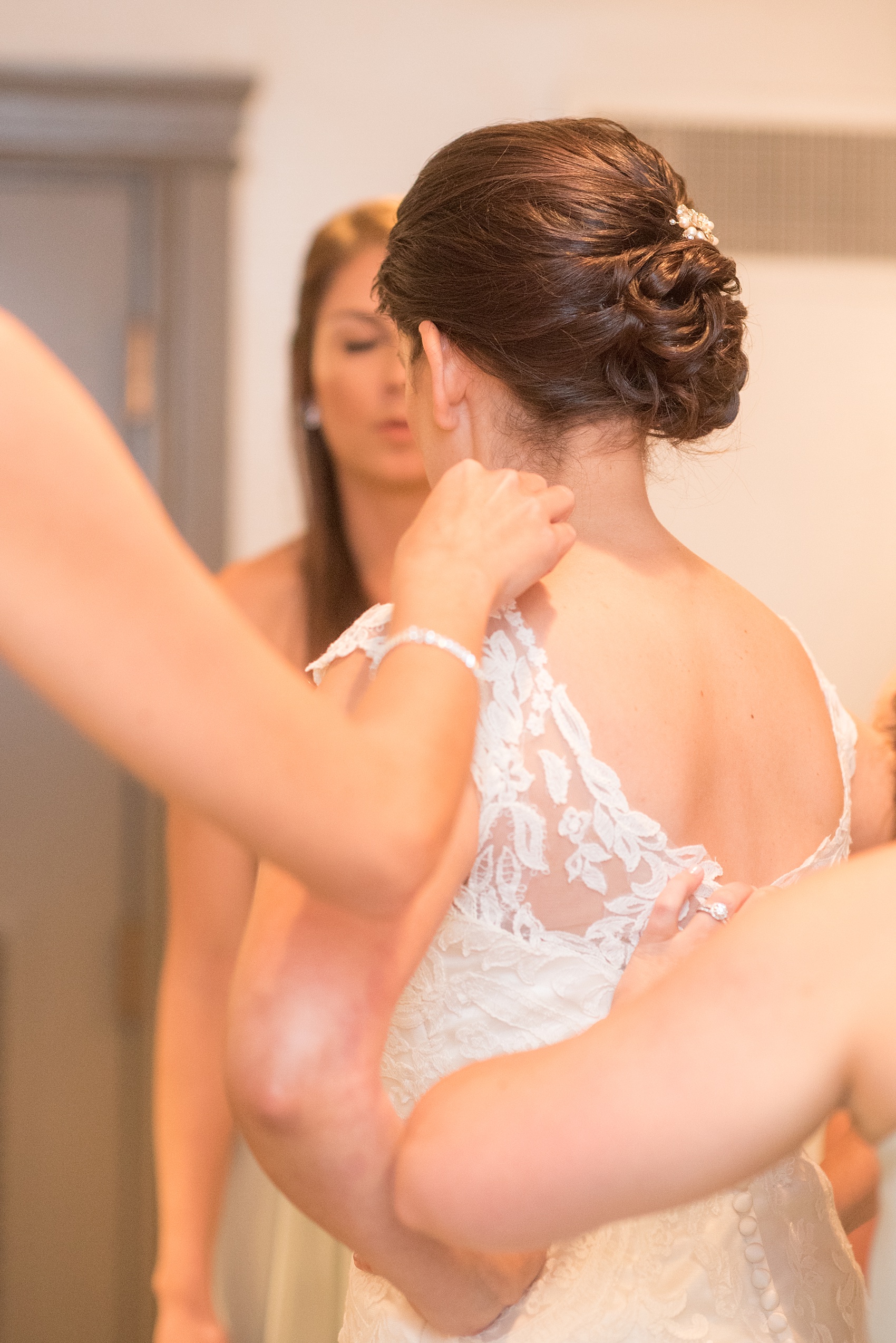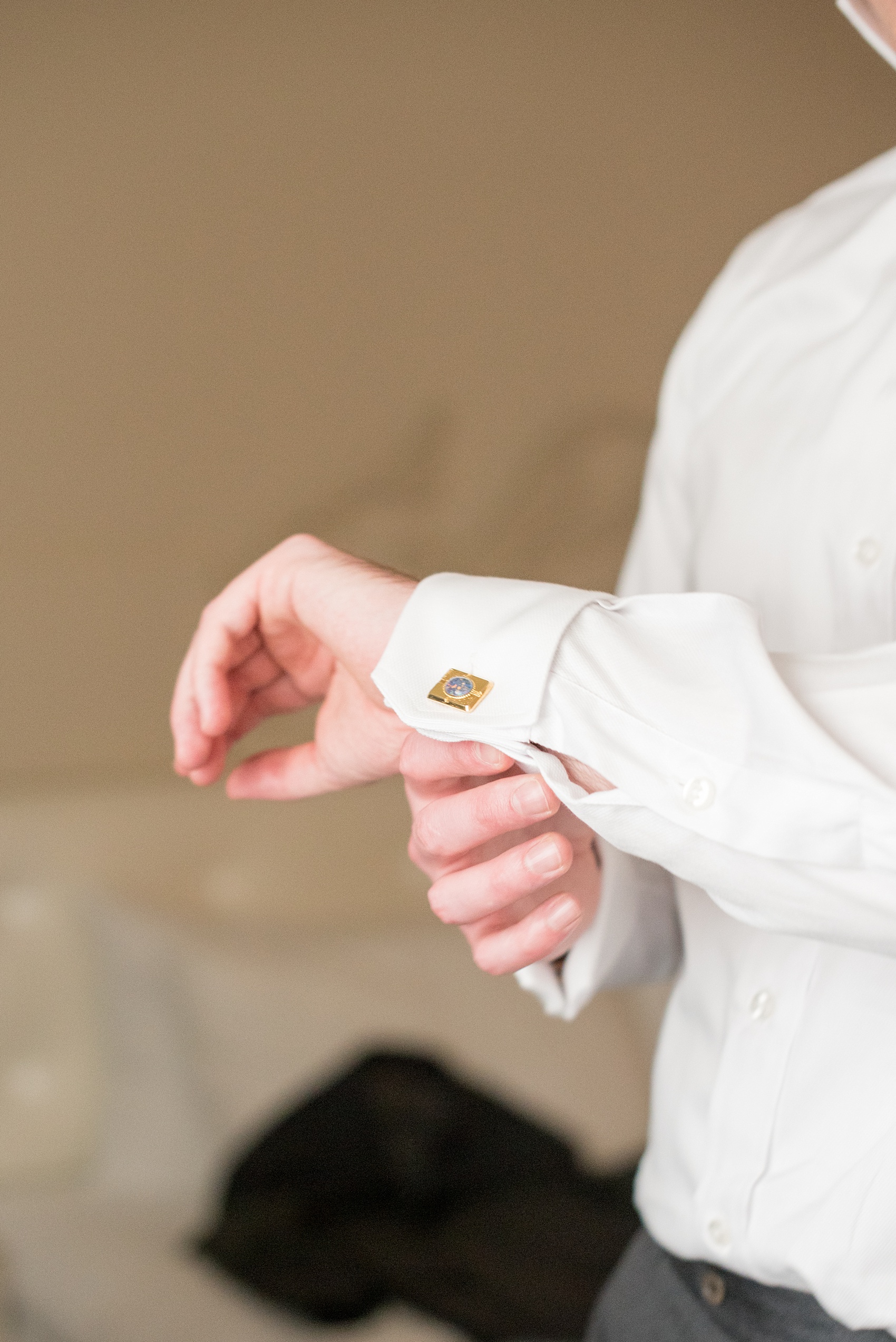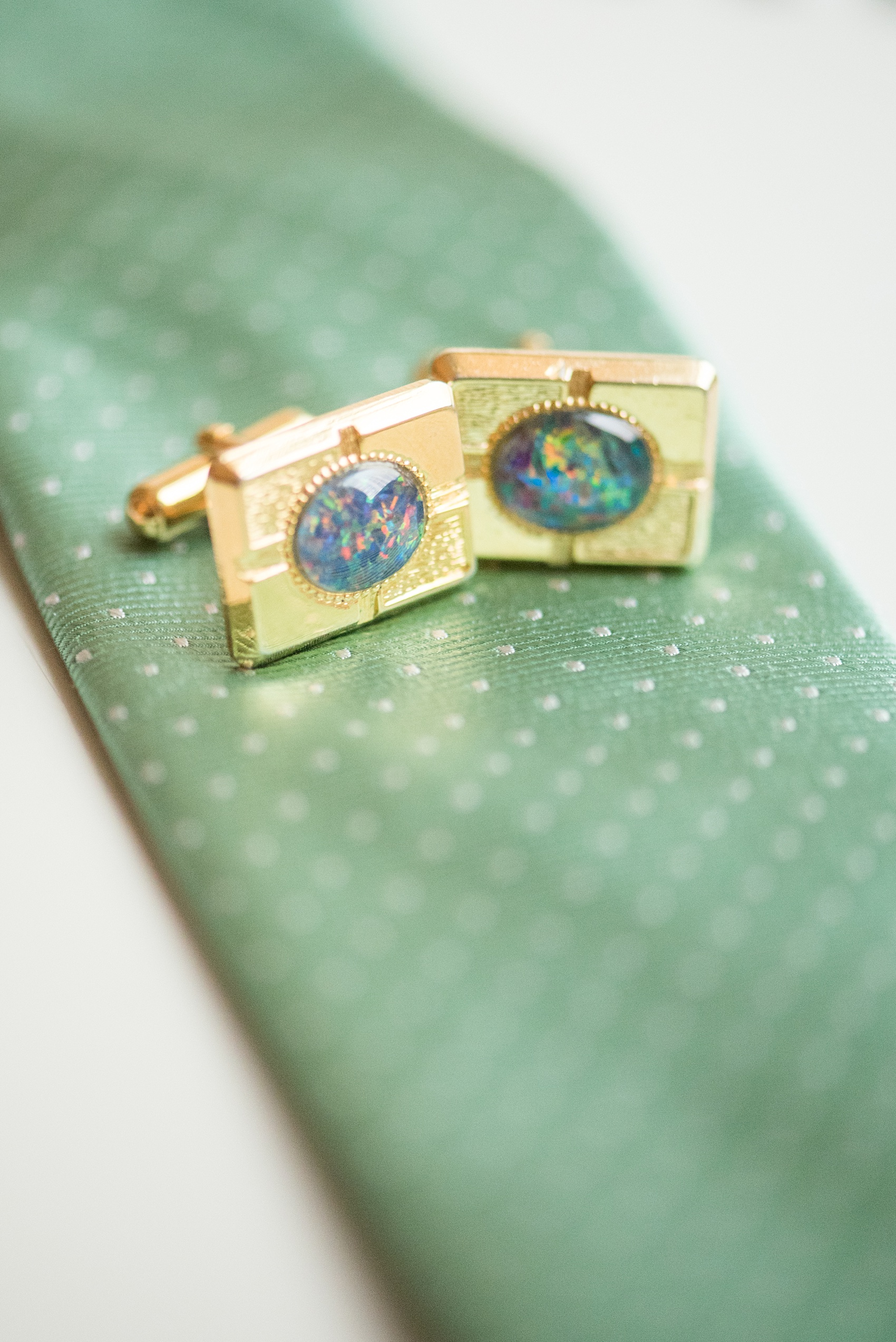 I loved that Mike wore heirloom cufflinks that were so different from anything I'd seen. They were gold and rectangular with oval opal pieces in the center. They perfectly complimented his groomsmen's fine polka-dotted mint green ties. I love that Shawn even got Mike a special hanger for his suit! She had a bride one, of course, and he had one marked for the groom. While Mike and his guys prepared for the day upstairs (over a game of baseball!) Shawn and her bridesmaids got ready downstairs at The W Hotel. They helped her into her beautiful lace Justin Alexander wedding gown and helped her to her first look with her future husband!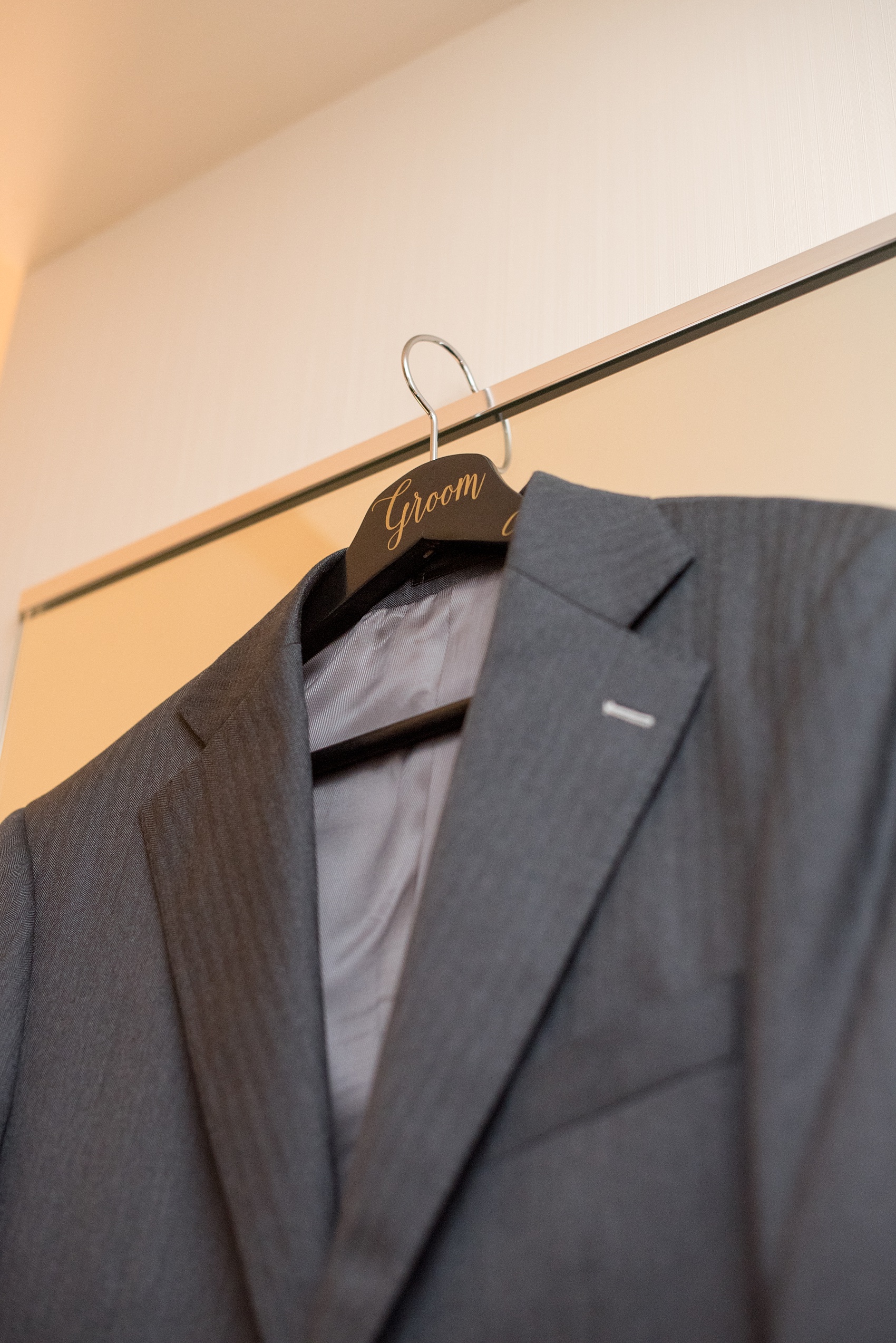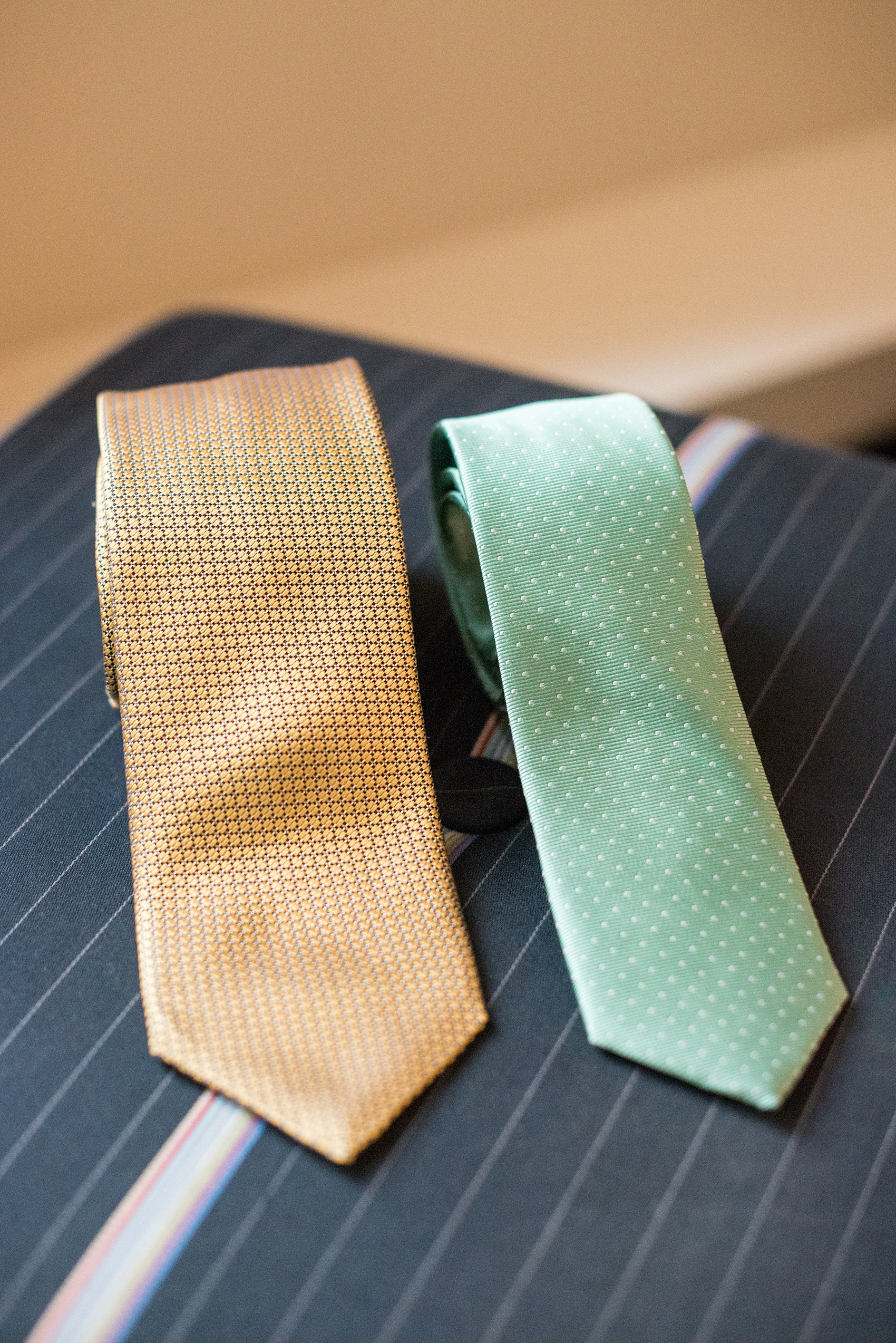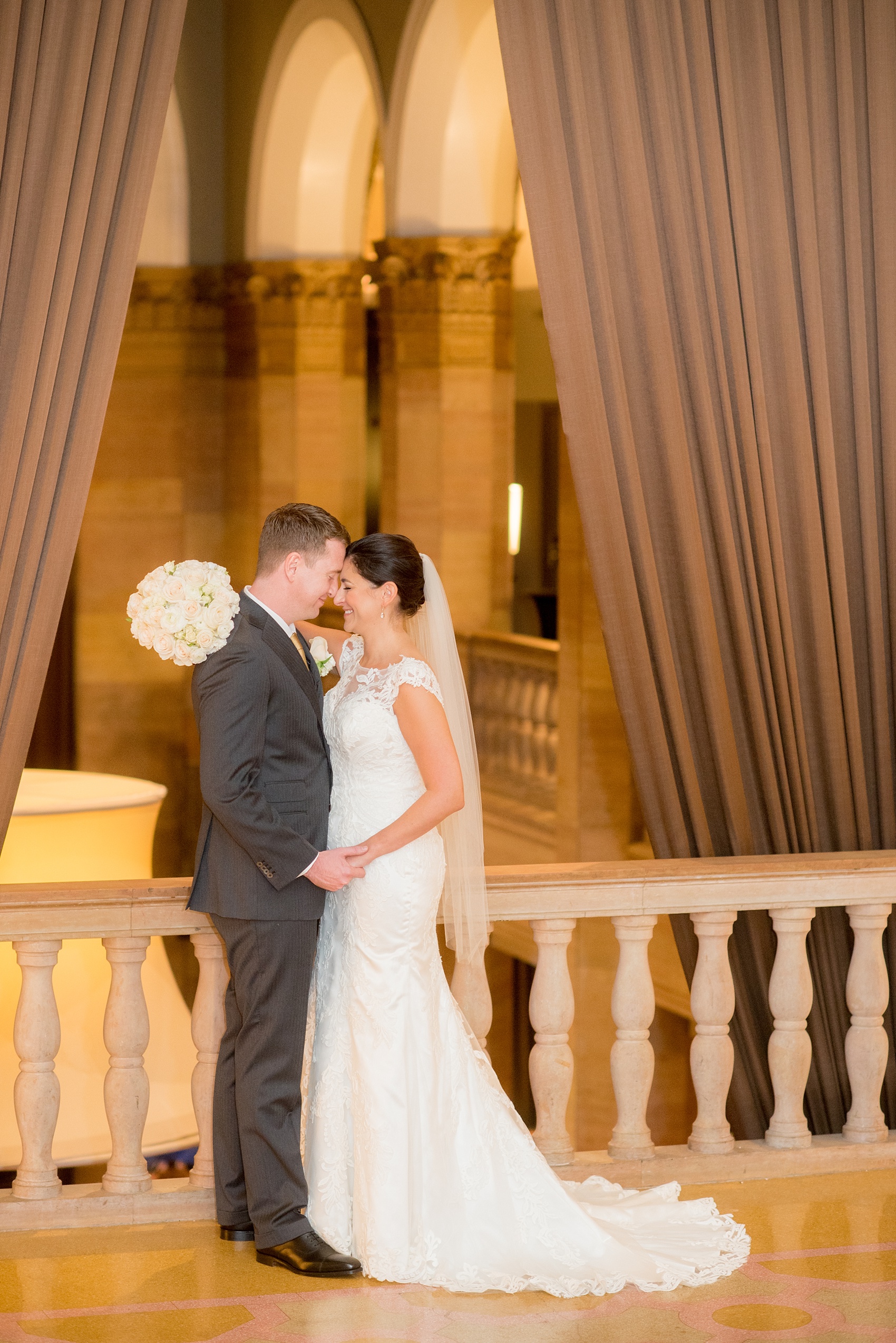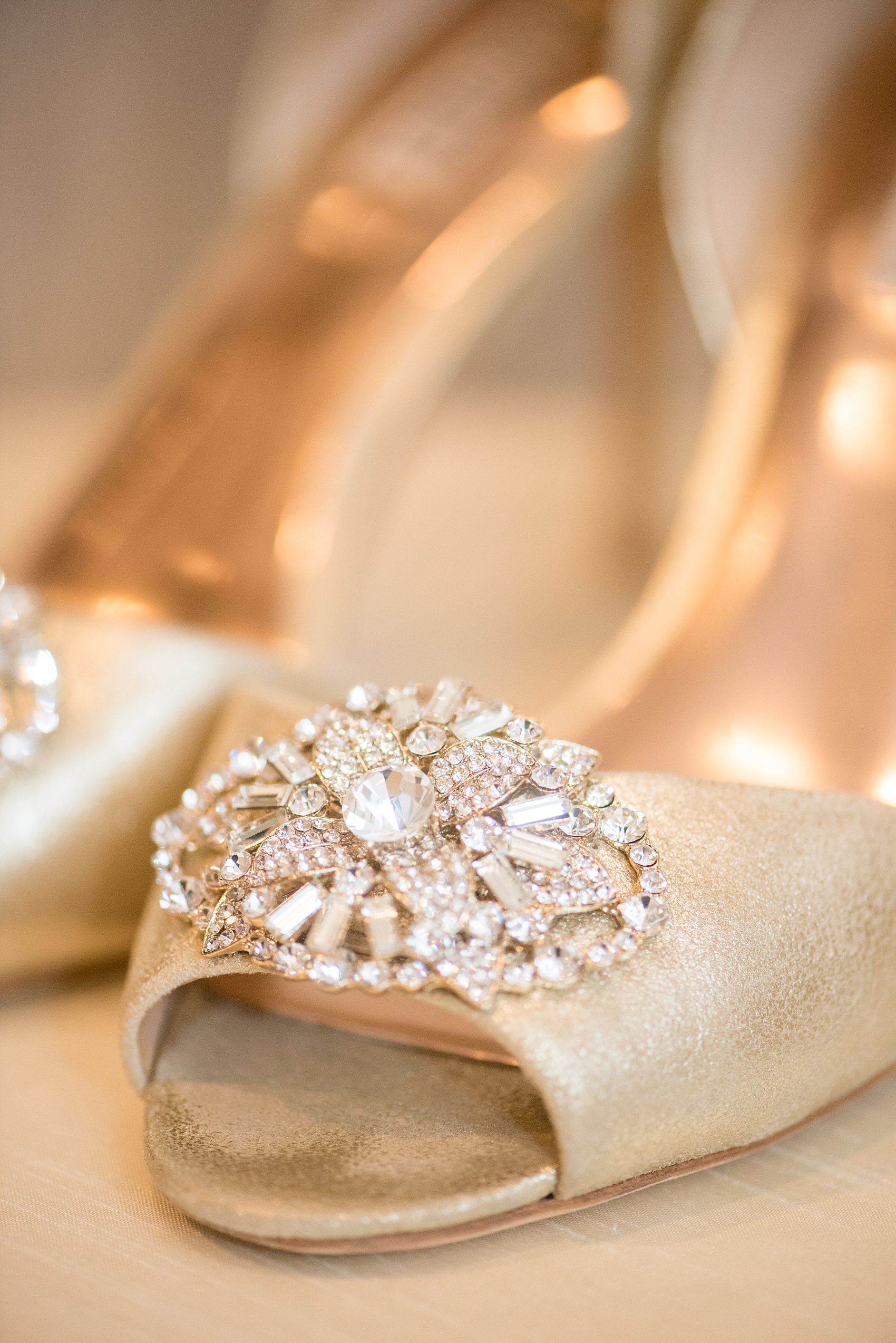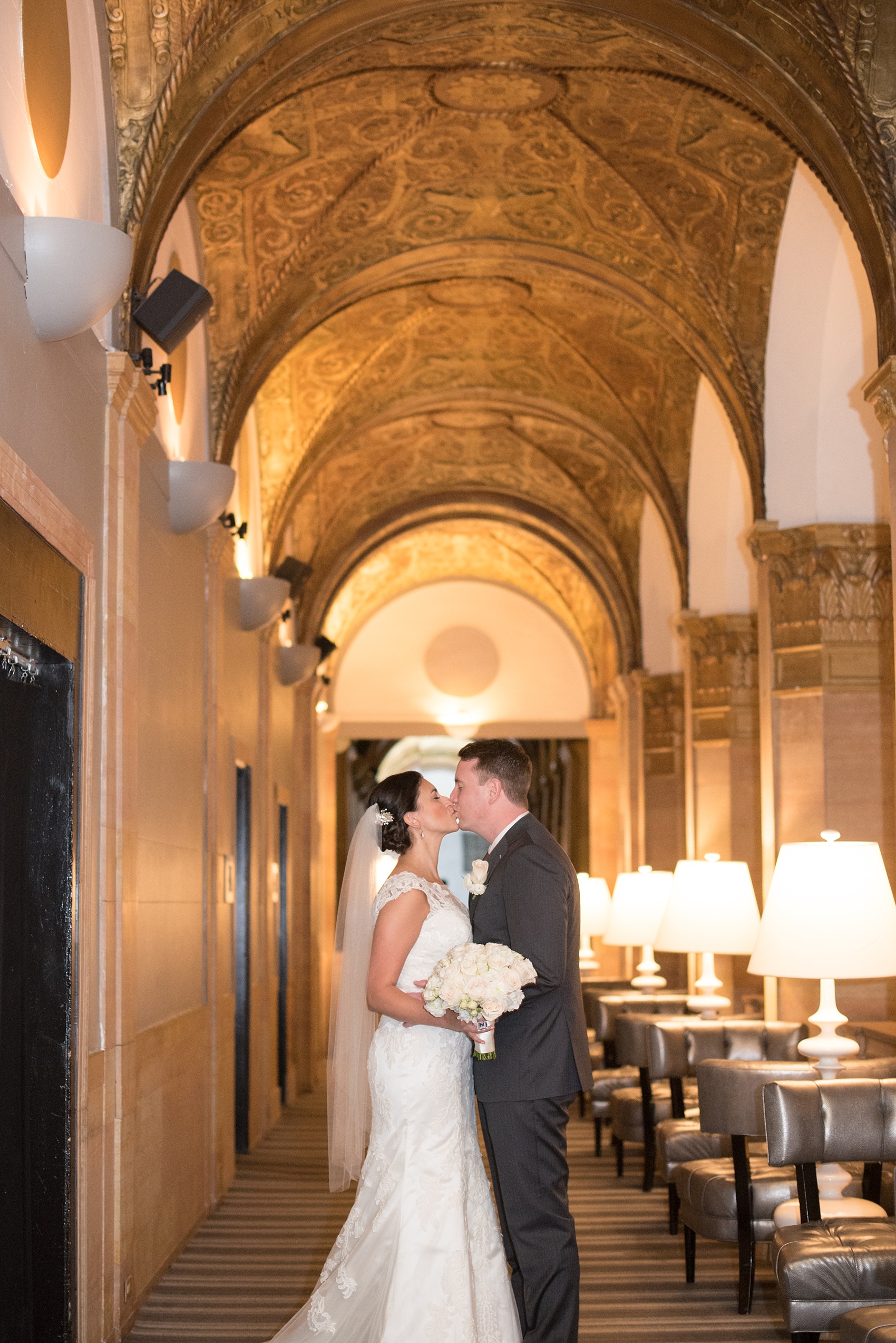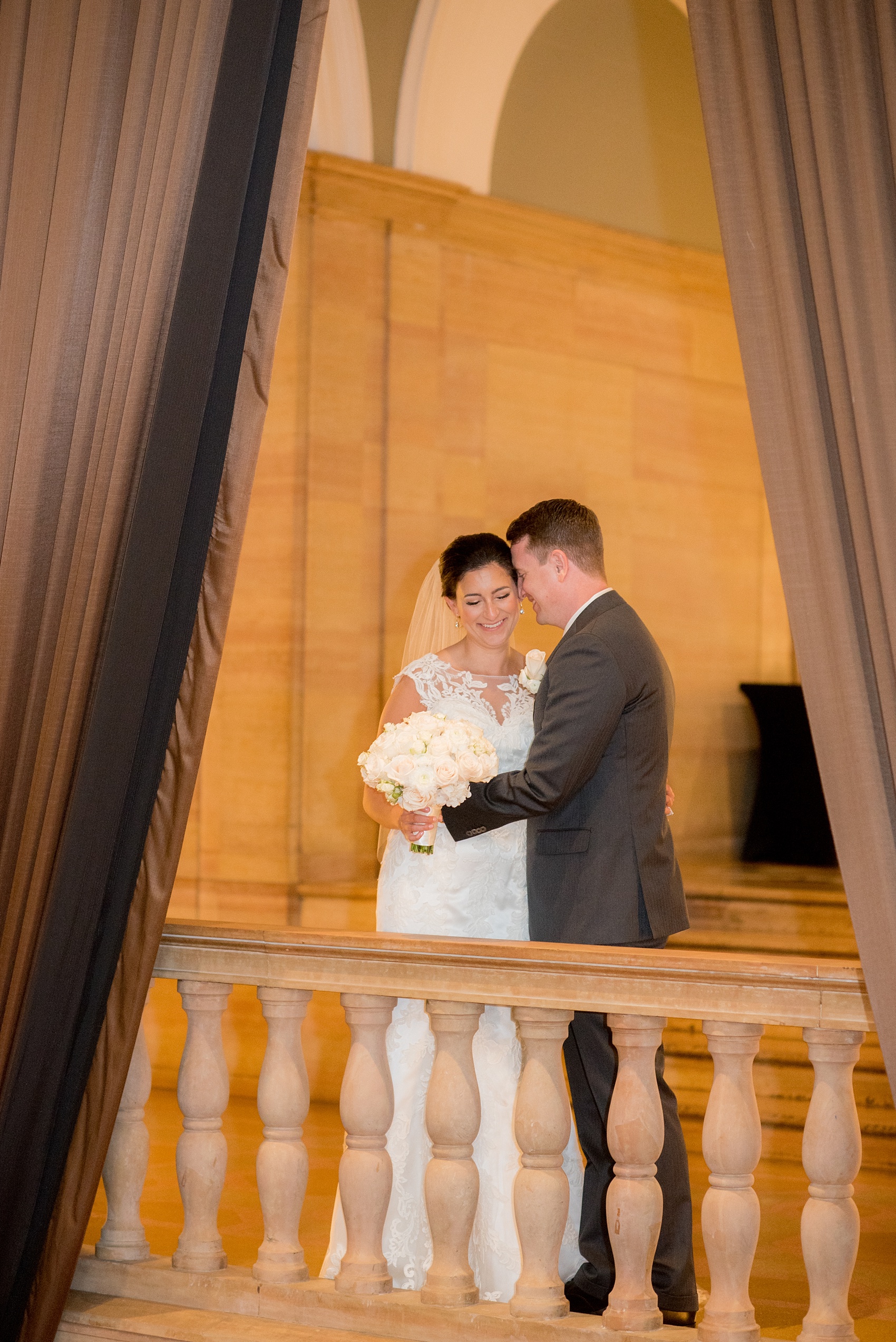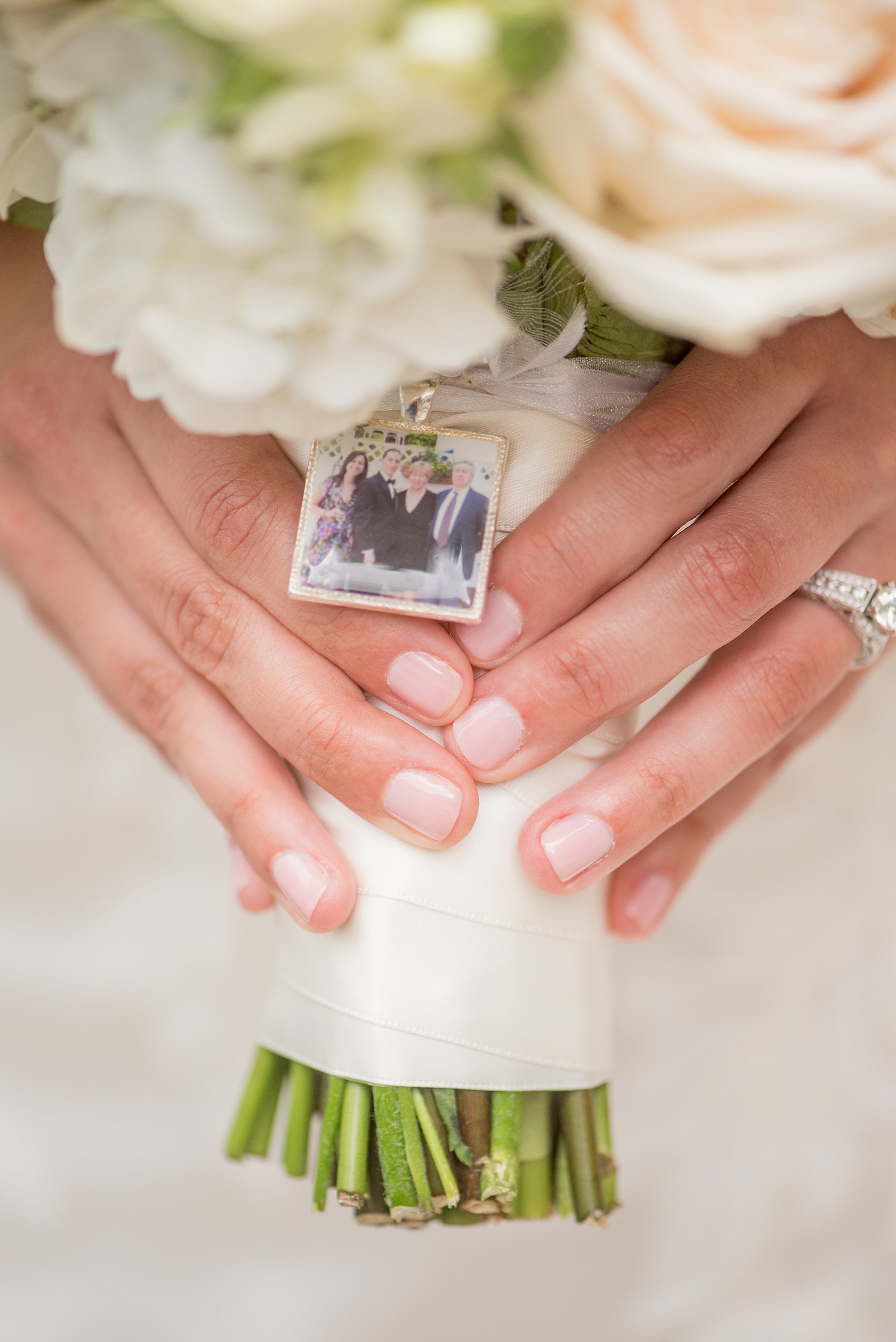 Shawn chose a simply, versatile pink manicure for her wedding day. They looked elegant holding her white and light peach rose bouquet, created with love by her aunt Kathy, finished with a special charm with a photo of her parents and brother.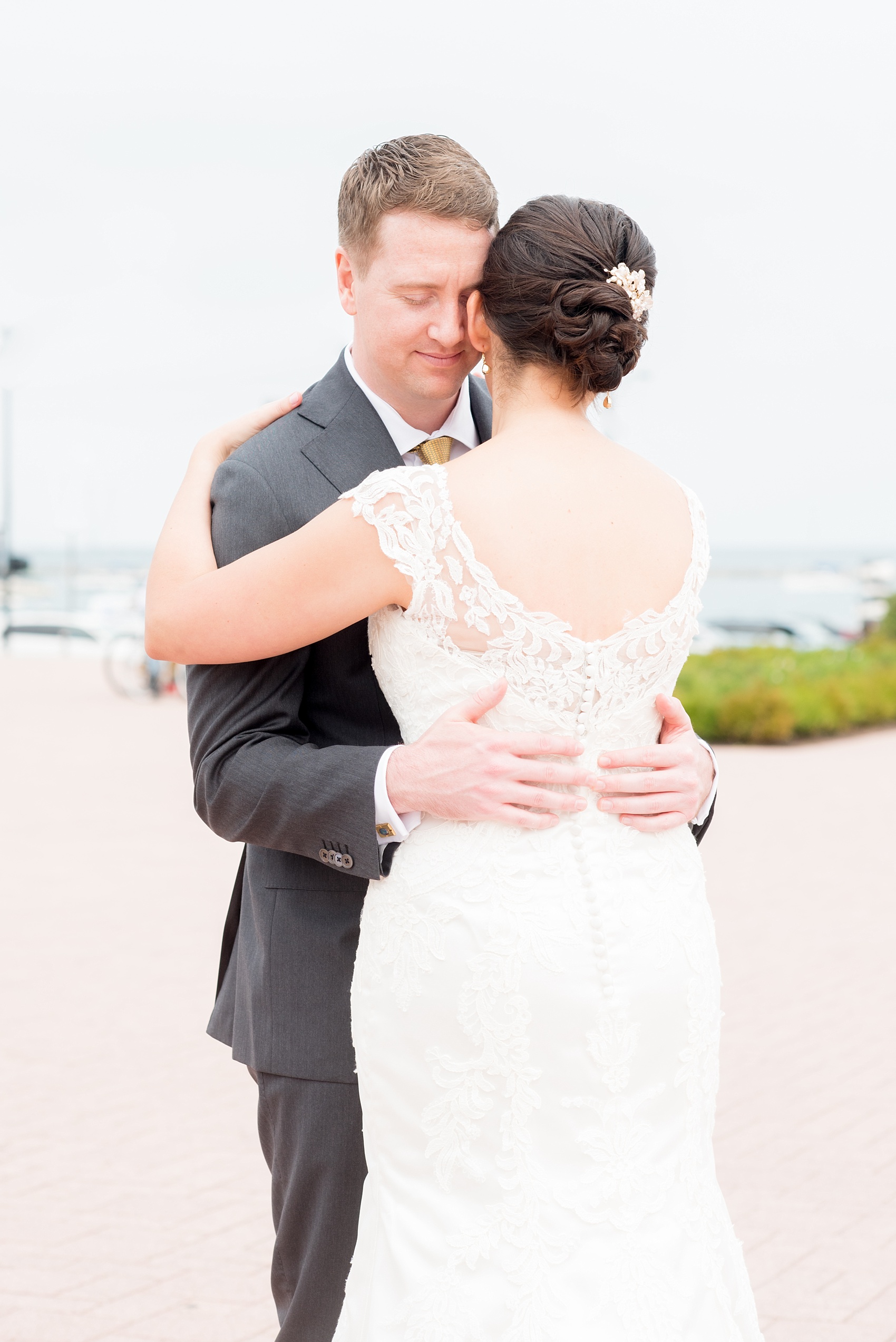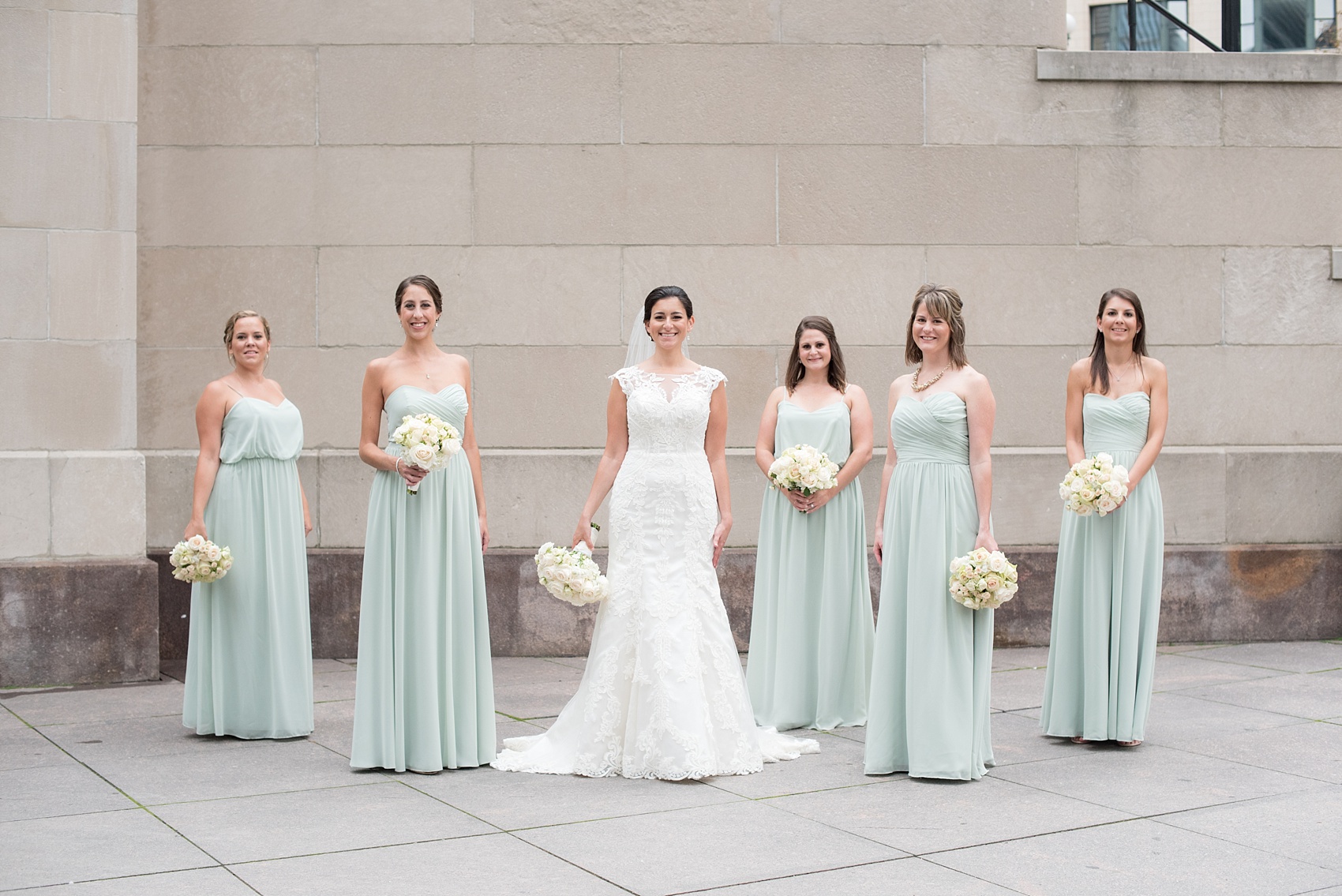 I LOVED that we had the opportunity to hit up some amazing Chicago spots including Buckingham Fountain and Riverwalk. I really appreciate when a couple values photography so much they plan for ample time to get some really creative shots. Don't her bridesmaids look equally stunning in their mix-n-match mint green Alfred Angelo gowns?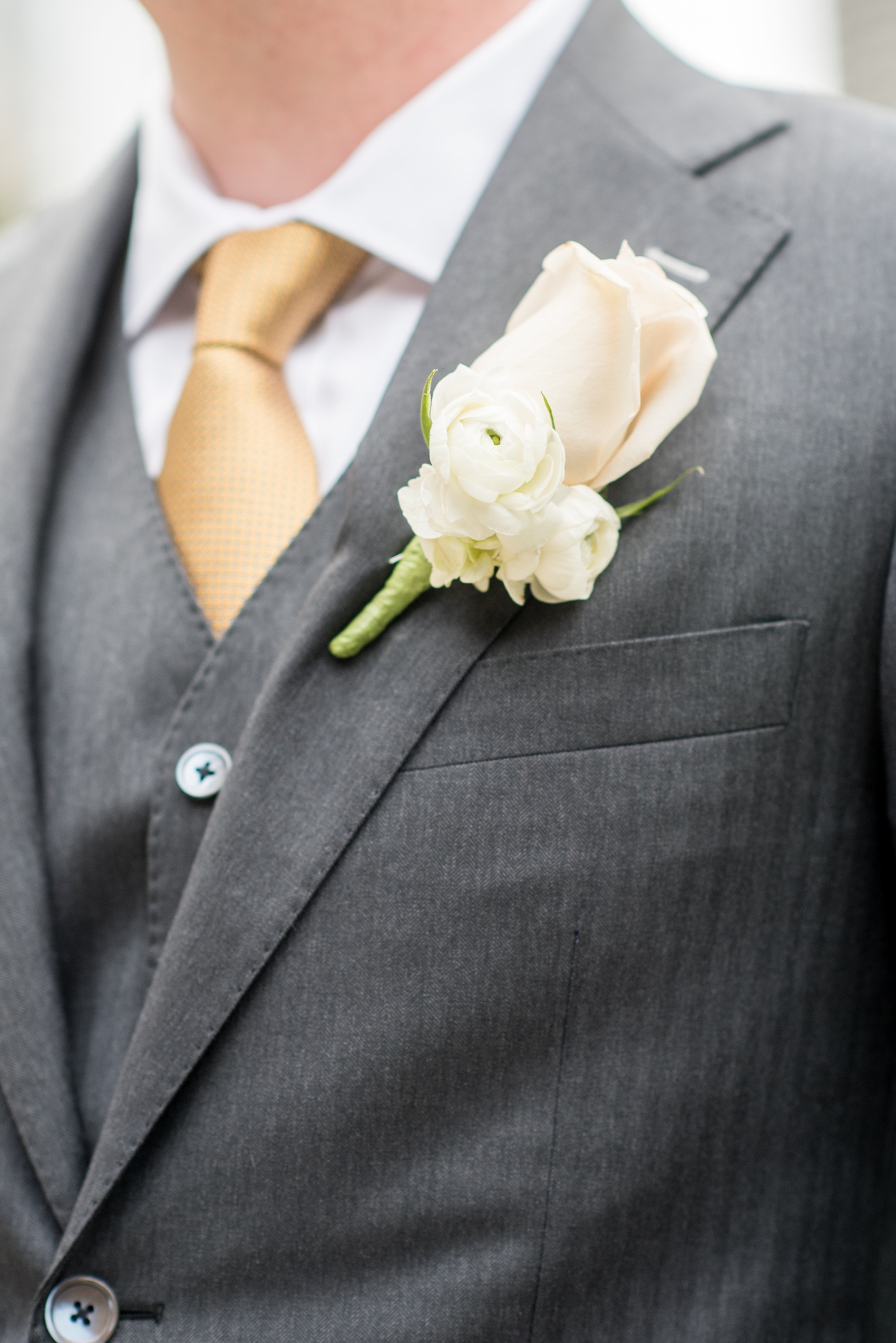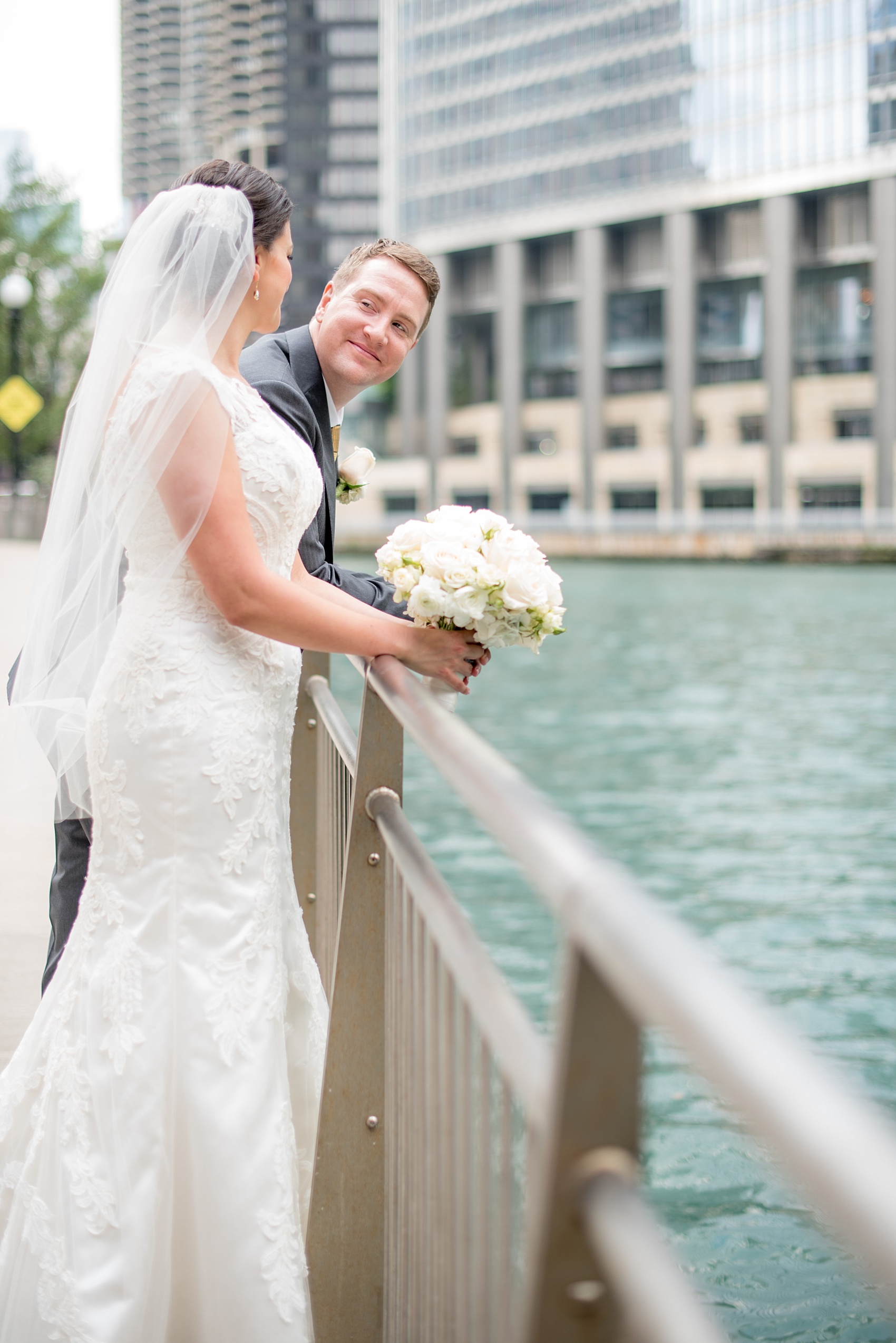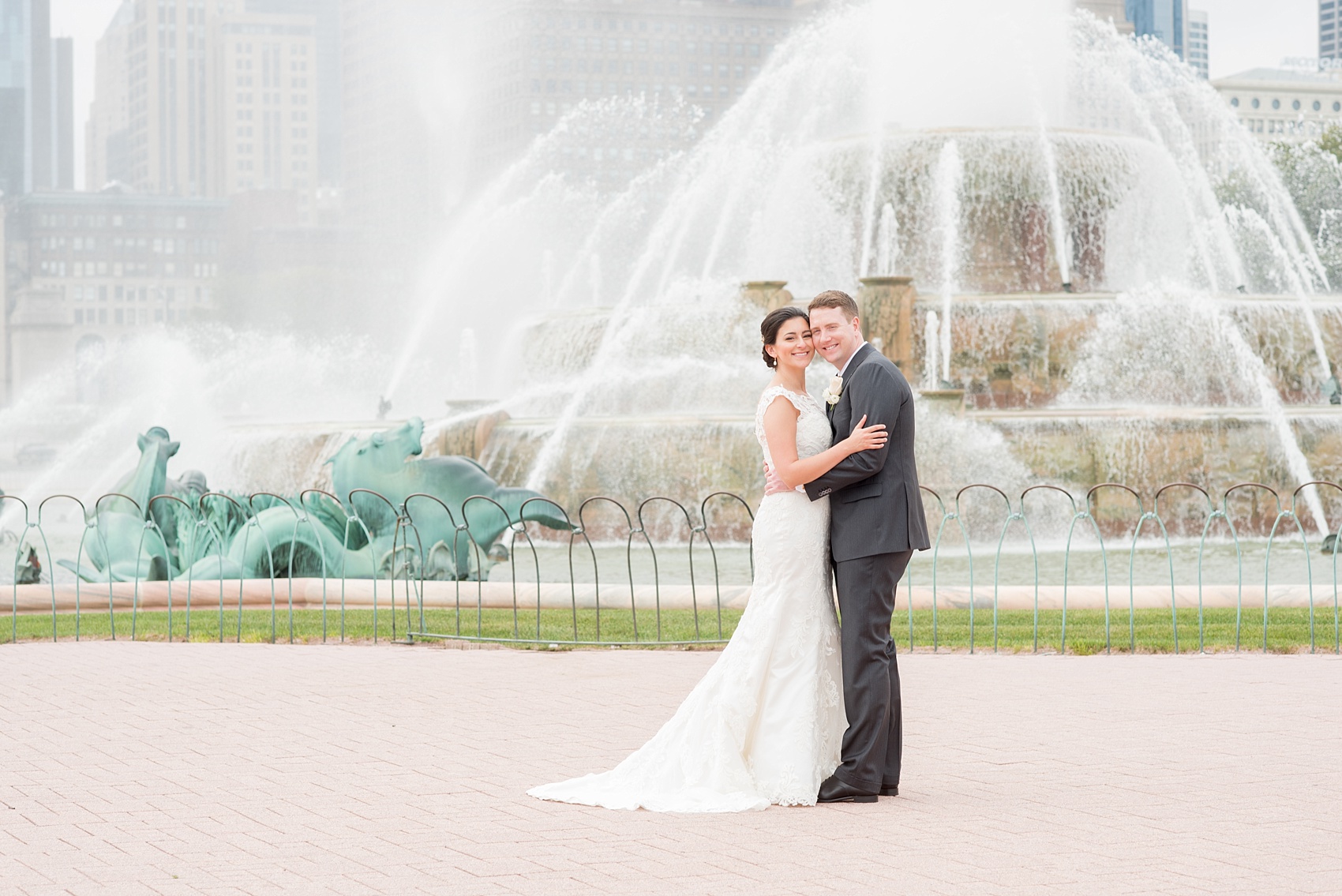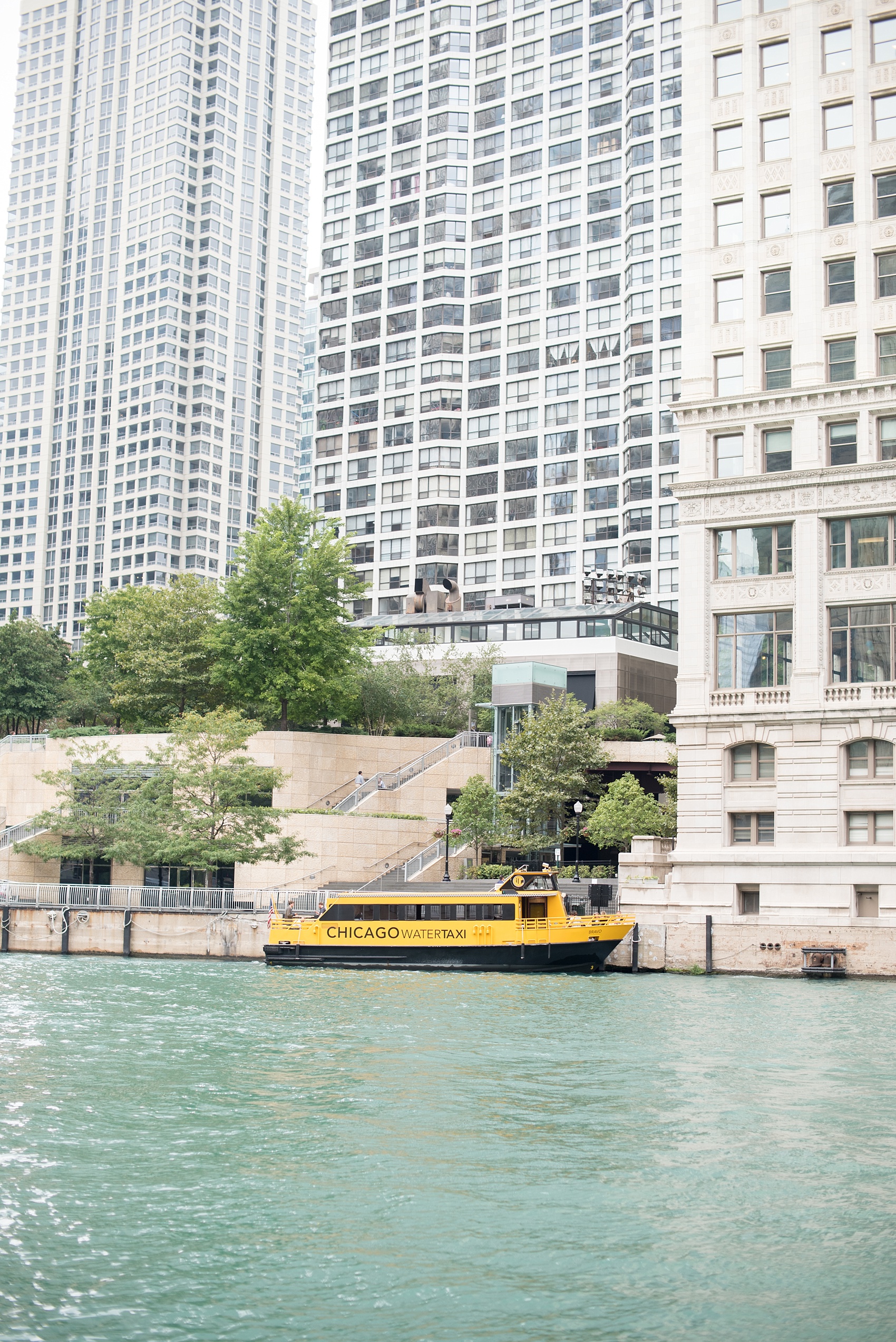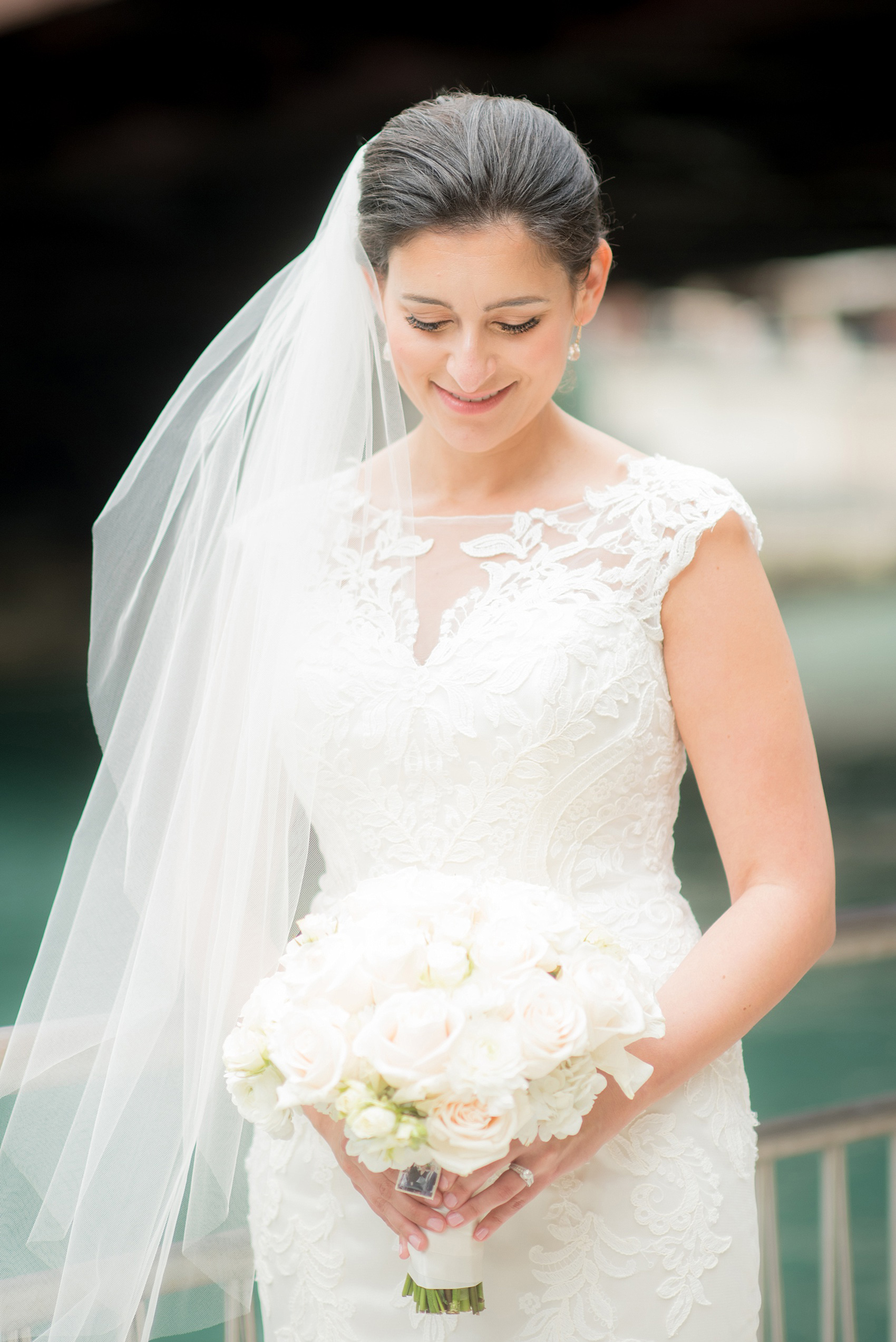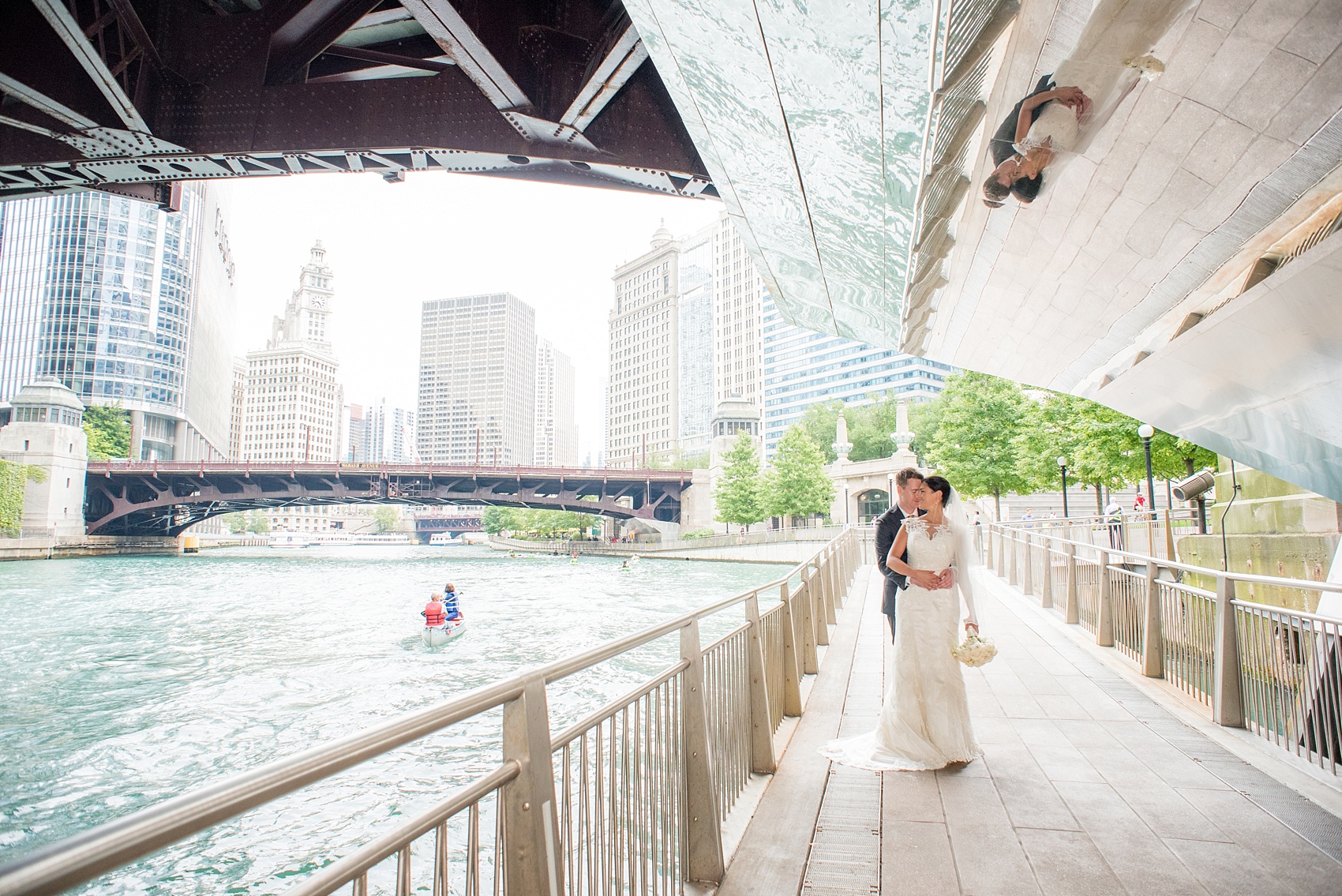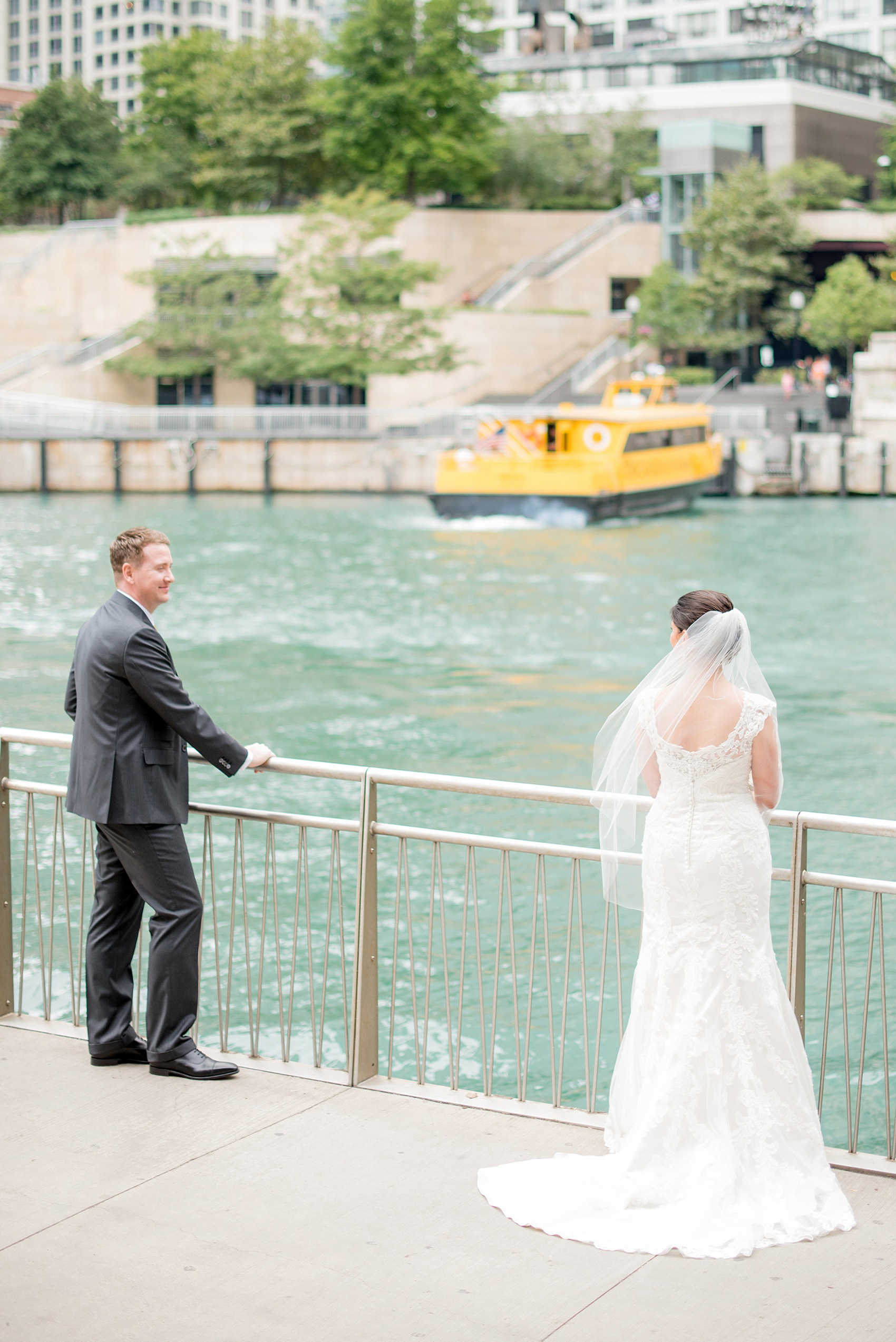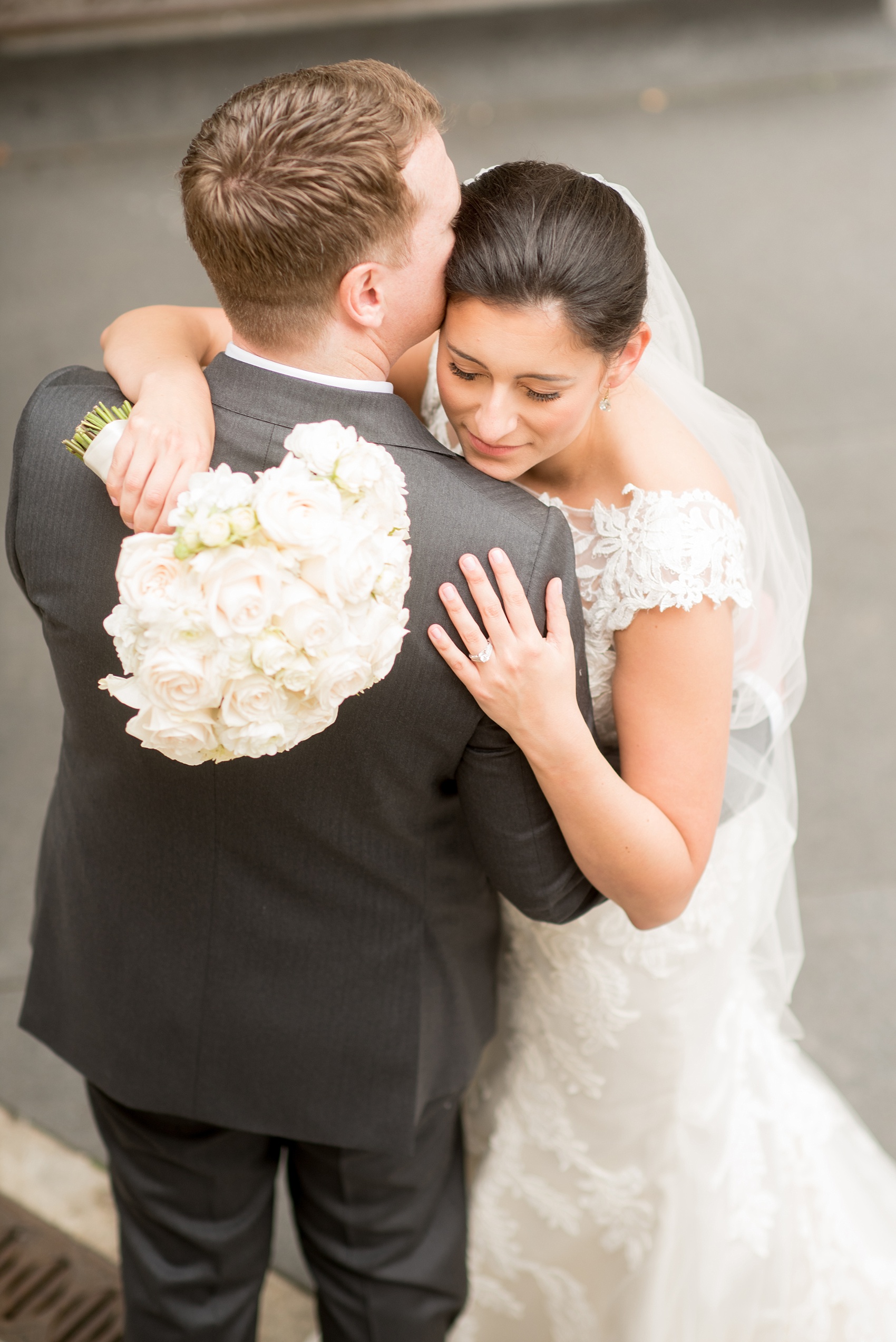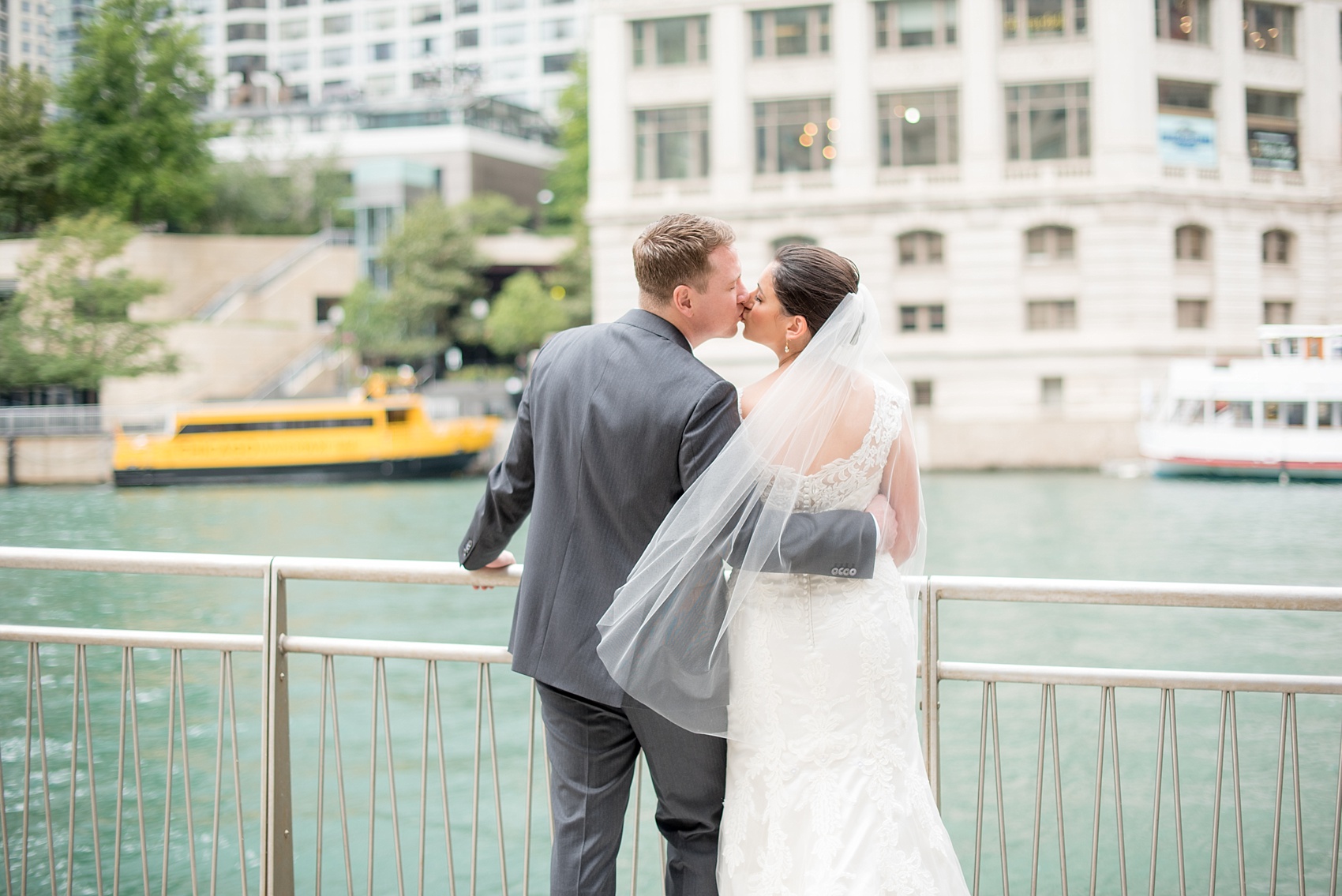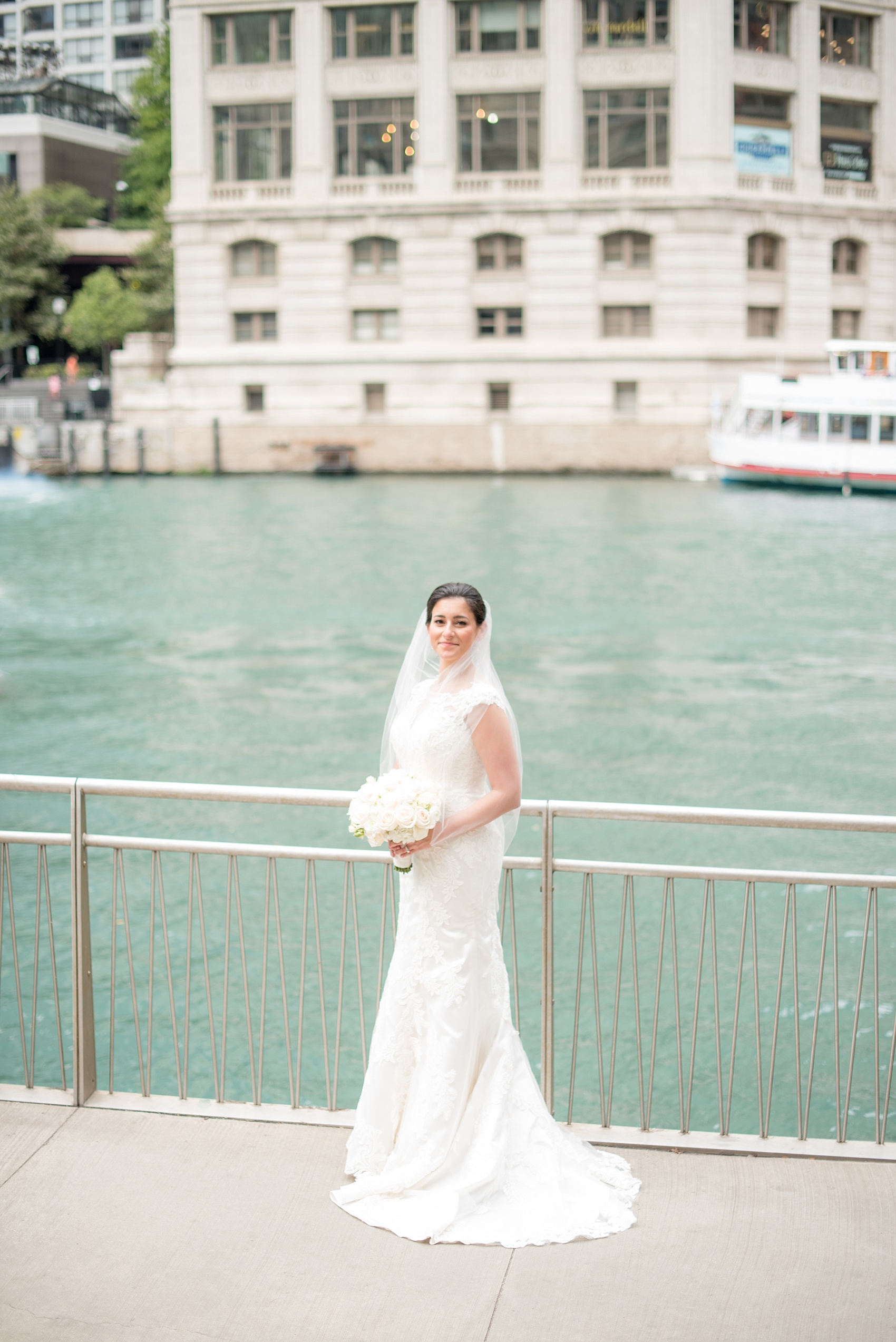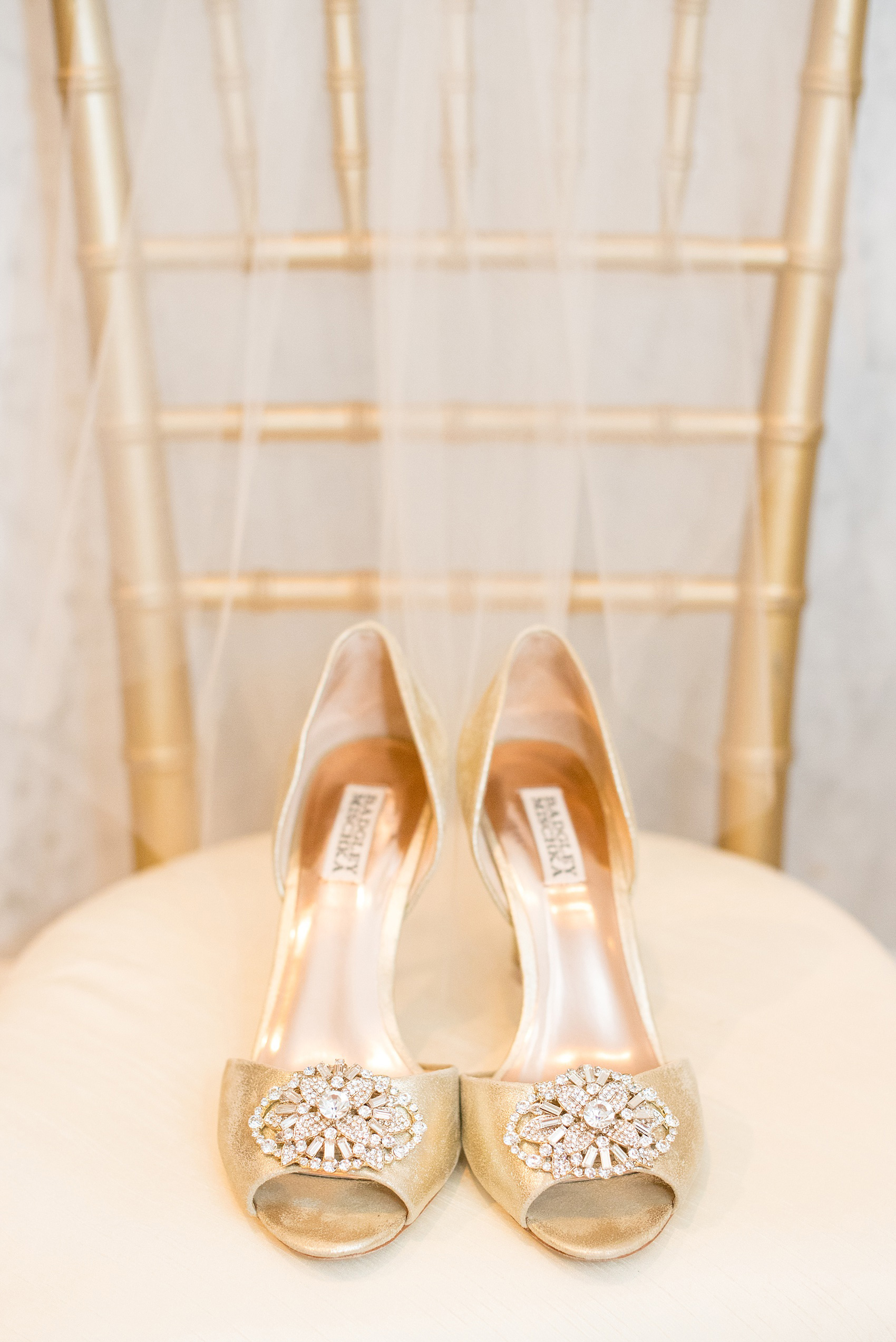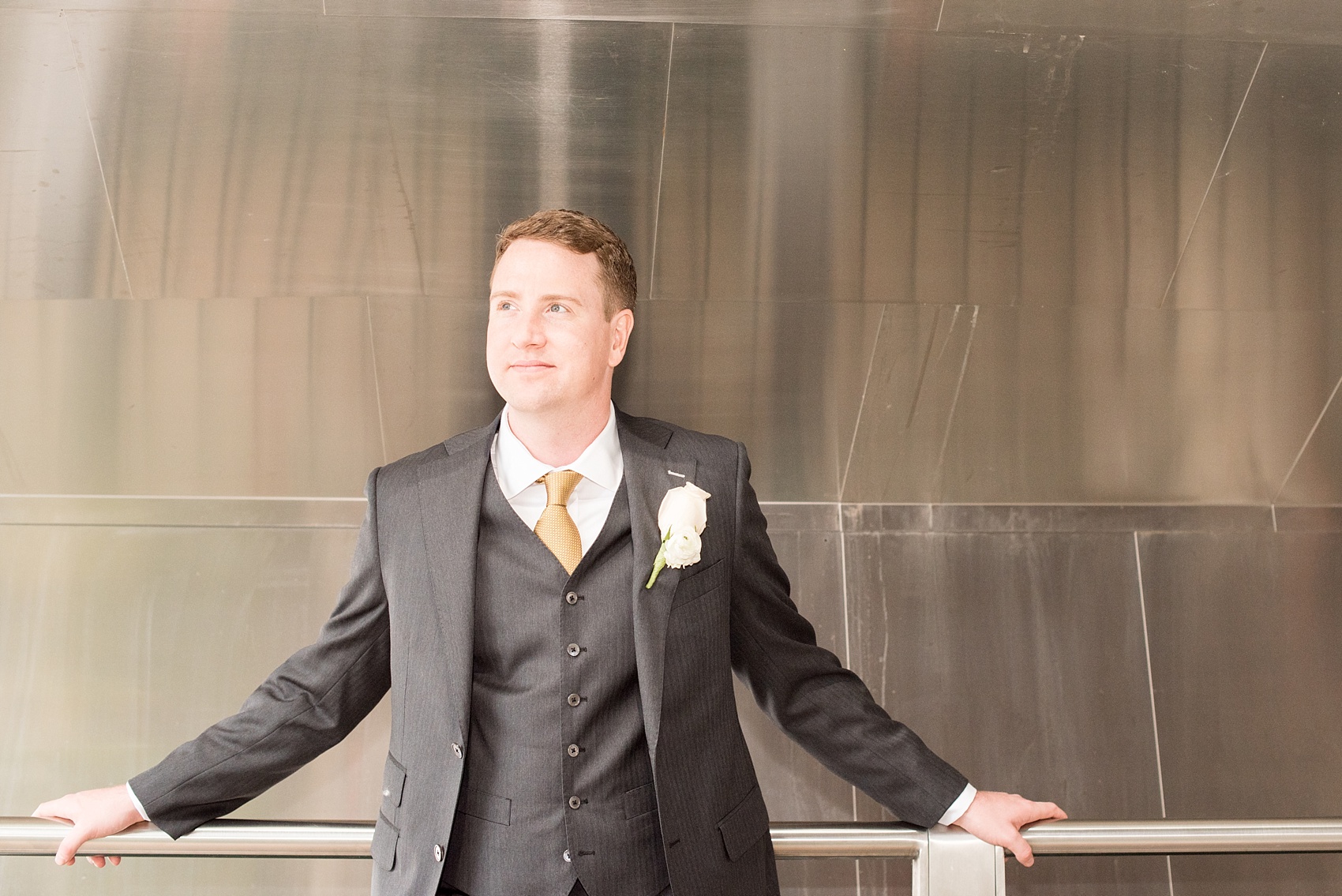 Shawn looked STUNNING in her lace Justin Alexander gown. I loved, loved, loved the illusion neckline and small cap sleeves. Her train was the perfect length and her and Mike, in his three-piece grey suit finished with a yellow tie and rose and ranunculus boutonniere, were the picture of bride + groom perfection.
Their wedding party was so cooperative – it made for unique photos! We alternated between photos of Shawn and Mike, the bridesmaids and groomsmen. It resulted in some of my favorite complete wedding party photos including these beauties on the stairs of part of Riverwalk.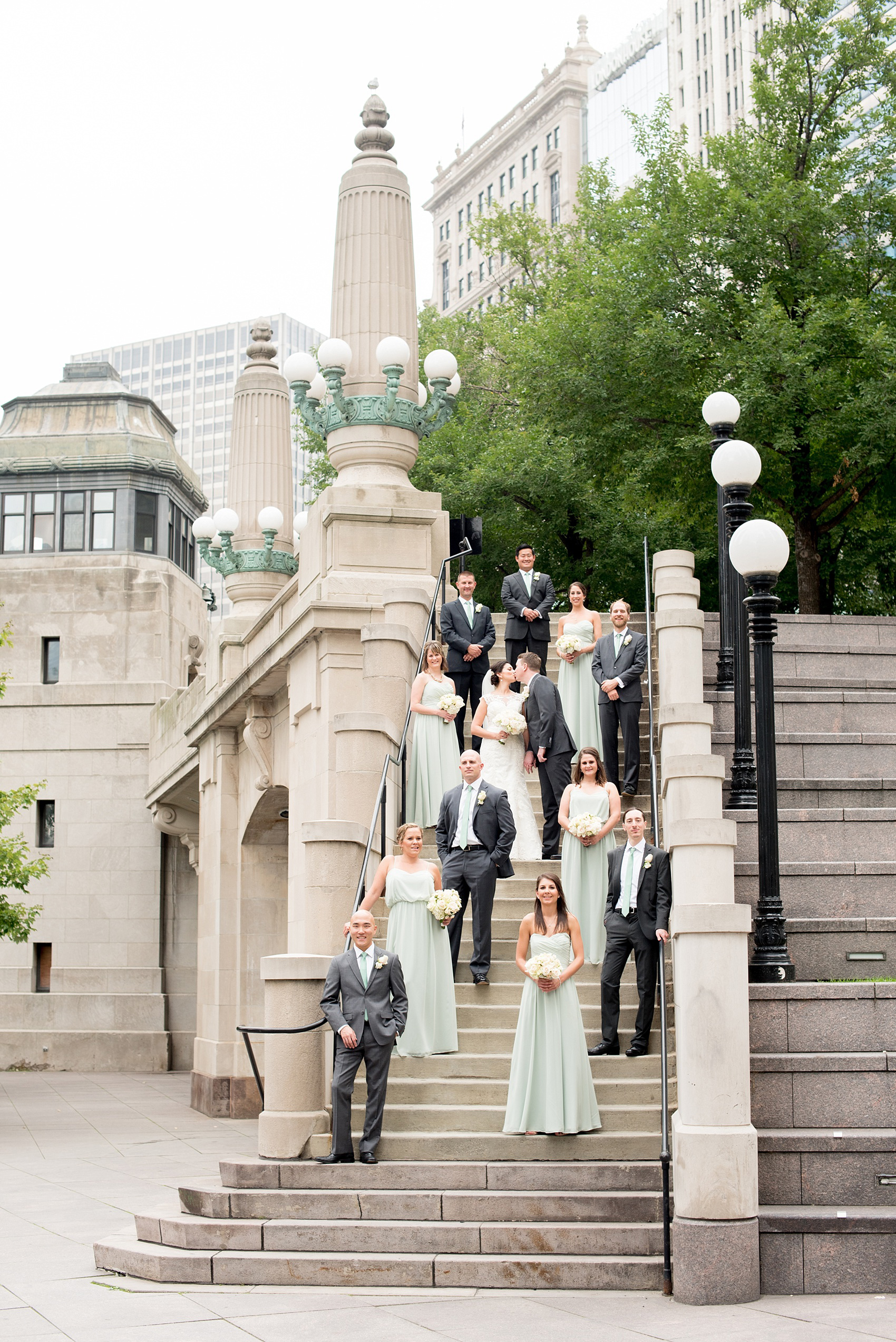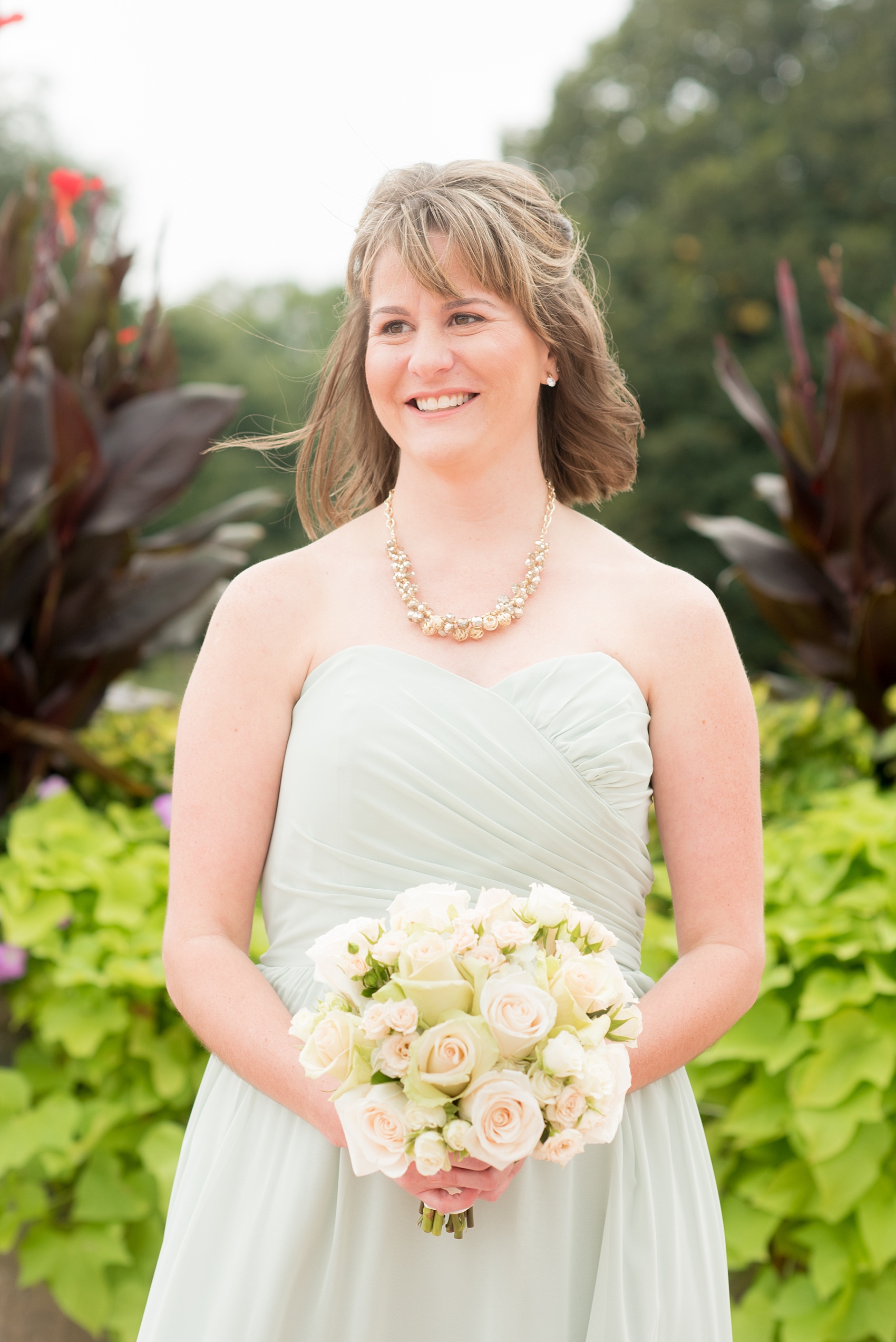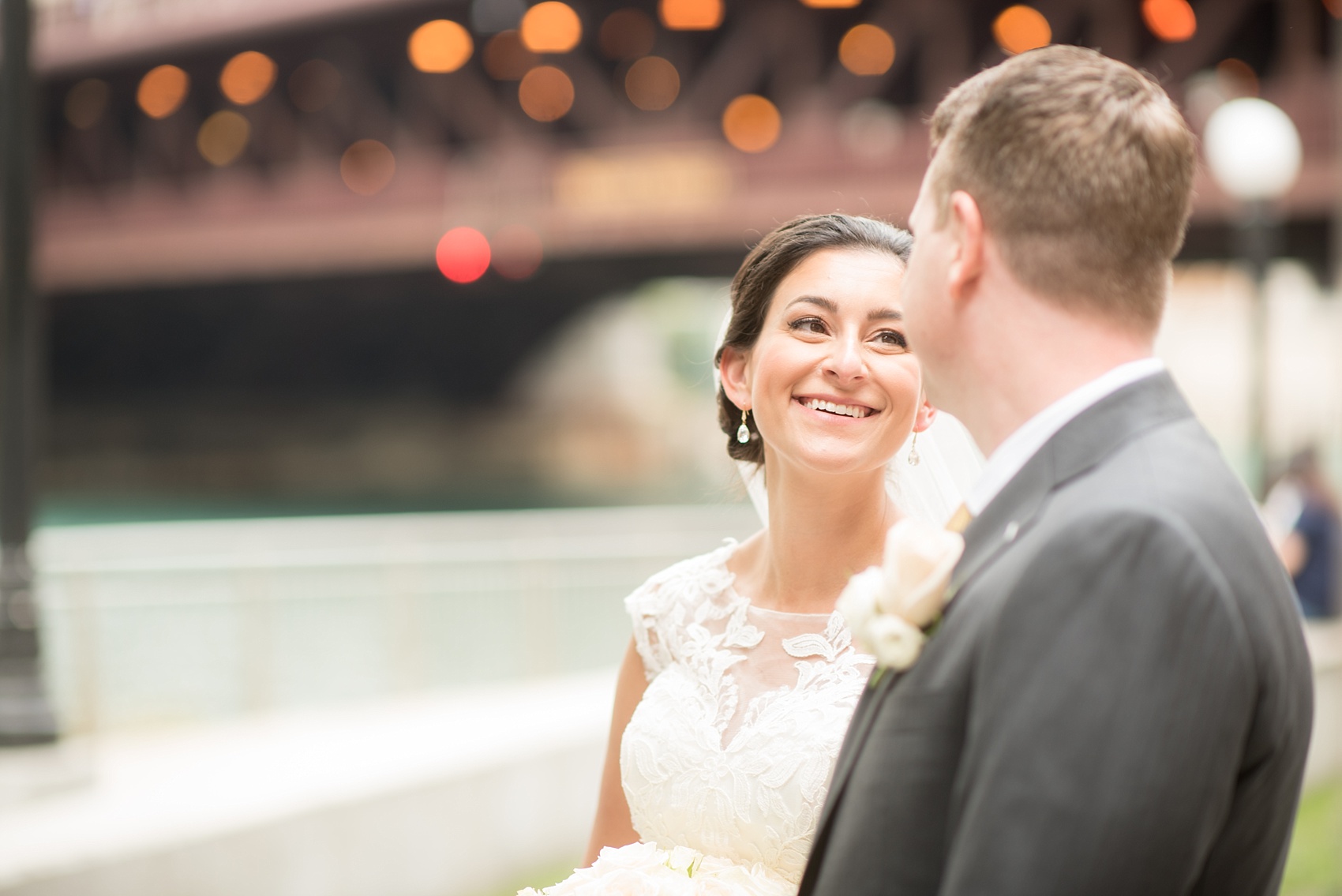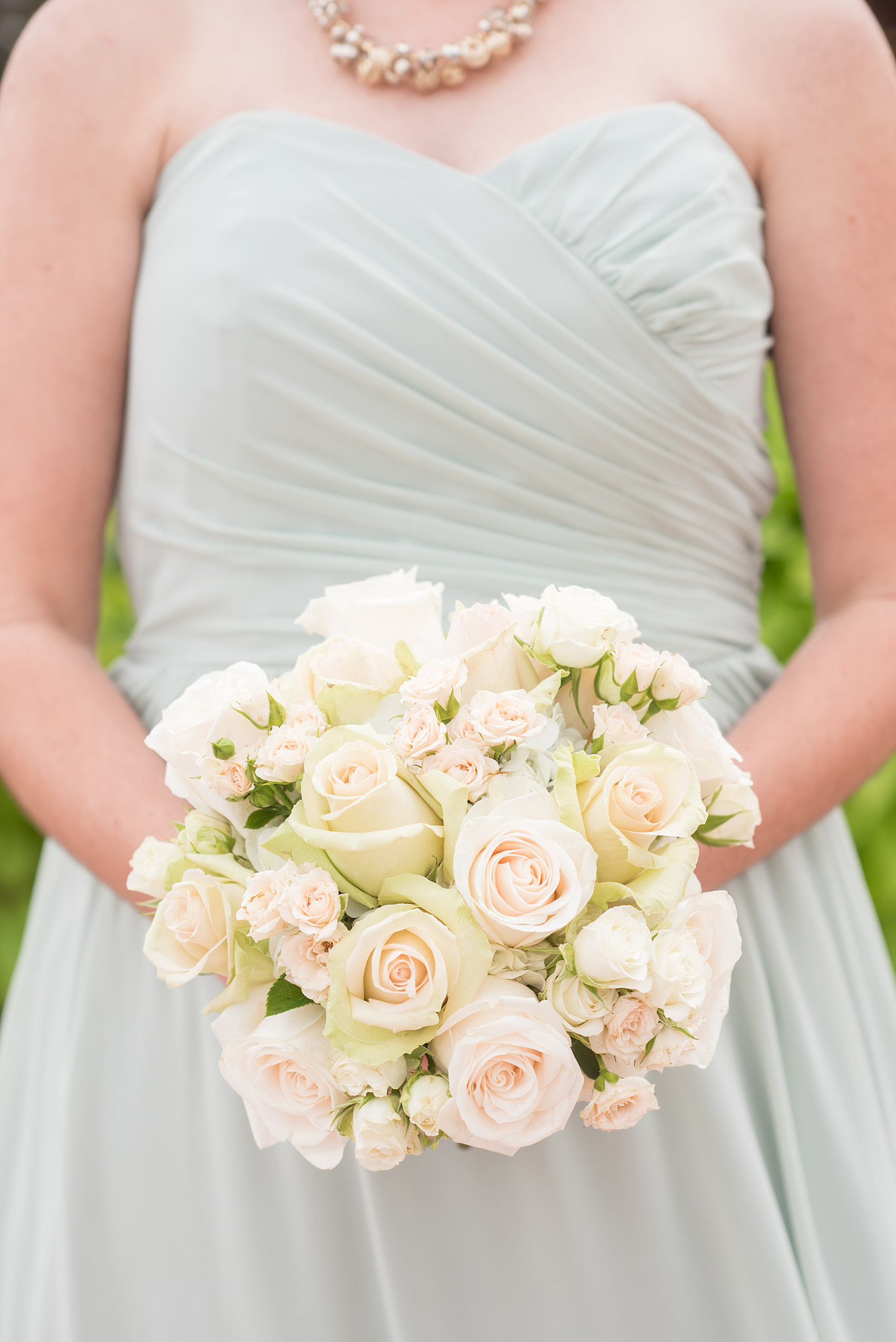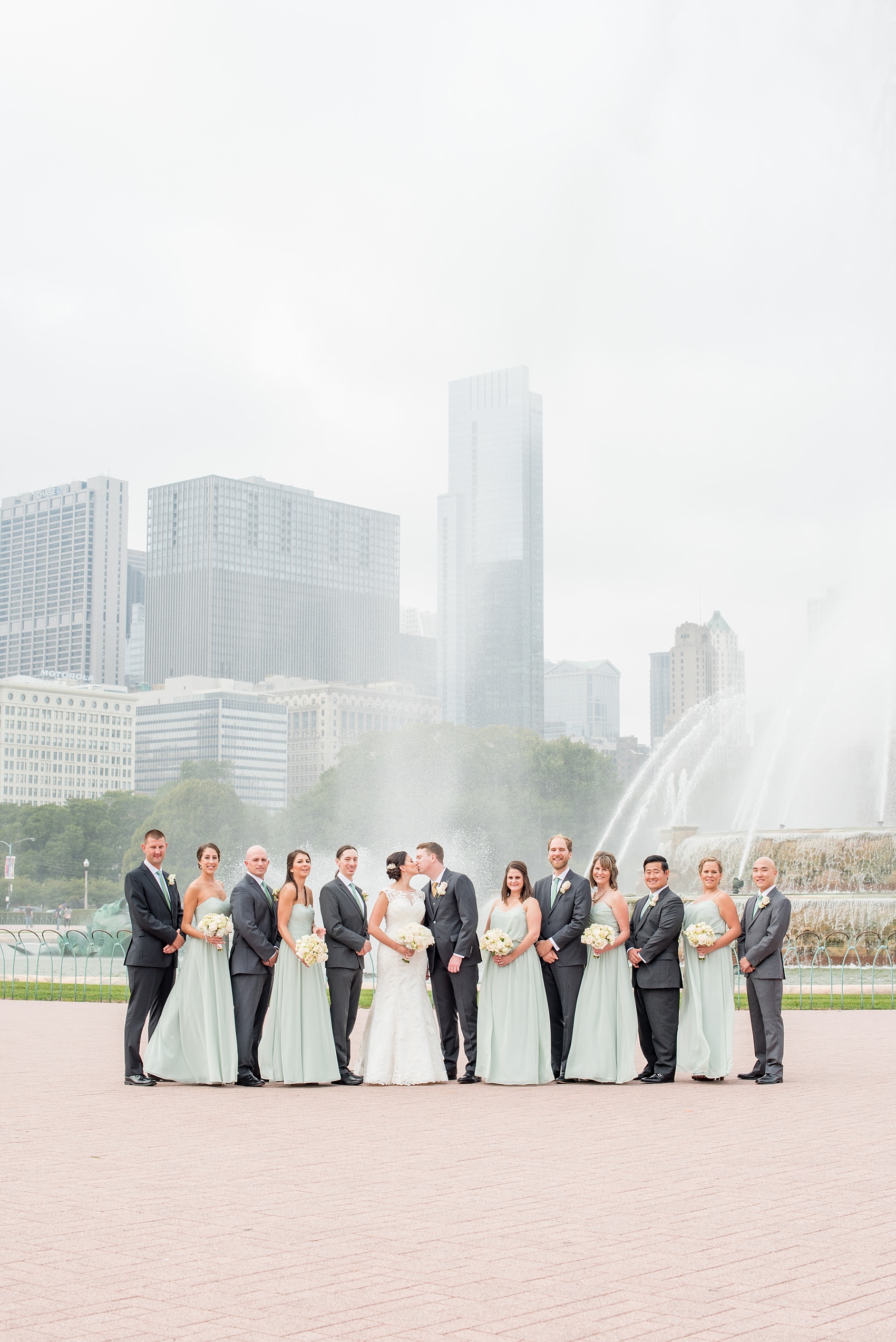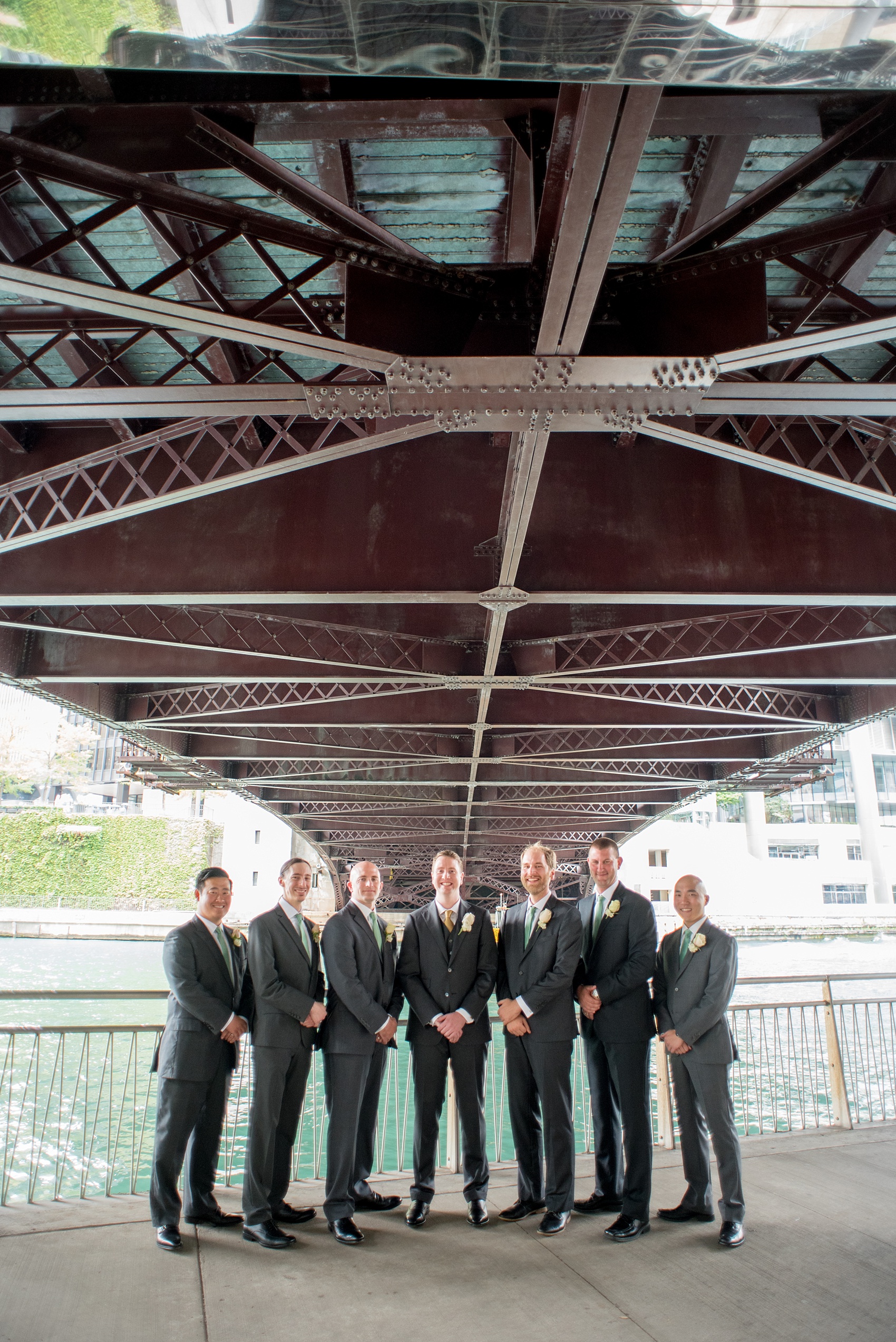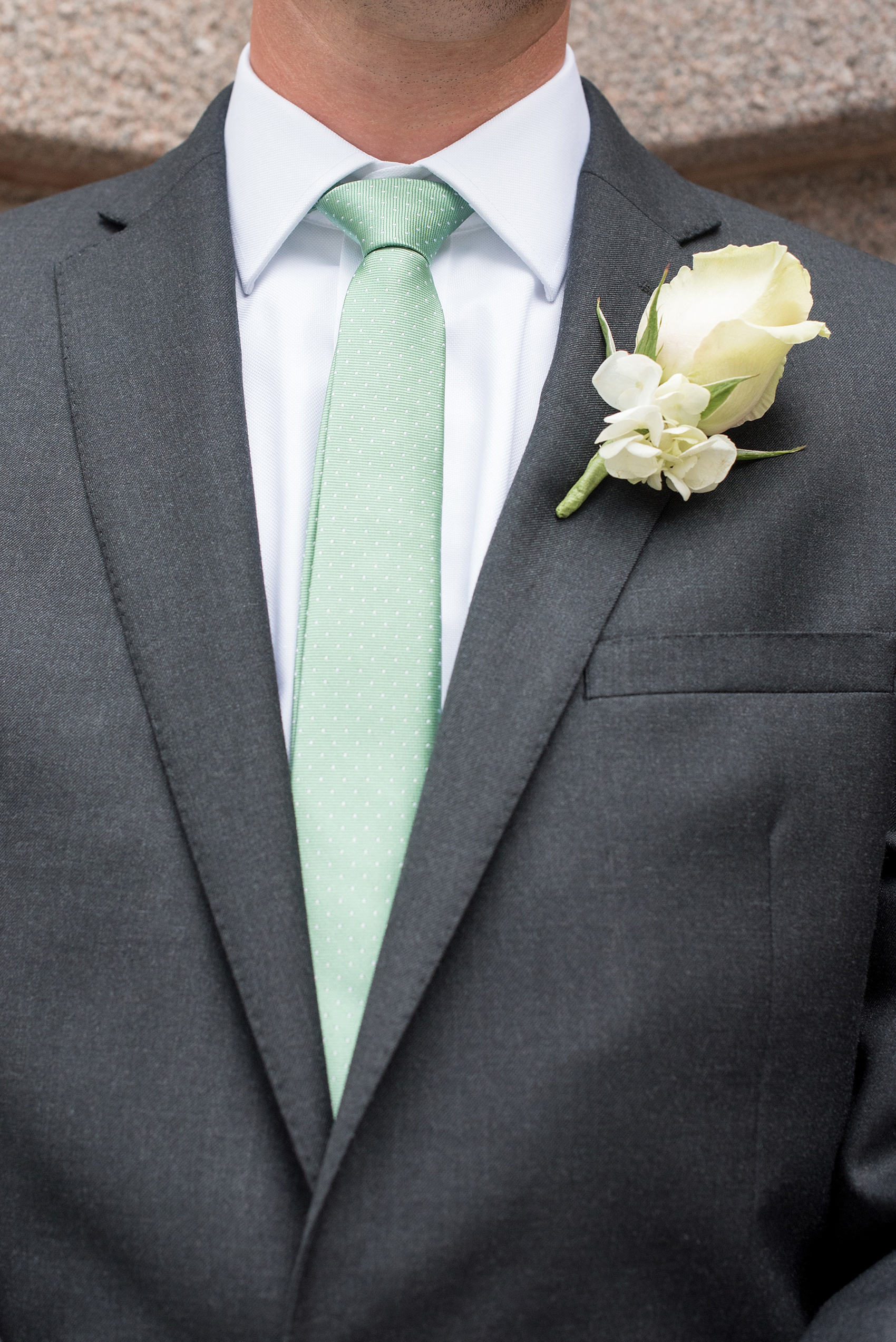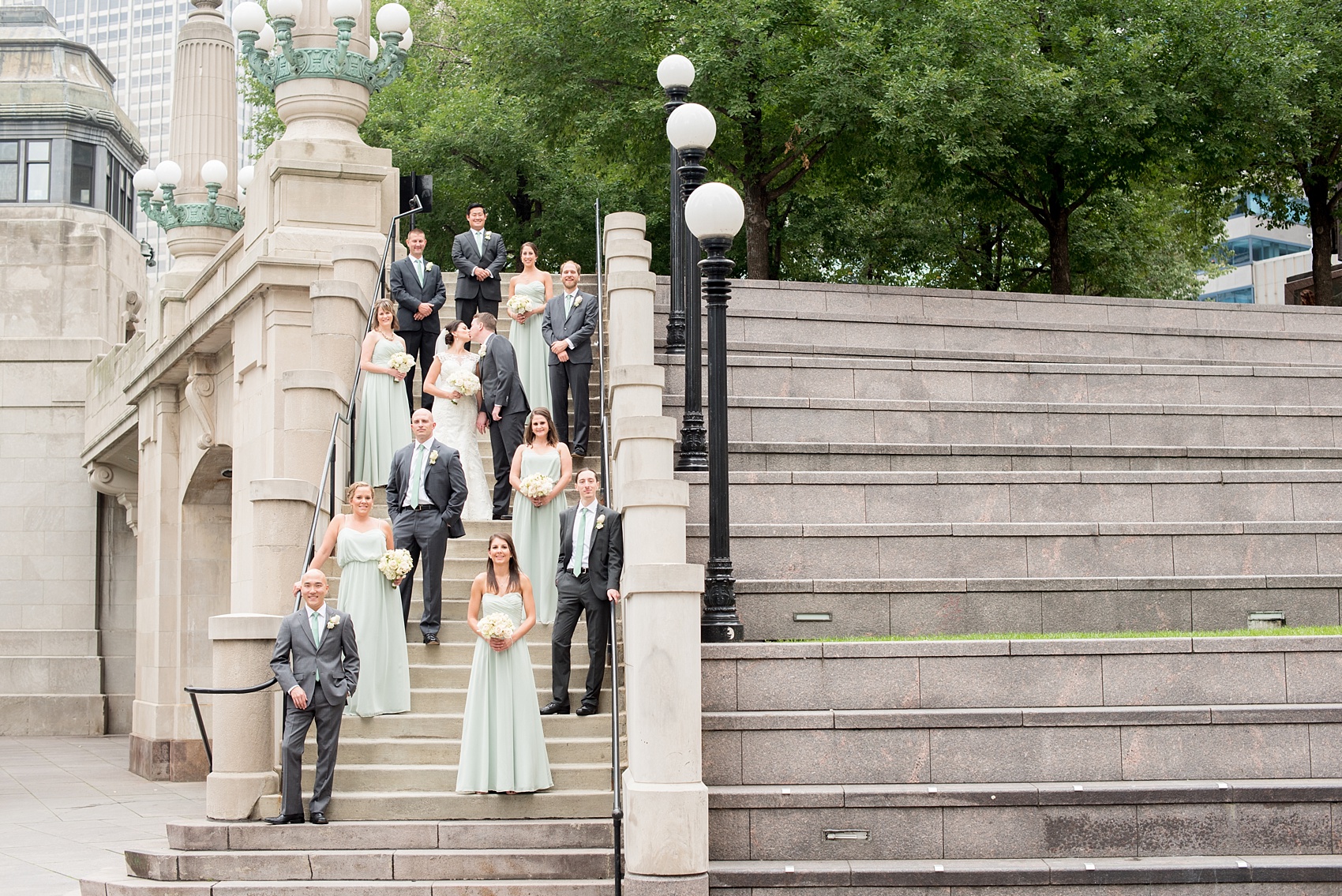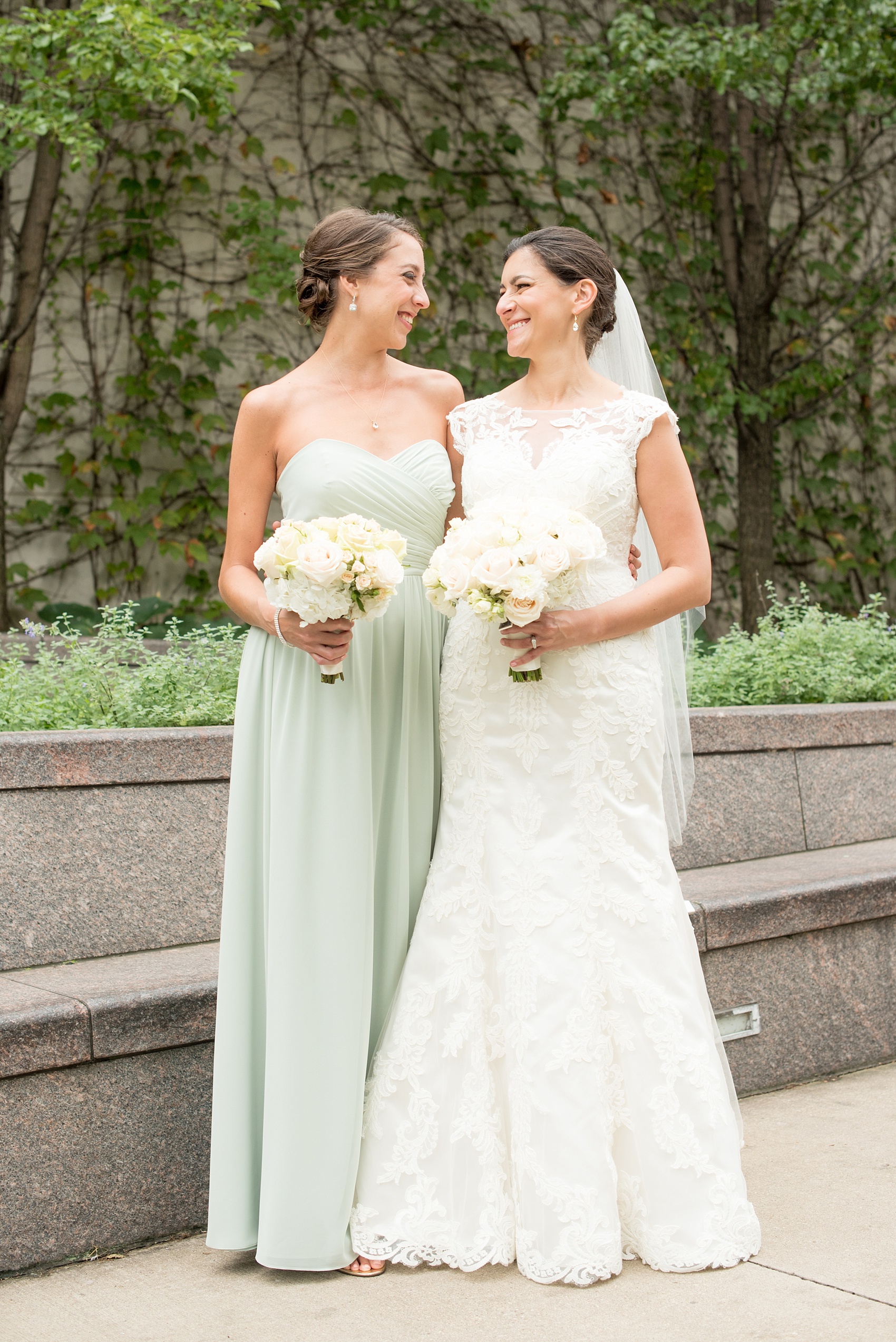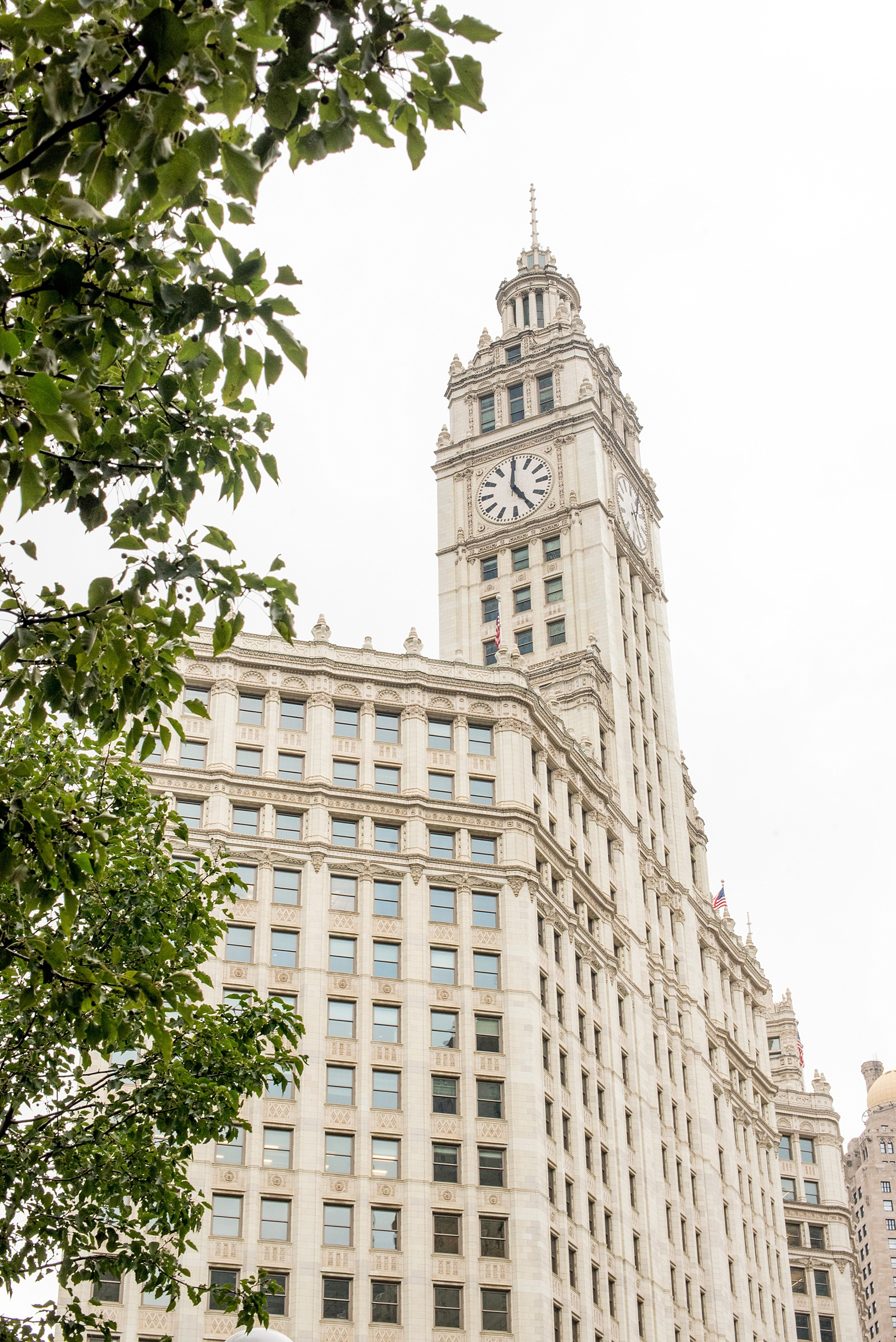 Their bouquets were really a highlight. Sometimes all you need are an abundance of roses to make a statement. The bridesmaids carried a smaller variation of Shawn's bouquet, with green-edge roses (which I absolutely swooned over). We were sure to get photos of The Wrigley Building too, one of Shawn's favorite buildings in the city.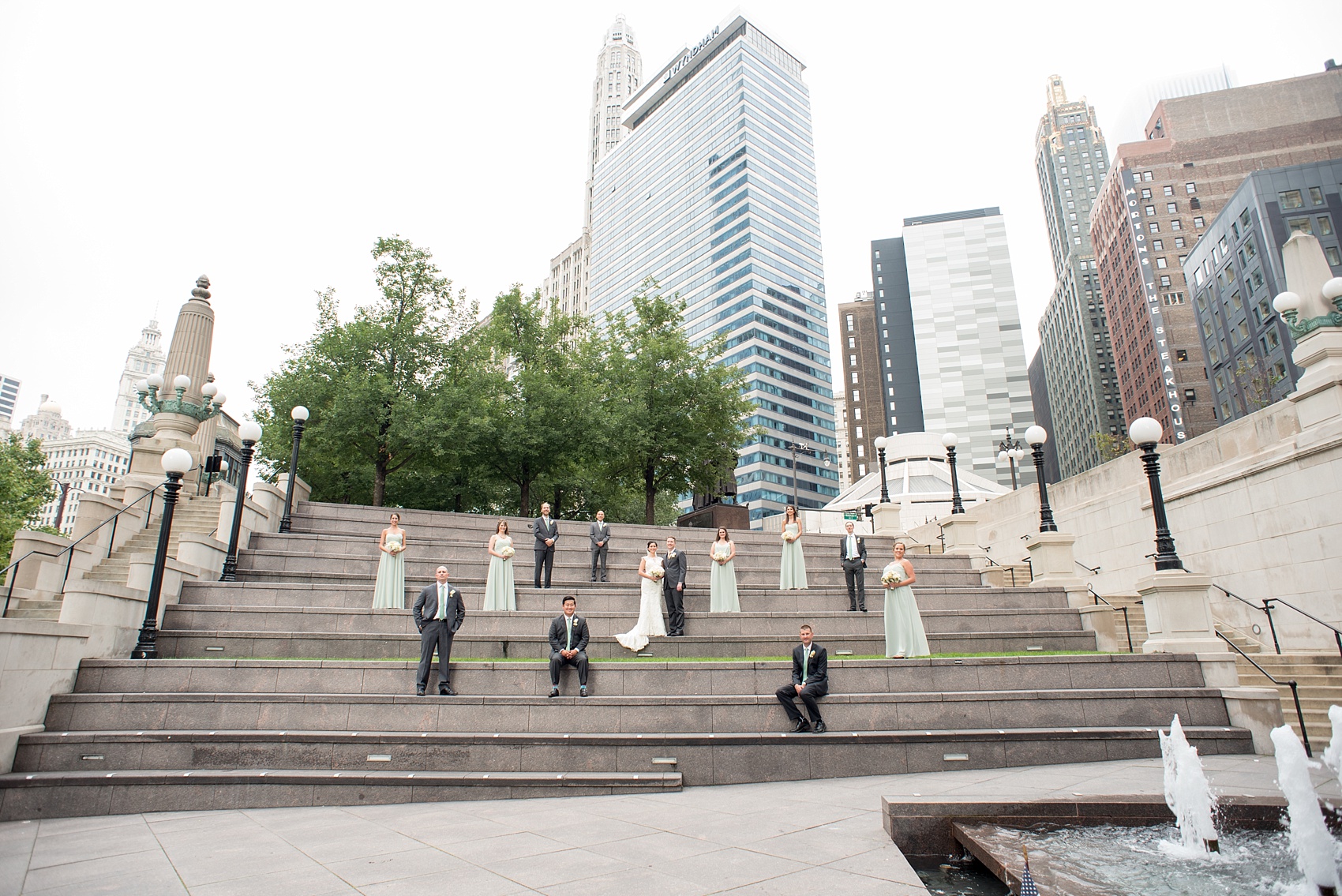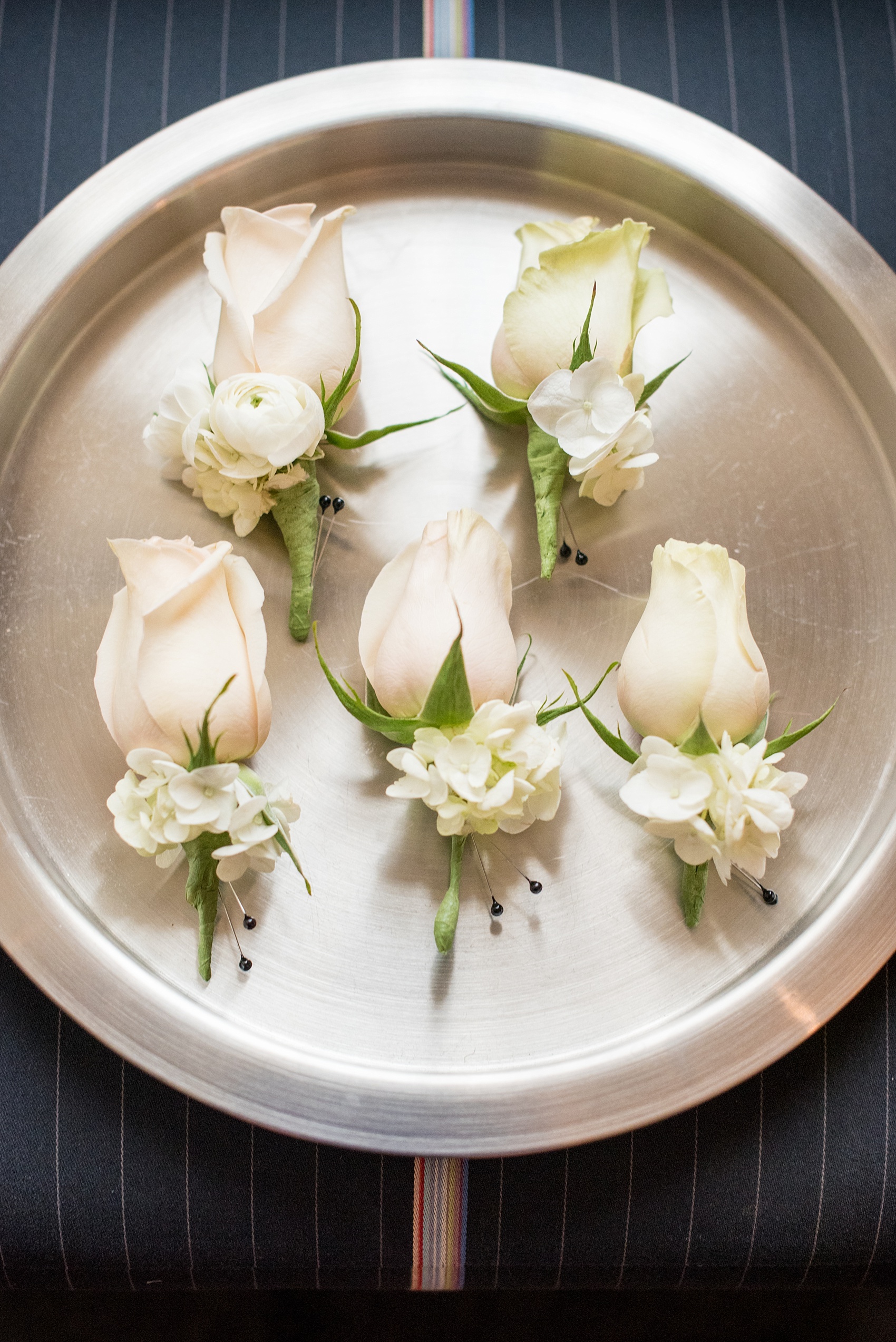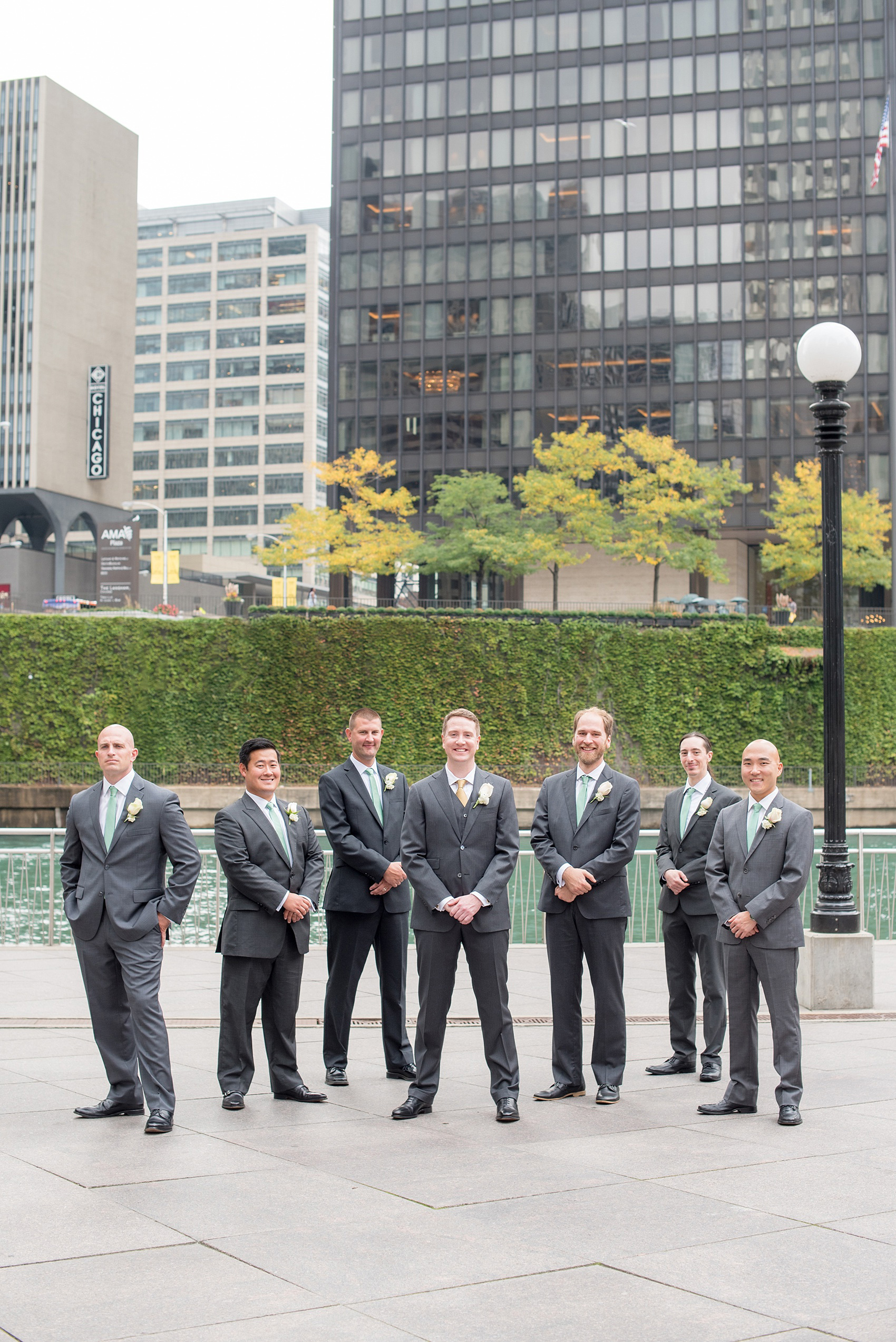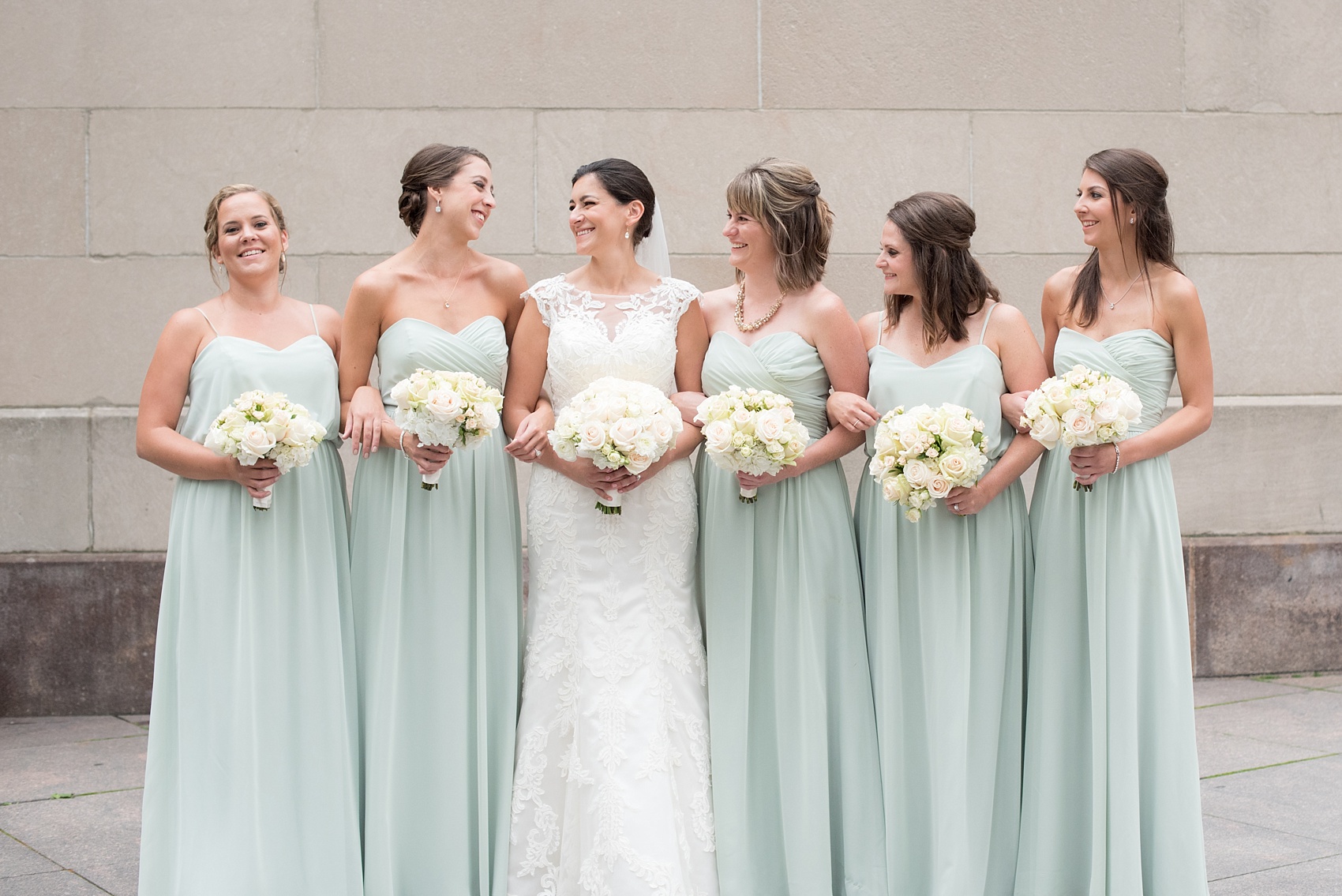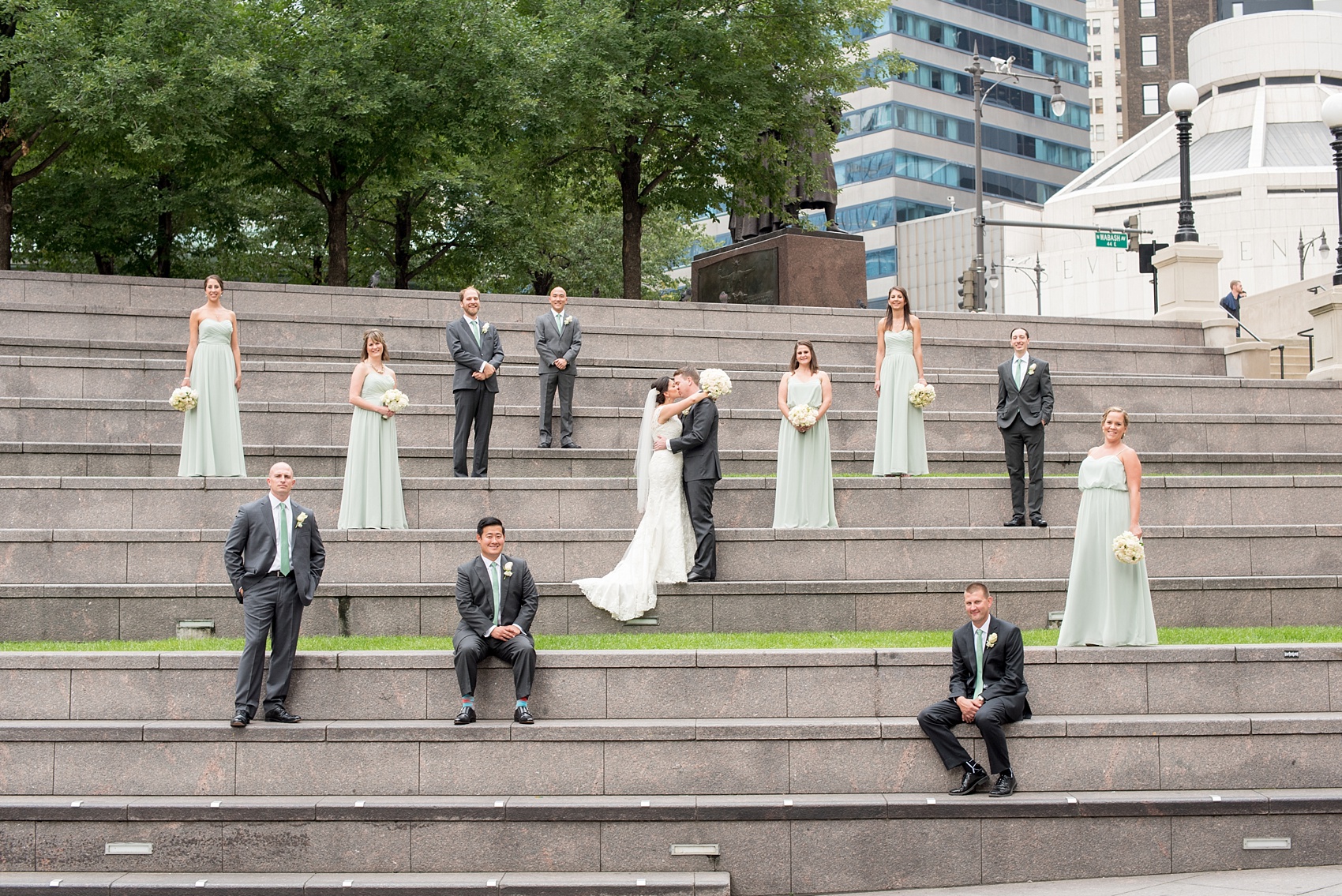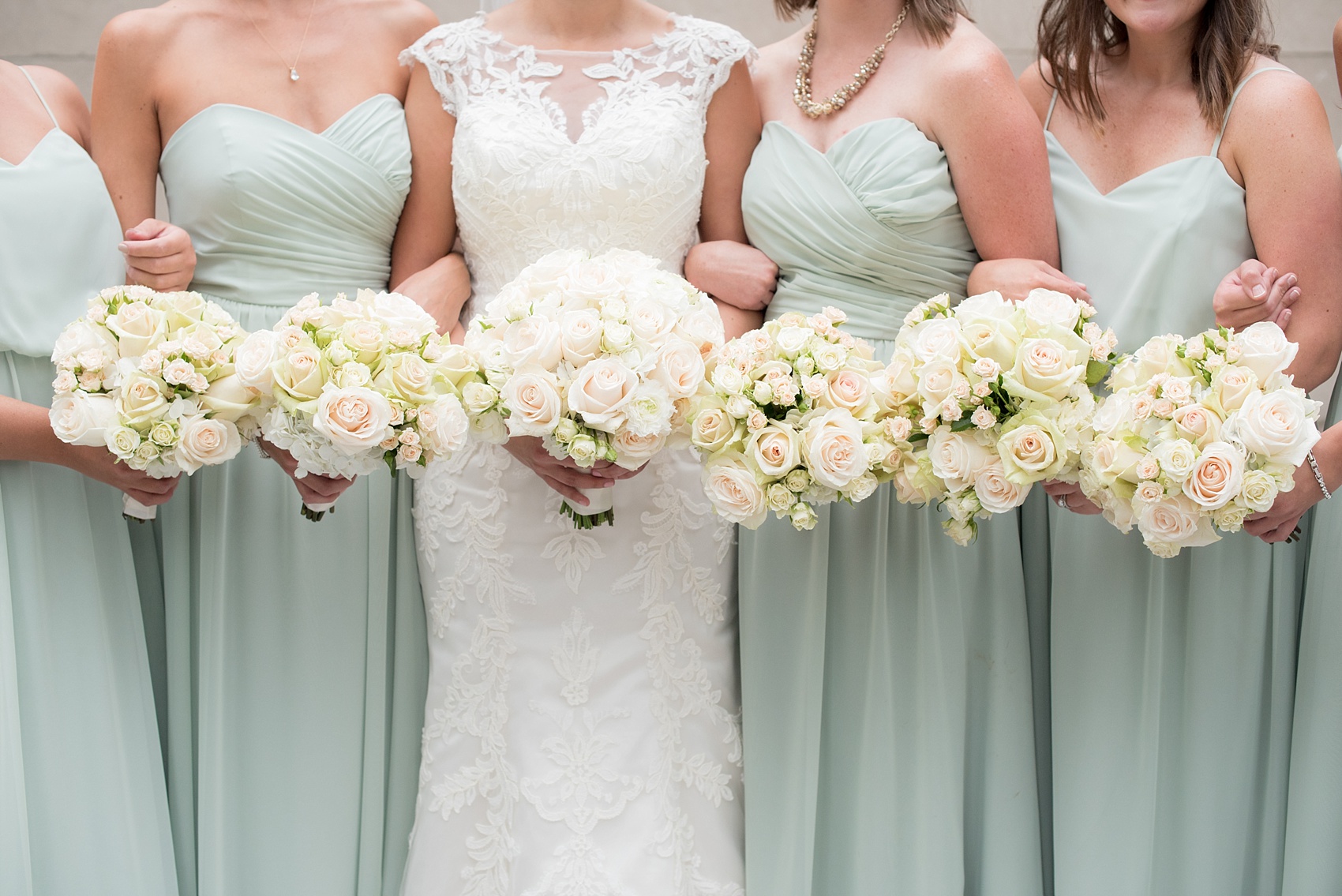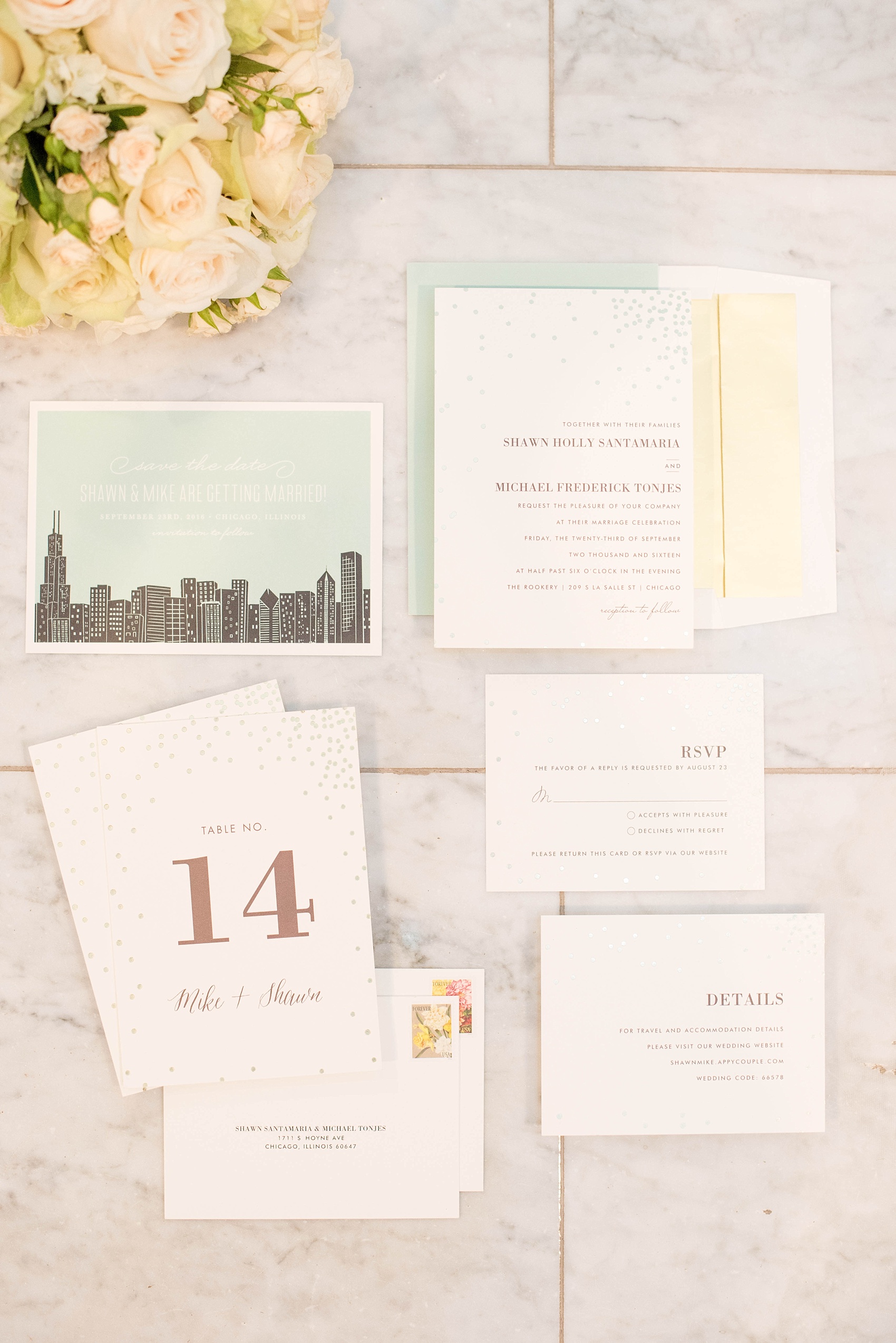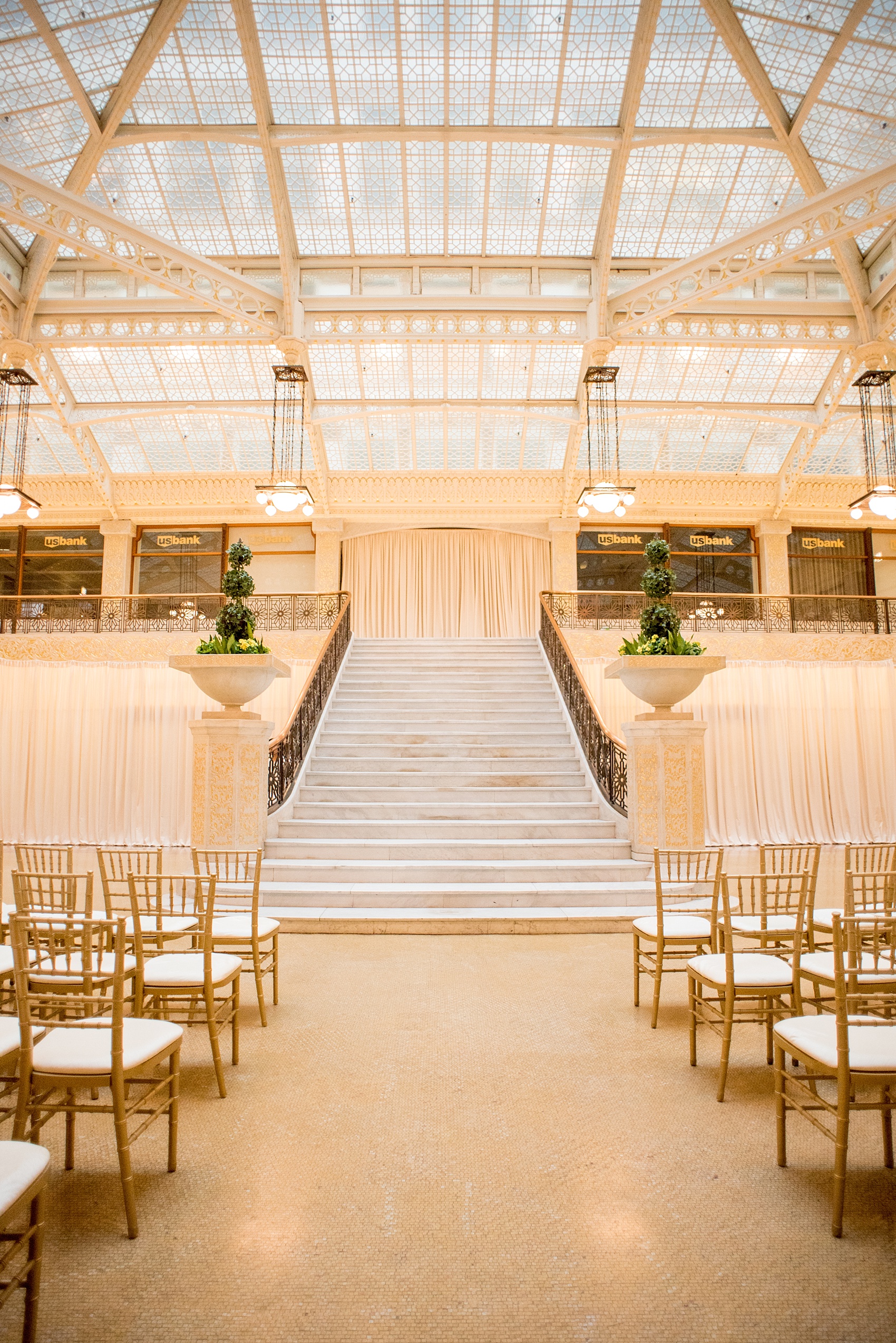 Though I find it's not always the case, I like when a couple's save the date matches their wedding palette. Theirs was mint green with a black Chicago skyline, and paired well with their wedding suite. Their table numbers matched too, which if you read my blog a lot you know I always love.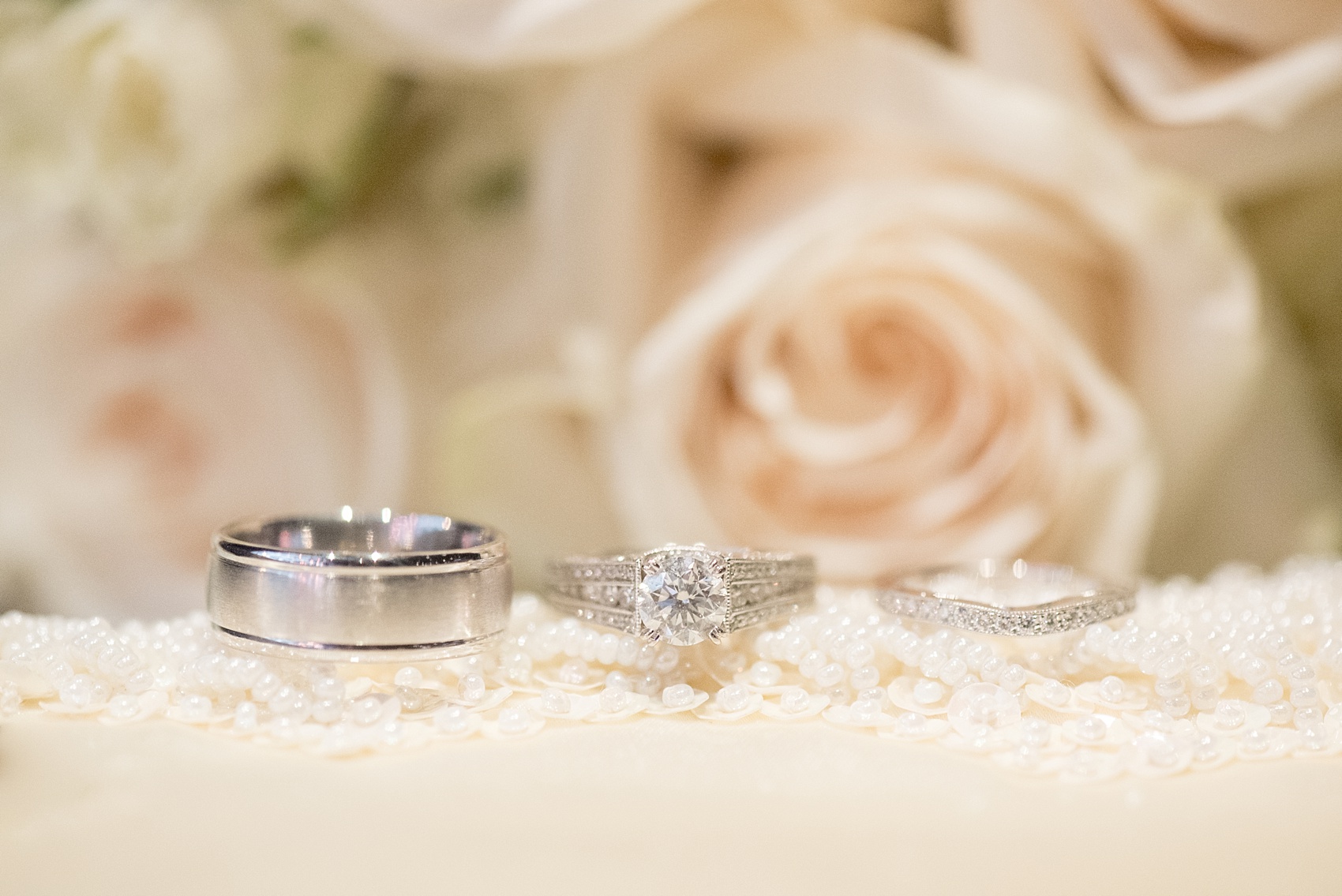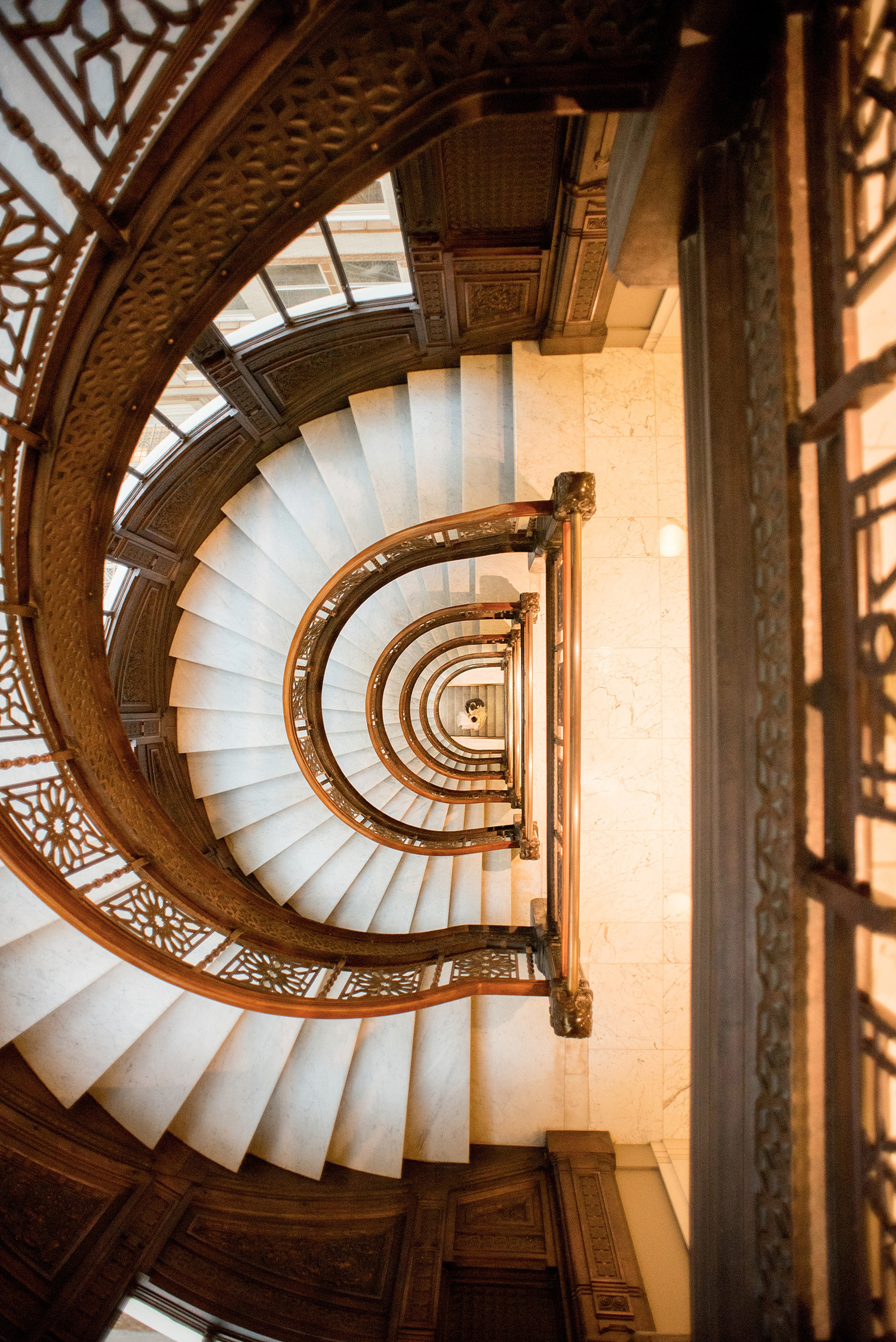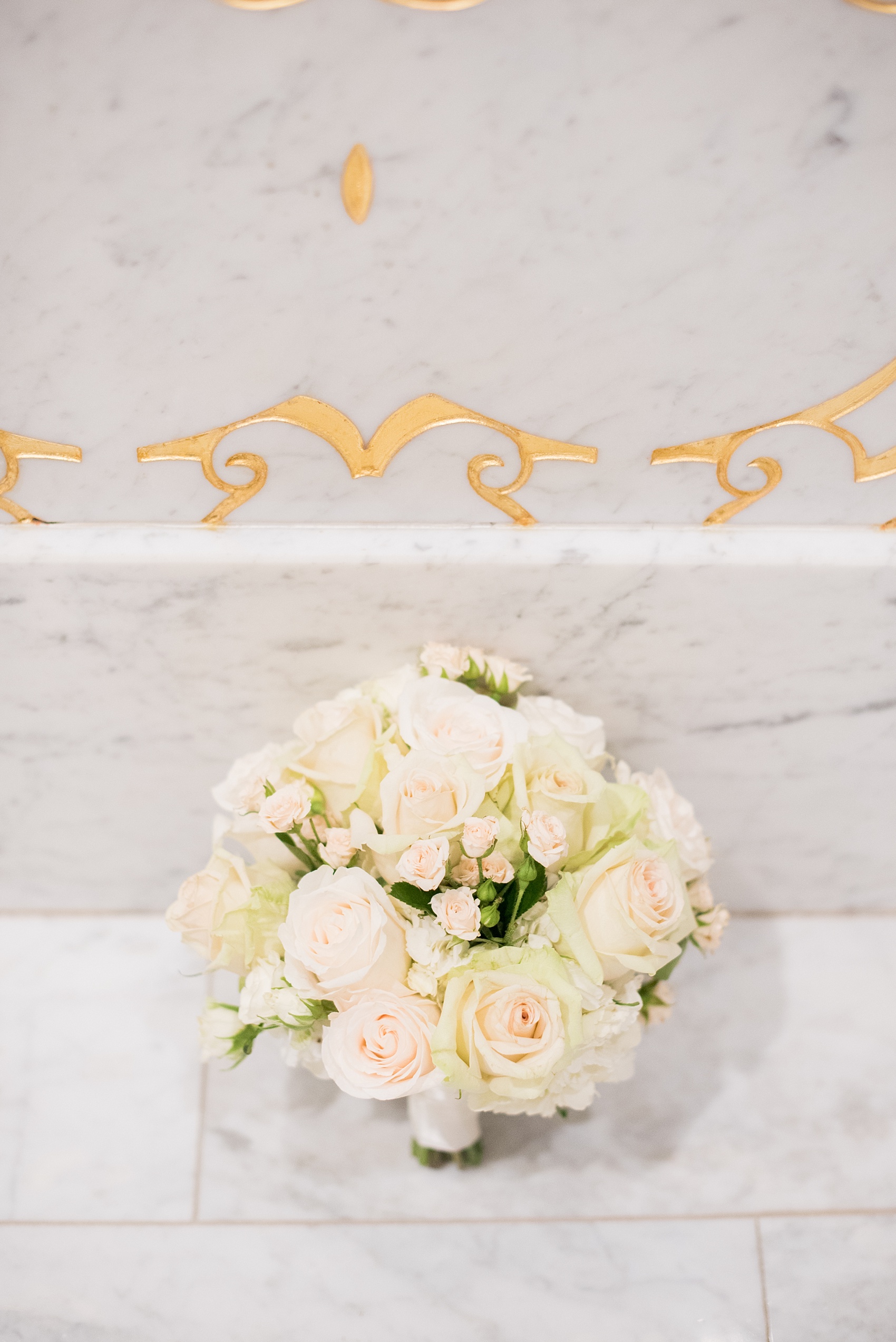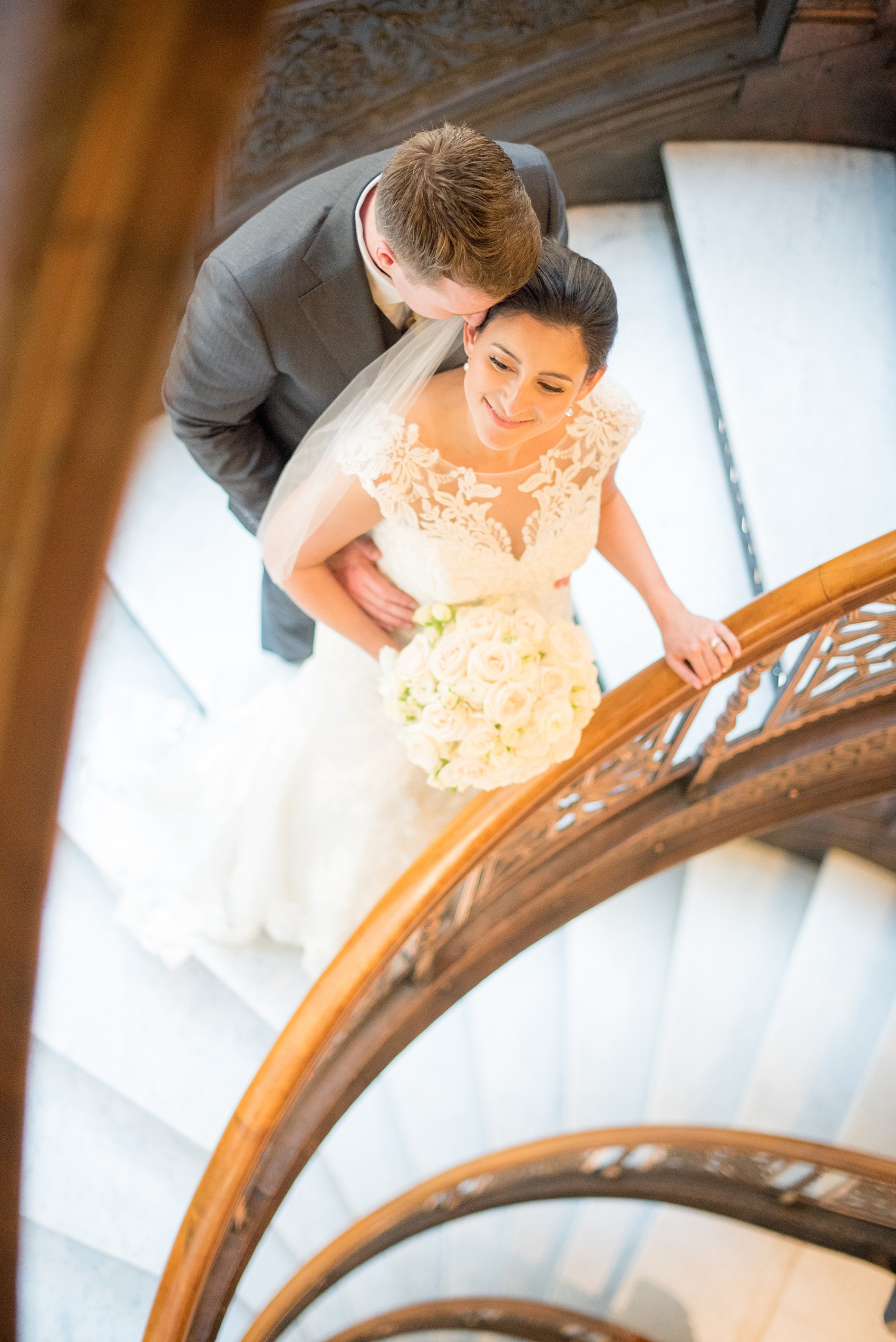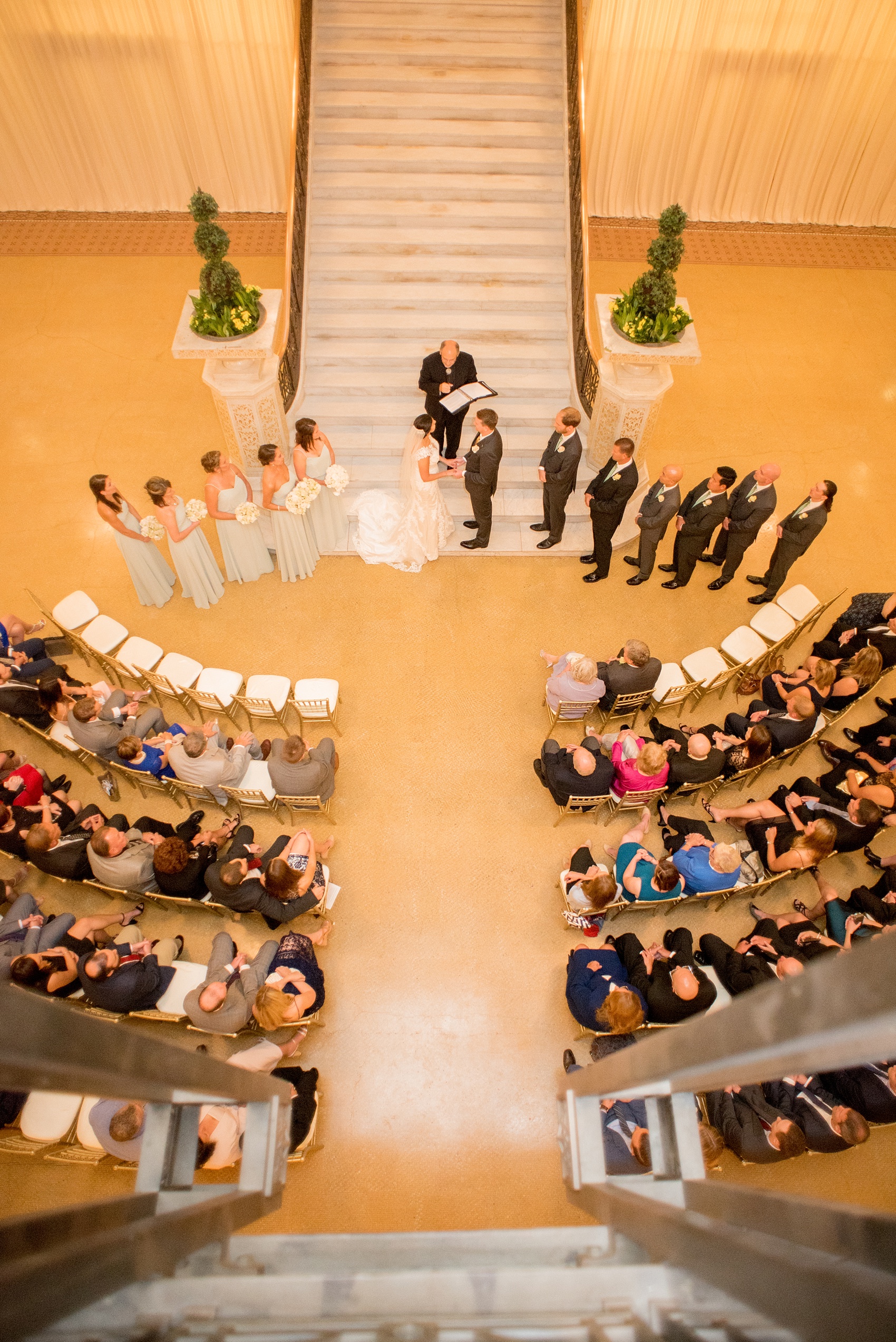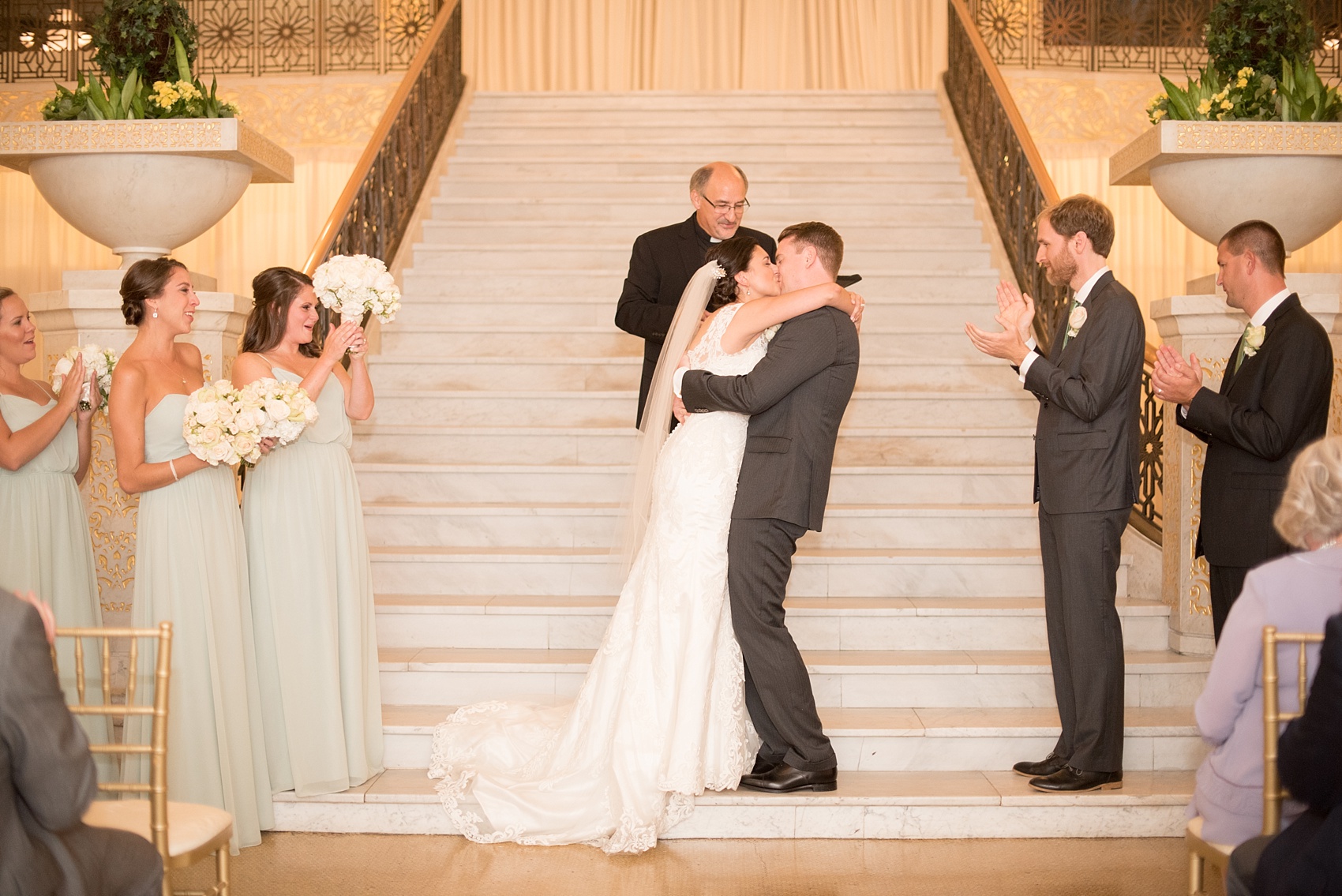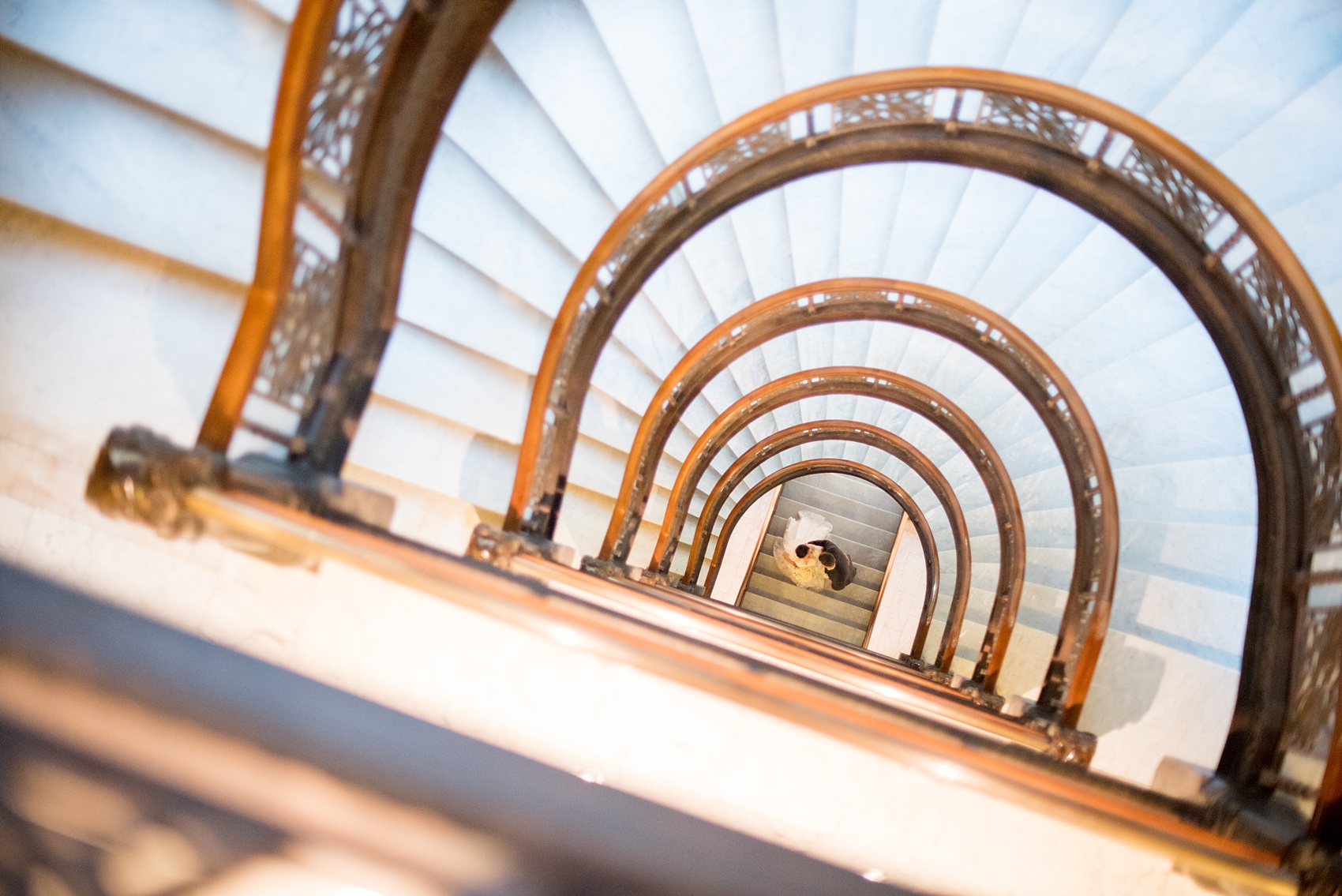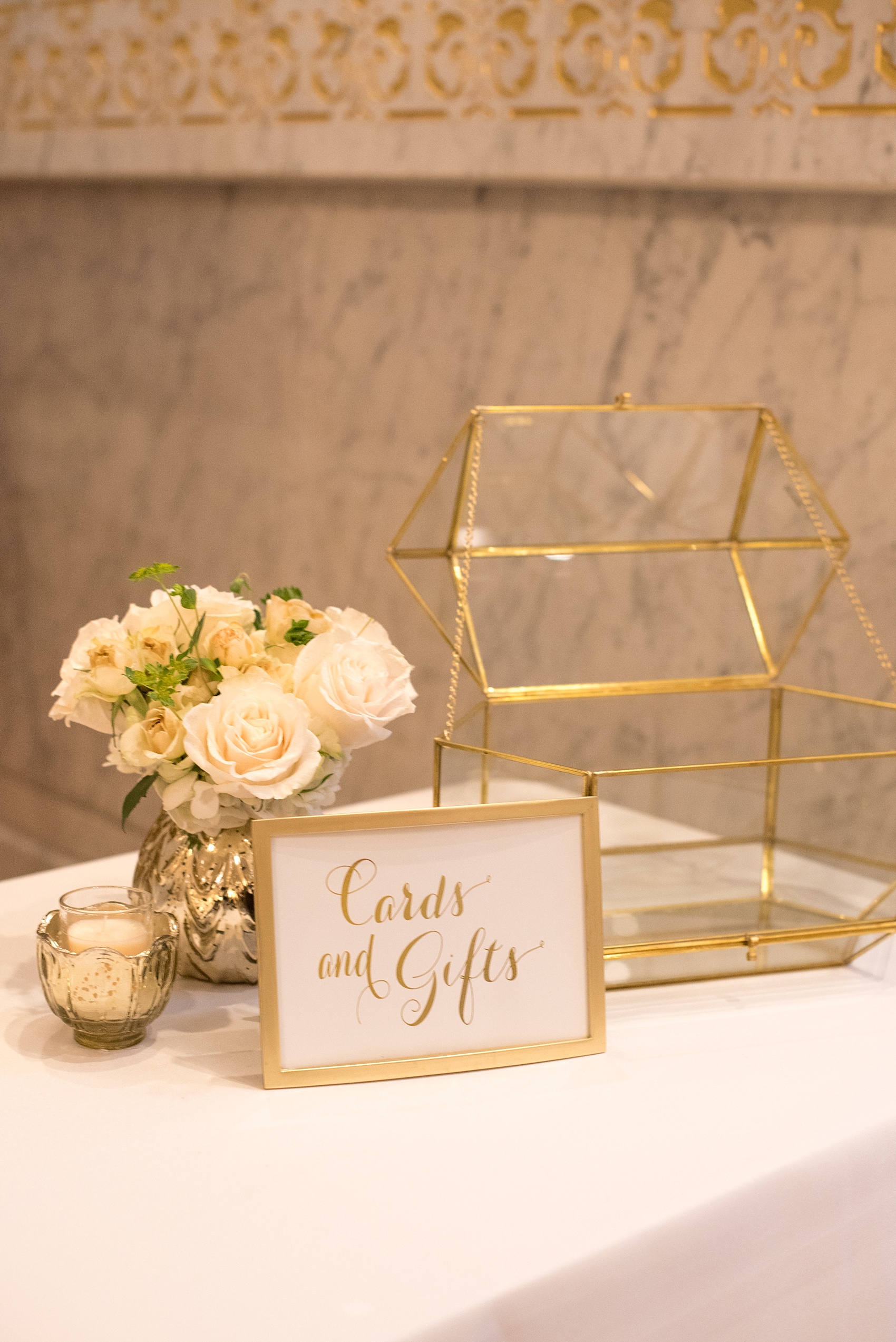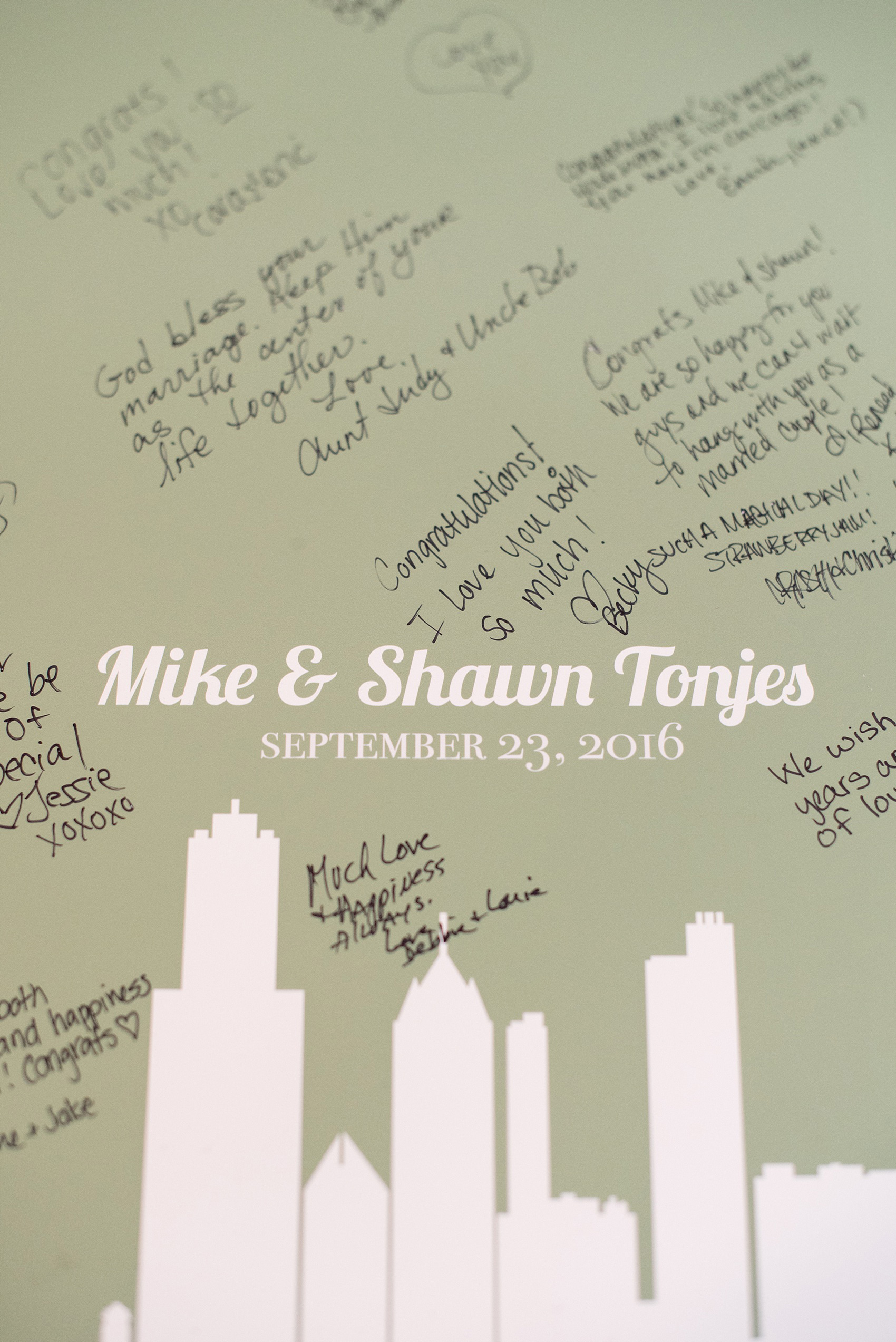 There are two iconic staircases at The Rookery – one partially spiral staircase leads to various offices in the building, away from the general public, and the other served as the beautiful white marble backdrop during their ceremony. After they kissed and were pronounced married (woohoo!!!) it was time to party!!! I was able to snap this cool night photo of the exterior of the building before everyone began enjoying cocktails and passed hors d'oeuvres on the second level of the space.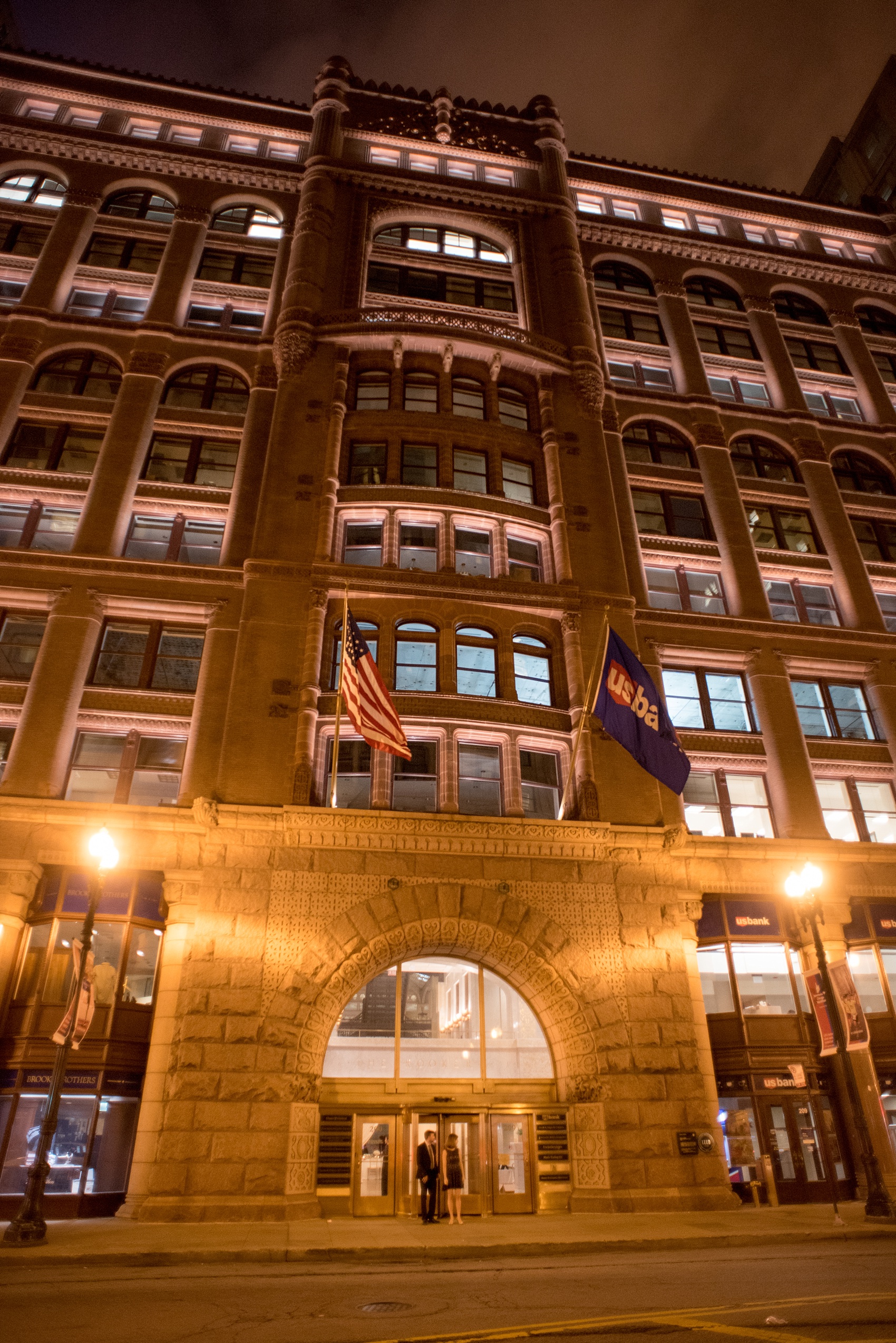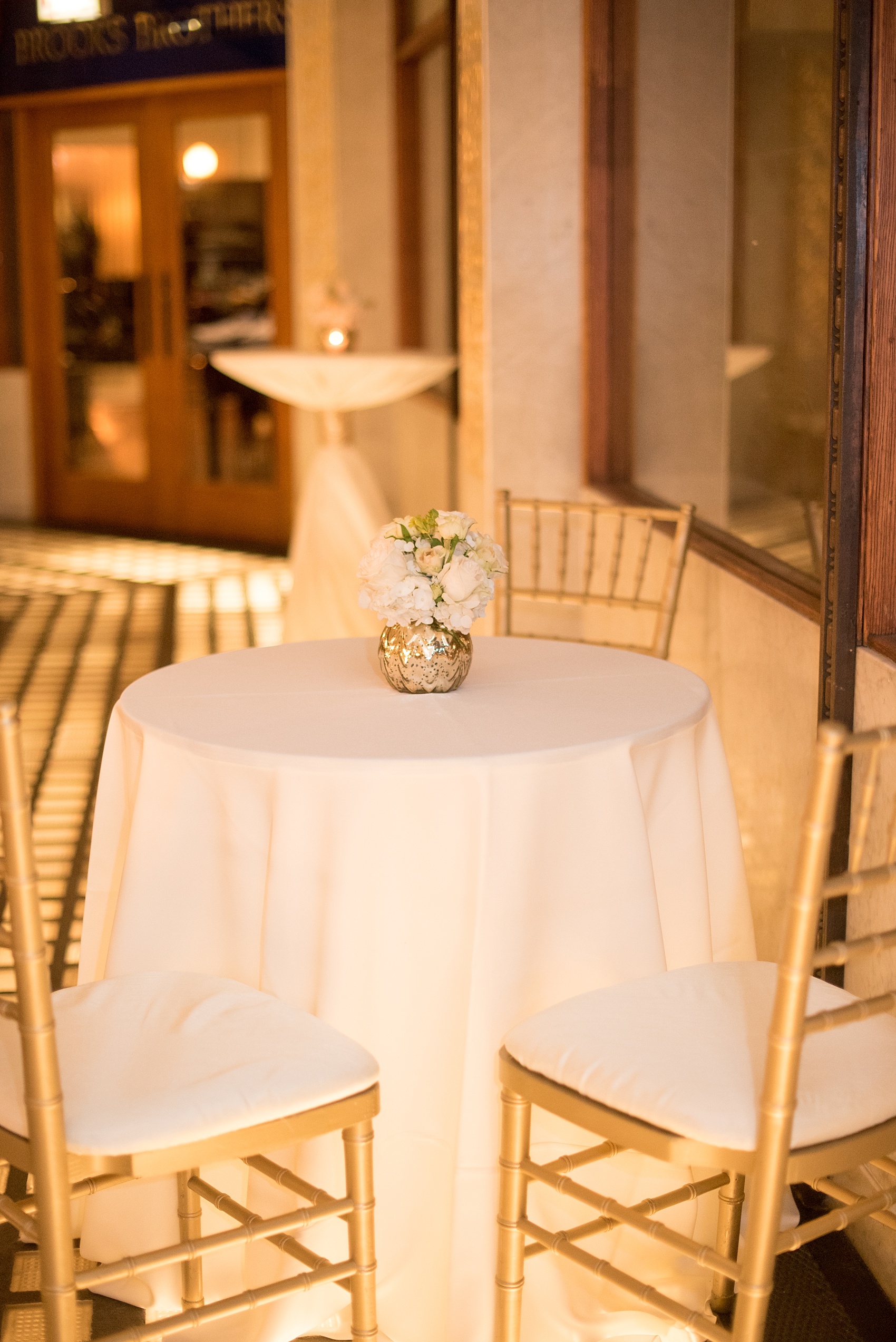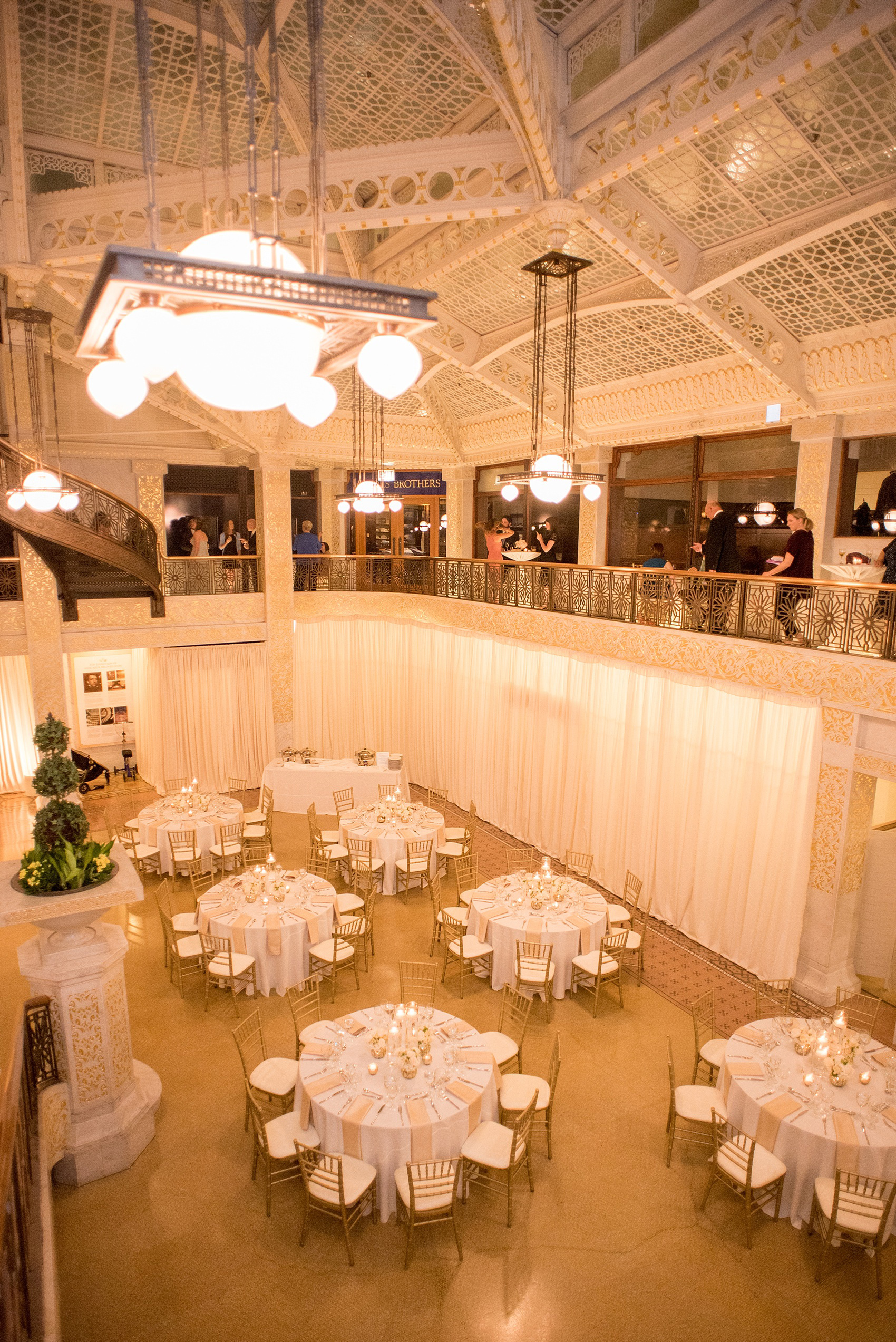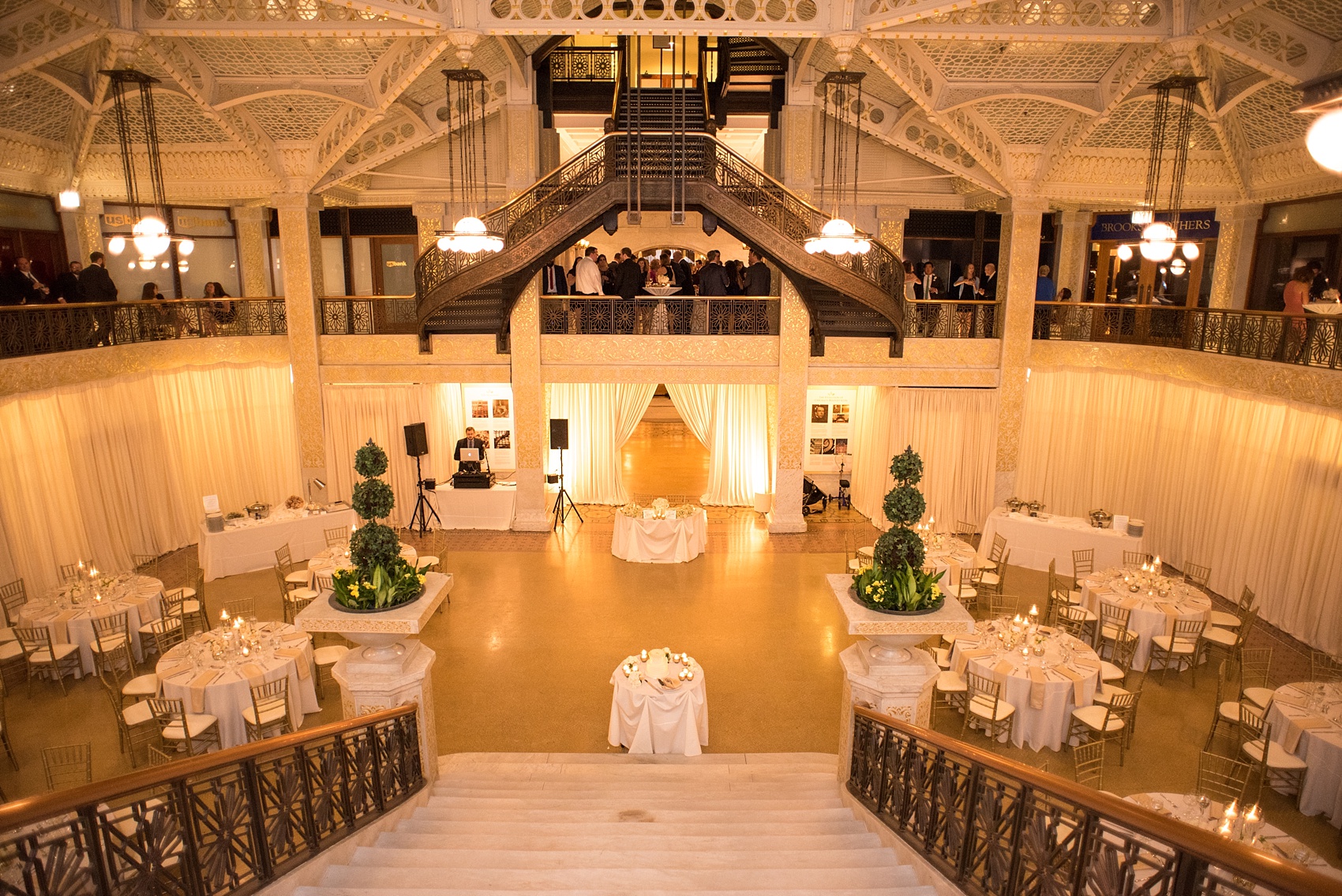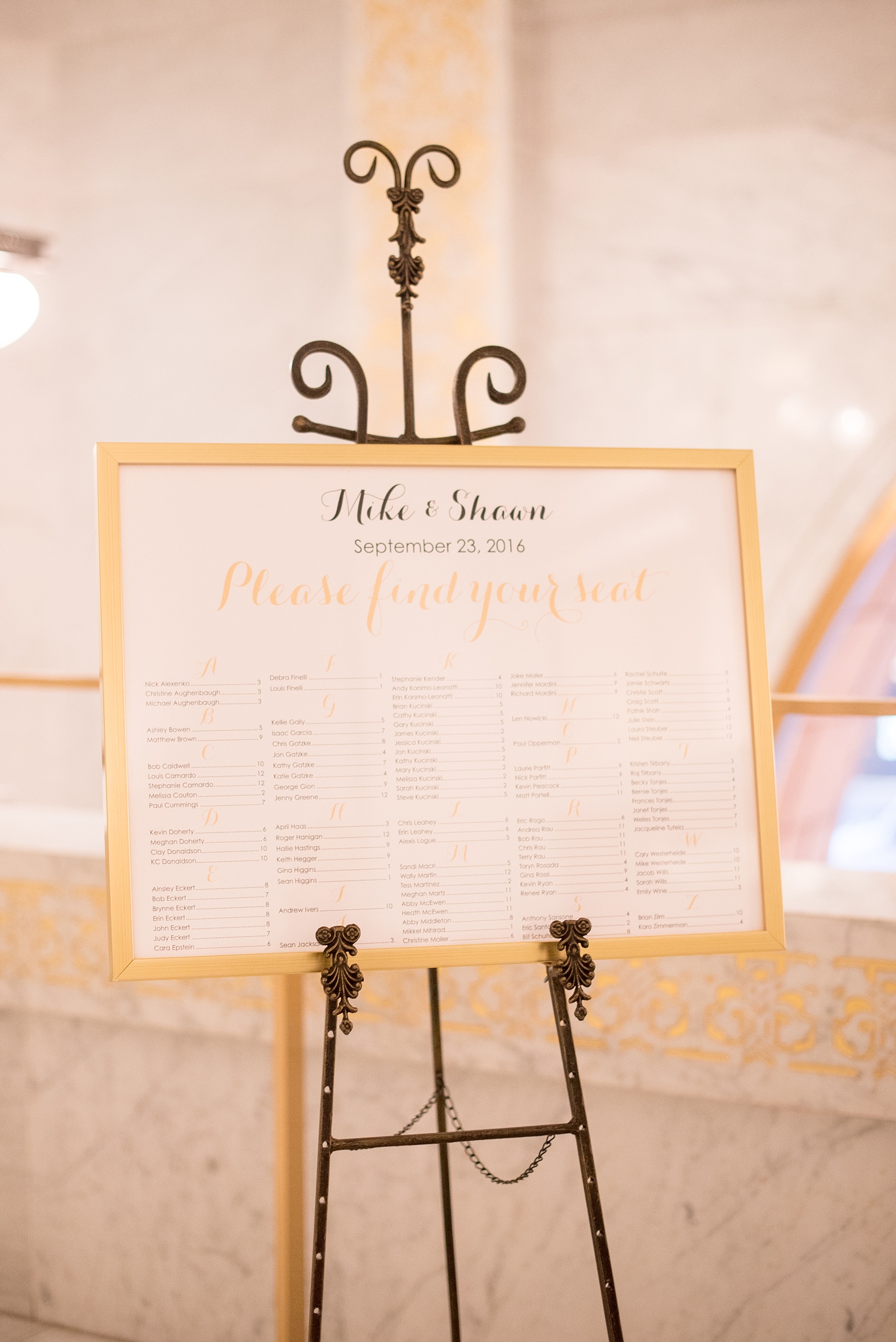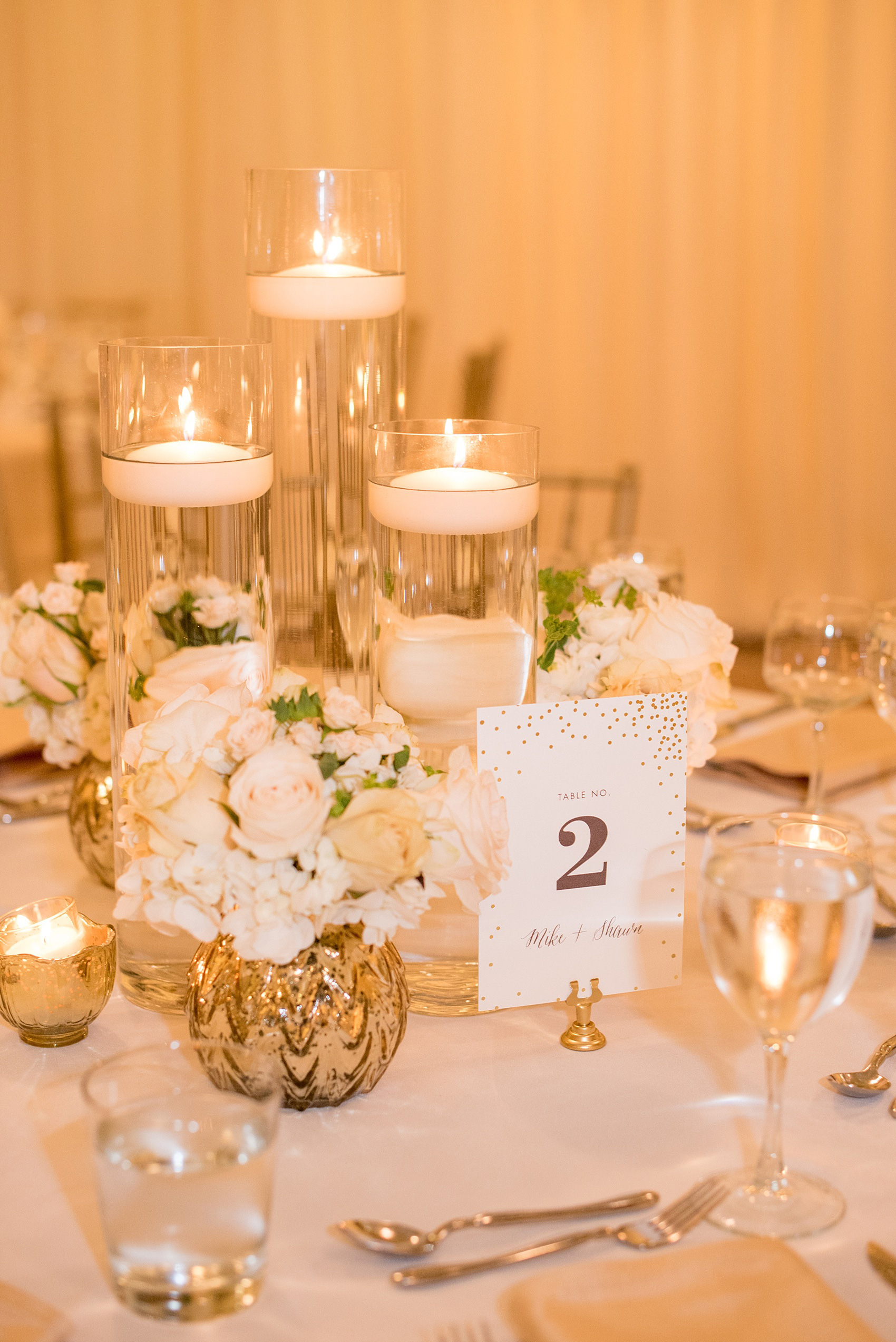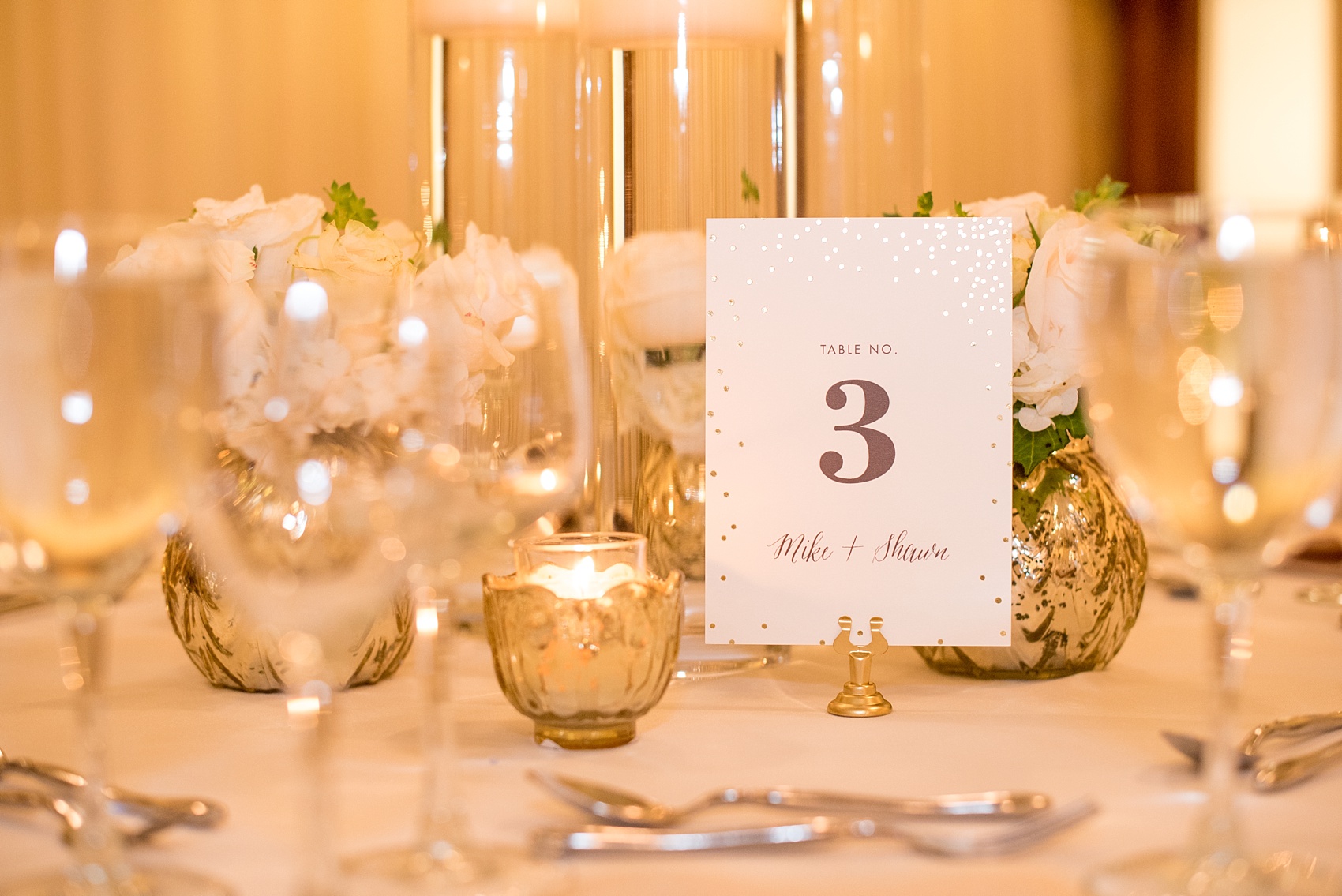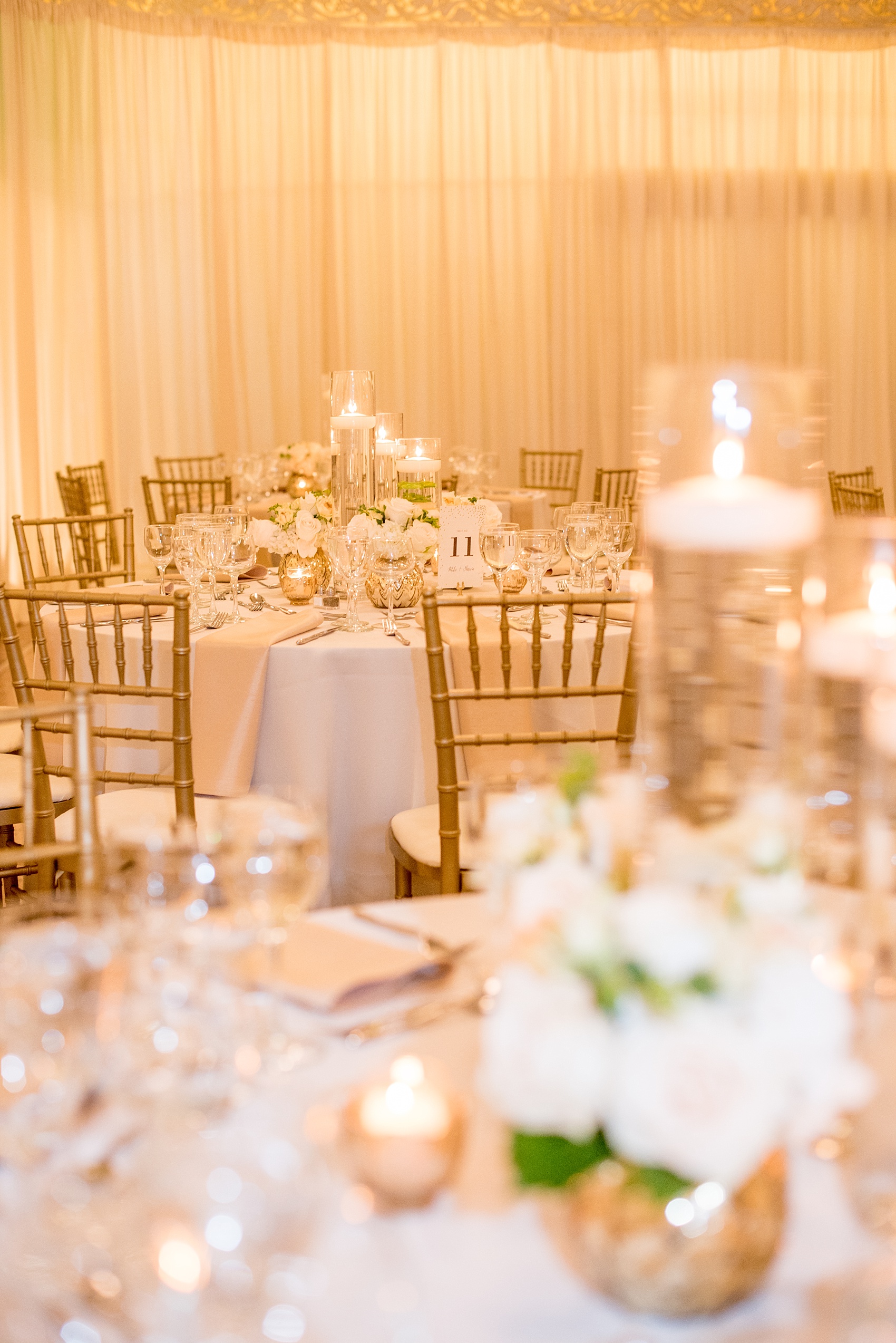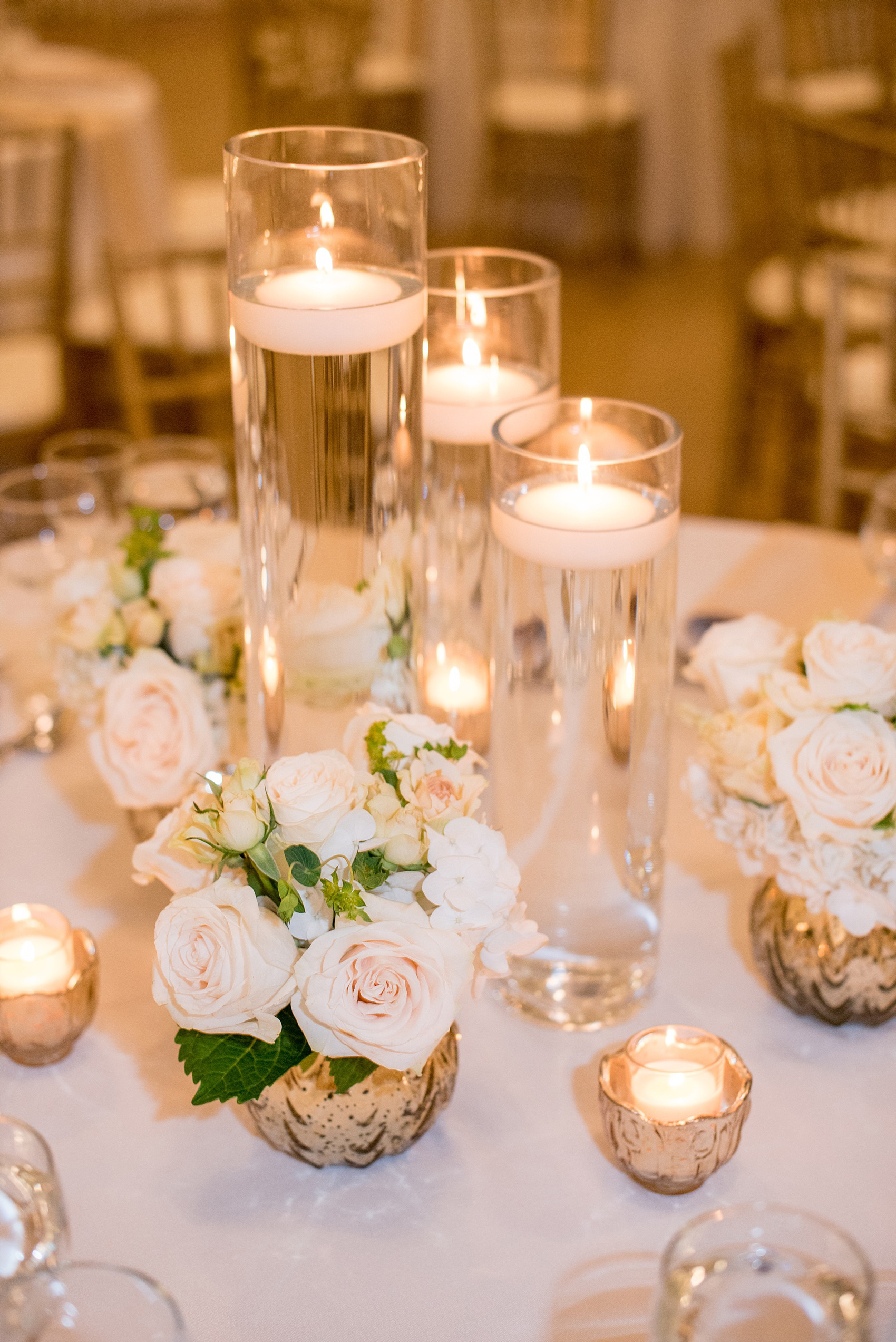 Off-white linens were topped with long cylindrical vases with floating candles. Mercury glass vases and votive holders dotted the tables and white, light pink and peach roses, and hydrangea topped it all off. It was so romantic! The cake was two-tiered and gold dragees completed a layer of buttercream. The inside was vanilla with lemon filling and it was so, so good!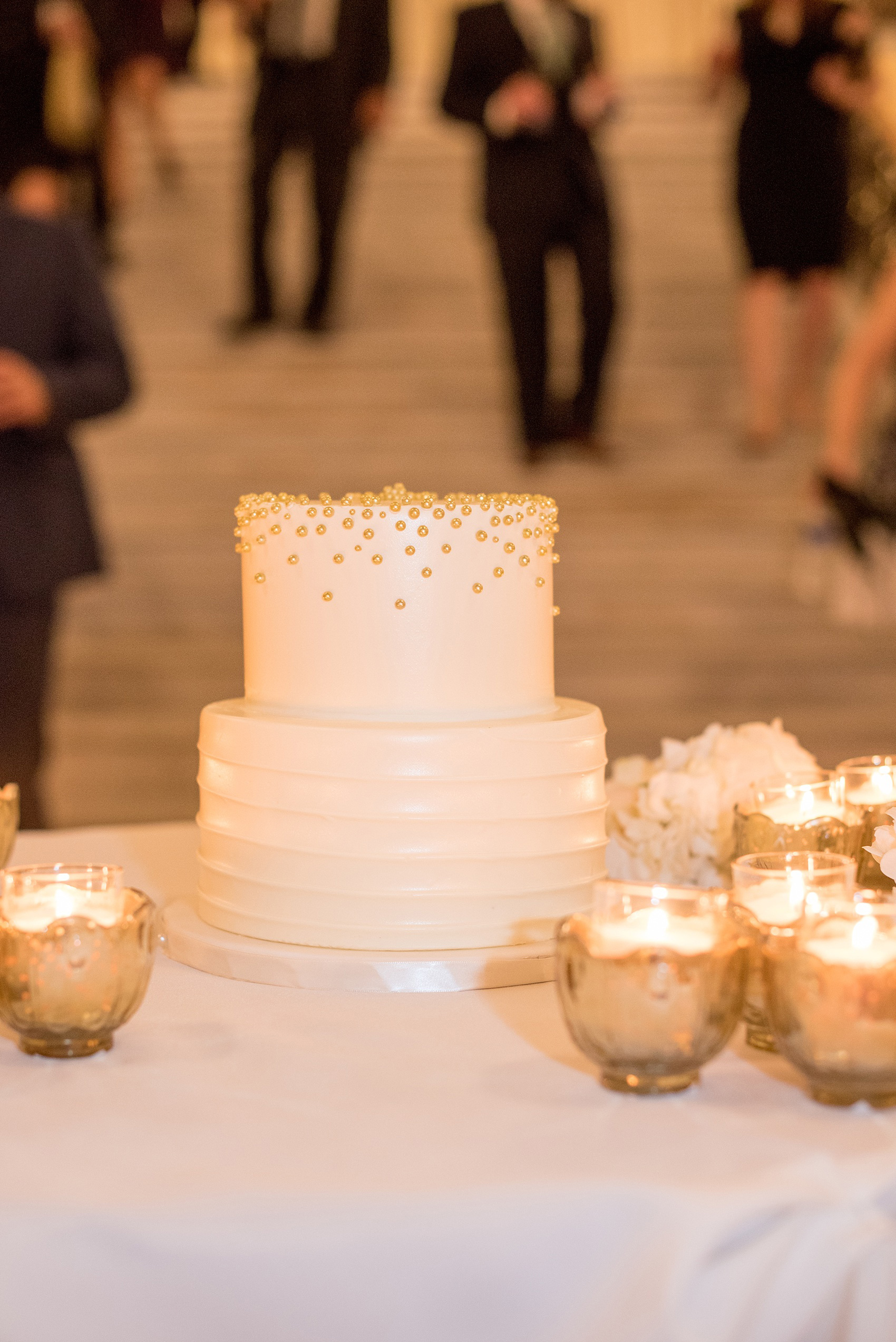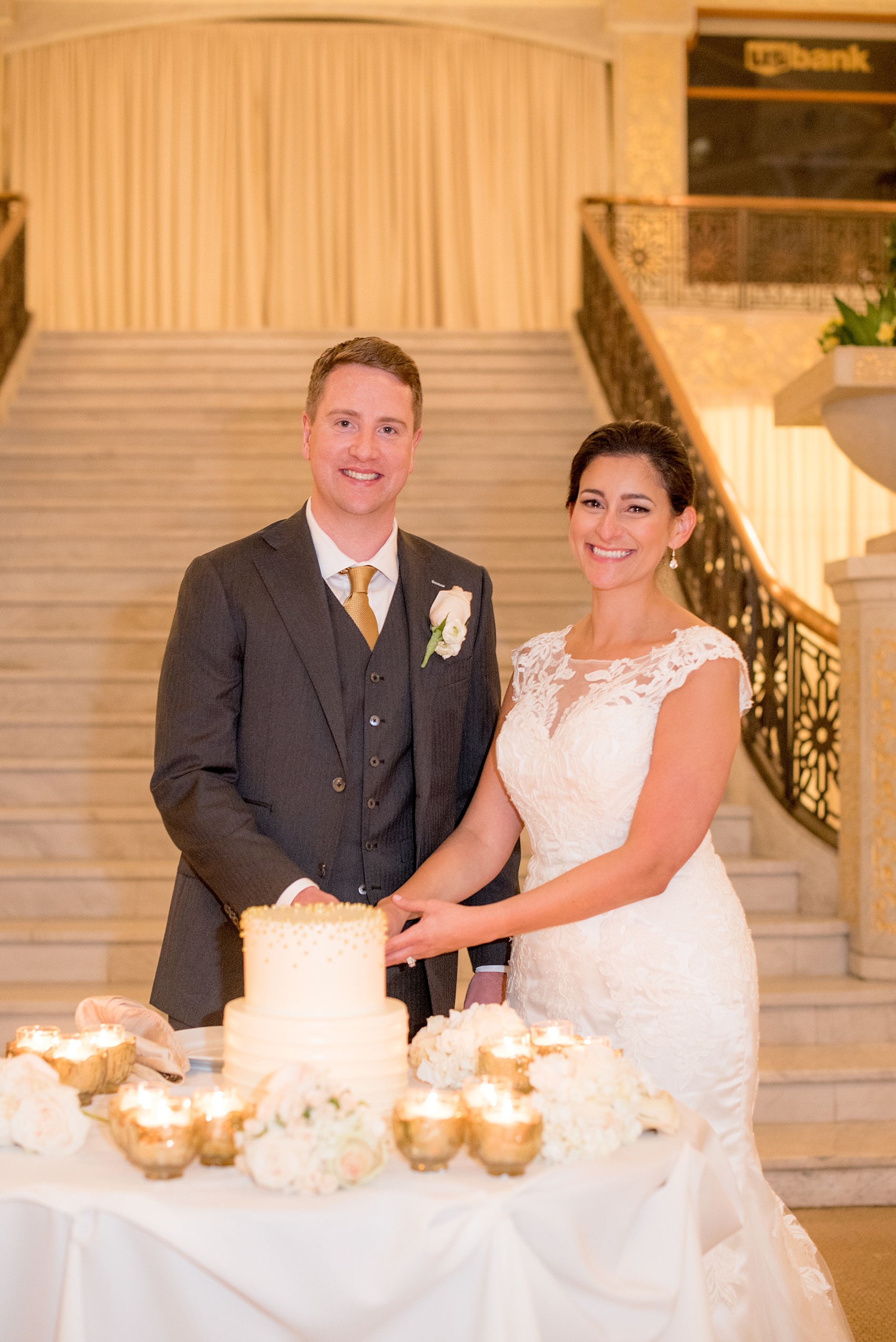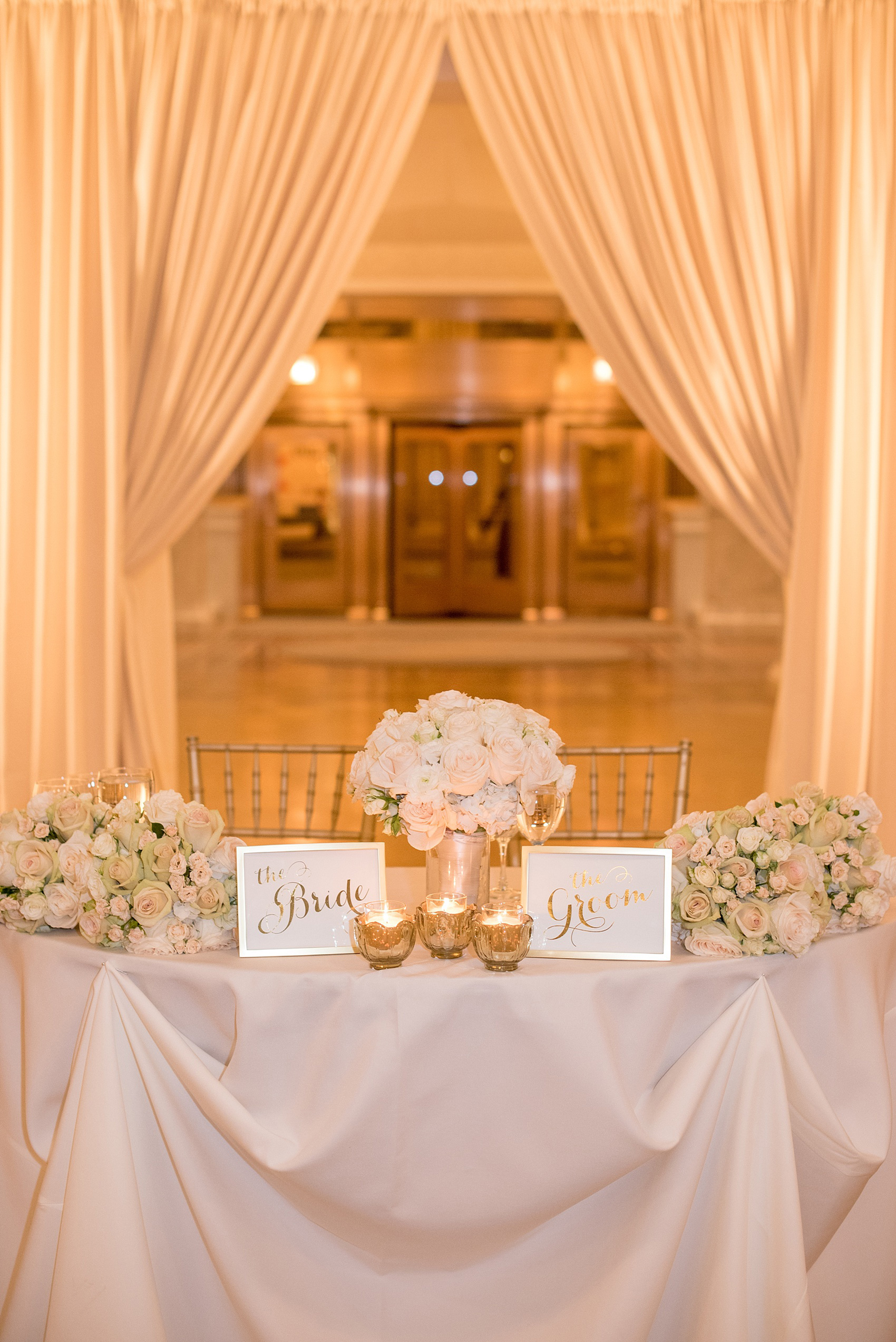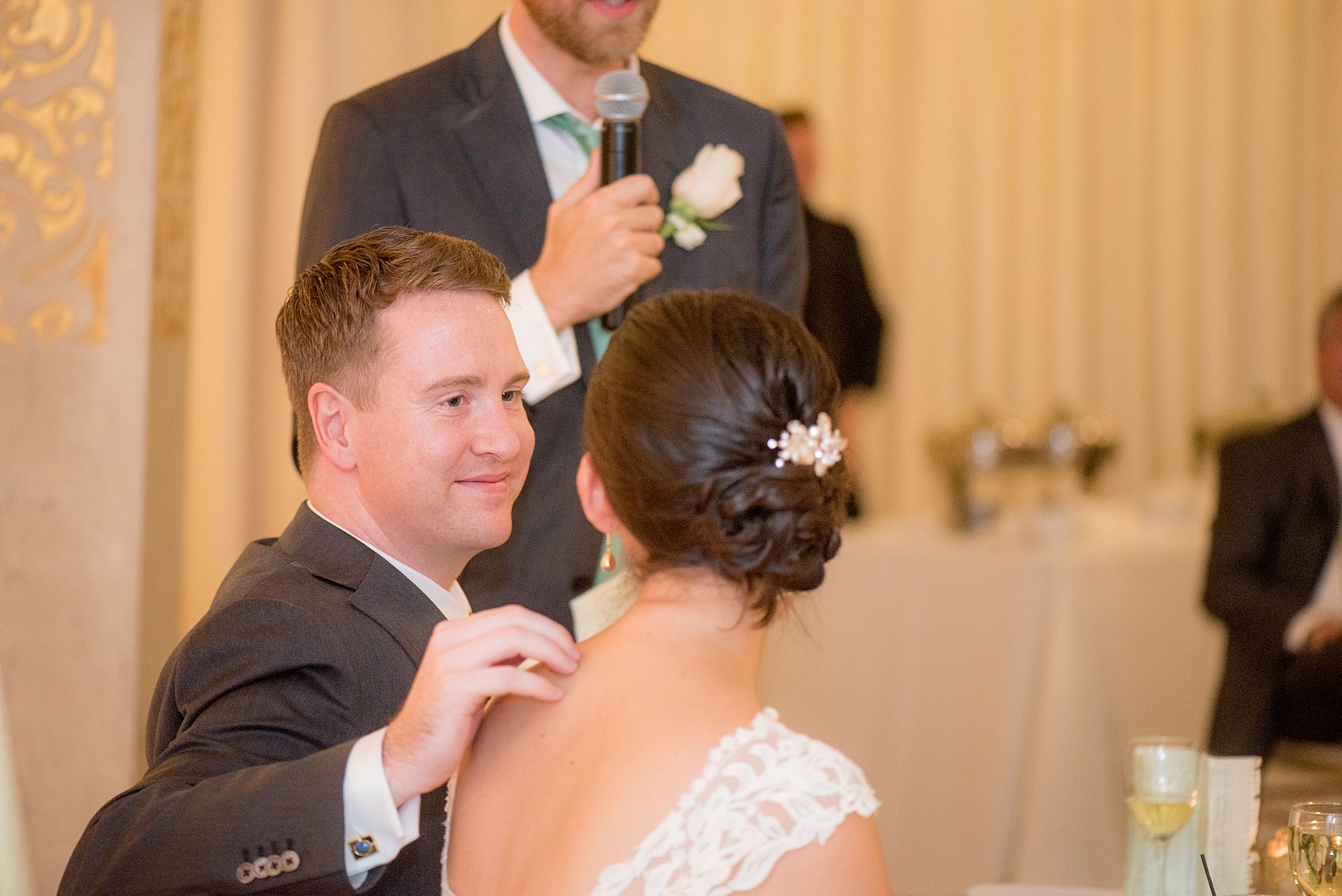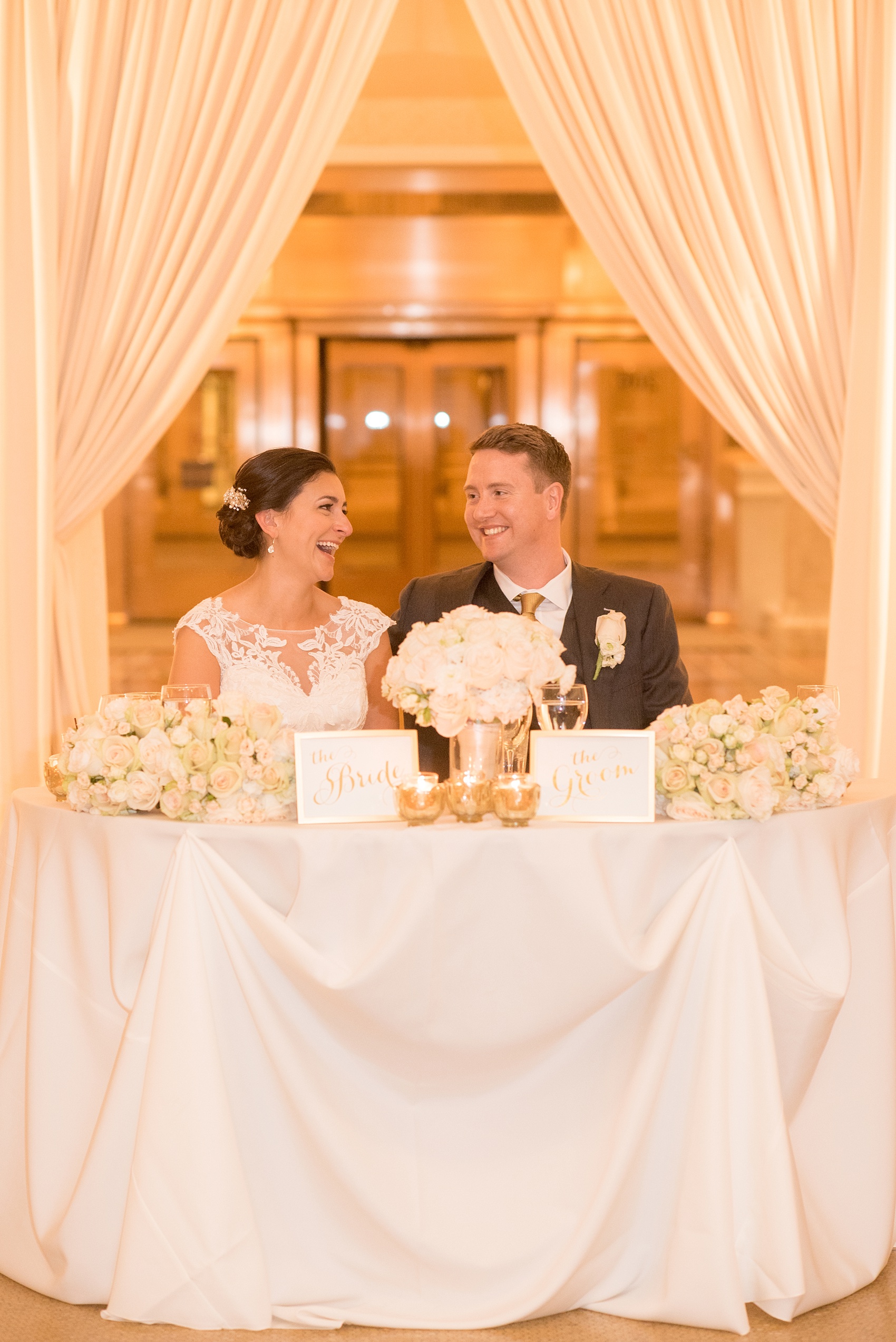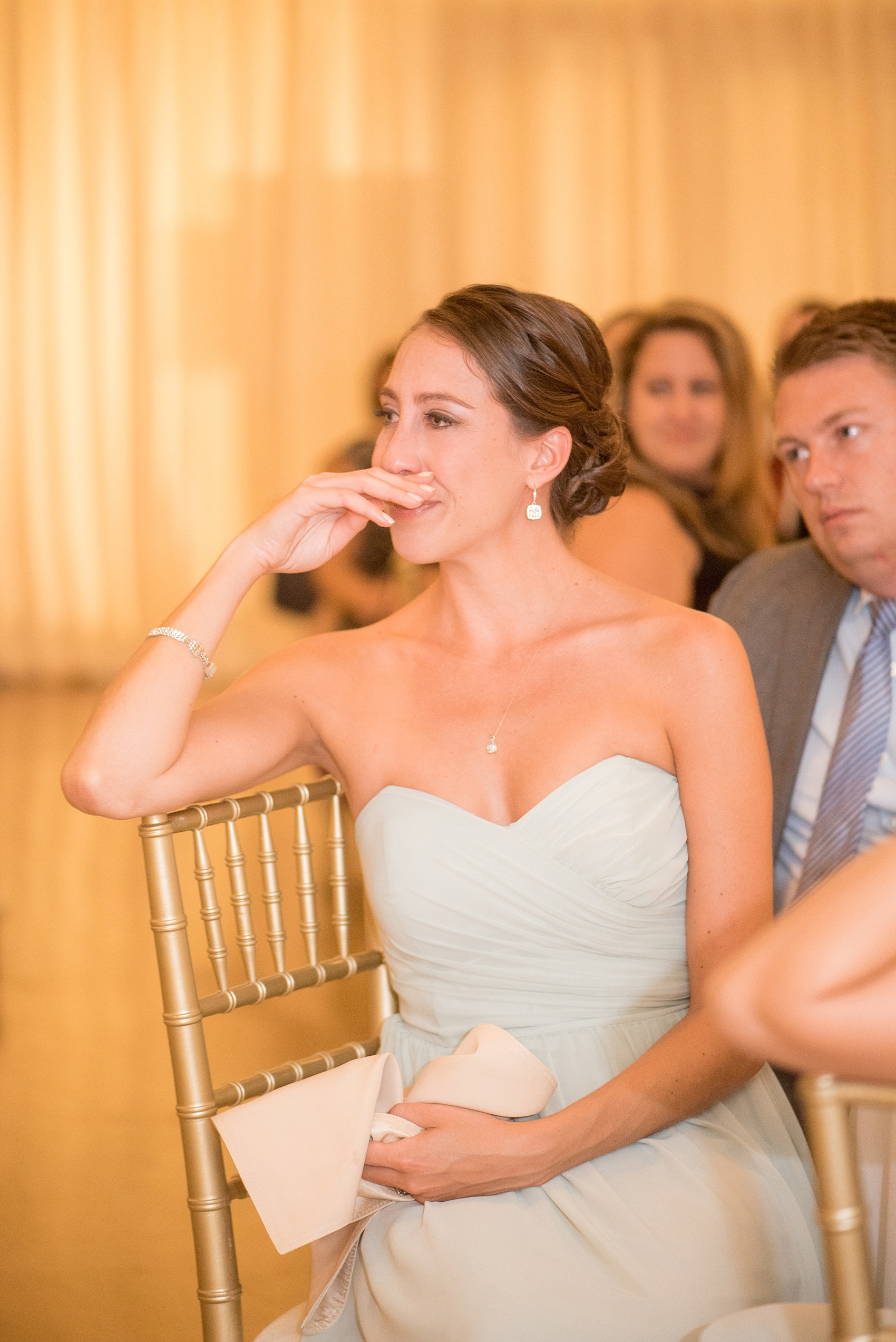 Their sweetheart table was sincerely memorable. The drapery behind it was the perfect backdrop and the gold signs marking their seats were such a nice touch. I loved how they did dessert – they served trays of assorted sweets so you could pick and choose what you wanted, like cake pops and peanut butter cake bites.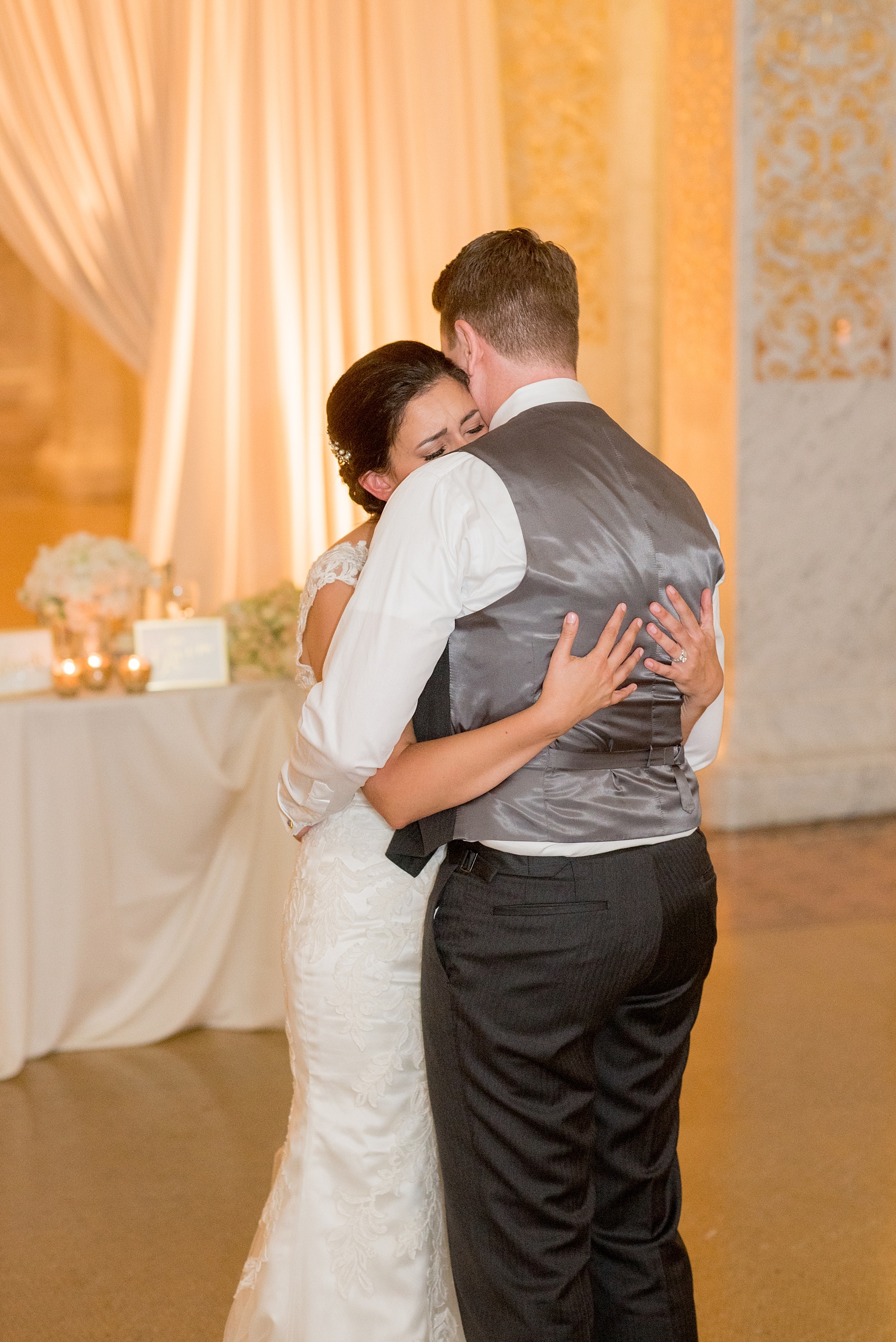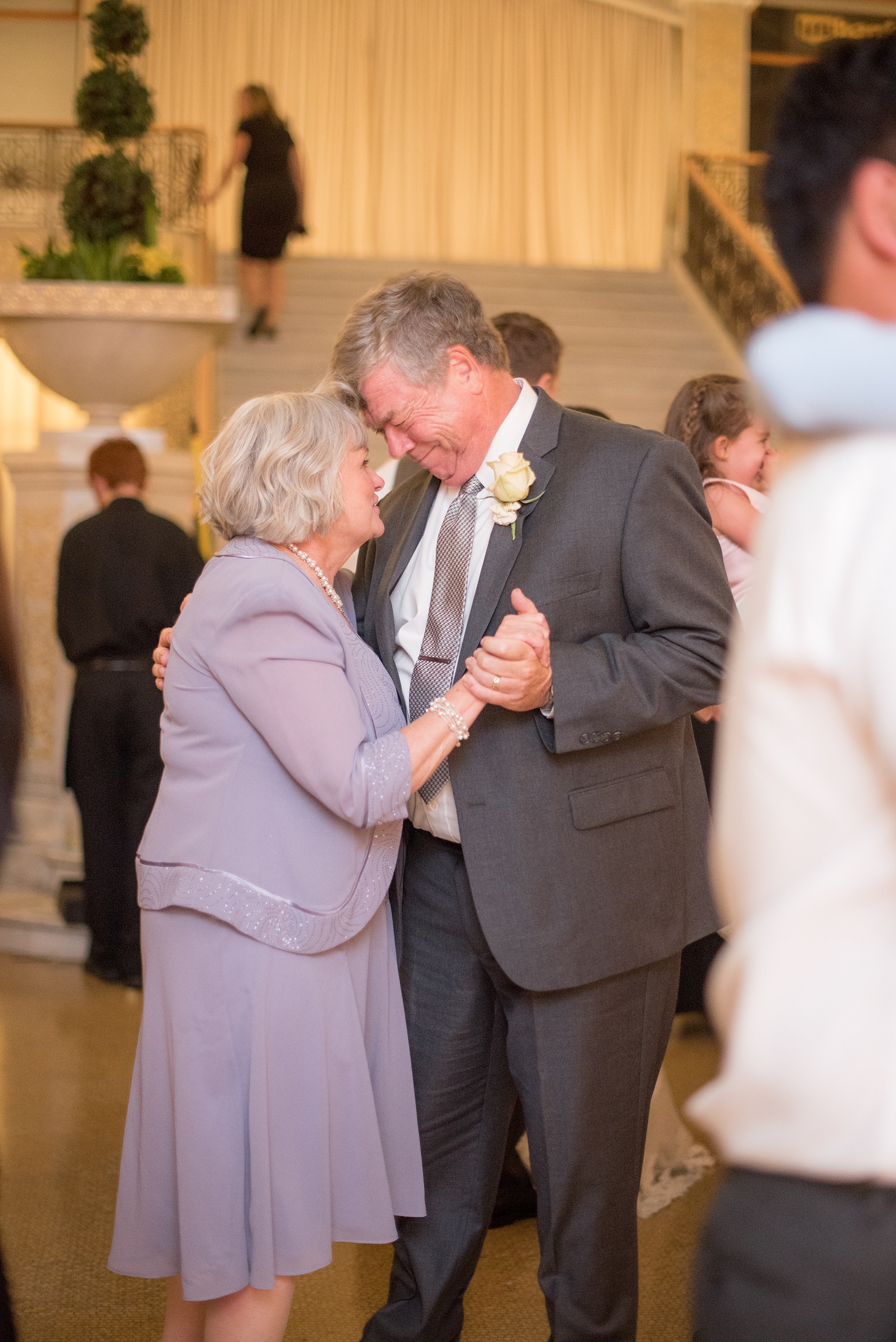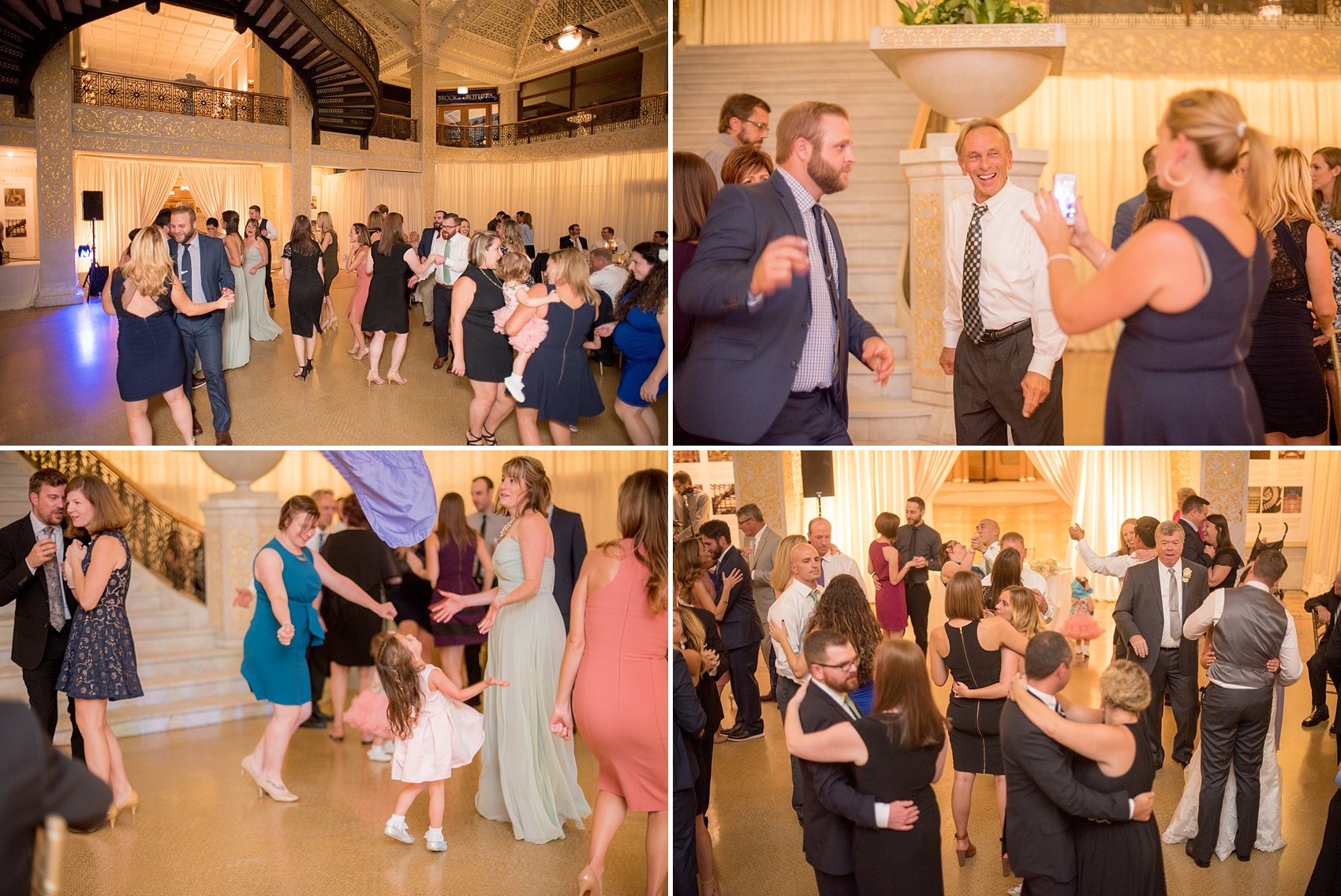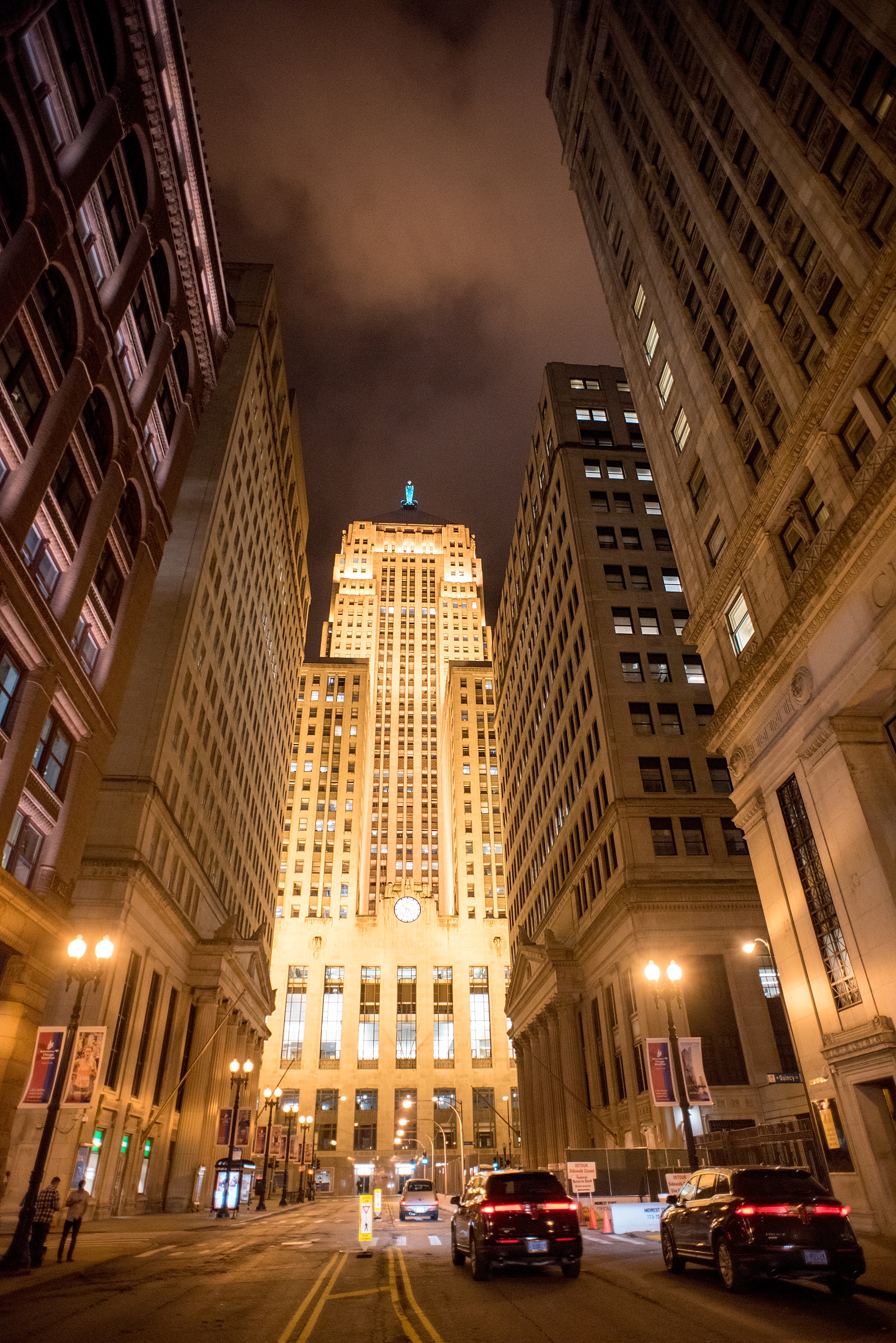 It was truly a magical day and ending it with this magical night photo of the Chicago Board of Trade building, perpendicular to The Rookery, seemed befitting as I left their wedding with a full heart and huge smile on my face!
Congratulations to the bride and groom and I am SO honored I'm a part of your lives and I was the lucky one to capture wedding day and the start of a wonderful marriage.
Venue: The Rookery / Venue draping: Art of Imagination / Wedding Coordination: Simply Elegant Group / Cake: Bittersweet Pastry / Makeup: Pin Me Up, Jessica / Flowers: Kathy Kucinski / Dress: I Do, I Do, by Justin Alexander / Earrings: Left Bank Bridal / Bridesmaids dresses: Hearts for You, Alfred Angelo / Groom's suit: J Toor / Groomsmen ties: The Tie Bar / Rings: Shane Co. / Officiant: Tom Keefer / Signing poster: Pure Paper Designs, Etsy / Seating chart: Jade Forest Design, Etsy / DJ: Mark Rankin