Unbeknownst to them, Kristin and Kevin's love story actually began when they met at the University of Maryland, many years ago. But it wasn't until Kevin was looking for a place to live in downtown Baltimore's Locust Point and moved in with Kristin that his "helping around the house" turned to romance. Things progressed from there and the two have become best friends, camping companions, and of course proud parents of their amazing dog, Henry. (Henry alert! Photos here from their engagement session!)
After Kevin proposed on the water near their home planning began for a wedding in June 2014. This wedding is extra special to me: Kevin is a friend from college and fellow major in Landscape Architecture! Though I clearly do wedding photography now. Kevin is a practicing Landscape Architect and I absolutely loved seeing so many of his skills in action at their wedding. Like the graphic design he did for their welcome bags and invitations, to his hand lettering on their fern plant escort tags, to the eco-friendly caterer Kristin and him chose.
I LOVE that they tied the fern theme throughout, even in Kristin's incredible bouquet. She wanted a unique way to tie the stems together. I would say these willow branches twisted around the bouquet went even beyond my expectations. Becky at My Flower Box Events really hit the nail on the head!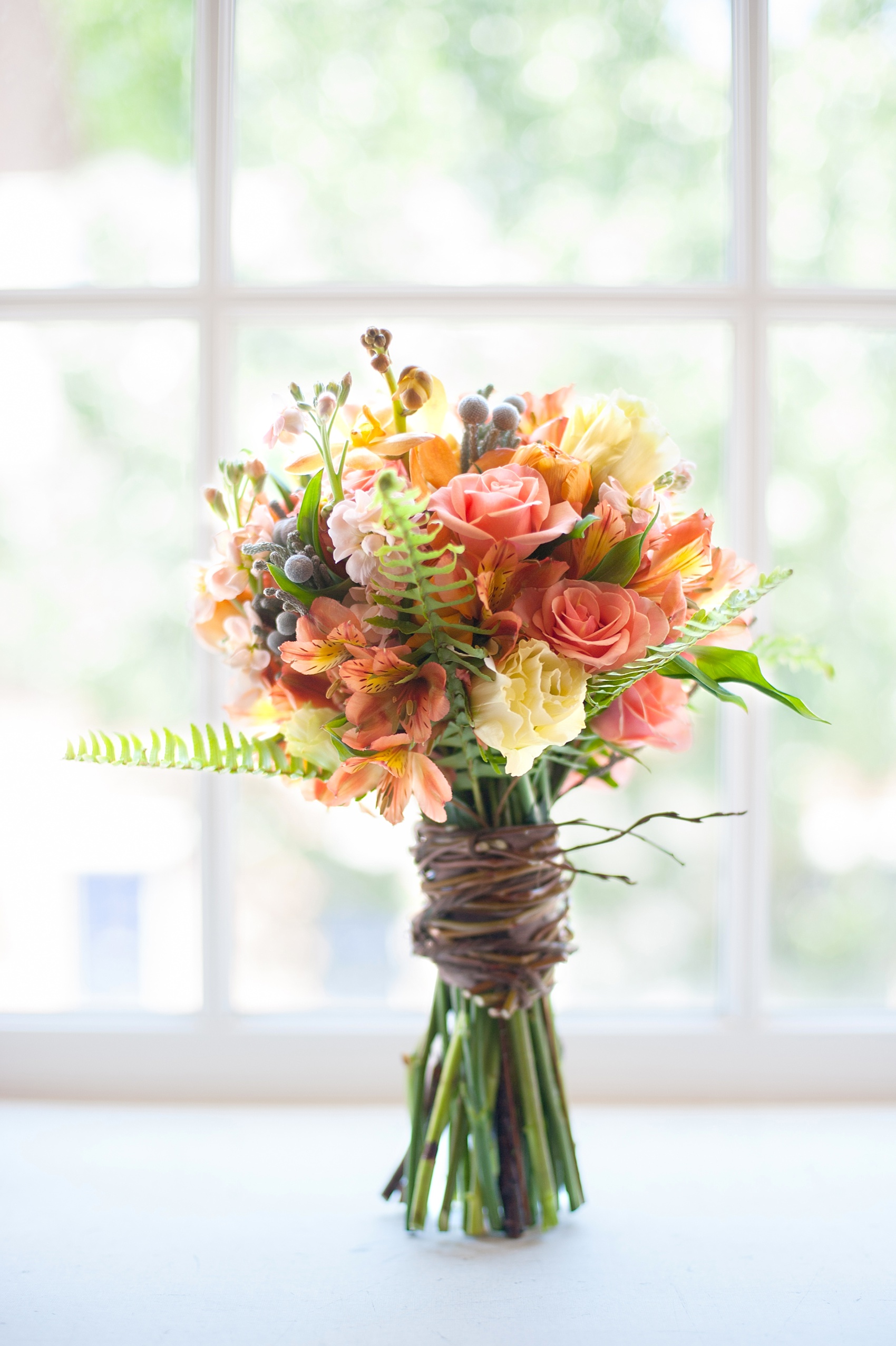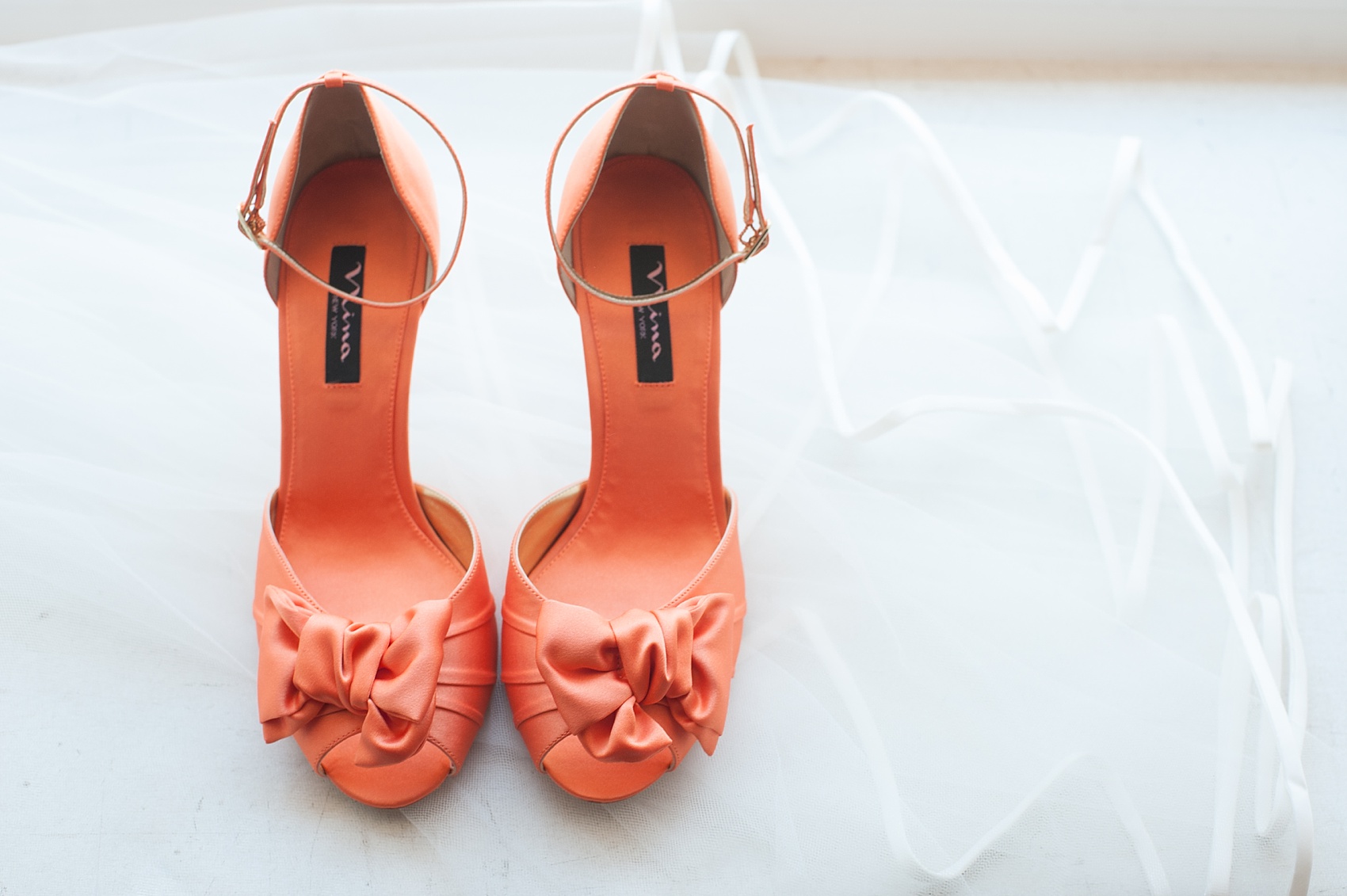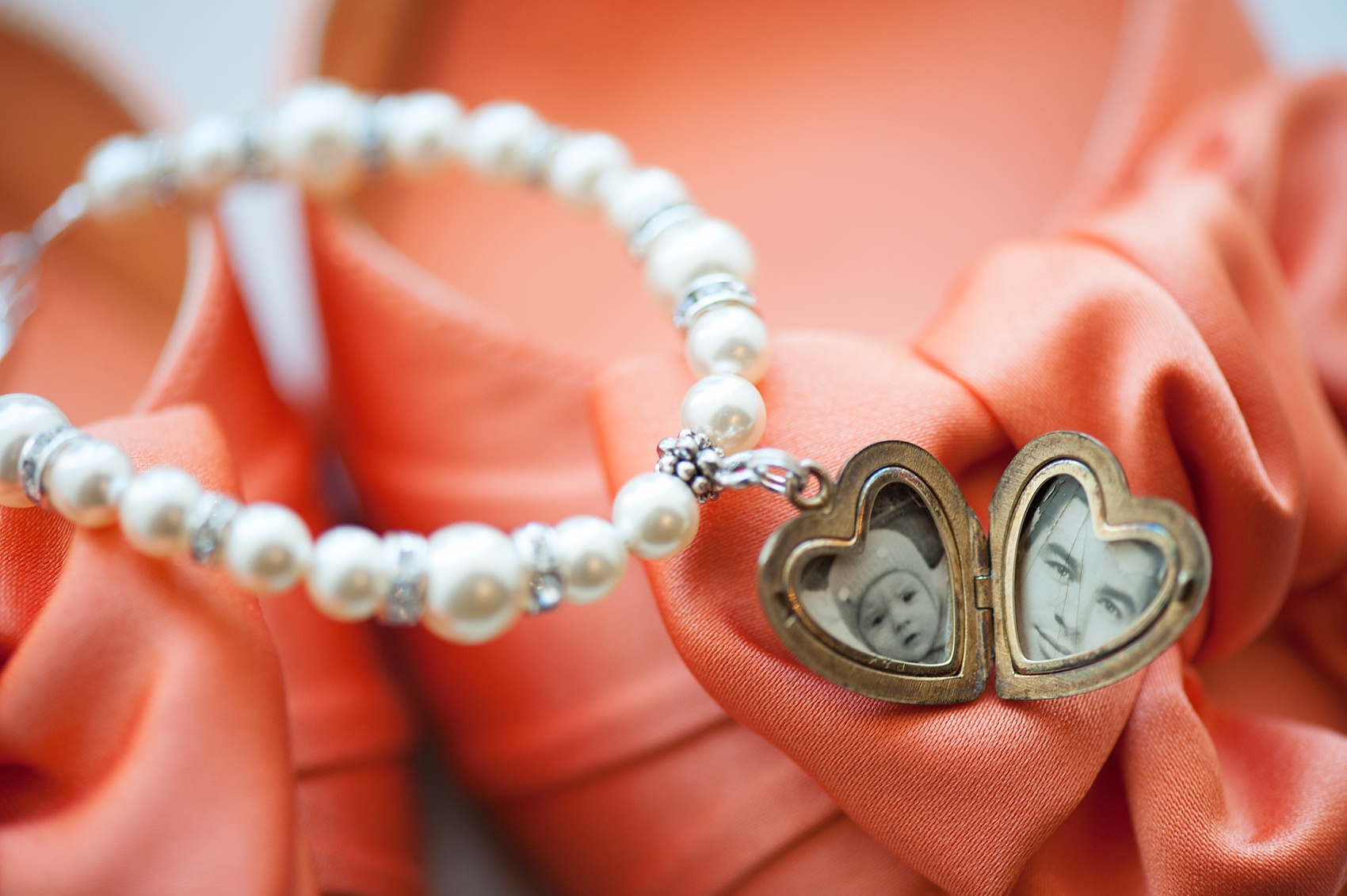 Kristin's mother was perhaps the most incredible mother-of-the-bride I've ever encountered. Sweetly soft spoken, helpful in a way that wasn't at all stressful, and a crafter – she had my heart from her "I have extra beading supplies in case of an emergency!" statement. She made Kristin's wedding day necklace, bracelet and earrings. But wait…that's not all. She made the jewelry for the bridesmaids too. Mother of the year.
The locket on Kristin's bracelet was special: it contained the photos of her grandfather and uncle who passed away years ago but were there in spirit for her wedding day.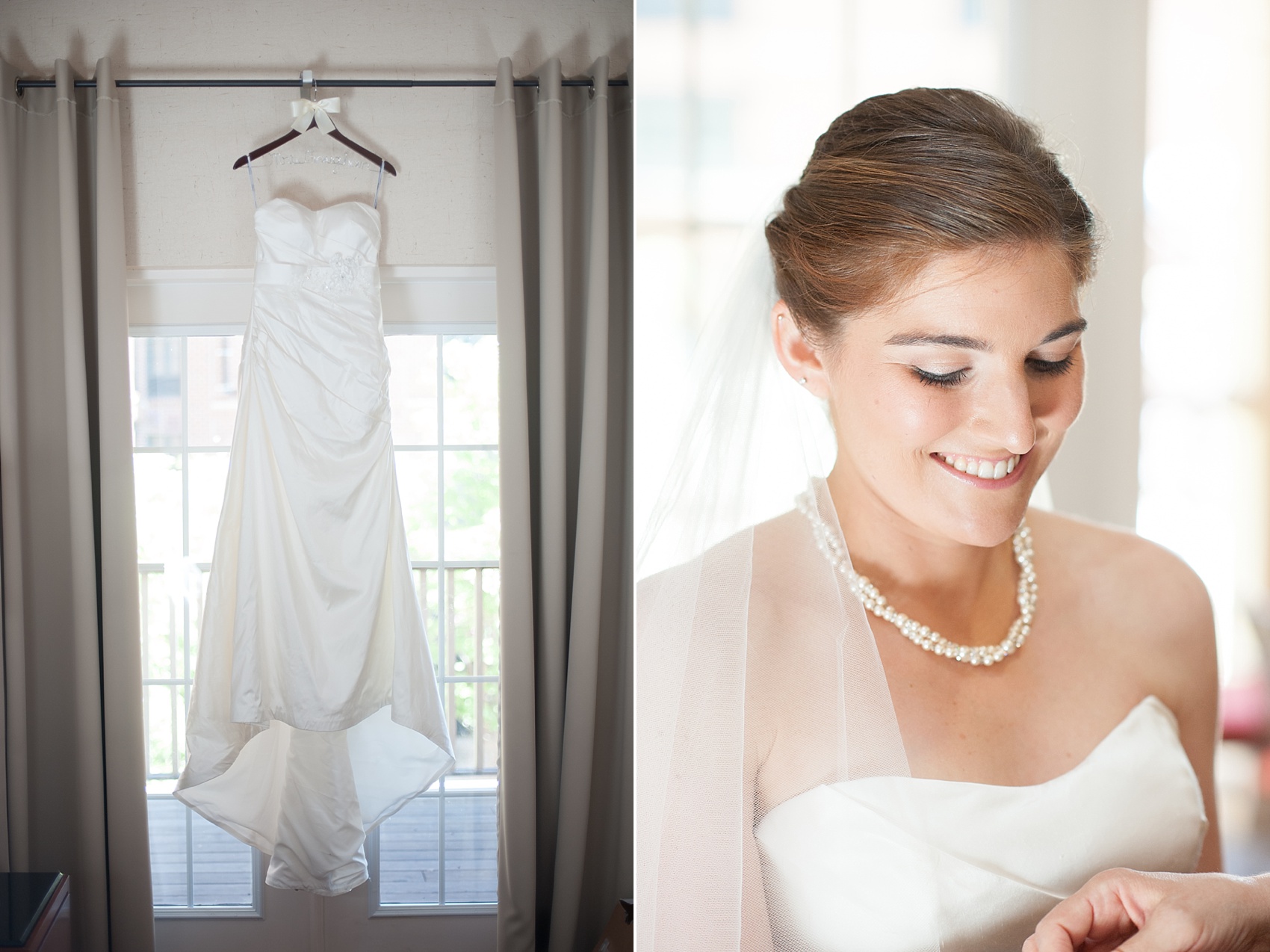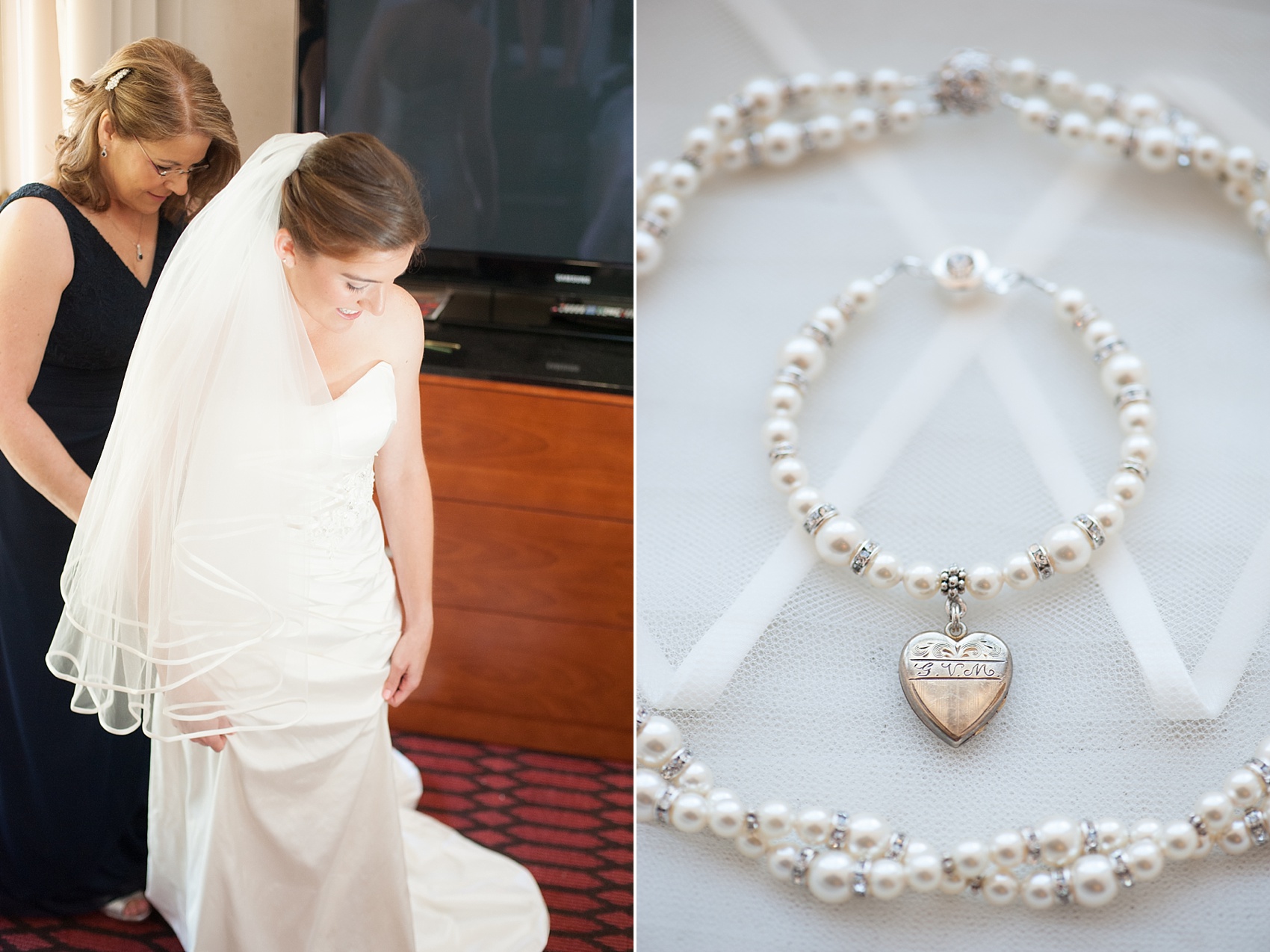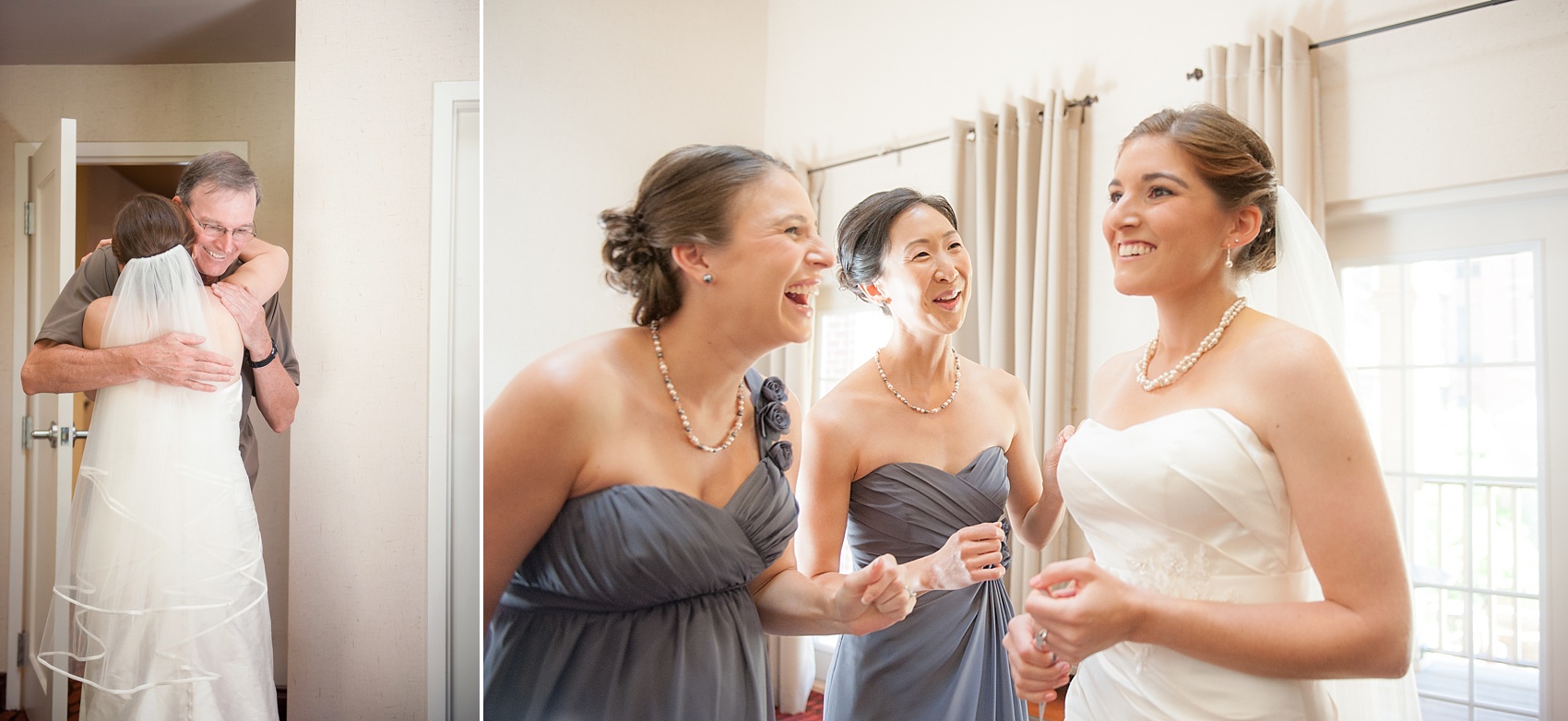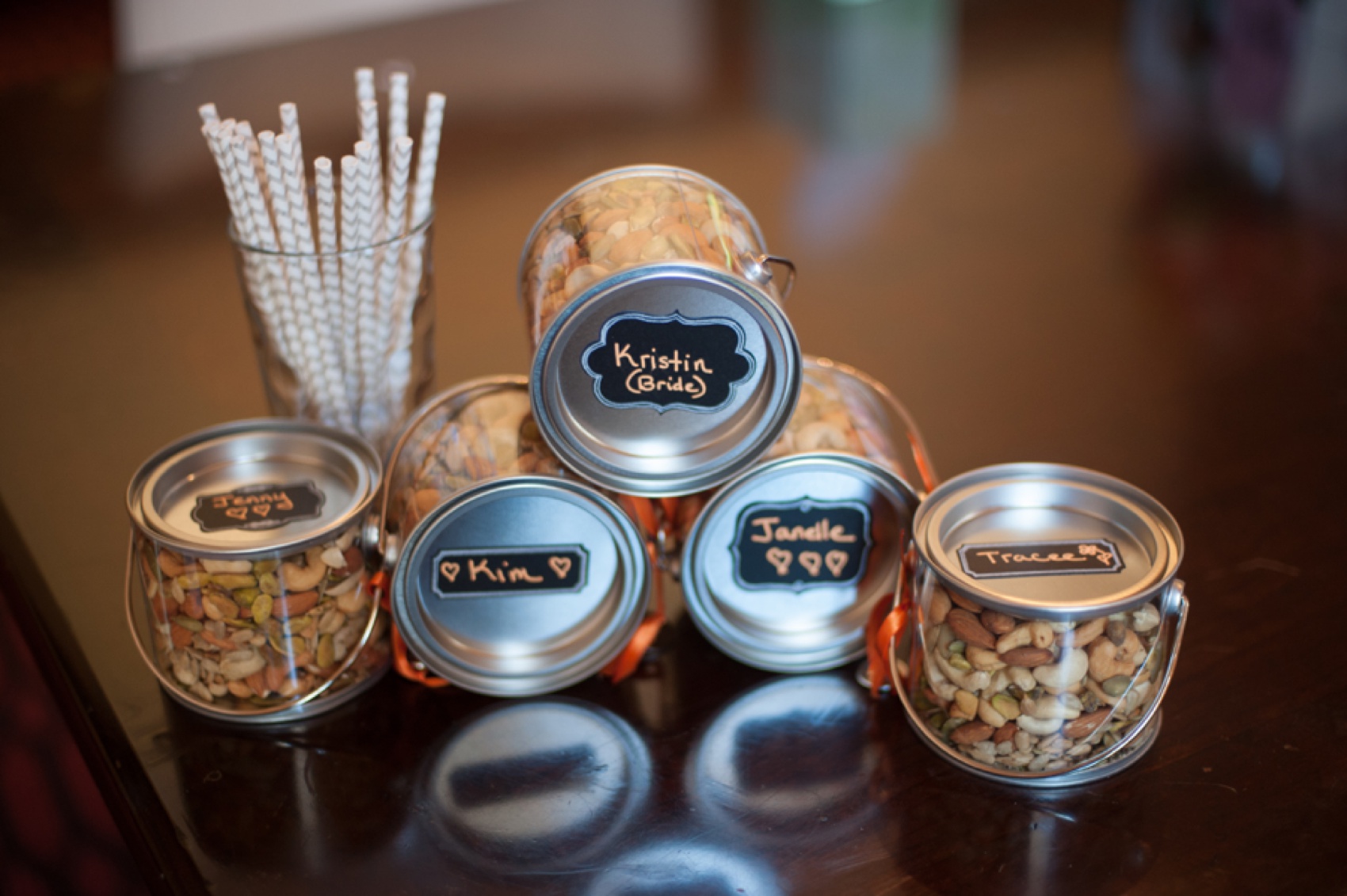 The bride's a genius: she created these adorable pails of nuts for wedding morning protein so the girls would stay energized!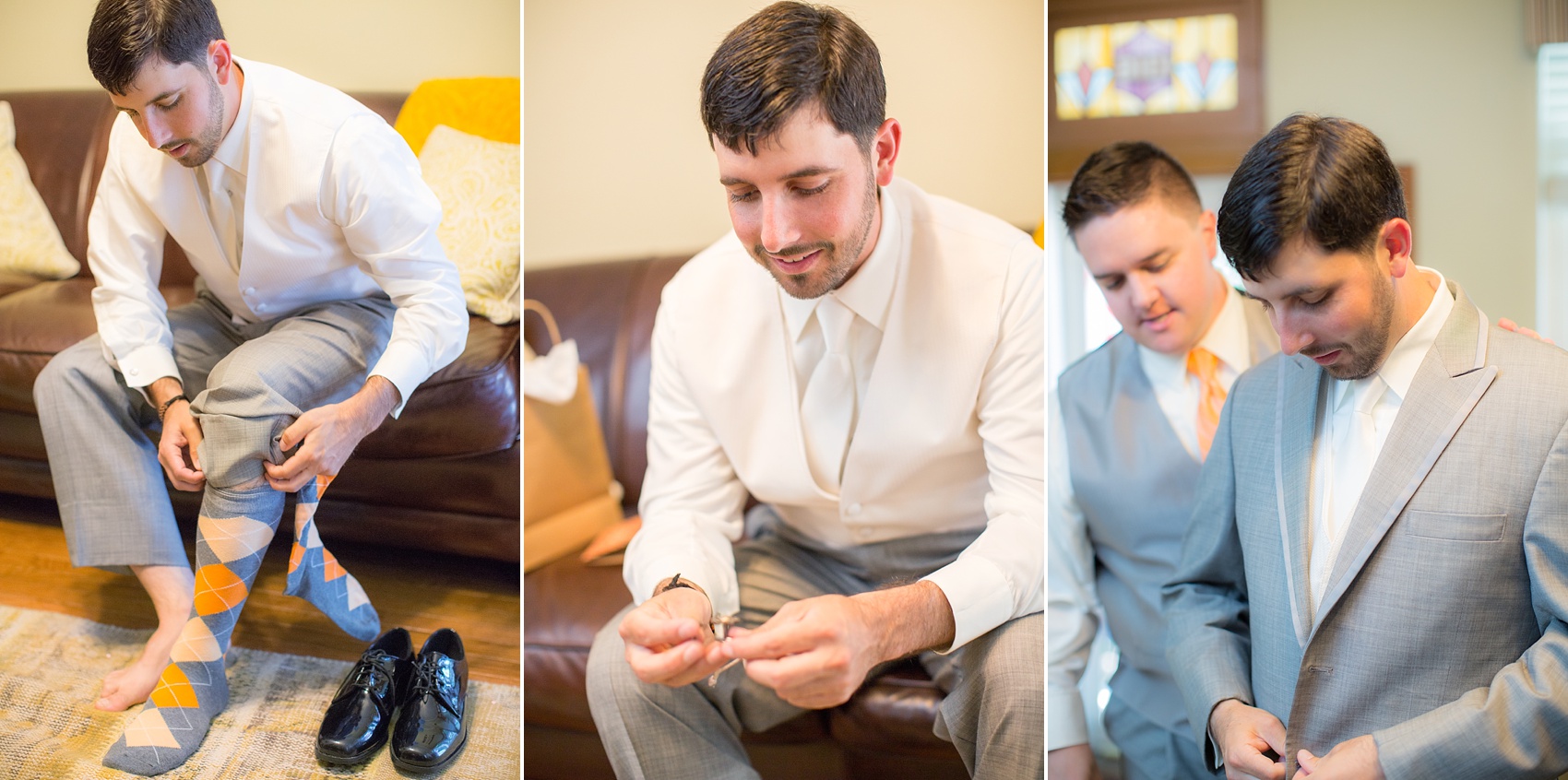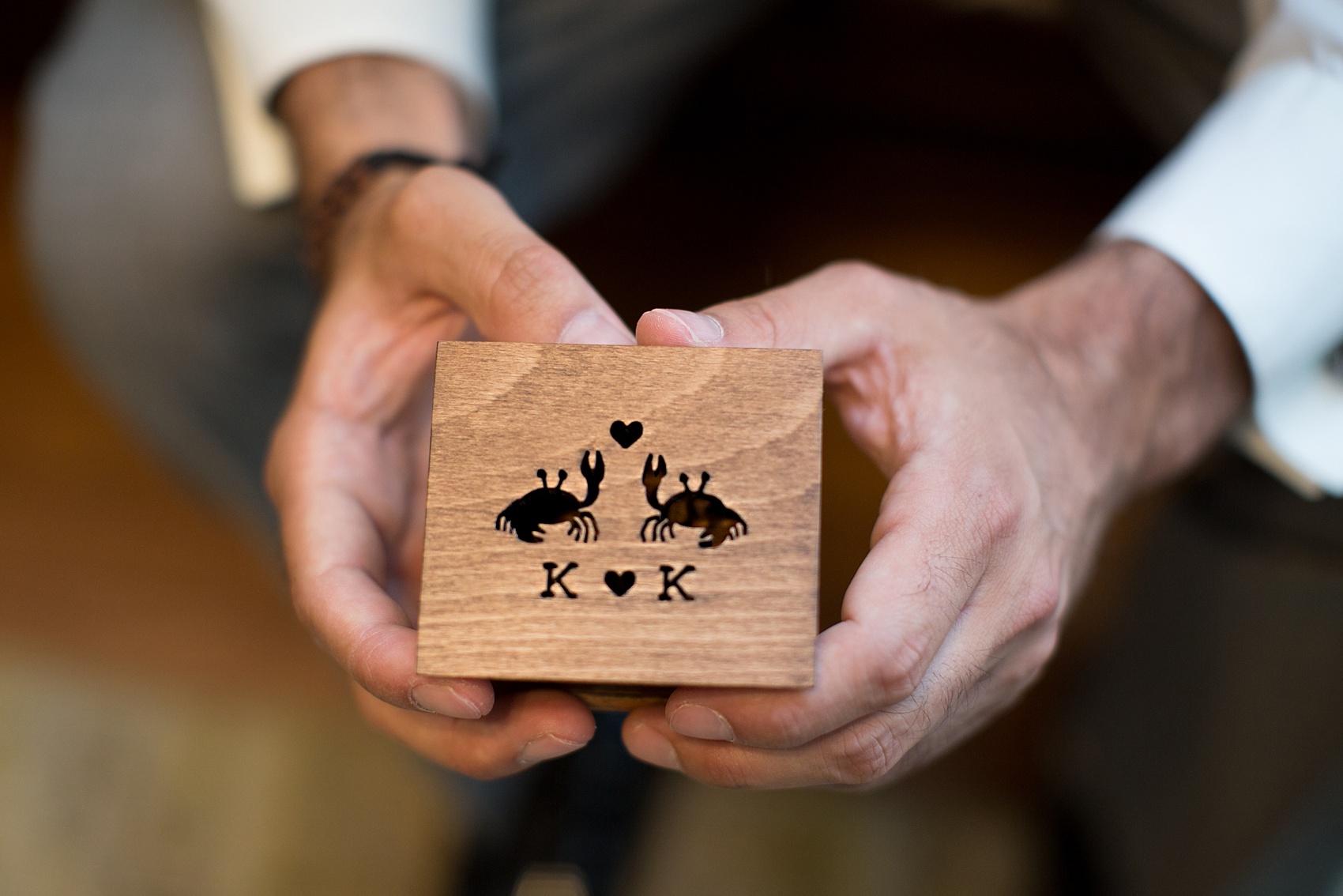 I was in on a little surprised Kristin was extra excited for. She got Kevin crab cufflinks for their wedding day! Crabs are pretty much a staple in Maryland from restaurants to graphics and more – and these were PERFECT to complete the groom's attire. I love that they'll have the box forever too, which has their wedding date on the back. Such a unique touch, Kristin!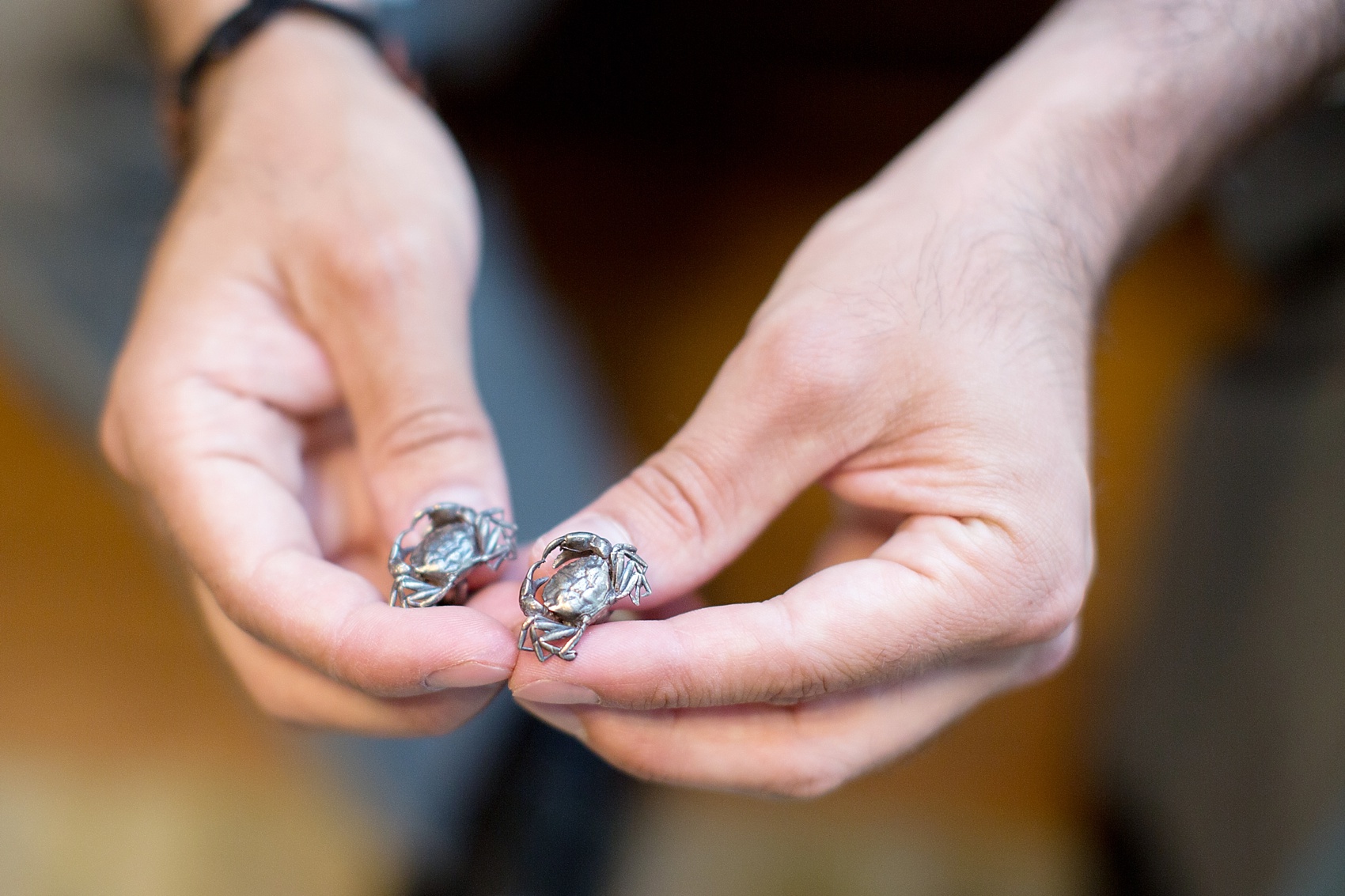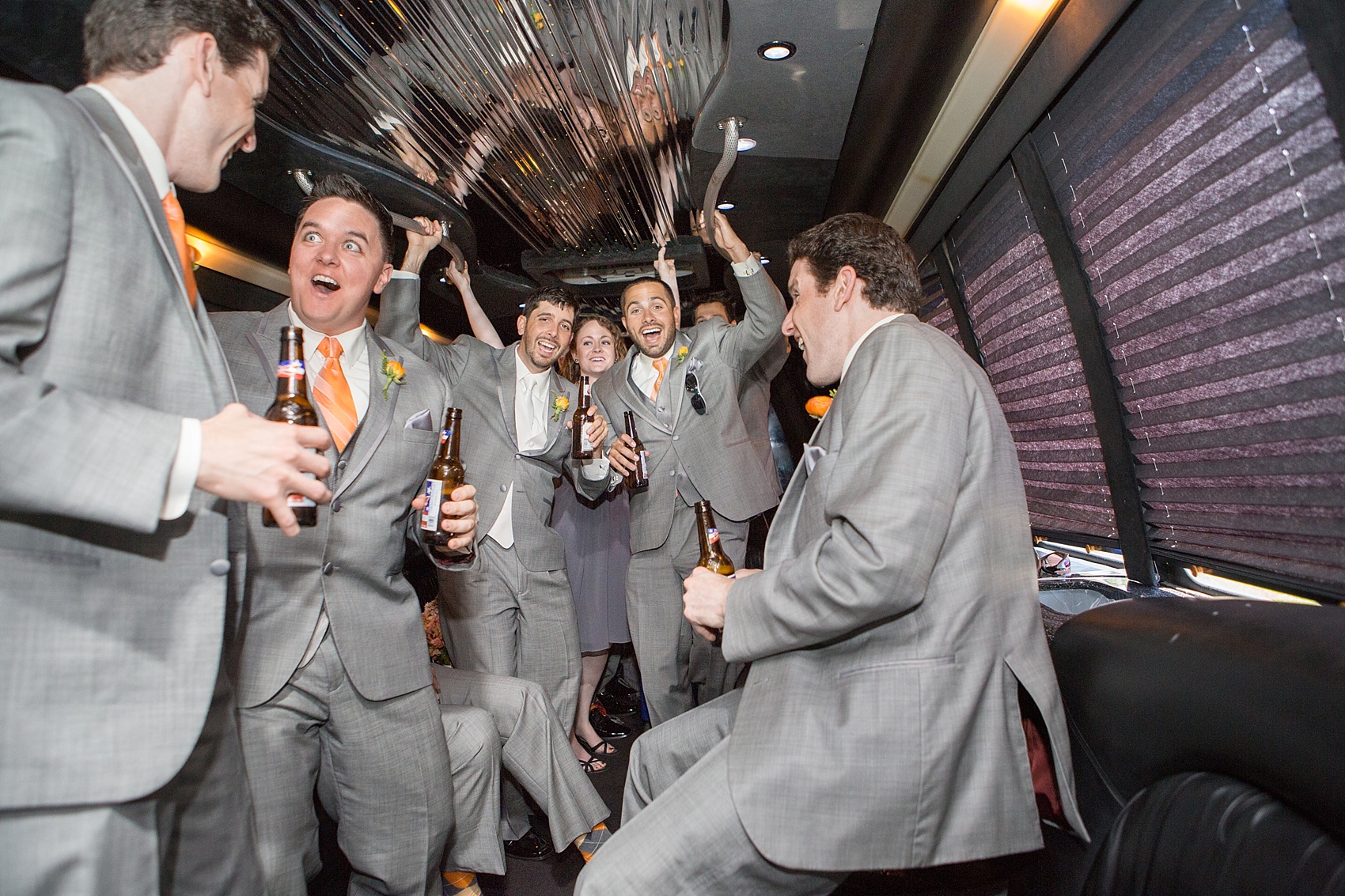 As the bus drove through downtown Baltimore to their first look location, I couldn't help but notice the Maryland flag so beautifully blowing proudly in the June breeze. Kristin and Kevin love their Maryland pride, so this flag photo is for them!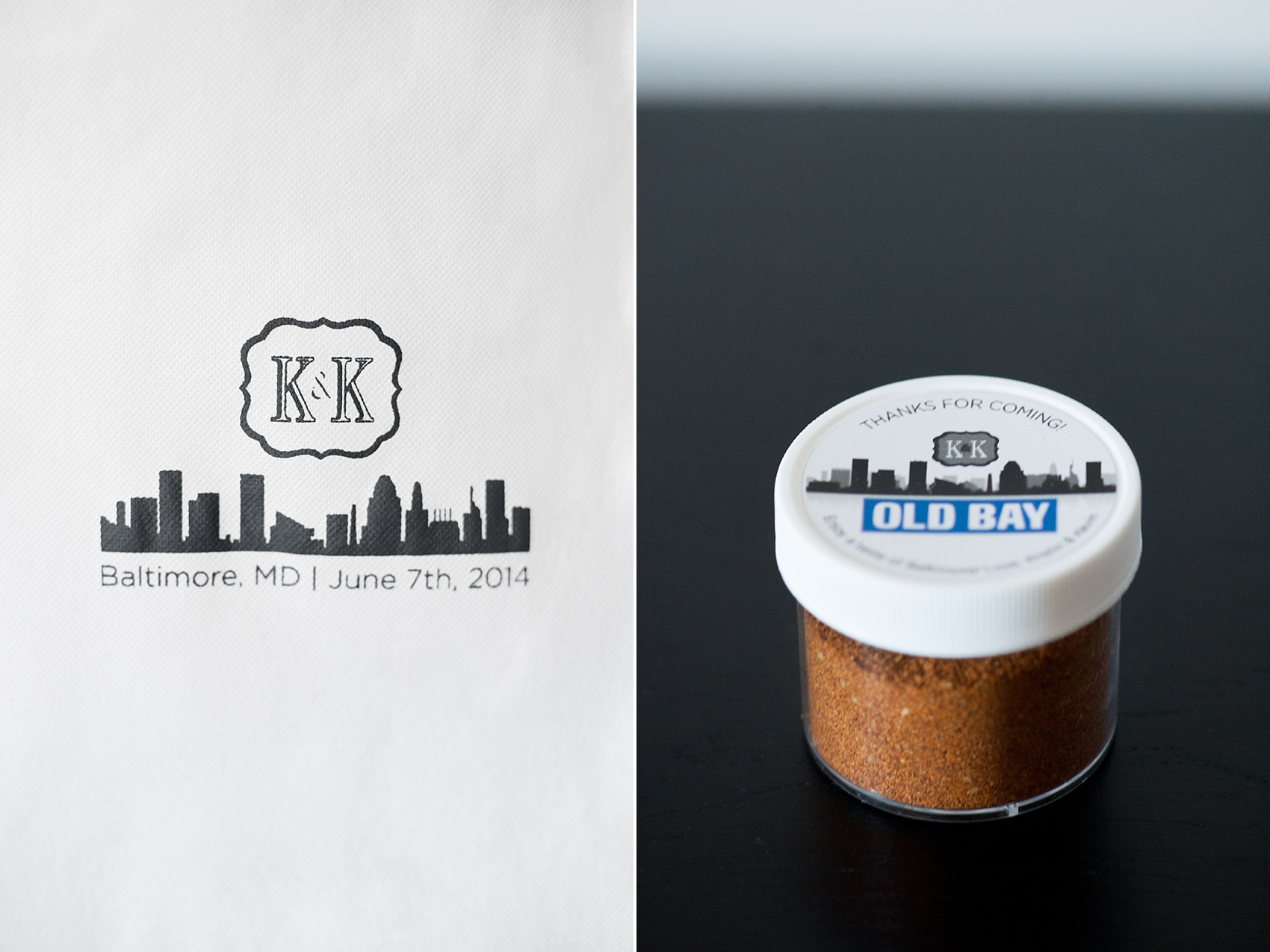 Guests were welcomed to the hotel with customized favor bags. The baltimore skyline, their initials and wedding date adorned the front and inside were the most wonderful Maryland themed goodies, including locally famous Berger Cookies, a Baltimore Orioles pen, and, my personal favorite, this fun customized jar of Old Bay seasoning (also a Maryland staple!) that Kevin designed himself!
With everything in place we were ready for their first look. Kristin whistled to Kevin, a special call between the two of them that has gained significance over the years of their relationship, he turned….and SMILED. And cried.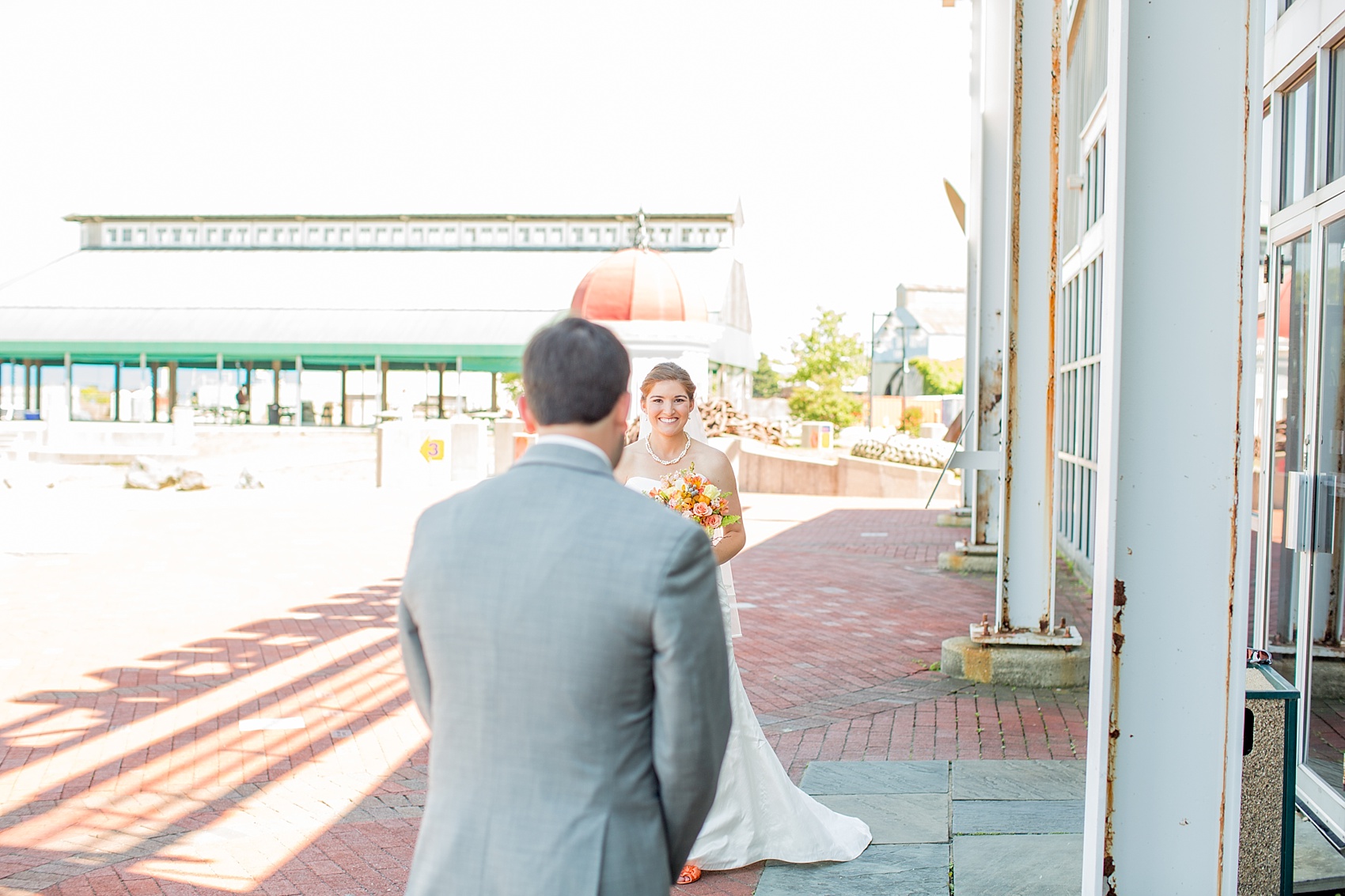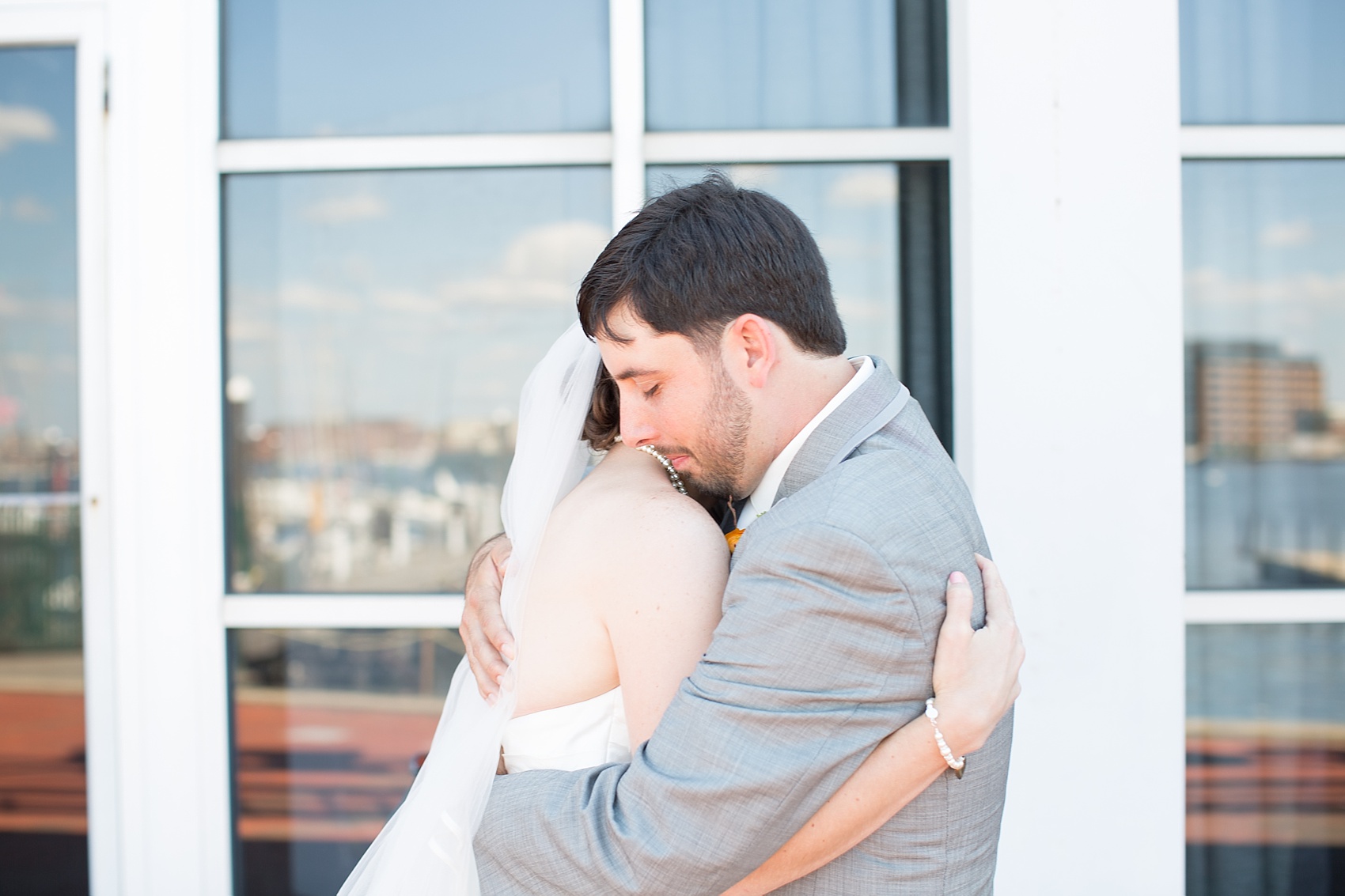 Kevin turned to me and asked, "Can Kristin and I have a few minutes alone?" and my heart melted. Funny enough, no couple has ever asked me that after a first look. I thought it was so warming. Of course I gave them some time to themselves! Then we proceeded to take incredible portraits at the Baltimore Museum of Industry. We were surrounded by eye candy in the form of rustic sculptures and waterfront scenery.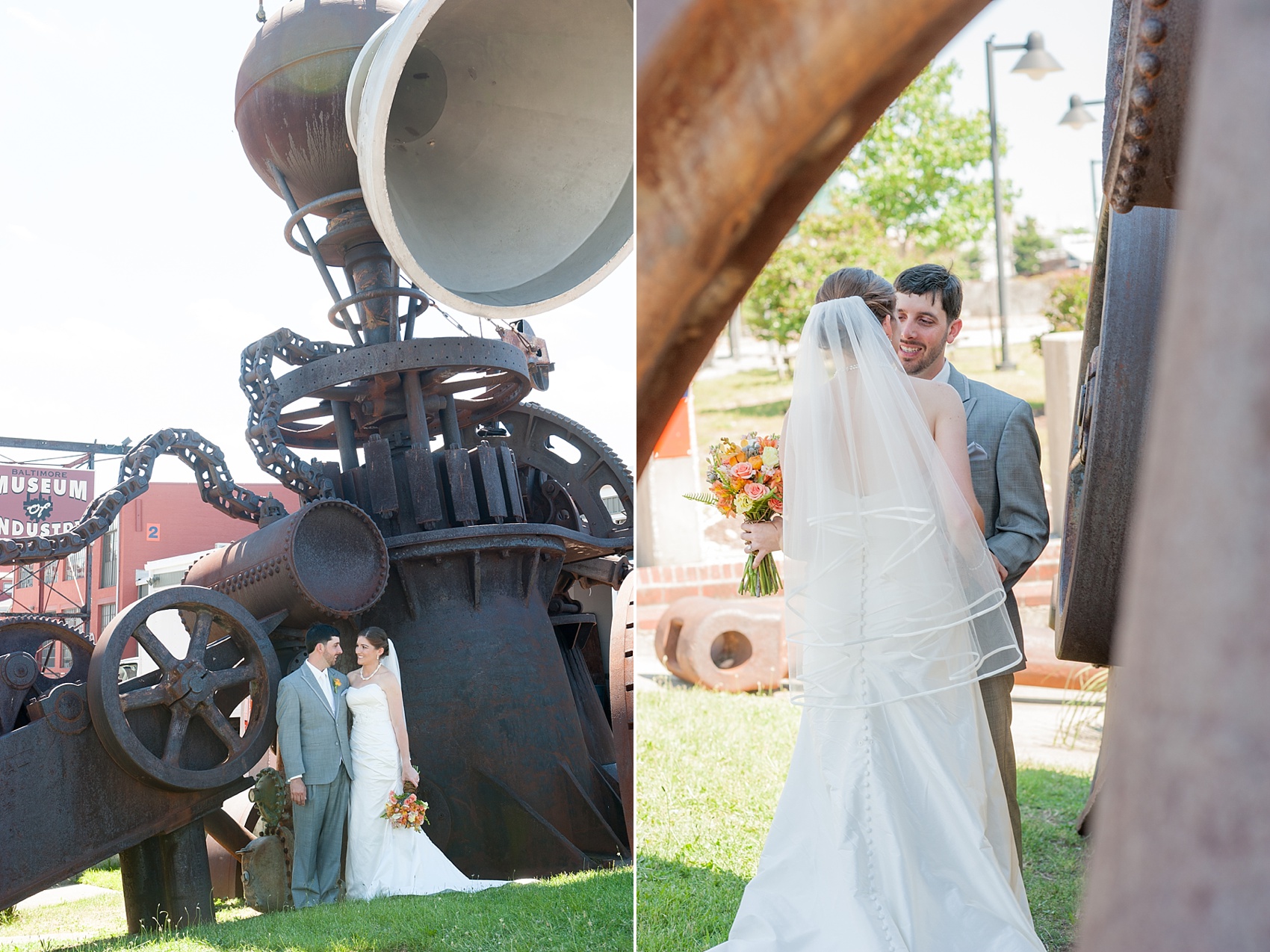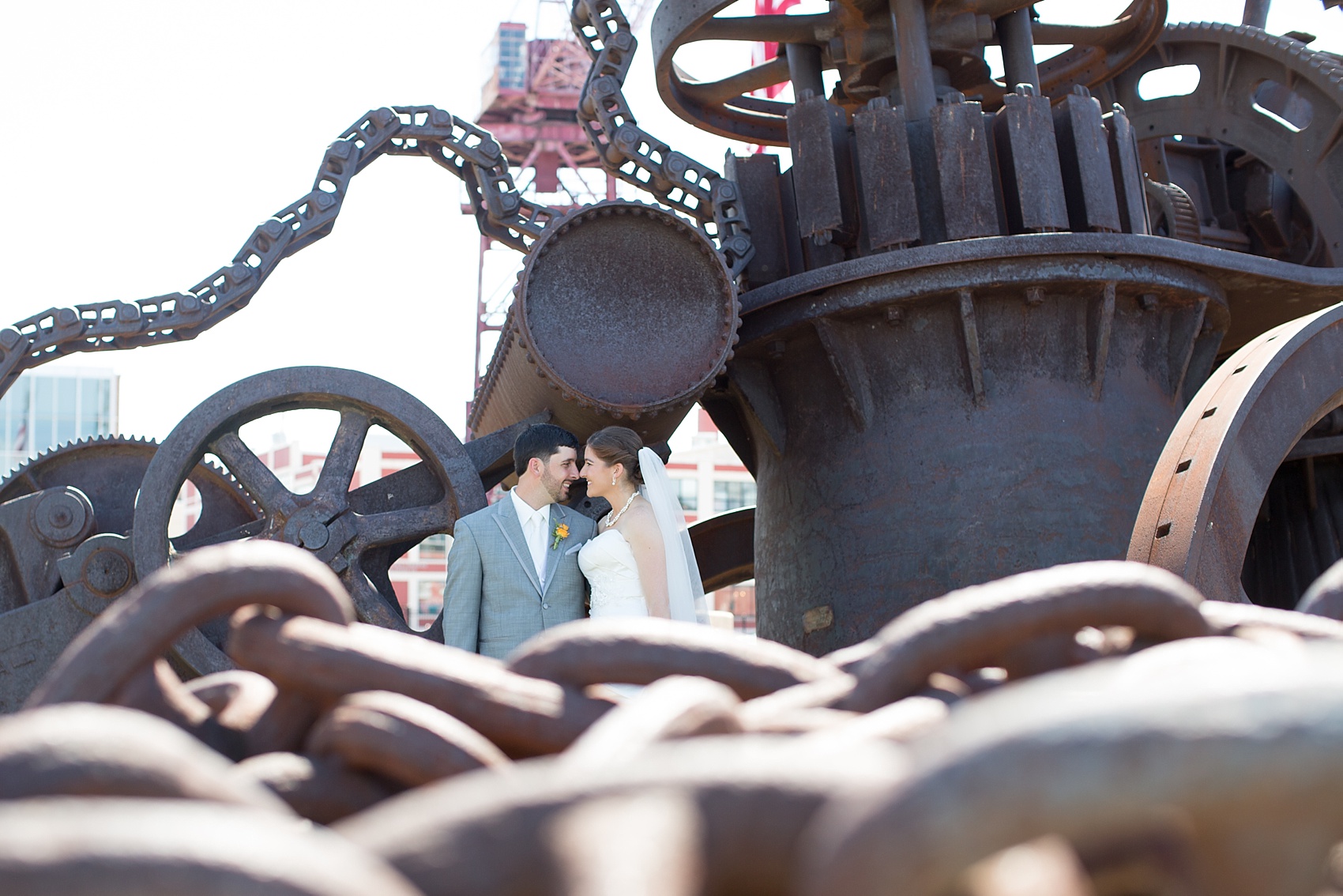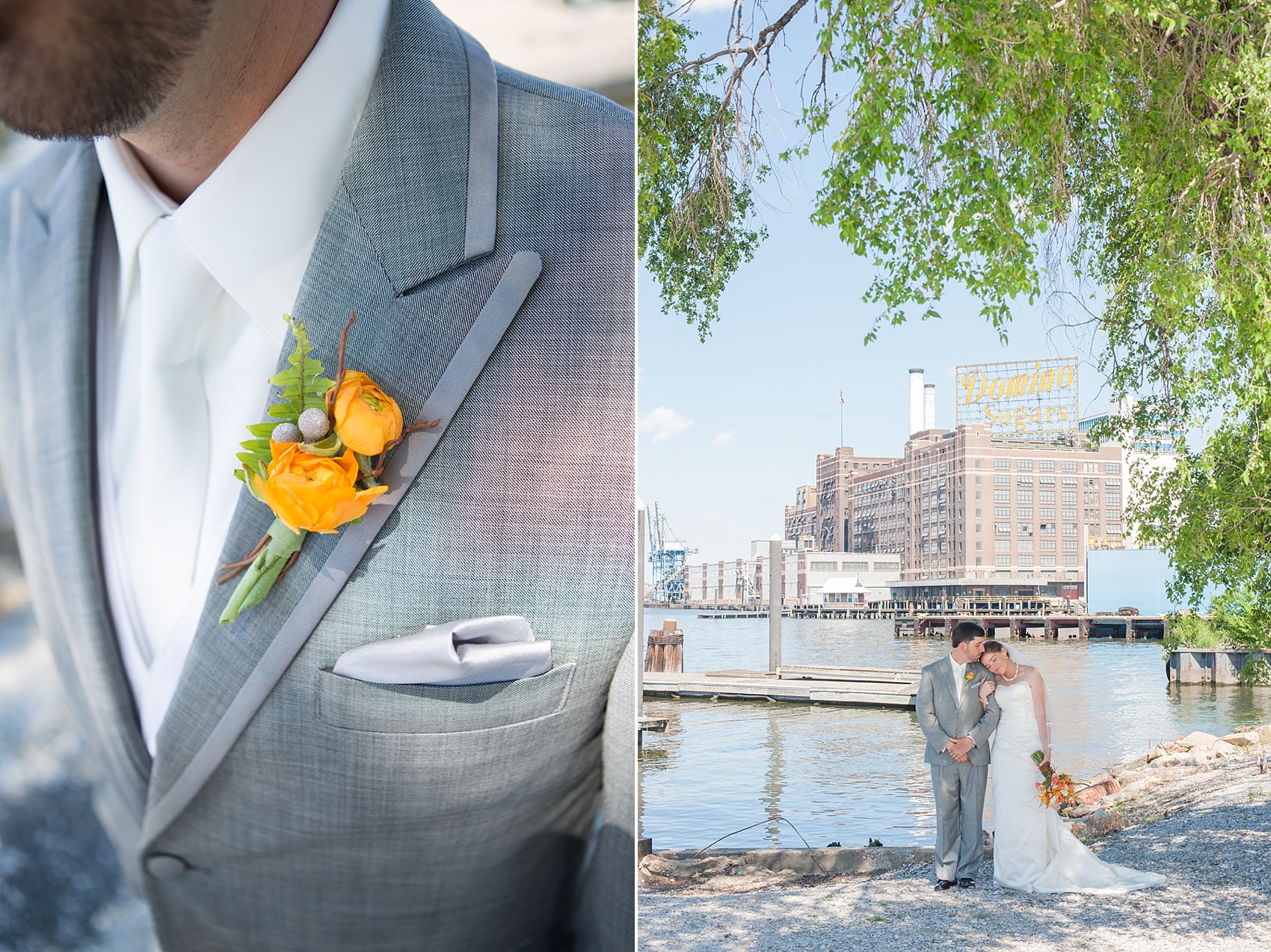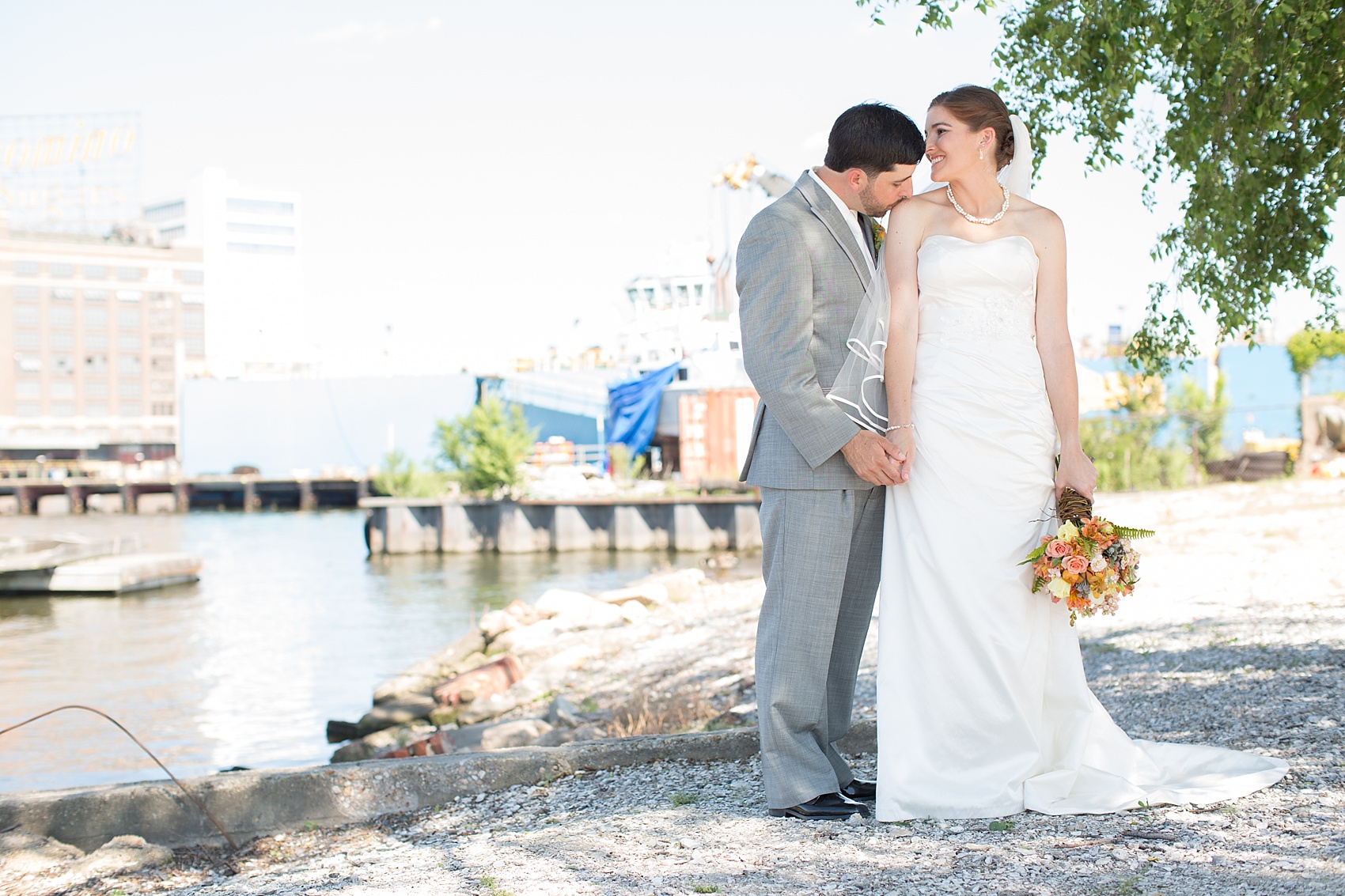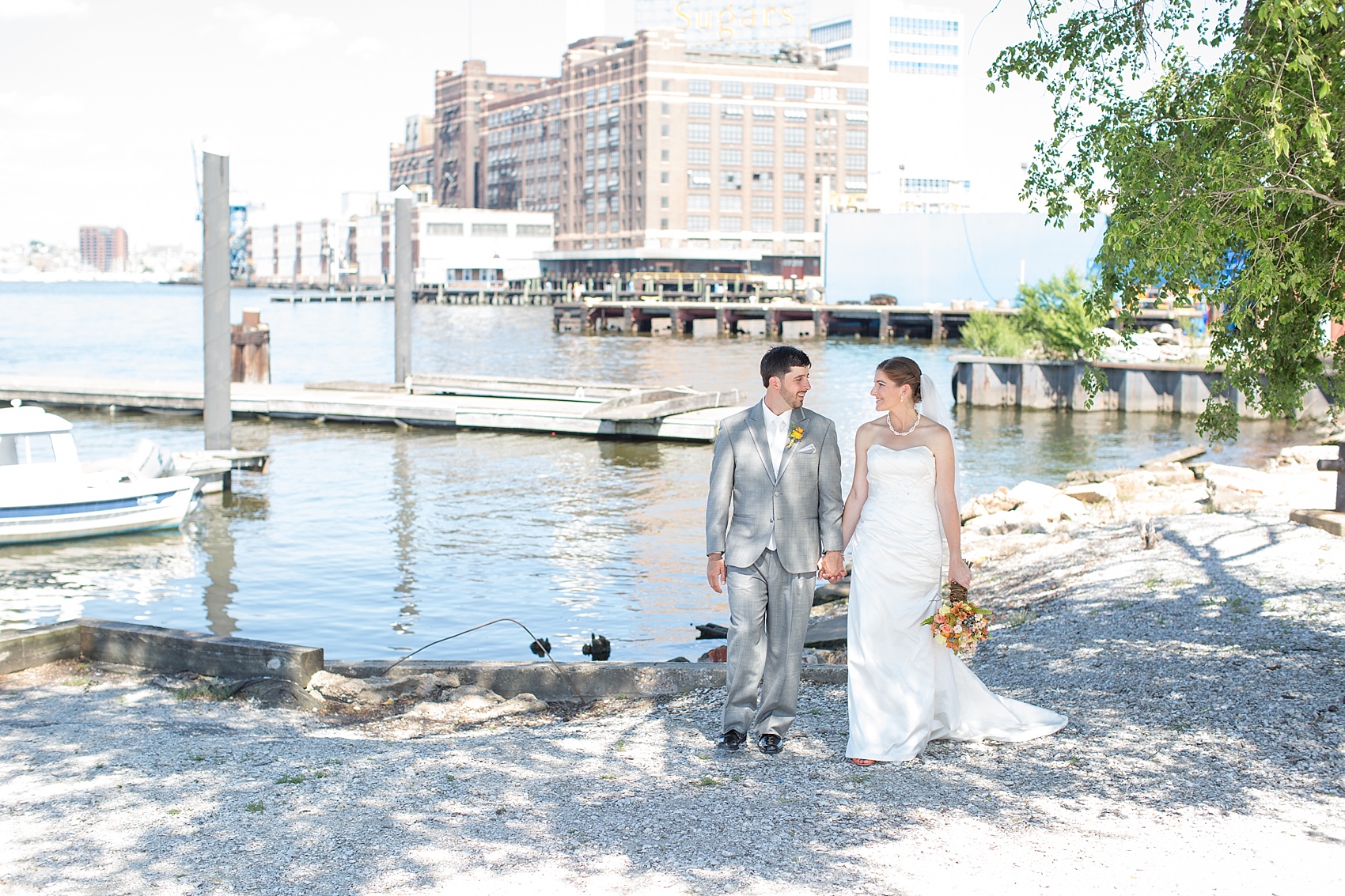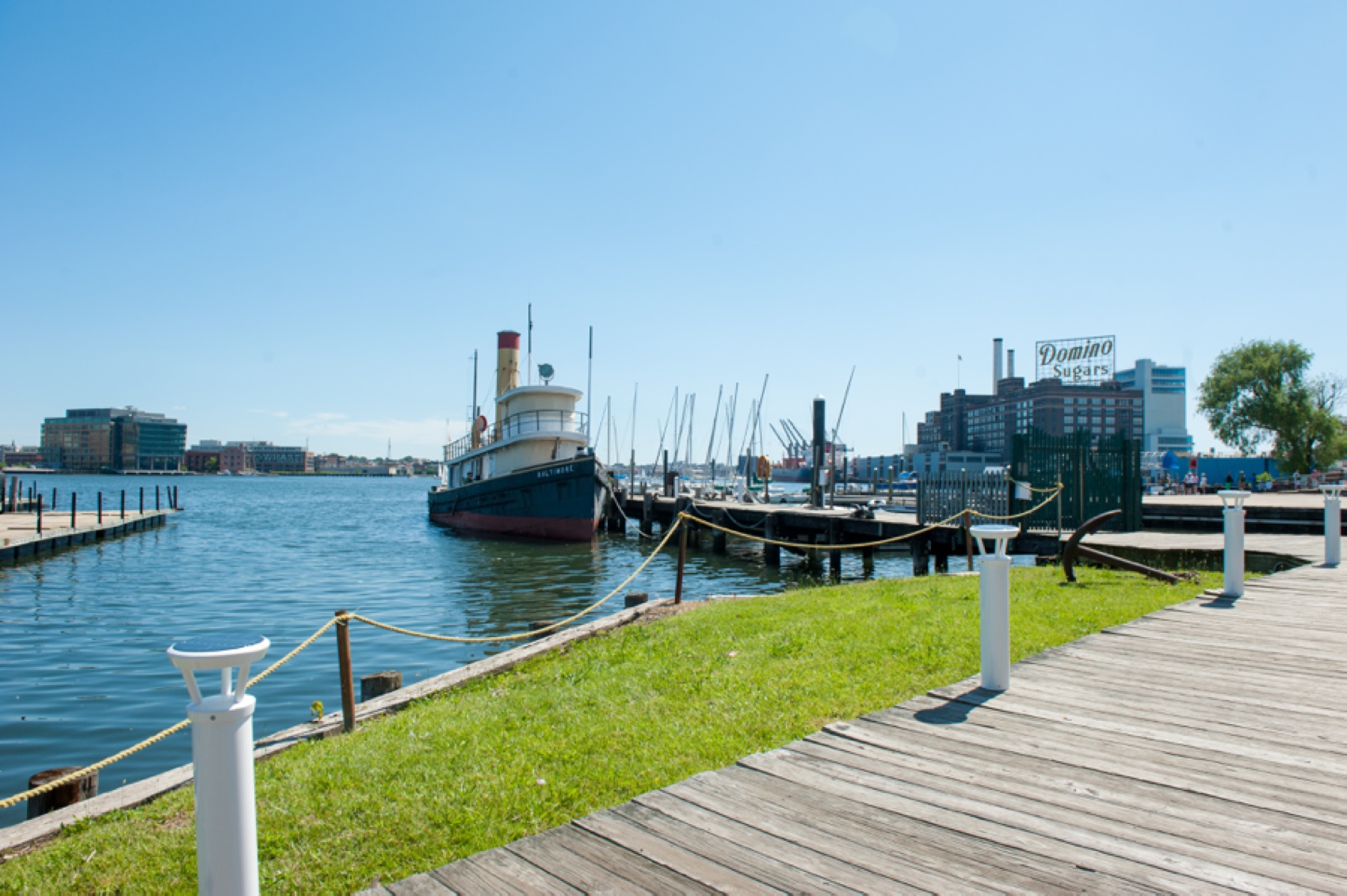 It really was a beautiful day.
Kristin and Kevin did something a lot of couples don't do: they had both male and female friends on either side of their wedding party. Kevin has best friends in his life who are wonderful women, not just men, and the same rings true for the opposite for Kristin. So we did a few combinations of photos for them: the entire wedding party, Kristin with her best friends, Kevin with his, then all the women together and all the men together.
The resulting photos are some of my favorites…ever.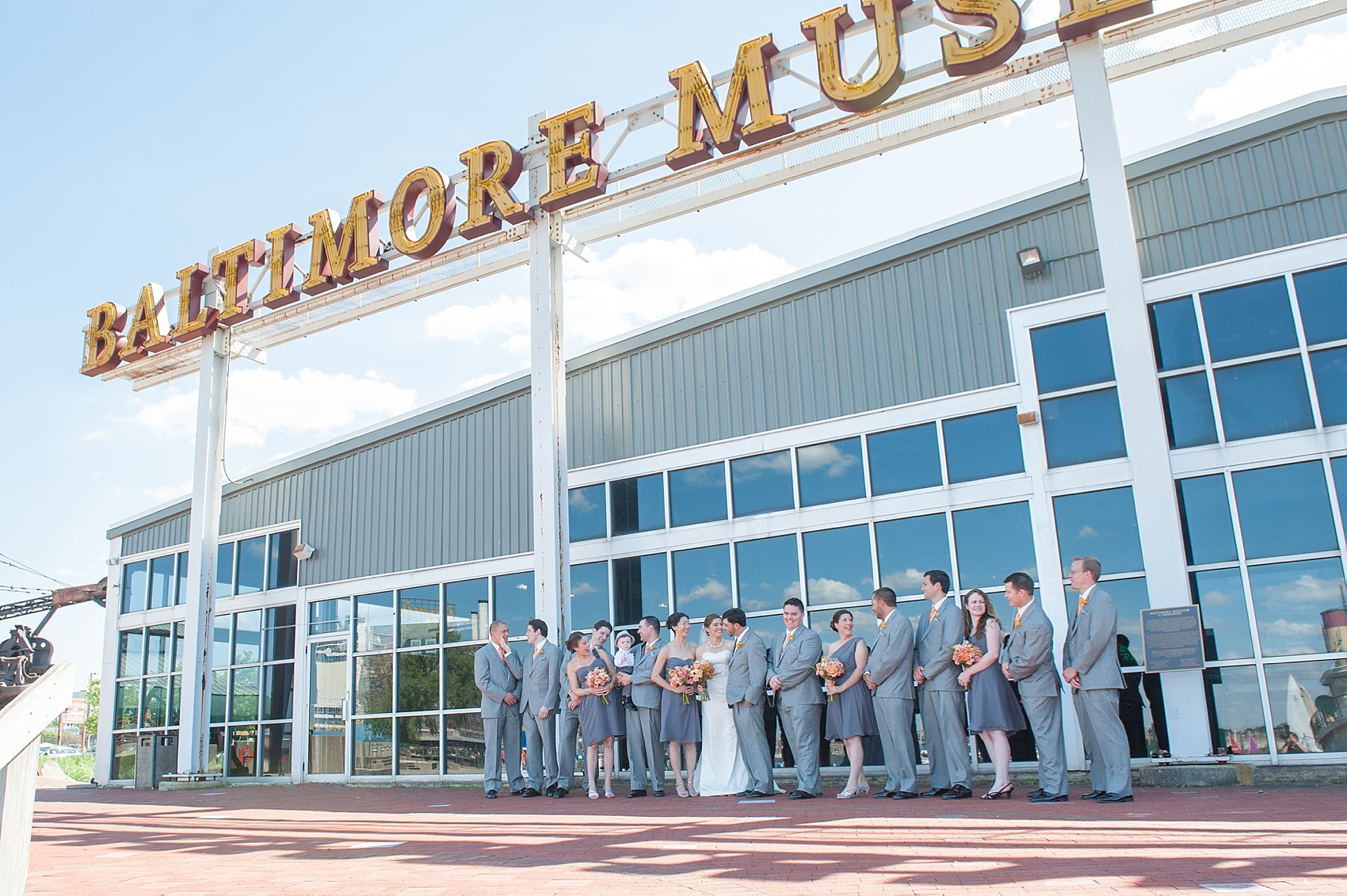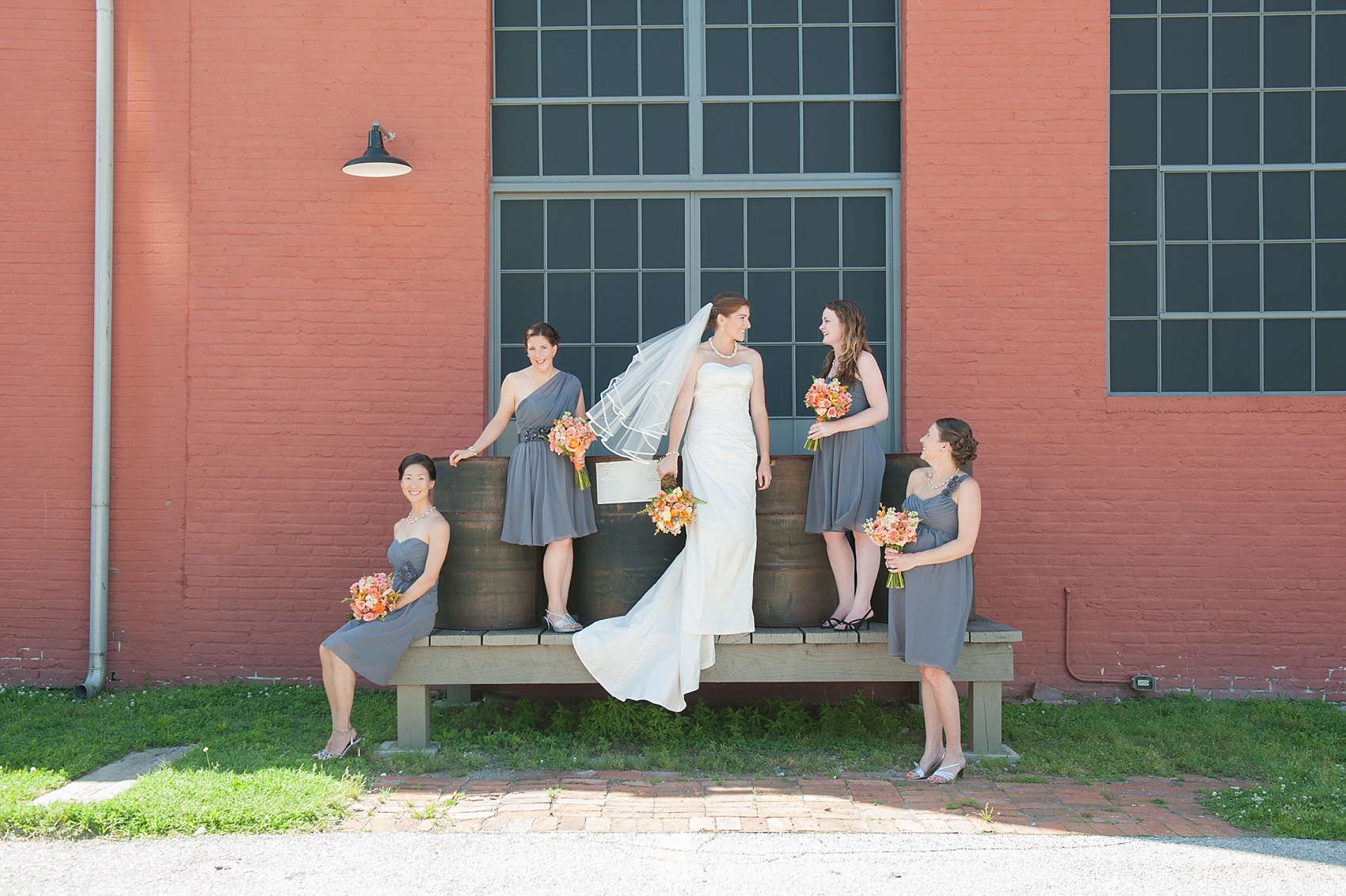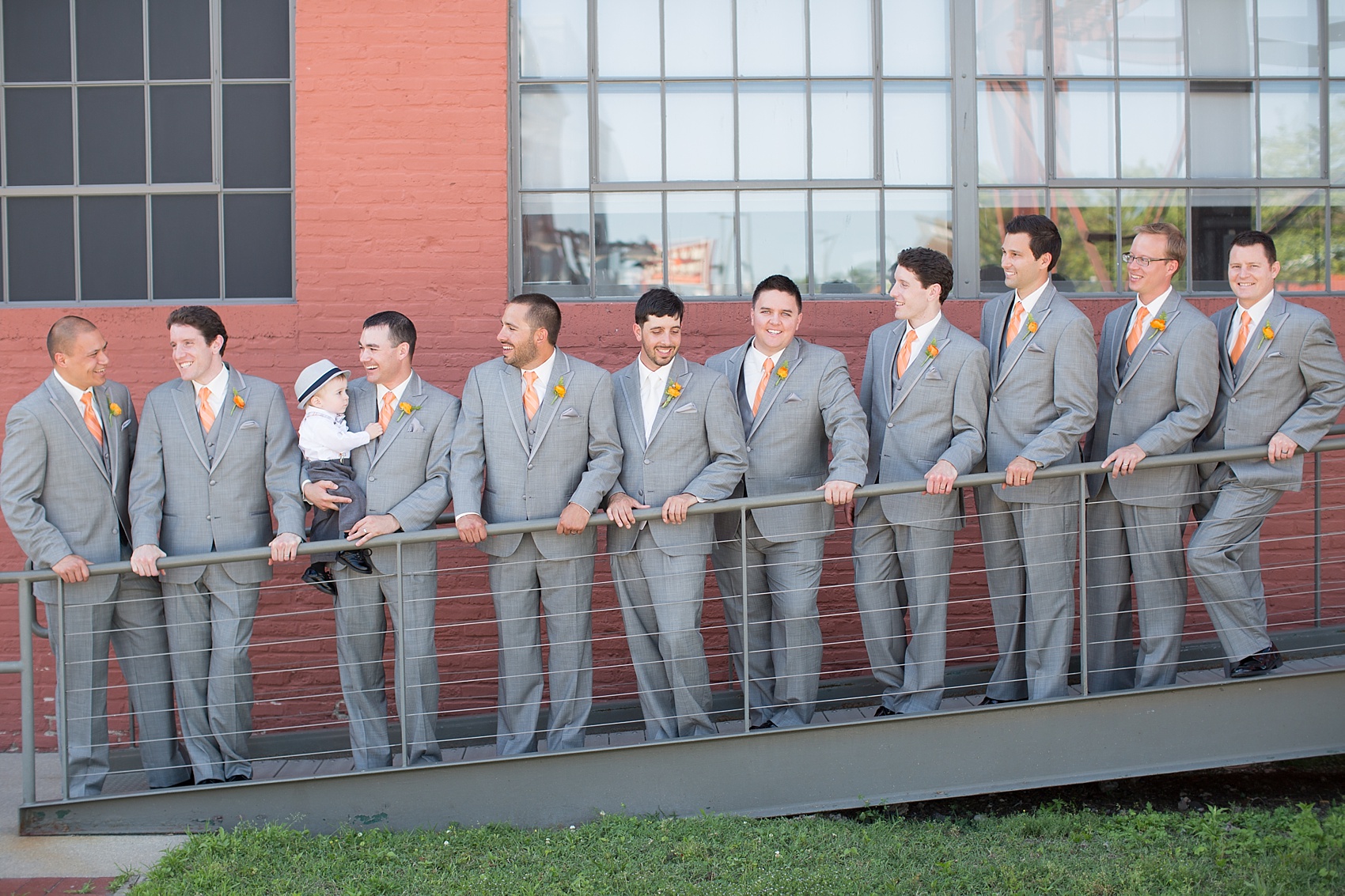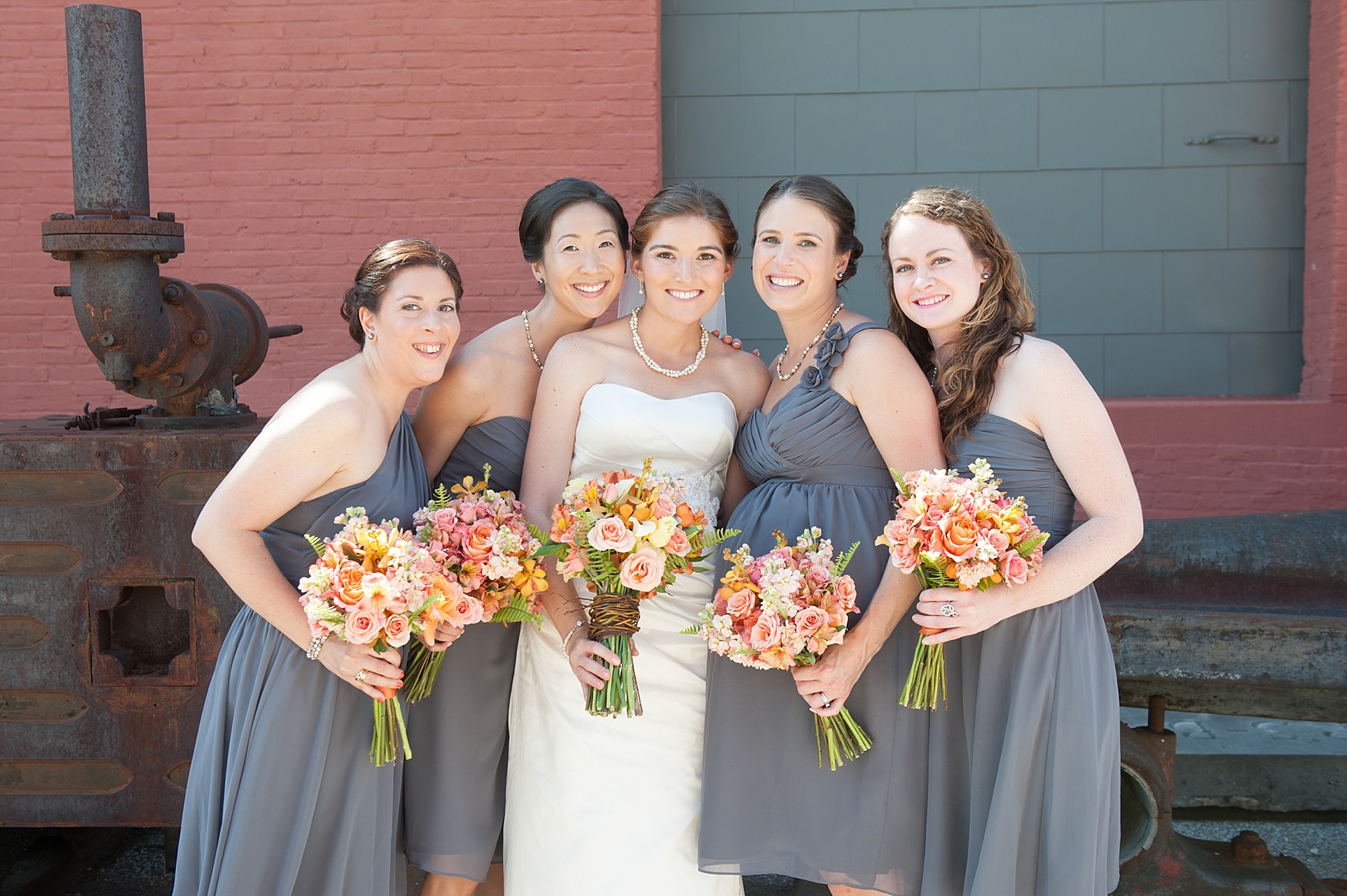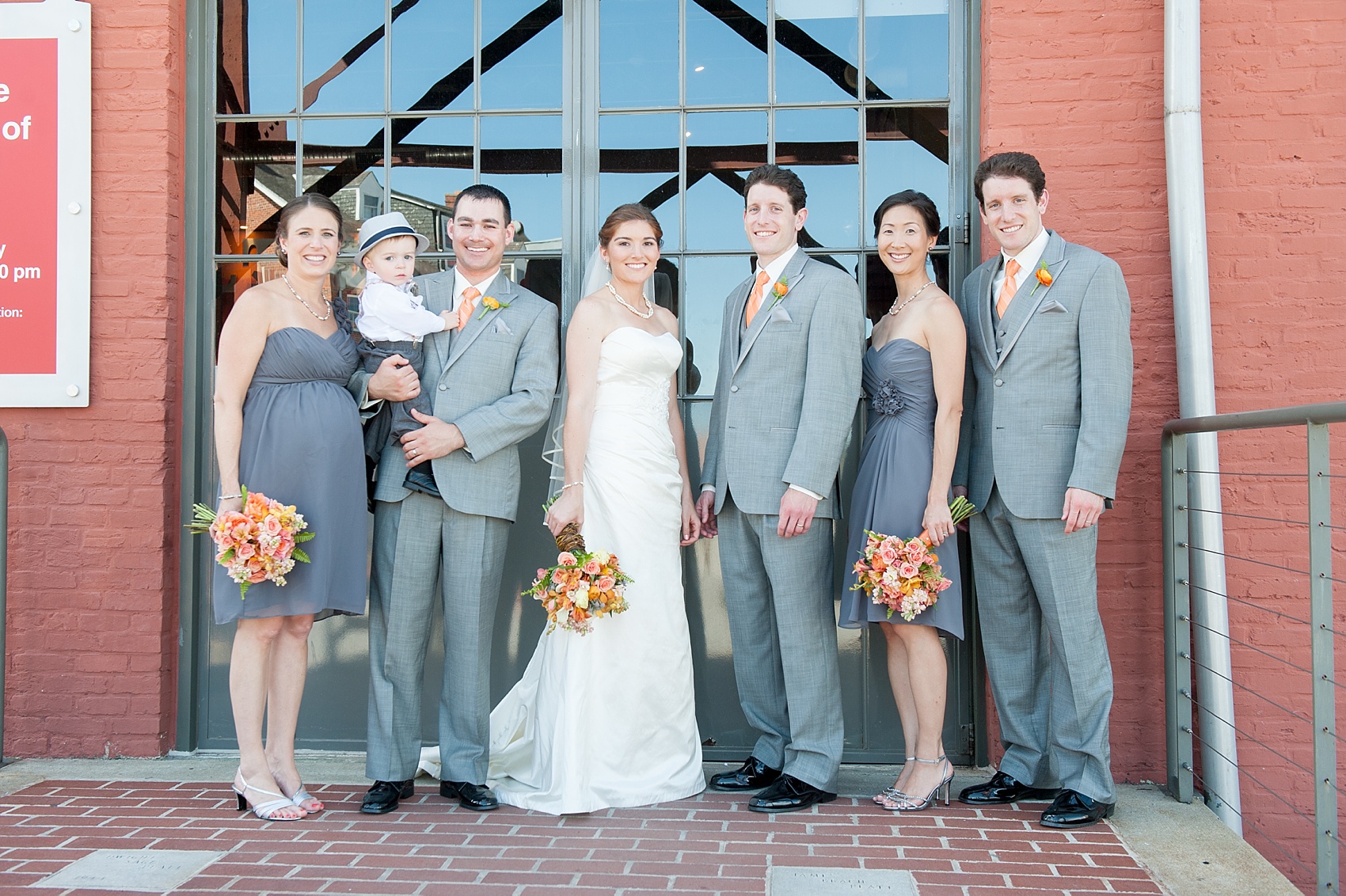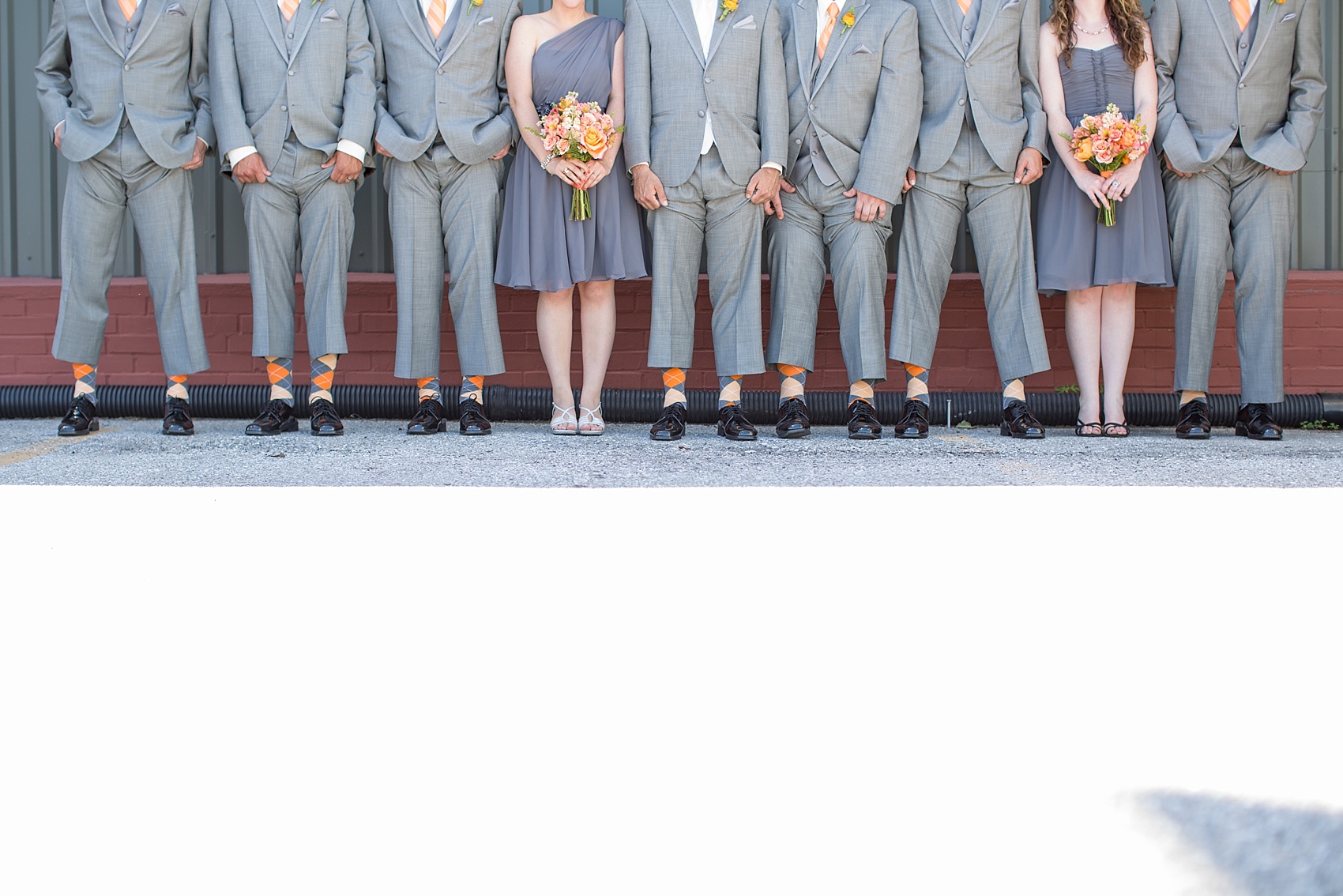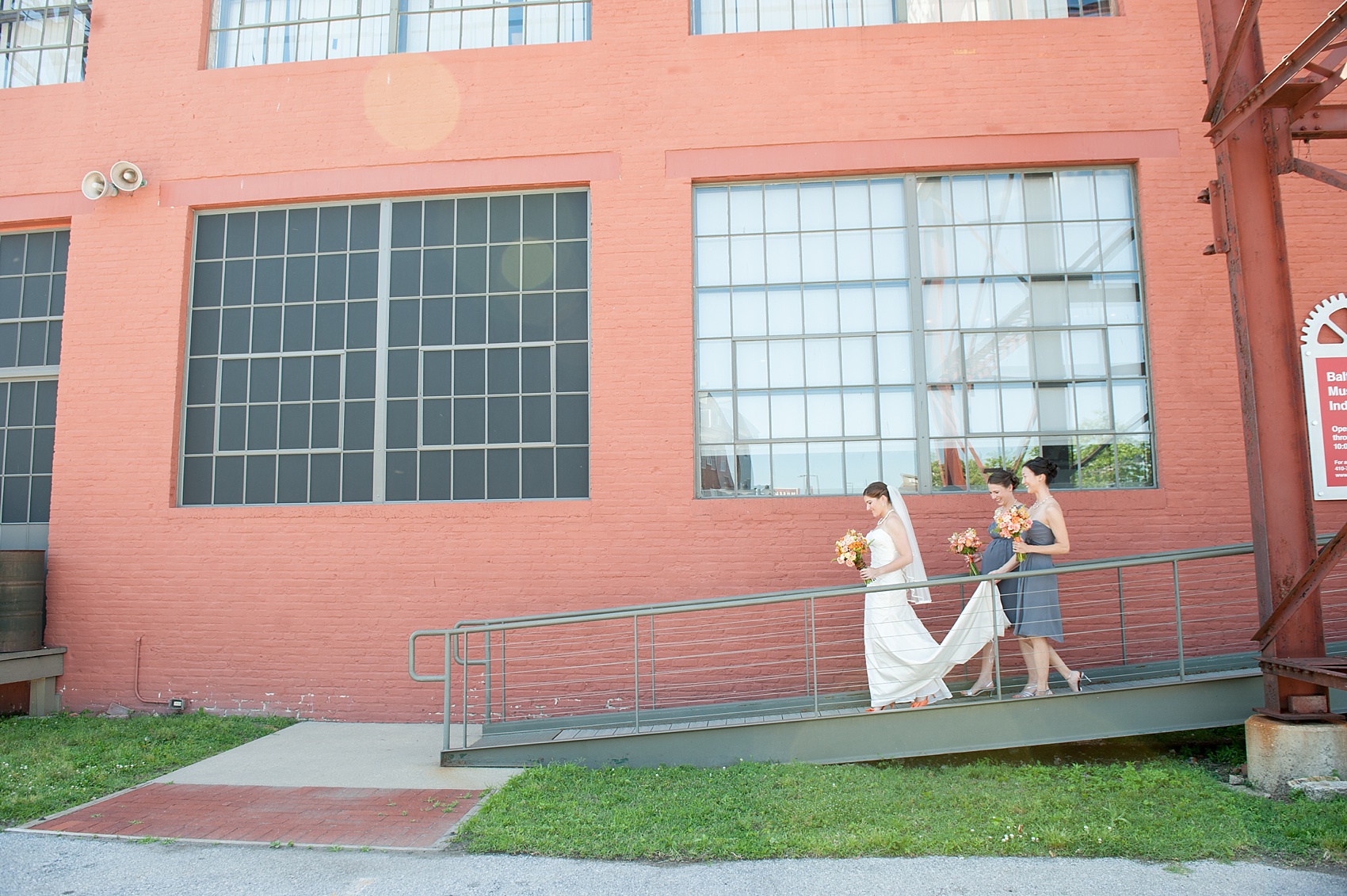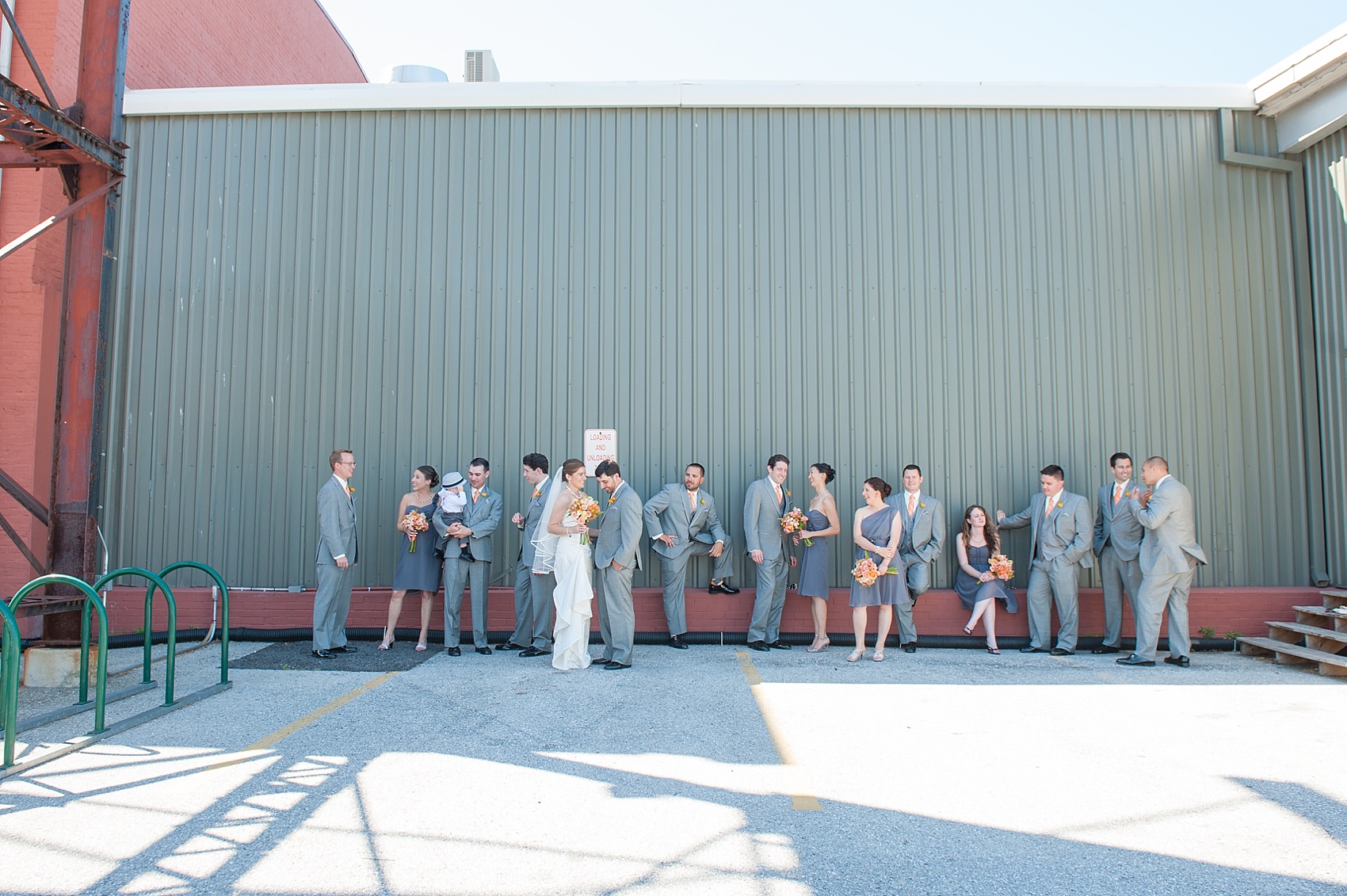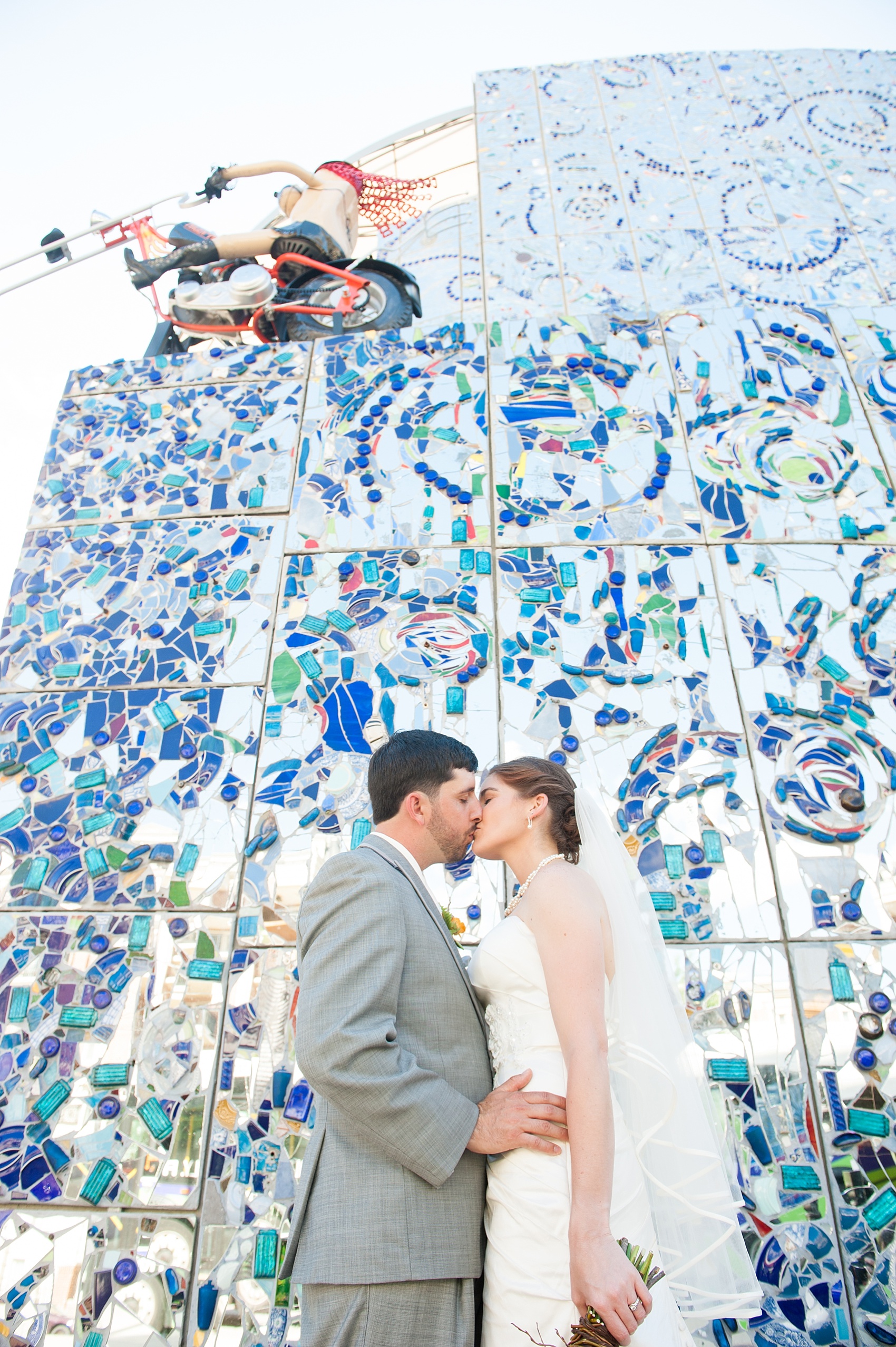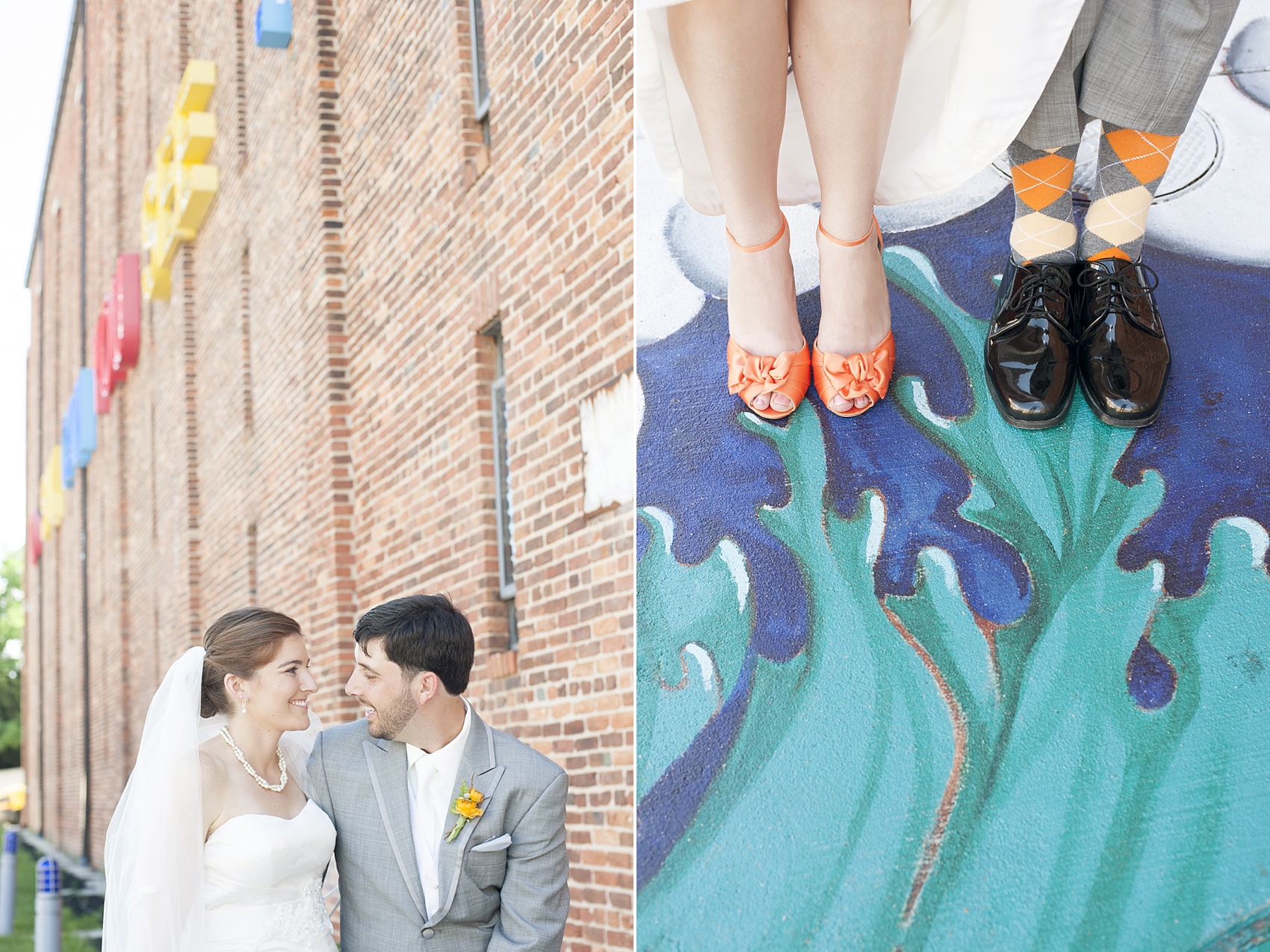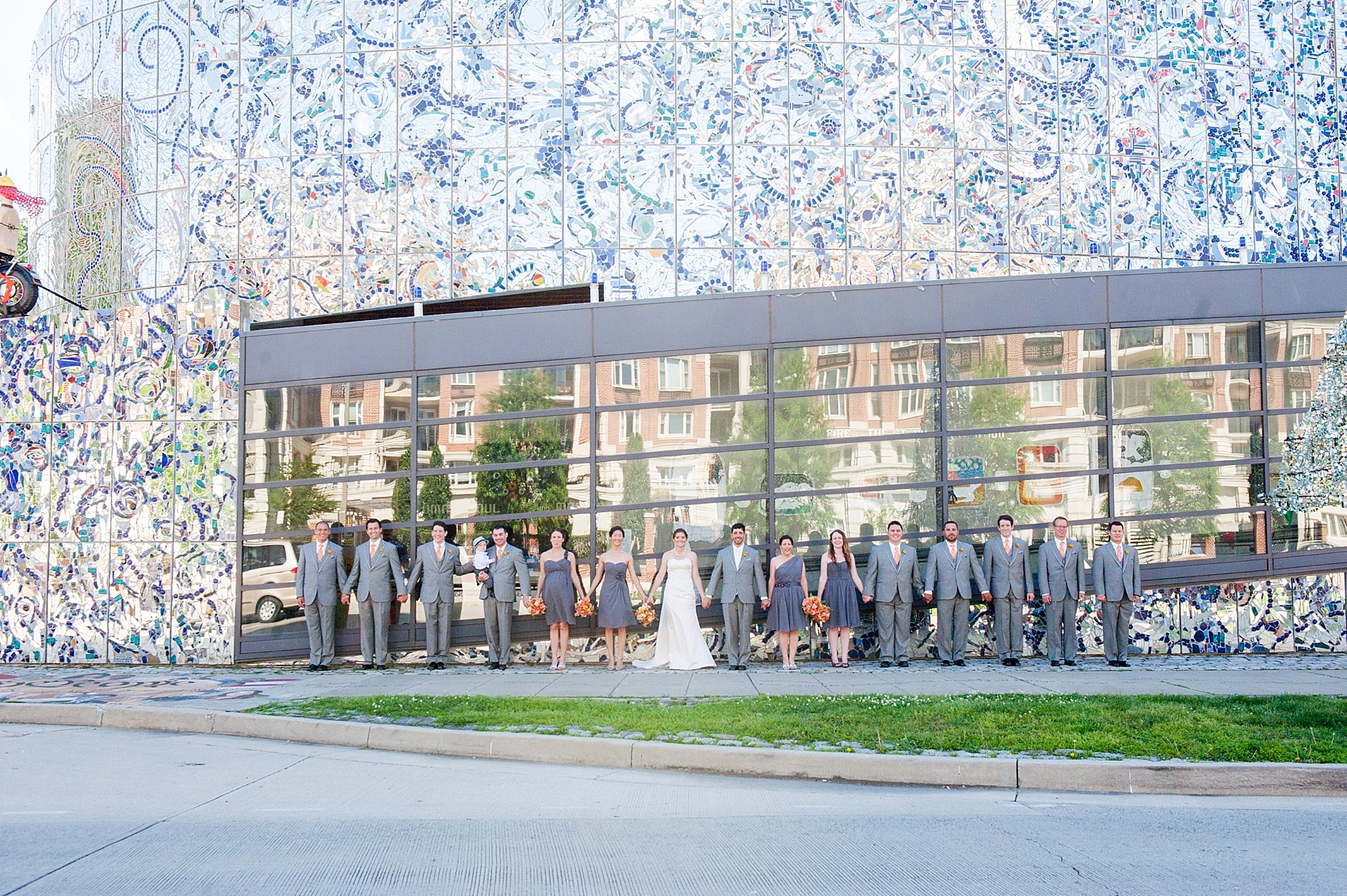 I thought it would be amazing to stop at the American Visionary Art Museum for some wedding party photos in the comfort of the shade (it was a hot day!). Besides, where else can you get a kid to randomly bike ride across your wedding day photo?! That alone made it worth it!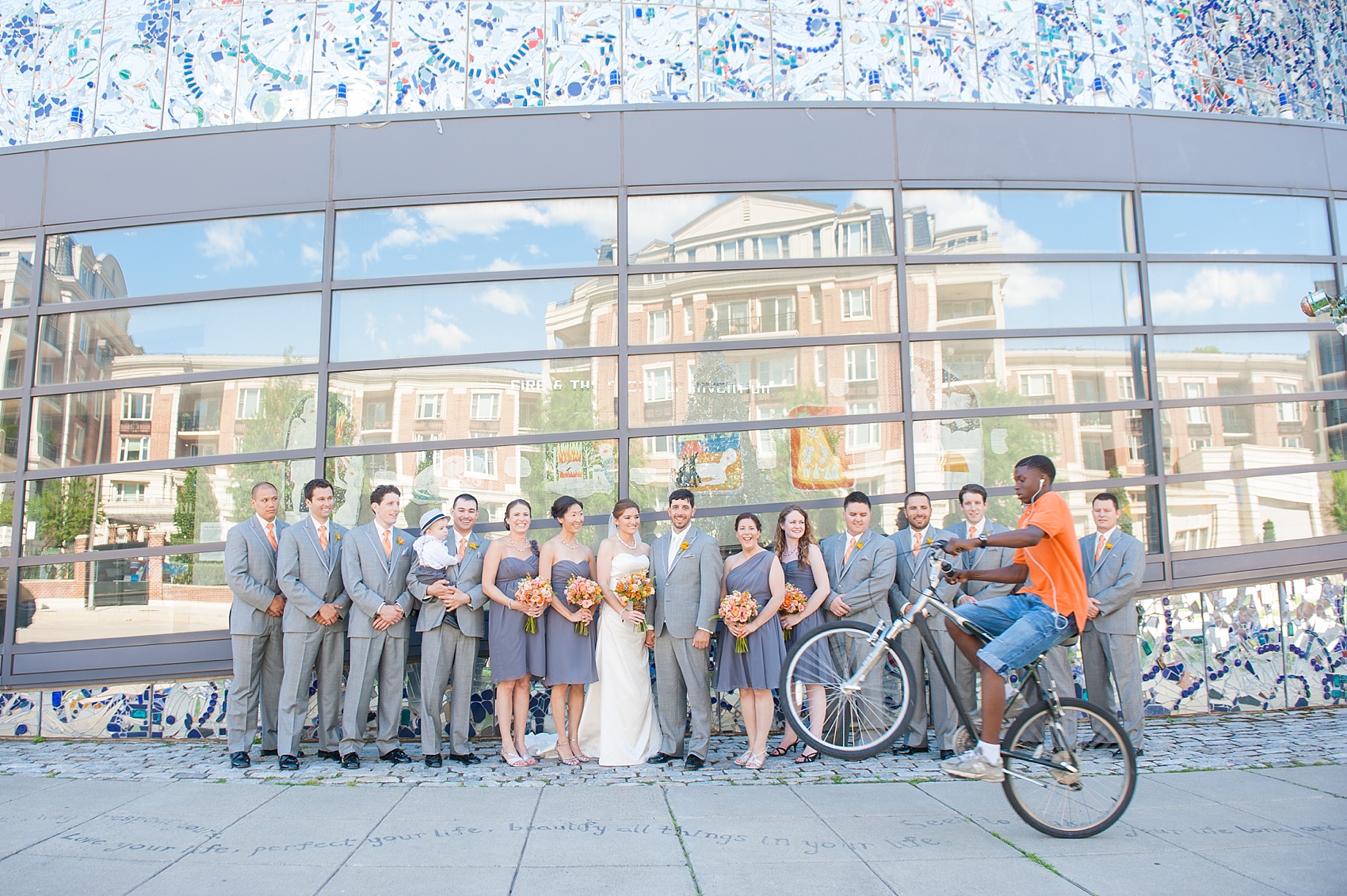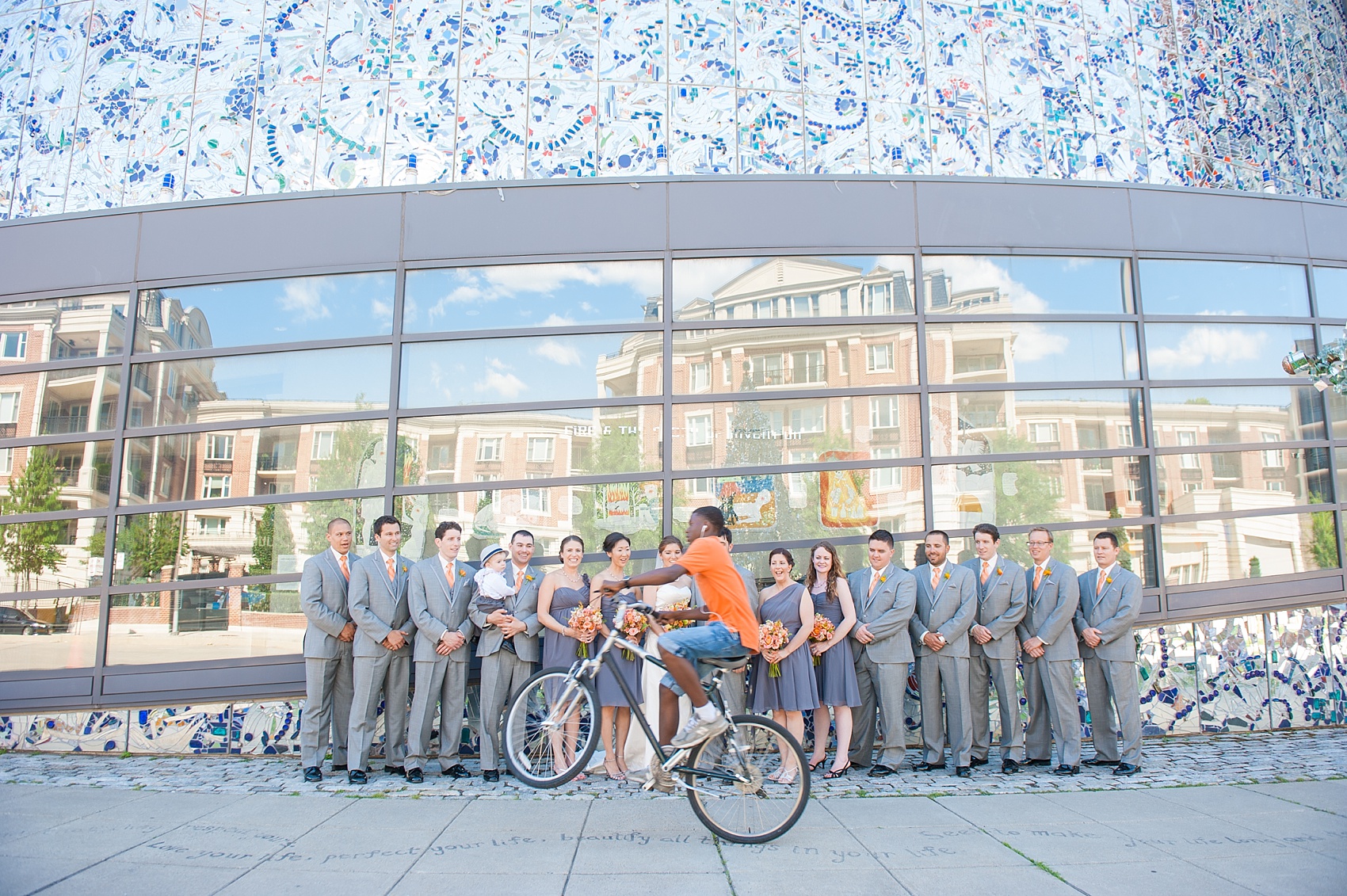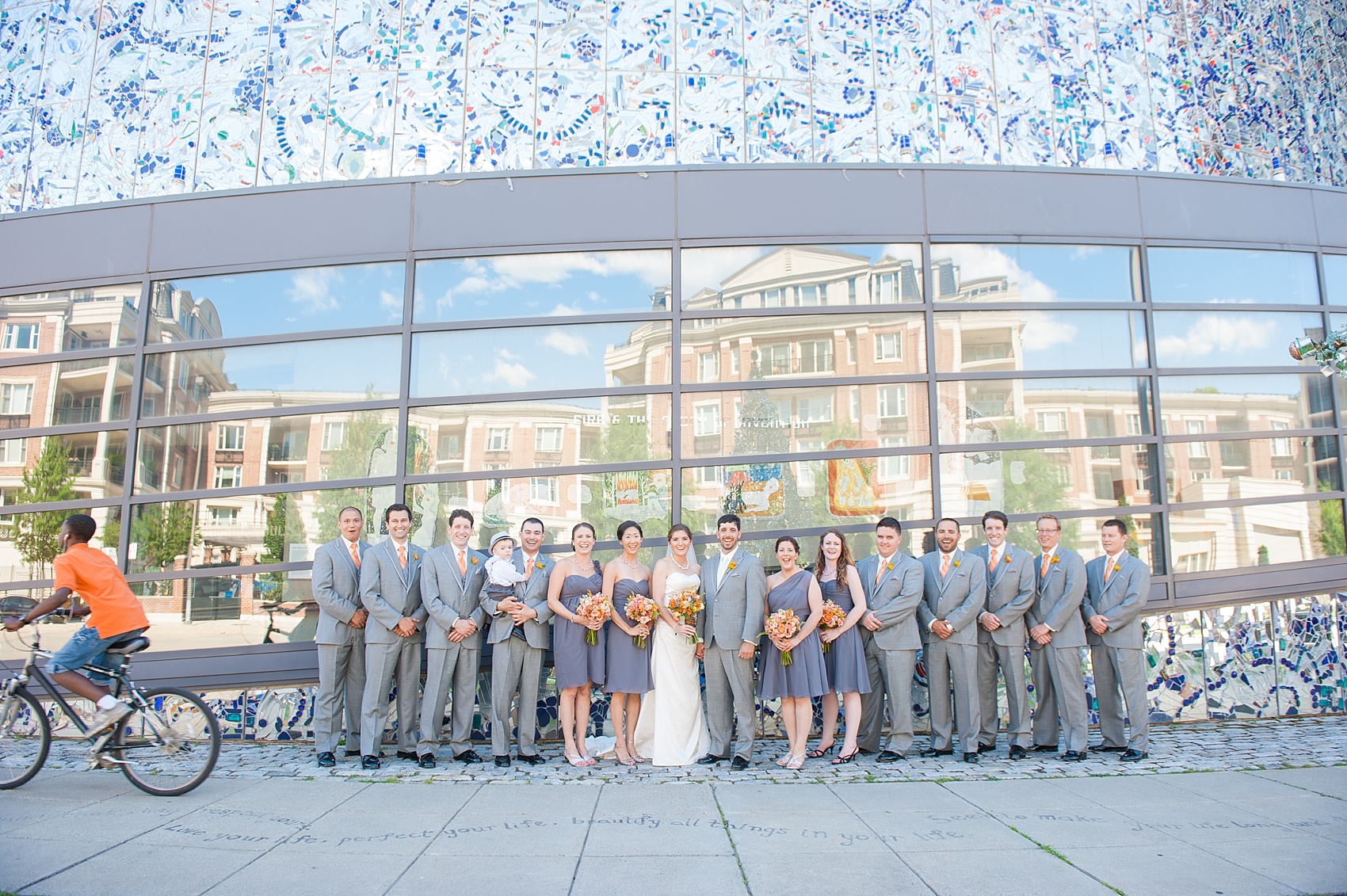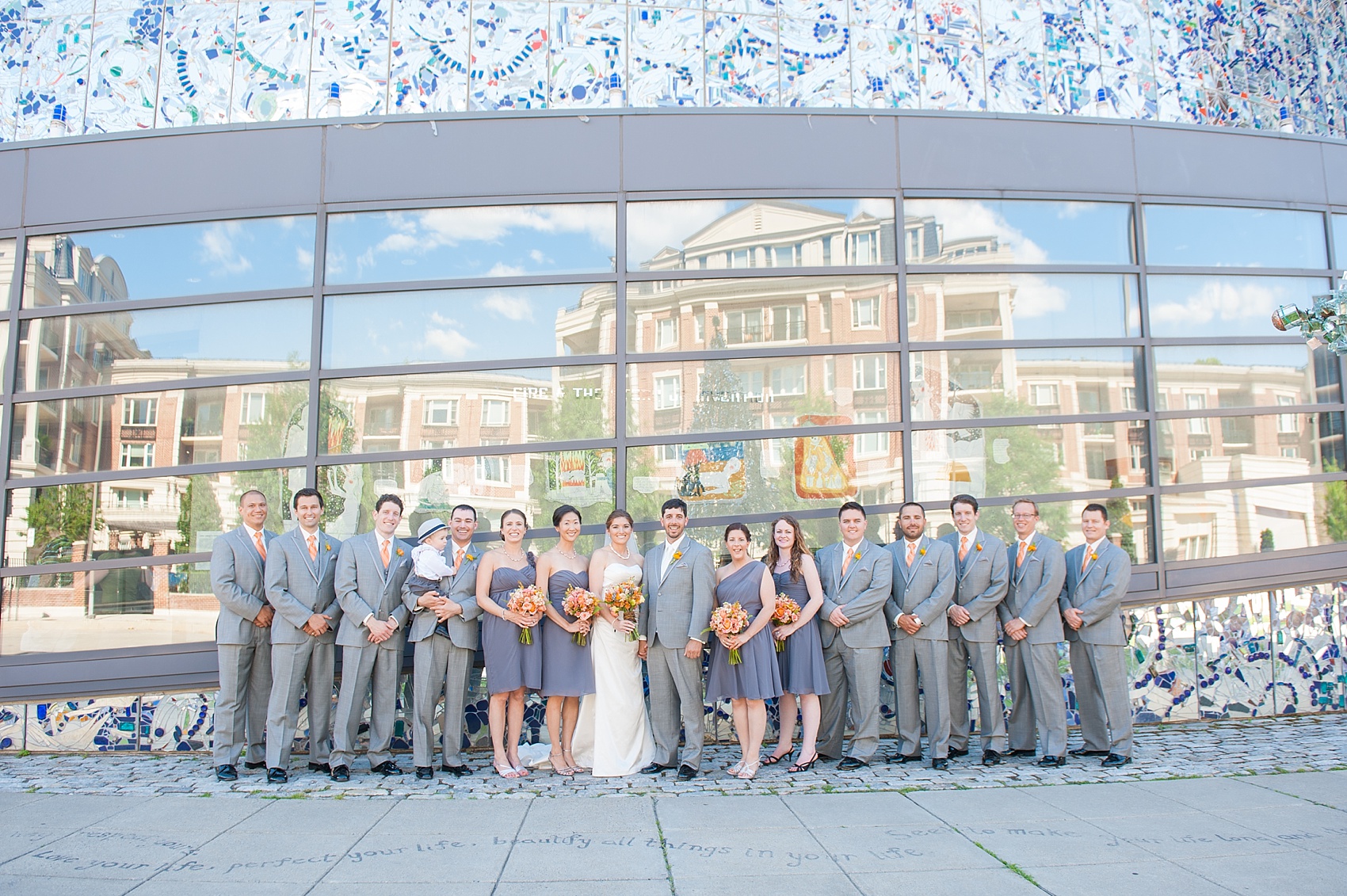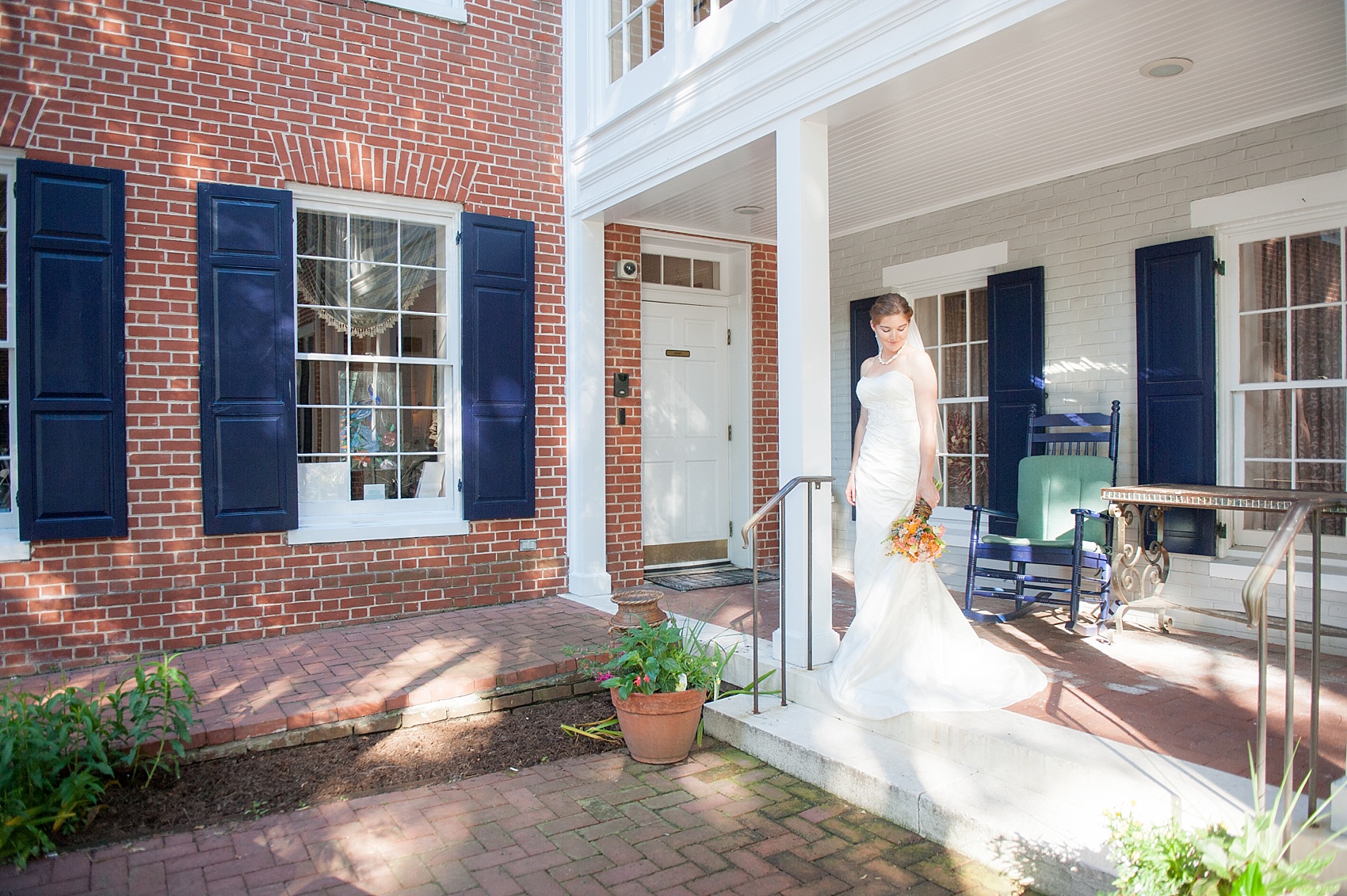 Kristin = STUNNING.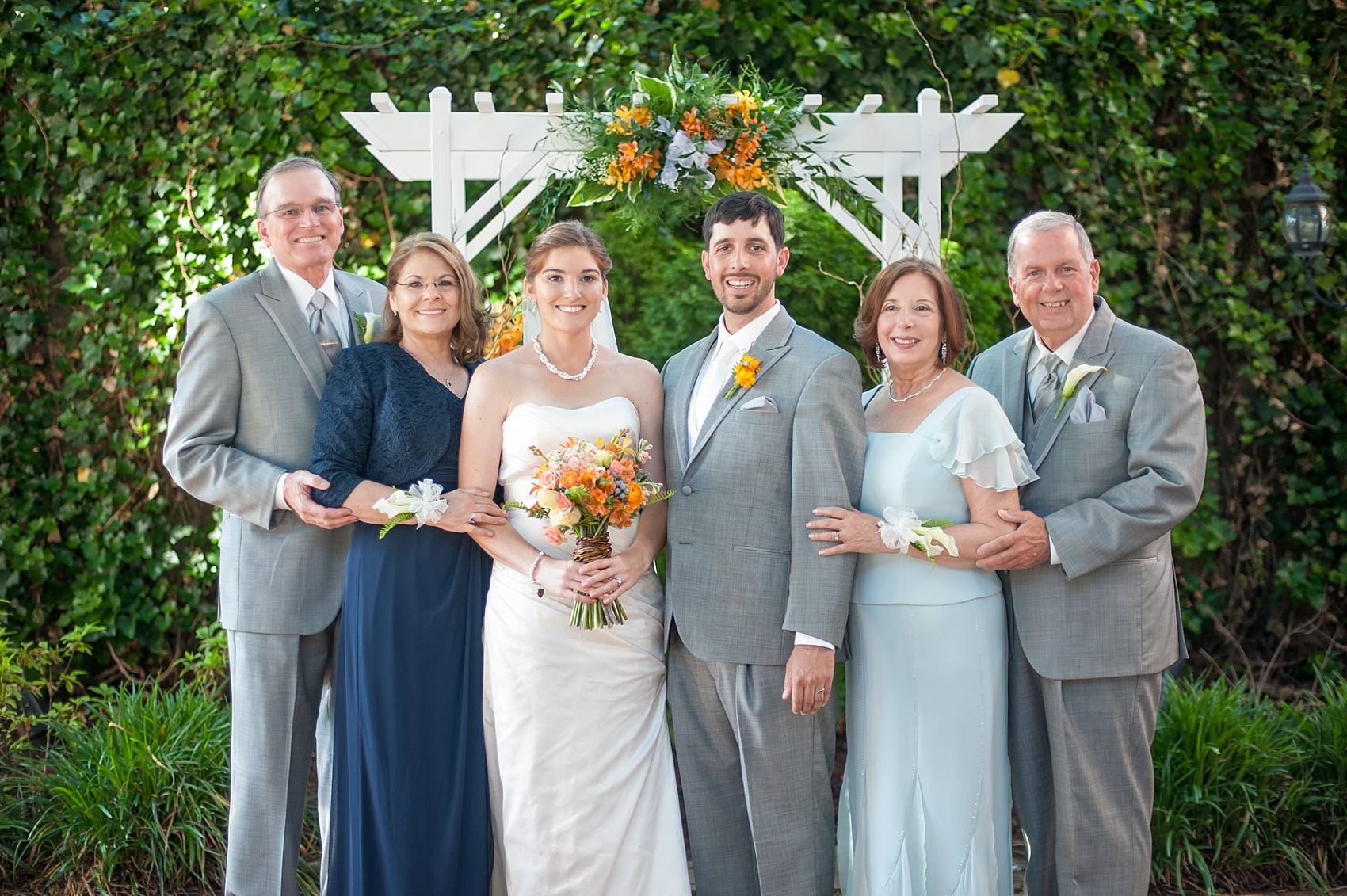 What a good looking family! I loved seeing Kristin and Kevin's moms interact. They were as excited to become "legally bound" as Kristin and Kevin were. It was so sweet to witness the bond these two mothers have formed! And by the way – they are both named Carol.
The incredible details are endless. Check out Kevin's sister, Kim's, awesome belt she paired with her one-shoulder grey Alfred Angelo bridesmaid dress, the custom star toothpicks (Lucky Star Party Picks) from Origami Delights Kristin's mom got for hors d'oeuvres and the "Father of the Bride" tie clip Kristin's dad, Mike, wore.The rings were ready, the scene was set, the violin playing…and they were ready to get married in a gorgeous ceremony under a breathtaking canopy of trees on the quaint patio in front of the 1840s Carrollton Inn, right next to their reception venue.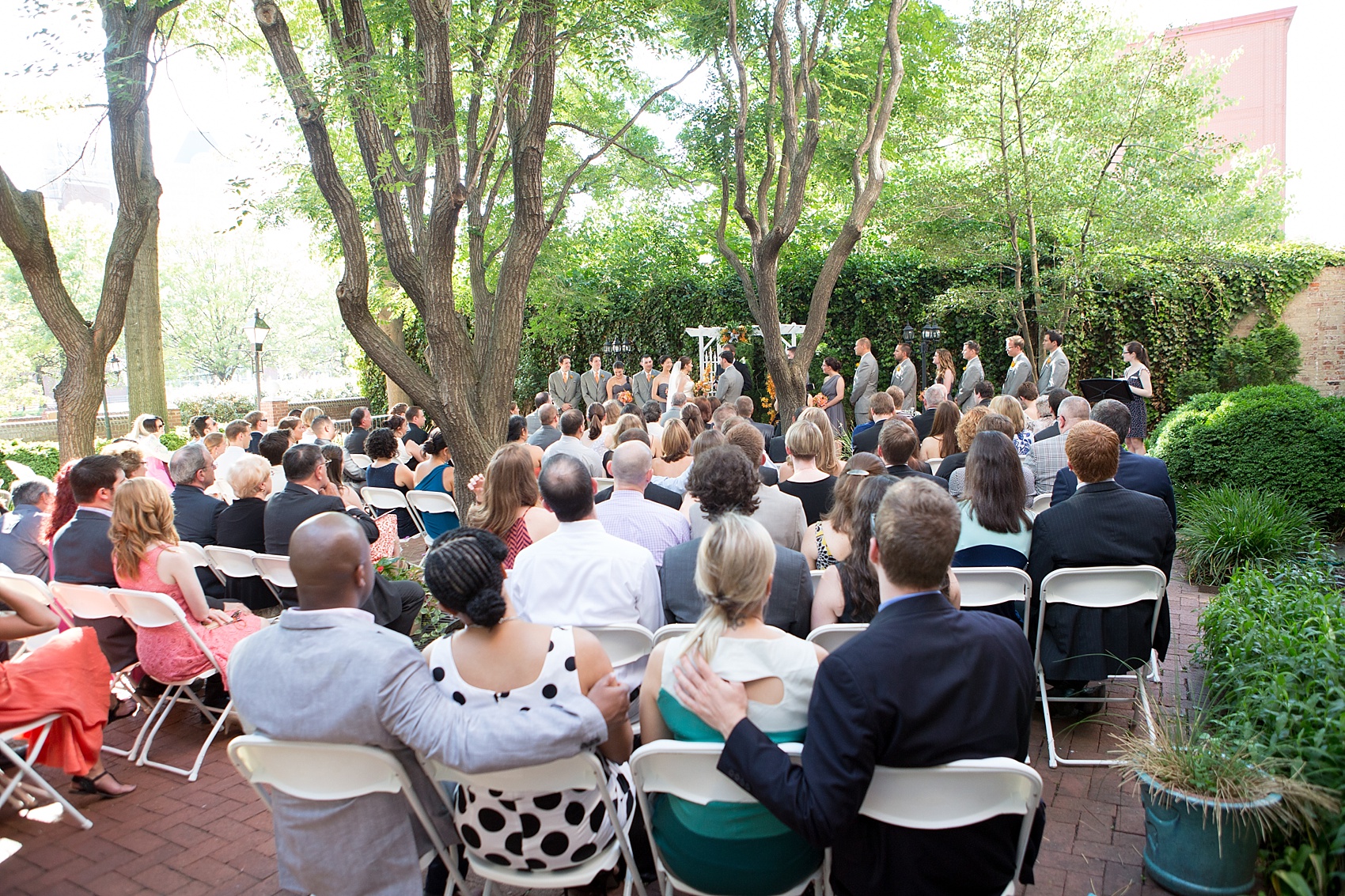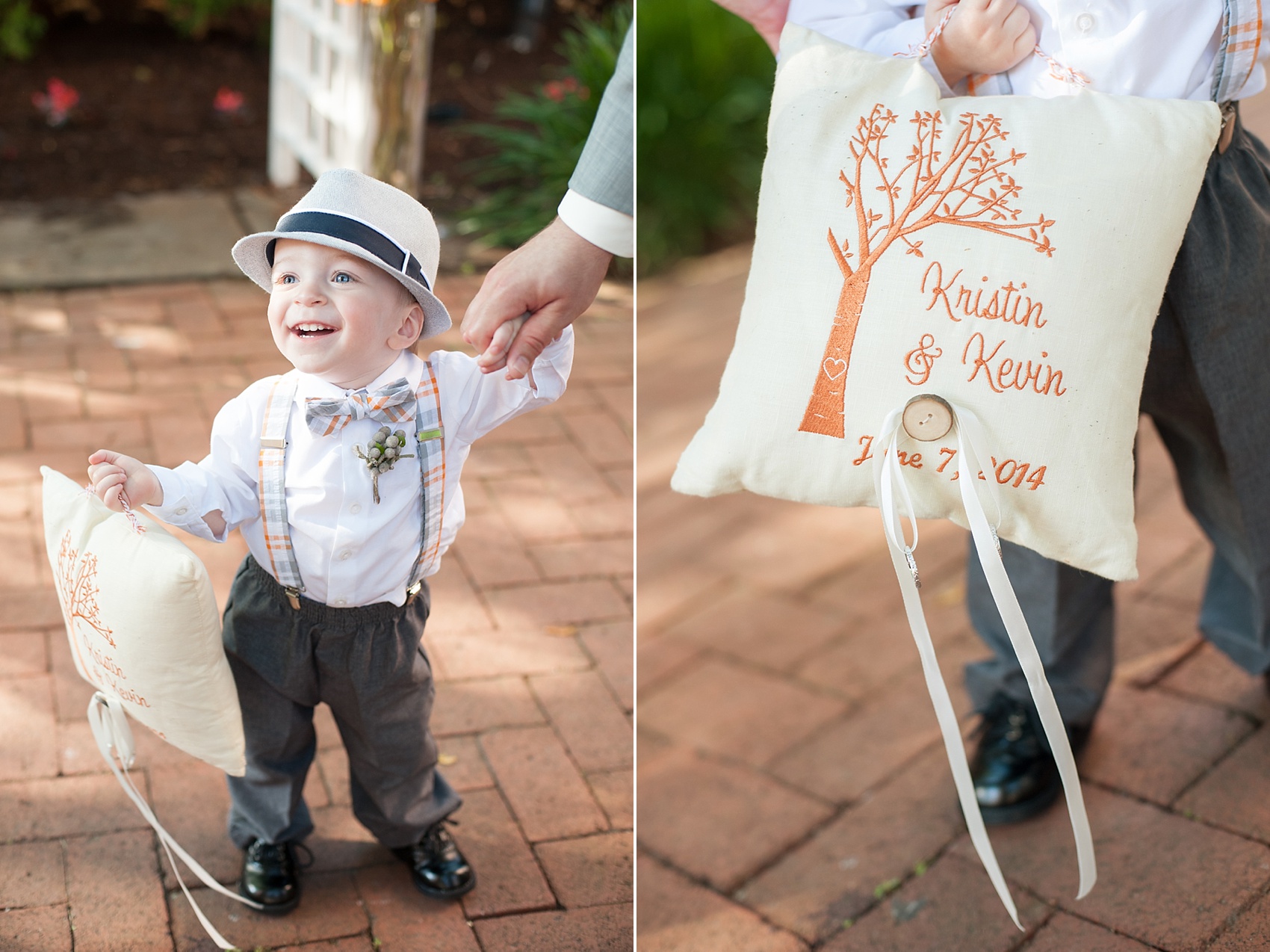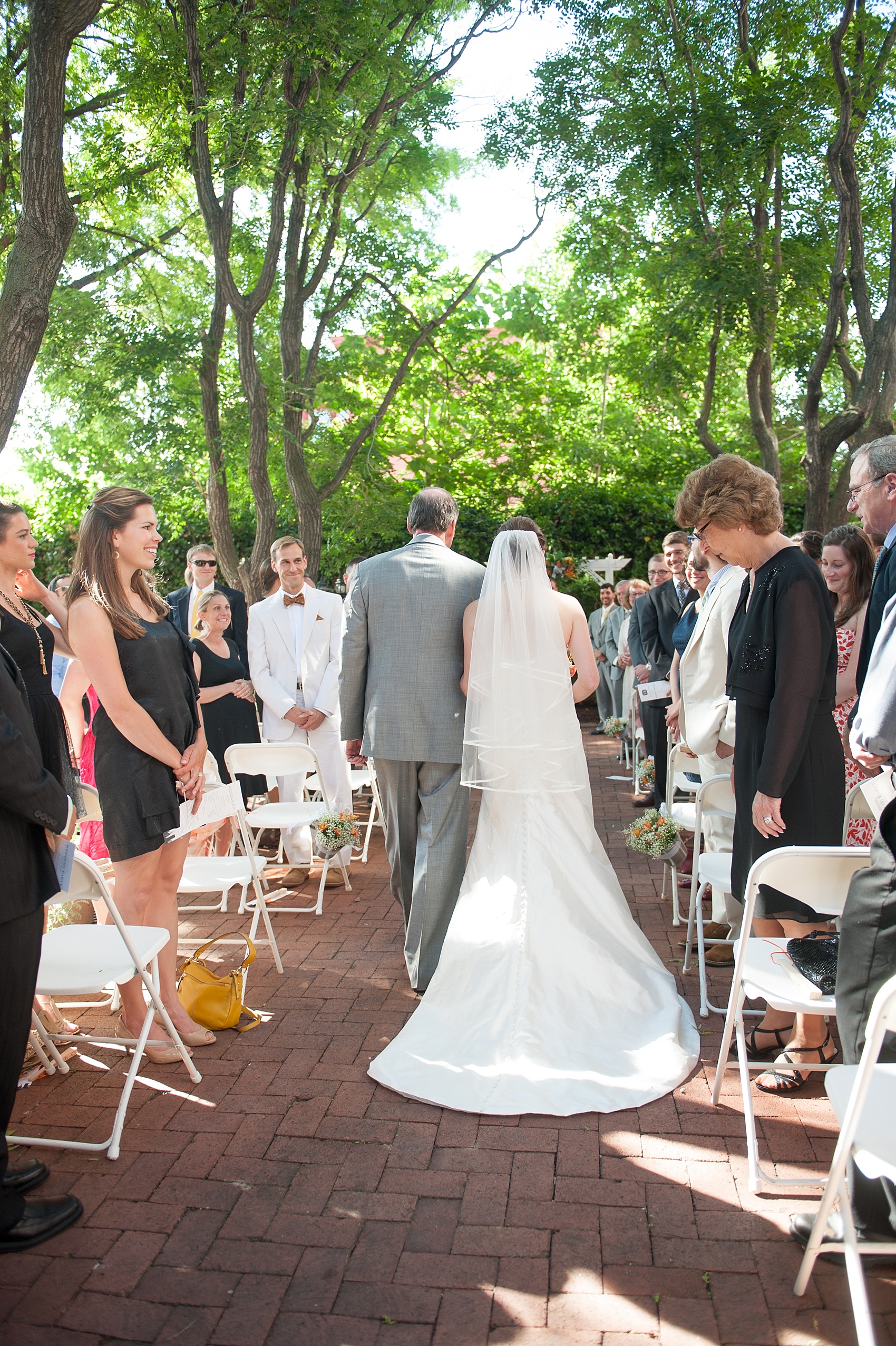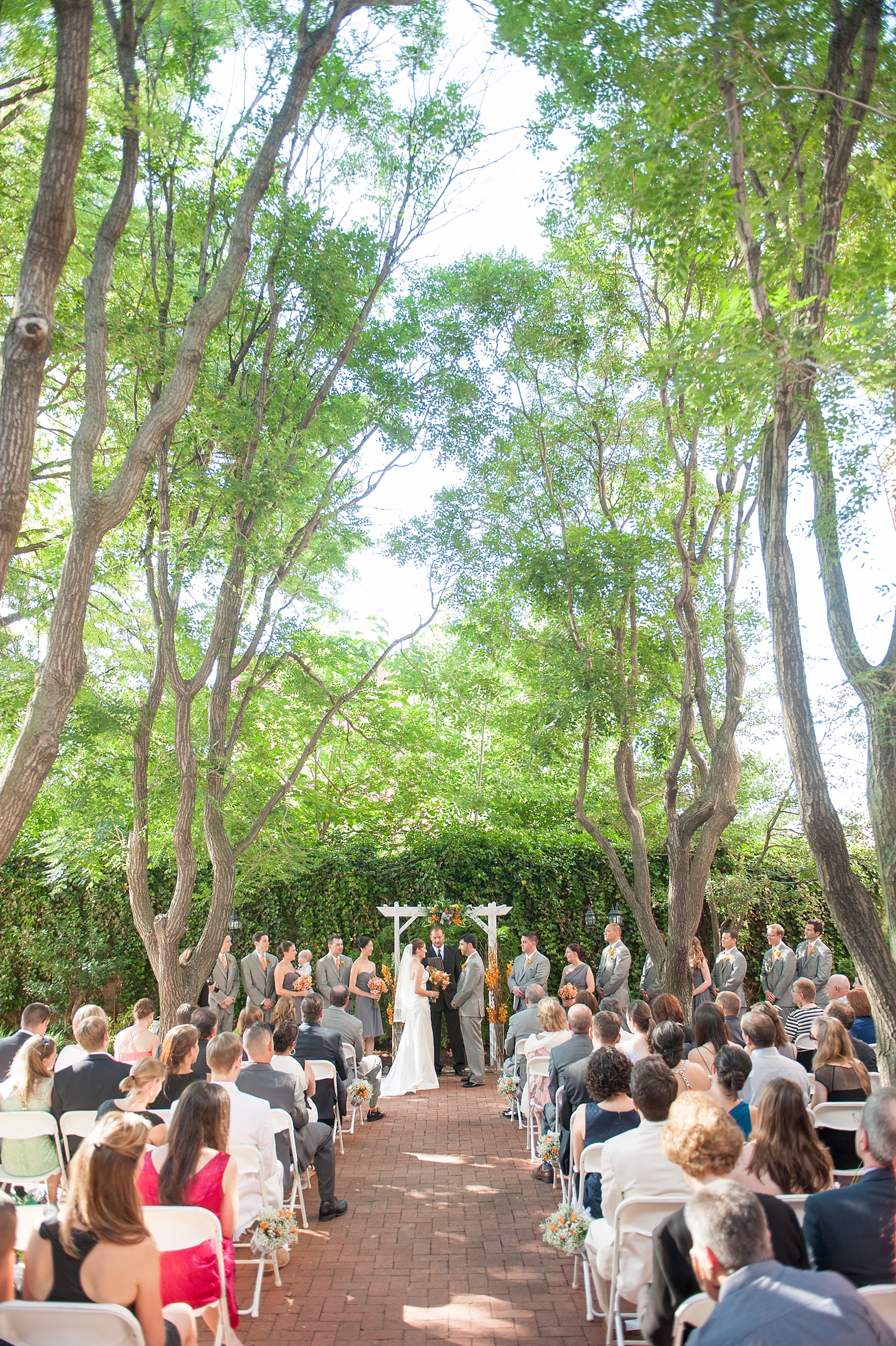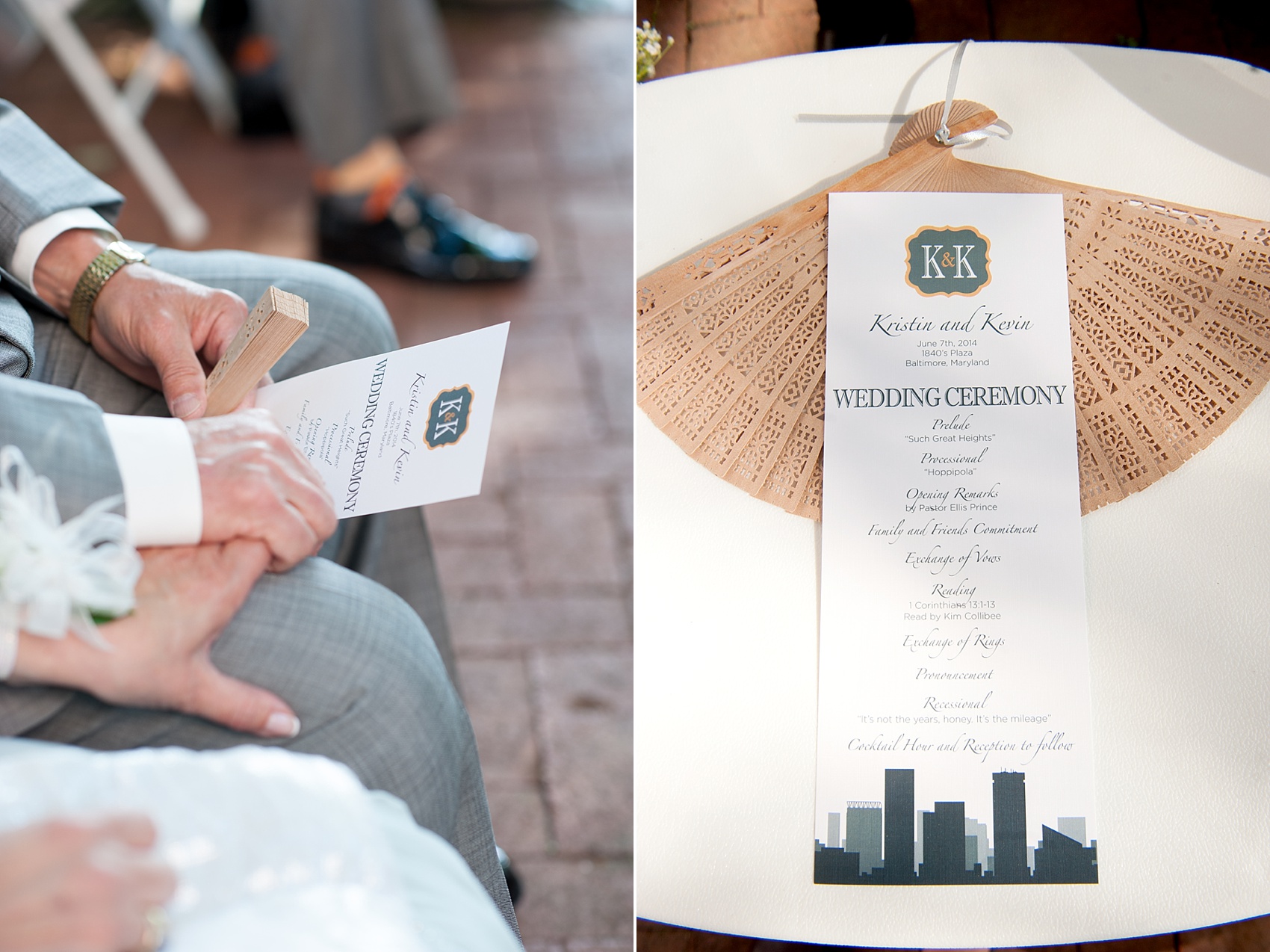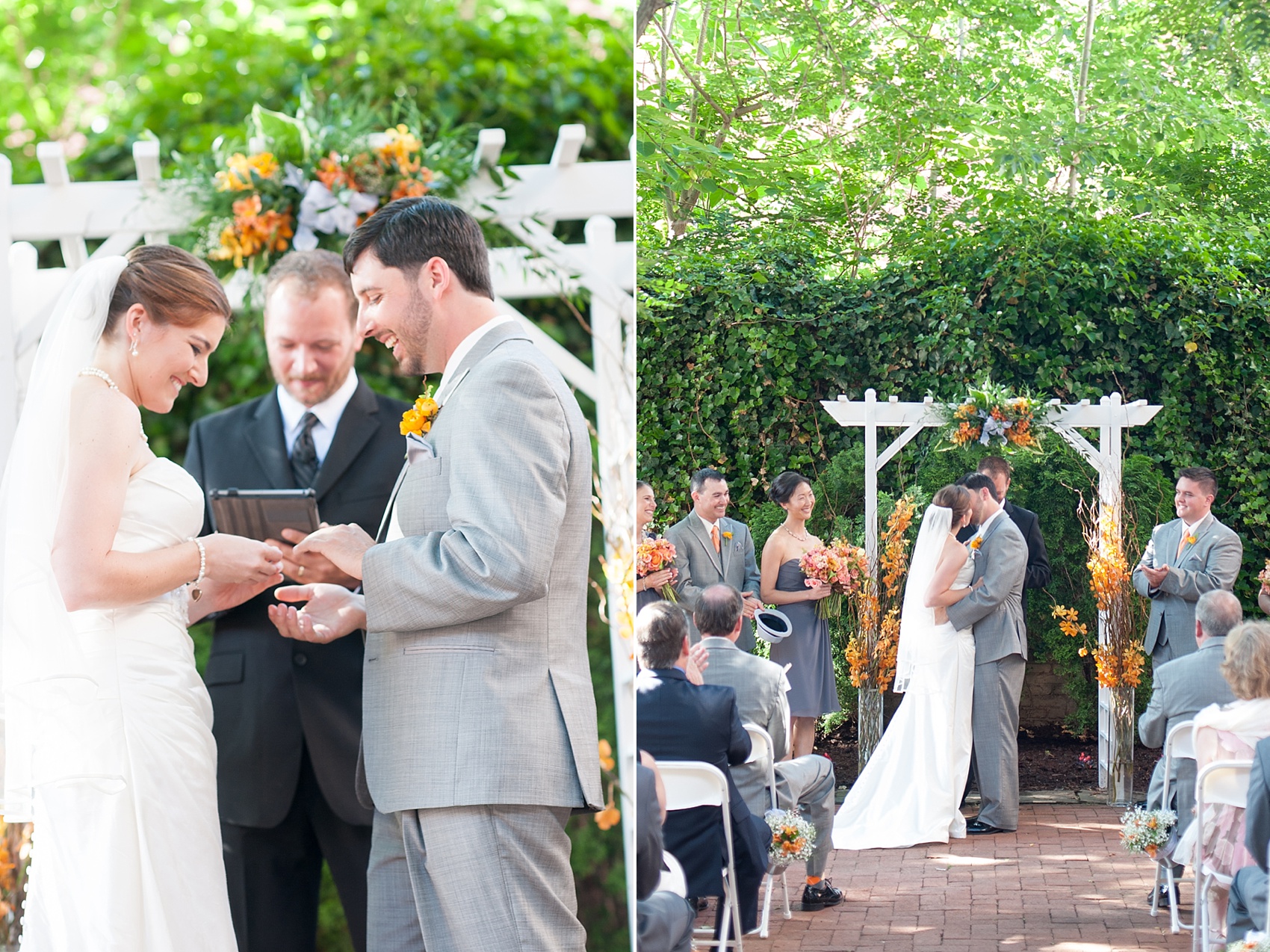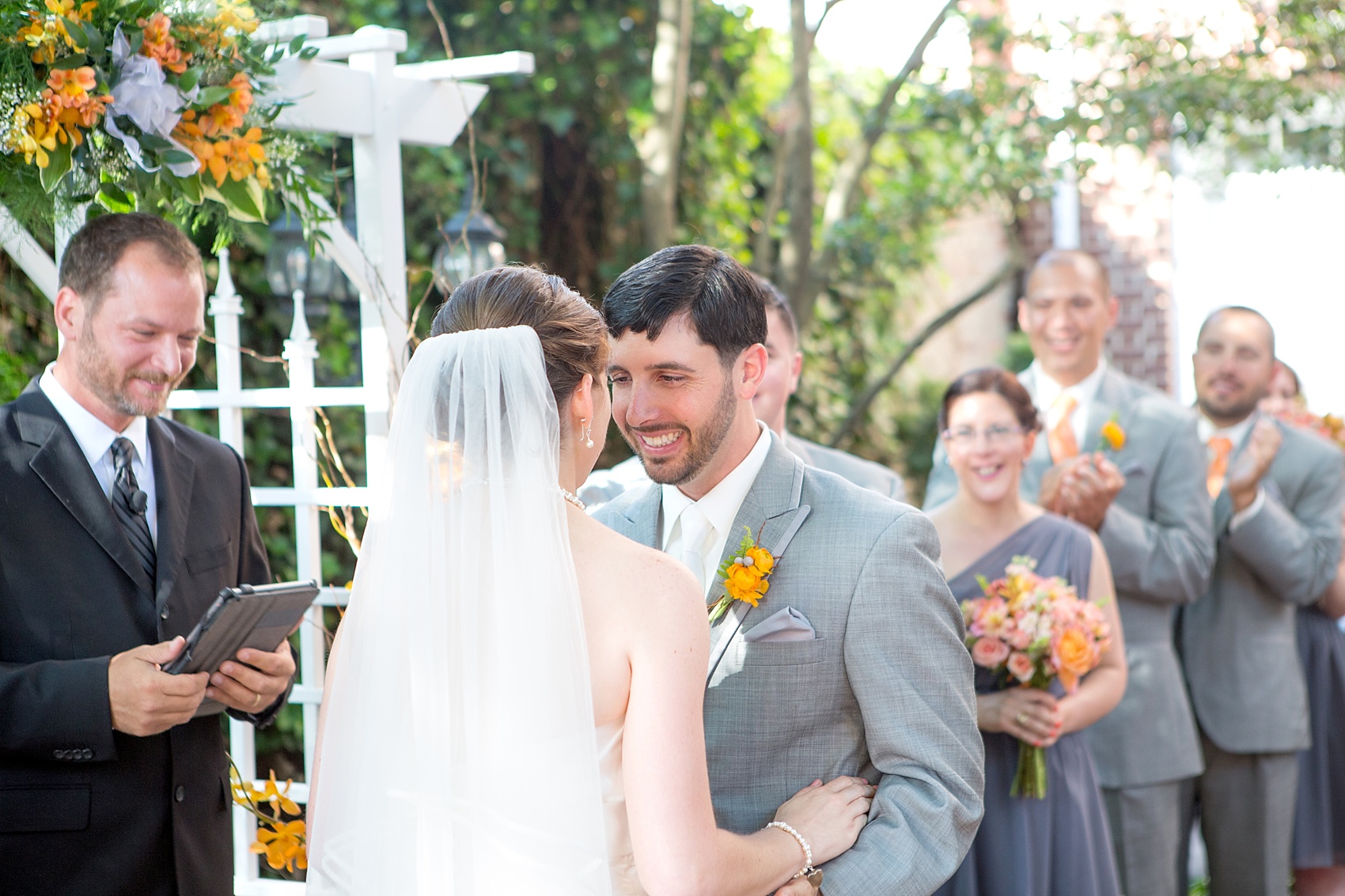 Look at that genuine, "We're married!" smile on Kevin's face! Now, let's party!
Corn Hole's increasingly popular at weddings and I loved their custom college boards. Kristin and Kevin made them both (wow…I am speechless) as gifts to their families and borrowed them for their wedding day.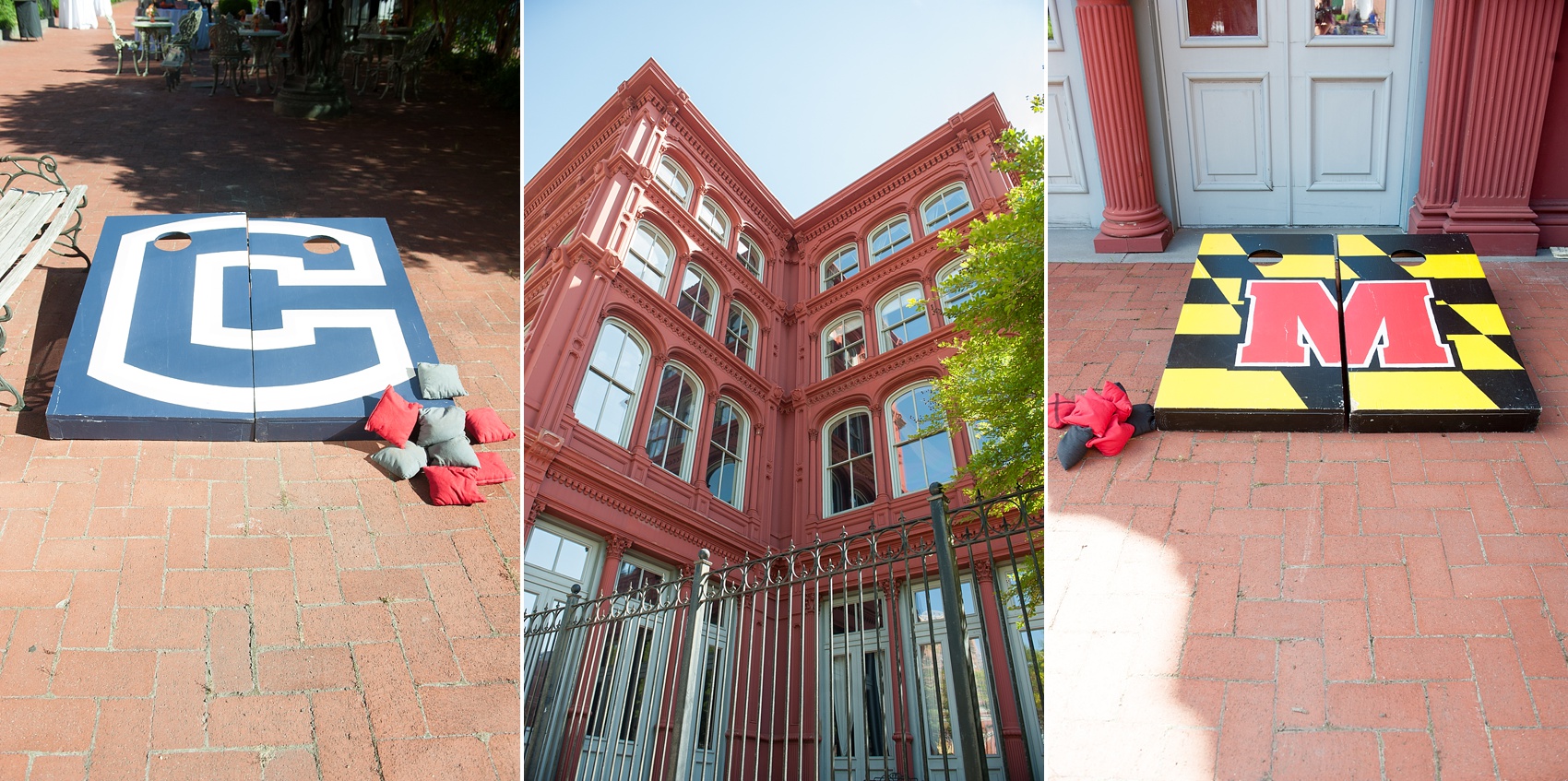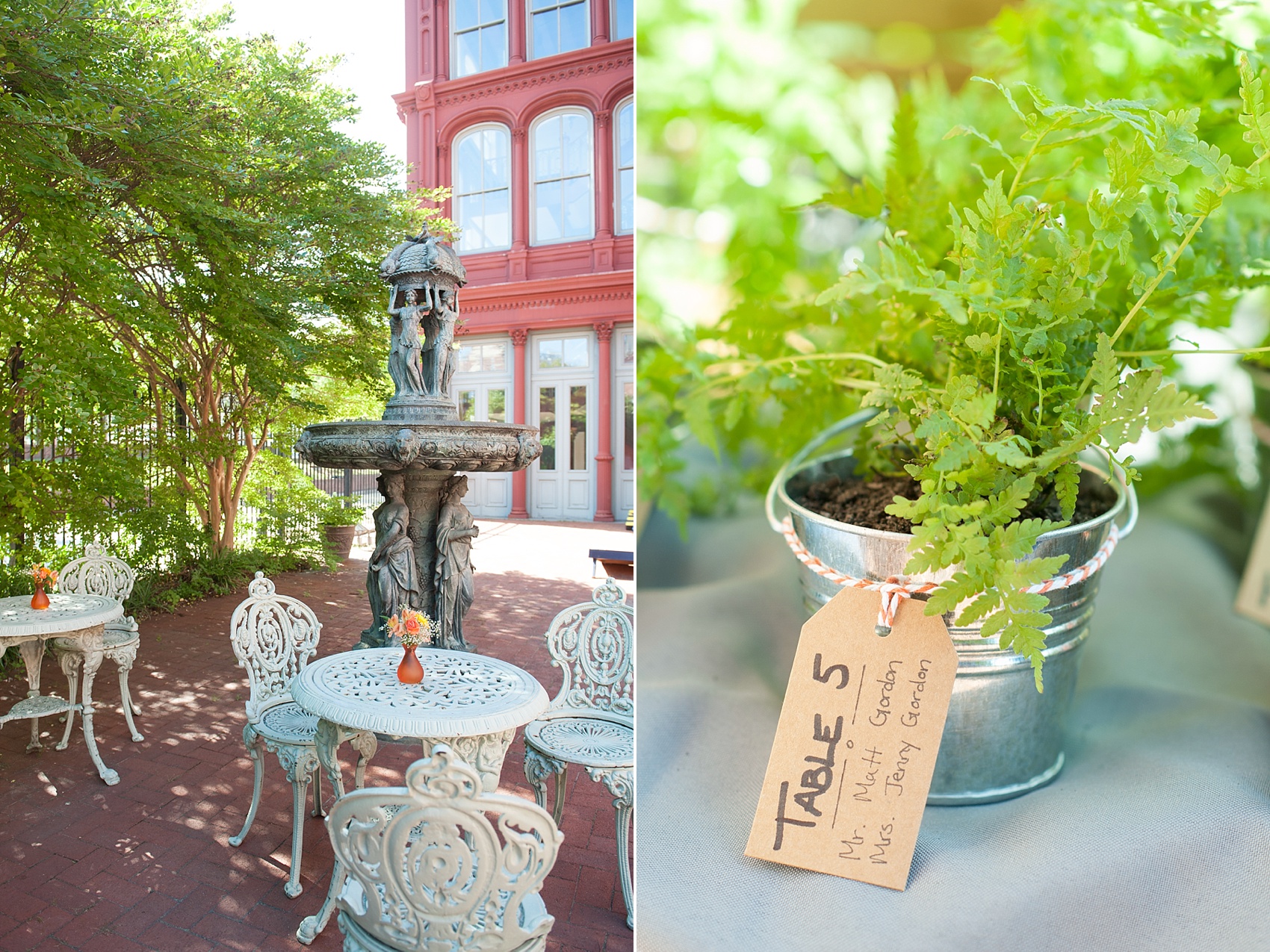 Ferns potted in silver pails with craft tags that served as escort cards lead guests to the 1840s Ballroom. Kevin even hand lettered all the guests' names. I love a hands-on groom. Family wedding photos were set in back of the guest book they created from their engagement photos (love!). After guests signed, they grabbed an oyster shooter to get the party started. Um, LOVE. I love oyster shooters, love how it was reflective of the sea nearby…just sayin'. Their parents surprised them with custom etched wedding glasses for the day (that they quickly filled with mojitos!) and Kristin and Kevin had their hands full with their DIY favors: chocolate covered pretzels. (They were delicious – I maybe had more than a few.) The caterer, Zeffert and Gold, was beyond amazing. I can honestly say it's some of the best food I've had at a wedding, from their crab cakes to crab soup, carving station complete with mashed potatoes and cranberry relish, taco station, and even fresh grilled vegetables that truly tasted like they just came from a farmer's market. Probably because they source local organic veggies. Please check out their website! I'm a huge believer in sustainability too, just like the bride and groom.
A lot of dancing went down at this wedding. It was a blast. Kevin even got down with some tied-napkin limbo.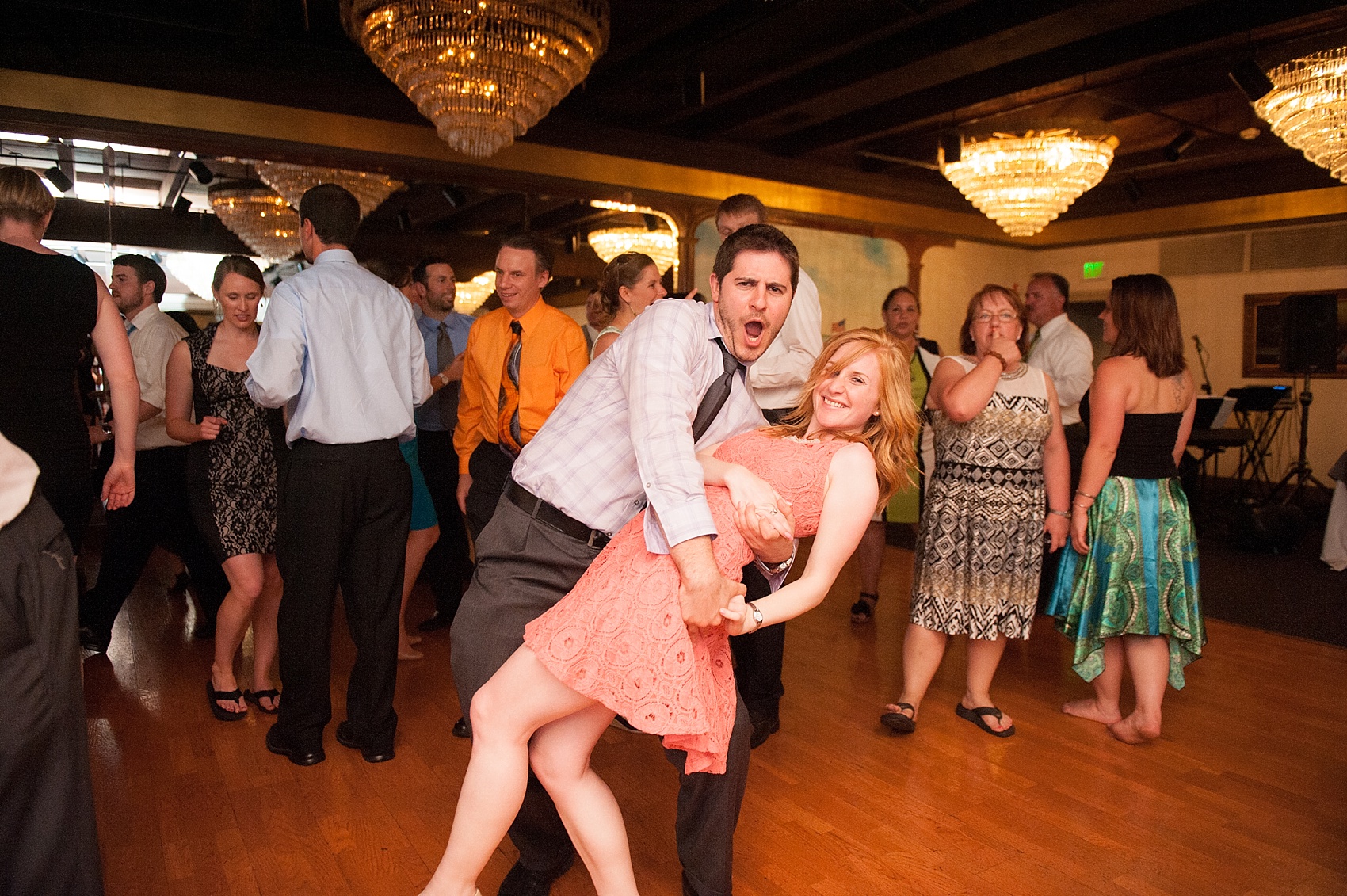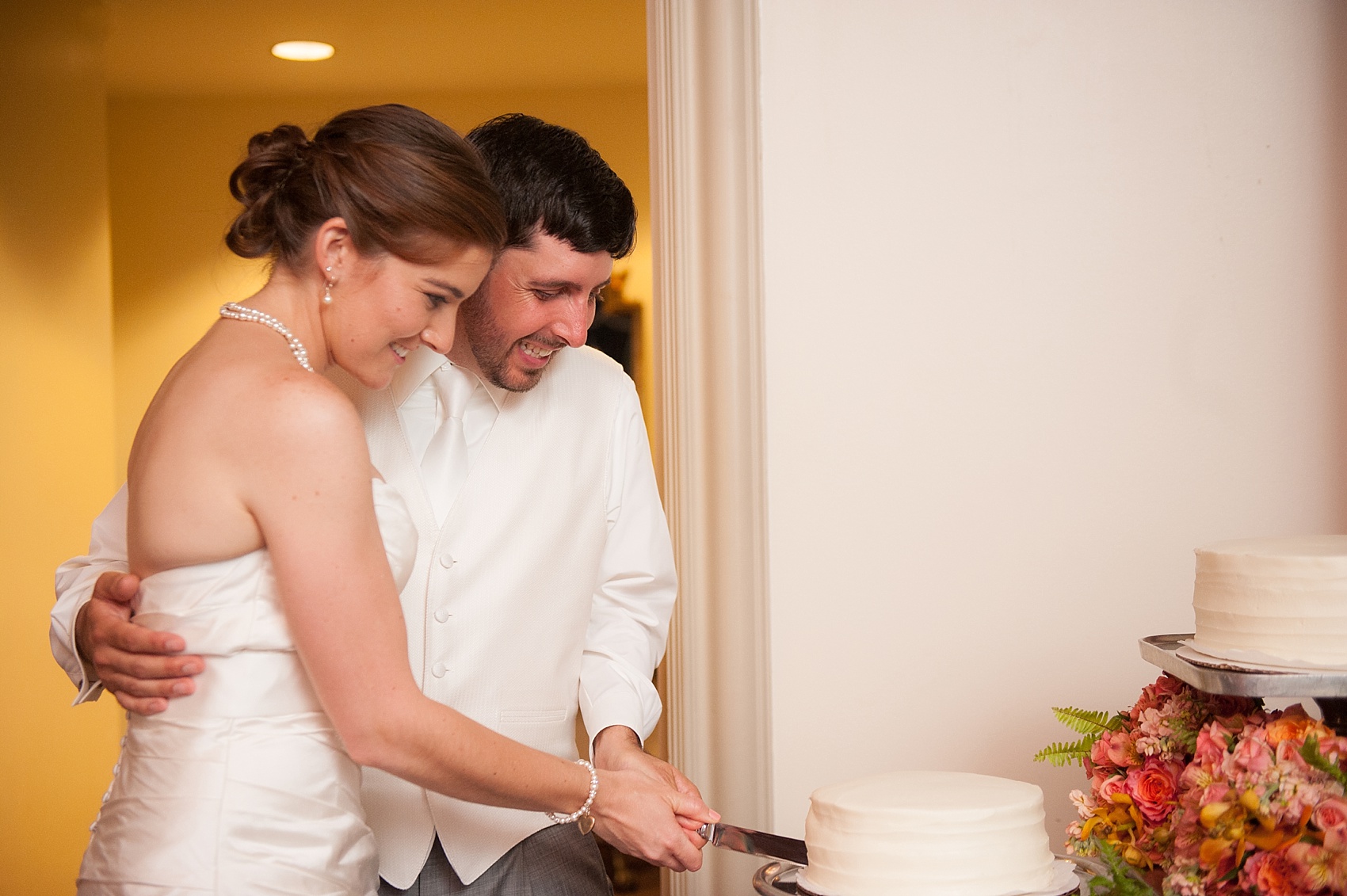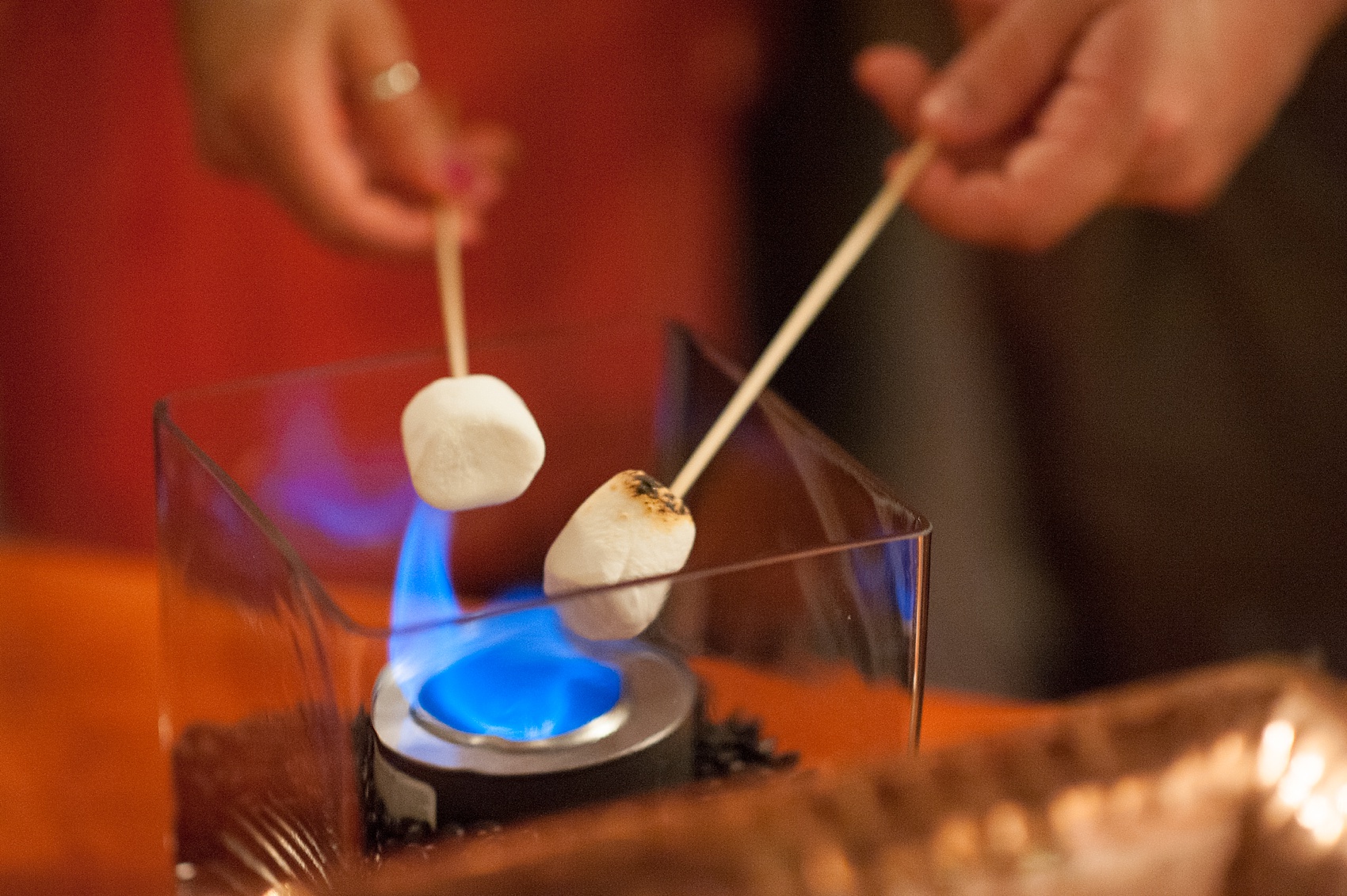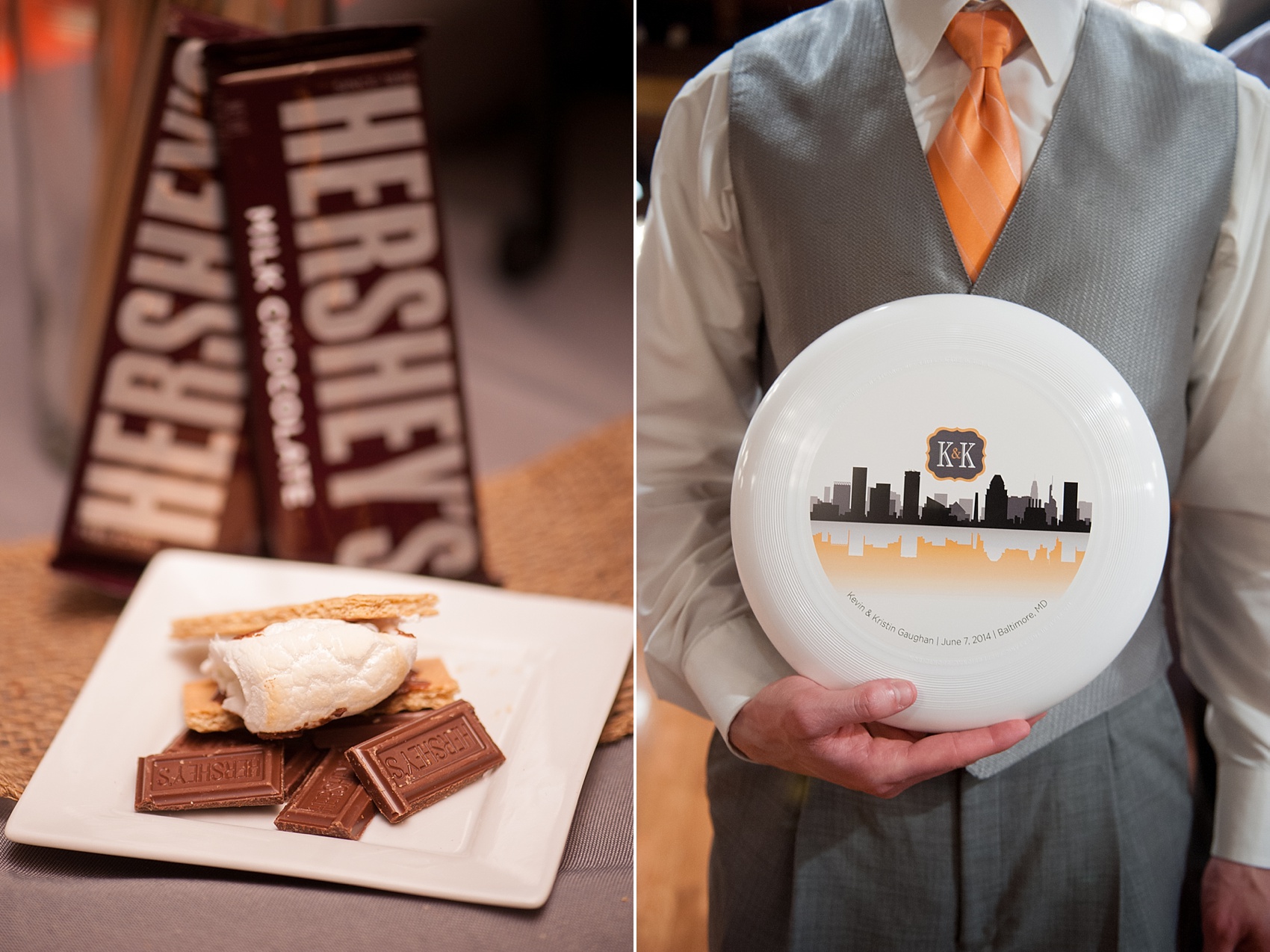 The wedding neared completion with dessert: cake cutting, ice cream bar and the bride's special request, a s'mores bar! As the icing on the cake, one of their friends had frisbee's designed for the frisbee crew at their wedding, which is how Kristin and Kevin met in college –  ultimate frisbee, that is, for the ultimate couple. 
I'm SO glad I was a part of their day. I couldn't have dreamed up a more detail-oriented, best-friend filled, sunshiny day for these two deserving people at their once-in-a-lifetime celebration.
Baltimore Wedding Vendors and Beyond
First Look Venue: Baltimore Museum of Industry / Photos also taken at American Visionary Art Museum / Ceremony Venue: 1840s Carrollton Inn / Reception Venue: 1840s Ballroom / Rings and Crab Cufflinks: Kajs Jewelry / Custom Wood Ring Box: Simply Cool Gifts on Etsy / Floral designer: My Flower Box Events / Officiant: Ellis Prince / Band: Sly 45 / Violinist: Lauren Smith / Cake Designer: Graul's / Caterer: Zeffert and Gold Catering and Event Planning / Wedding Gown: Amanda Ritchey Bridal and Beauty / Makeup: Cassie from Mallia Salon & Spa / Hair: Mindy from Usha Salon / Bridesmaids Dresses: Alfred Angelo / Bride's Necklace and Bracelet, and bridesmaids bracelets: designed by mother of the bride / Suits: Men's Warehouse / Argyle Socks: Express / Lucky Star Party Picks: Origami Delights