The cobalt blue calls you in and moroccan inspired black and white geometric tiles lead the way to an open, inviting space. Dobbin St.'s pop of designer wallpapers drew me in even further and friendly faces greeted this excited wedding photographer, eager to tour Brooklyn's hottest new wedding venue and event space.
There's character from floor to ceiling, from concrete floors at its foundation to metal piping, to an exposed wood ceiling 22 feet above. Free hanging Scandinavian Muuto bulbs are dotted throughout the open area with French windows allowing beautiful sunlight to gleam through.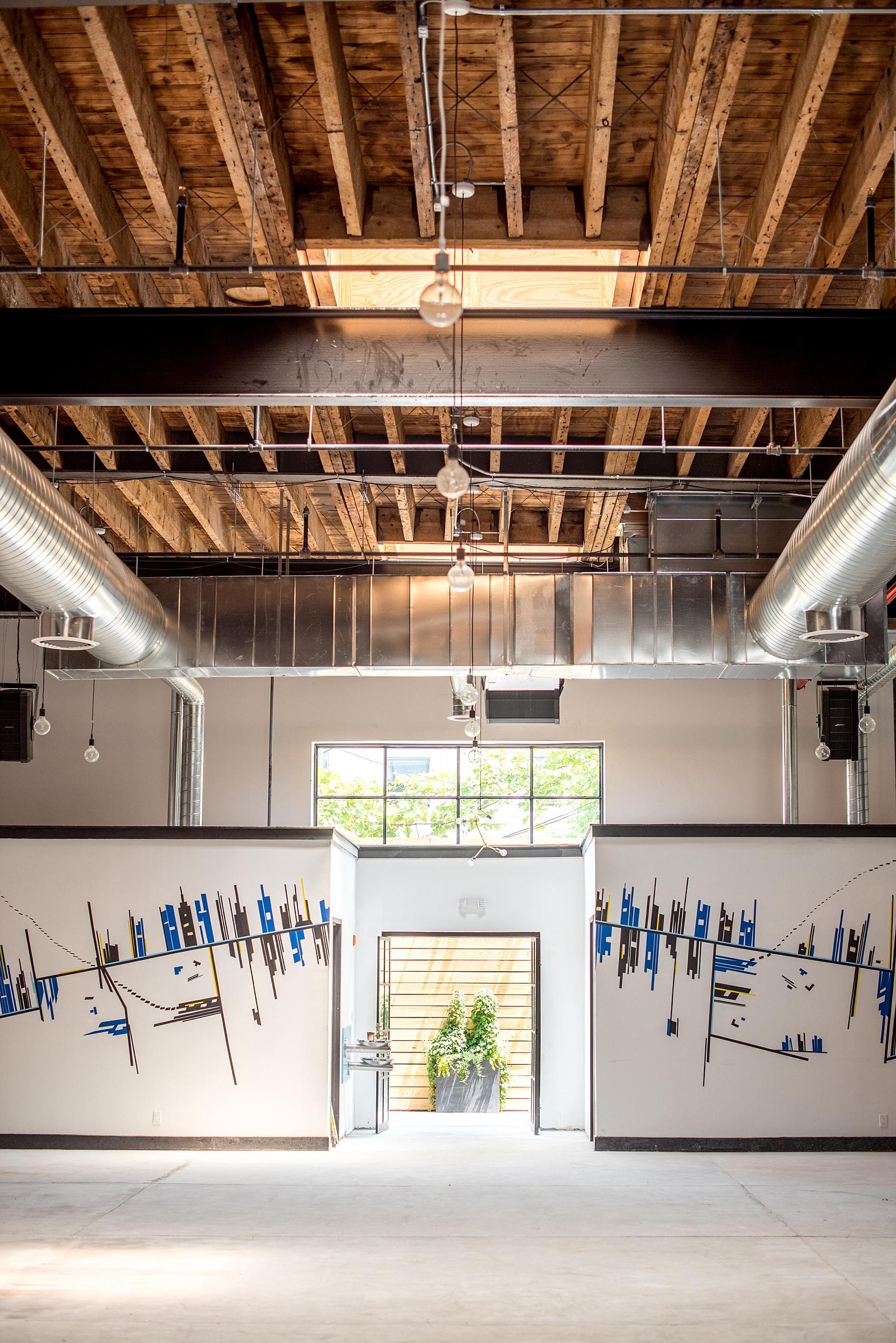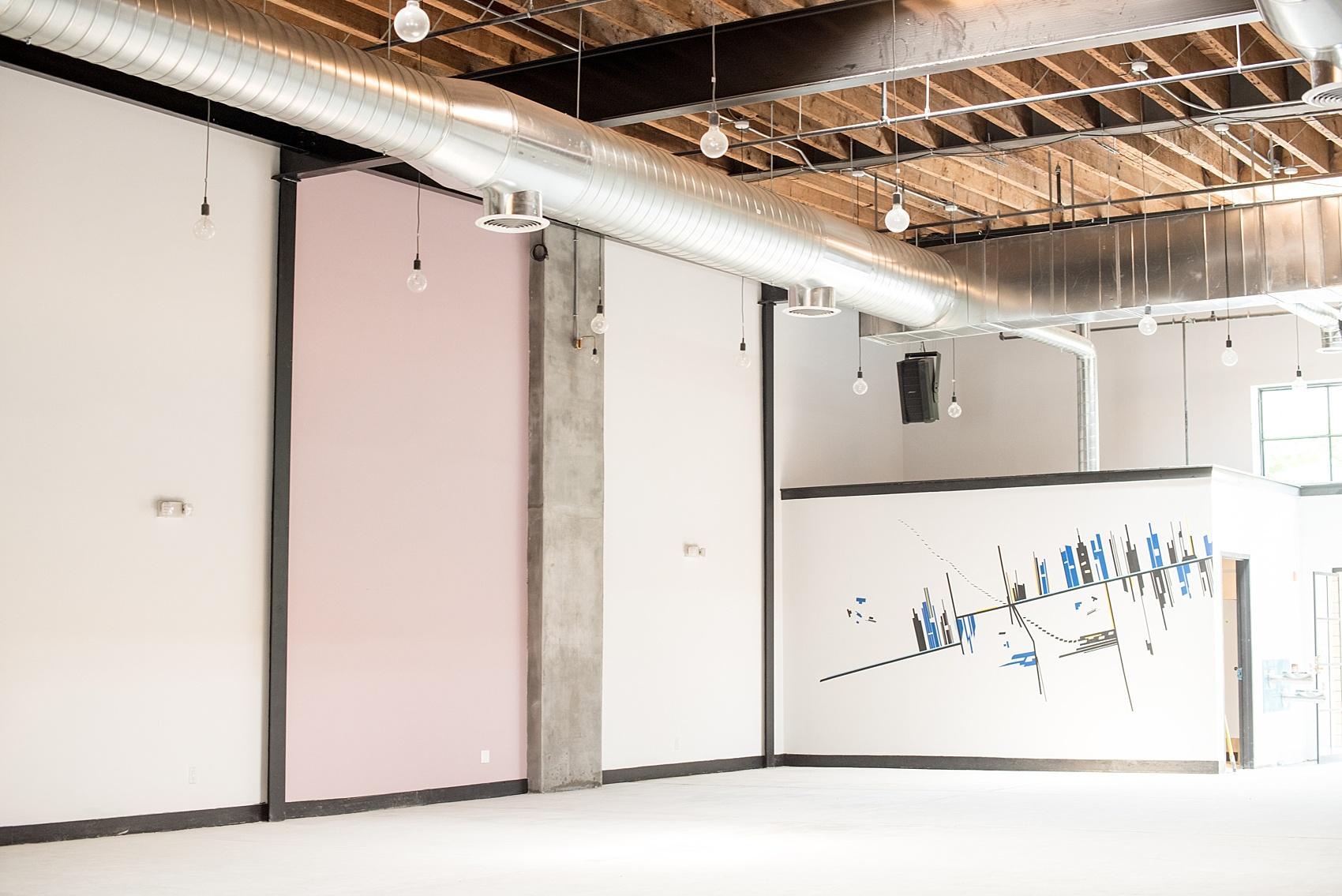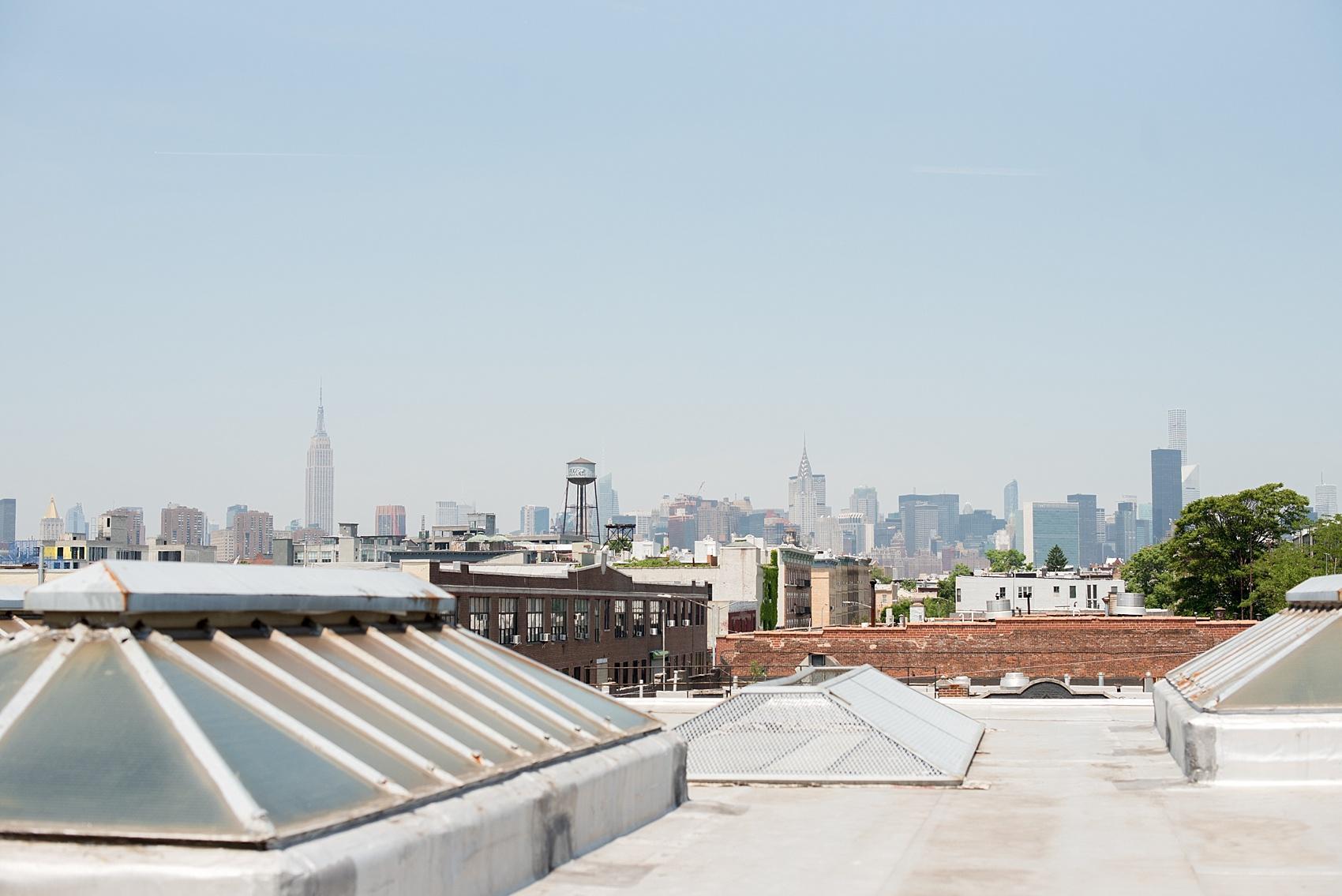 One of the strengths of this  is the incredible rooftop. The views are breathtaking! There's a clear view of Brooklyn and Manhattan, just across the water. It looks fantastic as is – though the construction isn't quite done yet (but will be in just a few weeks, if not days) – I can only imagine how amazing it's going to look with finished floors and greenery spread throughout. Think of the wedding photos you can get up there! When the sun sets and lights go on all over New York City it'll provide even more photographic opportunity.
This impressive back wall art is actually tape and was created by Christine Gedeon. She recently shared that, "The work is created through improvisation loosely based on the skyline view from the Dobbin St. building rooftop.  It's a hybrid of an aerial and side view of the NY/Brooklyn landscape using colored masking tape as a medium."
Every space was carefully crafted from the dusty rose furniture in what could be a bridal suite or private event lounge, for example, to the corrugated metal wall on the ground floor patio, a nod to the original mechanics warehouse the building served as. I adore that they chose to keep it on the outdoor space. I even love the peeling paint. (By the way, if you think you saw this sweet sweet mauve color in earlier photos, you did! It echoes the colored wall panels in the open space downstairs.)
Everything is modern and sleek. The bathroom's honeycomb tiling is finished with black grout, the round solo chair has leather strips that radiate from a single center point that remind me of the wrought iron fence at the park down the block, and even the full length mirror's leather handle were details that did not go unnoticed by me!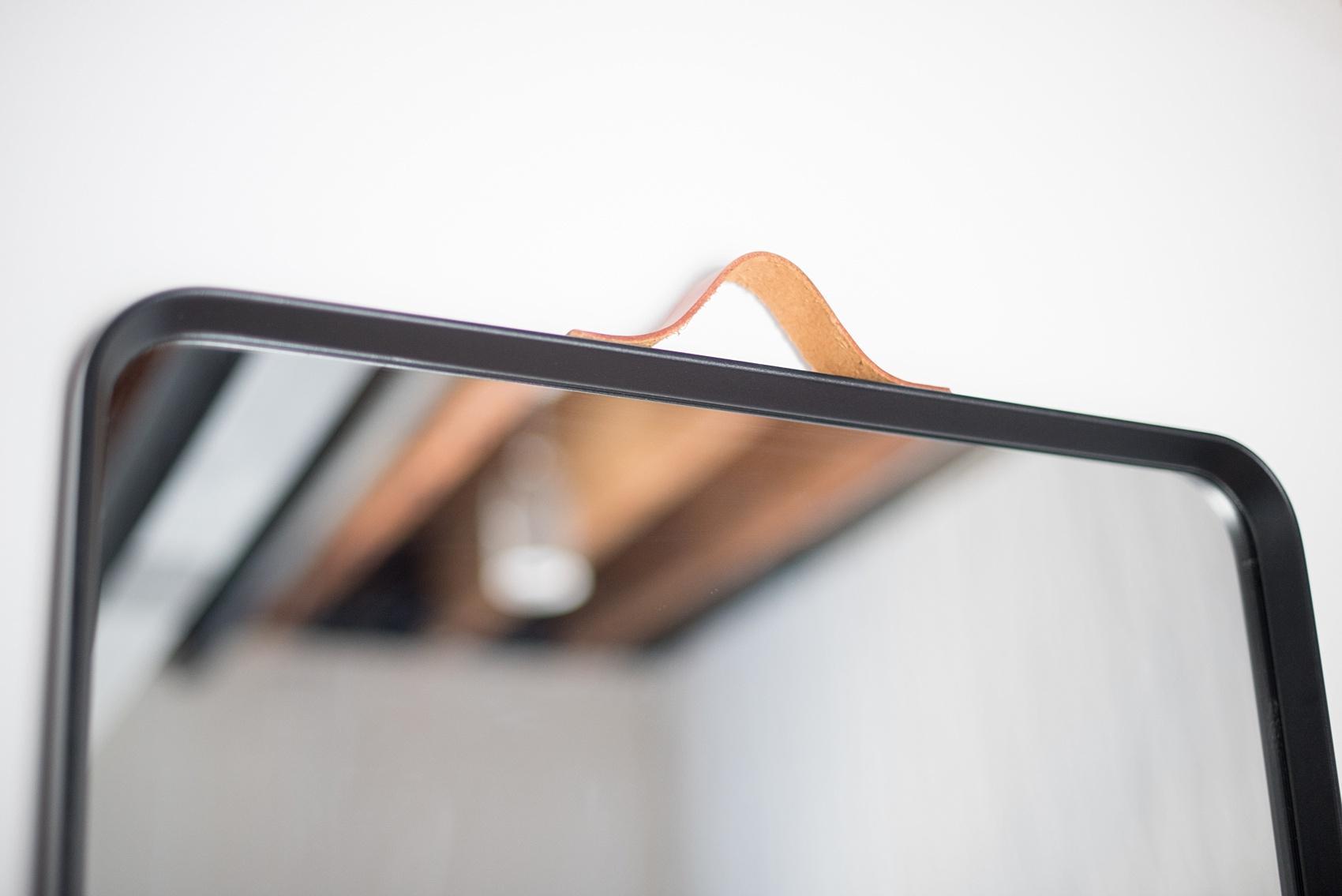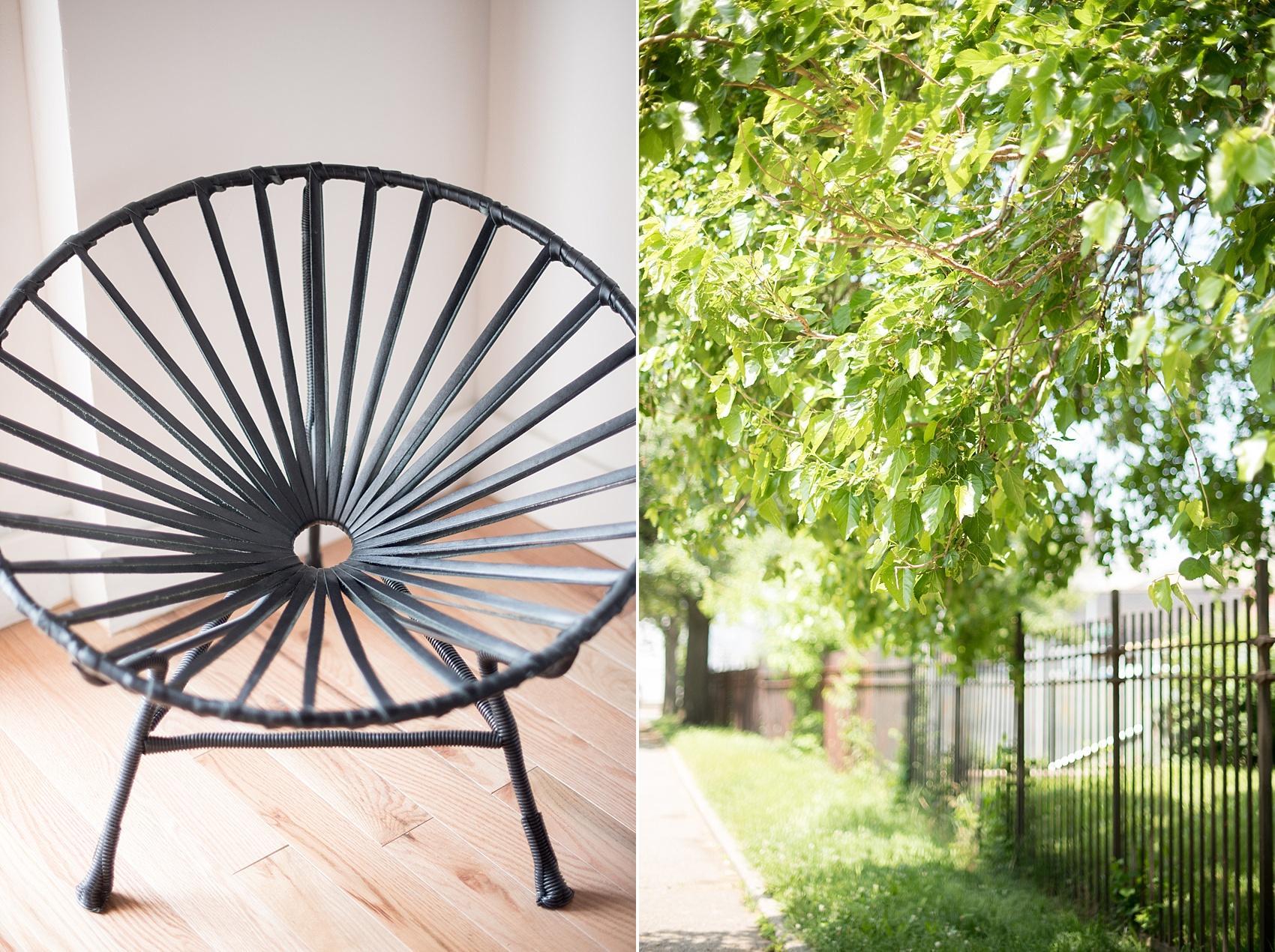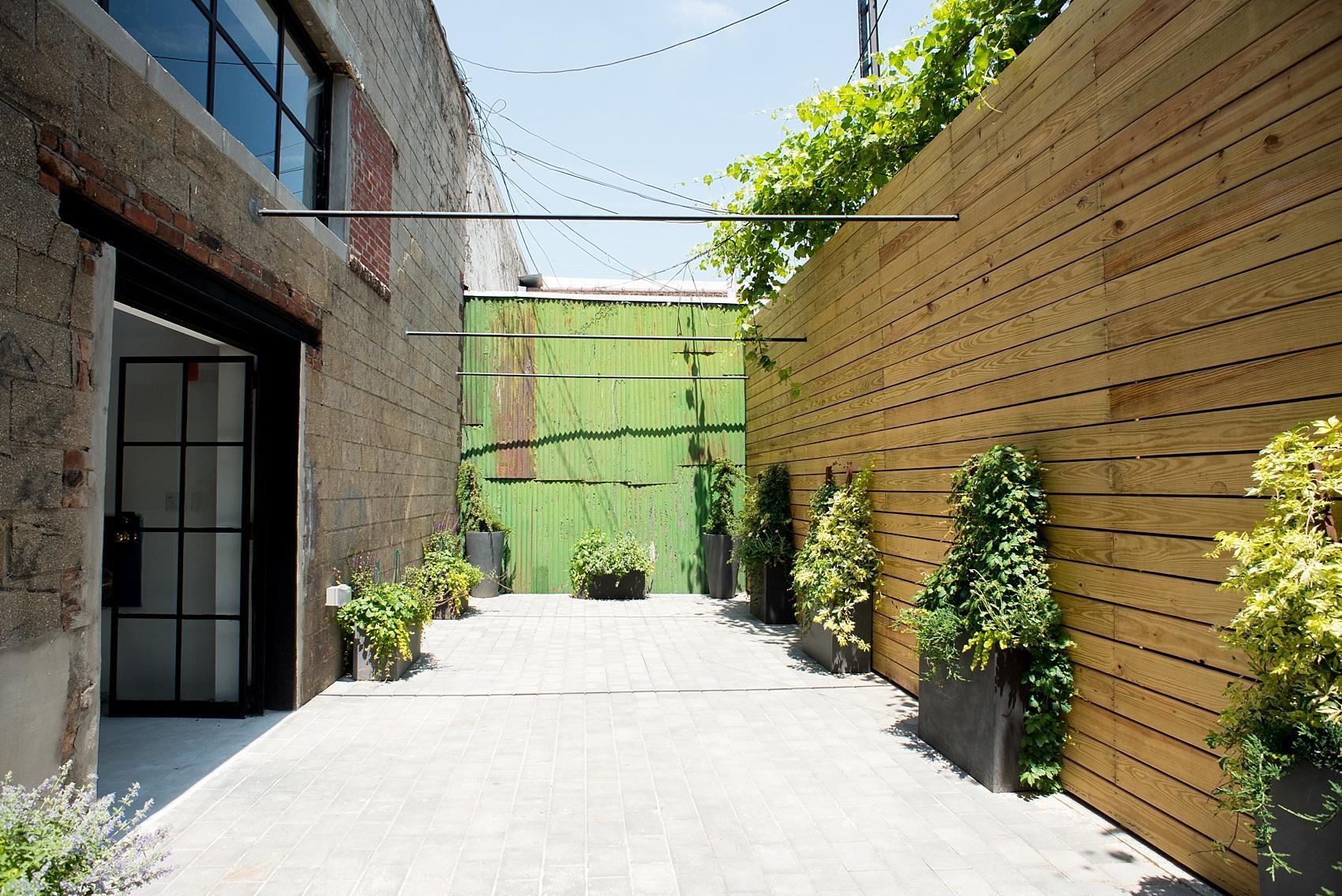 The ground level outdoor space can be used for a variety of things – from a seated dinner, to cocktail hour area to small ceremony space. I really love the mixed materials – the hard bricks, to the undulating metal panels, wood wall and even grape vines growing overhead. There's no shortage of wonderful backdrops – including the alphabet wallpaper, by Sarah Merenda. Coincidentally it matches my bedroom duvet cover at home so, naturally, I gravitated towards it!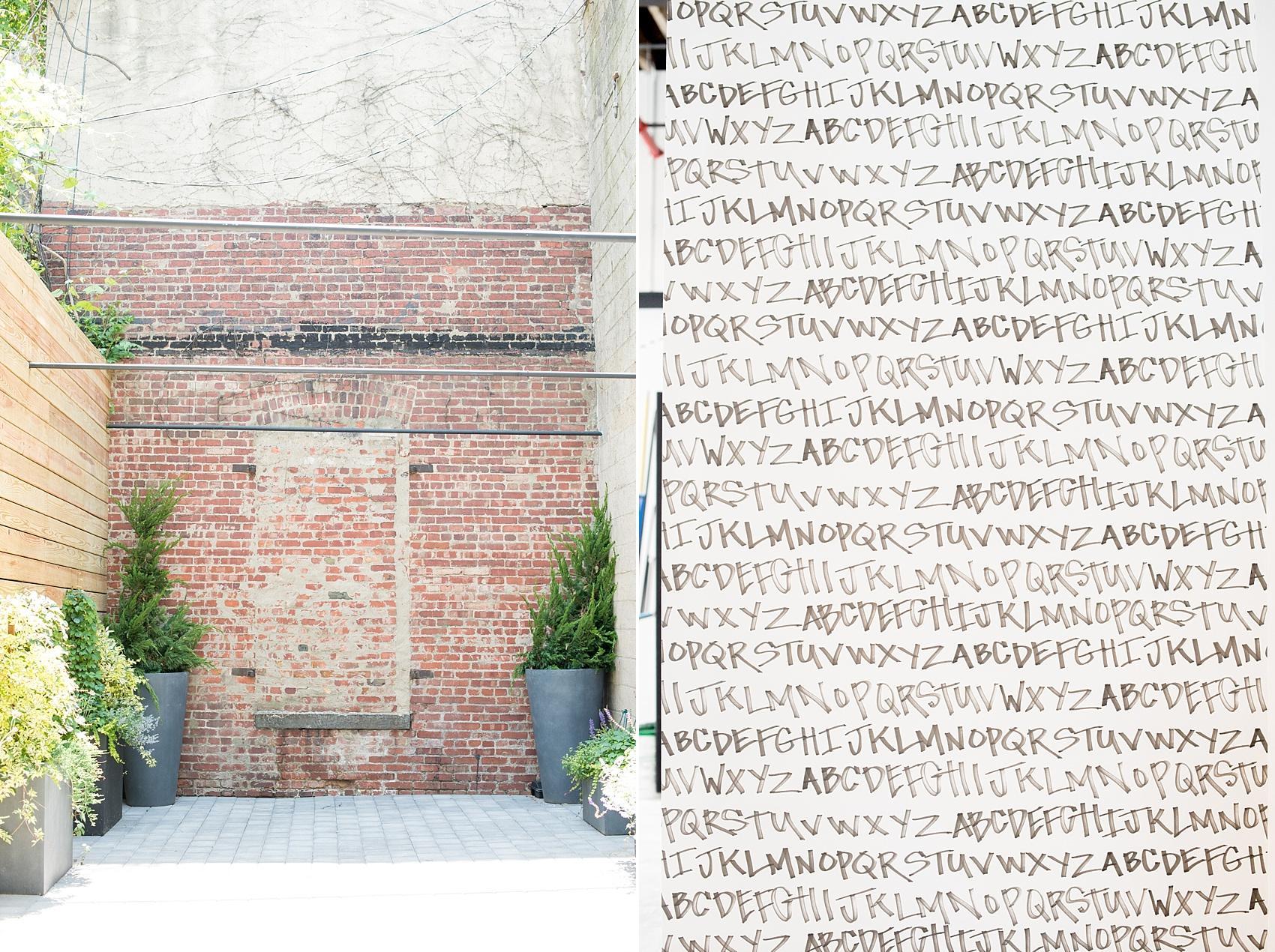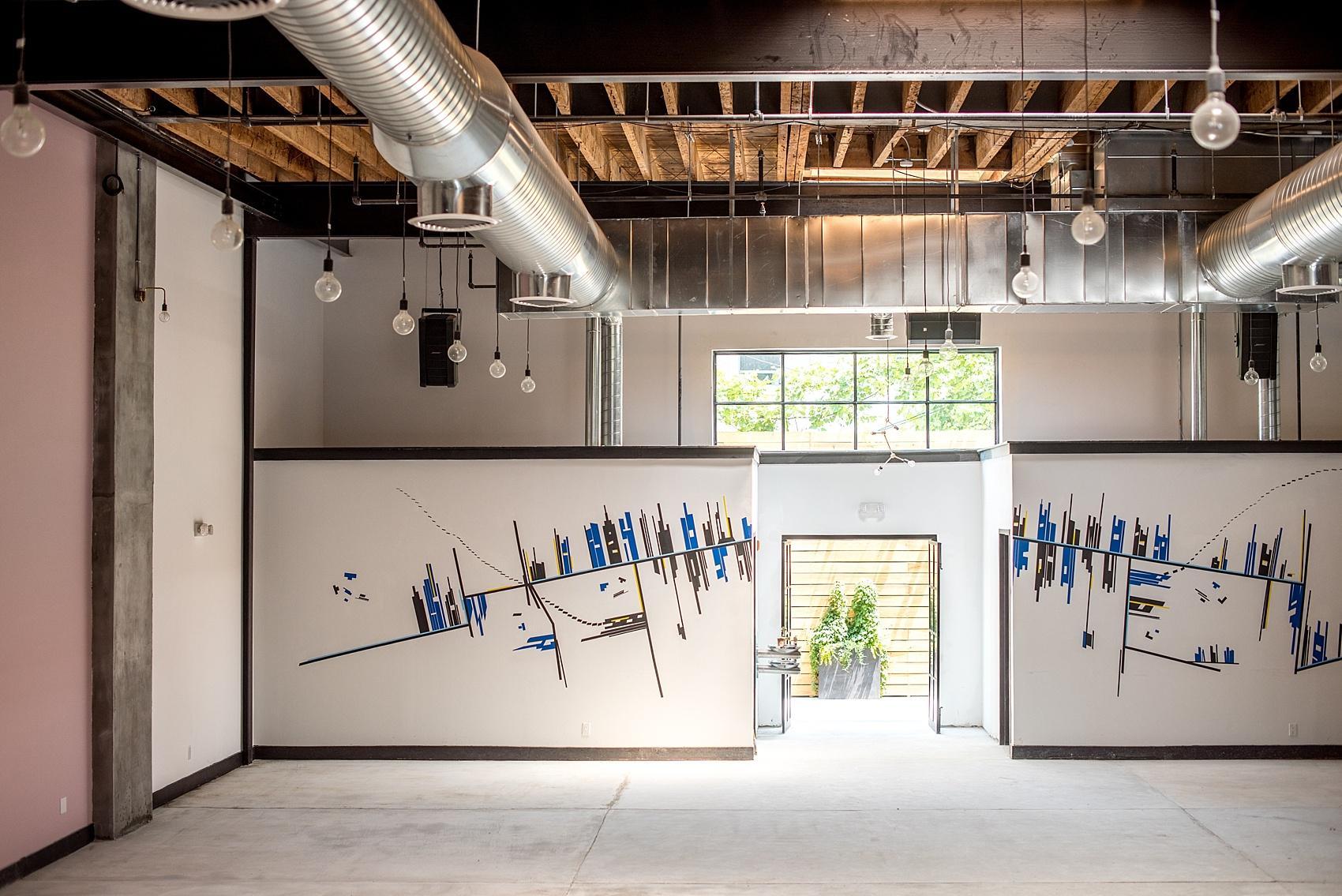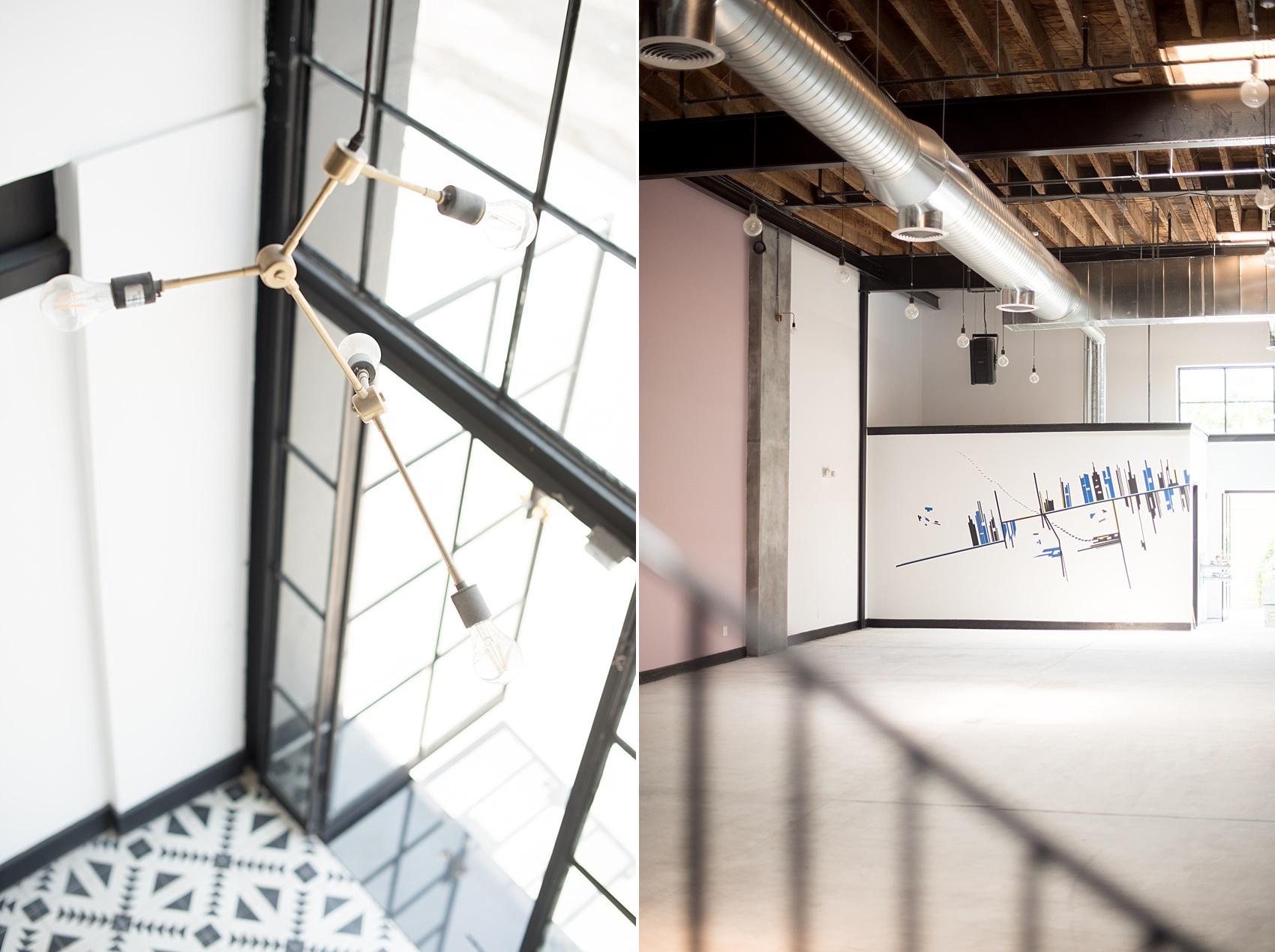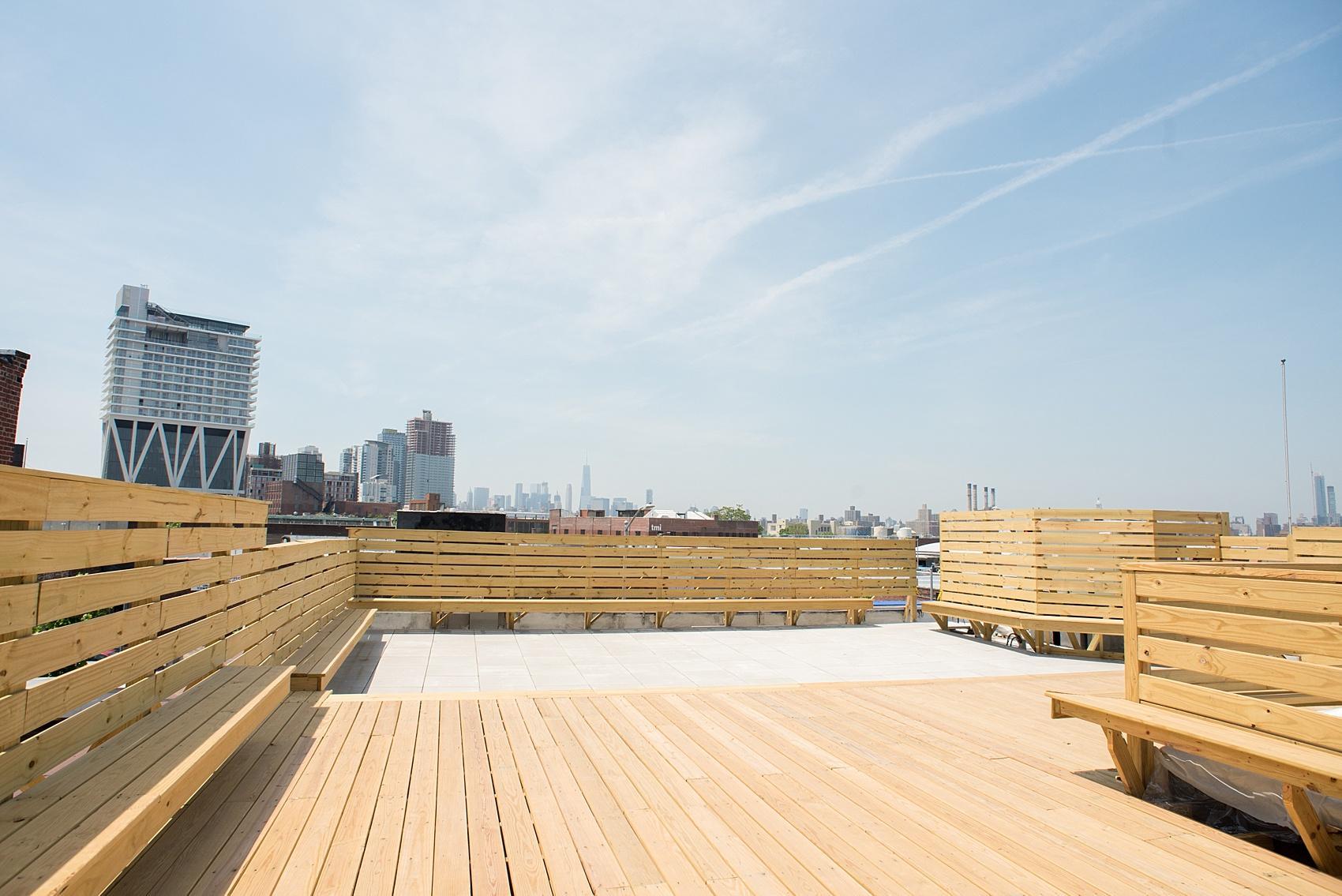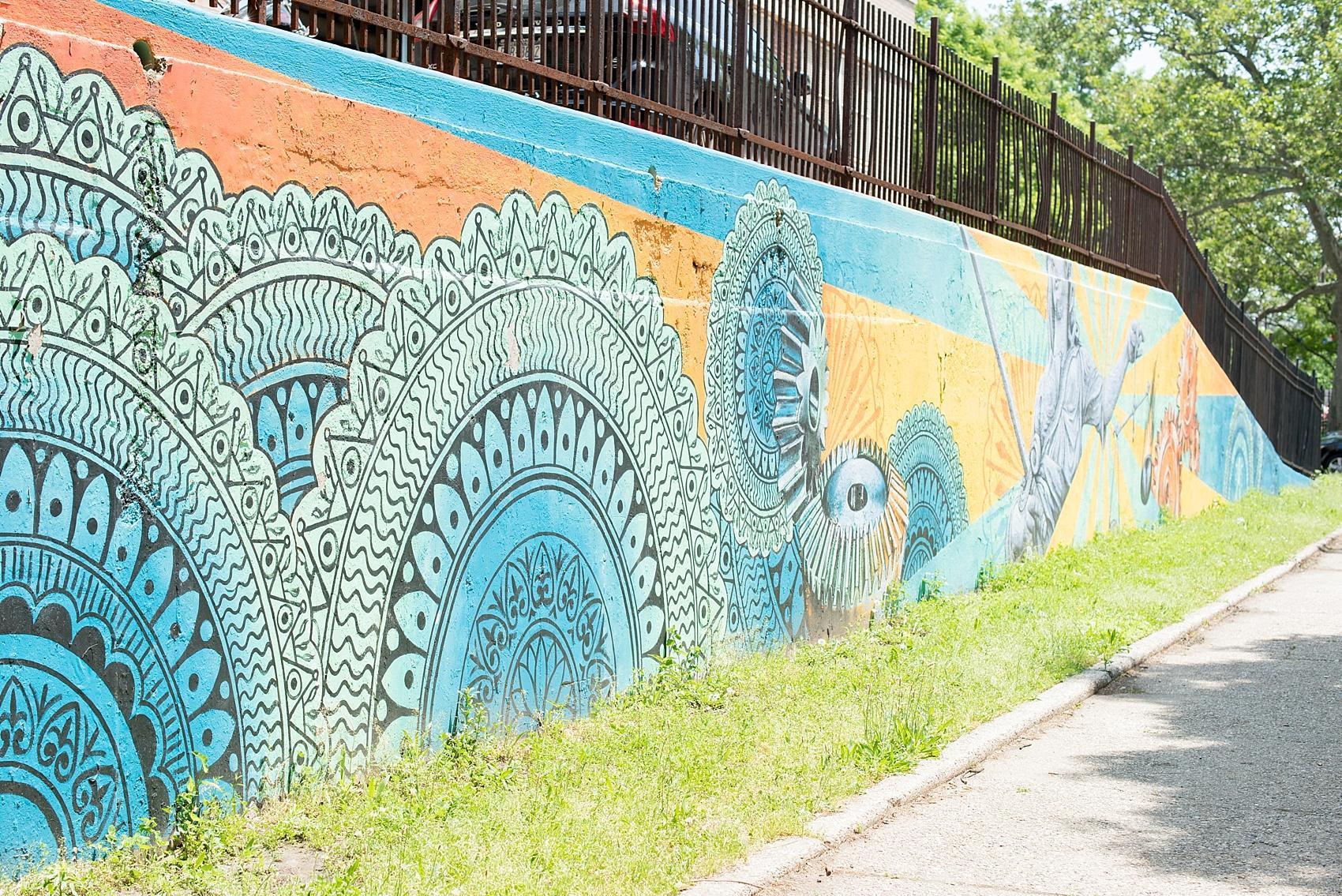 One of the best things about this venue is its location. No matter the weather it's a great space for photos both inside the venue and outside at the rooftop and outdoor patio, but what's more is it's located in Brooklyn at the border of both Greenpoint and Williamsburg. There is plenty of amazing graffiti (forever being painted over and changed to new exciting art) and wonderful green spaces like McCarren Park and East River State Park surrounding Dobbin St. with plenty of urban charm to boot!
Special thank you to Leslie and Aurora for giving me the grand tour and Ryan Brown of Ryan Brown Catering for sharing the news of this hot new space opening its doors.
I cannot wait to photograph the space with a real couple and visit again! I kept envisioning an imaginary couple, excited family and wedding party enjoying the space. 😉
Happy Friday!