When I met Samantha and her mom at a bridal show I felt an instant connection. I sincerely wanted to work with them and photograph her and Cole's winter wedding at The Cookery. I patiently waited as they finalized some plans, including confirming with The Cookery for their January date, to be one of the first couples in the chic, urban Durham venue after their new expansion. It was definitely worth the wait in every regard.
How They Met
Samantha and Cole were introduced by her water polo coach when Cole and his friend wandered into a bar she was hanging out in with her teammates, after a tournament they hosted at their school, University of North Carolina in Chapel Hill. They met on a Friday, had their first date on Monday and were quickly smitten. Soon they were spending lots of time together and, fast forward a little while, found themselves moving forward as partners in life with a house, three dogs and lots of wedding planning!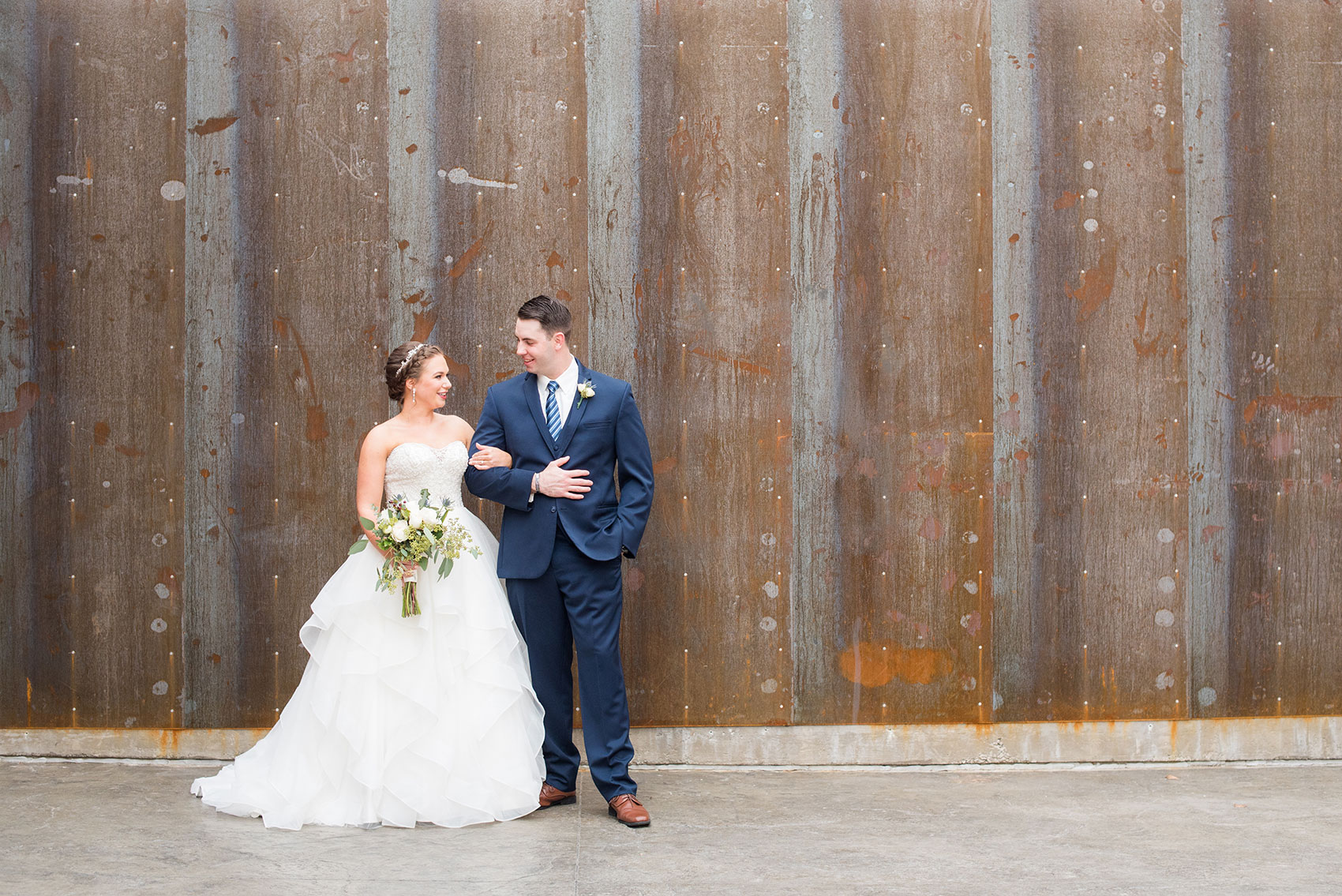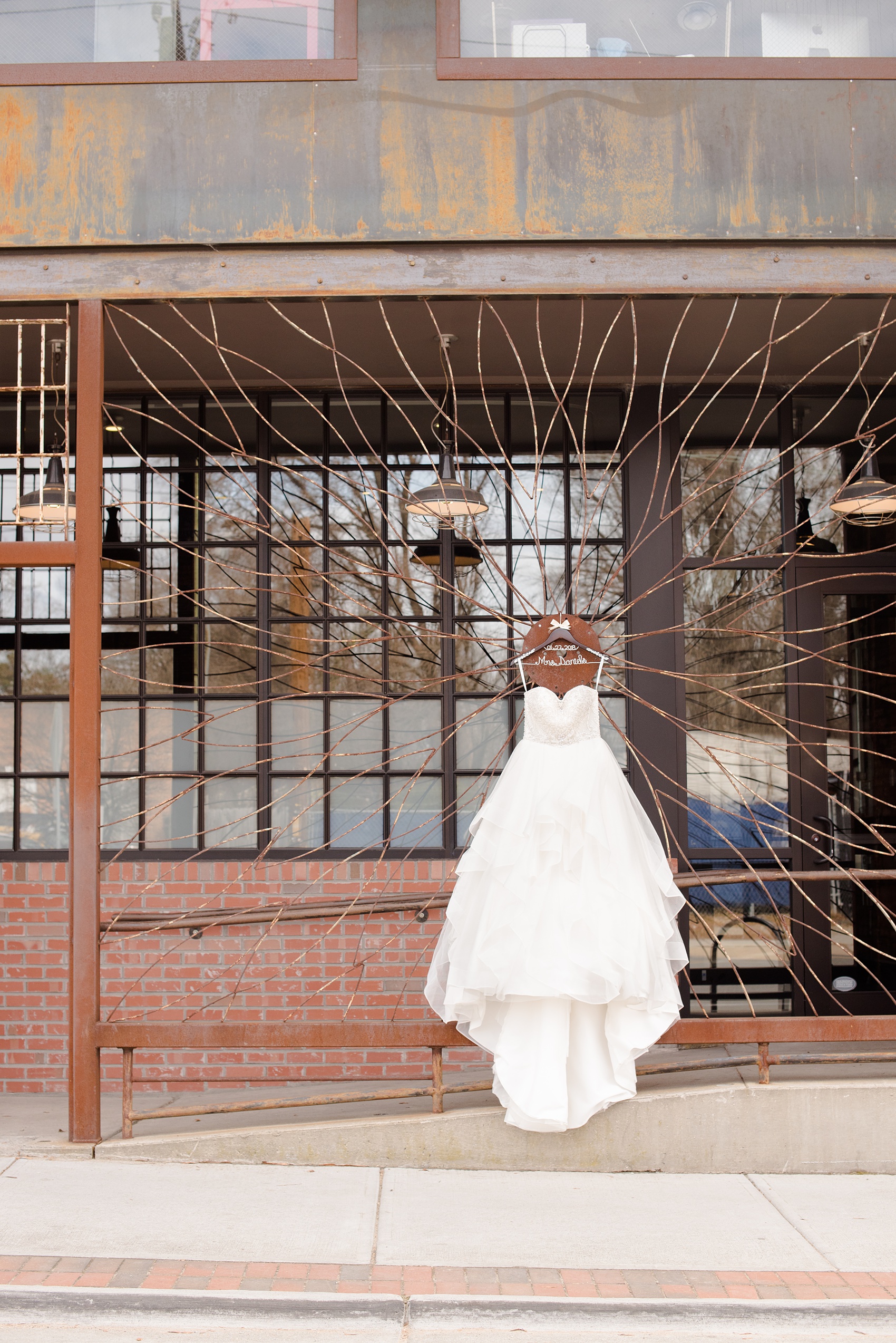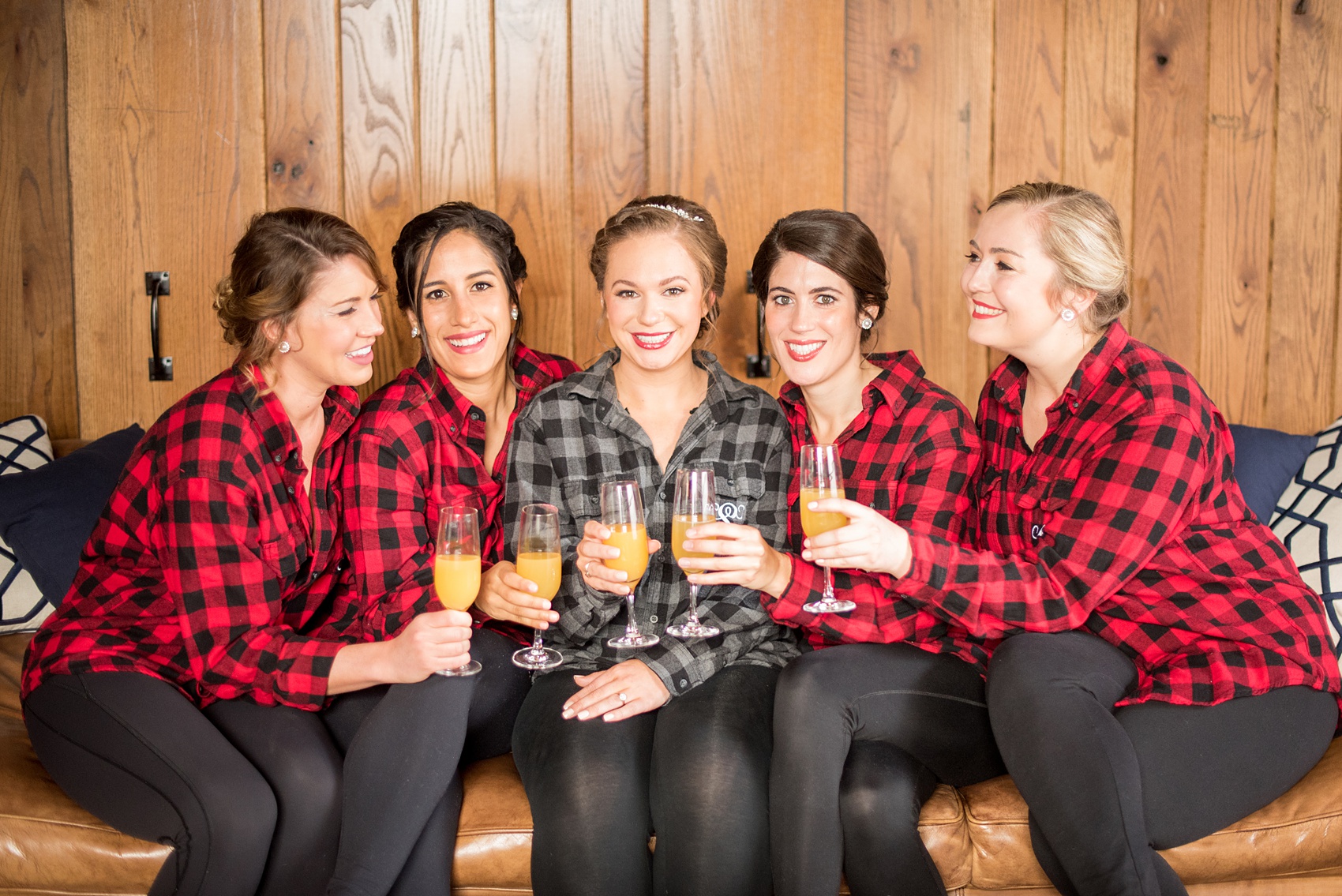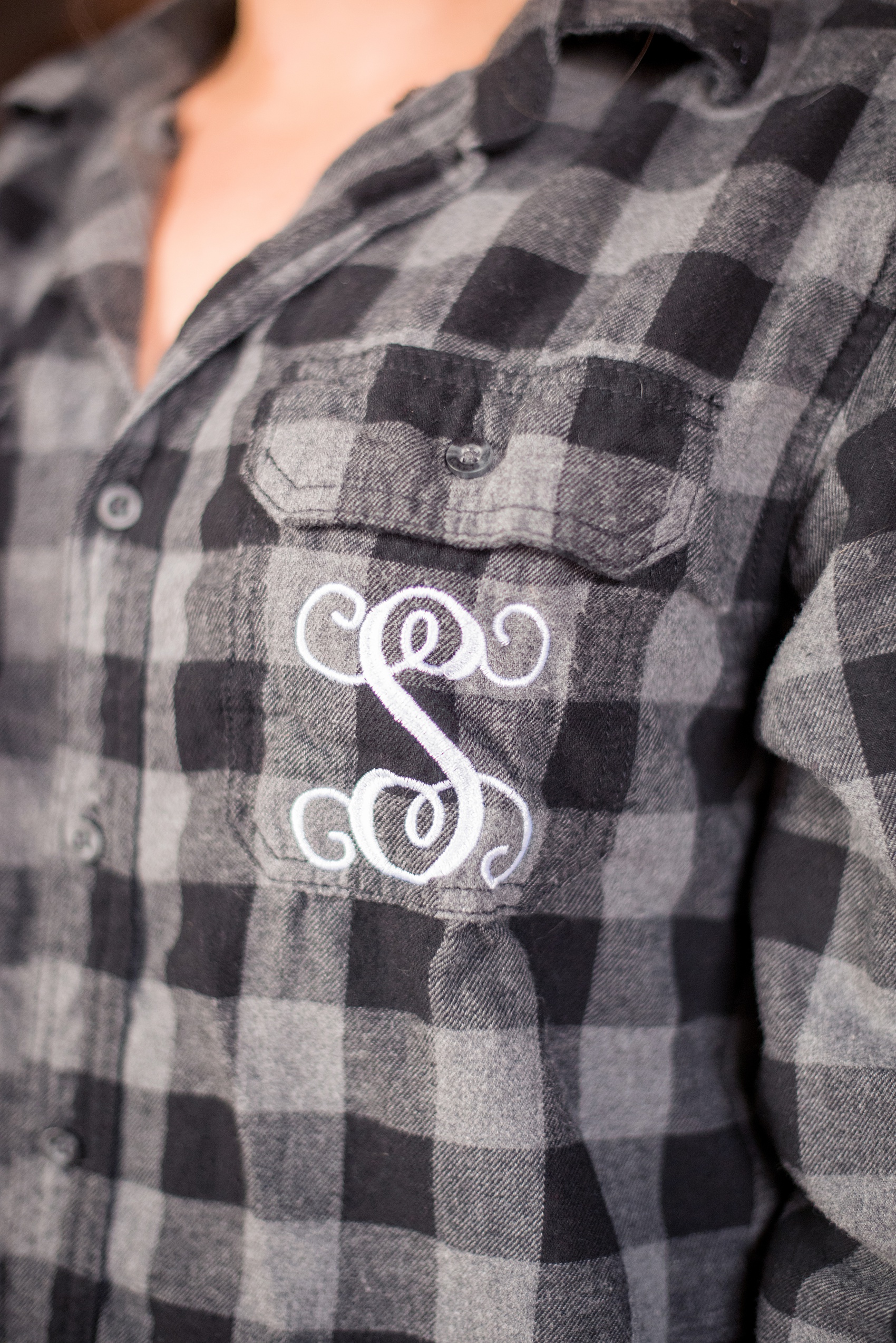 Samantha got her bridesmaids really cute plaid button-down shirts for getting ready during their winter wedding. White embroidery indicated each woman's initial of her first name. Her wedding vision came to life throughout the day from the moment I saw her gown to every time I peeked in the ceremony and reception space as it was being set up for the day. She wanted lots of greenery, candlelight and neutral colors.
Her bridesmaids, who were family and her water polo teammates, helped her get dressed for her wedding at The Cookery after her hair and makeup were complete. She put on her white mesh and silver glitter heels (which I adored!) and they ensured her hanging diamond and pearl earrings were on before she had a special first look with her father.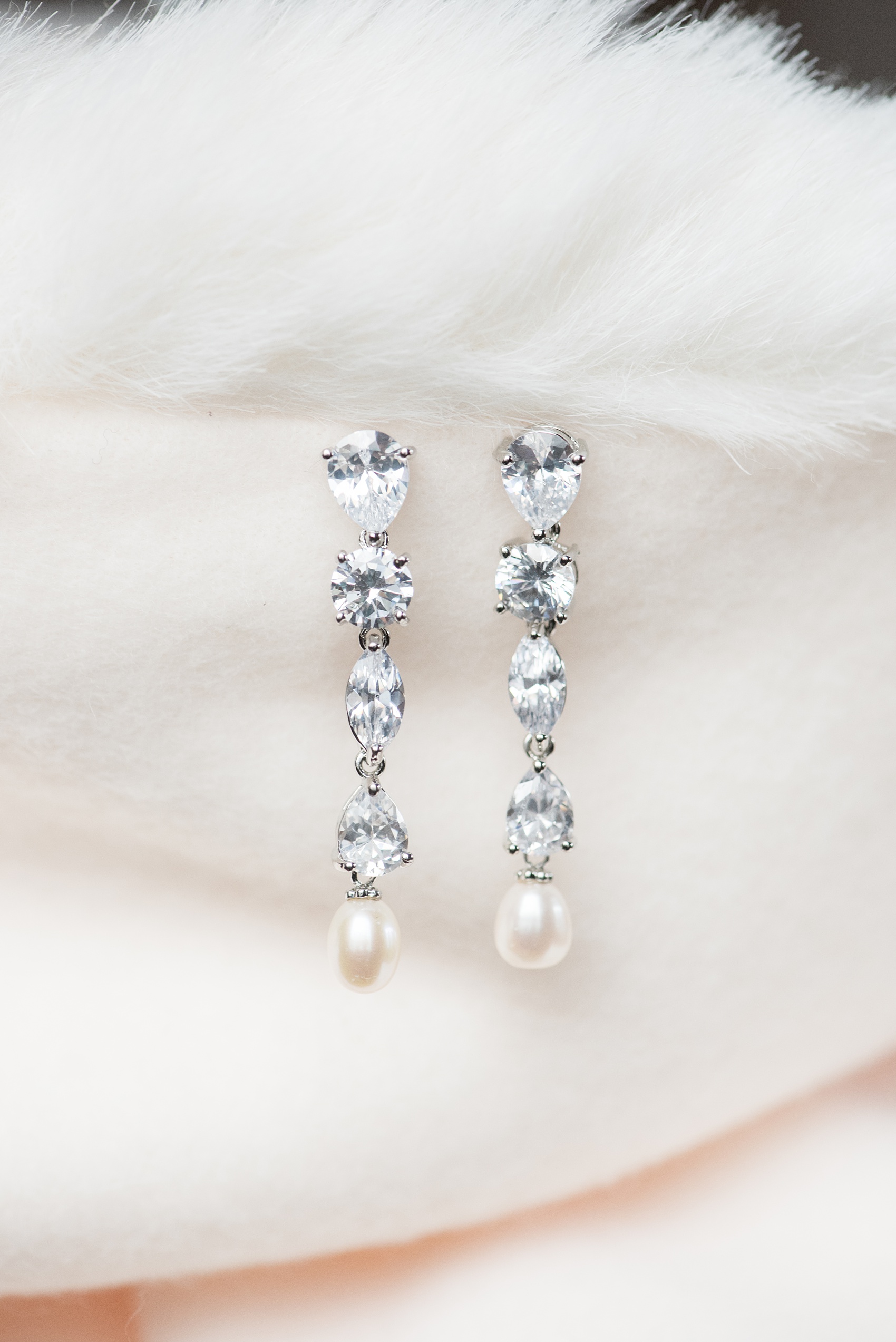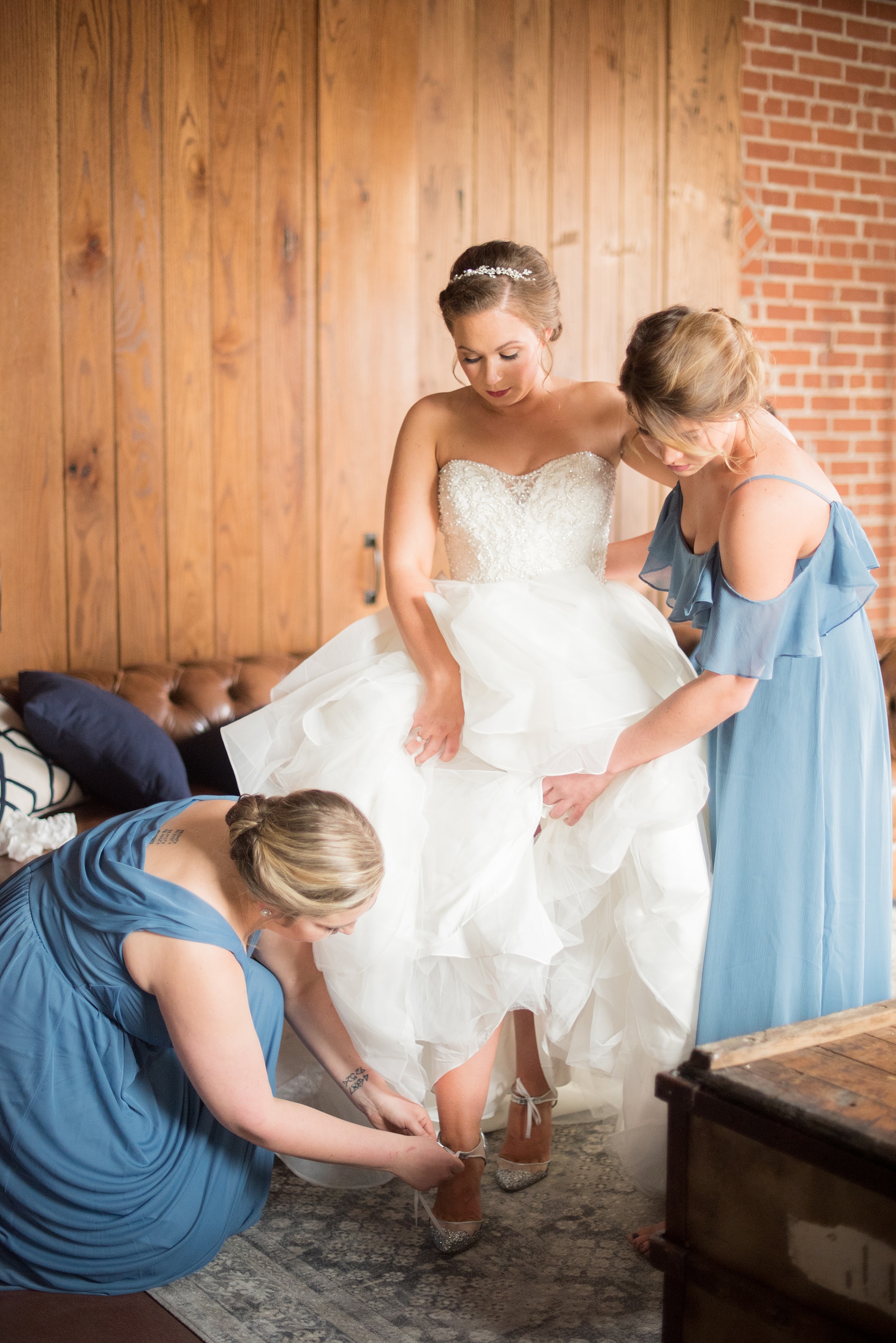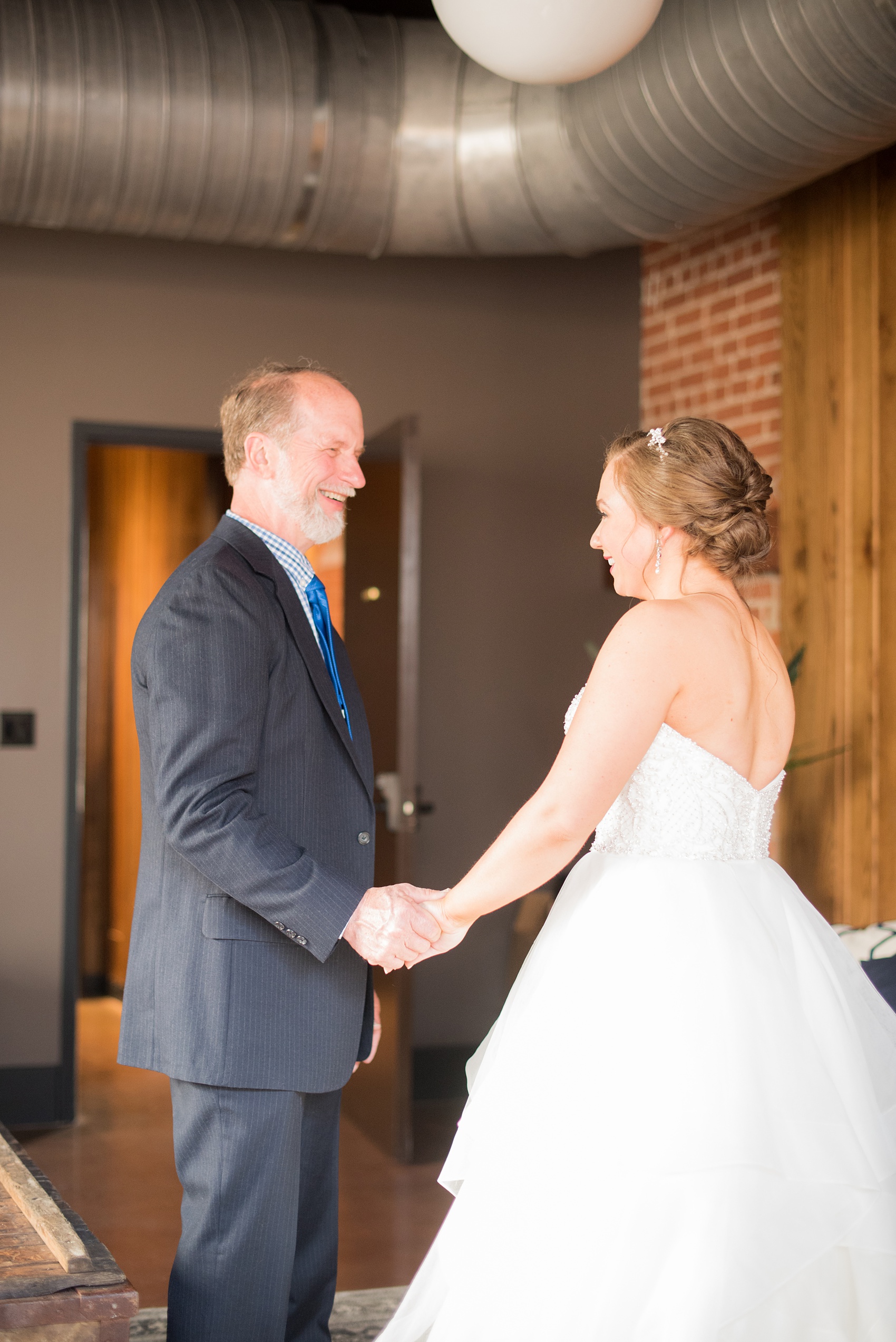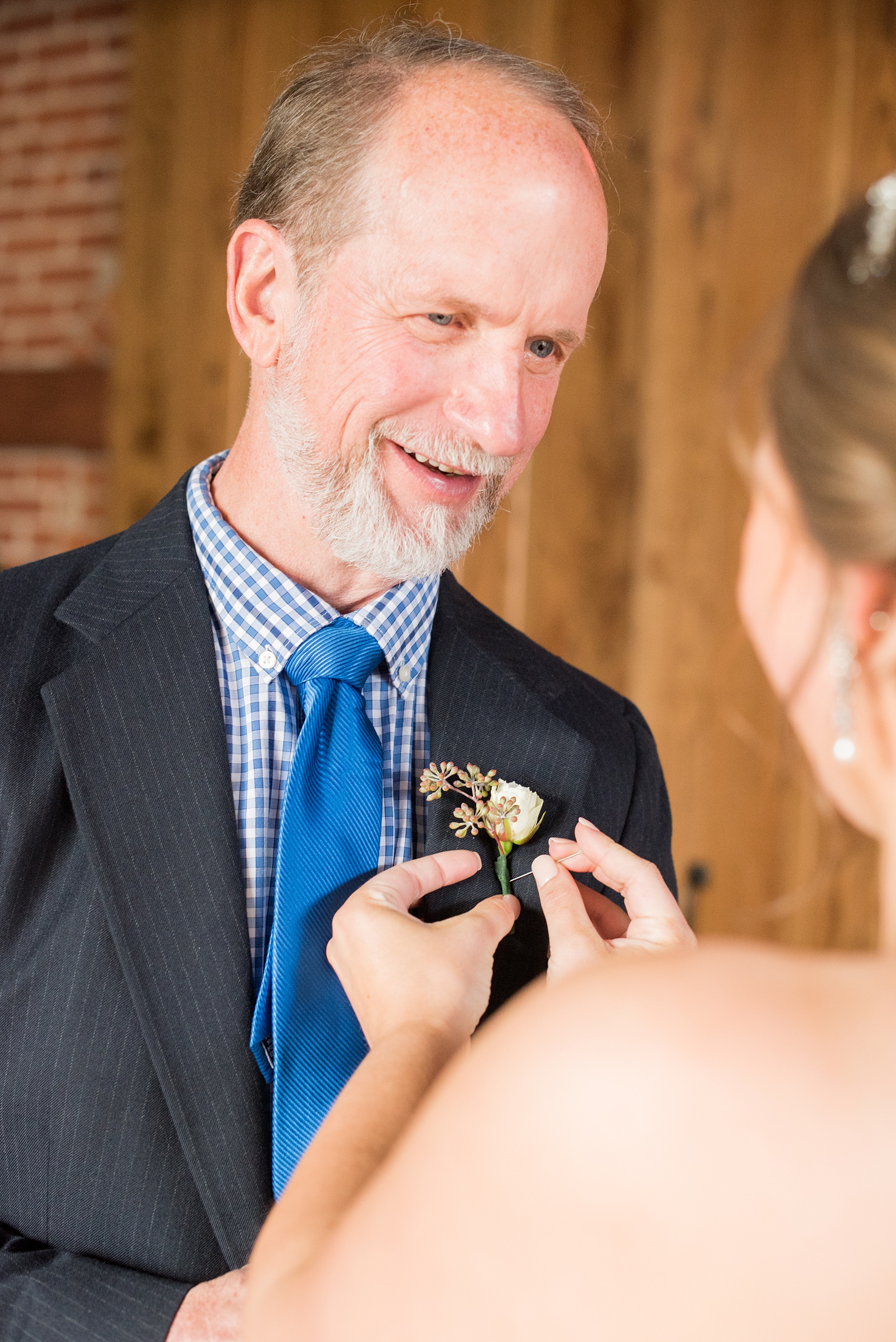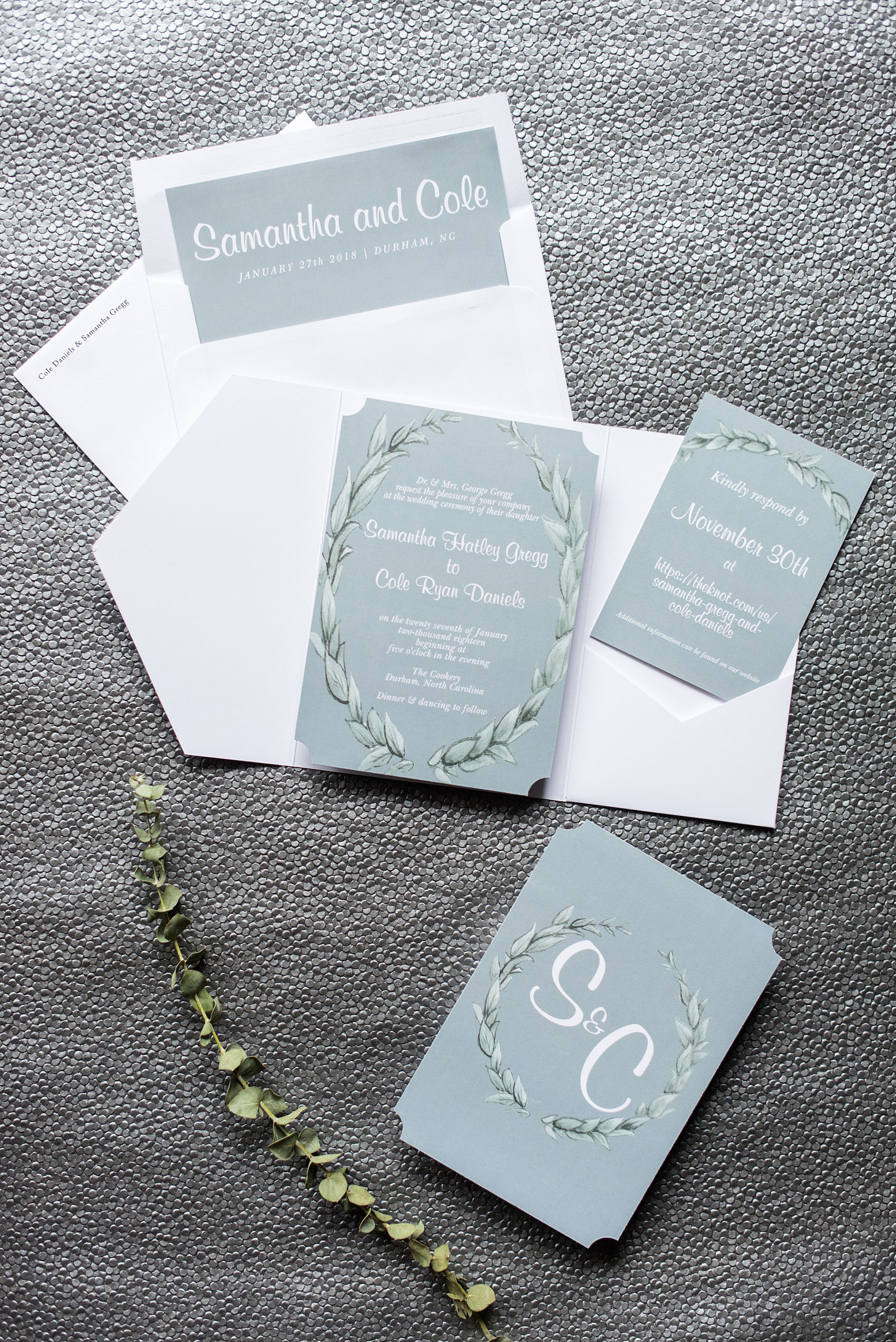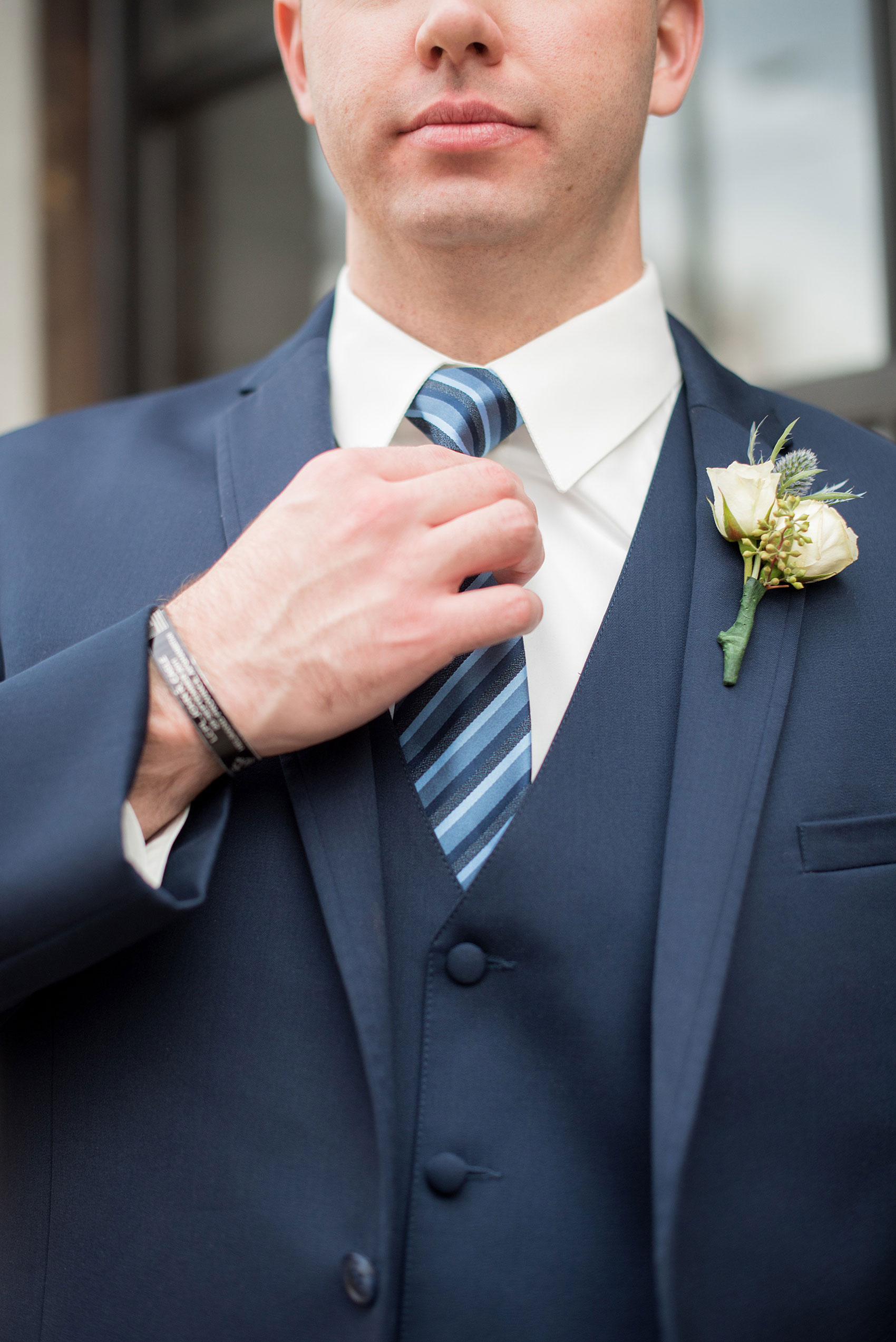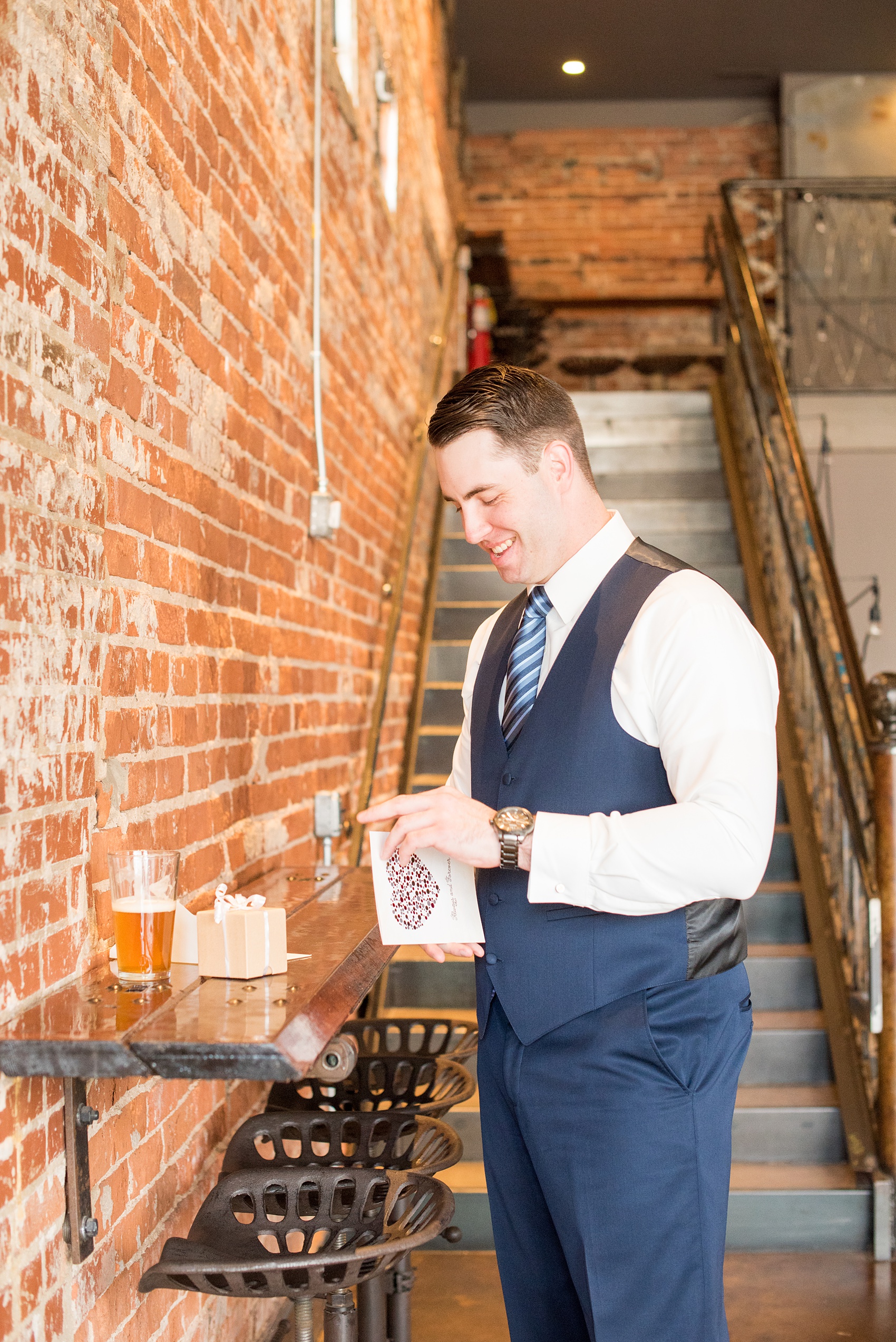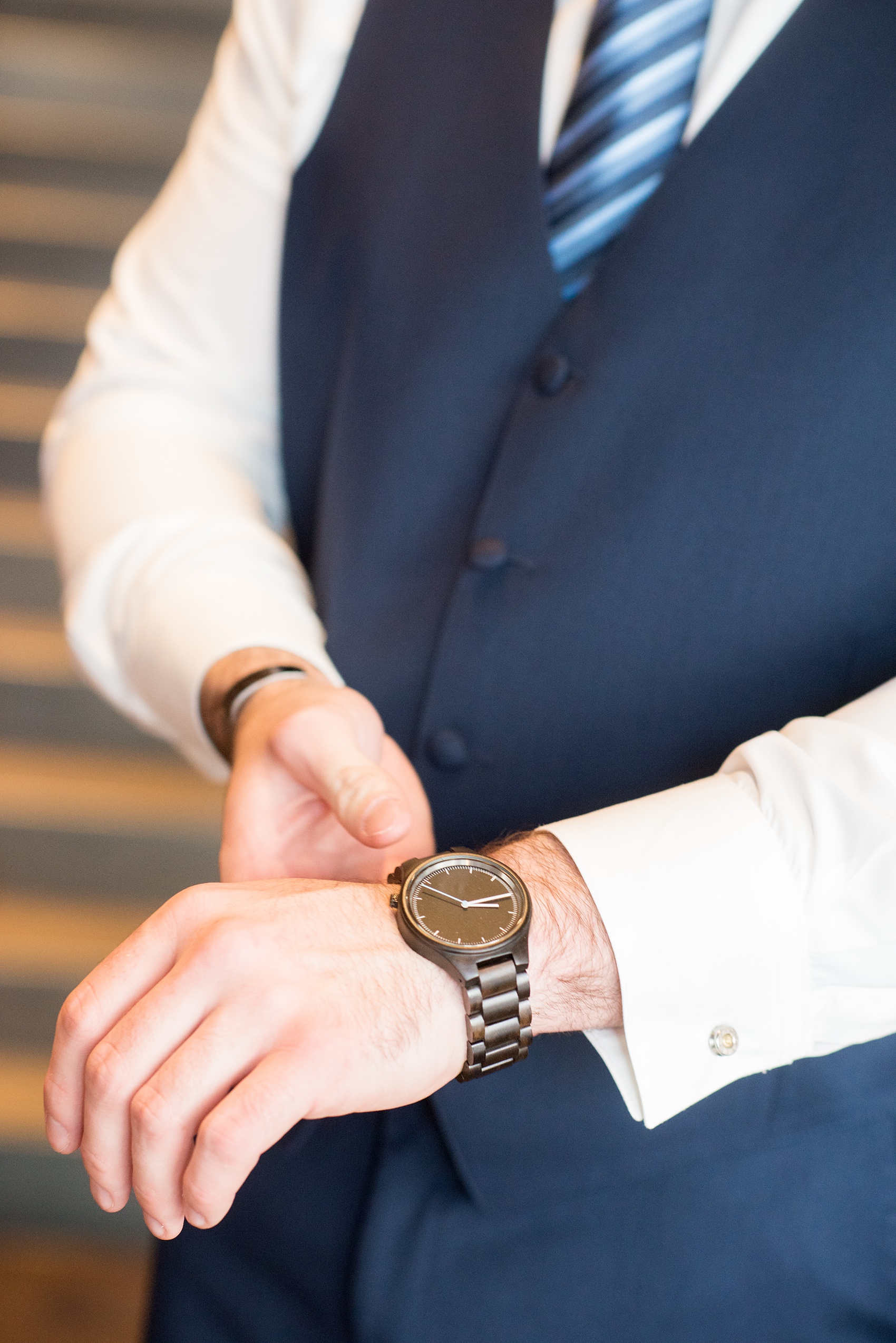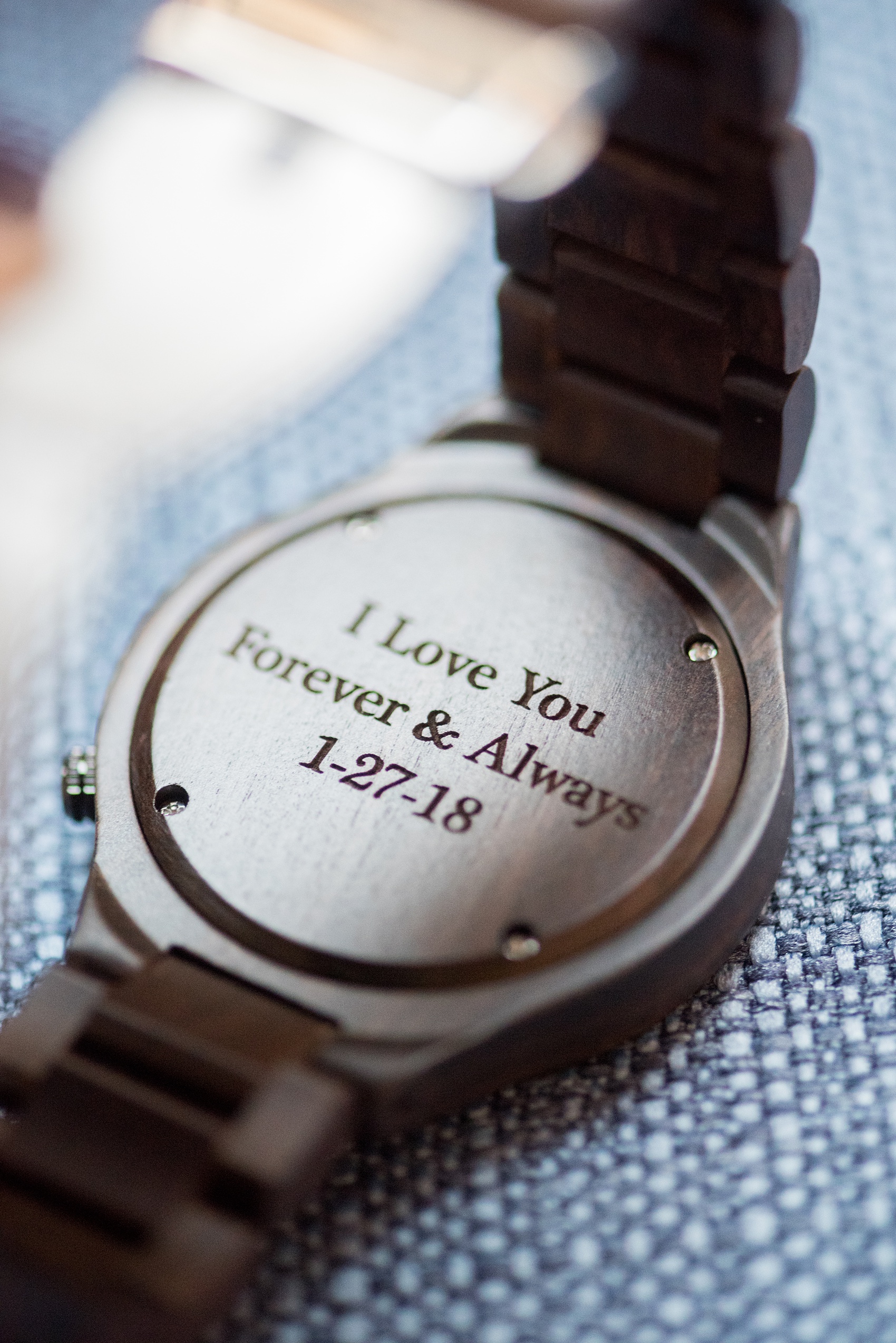 I love the unique gift Samantha gifted Cole: a wood watch with their wedding date and a message from his wife inscribed on the back. Cole gifted Samantha a beautiful Pandora charm bracelet. It was the last piece to photograph before they met each other for their wedding at The Cookery, in the outdoor courtyard, for their first look.
First Look for a Wedding at The Cookery in Durham
We continued the afternoon with portraits of the two of them and their wedding party.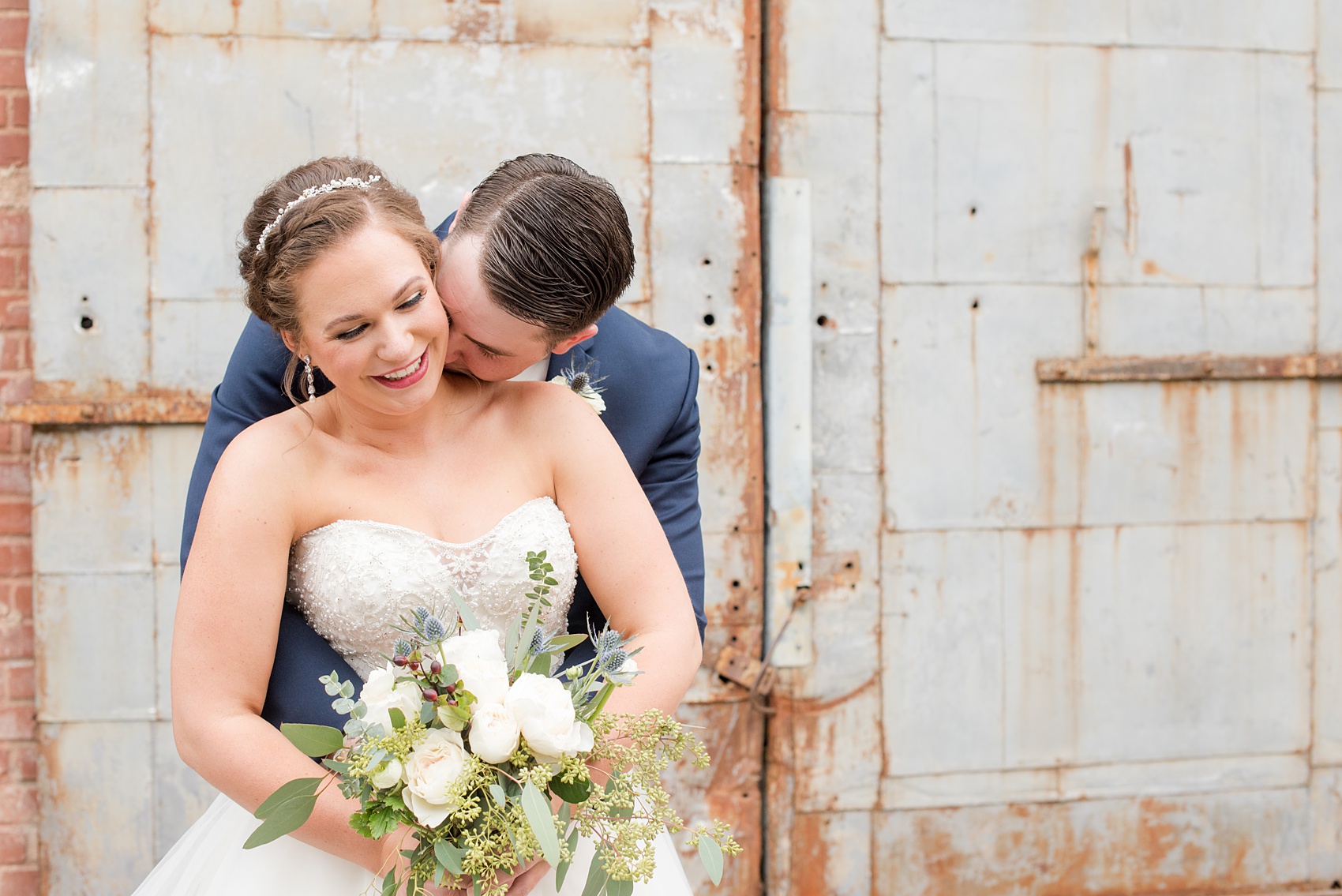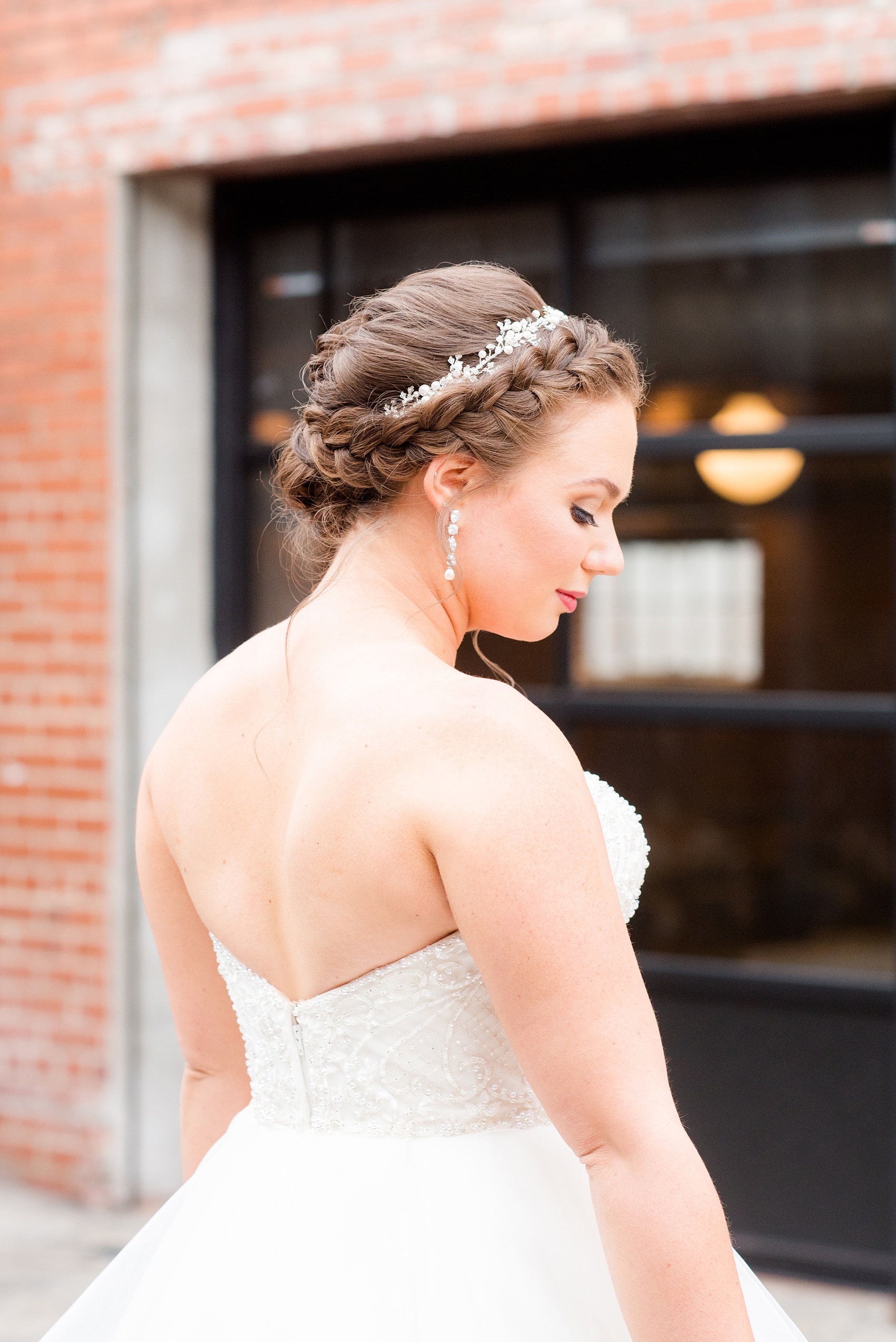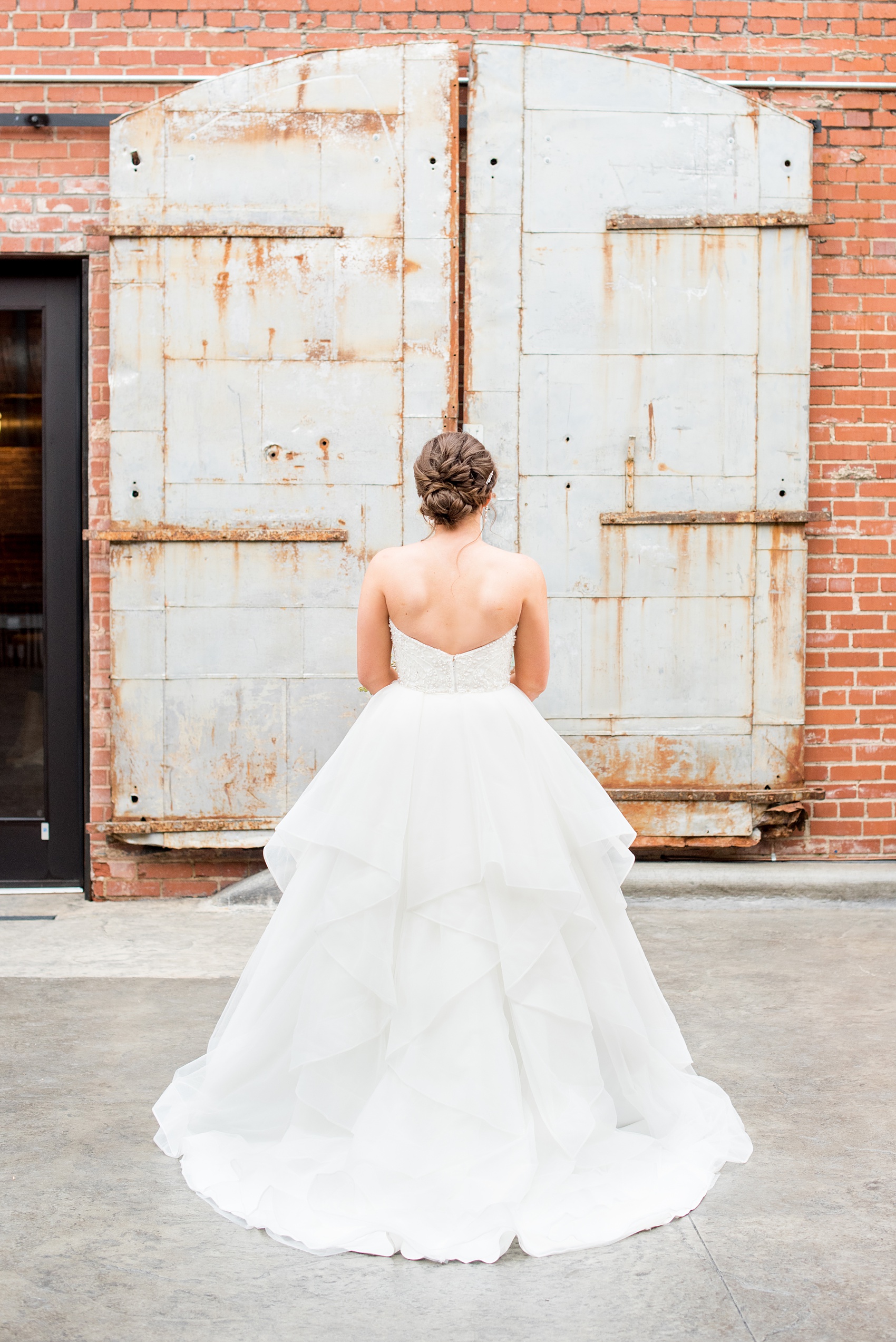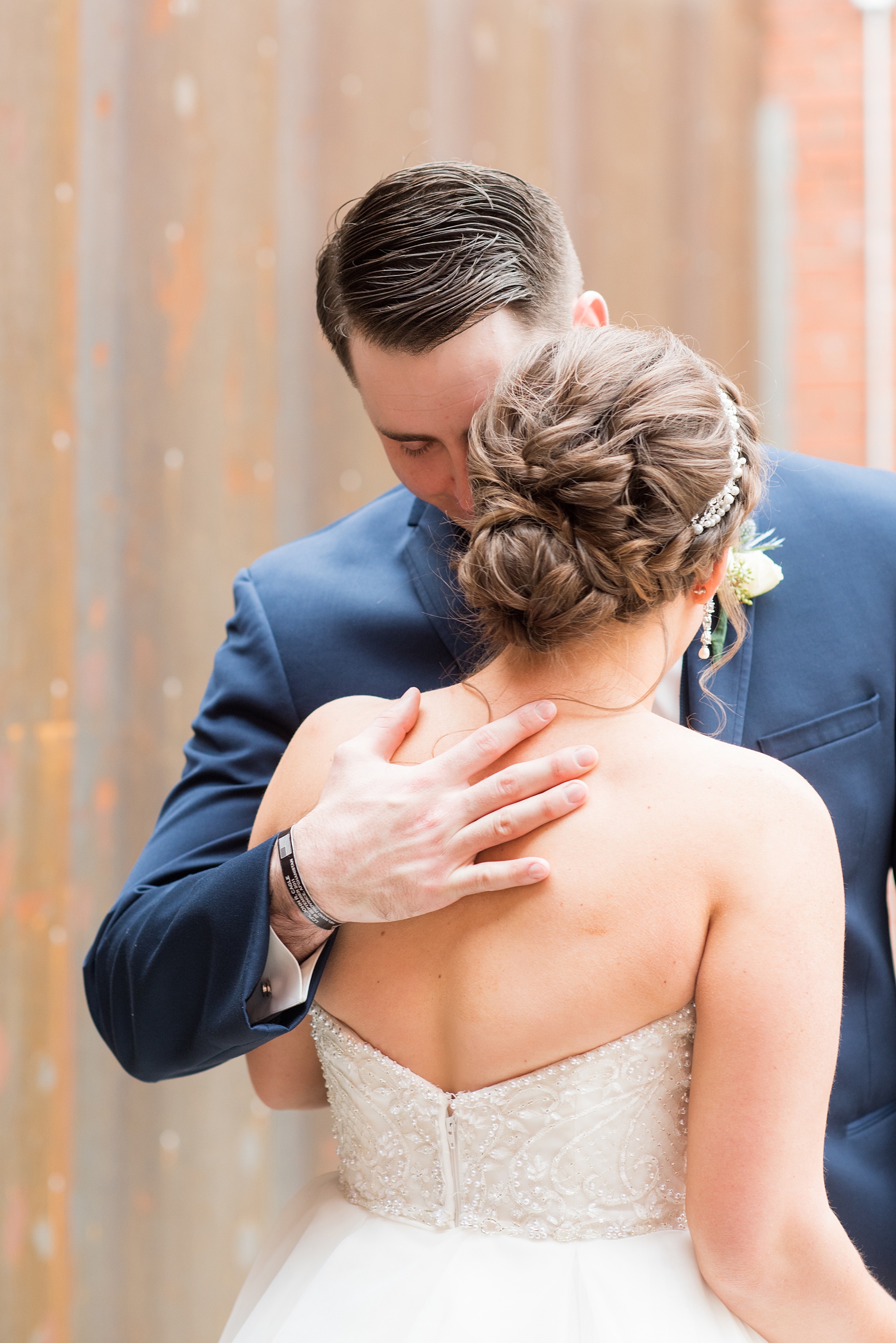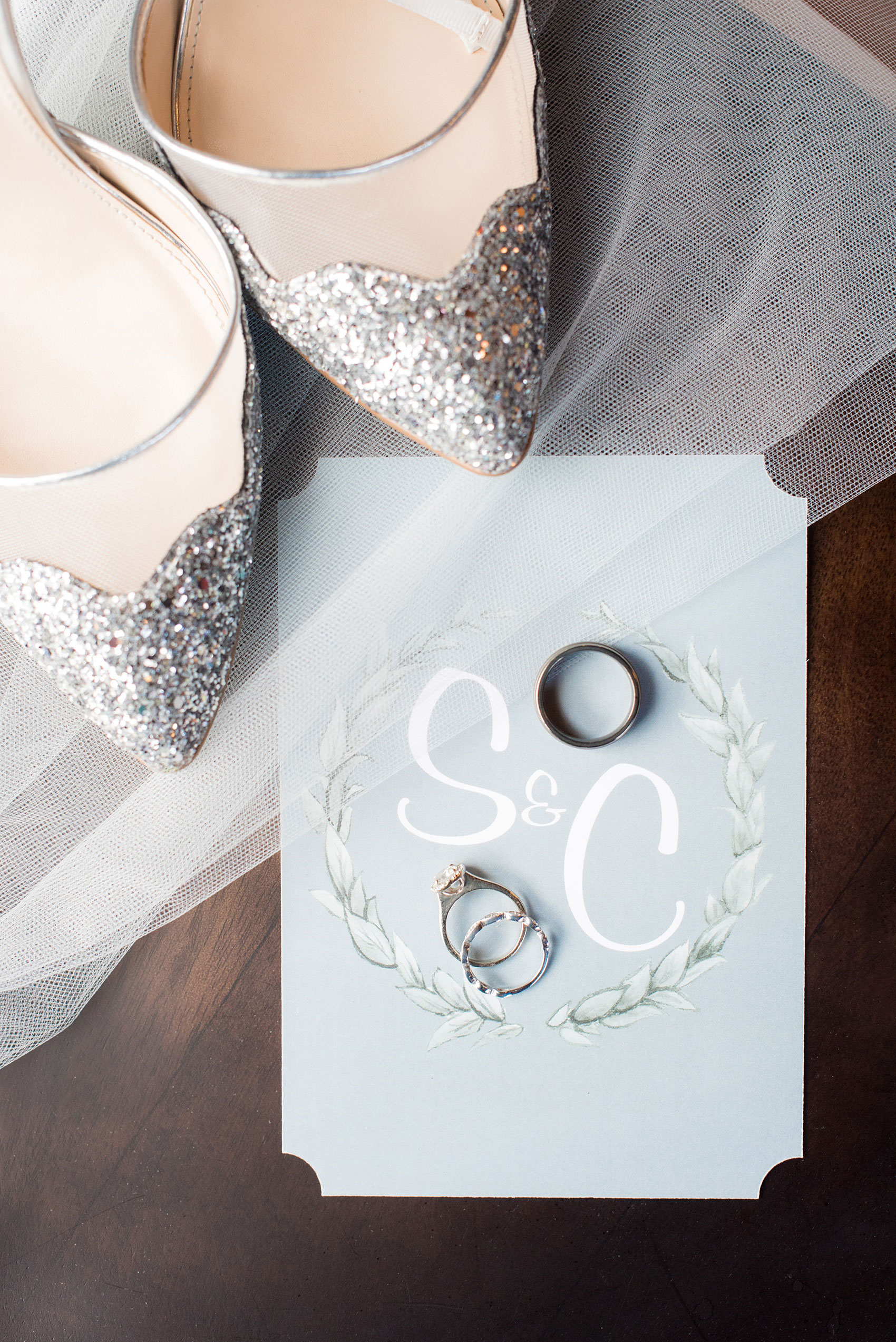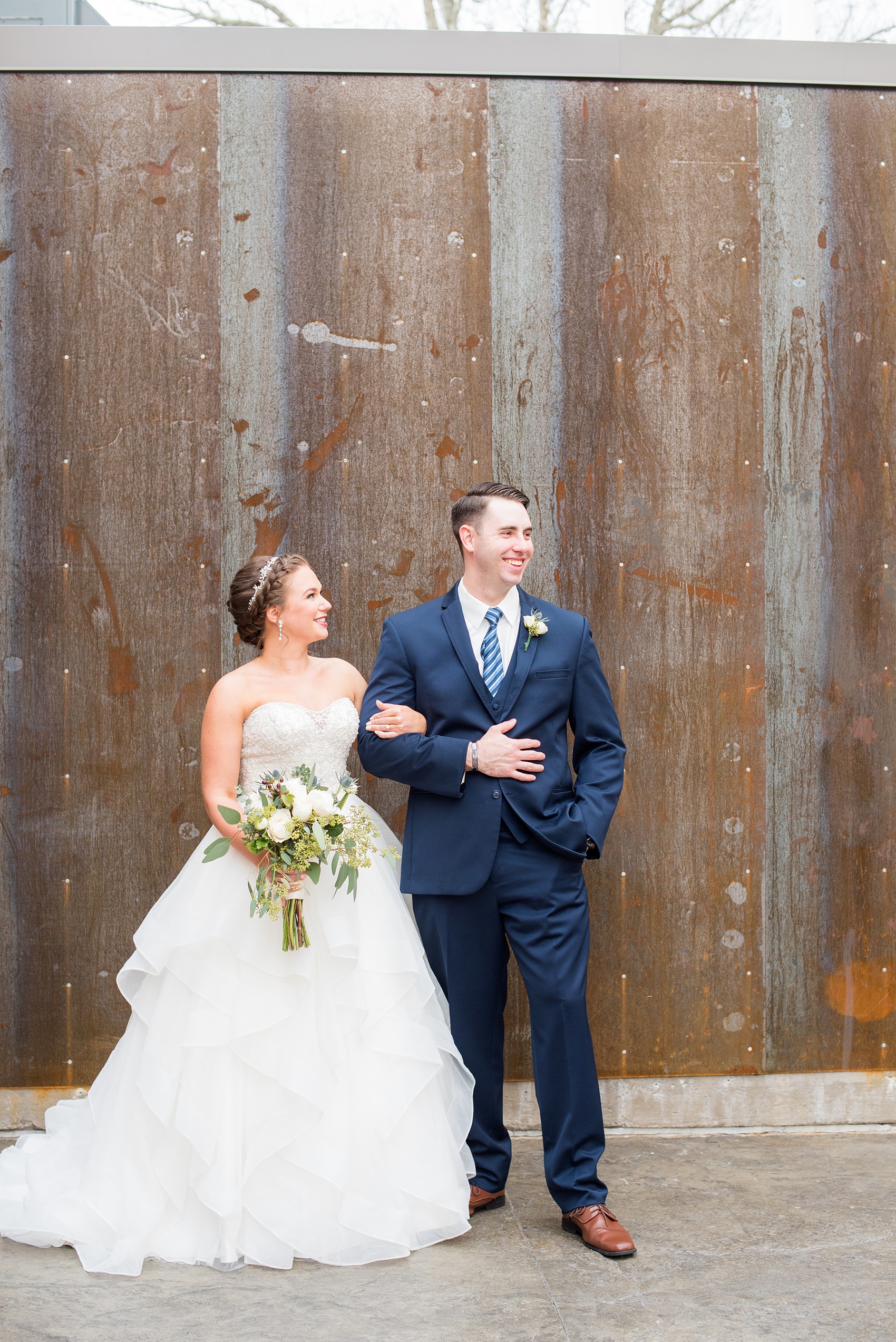 Samantha opted for an up-do and had her hair in a braided crown, finished with a sparkly rhinestone head piece. It perfectly complimented the beaded bodice of her strapless gown, that had a very elegant and feminine layered tulle skirt with a small train. She added a veil for the ceremony. Cole and all his groomsmen wore navy blue suits and blue ties. (Cole had a fun blue striped tie!) Their brown shoes matched the earth tone palette of their winter wedding day, as evident from their Durham wedding photos at The Cookery.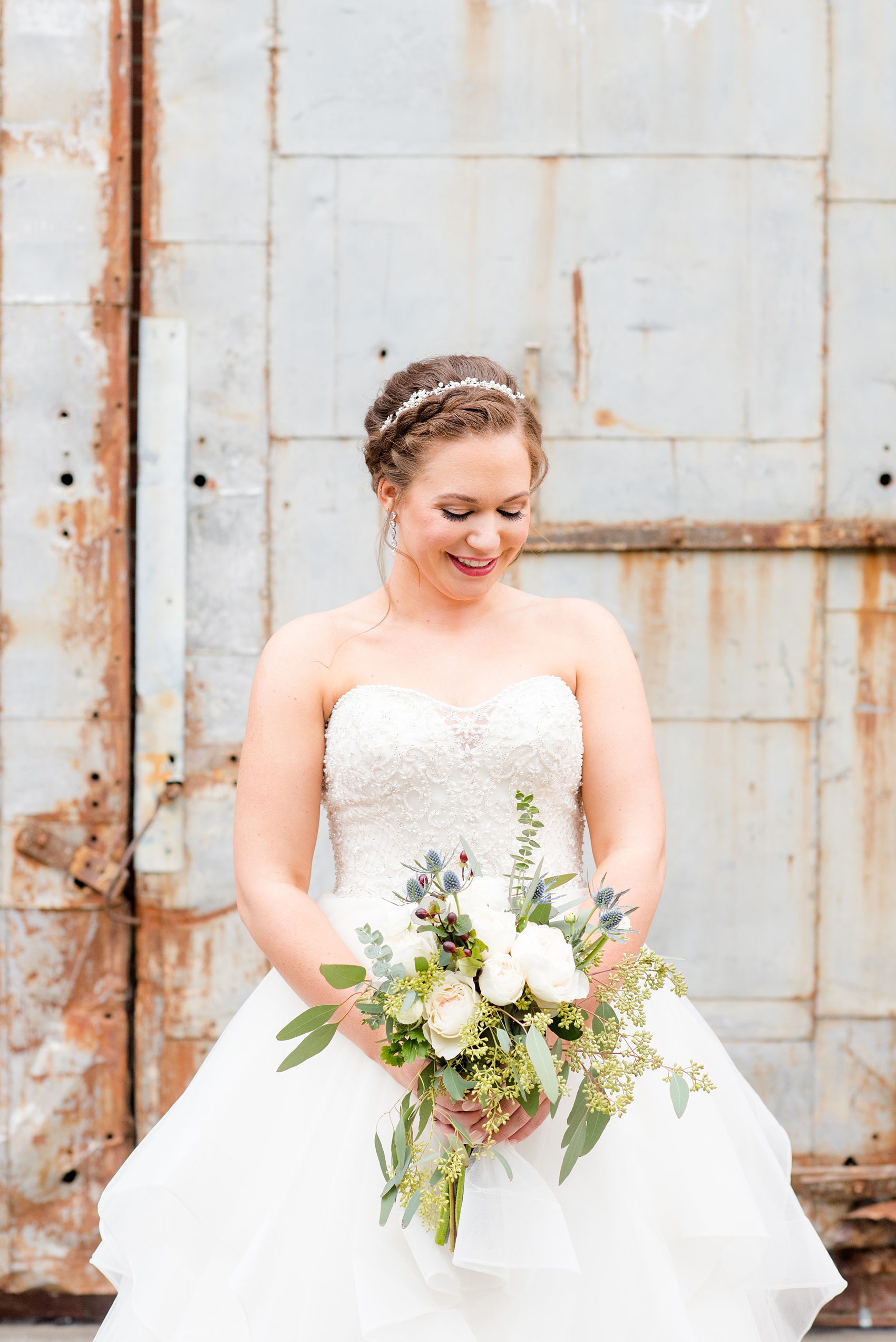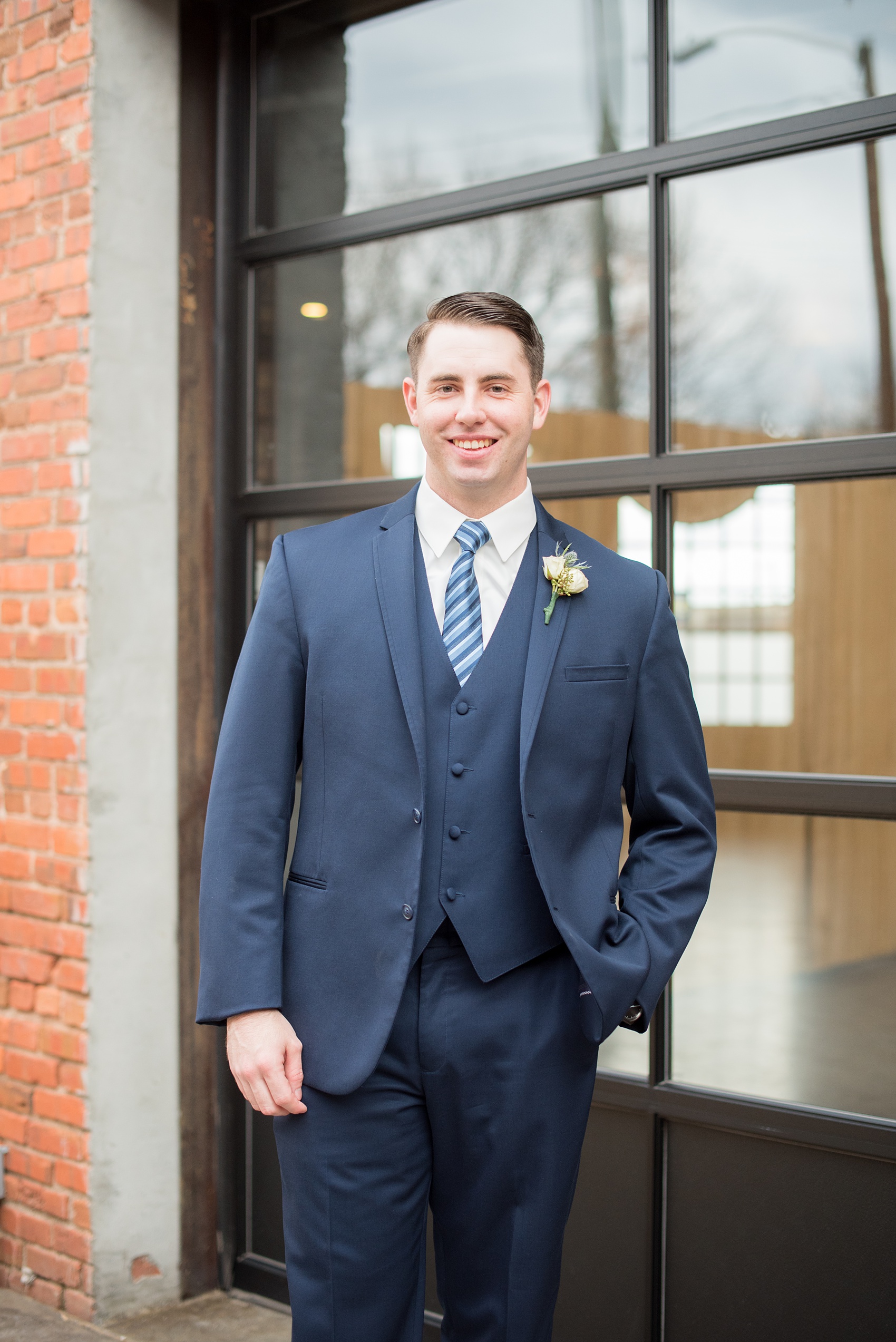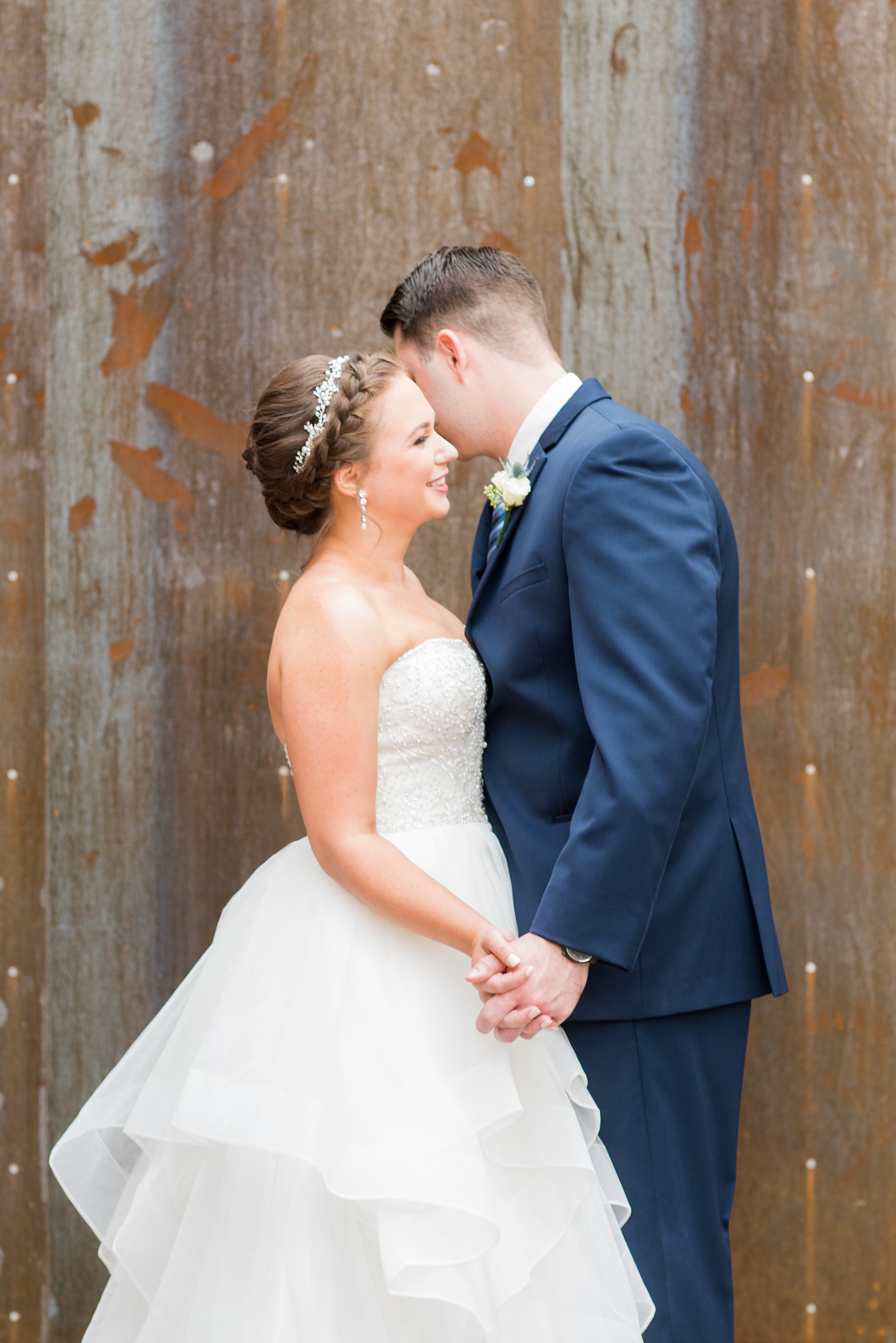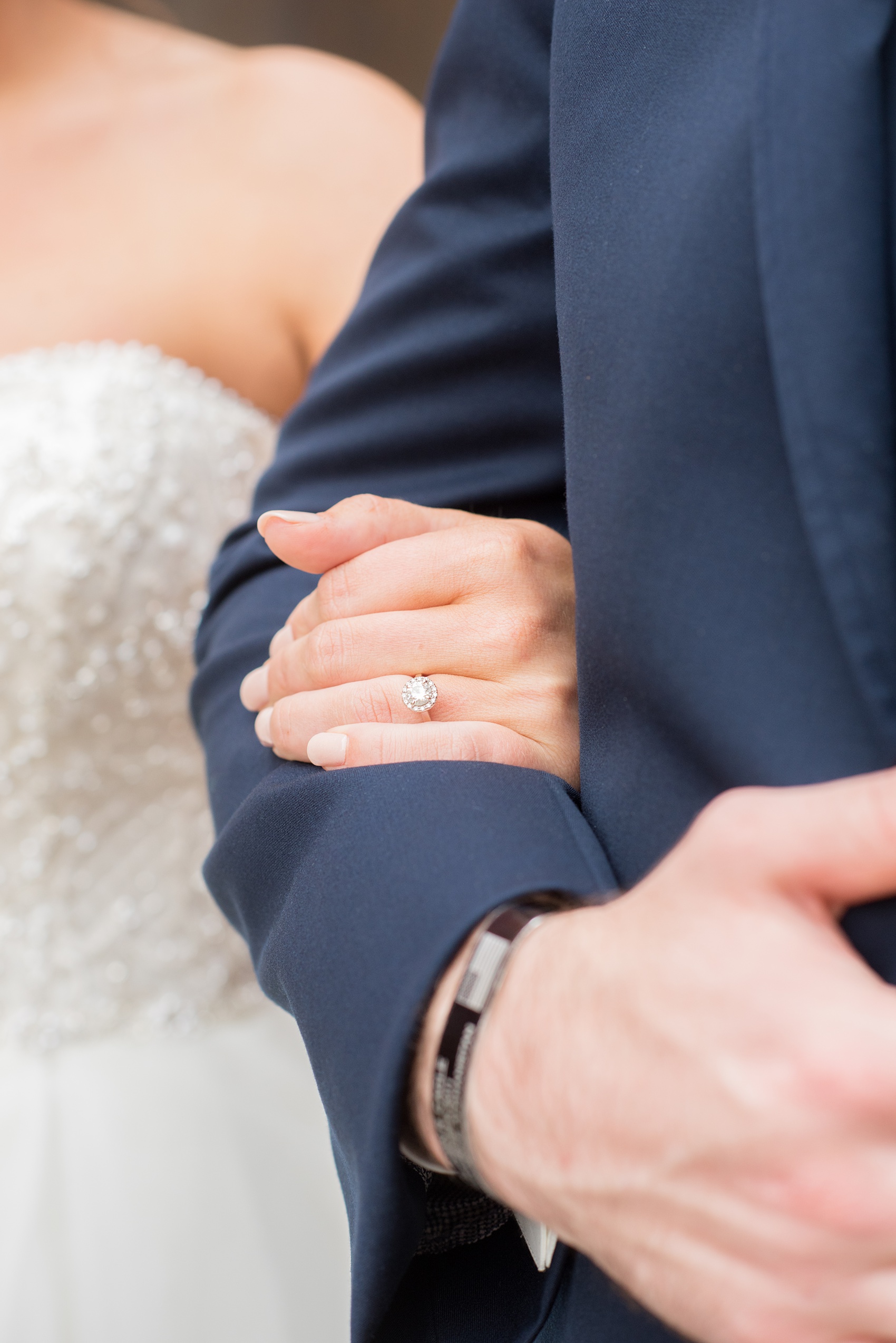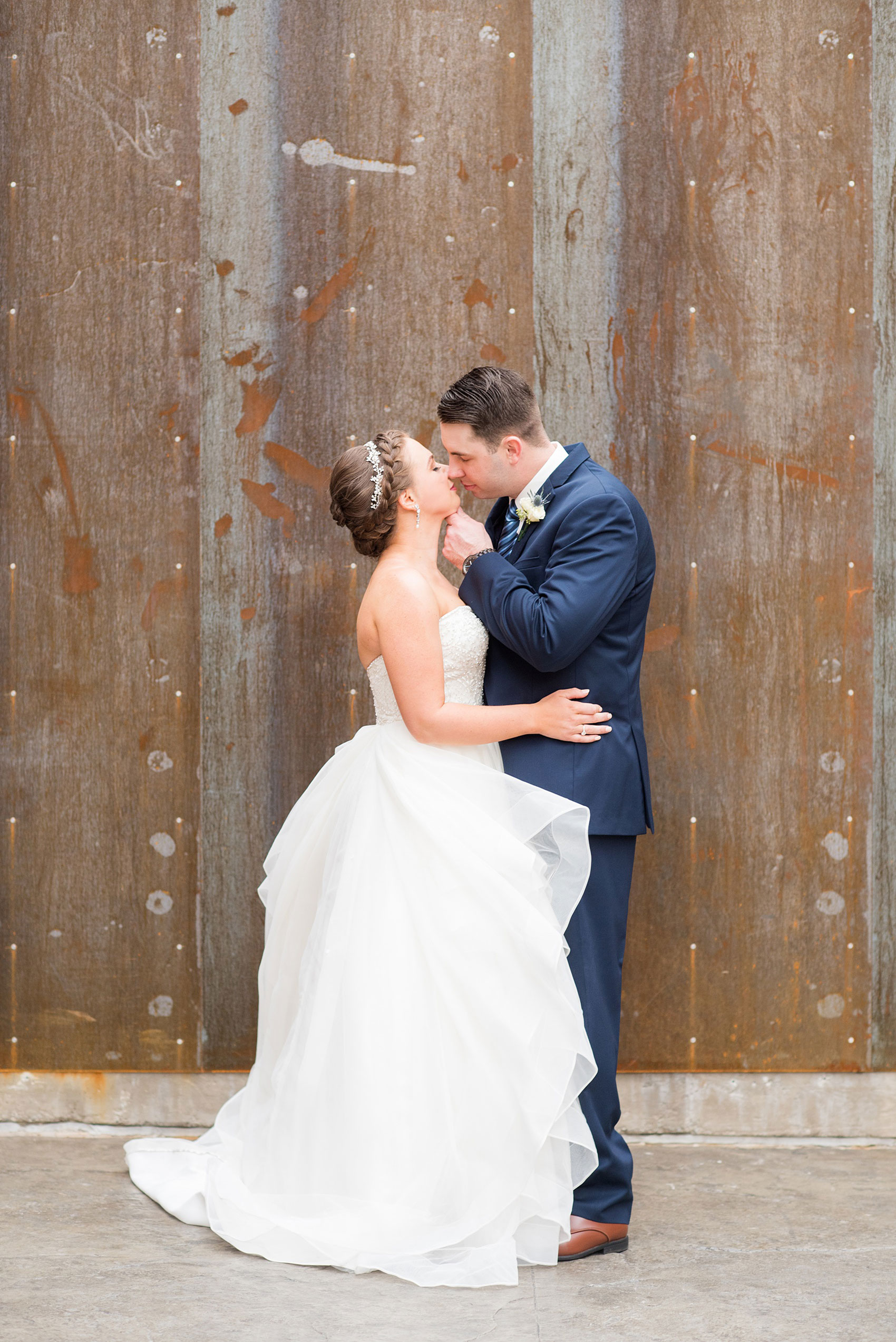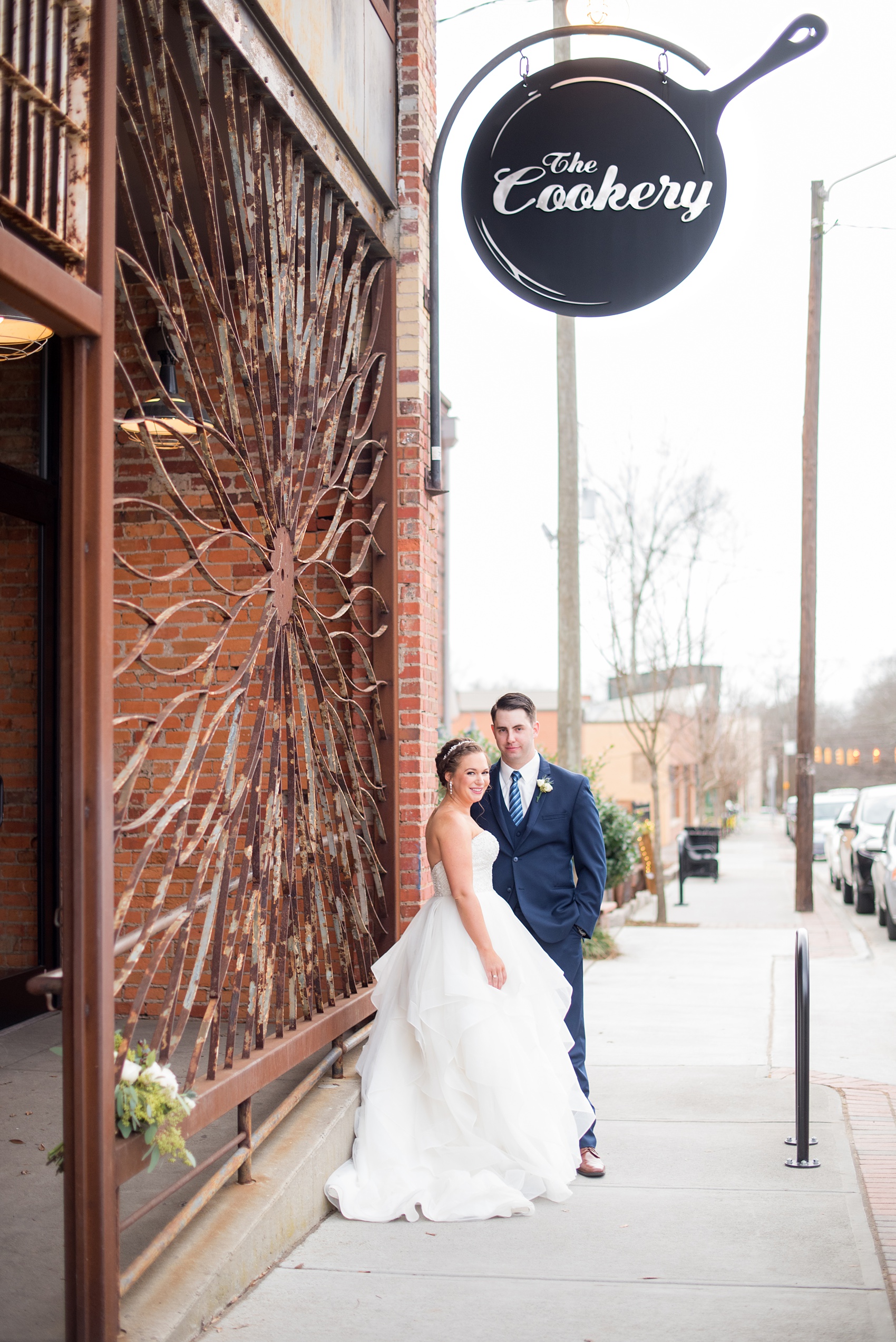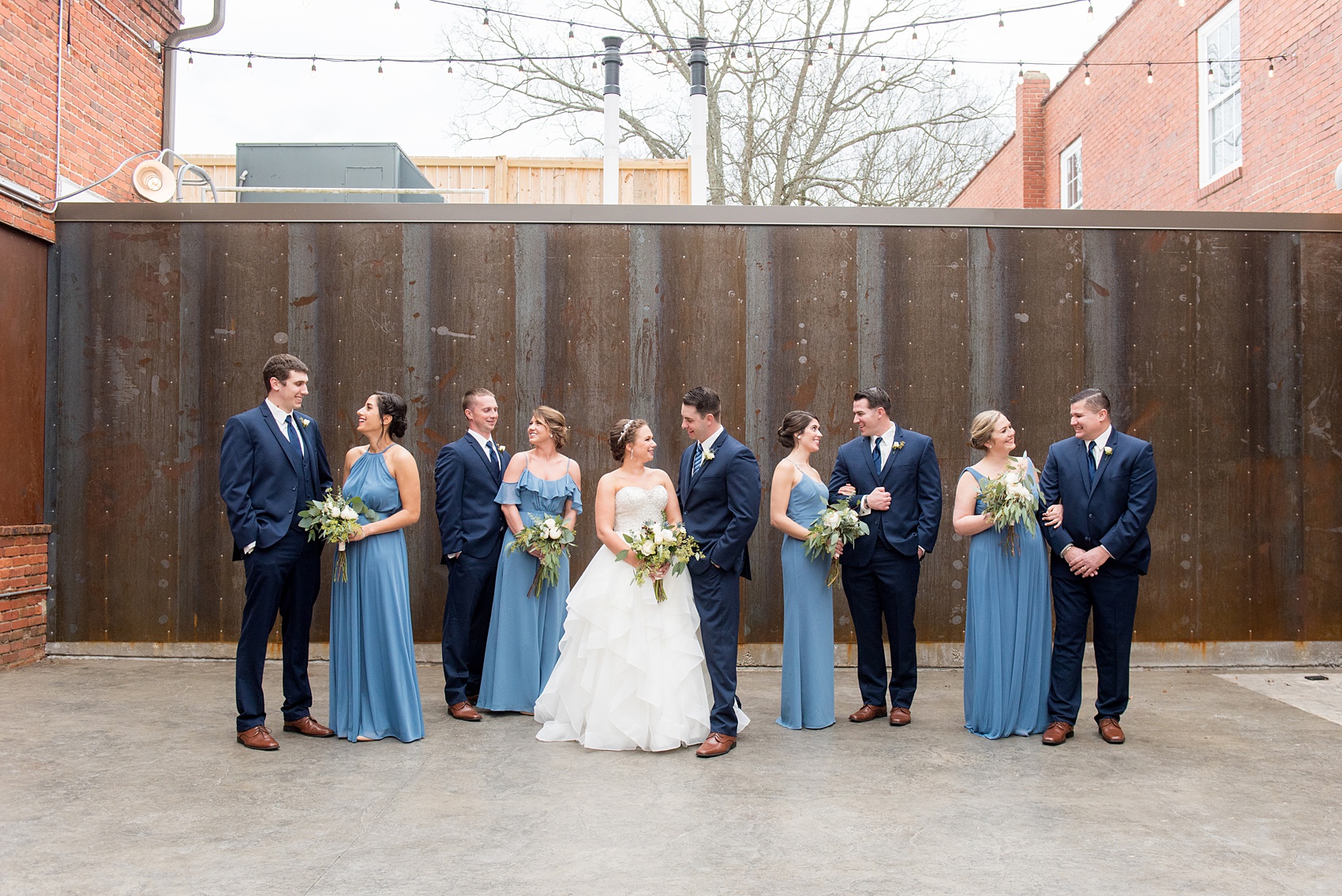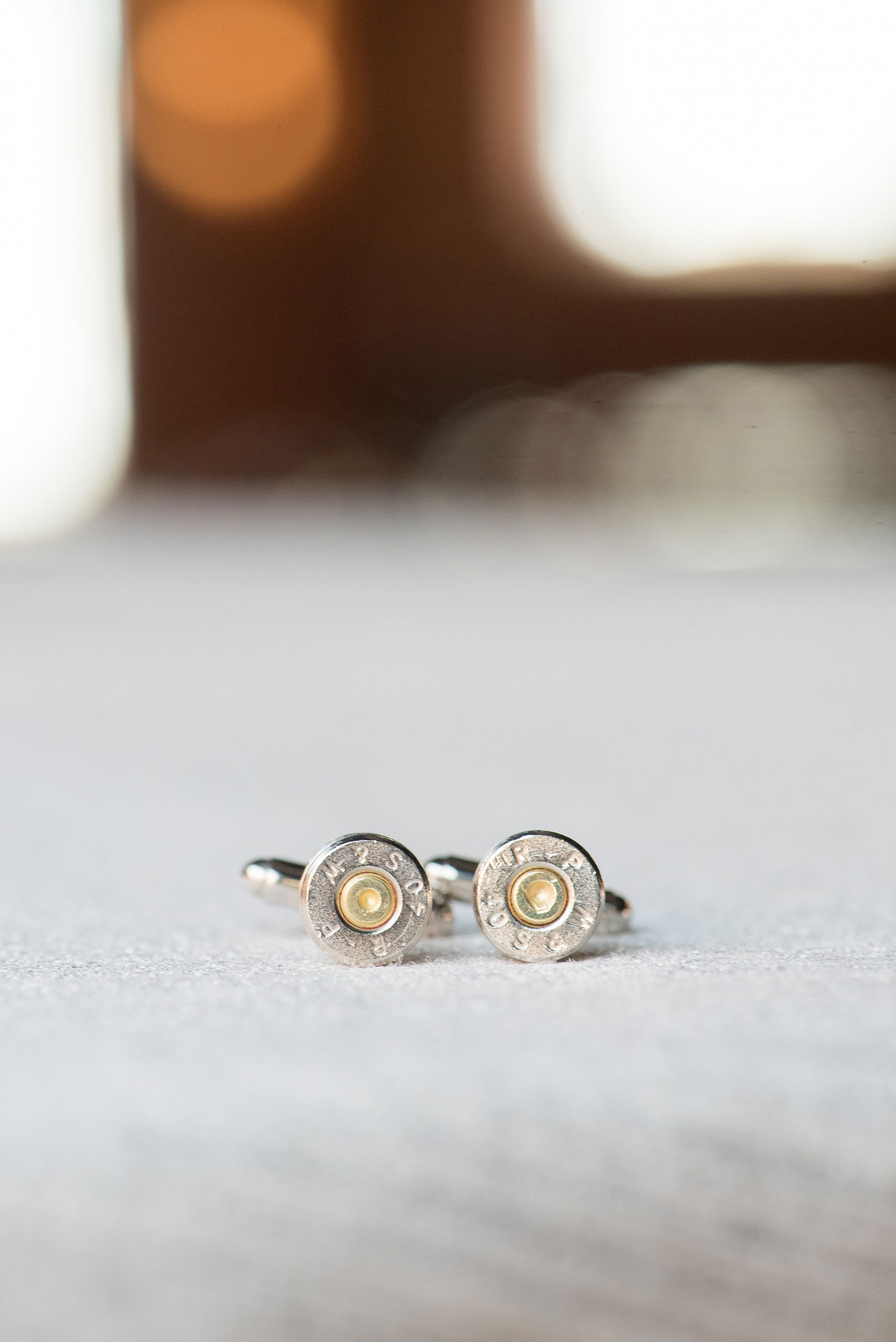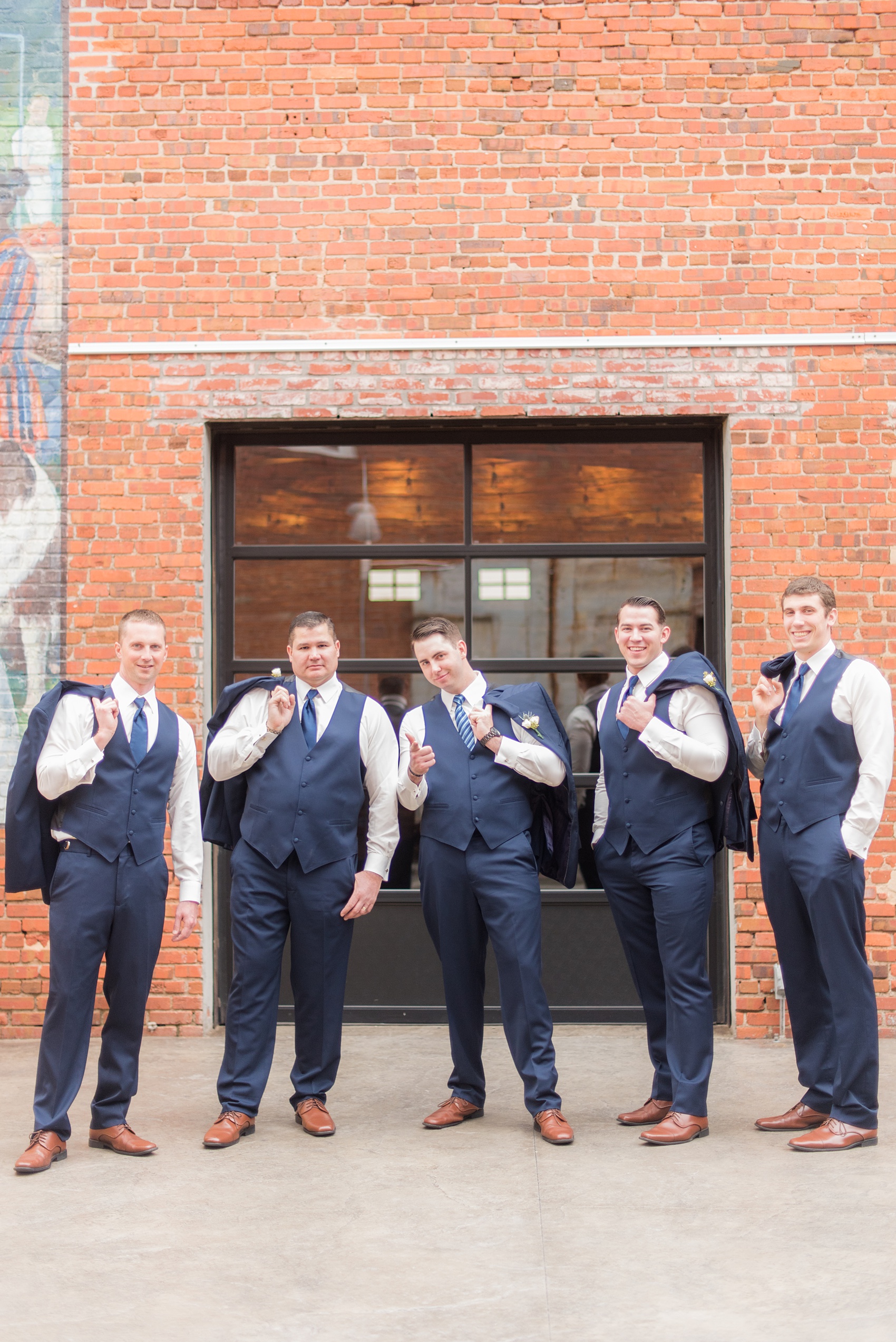 Another fun detail was their cufflinks: they were the ends of bullets, very appropriate for a wedding party with groomsmen, most of whom are police officers. Cole is also a former marine, which is how he knows his best man and long time friend, Shane.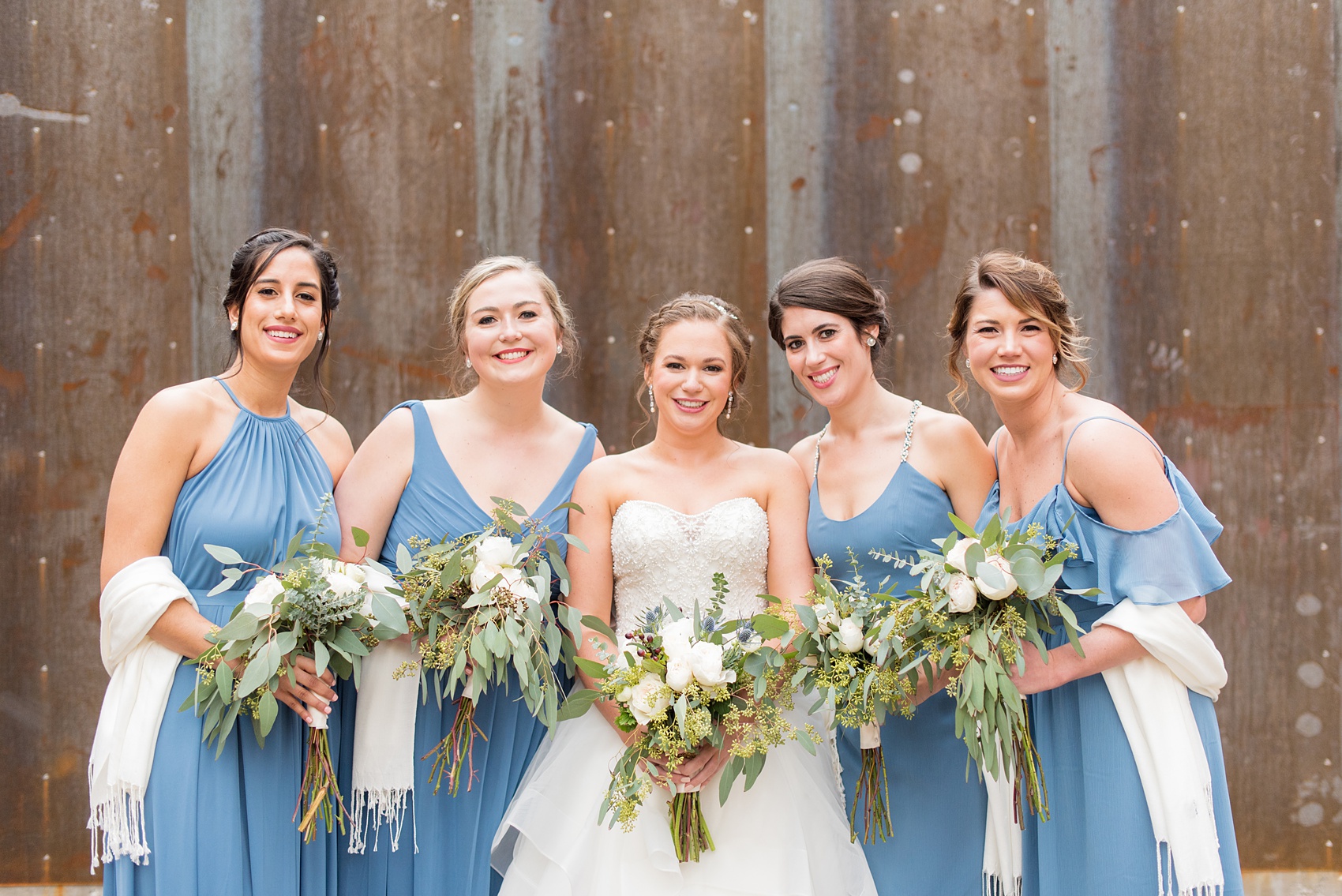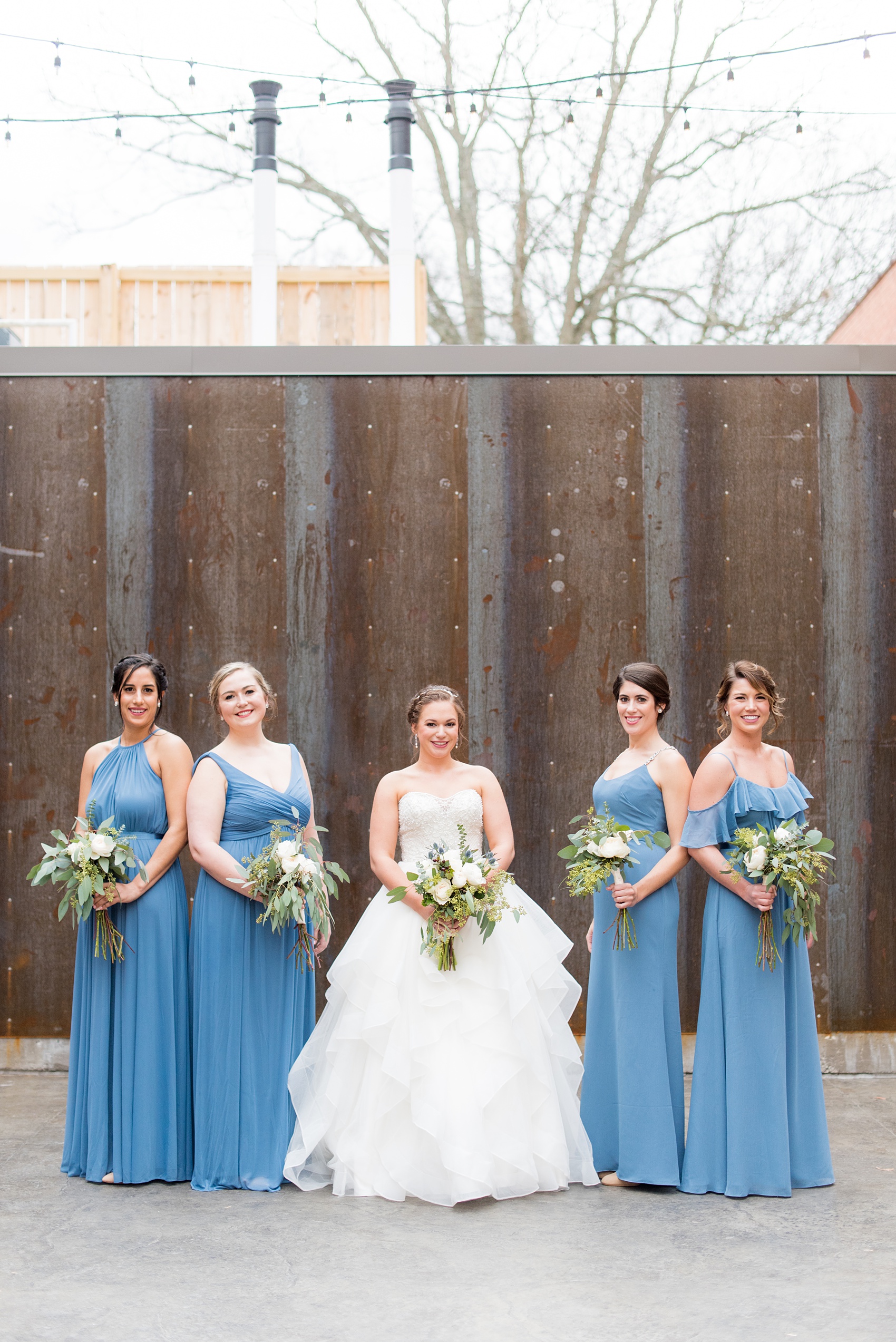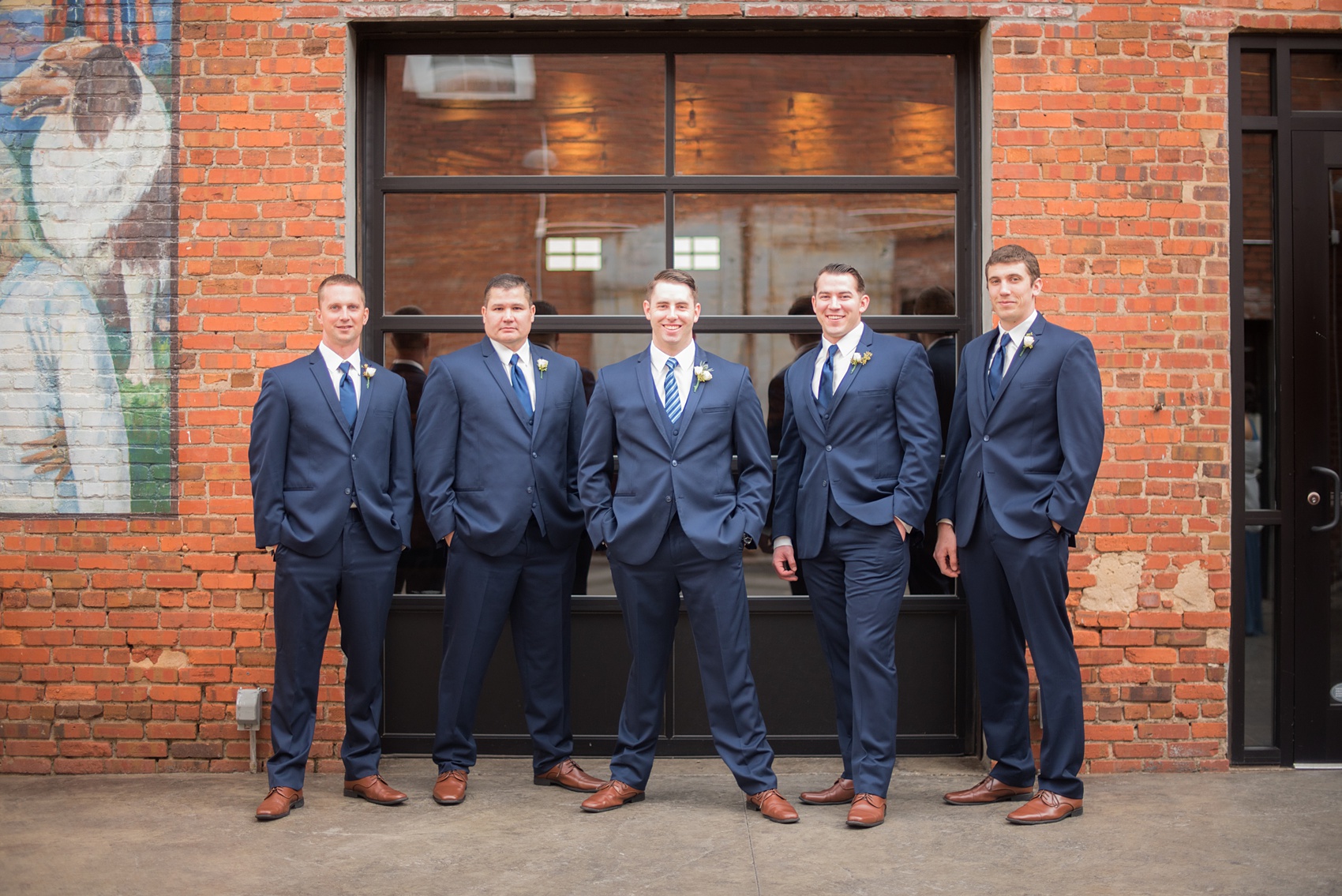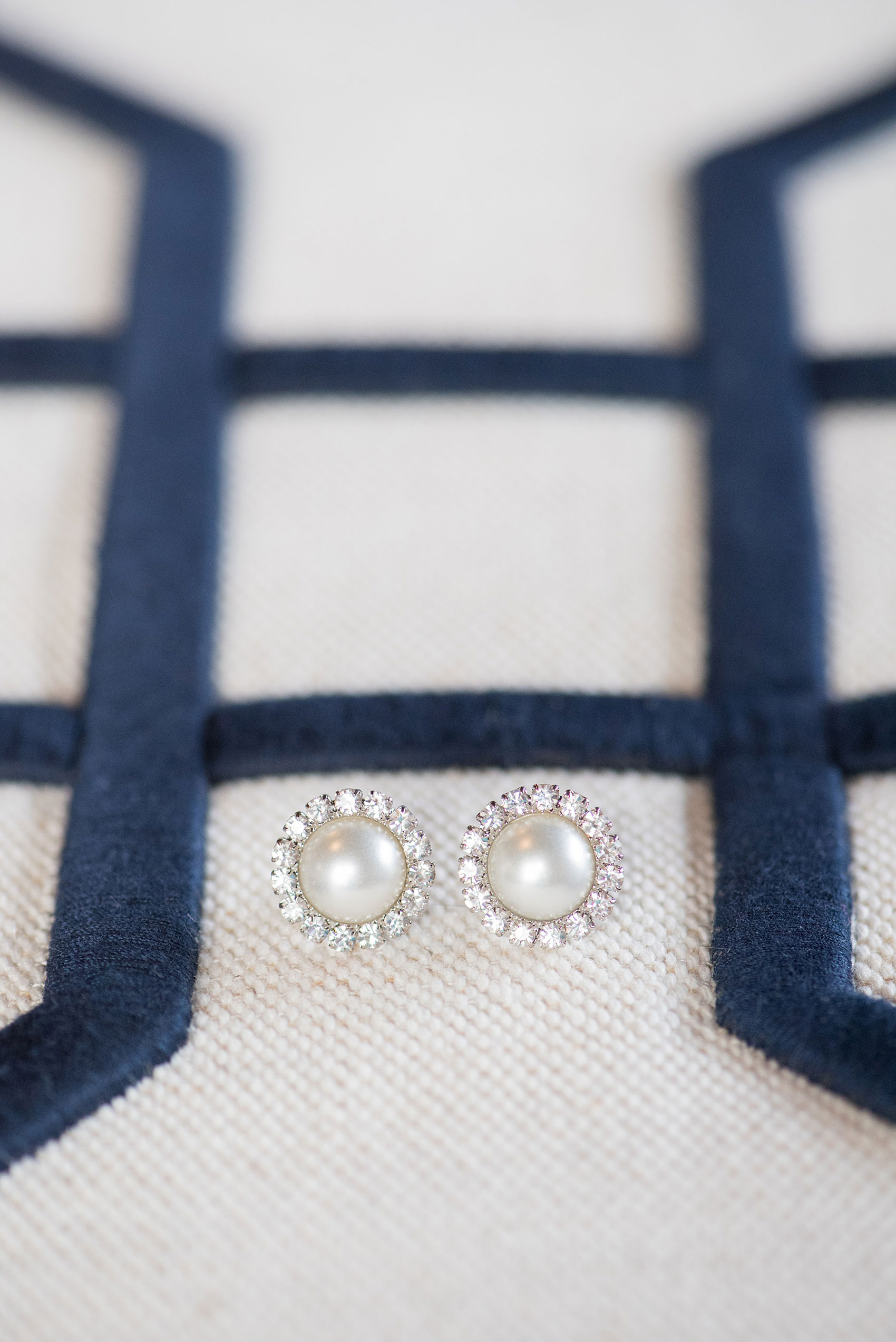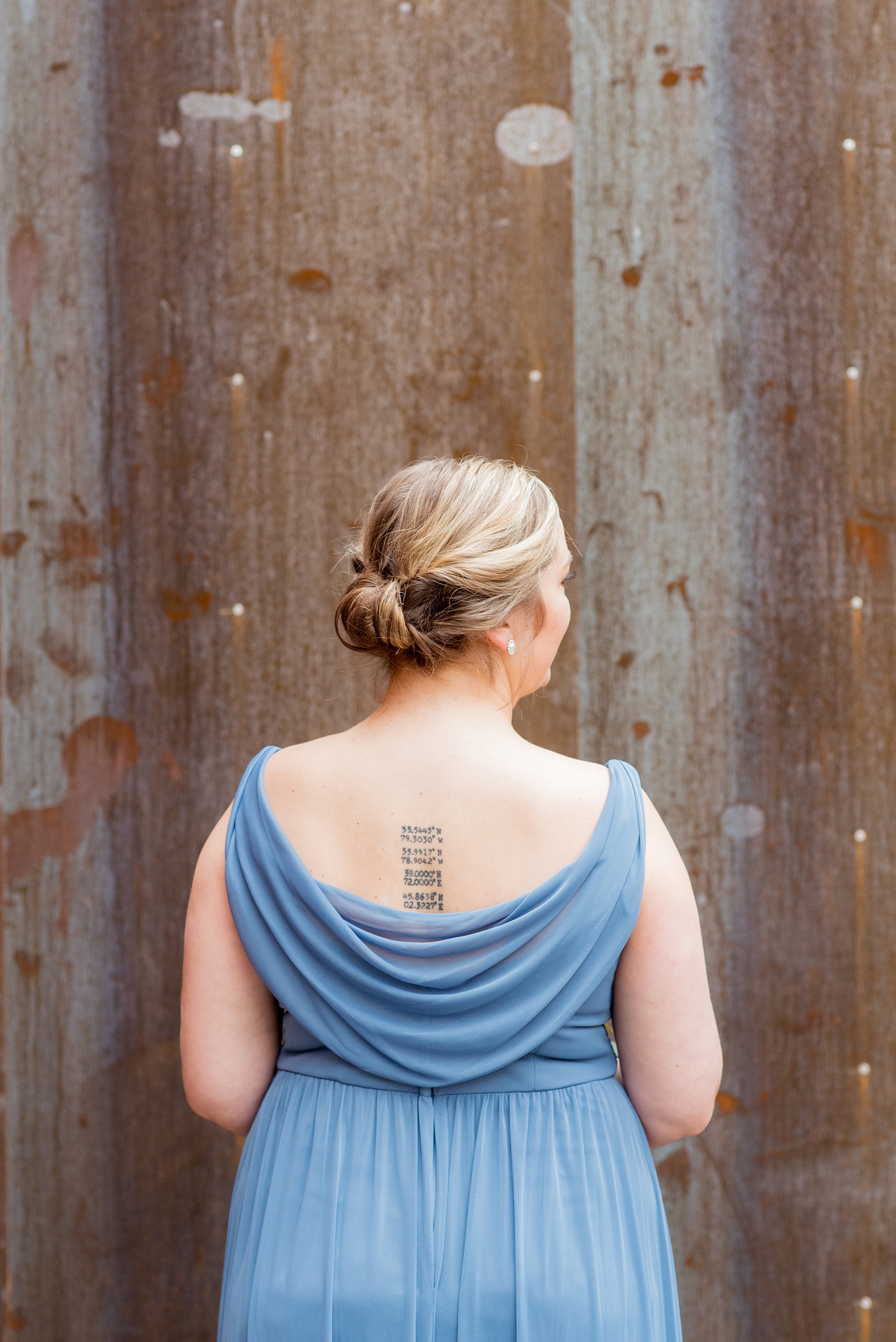 Wedding Party Photos at The Cookery
The bridesmaids looked so pretty in different gowns, all of the same dusty, cornflower blue chiffon fabric. The commonalities between their outfits were pearl and rhinestone stud earrings from Samantha, and the same eucalyptus and rose bouquets. Samantha also got them white shawls to stay warm during the winter wedding – they didn't necessarily need them because it was 70 degrees for their January day! But they looked great for a photo or two before everyone headed inside for their indoor ceremony.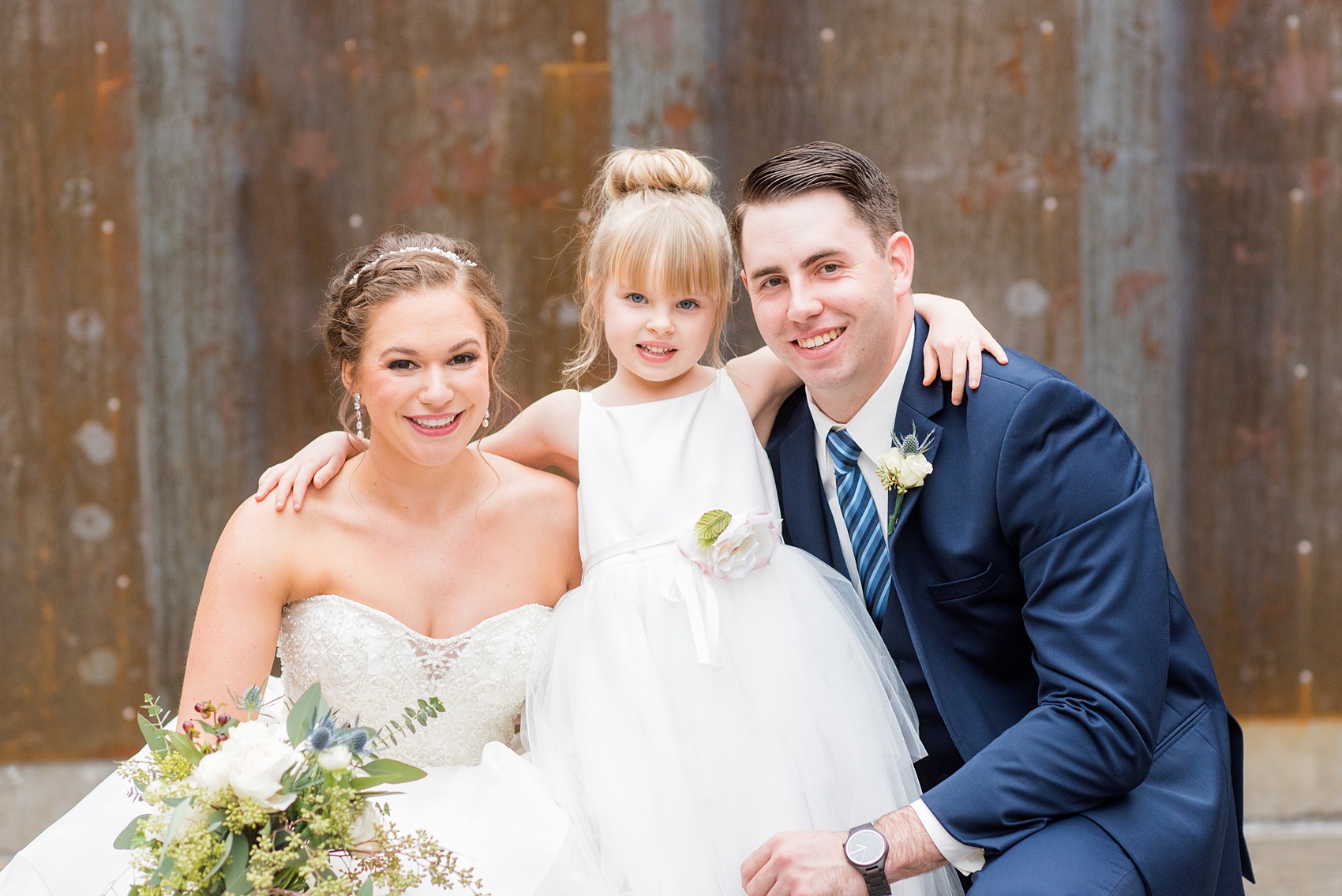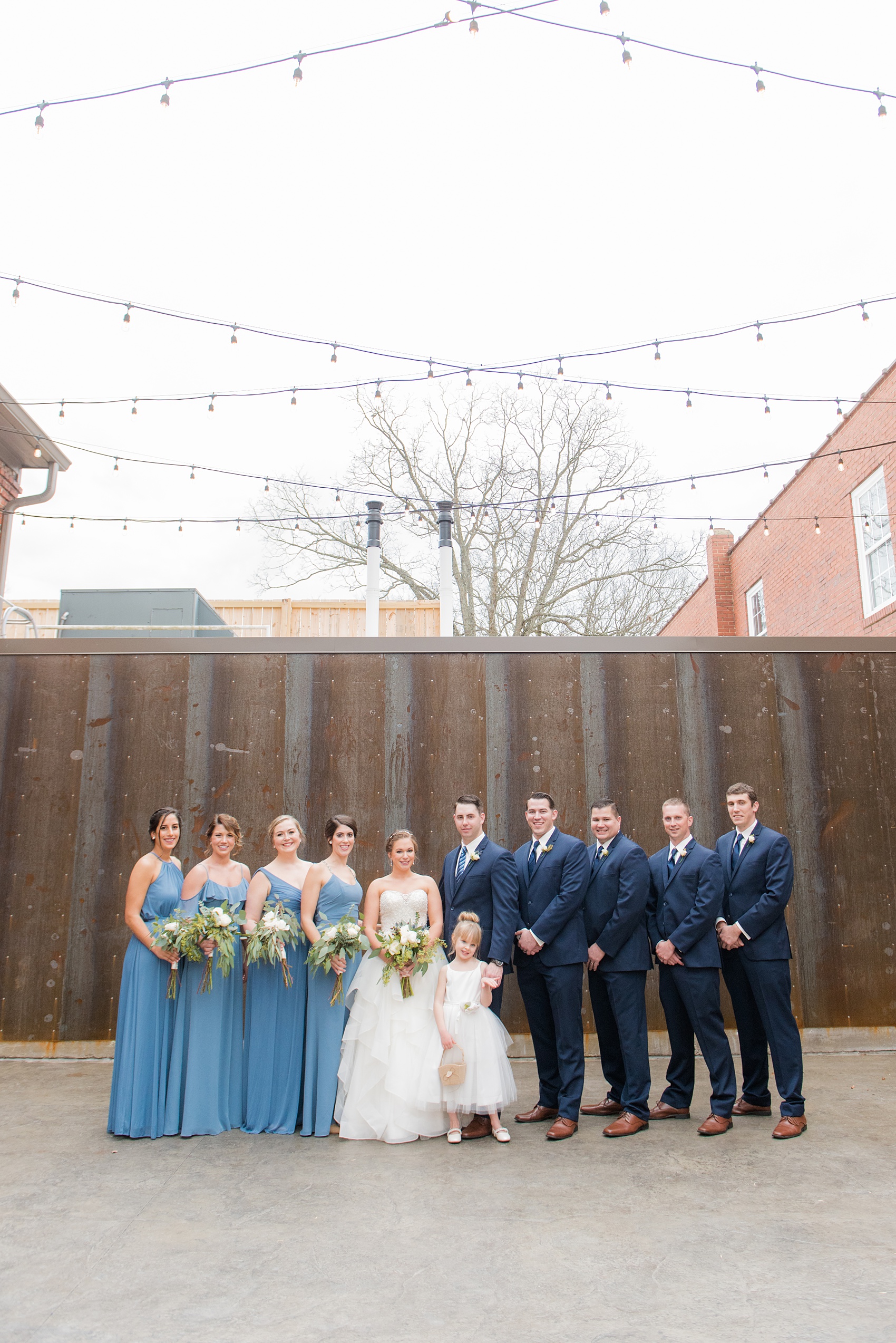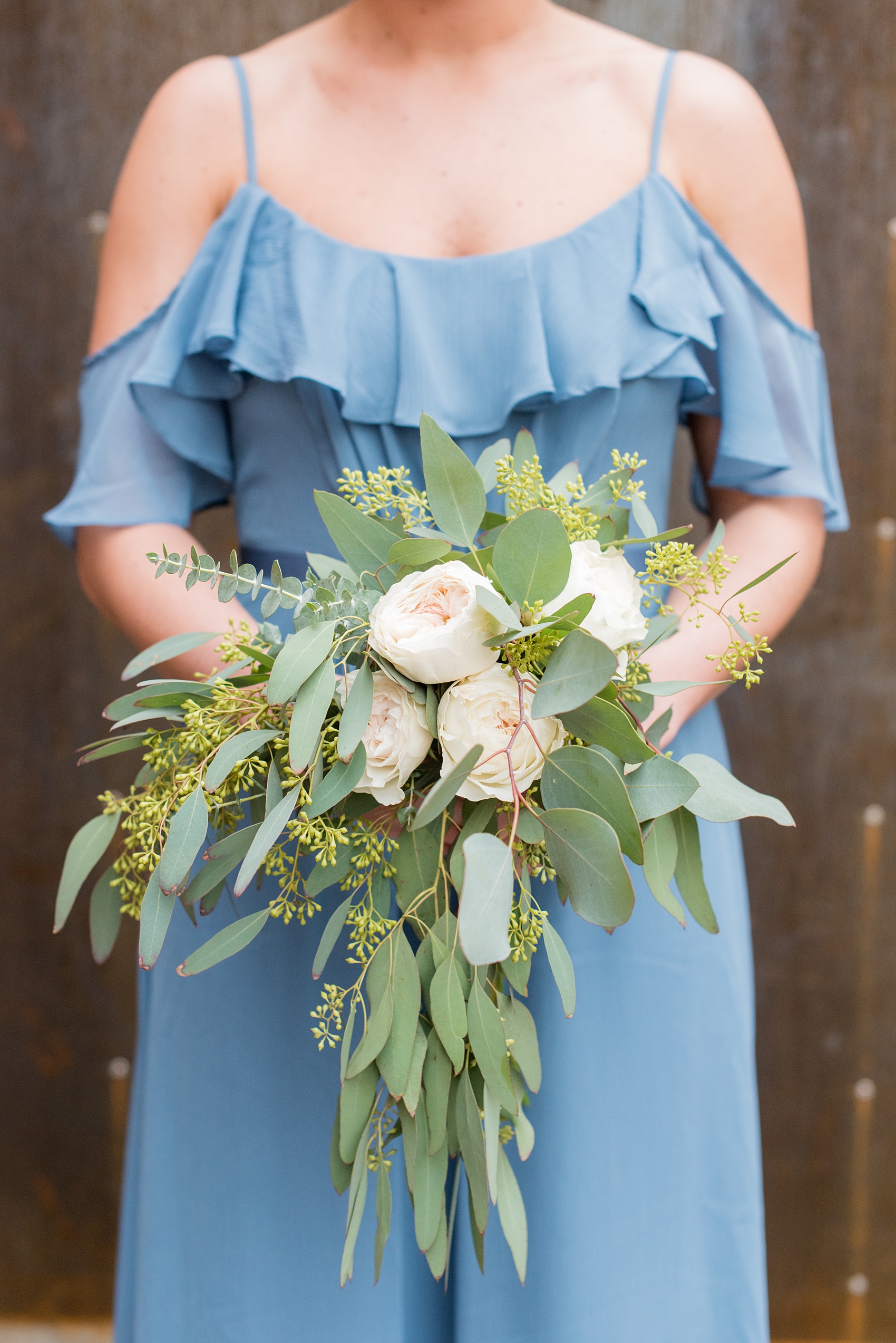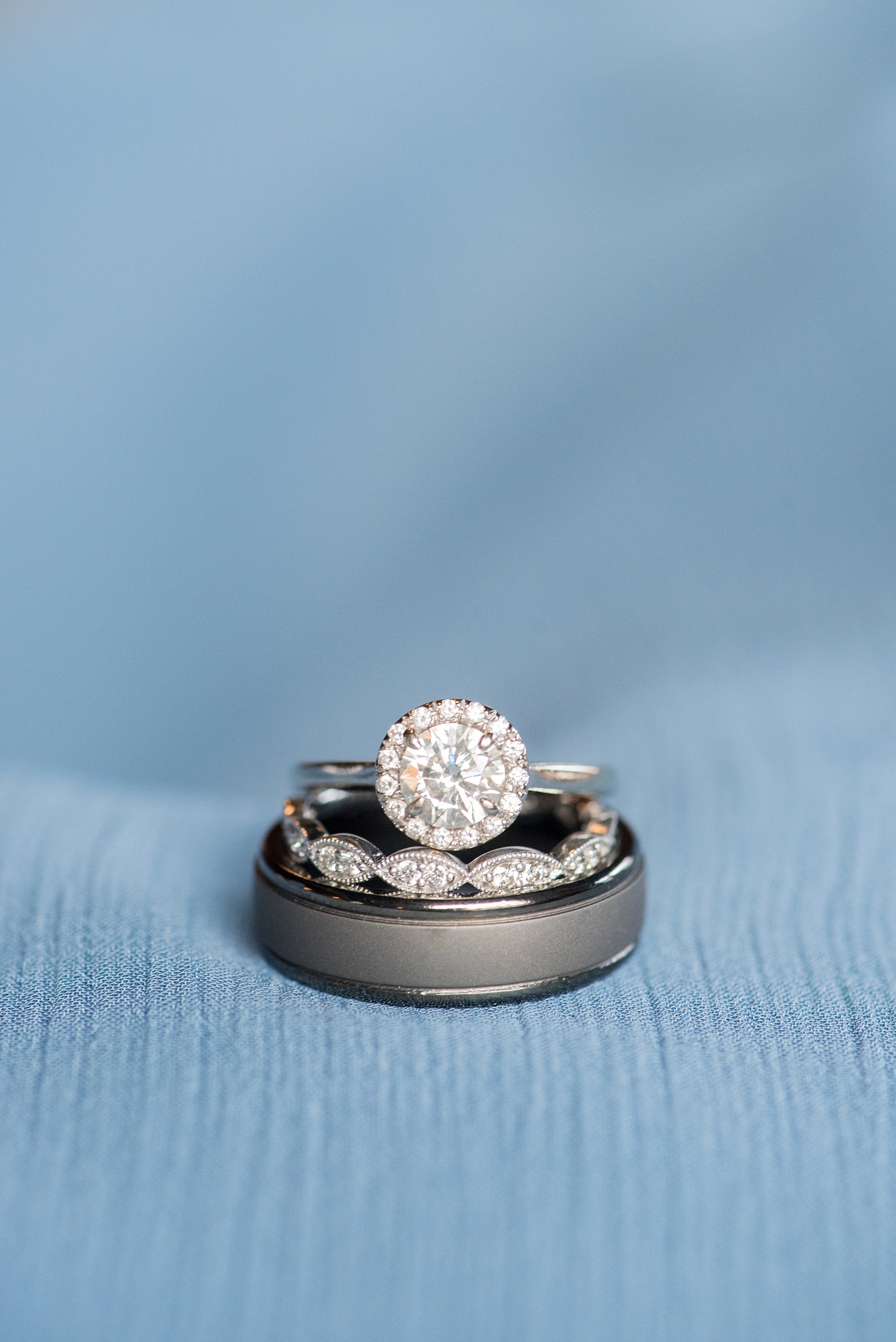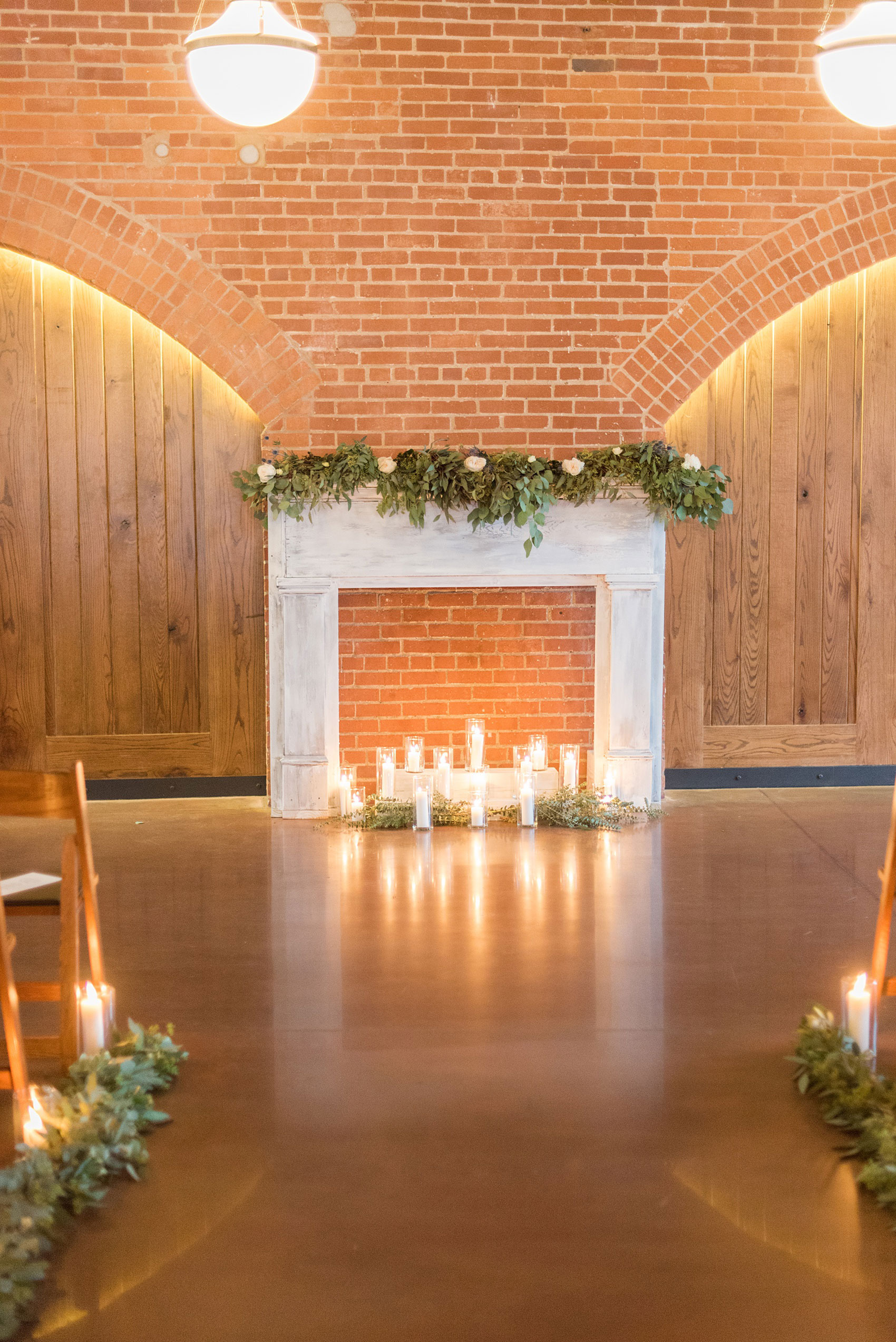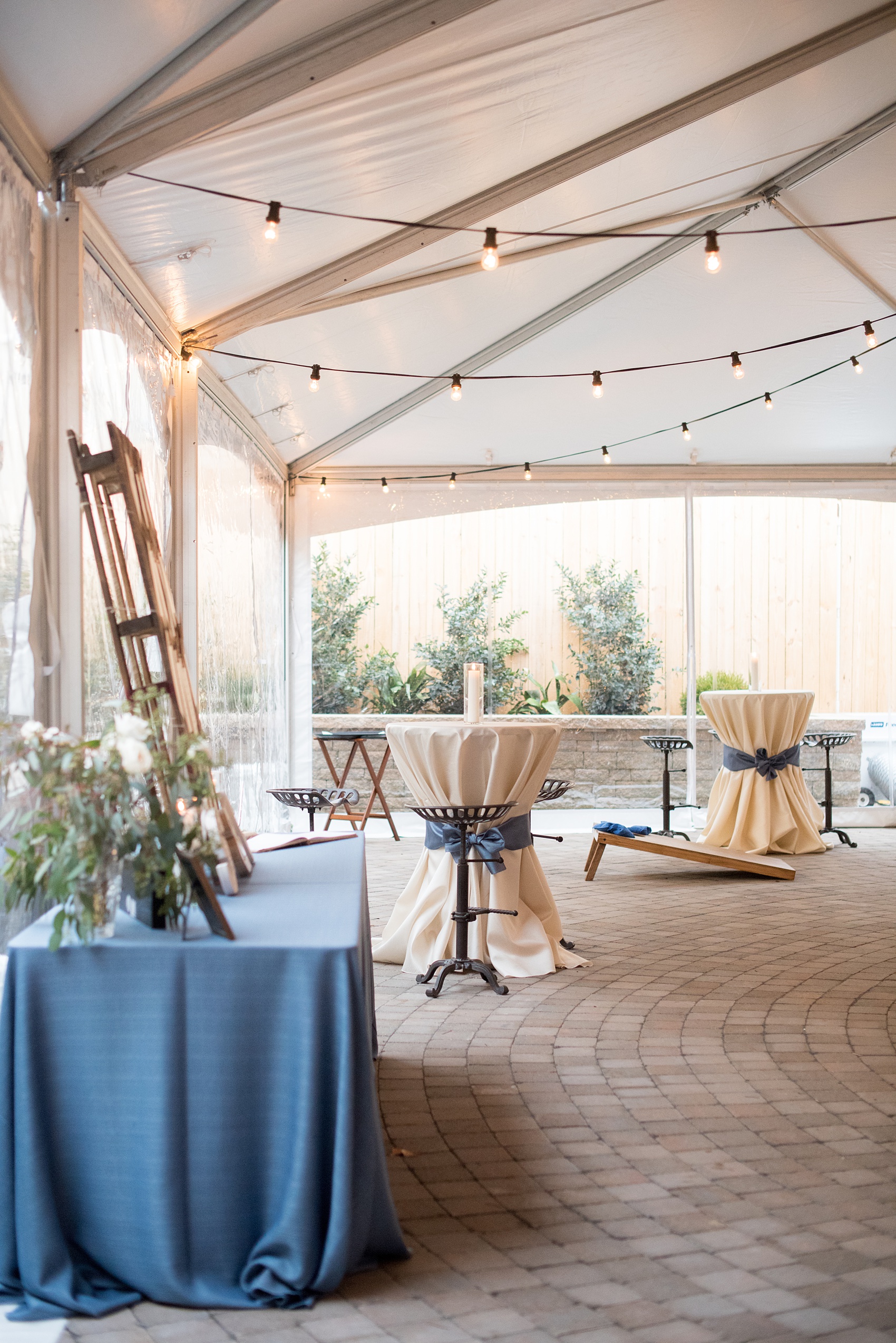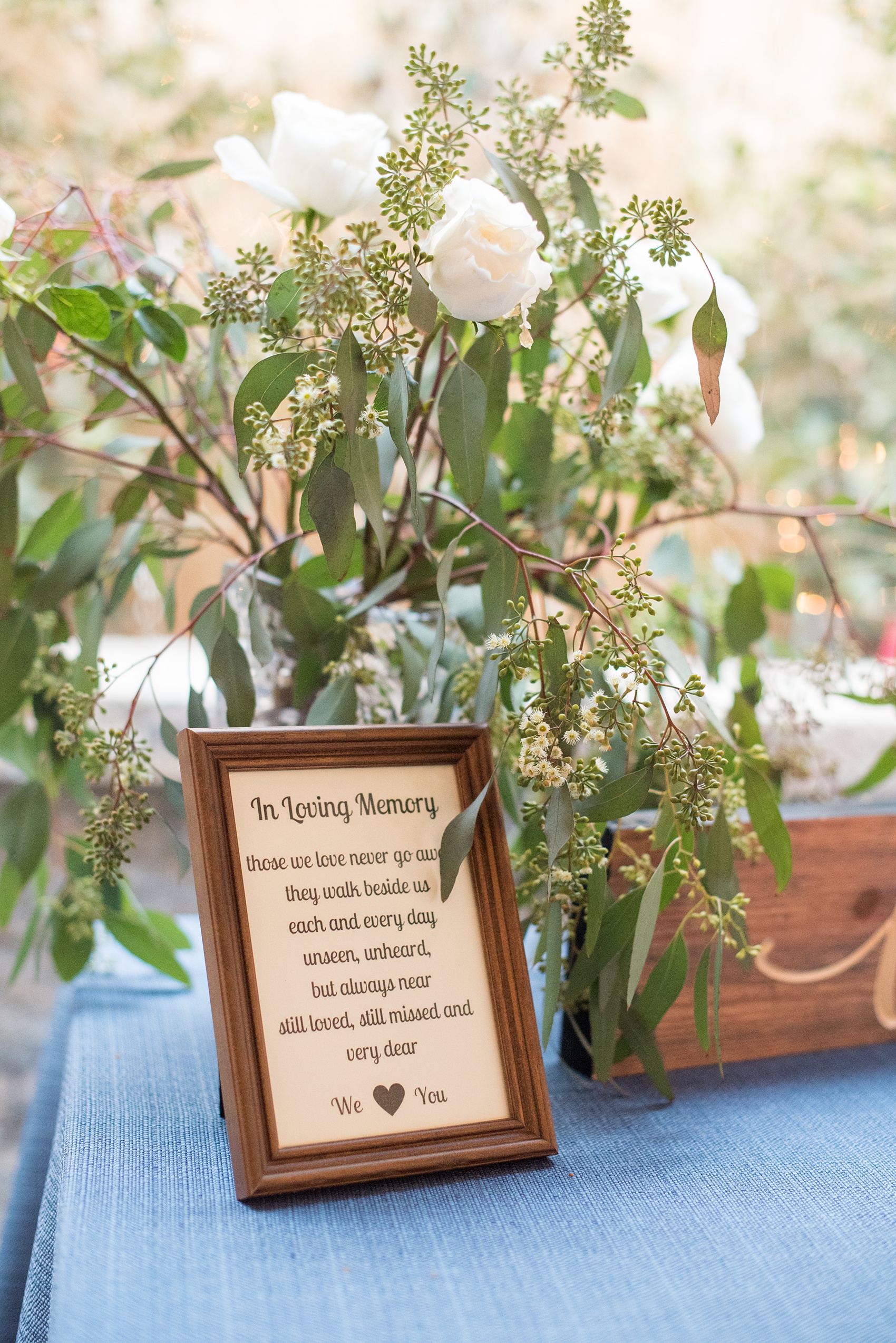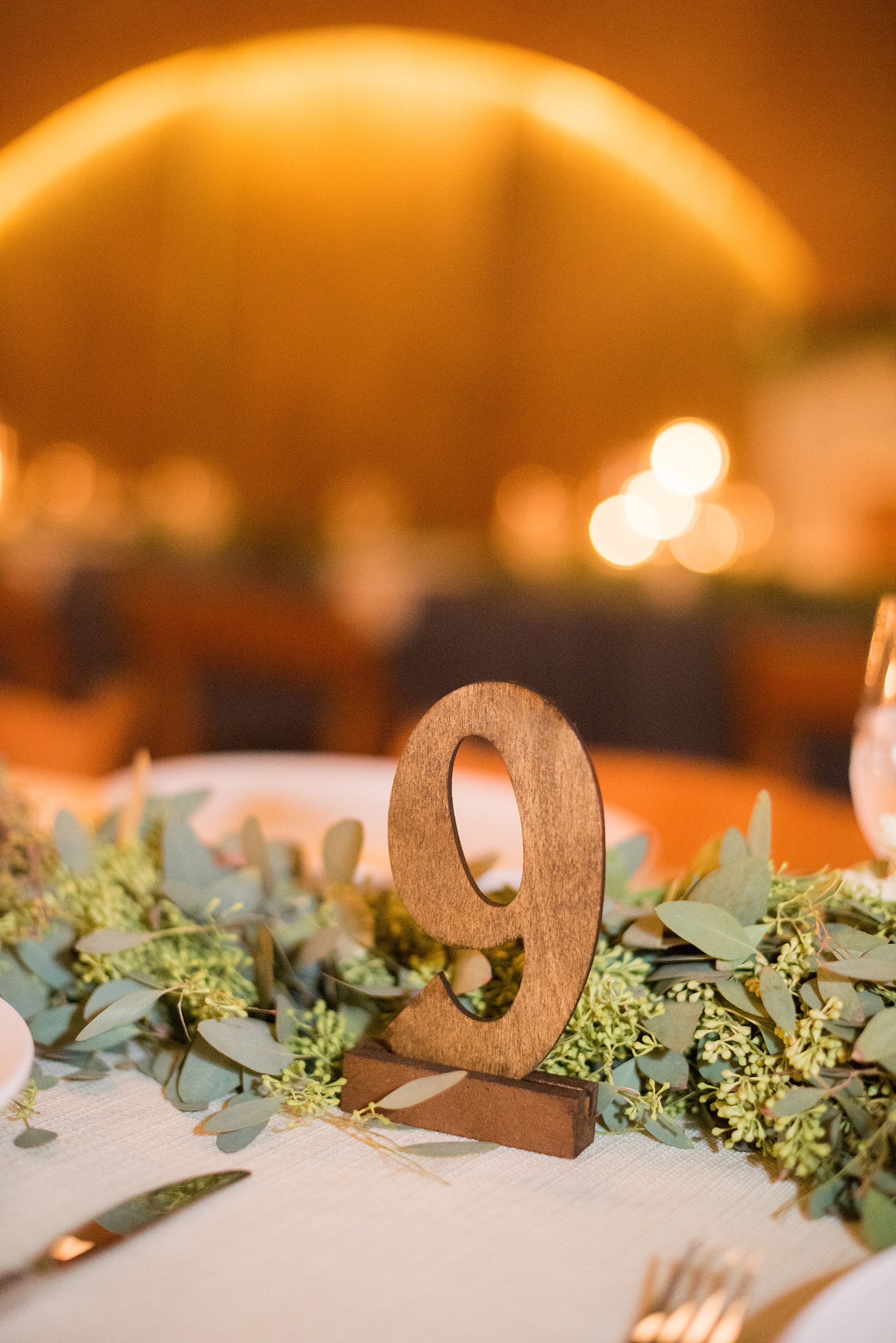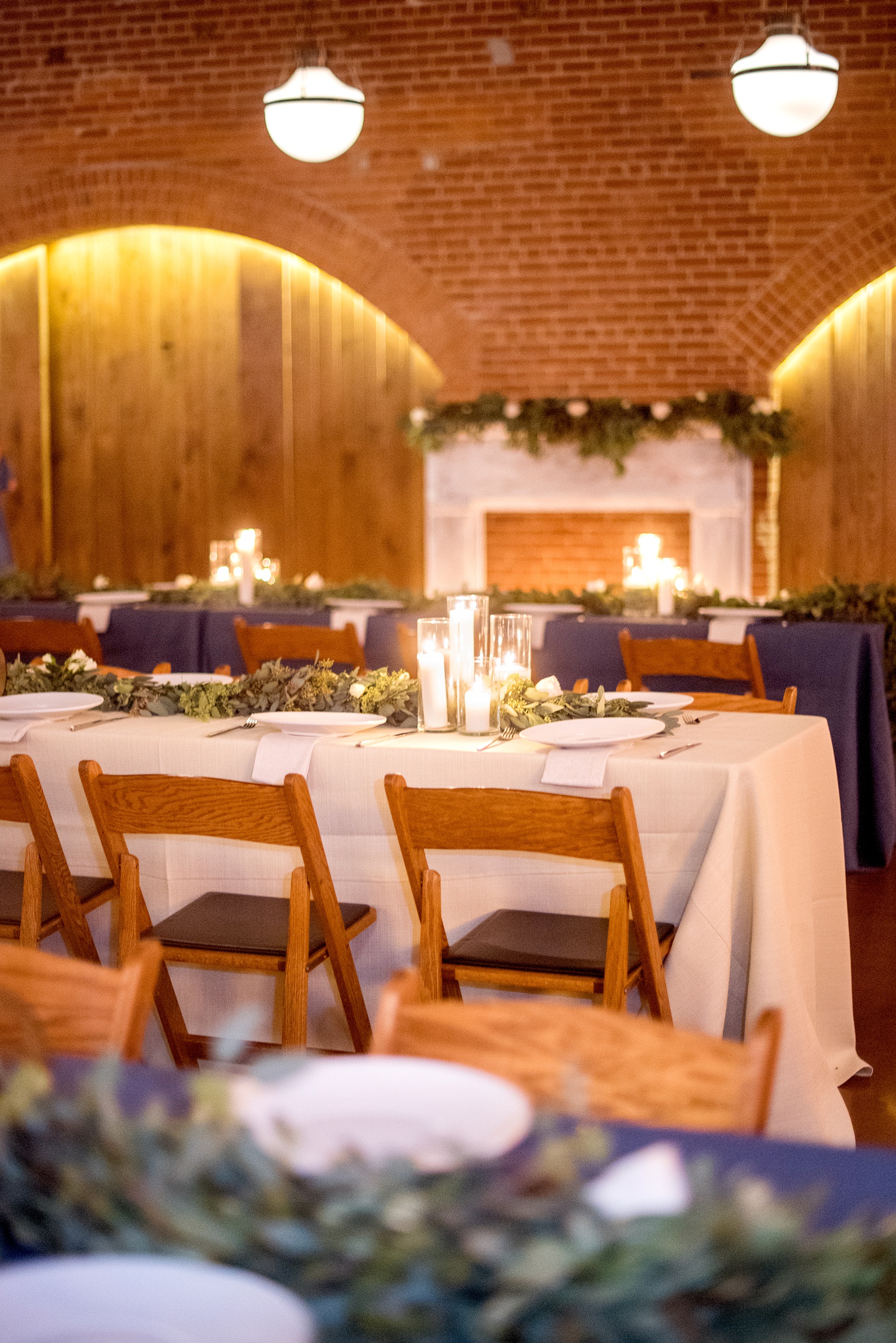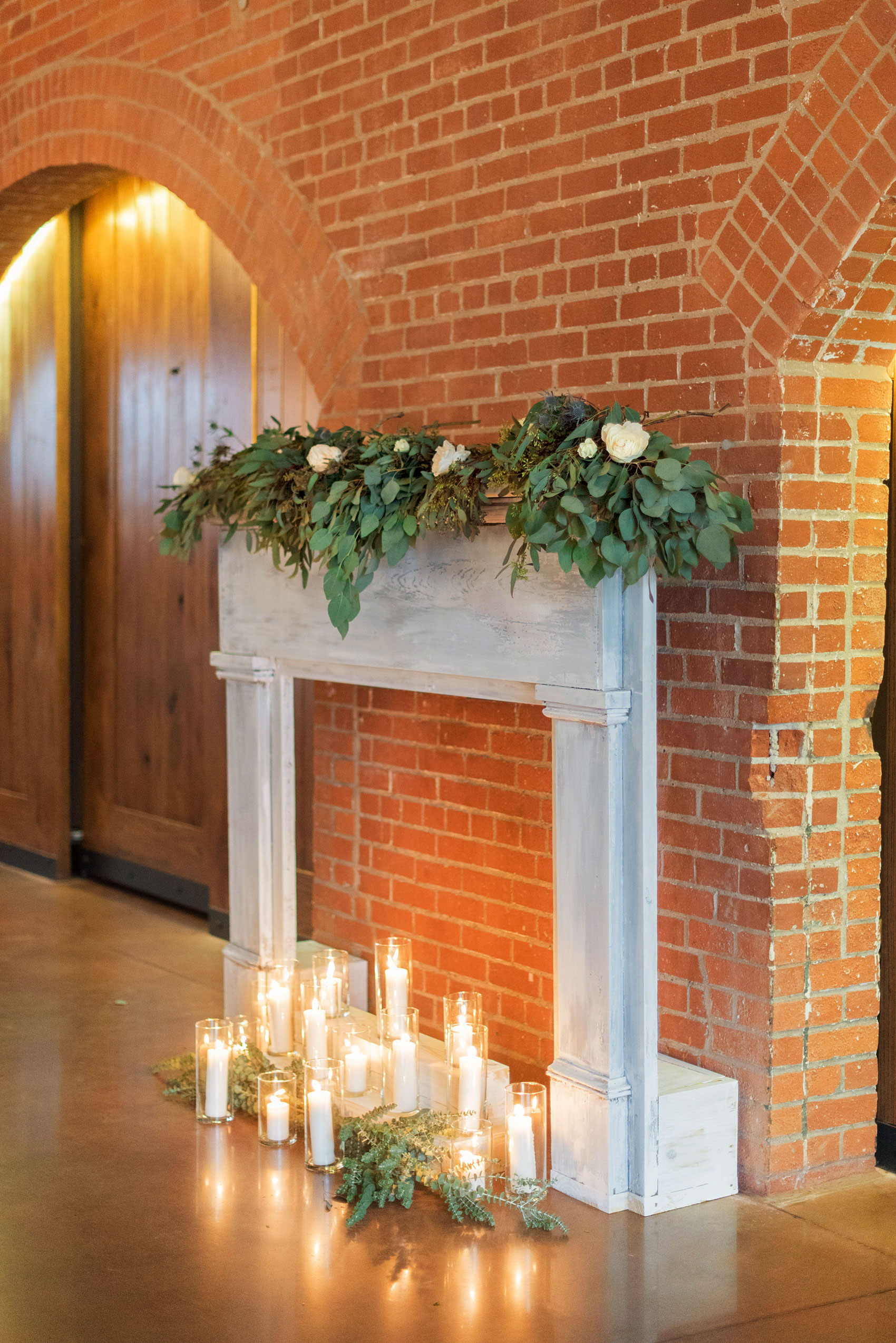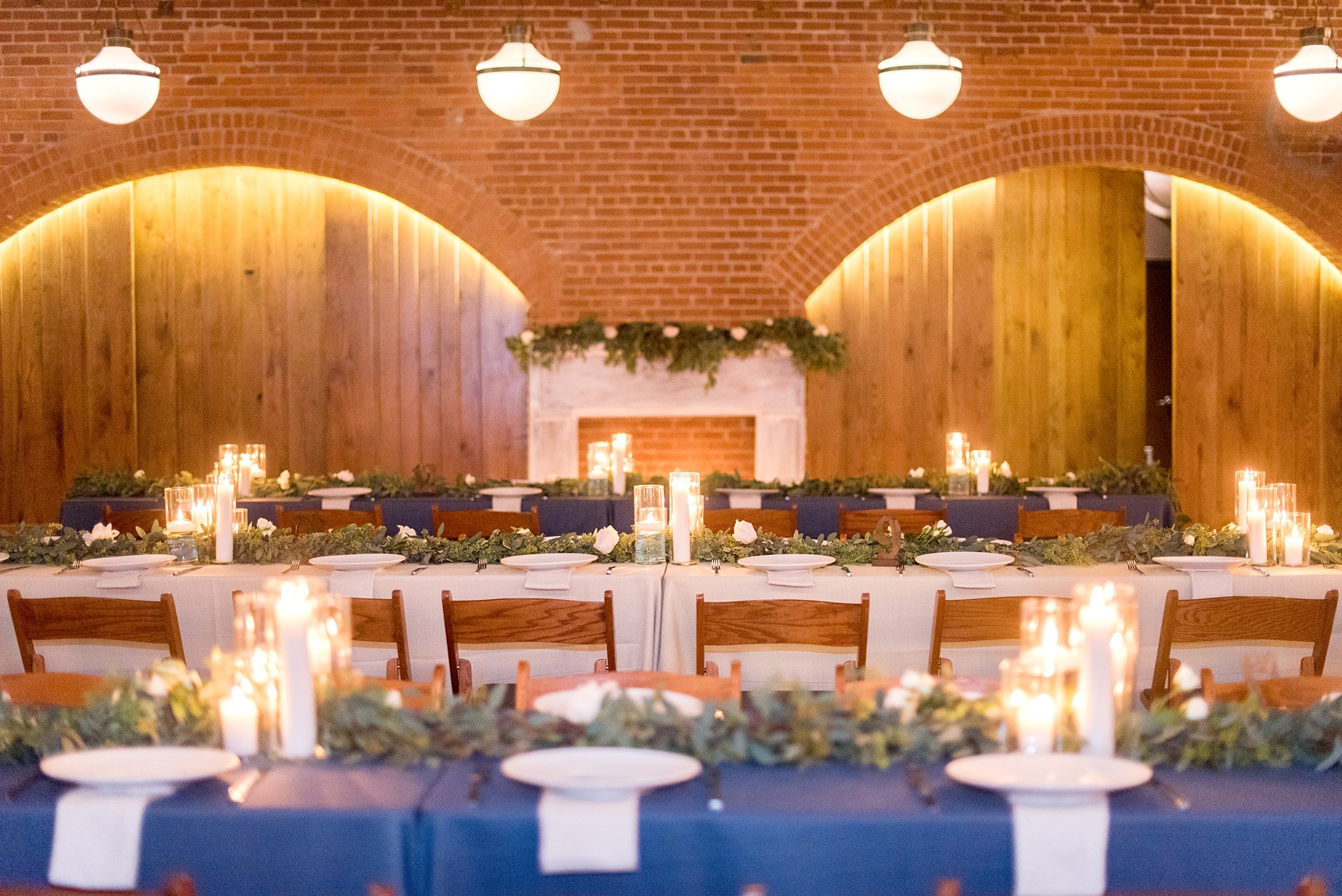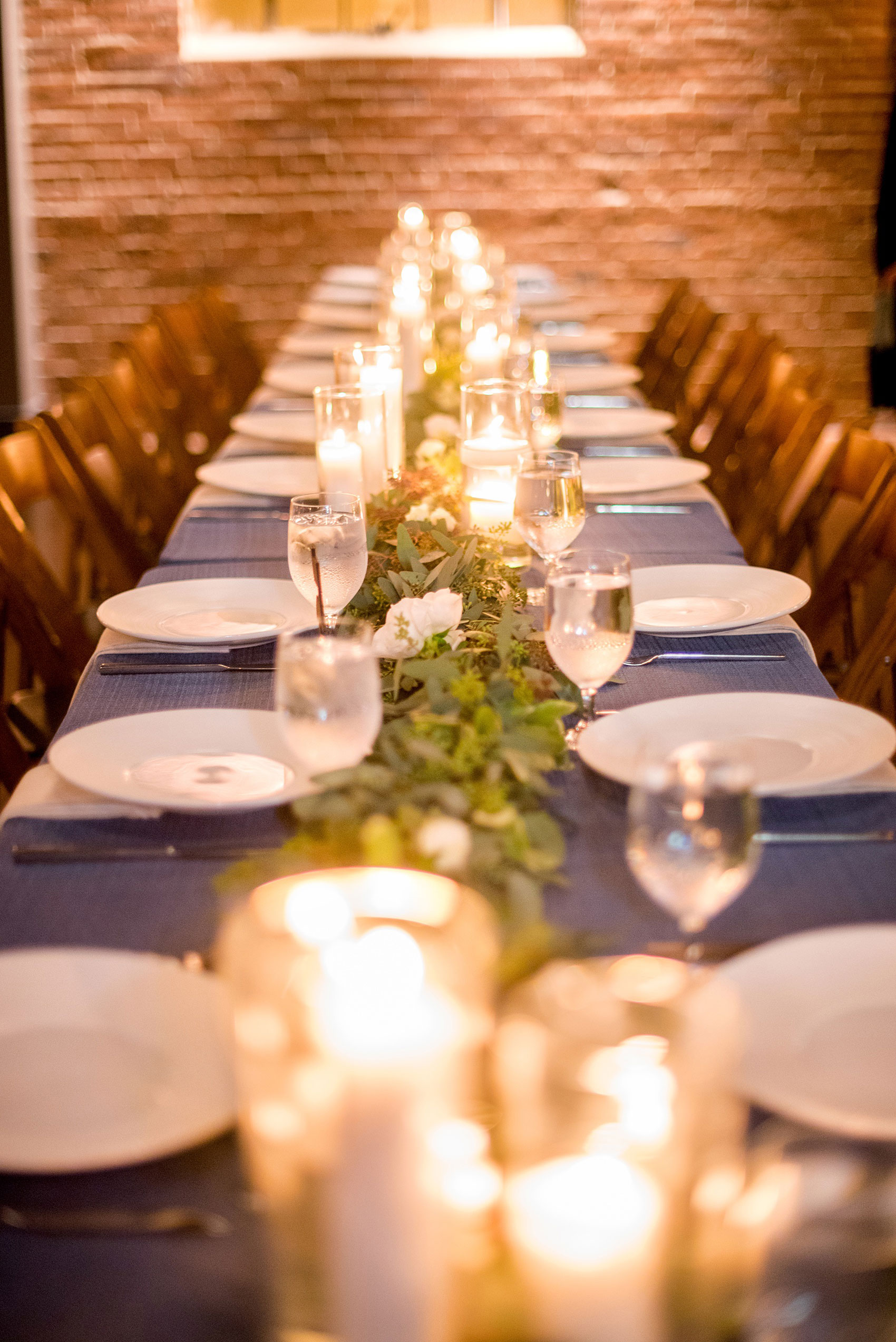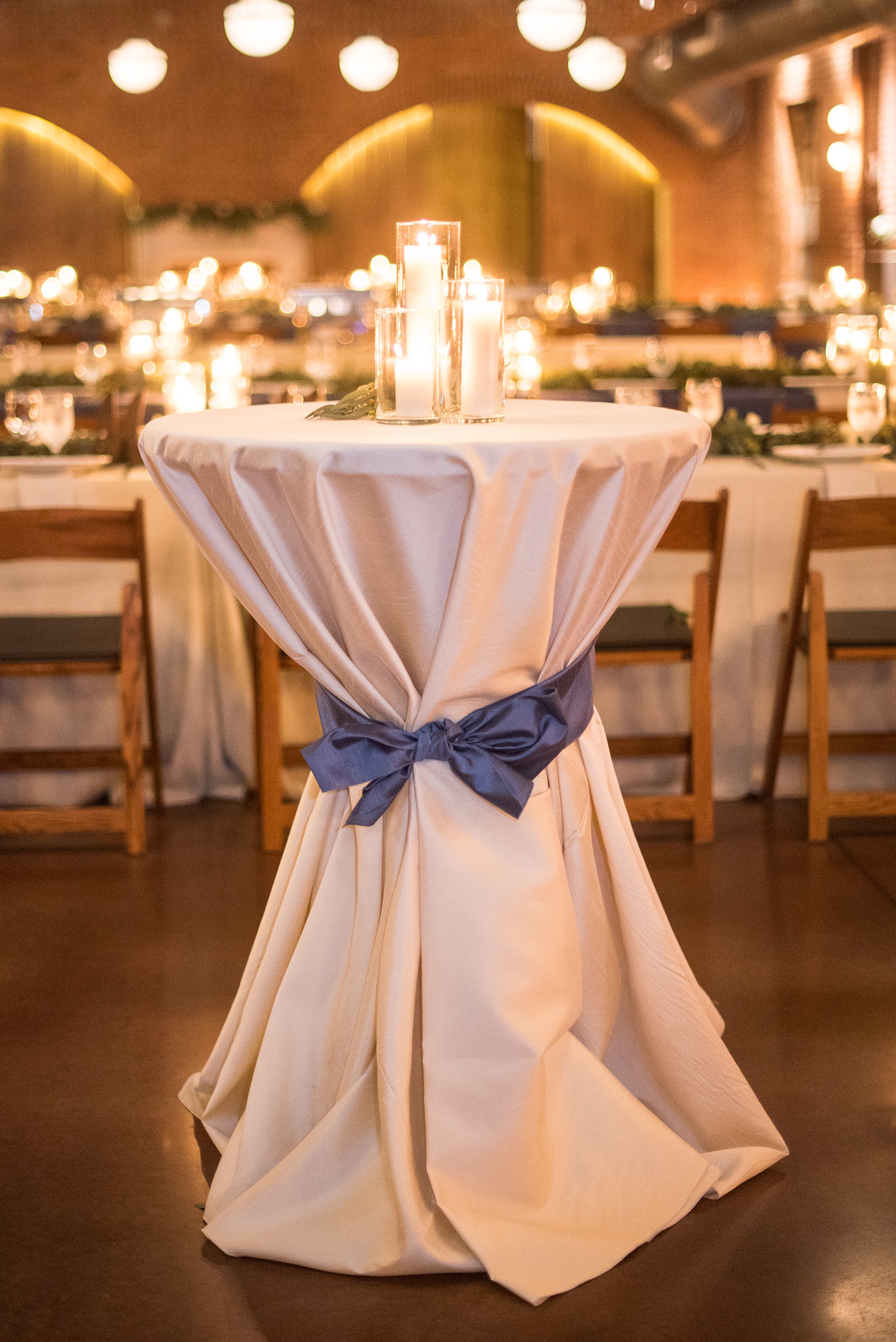 Reception at The Cookery
Their reception was aglow with an abundance of candlelight, dashed between long strands of eucalyptus garland. White and blue linens carried the color palette throughout the evening. They had a wood pallet that served as the board for the guest table cards, next to a memory frame and flowers for the same purpose. Wooden table numbers were placed on top of each table for guests to find their seats. Their family and friends enjoyed light appetizers and drinks in the semi-clear tent next to the reception room and were able to play corn hole before it was time to have their meal. A cute wooden script, "Mr. & Mrs." sign was placed where Samantha and Cole sat.
After funny and heartfelt speeches – by Samantha's sister and maid of honor, and Cole's best friend, it was time to PARTY! The DJ played songs that got the crowd dancing from country, to pop and line dancing songs. I loved capturing their friends on the dance floor but my favorite person to photograph was Cole's daughter, the flower girl Cora. She was a STAR on the dance floor! Everyone seemed to love dancing with her too!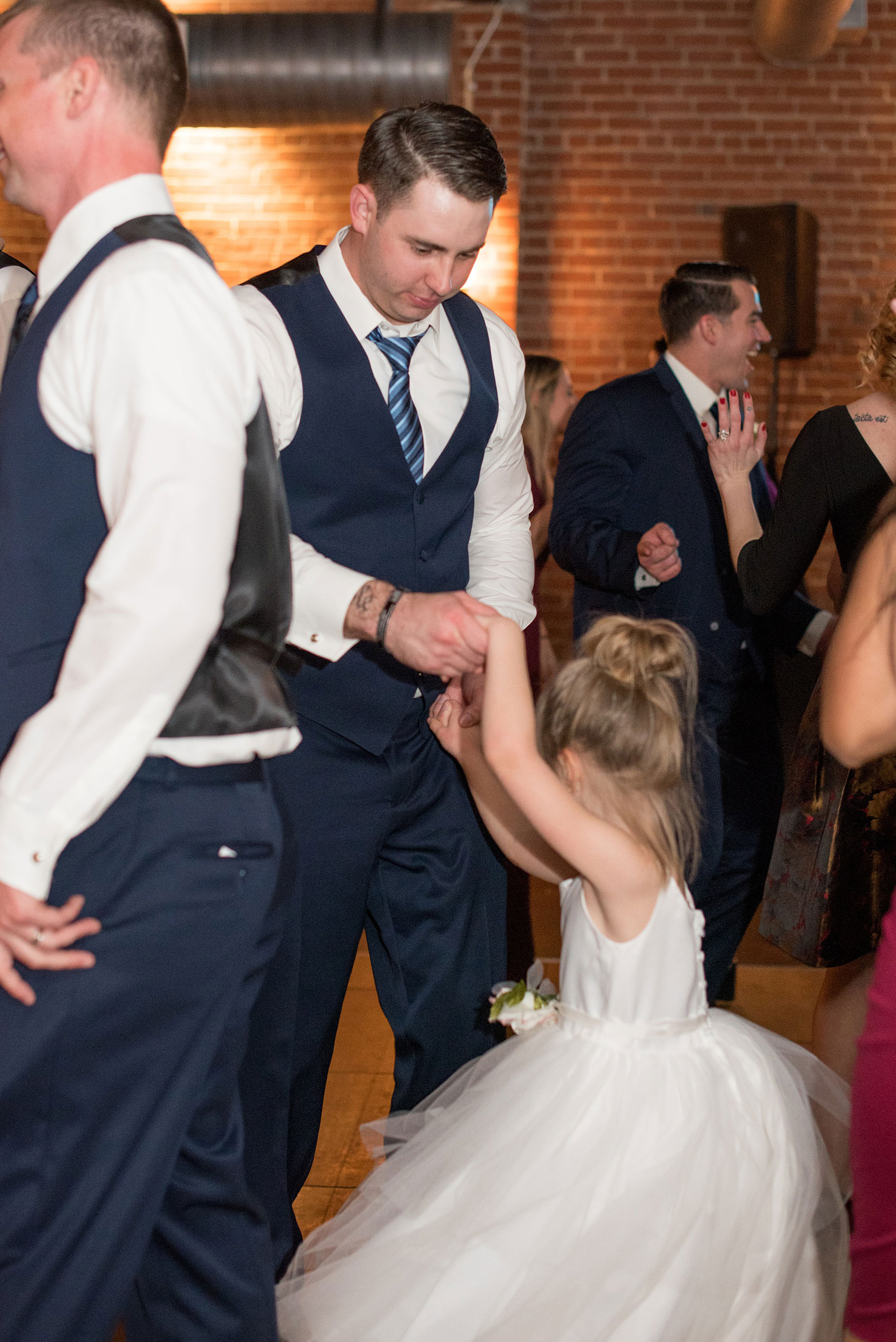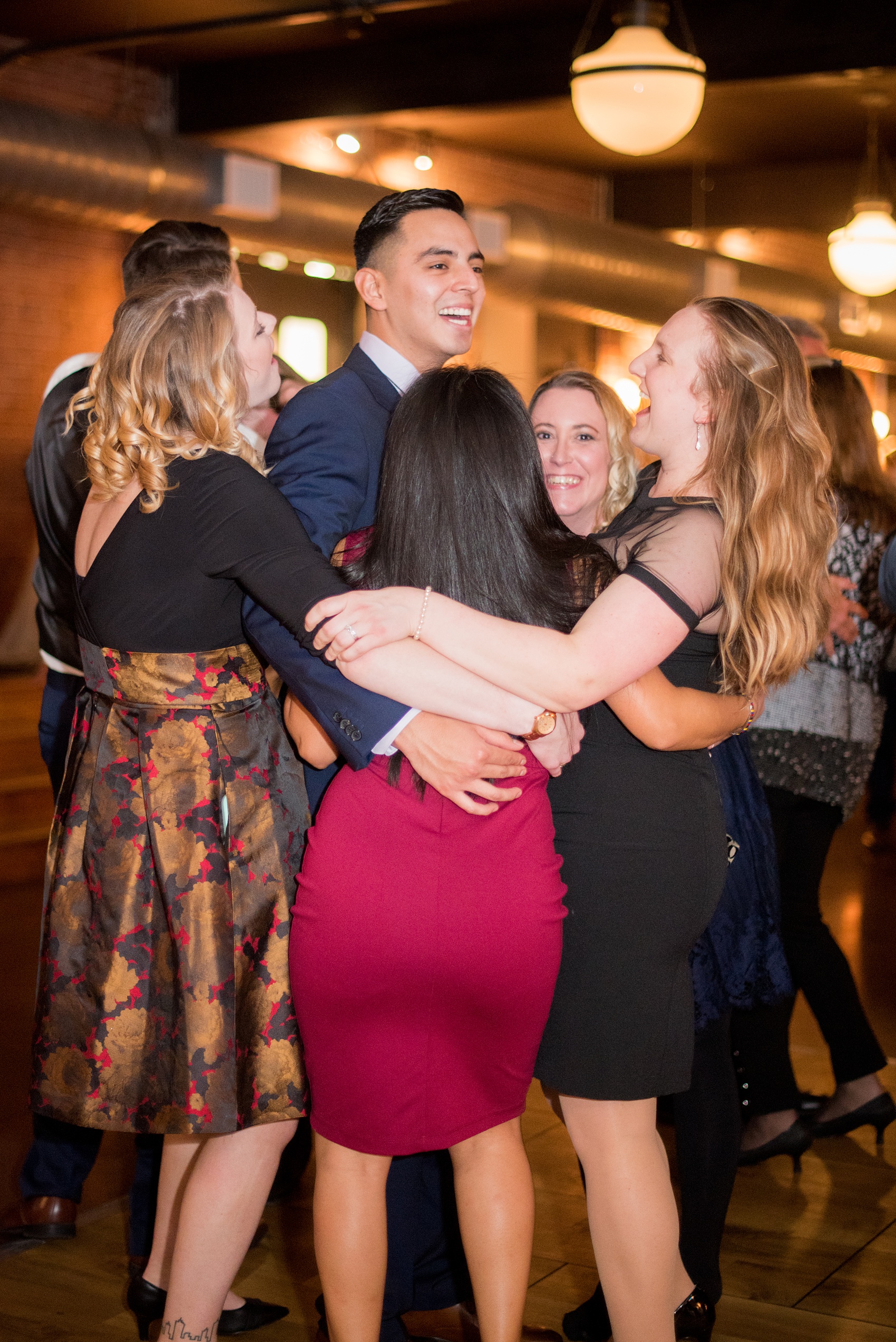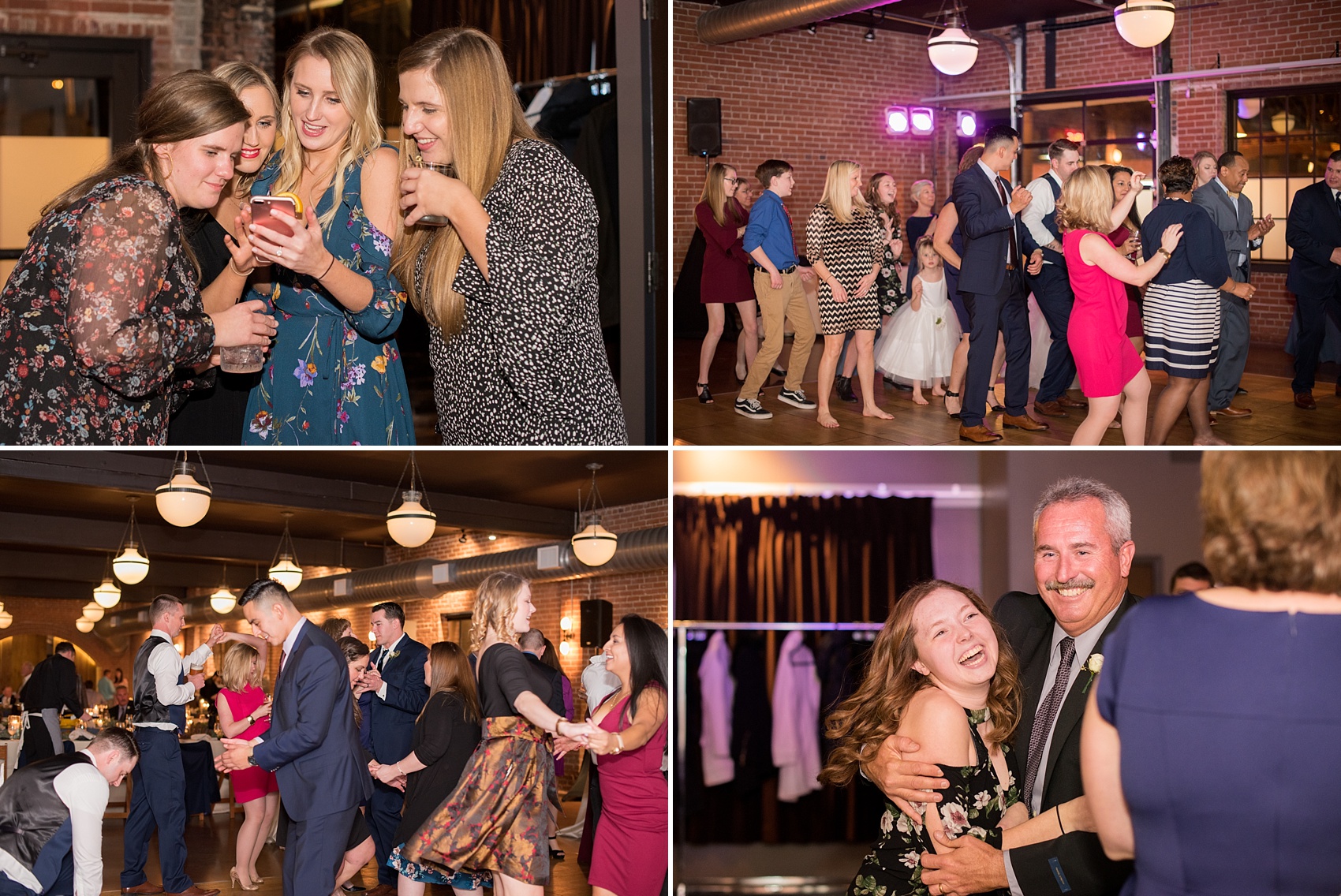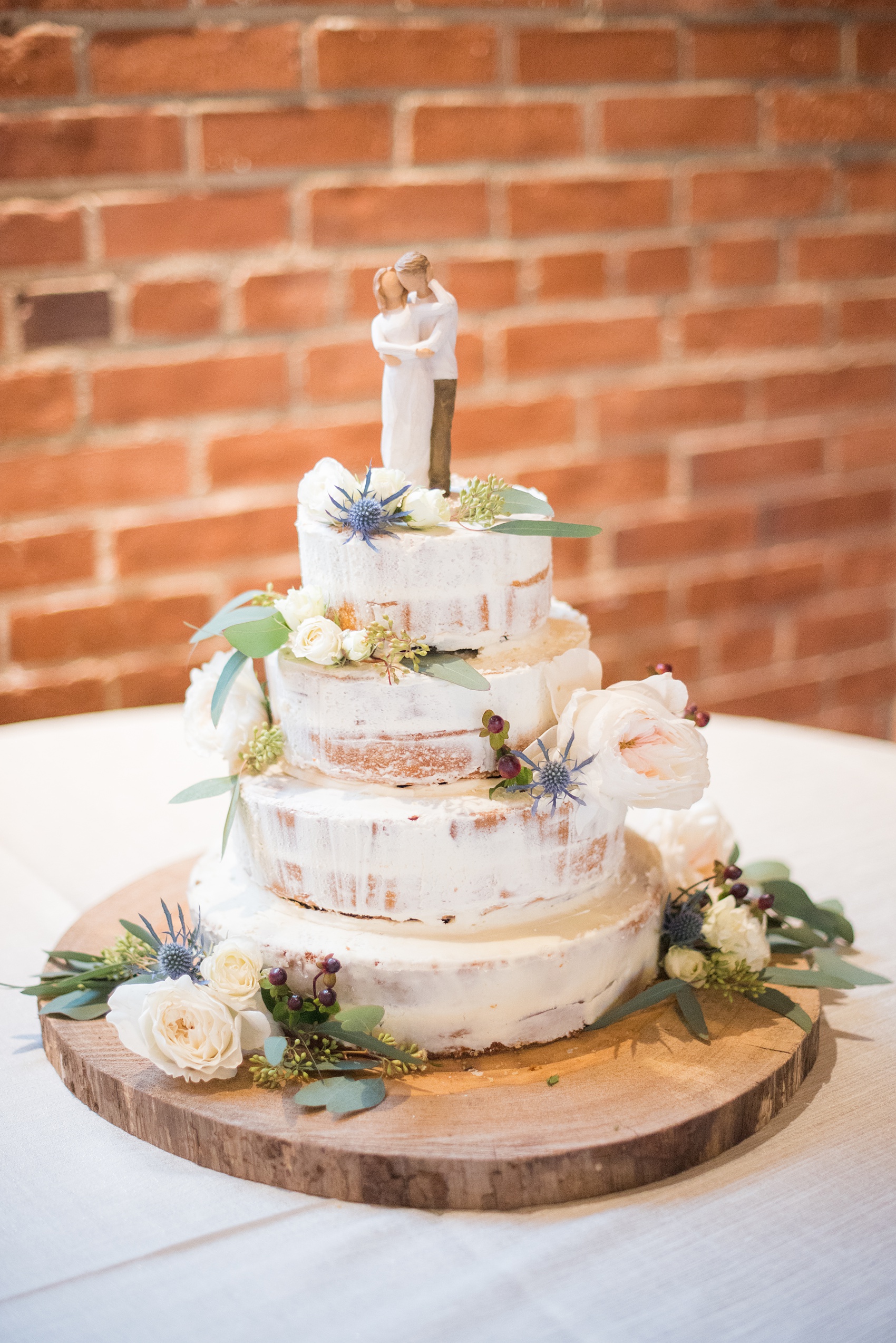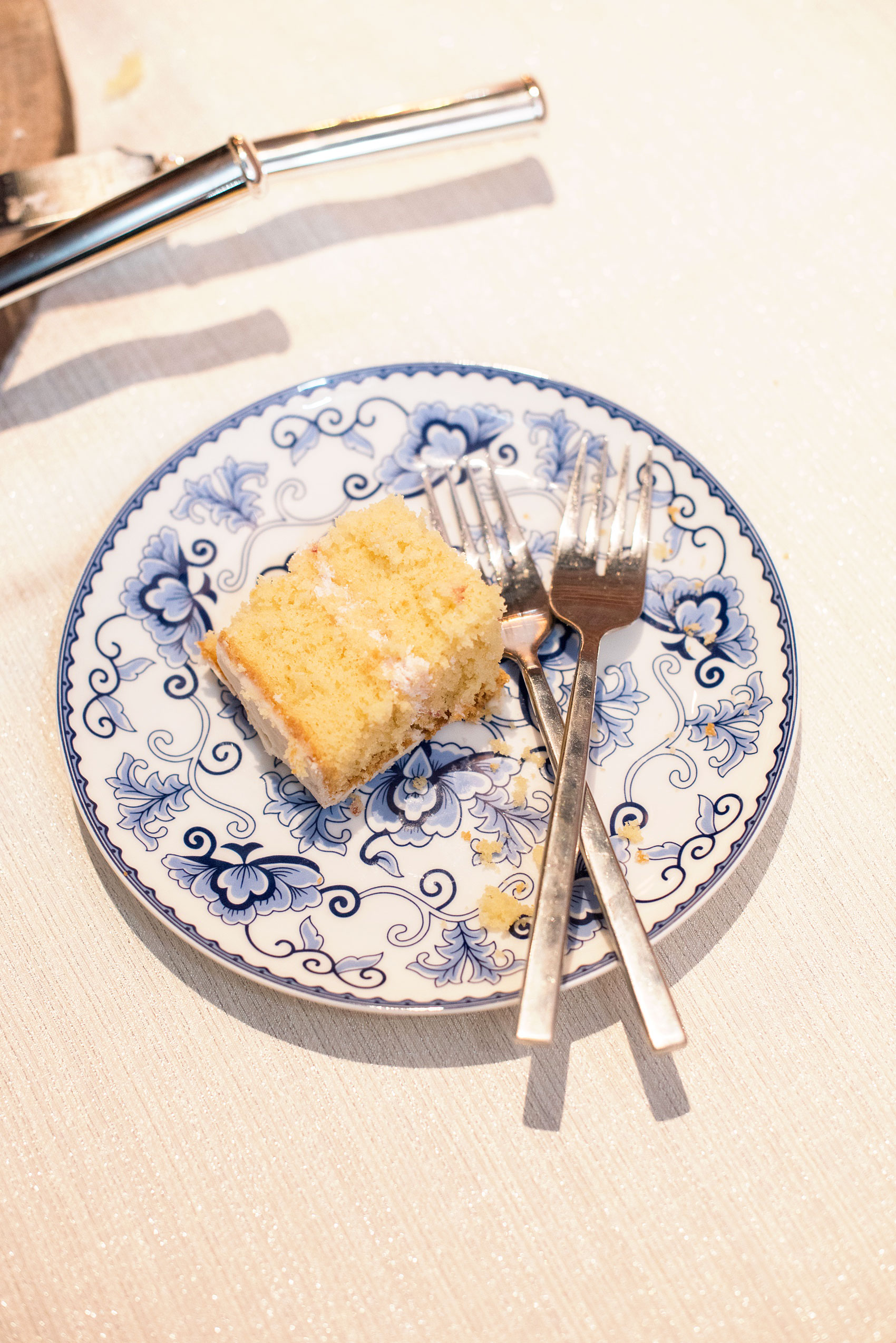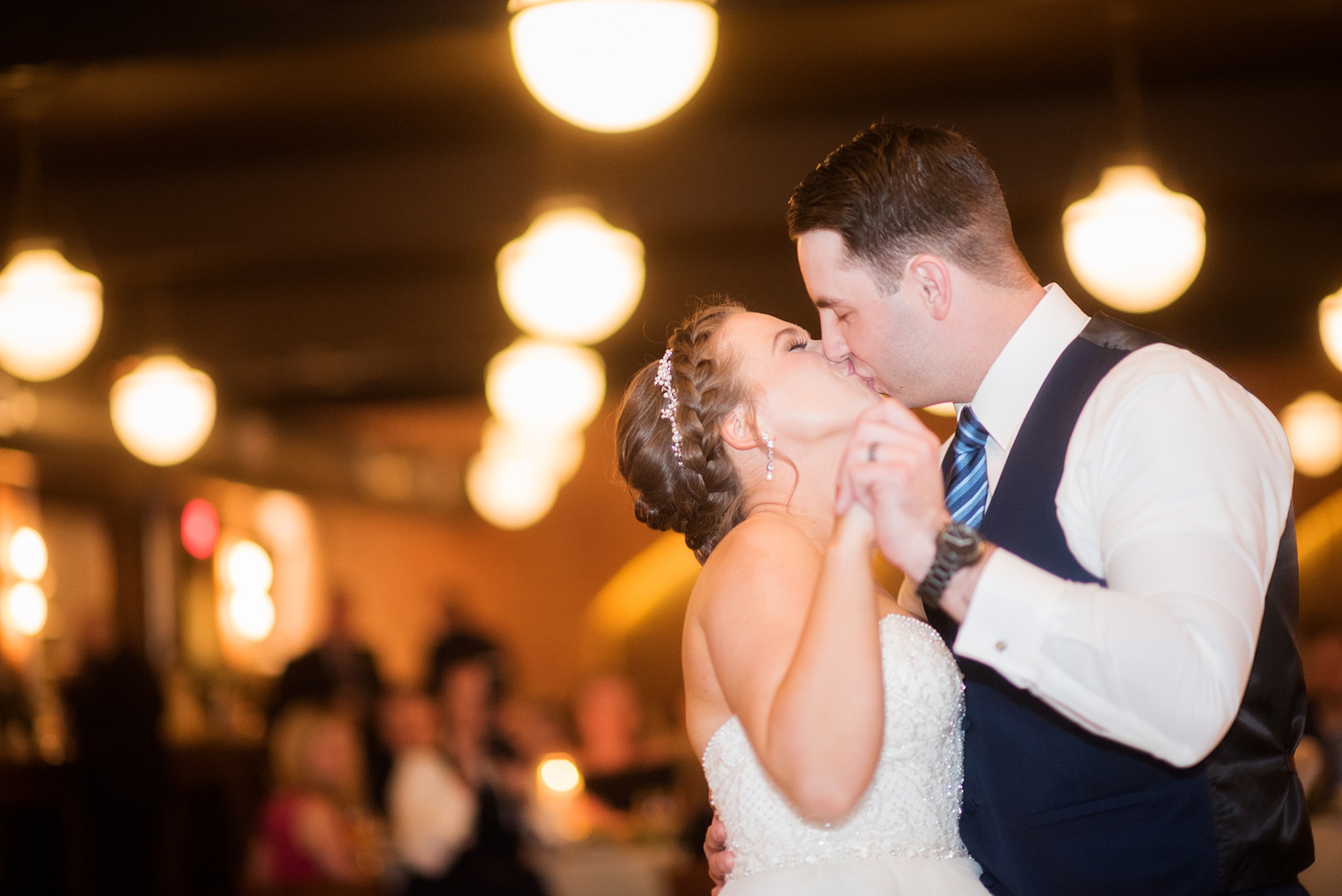 Their perfect-size tiered semi-naked buttercream wedding cake was extra special: Samantha's sister, Gini, created it! It was served on plated Samantha admitted she had to have. The blue and white pattern plates definitely brightened up the dessert course!
I am so glad I could be a part of their wedding at The Cookery and wish them nothing but happiness and beautiful days always, just like their first day of marriage!
Vendors for their Cookery Wedding
Venue: The Cookery Durham / Hair and Makeup: Wink Hair and Makeup / Florist: Liz Newlin / Invitations: Basic Invite / DJ: Island Sound & Video / Gown: Elegant Bridal, designer Kenneth Winston / Officiant: Ben Kane / Men's tuxedos: Menguin / Rentals: American Party Rentals / Bridesmaids gowns: David's Bridal / Wedding coordinator: Donna Cooper
For more Durham wedding inspiration check out:
Interested in having us capture your day? Contact us!