If there's anything I know my sister Jamie loves, it's Swedish Fish. If she wants a delicious pick me up, snack for a car ride, or if she's stressed – she eats these things like they're swimmin' out of style.
Cesalie, a bride of mine, posted a photo of chocolate covered Swedish Fish on Facebook two days before my sister's birthday. I immediately asked where she got them. Her reply was a candy store in New Jersey, which I don't live near in an instant's notice. But I thought…I CAN MAKE THESE! I admit I'm handy in a kitchen but I should say anyone can make these, even my not-so kitchen-loving sister if she wants to. (I say that with love. Because she's the best…she just simply dislikes cooking and baking.)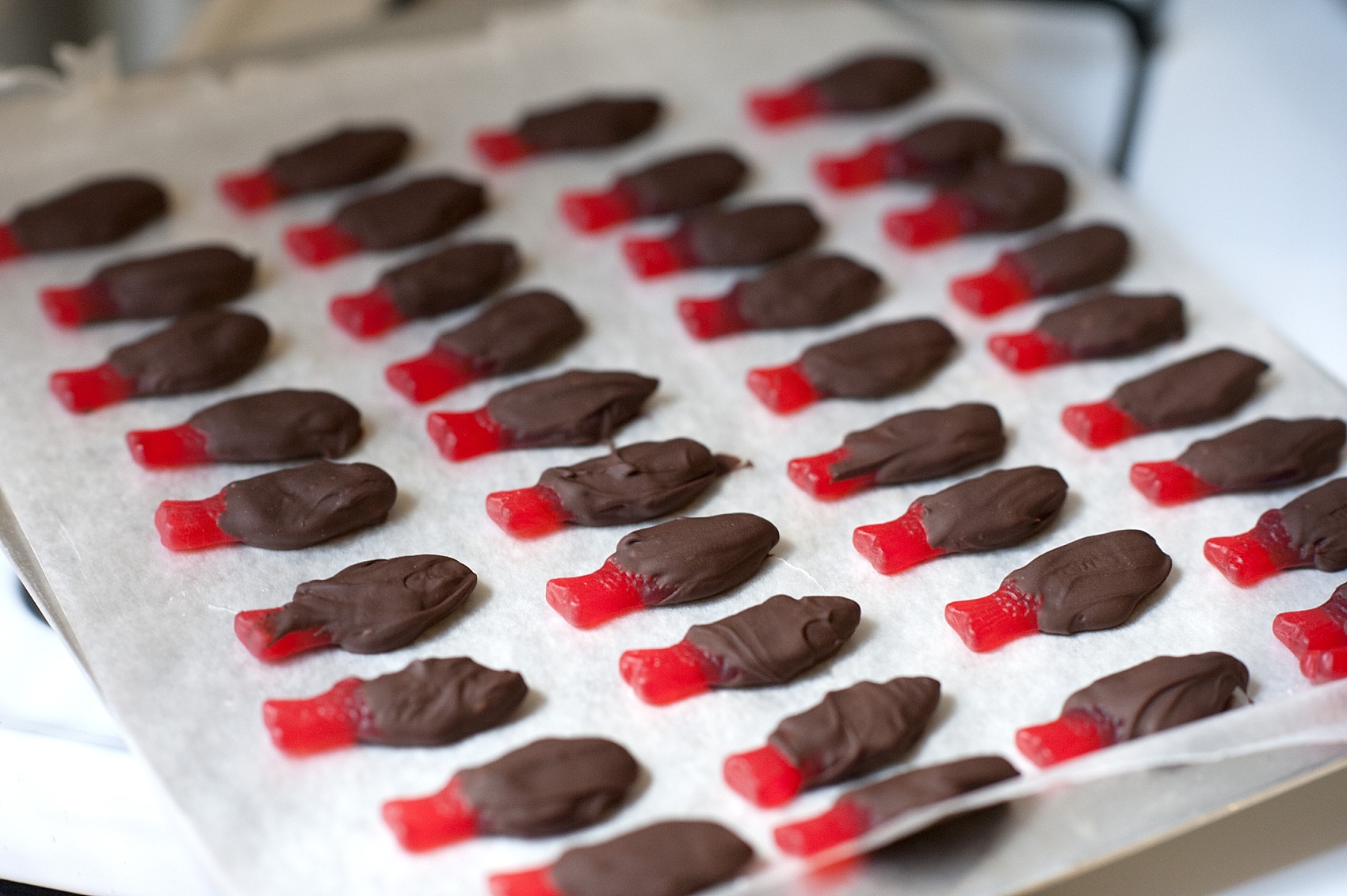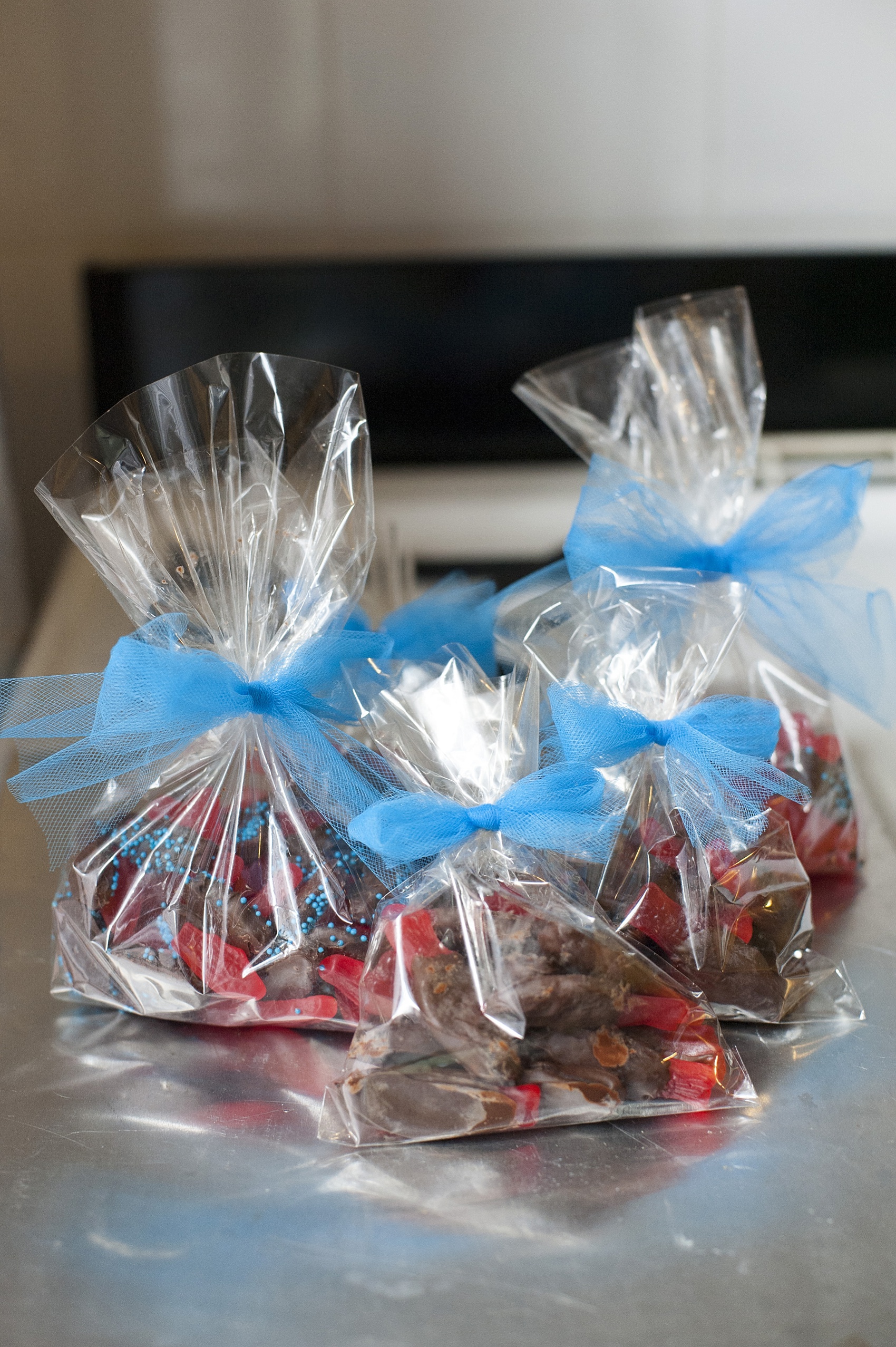 Here are the simple ingredients and steps:
* Swedish Fish
* Chocolate chips (I bought Tollhouse Mini Morsels)
* Sprinkles (optional)
* Wax paper lined baking sheet
* Pyrex dish (or any microwaveable dish) and a spatula
1: Buy REAL Swedish Fish. If you ask me, the imitations don't measure up. Get the real deal. I bought the full size fish and smaller ones too. The full size are a little over an inch each in length and an 8 oz bag (that's the "bigger" bag) of the smaller fish, which are about half an inch (1/2″) in length. I wanted variety. I like the red ones because they're classic but they have the full size fish in a mixed pack too if you prefer – red, orange, green and yellow.
2. Buy chocolate chips. Real ones, not the melting pellets at craft stores in the chocolate section. I bought Tollhouse Mini Morsels in milk chocolate. They'd probably be great with dark chocolate too.
3. Line a baking sheet with wax paper.
4. Melt the chocolate chips. *READ MY TIP*: melting chips is potentially is tricky – and I only know this from a history of baking for years. You do NOT want to rush the melting. They melt in seconds in the microwave. Just have an ounce of patience. The mini ones melt faster, which is why I used them. I microwaved approximately a cup of chips in a large Pyrex dish for about 20-25 seconds. I took it out and mixed it thoroughly for 30 seconds to get the heat even throughout. A lot of them will continue to melt as you mix. If they're still not all melted and you think you need more time, microwave them again in SIX (6) second intervals. Chips BURN quickly. You don't want to burn them – it smells and that sucks. Mine were all melted after the additional 6 second push and another round of mixing.
5. Dip the fish! I held the large fish by the tail and dipped the front, then sort of rolled it around to the back, making sure I covered the sides too. I placed it one the wax paper and dipped another. Repeat until finished.
6. Refrigerate sheet of chocolate dipped fish to "dry."
7. Optional: to do the smaller fish, I simply added them all to the melted chocolate (I made a second batch) and used the spatula to coat them all. I lined a plate that dipped lower in the middle/had higher edges with wax paper, laid the fish out (this took some separating with my fingers to get them all spread out – you don't want to leave them sticking together or they'll refrigerate that way and you can't break them apart without them looking ruined), then poured some sprinkles on. *The curved plate is what keeps the sprinkles from wreaking havoc all over your kitchen floor. Control those things or they'll control you!* Note: I left some fish uncoated in chocolate just in case my sister needed a break from chocolate ones and wanted a plain one.
For presentation purposes, I divided them into a few clear confection bags and tied with tulle. Voila! These would be super cute for bridal shower or wedding favors too, don't you think?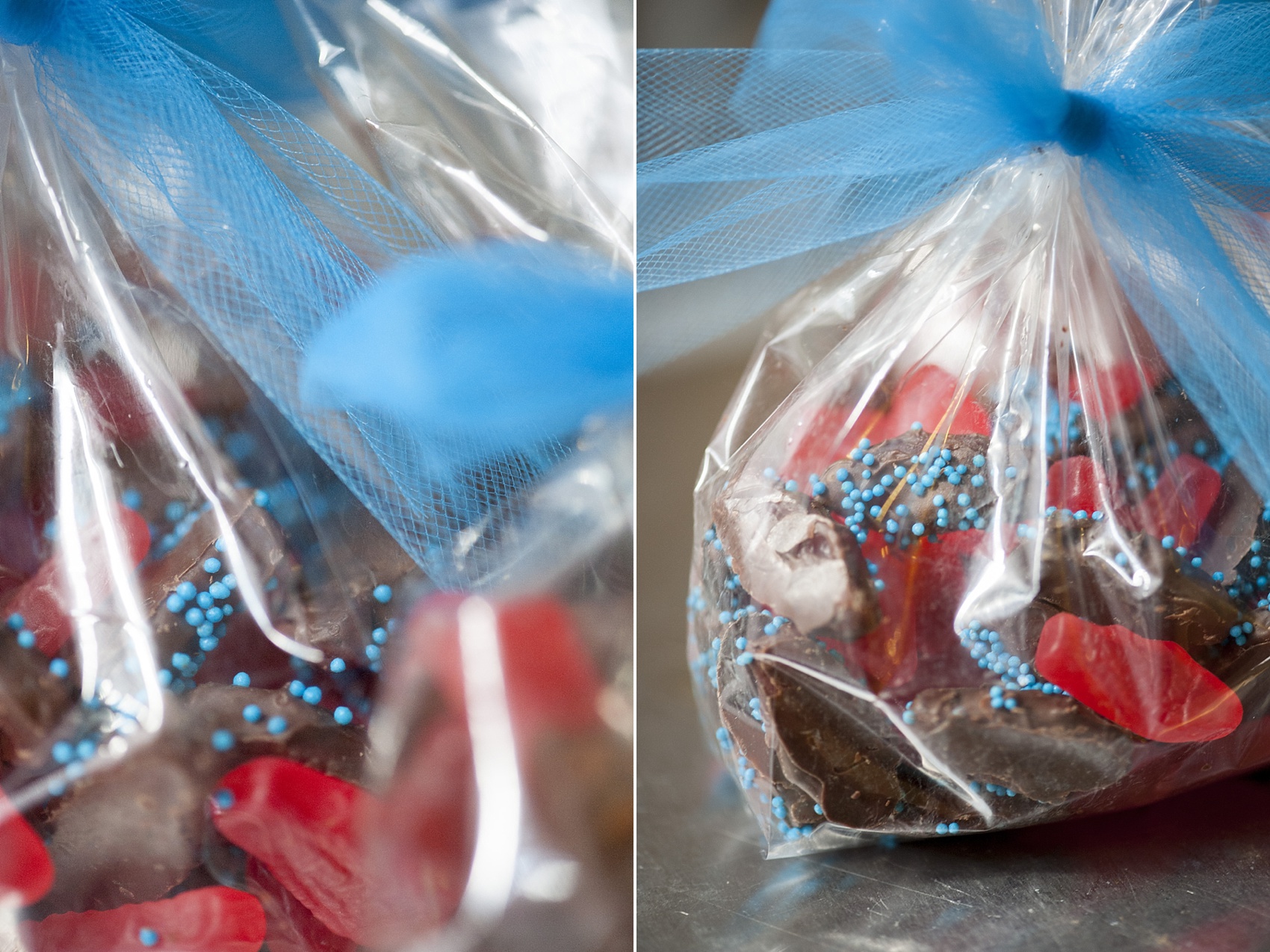 I think next time I may have to step it up a notch and coat them in a crushed Oreo cookie crust after I dip them in chocolate. Now I'm really getting creative!
Have a sweet day. Happy Monday!