Their smiles and happiness lit up the day as their January, winter wedding was upon us. It was only appropriate to marry in New York City, the city where Felicia and Mike met, fell in love years later, and work and live. As avid cyclers, they met while participating in a cycling club that began each ride in they city's iconic Central Park.  Getting married at The Loeb Boathouse was a no-brainer! Their specially designed wedding logo was a bicycle with a heart joining their initials and I loved how they incorporated it into their day in various ways.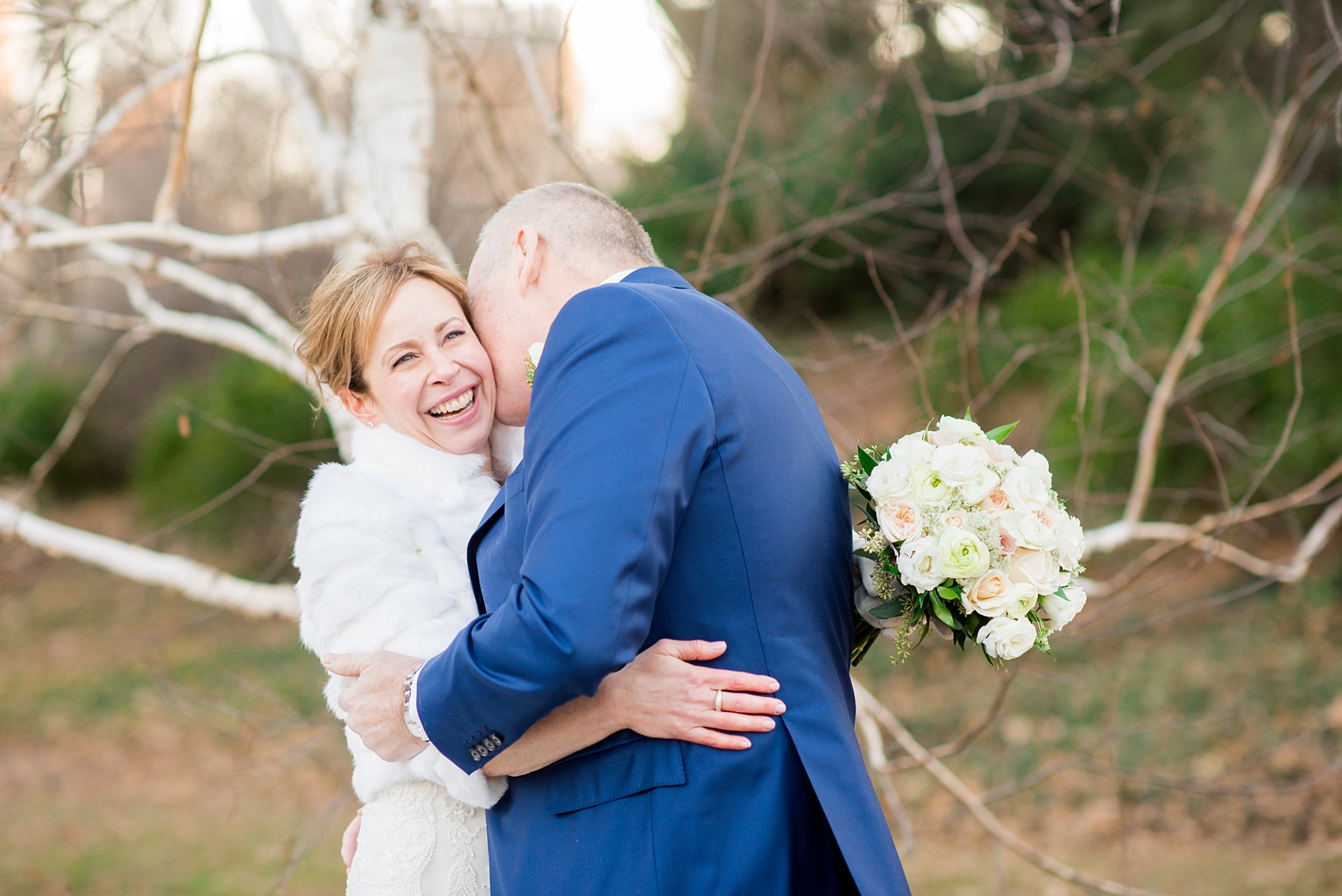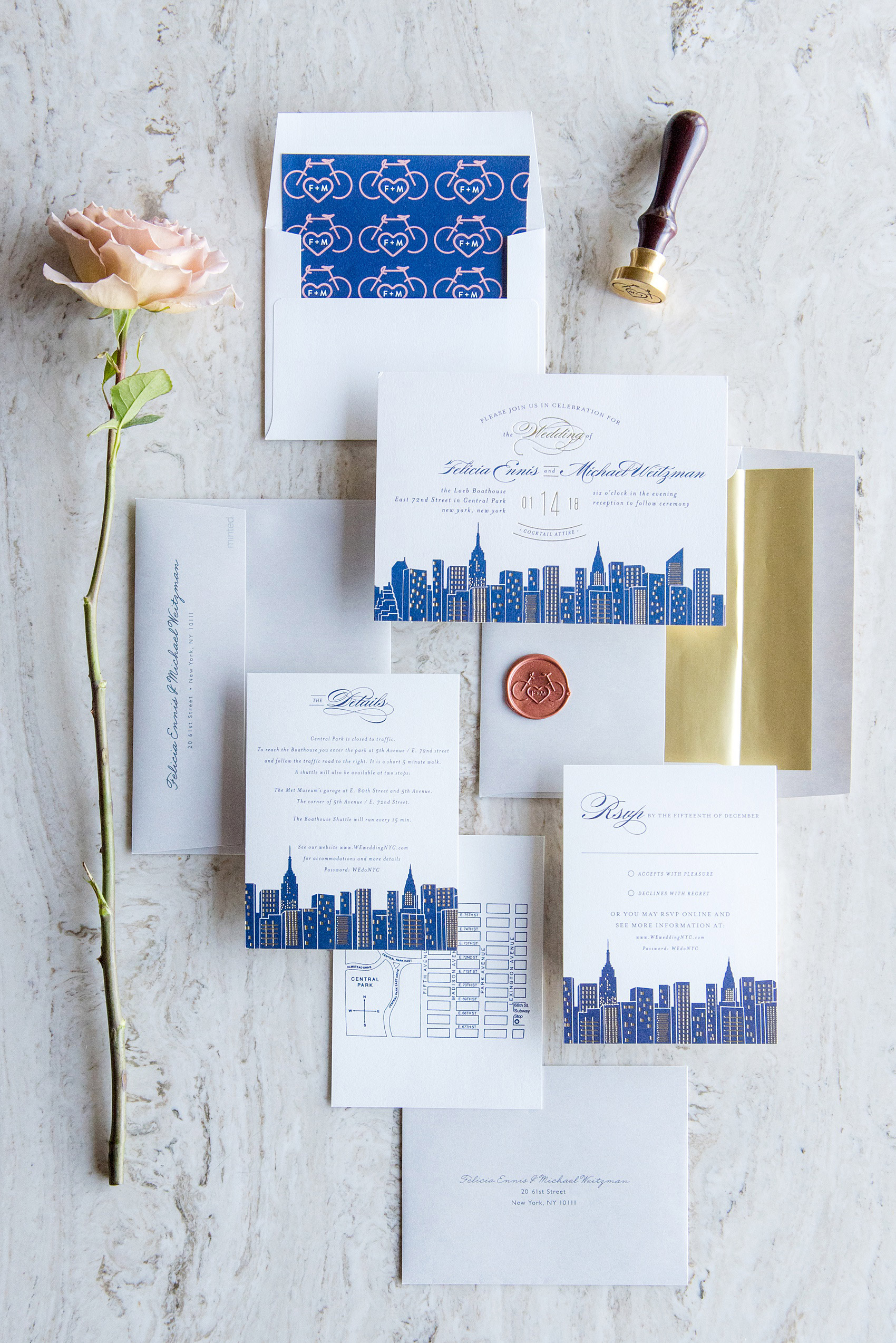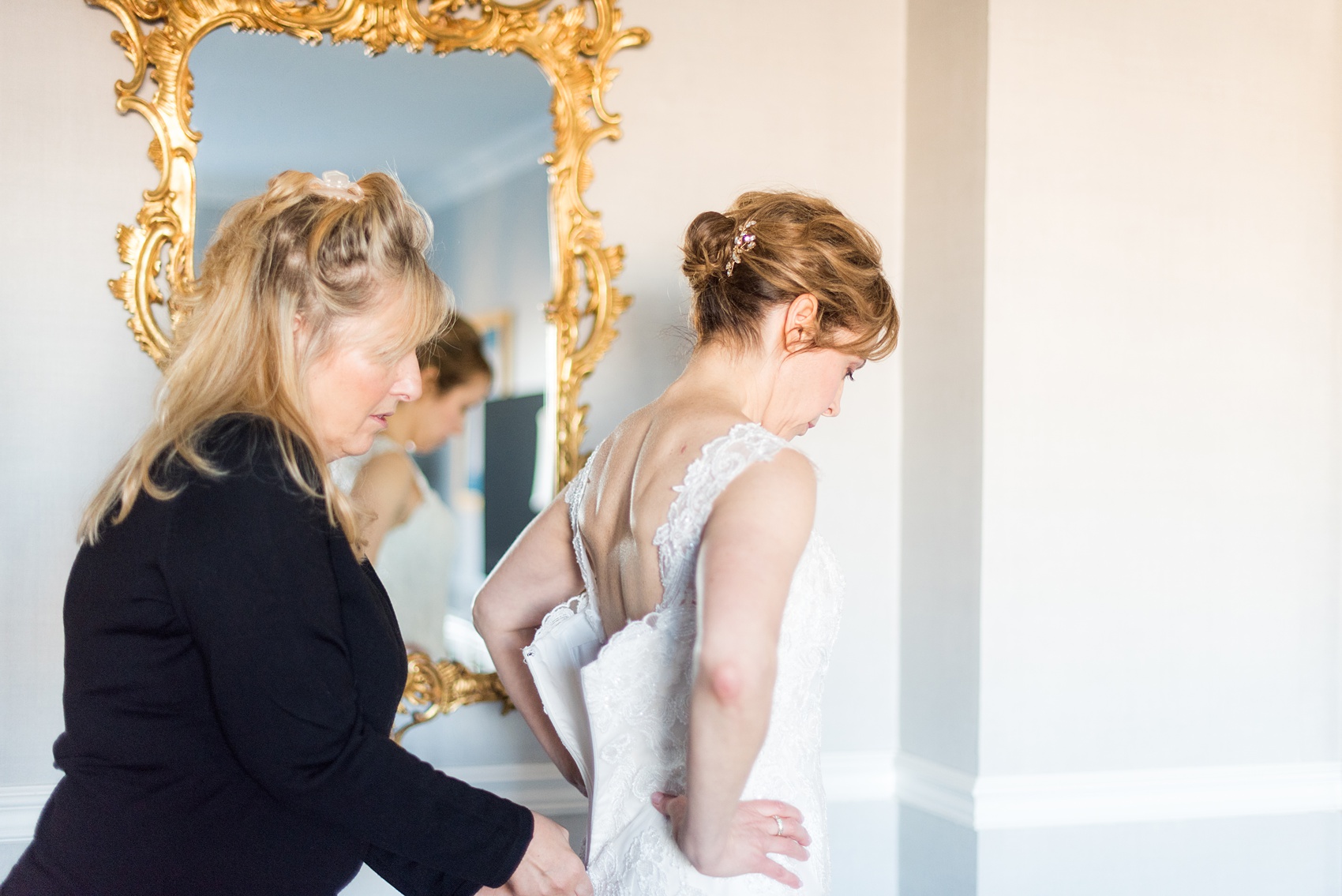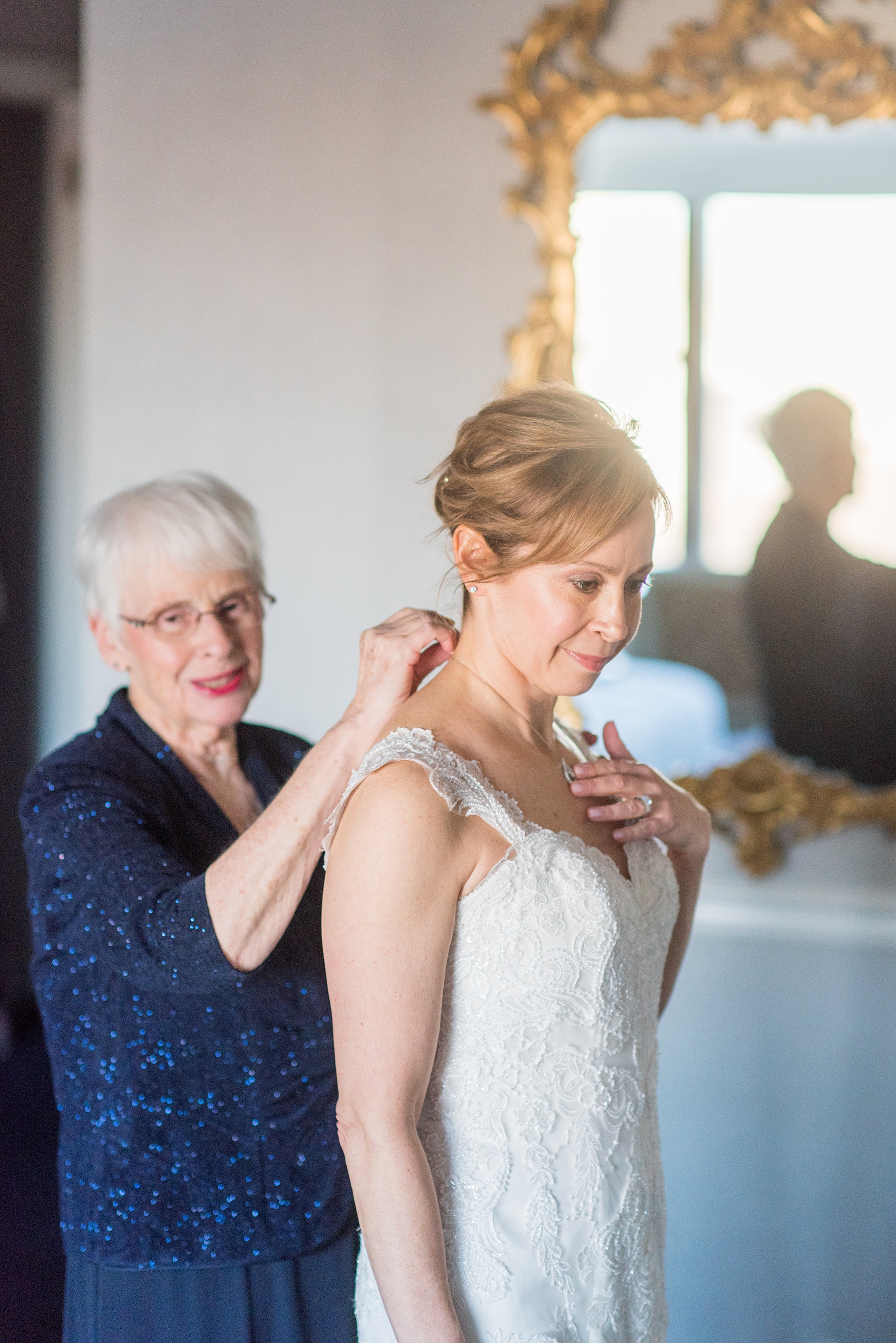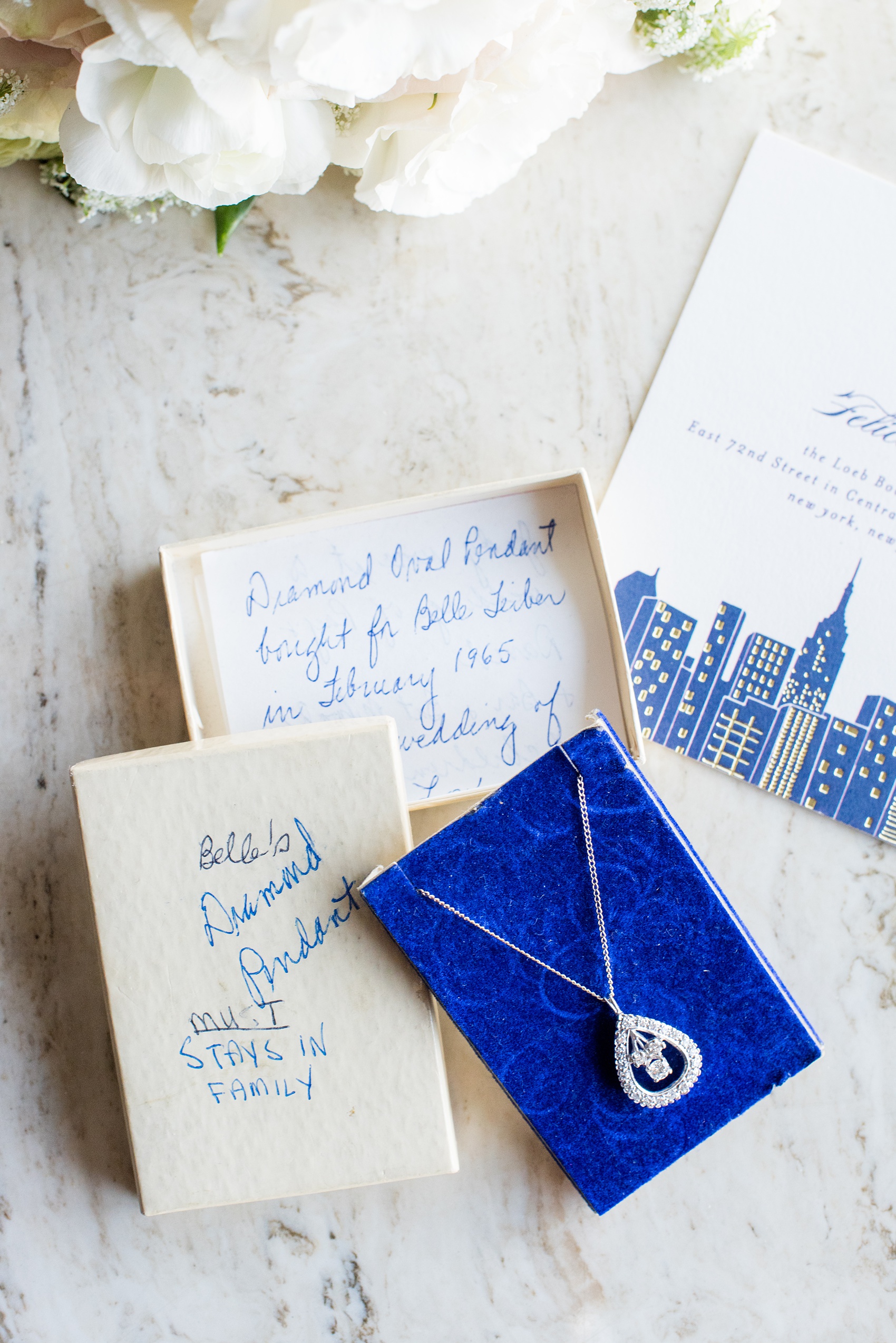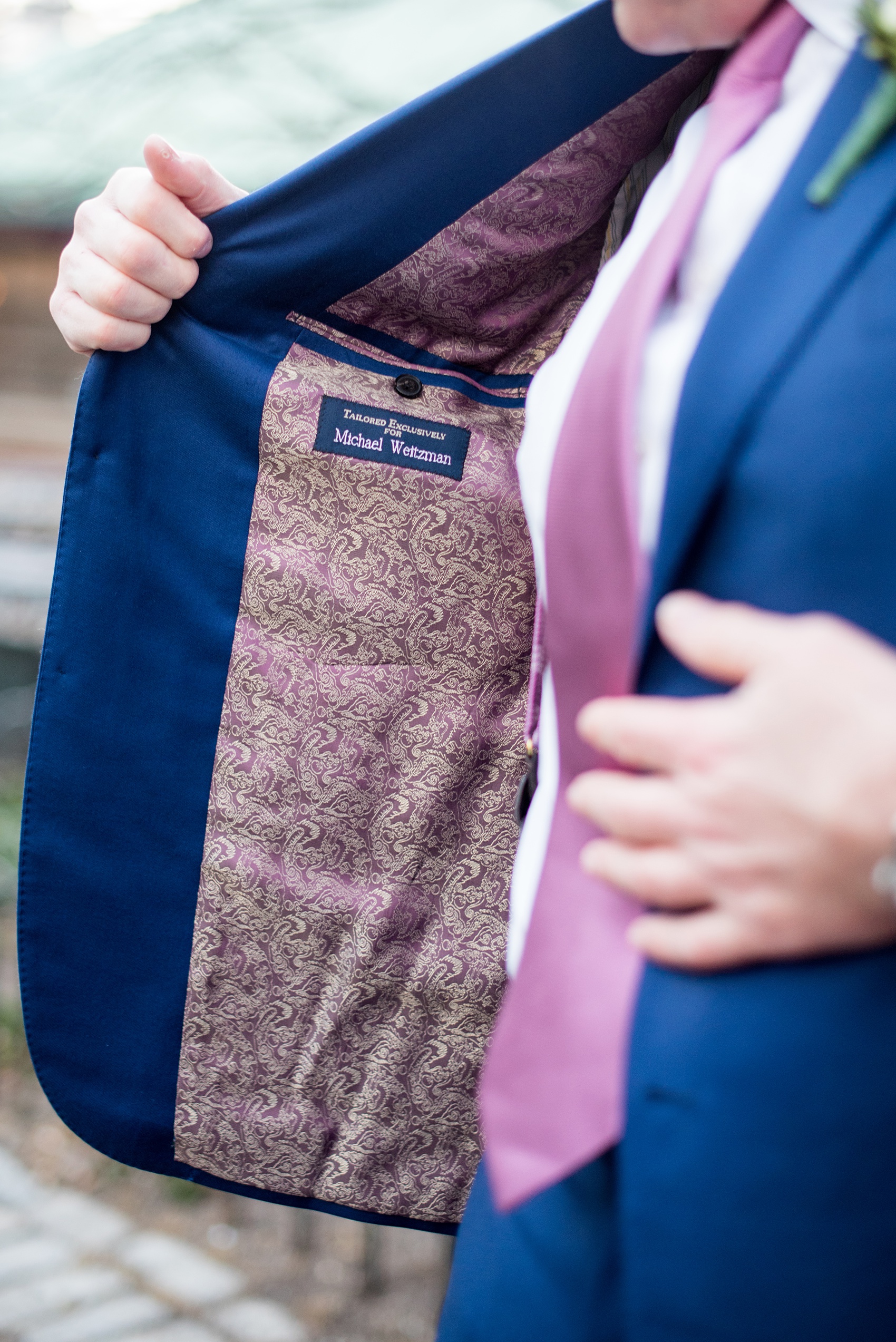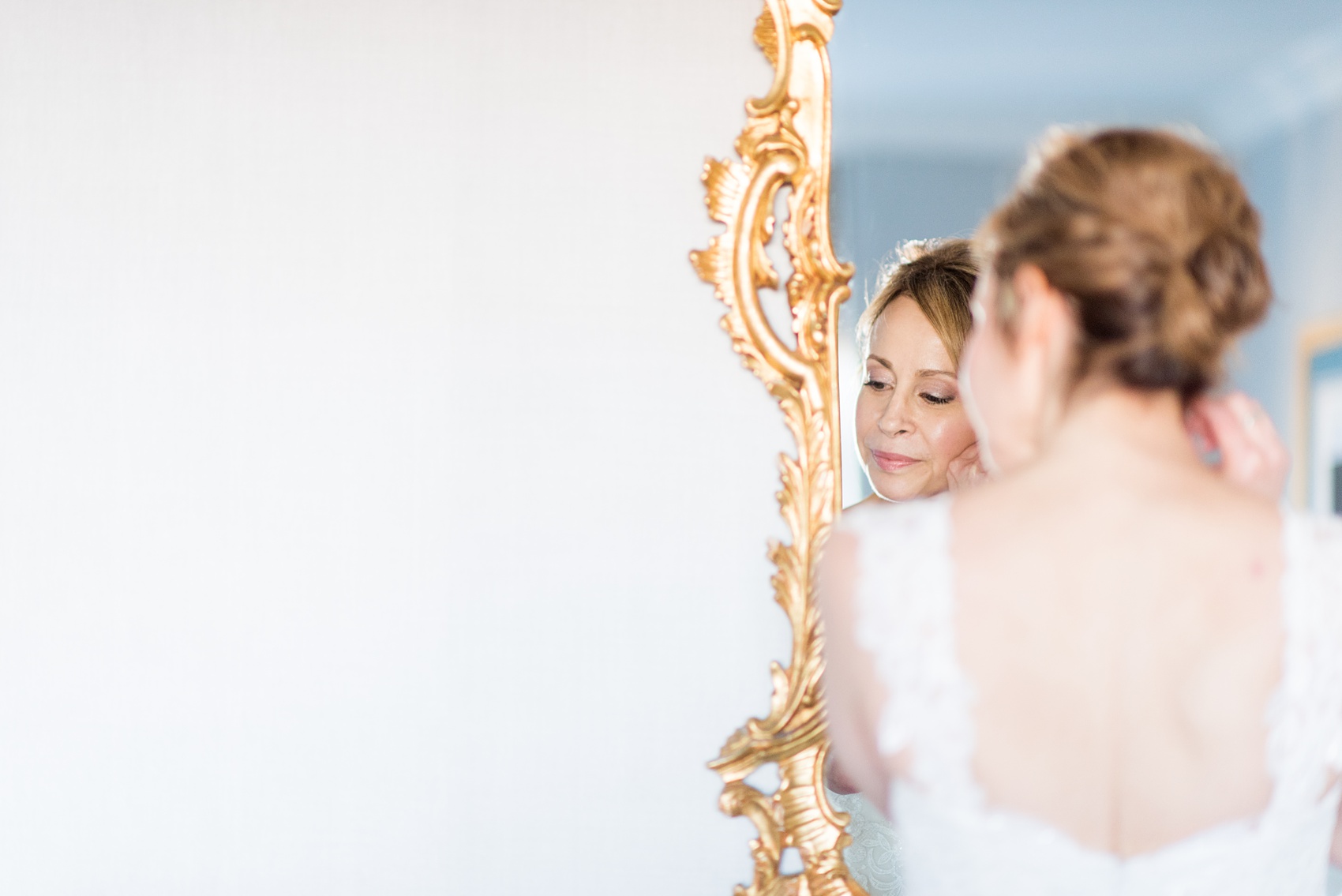 I absolutely love this photo of Felicia putting some finishing touches on her wedding day look with simple, elegant diamond earring studs. They perfectly complimented her delicate features and beautiful lace gown.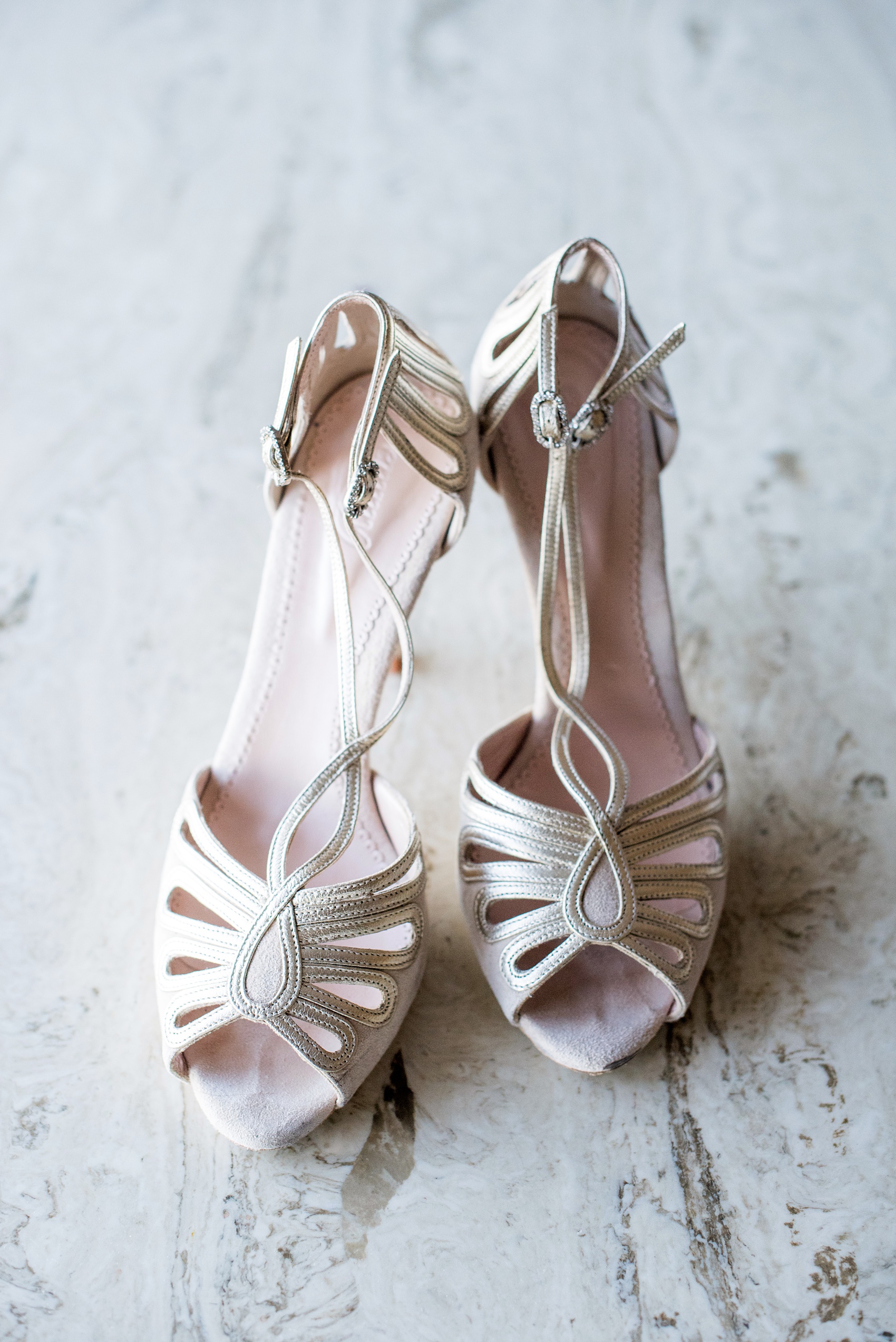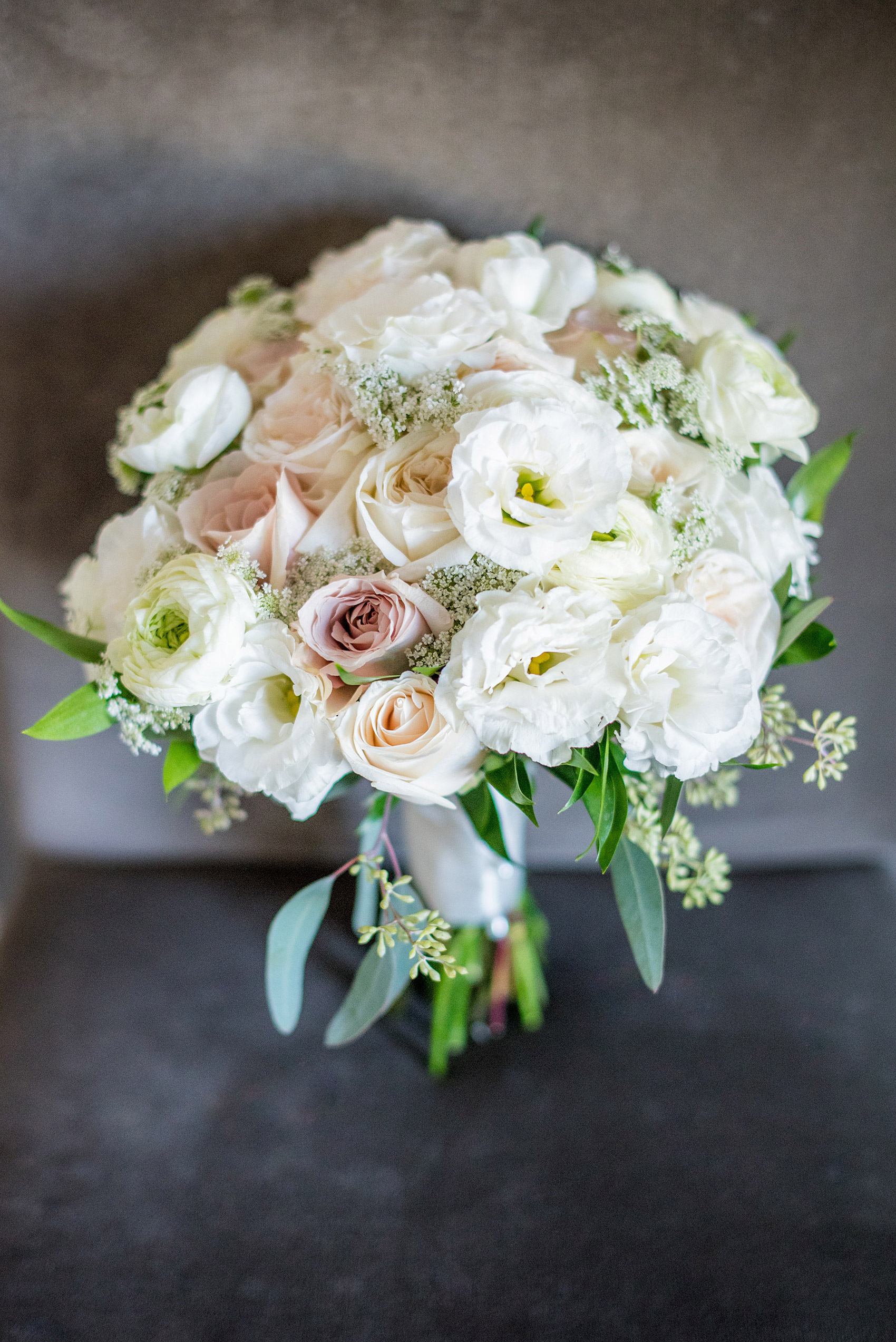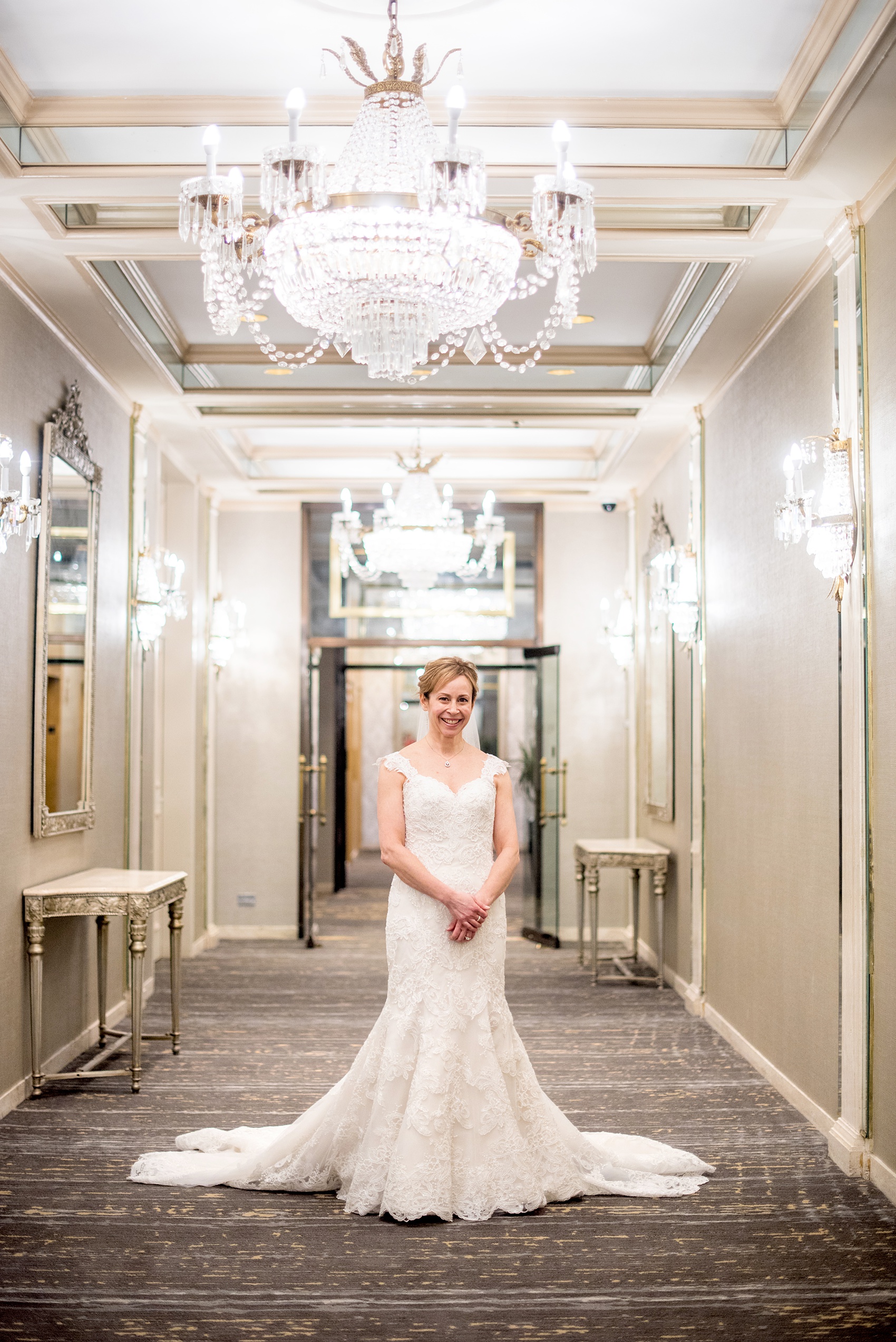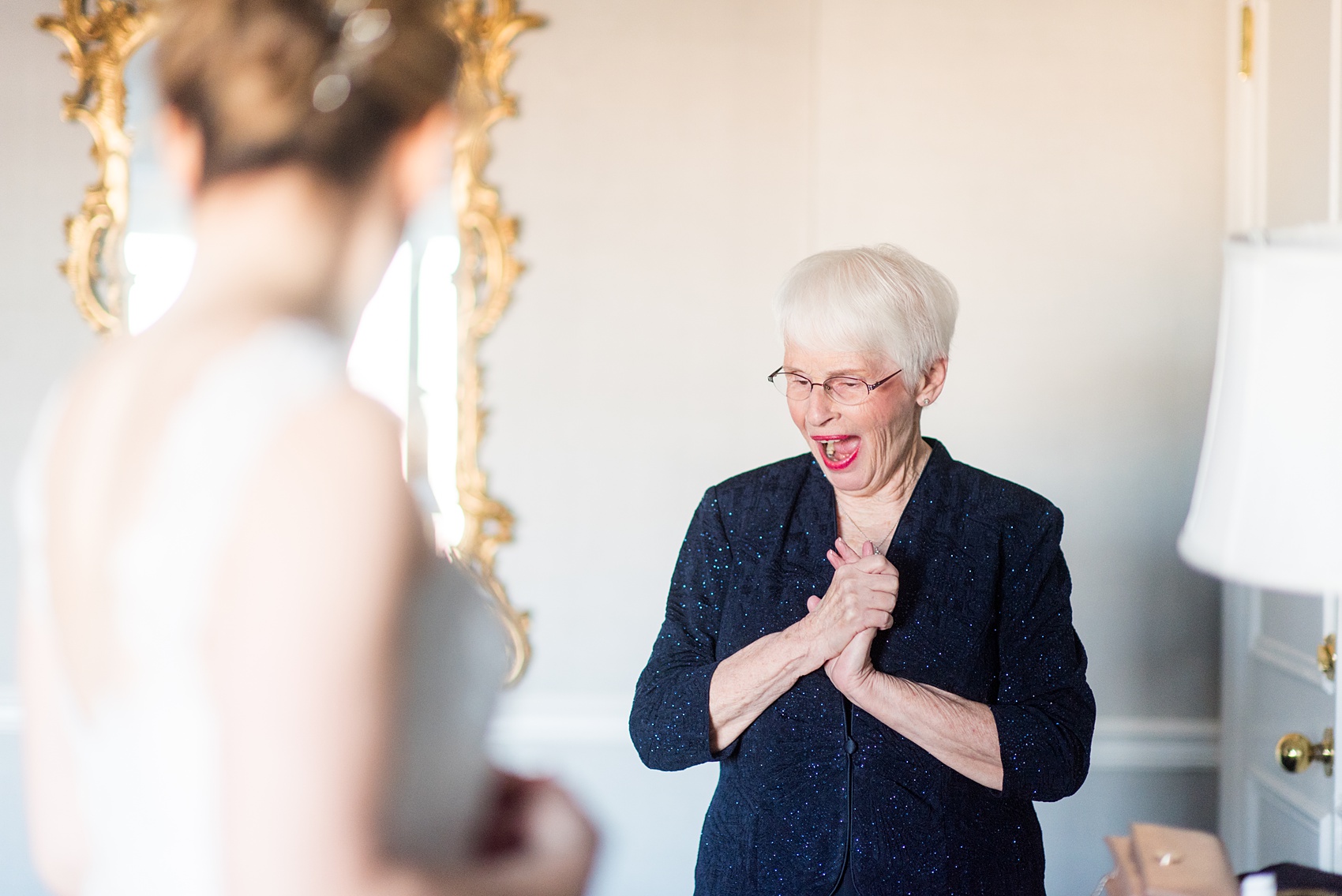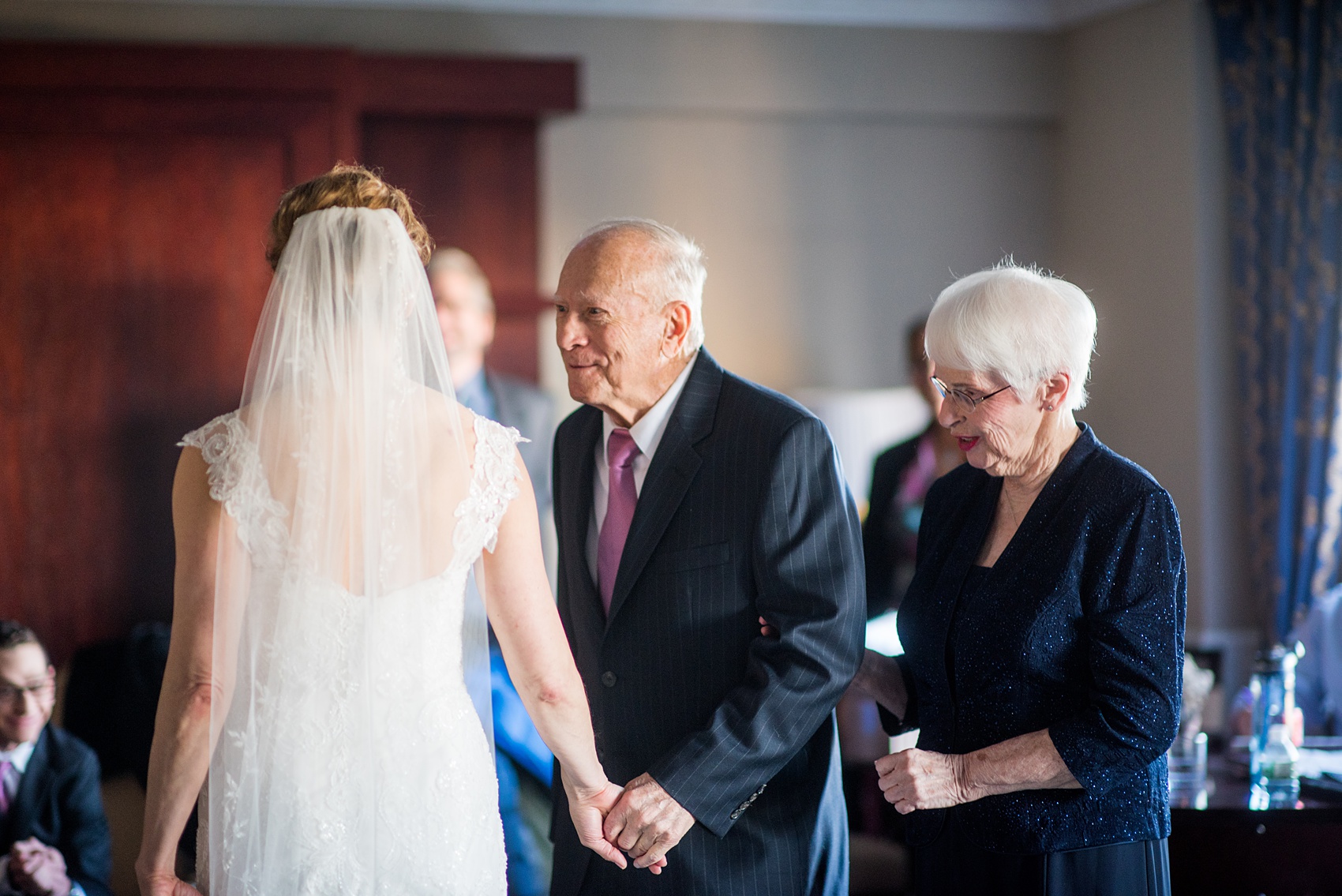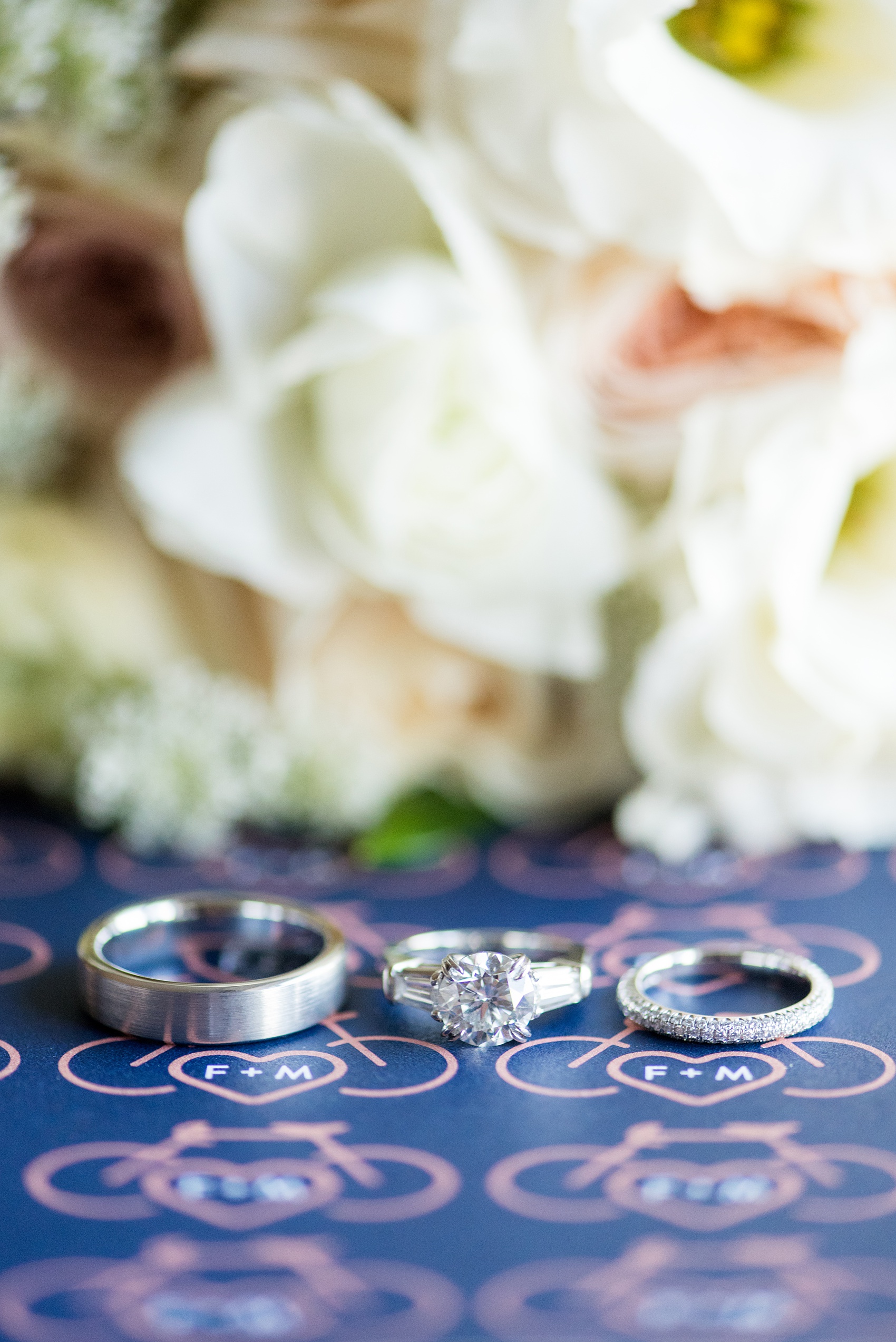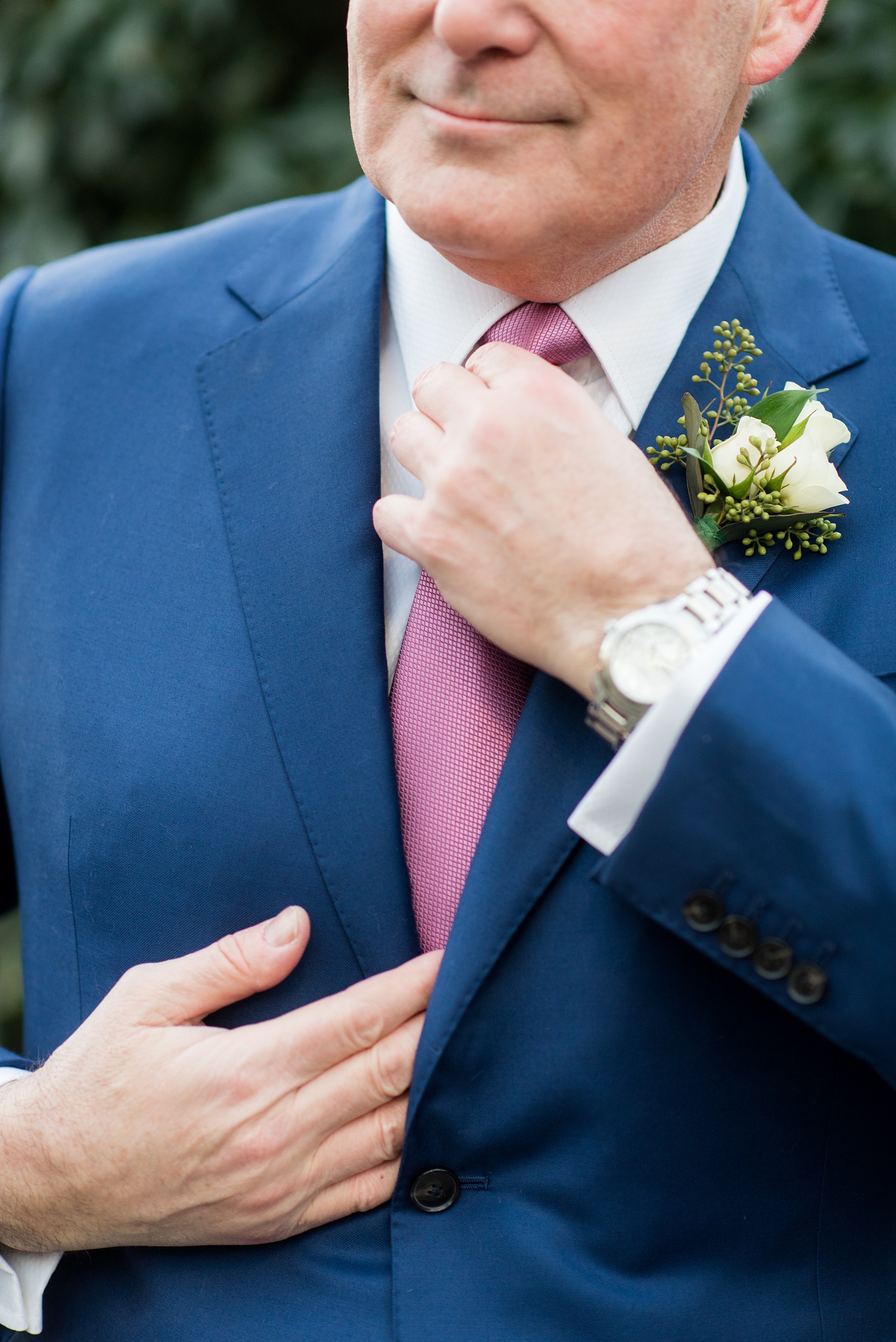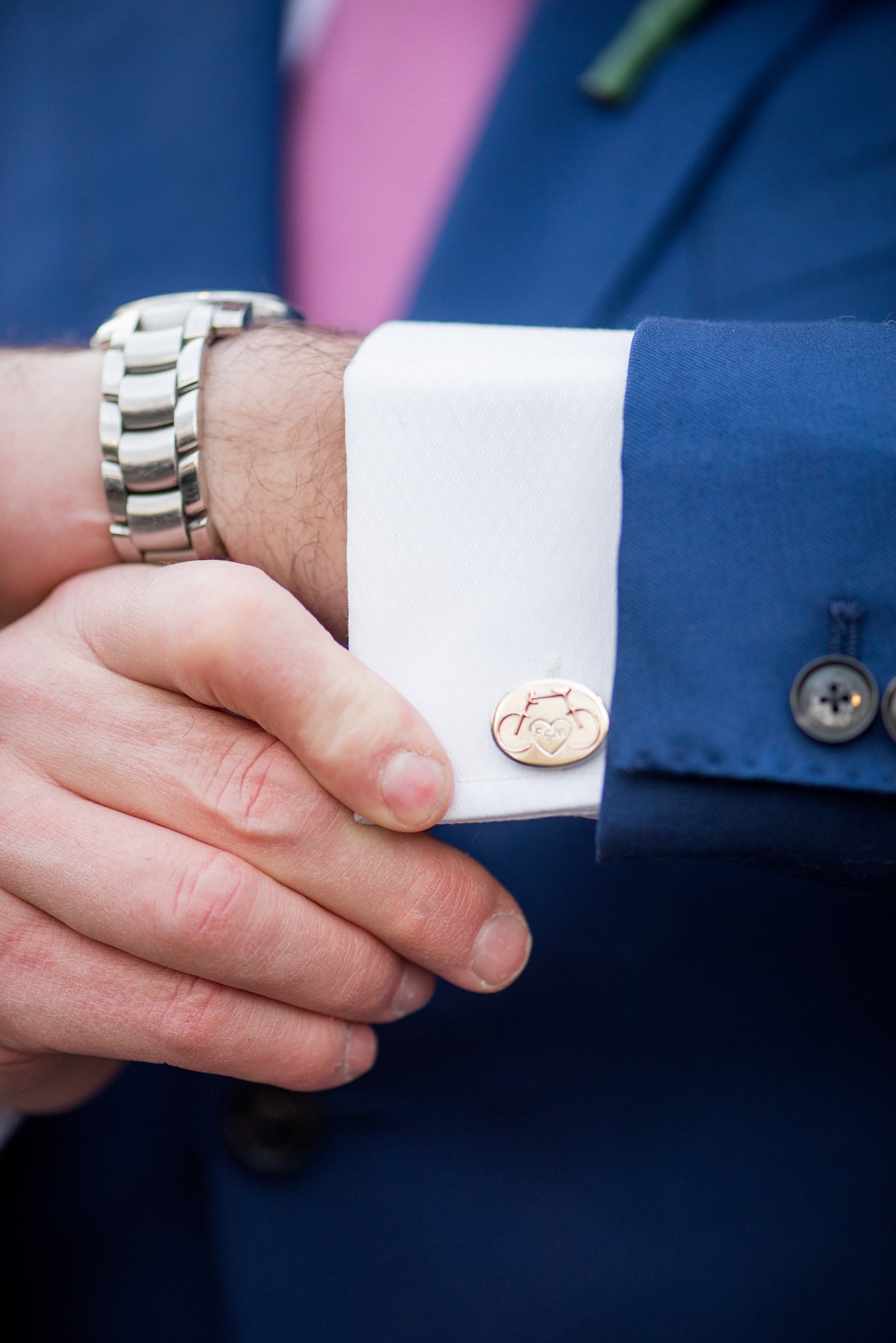 It was especially awesome to see the joy on Felicia's mother's face as she saw her daughter in her gown for the first time that day. It was soon followed after loving stares from her father, in awe of his daughter's beauty. Felicia wore dainty white and metallic strappy heels and carried a bouquet of ranunculus, roses and Queen Anne's Lace flowers.
Mike and Felicia ensured their wedding motifs were seamlessly woven throughout their day. Everything from their invitation, to wax seal, Manhattan skyline on their paper and even Mike's custom cufflinks and suit echoed that.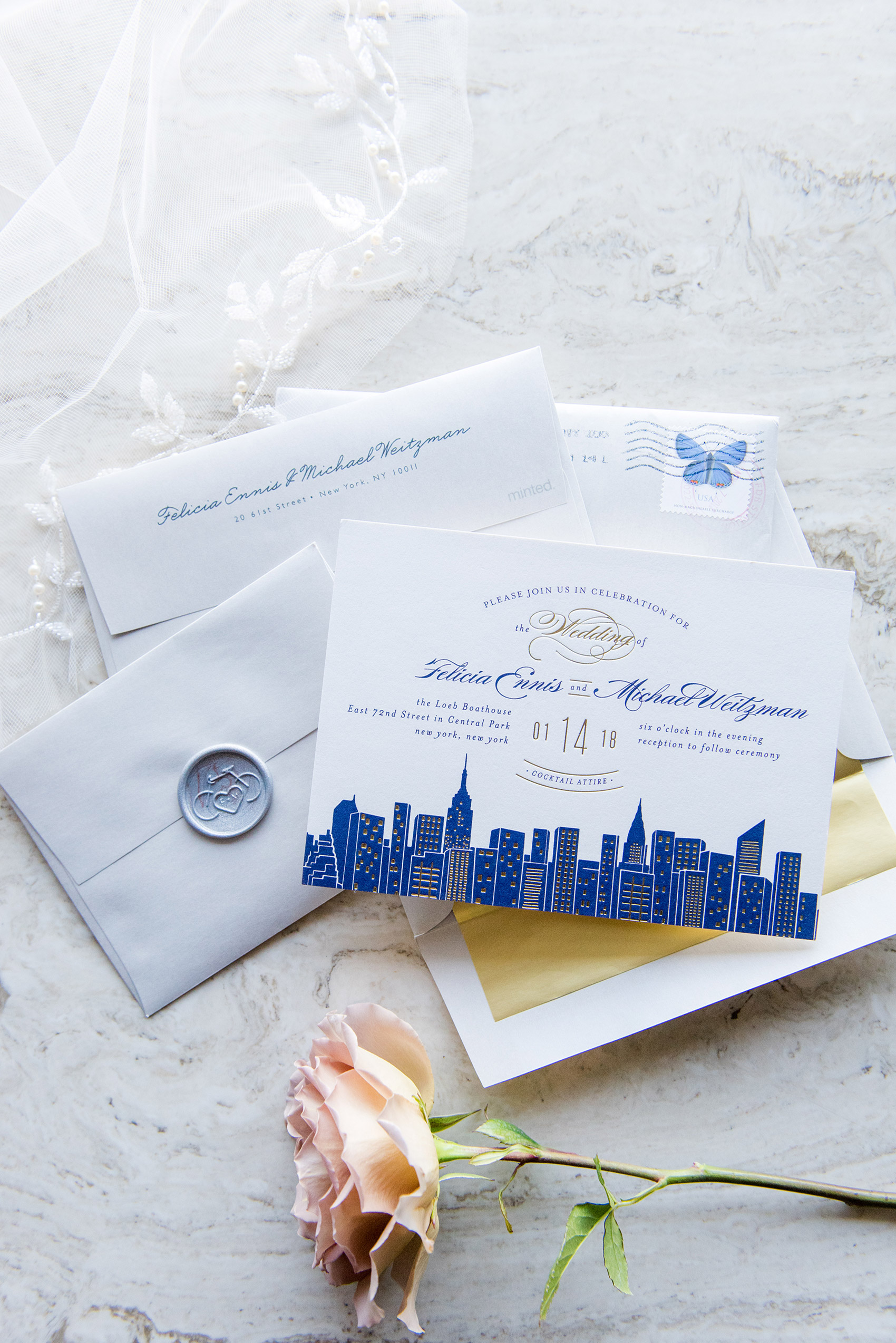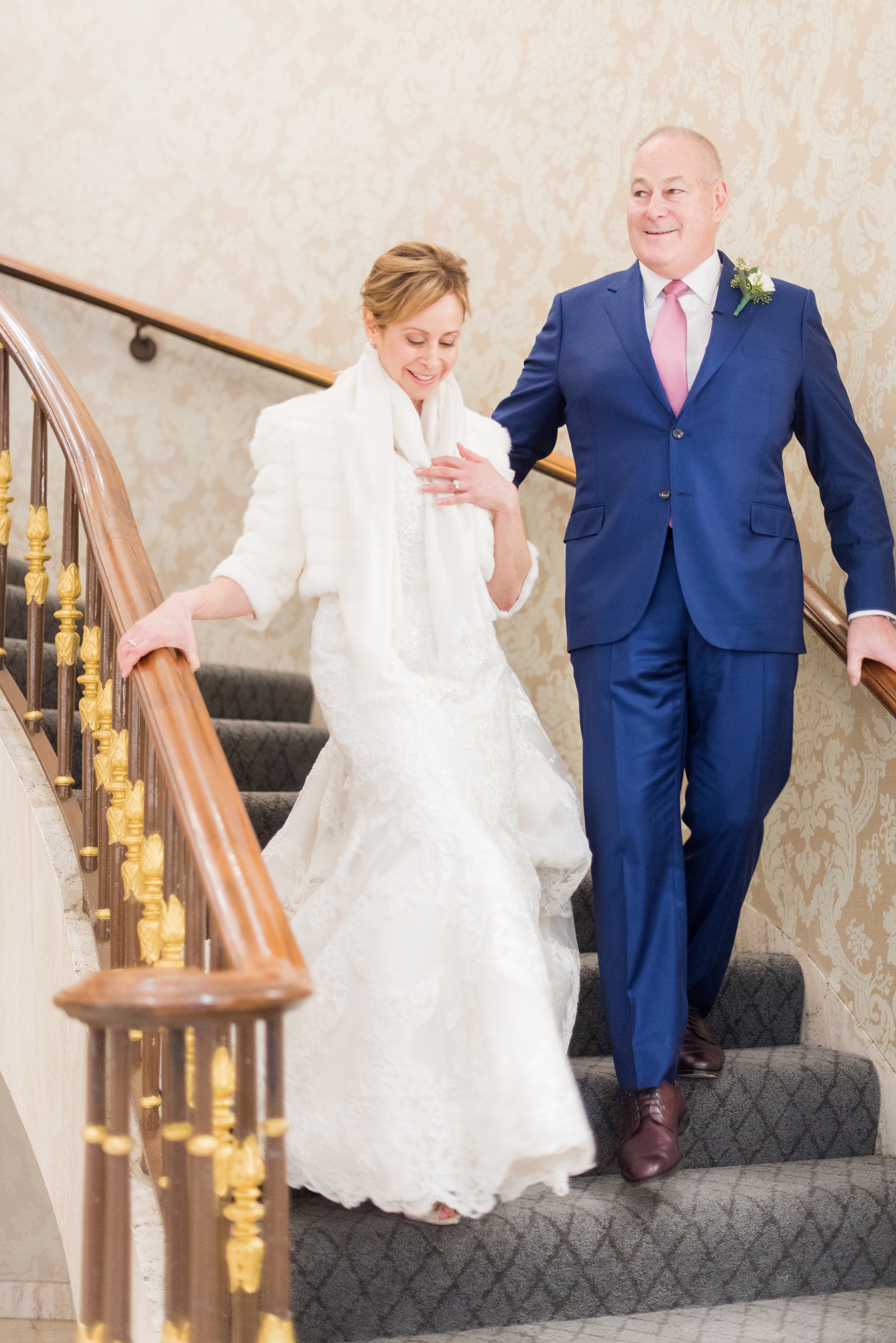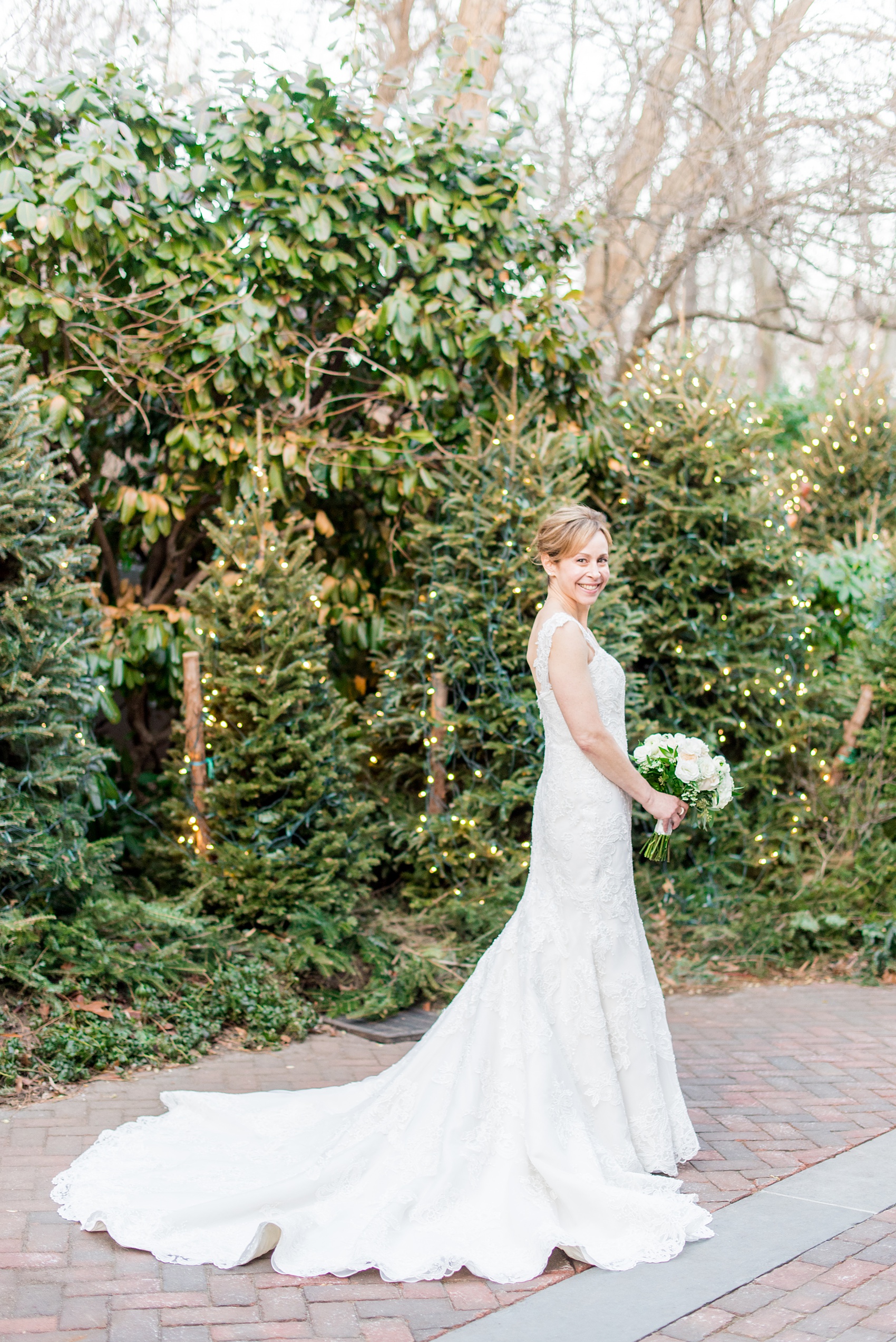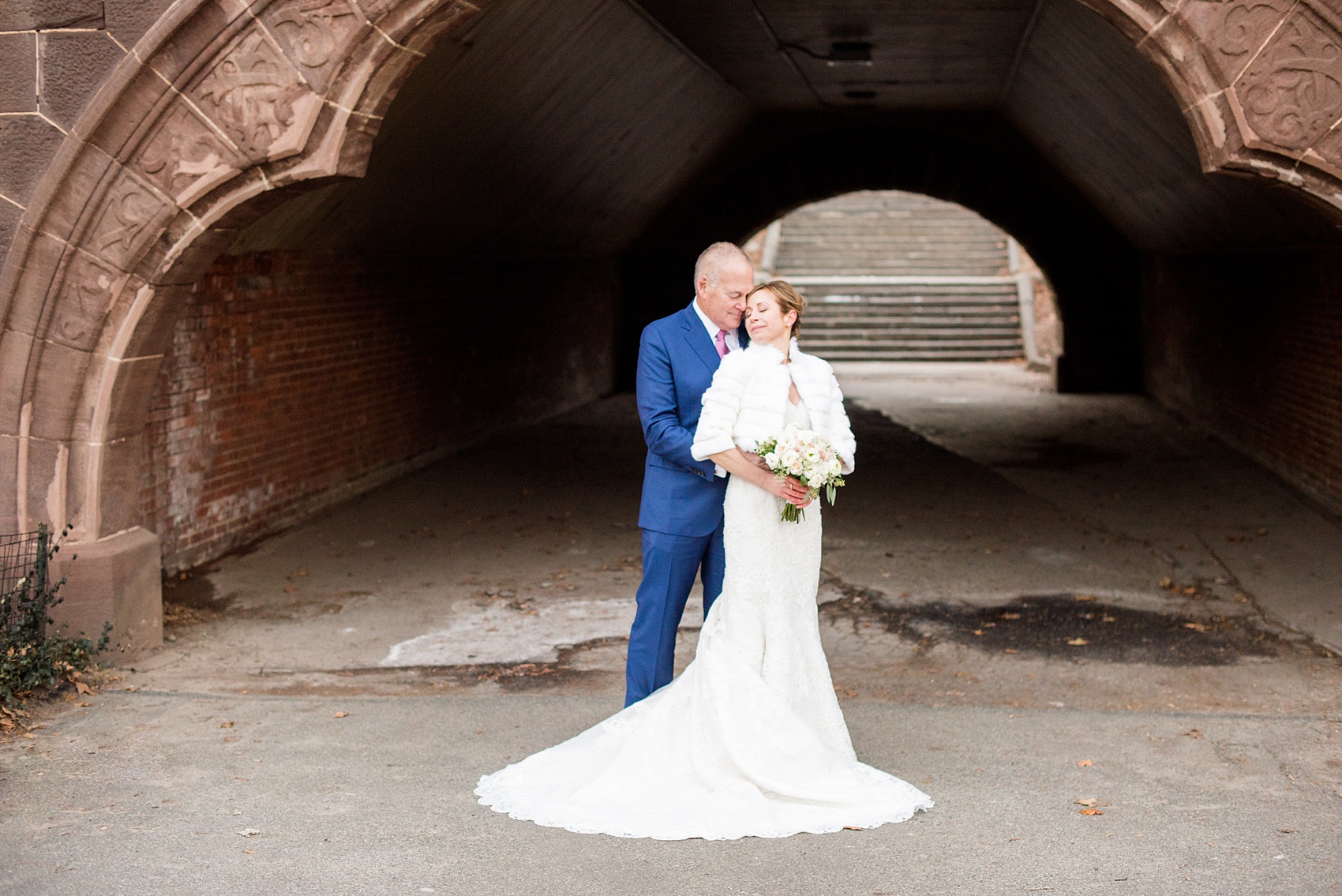 These two were troopers with the frigid temperatures that day! In between photos we suited them up with gloves and a scarf but they made this look easy and carefree and they nestled together to keep warm and share moments alone before they joined their family and friends inside for a ketubbah signing, ceremony and amazing party.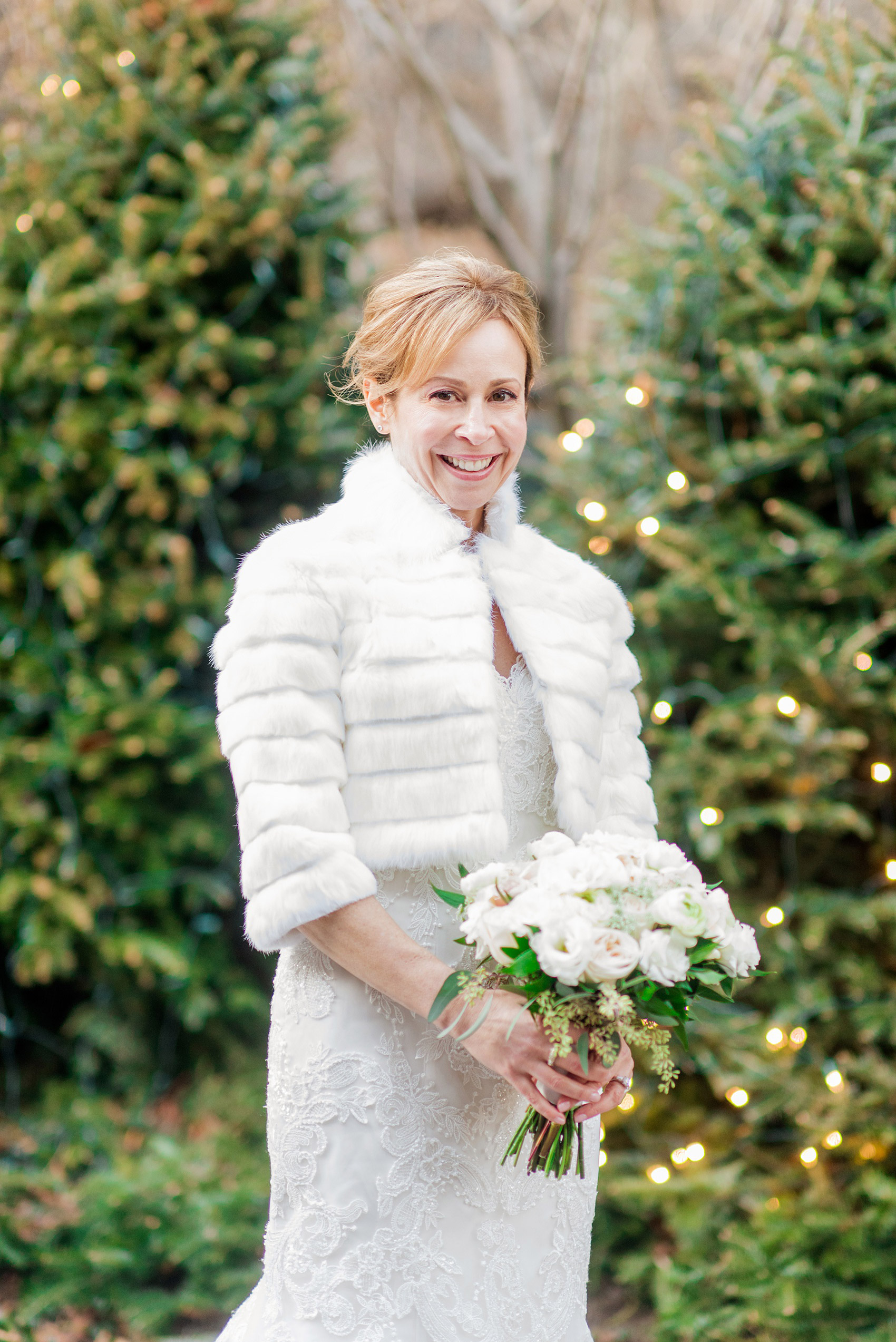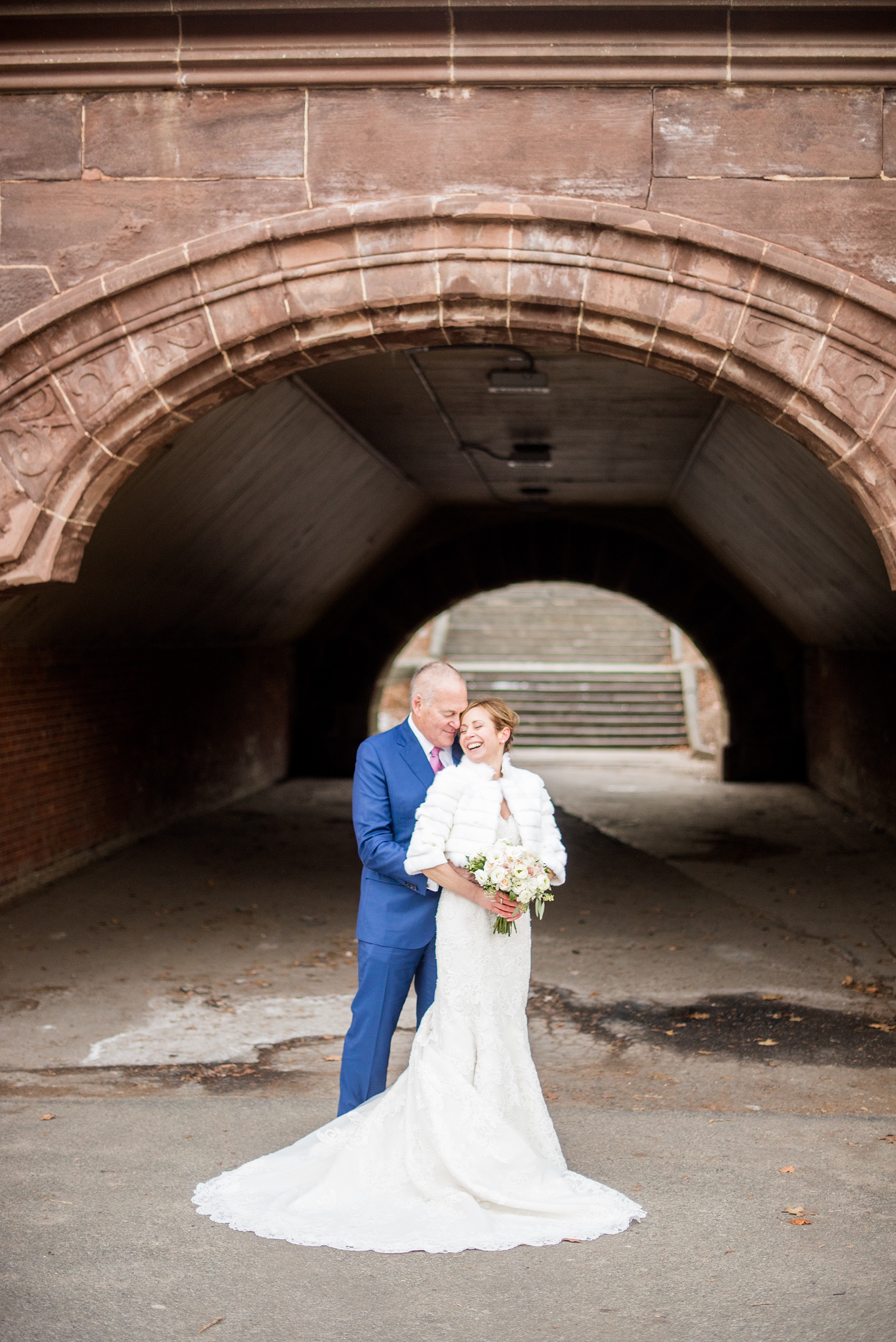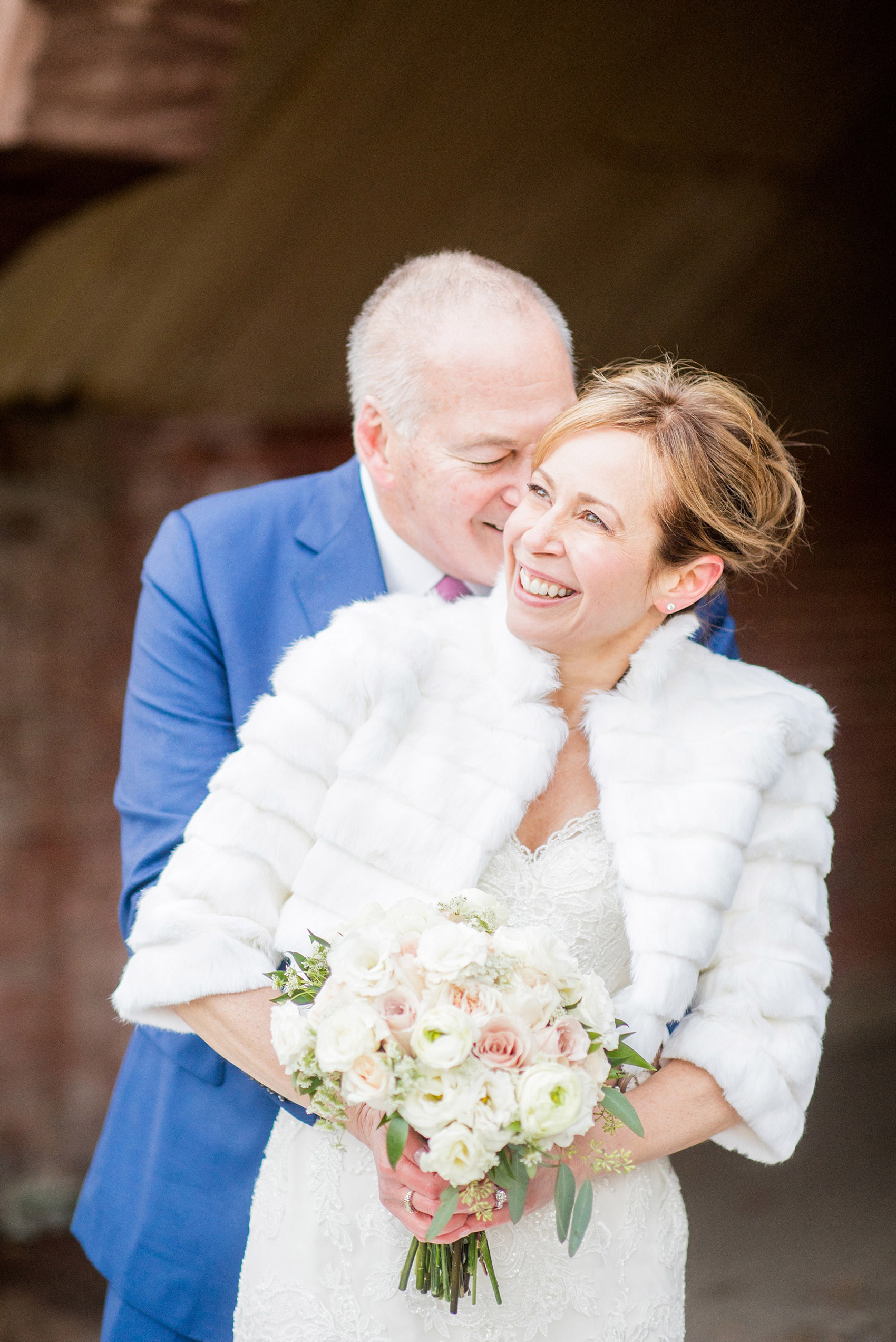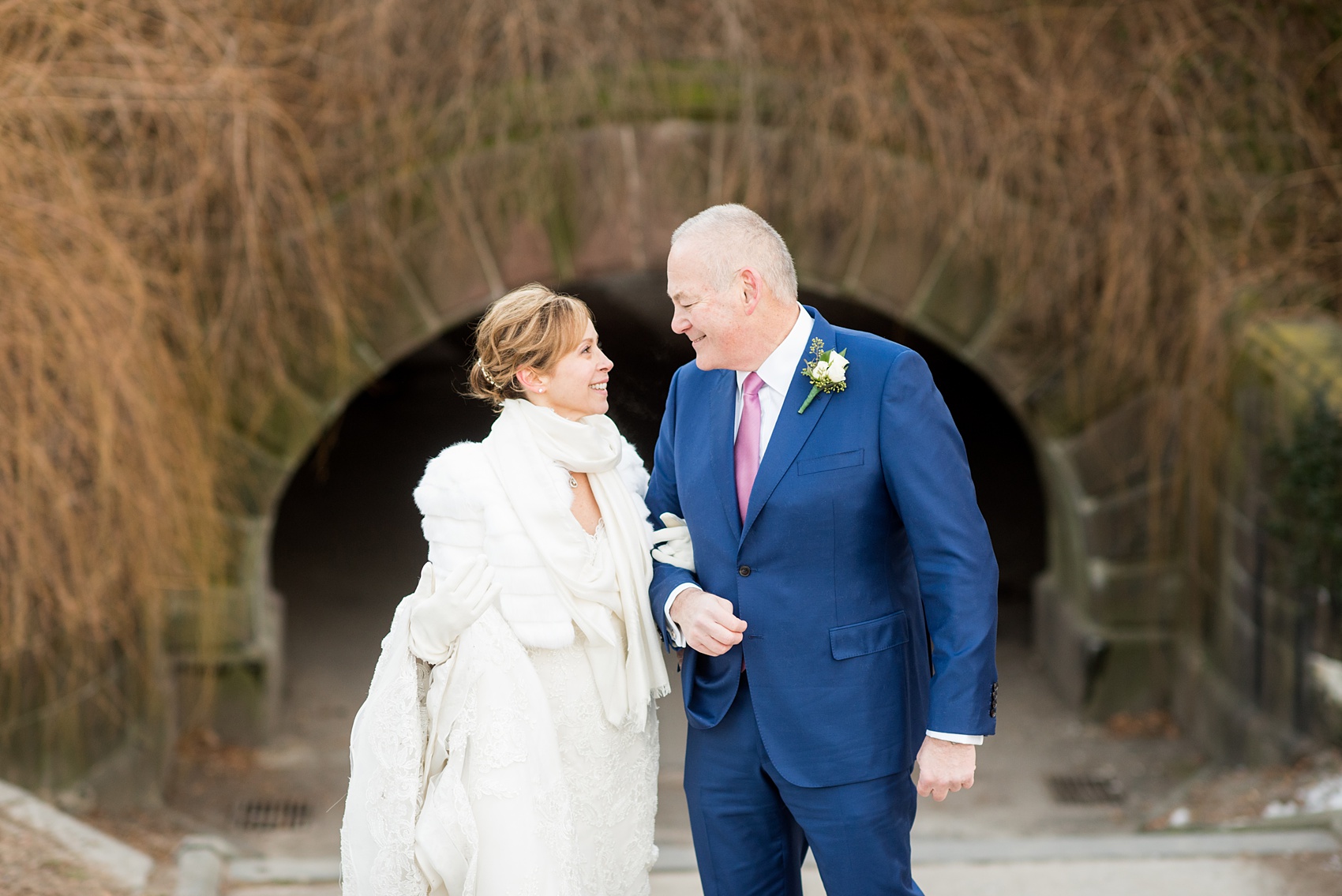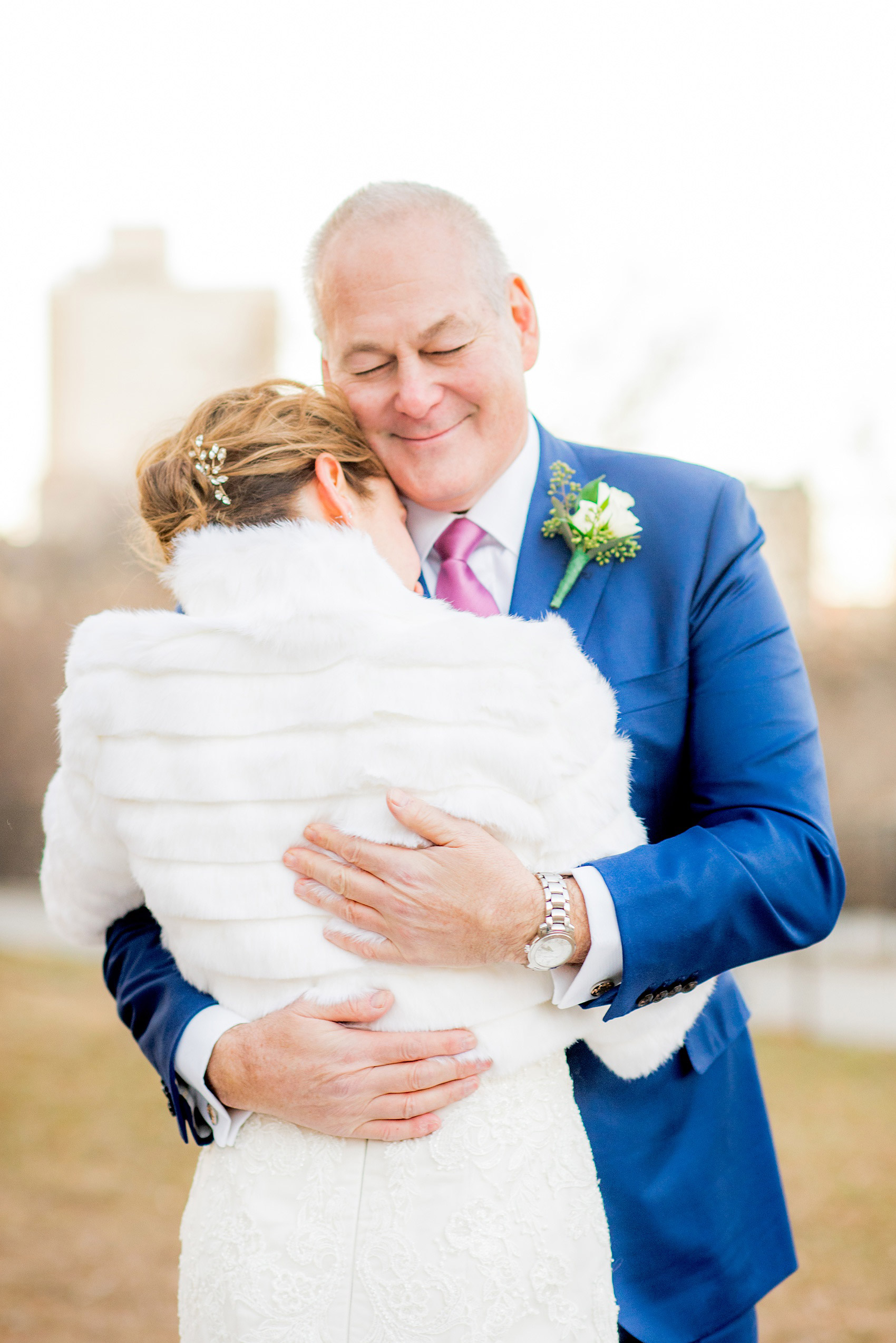 I'm completely in love with these photos of them! I adored the pop of color from Mike's custom blue suit and Felicia's short, white fur coat was the perfect addition to her winter wedding day look. Mike completed his outfit not just with those special cufflinks mentioned above, but also beautiful Japanese silk ties, which he gifted to his sons and nephews who served as groomsmen as well, and special bicycle themed socks. They also gifted every single one of their guests with custom socks too, complete with their wedding "logo" and January wedding date! It was complimented by a sweet bicycle sugar cookie and tied with a thank you note and custom wax seal.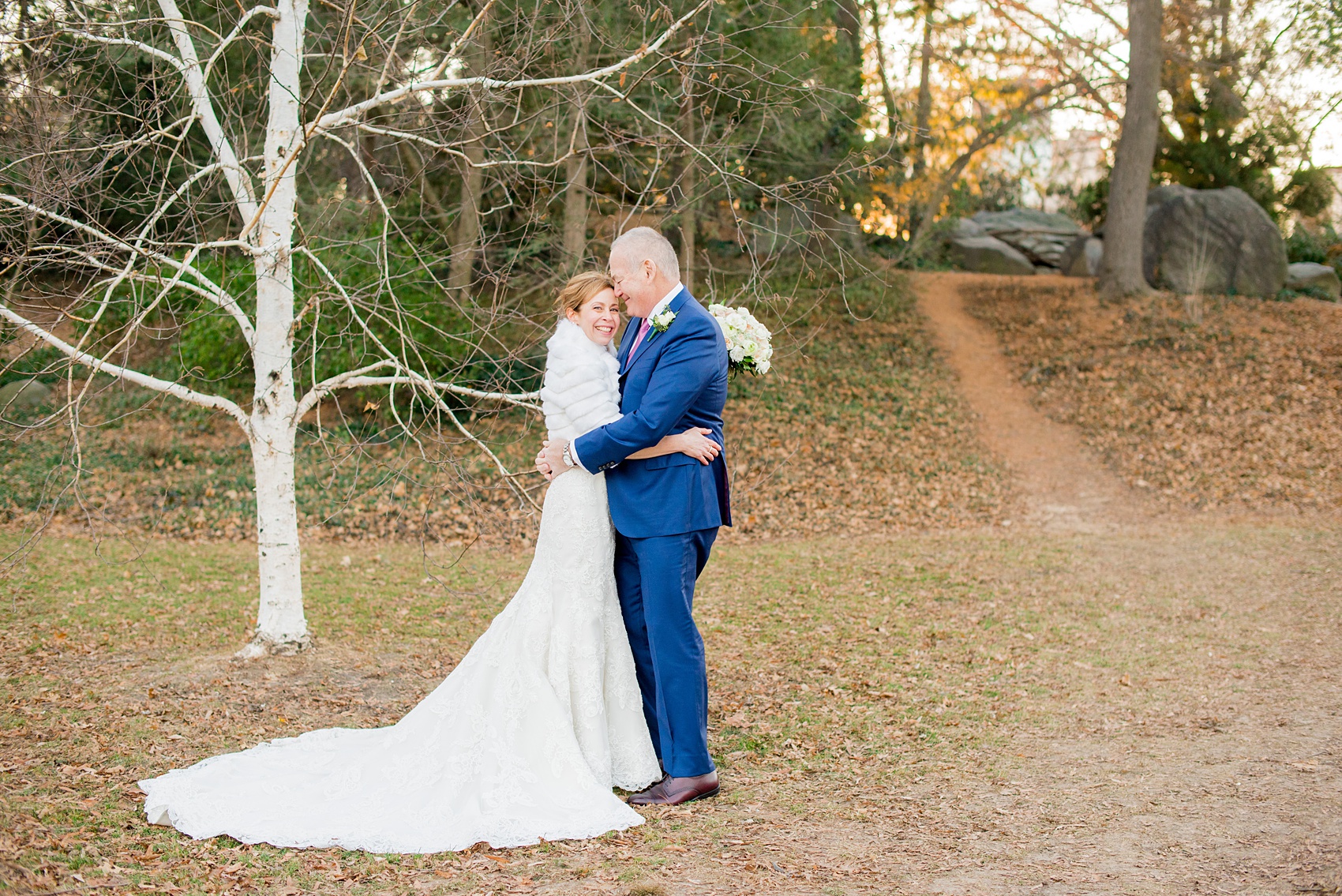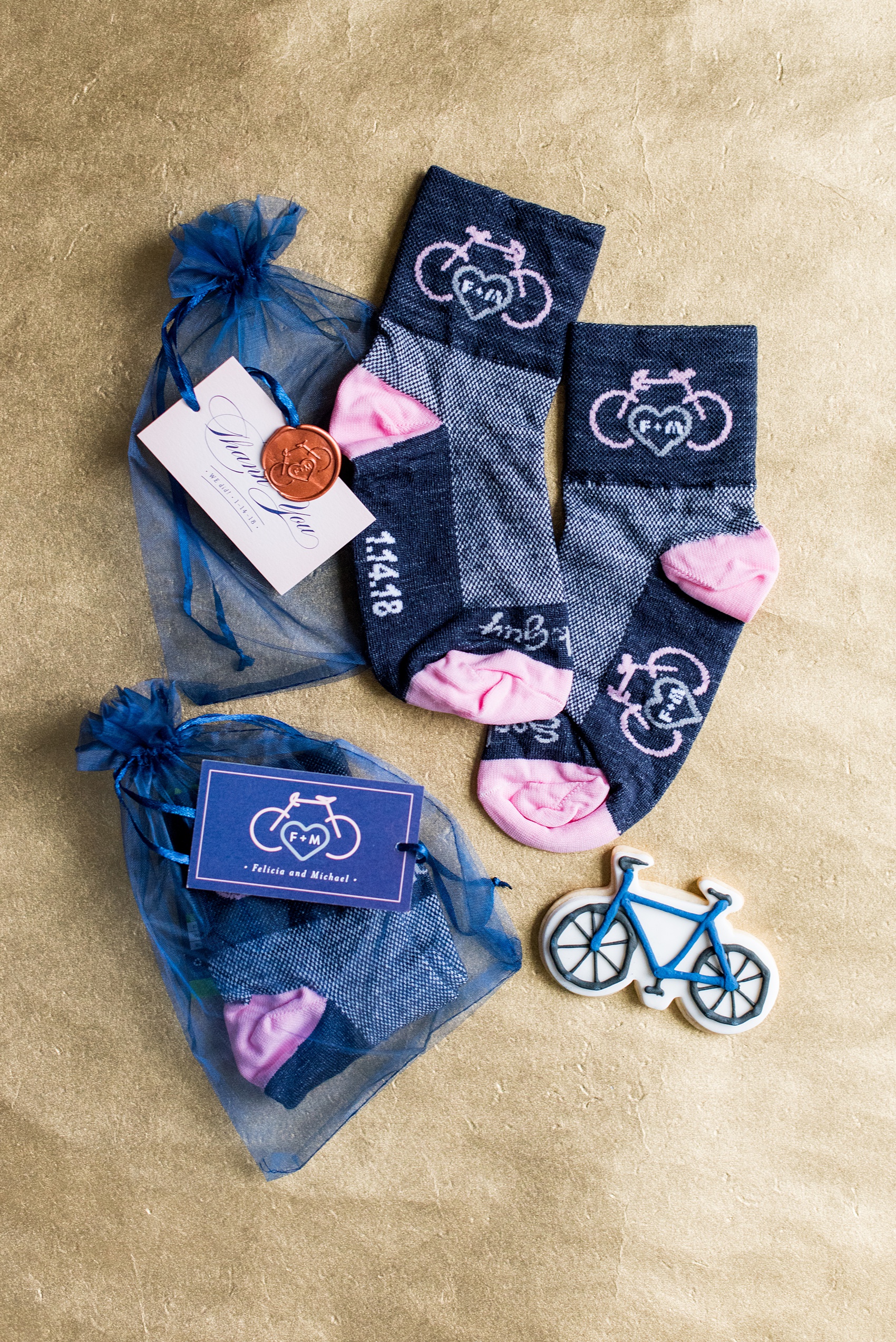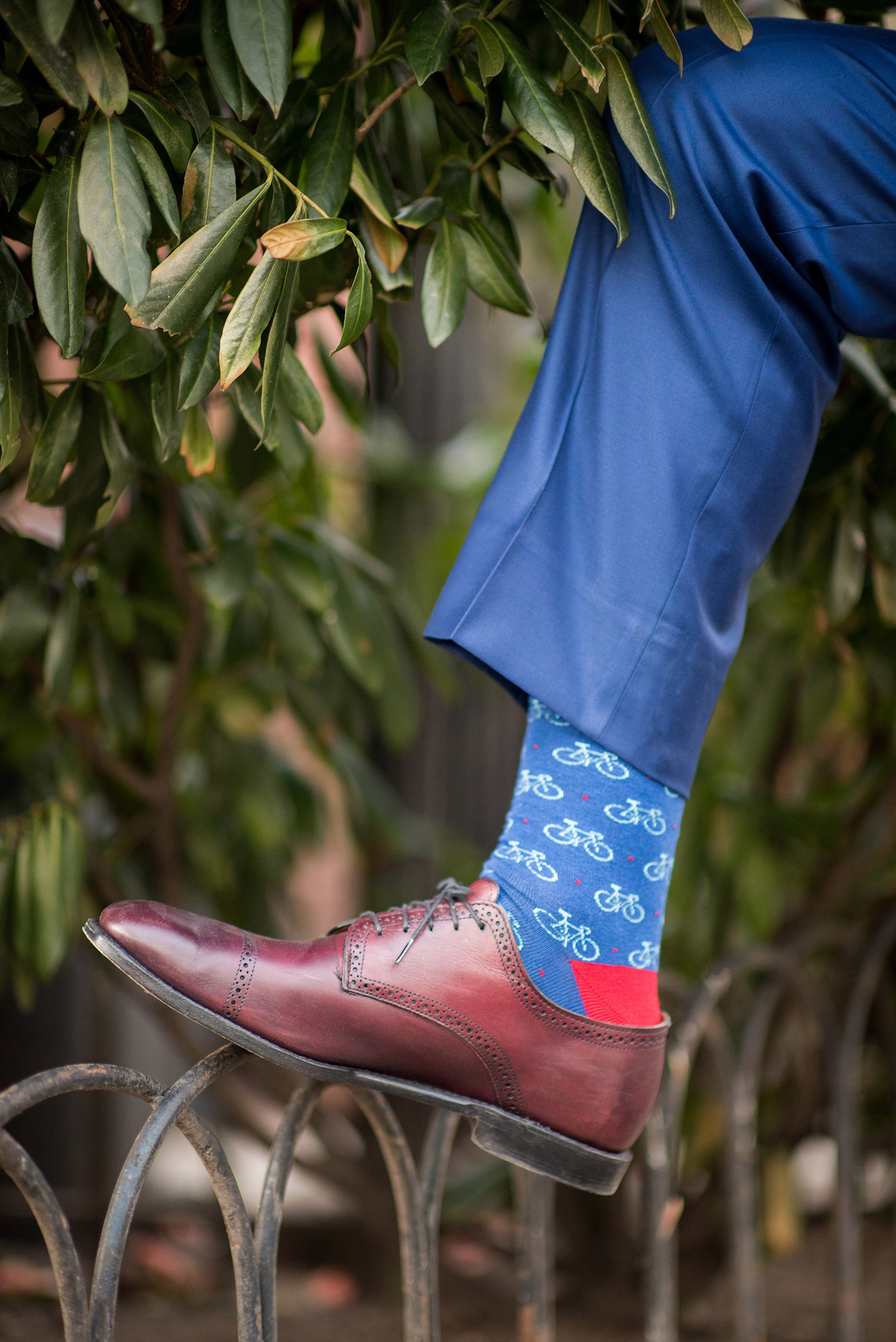 It's customary to get married in solid gold bands in the Jewish religion and Mike and Felicia were married in her parents' gold bands, pictured below.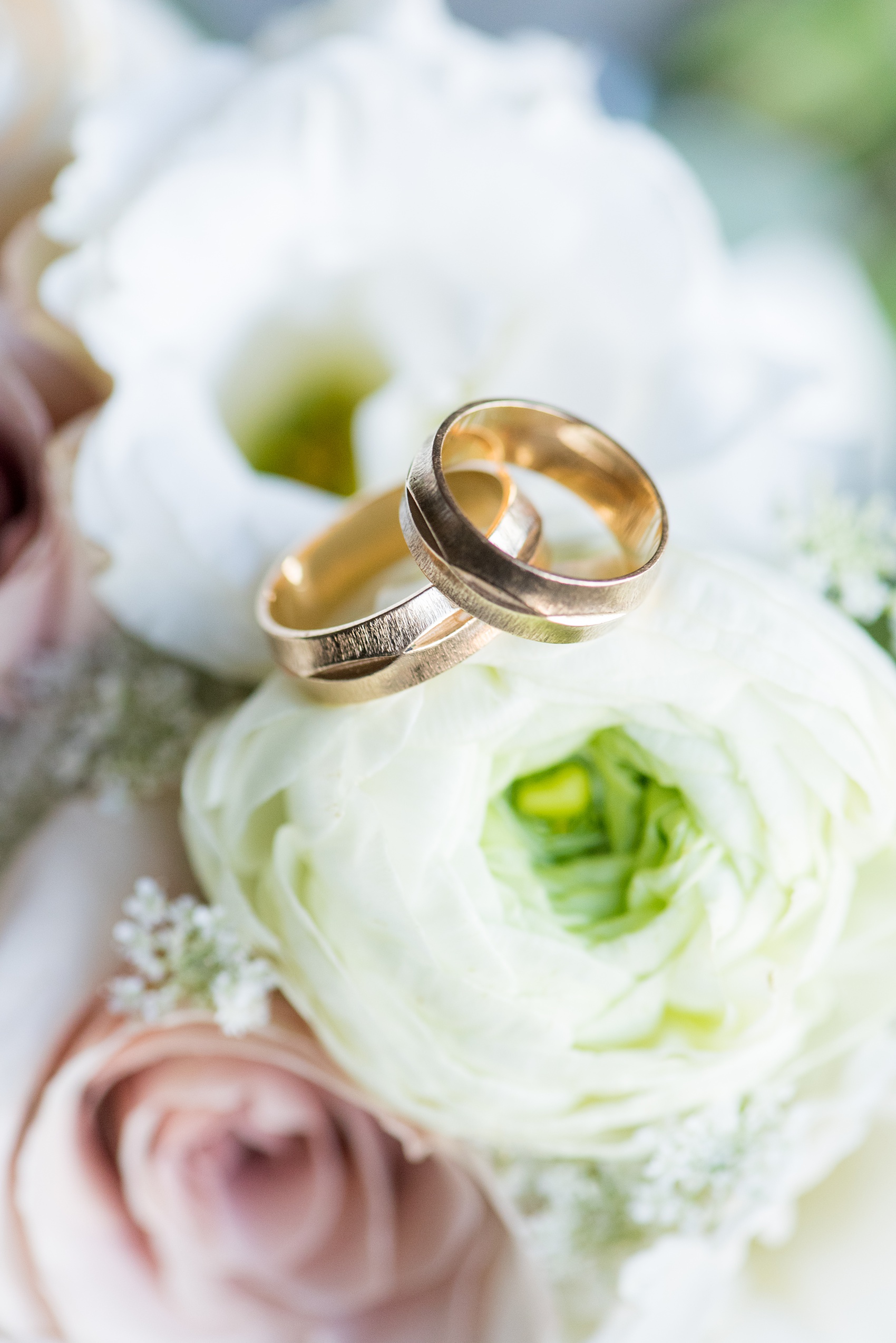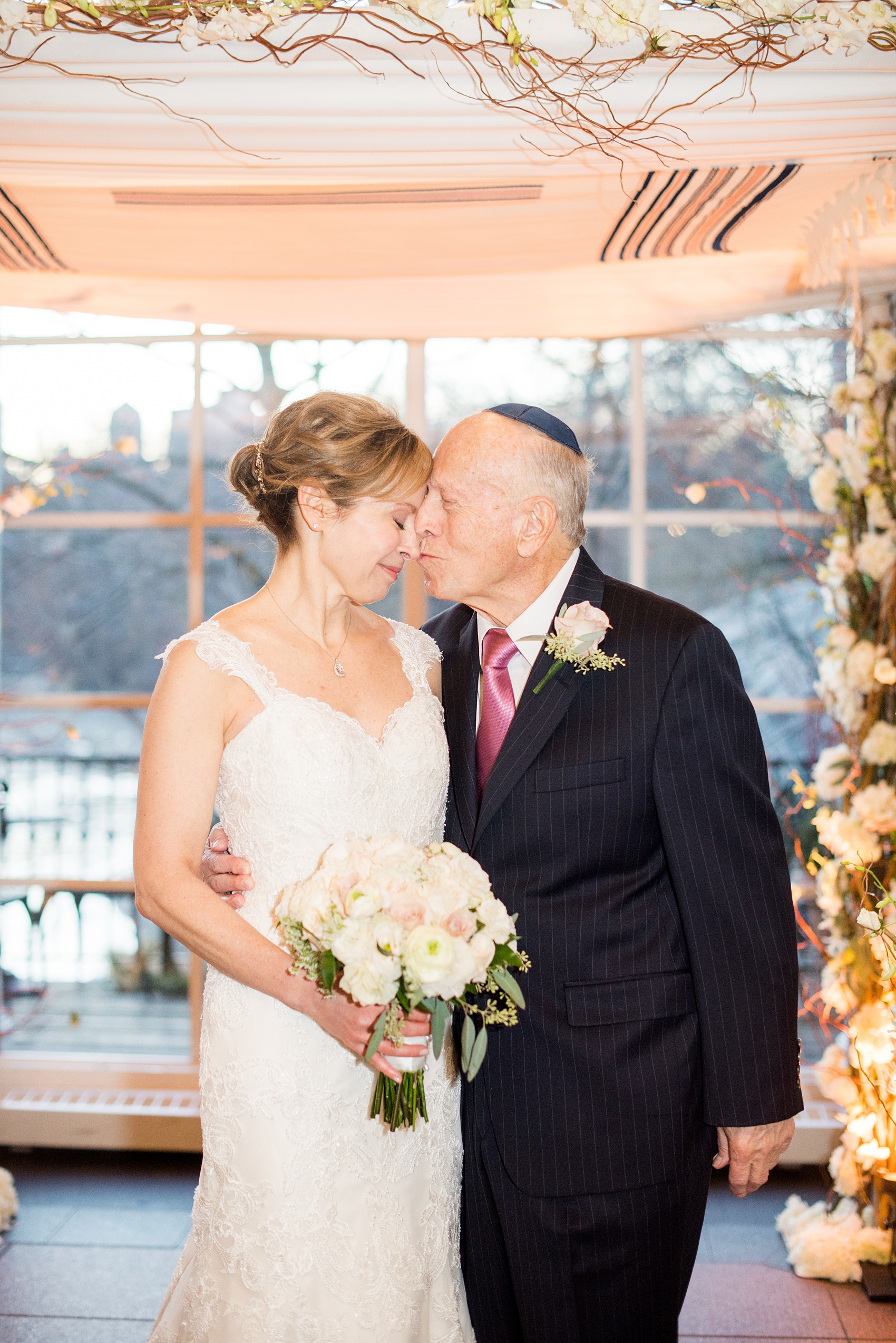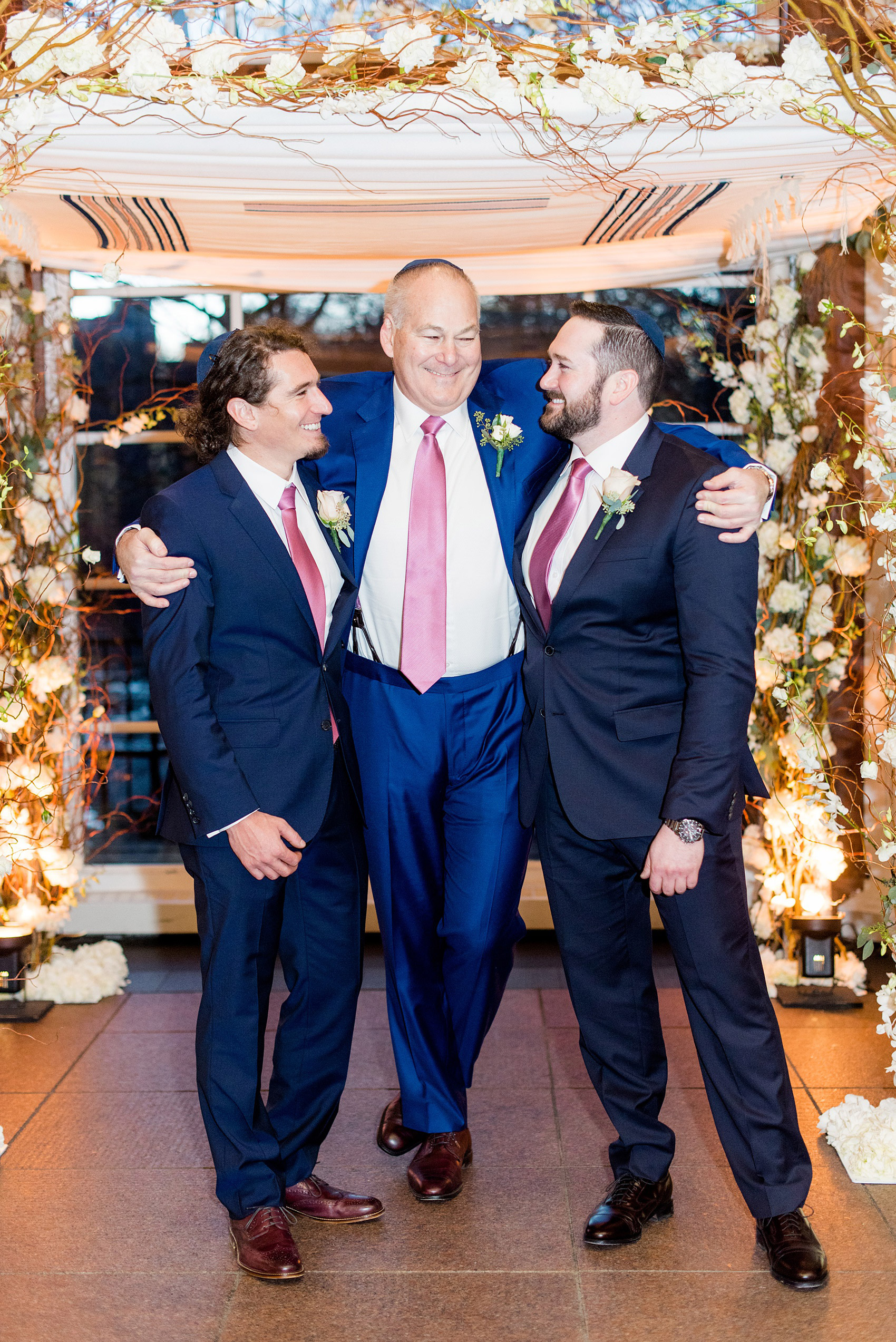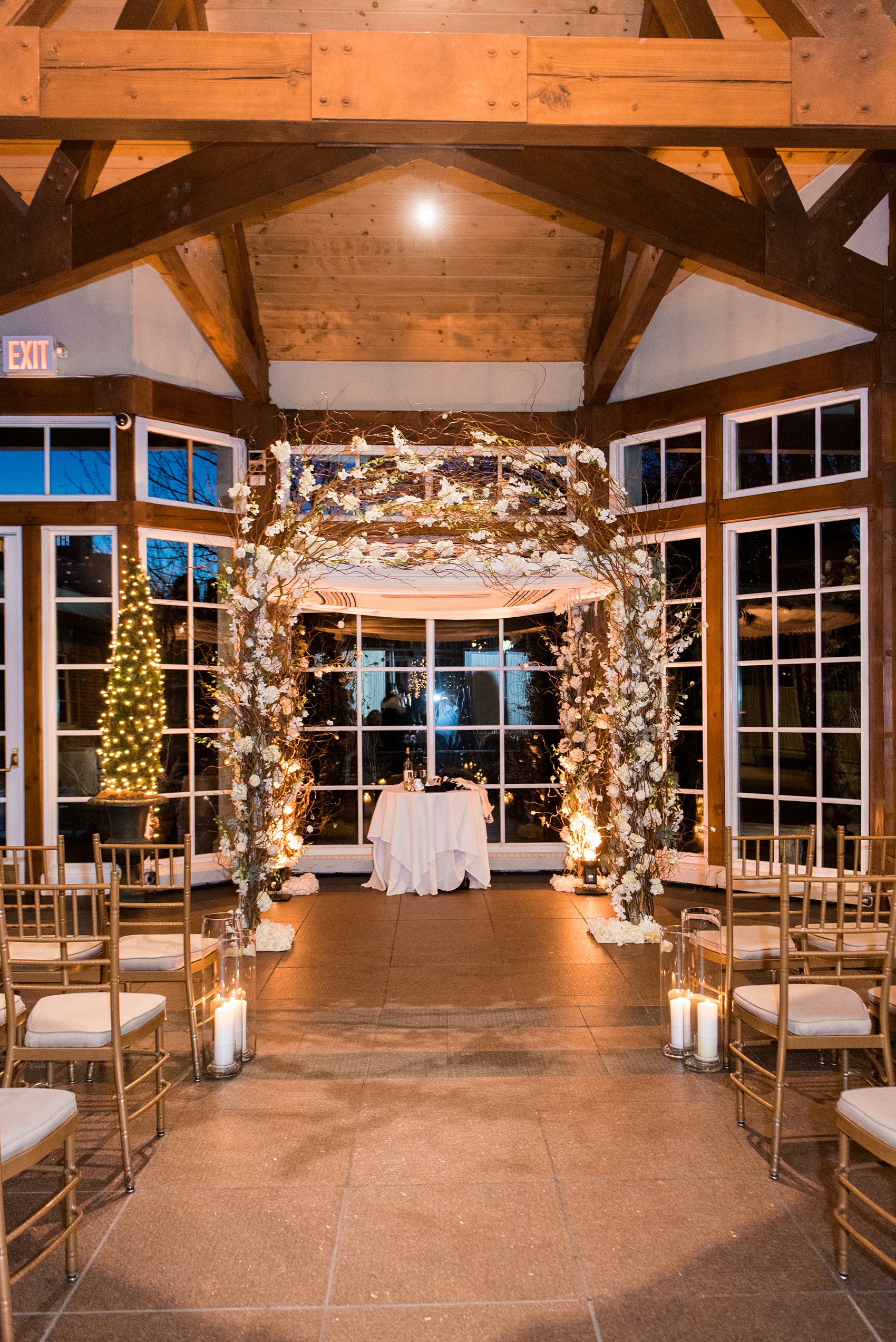 As the sun set over the lake in front of the boathouse, we completed taking family photos with one most notable to me, their wedding party, which consisted of Felicia's nieces and nephews and Michael's sons. I thought it was so special to keep this aspect of their wedding 100% in the family. Family members also helped read the seven blessings during their ceremony as well.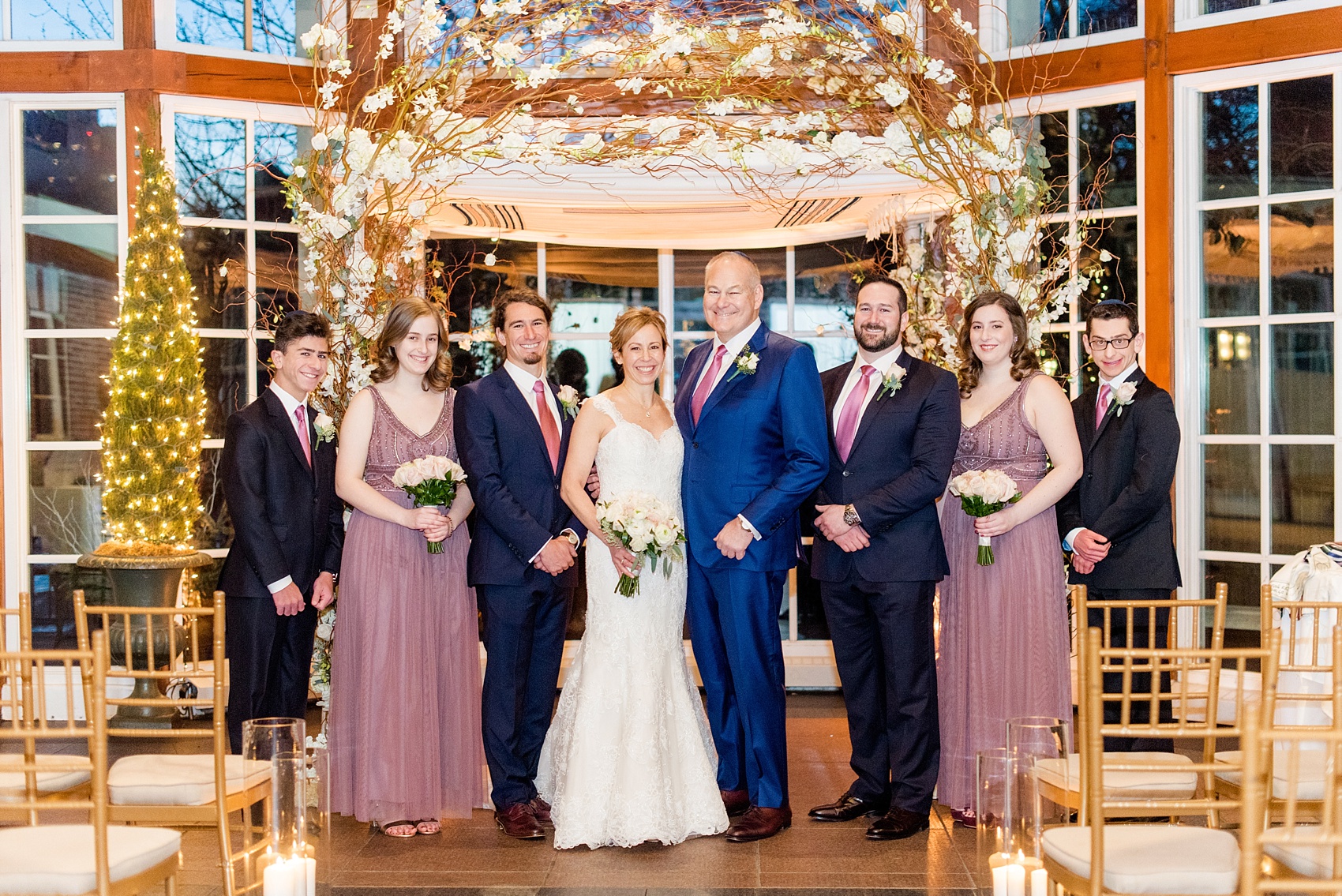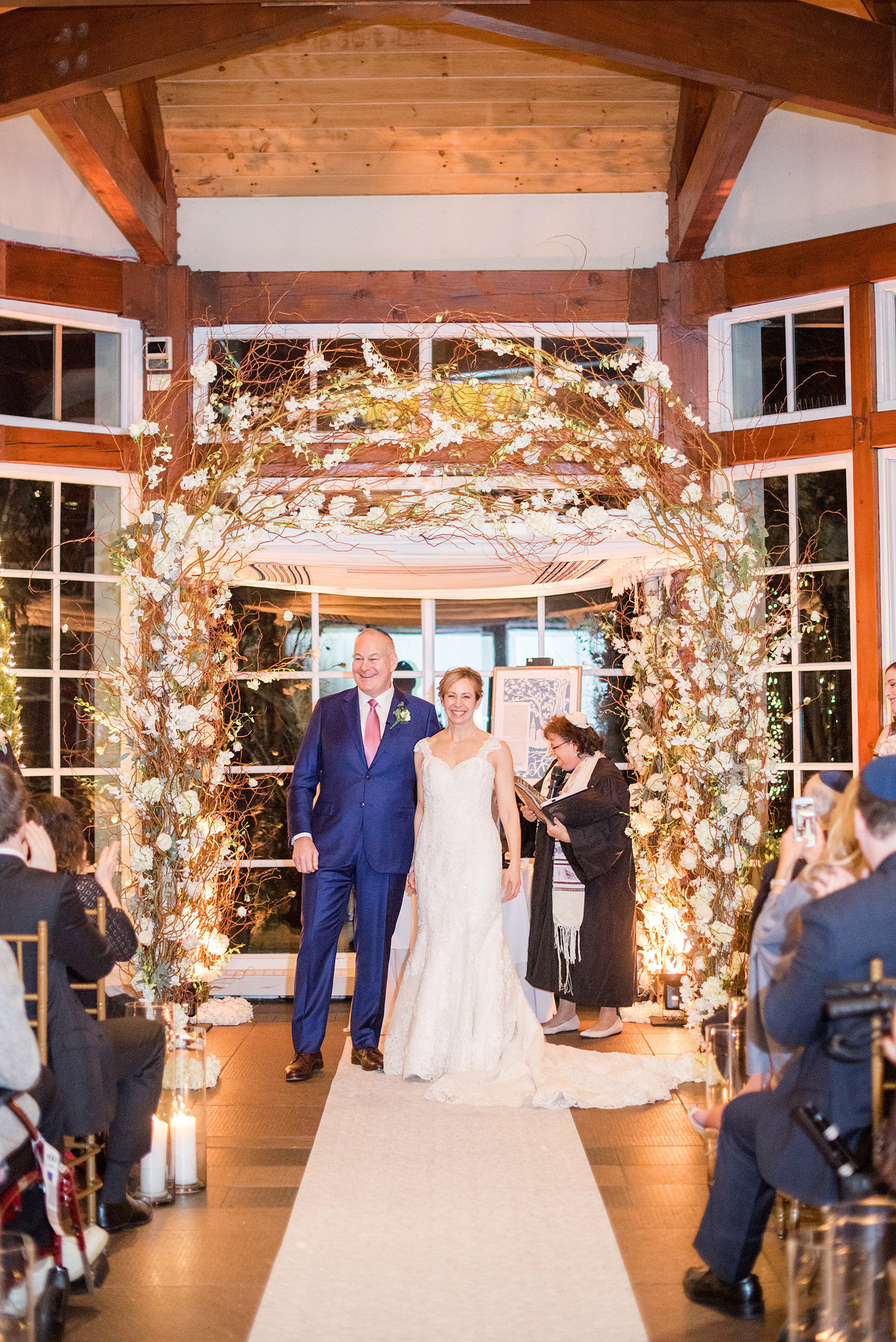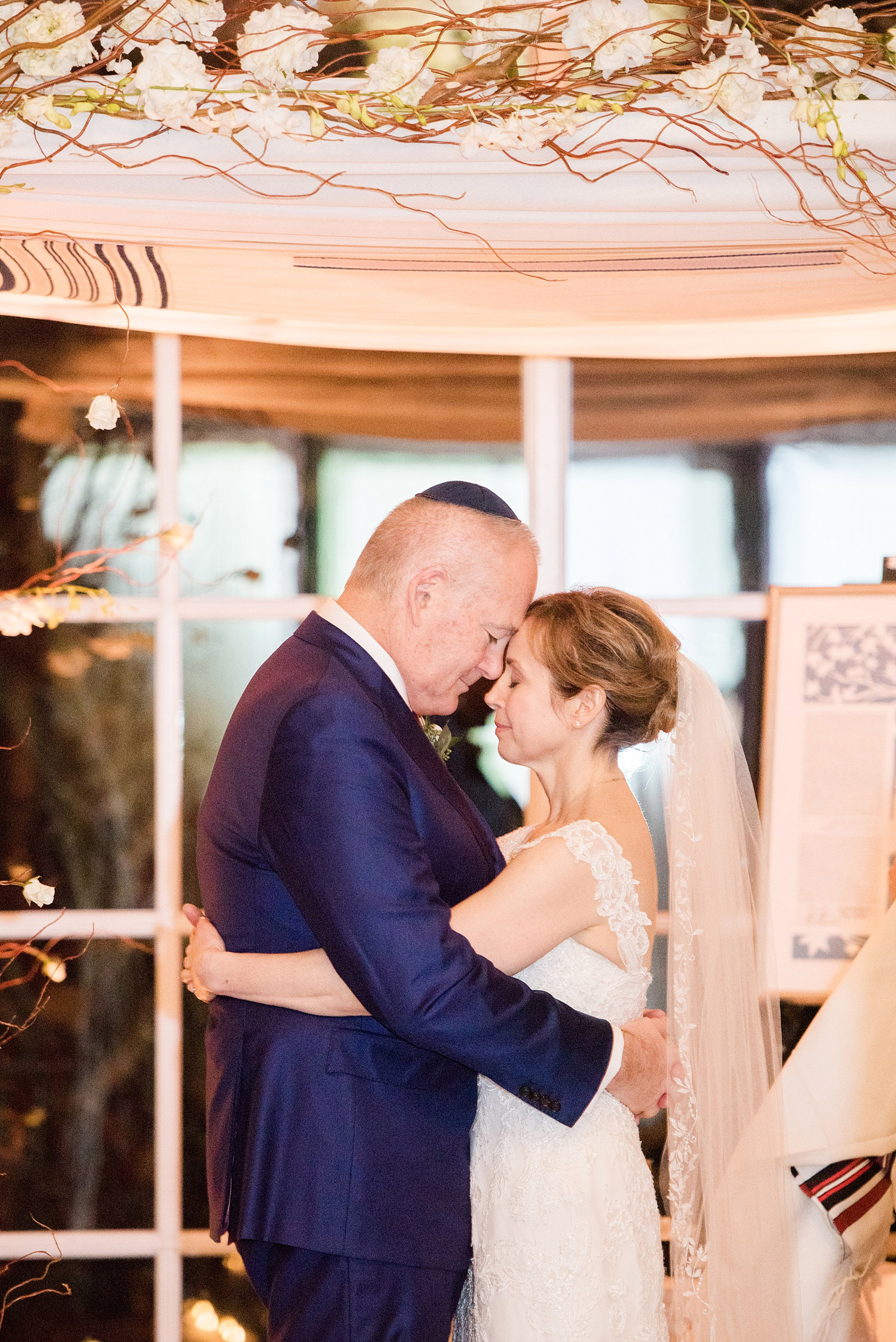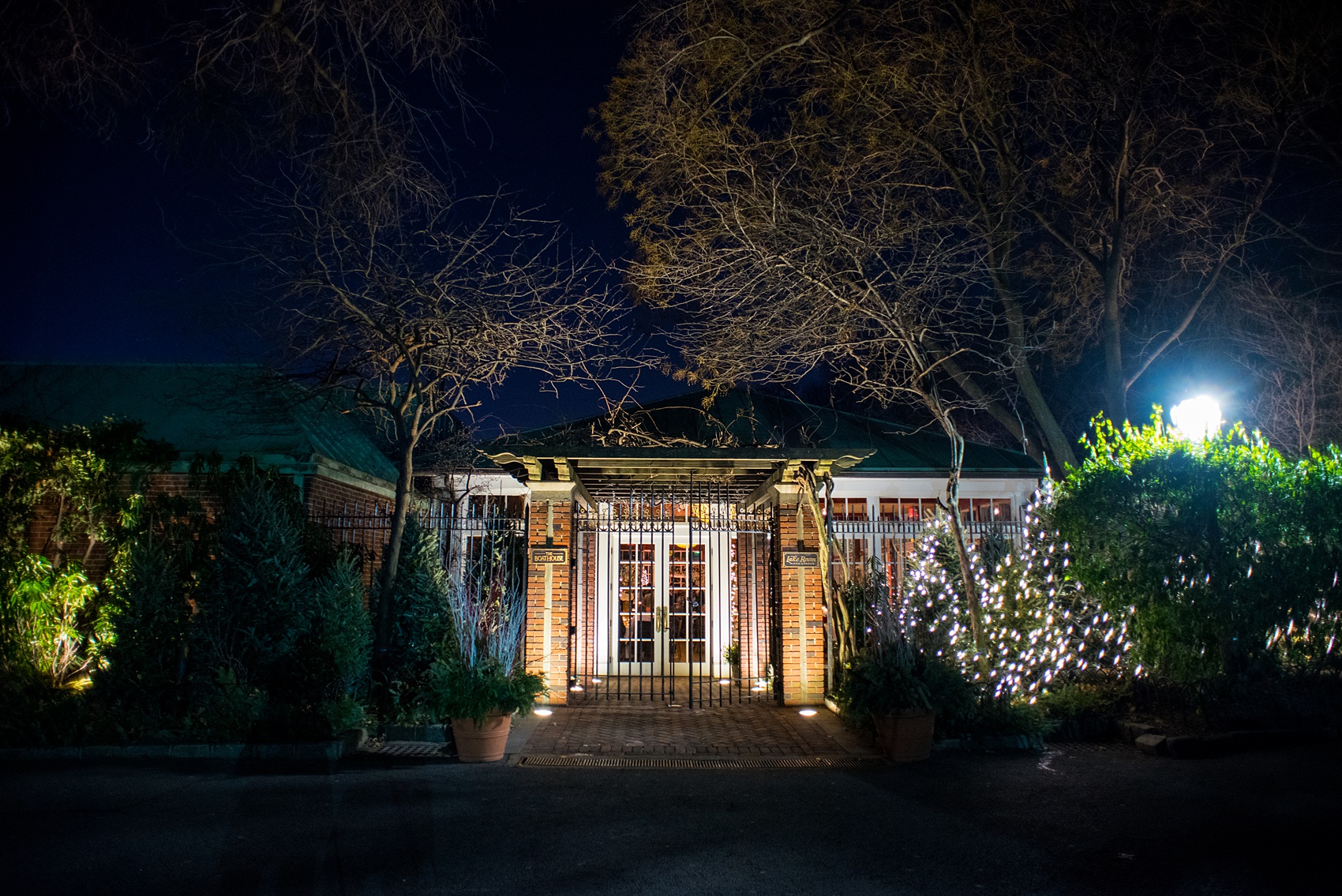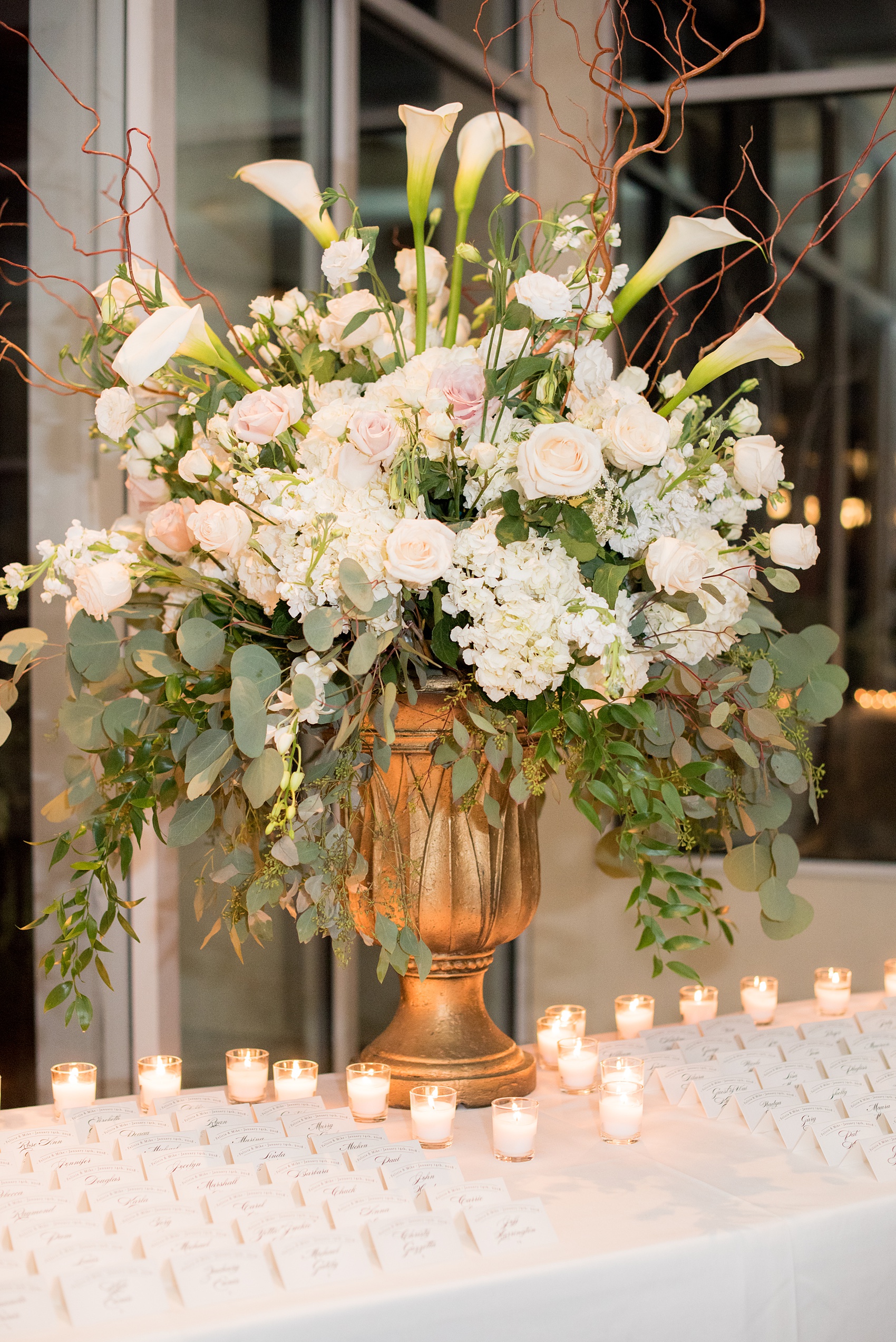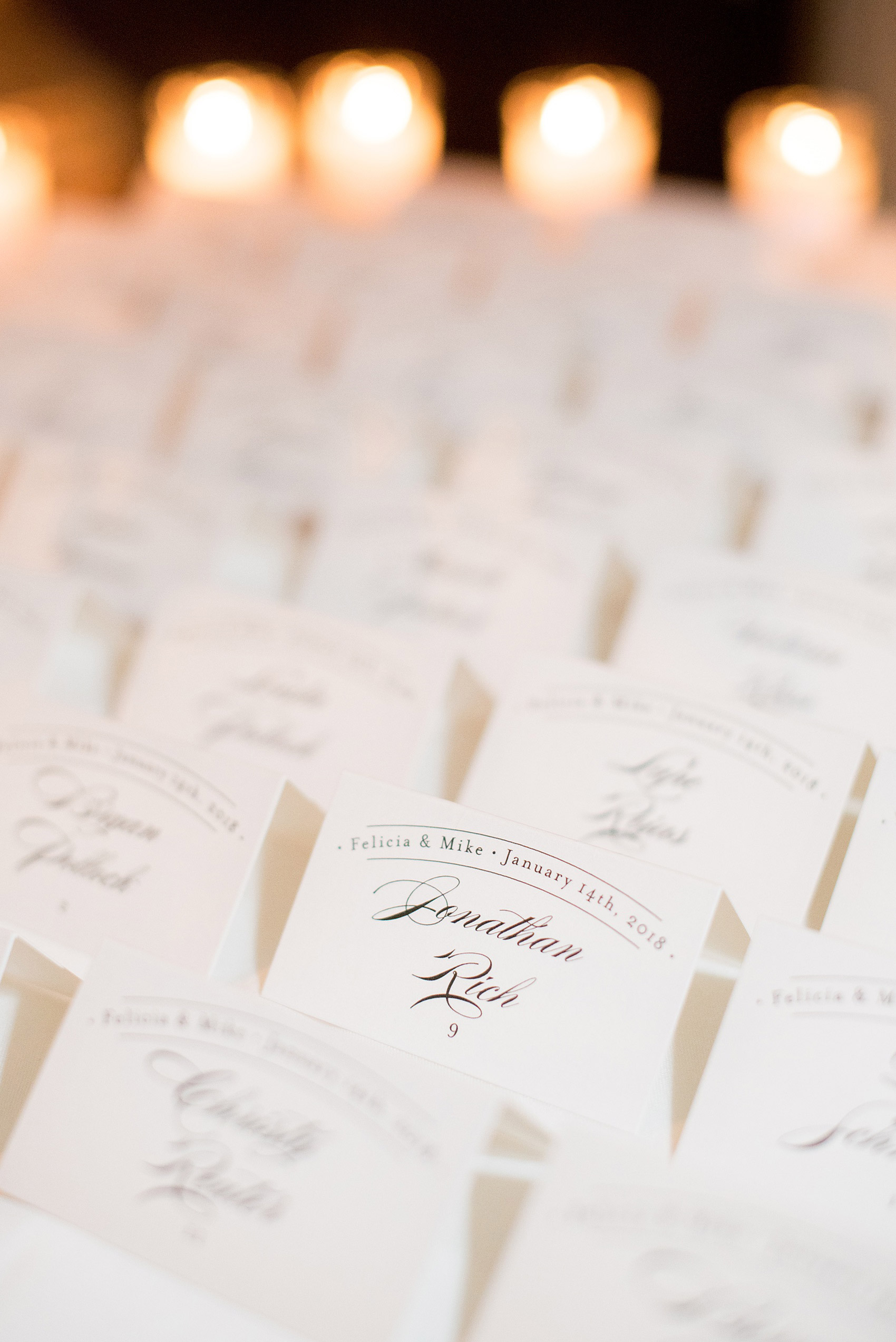 The celebration officially began after they were pronounced husband and wife! Guests enjoyed a cocktail hour complete with gourmet passed hors d'oeuvres, champagne cocktails and more and moved into the reception area to discover a romantic winter inspired scene. Sounds of a live band welcomed them to the party!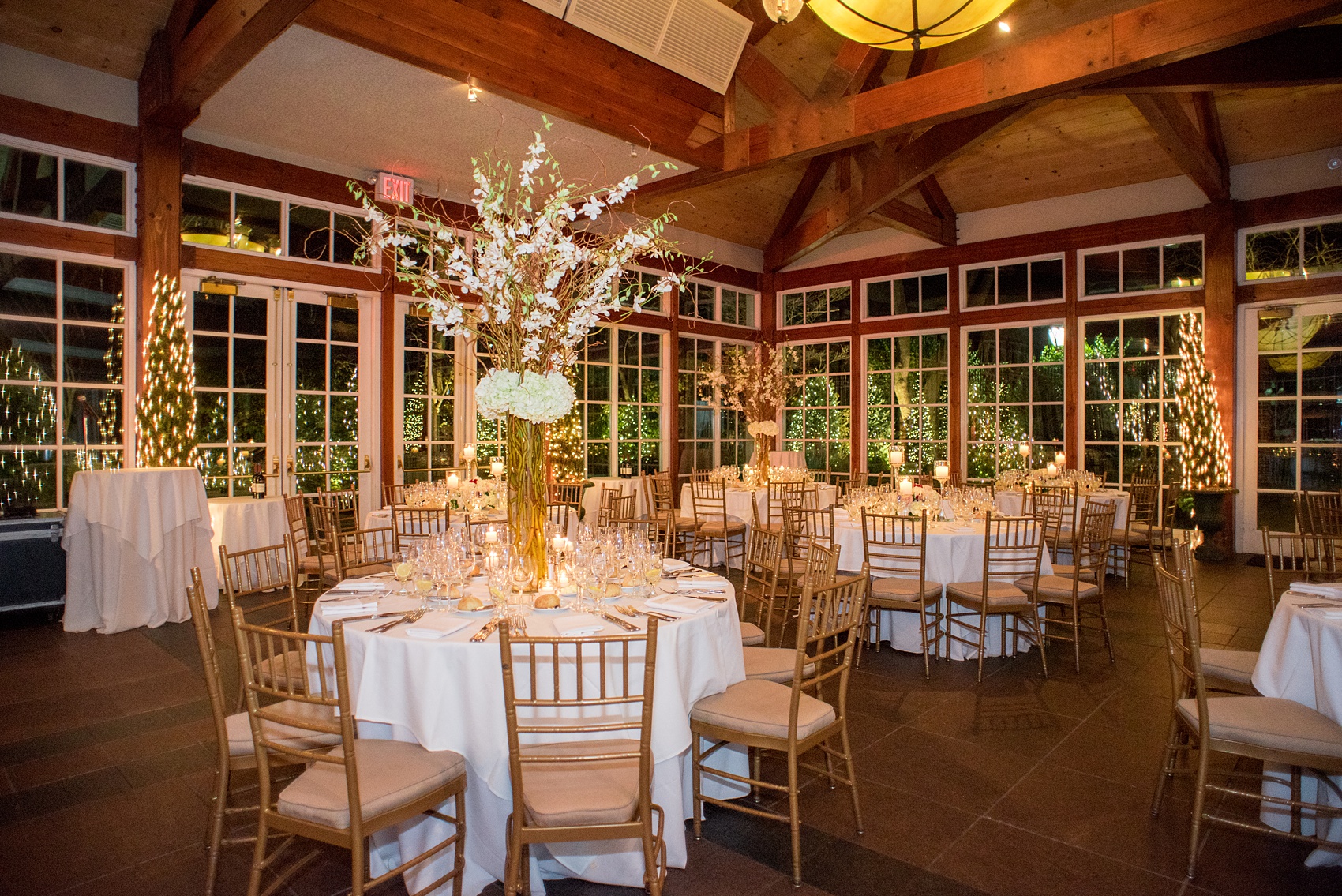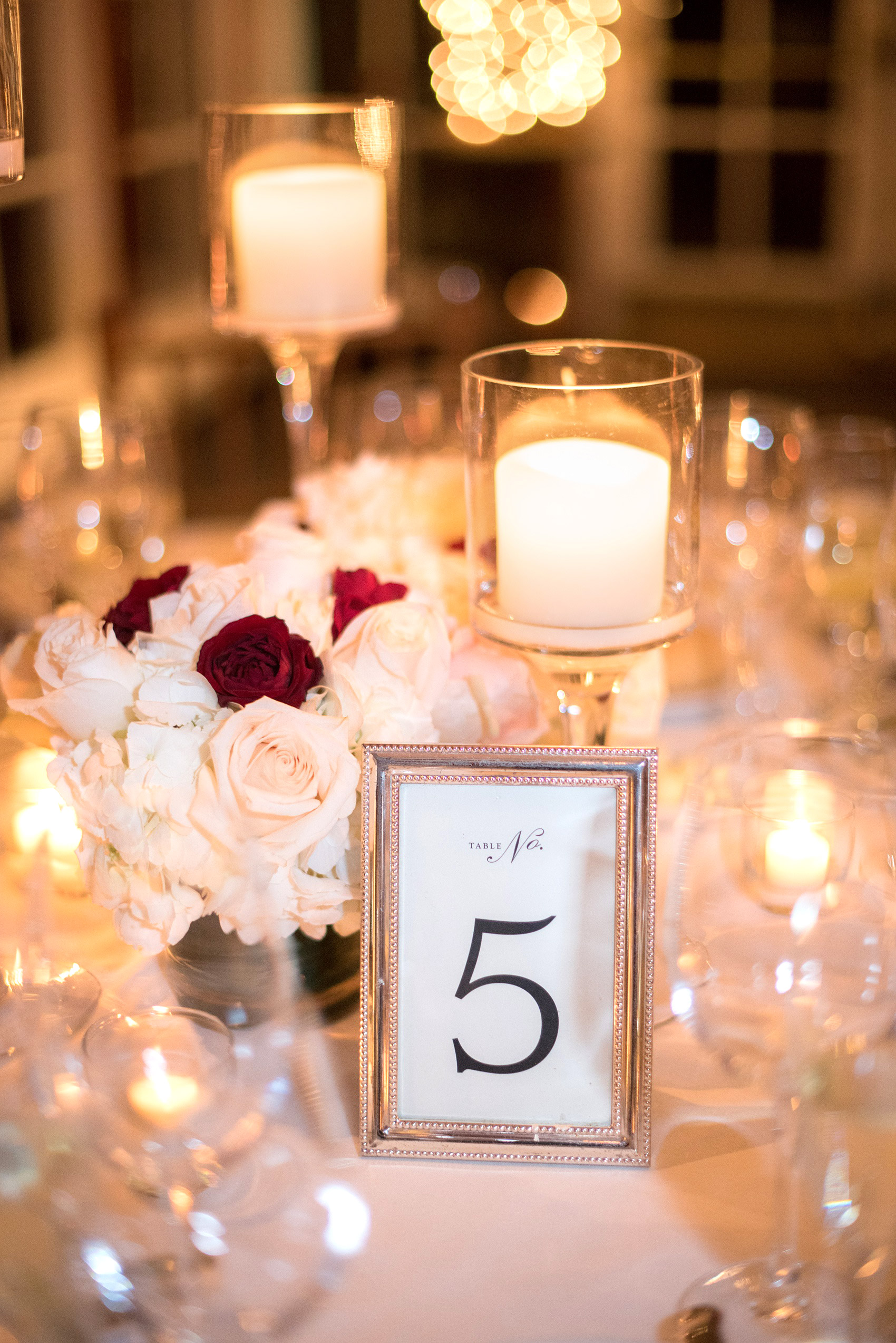 I love how much romance and ambience the candlelight added to the room. They surrounded floral arrangements on each table, both high and low, created with orchids, branches, roses and hydrangea. One of my favorite wedding details Mike was sure to include in their reception was a specific Spanish wine: he flew to Florida after locating it in Miami in order to have it for some special tables at the reception. Why? Mike proposed to his lovely bride in Spain and having it at their wedding was a nod to that wonderful trip!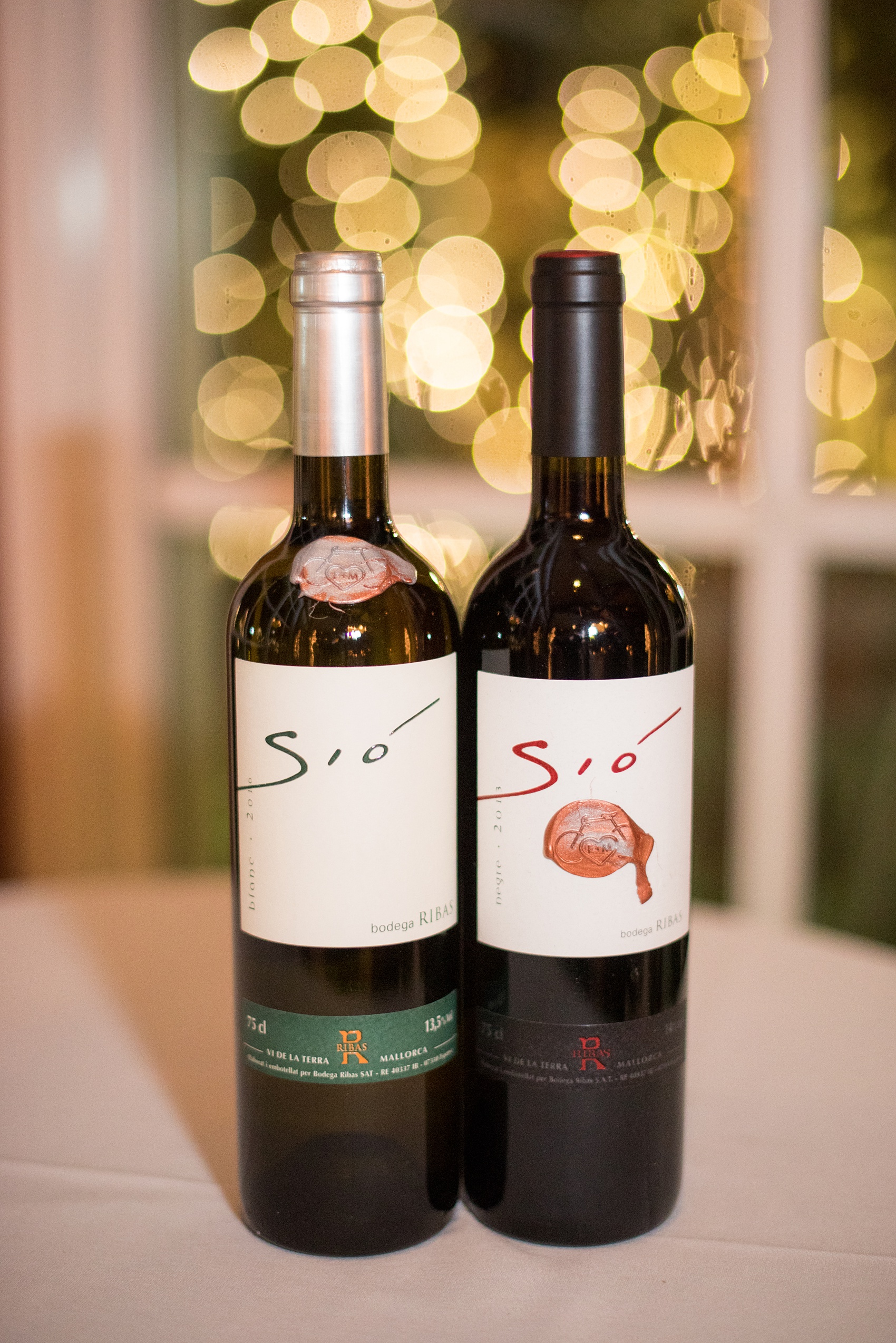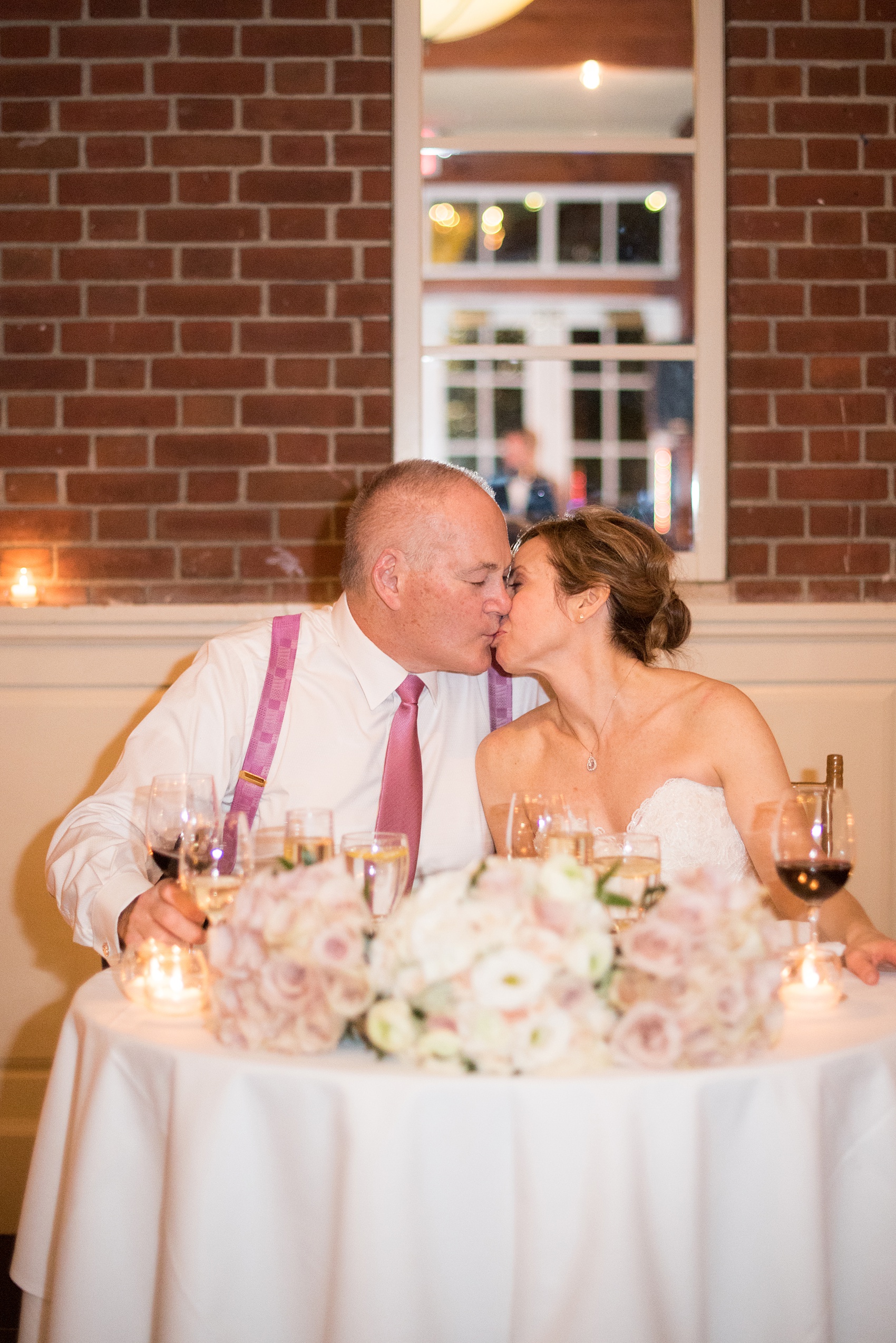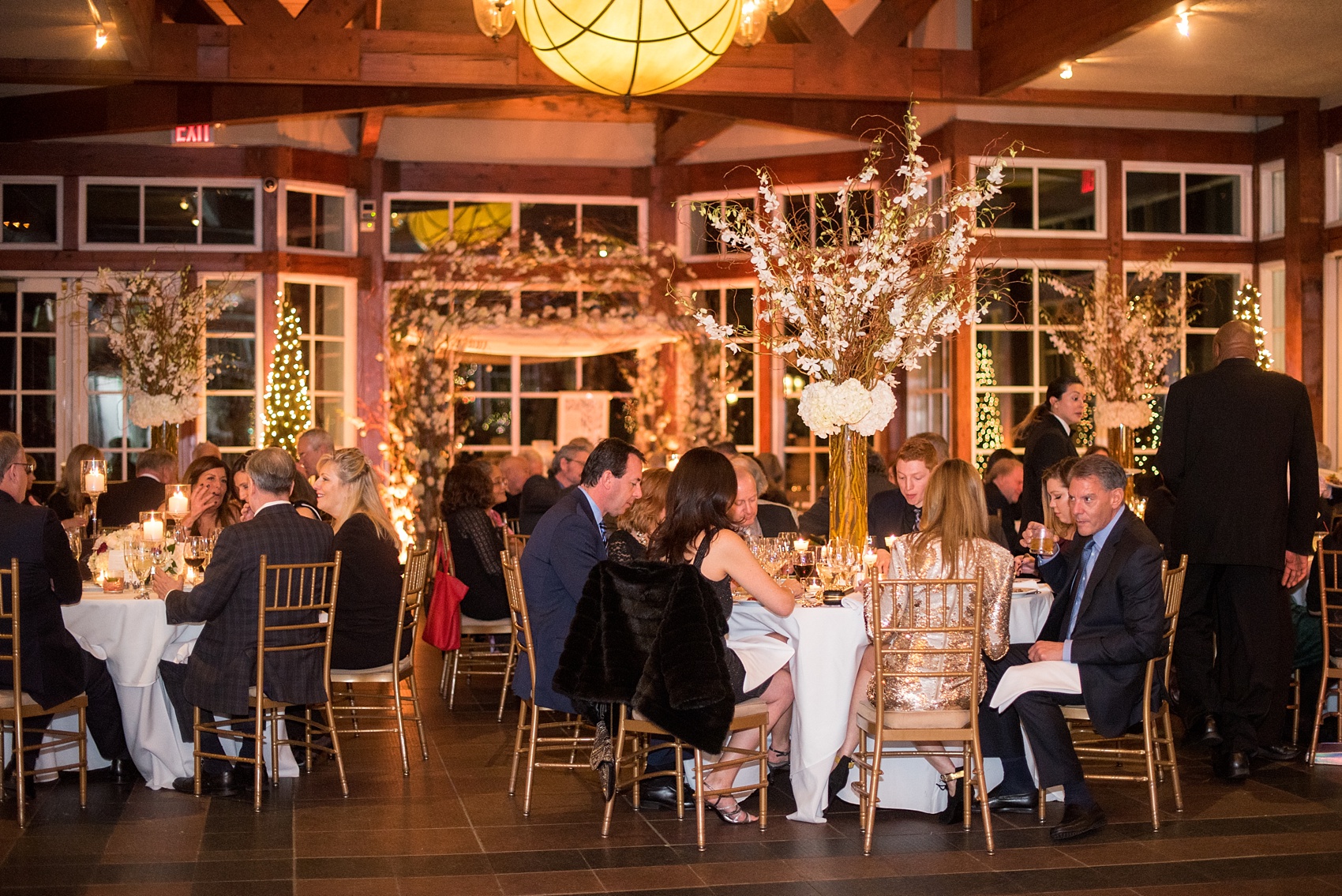 Guests dined on a sesame crusted tuna appetizer, arugula salad, and snapper or filet as their main entree. Of course the evening was topped off with a wedding cake decorated in two shades of blue icing, piped as the NYC skyline. Two metal bicycles represented the bride and groom on the middle tier. As an extra special touch of sweetness, everyone received a serving of warm chocolate truffle cake and assortment of petit fours on their table.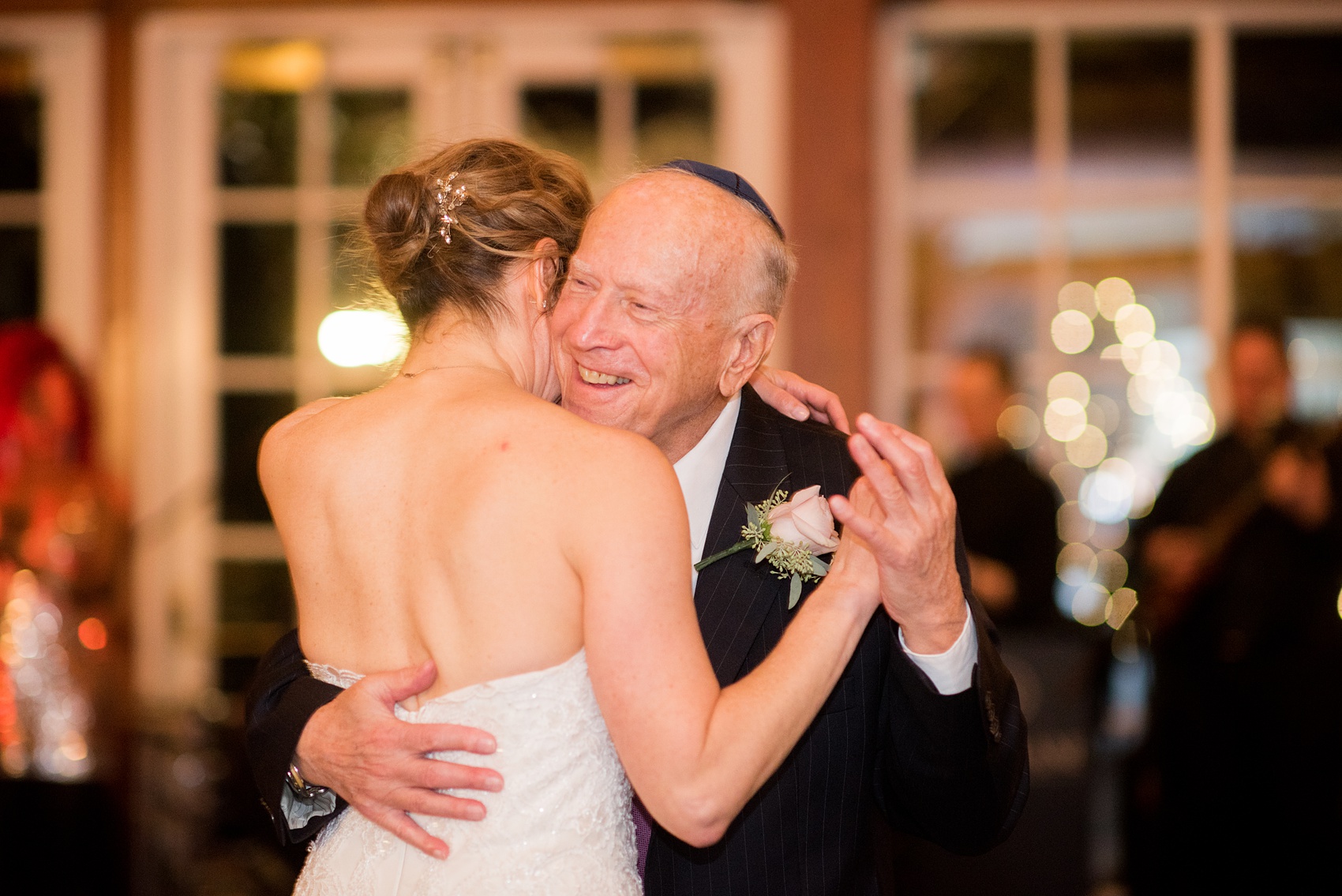 I nearly melted as I watched Felicia and her dad dance a special father-daughter dance. (Their bond was evident throughout the day and heart-warming for me to capture.) Mike welcome Felicia's mother to the dance floor too. Afterwards everyone helped her parents, Judy and Lou, celebrate the marriage of their daughter with a Mizinke dance, which takes place at a wedding reception when the last child of Jewish parents is married as a religious tradition. It's tradition for the parents to wear a sort of laurel crown of greenery as well.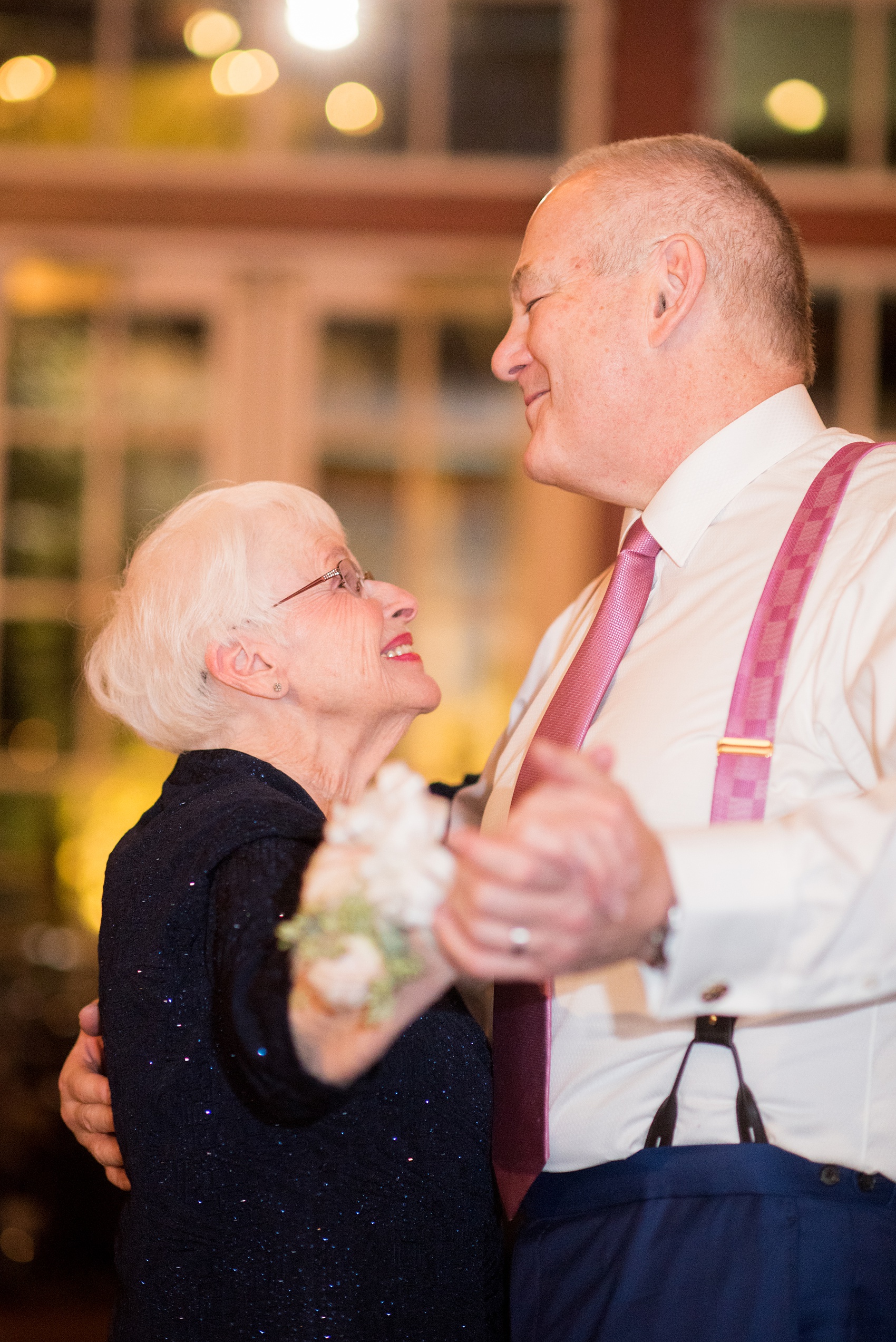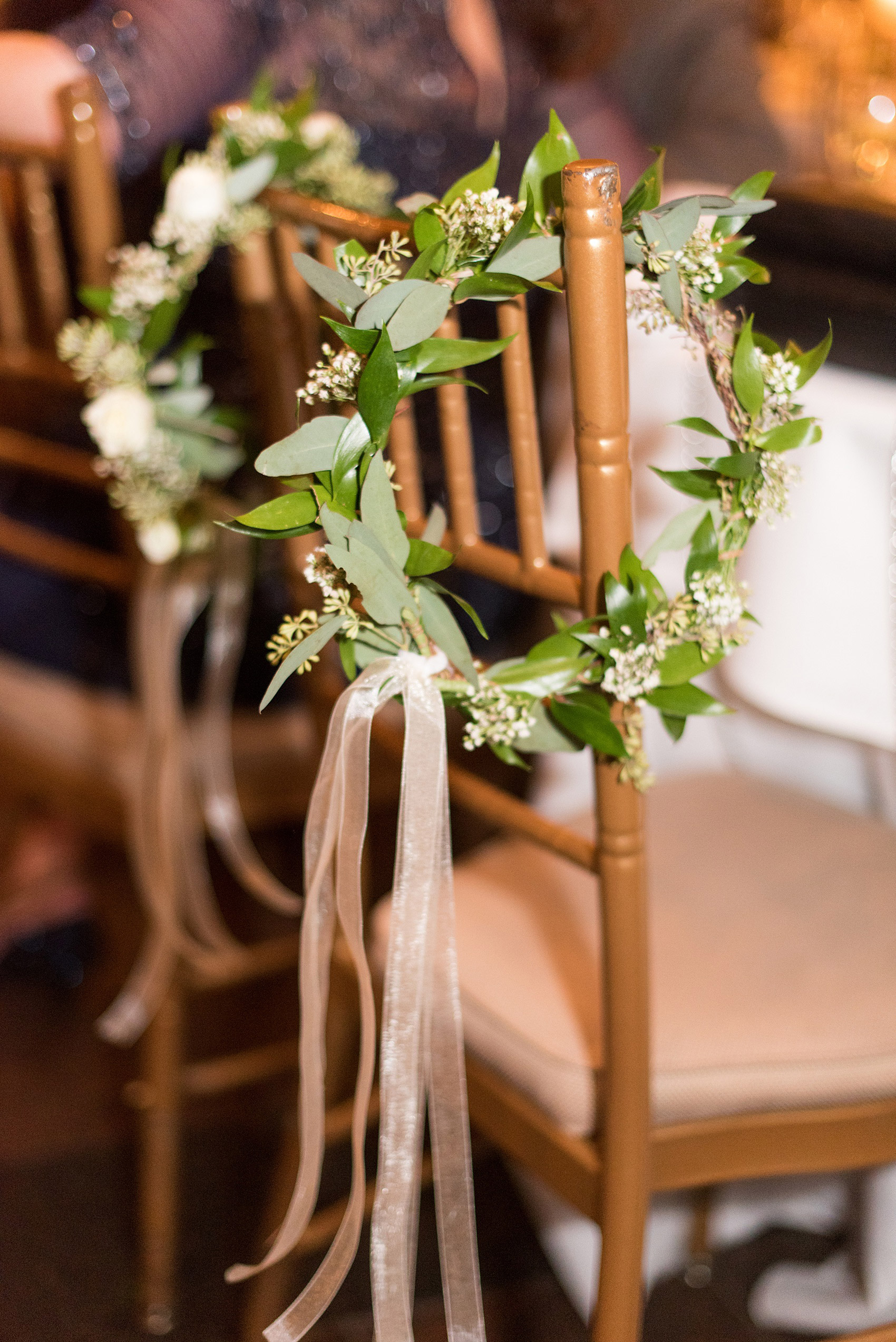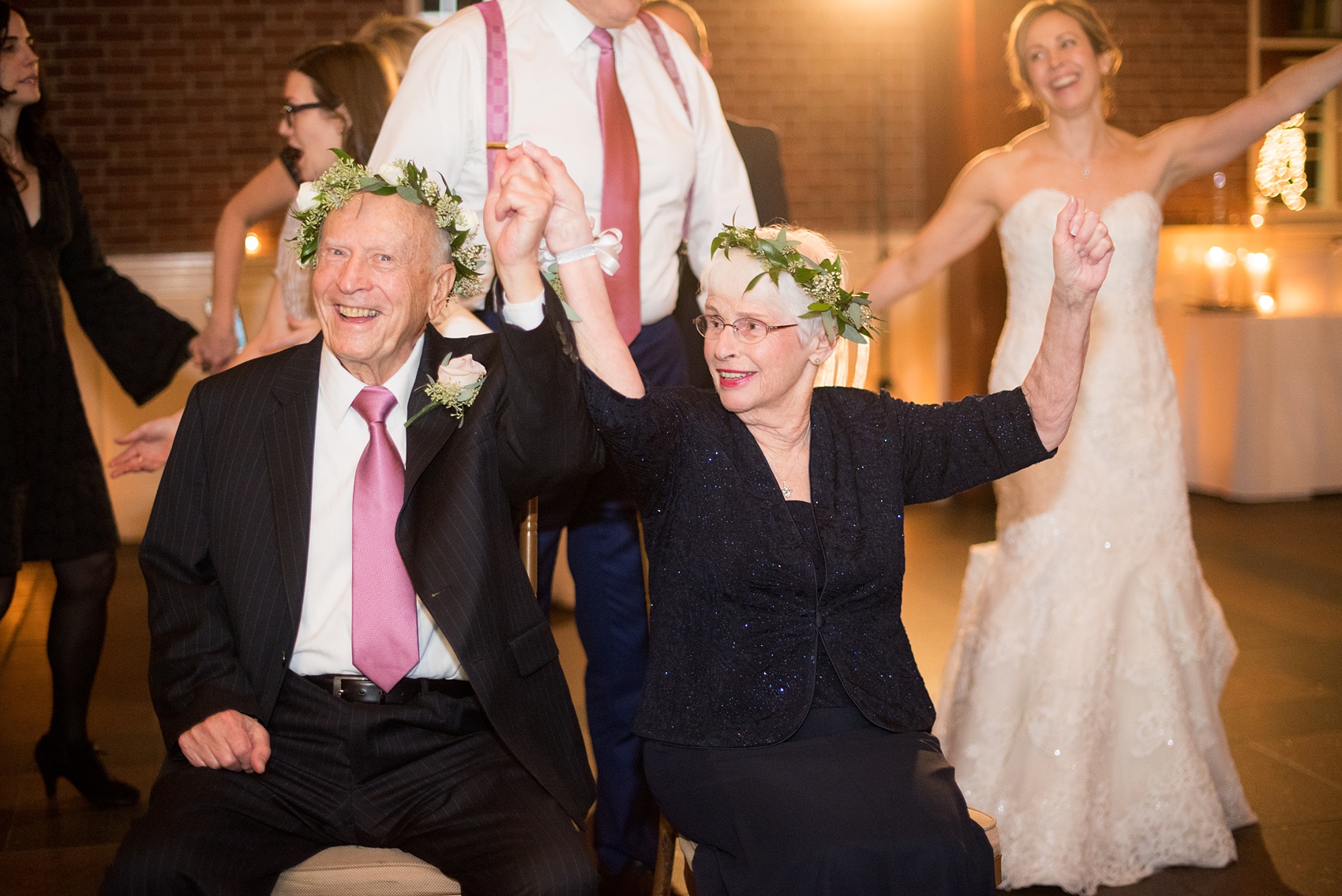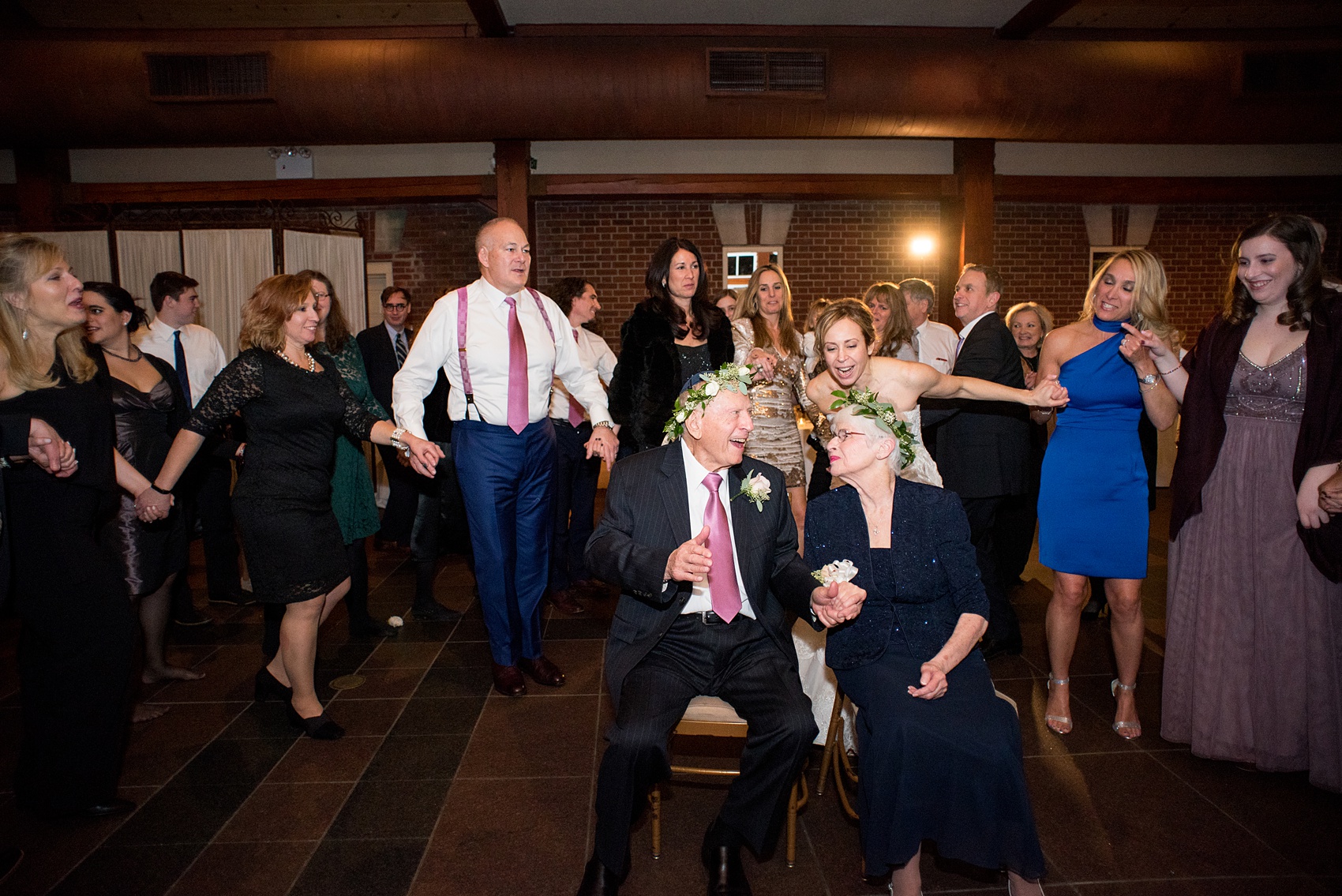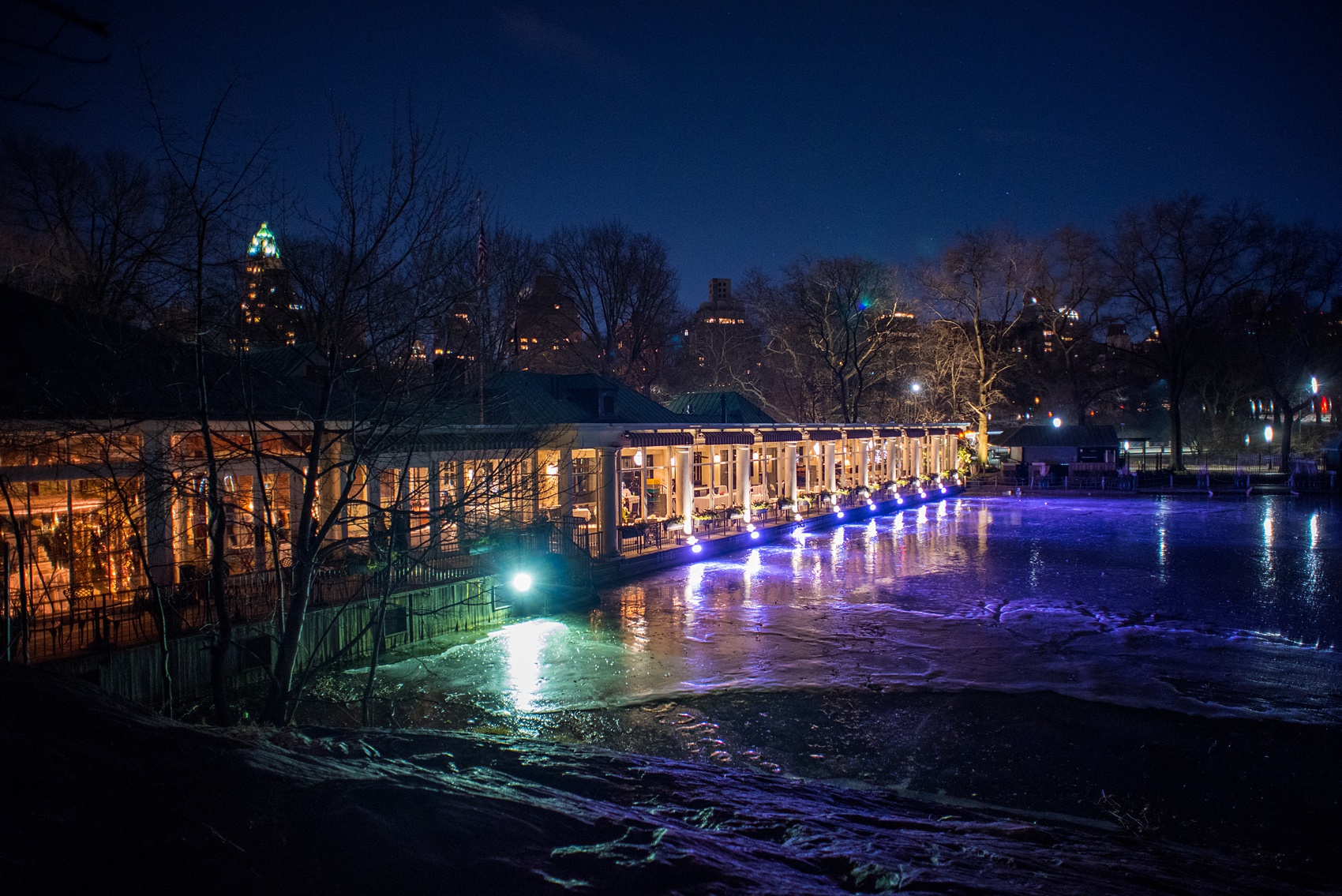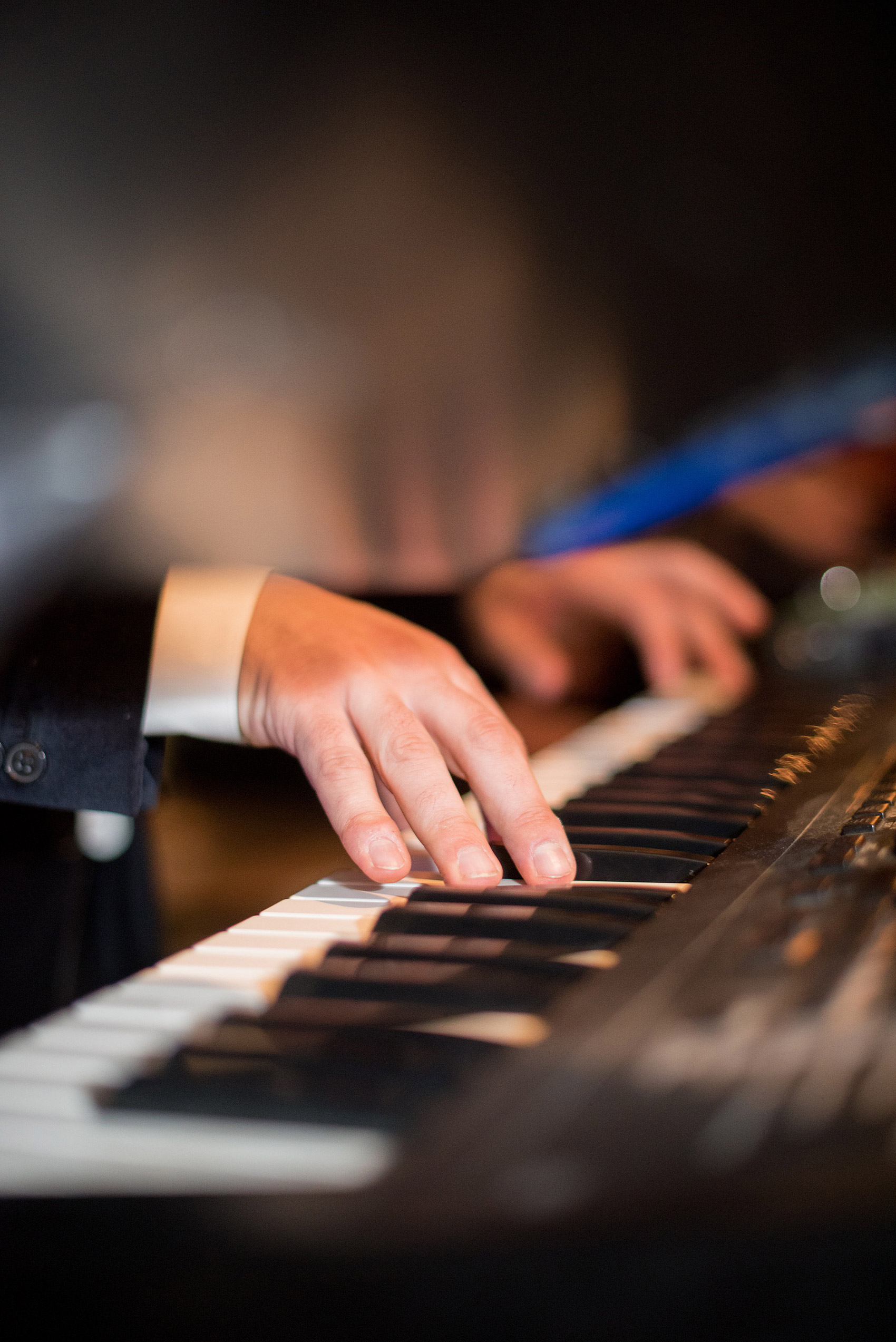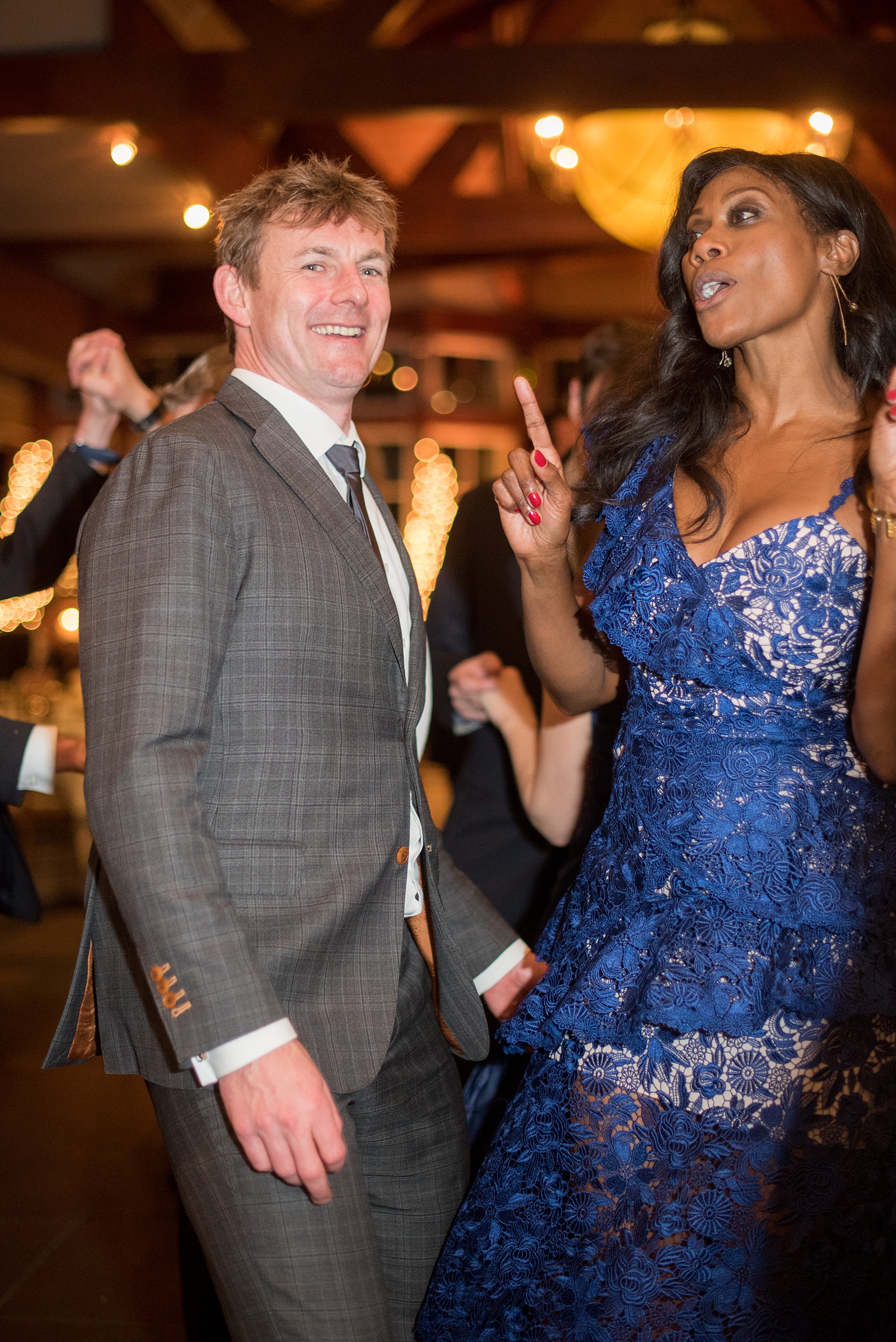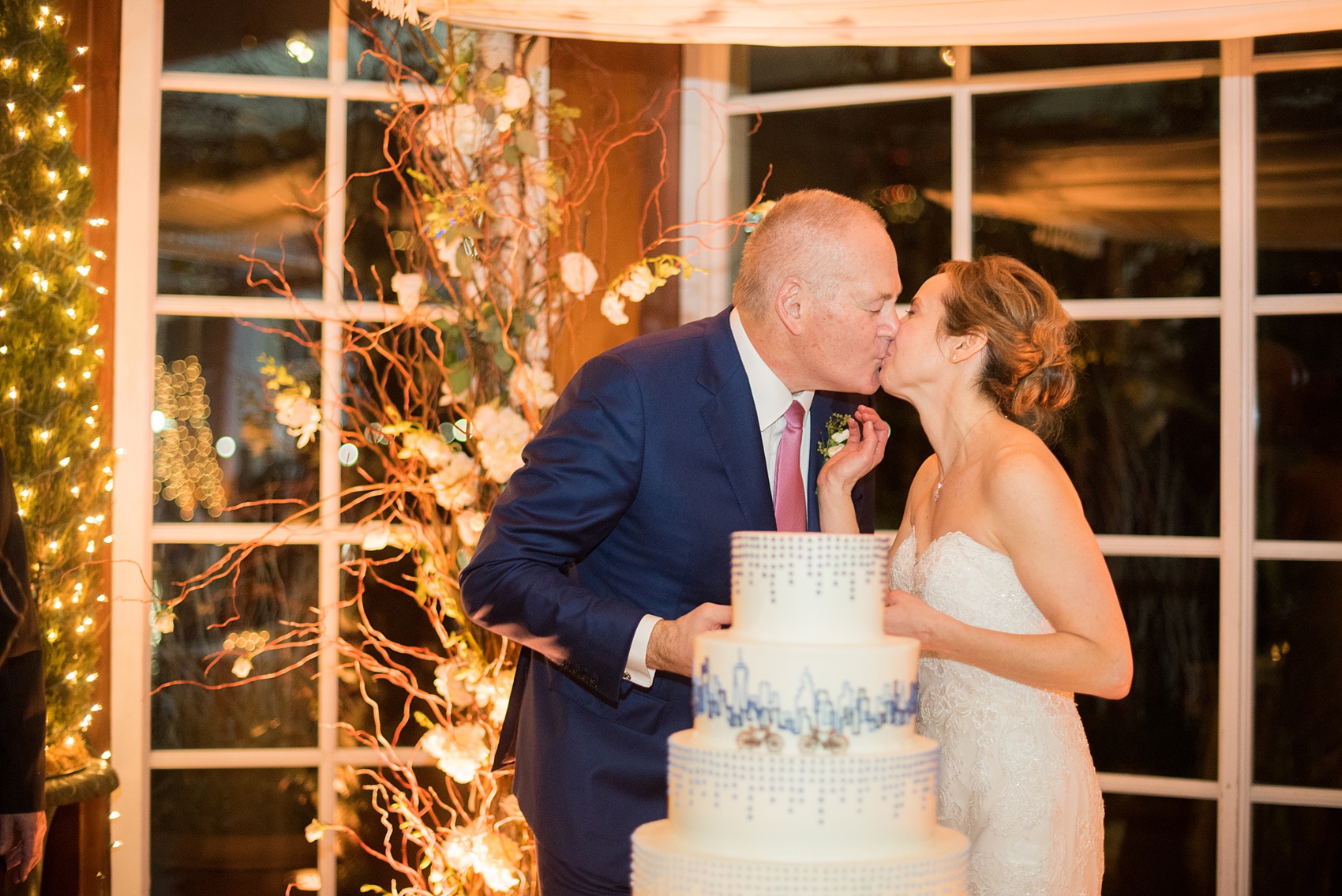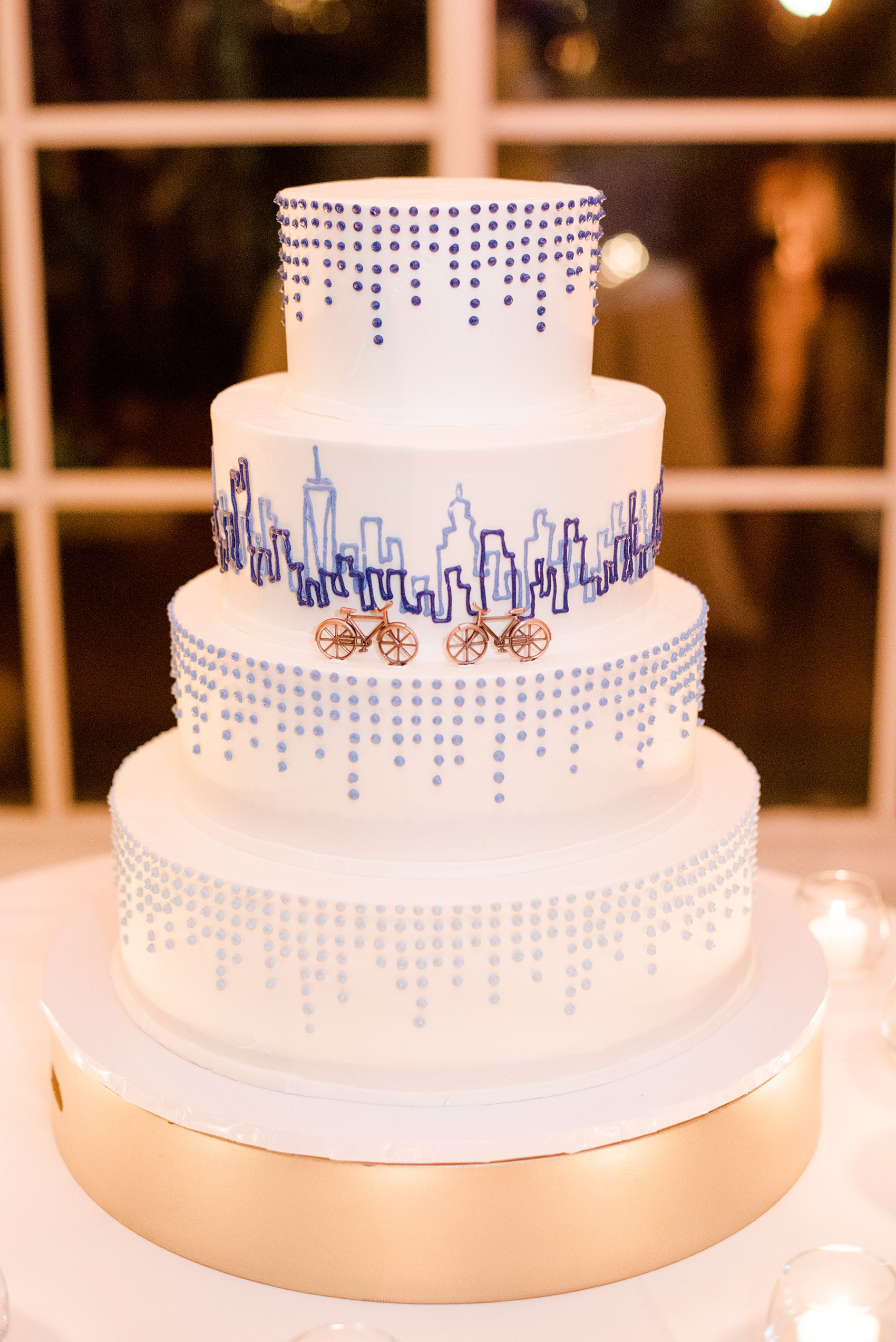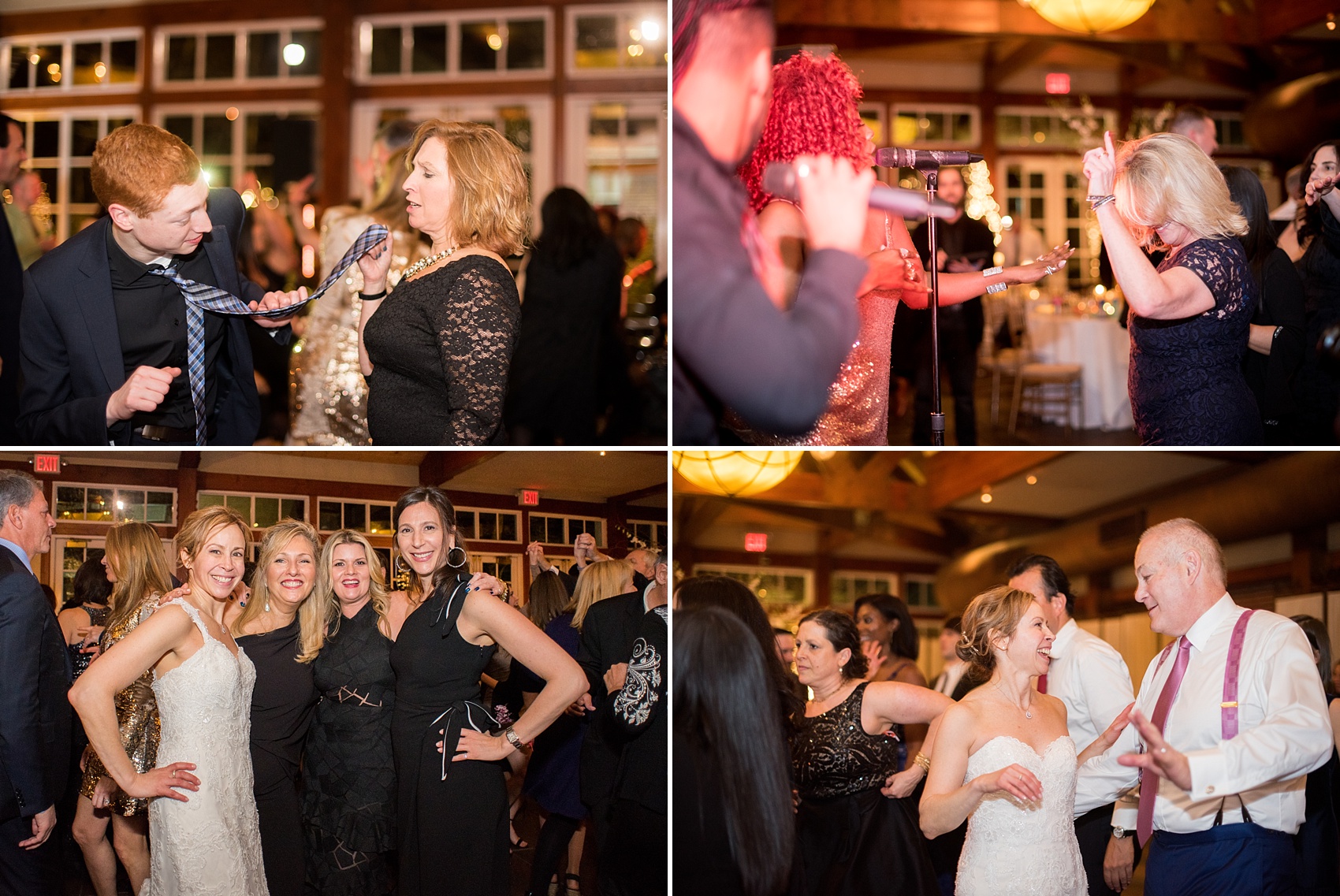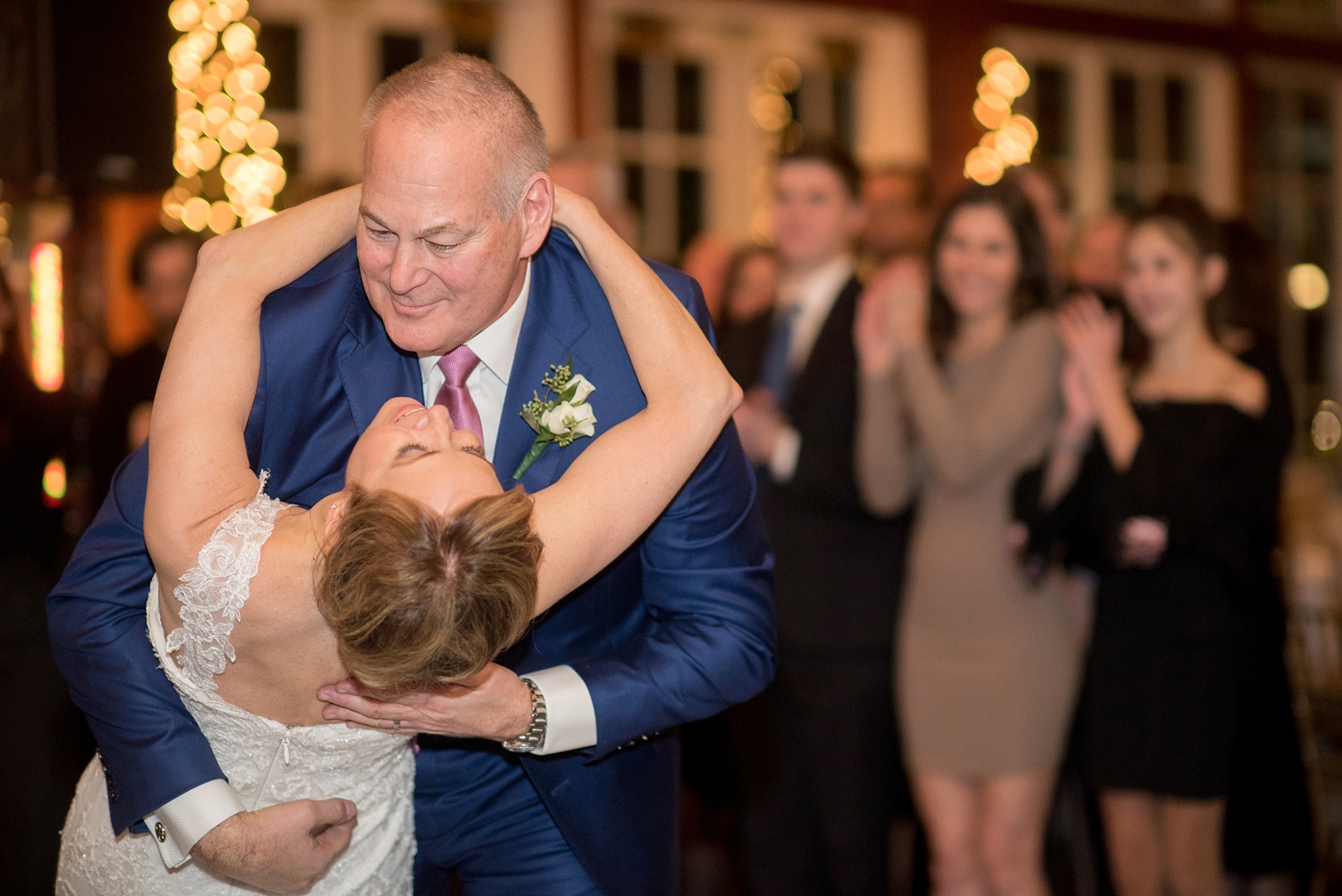 I cannot say enough about how incredibly special their wedding was. The pride and joy their guests felt for this wonderful couple was palpable, and I've never felt such energy for such an extended period of time from the couples family and friends, who were on their feet dancing to the band all night long! 
Congratulations to the newlyweds!
Venue: The Loeb Boathouse Central Park / Planner: Bree, Blossom Events / Getting ready location: Park Lane Hotel / Florist: Cress Floral Decorators / Invitations: Minted / Hair: Red Door Salon, Union Square, Heather / Makeup: Kimara Ahnert / Wedding dress: Wedding Atelier, Este Couture / Bridesmaids dresses: BHLDN / Ties: Seigo / Rings and custom cufflinks: GoldArt / Officiant: Rabbi Andrea Frank / Custom ketubbah: Papercuts by Oren / Band: Michael Hart Band, Hank Lane / Cake: A White Cake / Videographer: 15 Minutes of Frame
For more New York City inspiration for all things wedding, check out:
Interested in having us photography your day? Contact us to secure your date!