When Ashley and Tim's family and friends traveled in from Wisconsin for their NYC wedding day they got top notch skyline views from Brooklyn Bridge Park, beautiful weather and a memorable dinner in the couple's neighborhood at their favorite local restaurant.
The day began as the girls got ready at New York City's absolutely beautiful Greenwich Hotel. I adored all the furnishings and fabrics around – I had a blast taking full advantage for photography. Ashley requested a room at the hotel that had French doors and I'm so glad she did. They were wonderful for photos and gave the place a European vibe – and I know the bride and groom adore Europe!
I loved the old family photos she had in the room from grandparents' wedding days. Ashley's headpiece was Tim's late grandmother's, which she wore at her wedding.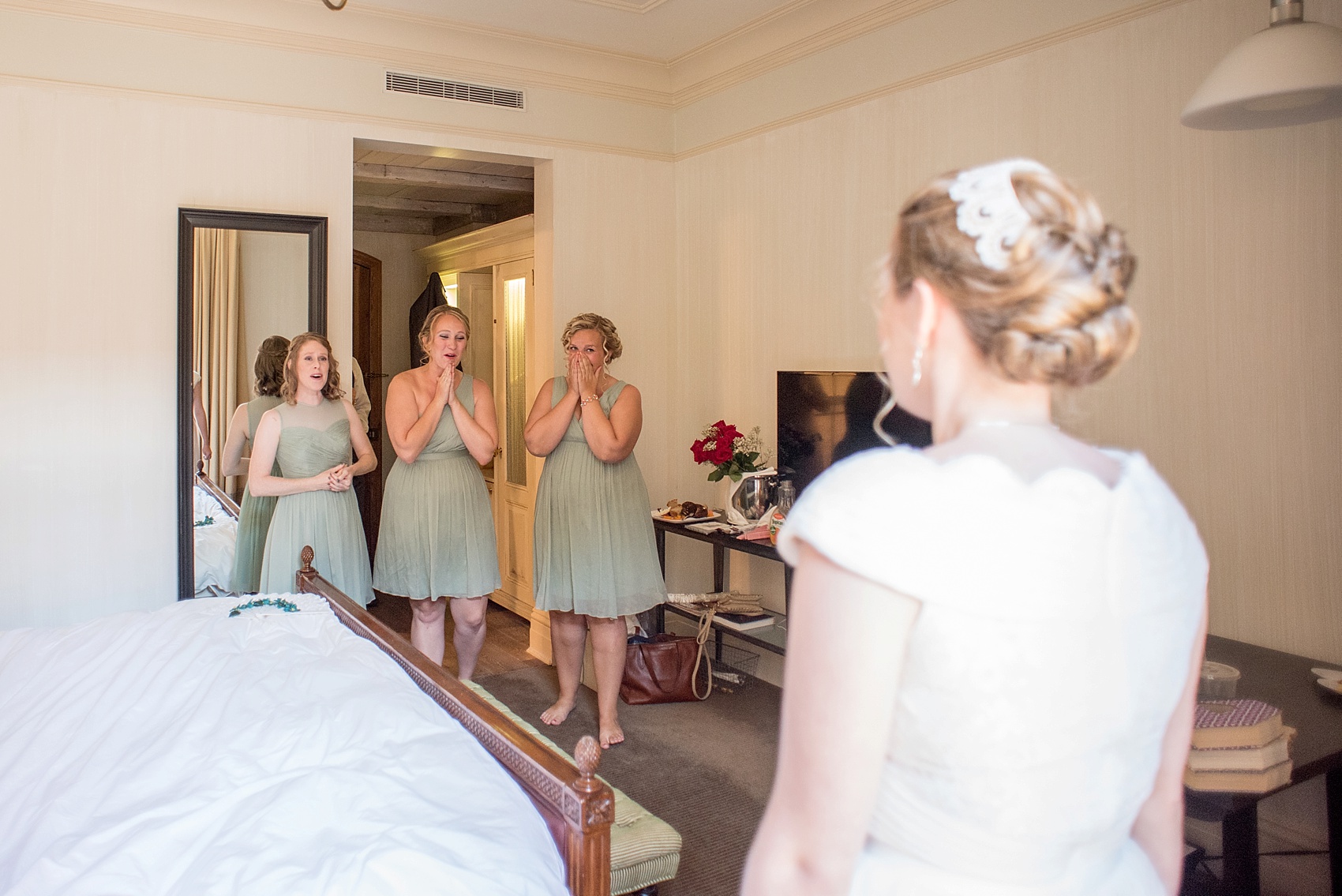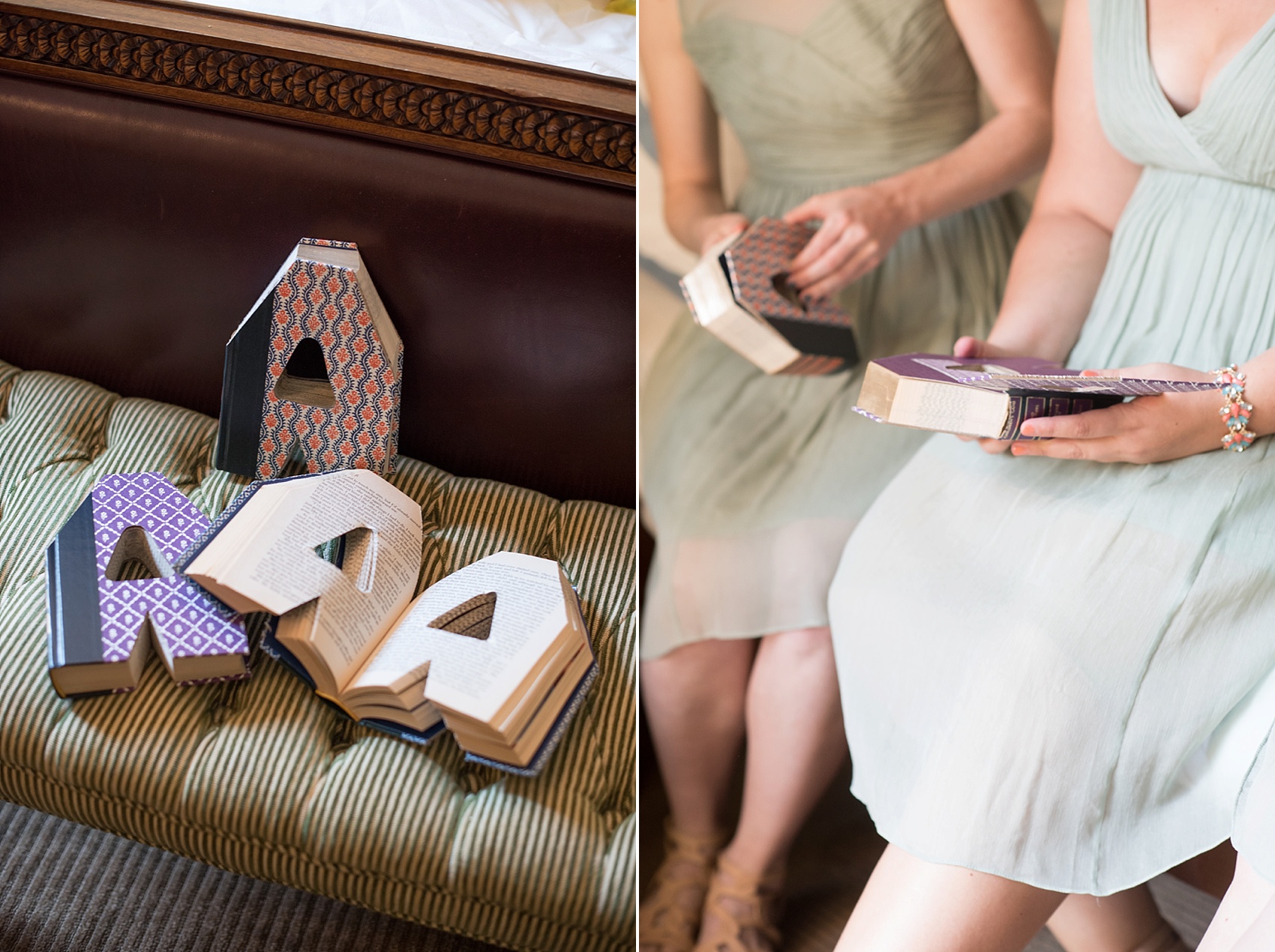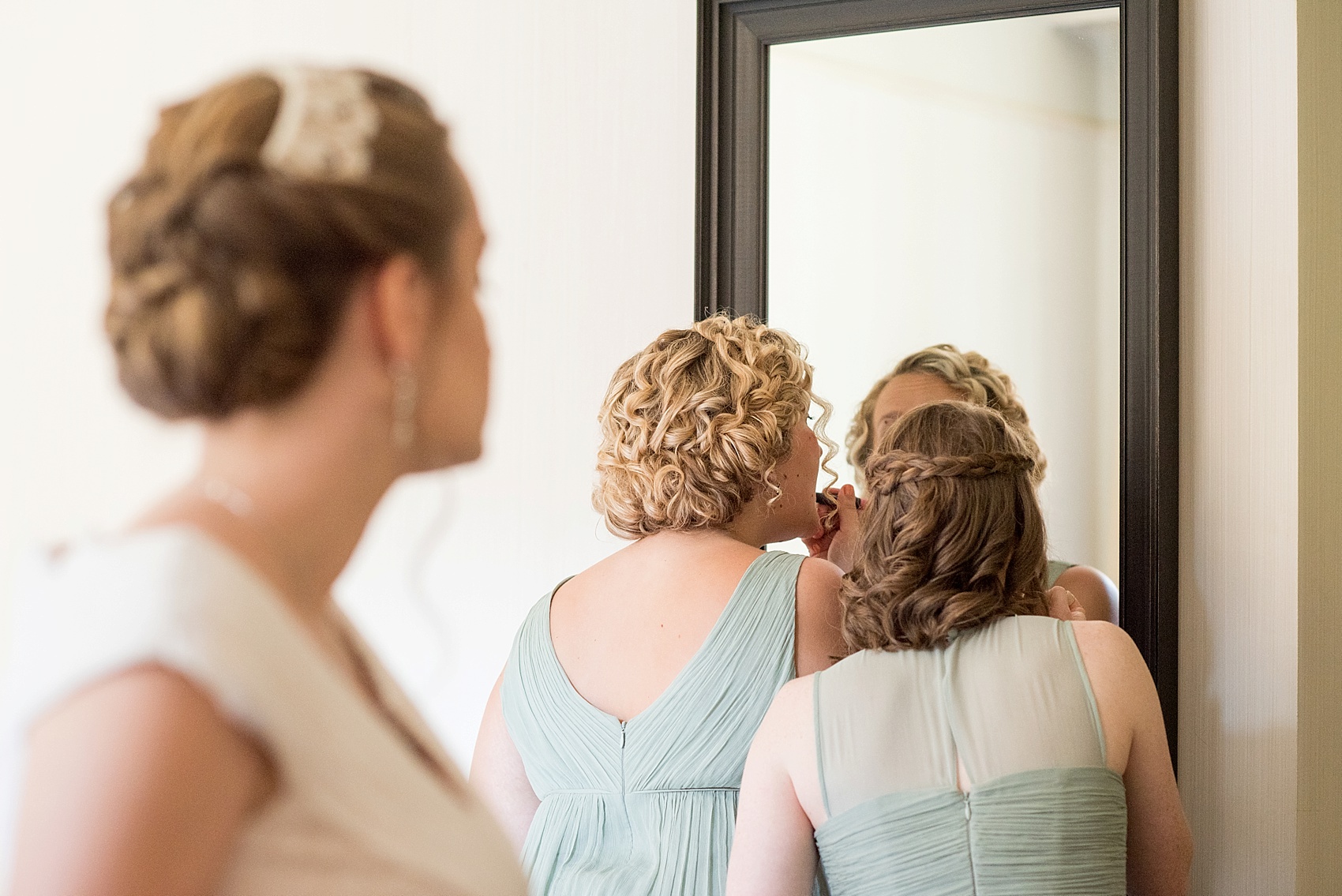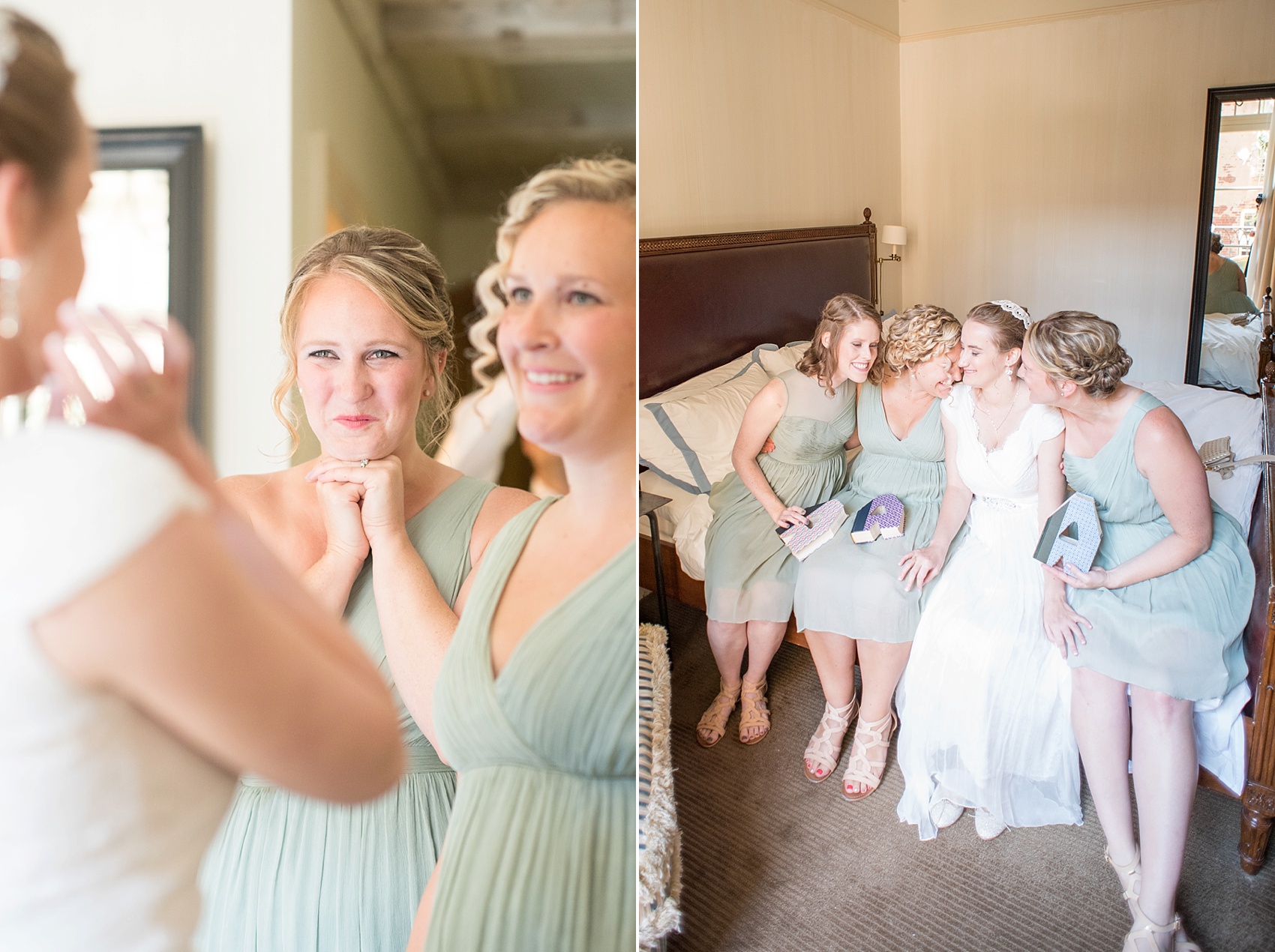 The bridesmaids looked mighty-fine in mint green short chiffon dresses. She gifted them earrings and perfume and also these super cute "A" books.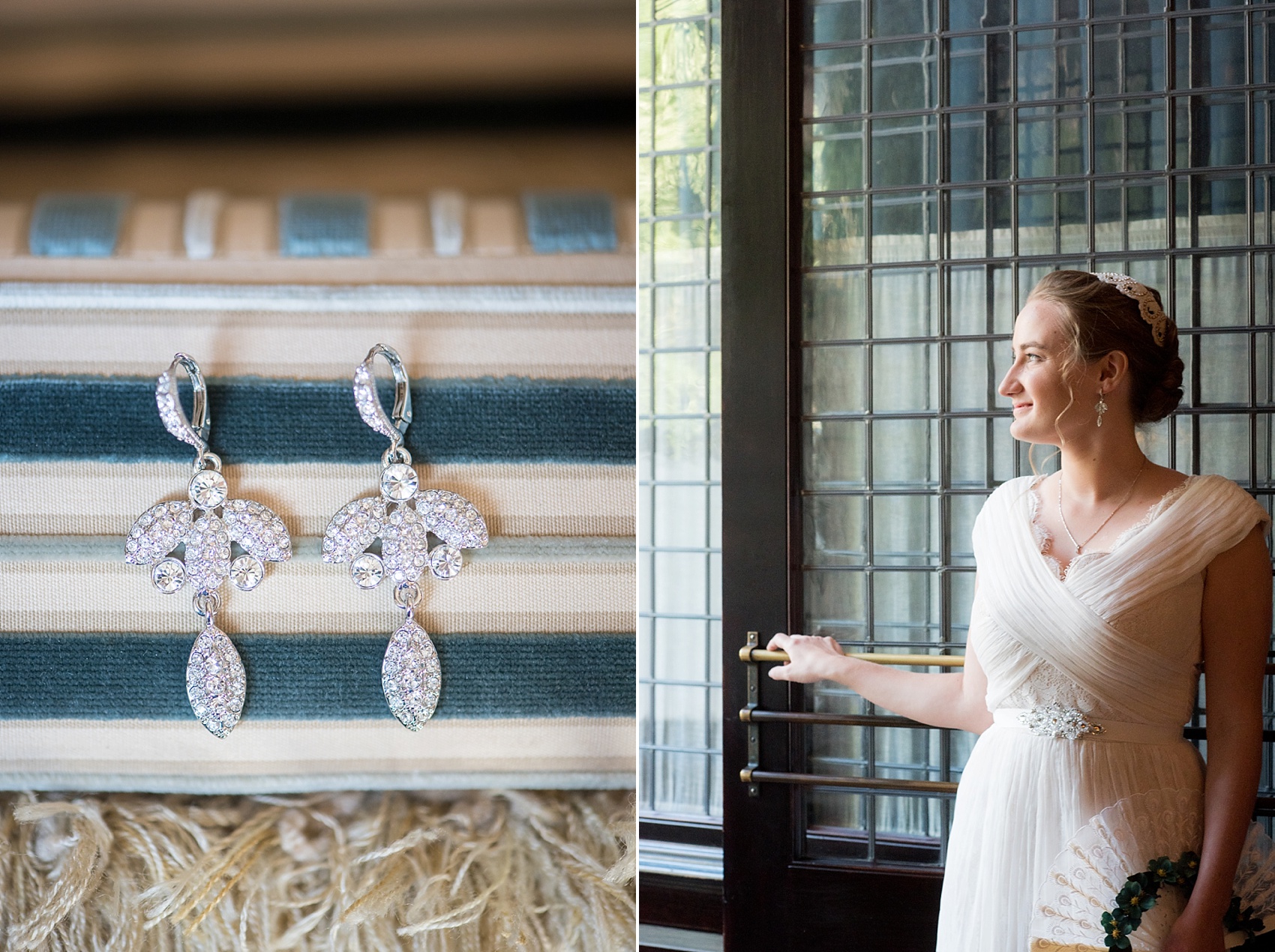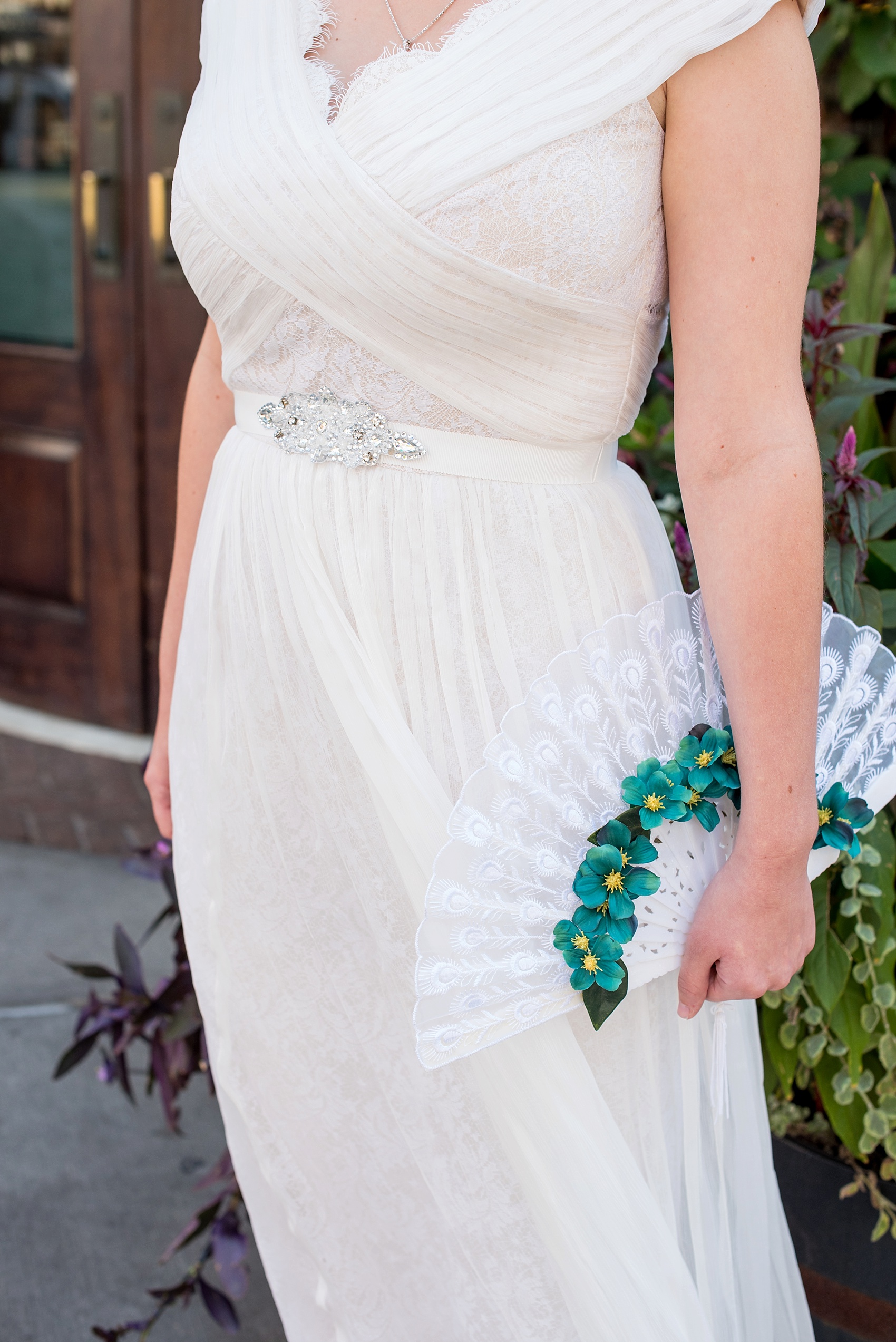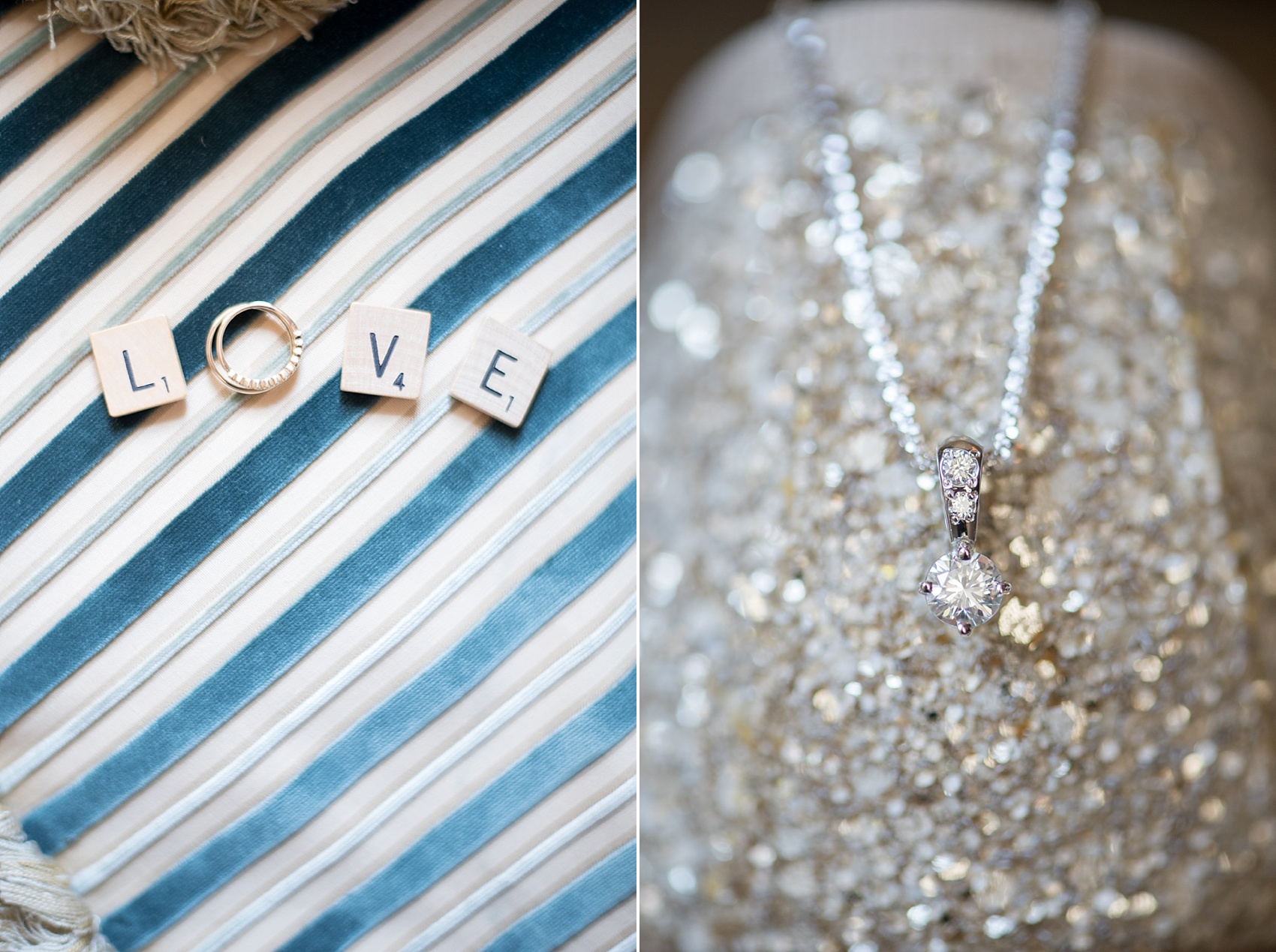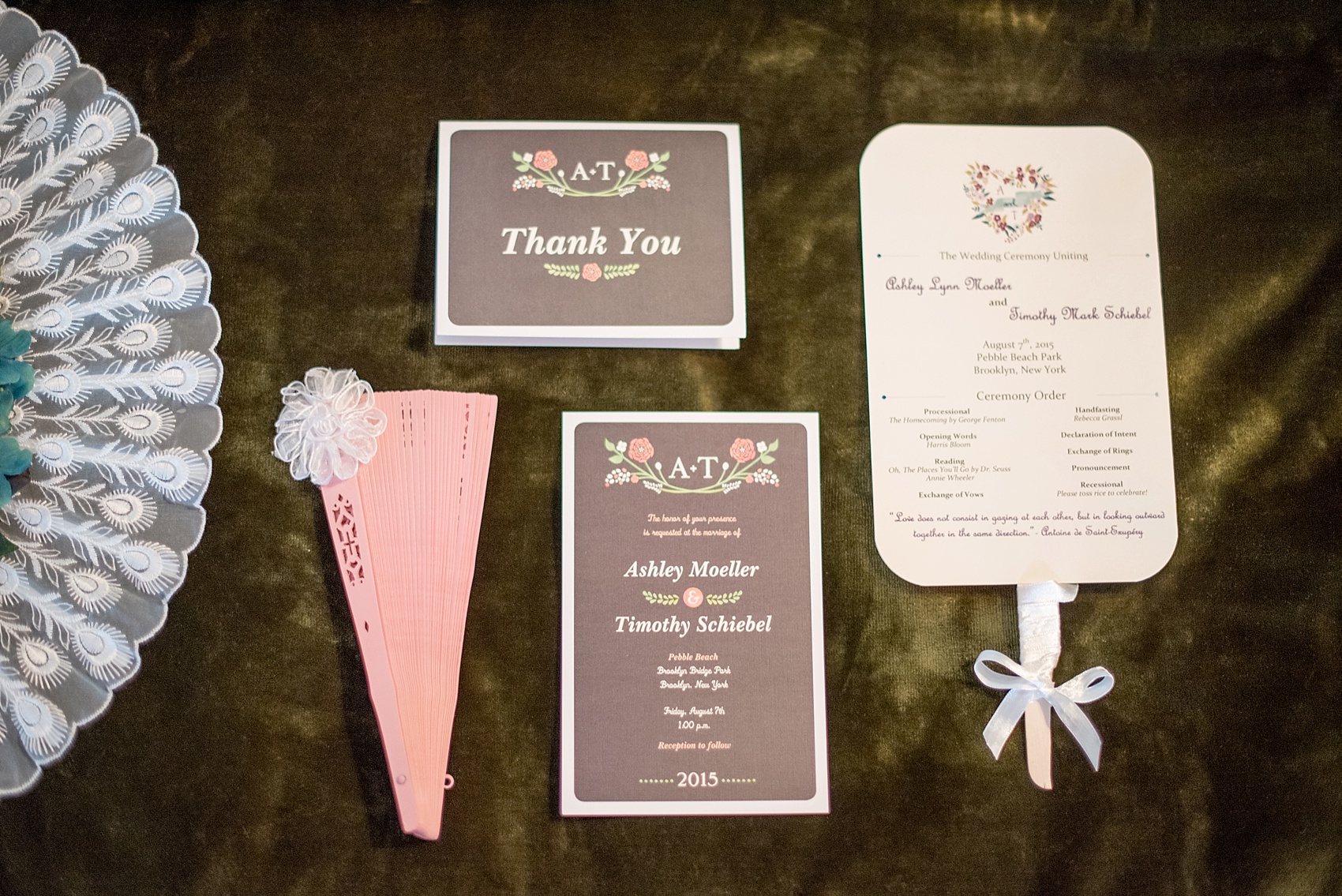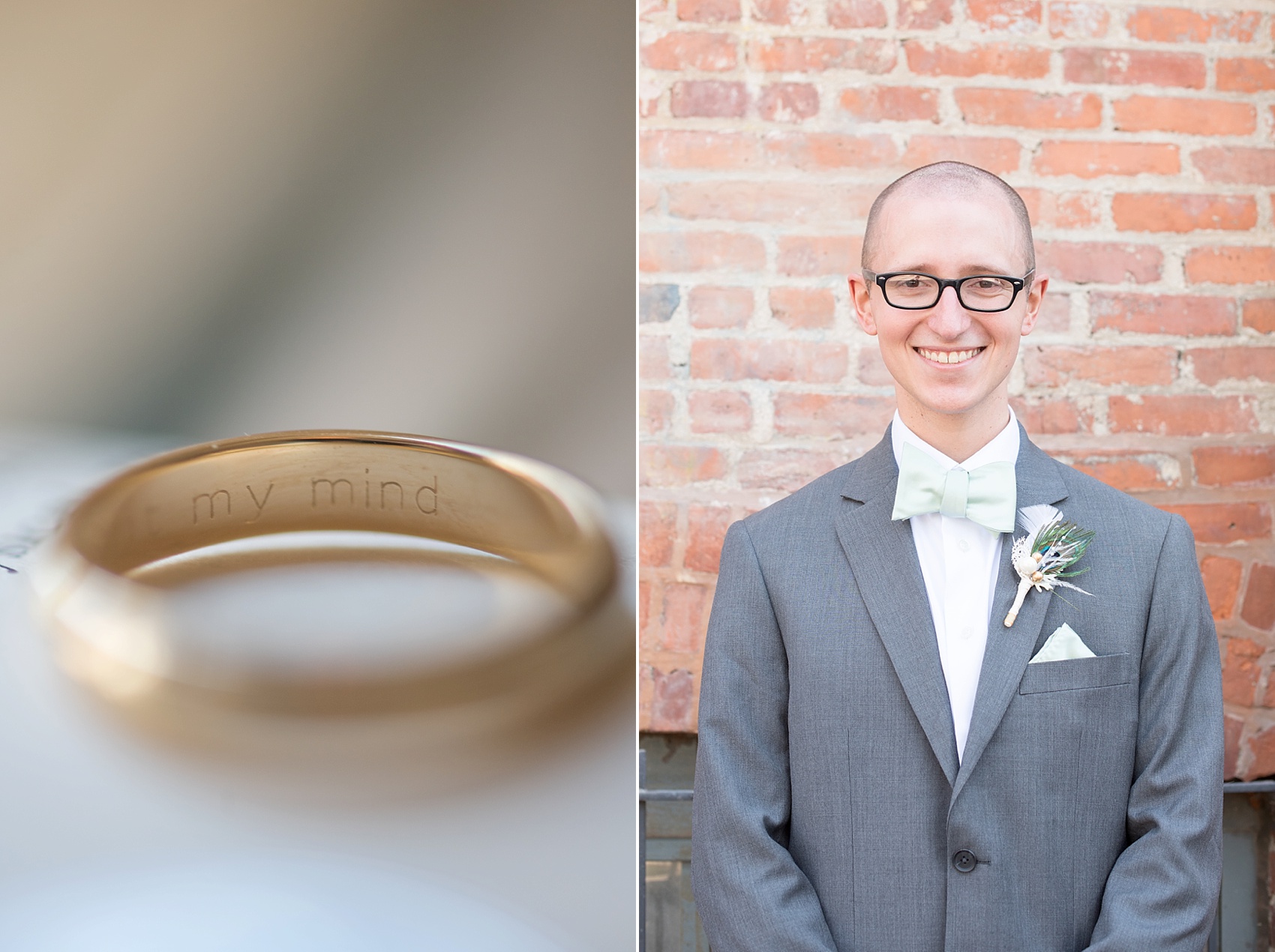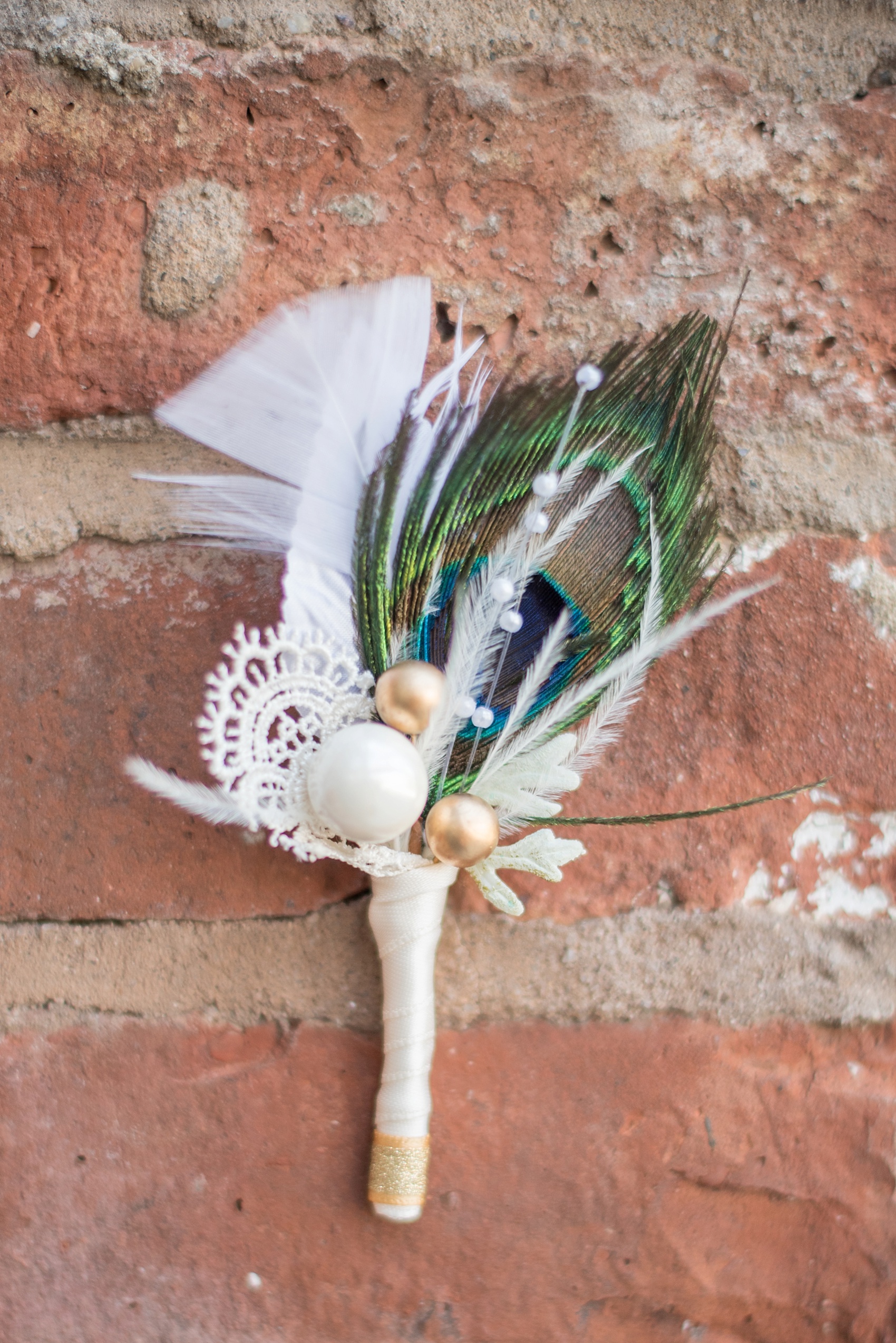 Did you know a peacock feather is a symbol of marriage? I didn't know until Ashley told me!
The women carried Spanish inspired fans, a nod to how they all met: while studying abroad in Spain.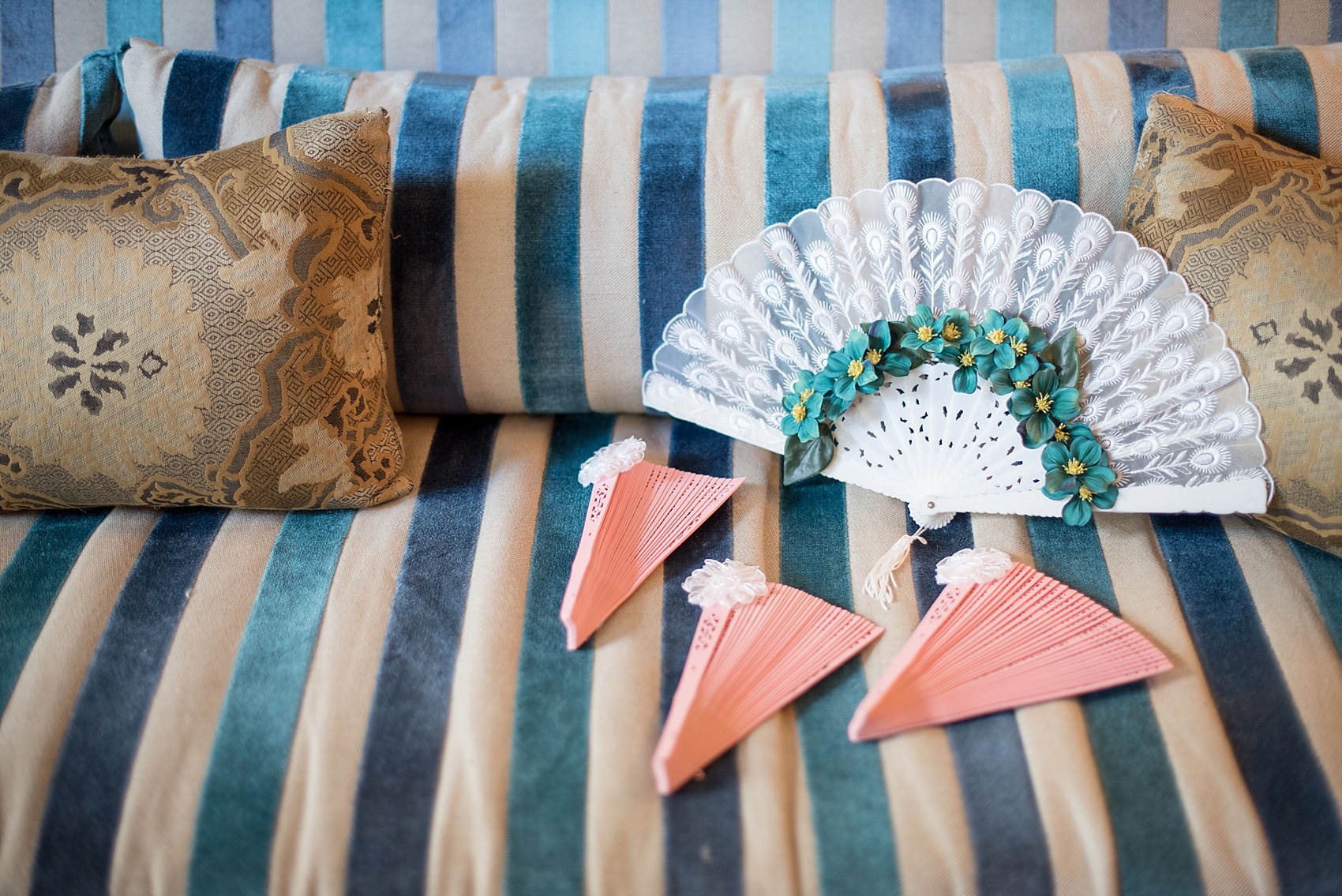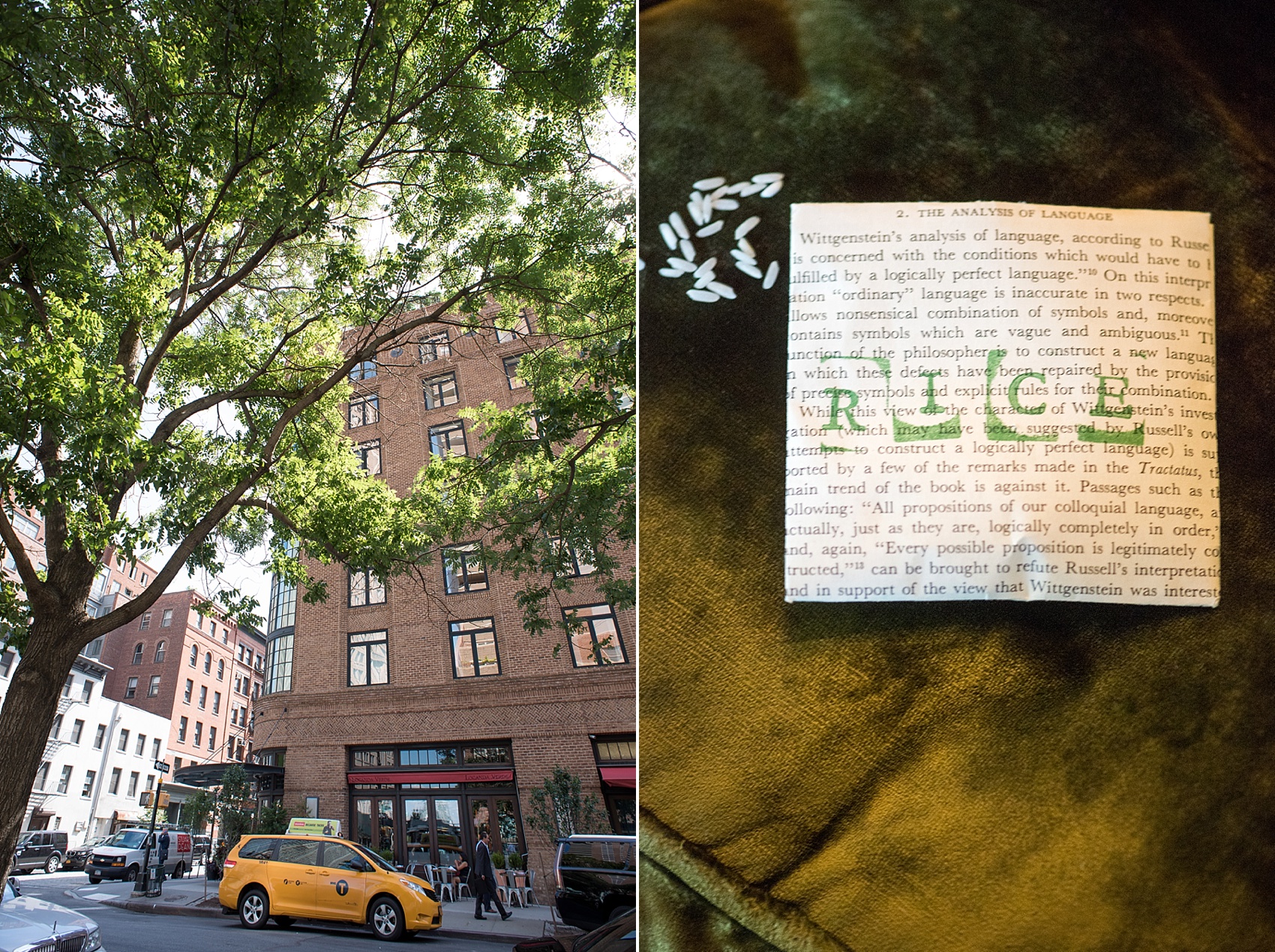 Soon it was time to head out and venture to Brooklyn Bridge Park's waterfront Pebble Beach for their ceremony, with stunning views of lower Manhattan's skyline.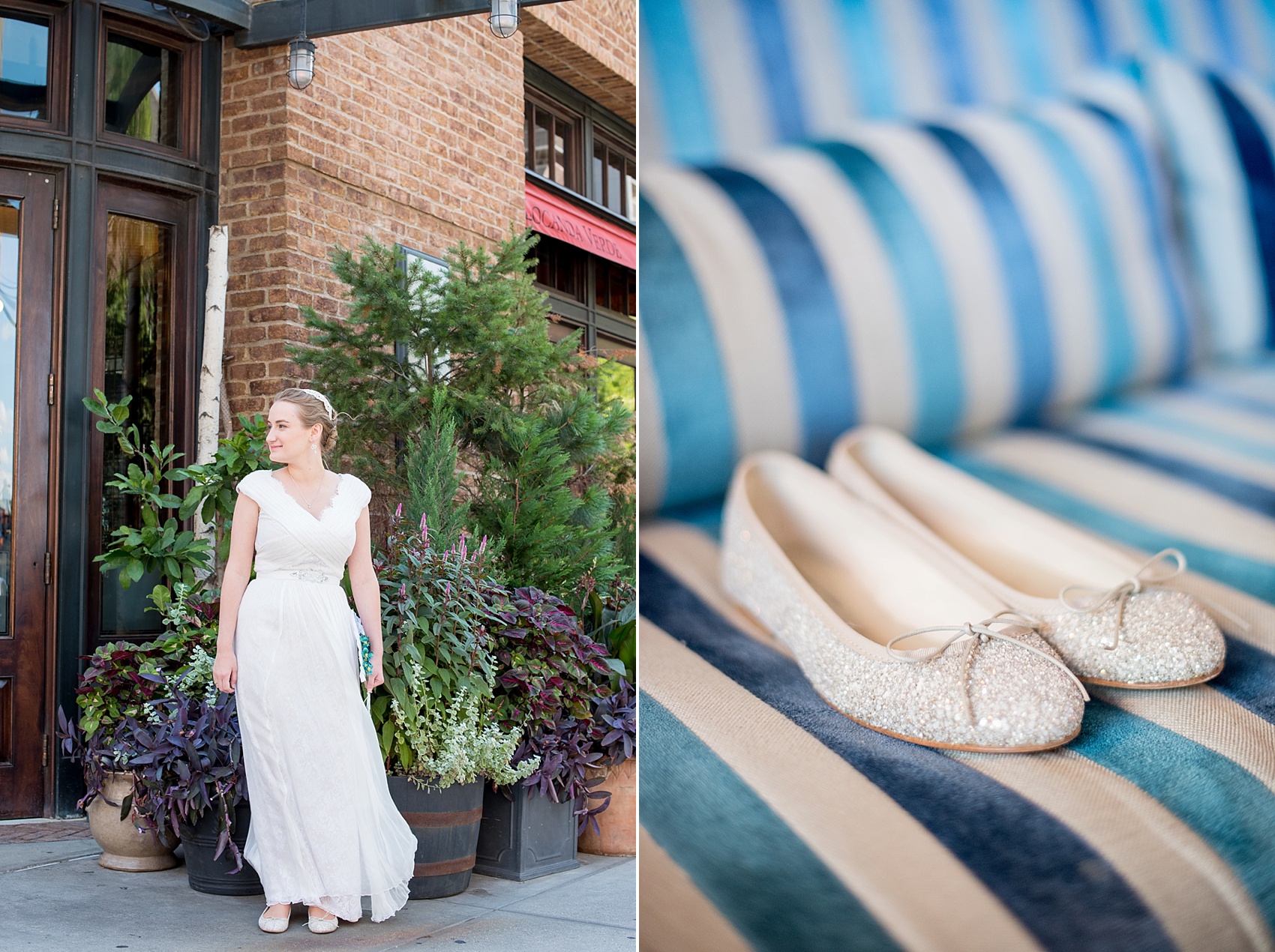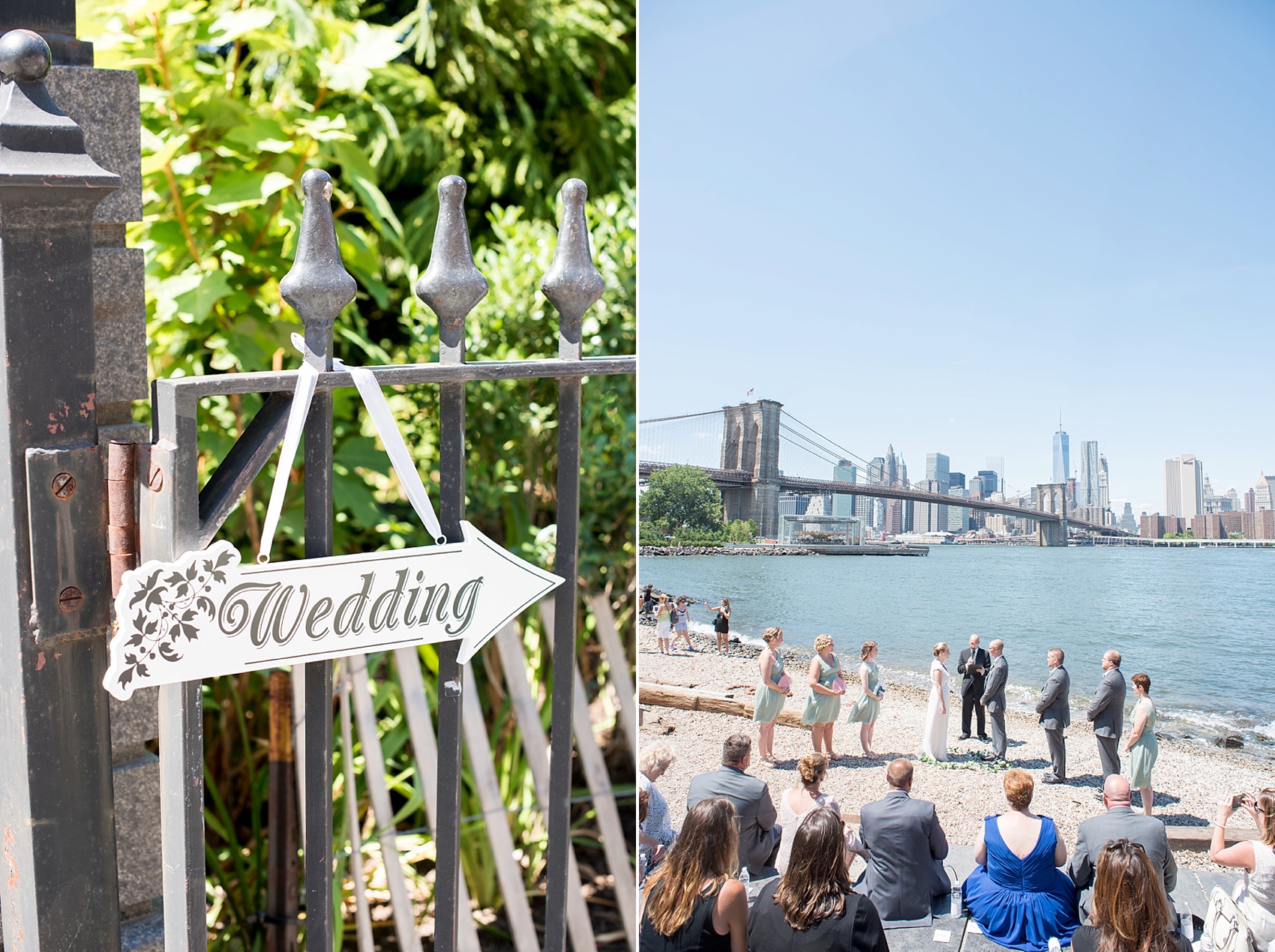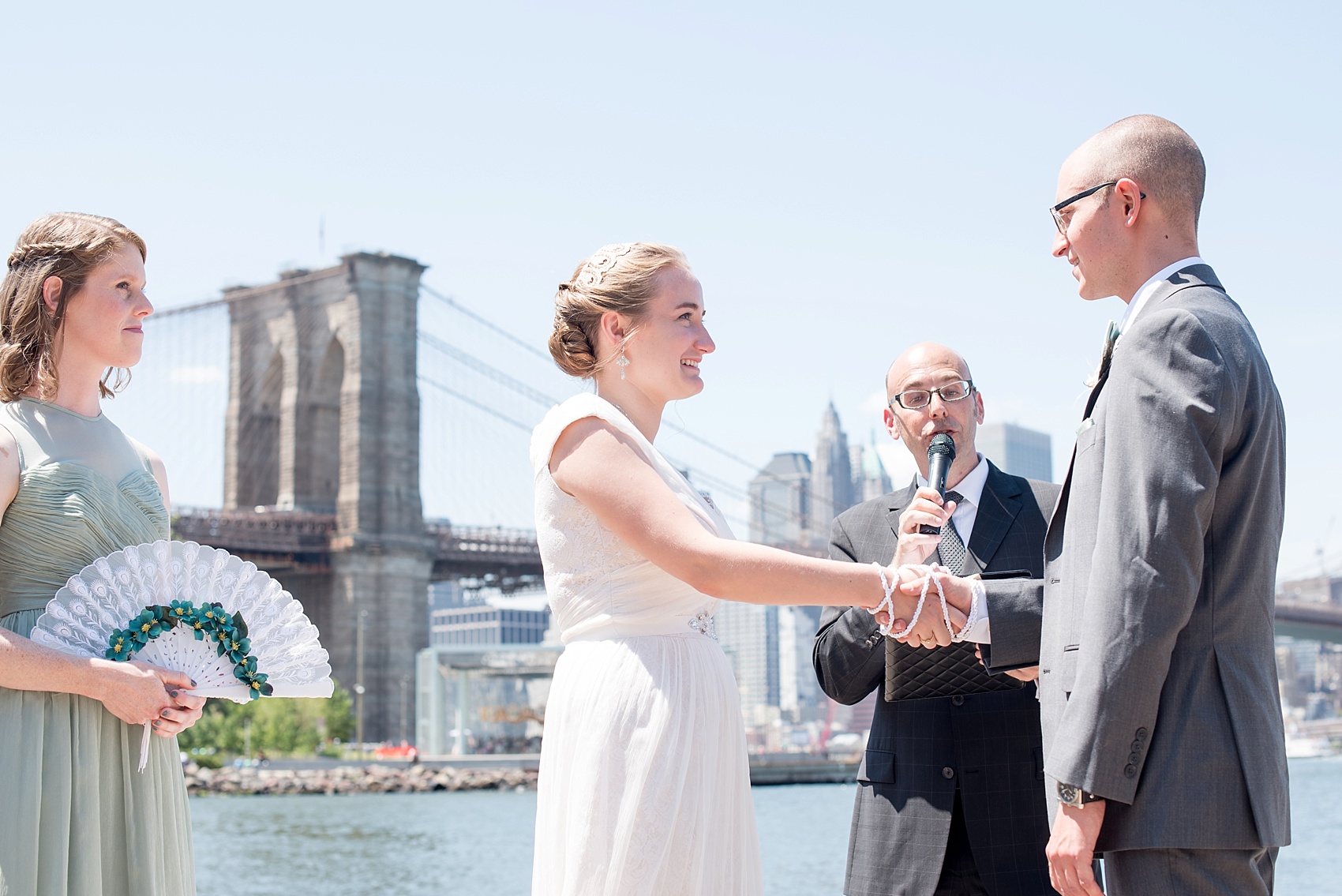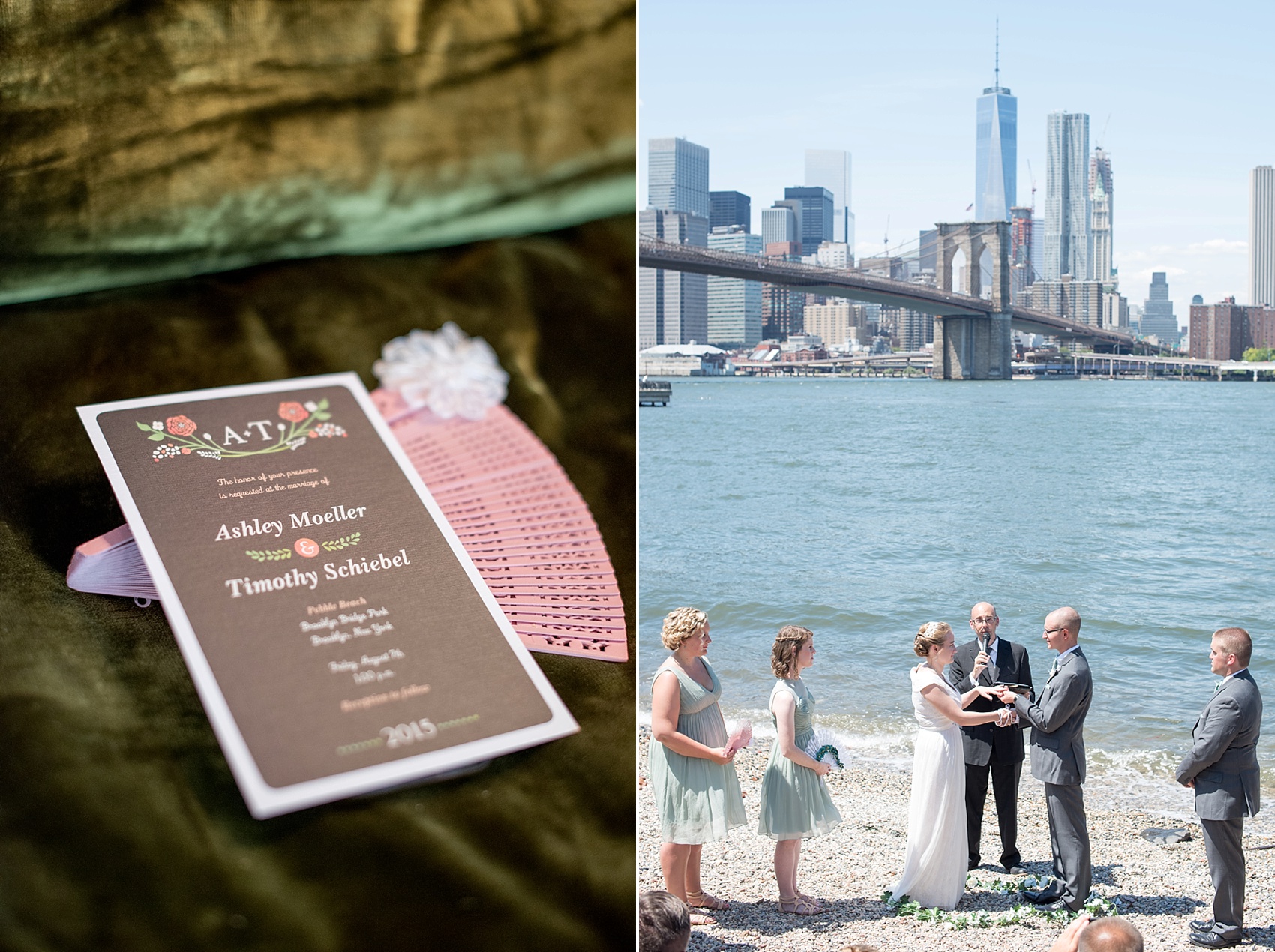 They partook in a "rope tying" ritual and read personal vows to one another. They exchange rings and then it was time for their first kiss as husband and wife, something they were both very much looking forward to! Instead of taking Tim's last name, they both took on a new last name, Tim's mother's maiden name. I thought that was so cool and modern of them.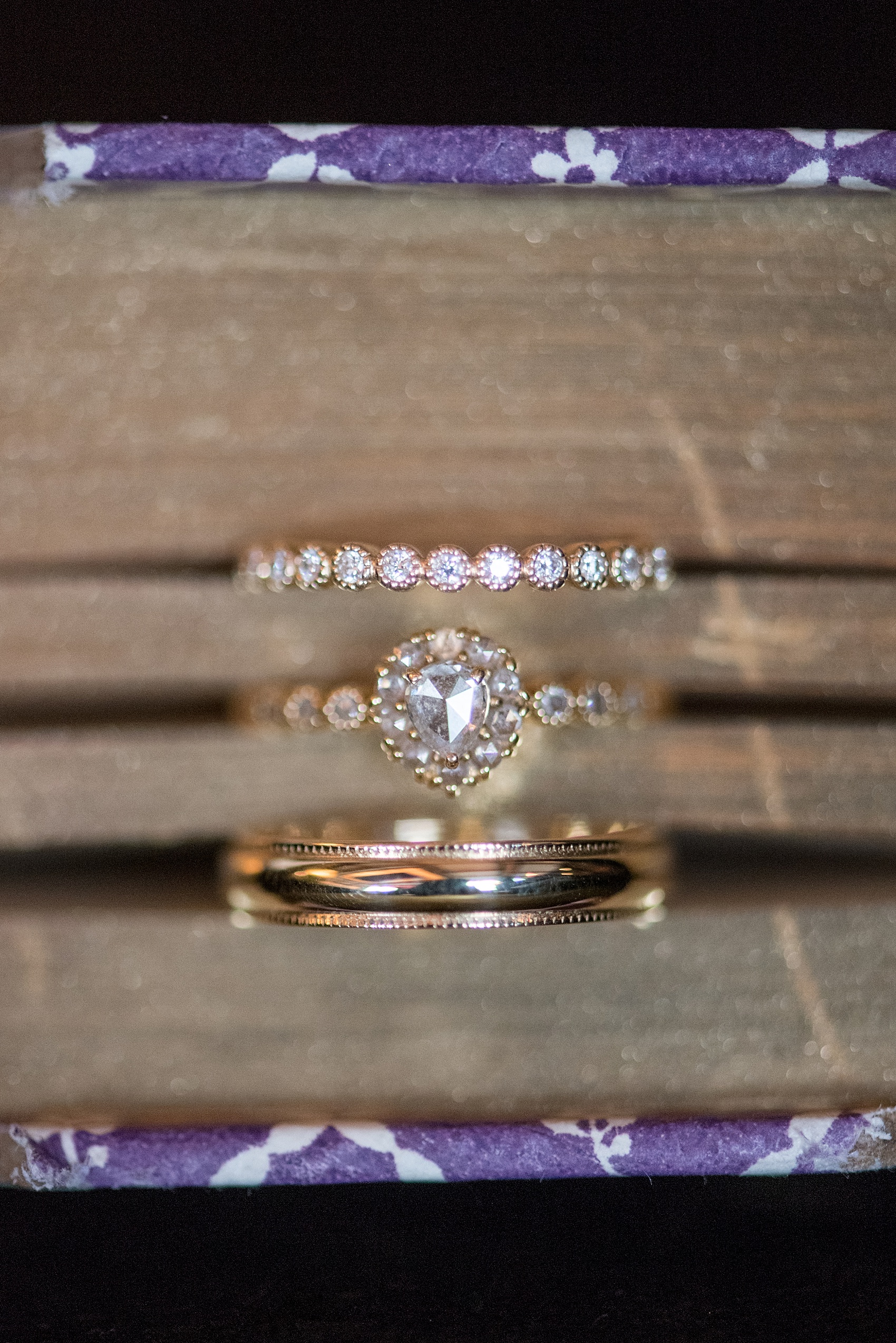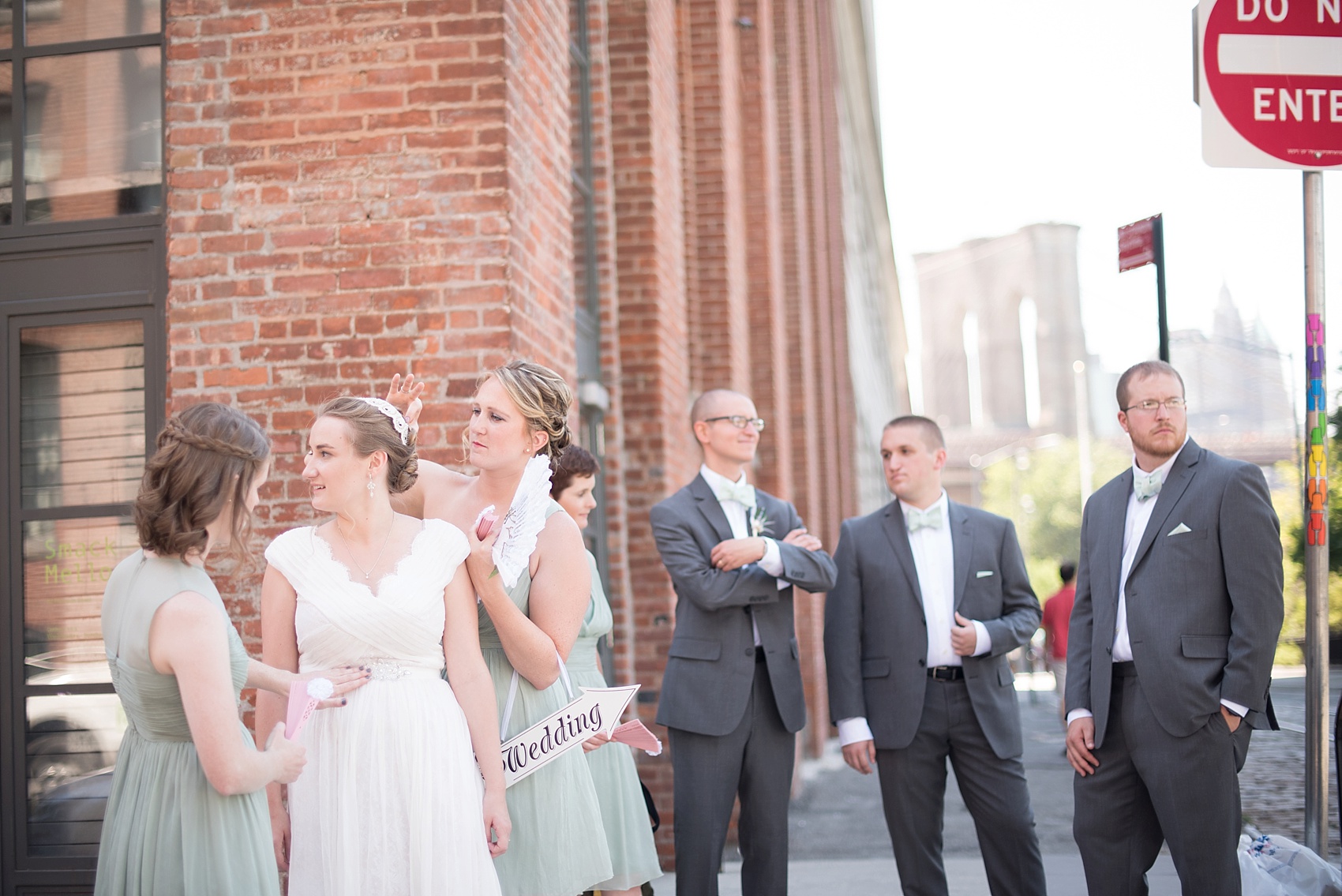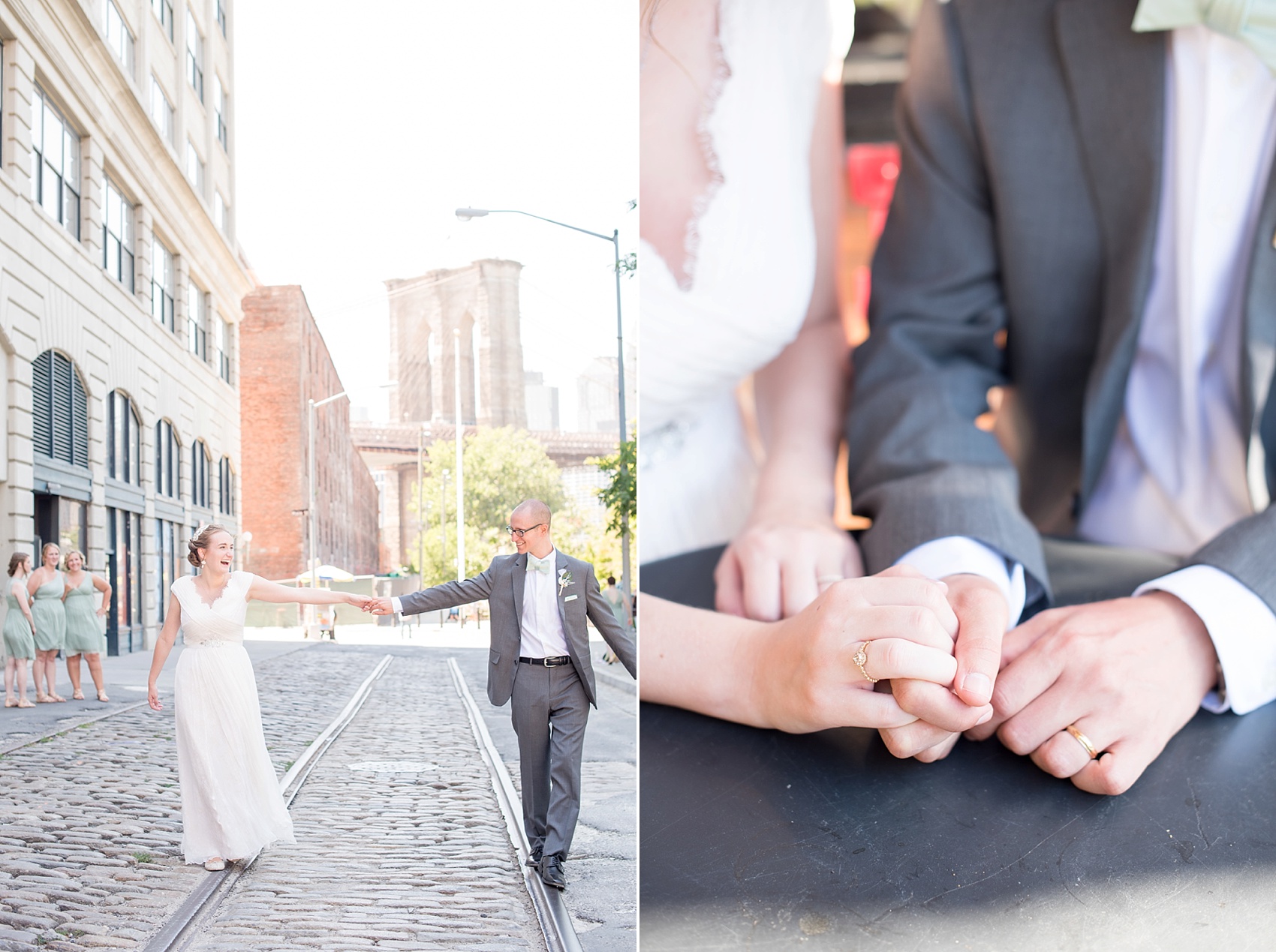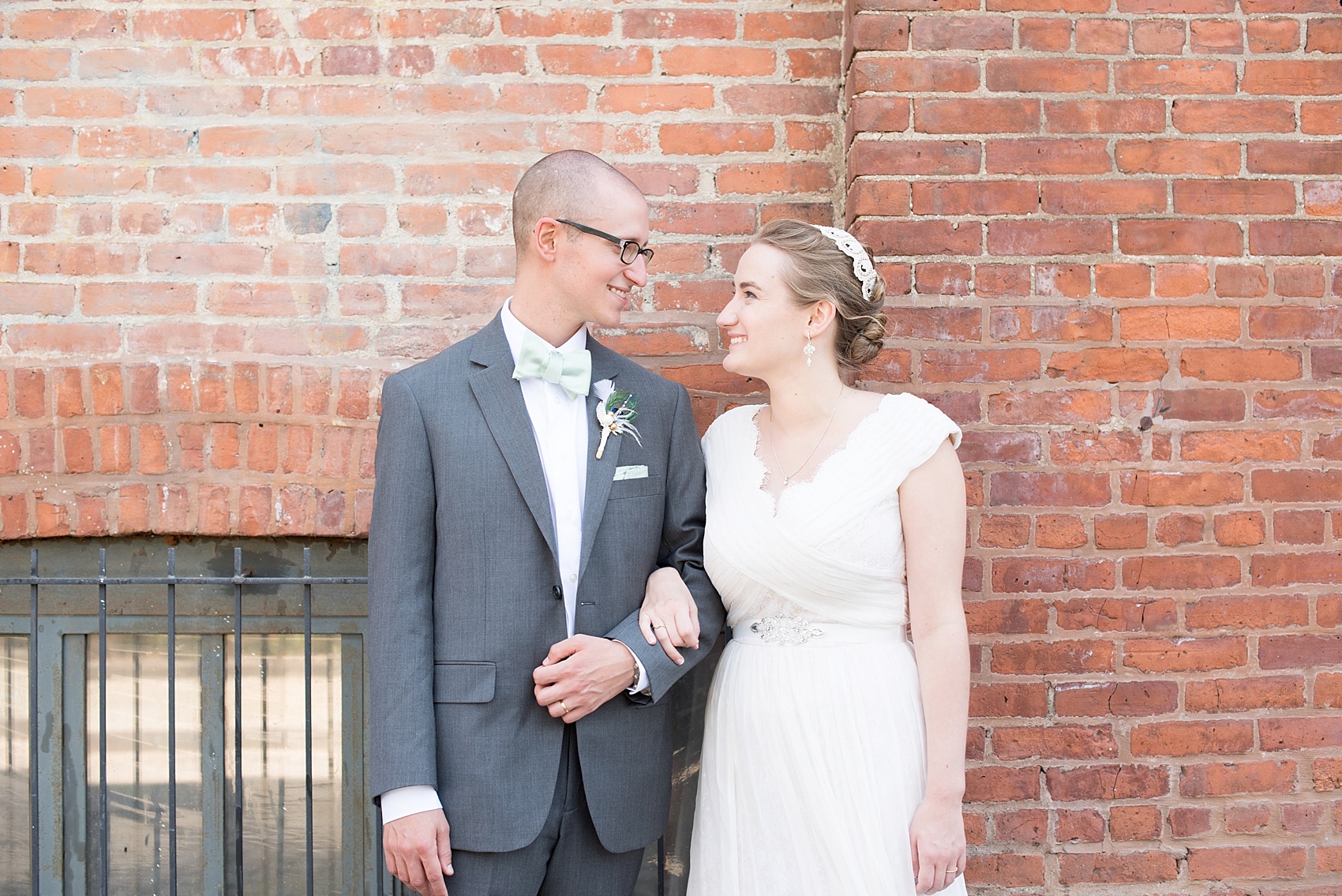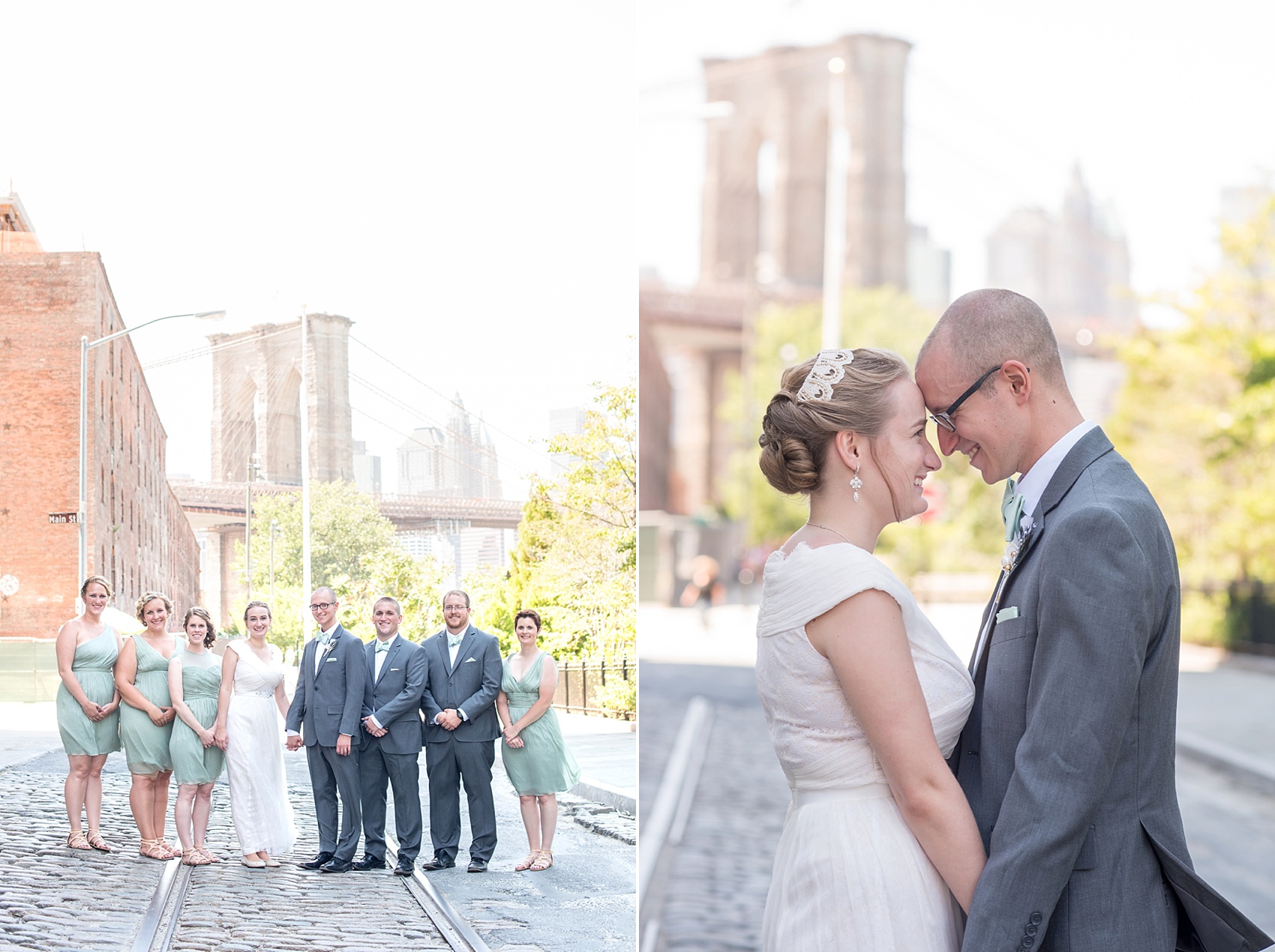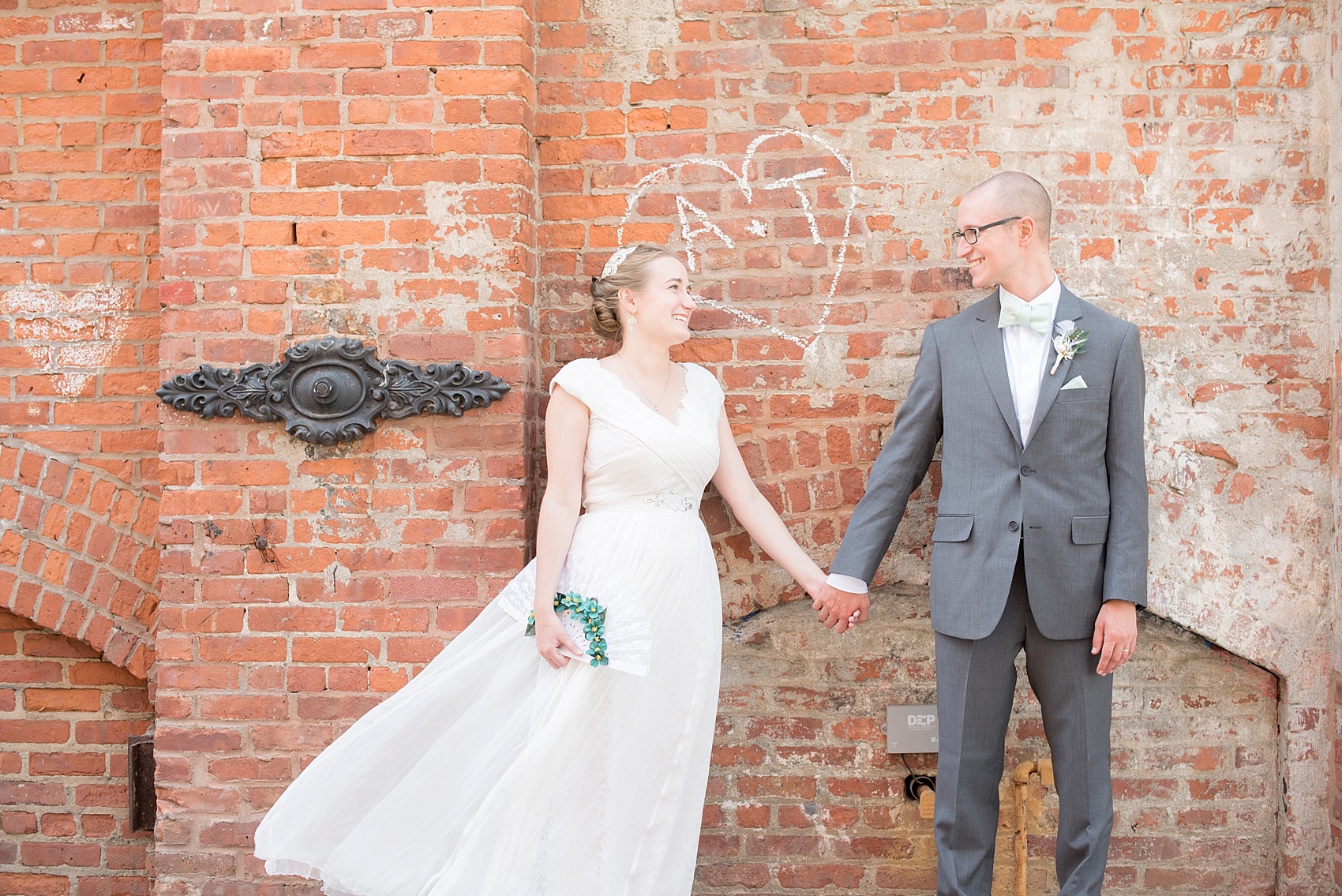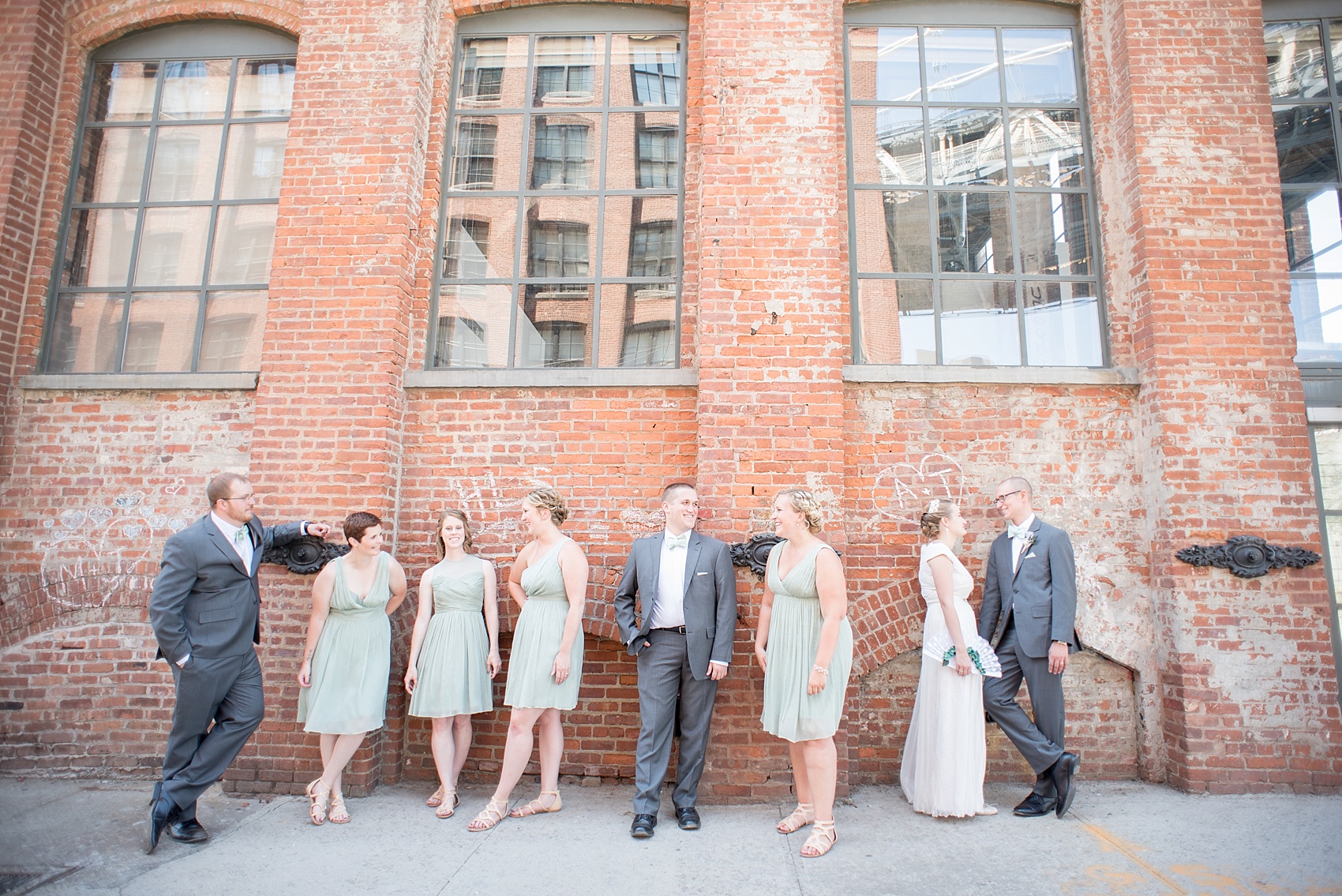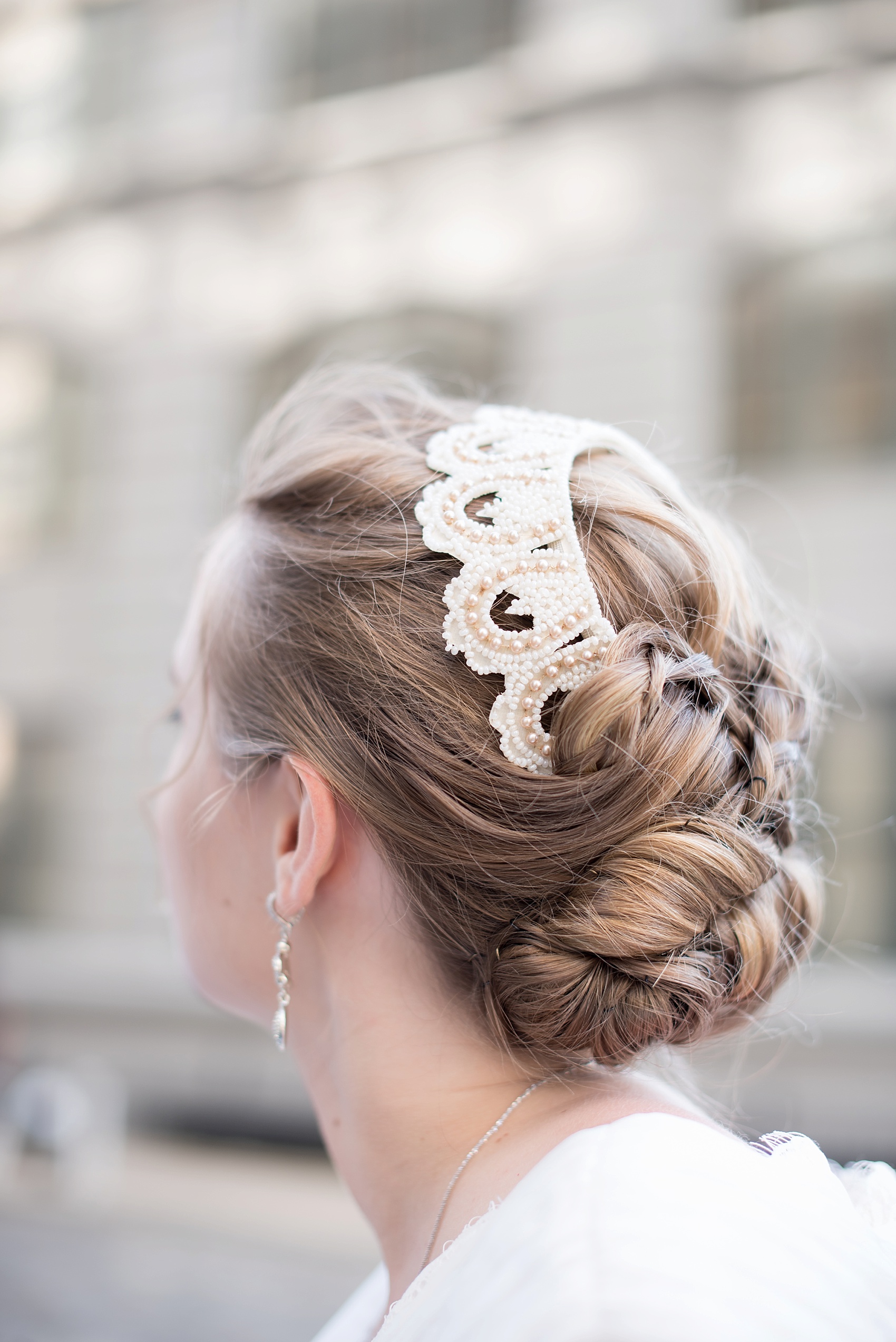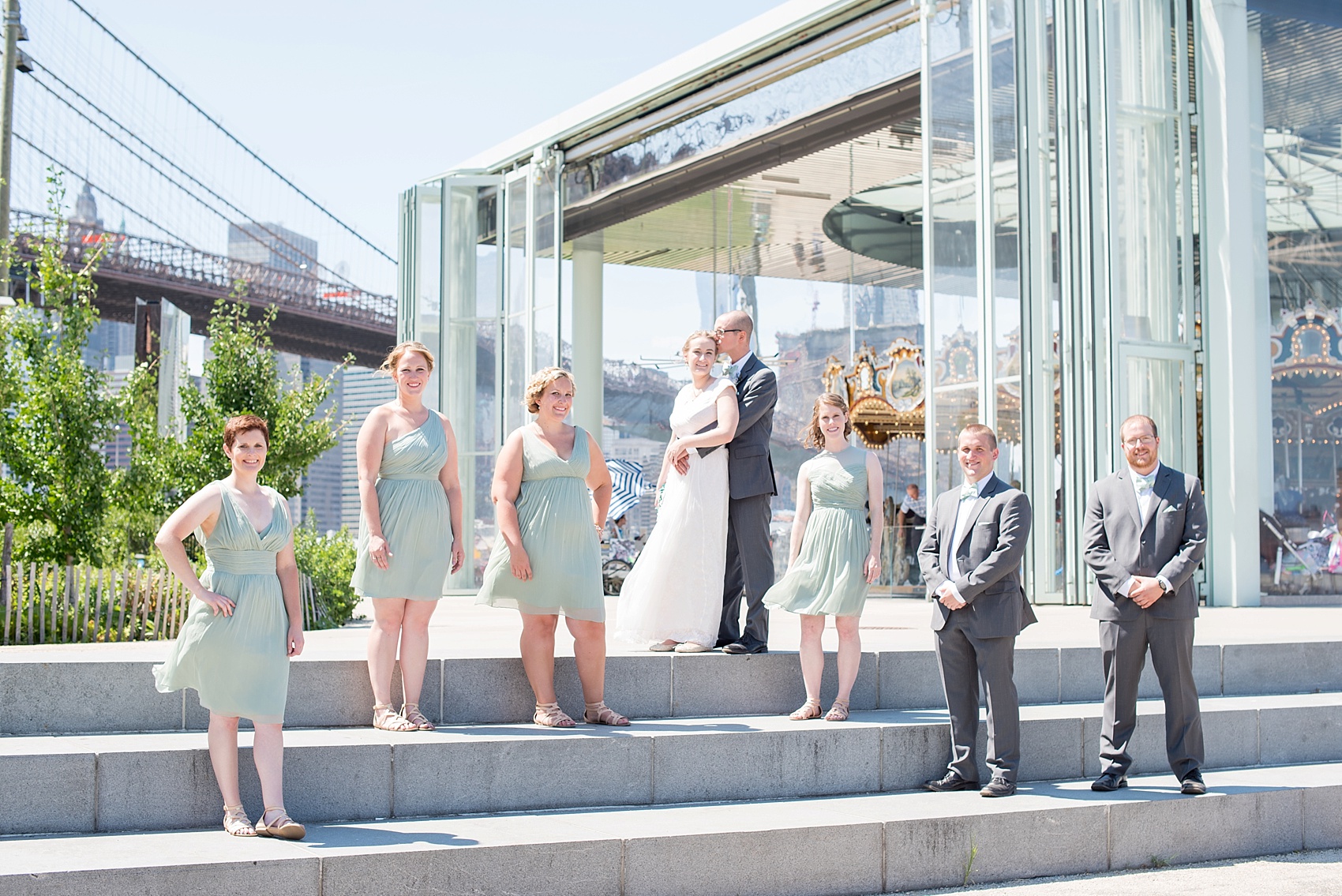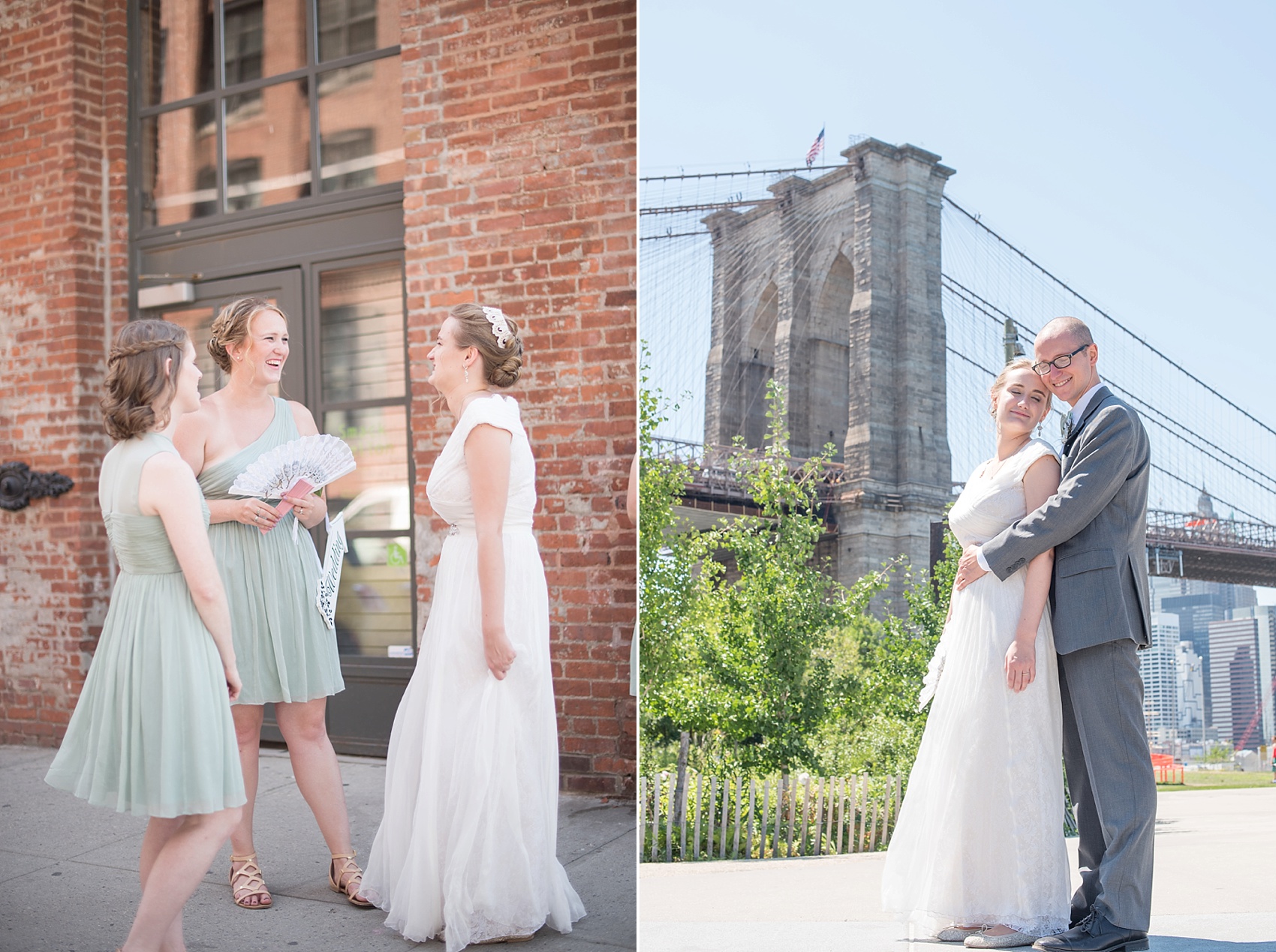 We all had so much fun walking around the DUMBO area of Brooklyn (Down Under the Manhattan Bridge Overpass for non NYers) 😉 and capturing the group amongst the city's brick walls and iconic backgrounds, including Jane's Carousel and a super cool graffiti wall.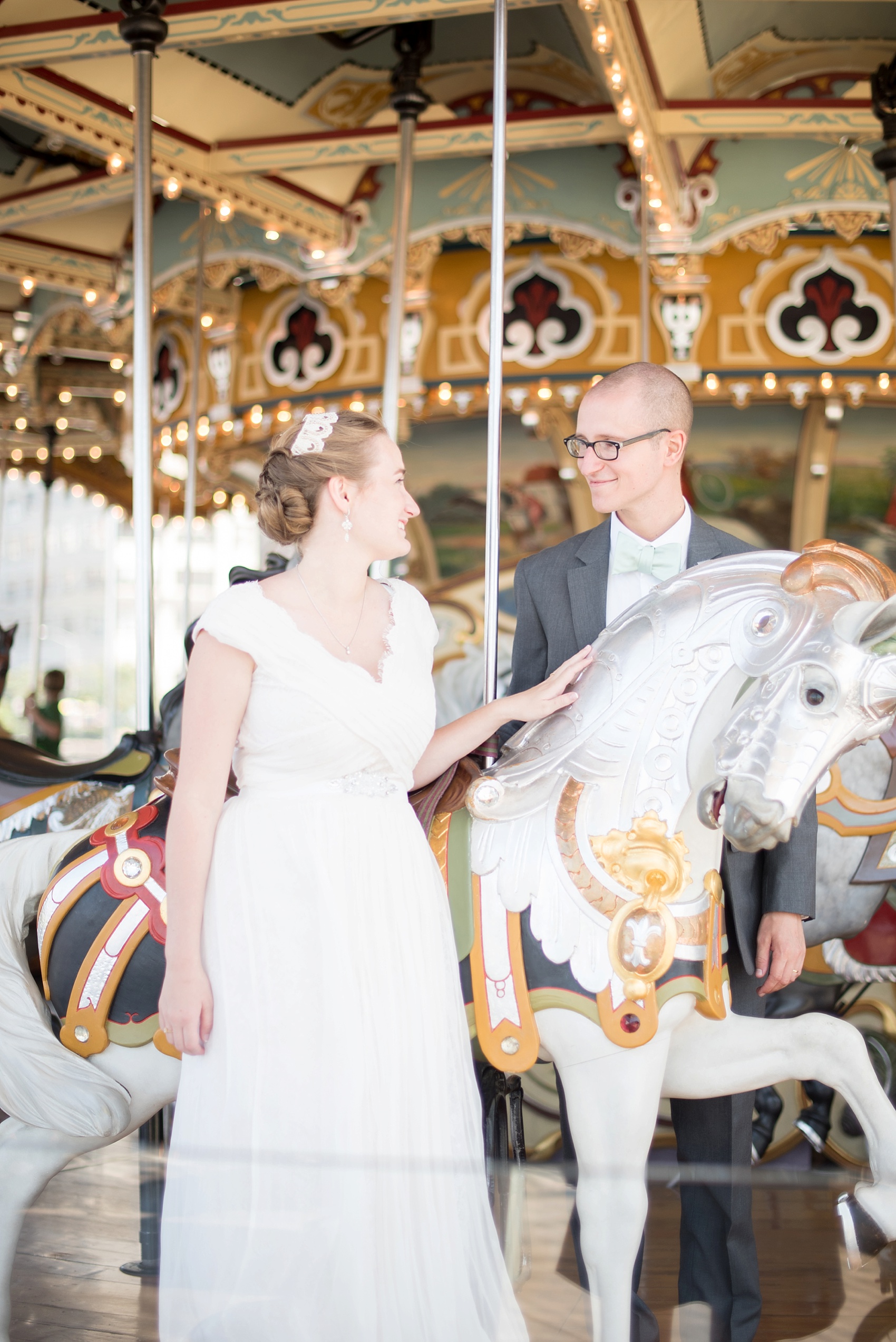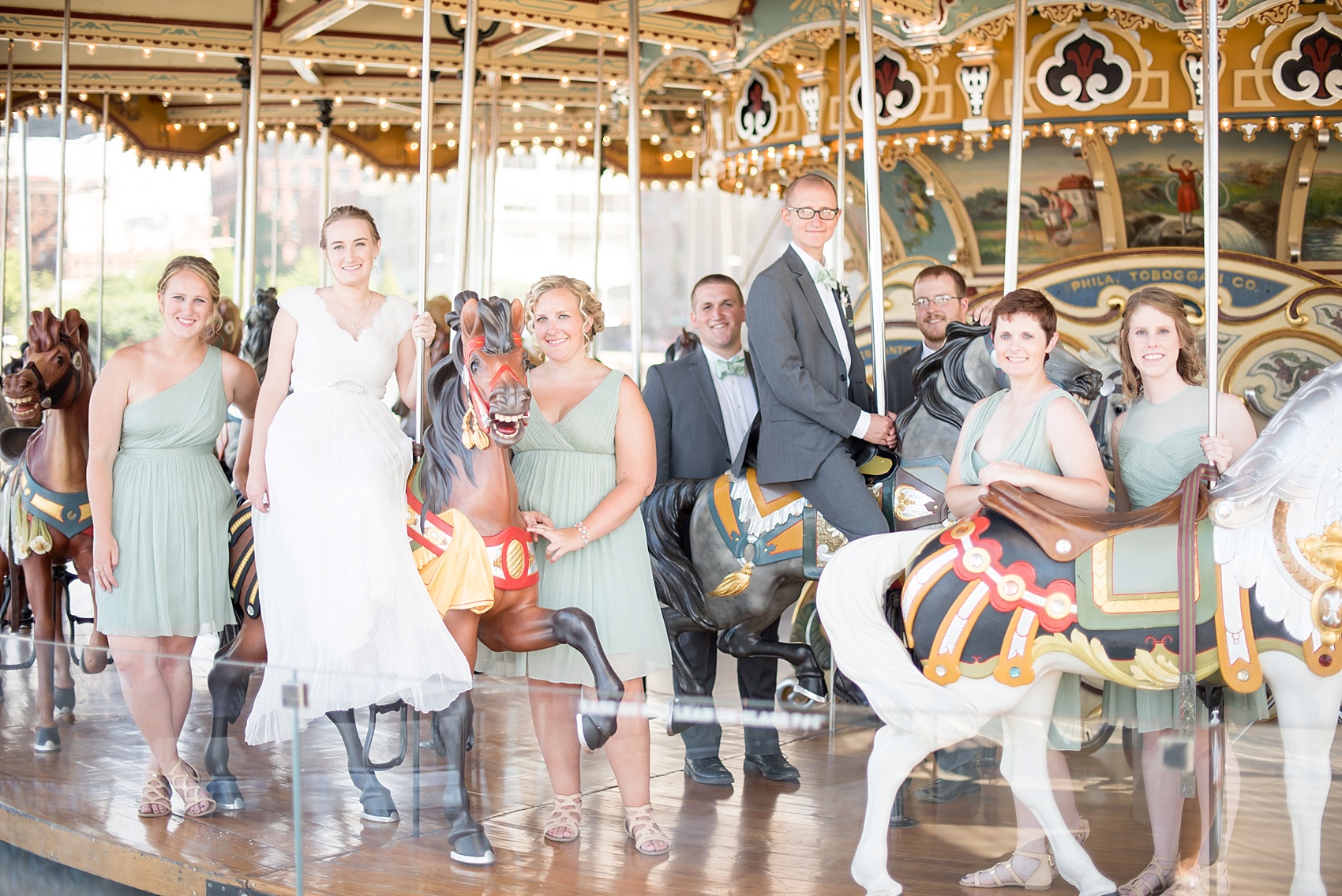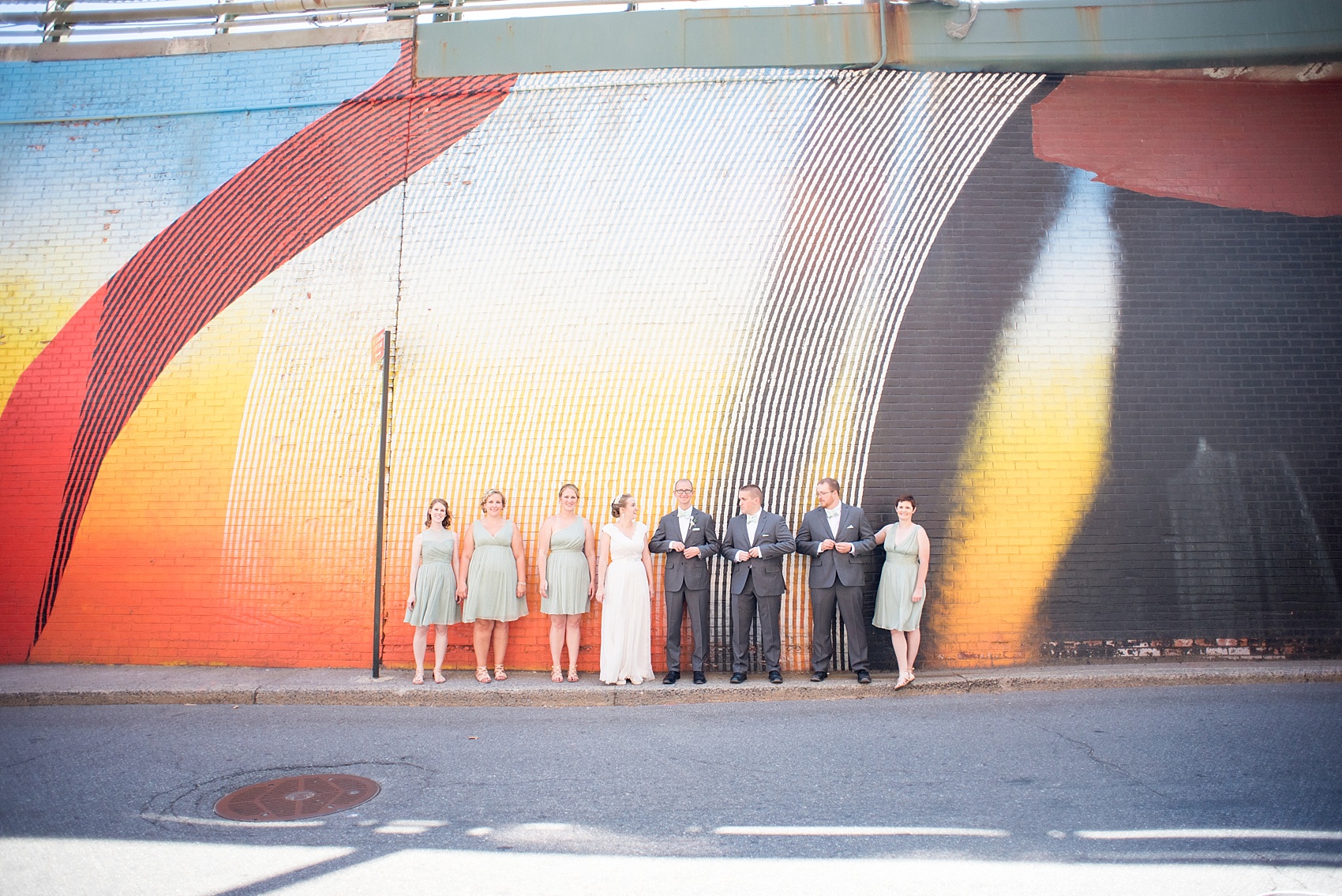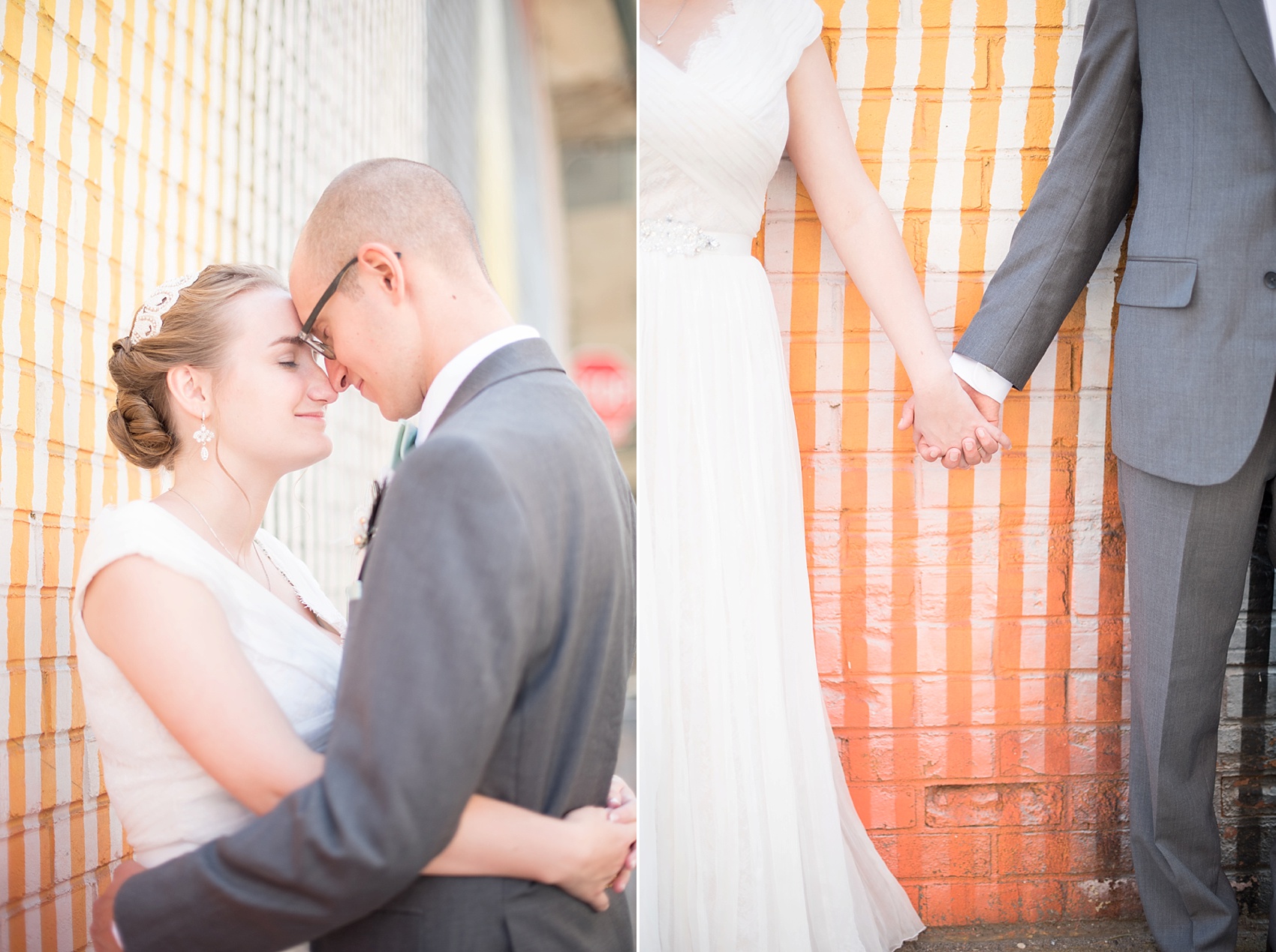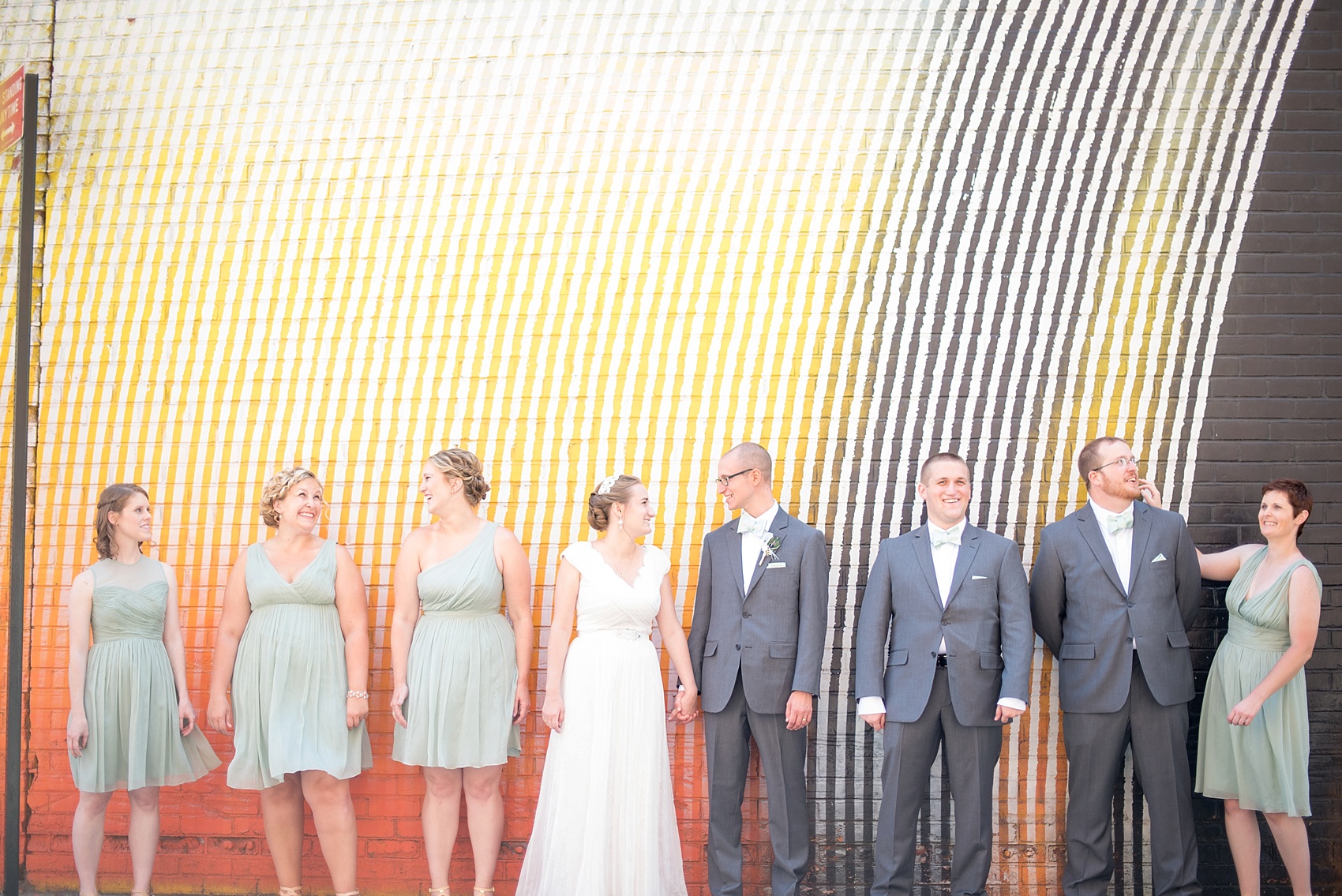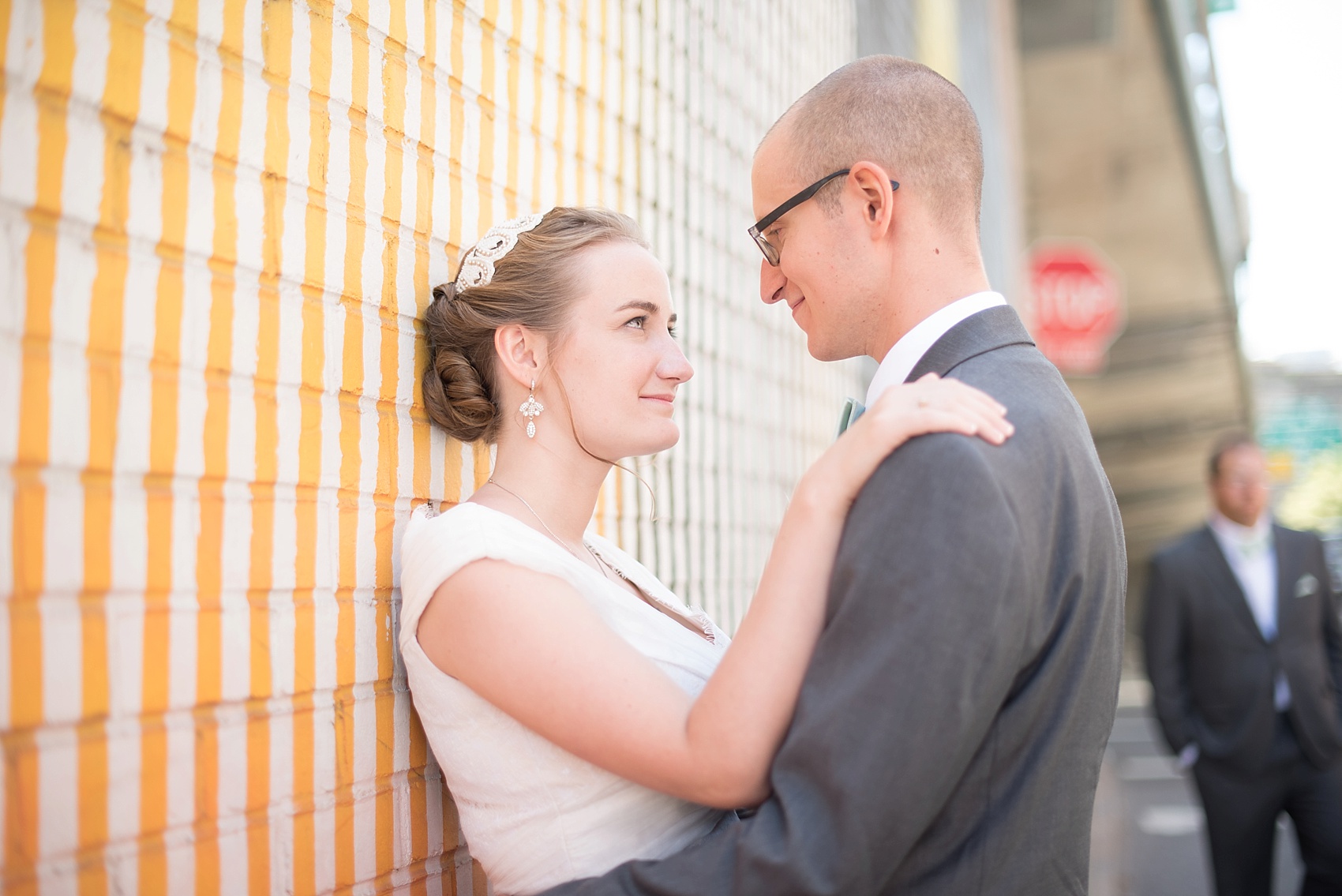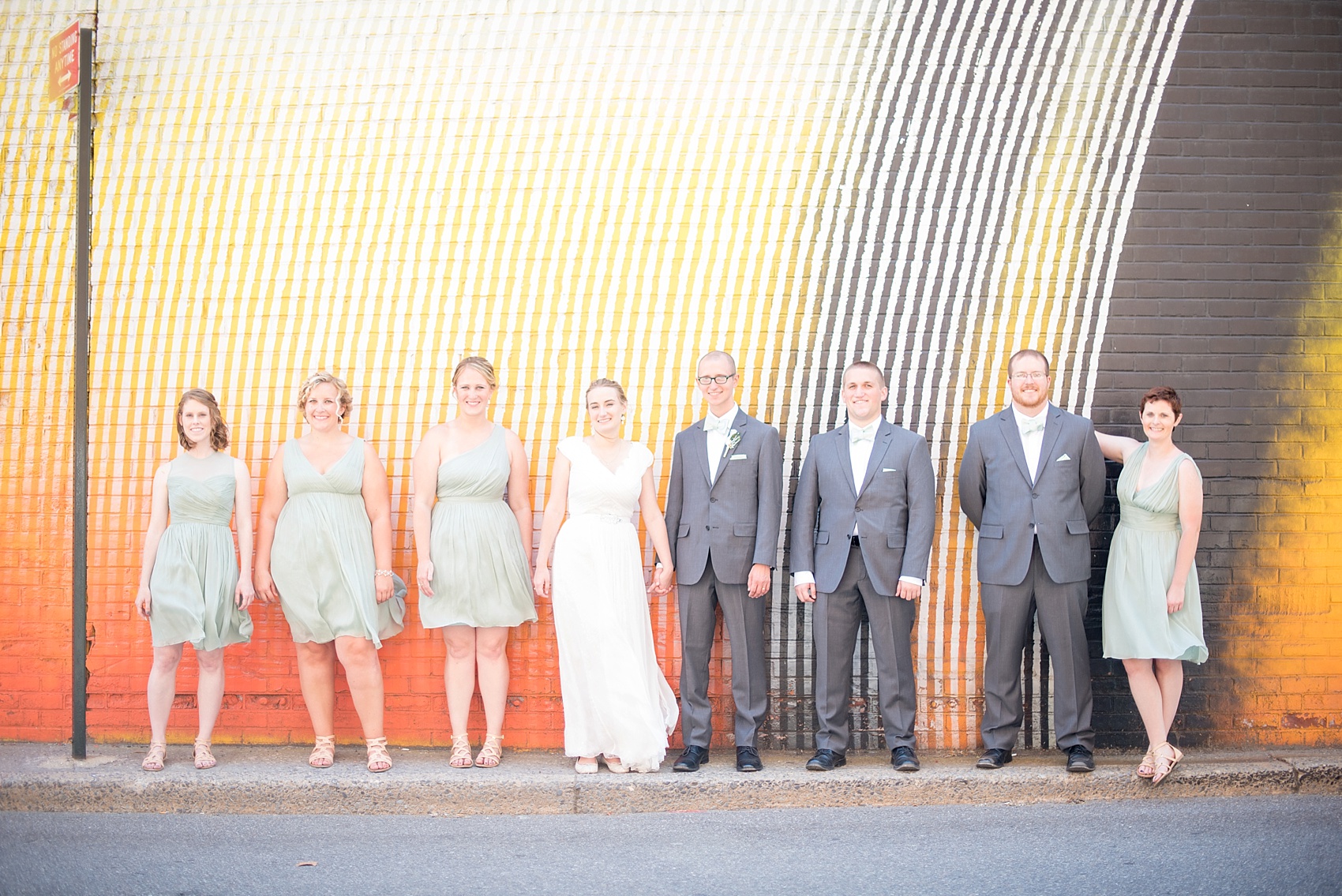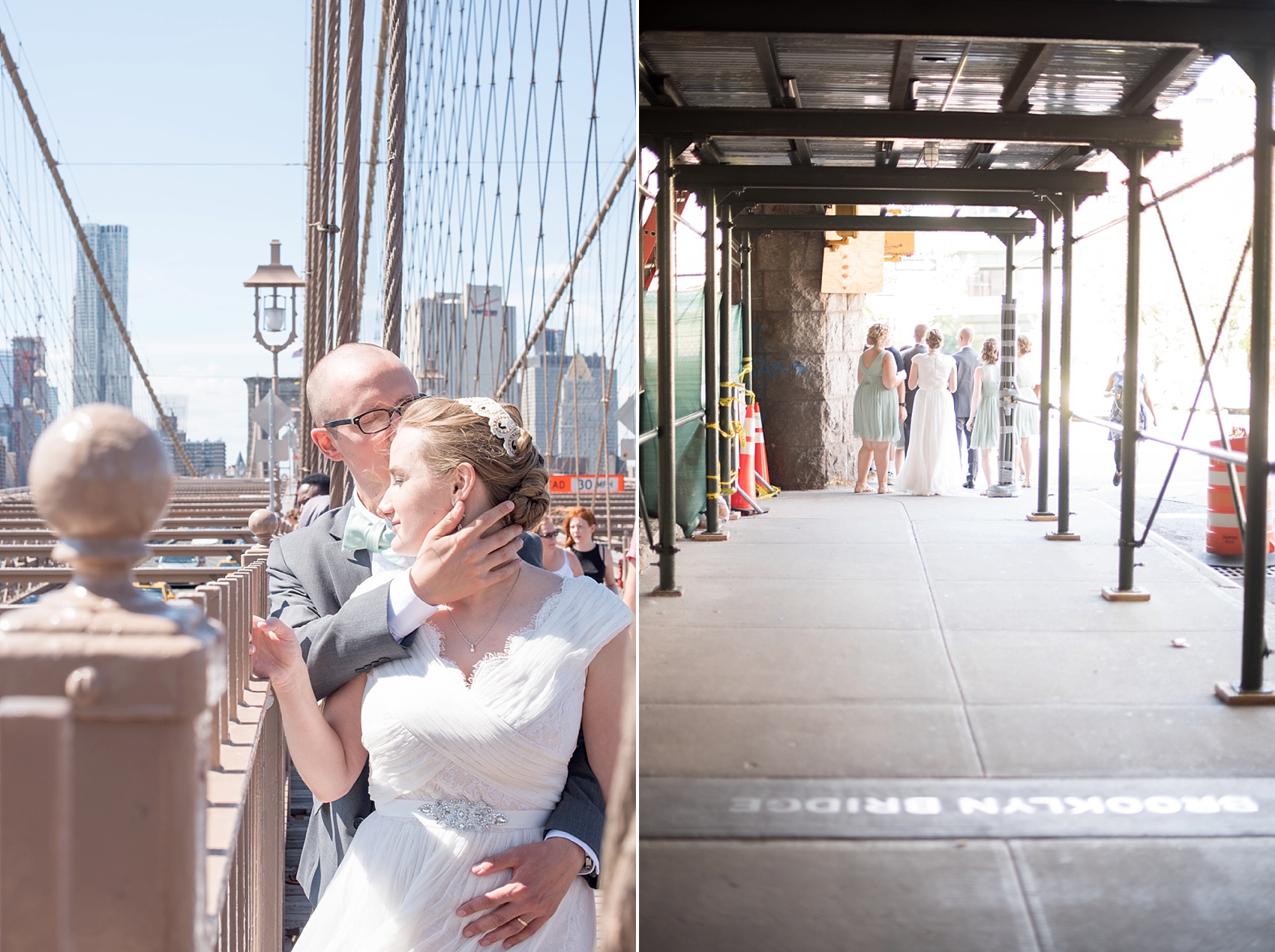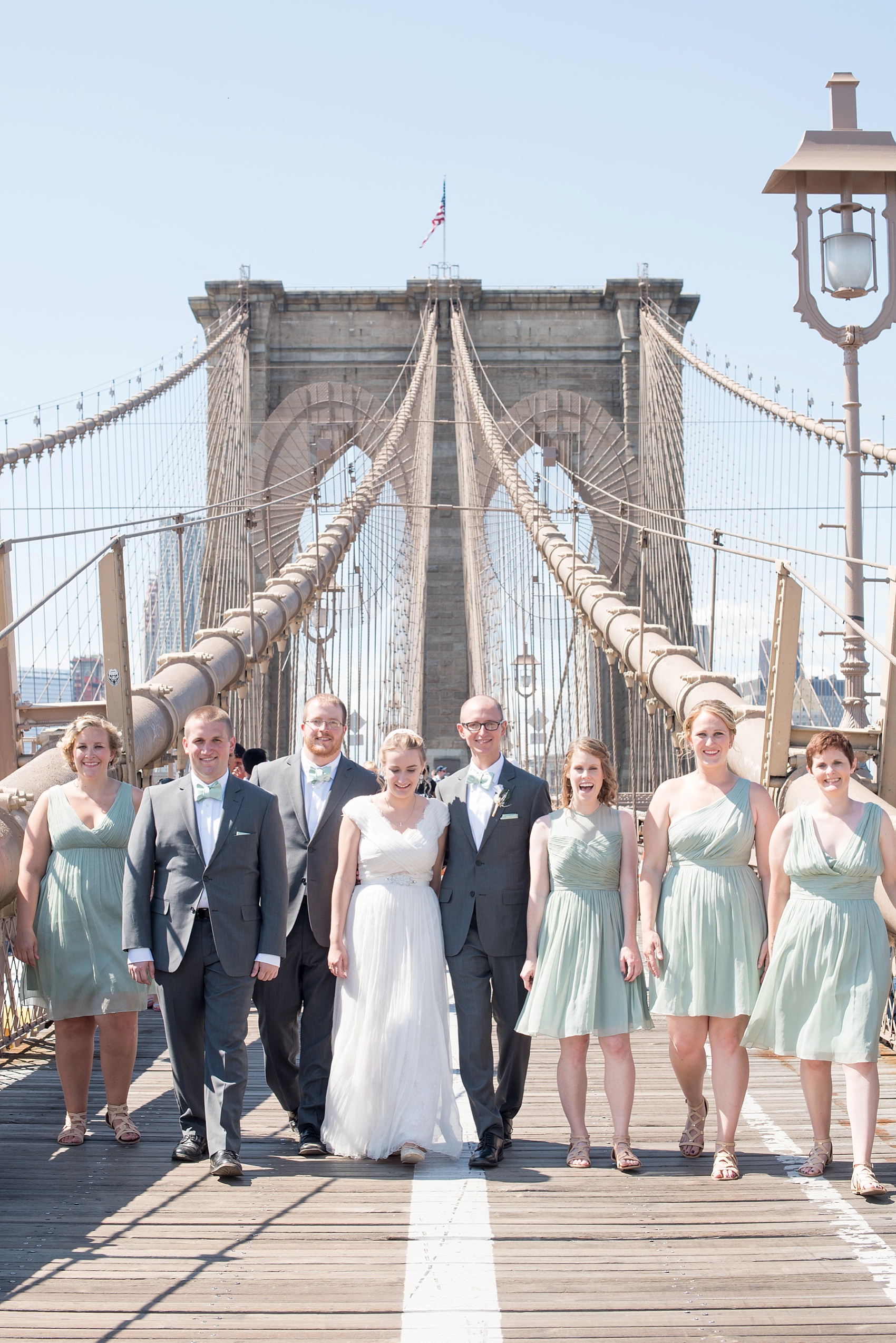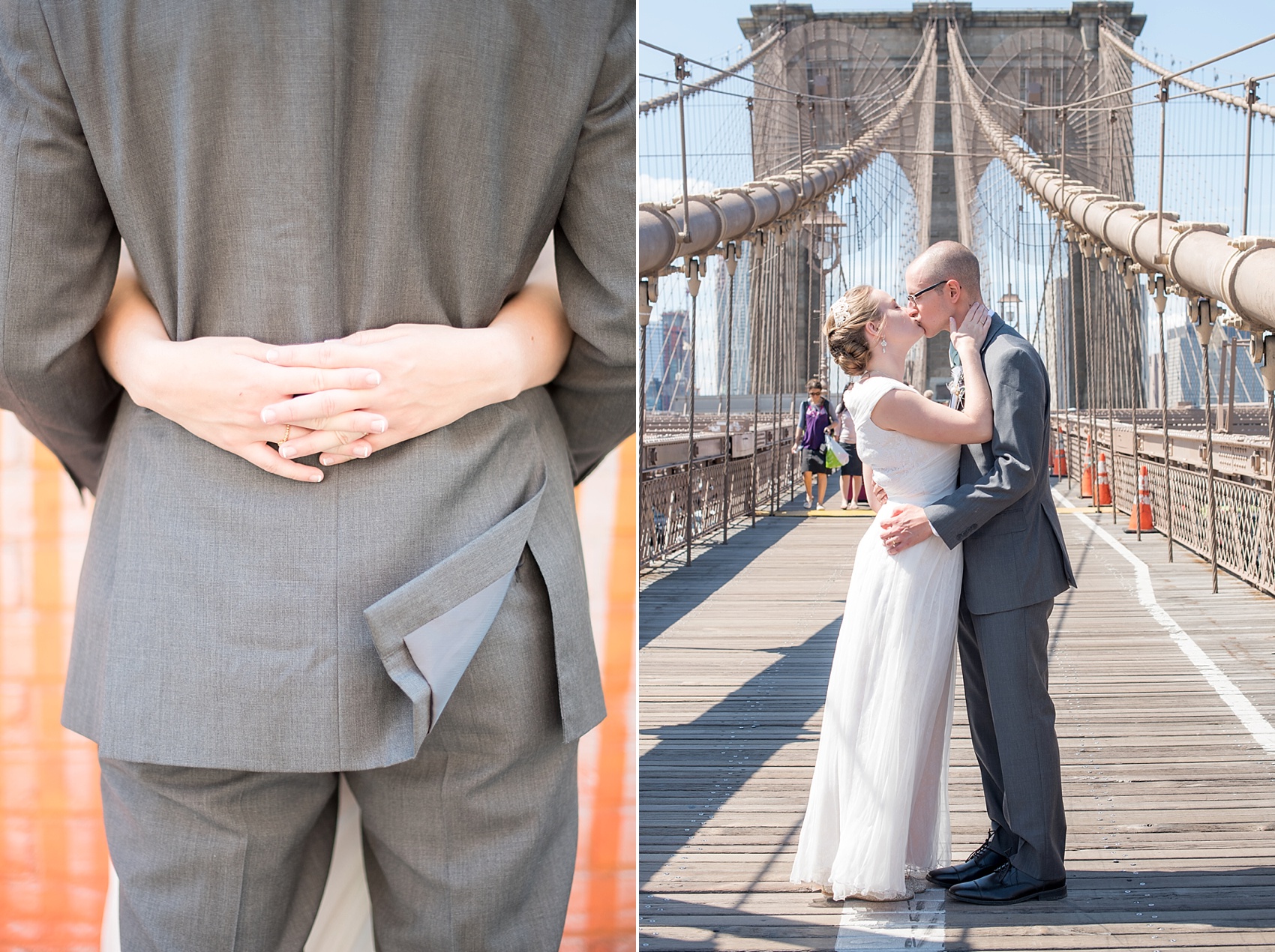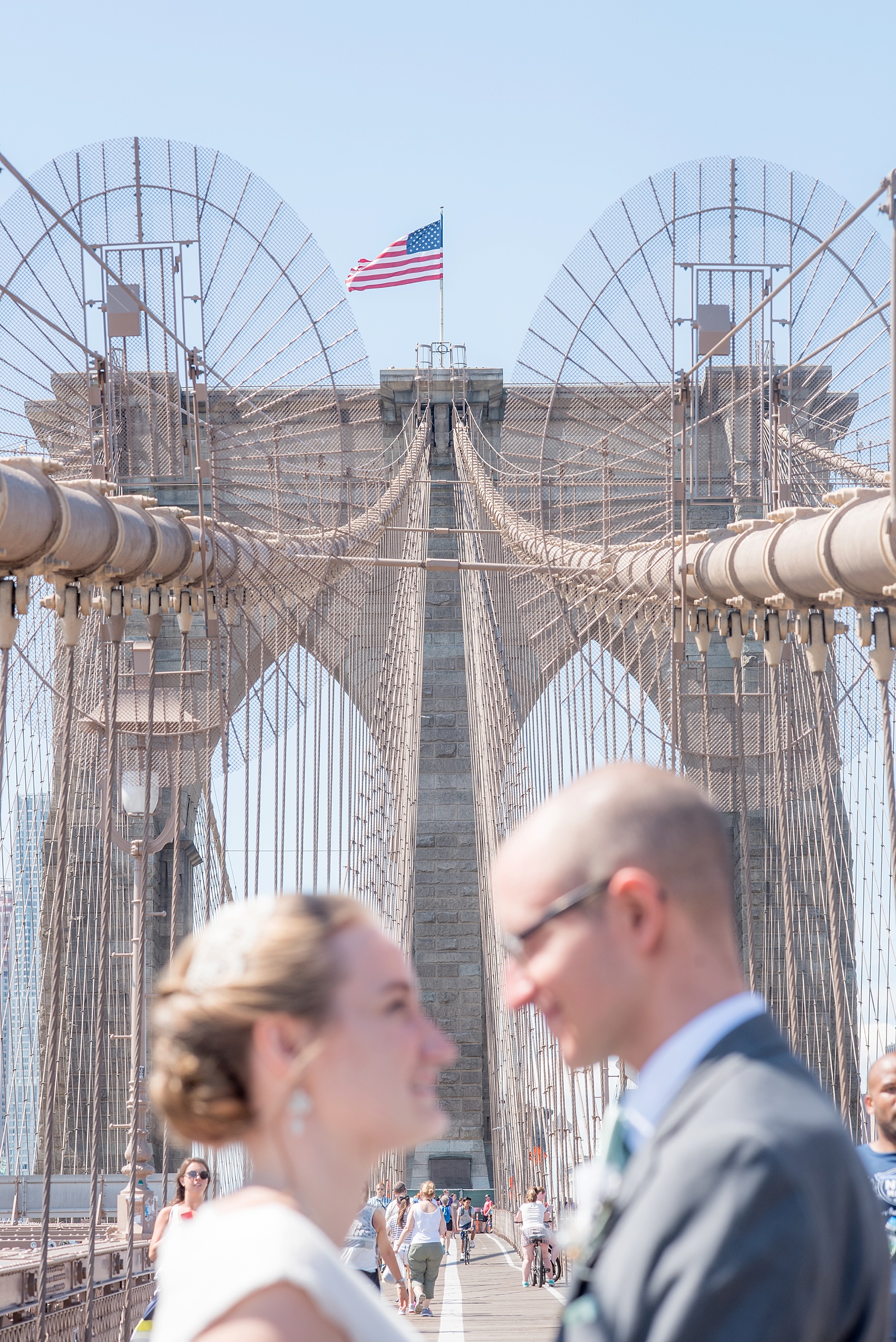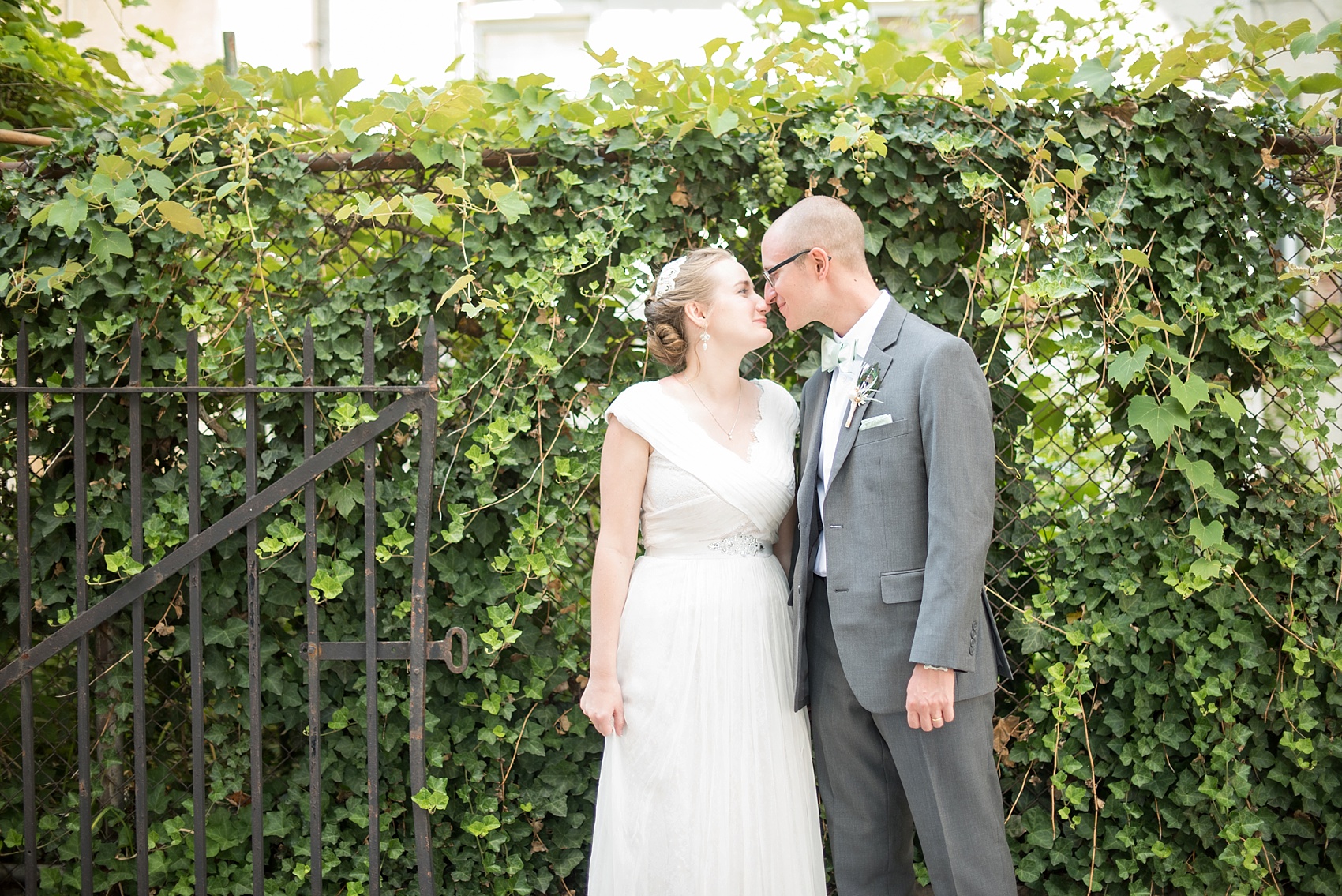 We headed to their neighborhood to their favorite local restaurant for their reception. Vases filled with colorful daisies adorned the tables in addition to a custom crossword puzzle, custom pencils and custom matchbooks they had made. Wine corks held table names like France and Spain, locations the couple has traveled to together. Guests signed Dr. Seuss's "Oh the Places You'll Go" with well wishes for the newlyweds.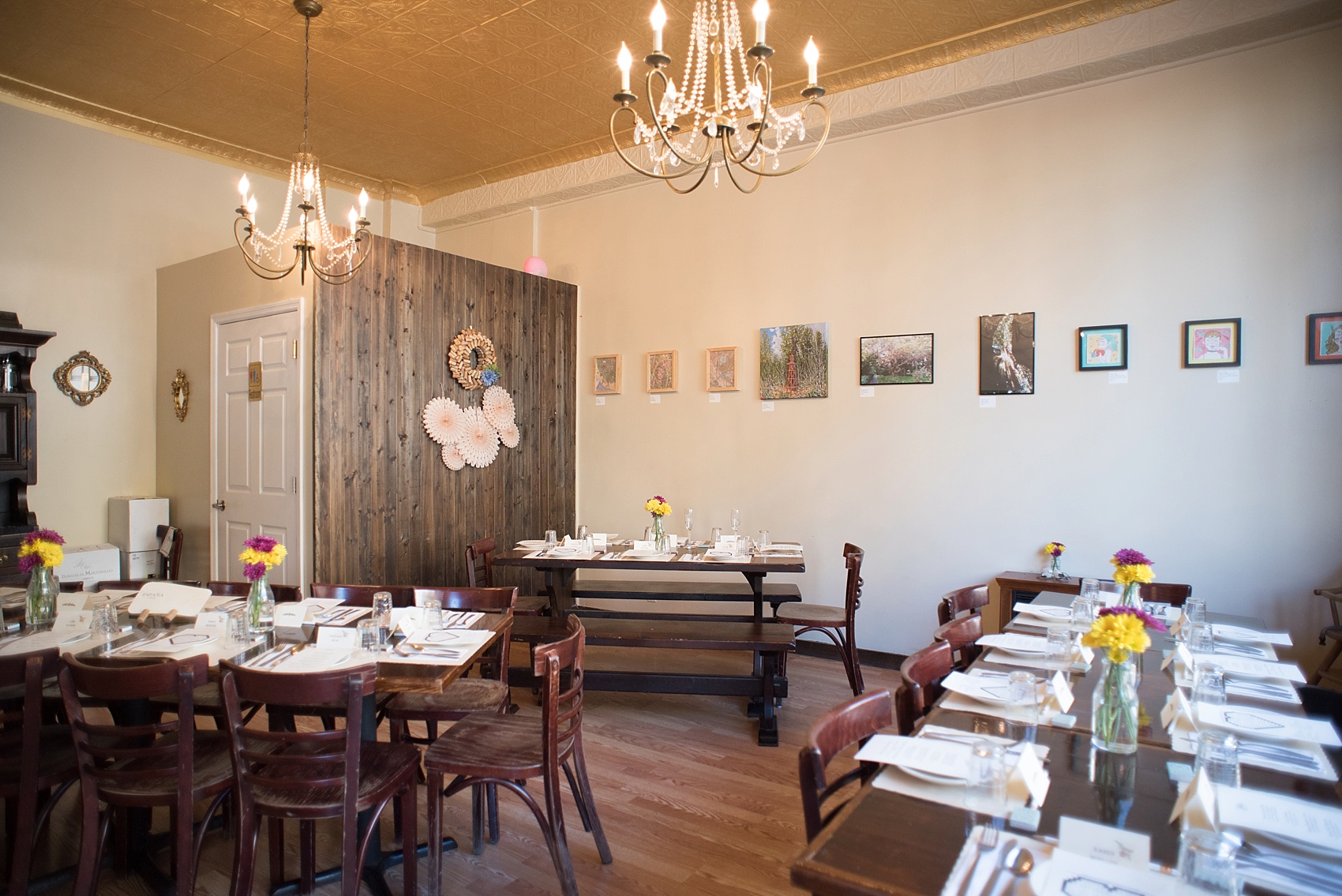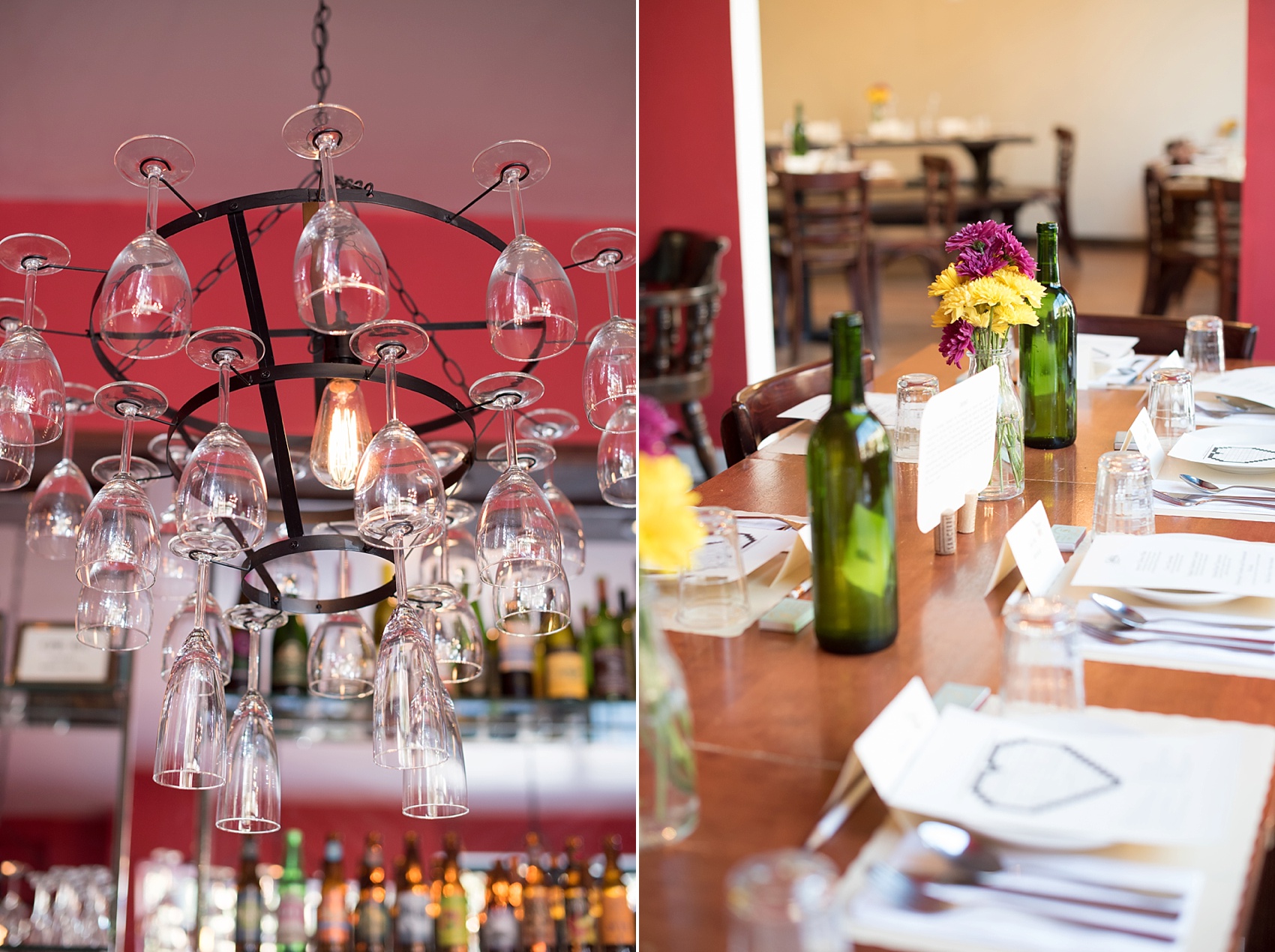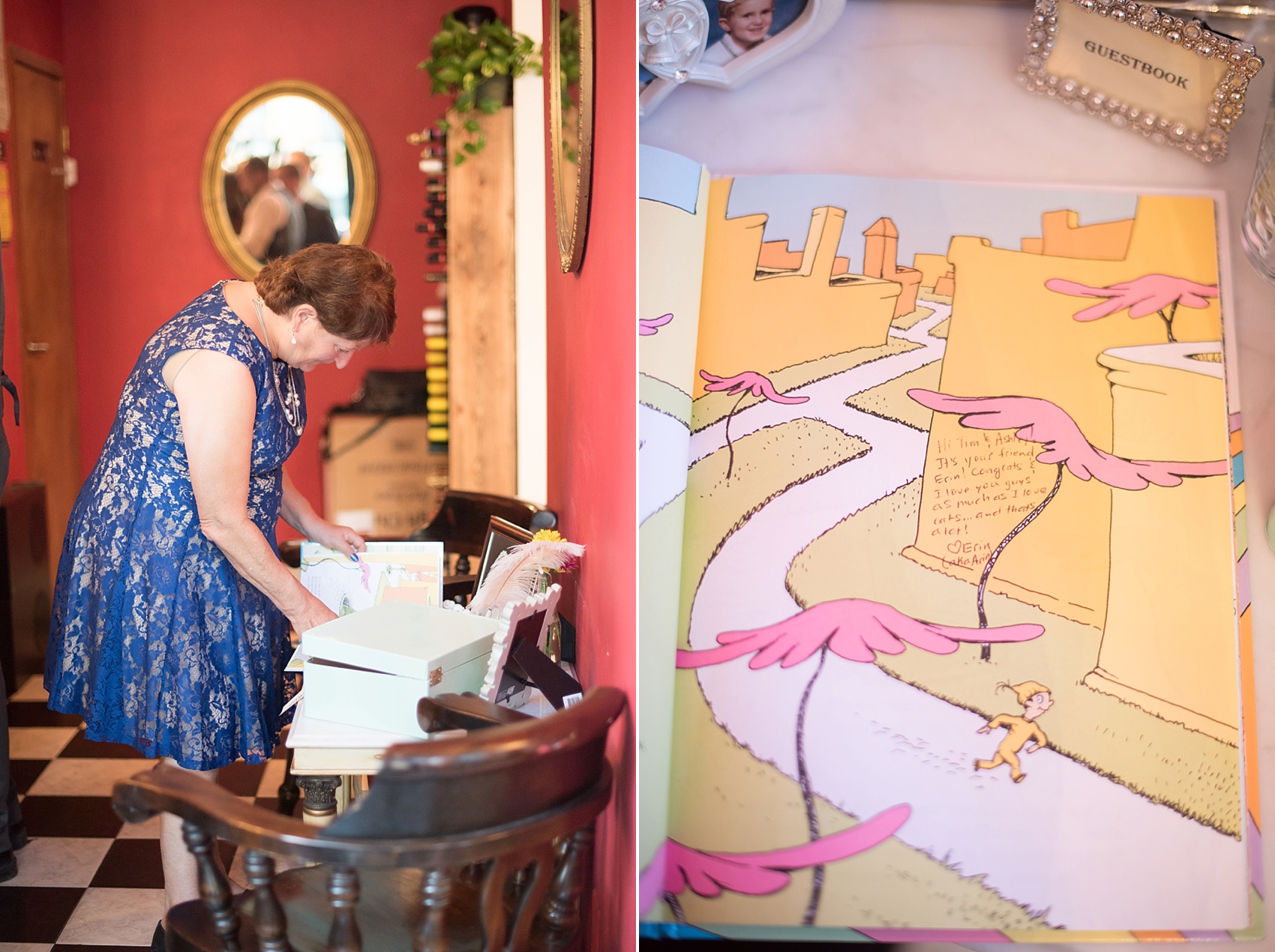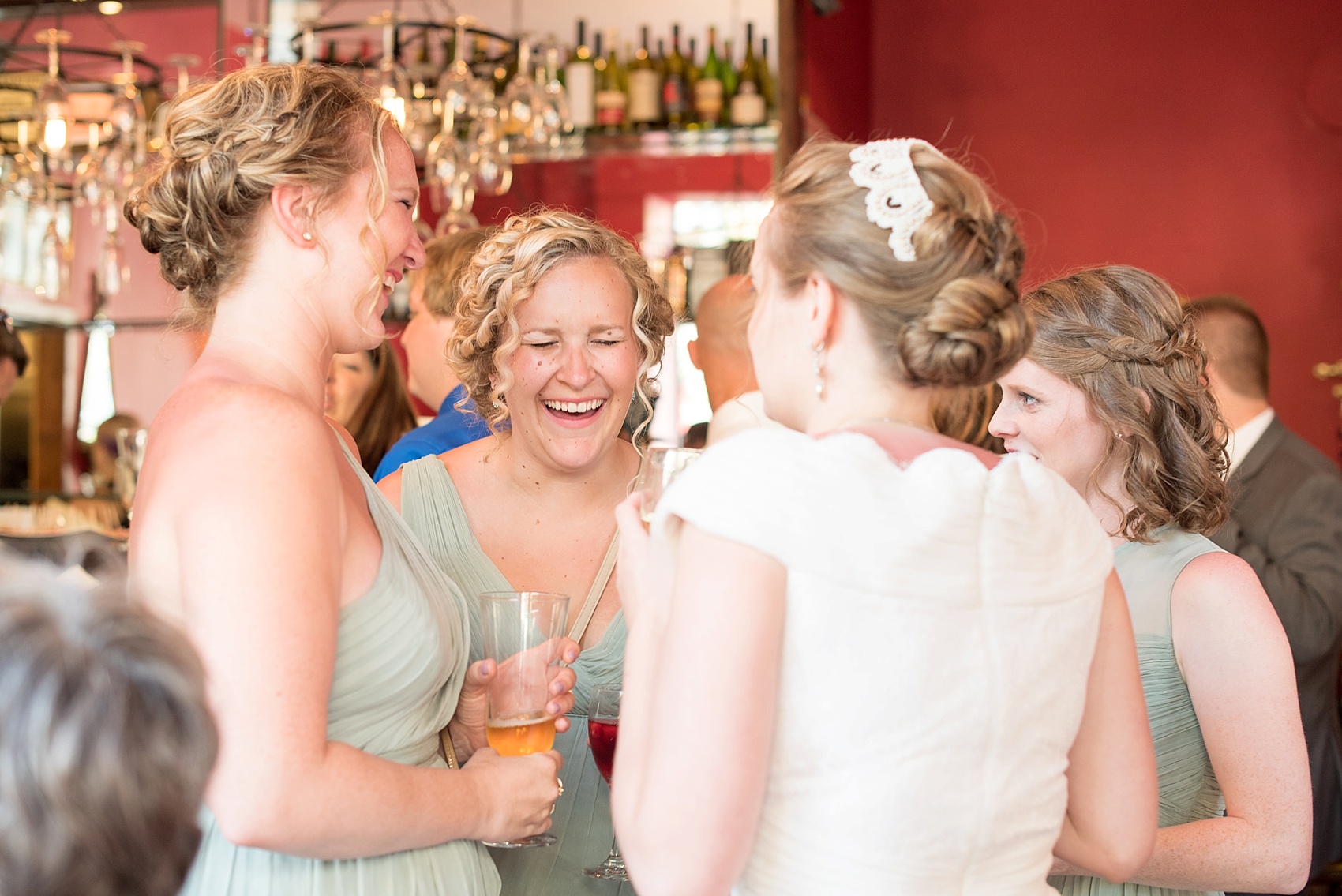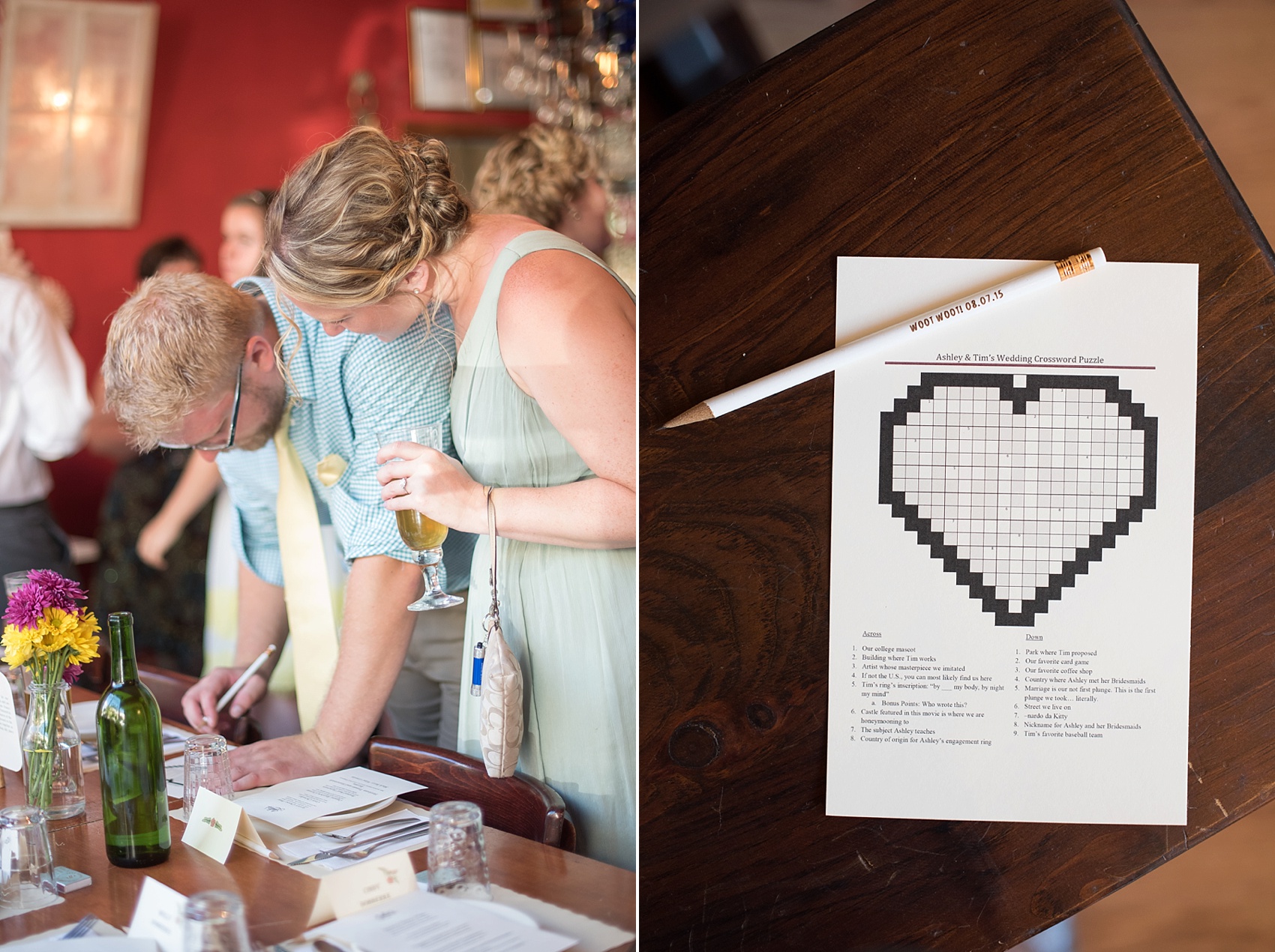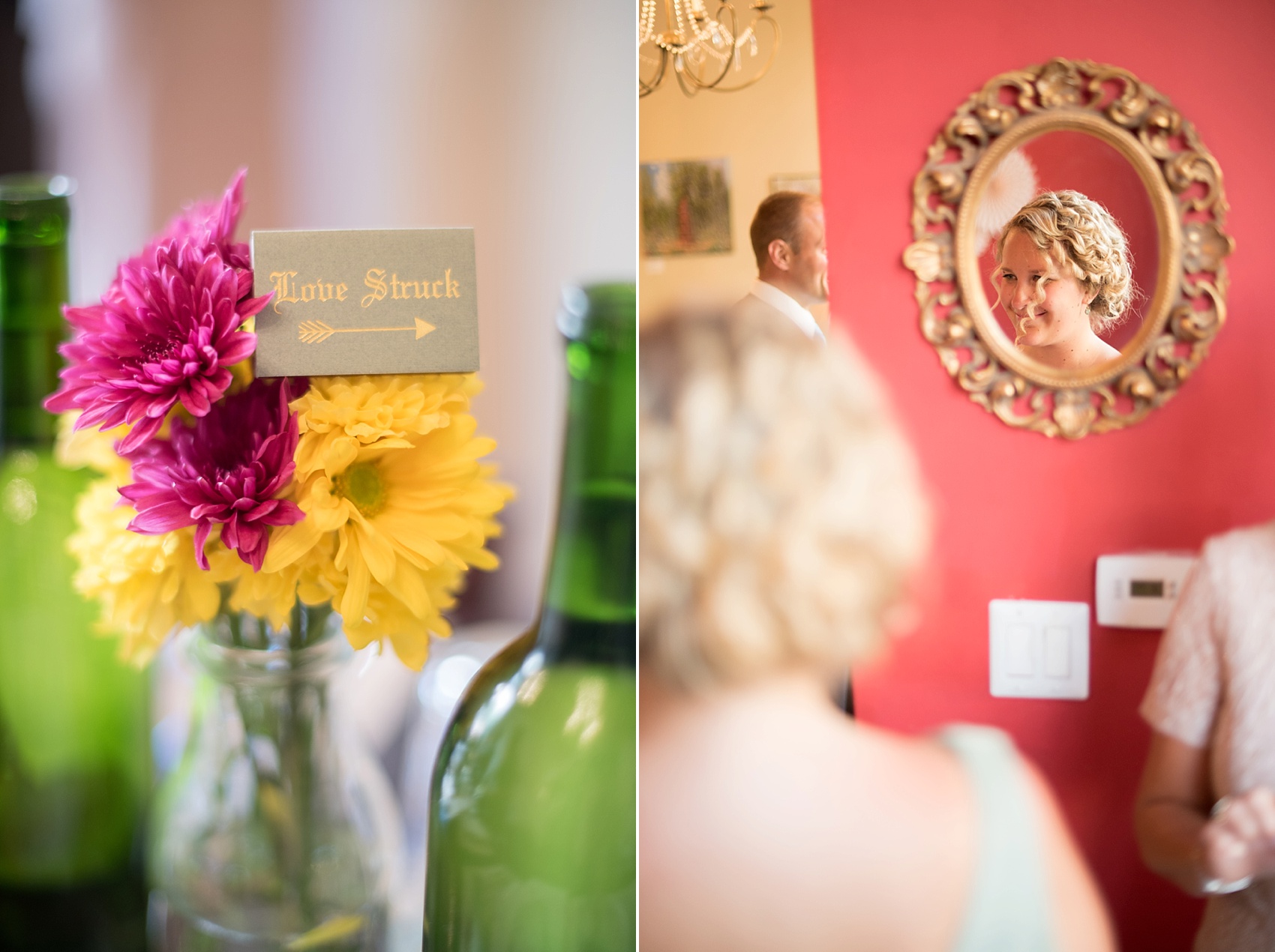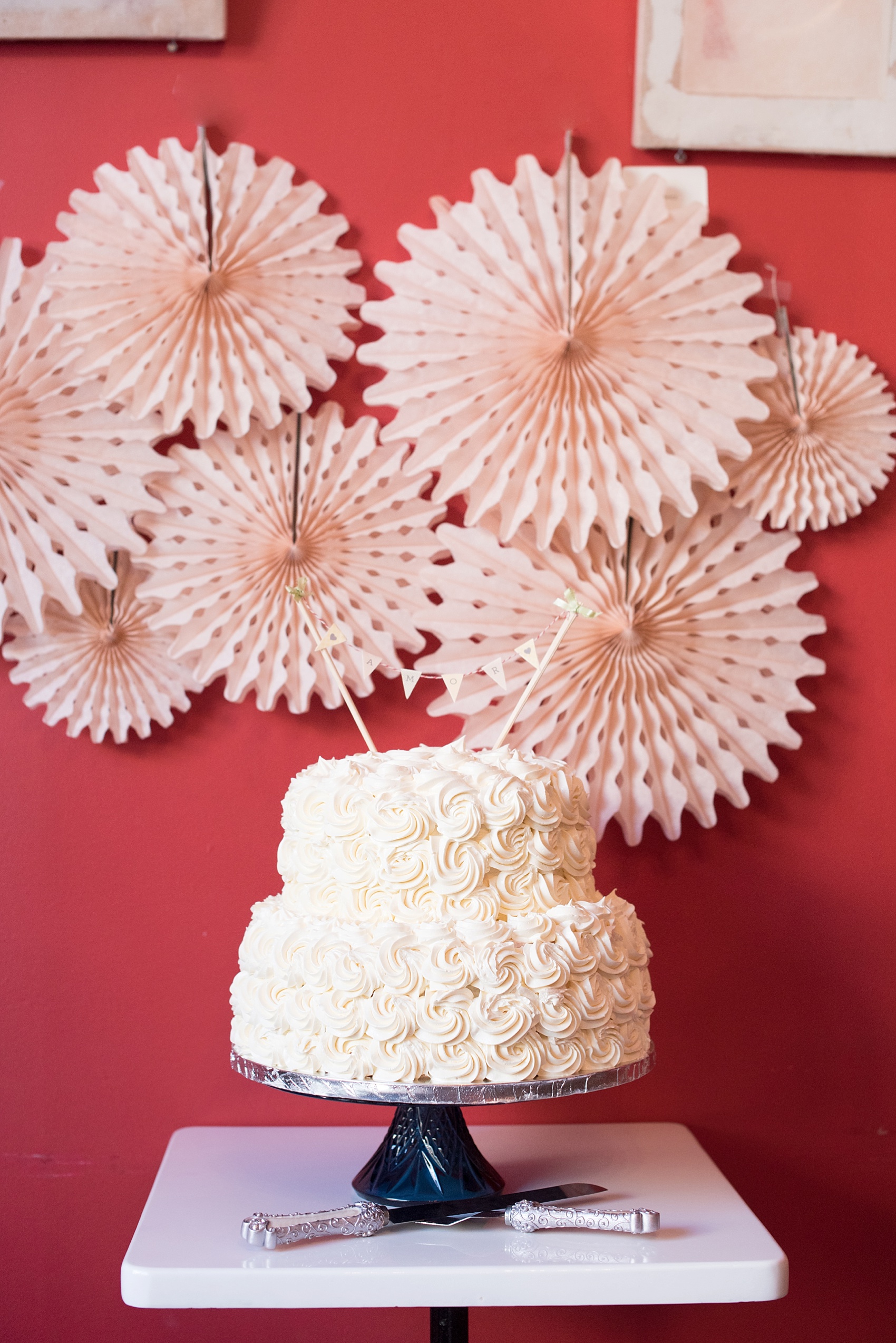 Their white swirl-piped buttercream two-tiered cake was from another local favorite shop around the corner, topped with petite "amor" flag garland, which was a nod to Ashley's love for Latin.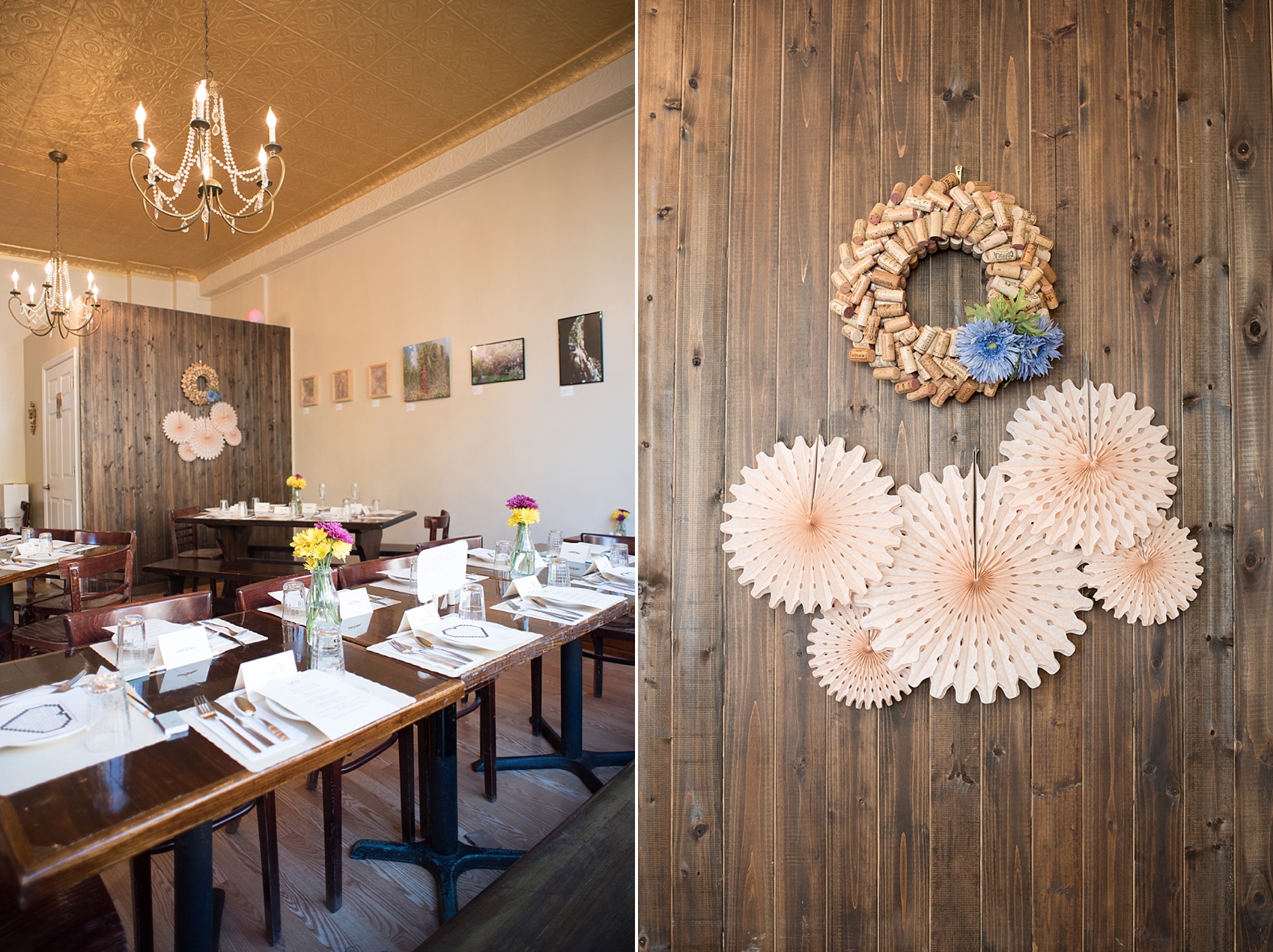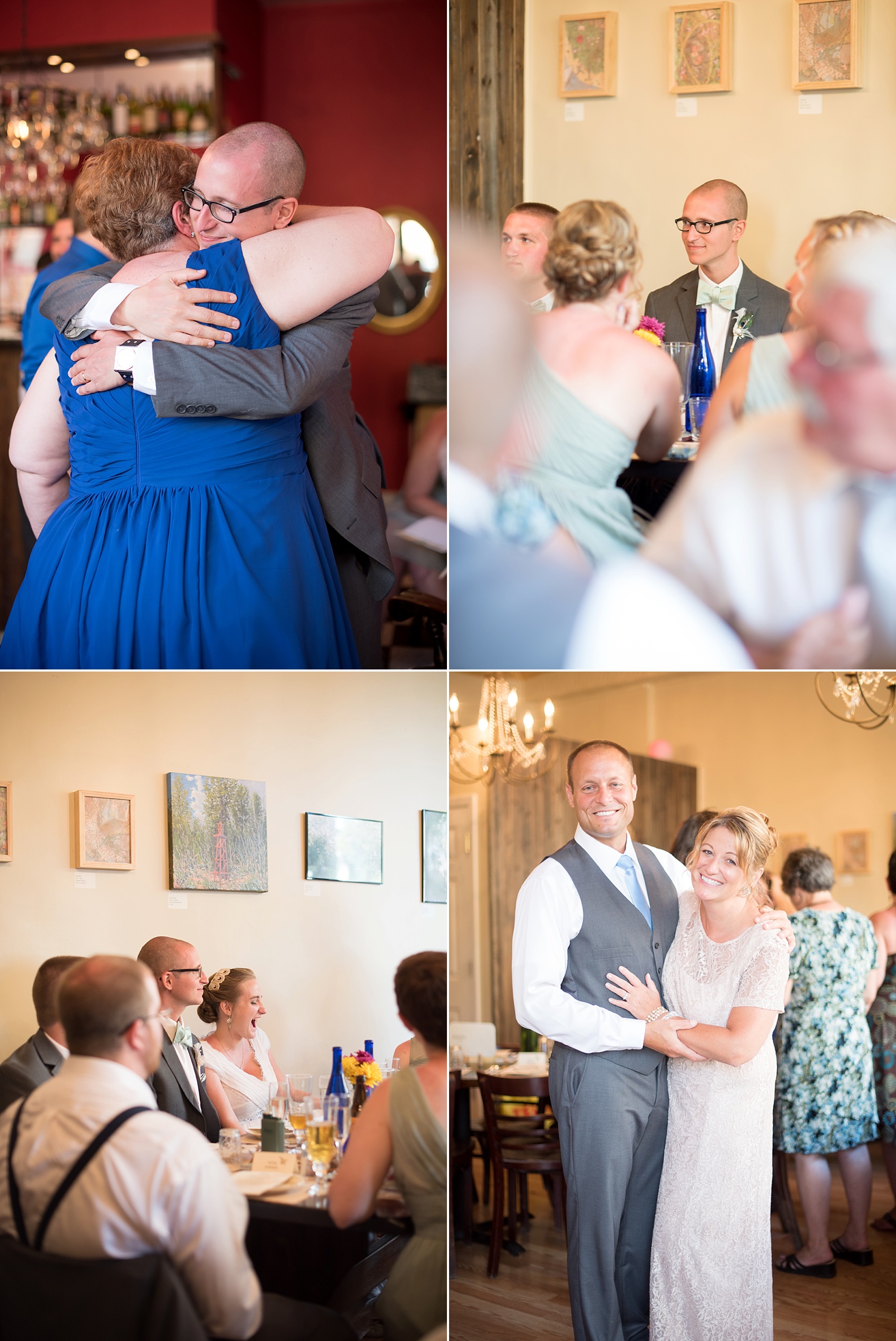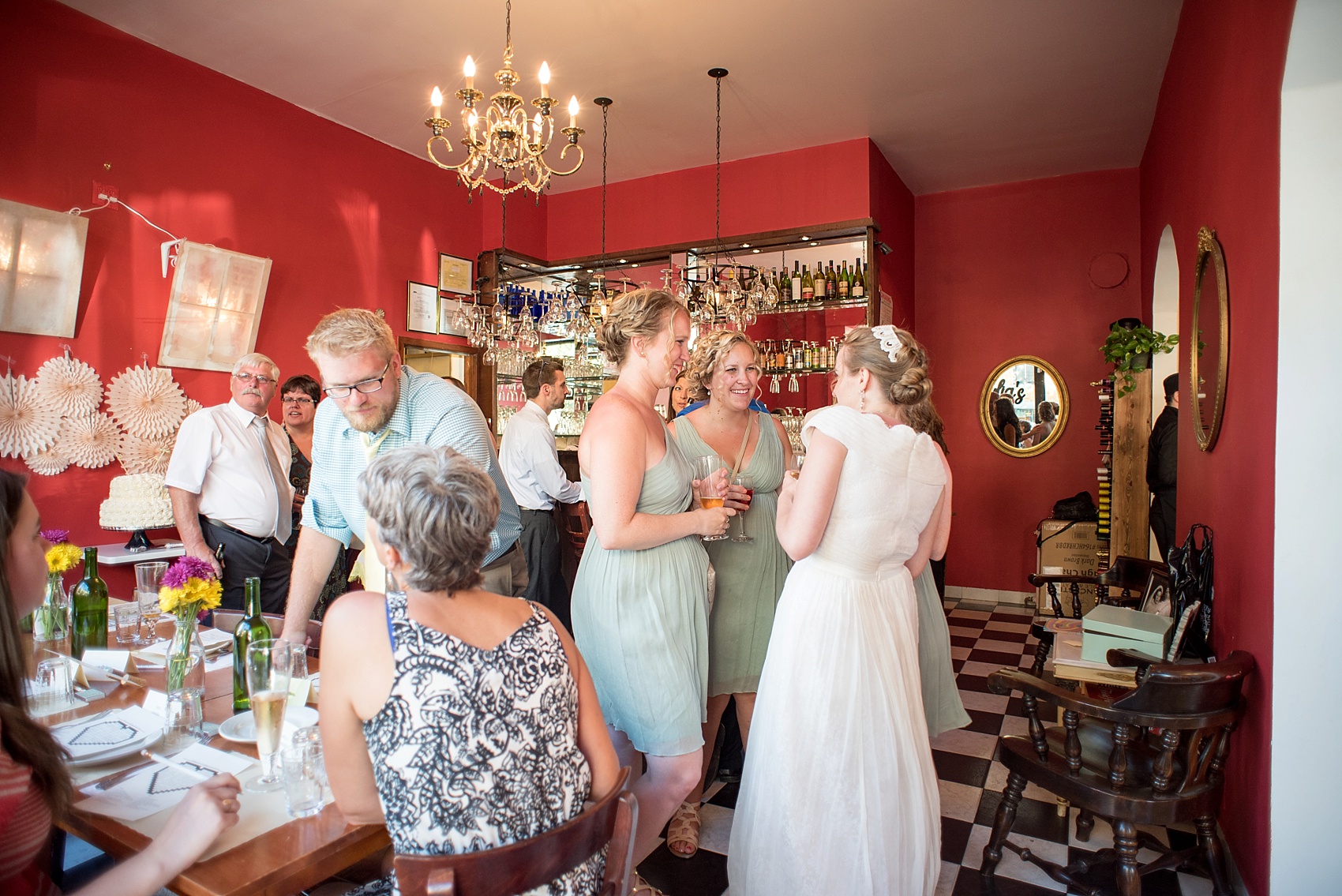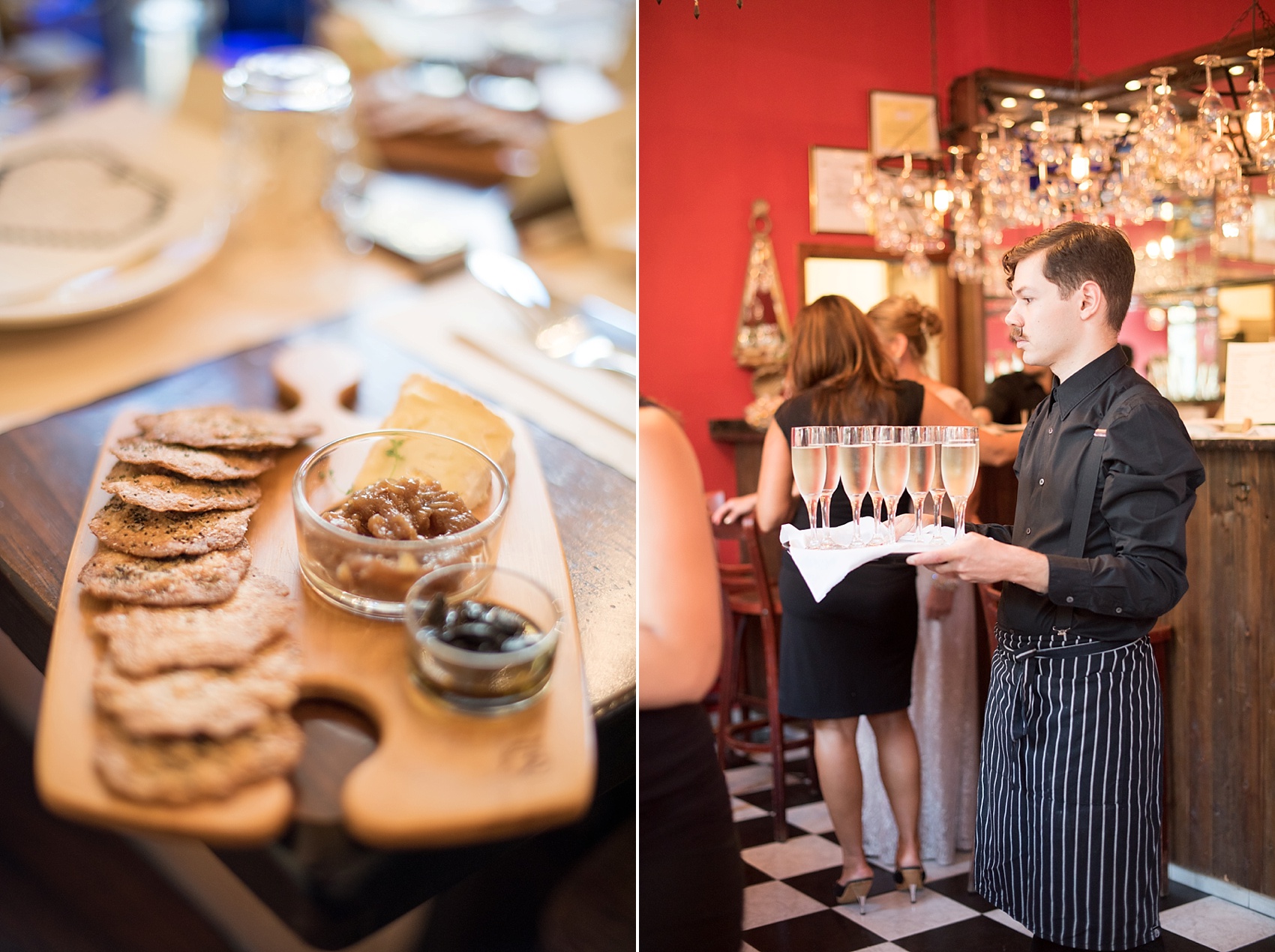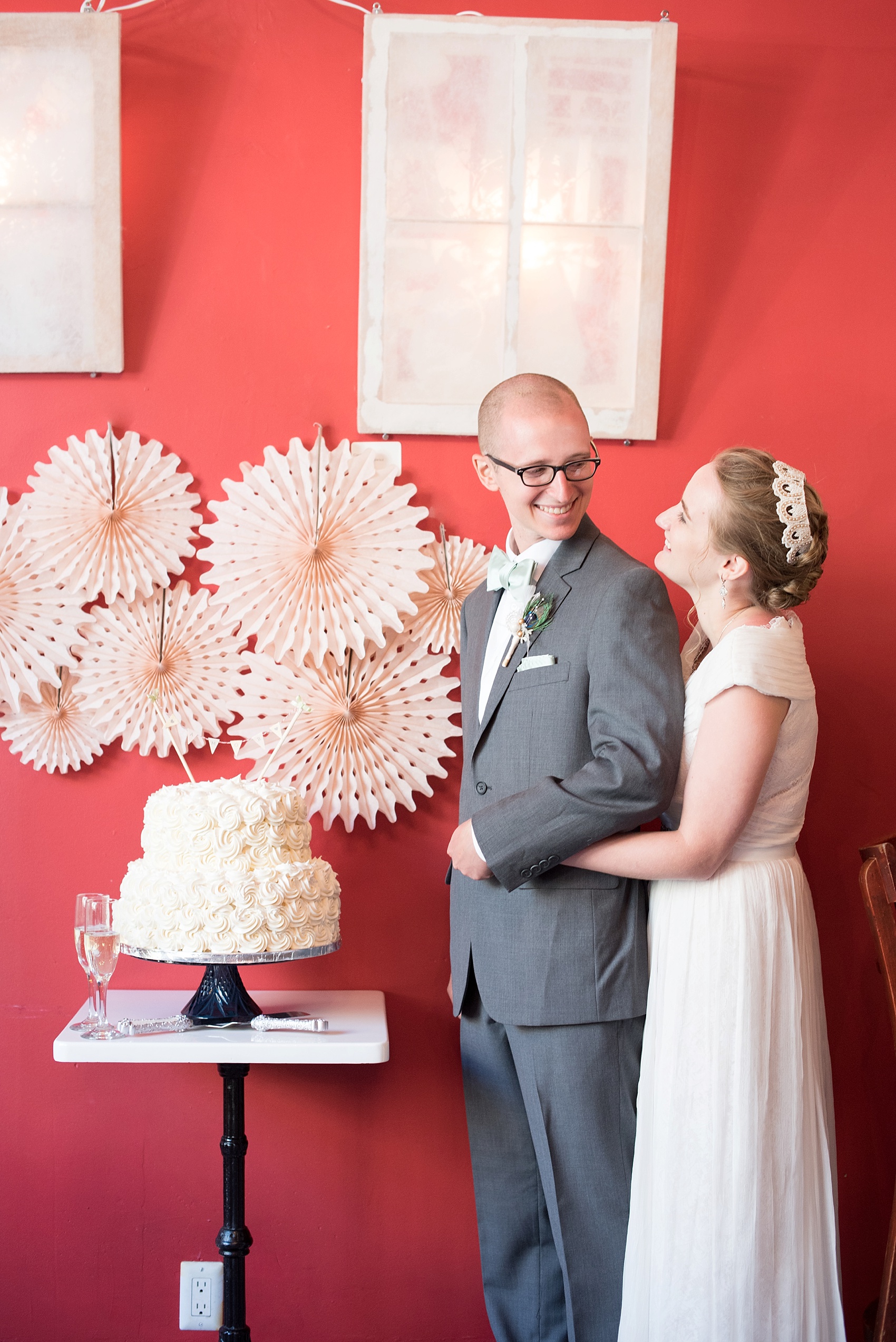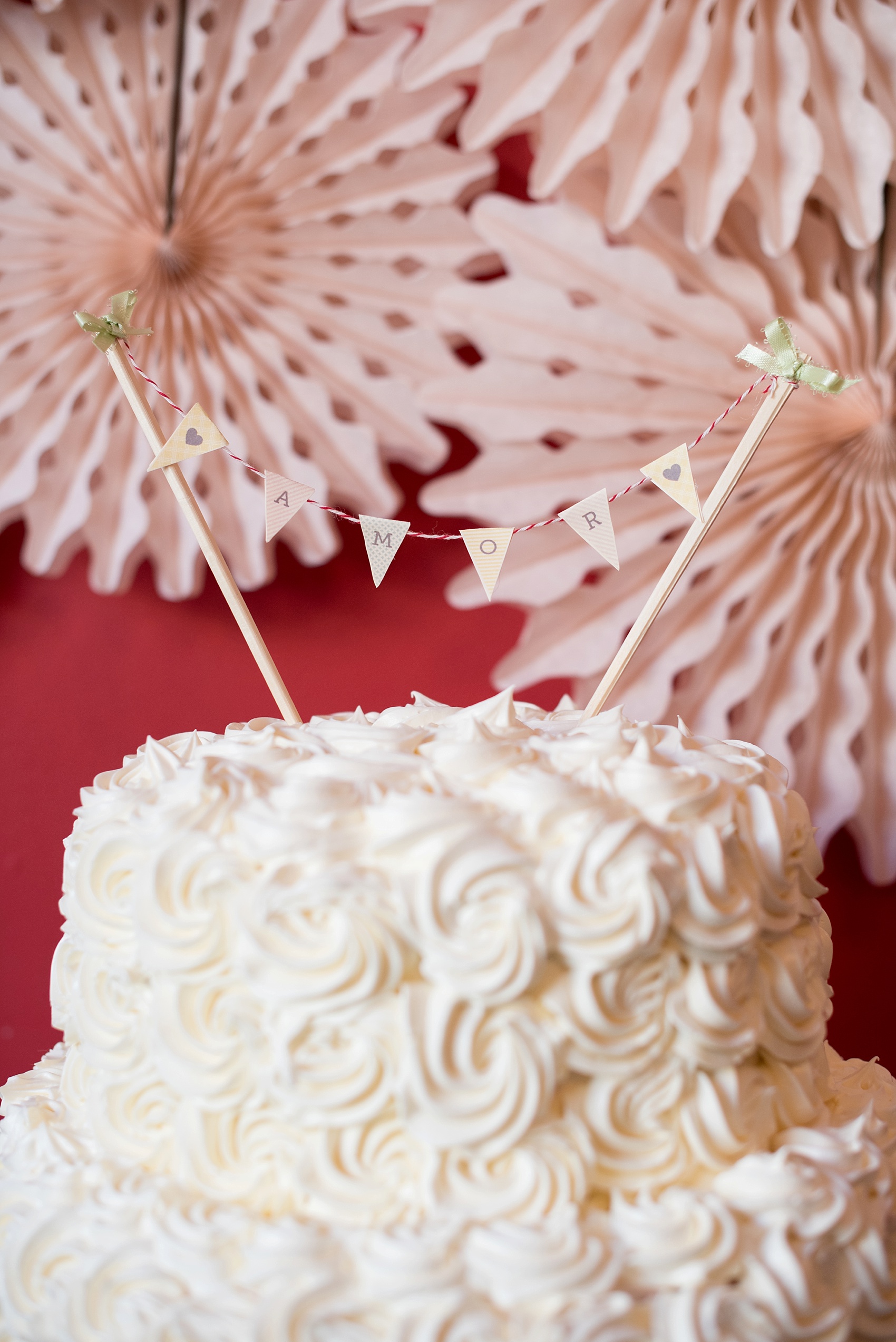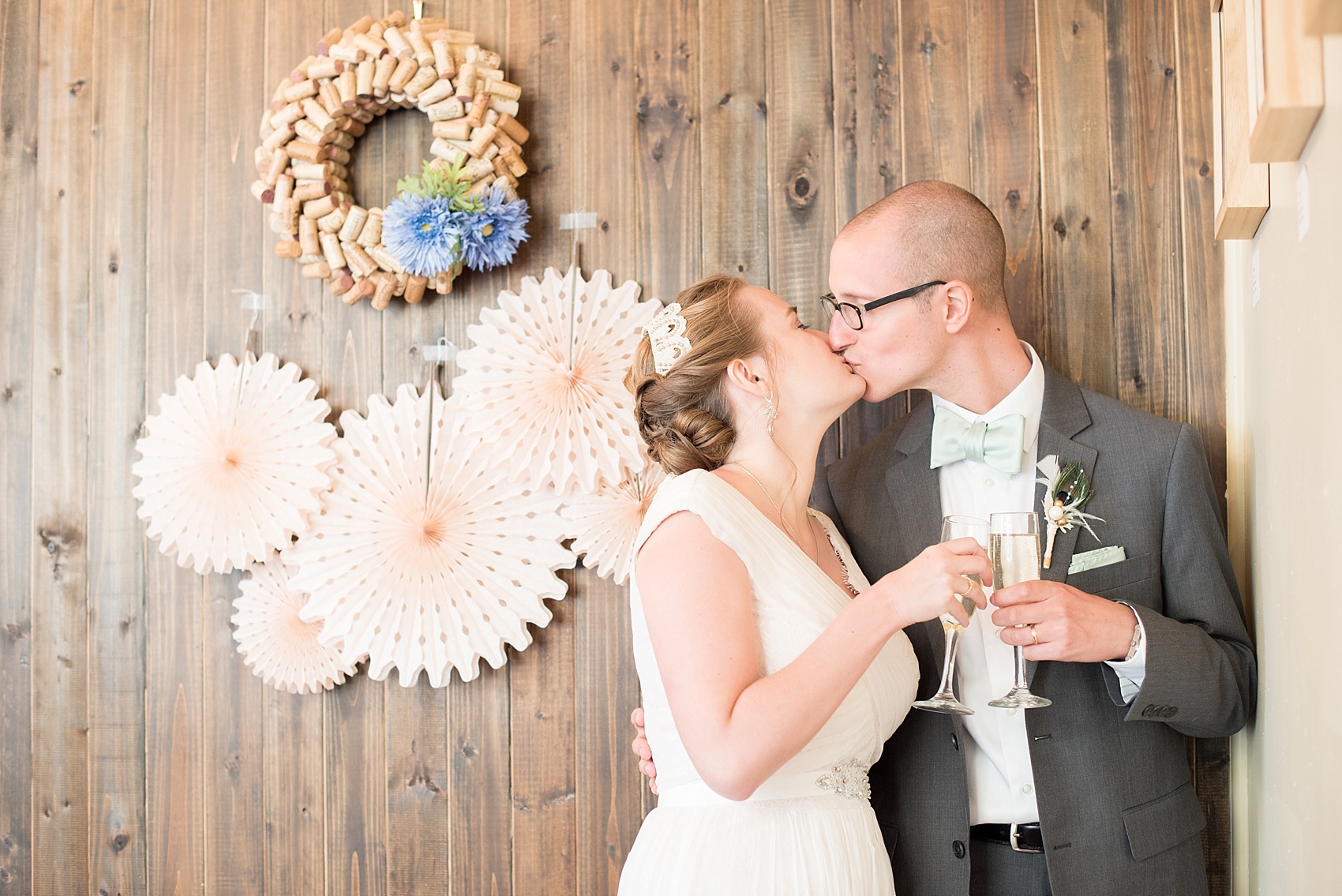 Congratulations to an outstanding, very in-love couple. I loved being the one to work with you for your wedding, to capture all the great details you worked so hard to incorporate into your beautiful once-in-a-lifetime day.
Ceremony venue: Brooklyn Bridge Park, Pebble Beach / Reception venue: Julia's / Cake: Norma's / Invitation: VistaPrint / Wedding gown: BHLDN, Tadashi Shoji / Makeup: Rouge Salon / Hair: Styled by Jen / Bridesmaids dresses: J Crew /Wedding bands: E Wedding Bands / Officiant: Harris Bloom /  "A" books, bridesmaids gifts: Anthropologie / Suits: Men's Warehouse / Violinist: Michael S Wittenburg
If you like what you see check out even more on Facebook and Instagram!
Happy Tuesday!