Breathtaking views, raindrops, Baby's Breath flowers, love and laughter, the Norwegian language and colorful boats in the harbor: all things that make up Cecilie and Patrick's amazing summer wedding and photos in Bergen and Alvoen, Norway.
As if I couldn't love my job enough, this remarkable couple made the awesome decision to choose me (lucky, lucky me) to capture their wedding day. Whaaaa?! I'm THERE! We've experienced Norway in the winter and have seen the Northern Lights and summer with the midnight sun and no matter the season we fall deeper in love with this European country each time.
(Interested in talking to me about your destination wedding, near or far? Contact me, you soon-to-be married couple, you! Now back to our regularly scheduled programming…) 
After several years of dating, an adorable son, a proposal, their dreamy engagement session in collaboration with The Norwegian Wedding Blog (woohoo!) by moi, emails, Skype calls and several flights…the time had arrived!!! Saturday morning their friend picked me up from my Air BnB apartment and took me to where Cecilie was getting ready, her mother's (and her boyfriend's) home. With….this….view. (Jaw drops.) I can work with this. 😉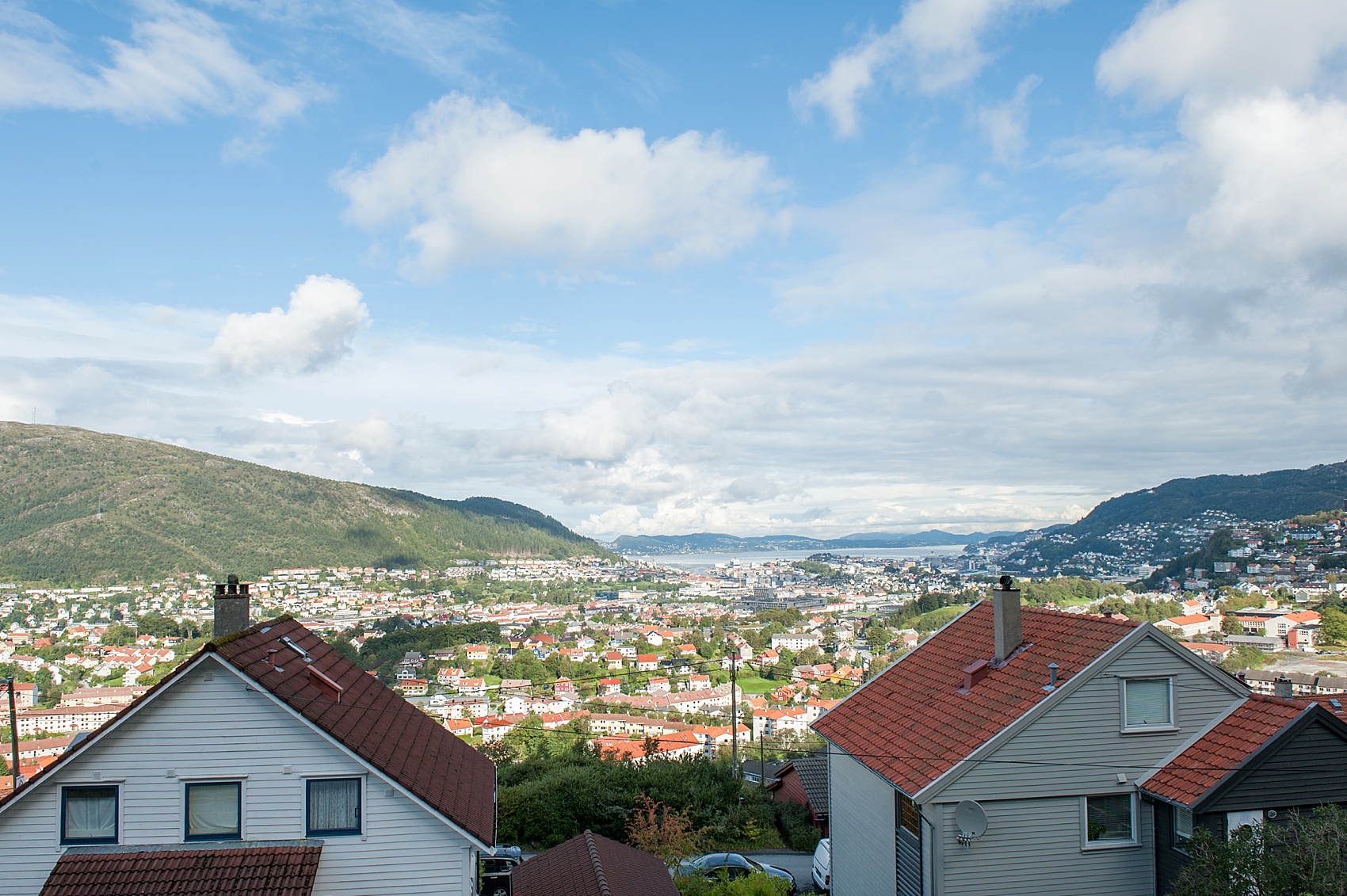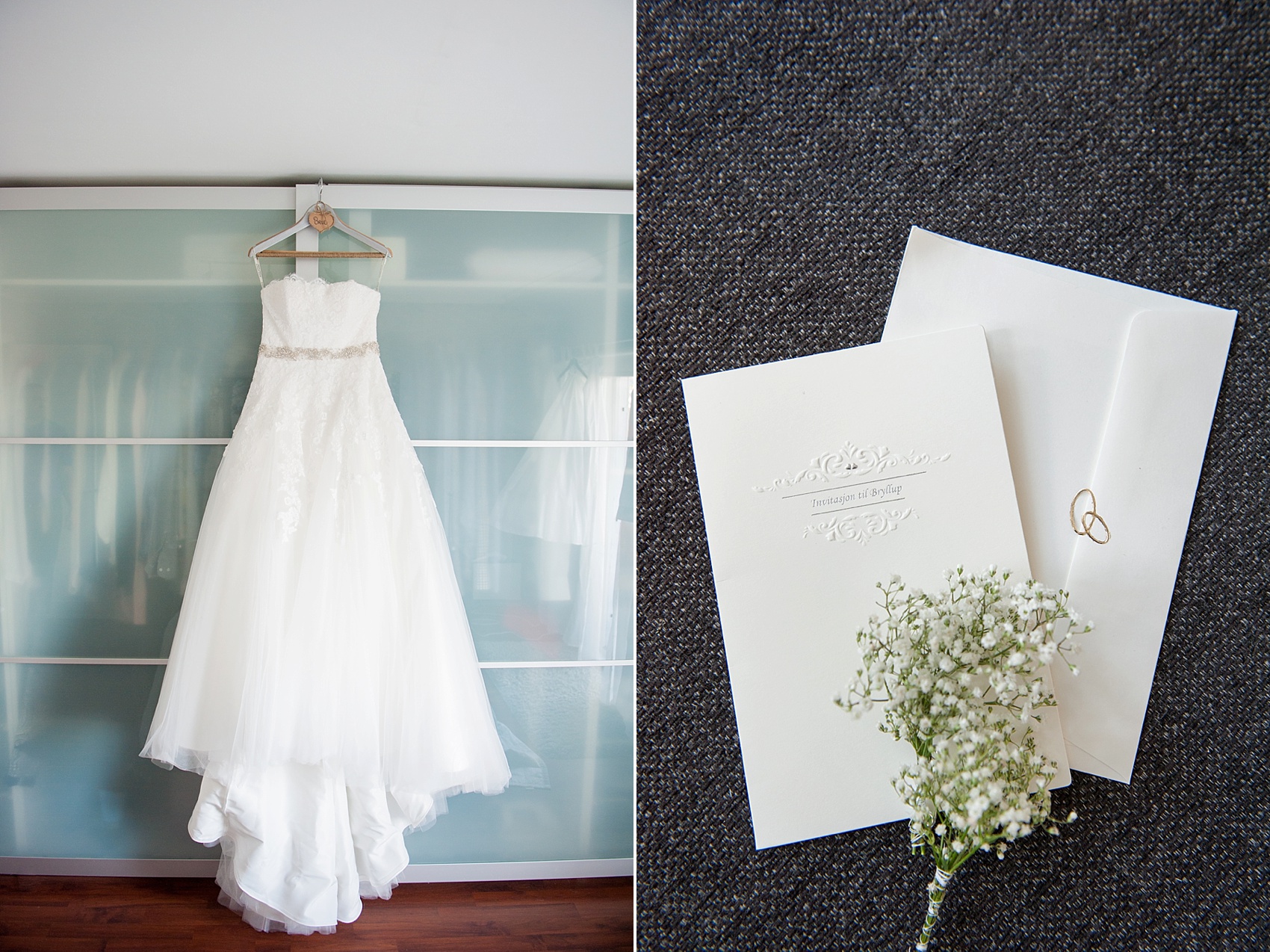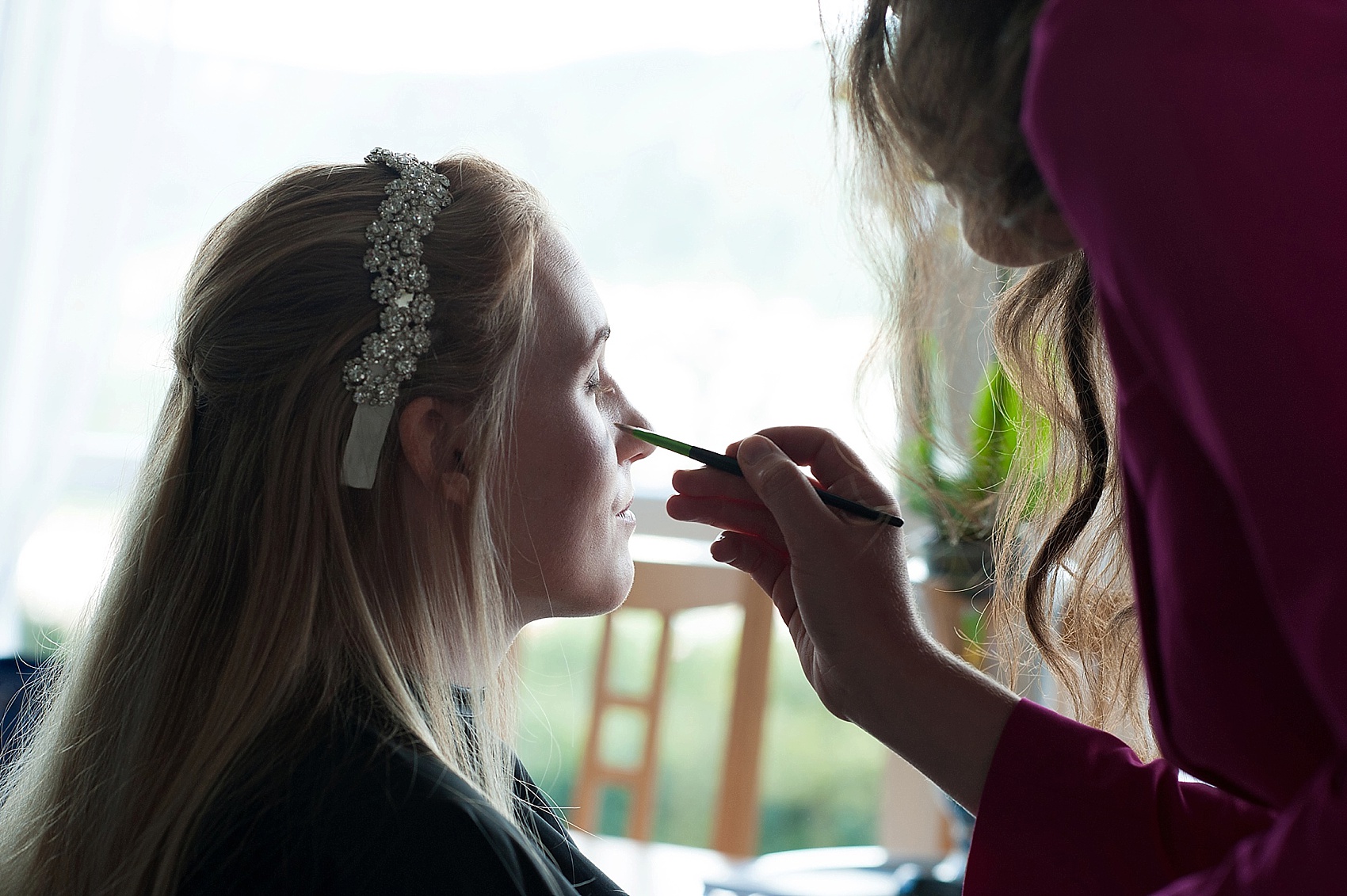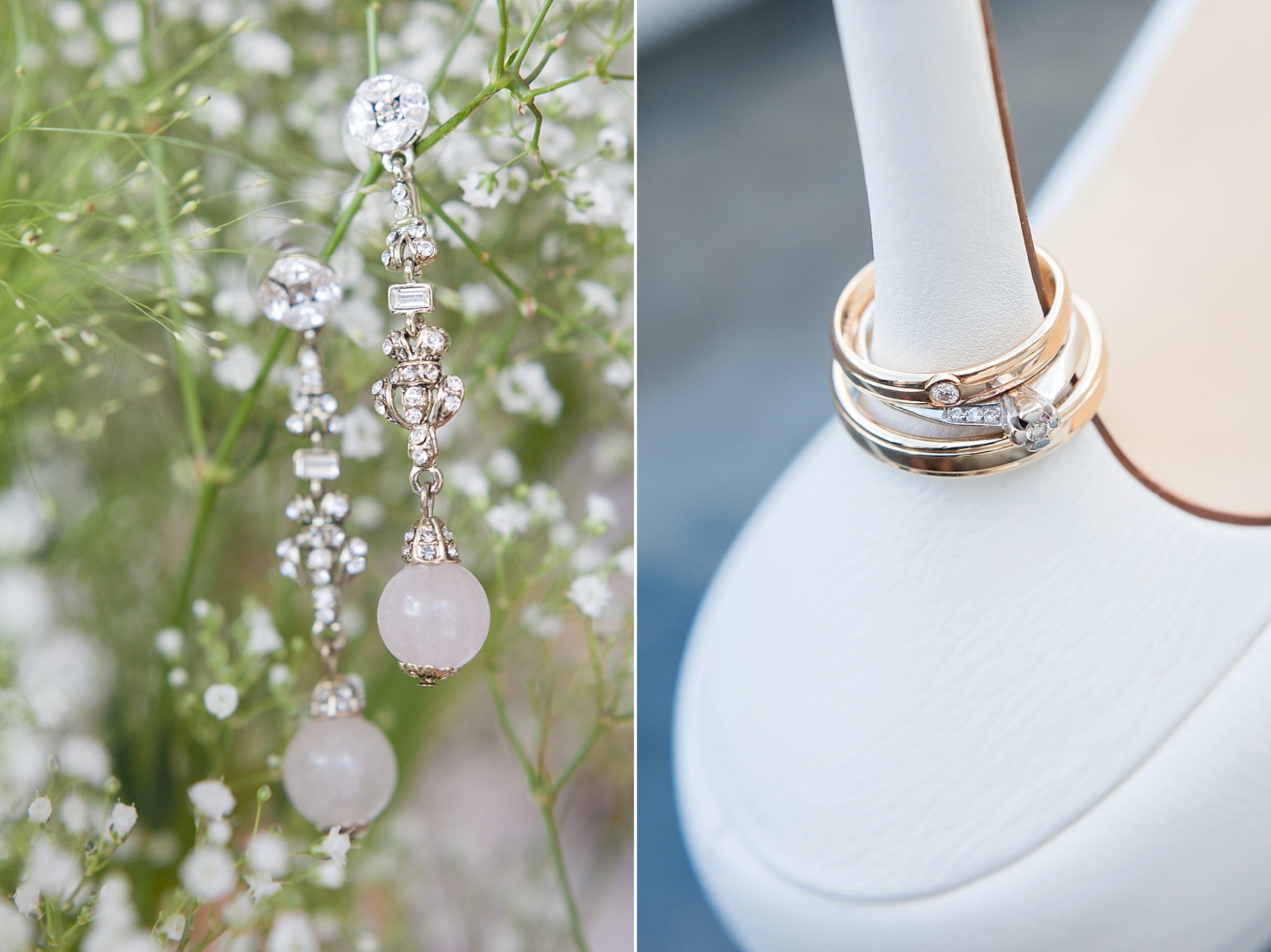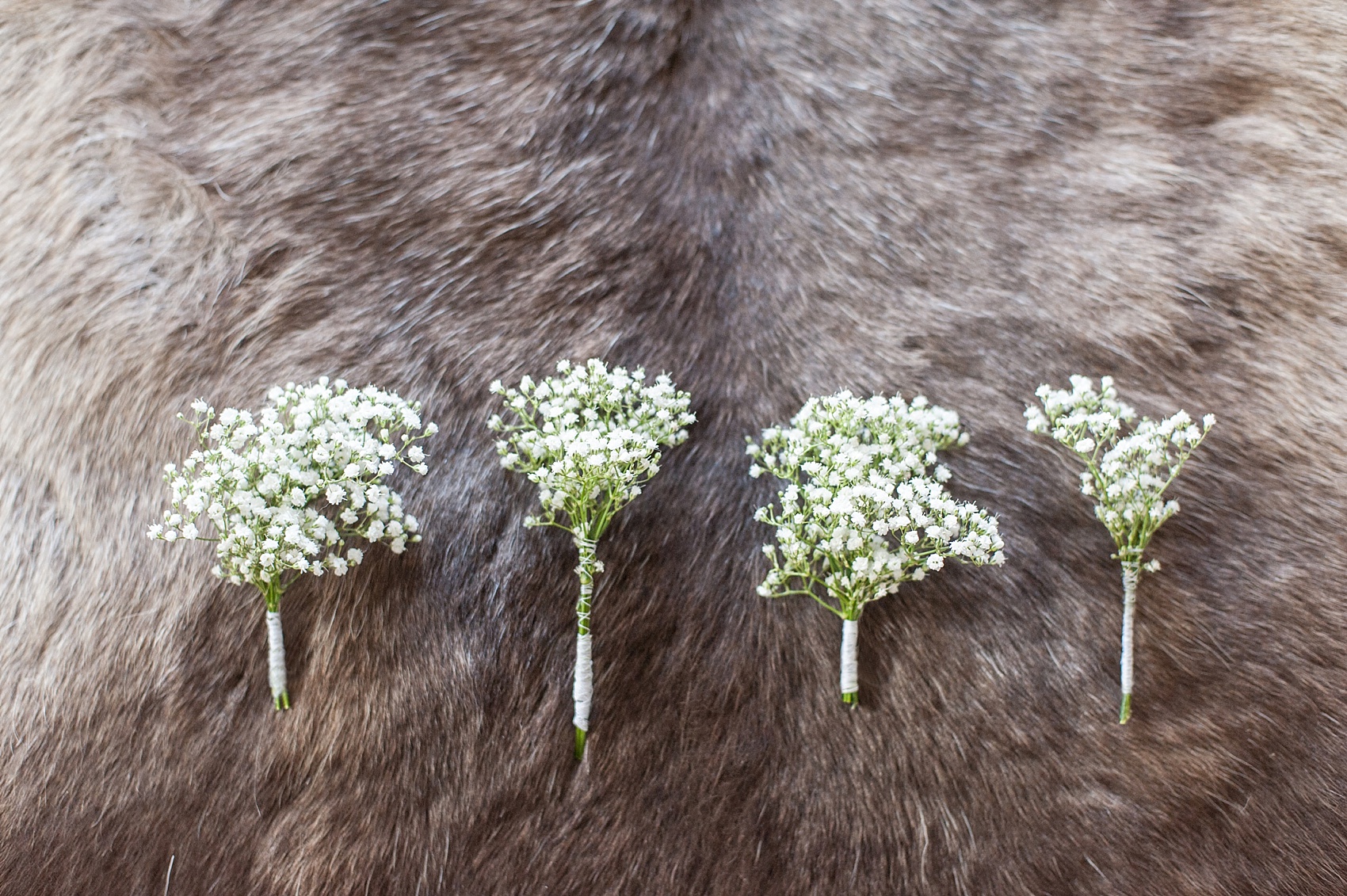 I absolutely loved that there was reindeer fur in the house to photograph their great Baby's Breath boutonnieres on. SO Norway!!!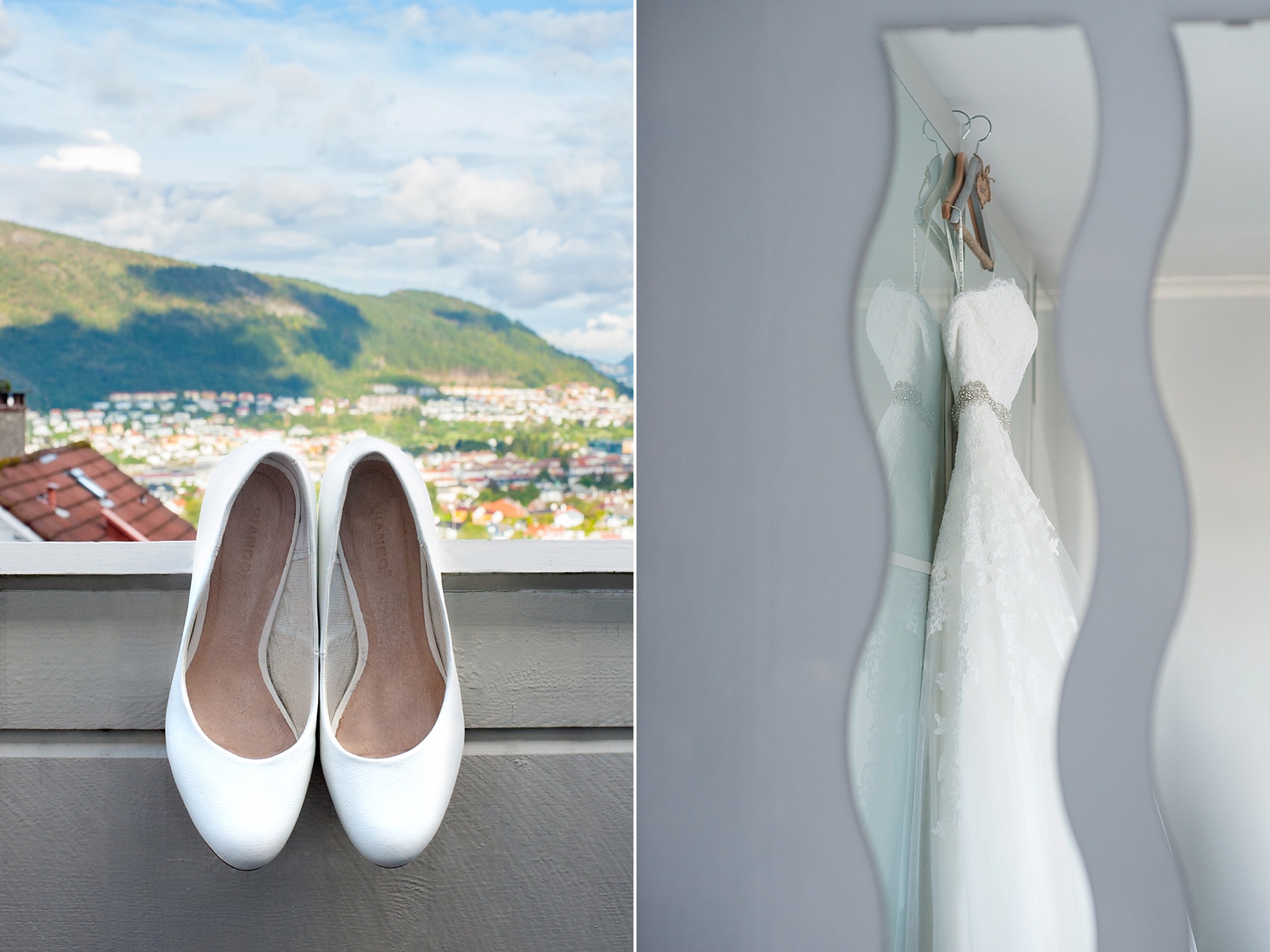 I loved photographing all her details. Soon it was time for Aleks, Patrick's brother, to pick me up and take me to Patrick and Cecilie's apartment for a change of scenery and pace, and to capture all of the groom's details! The men and women's getting ready regimens are always drastically different. I love it.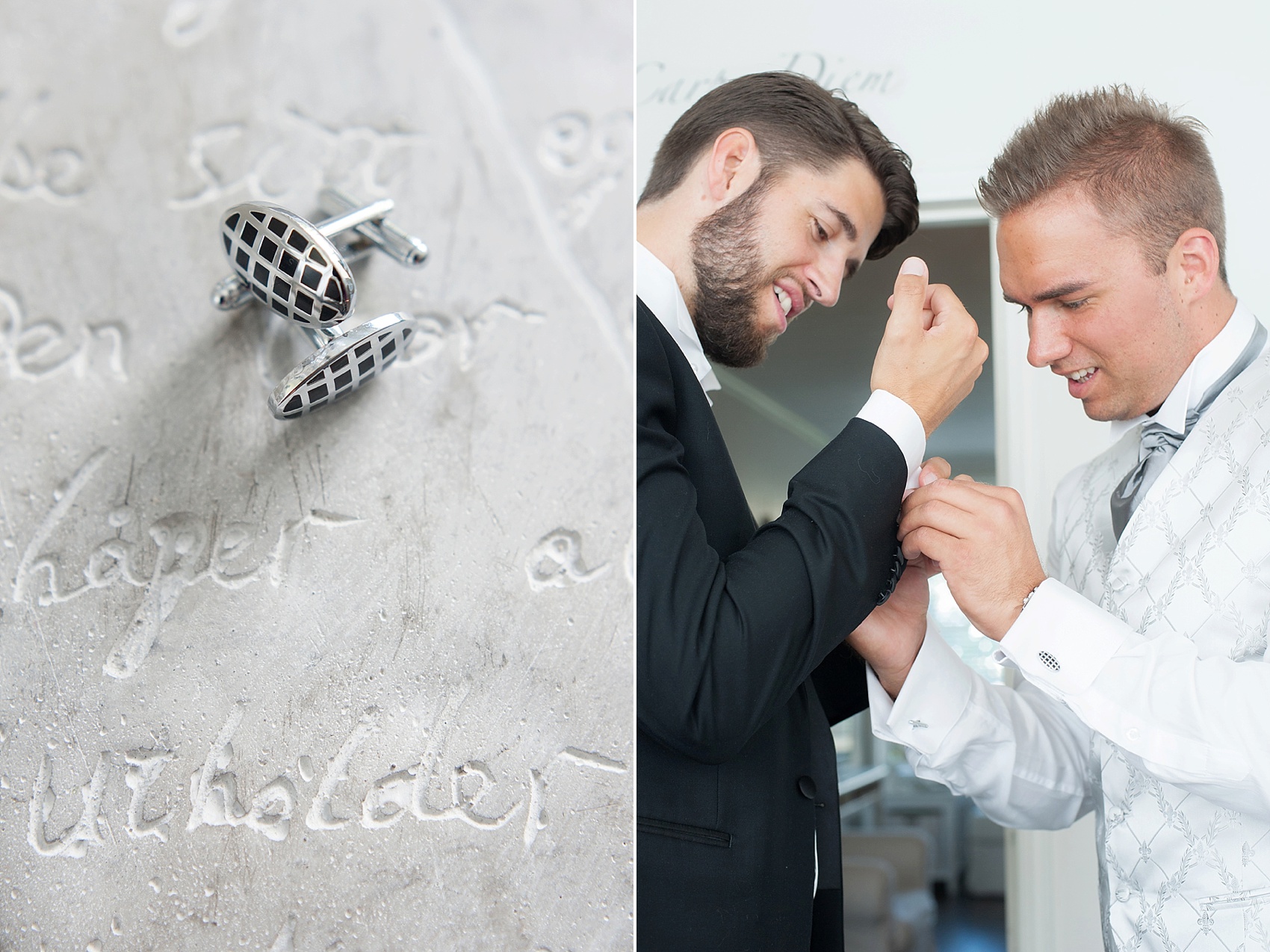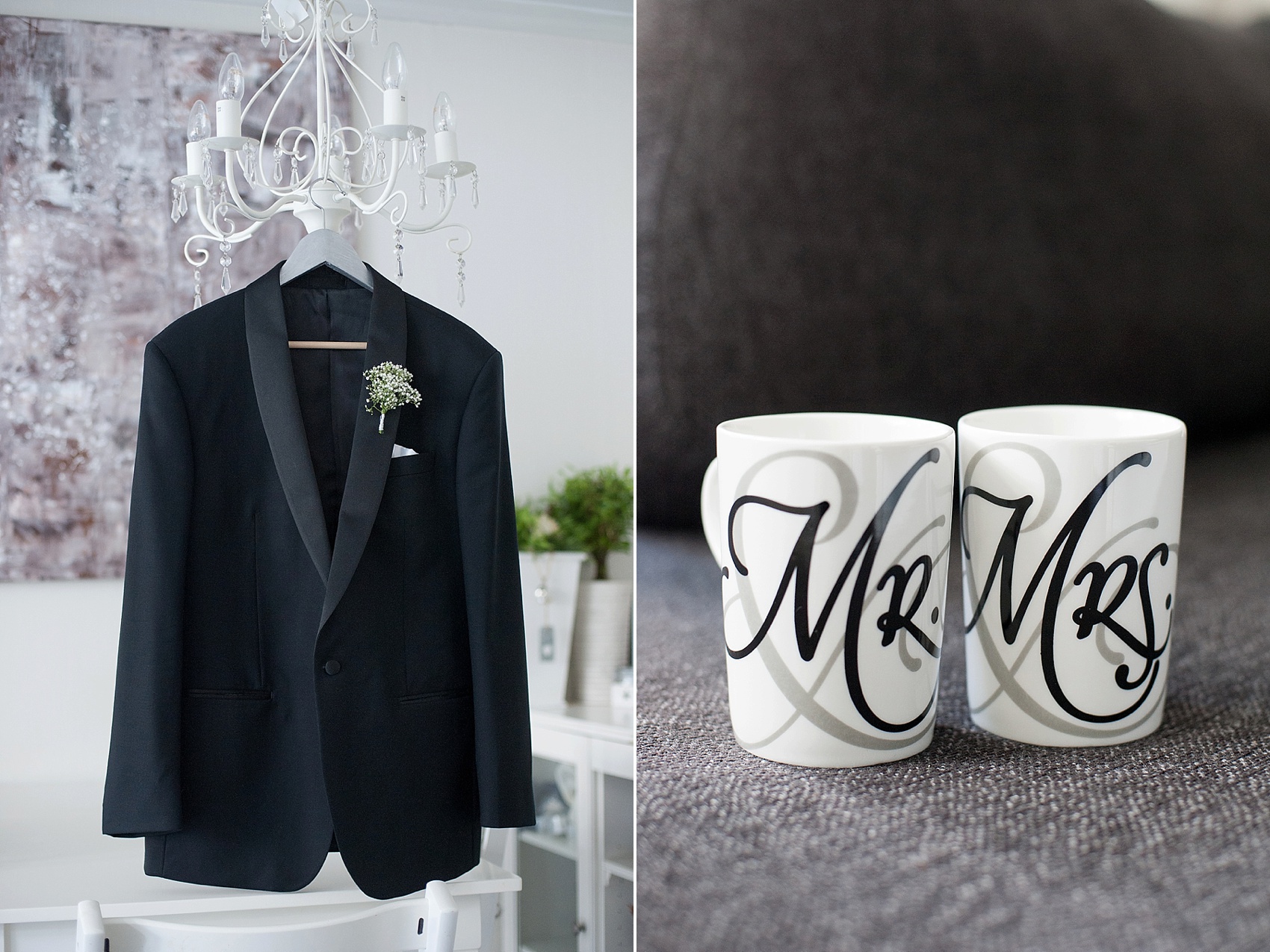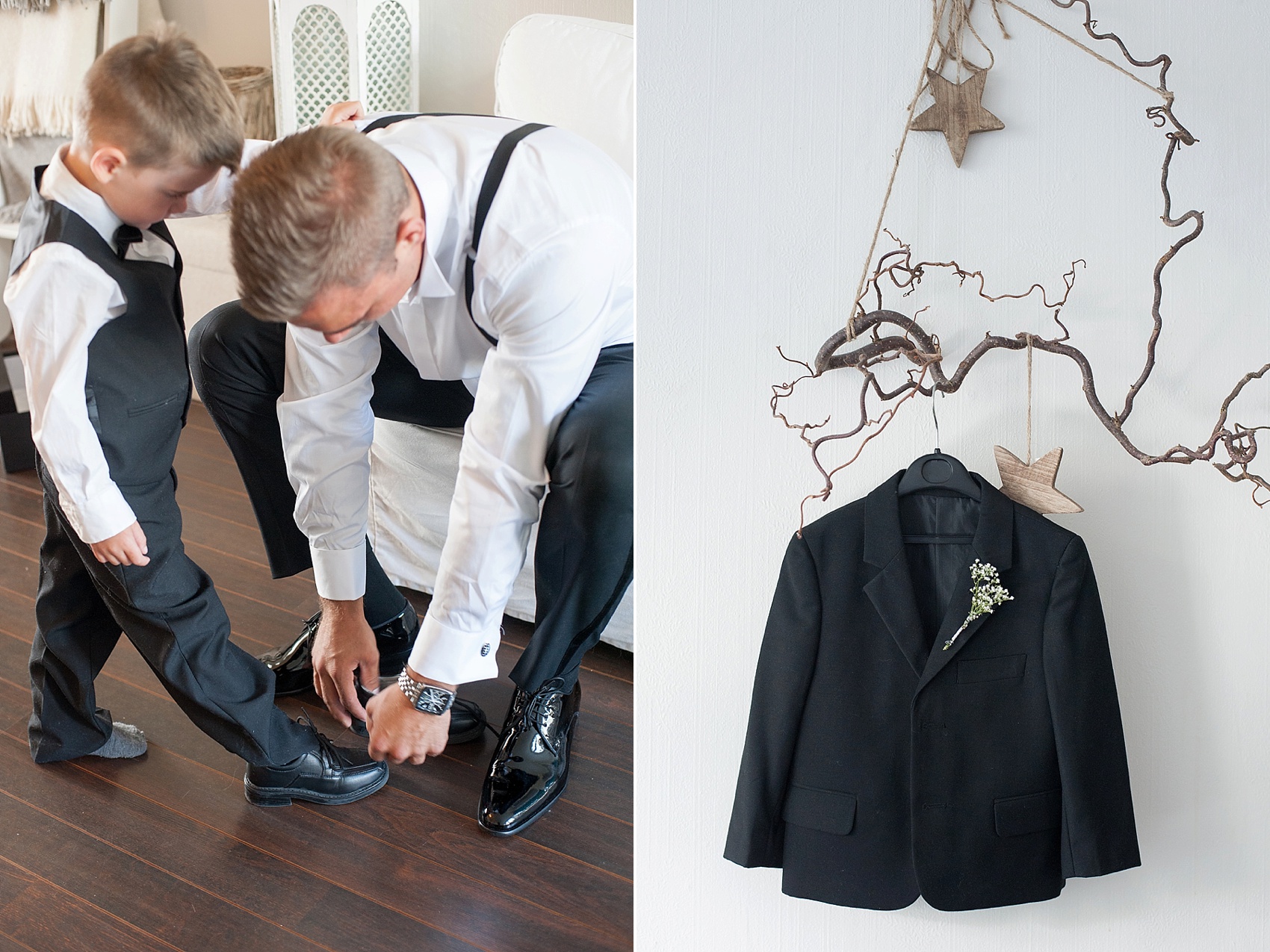 Their son, Noah, was adorable and glued to the TV watching animated Legos. Patrick managed to pull him away to get his finishing touches complete – shoes tied, boutonniere Noah wasn't a fan of on his cute little tuxedo: check!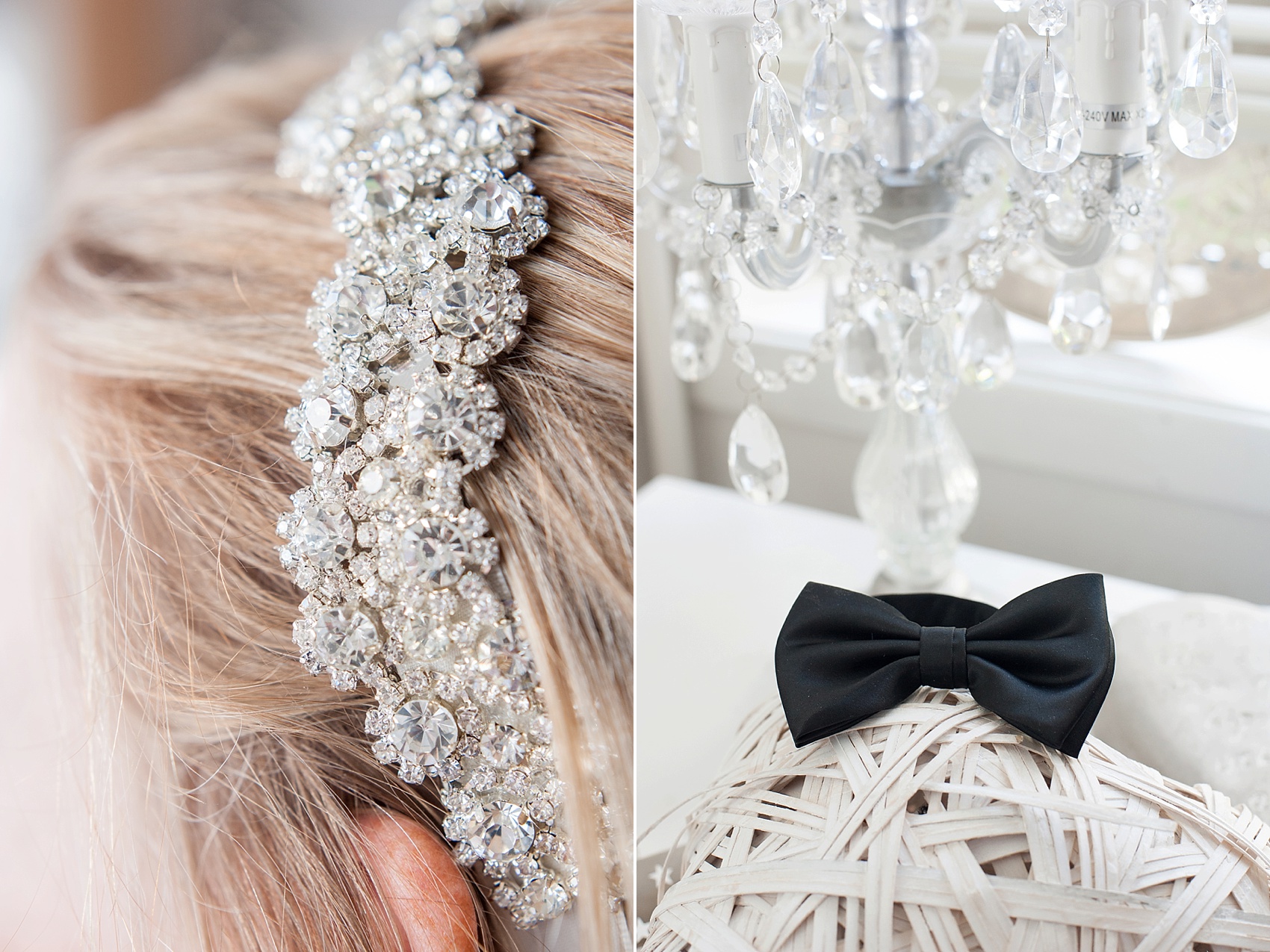 Isn't Cecilie's headband stunning? I love that she kept her hair simple and added some more sparkle to her look with a great statement piece.
Noah was ready to greet his mama and her bridesmaids, Monica and Gitte, when they  arrived to the church in a Tesla car Patrick hired. Arrive in style – I approve!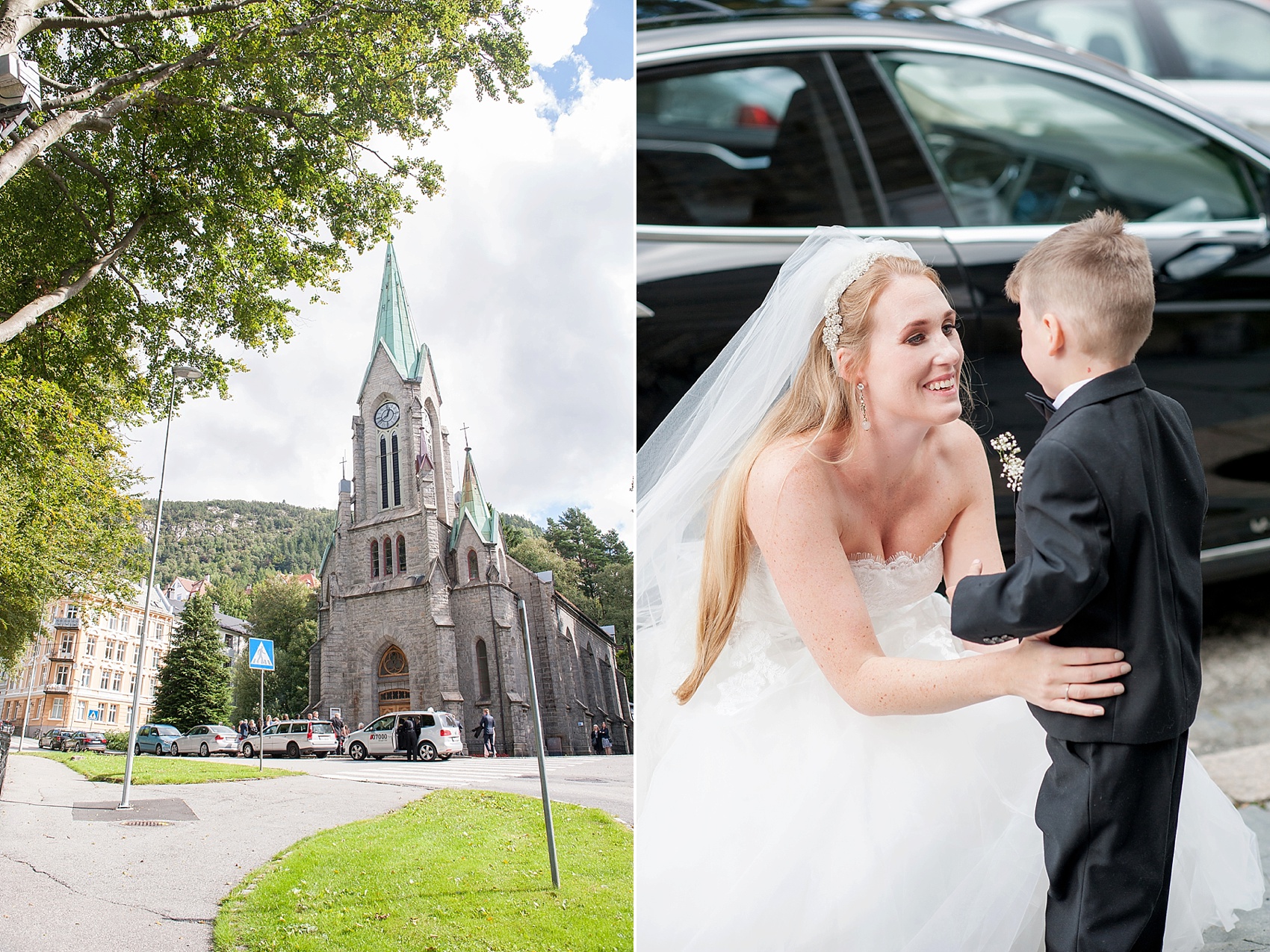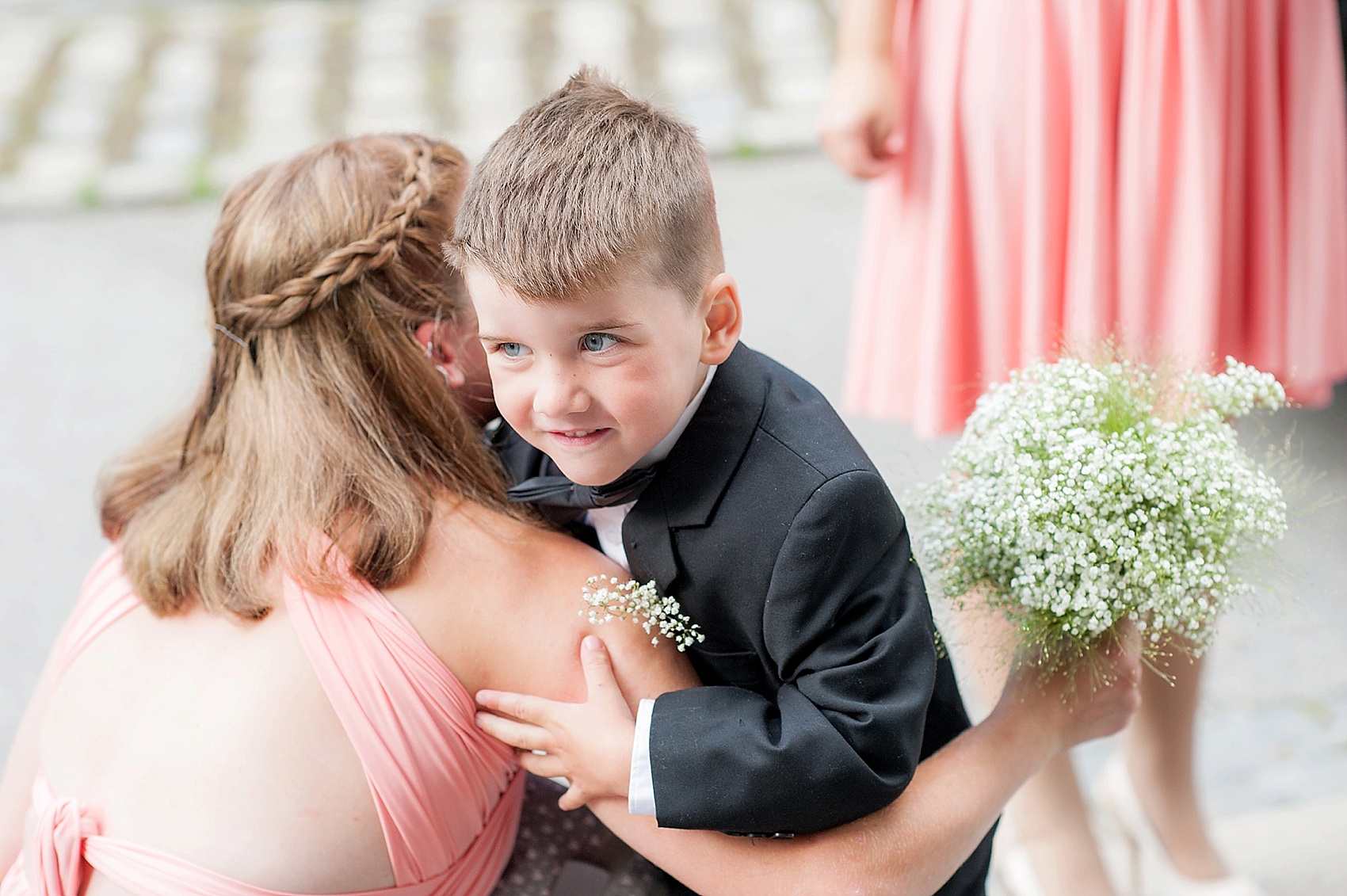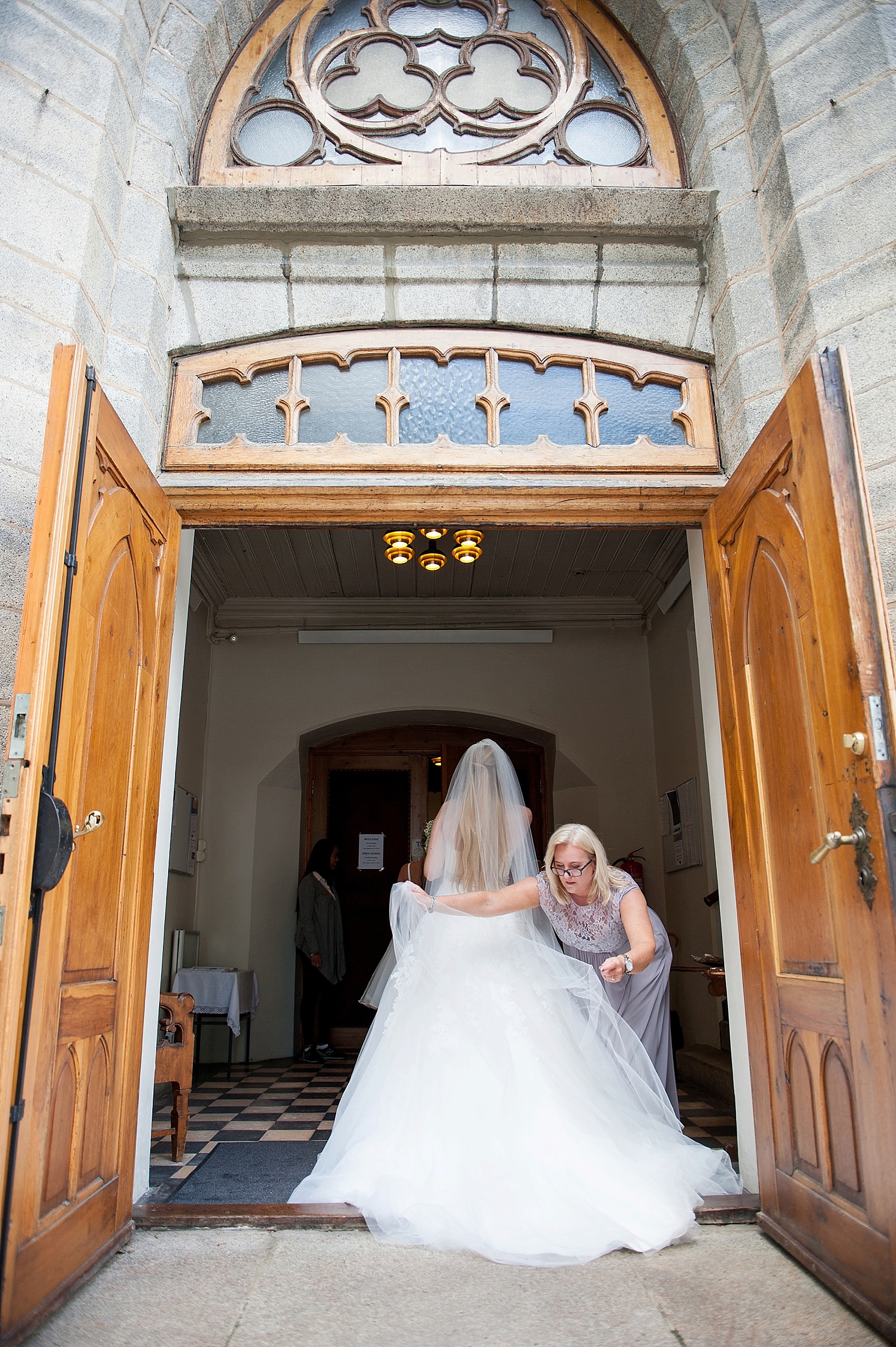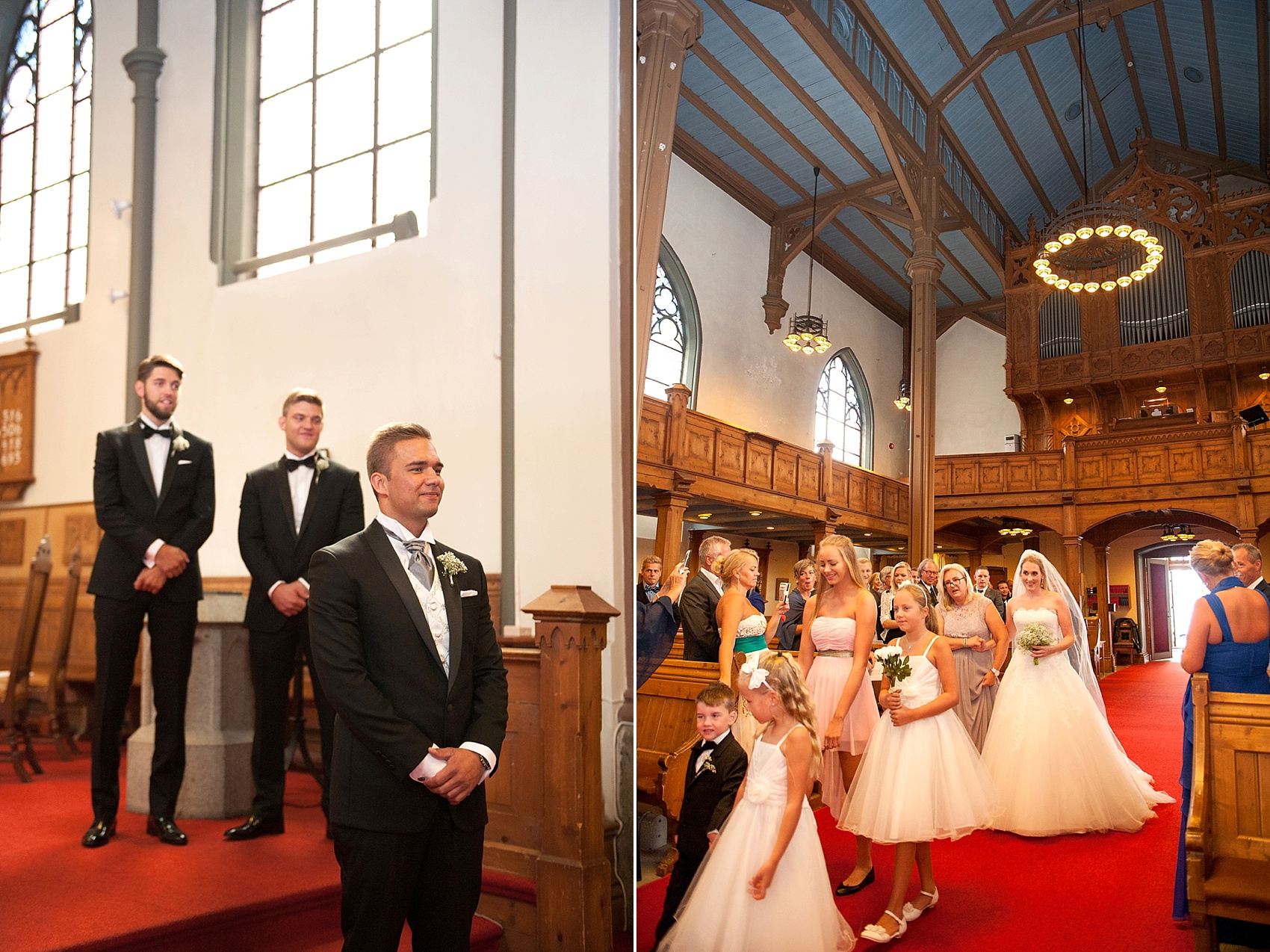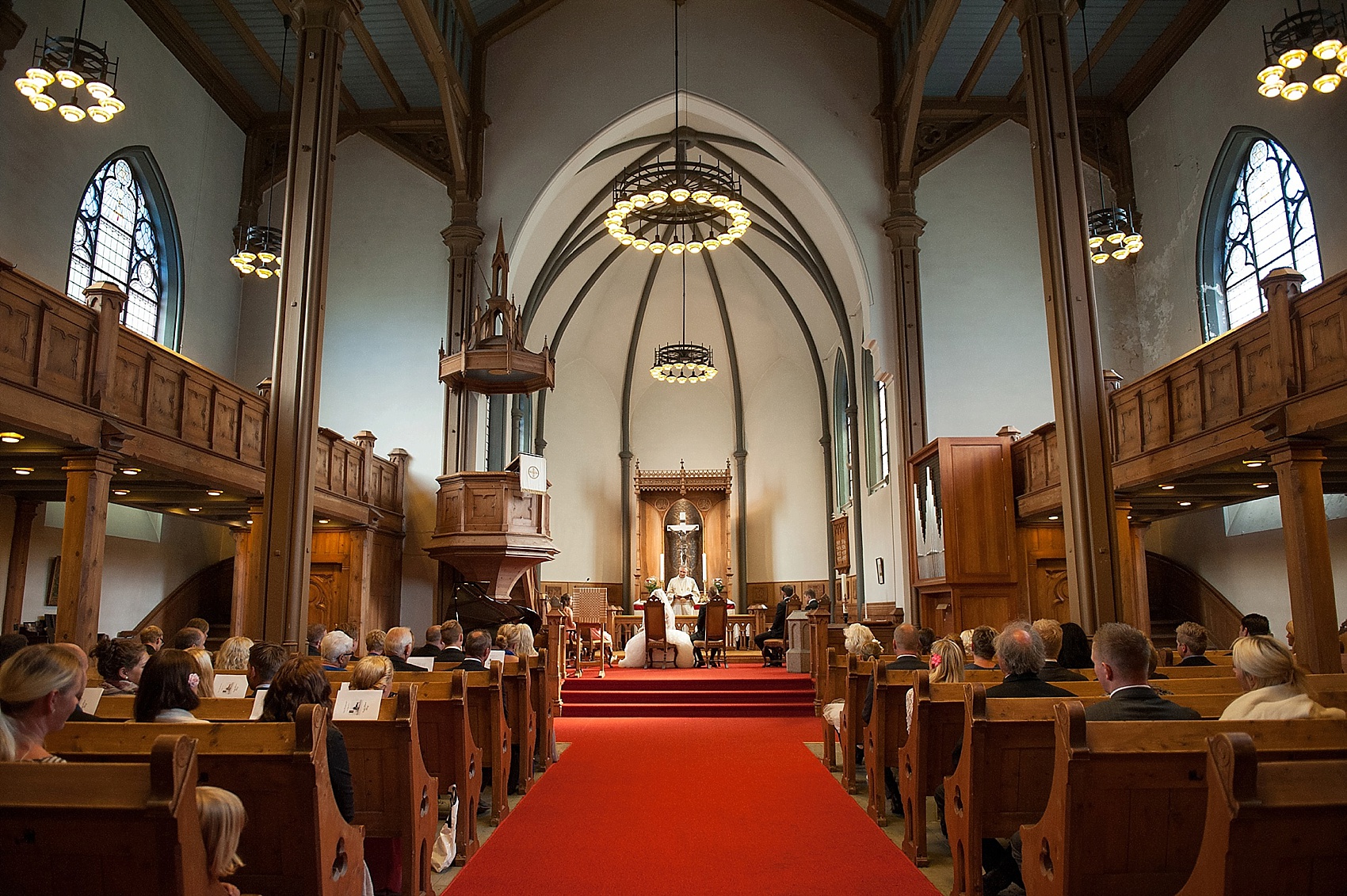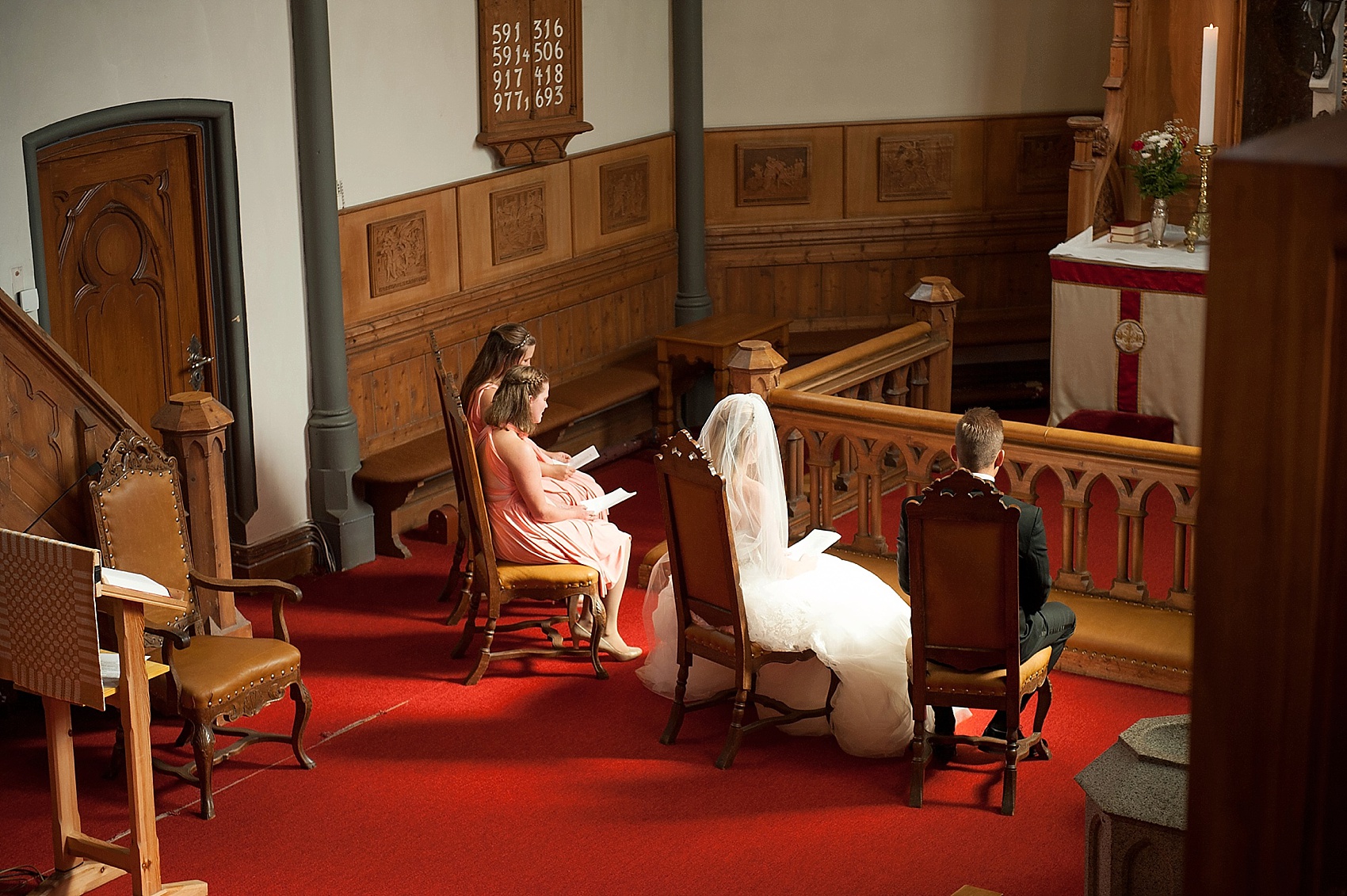 The church was in a part of Bergen called Sandviken. I loved how the light illuminated Cecilie as her and Patrick sat on the altar.
When they were officially Mr. & Mrs., Noah stepped in to hand his mother her bouquet. How cute is this photo? !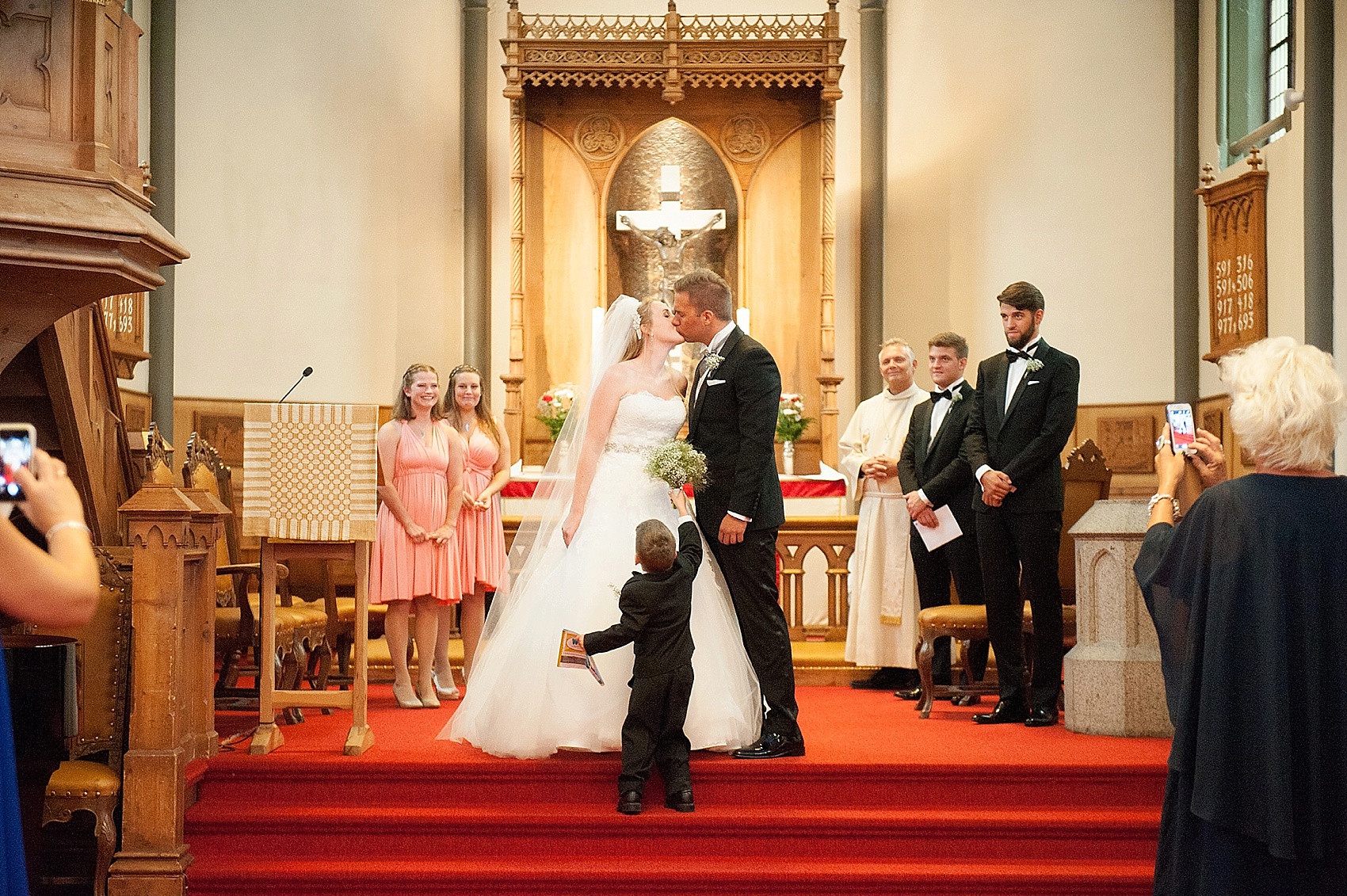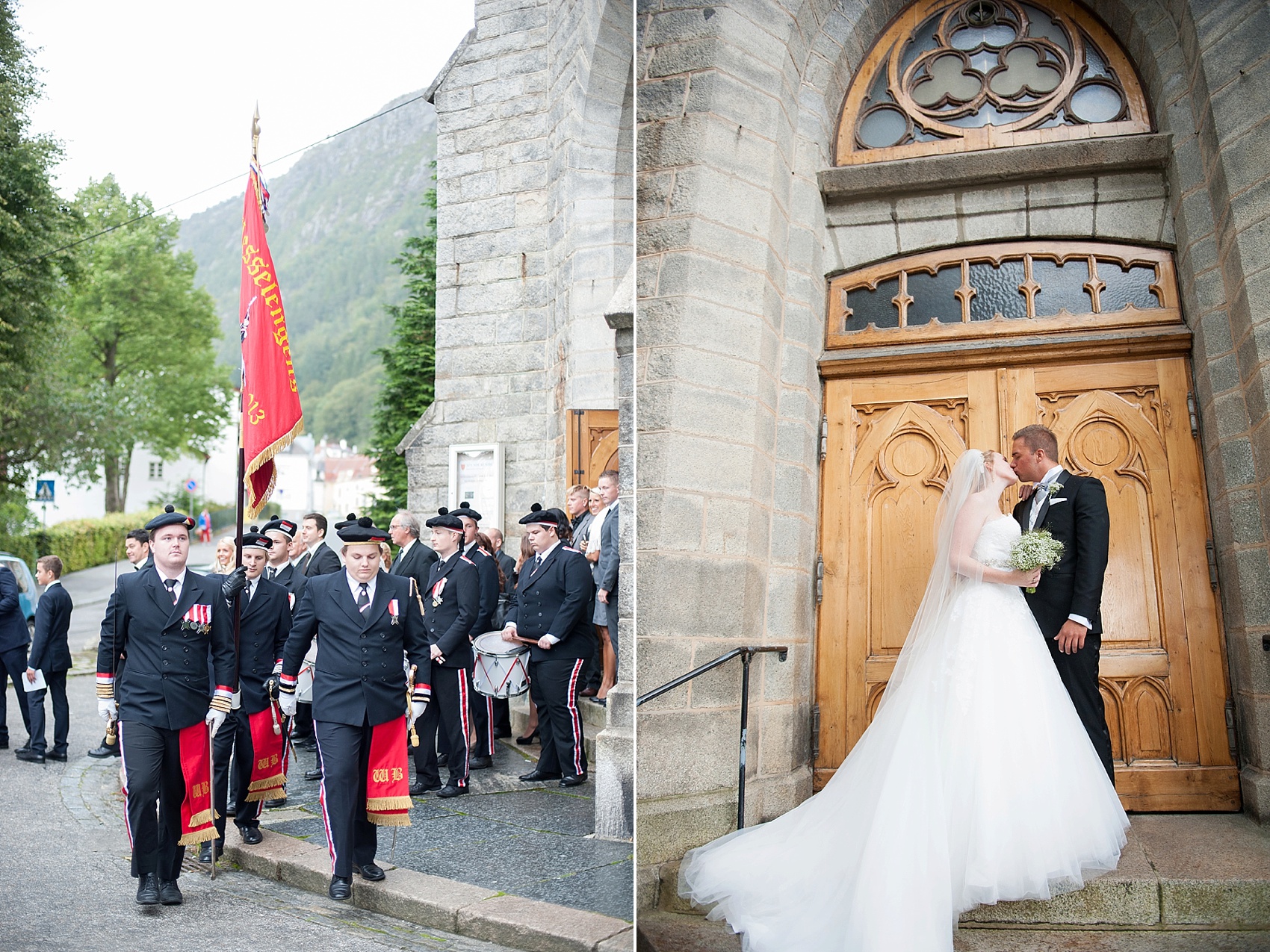 The bold sound of a drum battalion waited outside the church and began playing when Cecilie and Patrick stepped out; it was awesome! It exuded confidence and strength – a nice congratulations to newlyweds and welcome back into Bergen's fresh summer air as a married couple.
We made our way to Alvoen, about 20 minutes from Bergen's city center, to capture photos before their dinner began. Holy scenery…amazing! Though Bergen is known for its rainy climate and, yes, it poured when we were taking photos, I commend Cecilie and Patrick for the most positive, upbeat attitudes regarding the rain I've ever been witness to. They were game, I was game: we got STUNNING photos as a result. And slightly wet. But as they say, "When in Rome!"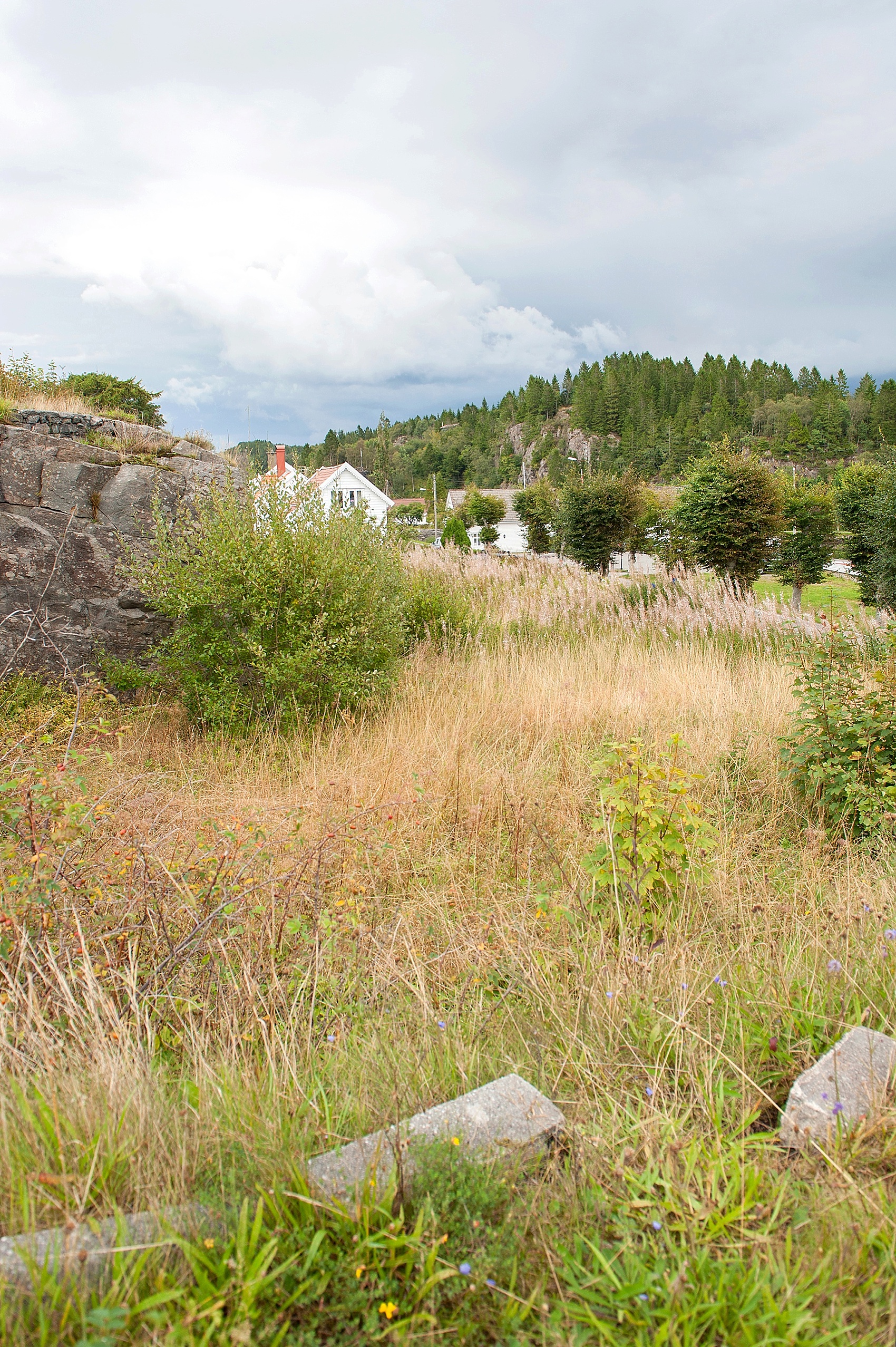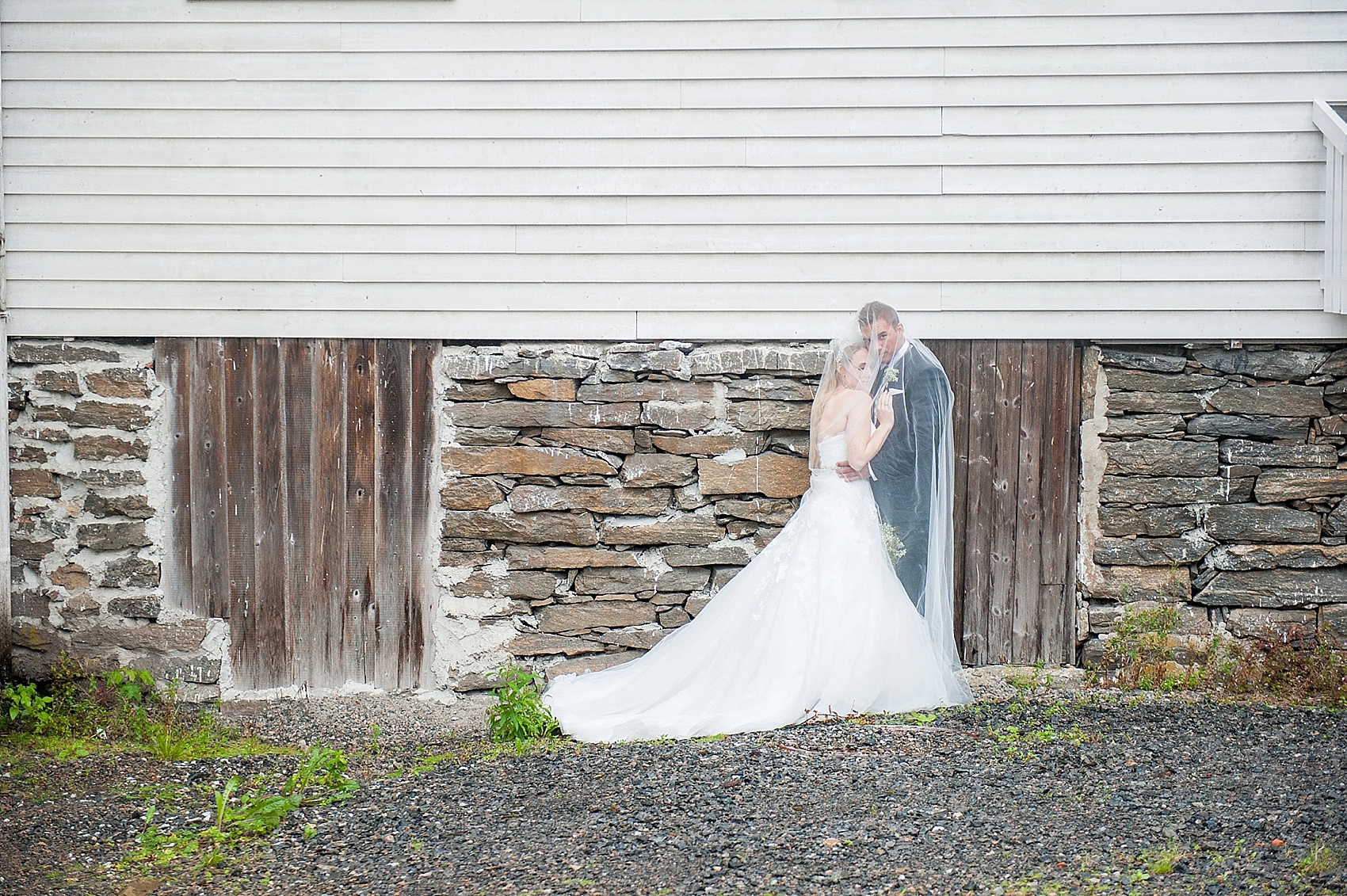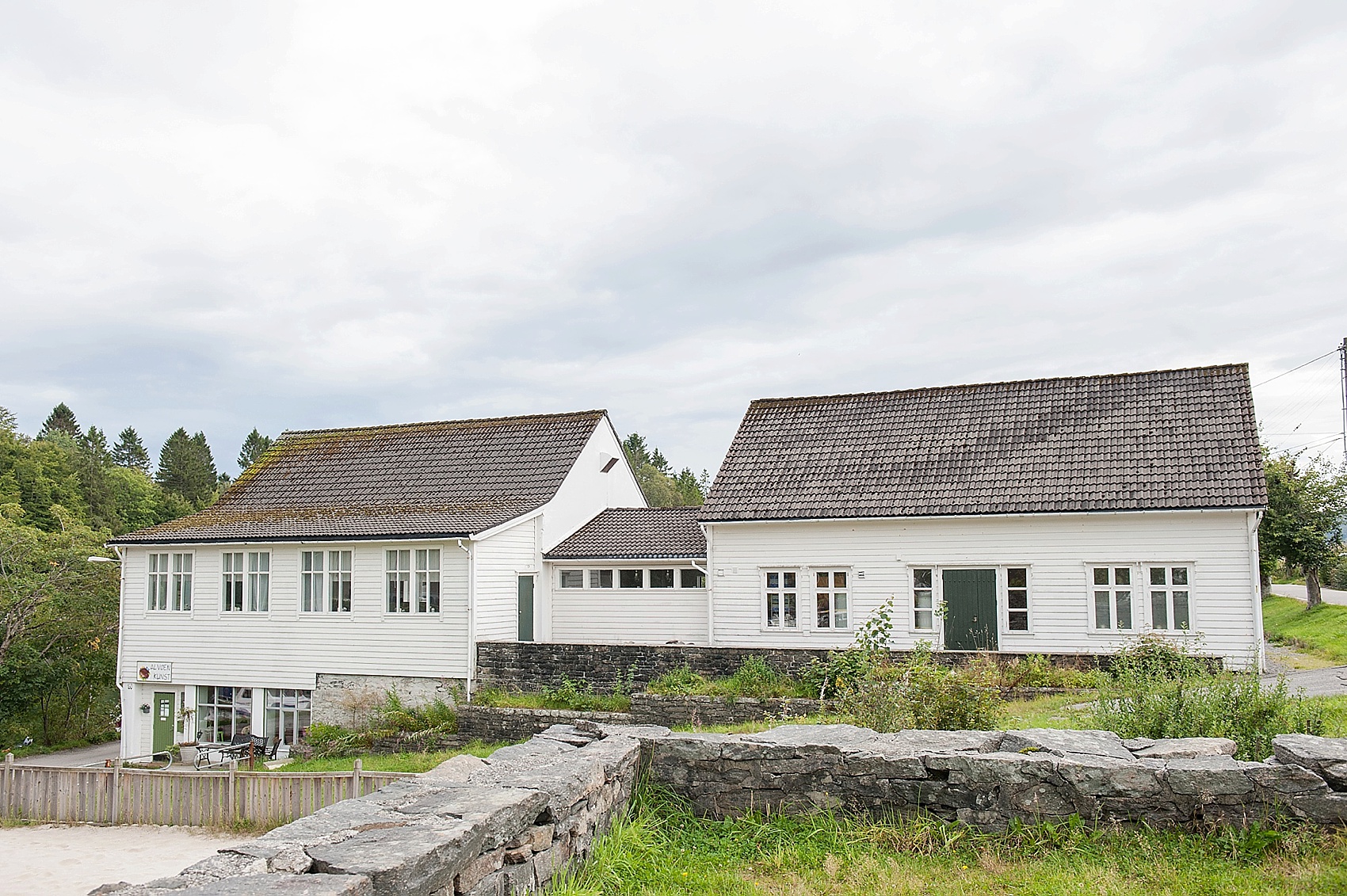 How great is the little house they rented for the weekend for their wedding celebration?
Better yet, how great are they?!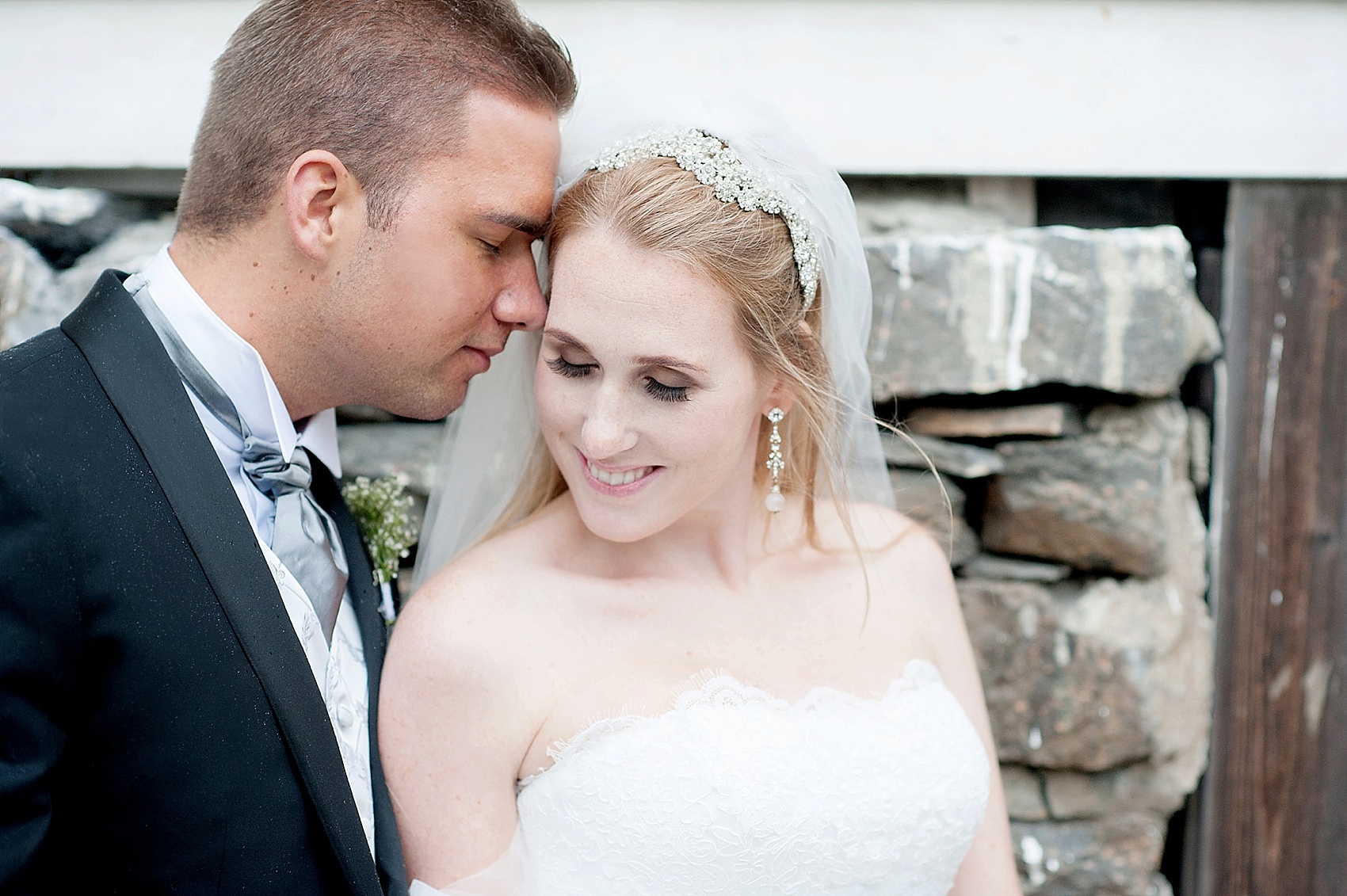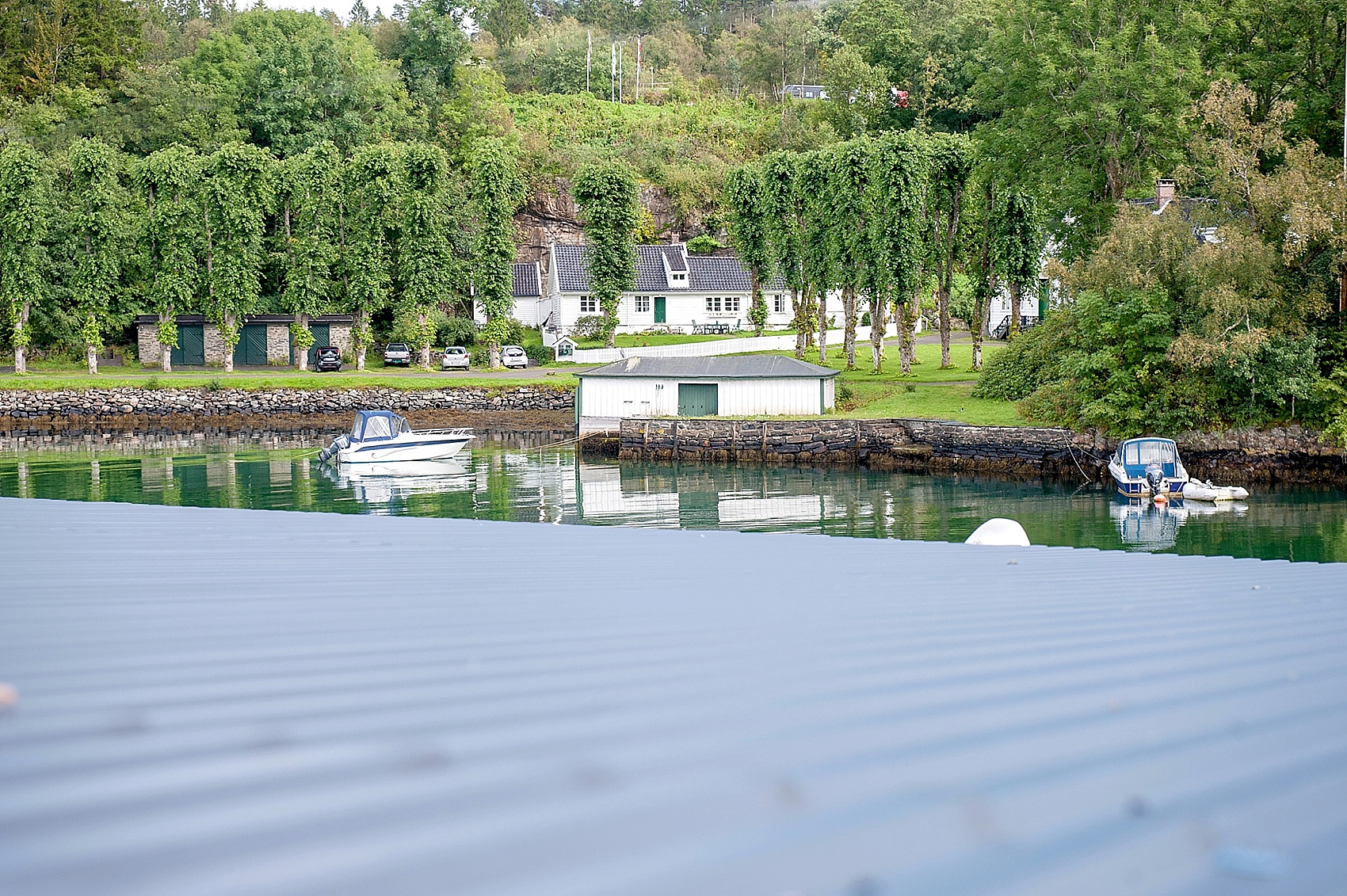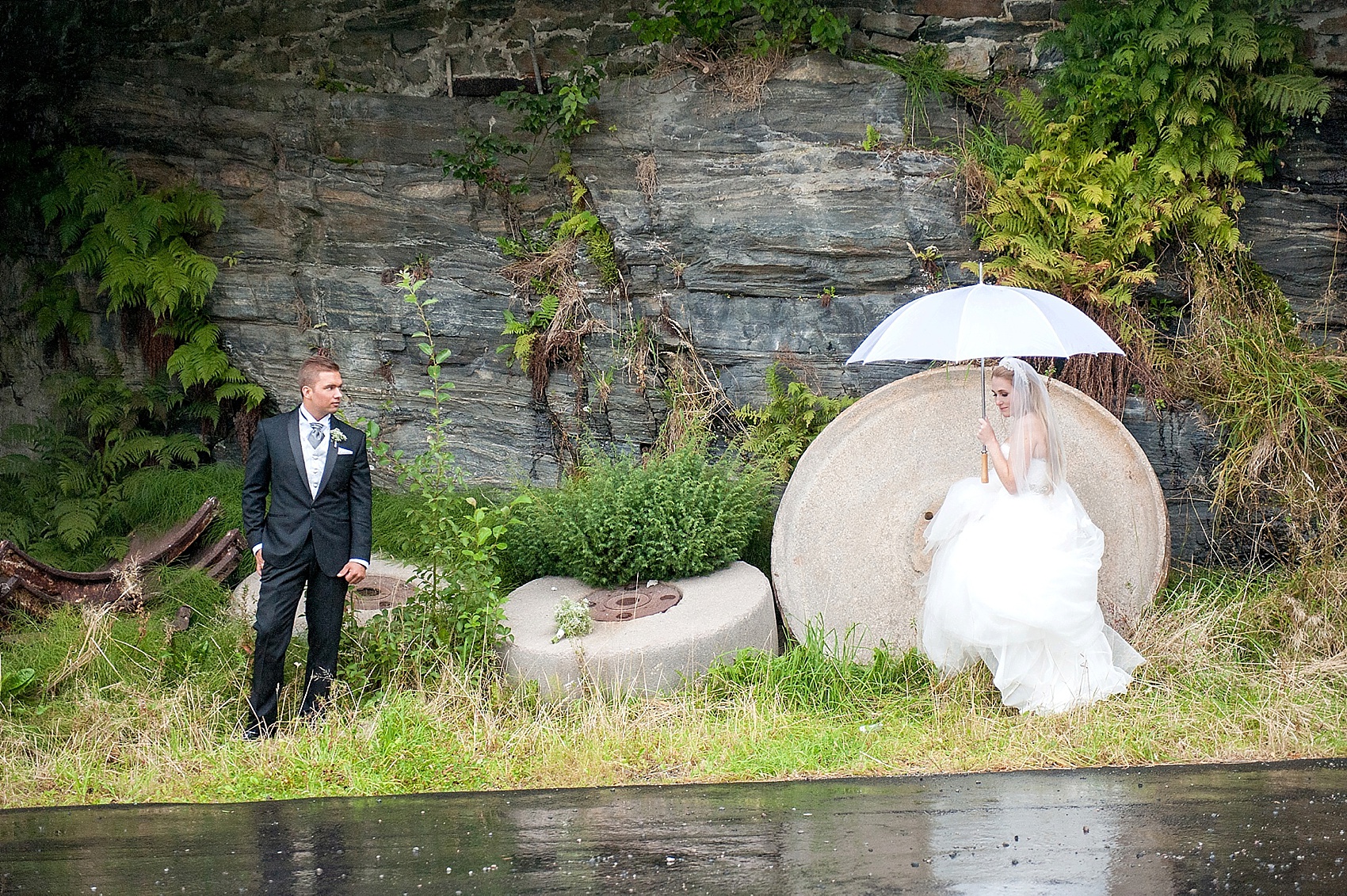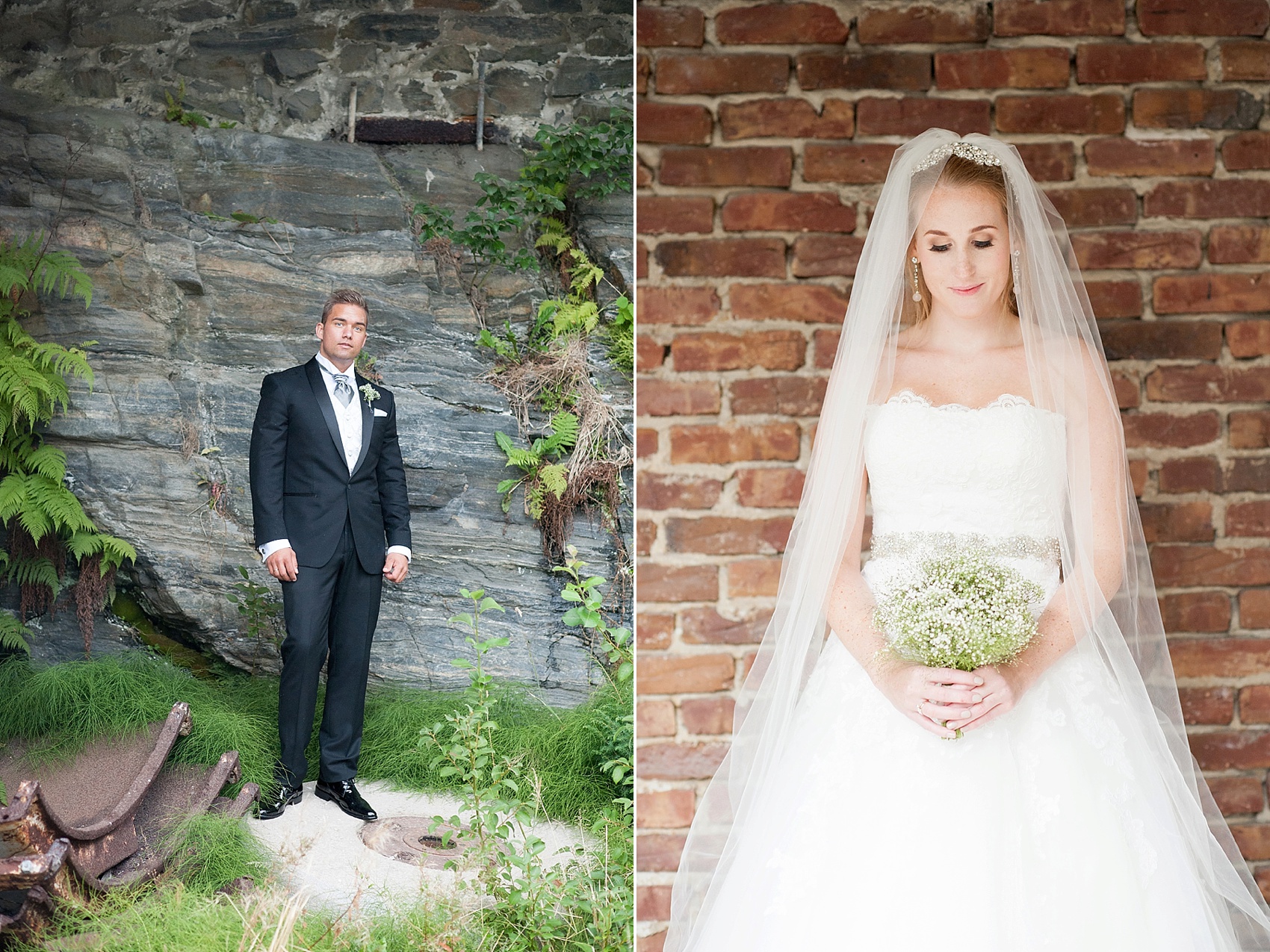 Some of my favorite wedding photos, ever, right here.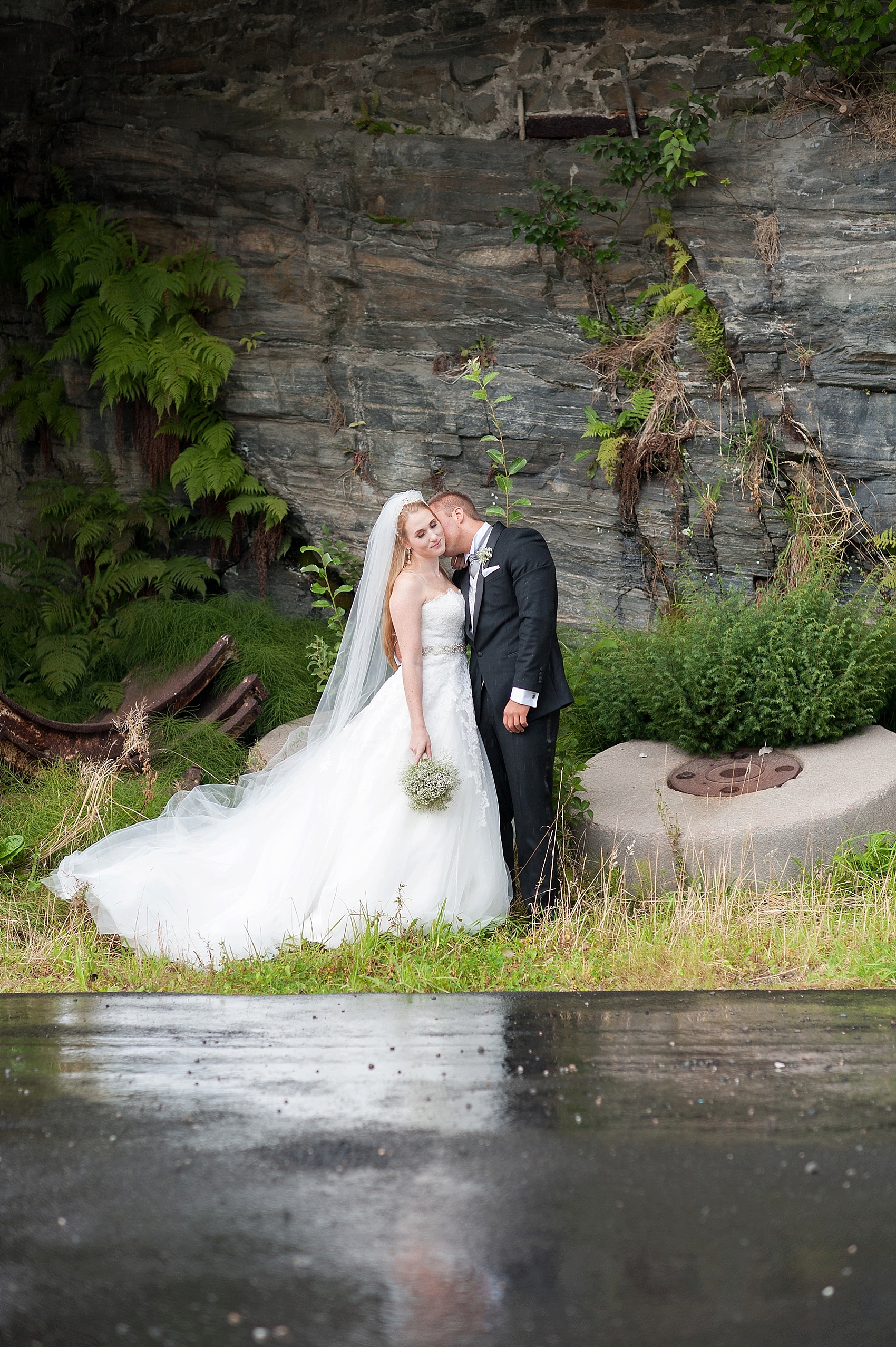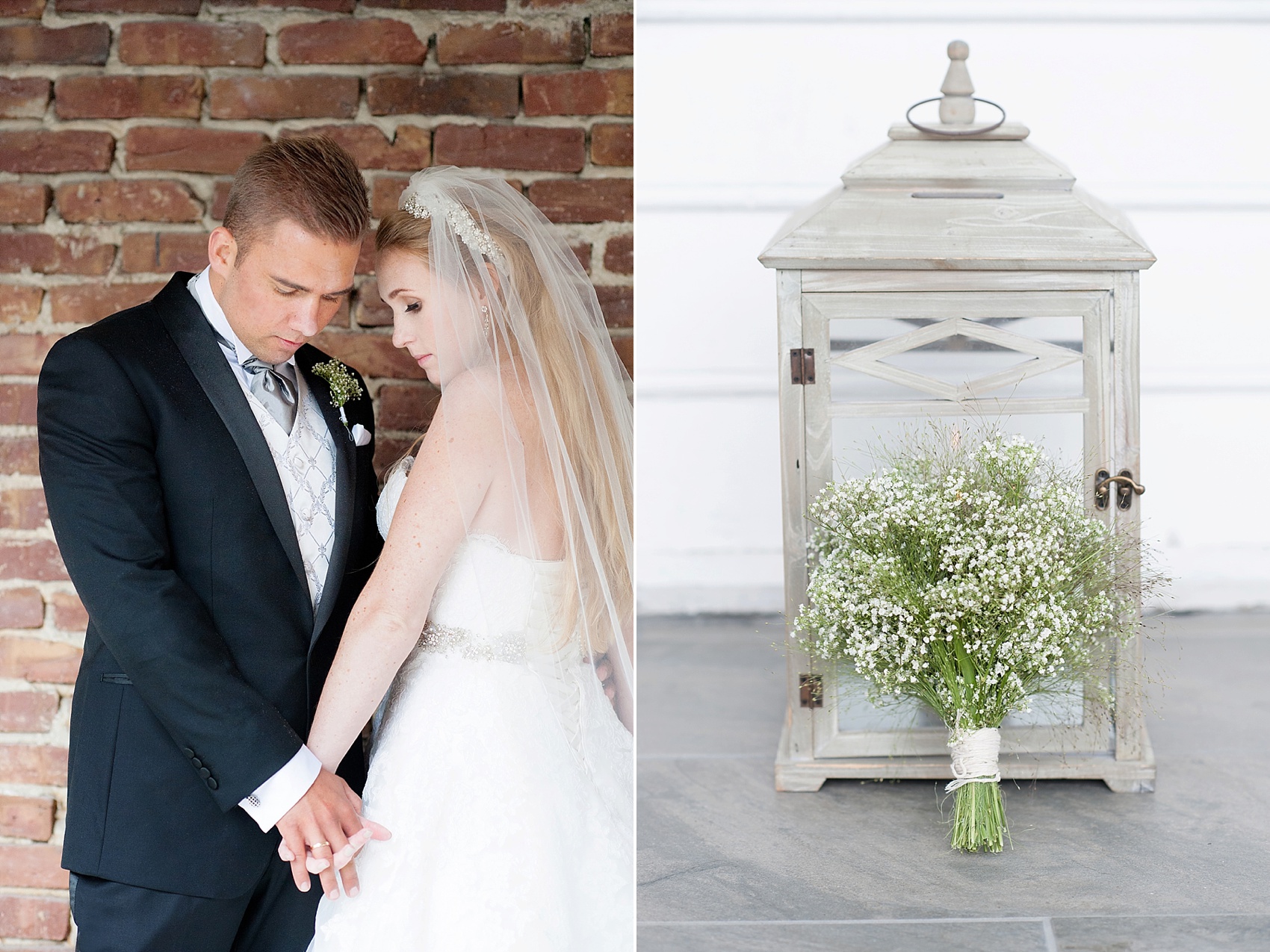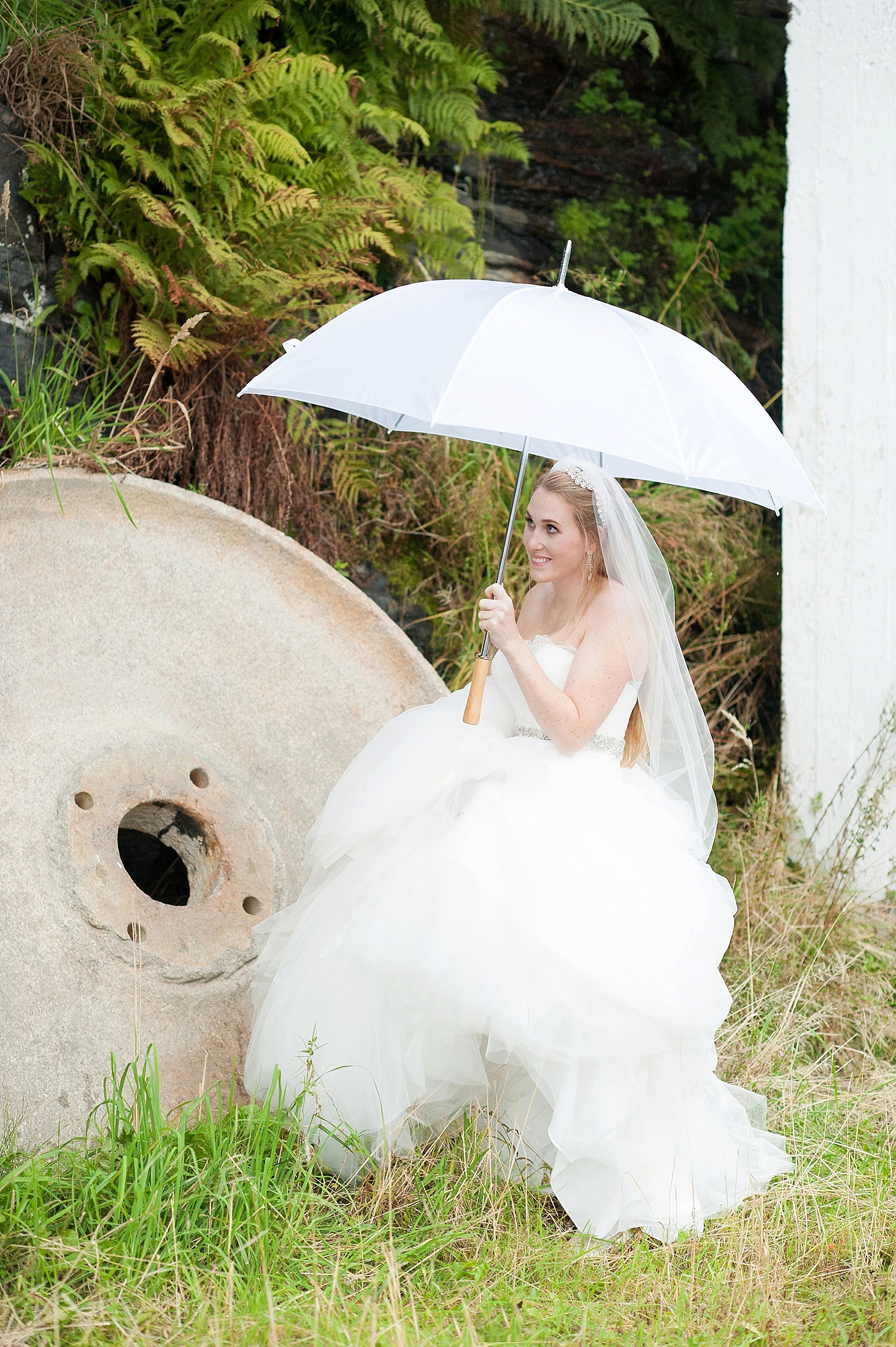 Cecilie's bouquet was perfect. I'm shocked and delighted that her, her mother and bridesmaids threw it together the morning of her wedding. Isn't it the sweetest? It was perfect.
WOWZER – those BLUE EYES! Ow owwww! Hot mama, hot wife! Laughing in the rain and picking up her bridal gown's train so we can minimize how wet it was getting on the ground! She reached down to pick it up, I saw a vision and I yelled, "PAUSE! Hold it right therrreeee….GOT IT!" Result? One of my favorite photos of Cecilie from the day.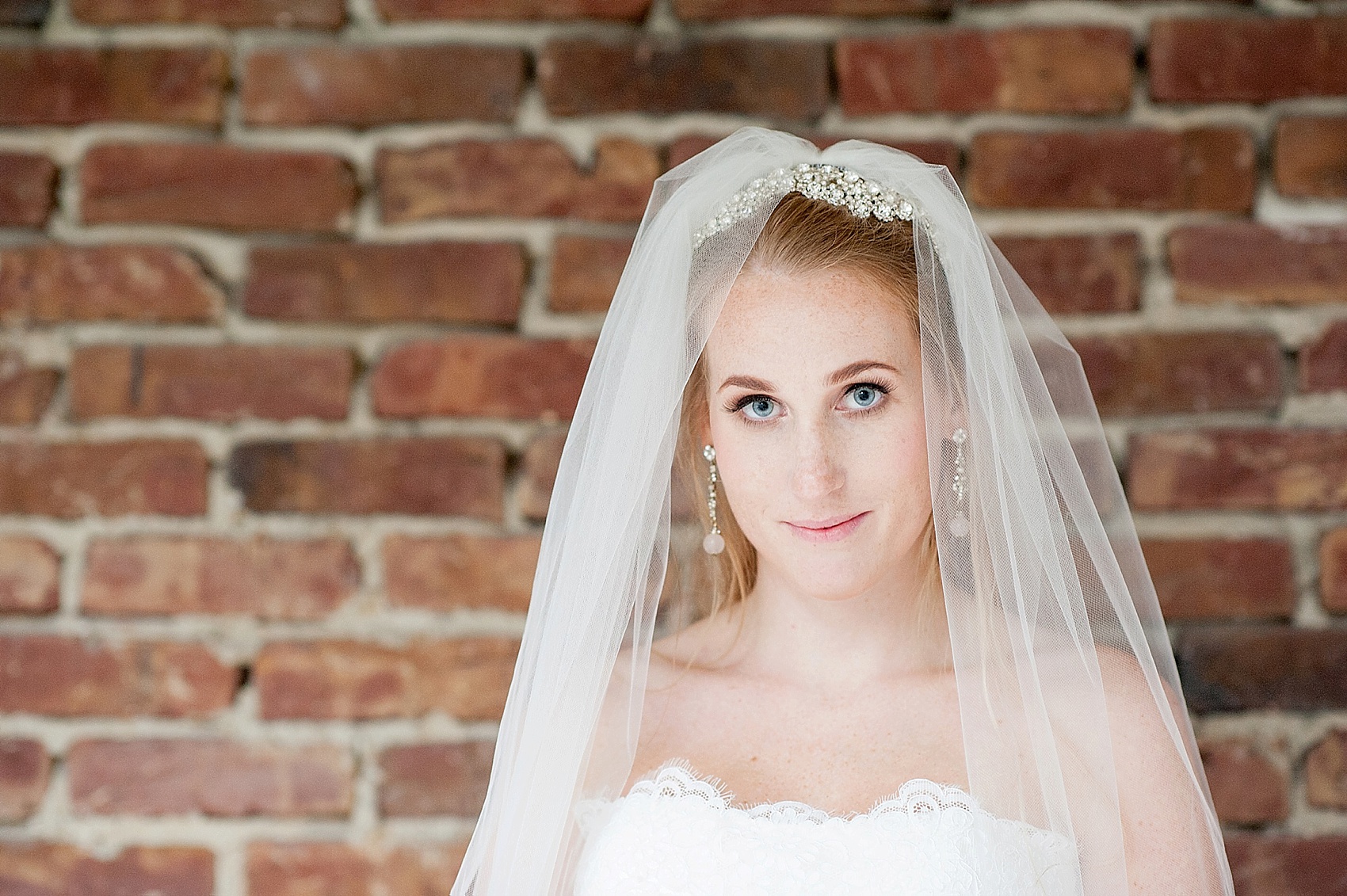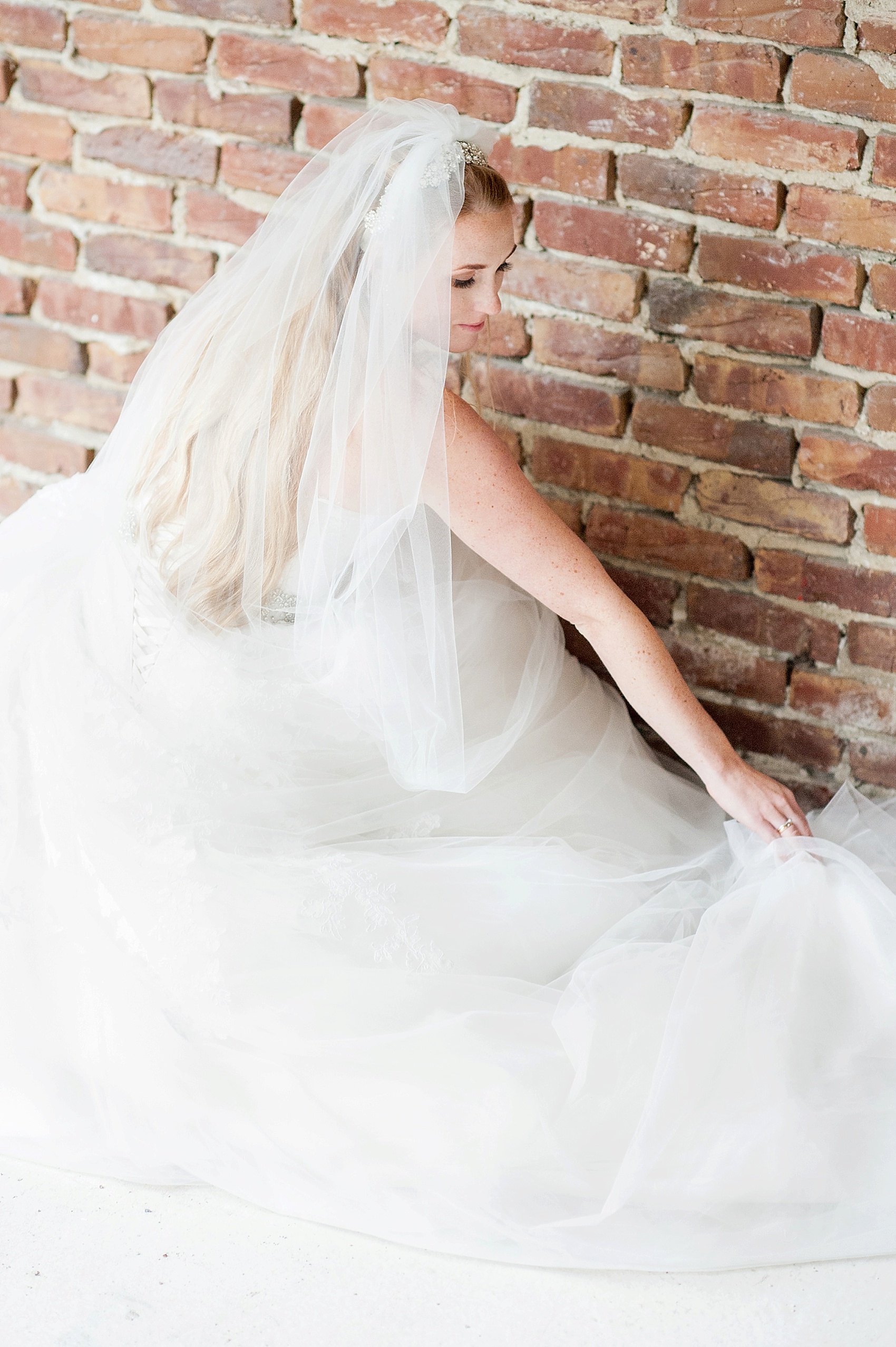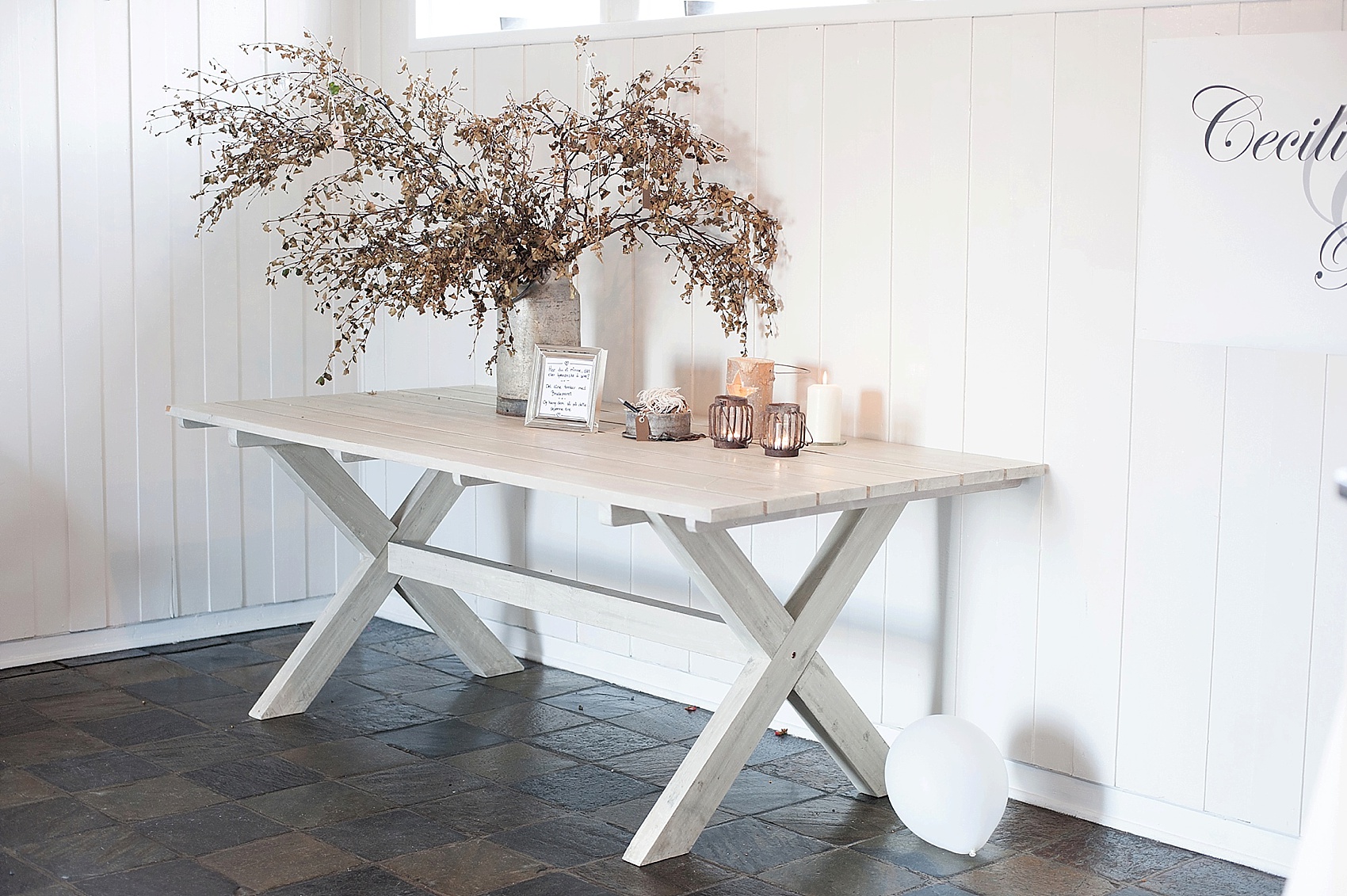 When guests walked into the reception house there was a cute rustic table with a wish tree for them to decorate. They wrote their well wishes for the couple on tags and hung the tags on the tree.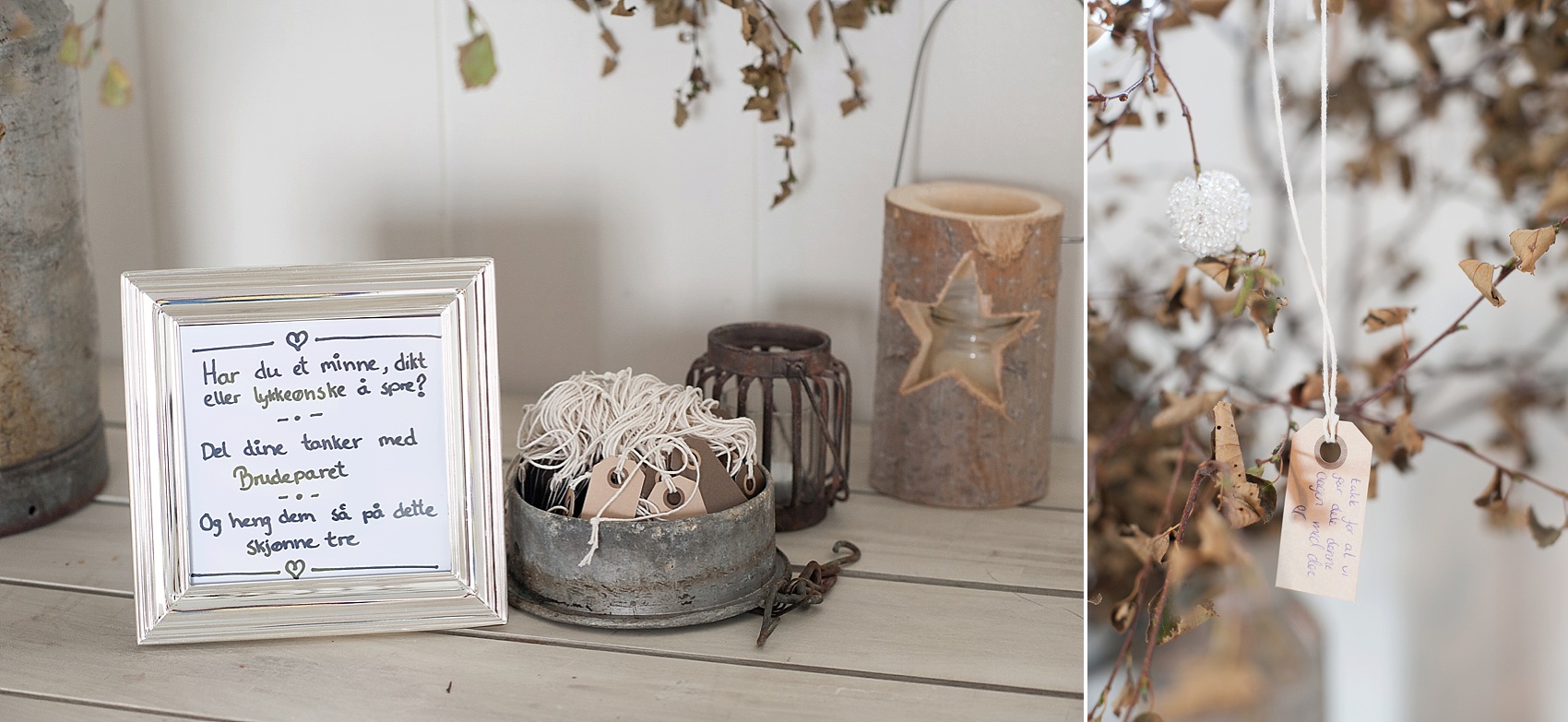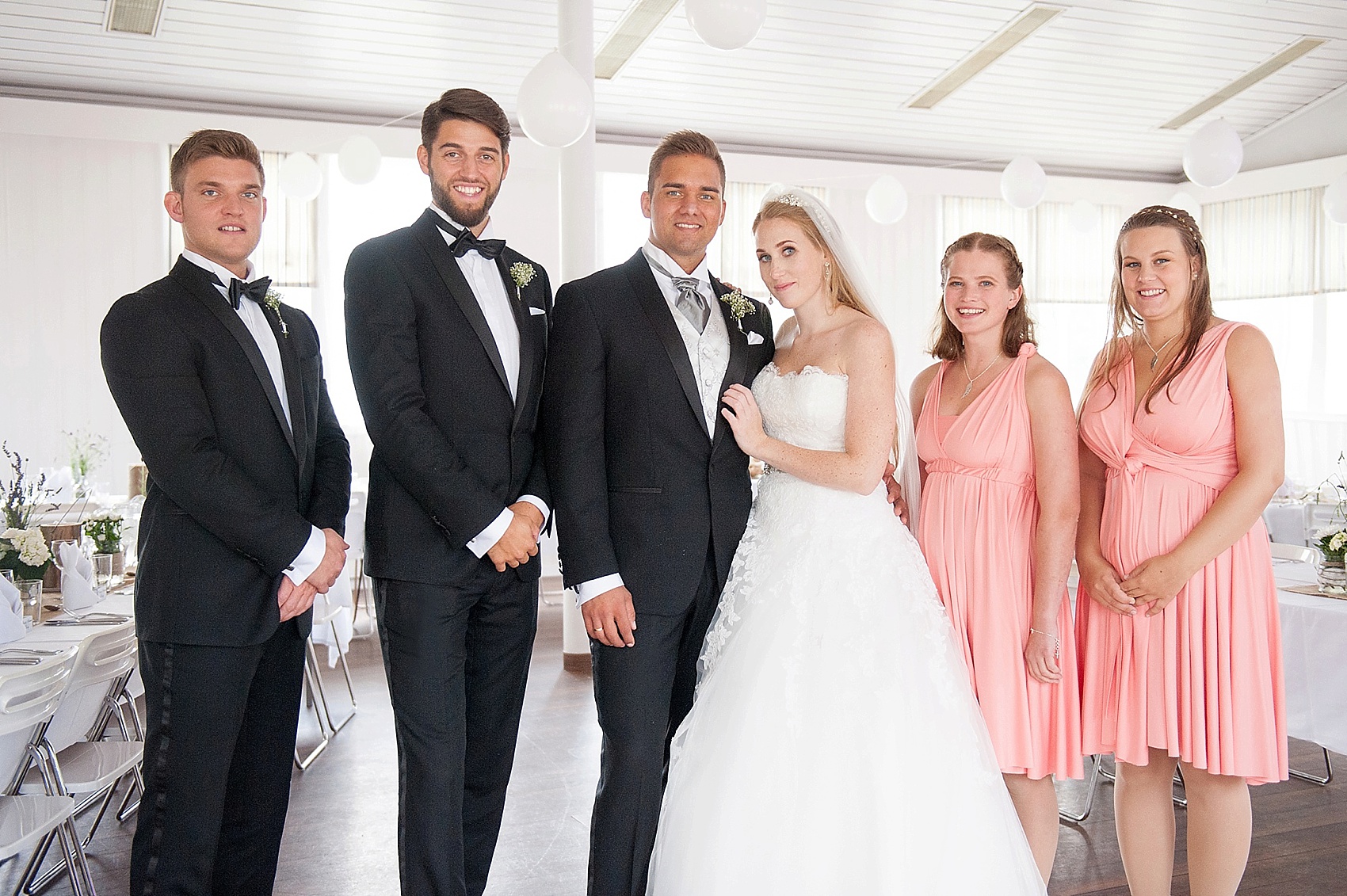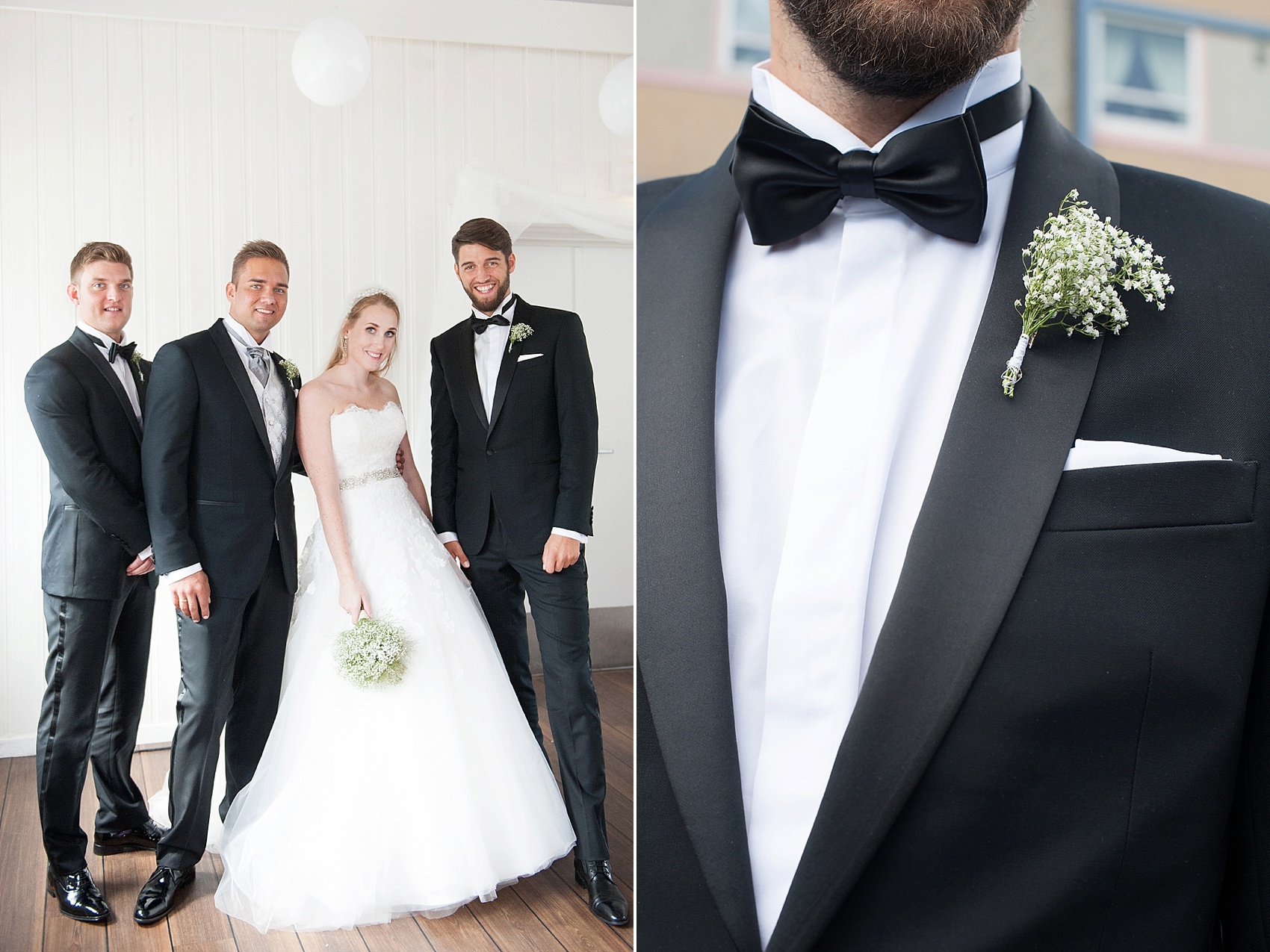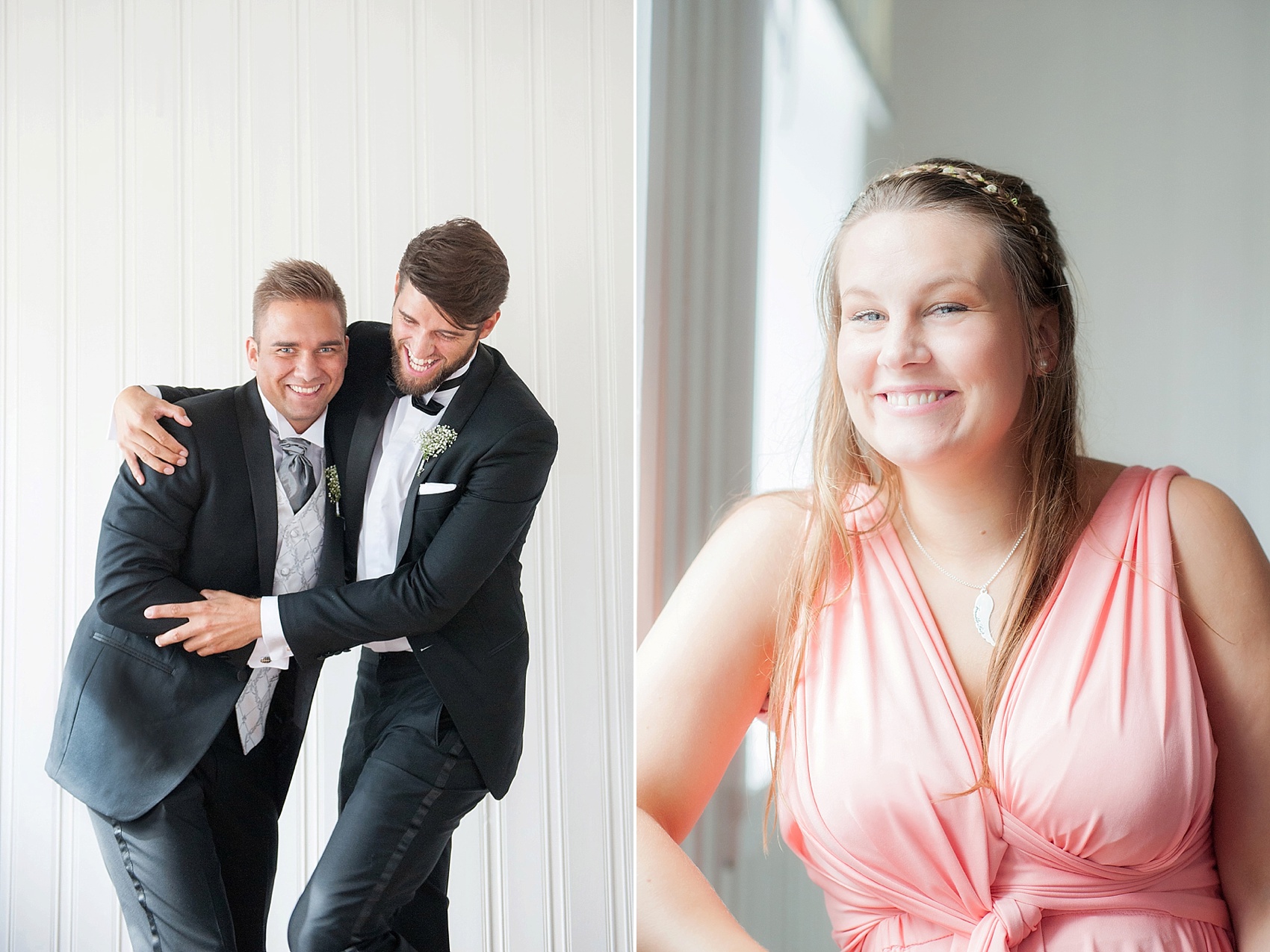 A glowing, giggly wedding party. Just how I like it!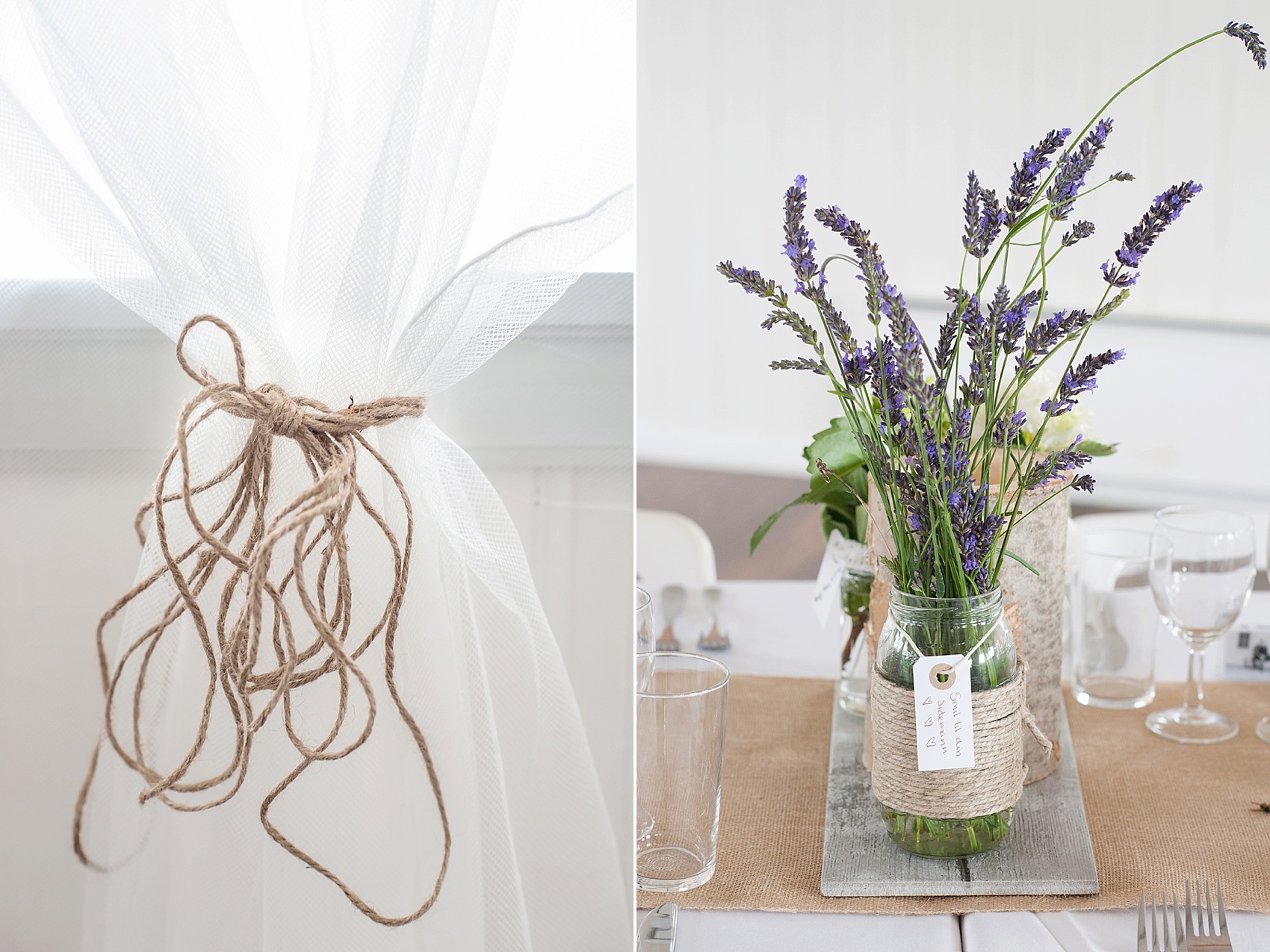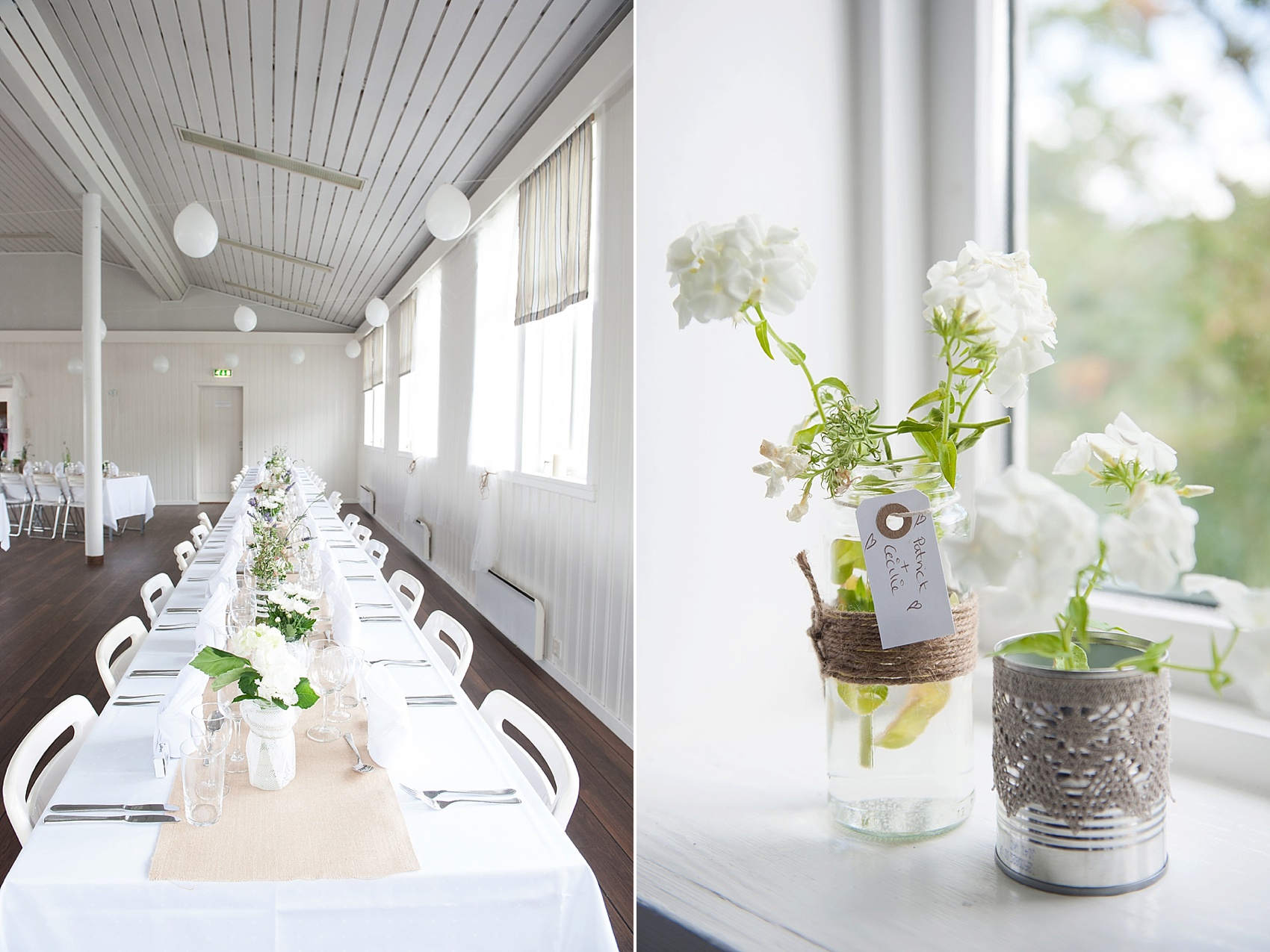 Cecilie did an incredible job with the decorations. She used jars and cans as flower vases and decorated them with lace, twine and paper flowers. She filled them with greenery and white and purple flowers from her mother's and friends' gardens.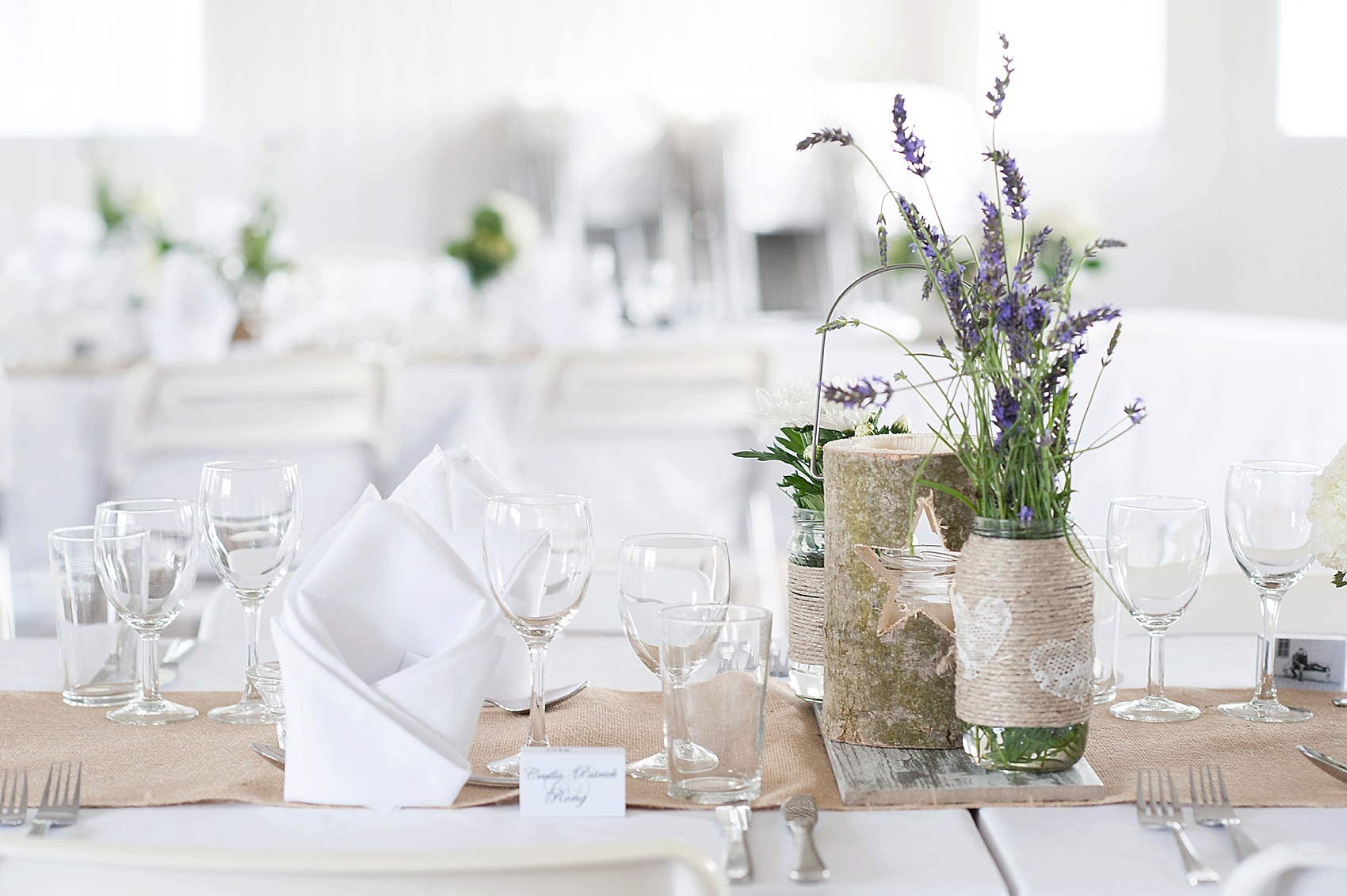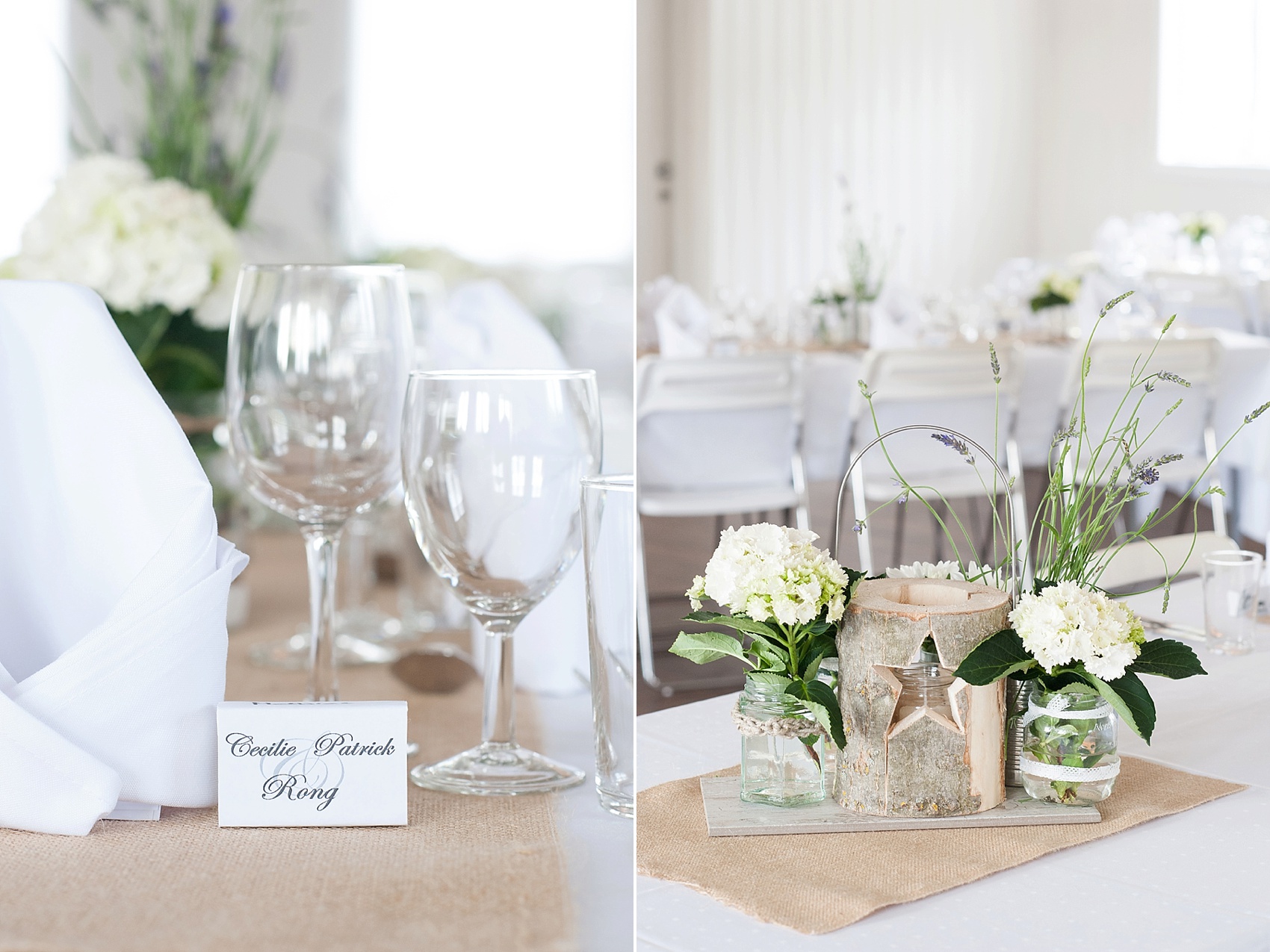 Little matchboxes with their new name held a little chocolate for each guest and doubled as place cards.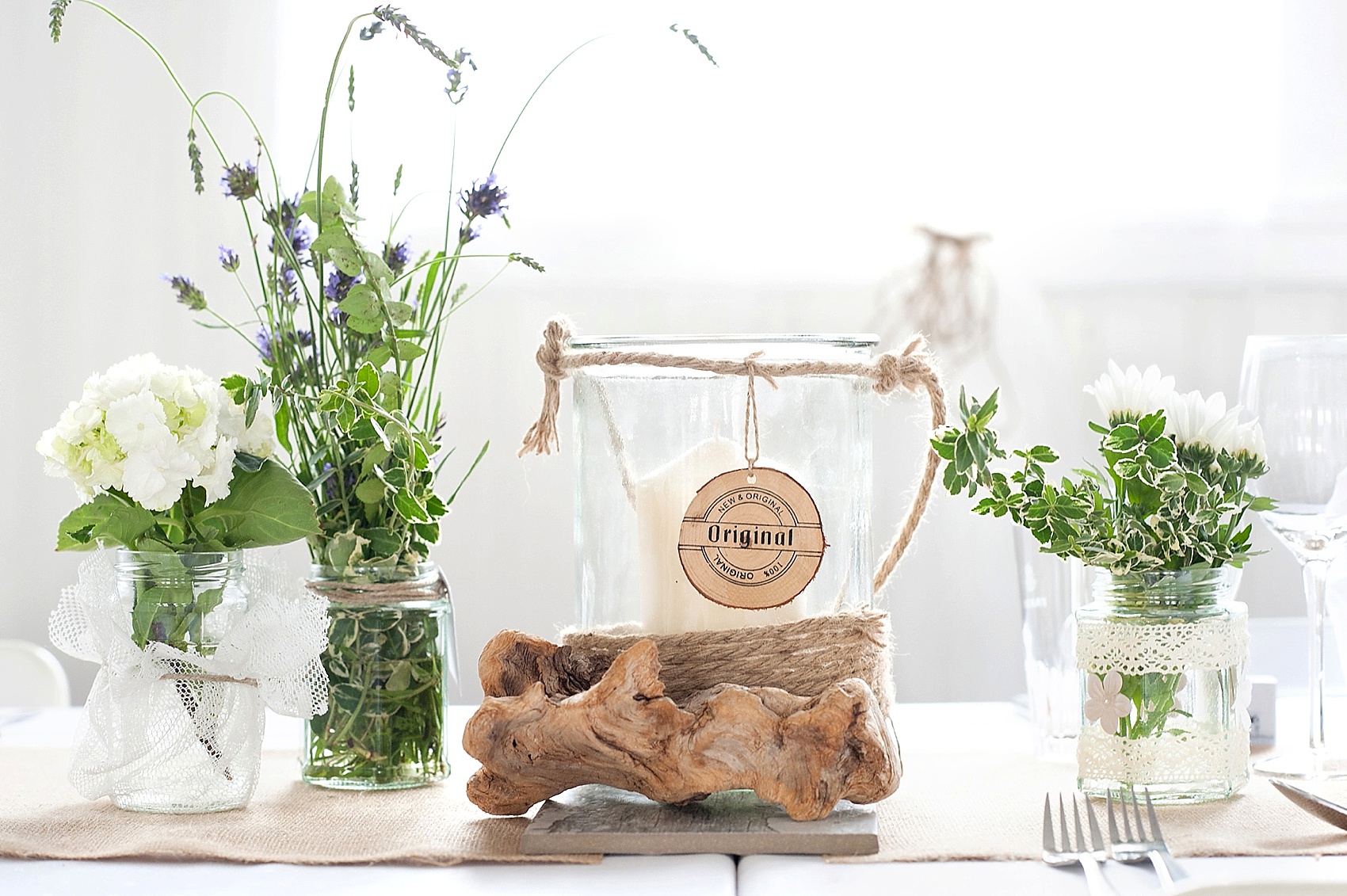 The head table got the largest candle and best piece of driftwood! Once dinner had been served it was time for speeches. I laughed when everyone else laughed and "awww'ed" when everyone else did. The joke was sort of on me: I don't speak Norwegian! I was told, however, by Cecilie's uncle and wonderful "toastmaster" (or emcee, as we call them in America) that Patrick's speech to his new wife was heartfelt and funny, and overall full of emotion. He talked about how they met and fell in love, when Noah was born, and how they came to this day. The room was tearful!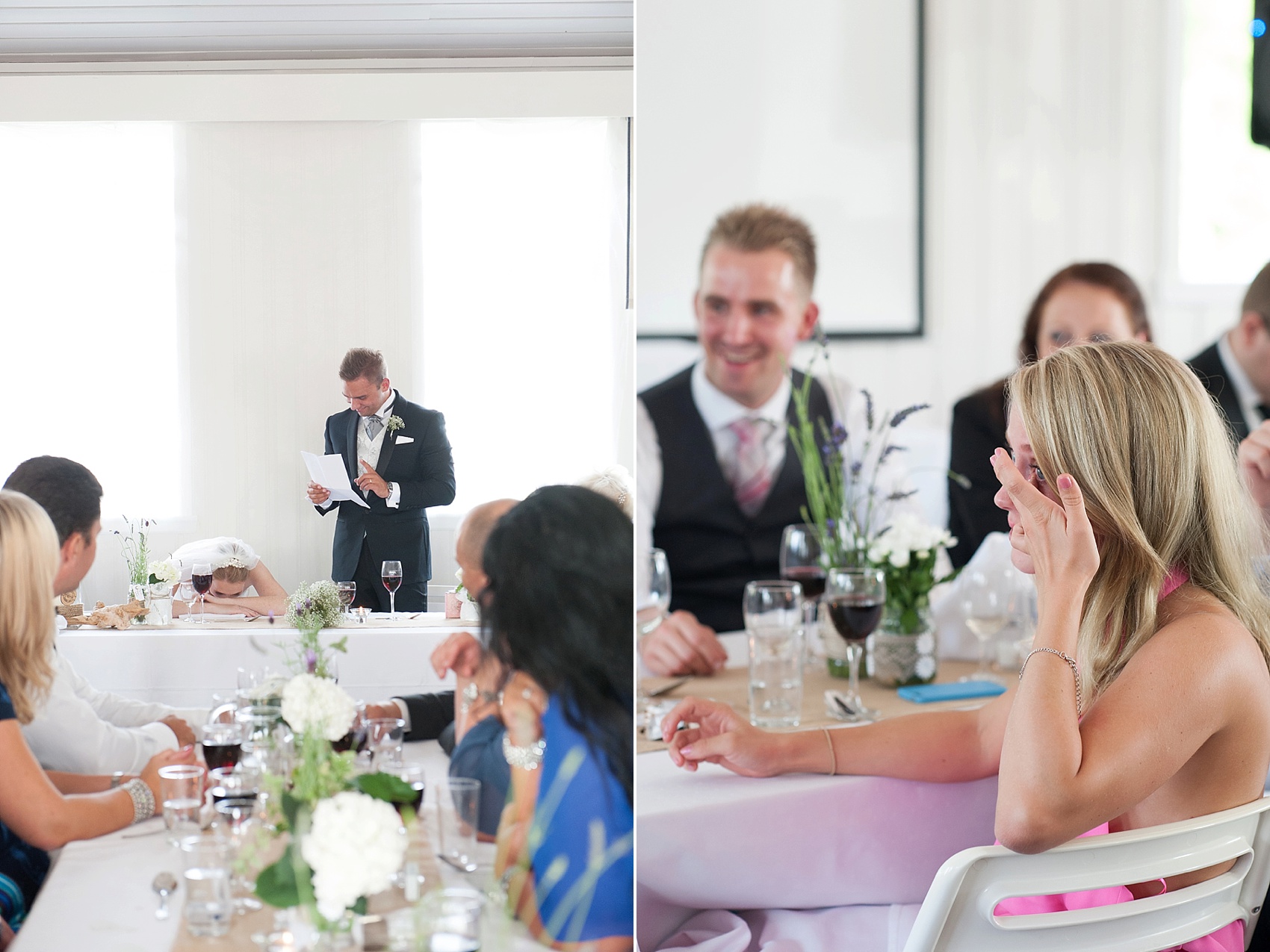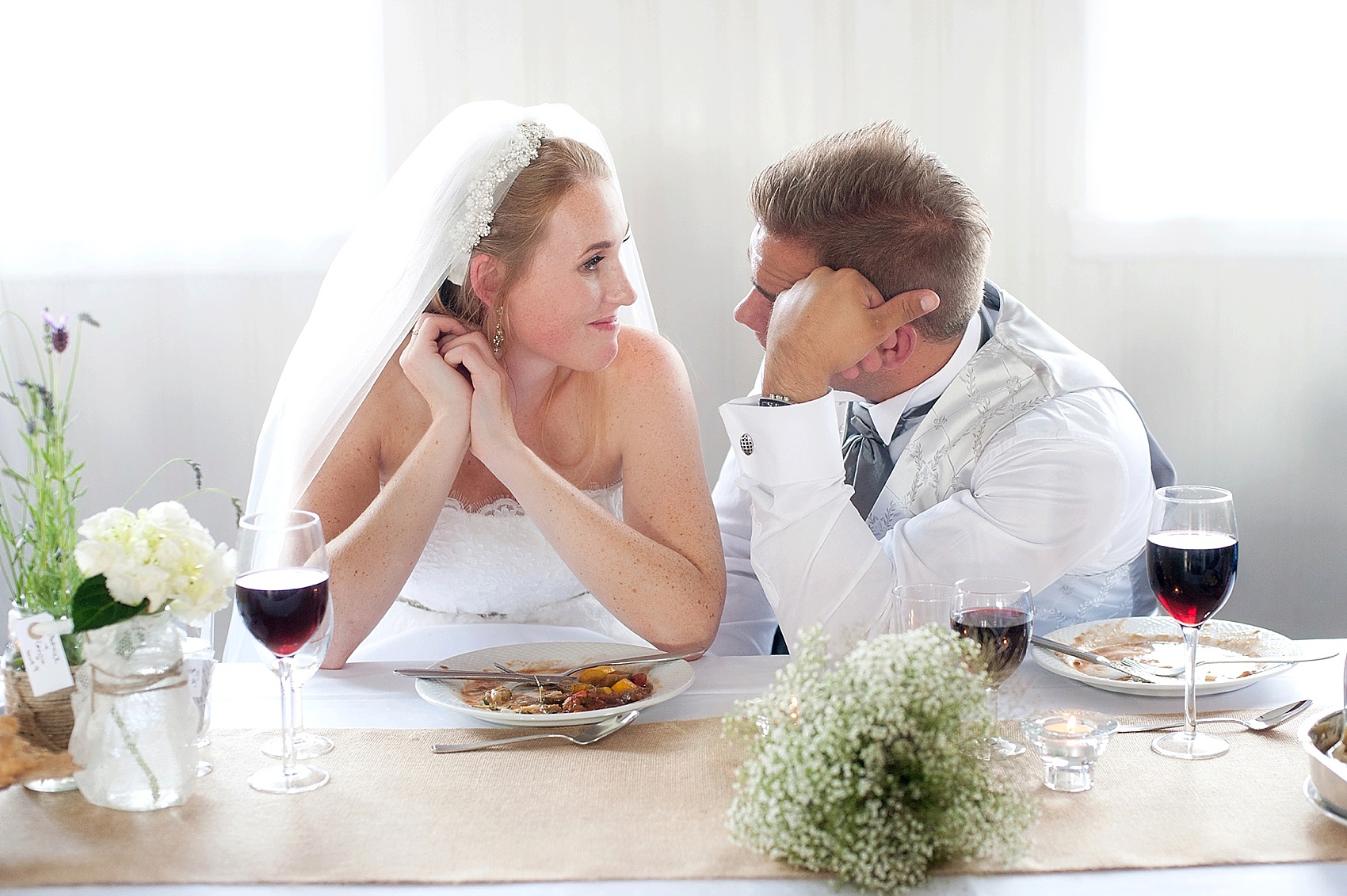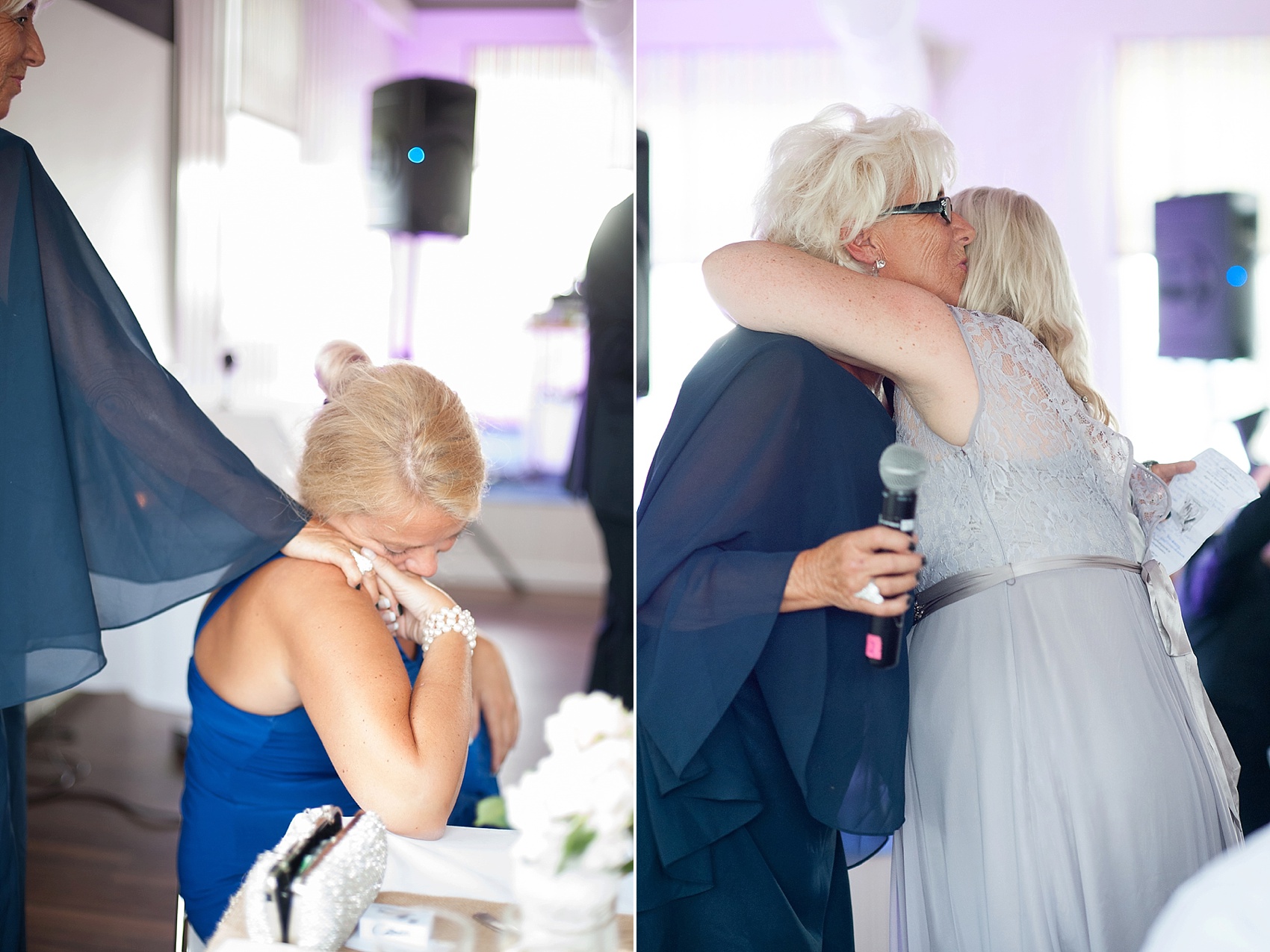 Patrick has a lot of siblings. I love a big family! Here's his sister, Cathrin, embracing her mother's hand. Isn't that the sweetest, most sincere moment captured?
After Patrick's mother, Reiden's speech, Cecilie's mom, Tone, came over to give her a hug. I love when two great families join together. It's part of why I love photographing weddings.
More great speeches were said to the bride and groom, like one from Cecilie's good friend, Lisa. The toastmaster, Thomas, opened the floor to speeches after the meal was served. I'm unsure if that's typical for Norway or just for the region, or their weddings…but I liked it! What other time do people have to publicly announce how great you are and how happy they are for you?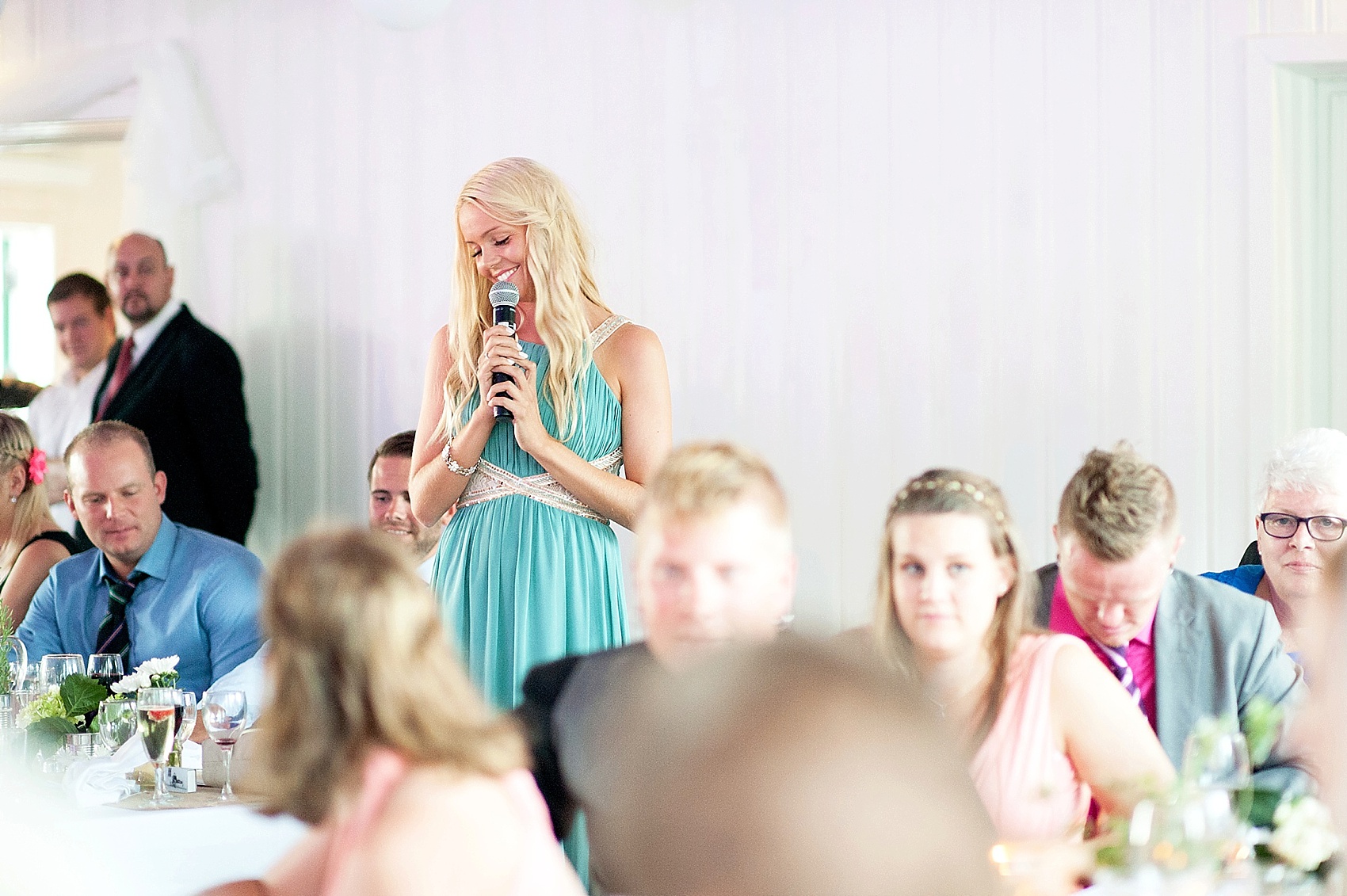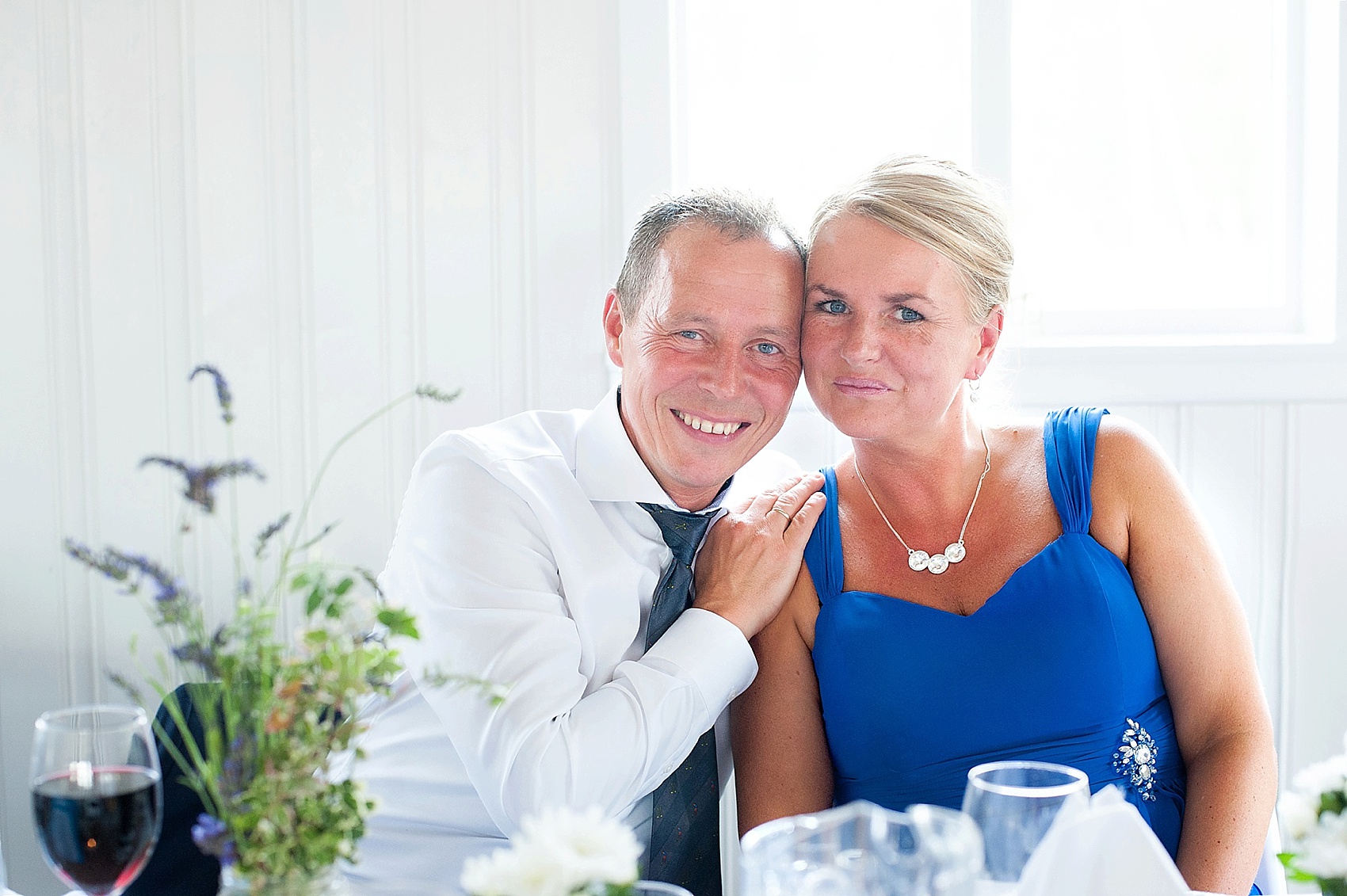 There's the Toastmaster, Thomas and his beautiful wife of about 20 years, Siv! Thomas was so kind as to give me a ride back to my apartment from the venue scouting the night before and I enjoyed our conversation about Futbol, his family and Bergen in general. Siv and Thomas met in high school and have three boys, two of which were at the wedding!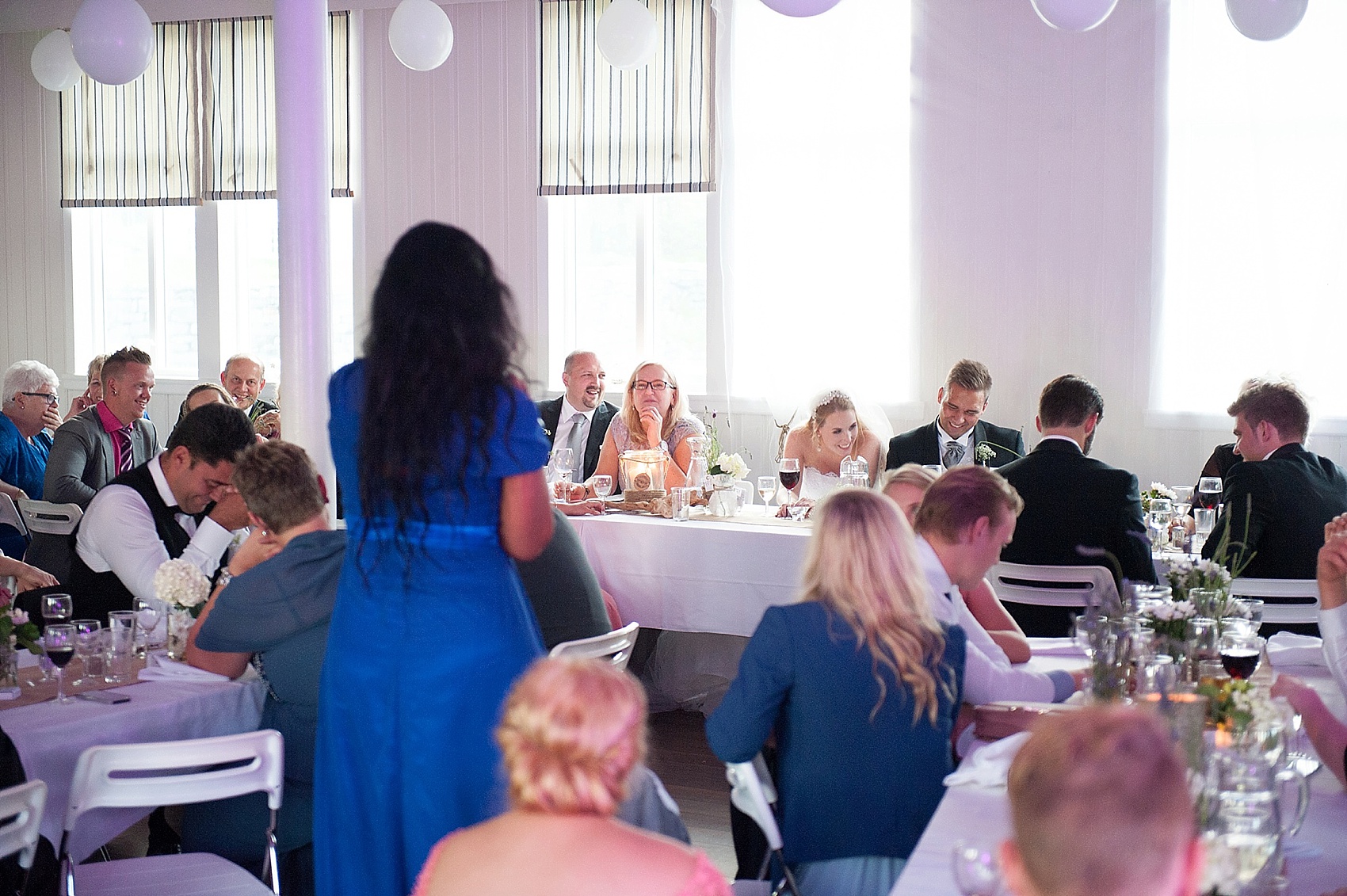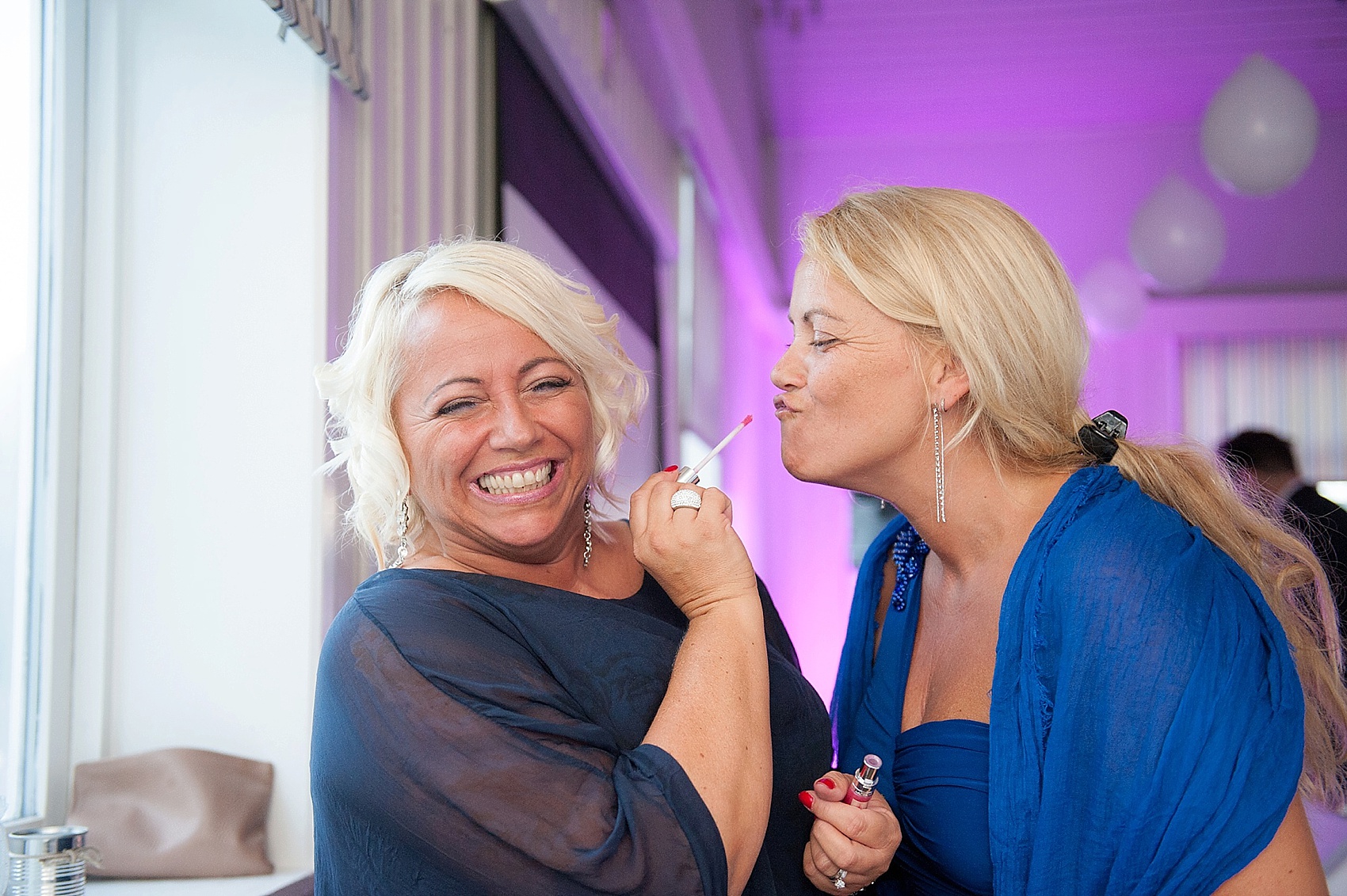 I love a good sisterly bond. "Hey sis, lip gloss, please?" "Okay…pucker!"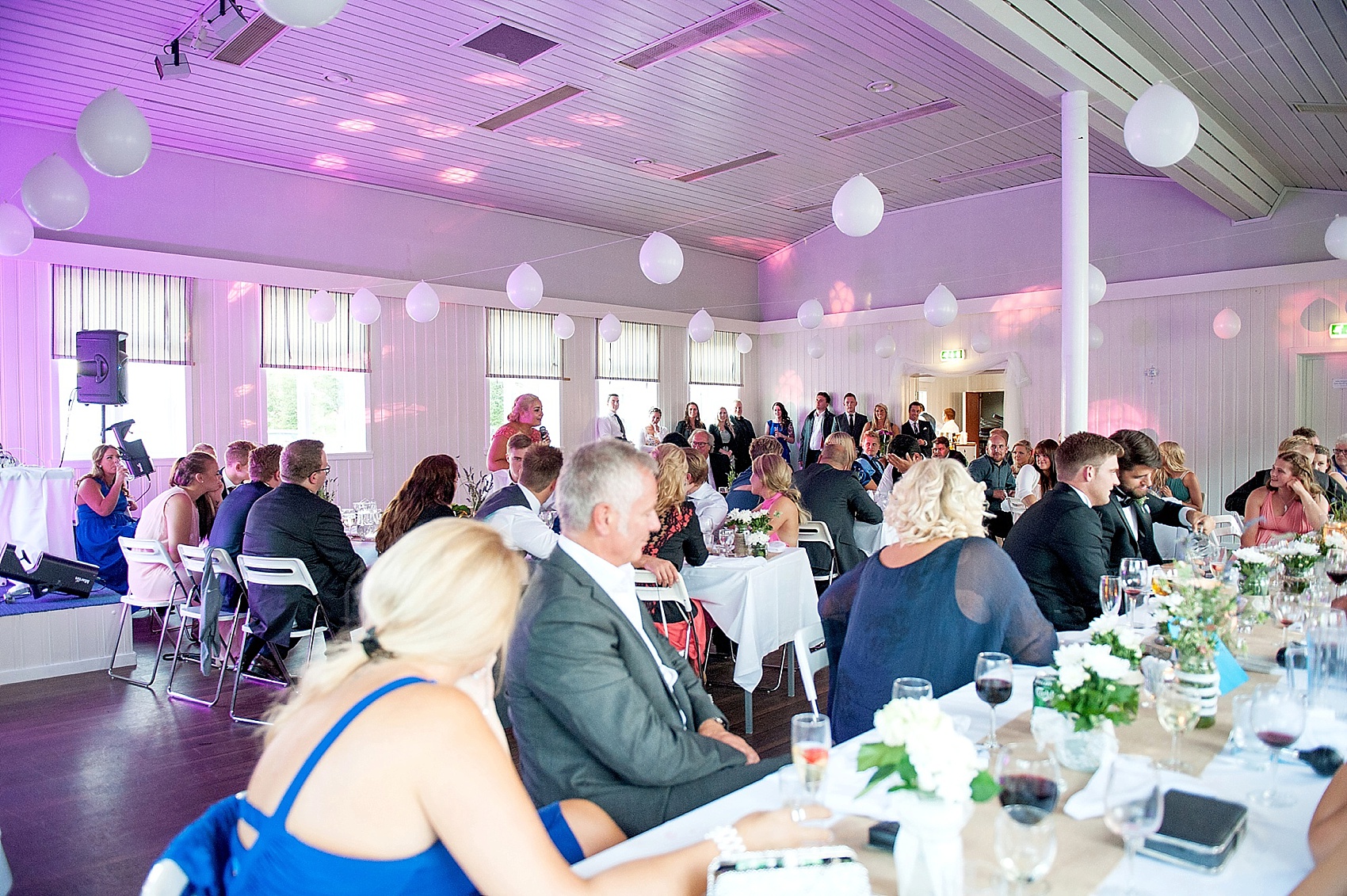 Isabell's speech was one of the last before everyone left the room so it could be transformed to a dance floor with a great dessert table.
I took the opportunity (and clearer, rain-free sky) to photograph Cecilie and Patrick in a location I scouted the day before. You can see Bergen in the background, Norway's epic evergreen trees and the simple, beautiful colors that surrounded us.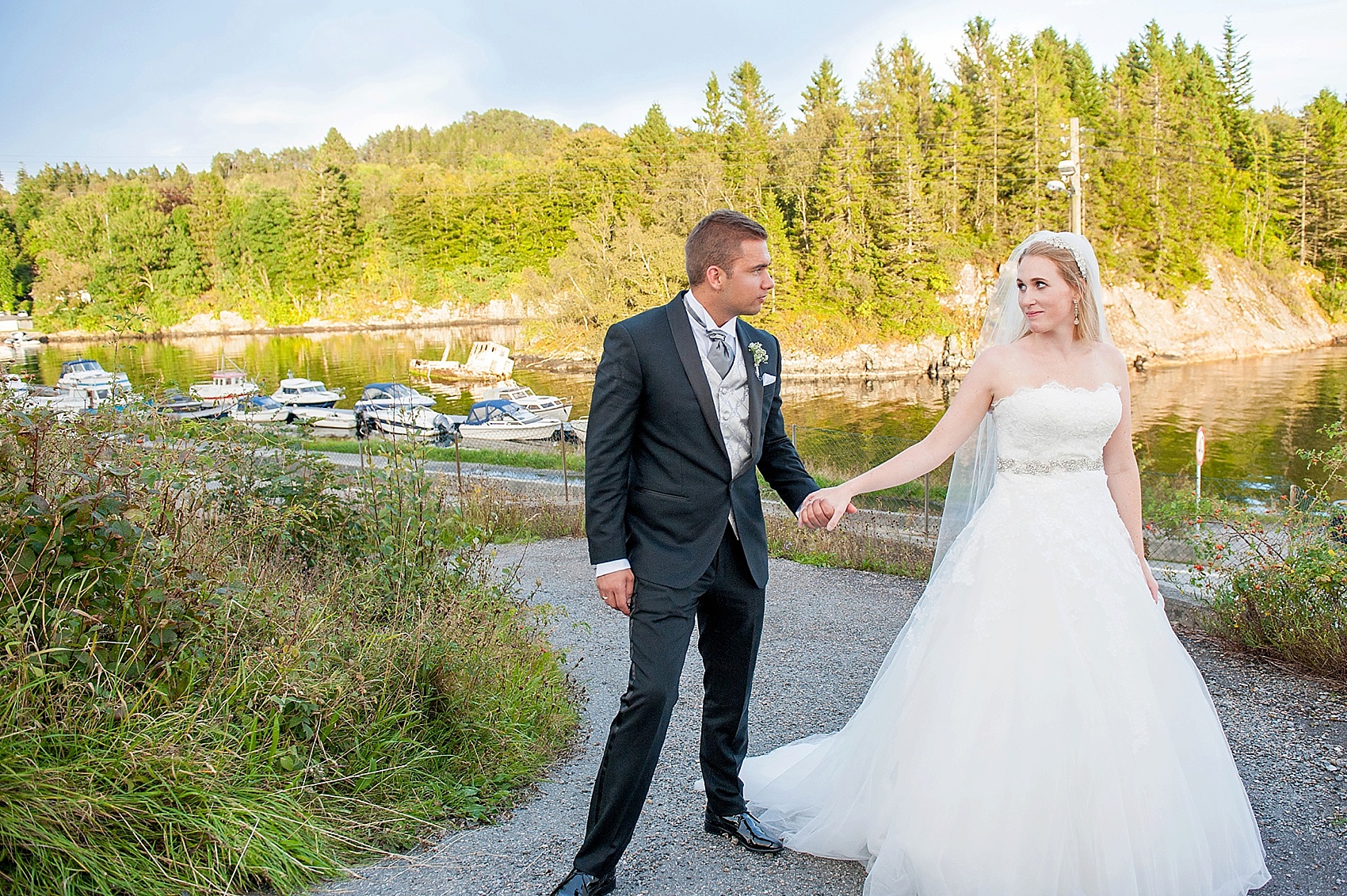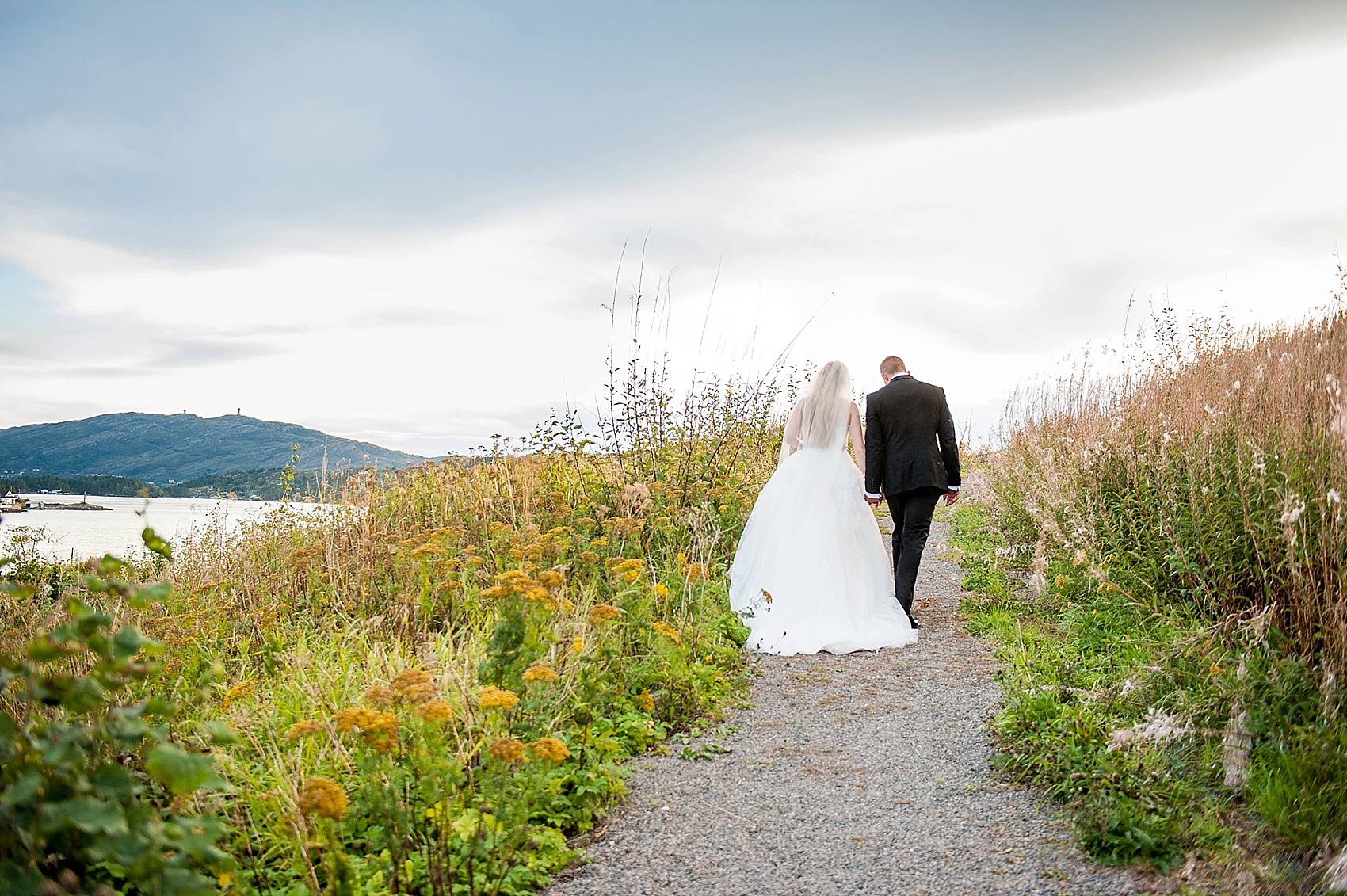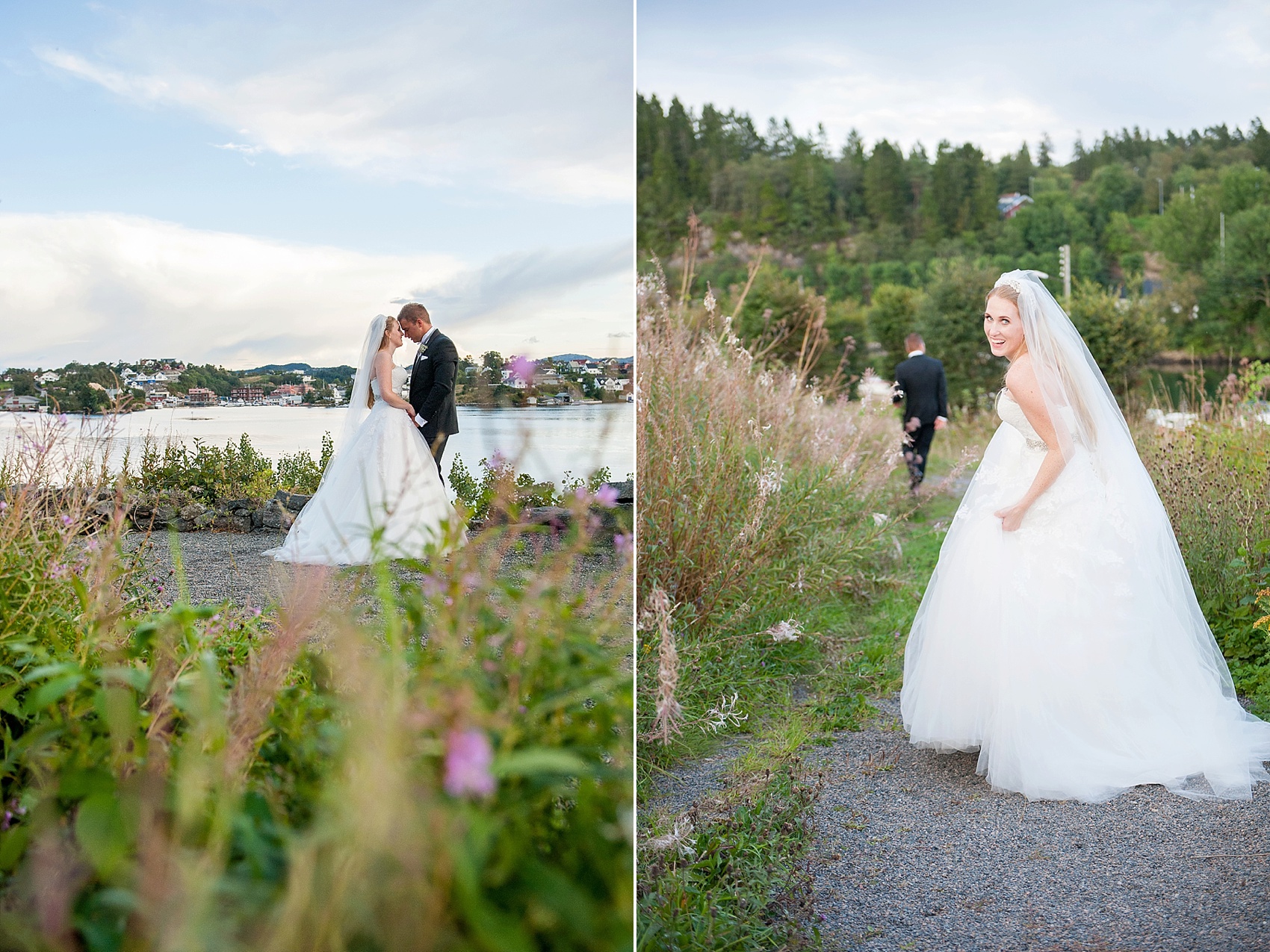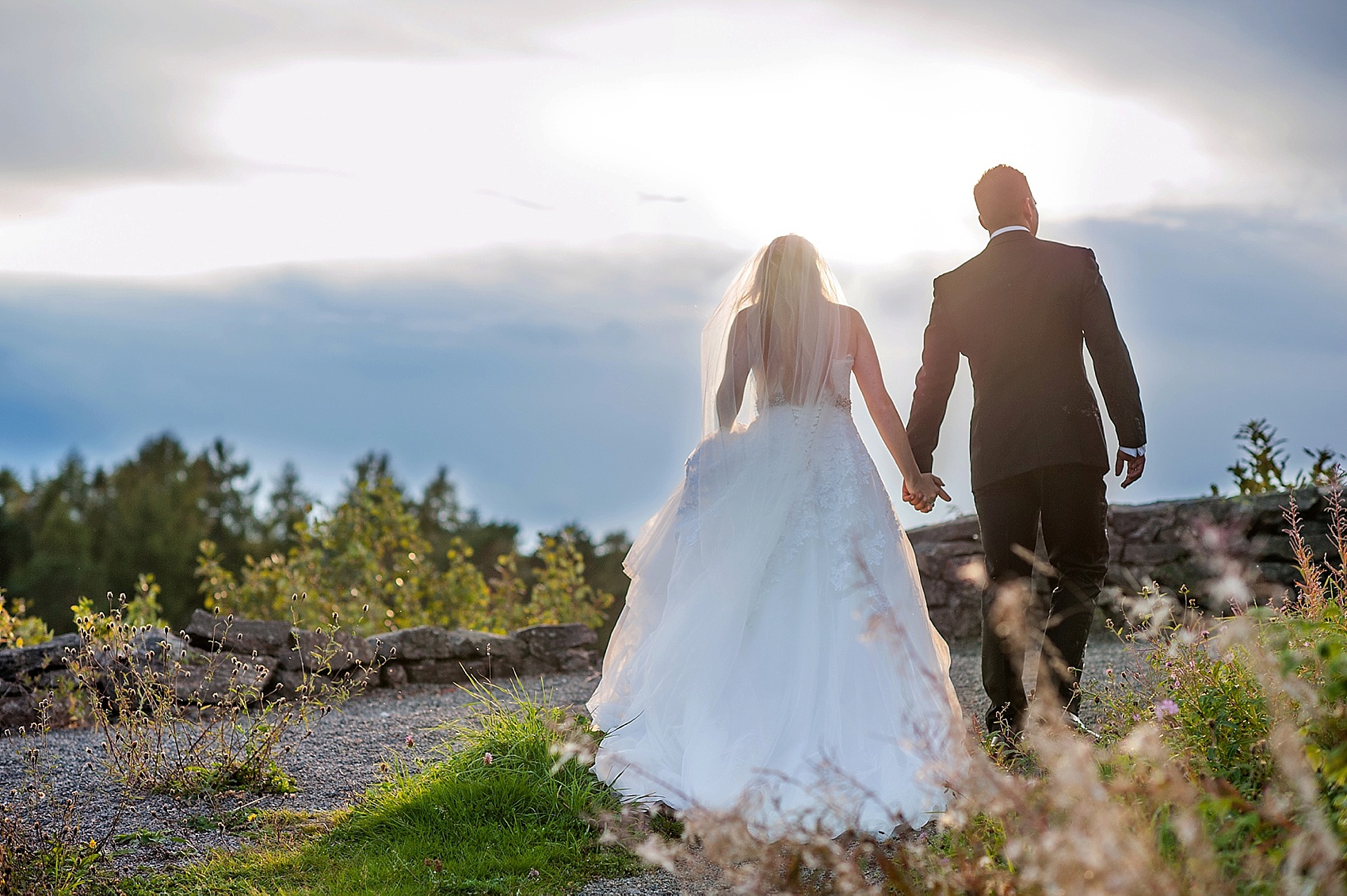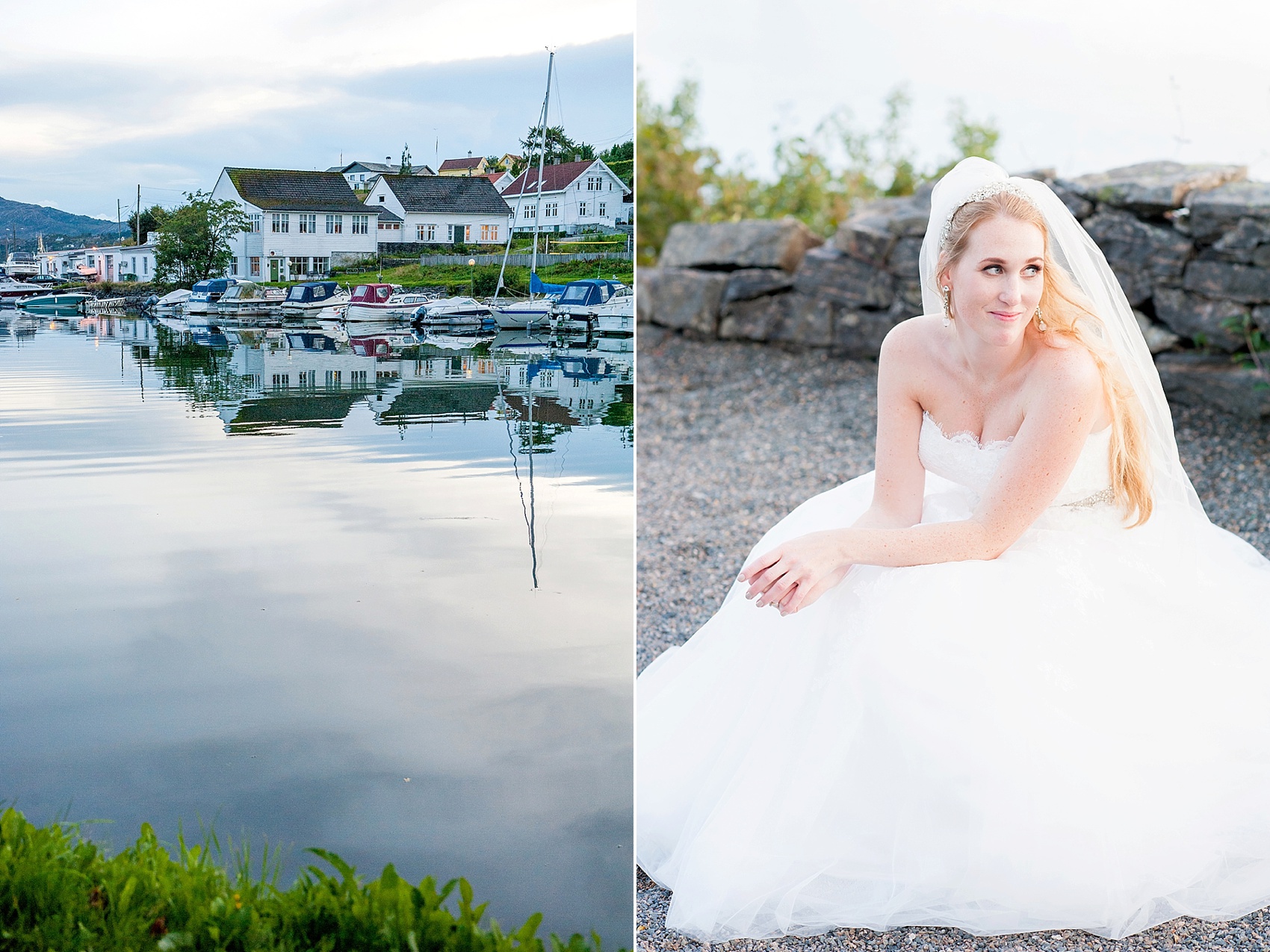 When words fail, pictures speak volumes.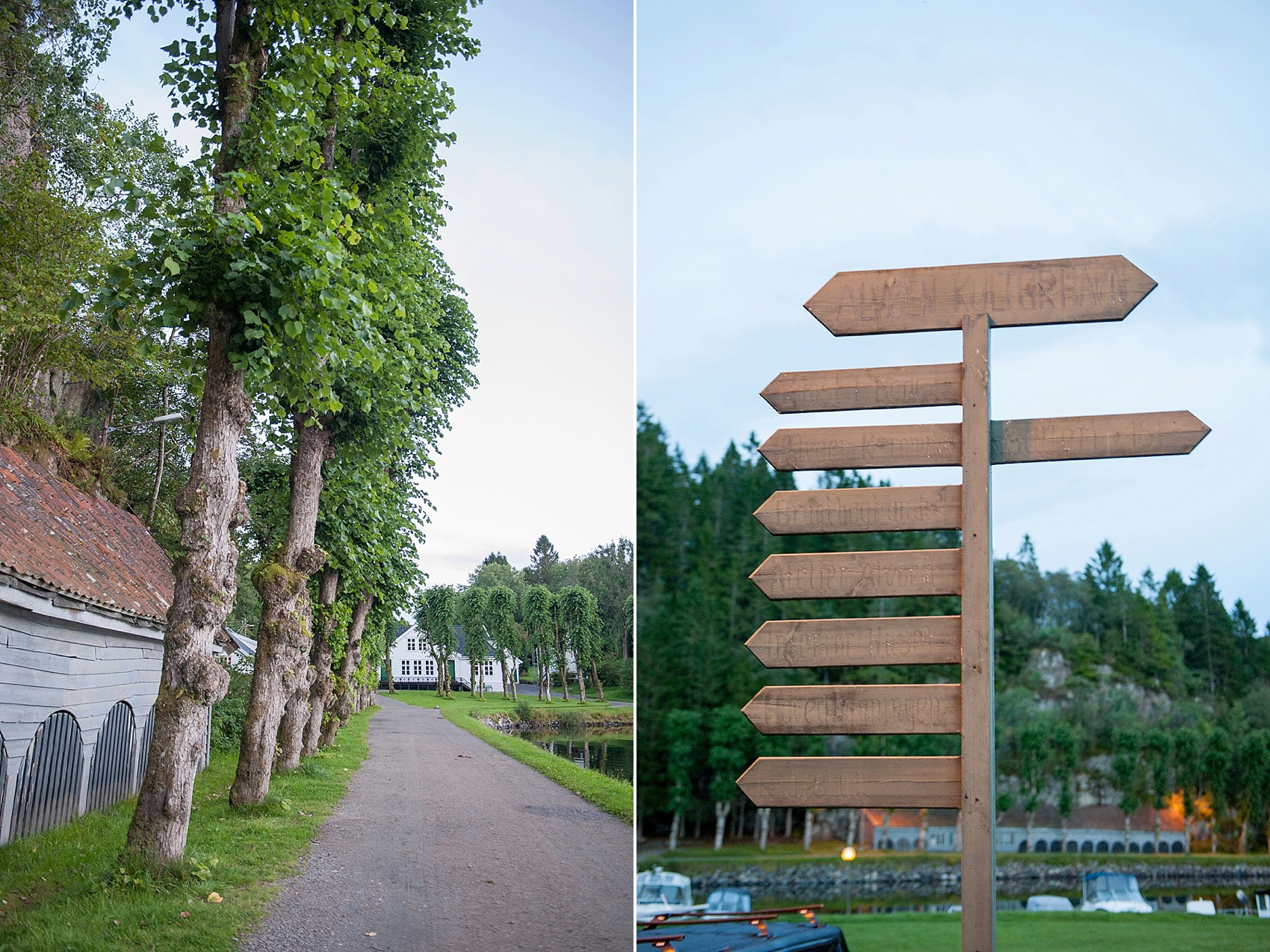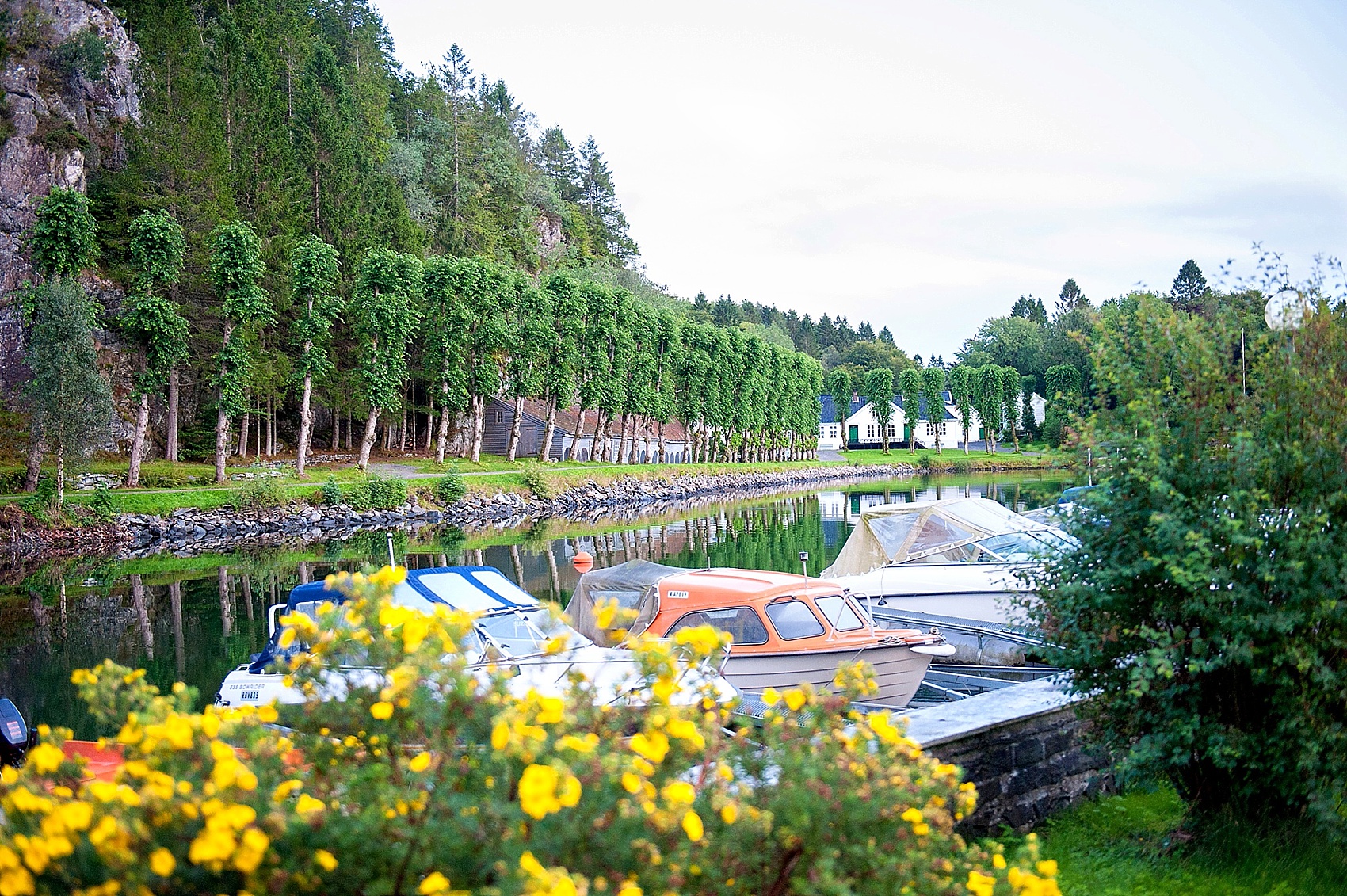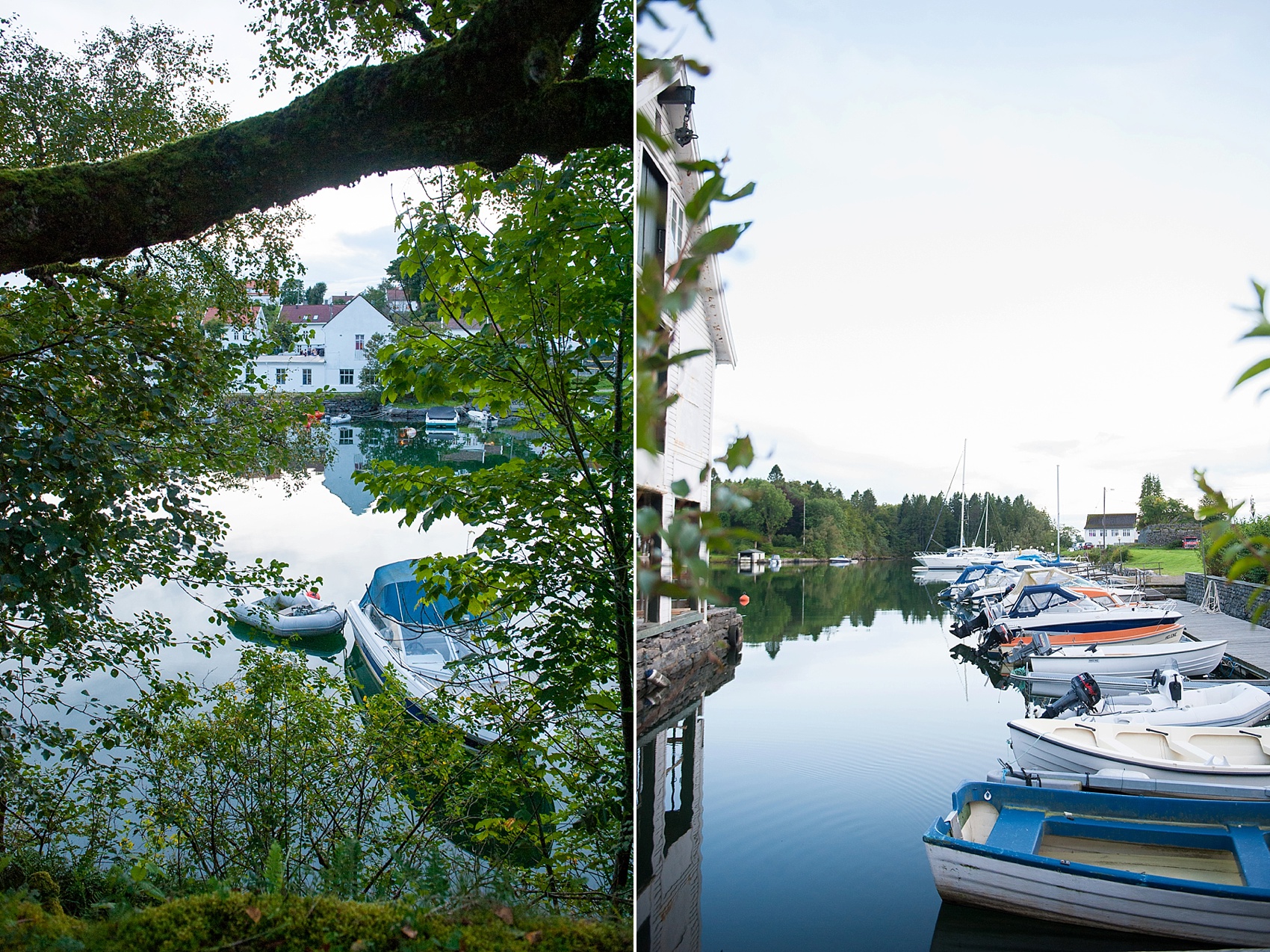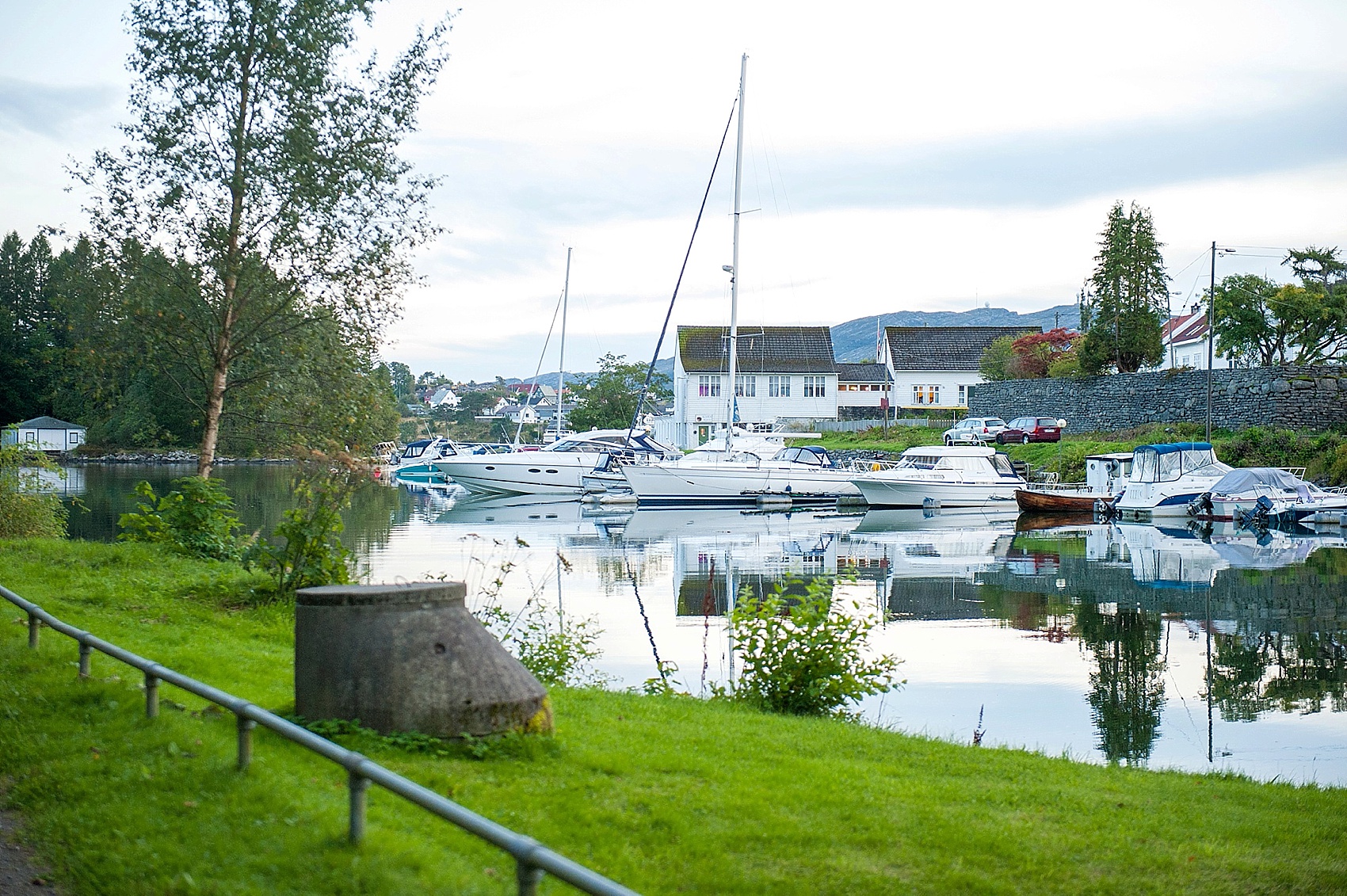 I ventured off across the water toward Alvoen Manor while I had about 20 minutes before the dancing began. It was around 9:30pm and the sun was slowing but surely sinking down to set. It was peaceful, quiet and serene except for the few voices that I could hear back at the reception house across the way. The water was still and I loved looking at the lights across the harbor that were becoming visible.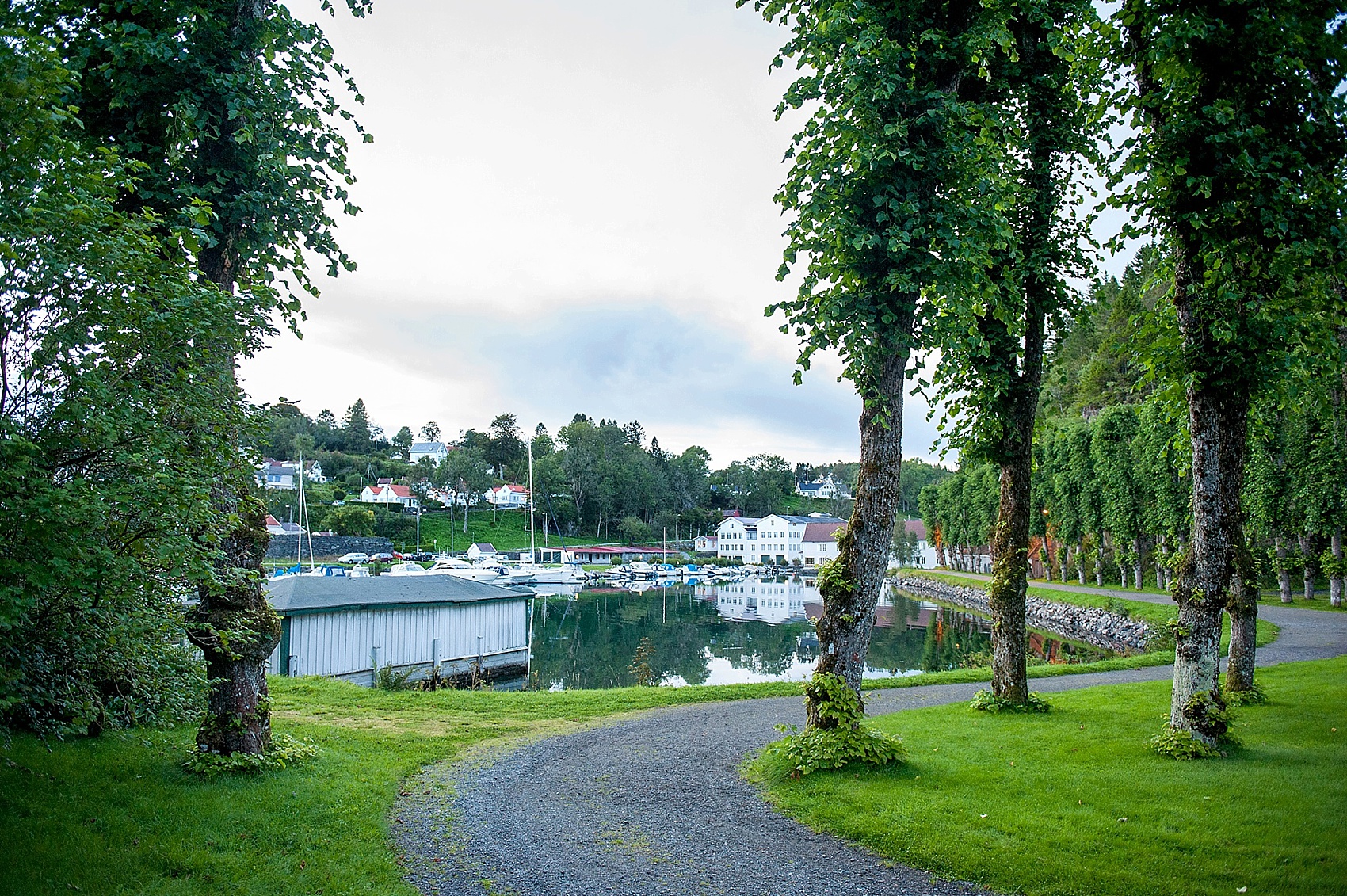 It was too far to take Cecilie and Patrick to while they were in the middle of their reception, outside talking to their friends and family, but close enough for me to basically speed walk over to, enjoy for a little while, capture their reception from a distance, and head on back!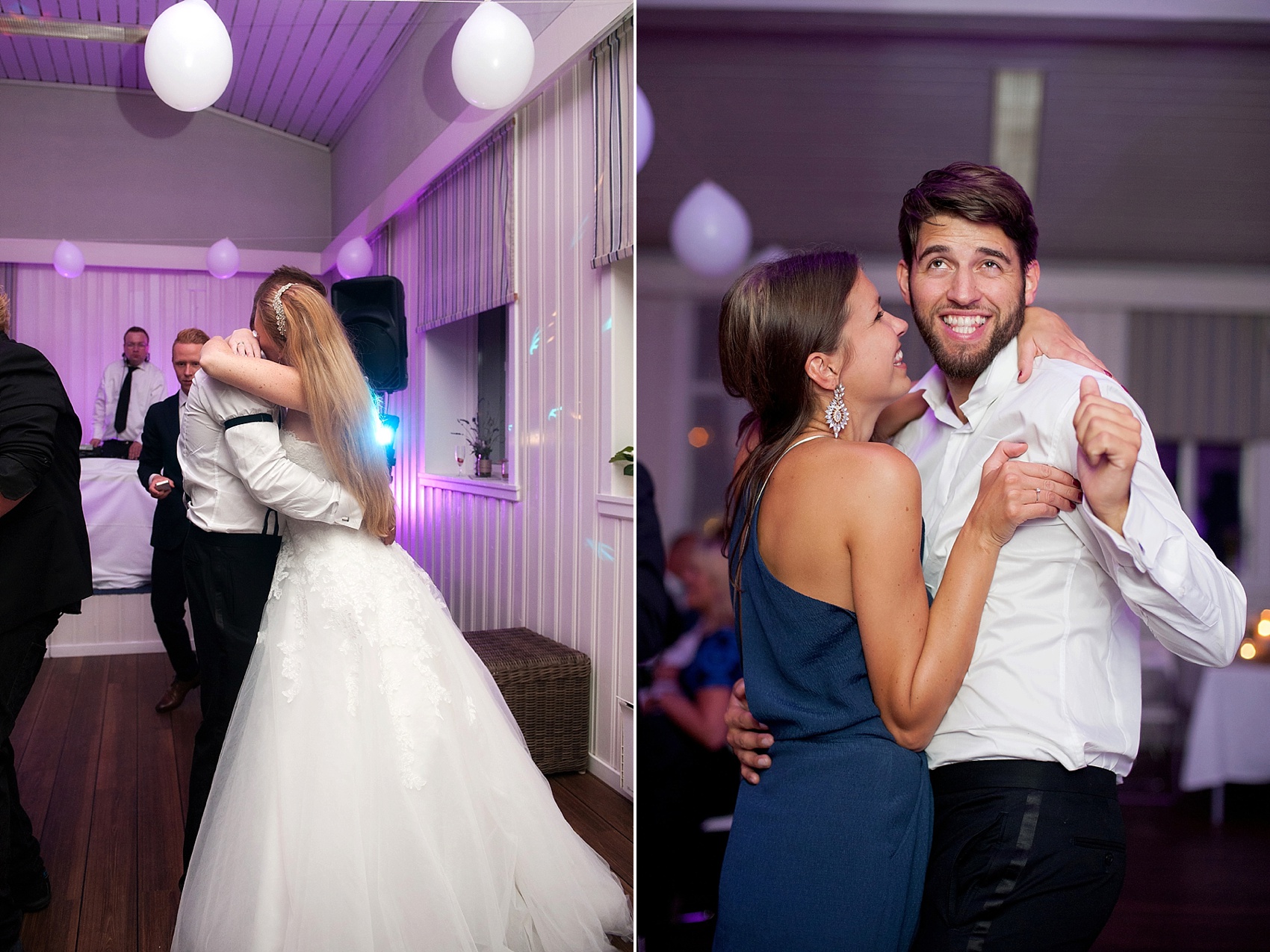 PARTY TIME! If you want to know what Aleks looks like most of the time (keep reading for the punch line) that's him above on the right with his gorgeous, super sweet fiancee, Renate. I loved talking to her too! Everyone there was really so, so great.
I know his cover is so good it's hard to tell that isn't actually a red-headed Beyonce below, but Aleks, best man and Patrick's brother, surprised the newlyweds with a little "Single Ladies" performance. Two of their sisters (achem, I mean backup dancers) were in on the surprise. Everyone was cracking up and applauding!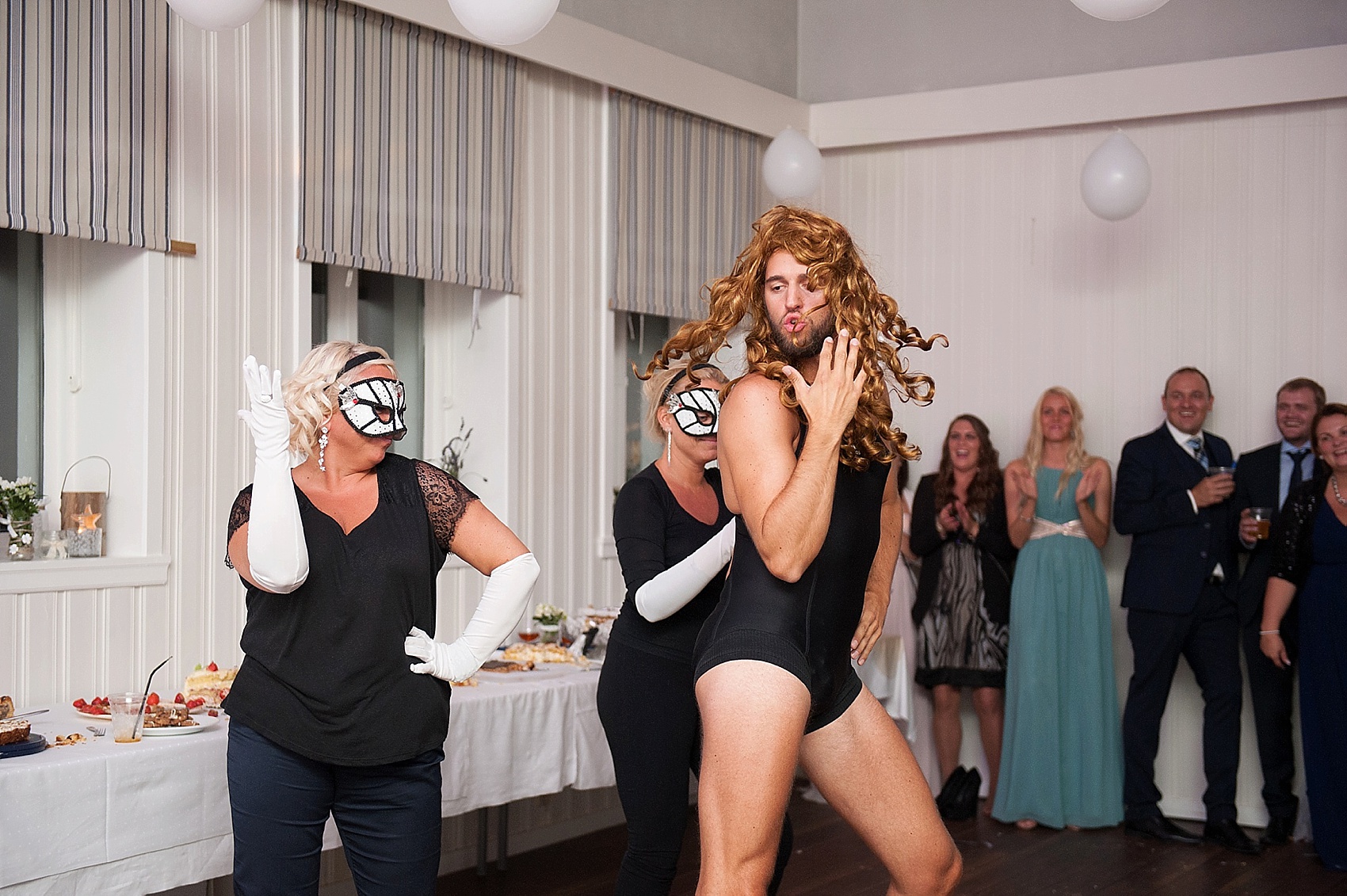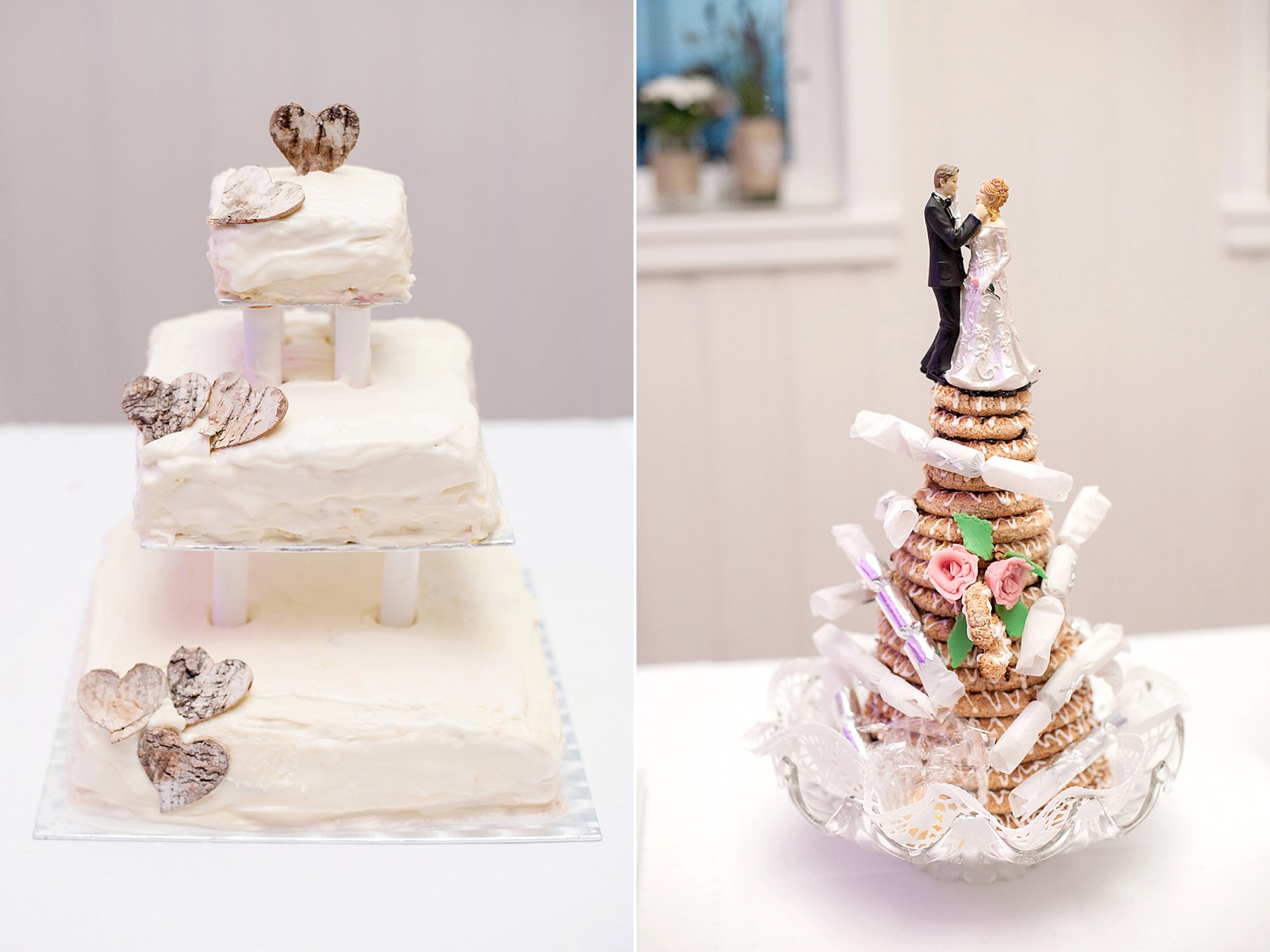 They had a traditional dessert table that I believe is a little customary in Norway. Two of my favorites on the table were two "cakes." One, a more typical western tiered square cake with wooden hearts perfect for the surroundings in Alvoen, and another a more Norwegian cake which was comprised of almond cookies. Tasted like lots of delicious almond paste/marzipan were in them. Yum.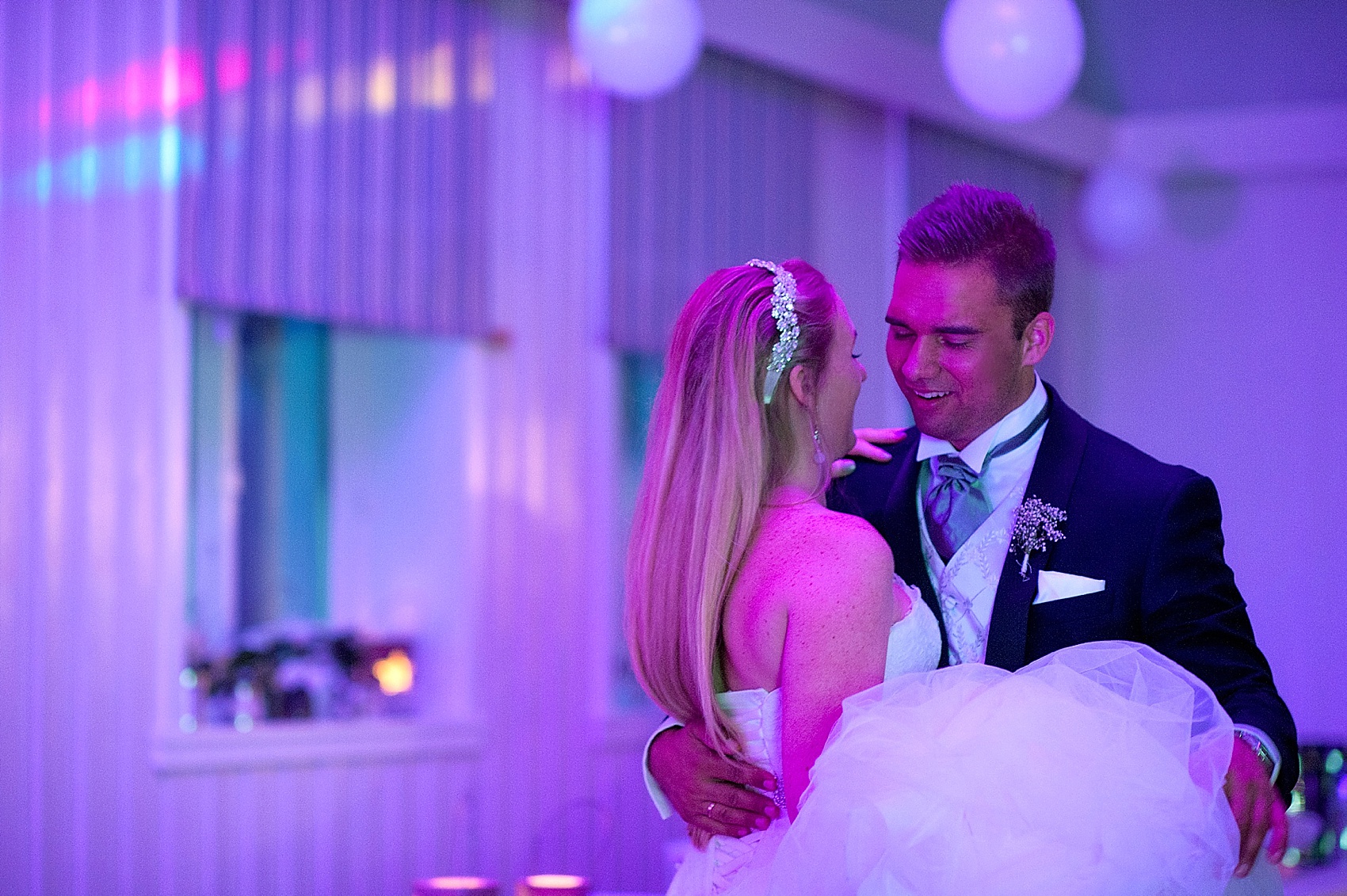 A HUGE congratulations goes out to Cecilie and Patrick. I was truly, truly honored to photograph your day, in awe of the beauty of everything from locations to attire and family and friends who welcomed me with open arms and English ;-). And I will forever remember your wedding as one of the best experiences of my life, combining my two passions and loves of my life: photographing weddings and traveling.
I am looking forward to always keeping in touch and visiting Norway often in the future. Haha! Get ready for a guest! 😉
Did I mention I LOVE traveling and I'm a wedding photographer? If you'd like to talk about your special day and having me capture it don't hesitate to contact me. Let's get the conversation started!
Church: Sandvikskirken/ Makeup Artist: Torhild Kristine / Reception location: Alvoen, Norway