Six years after their first date their wedding cake echoed their first adventure together. This North Carolina native couple, living in Colorado, came back to the Chapel Hill area to celebrate their marriage with family and friends. It was such an amazing coming together to make their wedding day happen, from Trey's aunt that did Sarah and the bridesmaids hair, to Debbie (mother of the bride) recommending me for photography, to Suzanne (Trey's mother) making their cake topper. On their first date Trey showed Sarah he was a romantic right off the bat, carving their initials in a heart on a birch tree, which he took her to in 2010.
The nice thing about their venue is their wedding party was able to stay at the beautiful rustic rooms above the reception in the barn, which is also where they got ready for their day, across the hall from one another. They were sure to be cautious of potentially running into each other before their first look. At one point Trey even lovingly said through the guest room walls, "I'm doing my best not to see you, darlin'!" A southern gentleman!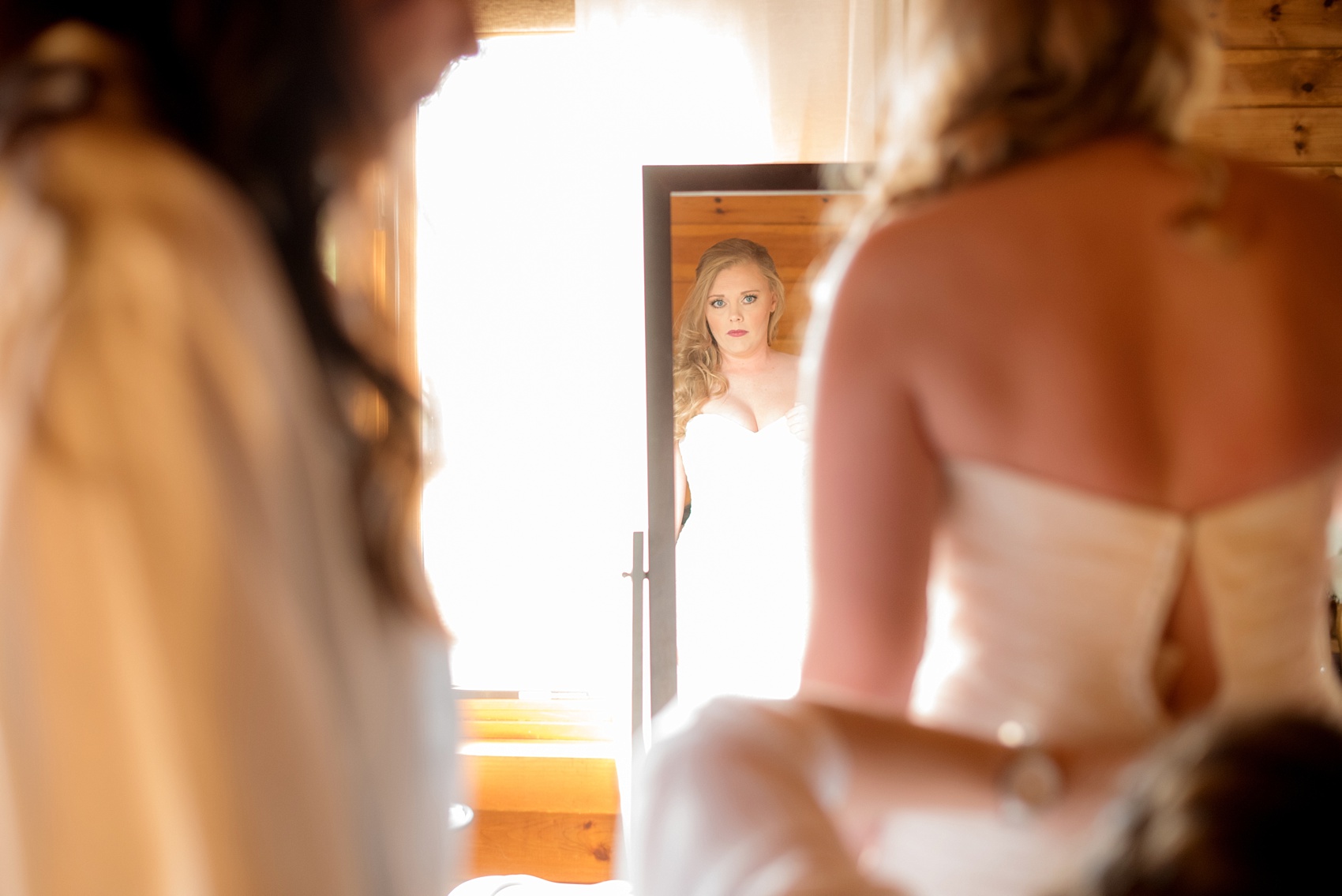 Sarah wore a beautiful strapless lace gown and sparkly heels for her special something blue with the finishing touch of a pearl necklace her mother-in-law got her from Hawaii. Their wedding invitation matched their color palette, with a navy blue background and silver foil accents.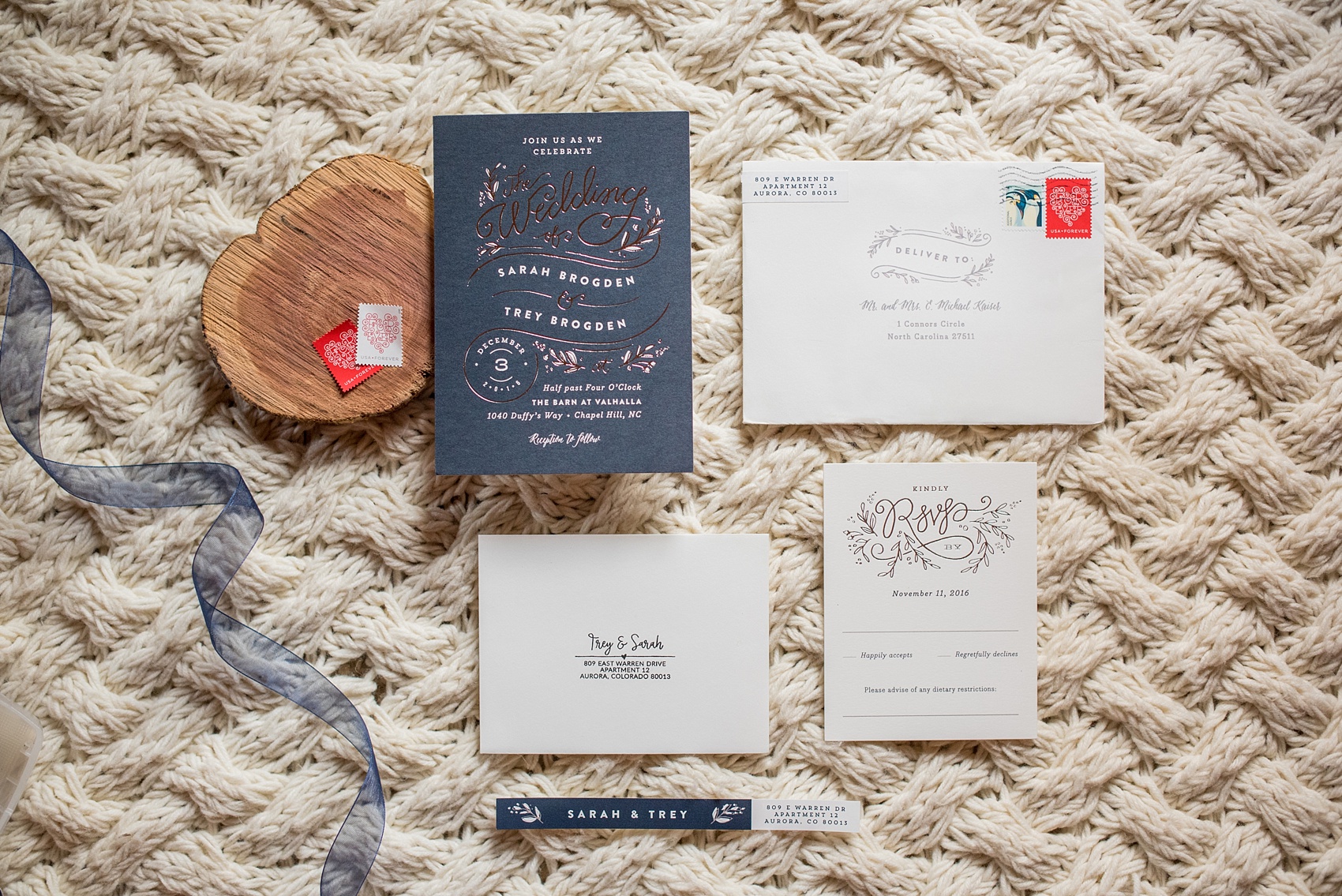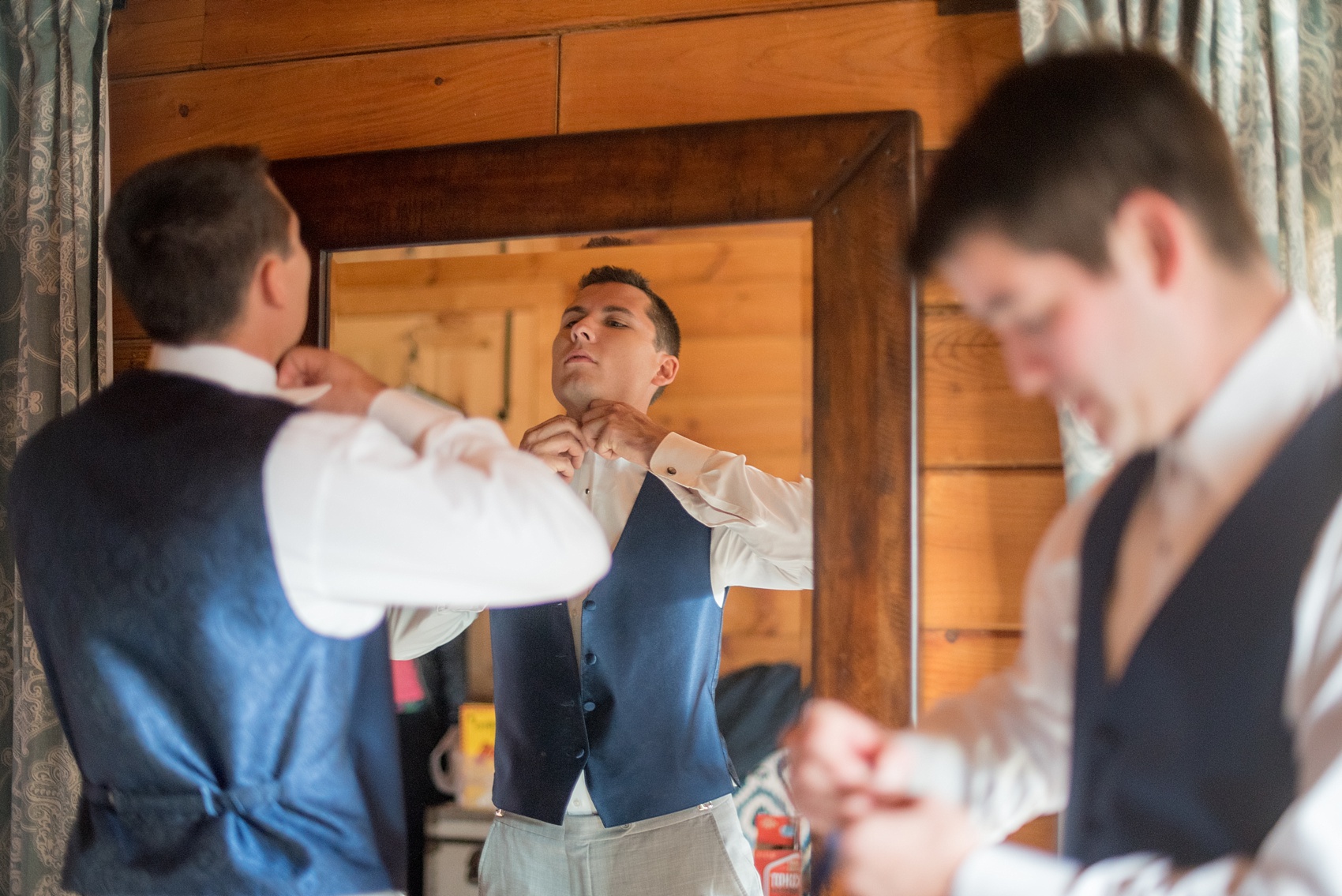 Just before heading down to their first look Sarah saw her father – it was the first time that day he saw his daughter dressed as a bride and Sarah got a little teary-eyed. I love this photo of her sister Katie next to her, after she handed her a napkin to dry her eyes. After that it was time for Trey to see Sarah and he immediately commented how beautiful she looked, asking her to do a spin to see the back of her dress with its length of buttons leading to her lace train. He shed a tear too!  
We had a great time walking around the property taking iconic photos of them and it was so heart-warming for me to see, first hand, how sweet Trey is with his true love: gentle, loving and very affectionate.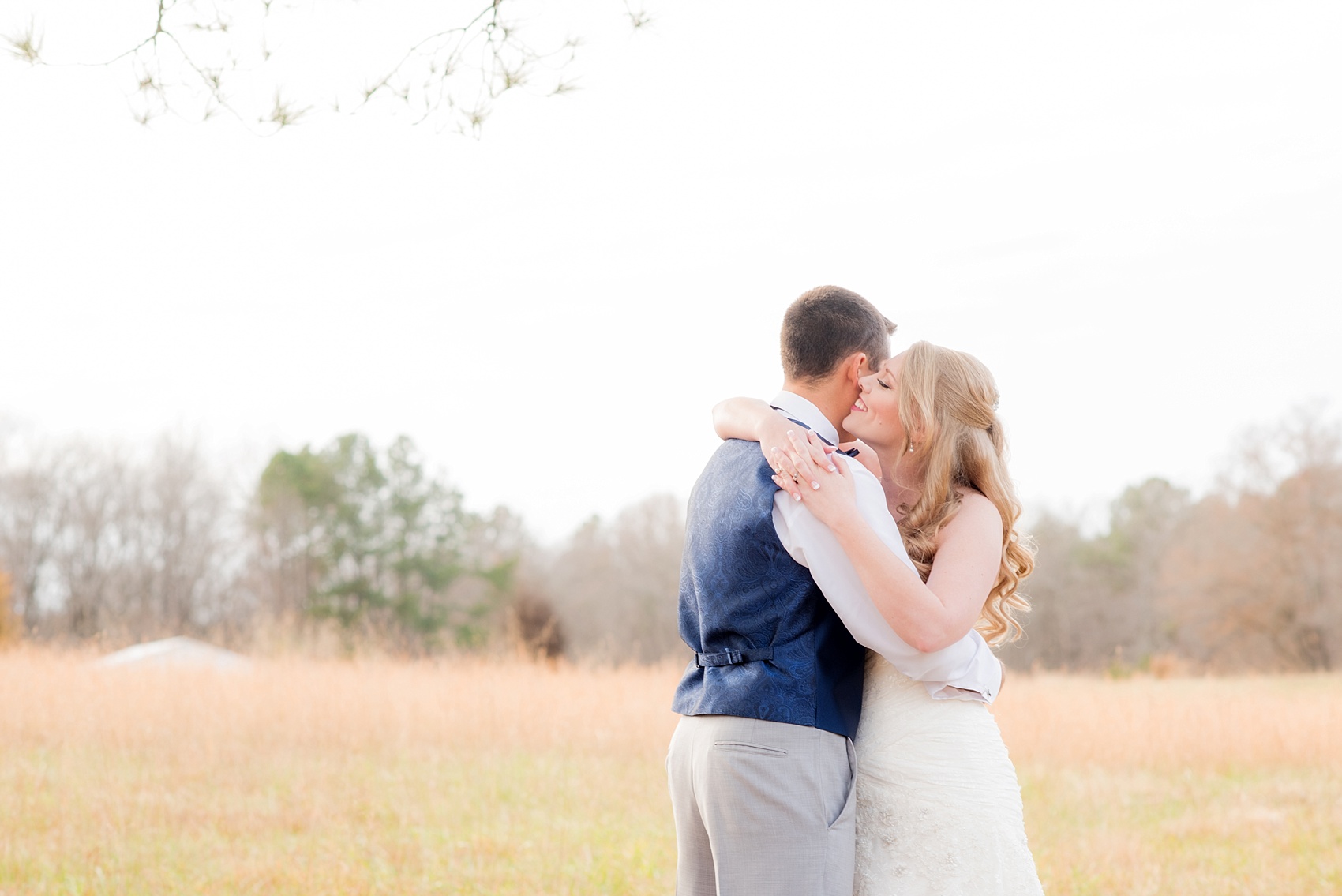 Trey proposed to Sarah on a mountain in Colorado with a three stone diamond ring, between two blue stones, Blue Topaz for his birth month. His braided white gold wedding band was unique as well and is engraved with their wedding date.
Sarah's bridesmaids wore knee-length lace navy blue dresses and carried white and blue calla lily and hydrangea bouquets. It was a bit chilly on their December wedding day so Sarah had a navy pashmina, and her bridesmaids grey, to keep them warm for some outdoor photos.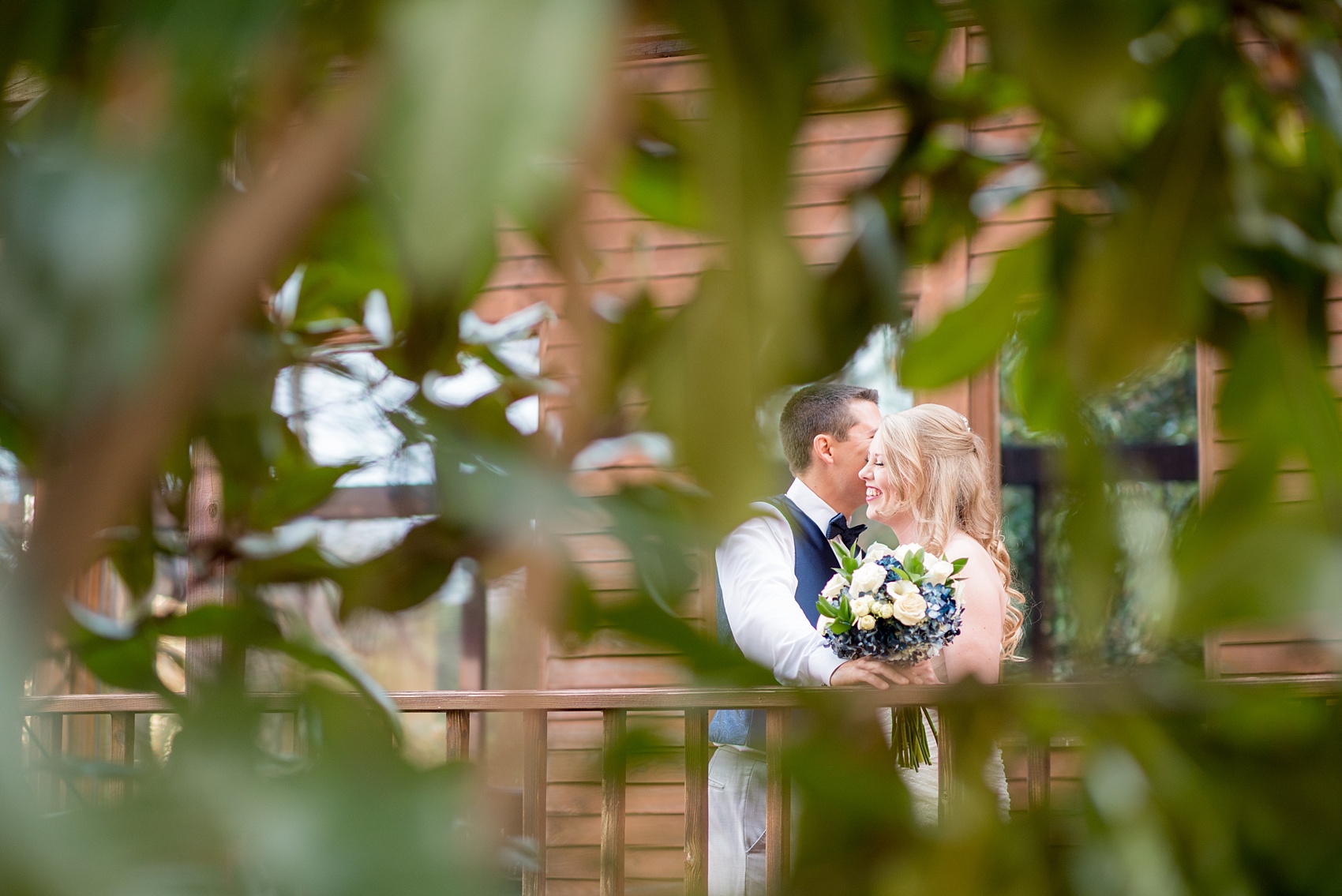 A sweet southern kiss through magnolia tree leaves with the cutest couple!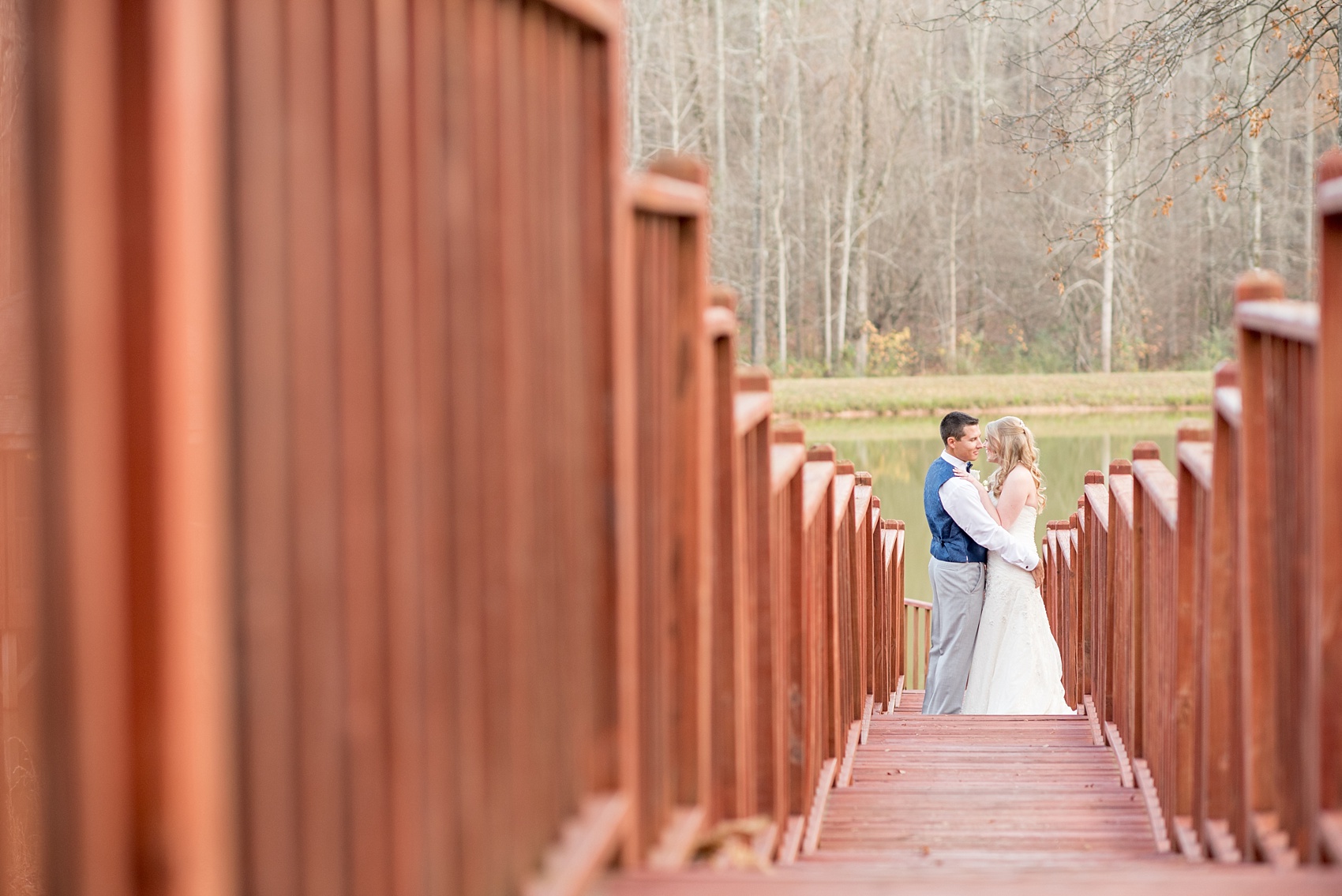 Their wedding ceremony was a cozy one by the fire…literally. 🙂 And it was so great to see their grandparents perform their ceremony and hear the crackle of the hearth behind them as Trey and Sarah recited their vows and exchanged rings before their reception kicked off back at the barn.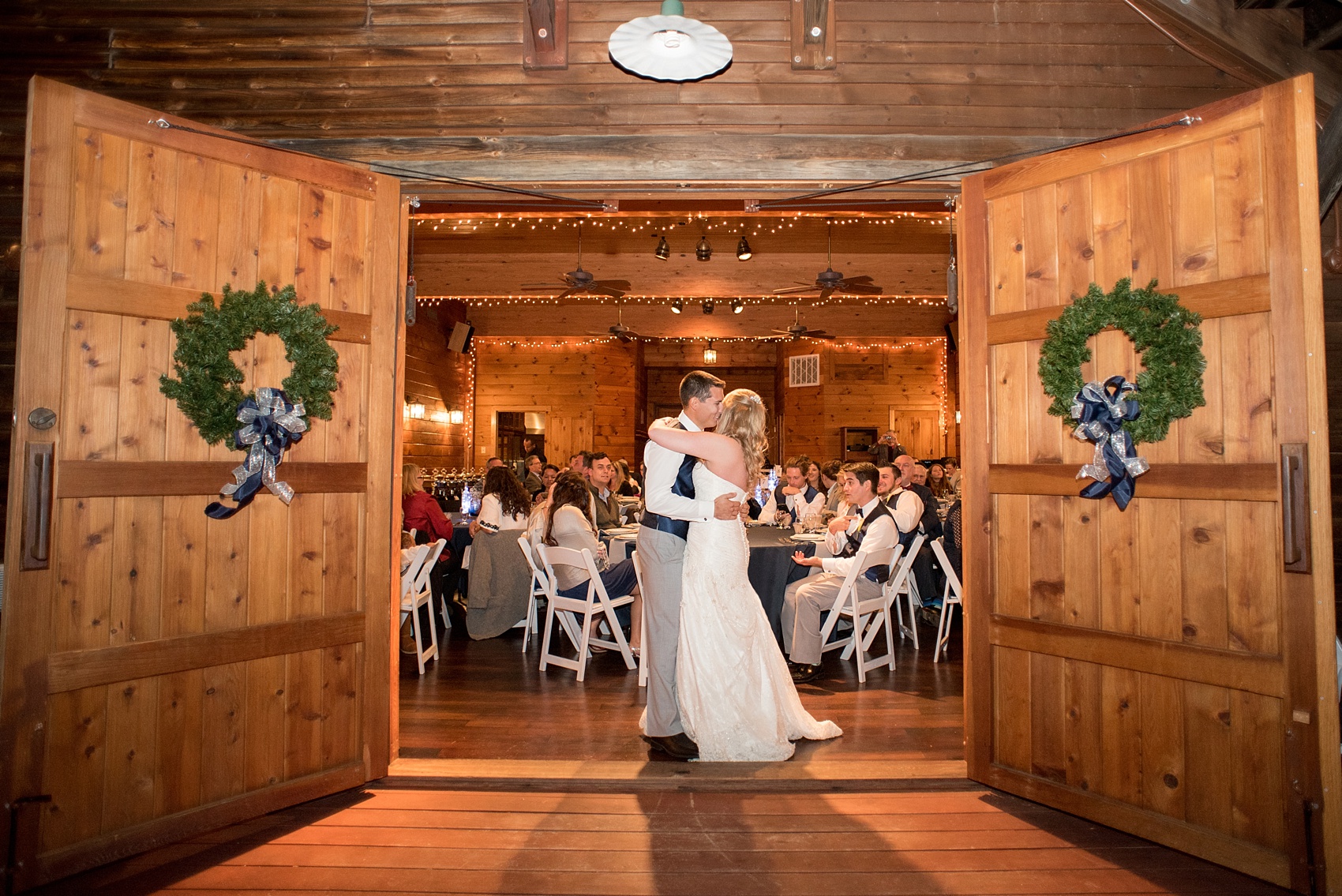 And so it started with initials carved in birch tree during their first date and ended with that reminiscent cake and Mr. and Mrs. cake topper. Congratulations to Sarah and Trey – more the romance be everlasting and these photos forever help you cherish an incredible day.
Venue: The Barn at Valhalla / Coordinator: Courtney Allen / Florist: Every Bloomin' Thing, Inc. / Invitations/paper suite: Minted, Design: Rolling Names Foil-Pressed Wedding Invitations / Makeup Artist: Marissa Perez / Hair Artist: Array Hair Co., Amanda / Bridesmaids Dresses: David's Bridal / Men's Tuxedos: Men's Warehouse / Engagement Ring: Jared / Bride's Wedding Band: Kay Jeweler's Groom's Wedding Band: Diamonds Direct / Caterer: Chrisabethella Catering / Cake: Confectionate Cakes
For more visit Facebook and Instagram…and if you're getting married and are interested in discussing your day, please contact us!