Being a Raleigh wedding photographer is always made sweeter when the location is downtown, an area that truly has my heart in the city! And when a couple's as lovely as Amanda and Alex I can't help but feel so grateful and elated I do what I'm passionate about, everyday.
I loved working with Sally Oakley Events again to coordinate their Friday wedding. There were so many elements that stood out that really embraced the season and the historic venue, All Saints Chapel. It was a beautiful celebration for this couple who found love online (how many, many of my couples met!) and shares a love of travel and family.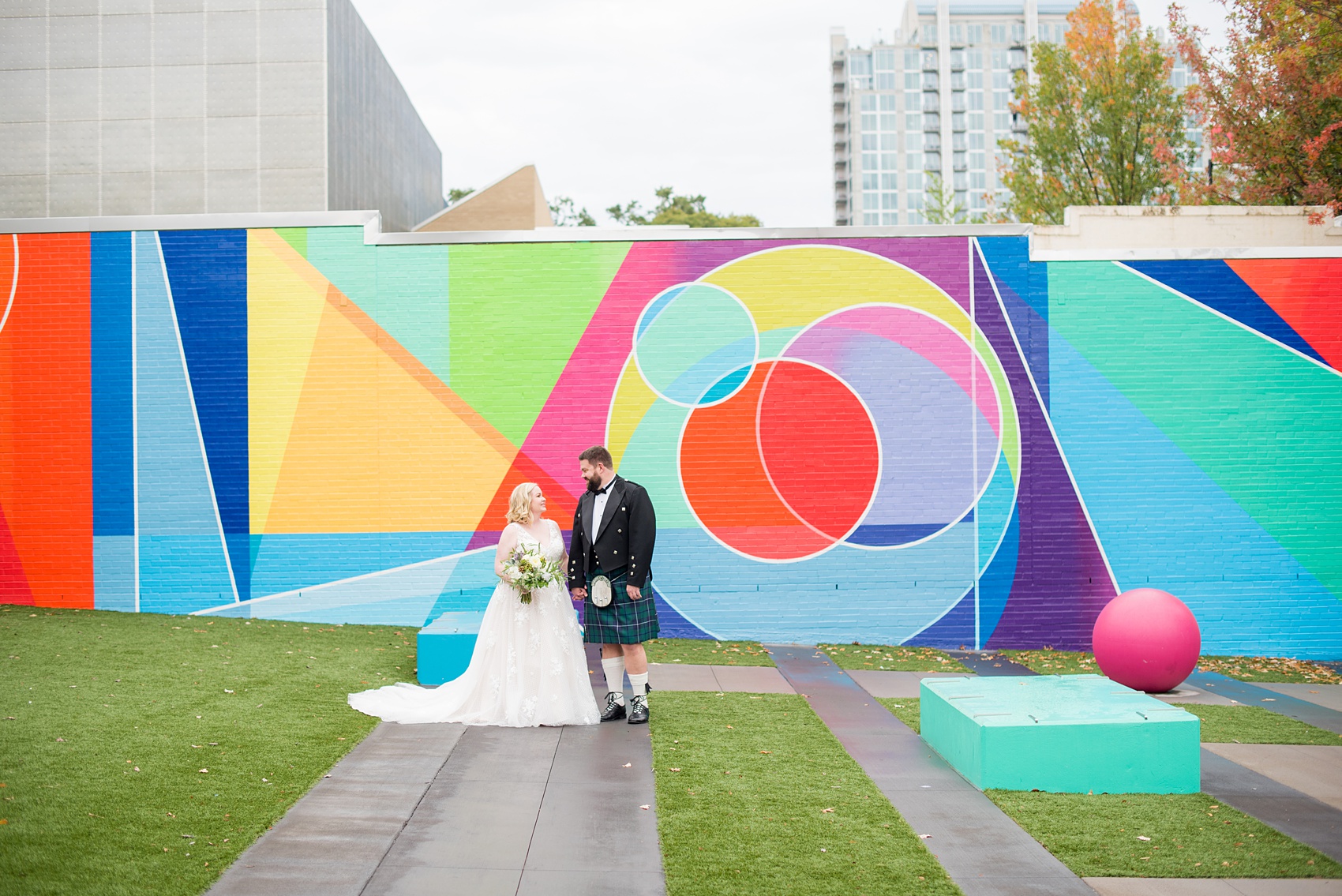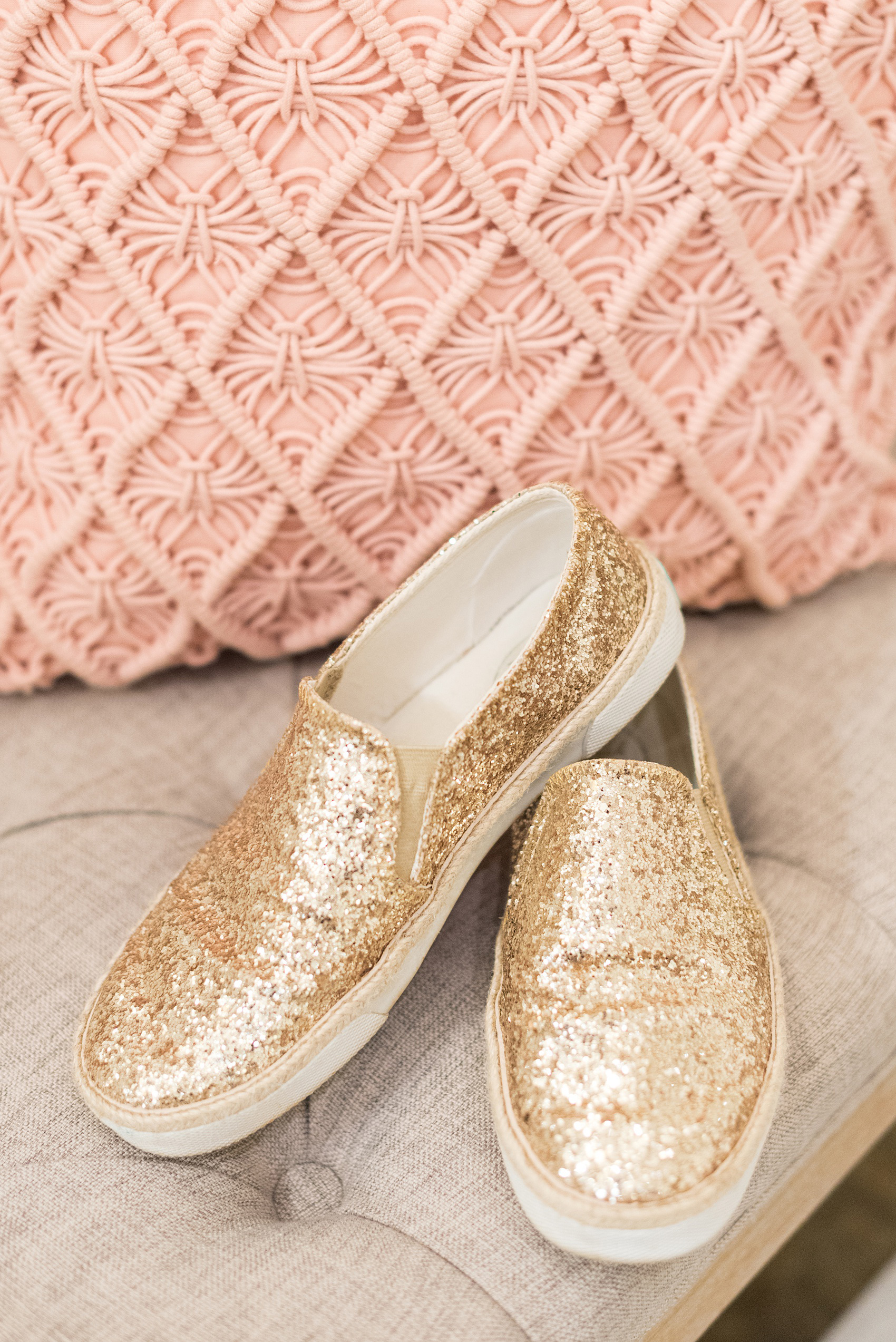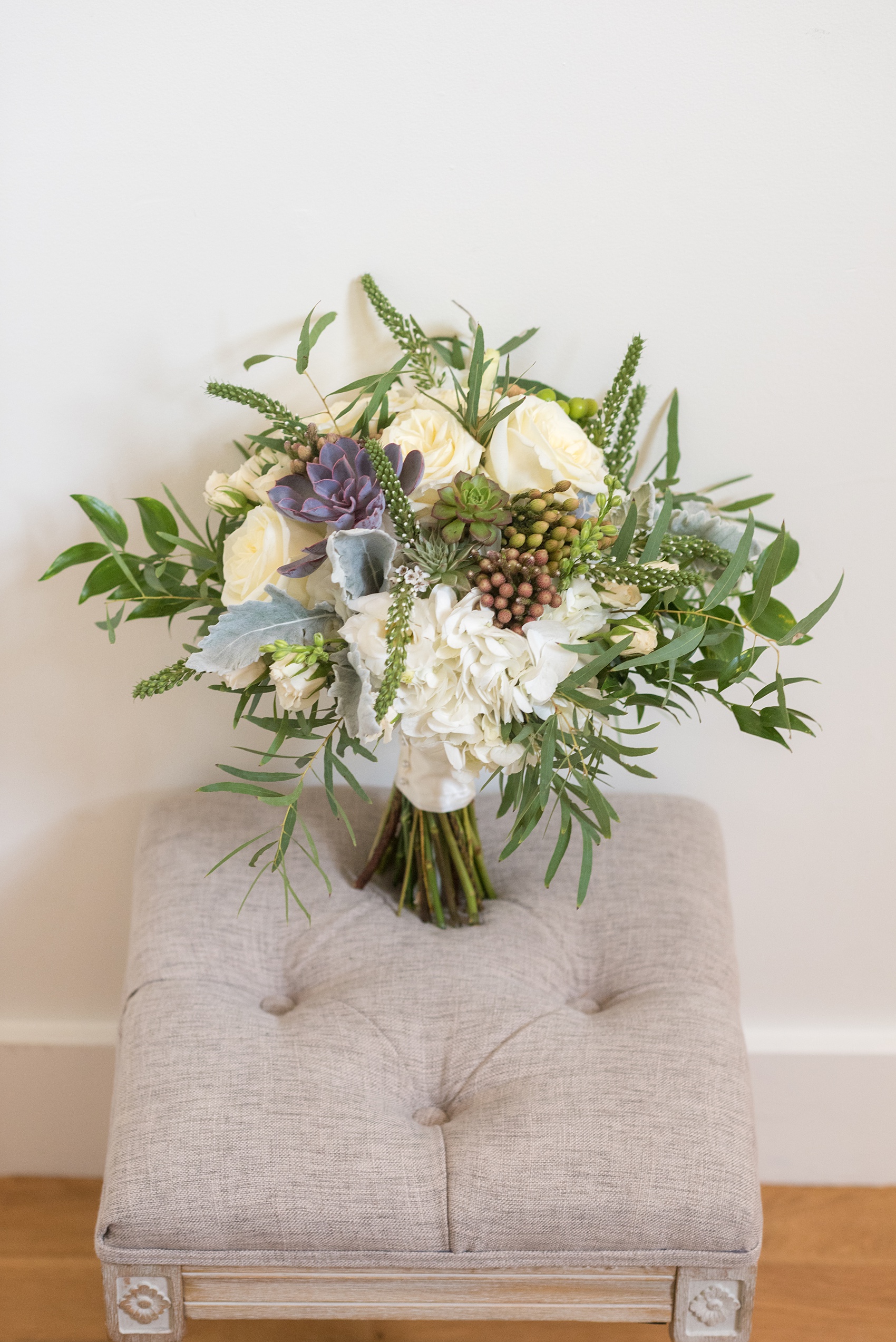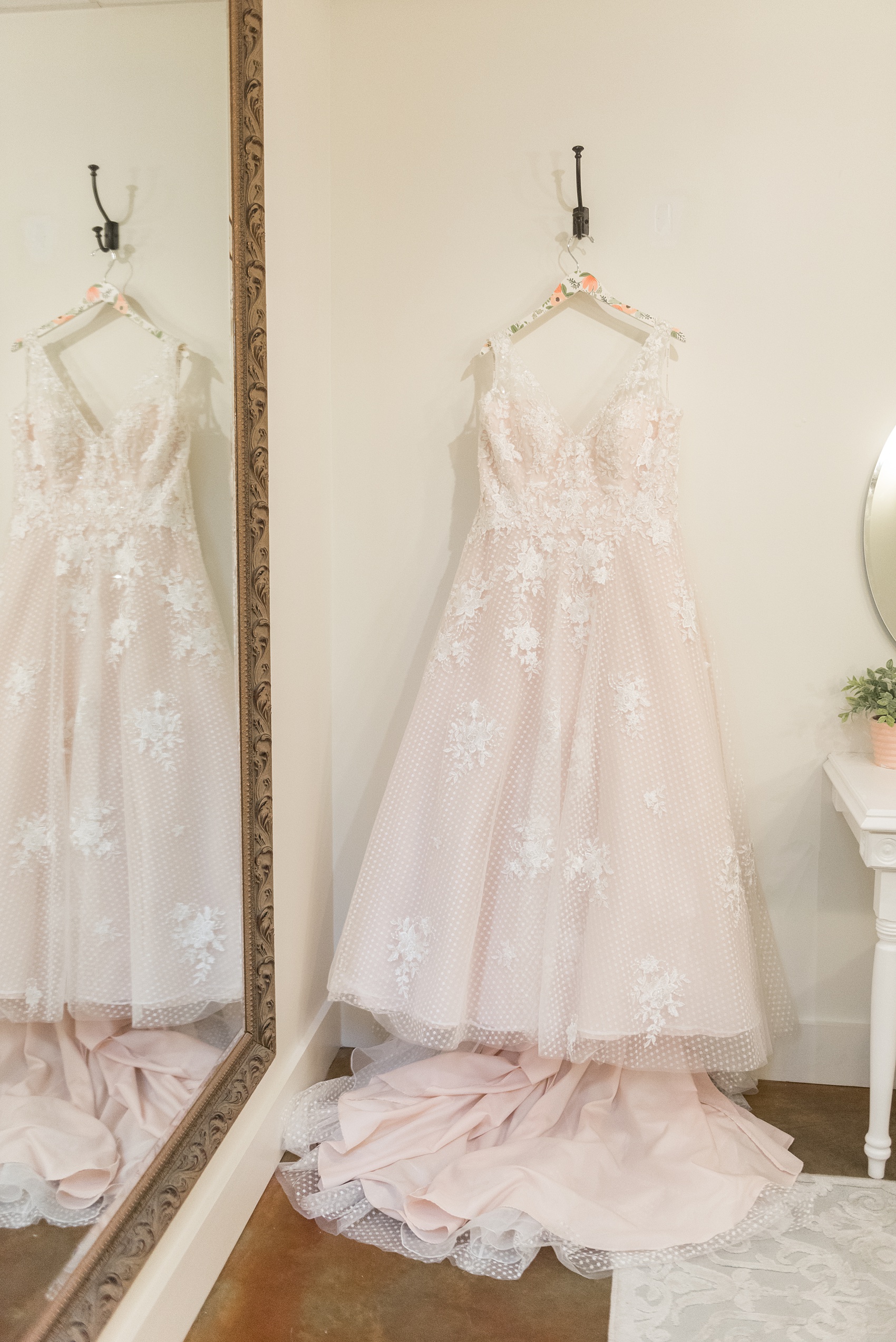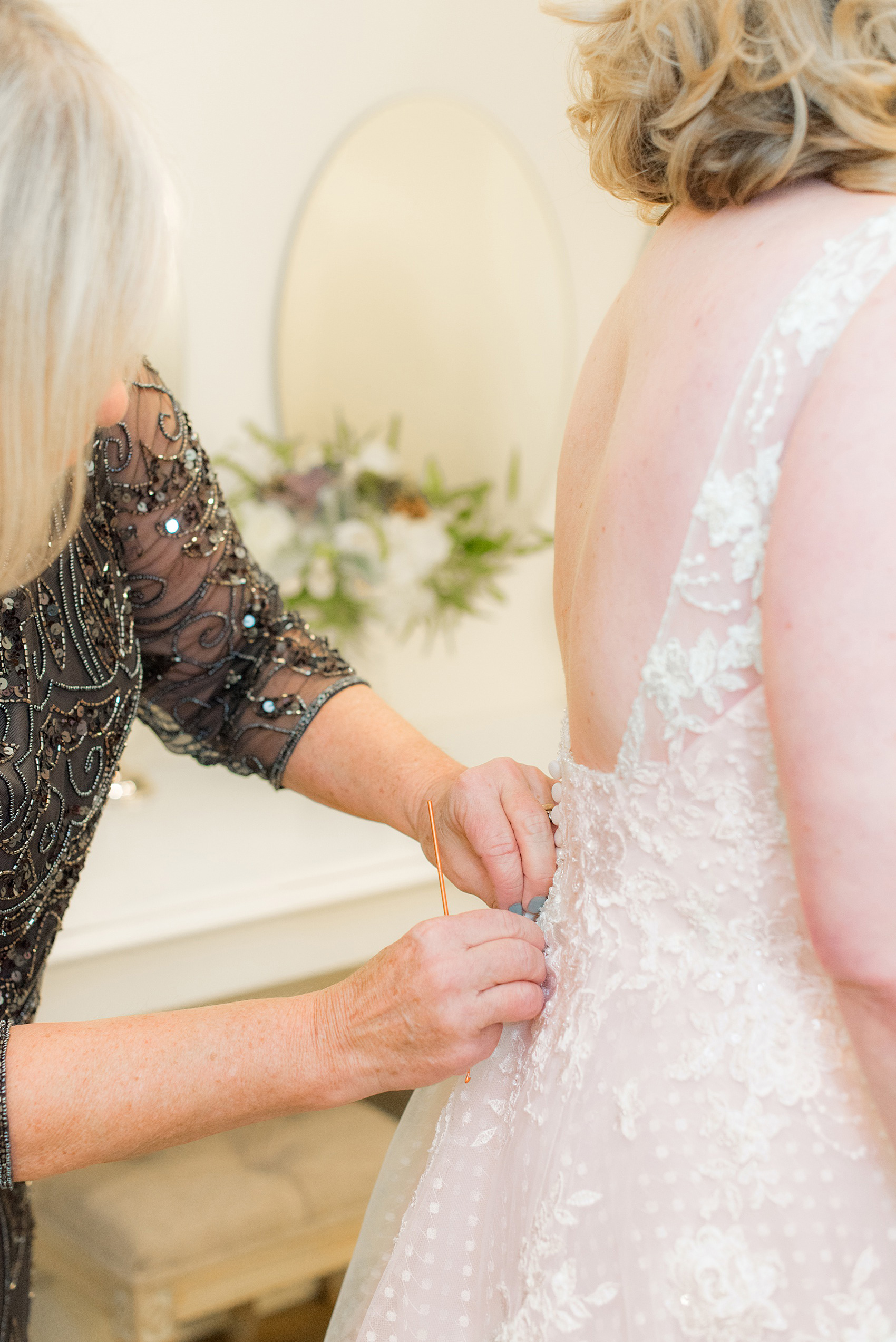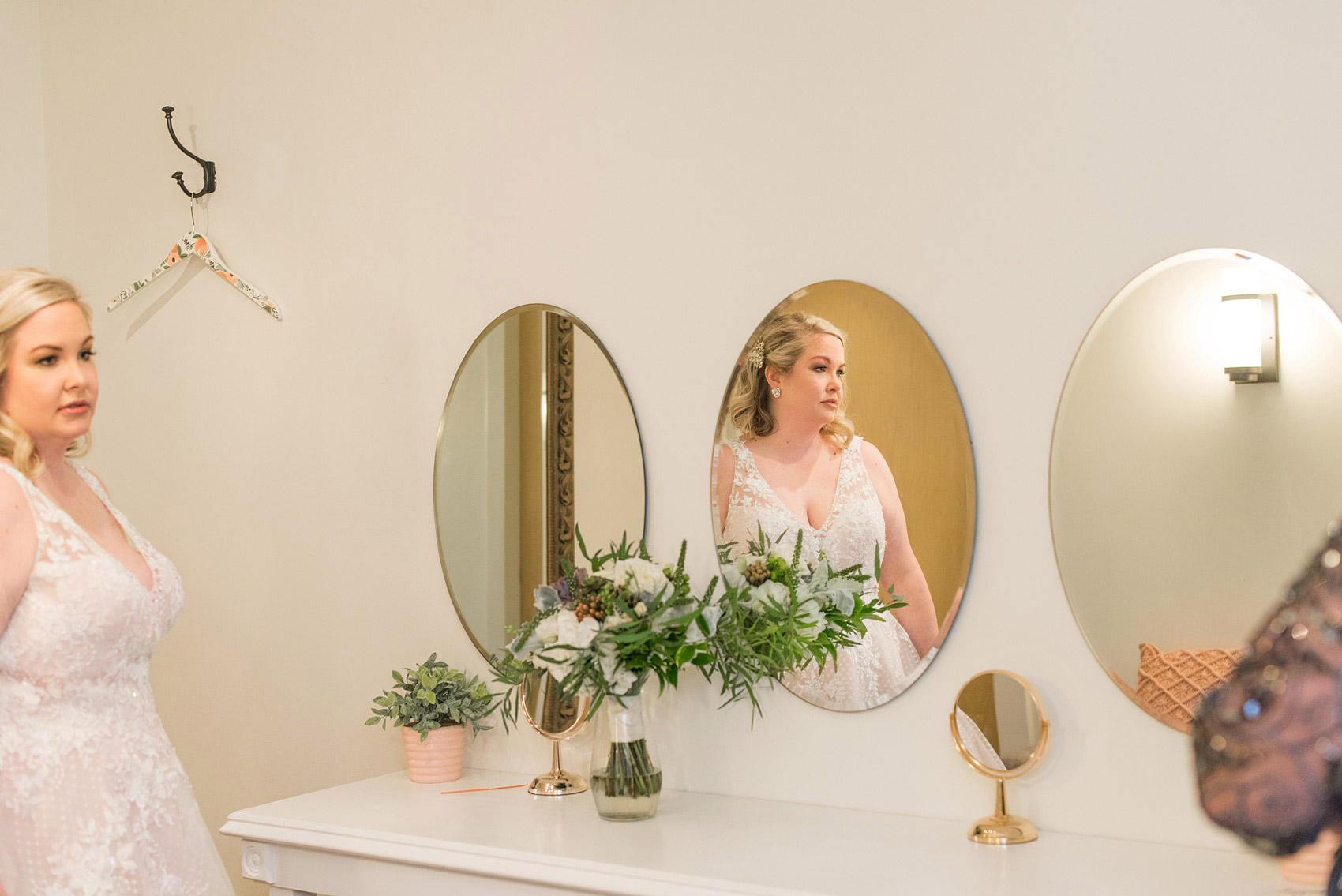 The newly modeled bridal suite at All Saints Chapel made this downtown Raleigh wedding photographer so happy! I loved how the pink pillows brought out the blush underlay in Amanda's dress. I actually opened the garment bag for her gown and my jaw-dropped. I love the dots on the lace and the pop of pink was such a welcomed surprise! The hangers in the suite (very Rifle Paper Co. inspired with hand drawn flowers) were perfect for a dress photo.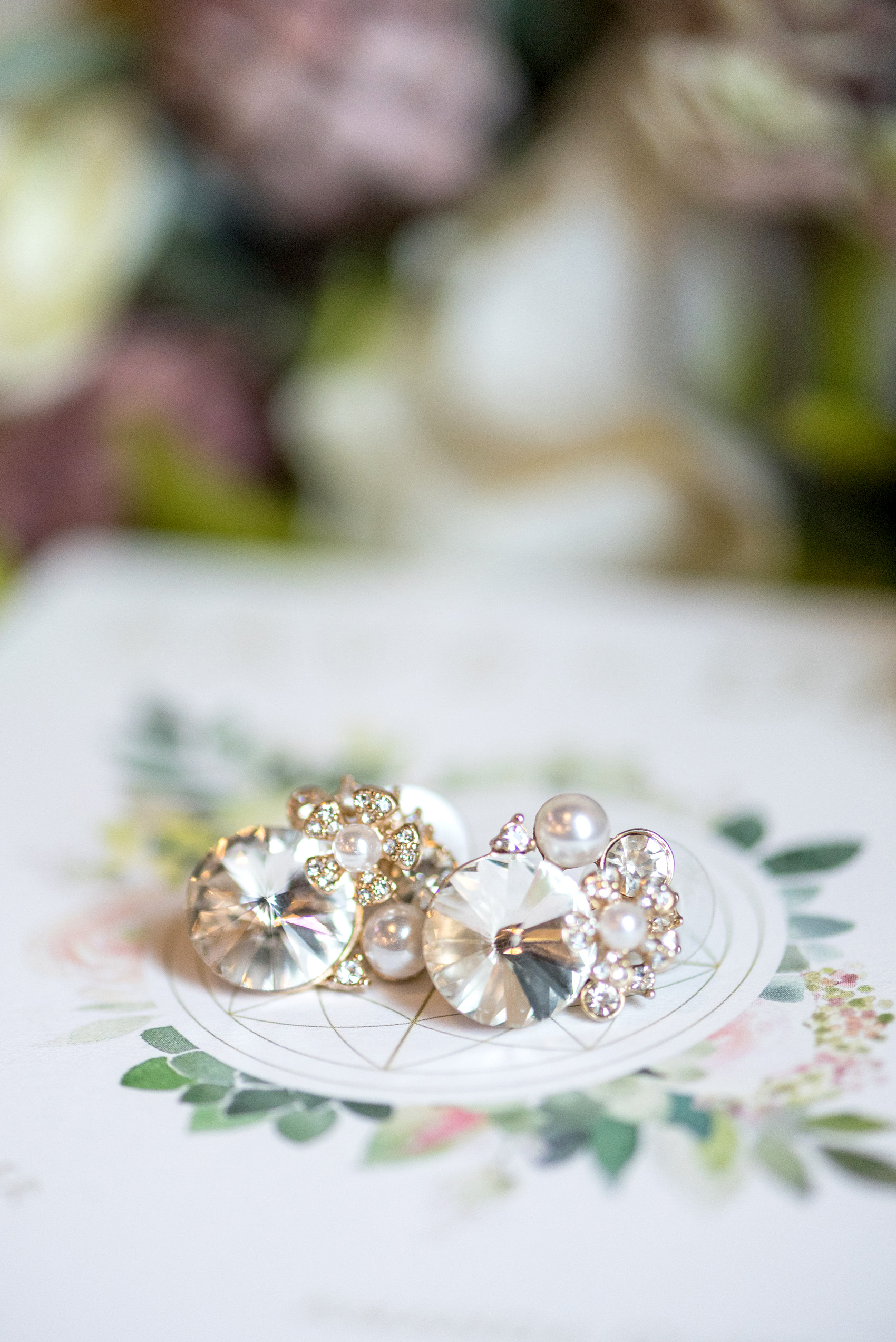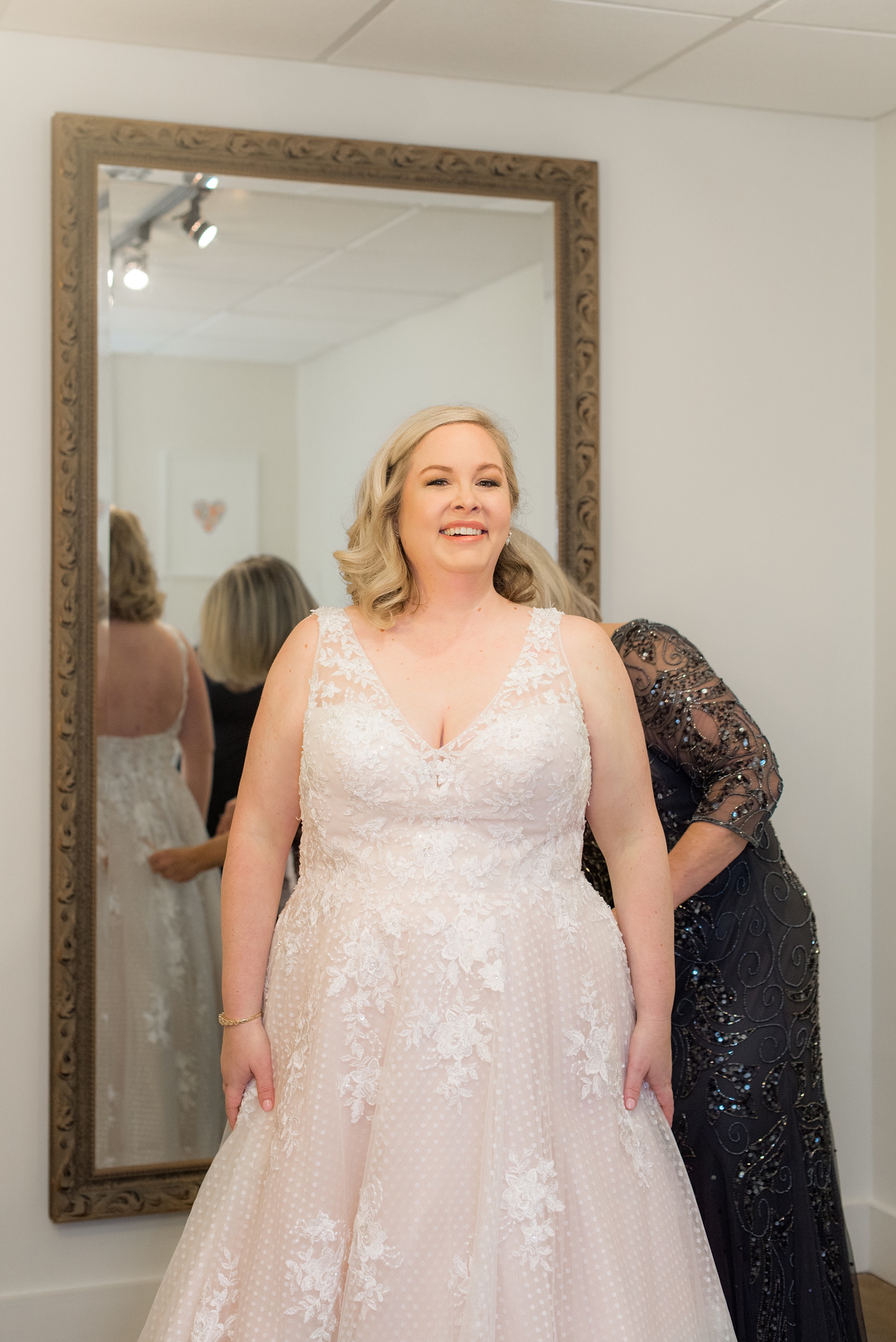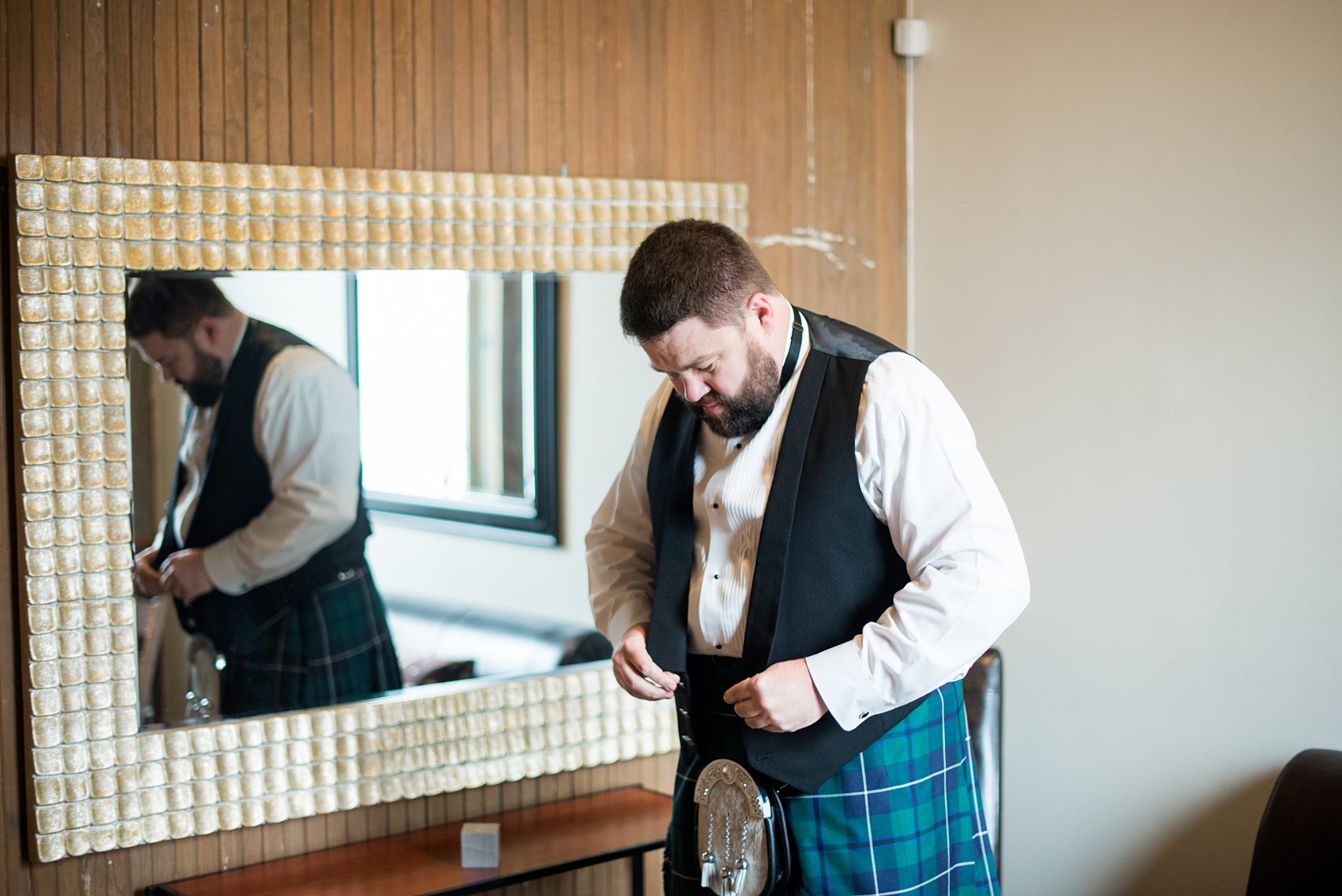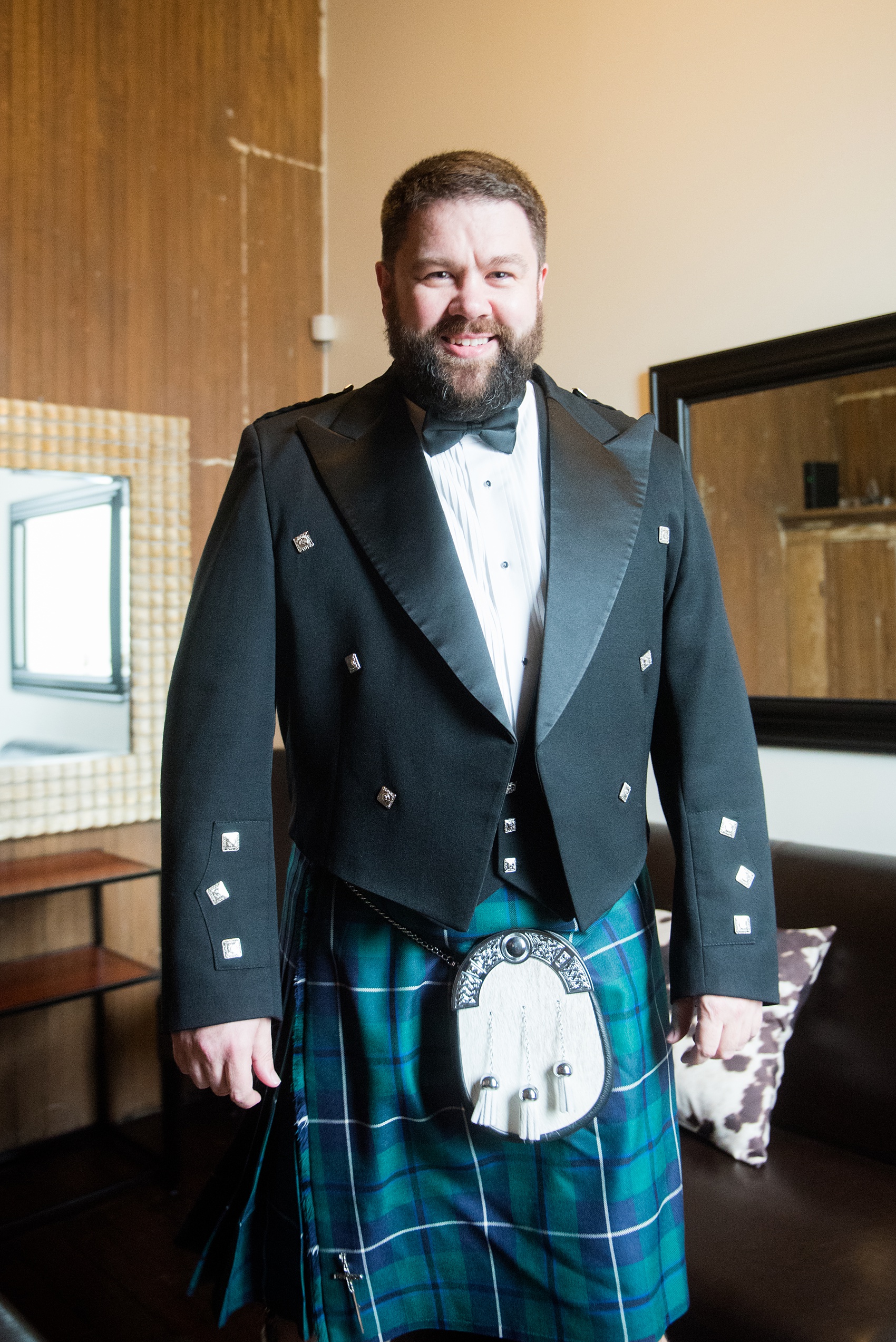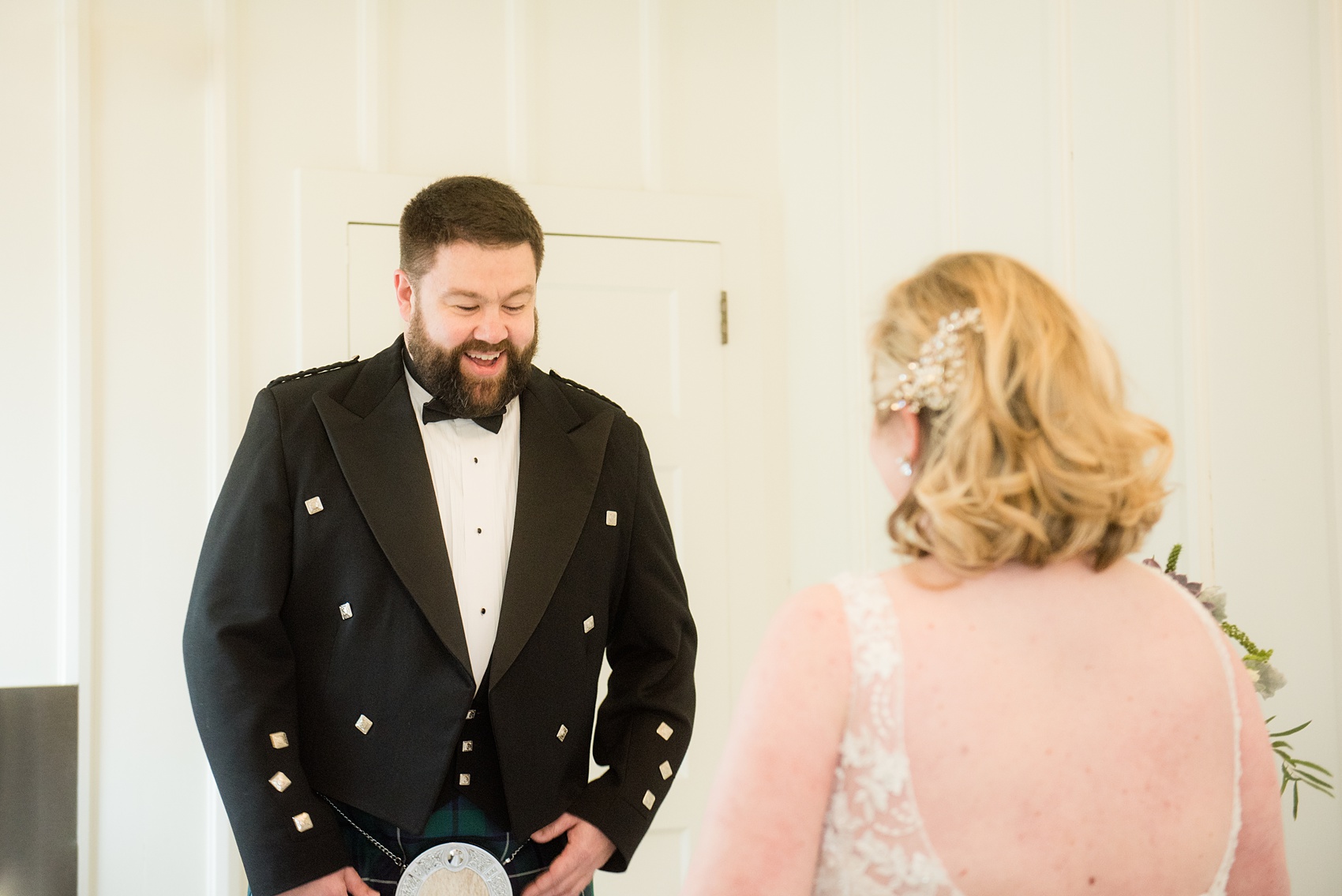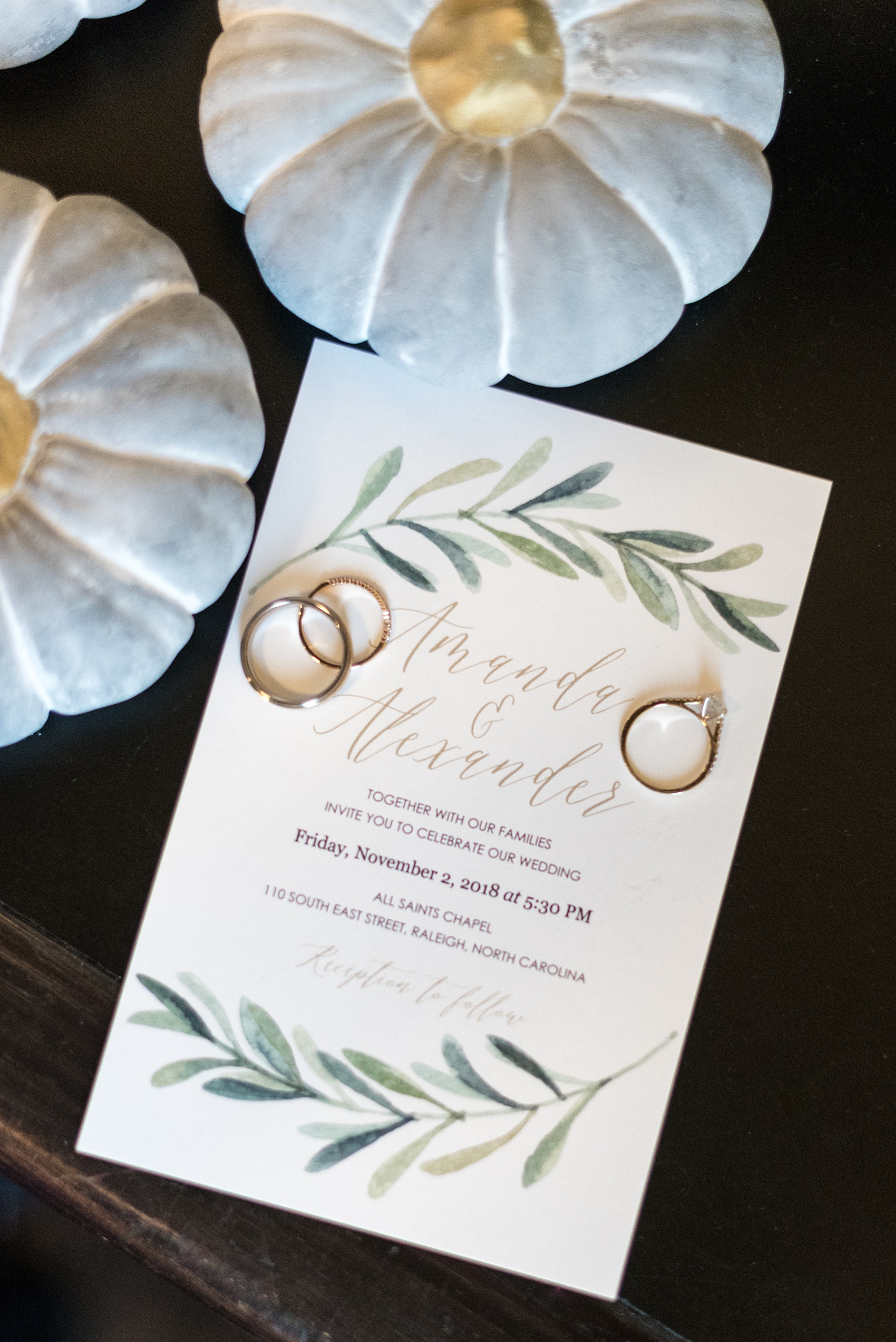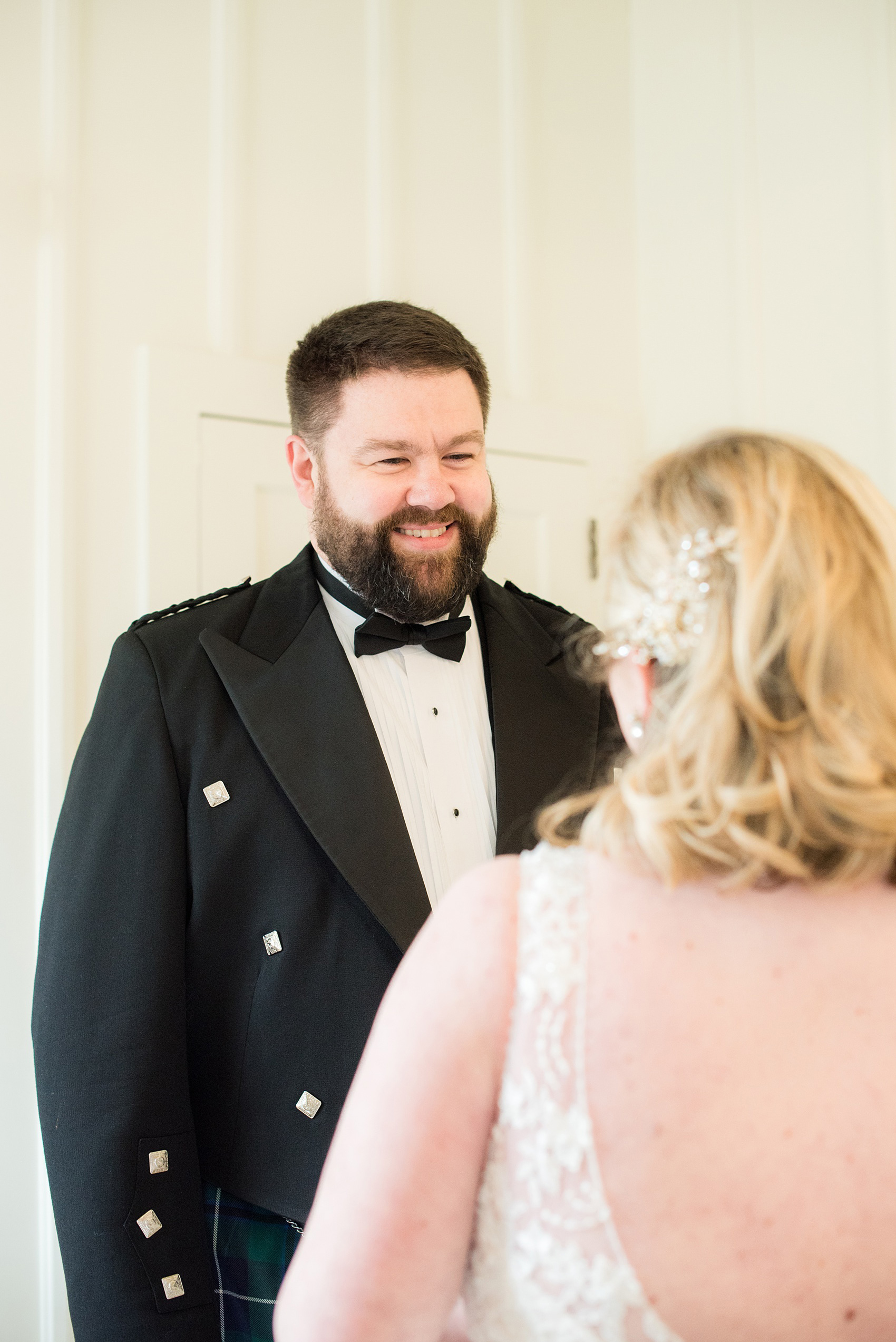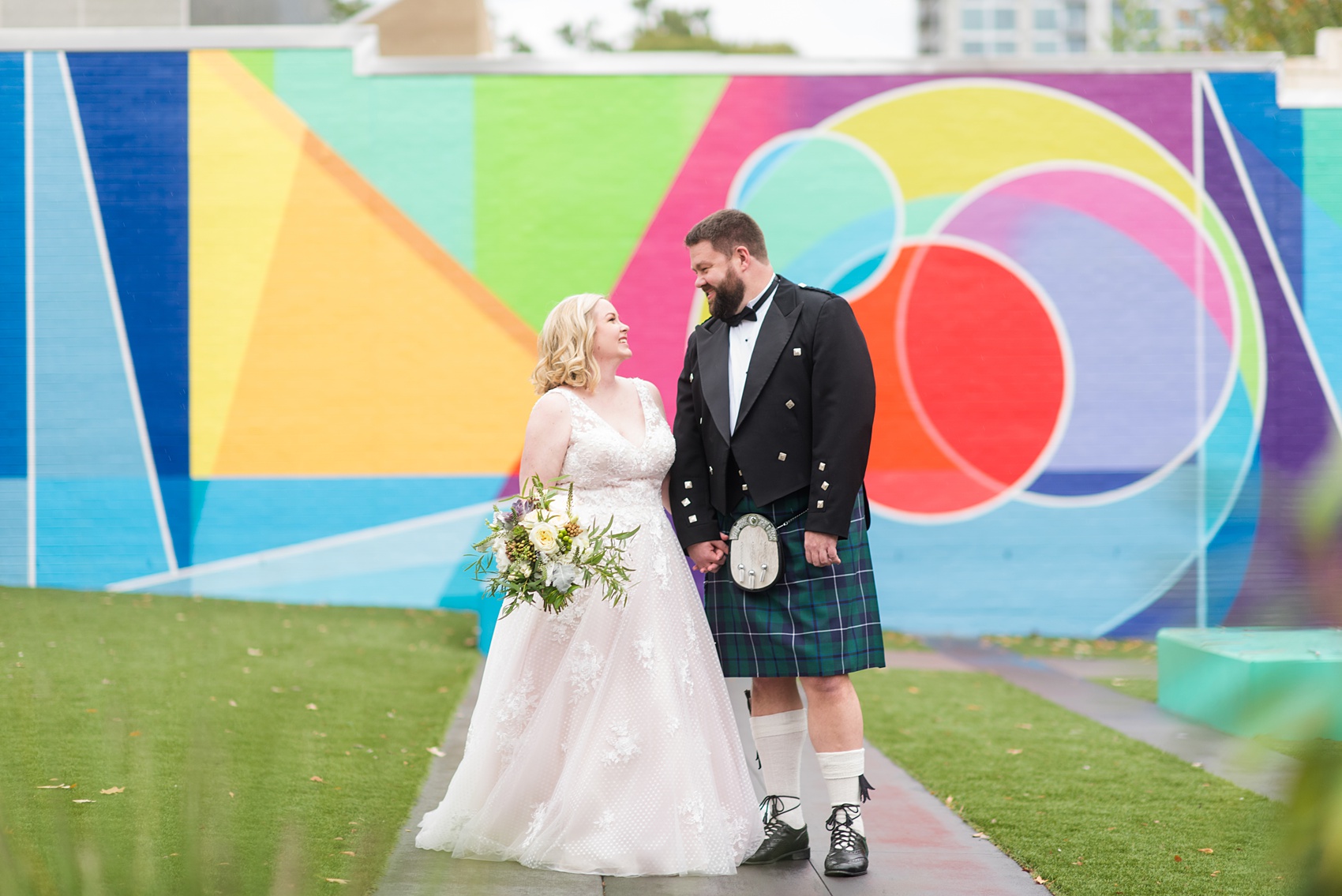 I am absolutely obsessed with their photos by the Marbles mural downtown, by Lisa Gaither Art. I've been wanting to photograph a couple in front of it! And Amanda and Alex were the perfect pair for it. I asked them if they'd be into the idea during our pre-wedding call, letting them know it's a very colorful mural and they were into the idea! We walked just a few blocks to the downtown Raleigh mural and I am over-the-moon with how the images turned out. The pink, green and blues in both of their outfits are really brought out by the colorful mural behind them. Yet there's enough contract with their complexions against it for them to really pop. These are definitely frame-worthy images!
It was also great to capture the incredible fall leaves in downtown Raleigh, for wedding photography that highlighted the season. We really lucked out that the fall colors were so vibrant during the first Friday in November.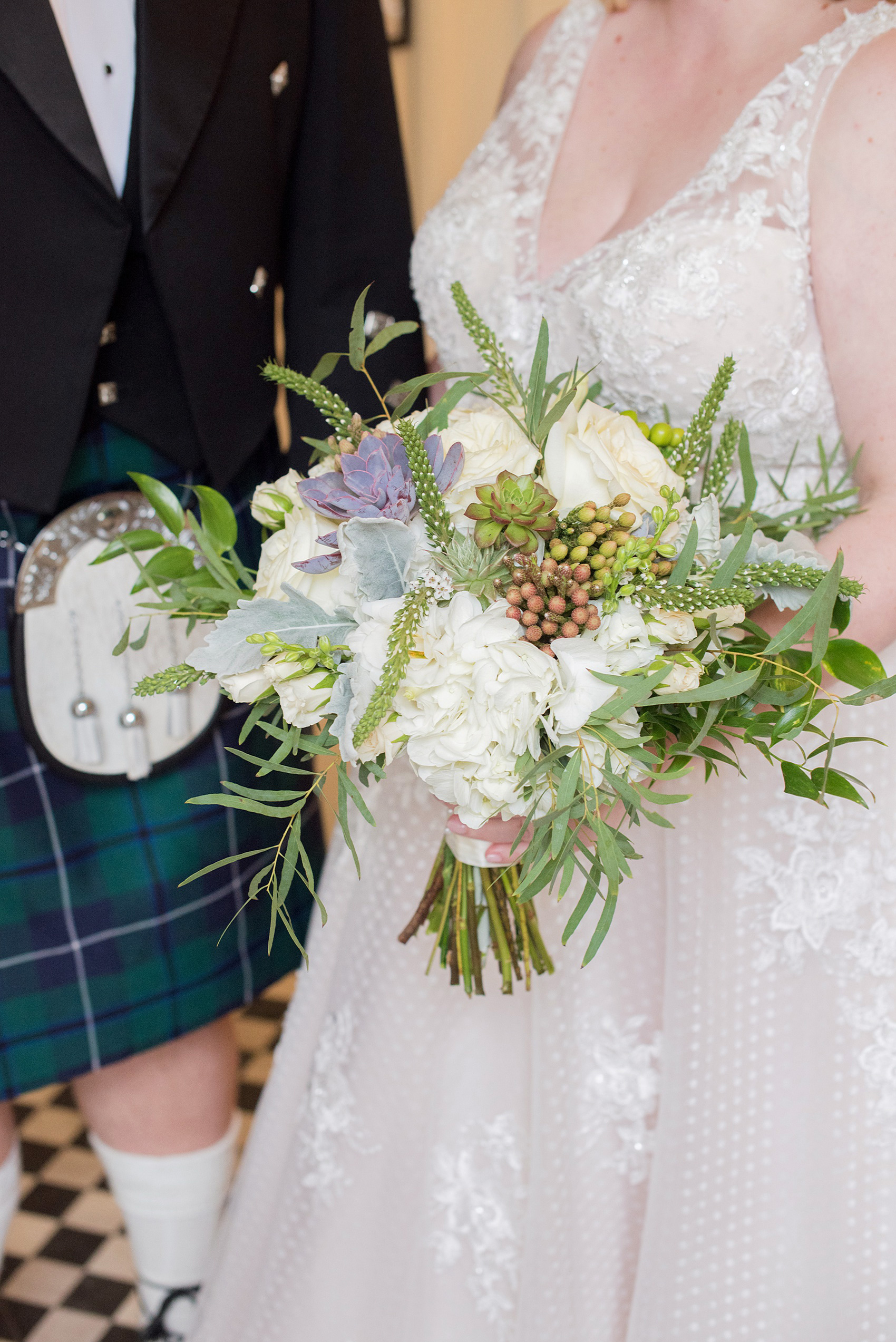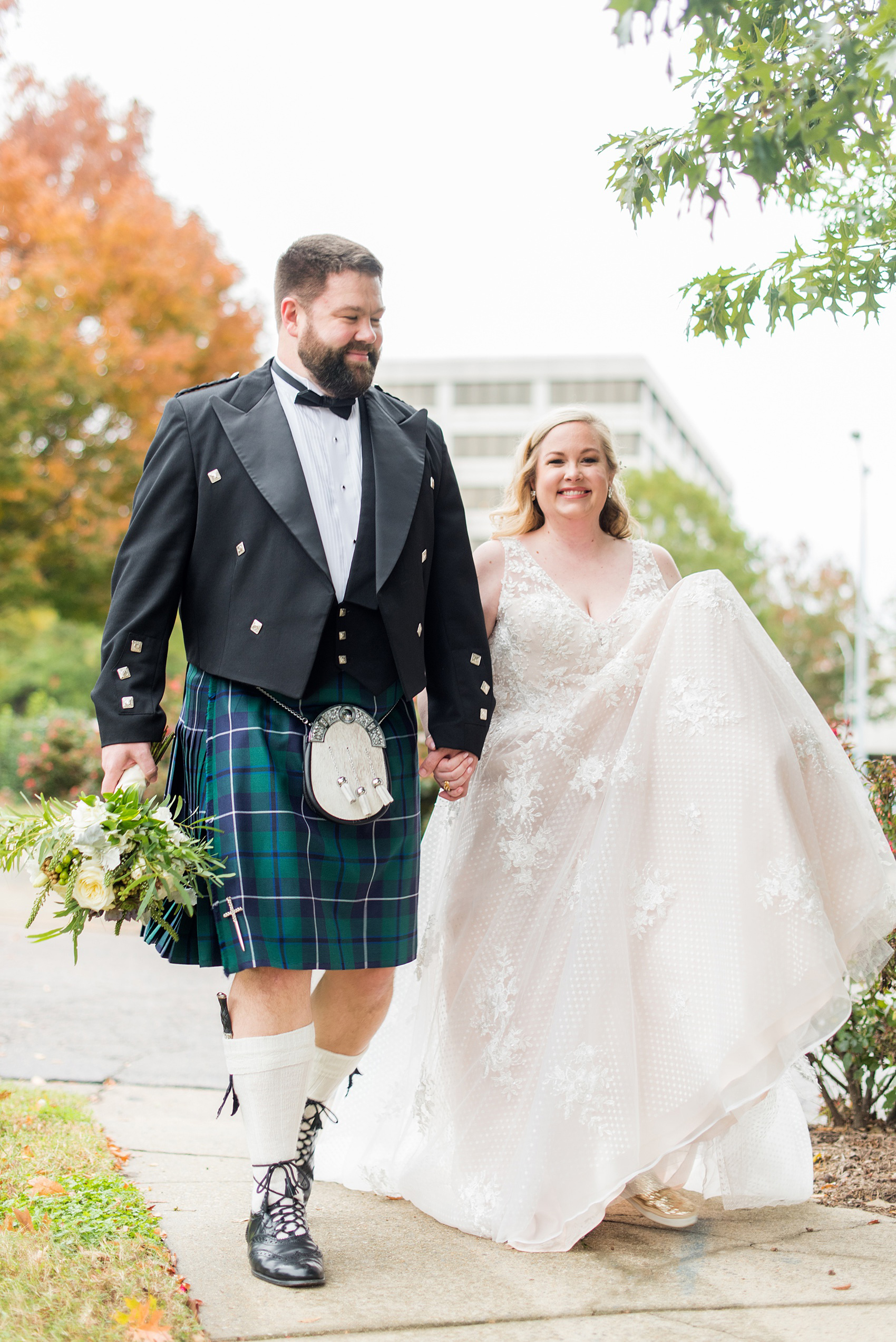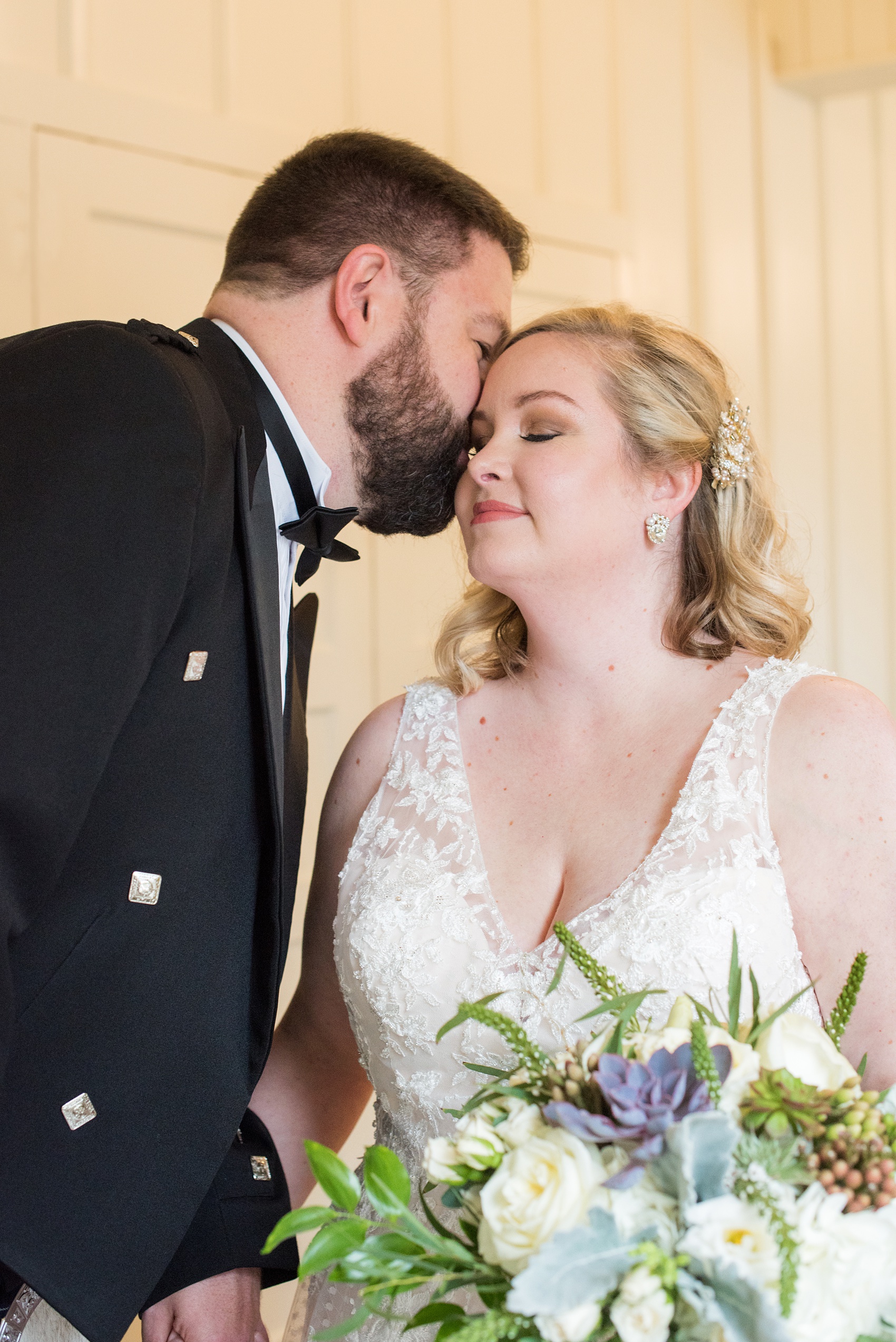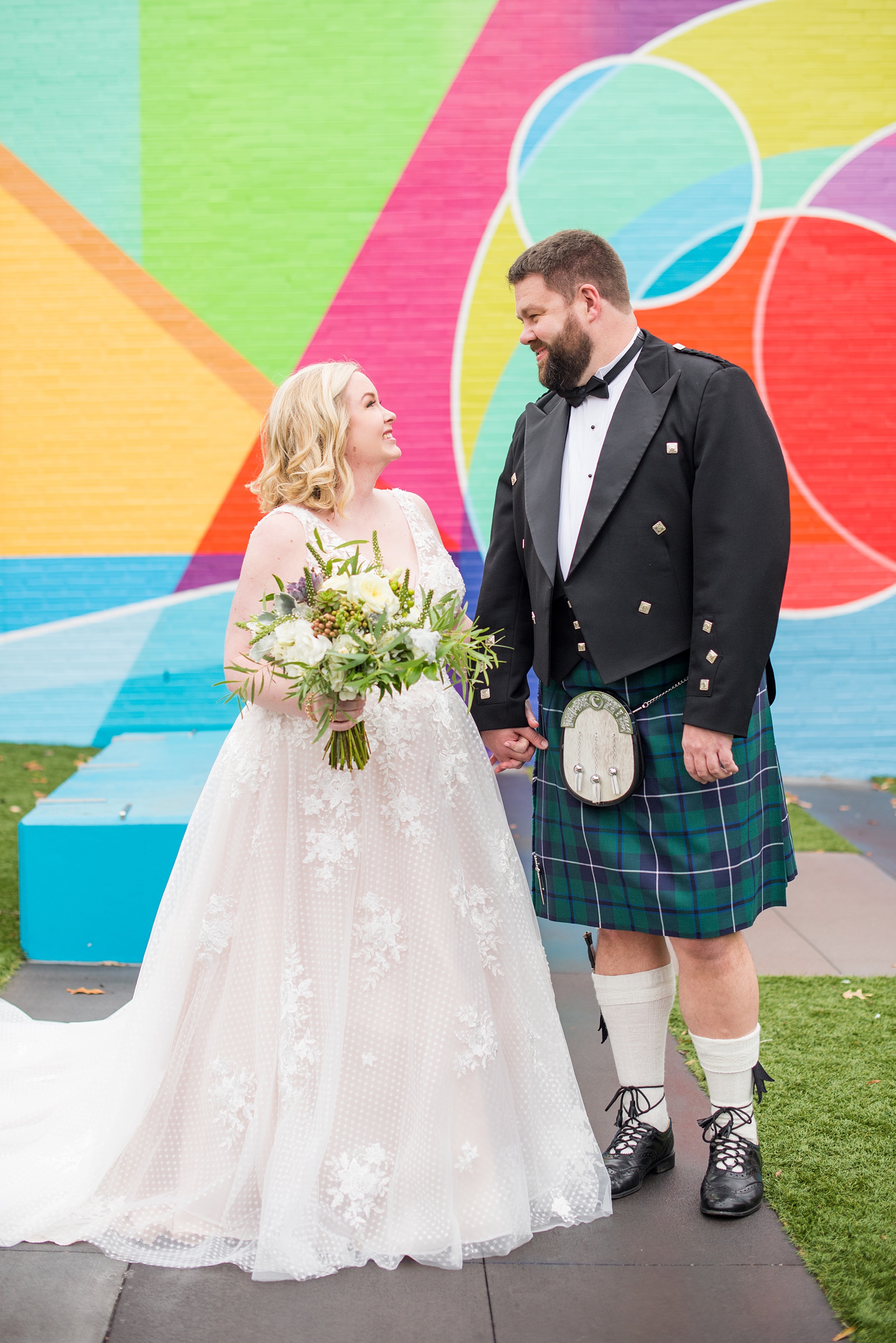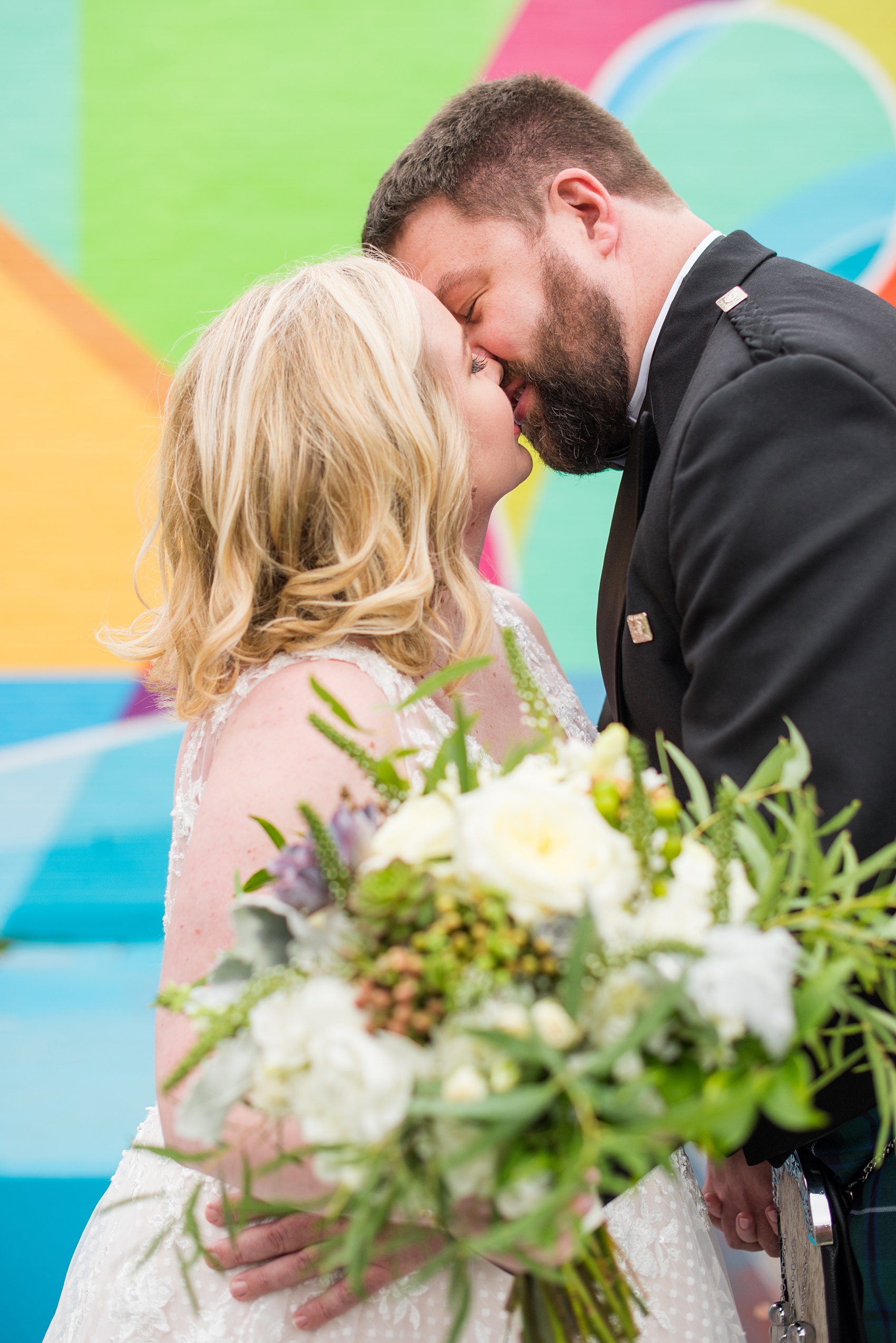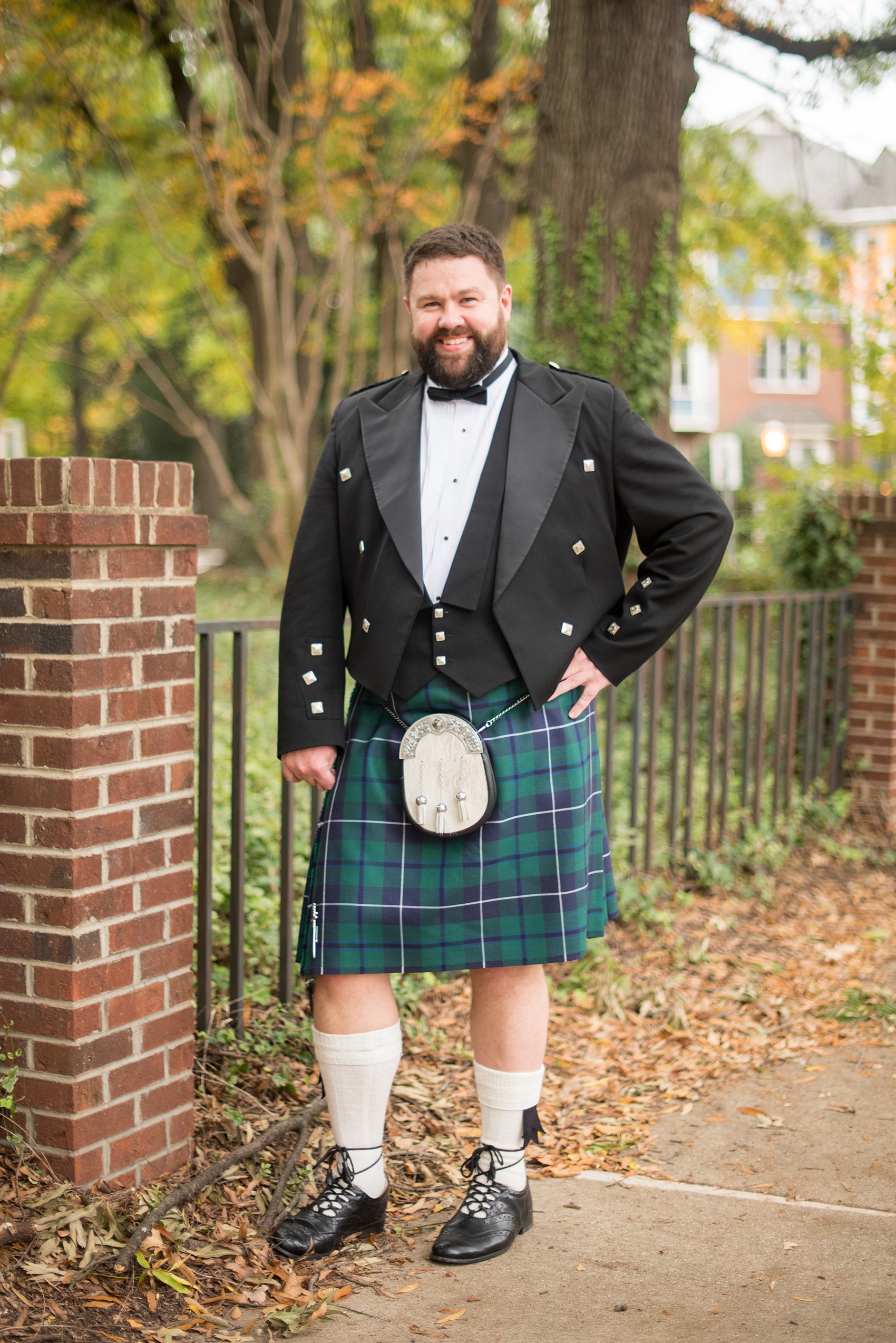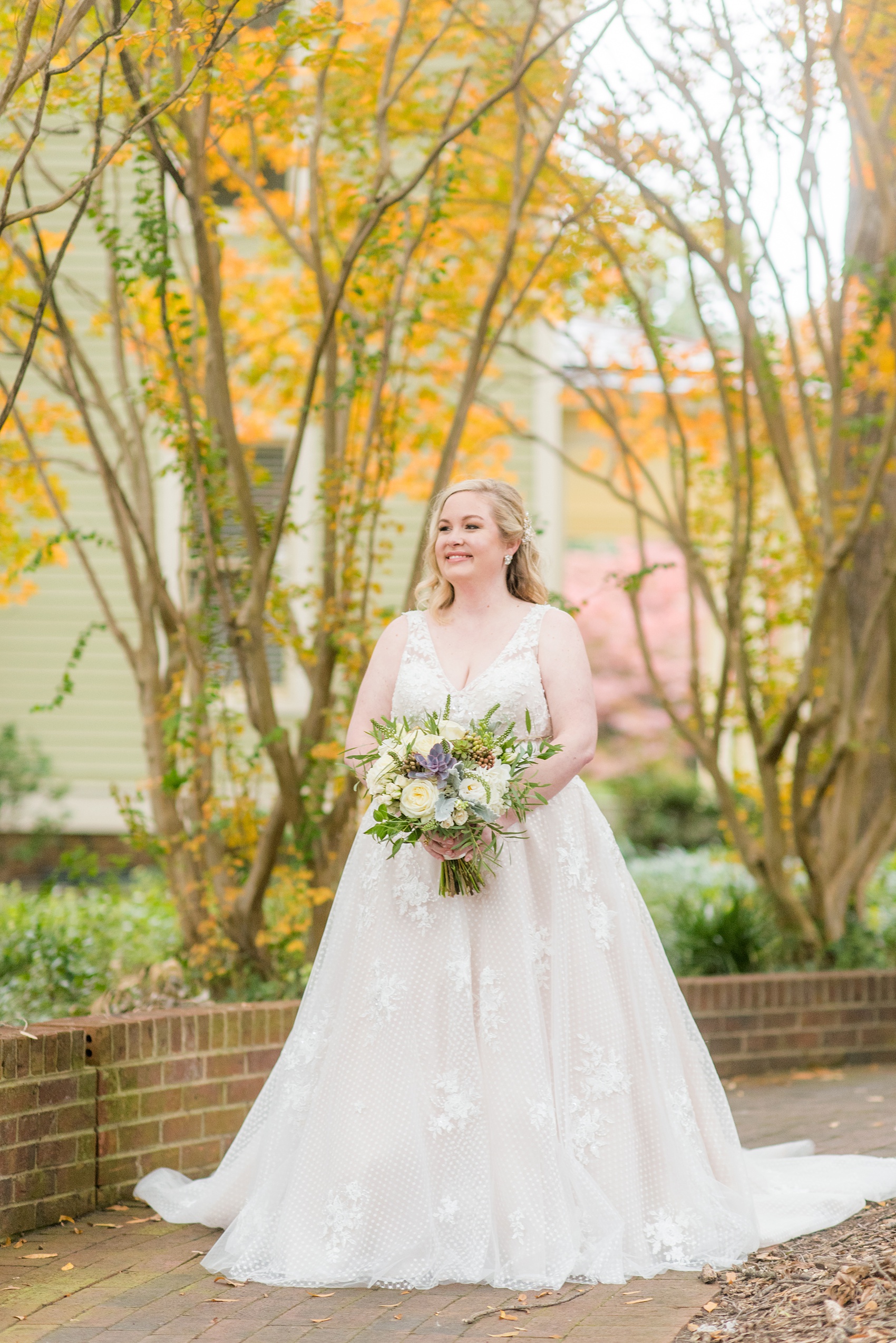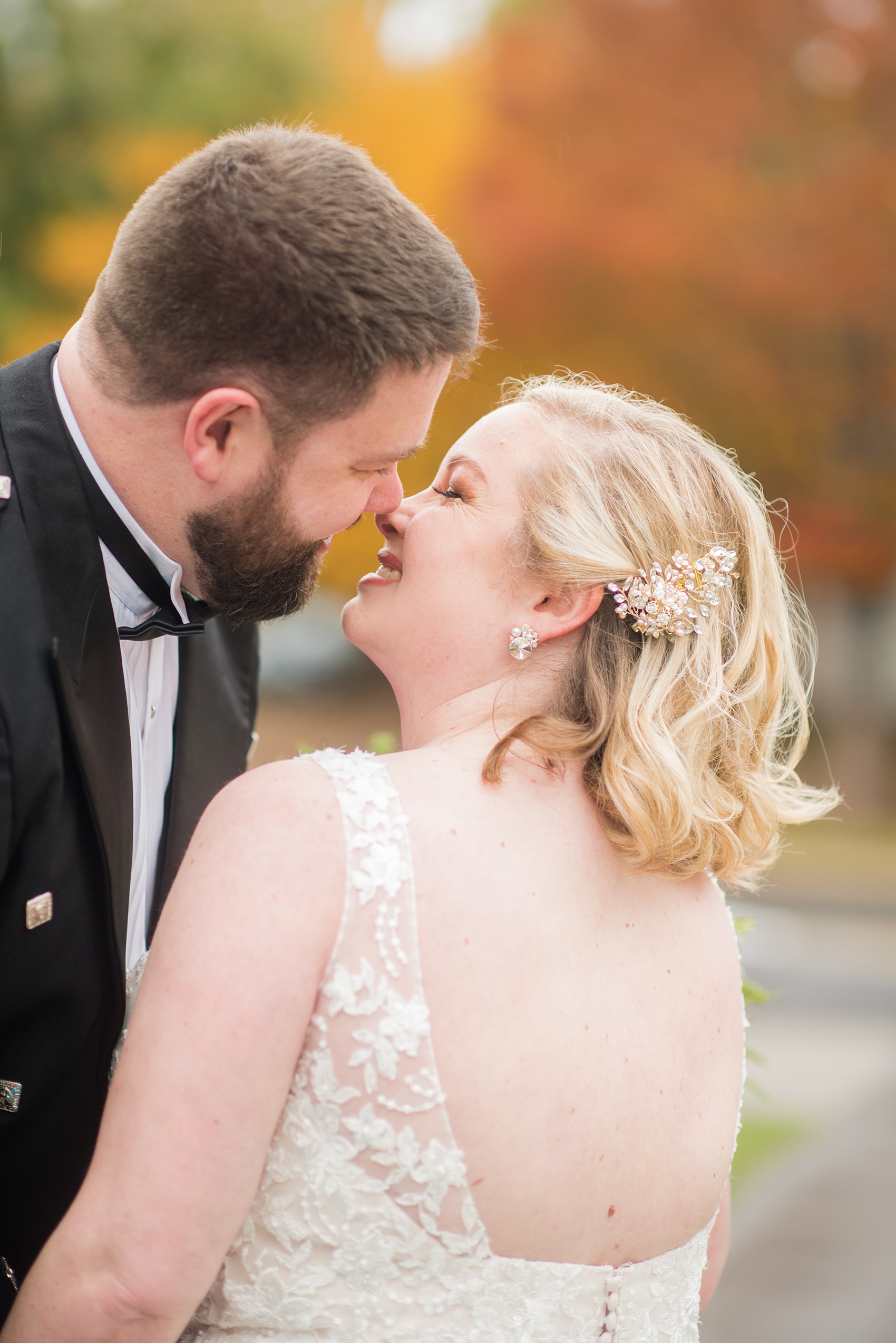 How perfect are Amanda's fall flowers with the green and yellow autumn leaves? The purple succulent was balanced with neutral white flowers and various berries – a nod to the season.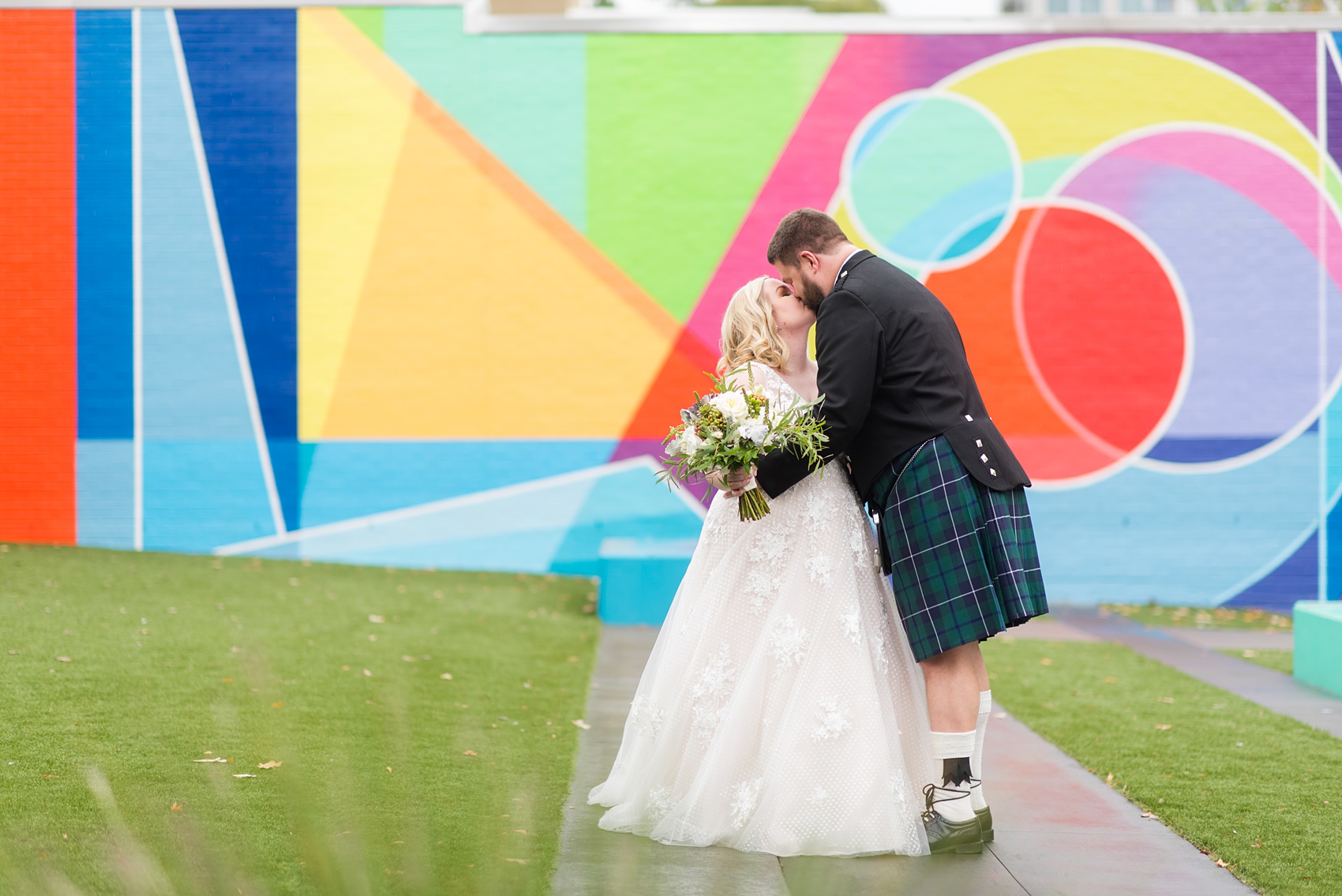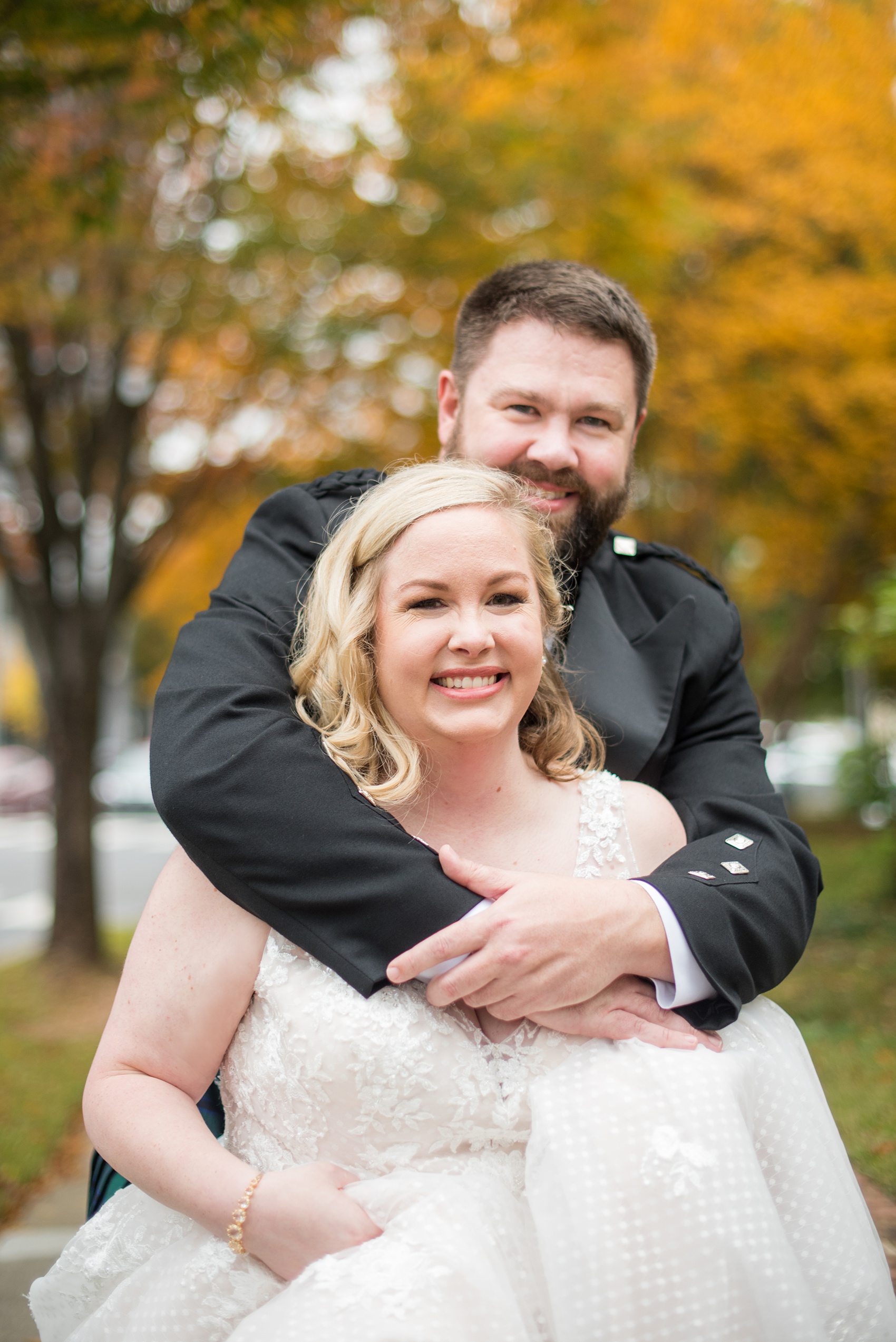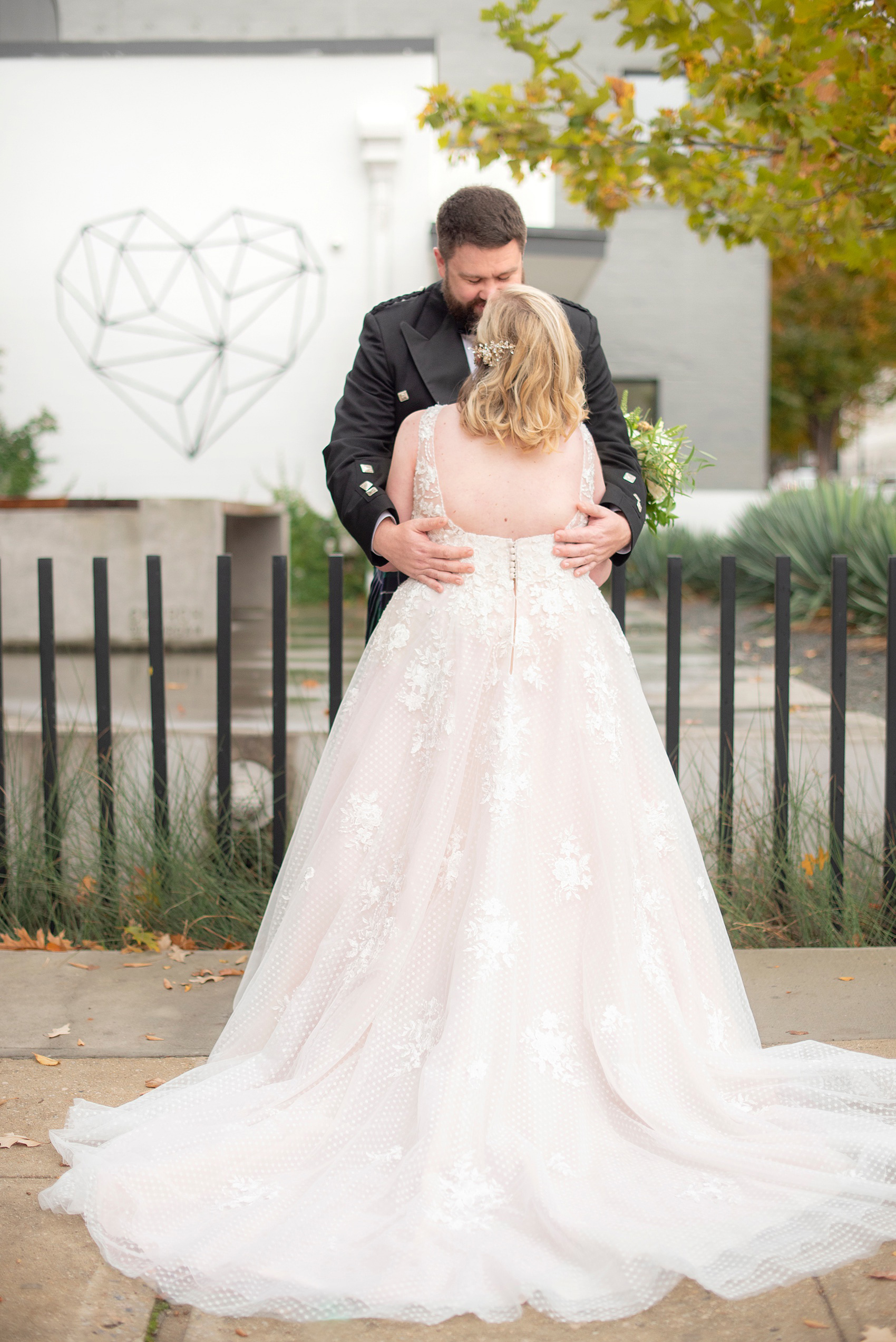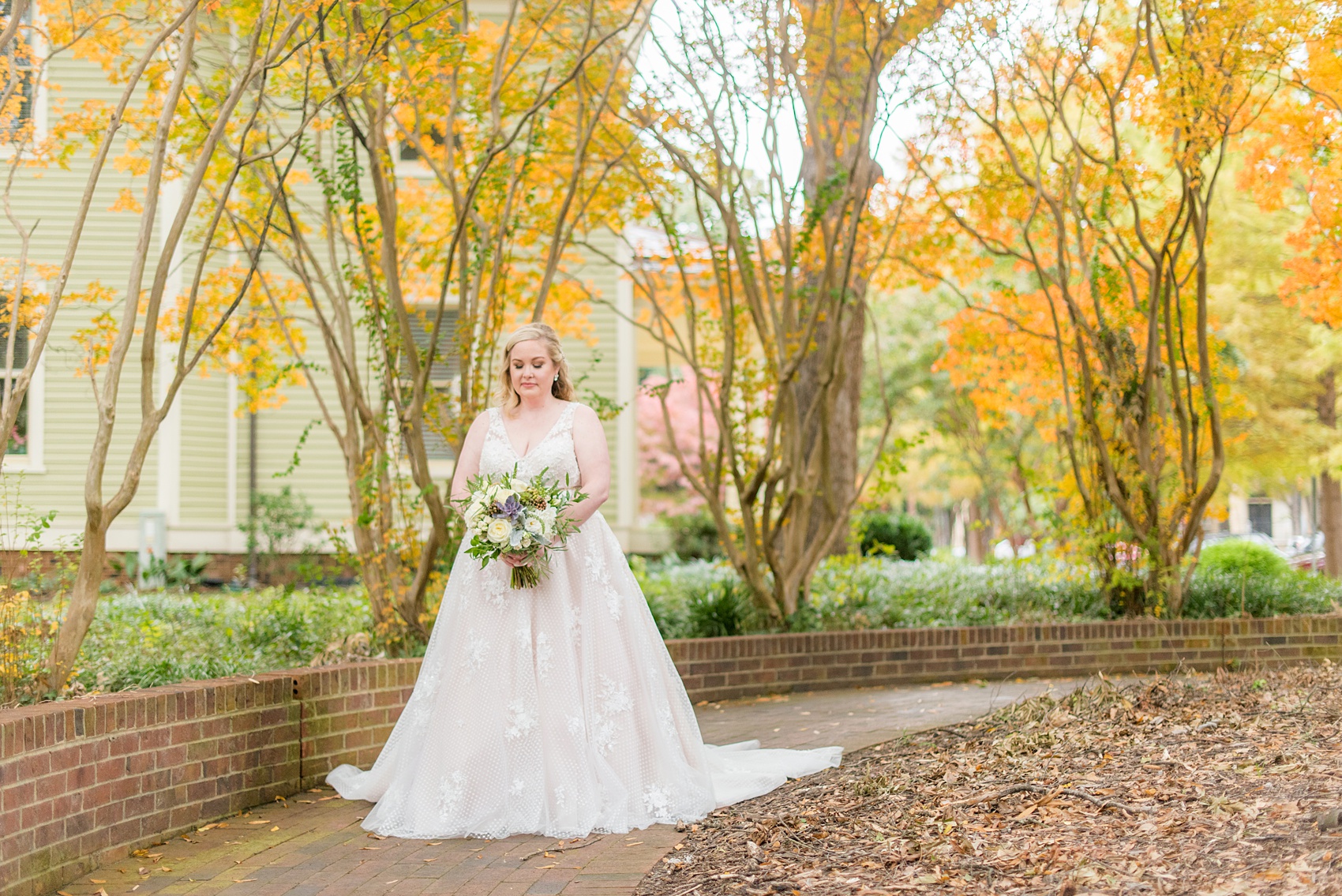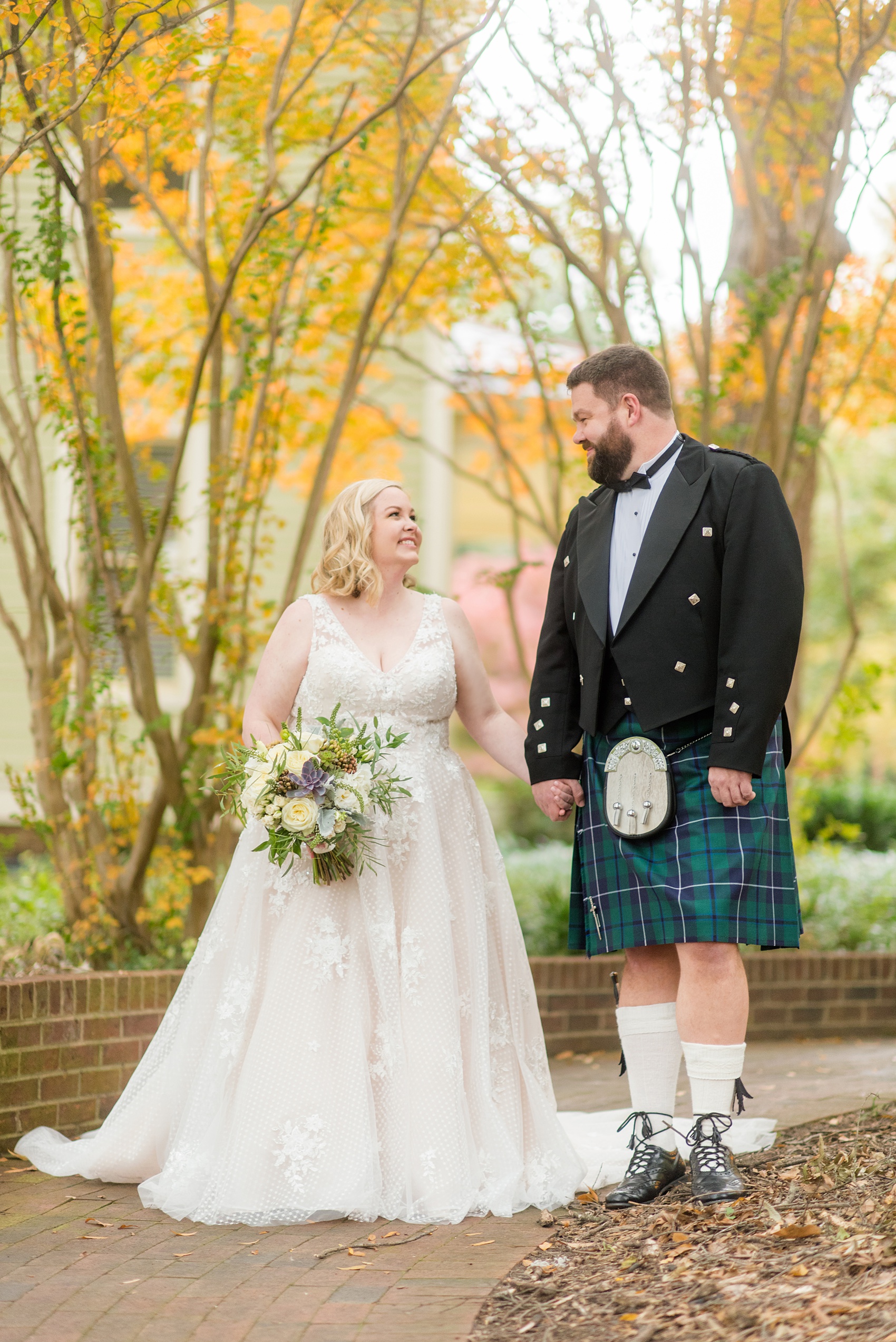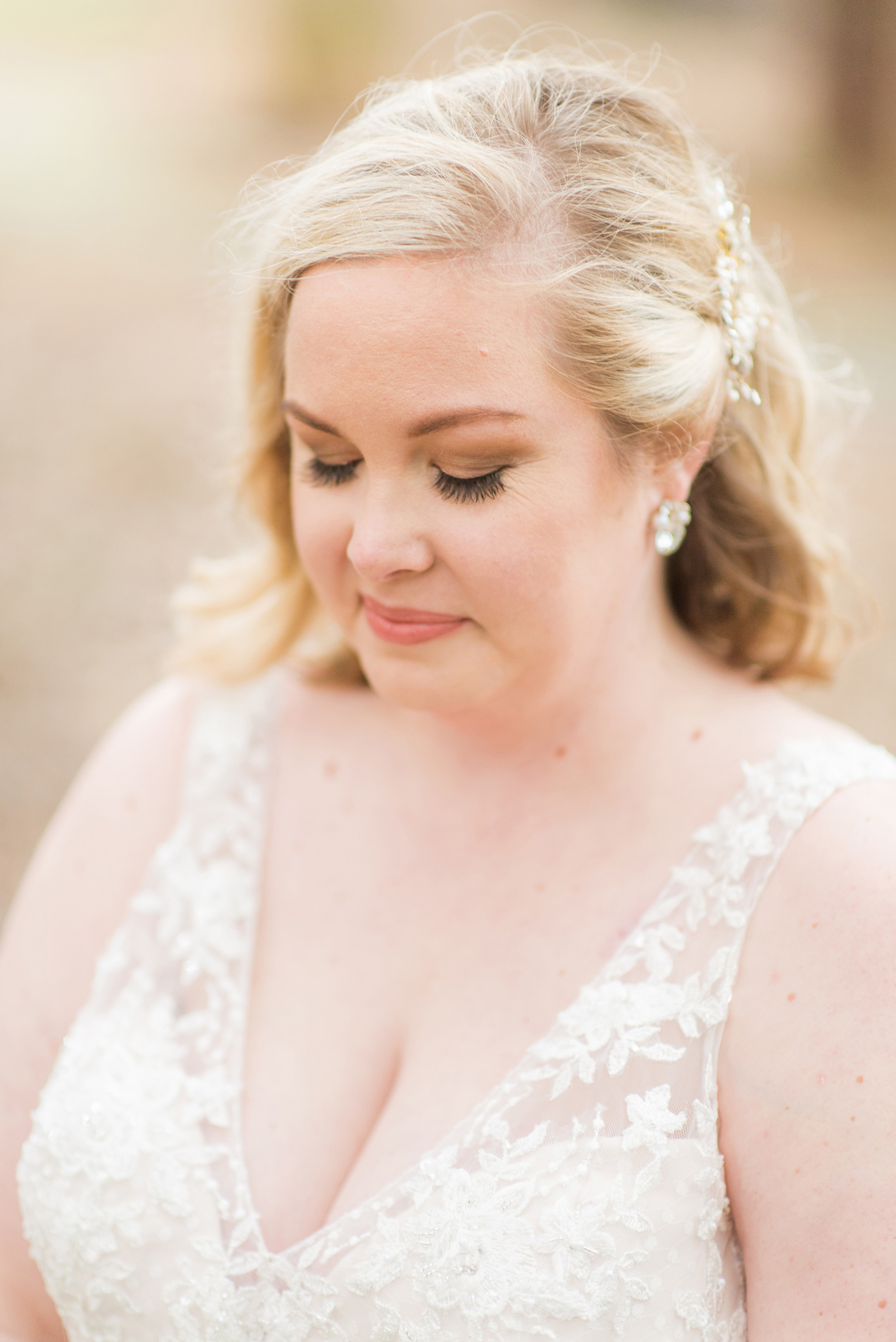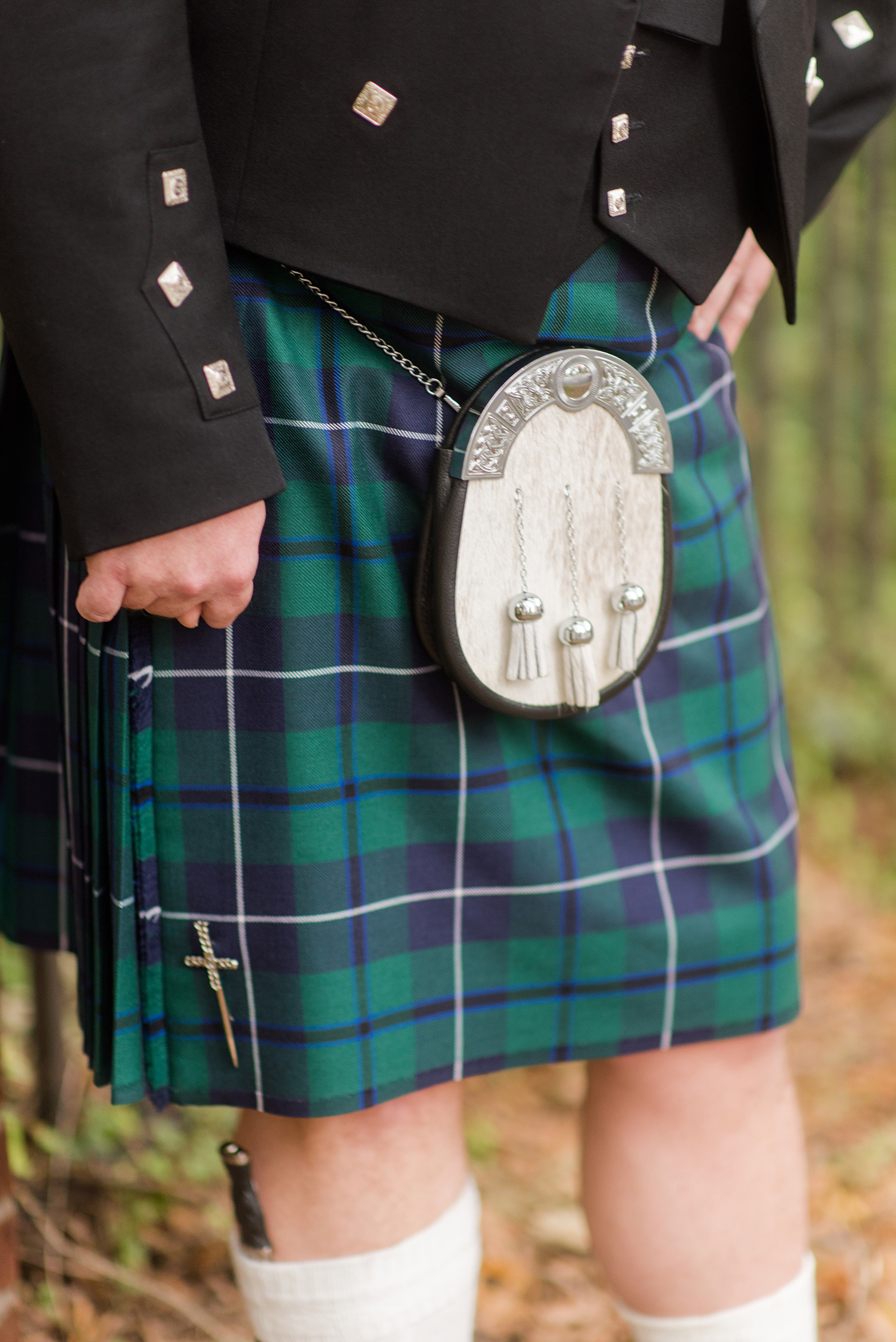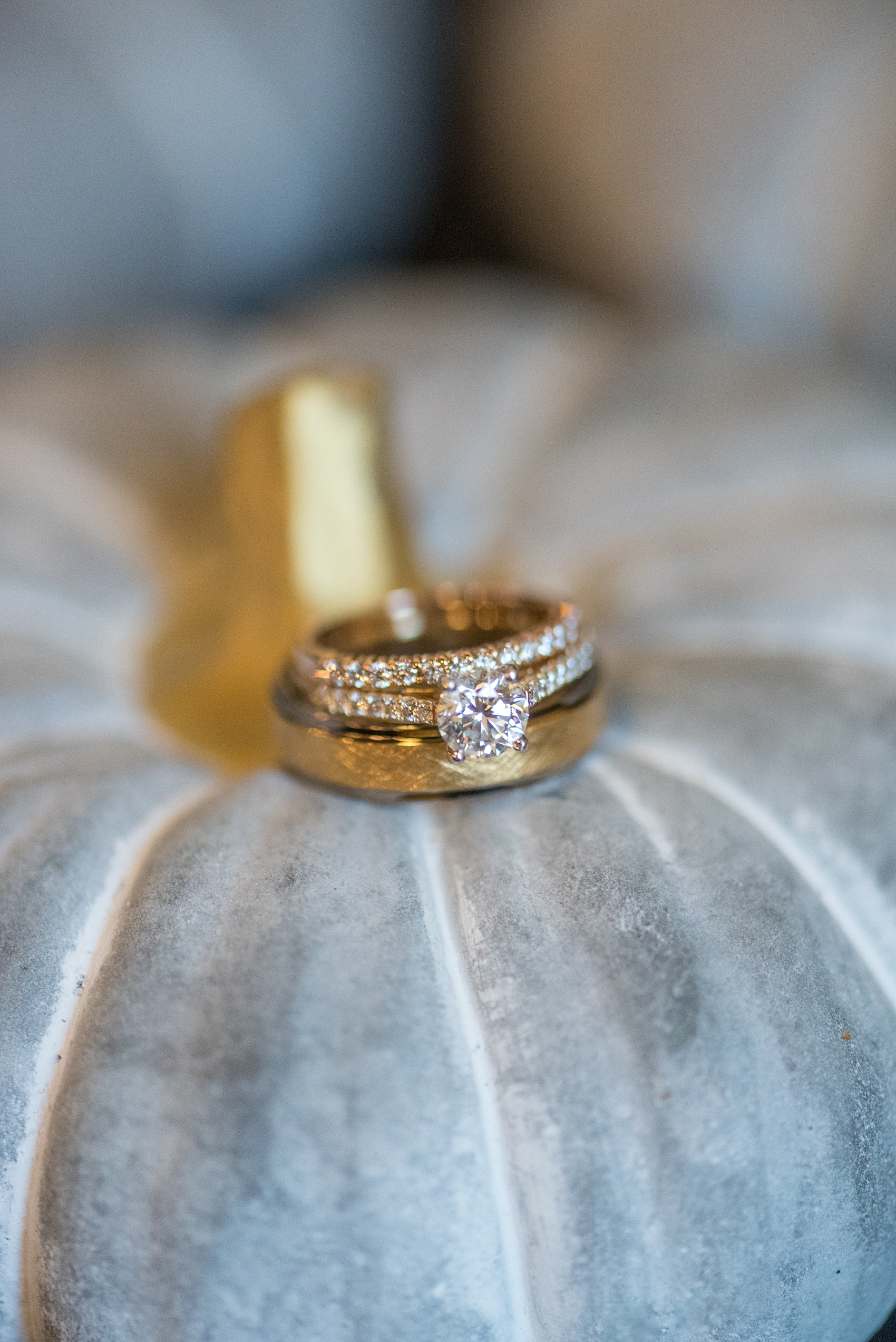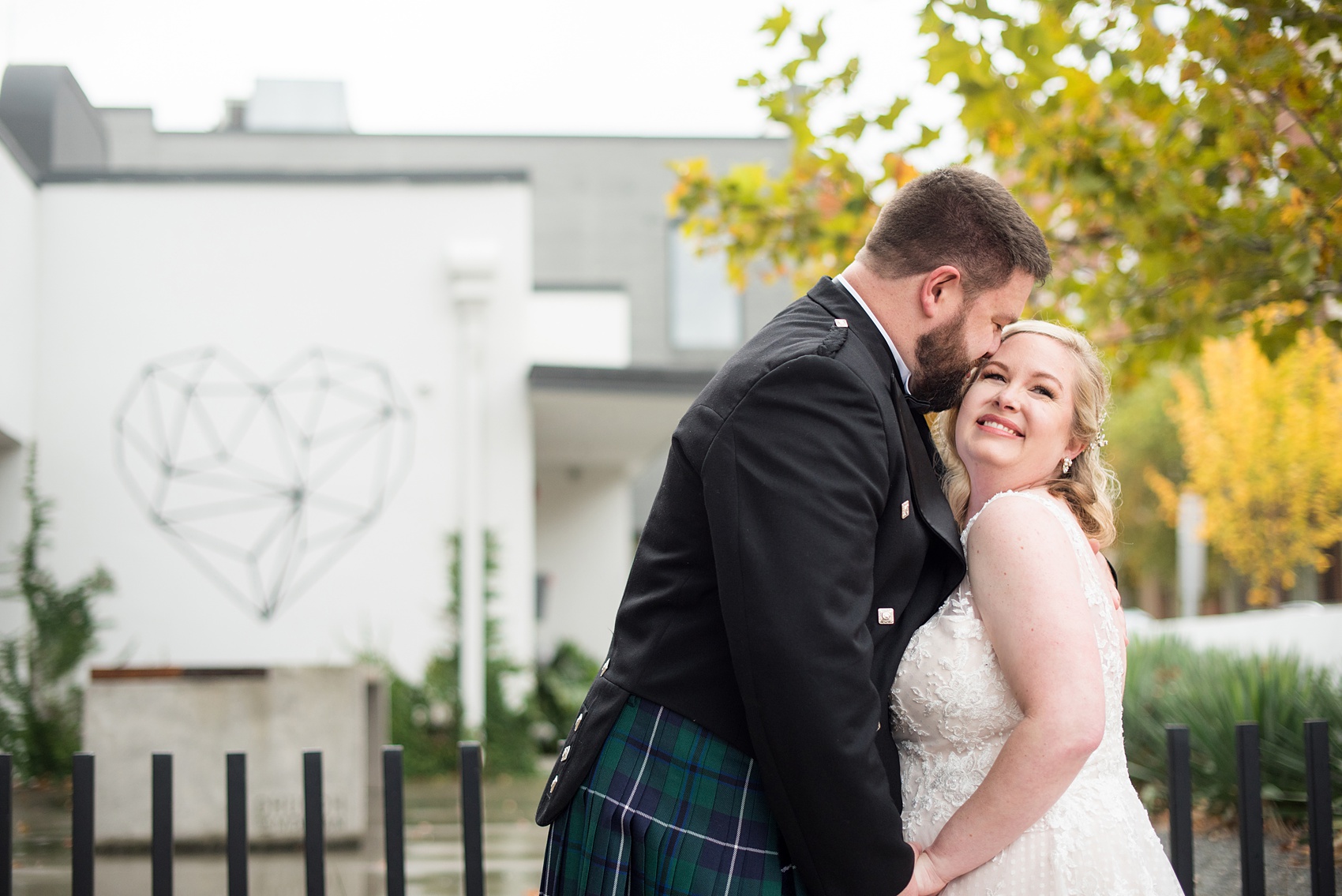 One of my favorite things about being a downtown Raleigh wedding photographer is the challenge – and reward – of finding great photo locations in the area. It's so much fun to discover new murals and hunt for great landscapes in the urban environment to photograph a couple when you have limited time for portraits during their wedding day. This heart behind them is one of my favorite recent finds!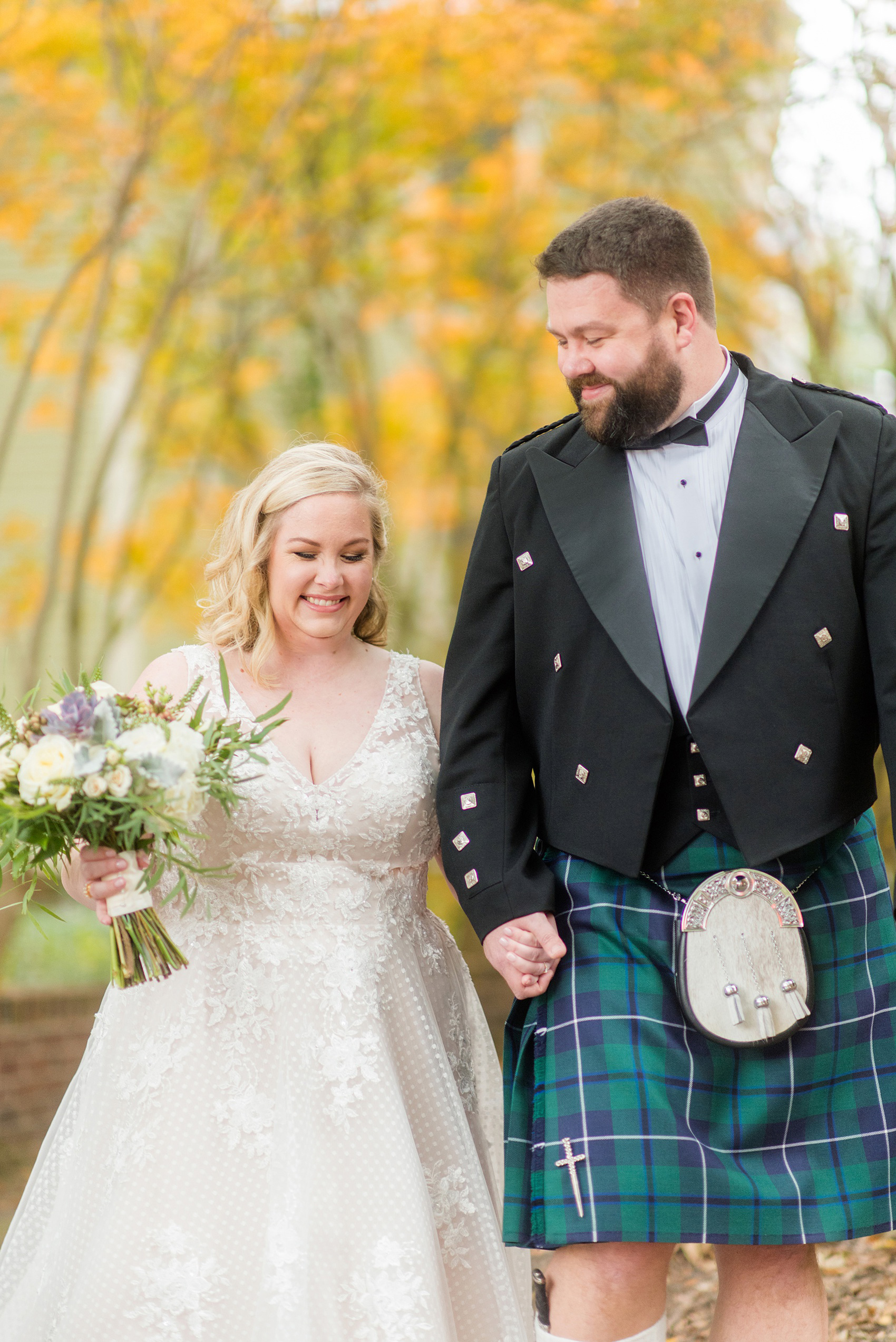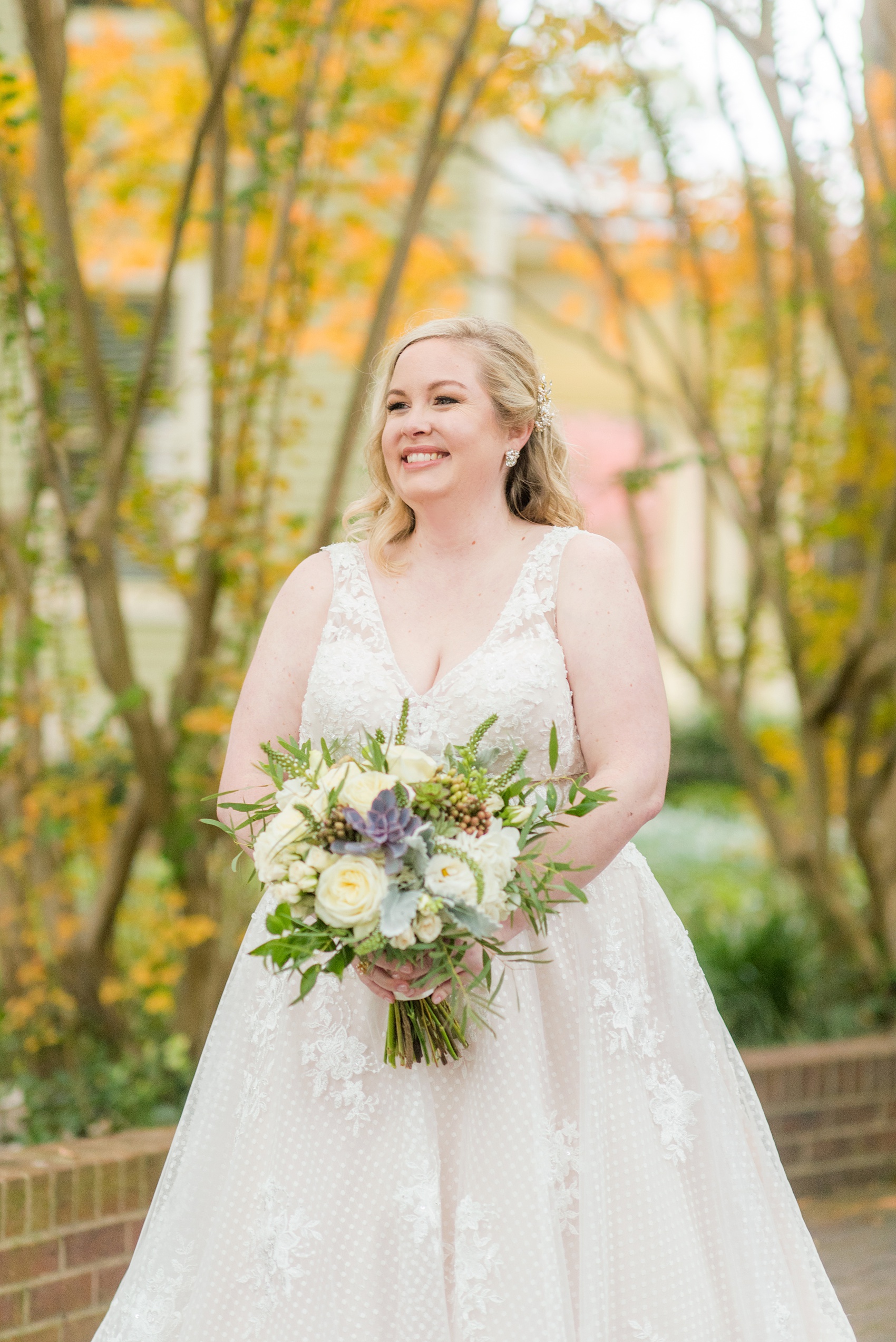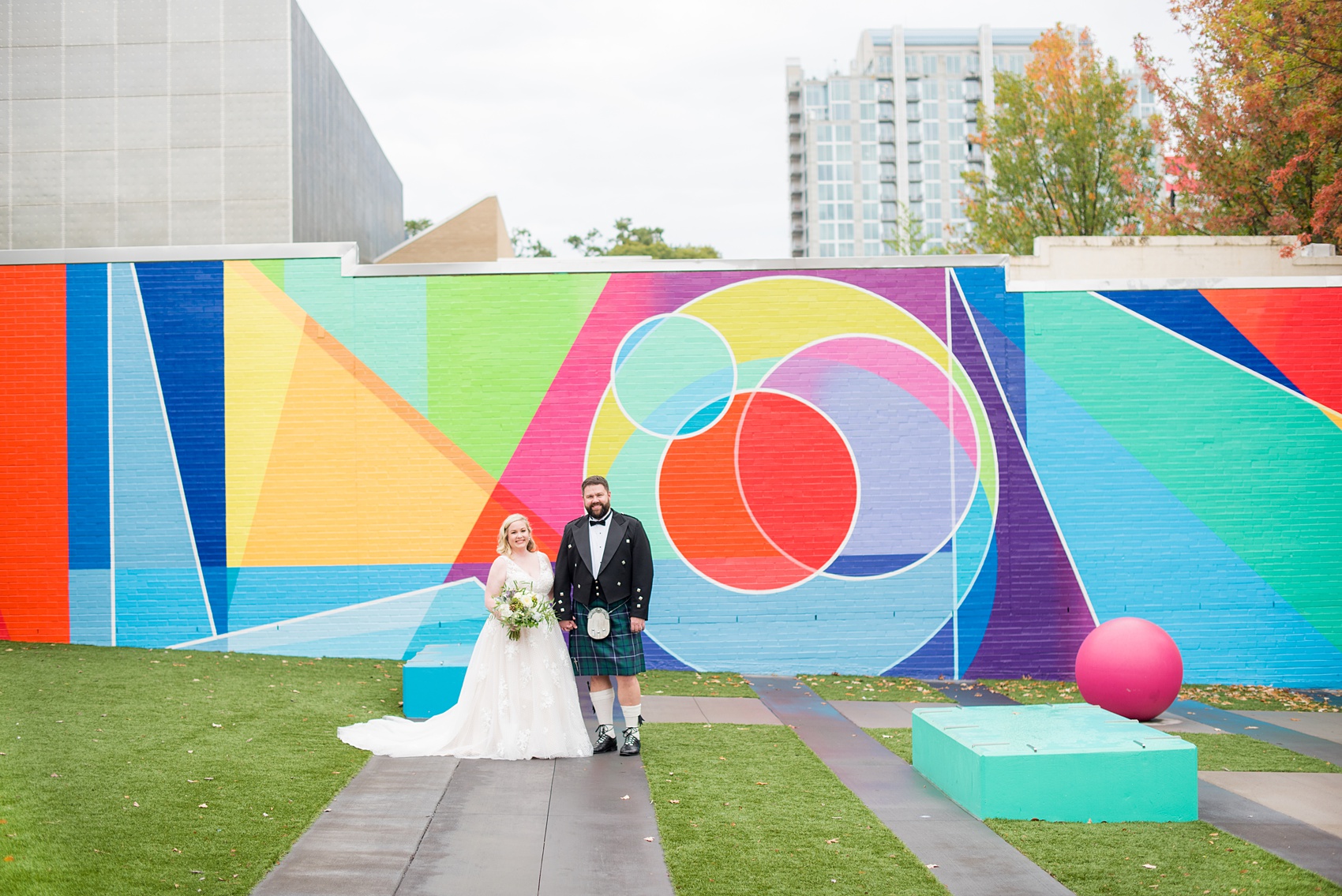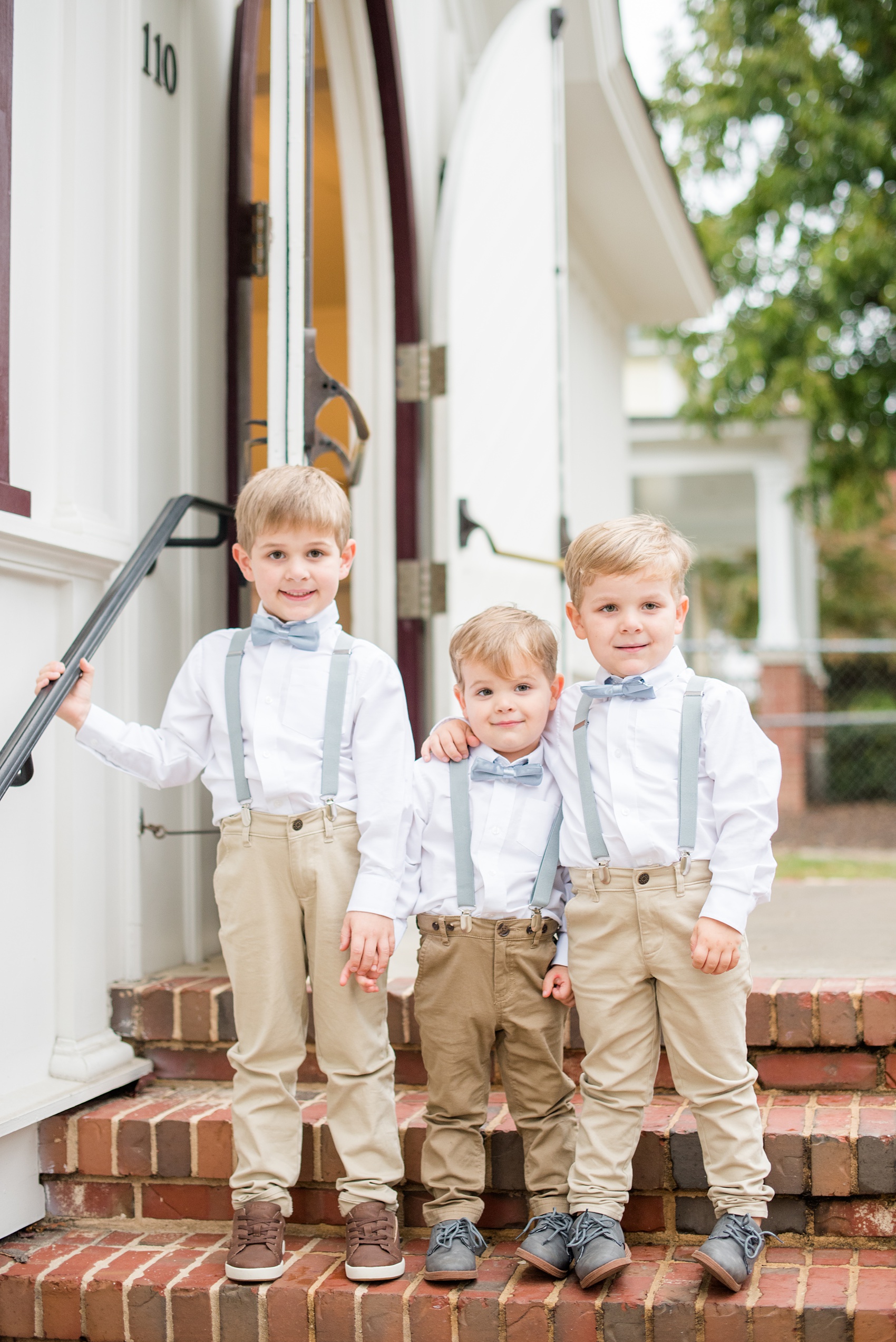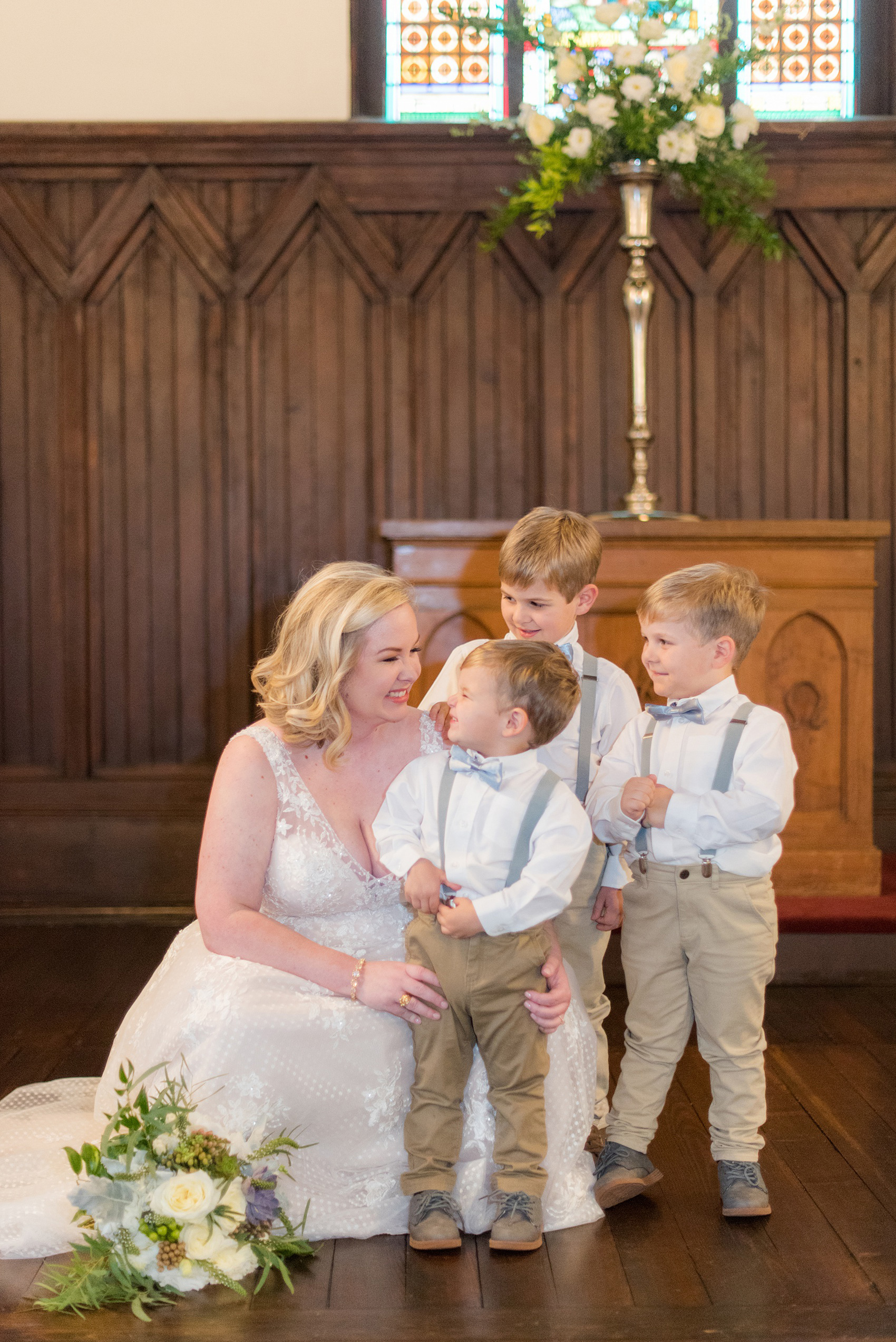 The only VIPs the bride and groom had dress similarly were Amanda's three adorable nephews and Alex's beautiful daughters. I love the pictures of Amanda with the boys and this photo, below, I captured of Alex laughing during a candid moment with his teenage daughters.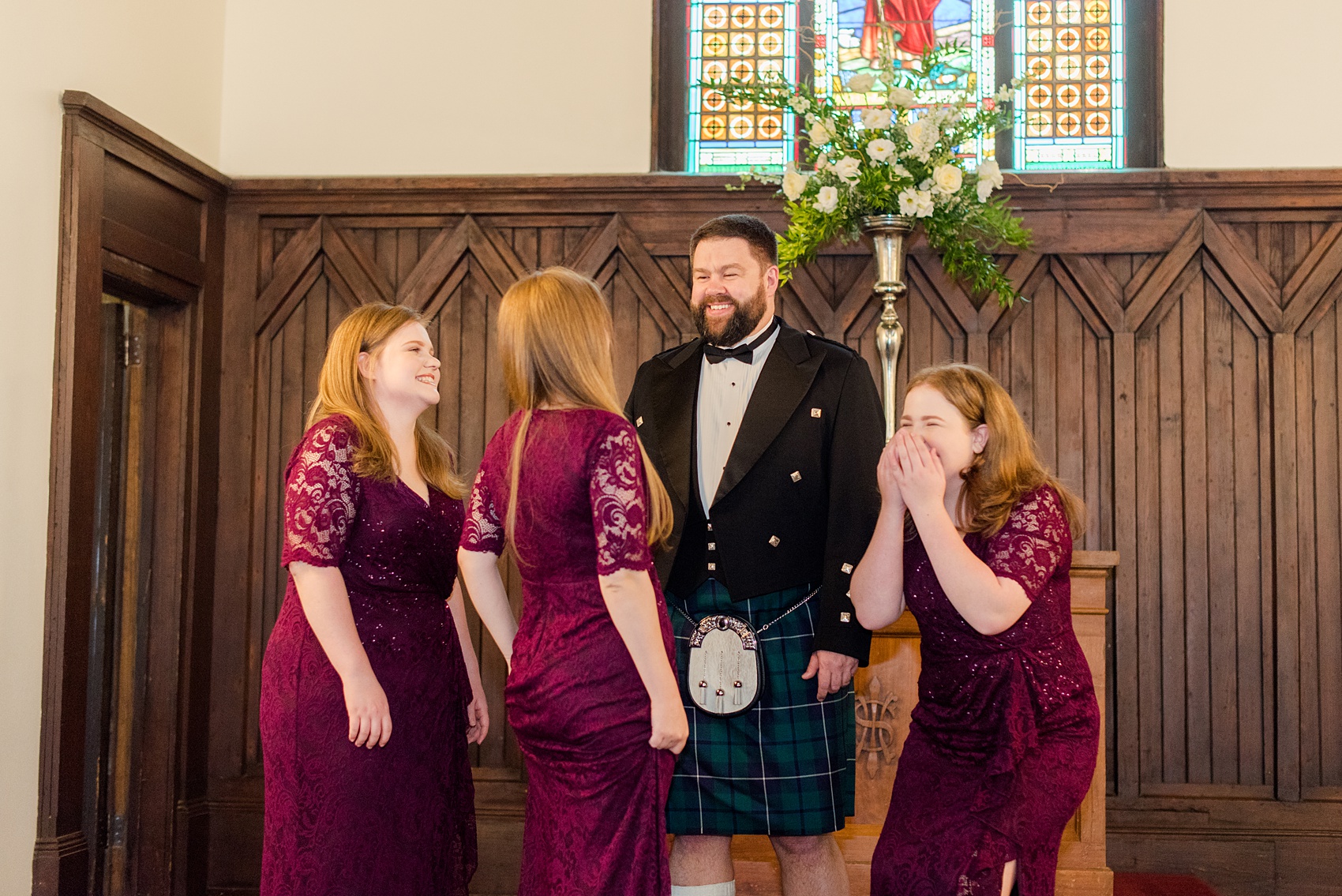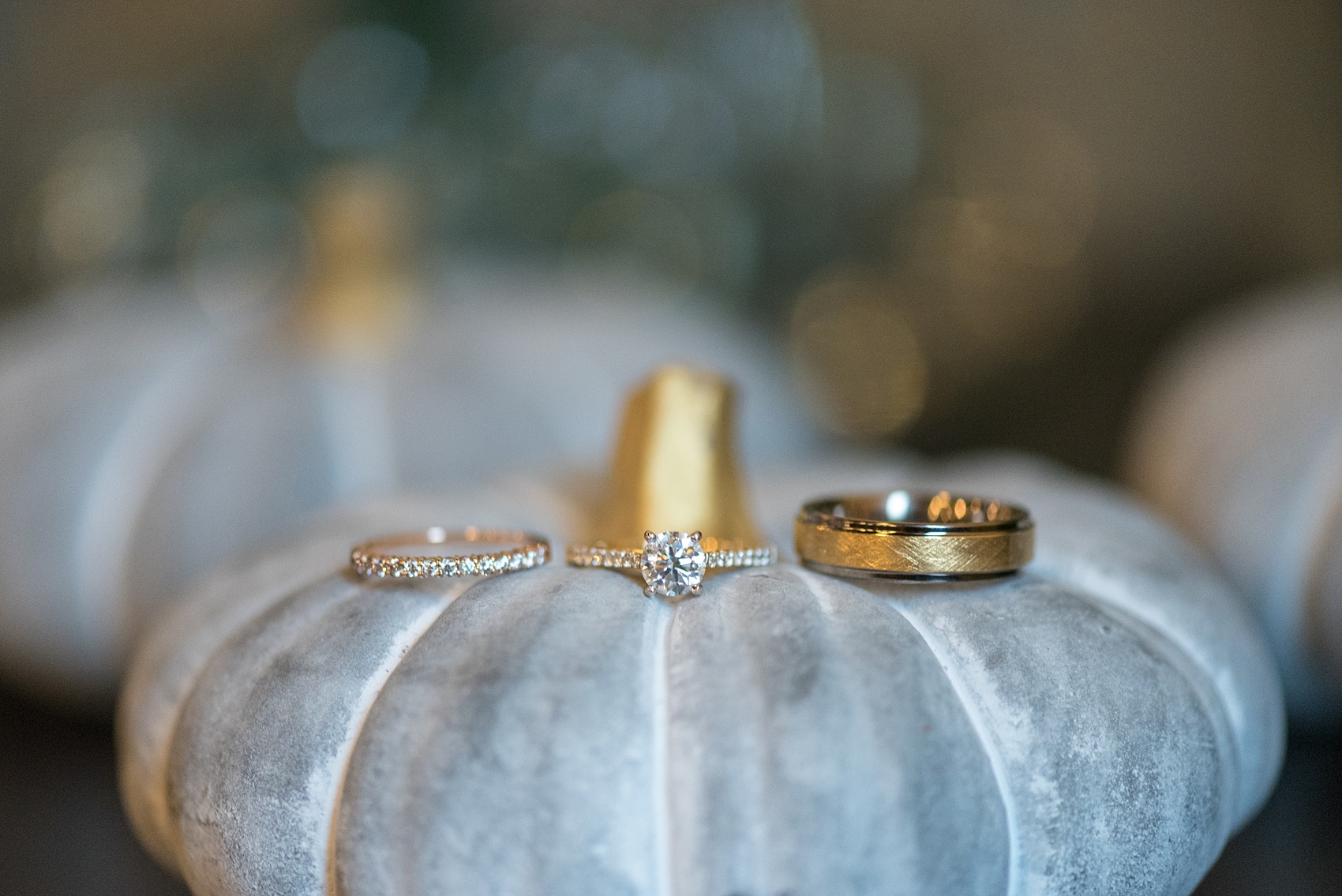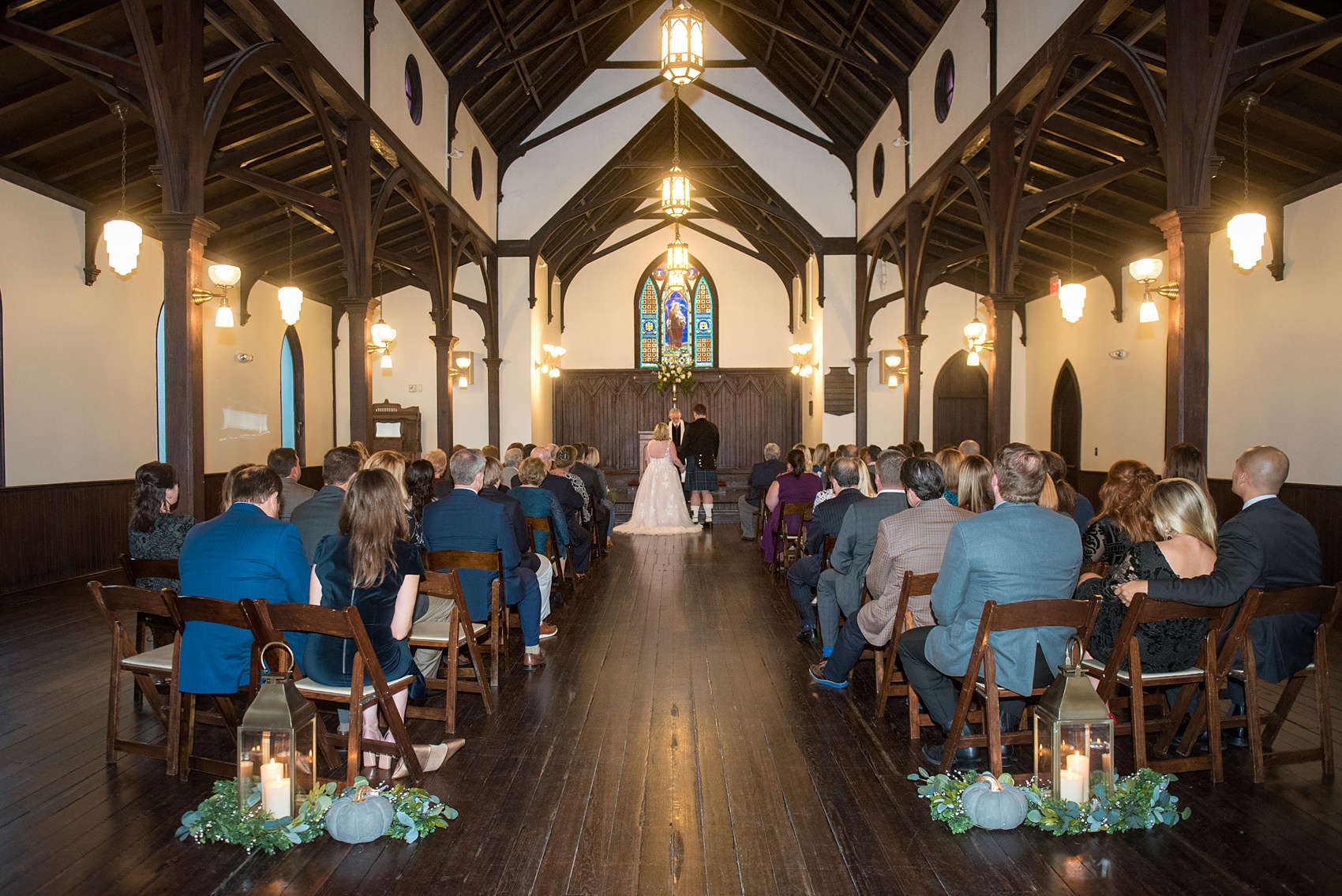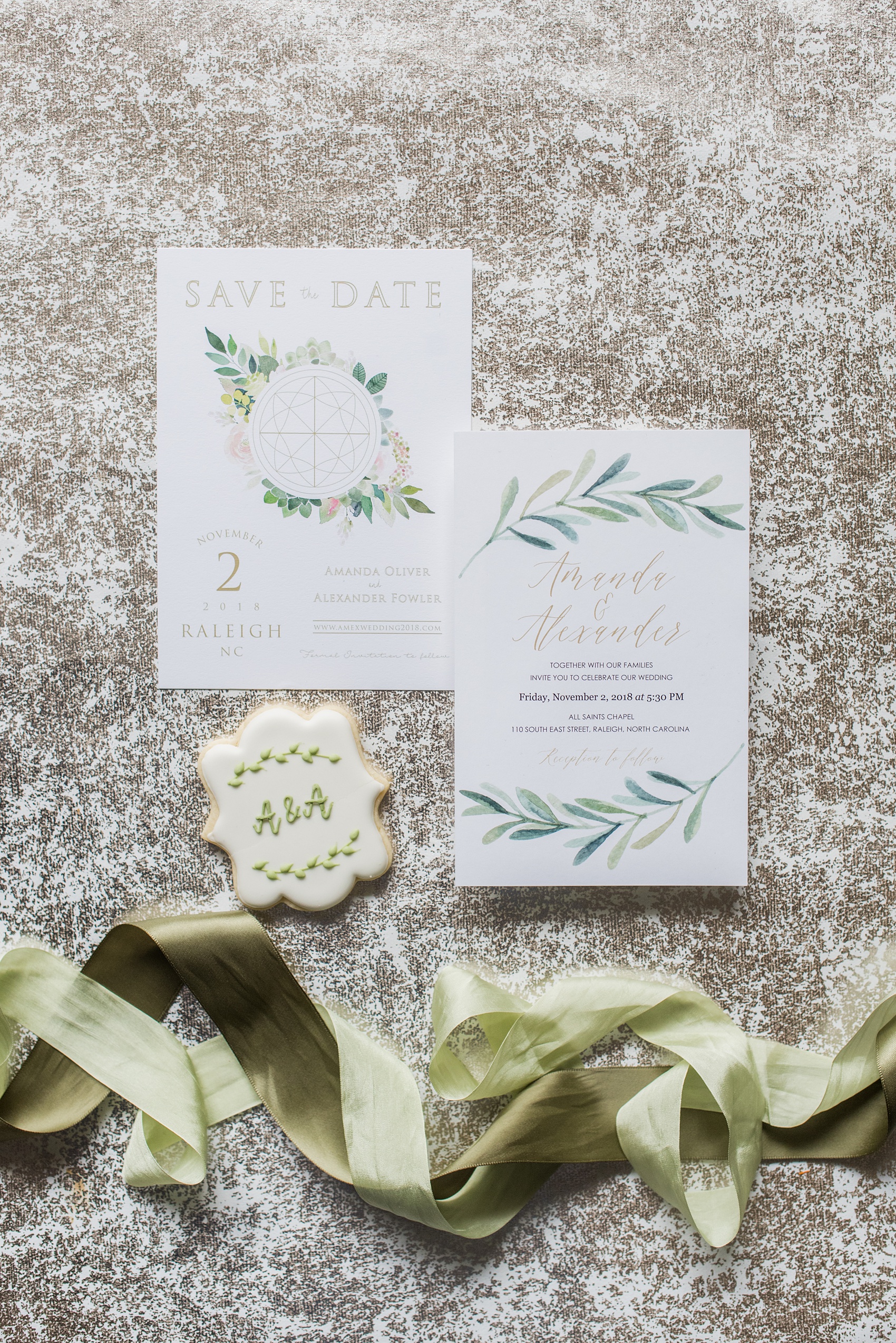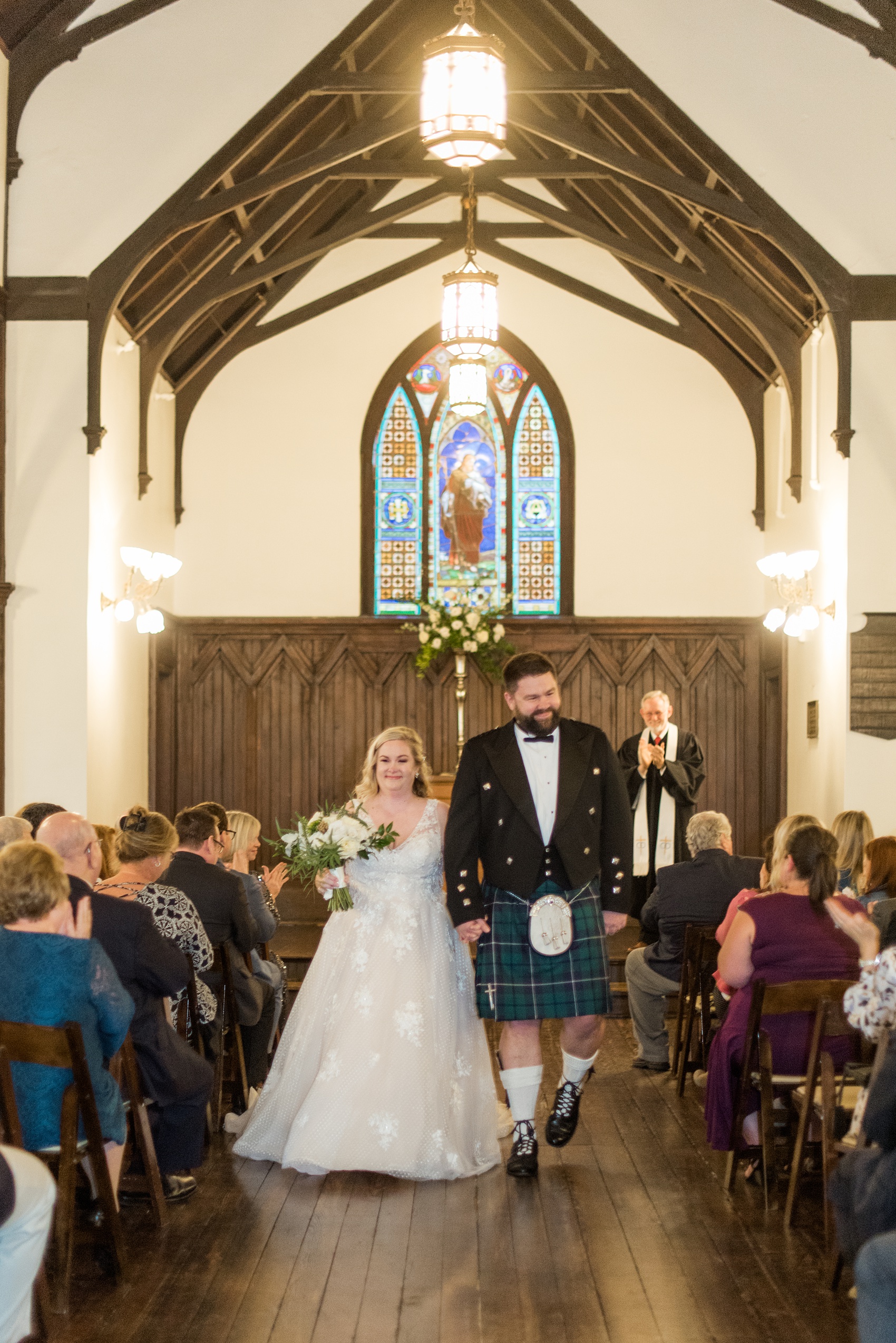 The ceremony took place on the chapel altar, and Amanda was teary-eyed while she joyfully recited vows to Alex, and he the same to her.  I love how the yellow gold in the rings they exchanged photographed so warmly on the fall pumpkins that adorned the reception tables. Soft mint green linen napkins marked each seat that guests located by finding their cake pop with their name on it. Each table was named after a place the bride and groom traveled to together. I LOVE that I could relate to their love of travel, first-hand, an I've been to places like Prague, Berlin, London and Amsterdam. Their table was appropriately "Paris," because it's where Alex proposed to Amanda! (During sunset, on the steps of Sacre Coeur overlooking the city if you're curious!)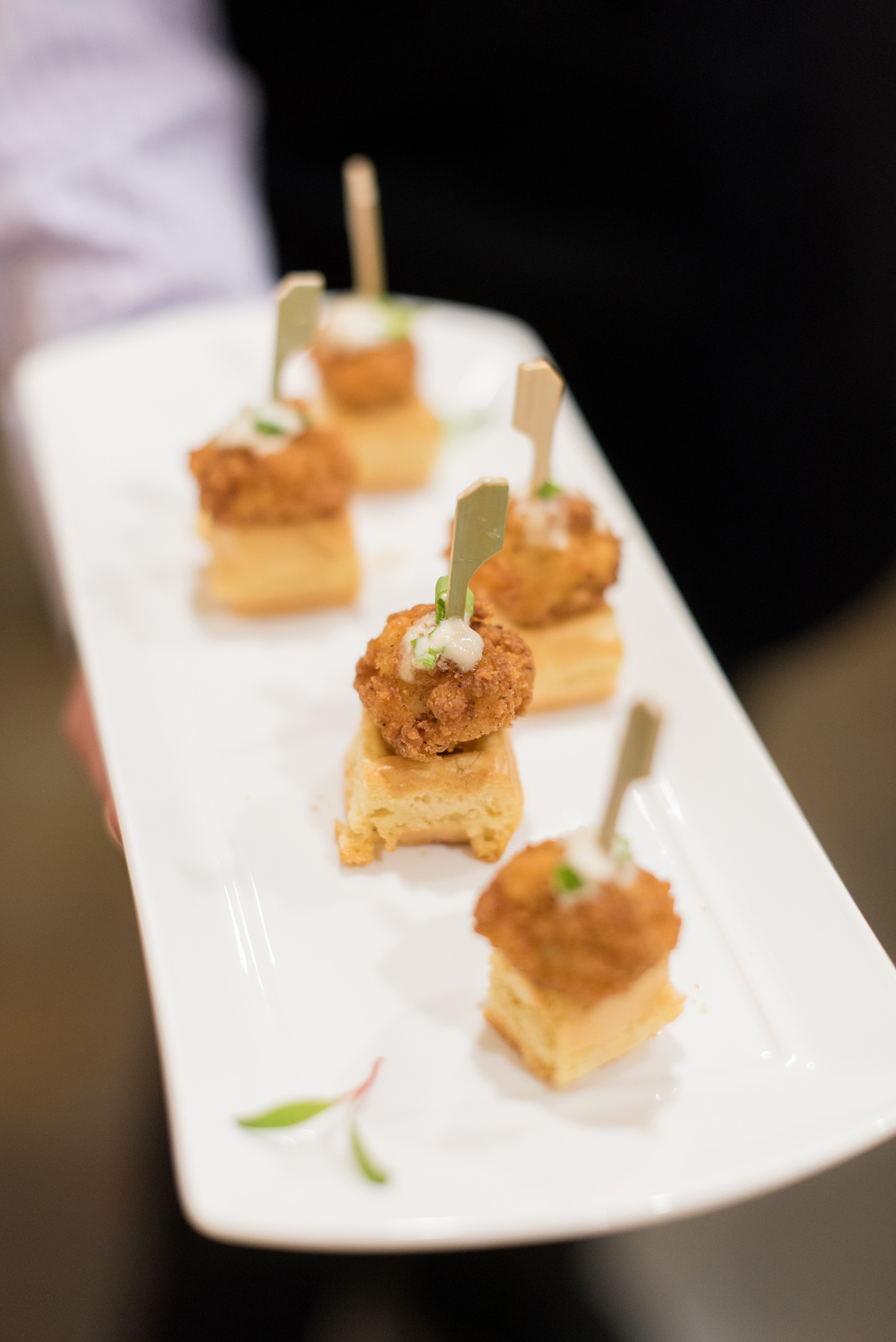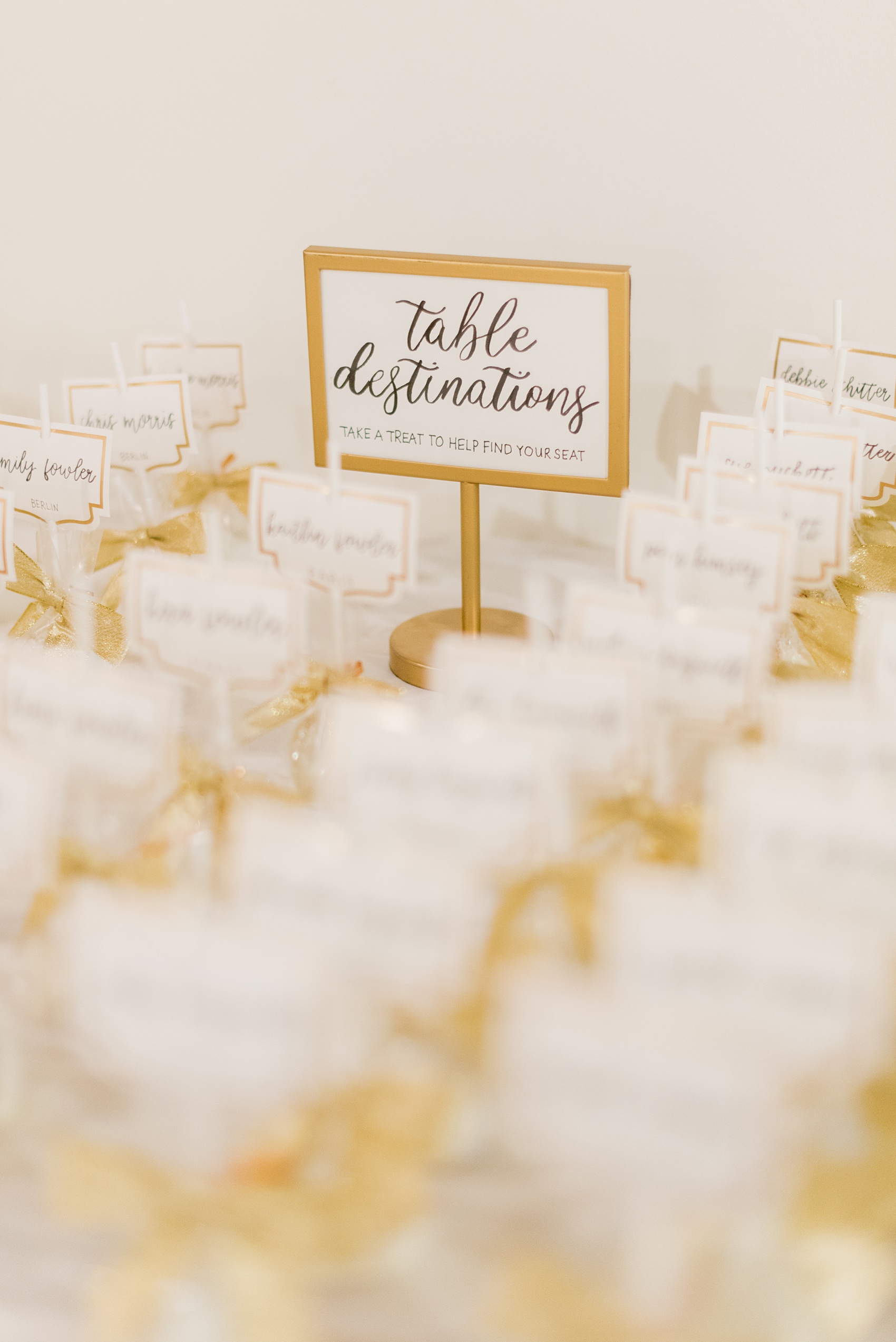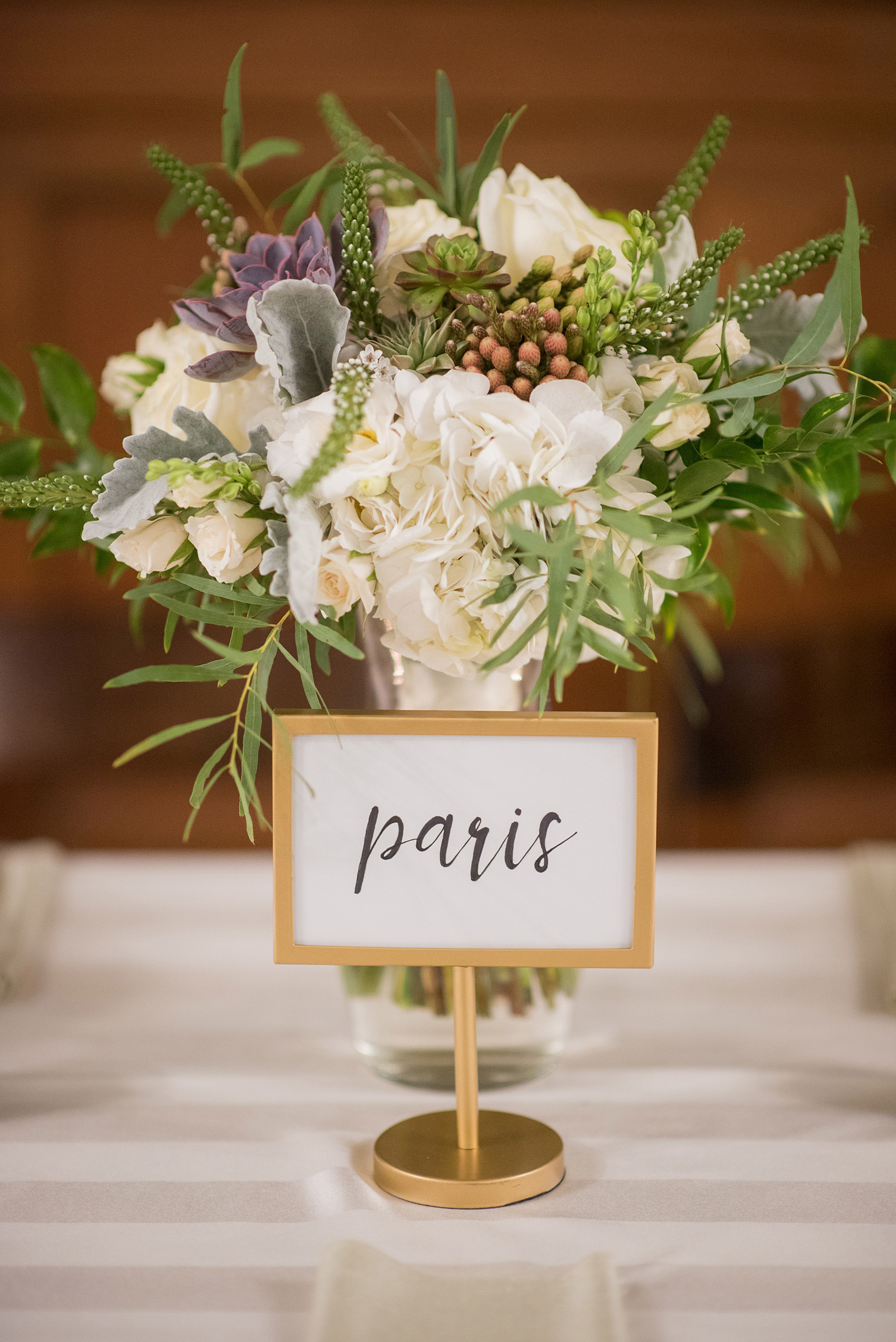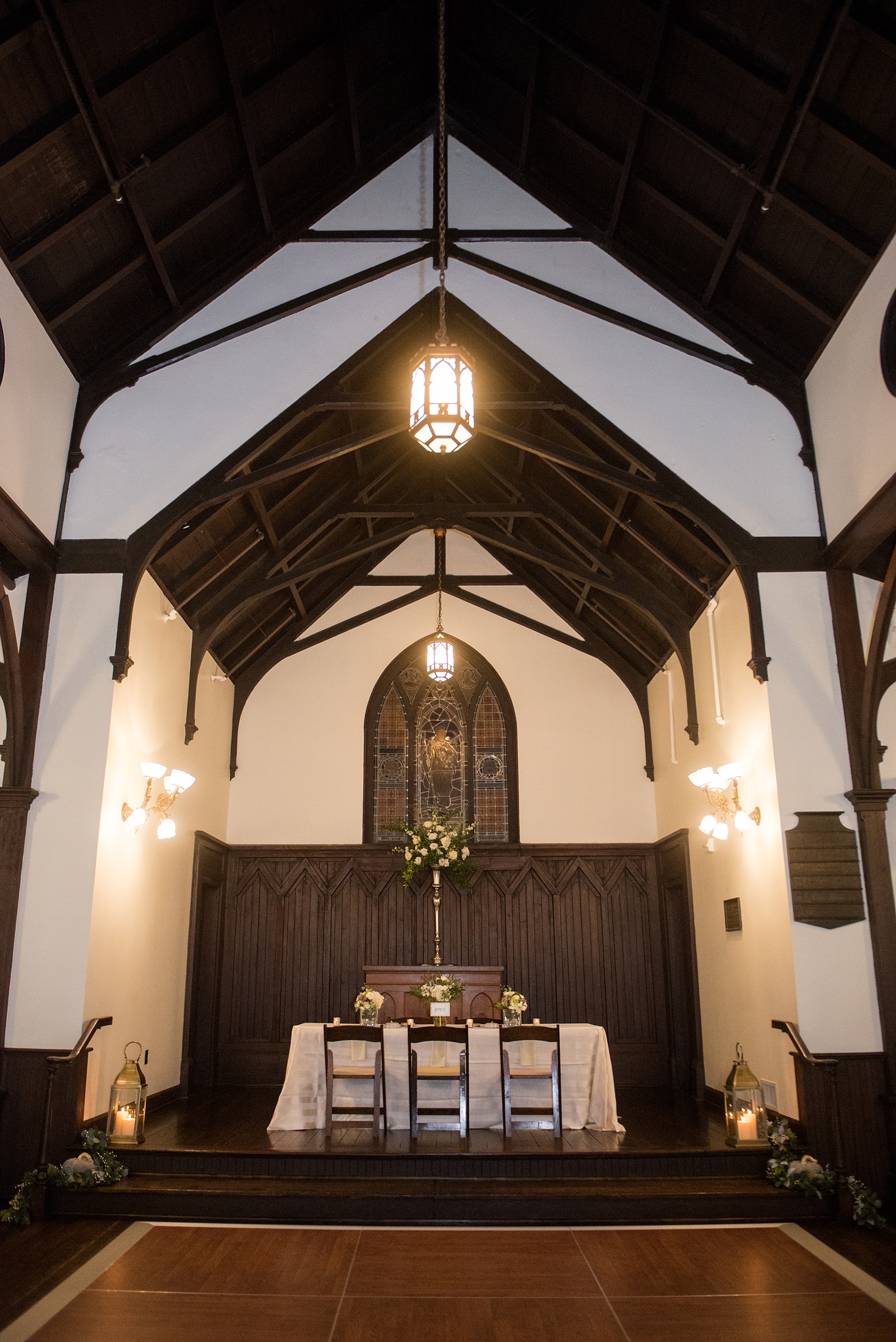 Another favorite thing Amanda and Alex did was breakfast for dinner for their reception. All Saints Chapel smelled so good as aromas of sweet waffles and fresh bacon filled the air. And I have to say…the waffles were amazing. I can't remember the last time I had such a delicious waffle! Bite size, silver dollar pancakes and chicken and waffles were passed hors d'oeuvres during cocktail hour. Their custom cocktails during the dinner were, of course, twists on mimosas!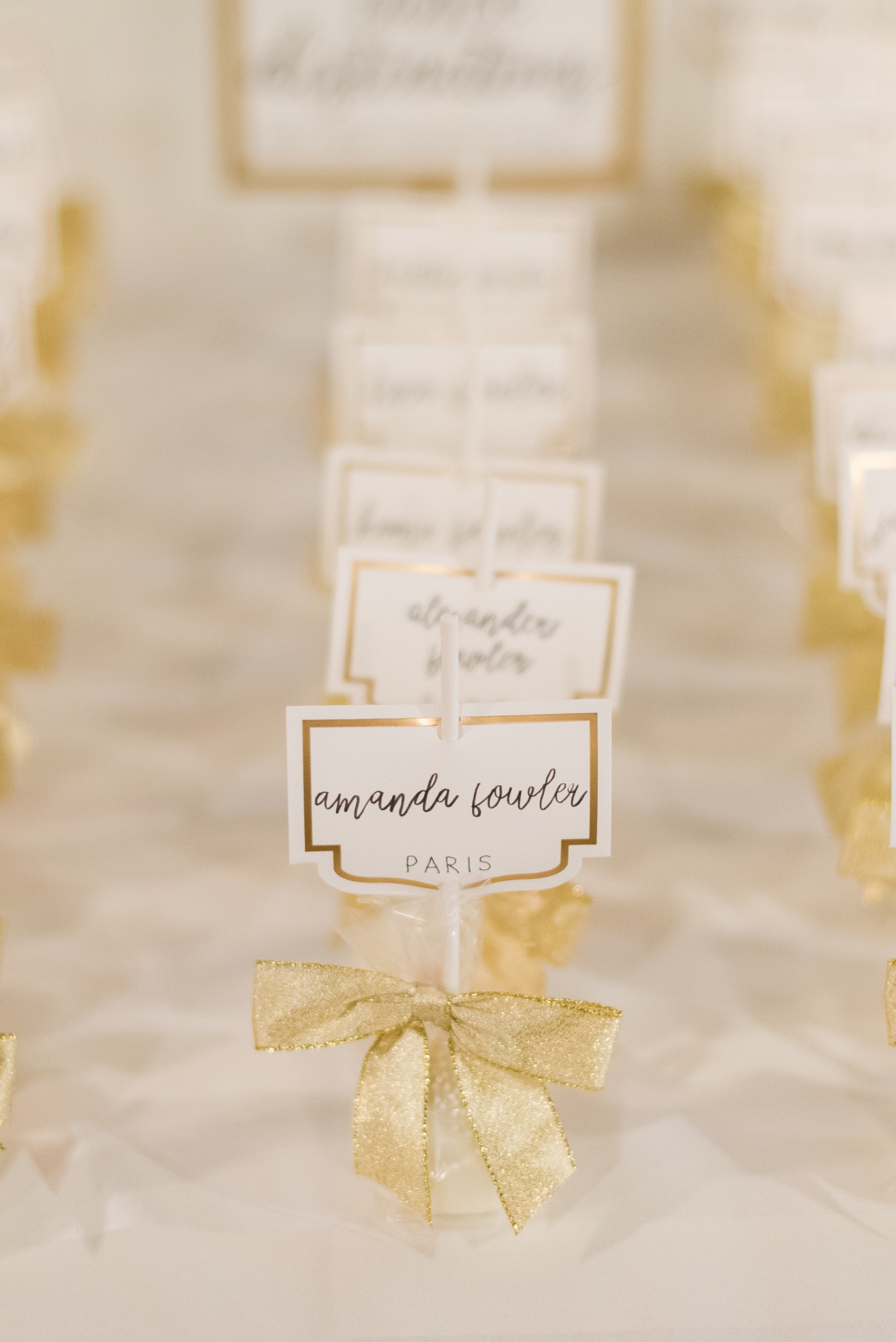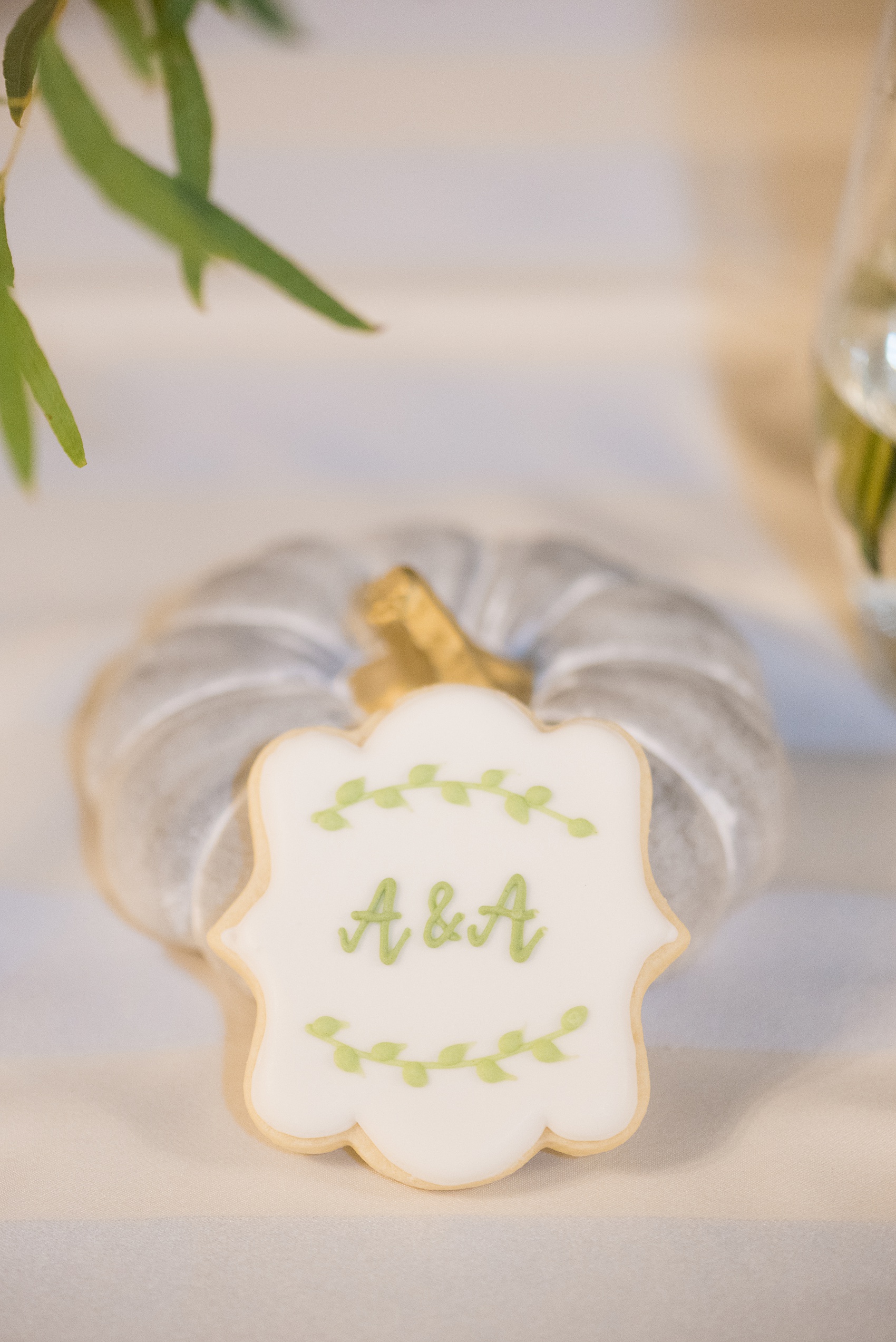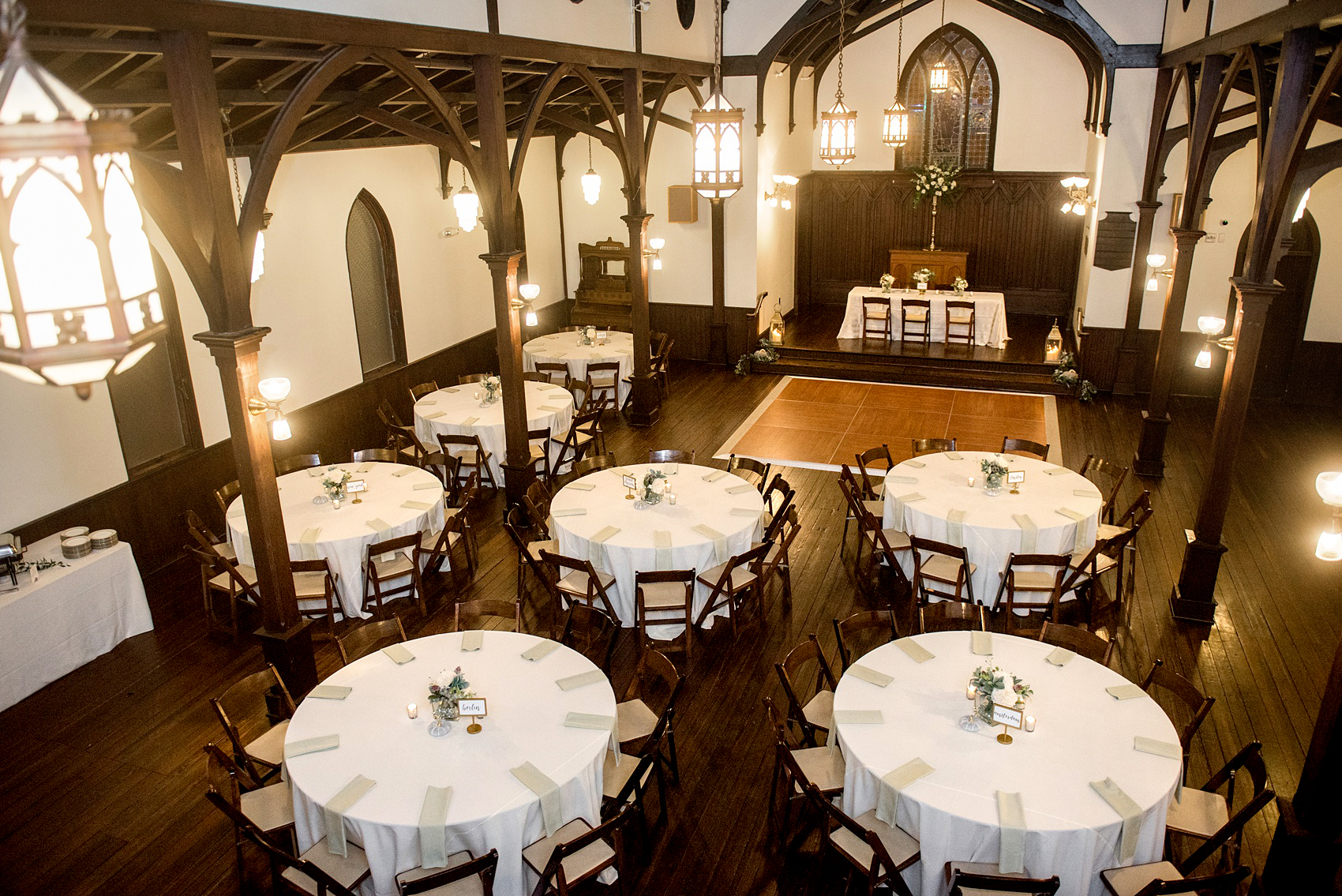 Another special touch was that Amanda's sister, Whitney, created custom sugar cookies for guest favors. She has an incredible company, Bailey Lane Baking Co., that I've personally ordered cookies from too. The best part is they taste as good as they look!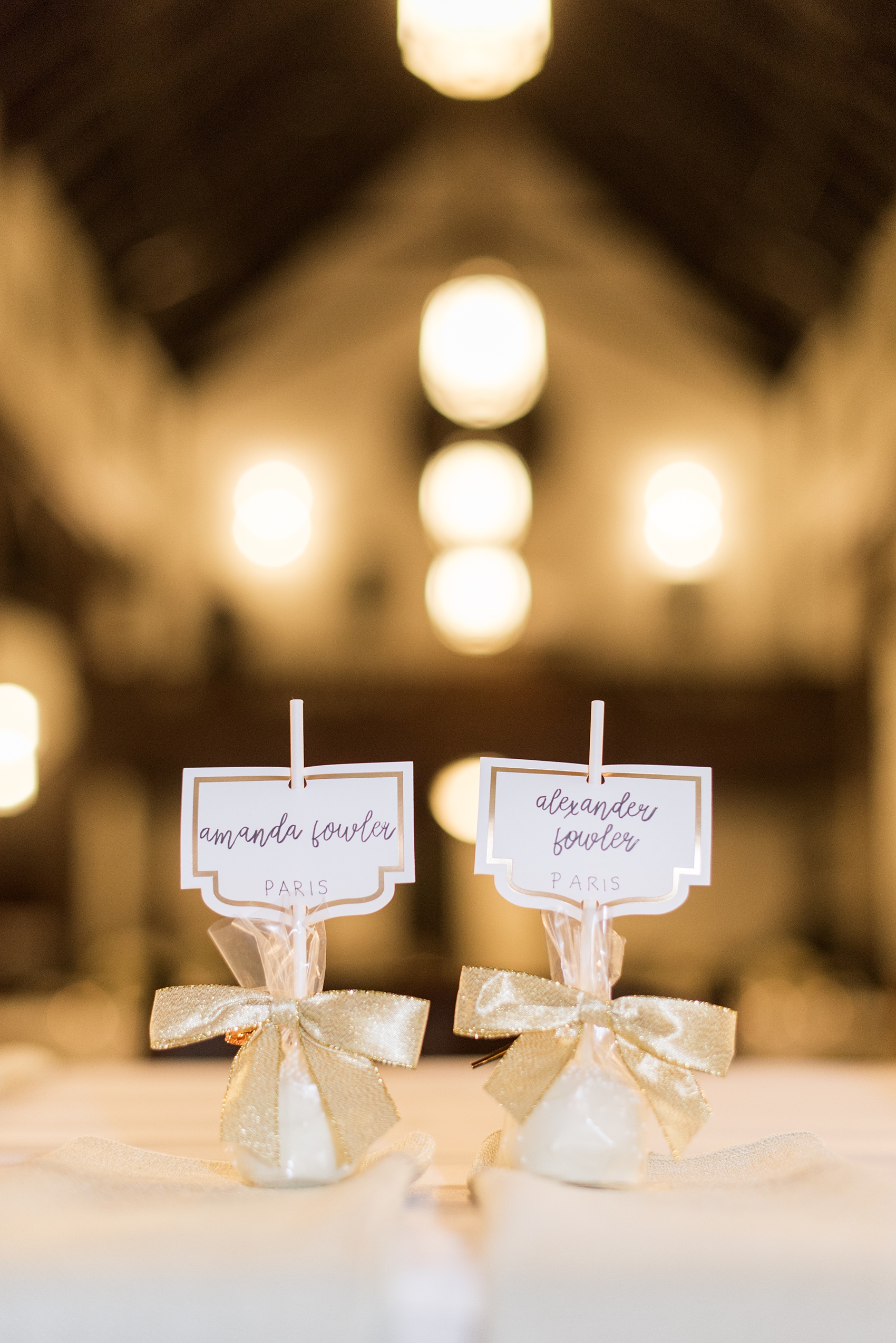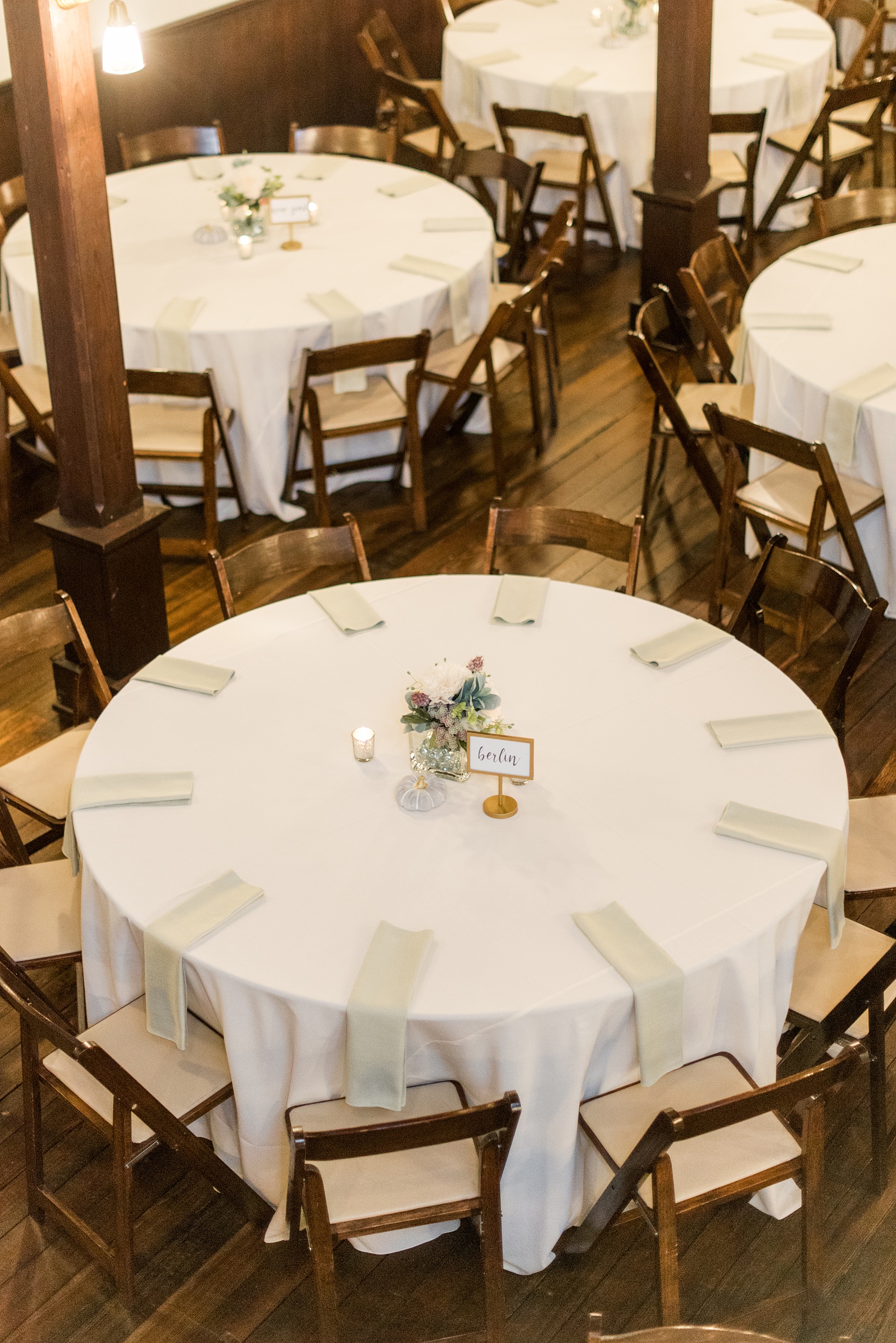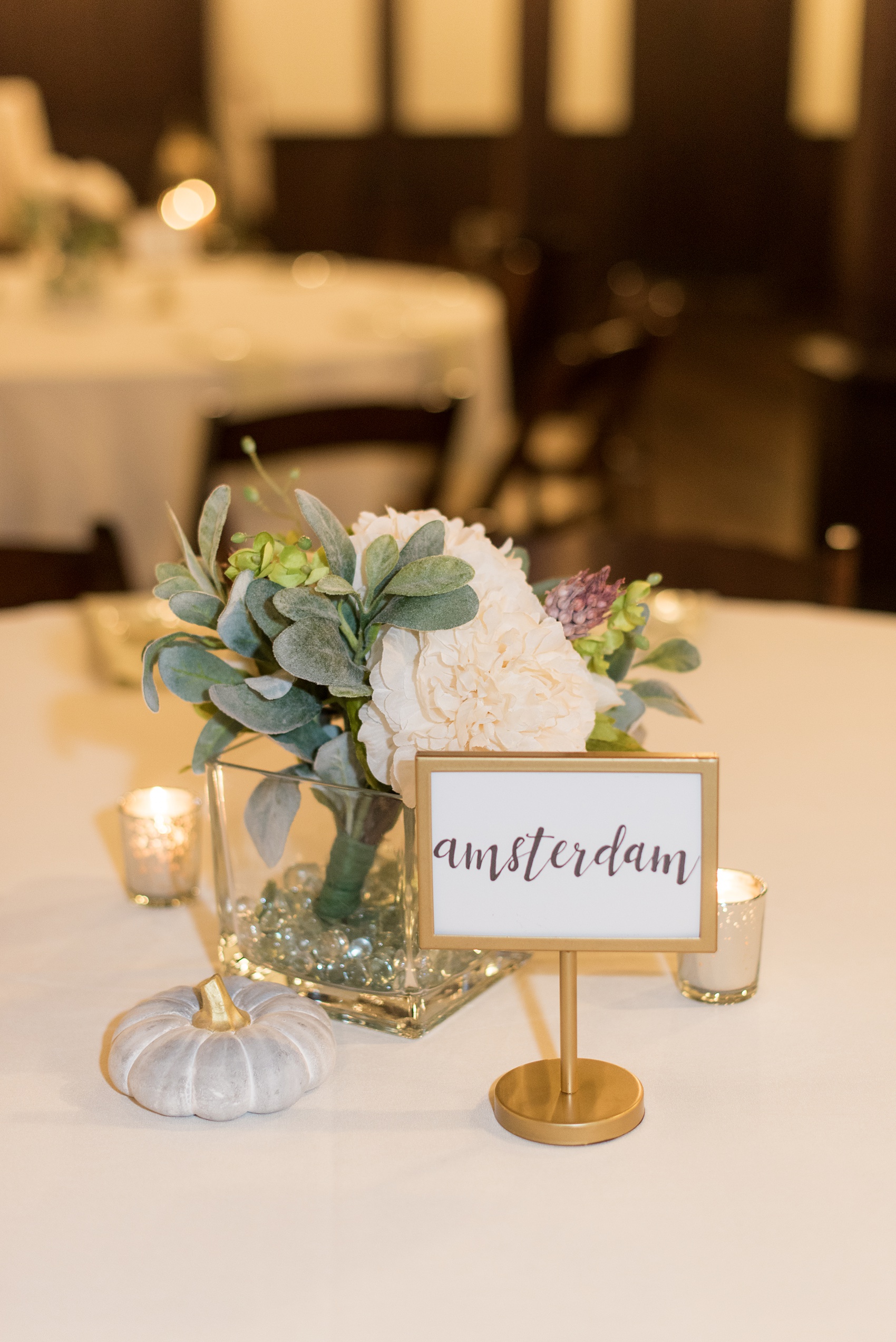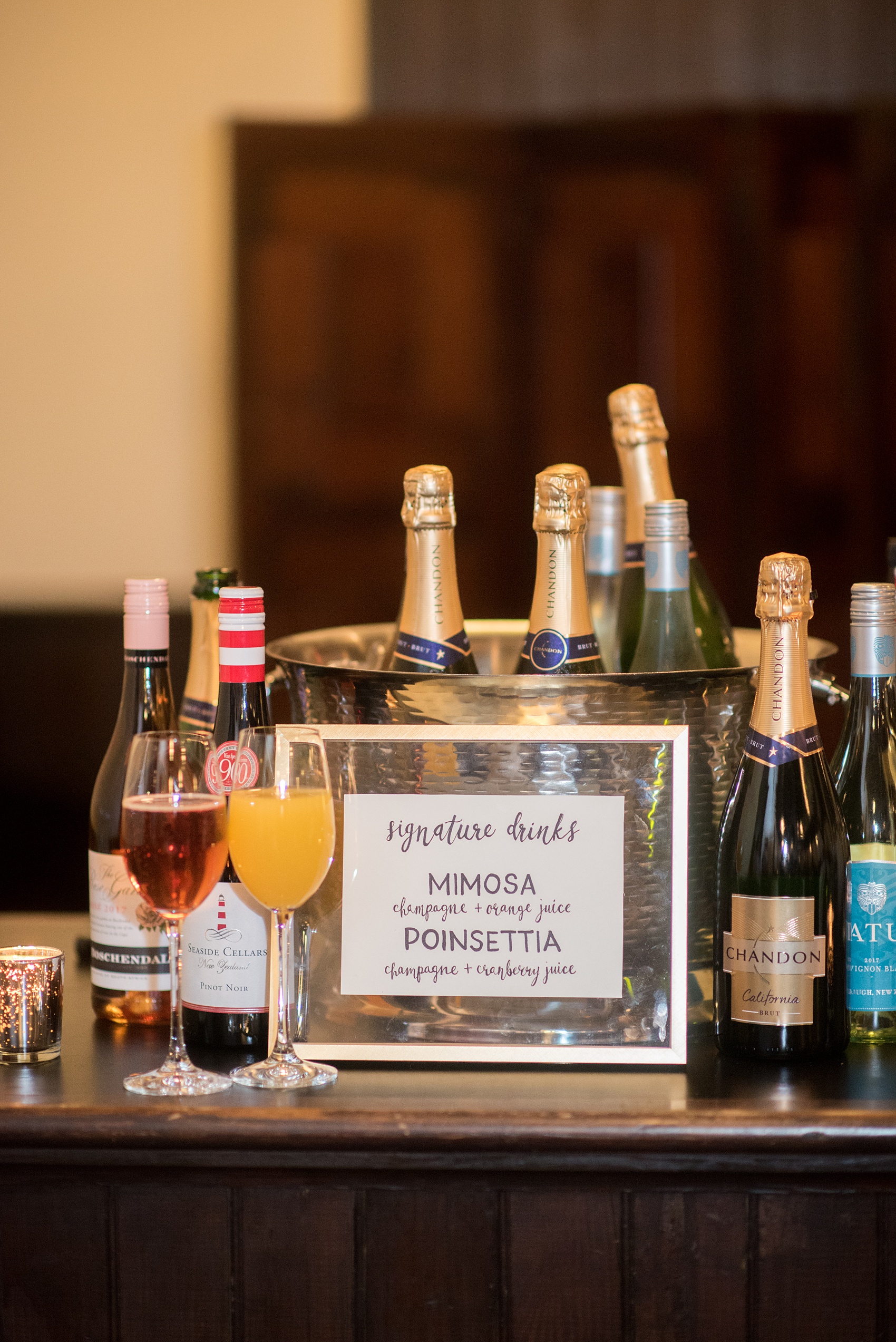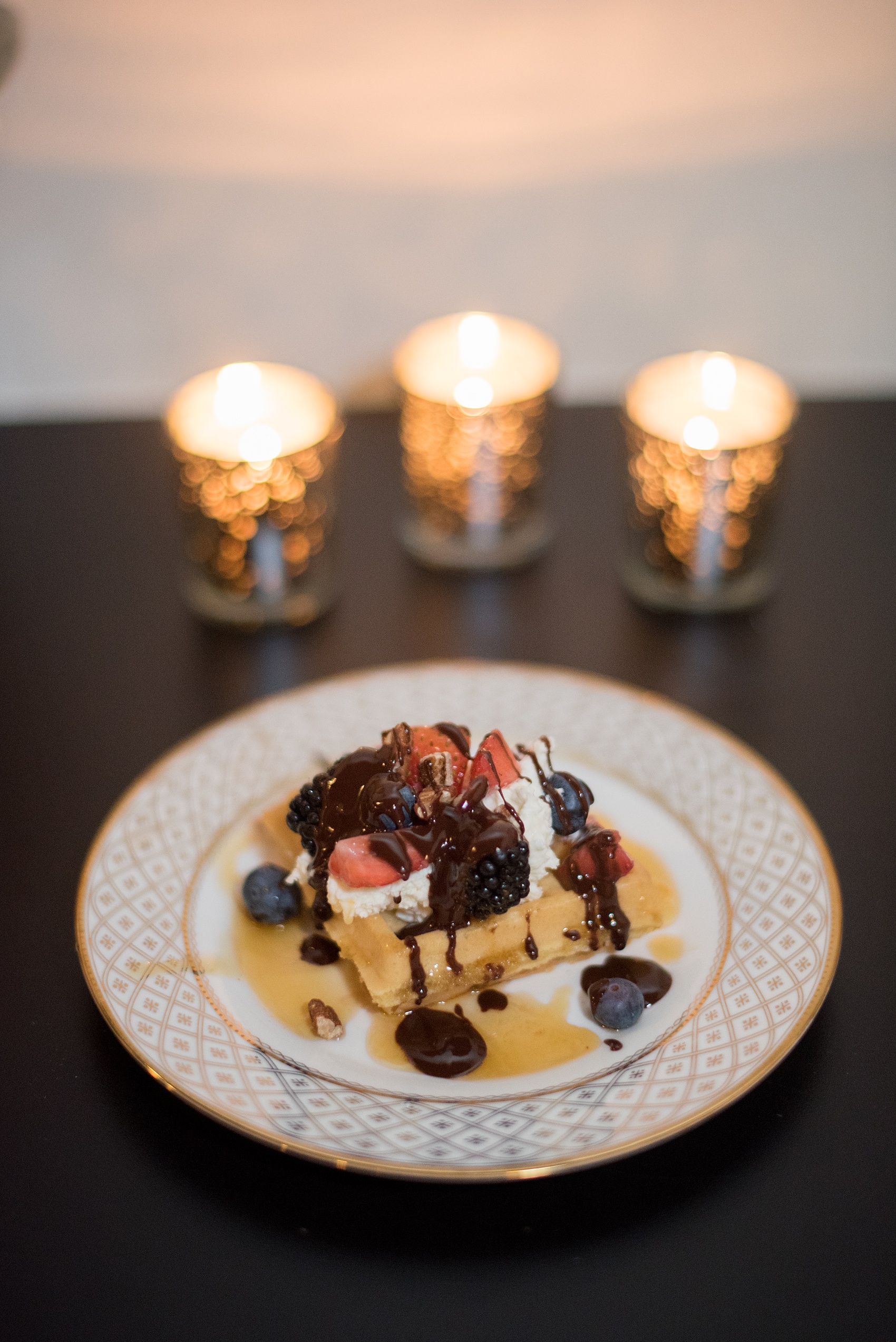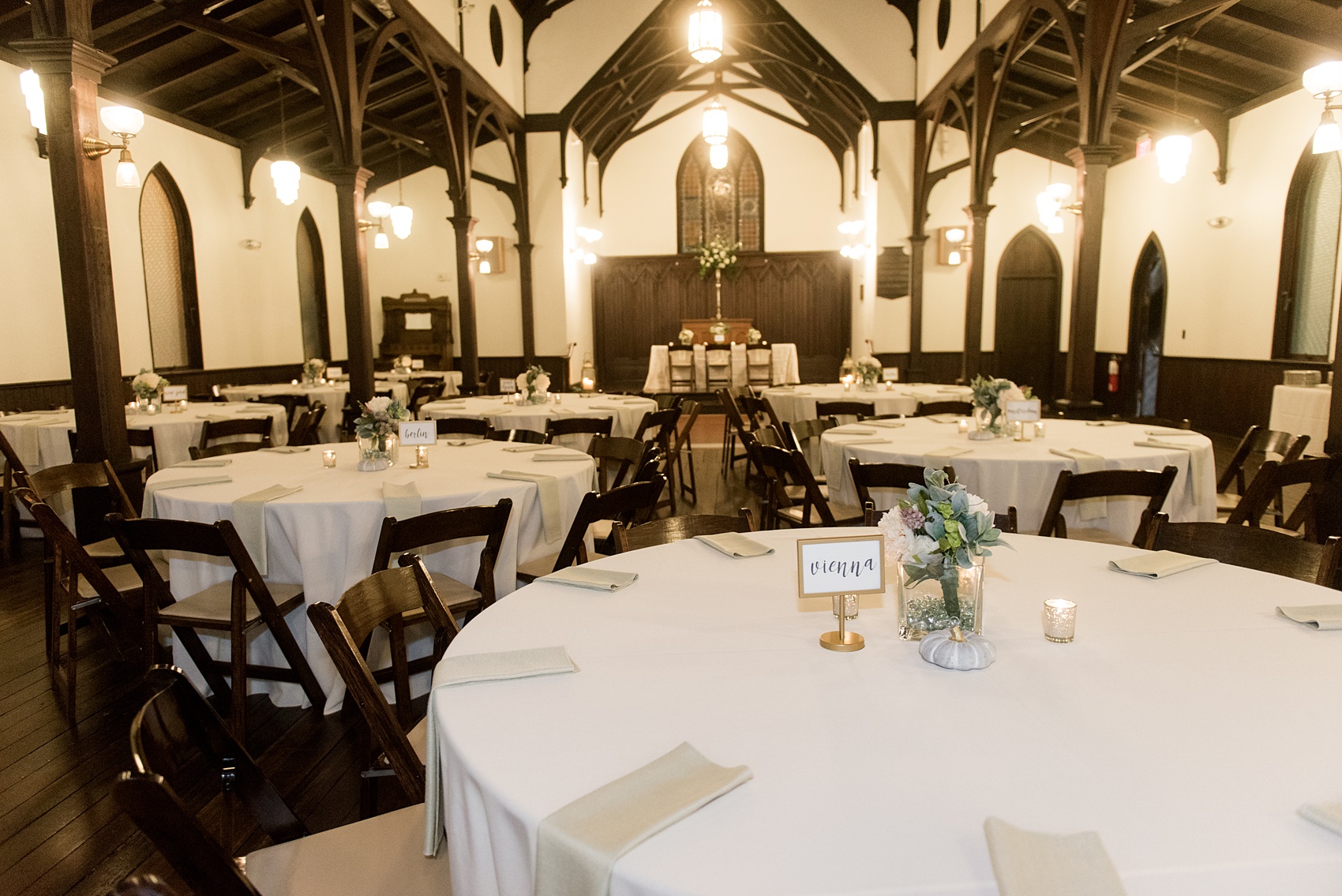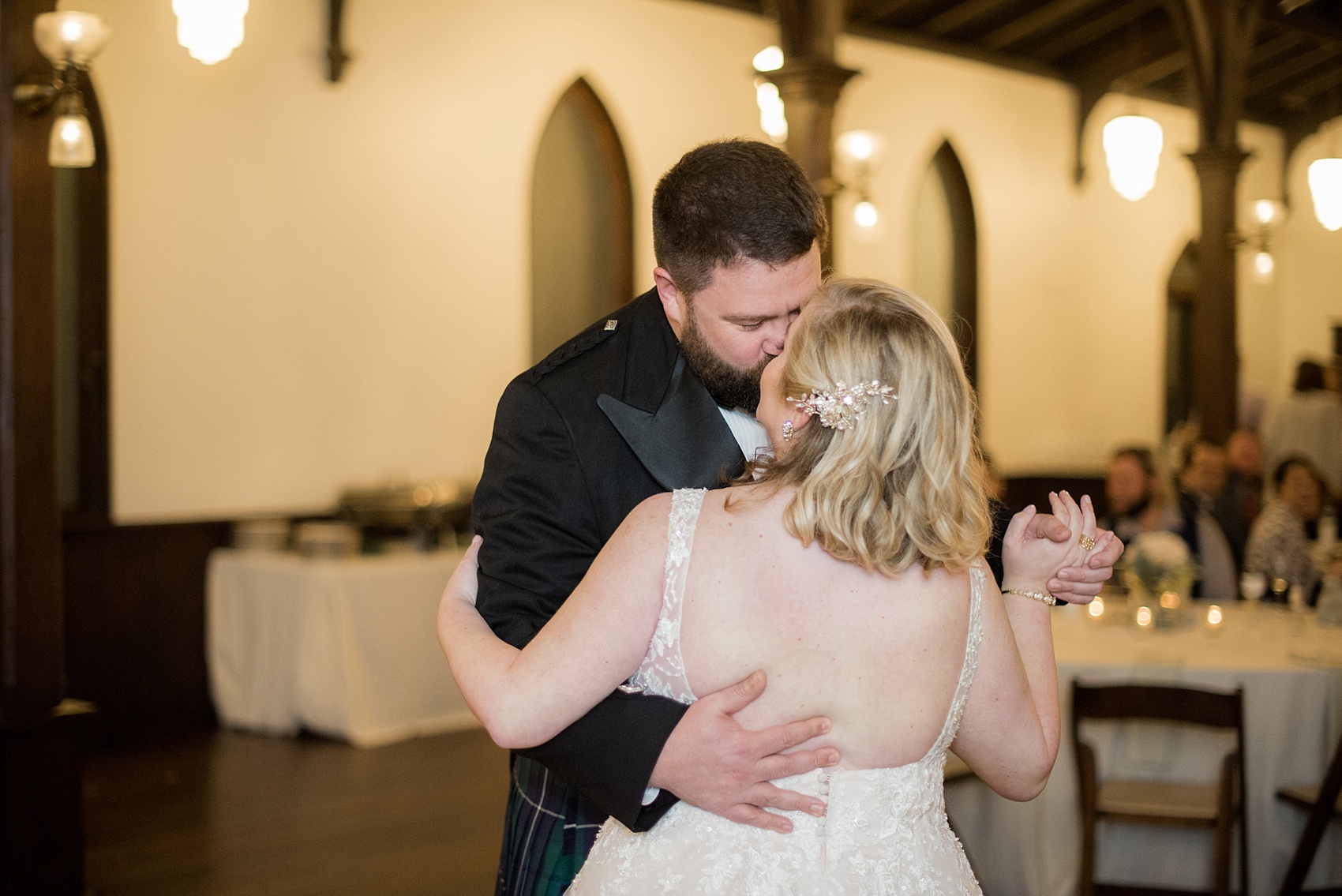 When I hugged Amanda goodbye that night she said, "I'm really glad you were here." It touched my soul! I was so glad I was there too. (Sigh…heart melting.) Congratulations to the newlyweds!!!
Venue: All Saints Chapel / Planner: Sally Oakley Events / Catering: Catering Works / Bouquet: Bloom Works / Hair: Travis Vann / Makeup: Michelle Clark / Cookies and cake pops: Bailey Lane Baking Co. / Officiant: Ed Sansbury, Triangle Custom Ceremonies / DJ: Mitch, Bunn DJ Company / Signs: AB Chalk Designs / Gown: Simply Blush Bridal, designer Maggie Sottero / Downtown Raleigh mural: Lisa Gaither Art
Interested in having Mikkel Paige Photography capture your day? Don't be shy…contact us. We'd love to hear from you!
For more Downtown Raleigh wedding photography check out: