Adele and Quinn have different roots with their cultural roots being in New Zealand and Taiwan, but their teenage memories were of the same high school. It wasn't until early college they'd realize their romantic connection (thanks to the magic of Facebook and a note from Quinn to Adele to help show him around campus) and started dating at NC State (which we happily hit up during their engagement session!). Leading to…their Market Hall wedding!
As his best man, Justin, recalled in his speech from then on out anyone who wasn't Adele just wouldn't do. From their initial inquiry to me I knew it was a great fit; we share a love for different cultures and traveling and when I learned their street name was a Harry Potter reference I thought the stars must have surely aligned perfectly for us to work together.
Our initial meeting was in Holly Springs over coffee and tea. Later they'd seal their vows with a tea ceremony honoring tradition and a gorgeous celebration to accompany it all.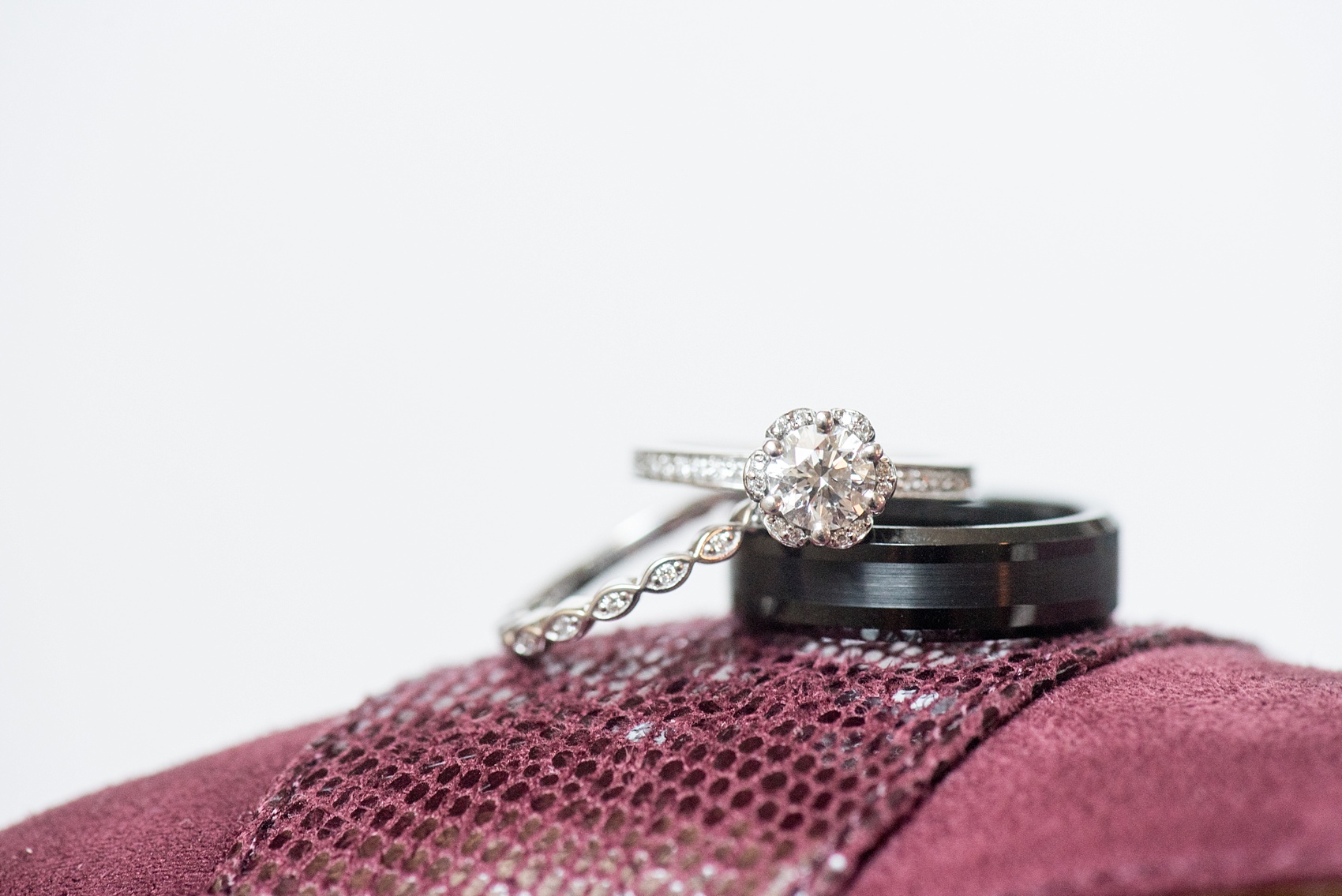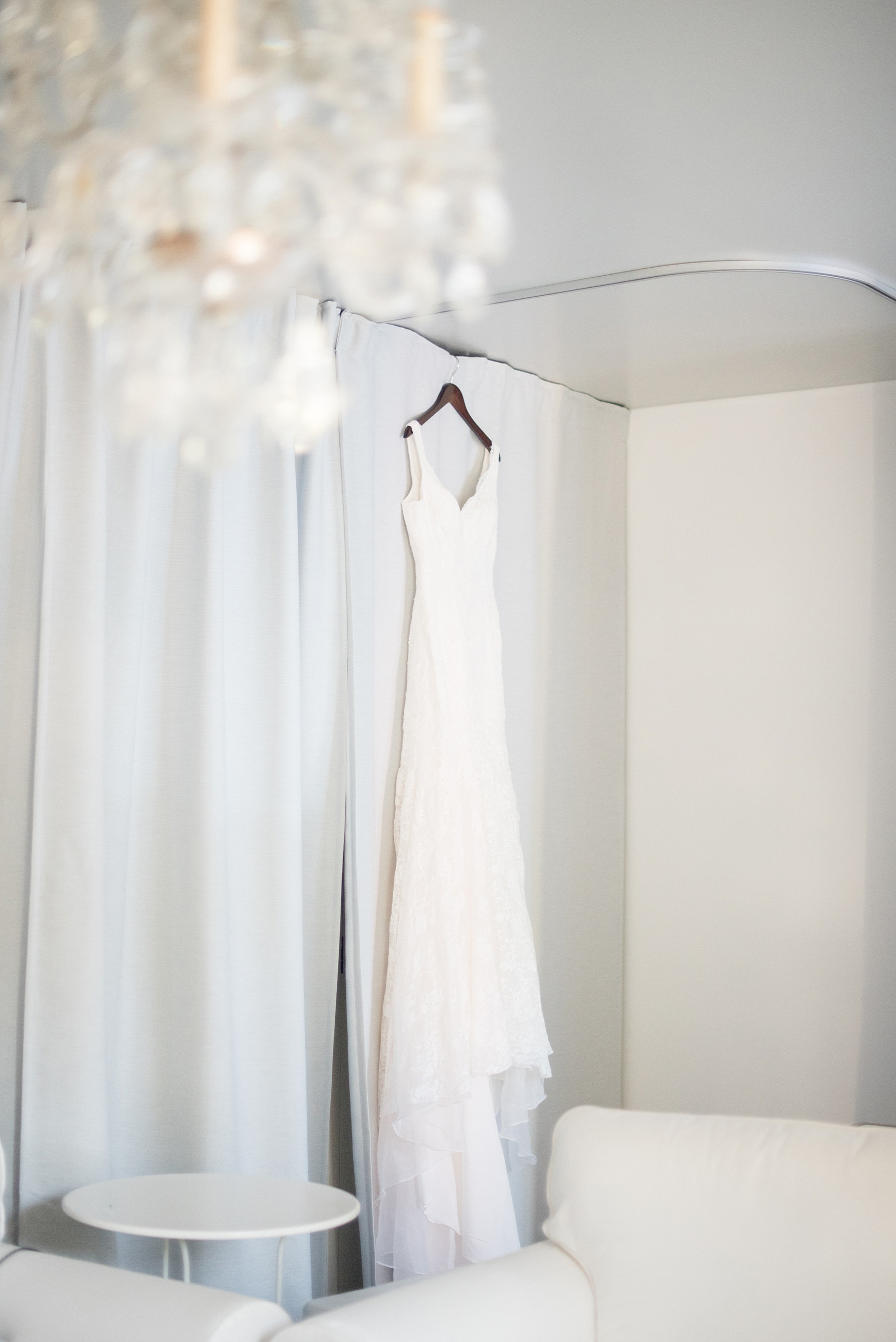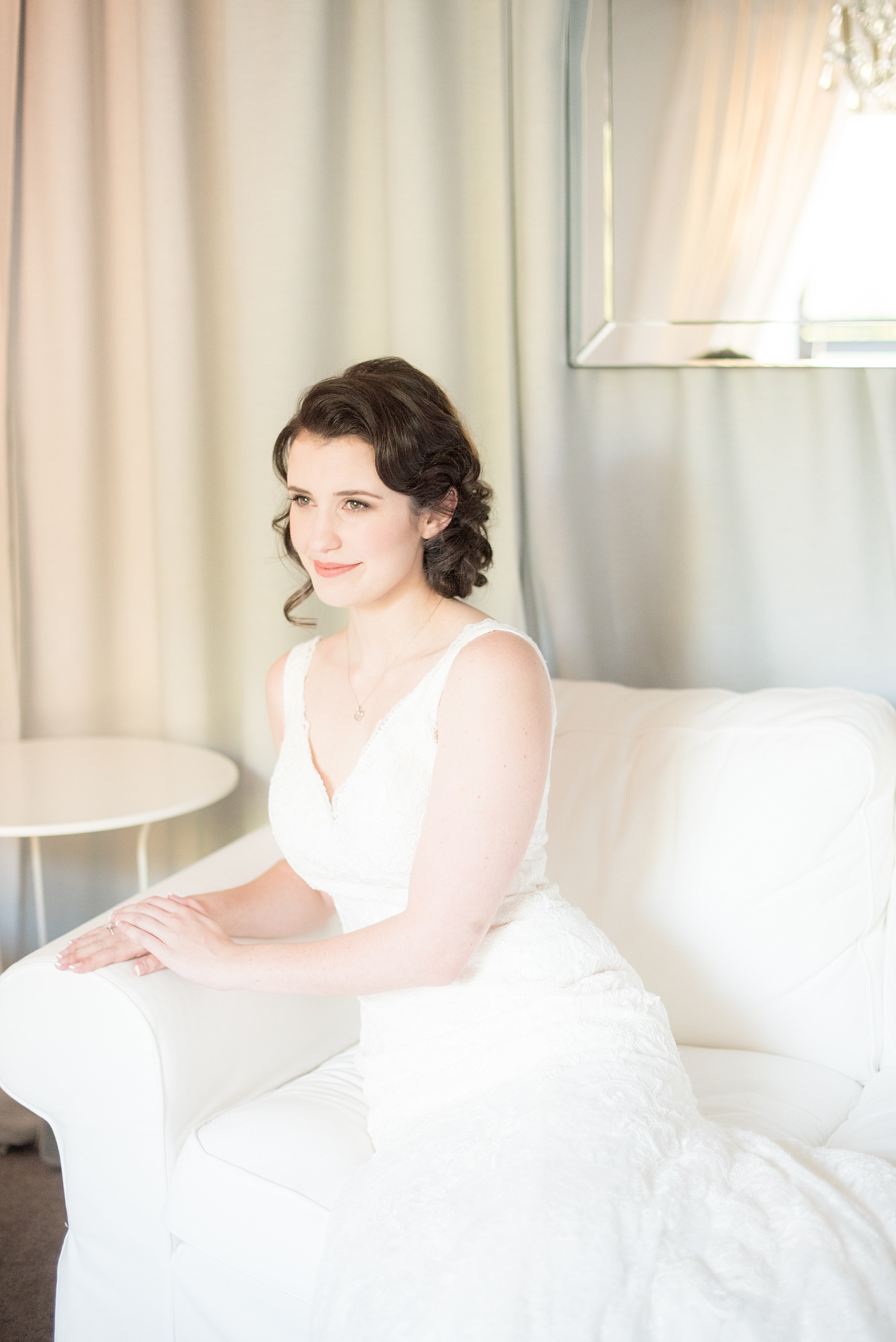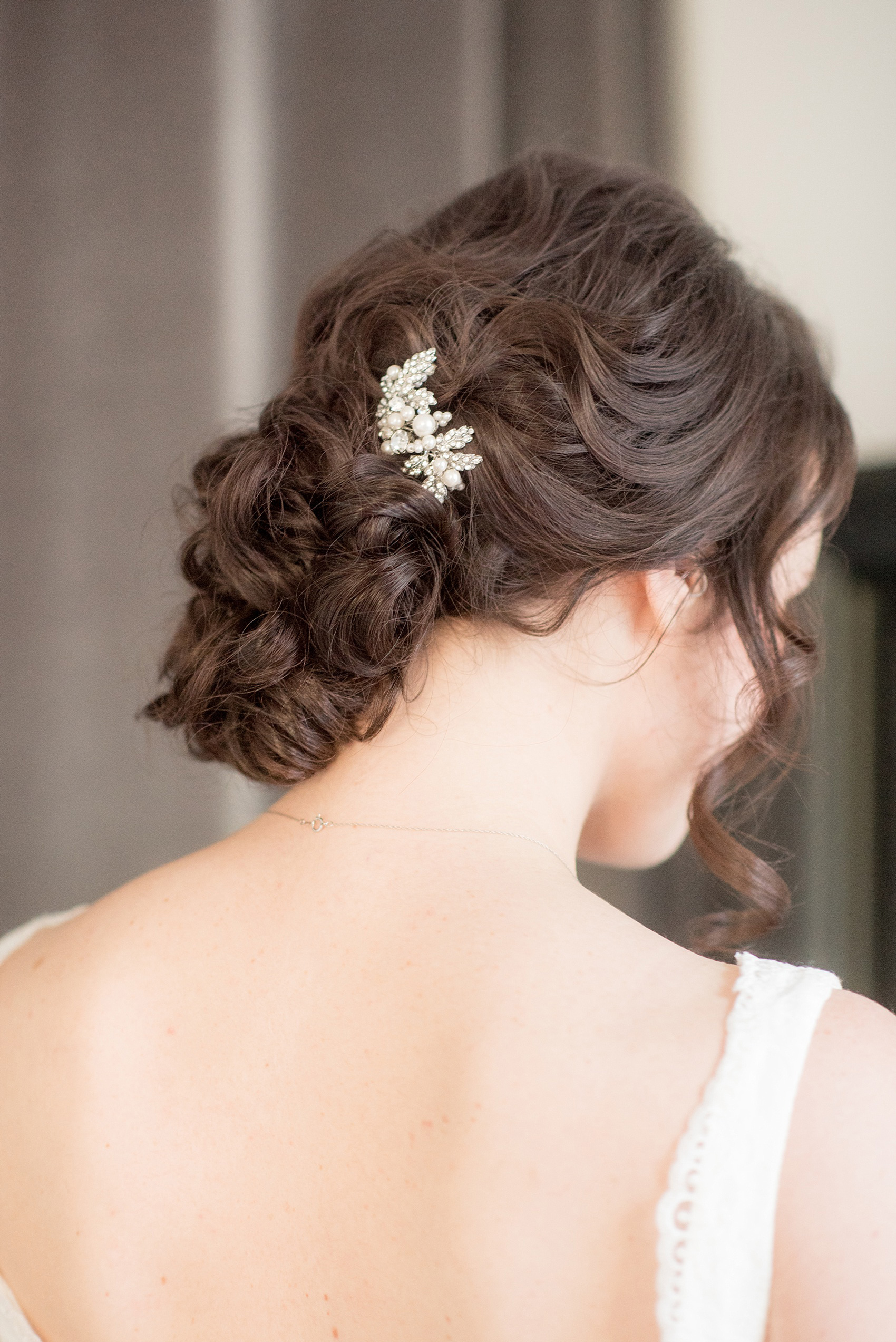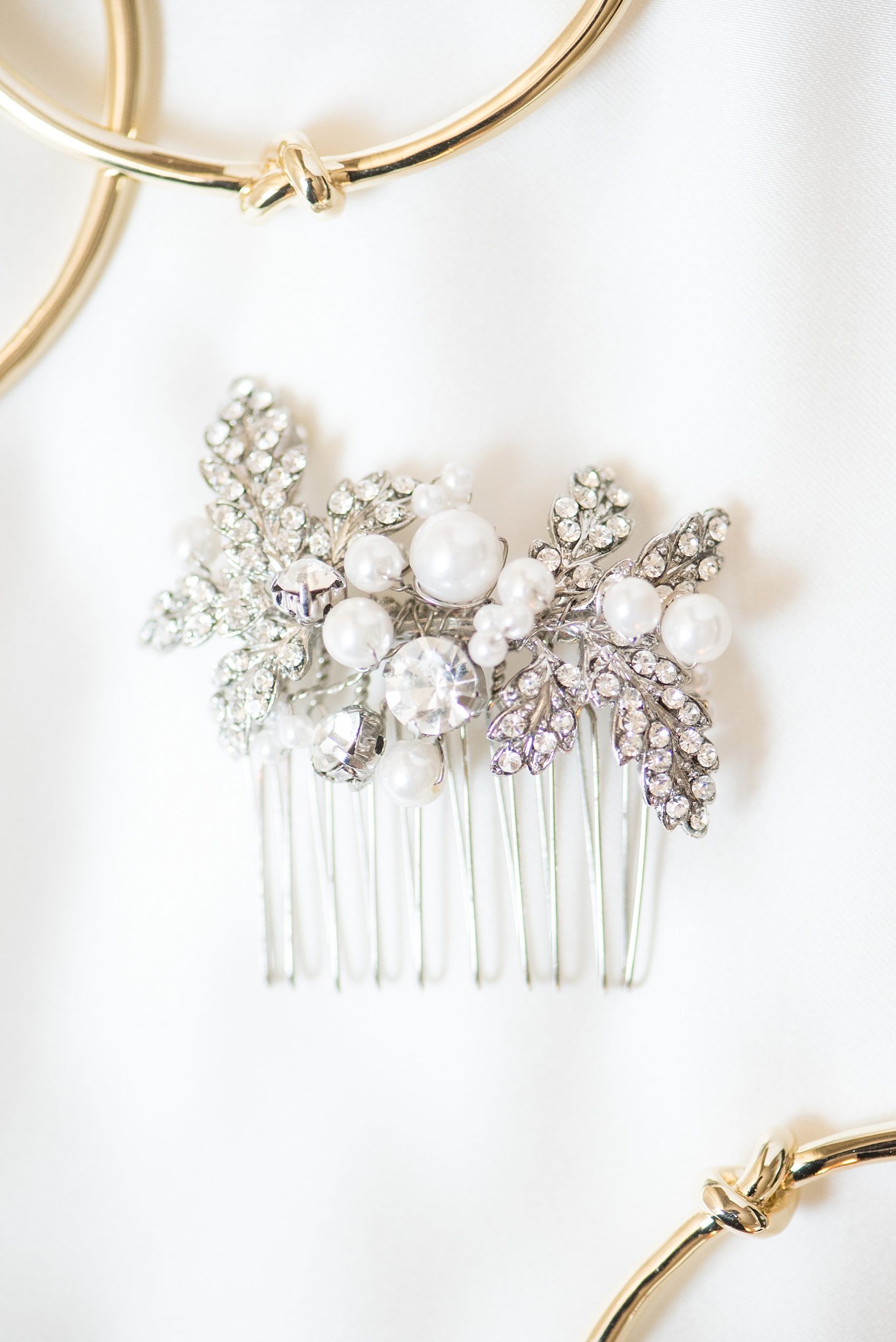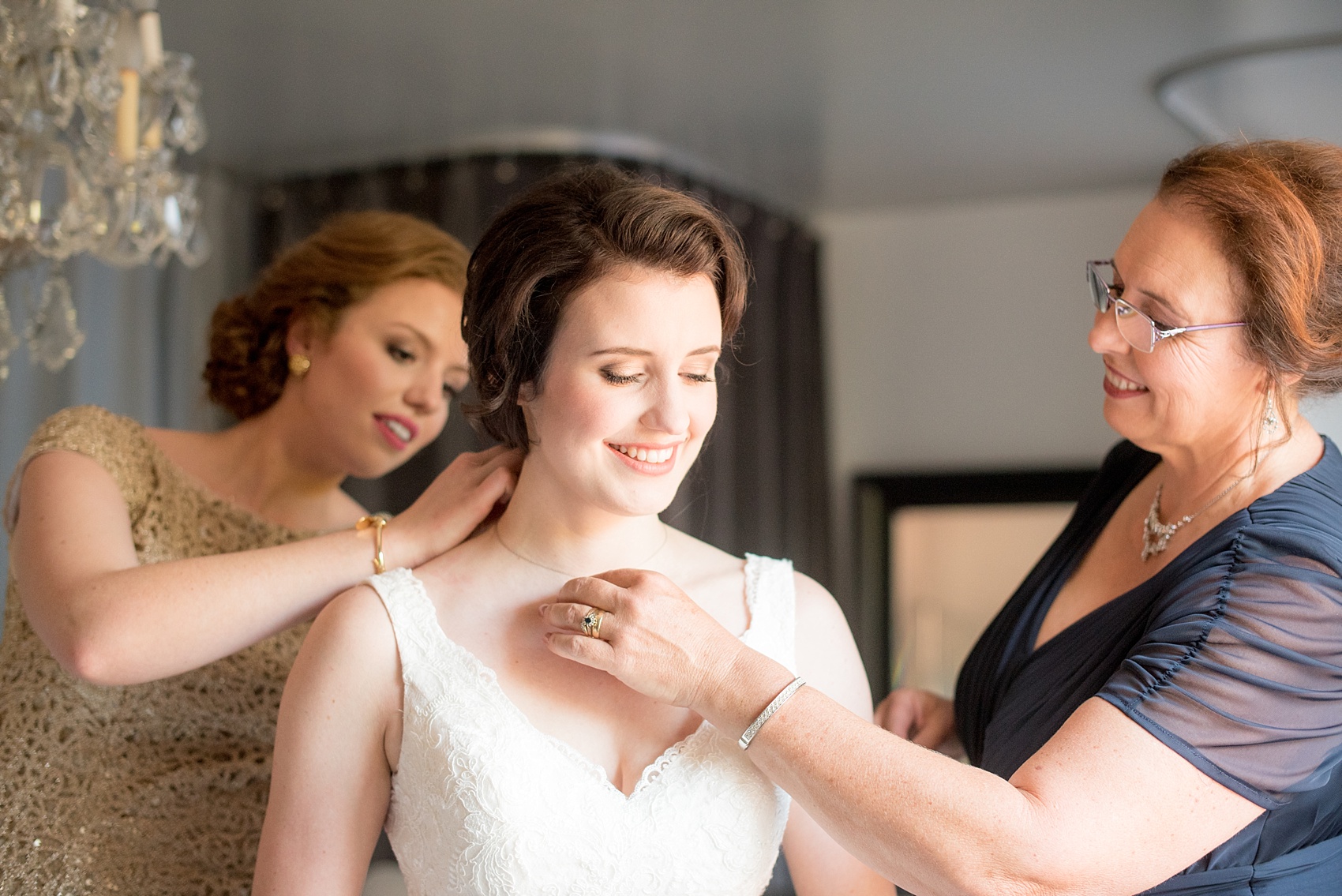 Adele prepared for her wedding day not far from the venue at The White Room in downtown Raleigh. Its lush grey and white curtains and walls were perfect – not just for photos but for any group of women to feel pampered and special.
While Adele's sister and mom helped her with some finishing touches Quinn did his final prep at the venue right before they did their first look. His Asian black cat cufflinks were such a unique detail I adored!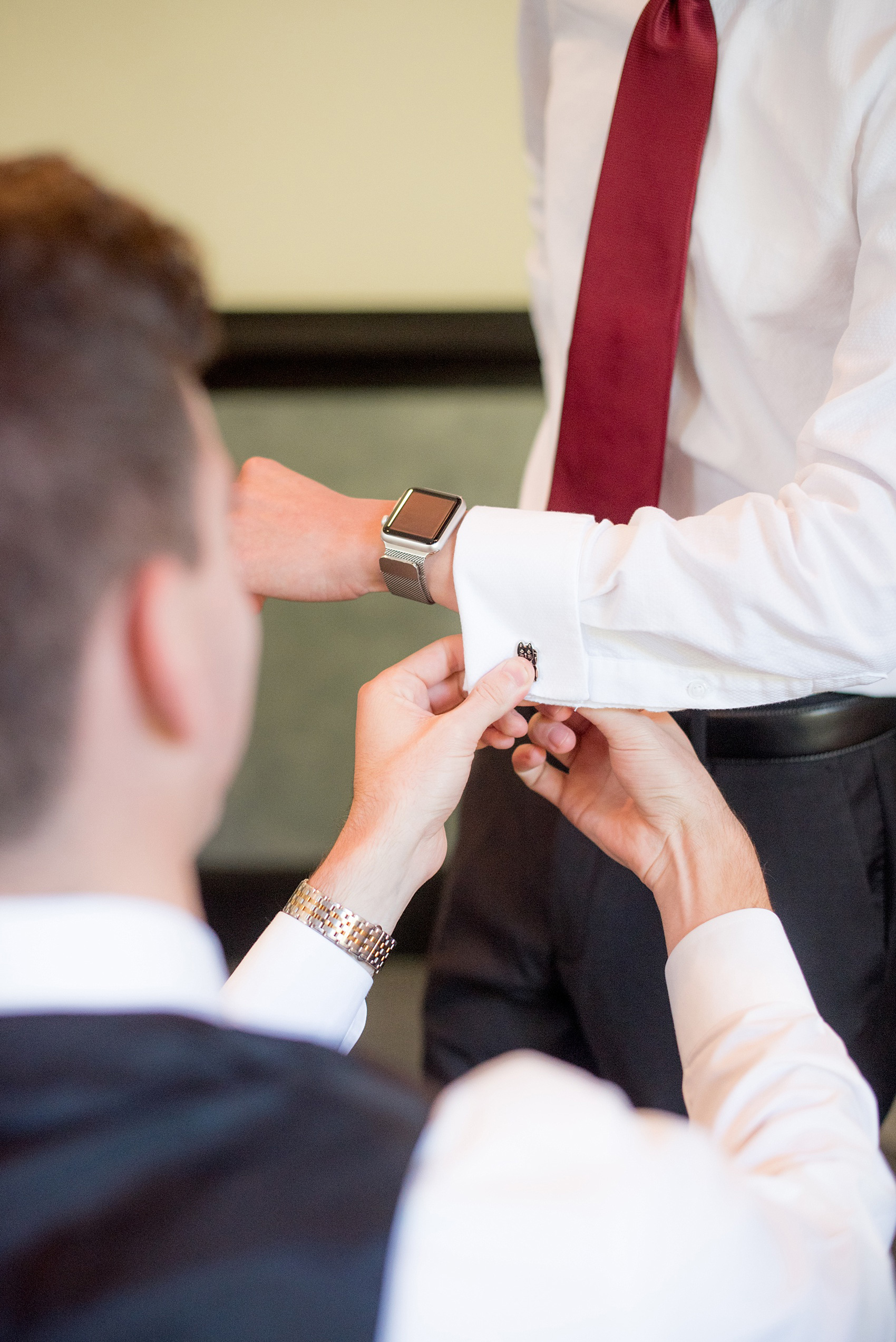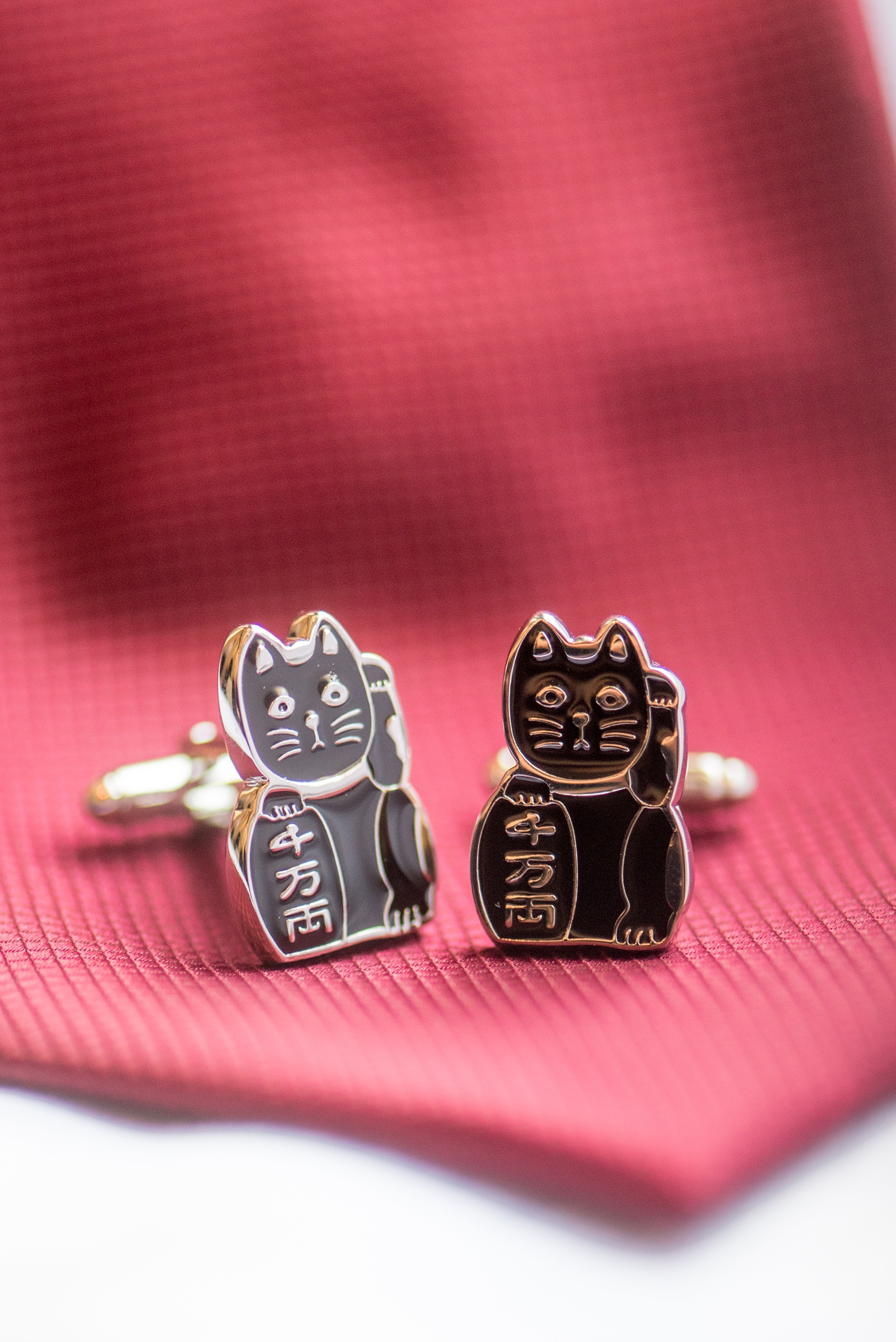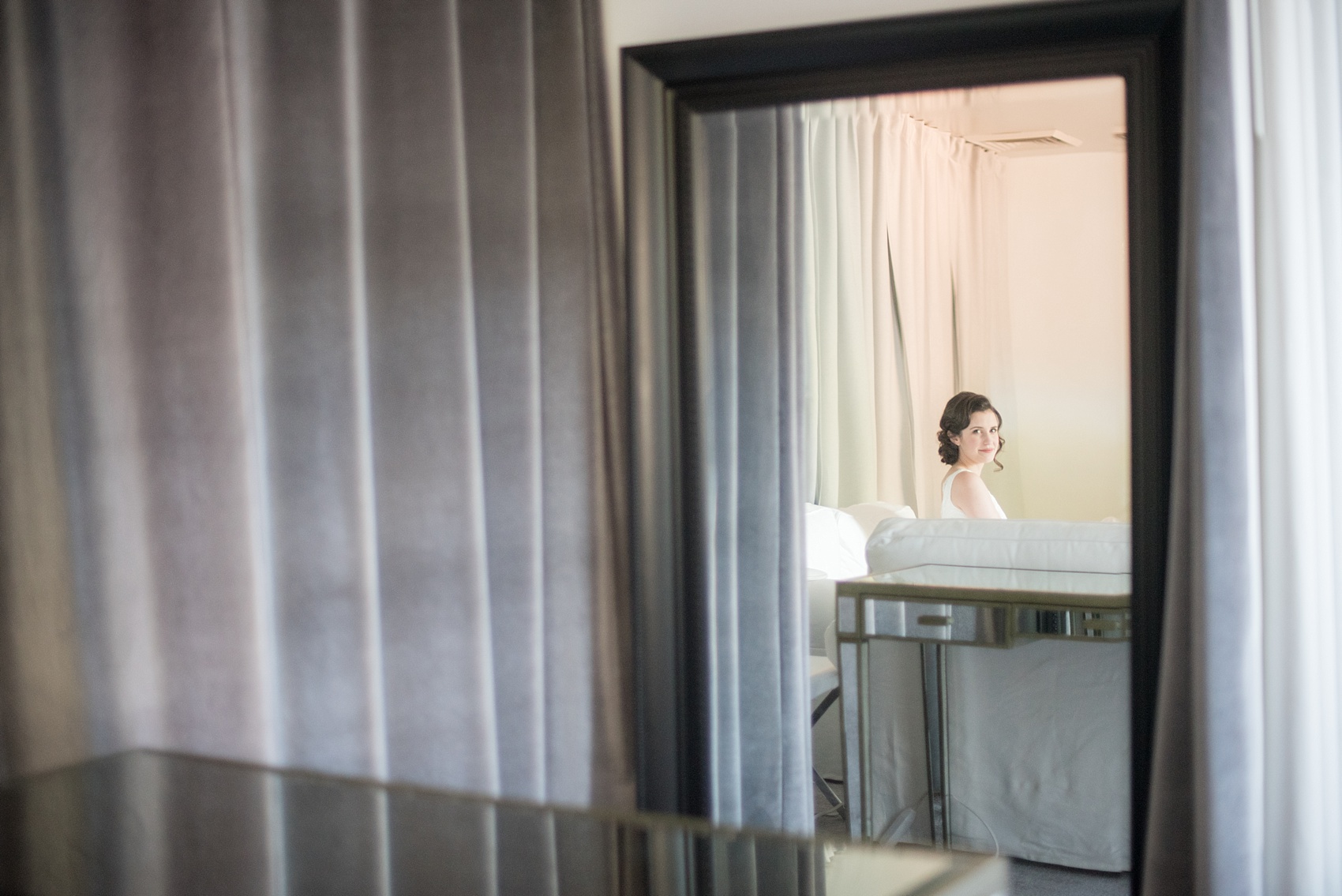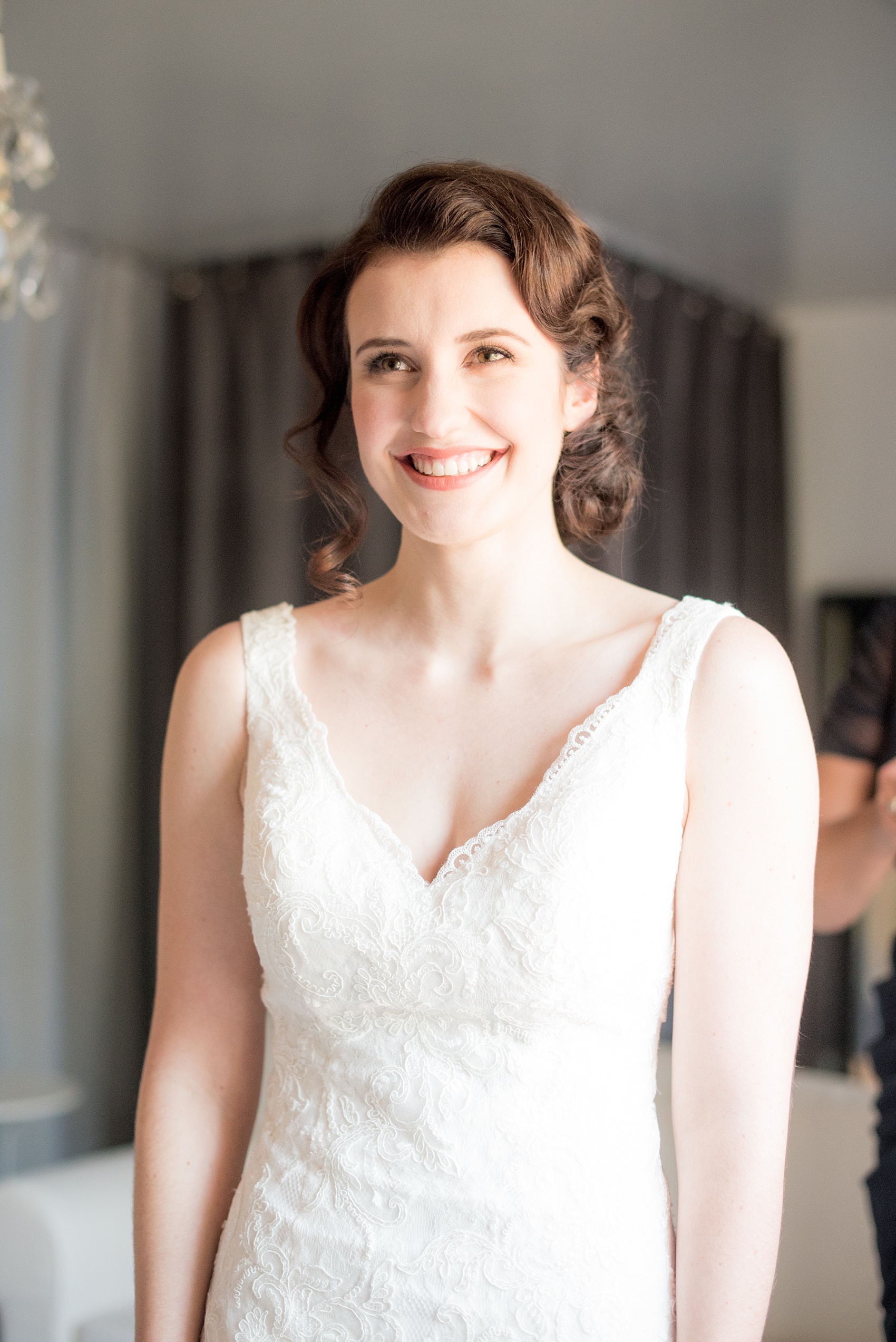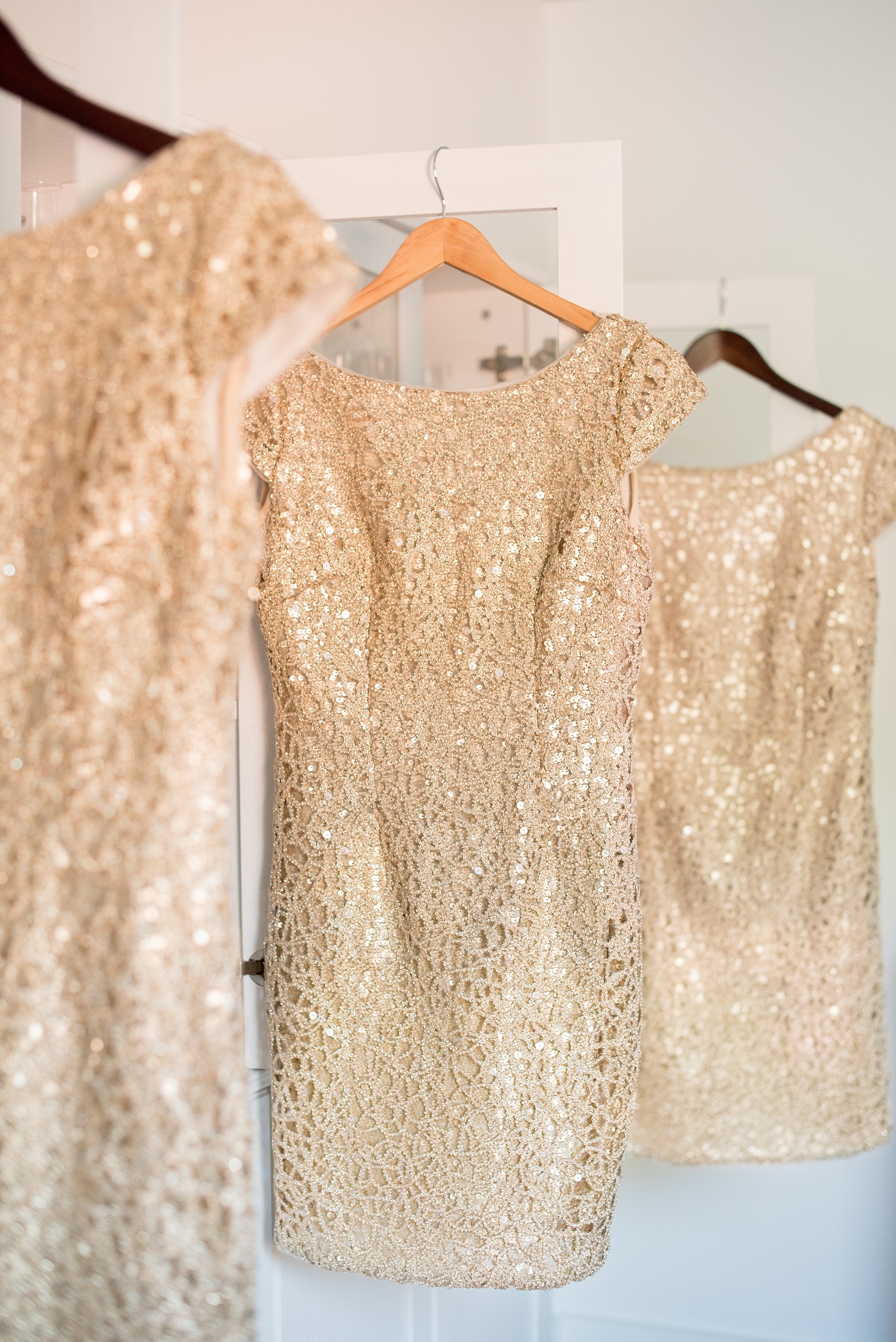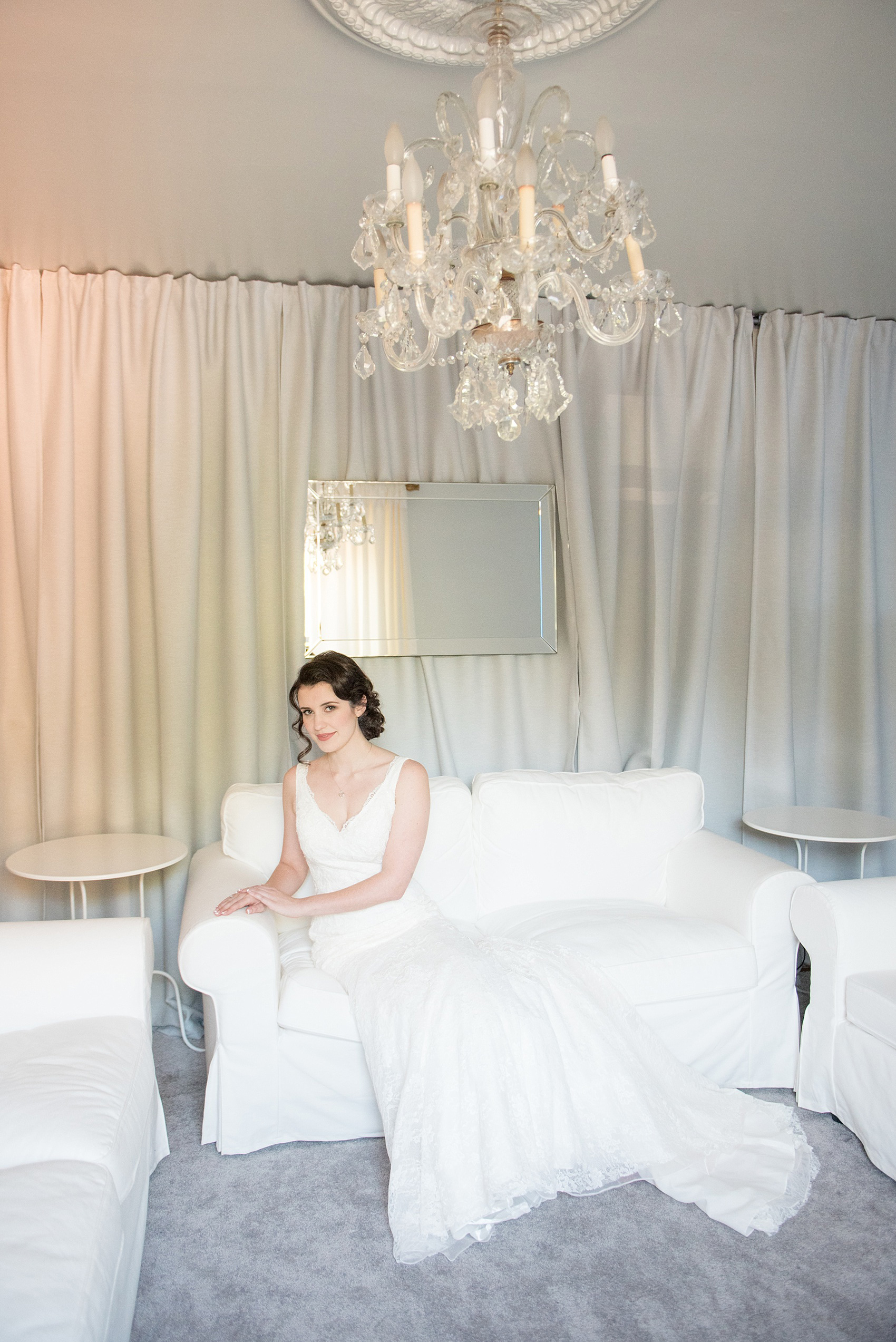 How dreamy are the short gold Adrianna Papell dresses Adele chose for her bridesmaids? It had a great embellishment texture to it and I thought its comfort level was perfect for dancing later on in the evening. Before Adele hit the road to drive the 5 minutes to meet her groom I was able to snap some stunning, iconic portraits of her. Swoon!
Their first look was an emotional success, followed by the exchange of gifts to one another! Quinn got Adele gorgeous Kate Spade hanging earrings she wore for the remainder of her wedding day. I love that she'll be able to wear them through the years for date nights and other special occasions.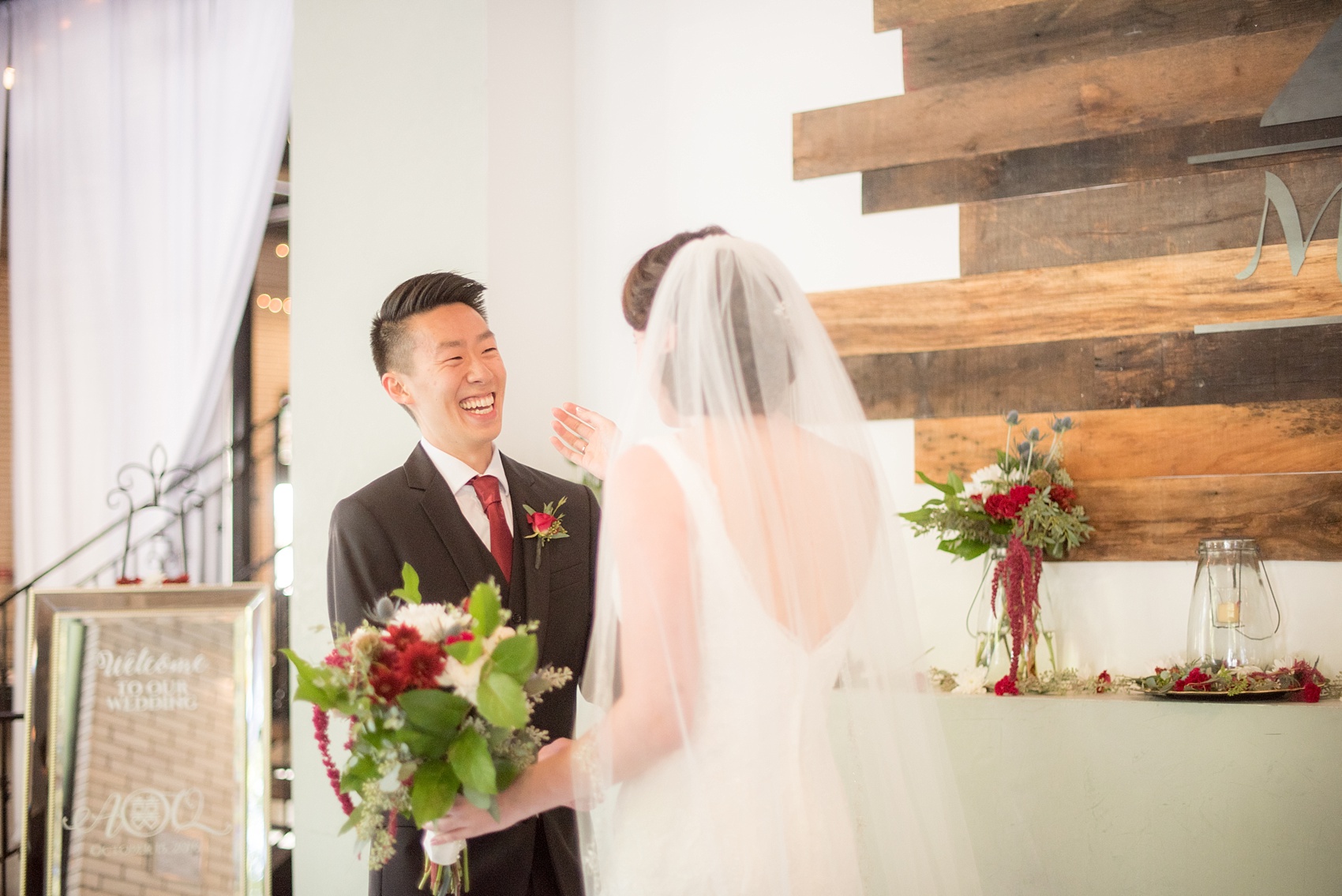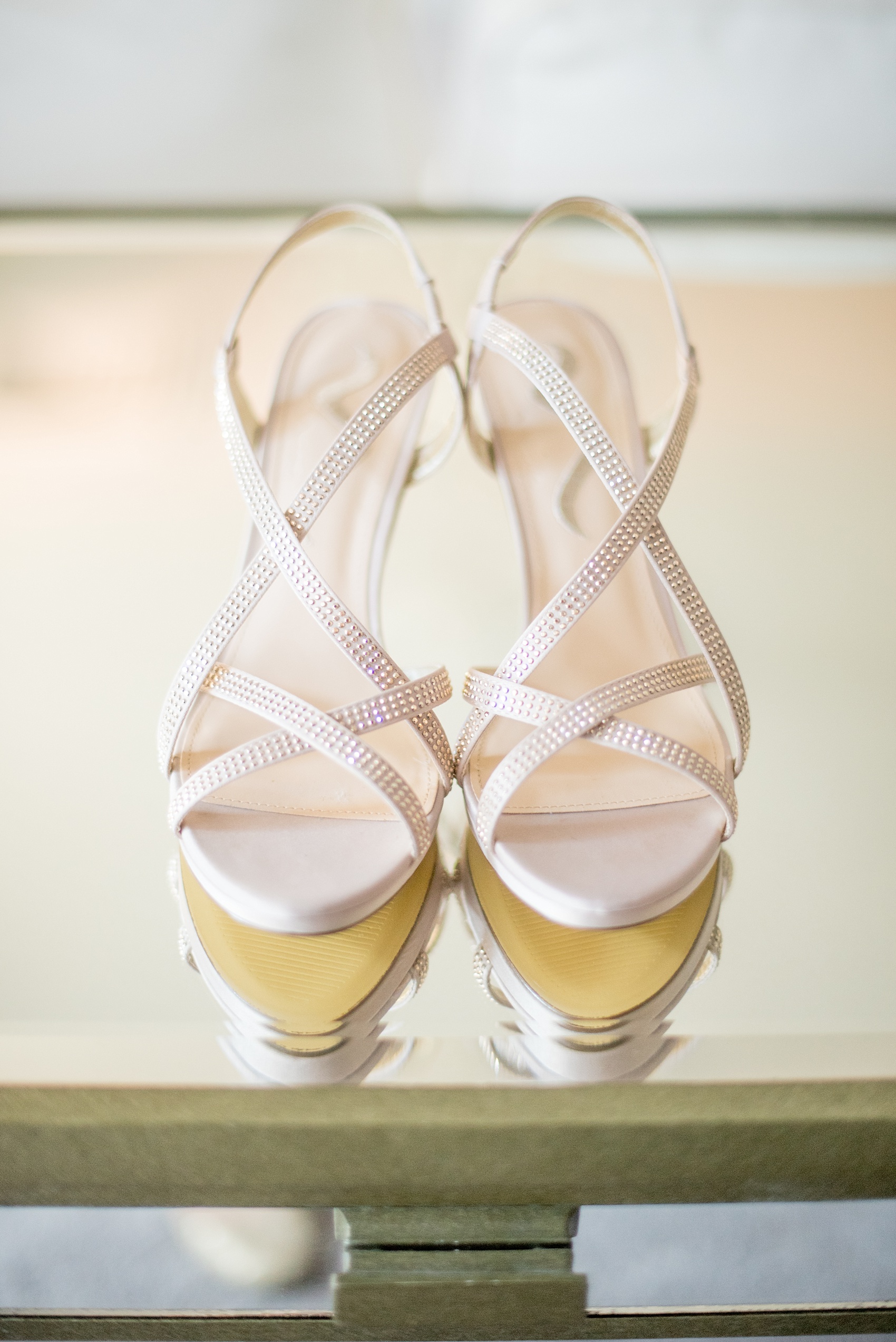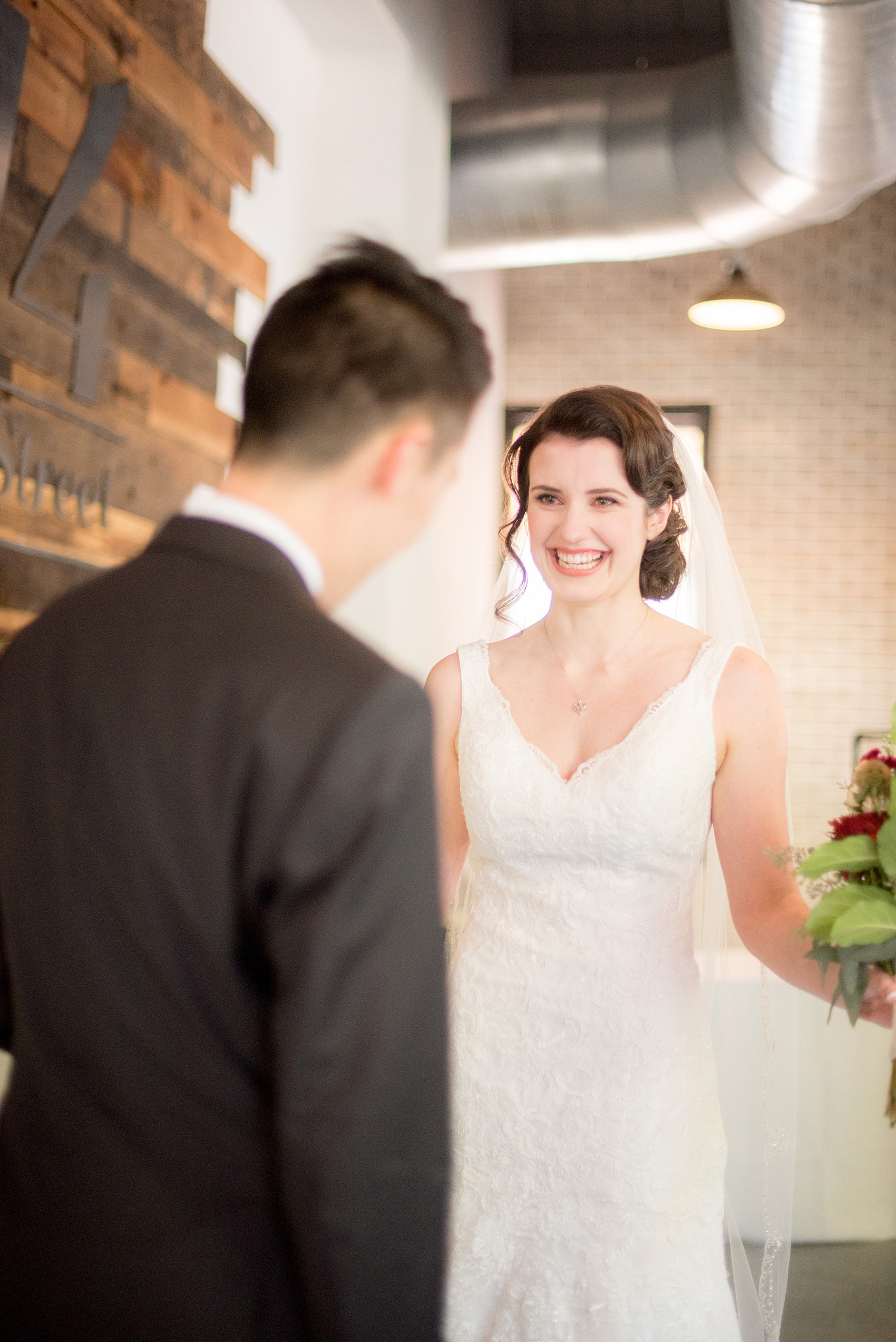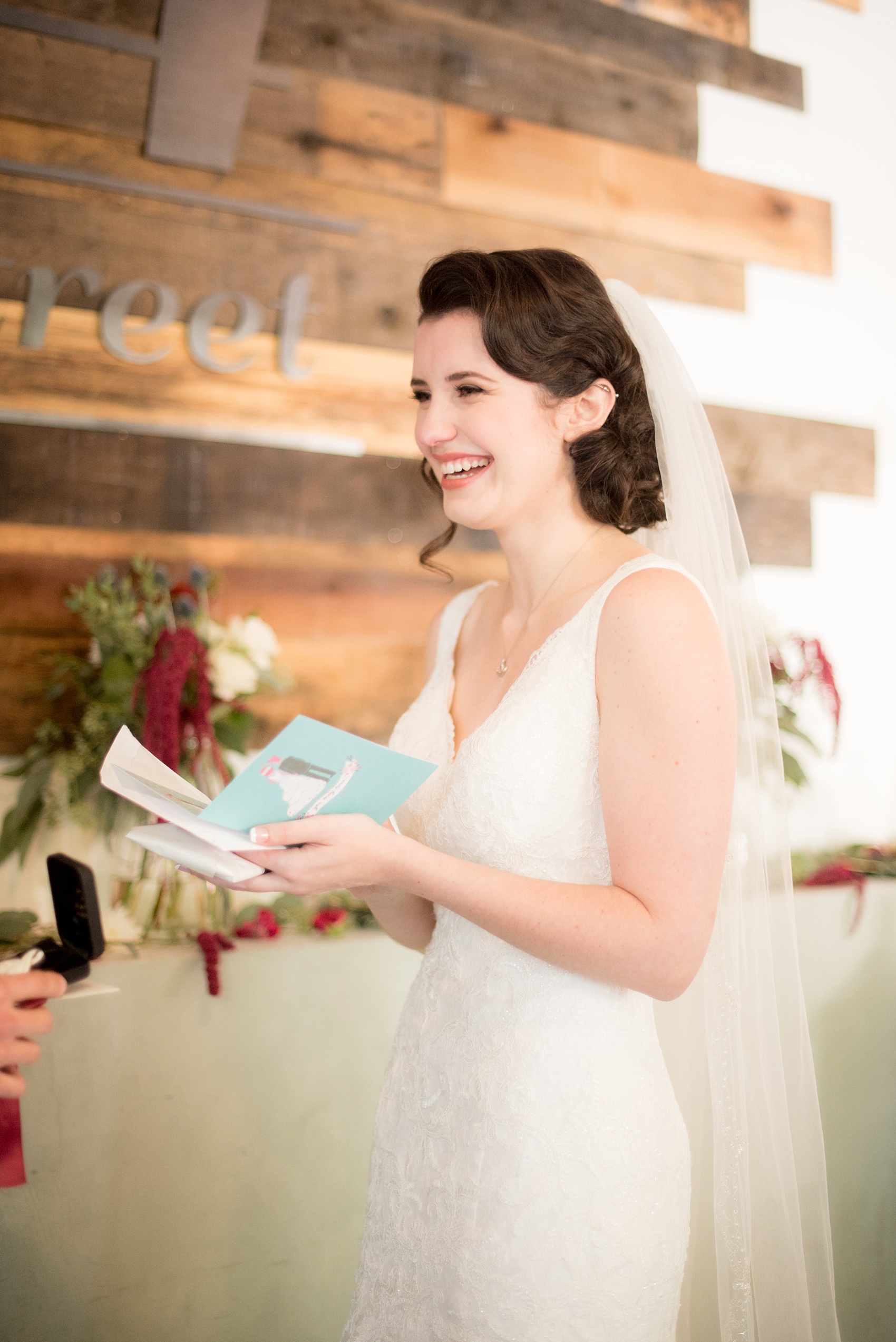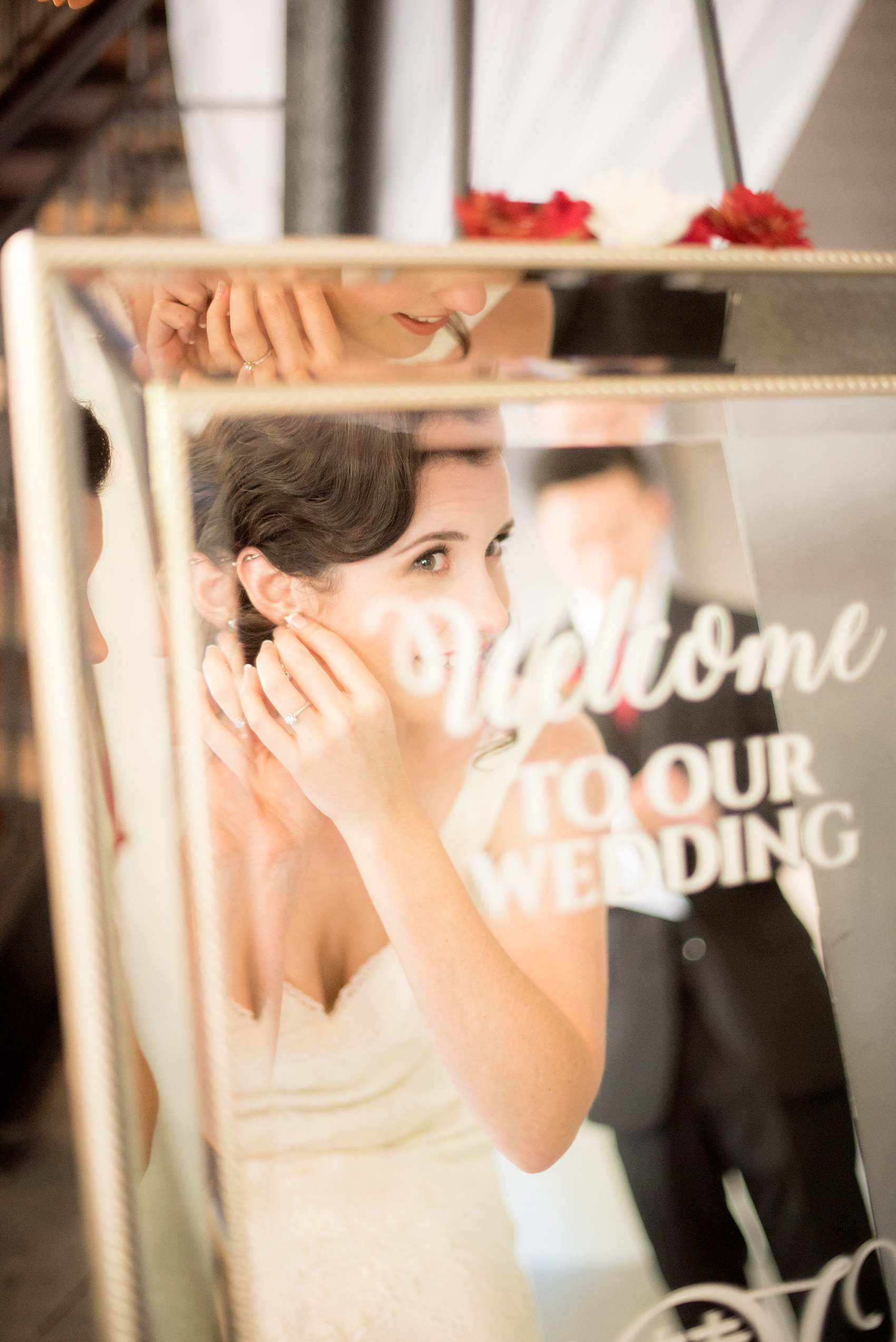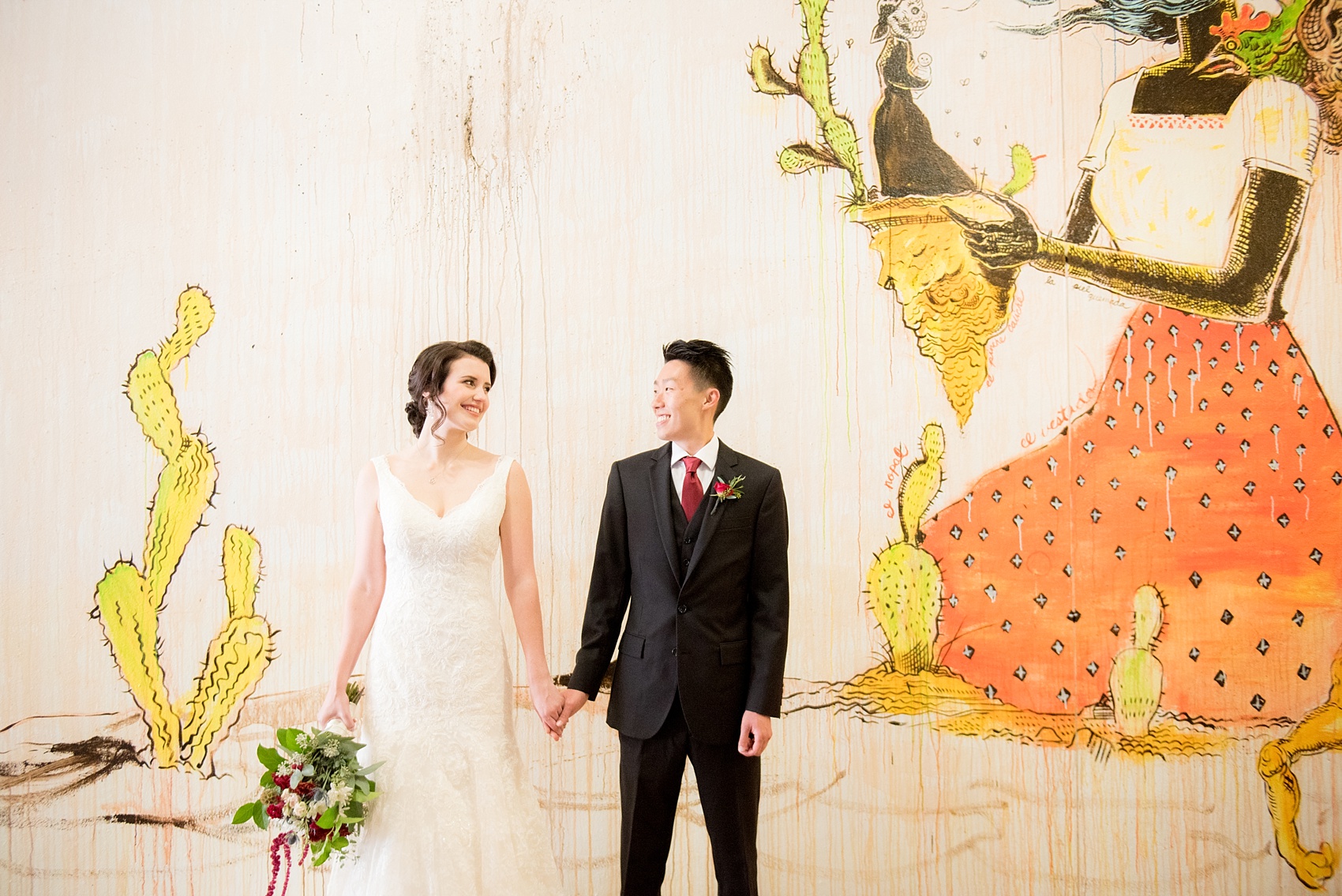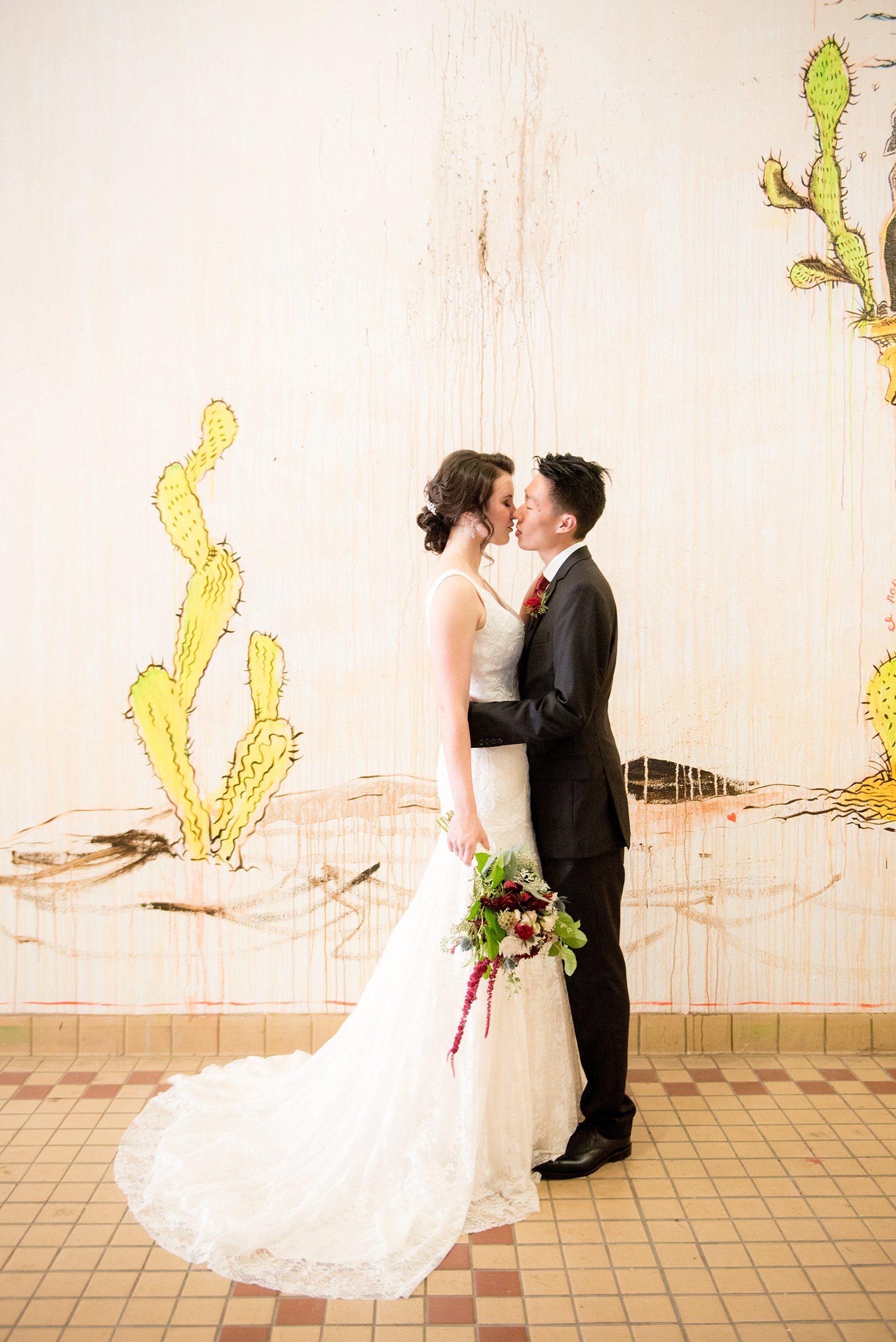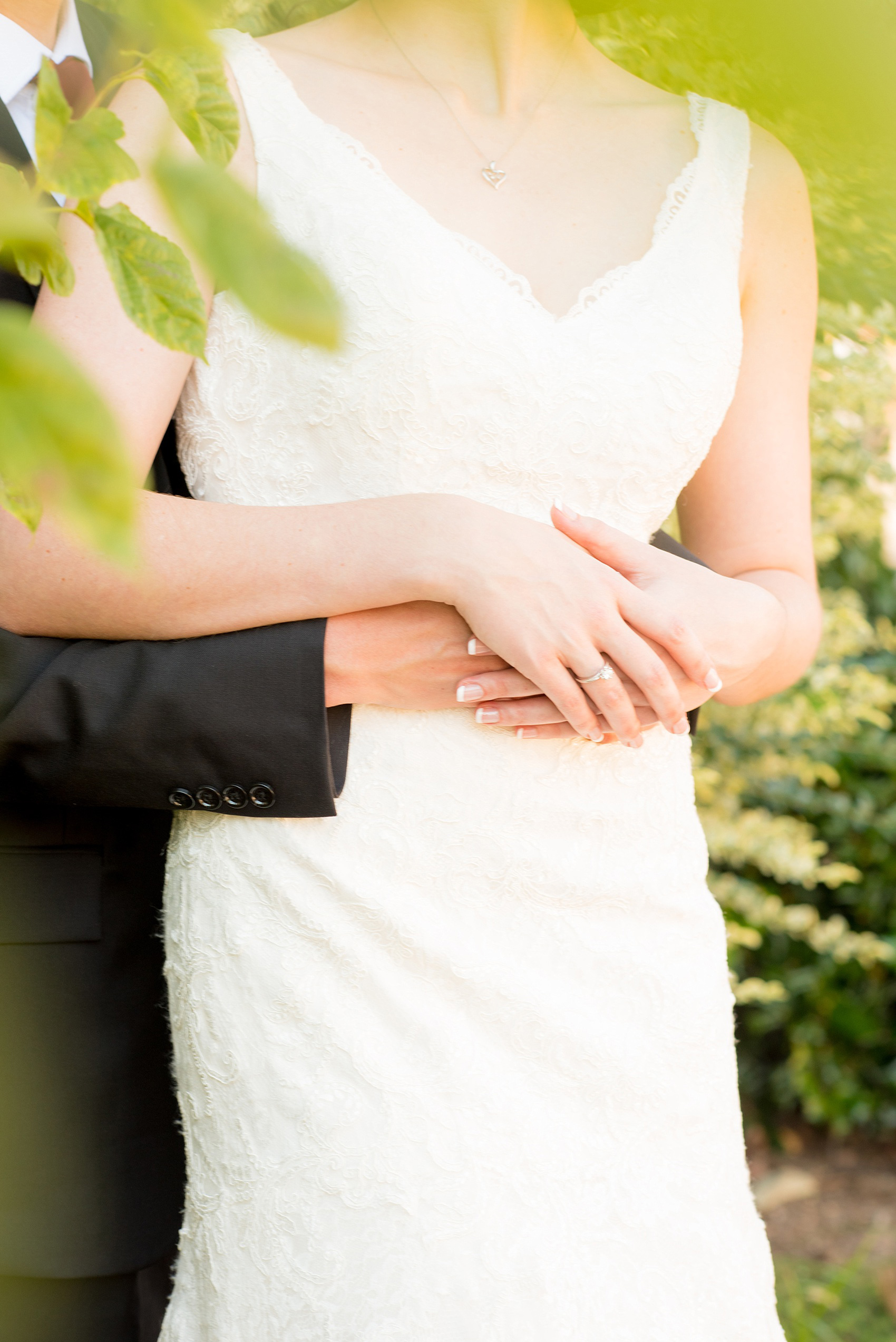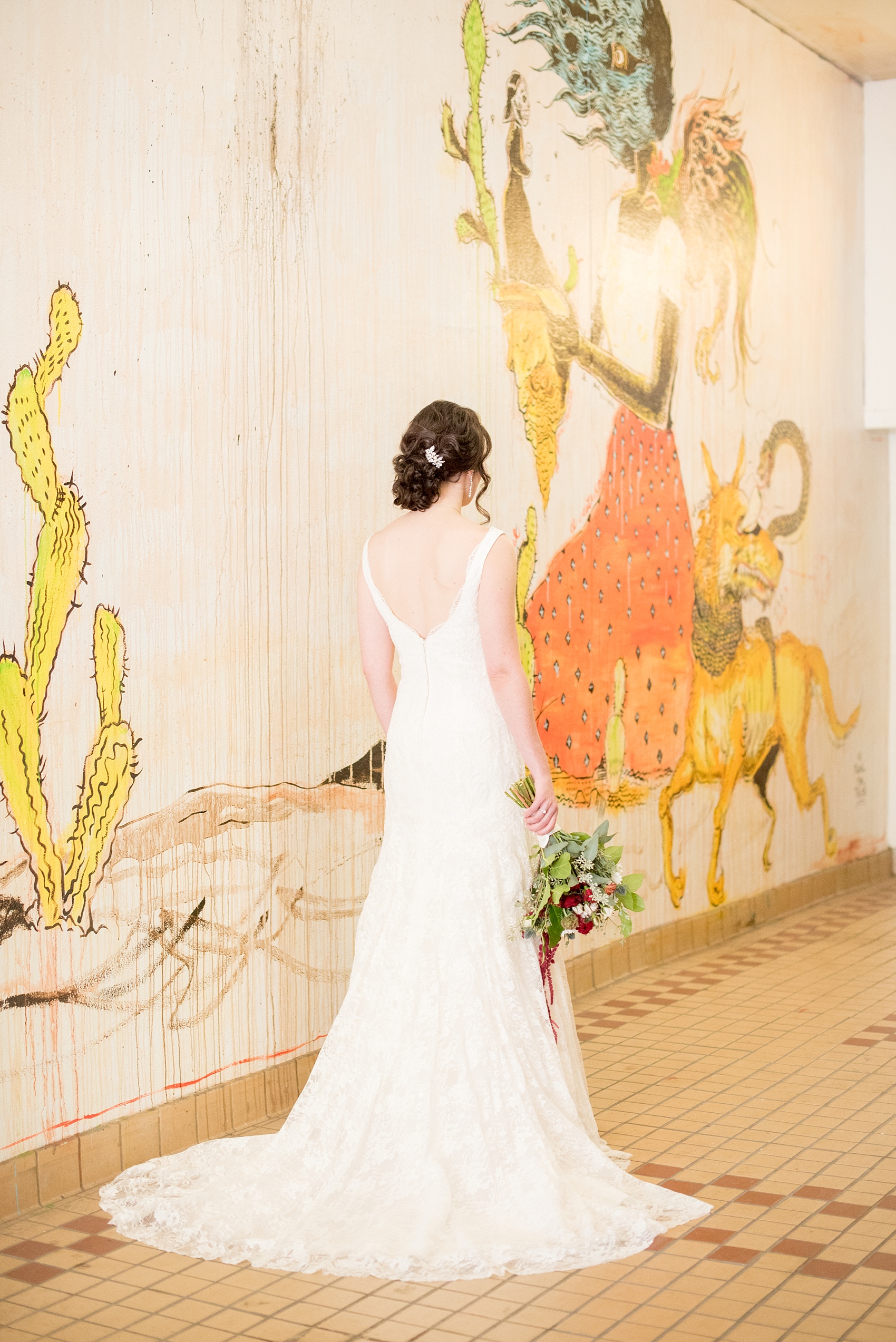 I'm still in love with this mural I found in the area to photograph them with! They have such fun personalities I thought it really contributed to the upbeat colorful vibe of the day.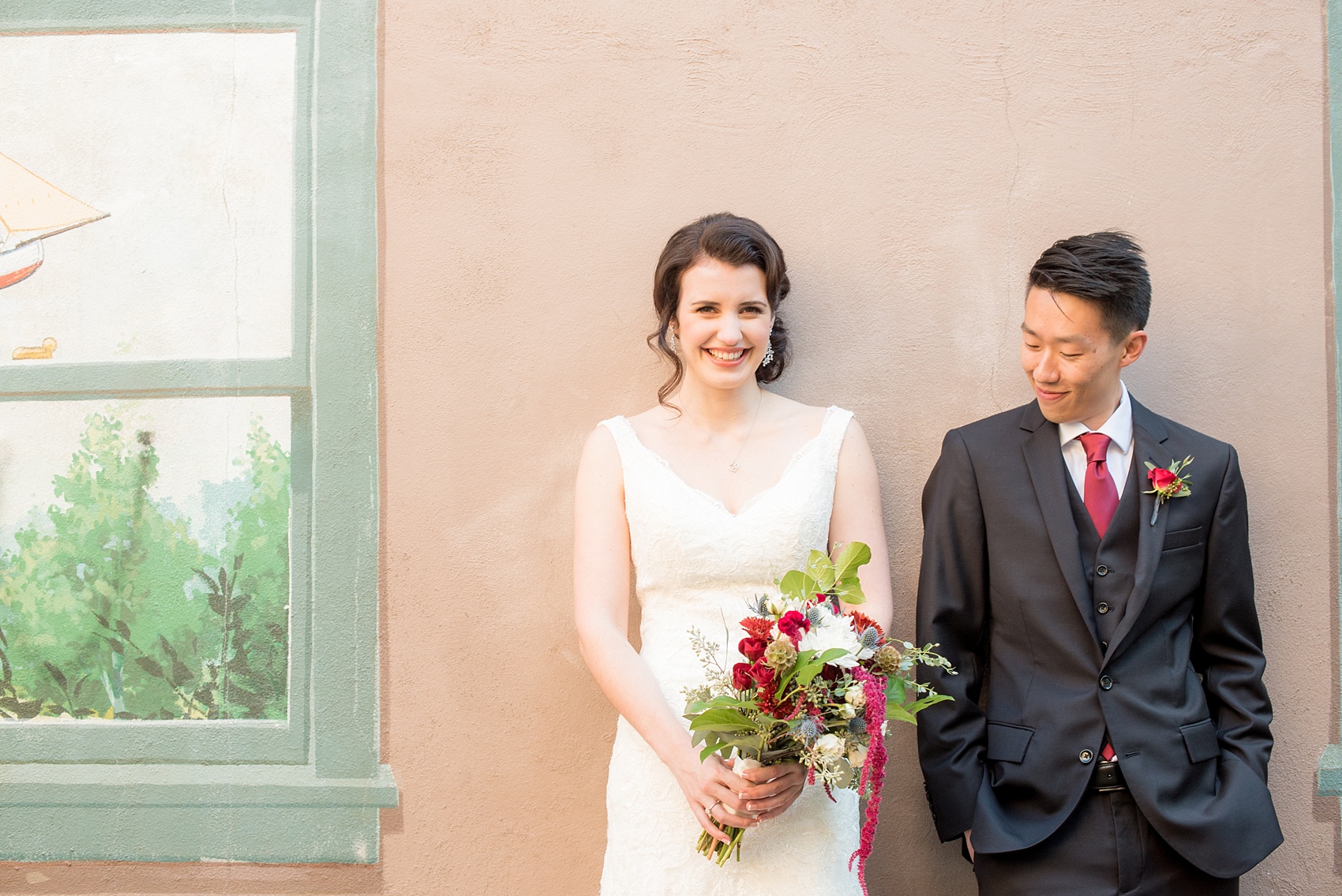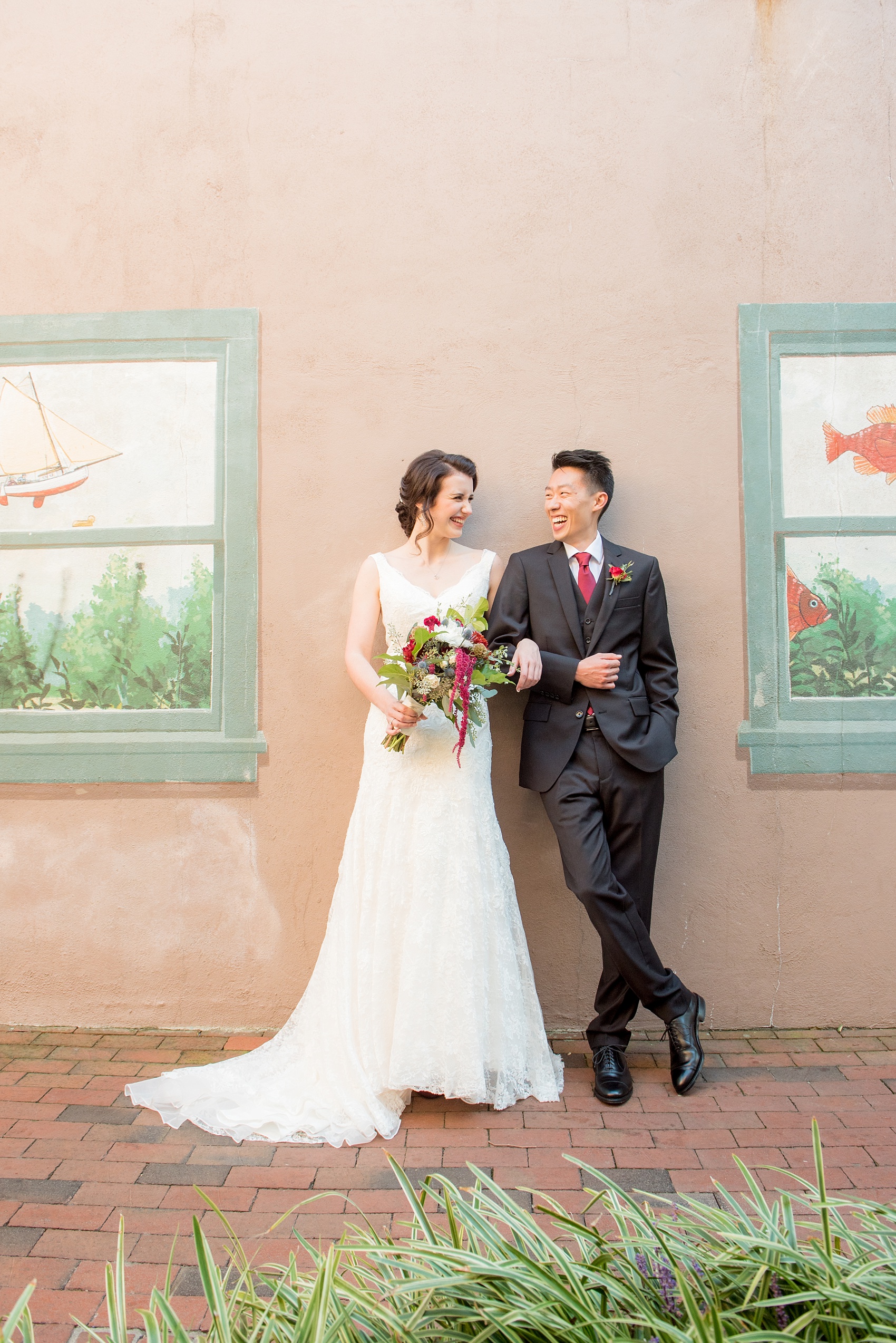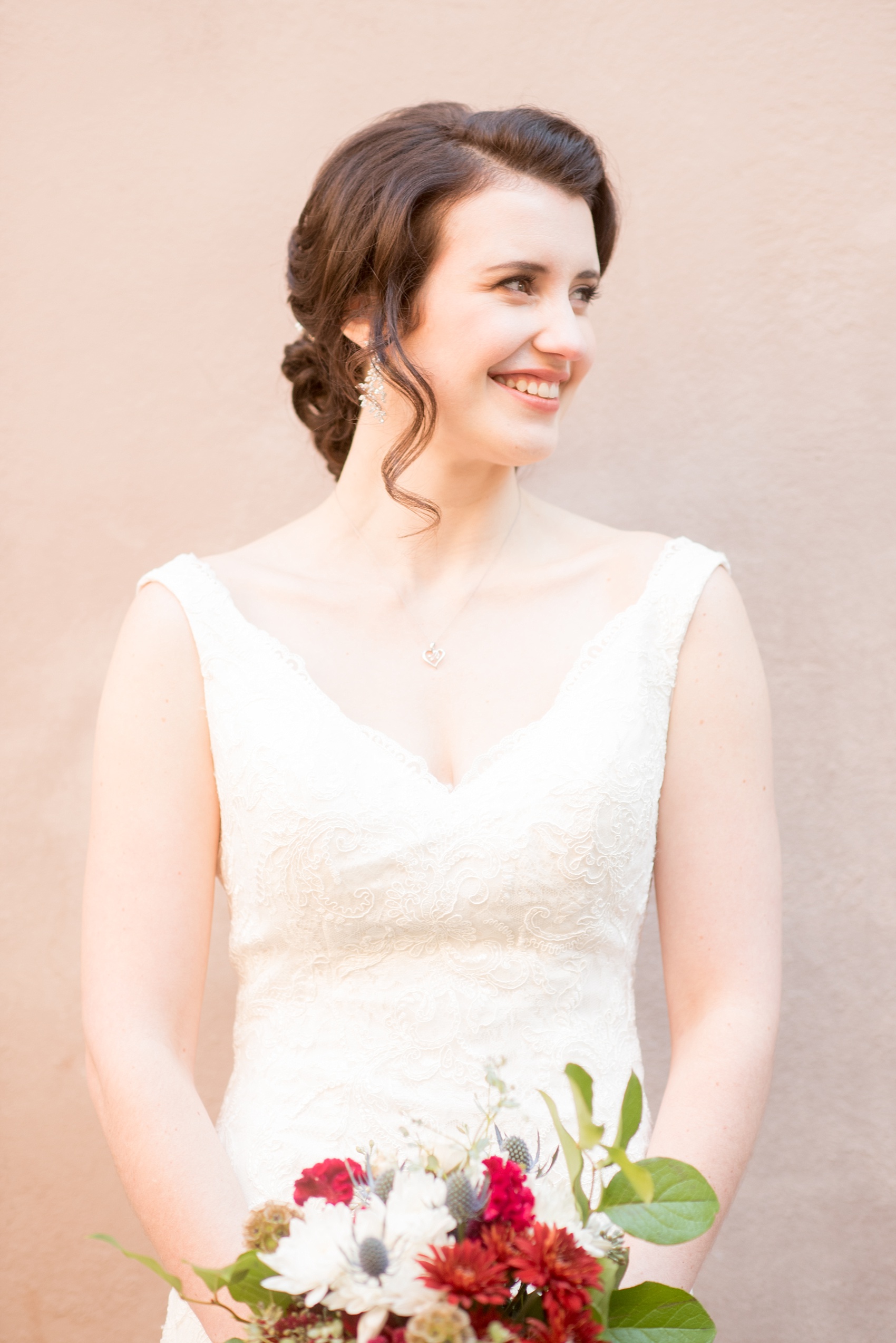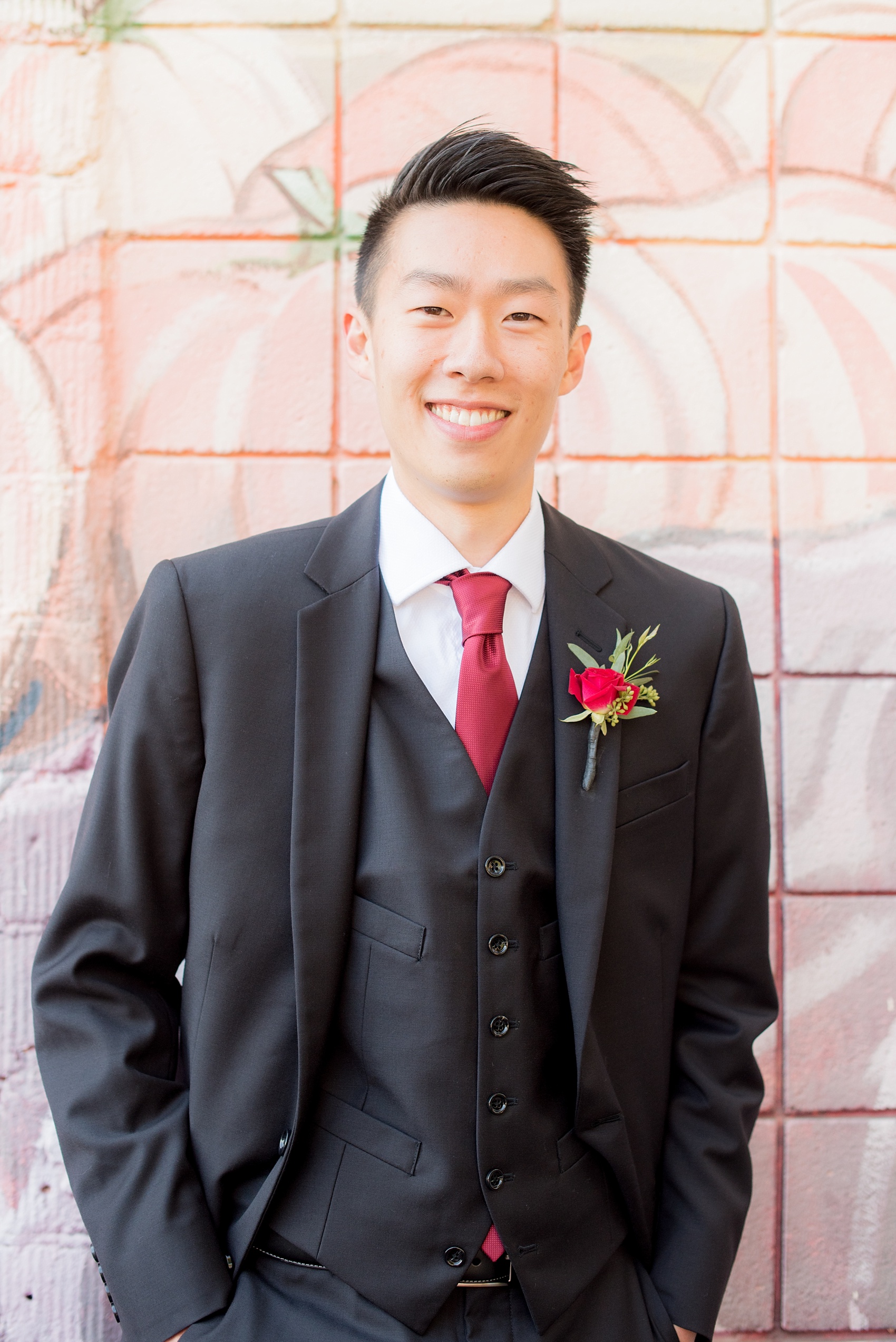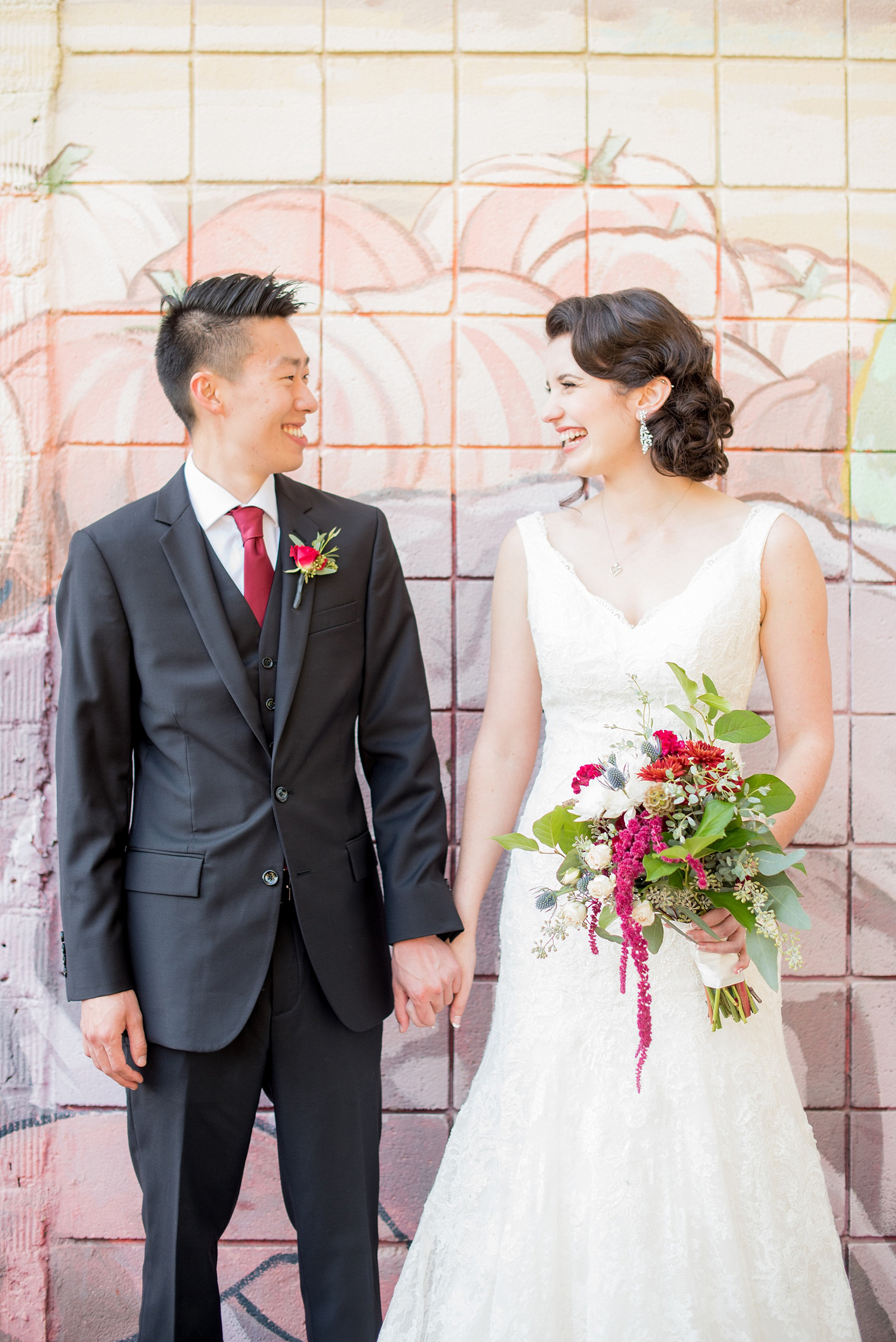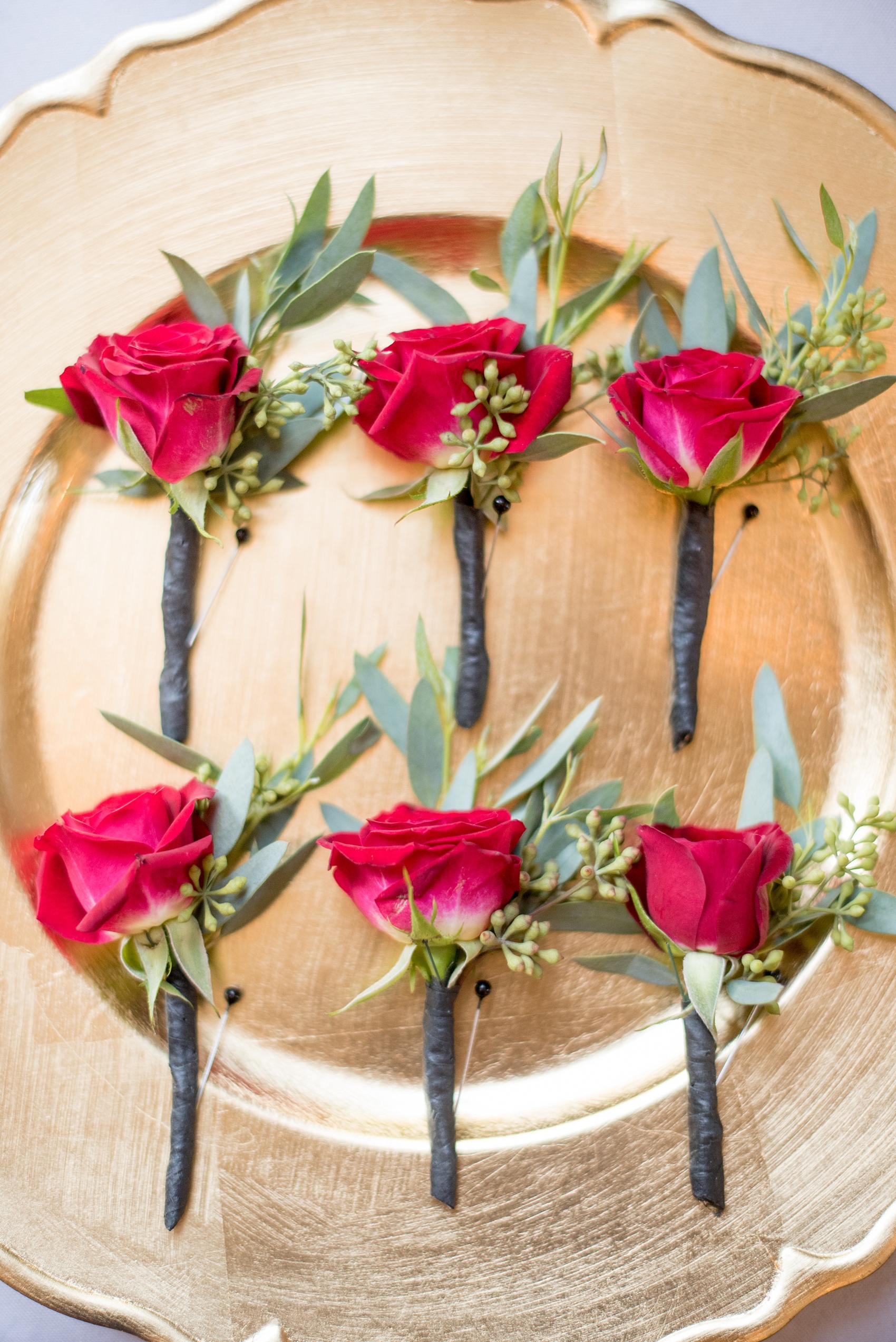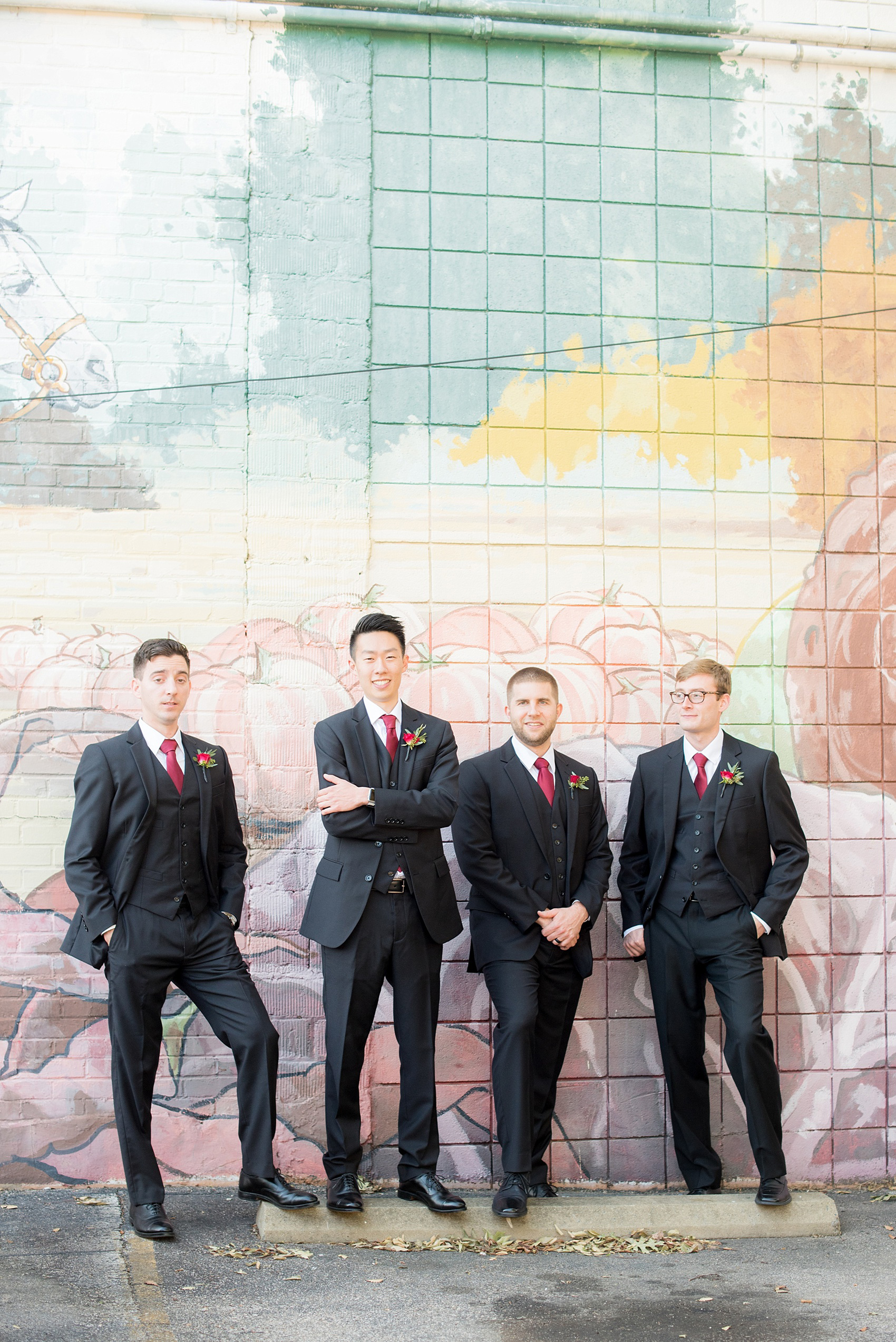 Red rose and eucalyptus leaves created the perfect boutonnieres for the groomsmen, in black suits complete with red ties to match the main color of Adele and Quinn's palette. The old location of the farmer's market still has a colorful mural wall that was appropriate for their fall wedding. I couldn't resist getting photos of the groomsmen and both the bride and groom here!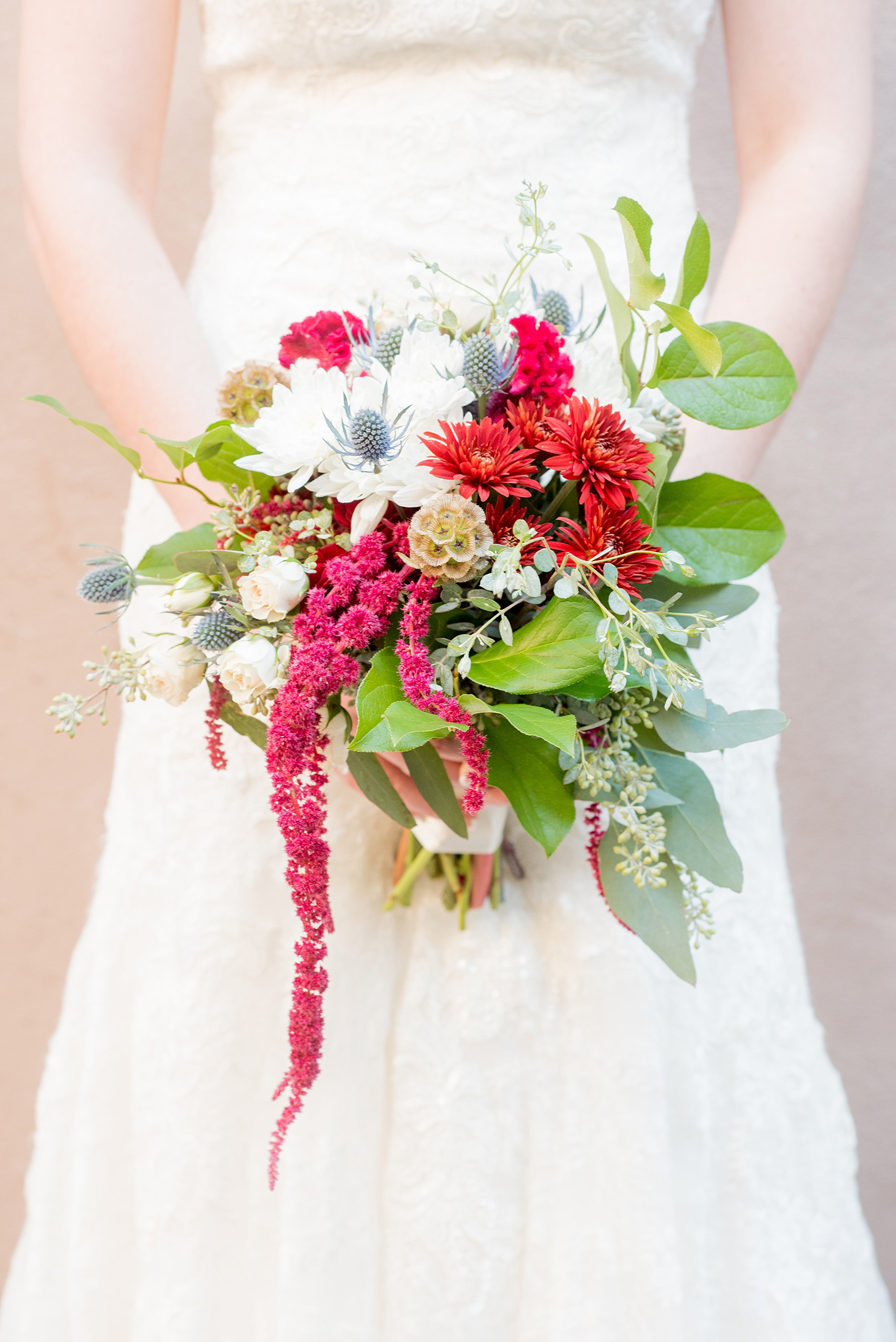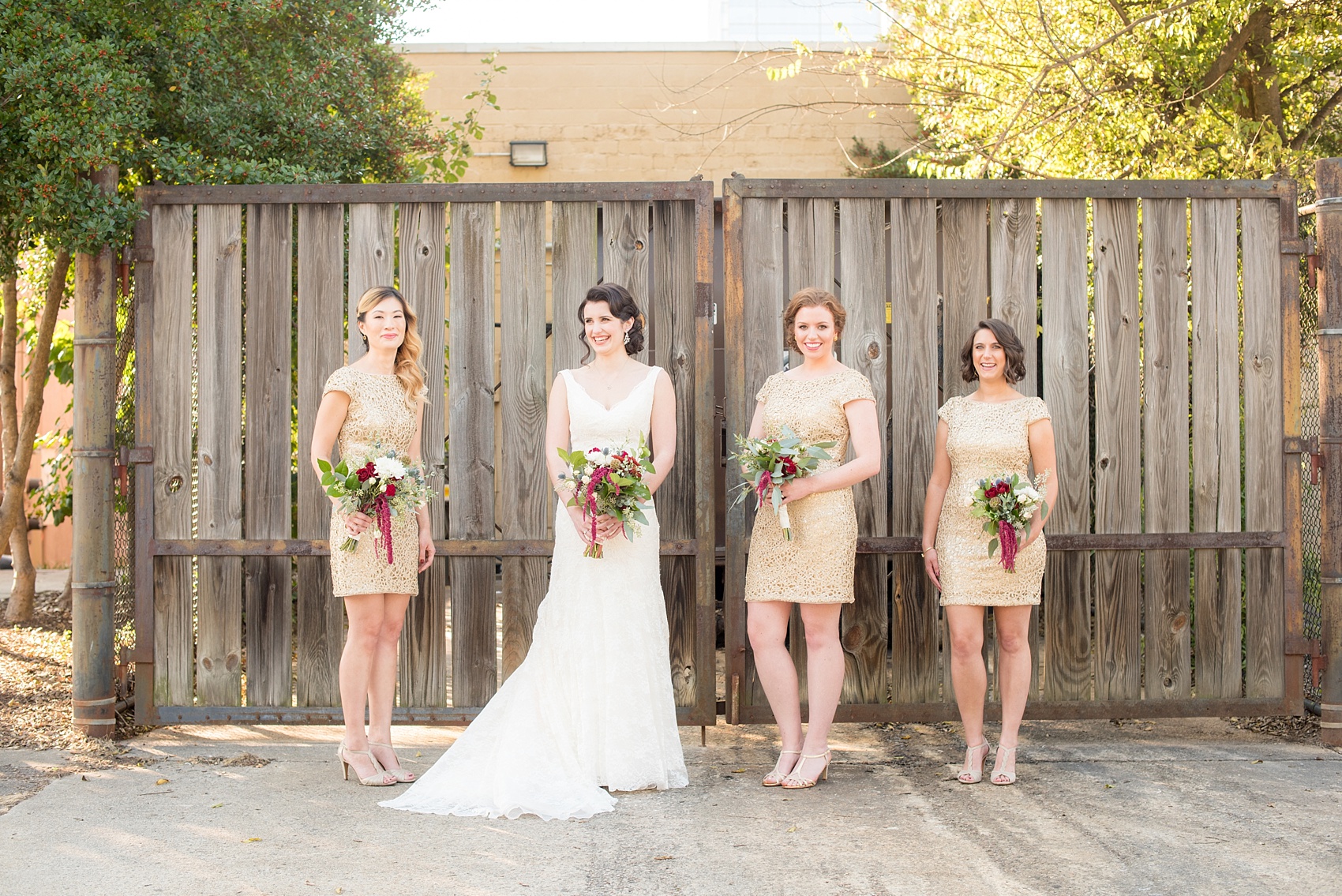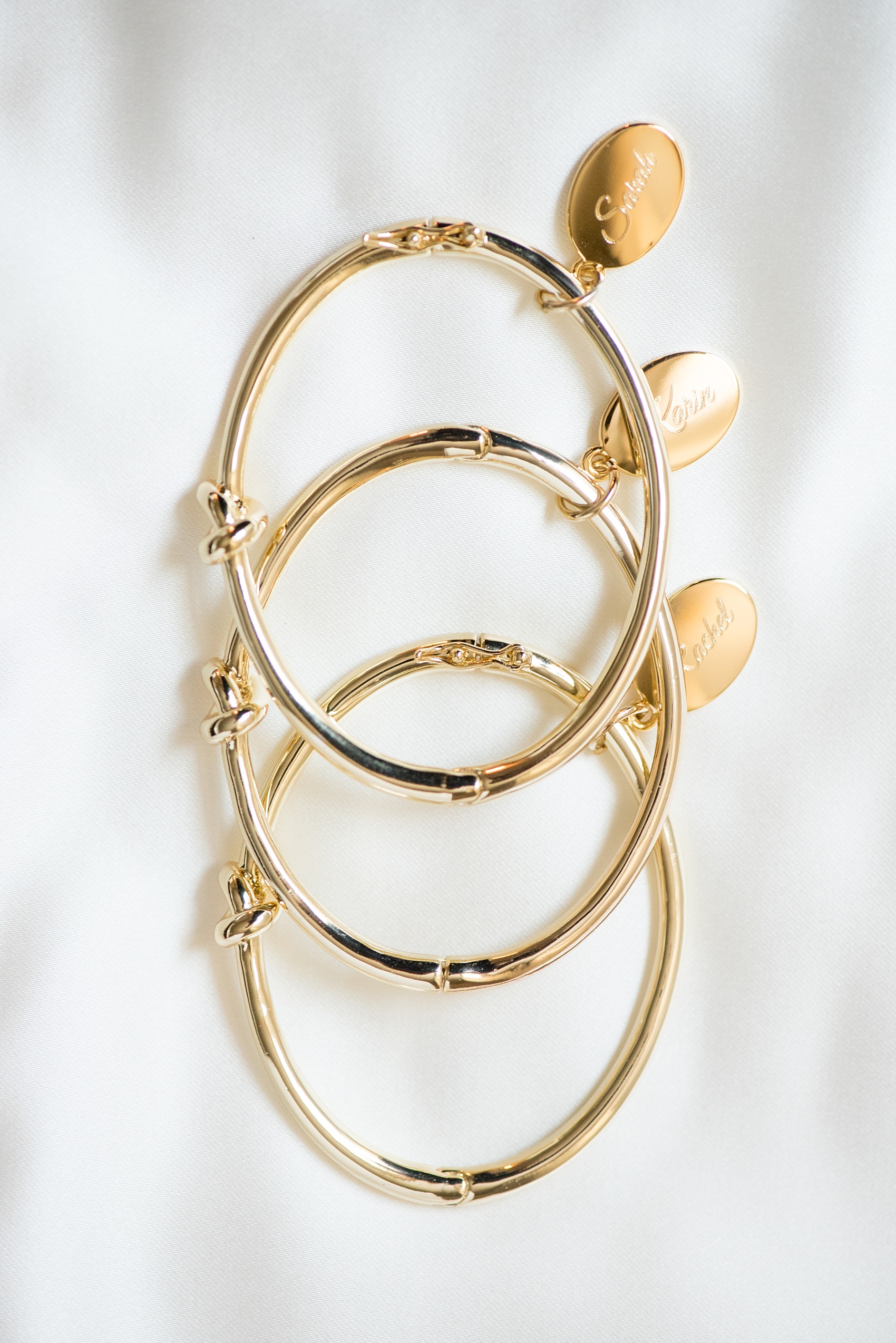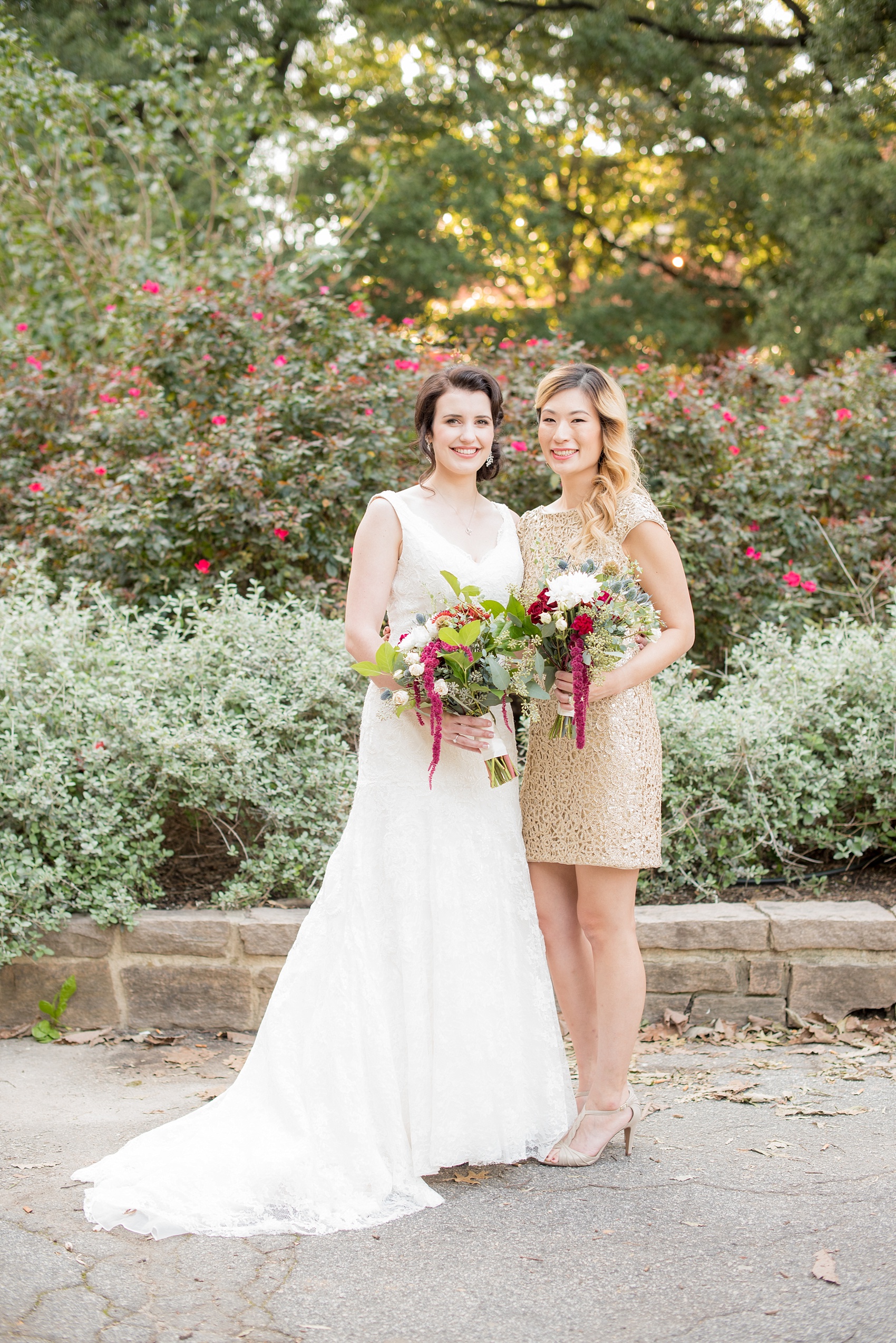 The bridesmaids bouquets were a twist on Adele's main bridal bouquet. They all contained hanging burgundy amaranthus, scabiosa, white and red spray roses, blue thistle and eucalyptus. Adele also gifted her girls elegant gold "tie the knot" bracelets complete with their names on charms.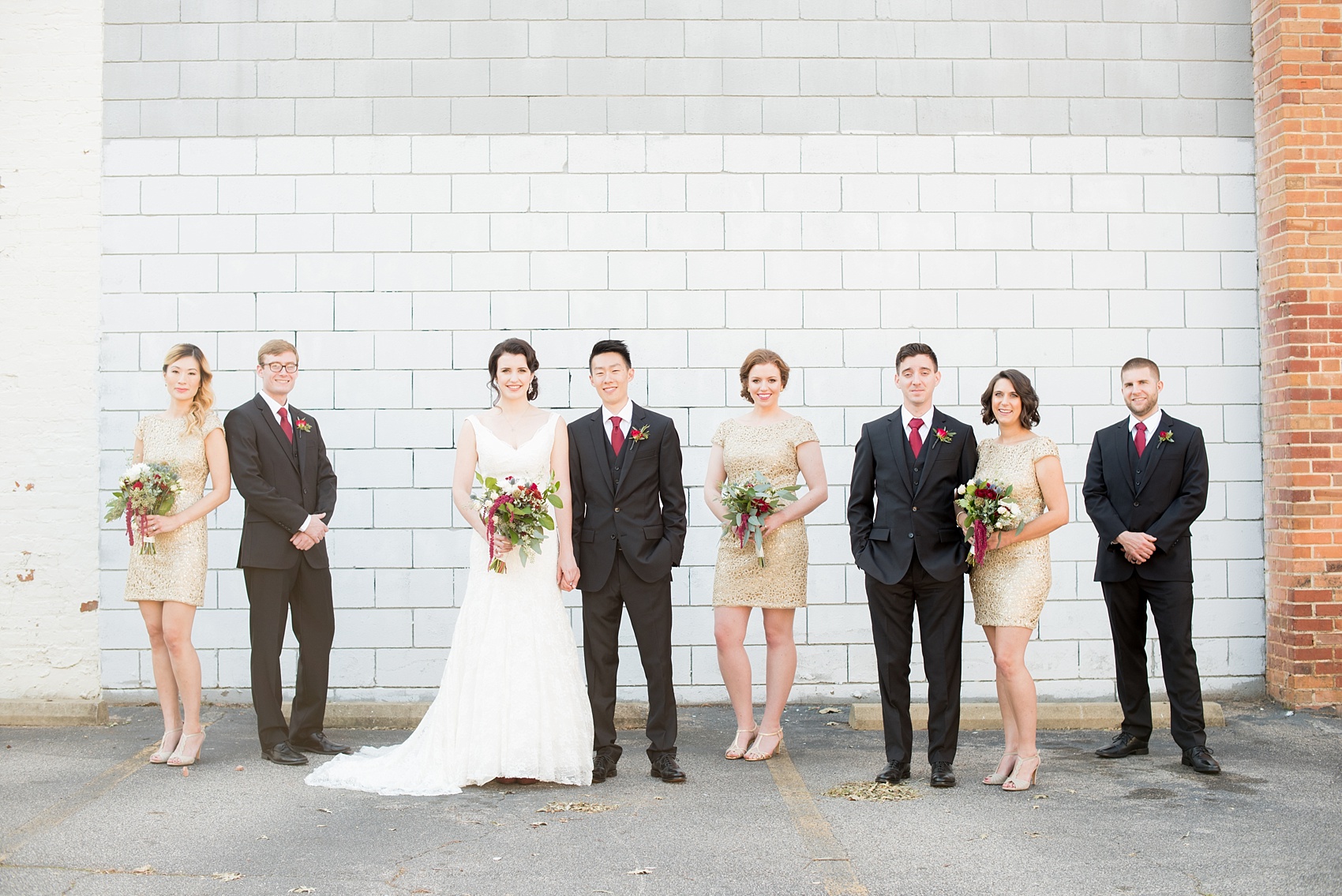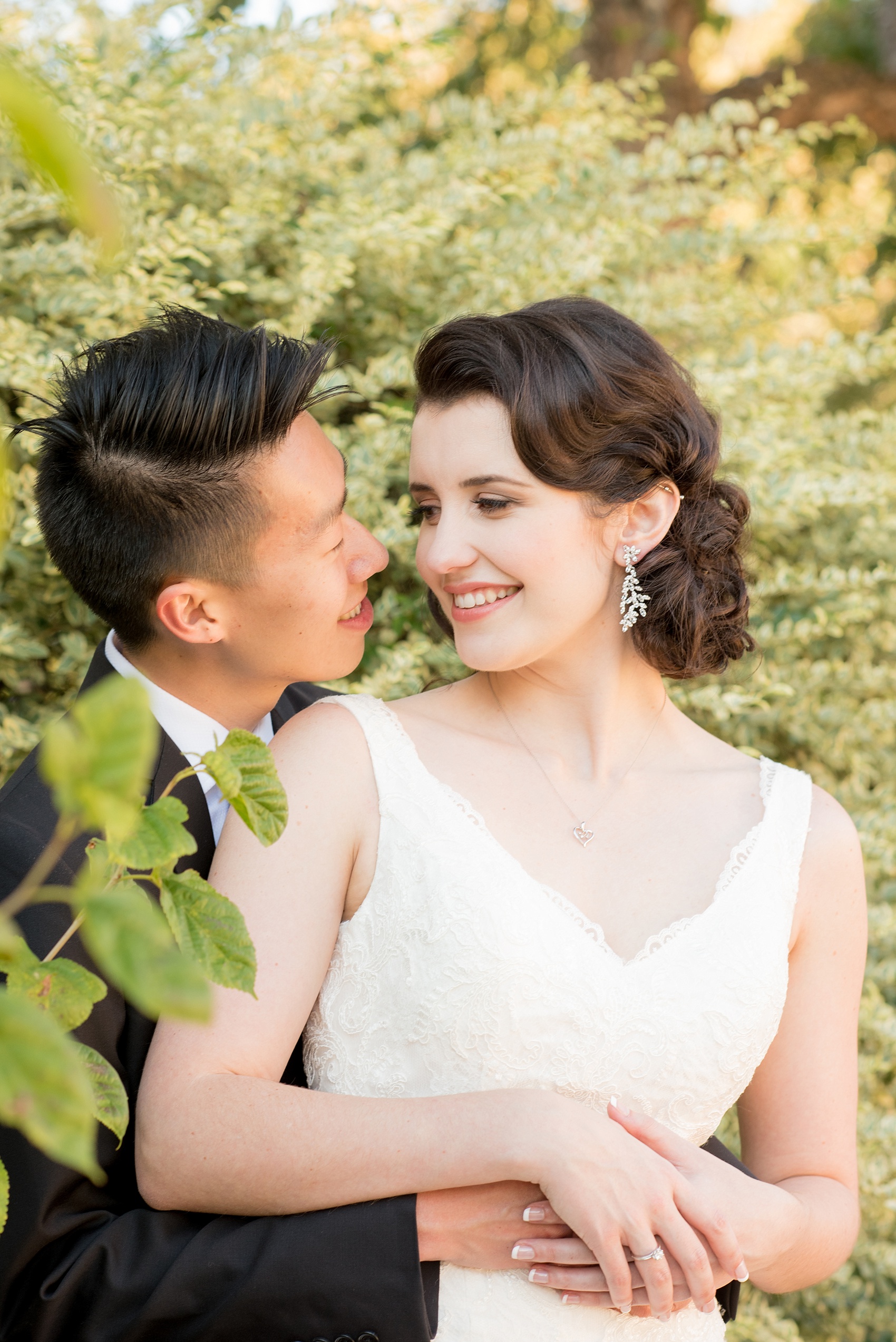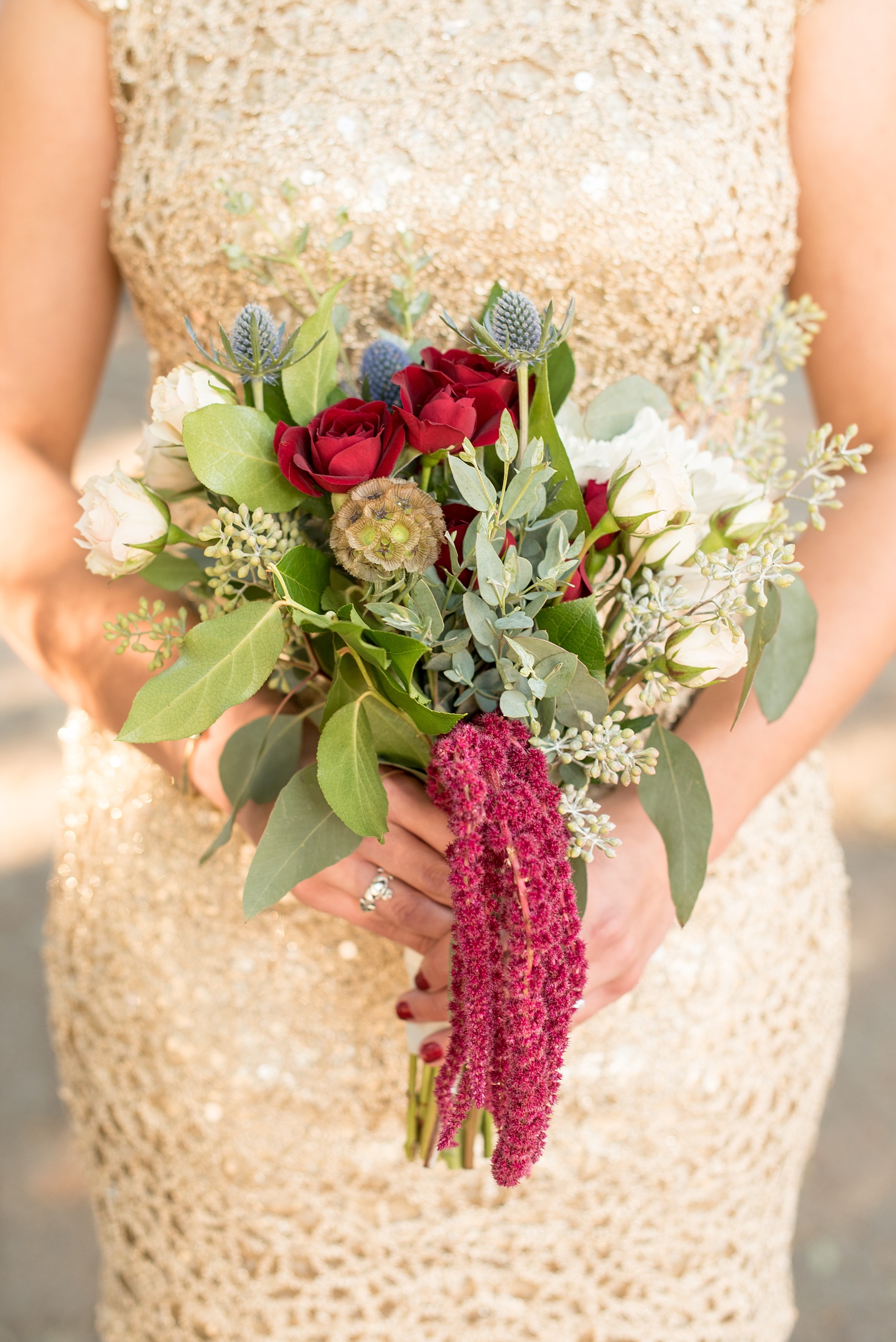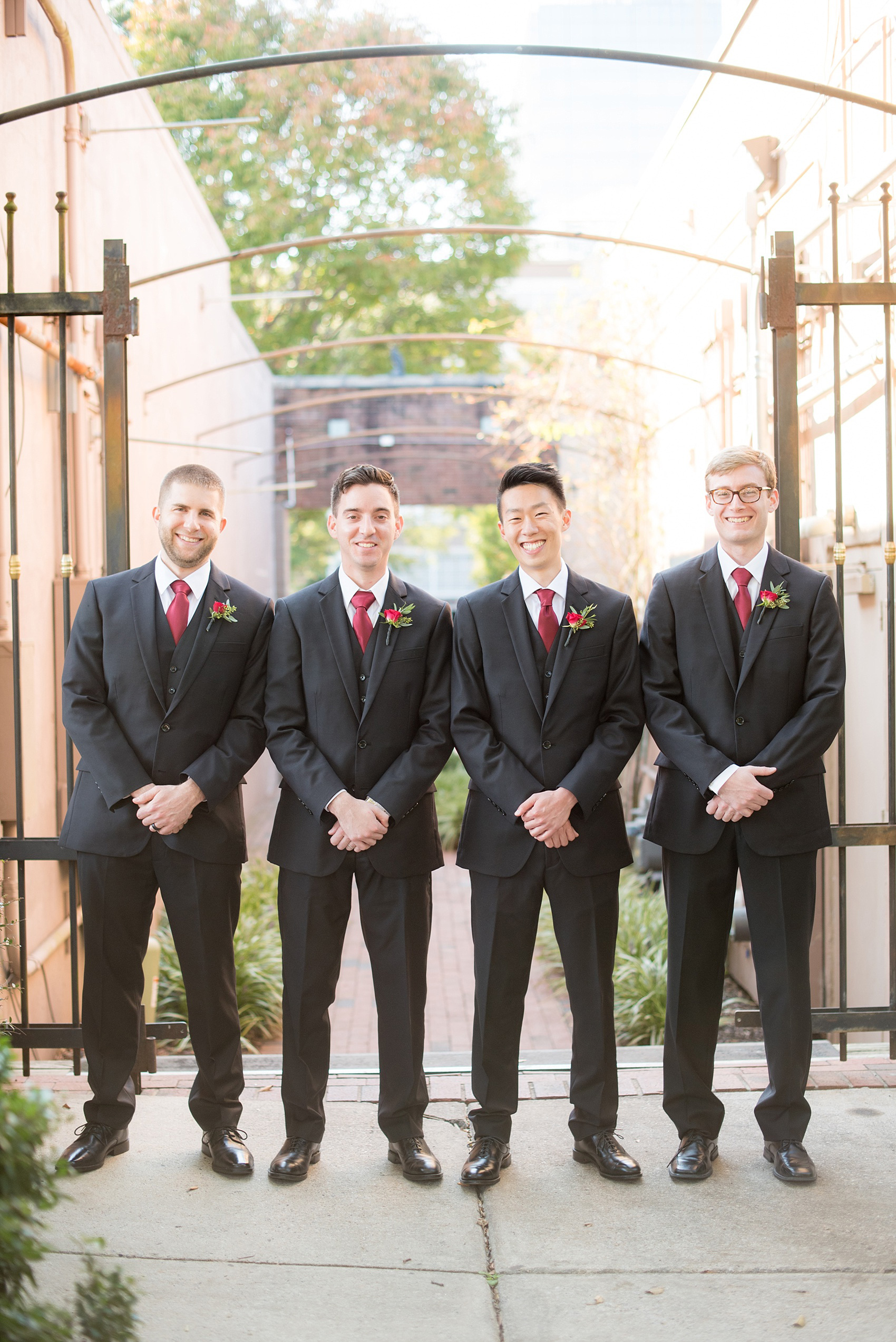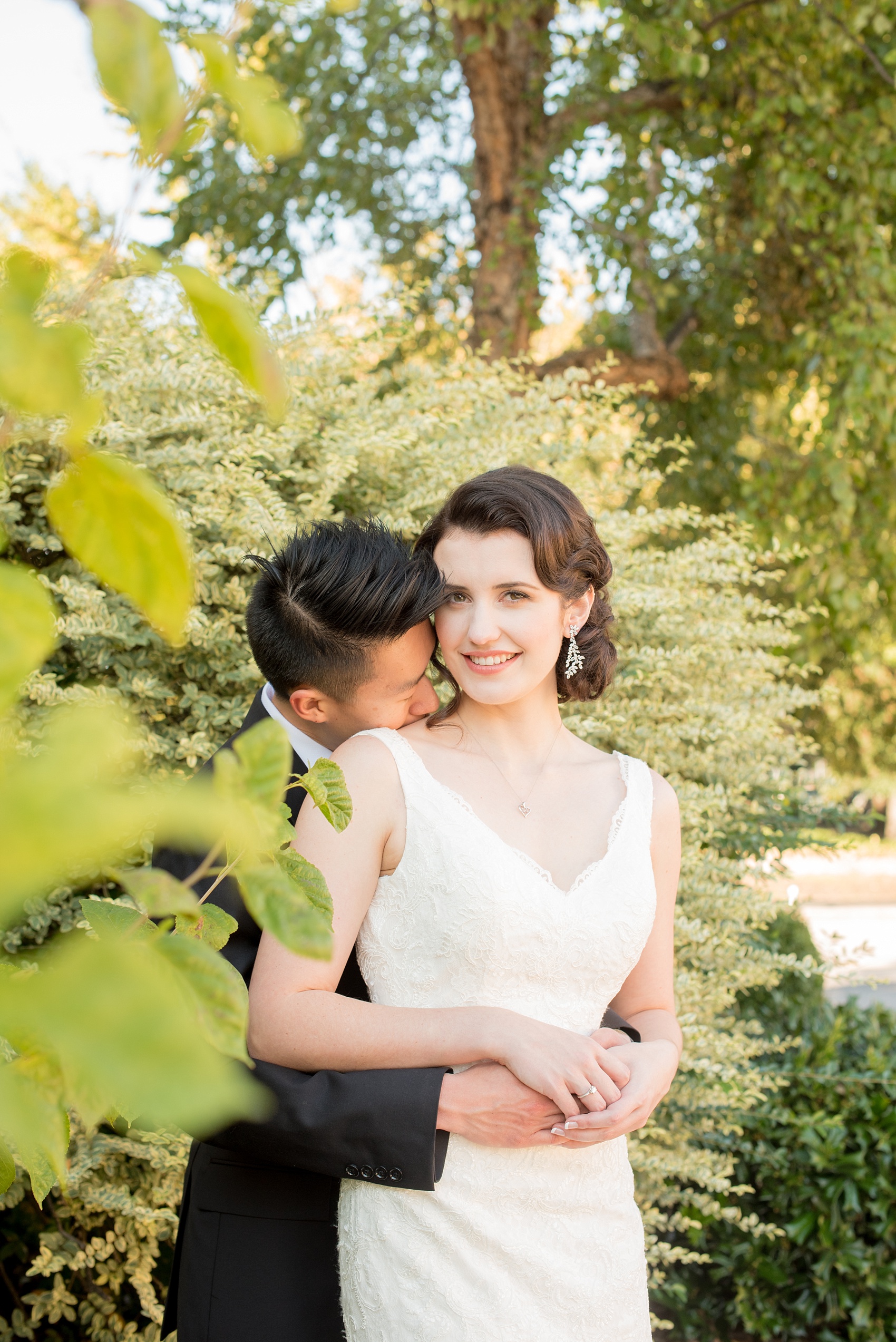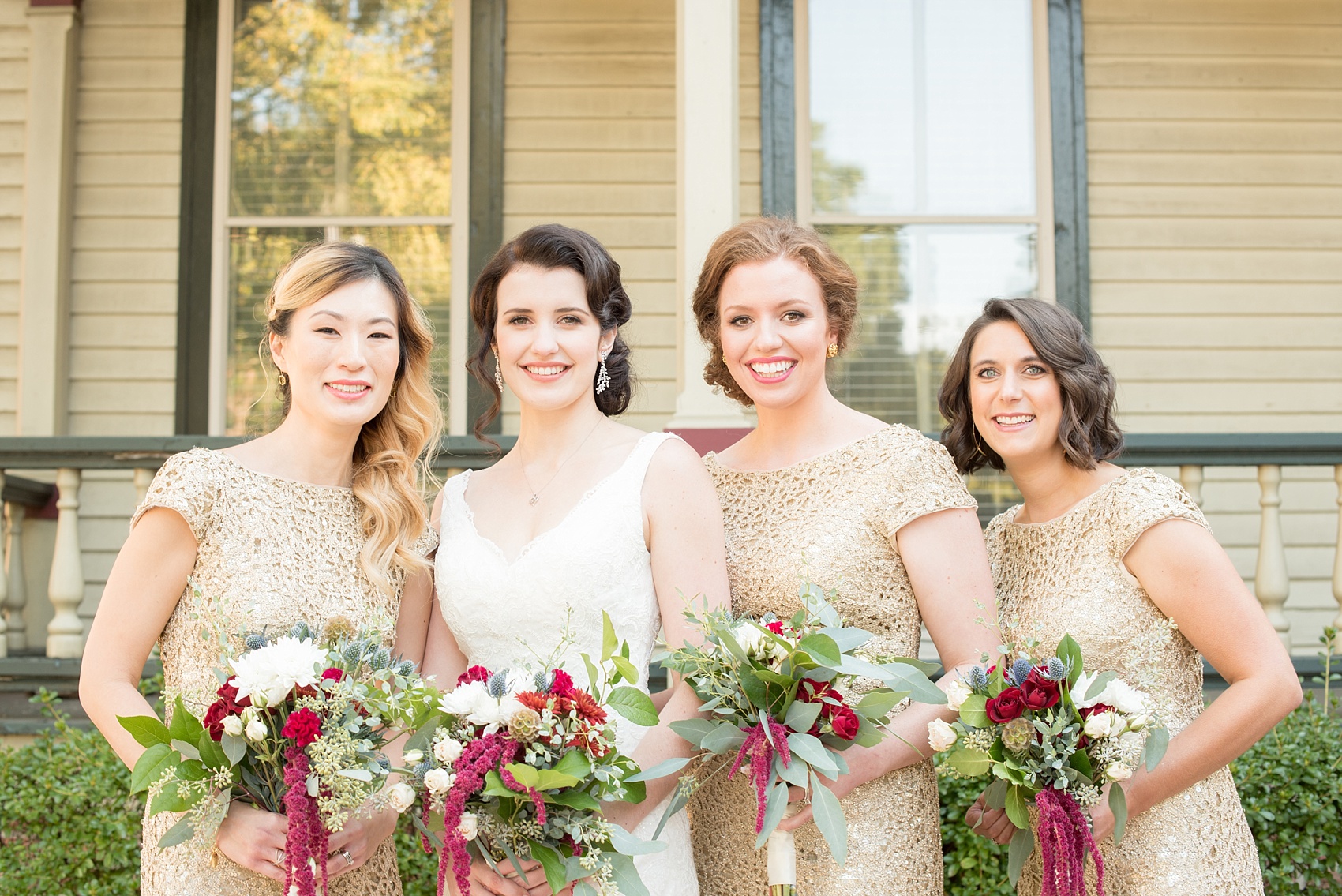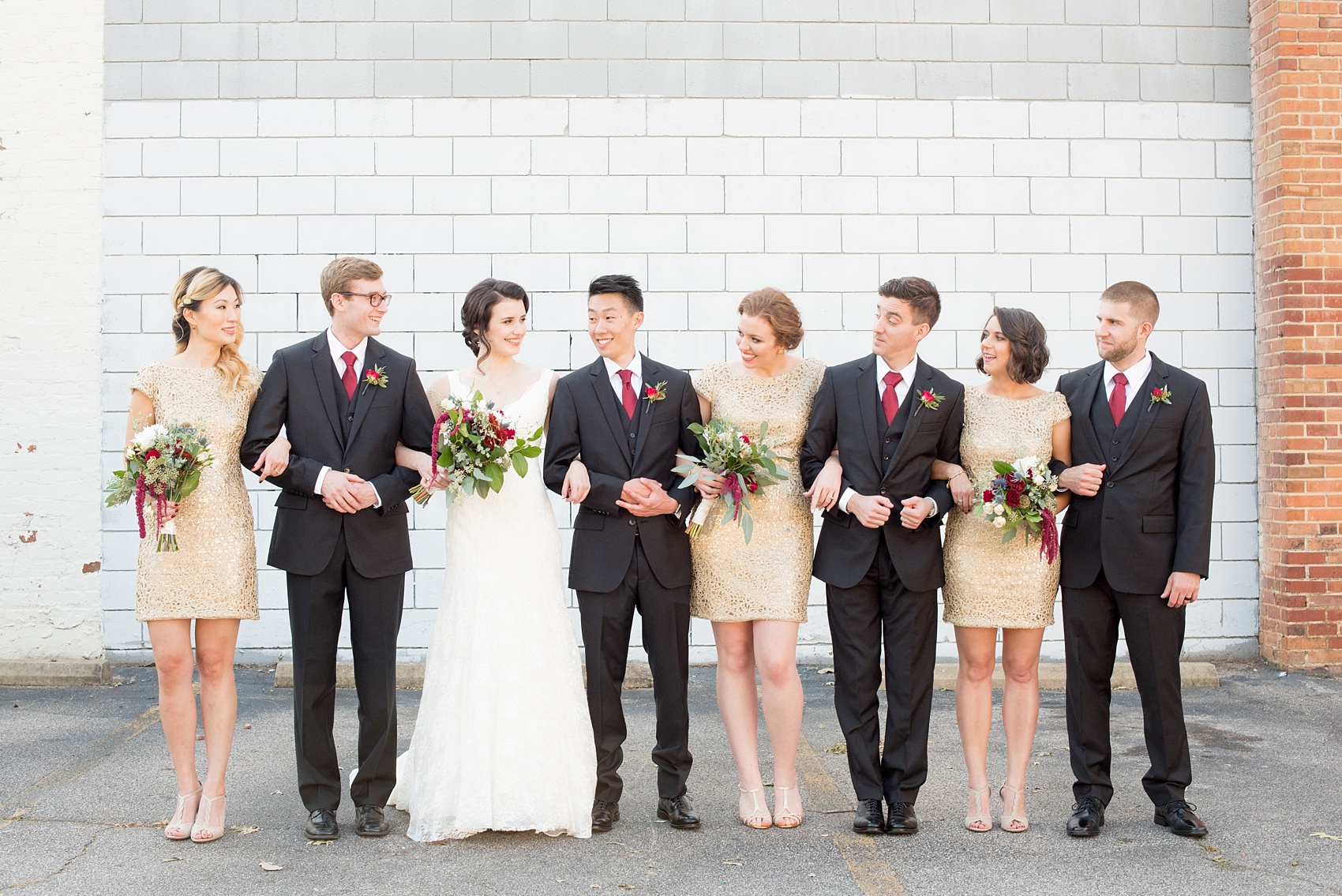 Both Adele and Quinn got their wedding party memorable useful gifts; while Adele gifted her girls jewelry Quinn thought, "What can my guys appreciate and get mileage out of?" The answer: GAME BOYS. (Whaaaat?! So cool!) They played their Game Boys as they waited for the ceremony to begin at this Market Hall wedding.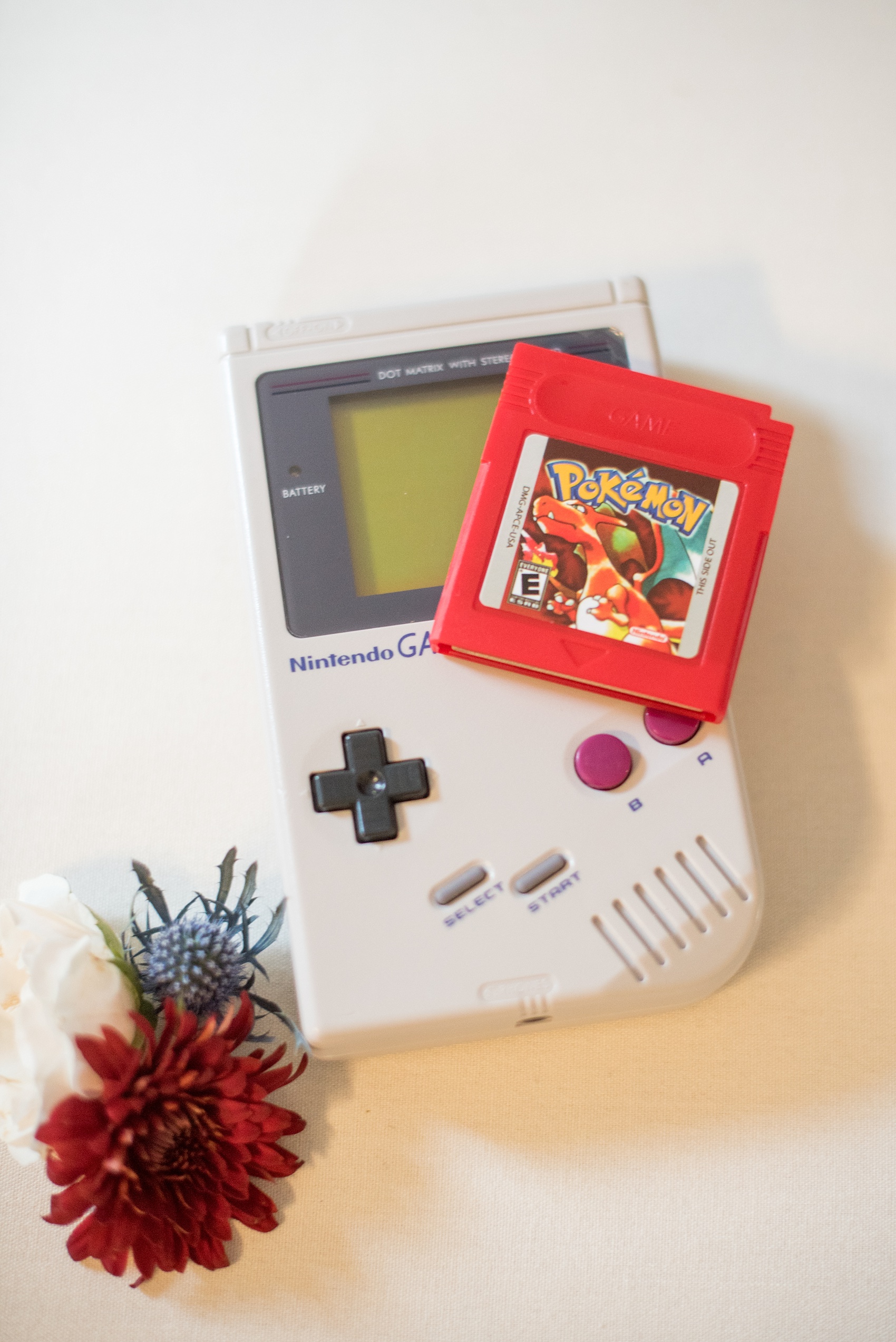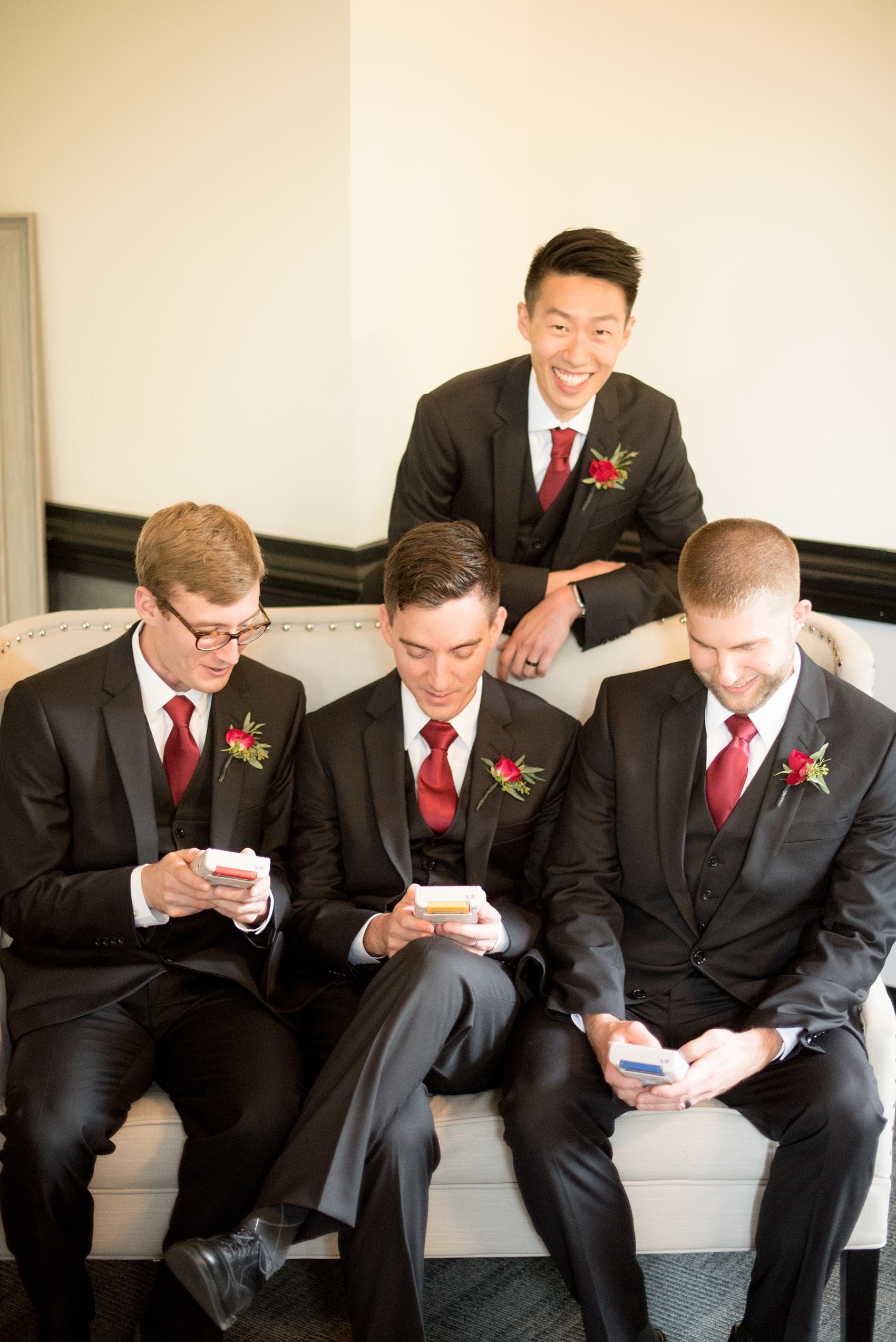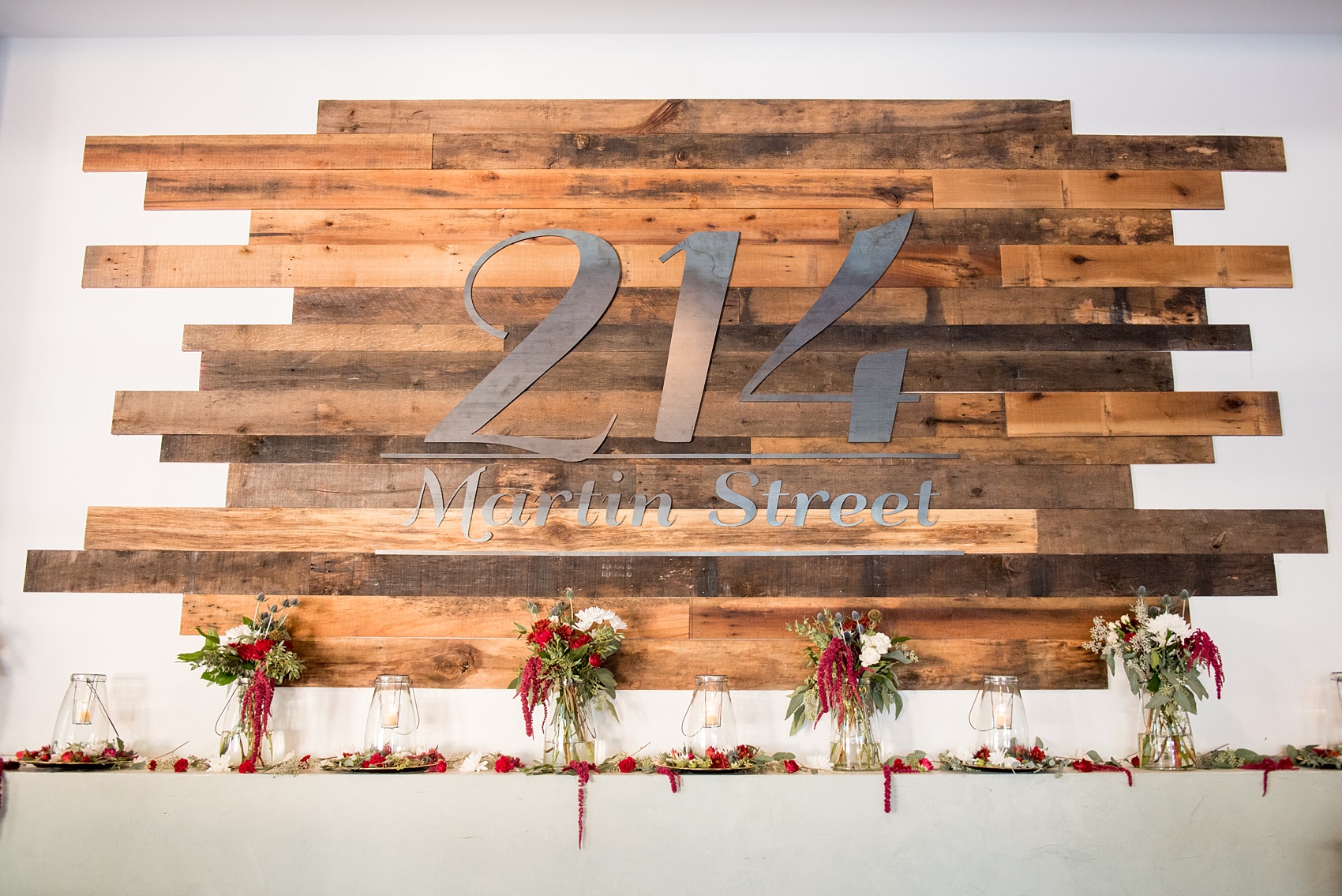 Let's get this party started! The Wood wall served as the perfect welcome to their wedding in addition to a great custom mirror sign with their monogram. (Not that this Market Hall wedding was at the previously named 214 Martin Street. Same venue!)
Two hearts customized a Mandarin character, meaning "double happiness." Their wedding suite was designed by Adele. I was blown away she even did custom gold-foil on the bands of the suite and guest favors at each place setting.
The cutest mailbox served as a card holder for guests bringing gifts that they plan on using at their home. (I love a multipurpose wedding piece!) Guests found their seats on a cool urban feeling escort seating chart comprised of 6 white cards with black lettering, held together by chain and clips.
They opted for an indoor ceremony. Even the smallest details mattered, like hand calligraphy tags marking family seats as "reserved." The wooden wall at Market Hall was the perfect backdrop for them to say "I do" under a beautiful fall floral arch. The bistro lights looked perfect for the duration of their wedding. A special tradition and part of both Taiwanese and New Zealander cultures, they included a special tea ceremony as part of their ceremony.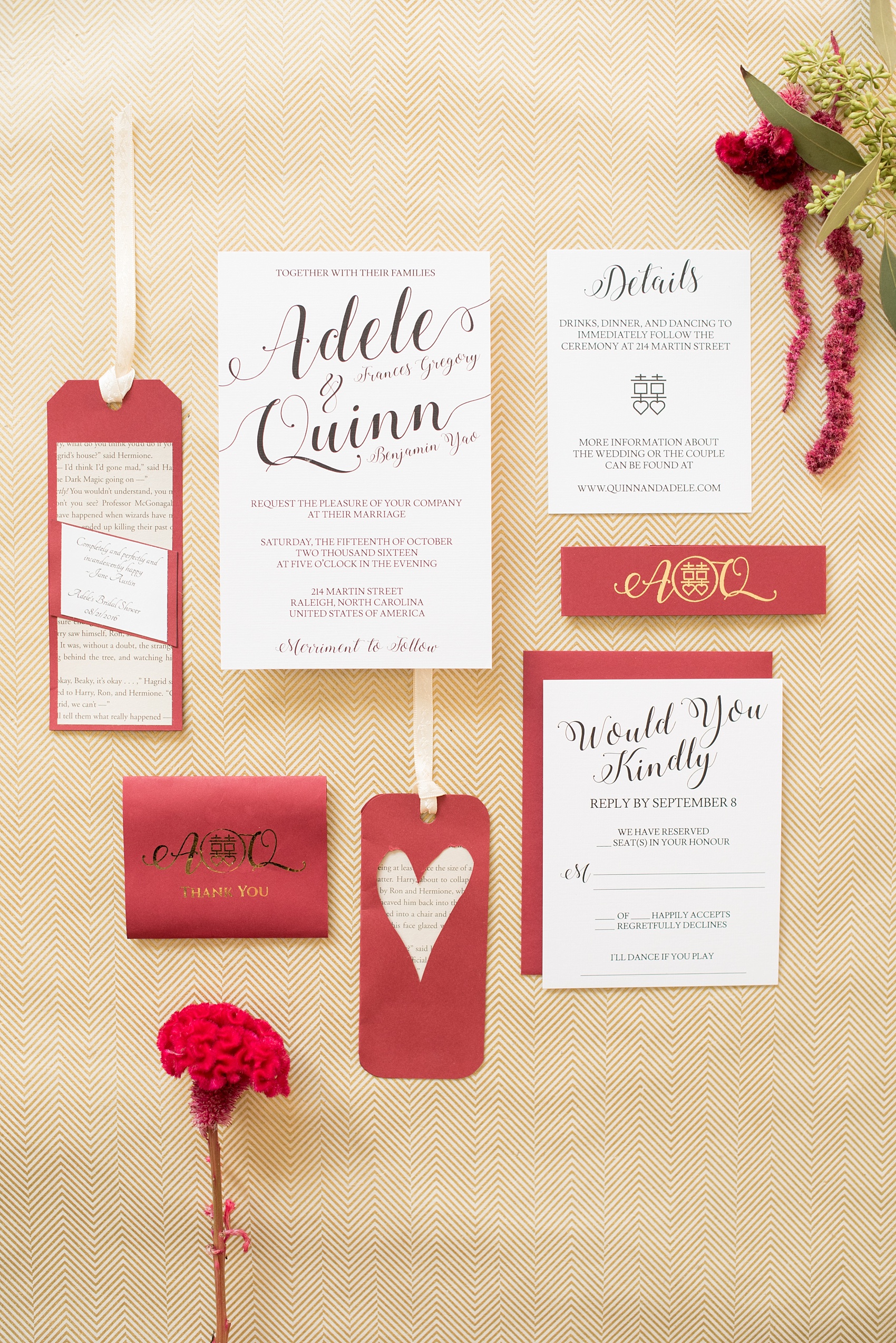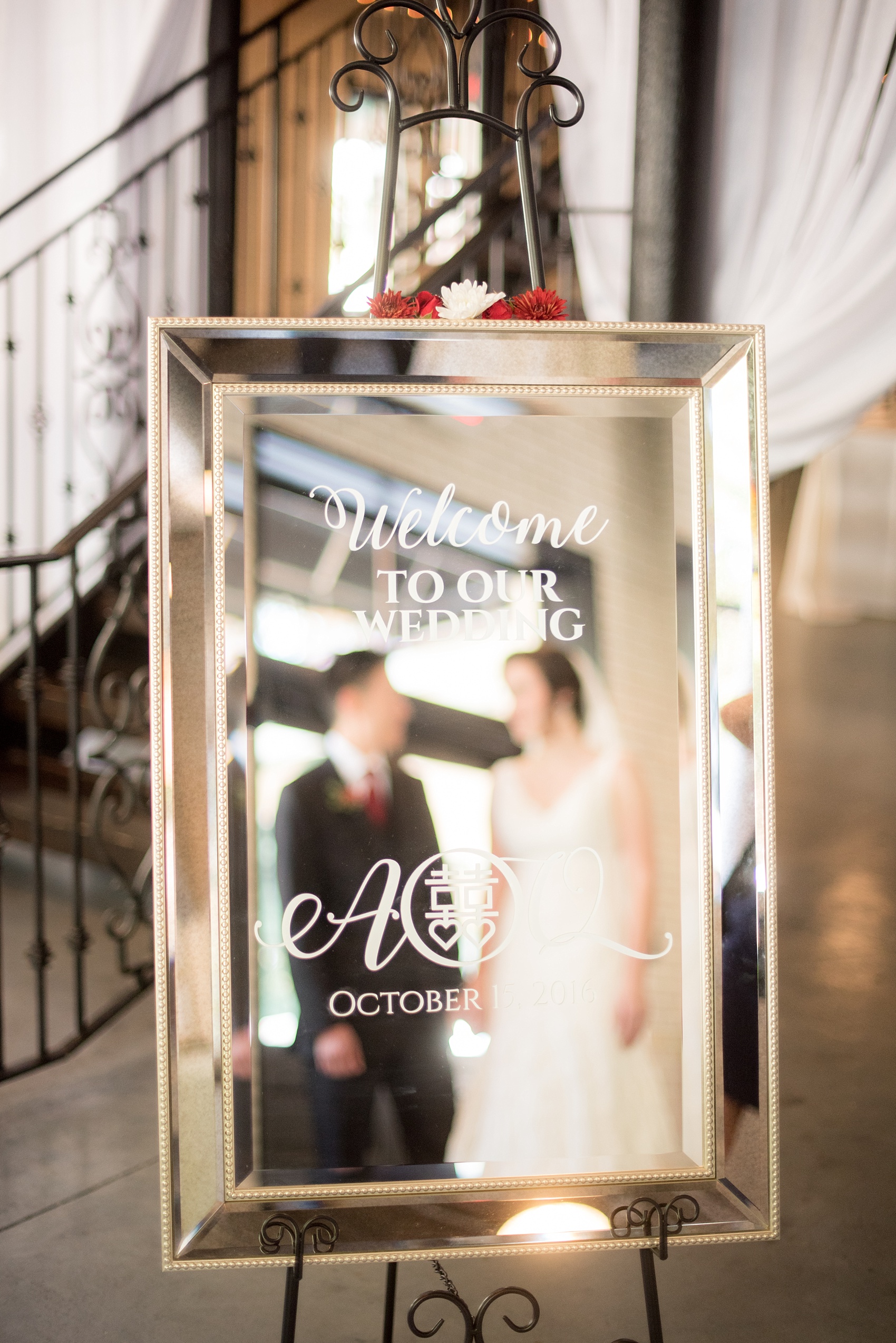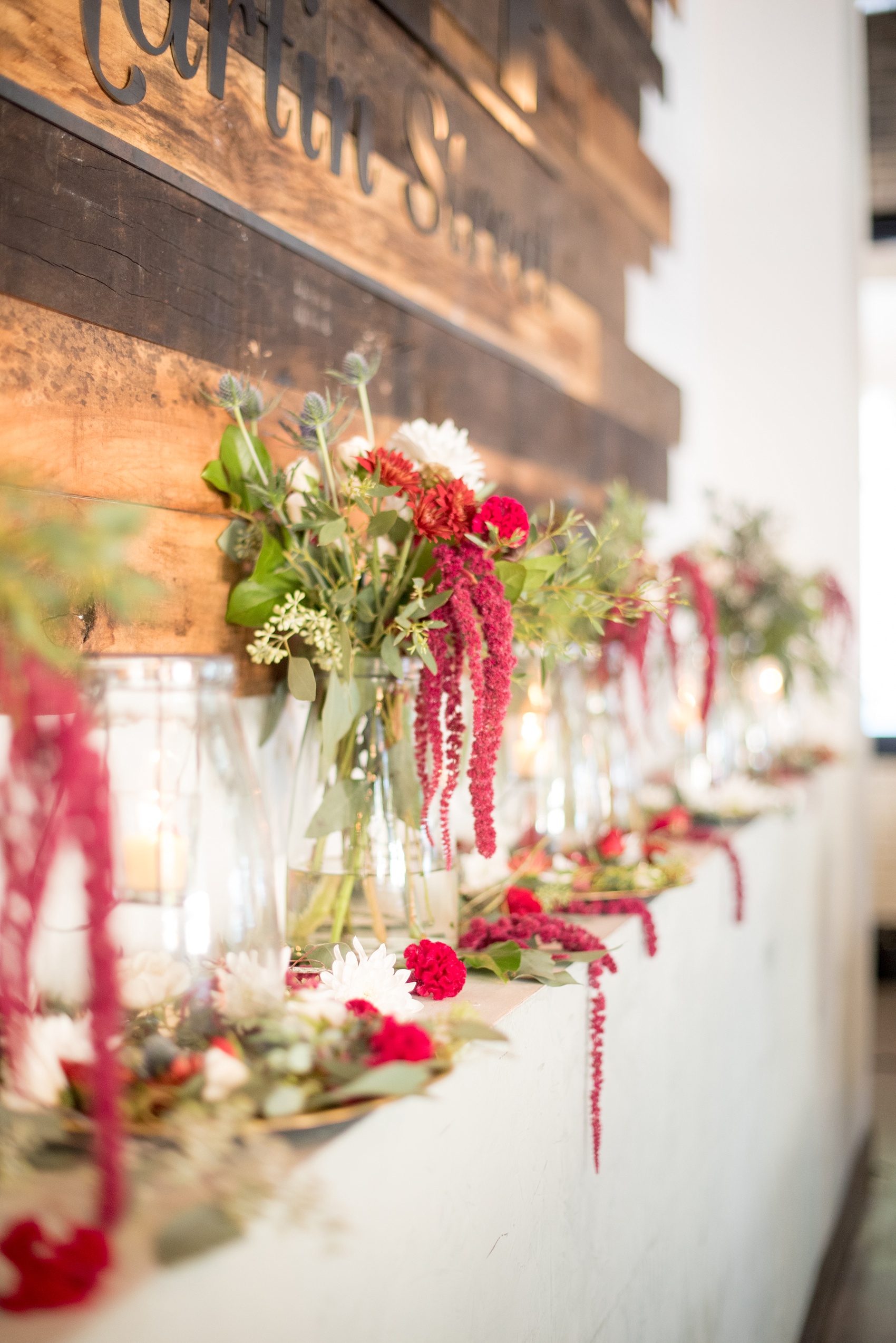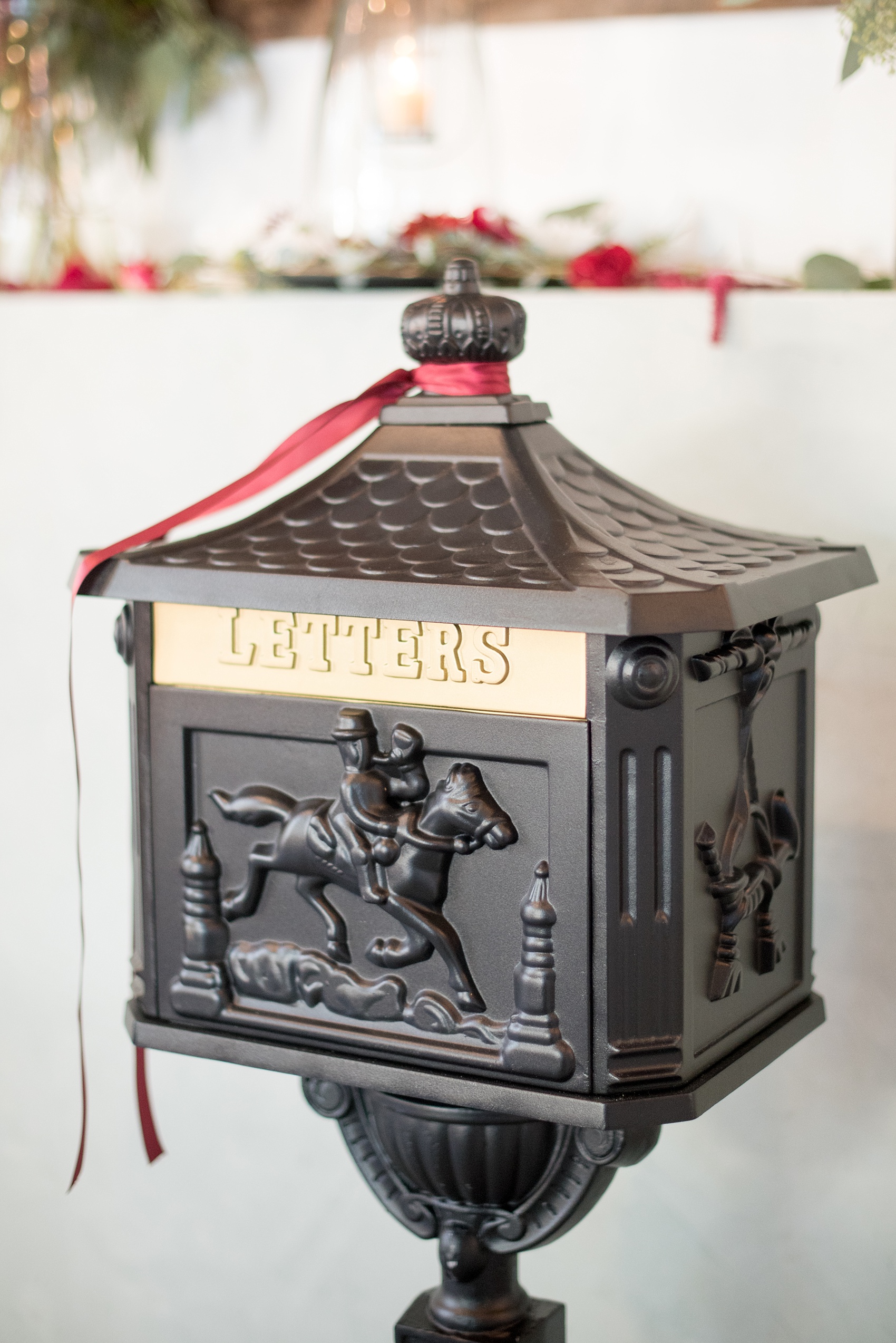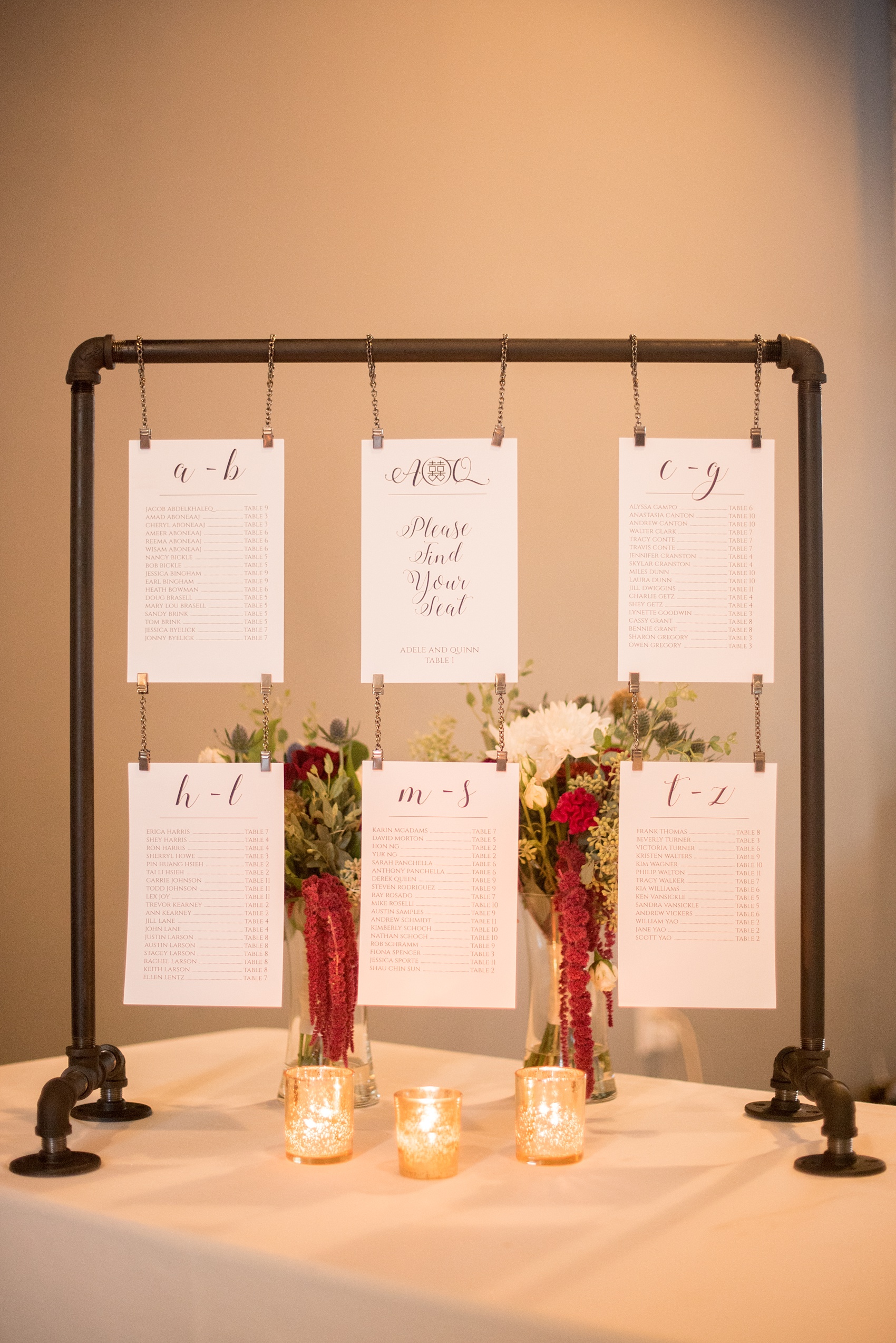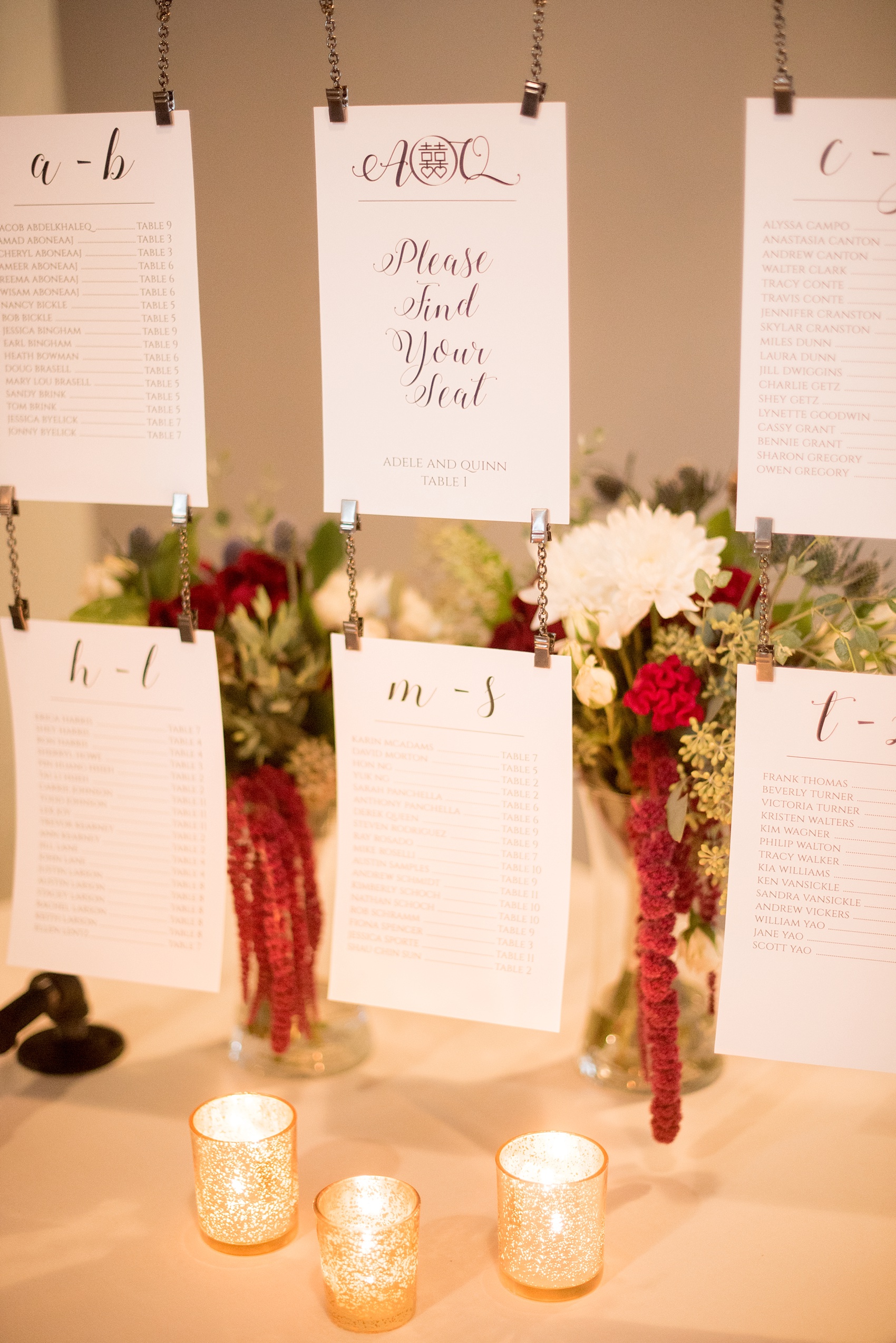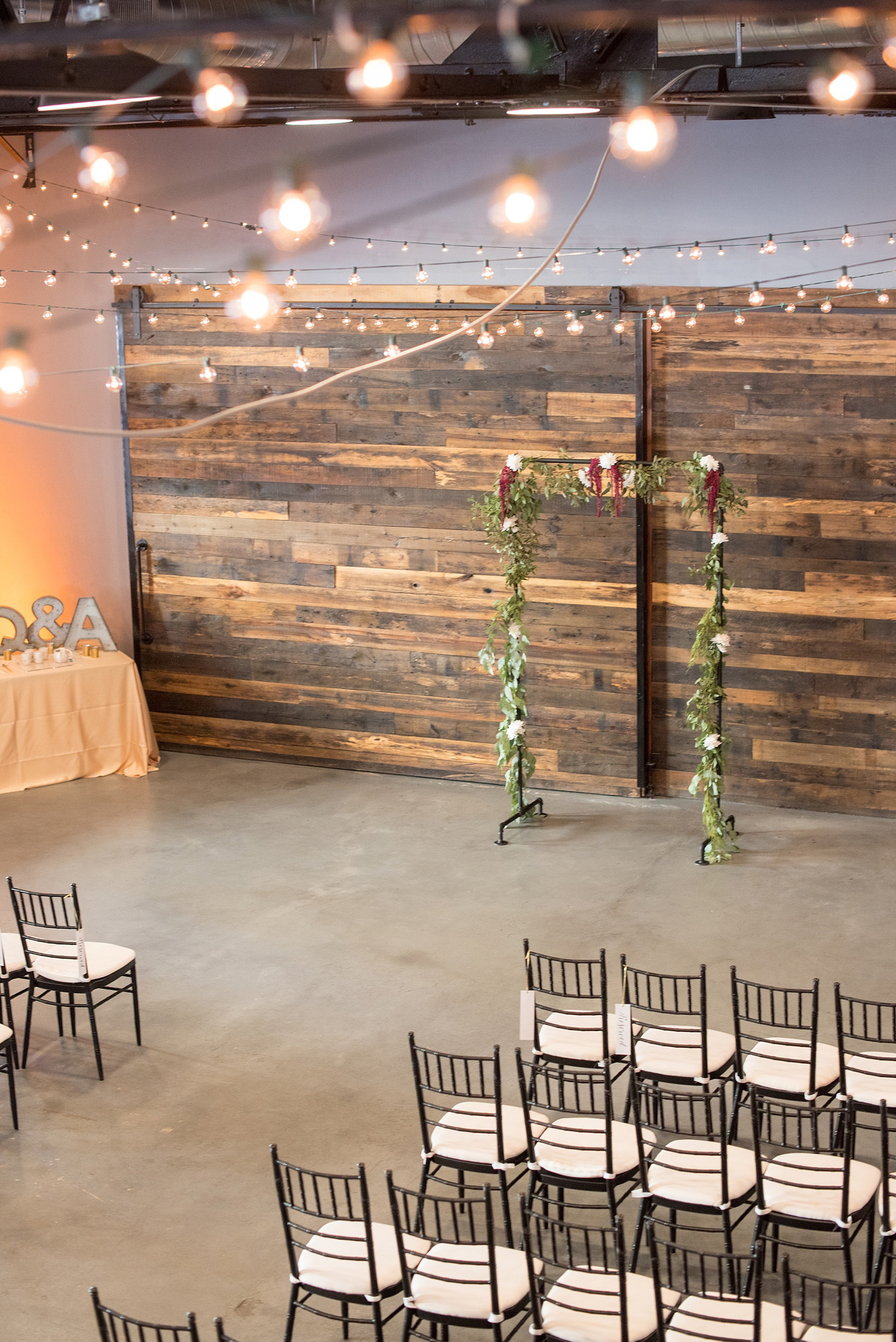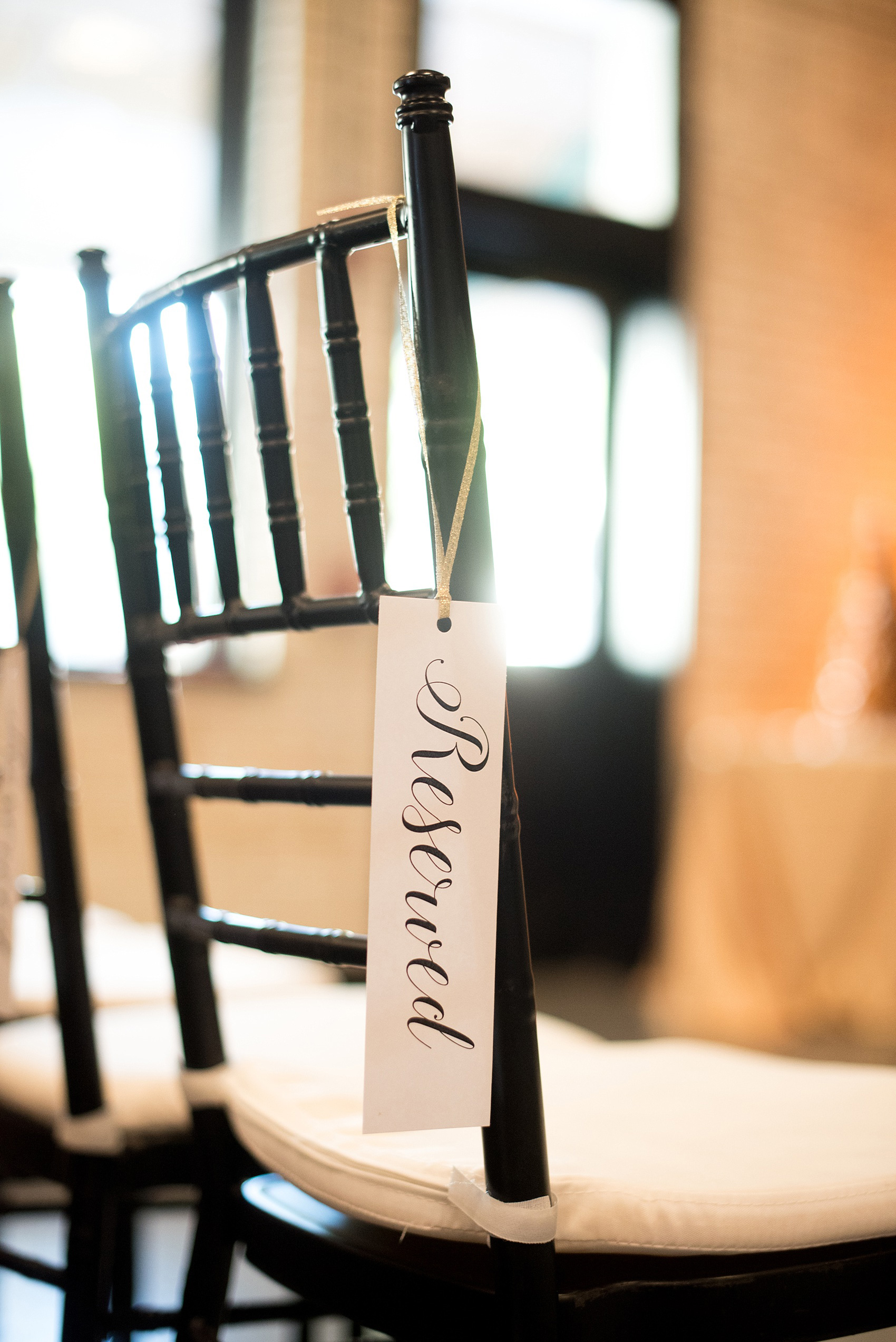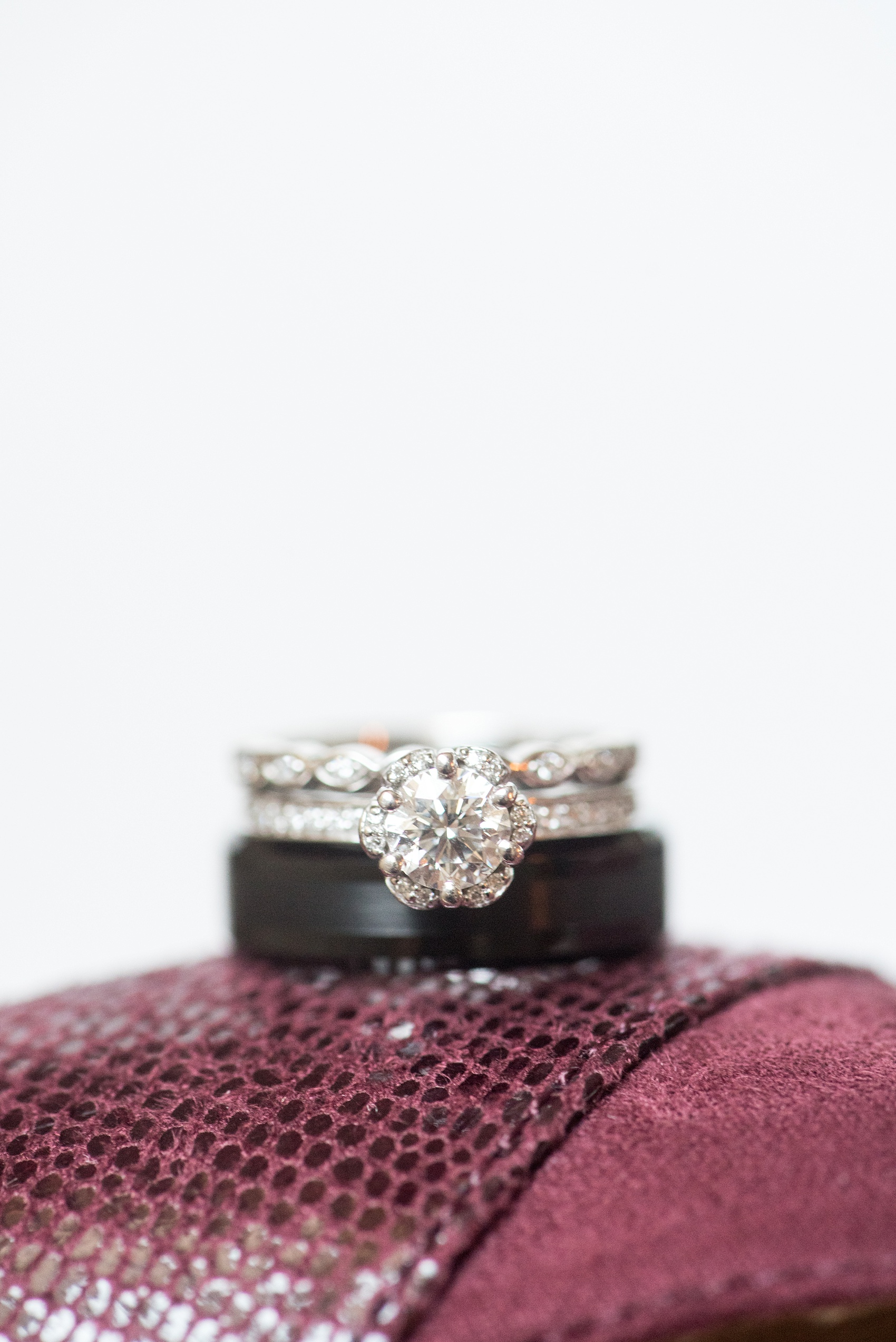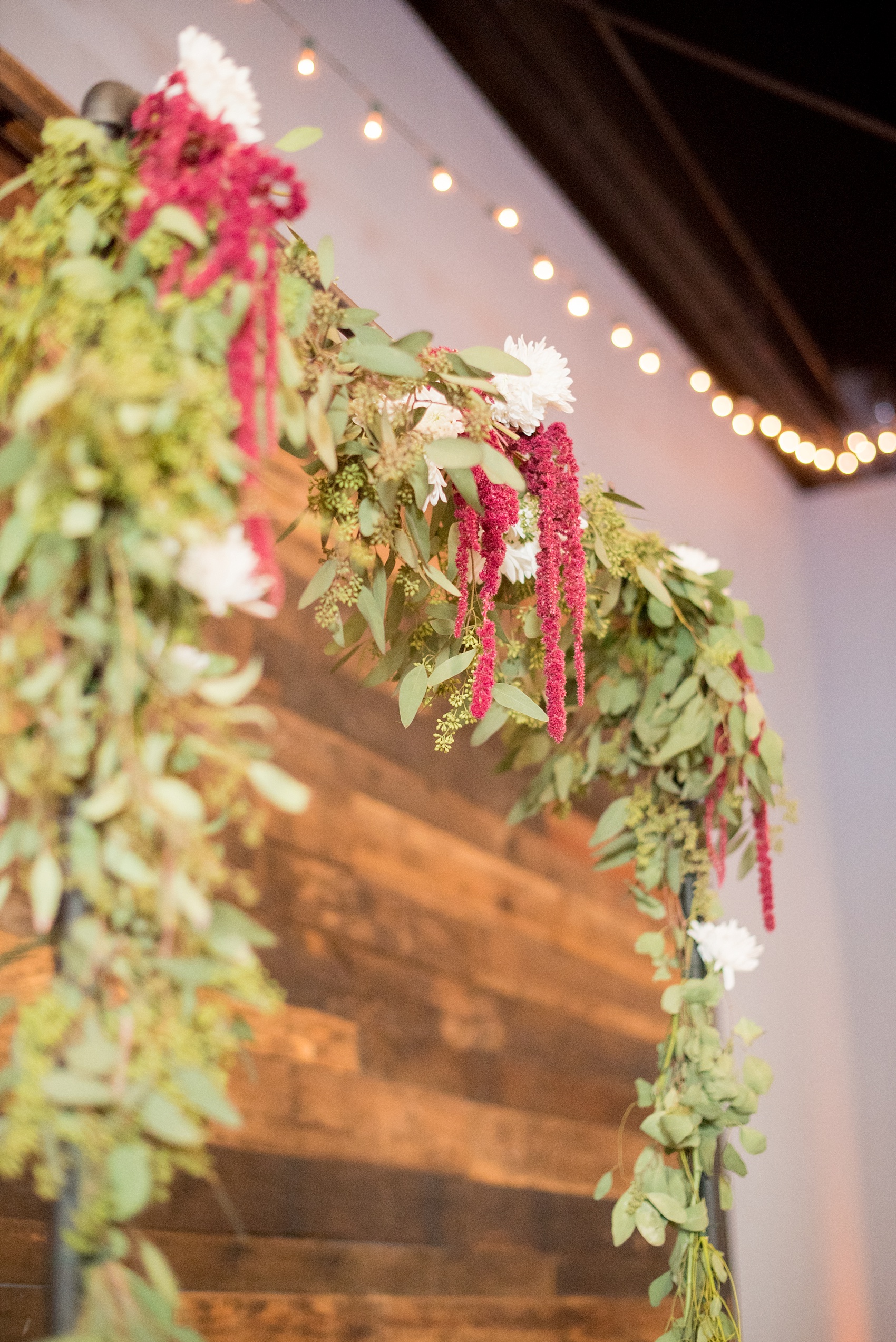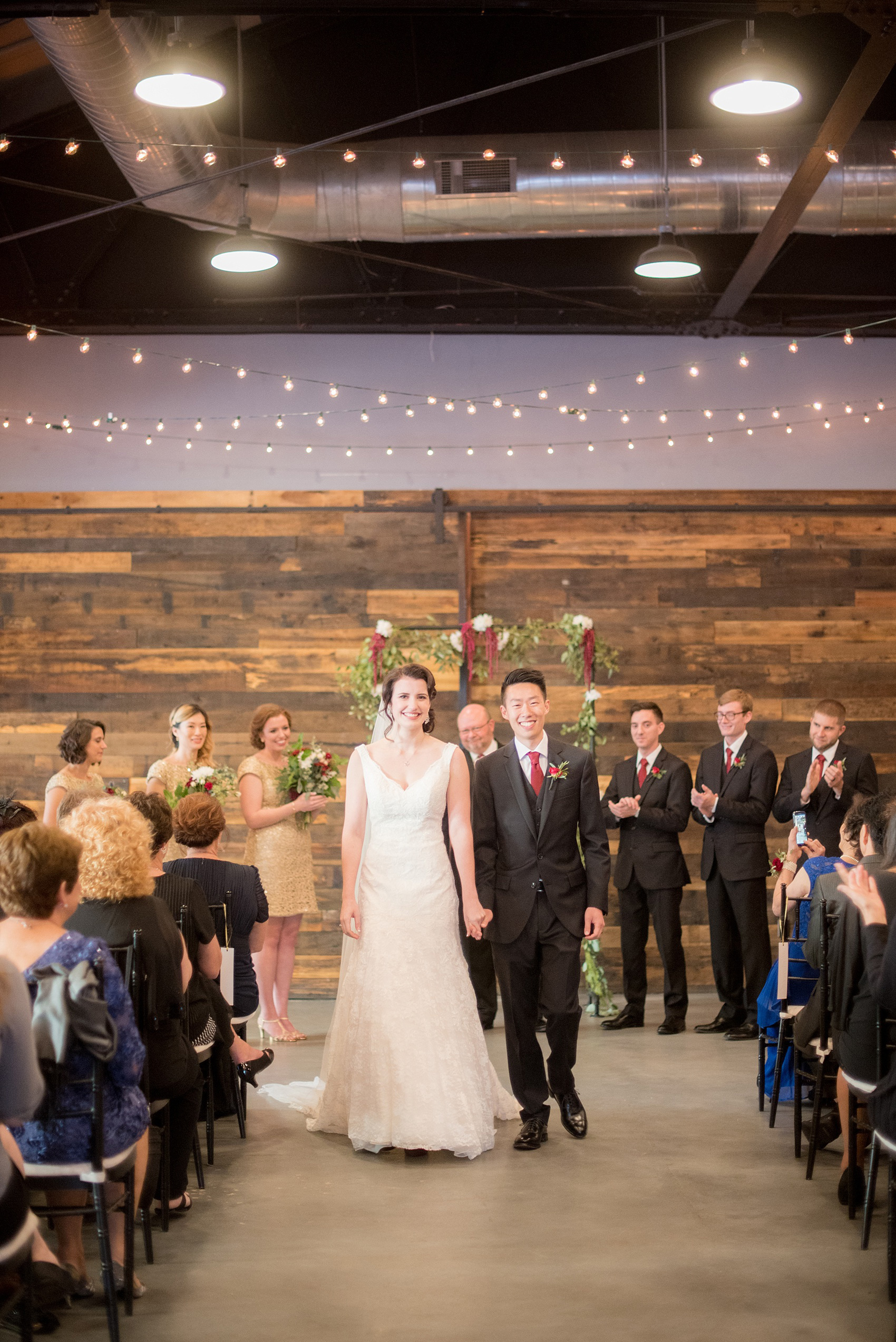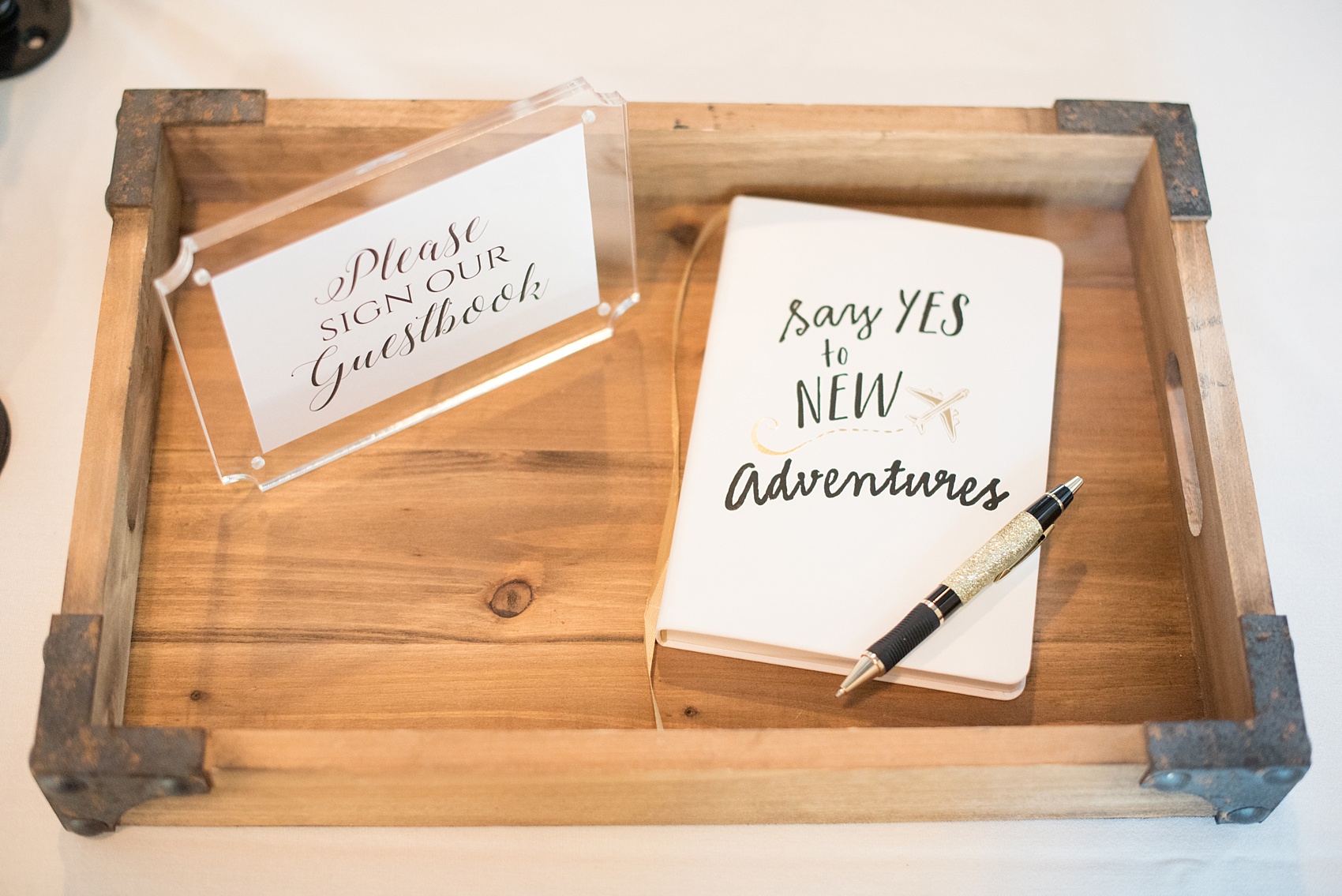 Let's get this adventure started!!!!
While their guests sipped cocktails and enjoyed passed hors d'oeuvres in the front and outdoor patio of the venue (and signed their cool guest book) the team worked hard to flip the reception area into a beautiful fall scene. Warm tones of gold and burgundy filled the room. Gold wooden script table numbers were placed at each round table with burgundy linen napkins and mercury glass votive holders. Pineapple cake from Taiwan served as guest favors at each place setting. Each table had either a taller floral bouquet centerpiece or lantern. Their floral arch was placed behind their sweetheart table to frame the newlyweds and a sequin linen gave it an extra special touch!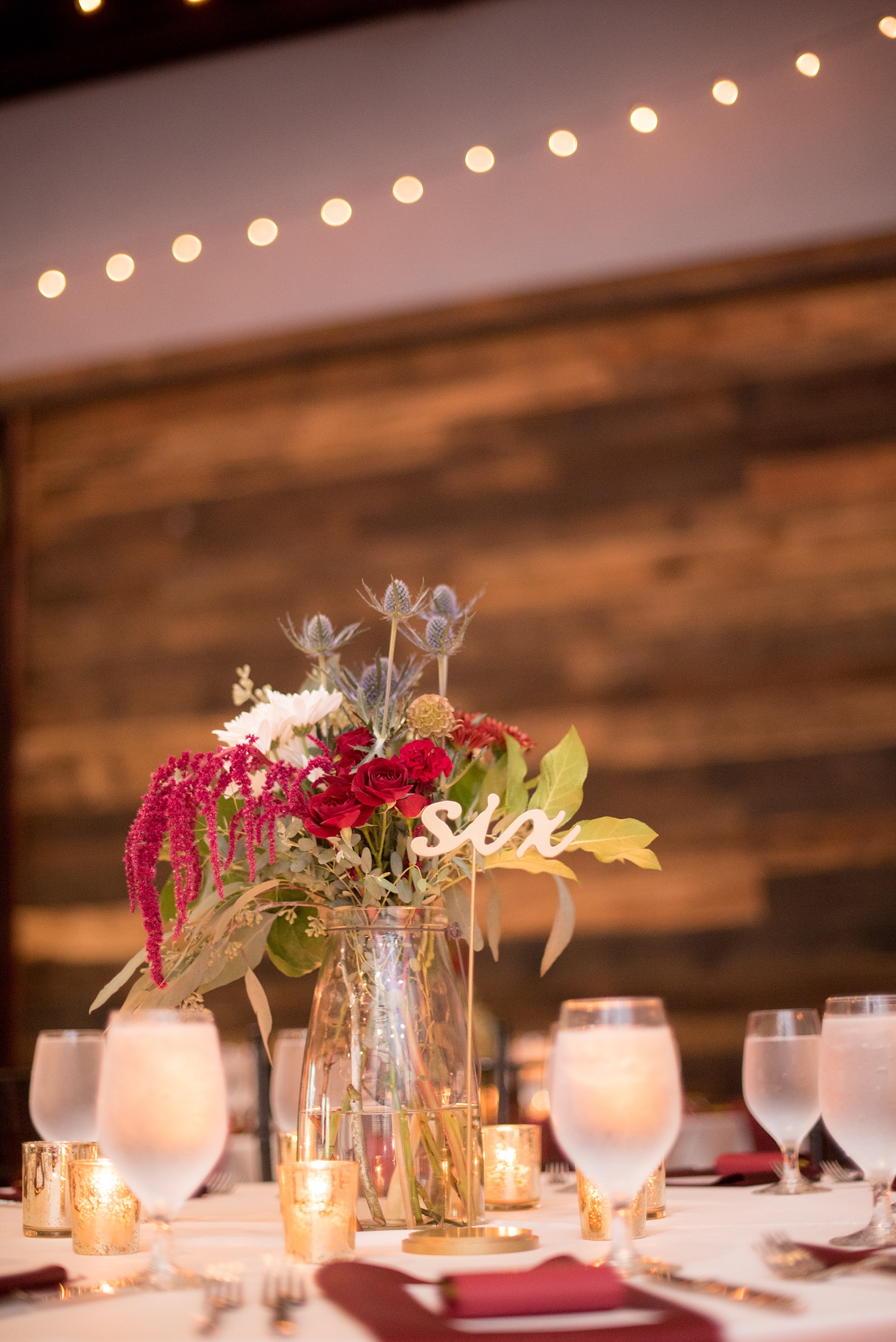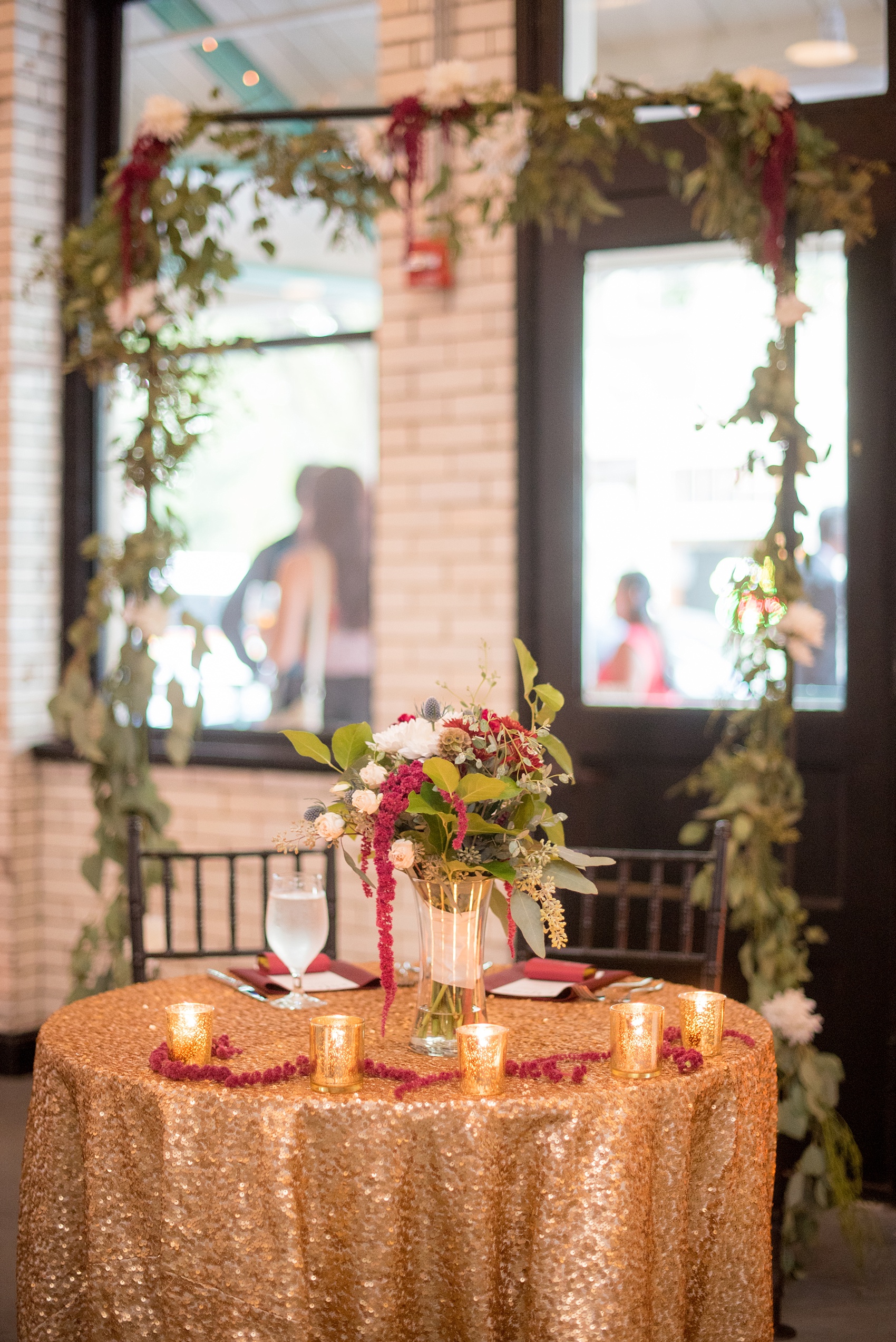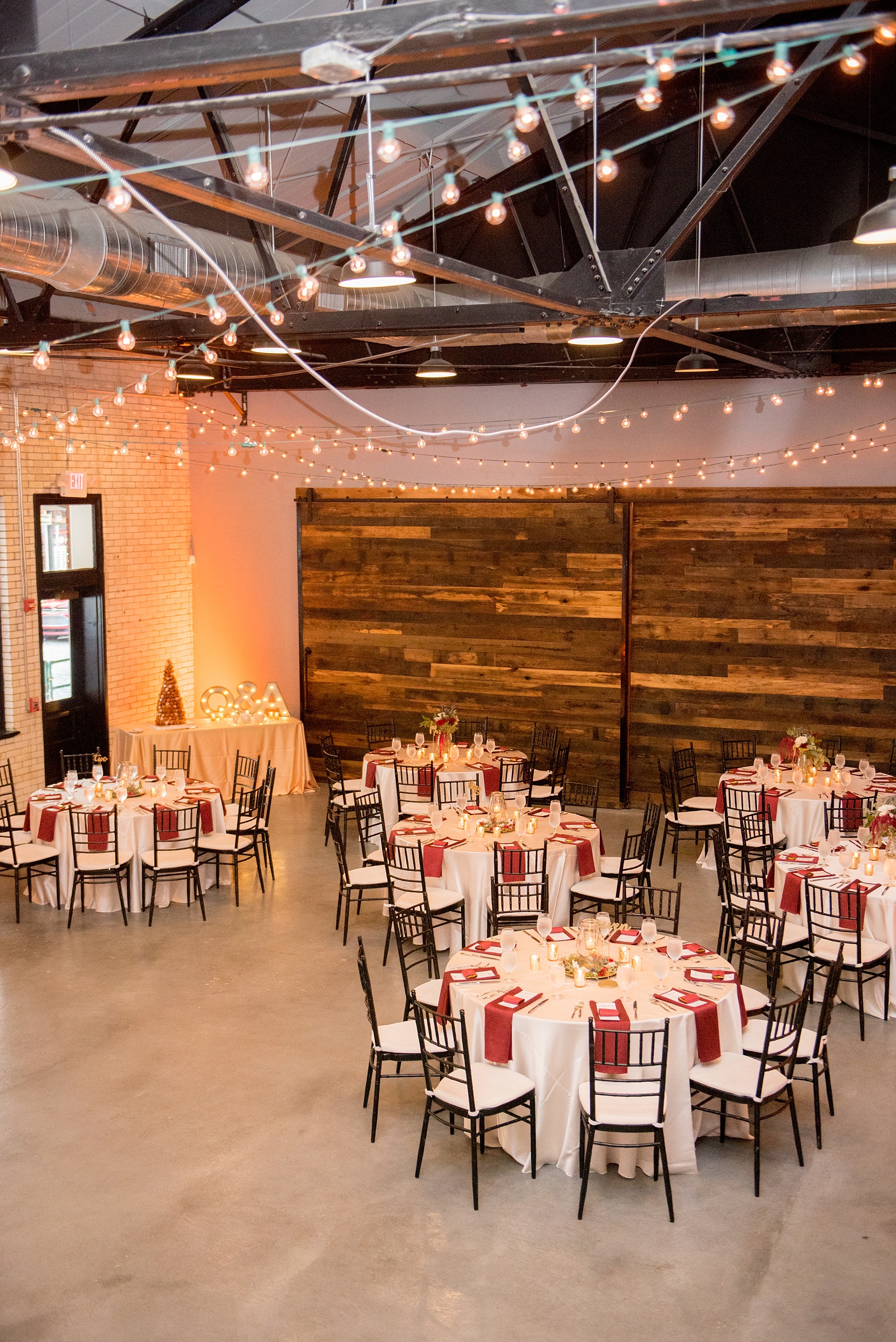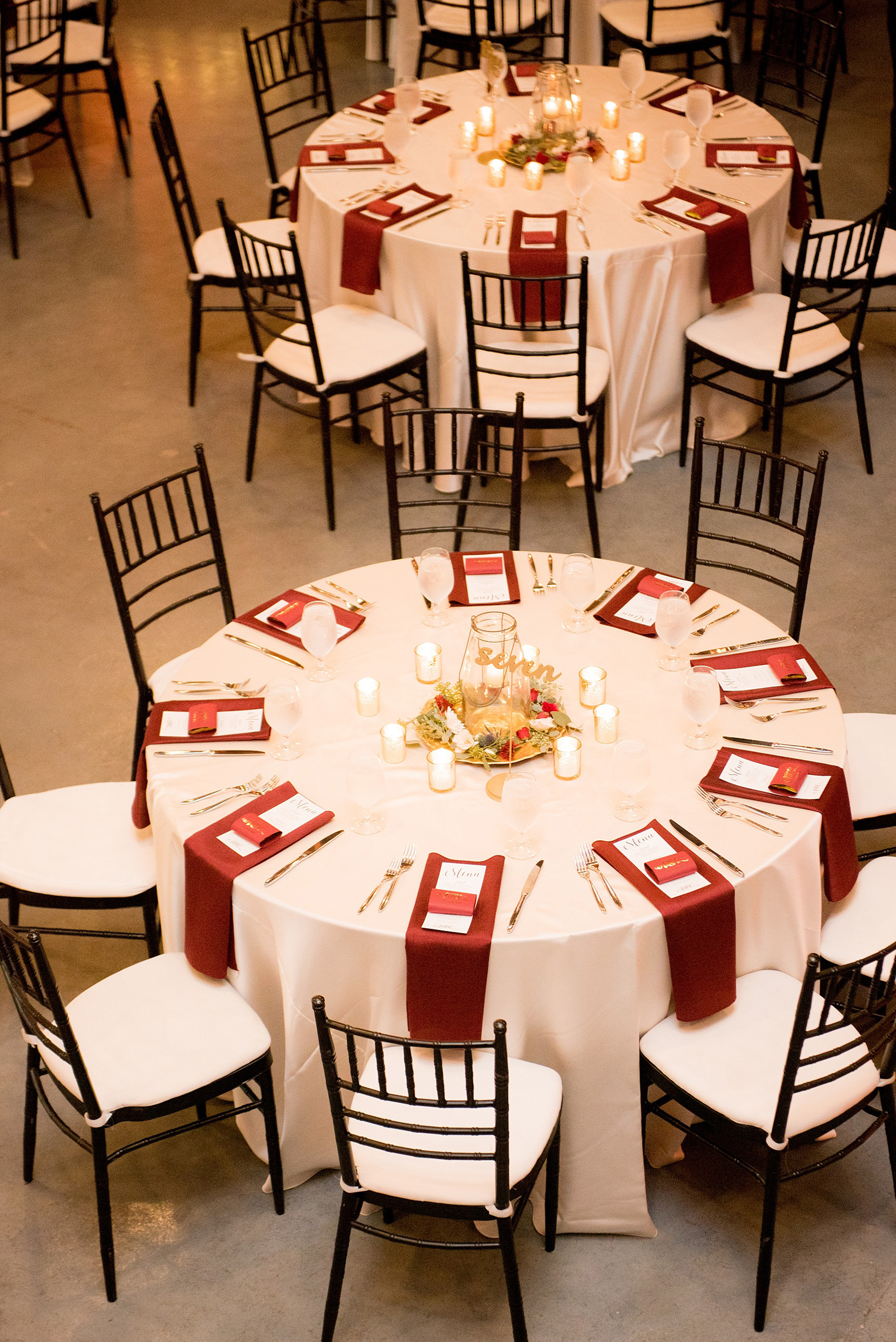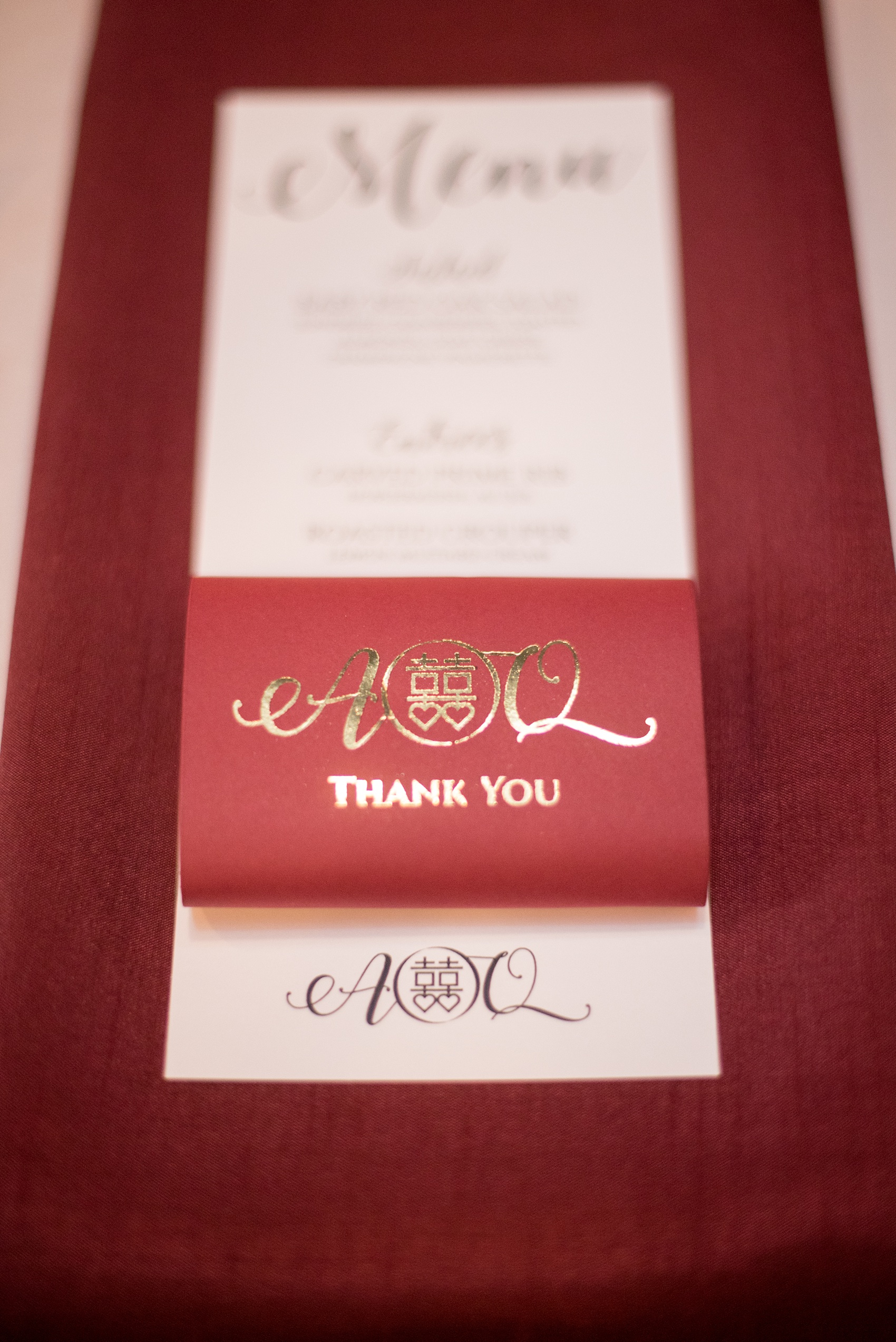 Their dessert was a HOME RUN and so, so different from anything I've seen at American weddings: a croquembouche carefully crafted by the chefs at LucetteGrace. Sugar brushes whimsically finished off the tower of cream puffs with different fillings, like hazelnut and coffee.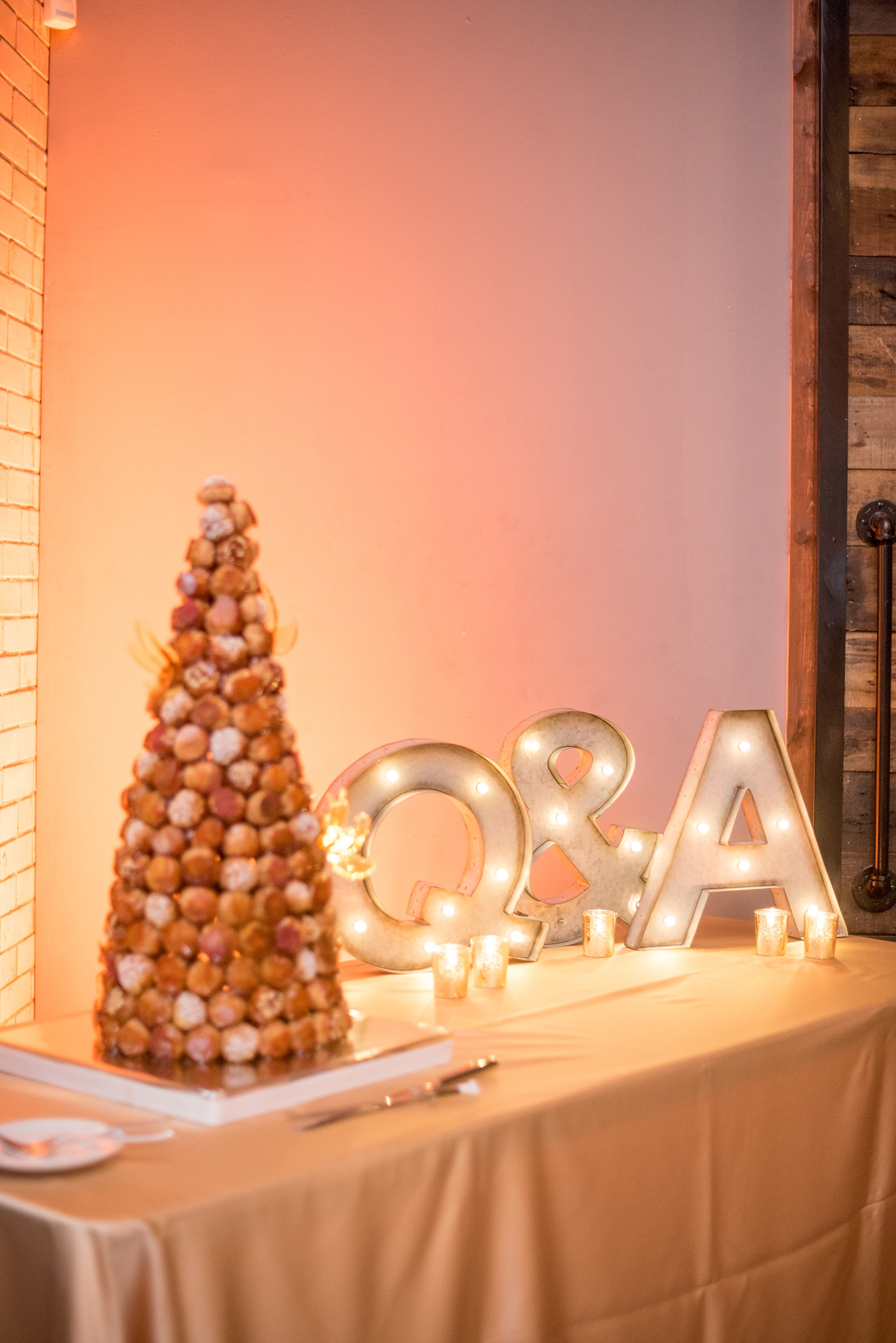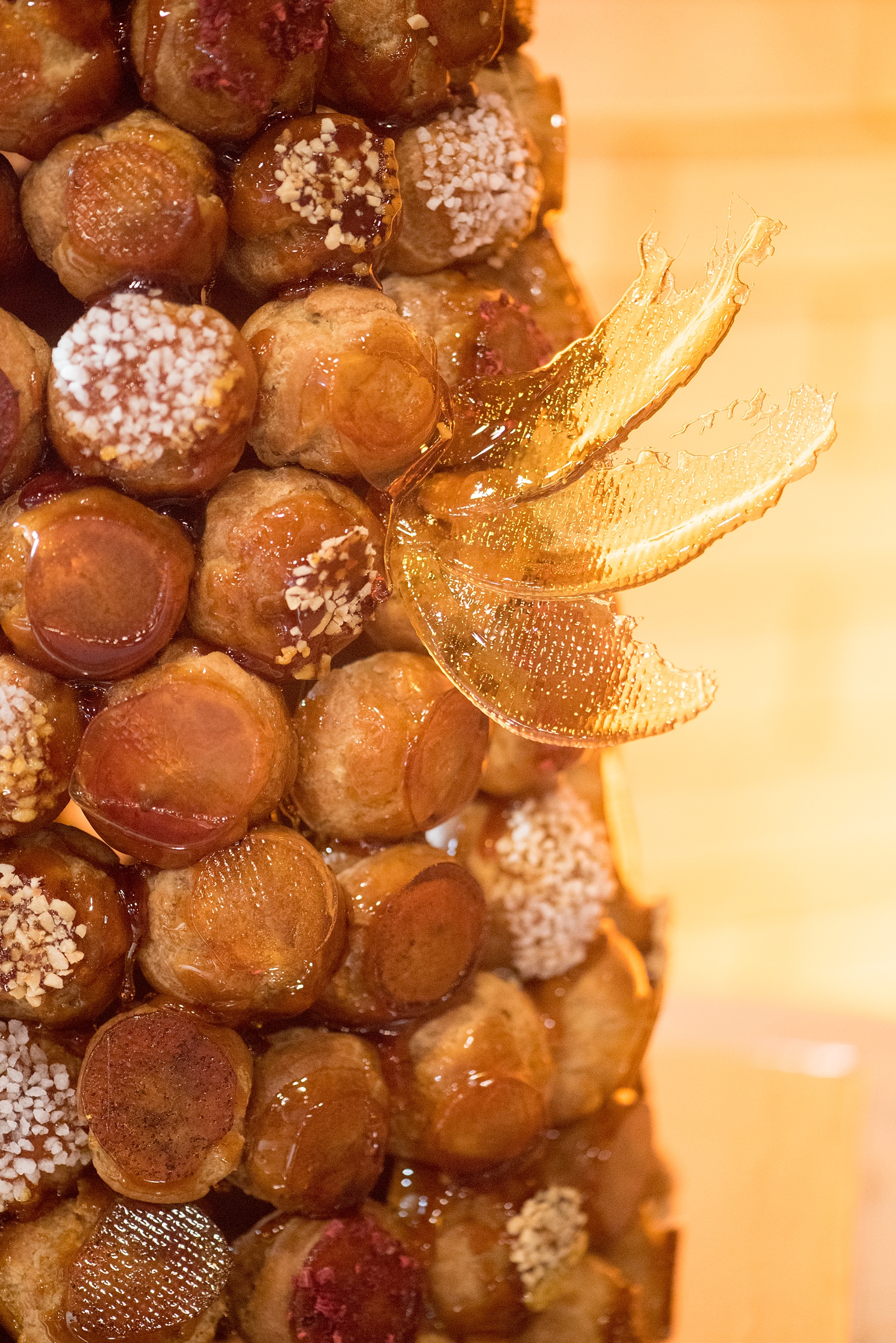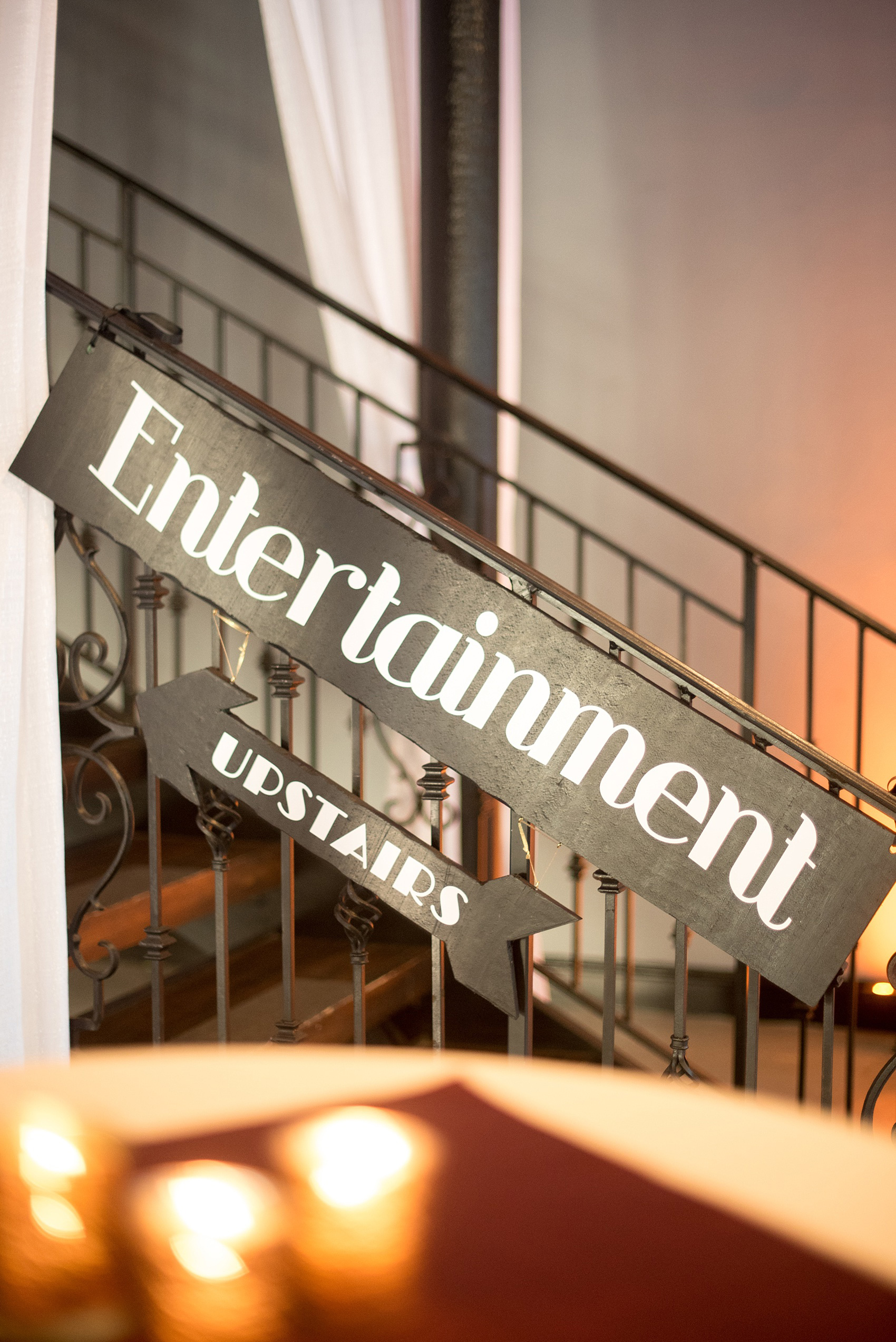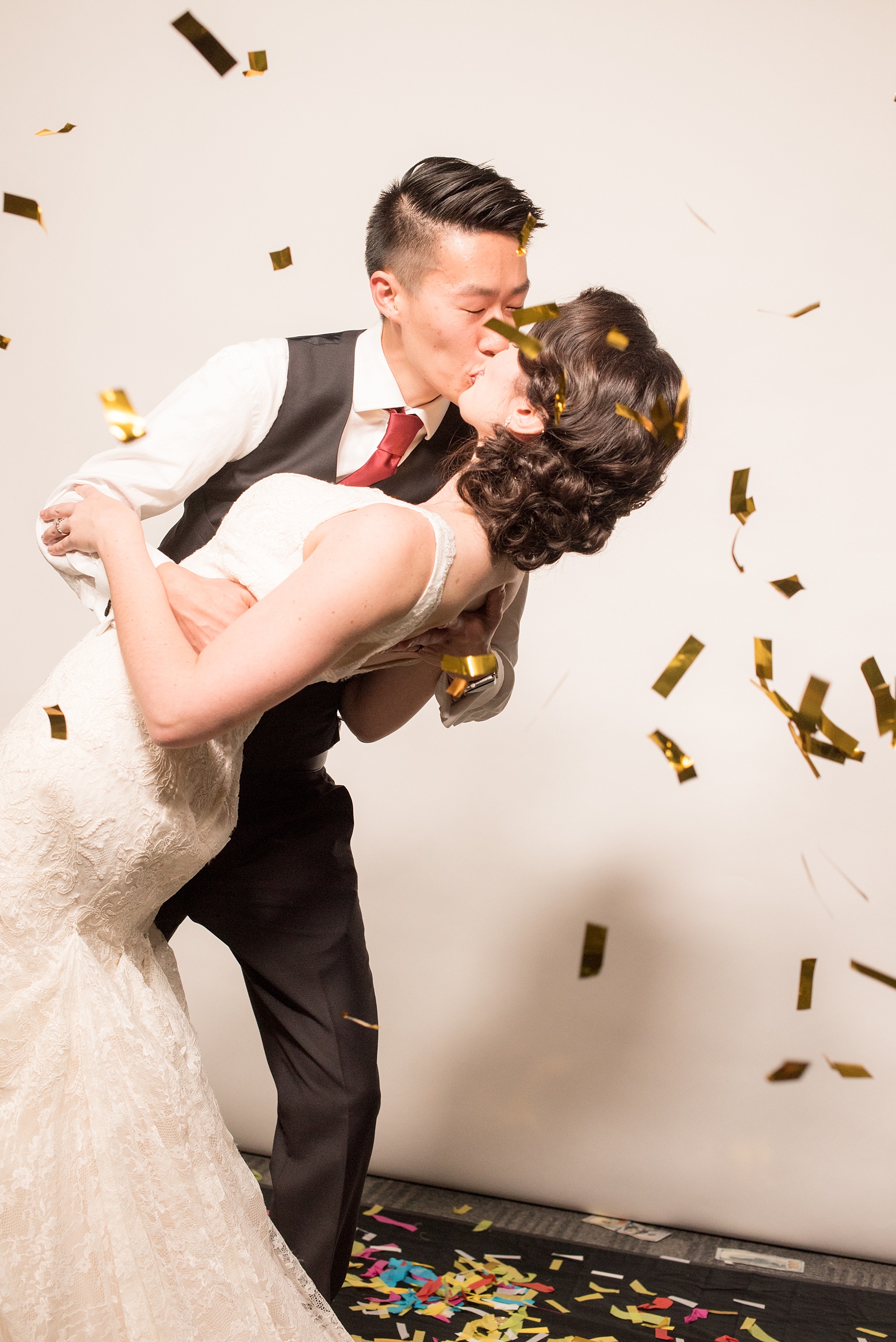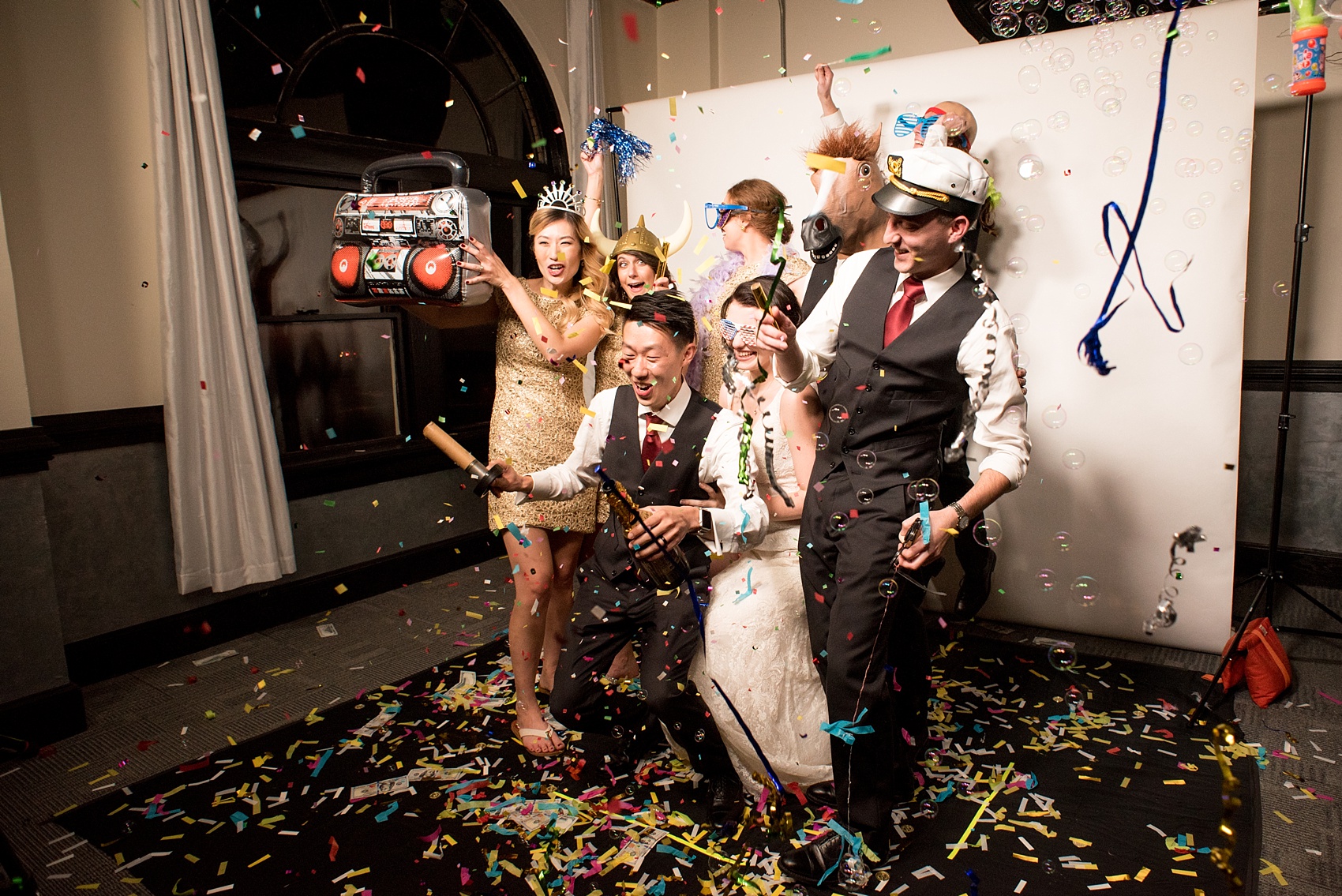 They provided fun entertainment for guests on the second level of the venue: a slow-motion booth! It was really fun to see the action happen in real time and watch the videos afterwards to see it again….very slow.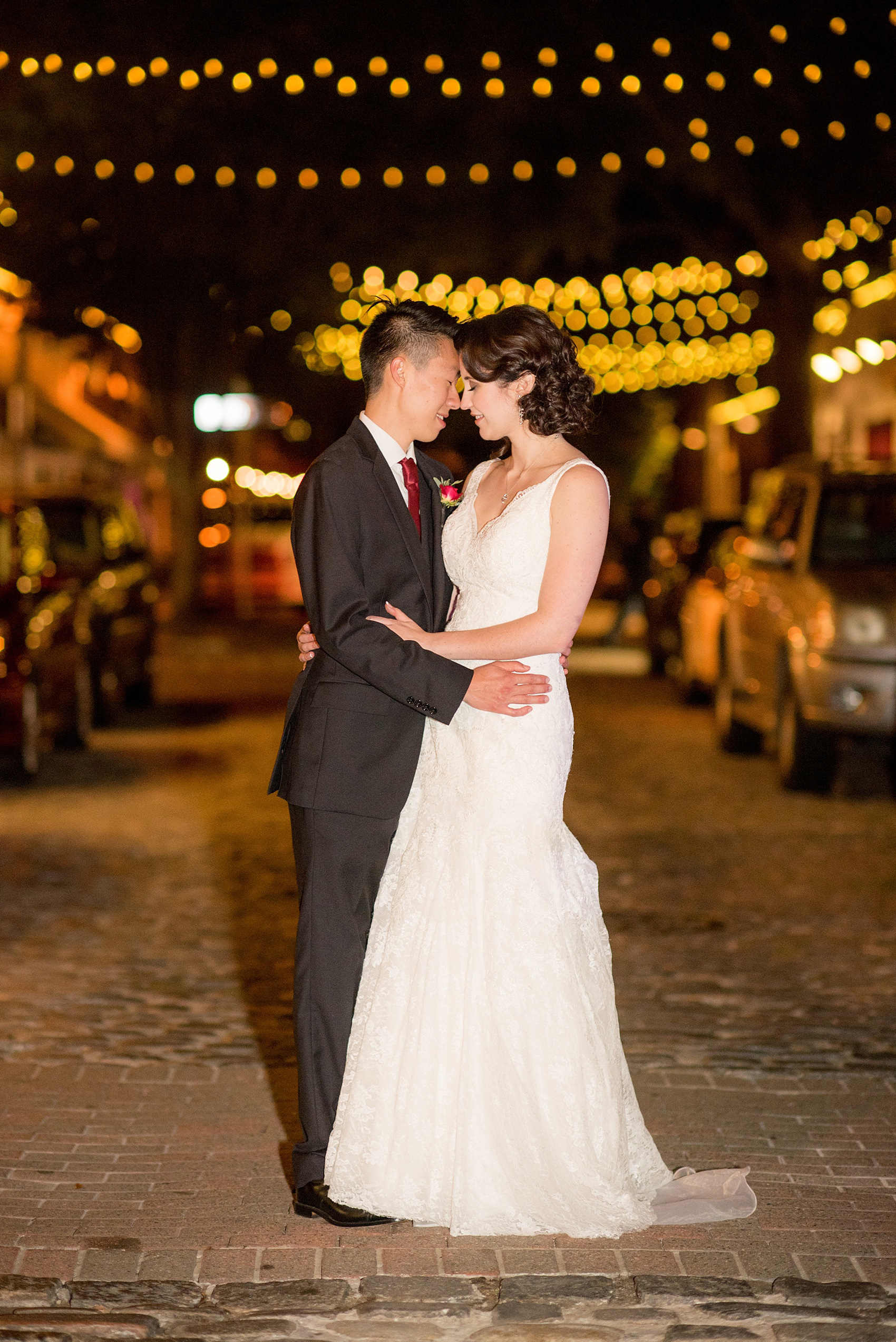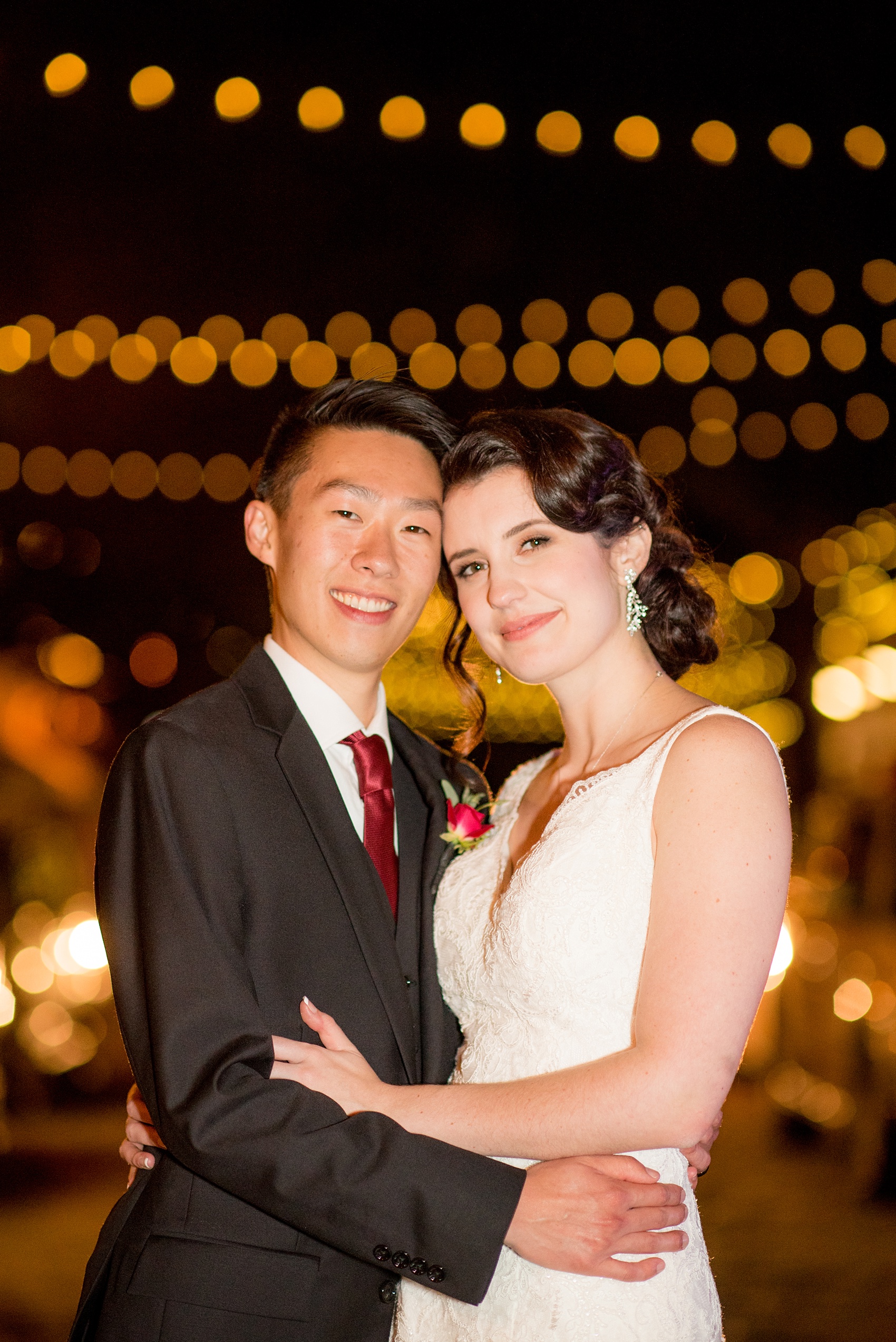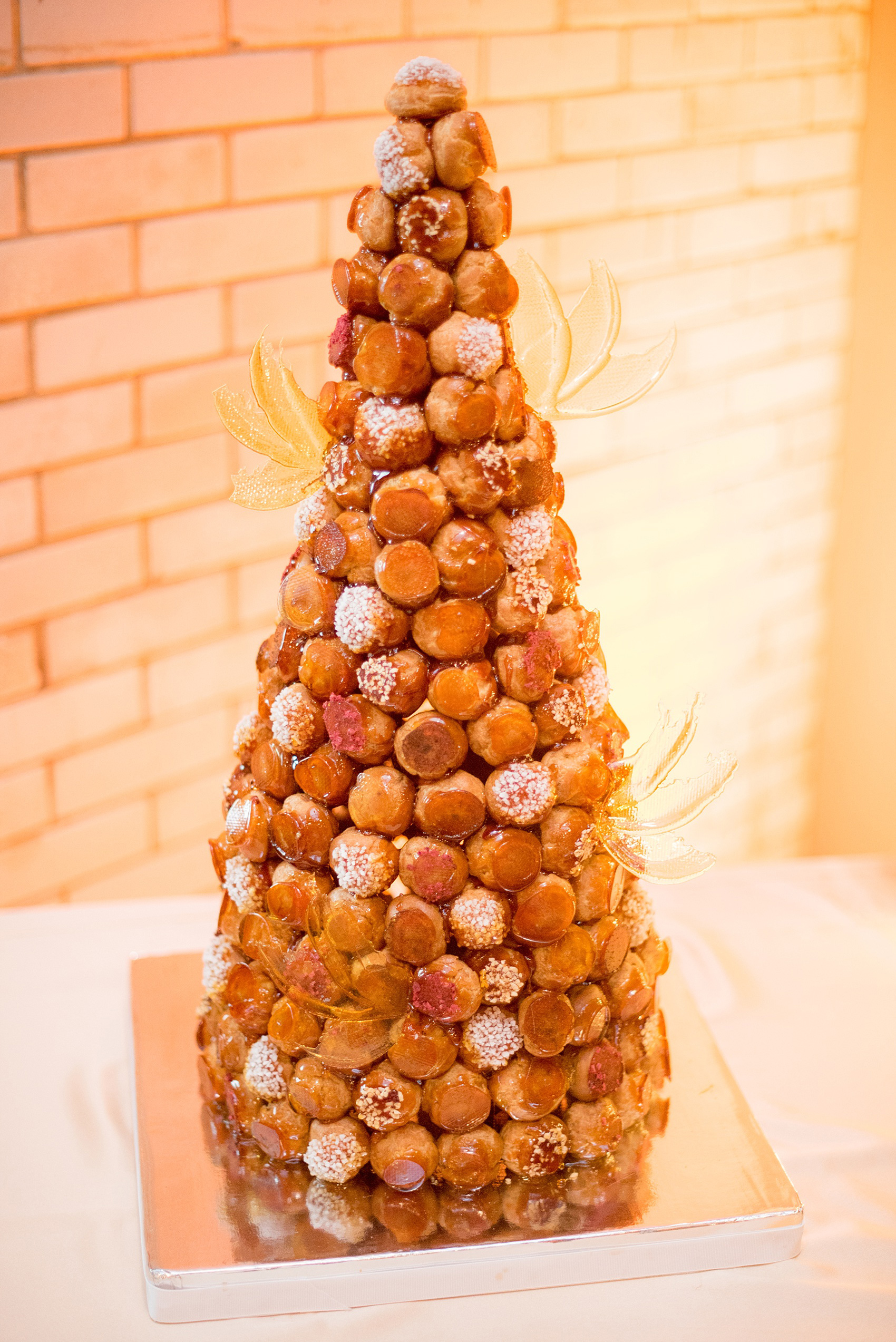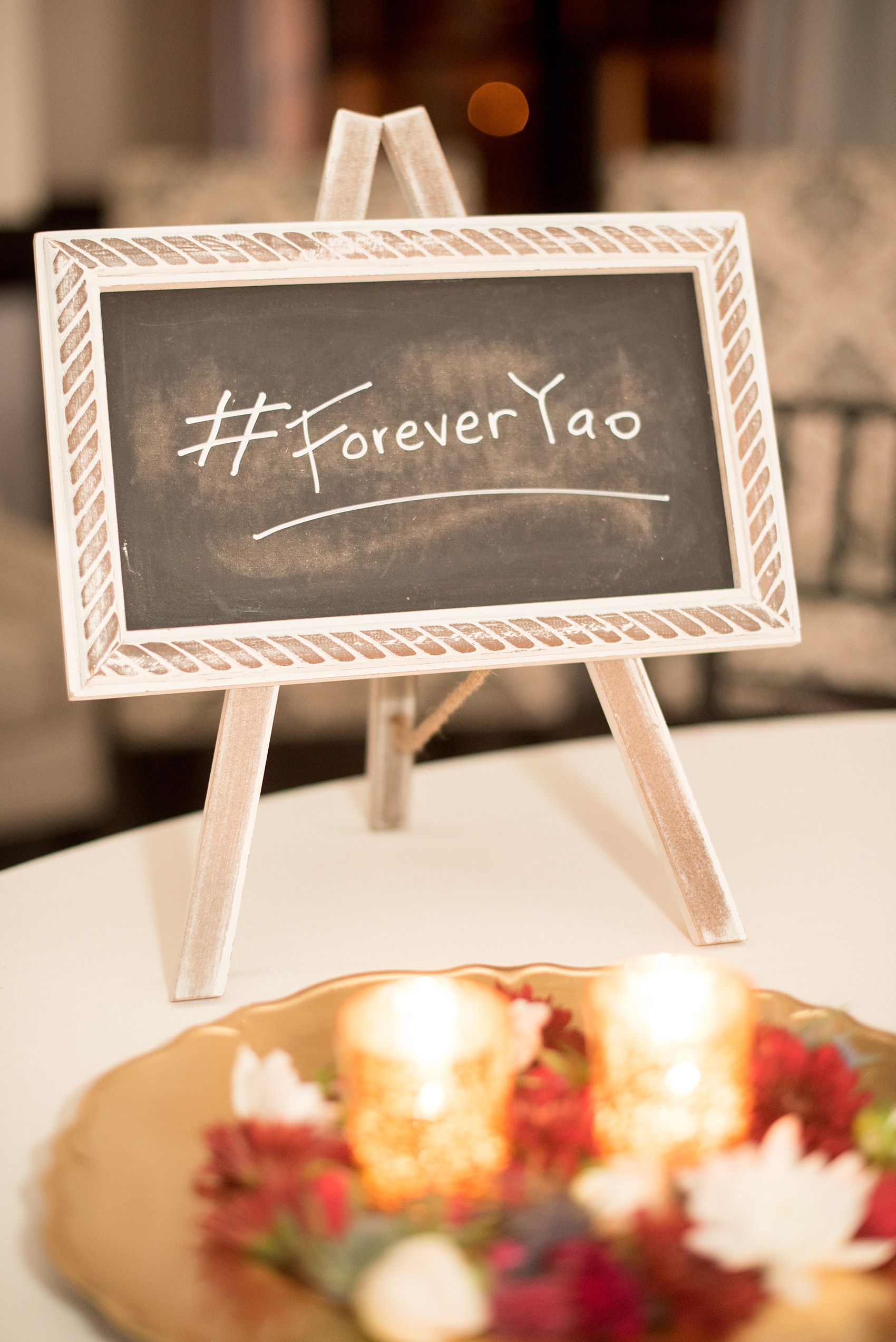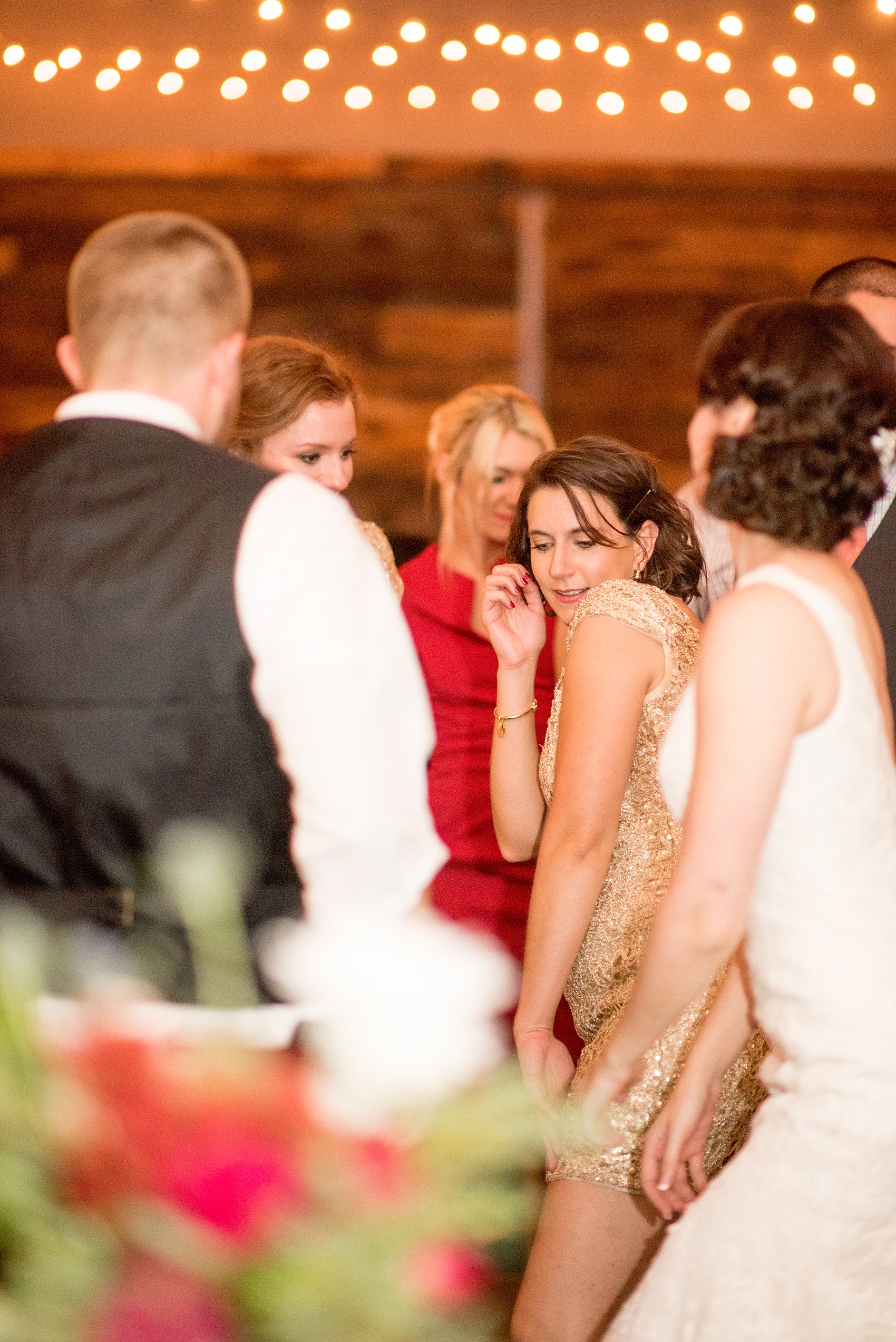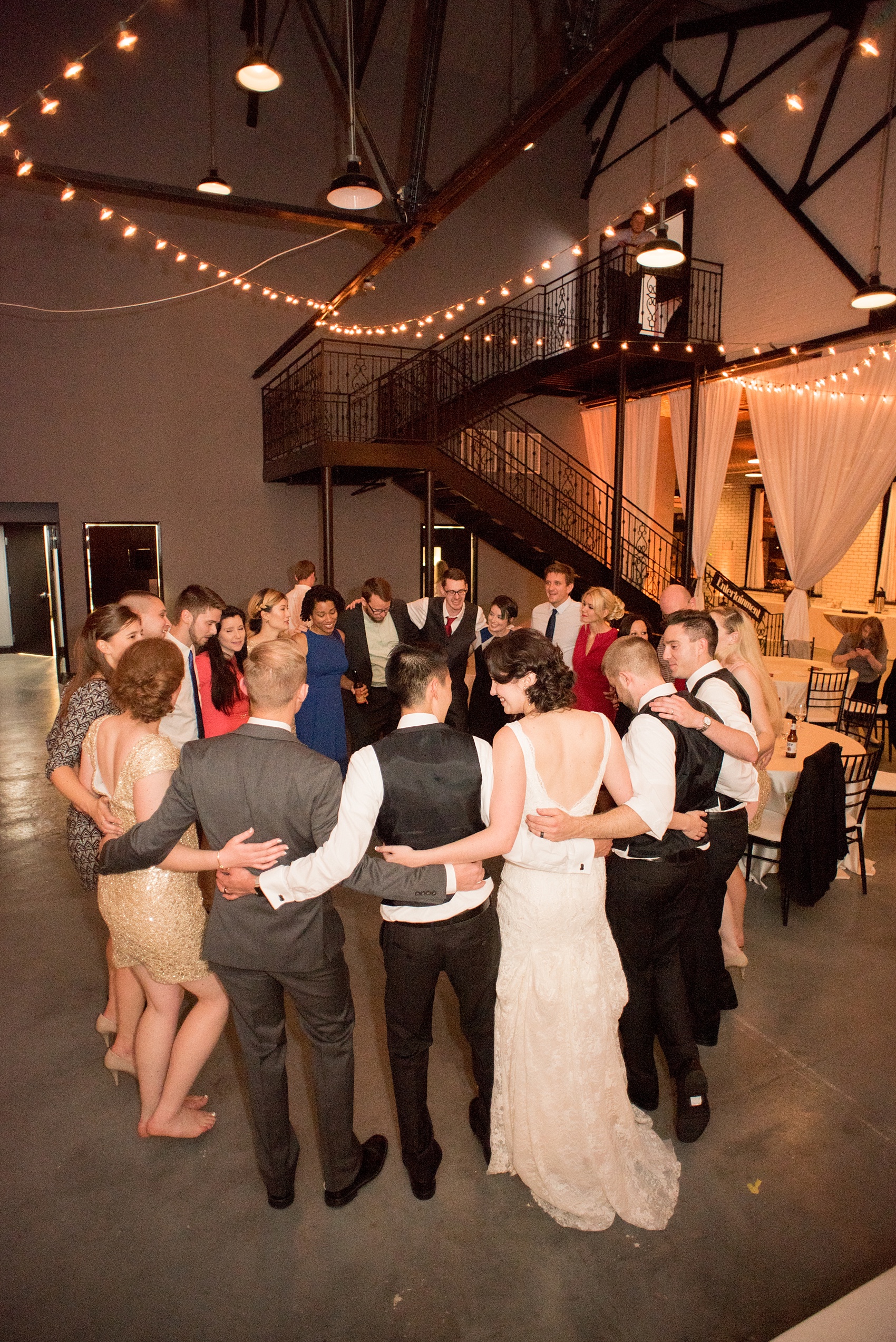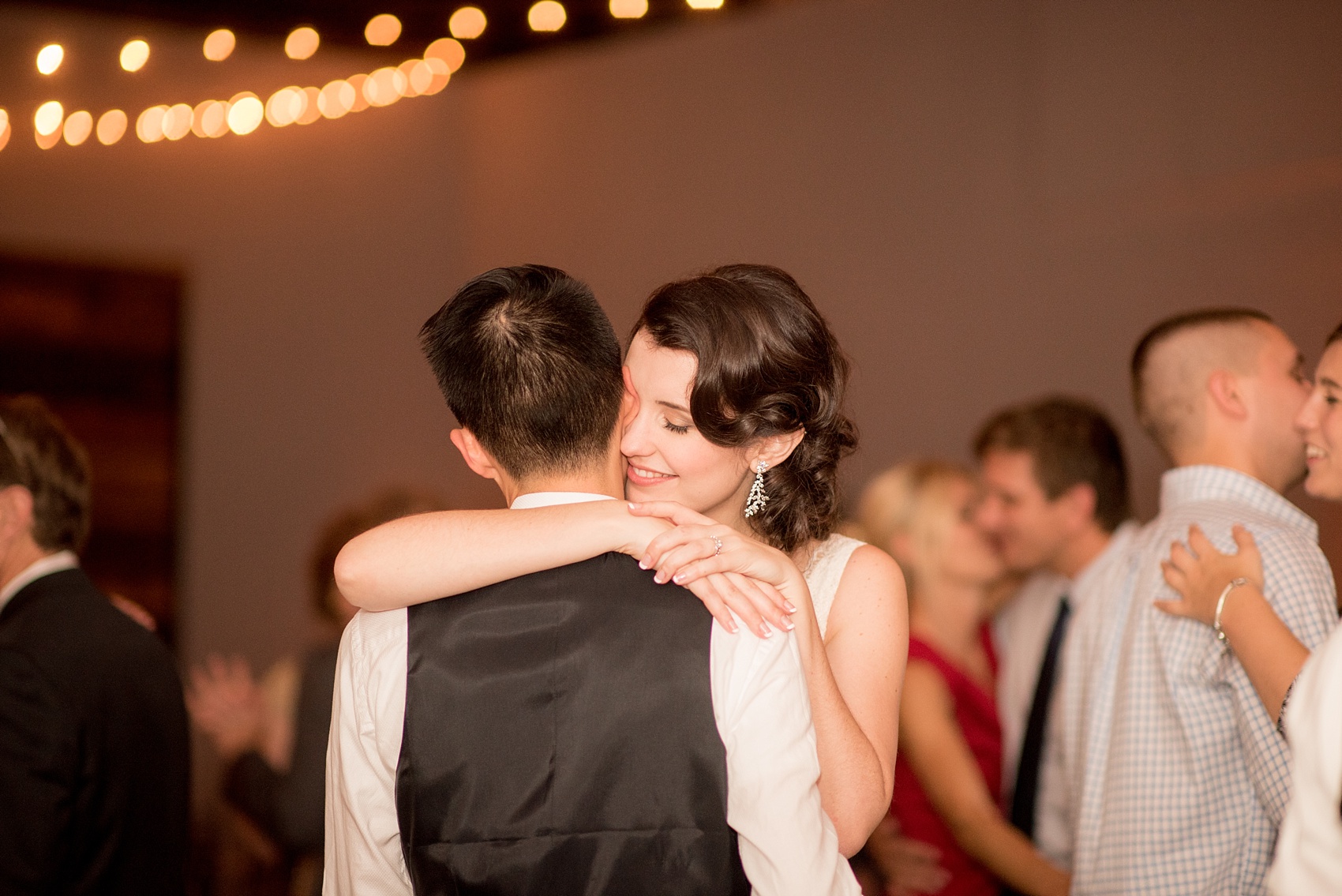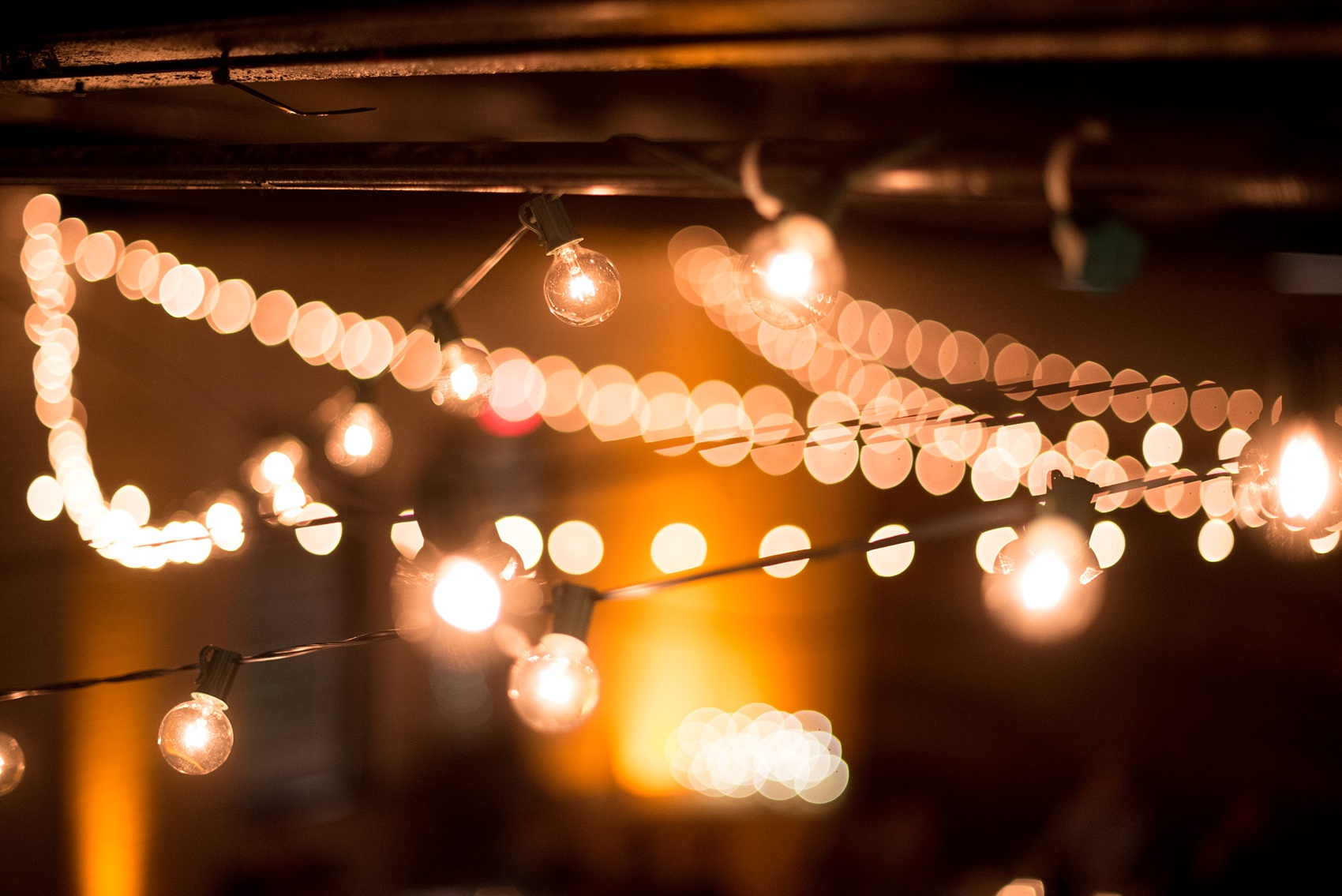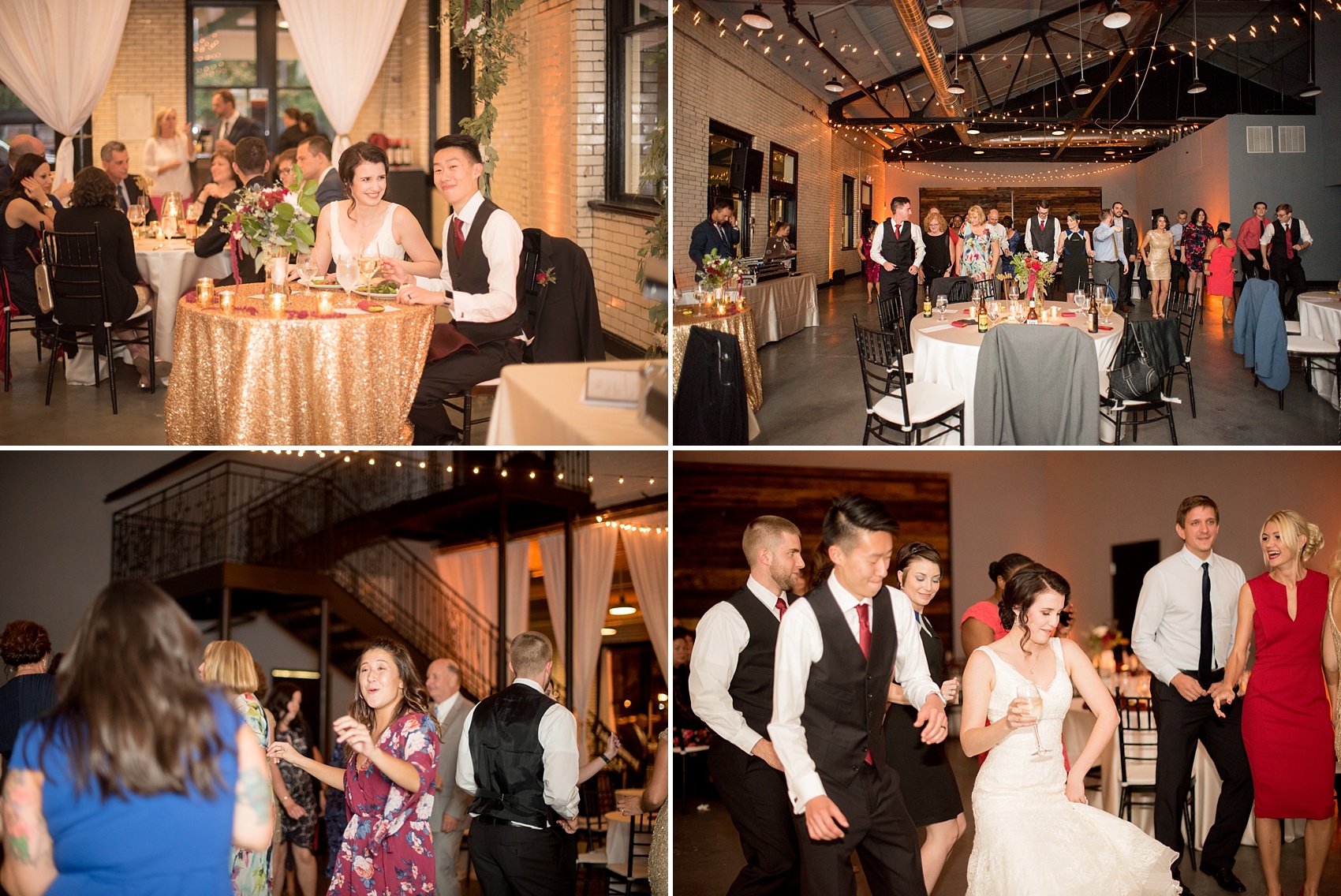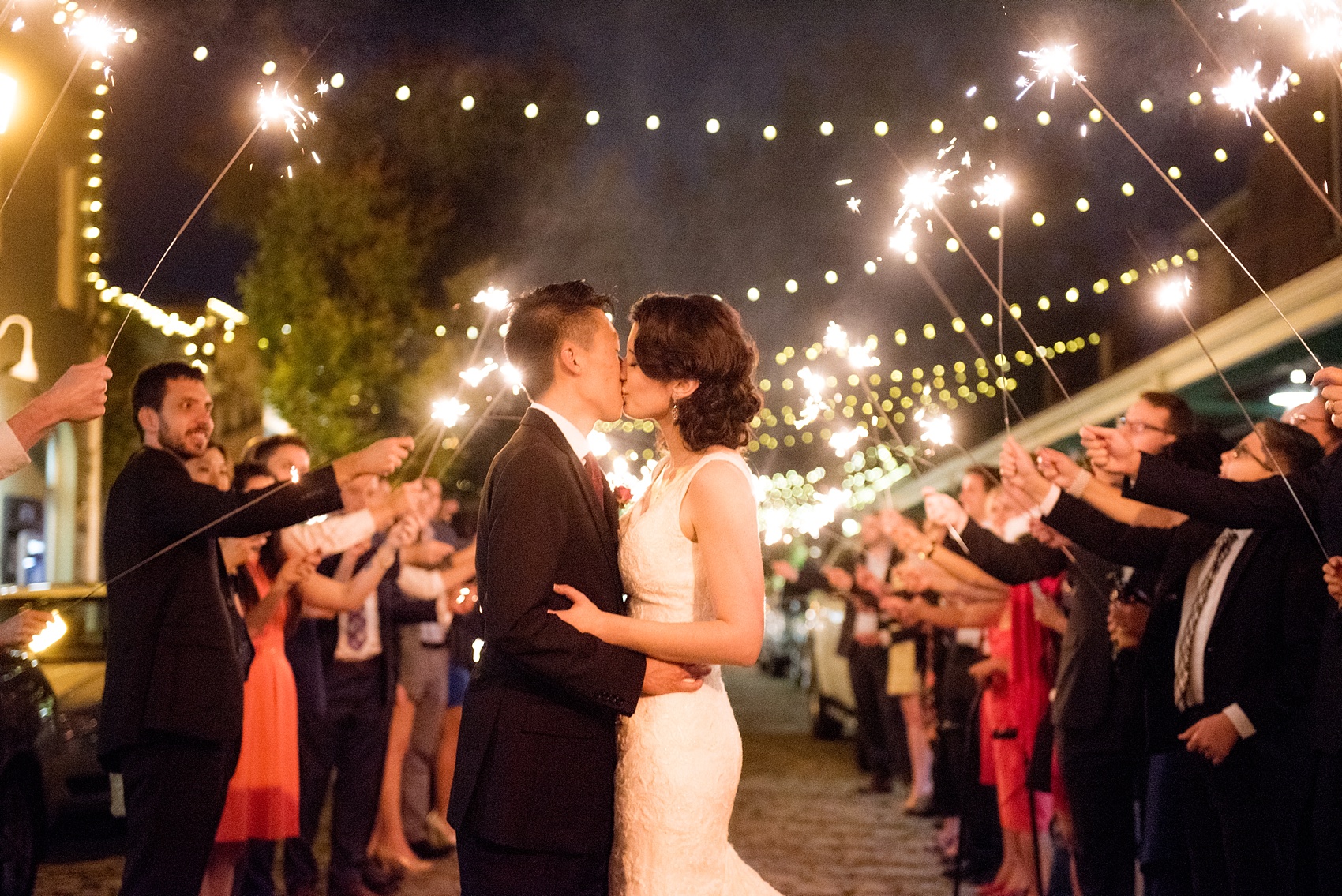 Their reception was delicious and entertaining, filled with yummy food and awesome tunes from DJ Eric!
Some of my favorite Market Hall wedding photos from their day were the night images of them on the cobblestone road with the bistro light in the City Market area in the background, and the memorable closer of the evening, their sparkler exit!
Congratulations Mr. and Mrs. Yao!
Venue: Market Hall / Getting ready location: The White Room / Day-of coordination: Christin, Dolled up and Planned Out / Venue decor: Showtime Events / DJ: All Around Raleigh DJ, Eric Hodgden / Florist: Victorian Seasons / Slow-motion video booth: Griffin Wing Productions / Wedding dress: David's Bridal, designer Jewel / Wedding earrings: Kate Spade / Bridesmaids dresses: Adrianna Papell / Dessert: LucetteGrace / Officiant: Rev. David Morton / Invitations: designed by the bride / Hair and makeup: WINK Hair and Makeup, Amy and Janna
There's more to love on Facebook and Instagram!